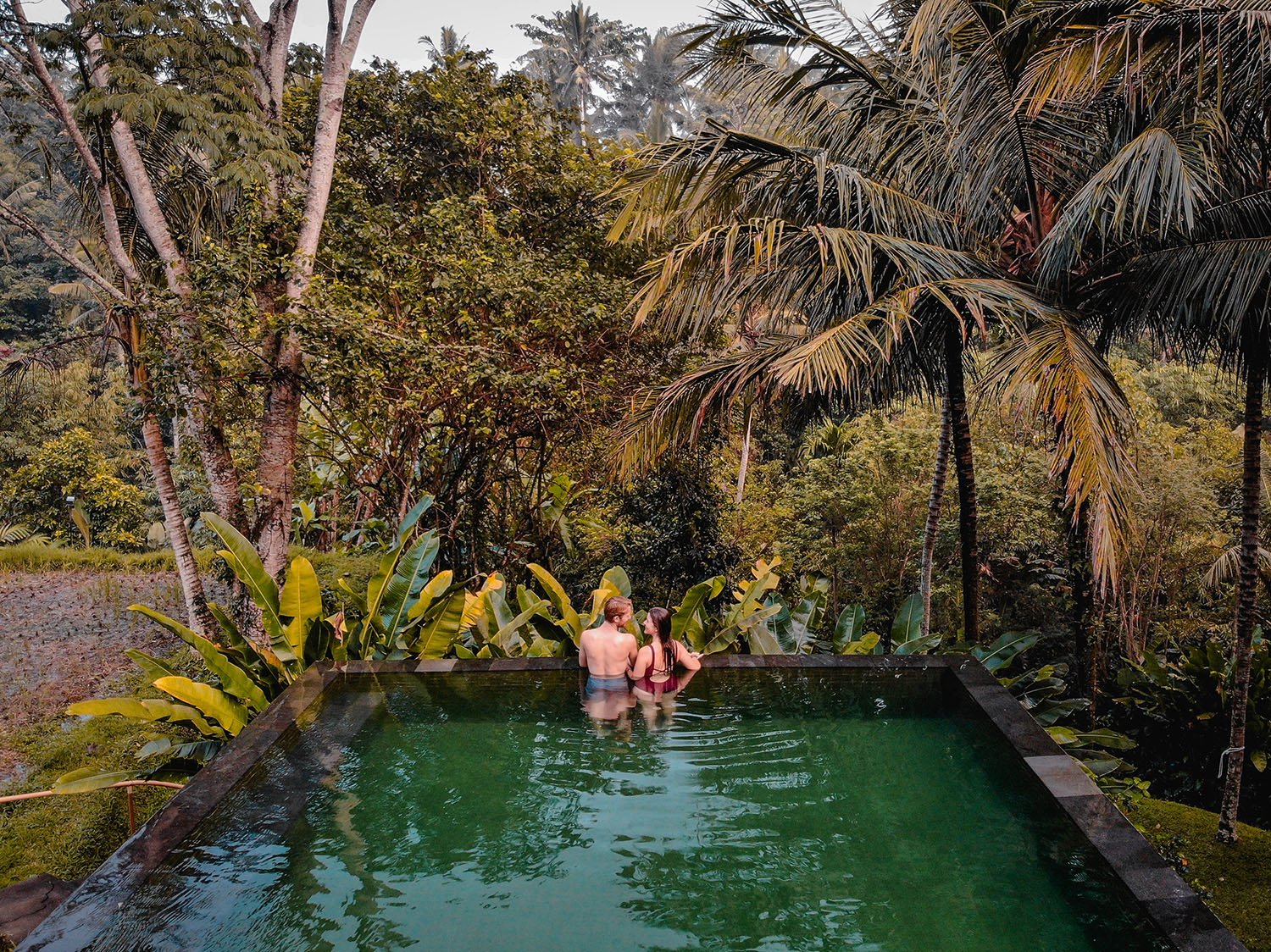 With a stunning infinity pool that looks over rice terraces and jungle, and rooms that are as beautiful as they are comfortable, the Komaneka at Bisma Resort is what dreams are made of. Literally.
There is no shortage of beautiful and romantic hotels in Bali, so when we were planning a getaway for our 5-year wedding anniversary, we had plenty of places to choose from.
But the thing that caught our eye about Komaneka Bisma (other than the Instagram-worthy pool, of course!) was the rave reviews they receive from just about every guest that stays with them.
We wanted our 5-year anniversary to be romantic and memorable, and the Komaneka Bisma turned out to be the perfect choice!
The Property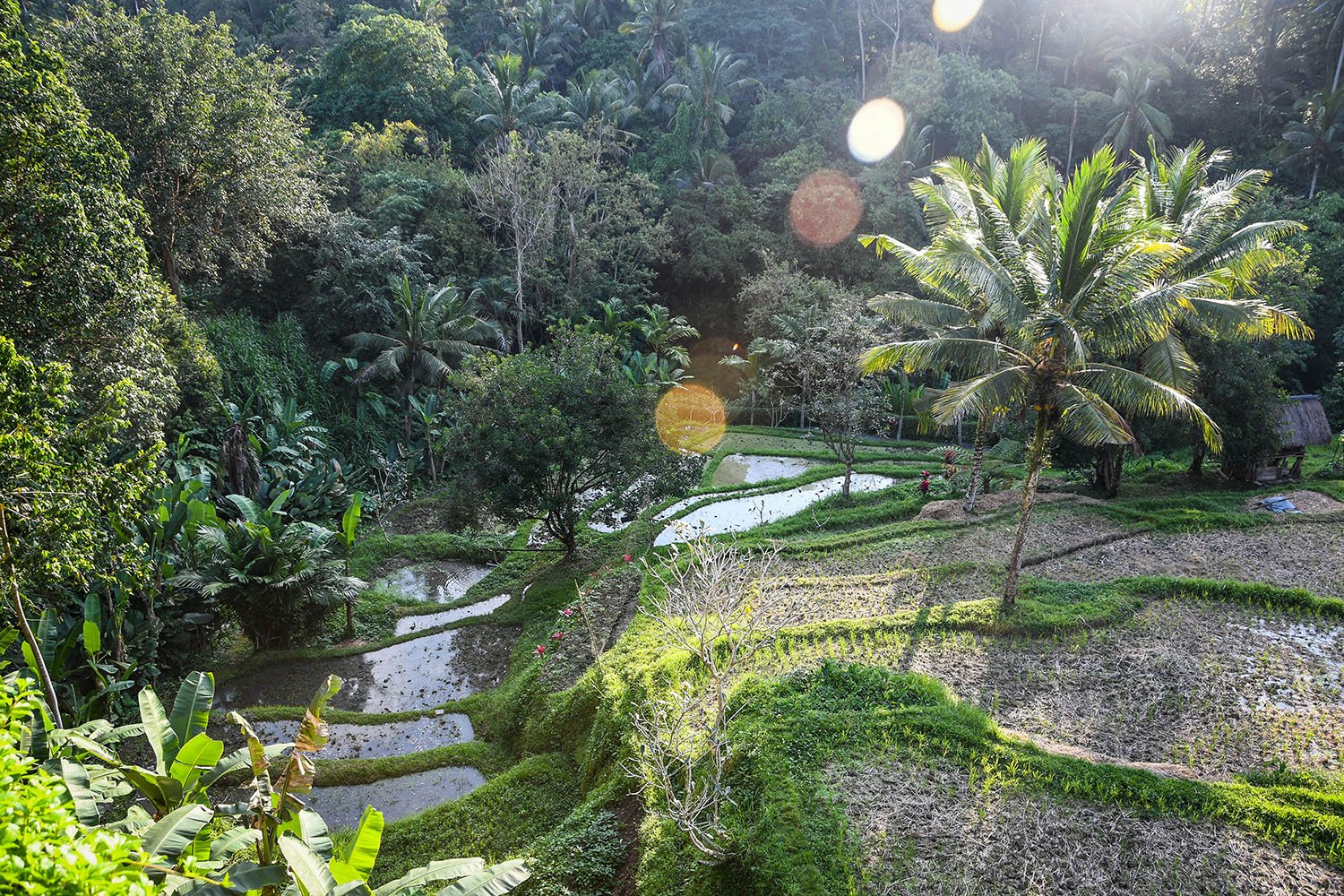 Surrounded by rice terraces and jungle, you'll feel a world away from the traffic of Ubud. But if you want to pop into town to explore (which you should!), you are just a short 10- to 15-minute walk from a main street.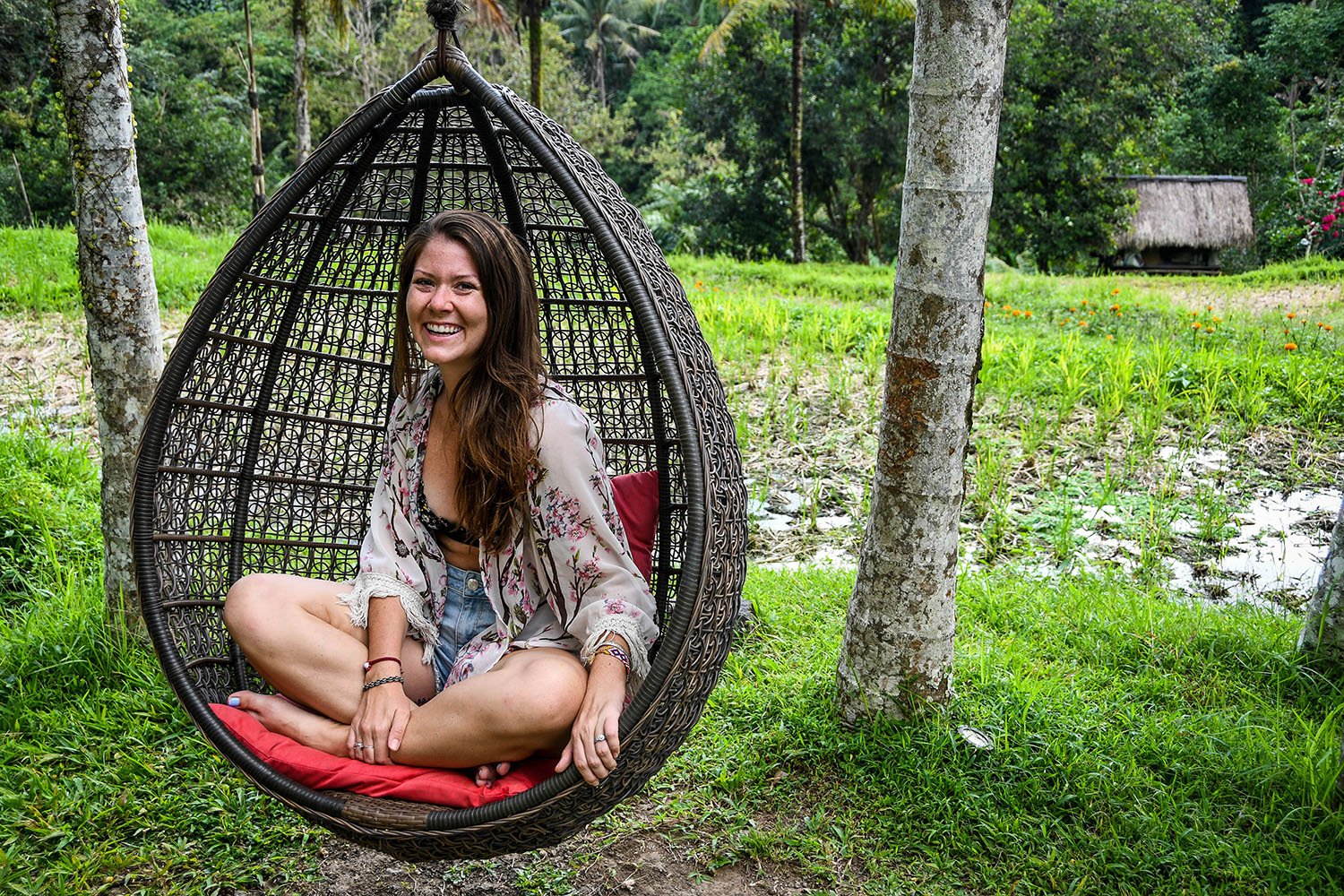 The hotel also offers shuttles that will bring you into the town center if you don't feel like walking.
In our opinion, the location is a perfect mix of seclusion and convenience.
And if you just want to relax and take in the gorgeous surroundings, the hotel has everything you need, so it would be easy to not leave at all.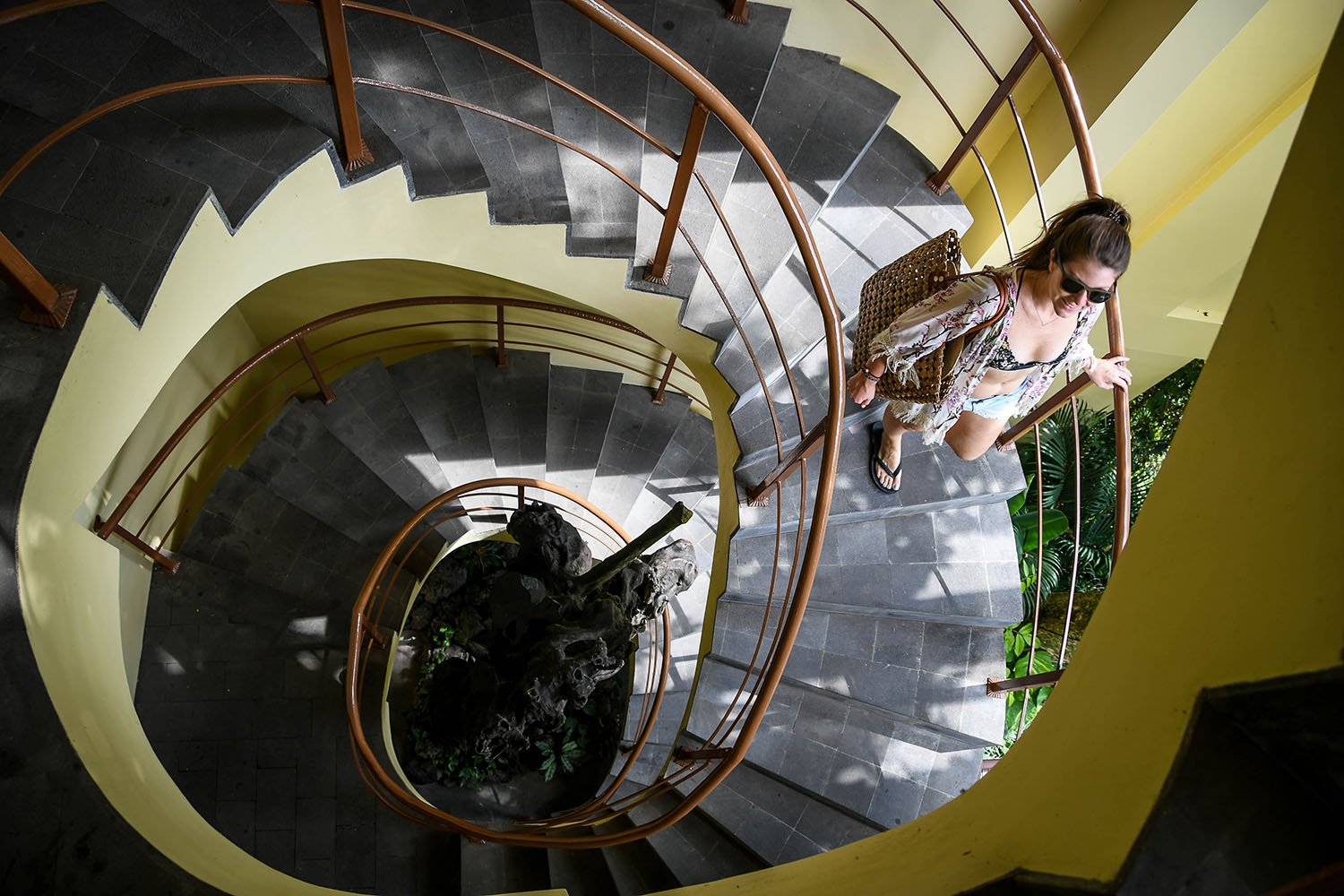 Take a leisurely stroll on the property's jogging path and wander past small waterfalls. Work up a sweat in the gym, or order a drink from the bar next to the pool. Treat yourself and your hunny to a luxurious spa treatment (with a view!), and enjoy a delicious dinner in the onsite restaurant.
The Rooms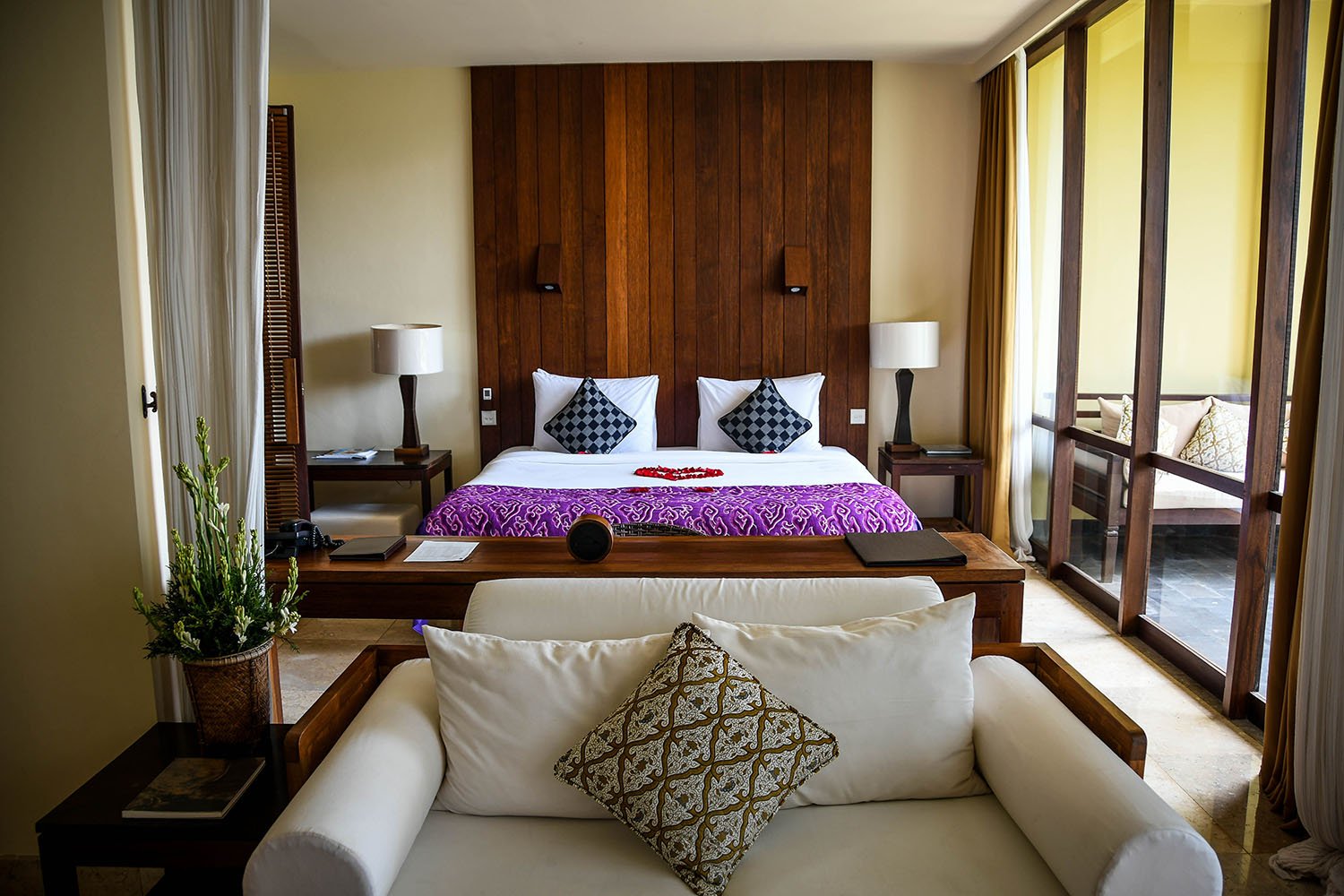 With a bubble bath, a spacious balcony overlooking rice terraces and a bed that was hard to part with, our room was a perfect place to spend a romantic anniversary.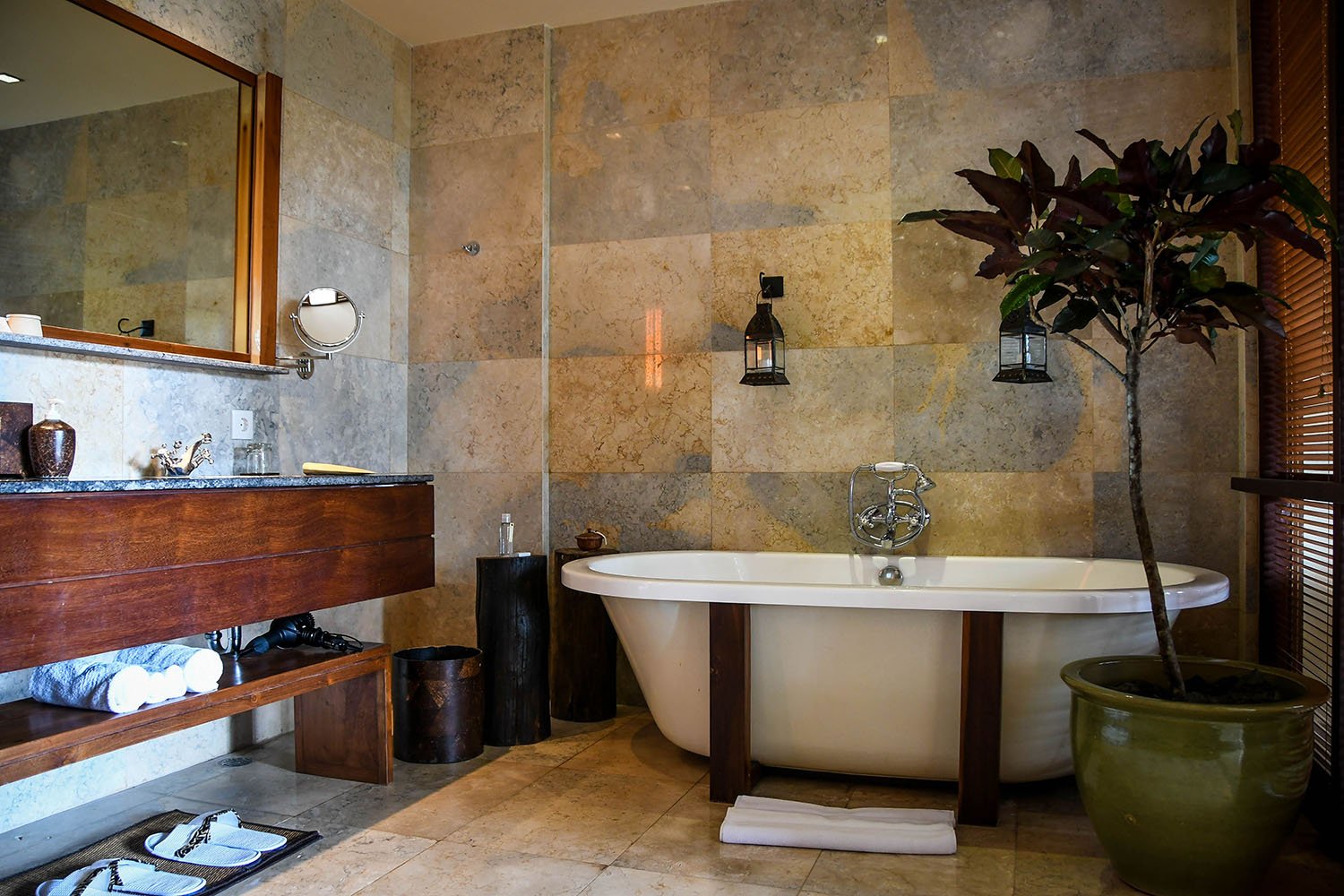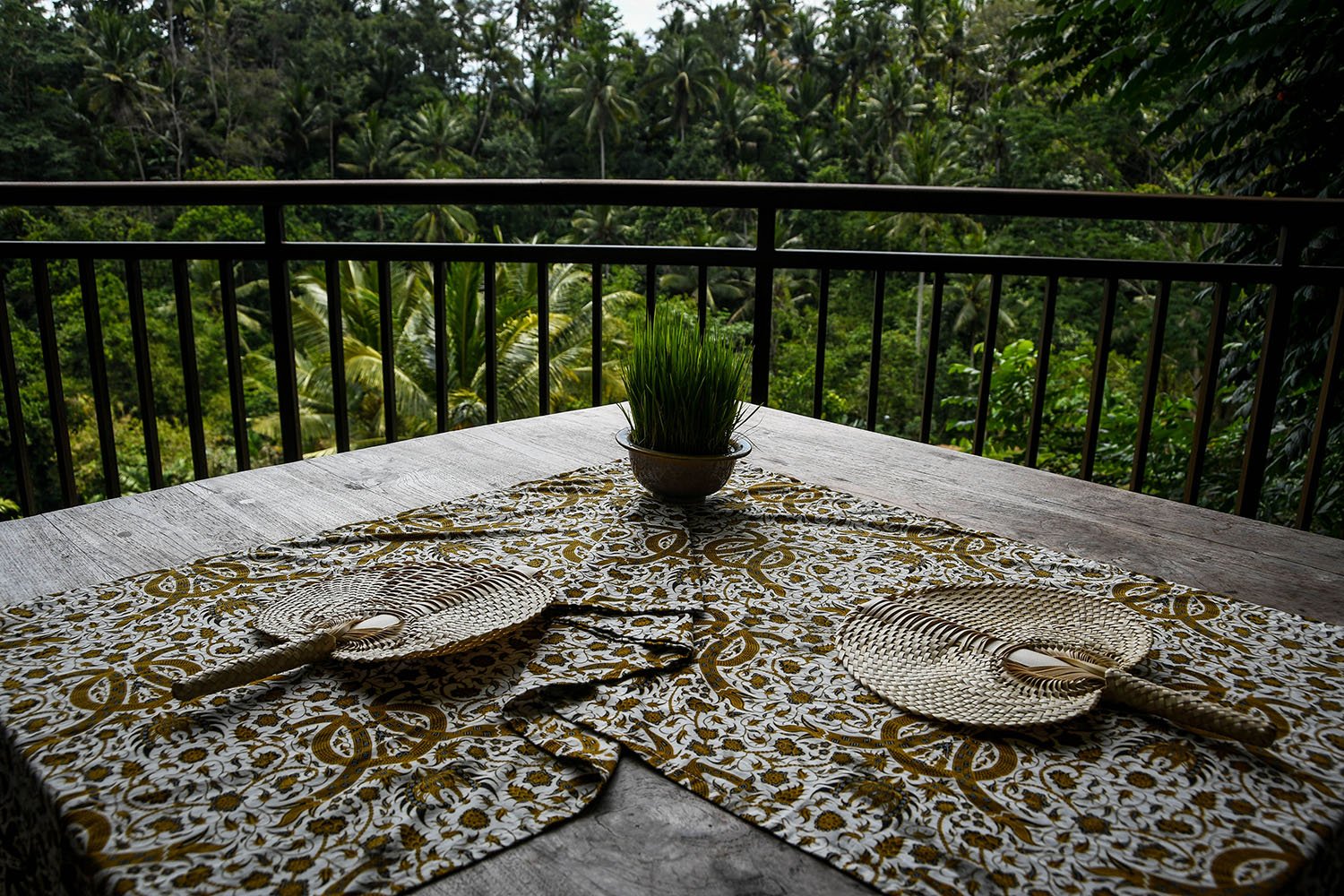 We loved that the room was plush and super comfortable, but also had a touch of Balinese culture in the details.
There is a luggage room, huge shower, his and her sinks and bathtub. In each room there is a mini bar with a small fridge as well. Oh, and we didn't use it, but each room has Apple TV, so you can enjoy a movie before bed!
The Service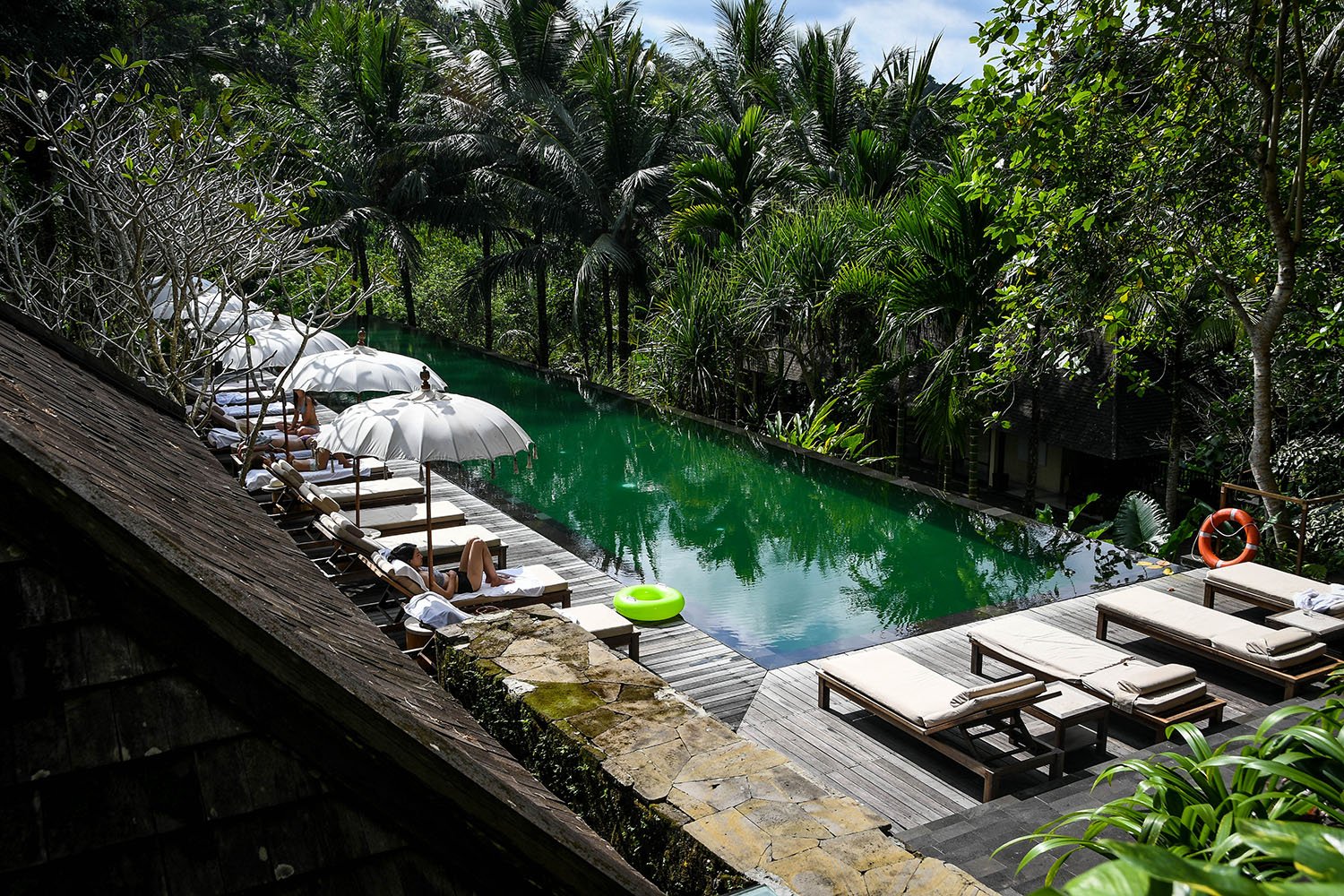 The service at Komaneka Bisma was impeccable. From the security guards to the servers, to the groundskeepers to the front desk staff, everyone who works at this resort is incredibly friendly and helpful.
From the moment we arrived, we felt at home. The security guard even said, "Welcome back home" when we got back from town.
The Food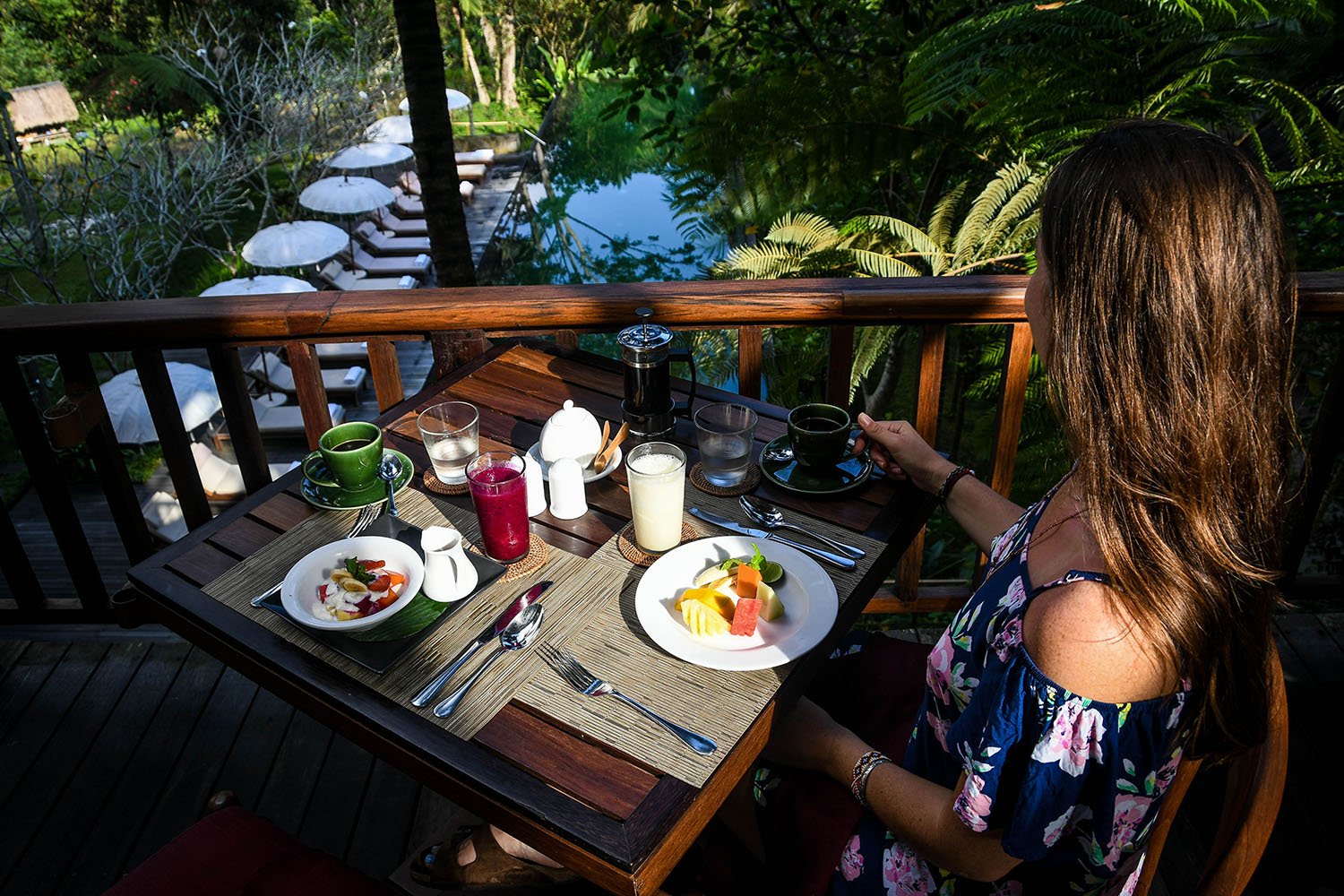 The onsite restaurant, Seneng, is named after the local farmers who tend to the rice field on the property.
The restaurant serves local specialties, with an upscale twist, as well as Western favorites.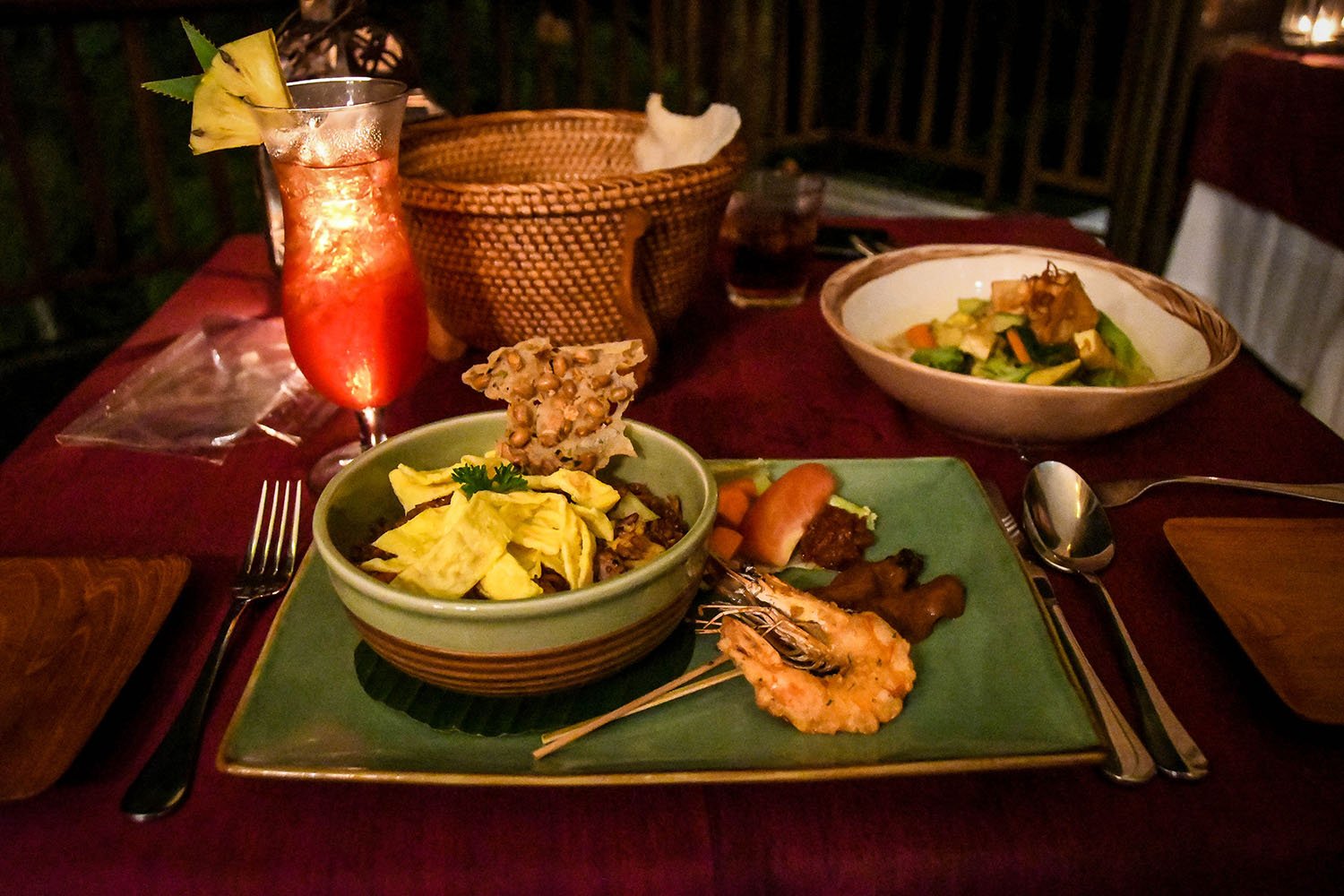 Breakfast is included in your stay, and let's just say, it is a feast. One morning, we ordered breakfast to our room, which we enjoyed from the privacy of our balcony. And basically pretended we were king and queen for the day.
And the next morning, we enjoyed our croissants, fruit platters, fresh squeezed juices, coffee and eggs, from a table in the restaurant overlooking the pool.
What we loved most
From the infinity pool to our luxurious room to the incredible service we received, there are many aspects that made our stay fantastic.
Here are some of the things that made our time there extra special.
Infinity Pool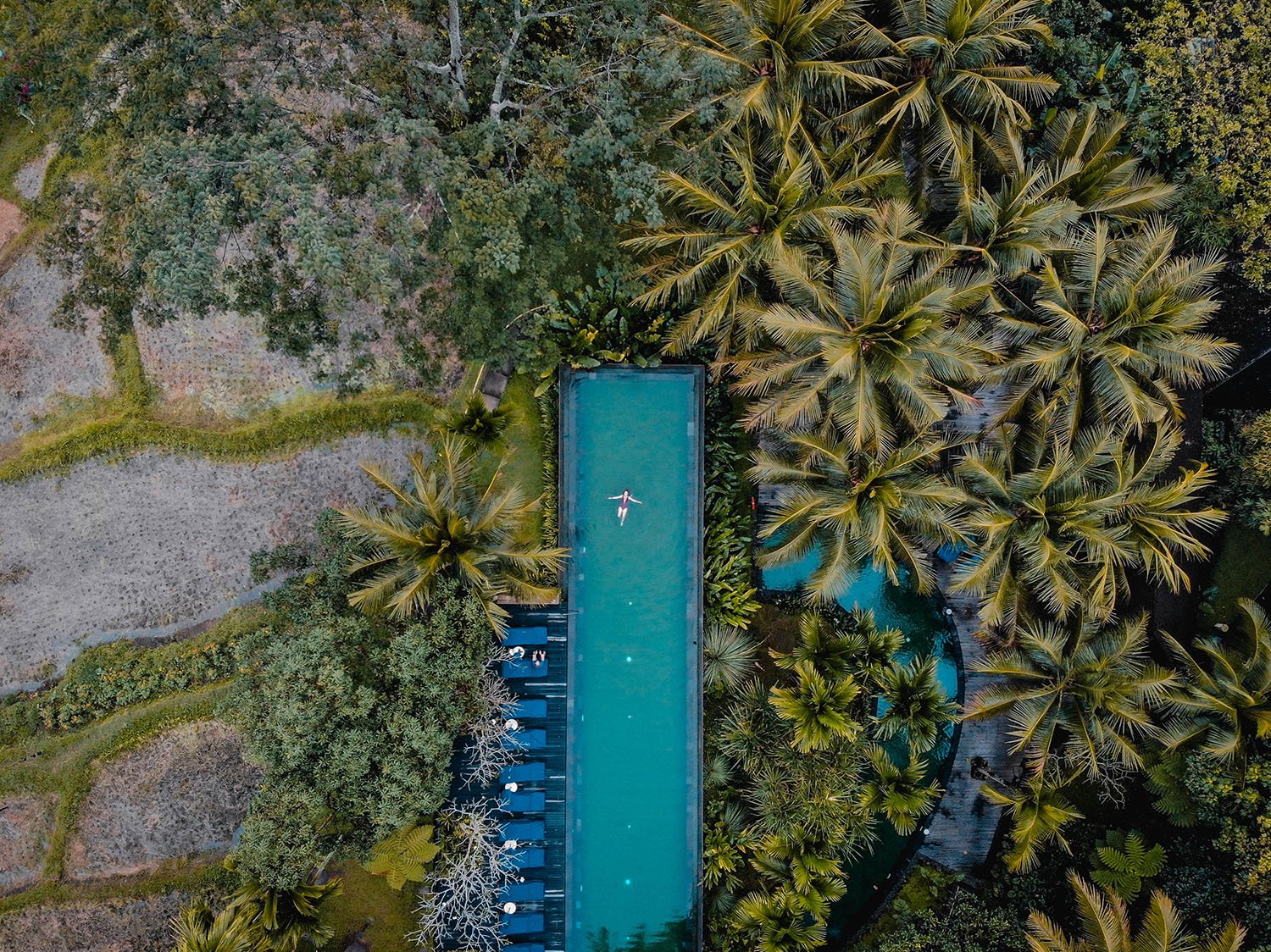 This is quite possibly the most beautiful pool we've ever had the pleasure of swimming in! It also made a great backdrop for taking photos with our drone.
And if you wanted a bit more shade, you could take the steps down to the second pool where palm trees tower over you making the lounging area a bit cooler.
Touches of Balinese Culture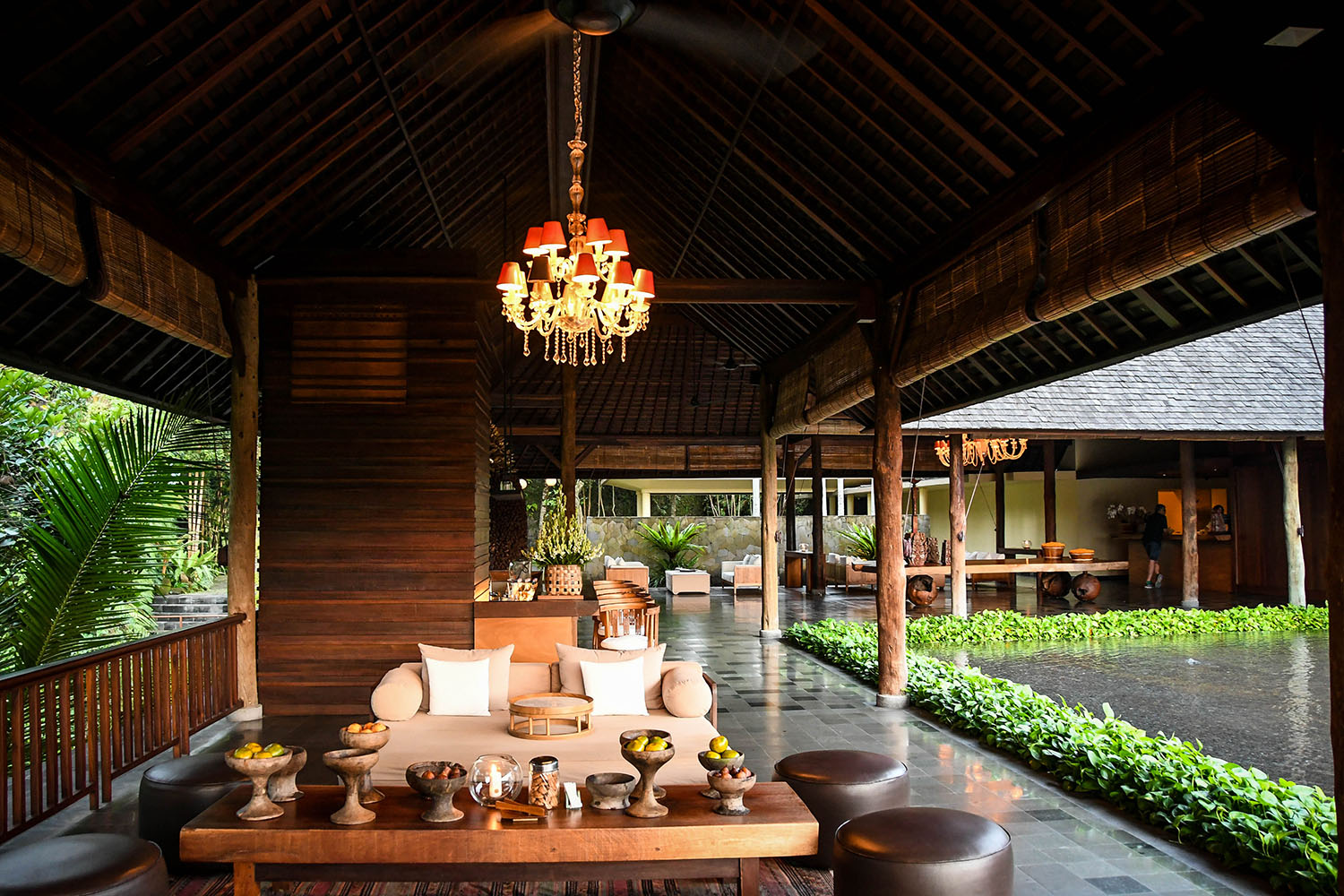 We really appreciate when local culture is integrated into a hotel's atmosphere. So we loved the fact that Komaneka at Bisma is decorated with traditional Balinese crafts and décor.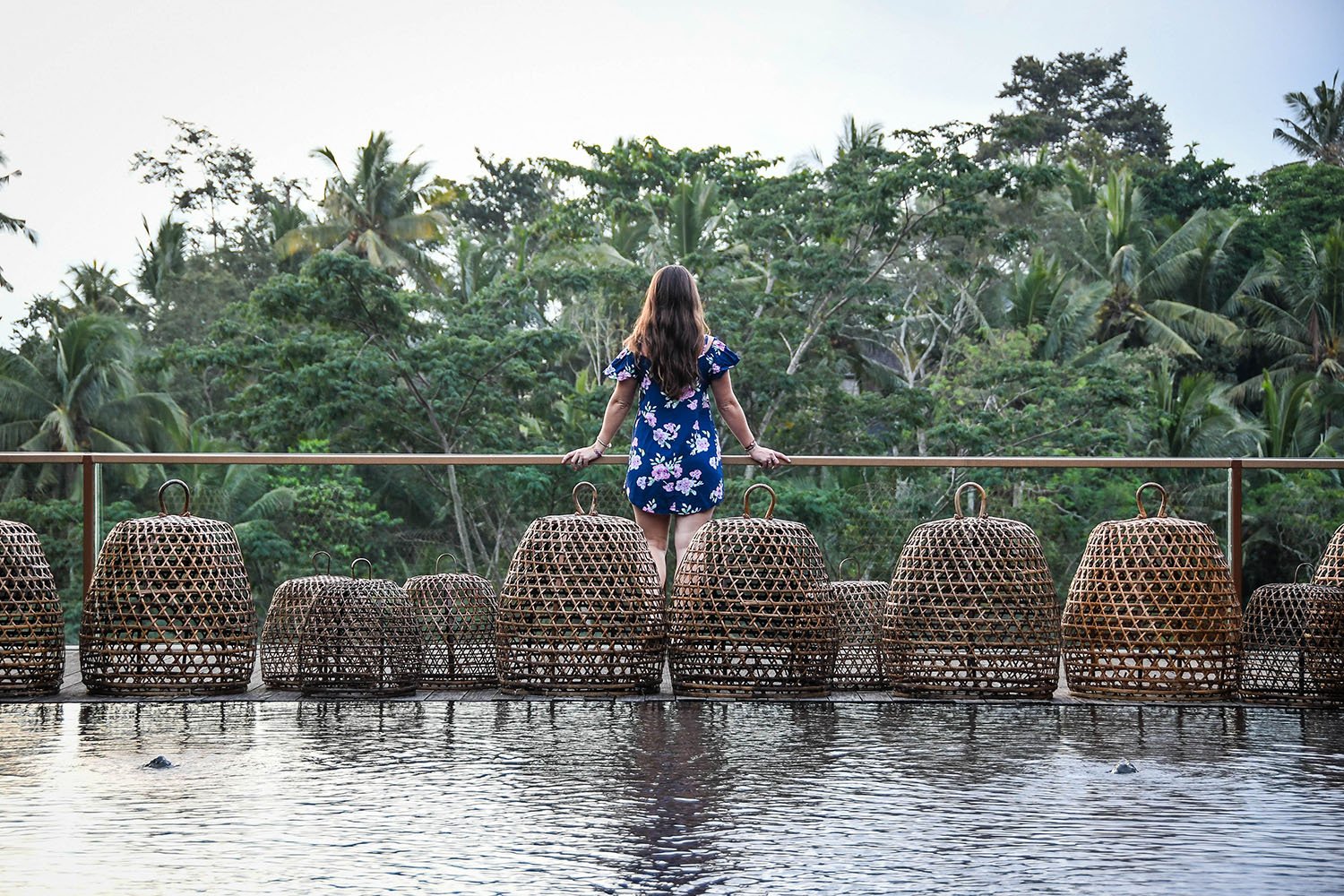 Each night, a local "bedtime story" was left on our bed, which was a nice touch. And each afternoon, teatime is served with Balinese snacks and cakes. Plus, there is a gift shop that sells locally-made handicrafts and in the evenings, musicians play traditional music in the lobby.
Walking path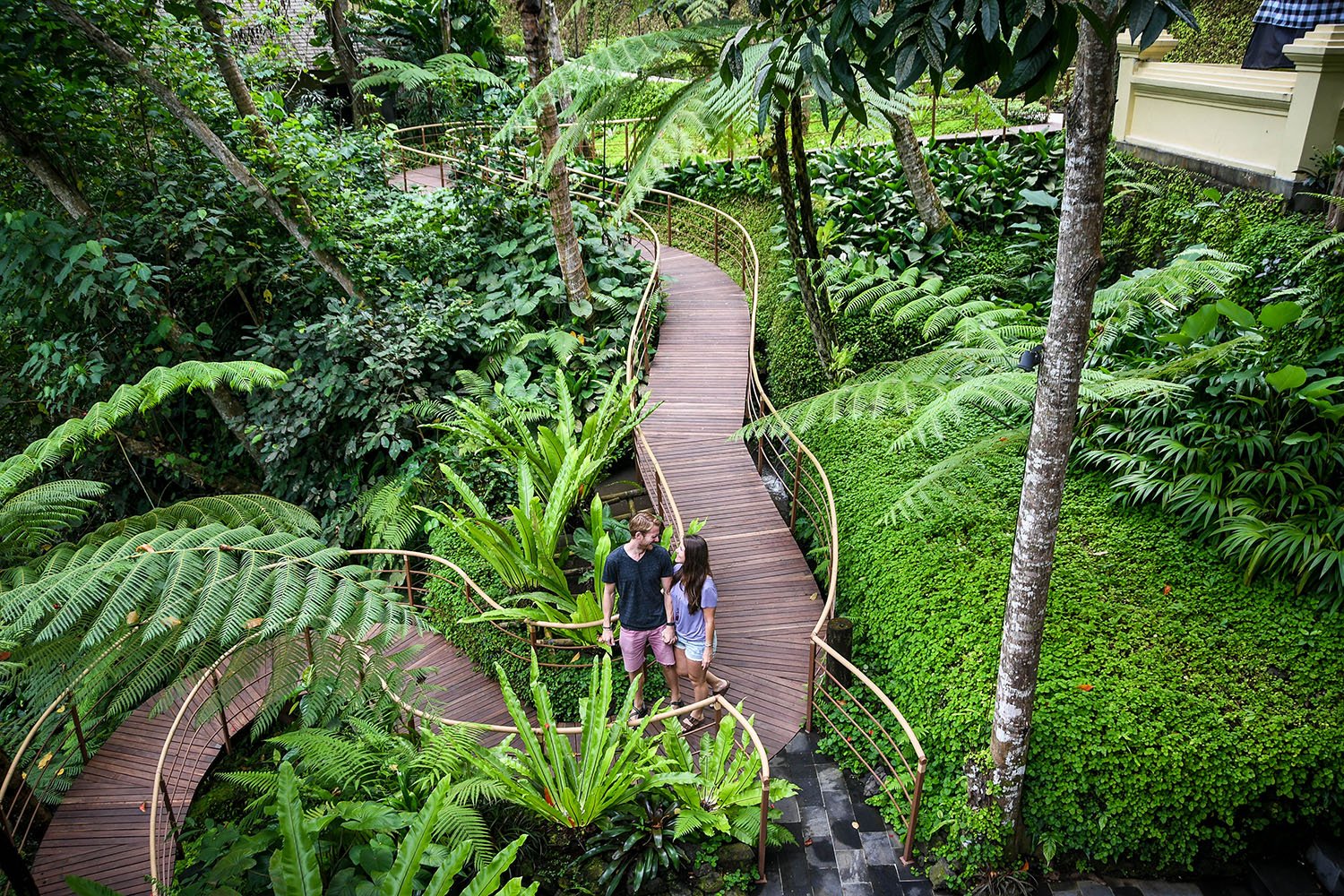 Wrapping around the property through a tropical forest and past a small river, the path was a really nice place to explore on our own.
Breakfast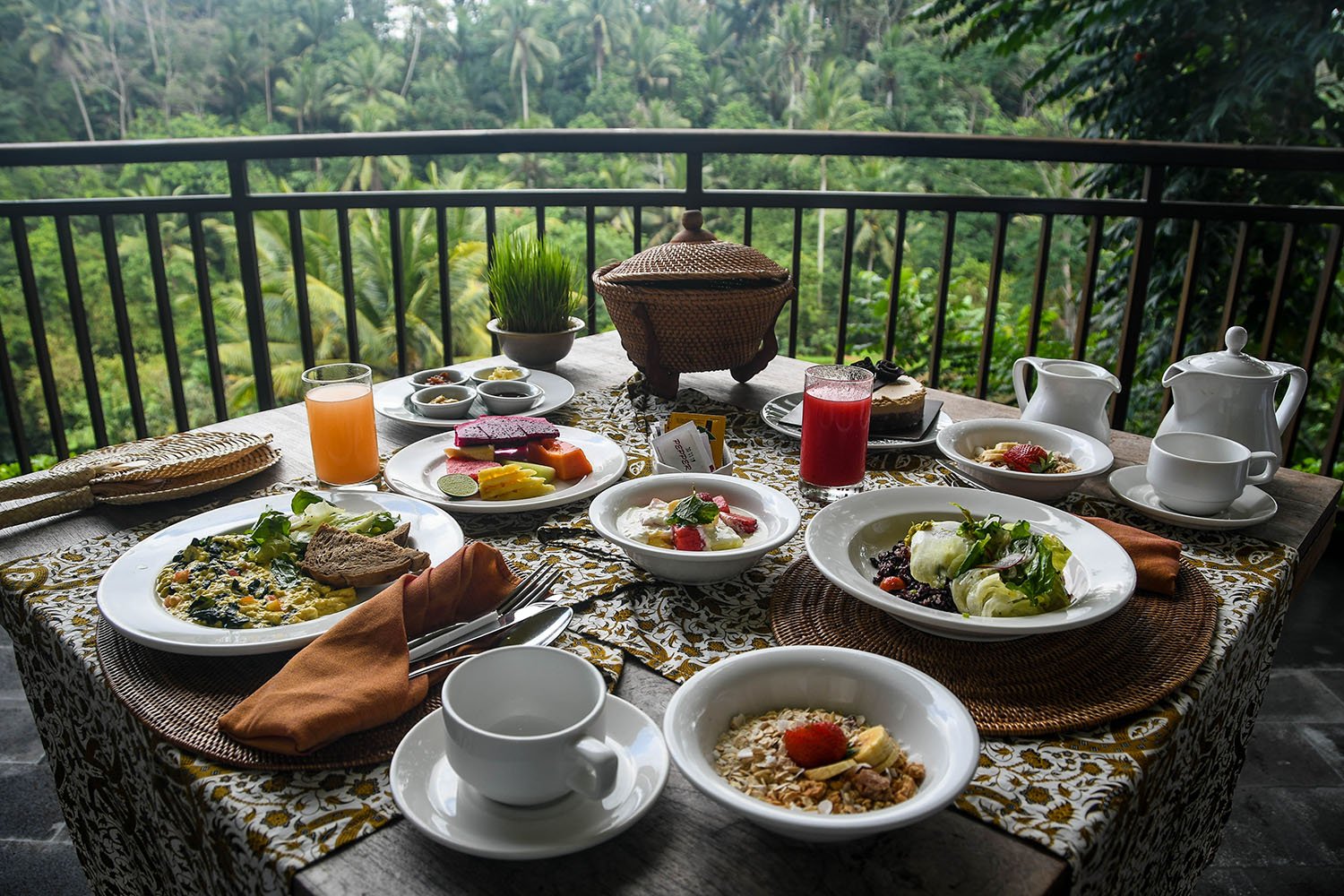 We truly felt like royalty as we enjoyed a 4-course breakfast on our own private balcony. I mean, how can you not love that?!
Room for improvement
Our stay was at Komaneka Bisma was fantastic, and it's difficult to think of many aspects we'd change about it. But we believe there's always room growth.
Reduce the amount of single-use plastic
We try our best to use less plastic, and are amazed by how many wonderful alternatives there are to single-use items like straws and water bottles.
We've been so impressed that many restaurants in Bali use bamboo, paper or reusable straws, and were a little disheartened to find that Komaneka Bisma serves their drinks with the plastic kind. We requested "no straw" a few times, and our request was happily granted. But it would be really nice to see them embrace the sustainable alternatives.
Make water more available
Additionally, the only drinking water in our room was glass bottles of mineral water. We try to stay hydrated, so we went through the water quite quickly and had to request more a couple times.
It would have been nice to see a jug of filtered water in the hotel lobby where we could refill our bottles instead of using glass bottles.
How to Book Komaneka at Bisma Resort
Have we convinced you to stay here yet? You're not going to regret it.
When booking hotels in Asia, we typically use Booking.com or Agoda.com for the best deals. Be sure to check both because sometimes one will run a special and it will be cheaper than the other. Check the prices for Komaneka at Bisma on Booking.com and Agoda.com.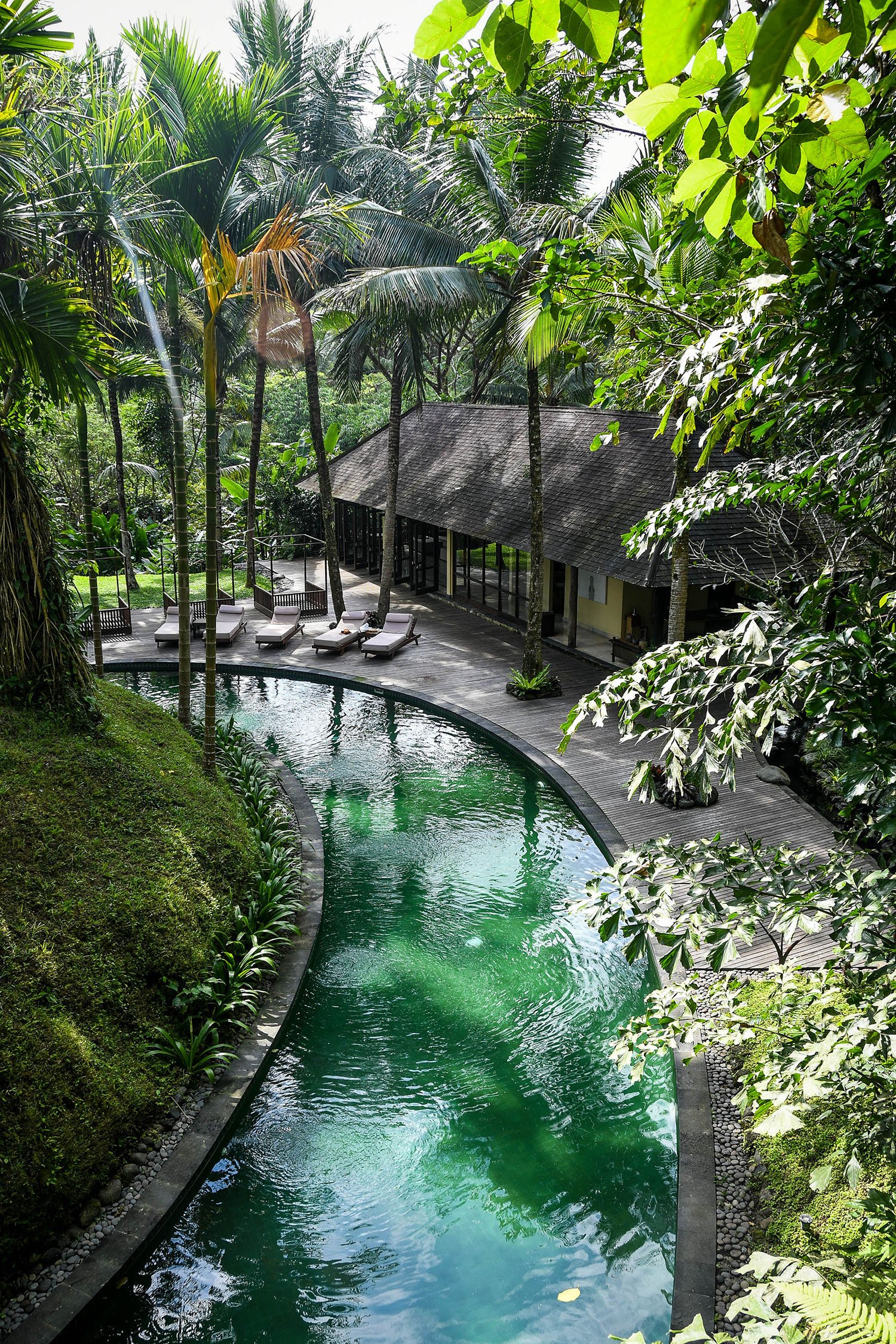 ---
Disclosure: We were invited as guests by Komaneka at Bisma Resort and we would like to thank them for their hospitality. And as always, all opinions are our own.
Are you planning a trip to Indonesia?
We have TONS of resources on travel in Indonesia and destinations throughout the country. Check out our Ultimate Indonesia Travel Guide for all the answers to your most burning questions, or read some of our favorite articles below.
We'd love to hear from you!
Planning a romantic trip to Ubud? Does the Komaneka Bisma hotel look like a place you'd want to celebrate a special occasion? We'd love to hear your thoughts or questions in the comments!