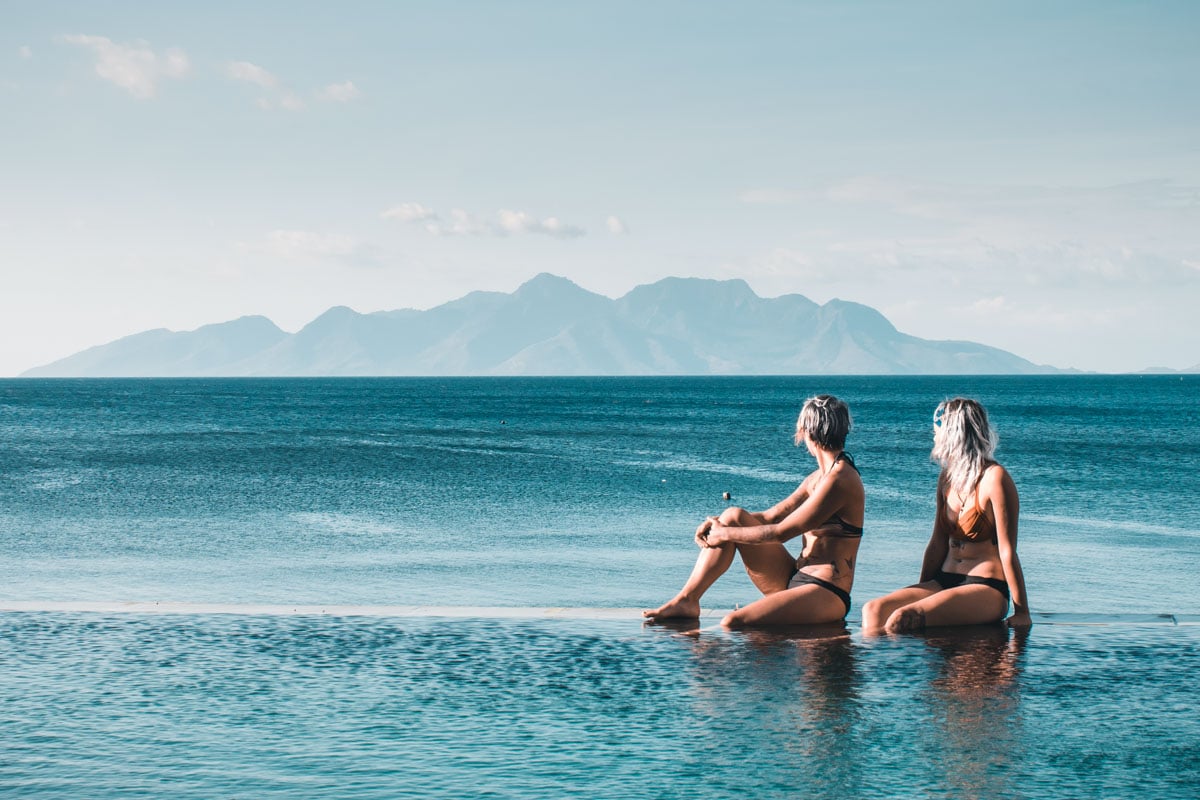 By Guest Author: Charlotte Hockin
Flores Island is a remarkable destination amidst the Indonesian archipelago. Located Far East of Bali & Lombok, many visitors disregard Flores in favor of its more popular neighbors. But it's a pity, as the island has a lot to offer. Boasting pink sand beaches, smoldering volcanoes, and Komodo Dragons, it is an island that screams adventure. And in this article, we will share all of the unique things to do in Flores, as well as our top tips for traveling across the island.
If you are looking to go off the beaten path in Indonesia, Flores Island is a great place to start.  While the Komodo National Park continues to attract visitors each year, not many venture further into the island. And the further east in Flores you travel, the fewer 'bules', aka 'tourists', you tend to see.  
For us, this was amazing. The island felt like our playground. Like we were discovering things for the very first time – not just walking in the footsteps of those we follow on Instagram. Even the locals were genuinely excited to see us. And I lost count of how many selfies and family photos we were the center point of during that trip.
In summary, if you are looking for a real adventure with a ton of unique things to do, Flores is an essential addition to your Indonesia Itinerary.  
---
How to Get to Flores
By Air: The easiest and quickest way to get to Flores in Indonesia is to fly. Daily flights operate out of Ngurah Rai Airport in Bali and fly directly to Labuan Bajo (Far West) or Maumere (Far East).  
By Live'A'Board Boat: It is also possible to reach Flores by taking a 4 Day Live' A'Board boat from Lombok. This boat departs daily and involves island-hopping your way to Flores – how adventurous!
---
Unique Things to Do in Flores
For a relatively untouched and tourist-free island, Flores, Indonesia, has plenty of unique and interesting things to discover keep you occupied during your stay. Here are a few of my top recommendations.
1.  Encounter Komodo Dragons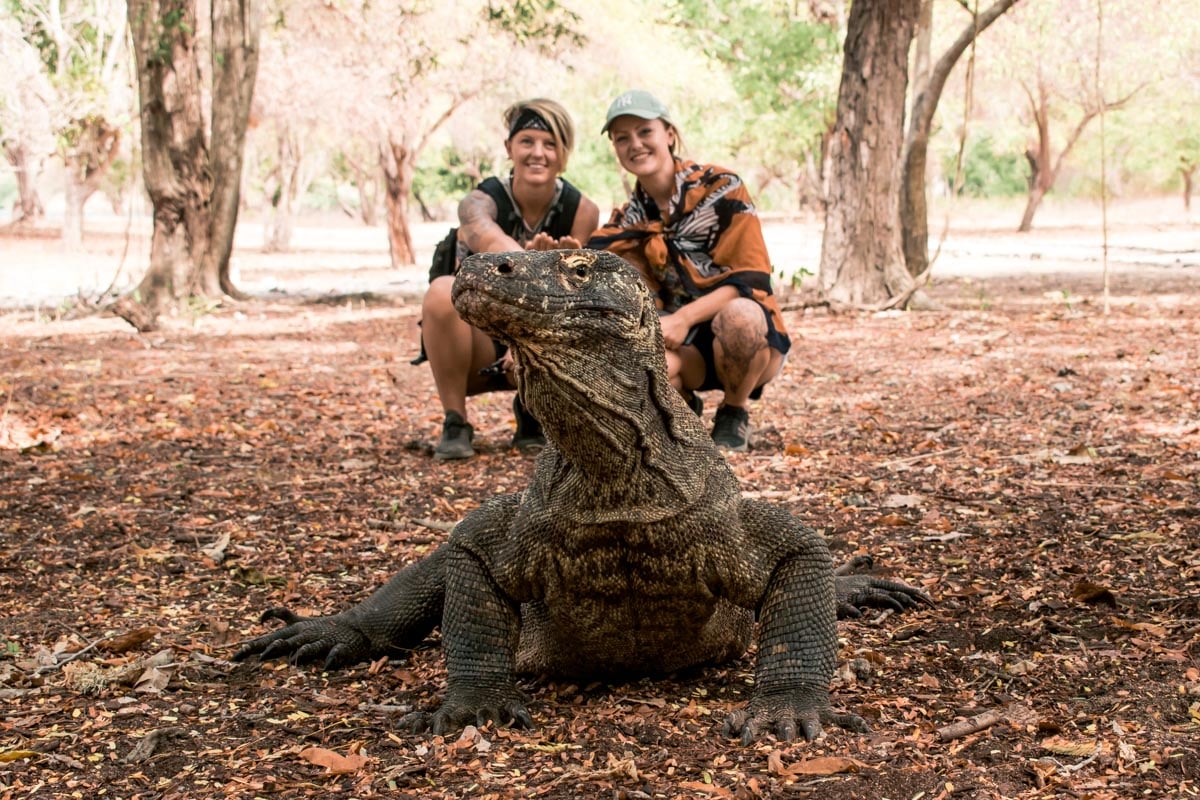 We are going to kick off the list with what is probably the most touristy thing to do in Flores; however, that doesn't make it any less unique. In fact, Flores is the only place on earth where you can encounter the Komodo Dragons in the wild.  
For those who don't know, Komodo Dragons are the largest living species of lizard in the world.  They are often referred to as the modern-day dinosaur, and who can disagree? With some reaching up to 10 ft in length and weighing over 330 lbs, they are a force to be reckoned with.  Not to mention their venomous saliva that is deadly to both their prey and humans!
Despite the dragon's carnivorous nature, tourists flock to the Komodo National Park at a chance of spotting them. Of course, if you want to go searching for a Komodo Dragon, you need to do so accompanied by a heavily trained guide. These tours take place on either Komodo Island or Rinca Island and are accessible via a Komodo National Park Tour.  
Looking for other off the beaten path destinations in Indonesia? Check out Amed, Bali, the little gem on Bali's east coast with some of the coolest diving and snorkeling sites, that is still mostly untouched by tourism.
2.  Visit the Tri-Color Lakes of Mount Kelimutu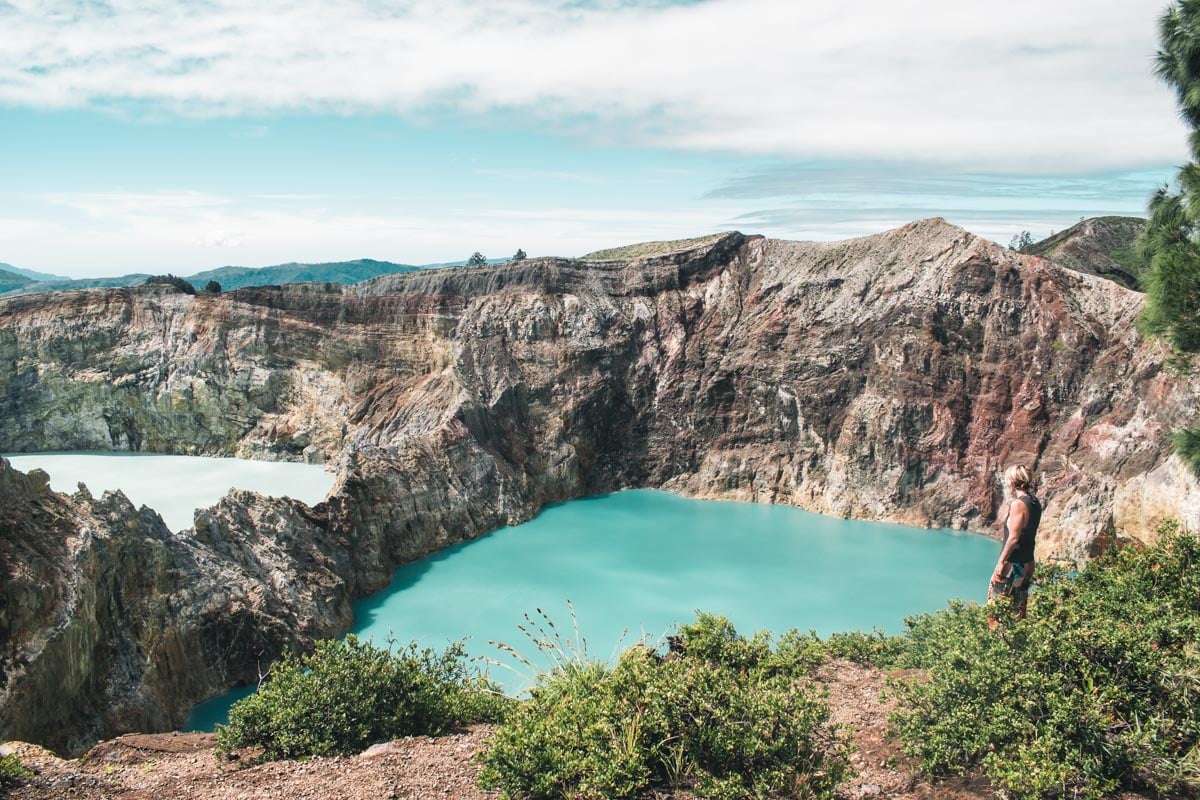 It seems you're never too far away from a volcano in Indonesia, and Flores is certainly no different. But, while a belt of 17 volcanoes adorns the Flores landscapes, it's the mystical Mount Kelimutu that is arguably the most fascinating. 
What makes Kelimutu unique, other than being a badass volcano, of course, are the tri-color lakes at the summit. Due to oxidation rates in the sulfur, the volcanic lakes periodically change color, shifting from blue or green to red or black. It's somewhat of a natural phenomena. And for added mystery, locals consider the volcano a resting place for departed souls.  
To visit Mount Kelimutu, you can stay in the nearby village of Moni. From there, you can rent a scooter or hire a driver to take you to the Kelimutu National Park. It's just a short walk from the entrance of the park to the lakes; however, if you're up for a challenge, it is also possible to hike from Moni Village. You can enquire at the tourism center in Moni for more information.  
3.   Hike to the Viewpoint on Padar Island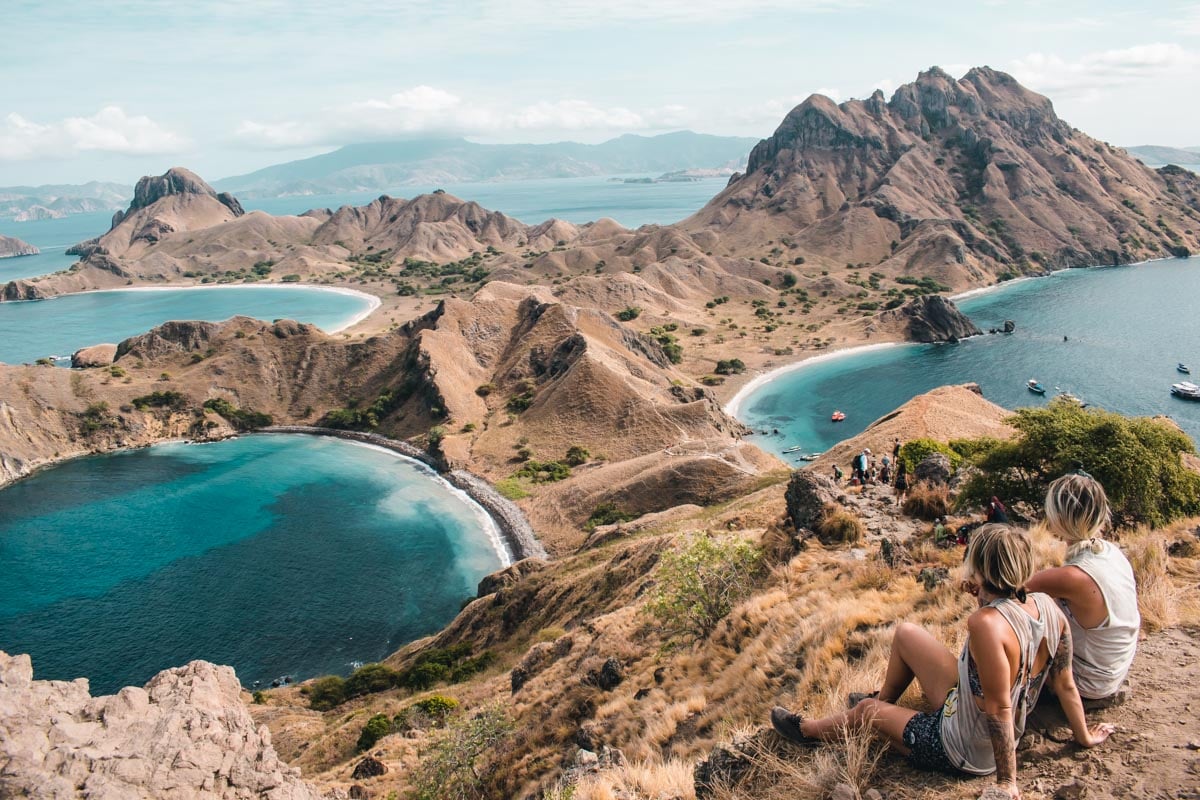 The viewpoint on Padar Island has become one of the most iconic and sought after views in all of Southeast Asia. But it isn't without good reason. From the rugged savannah hills that dominate the island, to the tri-colored beaches that nestle the azure waters;  the view is nothing short of remarkable.
Tri-colored beaches I hear you say? Yes, tri-colored. Each of Padars beaches boasts a different color of sand – one is white, one is black, and the other is pink. 
Located within the Komodo National Park, Padar Island is accessible via a tour. To reach the viewpoint is a relatively easy trek, but you should try to get there as early as possible to avoid the crowds.
4.  Visit a Traditional Ngada Village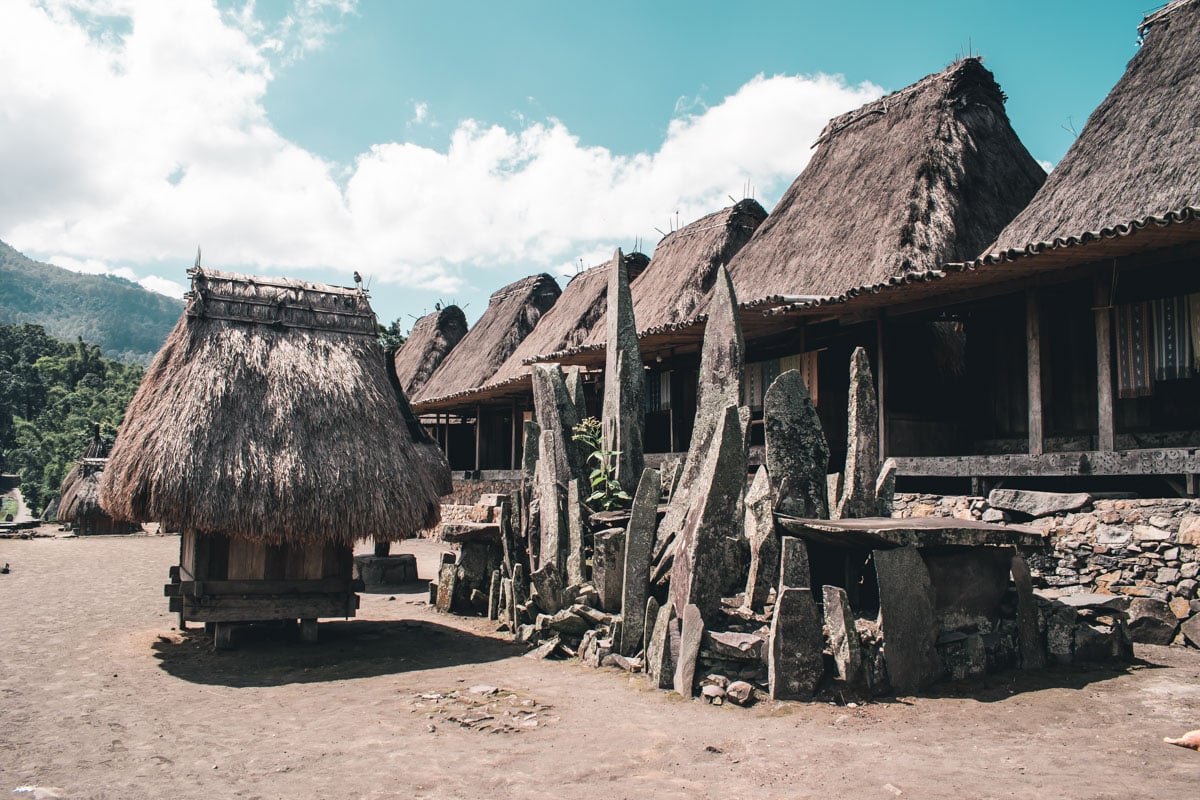 To experience a taste for traditional Floresian culture, Bajawa is an essential addition to your Flores Itinerary.  Here you can visit the various Ngada villages that scatter the surrounding countryside.
Learning about the beliefs and traditions of the Ngada culture is one of the most interesting things to do in Flores. Their religious practices, such as animal sacrifice, and using megalithic formations to contact deceased family members, are bizarre yet compelling.  
It's worth pointing out that we often feel uncomfortable taking part in this kind of activity; however, it didn't feel touristy or imposing at all. The tourists who were there acted respectfully, and we all bought a little something to help support the community. We encourage you to do the same should you choose to go to Bajawa.
5.  Go Island Hopping in the 17 Islands National Park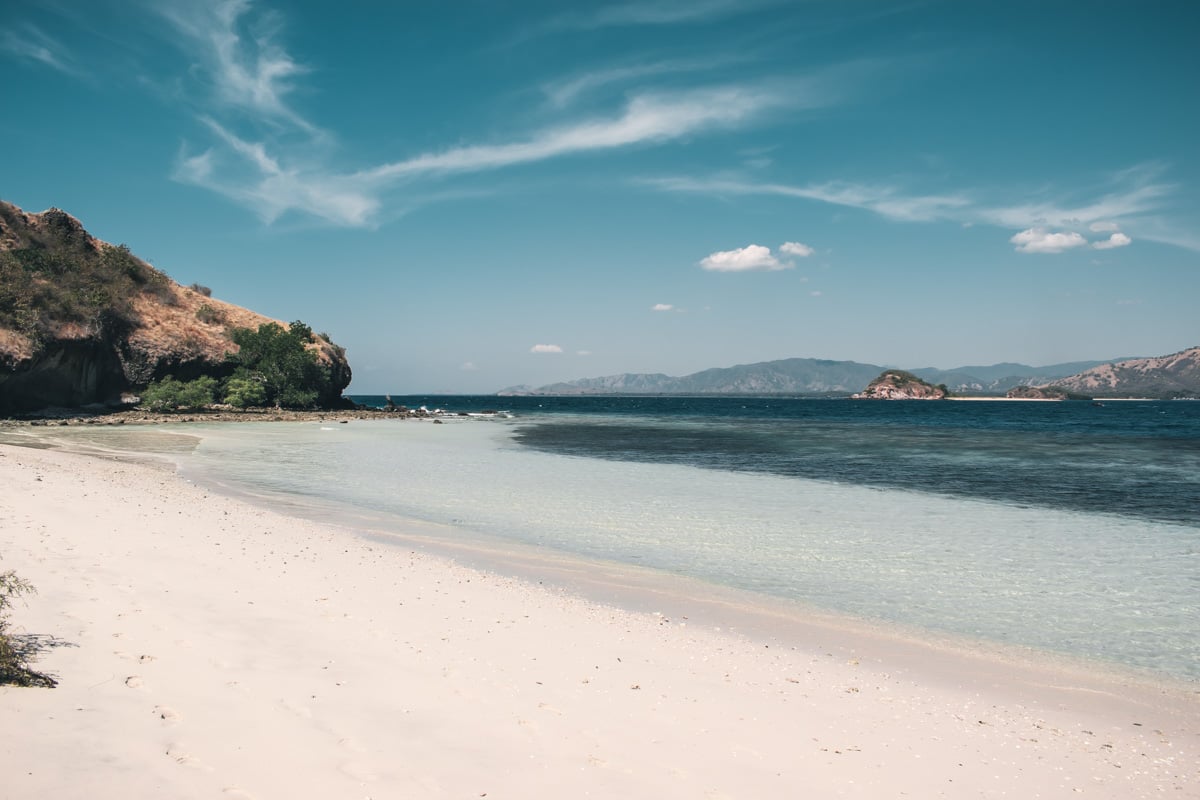 Island hopping the 17 Islands is one of the most epic things to do in Flores. Despite the name, the recognized national park is an archipelago of 20 islands. All of which are uninhabited, remote, and pristine. In short, it's paradise.
To get to the 17 Islands is a little tricky. As a result, most visitors erroneously miss it off their itinerary. They clearly haven't heard the saying that 'difficult roads, lead to the most beautiful destinations.'  Because in this case, it couldn't be more relevant.
If you want to visit the 17 Islands, you'll need to make your way to Riung, far North of Bajawa.  From here you can book a boat and live off the grid for as long as you please – Hmmm, how does forever sound? 
Related Reading: If you find yourself island hopping around Indonesia, be sure to check out these 30 amazing things to do in Bali that cannot be missed!
6.  Visit a Pink Beach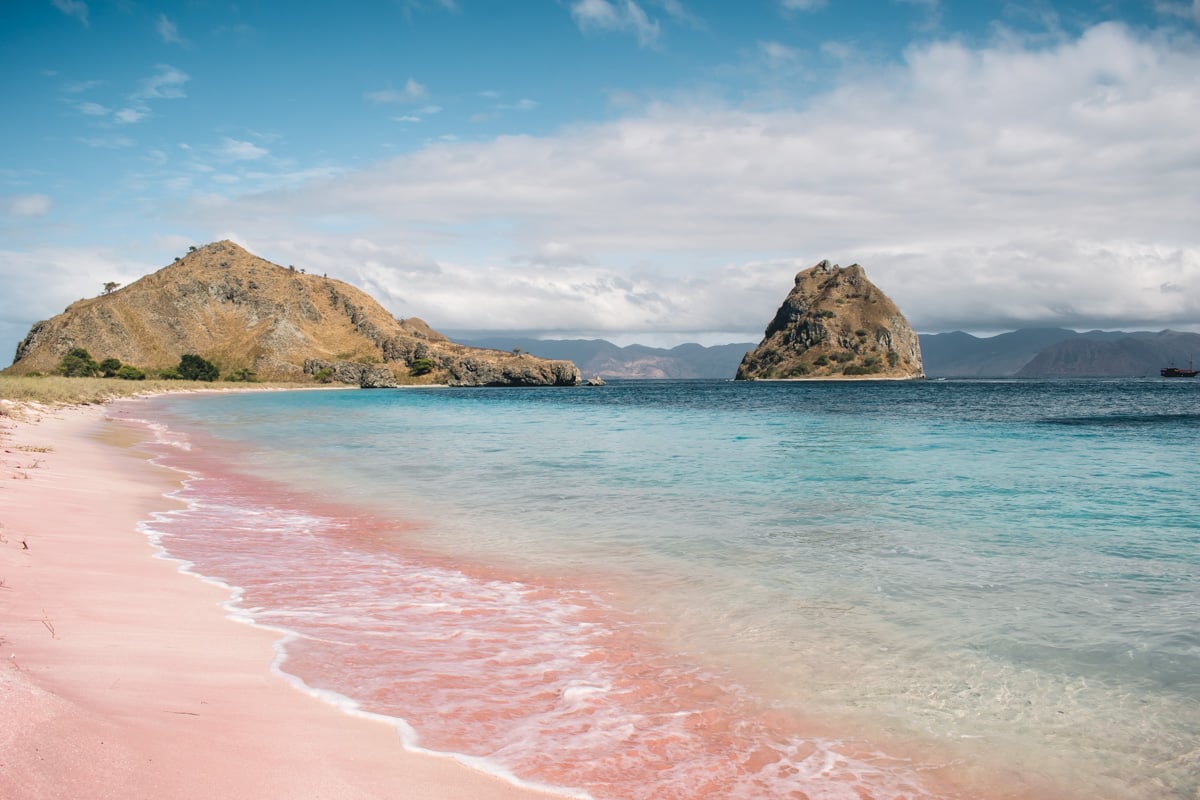 So we return once again to the Komodo National Park, because quite honestly, how could we not? Komodo Dragons, breathtaking viewpoints, and now, candy pink beaches. With only a handful of pink sand beaches on the planet (reportedly), it doesn't get much more unique than this.  
Why is Pink Beach pink you ask? Well, the beaches are said to get their hue from microscopic animals called Foraminifer. These tiny little creatures have pink shells and live in coral reefs surrounding the beach. In simple terms, pink sand is a mix of shells, coral, and calcium carbonate.
Are sweet dreams made of this? I think so…
7.  Stay with a Local Family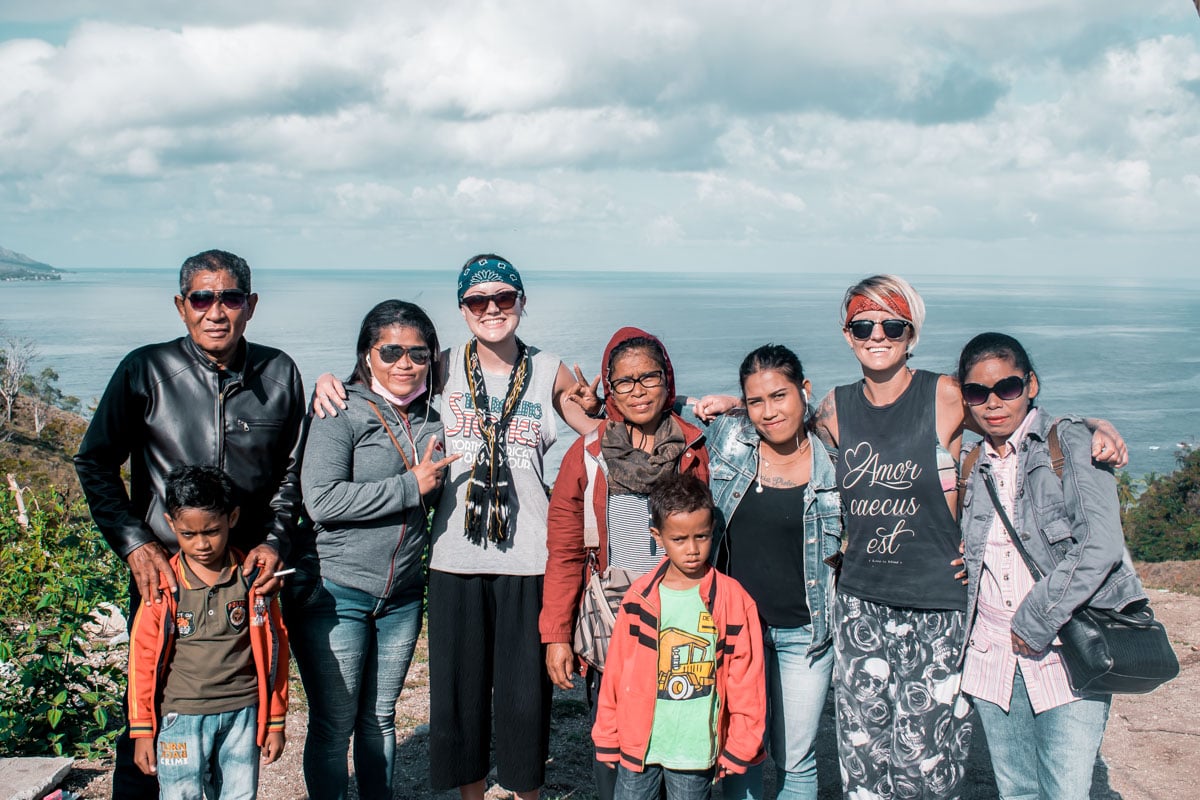 We find the best way to immerse in the culture of a new place, is to spend time with the local people. Thankfully, the locals in Flores were some of the most pleasant we have come across on our travels.  And wherever we went, we felt welcomed with warm smiles and generous hospitality.  
As luck would have it, we got particularly friendly with one family and even spent some time staying in their family home. It was an incredible experience and one that left us truly humbled.  Even if it means choosing a homestay over a hotel, we recommend taking some time to appreciate the local way of living.
8.  Discover the Hobbit Cave
In 2003, an extraordinary discovery was made in Flores, that was to change the history of human development forever. Is it just me or did that sound like the opening credits of some cheesy documentary? Anyway, back to the discovery…
The shocking discovery unearthed the skeletal remains of a small humanoid inside the cave.  And as a result, a whole new breed of humanoid was born – the Homo Floresiensis. The skeletons average a height of just 3.2 ft, and while there are many theories, nobody really knows quite how they came to be.
Today the 18,000-year-old skeleton remains are displayed in a small museum inside the cave.  It may be one of the more bizarre things to do in Flores, but it's definitely worth checking out all the same.
9.   Scuba Dive or Snorkel in the Komodo National Park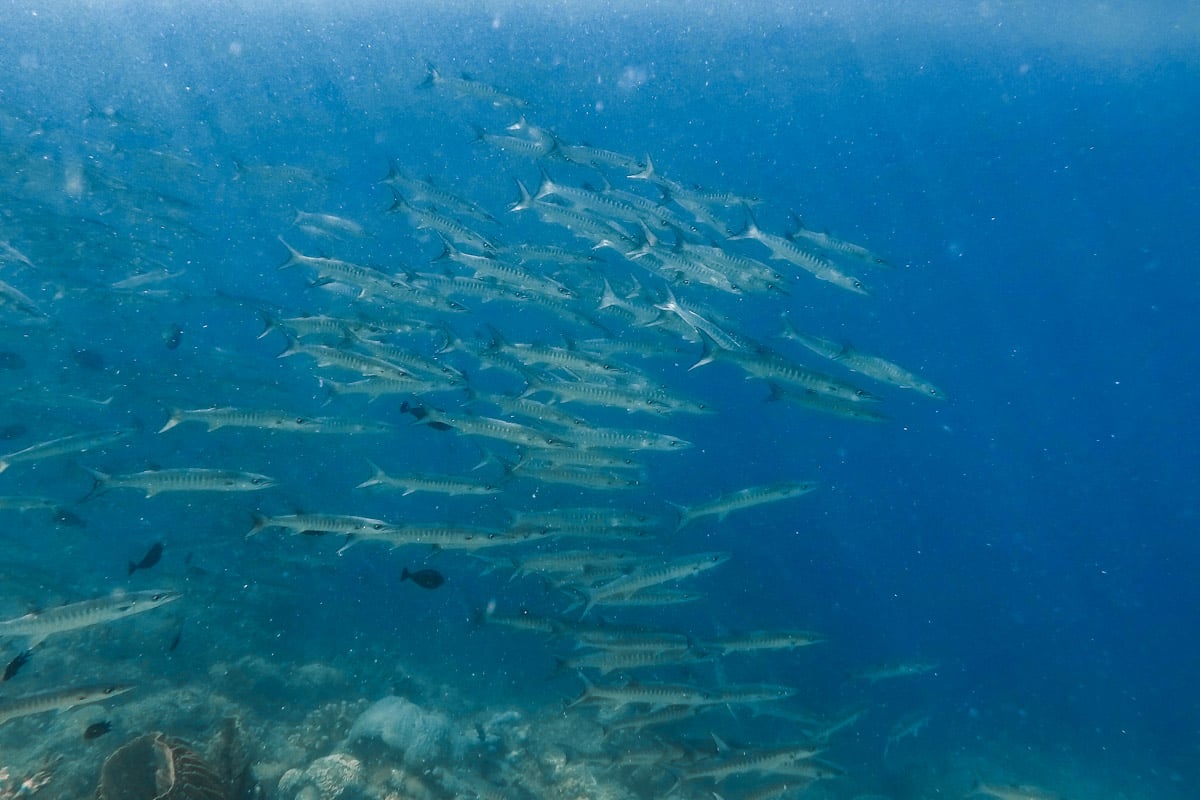 The Komodo National Park is famed for having some of the best dive sites in Indonesia.  Teeming with unique marine life and flourishing coral reef, you can expect to see reef sharks, dolphins, turtles… the list goes on. 
That said, you don't have to be an experienced diver to enjoy the parks thriving underwater world. We only snorkeled during our tour of the national park and were thrilled to encounter sea turtles, manta rays, a school of barracuda, and more.  
Tip: If you are a keen diver, you may want to consider a Komodo Live'A'Board Scuba diving trip. This way, you get to explore the land, the waters, and stay onboard a boat.  Pretty cool right?
10.   Visit Koka Beach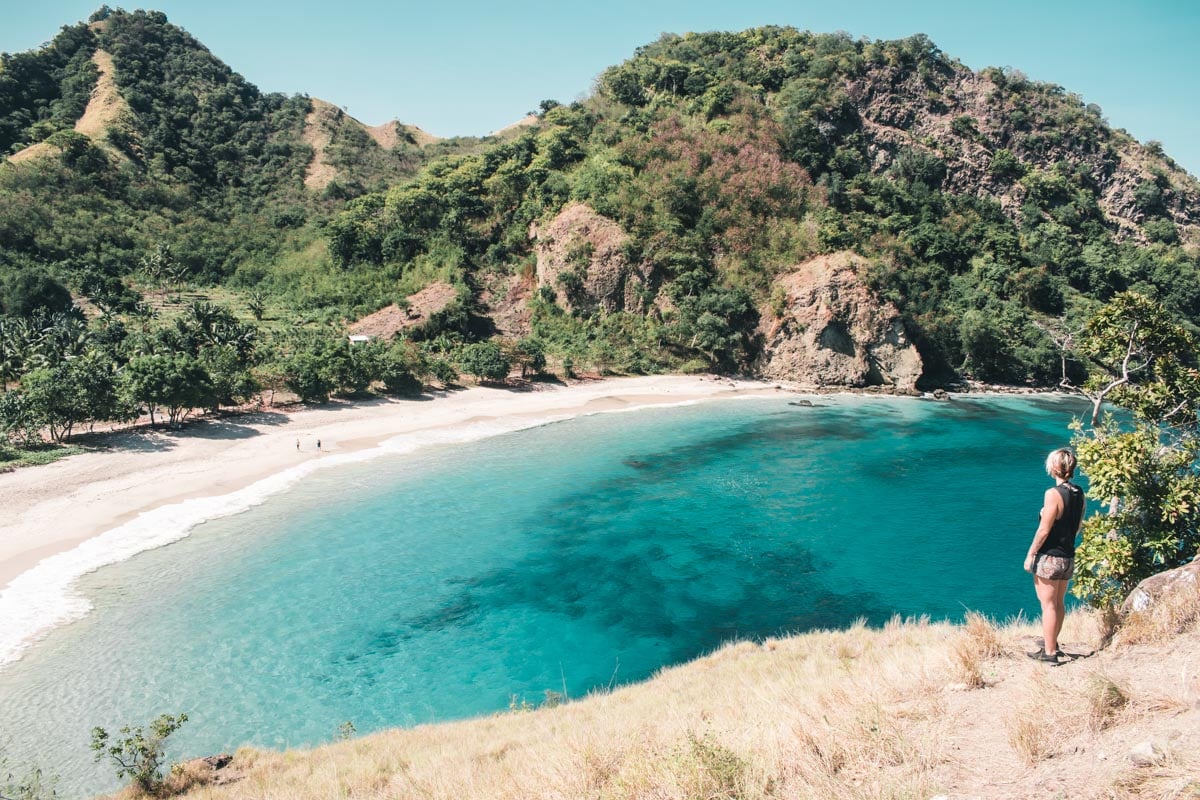 We were all about discovering the undiscovered on our trip to Flores. And Koka Beach was one of our favorite discoveries. The thing about this beach is that it isn't located near any big town or village. We just found it on a map one day, and without any real idea even what it looked like, rented a scooter, and drove 1.5 hours to find it. 
Thankfully, our gamble paid off, and it turned out to be one of the most beautiful beaches we'd seen in Indonesia. What's more, other than a handful of locals, we had it completely to ourselves. We swam in the azure waters, laid on the powdery sand, and discovered breathtaking viewpoints. If you find yourself in Moni or Maumere, we recommend making the journey to experience it for yourself. 
11.  Climb Mount Inierie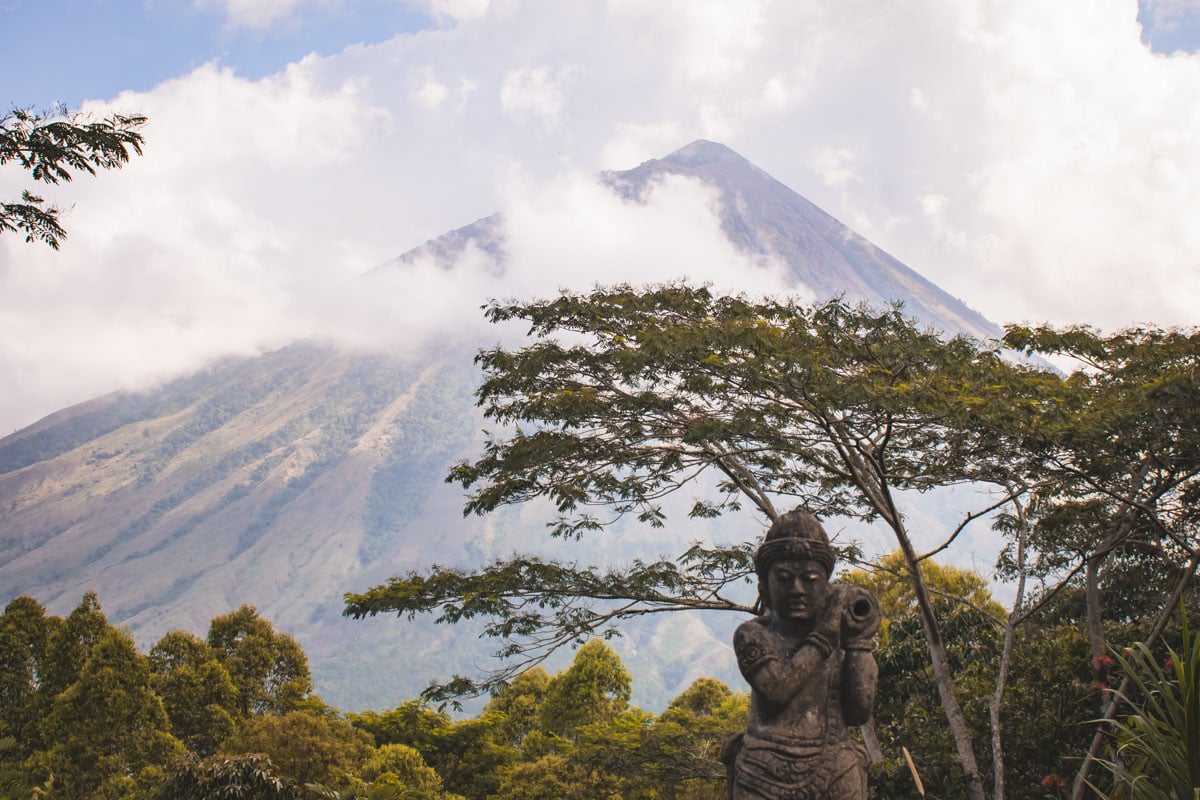 If you visit Bajawa during your travels in Flores, it will be impossible to miss the towering peak of Mount Inierie dominating the landscapes. While we enjoyed admiring Mother Nature from afar, intrepid travelers may be interested to know that you can climb to the peak.  
While we can't speak from personal experience, there are reports that the Mount Inierie hike is not for the faint-hearted. And although not a requirement, it is advised not to attempt it without a guide.
---
Getting Around in Flores
Getting around in Flores will be the most challenging part of your trip. While the distances from place to place aren't particularly far, the roads are in terrible condition. And it can take an insane amount of time to travel even the shortest of distances. It's something to consider when planning your trip, as you will need to factor in travel time to your itinerary.
In regards to transport within Flores, you are limited with your options. There isn't much tourist infrastructure in place yet, so you can take the local bus or hire a car & driver. The latter is, of course, the more expensive option; however, if you can find people to share with, it can work out to be cost-effective.  
The local buses are, how can I put this, an experience in themselves. Don't be surprised to find people overflowing onto the roof, or to be sharing your seat with cages of chickens. The key is to get the earliest bus you can, so it's not you who ends up on the roof. To check the bus timetables, you can pop into the local tourist centers in each town.
It's worth noting that some of the bigger towns, such as Bajawa and Labuan Bajo, do have airports. If you don't plan on covering the island extensively, this could also be an option.  
---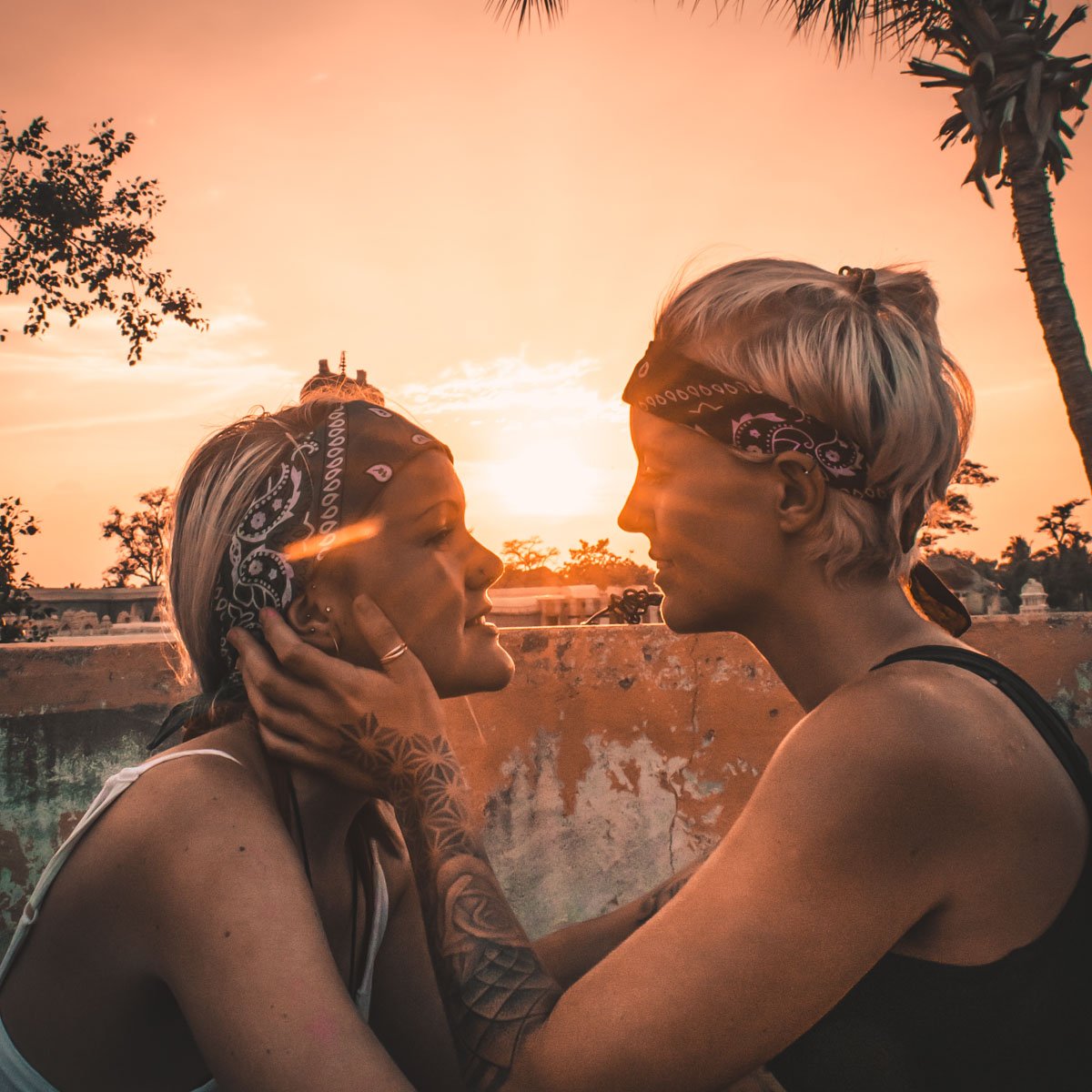 Charlotte and Natalie are the explorers and adventurers behind the blog Our Taste for Life. You will often find them wandering off the beaten path, immersed in nature, or enjoying authentic cultural experiences. The rest of the time, you will find them eating.
---
Are you planning a trip to Indonesia?
We have TONS of resources on travel in Indonesia and destinations throughout the country. Check out our Ultimate Indonesia Travel Guide for all the answers to your most burning questions, or read some of our favorite articles below.
Save this article on Pinterest for later!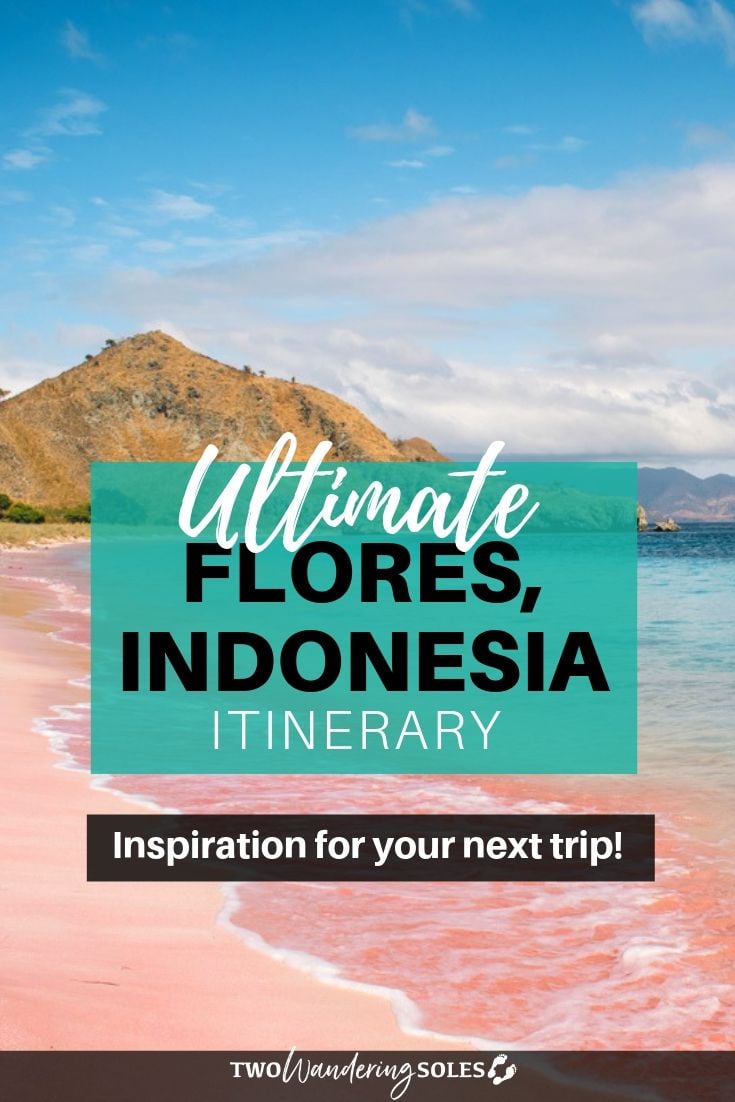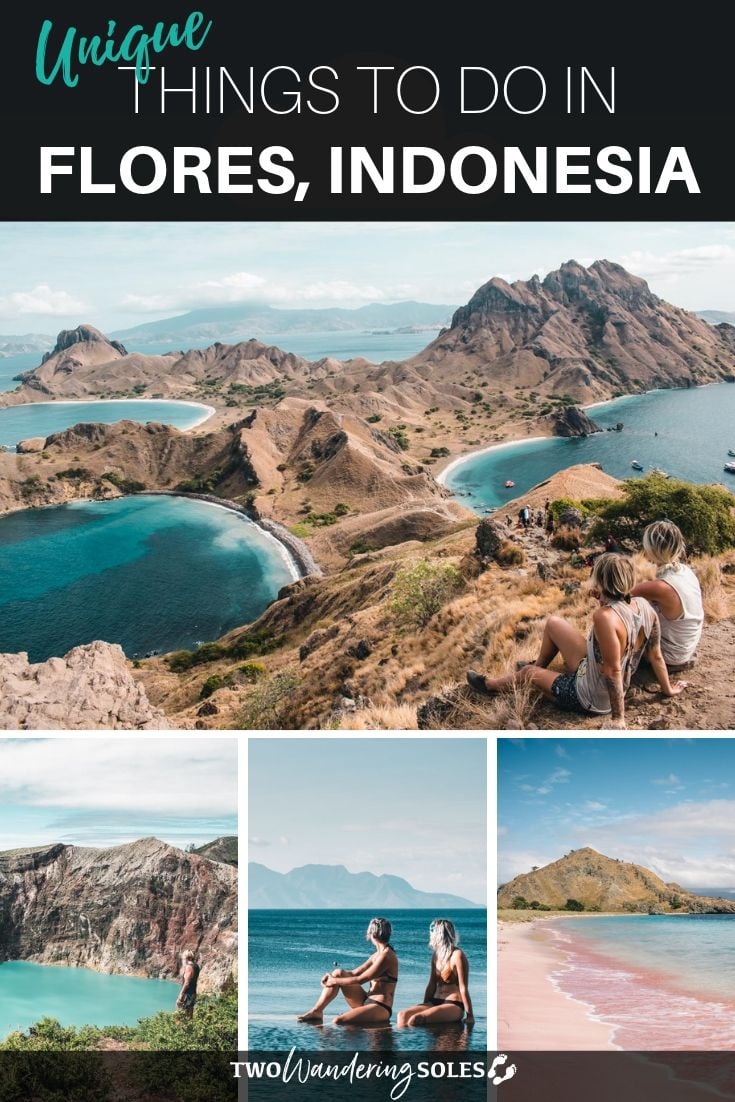 We want to hear from you!
Have you been to Flores? What was your favorite experience there?
Are you planning a trip and still have questions? Comment below and we'll do our best to get back to you!