Curious about booking a Seattle hot air balloon ride experience? Here's everything you need to know including my honest opinions about the experience, what to expect on a flight, and insider tips like what to wear.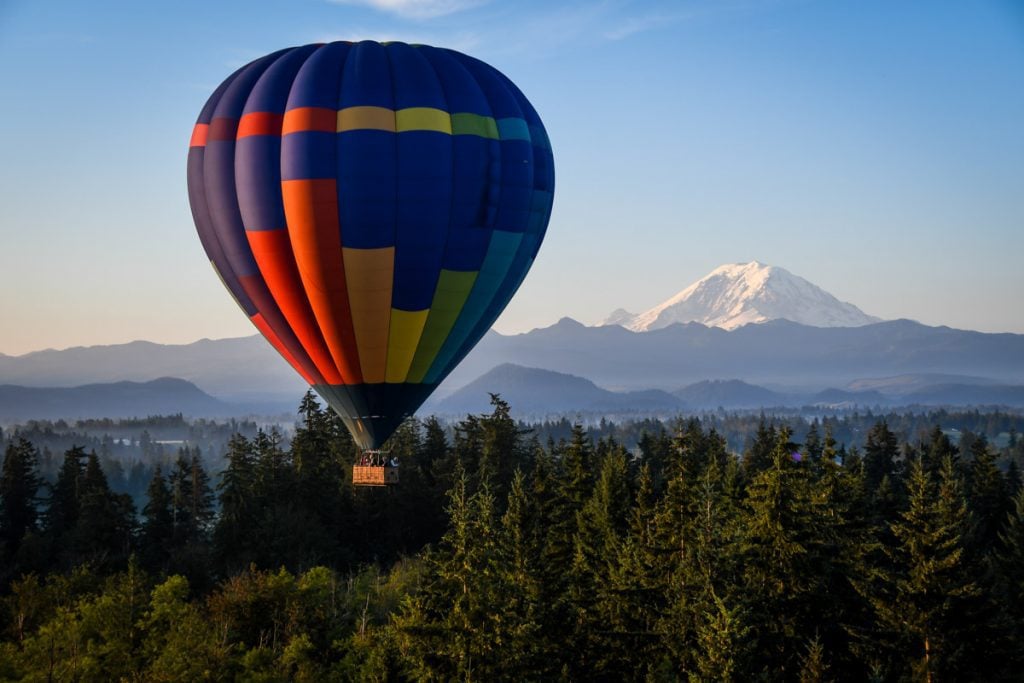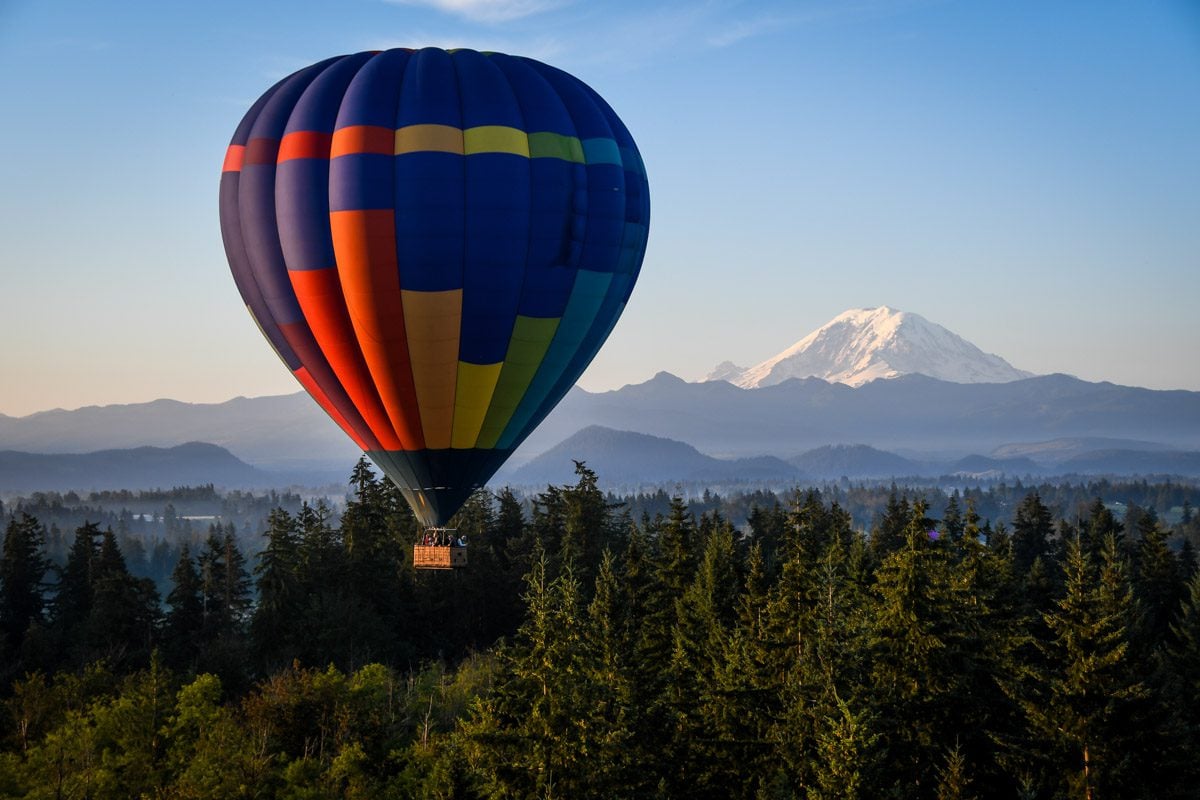 Taking a hot air balloon ride with sweeping views of Mount Rainier is not only one of the best things to do in Seattle, but it is a once-in-a-lifetime experience that is worthy of a spot on any PNW bucket list.
I mean, just picture it… you're floating beside Mount Rainier as the sun rises, casting a pink glow across her snow capped peak. Forests stretch out in all directions and as the basket rises, you brush gently against the tips of the pine tree tips as you float up, up, up, toward the cotton candy clouds.
It is, in a word, magical.
I was invited on a hot air balloon flight with Seattle Ballooning and was seriously impressed with everything from the epic views (umm, hello Rainier!) to my super passionate pilot.
In an effort to create a resource for anyone who is debating whether or not to book a hot air balloon flight in Seattle, I've filled this article with my honest opinions, what to expect on a flight, and insider tips (like what to wear!).
I even snagged a discount just for you!
If you're considering taking a hot air balloon ride in Seattle, this resource has everything you need to make a decision.
Disclosure: My flight with Seattle Ballooning was complimentary, but all opinions in this article are my own.
---
---
What to expect
I know when booking a big ticket item like this, you want to know exactly what to expect, so I'm gonna spill all the details…
Meeting point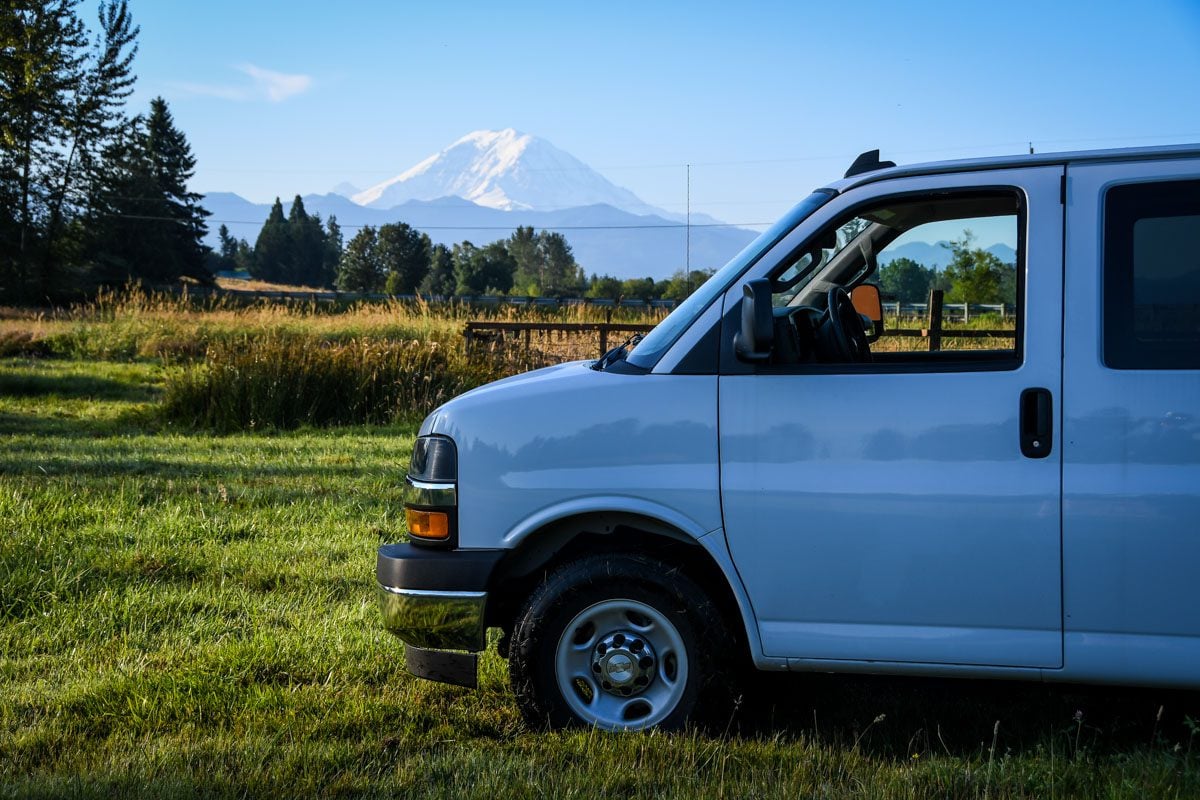 The meeting time for a sunrise flight is at 4:45 a.m. sharp!
Now, I'm not exactly a morning person, but I always say that I've never regretted waking up for a sunrise. And this one in particular. We were coming up from the Portland, OR area so we stayed close by the night before.
After gathering in the parking lot of the Muckleshoot Casino, we were divided into our flight groups and we waited for the pilots to determine where we'd take off from.
They told us they have 25+ different launch sites (3-5 main ones) within a 15-minute radius that they can use based on the conditions.
They took a look at their weather apps (which I assume are more detailed than my basic iPhone weather app!) and discussed conditions before ushering us into the vans and hitting the road.
Each van was towing a trailer, in which was a big basket… you guessed it — for the hot air balloon!
Loading the basket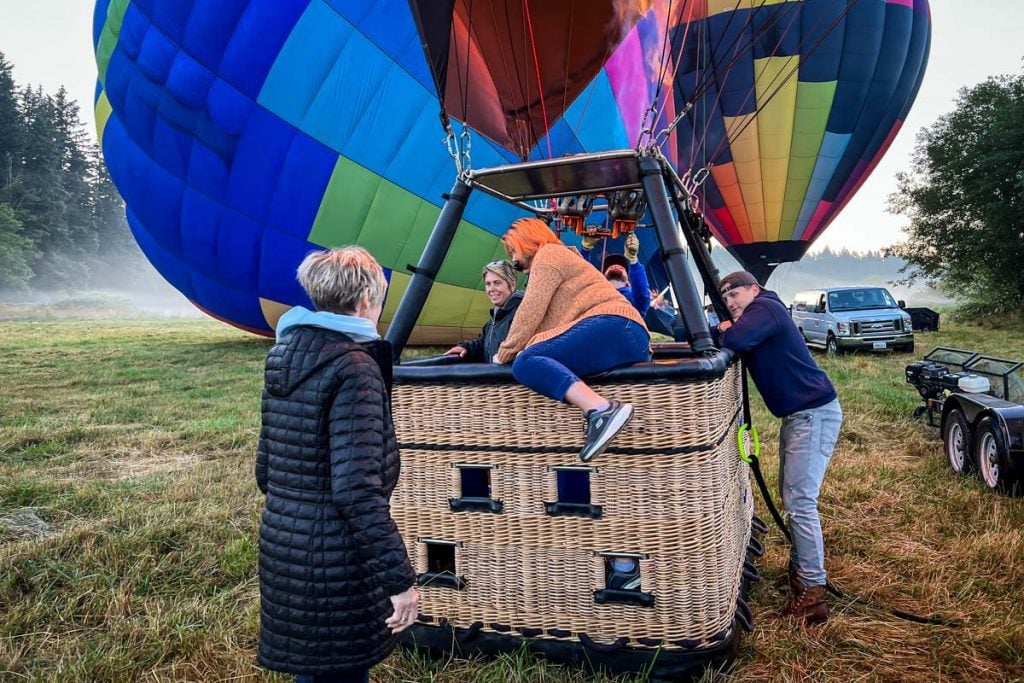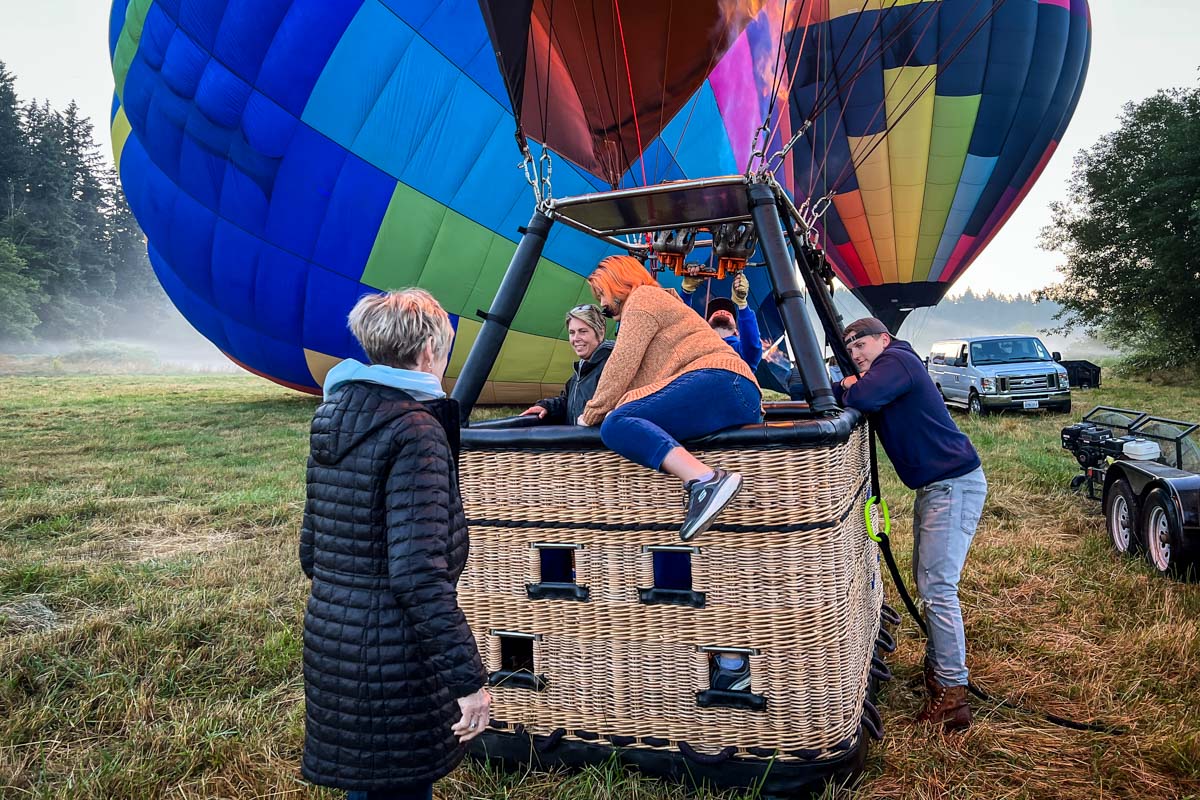 We arrived at a field as the morning mist was hanging heavy in the air and you could see Rainier in the distance, beginning to come alive with a pink glow.
The pilots chatted and the launch team did all the heavy lifting while we got to look on, snap photos of the balloon inflating, and get excited about the upcoming flight.
The two other groups of women on the flight were getting giddy. One twosome from Kentucky was gushing about how this was the first stop on their bucket list trip which included all the top sights in Seattle followed by an Alaskan cruise.
It was at this moment, listening to them banter, that I wished I wasn't flying solo.
There was another young man in my group on his own, so it's not like I was the only one by myself, but I just love getting hyped up about experiences with someone else and having another person there (usually Ben!) to reminisce with later after the experience is over.
But traveling with a baby means we have to do things a little differently… either pass on experiences where babies aren't allowed or split up and do things solo, like I did here!
Once the balloon was completely inflated, we got the go ahead to start climbing in.
Nobody was graceful, but it didn't matter. Once everyone had claimed a spot in the basket, it started to slowly — almost imperceptibly — rise.
The flight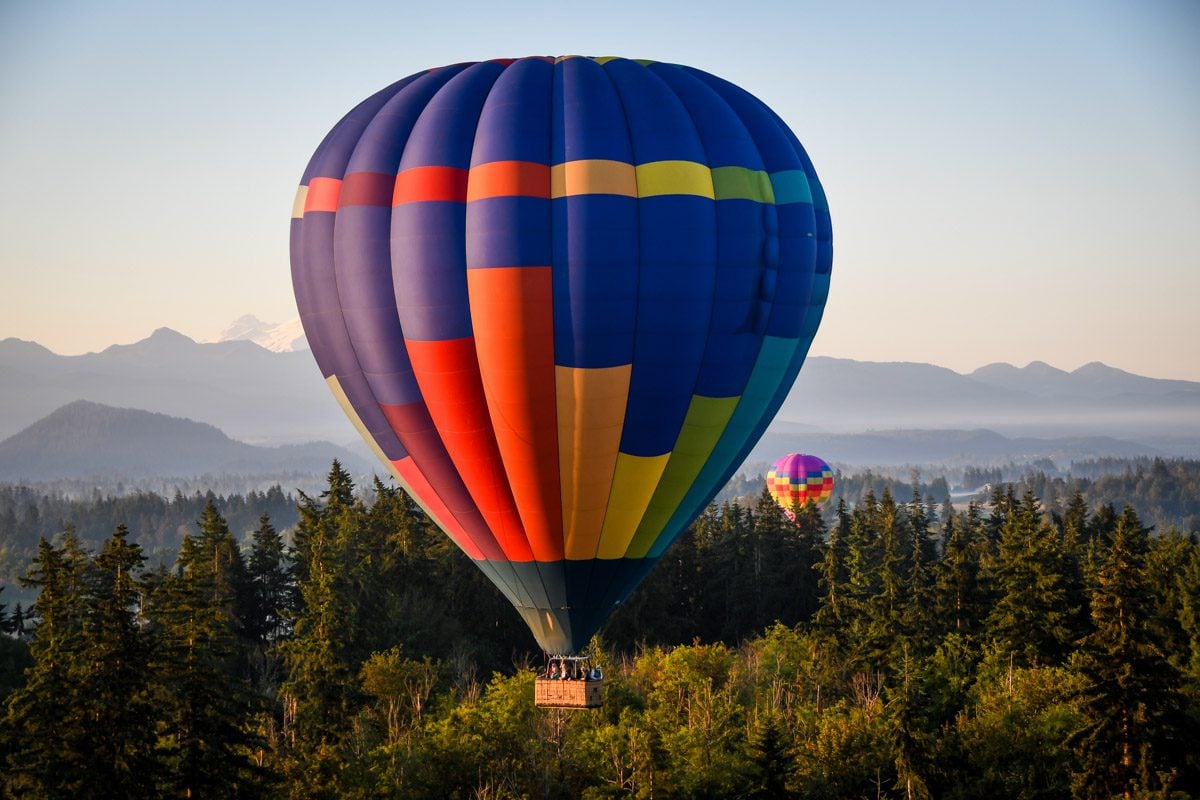 The basket rose slowly, steadily. We floated just above a pine forest, gently brushing their tips, and floated higher, higher.
The other handful of balloons started rising as well, which made for fun photo ops, seeing them in the distance.
Our pilot played some calm music quietly and told us some facts about the area we were flying over.
In total, we were in the air for 1 hour and 10 minutes, so we were able to see the morning mist disappear and the morning glow start to fade.
Landing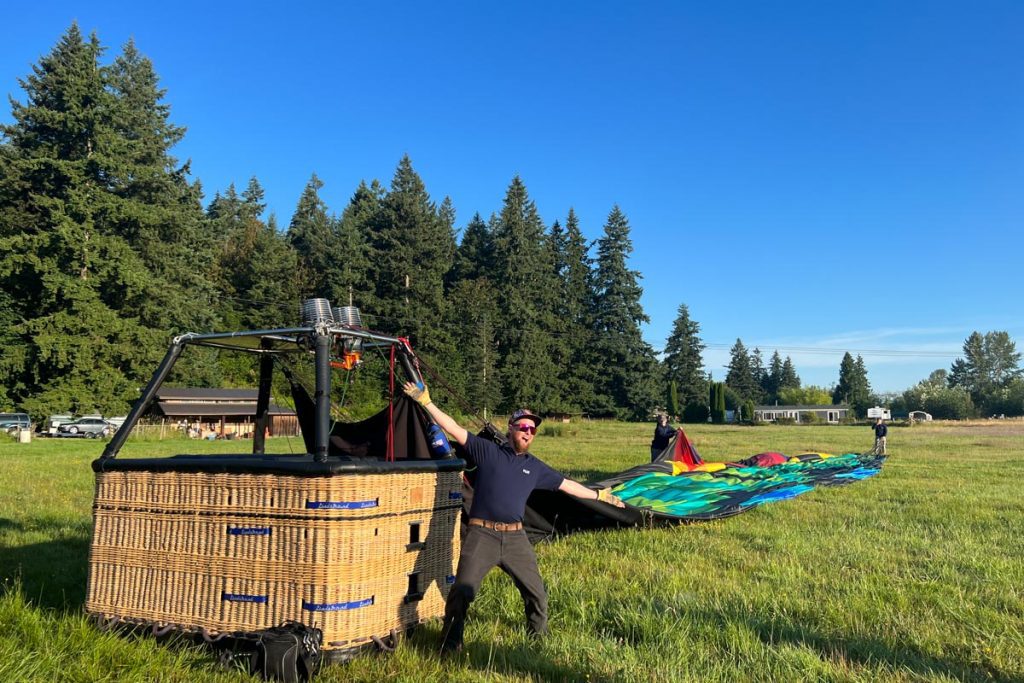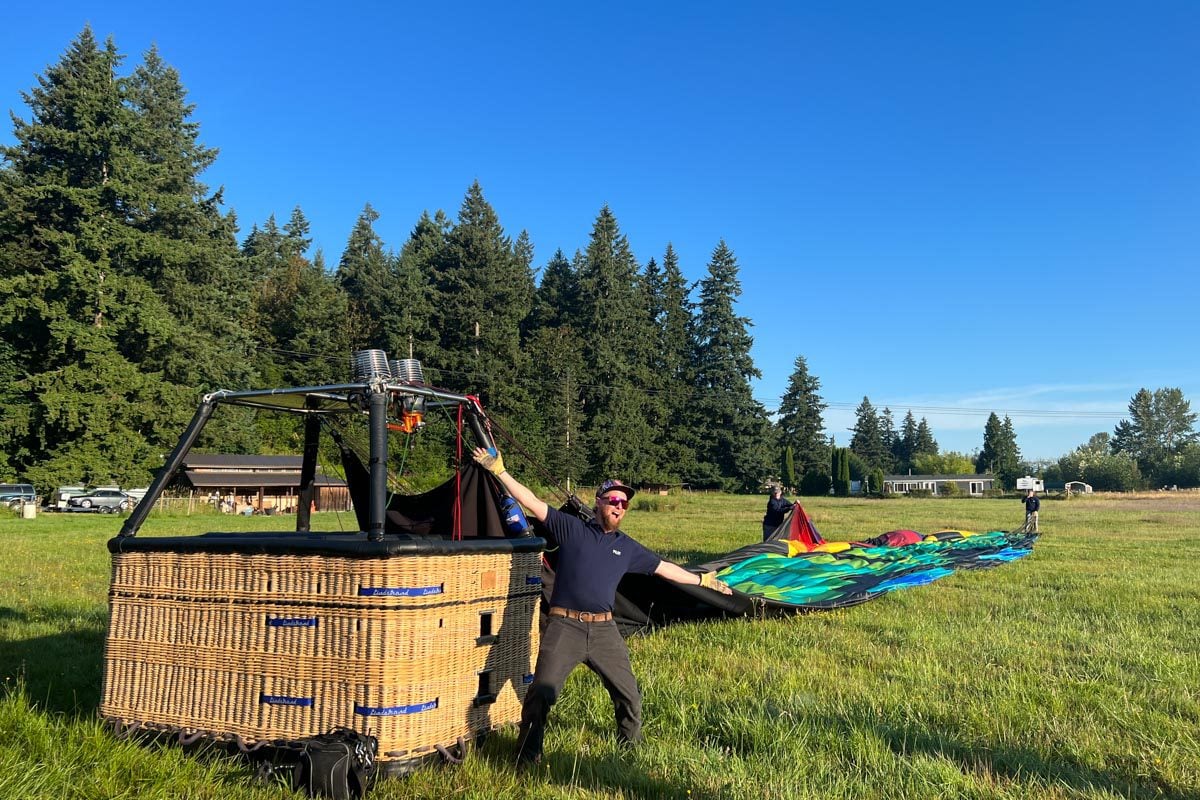 Similar to take off, there are a handful of locations where they can land the balloons, depending on the winds.
Each balloon landed in a different spot, based on their flight path. Most of these spots were people's yards that they have prior arrangements with, of course.
It was pretty funny because we landed in someone's yard and they weren't answering their phone to unlock the gate for the truck. But then finally, they opened the door and waved excitedly to us all in the balloon in their yard!
After disembarking — again, not a graceful process — we gathered around for a little post-flight celebration.
Oh, and remember those women who were on their "bucket list trip"? Well, as they got out of the basket, I overheard them say, "Let's just skip the cruise and do this again!"
Post-flight celebration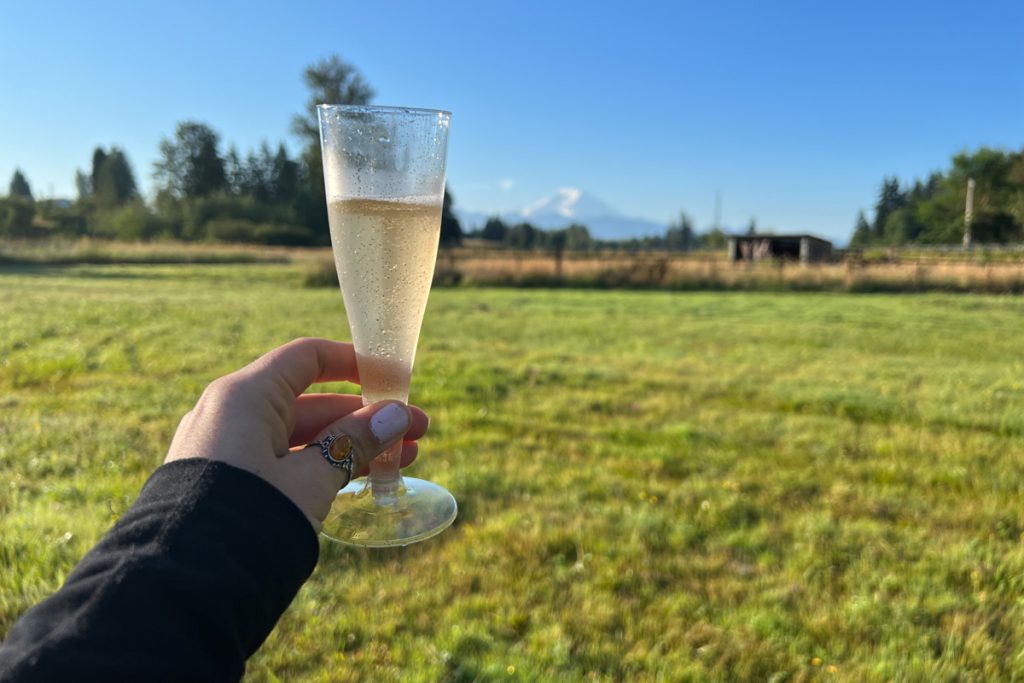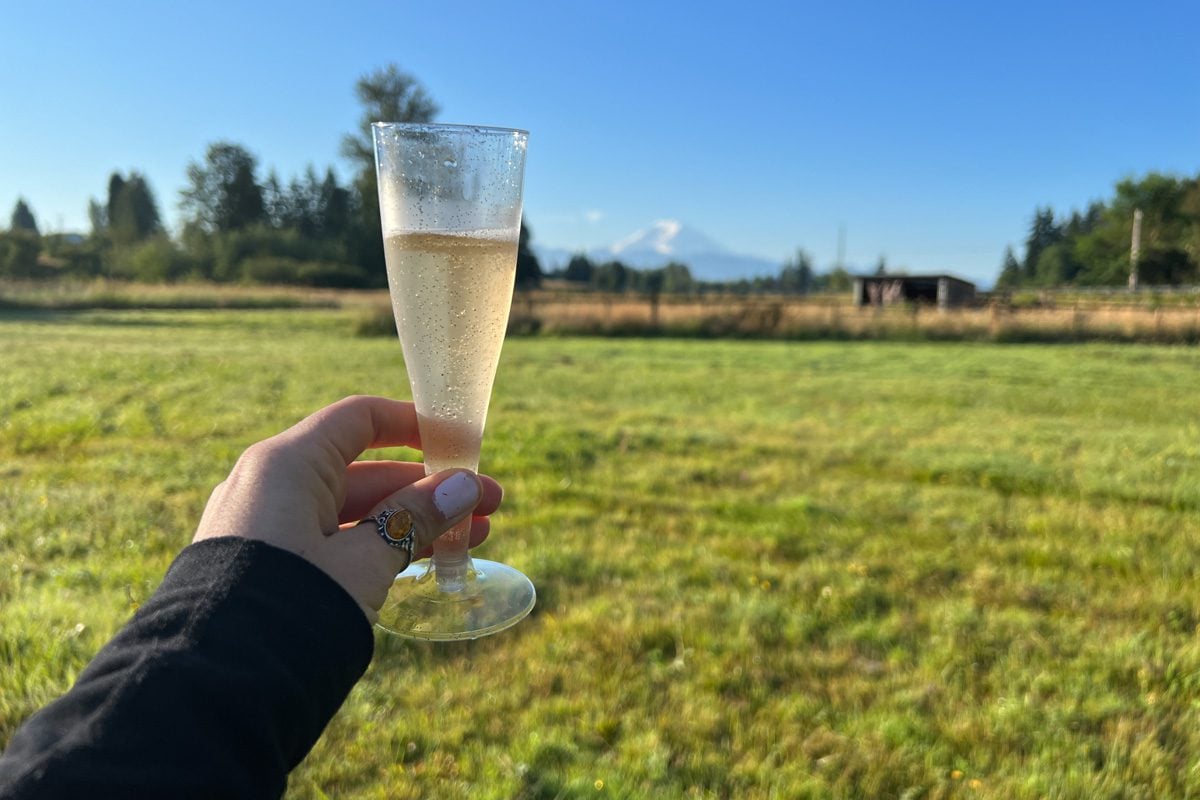 Apparently, it is tradition in hot air balloon culture to have a celebratory glass of champagne after a flight. (Yep, there is a "hot air balloon culture" and you'll learn all about it from your pilot if you ask!)
So enjoy a toast, some bubbles paired with chocolate for a sweet little pre-breakfast celebration of what you just experienced!
Seattle Hot Air Balloon FAQs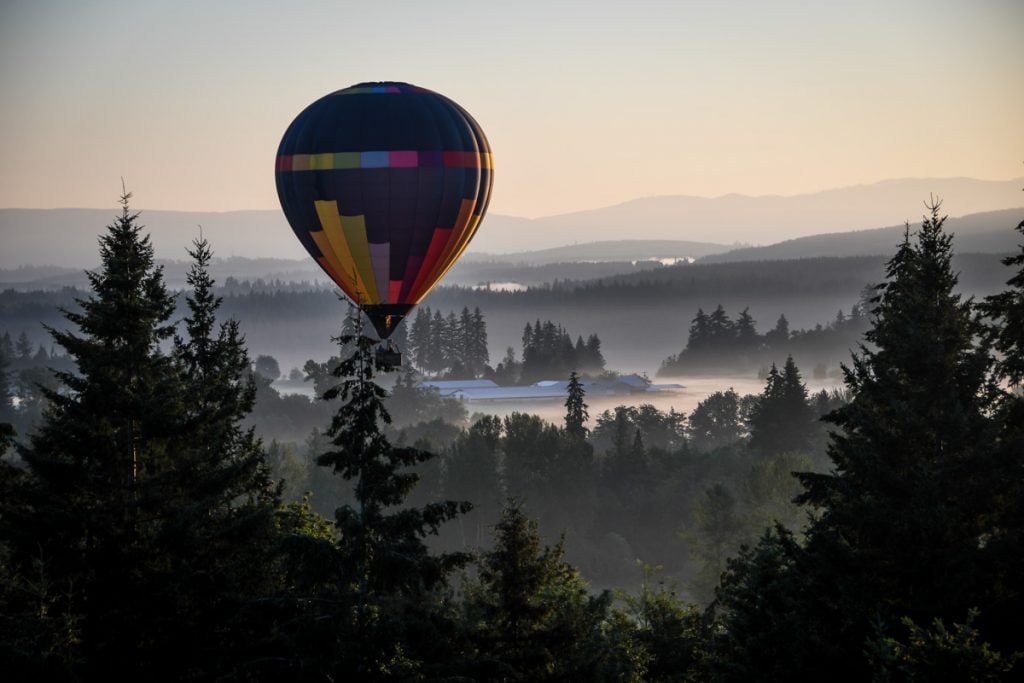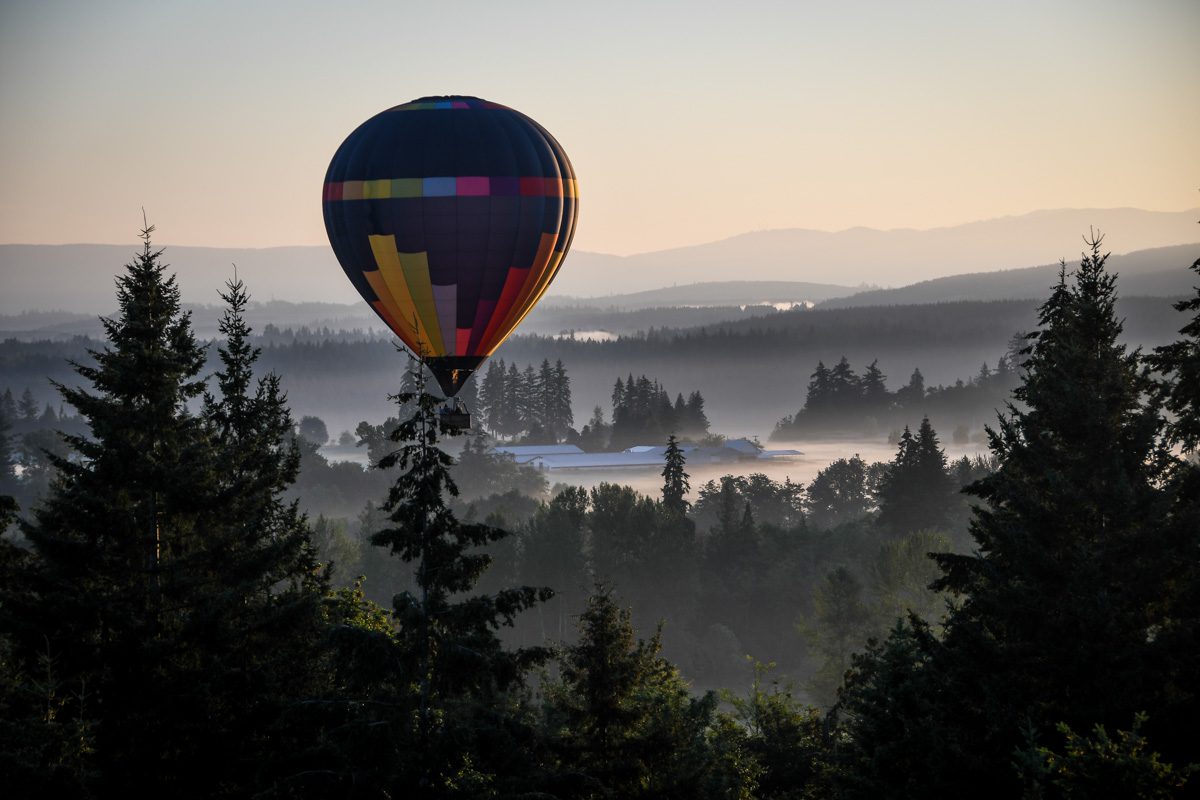 Got more questions about hot air ballooning in Seattle? We've got answers for you…
How much does a hot air balloon ride cost?
$325 per person for a sunrise flight
$375 per person for a sunset flight
I'm not going to sugarcoat it… going on a hot air balloon ride is not cheap, no matter where you are in the world. If you're traveling on a budget, this experience may just not be in the cards this time.
However, taking a hot air balloon ride in Seattle is a totally worthy splurge (in our opinion!). If you have some wiggle room in your budget, we don't think you'd regret it.
If you're on a big trip — like a honeymoon — or you're a Seattle local looking for a memorable way to celebrate an anniversary or birthday, this experience is a bucket list experience that is one you'll be talking about for years to come (long after you forgot how much money it cost).
10% Discount Code: 2SOLES
We have a discount code just for you! Score 10% (aka $32.50) off when you use our code at check out!
Which is better: sunrise or sunset flights?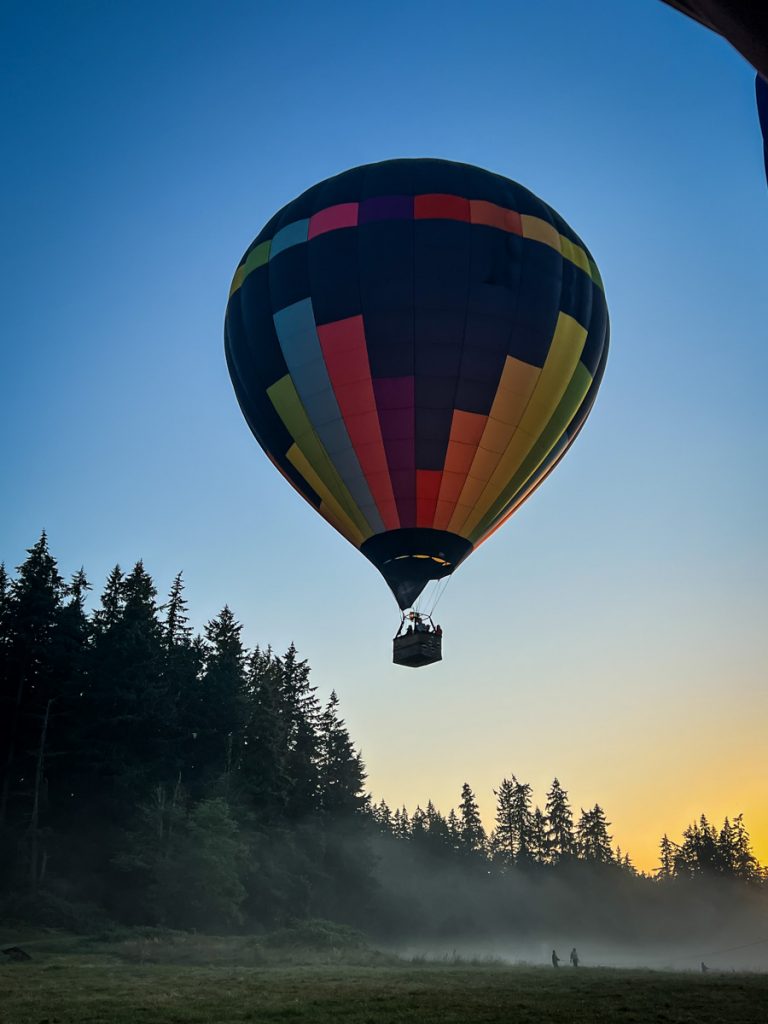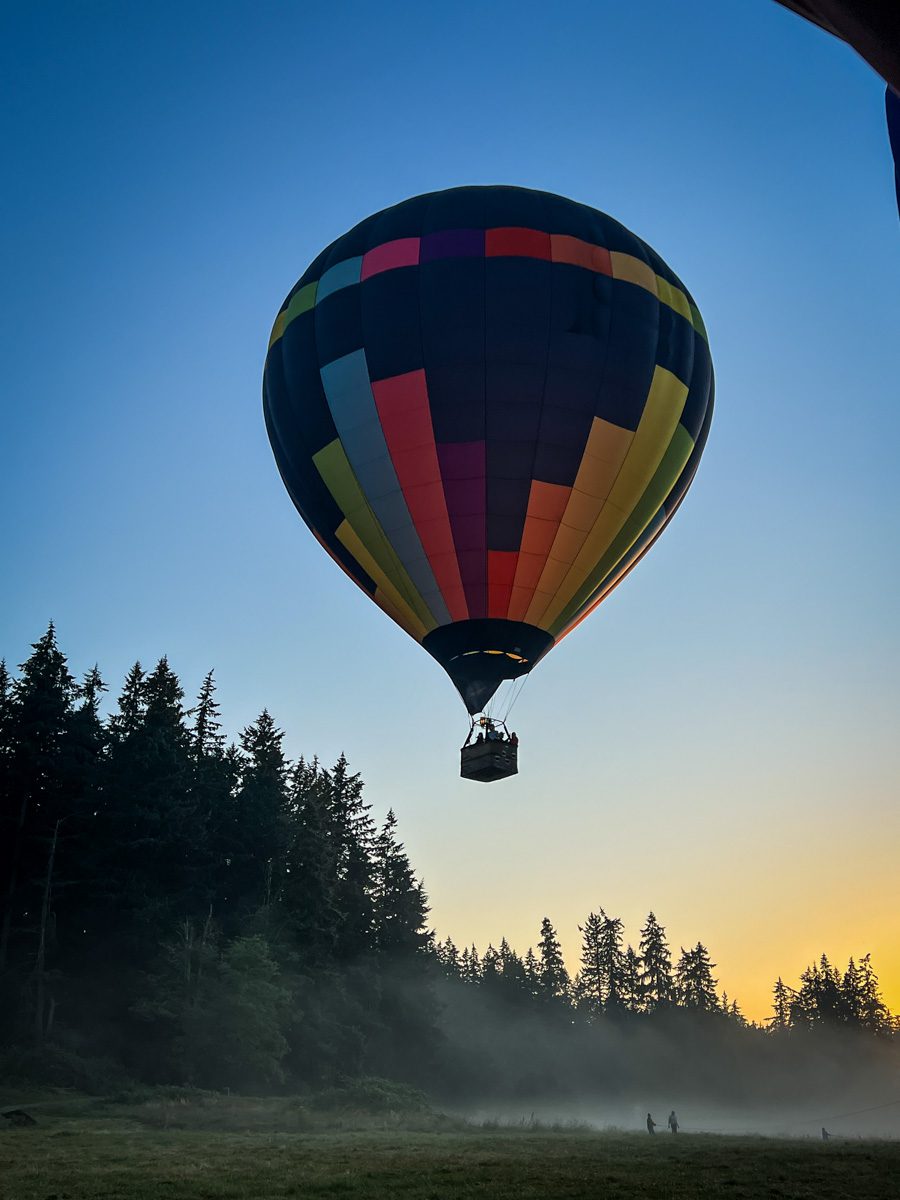 I've only taken the sunrise flight, so I can't personally compare, but the pilot told us sunrise is his favorite as the winds tend to be more calm.
Sunset can be great too, especially if it works better for your Seattle itinerary, but winds can be more choppy and the balloon has to be on the ground before dark, so there's a bit more of a deadline (and less chance of the flight going a little longer).
What if I'm afraid of heights?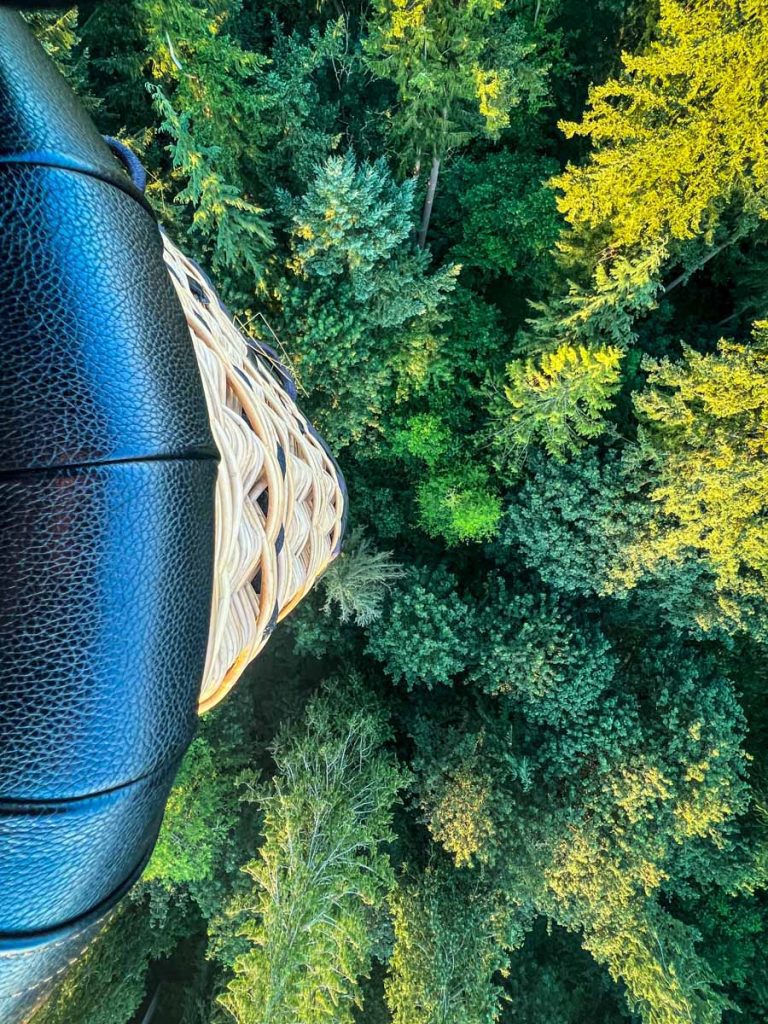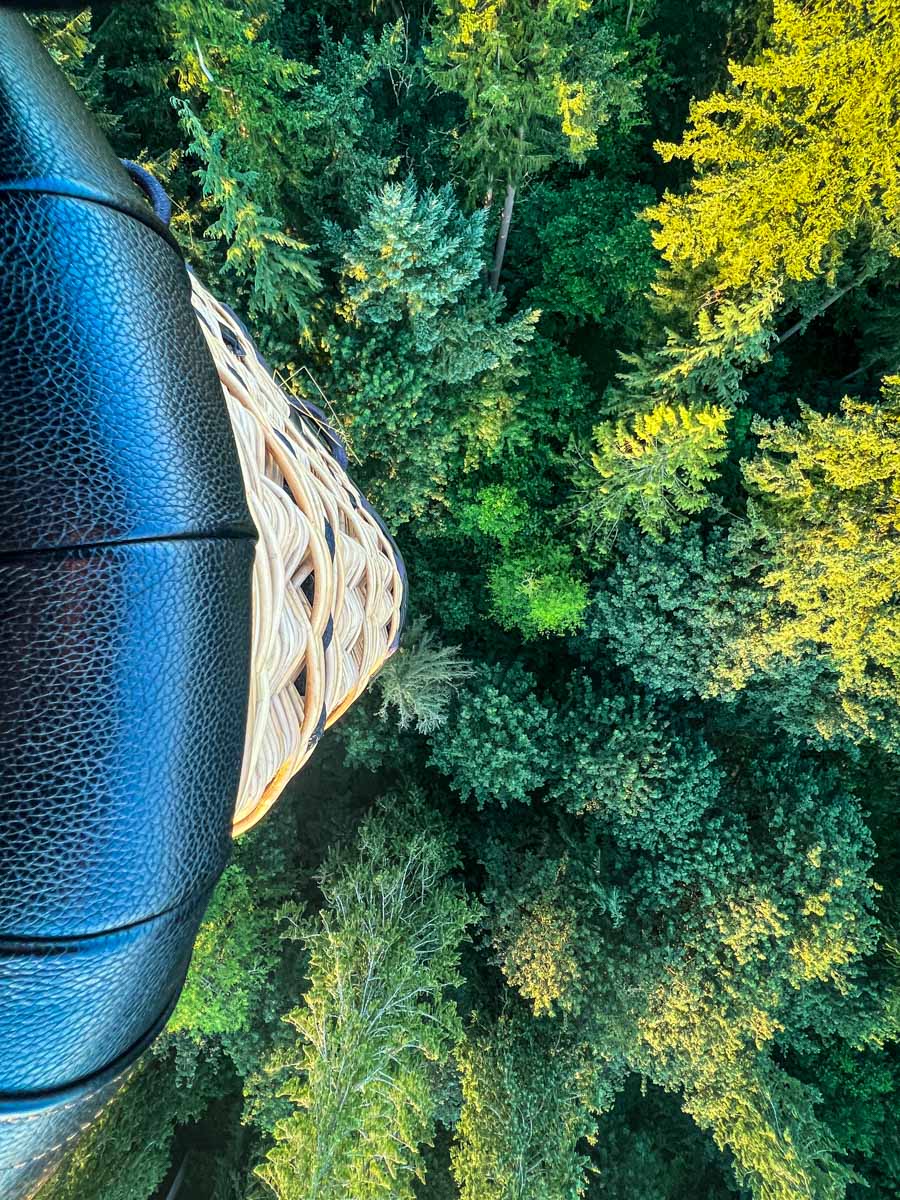 Our hot air balloon pilot admitted that even he is afraid of heights. But there's something about being grounded to the basket that makes even the most fearful people calm.
In fact, it is said that you physically can't get vertigo when in a hot air balloon as it is not connected to the ground and it remains motionless throughout the flight. This means you can leave your Dramamine at home!
How many people are in the hot air balloons?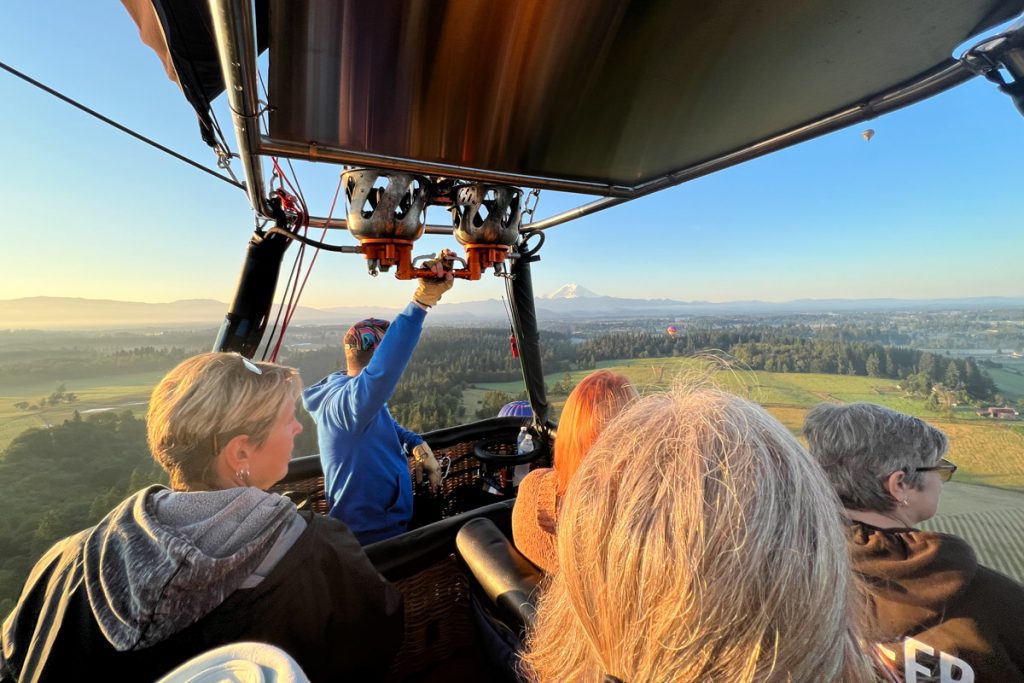 Seattle Ballooning's largest balloon fits 10 people in the basket, but they have smaller balloons as well.
My basket has 6 people plus a pilot.
It is a little tight — you'll have to watch out as you're turning around and taking photos, but it's really not bad.
What is the bathroom situation?
Well, being that you're riding in a basket, there is none!
Your last chance for a bathroom break is at the casino. So you'll have to go without a bathroom for the duration of the flight (and rides to and from the casino).
Maybe skip that morning coffee if it's gonna make you have to go!
What should I wear?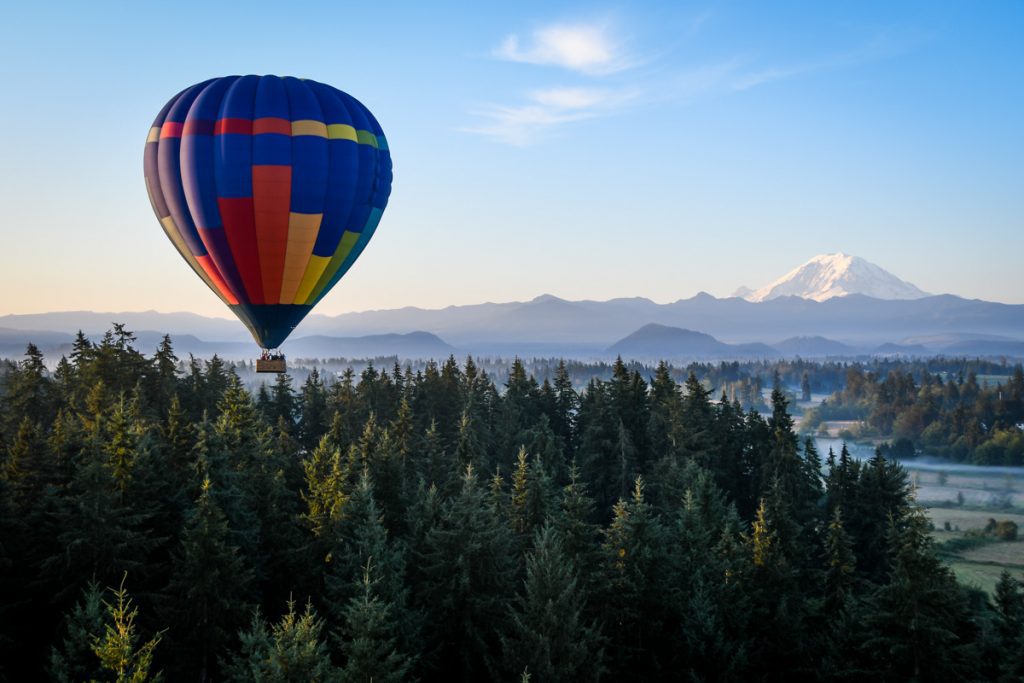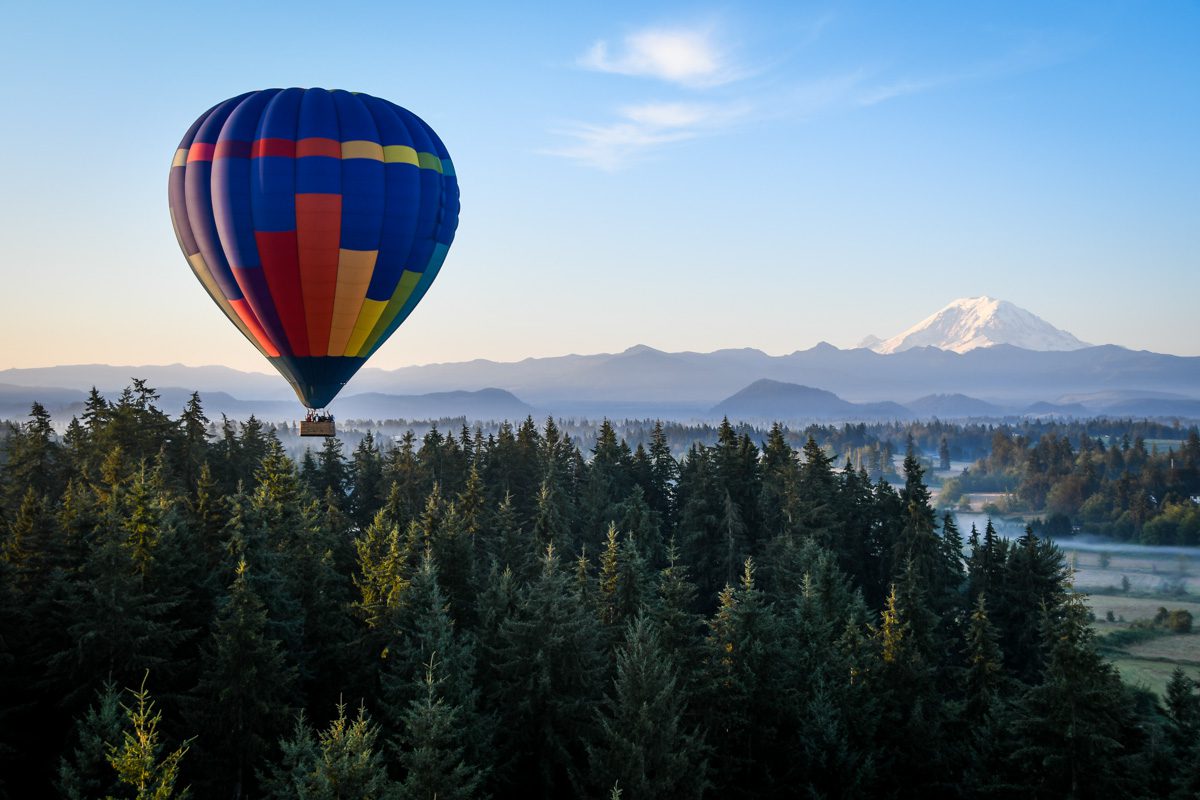 On the Seattle Ballooning website, it says to wear what you'd be comfortable in on the ground.
Contrary to what you might think, it won't actually be colder as you rise up in the air (I know— I thought it would be, too!).
So if it is 70 degrees on the ground, dress for 70 degrees in the air.
I wore leggings and a lightweight hoodie. At first, I wished I had brought another layer (I forgot how cool it can be on summer mornings in Seattle). But once I was underneath the flame of the hot air balloon, I warmed right up.
Insider Tip: I'd recommend wearing closed toe shoes because the fields you take off from can be wet with dew in the morning.
What should I bring?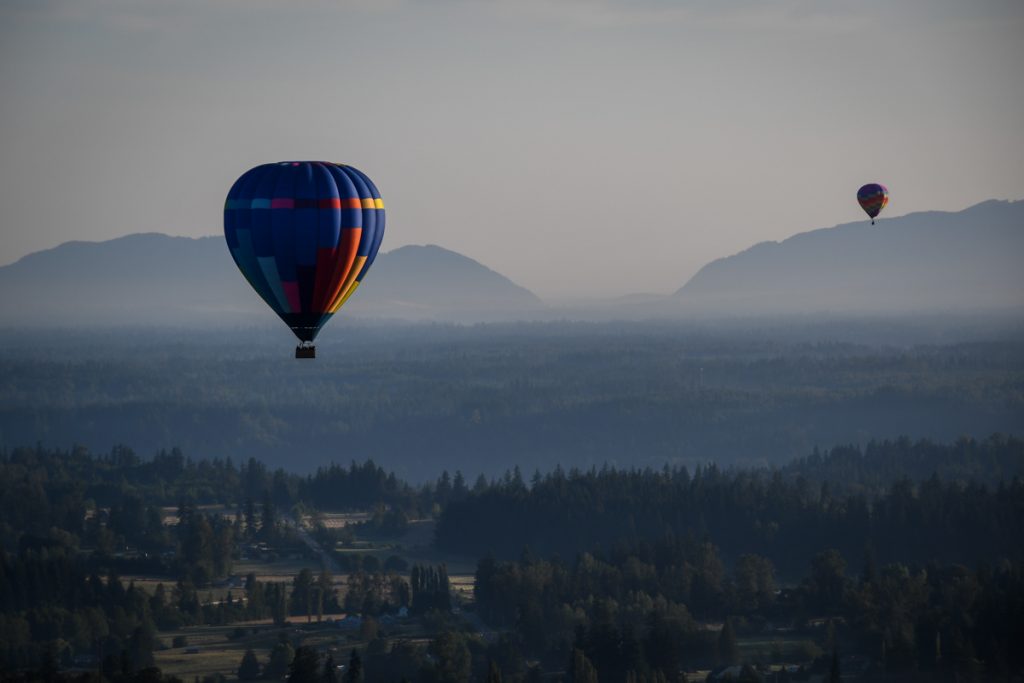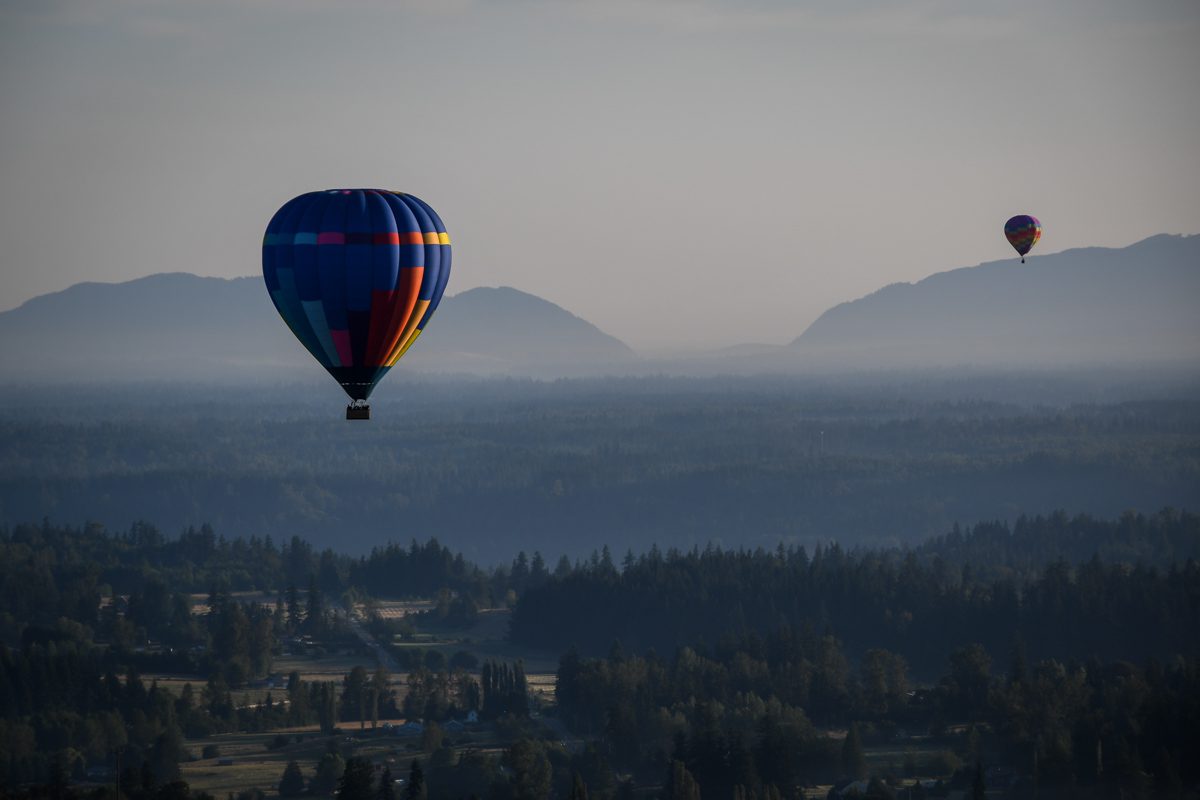 You truly don't need much.
I brought a fanny pack filled with what I thought would be essential, but didn't use much of it. I'd recommend bringing a small fanny pack or purse to keep all your belongings together and safe.
Essentials:
Other things that might be helpful:
Camera (if you want something other than your phone)
Chapstick
Water bottle (they have bottles of water available)
Sunglasses (I brought mine but didn't use them)
Granola bar (if you think you'll get hungry)
How does this compare to other hot air balloon destinations in the world?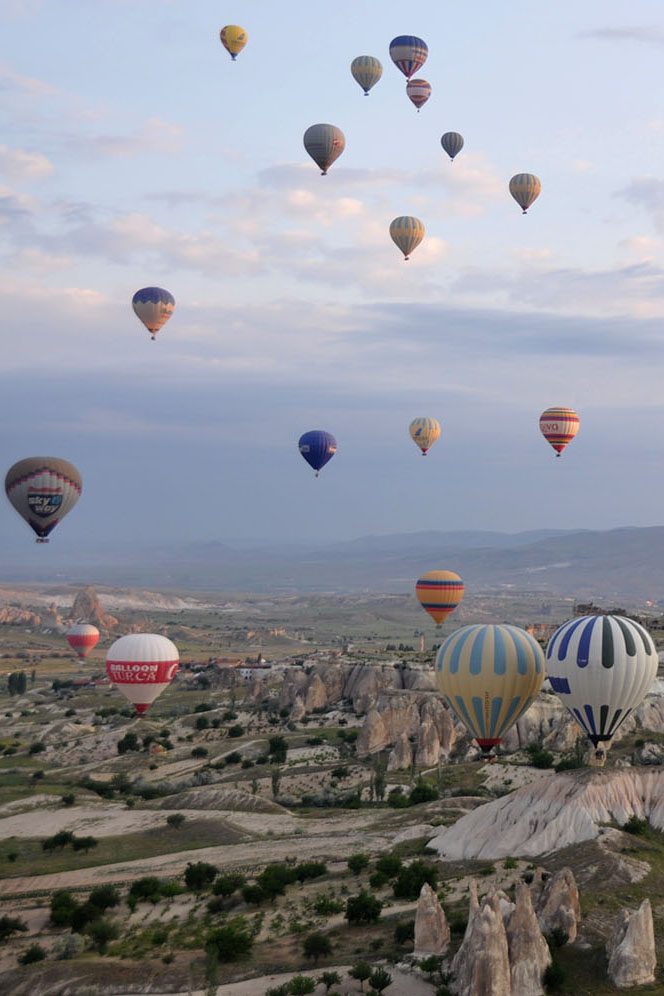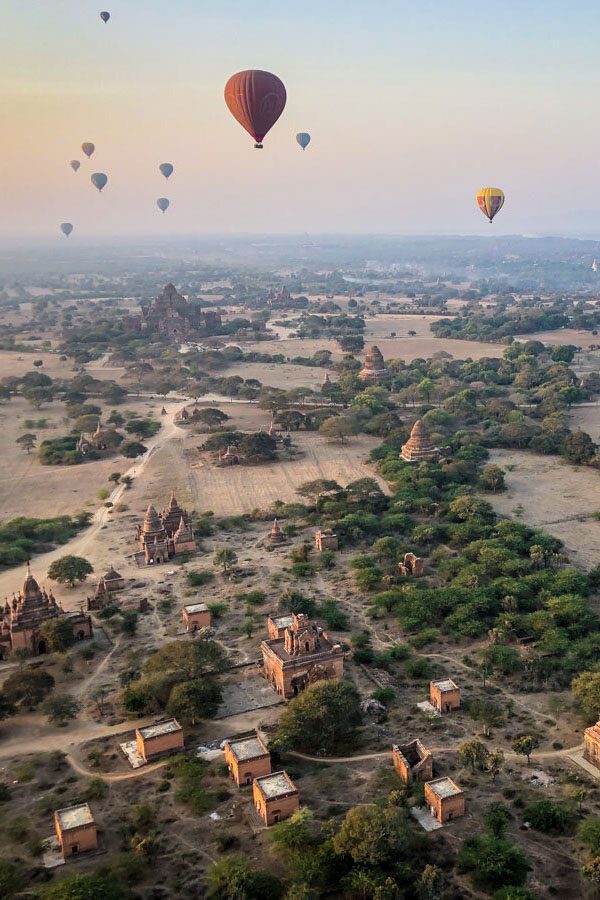 I've only been on one other hot air balloon flight in Cappadocia, Turkey, and this flight was very different, but both were beautiful in their own way.
As far as iconic ballooning destinations goes, I think Cappadocia and hot air ballooning in Bagan, Myanmar are two of the best destinations, especially as hundreds of balloons dot the morning skies.
But Seattle, with views of Rainier and the surrounding forests was incredibly peaceful and stunning, albeit a less obvious "hot balloon destination".
There's something about seeing the alpenglow cast across Mount Rainier as the sun rises and you float above the pines that just can't be put into words.
---

Are you planning a trip to Washington?
We've had the privilege of calling Washington state "home" for a while and we have tons of resources to help you plan your trip. Start with our Washington homepage and be sure to check out the articles below. Leave us a comment if you have any more questions!
Save this article on Pinterest for later!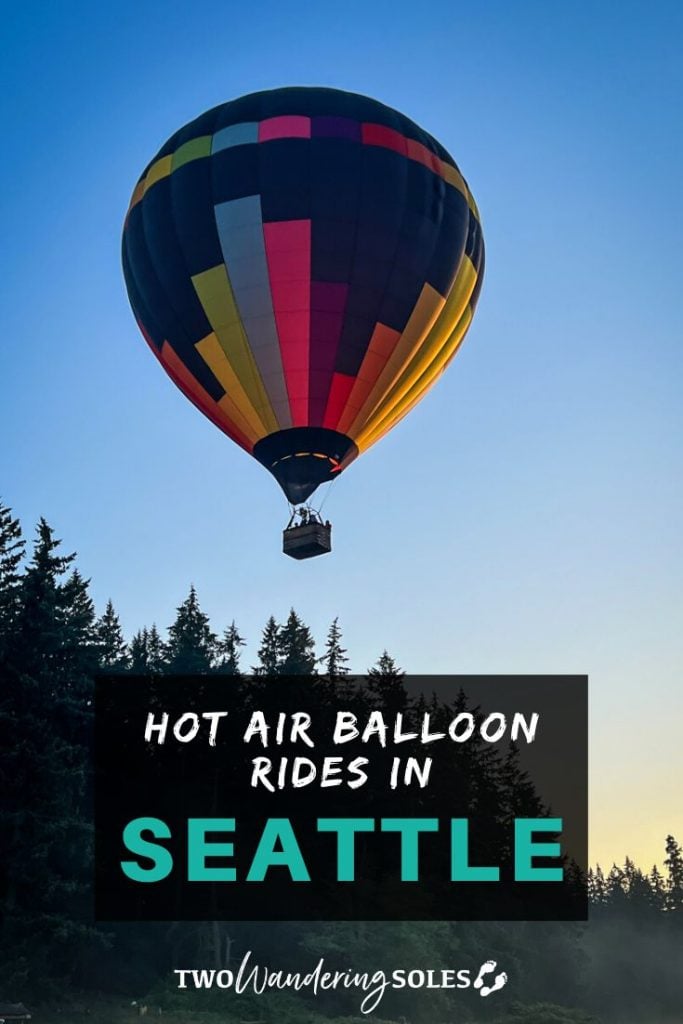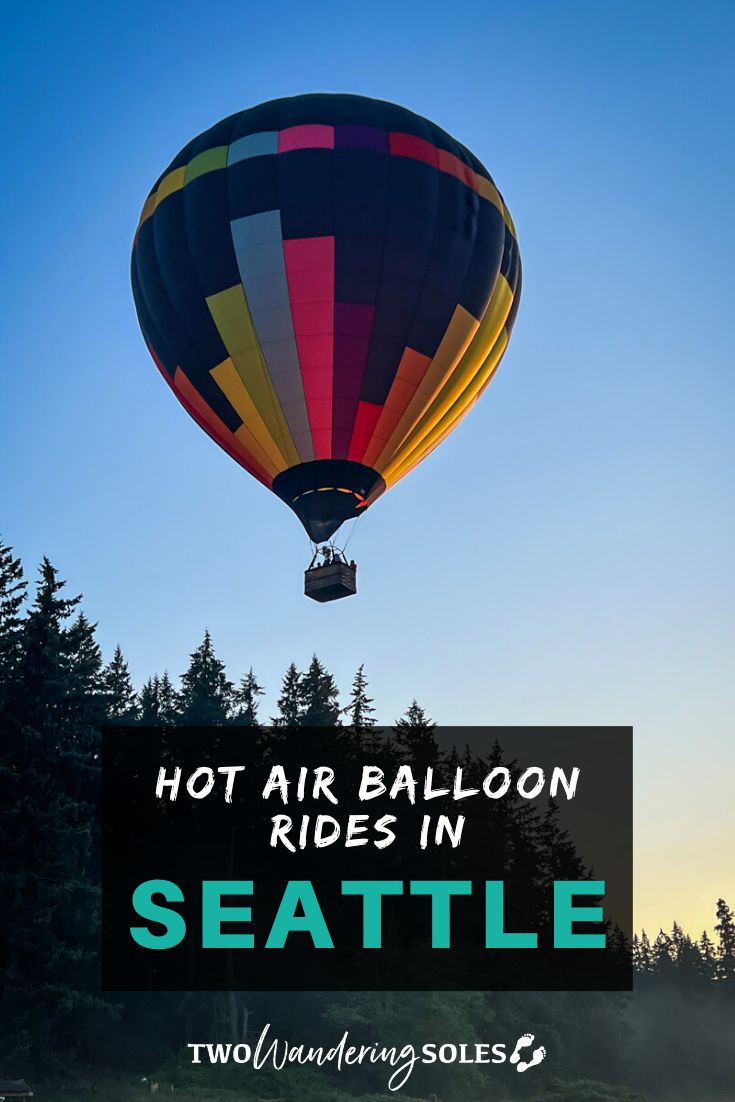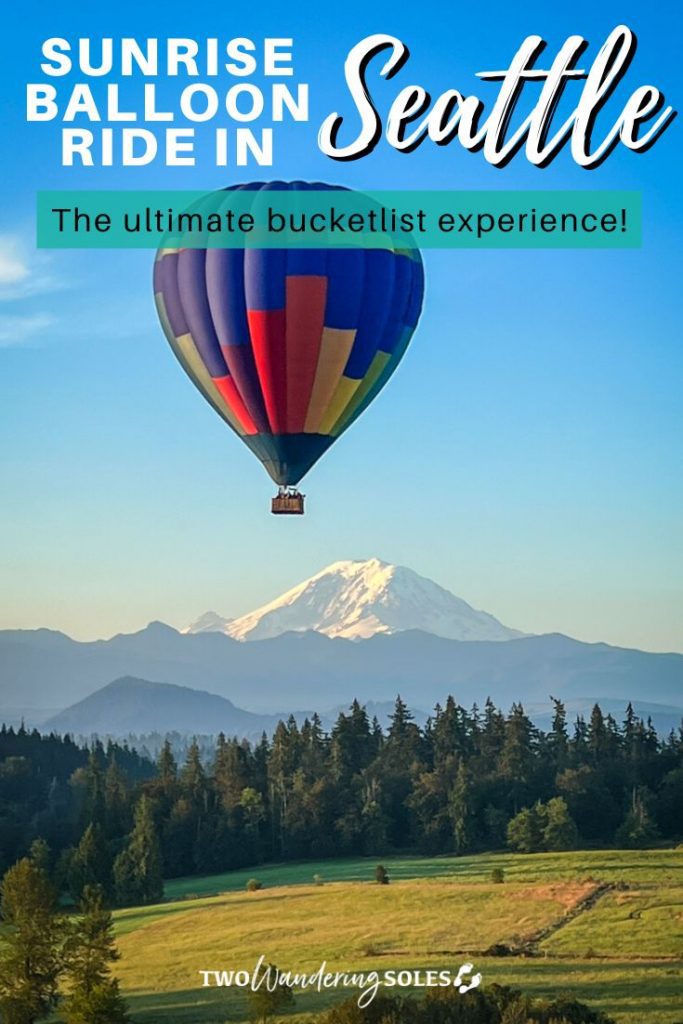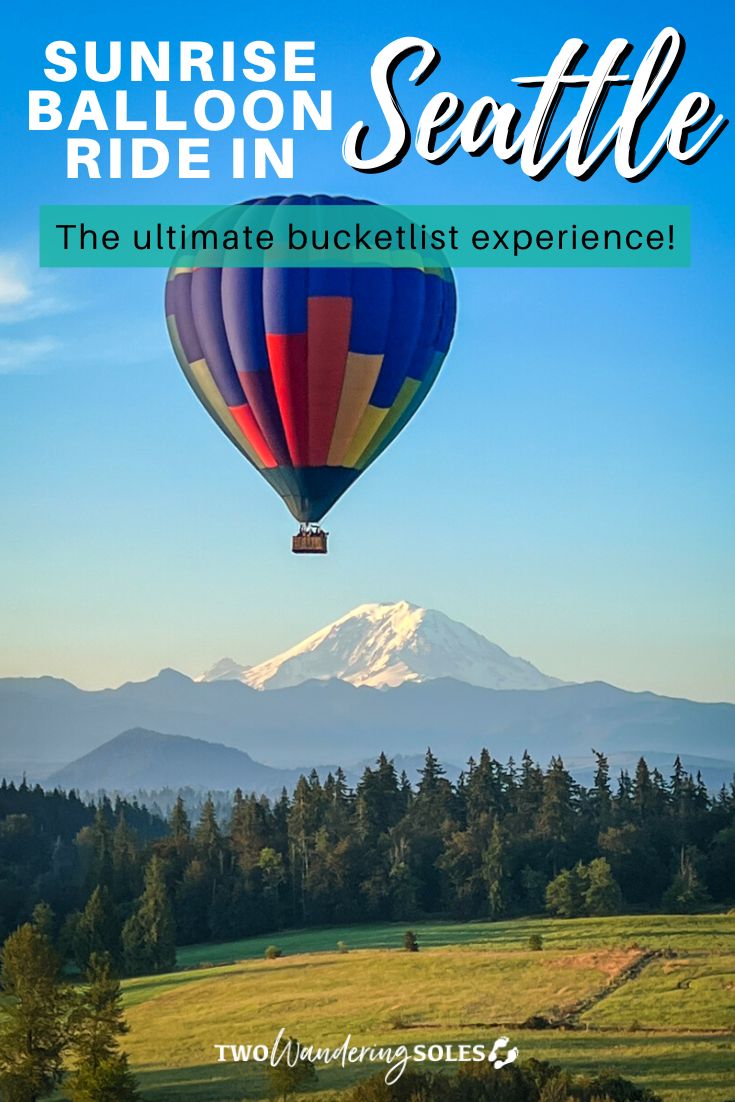 We want to hear from you!
Are you thinking about taking a hot air balloon ride in Seattle and still have questions? Leave your comment below and we'll do our best to get you the answers you're looking for!