We were pleasantly surprised on our first visit to this Midwest town. In this article we're going over all the fun things to do in Grand Forks, North Dakota, plus our favorite restaurants and where to find the best entertainment and shopping.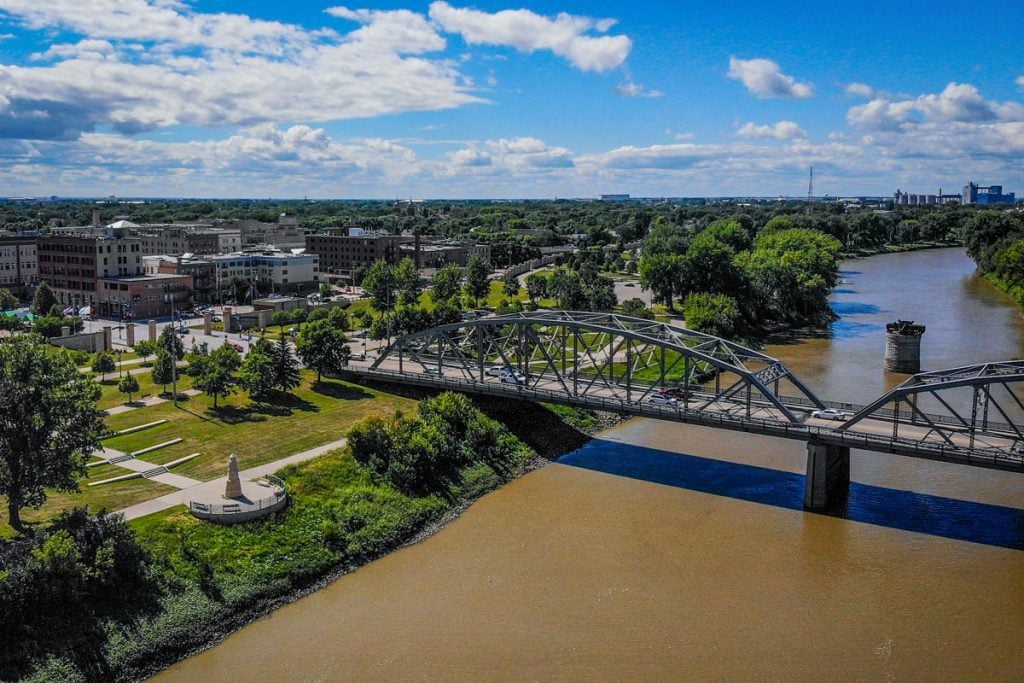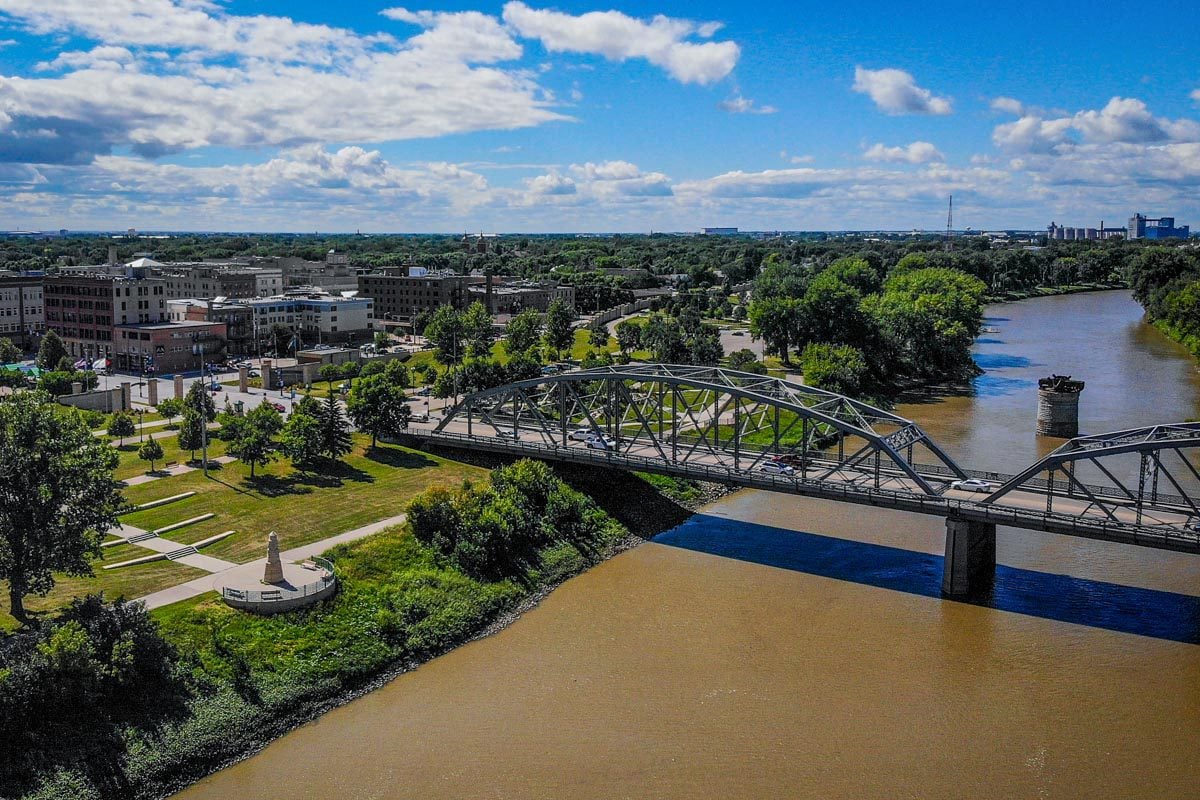 As Minnesota natives, we have driven through North Dakota several times. But it was always on our way to get somewhere else… and usually in a hurry!
So it wasn't until our most recent visit that we actually truly took the time to explore Grand Forks, North Dakota.
And I've got to say, we had a wonderful time exploring this Midwest town.
With a lively university campus, parks and green space to enjoy, and an array of fun spots to dig into the local food (and beer!) scene, we spent a couple of days exploring the best Grand Forks has to offer.
Whether you're a Midwesterner looking for a getaway close to home or you're passing through North Dakota and want a fun place to stop off and explore, we're going to share some of the best things to do in Grand Forks, North Dakota.
Disclaimer: Our trip was sponsored by Visit Grand Forks and the North Dakota tourism board, but as with every piece of content on our website, all opinions are completely our own.
Best Day in Grand Forks Itinerary
Below is what we think would make a great itinerary, packed with some of the best things to do in Grand Forks. You'll find more information about each of these activities (and more!) below…
Insider Tip: Check to see if there will be events taking place during your visit (like the summer concert series, the farmers market, trivia night, or a hockey game), and add them to your itinerary.
1. Jumpstart your day with a coffee in a funky atmosphere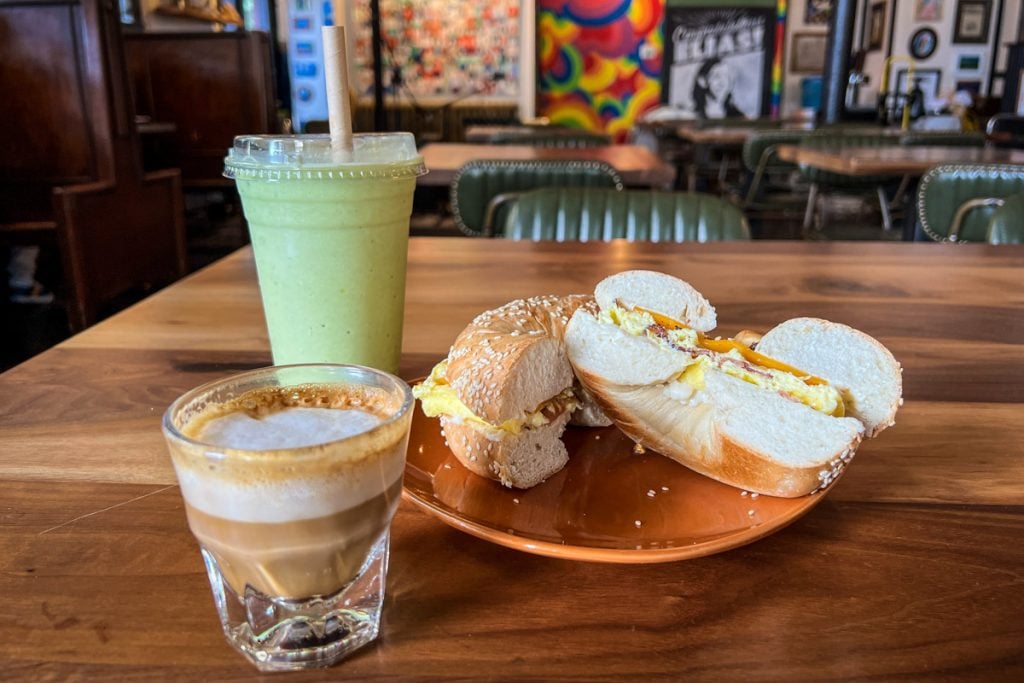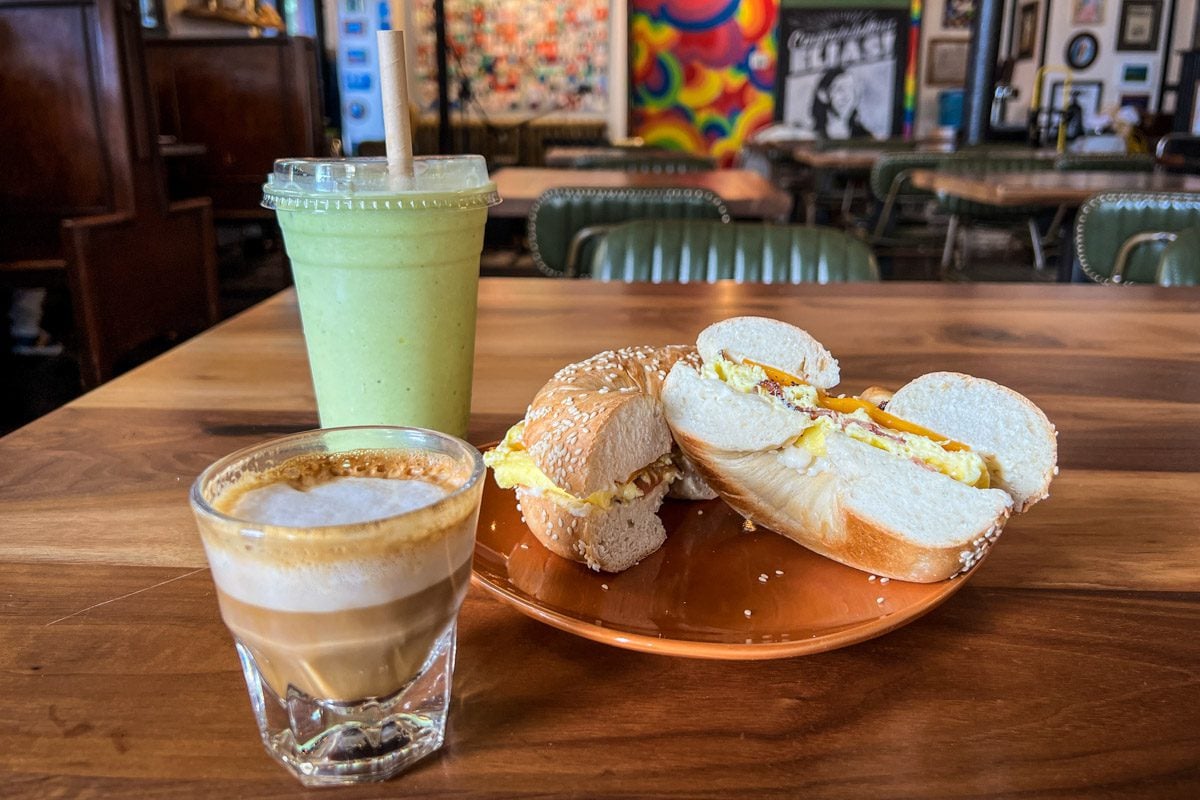 We're borderline coffee snobs… but, like, in a down-to-earth way (or so we'd like to think!). Let's just say we love a solid coffee shop, and finding the best in each town we visit is kind of a hobby of ours.
Well, we only made it into one coffee shop in Grand Forks, but we'd like to think we found the best (after a bit of pre-trip research!).
With eclectic decor and hip tunes on speaker, Urban Stampede is oozing with cool kid vibes. The space appears to have been a bar in a past life, but with lots of natural light and colorful art, the space is inviting and begs you to stay a while.
What to order:
In addition to a funky and welcoming atmosphere, their drink menu is robust and interesting.
Of course you'll find the typical suspects – cortado, americano, cappuccino. But the menu expands to include a variety of herbal tea concoctions, fresh smoothies, and intriguing coffee specialties, like a Thai-inspired coffee made with cardamom and condensed milk.
We went pretty standard – a cortado and a green smoothie – but both were great. It was the best coffee we had in all of North Dakota, and the smoothie was light and refreshing (especially on a hot day!).
If you need a little sustenance to go with your liquid order, choose from a breakfast bagel and artisan waffles.
While you can certainly grab your coffee to go, we'd highly recommend ordering your coffee "for here", sliding into a booth and taking a minute to slow down and enjoy your surroundings.
2. Fish for trout at Turtle River State Park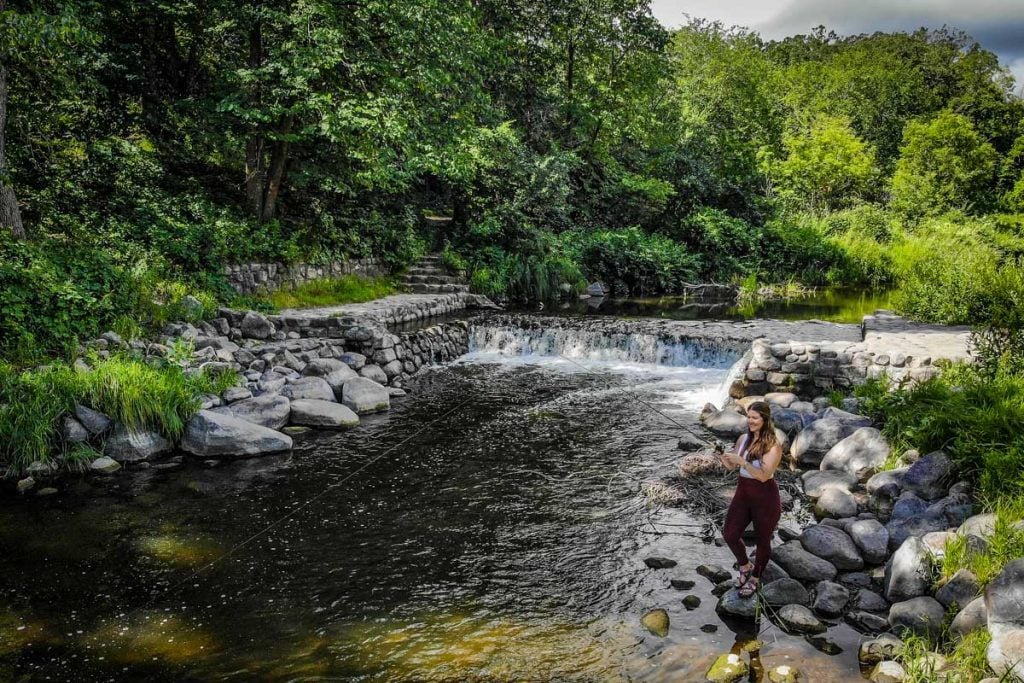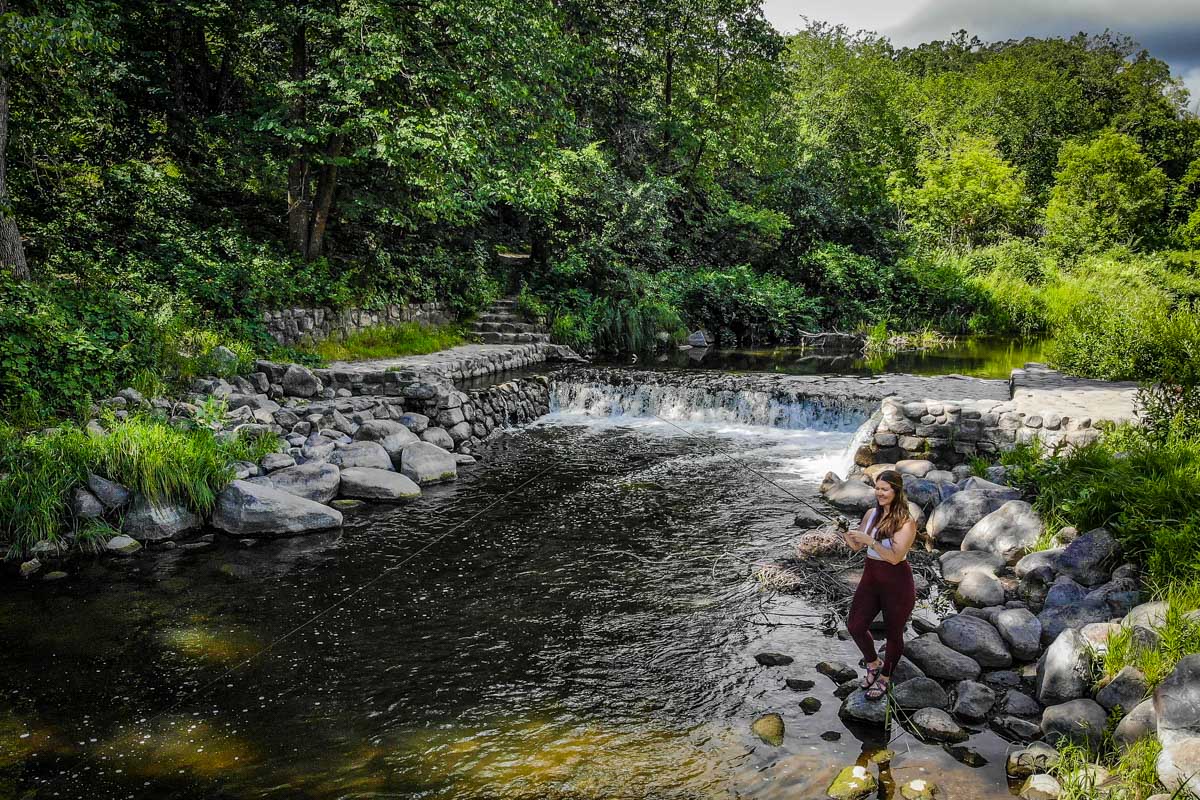 Whether you're an avid angler, a complete newbie, or somewhere in between (like us!), Turtle River State Park is a fun place to cast a line and try your luck.
This tranquil river snakes its way through a forested ravine and makes a nice place to spend the morning or afternoon in nature.
While we didn't personally have luck catching anything, a big something tugged on my line real hard, then proceeded to bite off my sinker and hook. Yikes! So there are some big boys in the river for sure. Fingers crossed you have more luck reeling them in than we did!
Good to know: This park is located roughly 30 minutes outside of Grand Forks, but it makes a nice little day trip for fishing, hiking and a picnic lunch. You can even spend the night camping here (like we did!).
Where to rent fishing equipment:
If you don't have fishing equipment of your own, you can rent a fishing pole and lures for free! Simply head to the main office and pick yours up!
Insider Tip: They won't come with worms, so you may want to bring your own. Corn is also a good bait, so you can bring a can to use.
3. Hike one of the best wooded trails in the state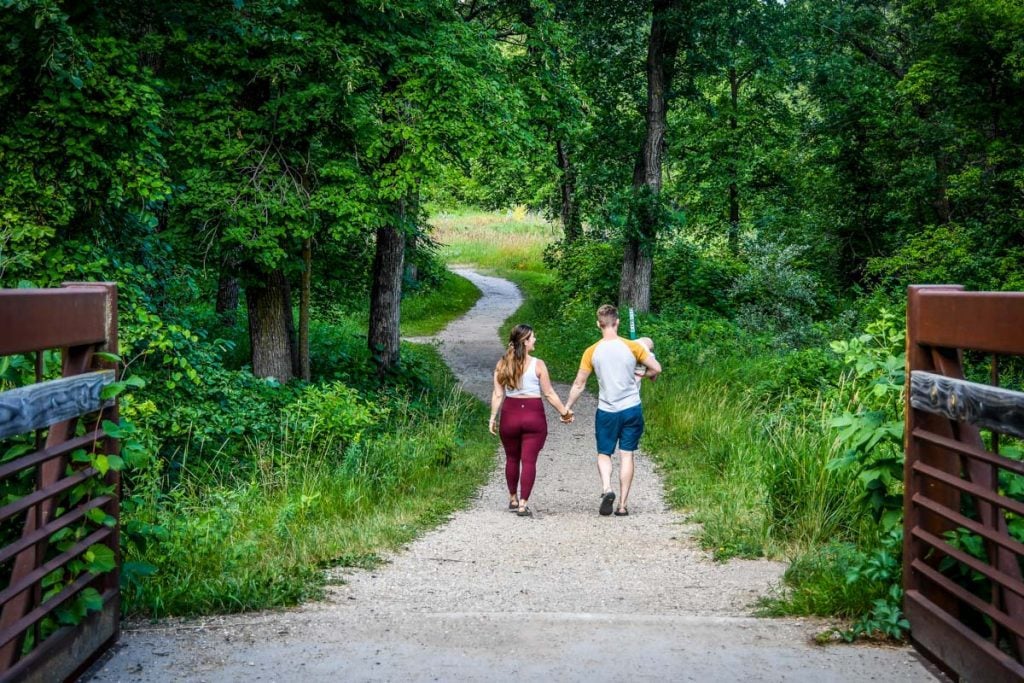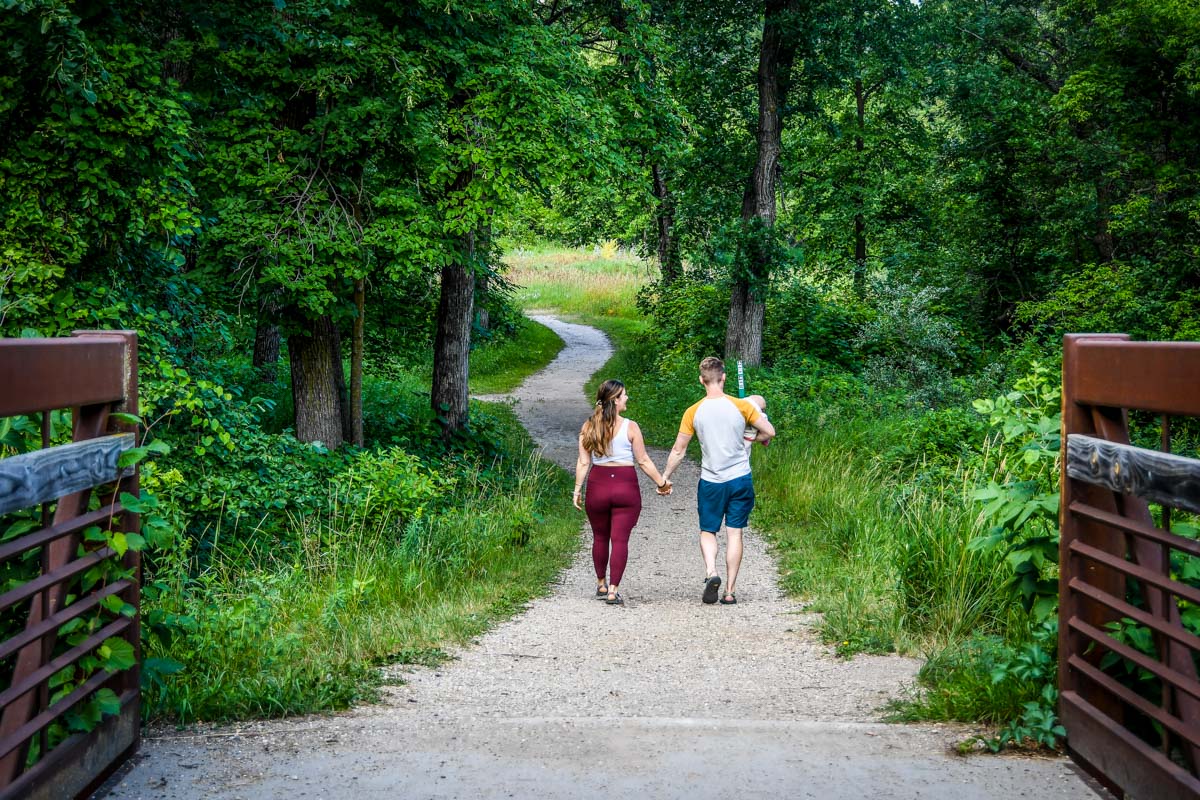 If you love hiking as much as we do, Turtle River State Park should be on your Grand Forks itinerary.
A network of trails is nestled in a forested river valley. With minimal elevation gain, these talking paths are suitable for people of most abilities and are a great way to get into nature while in Grand Forks.
Do it yourself: Read trail descriptions here to choose one that is what you're looking for. Raven Ravine is a particularly good one!
4. Indulge in Midwest classics at Darcy's Cafe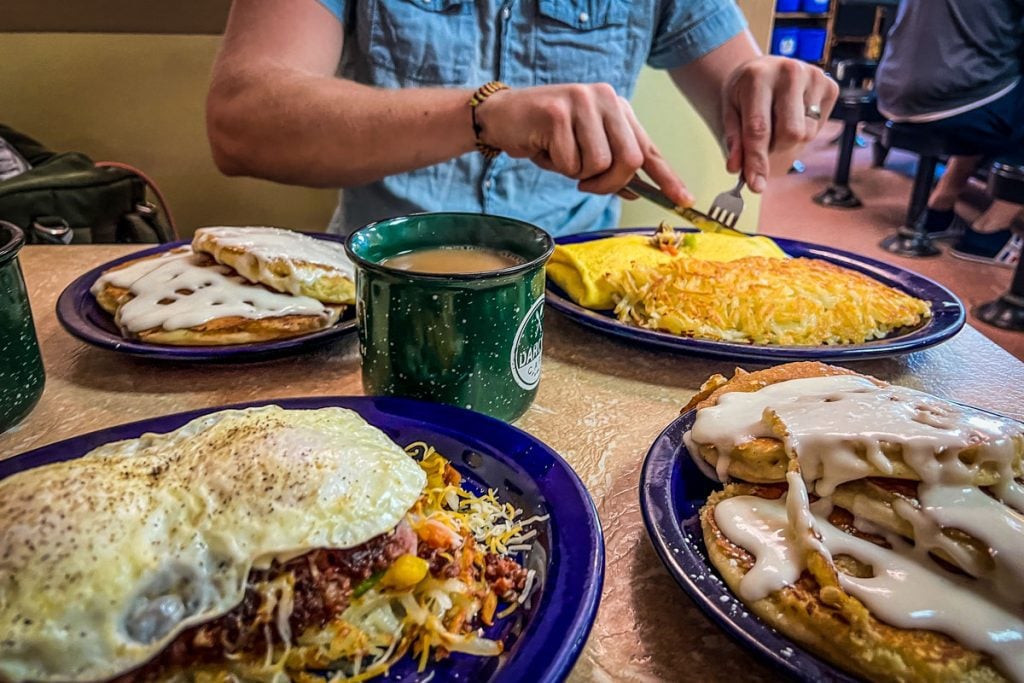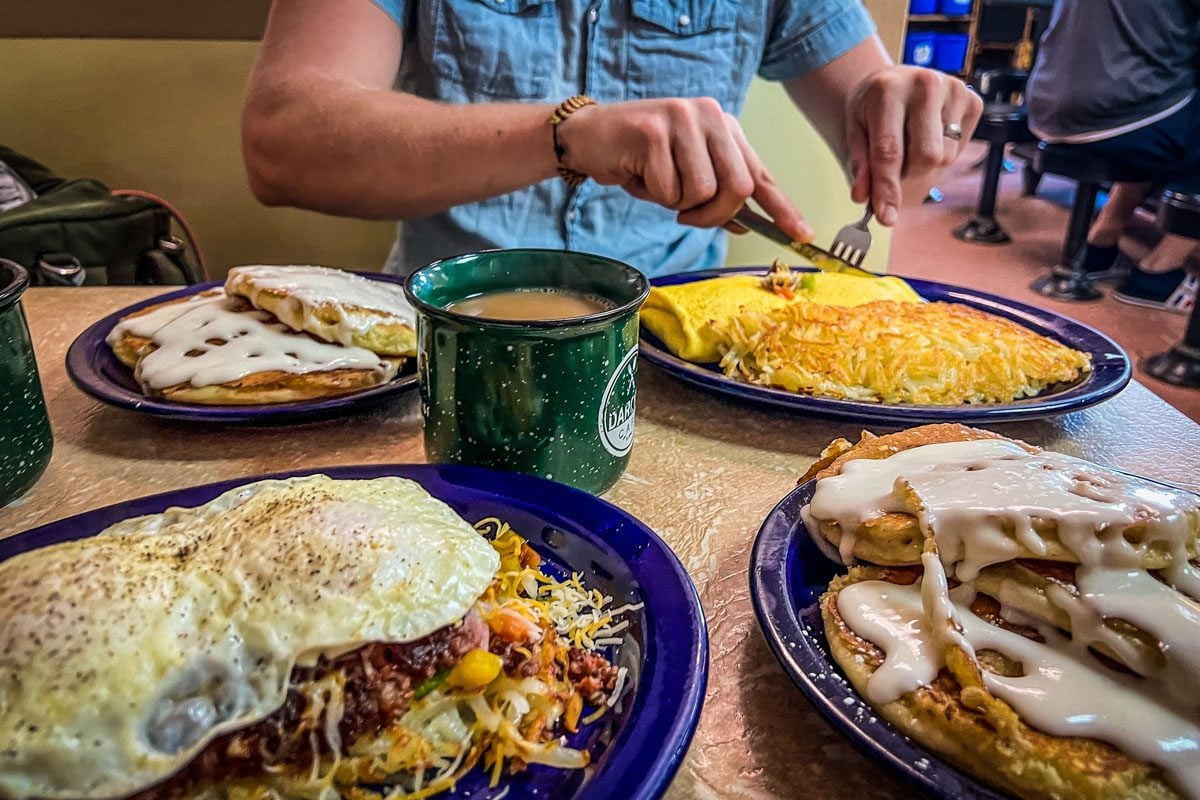 There's nothing that screams Americana quite like grabbing breakfast at a diner. And Darcy's serves up some of the best in town in an unpretentious atmosphere.
The walls are covered with university paraphernalia, vintage posters and coloring book pages signed by little patrons (many of which say "to Darcy" on their corners).
Like we said, classic diner.
The service is a little hurried (this place gets busy!), and the coffee is, well, what you'd expect from a bottomless mug at a diner. (For actually great coffee, see #1 on this list.)
And this pocket-sized cafe isn't much to look at, but once you see your plate piled high with perfectly crispy hashbrowns, an expertly-folded omelet or fluffy, just-off-the-griddle pancakes, you'll understand what the hype is about.
Come hungry, because the portions are large and the food is hearty!
What to order:
We liked the Kasper Special, which is hash browns topped with corn beef hash, sausage, ham, bacon, peppers, onions, cheese, and eggs cooked to order.
You can upgrade your side of pancakes to be their famed "Cinnamon Roll Pancakes" for just a small upcharge.
Insider tip: If you like things spicy, be sure to try their (many!) hot sauces. We particularly liked the chipotle and the garlic (mixed).
5. Wander the UND campus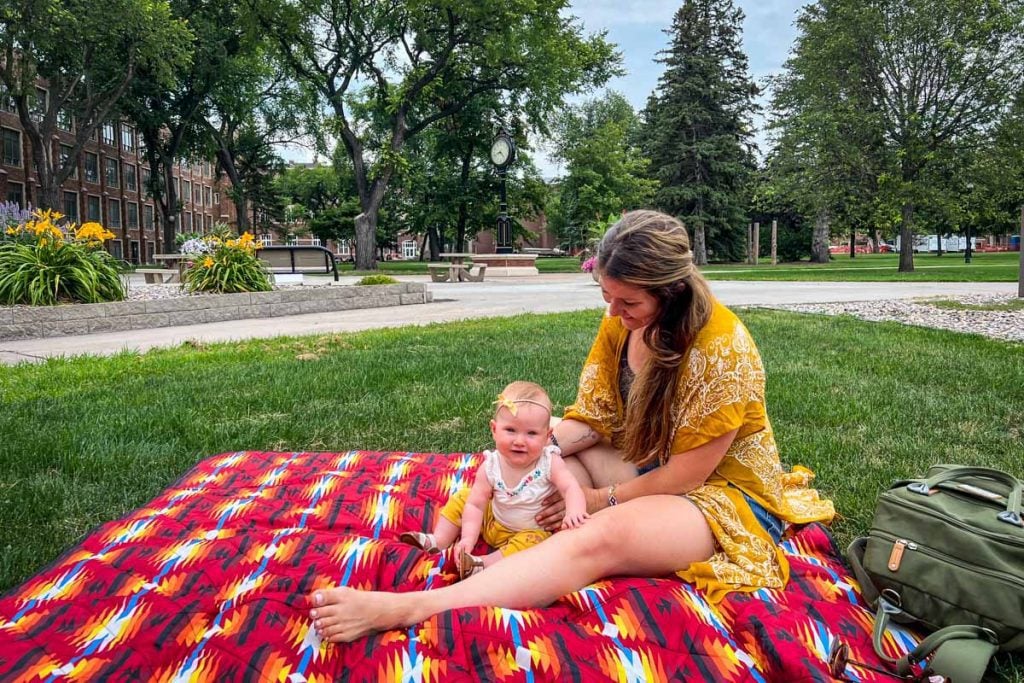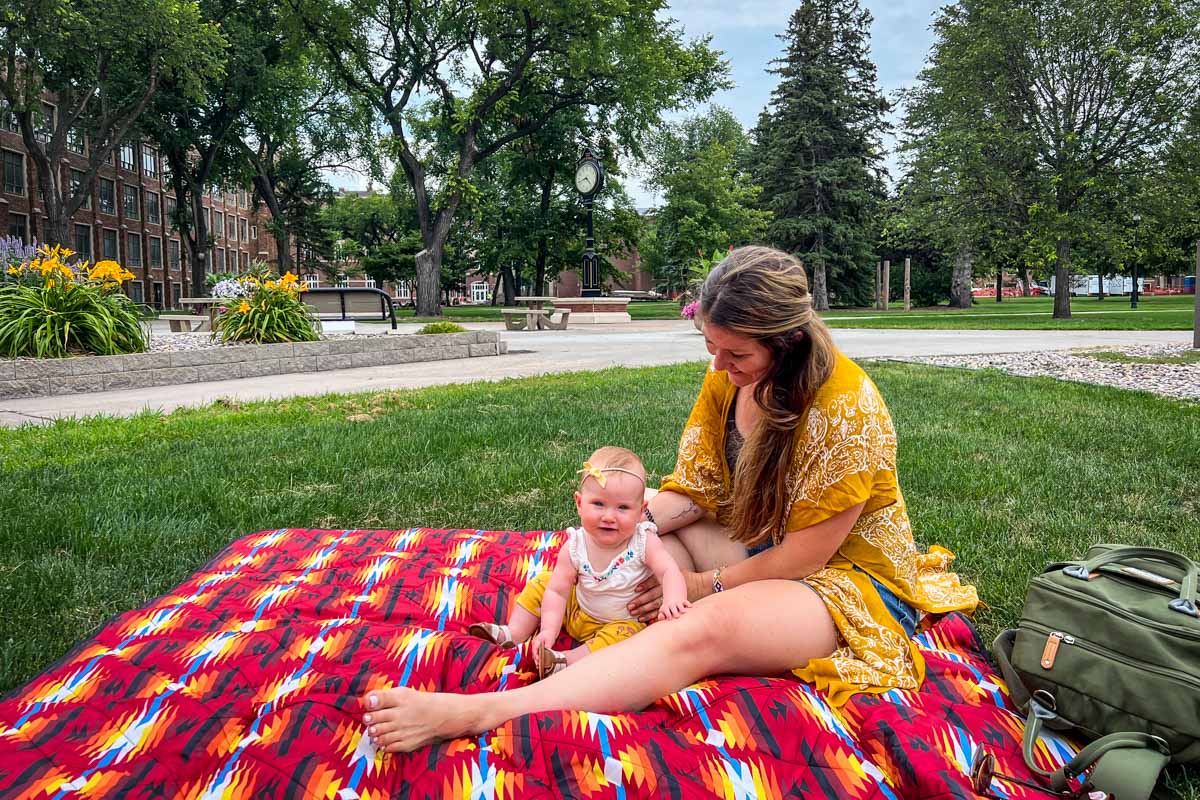 I have a thing for wandering around college campuses. Anyone else?!
There's just something about walking through a quad and knowing this is a place where so many memories are made and dreams are realized. Oh, and university campuses usually have some pretty cool architecture, too!
Whether or not you're visiting Grand Forks while school is in season, you can stroll the campus or find a place to spread out on the grass and do a bit of people watching.
6. Peruse the Museum of Art… for FREE!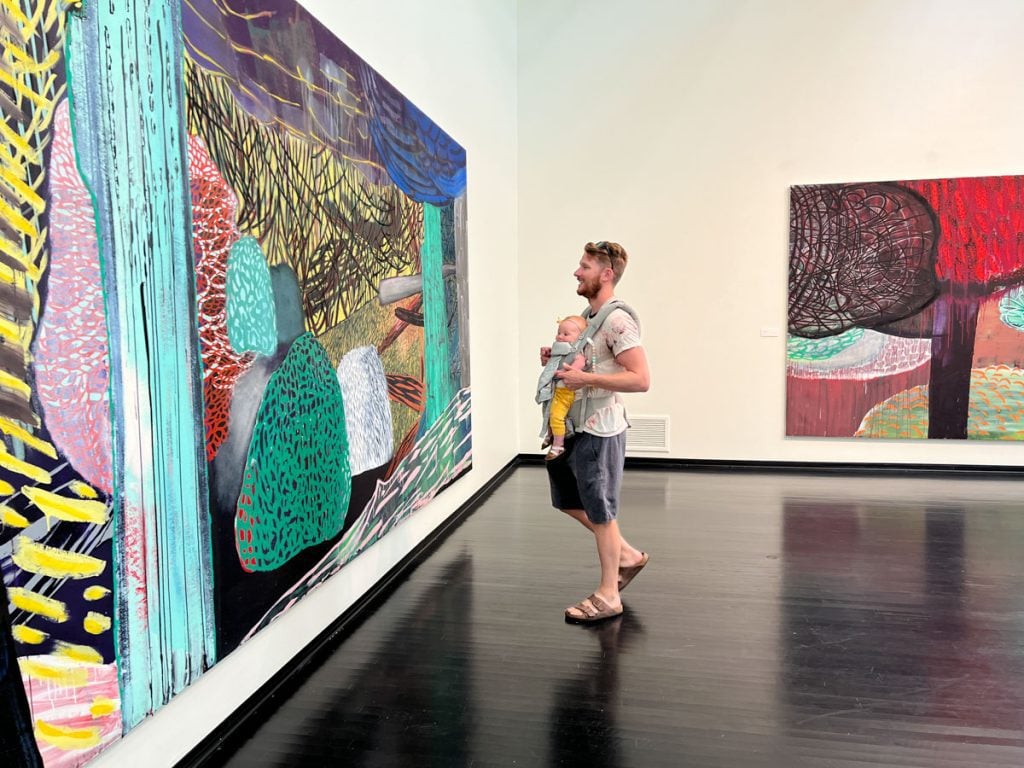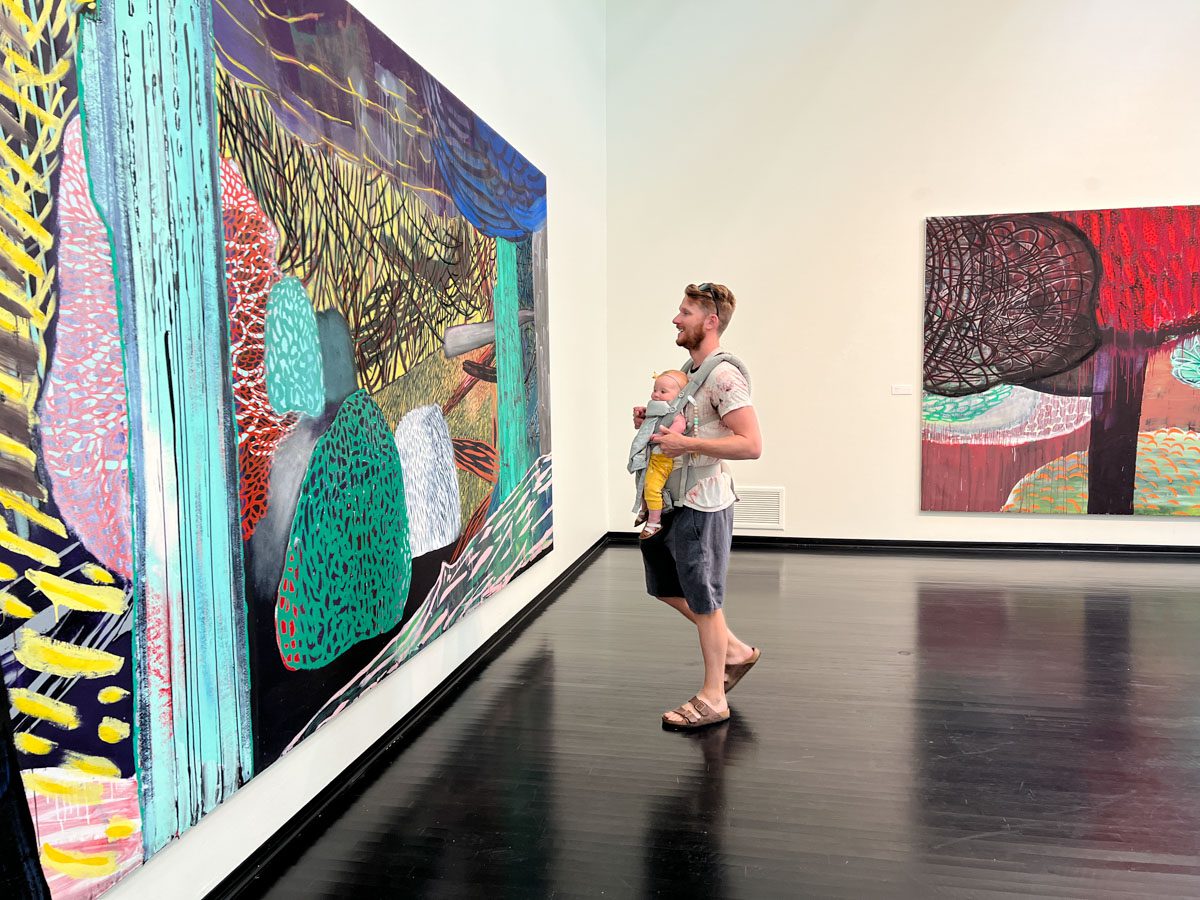 If you're looking for free things to do in Grand Forks, be sure to make your way to the North Dakota Museum of Art.
Located on the university campus, this museum is free to all!
I double majored in journalism and art, so I've been to quite a few art museums in my day. And I will say this one is quite small. When we were there, we only saw two artists' work displayed, but it is still a neat stop to make while exploring the university campus.
Plus, there are some cool artworks on display just outside the museum, which is known as their (small) sculpture garden.
North Dakota Museum of Art: Location | Website
7. Try the best pizza in the state on the Rhombus Guys Rooftop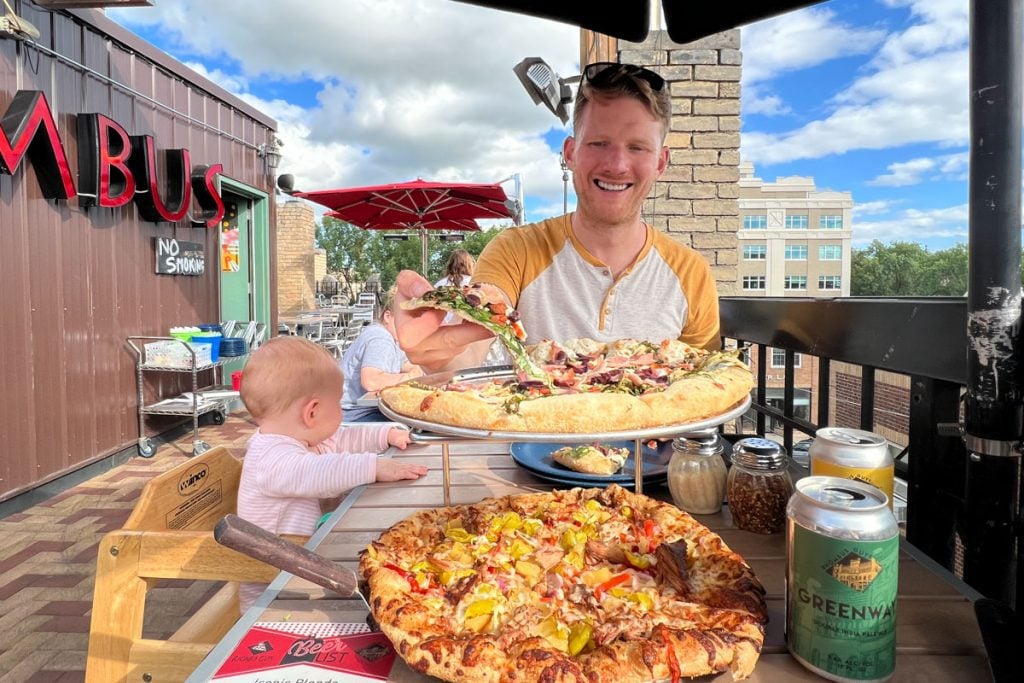 Voted the best pizza in North Dakota by Business Insider, this town staple has a cult following.
We had heard great things about Rhombus Guys from family and friends even before getting to Grand Forks, so we had high expectations. And we've got to say, it is pretty great pizza.
If you're visiting on a nice day, grab a seat on their intimate rooftop for dinner with a bit of a view. The only bummer about the rooftop is that they don't have their beer on tap here (just in cans).
What to order:
One of their most raved about pizzas is the "T-Rex", but it's essentially just an all-meat pizza. Not really our thing, but if it's yours, go for it! Or choose the Midwesterner, which is the T-Rex, plus green peppers and onions and a side of ranch.
With so many more unique options (like pizza with tater tots or pickles), we had a tough time choosing. We landed on the Amalfi Coast (a Greek-style pizza that was okay), and the Happy Pig (pulled pork, honey BBQ, pineapple, pepperoncini, red peppers), which was great!
Just an honest note here: The pizza was very good, but we had some pretty sub-par service here. We would certainly try it again and know all restaurants have their good and bad days, but we do feel the need to share our honest experience.
8. Cheers with local craft beer
We're huge craft beer fans, so scoping out the local brewery scene is always at the top of our to do list when visiting a new city.
Below are the two most popular breweries in town:
Rhombus Guys Brewing Company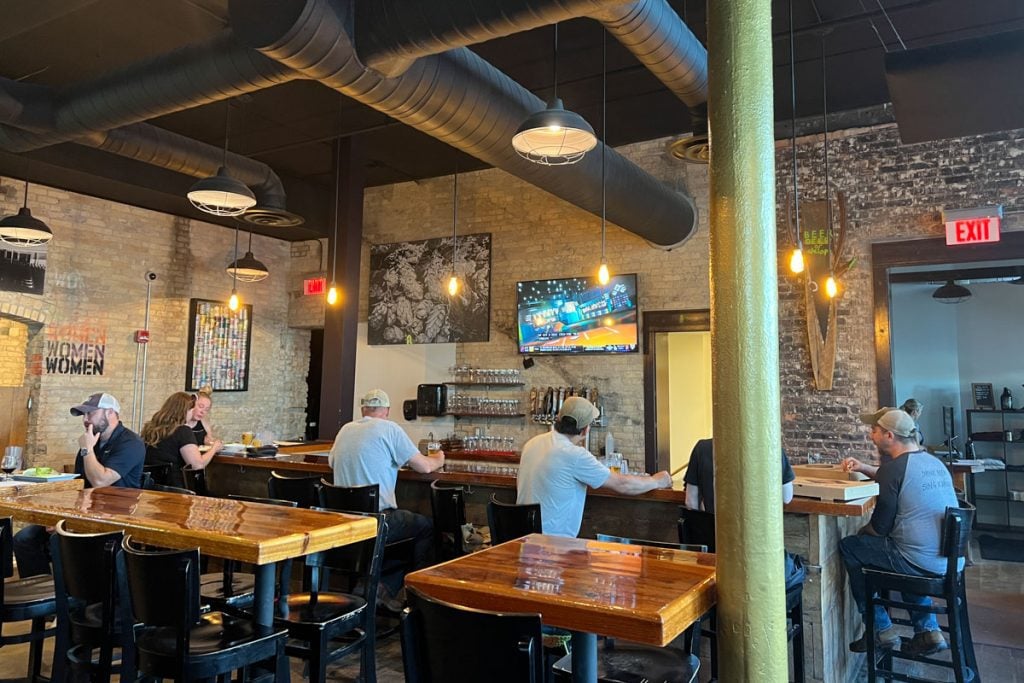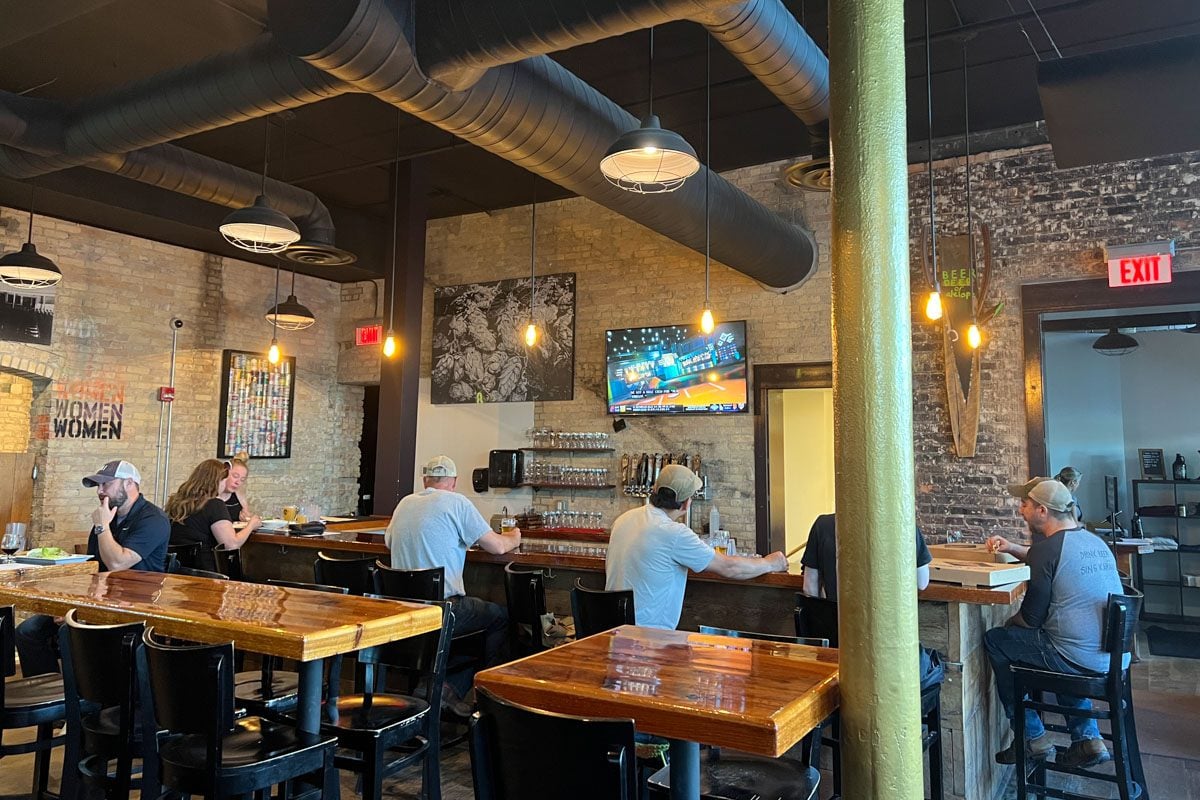 Located in what was once the Metropolitan Opera House, you can grab a beer and get a little taste of history all at the same time.
We've gotta say, the beer from Rhombus Guys Brewing Company is pretty darn good. We're IPA fans, and we both loved the Greenway IPA. But they have a variety of styles to choose from.
Interesting note: Rhombus Guys began with pizza (see #7), then opened a brewery. I mean, pizza and beer go together like peanut butter and jelly, so it makes sense, right? Being that they share a name, we thought they'd be connected, but they seem more like separate businesses. The brewery has its own food menu, and the pizza location serves Rhombus Guys beer as well as brews from elsewhere.
Rhombus Guys Brewing: Location | Website
Half Brothers Brewing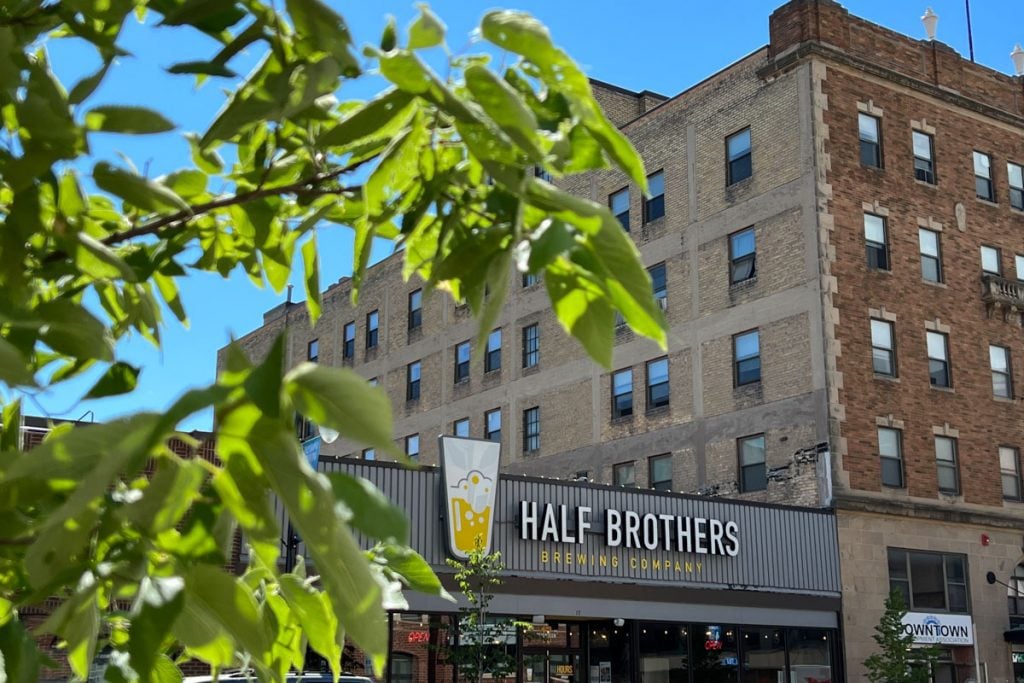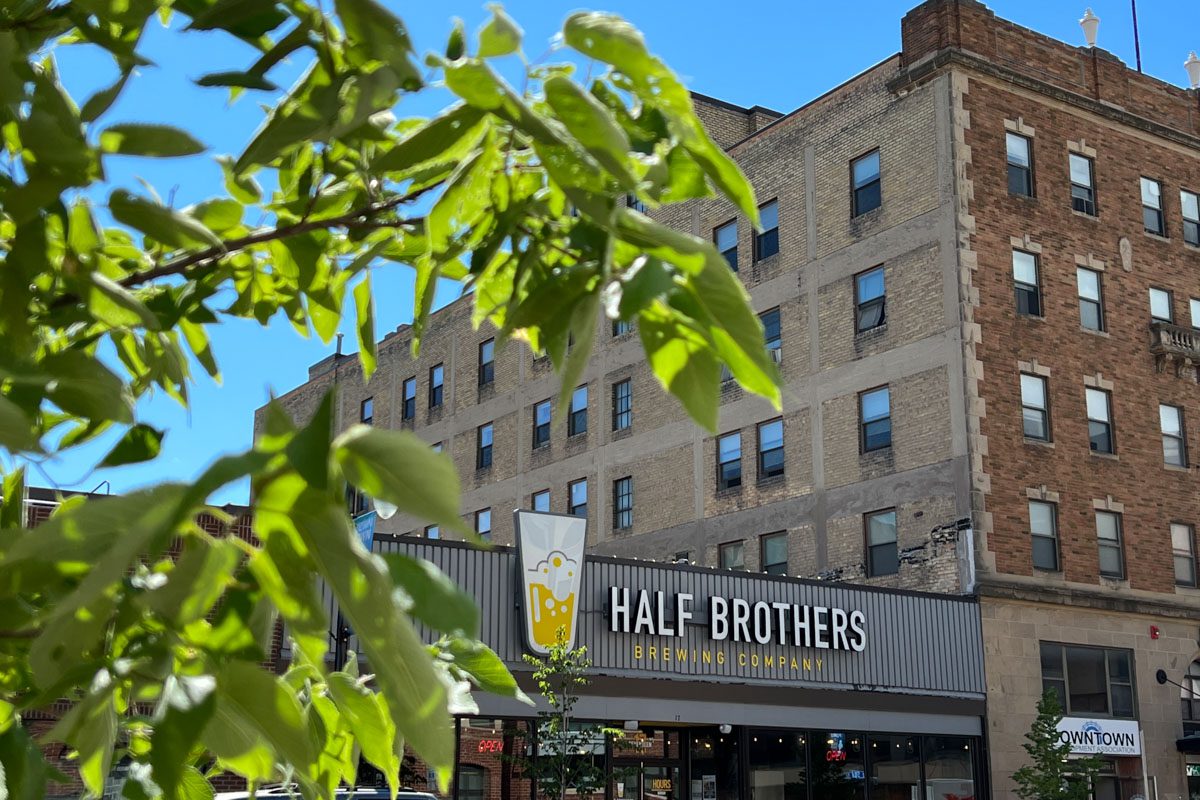 With a large beer menu as well as pizza and pub eats, Half Brothers is the perfect place to grab dinner and a drink (or two!) while in Grand Forks.
From classic, like golden ales and IPAs to more unique offerings, like a sour called "Pink Fluffy Unicorns Dancing on Rainbows", Half Brothers has a beer for just about everybody!
Half Brothers Brewing Co.: Location | Website
9. Shop local at the Town Square Farmers Market
On Saturdays from 9 a.m. to 1 p.m., Town Square turns into a lively farmers market, full of local vendors and artisans.
Shop for fresh produce and handmade goods while enjoying a fun community atmosphere.
We love farmers markets, so this would have definitely been on our Grand Forks itinerary had we been visiting on a weekend.
10. Kayak the river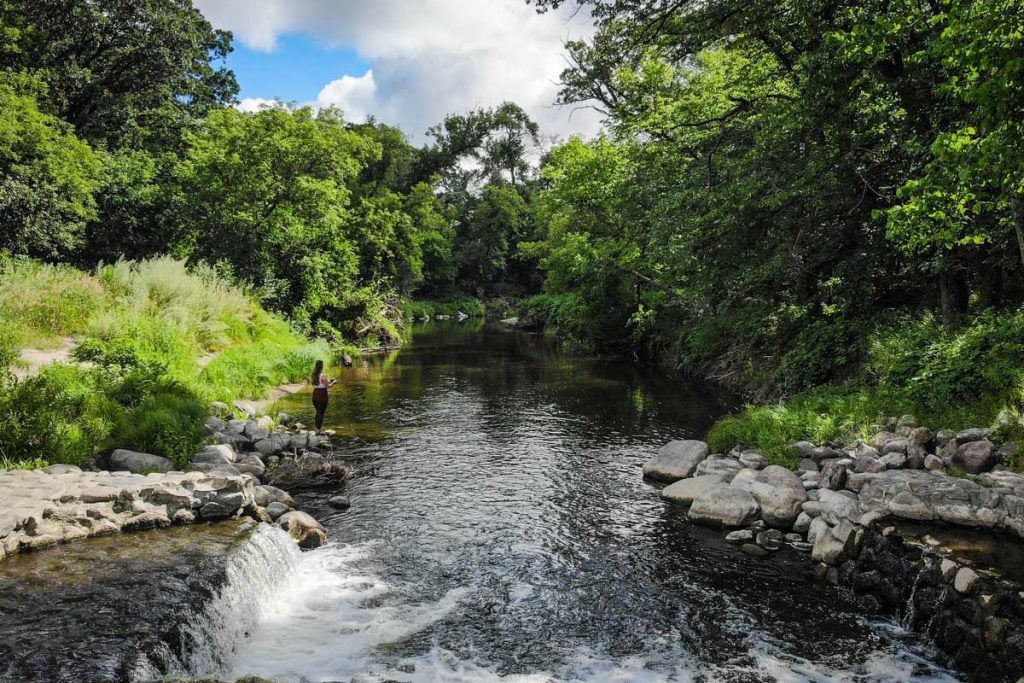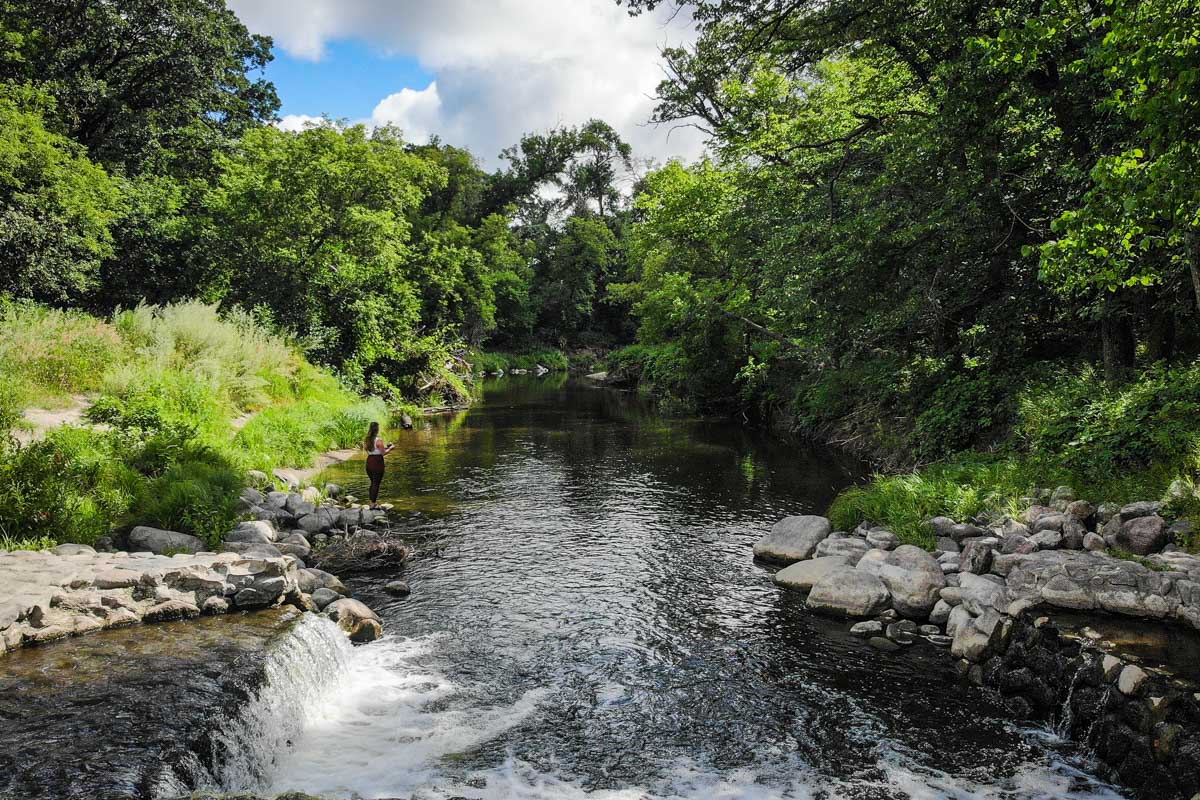 While the river was too high to get on the water while we were visiting in early August (womp, womp), kayaking the Red River makes a fun and adventurous thing to do in Grand Forks.
Do it yourself: Rentals are available at Boathouse on the Red and are $15 per paddler for 90 minutes.
11. Bike (or walk) the Greenway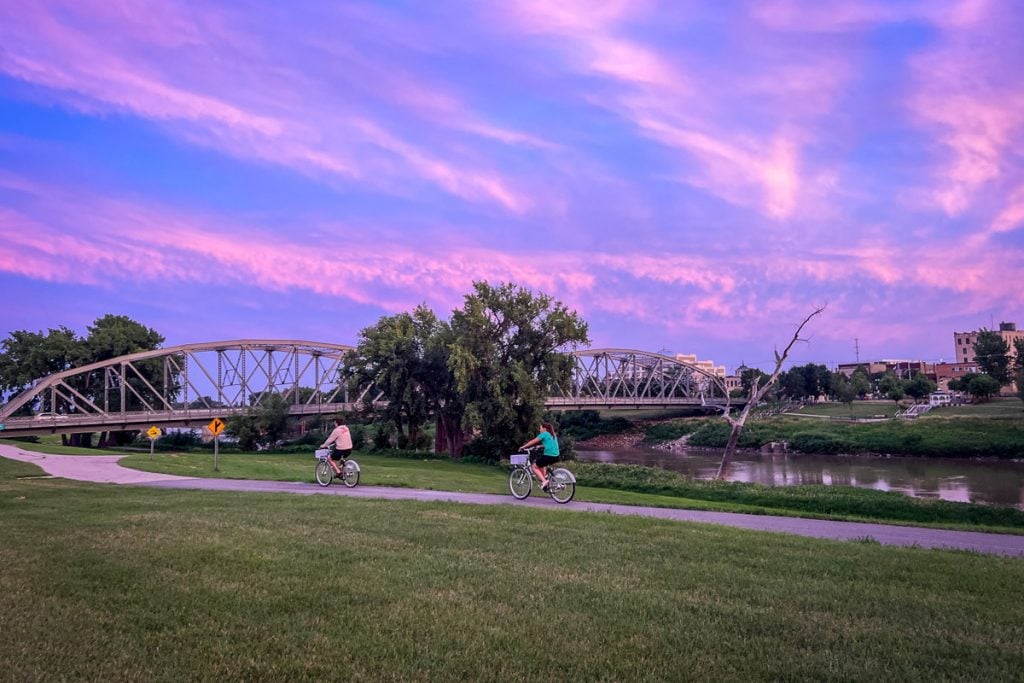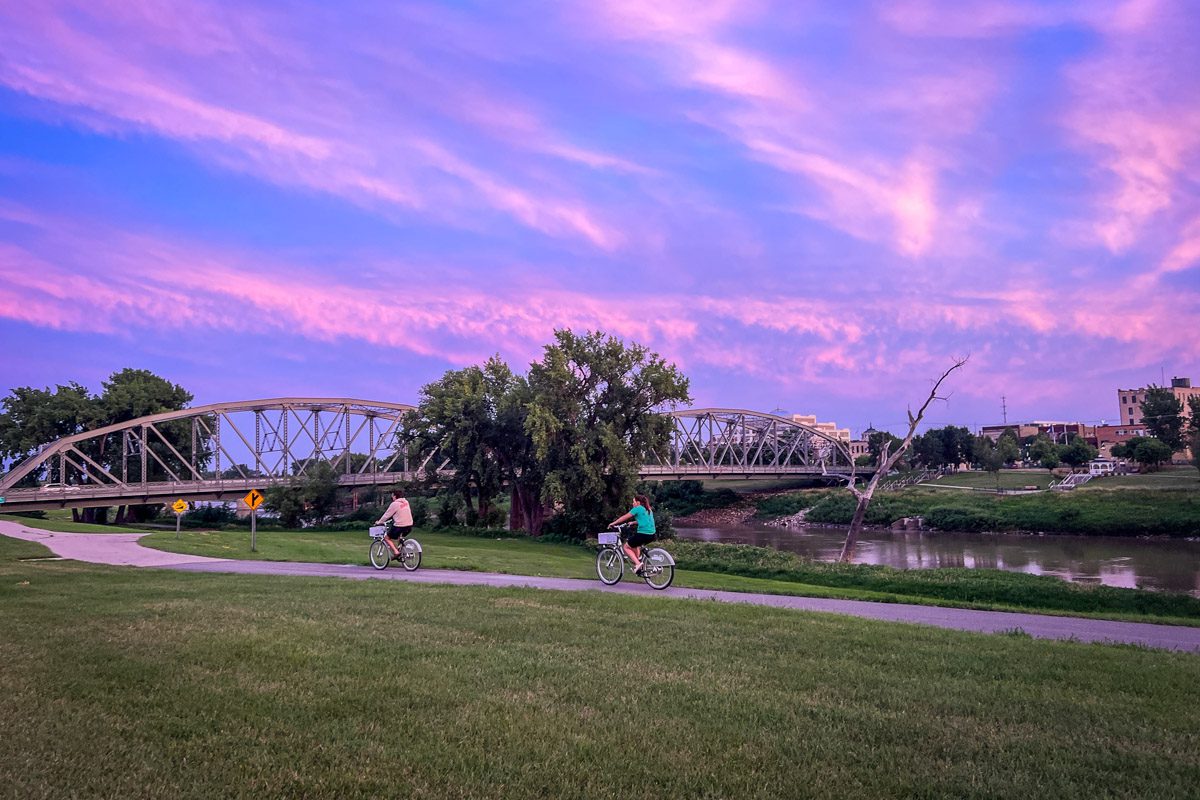 Calling all active travelers!
The Greenway hugs the Red River, which runs right through town and marks the state line between North Dakota and Minnesota.
After this river flooded in 1997, the Greenway Trail was established as a recreation space that could be enjoyed year round.
Comprised of roughly 2,2000 acres, this is a perfect spot to start your day with a little light exercise, or ya know, work off that pizza and beer from Rhombus Guys as the sun sets.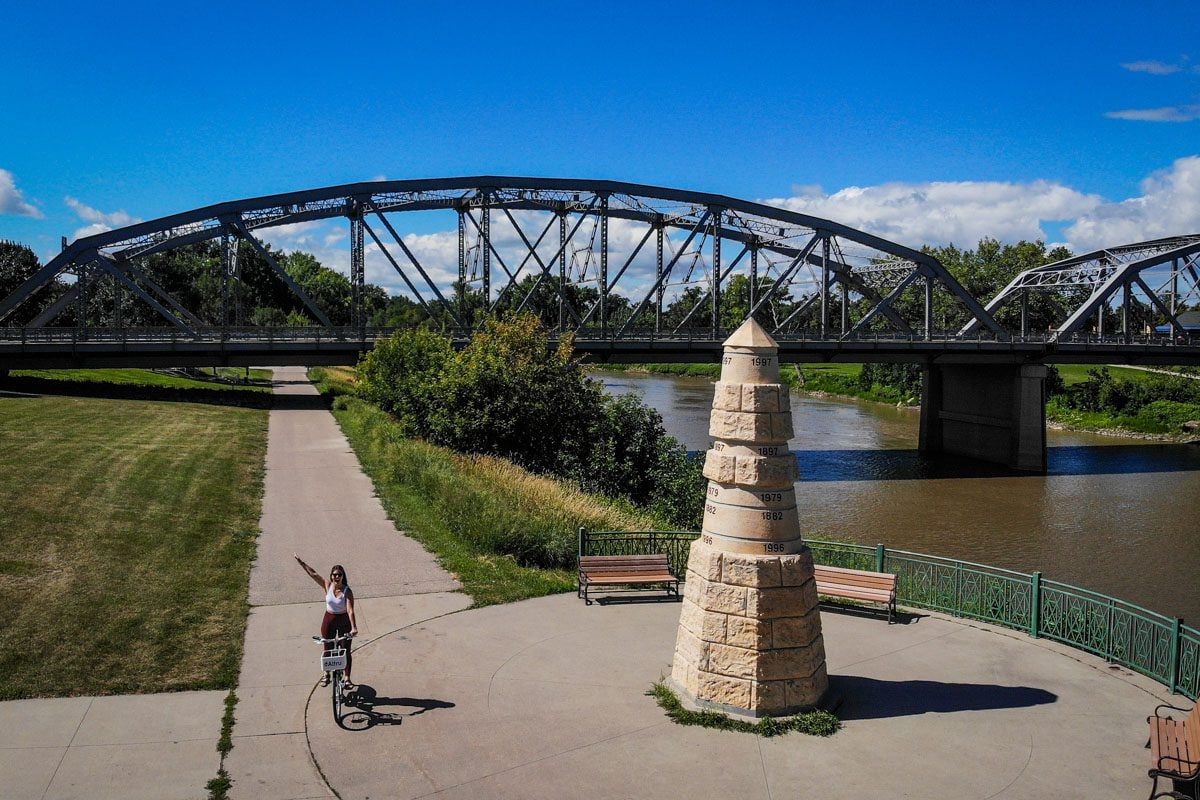 You can choose to explore the Greenway on foot or on two wheels, as there are a few bike share stations that have rentals available. The best part is bike rentals are free for the first 6 hours of use!
Insider Tip: Be sure to stop at the Flood Memorial Marker, which is right next to the river. It is pretty startling to see just how high the river has risen in the past.
12. Find a small slice of zen at Sertoma Park Japanese Gardens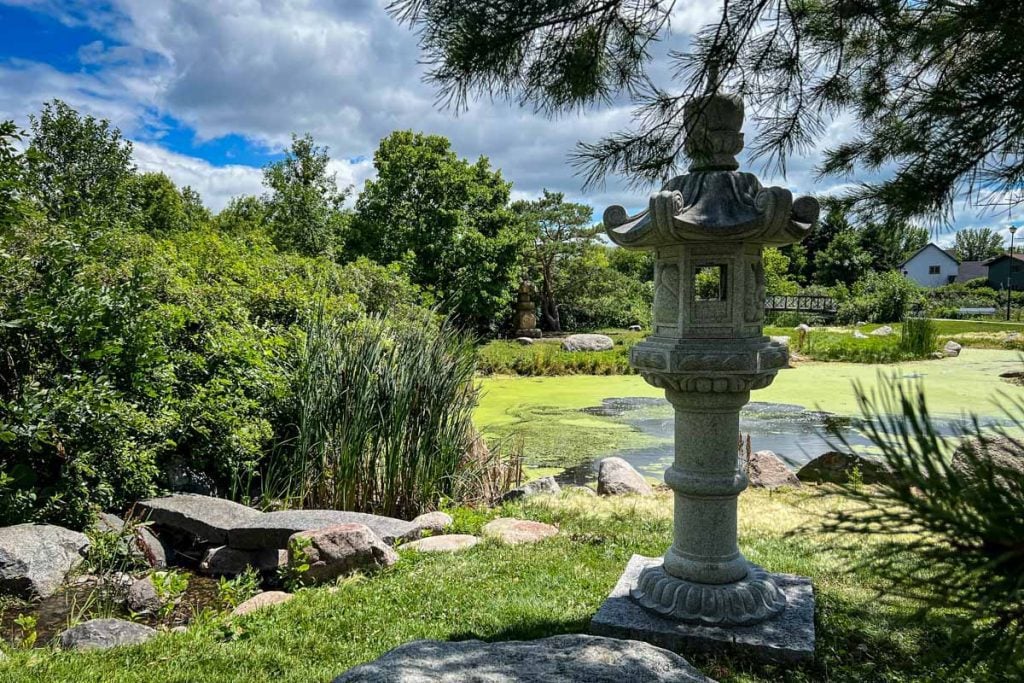 If you've perused around our blog before, you may already know that we are obsessed with Japan. (It's one of our favorite countries!)
So whenever we have the opportunity to imagine — even if just for a minute — that we are in the Land of the Rising Sun, we take it!
Not gonna lie, Sertoma Park Japanese Gardens is small. Like really small. It is essentially a pond with two traditional stone lanterns gifted by Grand Forks' sister town in Japan.
While not big in size (and not worth going out of your way much to get here), there is a playground in the adjoining park, making this a nice place to get a little morning zen (or to wear your little ones out before nap time!). Bring a thermos of tea and sit on a bench to soak up the view.
13. Trivia Tuesdays at Up North Pizza
We're huge fans of finding trivia nights on our travels. Don't get me wrong — we're not good at trivia. But we think it is a fun way to get a taste of the local scene.
Plus, we just learn a ton every trivia night we go to, and that's always fun!
Up North Pizza is known for serving up some fantastic pies, and on Tuesdays, you can join a local crowd for tasty eats, good beer, and some brain-powered fun!
14. Try North Dakota's take on fried pickles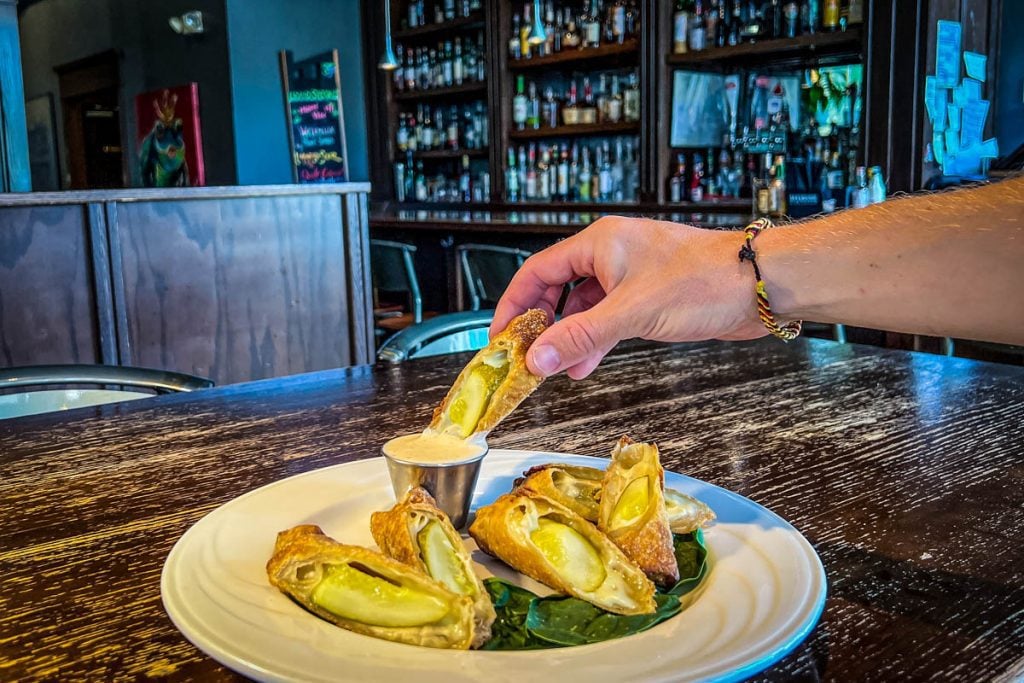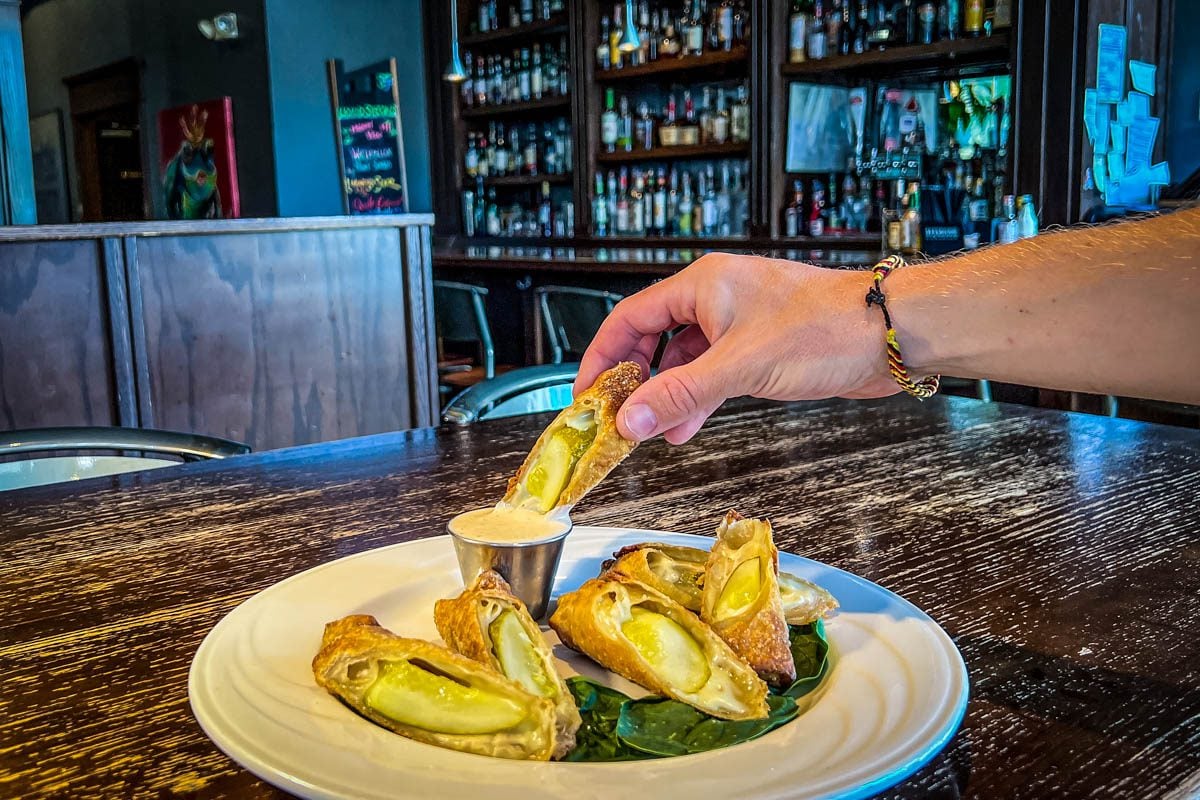 While fried pickles originated in the American South (Atkins, Arkansas, to be exact!), North Dakota has its own spin on this addictive bar food that we are kind of loving…
Instead of pickle slices getting battered then fried, the North Dakota version starts with a pickle spear that is wrapped in havarti cheese (because cheese is a staple Midwest ingredient that makes everything better, dontcha know!).
The cheese-wrapped pickle is then covered in a wonton wrapper before being fried. Served with a sriracha-based dipping sauce, we are big fans.
Sound like a snack you've gotta get your hands on? Here's what you're gonna do…
While the ND-style fried pickle can be found on menus throughout the state, the original version is supposedly from The Toasted Frog. And it is good.
Come for dinner or make it a happy hour stop and pair your pickles with one of their signature martinis.
While we didn't have the most wonderful service at the restaurants we visited in Grand Forks, The Toasted Frog was the one exception.
The bartender was super friendly and we would have loved to stay and enjoy our pickles in the handsomely appointed bar. However, since we were traveling with a baby – aka not allowed in bars – we had to take our order to go (after snapping a few photos to share with you, of course!).
Even though we couldn't hang with a martini, we're so glad we tried these pickles because they may have been our favorite thing we ate in Grand Forks. And the sriracha dipping sauce they were served with actually had a kick (we love spicy!) which was hard to find on other menus in this Midwest town. Definitely give these pickles a taste when you're in Grand Forks!
15. Go to a hockey game at "one of the finest arenas in the world"
Visiting Grand Forks in the winter? You're in for a treat, as this town is a hockey-lover's haven.
Book tickets and experience not only an exciting game, but a world-class venue and the magic of the entire city getting behind the sport.
A little background on the Ralph Engelstad Arena
We knew nothing about this facility before our visit, so we did a little digging and what we found is pretty interesting…
The Ralph Engelstad Arena is located on the university campus is the proud home of men's hockey and has been named as one of the top college hockey arenas in the world. In fact, it has reportedly been referred to as "the Taj Mahal of hockey", in reference to the level of high-end materials used in the construction of this facility, such as granite floors, and spectator seats made of cherry wood and leather.
Hockey legend Wayne Gretzky has even called this arena "one of the most beautiful buildings we have in North America".
However, this arena is not without its controversy. UND was known as the "Fighting Sioux" until the NCAA barred the use of Native American symbols in 2012. This ban stirred up some controversy, especially in the Ralph Engelstad Arena.
If you want to get the full deets on the drama, read more here, or you can tour the facility when you're in Grand Forks and ask for the scoop firsthand. Tours take place Monday – Friday at 1:30 p.m. and costs $7 per adult.
16. Catch outdoor music at "Concerts in the Garden"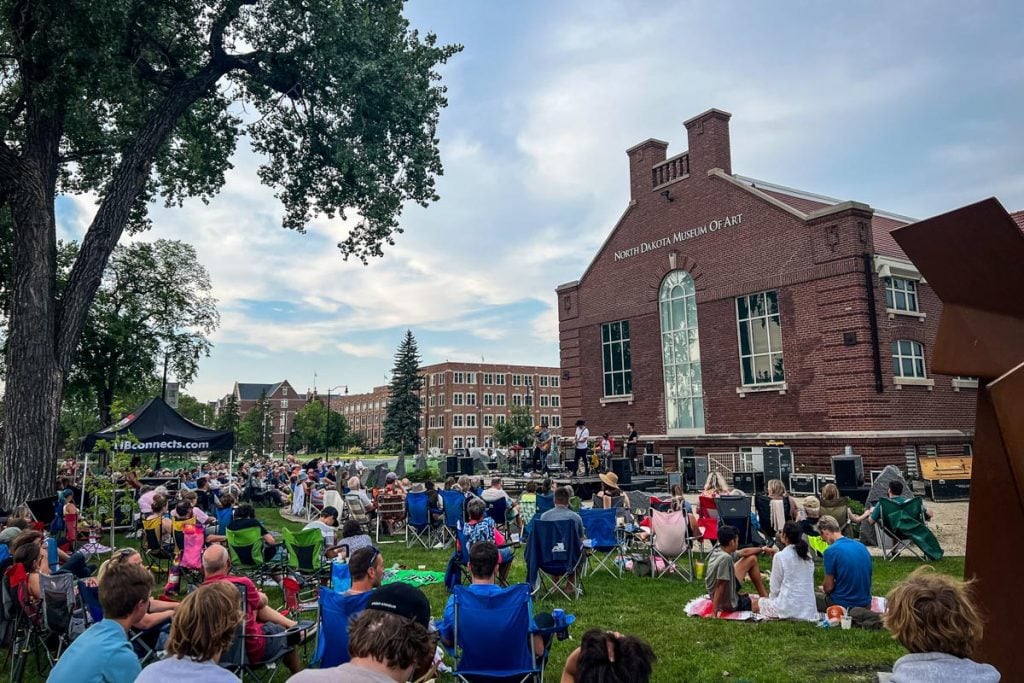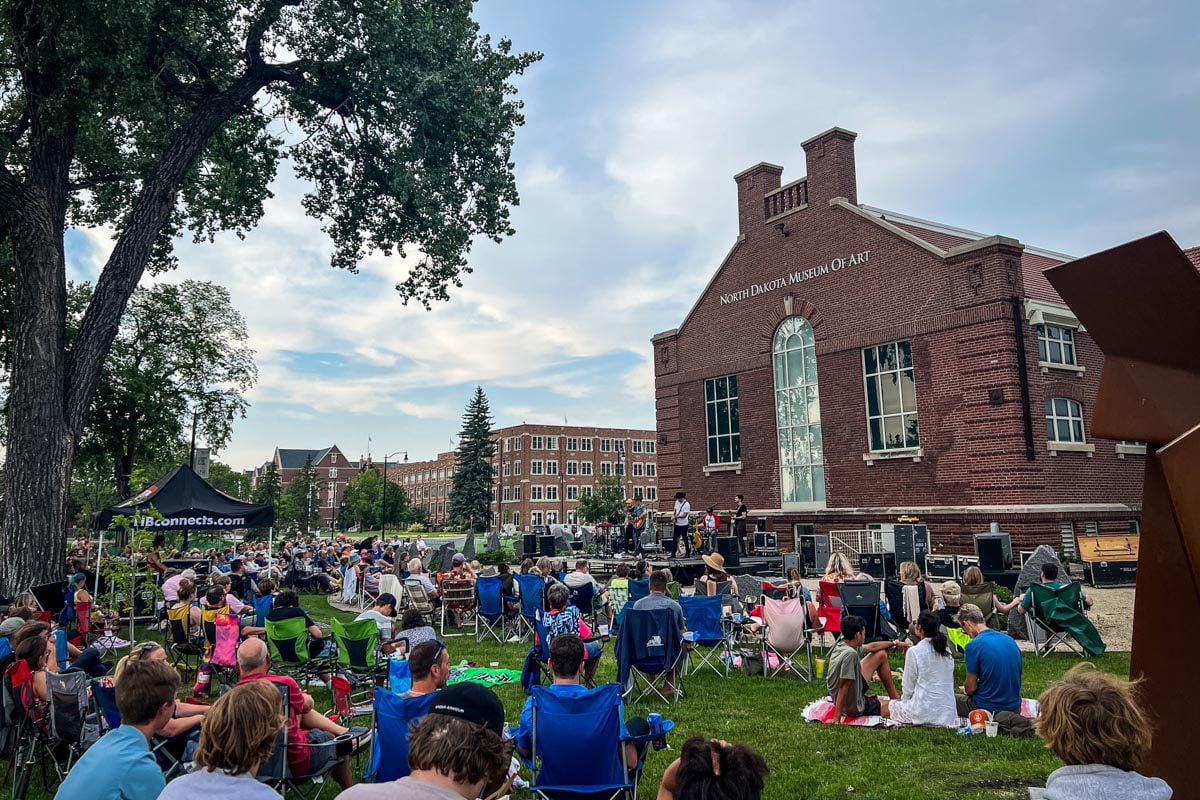 Outdoor concerts are one of our very favorite things to do. Ever.
Pair that with a local beer, and boom – we are two very happy people. (It doesn't take much!)
If you happen to be in Grand Forks during one of their annual summer concert series shows, don't miss out!
Hosted by the North Dakota Museum of Art (located on the university campus), shows are Tuesday evenings during July and August (see their website for dates). Artists from around the country perform on a stage in the museum's sculpture garden, while concert goers enjoy the tunes, local beer and burgers or brats hot off the grill.
The shows are casual and family-friendly, and tickets cost $15. Bring a blanket and lawn chairs and enjoy a fun evening of outdoor music.
17. Shop at the flagship Scheels
Did you know that Grand Forks was the birthplace of the "All Sports Superstore" Scheels? We certainly didn't. It first opened in 1989, but in the years since, this chain has grown immensely. Now in 14 different US states, you can visit the flagship location while in Grand Forks. 
With more than 150,000 square feet, visiting this megastore is part shopping, part entertainment.
18. Taste Grand Forks' famous "Chippers"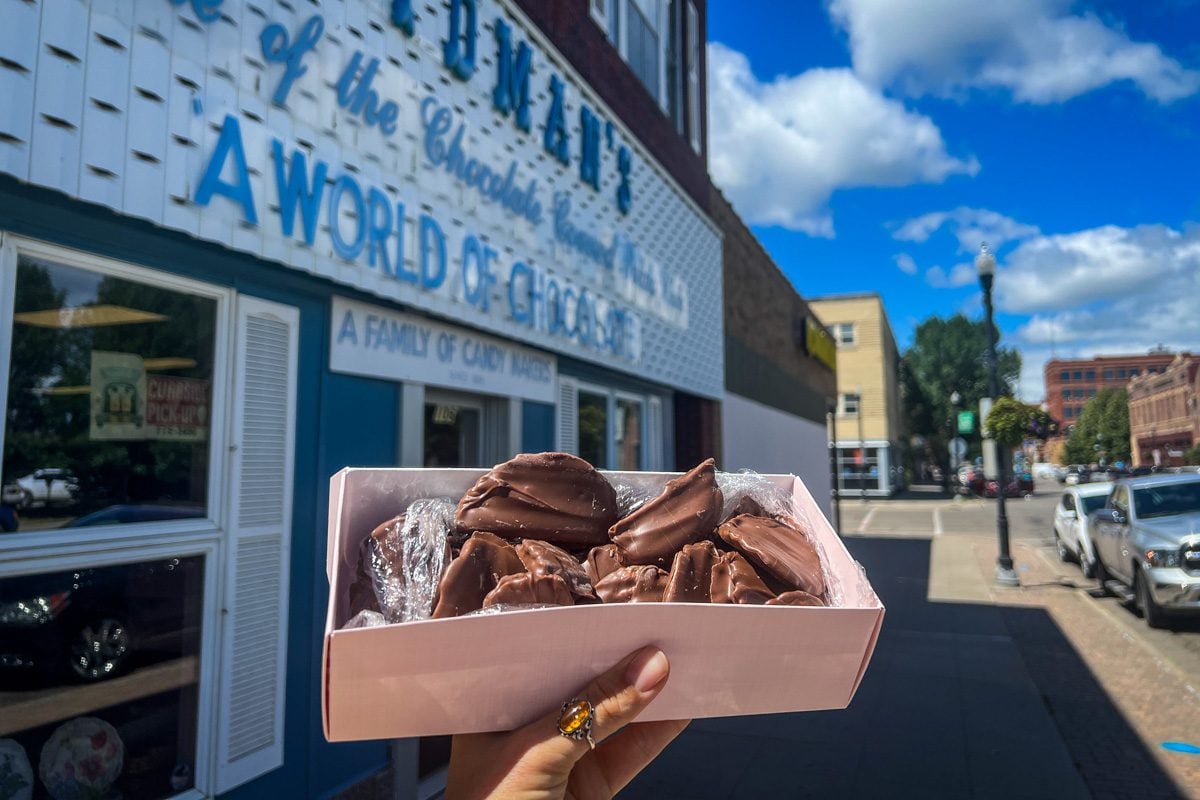 Widman's Candy Shop is a Grand Forks icon. The Widman family has been in the candy-making business for 4 generations – since 1885. And the thing they're known for is chocolate.
Their most popular confection is chocolate-covered potato chips, known lovingly as "chippers".
While they are the thing to get at Wildman's I have to admit that they're just not my personal favorite, as I'm not a big milk chocolate person. (The darker the better for me!)
But if sweet milk chocolate is your jam, you'll love these thickly coated chips that have a bit of a salty crunch!
19. Explore downtown Grand Forks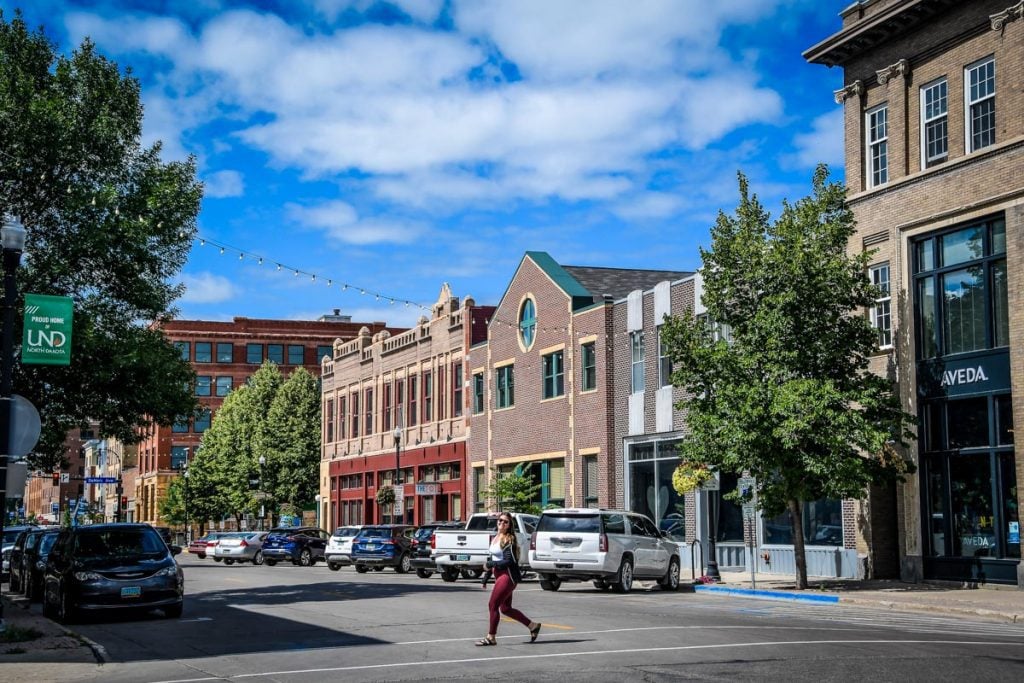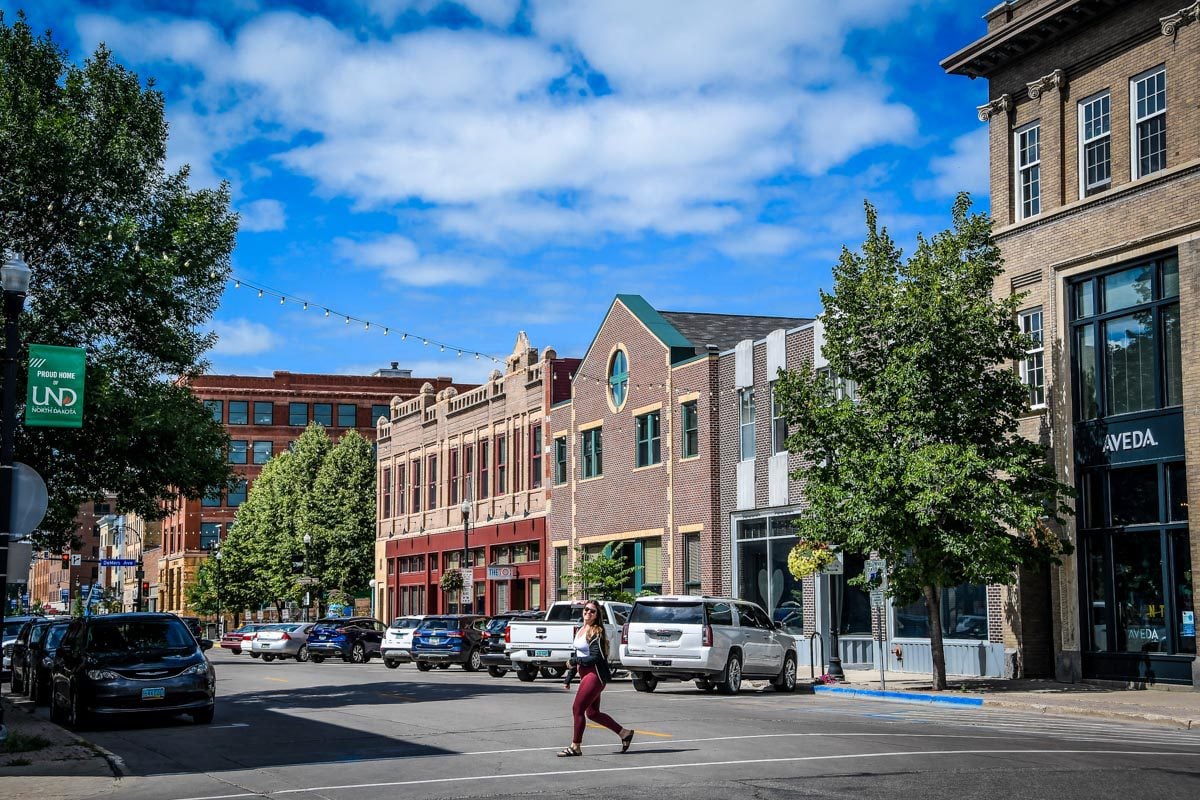 With ax throwing, an escape room, cafes, and a handful of cute boutiques, there's a little something for everyone in downtown Grand Forks. It's easy to find (free!) parking downtown and everything is very walkable, so go for a stroll and see what catches your eye!
Places in downtown Grand Forks
Entertainment:
Shopping:
Food & Drink:
---
Where to eat & drink in Grand Forks, North Dakota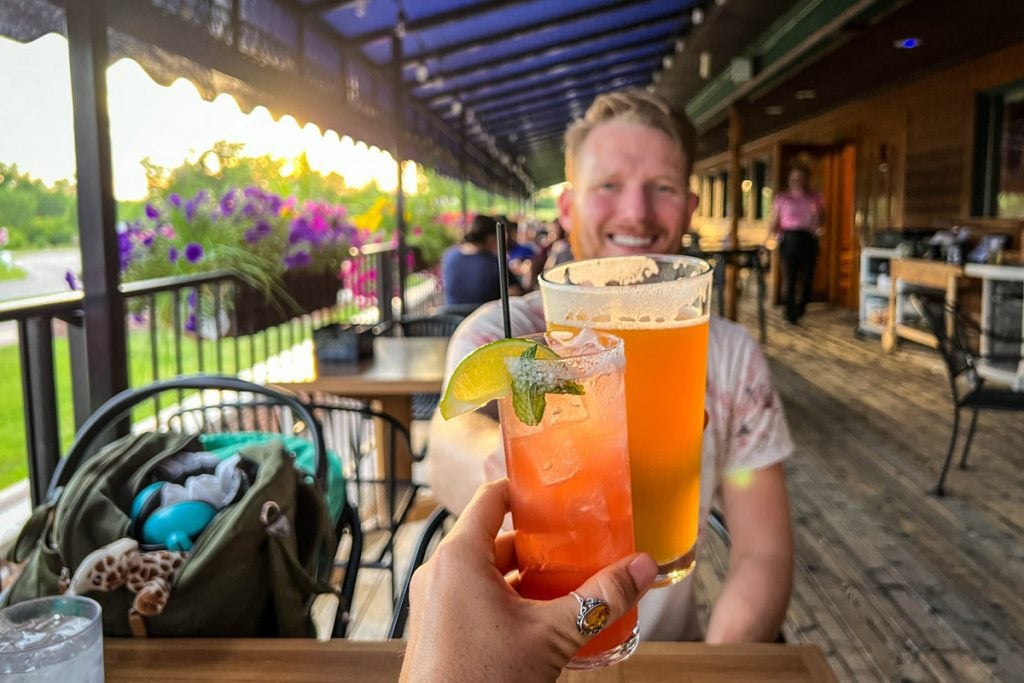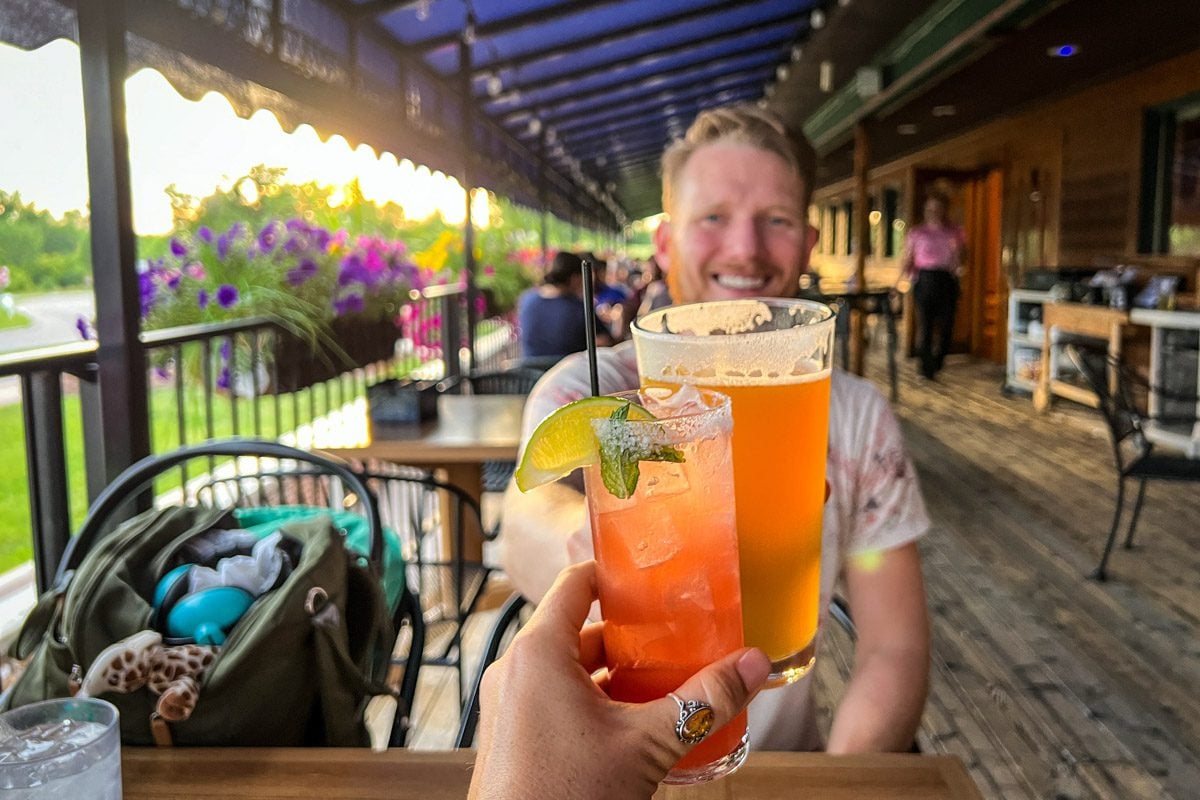 While the variety of cuisine is rather limited, Grand Forks has a pretty decent selection of American eats.
Think pub fare, pizza, burgers, and Midwest comfort foods.
We did a lot of "research" for this section by eating as much as possible during our stay. I've got to say, we ate pretty darn well in Grand Forks and have curated a list of some of the best restaurants in town — from local staples to hip brewpubs.
We've even included some tips on what to order so you have the best foodie experience in Grand Forks!
Urban Stampede
Fun atmosphere and excellent coffee… What more could you ask for? We would definitely come here again!
Urban Stampede: Location | Website
Darcy's Diner
This true diner is a local favorite for their big, hearty portions and no-frills atmosphere.
What to order: The Karl Special (eggs atop corned beef hash with veggies and meat) was really good. And if you have a sweet tooth, upgrade your side to cinnamon roll pancakes.
Darcy's Cafe: Location | Website
Rhombus Guys Pizza
With a lot of pizza options, you'll have no problem finding one (or several!) that are up your alley!
What to order: We loved the Happy Pig, which is a combo of pulled pork, honey BBQ, peppers and pineapple.
Rhombus Guys Pizza: Location | Website
The Toasted Frog
Cozy bar with cocktails and bites makes a nice happy hour spot or a place to grab a late nosh.
What to order: The fried pickle appetizer was one of our favorite things we ate in Grand Forks. Had we not been traveling with a baby, we would have tried some other dishes and paired it all with a signature martini.
The Toasted Frog: Location | Website
Blue Moose Bar & Grill
Classic American fare in a lively, cabin-like setting makes this a popular place for locals to gather.
What to order: They have a few types of walleye on the menu, which we'd recommend trying as it is a true Midwest classic. Upon our server's suggestion, we ordered it pan-fried and truthfully, it was too much breading for what we prefer. We'd give it another try, but next time we'd choose one of the grilled or broiled preparations.
Blue Moose Bar & Grill: Location | Website
More Grand Forks restaurant suggestions
We could only eat so much during our 2-day visit to Grand Forks. #travelbloggerproblems
We made a big list of all the places we want to hit on our next visit (based off recommendations we got!), so we thought we'd share them with you in case you have more time to eat your way around Grand Forks.
Ely's Ivy
This place looks like it would be right up our alley. If you're in search of a lighter take on American cuisine, Ely's serves up salad bowls and other farm-to-table fare. This would likely be our first stop next time in Grand Forks!
Up North Pizza
If you're a big pizza fan, this joint on the east side of the river serves up some of the best pies in the city. With unique topping combinations like their "Duck Duck Goat" which has bechamel sauce, roasted duck, grapes, goat cheese, candied pecans and arugula, this pizza joint is well worth a spot on your Grand Forks itinerary. If we're ever back in GF, we'll be sure to make it here!
Up North Pizza & Pub: Location | Website
Red Pepper
This local haunt has a handful of locations around town, but this is the original. This Grand Forks staple has been in business since 1961 and remains a town icon to this day.
Known for a Midwest spin on Mexican* cuisine, the menu has tacos, tostadas and their beloved "grinder" sandwich, expect a line and no-frills. In fact, they serve all of their dishes on paper plates and don't have forks (just spoons!).
*By "Mexican cuisine", I want to be specific and say that it is very much Midwest-American-Mexican. Think ground hamburger "taco meat", cheddar cheese, shredded iceberg lettuce, hard shell tacos. We're huge fans of traditional Mexican food, so we feel the need to clarify this is a whole different genre of cuisine!
Red Pepper: Location | Website
Sky's Restaurant
If you're looking for a meal that's on the fancier side, Sky's Restaurant fits the bill. With elevated American cuisine and handcrafted cocktails, this restaurant makes a great date night spot. Make a reservation if you're planning to visit on the weekend.
Sky's Restaurant: Location | Website
Parrot's Cay Tavern
If you're a fan of dives, look no further. My sister has been here and says this place serves up some fantastic chicken wings!
Parrot's Cay: Location
DogMahal DogHaus
For a super unique food-slash-entertainment experience, the DogMahal has hot dogs (supposedly some of the best in North Dakota), poutine, vinyls, comics and live music all in one place. Part hipster haunt, part dingy dive, this place earns rave reviews and speaks to a certain soul… perhaps that's you?!
---
You May Also Like…
Save this article on Pinterest for later!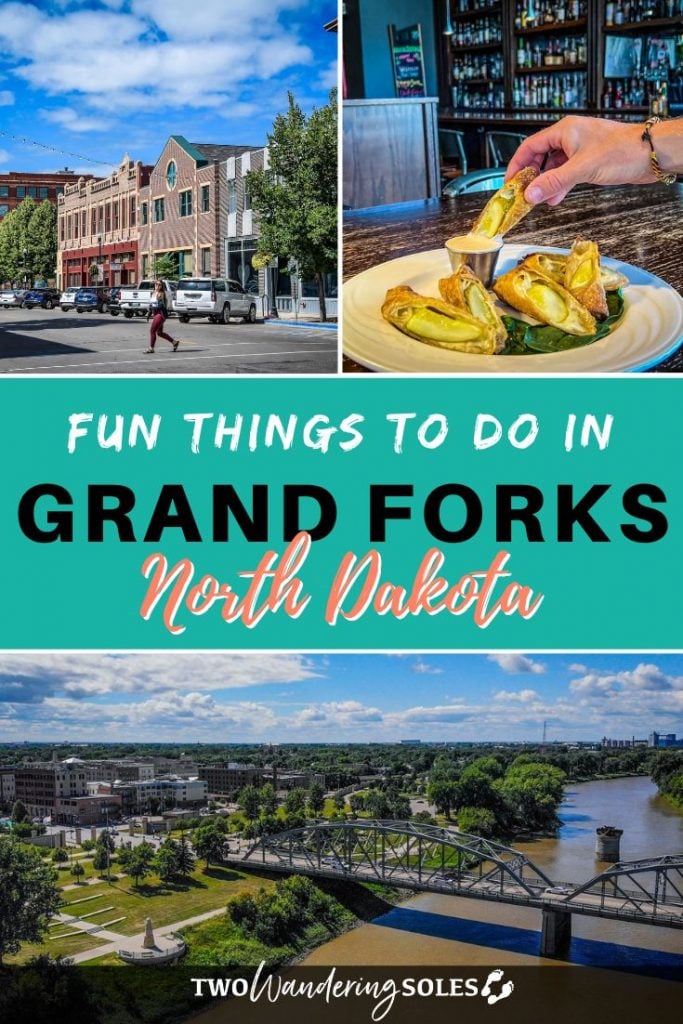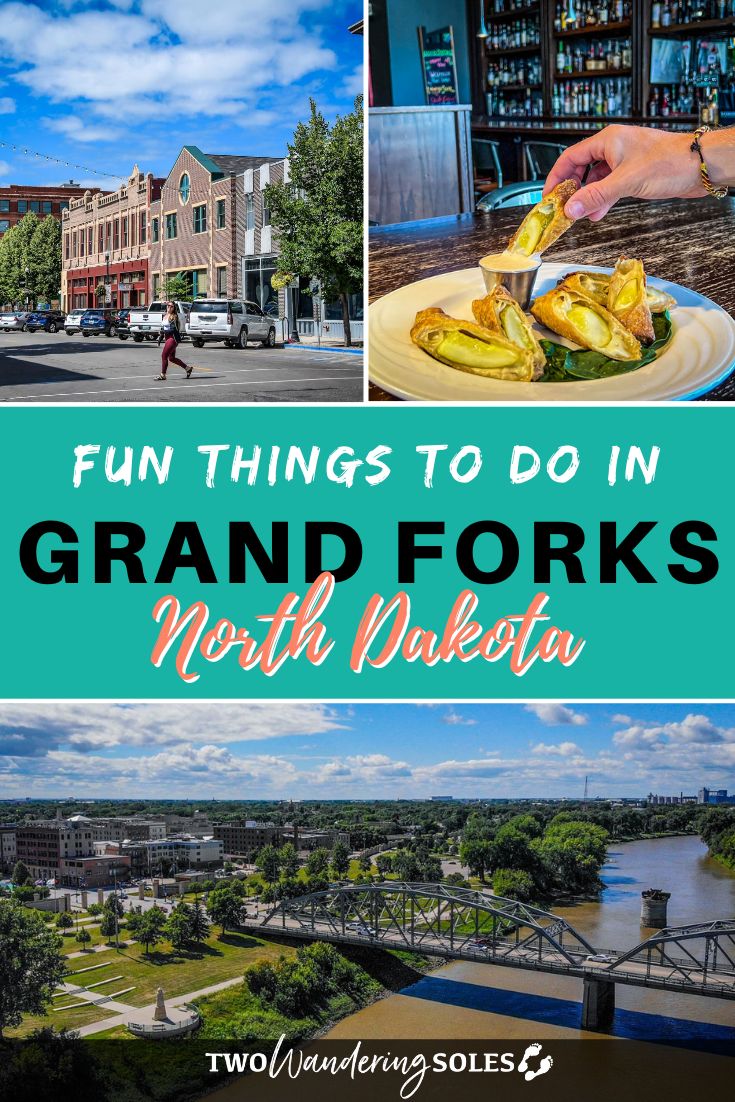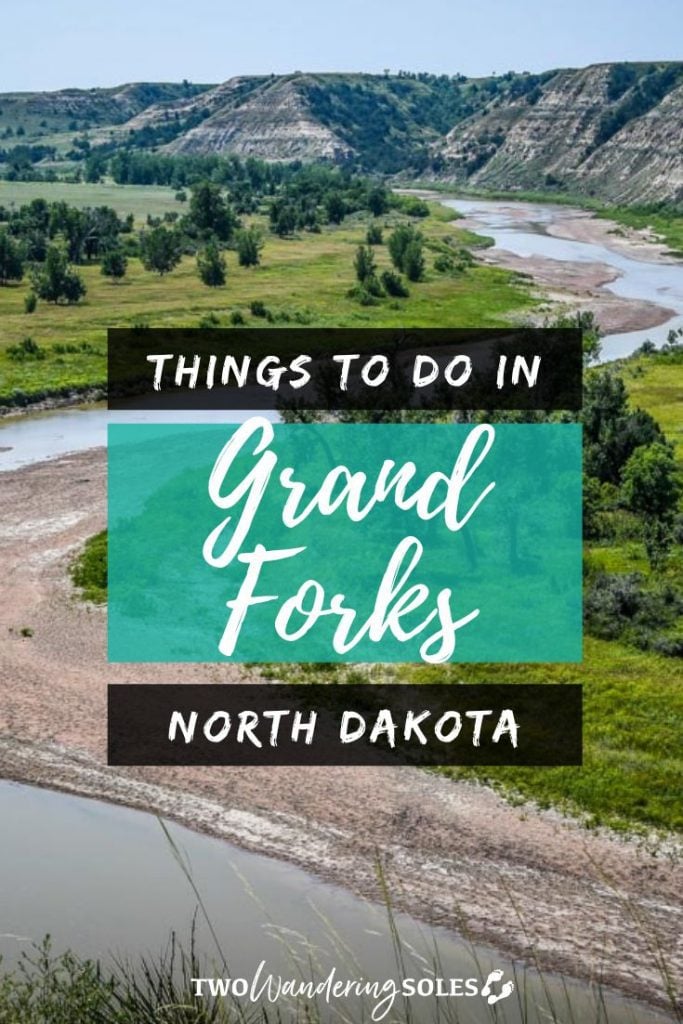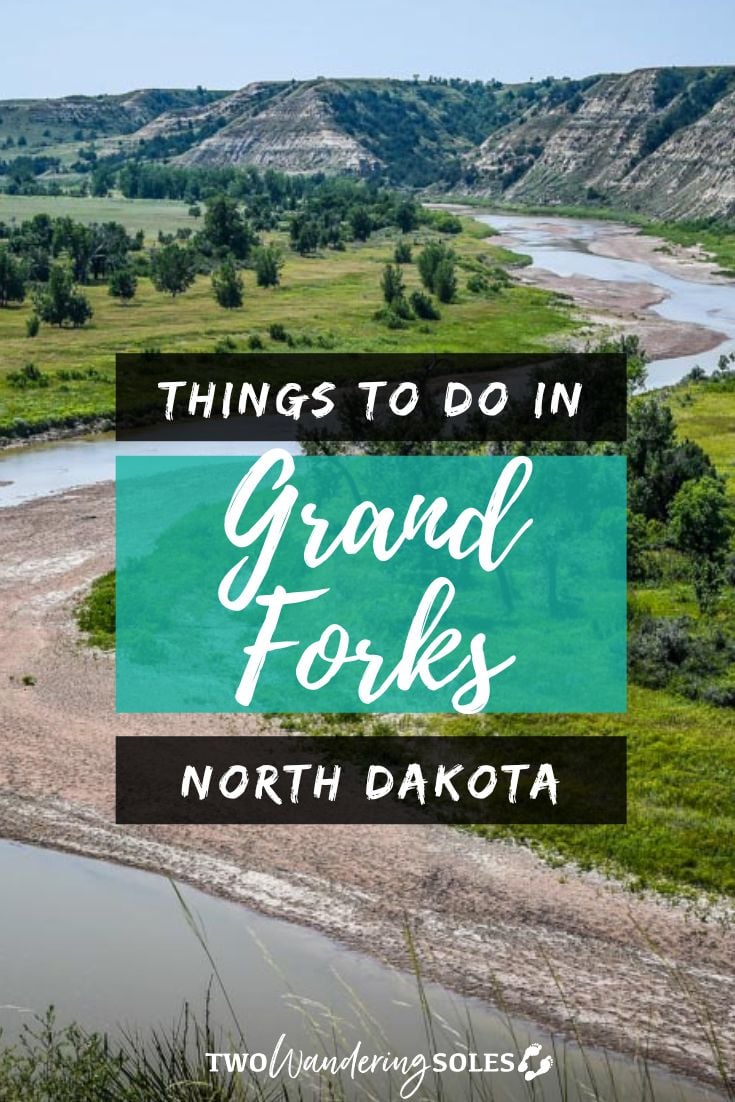 We want to hear from you!
Are you planning a trip to Grand Forks? What things are on the top of your list? Do you have any additional questions for us? Write to us in the comments below and we'll do our best to get back to you!