Here is everything you can expect when hot air ballooning in Bagan. We're answering your most burning questions and walking you through the experience from start to finish so you know exactly what a hot air balloon flight over Bagan will be like.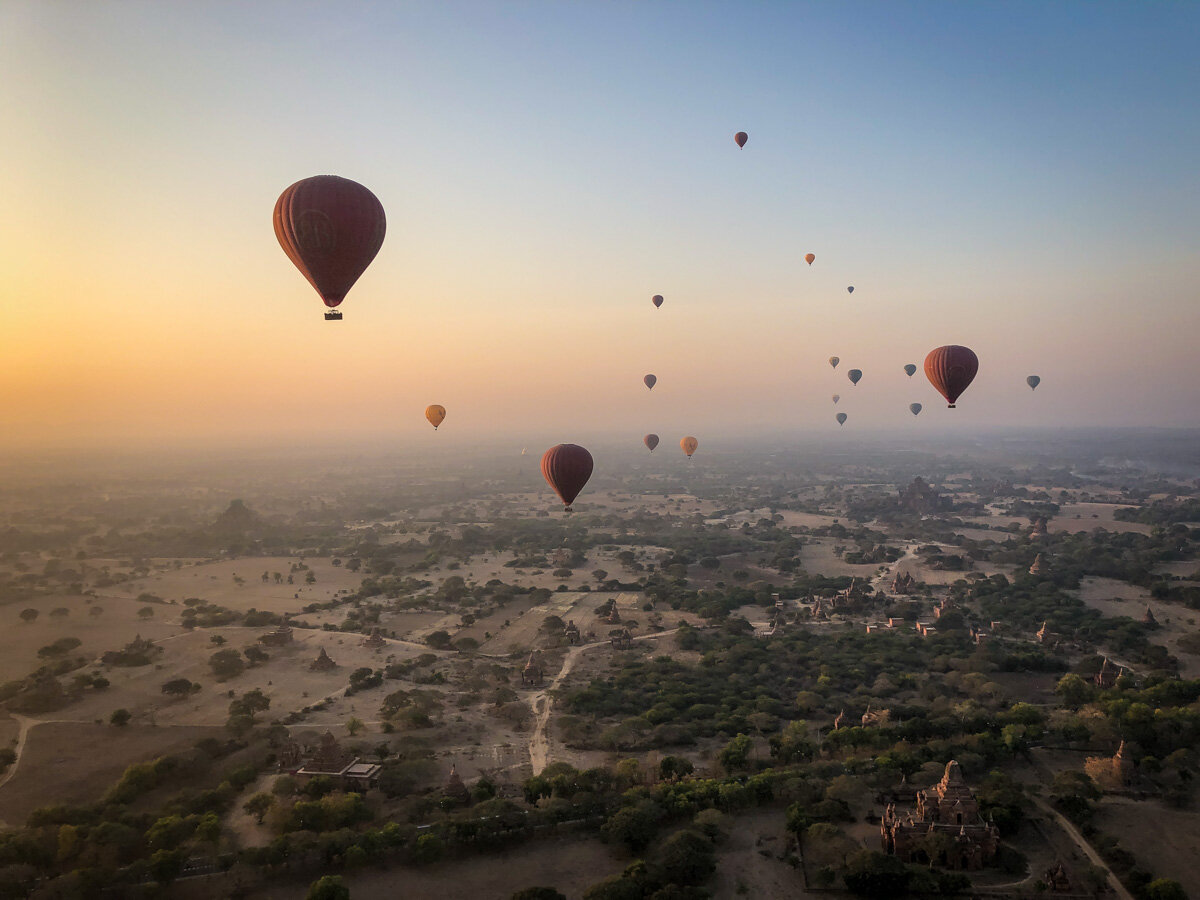 Ever since I was a little girl, watching Pippi Longstocking in Katie's basement (yes, this Katie!), I've been fascinated by the idea of traveling in a hot air balloon. This idea of defying gravity by floating above the clouds in a balloon of all things was utterly enchanting to me.
As an adult, my fear of heights kicked in and my logical brain told me it was probably a dream I could pass on at this point, right?
I followed along as Katie and Ben took their first hot air balloon ride in Cappadocia, Turkey and it sort of stirred something in me. My curiosity and yearning for adventure overtook my fears and I decided I wanted to chase that dream once again.
I set my sights on hot air ballooning in Bagan, Myanmar.
The ancient city was once the capital of the Pagan Kingdom in the 9th through 13th centuries. During its peak, over 4000 Buddist temples and pagodas were erected in the plains surrounding the old city.
Today, many of those temples remain as a UNESCO World Heritage site and the archeological zone is the country's main tourism draw. People from all over the world come to Bagan, like me, with dreams of seeing the temples from above.
The site has become one of the most iconic places to take a hot ballooning adventure, thanks in part to the company that pioneered commercial hot air ballooning in Bagan, Balloons Over Bagan.
After reading many raving reviews and learning about how the company gives back to the local community (more on this later…), I choose to book my hot air ballooning experience with the highly respected team at Balloons Over Bagan.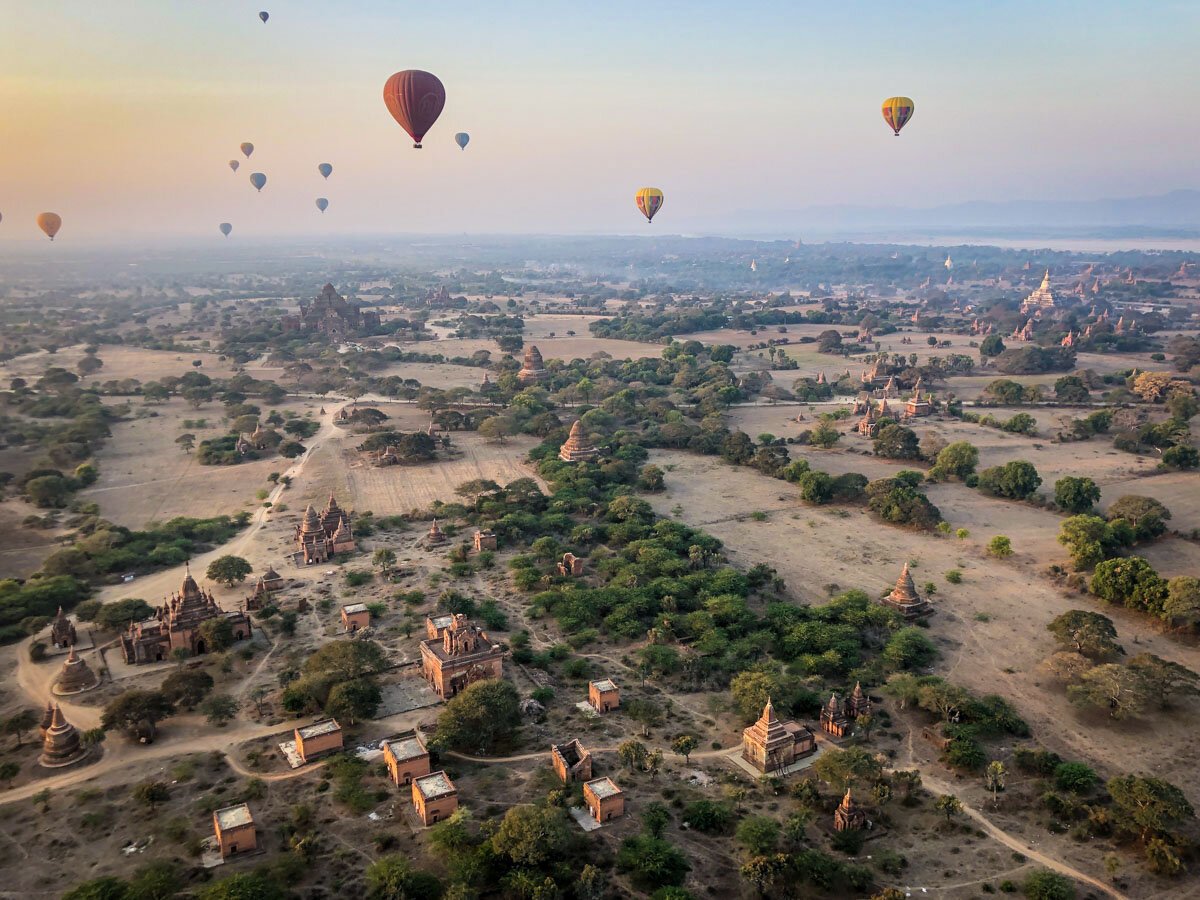 The anticipation of my balloon flight was almost unbearable in the days leading up to my trip.
Would I be nervous? Would I enjoy it? Would my fear of heights prevent me from fully appreciating the experience? I had so many questions, but thanks to their well-trained staff, Balloons Over Bagan alleviated all my pre-trip nerves.
I'm writing a detailed account of my experience hot air ballooning in Bagan with Balloons Over Bagan, in the hopes that I can help answer some of our reader's most burning questions and introduce you to a company that shares a lot of the values that Two Wandering Soles strives to uphold.
---
Hot Air Ballooning in Bagan Article Contents
---
The Ballooning Experience
Balloons Over Bagan offers sunrise balloon flights over the archeological zone of Old Bagan every morning (weather permitting) from October – mid-April. I participated in the Classic Balloon Flight, and this was my experience.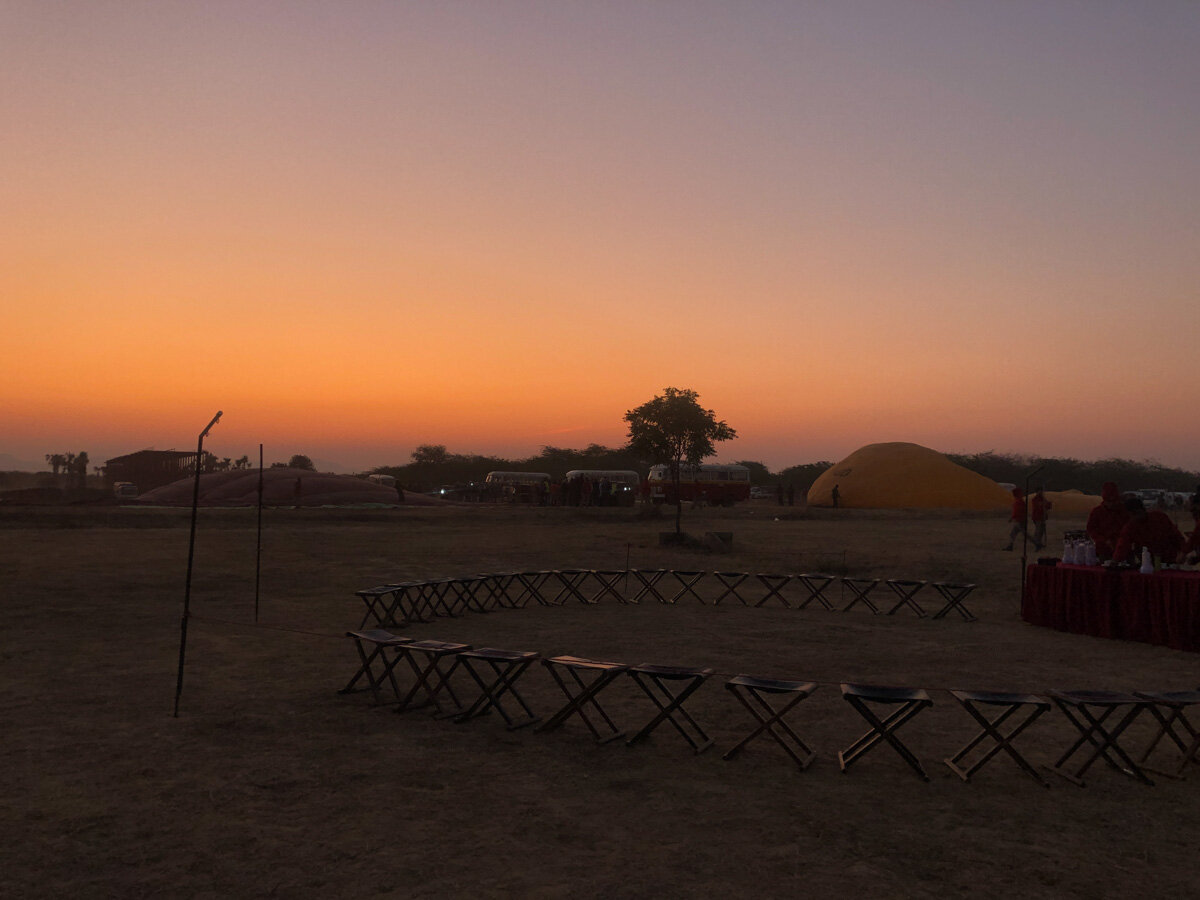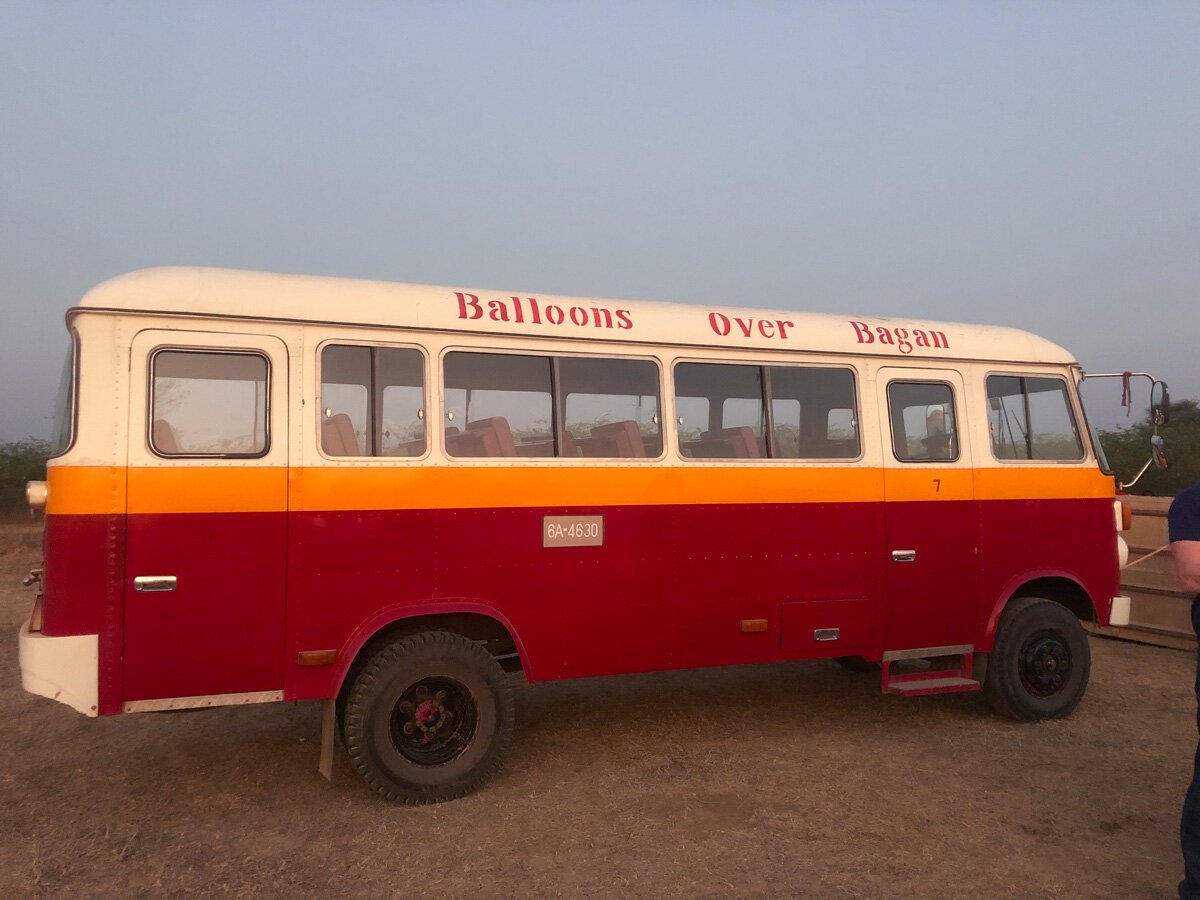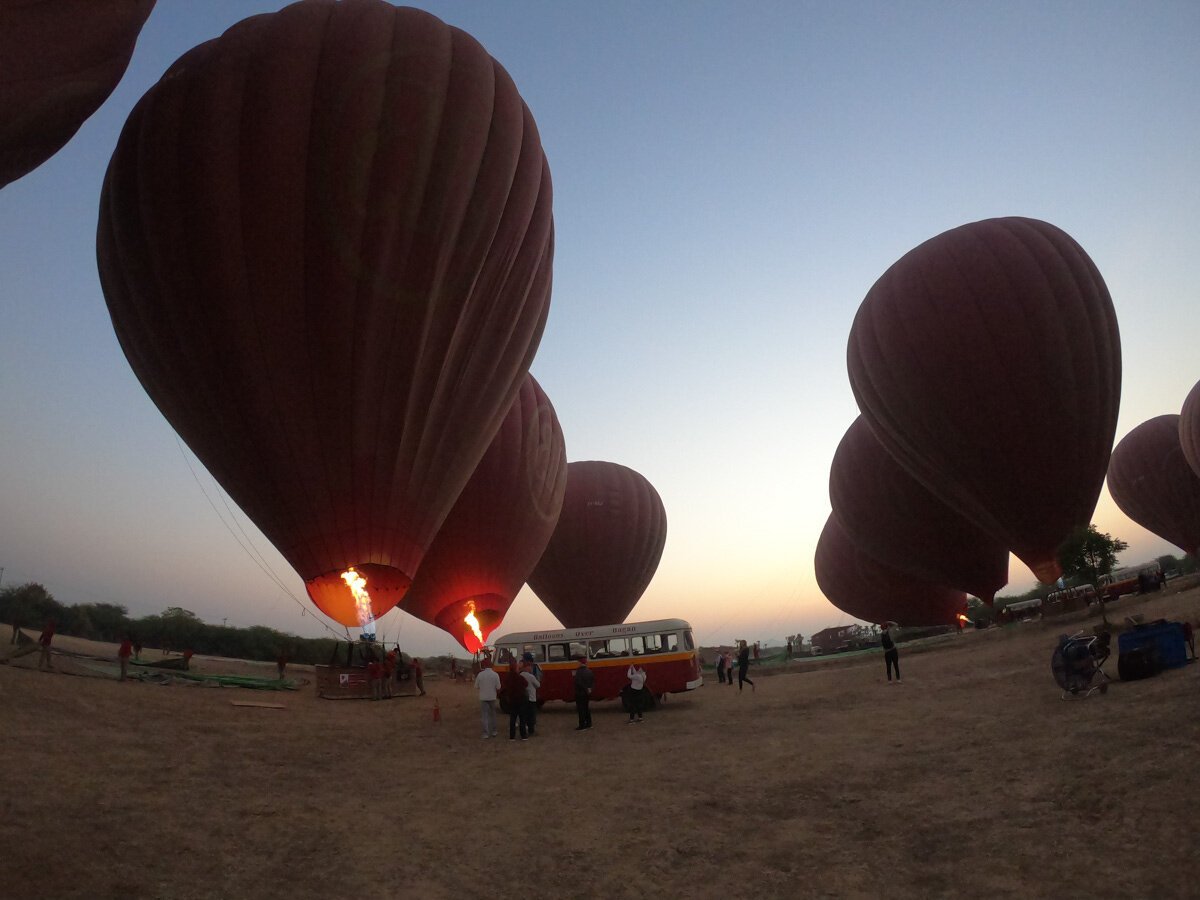 Pre-flight jitters
As a sunrise experience, I was pleasantly surprised that I wouldn't be collected from my hotel in New Bagan until 5:30 am (as opposed to much earlier!). The Balloons Over Bagan shuttle arrived at exactly the arranged pick-up time and I climbed onto the bus to see the sleepy faces of my fellow balloon-goers.
After a short, albeit bumpy ride, we arrived in a dark field and were escorted off the bus into a small area lit with torches and chairs set up in a circle. There was a table with warm coffee, tea and biscuits, and we were welcomed to help ourselves before finding a seat.
As I squinted into the darkness around me, I could see tons of other lights scattered throughout the field in similar little circles. Coffee in hand, everyone found their seats and one of the balloon pilots introduced himself in English and began a roll call. He separated our large group into two small groups of 16 people each, introducing a second pilot, and explaining how the morning would unfold.
We gathered with our assigned pilot, Pilot Steve, who led us to where our basket was resting on the ground, it's massive deflated balloon spread out behind it. During a short safety briefing, Pilot Steve explained the rules and safety features of the balloon. He let us know what to expect during take-off, mid-flight and landing.
After he got verbal confirmation from everyone that they understood, we stepped back and watched the ground team assemble the balloon, fill it with air and get it ready for flight. By now the sky was light, although the sun hadn't yet popped up, and we could see balloons taking form all around us in the field.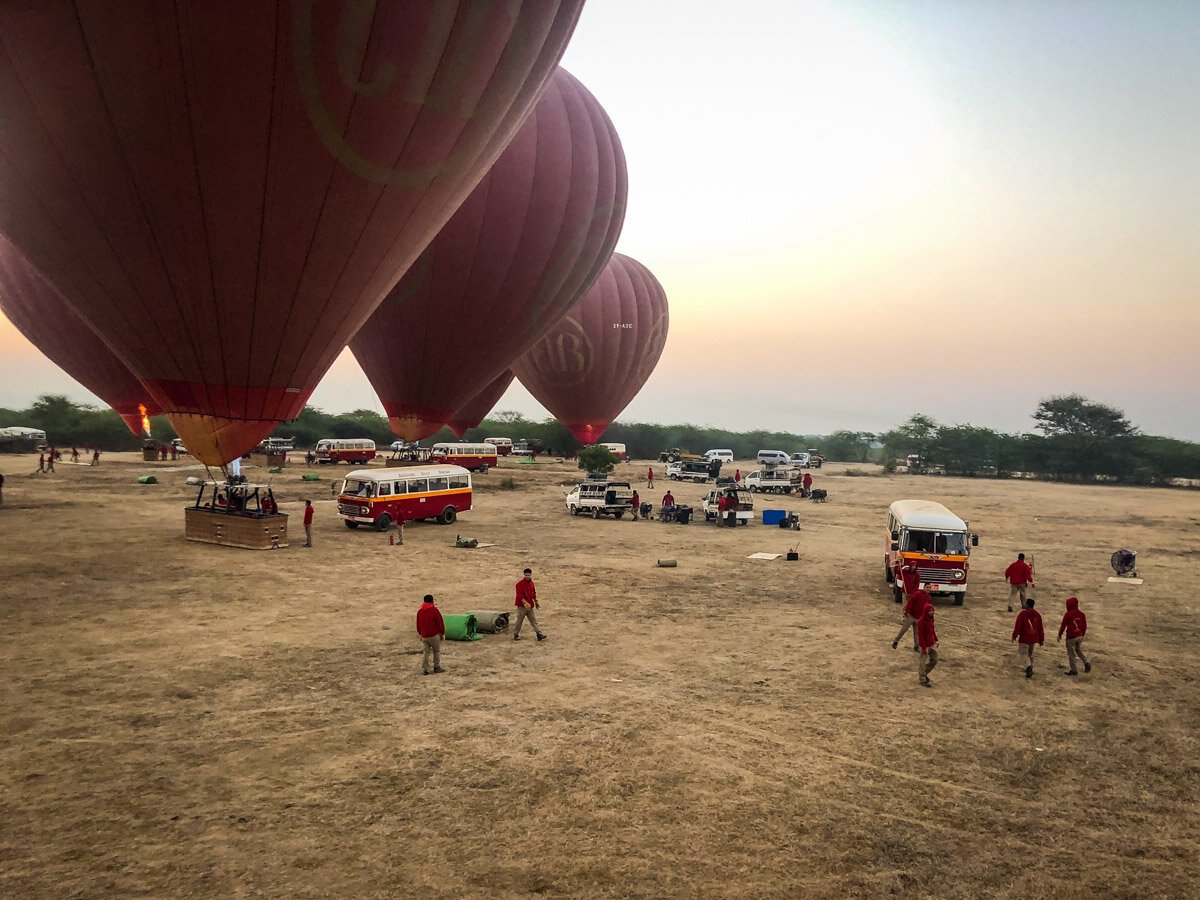 Take-off
Our group climbed into the basket, one-by-one as instructed, found our seats and sat in "landing position" waiting for Pilot Steve's instructions. While sitting in the basket, you aren't able to view anything over the edge, but Pilot Steve assured us we could stand as soon as he gave the OK once the balloon safely left the ground.
We heard the rush of the flame of hot air spewing into the balloon over our heads as we rose smoothly into the air. Pilot Steve allowed us to stand and wave our goodbyes to the ground crew who were slowing shrinking beneath us.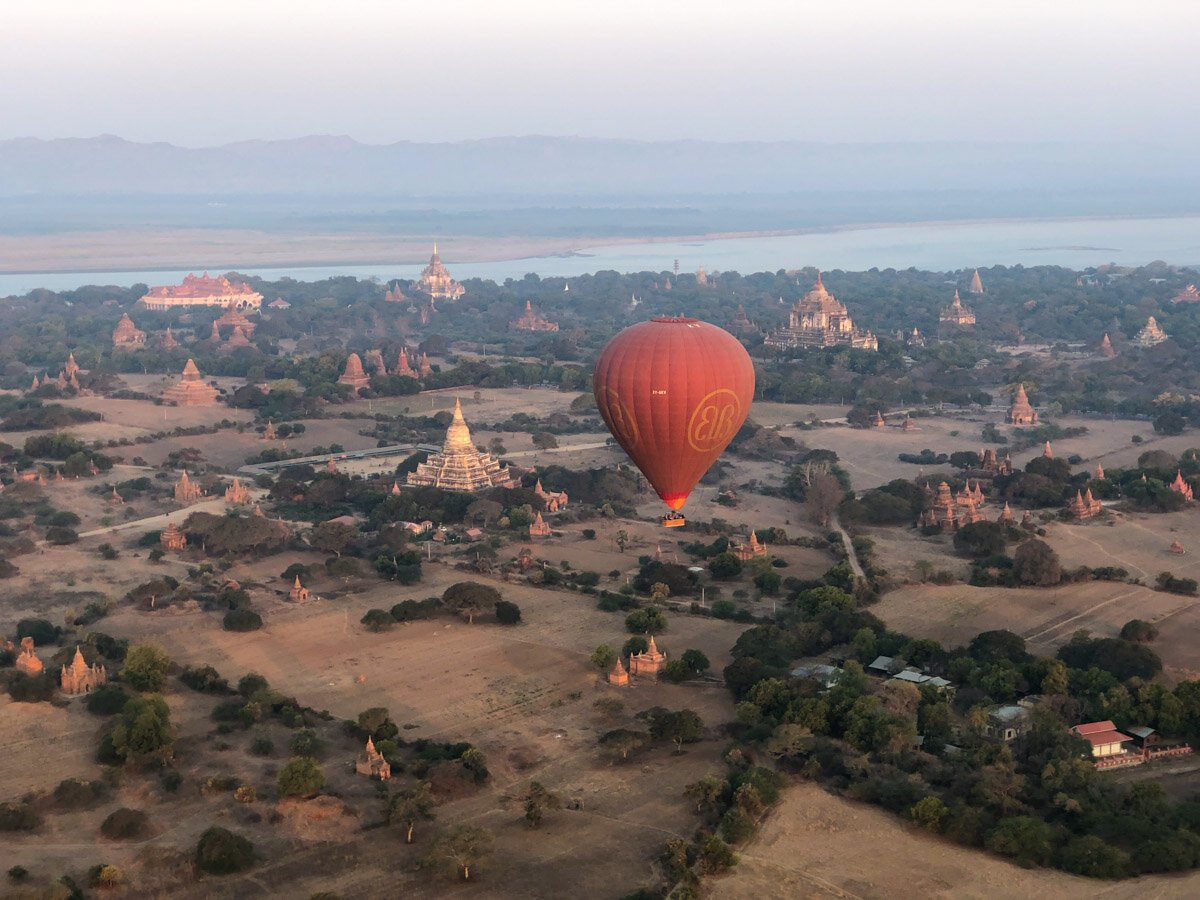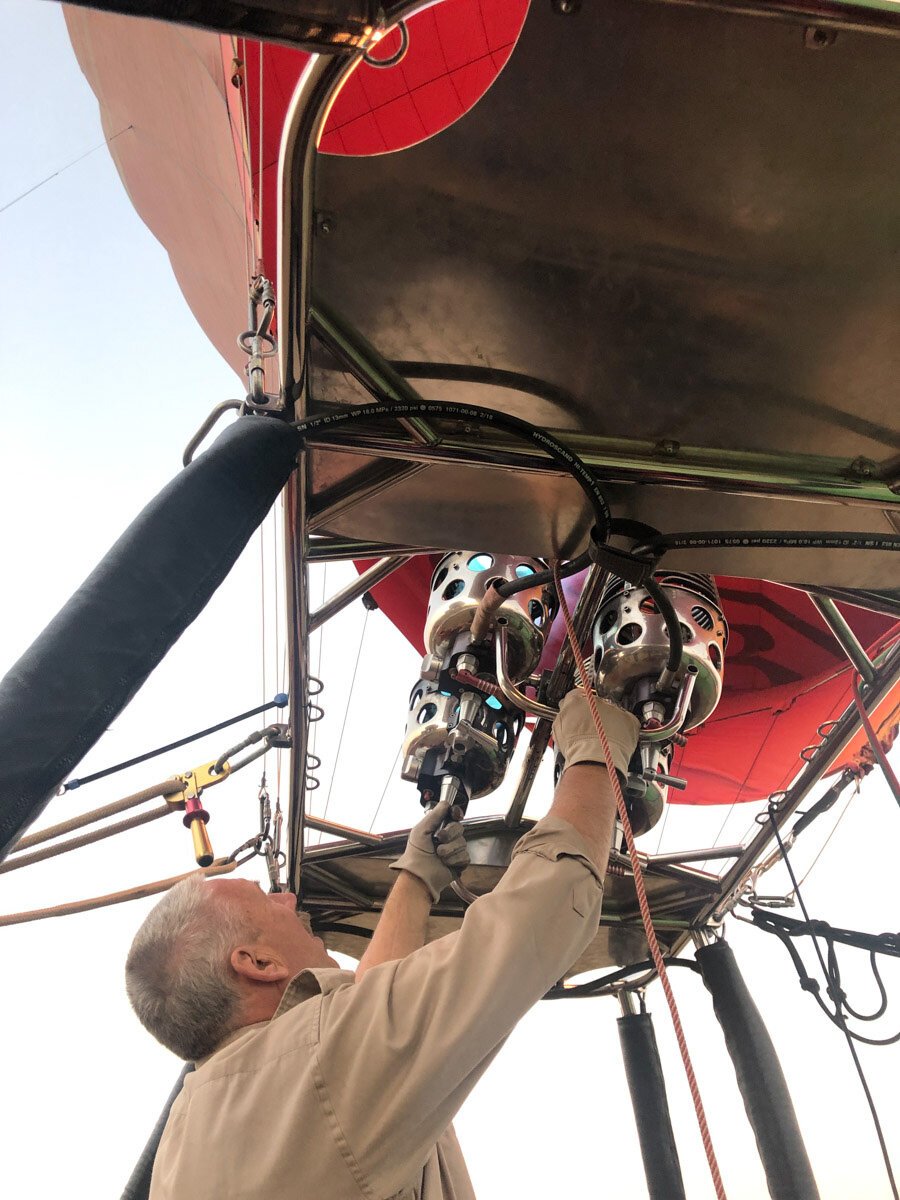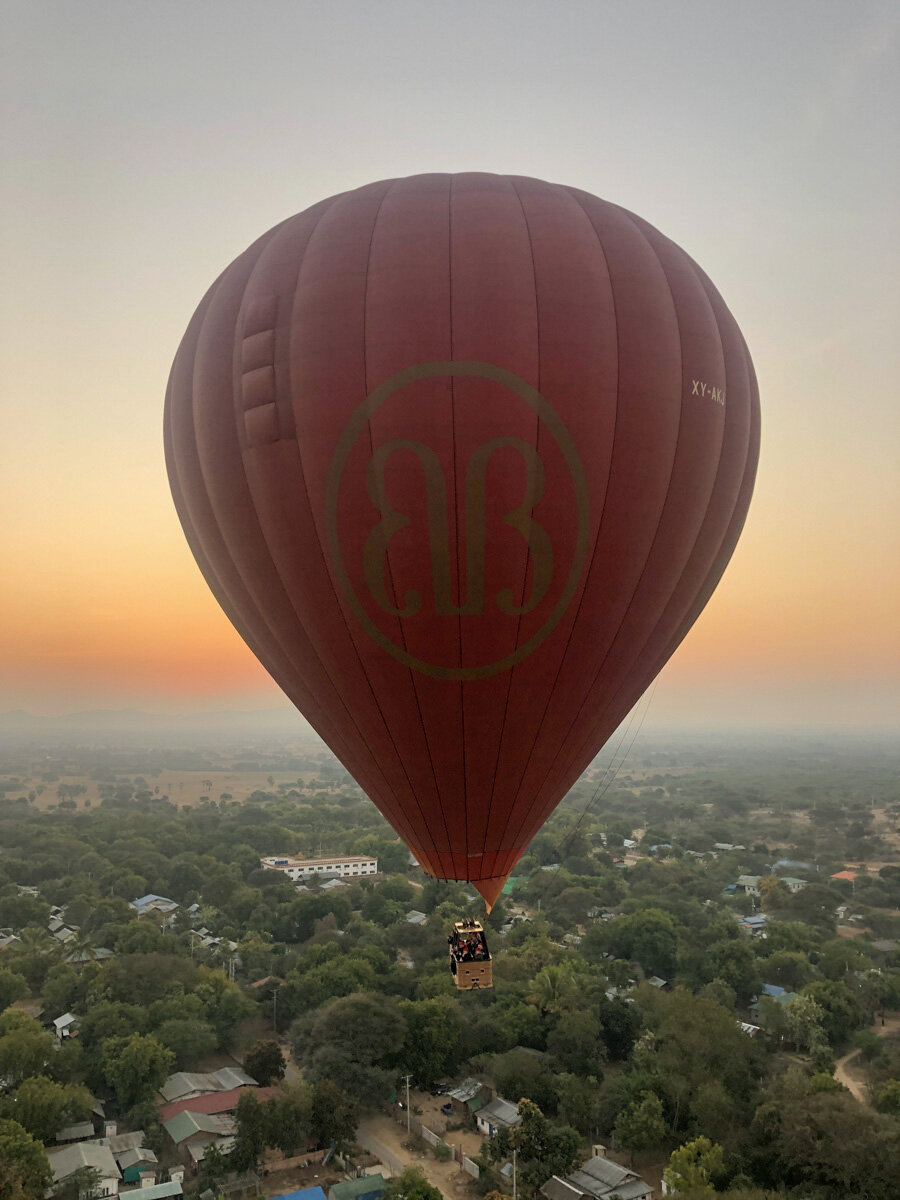 Hot air ballooning over Bagan
Our balloon rose steadily into the air with the other balloons as the panoramic views materialize around us. The basket beneath my feet felt surprisingly steady as I gazed over the edge, clutching my camera, my eyes bursting from my skull like a cartoon emoji seeing love for the first time.
Pilot Steve explained what he was doing as he expertly maneuvered the balloon above the temples. We were allowed to ask questions, and if we wanted a different view, he would turn the balloon in the circle, giving everyone on board the chance to see the sights from every angle.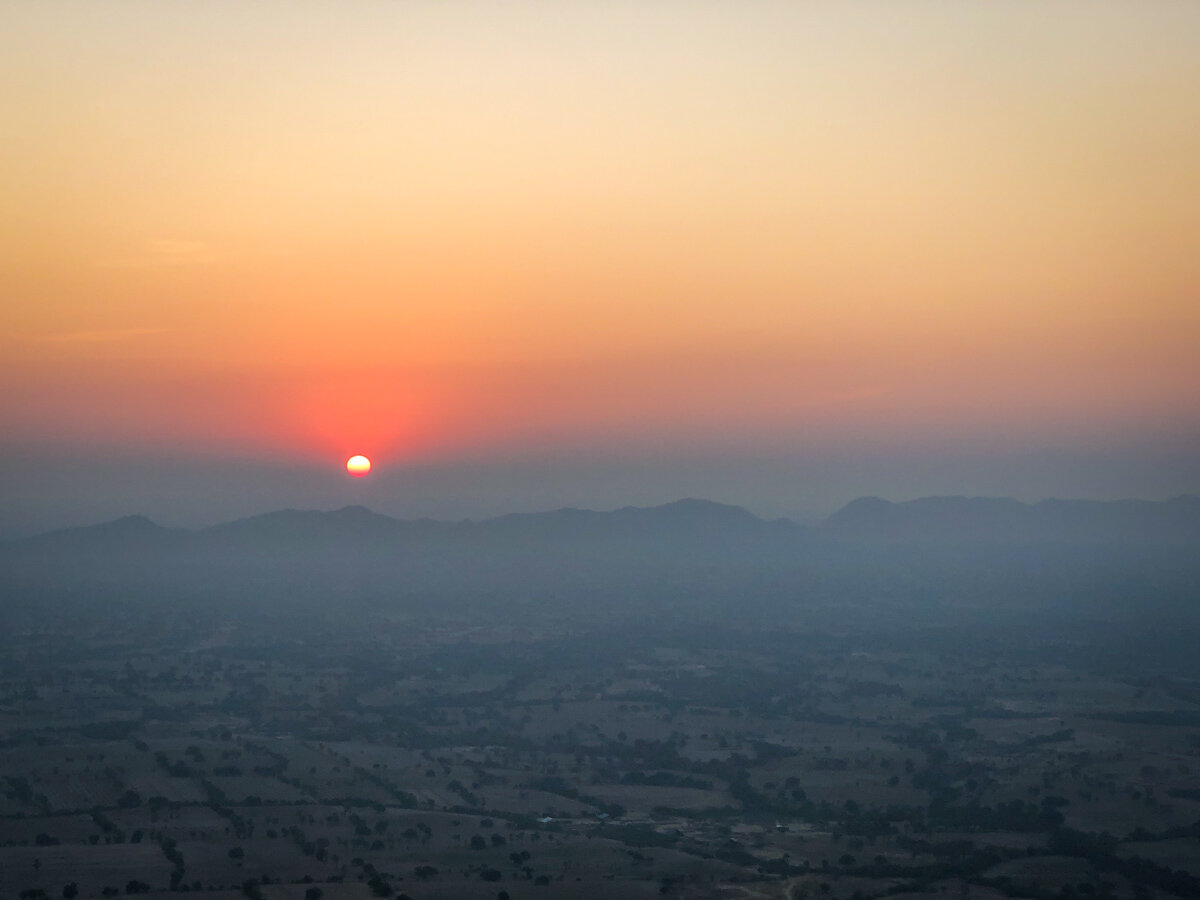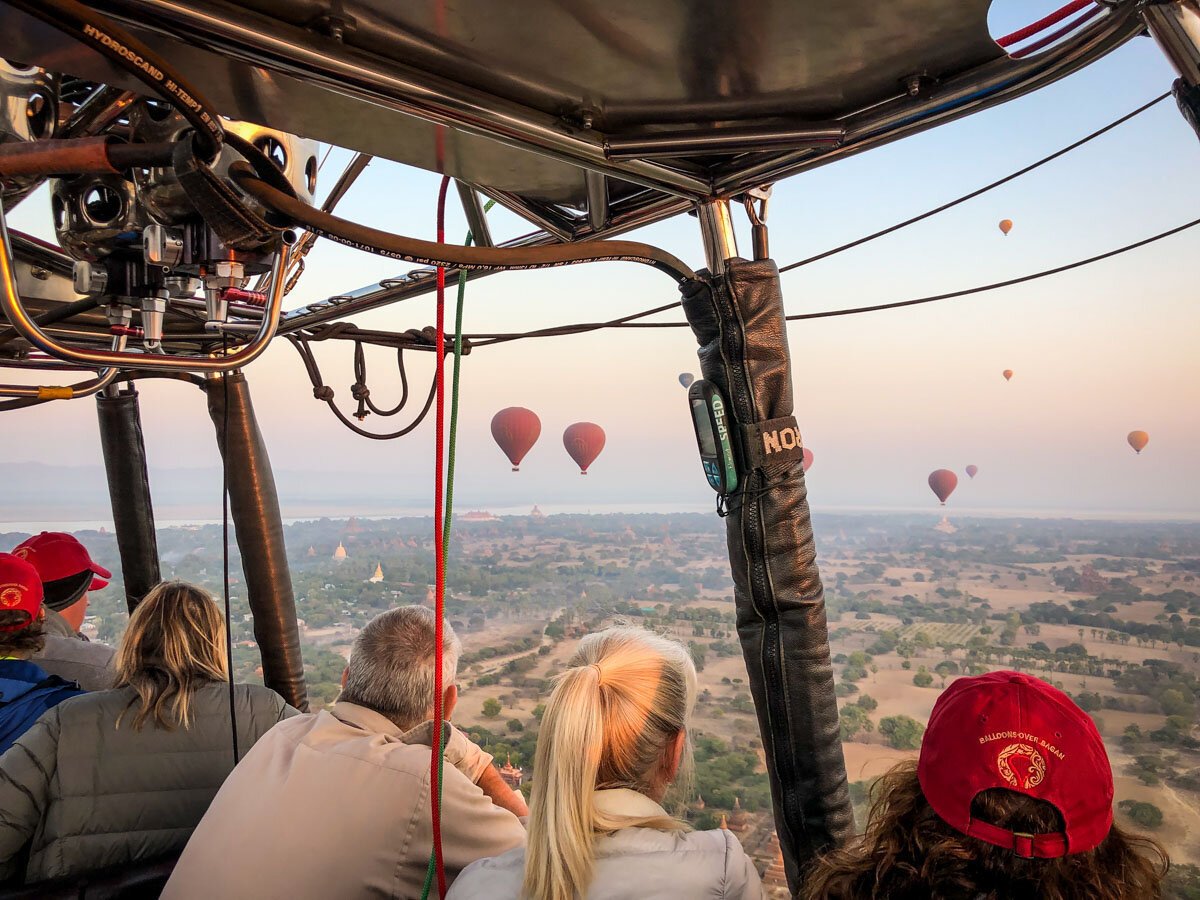 The sun peaked out from behind the horizon and all cameras were trained to the east, in awe of that giant orange orb rising in the sky. There was something even more magical about the sunrise with balloons floating effortlessly around it like ornaments hung on an invisible Christmas tree.
My fear of heights completely forgotten, I continued to snap photos in every direction, blissfully in awe of my surroundings. I had to remind myself more than once to put down my camera and take in the moment without a lens glued to my eye.
As we continued to drift above the temples, Pilot Steve pointed out the notable ones, giving us facts and tidbits of interesting history on the area. Every now and then we would gather towards the front of the basket on Pilot Steve's command, smiling at the GoPro cleverly hung from wires to get group photos.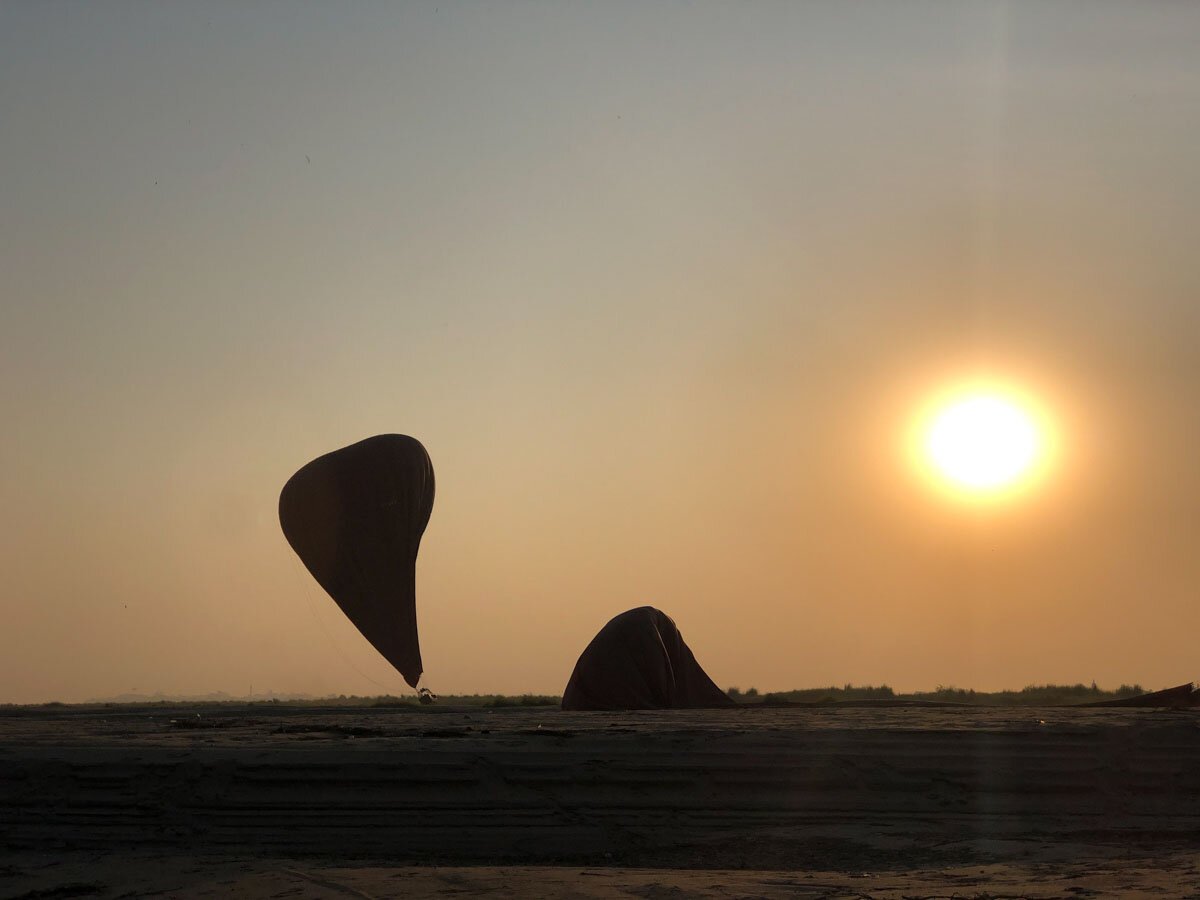 Landing
After we'd drifted across the entire archeological zone, it came time to descend towards the beach on the shores of the Irrawaddy River. On instruction, we sat in our "landing positions" and Pilot Steve guided our balloon gently to the ground in a fairly smooth landing.
Once or twice we felt contact with the ground, floated upwards for a few seconds and back down. We were warned the basket might tip, but we were ready for in our positions, and the basket stayed upright.
In just about 5 minutes Pilot Steve had us firmly on the ground, our balloon deflating behind us. One by one we were helped out of the basket, everyone gathering on the beach to gush over the thrilling experience we'd all just shared.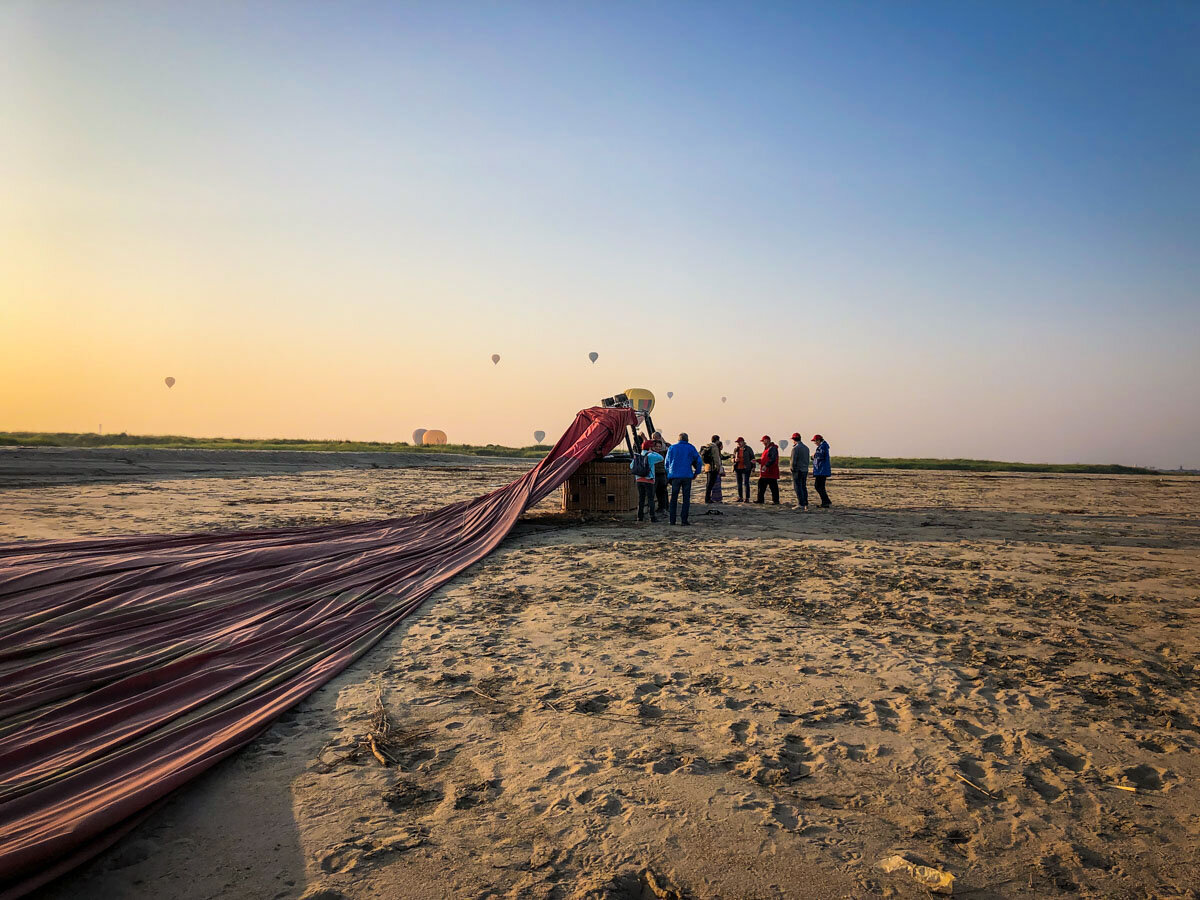 Post-flight celebrations
Shortly after landing on the beach, the ground crew arrived in boats on the river and set up a nice little table with snacks and refreshments, including sparkling wine! We toasted as a group to the experience of a lifetime we all just shared and to Pilot Steve for a safe flight.
After mingling with our fellow passengers for a bit, we were handed life jackets and ushered onto the boats for a short trip up the river to the port where we would meet our shuttle buses.
Certificates of flight were passed out and we were given instructions on how to download our free inflight photos before we were dropped off again at our hotels, just in time for breakfast!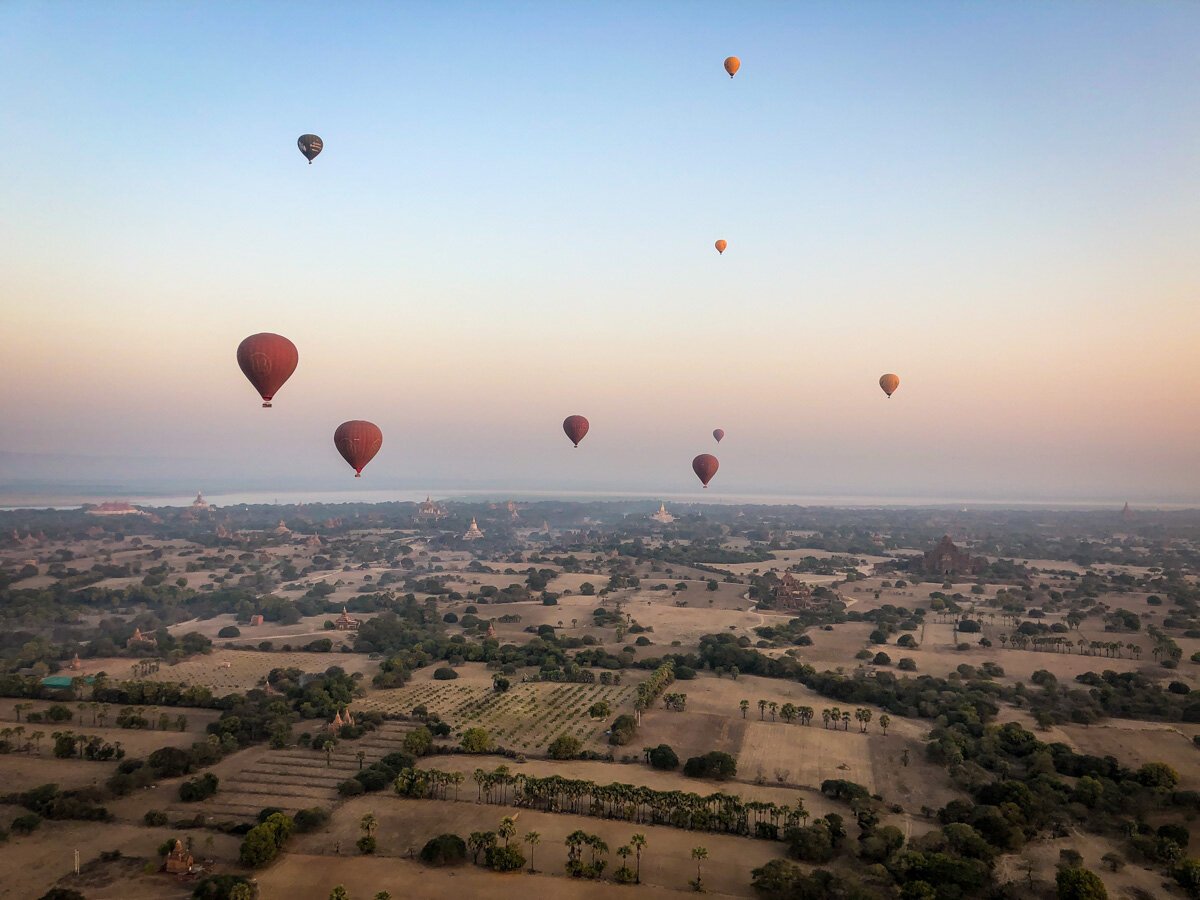 Tips for hot air ballooning in Bagan
Use the bathroom before you leave your hotel. I didn't ask, but it didn't seem like there was a good place to use the bathroom during any part of the experience. Since it took about 4 hours in total, from pick-up to drop-off, I'd recommend emptying your bladder before you go!
Bring a little extra cash to for tipping. Balloons Over Bagan employs hundreds of local workers who work long hours, (they are usually up at 3 a.m. and not done until noon most days!) hauling all the stuff and taking care of the equipment to make your experience seamless. There are tip boxes on each of the shuttles you can leave a few bills in at the end of your experience and tips will be distributed evenly to the local crew.

Bring a camera! This one probably goes without saying, but of course you'll want plenty of photos from your hot air balloon flight over Bagan. While Balloons Over Bagan does provide free in-flight photos for download to all participants, it's best to get your own as well.

If you're using a Go-Pro, keep in mind the wide angle will distort the landscape and bend the horizon. If you don't want this look, we'd recommend another camera for landscape shots. Check out our tips for taking better travel photos before your flight!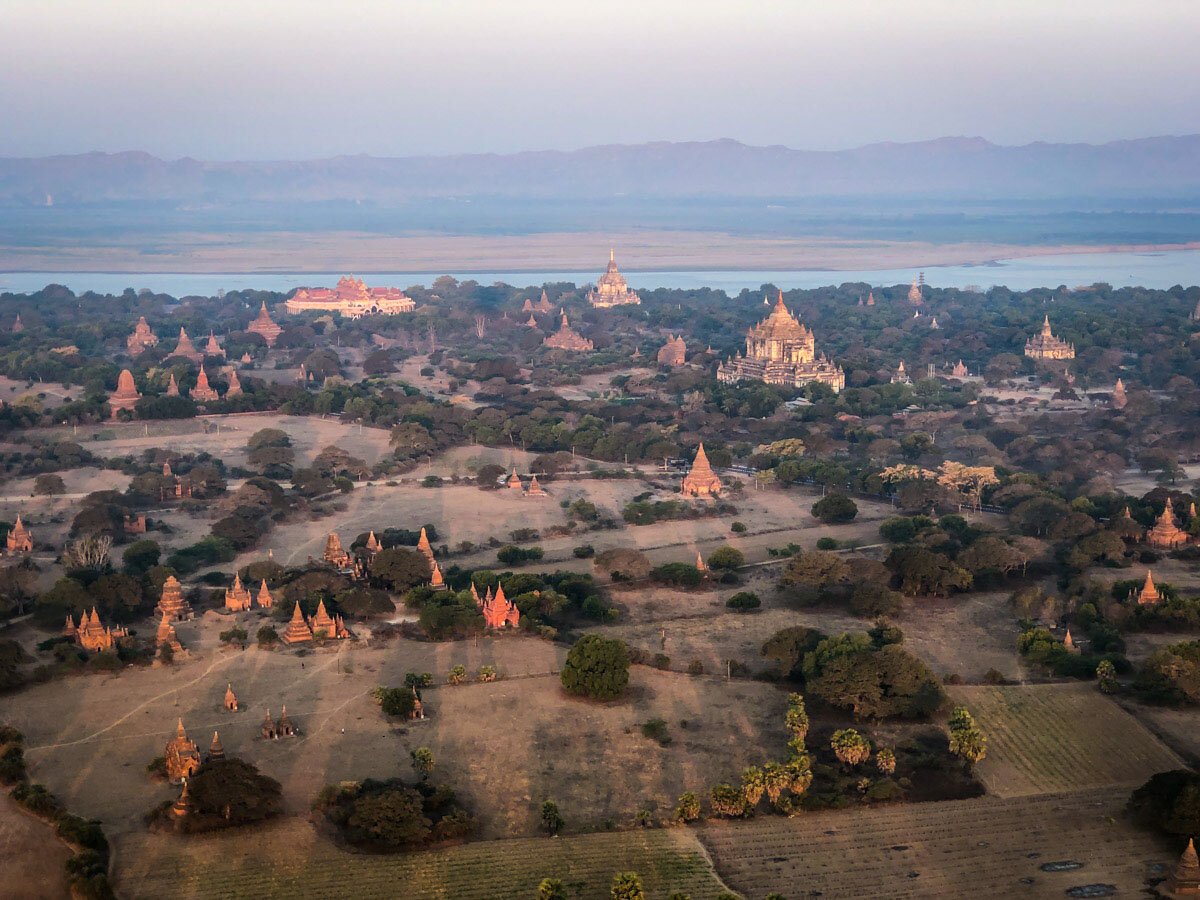 Why choose Balloons Over Bagan
When choosing a tour company, I always look for a few important things: I want to make sure the company has safe practices, are ethically run and of course, provide a good experience that merits excellent online reviews from satisfied customers.
I already mentioned the stellar reviews about the company. I also looked into their safety practices and found it comforting to know they only employ highly-trained commercial balloon pilots that uphold the highest standards of safety.
After checking all these boxes, I was ready to book, but then I read something that really solidified this company in my mind. In addition to hiring over one hundred local employees, Balloons Over Bagan plays an active role in contributing to the local community and sustainability efforts in the region.
Resources from the company contribute to community projects focusing on three main areas:
Education: With the rehabilitation of school facilities, Balloons Over Bagan supports the reduction of poverty with education. To date they have donated three new school buildings and helped maintain another in the Bagan region, to bolster the education of the local community.

Health: The company donates fresh drinking water to villages whose resources are limited or even scarce. During the off-season, team members participate weekly in these donation efforts.

Conservation: As an active player in the sustainability of the Bagan area, Balloons Over Bagan participates in plastic-free campaigns to promote a plastic-free Bagan.
Note from Katie + Ben:
One of the most powerful ways you can make a difference when traveling is to understand where your money is going. As travelers, we "vote" with our cash, and today it's important we put that money towards companies and experiences we believe in.
You have the choice to support a family-run guesthouse or a large hotel chain; a local guide or an international tour company. We love the way that Balloons Over Bagan is supporting the local communities and promoting sustainable practices.
The more we "vote" for local, consciously-run businesses, the more they will flourish and grow. As a traveler, a lot of power is in your hands.
Learn more about ways you can become a responsible traveler.
FAQs about Balloons Over Bagan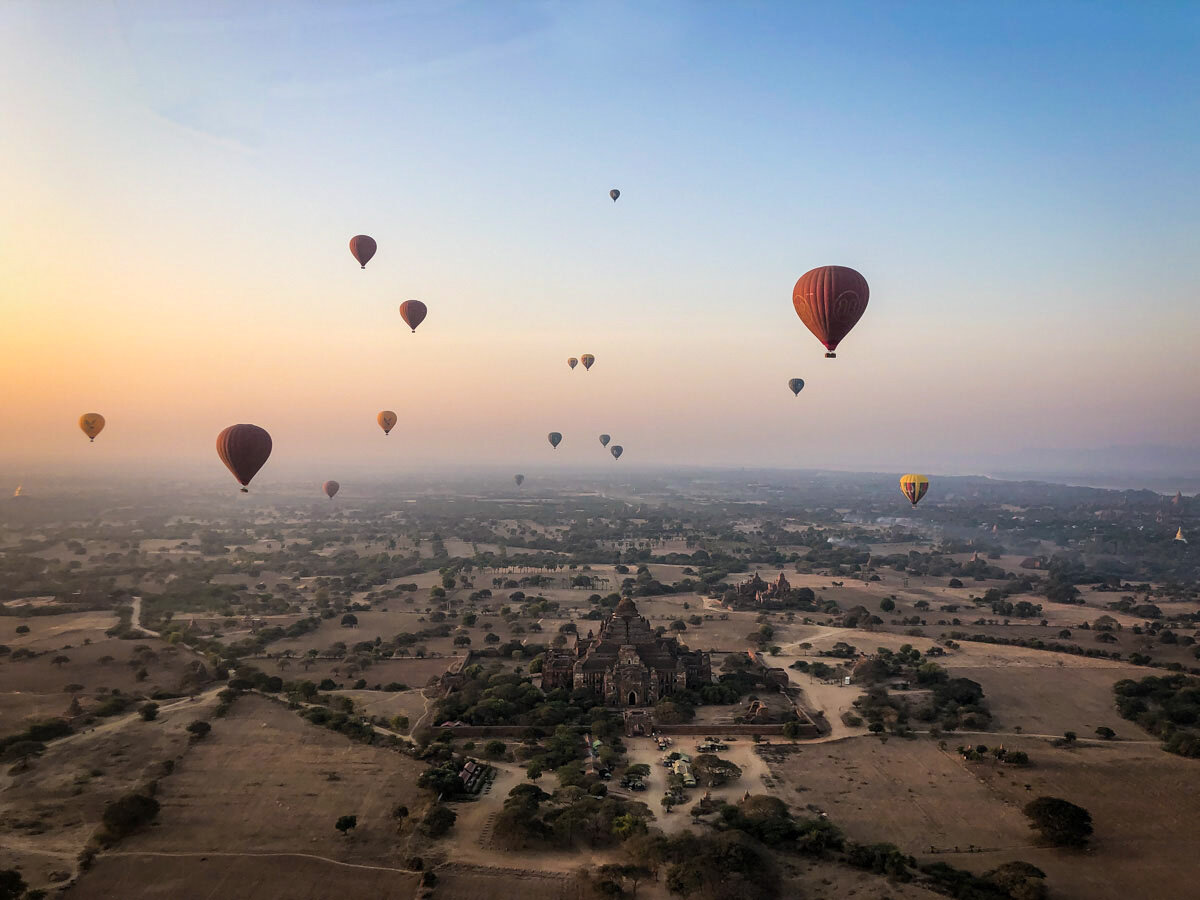 If you're thinking about going hot air ballooning with Balloons Over Bagan, we've got you covered with the answers to all of your questions!
When is the best time to go hot air ballooning in Bagan?
The ballooning season in Bagan lasts from October 1st through about April 10th each year. From the 25th of December through the 5th of January is peak season and there is an added surcharge of $20 per person due to high demand. All flights take place at sunrise in Bagan.
What should I bring with me on my balloon flight?
Wear warm clothes on your flight as it can be quite chilly in the early morning. Layers are your best bet as it gets warmer after the sun rises. Balloons Over Bagan also gives each passenger a custom baseball cap for the flight and it is yours to keep. I'm not positive about this, but I think it helped to wear the cap during flight so the heat from the balloon didn't reach my face.
Other than that, you really don't need anything but a camera and money for tipping. However, you can bring a purse or a bag onboard and pack a water bottle or anything else you might want to keep close.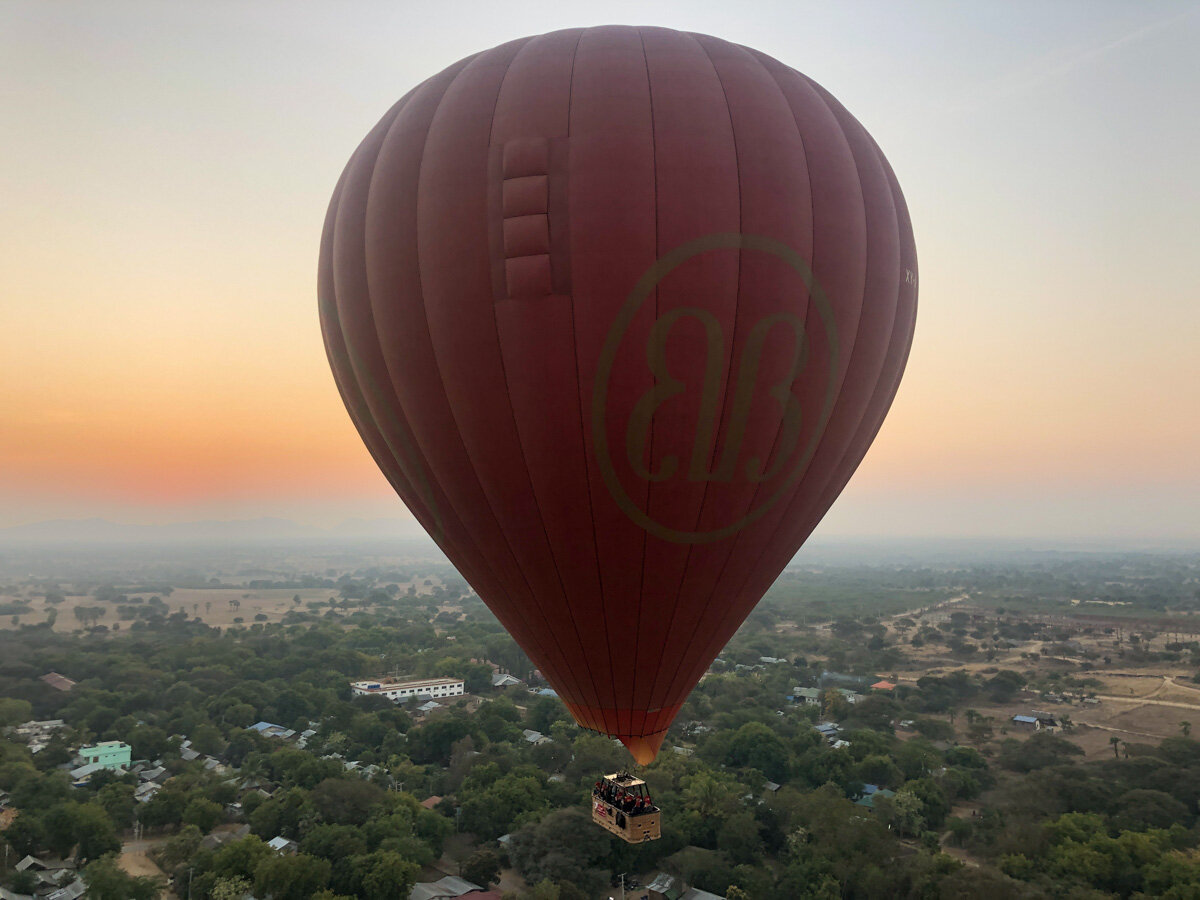 Where do you get picked up?
The shuttle bus will come directly to your hotel for pick-up and drop-off. They kindly ask that you meet your shuttle driver out front at the arranged pick-up time.
How long does the ride last?
The duration of the flight is dependent on the wind conditions, however, most flights last for about 45 minutes – 1 hour. My entire experience lasted from 5:30 AM to 9:30 AM, but that could change based on your hotel location and pick-up time. I was the last person in my shuttle to get picked up, so others were earlier than me.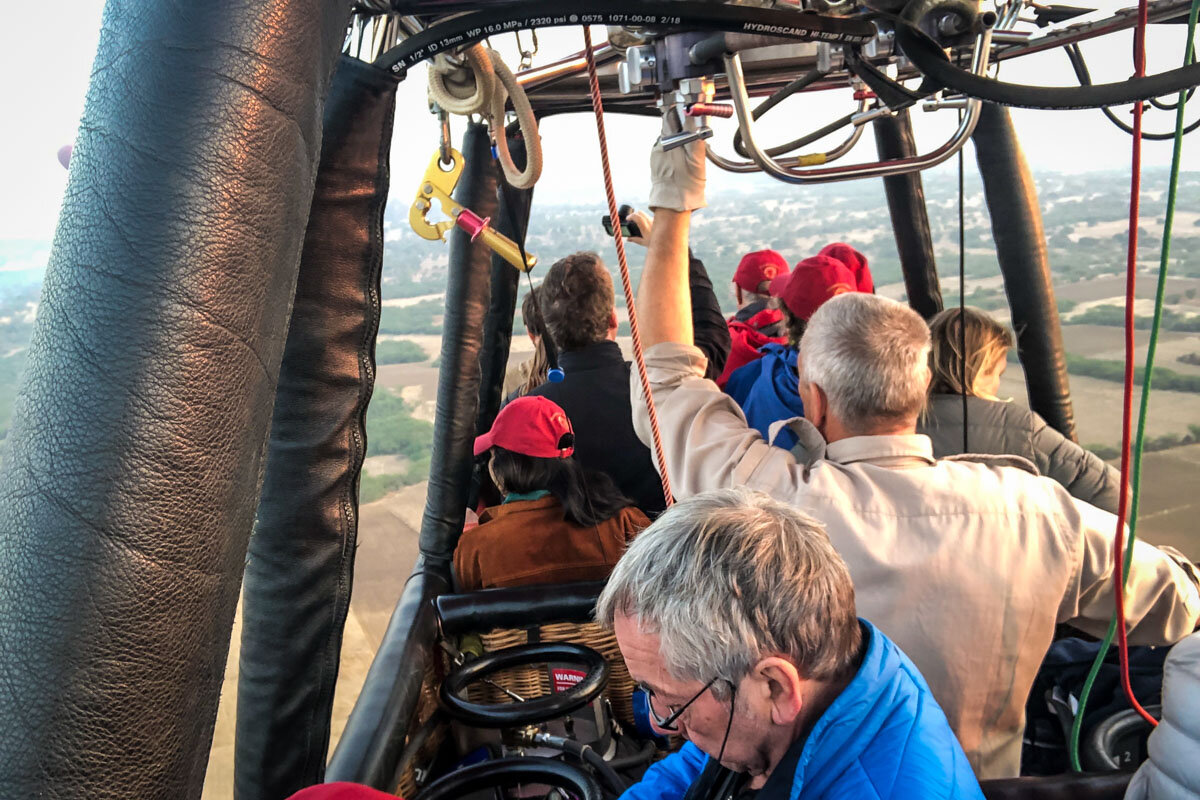 How many people go in one balloon?
The balloons for the standard service carry 16 passengers plus the pilot, and the premium service balloons carry 8 passengers plus a pilot. Each basket is partitioned so that the pilot compartment with all the flight equipment is separate from the passengers. All balloons contain safety equipment so that passengers are seated during landing.
What if I am afraid of heights, will I still enjoy a hot air balloon ride?
If that is the case for you, I can assure you I shared your concern. I too suffer from a fear of heights and sometimes get unsettling feelings of vertigo just from looking over a balcony from a few stories high.
Nobody can say for sure, but I think a hot air balloon ride would be one of the best ways to conquer this fear. In a hot air balloon, you will move with the air currents, meaning you won't feel the wind against your face. Up there, the air feels very calm. And the basket below your feet is surprisingly sturdy, not wobbly as you may expect.
I can tell you from my own experience that you will be too busy gazing awe-struck at your surroundings to worry about your fear. And you may be surprised, like I was, to feel very comfortable and at ease in the basket.
If you do find you are feeling a bit uneasy, keep your gaze outward towards the horizon instead of looking straight down to the ground below. This will help you feel less vertigo and keep your focus on the beautiful views instead of your nerves!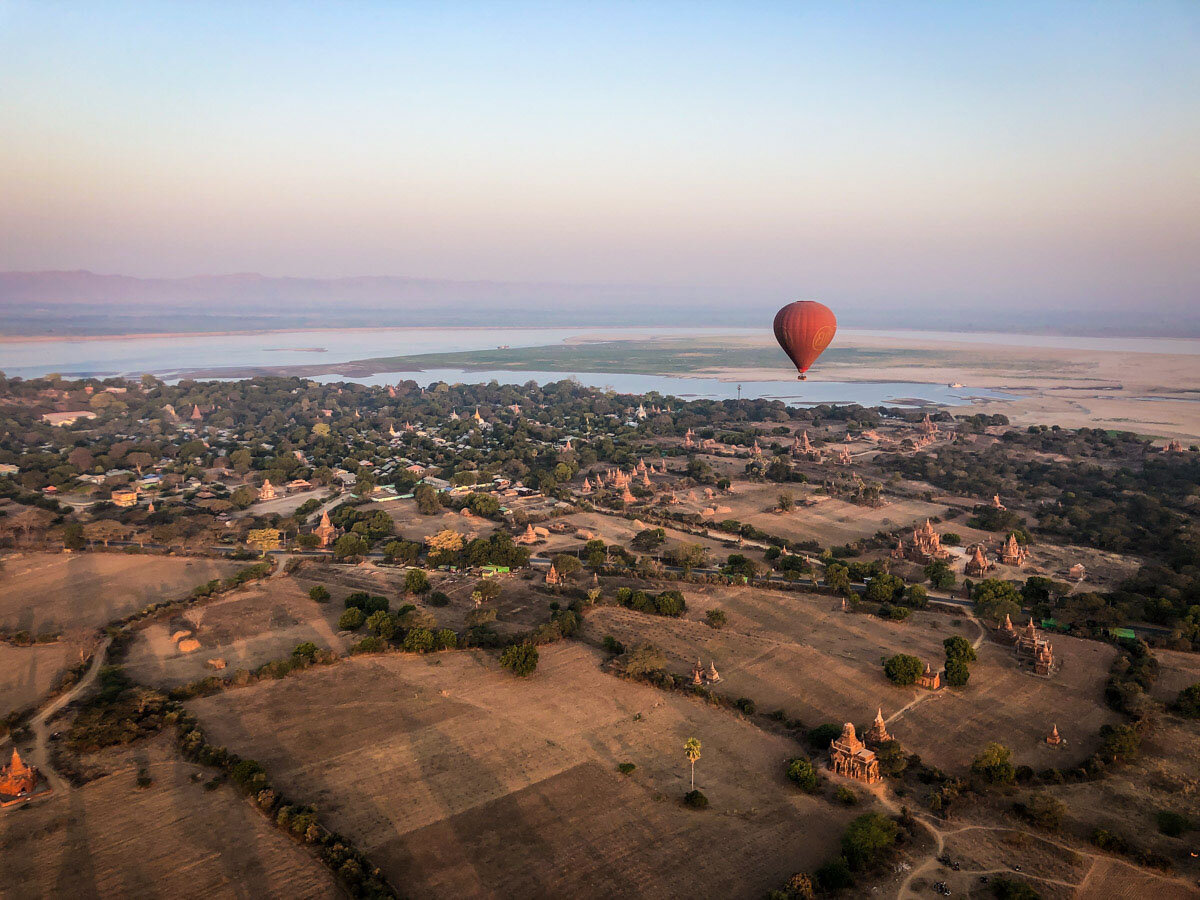 How safe is it to fly with Balloons Over Bagan?
I spoke with the company's Training Captain and Quality Manager, Mr. Cary Crawley, to get his take on the safety standards of Balloons Over Bagan:
"Our company's ongoing pilot training program goes very much beyond the requirements of most National Aviation Authorities. In addition, we try to recruit some of the world's most experienced commercial balloon pilots. In my role as company Training Captain and also as our company Quality Manager for both our flight operations and maintenance organization, I am very determined to promote a continuous learning culture. As a U.K. CAA and EASA appointed 'Senior Examiner' it is also my duty to assist in the good governance of maintaining the highest safety standards among commercial and private balloon pilots."
In short, all of the commercially licensed balloon pilots employed by Balloons Over Bagan undergo recurrent first-aid and fire-safety training every three years, and must retain a valid certificate as proof of their first-aid training for the duration of their work engagement.
The ground crew participates in an annual course at the commencement of the ballooning season every year with in-depth first response instruction. In addition, the pilots and ground crew discuss various aspects of safety and consider potential emergency scenarios on an ongoing basis.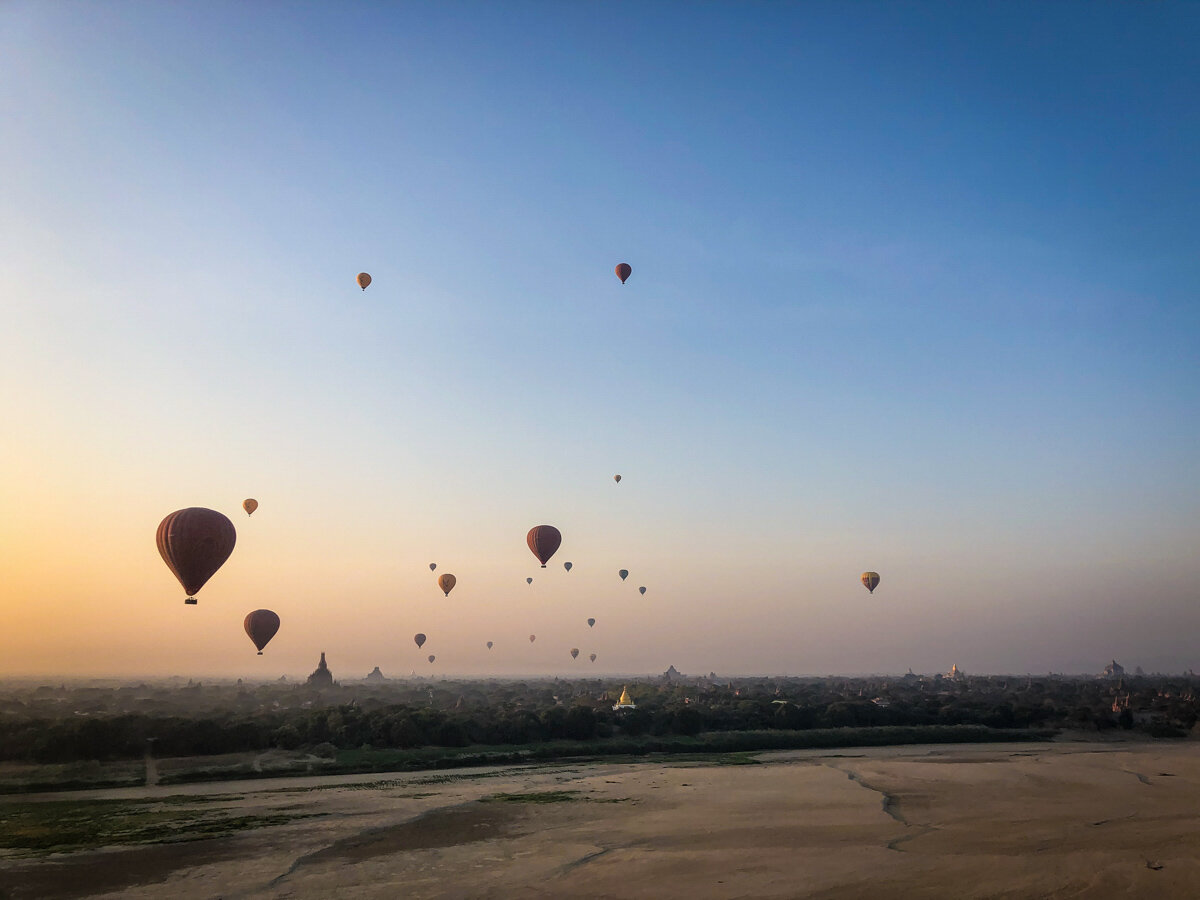 Can I fly with children?
For safety reasons, there are height and weight limits for all passengers on board. Balloons Over Bagan sets a minimum age of 8 years old, but the child must also be tall enough to see over the edge of the basket.
How much does it cost?
A classic hot air balloon flight over Bagan costs $350 USD per person. This experience includes hotel pick-up, coffee and other morning refreshments, a balloon flight in a shared balloon with up to 15 other passengers, free in-flight photos, a sparkling wine toast and light snacks post-flight, and transportation back to your hotel.
Balloons Over Bagan also offers a premium package for $450 USD. As part of this offering, you will be in a separate balloon shared with only 7 other guests and have a full continental breakfast after landing.
How do I book?
You can book your classic or premium balloon flight on the Balloons Over Bagan website and make a credit card payment online. Be sure to reserve your spot in advance because spots can fill up quickly during high season.
There is a contact form on their webpage as well for any questions or concerns you may have. Don't forget to mention you found out about them from Two Wandering Soles!
---
Disclosure: I'd like to thank Tun, Lei Lei, Pilot Steve and the rest of the team at Balloons Over Bagan for generously sponsoring my experience in exchange for this honest review. As always, you are getting a sincere and candid opinion.
---
You may also like…
Save this article on Pinterest for later!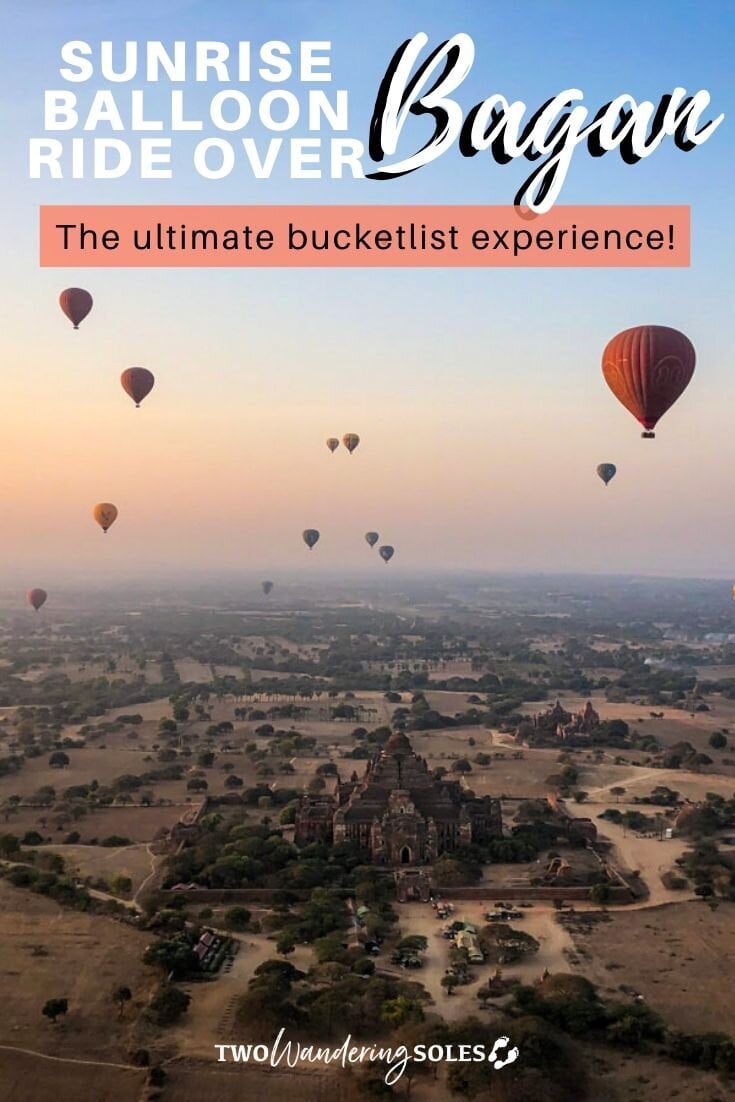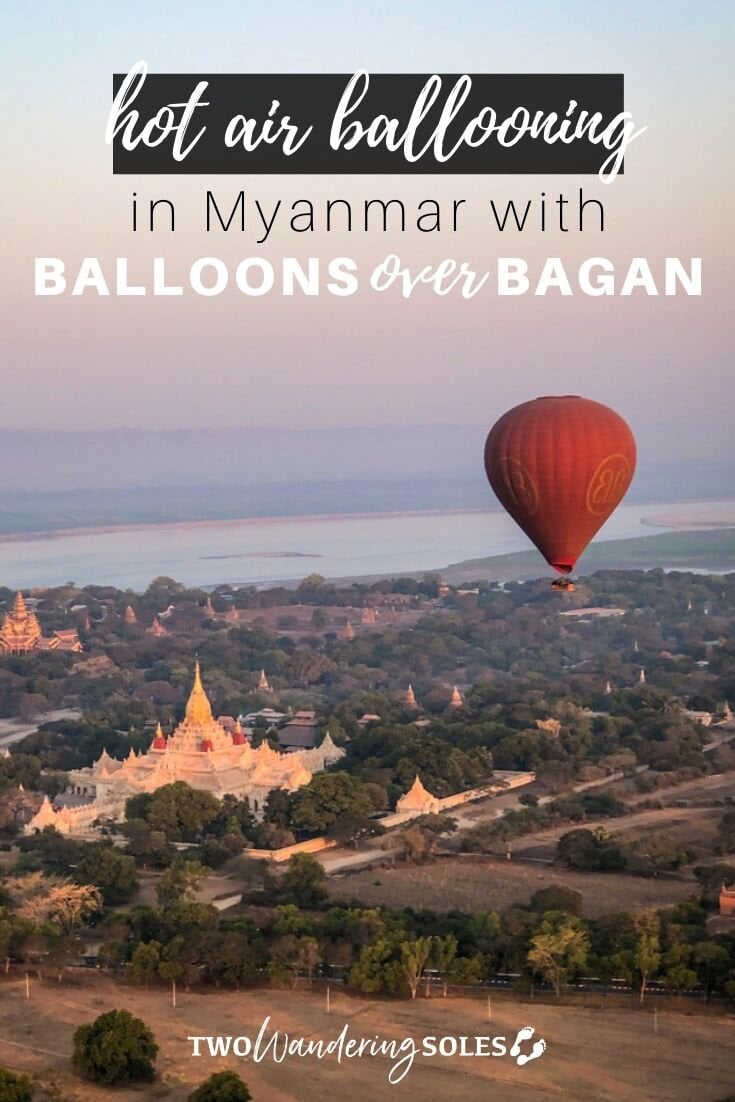 We want to hear from you!
Have you ever been hot air ballooning before? What was your experience like?
Are you planning a trip to Myanmar to go hot air ballooning in Bagan and still have questions? Comment below and we'll do our best to find you answers!