The Philippines is a country made up of 7,107 islands, and more than 1,700 of those belong to Palawan. And so it seems fitting that one activity everyone seems to do while in El Nido is to partake in the famous island hopping tours.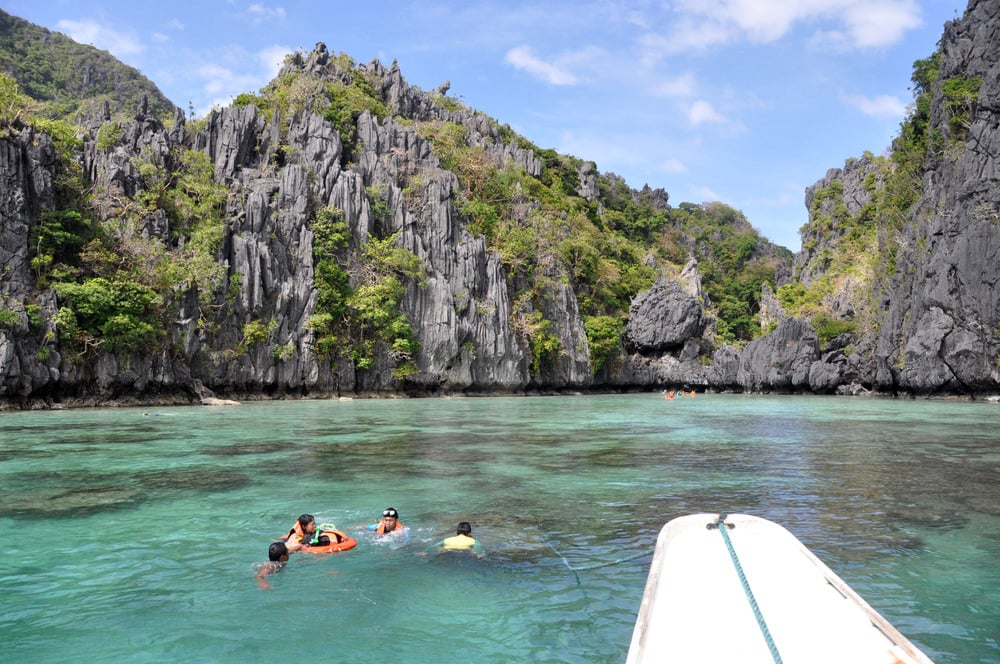 Island Hopping Tours from Palawan
El Nido is set in a boat-filled bay with cliffs looming in the background. Though the town is charming in itself, the beauty that we were seeking was just a boat ride away.
The Philippines is a country made up of 7,107 islands, and more than 1,700 of those belong to Palawan. And so it seems fitting that one activity everyone seems to do while in El Nido is to partake in the famous island hopping tours.
There are tons of tour operators in El Nido, and they all offer the same itineraries. Just do a simple Google search, and you'll find that the best and most popular tours are undoubtedly A and C. Since we only had time for two, we trusted in the advice of others before us, and weren't disappointed.
Before you set sail on your island hopping adventure, don't forget to do this… you'll thank us later.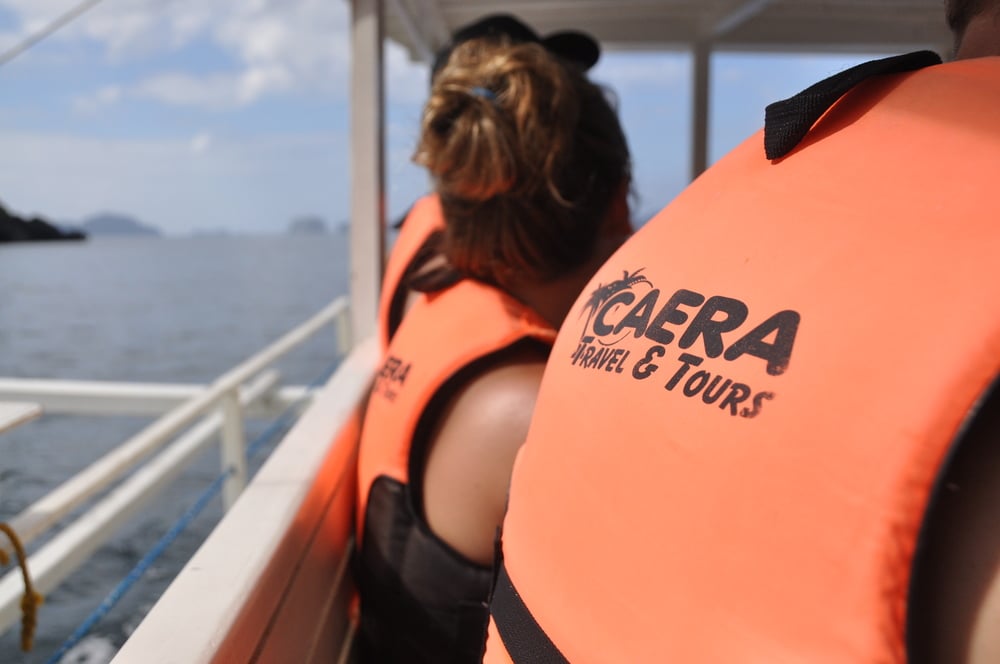 Though all the companies stop at the same places during their tours, the service and food differs. We did both tours through a reputable company called Caera Travel Tours, and would highly recommend them. They are known for being environmentally conscious and have played an instrumental role in sustainable tourism in El Nido.
Where to stay in El Nido:
Spin Designer Hostel – El Nido: With some of the highest reviews in all of El Nido, this laid back hostel is the perfect place to relax after a long day of island hopping. They have dorm rooms and private rooms at great prices. And with only 600 meters to the beach, what's not to love!
Tour A – 1,200 PHP per person ($27 USD)
Right away, we met our guide, Brandon, who was funny, professional, and informative – everything you'd want in an island hopping guide!
Our boat set out just a little after the other groups had left. This meant that we had each stop pretty much to ourselves, as the other tours had already moved on.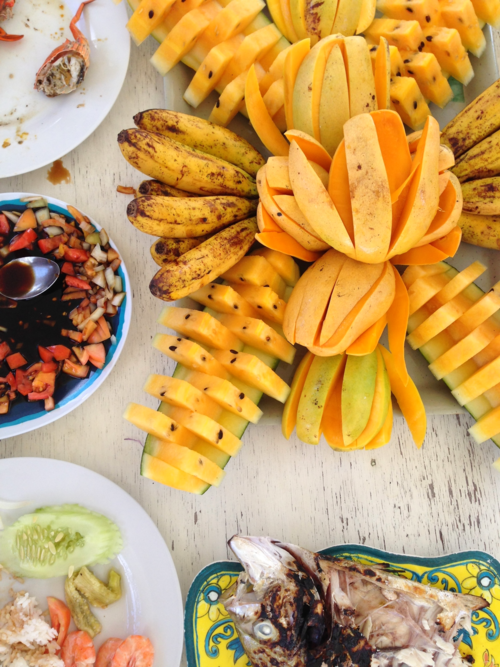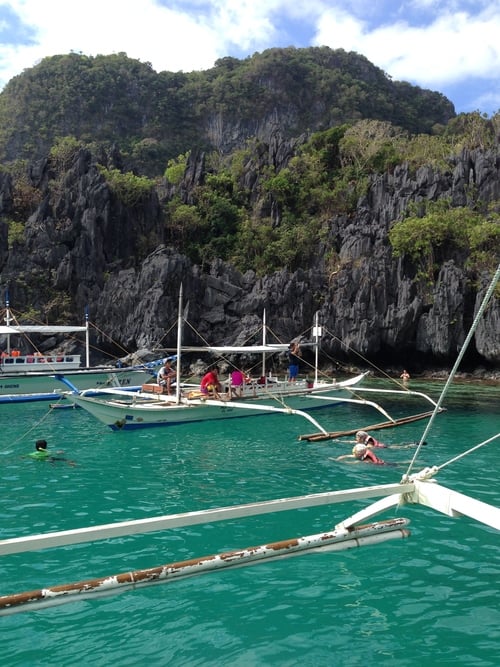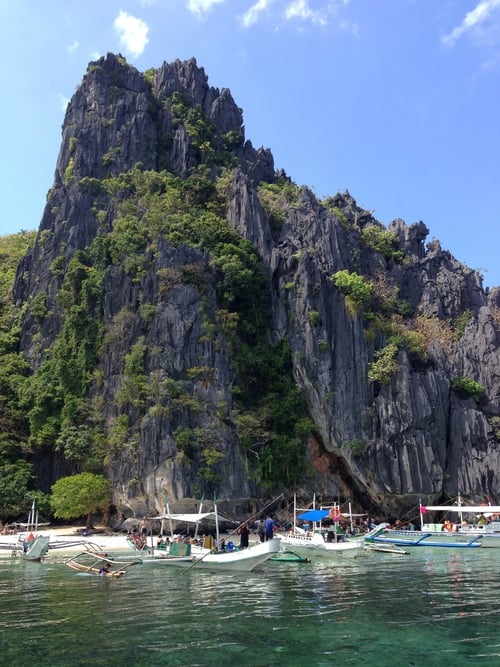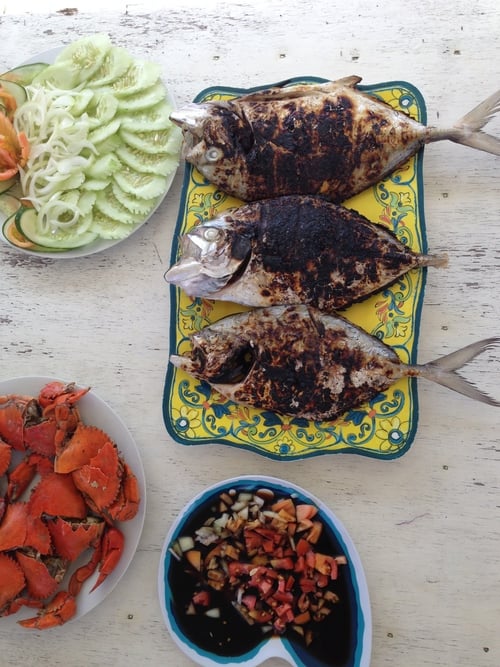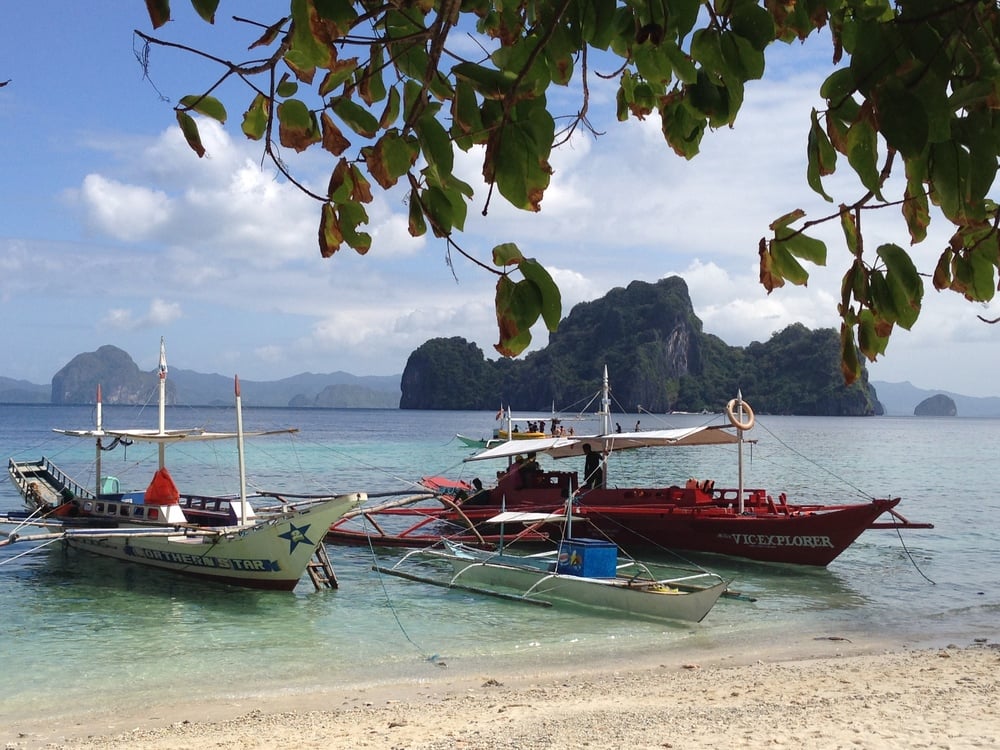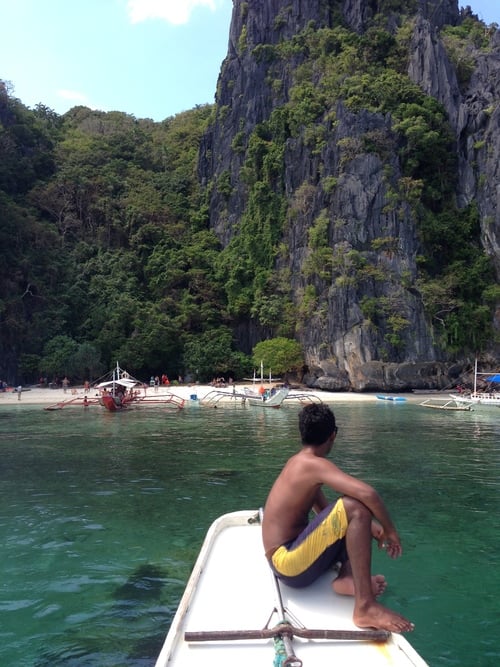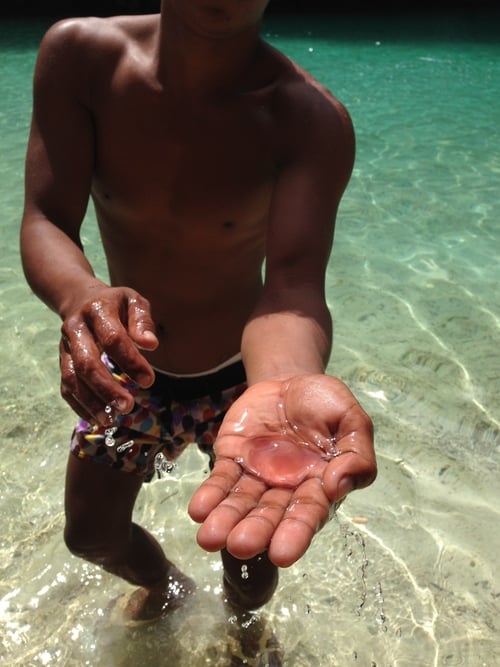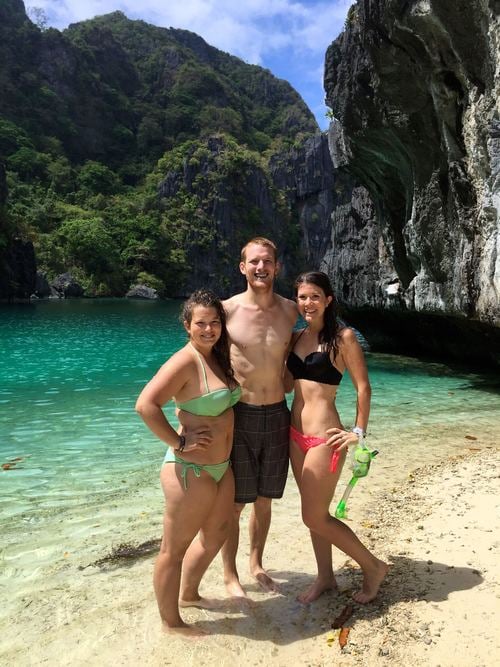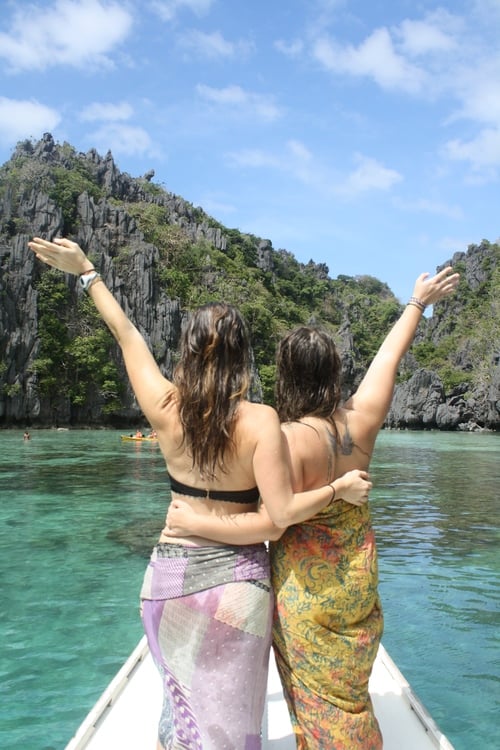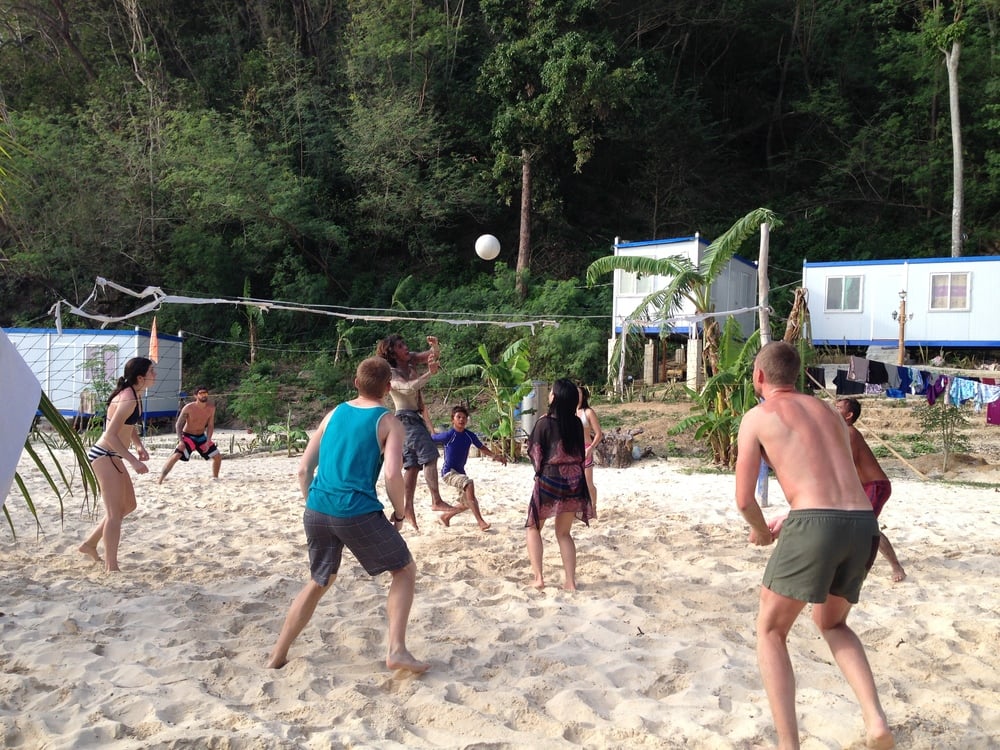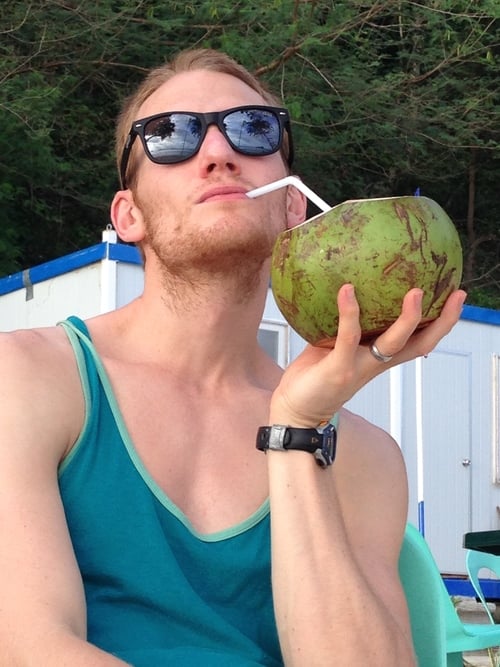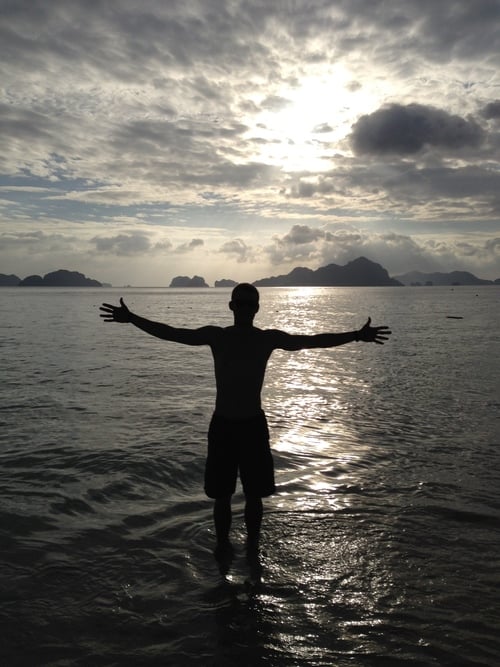 Here's a breakdown of tour A:
Small Lagoon – Swim through a small opening to reveal a picture perfect lagoon. Be sure to swim all the way to the other side where there is a small cave to explore.
Big Lagoon – Crystal clear waters make this area great for snorkeling.
Shimizu Island – This island has a small, shaded beach and makes for a perfect lunch spot
Prior to stopping here, we had seen the crew filleting giant fish and cutting fruit with finesse, but we had no idea just how much food we would be served. A large, wooden table was carried onto the sand, along with real plates and silverware. Platter after platter were set on the table, until there was no longer any room. We feasted on crabs, shrimp, fish, chicken, pork, rice, fruit, and my favorite – tomato and eggplant salad. We were certainly spoiled!
Secret Lagoon – Pass through a hole in the rocks and find a shallow lagoon surrounded by huge rock walls.
7 Commando Beach – This beach is a little more developed than the rest on the stops on the tour – it even has cabanas and a volleyball net. Make your way to the smoothie stand and order a coconut (with a splash of rum!) for a refreshing drink to sip as you watch the sun start to set.
Tour C – 1,400 PHP per person ($32 USD)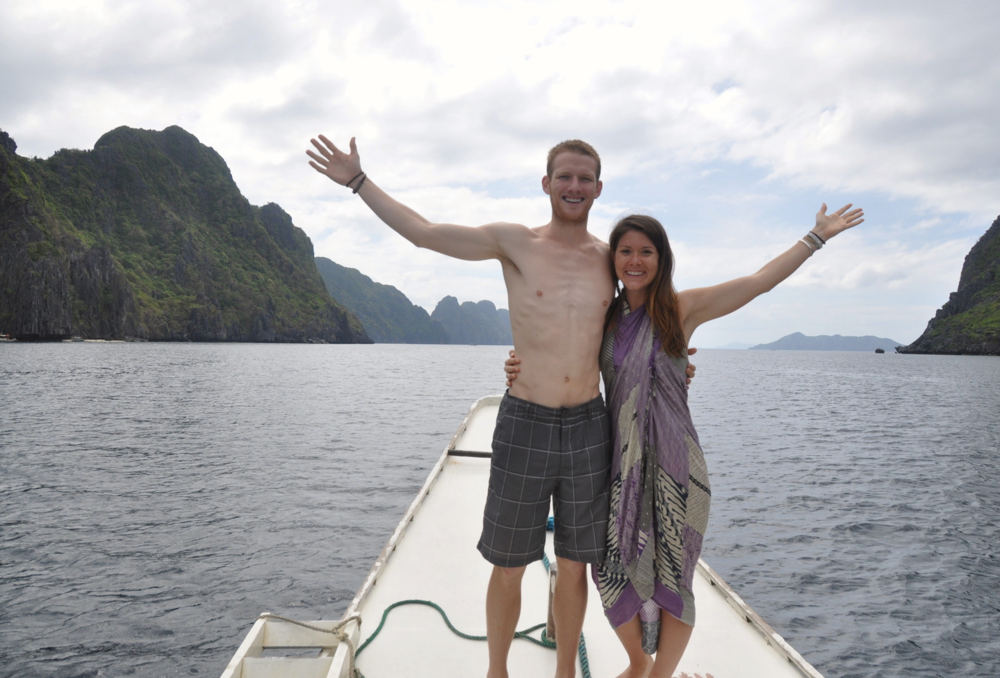 Here's a breakdown of Tour C:
Helicopter Island – This beach is packed with beautiful coral, but the abundance of jellyfish makes it difficult to snorkel here for very long.
Hidden Beach – Unfortunately, this beach was closed because Israeli Survivor was being filmed while we were there… or was it Swedish Survivor? There were a few rumors floating around, but it was too bad we couldn't get a glimpse.
Matinloc Shrine – This old monastery was abandoned because there weren't enough funds to keep it going. The shrine had sort of an eerie, yet regal feel. Be sure to climb up the rock path beside the shrine. The view overlooking the sea is stunning. There just aren't words. Tip: On the way there, look for flying fish – we saw tons!
Lunch was served on the boat in a little bay area. The food was just as good as the previous day.
Secret Beach – Let me first dispel the myth that this beach is "secret". Contrary to its name, many visitors come to this beach every day on island hopping tours, and it is by no means unknown. Even so, this was the highlight of the Tour C.
Jump off the boat and swim through transparent waters to a small opening in the rocks. Pass through and you will arrive in another world. Jagged rock faces tower 50 to 100 meters high and surround a small beach.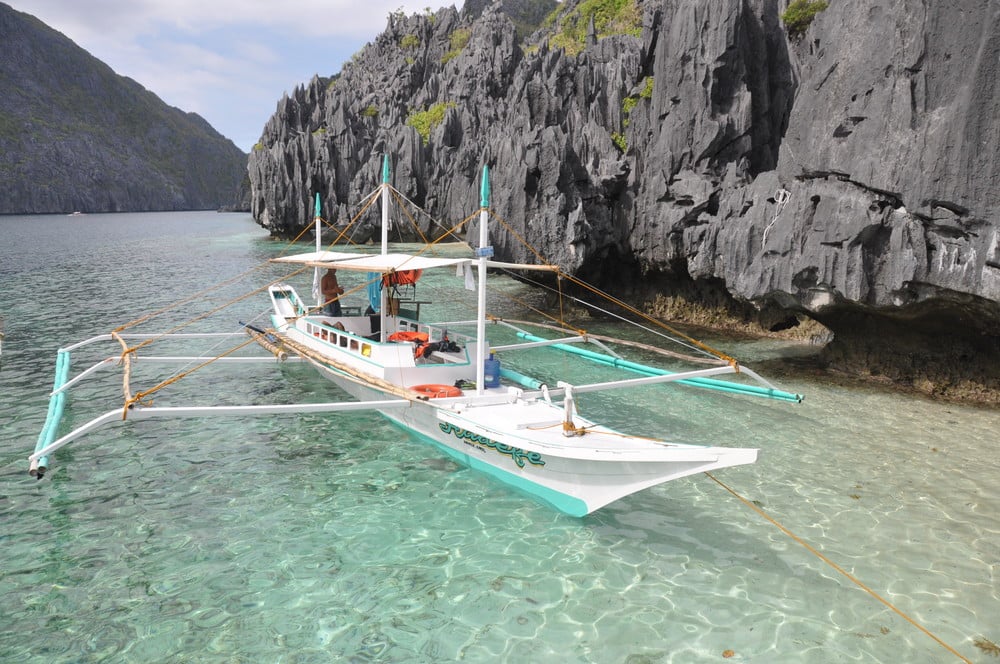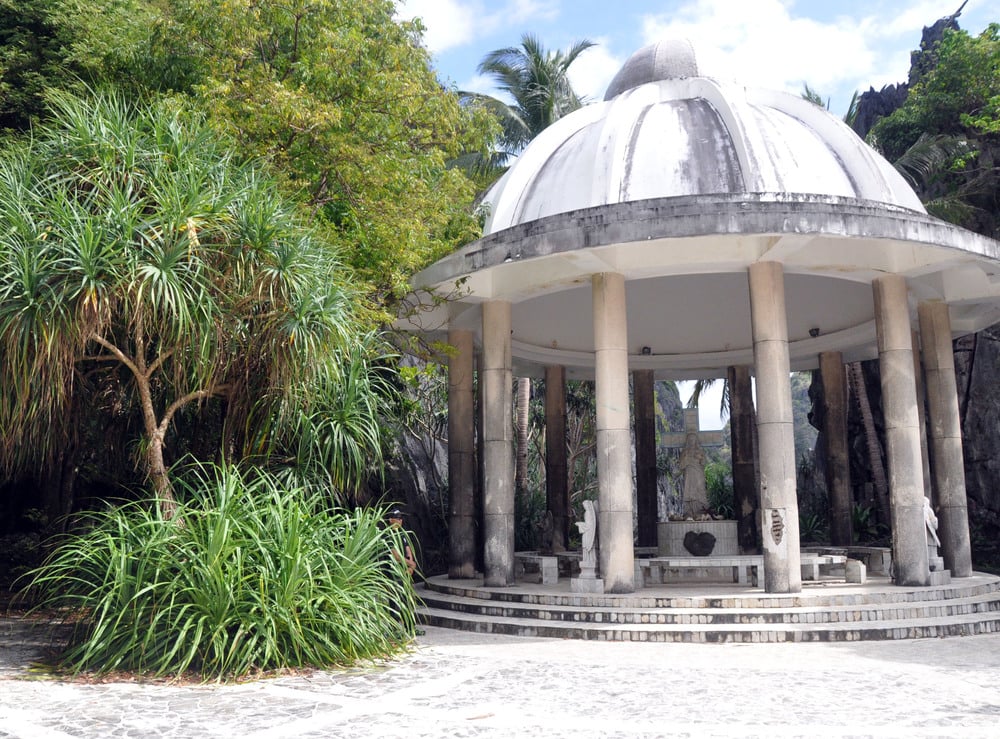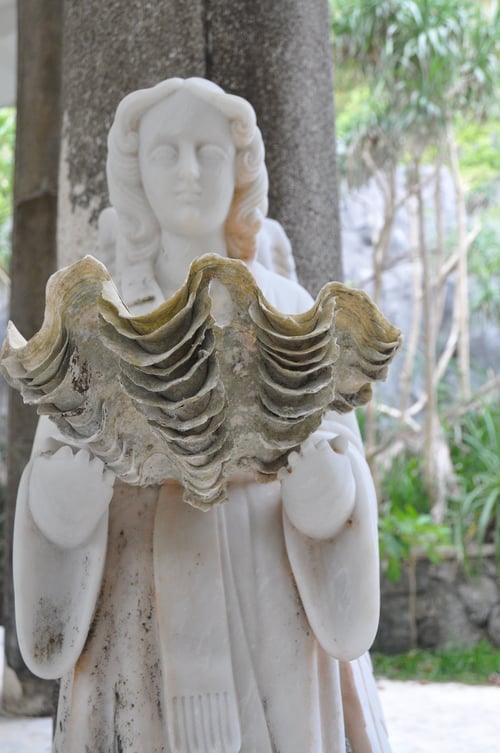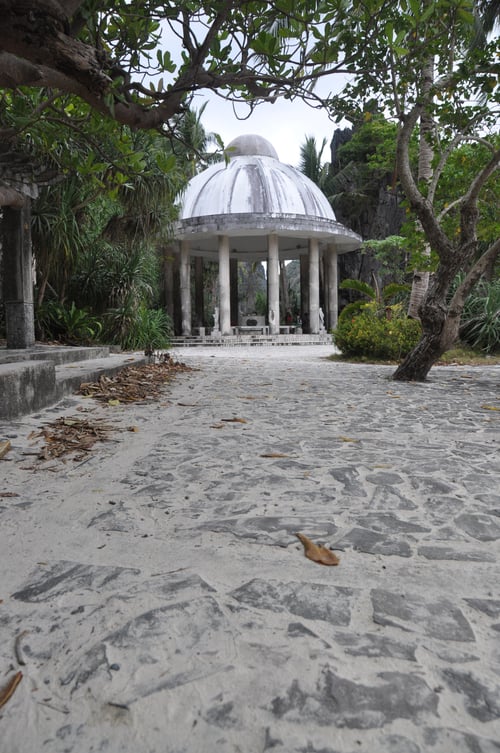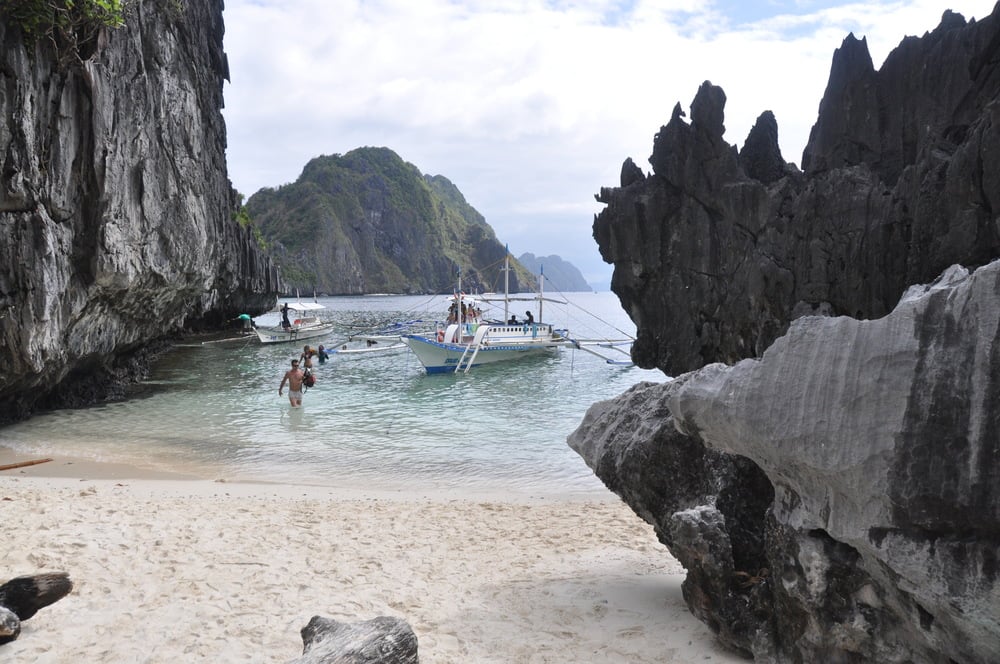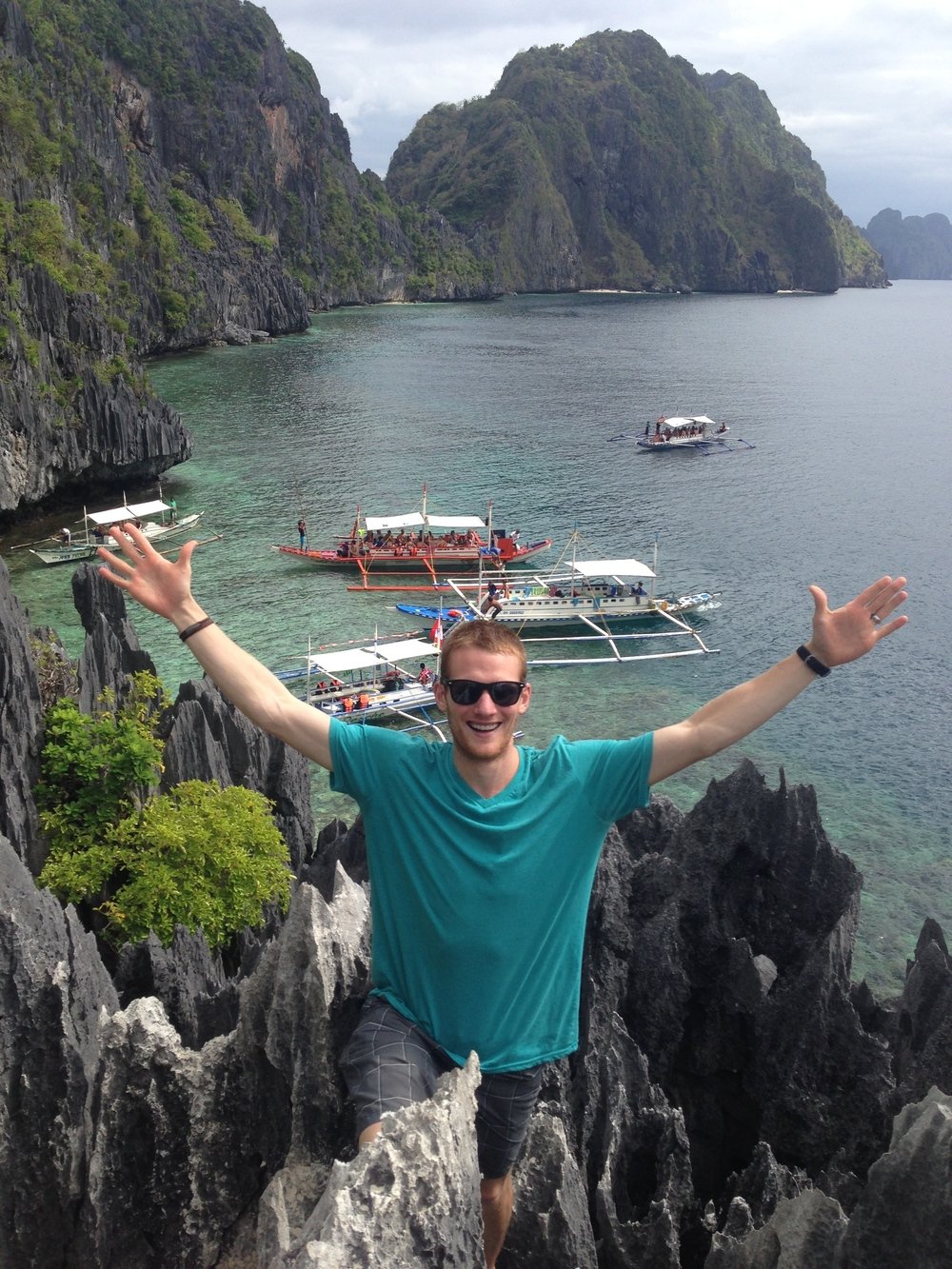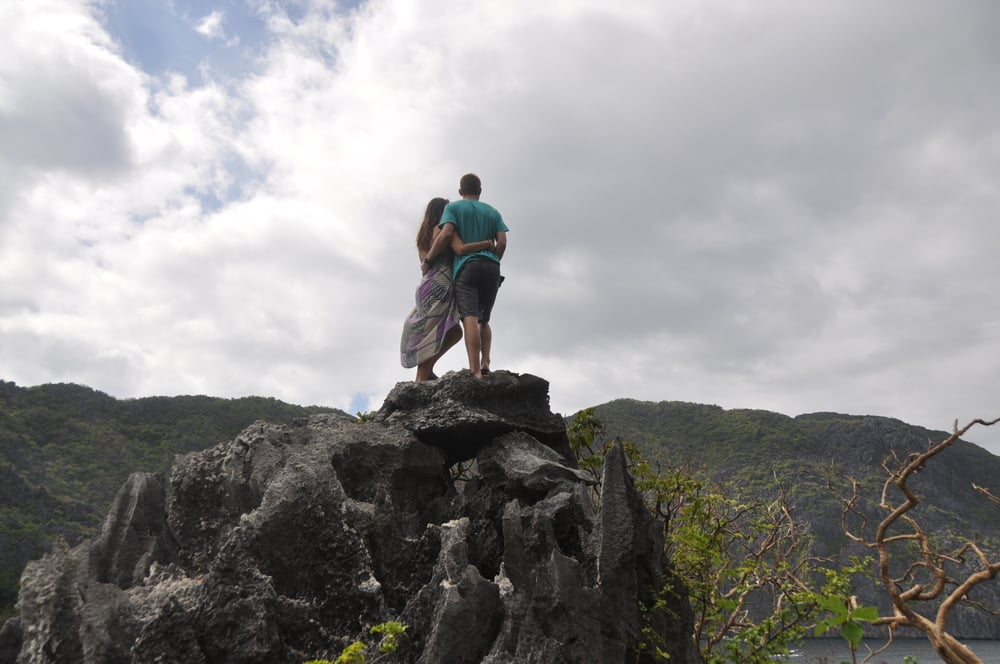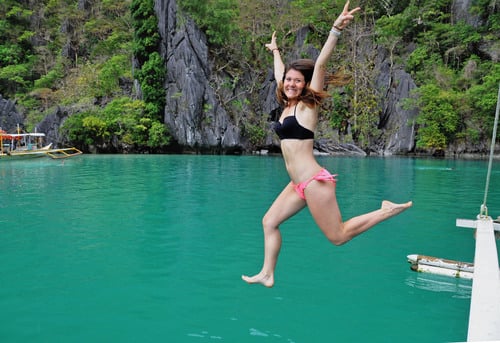 Because we weren't able to see Hidden Beach, we went to another remote cove that is not typically on the tour route. The water was an almost milky turquoise, unlike anything I've ever seen. We floated and splashed around until it was time to head back to town.
By now you know it's hard for me to pick favorites, but Alex, Ben and I collectively agreed that we liked Tour A slightly better.
Read more about our time in Palawan.
Our island hopping excursions were complimentary, thanks to Caera Travel Tours. As always, all opinions are our own.
---
Are you planning a trip to the Philippines?
We have TONS of resources on travel in the Philippines and destinations throughout the country. Check out our Ultimate Philippines Travel Guide for all the answers to your most burning questions, or read some of our favorite articles below.
Save this article to Pinterest for later!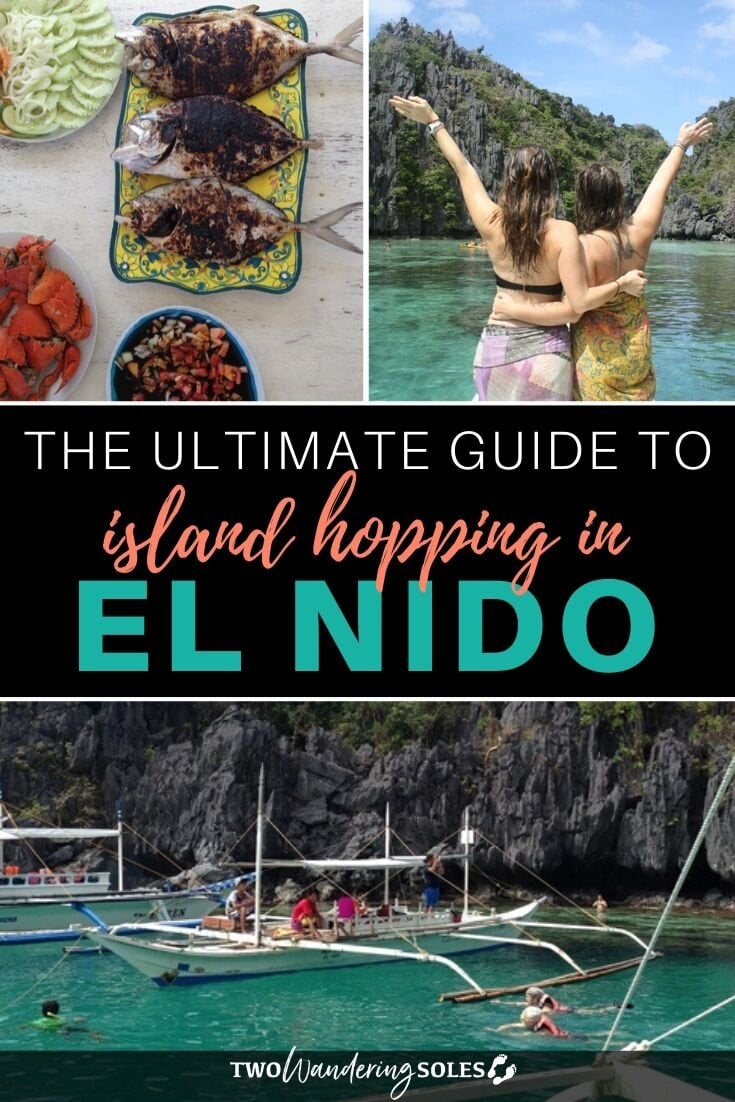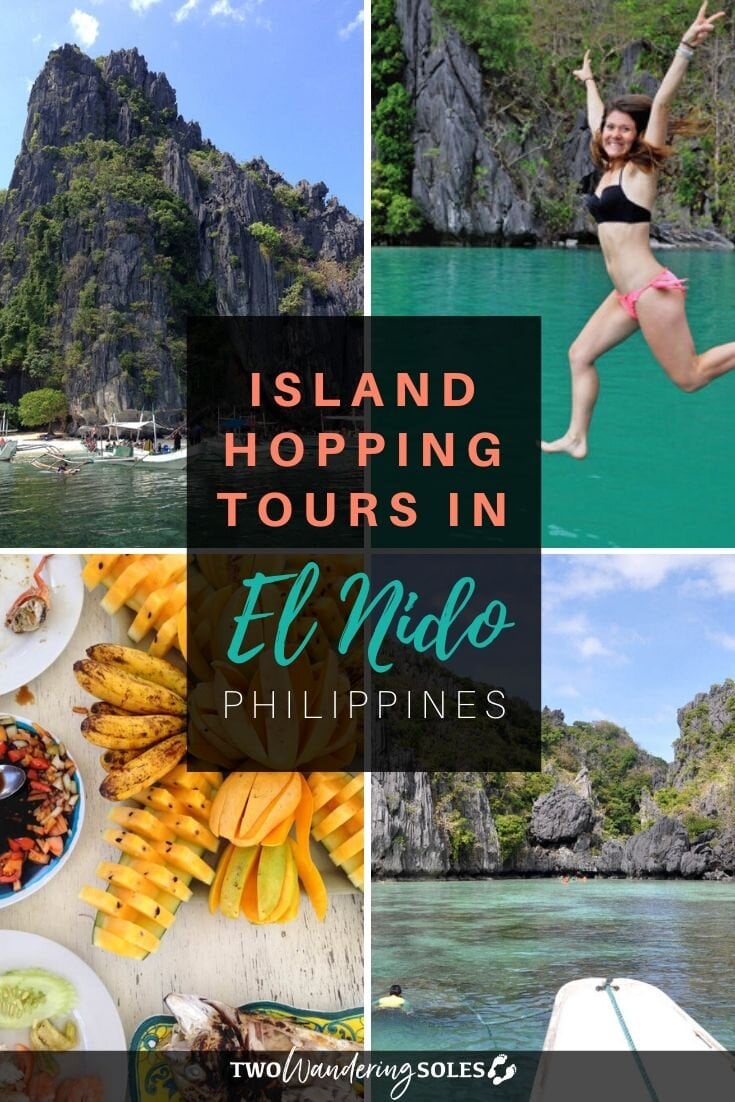 We want to hear from you!
Have you been to El Nido? Have you tried going island hopping? What did you think? Comment below and we'll do our best to get back to you!