We've put together everything you need to know about doing your first Liveaboard diving trip in this article that is jam-packed with insider tips and advice. We aim to answer all your questions and get you prepared for planning your ultimate Liveaboard diving experience.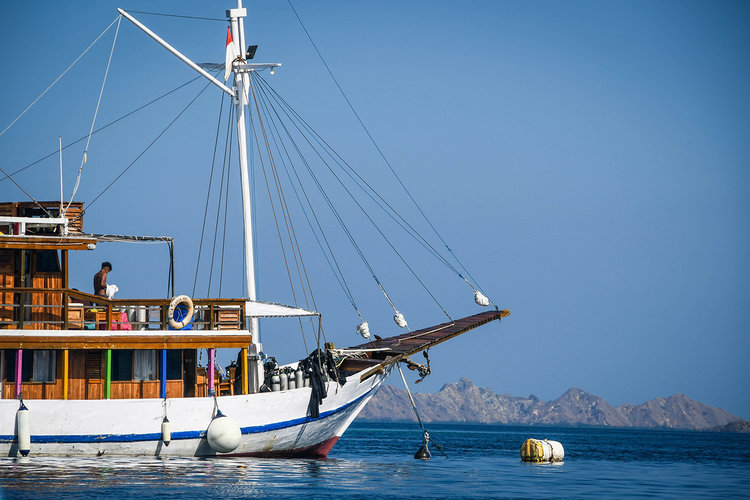 Imagine waking up to the sun rising from the depths of the great blue sea stretching out in all directions. You sip on a coffee as the sky changes colors and the breeze plays with your hair. You slip on your wetsuit, gear up, and jump into clear waters and are quickly surrounded by fish and corals of all colors.
When you make it back onto the boat for breakfast at 9 a.m., you've already completed a dive, but the fun is far from over. By sunset, you'll have 4 dives under your belt, and tomorrow you'll do it again.
If this sounds dreamy to you, we've got the perfect idea for your next vacation…
A Scuba Diving Liveaboard!
Participating a Liveaboard is the the best way to get the most out of your diving experience in any location. You'll spend your days cruising from one dive site to another, diving up to 4 times a day.
Not only will you get a lot of dives logged on a Liveaboard, but often times the sites you'll visit are ones you can't see on day trips. This means you get to see little-touched reefs and marine life that hasn't been affected by crowds of dive sites closer to shore.
And on top of that, you get to meet new friends from around the world, relax in the sun and sleep beneath the stars.
In this article, we're answering all your questions about Liveaboards (trust me, we were wondering all the same things!) so that you have all the tools and knowledge to start planning your very own epic dive trip.
---
Liveaboard Article Contents
---
What is a Liveaboard?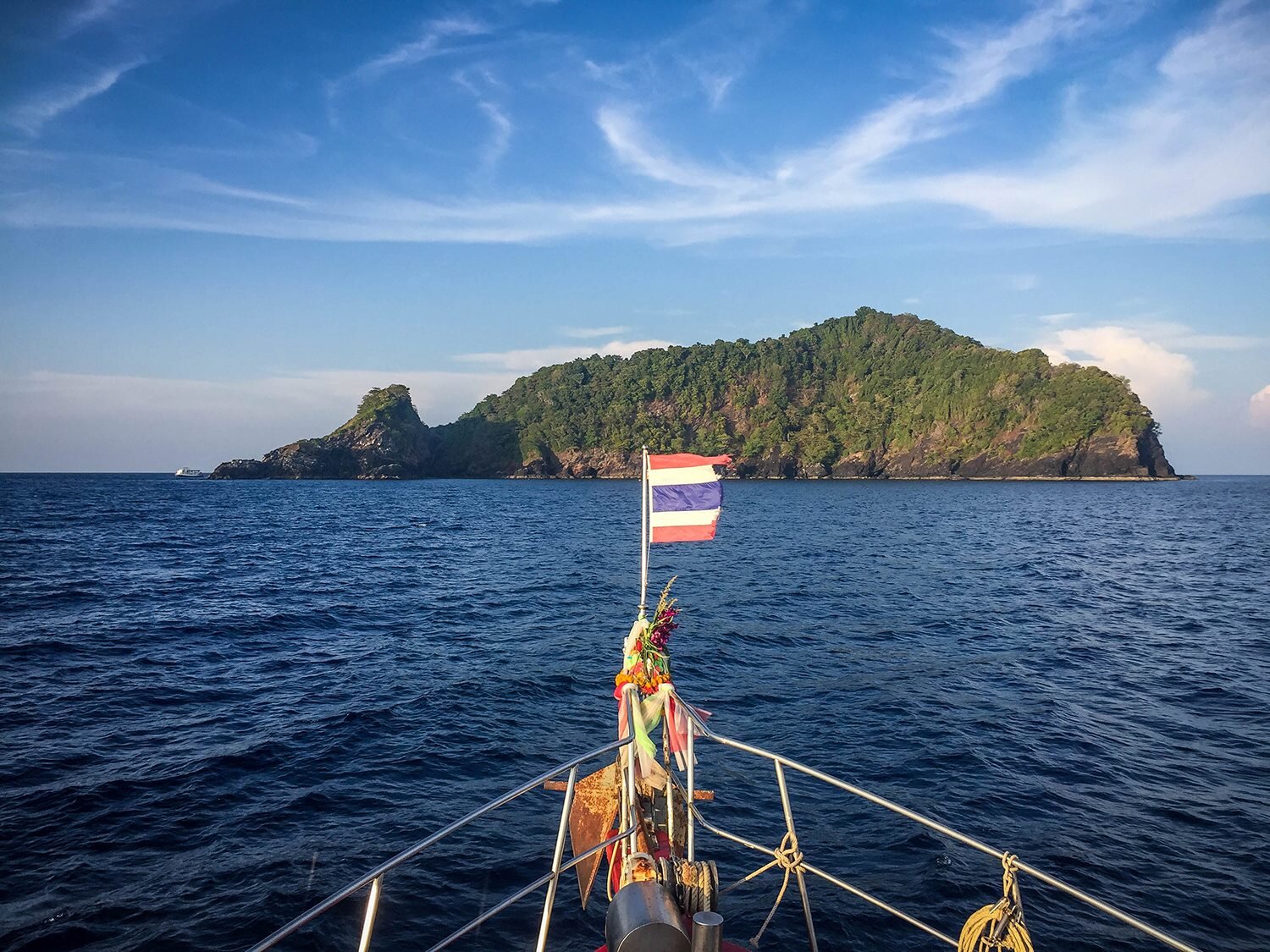 Let's start with the basics…
In the simplest definition, a Liveaboard is a multi-day boat trip that is often times focused on scuba diving*.
Most take no more than 16 guests and have fully catered facilities. Trips are anywhere from 3 days to full 14-day excursions onboard a ship where you will eat, sleep, and dive, day after day. Guests get the option to choose their own room or stay in a shared bunk room, and actually sleep, eat and relax on board the ship when they are not diving.
We've done two dive trips Liveaboard, first in Thailand and then in Komodo National Park in Indonesia. Both were incredible trips that will go down in the books as some of our favorite experiences in all our travels.
But you don't have to take our word for it… See what it's like for yourself! Check out our video from our Komodo National Park Liveaboard in Indonesia:
*There are non-diving Liveaboards too, but for this article, we'll be focusing on the diving type.
Diving Experience Requirements
You may be wondering what kind of prior diving experience you need to have to do a Liveaboard trip? We were too before we booked our first one!
Many liveaboards will welcome those with Open Water certifications and above (be sure to check with your boat ahead of time). I will say having your advanced open water certification allows you to fully explore the dive sites a bit more. For example, at some of the sites, the advanced divers can dive to 30 meters, while those who don't have their advanced certification can't explore the dive site as extensively because they can only go to a maximum of 18 meters.
All this said, you can usually get your advanced certification ON the boat! How cool is that?! Three people aboard our Thailand voyage came in Open Water Divers and left with Advanced certs.
And what if you have your certification but haven't been diving in a while you ask?
To be honest, I was a bit nervous before our first Liveaboard. It had been 2 years since we'd been diving in Koh Tao, and everything was a bit fuzzy. We booked a refresher course for the morning before our dive trip, and we are so happy we did.
What's Included in a Liveaboard
Specifics included in each Liveaboard will depend on the boat/trip you choose. However, there are some general inclusions that are covered on all Liveaboard trips.
As a guest on a Liveaboard, you will have a dorm-bed or private room as well asall meals included in the price. You will also have access to all the equipment needed for diving, though you are more than welcome to bring your own equipment if you have it.
Included in your Liveaboard price is the necessary diving equipment:
Air Tanks

BCD & regulators

Weight Belt
The following may be included in your Liveaboard price, or may cost an additional rental fee depending on your trip. Ask ahead so you know what extra fees to expect!
Dive computer

Wetsuit

Mask

Fins and Booties
Insider Tip: We'd recommend purchasing your own mask, as this piece of equipment will be much more comfortable when it fits your face properly. If you purchase only one piece of scuba gear, this should be it. The rentals just can't fit every face properly, so you may get some leaking. Depending on your personal preference and your face shape, you might even want to consider getting a full face diving mask.
Typical Daily Schedule on a Liveaboard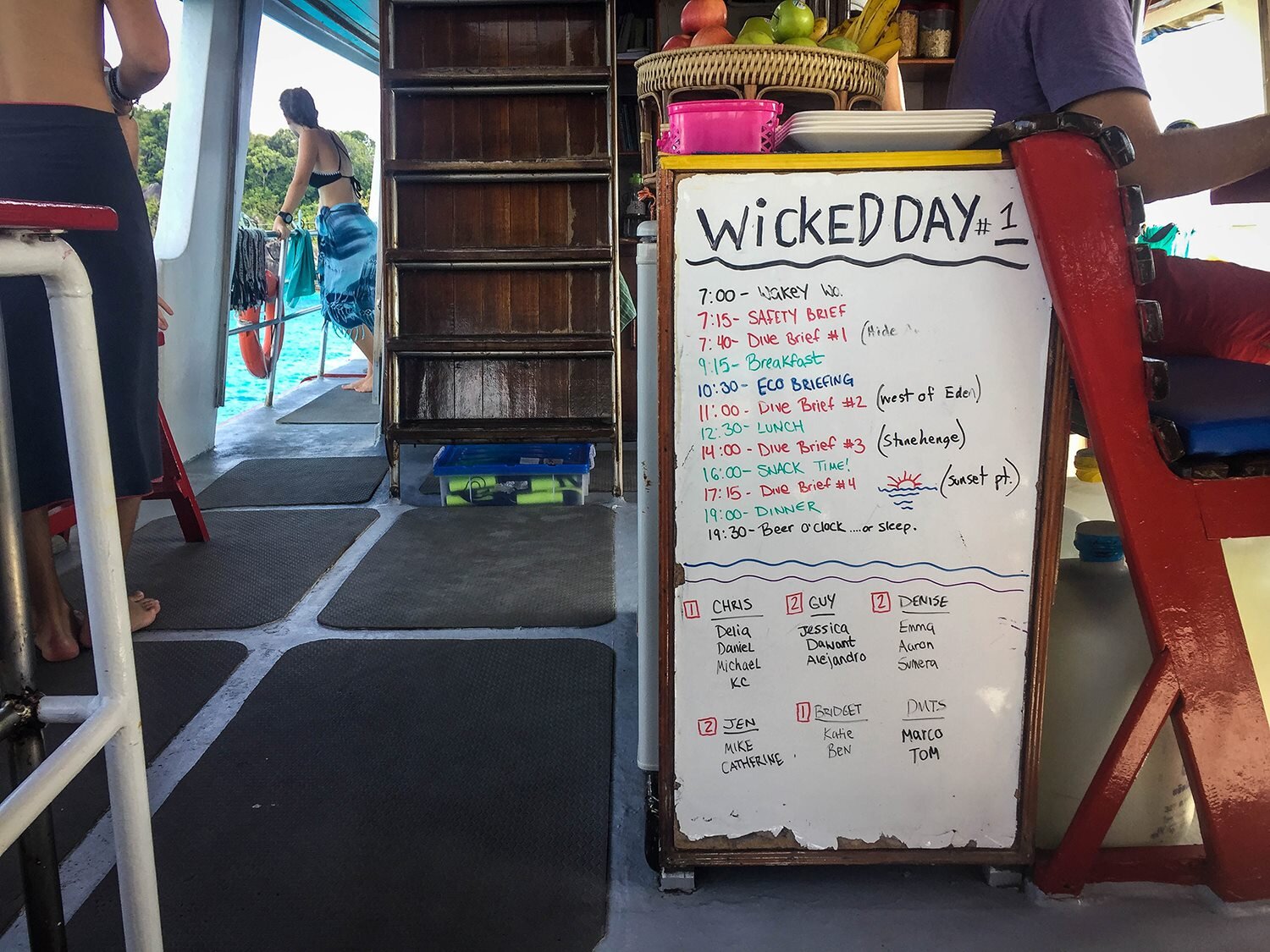 While each day on a Liveaboard trip will vary slightly, and your schedule will be dependent on the location as well, here's the gist:
Dive, Eat, Sleep, Repeat.
But don't worry, if you're not feeling well, are tired, or just need a break from diving, there's nobody forcing you to go. You can certainly sit out a dive if you want. (In our experience, we have found the excitement returns dive after dive and we never wanted to miss any of the action!)
Here's an example of what a typical schedule might look like on a Liveaboard trip:
6 am: Wake up around sunrise
6:15 am: Coffee and light bites
7:30 am: 1st dive of the day
9 am: Breakfast
9:30 am: Hang out on the sun deck
11 am: 2nd dive of the day
12:30 pm: Lunch
1 pm: Nap and hang out on the sun deck
2:30 pm: 3rd dive of the day
4 pm: Afternoon snacks
4:30 pm: Relax and read
6:30 pm: Dinner and chat
9:30 pm: Early to bed so you're ready to do it all over again
Note: The dive times vary each day. For example, on our Komodo Liveaboard, we did two night dives, so the other dives on those days weren't as early in the morning.
Liveaboard Boats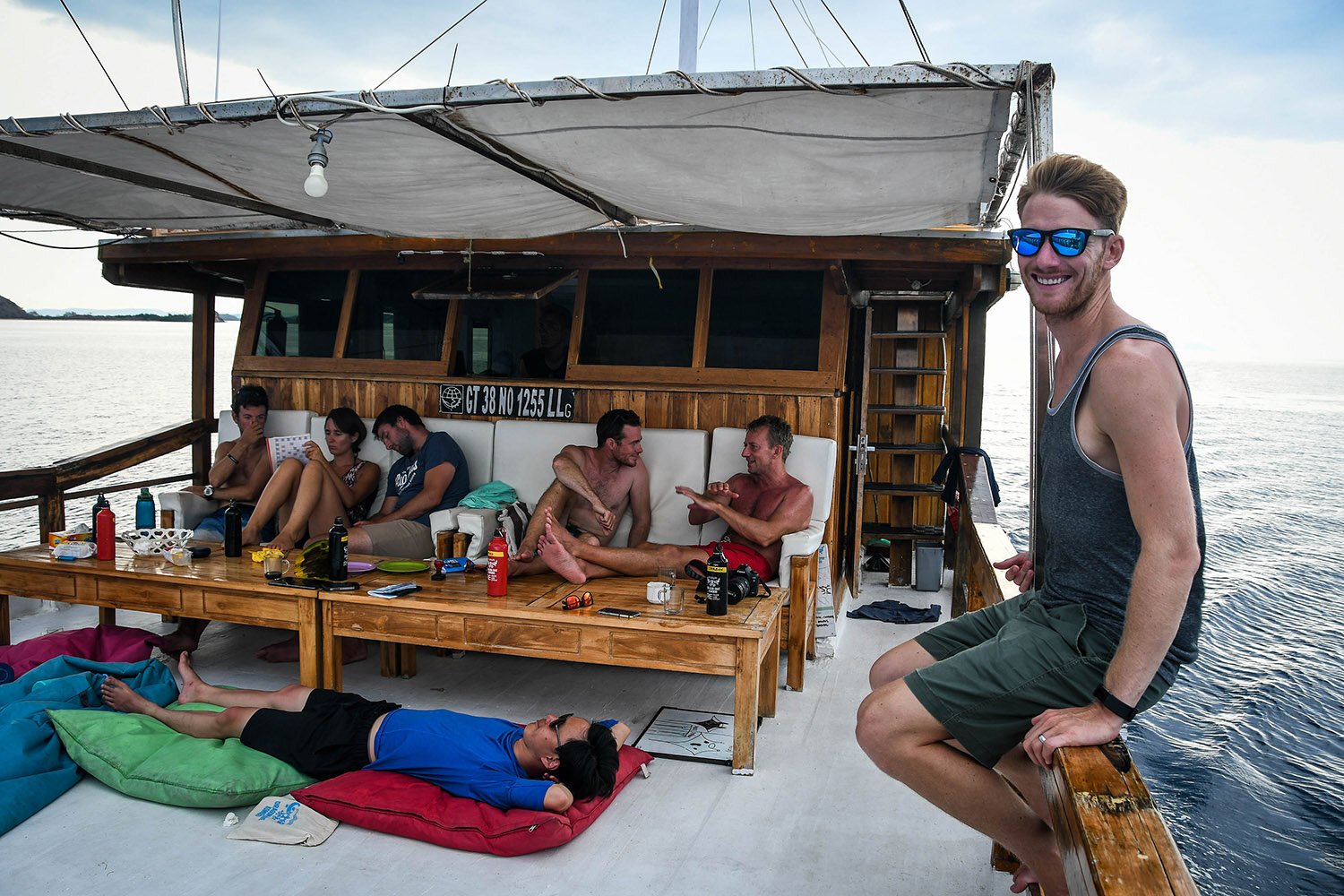 So what exactly is the boat like that you'll be living on for multiple days on end? Where do you sleep? And perhaps even more importantly, how are the bathrooms?
These are all great questions, but truthfully, it depends on the boat you choose. Each liveaboard is different, and the higher the price tag, the more plush you can expect the boat to be.
But even the more affordable boats are still quite comfortable. Let's take you on a tour!
Liveaboard Room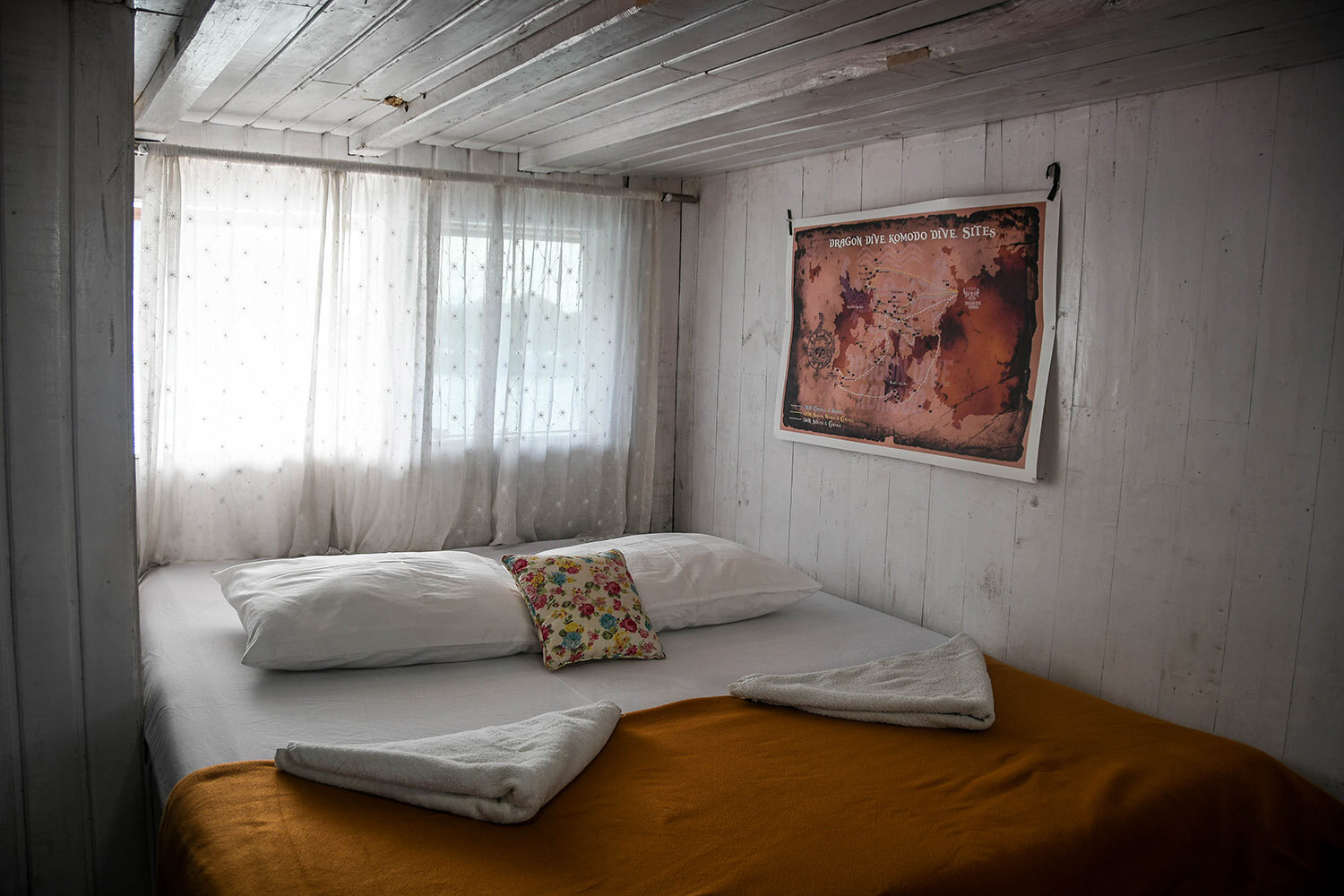 You can often choose between a bunk in a dorm room (perfect choice for a solo traveler or a couple on a tight budget!), or a private room of your own. Both of the Liveaboards we've been on had air-conditioning and surprisingly comfortable beds.
During our Komodo Liveaboard, the generator was shut off in the nighttime, so sleeping on the top deck on a beanbag or hammock turned out to be much more comfortable. You get a nice breeze and a view of the night sky with no light pollution.
Liveaboard Bathroom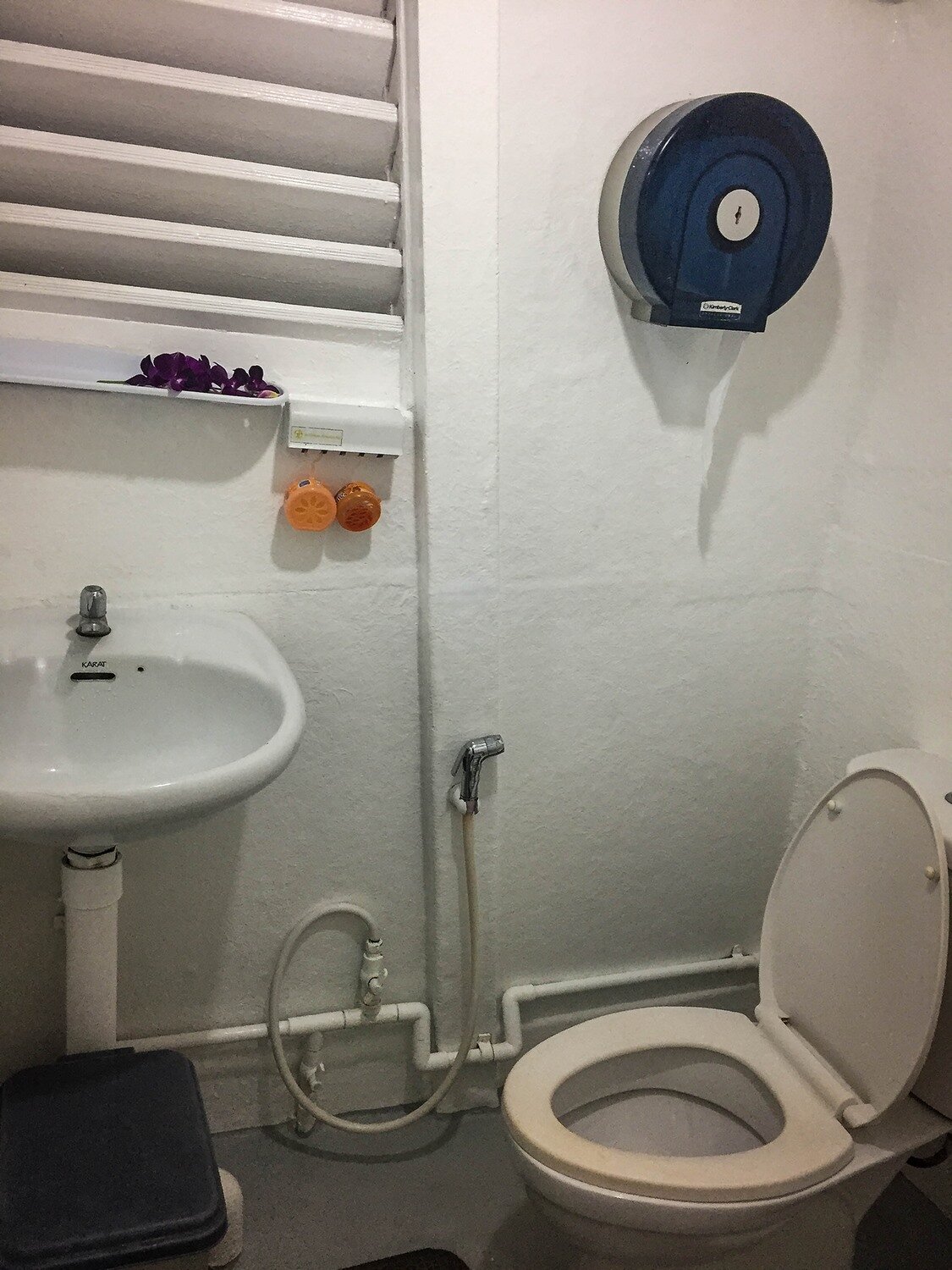 For some reason, I was more curious about the bathrooms on a Liveaboard boat than I was about the actual room itself. If you're like me and you've been wondering the same thing, don't worry — we'll tell all!
Again, it totally depends on the boat you choose, but both of our experiences on Liveaboards had very comfortable bathrooms.
On our Thailand trip, there were 3 shared bathrooms on board, and aside from once or twice, we rarely had to wait to use them.
On our Komodo National Park trip, we had a private bathroom inside our deluxe room with a flush toilet and get this — a shower with WARM water (not hot, but I'll take what I can get in the open ocean!).
You can expect Western-style toilets on all Liveaboard boats that are kept clean. One thing to note is that you cannot dispose of paper or sanitary products in the toilets. It is even more important on the boat than it is on land, as these are marine toilets and eventually everything that is flushed will end up in the water.
There is a bin to dispose of anything you cannot flush. If you have been traveling in Asia or Central America at all, you'll likely be very used to this habit.
Each bathroom also has a shower, and surprisingly, the hot water works pretty well and the pressure is strong. PH neutral shampoo, conditioner and body wash are provided on all Liveaboards. You are asked to refrain from using your own products on board so you don't compromise the marine life.
Liveaboard Common Space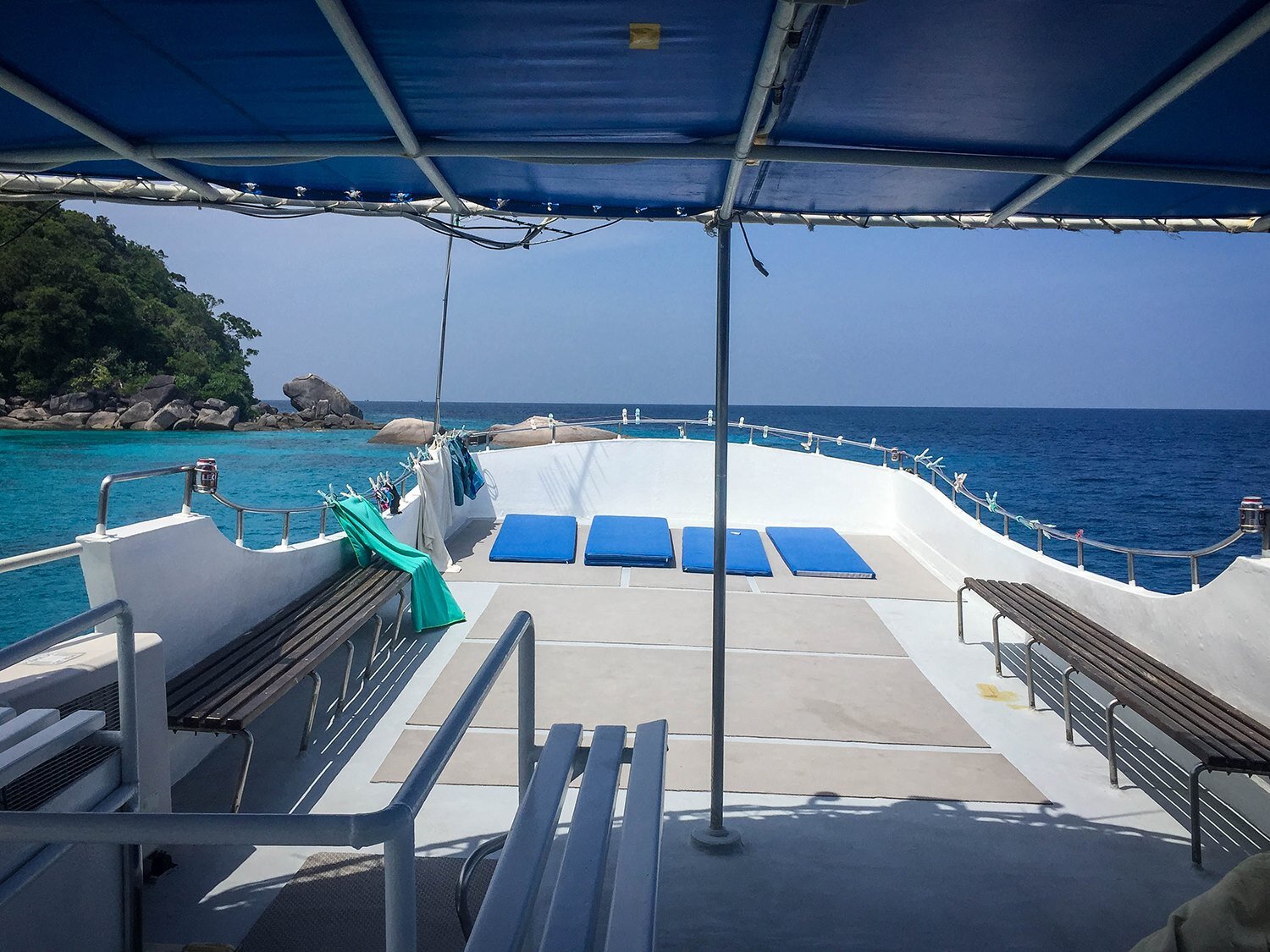 Every Liveaboard boat, whether luxury or budget, will have a couple of common areas to hang out and relax in. You can expect a sundeck as well as a shaded area (sunburns are no fun on a dive trip!).
Grab a hammock or bean bag and unwind with a good book or chat with other guests about your last dive.
Food on a Liveaboard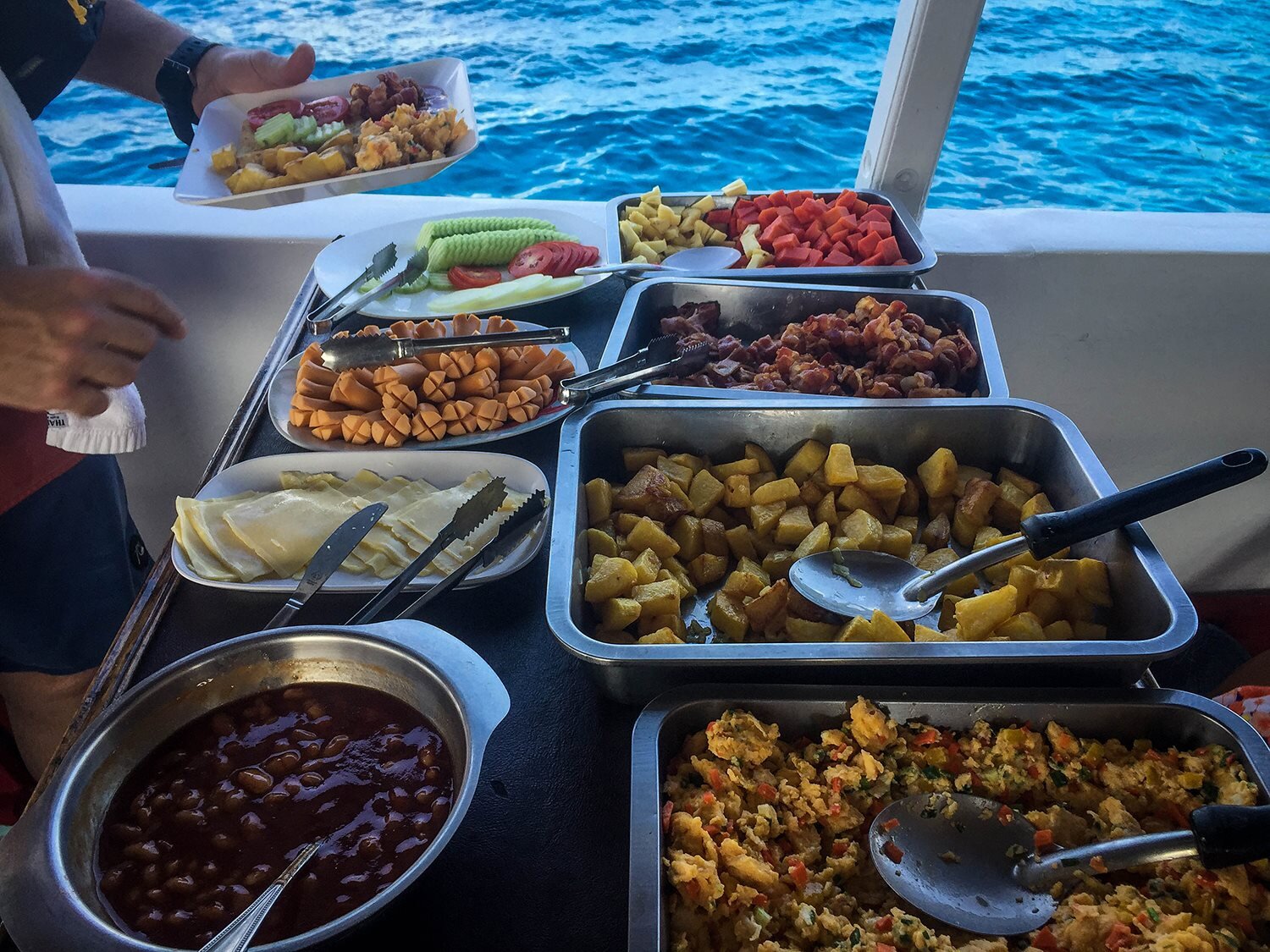 Let's just say that we have been really surprised (in a good way!) with the quality of food on each of our Liveaboard trips.
Considering that the chef needs to cook food for a large group while on a boat with limited space, we were pretty darn pleased with the meals that were served.
On both our Similan Islands and Komodo Liveaboard trips, we ate lots of local dishes, like curries, seafood, grilled meat, noodles, rice and fruit.
In addition to breakfast, lunch and dinner, there was also an afternoon snack of smoothies and fried bananas to enjoy between dives.
Let's just say, there is plenty to on a Liveaboard trip!
Note: If you have any dietary restrictions or allergies, let them know before your trip and they can accommodate you.
Liveaboard Staff and Crew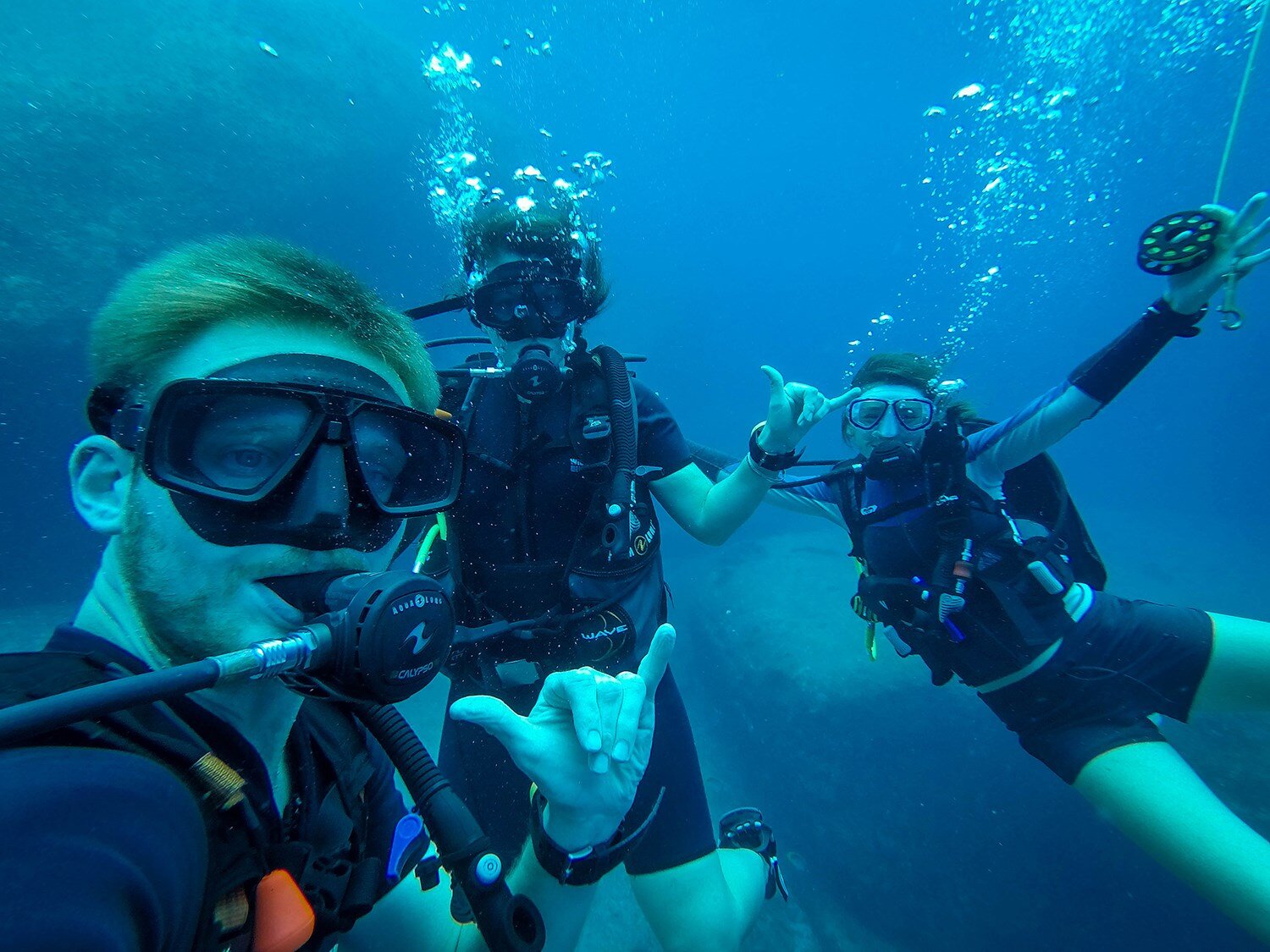 There is a crew onboard each Liveaboard ship who take care of the boat, cook meals and help with getting the equipment ready to dive each day; and the captain (or course!).
The ratio of instructors to guests varies by trip, but the group sizes onboard are small. There are generally no more than 4 divers to each instructor. On our Thailand voyage, we got a guide all to ourselves which was really fun!
Safety While Diving
The diving practices will depend largely on your instructors, but for the most part, the staff on board is super professional and have been trained to handle all types of situations.
Before each dive, the dive staff checks the currents and the conditions and communicates any things you may encounter on the dive briefing.
Be sure to ask about safety practices before booking your trip to make sure you will be in good hands.
Other Divers Onboard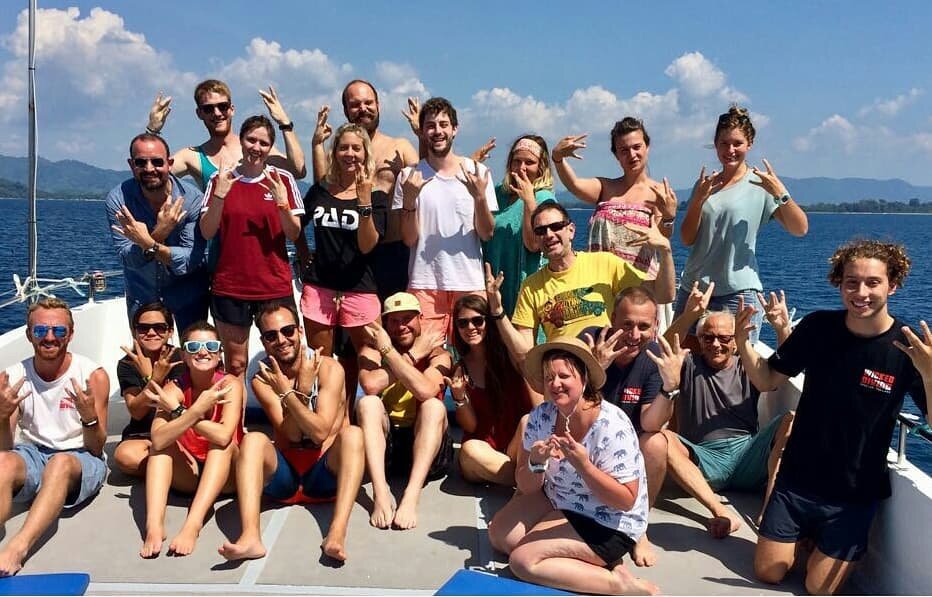 There are people of all walks of life on Liveaboard trips. Two-week vacationers, backpackers, couples, solo travelers, students, professionals. And all ages too!
And much the same, everyone came with their own level of diving experience. One guest on our boat had gone diving for his first time just a week before to get his Open Water certification. Others had been avid divers for years and have experience diving all over the world.
How Much Does a Liveaboard Cost?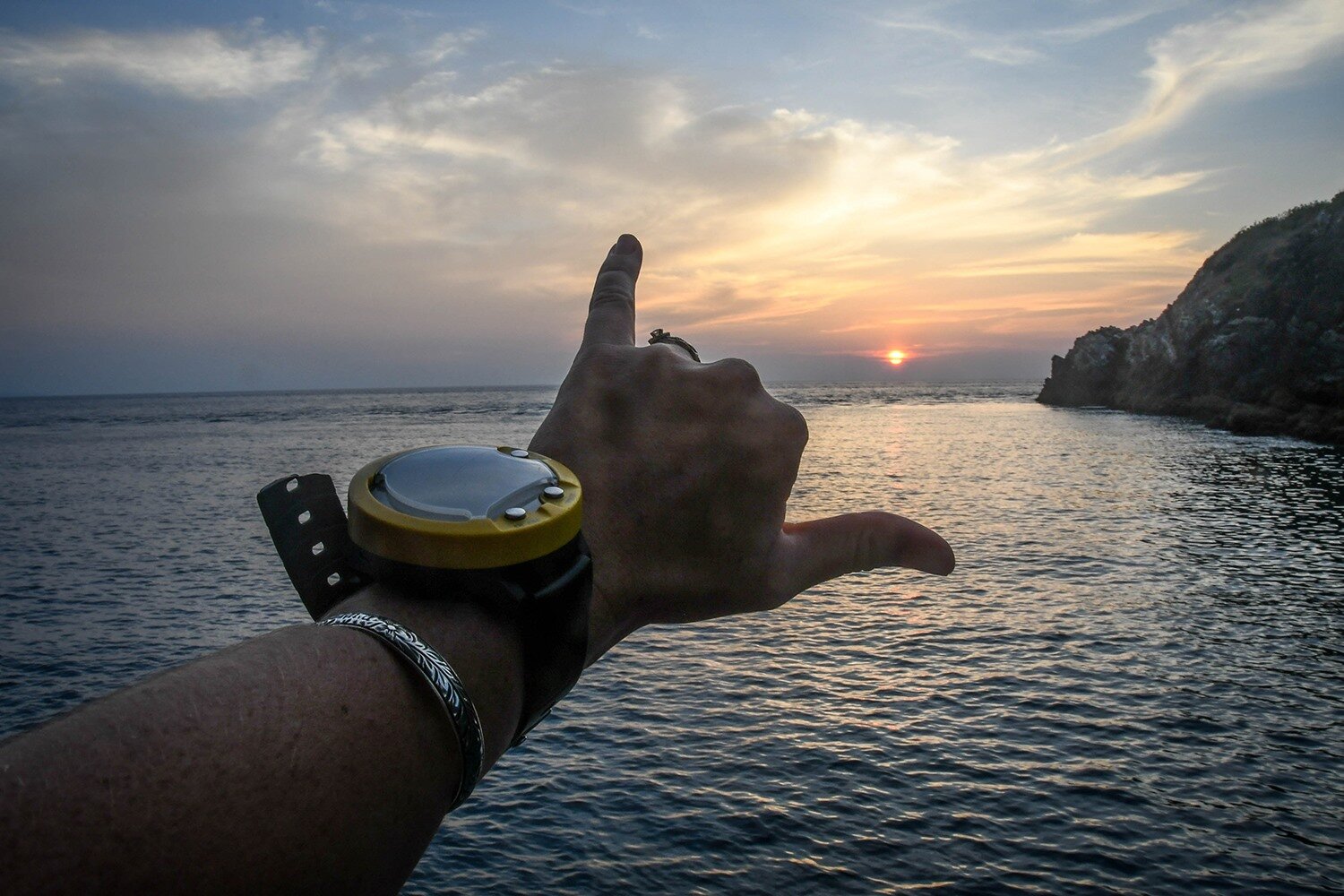 Now there's the question we know you're wondering! Let's just say that the cost of a Liveaboard trip is going to vary drastically based on what type of company you choose. It also depends on where in the world you will be diving — for instance, Indonesia is going to be much cheaper than Australia or the Galapagos.
If you go with the most affordable option out there, you can expect to pay around $120 USD per day. This covers your accommodation, instructors, transportation and all your meals and your dives. So when you really break it down, it's not that bad.
If you're going the ultra-budget route, be prepared for dorm-style bunk rooms, and you might even want to be prepared to sleep on the deck beneath the stars (which we found out is actually quite nice!).
If your budget is bigger though, you might have a nicer room, a more luxurious boat and more upscale meals.
Liveaboard FAQs
Before booking your Liveaboard, be sure you understand what is included and what will cost extra. Here are some good questions to ask the company you're going with: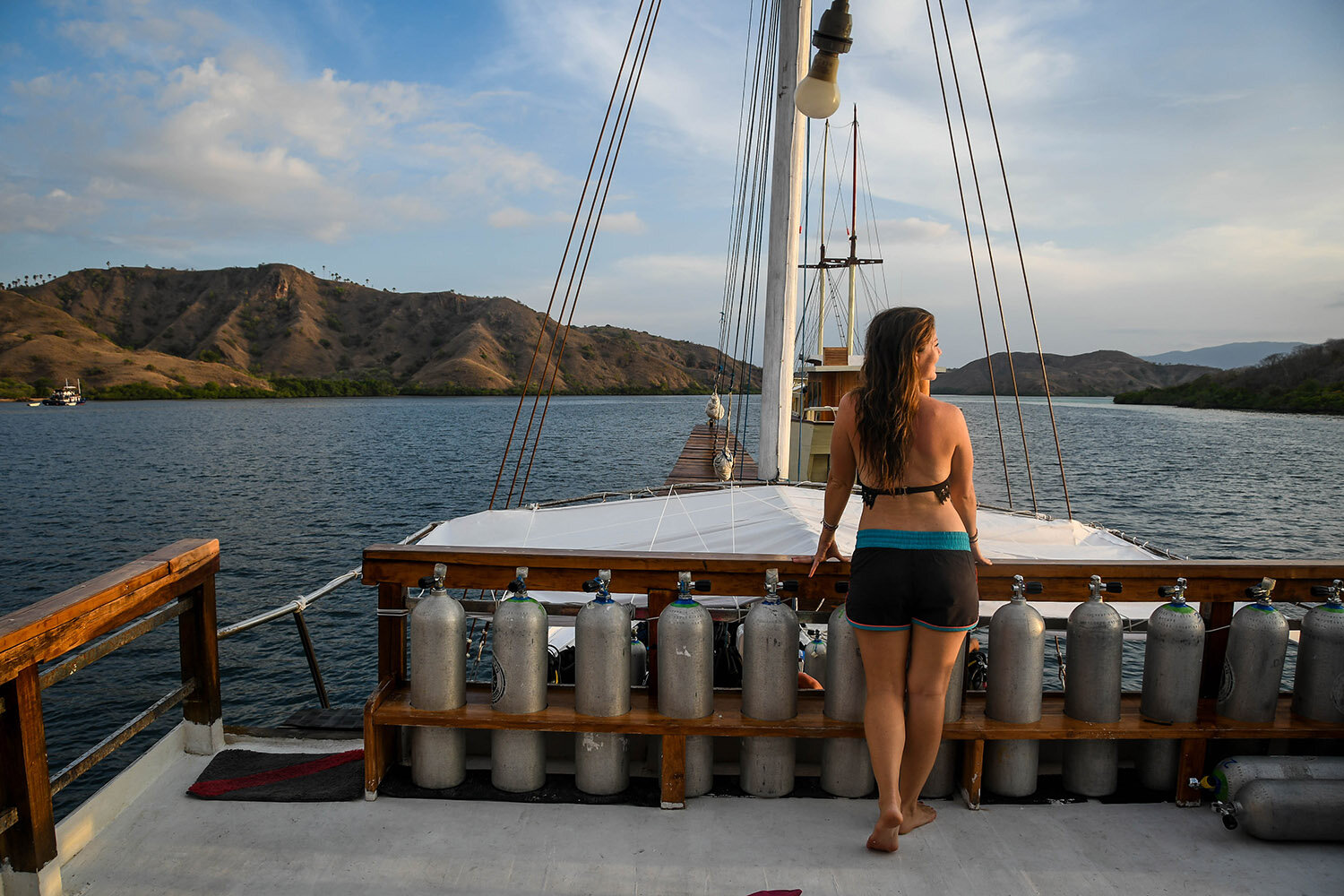 Are there park fees?
You'll definitely want to know the answer to this question before you roll up to the dive shop. And if you're traveling during high season, ask if the fee is more than usual.
On our Komodo Liveaboard, we were surprised that the park fees were quite a bit more expensive than we had been quoted at a different time of year. We are happy to support the conservation of wilderness area, but just weren't prepared (aka didn't have enough cash on us!) to pay the 275,000 IDR fee per day (roughly $20 USD). This worked out to be about $100 USD each for our 5-day trip.
Is rental gear included?
Unless you're traveling with a wetsuit, mask and fins, it's likely that you'll need to rent at least a few pieces of gear. This is included in the price of some Liveaboards but is an additional cost for others. For example, we paid $10 USD each per day for our rental gear on our Komodo Liveaboard.
Are dive computers part of the rental gear package?
We learned how to dive in Thailand where it is common practice for all dive shops to give customers computers. We both feel much more comfortable with a dive computer, and honestly, it's time we just make the investment and buy our own!
On our Similan Island Liveaboard, dive computers were part of the rental package, but in Komodo, they were $10 extra per day (150,000 IDR). Had we known ahead of time, we probably would have just bought our own computers before the trip.
Can you bring an underwater camera with you?
Some liveaboards have the opportunity to rent underwater camera equipment. Ask your liveaboard if they have camera rental options or bring your own. We've always just brought our GoPro, but some day we'd like to take a course in underwater photography and improve our photo skills!
If you have your own equipment, you're usually not allowed to bring it on the first dive (unless you have underwater photography certifications), as instructors want to get a feel for your comfort level beneath the surface. They want to be sure you're a confident diver before you have a camera in your hand to worry about.
Taking pictures underwater is very different than on land, so if you're new to it read these tips on underwater photography.
Are there any opportunities to get off the boat during a Liveaboard?
It totally depends! On our Similan Islands liveaboard, we were on the boat the whole time. However, our Liveaboard in Komodo National Park made a stop on one of the islands so we could see the famous Komodo dragons. We were happy to have some cash on us because this excursion was not included in the original fee.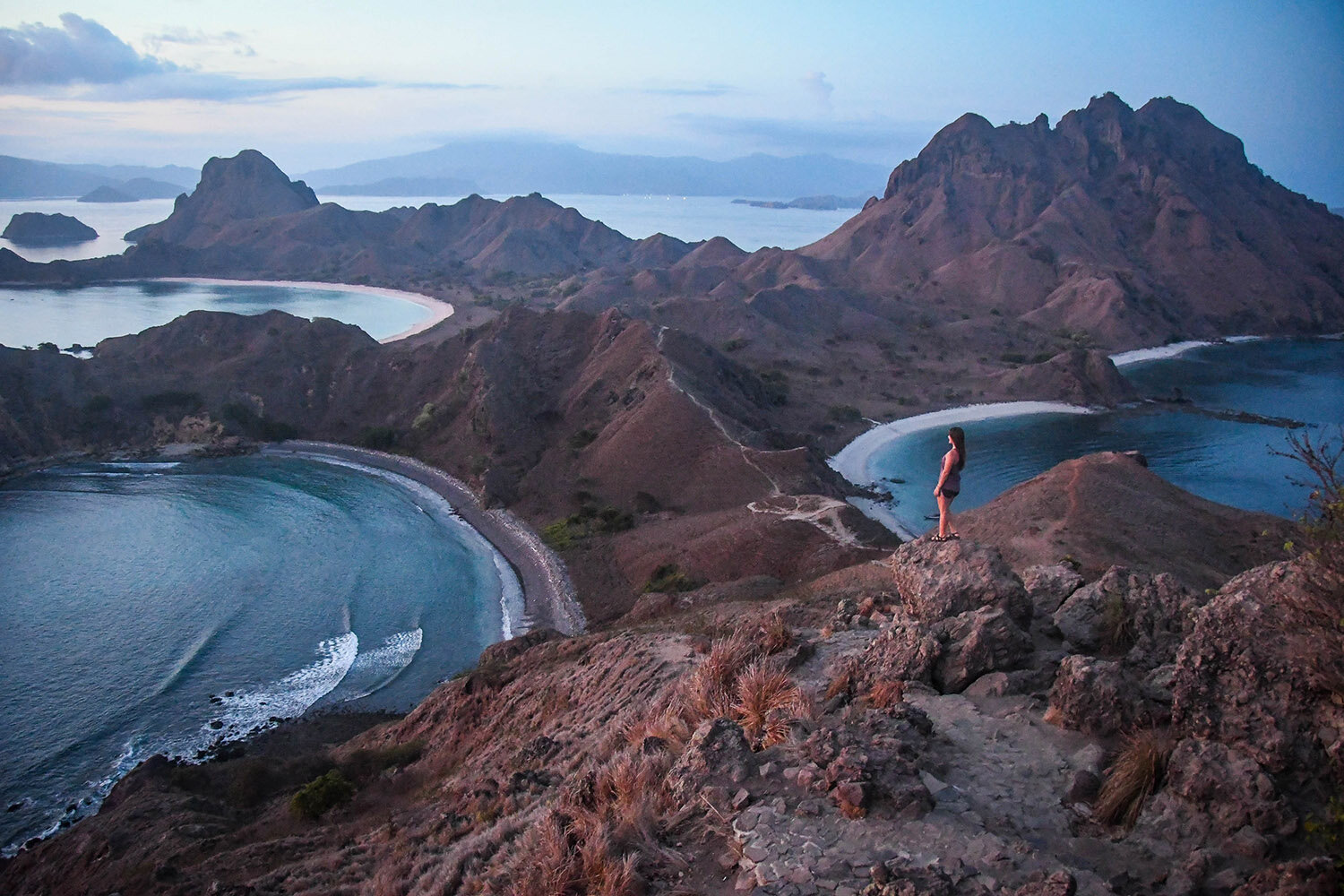 Are beverages extra?
Obviously, this is an optional cost, but if you feel like having a beer (or 2!) after the last dive of your day, you'll want to know how much they charge for drinks onboard. And on some higher-end boats, drinks might even be included.
Do I tip on a Liveaboard?
The crew members on a Liveaboard boat work incredibly hard to cook your meals, keep your room clean, and make sure your equipment is properly set up.
Ask ahead of time how much is typical for guests to leave for gratuity so you can be prepared.
How to Book a Liveaboard Dive Trip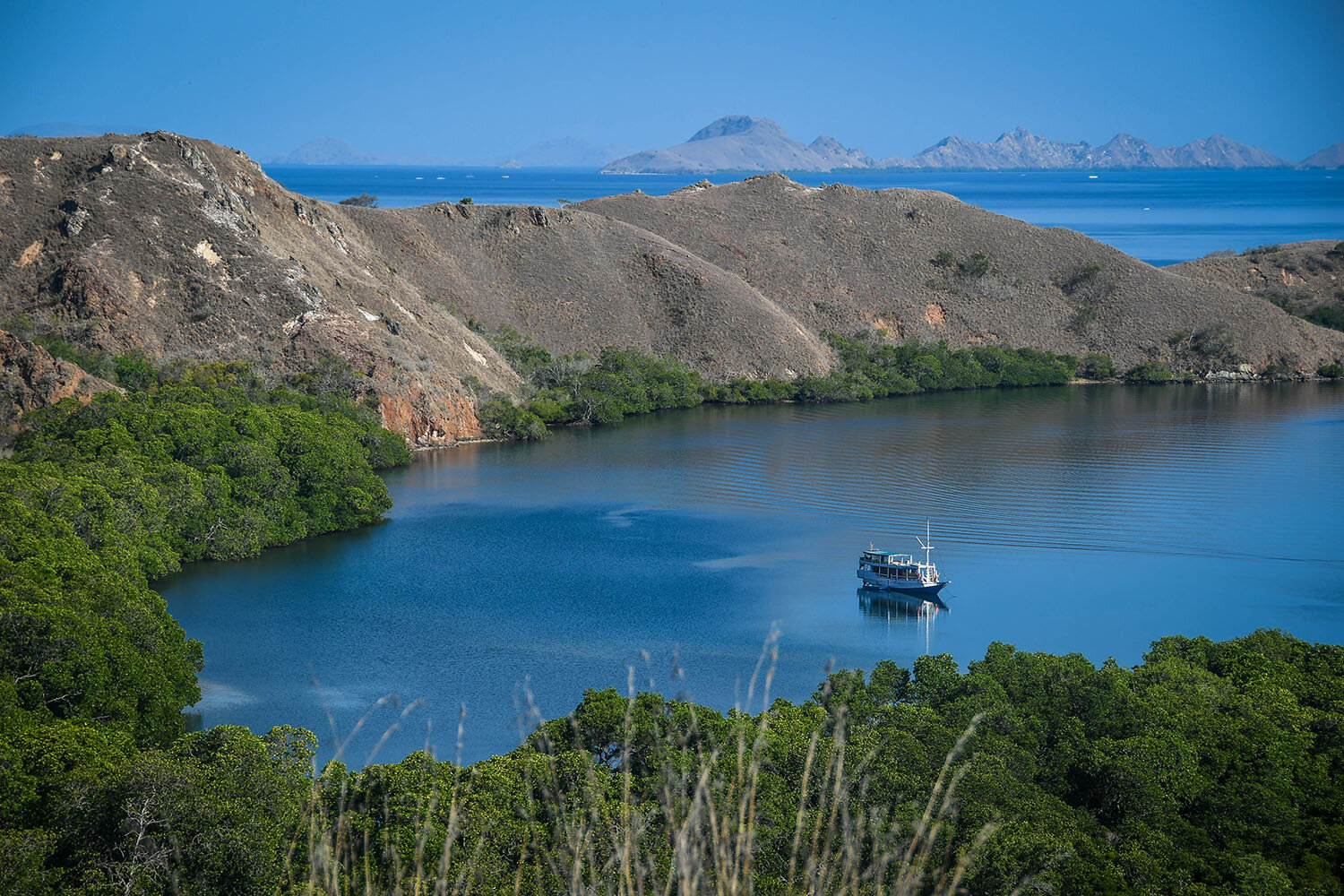 Are you ready to book a liveaboard trip?! Whooo hoo! We don't think you'll regret it. But where do you start?
Whether you're looking to book a trip in Komodo like we did, or elsewhere in the world, Liveaboard.com is a fantastic place to start your search.
You can compare voyages, reviews, availability and prices all in one place, making it the easiest and most secure way to book your Liveaboard.
Don't know where to go on your first Liveaboard? We've put together a list of the best diving destinations in the world, including our top pick for a Liveaboard in each place.
What to Pack for a Liveaboard
Now that you are all excited and ready to participate in your first Liveaboard dive experience, the only thing left to do is pack!
You truly really don't need much on a Liveaboard, as you'll basically be living in the same clothes during your whole trip. And your living quarters are likely smaller than what you'd expect on land, so our advice is to pack only what you need and leave the rest at your hotel on shore.
However, there are a few essentials you definitely don't want to forget on your Liveaboard dive trip. We've put together the ultimate packing list for a scuba Liveaboard, including tips and advice for first-timers and some specifics you should definitely leave at home.


Eco-Friendly Liveaboard Tips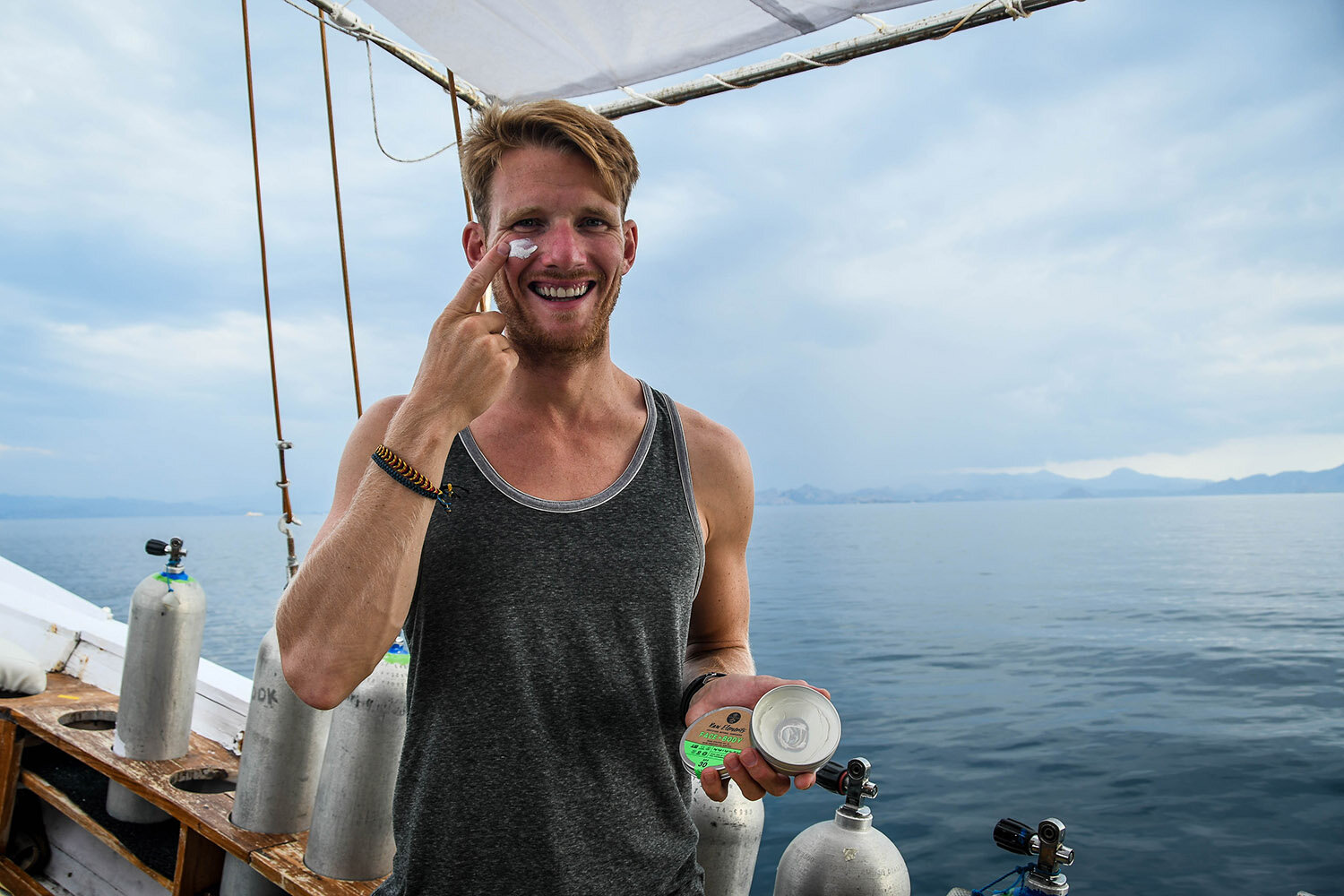 Whenever participating in a Liveaboard diving trip, it's important to be mindful of the environment as you will be coming in contact with some of the world's most fragile ecosystems.
1. Be mindful of the waste you create. If you have plastic bags or food wrappers, be sure to keep it in a safe place so they don't fly overboard.
2. Wear reef-safe sunscreen. Remember that any product you put on your body during your Liveaboard will end up in the ocean. This means it's important that it is free of harsh chemicals that bleach the corals. Some Liveaboards have biodegradable soap and shampoo, which makes it easy.
3. Don't touch anything underwater. This should be a no-brainer, but it's worth repeating. Coral takes a long time to grow back after they've been broken, and marine creatures don't need your fingers stuck in their faces. Practice good buoyancy, and be mindful of where your fins are at all times.
4. Choose an eco-friendly Liveaboard. When you're deciding which Liveaboard to choose, do a little research on their environmental practices. Choose companies that support conservation, try to reduce their footprint and teach good diving practices.
Related Reading: Learn more about how to be a responsible traveler.
---
You may also like…
Save this article on Pinterest for later!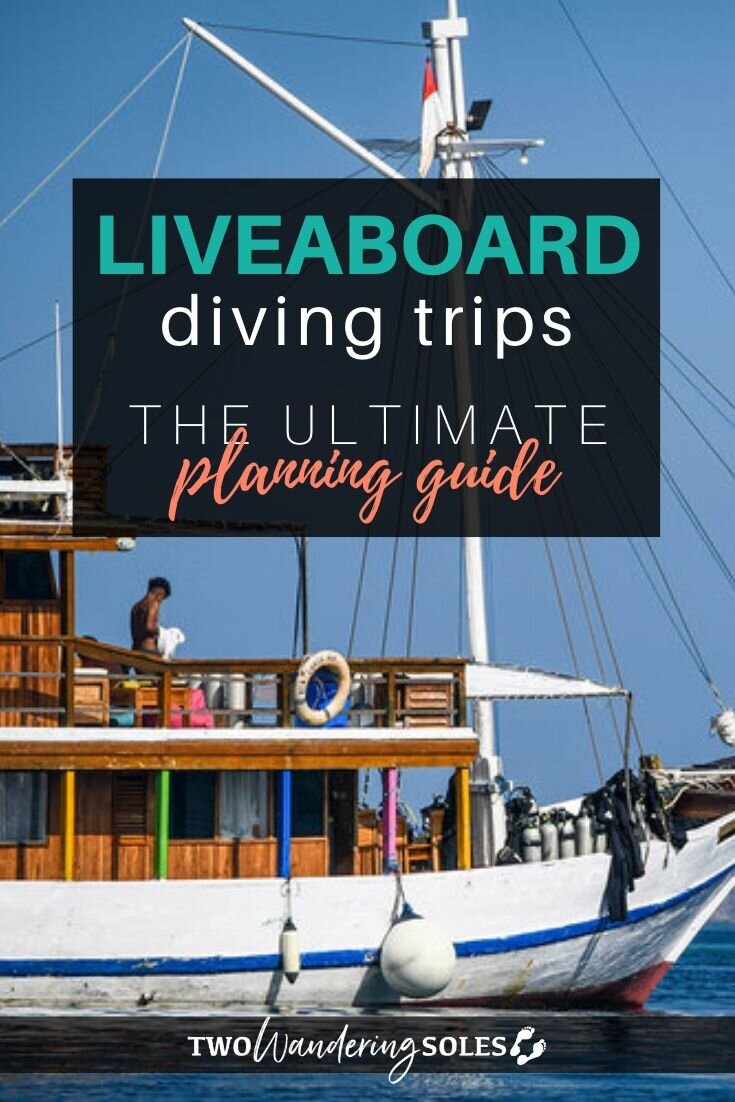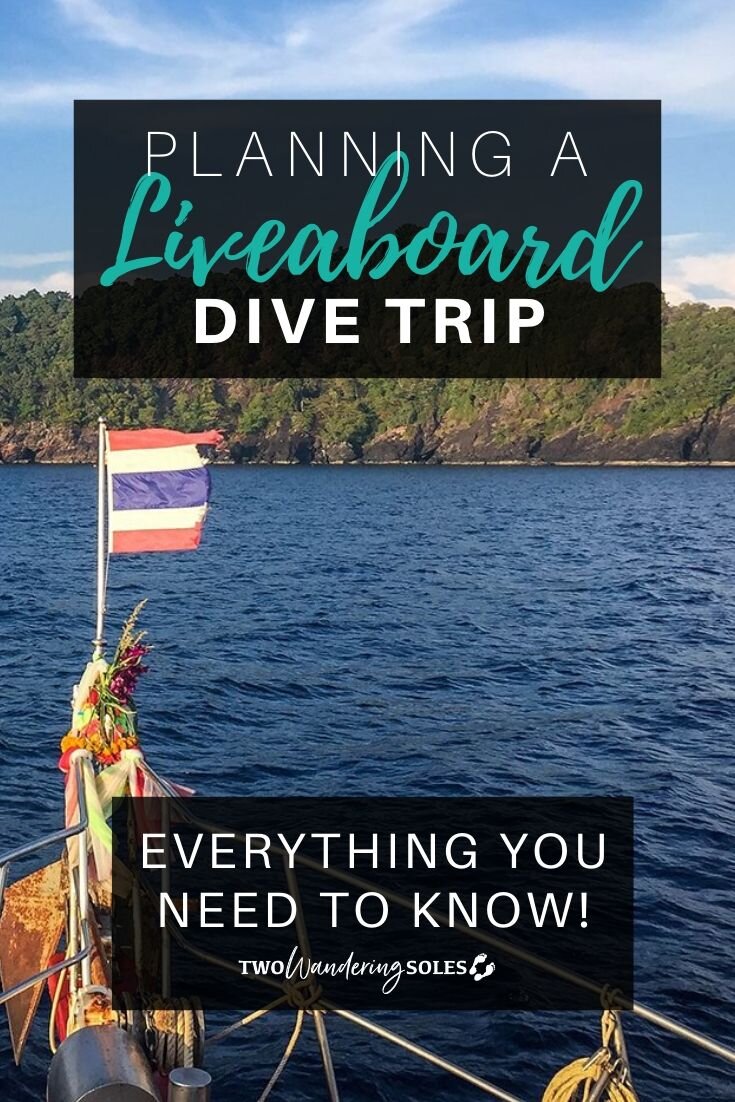 We want to hear from you!
Have you ever done a Liveaboard diving trip? What was your experience like? Do you have any advice you'd give to first-time Liveaboard-ers?
Are you hooked on the idea of doing a Liveaboard dive trip of your own but still have questions? Comment below and we'll do our best to get back to you!