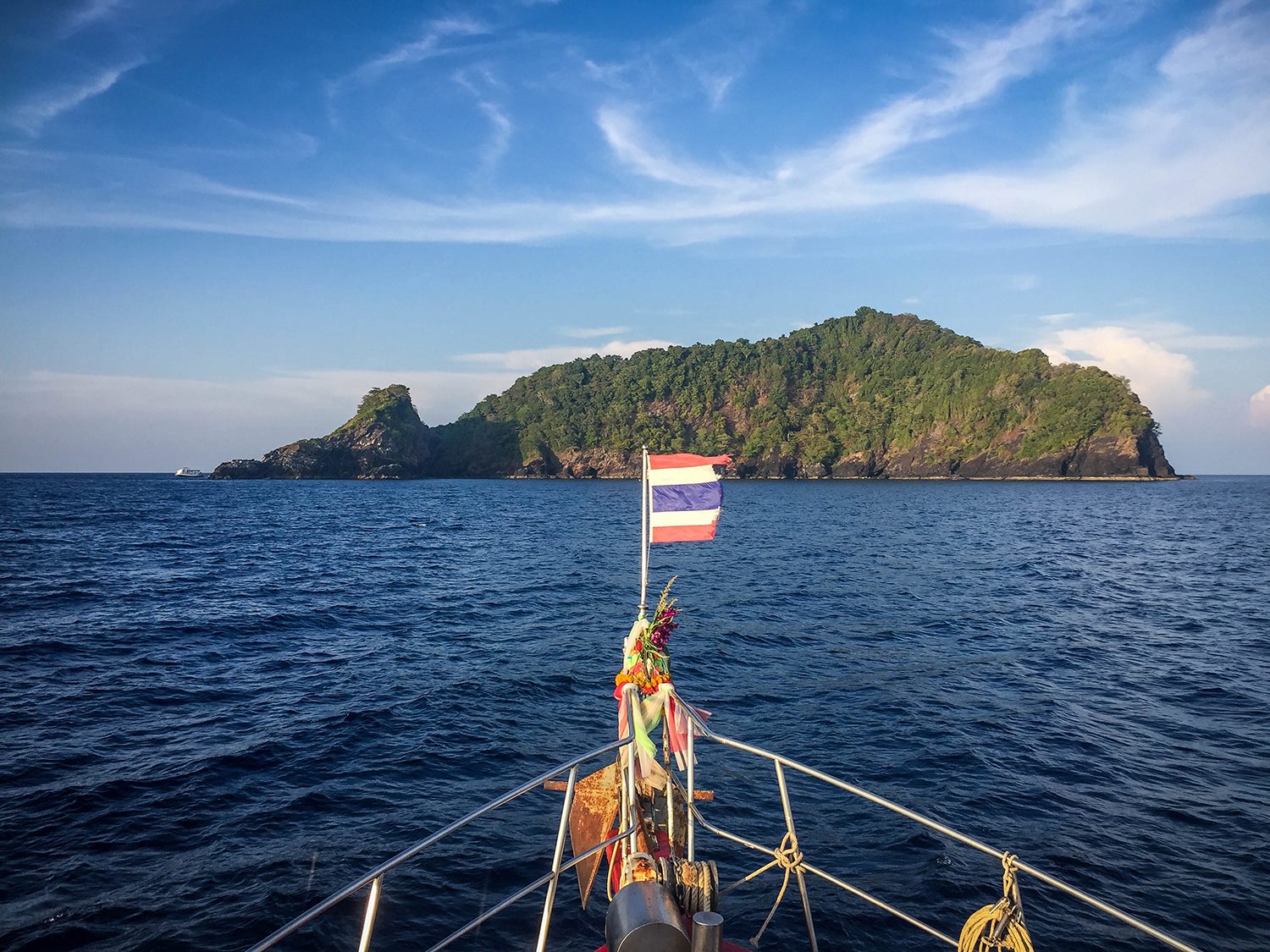 The Similan Islands are situated off Thailand's Andaman Coast and are often regarded as one of the best places in the country to scuba dive. With (mostly) healthy corals, a diverse range of marine life, and calm, tepid waters, this is a great place for beginner divers as well as those who are more advanced.
The Similan Islands are part of a national marine park, and area great place for a scuba diving Liveaboard trip.
There are plenty of small, colorful corals and fish to see, but most divers in the Similan Islands cross their fingers that they'll have the good fortune to spot an elusive whale shark. We didn't get so lucky, but maybe you will! (We're sending you our good luck karma now!)
In this article, we're going to share what makes the Similan Islands such an extraordinary place for scuba diving and exactly what it's like to spend 3 days on a scuba Liveaboard there.
---
Similan Islands Article Contents:
---
Why Similan Islands are a great Liveaboard destination
The archipelago of the Similan Islands is actually designated as a national park and is considered the best diving in all of Thailand. The 9 islands are located about 30 miles off the coast in the open ocean and are therefore only accessible by boat. The trip takes about 2 hours one way and therefore day trips are limited by timing.
Enter Liveaboard trips! During these multi-day boat trips, you'll spend your days cruising between dive sites, diving up to 4 times in one day. In between dives you'll eat all your meals, relax and socialize with the other guests, and even sleep on board the ship, only to wake up and repeat it all the next day.
The greatest benefit of doing a Liveaboard trip in the Similan Islands is getting the opportunity to visit dives sites that you cannot see on a day trip. This means you get to see the reefs and marine life that are wildly untouched by tourism and frequent divers like the sites that are closer to shore.
Don't take our word for it… See for yourself with this video from our Liveaboard experience in the Similan Islands.
The Best Dive Sites in the Similan Islands
Diving in the Similan Islands varies from gradually sloping coral reefs to massive underwater rock formations, making unique ecosystems for coral and ocean life. Some dive sites have awesome swim-throughs and huge coral reefs.
There are so many fish to see while diving in the Similan Islands. We saw many clownfish, pufferfish, boxfish, and moray eels. We swam near large schools of barracuda and a white-tip reef shark cruised right past us. In the past, our instructors had spotted manta rays and whale sharks around the Similans, but unfortunately, we did not see any.
You might think that the dives would start to blend together since they are seemingly one right after another, but each dive we did in the Similan Islands really stood out with different topography and ocean life.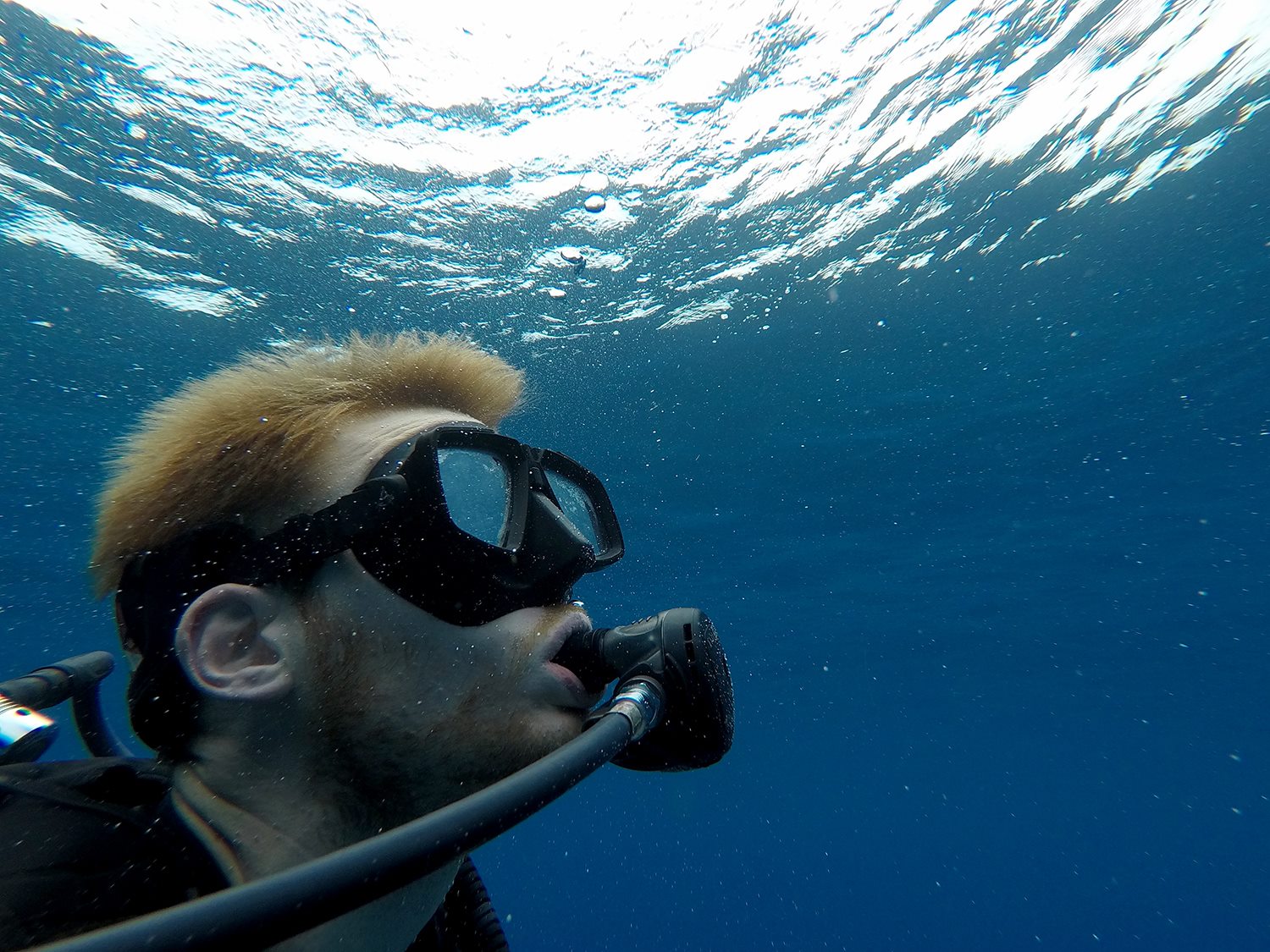 Elephant Head
Regarded as possibly the best site in the Similan Islands, Elephant head is made up of large granite boulders, creating a playground of swim-throughs and gorges reaching 40 meters in depth. The rocks that poke out at the top of the water are said to look like an elephant's head… if you squint your eyes and use that big ol' imagination of yours, that is.
Good to know: Currents can get strong here.
East of Eden
This site is undeniably beautiful, with a mix of hard and soft corals that are home to brightly colored fish. There's also a good chance of seeing turtles at this site. This is typically a slow drift dive, and it almost feels as if you're viewing an aquarium from above, so it's great for beginner divers.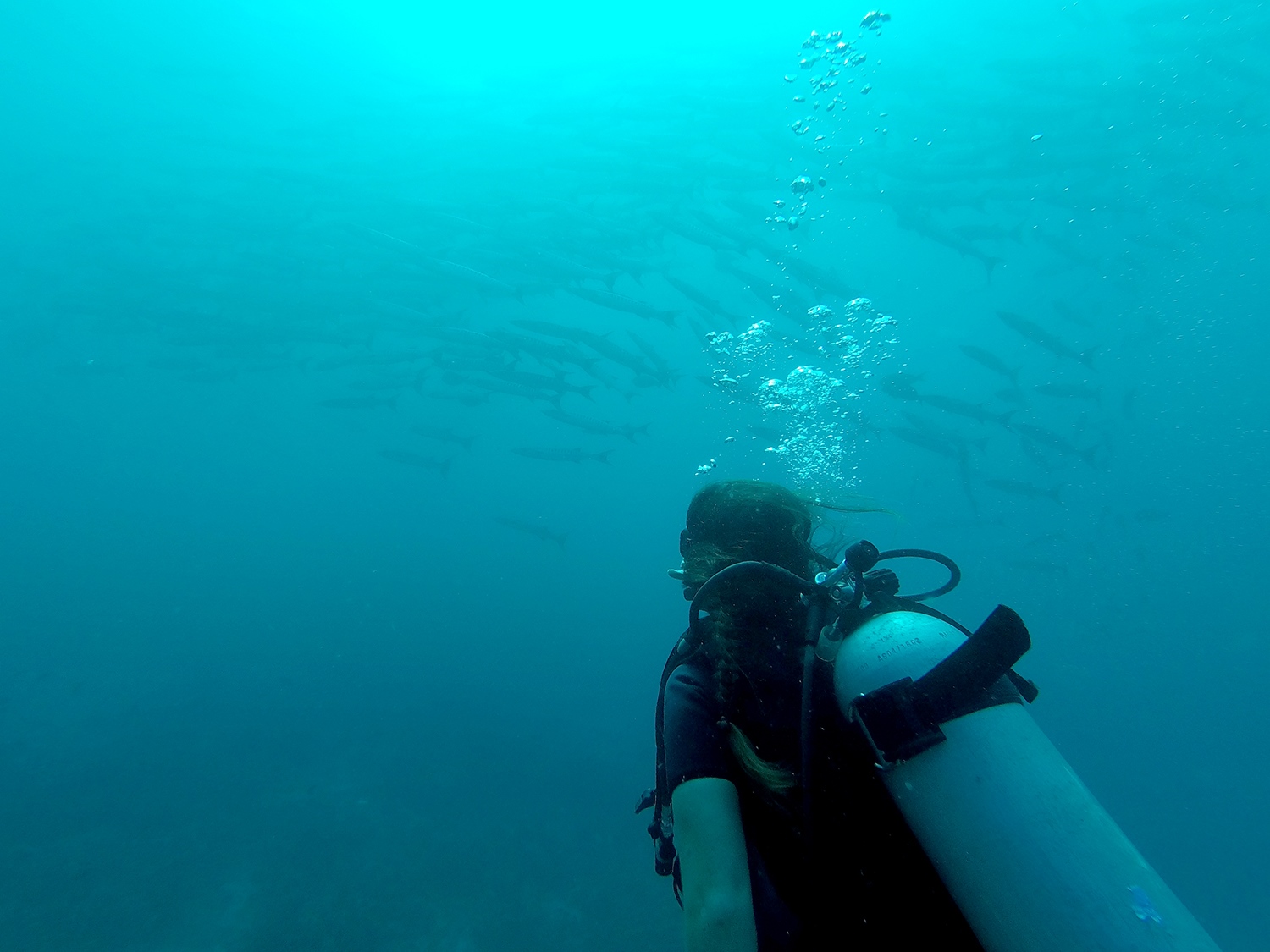 Christmas Point
Another Similan Island favorite, this dive site is characterized by soft corals, arches and boulders. Christmas Point is a good place to spot nudibranchs, eels and even white tip sharks, if you venture to the deeper areas.
Boulder City and Shark Fin Reef
These sites are part of a ridge, and are good places to spot larger marine life like leopard sharks, parrotfish and napoleon wrasse. Divers also enjoy the beautiful fan corals that grow on this rocky ridge.
Richelieu Rock
This dive site is part of the Mu Koh Surin marine park and was famously discovered by scuba diving pioneer Jacques Cousteau, with the help of Thai fishermen. This site is a horseshoe-shaped reef that is characterized by a diverse range of marine life, including manta rays, schools of barracuda, grouper, lionfish, and even the illustrious whale shark.
Looking for a Liveaboard elsewhere in Thailand? We've put together a guide to scuba diving in Thailand including our Liveaboard recommendations for every budget.
The Best Time for Diving in the Similan Islands
Because of Thailand's weather patterns, the Similan Islands are only accessible during part of the year. The National Park is only open from the months of November through mid-May and diving is limited to these months. Outside of that time frame it is illegal to enter this national marine park.
The best time for diving is during the peak tourist season in Thailand from December through April. However, your chances of spotting mantas and whale sharks increase from February onward through April.
During the time that the Similan Islands are closed, it is a good time to visit Thailand's Gulf islands, like Koh Tao or Koh Phangan.
The Liveaboard Experience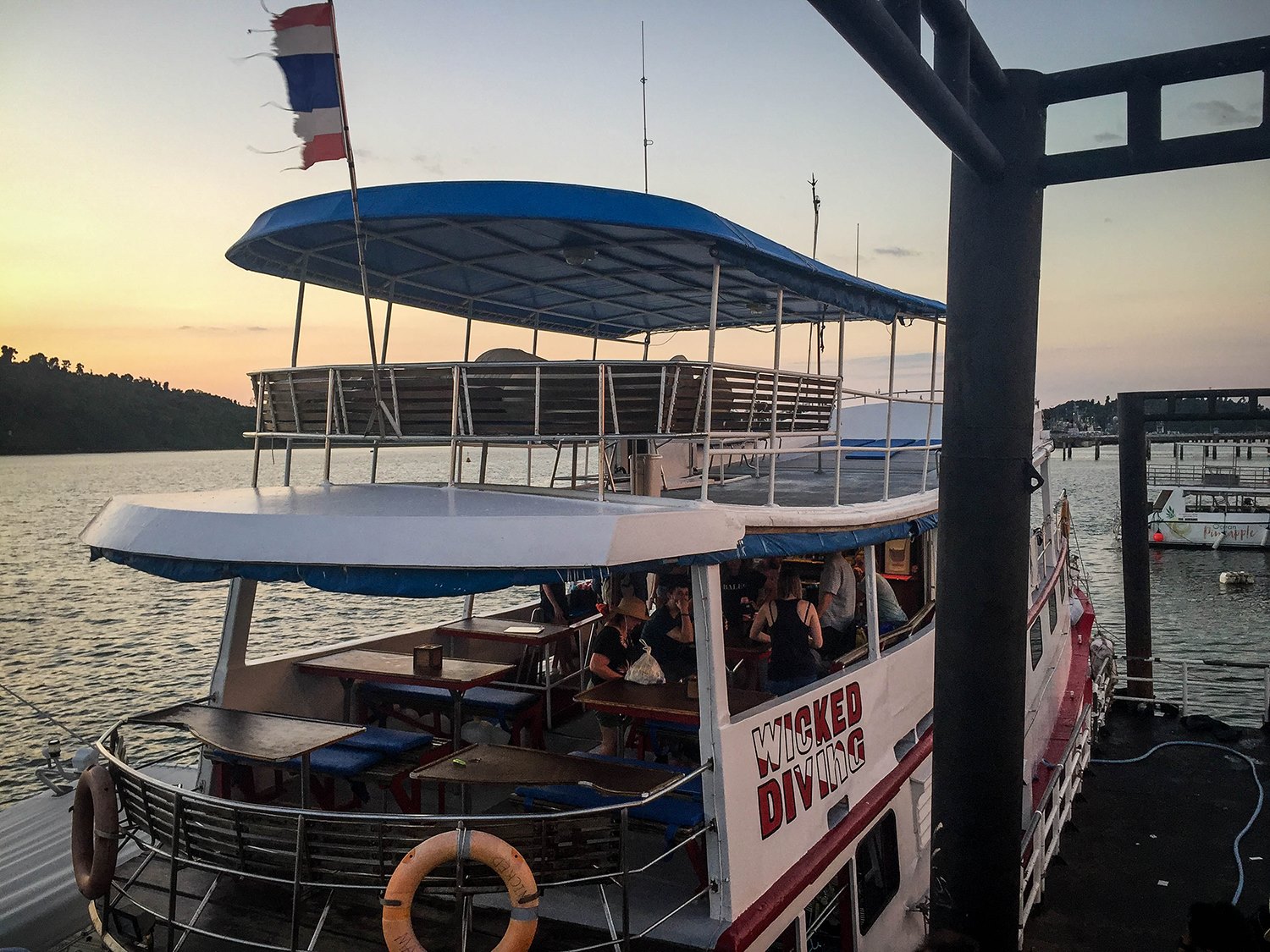 What you get from your Liveaboard experience depends entirely on the dive operator running the trip. We would encourage you to do your research beforehand, read reviews, ask the right questions and choose a Liveaboard experience that has excellent safety standards and eco-friendly practices.
Related Reading: We put together an article with everything you need to know about doing a Liveaboard, including what questions to ask before you book and how to prepare for your trip.
How to choose a Similan Islands Liveaboard
We first heard about scuba diving Liveaboards while traveling in Thailand 2 years ago. We had been dreaming of it ever since. We diligently did our research, found a great company, and made our scuba dreams a reality. And you can too!
The company we went with, Wicked Diving, earned consistently great reviews from guests. And even more importantly, they had a commitment to the environment and supporting the local community. Sadly though, they are no longer doing Liveaboard trips for individuals (only large groups).
There are a handful of Liveaboard operators that run out of Khao Lak, so it can be difficult to choose. We think The Junk looks like a Liveaboard with great reviews that would be comparable in facilities and in price to what we experienced. Below, we're going over what to expect and some important things to think about when choosing a Liveaboard.
A Typical Day on our Similan Islands Liveaboard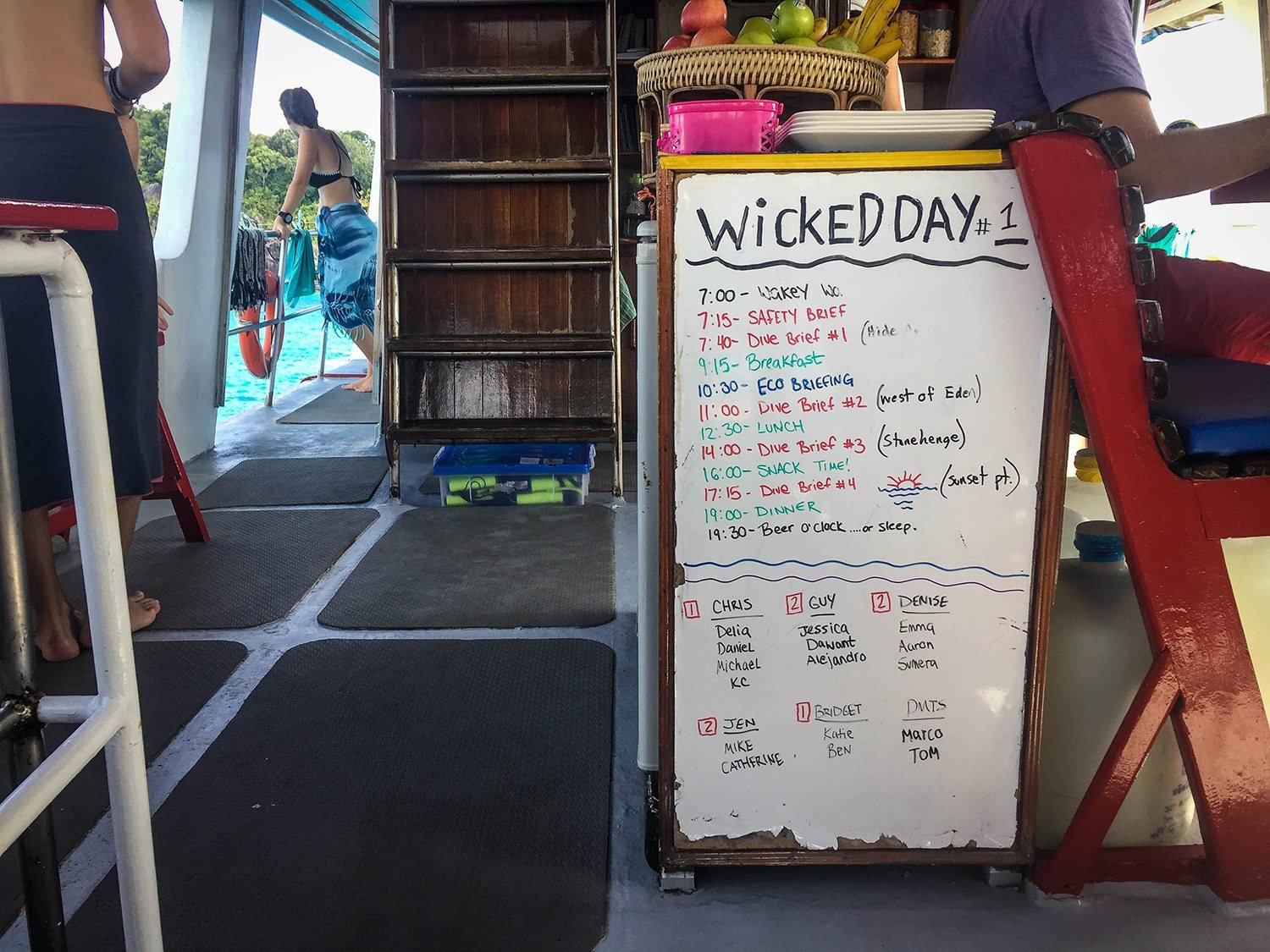 Liveaboard trips vary in length depending on the boat and the destination. In Thailand's Similan Islands, there are options for both 3-day or 6-day excursions. We did the 3-day Liveaboard to the Similan Islands, and while each day was slightly different, here's the gist:
Dive, Eat, Sleep, Repeat.
I wasn't sure if I would get tired of diving, but honestly, I found myself excitedly awaiting the next dive each day.
And don't worry: if you're not feeling well, are tired, or just need a break from diving, there's nobody forcing you to go. You can certainly sit out a dive if you want.
Here's an example of what our second day aboard the M/V Mariner looked like:
7:30 am Wake up call

7:45 am Dive 1

9:15 am Breakfast

11:00 am Dive 2

12:30 pm Lunch

2:45 pm Dive 3

4:15 pm Afternoon tea

5:15 pm Info session on Shark Guardian

6:35 pm Dive 4 (night dive!)

8:20 pm Dinner
Scuba Diving Gear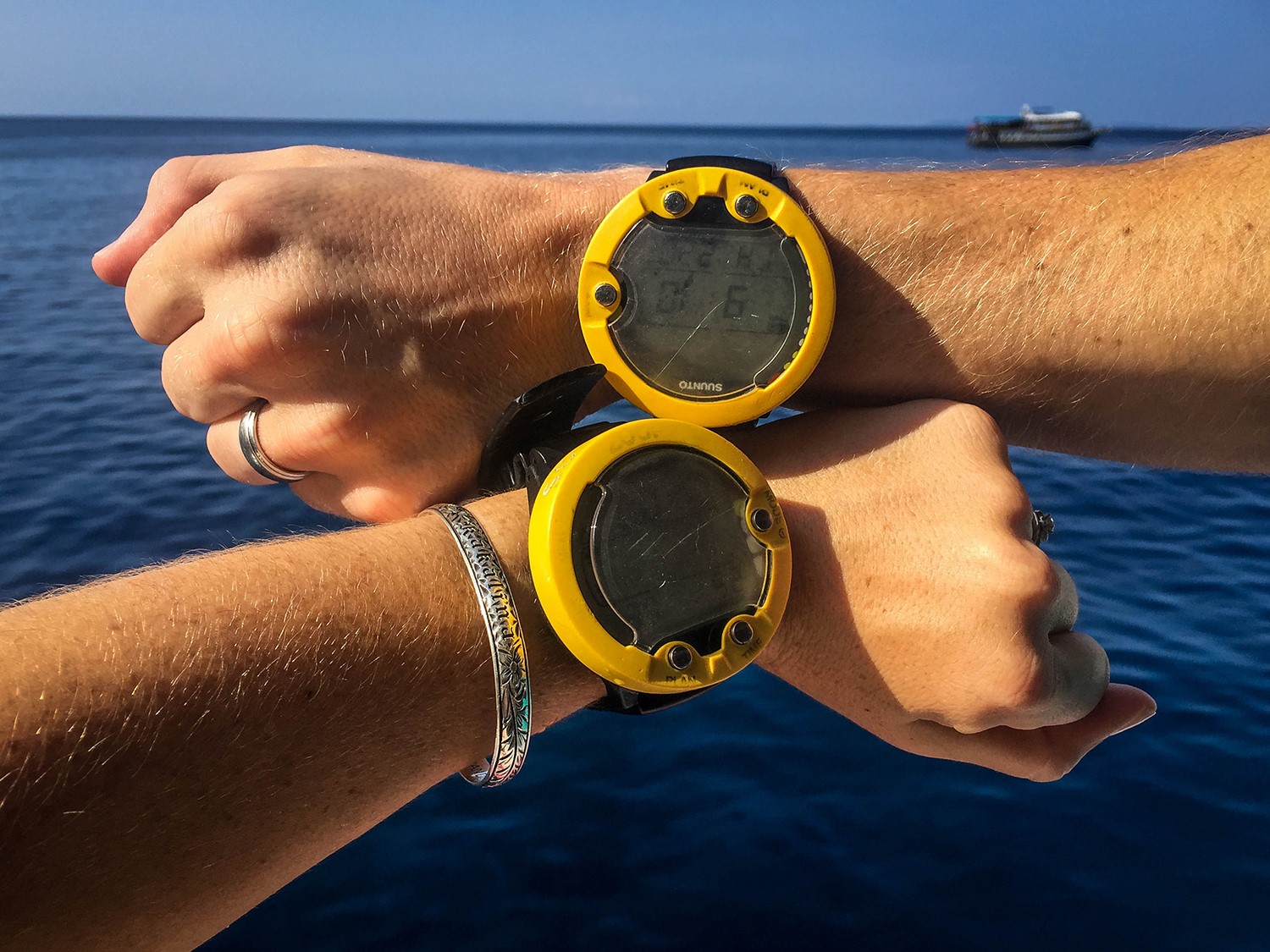 As a guest on a liveaboard, you will receive rental gear, though you are more than welcome to bring your own equipment if you have it.
Included in your liveaboard price is all equipment necessary for diving:
Wetsuit (shorty style because the water is so warm!)

Air Tanks

BCD & regulators

Dive computer

Mask

Fins and Booties

Weight Belt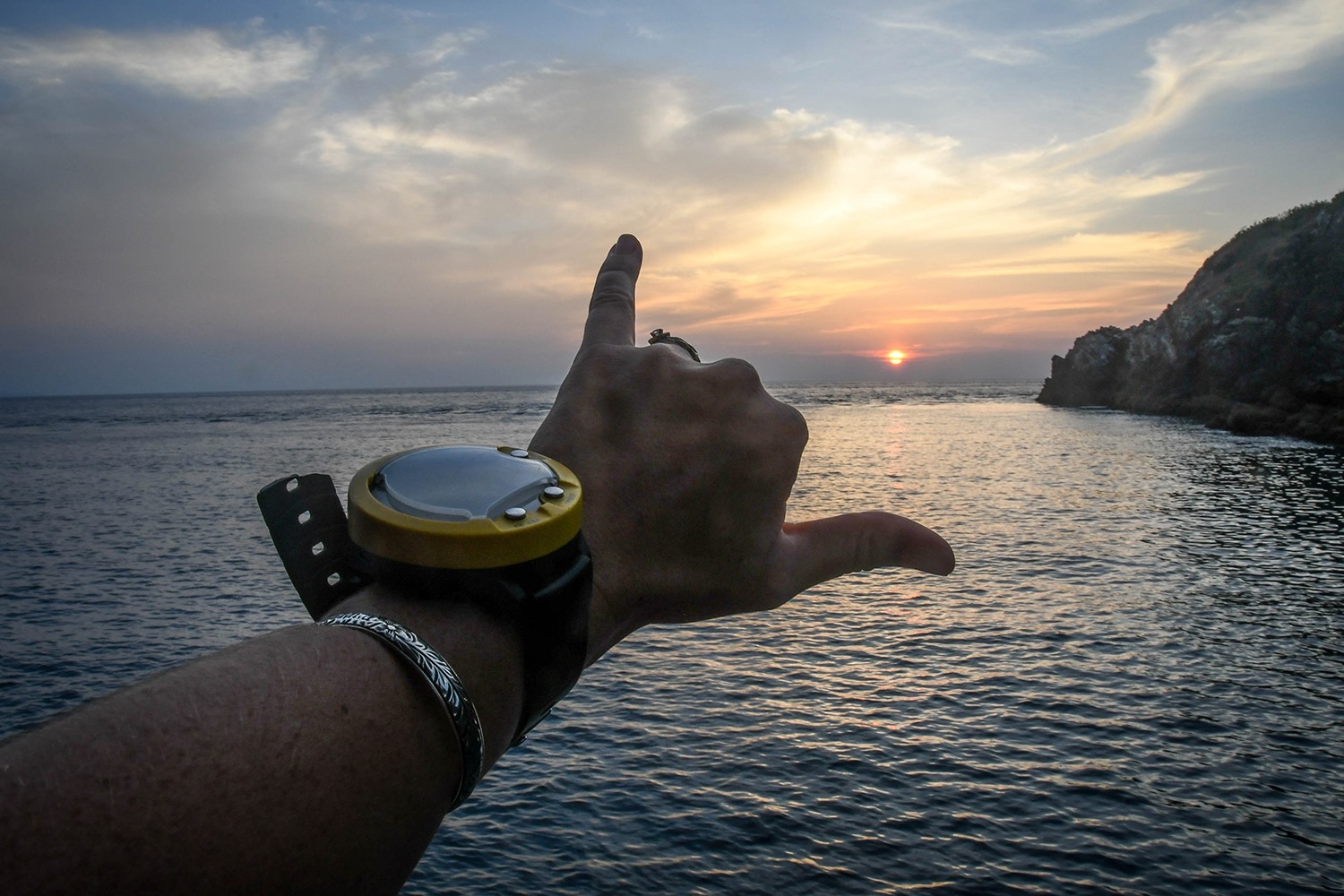 Insider Tip: We'd recommend purchasing your own mask, as this piece of equipment will be much more comfortable when it fits your face properly. If you purchase only one piece of scuba gear, this should be it. The rentals just can't fit every face properly, so you may get some leaking. Depending on your personal preference and your face shape, you might even want to consider getting a full-face diving mask.
The Boat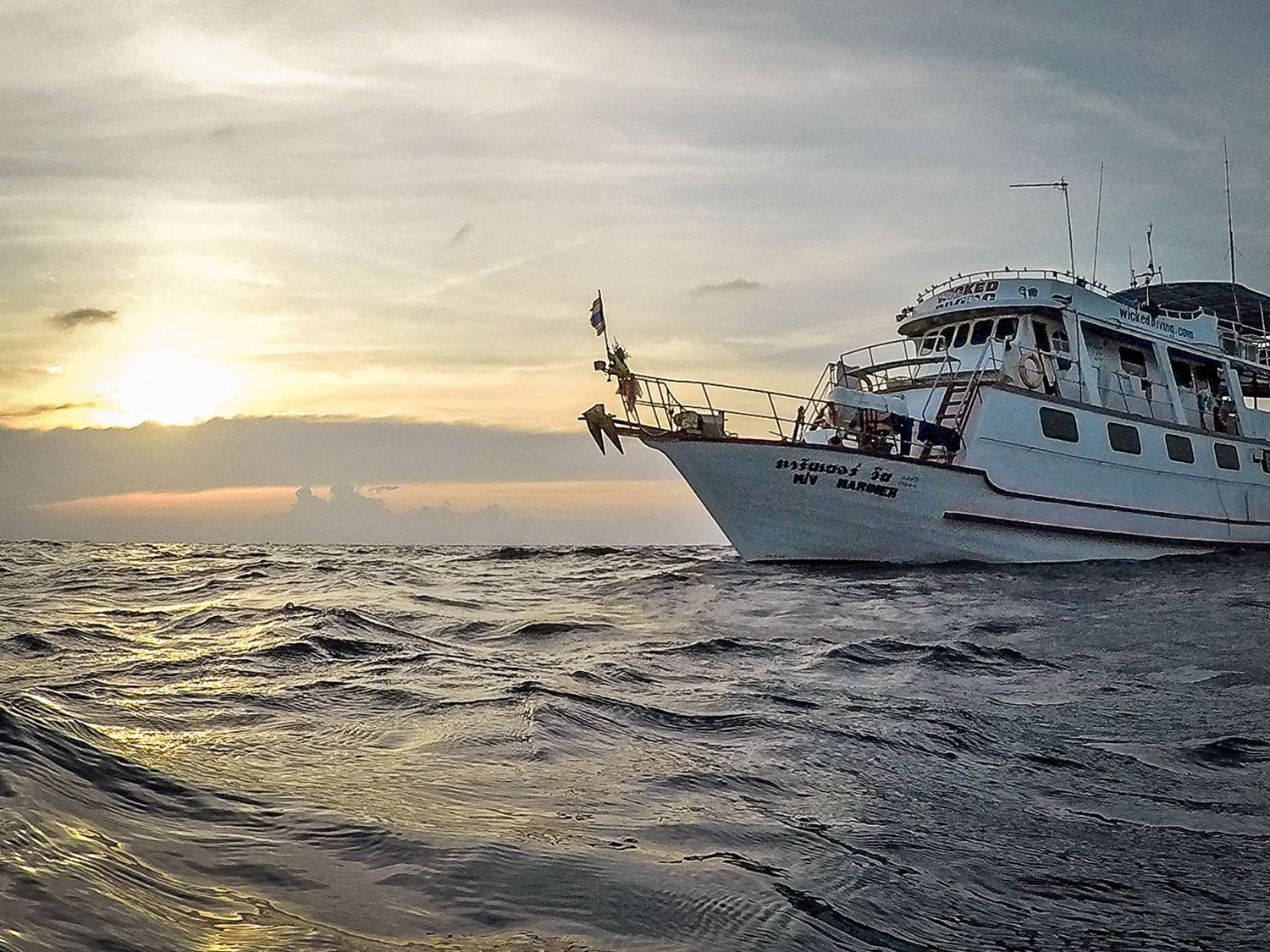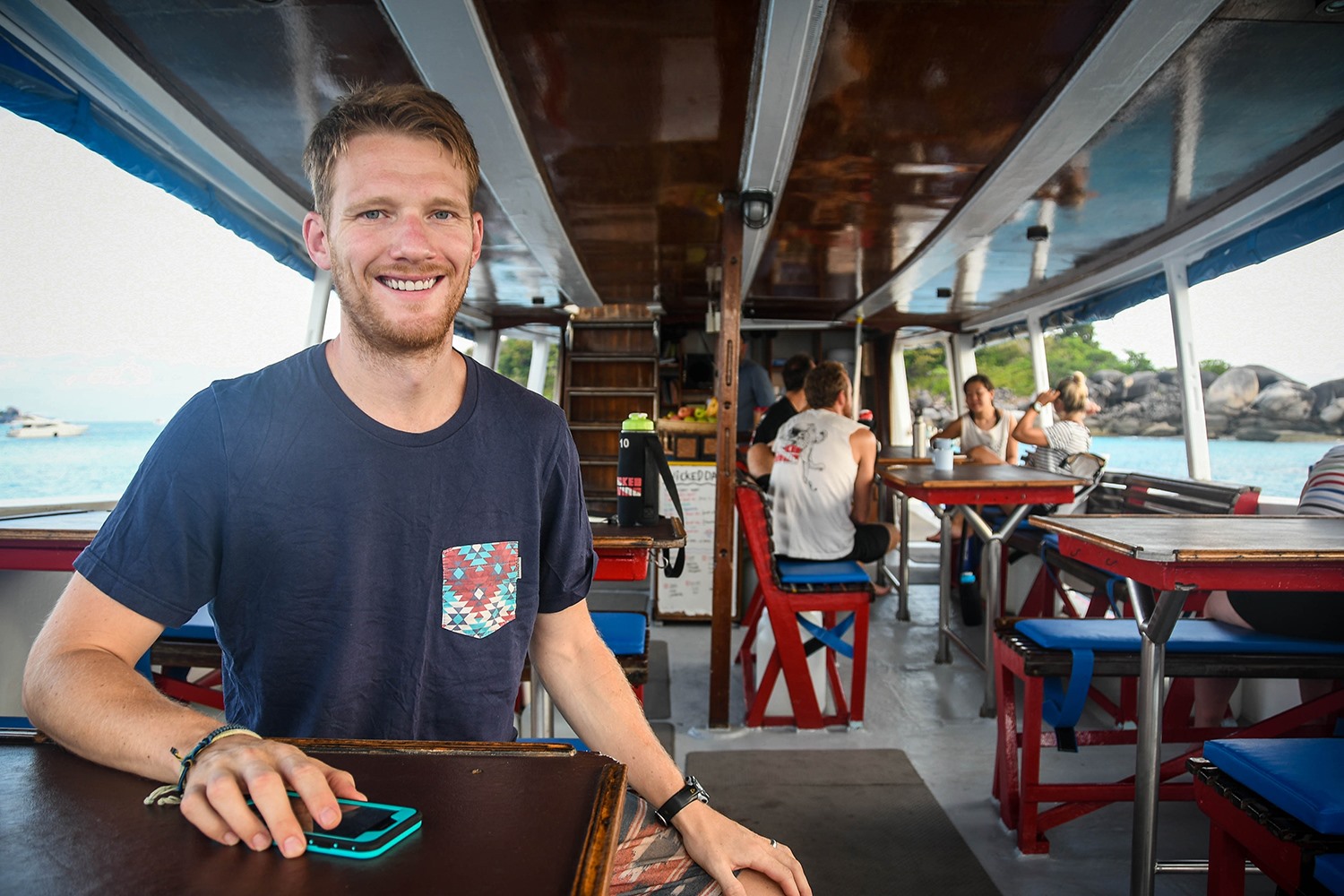 When we first got on board and sat down for our first briefing, our trip leader said quite bluntly, "This isn't the 'poshest' boat, but you'll love it."
And in all honesty, he's right. If it's luxury and comfort you're looking for, well, you might wanna look into a yacht excursion and be ready to fork over a hefty bit of cash.
But if you have reasonable expectations and welcome an adventure, you will be totally comfortable aboard the M/V Mariner or a similar budget-friendly Liveaboard boat. And while it' not luxurious per se, you certainly won't be roughing it.
Let's take a tour…
The Bedrooms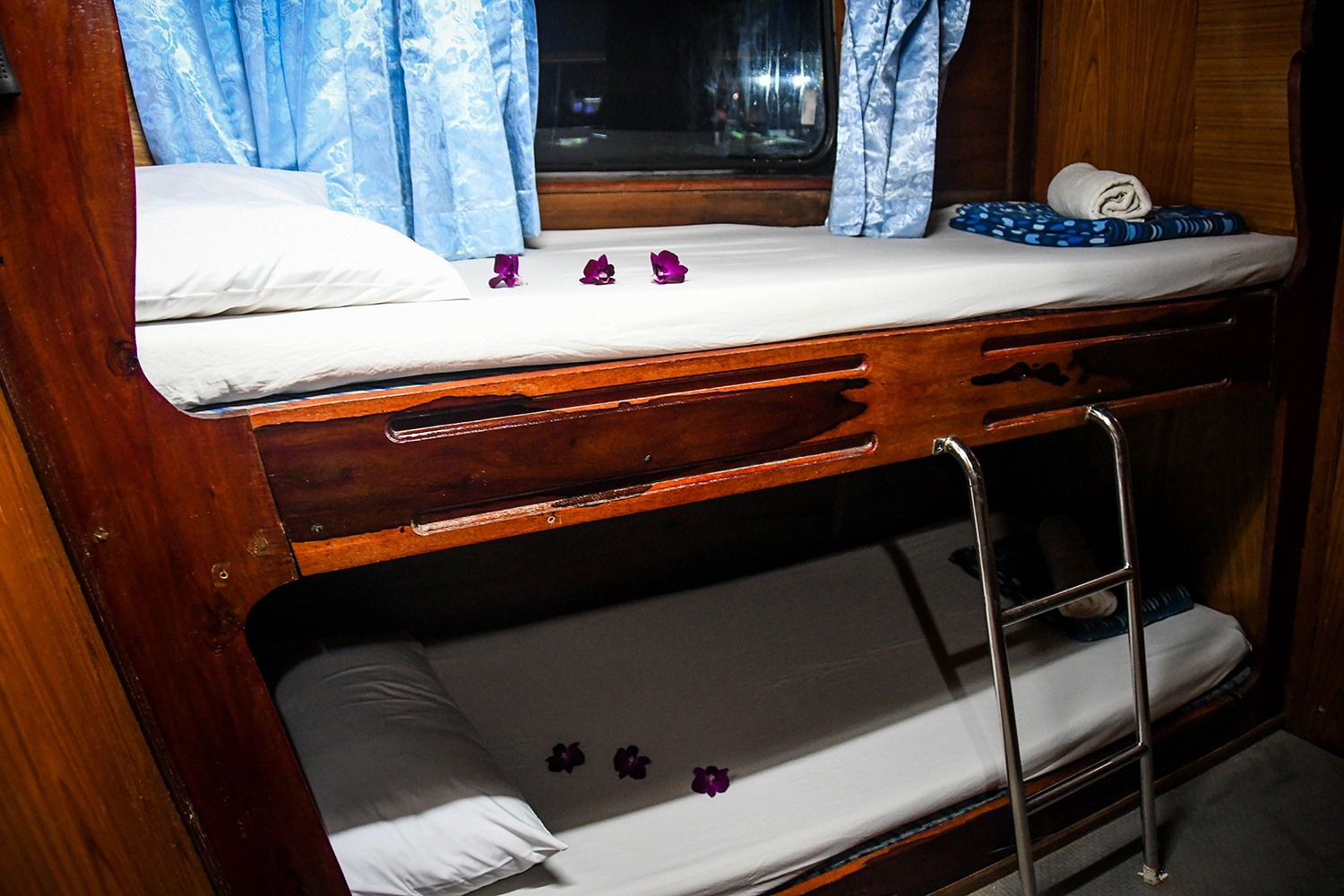 The rooms on our boat were small and simple, but quite comfortable. They even had air conditioning (I was pleasantly surprised by this!). There are two types of rooms — bunks and queen beds. If you are traveling solo, you might be paired up with a bunkmate. If you are traveling as a couple, you'll either get bunks or a room with one queen bed.
Common Areas on the Boat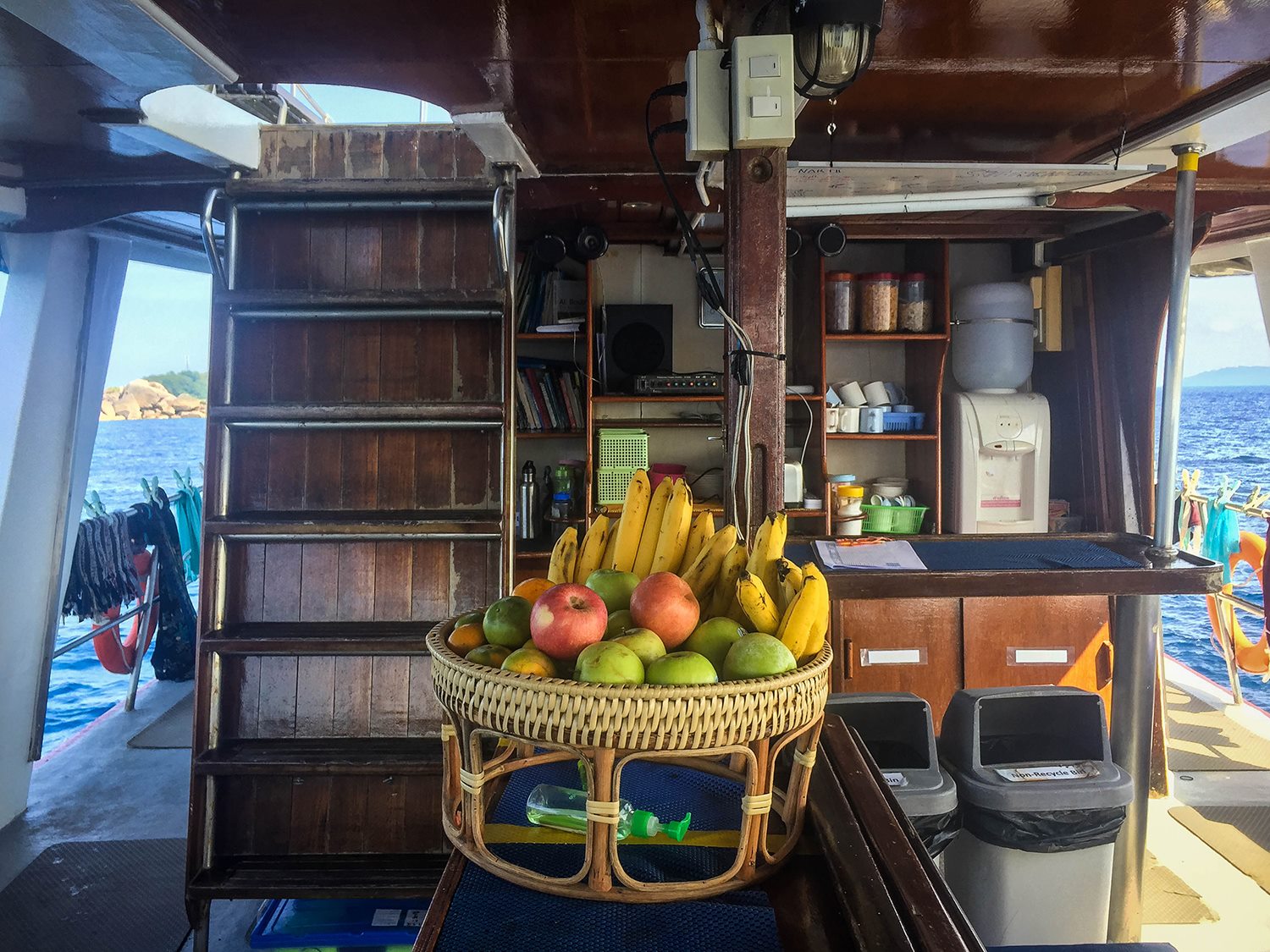 The second level has tables and chairs, and this is the area where most things take place. Here is where you'll have dive briefings and eat all your meals. It's also a nice, shaded area to hang out and play cards or read a book.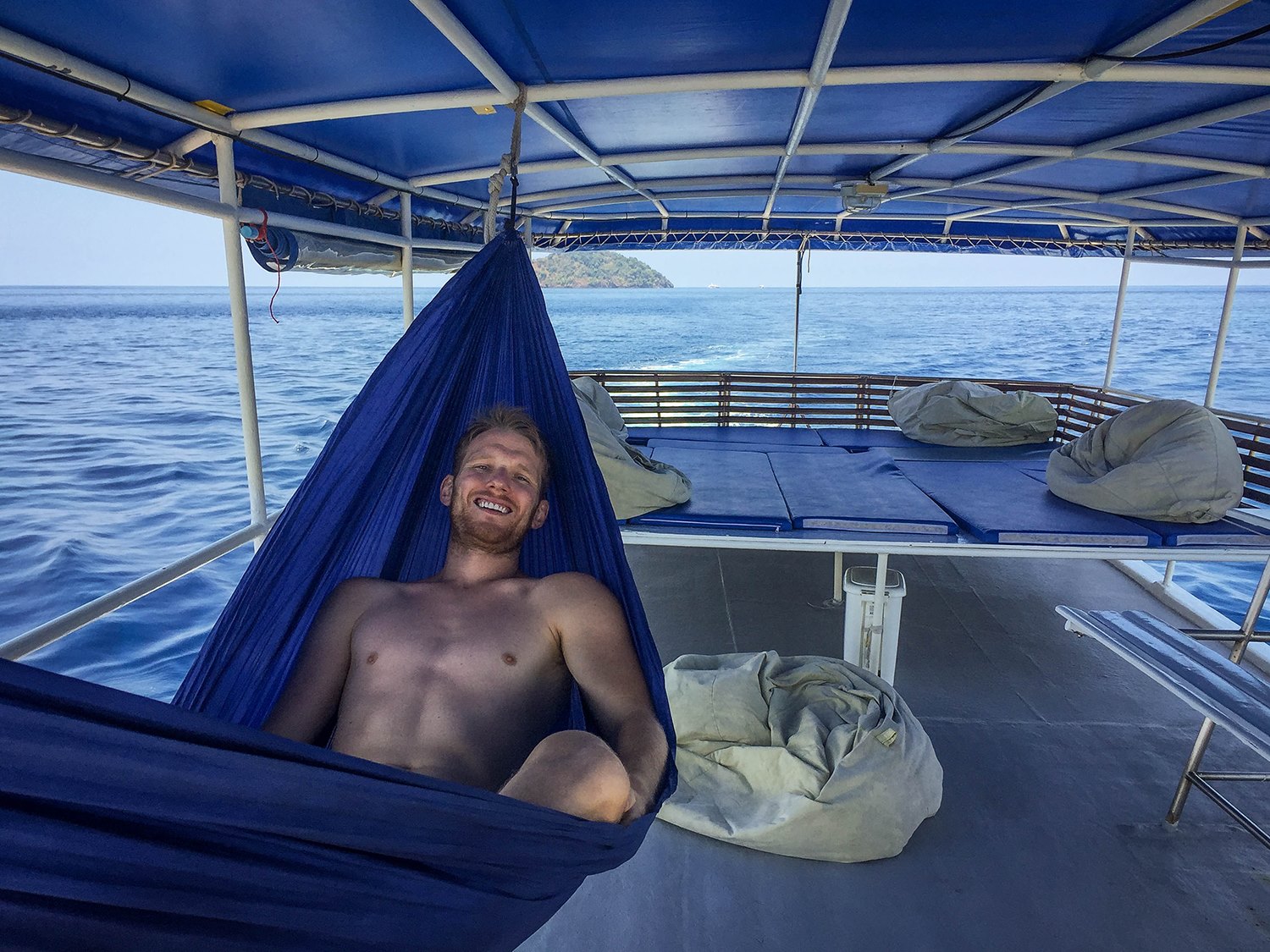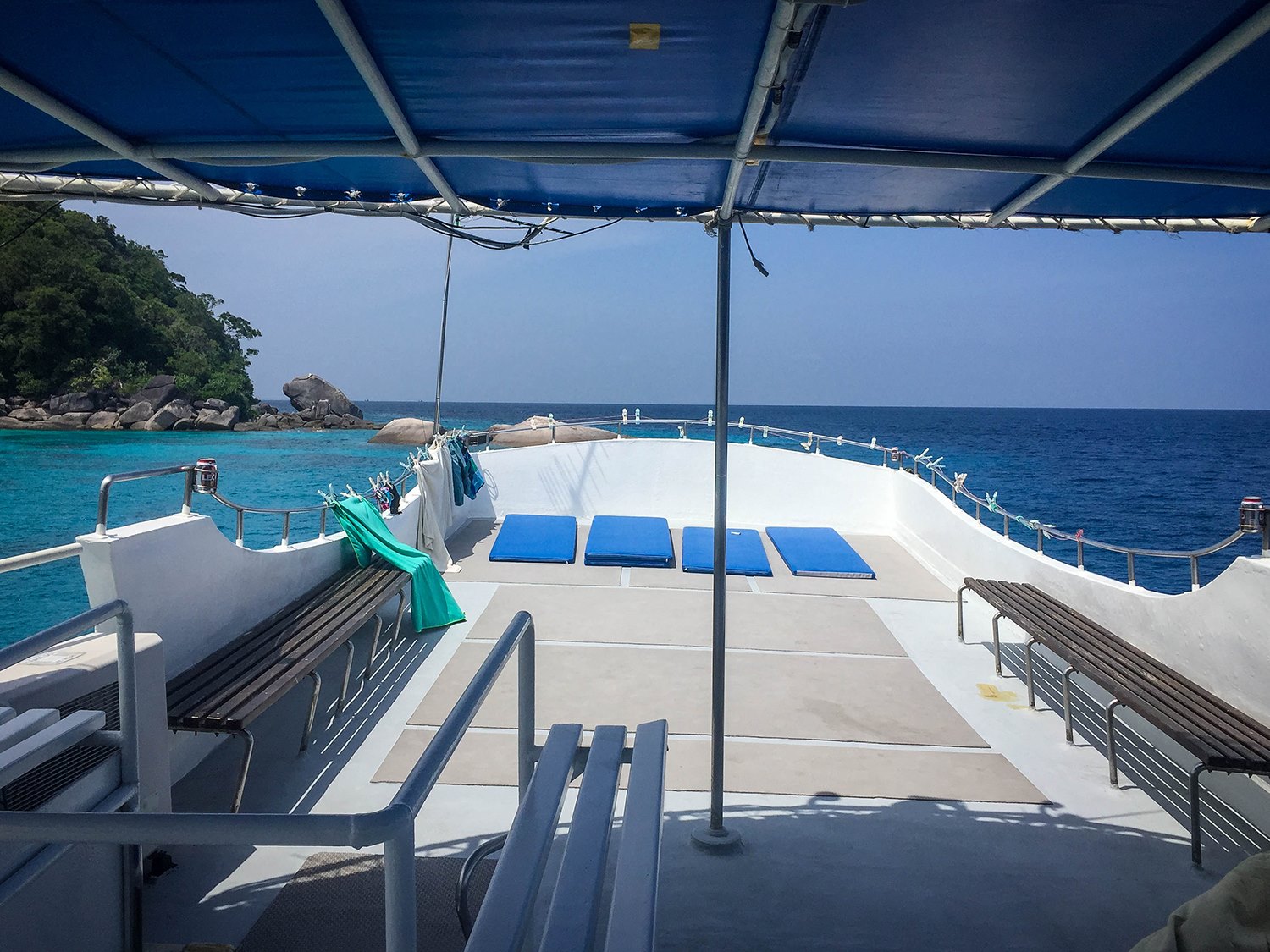 The top deck is partially shaded and has an area with bean bags and a hammock. There's also a section in the sun with mats to lay out and take a nap. Just be sure you apply enough sunblock if you hang out here — it's no fun putting on a wetsuit with a nasty sunburn!
Bathrooms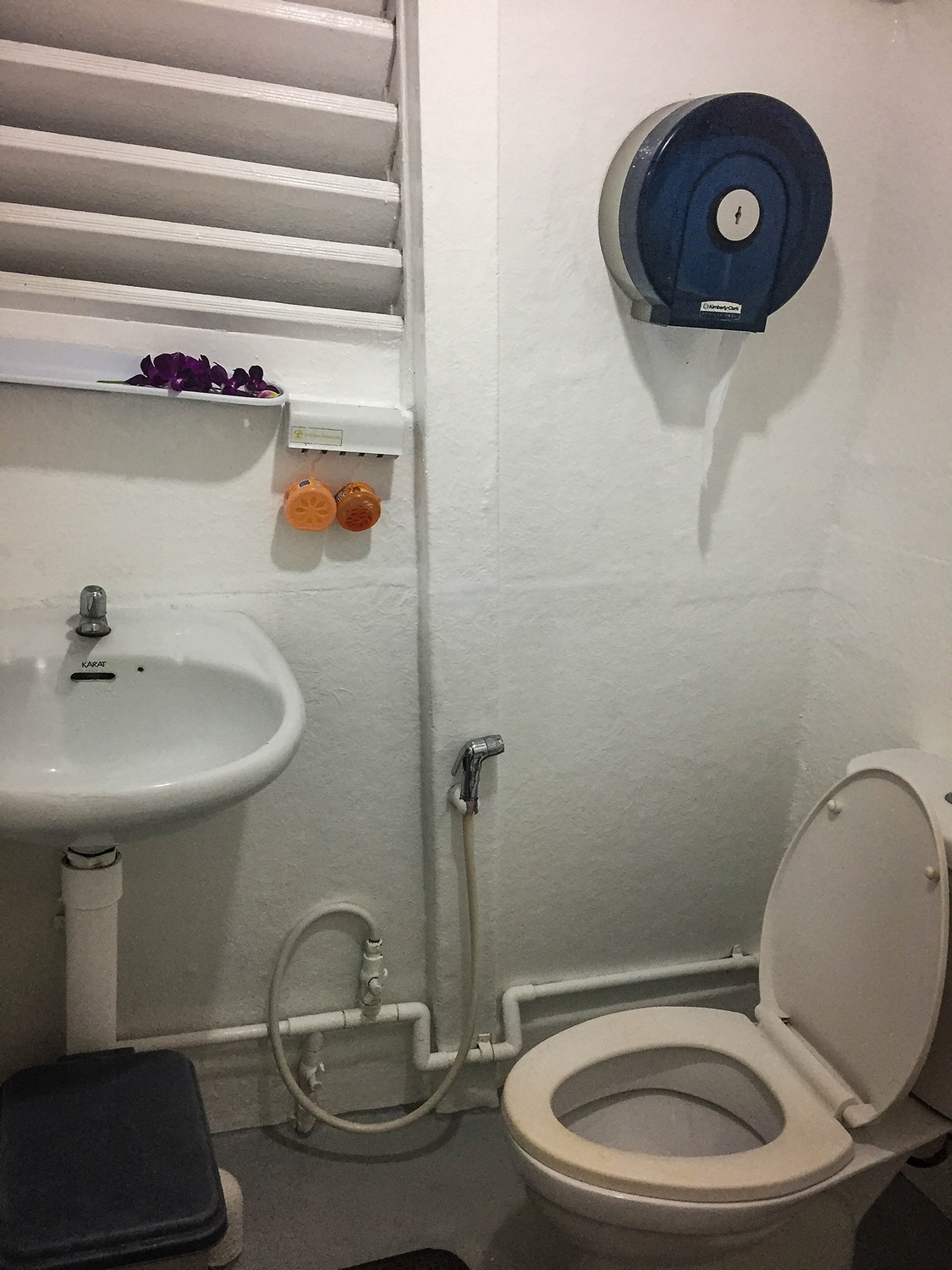 Soooo you might be wondering what the bathroom situation is like while living on a boat for a few days. Don't worry — we'll tell all!
There are 3 bathrooms on board, and aside from once or twice, we rarely had to wait to use them. They are Western-style toilets and are kept clean. One thing to note is just like most toilets in Thailand, you cannot dispose of paper or sanitary products in the toilets.
It is even more important on the boat than it is on land, as these are marine toilets and eventually everything that is flushed will end up in the water. There is a bin to dispose of anything you cannot flush.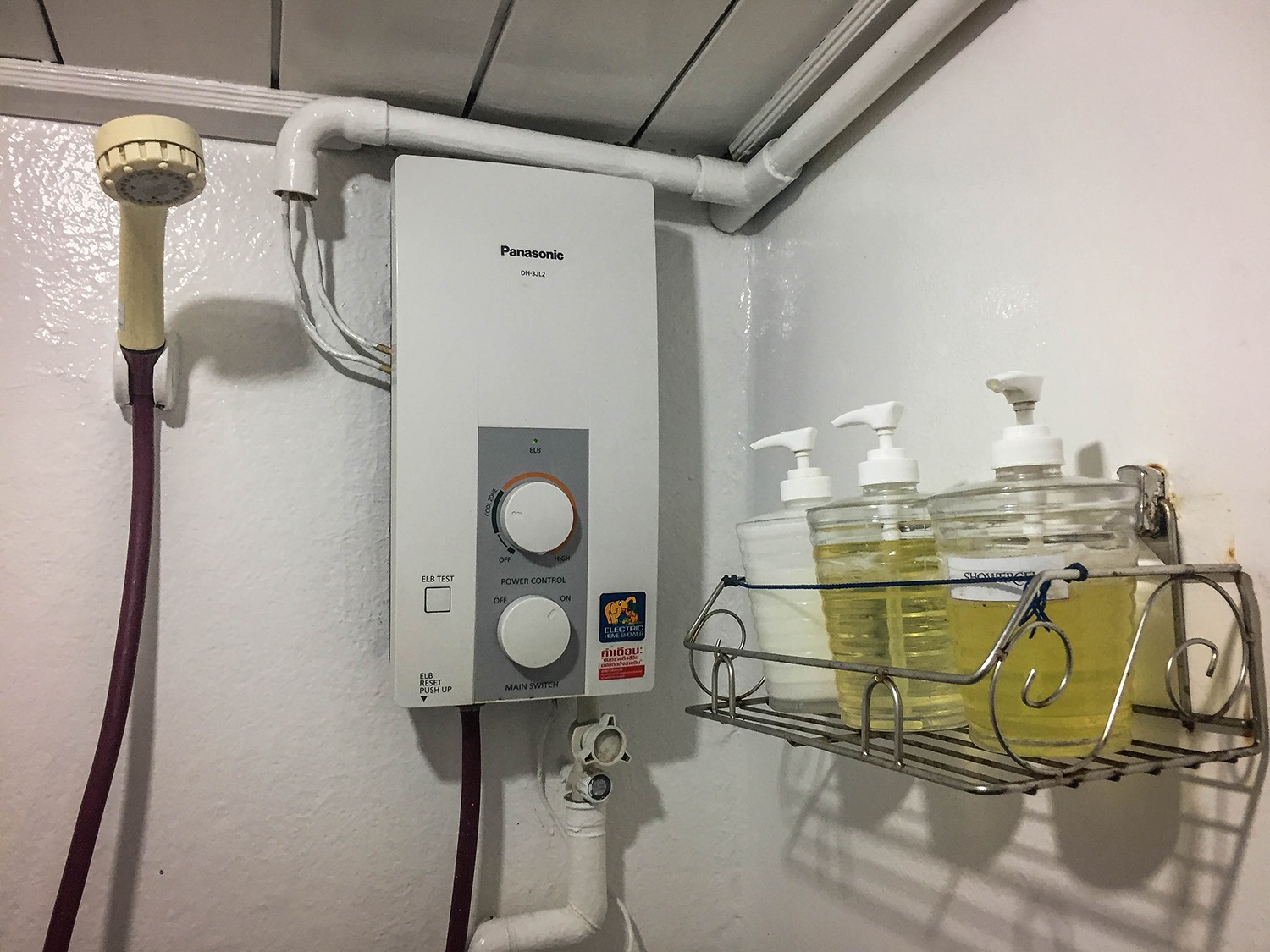 Each bathroom also has a shower, and surprisingly, the hot water worked well and the pressure was strong. PH neutral shampoo, conditioner and body wash are provided, and you are asked to refrain from using your own products on board so you don't compromise the marine life. 
Meals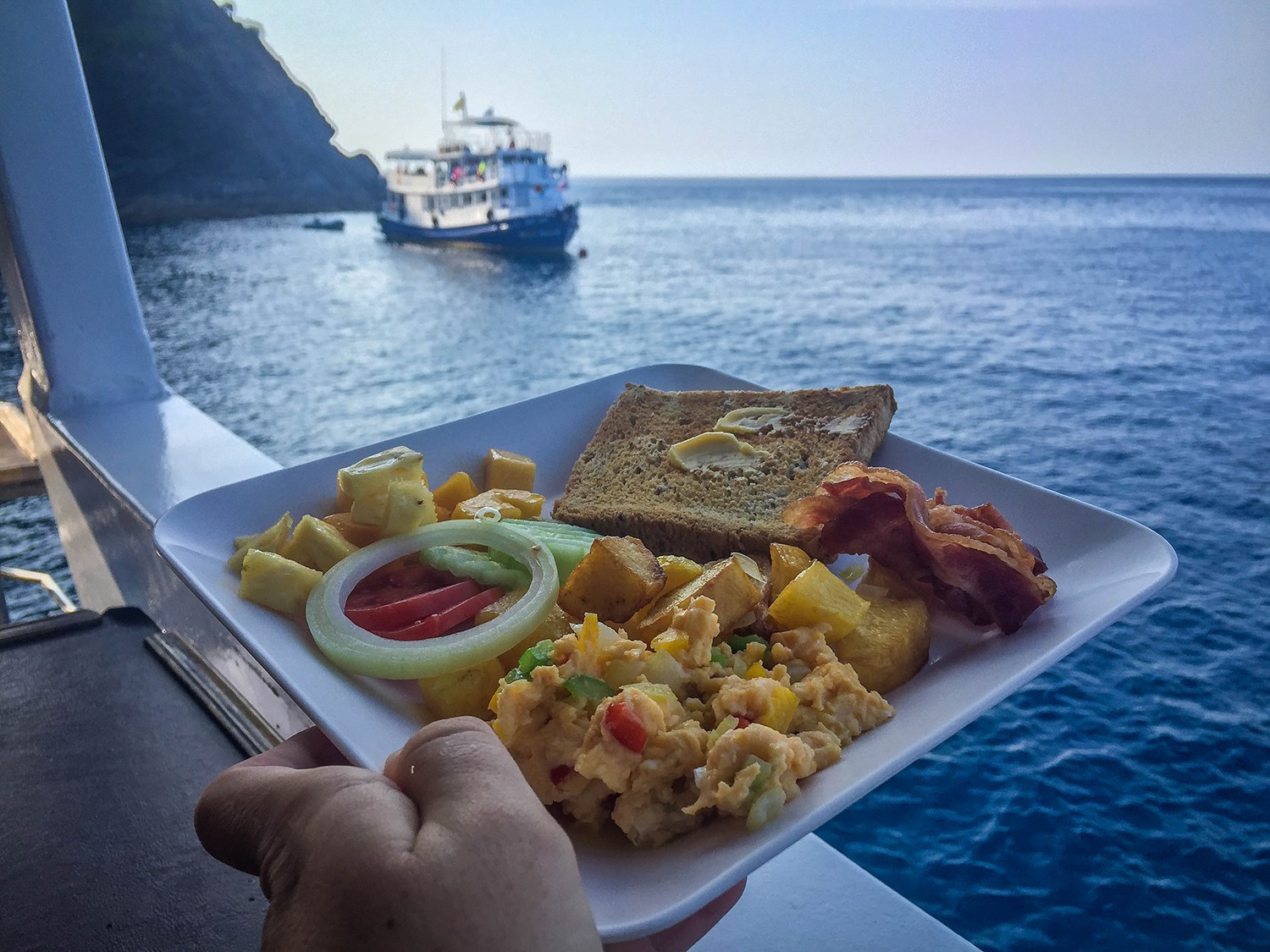 Guys, the food on Wicked Diving Liveaboard was incredible! It's crazy because the two women who cook all the meals use just two burners to whip up breakfasts, lunches, dinners and snacks with multiple dishes — curries, wontons, and stirfries, to name a few! They are also accommodating to vegetarians, vegans and others with dietary restrictions.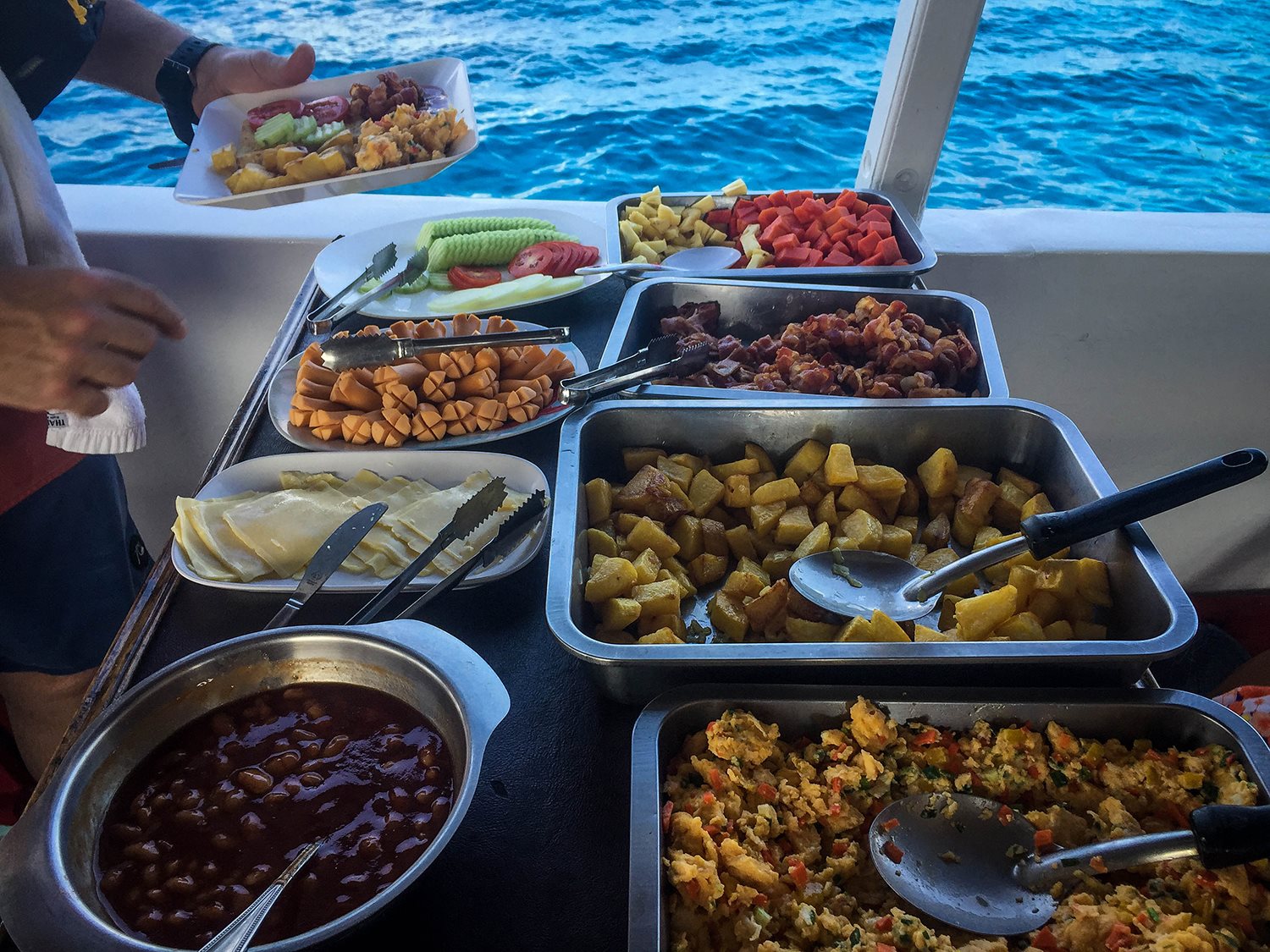 And if you're hungry between meals, there are plenty of snacks for you to enjoy: fresh fruit, cereal and granola, yogurt, peanut butter and jam. Plus, there are juices, instant coffee, tea and hot chocolate available all day long (and fresh coffee with breakfast!).
Safety while Diving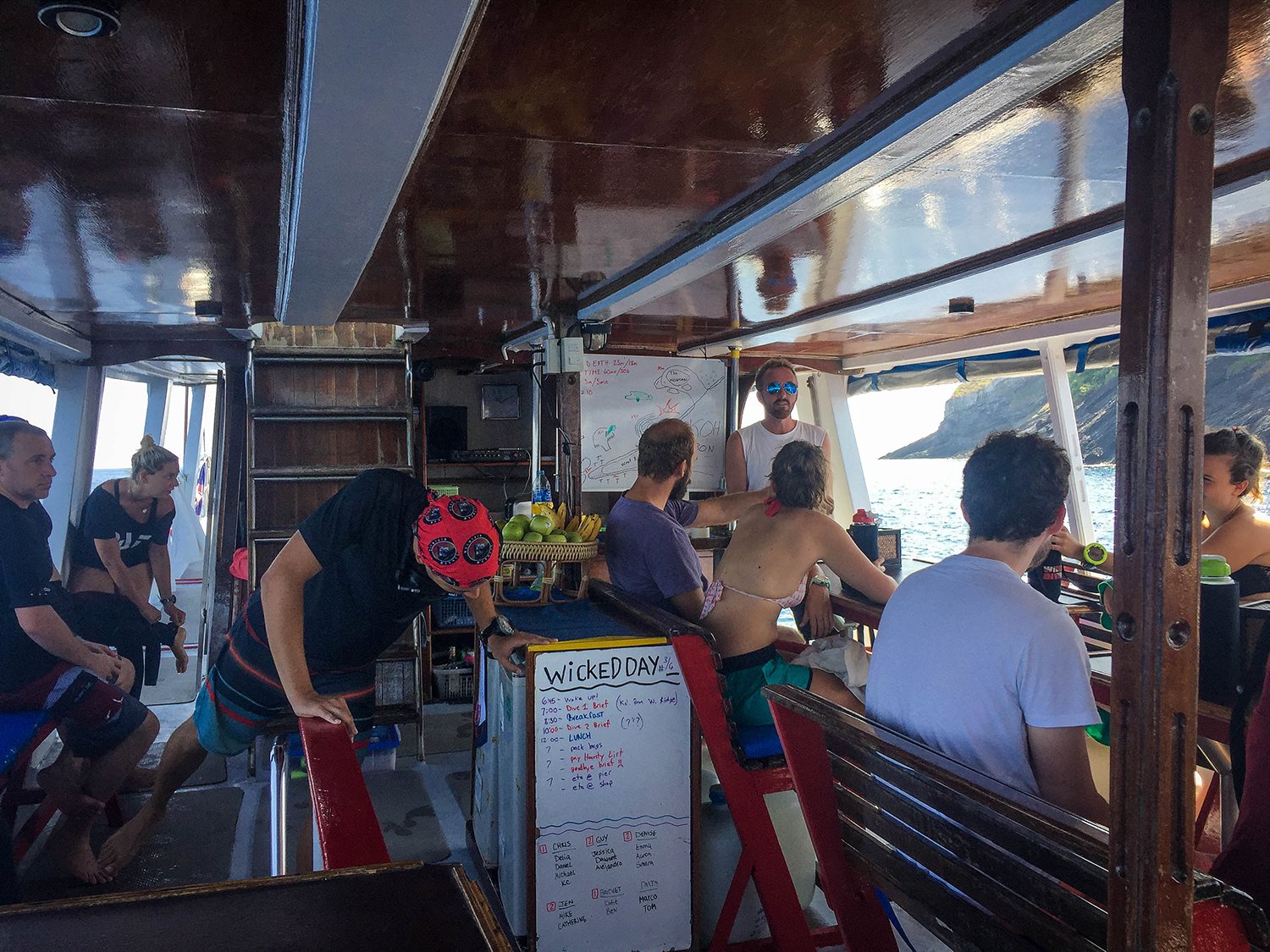 Wicked Diving puts a big emphasis on safety, and you will be in good hands. The staff on board are super professional and have been trained to handle all types of situations. 
Before each dive, the dive staff checks the currents and the conditions and communicates any things you may encounter on the dive briefing.
Eco-friendly Practices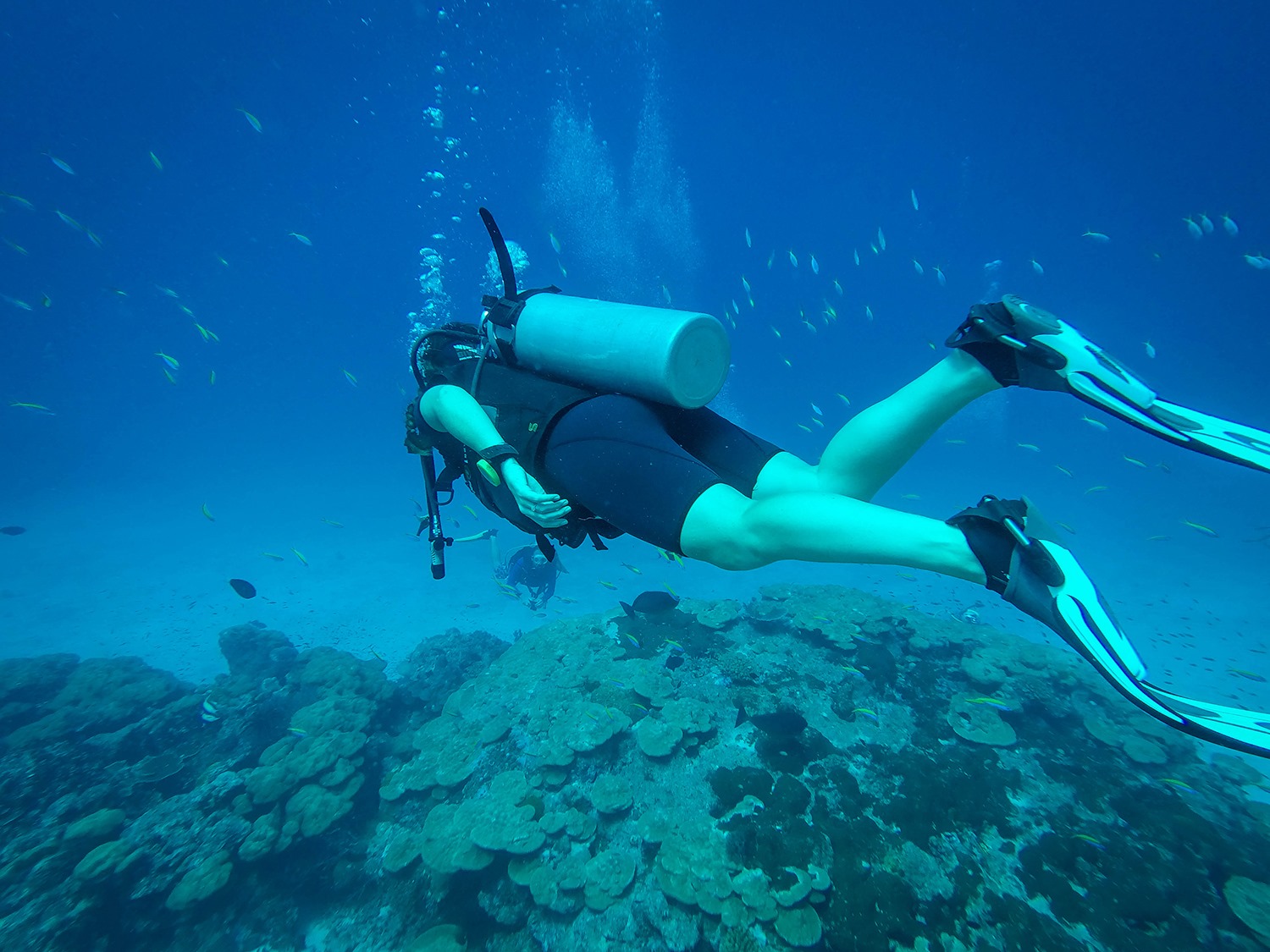 If you've been following our blog for a while, you know that supporting companies that are doing things the right way is of utmost importance to us. Below are some practices that our Liveaboard in Thailand had in place to lower their environmental impact. We'd encourage you to look for Liveaboard trips with similar practices.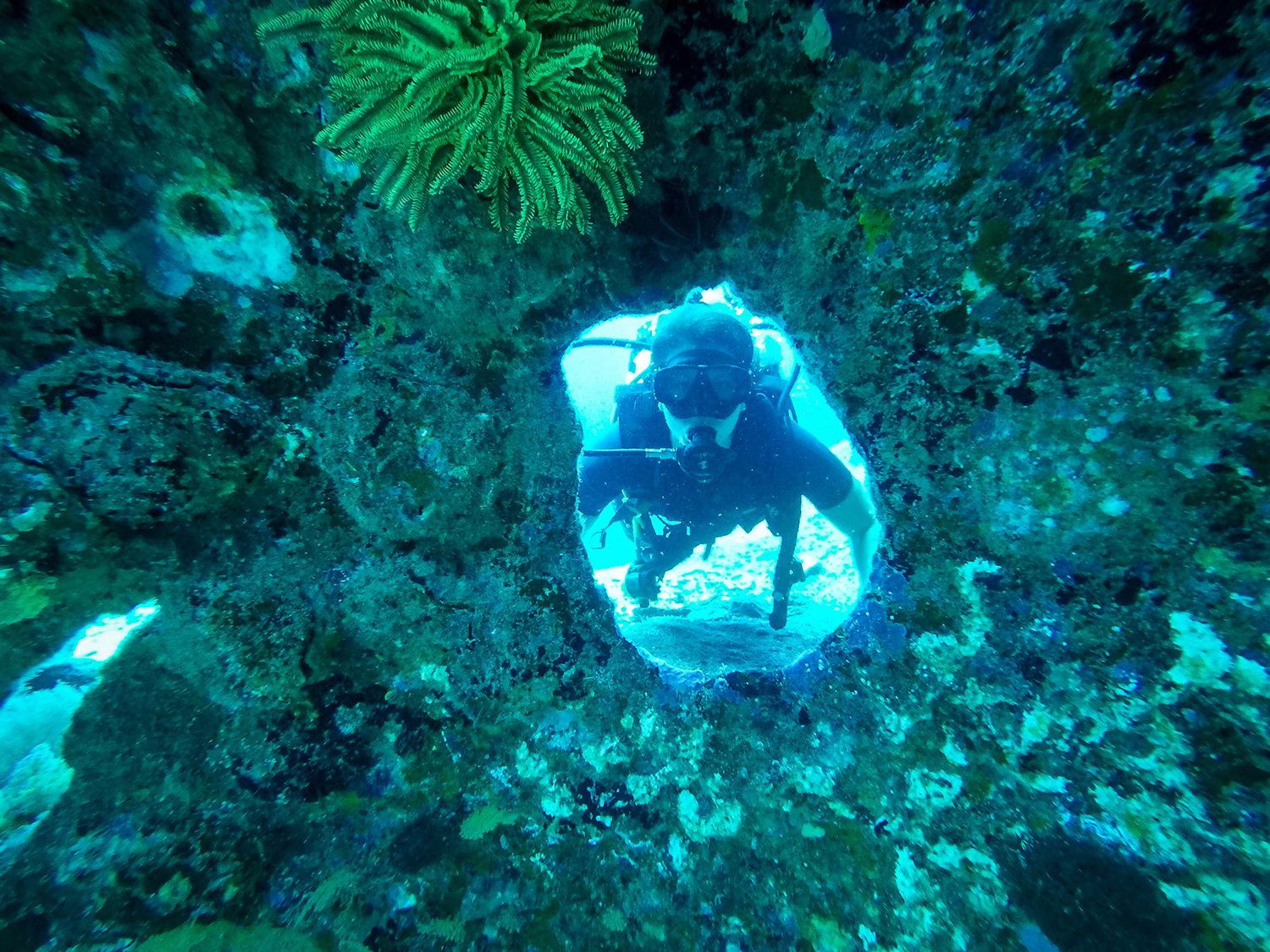 Water bottles: Each guest is given a water bottle that is theirs to use for the trip. They can use it to fill up with fresh water instead of going through hundreds of plastic water bottles per trip.

Recycle & compost: We were so happy to see recycling and food scraps were disposed of separately from the general trash.

PH Neutral shower products: Each bathroom has PH neutral shampoo, conditioner and body wash, and all guests are asked to use these products while onboard instead of their own. This ensures that the reef will not be damaged.

Rechargeable batteries: Even though they may cost more than normal batteries, rechargeable batteries help reduce waste. And Thailand does not have a program to recycle old batteries, so if you bring a battery to Thailand, please leave with it and properly recycle it when you are back home.

Strict no touching marine life policy: One of the things we appreciated most about Wicked Diving is their strict no touching policy. We've gone snorkeling with companies in the past where the guide will pick up ocean life like starfish, or touch the coral to show it to guests. This has always made us uncomfortable, and we loved that the instructors at Wicked said we are all observers and we do not manipulate or disturb any marine life.

Shark Guardian: Wicked Diving partners with a UK Charity called Shark Guardian which helps monitor and provides education about sharks. For each dive, we would record if we saw a shark (which we did!) or not and that information will be sent to Shark Guardian to help track the population of the apex predator of the sea.

Metal pull rings: While on the boat, there is a place for you to put your soda can pull tabs. These are then sent to Chiang Mai where they are melted down to make prosthetics. If you're traveling in Thailand for a bit before your Liveaboard, consider saving up the tabs from any beer or soda you consume and adding them to the collection when you arrive on the Liveaboard.

Charity projects: 2% of all Wicked's revenue goes to a few local charity organizations in the area.

Teaching local children how to swim: Not only do they give money, but they give their time to help teach swimming to children in the community.

Trash clean up: Wicked partners with Trash Hero, an international organization helping clean up trash in beaches and oceans. We participated with a Trash Hero Clean Up and would highly recommend it to anyone traveling to the islands or even throughout Thailand.
Learn more about sustainable diving practices and how to become an environmentally friendly diver.
The Liveaboard Staff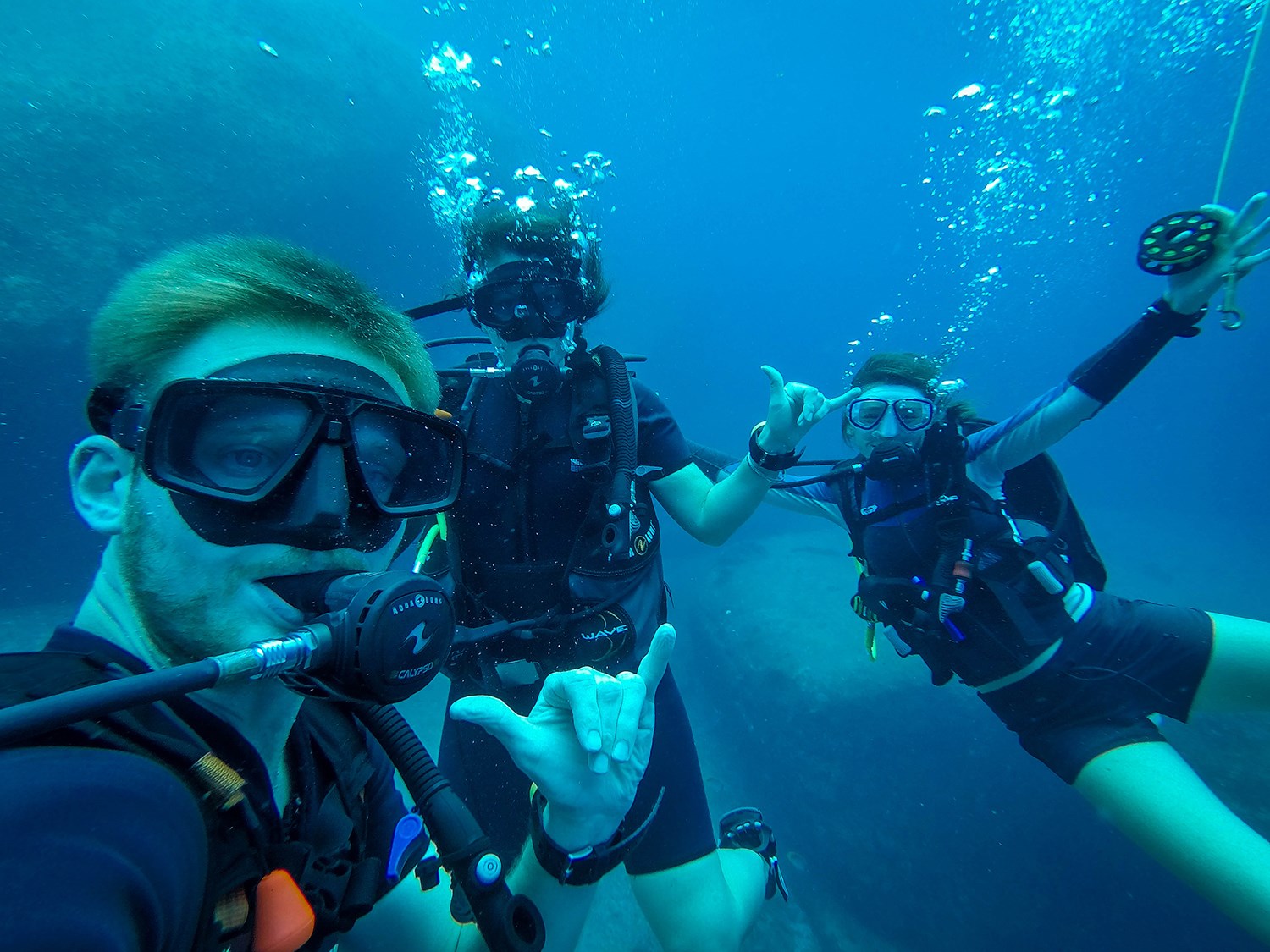 On our voyage, there were 5 instructors – one of whom was the trip leader.
The ratio of instructors to guests varies, but the group sizes are small (the most guests an instructor had on our trip was 4).
We had our own guide, Bridget, and she was super knowledgeable and a fantastic diver. She is deaf and was able to teach us some sign language, which was really fun. We truly couldn't have asked for a better dive guide!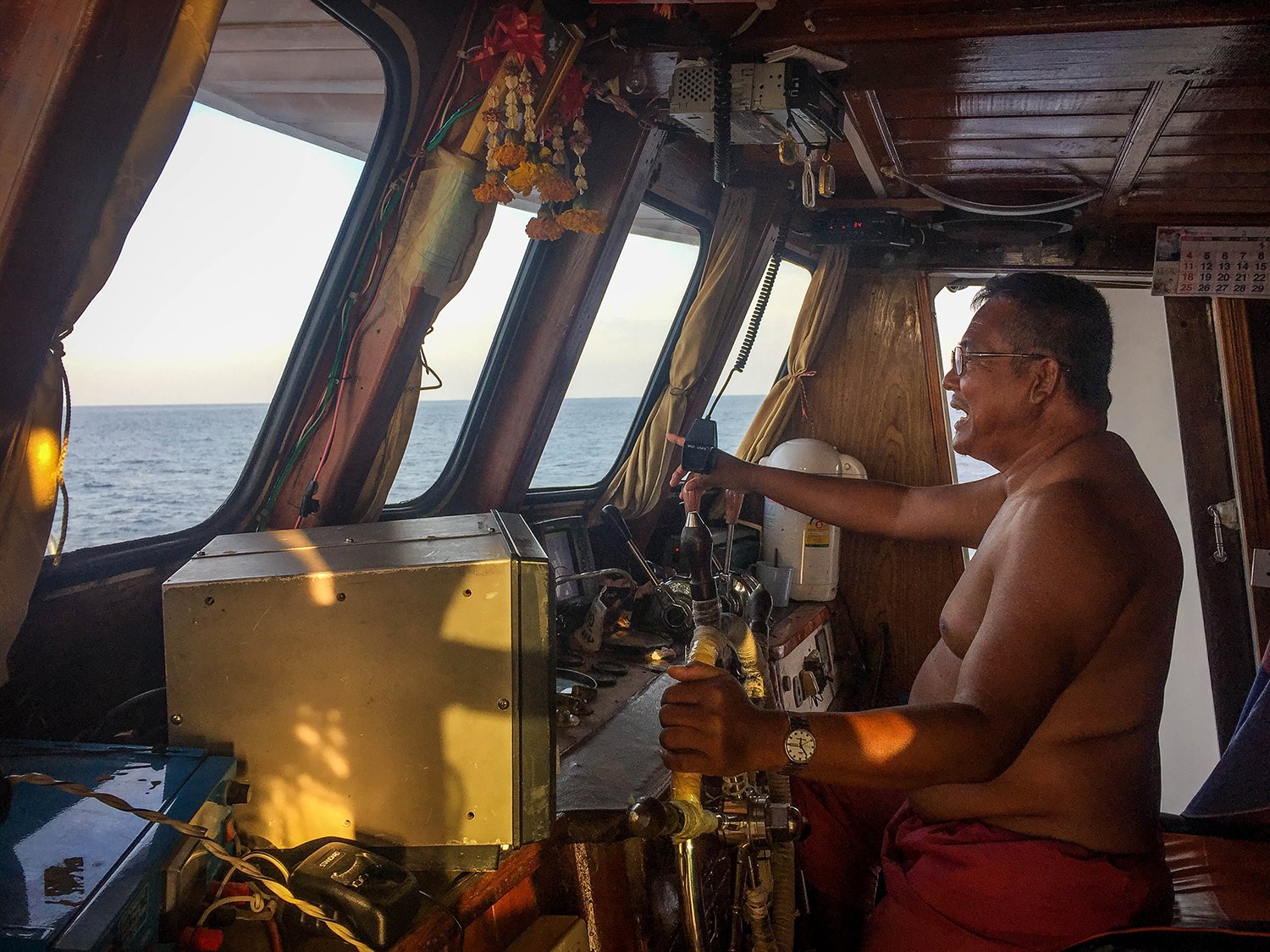 There are also Thai boat crew – 2 cooks, 3 "boat boys" who help to get the equipment ready and get guests in and out of the water; and the captain (of course!).
The Other Divers Onboard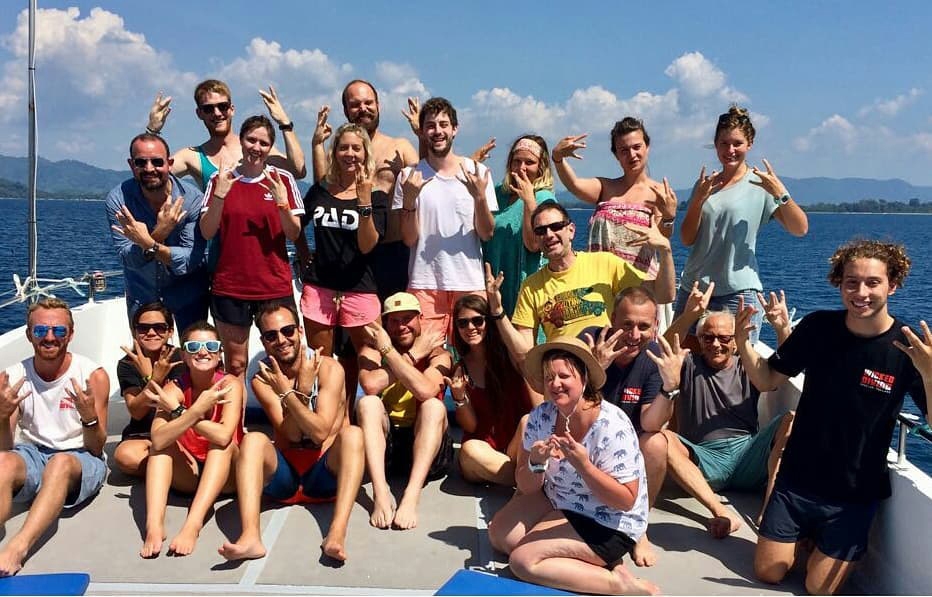 On our Liveaboard, there were a total of 14 guests from all over the world and of all ages. The youngest person on board was 20 years old and the oldest was a repeat customer who I would guess is in his early seventies.
There are people from all walks of life too. Two-week vacationers, backpackers, couples, solo travel, students, professionals. A bit of a mix of it all. 
And much the same, everyone came with their own level of diving experience. One guest on our boat had gone diving for his first time just a week before to get his Open Water certification. Others had been avid divers for years and have experience diving all over the world.
Want to book a trip to the Similan Islands?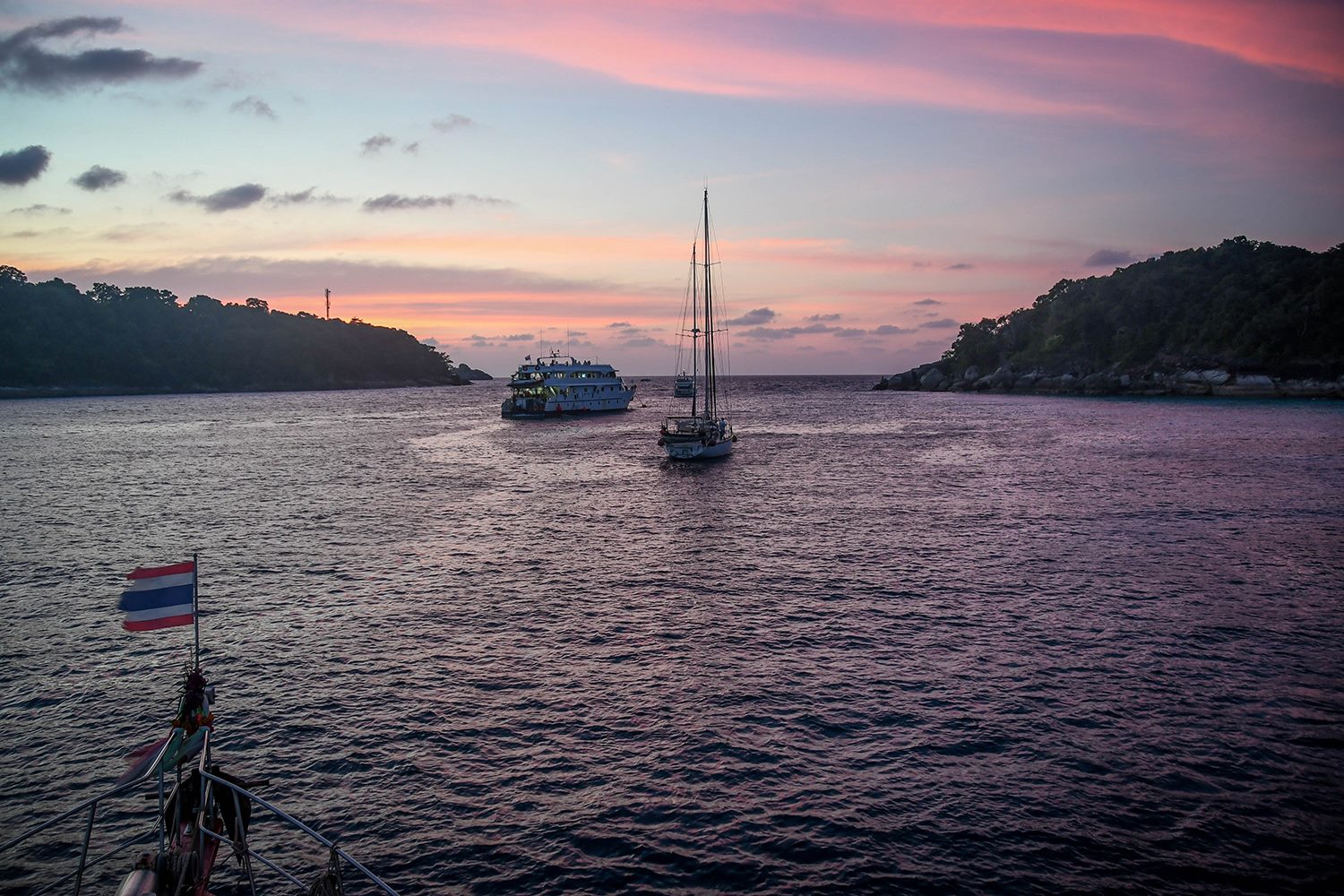 You won't regret it! 
If you want to take a diving trip, Liveaboard.com is a search engine that'll lead you to find the best Liveaboard trips in destinations like Thailand, Indonesia, the Philippines, Galapagos and the Caribbean (just to name a few!).
Need help deciding where to experience your first Liveaboard? We've put together a list of the best diving destinations around the world with our top Liveaboard pic for each place.
How to Get to the Similan Islands
We already mentioned that the only way to reach this archipelago off the west coast of Thailand is by boat, but where do you start you ask?
Liveaboards that go to the Similan Islands all leave from Khao Lak. The easiest way to get to Khao Lak is by taking a shuttle or bus from Phuket, which is just 60 kilometers (37 miles) south. Shuttles and buses are frequent from Phuket and can be arranged from hotels or at the airport. Alternative: Krabi also has a daily minibus to Khao Lak.
Where to Stay in Khao Lak
Luxury/Couple Stay Hotel: Baan Khaolak Resort — Steps away from the beach, this 4-star hotel (under $100 USD) has an elegant outdoor pool, restaurant and bar on-site, and concierge for booking activities like a Thai cooking class or jungle adventures. 
Budget Hotel: To Zleep Hotel — We were happy with To Zleep: Small, but clean and comfortable "micro-rooms"; an extensive free breakfast of eggs, fried rice, noodles, toast, and make-your-own pancakes. Reasonable price for a night stay, though it was further from the Wicked Office than we initially thought.
What to Do in Khao Lak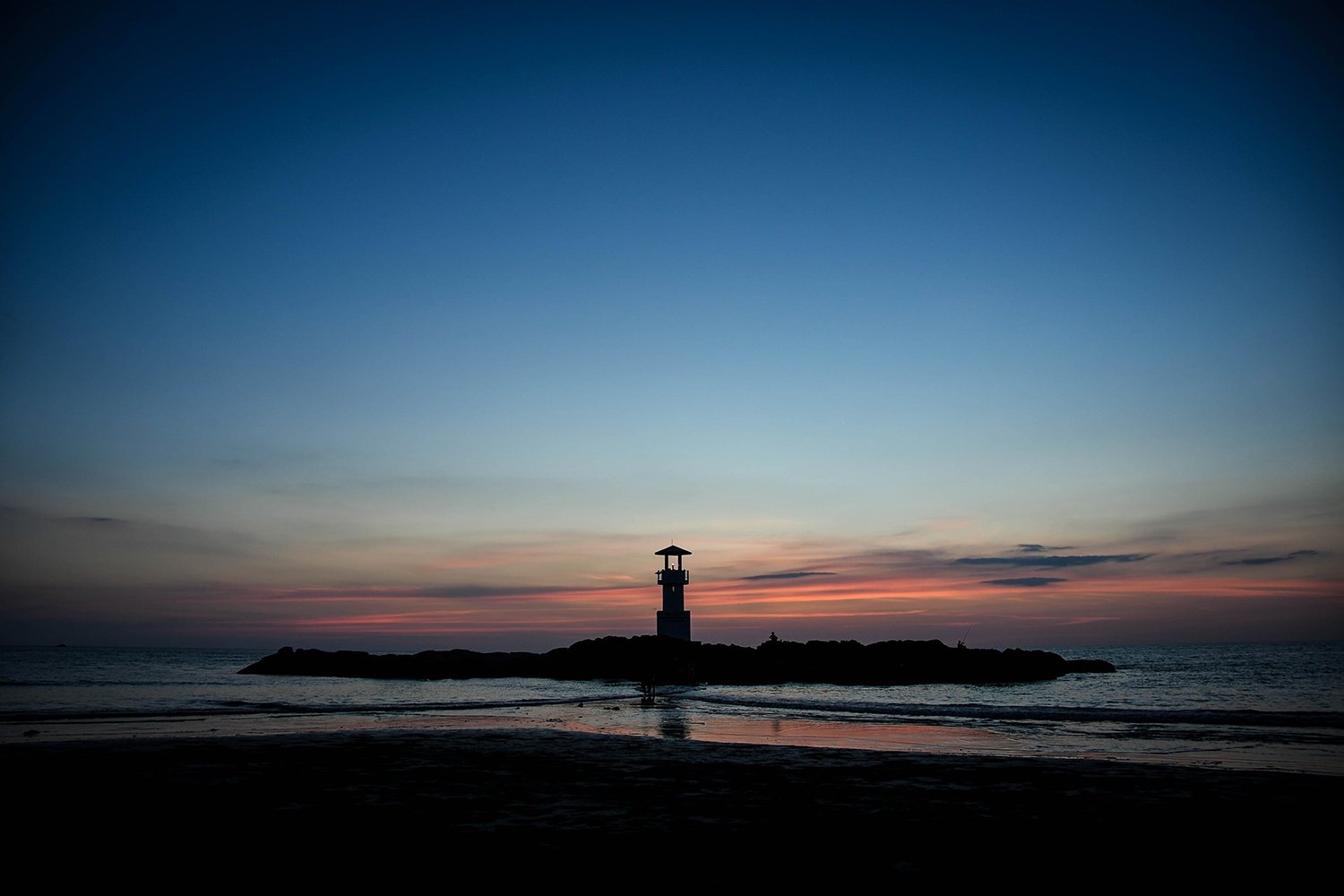 Honestly, we didn't love the town of Khao Lak. Very touristy, kinda cheesy, and just not really our style. That said, it's not a bad hub for a night before and after your liveaboard.
See the sunset: We witnessed two sunsets in Khao Lak and both were incredible. If possible, head to the lighthouse near the south end of Bang Niang Beach for a wonderful view.

Get a massage: After a few days of diving, a nice massage is a great way to treat yourself! I had the best back & neck massage I've had in Thailand (and I've had a lot!) at B. Massage, which isn't far from To Zleep.

Spend some time at the beach: The town may not be great, but the beach is stunning.

Enjoy the nightlife: We were too tired after our liveaboard (and the massage kind of was the final push to spend the night in), but we heard good things about Gecko Bar.
Honestly, that's about it. There are some tours, but if you want to do some exploring, we'd recommend making your way to Khao Sok National Park for some jungle trekking and time in nature, or down to Koh Lanta for amazing island life or take time to relax in Koh Lipe on gorgeous white sand beaches!
What to Pack for a Liveaboard Diving Trip
Now that we've got you hooked on the idea of a Liveaboard diving experience in the Similan Islands, the only thing left to do is pack!
Figuring out what to pack for a scuba Liveaboard can be tricky… you want to be prepared, but you definitely don't want to overpack when you're going to be living in tight quarters. There are some definite musts that you don't want to forget, and even more things that you should just leave on land.
We've taken all the guess work out of packing for you and complied a complete liveaboard packing list, including tips and advice for first-timers and some specifics you should definitely leave at home. Oh, and it's totally free!
Sign up below to get the FREE PDF download sent directly to your inbox!


Disclosure: Thank you to Wicked Diving for a partial sponsorship of our liveaboard experience. As always, all our opinions are completely our own.
---
You may also like…
Save this article on Pinterest for later!
We want to hear from you!
Have you ever been scuba diving in the Similan Islands? Does a Liveaboard sound like something you'd be interested in? Comment below with your questions!