With Liveaboard, you can experience Galapagos diving in an entirely unique way. In this article, we will walk you through the basics of participating in a Liveaboard dive trip and suggest some of the best Liveaboard experiences in the Galapagos for every budget.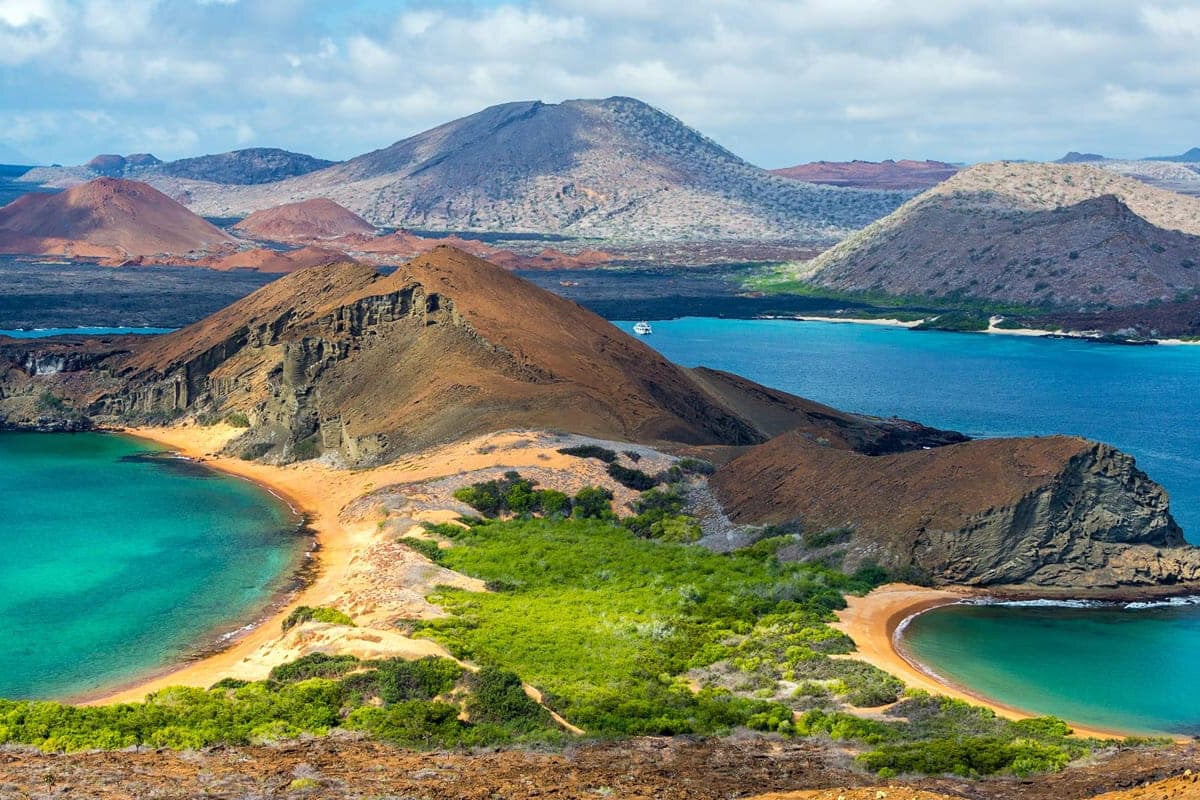 There's no doubt that the volcanic islands in the Pacific Ocean known as the Galapagos offer one of the most enchanting experiences when it comes to scuba diving. Considered one of the world's best destinations for wildlife viewing, you can get up close and personal with playful sea lions, whale sharks, hammerhead sharks, iguanas, sea turtles, mola mola, seals, clouds of tuna and so much more!
For many scuba divers, a trip to the Galapagos Islands is somewhat like a journey to Mecca. And chances are, the islands are on every diver's bucket list. Galapagos diving is unlike any diving experience on earth, and is bound to be exciting and extraordinary.
With Liveaboard, you can experience diving in the Galapagos in an entirely unique way. Reach remote areas and dive in places where marine life is plentiful and diverse, away from the disruption of regular tourism.
In this article we will walk you through the basics of participating in a Liveaboard dive trip and suggest some of the best Liveaboard experiences in the Galapagos for every budget.
Tip: It's important to keep in mind that the Galapagos Islands are only for experienced scuba divers. The conditions around the islands require a level of composure and experience in waters.
---
Galapagos Diving Liveaboards Article Contents
---
What is a Scuba Diving Liveaboard?
In the simplest definition, a Liveaboard is a multi-day boat trip that is often times focused on scuba diving*. But why try to explain it, when we can show you in a video! Check out our Komodo National Park Liveaboard video below:
*There are non-diving Liveaboards too, but for this article, we'll be focusing on the diving type.
Now that you have somewhat of a basic idea, let's get descriptive…
Participating in a Liveaboard dive trip is the the ultimate way to get the most out of your diving experience in the Galapagos. Liveaboards in the Galapagos are small in number, but very high in standard. Most take no more than 16 guests and have fully catered facilities. Trips are anywhere from 7/10 days to full 14-day excursions onboard a ship where you will eat, sleep, and dive, day after day.
Imagine looking around and seeing only ocean and uninhabited islands. You zip up your wetsuit and descend into waters that few get to see. You spot manta rays, colorful fish, sea turtles and even whale sharks (if you're lucky!), and after your dive, you return to the boat where lunch is waiting for you.
Benefits of a Liveaboard:
Not only will you get a lot of dives logged on a Liveaboard, but often times the sites you'll visit are ones you can't see on day trips. This means you get to see little-touched reefs and marine life that hasn't been affected by crowds of dive sites closer to shore.
And on top of that, you get to meet new friends from around the world, relax in the sun and sleep beneath the stars.
Read more about doing a Liveaboard including what the daily experience is like, what's included, how to prepare and questions to ask before booking.
Now that we've got you hooked on the idea of experiencing a Liveaboard trip in the Galapagos, below is some more helpful information about when to go and choosing the best Liveaboard experience for any budget in the Galapagos.
Best Time of Year for Scuba Diving in the Galapagos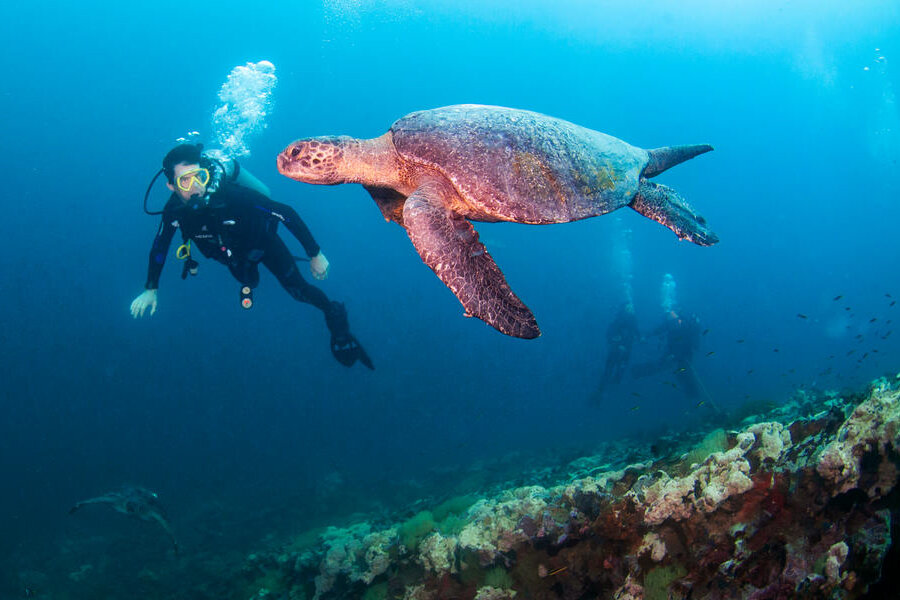 Diving in Galapagos is possible all year round. However, the best time of year for scuba diving depends on your aversion to cold water and what you hope to encounter on your dives.
The Galapagos Islands have both the wet and dry seasons which coincide with the water temperates.
Wet Season: January to June
This is the time when you can experience warmer water and calmer seas. Water temperatures during this time average from 75-82° Fahrenheit, or 24-28° Celsius. The wet season is also when you are liking to encounter more sightings of manta rays and hammerhead sharks.
Dry Season: July to December
Water temperatures during this time are lower, averaging about 62-68° Fahrenheit, or 17-20° Celsius. However, you are also likely to see more whale sharks in the dry season. This is one of the reasons why this period is the most popular season for Liveaboard diving trips in the Galapagos, despite the colder waters.
Related Reading: Find out more about our trip to the Galapagos Islands and the highlights from each of the islands we visited.
Best Galapagos Diving Sites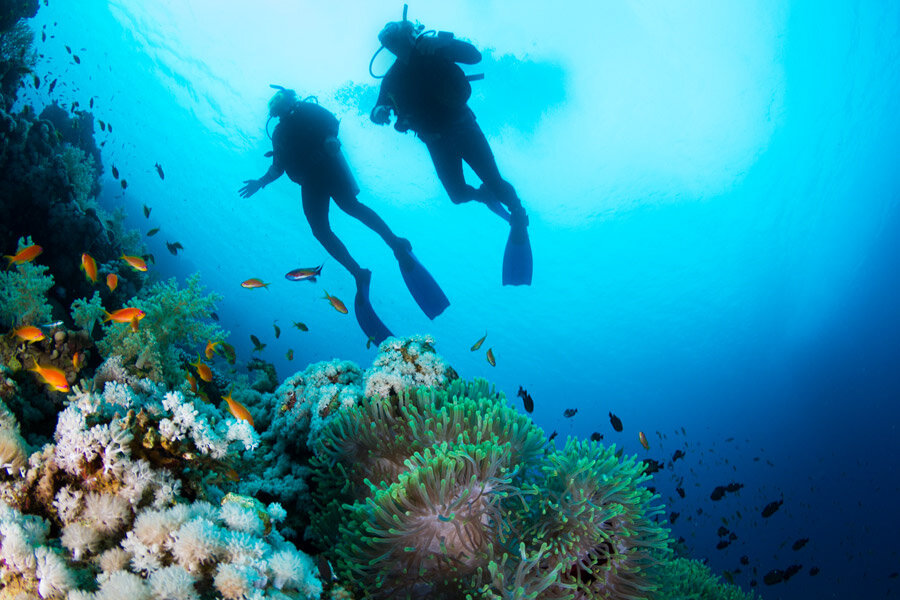 Darwin Island
Located on the far northwestern side of the Galapagos Islands, Darwin Island is probably the most famous diving site. The stunning arched rock formation is the landmark that signals where Liveaboards should go for the best diving experience. The site features Galapagos sharks, manta rays, hammerheads, and some whale sharks, as well as all the unique creatures you are hoping to see.
Wolf Island
Just southeast of Darwin, you will find a nice little diving hotspot called Wolf Island. It has sites like The Landslide, The Caves and Shark Bay where you can see different megafauna. On the reef's edge, you can spot mantas, Galapagos shark, bottlenose dolphins, whale sharks, and eagle rays. The island is also known to be the home of a friendly sea lion population.
Isabela Island
If you want some up-close encounters with rays and sharks, this is the place to dive. The Redonda Rock is famous for its underwater volcanic fumaroles – cracks in the earth's surface that emit steam. Because of this, its warmth can attract several kinds of nudibranchs and macro sea life. Hammerheads, silky sharks and Galapagos sharks are often spotted in this area.
Santiago Island
Santiago Island features boulders with both soft and hard corals. Because of this, it is home to a variety of marine life in the Galapagos Islands. Sea lions, Galapagos sharks, eagle rays and schools of barracuda are some of the most spotted marine life in the area.
Fernandina Island
Near Isabela Island, Fernandina Island is one of the most exciting dive sites among the Galapagos Islands. Its shallows are home to around 90% of the population of Galapagos penguins. Fur seals and sea lions can also be found here.
Santa Cruz and San Cristobal
These neighboring islands make up the tourism hub of the Galapagos and are the most heavily visited. You can expect to see Galapagos sharks, hammerhead and schools of reef sharks in these areas so don't forget to bring your underwater camera equipment along!
Best Budget Livaboards in the Galapagos
Aqua Cruise Ship
Experience the best of what Galapagos has to offer both above and below the water with an onboard naturalist. The Aqua Liveaboard can only accommodate 16 guests so you can expect an intimate experience. Aside from diving, you can also participate in activities such as snorkeling or kayaking, the Aqua has all the equipment you'll need.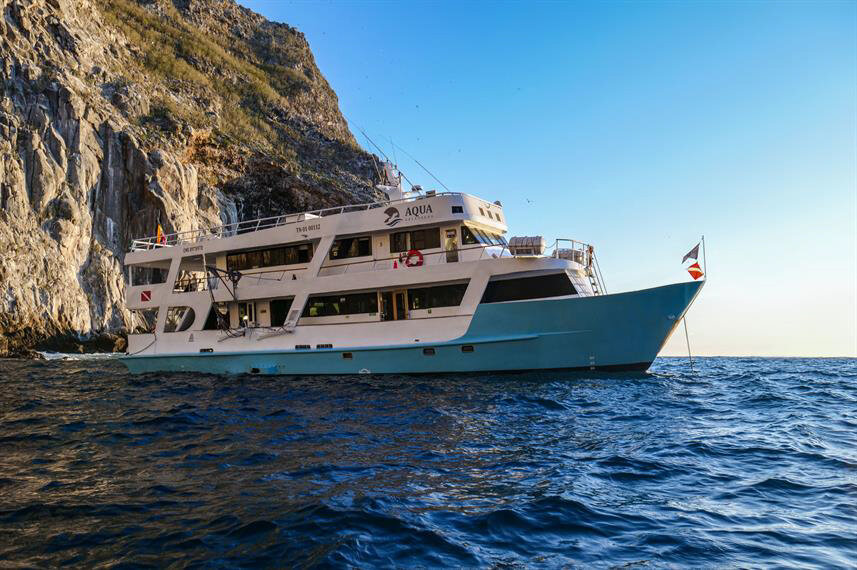 Length of Voyage: 8 days
Ship size: Up to 16 guests
Cost: $273 USD / day
Known for: Unbeatable value
Danubio Azul
For a seven-night diving trip, the Danubio Azul Liveaboard is a great choice! Get the most out of your diving excursions with the help of the their professional diving naturalist guides. You will surely come away with a wealth of new information about the Galapagos eco system.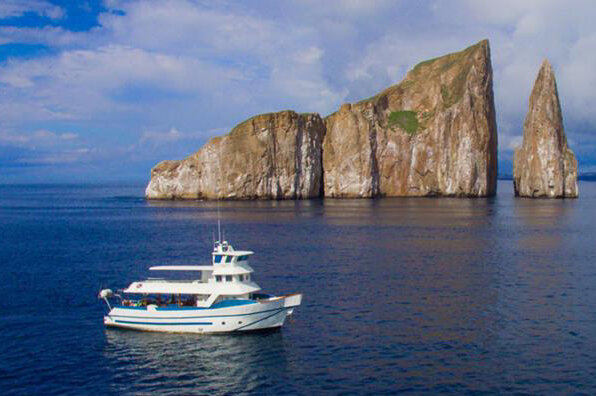 Length of Voyage: 8 days
Trip Size: Up to 10 guests
Cost: $397 USD / night
Known for: Professional and experienced guides
Related Reading: If you're looking for more ways to save money, check out our tips for traveling to the Galapagos on a budget.
Best Mid-Range Liveaboards in the Galapagos
Galapagos Master
Its name says it all. The Galapagos Master is the newest luxury Liveaboard yacht that makes scuba diving dreams come true. Each accommodation is air conditioned and has private en-suite bathrooms. Food is served buffet-style so you are sure to never go hungry.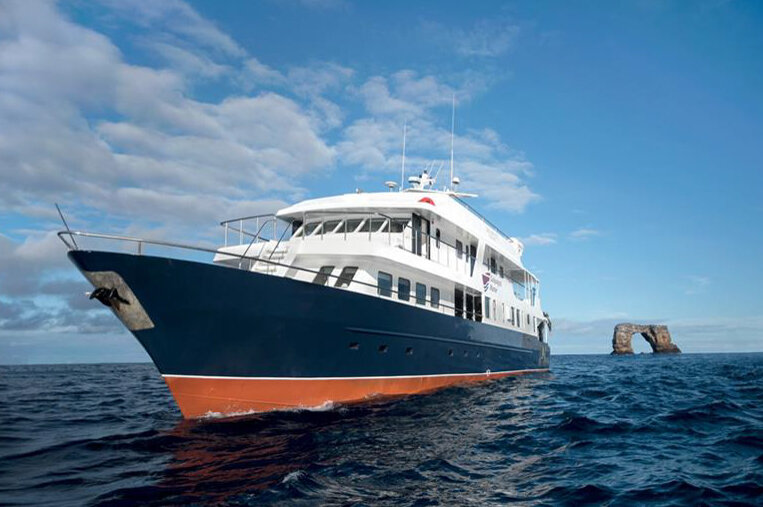 Length of Voyage: 8-11 days
Trip Size: Up to 16 guests
Cost: $547 USD/day
Known for: Affordable luxury
Humboldt Explorer
The Humboldt Explorer was built to offer a hassle-free diving experience with a large diving platform and plenty of rental equipment onboard. Each cabin on this Liveaboard features air conditioning with private bathrooms and ocean views. Guests can relax in the common areas or unwind in the onboard jacuzzi.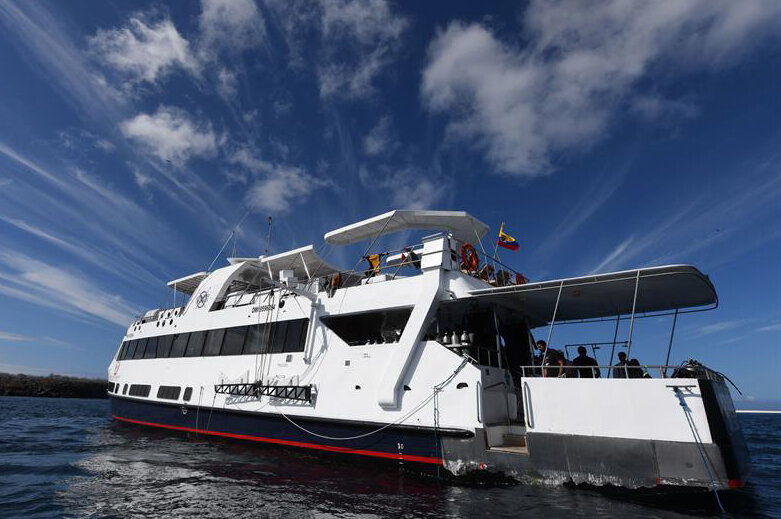 Length of Voyage: 8 or 11 days
Trip Size: Up to 16 guests
Cost: $548 USD/day
Known for: Alcoholic beverages included
Best Luxury Liveaboards in the Galapagos
Galapagos Aggressor III
The Galapagos Aggressor III Liveaboard will bring you to one of the world's top diving destinations for 4 action-packed dives per day plus 2 nights dives during your 8-day excursion. You will have your own personal gear locker and diving amenities so you have nothing to worry about on your trip.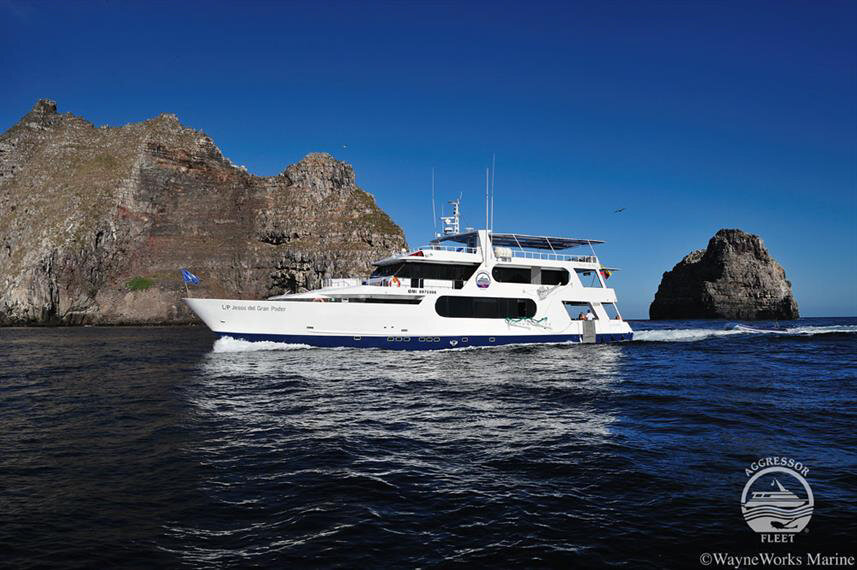 Length of Voyage: 8 days
Trip Size: Up to 16 guests
Cost: $655 USD/day
Known for: Action-packed day and night dives
Galapagos Sky
The sky is the limit or so they say. But with the Galapagos Sky, there's no limit to 5-star services provided by their team of professionals. The entertainment system and large television in the main salon are great for viewing videos and photos of your dives. Designed for diver comfort, you can expect to the best from this Liveaboard.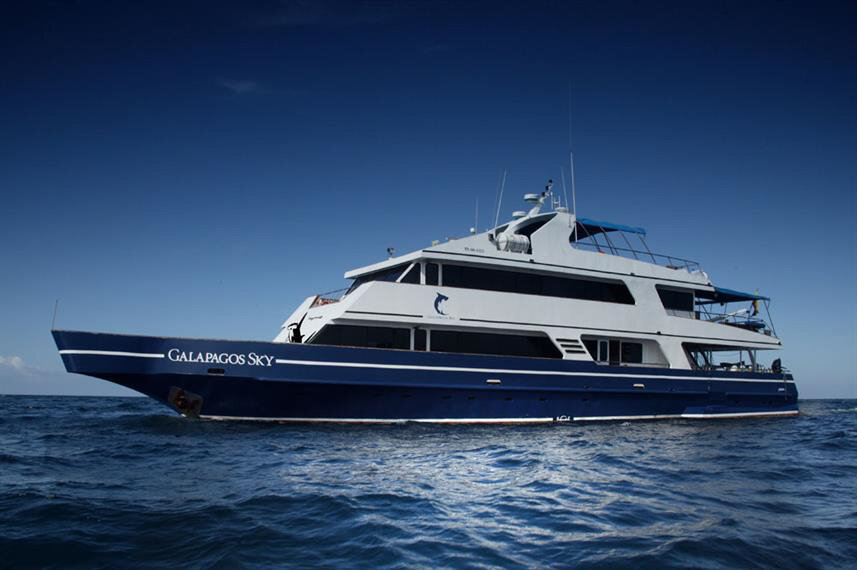 Length of Voyage: 8 days
Trip Size: Up to 16 guests
Cost: $662 USD/day
Known for: 5-star service
Nortada
The Nortada Liveaboard is a luxury yacht that provides it guests with a more intimate and personal diving experience in the Galapagos. A comprehensive itinerary includes at least 18 dives per trip with a tender to get dives closer to the action. Each diver is also equipped with a Nautilus Lifeline GPS for additional safety.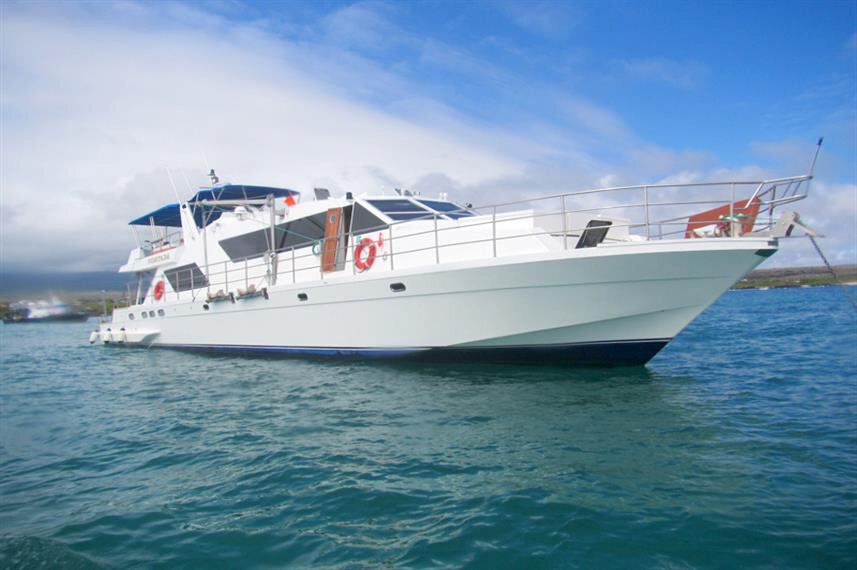 Length of Voyage: 8 days
Trip Size: Up to 12 guests
Cost: $768 USD/day
Known for: A more intimate and personal dive experience
Hooked on the idea of doing a Liveaboard, but want to check out other destinations? We put together a list of the best diving destinations around the world, complete with our top Liveaboard picks for each place.
What to Pack for a Liveaboard Diving Trip
We've put together the ultimate packing list for a scuba Liveaboard, including tips and advice for first-timers and some specifics you should definitely leave at home.
Sign up below to get the FREE PDF download sent directly to your inbox!


---
You may also like…
Save this article on Pinterest for later!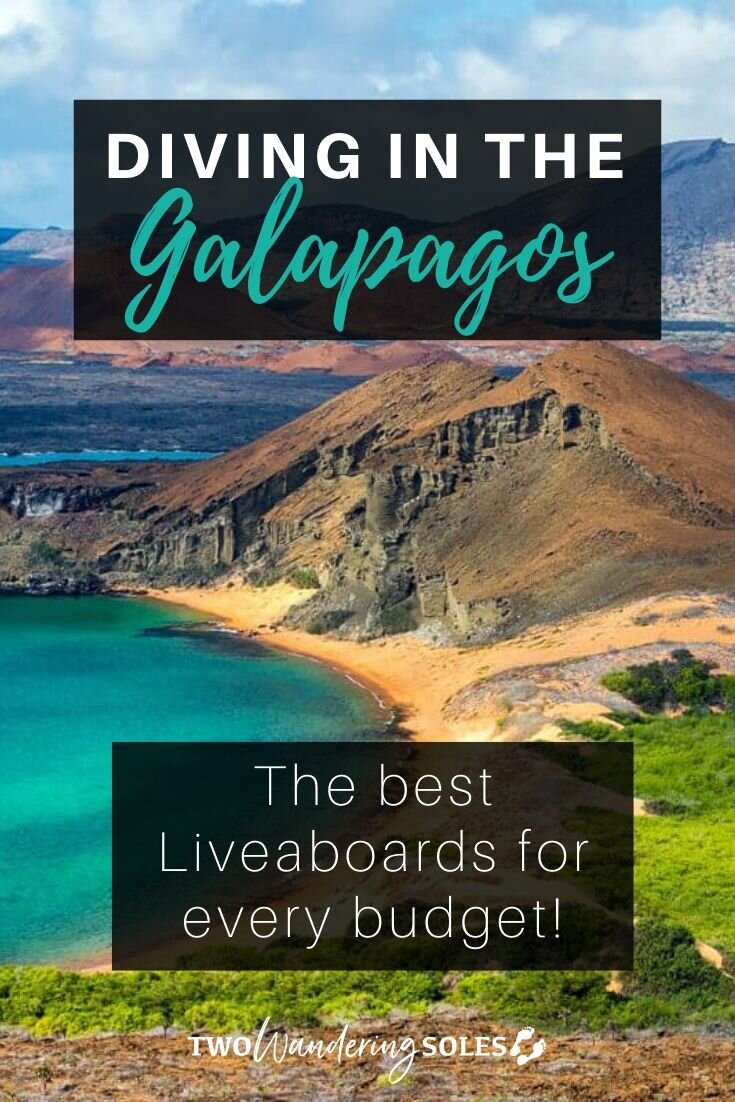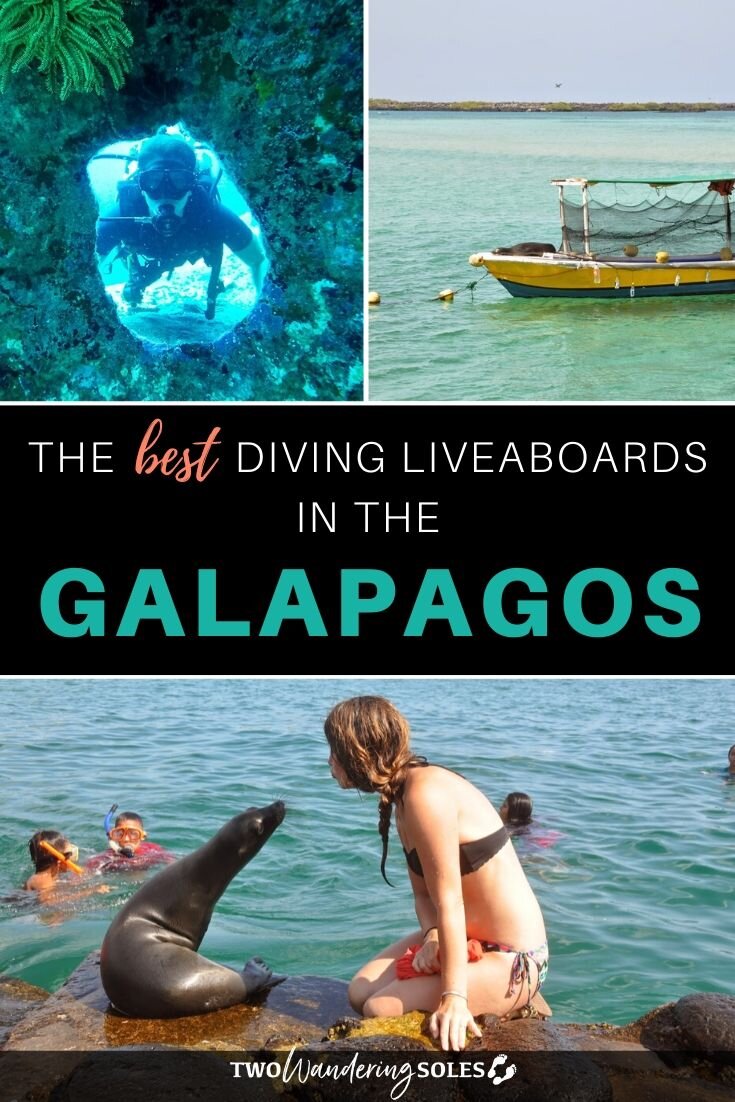 We want to hear from you!
Have you ever done a Liveaboard diving trip before? What was your experience like? Do you have any advice you'd give to a newbie?
Planning a Liveaboard trip in the Galapagos and still have questions? Ask us in the comment section below and we'll do our best to get back to you quickly!