South Africa's Cape Winelands are overflowing with some of the finest wines and estates in the world. We've put together this list of the best wine farms in Stellenbosch and the Cape Winelands that are worth stopping by for a sip.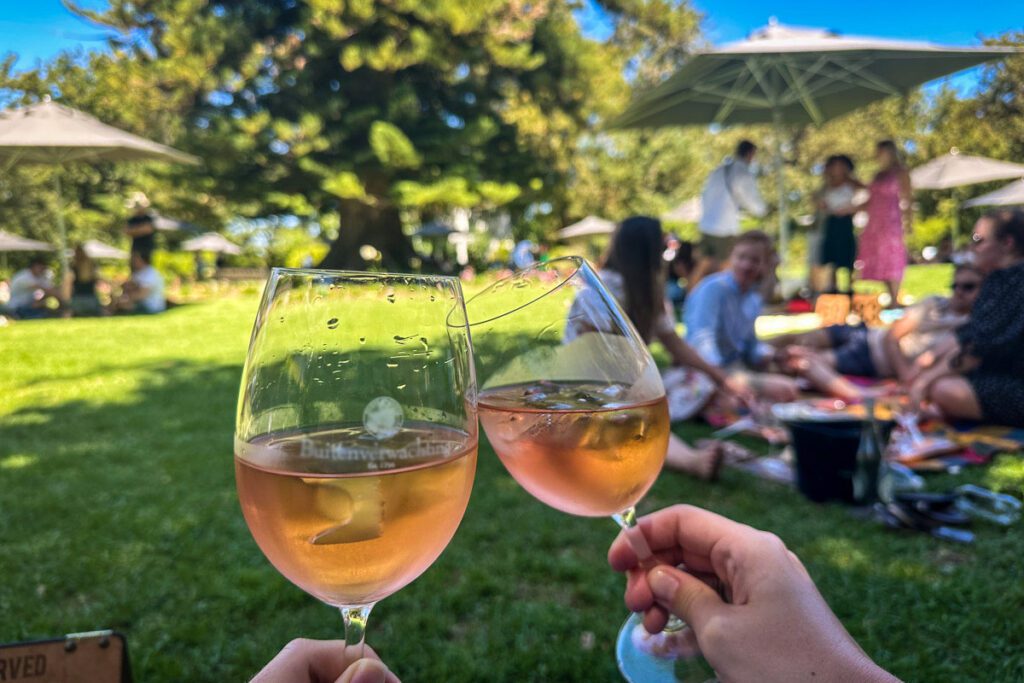 Just an hour drive east of Cape Town is the largest and oldest wine making region in the world, known as the Cape Winelands.
A picturesque backdrop of valleys flanked by mountains, sewn together with vineyards, helps celebrate the region's unique terroir and cultivation practices used to make award-winning wines.
Between the three main towns, Stellenbosch, Franschhoek, and Paarl, there are over 100 extraordinary wineries you can visit. Many of these wine farms boast inexpensive tastings, generous pours, and next-level hospitality.
In this guide, we are sharing the best wine farms in Stellenbosch and surrounding areas worth sipping at. In addition, we're sharing the best time to visit and different ways you can access and explore this region.
Cape Winelands Travel Guide
---
Our top picks for the best wine farms in Stellenbosch
If you're looking for quick answers to our top recommendations, here you go. These are the best wine farms in Stellenbosch to meet every traveler's desires:
Click on the links above to jump to that section, or keep reading for more detailed information on each and more of the best wine farms in Stellenbosch and the Cape Winelands.
Overview of the Cape Winelands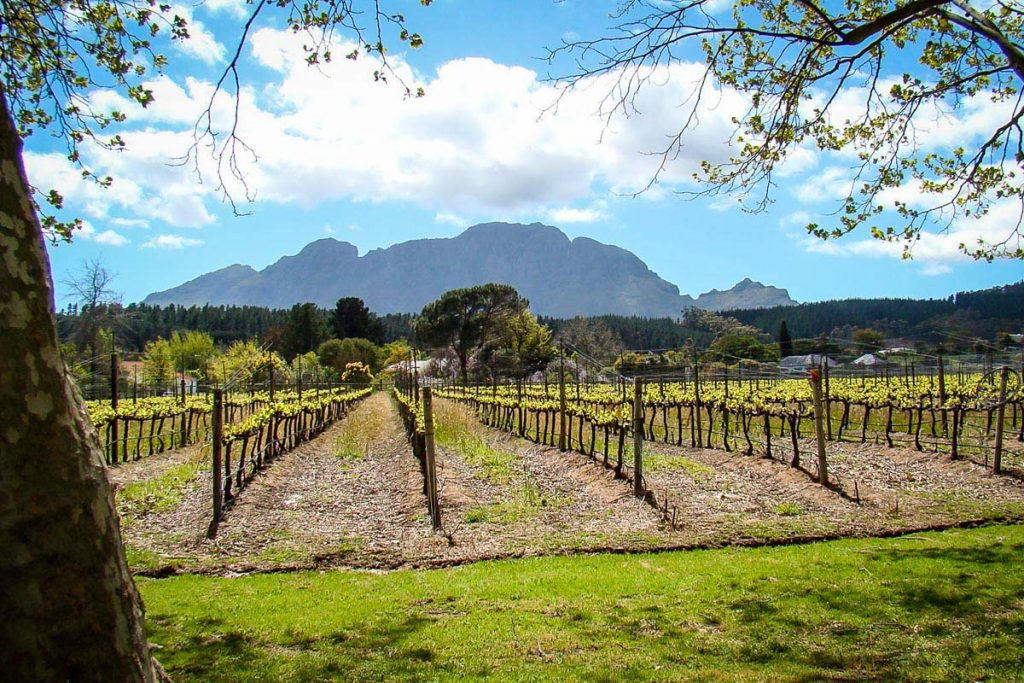 The very first wine (ever) was produced in the Cape Winelands near the mid-1600s. Since then the region's fertile valleys and rolling hills have slowly developed into a world-renowned network of towns.
Stellenbosch, Franschhoek, and Paarl are the three most popular base camps to visit within the region. Each with an impressive variety of wine farms showcasing distinct tasting notes, personality, and awards.
Stellenbosch: The most famous wine-producing region in the Cape Winelands known for its exceptional Cabernet, Sauvignon, Merlot, and Bordeaux wines. The university town is filled with quaint coffee shops, restaurants, museums, and world-class accommodation.
Franschhoek: As South Africa's Gourmet Food Capital, this French-influenced town features centuries-old vineyards, chocolate tastings, craft beer, world-class shops, and the finest cuisine between two lush, green nature reserves.
Paarl: Historic monuments and award-winning red wines are the main draws of the second oldest wine region in South Africa. The variety of entertaining attractions and exhibits make this an ideal base camp if you have kids.
Constantia: While not typically considered part of the Cape Winelands, Constantia is closest to Cape Town and hosts a handful of notable wine farms we included at the end of this article.
---
Best wine farms in Stellenbosch
Stellenbosch is the heart and soul of the Cape Winelands with estates continually ranked as some of the best in the world.
Tokara
Known for: Award-winning wine and world-class olive oil
Distance from Cape Town: 58.2 km (36 miles), 46 minutes away
Must try: Telos, a Cabernet Sauvignon that defines this variety in Stellenbosch.
The Tokara Estate is surrounded by lush green valleys and the beauty of the Simonsberg Mountains. They're prized for both their Cabernet Sauvignon and Sauvignon Blanc.
Taste the magic of their soil at one of their wine tastings and order one of their platters to sample their local cheeses and delicious olive oil.
As you sit among fine art in the Tokara Restaurant, you can admire views over Stellenbosch and False Bay while being served fine wine over lunch or one of their 4-6 course dinners.
For something more casual, their Delicatessen offers seasonal, gourmet food in a child-friendly setting. After you've wined and dined, you can stroll through their sculpture garden or their gallery of curated art.
Delair Graff
Known for: One of the most prestigious wineries in the world
Distance from Cape Town: 59 km (36 miles), 48 minutes away
Must try: Delaire's Laurence Graff Reserve, renowned as the best Cabernet Sauvignon in South Africa.
The Delair Graff Estate rose to its luxurious, world-class status in just the blink of an eye. One sip of their wine and you'll realize why the estate is recognized as a piece of heaven and earth in Stellenbosch.
In their Wine Lounge, choose from 3 different tastings and an array of platters and snacks to pair with your wine. The servers are wine pros, giving you all the details and qualities of what separates Delair Graff from other wines.
While you're here, you MUST make a reservation at either one of their restaurants: Delair Graff Restaurant or Indochine. The latter is widely recognized as one of the best restaurants in Cape Town.
Their spa has half and full-day services where you can relax and unwind. Stay at any of their luxurious lodges or Owner's Villa to immerse yourself in breathtaking views, amenities, and legendary infinity pool.
Oldenburg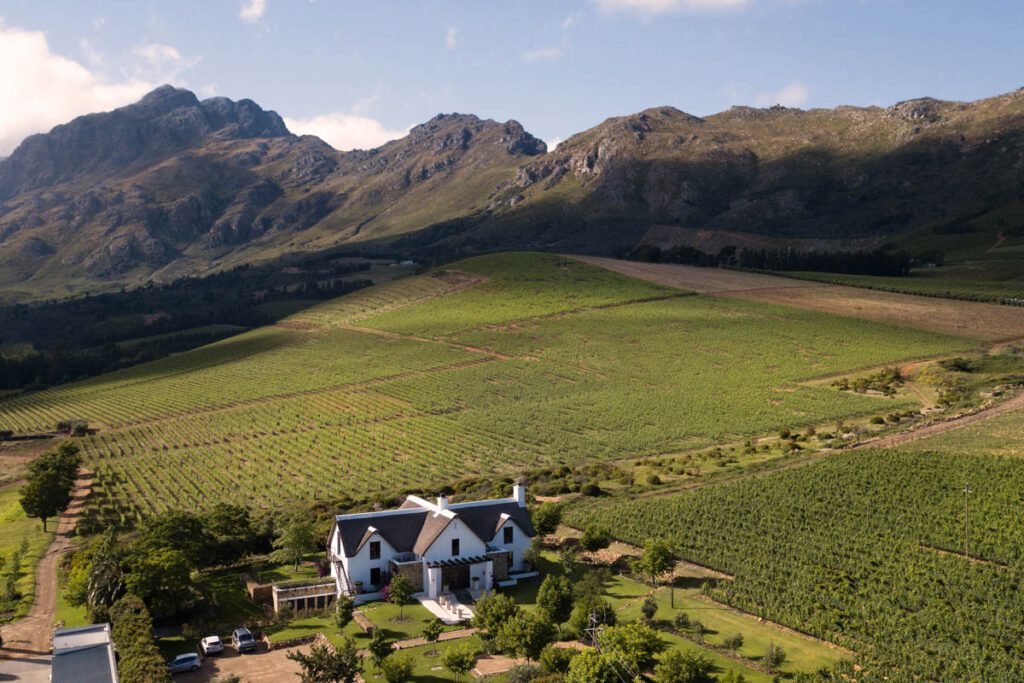 Known for: 8 Elements – major geographical features that create the unique climate and terroir of the vineyard
Distance from Cape Town: 63 km (39 miles), 53 minutes away
Must try: The CL Series have wines that are 'cool', due to the evening temperatures of the region, making for a unique tasting experience.
Nestled in an elevated valley within an impressive mountain amphitheater, Oldenburg Vineyards has a distinct signature due to Rondekop, a round hill in the center of the farm that influences the vineyards on and around it.
On any of their 6, carefully curated tastings you can experience their unique wine and enjoy a complimentary platter of cheese, crackers, and olives. Book your tastings in advance as reservations are essential.
The beauty of the mountainous atmosphere and happenings in the vineyards are poured directly into your glass, creating symphony and harmony within the tasting room.
If you're traveling in a large group, Oldenburg's Homestead Villa is nestled in a secluded and tranquil location and holds 200 year old Cape Dutch style that makes for a peaceful getaway.
Seven Sisters Vineyards
Known for: One of few 100% black female-owned wineries in South Africa
Distance from Cape Town: 41.5 km (26 miles), 31 minutes away
Must try: Sauvignon Blanc, the first South African wine to be served on board American Airlines.
The Seven Sisters Vineyard is a first-generation wine farm and is one of the most established emerging wine brands in South Africa.
What began as a piece of barren land in the heart of the Stellenbosch Winelands was soon transformed by self-taught wine entrepreneur Vivian, whose goal is to establish a family legacy for generations to come.
During a visit, you can experience their inclusive and warm family atmosphere through home-cooked, authentic lunches on a terrace overlooking the planted hills of Lynedoch.
As of now, their wine tastings, pairings, and tours are only available to groups of 15 and up by prior booking. If you don't have your own group to go with, you can join a tour guide or tour operator that offers visits to their farm.
Lanzerac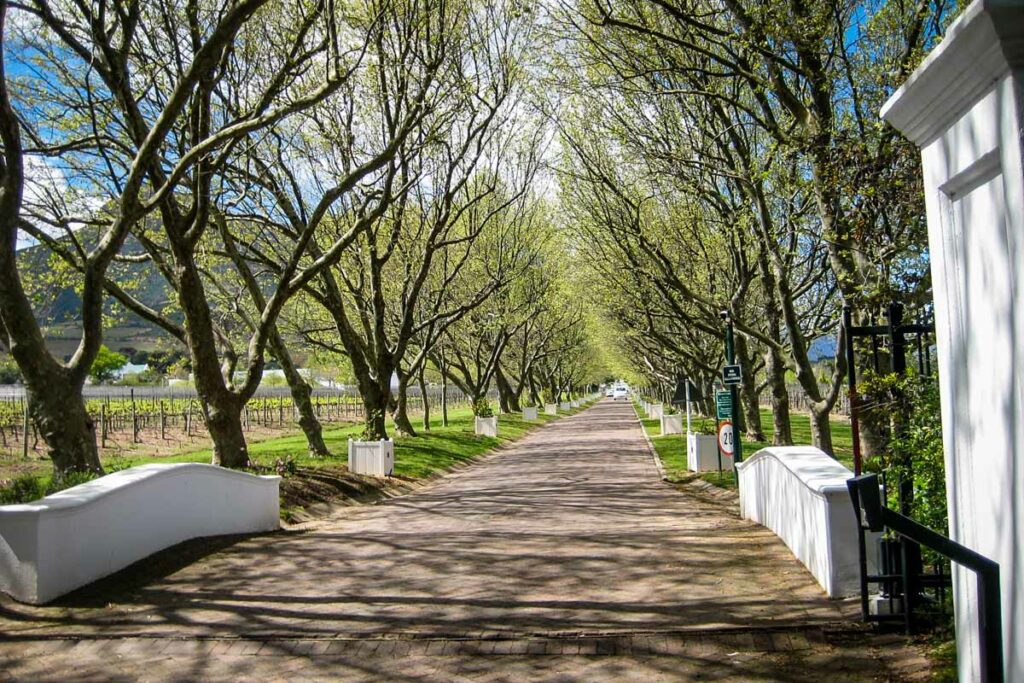 Known for: The official home of South Africa's famous Pinotage
Distance from Cape Town: 56.7 km (35 miles), 45 minutes away
Must try: Pionier Pinotage 2017, a tribute to the world's first bottled Pinotage in 1959.
While visiting any wine farm in South Africa, you don't want to miss the opportunity to try Pinotage, a unique wine blend that can only be found in South Africa.
Pinotage was first bottled at Lanzerac, so it only makes sense to sample it at its birthplace.
Choose from 3 different tailor-made tastings, one of which includes a chocolate pairing, in the comfort of the tasting room or out on the veranda overlooking scenic vineyards.
The wine farm's signature style shines at their onsite hotel and spa, where old-world style meets modern-flair.
Lanzerac is also acclaimed as one of the top gourmet destinations in Stellenbosch, which you can indulge in at any of their four different dining options, each with their own distinct atmosphere and set of menus.
Jordan Wine Estate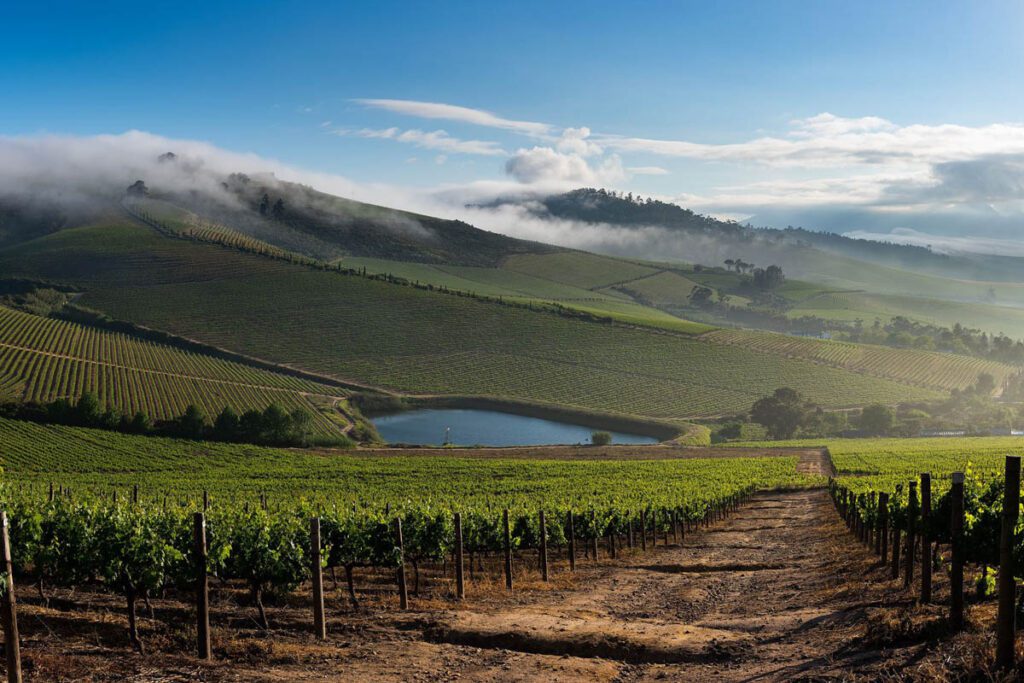 Known for: Panoramic views and fiercely individual wines made from their diverse terroir
Distance from Cape Town: 50.1 km (31 miles), 42 minutes away
Must try: 2015 Nine Yards Chardonnay, one of their 5-star wines part of the estate's must-try reserve collection.
The history of the Jordan Wine Estate dates back over 300 years, but after Gary and Kathy Jordan bought and replanted the estate in 1993, their legendary winemaking gave the estate its world-class status in wine, food, and accommodation in only 25 years.
From their 3 different tastings, we recommend the Reserve & Site Specific Selection where you can sample the estates most sought-after wines. No matter which you choose, though, you won't regret adding one of their cheese or meat platters to your table.
A truly memorable experience at the Jordan Estate is their wine safari, where you can tour the vineyards in an open-style safari Land Rover that stops at spectacular and panoramic views.
Book a picnic with wine and treats from The Cellar Door, or find mouth-watering dishes at High Timber and the newly renovated Marthinus Ferreira.
Good to know: 48 hours notice is required for all picnic bookings.
Simonsig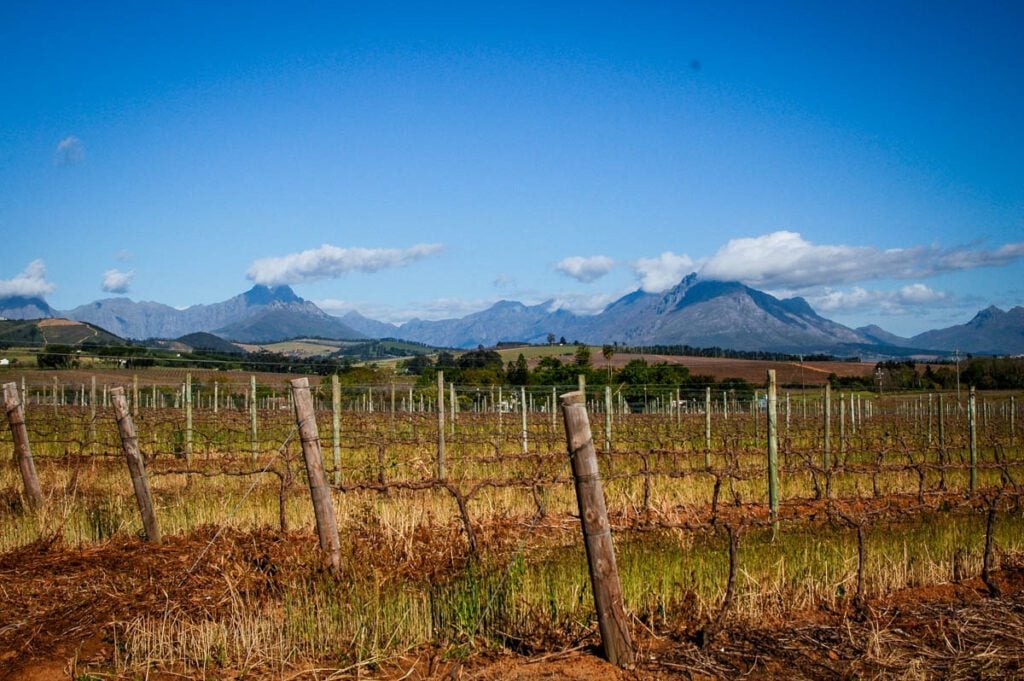 Known for: Wines of international standards for everyone to enjoy
Distance from Cape Town: 46.6 km (29 miles), 34 minutes away
Must try: Cuvee Royale 2017, a Methode Cap Classique that gains flavor and complexity for several years after bottling.
Simonsig is a family-owned wine farm that has maintained their legacy for over 3 generations.
The history of the South African wine industry, Stellenbosch wine region, and Malan-family are all synonymous with the Simonsig estate.
First generation Frans Malan helped establish the Stellenbosch Wine Route and produced South Africa's very first Methode Cap Classique.
They offer 5 different wine tastings ranging from daily offerings, premium wines, and sweeter varieties. They also have artisanal cheese, charcuterie, and mixed platters can be enjoyed with your tasting.
Book a cellar tour (in advance) to get a firsthand look and taste at their Cap Classique using the bottle-fermented style.
Spier
Known for: Regenerative farming and the oldest dated wine cellar in South Africa
Distance from Cape Town: 42.3 km (26 miles), 32 minutes away
Must try: Gables Pinotage 2018
Spier is seeped with rich history and over 80,000 sustainably farmed vines.
The estate is all-encompassing where families, foodies, romantics, and even art lovers can choose their own adventure on the farm for a well-rounded, immersive visit.
From their tasting menus, choose either from two specialized tastings, or their chocolate and wine pairing.
As for food, you can set up a picnic under massive oak trees, find ready-to-eat foods at the Farm Cafe, make a reservation at the Hotel Restaurant, or enjoy farm-to-table foods at Vadas Smokehouse & Bakery.
Fun fact: The Stellenbosch Wine Route was established by Spier's very own Neil Joubert.
JC le Roux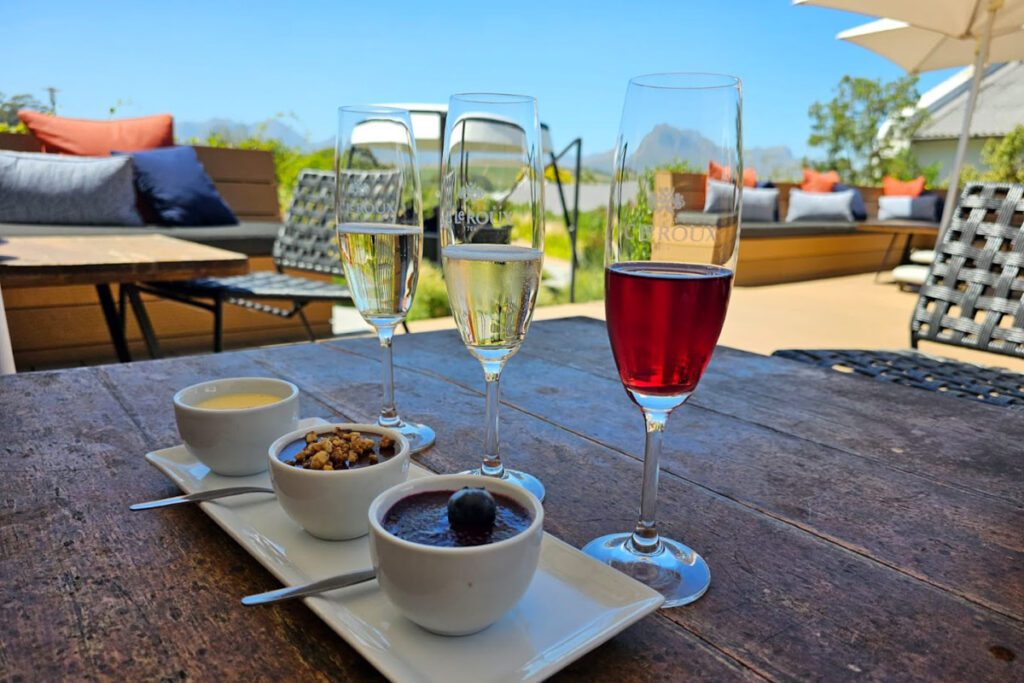 Known for: The first and only dedicated sparkling wine cellar in South Africa.
Distance from Cape Town: 52.7 km (33 miles), 43 minutes away
Must try: Sauvignon Blanc, the first sparkling wine made exclusively from this single variety.
The House of JC le Roux is the leading estate in sparkling wines for their commitment to new styles and varieties.
They launched the first ever sparkling red wine in South Africa, La Chanson, and the first-ever sparkling wine made exclusively from Sauvignon Blanc grapes.
You can taste both these varieties in their Sparkling Wine or Mixed Dry tastings. Enjoy the bubbly as is, or pair them with nougat, cheesecakes, or mini pizzas. On hot days, their poptails are a fun way to cool down.
If you have a designated driver or someone that doesn't drink alcohol in your group, they also have non-alcoholic tastings and pairings!
During your visit, you can grab wood-fired pizzas, seafood, steaks, and chicken dishes at Cucina Di Giovanni.
Quoin Rock
Known for: Their unique blend of Ukrainian and South African wine culture
Distance from Cape Town: 51.1 km (32 miles), 38 minutes away
Must try: Namysto Shiraz Cabernet Sauvignon 2015 is a multi-award winning wine and Sommeliers Selection winner.
Quoin Rock is a historic, yet state-of-the-art Stellenbosch wine destination, that was transformed in 2012 to bring their art, ambiance, and architecture to the same standard as their superior wines.
In their Wine Lounge, join a tasting tour of five Quoin Rock selected wines with one of their single or combination platters. On nice days, their outdoor seating has idyllic views of Simonsberg and the sloped vineyards.
Good to know: Walk-ins for tastings are allowed for groups of 5 or less
Luxury picnics at the foot of the Simonsberg mountains or a reserved table at their fine-dining restaurant, Gate, are perfect if you're looking for a more filling visit.
However, to experience the best at the Quoin Rock Estate, head to Qbar, where their top sommeliers and chefs showcase their absolute best wines, cocktails, and tapas in a vibrant evening setting.
---
Best wine farms in Franschhoek
Nearly 45 different wine farms have established themselves among the rolling vineyards and French-inspired Cape Dutch architecture of Franschhoek. Of them, these estates are the most impressive.
Boschendal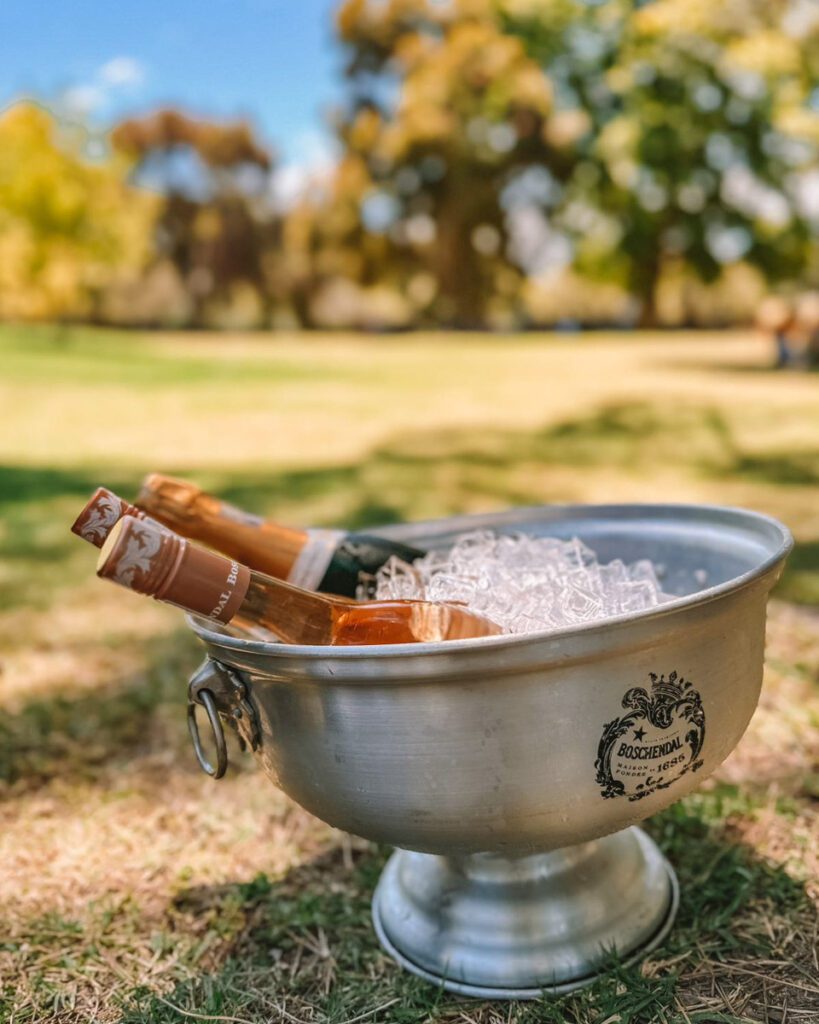 Known for: One of the oldest wine estates in South Africa
Distance from Cape Town: 61.3 km (38 miles), 43 minutes away
Must try: Boschendal Brut that uses the Cap Classique method a cellarmaster helped pioneer while working on the estate in 1981.
The sprawling estate of Boschendal is overflowing with award-winning wines and endless ways to escape from the bustle of Cape Town. The estate is so large it resembles a quaint town and has a lively community.
Choose from 2 wine tastings under their iconic giant oak tree and opt to sip their finest wines with any of their signature platters, chocolate, cheese, or charcuterie pairings.
Tour their internationally-acclaimed rose garden, find adventure along their hiking and biking trails, explore on horseback, go swimming, or wind-down at their farm spa.
At the WERF Restaurant, you can dine on some of the best food spreads in the Cape Winelands, with most of the ingredients sourced directly sourced from their gardens.
The weekend picnics and accommodation options are highlights of this property, so be sure to book them in advance!
Haute Cabriere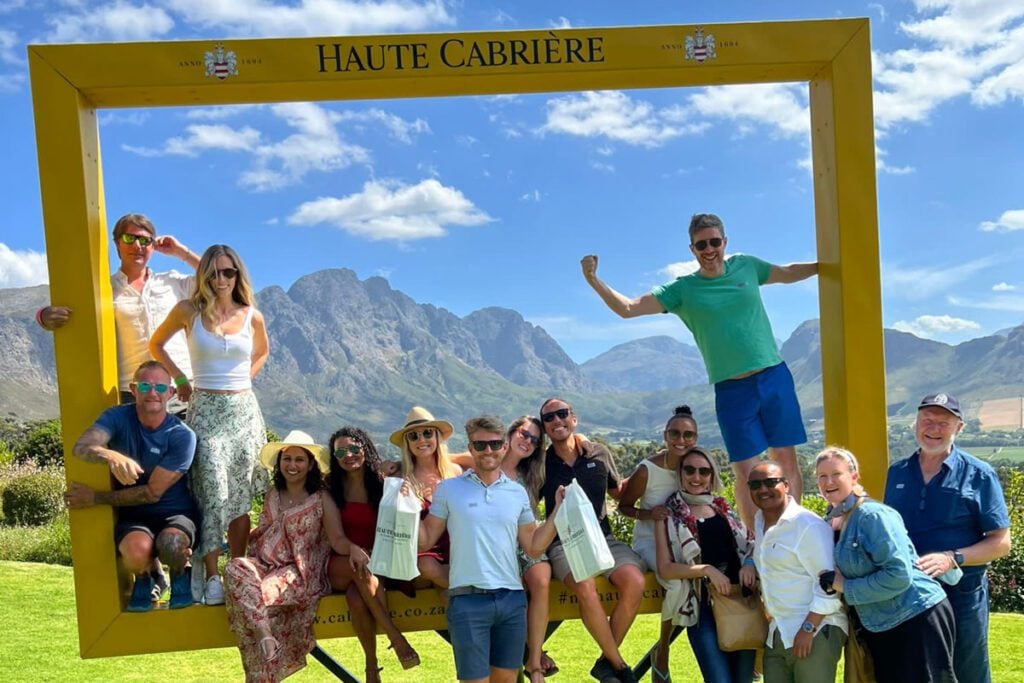 Known for: Gentle cellar practices that allow the estates distinctive terroir to shine through their wines
Distance from Cape Town: 76.5 km (47.5 miles), 56 minutes away
Must try: With only 0.8 hectares of high-density planting, the Pinot Noir shines due to the phenomenal fruit and flavors harvested in this patch.
Established in 1694, Haute Cabriere celebrates the history and customs of the Champagne Valley of France by honoring the original landowner and French Huguenot, Pierre Jourdan, through their commitment to heritage, integrity, and innovation.
Enjoy wine and great company inside their stone-encased tasting room for an experience unlike any other. You can choose from 4 different tastings highlighting their signature Chardonnay and Pinot Noir varieties.
Have a pour or two with French-inspired South African cuisine at their restaurant, or stop by their bakery for fresh pastries and coffee/tea.
Insider tip: This estate is known for having the BEST views in all of Franschhoek from their outdoor patio overlooking the entire valley.
Good to know: This estate is cashless.
Holden Manz Wine Estate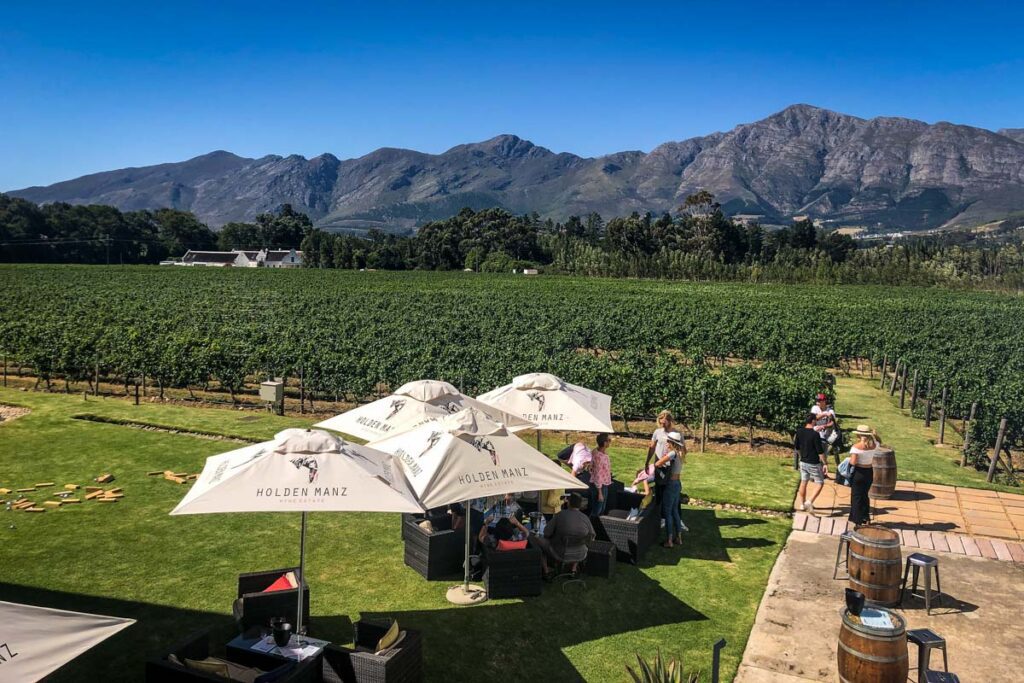 Known for: ideal conditions for ultra-premium wines
Distance from Cape Town: 78.2 km (48.5 miles), 58 minutes away
Must try: Rarely, when Merlot and Syrah grapes ripen at the same time, only the best berries are hand-sorted for this maiden, co-fermented wine.
Ultra premium Cabernet Sauvignon, Cabernet Franc, Syrah, and Merlot are poured at the hidden gem of Franschhoek, the Holden Manz Wine Estate.
In their tasting room, choose from 6 different wine tastings catered to a variety of different palettes. Enjoy small bites from their tasting menu, reserve a table at the a la carte kitchen, or take your wine down to the Franschhoek River with a pre-packed picnic basket.
Their 5-star country house is in a prime location at the doorstep of the Cape Winelands. Soak in the lavish and luxurious estate and enjoy a terrace breakfast, platinum wine tasting, and in-suite wine included with your stay.
Good to know: This estate is best visited in the early morning to avoid larger crowds from the wine trams. Note though, tram visitors get a discount on tastings and cellar door prices.
Dieu Donne
Known for: Limited harvest using slow-ripened grapes
Distance from Cape Town: 75.8 km (47 miles), 57 minutes away
Must try: Dieu Donne Merlot, a pour that has earned Gold and Silver Medal accolades for over 10 years, both internationally and domestically.
Situated along the steep slopes of the Franschhoek Mountains, Dieu Donne offers spectacular mountain views that unmistakably coincide with the estates literal meaning, "A Gift from God", or "God Given".
The wines here have their own signature growing conditions that are only found in their corner of the valley. Because of the special conditions, the vines do not overproduce and there is a limited amount of bottles per harvest. In fact, they produce less than 14,000 cases of wine per harvest.
Try their unique pours in their tasting room, or take your experience to the next level by booking one of their cellar tours (in advance). They offer 3 different tastings with 4-5 wines each.
Pair any of their wines with the impressive menus and views offered at Country Grand, the estates onsite restaurant. If you can't find yourself parting ways with their legendary views, you can soak them up for a bit longer by staying in their boutique hotel, Maison Montagne.
---
Best wine farms in Paarl
The second largest wine region in South Africa is filled with undiscovered gems, generational traditions, proud heritage, and of course, incredible pours.
Babylonstoren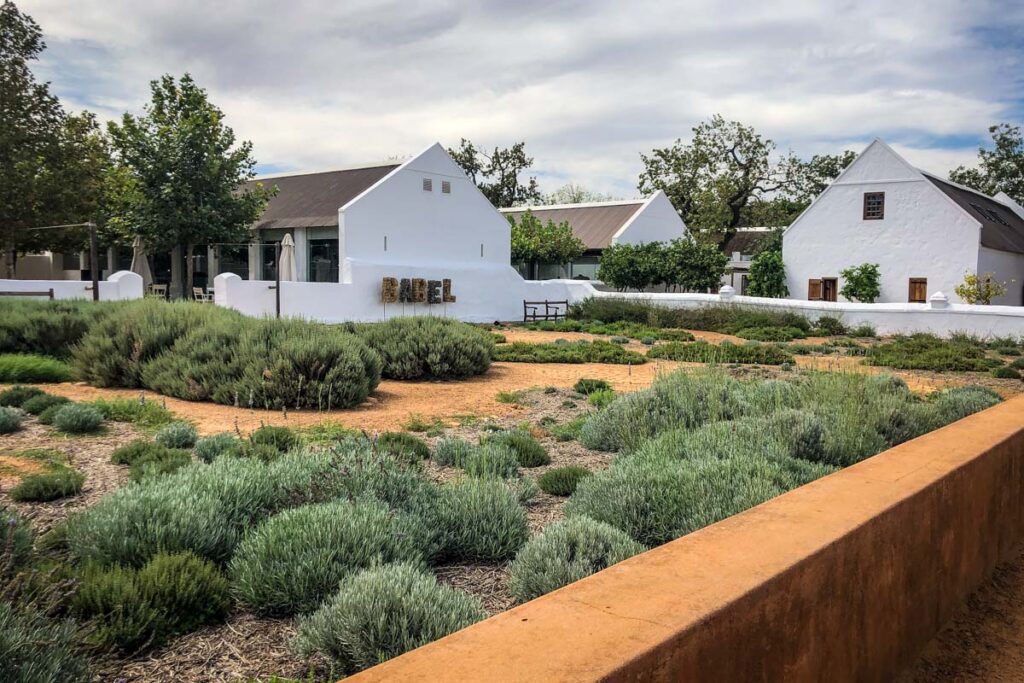 Known for: Some of the best preserved examples of colonial farming architecture
Distance from Cape Town: 53.2 km (33 miles), 39 minutes away
Must try: Made with French oak barrels, the old-world style Chardonnay has been named the ultimate food wine.
Babylonstoren is one of the oldest wine farms in South Africa located at the foot of the Simonsberg Mountains.
A few different wine-tastings are offered daily on a first-come-first-served basis. Their platters of charcuterie, cheese, and produce are all grown onsite and truly drool-worthy.
The epicenter of the estate is an 8-acre garden showcasing over 300 species of fruits, veggies, livestock, bees, indigenous plants, and even a rice paddy. ALL of which supply the farm-to-fork restaurants, bakery, and shop.
You could easily spend a full day touring this multifaceted estate sampling 5 wines at their daily tastings, relaxing in the Garden Spa, or attending a workshop. Wrap up the perfect day by staying in their array of gorgeous farmhouses or cottages.
Vrede en Lust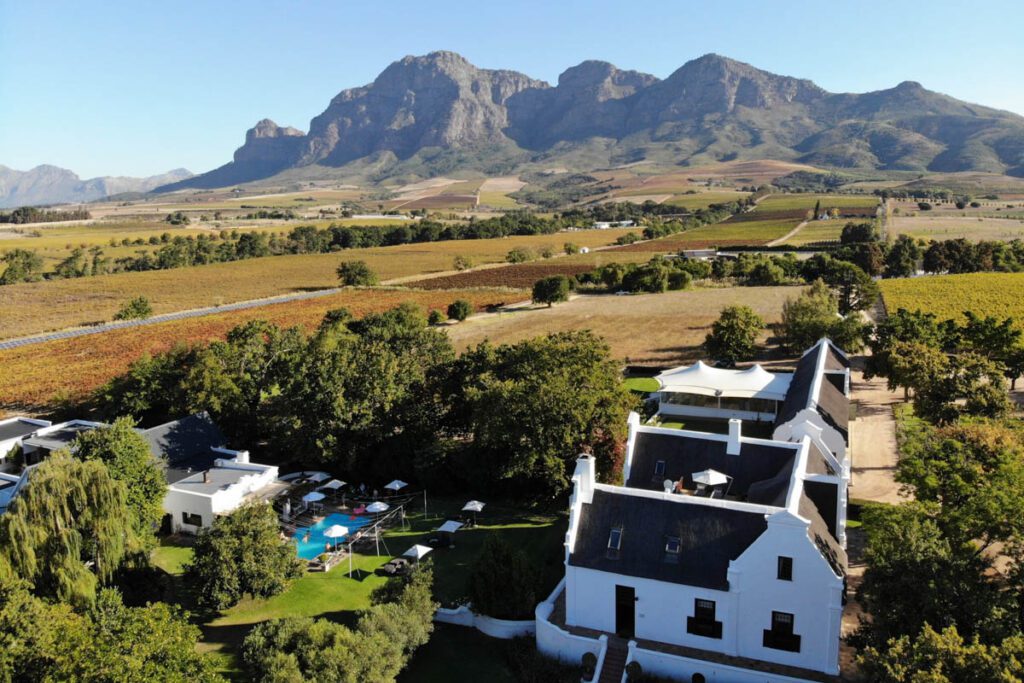 Known for: Family-owned farm flanked by the vertical cliffs of Simonsberg Mountain
Distance from Cape Town: 56 km (35 miles), 40 minutes away
Must try: The Anni Sauvignon Blanc has received Grand Cru National Champion Best in Class as well as the Top 100 & Double Platinum awards.
Vrede en Lust's award-winning red and select white wines are deeply rooted in over 300 years of passionate farming.
Choose from 5 different wine tastings, 3 of which offer cheese, Lindt chocolates, or tapas as a pairing option, and enjoy views of the Simonsberg Paarl Mountains as you sip.
This farm is the perfect place to getaway for a few days in the Cape Winelands with a variety of accommodation options and activities near the Paarl Valley: horse riding, golf, fly fishing, bike rentals, helicopter tours, day tours, and a wellness spa.
There's also two restaurants onsite that offer seasonal menus that pair perfectly with their wines whether you're here for breakfast, lunch, dinner, or tapas.
Fairview Wine and Cheese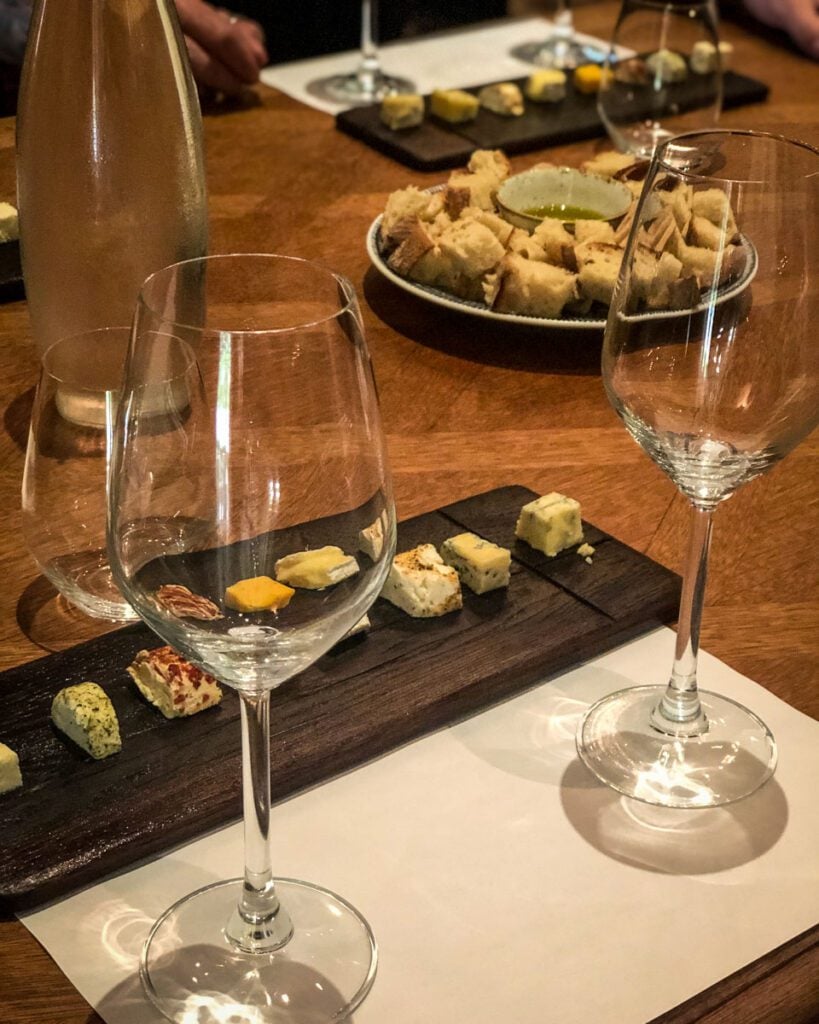 Known for: Carbon neutral practices that are driven by ethical and sustainable standards
Distance from Cape Town: 57.3 km (35 miles), 41 minutes away
Must try: Taste their award-winning Single Vineyard batches, where the criteria for growing is a rigorous process that includes the quality of grape, soil, climate, topography, and impact.
Fairview takes wine and dining to the next level with their world-renowned tasting rooms and commitment to both sustainability and ingenuity.
They offer five different wine and cheese tastings: Master, Farmers, Standard, Cheese, and Kids.
Their Master Tasting that features 8 premium wines, 8 cheeses, fresh bread, and olive oil is one of the most sought-after tastings in the Winelands, and gives you the complete Fairview experience.
Peruse their Deli for a variety of homemade and sustainable local products like artisanal bread and old-fashioned jams, meet the farm's furry mascot at the Goat Tower, or book a table or picnic at the Goatshed.
Nederburg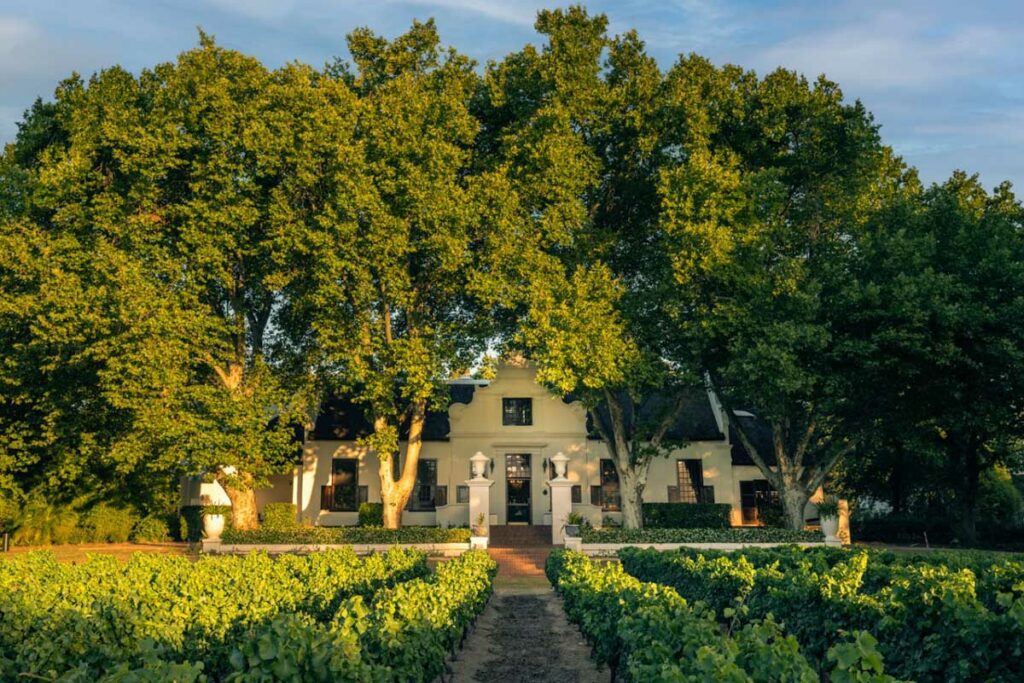 Known for: Ranking on the World's Most Admired Wine Brands Top 50 List for 4 consecutive years
Distance from Cape Town: 66.5 km (41 miles), 45 minutes away
Must try: Nederburg's Two Centuries Sauvignon Blanc has won some of the most prestigious accolades for local and international competitions.
This praised estate is considered to be the creme de la creme of wine tasting in the Cape Winelands. It's one of the most popular wine farms in South Africa with a variety of different ways to indulge in their world-renowned pours.
The Manor, a stunning 18th-century National Monument turned restaurant, offers a variety of different menus that honor South African heritage, including both a traditional wine tasting and a coffee tasting that is special to this farm.
Delight your senses on the 'Dinner' of Discovery, a dining experience curated to shift your senses for a better understanding of wine, food, and flavors.
Among their verdant lawns, you can enjoy a relaxing afternoon picnicking on the Minor lawns. Each picnic basket is fully equipped with all the essentials: cutlery, glasses, napkins, blankets, and even pillows.
---
Best wine farms in Constantia
Situated just beneath Table Mountain National Park, Constantia is the oldest wine-making region in the southern hemisphere. These award-winning wine farms are just 20-minutes away from the heart of Cape Town with panoramic vistas of surrounding mountain ranges.
Beau Constantia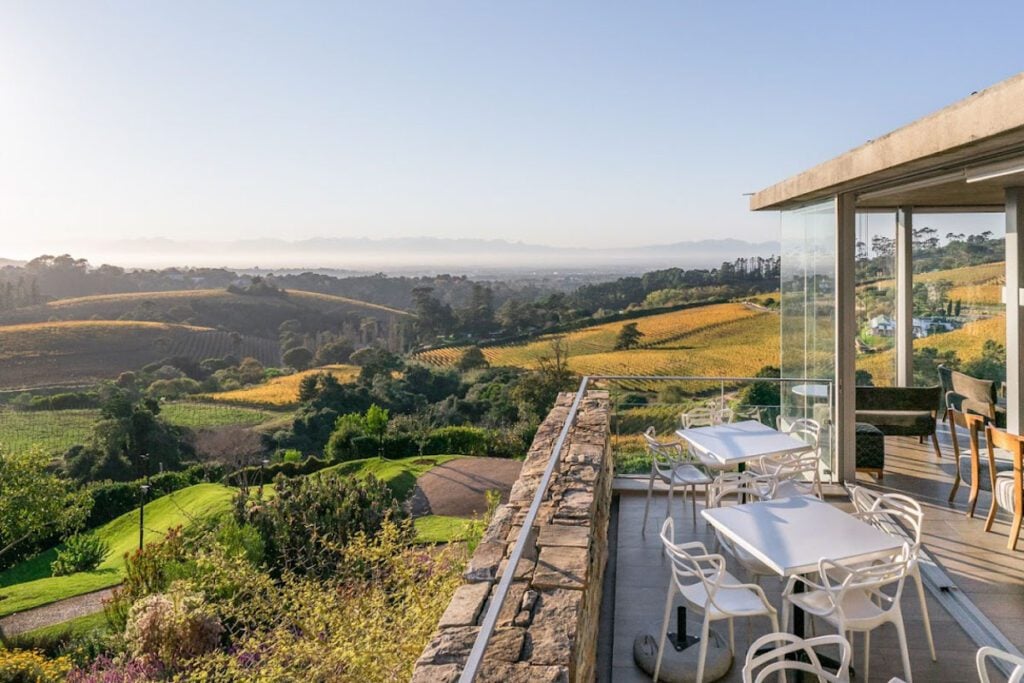 Known for: Panoramic views from their glass-encased tasting room
Distance from Cape Town: 16.7 km (10 miles), 19 minutes away
Must try: Sample their Pas de Nom Range, a wine that was crafted as a homage to Oom Japie Bronn, who first managed the farm and devoted his life to establishing their signature high-altitude vineyards.
Sitting on the steepest agricultural slopes in the Cape, Beau Constantia offers unspoiled views of the Stellenbosch and Helderberg Mountain ranges, and False Bay as you sample award-winning wines.
Inside the wine room, you can choose from 2 of their signature tastings, Pas de Nom or Beau Constantia. If you're a foodie, the tasting platters are a must-try as they're a culinary experience in and of themselves!
Or you can reserve a table at the Chef's Warehouse (one of the best restaurants in Cape Town), pairing the wine with the chef's classic and experimental plates. On weekends, you can keep things casual at the farm's rotating food truck.
Good to know: This boutique wine farm has a loyal following, so book any wine tastings or dinner reservations ahead of time.
Constantia Glen
Known for: Ultra-premium, cool-climate wines
Distance from Cape Town: 17.9 km (11 miles), 19 minutes away
Must try: The Sauvignon Blanc 2015 is a cornerstone of the estate with well-integrated minerality, balance, and length.
Known for their South African Bordeaux style blends, Constantia Glen serves crispy white and fresh, vibrant red wines that are unparalleled due to their unique location between Constantiaberg and Table Mountain.
You can choose from 5 different wine tasting menus that sample some of the estate's finest pours. During your tasting tour, you can order platters and entrees from the onsite restaurant or opt for their chocolate pairing.
Good to know: This farm has one of the most sought-after views of Cape Town, so book your tastings in the Glass House (if it isn't too hot) or the Veranda ahead of time, online.
---
Round up of the best wine farms in Stellenbosch & the Cape Winelands
Tokara
Delair Graff
Oldenburg
Seven Sisters Vineyards
Lanzerac
Simonsig
Spier
The House of JC le Roux
Quoin Rock
Jordan Wine Estate
Boschendal
Haute Cabriere
Holden Manz Wine Estate
Dieu Donne
Babylonstoren
Vrede en Lust
Fairview Wine and Cheese
Nederburg
Beau Constantia
Constancia Glen
---
Best time to visit the Cape Winelands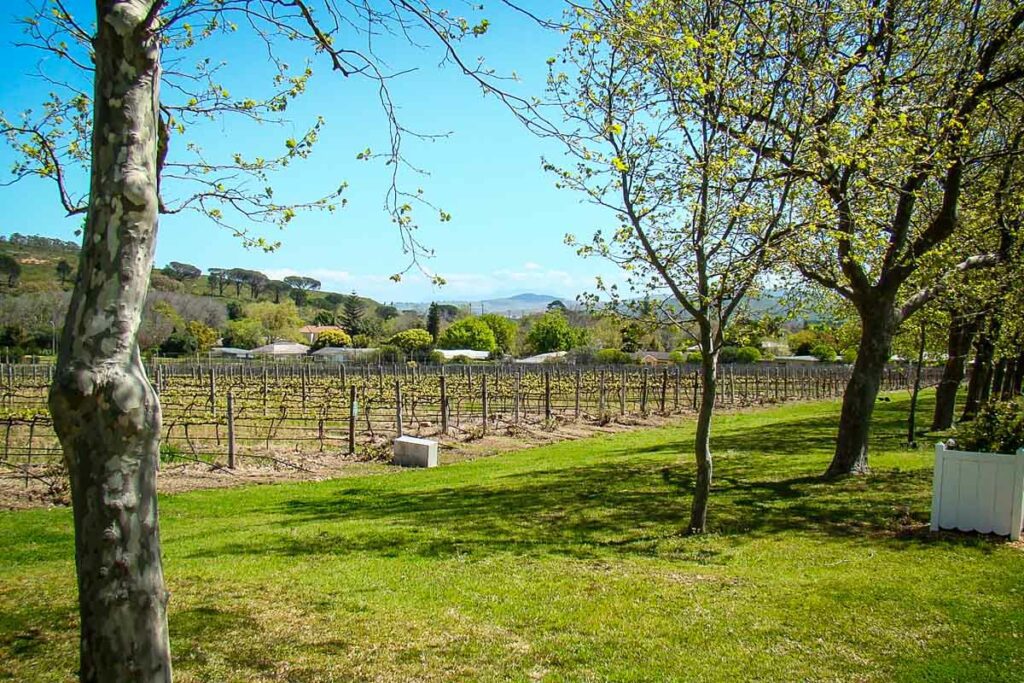 February to May are the best months for sipping in the Cape Winelands.
The grapes are the ripest for picking in February and March during the beginning of the autumn harvest.
During this time there are many wine festivals going on to celebrate one of the world's greatest wine regions, and the weather is sunny and warm, but not too hot.
Since this is the most popular time to visit, avoid crowds by starting earlier in the morning and planning your trip on a weekday.
Psst! You'll find our guide to the best time to visit South Africa helpful to get the full breakdown on what makes each season distinct and unique to help cater to your trip.
How to get to the Cape Winelands
Just east of Cape Town, the gateway to the Cape Winelands region is easy to access using a variety of different transport options.
Self-drive
With your own rental car, there are two main roads you can take from Cape Town to get to the Winelands: N1 and N2.
Each route takes about the same amount of time to get to Stellenbosch, then you can access any of the smaller towns from there.
Although a rental is a great way to access many of the best wine farms in Stellenbosch and the rest of the winelands, don't drink and drive!
We highly recommend using Discover Cars to find rental cars in South Africa. You can compare prices across the top, reputable rental companies all at once to get the best price possible.
Note: I've personally found some of the best deals on Discover Cars in Cape Town that saved me a lot of money when compared with rates from other companies.
Uber
Ubers can be a great option for getting from Cape Town to the Winelands.
You can expect to pay around 450 Rand ($25 USD) to get to Stellenbosch, or more if you plan on visiting more than one winery.
If you're splitting the ride with others this can be very affordable, but it comes with a few caveats:
From Cape Town, it's a long ride to the winelands and a lot of the Ubers do not have AC.
If you're planning on staying late in the winelands, you risk waiting awhile to get an Uber back into the city.
Hire a driver and shuttle
If you're planning on getting boozy at more than one winery, hiring a driver or shuttle gives immense peace of mind at very reasonable prices.
Reveler Tours has a variety of different sized vans and rates, making it a nice option even if you're traveling solo or with a larger group.
You can contact them by sending an inquiry online or messaging them on Whatsapp with the number of travelers and what wine experience you're looking for.
Best wine tours in the Cape Winelands
Joining a tour is an excellent way to explore multiple wineries for a boozy day trip. We recommend these tours that include transport to and from Cape Town.
Franschhoek Wine Tram
The Franschhoek Wine Tram is a hop-on-hop-off experience that takes you through some of the best wineries in the Franschhoek Valley.
You can choose from 10 different lines, all visiting a unique selection of 8-9 of the best wine estates in specific areas of the valley.
This tram gives you the ultimate freedom since you can choose how long you spend at each estate, where to eat/drink, and activities along the route.
Cape Town: Full-Day Winelands Tour with Wine Tastings & Food
Discover some of South Africa's top, award-winning wines on this tour of Cape Town's most renowned wineries.
This Winelands tour begins north in the Paarl region, where you'll sample their famed cheese and wine pairings, basking in the countryside views.
From there, you'll travel to the French-influenced town of Franschhoek, known for its verdant mountain views and rich chapter in South Africa's wine history.
The final stop is through the famous wine farms in Stellenbosch to sample the country's signature Pinotage at award-winning farms. End the tour with a Capetonian a la carte lunch and visit to a historic slave farm turned community wine project
What you need to know:
Price: $81 / person
Location: Stellenbosch, Paarl and Franschhoek
What guests are saying:
"Denis was a superb host! He was great at engaging with the tour group with both historical information regarding Cape Town wine lands but also with general humor. Each of the wine estates had their own personality and great wine and scenic views. A memorable experience for sure and one that I will always remember." – Jeremy, United States (January, 2023)
Stellenbosch: Historical Bike Tour & Wine Tasting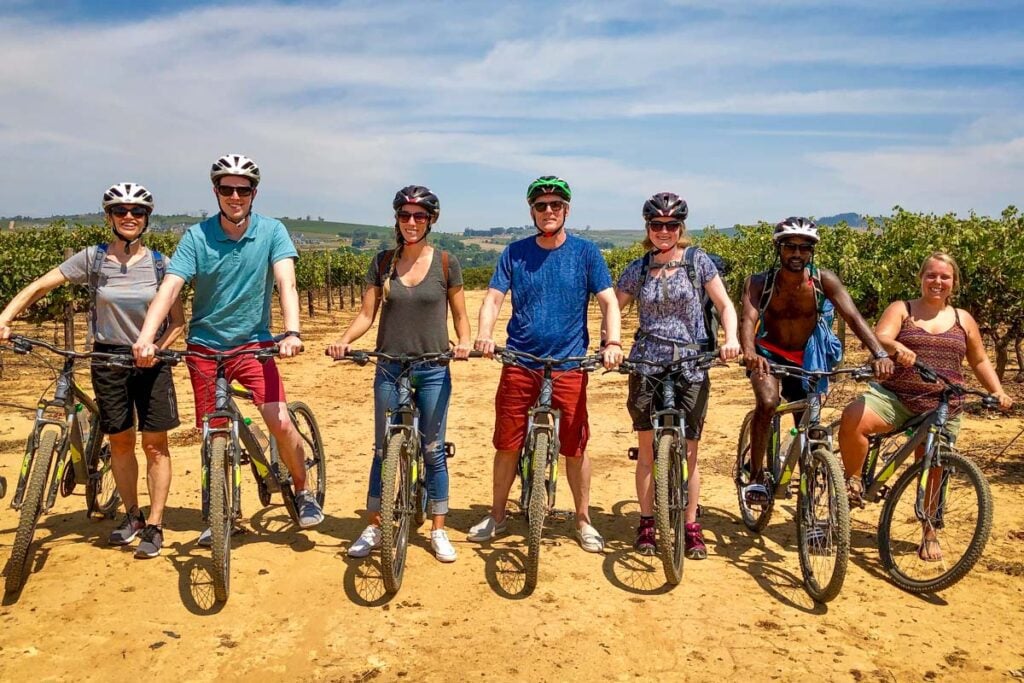 This adventurous bike tour through Stellenbosch and the Jonkershoek Valley begins in Cape Town, where you'll meet your guides, collect your bikes, and begin riding to your first stop.
You'll cruise through historic sites around Stellenbosch and winding roads lined with oak forests before arriving at the first wine estate at the end of Jonkershoek Valley. Sample award-winning wines, then cycle to the second and final estate of the day.
Join a private cellar tour and enjoy a chocolate and wine pairing admiring historic Cape Dutch architecture, before making your way back to Cape Town.
Variations of this 4-5 hour tour can be arranged depending on your cycling abilities. They also have eBikes available to rent for R150 for a more relaxing ride.
What you need to know:
Price: $55 / person
Location: Stellenbosch and the Jonkershoek Valley
What guests are saying:
"…The tour delivered in every aspect. Our host Sevvo was informative, personable and charismatic! We had lovely weather and a tour took us through the history of the town and out to two beautiful vineyards. We sampled some wine and learnt a lot about the local wine making processes and history. We couldn't have asked for more and would recommend this tour for people of all ages and abilities!" – Pete (October, 2019)
African Story Wine Tours in the Cape Winelands
This expert-led wine tour takes you through the three most famous regions of the Cape Winelands: Stellenbosch, Paarl, and Franschhoek.
Visit 4 different premier wineries, sampling a variety of red and white wines, as well as regional specialities of chocolate, cheese, and olives.
Because this is a small group tour, you will get a more comprehensive introduction to South African wines and have a more intimate tasting experience.
What you need to know:
Price: $80
Location: Stellenbosch, Paarl and Franschhoek
What guests are saying:
"Our guide Phenus made everything enjoyable from start to finish. The wineries were a wonderful varied combination offering an informal educational tasting experience. […] Thank you African Story Wine Tours for a memorable day." – Trishchad, Jan 2023
Blend and bottle your own wine Stellenbosch wine experience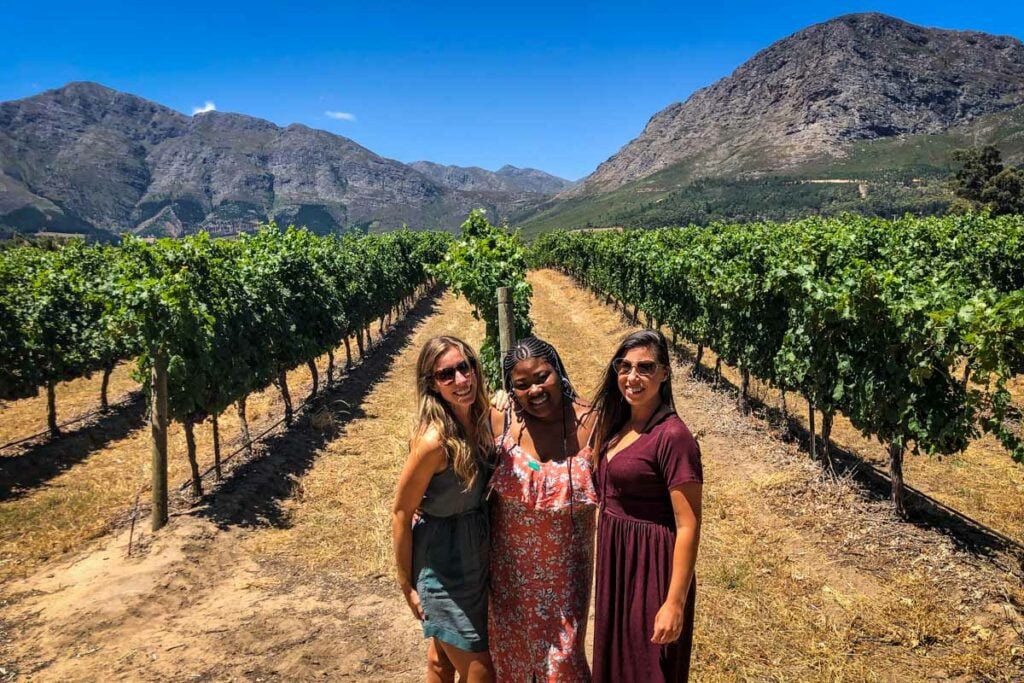 Take your visit to the Cape Winelands to the next level with this authentic and personal wine tasting tour. Visit the most accoladed wineries in Stellenbosch, ending your tour by blending and bottling your very own bottle of wine.
You'll enjoy a full cellar tour of award-winning wines, take part in a master class in wine etiquette, take a peek into South Africa's top winemaker's cellar, and an a la carte lunch on a terrace with beautiful views of the Stellenbosch Valley.
This is an ideal tour if you want a more in-depth visit to the most prestigious region of the Cape Winelands, sipping award-winning wines and listening to Stellenbosch's most significant stories and rich-history.
What you need to know:
Price: $100
Location: Stellenbosch
What guests are saying:
"Robby was an absolute delight! He was so knowledgeable and a complete pleasure with both facts regarding surrounding areas of Cape Town and the wine experience. He had everything well planned out, a comfortable presence, a friendly and humorous demeanor, and was truly the best guide one could ask for. […] I cannot wait to come back to Cape Town and partake in more of the tours and experiences he and his family offers." – Trip Advisor Reviewer (September, 2022)
---
You might also like…
Save this article on Pinterest for later!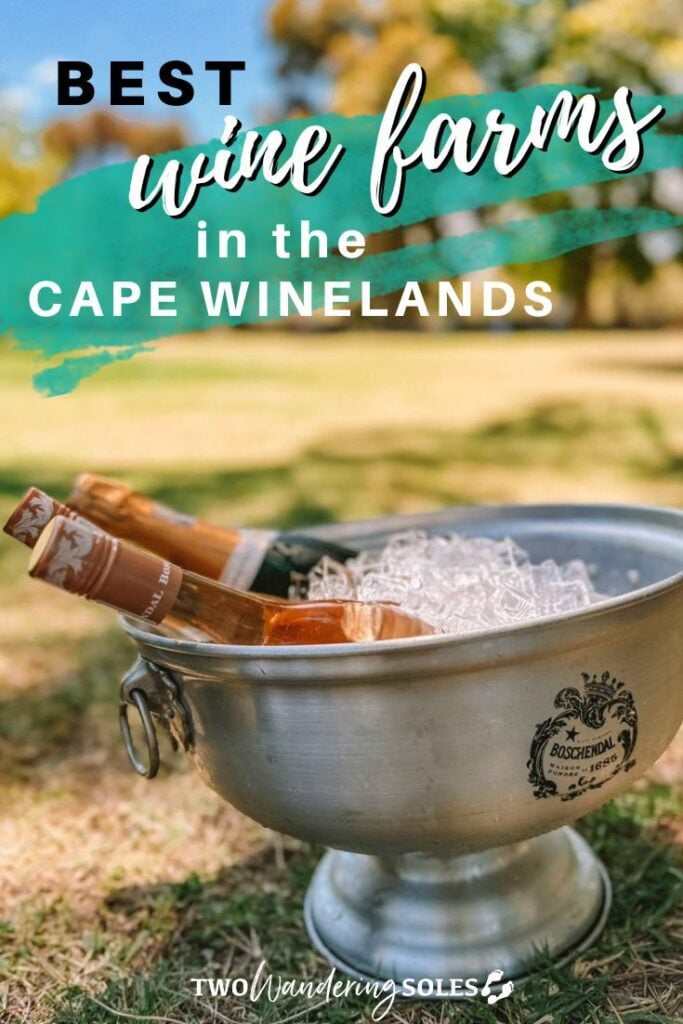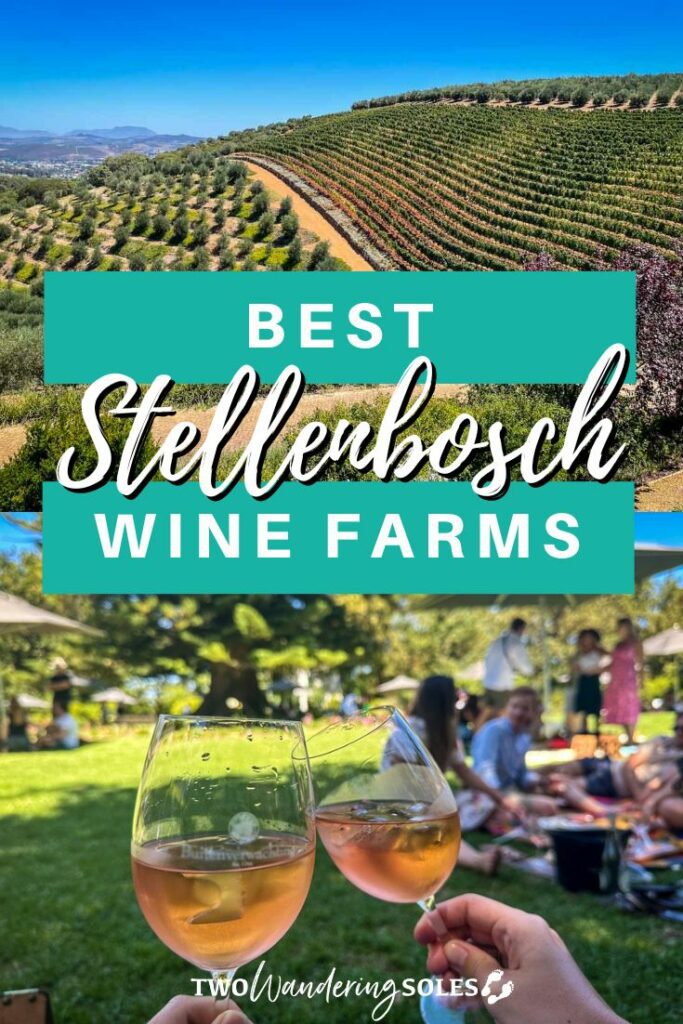 We want to hear from you!
Which of these wine farms in Stellenbosch and the Cape Winelands are you most excited about visiting? Have you been to the Cape Winelands and have a wine farm you think should be on this list? Comment below and we'll do our best to get back to you with the answers you need!