The cascading turquoise pools of Semuc Champey are set in a lush mountain valley deep in the Guatemalan jungle. Far from any major cities, this area has a feel that is truly different from anywhere else in Guatemala. We have the best tips on things to do near Semuc Champey and exactly where to stay to have the best experience this waterfall paradise.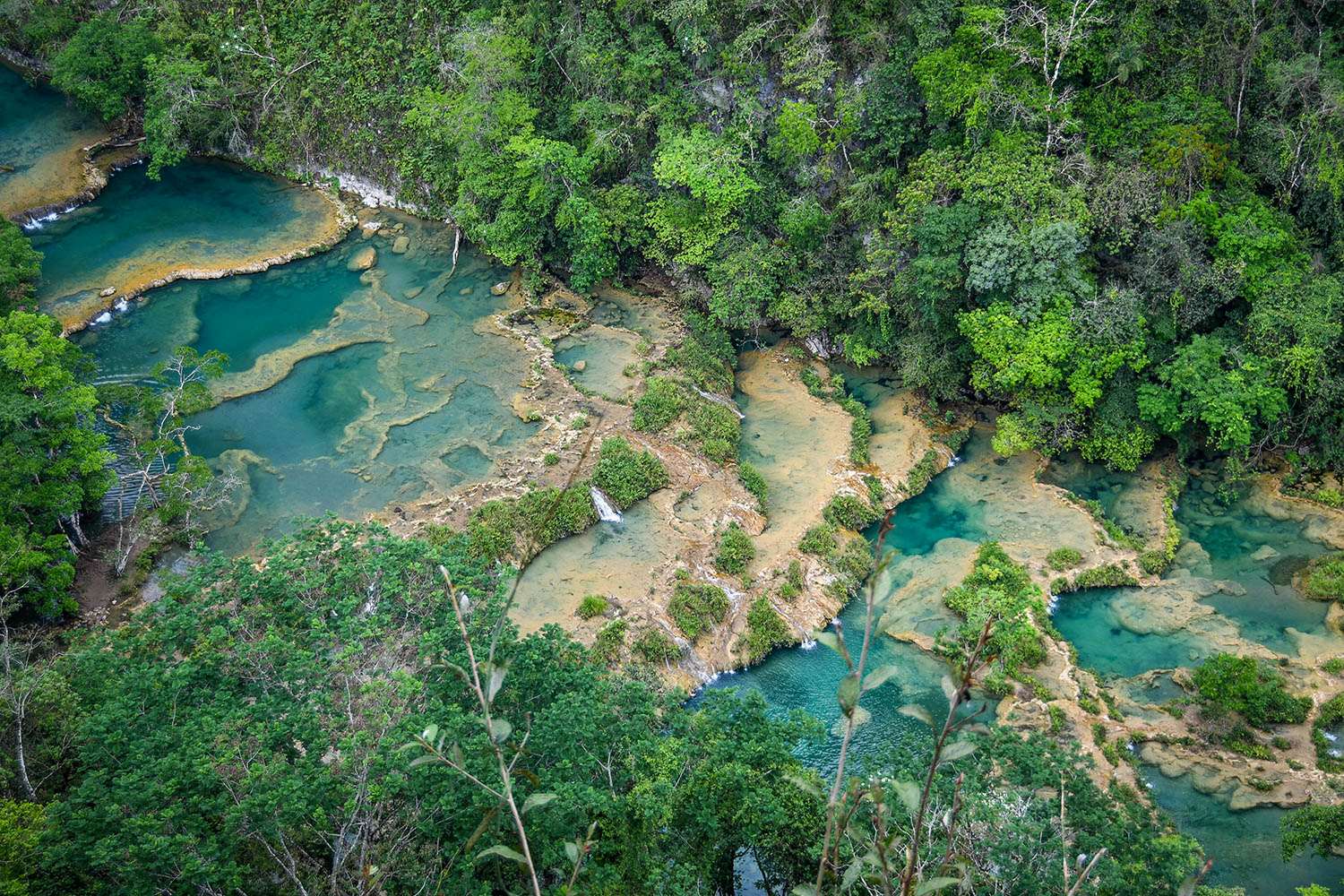 The cascading turquoise pools of Semuc Champey are set in a lush mountain valley deep in the Guatemalan jungle. Far from any major cities, this area has a feel that is truly different from anywhere else in Guatemala (or the rest of the world, for that matter!).
Before we go any further, let me give you a warning: The journey to Semuc Champey is not for the faint of heart.
Getting to this jungle oasis requires a bus ride so bumpy you won't soon forget it. For example the closest town is Lanquin which is only 10 km away, but is a 45-minute trip by a 4×4 jeep. But if you're up for an adventure and come with an open mind, a trip to Semuc Champey may just be a highlight of your time in Central America.
---
More info on Semuc Champey:
Know what you're looking for? Click the links below to be brought straight to that section of the article.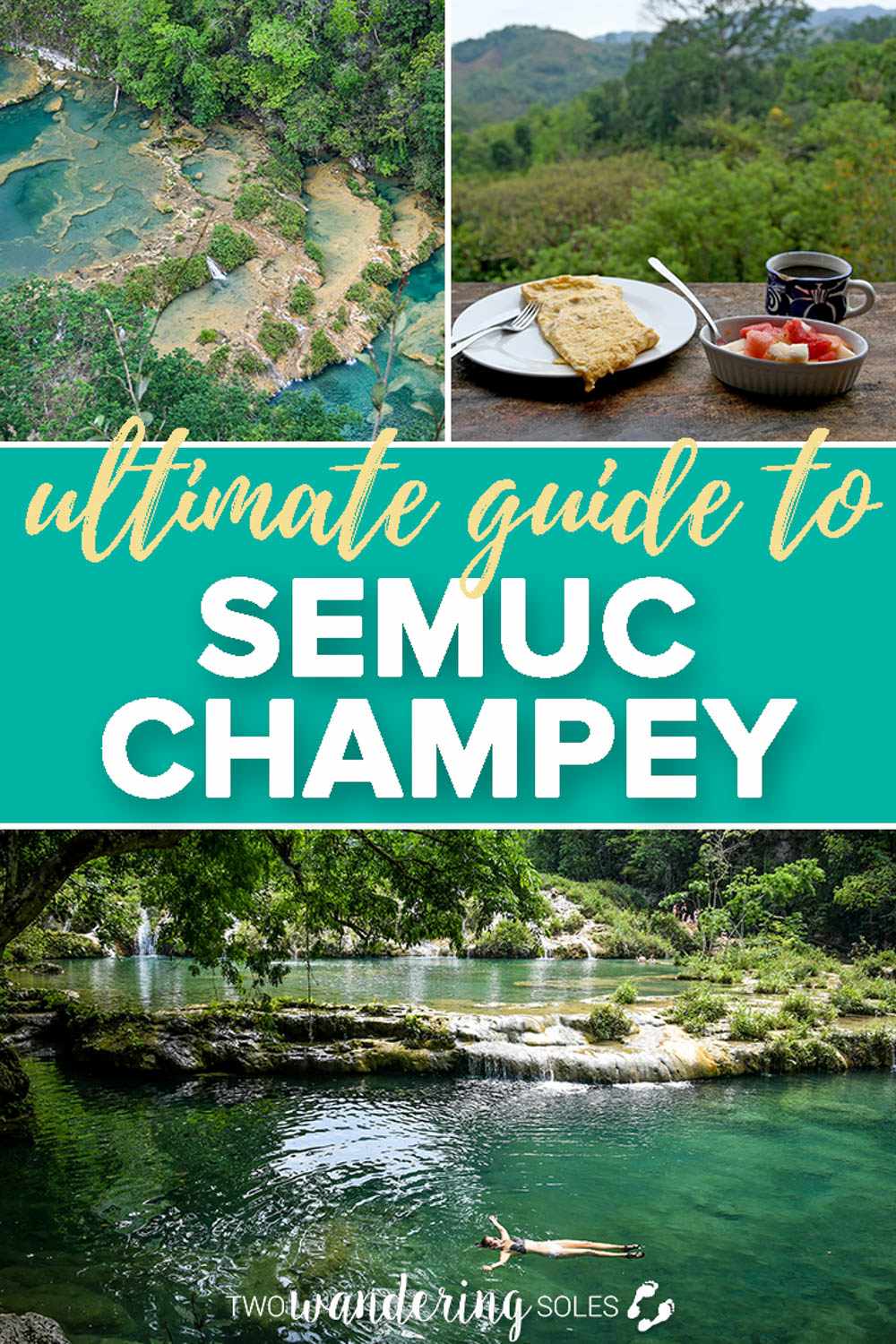 ---
Things to do near Semuc Champey
While the namesake turquoise pools are the draw to this remote part of Guatemala, there are a few other things to do that'll get your heart pumping for all the right reasons!
1. Swim in the limestone pools at Semuc Champey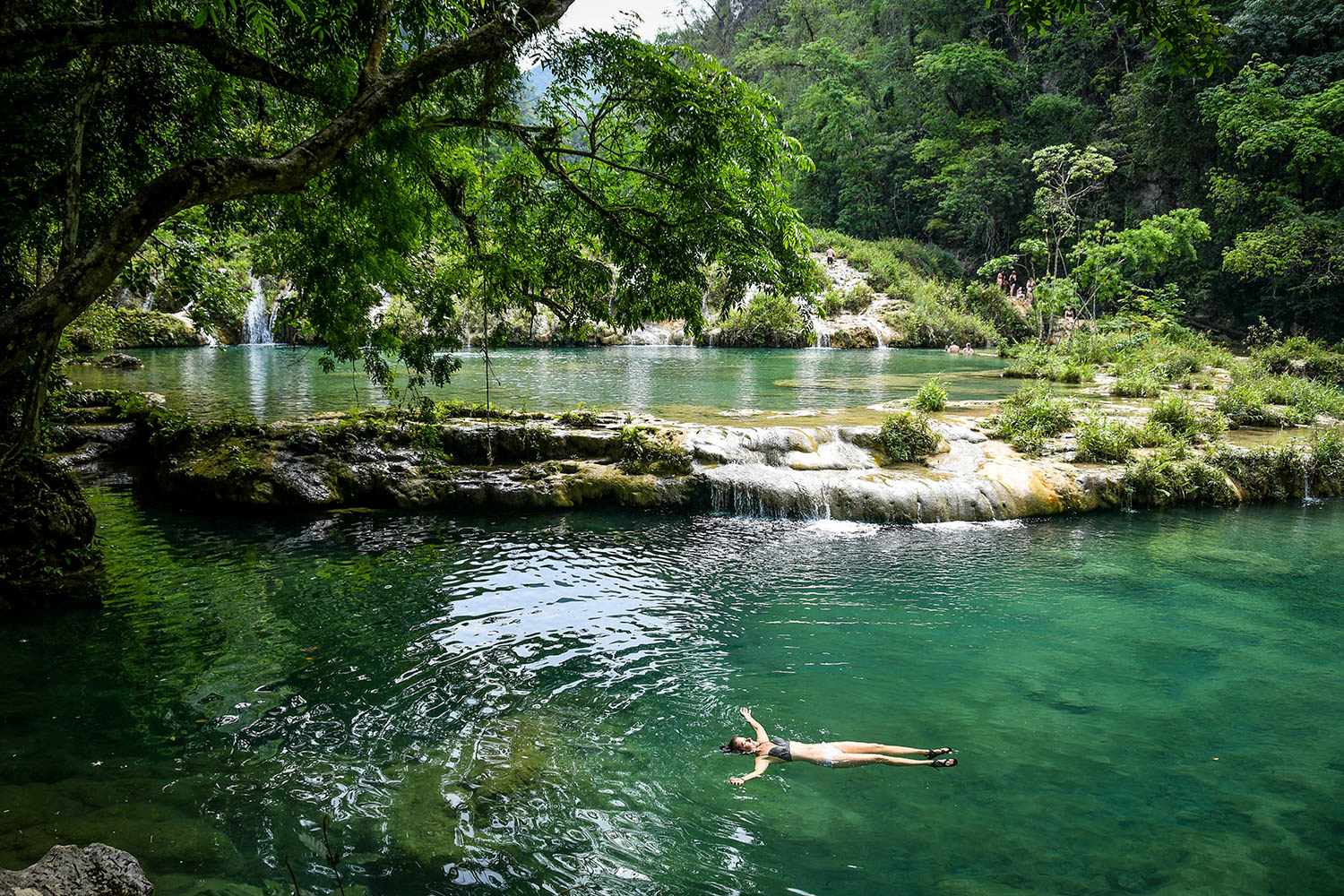 Getting to splash around in the turquoise pools of Semuc Champey is THE reason to come here. Swim, float, slide down the waterfalls, soak up the sun, read a book… do whatever your heart desires!
2. Go Tubing in Semuc Champey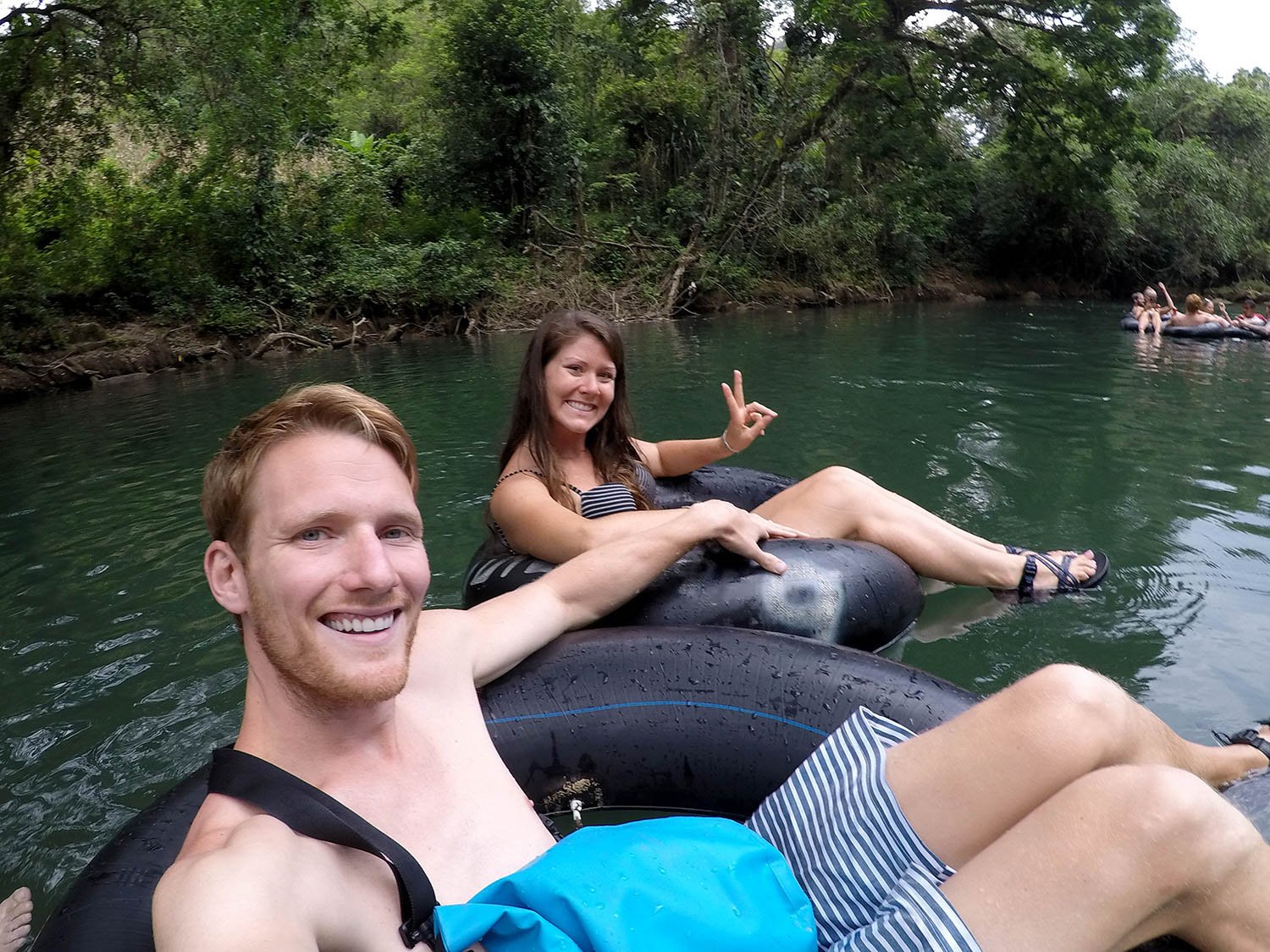 "Extreme" tubing is a popular addition after visiting the turquoise pools! Depending on the water levels, your trip can take anywhere from 30 minutes to 2 hours to get back to Utopia (though other hostels offer this as well, and I'm not sure where their end point is!).
You will go over some rapids, and while local guys will sell you beer (and even float beside you to sell you more along the way), we'd recommend being careful, as some of the rapids are quite big!
Also, depending on the time of year, the water might not be all that warm. Just be prepared to stick it out and shiver a bit like we did!
3. Visit KanBa Cave ("Candlelight Cave")
Usually combined with a day trip to the pools of Semuc Champey, visiting the nearby KanBa Cave is very popular. Each person gets a candle and you spend about an hour and a half exploring the cave with a guide by candlelight.
If you're not in a tour group but still want to see the cave, you can show up and pay the 60Q entrance fee.
Tours leave every half hour from 9 a.m. — 3 p.m. (Note: Most of the hostel-run tour groups do this in the morning, so it might be a good idea to go a bit later to avoid the crowds.)
4. Hike to El Mirador (aka viewpoint of Semuc Champey)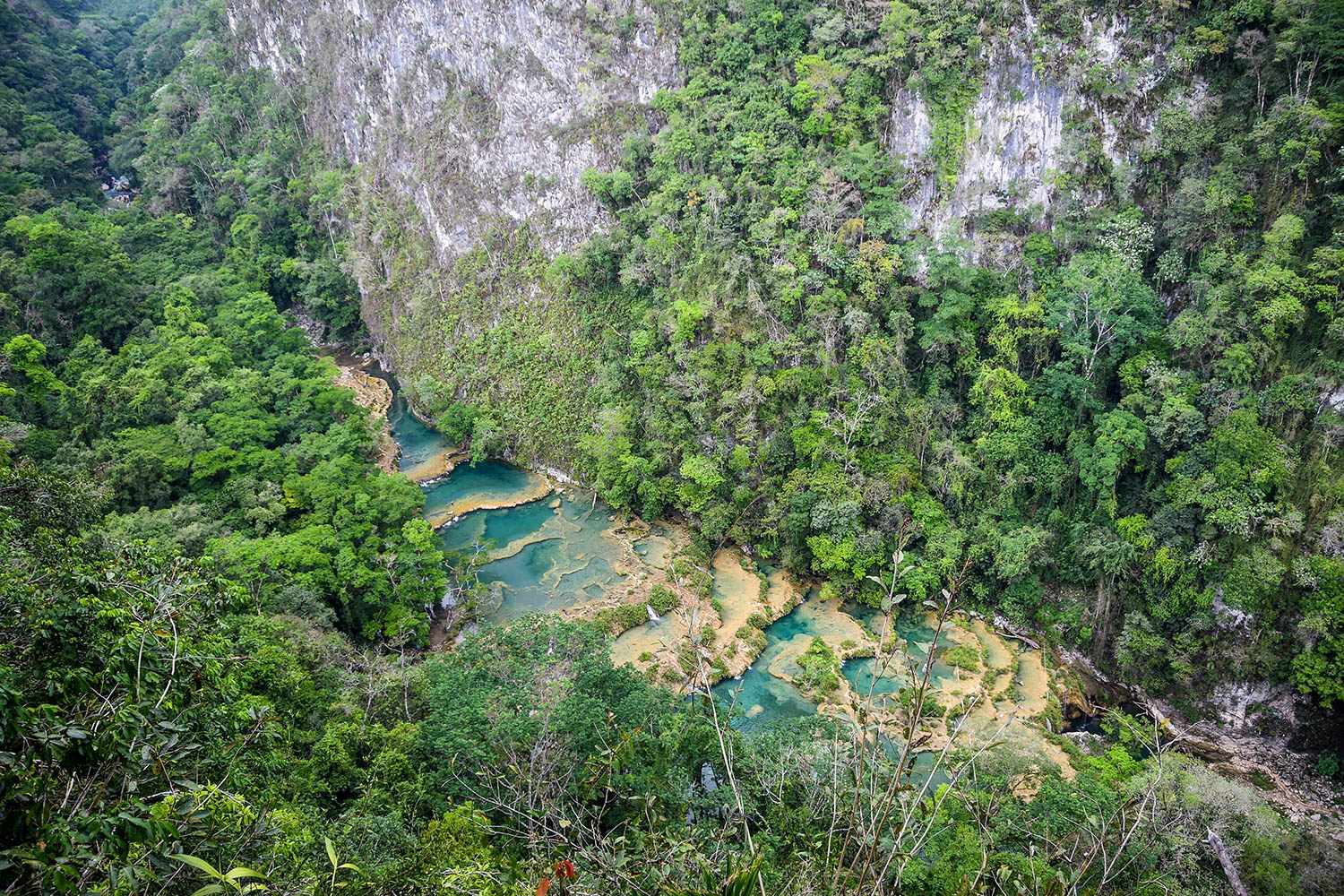 The viewpoint is definitely a highlight of any visit to Semuc Champey. Being up close and personal in the pools is awesome, but it's just as fun to get a view from above.
Follow the signs to the mirador (Spanish for viewpoint) and climb up. The hike takes about 45 minutes each way, and is quite steep on some pretty rickety stairs in some parts.
At the top, there's a platform you can view the pools from, and a few women sell fresh fruits and coconuts.
Semuc Champey is just one of many amazing things to do in Guatemala. There are a few ways to visit so continue reading to see which way is best for you.
---
Best way to visit Semuc Champey
Anyone who is visiting Semuc Champey will spend a day down by the famous turquoise pools. In the same day, you can also visit a cave by candlelight, hike to a viewpoint and go tubing down the river over rapids!
You can visit the pools of Semuc Champey on your own, or you can organize a tour through your hostel.
Both options are good, and we'll walk you through what to expect with each so you can make the best decision for you.
Note: All prices are as of May 2018. Price may change over time so be sure to double check with tour companies.
Visiting Semuc Champey on your own (without a tour)
PROS:
It will be slightly cheaper. (See more on the total cost below.)

If you visit on your own you have more freedom to visit the pools at your own pace.

You won't be stuck in a crowd. Depending on the day or the season you're visiting, the groups can get quite large (we saw a group of about 40 people).

You'll get to hang out in the pools in the morning light before the tour groups get there. While we were there, the morning light was much nicer than in the afternoon when the clouds took over and it got a bit chilly (with a few rain sprinkles!).

If you make it to the viewpoint before the tour groups arrive, you will likely have it all to yourself!
CONS:
You won't see the cave that's included in the tour, unless you go on your own!

You won't have the chance to mingle with other travelers in your tour group.
Cost of visiting Semuc Champey without a tour
The cost of getting to Semuc Champey is going to vary depending on where you are staying. You are able to walk (for free!) to the park from some hotels, whereas it's nearly a 1-hour drive from others. But to give you an idea, we'll share the costs of visiting Semuc Champey independently from Utopia Eco Lodge (the hostel we stayed at).
Here's an idea of what you can expect to spend:
15Q for transportation there ($2 USD)

50Q entrance fee ($6.67 USD) for foreigners

65Q if you choose to go tubing ($8.67 USD), or 15Q for return transport ($2 USD)
You'll also need to pay for lunch on your own. There are a few stands near the park entrance selling a big platter of food for 25Q (grilled chicken, rice, black beans, cabbage salad, avocado), which is perfect to split between 2 people. There are a couple other vendors selling fresh fruits, chocolate and soda (and the young girls can be quite pushy, but super cute).
That totals out to be 155Q ($20.67 USD) with lunch and tubing per person.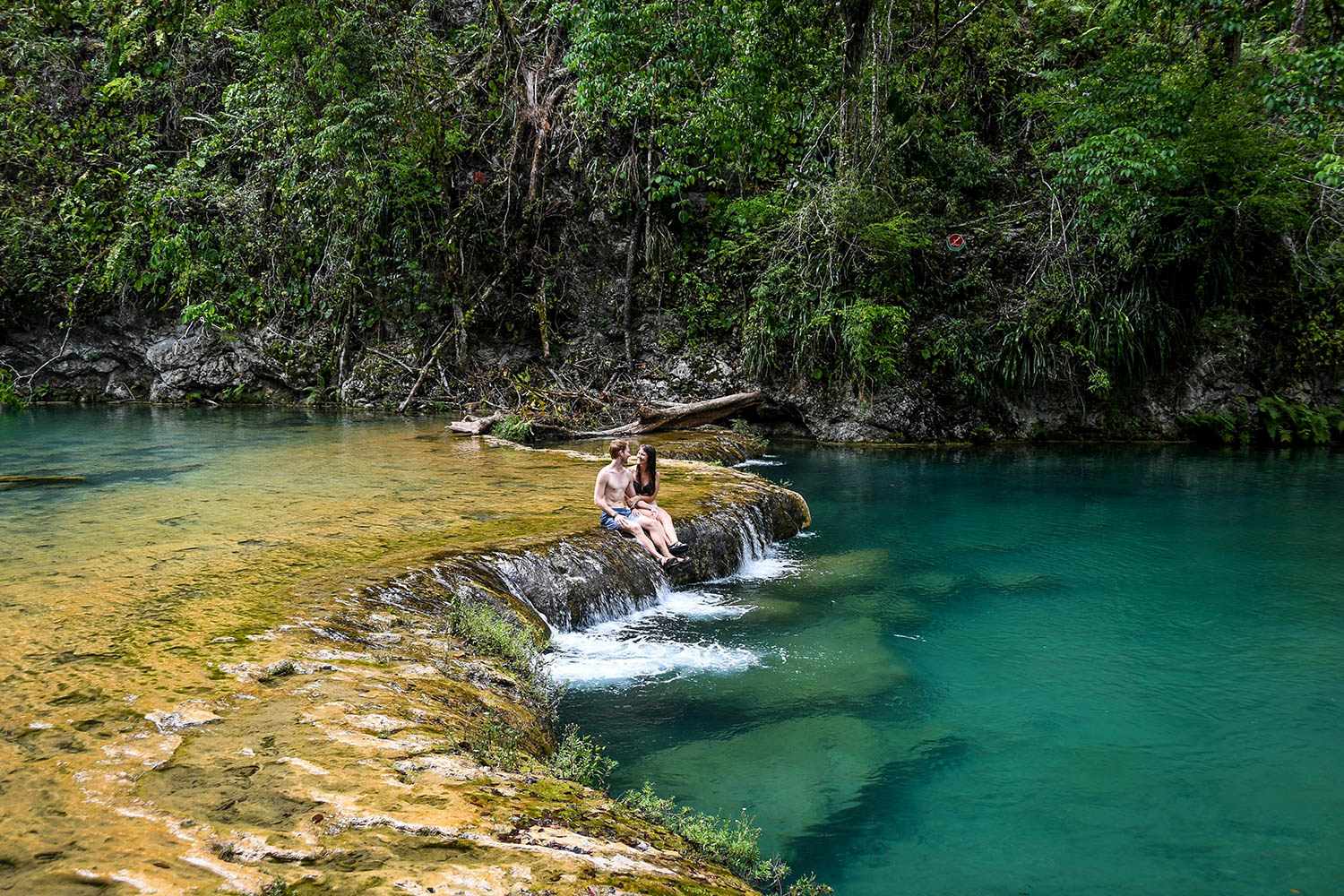 Visiting Semuc Champey with a tour
PROS:
Everything is organized for you.

You'll get to hang out with others from your hostel for the whole day.

The tour includes an hour and a half visit through a cave by candlelight.
Note: We've heard very mixed reviews about the cave that's included on the tour. Both a good friend of ours as well as someone we had just met in Guatemala told us it was nothing special, and even used the word "boring" to describe it.
On the other hand, we heard from a couple others that they thought it was a great experience and they really enjoyed it. This goes to show that travel is total personal, and the right decision for one person is not necessarily right for another.
CONS:
You won't be able to go at your own pace. This is something to consider if you like to take photos along the way or if you get annoyed by waiting for others.

Sometimes the tours are large and you won't really be able to have any alone time.

It is slightly more expensive, so if you're on a budget, this is something to consider.

The viewpoint can get really crowded with a whole tour group up there at the same time.
Cost of visiting Semuc Champey with a tour
The tour costs a total of 180Q ($24 USD), which includes your transportation, park entrance and a guide. You can opt to include a packed lunch for an additional 35Q ($4.67 USD, or purchase on your own) and tubing for 55Q ($7.34 USD).
With tubing and lunch, this comes out to be 270Q ($36 USD)
This means that visiting Semuc Champey without a tour group will save you roughly 115Q or $15.34 USD.
What did we choose?
We chose to visit Semuc Champey without a tour, and we were happy with our decision.
I wasn't feeling well the morning of the tour, and the thought of being inside a cave sounded much less appealing than relaxing in refreshing pools, so we opted out of the tour. I have a huge case of FOMO, and am a bit bummed we missed the cave, but honestly, we had such a good day on our own that I can't complain too much.
That said, going solo isn't the best option for everyone. Hopefully our explanations above will help you decide which way is best for you to visit Semuc Champey.
Final Thoughts on Semuc Champey
If you're on a budget or just want some time to relax and take pictures without the crowds, you'll want to visit Semuc Champey independently.
On the other hand, if you want to mingle with other travelers and pack as much into one day as possible, you'll enjoy going with a tour!
Both options are great ways to see this magical part of Guatemala.
---
Where to Stay near Semuc Champey
There are plenty of options near Semuc Champey – from party hostels with a young crowd to off-the-grid digs to chilled eco lodges.
But it can be overwhelming choosing a hotel because the town of Lanquin isn't one that you'll want to spend all that much time in. This means that typically your hotel will be where you eat, sleep, hang out and organize tours through. Add to this that many of the hostels are still a journey from Lanquin, and you might be left scratching your head.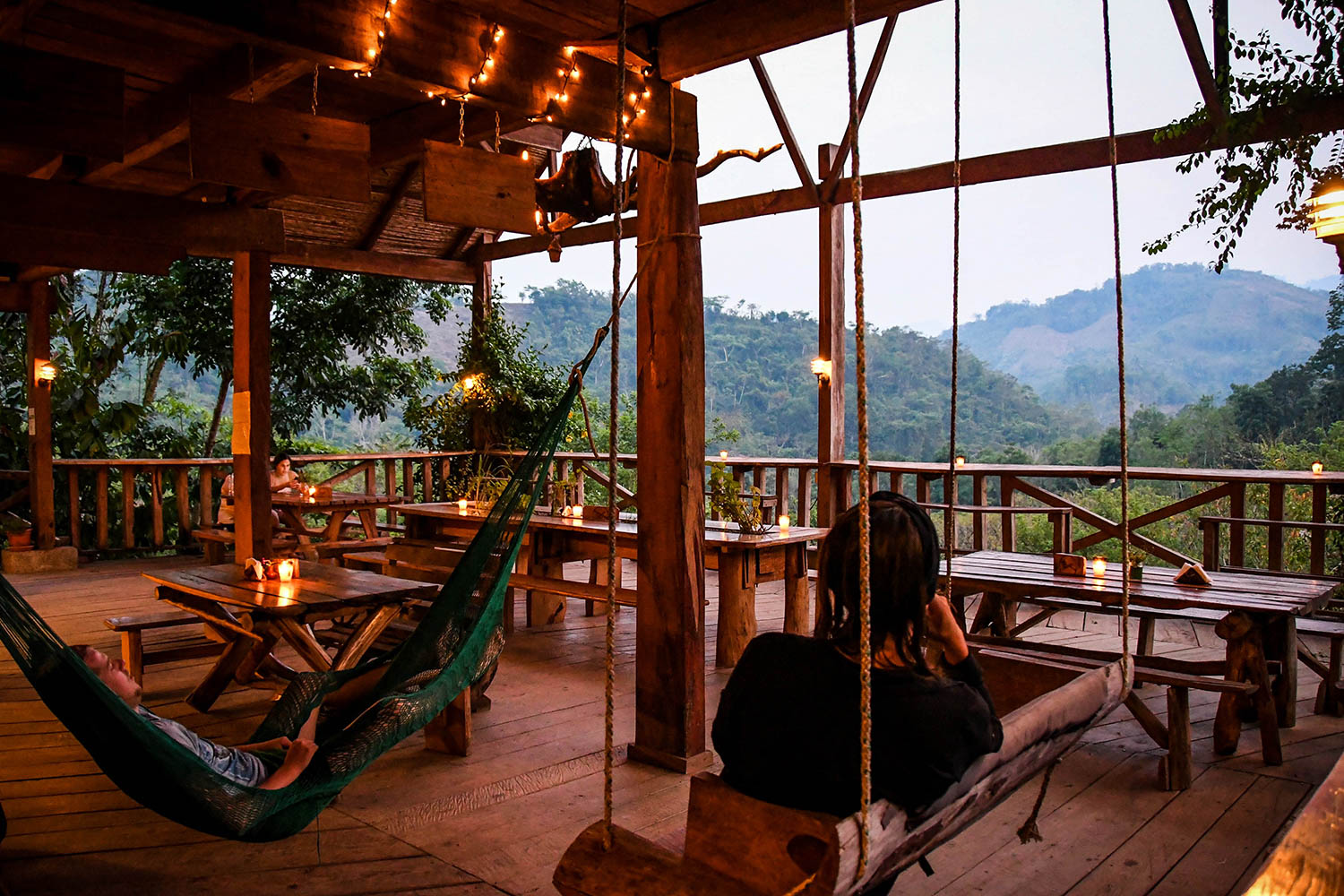 This open-air lodge is situated on a hill overlooking lush jungle. There are no other hotels in sight, and it truly feels like paradise. That said, any hotel built in the middle of the jungle is going to have some issues and lack some of the conveniences of staying in a city.
Things we loved about Utopia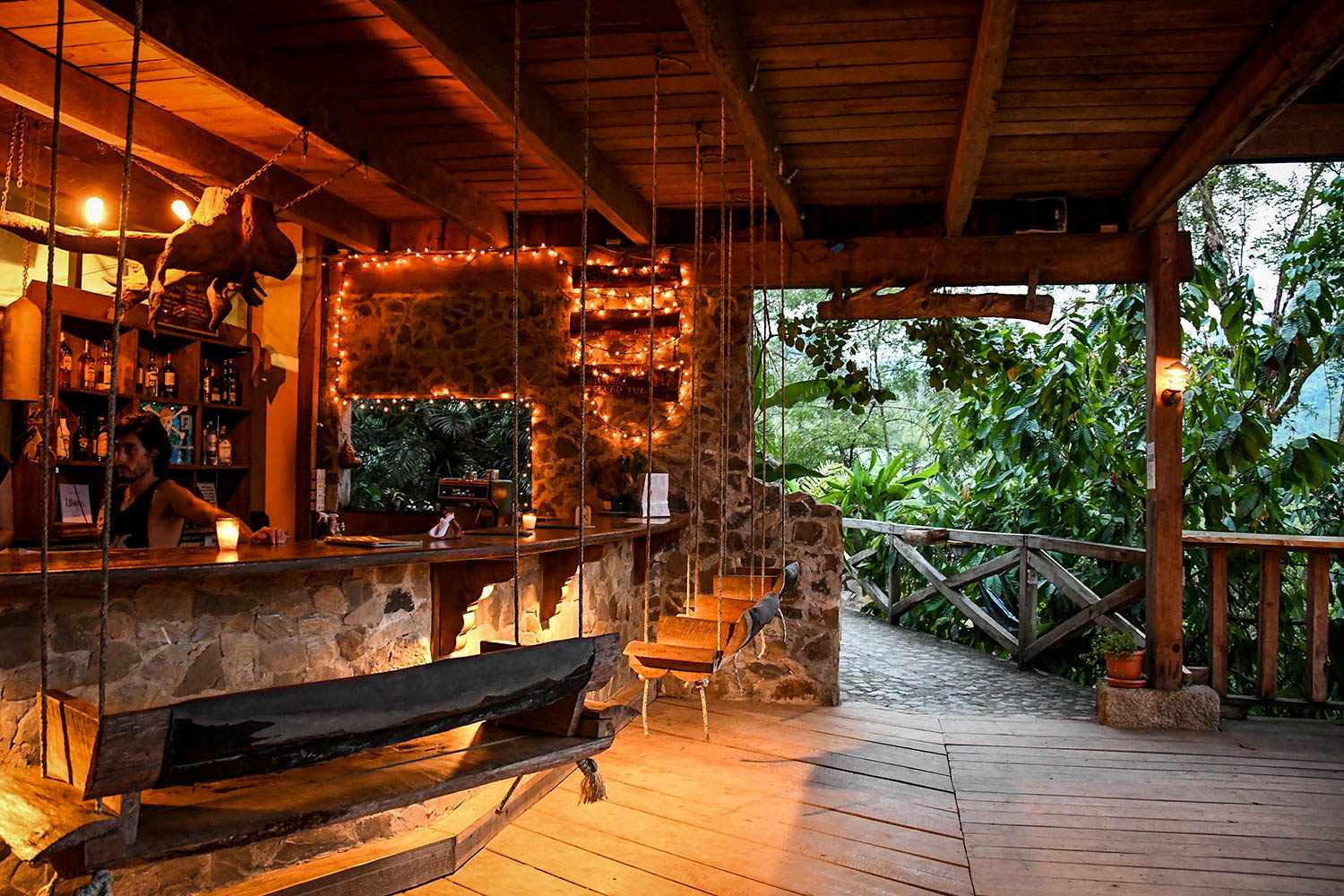 Enjoying amazing jungle views on a candlelit terrace is something that just can't be beat.

Compared to some of the other hostels in the area, this one has a bit of a wider age range. That said, it's still a pretty young crowd.

Surprisingly, the showers have hot water!

There's a water fill up station, which makes it easy to avoid buying bottled water.

There is a yoga platform that looked really nice. Unfortunately, we didn't have time to use it since we were only there one full day.
Room for improvement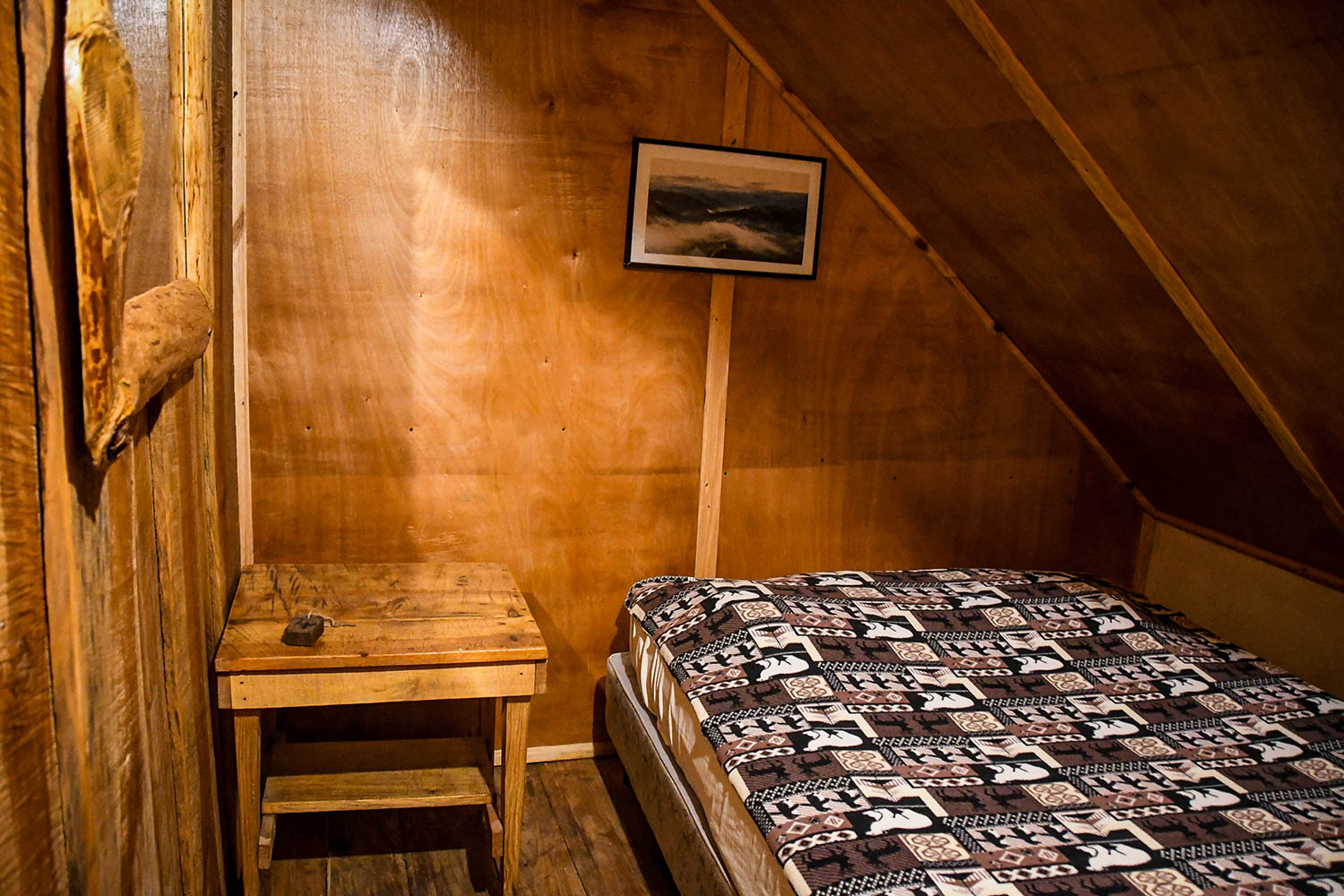 Rooms are basic, and honestly, we weren't expecting much. But the bed wasn't the most comfortable.

If you book a dorm or a "private nook", like we did, know that you'll have to go down a set of stairs to use the shared restroom. Not ideal in the middle of the night.

There are bugs. Lots of them. And truthfully this isn't really a negative on the hostel itself. You're staying in the middle of the freakin' jungle, so there are gonna be bugs. We didn't have an issue with them, but it is worth mentioning to those who might be a bit squeamish.

The WiFi didn't work for us. This isn't necessarily a bad thing (you're in the jungle, after all!), but it is worth mentioning so you can plan ahead and don't arrive with the expectation of connecting.
The Food at Utopia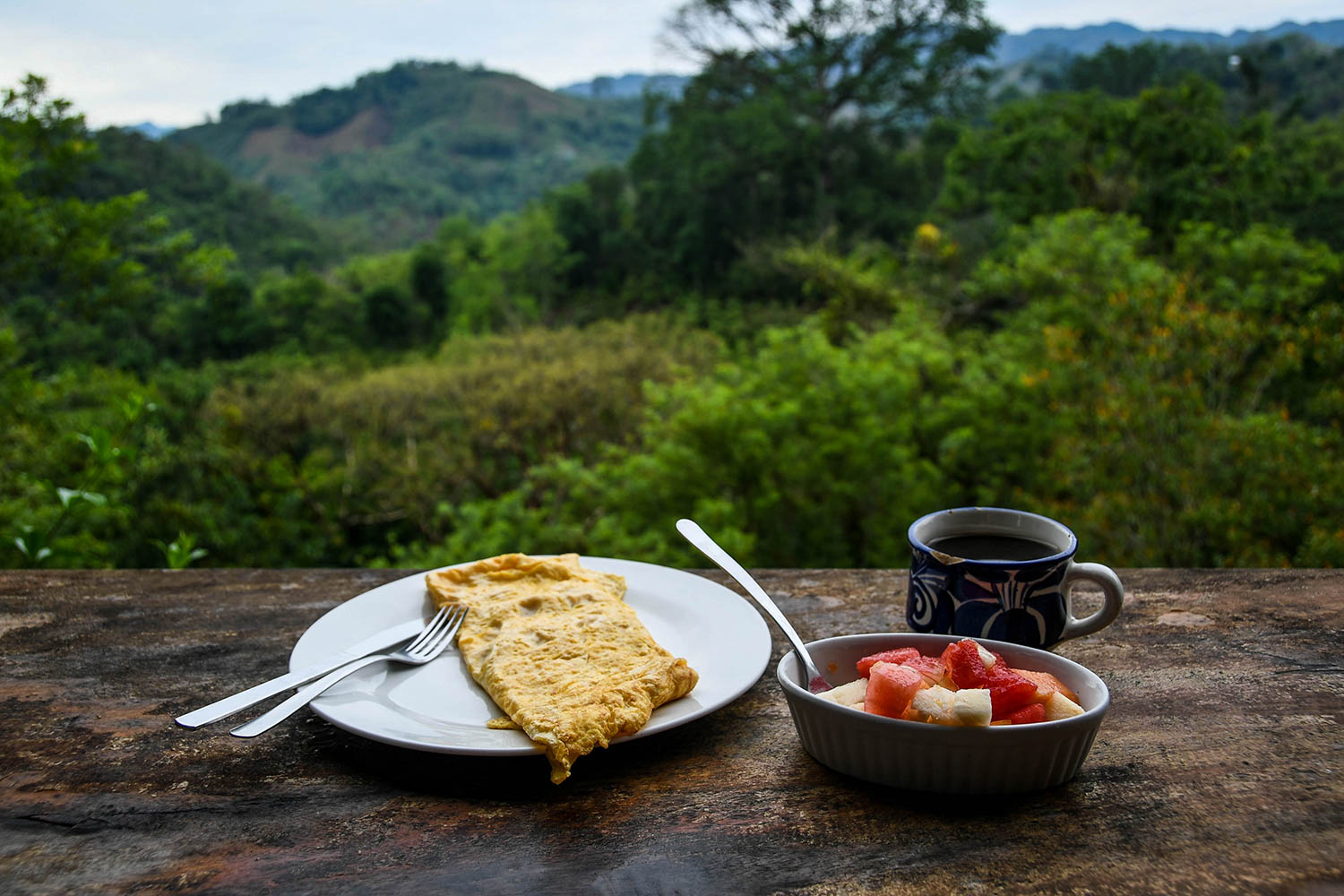 As with pretty much any place you choose to stay near Semuc Champey, you will be having your meals there as well. The food at Utopia is all vegetarian, which we're totally on board with, but honestly, the options are kind of limited.
Each evening there's a communal dinner, which they encourage people to order. The options while we were there were a veggie burger one night and spaghetti the next, both of which were fine (nothing special, but not bad). It costs 60Q ($8 USD) per person, which is a bit steep. But seeing as you're in the jungle and all the ingredients have to be brought in, you can understand the prices.
Other Hotels in Semuc Champey/Lanquin:
There are plenty of great options in and around Lanquin, but don't come here expecting luxury. Even the highest-priced of rooms are still rustic, as this is a remote part of Guatemala.
It's also important to look up how close your accommodation is from Lanquin and ask if they offer pick-up, as the roads in this area are a bit, how shall we put this… BUMPY!
Even a short distance can take quite a while. The lodges outside of the town have incredible views and are an experience in themselves, but they can take upwards of 45 minutes to reach from Lanquin.
---
How many nights should you stay at Semuc Champey?
As a minimum, you need to stay 2 nights near Semuc Champey. You will arrive in the evening and the only time you can leave is in the morning. So if you intend to visit the pools (umm, that's the reason you go there!), you must plan to have a day in between your transportation.
Being that we were on a tight schedule, we only stayed two nights. That said, getting to and from Semuc Champey takes a FULL day on either end, and it would have been nice to have at least one more day there to relax and enjoy jungle life before hopping in a bus again.
If you have more time in Semuc Champey…
If hanging out in the jungle sounds like a perfect detox from the real world, you might want to extend your stay for a few days. In addition to enjoying the beautiful fairytale pools and cave, you can take Spanish lessons, practice yoga, and learn about the art of chocolate making.
---
Weather in Semuc Champey
Know that rain in the afternoon can be very common during many times of the year. It's the rainforest, after all! While we were there in May (beginning of the rainy season), the entire week had thunderstorms predicted every day on my Apple Weather app. I was worried, but it turned out that it only rained in the afternoon and nighttime, and we lucked out with pretty nice days.
You'll be getting wet in the pools anyway, and rain means you'll likely be avoiding the crowds of high season! Pack a raincoat and a good attitude and hopefully you'll enjoy Semuc Champey, rain or shine!
It's also helpful to know that it's not always super hot in this area. While we were there it was warm enough at midday that swimming in the pools was refreshing. But in the afternoon when we started tubing on the river, it was a bit chilly and we were shivering part of the way!
What to pack for Semuc Champey
mosquito repellant (we love this natural, solid stick version)

a dry bag is handy to keep your things dry while you're near the pools

swim suit

sarong or Turkish towel

camera to take some awesome photos

cash (there is one ATM in Lanquin, but you don't want to take the chance of it being out of order. Many hotels don't take credit card or charge you a fee)
---
How to get to Semuc Champey
You'll actually be going to the town of Lanquin. And when we say "town", let's specify by saying there's a dirt road with some small shops and houses. Most of the hotels, however, are located a bit outside Lanquin.
Many of the hotels will arrange a shuttle for you (whether it's free or not depends on the hotel). Just email them your departure city and time and there will be someone waiting for you when you arrive in Lanquin.
Word of warning: You will most likely be asked (like 5 times!) if you want to book a shuttle out of Lanquin right as you arrive. When we boarded our bus in Flores, our driver asked us before he even started the engine. We heard that sometimes they oversell these buses and people are left without a ride. Ignore the touts and instead book your shuttle from your hotel.
---
Are you planning a trip to Guatemala?
We have lots more resources on travel in Guatemala and destinations throughout the country. Check out our Ultimate Guatemala Travel Guide for all the important travel information, or read some of our favorite articles below.
Save this article on Pinterest for later!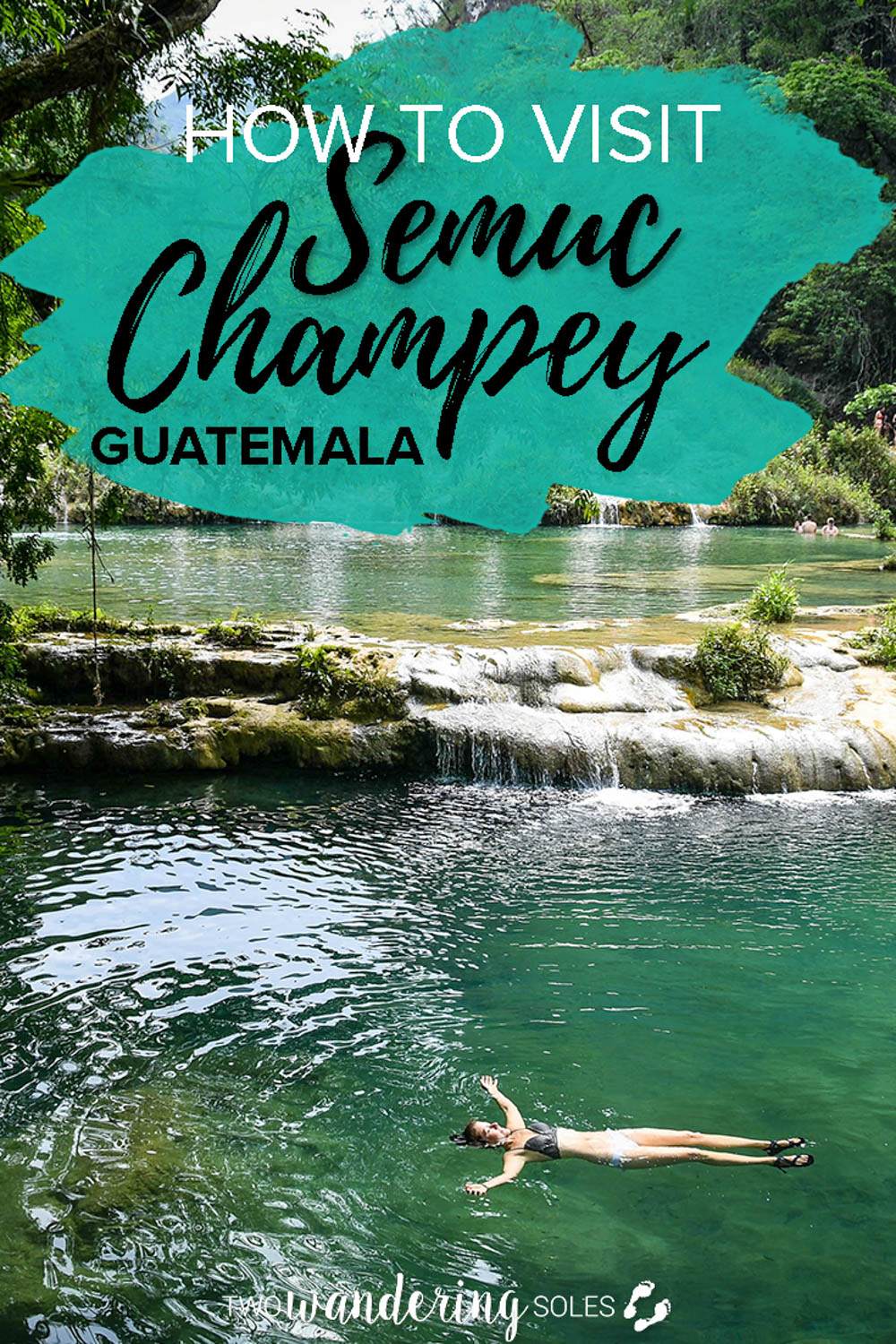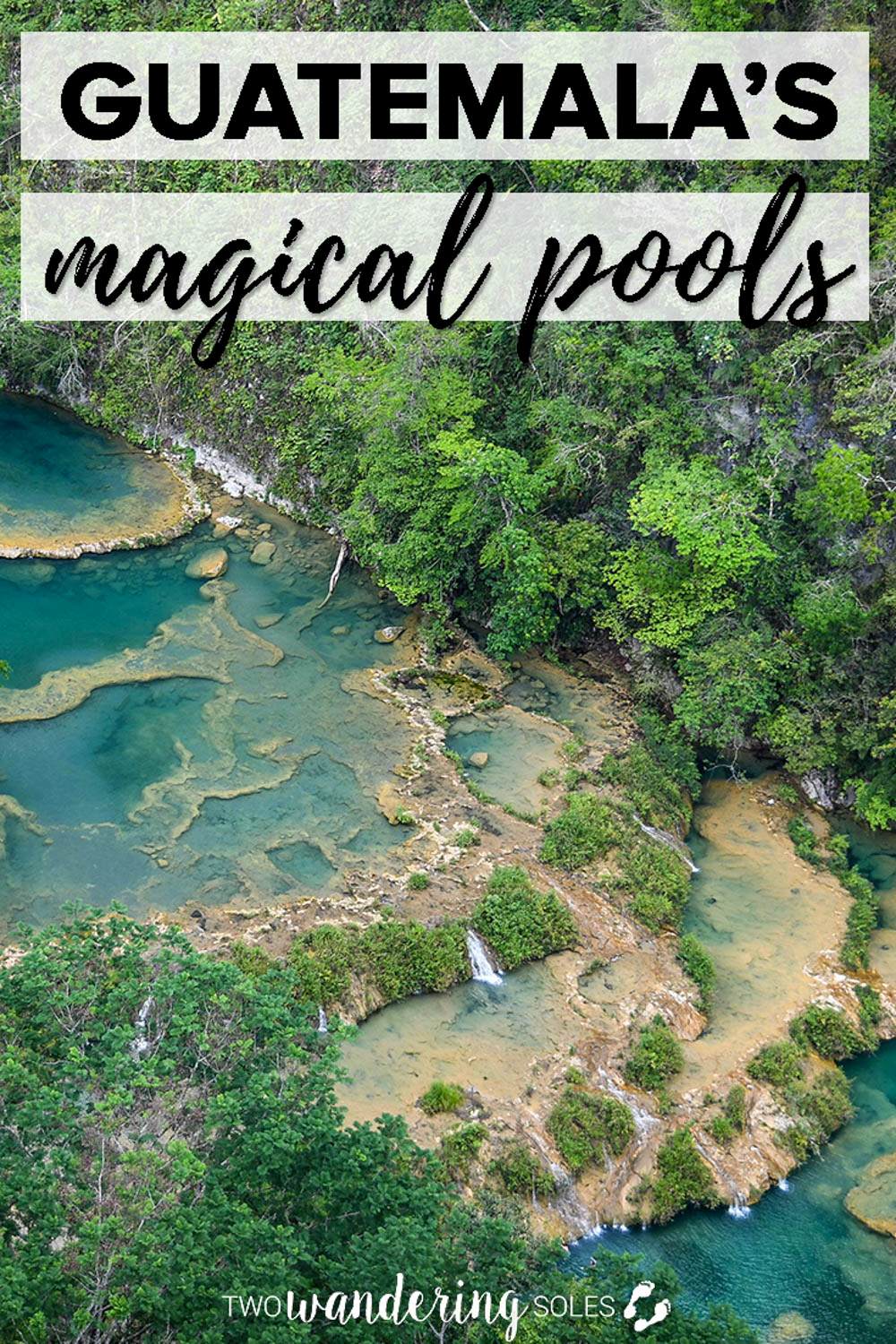 We want to hear from you!
Have you been to Semuc Champey? What did you think? What other questions do you have about traveling in Guatemala? Comment below and we'll do our best to answer!