Yogyakarta is known for its vibrant culture, diverse food scene, ancient history, traditional arts, and epic adventures. With lots of charm and plenty to do, Jogja (as the locals call it) should definitely be on your radar if you're traveling to Java. We've put together a super informative guide packed with tips and all the best things to do in Yogyakarta!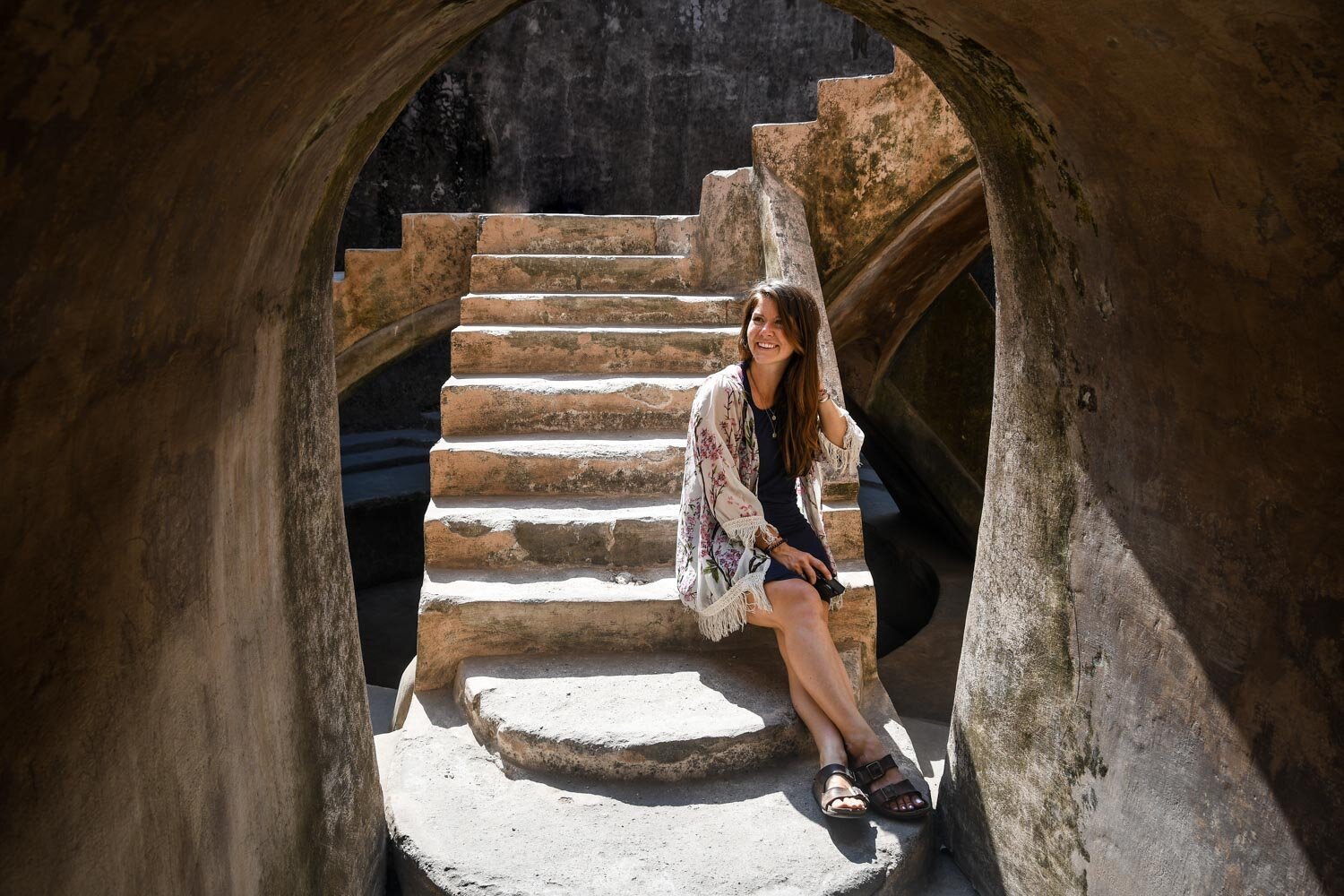 With iconic Buddhist and Hindu temples, a lively street food scene, and an unrivaled concentration of traditional Indonesian arts, there's no question why the city of Yogyakarta is known as the "cultural center" of Java.
The things that draw most travelers to Yogyakarta are the two iconic UNESCO World Heritage temples: Borobudur and Prambanan. They are well worth a visit, however, as you'll see in this round-up, there are so many more things to do in Yogyakarta that you should devote at least a few days to exploring this super interesting city.
Before we go any further, let's talk about how to pronounce this city's name. I was saying it all wrong until a local corrected me. *Cringe*
Say this with me… JOHG-ja-kar-ta (Just pretend that the "y's" are "j's" and you'll be golden!) Oh, and locals like to call it "Jogja" for short, so use this nickname if you really want to sound cool.
You're welcome for saving you the embarrassment I endured.
We're about to delve into all the things to do in Yogyakarta, but first, here are some interesting things to know about the city…
Fun Facts about Yogyakarta:
While the two most popular temples near the city are Hindu (Prambanan) and Buddhist (Borobudur), most residents of Yogyakarta are Muslim. Oh, and both temples are UNESCO sites.

Yogyakarta is the only city in Java that is still ruled by a Sultan. We spoke with more than one local who attributed the region's strong culture to there still being a ruling Sultan.

This city is known for being a center of traditional arts, and it is THE place to buy batik fabric.

Yogyakarta is a great foodie destination. There are tons of different types of street food, some that can only be found in this region.

This city has an interesting blend of modern and traditional, and it's sometimes compared to one of our favorite Southeast Asian cities: Chiang Mai, Thailand.
Now that you know why this city deserves to be a stop on your Java itinerary, let's go over what to do in Yogyakarta so you can better plan your time there. At the bottom of this article, we're also going to delve into what to eat (and where to try it!) as well as some of the best hotels in Yogyakarta.
1. Eat your way around the city on a Street Food Tour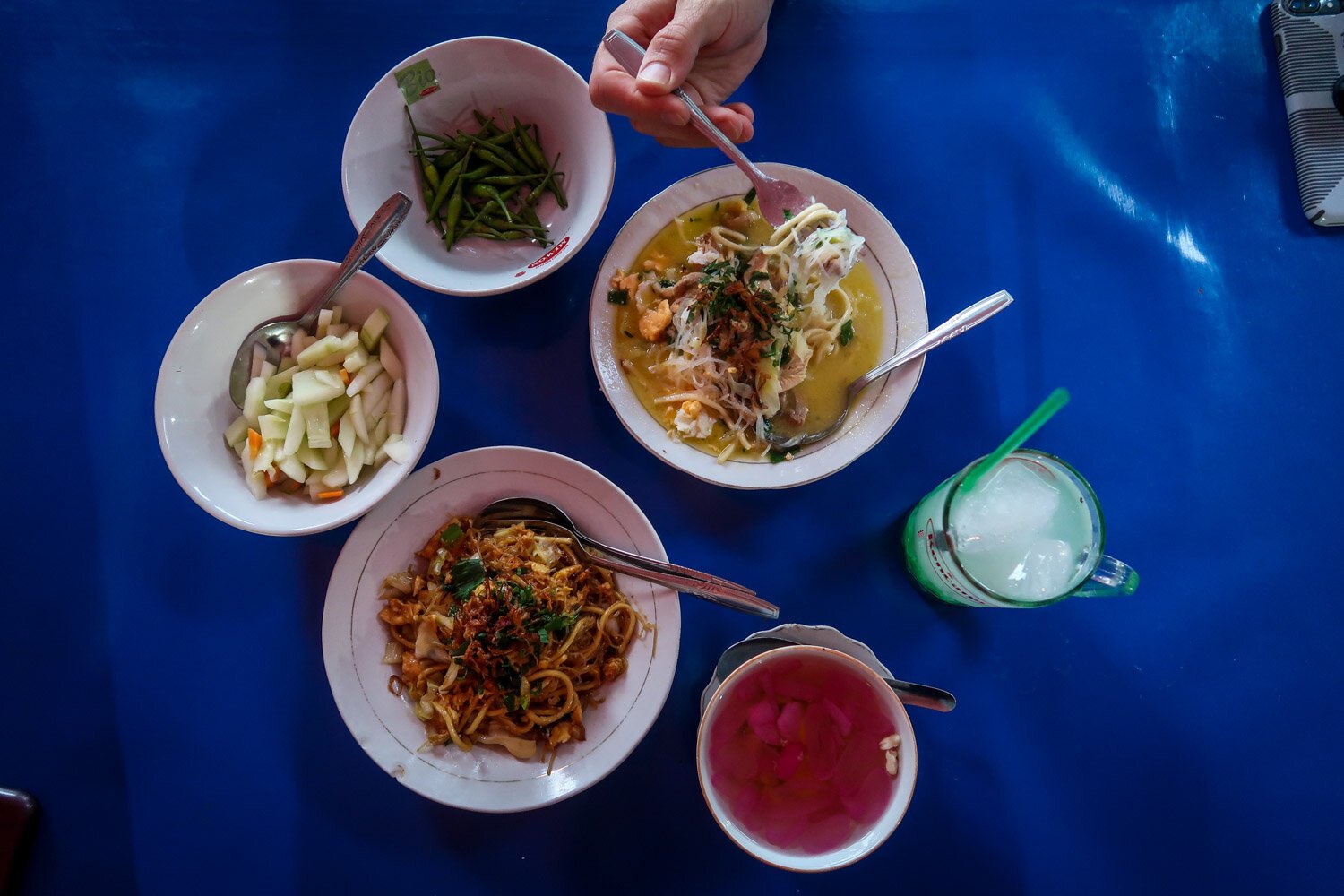 We love food, and we love supporting companies that employ locals in meaningful ways. So we were stoked to see that Backstreet Academy had a food tour in Yogyakarta. (We went on a breakfast food tour with them in Kathmandu, and just love this company and all it stands for.)
On this tour, you will be paired with a local who is passionate about their city's food and culture. Together, you'll walk around Yogyakarta, stopping at some of the best local spots. You'll try dishes that are unique to this region, and learn about what makes them special.
This tour is part history, part fun facts, and an even bigger part eating local foods. Oh, and a bit of walking to help digest all that food. Perfect combo if you ask me.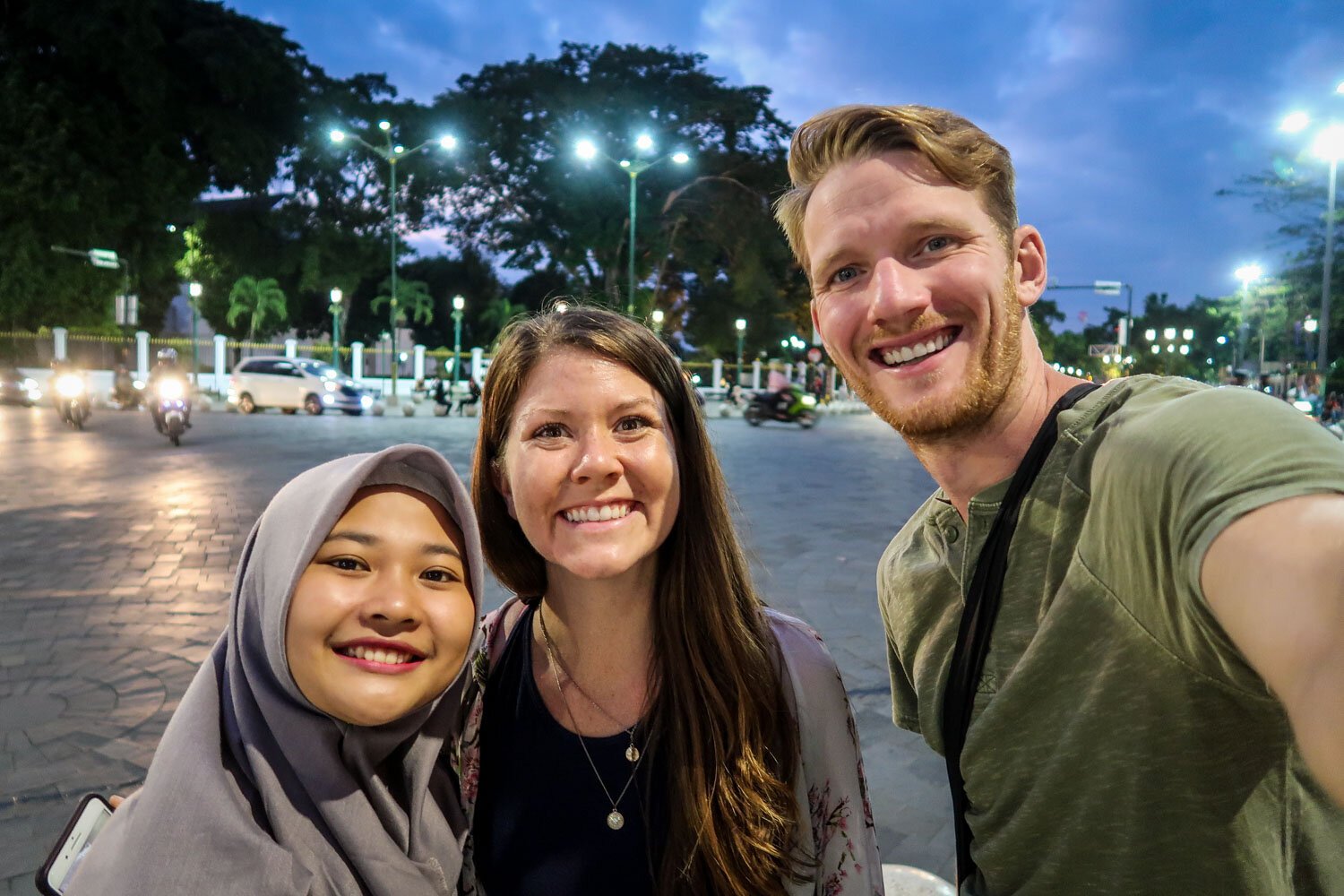 Our tour guide was a young student who had moved to Yogyakarta from a different part of Indonesia, so it was interesting getting her perspective of her new home as well as learning about the rural village in which she grew up.
We tried so many foods along the way, and our guide explained what each dish was (something we probably would have never known on our own!) and why it was special to Jogja. Honestly, there's no way we would have known what dishes to order or where to get the best versions without going on a tour.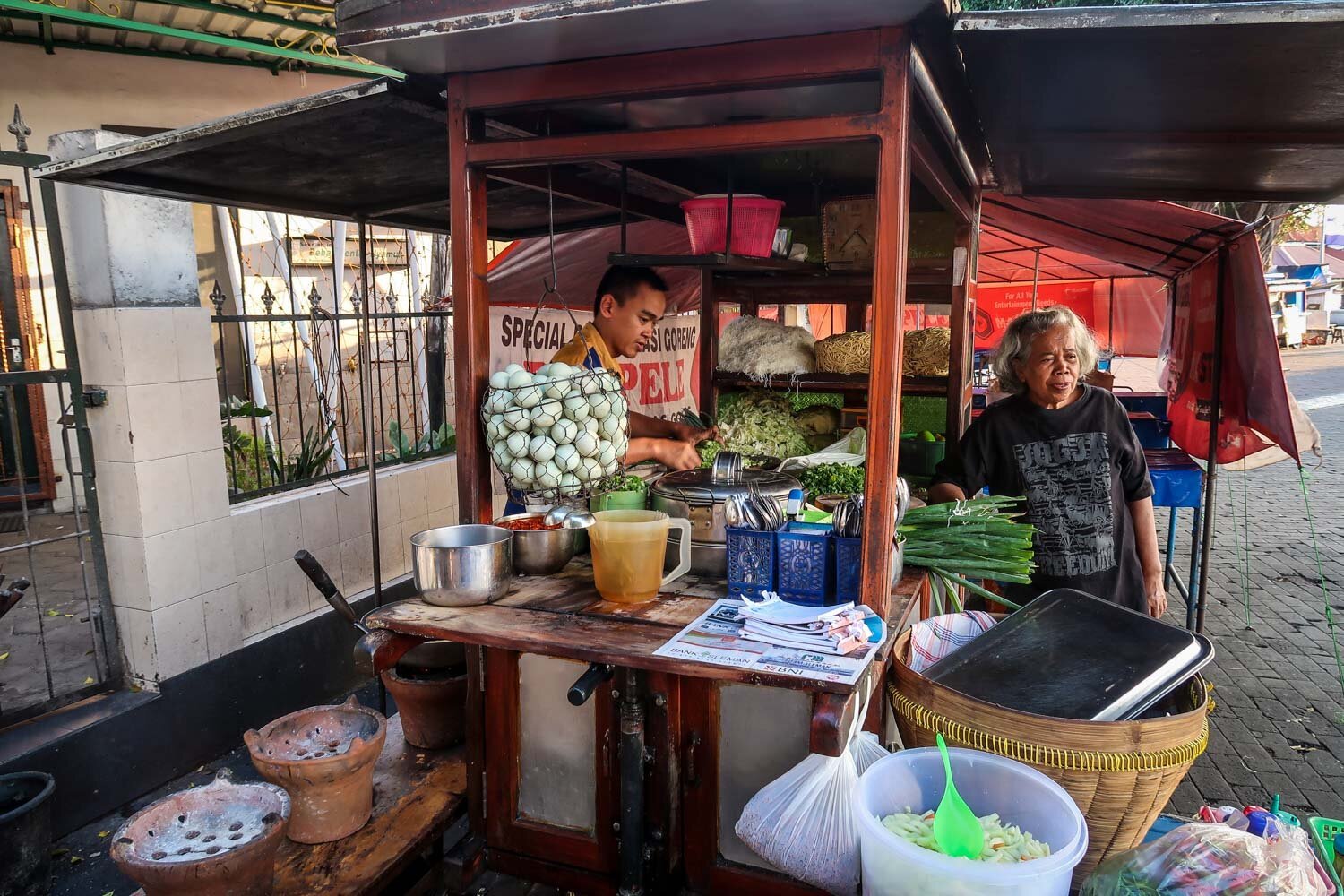 Good news for our vegetarian/vegan friends: This tour can be totally adapted to suit dietary restrictions.
Bonus: If you decide to book this tour, you'll see Malioboro Street at night (#12) and you'll try the "coal coffee" (#14), so you've already checked 3 things off this list. Way to go!
Cost: At just $21 per person (including all food and your guide), this tour is a steal!

Time: 4:30 p.m. to 8:30 p.m.

Book this tour yourself: Backstreet Academy Evening Street Food Tour

Alternative: If you're more of a morning person, you could book a breakfast food tour, which gives you a glimpse into a typical day of many residents of Jogja and brings you through local markets. Plus, you'll be introduced to some of the most famous breakfast dishes you can only get in the morning. Book the Breakfast Food Tour here (only $19 per person!).
2. Visit Borobudur Temple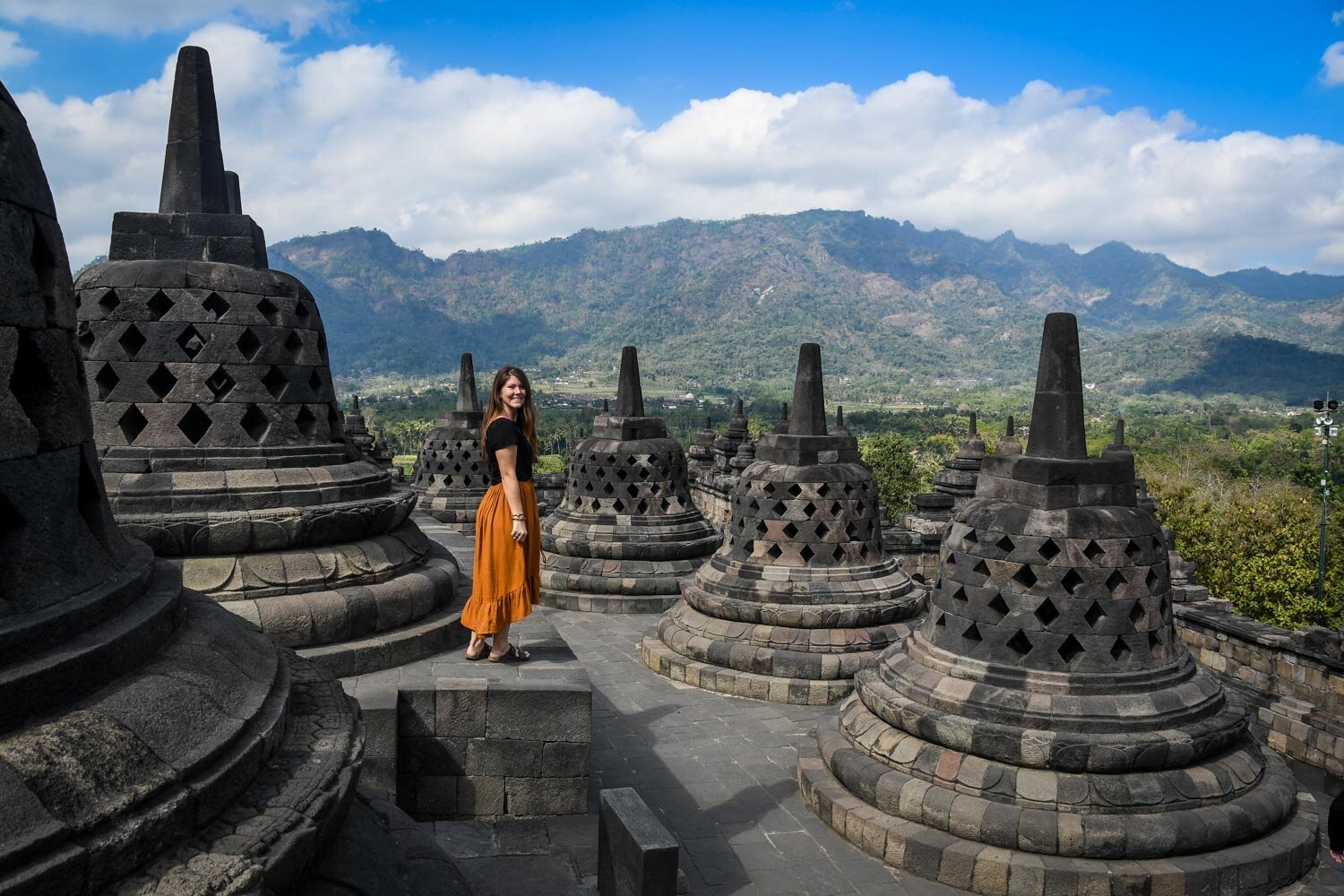 When you type "Yogyakarta" into Google, these iconic bell-shaped stupas are what pops up in the top search result. And for good reason: this Buddhist temple complex is spectacular, especially in the morning light.
Interesting fact: Each of the domed stupas has a Buddha statue inside, or the remains of one (sadly, many of the Buddhas have been stolen over the years).
Visiting Borobudur Temple should be at the very top of your list of things to do in Yogyakarta. You can book a tour or get there on your own, depending on your travel style and your budget.
Now that you know Borobudur is a must on your Java itinerary, be sure to check out our complete guide to Yogyakarta's temples. It's packed with useful info, insider tips and pretty much everything you need to know before your visit.
Insider Tip: Not far from Borobudur, the super quirky "Chicken Church" might be worth a stop if you've got the time!
3. Explore Prambanan Temple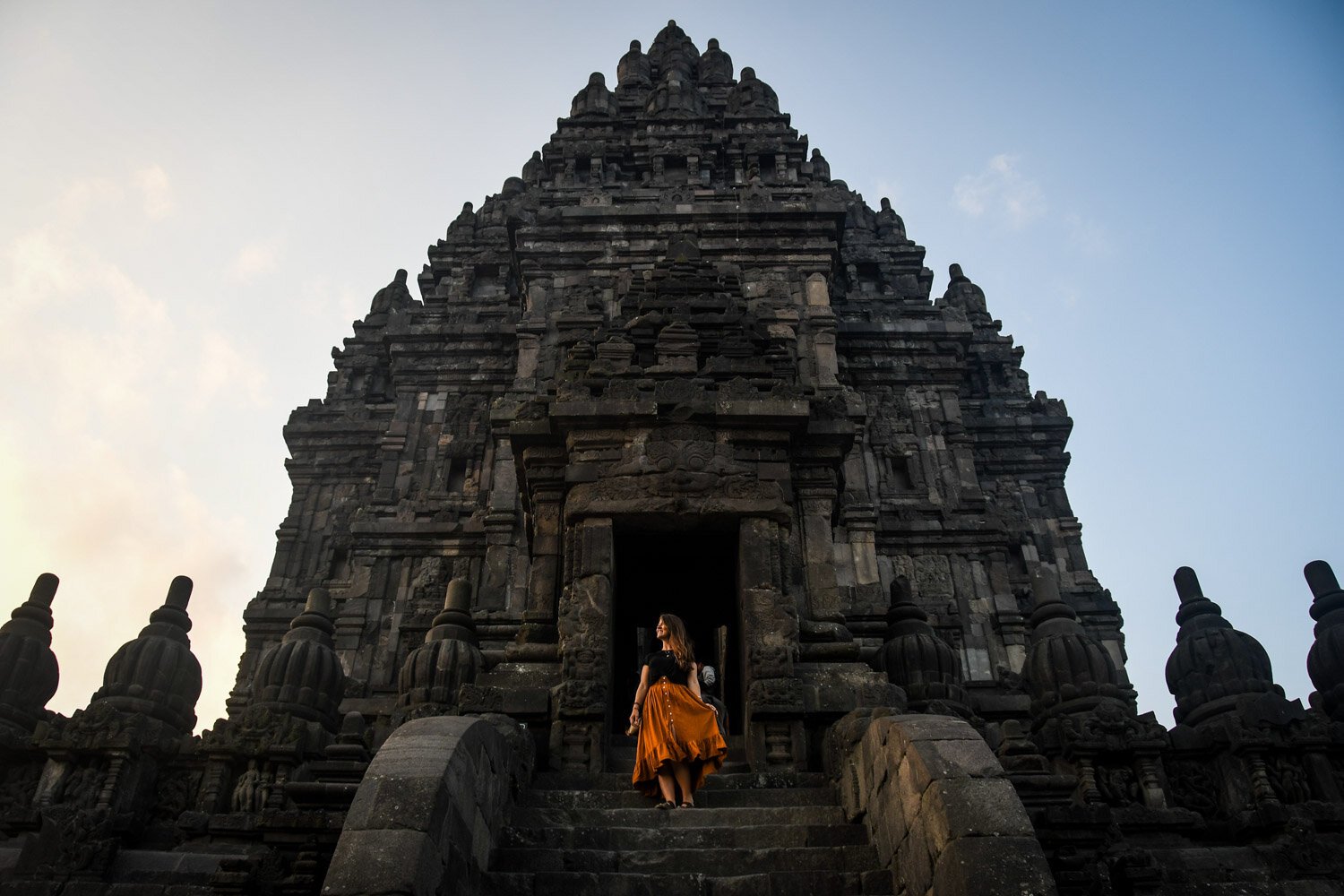 With a notably similar design to Cambodia's iconic Angkor Wat, this Hindu Temple is a work of art. While much smaller and quite a bit less complex than Angkor Wat, Prambanan Temple is still a place that will take your breath away.
Wander through this large archaeological park and search for carvings of Hindu gods and deities, which can be found all around the temple walls.
Psst! We have a whole article dedicated to Borobudur and Prambanan Temples that you should definitely check out. We're sharing insider advice, what to wear, and a money-saving tip you won't want to miss!
4. See the Ramayana Ballet at Prambanan Temple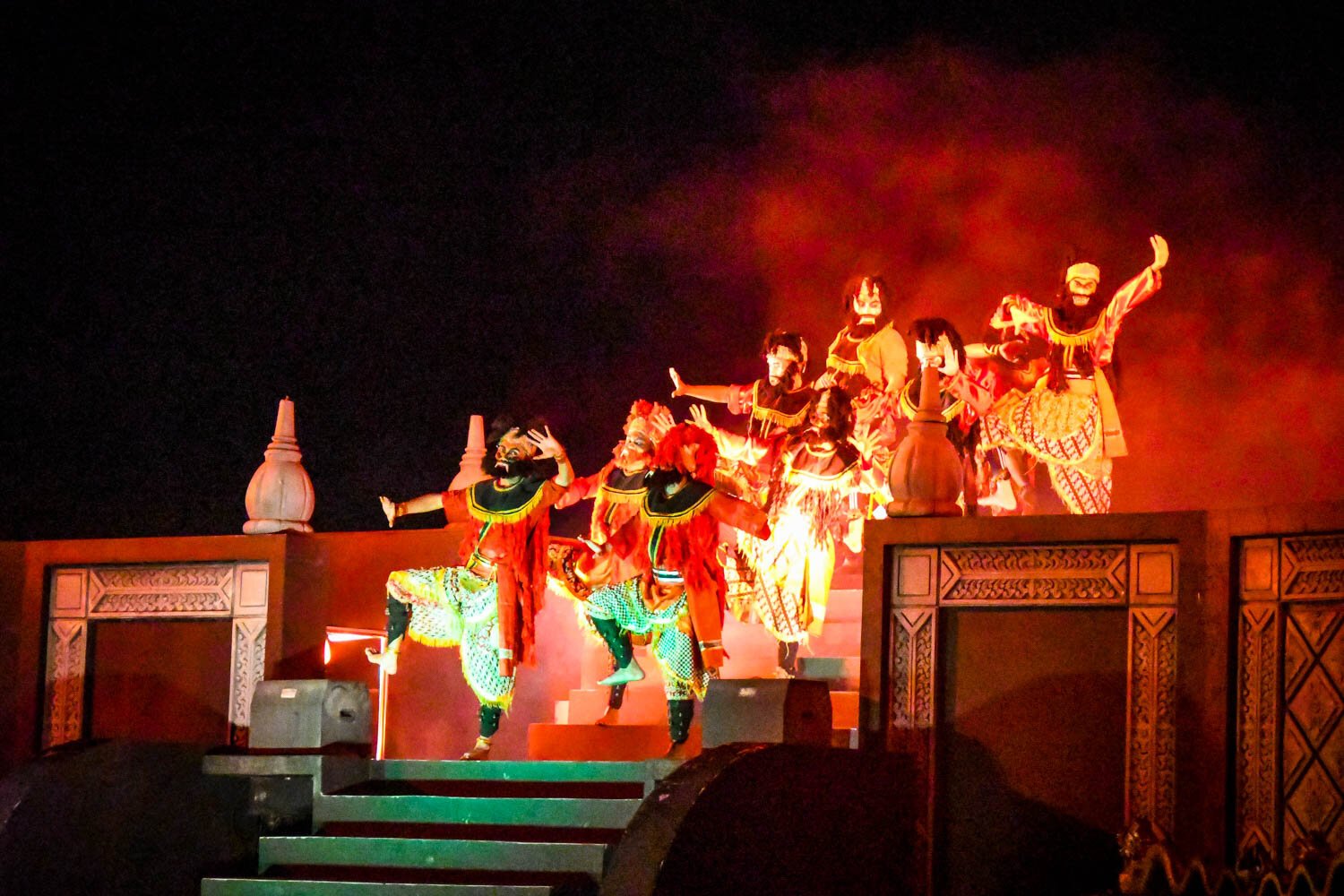 If arts and culture are your jam, you might want to attend this performance while in Yogyakarta. Though it's called a "ballet", we would tell you to definitely not focus on that word, as it's more interpretive dance that tells a story than ballet in a traditional Western sense. Instead, it more closely resembles a traditional Javanese form of dance called Wayang Wong.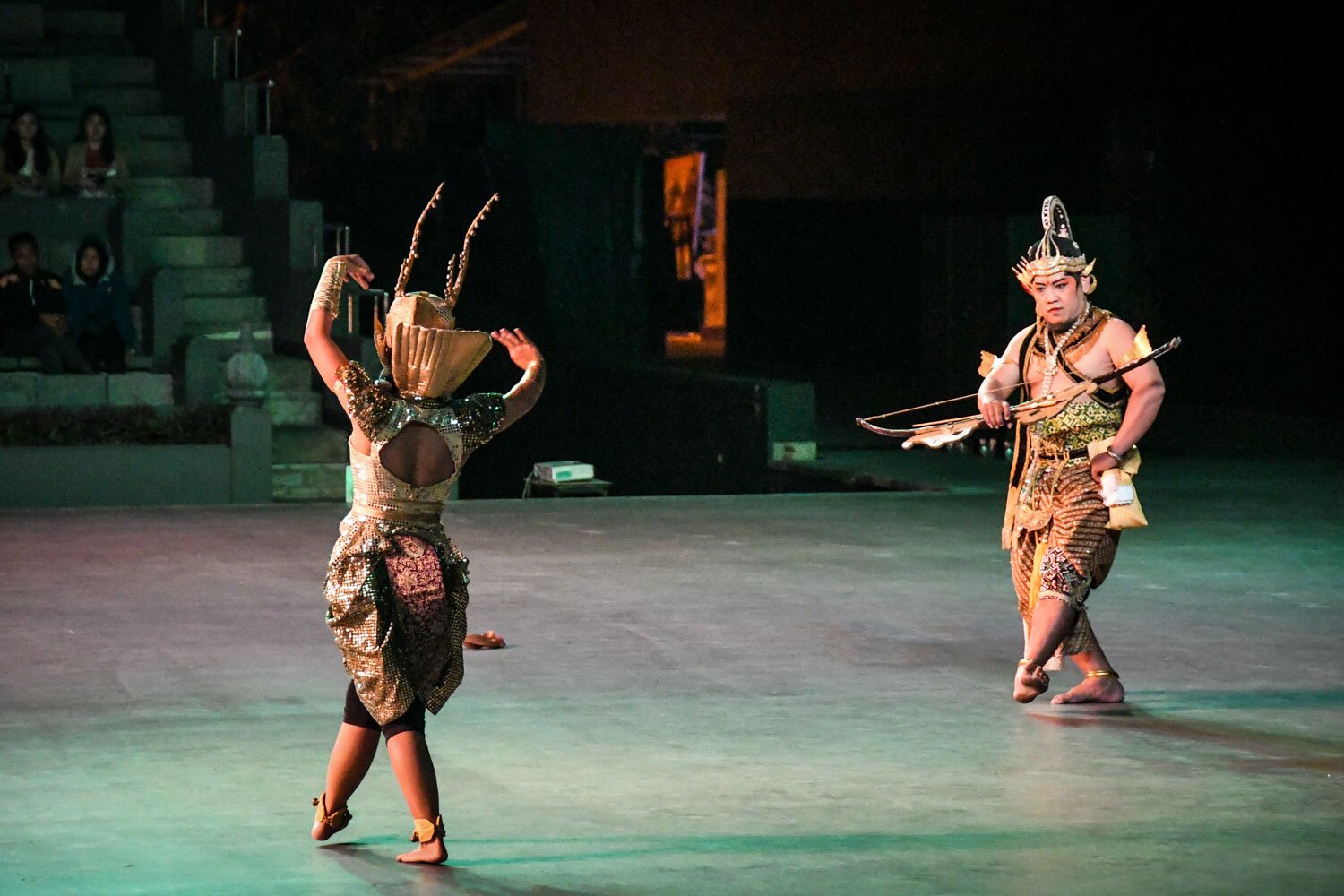 This performance follows the storyline of Ramayana, one of the most famous Sanskrit epic poems from ancient India. This Hindu story is very interesting and involves a beautiful princess, kidnapping, fighting, and seduction. Seeing it performed in a dance is an experience culture-lovers will appreciate.
Insider Tip: If you're not familiar with the story, we'd suggest reading up on it before your visit. There are English subtitles projected during the performance, however, you'll be able to enjoy it much more if you have an idea of what's going on.
Important info about the Ramayana Ballet:
When: Performances take place on Tuesdays, Thursdays and Saturdays
Time: 7:30 p.m. to 9:30 p.m.
Where: During the dry season, this performance is held on an outdoor stage on the Prambanan Temple grounds. During the rainy season (November – April), this performance is held at an indoor stage.
Cost: Tickets range in price
2nd Class: 150,000 IDR

1st Class: 200,000 IDR

Special: 300,000 IDR

VIP: 450,000 IDR
We got the cheapest tickets available (2nd class) and thought they were just fine. The VIP tickets are more than double what the "second class" seats cost, and in our opinion would not have been worth the extra money.
Our honest opinion: This is a good evening activity if you are very interested in Hindu culture and are not visiting Bali during your time in Indonesia. However, if you plan to make it to Bali too, we'd recommend seeing this story performed there instead (called the Kecak Dance in Bali). The Ramayana Ballet at Prambanan Temple was our third time seeing this story performed (we've seen it twice in Bali), and in all honesty, we thought it was much more well-put-together in Bali.
5. See the magical stream of light in Jomblang Cave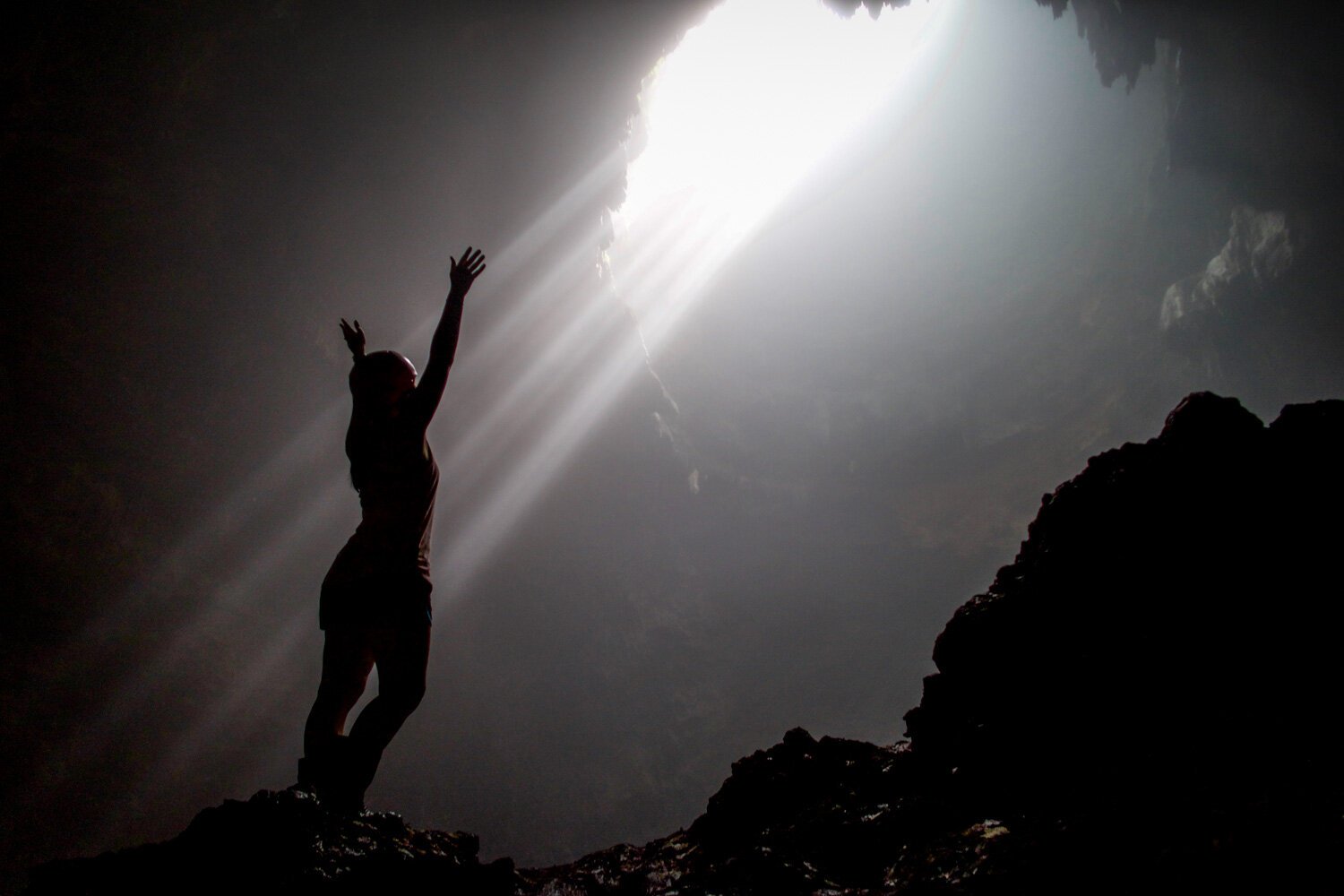 This is not your typical "walk through a cave" excursion… This is a spelunking adventure where you will rappel down into a crevice (and let's just say it's not your average rappelling, which we'll explain in a moment). Then, you walk through mud that is knee-deep in places through a gigantic pitch-black cave before reaching a phenomenon that can't quite be described in words.
For a short time each day just before noon, a stream of light shines through a hole in the top of the cave, creating a shimmering beam that is a sight to behold.
But before you book your tour, keep reading…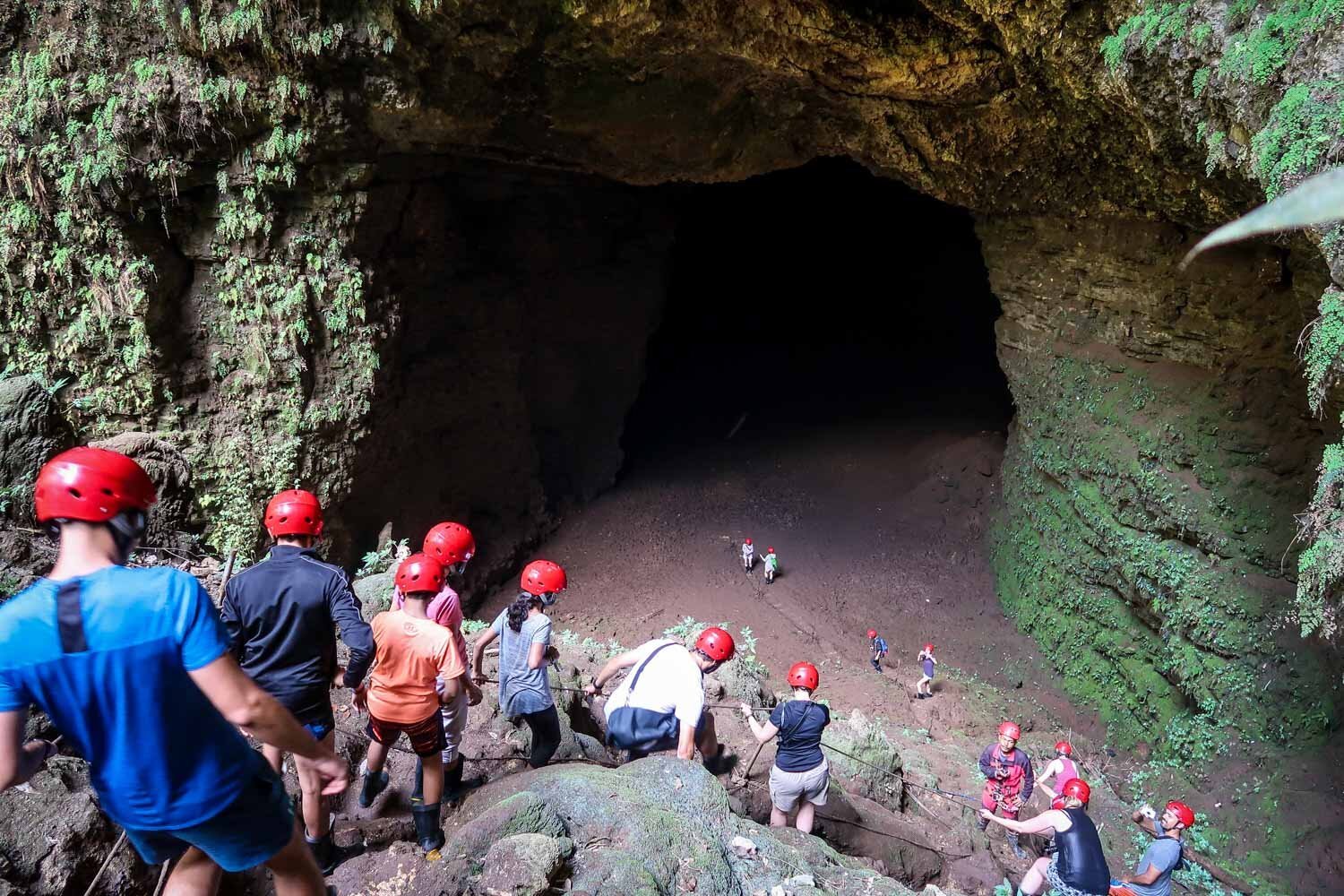 This was an excursion we didn't know much about before booking with our guesthouse. There's not a ton of information about Jomblang Cave online, and even our hotel staff didn't know all that much about it.
Overall, we had fun and are really happy we did it, but there are some things you should know to help you decide if it's for you.
There's not really a guide or a structure to this activity. When we arrived, there wasn't really any instruction. Everyone just sat around and waited, and after nearly an hour or so, we were all led to get harnesses.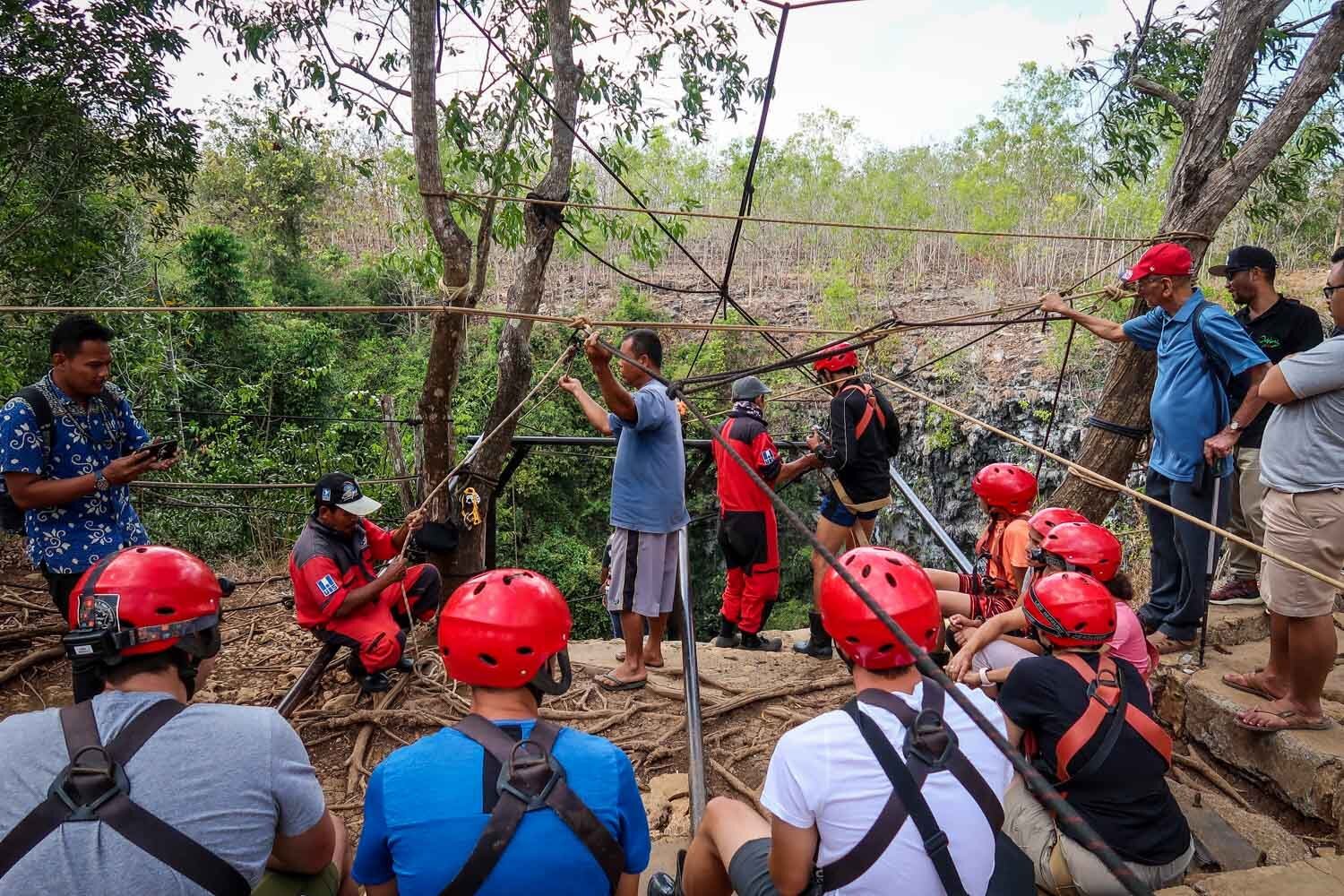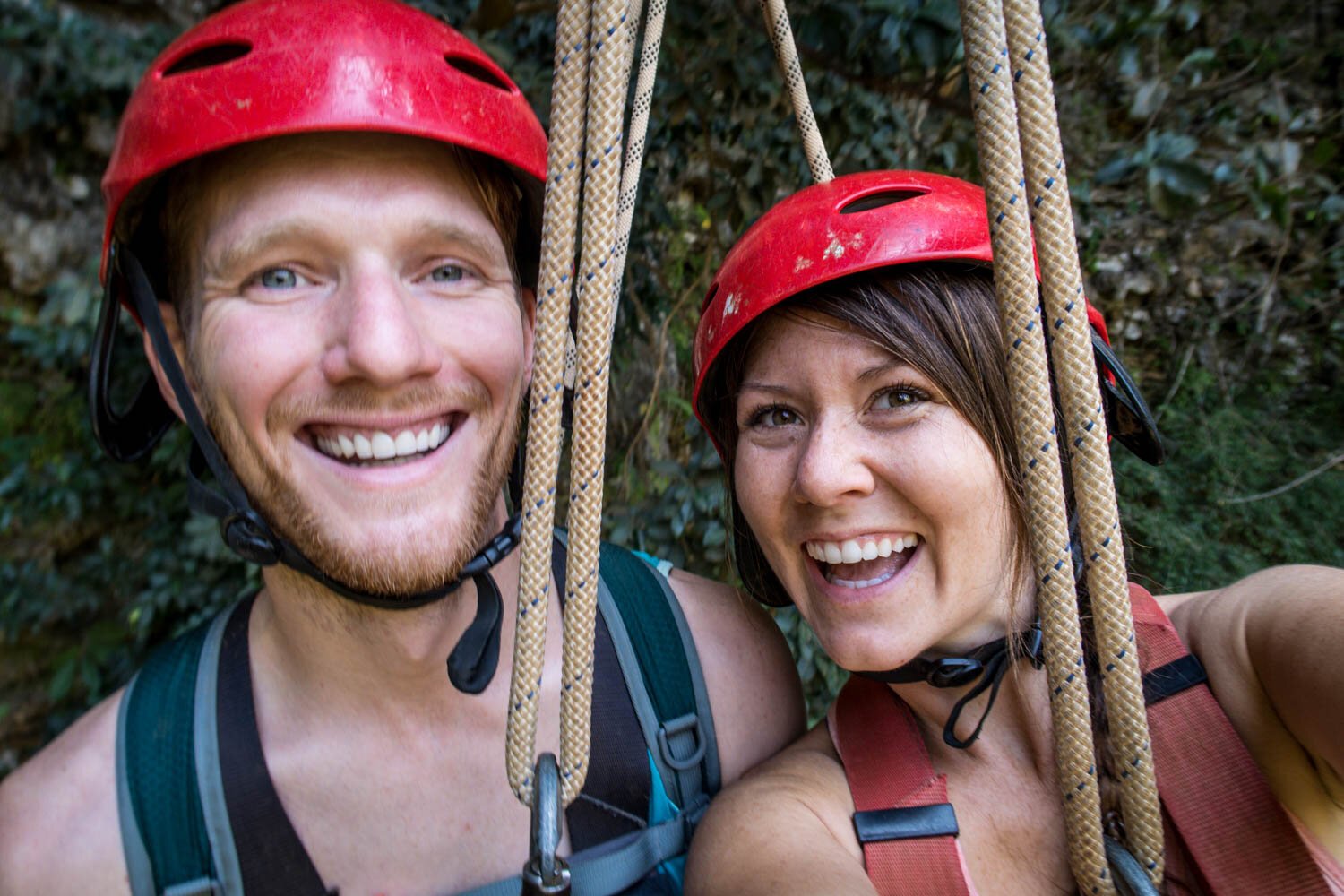 You and another person (either your travel companion or a stranger) are harnessed then lowered together down into a gorge. A group of about 20 men and teenage boys from the nearby village control the rope by pulling on or loosening it. It's quite a sight to see. And after exploring the cave, you will be pulled up via the same rope system.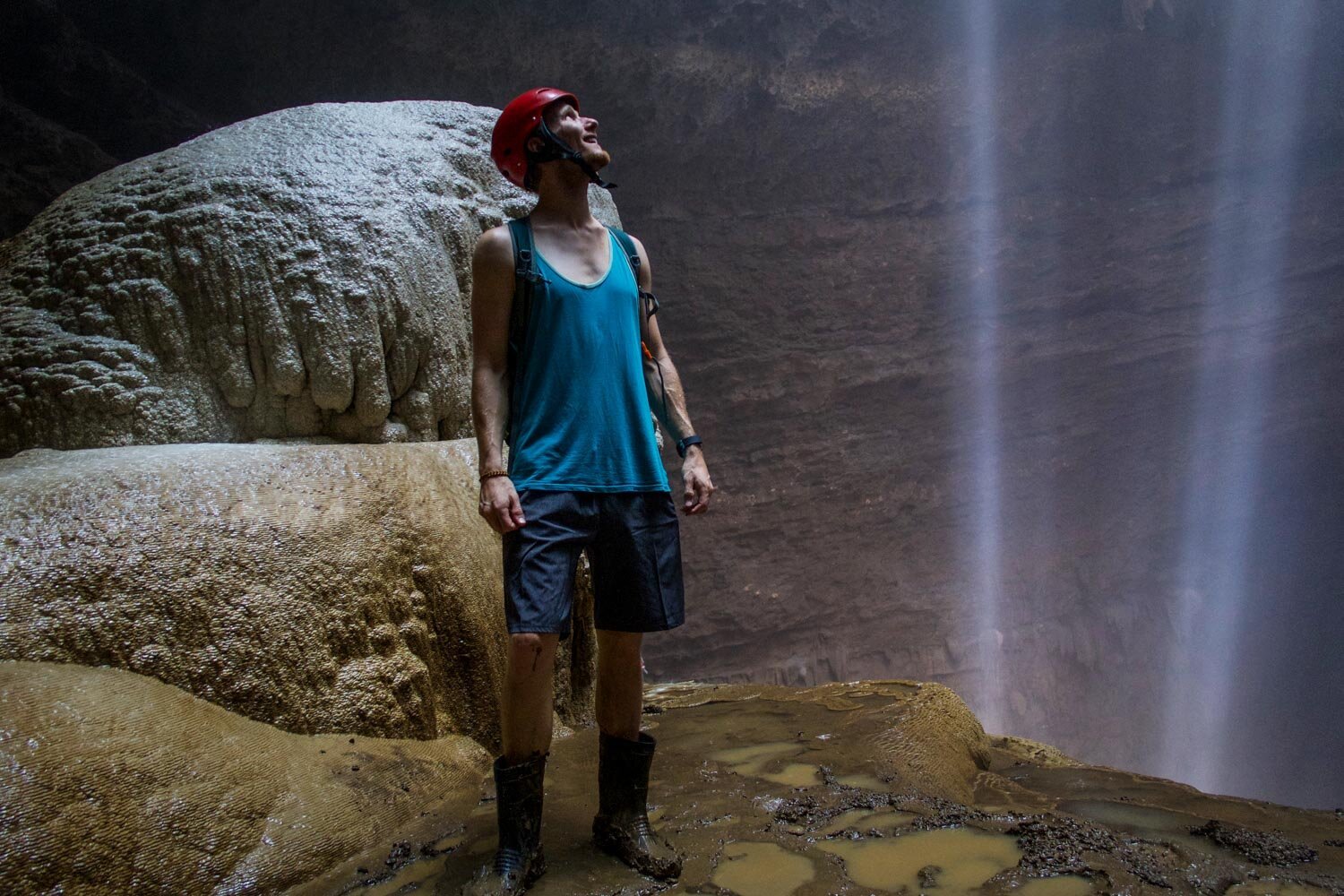 It's really muddy inside the cave! They provide rubber boots, so you don't have to worry about ruining your shoes.

We wished we had packed our headlamps. We left them at the hotel, but they would have been very useful as it is very dark inside the cave and our phone "flashlights" were a little hard to manage while trying to balance in the mud.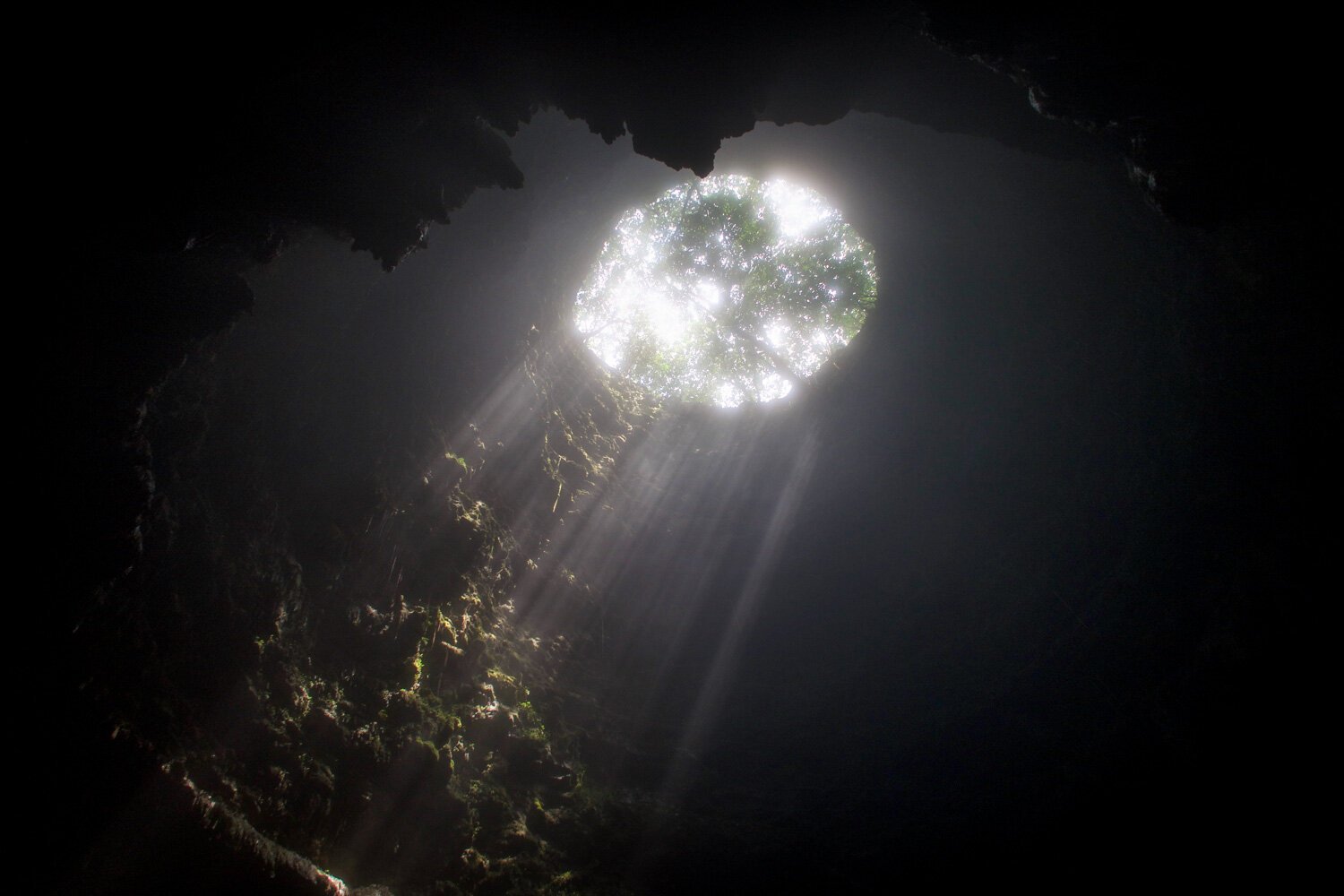 There wasn't much explanation about anything inside the cave, but the young men who led us are part of a mountaineering program, so we felt comfortable from a safety standpoint. They also were quite good at taking pictures from all sorts of angles (it was like they had done it a time or two!).

They provide each guest with a (humble) lunch after the caving excursion. We had no idea we'd be eating there, but they had boxed lunches of chicken, rice and noodles waiting for everyone.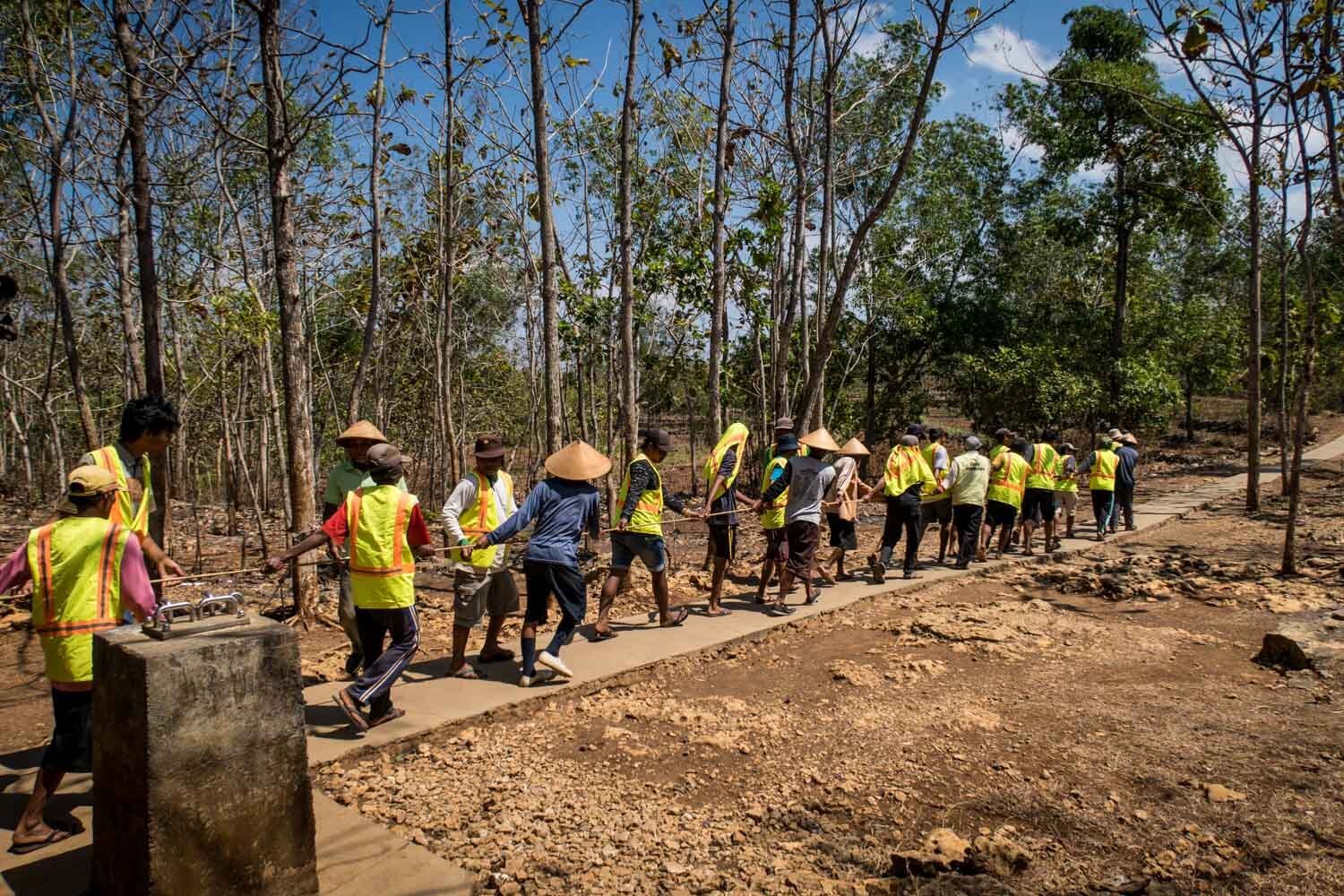 This is a community-run activity, so by being there you're helping provide jobs to locals living nearby.
How to book a Jomblang Cave Experience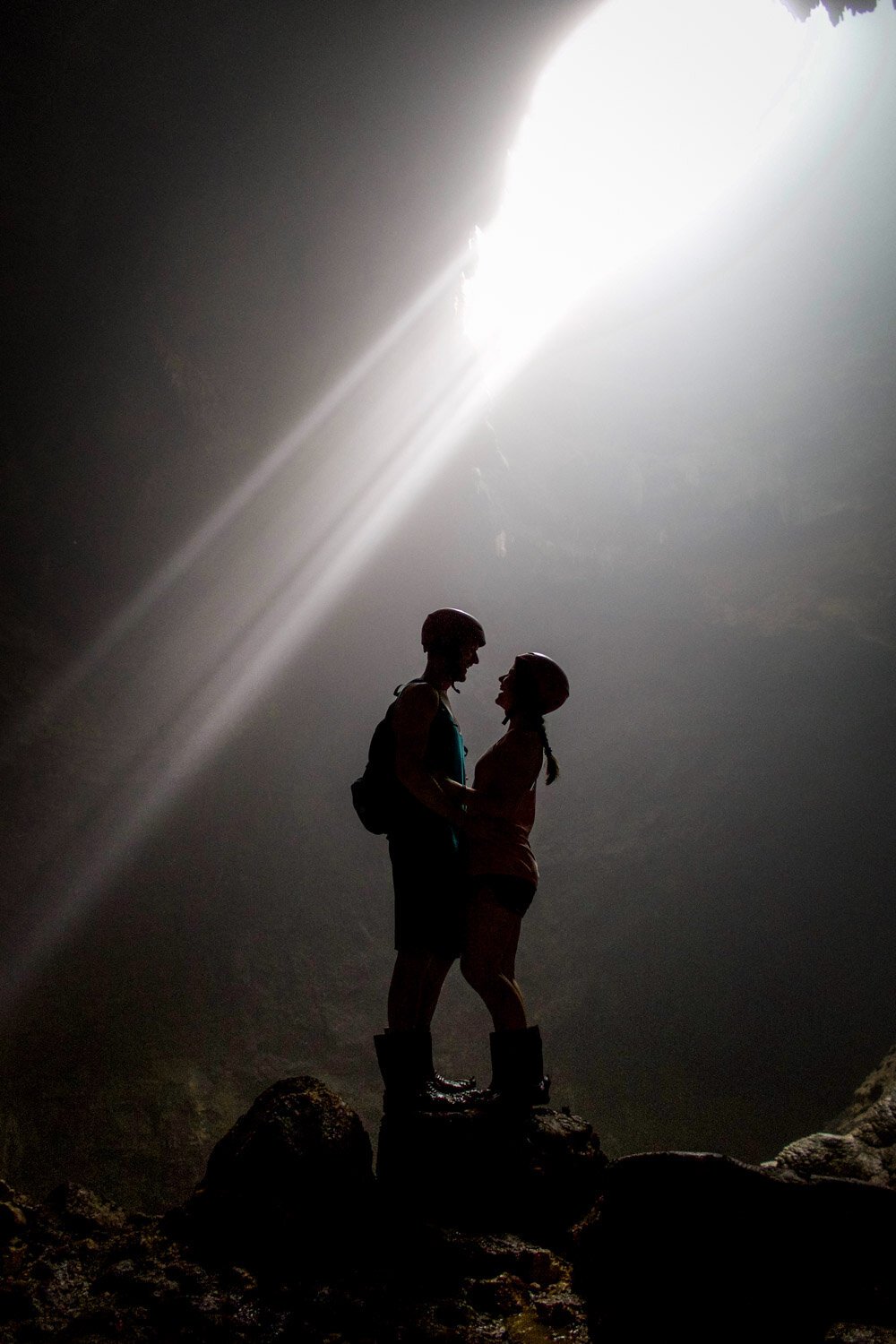 We hired a private driver (through Backstreet Academy) who drove us 1.5 hours to the cave, waited for us in the parking lot, then brought us back to our guesthouse.
He explained to us that there is a limited amount of people who can go into the cave each day, but there is no way to make a reservation. This means you have to show up in time so you get a spot. We didn't see anyone being turned away, but we were still glad we got there early (even though this meant we had to wait around for a while).
On that note, we were also told that there isn't necessarily a set starting time, as they wait for enough people to come. In total, there were roughly 25 people in our group plus a handful of guides.
We'd imagine this booking system will hopefully change in the future, as it would make it easier for travelers, drivers, and the community that runs the cave excursions. But for now, be prepared for a lack of organization.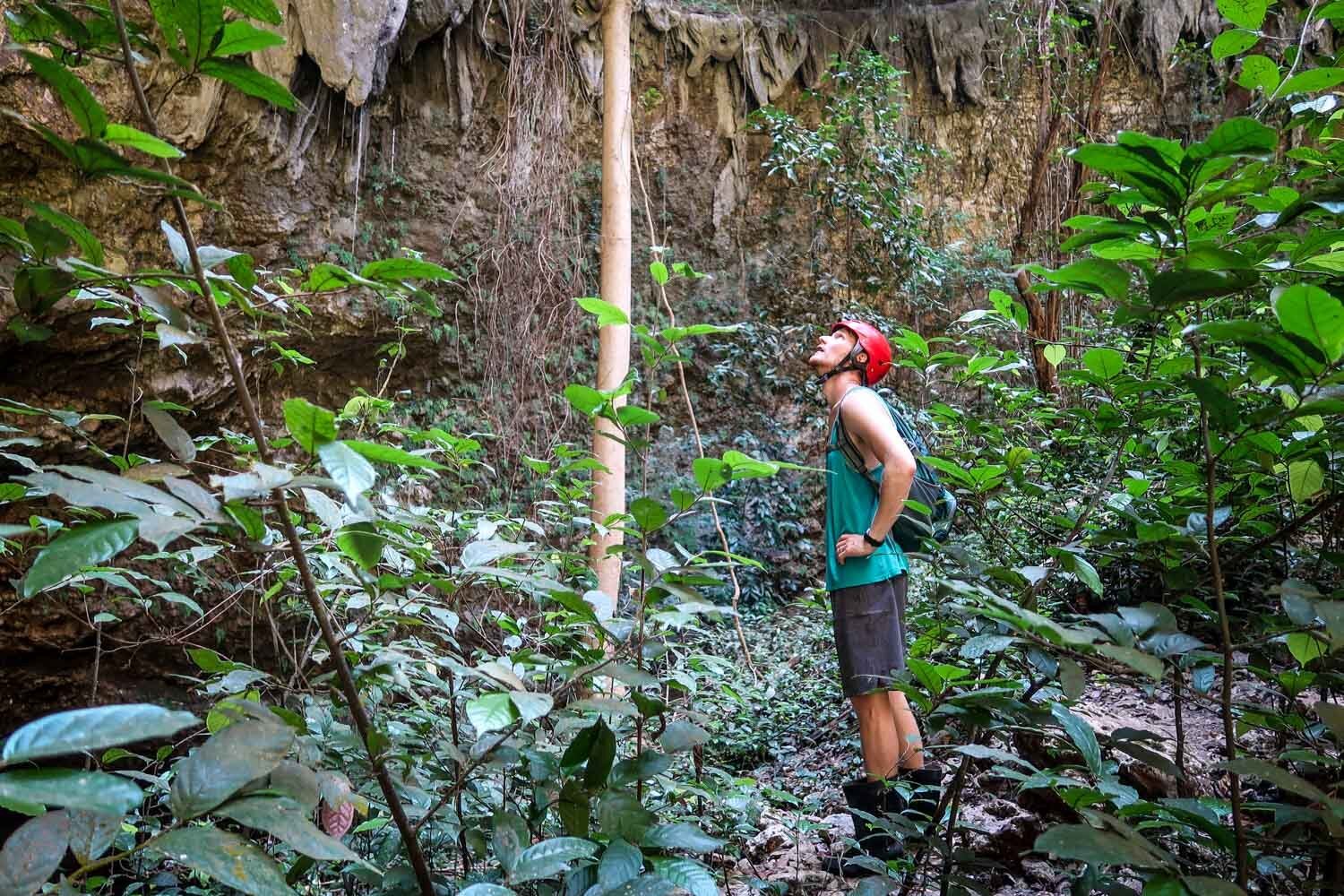 How long does the experience take?
The whole cave experience took about 2.5 hours. However, when you take into consideration the drive and waiting time, it was 7 hours in total. (We left our hotel at 6:30 a.m. and arrived back shortly after 1:30 p.m.)
6. Visit Taman Sari: Underground Mosque & Water Castle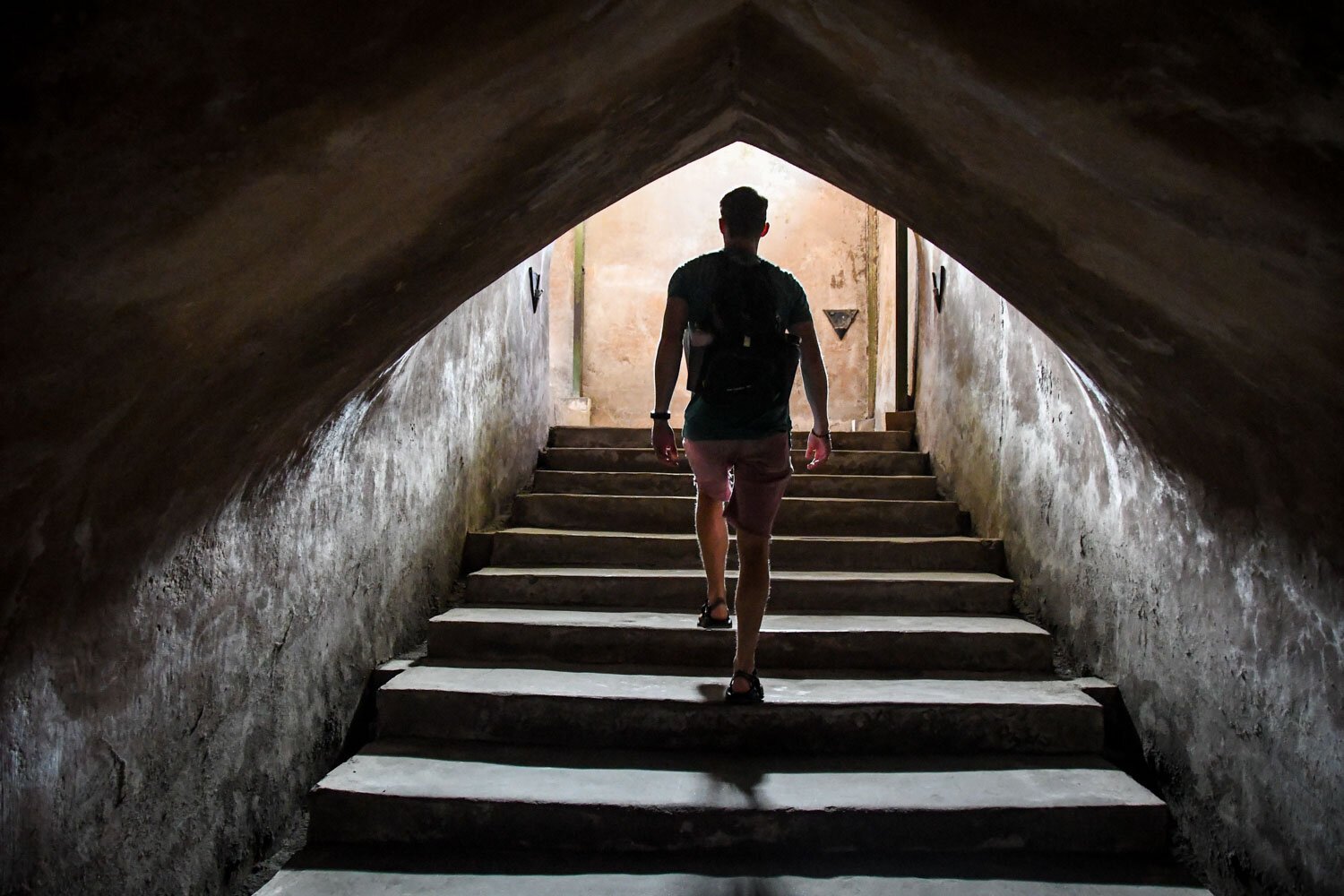 Located very close to the Kraton (Sultan's palace), Tamansari (meaning "perfumed garden") was built as a garden for the ruler, and today is one of the most beautiful places to explore in the city.
Built in 1765 for the reigning sultan, this place once consisted of 59 buildings, all connected by underground tunnels. Many of the buildings were destroyed over the years by earthquakes, and only a handful are now accessible to the public.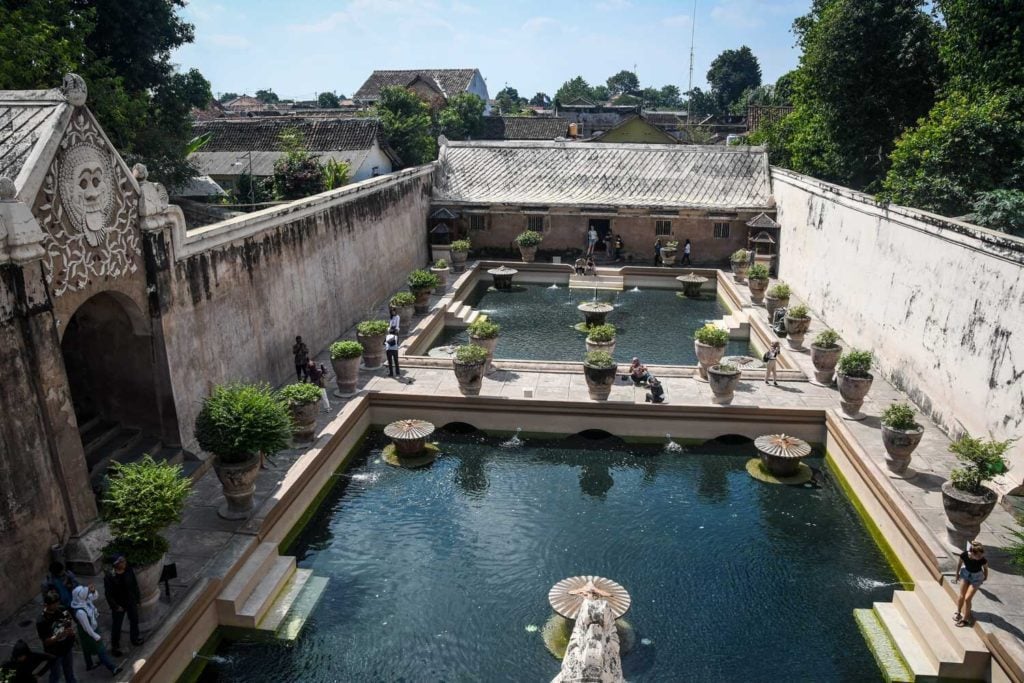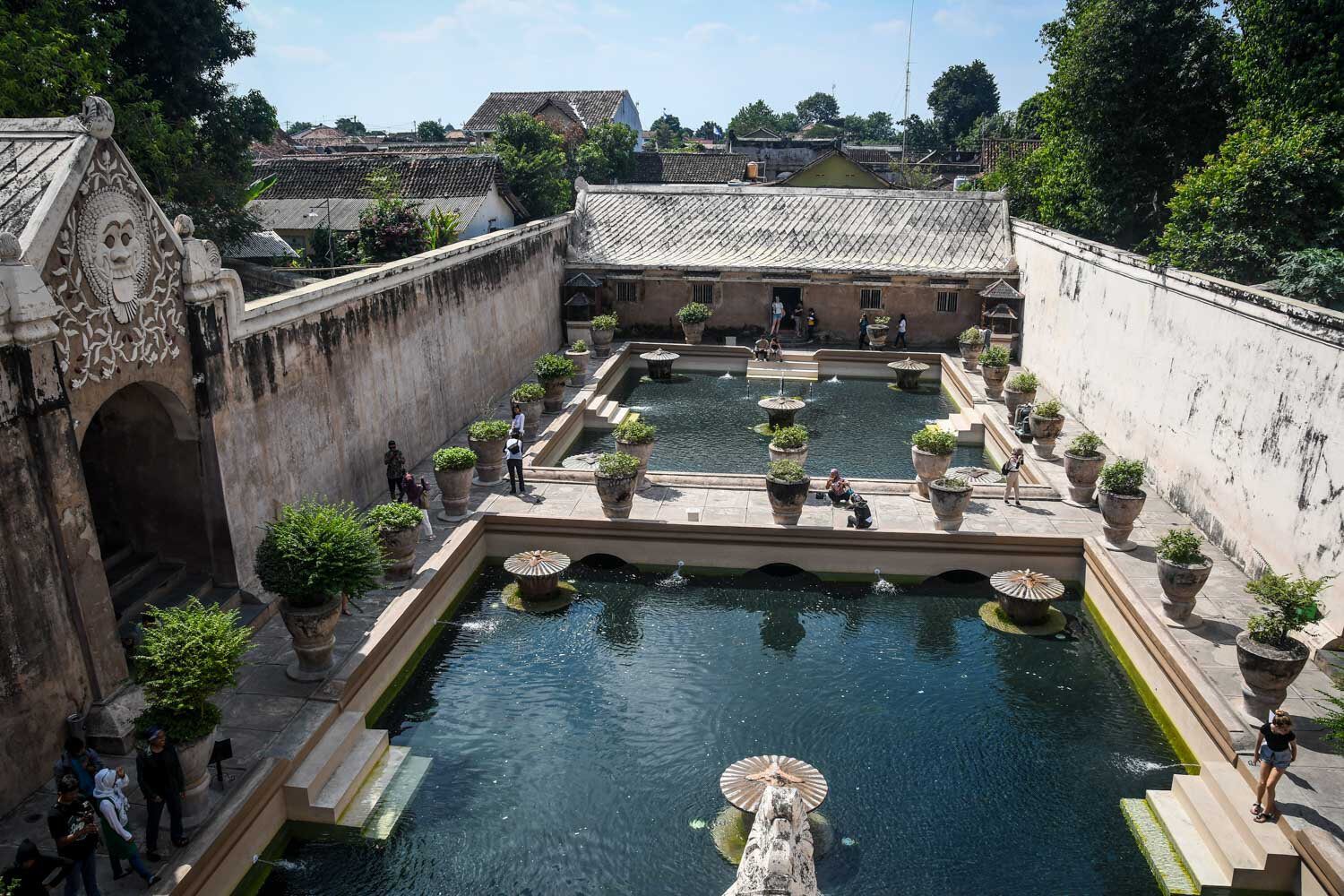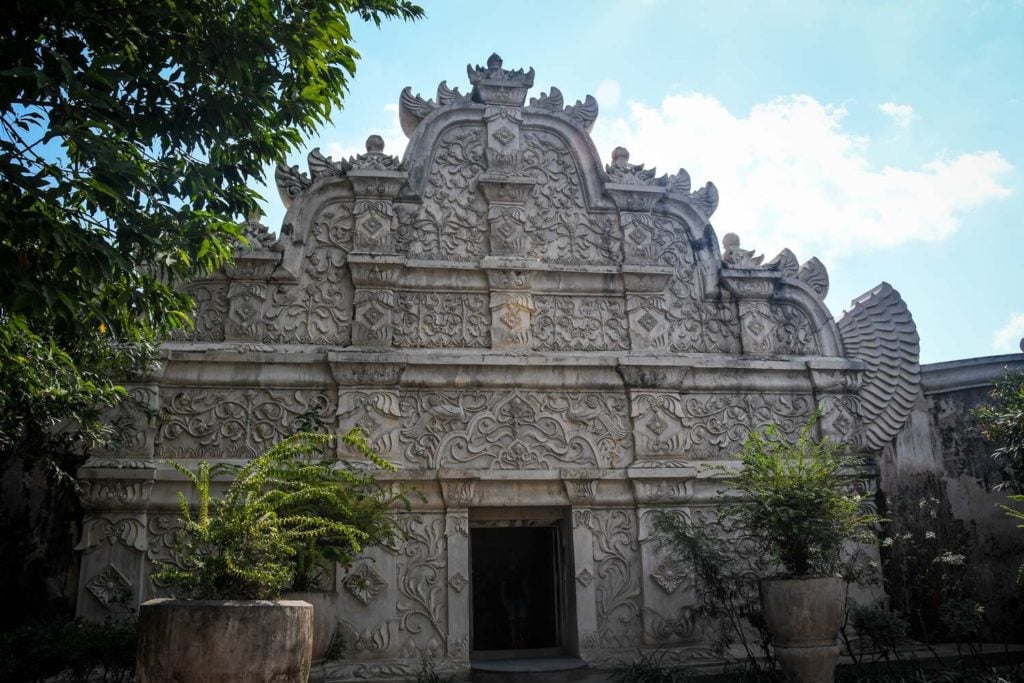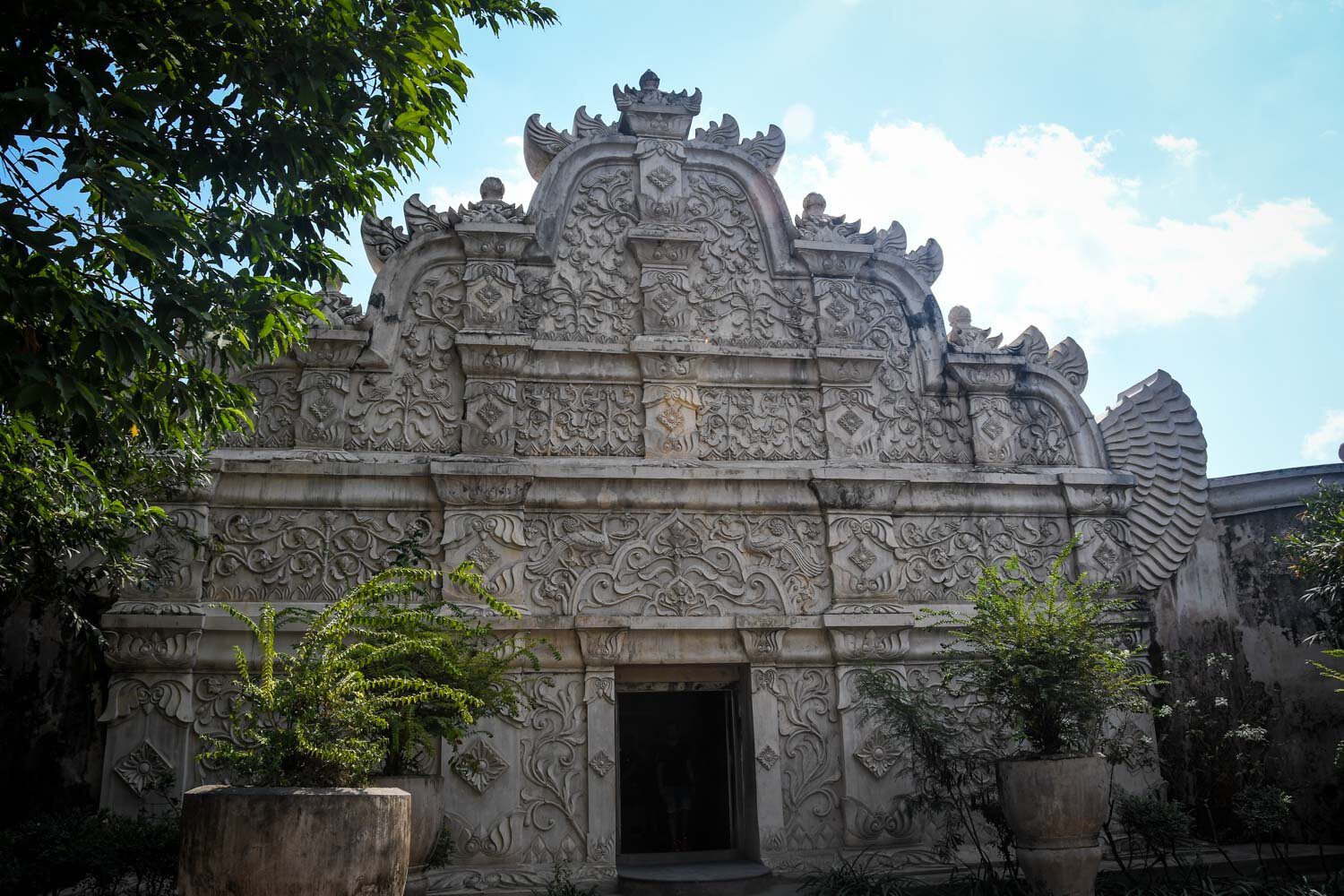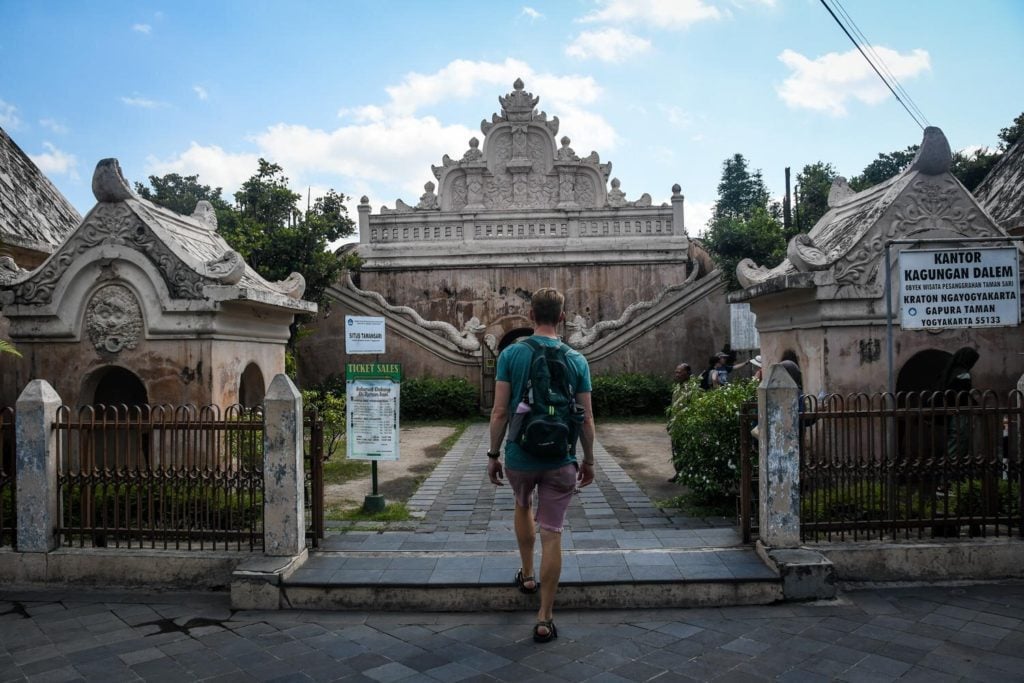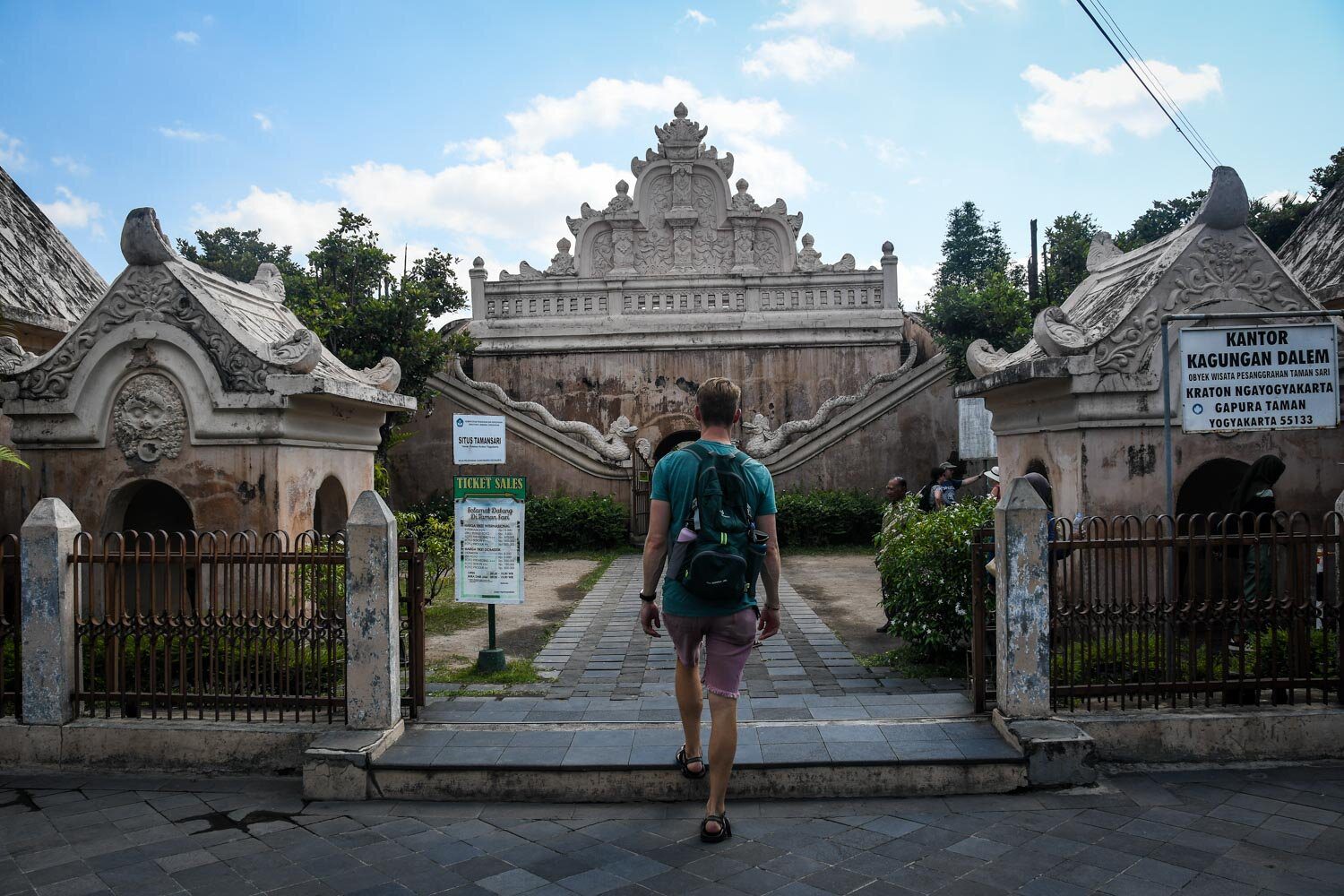 One of the most spectacular parts of Tamansari (also spelled Taman Sari) is the bathing area, which is a tranquil courtyard with pools. There's an interesting… or shall I say slightly creepy… story behind this place. Legend has it that the Sultan for whom it was built loved to hunt, and this bathing area was built for him to "hunt for a wife". He would toss a rose down from a tower, and the princesses bathing below would catch it.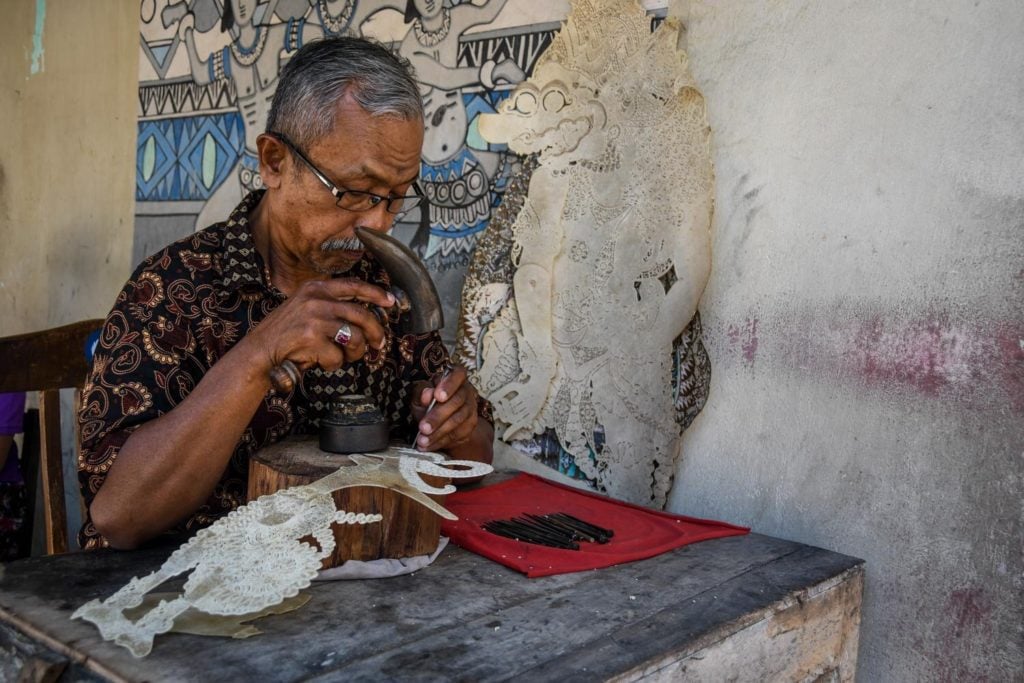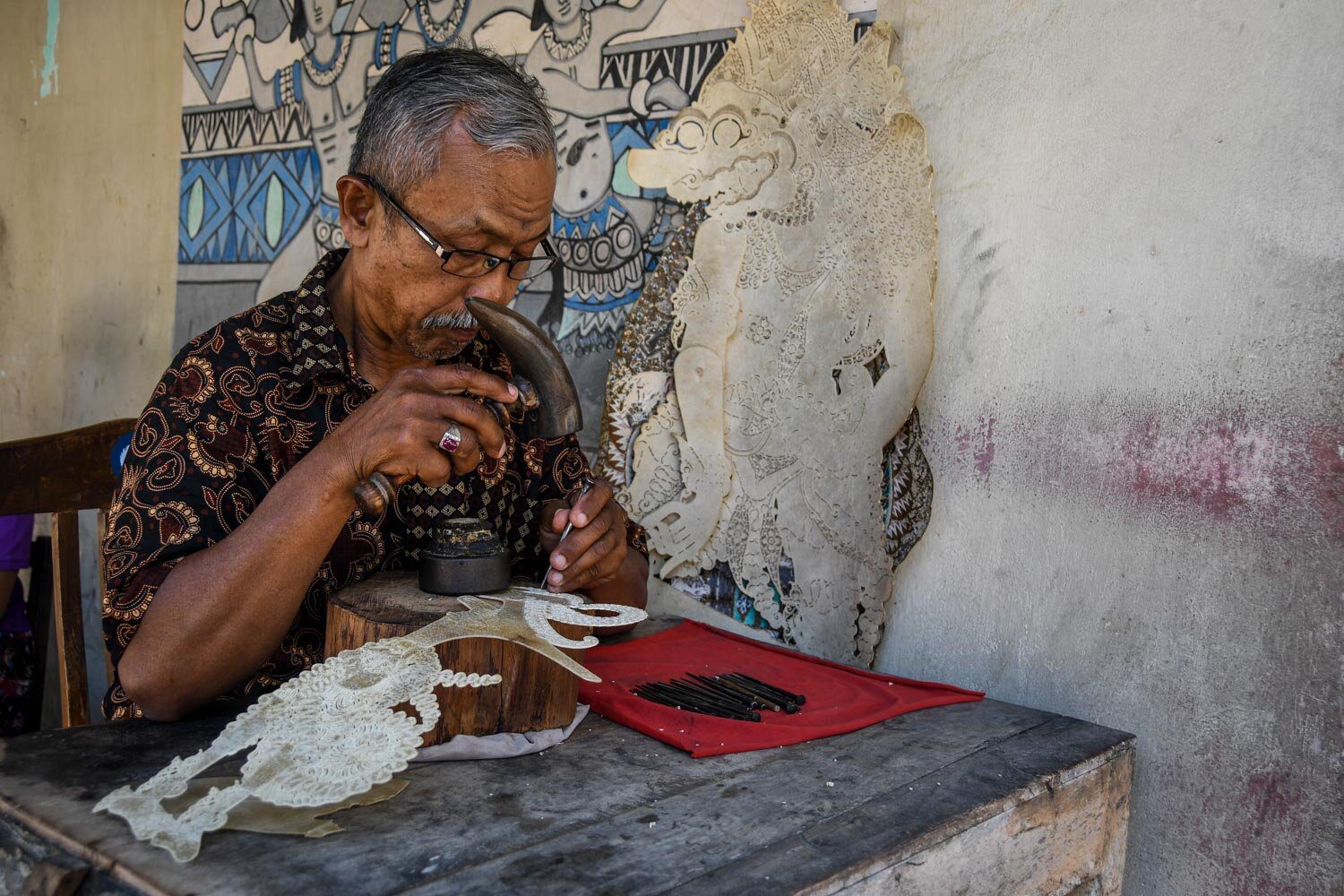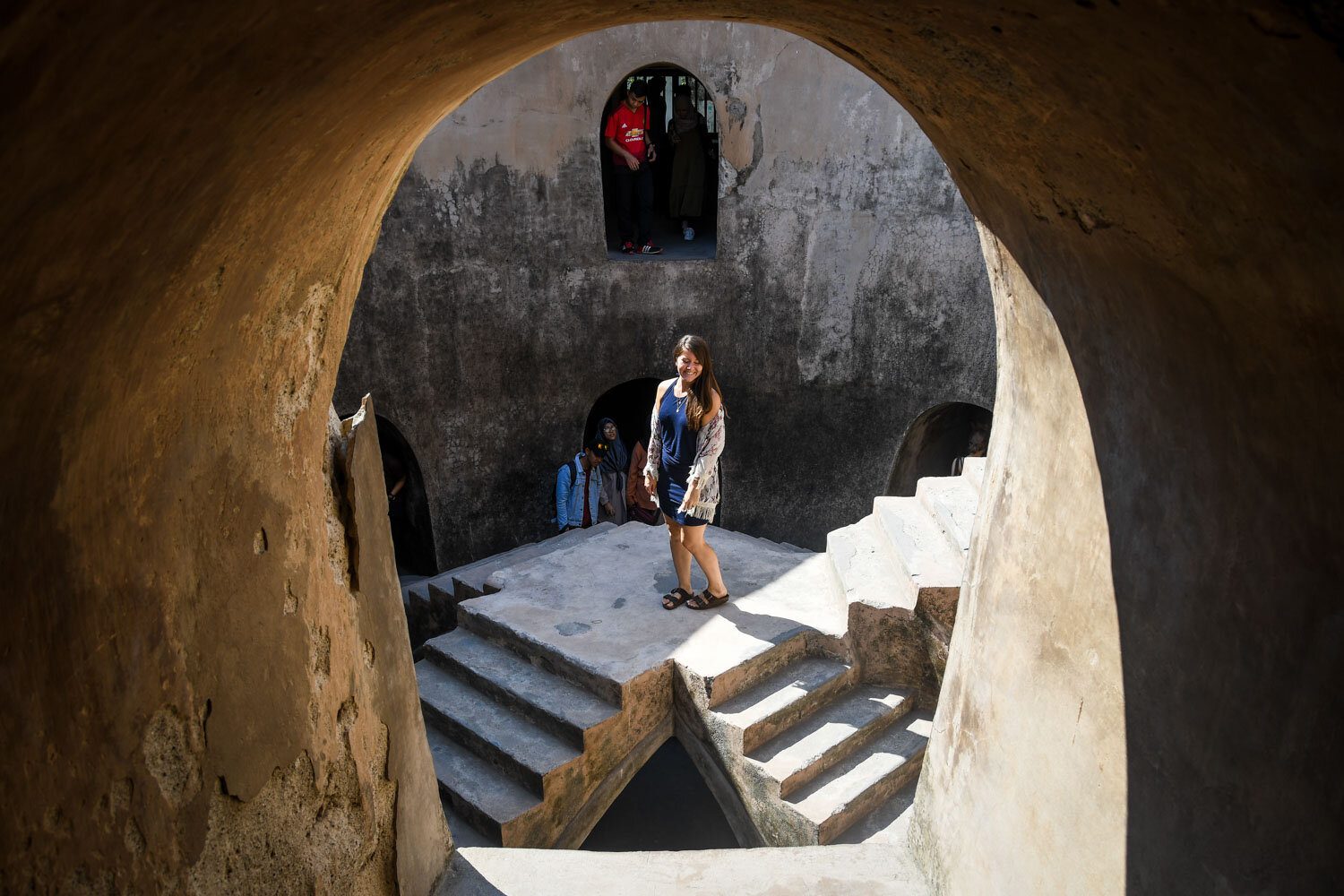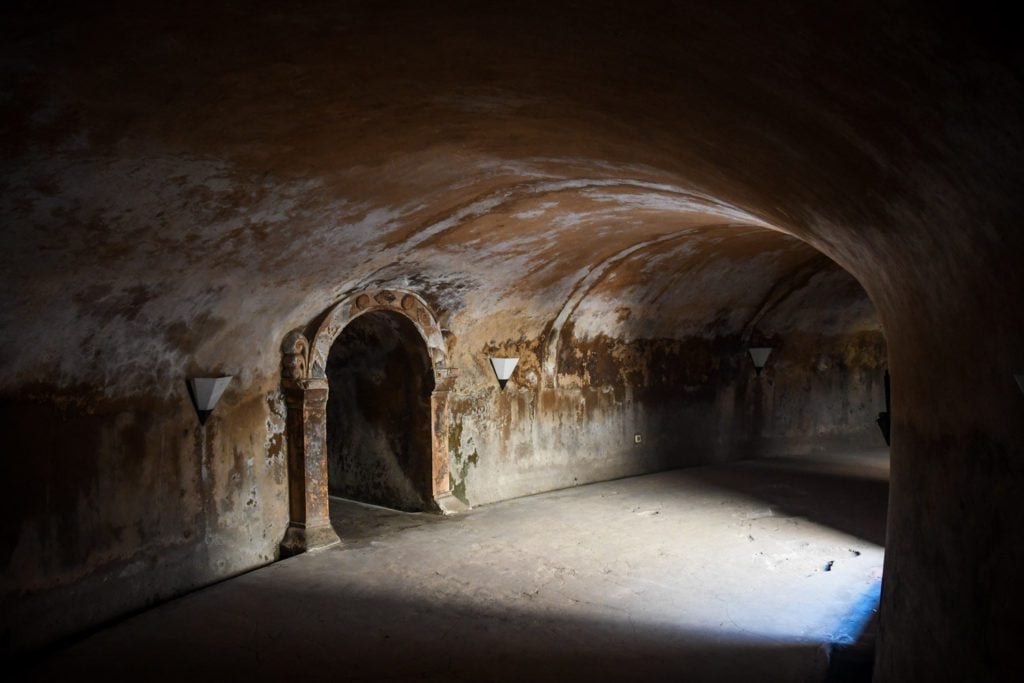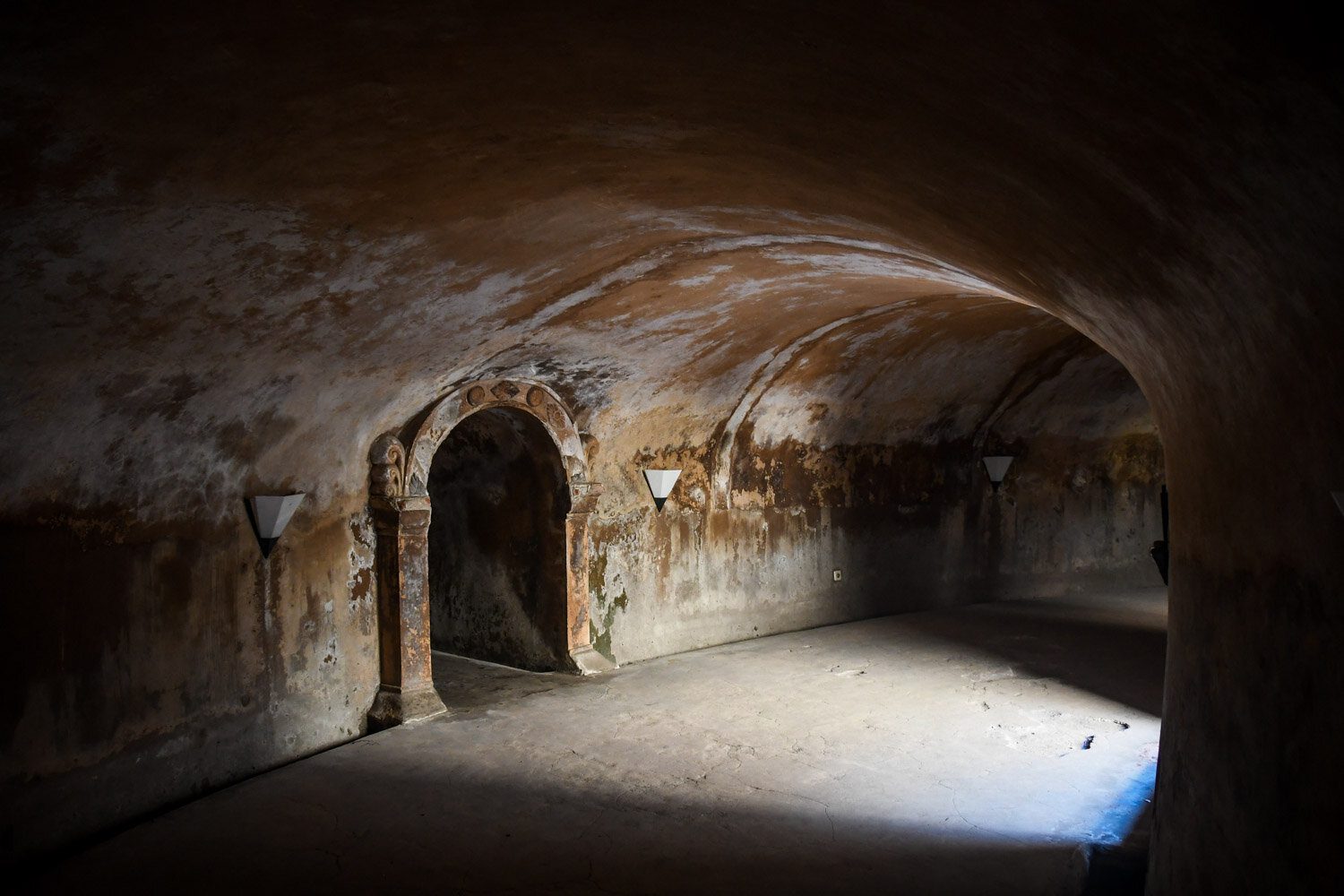 You can also wander through tunnels and explore an underground mosque, both of which are stunning. While we were wandering around we saw lots of young locals doing their own "Instagram shoots".
How long do you need? We spent about 45 minutes to an hour wandering around this complex.
Cost: IDR 15,000 foreign tourist entrance fee, IDR 3,000 for large cameras (DSLR), IDR 3,000 for motorbike parking
7. Hang out on Prawirotaman Street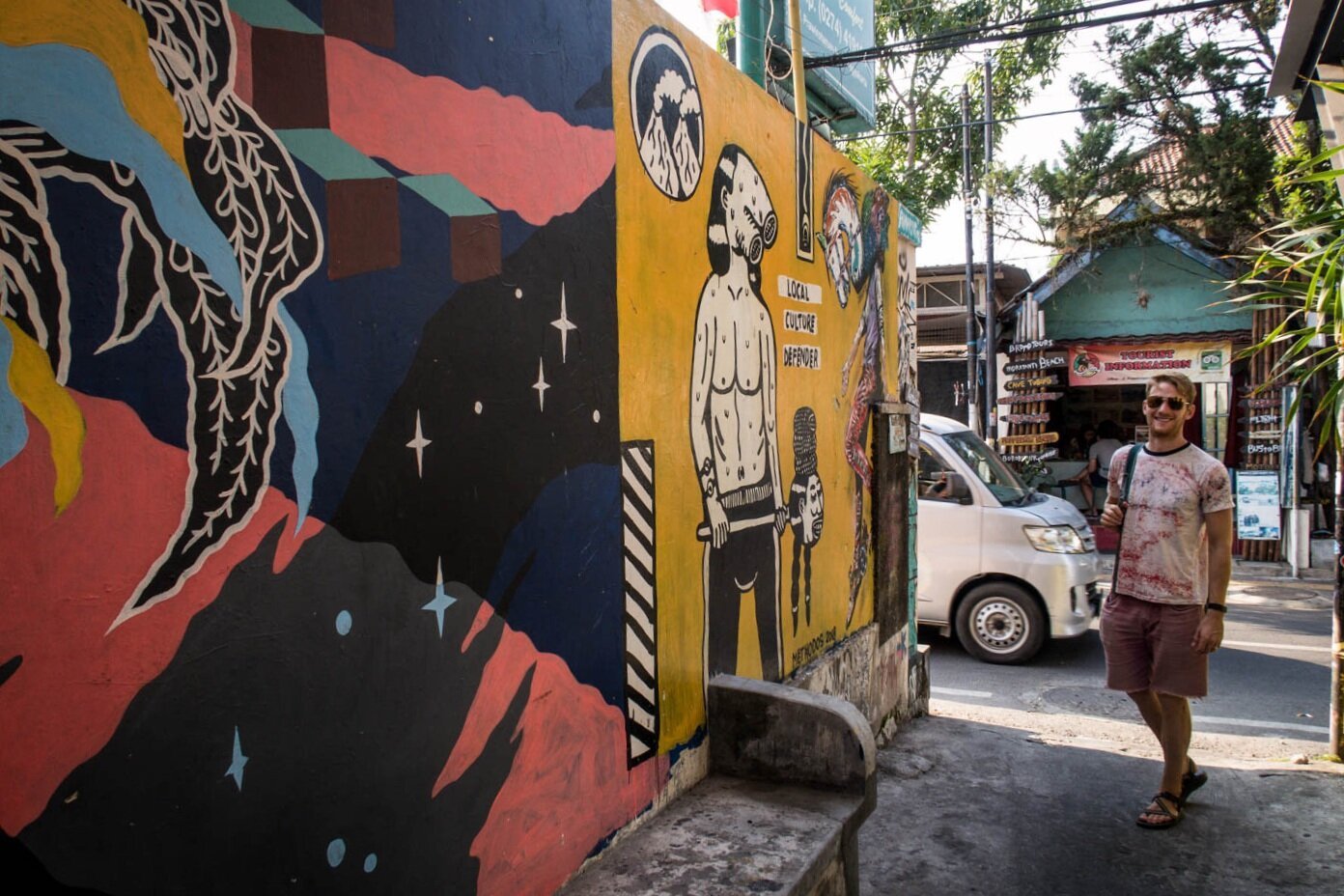 This street is where the cool kids hang… or something like that.
We heard a few people refer to it as the "backpacker street", but we saw travelers of all ages as well as locals looking for a fun spot to hang out.
This area is painted with colorful murals and dotted with cute cafes and bars. While most of them wouldn't get a second glance amongst the Instagram-worthy spots in neighboring Bali, these are some of the best restaurants and hang out spots you'll find in Central and West Java. This area has a more laid back, artsy feel than the rest of the city, and almost reminded us of parts of Chiang Mai.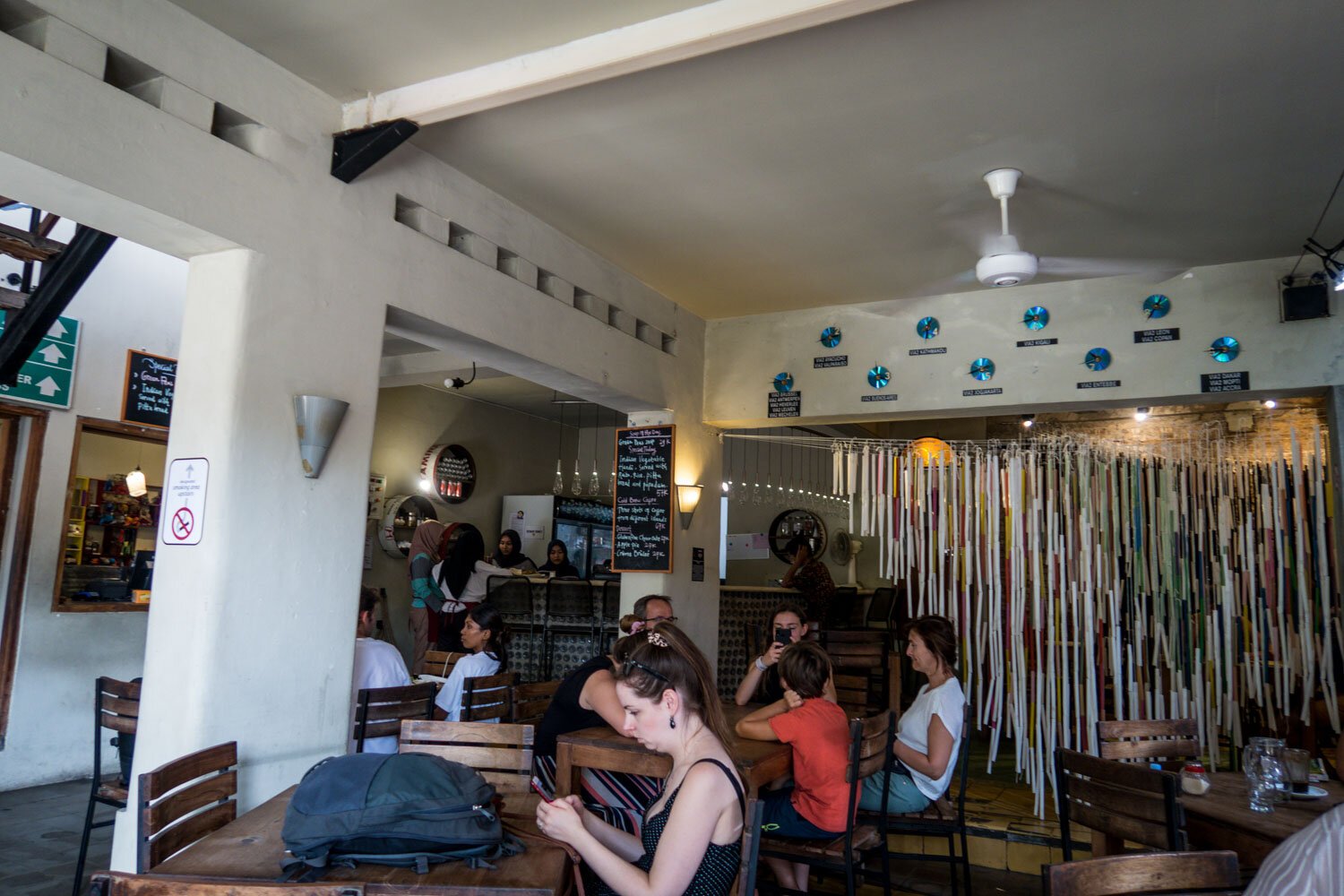 Lots of hostels and guest houses are situated in the quiet alleyways that split off this main street, and we think it's a great area to stay in while exploring all the things to do in Yogyakarta. Here are some cafes and restaurants that you might want to check out:
Just Play On: young locals, adult "playground" vibes

Nanamia Pizzeria: backyard Italian restaurant

ViaVia: Popular cafe with Western and local dishes as well as a fair trade shop.

Tempo Gelato Prawirotaman: Yummy flavors and very refreshing on a hot day

Warung Heru: homemade Javanese and Indonesian dishes
8. Go on a Street Art Scavenger Hunt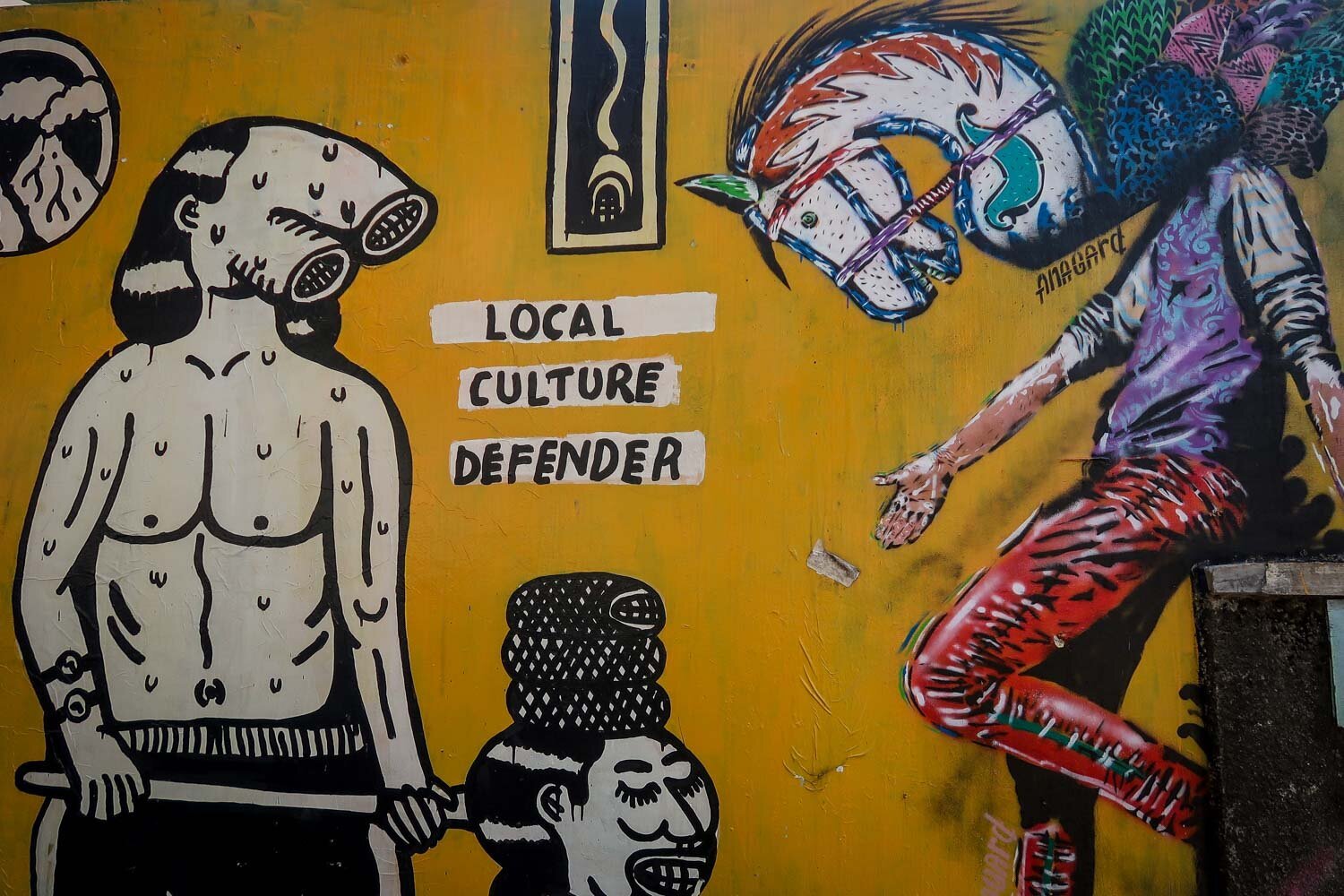 We love street art, and try to spot as much as we can when we're in places known for it. And Jogja is one of them!
You can certainly scope out some sweet pieces of art on your own – that's what we did – but if you have the time, the Street Art Tour led by Backstreet Academy looks really cool. In fact, the tour is led by one of the most famous street artists from Indonesia: Anagard.
Anagard, whose real name is Andres Busrianto, is known for his distinctive style in which he uses stencils to depict characters that have a human body and an animal or fantastical head. Anagard explores social themes and uses his art to highlight injustices, government corruption, and to fight for equality. There's something powerful about artwork that sends a message and is in a public space for all to see.
His works can be seen all over the world – from Berlin to Poland to Australia. And of course, you'll find lots of his artworks around the city he calls home: Yogyakarta.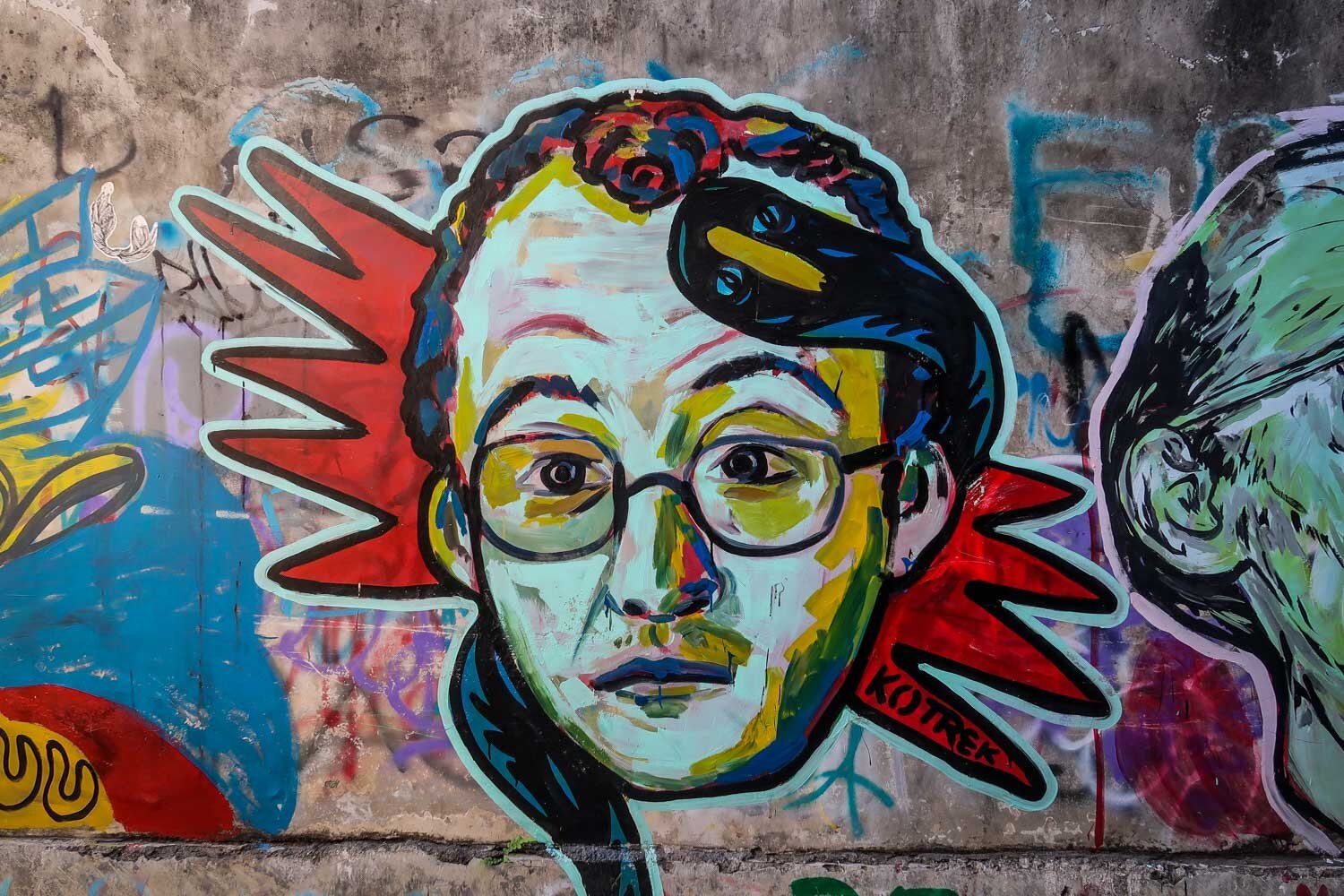 Hint: If you're on your own, you can find quite a few murals and small pieces of art in the Prawirotaman Street area. Wander into the nearby alleyways and you'll find even more! The village of Sewon in southern Yogyakarta is known as the city's street art mecca.
9. Test your culinary skills in a cooking class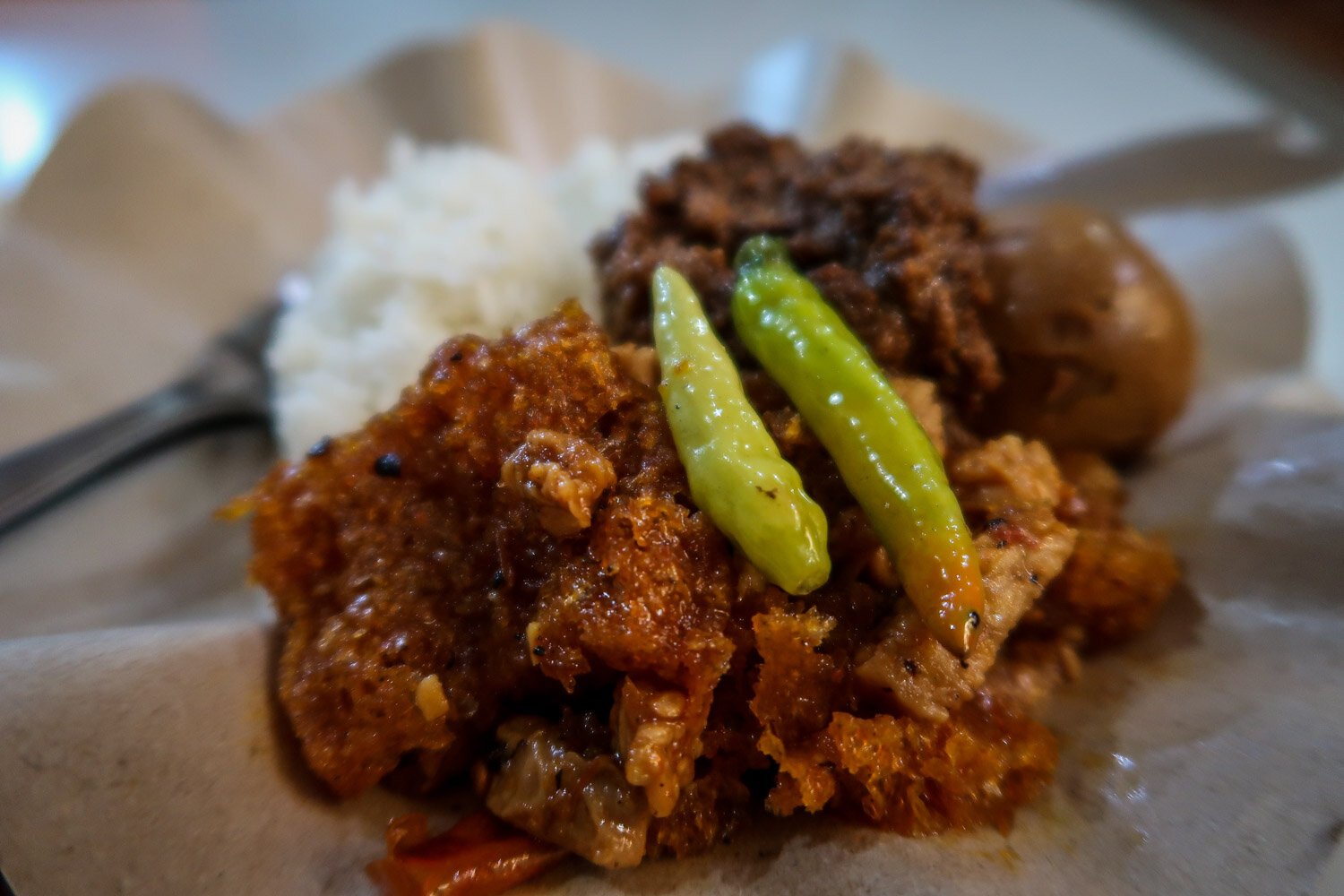 Take your knowledge of Javanese cuisine to the next level by doing a cooking class. We think learning about local cuisine can give you so much insight into the culture, so we're kind of obsessed with taking cooking classes on our travels.
You'll likely have one of your most memorable meals on your trip, plus, you can bring your newfound cooking skills (and recipes) home with you as an everlasting souvenir! Your friends and family will thank you.
Book a Javanese Cooking Class in Jogja:
ViaVia, a cafe on Prawirotaman Street, also runs a popular cooking class that runs two times daily.
10. Cool off at a pool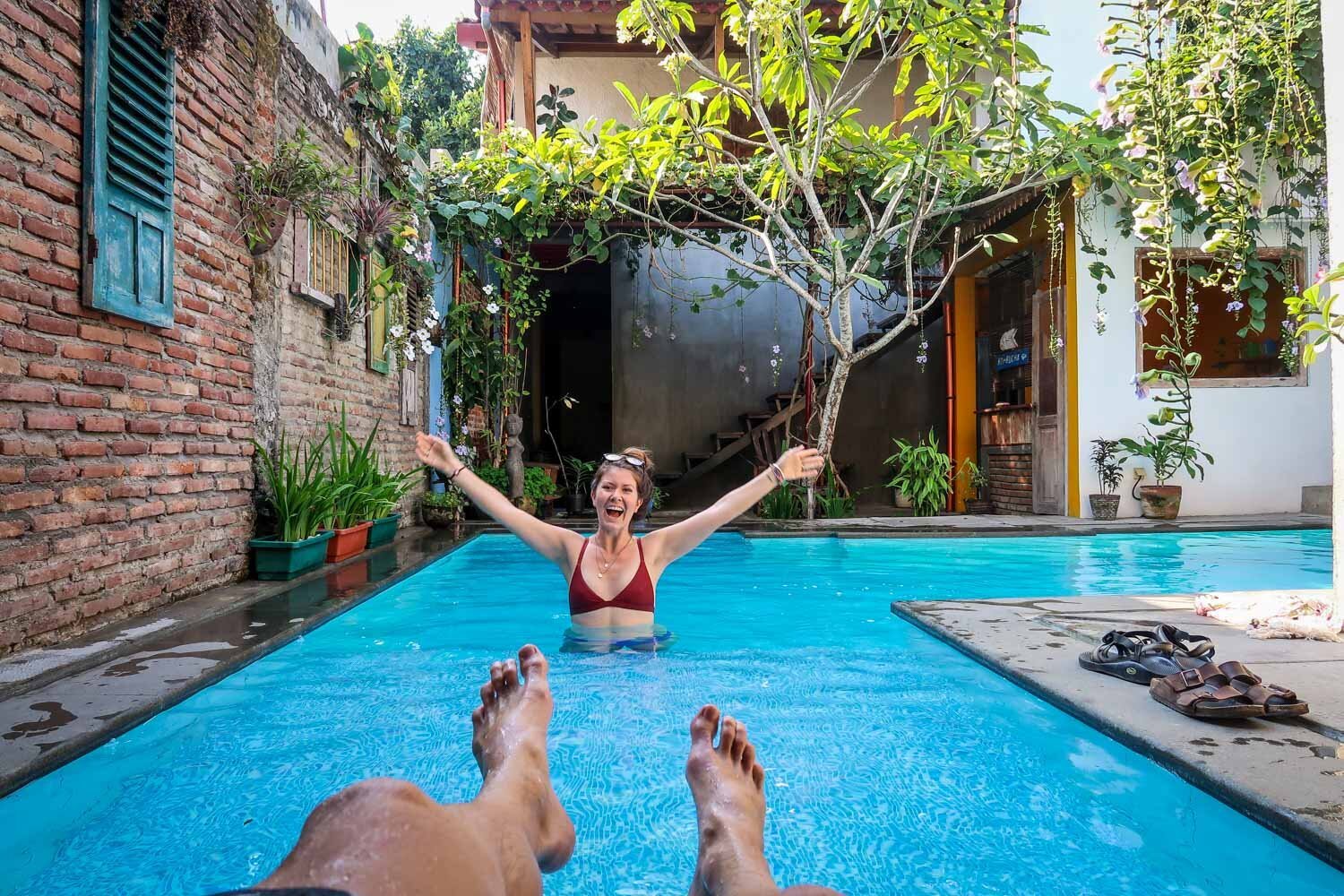 Taking a refreshing dip in a pool is quite possibly the best way to beat the midday heat in Java. It gets steamy, friends. Our advice would be to intentionally book a hotel with a pool. Trust us, you'll be happy you did.
We cooled off in the afternoon heat between our visits to Borobudur and Prambanan and were so grateful for that sweet, sweet pool.
Here are some hotels with pools in Yogyakarta:
Nextdoor Homestay: This is where we stayed and we would highly recommend it. Not only is it super budget-friendly, but the rooms are cute, it has a great location in a quiet area, the staff is very helpful, and the free breakfast is yummy! Oh, and there's a small but nice pool. What more could you need?

Greenhost Boutique Hotel Prawirotaman: Beautifully designed hotel with an outdoor pool.

Gallery Prawirotaman Hotel: 4-star hotel is one of the nicest accommodations in Yogyakarta, so you know they have an outdoor pool!
11. Get a Javanese Massage
We are all about Balinese massages! In fact, during our collective 6 months of living in Bali, we got into a somewhat ridiculous habit of getting weekly massages… (we're still going through withdrawals).
If you're craving a little R&R or a way to unwind after a long day of visiting temples, do what we did and seek out a Javanese massage.
Not gonna lie, we didn't love our massage in Yogyakarta as much as the ones we got in Bali (wow, that sounds spoiled). But when they cost well under $10, how can you pass it up?!
And well, after doing a little research, we realized we would have been better off reading some reviews before we just stumbled into the place with the first massage sign we saw (not the first time we've made this mistake!).
Here are some spas in Yogyakarta that look much better than the one we chose:
Tea Spa

SAARAH Day Spa

Gendhis Royal Spa

Sayana Salon and Spa
12. People-watch on Malioboro Street at night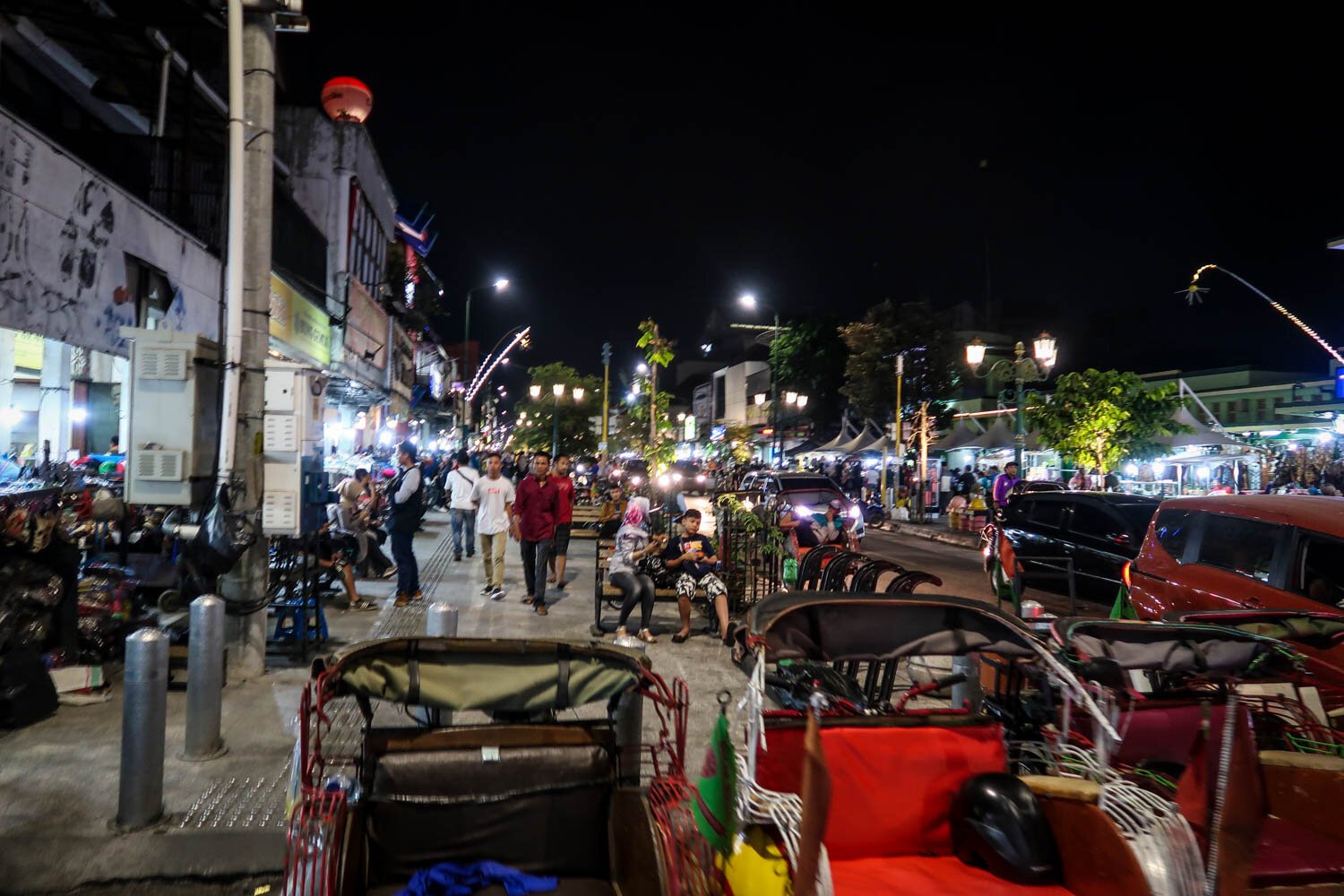 Known as the city's major shopping street, visiting this area at night is a far different sight than during the daytime.
At around 5 p.m., you'll see the street food stands start to open up and the street begins to get more crowded. And as the sun sets, more and more people will fill in and street performers will start their nightly routines. You'll even see locals sitting on the sidewalk in a circle with their friends. The lively night-time atmosphere is something you just have to see!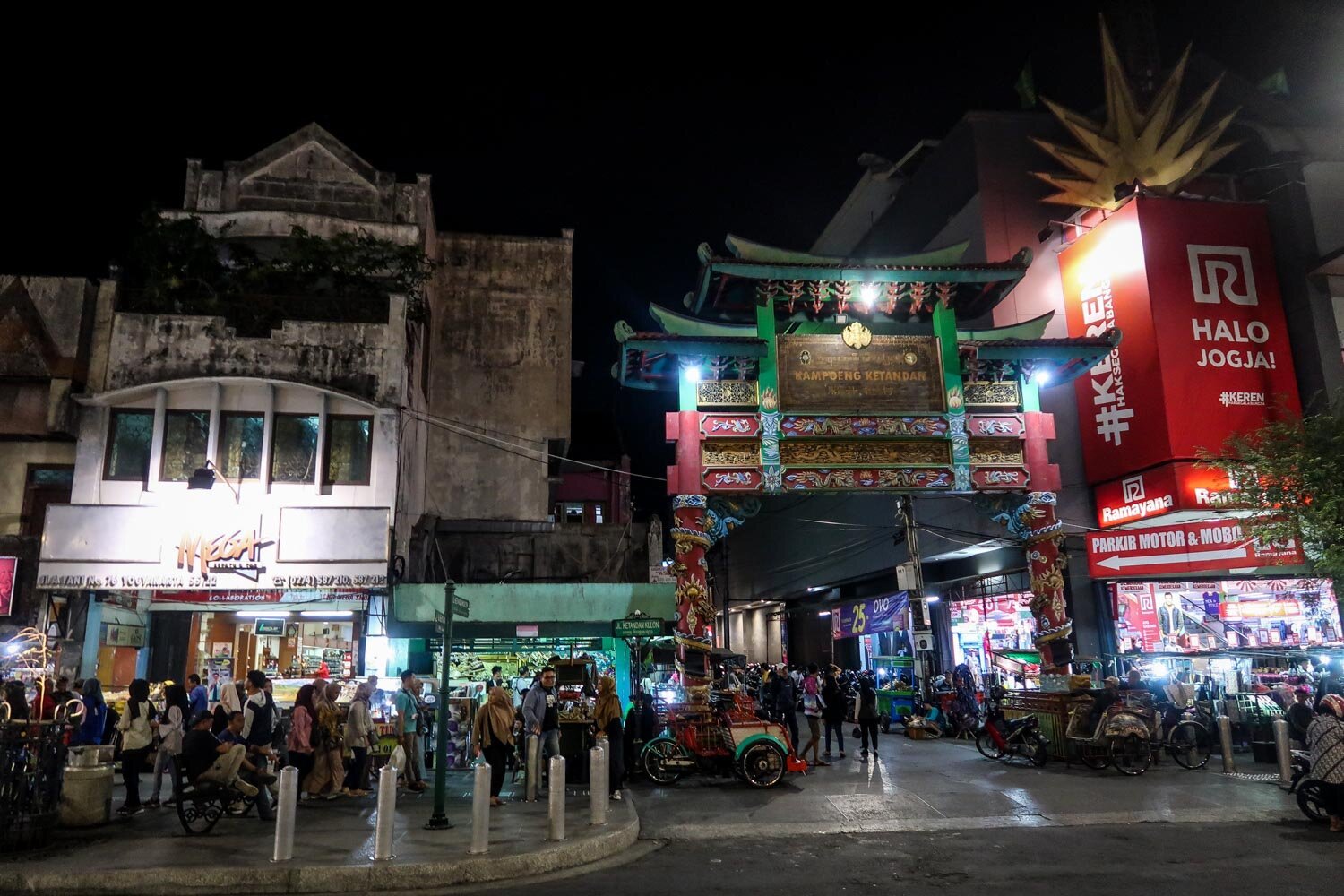 Insider Tip: Book a street food tour through Backstreet Academy (see #1 on this list), and you'll finish your tour in this area by sampling some of the best dishes!
13. Shop at the local Market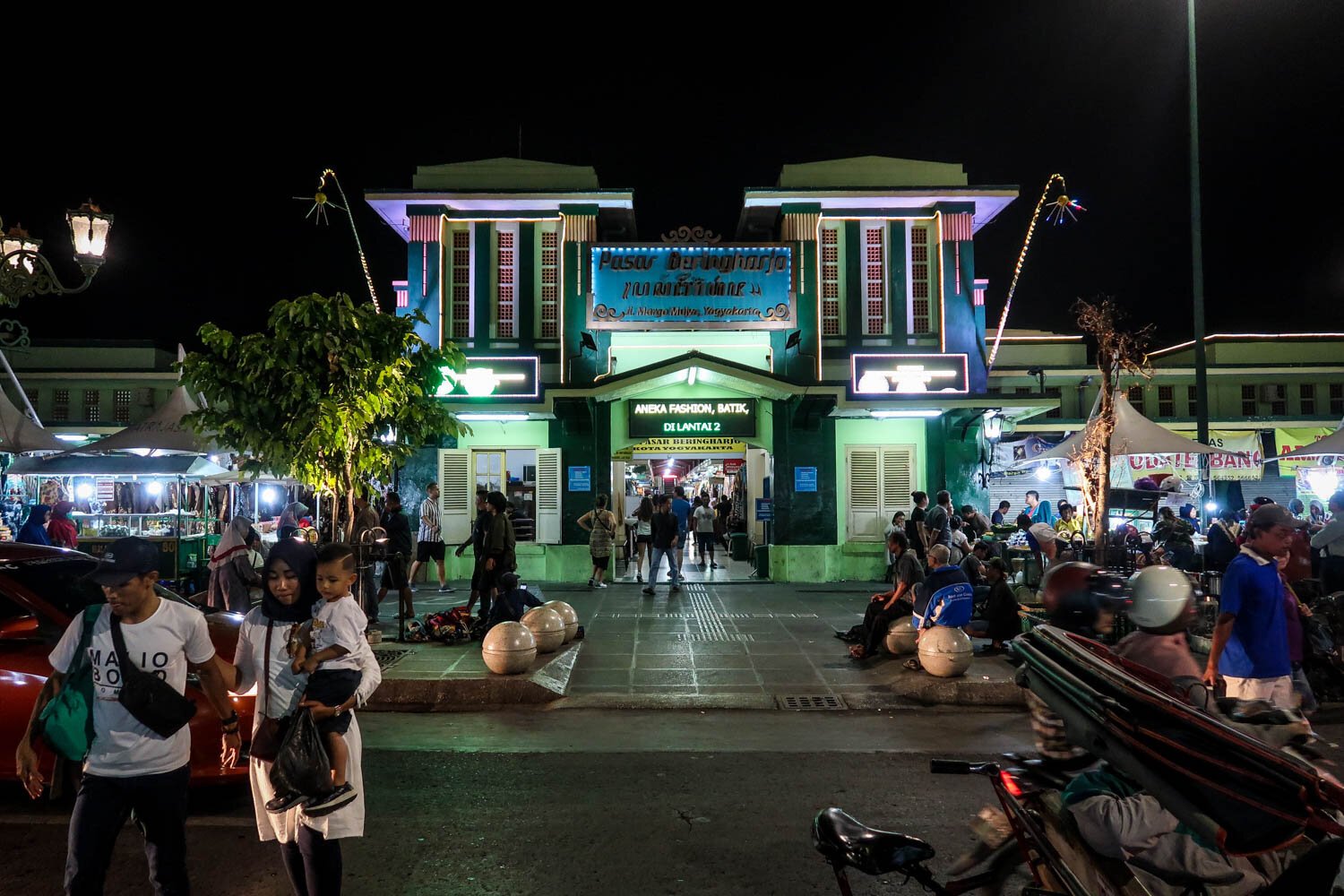 Wandering through traditional markets is one of our favorite things to do on our travels. It's the perfect place to try authentic local flavors, as well as a place to pick up a cheap souvenir. Jogja's local market, Pasar Beringharjo, is located on Malioboro Street and is open all day from 8:30 a.m. to 9 p.m.
14. Drink Charcoal Coffee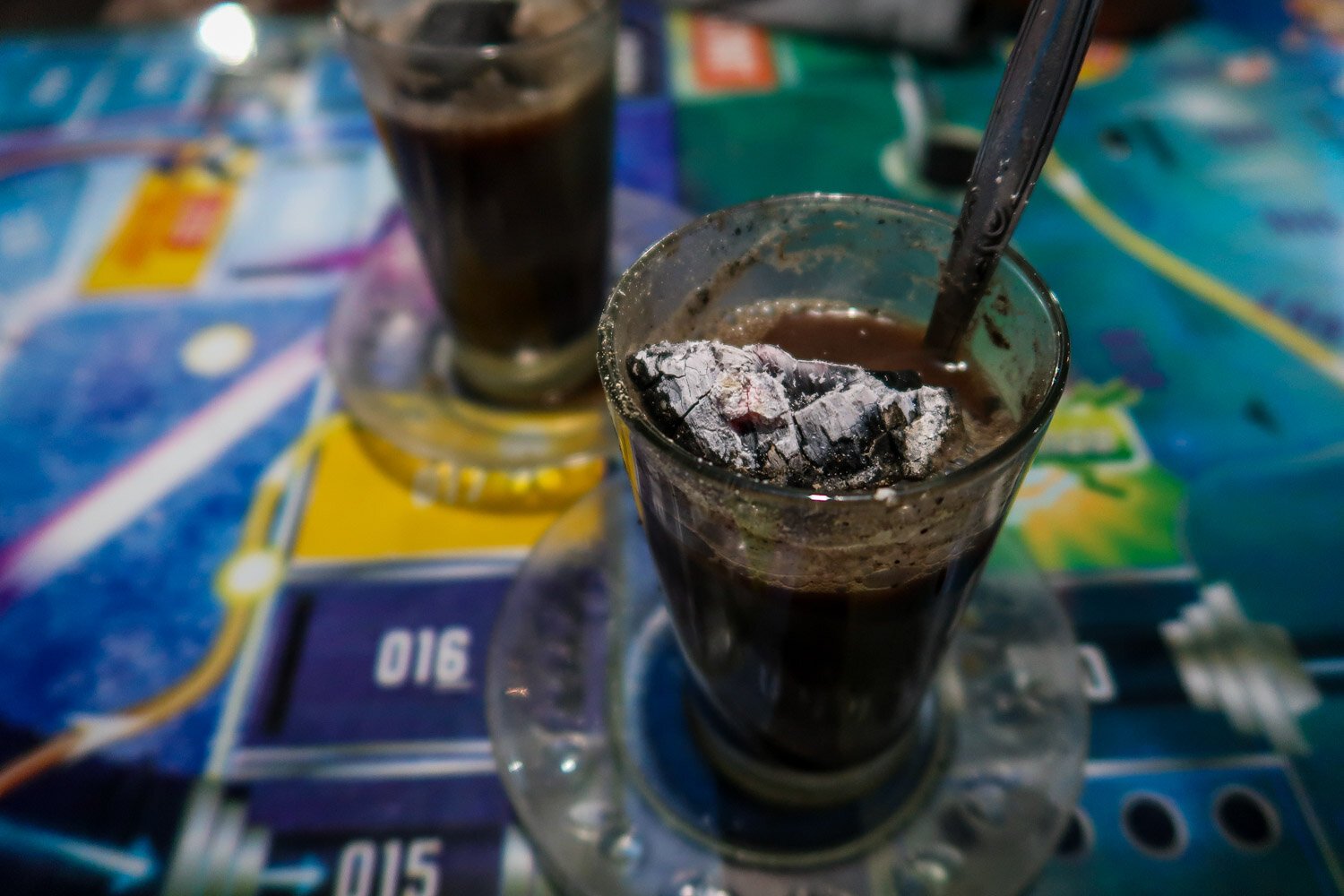 Now that you're on the island of Java – one of coffee's most famous nicknames – you've gotta have a cup (or 10!).
Interesting Fact: Did you know that Dutch colonists brought the coffee plant to Indonesia in the 17th century? Me neither. The plant did so well that Indonesia became the coffee leader of the world, thus earning the beverage it's nickname, Java.
But instead of ordering up a regular old cup 'o Joe, we've got something else in mind… How about a cup of coffee with a red-hot coal plopped inside?!
Okay, stick with me here…
Kopi Joss is just that: coffee with a lump of burning coal. Kopi means "coffee" and joss is meant to be the sound the sizzling coal makes as it plunges into the liquid. (Don't worry, the charcoal is removed before you drink it!)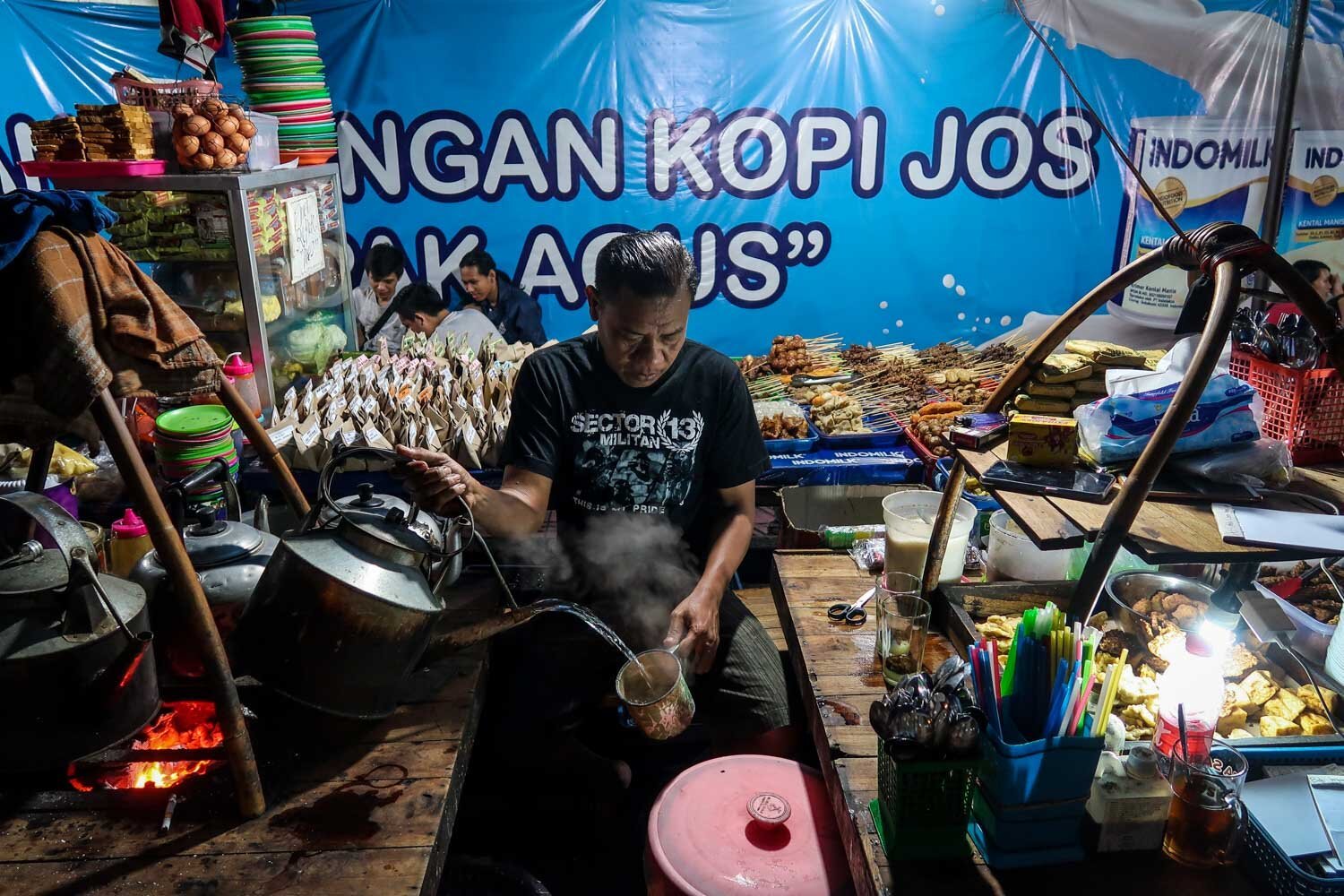 We tried this interesting take on coffee during our Street Food Tour with Backstreet Academy (see #1 on this list) and it was fun to try.
Our guide told us that the coals they use are made from the tree of the rambutan fruit. She also claimed that the process of adding charcoal to the coffee makes the coffee less acidic and absorbs most of the caffeine, making it a popular late-night drink.
She said that the vendors claim it can alleviate digestive issues, so it made sense (sort of) that it was the last stop on our food tour after stuffing ourselves… I have yet to see any medical evidence to back up this claim, but hey, it didn't hurt!
There are a handful of places where you can find kopi joss in Yogyakarta, but the original is run my "Mr. Man" and is located right next to the train tracks and just north of Malioboro (here's the Google Maps location). This streetside stand is usually packed with people sitting on mats on the ground and is open late throughout the night (the charcoal absorbs most of the caffeine, remember?!). And if you get hungry, you can order a skewer of meat or veggies, which are also sold here.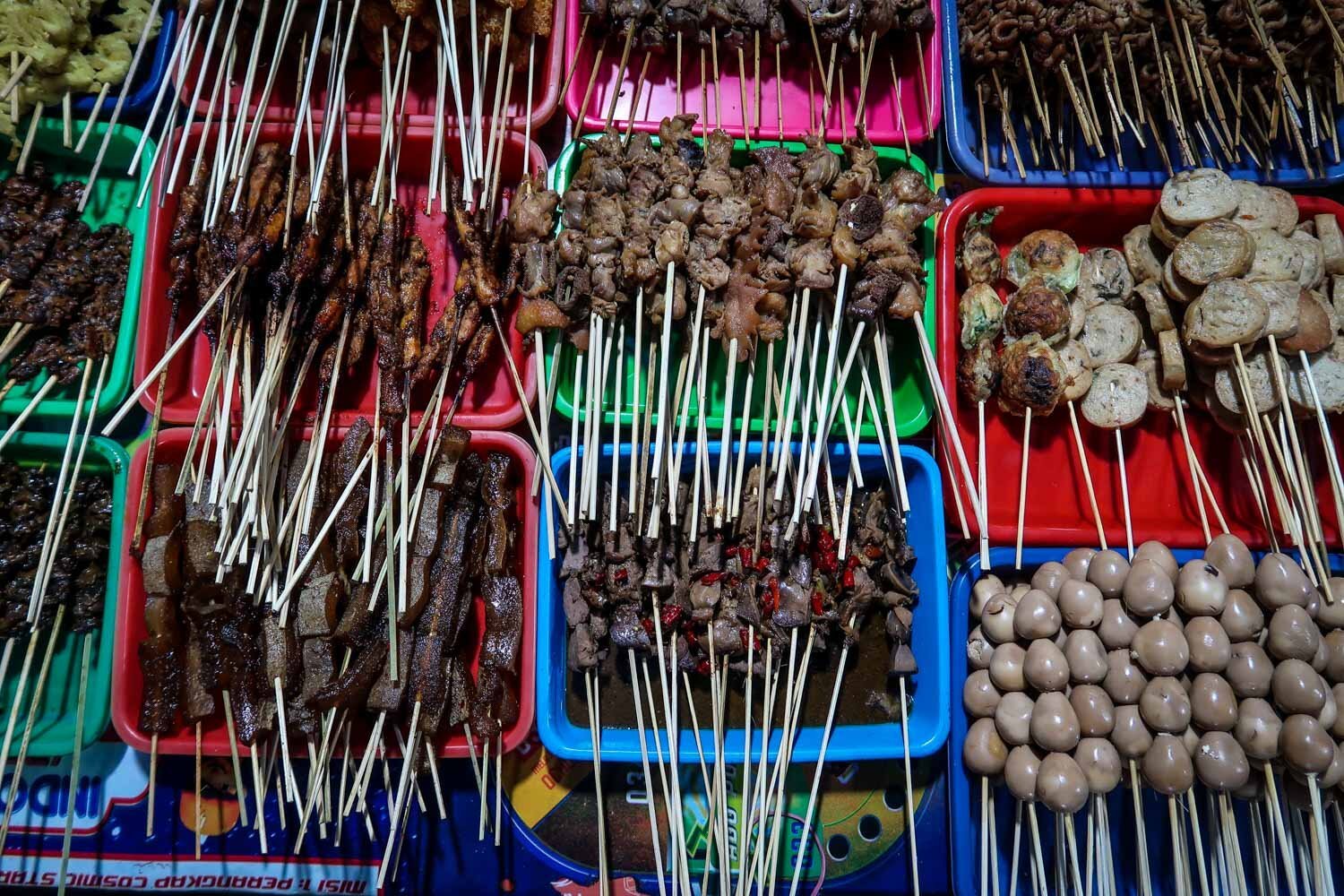 What does it taste like? Well, mostly just like a regular coffee that has been sweetened (aka dark and sweet). You can't really taste the charcoal and it didn't taste burnt (in my opinion), maybe a little smoky. But there was kind of a caramel undertone… so maybe that came from the sugar burning slightly? Either way, it was nice and not an off-putting flavor like I was expecting.
So while the flavor isn't anything all that special, it's still a pretty cool experience that you can only get in Jogja. Just don't take a sip until Mr. Man has removed that sizzle chunk of charcoal!
Cost: Kopi Joss was included in our Street Food Tour, but a single glass should only set you back around IDR 4,000 (30 cents).
15. Go crazy for Batik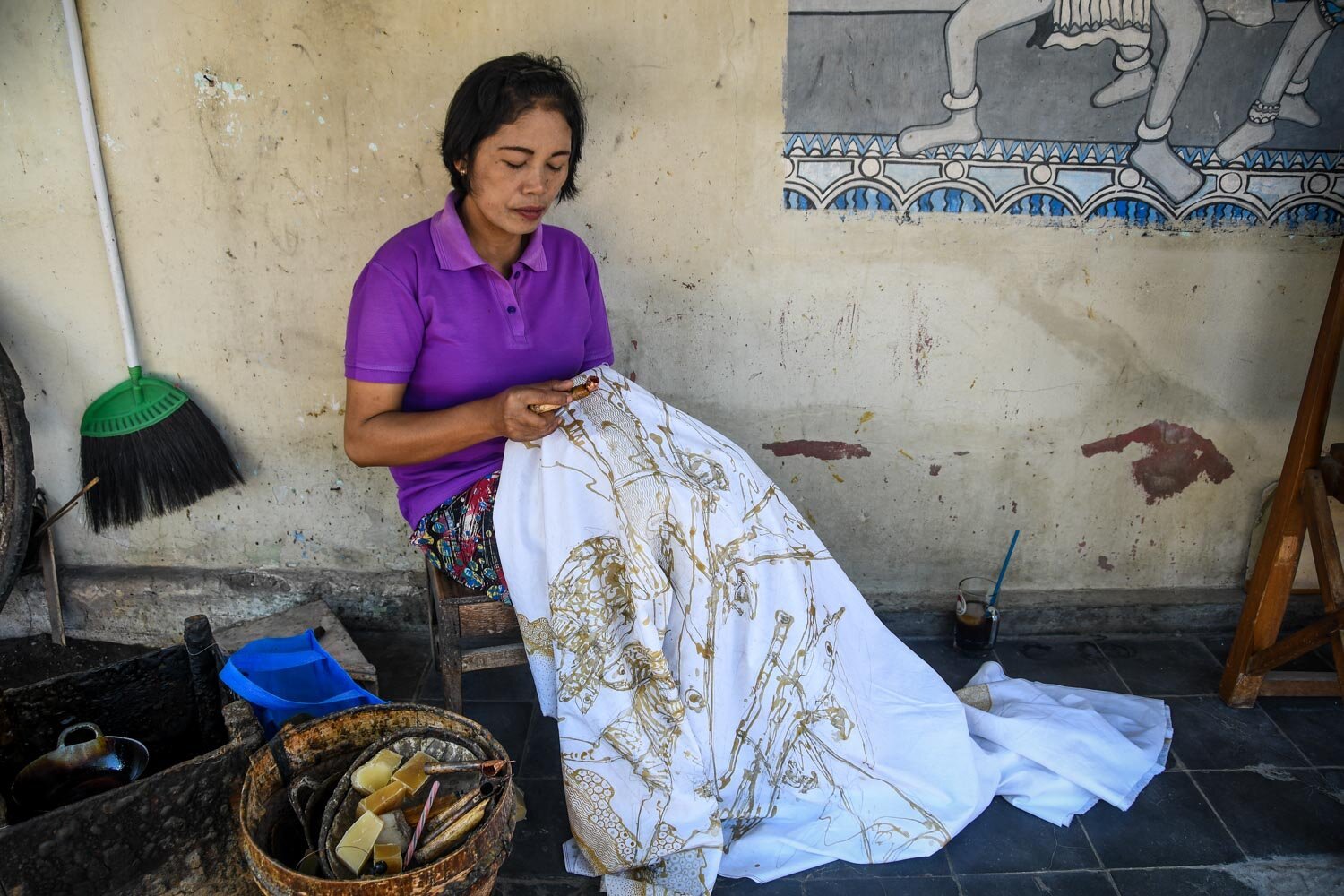 Batik is a traditional Indonesian technique where wax is applied to a fabric to make a design before it is dyed. The colors won't stick to the wax, creating a unique pattern.
If you have a thing for batik, you're in luck because Yogyakarta is the place for all things batik:
Take a batik-making class. Backstreet Academy offers a 6-hour course where you'll learn the basics of how to make your own batik from a local artisan. Costing just $17, this is an absolute steal, considering you're supporting a local, learning a skill, and are able to take home an incredible souvenir!

Learn about the technique and its history at the Batik Museum. If you're really interested in batik, you can visit the city's batik museum, which is dedicated to the craft. They offer workshops, guided tours, and a small shop.

Shop for batik at the many shops in town for a well-priced souvenir. I wouldn't say batik is cheap, but Jogja is the place you'll find the most variety and best prices. Remember, real batik is made by hand. The ultra-cheap "batik" for sale is likely a machine-made imposter.
16. Shop for souvenirs at a fair trade shop
ViaVia is a popular cafe on Prawirotaman Street, and we've already mentioned them a couple of times. It's a good place to hang out and enjoy local or Western dishes (we liked the food, but weren't blown away), plus, they run a daily cooking class.
But another really good reason to visit ViaVia is for their attached Fair Trade Shop where you can shop for unique and handmade souvenirs. We bought our niece a handmade stuffed animal and bought a wooden "puzzle" for ourselves.
We love knowing that we not only came home with a beautiful memento of our trip, but we were able to support local artisans instead of getting a trinket made in a factory where workers were likely not paid fair wages.
There are lots of items to check out in the ViaVia Fair Trade Shop – from batik to coffee to keychains to carvings. Even if you don't plan on buying anything, it's fun to browse some of the traditional Javanese handicrafts.
17. Try the famous Netflix street food lady's cooking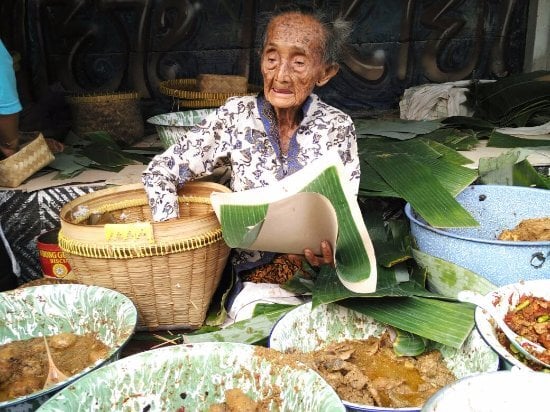 Have you heard of the Netflix series Street Food? If not, go binge-watch it and then return to this article!
The episode on Yogyakarta features Mbah Lindu, a 100-year-old woman who has been cooking the same dish every morning for the past 86 years. And you can try her famous cooking for yourself while in Yogyakarta.
So what is she stirring in her pot, blackened by coals? Gudeg: a sweet and savory dish made from unripe jackfruit and served with a boiled egg over rice.
Mbah Lindu is legendary, and her stall opens at 5 a.m. Get there early if you want to get a taste of her famous gudeg.
Cost: We've read that foreigners are charged a higher price than locals, but still, this street food dish surely won't empty your wallet.
18. Visit the Sultan's Palace (aka Kraton)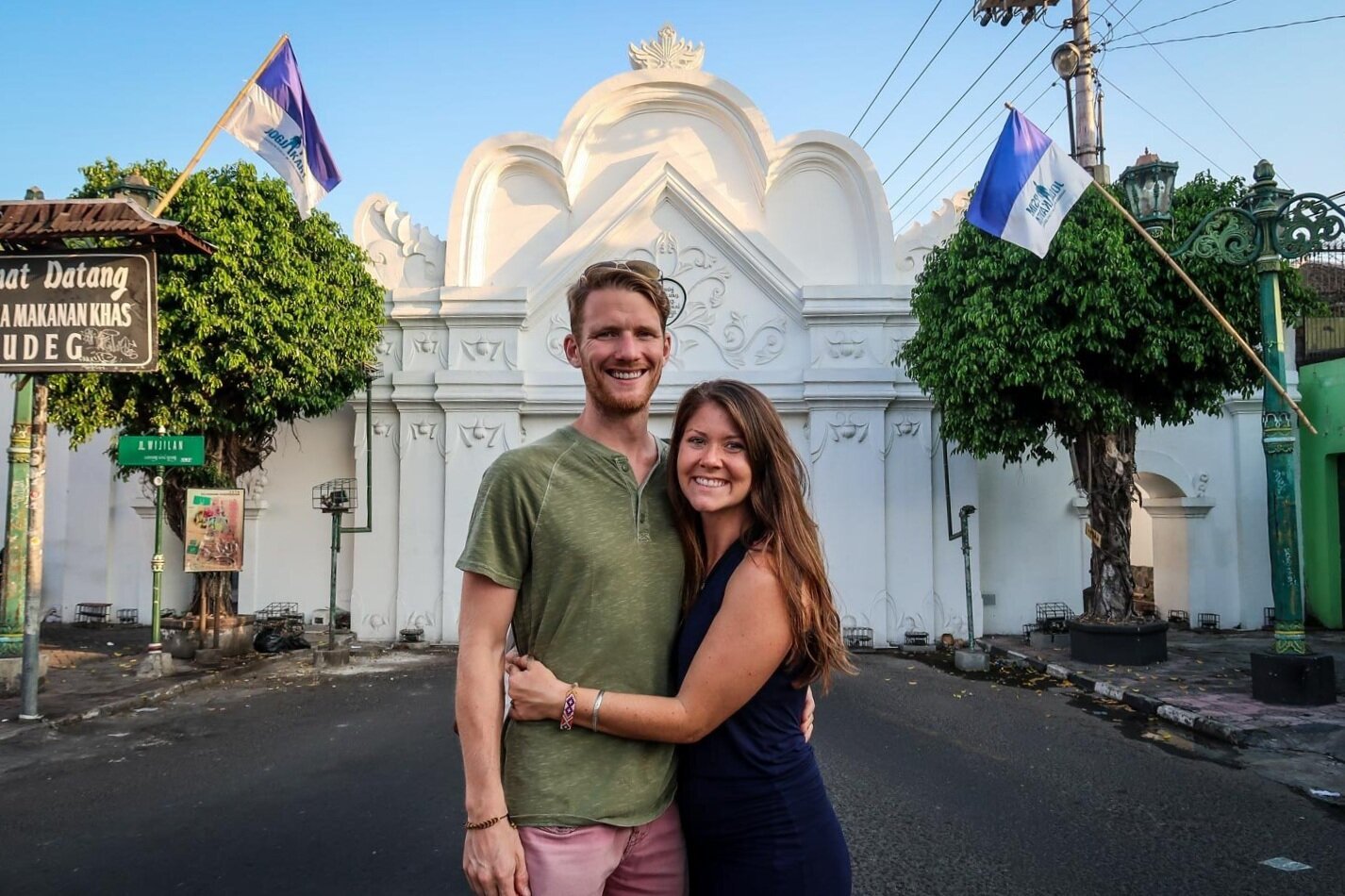 Remember how we said this is the only city in Java that still has a ruling Sultan? Well, you can actually visit his palace, also called the kraton.
You can wander through the courtyard, pavilions, and palace grounds, taking in the ornate patterns that adorn the ceilings. And if you're lucky, you might catch a musical or dance performance (which is included in your ticket price).
Check the schedule below for the day you'll be visiting to see which performance you can catch. Performances can vary and typically take place between 9 a.m. and noon.
Monday: gamelan (traditional instrument) performance

Tuesday: gamelan (traditional instrument) performance

Wednesday: wayang golek (puppet show)

Thursday: traditional dance

Friday: Javanese poetry and song performance

Saturday: leather puppetry

Sunday: Javanese dance
Cost: Foreign tourist entry fee is IDR 12,500, Camera permit fee is IDR 1,000
Opening Hours:
8:30 a.m. to 1:30 p.m.

8:30 a.m. to 12:30 p.m. (Friday)
Note: You can walk around by yourself, or go with a guide whom you can tip at the end of your tour. There aren't any informational signs around, so if you want to learn more about this place and its history, a guide would be recommended.
Have more time in Yogyakarta?
Honestly, we wished we had an extra day or two in this city. There is so much to do in Jogja that we could have easily filled more days. Here are some of the things that were on our list but we just didn't have time for… There's always next time, right?!
Head 1.5 hours south of the city where you can soak up the sun on one of the two beaches: Parangtritis Beach and Kuwaru Beach.

Hike Mount Merapi or simply see it at sunrise.

Go river tubing inside Pindul Cave.

Visit the Chicken Church (near Borobudur Temple) for a weird experience.

Explore Kalibiru National Park.

Drive a neon peddle car around Alun Alun Selatan.

See a wayang leather puppet show.
What to eat in Yogyakarta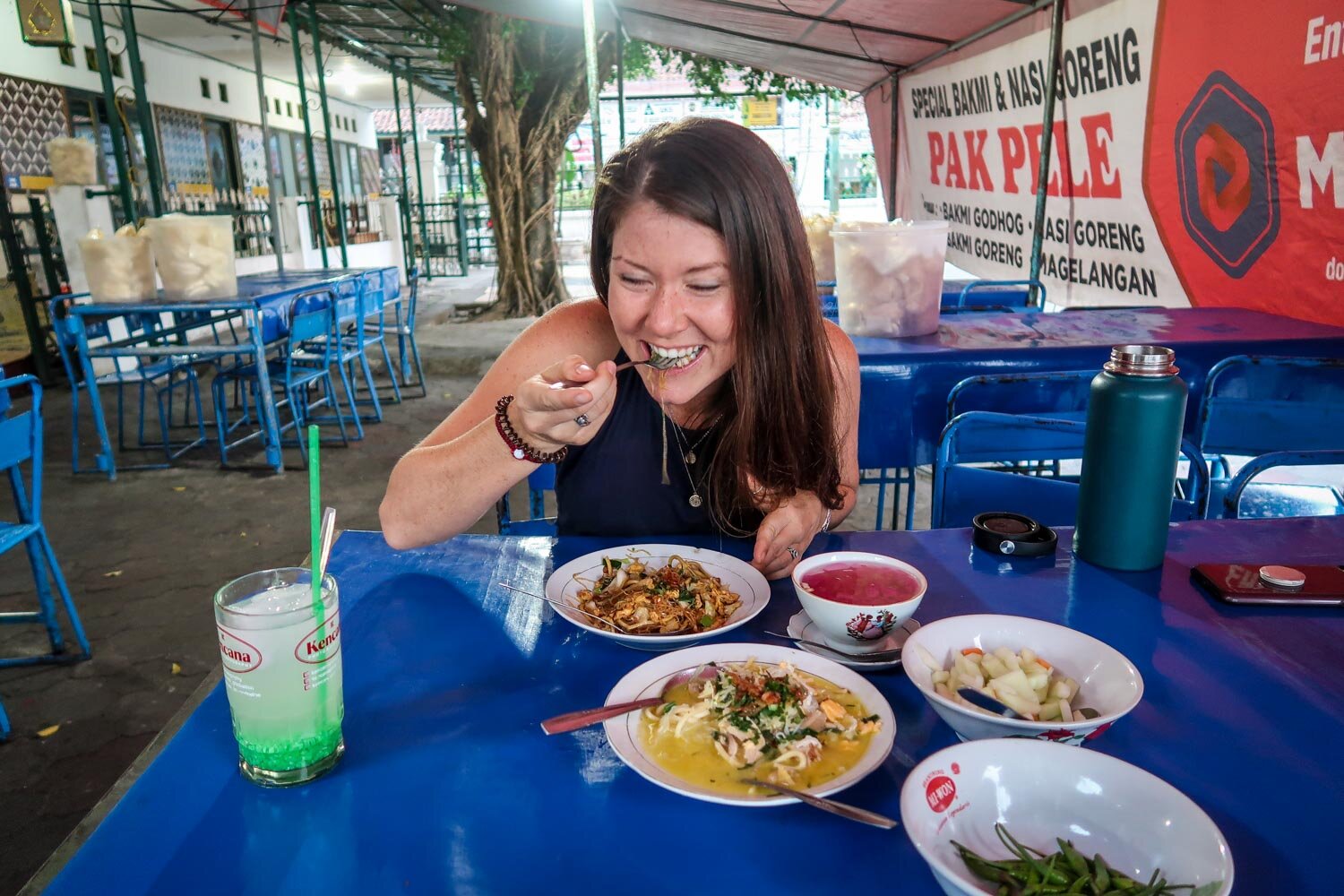 As we've mentioned a few times already, Jogja is a foodie haven. So if you love eating, you'll have your work cut out for you in Yogyakarta. It can be a bit tricky to figure out what to order if you're not familiar with Javanese cuisine, as many of the best dishes are not well-known outside of the island or the country of Indonesia.
So to help you out, here is a list of some dishes you should try while in Yogyakarta:
Gudeg: unripe jackfruit stewed for several hours with palm sugar and coconut milk for sweetness, and garlic and shallot for a savory kick. We tried it at Gudeg Yu Djum Wijilan 167 and it was delicious!

wedang ronde: is made of sweet glutinous rice balls soaked in hot ginger flavored water, syrup, sprinkled with a few peanuts, and filled with peanut in the rice balls.

Kue Klepon: A traditional snack common throughout Indonesia. Main ingredients: Flour, rice flour, palm sugar, pandan paste, pandan leaf, grated coconut

Charcoal Coffee: regular sweetened coffee with a burning coal from a rambutan tree. Typically served late at night because the charcoal is supposed to eliminate the caffeine in the coffee. More info in #14.

Pempek: savory Indonesian fish cake delicacy, made of fish and tapioca, from Palembang, South Sumatera, Indonesia. Pempek is served with rich sweet and sour sauce called kuah cuka or kuah cuko, or just "cuko"

Soto ayam is a yellow spicy chicken soup with lontong or nasi himpit or ketupat and/or vermicelli or noodles, it is from Indonesia, and popular in Singapore, Malaysia and Suriname. Turmeric is added as one of its ingredients to get yellow chicken broth

Bakmi is a wheat-based noodle which was brought to Indonesian archipelago by Hokkien Chinese immigrants from Fujian, generally prepared and topped with minced pork seasoned in soy sauce

Nasi Rawon, a rich beef noodle soup

Mie Ayam: seasoned yellow wheat noodles served with chicken. If you're feeling adventurous, Mie Ayam Bu Tumini is famous for having chicken feet in their Mie Ayam.
Where to stay in Yogyakarta
We'd recommend staying in the area near Prawirotaman Street, as there are lots of restaurants and cute cafes nearby. This area has a nice overall vibe that we really enjoyed.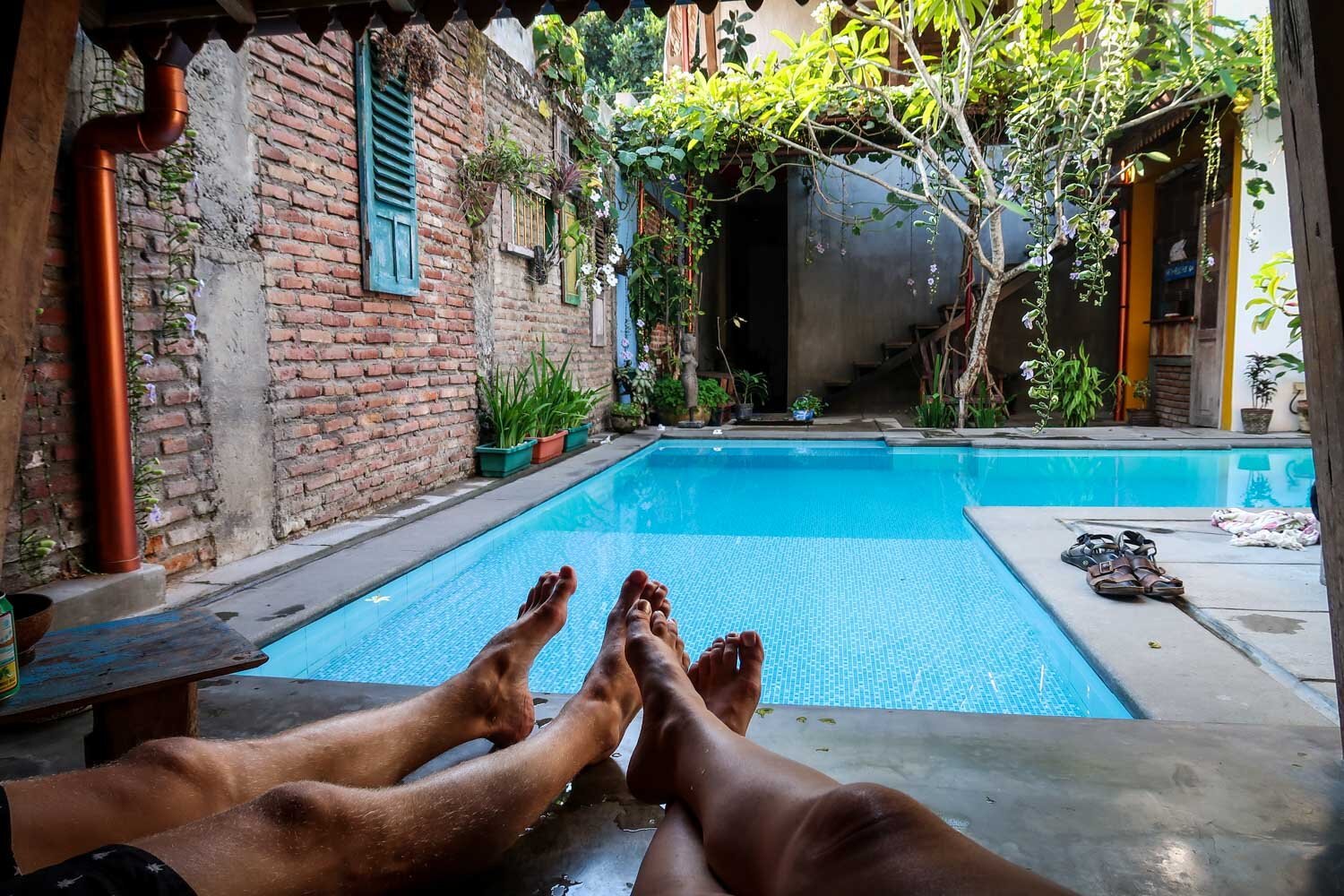 Nextdoor Homestay: This is where we stayed and we had a lovely experience. The staff was super friendly and helped us book everything. The breakfast is a lovely array of local sweet and savory pastries, fruit, and tea or coffee. And there's a small but nice onsite pool that's nice for cooling off on a hot Javanese afternoon!
Tip: We had a room upstairs, and from what we could tell, these seemed to be nicer than those downstairs. We'd recommend trying to reserve one of the upstairs rooms when booking.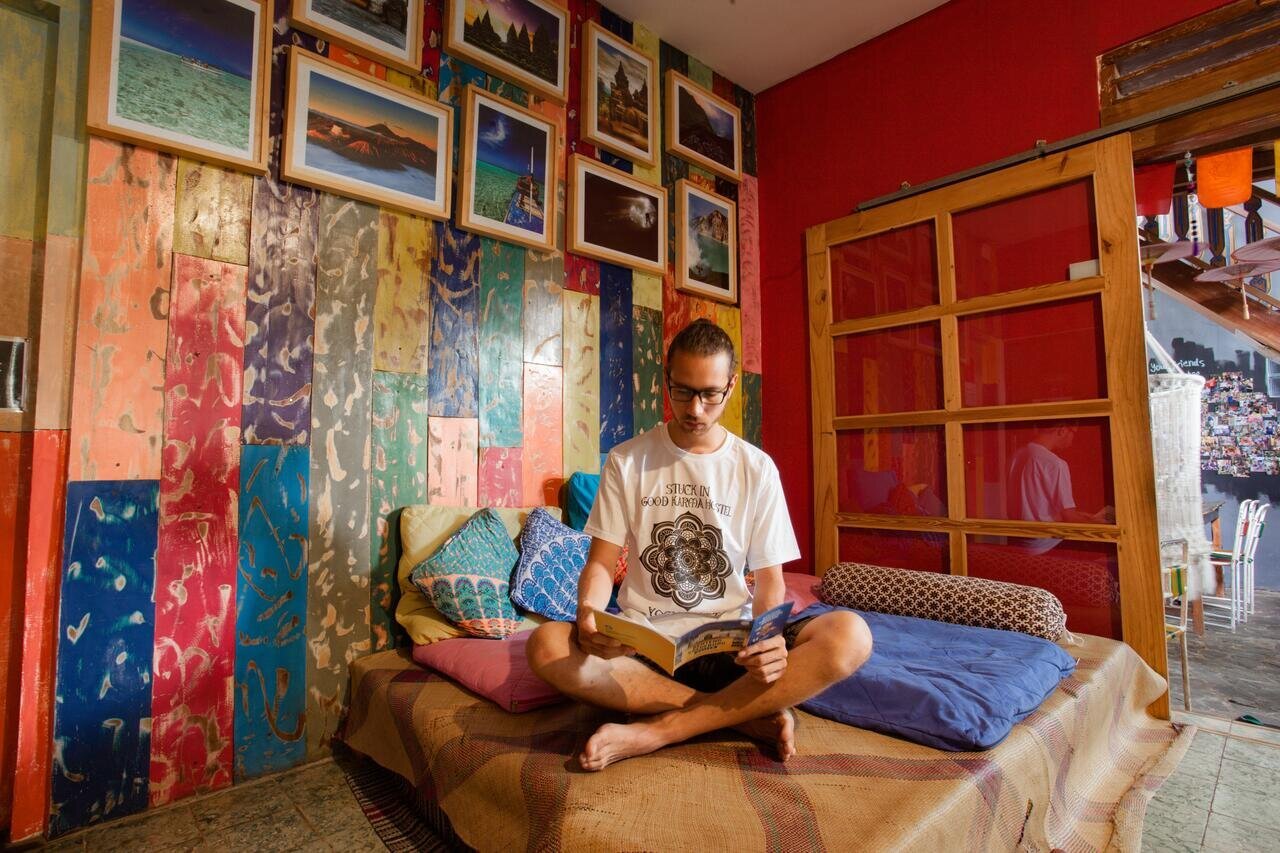 Good Karma Yogyakarta: Centrally located and with excellent reviews, this hostel is a good option for budget travelers. They have private double rooms or 6-person dorm rooms to choose from, a beautiful terrace and a bicycle rental option.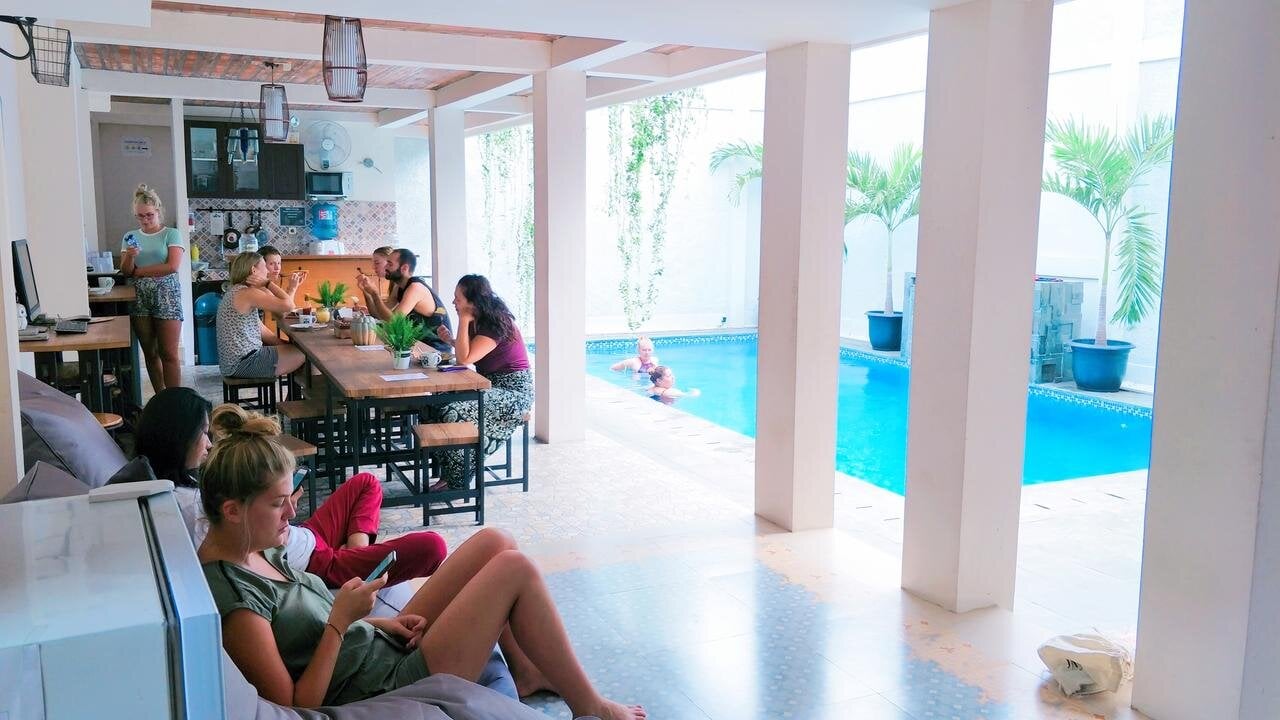 Otu Hostel By Ostic: One of the best features of this adults-only hostel is the outdoor pool area, which is key to surviving the mid-day heat in Java. Start your day with an a la carte or Asian style breakfast and let the 24-hour staff help you plan your excursions.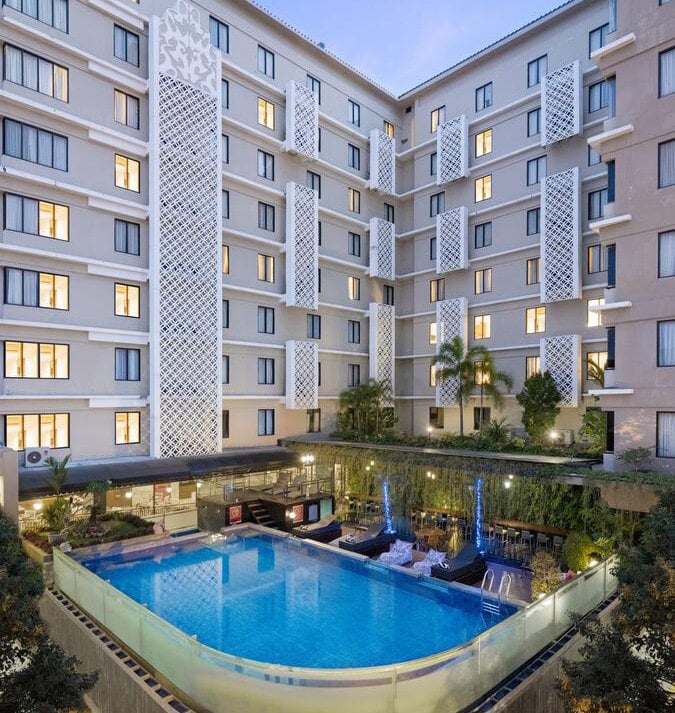 The Alana Hotel & Conference Center Malioboro: This modern hotel in the heart of Yogyakarta is just a 10-minute walk from the historic Sultan's Palace.The property also features an onsite restaurant serving up Indonesian and Western cuisine, and an outdoor pool.
Hotel Indies Heritage Prawirotaman: Located right on Prawirotaman street, this modern hotel has all the amenities for a comfortable stay in Yogyakarta such an an outdoor pool, air conditioned rooms and an on-site restaurant.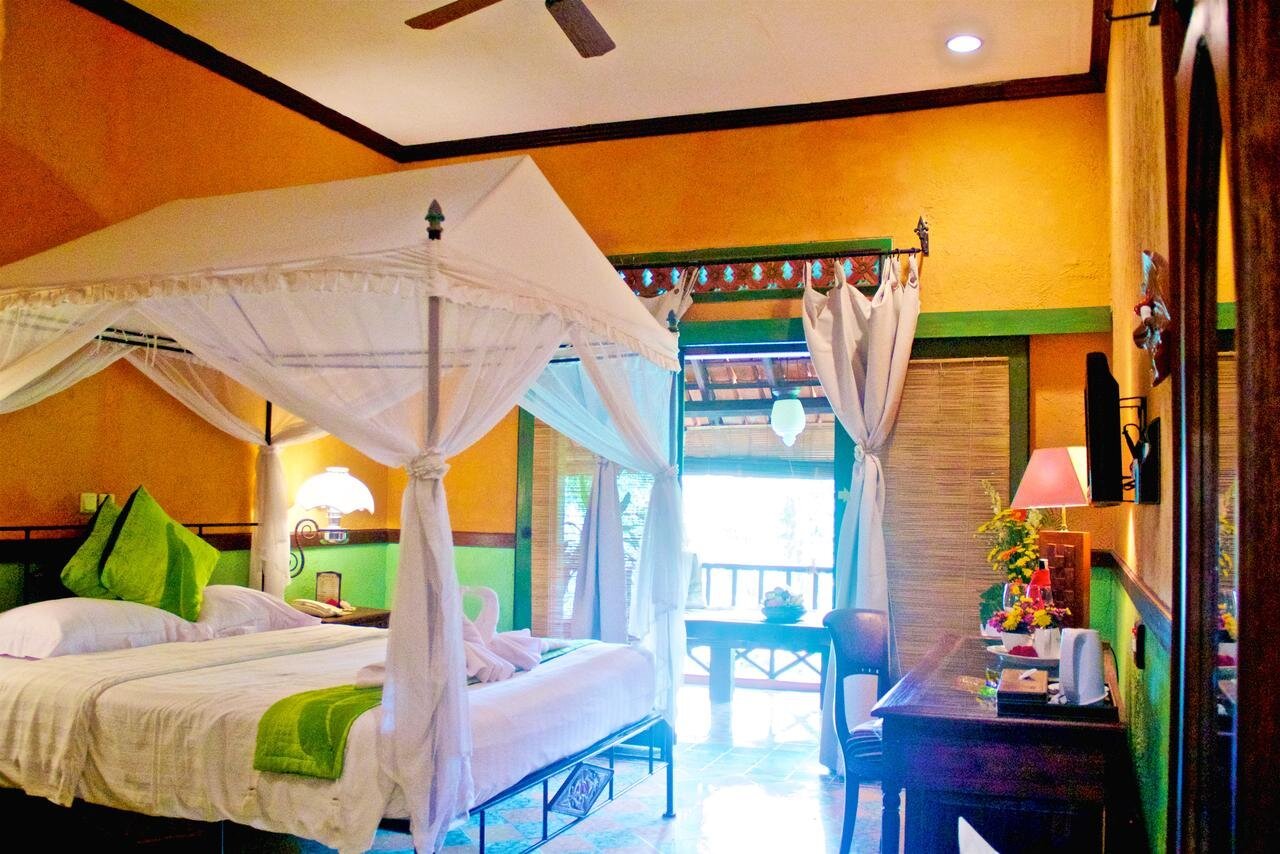 Jogja Village: Right in the heart of Prawirotaman area, this environmentally friendly hotel is decorated with colorful Javanese-style interiors and surrounded by lush gardens. Other features of the property include an outdoor pool and open-air dining area.
Getting around Yogyakarta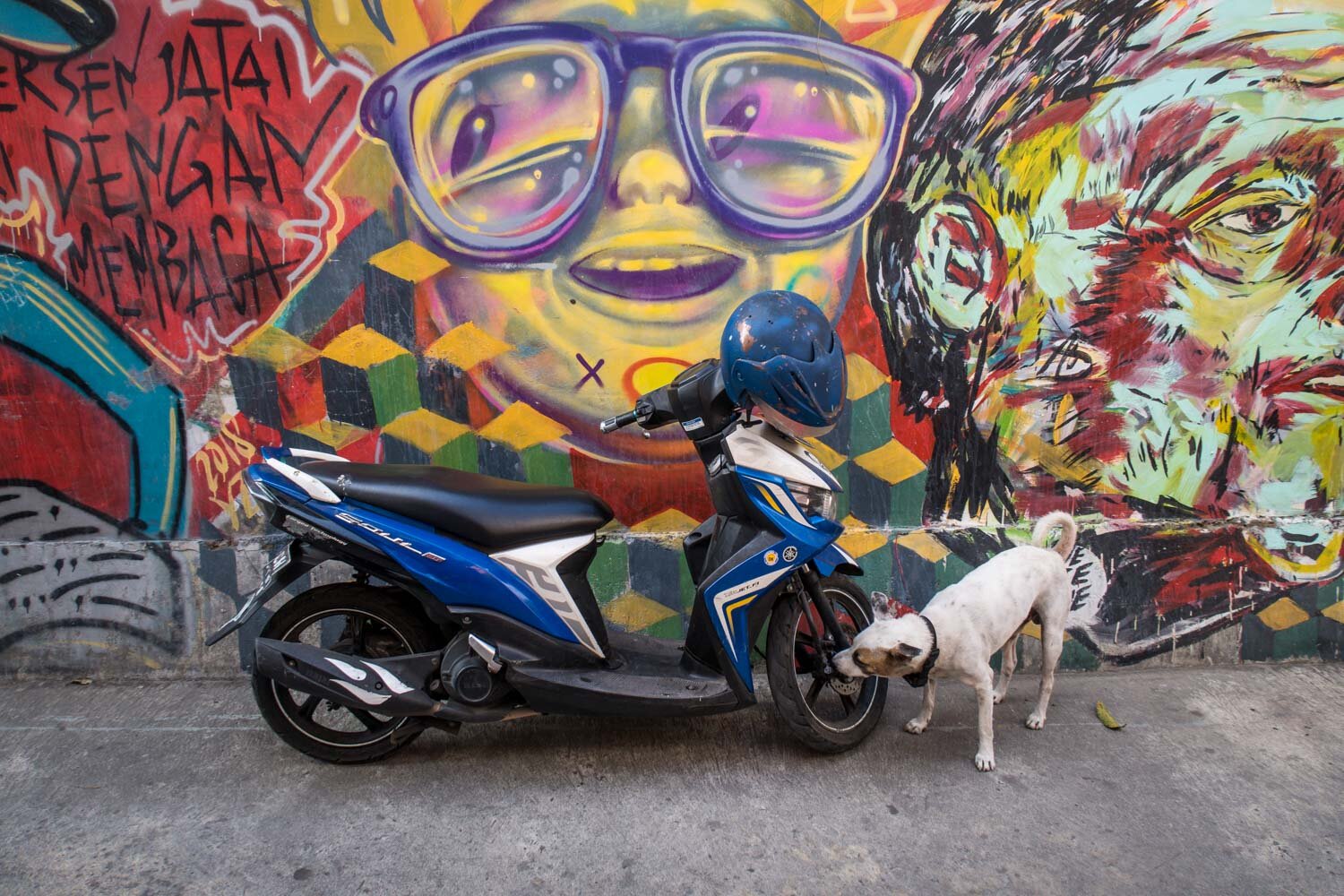 There are lots of options for getting around Yogyakarta.
Take a taxi
If you arrive in Java without cell service, your best bet is to take an airport taxi into town. There are stands near the exit where you will tell them your destination and pay in exchange for a ticket. You will be assigned to a taxi and you will hand your ticket to the driver. Once you've made it to town, we'd suggest other ways of getting around as they will be cheaper.
Budget Tip: From the airport to our hotel on the main "traveler street" (Prawirotaman) it cost IDR 90,000 ($6.40). The same trip would have cost IDR 47,000 ($3.40) in a Grab, saving a few dollars, which leads us to the next way to get around…
Grab
If you have cell service, skip the taxi booths and instead book a ride through Grab or Go-Jek (ride-sharing apps in Indonesia). Both apps are great, however, we noticed slightly cheaper rates on Grab. Rideshare apps are also just a good way to get around town (just to and from the airport).
Take a becak (cycle rickshaw)
This is another way to get around town and is a more unique experience!
Rent a motorbike
Before we even start with this one, we would only recommend renting a motorbike in Yogyakarta (and Java in general) if you have experience driving a scooter. Yogyakarta isn't a bad place for driving a motorbike, but it's not the best place to learn. But if you are confident, it is really nice to be able to drive yourself to Borobudur and Prambanan Temples and explore the small villages outside of the city.
Safety advice: Always, always wear a helmet. We see way too many travelers going without them and it makes us cringe. We know of far too many people who have gotten seriously injured on motorbikes in Asia, so why would you risk it?! Also, look into your travel insurance policy to see whether or not you'd be covered in the case of an accident.
Hire a driver
When trying to get to the sites outside of the city (the temples, etc.), the best way to get around if you're not comfortable driving yourself is to hire a driver. It is actually a very affordable service and they can bring you to several places throughout the day, maximizing your time. You can arrange a driver through most hotels or guesthouses in Jogja.
---
You may also like…
We have TONS more resources on Java, so if you're planning an Indonesia trip, you'll definitely want to check out our other articles too!
Save this article on Pinterest for later!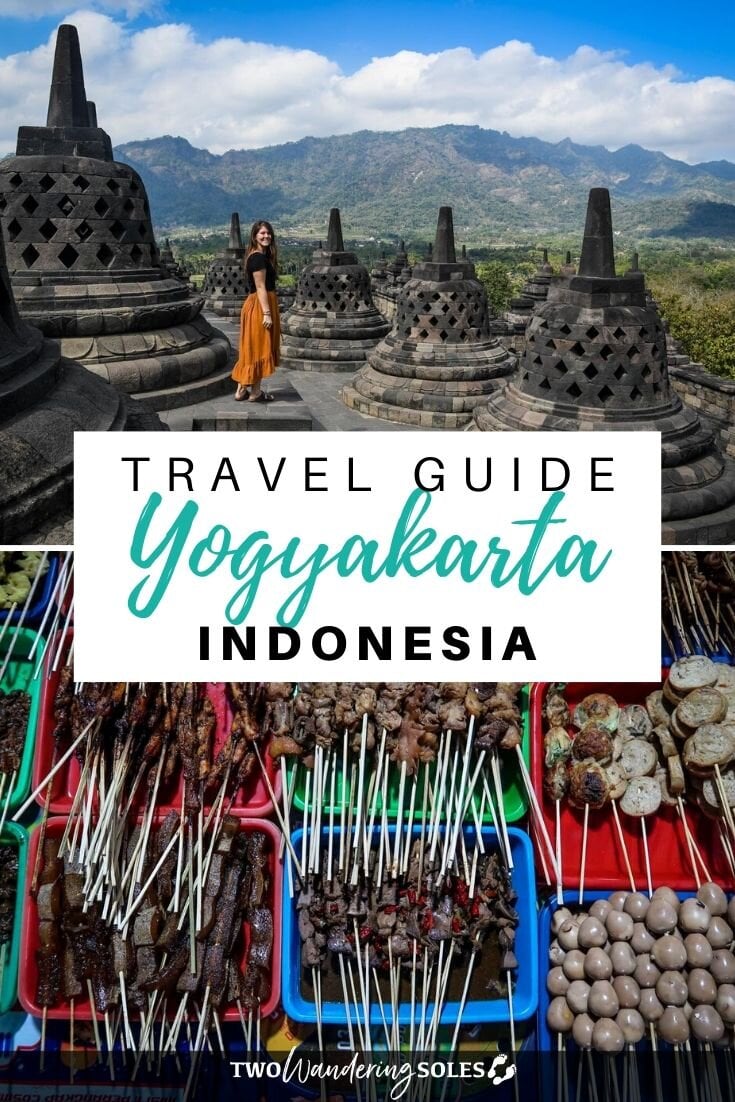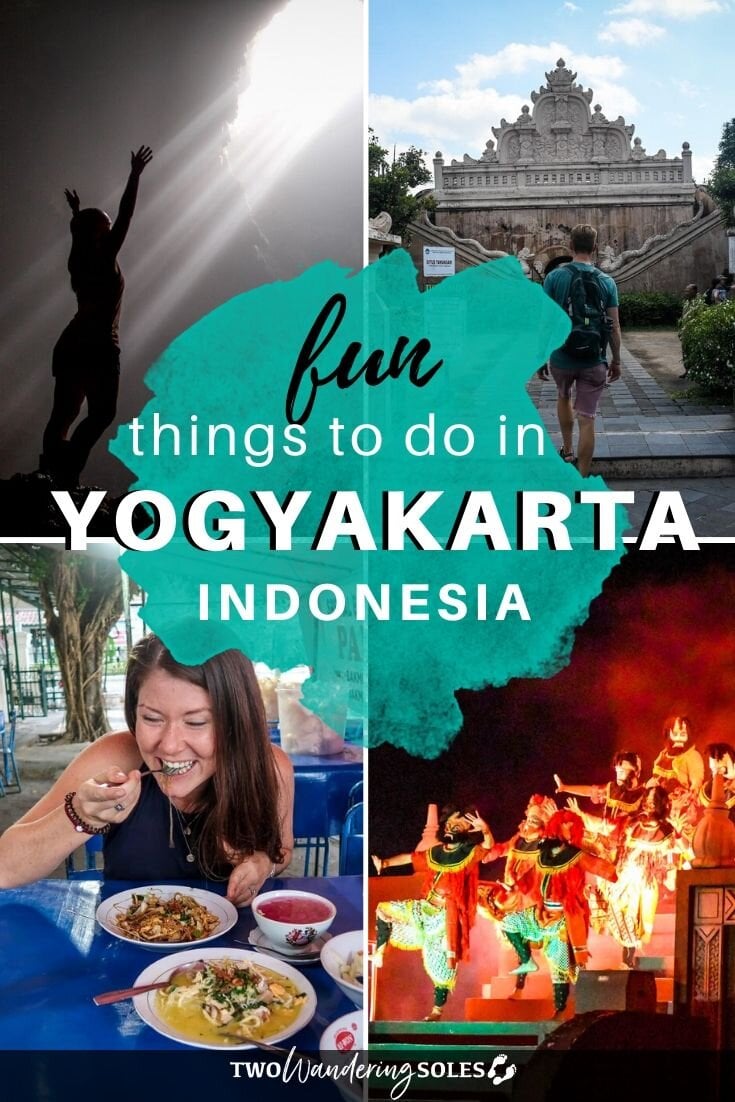 We want to hear from you!
Have you been to Yogyakarta before? Is it on your travel dream list? Still have questions about things to do in Yogyakarta? Let us know in the comments below!