Indonesia has plenty of volcanoes, but amongst the most spectacular is Mount Bromo, which is located in East Java. Arranging a Mount Bromo tour for sunrise will be one of the highlights of your trip to Java… if you know what to expect and are prepared, that is! We're sharing insider tips and everything you need to know about visiting Bromo mountain!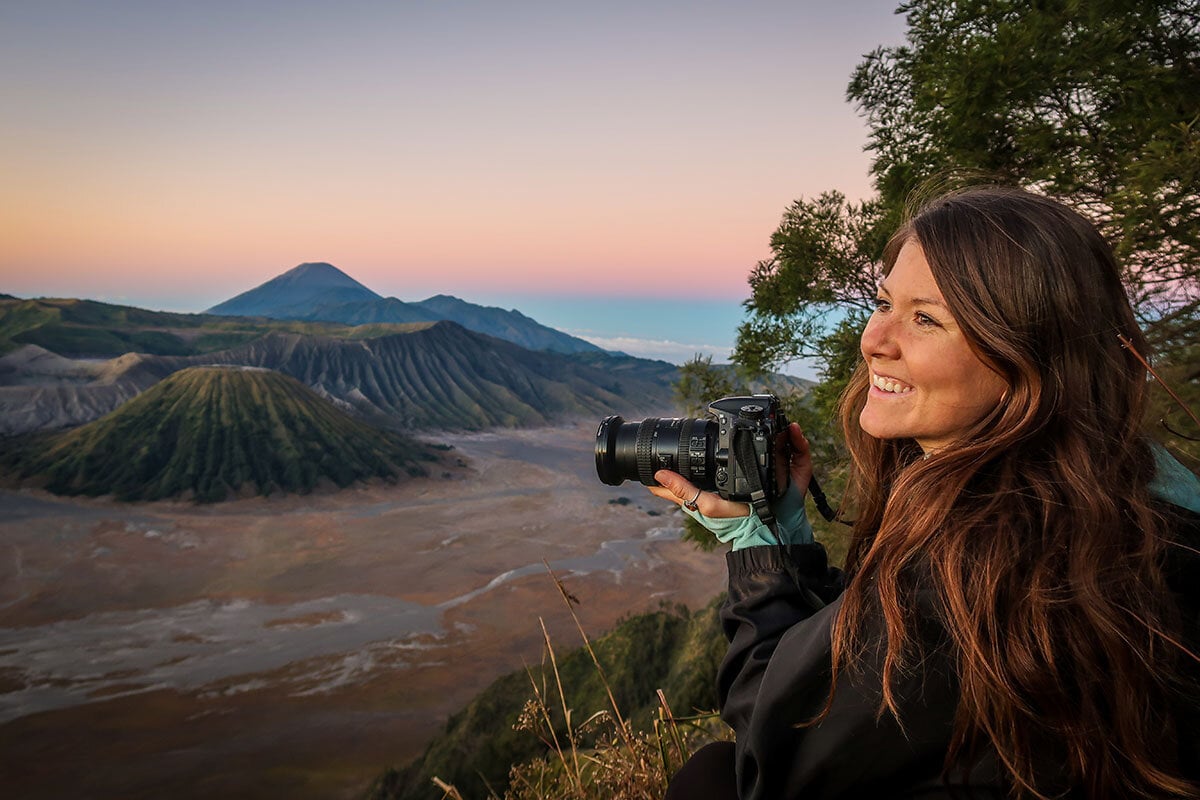 While planning our trip to Java, one of the very first things I put on our itinerary was seeing sunrise at Mount Bromo. I had seen pictures on Instagram and I couldn't help thinking that it looked like a perfect volcano, like a kid's science fair project or something out of Jurassic Park or some other adventure movie.
Whether it's because of its postcard perfect beauty or the sheer number of people that flock to see it each morning, there's no arguing that Mount Bromo is one of the most famous volcanoes in Indonesia. (And Indonesia is a country with a lot of volcanoes!)
In this article, we're sharing our experience witnessing sunrise at Mt. Bromo as well as what to wear, how to book a Jeep tour, and tips for getting away from the crowds (as much as possible!).
Article Contents:
Mount Bromo Facts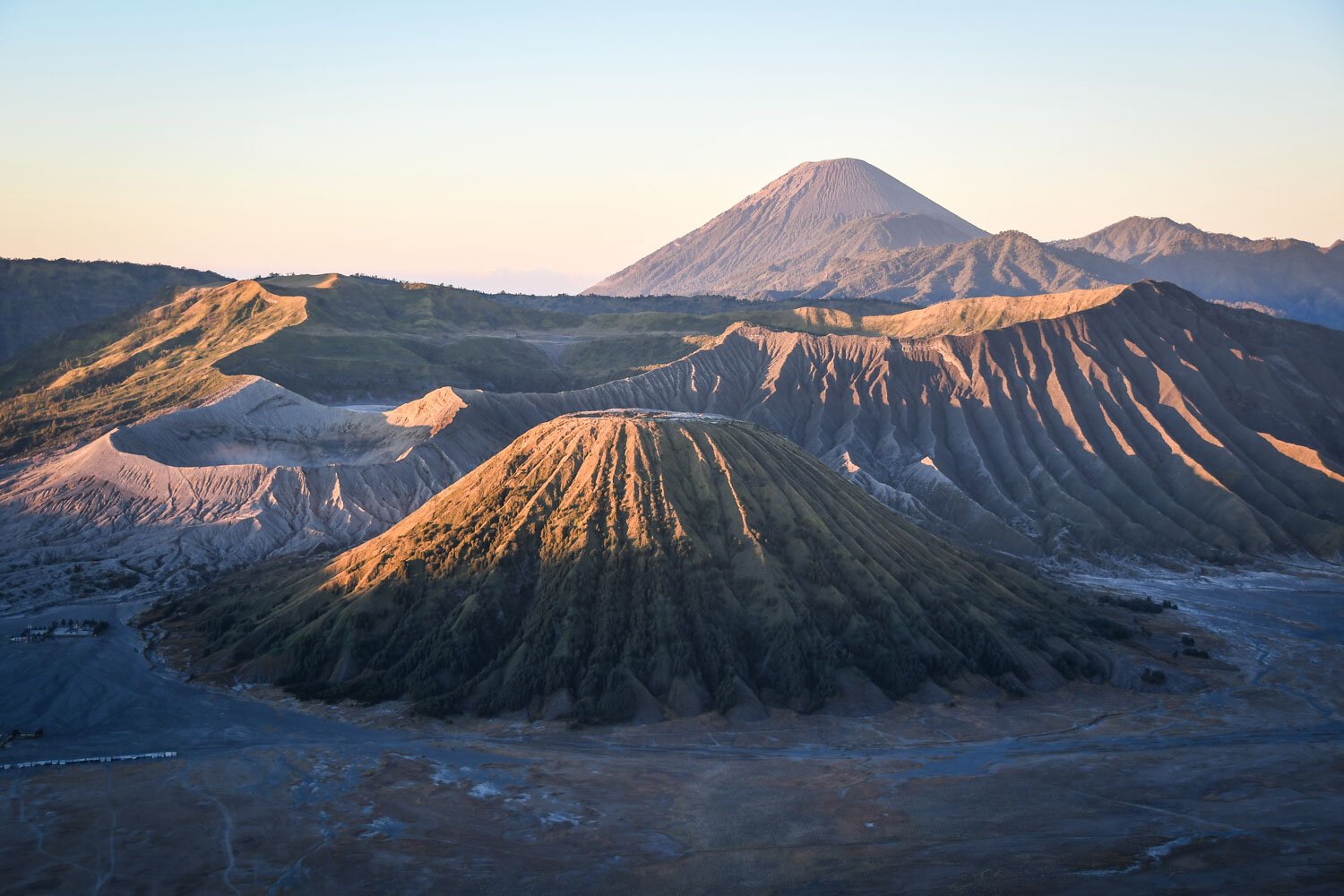 What: Active volcano

Where: Located in Tengger Semeru National Park (in East Java), Mount Bromo is part of a group of group of volcanoes called the Tengger Massif.

Height: 7,641 feet/2,329 meters (from sea level)

Mount Bromo is not the tallest volcano in the massif, but it is the most famous.

Name: Bromo actually comes from the Javanese pronunciation of "Brahma", the Hindu god of creation.

Temperature: It can get cold (very cold!). We've read that the area surrounding Mount Bromo can get as cold as 32º – 50ºF (0º – 10ºC). Make sure you're prepared to endure the cold as you wait for sunrise!

Tourism: Mount Bromo is one of the most visited attractions in East Java.
Best time to Visit Mount Bromo
The National Park in which Mount Bromo is located is open year round, so you should be able to visit this iconic volcano no matter what time of year you travel to Indonesia.
However, it's good to know that Indonesia has two seasons:
Dry Season: from April to October

Monsoon Season: from November to March
Good to know: East Java (where Bromo is located) typically experiences less rainfall than the western reaches of the island.
Mount Bromo Location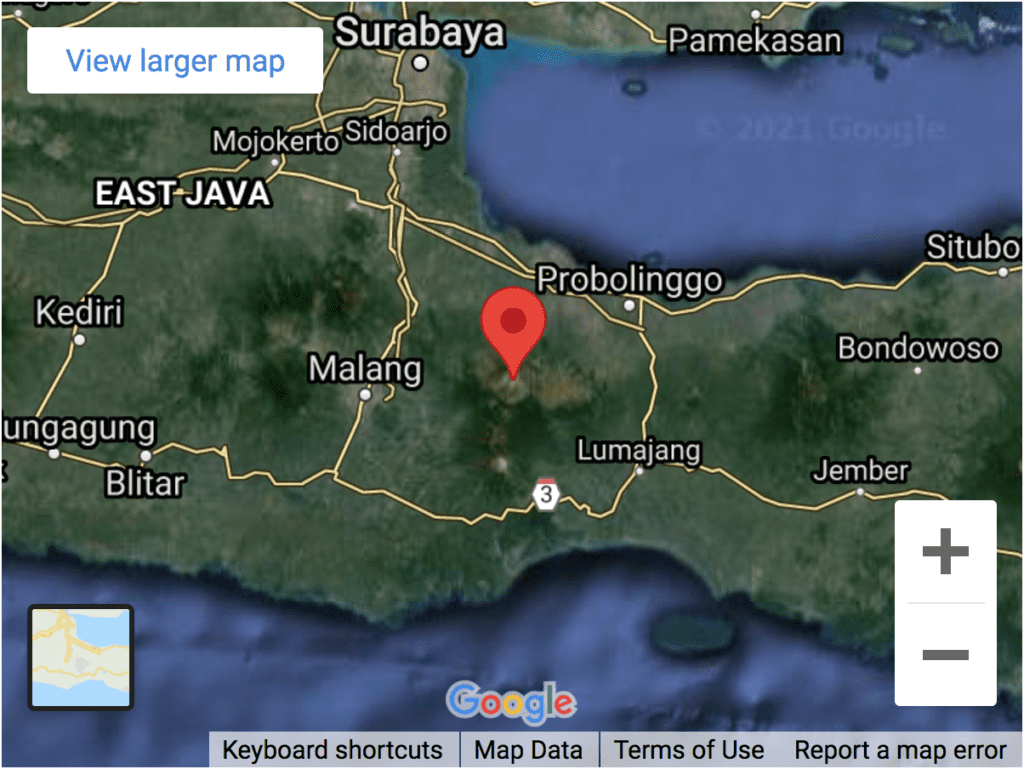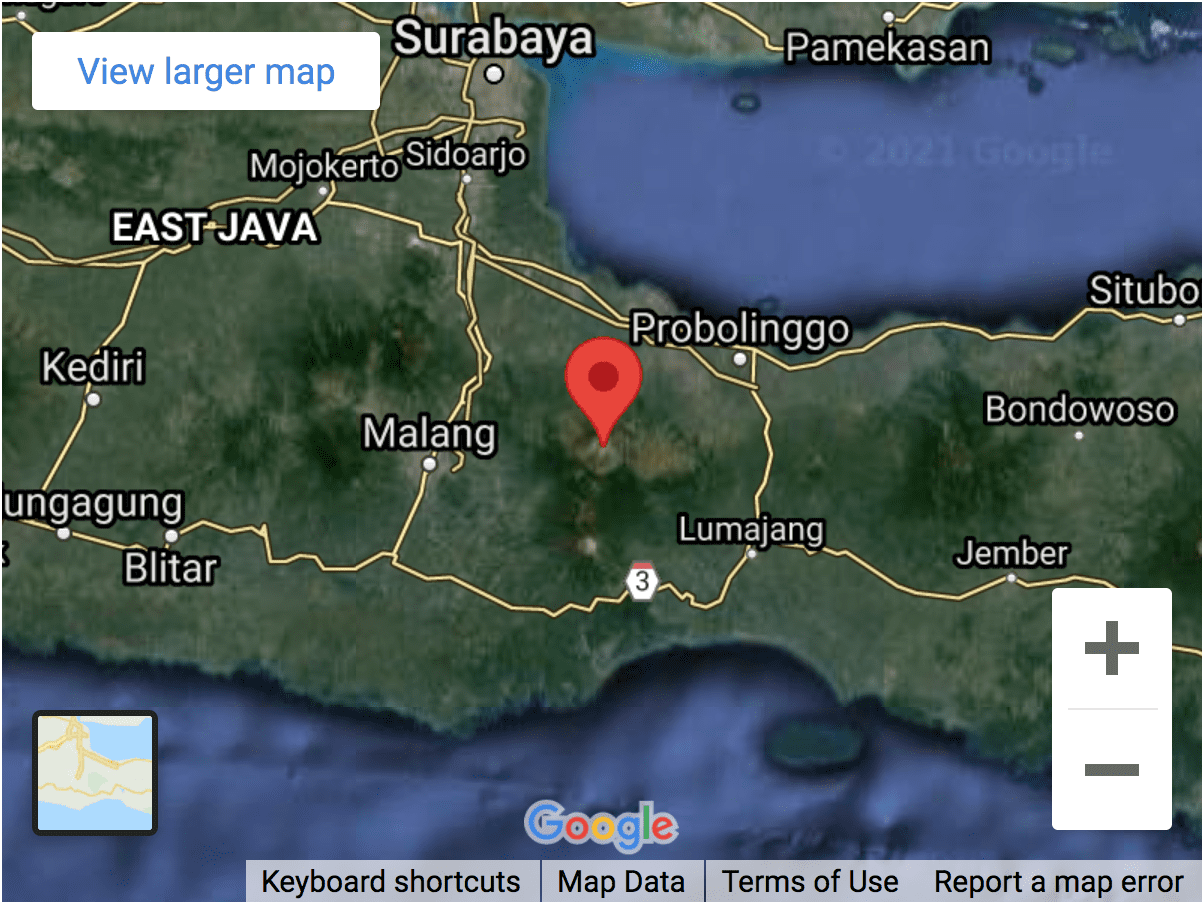 Situated smack dab in the middle of East Java, Mount Bromo isn't super close to any major cities… But then again, is anything close to each other in Java?! (If you've checked out our East Java guide, you'll know the answer is NO!)
That said, the three closest towns to Mount Bromo are cities you'll likely need to travel through during your time on the island, so they make a decent base if you want to visit this iconic volcano.
Malang: 2+ hour drive (this is where we stayed and it took us 2 hours and 15 minutes)

Probolinggo: 1.5-hour drive

Surabaya: 2.5-hour drive
Hotels or hostels in each of these cities should be able to arrange a Jeep tour for you.
Alternatively, you could spend the night in Cemara Lawang ("Mt. Bromo Village"). This is the closest town to the volcano, and is a good place to stay if you don't want to do a Jeep tour, and would prefer to hike to the viewpoint on your own. We have more information about visiting Mount Bromo independently here.
How to see Sunrise at Mount Bromo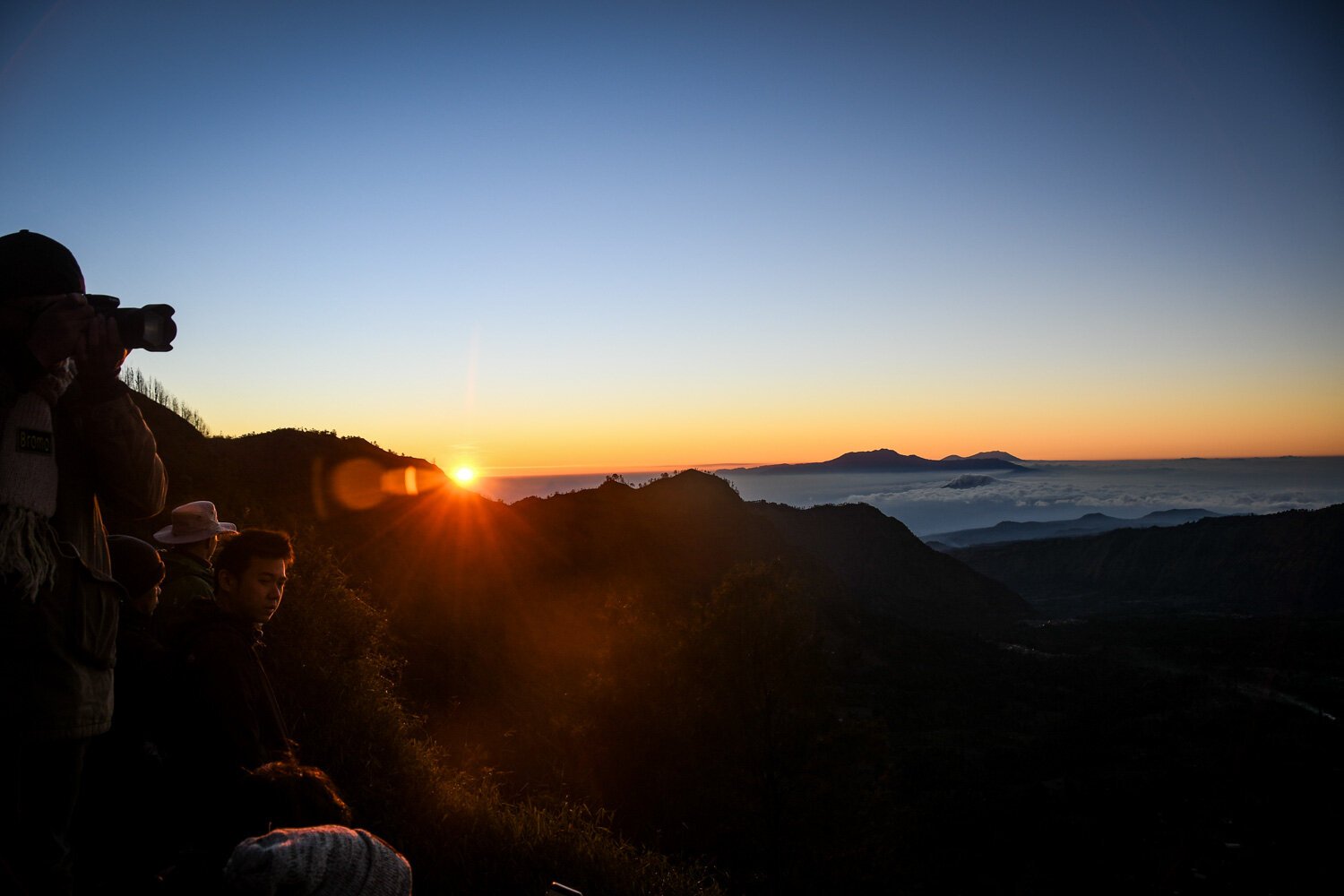 Seeing the sunrise over Mount Bromo is a sight you'll never forget. It is truly breathtaking.
There are essentially two ways to see sunrise at Mount Bromo, and both have their pros and cons:
a) Take a Jeep Tour
You can arrange a Jeep to pick you up and drive you from your hotel to the Mount Bromo viewpoint. You can arrange tours from most of the nearby cities (Malang, Surabaya, and Problingo).
Pros: easiest way to get there, no hiking involved (this may not be a "pro" for you)

Cons: more expensive, less adventurous
b) Hike to the sunrise point on your own
Arrange your own transportation to Mount Bromo Village, which is at the foot of the volcano. You can wake up early in the morning and make the hike to the viewpoint on your own.
Pros: cheaper and more adventurous, you don't need to follow anyone else's timeline

Cons: requires more planning (you still need to arrange transport or drive yourself)
Psst! If this is more your style, jump to the bottom of this article where we have more info!
Our Experience: Mount Bromo Jeep Tour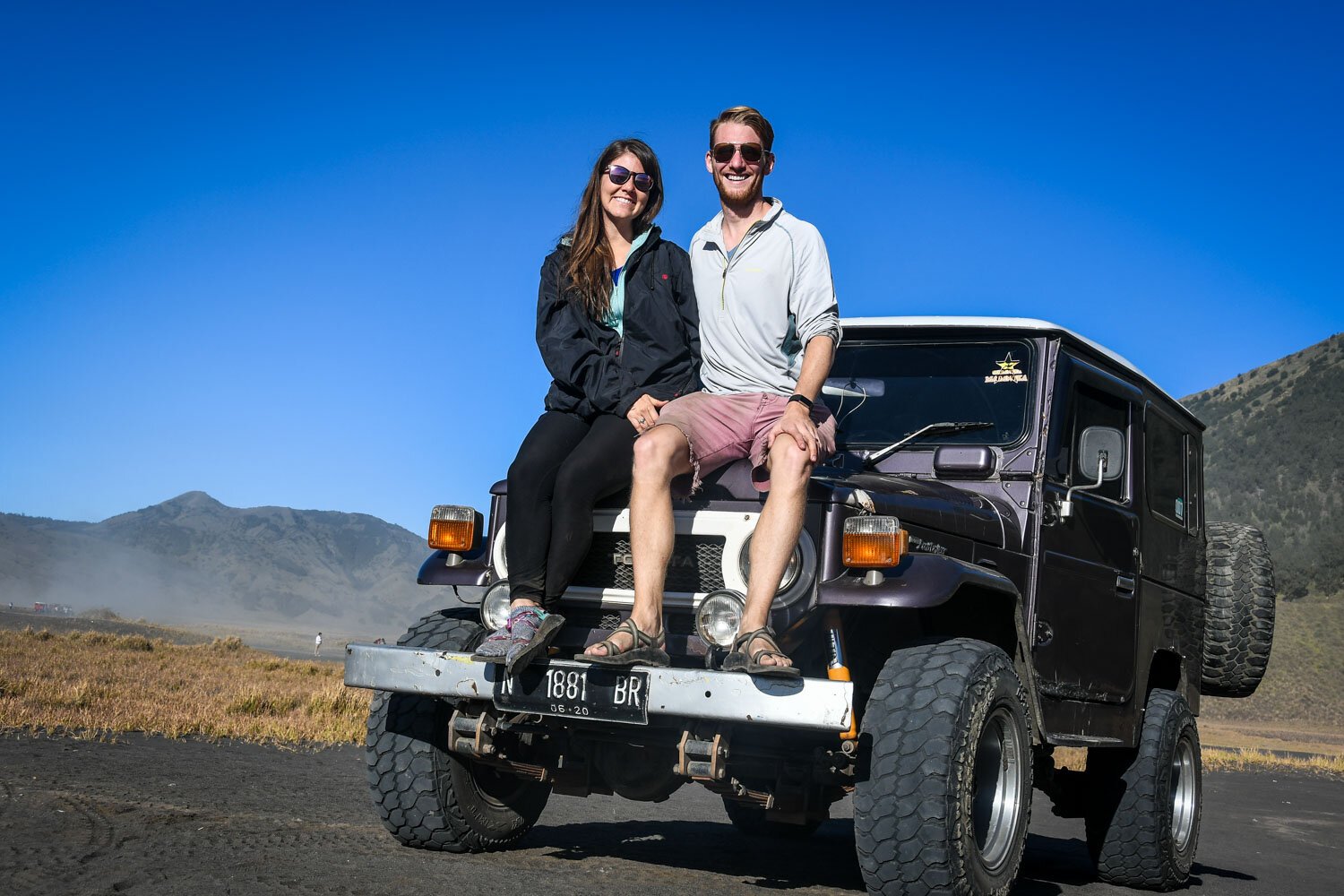 While we typically prefer to go the cheaper and more adventurous DIY route, we chose to take the Jeep tour since we were limited on time. We stayed in Malang and traveled to Mount Bromo as a day trip (well, more like a middle-of-the-night trip, as our pickup time was just after midnight).
Things to know before you go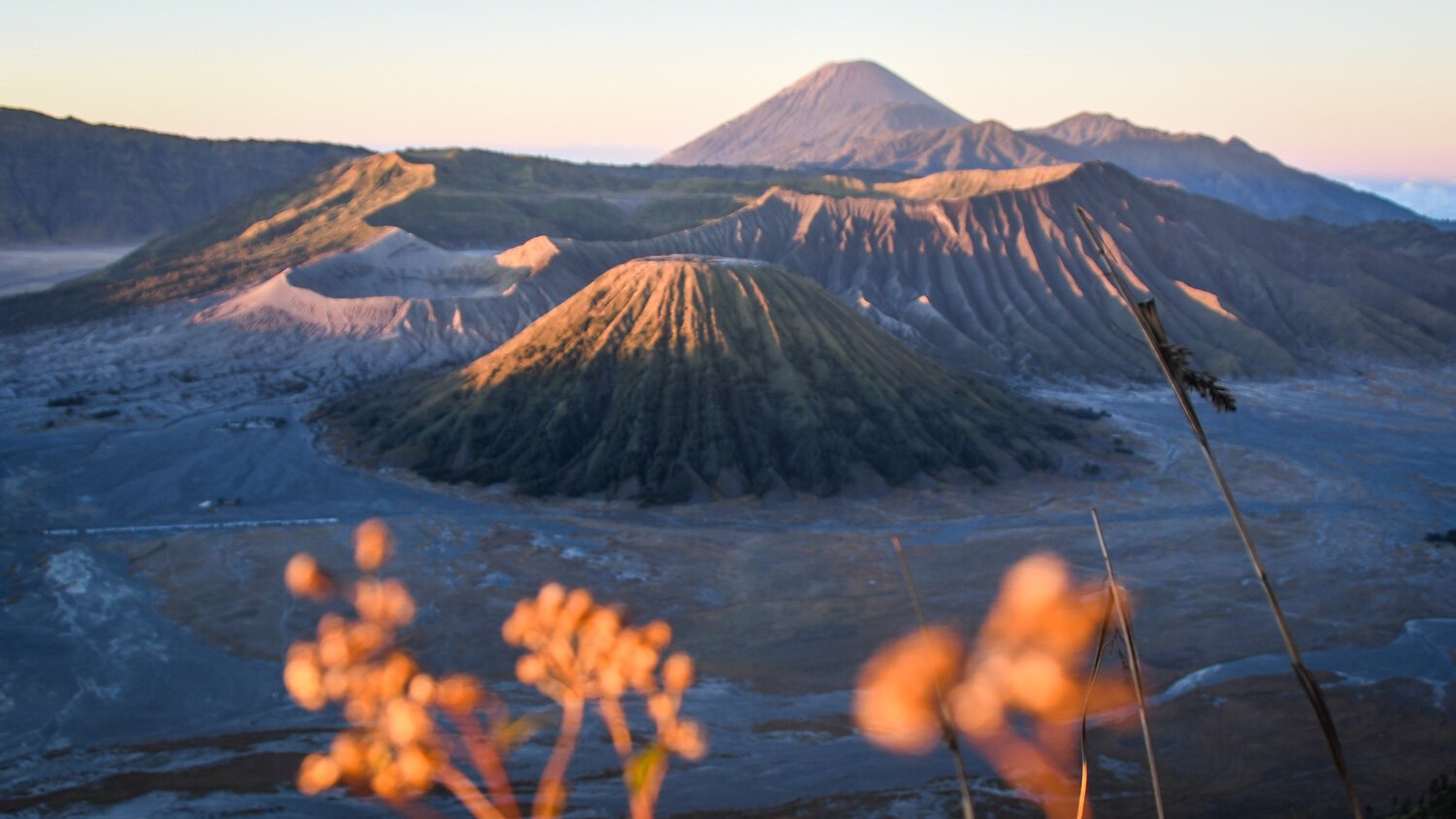 It gets crowded. Like really crowded. This is one of the most popular attractions in all of Indonesia, so don't let photos fool you into thinking you'll be enjoying sunrise alone. We have tips below on how to avoid the biggest crowds.

You won't watch sunrise from Mount Bromo. You will be watching the sunrise over Mount Bromo in the distance from a viewpoint on Mount Penanjakan.

You might not be able to hike to the crater rim. Depending on current volcanic activity, the trail to the crater rim might be closed. It was closed when we visited.

You won't be in an actual Jeep. The 4×4 vehicles are often referred to as "Jeeps" (most of them were Toyotas), so that's what we'll call them for the purpose of this article.

There are three main parts of the tour (each are described in detail below):
Mount Bromo Viewpoints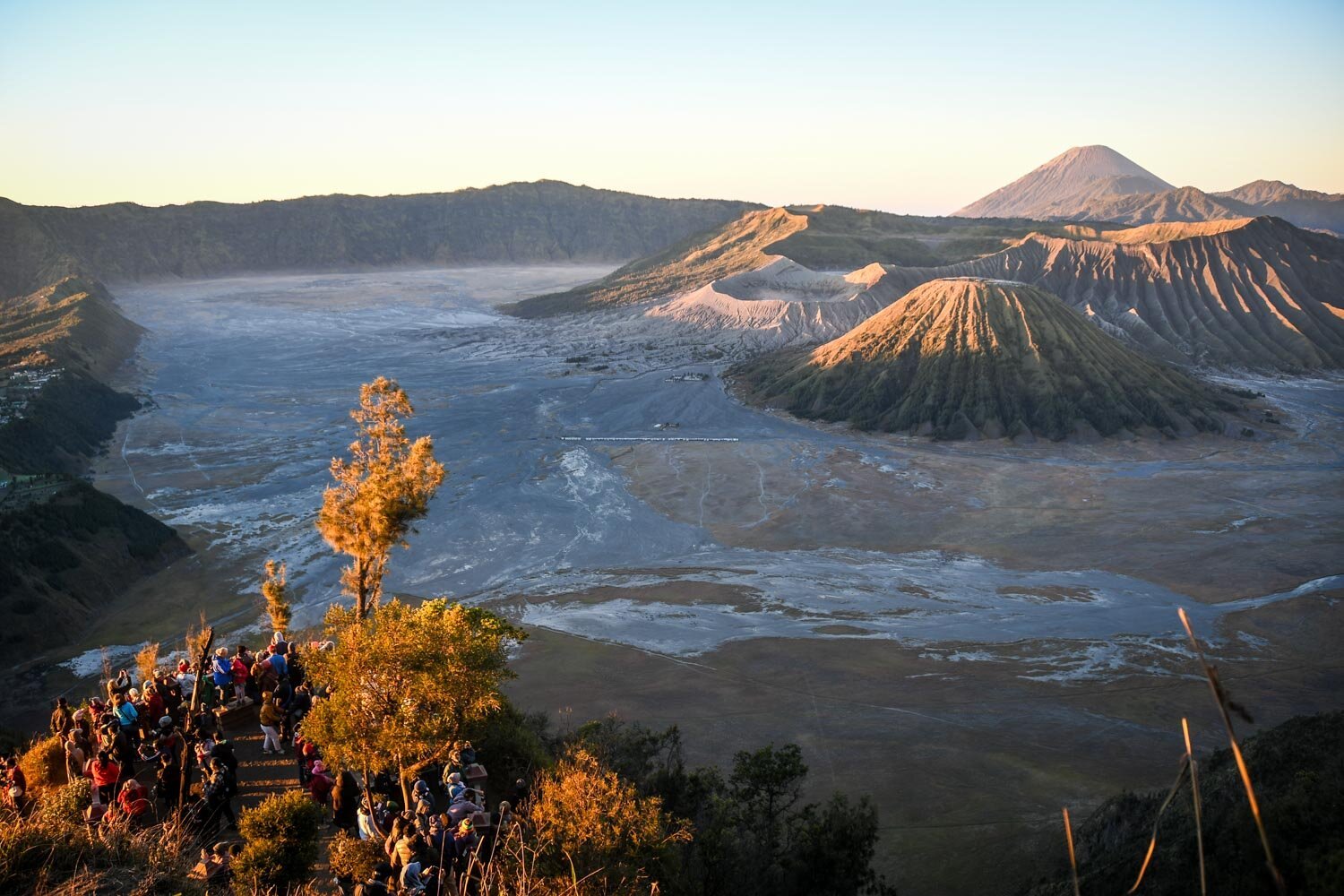 After driving in the dark for quite some time, your driver will finally park and you can get out, stretch your legs, and hope you wake up as the cold air hits your face.
The parking spot is located on Mount Penanjakan and is a very short walk to what's known as "King Kong Hill" (Bukit Kingkong), which is the highest viewpoint on Penanjakan. It offers sweeping views over Mount Bromo and the "Sea of Sand" in which the volcano sits.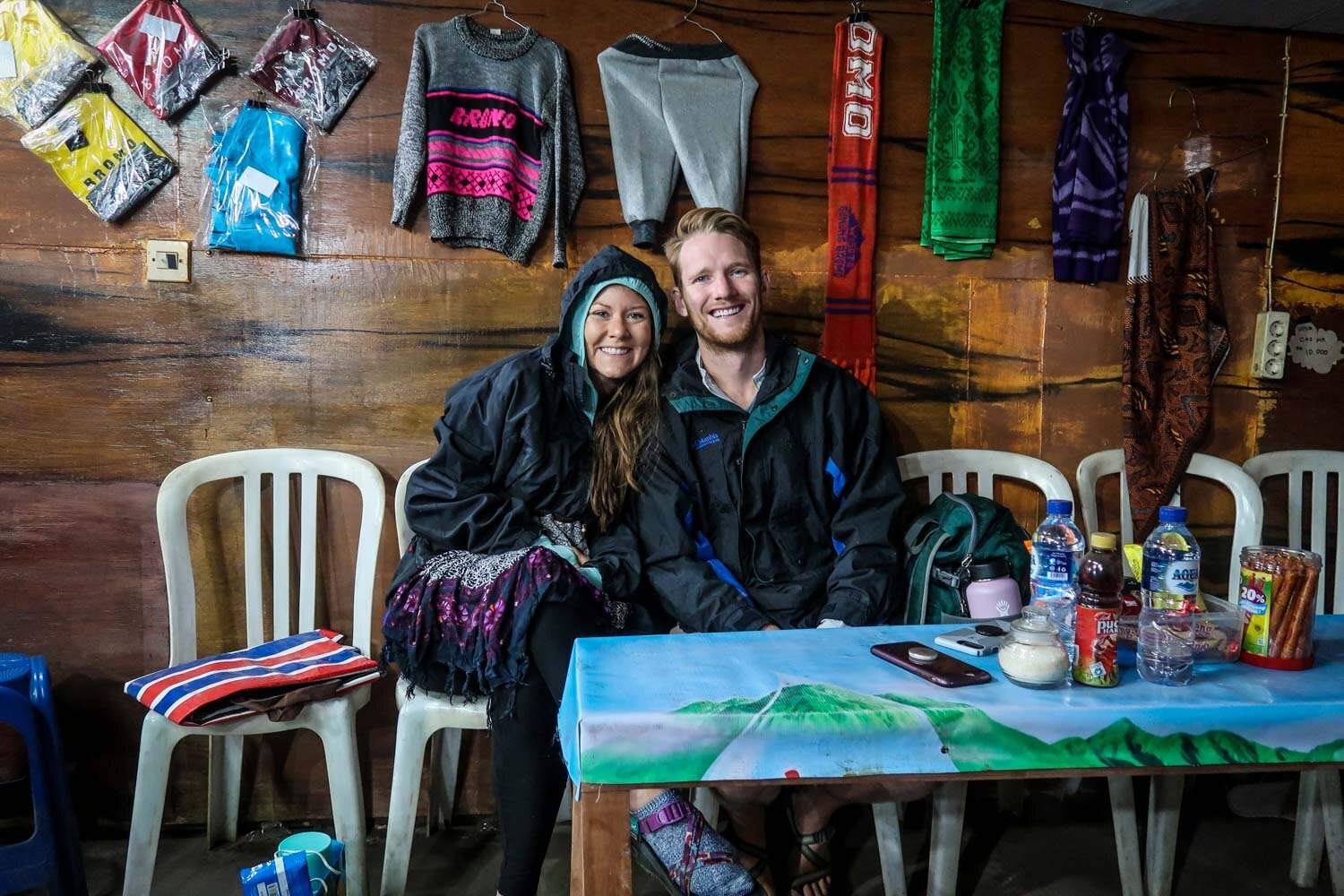 Insider Tip: In the hours before the sun rises, this hill can get incredibly cold and windy (even for us Minnesotans!), so unless you've got an incredible tolerance to the cold or have a very warm jacket, you'll want to head to one of the small shops where you can order hot tea or (instant) coffee and noodles.

Our driver came and sat with us around a charcoal fire for a while and ordered us a bowl of instant noodle soup (which tasted suspiciously like sulfur), and then retreated to the Jeep to sleep until sunrise was over.
King Kong Platform: From the row of shops its a short walk to the King Kong Platform, which will soon become packed full of bundled up people, big cameras and selfie sticks. heed our advice in the tip above.

Seruni Platform: There is also a path that continues onto Seruni Platform, which supposedly tends to be a bit less crowded.
Our recommendation: Skip the platforms and find a "hidden" viewpoint instead.
As mentioned, the platforms have nice views, but they get very crowded. If you're like us, and the thought of being packed like sardines makes you a little queasy, keep reading.
"Hidden Viewpoint"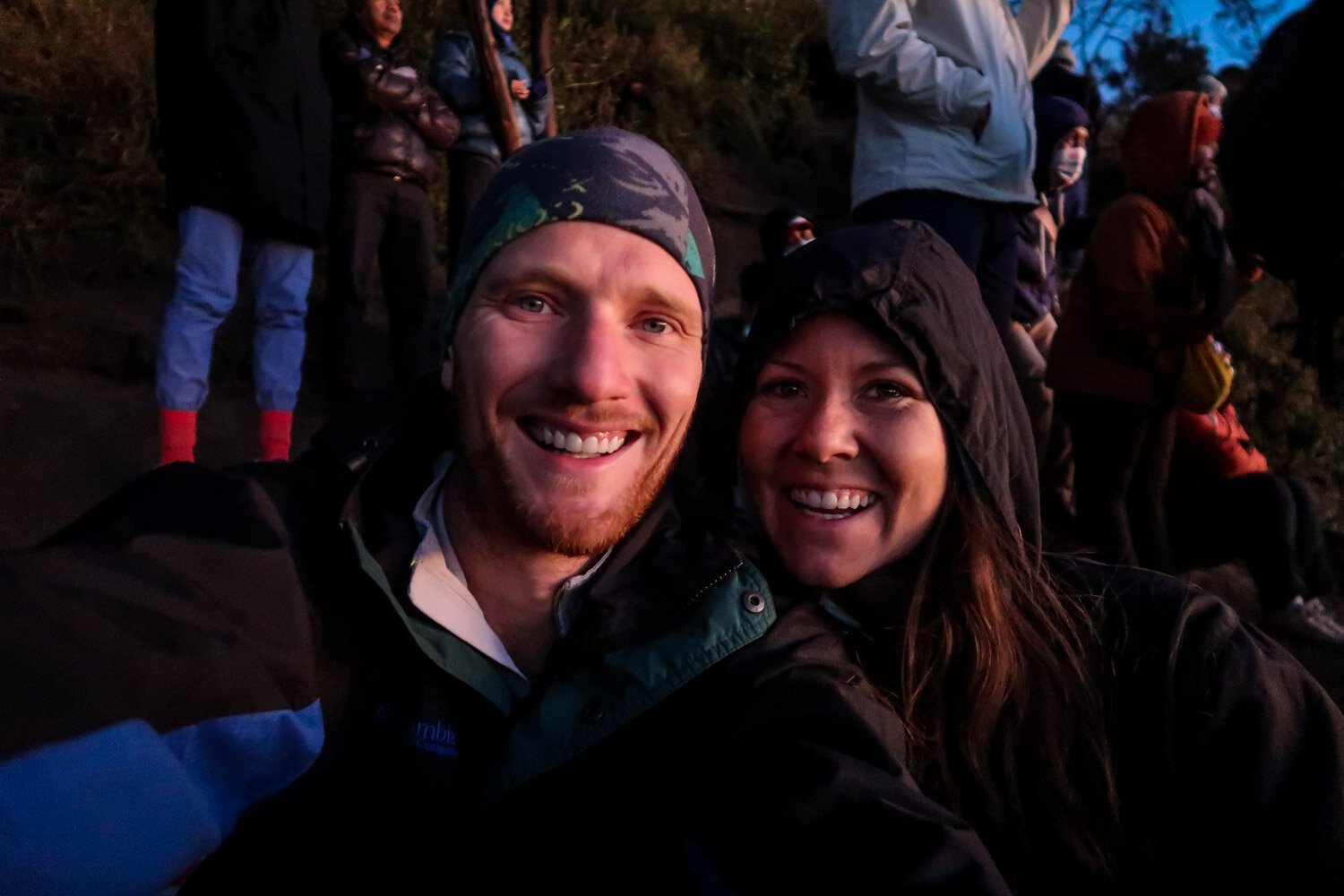 As you're walking toward the King Kong platform, look for a small dirt path to your right (on the mountainside). While we didn't have it completely to ourselves (and people started to come up once they saw lights or heard talking), it was far from crowded.
There were somewhere between 20 – 30 people, and we all had plenty of space to take photos without a bunch of people in the way (that's a win in our book!). You can see Mt. Bromo to the south and the sunrise in the east.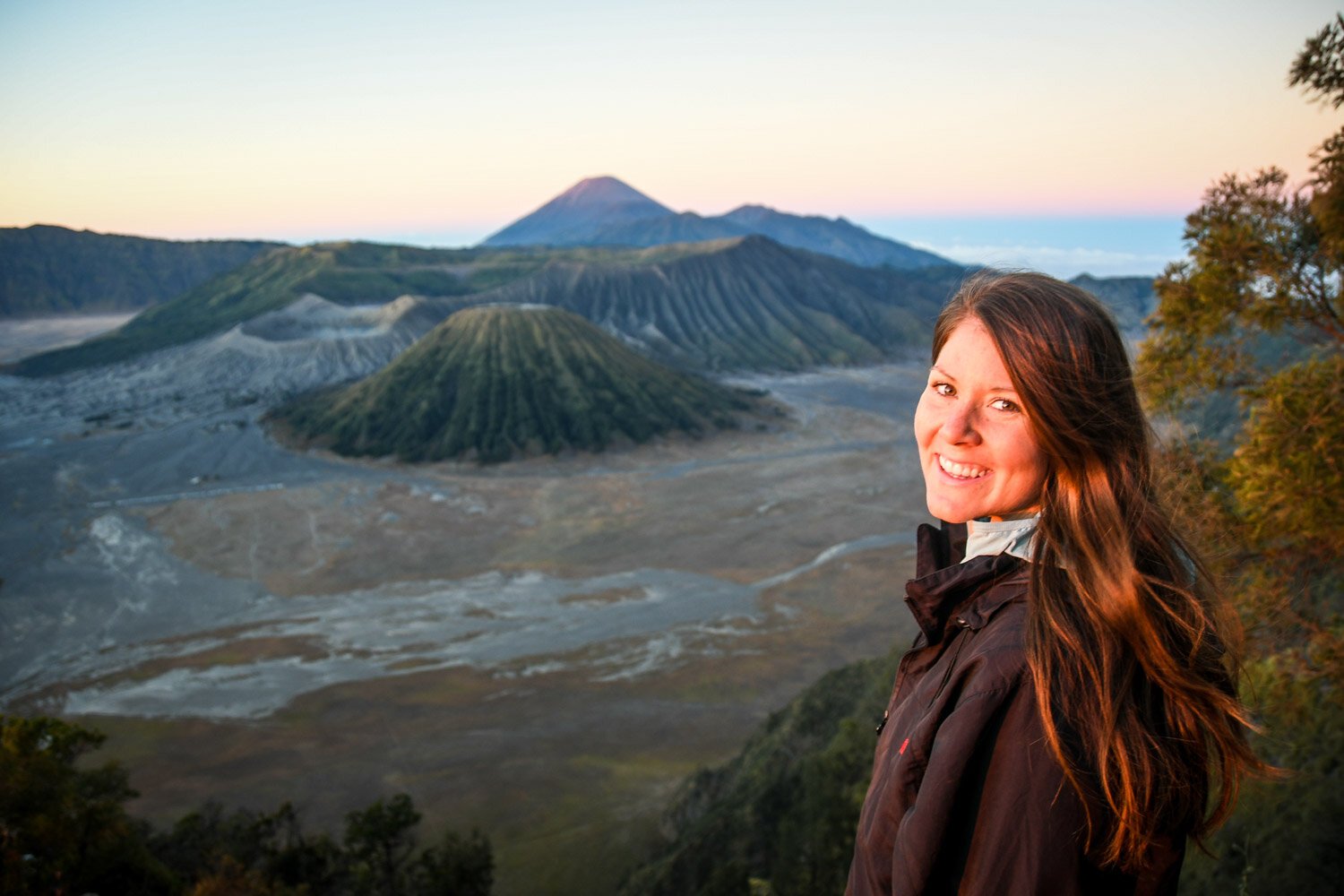 Unlike the platforms that have a railing, this viewpoint has no barriers. Just be careful and try to avoid sitting or walking on the vegetation, as this helps prevent erosion.
Good to know: If you plan to sit down while you wait for the sun to rise, be prepared to get a little dirty, or bring a blanket or sarong to sit on.
If you can't find this area – or it's too crowded when you arrive – you can continue on the path toward Seruni Viewpoint and look out for more viewing spots along the way. They will all more or less have the same view of Mount Bromo in the distance, so find one that is least crowded, and enjoy the morning light!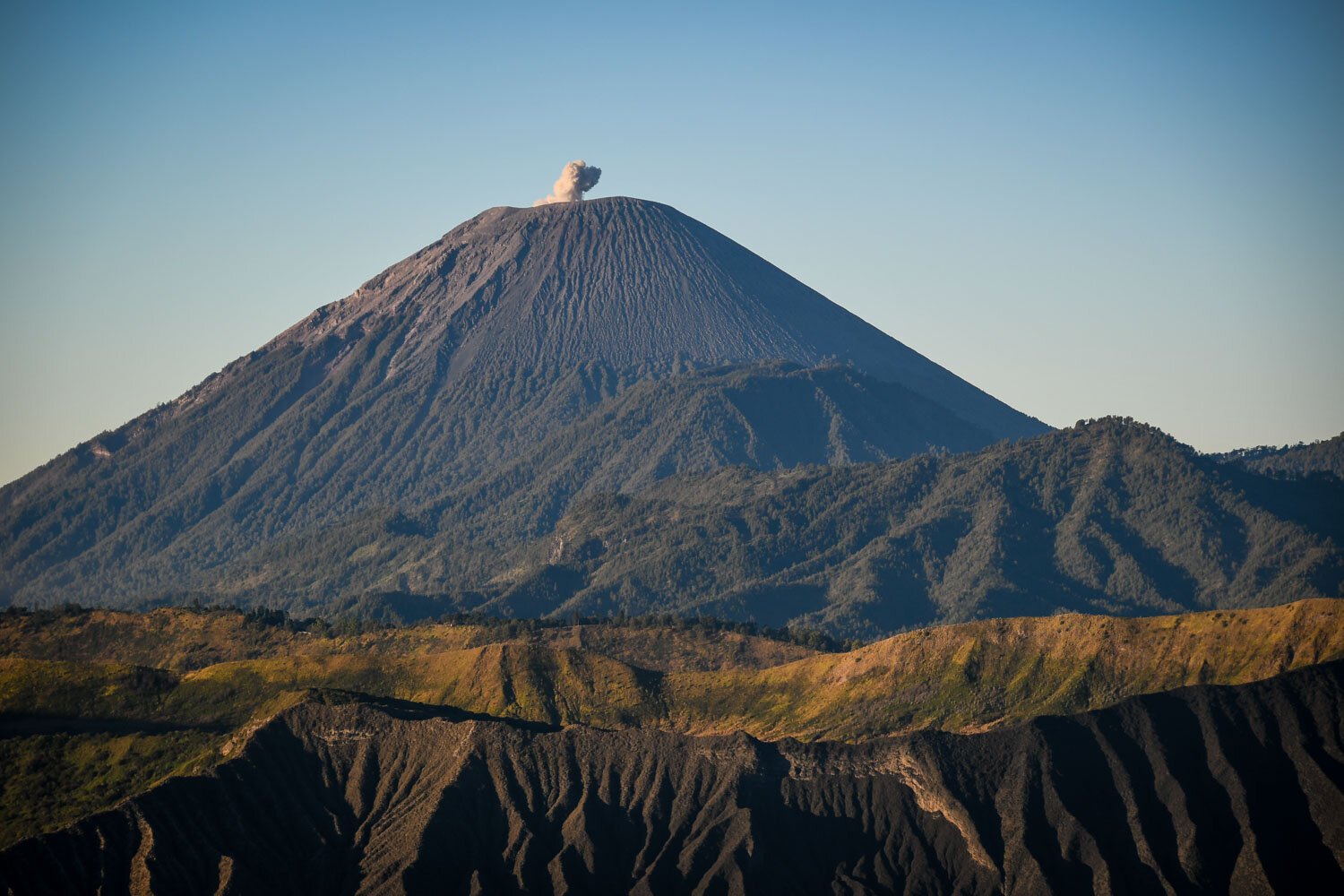 Wherever you are, be prepared for a magical morning (with other people around). Keep an eye on the volcanoes in the distance too.
When we were there, Mount Semeru (which is just behind Bromo) had a small eruption and a little cloud of smoke billowed up right after sunrise. It was pretty cool to see. Ben missed it because he was waiting in the line for the bathroom. Bummer, dude!
Mount Bromo Crater Hike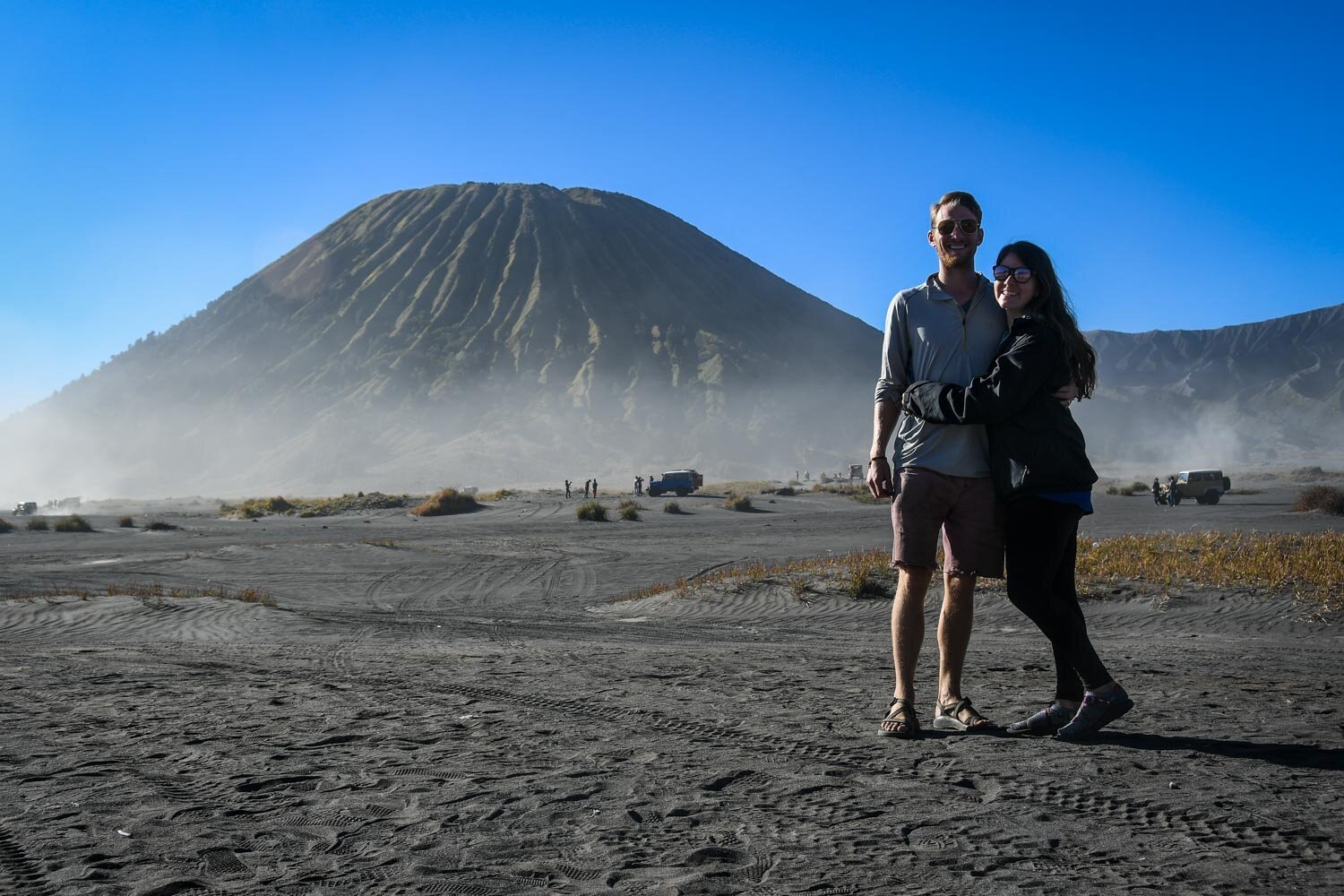 Just because the sun has risen doesn't mean your tour's over!
After chugging along with the traffic (expect lots of it!) after seeing sunrise, we drove down into the basin from which you can actually hike up to the rim of Mount Bromo's crater.
We've heard the hike takes roughly 20-30 minutes, and is on a very dusty path (actually, it's mostly volcanic ash, not dust!). Wear closed toe shoes so you're prepared!
Good to know: This hike is NOT always possible.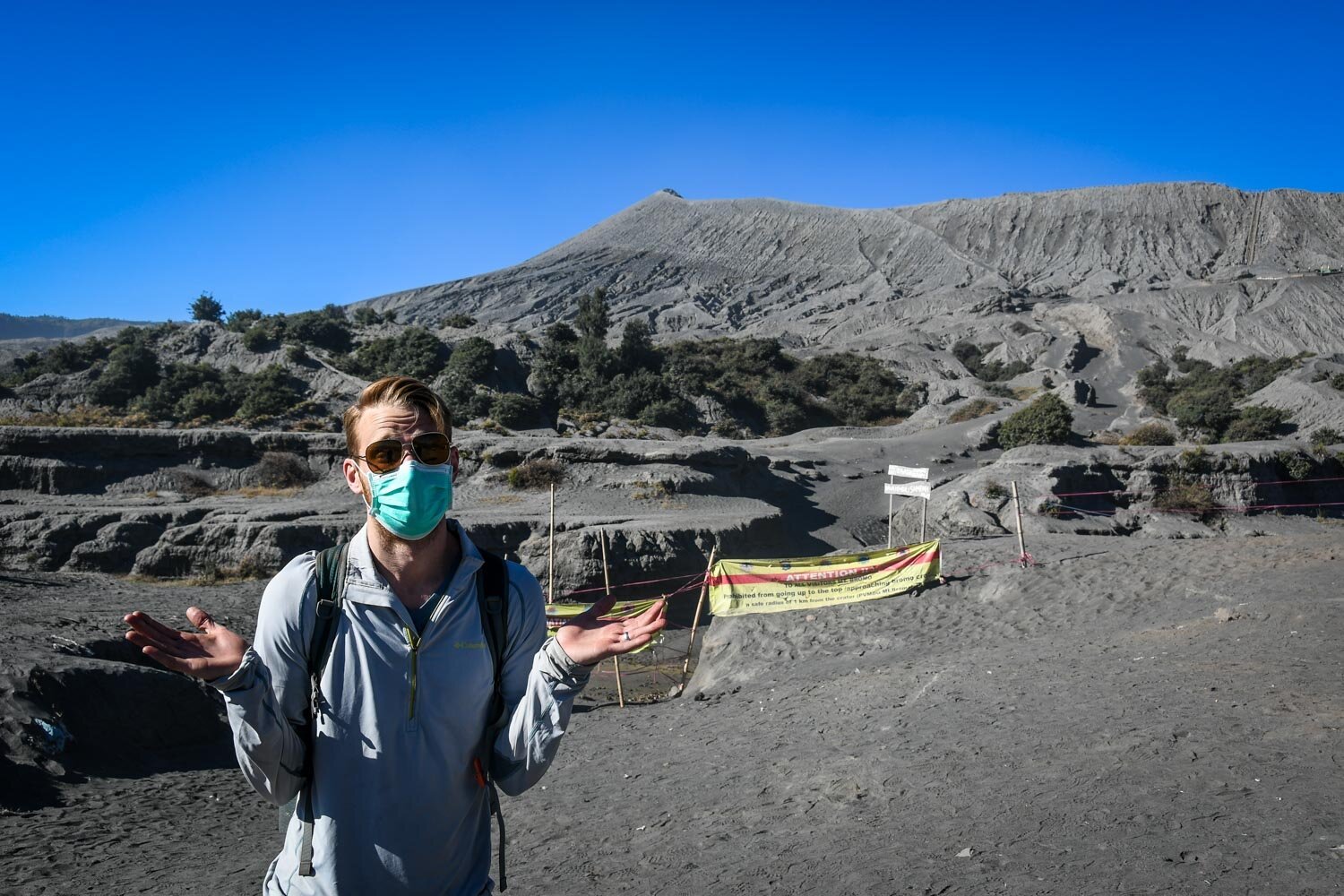 Unfortunately this path was closed during our visit (July 2019) because of heightened volcanic activity. We've read that this happens somewhat frequently and is done for the safety of all visitors, so just keep this in mind so you're not too disappointed if it happens on your visit.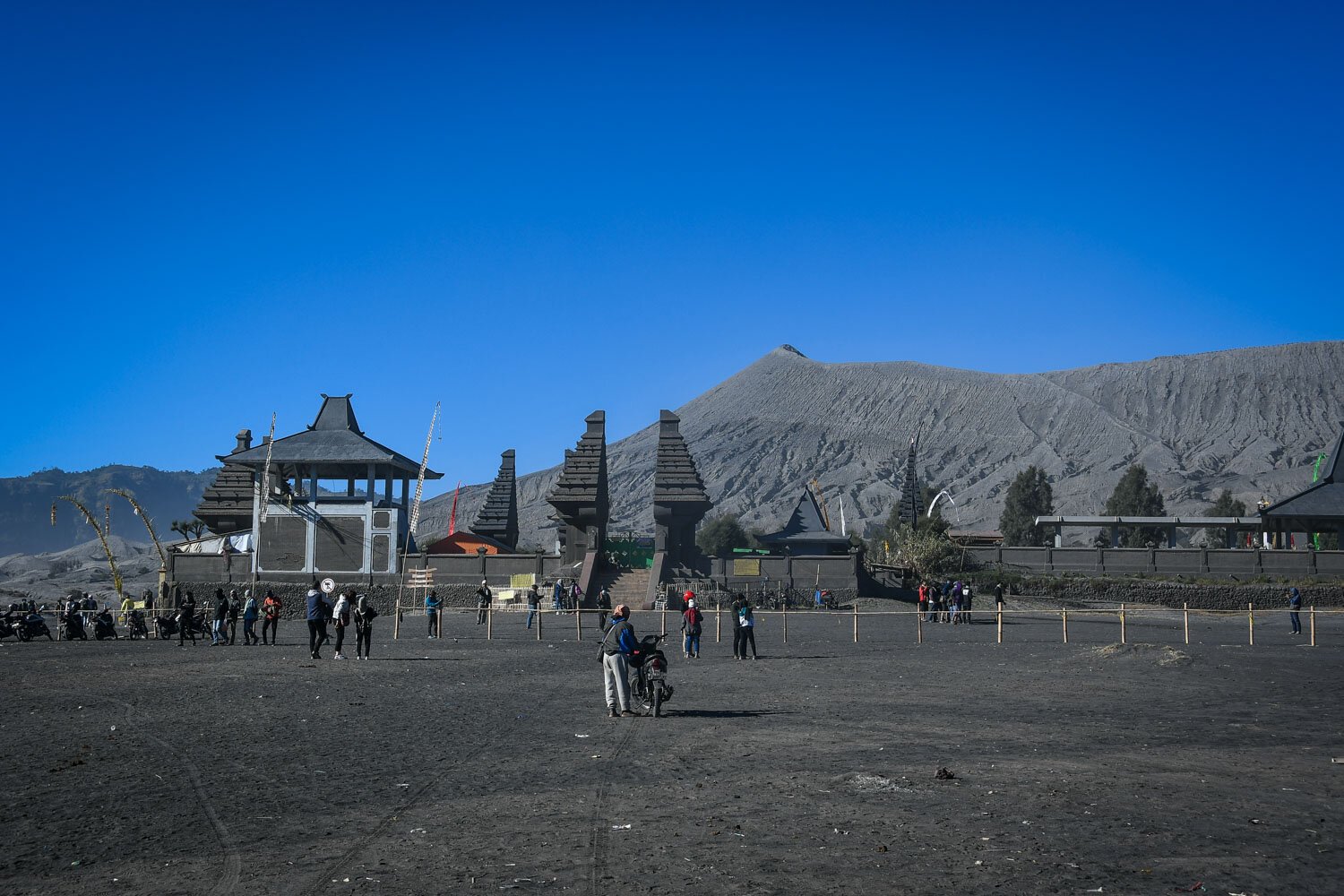 It was still possible to walk up pretty close to the crater, we just couldn't actually hike up to the rim. There is actually a temple at the base of the crater if you want to check that out. Ask your driver on the day of your visit and they should be able to tell you the current conditions.
Tip: Bring a buff or bandana to cover your face. Without one, soon you'll have sand in your teeth and nose. Our Jeep driver provided face masks for us, but we didn't see many other drivers do this.
A note on the horses: From the parking lot, you'll see men on horses trying to offer you a ride to the bottom of the crater. In our opinions, the horses looked very poorly taken care of or fed. The area is very sunny with no shade, and even at 7 a.m. when we were there, we saw many horses frothing at the mouth. It was pretty sad to see.
We would not recommend supporting this practice. Plus, it's a flat 15-minute walk, so we don't think this service would be necessary for most people.
Basin Photos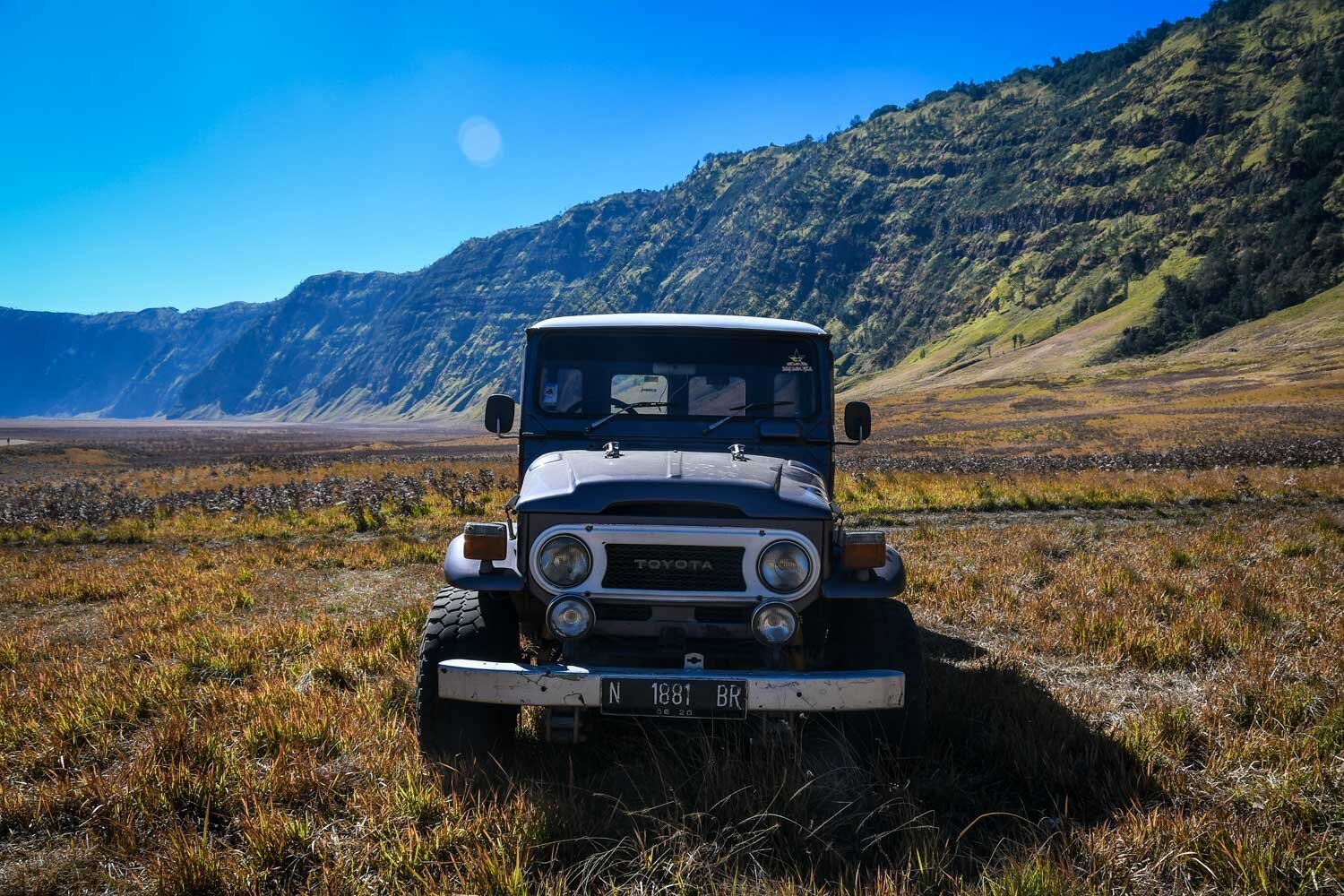 Mount Bromo sites inside a basin known as the "Sea of Sand". Including Bromo, there are 5 volcanoes in this crater, and together they comprise an otherworldly landscape that'll make you wonder if you've been transported to Mars.
In this basin, be prepared to make lots of stops for photos!
Our Jeep diver suddenly transformed from a sleepy, not-so-talkative guy to a goofy photographer, telling us where to stand and how to pose. He'd get down low on the ground, almost like it was a scene from Zoolander. It was pretty funny, and after comparing stories with a friend, she said her driver did the same thing.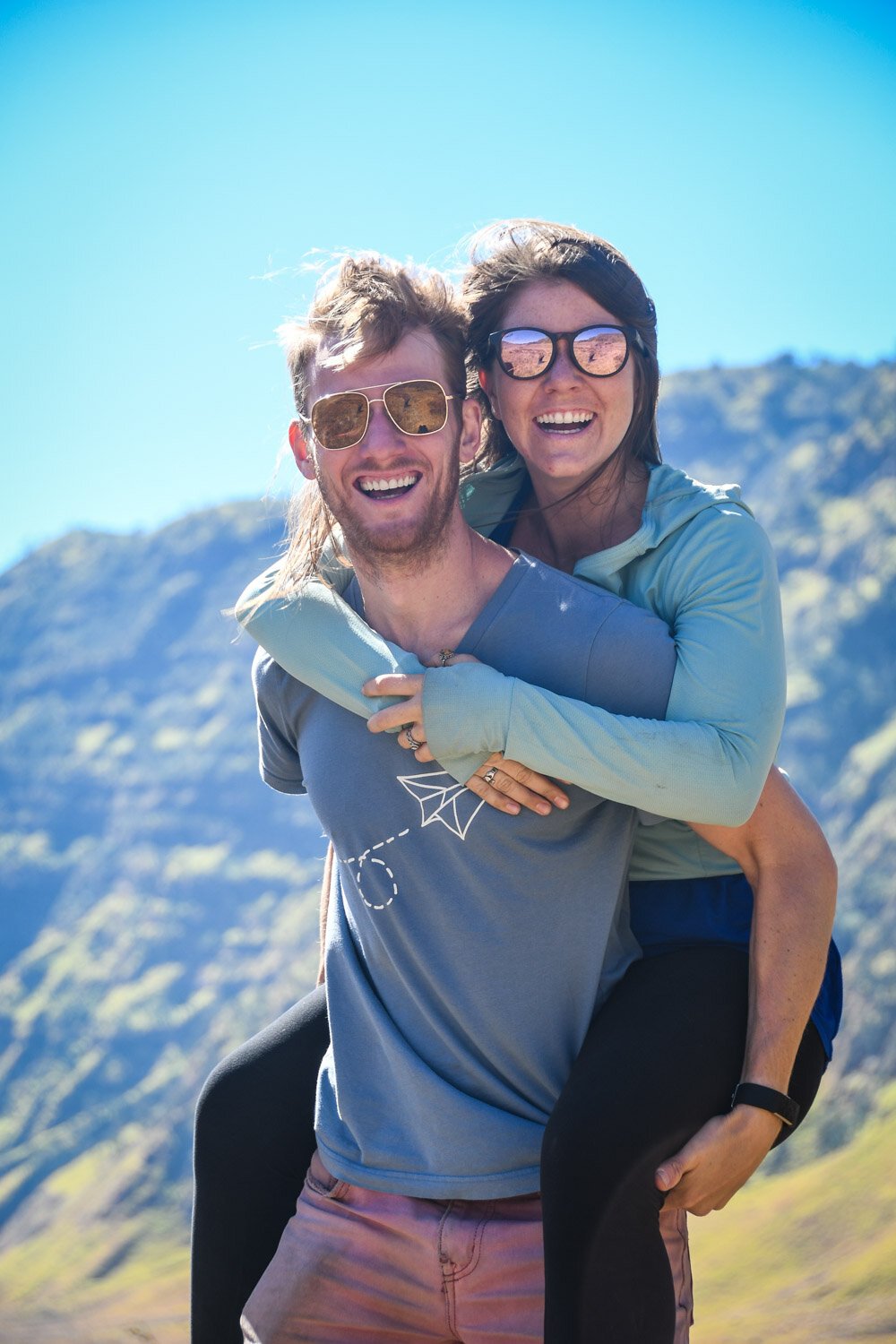 Interesting connection: If you've ever traveled to Bolivia and gone on a Salt Flats tour in Salar de Uyuni, this part of the tour feels kind of similar!
Rainbow waterfall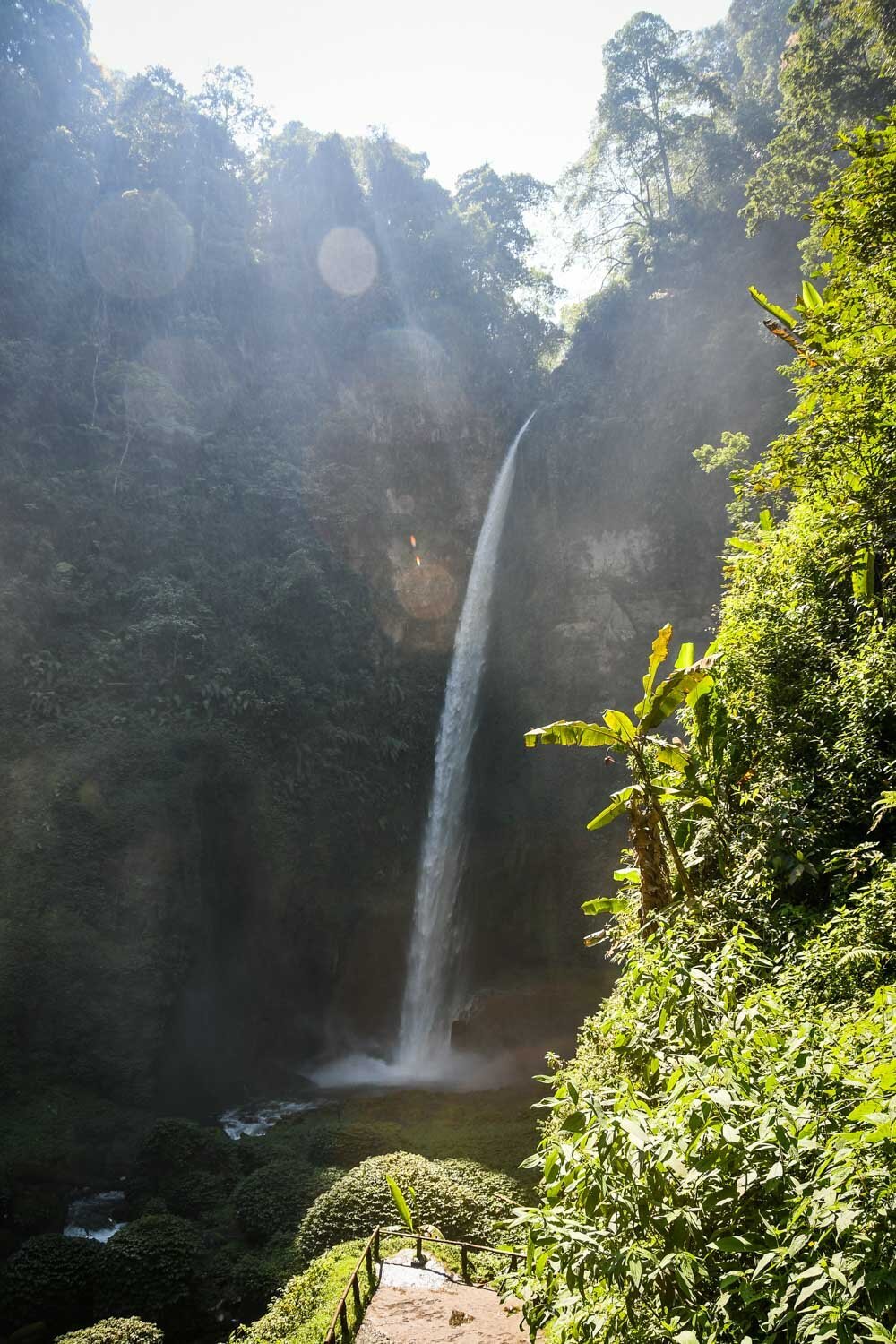 After all our photo stop, we were getting kind of tired (I suppose the fact that we had woken up at midnight didn't help either!). But our driver informed us there would be one more stop on our drive back to Malang, at a waterfall. Specifically, at Air Terjun Coban Pelangi, otherwise known as "Rainbow Waterfall".
It was nice to see but the day before we had taken an epic waterfall tour to Tumpak Sewu (you should 100% put this on your Java itinerary!), so our expectations were high and our energy was low.
The easy, 15-minute walk down and back up wasn't bad though, and it was nice to stretch out legs a bit.
Mount Bromo Jeep Tour Itinerary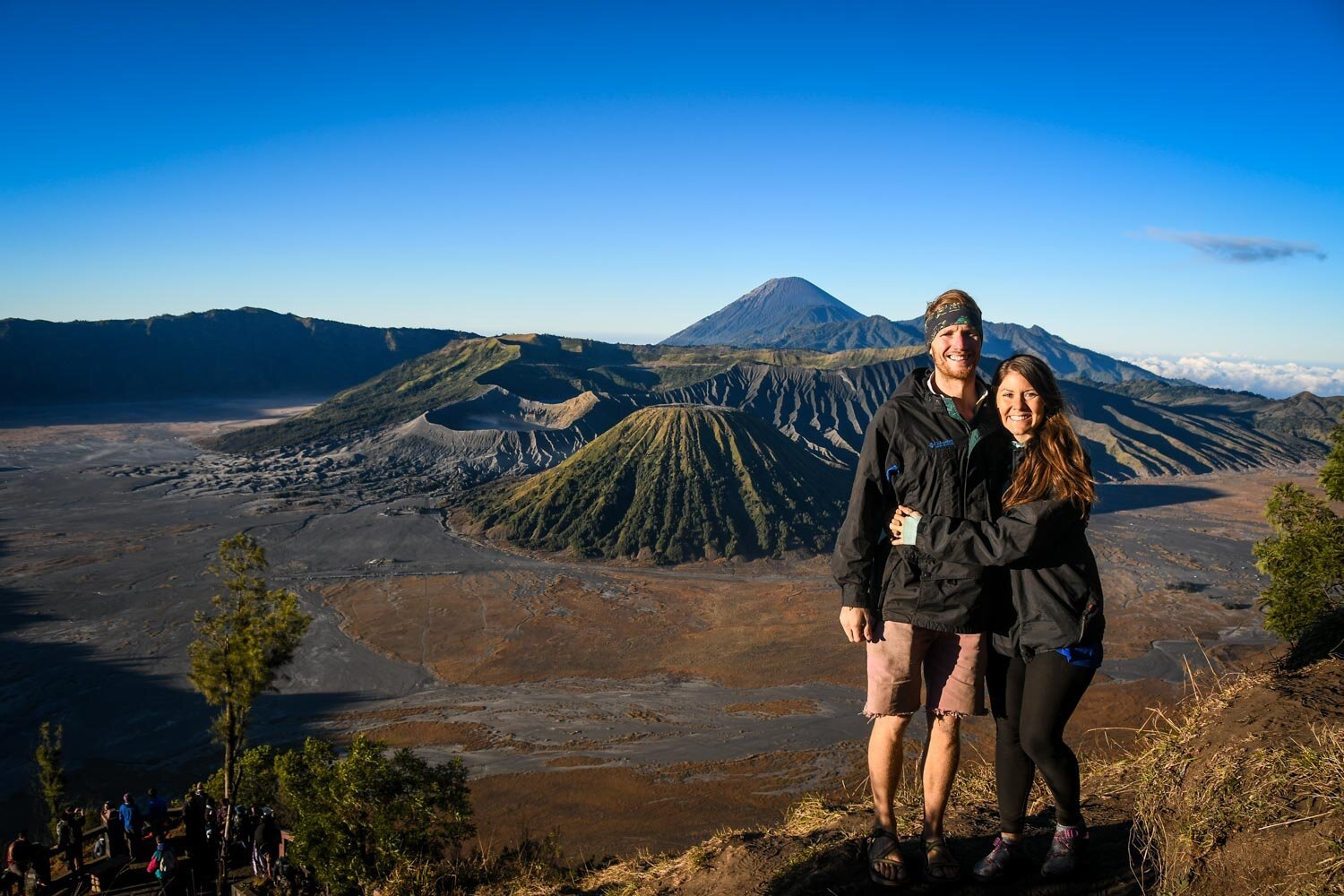 Below is the rough timeline of our tour. Your timeline may vary a bit, but hopefully this gives you an idea of what to expect.
12:00 am: Driver picked us up from our guesthouse and we began the 2+ hour drive to the National Park.

There was one other guy in our Jeep who had been picked up from a different hotel.

I tried to sleep on the way there (I brought an eye mask and headphones). The ride was pretty bumpy though, so I didn't get much sleep.

Lots of 4×4 vehicles jeeps going through sand and steep hills. Saw a few motorbikes and it looked terrible. Not recommended.

2:15 am: Arrived at the National Park

Sit in coffee shop, noodles, coffee, tea, charcoal fire pit

It felt pretty ridiculous that we arrived so early, but in hindsight I'm sure it's because it allowed our driver to get a good parking spot and avoid the traffic jams. For example, a friend of ours was picked up at 12:30 a.m. instead of midnight but the drive took much longer due to traffic (she still arrived an hour before sunrise with plenty of time, but the drive took much longer).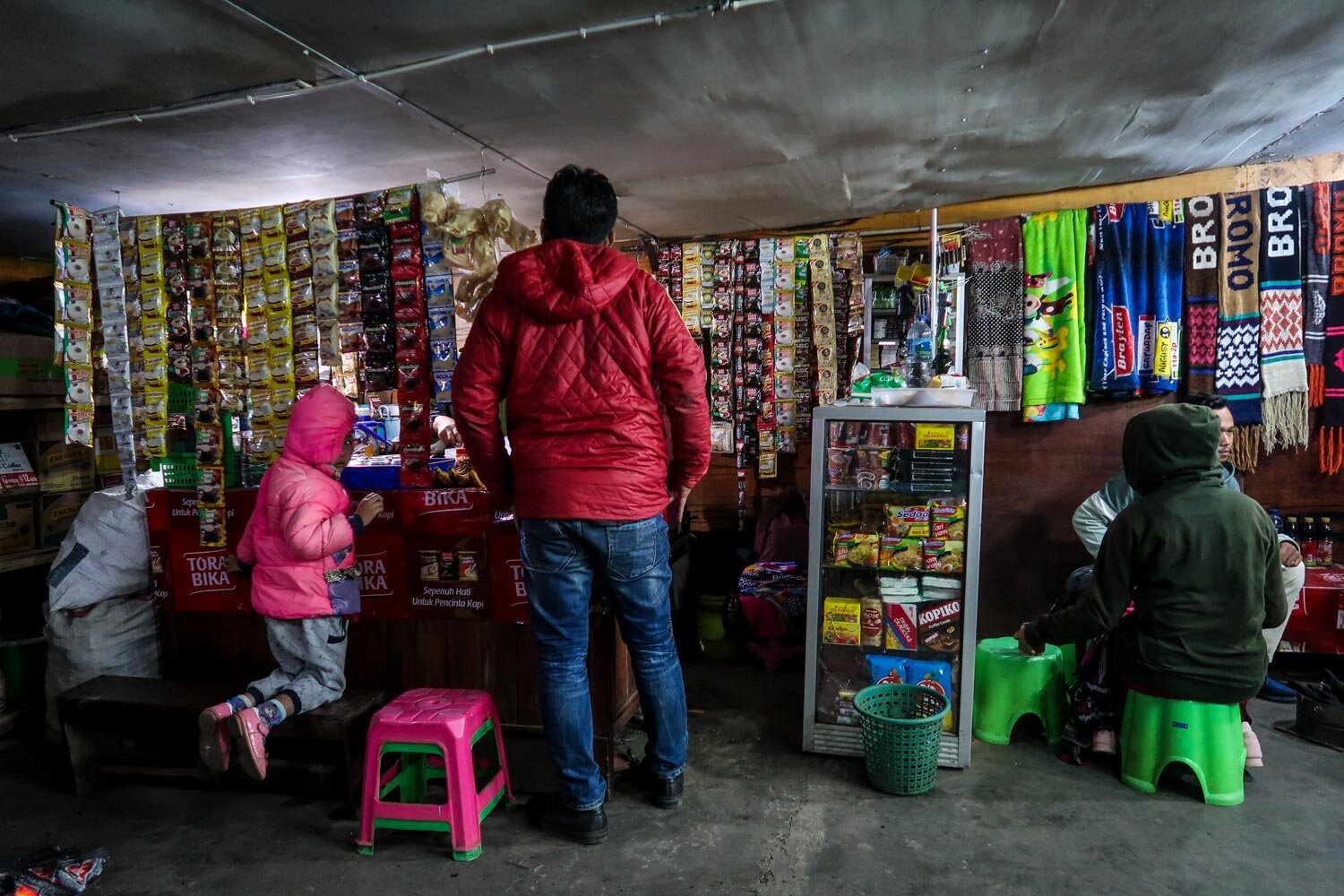 4:00 am: It started to feel much more busy and more and more groups arrived

4:20 am: We found a spot that wasn't very crowded, and we laid out a blanket to wait for sunrise

5:00 am: We began to see the first light of the morning.

Note: The sunrise time in Java is pretty consistent through the year, but does fluctuate some. It appears that sunrise can be as early as 5:42 a.m. and as late as 6:13 a.m. This website allows you to input the date of your visit to check the exact time of sunrise.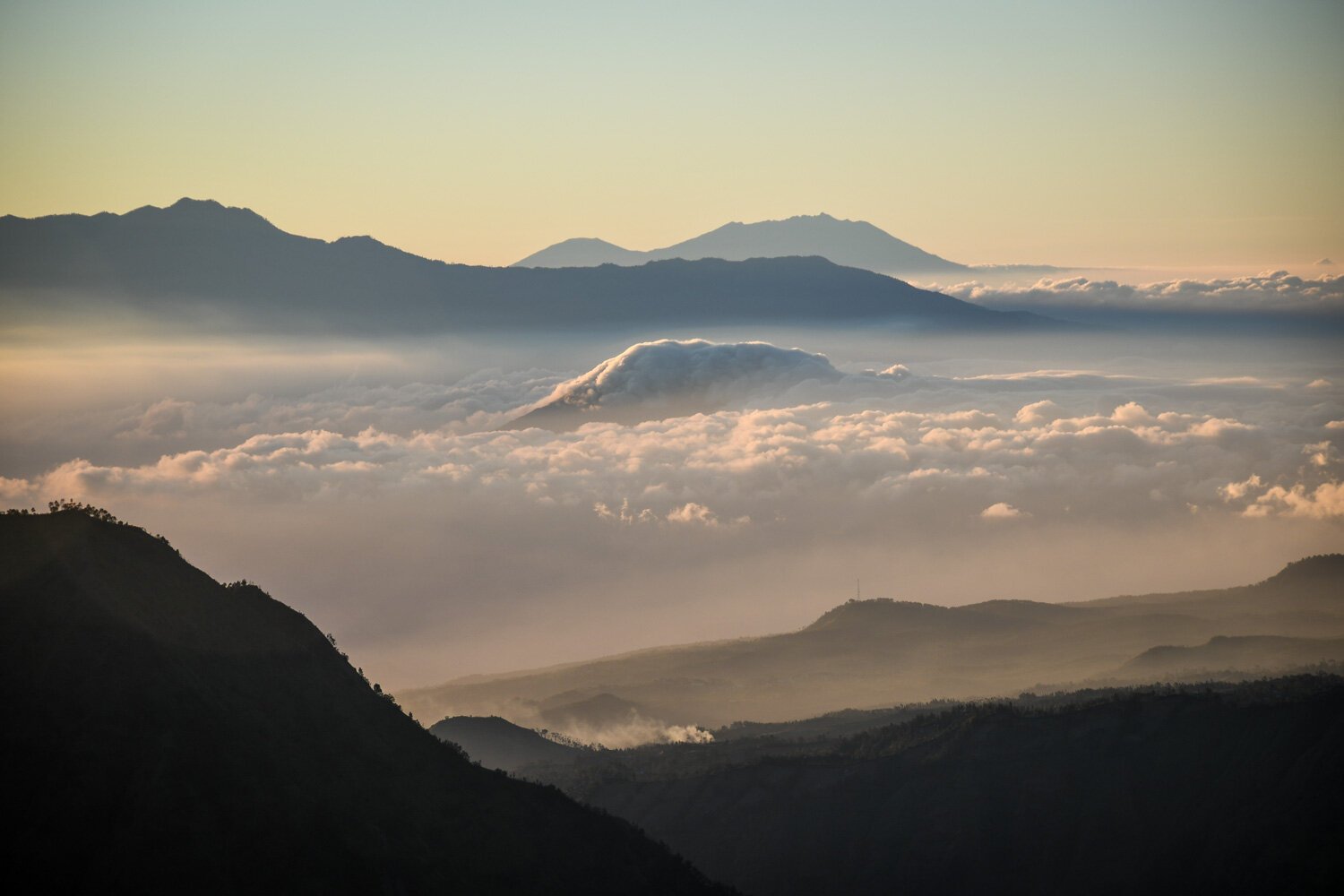 5:30 am: The sky started to really light up as the sun rose.

Note: On the date of our visit, the sunrise time was 5:55 a.m., which just goes to show that you that you'll want to be there early to get the full effect.

6:00 am: The crowds started thinning as people headed back to their Jeeps.

6:30 am: We got back to the Jeep (a little later than we were supposed to because we were enjoying the view!).

Tip: Try negotiating a later meeting time with your driver ahead of time if you think you'll want to stay after most of the crowds leave.

7:00 am: 45-minute stop at the base of Mount Bromo. This would have been the time that we could hike to the crater rim, but it was closed due to excess volcanic activity during our visit.

8:00 am: We made lots of stops in the basin and our driver did little "photo shoots" for us (without being asked haha!).

10:00 am: Stopped at "Rainbow Waterfall" which was a short walk from the parking lot.

10:30 am: Started the drive back to Malang.

11:30 am: Arrived back at our guesthouse!
All in all, the whole experience was just under 12 hours!
How crowded is Mount Bromo?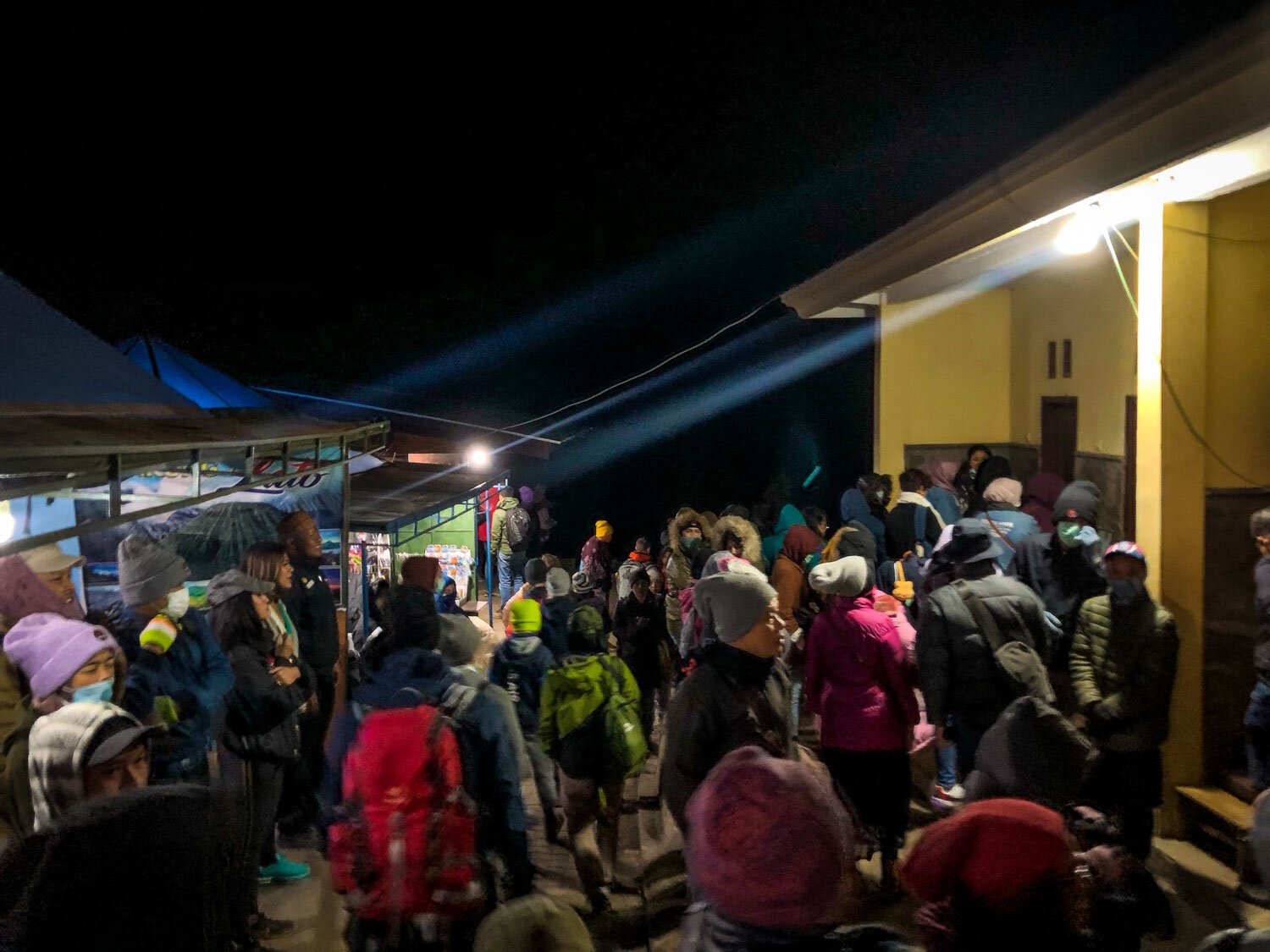 As high as my expectations were, I also knew that we wouldn't be enjoying the morning glow in solitude. Just weeks before our trip to Java, I had two different friends visit the island and they each told me the same thing: Sunrise at Mount Bromo gets crowded. Like, really crowded.
And they were right.
Hordes of people that make the journey each morning to glimpse Mount Bromo in all its magnitude and glory. (Doesn't that sentence sound like it belongs in a Planet Earth documentary?!)
But here's the good news: I did lots of research ahead of out trip and asked everyone I knew who had been to Mount Bromo for tips. And I found that while there's no way to avoid the crowds altogether, there are a few ways you can sort of get away from the masses.
But first, why is it so crowded?
it's friggen beautiful

lots of Indonesian people love traveling within their own country, so much of the crowd is domestic visitors

it's relatively accessible. Explained below…
Many other sunrise experiences (like seeing Ijen Crater) require a tough hike, making it difficult or impossible for some. So you can probably imagine that part of what makes this such a popular activity is that it is very accessible. Not in the sense that it's close to any major city or town (it's not), but in the sense that people of most ages and abilities are able to see it because you can take a Jeep to the top instead of hiking.
Tips for avoiding the crowds at Mount Bromo
Find a spot away from the actual platforms. Look for other, less built up viewpoints which will have far fewer people. See our tips above on how to find a hidden viewpoint!

Stay after the sunrise. The crowds will thin out and depending on the day, it might be after the actual sunrise that you experience the most beautiful colors. Just arrange this with your driver ahead of time (we had to do some negotiating).

He wanted us back and leaving at 6 a.m. (when sunrise was only at 5:30) But we swayed him to leave around 6:30 a.m. which we were thankful for because the crowds started to leave around 6 and the colors in the sky were amazing! (Though friends told us to stay until 7 for the sky to really light up.)
How much does a Mount Bromo Jeep Tour Cost?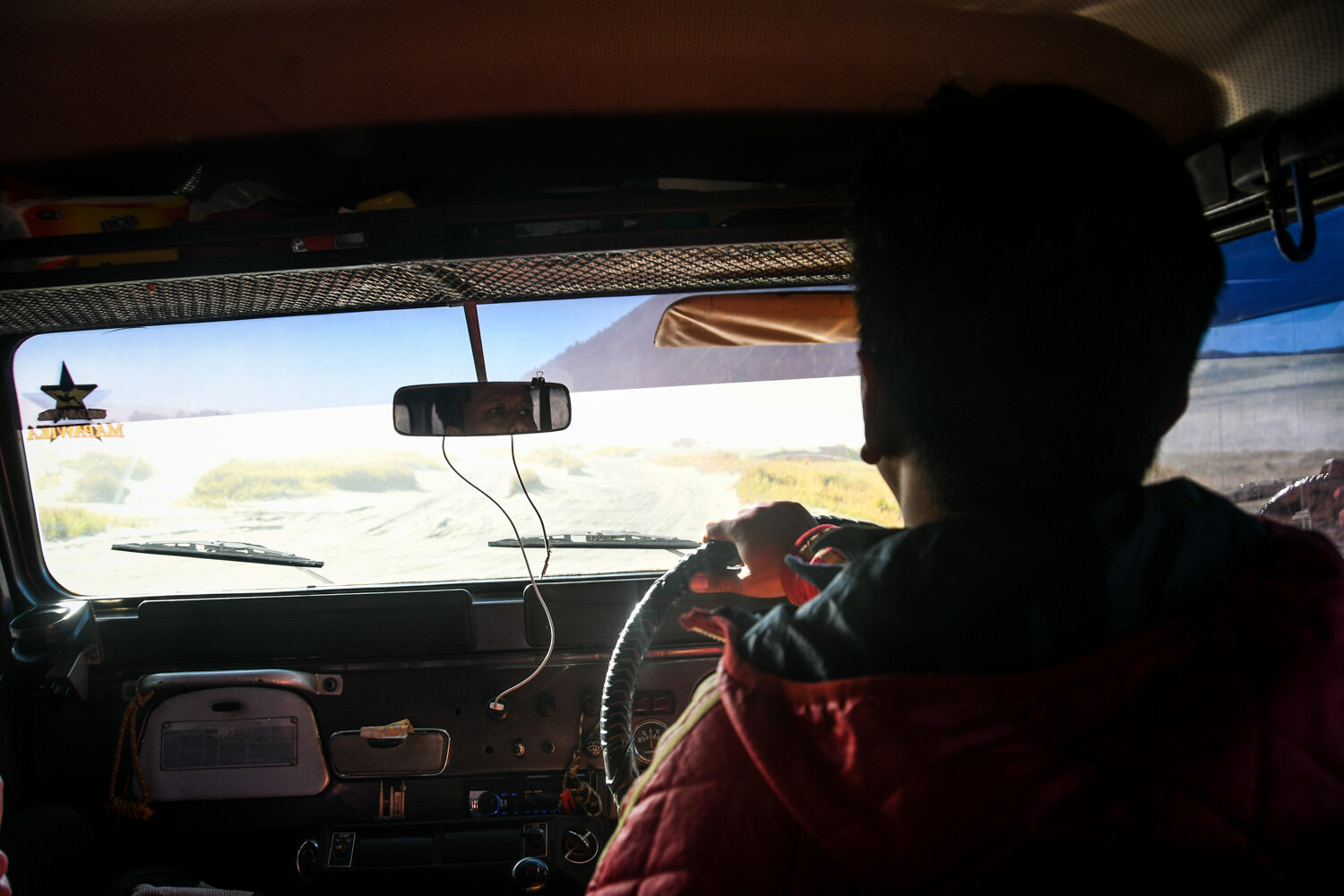 Cost: 600K – 700K* IDR per person total ($38 – $45 USD); the price for domestic tourists will likely be cheaper since they have a much lower National Park fee. (Prices and exchange rates are from April 2020.)
This includes:
Transport to and from your hotel

National Park entrance fee (which is $15 on a weekday or $22 USD on a weekend)

Hike to crater rim

Photo stops in the basin and at waterfalls

Optional: Snacks & a mat to sit on (our hotel provided these with our booking)
*The price may vary slightly, here's why: There are lots of drivers in Central Java that Jeeps and guesthouses will likely have a couple drivers they typically work with. Depending on what that specific driver charges as well as any fees the hotel takes as commission, your price may vary slightly, but it should be around this range. If not, you can try negotiating.
Also, the admission fee for the National Park (which is included in your Jeep tour) is cheaper during the week than it is on the weekends. So if you are going to Mount Bromo on a Saturday or Sunday, you may pay a bit more.
Our personal experience: We paid 650,000 IDR each. A friend who did the tour a few weeks before us paid 600,000 IDR, and we also heard of people paying a bit more.
How to book your Mount Bromo Jeep Tour
We arranged our tour through our guesthouse in Malang. We weren't sure how far in advance we needed to make a booking, so we emailed our accommodation to inquire, and they were very chill about it and basically told us we could just remind them when we checked into the hotel.
This worked just find for us, and our other friends who visited a few weeks before us did it this way too.
However, if you'd prefer to have your tour secured in advance for peace of mind, you can book a Mount Bromo Tour here.
Mount Bromo Tips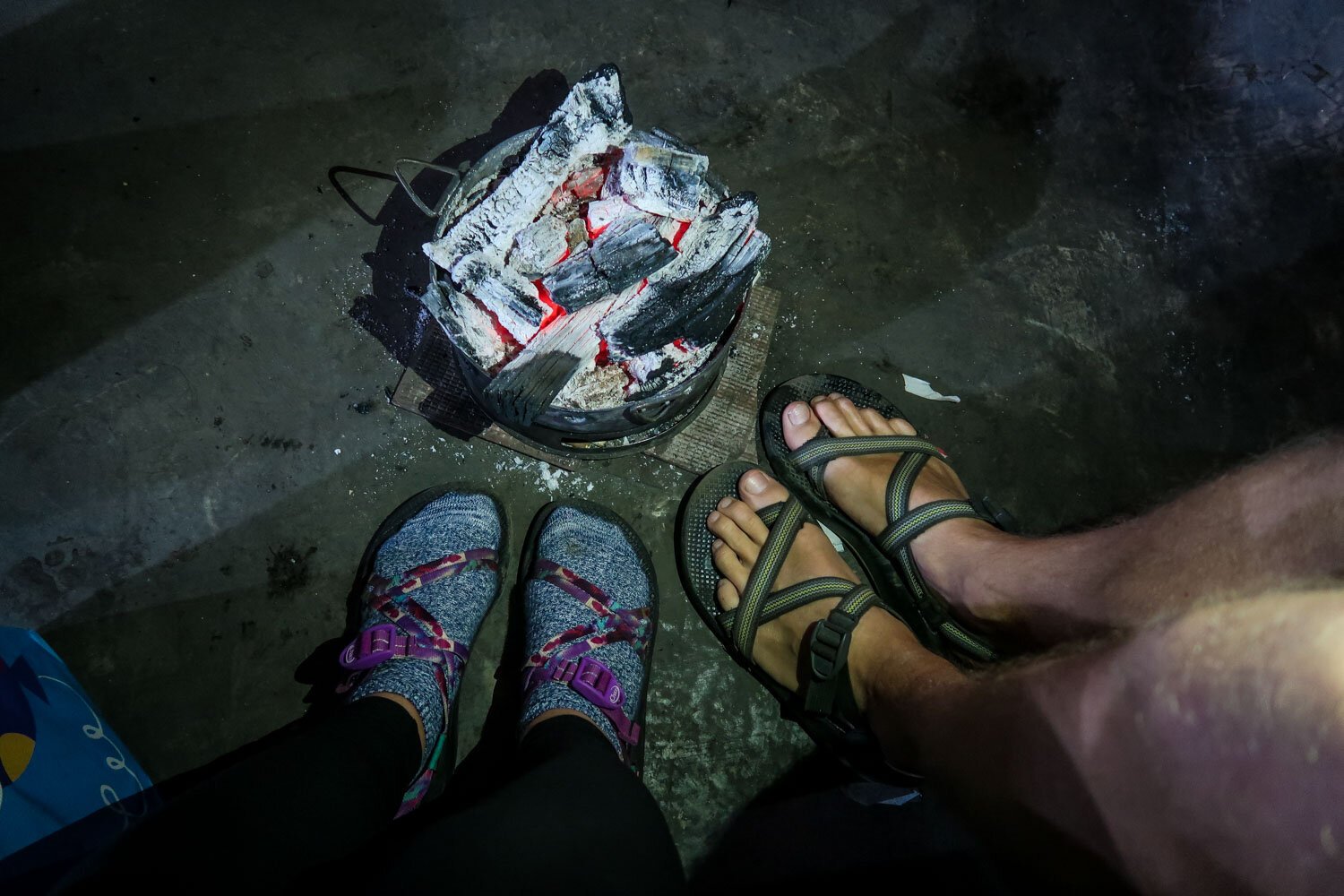 Wear warm clothes. It's colder up there than you think it will be. Trust me. Temps can hover around 32º-50ºF (0º-10ºC). It can also get pretty windy.

Pack snacks. There are small shops selling snacks like instant noodles, but if you want something, umm, more healthy, bring your own.

When you arrive, you'll see rows of small "shops" where you can order tea or (instant) coffee and escape the wind and cold as much as possible in a 3-walled building (none of them have doors!). Choose one with a fire pit for maximum warmth! We had a couple of hours to kill in the dark (and you likely will too), and this was the best way to do it!

There are a handful of toilets near the King Kong platform, and lines can get long, so if you see a short line take advantage and go! It costs 4,000 IDR ($0.30 USD) to use the toilet, so bring some small change with you for this purpose.

Also, wherever you're traveling in Java, it's a good idea to keep some toilet paper in your backpack, as you won't always find it in public restrooms.
Mount Bromo Photography Tips & Info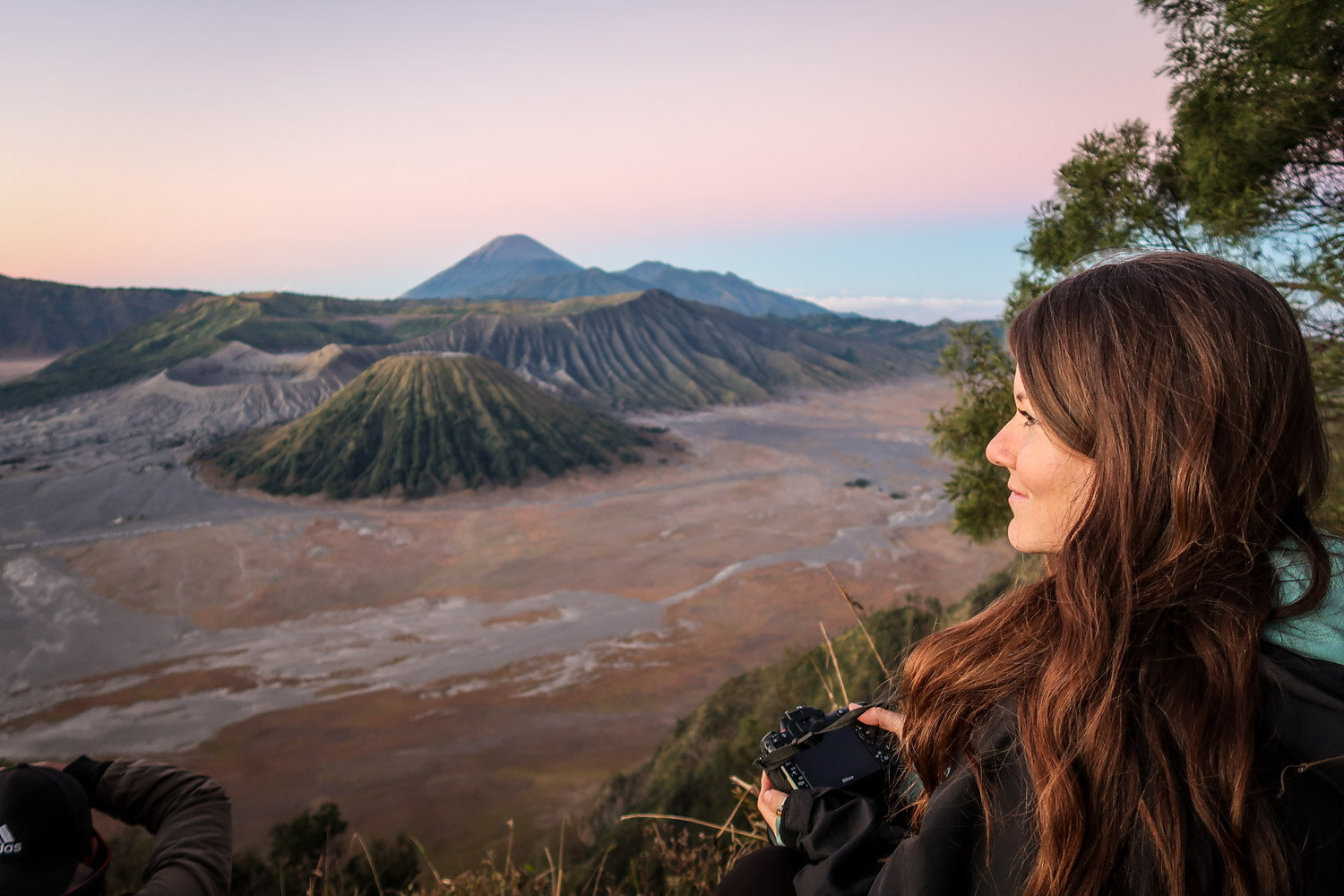 It is possible to fly your drone from the viewpoints, just be respectful to those around you. We asked the people near us if it was okay, and we tried to be quick. Also, you are not allowed to fly your drone over the crater itself.

Know that Mount Bromo sits to the southwest of the viewpoint, so the sunrise is not over the crater itself, but nevertheless casts a nice glow over its surface.

Think about what shots you'd like to capture, and brush up with these photography tips!
Really vibrant sunrises happen here, but not super often. A friend of ours who visited Mount Bromo just weeks before us had a Crayola sky (she said it peaked around 7 a.m.). However, on the day we visited, the colors were more subdued.
What to wear & What to pack
This tour is nearly 12 hours long, so you'll want to be sure you're dressed properly and have some essential items packed.
WEAR:
Layers: Wear a jacket for sure!

Hat & gloves

Closed toe shoes: the trails are very dusty
PACK:
Snacks

Water

Camera and/or drone

Buff or bandana: to keep dust out of your mouth when you hike to the crater rim

Toilet paper

Small change: for using the toilet

Headphones: for the drive there and back

Sarong or blanket: to sit on and to cover up with while waiting for sunrise. (They sell used blankets at some of the shops, but they were pretty expensive for what they were!)

Book or Kindle
Mount Bromo without a Jeep Tour
Want to skip the Jeep Tour? If you're planning to hike, our advice would be to stay in a guesthouse nearby so you can roll out of bed and start the hike before sunrise.
In this section, we'll explain how you can visit Mount Bromo independently as well as costs and where to stay nearby.
How much does it cost to go to Mount Bromo on your own?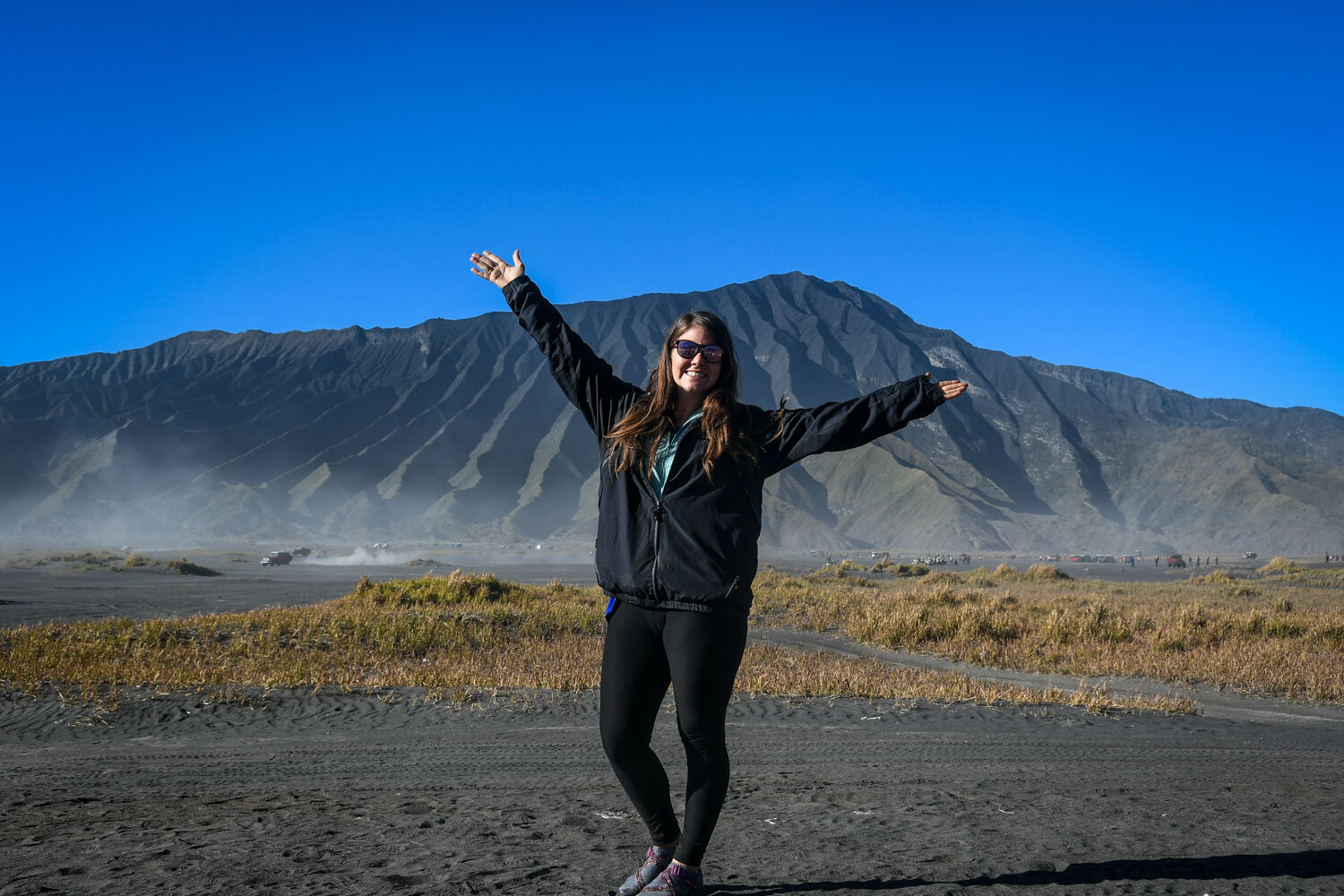 If you forgo the Jeep tour, you'll save a bit of money, but probably not as much as you're expecting.
You'll still need to pay for the following:
a) Transportation to (and from) Mount Bromo
Drive yourself on a motorbike or in a rental car.

Beware, the "roads" in the basin are actually just dust and can get very slippery!

We'd recommend driving in the daylight and spending the night in Mt. Bromo Village so you don't need to make a 2-hour drive in complete darkness.

Only choose this option if you are very comfortable driving in Indonesia and have insurance that covers you in the case of an accident.

You'll also need to pay some small parking fees, but they shouldn't be very much (maybe around 10,000 IDR / less than $1 USD).

OR Find transportation: public transport, ride share, hire a driver
b) National Park fee*
This fee is included in the Jeep tour price, but if you want to visit independently, you'll have to pay this fee on your own.
Weekday

Foreign Visitor: 240,000 IDR | $15 USD

Domestic Visitor: 27,500 | $1.75 USD

Weekend

Foreign Visitor: 340,000 IDR | $22 USD

Domestic Visitor: 37,500 IDR | $2.50 USD
*Prices and exchange rates as of April 2020.
Responsible Travel Note: We've seen a few other bloggers recommending ways to avoid the fee station so you don't have to pay. However, we feel this is unethical (and could potentially get you in trouble). We try to see National Park fees as a way to support the environment, conservation, and staff. Whether this is where the money goes isn't always known, but thinking of it this way makes it less of a frustration to pay the significantly higher "foreigner price".
Accommodation near Mount Bromo
If you do plan to hike to the Mount Bromo viewpoint on your own, we think it makes most sense to book a room as close to Bromo as possible. (Otherwise, you have to wake up just as early as all the people on Jeep tours to catch your ride, so there's not a real benefit.)
At the basin of the volcano, there is a tiny village called Cemara Lawang (or sometimes referred to as "Mount Bromo Village"). There are a handful of guesthouses, most of which have very basic facilities.
Here are our recommendations based off price, location, and guest reviews:
Guesthouse Gunung Bromo: Simple, yet clean and comfortable, this property has the highest guest ratings in the surrounding area. Plus, the included breakfast looks nice and it is very close to the starting point of the hike. This would be our pick!

Bromo Otix Guest House: With a large terrace and close proximity to the volcano, this makes another great pick if you want to stay near Mount Bromo.
Good to know: Your guesthouse will be able to arrange onward transportation for you.
Booking Tip: If you're searching for accommodation near Bromo on a site like Booking.com or Agoda, make sure you're viewing the properties in "map mode" because they tend to default to showing hotels in the larger cities like Malang or Problingo.
Is it worthwhile to visit Mount Bromo it on your own?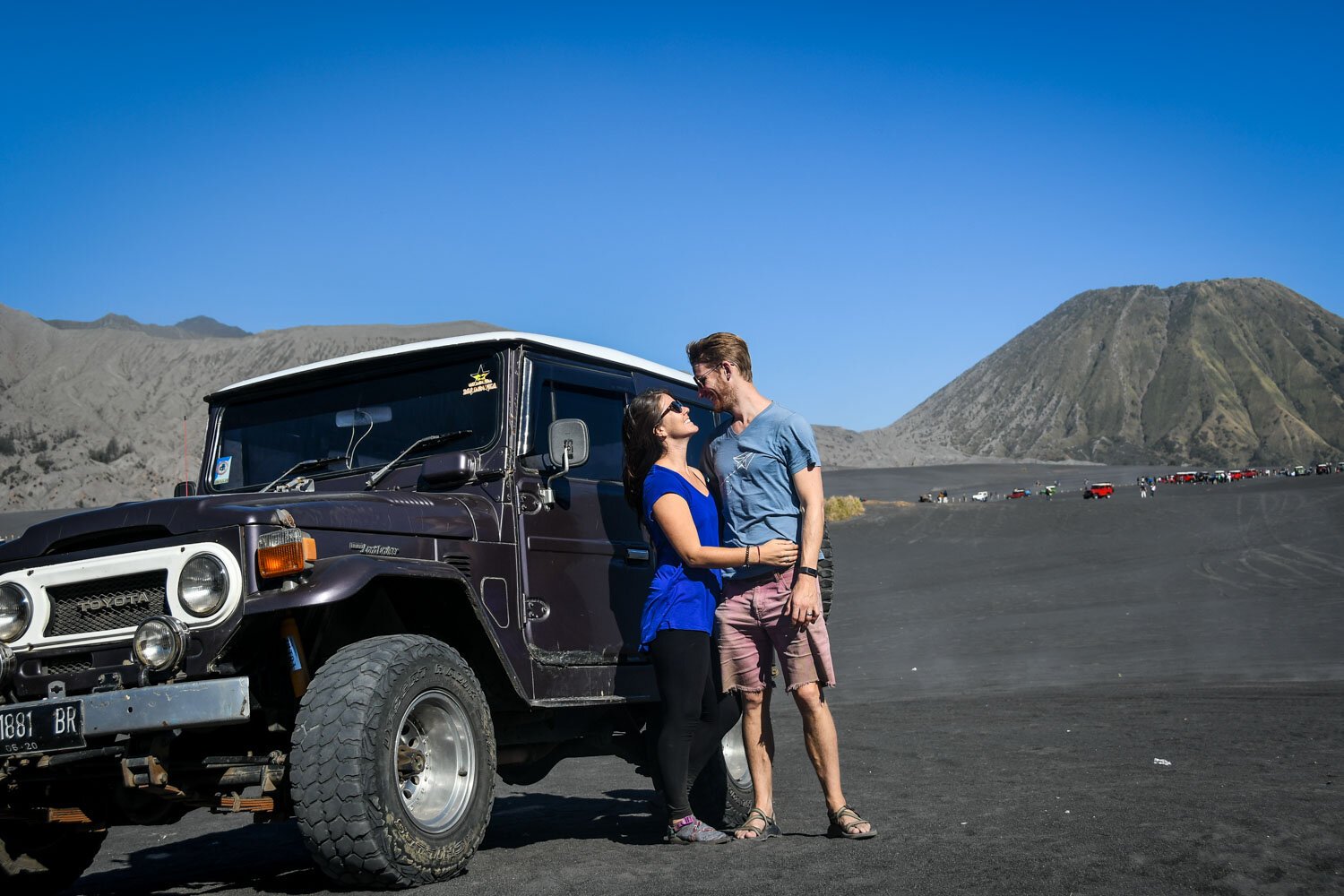 If saving money is your biggest concern, probably not. All things considered, going on your own isn't going to save you all that much money in the end once you pay for transportation and the National Park fee. If we were to do it all again, we would probably book a Jeep tour again.
However, if you'd prefer to do things on your own time and like the idea of spending the night near the volcano and doing the hike, by all means, go for it!
What is the hike to the Mount Bromo viewpoint like?
While we can't speak from personal experience (because on the Jeep tour you are just driven to the viewpoint!), we've read the hike can take between 1.5 and 2 hours from the basin to the viewpoints.
Good to know: Since you'll be hiking in the dark, there's not much to see, so it wouldn't be that exciting of a hike on the way up. It's also worth mentioning that the trails are very dusty, so be prepared to hike through dust and ash.
Note: The hike to the Mount Bromo Crater is a different hike and takes roughly 20-30 minutes. All the Jeep tours will make a stop here.
---
You may also like…
We have TONS more resources on Java, so if you're planning an Indonesia trip, you'll definitely want to check out our other articles too!
Save this article on Pinterest for later!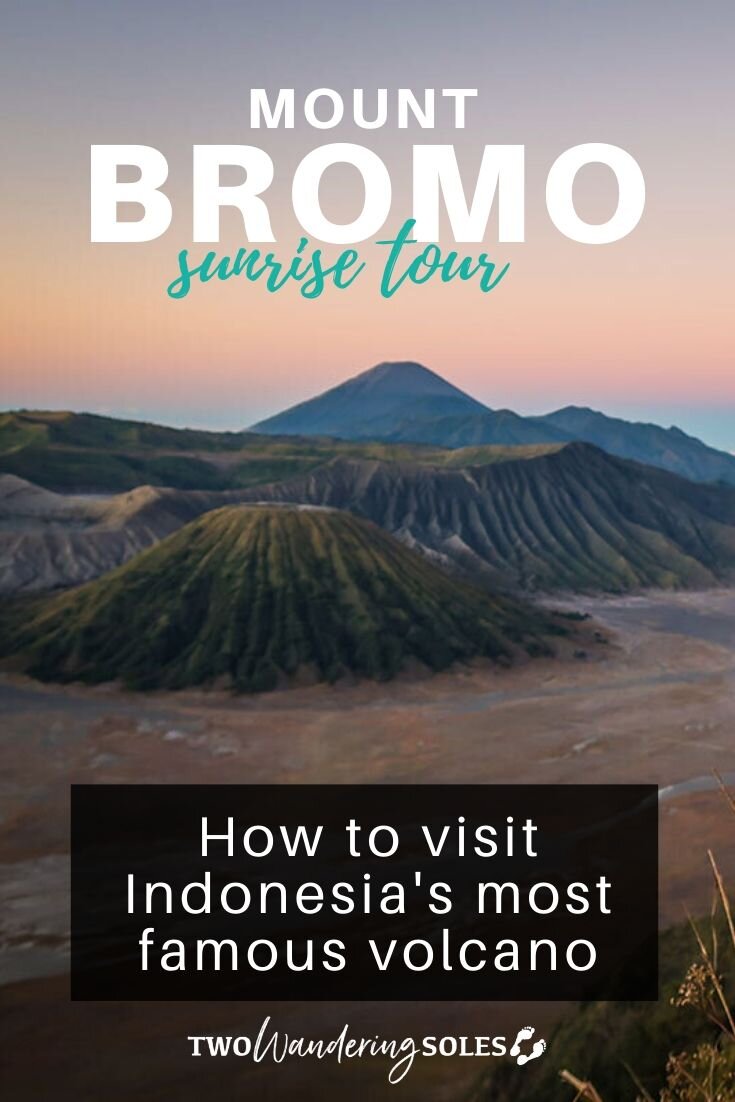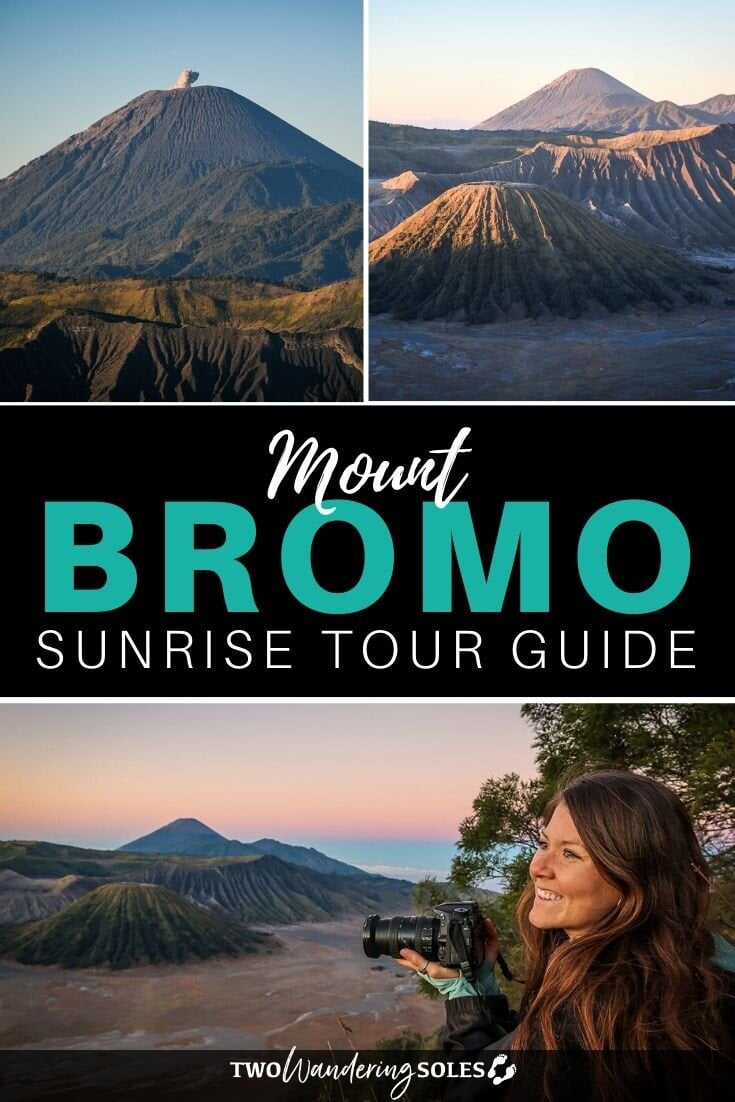 We want to hear from you!
Still have questions about visiting Mount Bromo? Comment below and we'll do our best to get back to you!