These colorful villages in the middle of Malang on the island of Java may seem out of place. Kampung Warna Warni is not only super fun to explore, but it has an interesting backstory, and by visiting this rainbow village, you are directly giving back to a community that needs your support!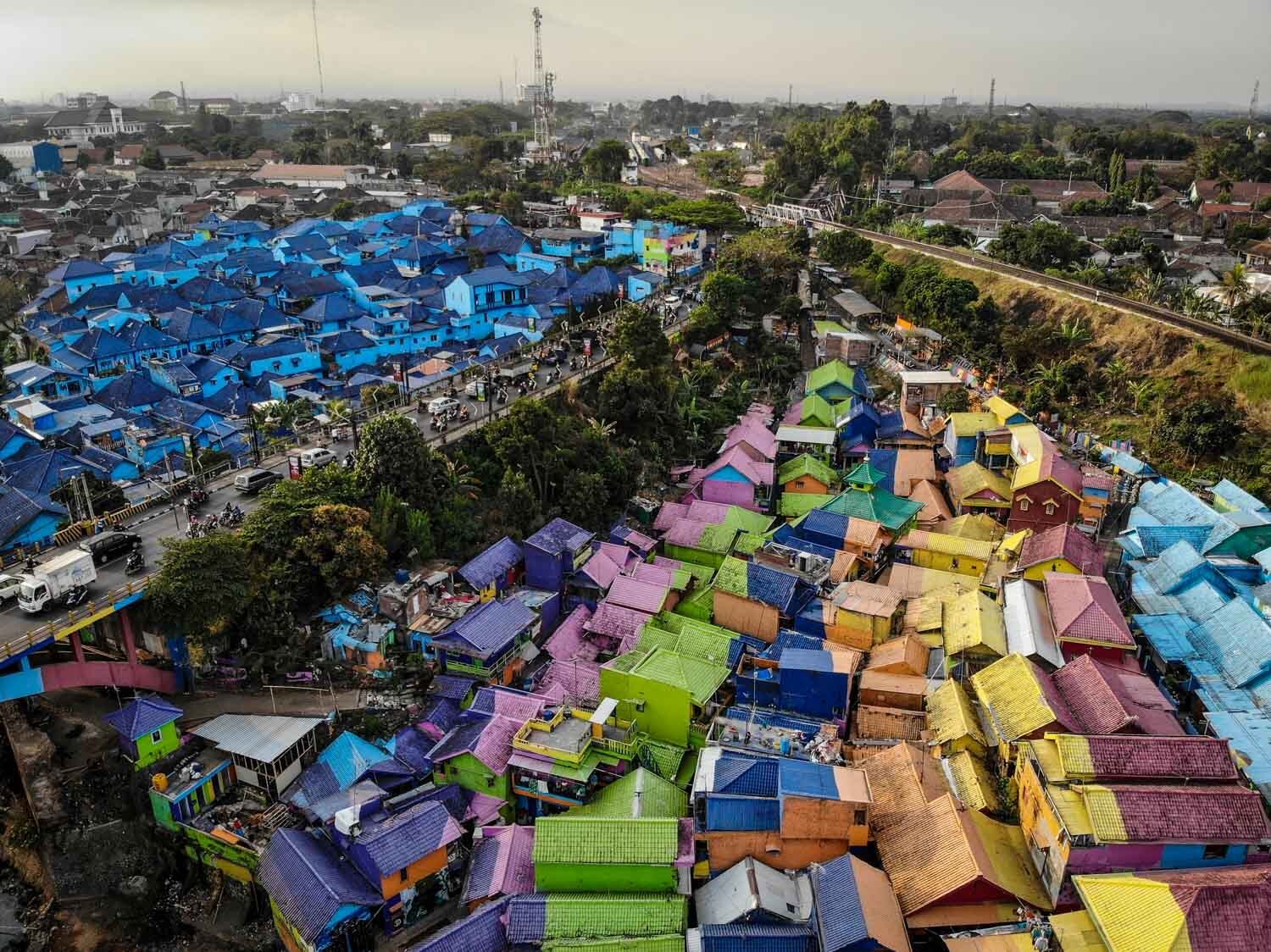 Imagine wandering through narrow streets where each house is a different color — bright pink, neon yellow, electric blue. You look up to see rainbow umbrellas strung above your head and murals on either side if you. Walking around the Jodipan neighborhood in Malang is a delightfully artsy experience, but it wasn't always like this…
Let's back up for a second and give you some background.
While most people come to Malang to see sights outside the city (aka Tumpak Sewu Waterfall and Mount Bromo), a visit to the villages of Jodipan is a colorful surprise!
Jodipan is the name of an area in downtown Malang that encompasses 3 villages:
Kampung Warna Warni (aka Colorful Village)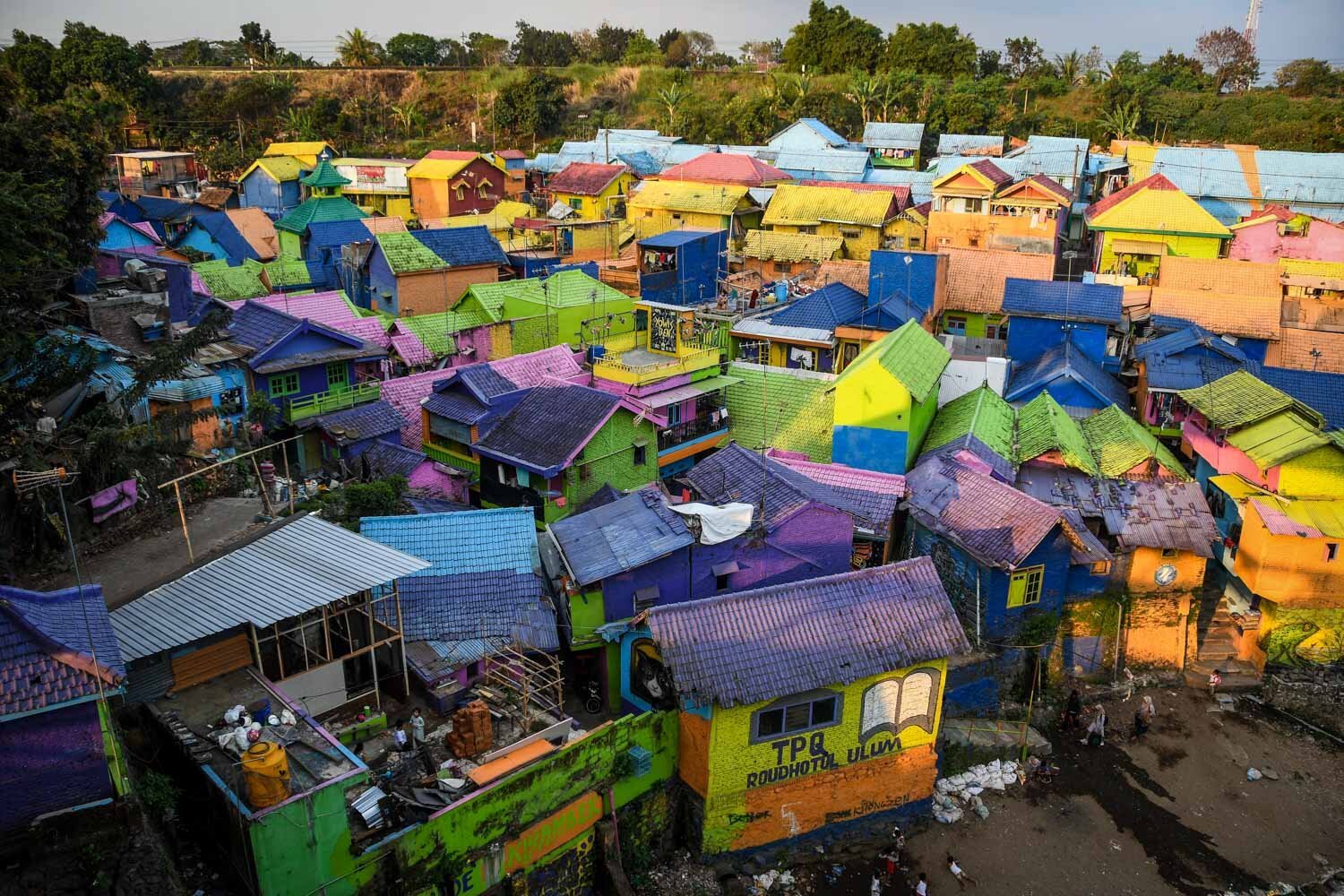 Translating "Village of Color", this is the most famous of the three villages and the most colorful!
Kampung Tridi (aka 3-D Arts Village)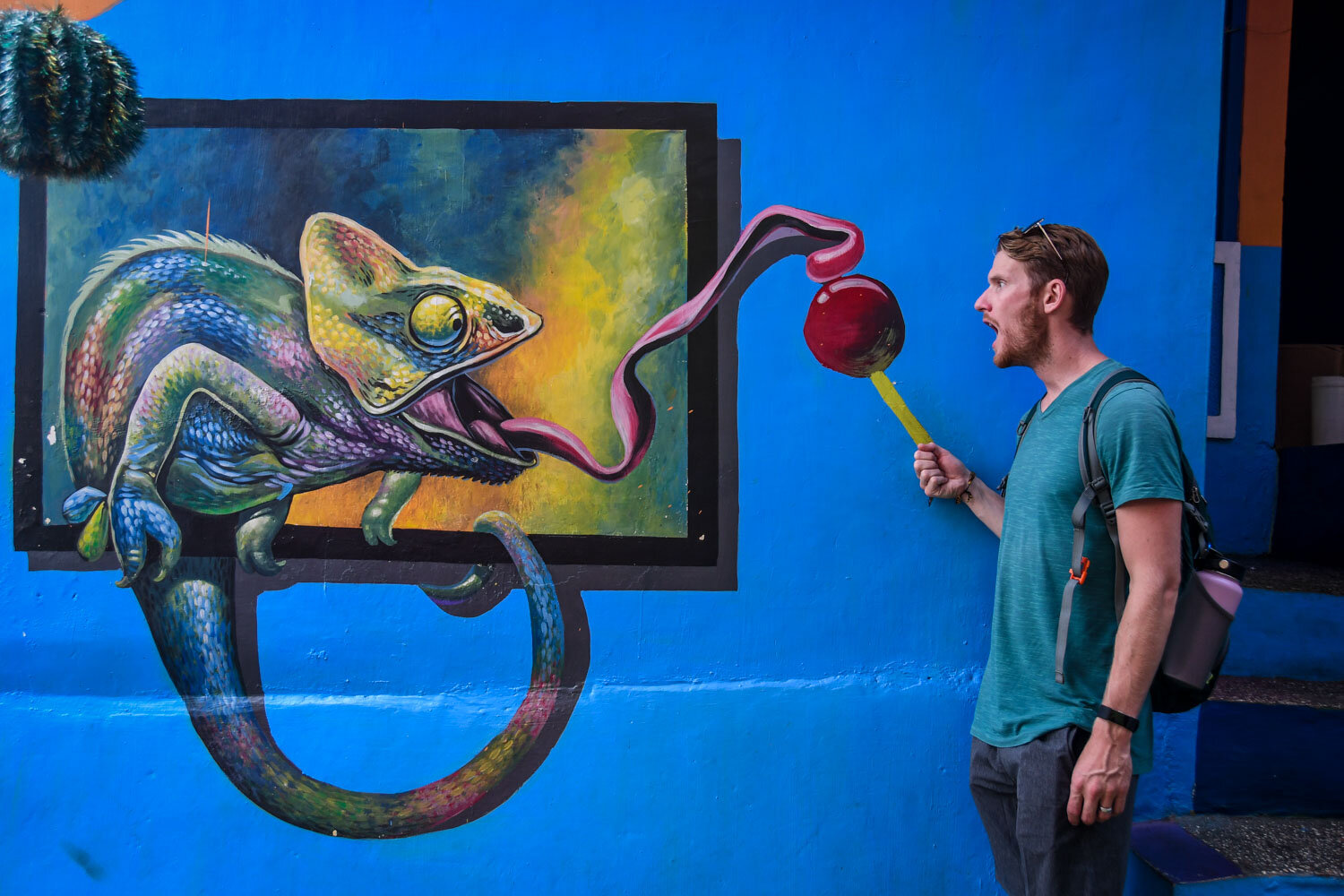 Across the bridge from Kampung Warna Warni, this is the "Village of 3-D Arts" and is known for installations like umbrellas strung above the street and recycled plastic bottles turned into art.
Kampung Biru Arema (aka Blue Village)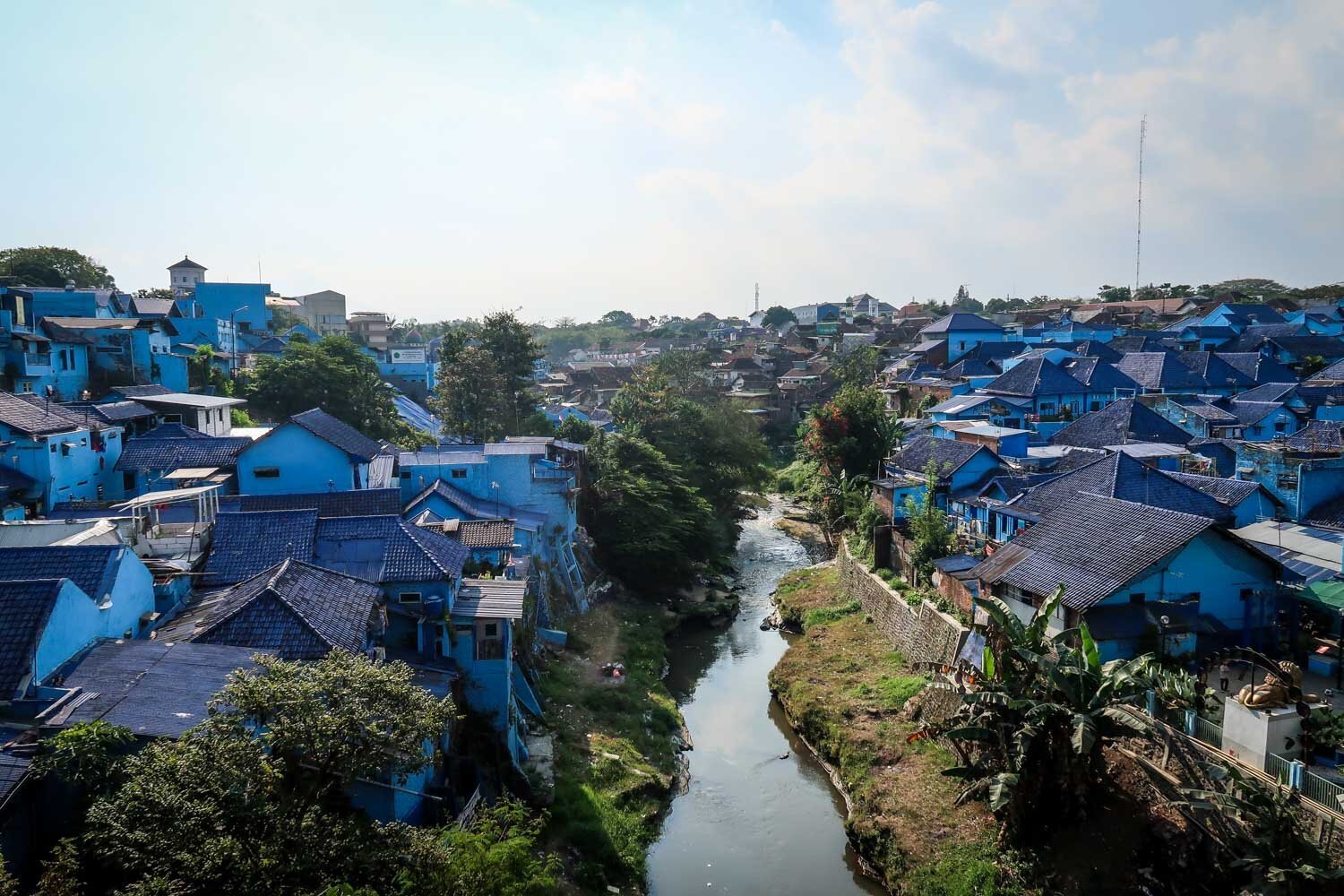 Across the railroad tracks from Kampung Warna Warni is Biru Arema, aka the "Blue Village".
We haven't been to Morocco (yet!), but we'd imagine it looks similar to the iconic Chefchaouen or Jodhpur, which is an all blue town in India!
Fun Fact: Kampung is the Indonesian word for "village".
With brightly-painted homes, murals, and unique art installations, wandering through these communities split across the banks of the Brantas River was one of our highlights of staying in Malang. And one of the coolest parts about visiting these villages is that your presence helps to invigorate a community that was once on the brink of despair.
We're going over the history of this unique community, plus what to expect and how to get there.
Planning a trip to Java? You're not going to want to miss the city dubbed the cultural center of Java. We're rounded up an exciting list of fun things to do in Yogyakarta to help you get the most out of your visit.
History of Kampung Warna Warni Jodipan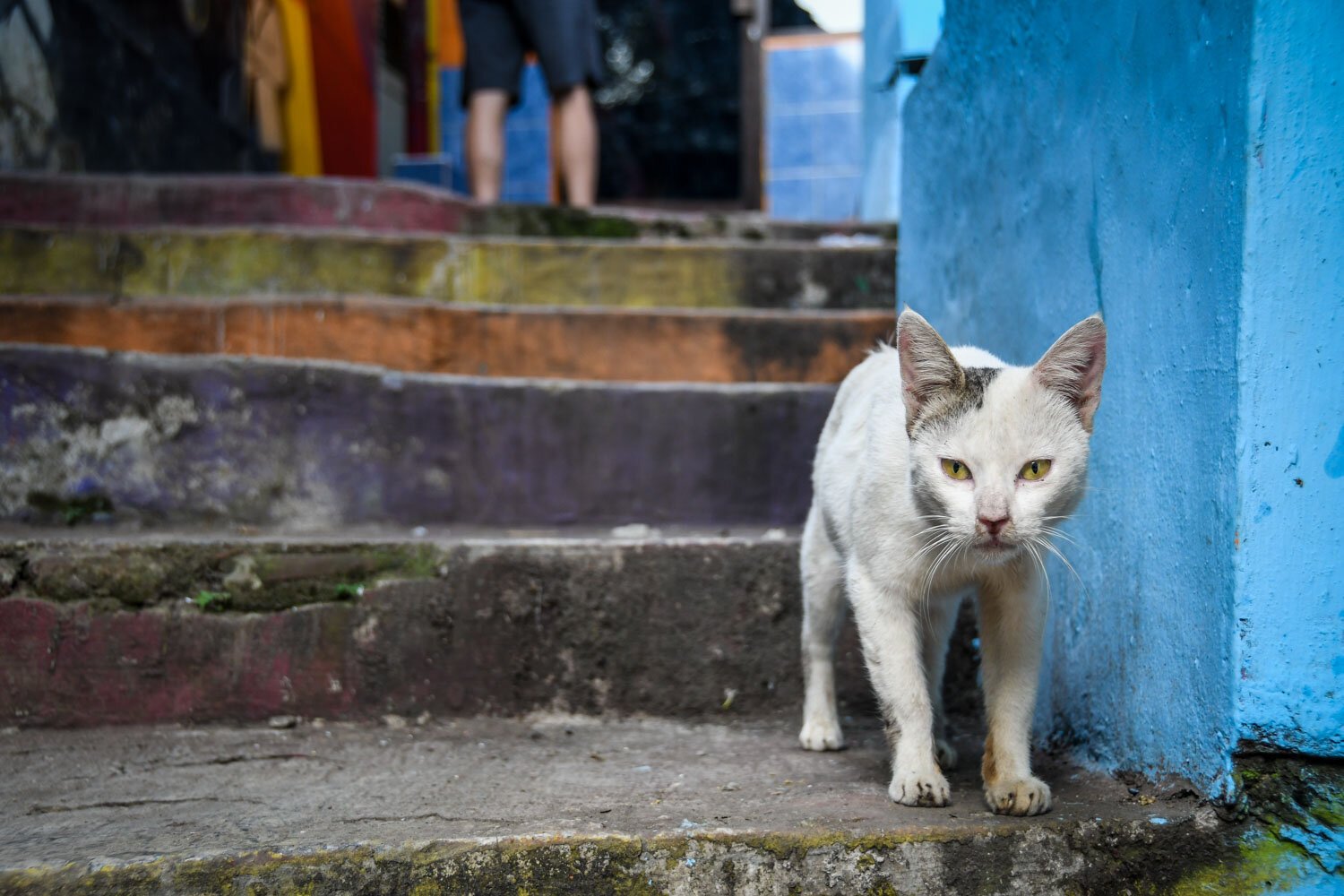 Jodipan is just a few minutes walk from downtown Malang wasn't always an attraction. In fact, residents were about to be ousted from their homes until local university students found a very creative solution that changed the trajectory of this neighborhood.
But not long ago, this riverside village had a much different reputation and quite frankly, a very bleak future. Jodipan was one of the most rundown slums in all of Indonesia. Struggling with poverty and unsanitary living conditions, government officials had planned to relocate residents of this area and demolish what was deemed an eyesore.
…enter the superheros that saved the day…
In 2016, a group of Public Relations students from the nearby Muhammadiyah University of Malang had a creative idea that would in fact change the trajectory for all the people who call this place home.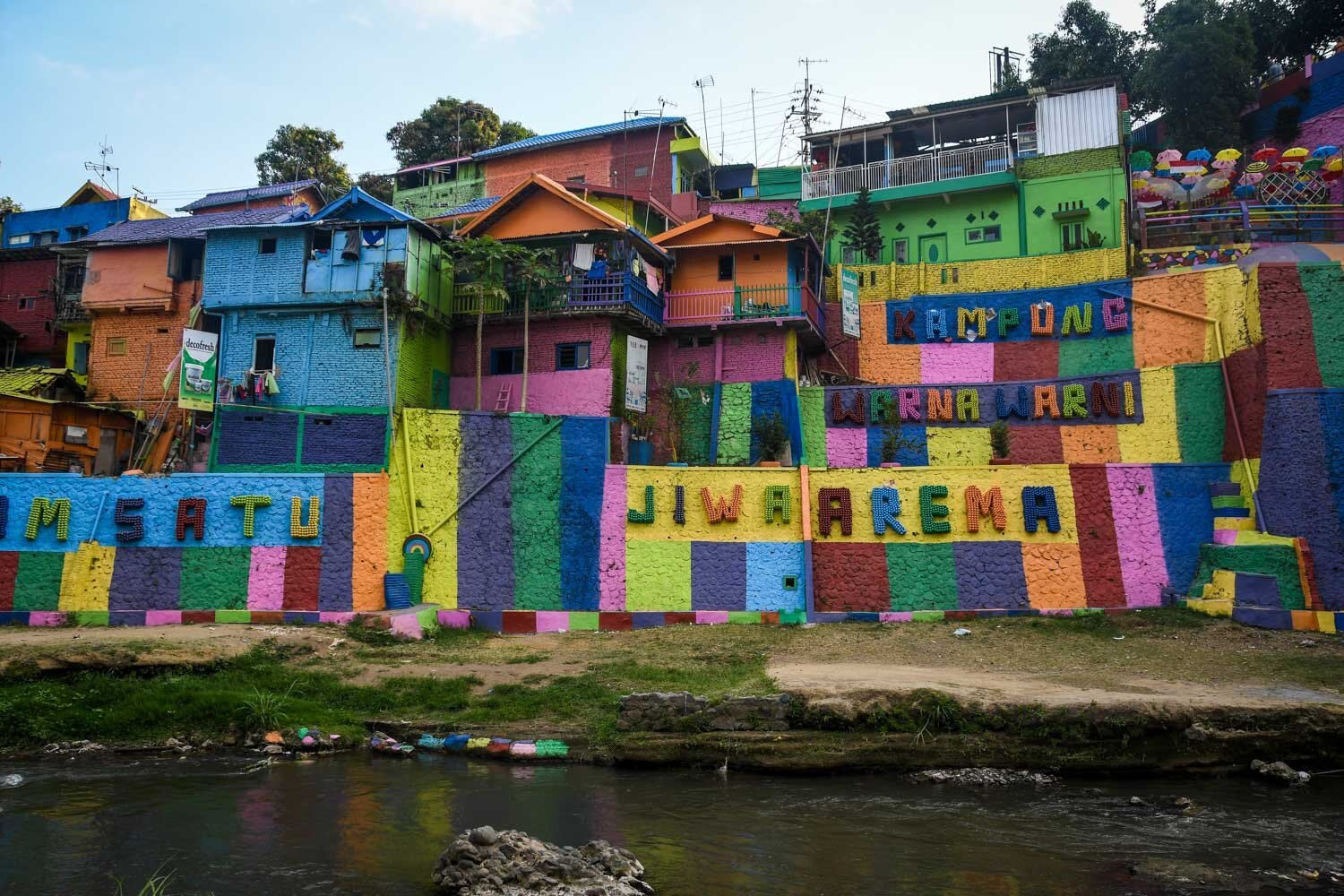 In partnership with a local paint company, the student-led group brought color to the slum. (Talk about a creative partnership!) Each residence was painted in bright hues, that from above creates a rainbow of color. And they didn't stop there… Murals were added, as were quirky installations, like umbrellas strung above walkways.
In 2018, the "Blue Village" (Kampung Biru Arema) was added to the mix after its residents saw how their neighbors just across the railroad tracks in Kampung Warna Warni had improved their living conditions so drastically.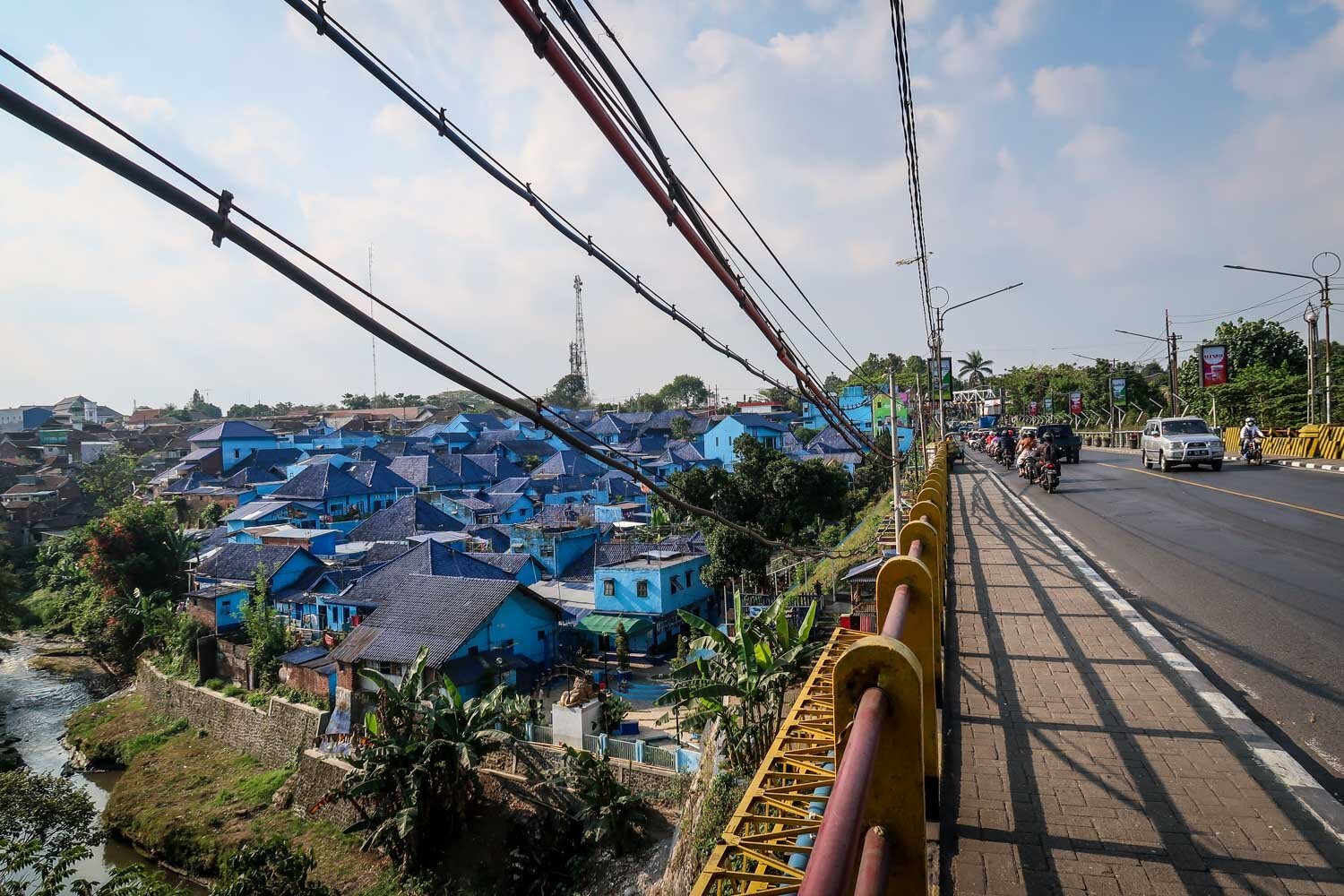 In addition to giving the town a makeover on its exterior, the students worked to educate residents on sanitation practices, like better ways to dispose of waste than throwing it into the river as had been the method of the past. Trash bins were installed, as well as public toilets for the residents to use.
Education coupled together with a shiny, colorful exterior has brought a palpable sense of community and pride to the people who call Jodipan home.
And with this newfound pop of color and dignity came visitors. What was once a slum overlooked by outsiders is now a tourist destination and proof that art really can change lives. Tourists not only pay a meager entrance fee which goes back into the community, but they also have created opportunities for locals to sell snacks, drinks and other goods.
It was such a success that Jodipan has been used as a model for other villages around Indonesia that are struggling with poverty.
I don't know about you, but my eyes are getting a little watery… *I'm not crying, you're crying!*
How to visit Jodipan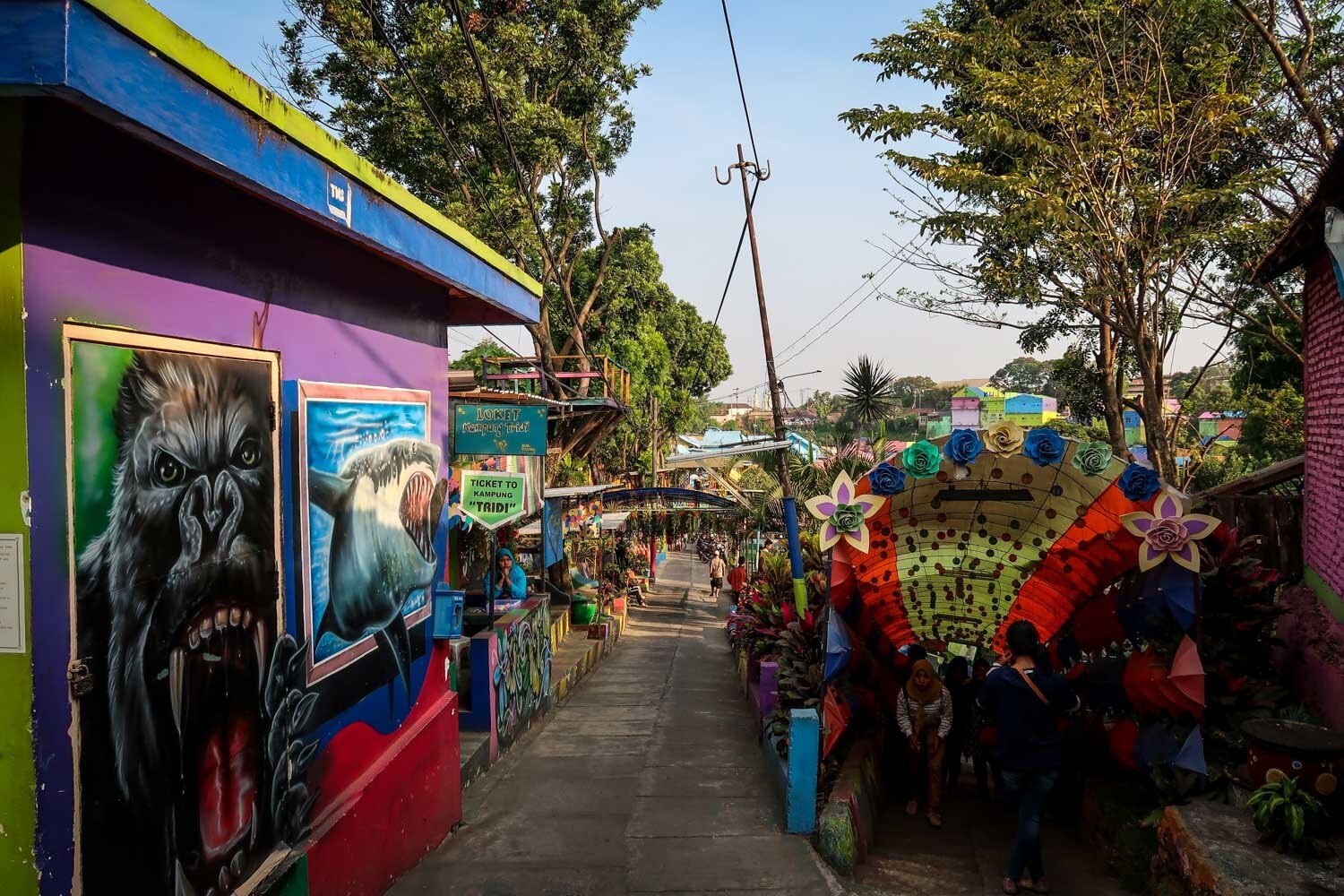 There are two sections of the village – one that is painted in all the colors of the rainbow, and another section that is only painted in shades of blue.
You will need to pay an entrance fee to enter each, but remember, this small contribution creates opportunities for the residents living here. Plus, they are welcoming you into the place they live, so paying a small fee is the least you can do.
Entrance fee: 3,000 IDR per person ($0.20 USD)
And I mean, when the fee is this low, how can you really complain?!
Good to know: When you visit each of the three villages, you are supposed to pay a separate entry fee at each (the same price). One of the villages had someone collecting money, while another had an "honesty box".
Top sights in Jodipan
Truthfully, the best thing about exploring this area is just getting lost in the narrow walkways and stumbling upon unique pieces of art. But there are a few sights to try to find during your visit:
Bantas River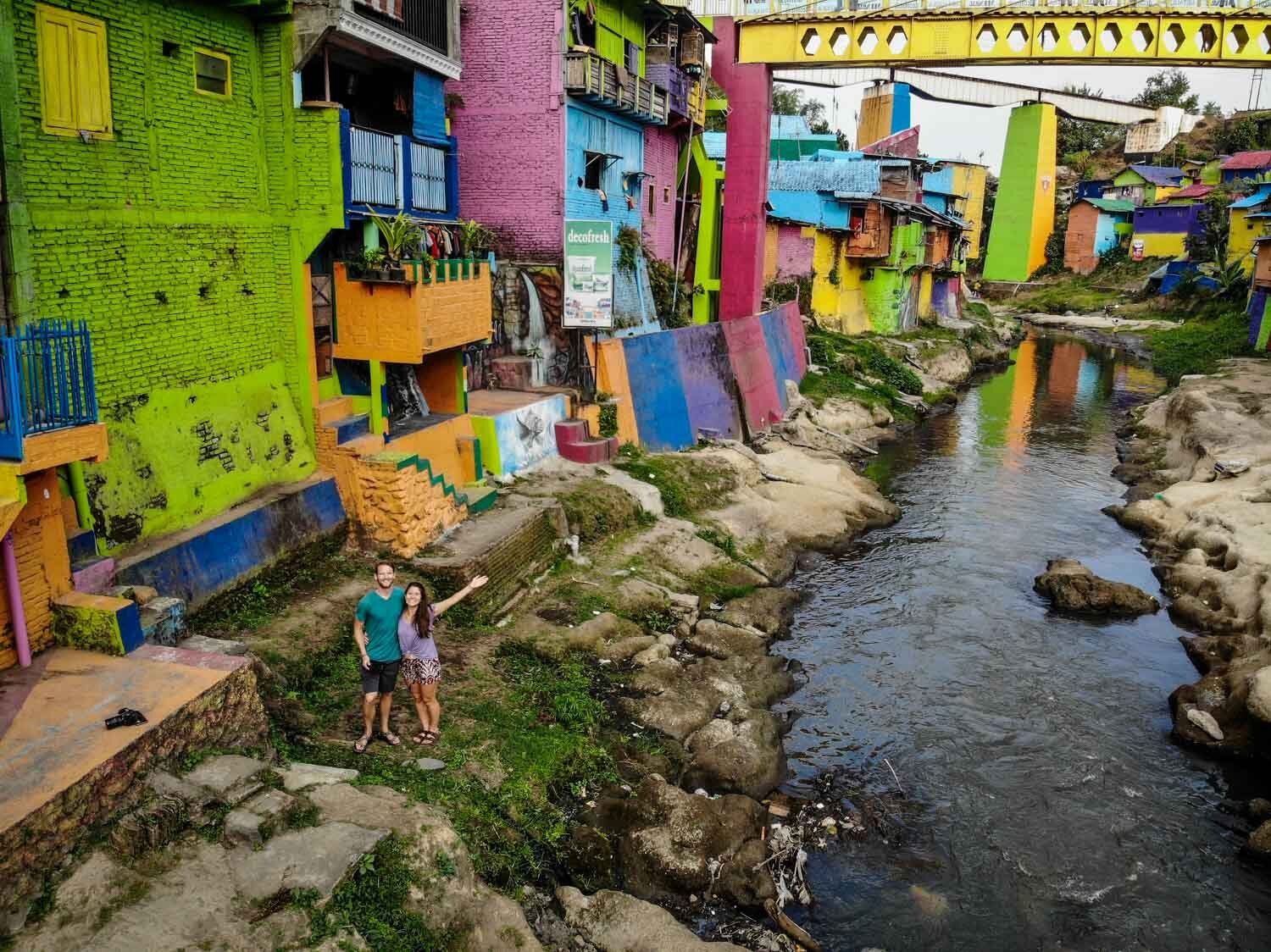 After you've wandered around Kampung Warna Warni, head down to the riverbanks where you'll see young locals flying kites and just hanging out. We flew our drone from here (after asking a few of the locals around us if it was okay), and a handful of kids came over and wanted to see the pictures.
Yellow Bridge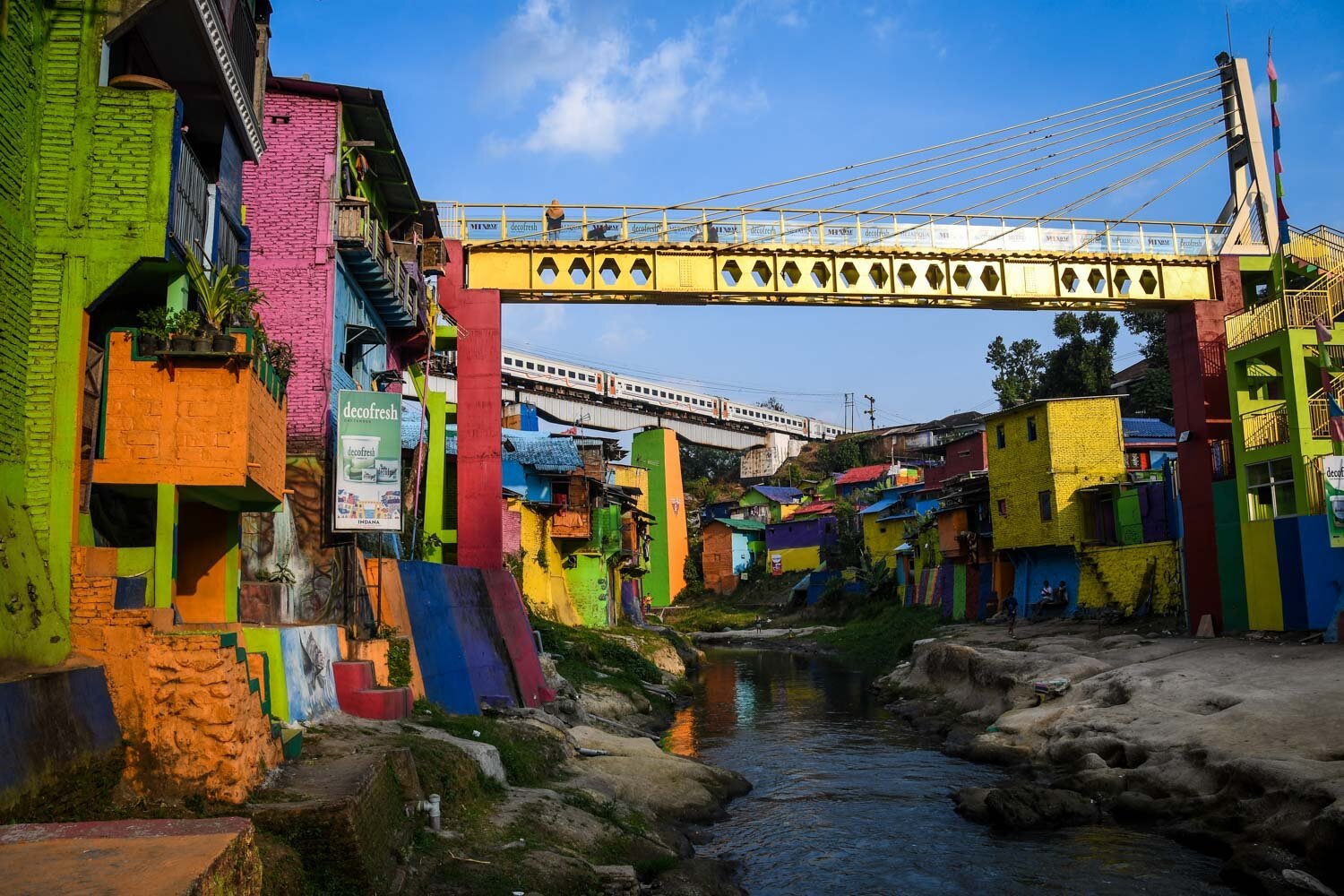 This is one of the more iconic sights in the villages. Stretching across the Brantas River, this yellow bridge connects Kampung Warna Warni and Kampung Tridi.
On this bridge, we were stopped by many Indonesian travelers (not locals) who wanted to take pictures with us!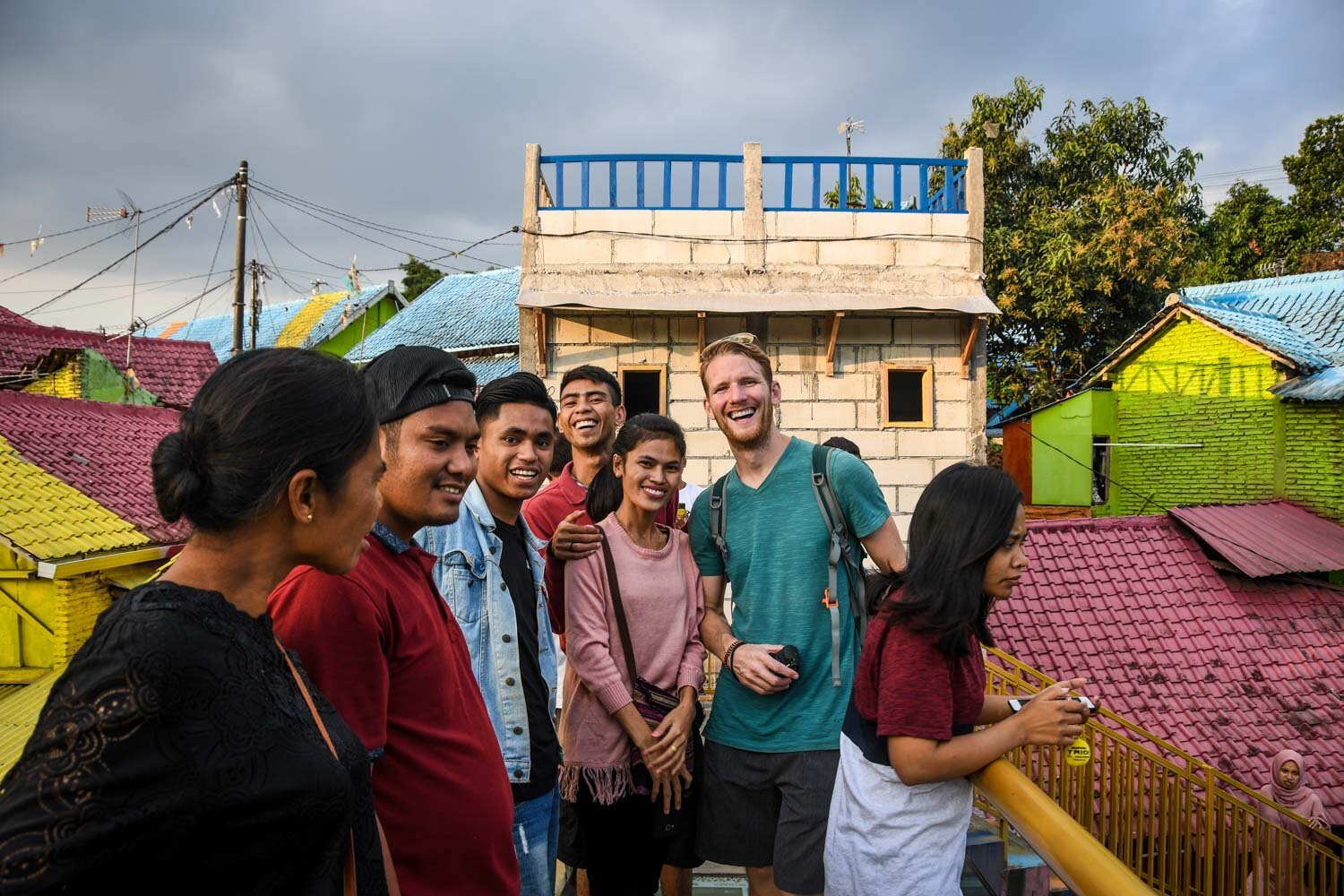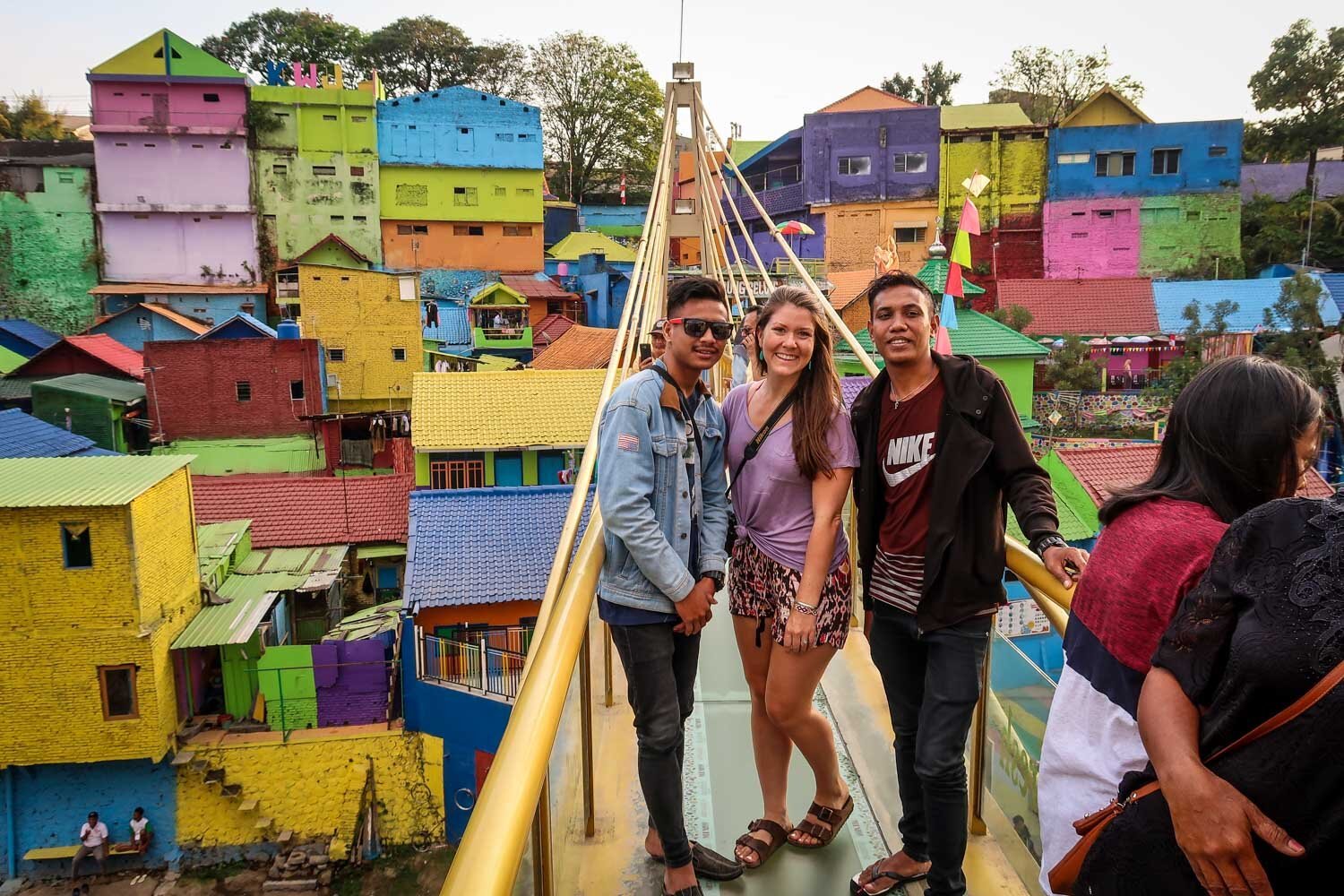 Good to know: After you cross, you might see someone collecting a fee on the other side since you are entering a new village.
Lion Mural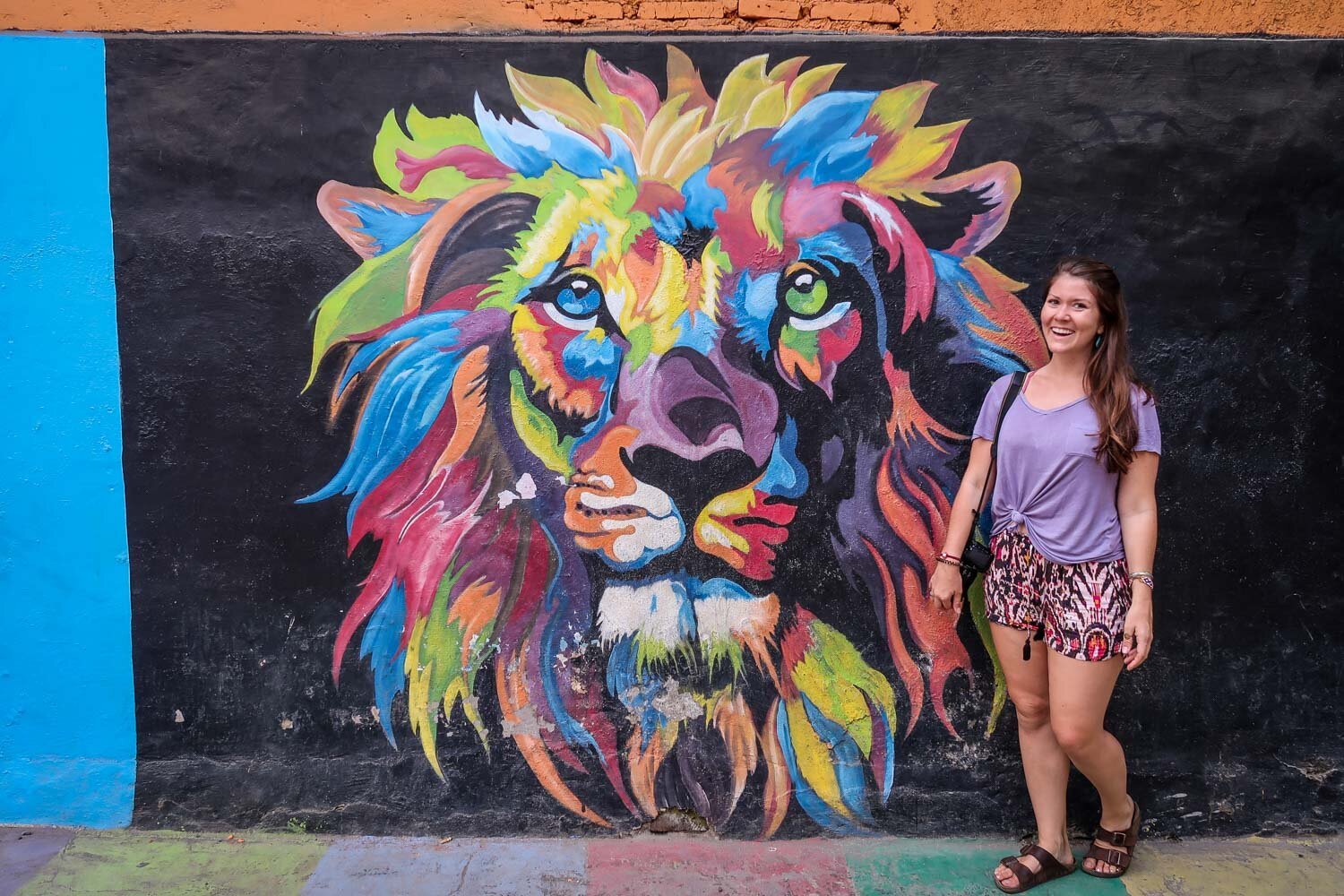 If you enter Kampung Tridi from the Yellow Bridge, you' won't miss this piece. It's stunning!
Umbrella Walkways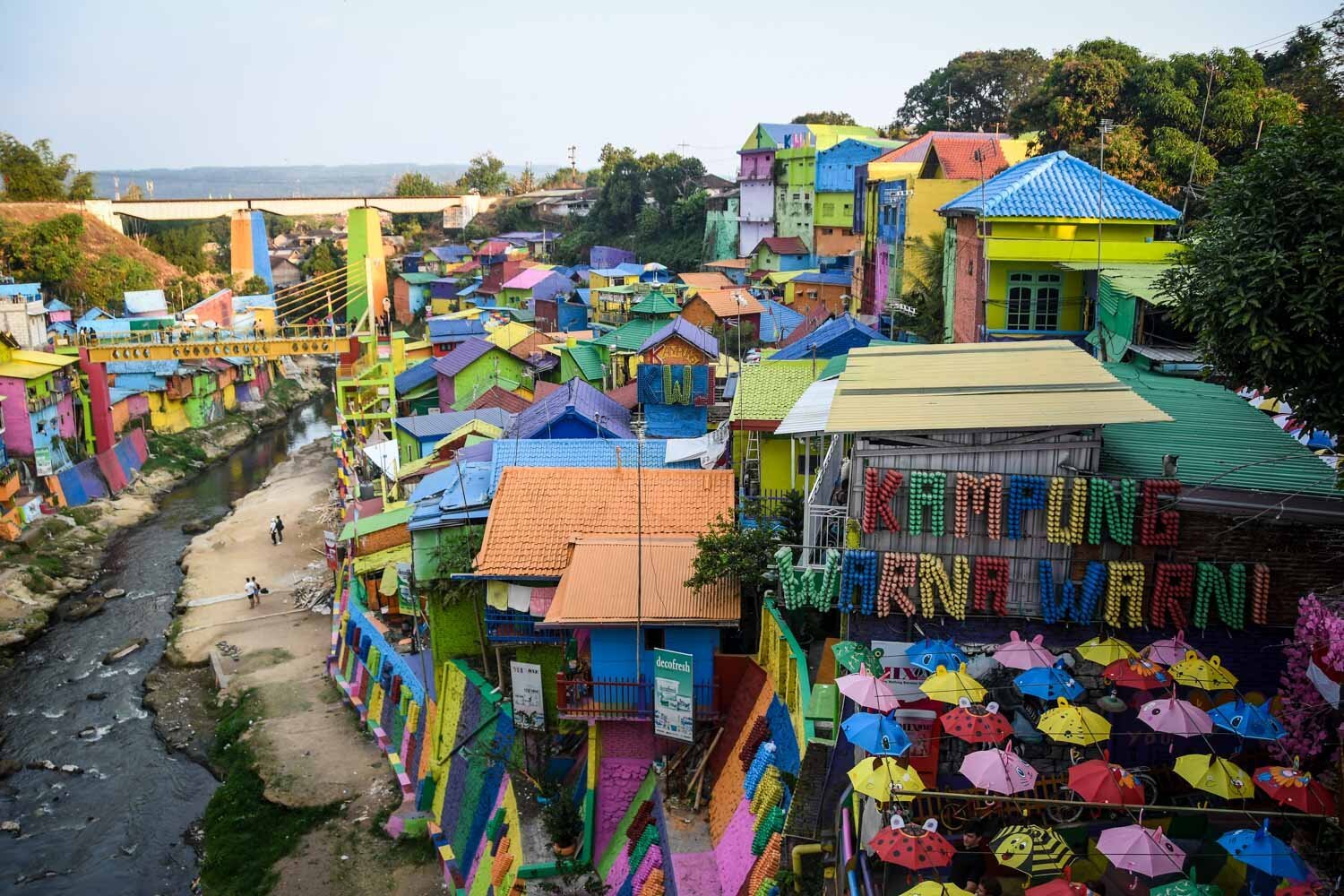 Try to find the umbrella walkways in Kampung Tridi. We spotted a couple of them!
Shop Local
Find a convenience store or warung (local restaurant) and support the community by purchasing something. This is a place where the money you spend is going directly to the people who live here.
Blue Village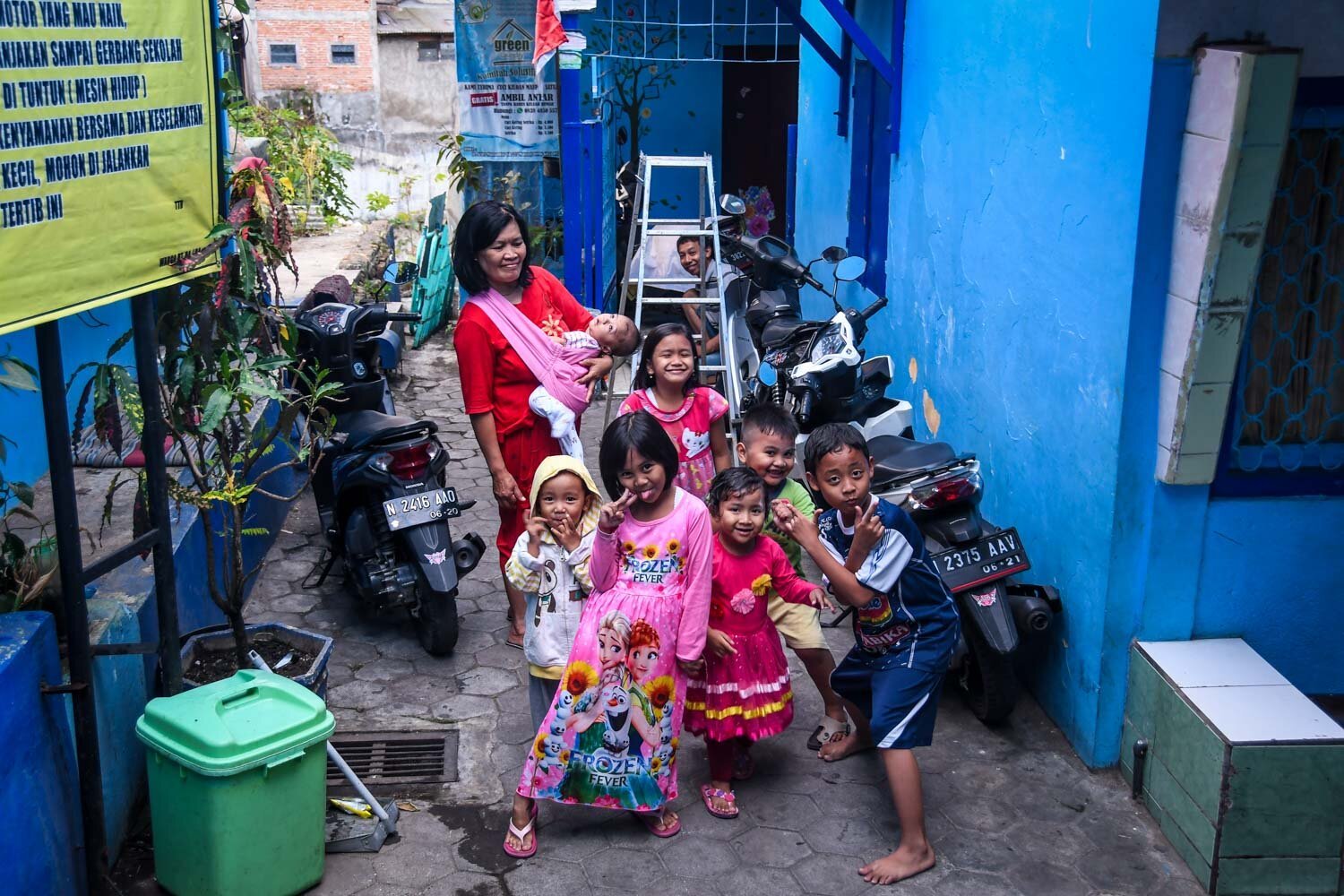 The colorful villages tend to get most of the attention, but we loved Kampung Biru Arema and saw the least amount of other visitors here. The people here were also really kind and interested in talking with us (as much as we could with Google Translate — the best travel app ever!).
Our thoughts on visiting Jodipan
I'll be honest, at first it felt a bit strange walking through the alleyways past doors that were open to peoples' homes. I felt a bit like an intruder, and almost told Ben we should turn around. But then I locked eyes with a woman who was walking our way. She smiled widely and said hello.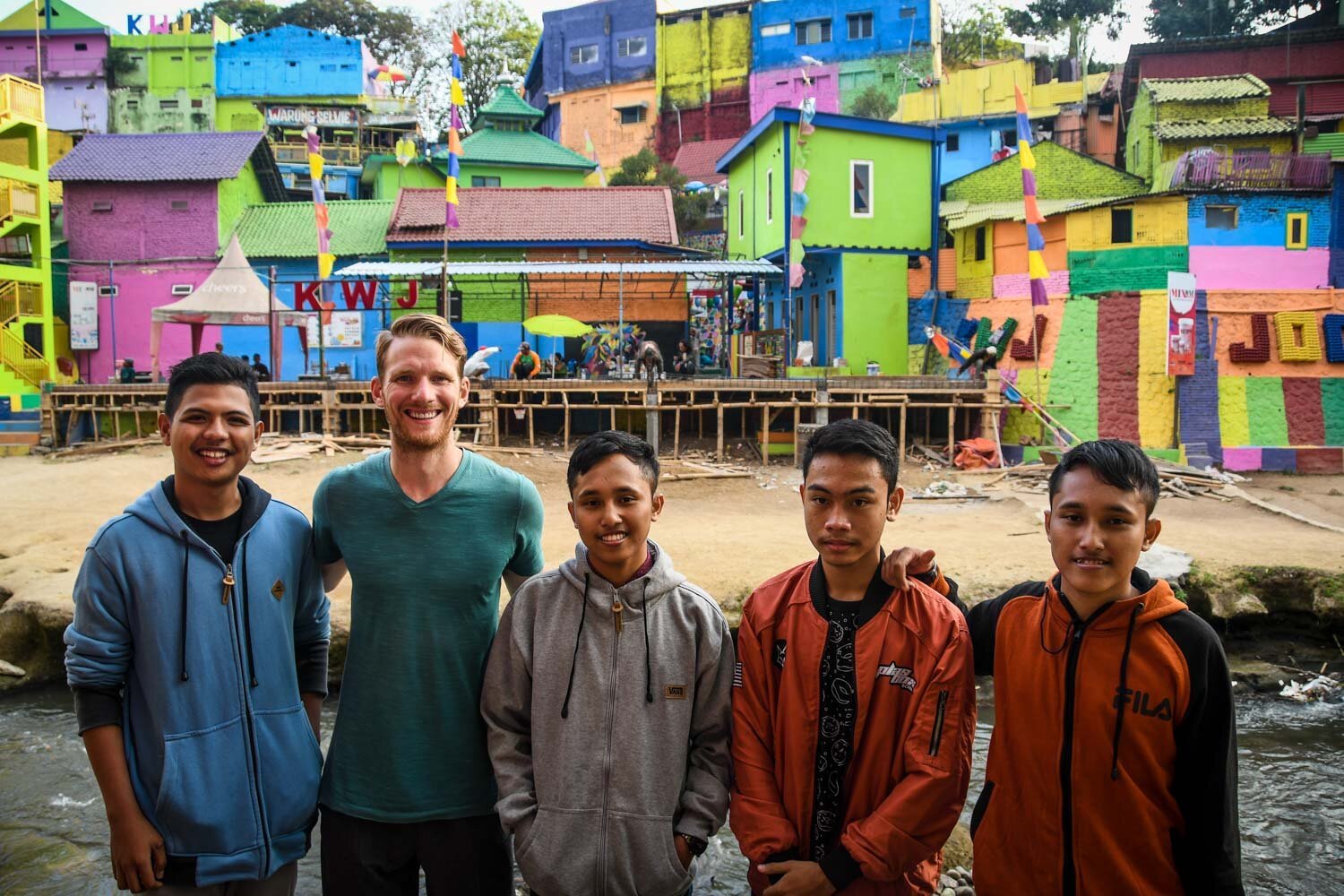 And this same reaction was repeated over and over again: People welcoming us and asking for photos together. Children ran up to us asking for us to take photos of them (which they later wanted to look at), and groups of teenagers hanging out by the river were super curious about our drone.
When we walked through the narrow paths past peoples' homes, instead of shutting the door, they smiled and waved. I don't want to over-generalize, because I'm sure there are some residents who don't love the influx of outsiders. But during our visit, we only experienced people being very welcoming.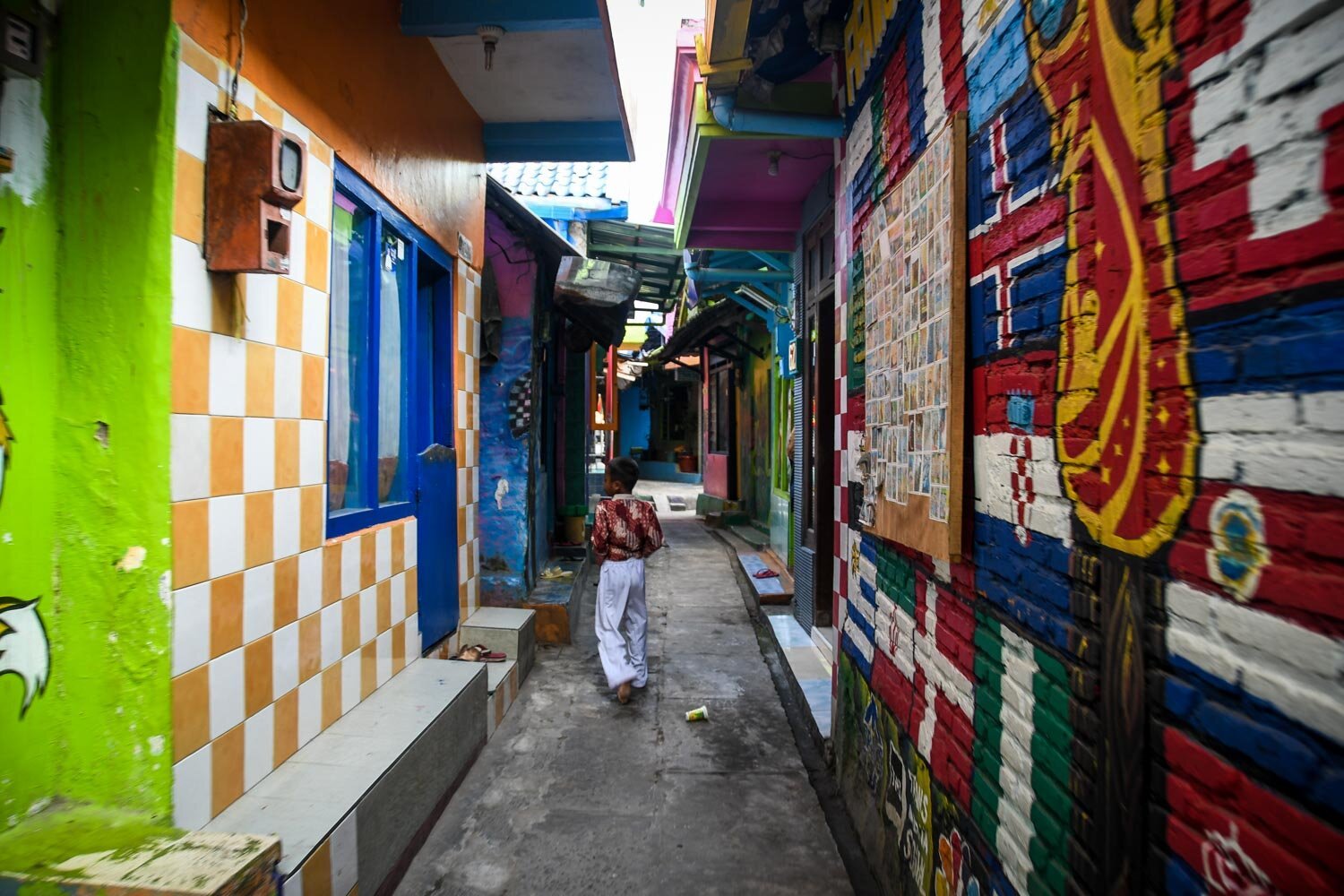 We asked our guesthouse owner about Kampung Warna Warni and she said most residents seem to be excited about having outside visitors, as it provides them with more opportunities to make a living.
Responsible travel tip: Be sure to ask consent before taking photos of any residents. When we were there, we hardly saw any other Western tourists, so we were asked by many locals to take pictures with them. Be sure to take a look at our list of Responsible Travel tips so you can leave a positive impact on any local community you're visiting.
How crowded is Jodipan?
Honestly, most of the other visitors we saw were Indonesian travelers. During our visit, we saw very few other Westerners. I can't even remember seeing more than one couple (though I'm sure I'm not remembering them all!).
With the rise of Instagram, I'm sure this place will only get more popular. And knowing that the residents are directly benefiting from tourism is a pretty cool thing!
How to get to Jodipan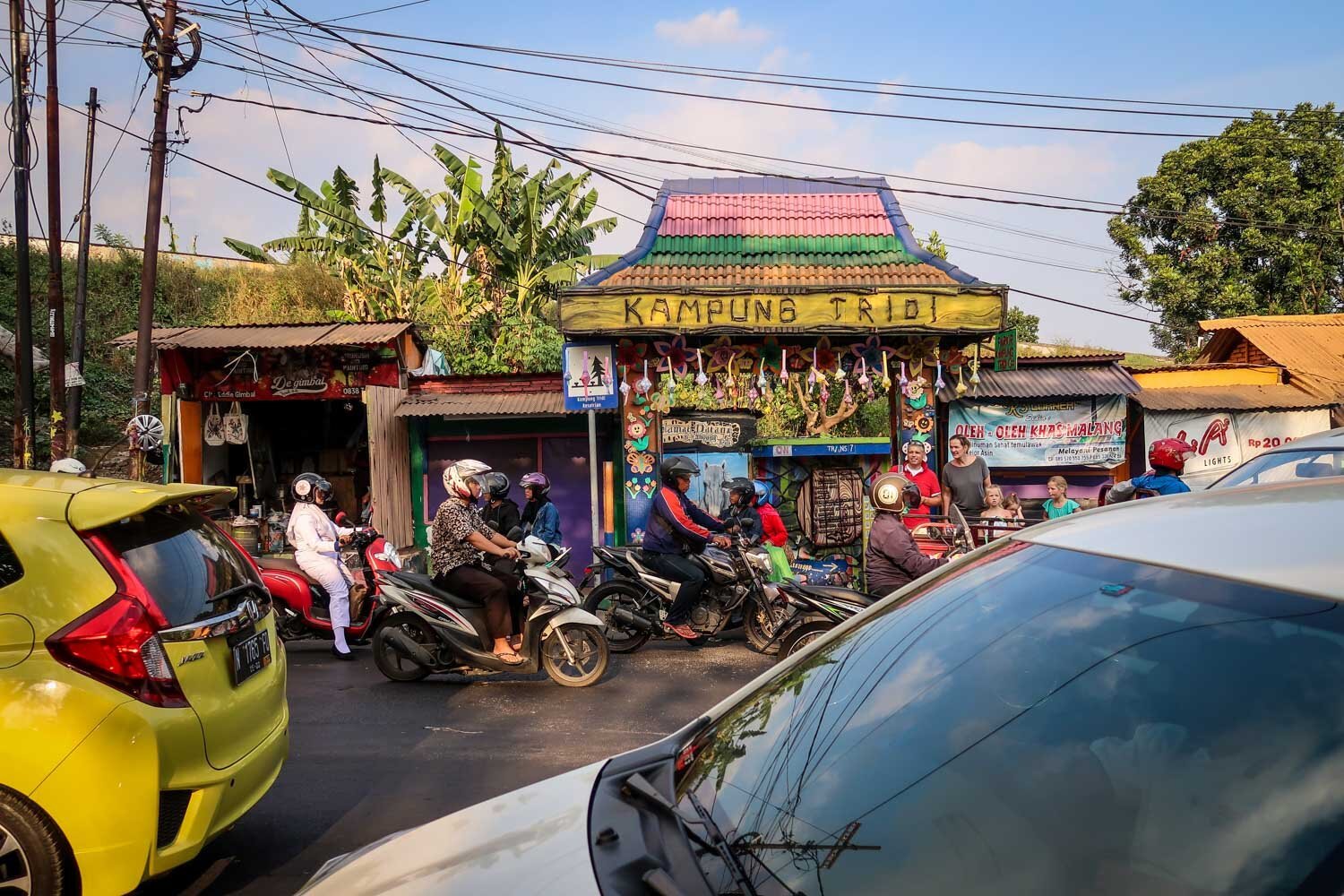 It's super easy! If you're in downtown Malang, you're already almost there. Just a short 10-minute walk from the center of the city, head to the Brantas Bridge. From here, you'll see the villages from above. Here are the Google Maps locations for the entrance to each village:
We'd recommend starting in Kampung Warna Warni, then making your way across the bridge to Kampung Tridi, then across the railroad tracks to Kampung Biru Arema.
Where to stay in Malang
Quite honestly, you won't have all that many great choices for accommodation in Malang. And you won't be spending all that much time in your hotel anyway, since most of the things to do are day trips outside the city.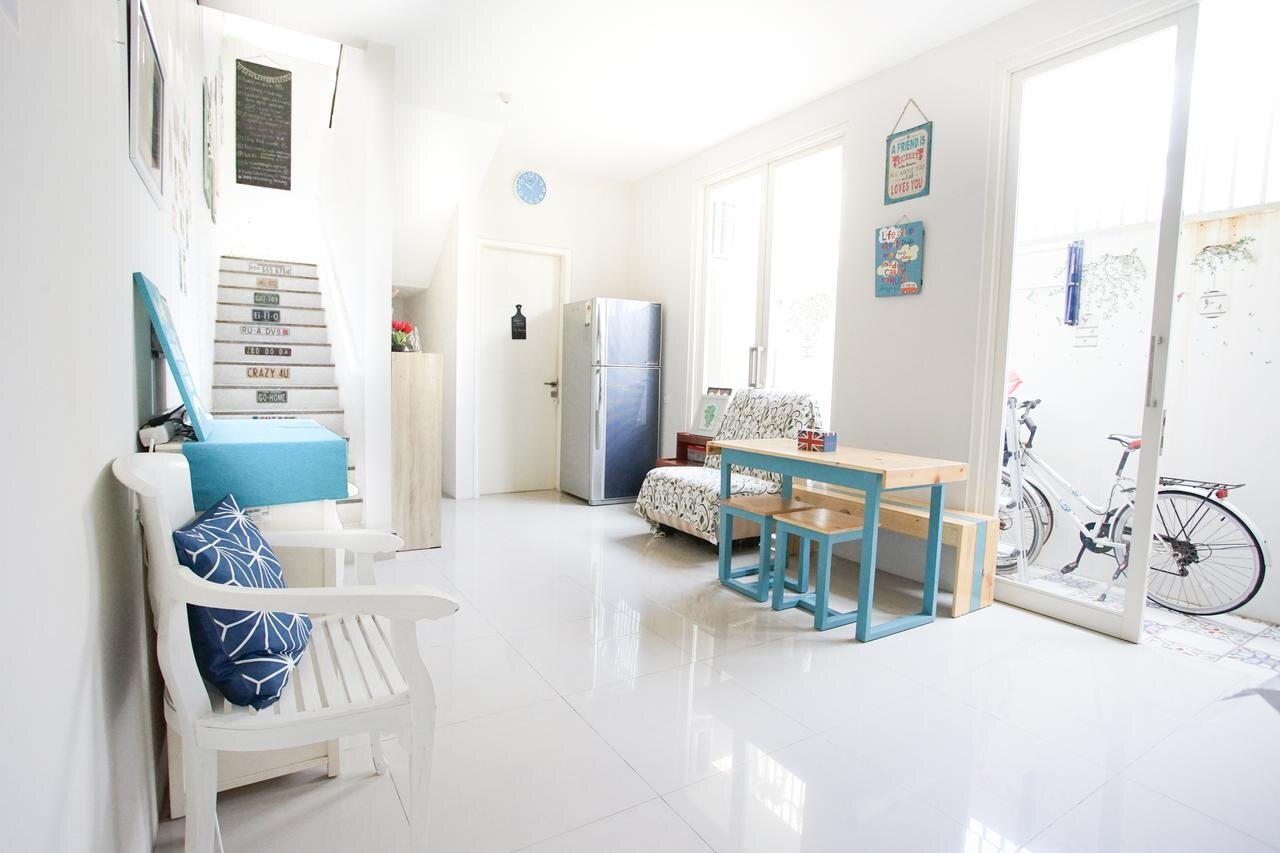 INNI Homestay: We did a lot of hunting for a guesthouse, and landed on INNI Homestay. We could not recommend it more highly. It feels more like a homestay than a hotel, and the mother-daughter duo who run this place make you feel like family. They arranged all of our activities for us and made our super tight schedule come together!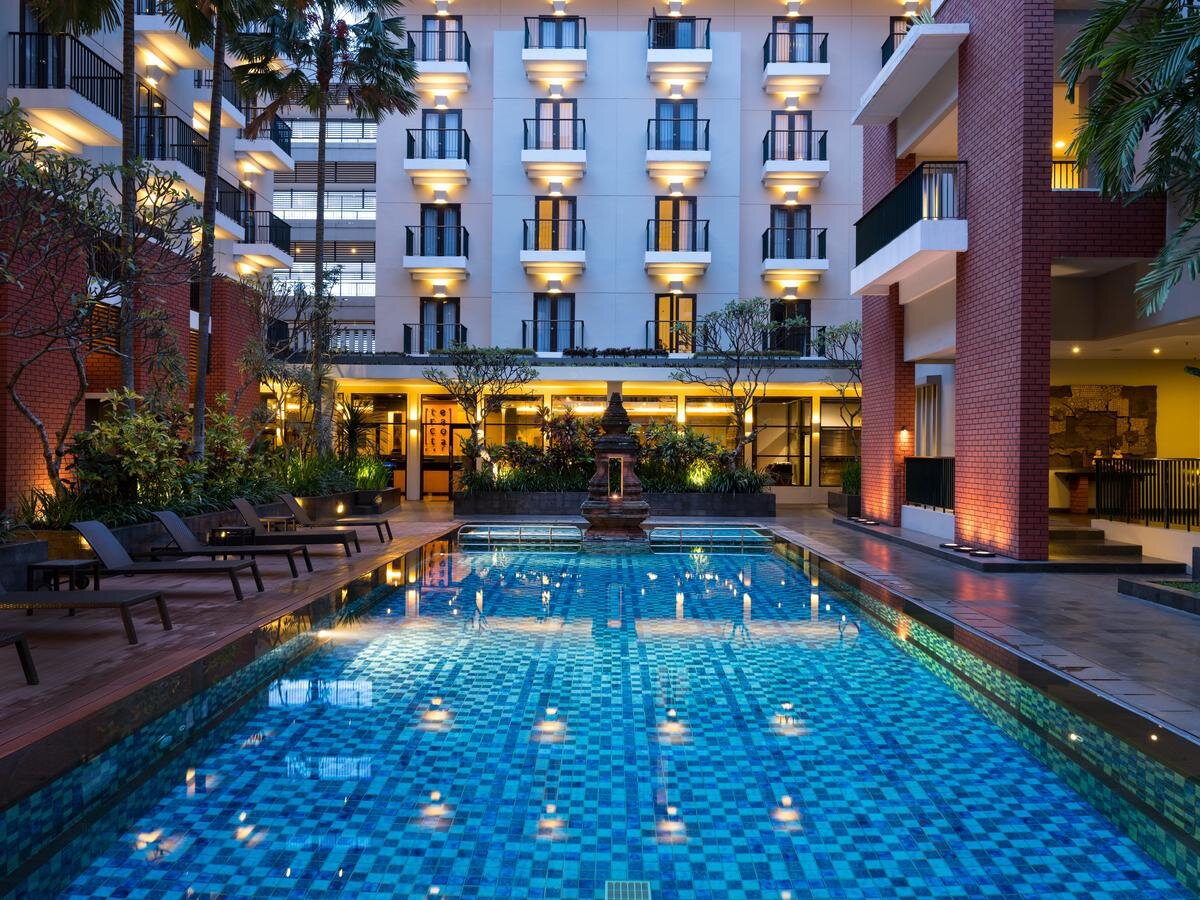 Hotel Santika Premiere Malang: If you want a more traditional accommodation, this 4-star hotel has a great location with a outdoor pool. Each room had air-conditioning and breakfast is included.
---
You may also like…
We have TONS more resources on Java, so if you're planning an Indonesia trip, you'll definitely want to check out our other articles too!
Save this article on Pinterest for later!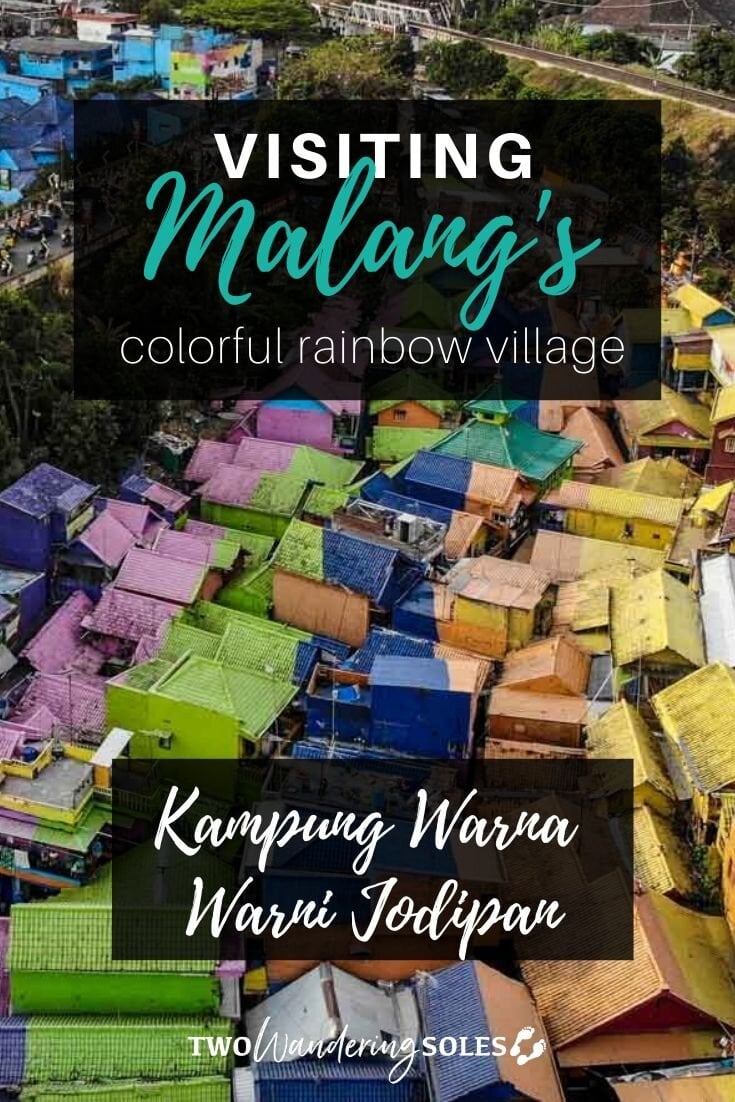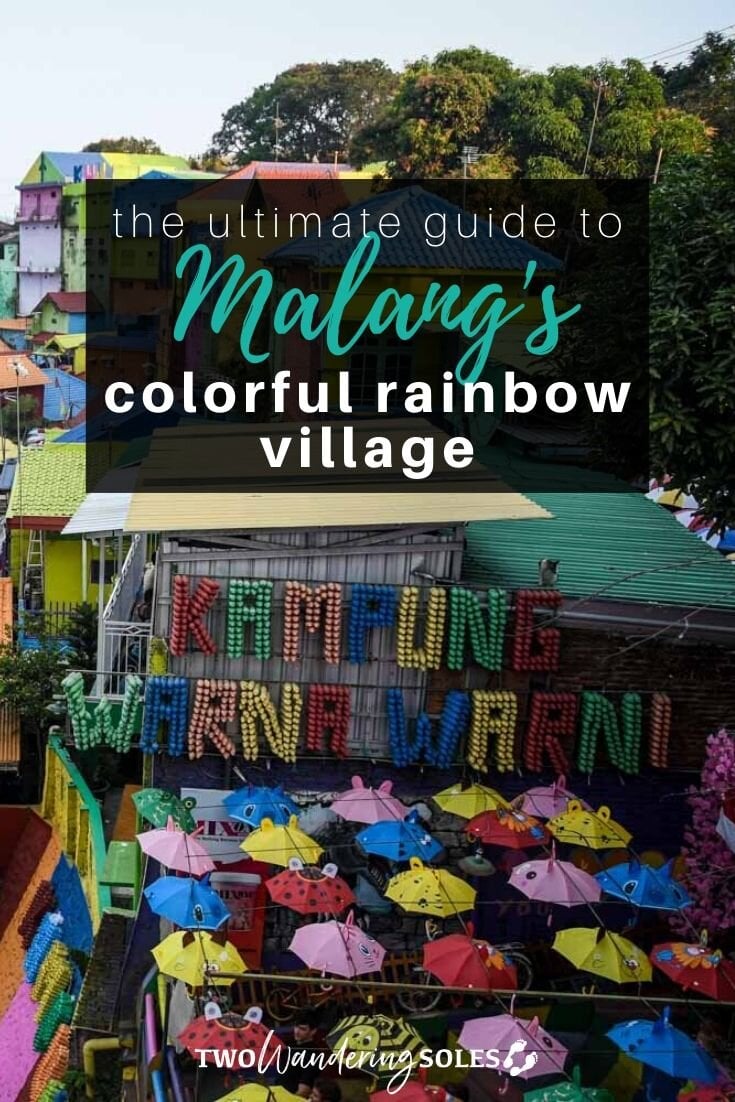 We want to hear from you!
Have you heard of Jodipan? Do you still have questions about the Rainbow Village? Comment below and we'll do our best to answer.