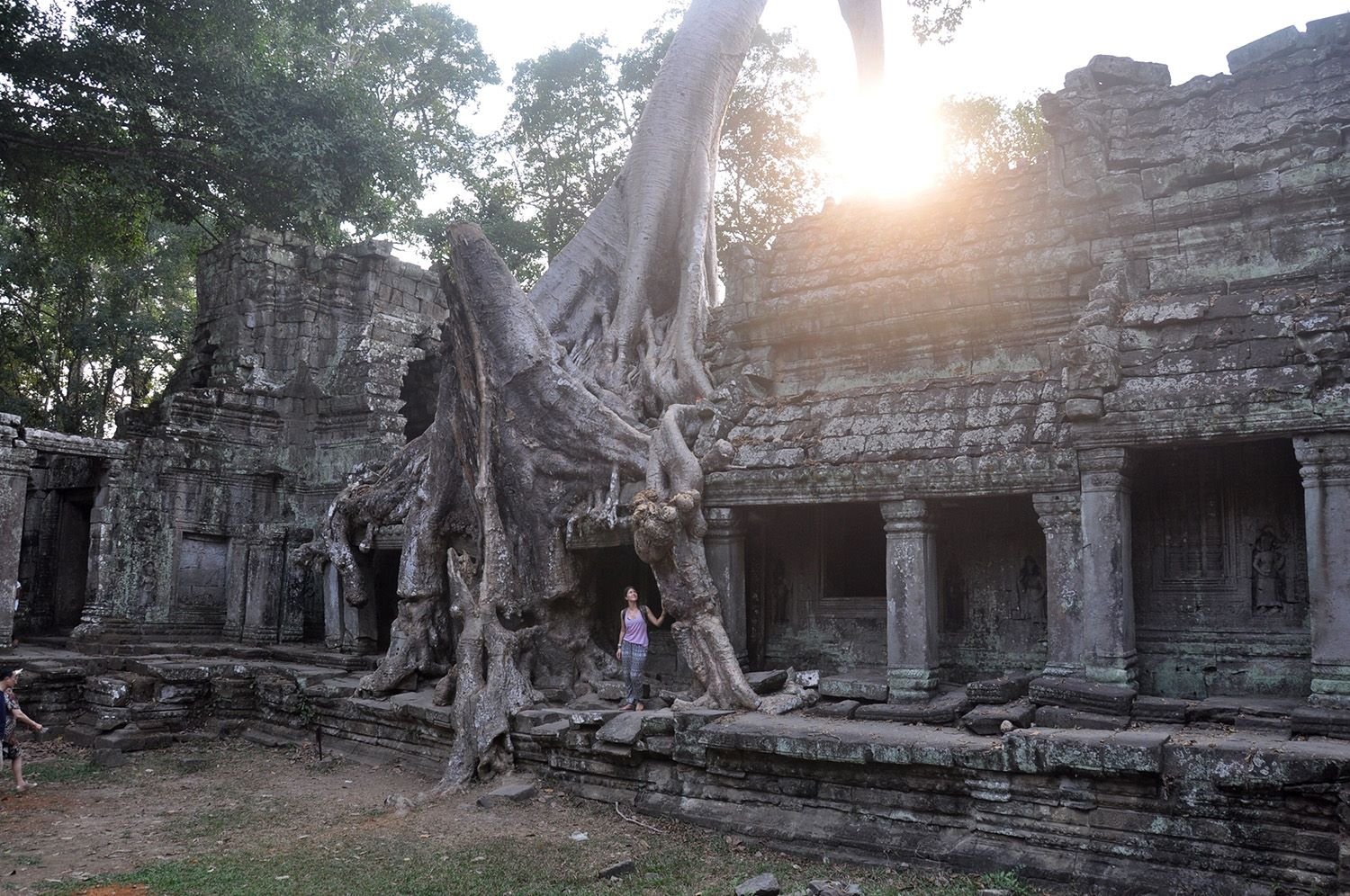 While traveling for two weeks in Cambodia, we felt like we were constantly smiling.
The children, with grins on their faces, waved and shouted, "Hello! Hello! What's your name?". It wasn't just the children who were adorable. We passed grown men, giggling and playing friendly tricks on each other on a regular basis.
But there's another side to Cambodia. A raw and very real side that is unavoidable. Cambodia is a country that has been ravaged by Khmer Rouge regime that wiped out nearly two-fifths of the country's population and instilled fear into the survivors.
Today, you'll see people with missing limbs in the streets – a very real effect of the millions of landmines that were planted in the country's rural area. And the Khmer Rouge's distaste for intellect has left a mark on the citizens' perception of education.
But despite the heartbreaking history, Cambodia is flourishing in many ways. People almost seem to ignore their country's painful past and are unexplainably joyful. And the tourism industry in Cambodia is growing rapidly.
We've created an itinerary for 2 weeks in Cambodia that takes you to the most sought-after temples at Angkor Wat (can't miss 'em!) and also to some less-traveled spots, so you'll really get to know this country. 
First things first: Before you travel to Cambodia, we highly recommend reading up on the history. It will make your time there and your interactions with locals so much more meaningful. Also, check out our tips for traveling ethically in Cambodia. There are so many great organizations, and this country really relies on the support of tourism. Make sure your money is going to the right places.
---
Day 1: Phonm Penh
Start your tour in the capital city of Phonm Penh. This surprisingly contemporary metropolis is made of two extremes – there is an abundance of sleek cafes and modern charm, but is also a place with a deep and painful history.
On your first day you might want to take it easy and explore the city. Victory Monument at night is a nice stroll where locals hang out together under the lit up trees. Continue exploring and visit the Royal Palace which is close to the popular riverside promenade.
Where to Stay: Mad Monkey Hostel Phonm Penh
This hostel is located in a very safe, almost ritzy, neighborhood of Phnom Penh. The onsite restaurant serves up some fantastic food (try the Mediterranean Cous Cous Salad) and the rooftop bar has daily specials and is a perfect place to socialize with other travelers.
The staff is friendly, well-trained, and can answer just about any questions about the city. They are also pros at making travel bookings, so you can arrange your transportation and accommodation for the next leg of your journey without a hassle. The dorms have some of the biggest beds we've seen in a hostel dorm, and the A/C is super strong (which is much needed in this scorching city).
Day 2: Killing Fields and S21 Genocide Museum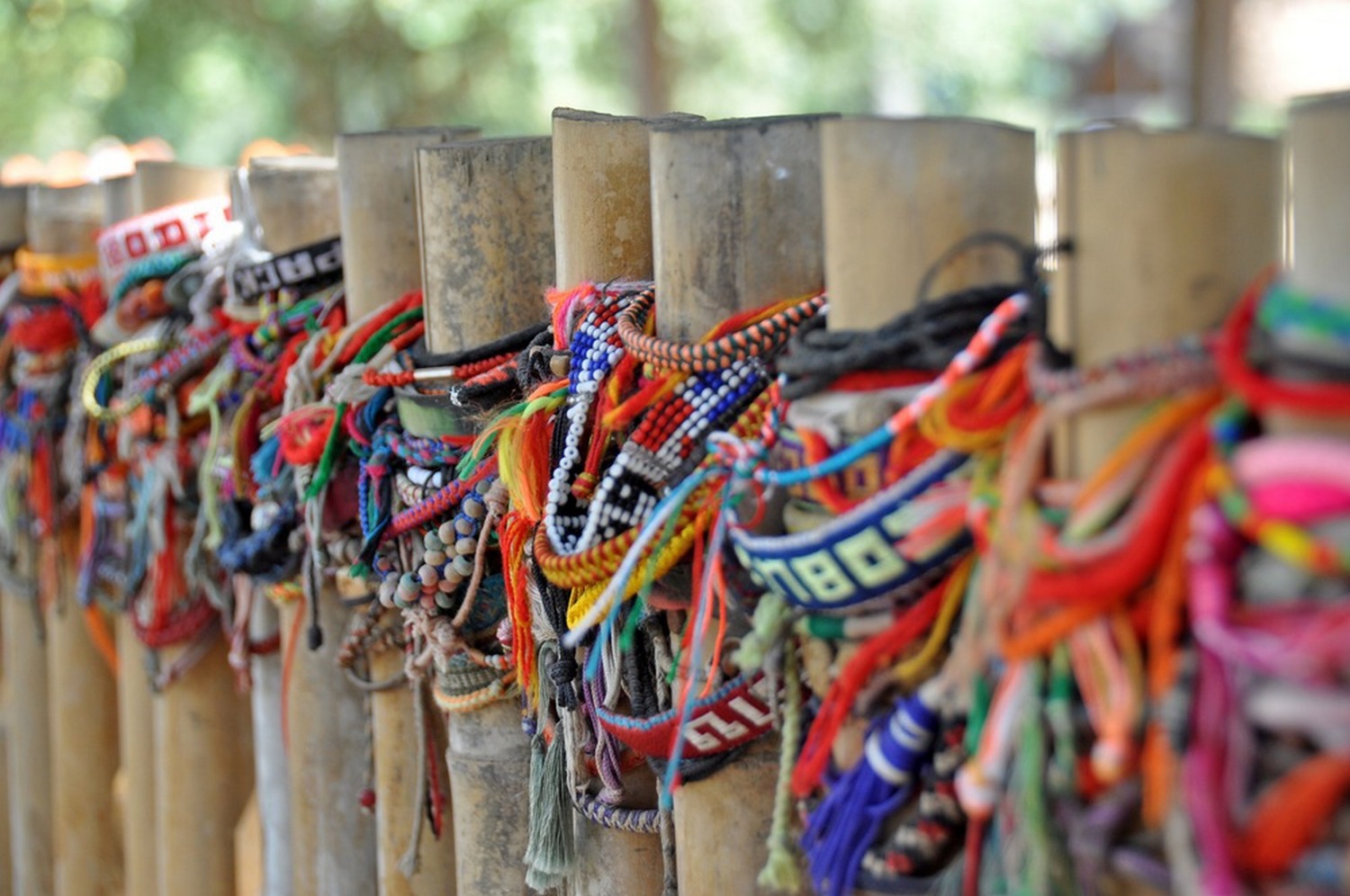 Cambodia has a tragic past. In 1975 to 1979 about two-fifths of the country was brutally slaughtered by an organization that overthrew the government called the Khmer Rouge. They attempted to create a society based solely on extreme work in rural areas.
City people were transported to the fields to labor in brutal conditions. Even more horrific, if you had a high school education, wore glasses or had soft hands, you were brought to the killing fields where you had only one fate.
Not learning about the Khmer Rouge while in Cambodia is like not learning about the Nazis while in Germany. It's part of their history and awareness should be spread so something like this will never happen again.
There are killing fields all throughout Cambodia, but the one near Phnom Penh is the most well-known and is easily accessible.
The killing fields has an audio tour that exceeded our expectations. It told the complete story of the area with different audio points to follow along. It is $6 to enter with the audio tour included, and well worth the price.  
After the heaviness of the killing fields, continue on to the S21 Genocide Museum. It is $3 to enter and an additional $3 for the audio tour. S21 was a school before 1975, but Khmer Rouge transformed it into a prison camp where they tortured and interrogated nearly 9,000 people before transporting them to the Killing Field where they all met the same fate.
Do it yourself: Hire a tuk tuk and split the cost with other travelers and go to both the killing fields and S21 Genocide Muesum (tuk tuk cost for day is $20 USD).
Tip: Don't forget to hit up the ATM before the night is over because you won't be able to get cash anywhere on Koh Rong or Koh Rong Samloem.
Day 3: Travel to Koh Rong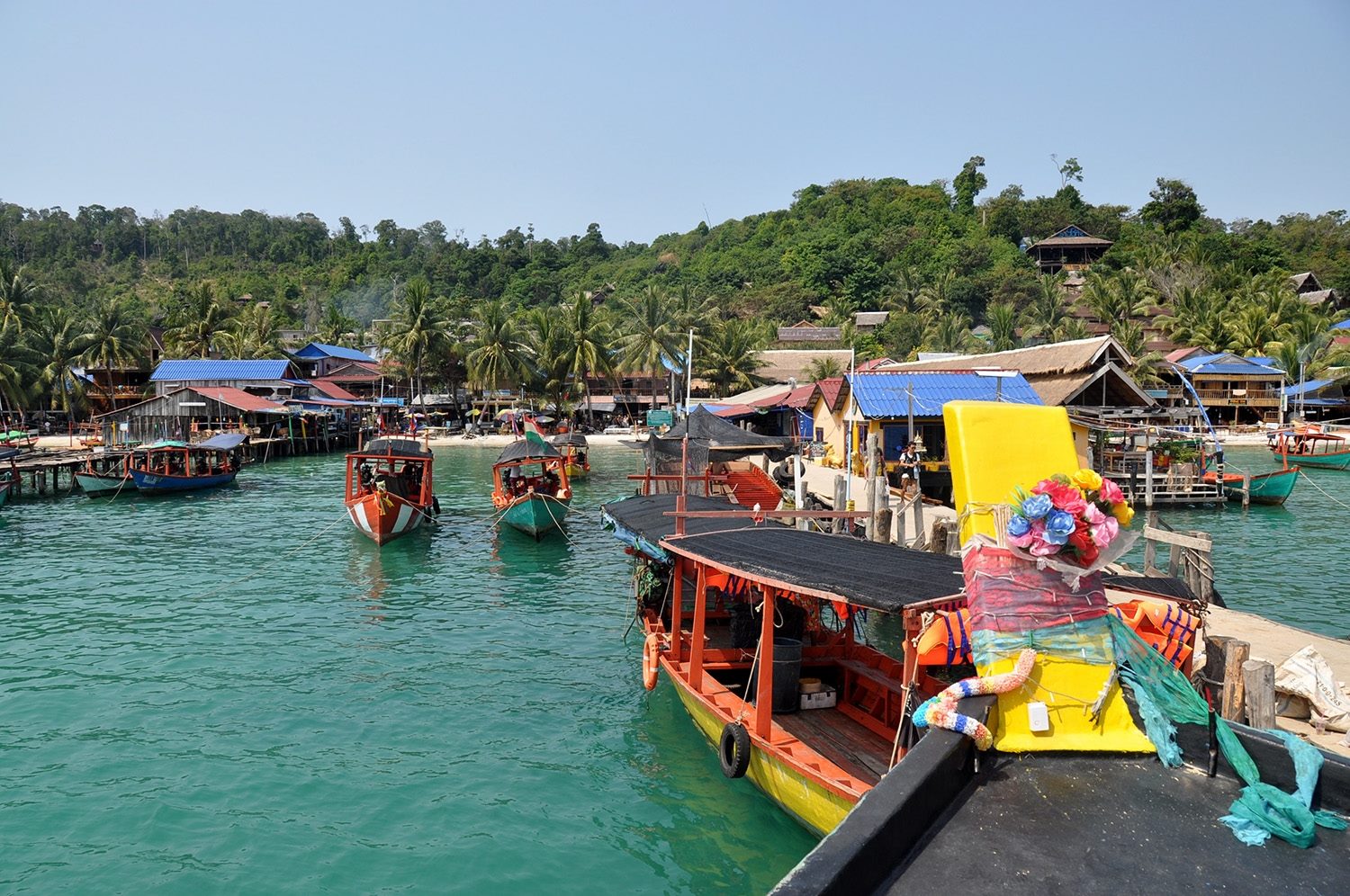 Take an early morning bus to Sihounkville and then the ferry to Koh Rong. There is a speed ferry that takes 45 minutes which is a pretty wild ride, or there is a slow ferry that takes 2 hours.
There's hardly any online presence of hotels on Koh Rong (at least at the time of wroting this article) because the electricity is limited and therefore no internet to book rooms. Once at Koh Rong, take a right after the pier and find a good bungalow.
Make sure it has a good working fan (again, limited electricity on the island so A/C is scarce). We landed on Smile Bungalows because they had a simple fan room ensuite that was reasonably priced. Definitely nothing special, but it worked for us!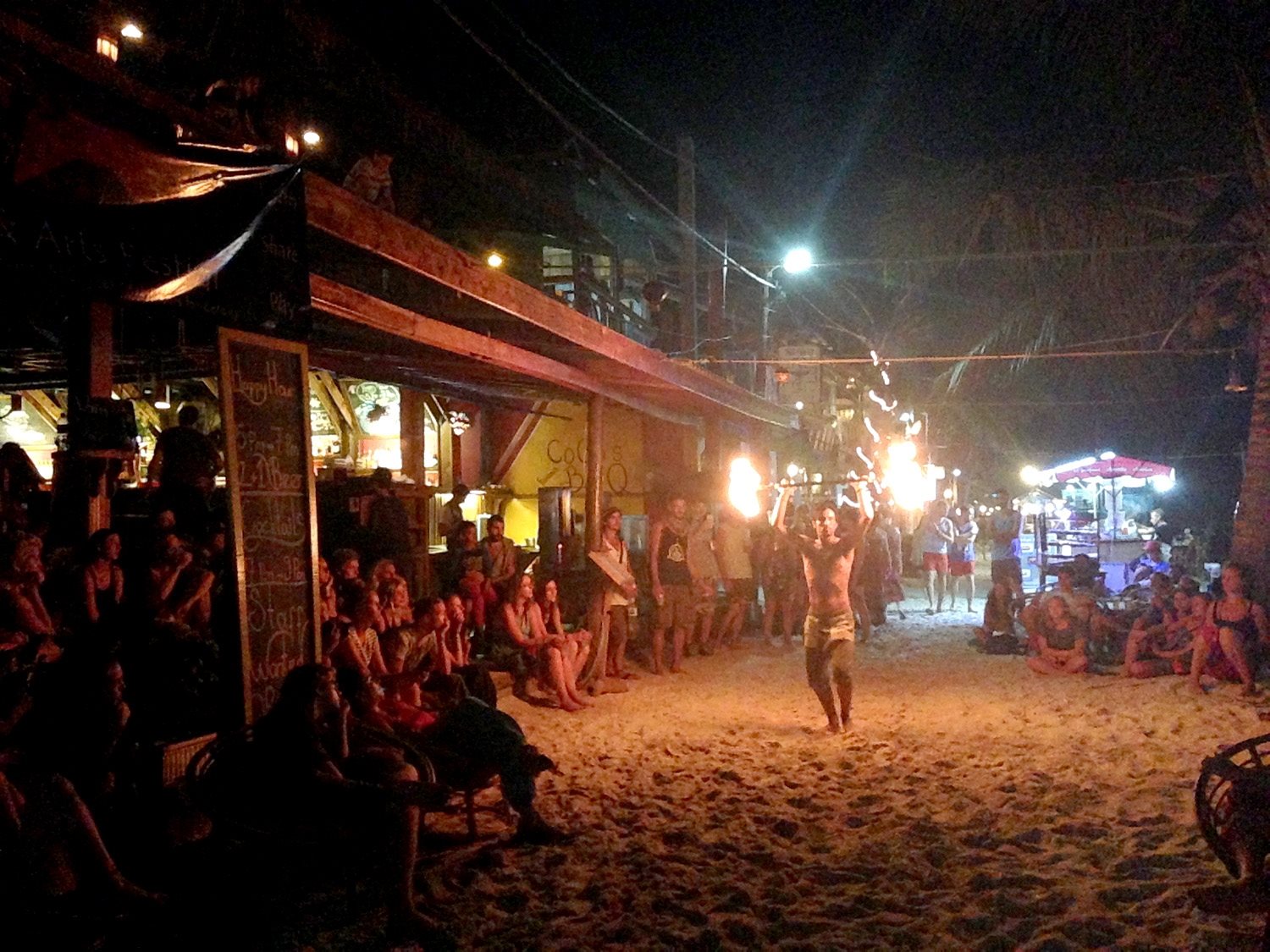 Have dinner at one of many restaurants near the pier. Simple meat and rice dinners are about $3-4 USD or enjoy a BBQ for $5-6 while being mesmerized by the nightly fire dance show. 
Day 4: Venture to Long Beach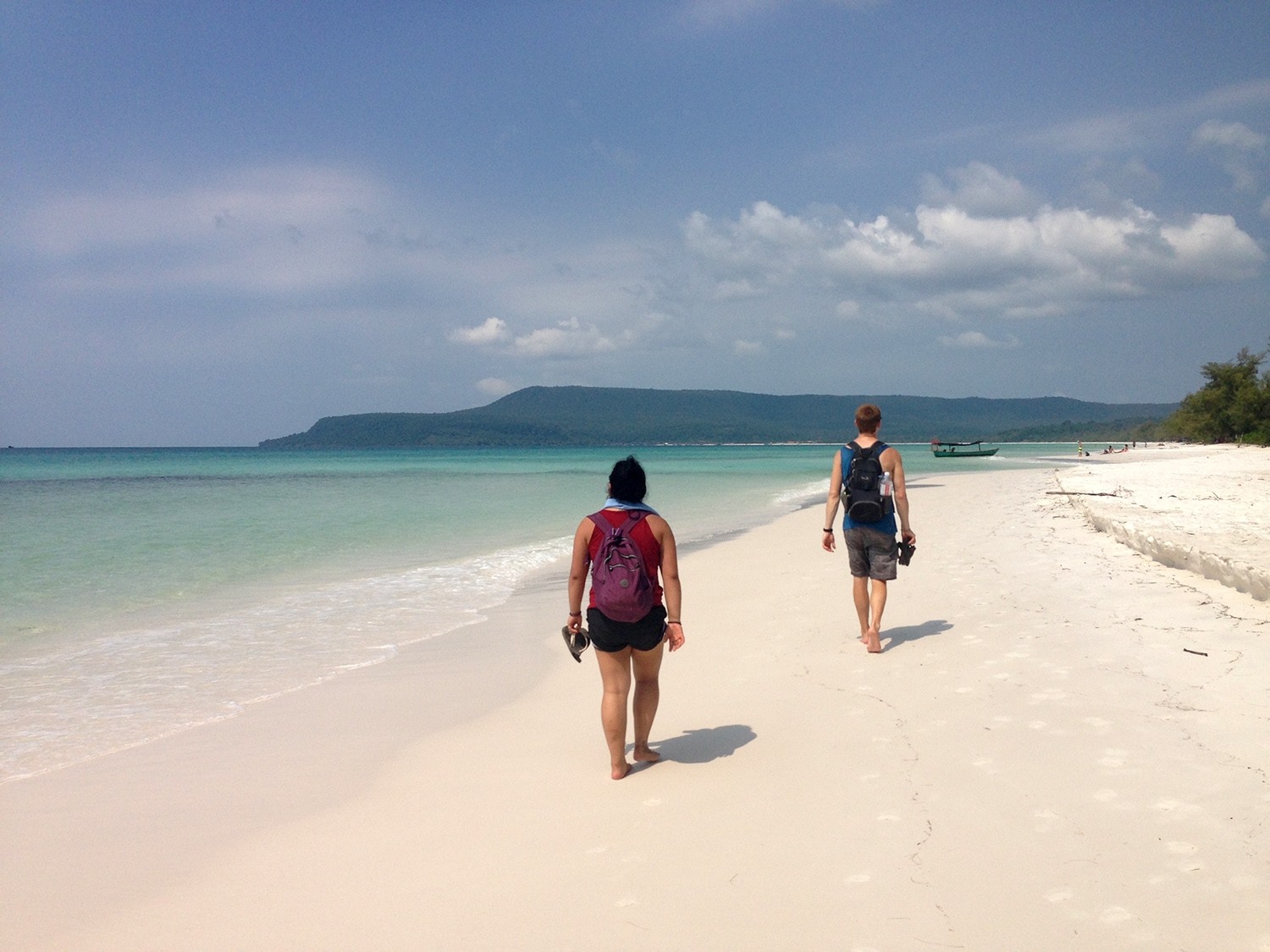 Long beach is a 7 km beach on the west side of Koh Rong. It's completely undeveloped side of the island with pristine flour-like sand (it is so untouched, the sand squeaks as you walk!). It's the perfect place on the island to watch a sunset.
There are two ways to get there. First, you can take a taxi boat from the pier for about $5 per person and the ride take about 45 – 60 minutes. Second, for the more adventurous-hearted traveler, you can hike to long beach through the jungle.
The easiest way to get from the main beach to Long Beach is to head up to Sky Bar and then follow the path leading northwest through the jungle. There are a few forks in the path and it's hard to tell which way, but simply follow the black electrical cord that is visible in the ground.
The hike is doable in flip flops, but shoes are recommended because there's a spot where you have descend down boulders and it can get slippery.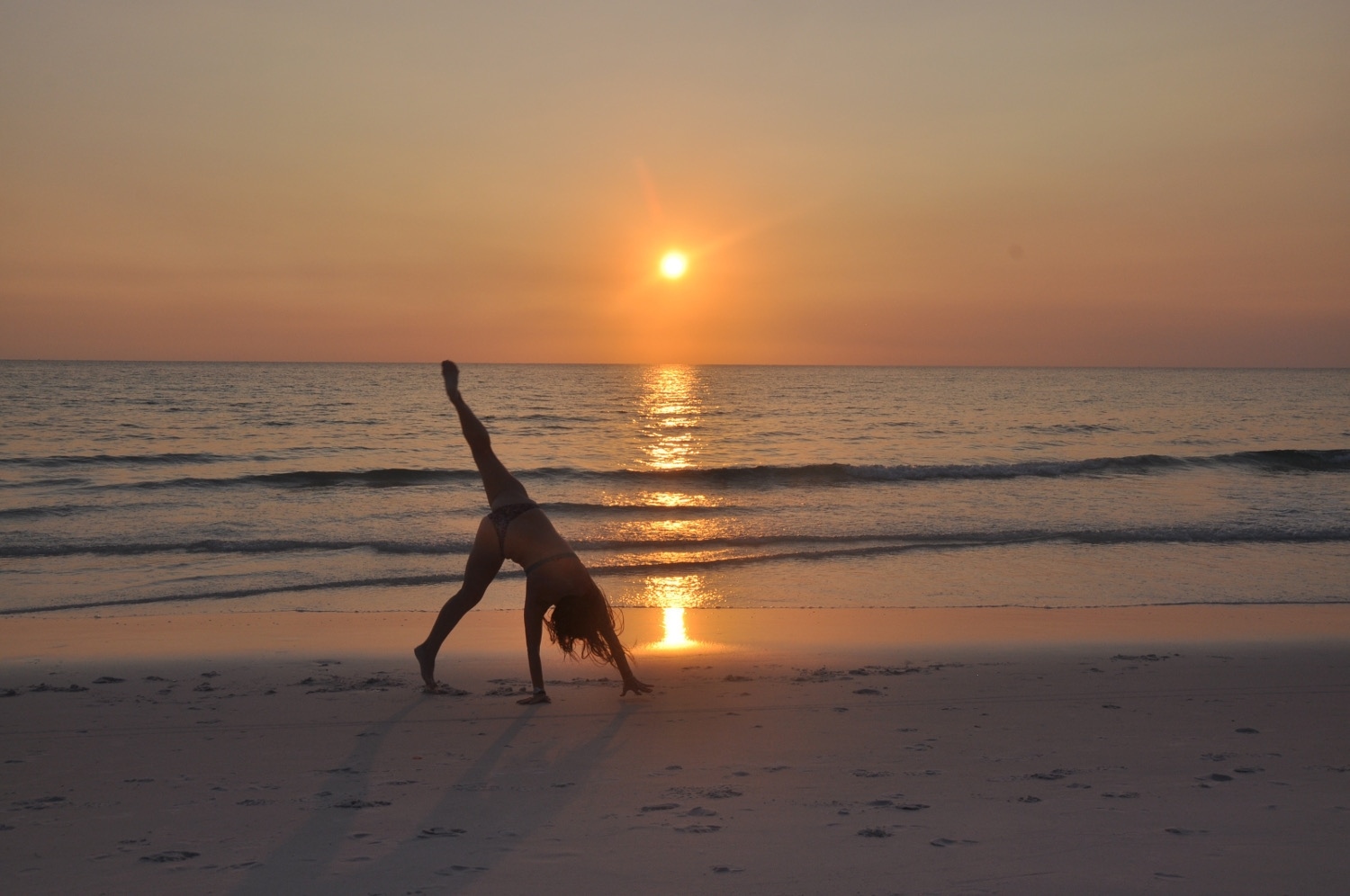 Walk about halfway on Long Beach and you will find Coco Blvd restaurant, you can't miss it, it's the only one there. They have good Khmer food and tasty drinks. Lounge here for sunset and then take the boat taxi back to the main pier after the sun goes down.
Everything you need to pack for Cambodia


Day 5: Relax
Enjoy a day at the beach, you're on vacation after all! Try some good eats at the White Rose Café or the Monkey Inn restaurant. Don't forget to book a ferry for the next day to Koh Rong Samloem.
After the bars close on the main beach, around 11 p.m., head to Police Beach for the after party. No, there are no police here. The name comes from the old police station that's been converted into a DJ hub.
It's a small beach, but grab a log or just plop down in the sand and chill. Grab a Klang beer from the "bartender" (aka man with the cooler in a hut) and make some new friends as the water laps against the sand.
Day 6: Travel to Koh Rong Samloem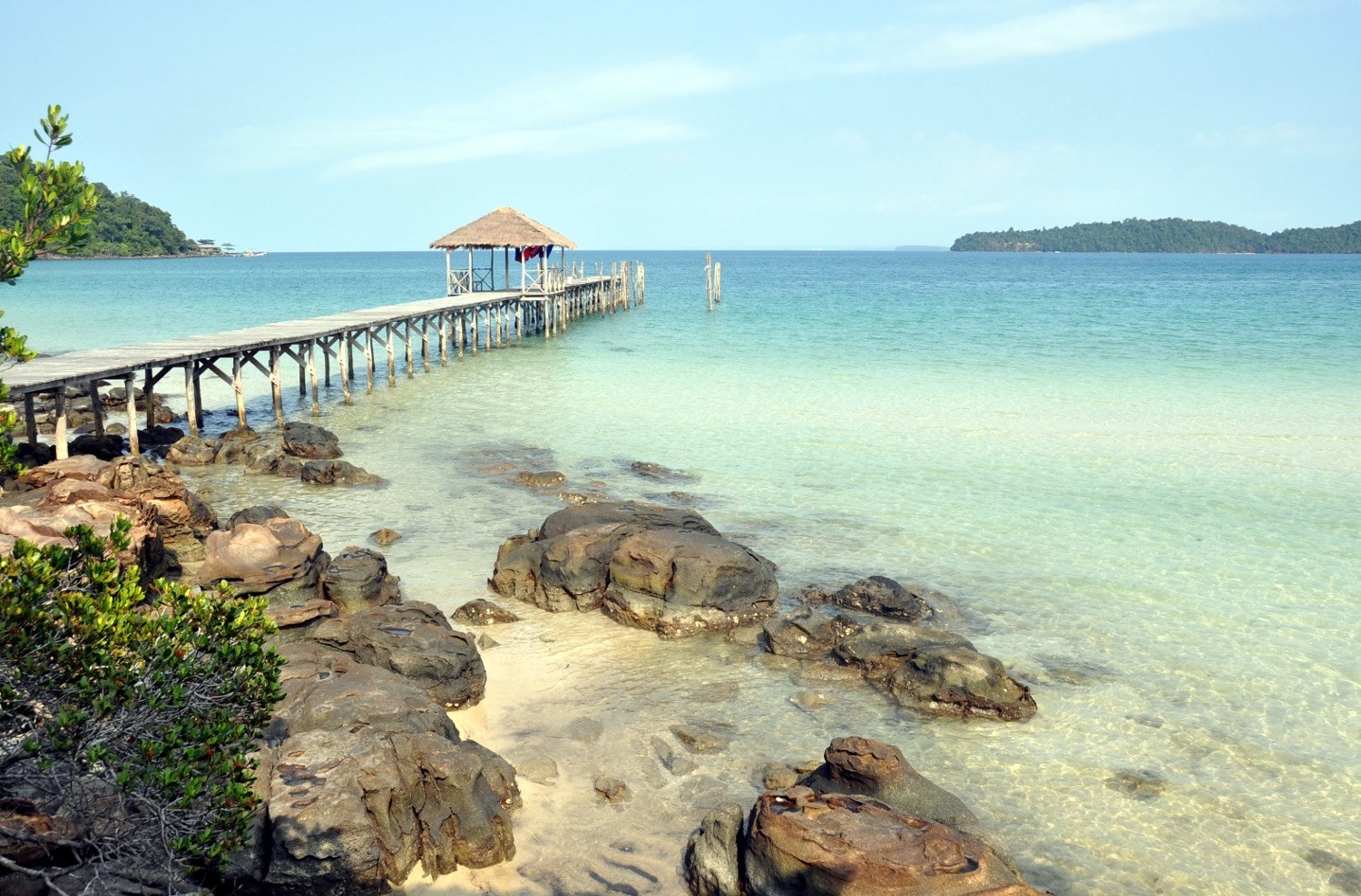 Koh Rong Samloem is the smaller, calmer sister of party child, Koh Rong. There's an 8 a.m. ferry from Koh Rong that takes 1 hour, or a 12 p.m. ferry that takes 2 hours with a stop for snorkeling and jumping off the boat.
Once at Koh Rong Samloem, enjoy the main beach on Saracen Bay until the 4 p.m. ferry to Mad Monkey arrives.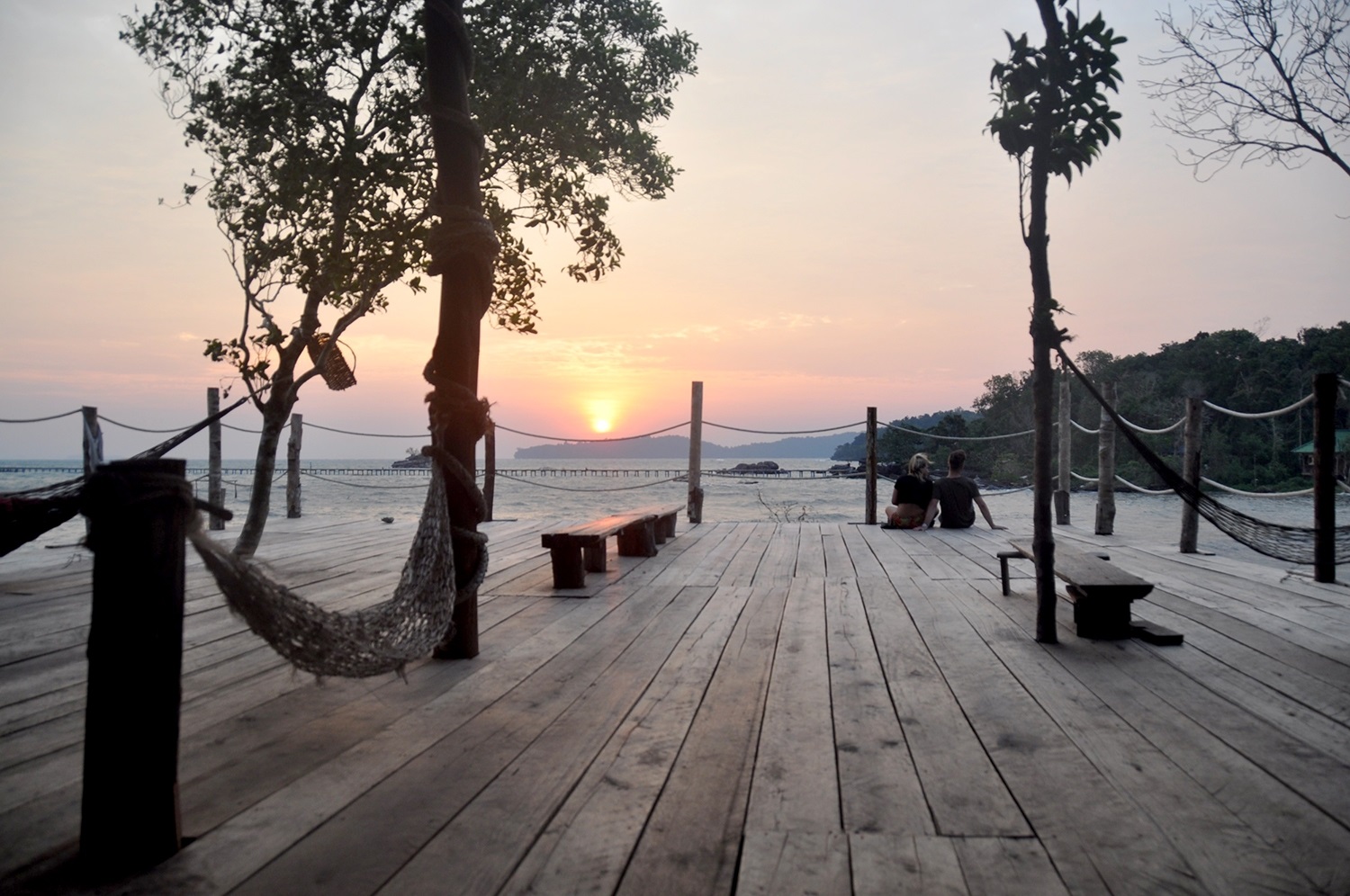 Where to stay: Mad Monkey Hostel Koh Rong Samloem
Imagine waking up to the sound of the tide crashing on the shore as you stare out your bungalow onto your own secluded beach. This place is paradise on a backpacker's budget!
The only downfall is it's a bit difficult to get to; but what more could you ask for on your private side of the island. On Tuesdays and Saturdays they have a pizza party and fire dance show, and once a month there's a full moon party in the jungle nearby.
Whatever the day, it's seems like there's always good conversation and new friends to meet. Take a look at our full review here.
Day 7: Explore Koh Rong Samloem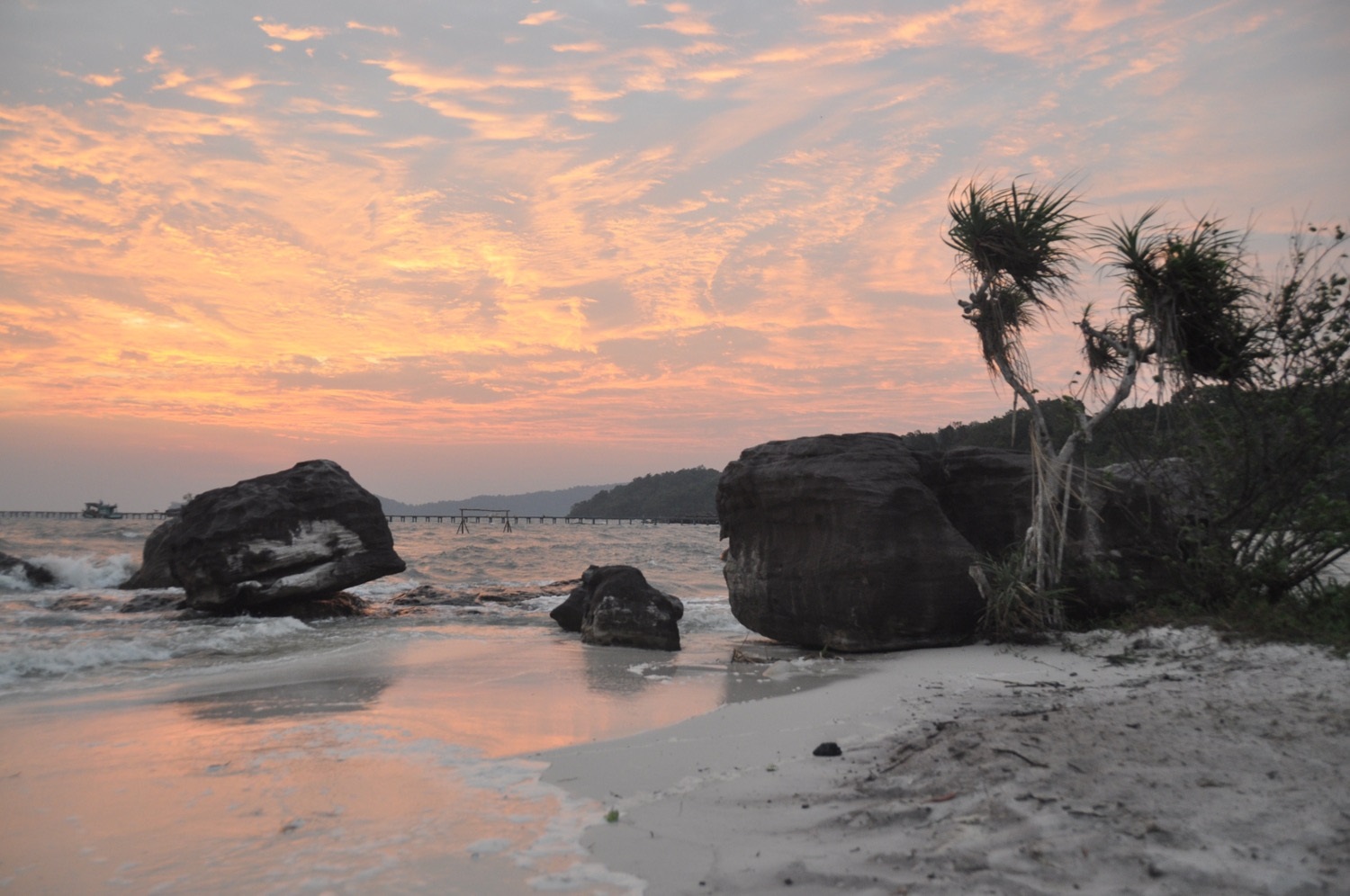 Enjoy a delicious breakfast at Mad Monkey and take the early boat over to Saracen beach. Enjoy a full beach day or take the 1.5 km trek to Lazy Beach. It's not much of a beach, but the pier is pretty rustic and the restaurant is incredible.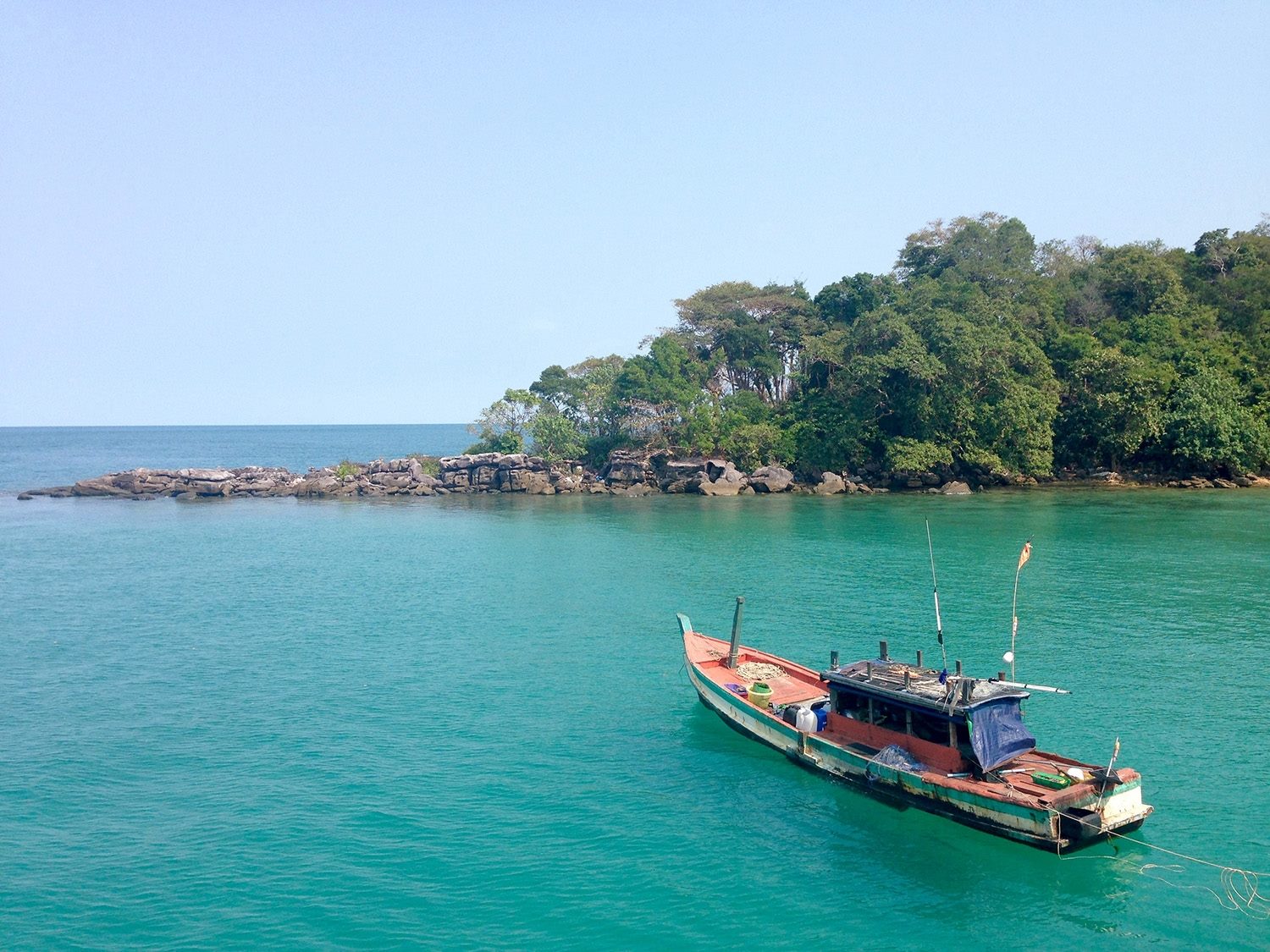 Take the 4 p.m. ferry back to Mad Monkey for the night's festivities. There is never a dull night at Mad Monkey! (Don't forget to organize your ferry in advance for the next morning. The staff at Mad Monkey can do all this for you.)
Day 8: Travel to Kampot
Wake up and head back to Saracen Beach on the early boat. 
Warning #1: If you're unlucky like us, the waves will be too big for any boats and you will have to walk 45 minutes through the jungle to the main beach with your luggage.
Warning #2: If you book the speed ferry, be prepared for a roller coaster on waves. Nearly everyone on the ferry was feeling sick from the constant up and down ride. It may feel like forever and a half, but remember it's only 45 minutes.
Grab a bite to eat at any of the local shops on the main street (the Big Easy Hostel has a pretty killer menu). 
Pre-arrange your bus transport with Mad Monkey the night before for Kampot. The trip should take about 2 hours and cost about $5 USD.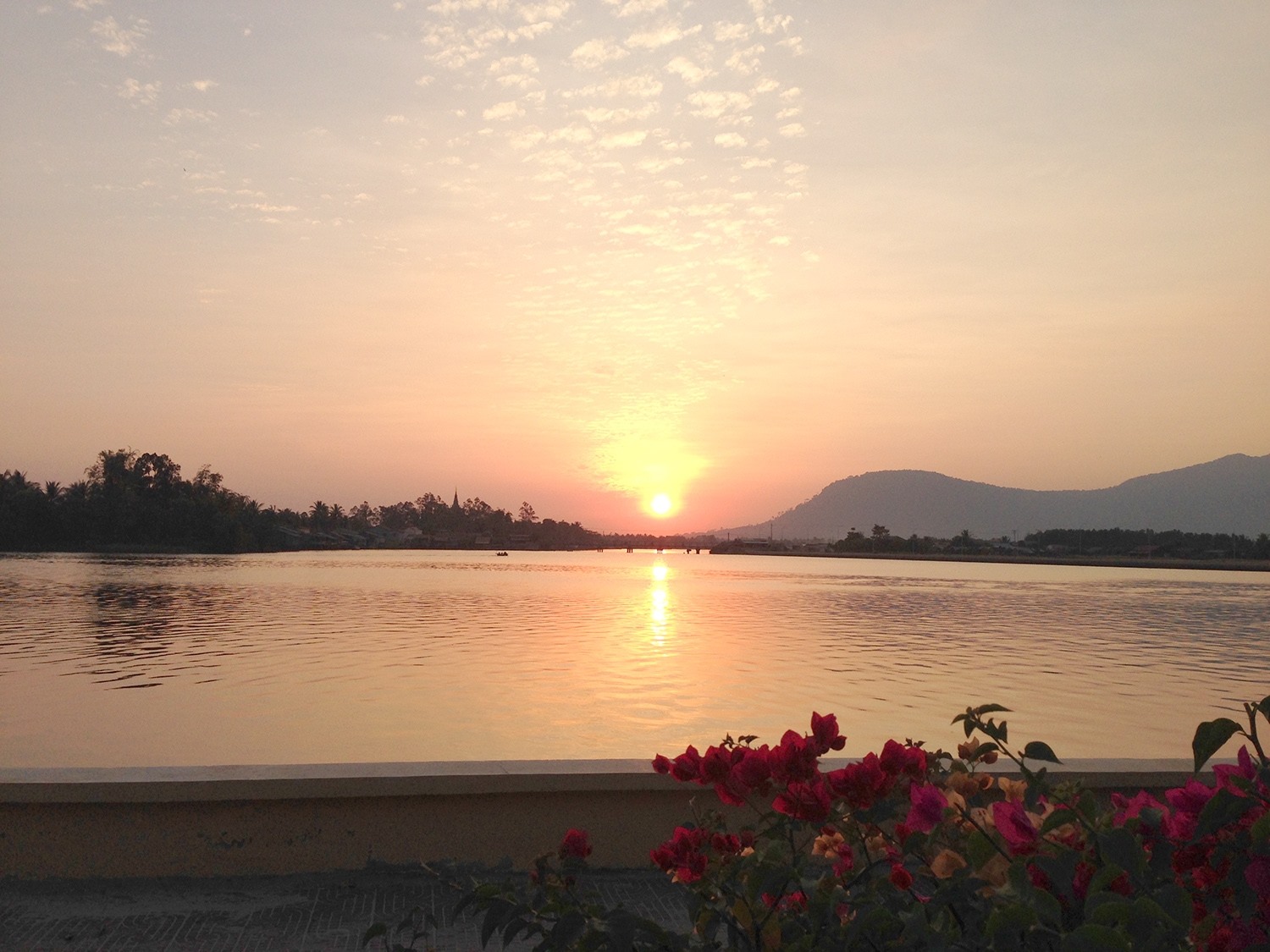 Kampot, Cambodia
Kampot is a quaint riverside town full of character and history. It's small enough to walk everywhere so once you get dropped off, you can find your way on foot to your hostel.
If you are not sure where your accommodation is, you can always support the local tuk tuk drivers, and for around 4000 riel ($1 USD) per person they can get you where you need to go.
At night, walk the town from the river walk to the giant durian roundabout to the old market restaurants. This city comes to life at night in a family-friendly sort of way.
For dinner, try a local place to enjoy the local Khmer food. Darwin Restaurant, in between the old market and the river walk, is a great and inexpensive place to dine alongside the locals. Enjoy a beer on the rocks and order the chicken skewers and papaya salad – you won't be disappointed.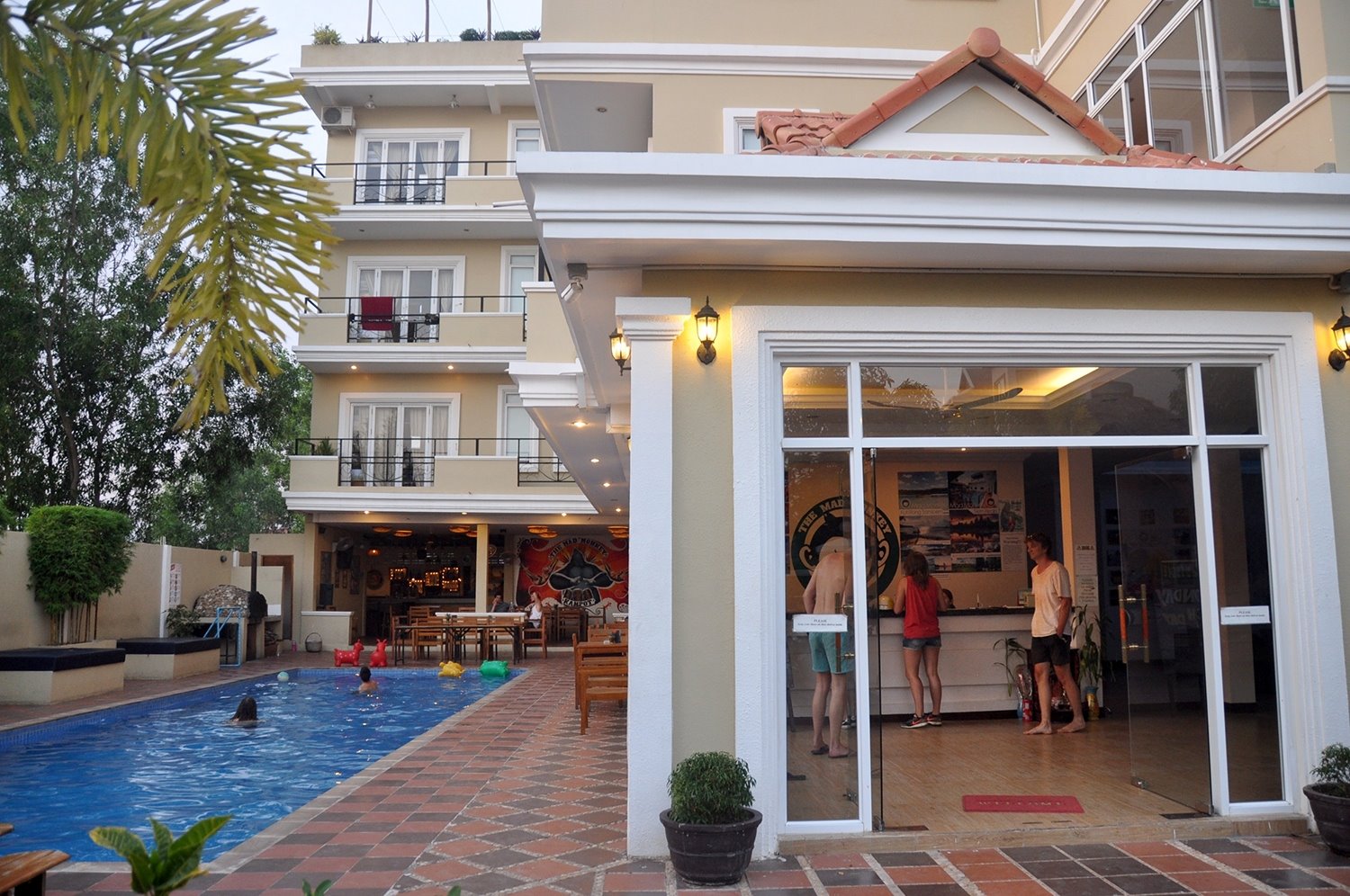 Where to stay: Mad Monkey Hostel Kampot
We love Mad Monkey hostels, can you tell? While staying here, you can relax by the pool and tan in the sunbeds during the day. At night, order a sizzling pizza from the wood oven and play darts or billiards while sipping on nightly drink specials.
As with all Mad Monkey locations, the dorm beds are humongous and the privates are elegant with a balcony. The only downfall is the Kampot hostel is about a 20-minute walk down the river from the city center, but it's a pretty stroll any time of day.
Alternative: Another unique place to stay is Arcadia. Located a bit out of town, this hostel/restaurant/bar is on the river and has a dock and slide to play around in. Even if you don't end up staying here, having a couple drinks here is an experience to be had in Kampot.
Day 9: Motorbike to Bokor Mountain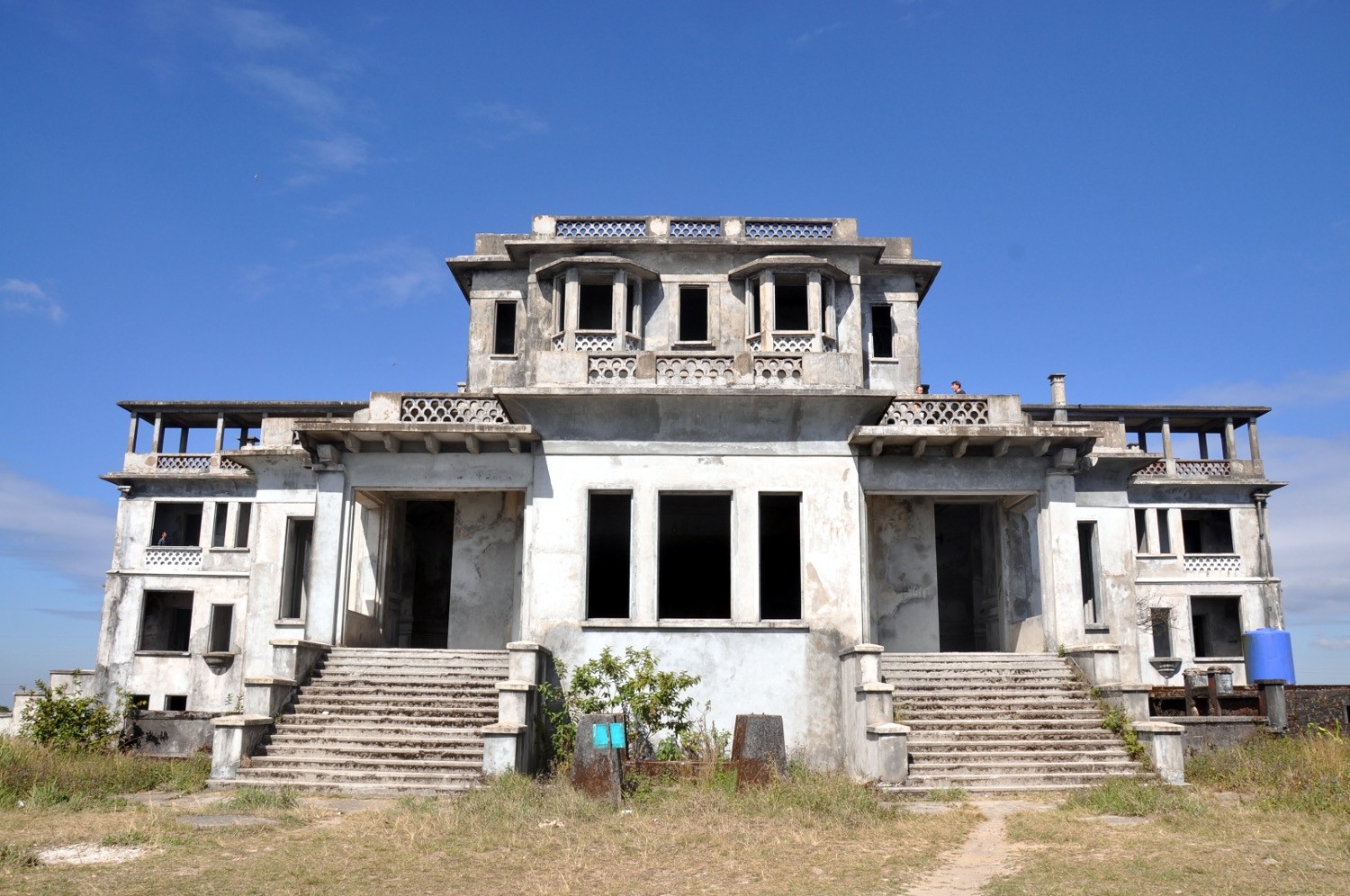 Rent a motorbike from the hostel and head up Epic Arts Café for breakfast near the old market. We really loved Epic Arts because they are doing great things for the community. This cute café promotes local kids' artwork by putting their art on the walls, and they even have some for sale (great souvenir alert!).
They also hire deaf or hearing impaired staff that otherwise would be out of a job in the tough Cambodian economy. The menus even illustrate some sign language for customers to interact with the staff.
Tip: Try the Crisp Moroccan Eggplant Rolls and the Breakfast Bruschetta. You'll thank us.
After breakfast, make sure you have a full tank and take the motorbike up the twisty turns to Bokor Mountain National Park. Get there by heading west out of town for about 10 km, and then turn right when you see a giant gate and rows of beautiful flowers. The cost to enter is 2000 riel ($0.50), so it's well worth it.
Caution: There is only one road to Bokor Hill Station, but it is extremely curvy and steep at times. It's nicely paved, but where are some tight spots where there is construction. Just take it slow and be careful for oncoming traffic. We met a few travelers that took a spill on this road and it ruined the next few days.
The Bokor Hill Station, before the Khmer Rouge, used to be a place where the rich would go and get away from the heat. It's eerie how empty it has become in the past few decades. Check out the old Catholic Church and explore in the completely empty 5-story casino.
In the backyard of the abandoned casino, you'll find an amazing view. Also on top of the hill, you can check out the new casino if you'd like (it's so big, you can't miss it). However, when we were there, parking lot was almost completely empty.
There's also a waterfall about 17 km away from the top that is nice when it is not dry season. Once you are done exploring, drive back down the mountain (again, use caution) and head back to town in time for your sunset river cruise. The round trip from Kampot took about 4 hours.
The sunsets in Kampot are phenomenal and why not treat yourself to a leisurely ride on a boat that slowly trolls down the river. There are many places that offer a sunset dinner cruises, but we hear good things about the one Mad Monkey organizes. And at $5 a piece, it's a steal.
Day 10: Motorbike to Pepper Farm and Kep
Spend another day exploring via motorbike but this time, go east of Kampot to the Secret Lake, Sterling Peppercorn Plantation, and the town of Kep.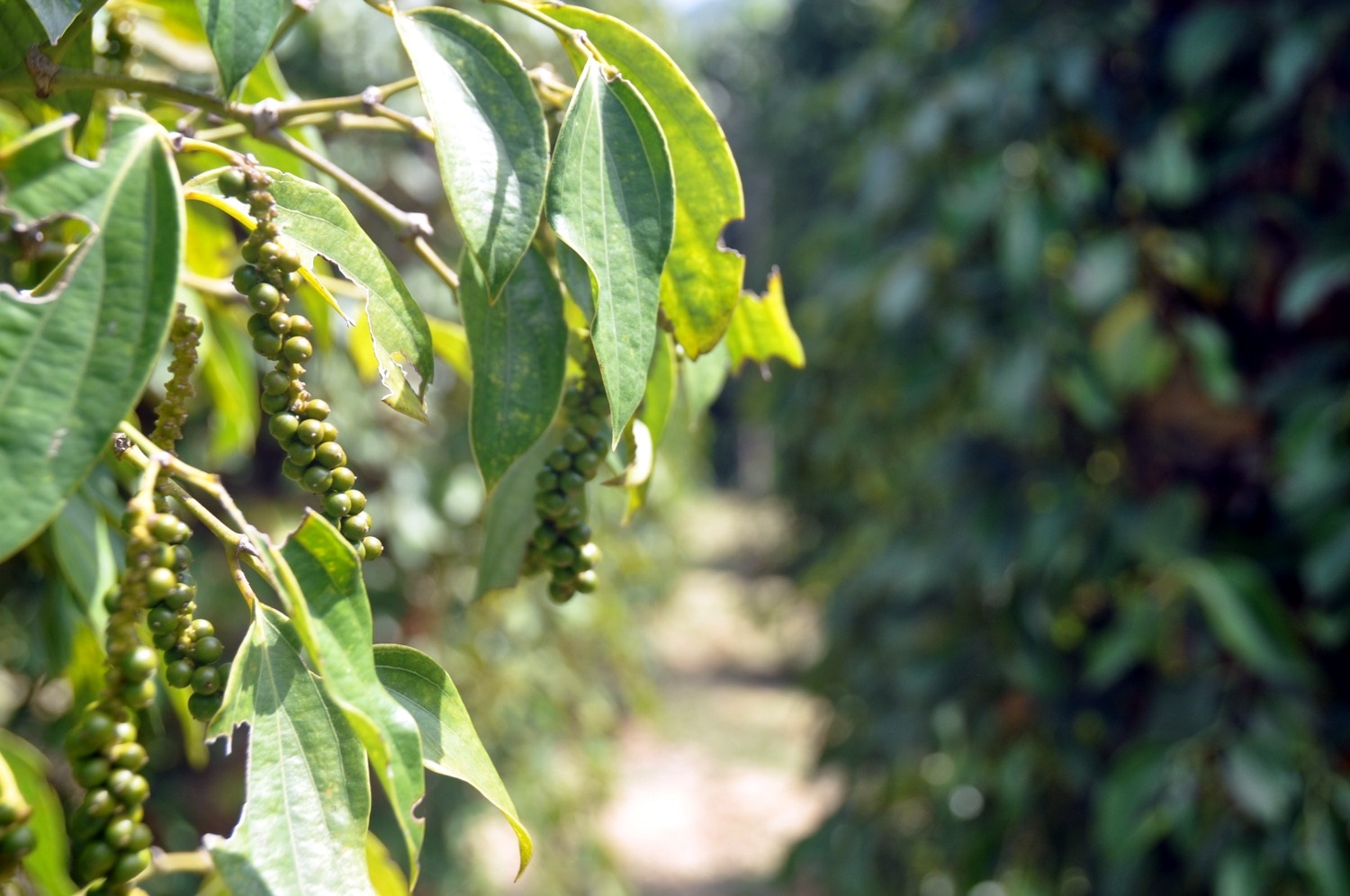 Peppercorn Farm
Grab a map from the hostel desk and head east out of Mad Monkey until the major Highway 33. Take a right and travel on the Highway 33 for a few kilometers, until you see Tourist Area Signs. There will be a small road off to your left that your will turn on.
It'll turn into a dirt road and take you through small villages with people going about through daily routines. About 2 km after the highway, there will be an intersection with a sign pointing right to Sterling Peppercorn Plantation.
It's about 13 more kilometers down a dusty dirt road, but it's worth it. Along the way you'll drive by "Secret Lake". It's nothing too spectacular, but kind of a nice change of scenery.
The Sterling Peppercorn Plantation is a diamond in the dust, literally. There's nothing for miles around it. But once you arrive, you'll be overwhelmed by how nice it is.
In addition to the rows upon rows of peppercorns that you can walk through (which is pretty cool), there's an infinity pool with lounge beds overlooking the farm, a fancy restaurant and luxurious bungalows ranging from $25 to $50 per night. There's also a gift shop and a pepper-packaging factory onsite.
Tip: We only split one dish at the restaurant because we just wanted a snack, but the vegetables and fresh peppercorn (grown onsite, obviously!) was delish.
After you're finished exploring the farm and tasting a few fresh peppers, drive back to the main highway and head toward the seaside town of Kep.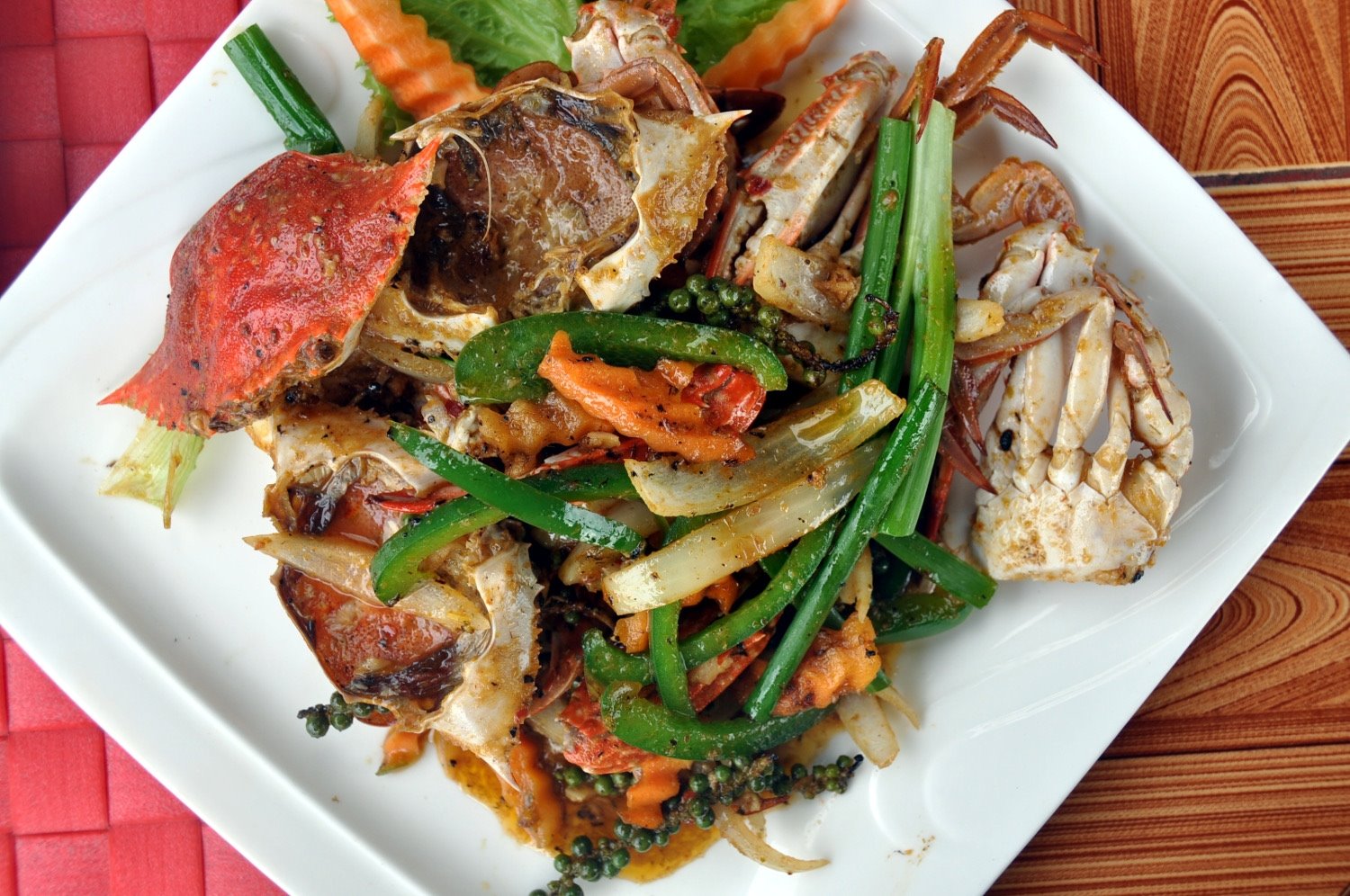 Kep, Cambodia
Before the time of the Khmer Rouge, Kep was a mansion-lined beach resort town that the rich from Phnom Penh would escape to on the weekends. During the hard times, the mansions were pillaged and destroyed. There are still many that remain today – abandoned with broken glass and covered in graffiti – a ghostly reminder of the past.
After the fall of the Khmer Rouge, Kep has turned into a seafood hot spot, most famously known for their crabs. Drive your motorbike down to the seaside market and pick out any assortment of seafood to be brought to the restaurants nearby to cook.
Or you could just skip the market and order anything seafood-related at the restaurants. We recommend the blue or rock crab amok (local dish) and the peppercorn crab.
After stuffing yourself with seafood, scoot through Kep and peer into some of the abandon mansions. Once you had your fill, ride back to Kampot. Book your night bus to Siem Reap for tonight through Mad Monkey. The bus will take you back to Phnom Penh, rest for a hour or two and then continue through the night to Siem Reap.  
Day 11: Angkor and Phare Circus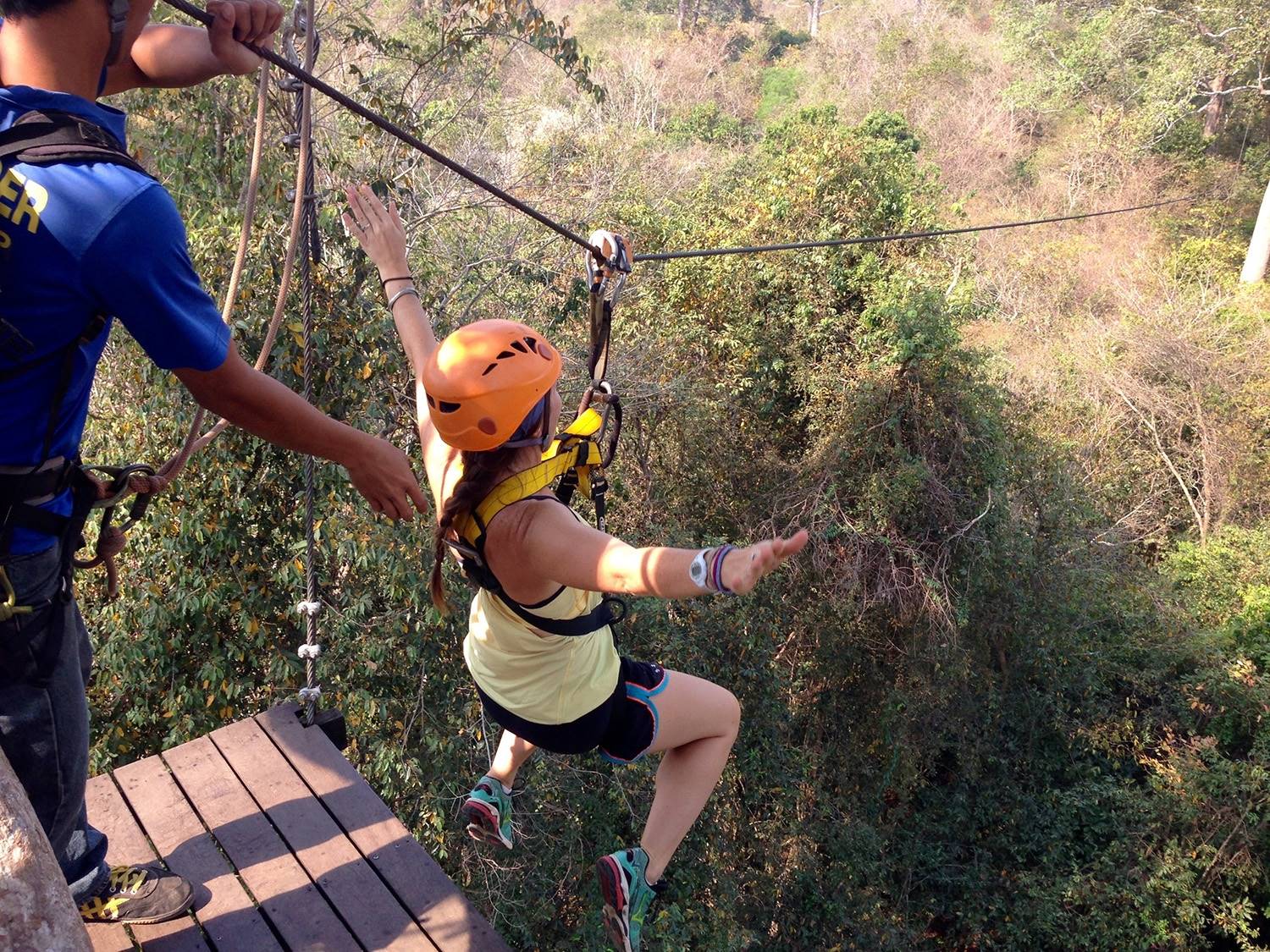 Angkor Zipline
What a better way to wake yourself up after a night bus than zipping at high speeds through the jungle. Imagine crisscrossing the jungle on 21 platforms traversing 4 wire bridges and 10 zip lines – the longest one being 300 meters! And all of this is 45 meters above the ground!
Make sure to book at least a week in advance because they only allow 10 people per group. Check out our full review and video on our Angkor Zipline article.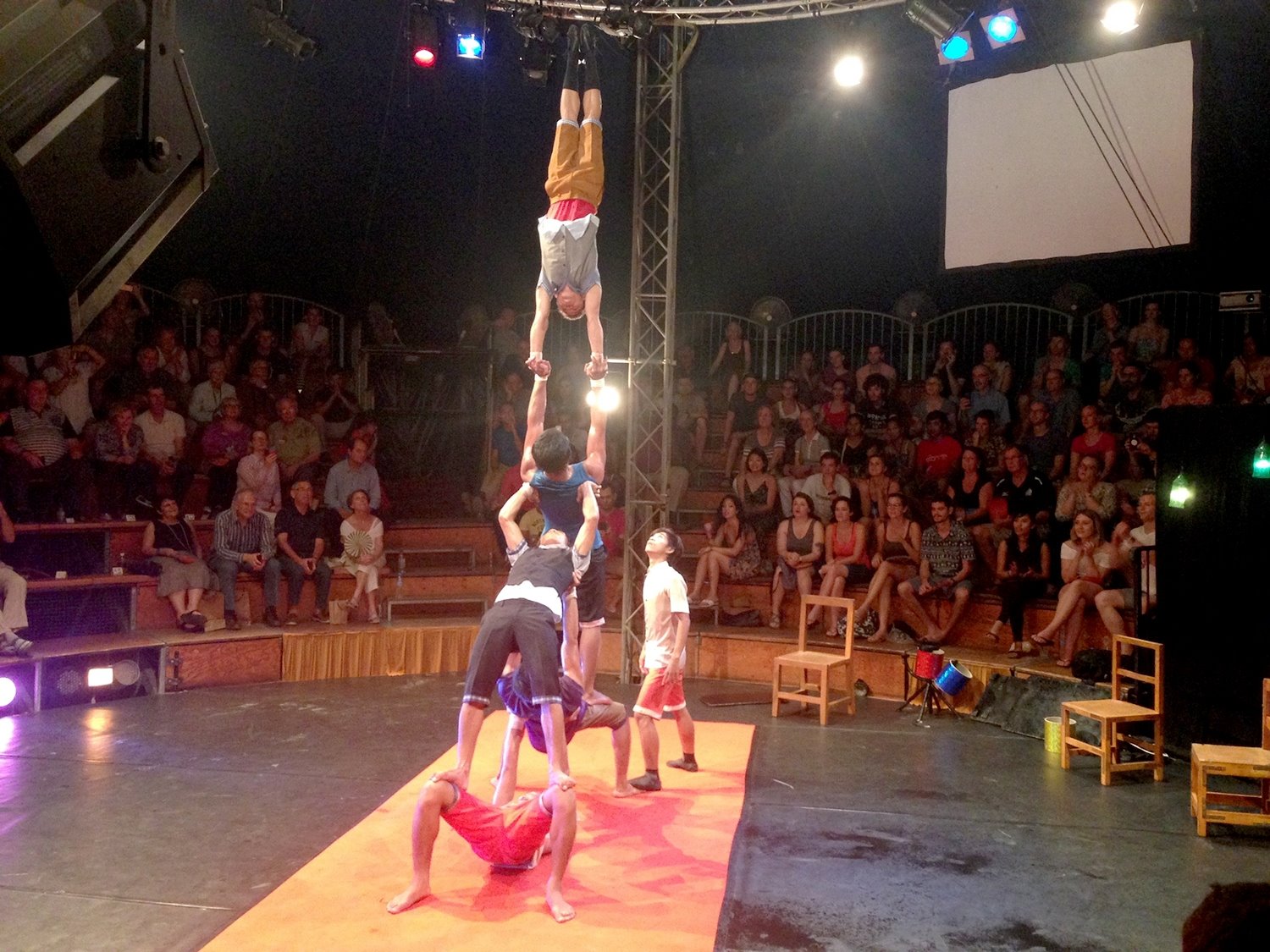 Phare Circus 
During the sad history of Cambodia, the Khmer Rouge did more than take lives. They nearly destroyed an entire culture, including any artistic expression. 
The Phare Circus is an organization that is reviving the arts that was nearly destroyed. They provide an education for the poor children of Cambodia and give them the opportunity to learn acting and high-flying tricks by joining the Phare Circus – how cool is that? The students are enthusiastic and put on a great (and interactive!) show.
Tip: There is limited seating so be sure to book at least a day before.
Note: The Phare Circus has relocated and it is a bit of a way outside of town. You will need to hire a tuk tuk driver to take you there, wait for you during the show and bring you back. It should cost around $4 USD. There is a small restaurant onsite that sells snacks and food that looked pretty good.
Where to Stay in Siem Reap: Naga Angkor Guesthouse or Mad Monkey Siem Reap. Take a look at our reviews of Mad Monkey Hostels here.
Day 12: Sunrise at Angkor Wat and Inner Loop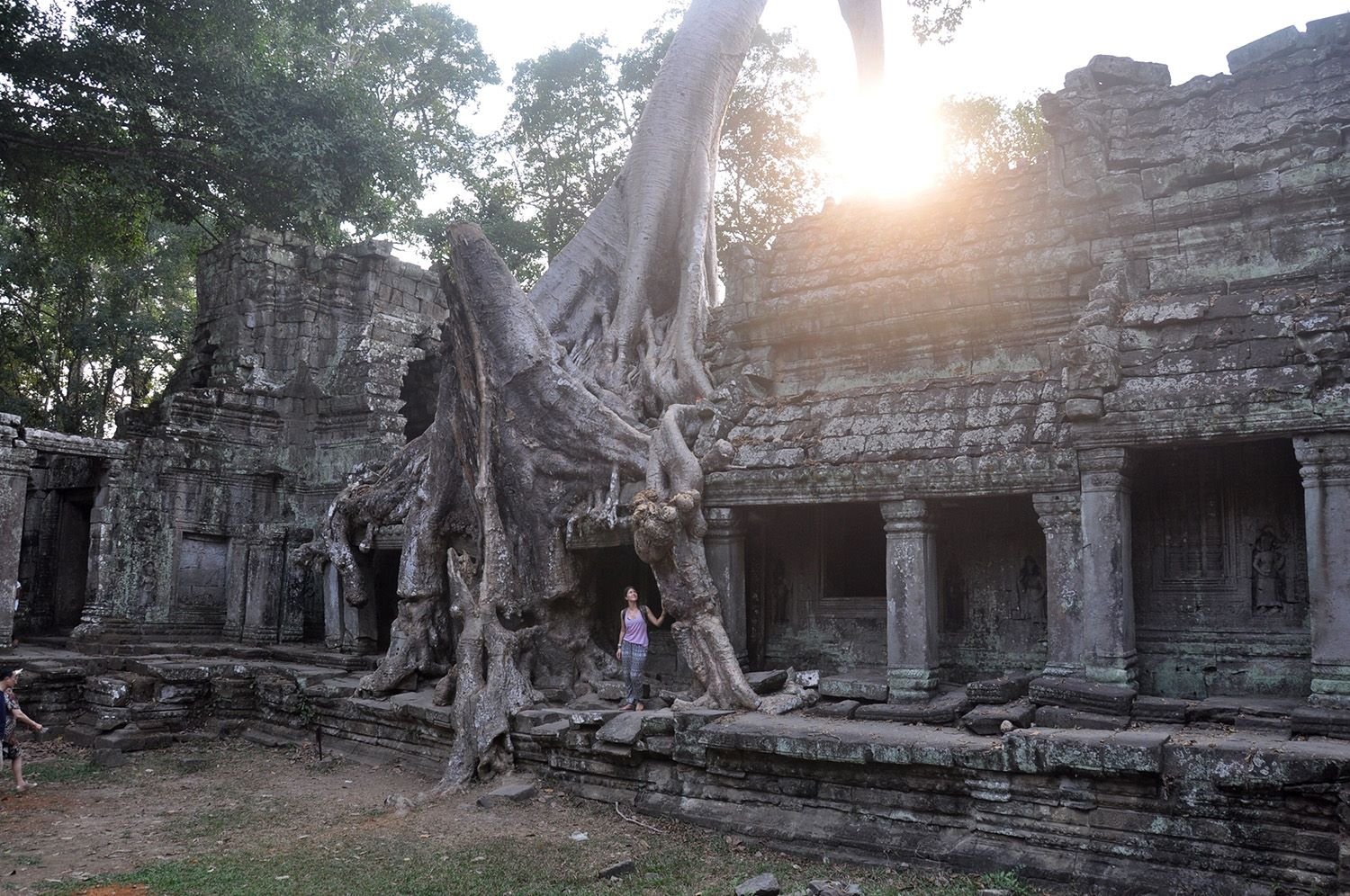 Angkor Wat
Today will be a long day, but oh so worthwhile. Angkor Wat is undeniably one of the most impressive religious sites in Asia and it is steeped in equal parts history and beauty. I studied this Hindu temple complex for the better portion of 2 weeks in my university's Asian Art History class. So it was truly a dream come true to visit it in real life.
We've put together some of our top tips for making your visit to Angkor Wat amazing:
Arrange a tuk tuk the night before to pick up at 4:30 a.m. (eek!) to drive you to the Angkor Wat. A fair price for you and the tuk tuk driver for the inner loop is $30 to $35 USD. (Prices Updated August 2018)
If you need to buy a ticket for the park, it is $37 per day, or $62 for three days (we opted for the three day because it was the same as two one-day passes, and we did the Angkor Zipline, which required a pass). (Prices Updated August 2018)
Bring water, your camera and a headlamp as you enter the ruins walking carefully on the cobblestone. The classic shot is from the left pond in front of Angkor Wat, because that's where you can capture the temple and it's dawning reflection. But that's where EVERYONE else is going to be too, so if you want that shot, be prepared for a crowd.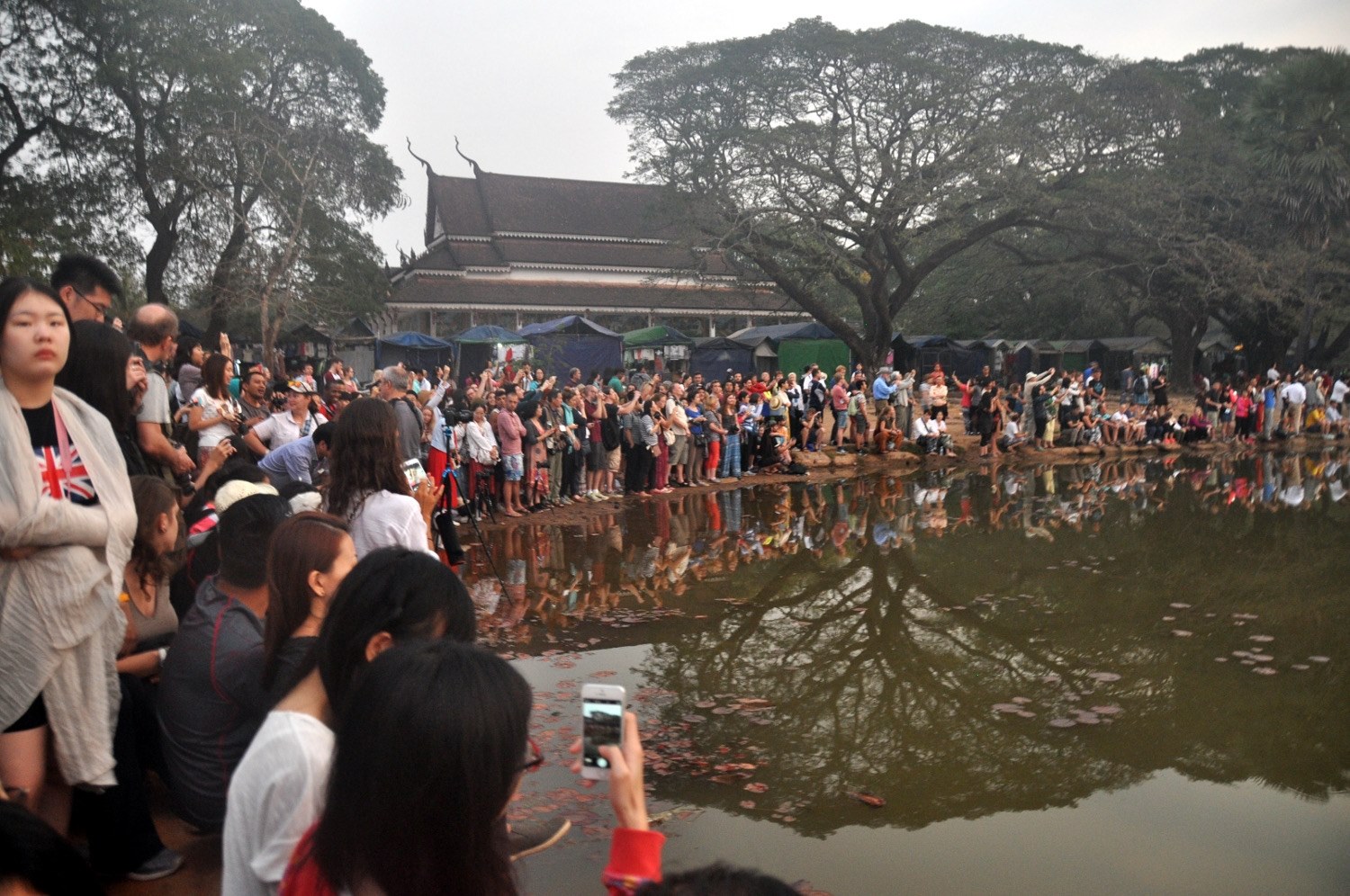 A note on sunrise at Ankor Wat: Let's just say that sunrise at Angkor Wat is one of those tourist attractions that may leave you disappointed. We heard how hectic it can get, but no matter how many people warned us of its chaos, we still felt like we had to go.
I'll say this: if you aren't too bothered to get to Angkor Wat at sunrise, you may be better off skipping it. It can be straight-up annoying to be surrounded by such a massive crowd with selfie sticks and people who know no personal space.
We even saw a fight break out as people were trying to get a prime spot. That said, if you feel the need to go to Angkor Wat at sunrise, GO. We did – no shame. It's a Bucket List item that we didn't want to miss. Just know that those tranquil pictures you see are deceiving. It will be madness. Yes, even if you arrive super-duper early.
Tip: Our best advice is to leave immediately after the sun peeks above the temple (or once you are fed up with everyone around you). Don't go into the temple. I repeat… DO NOT go into Angkor Wat.

Instead, hurry back into your tuk tuk and hustle to the nearby Bayon Temple. If you're lucky you may be one of the only ones there, like we were. Watching the sun continue to rise while amongst these ruins was far more impressive to us than standing in a shoulder-to-shoulder crowd with shutters clicking all around us at Angkor Wat.
Our Reasoning: Angkor Wat will always be packed with people no matter what time of day you go. Leave early to get ahead of the hundreds of people doing the same route you are. That way you will be ahead of the pack and exploring empty temples all day.
Angkor Wat Inner Loop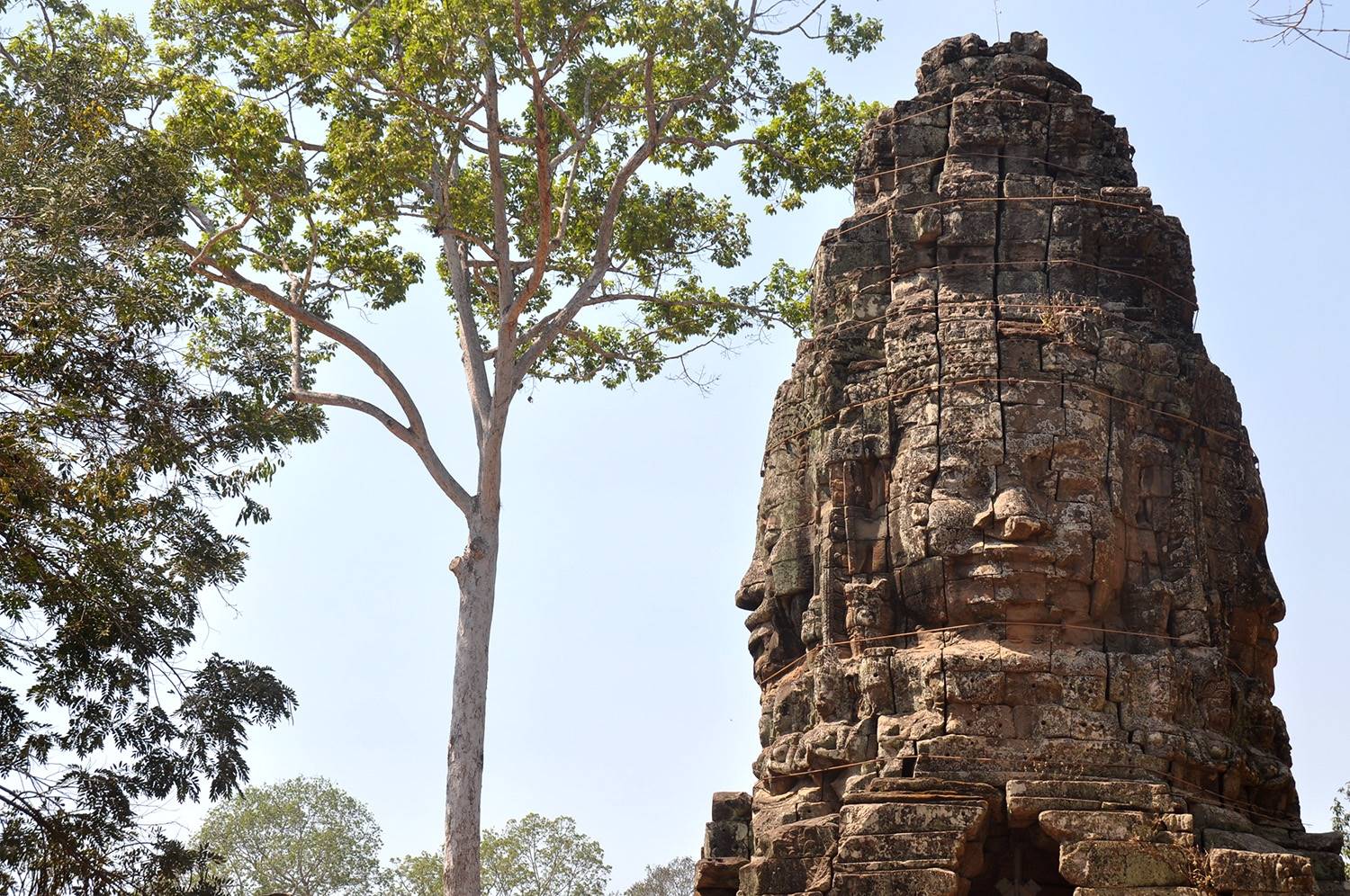 Bayon Temple is one of our favorites. There are hundreds of cheeky smiling Buddha faces built into the temple, and because you're there early, the sun will slowly creep down brightening each face one by one.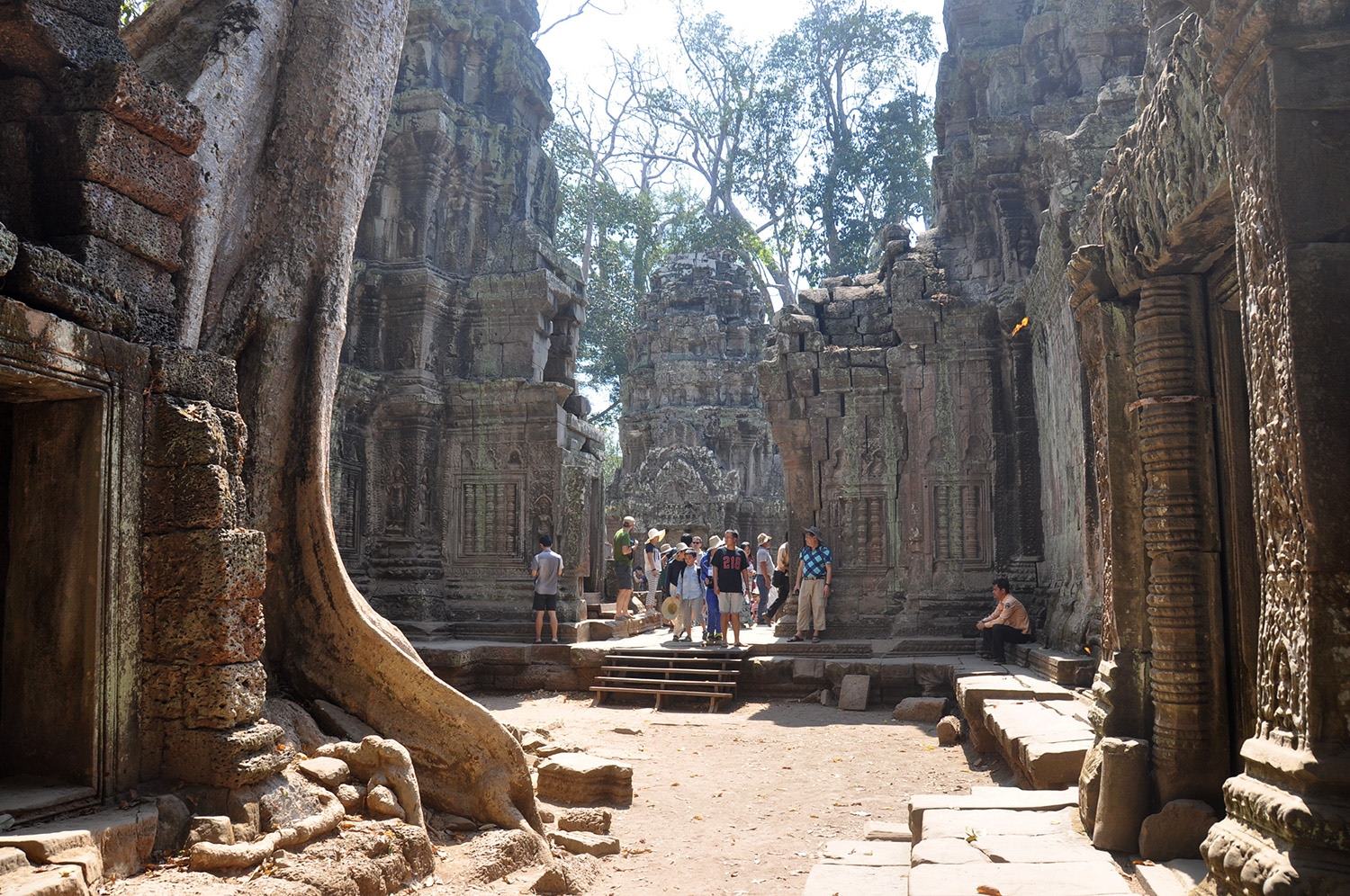 Continue on the inner loop, staying ahead of the tour buses. One of the more well known temples is Ta Phrom Temple. Commonly called the "Tomb Raider" temple, this one is especially crowded.
Nature has reclaimed this temple with enormous teak wood trees towering over walls and fallen bricks. Cool, for sure, but maddeningly crowded.
It's amazing to see how nature can take over a places after centuries of time. We got similar feelings when we visited the Guatemalan temples in Tikal.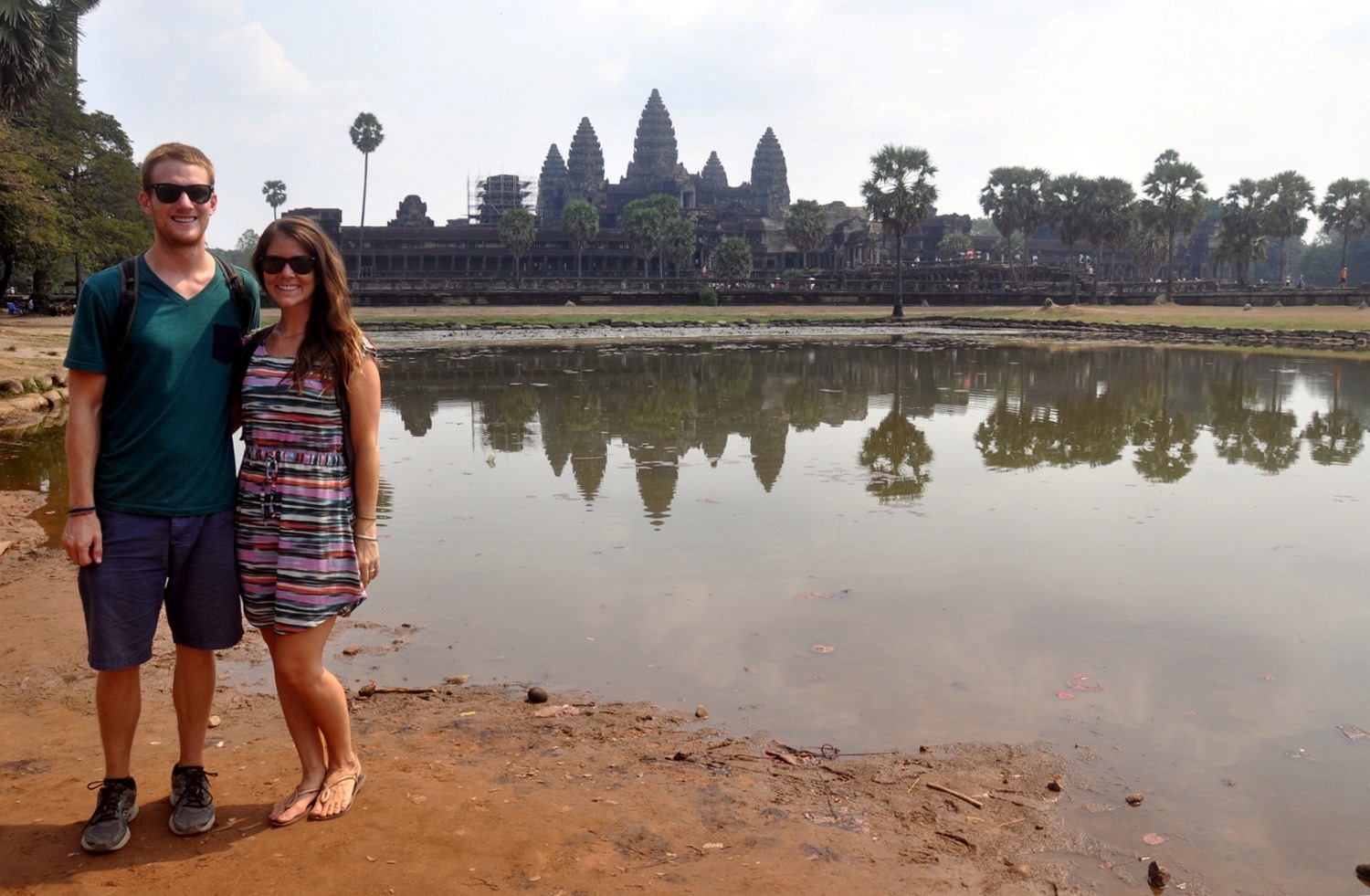 Finish your inner loop by seeing Ankgor Wat last. Explore the preserved bas-relief on each of the outer walls. If you have time, head up to the third level for an incredible panoramic view of the temple and surrounding areas. However, be prepared for up to a 45-minute wait in the scorching sun as there is only limited space.
Once you had enough temples for the day (trust us, you'll get to that point), head back to your hotel and take a much-needed nap. Then it's time to hit the town. There are plenty of restaurants to choose from in Siem Reap, but we would recommend trying out a few that are giving back to the local communities.
After dinner, head to Pub Street to check out the nightlife. This is one of those areas you'll either love or hate. It's packed with drunken foreigners and souvenirs – so if that's what you're after, you'll love it. And even if you hate it, you can't dispute the fantastic people-watching.
Be sure to see the free Ansana dance at Temple Bar. The show starts a little after 7 p.m., but get there around 6:30 p.m. to get a good table. Their jugs of beer are decently priced and the cocktails are fun.
Day 13: Outer Loop and Landmine Museum
Get picked up by your tuk tuk driver at a much more reasonable hour (8 a.m. or 9 a.m.) and head off toward Bantari Suray. A fair price for you and the tuk tuk driver for the outer loop including Bantari Suray is between $35 and $45 USD. (Prices Updated August 2018)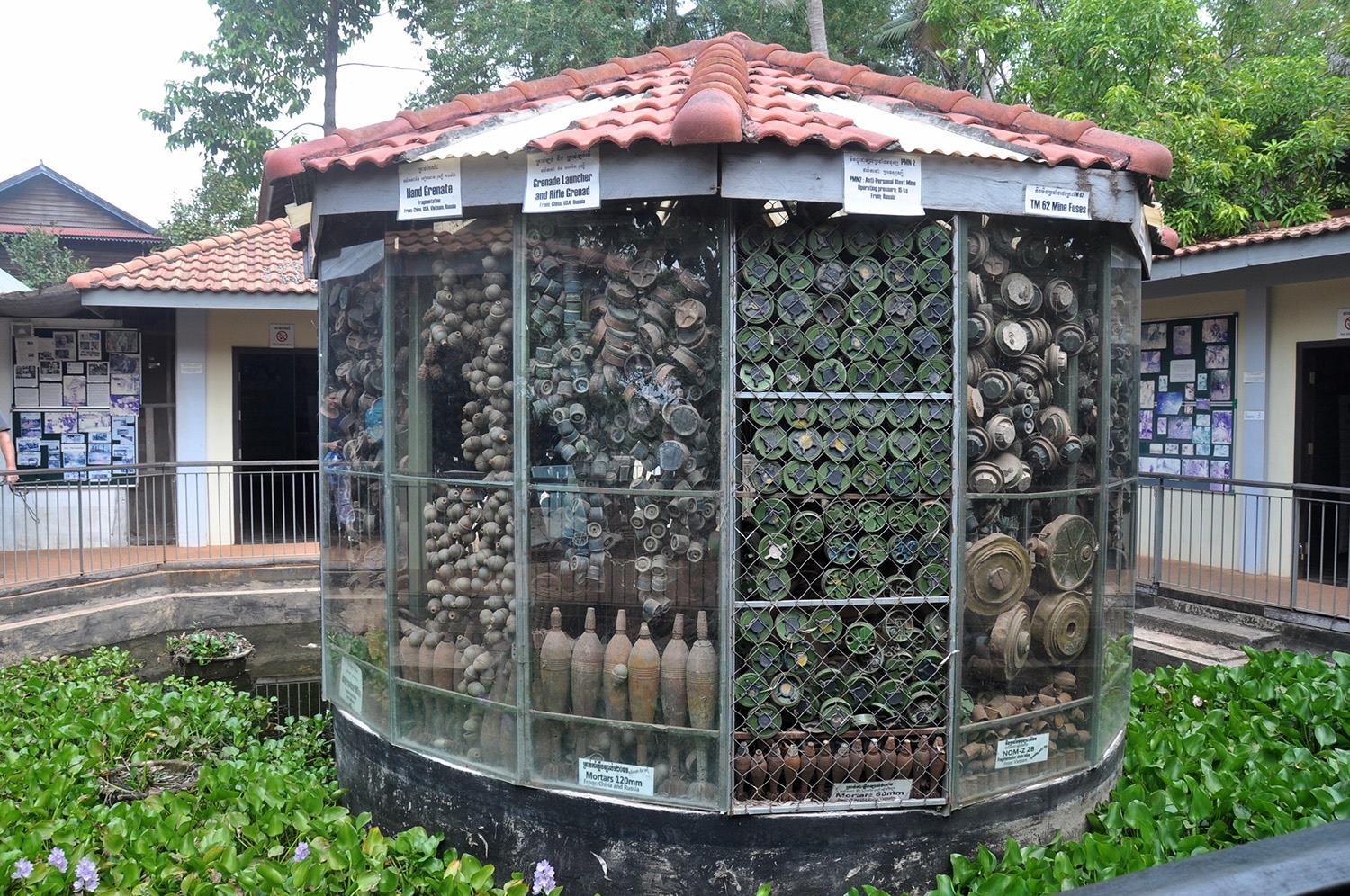 Landmine Museum
On the way, you should spend about an hour at the Landmine Museum. Aki Ra, a former Khmer Rouge child solider, has been removing landmines and other unexploded bombs for years, some of which he was forced to plant himself.
The museum tells the story of Aki Ra and the horrible things the Khmer Rouge did. He has removed more than 50,000 mines throughout Cambodia, and continues to bring awareness to the tragic issue. Read more on this place and other ethical companies in Cambodia here.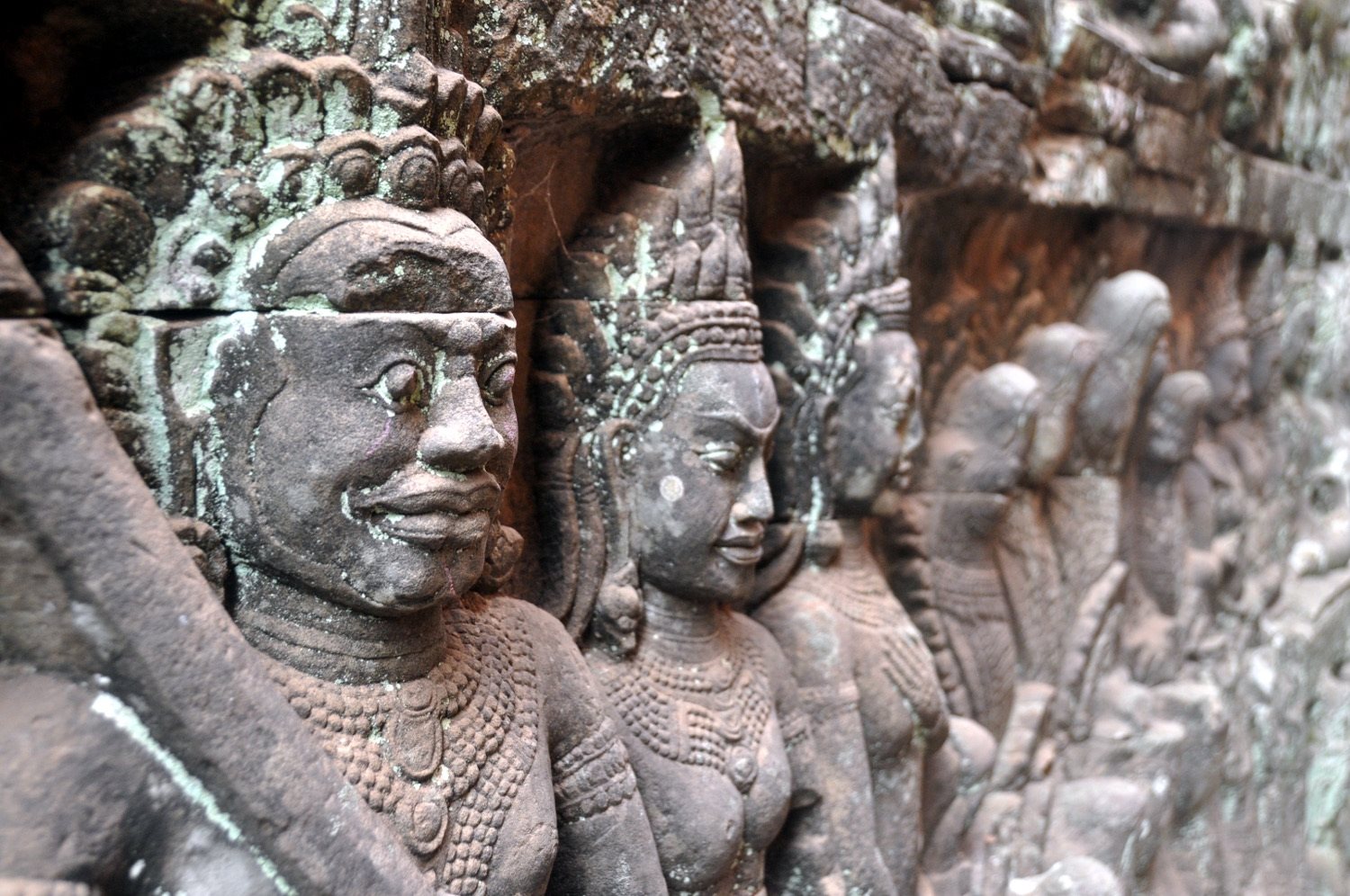 Angkor Wat Outer Loop
Head north to Bantari Suray next. This temple is not the biggest in the park, but what it lacks in size, it makes up in detail. Bantari Suray temple is covered with intricate biased reliefs, which led to its nickname "the woman temple" because it was thought that only women could create such ornate designs.
Continue on the outer loop, stopping at Ta Som Temple which is similar to Ta Phrom and has an incredible tree over taking a doorway on the backside. Also see Neak Pean which you have to take a bridge to get to.
But one of our favorites for the day was Phnom Khan Temple. This labyrinth of sandstone could take you days to explore and was actually where King Jayavarman VII lived while he was building Angkor Thom. Make your way near the east side of the temple for giant trees soaring over the ancient temple walls.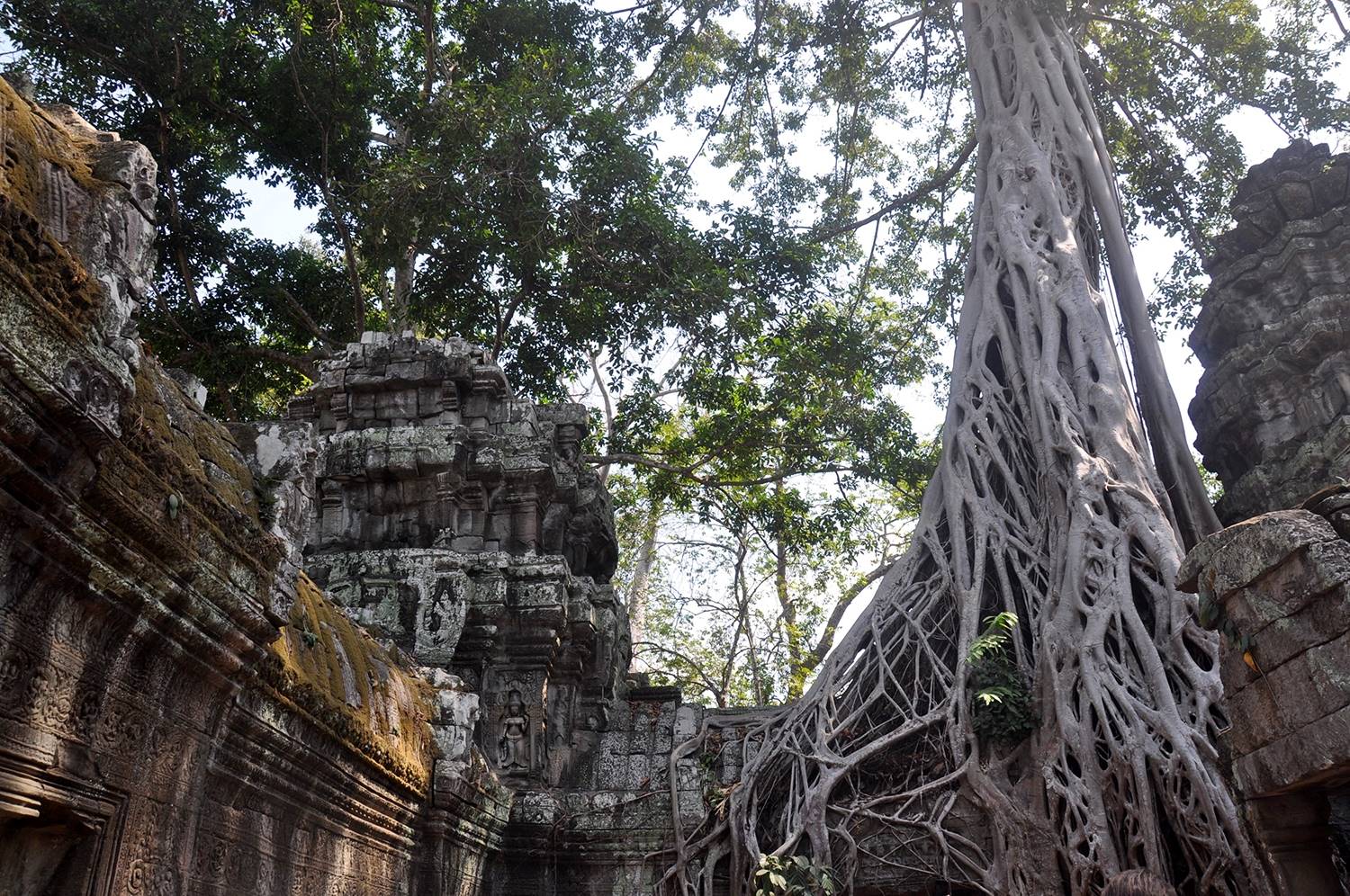 Many people make their way to Phnom Bakheng hill to watch the sunset, and when I say many, I mean everyone in the park! It's so outrageously crowded it is basically unbearable, and only 300 people can go up to the top of the temple.
From then it is one in, one out. And to be honest the sunset view is decent at best, there is nothing in the foreground to make it special.
Instead, we'd recommend staying at Phnom Khan or going to Bayon Temple and watch the sunlight fade over the temple walls. The lighting will make some incredible pictures and there will be no one there to spoil them. 
On this night, skip the overcrowded tourist Pub Street and head to Khmer Pub Street for a more cultural experience. Oh and did I say that the pitchers are only $1.75! (Compare that to tourist Pub Street where pints are about twice as much!)
The music will have to grow on you but befriend the locals who are always happy to talk to foreigners, order some cheap food and enjoy your last night in Cambodia.
Day 14: Blind massage & Saying Goodbye to Cambodia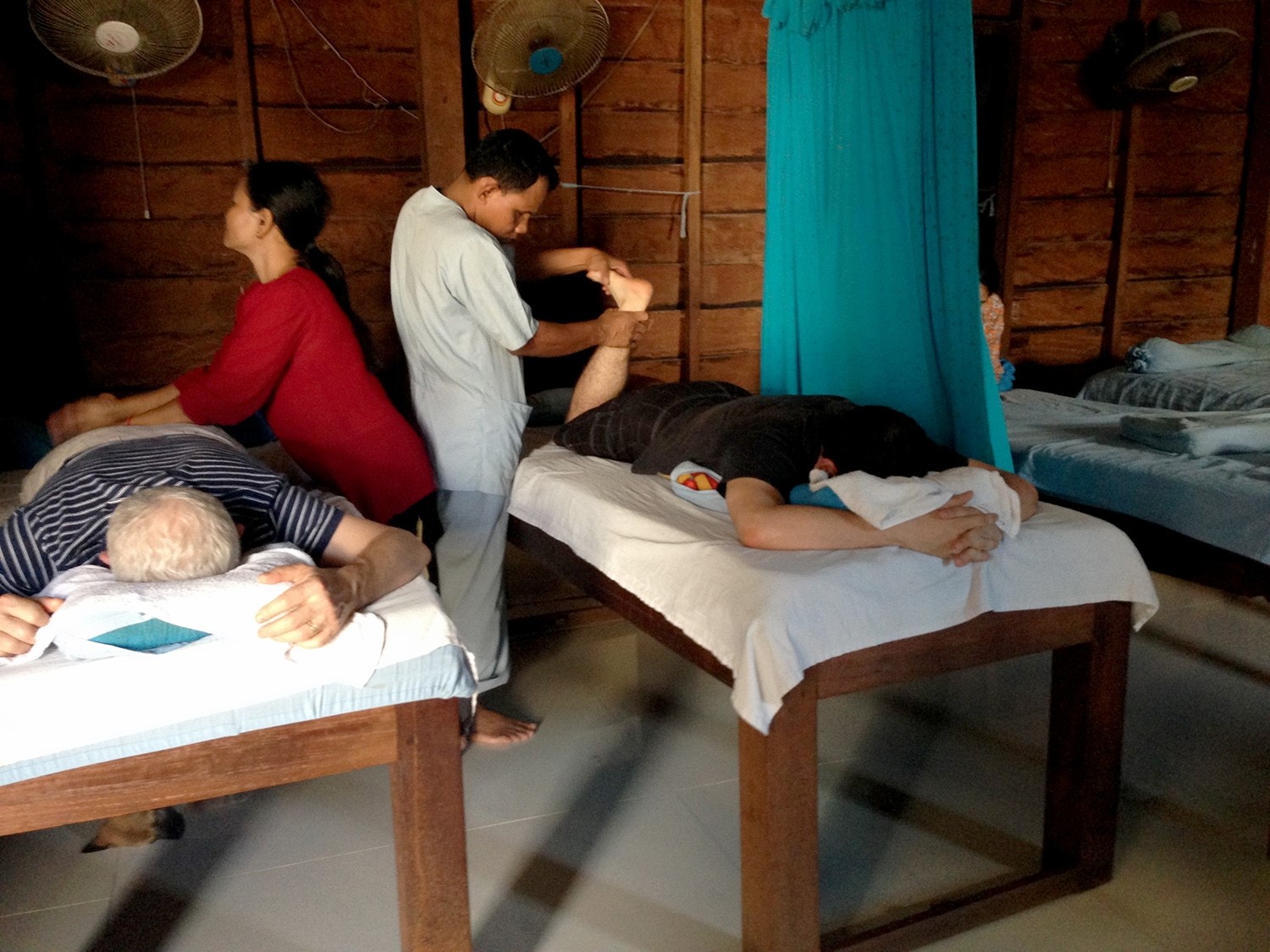 Just before your flight out, support the local community and try out a blind massage. Seeing Hands is a chain massage company throughout Southeast Asia that employs blind masseuses that would otherwise not be able to support themselves.
We've had a few good massages while in SE Asia, especially Thai massages, and we really wanted to like this one, but to be totally honest, it was't the best. There was more poking than massaging, but we still recommend it for the experience and the cause it supports.
Read about our other favorite socially responsible companies throughout Siem Reap and Cambodia. Try one of these restaurants before you head out of town.
---
Alterations to this 2-Week Cambodia Itinerary
Is your trip to Cambodia more than 2 weeks? Or do you have a shorter amount of time? We've got some ideas of places to add or cut depending on how much time you have to travel in Cambodia.
If you have more than 2 weeks in Cambodia:
There's many more places that are seriously off the tourist path that we've heard great things about. Keep in mind that transportation can take longer than you may expect, and getting to some of these places will not be a simple feat.
Battambang – At dusk everyday, millions of bats fly out of the caves all in a line and spread out into the fields. It's a spectical that take hours to complete and should not be missed if you have an extra day!
Koh Tonsay "Rabbit Island" – Just 25 minutes by boat from Kep, this chill out island is all about relaxing and catching some Vitamin D. 
If you have less than 2 weeks in Cambodia:
You might want to choose between Koh Rong and Koh Rong Samloem and only put one island on your itinerary. If you are not so much of ancient history buff, spend less time exploring the Temples of Angkor in Siem Reap and more time in the Koh Rong.
---
Cambodia will always hold a special place in our hearts
From the beaches, to the temples, the history, the food, and the people, our time spent here was remarkable. Let us know what you liked about Cambodia or what other additions you would make to this itinerary in the comments below.
You might also like…
Planning a trip to Cambodia? Save this post to Pinterest!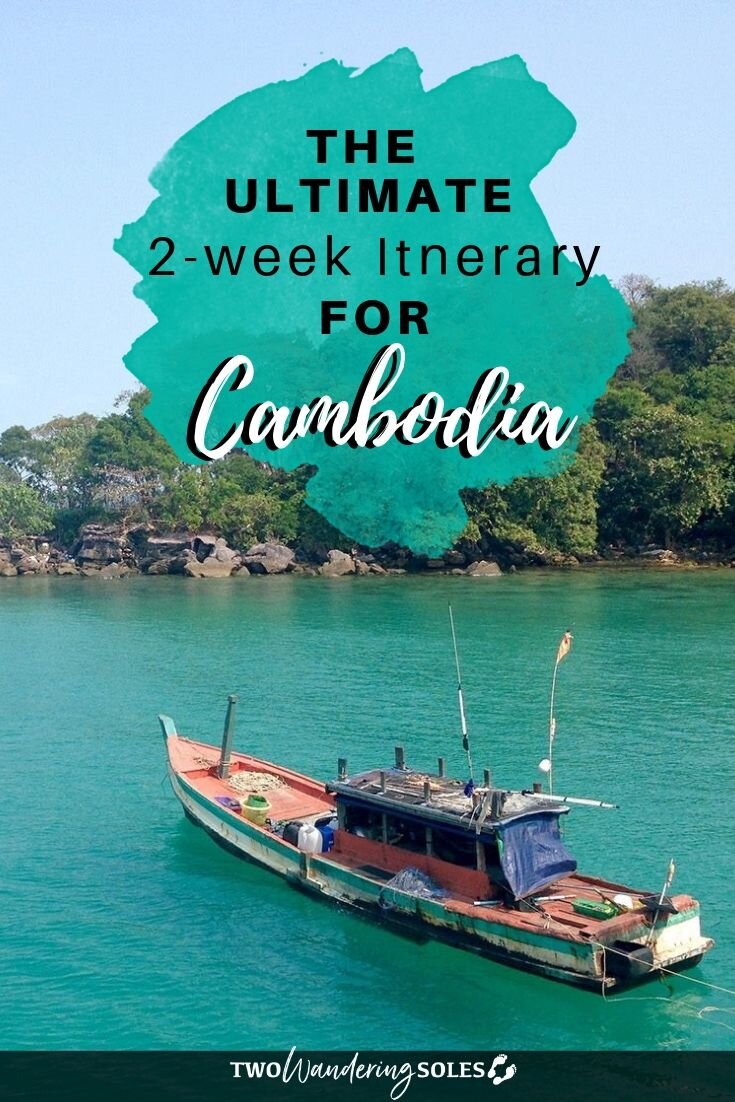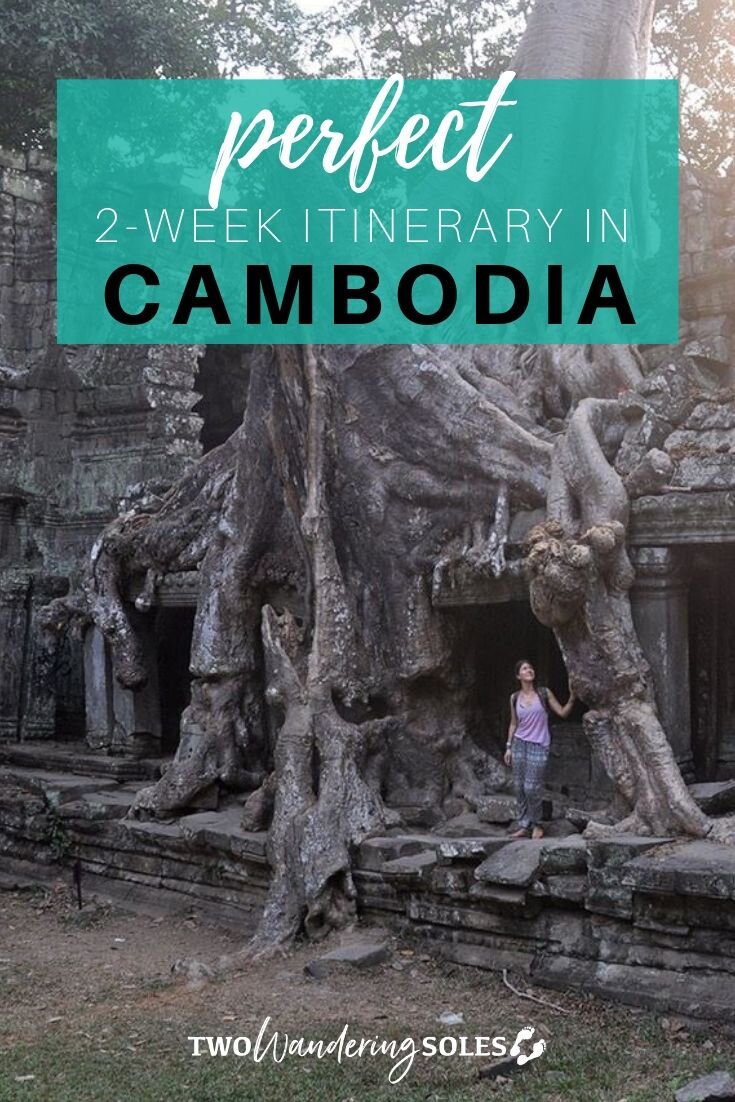 We want to hear from you!
What do you think about this 2 week itinerary in Cambodia? Are you planning a trip to Cambodia soon? Do you have any questions? Comment down below and we'll do our best to get back to you!