With iconic Himalayan peaks (like Everest!), a vibrant culture, friendly people, and endless adventure activities, Nepal is a dream travel destination for many. We've visited this beautiful country 2 times and have put together some important information, personal stories, and handy travel advice in this Nepal travel guide to help you plan an epic trip that you'll be talking about for years to come.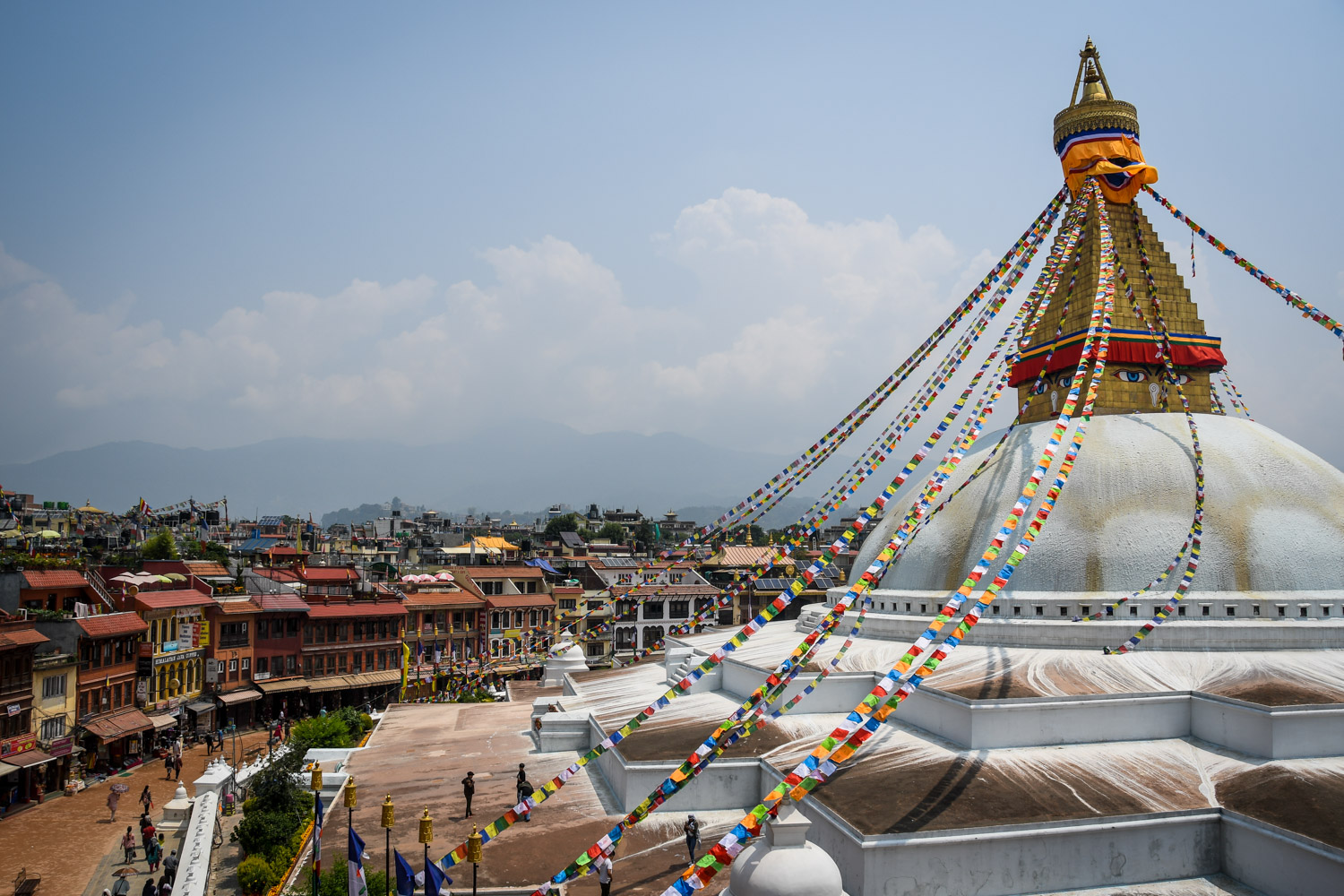 Nepal may be a small country, but there is no shortage of things to do and reasons to fall in love. What this nation lacks in size, it makes up for in adventure, culture, beauty, and warmth.
We're certain that with a bit of planning and preparation, you will fall head over hiking boots for Nepal, just like we did. That's why we've put together this (MAMMOTH) Nepal travel guide packed with everything you need to know to plan the perfect trip to the Himalayas.
We're equipping you with both practical tips — like how much money to budget, what to pack, and what foods to try — as well as some interesting information about the country's diverse culture and history.
We're also sprinkling in our own stories, tips, and favorite things in this super useful travel guide, so you're totally prepared for your own epic trip to Nepal.
Our experience traveling in Nepal…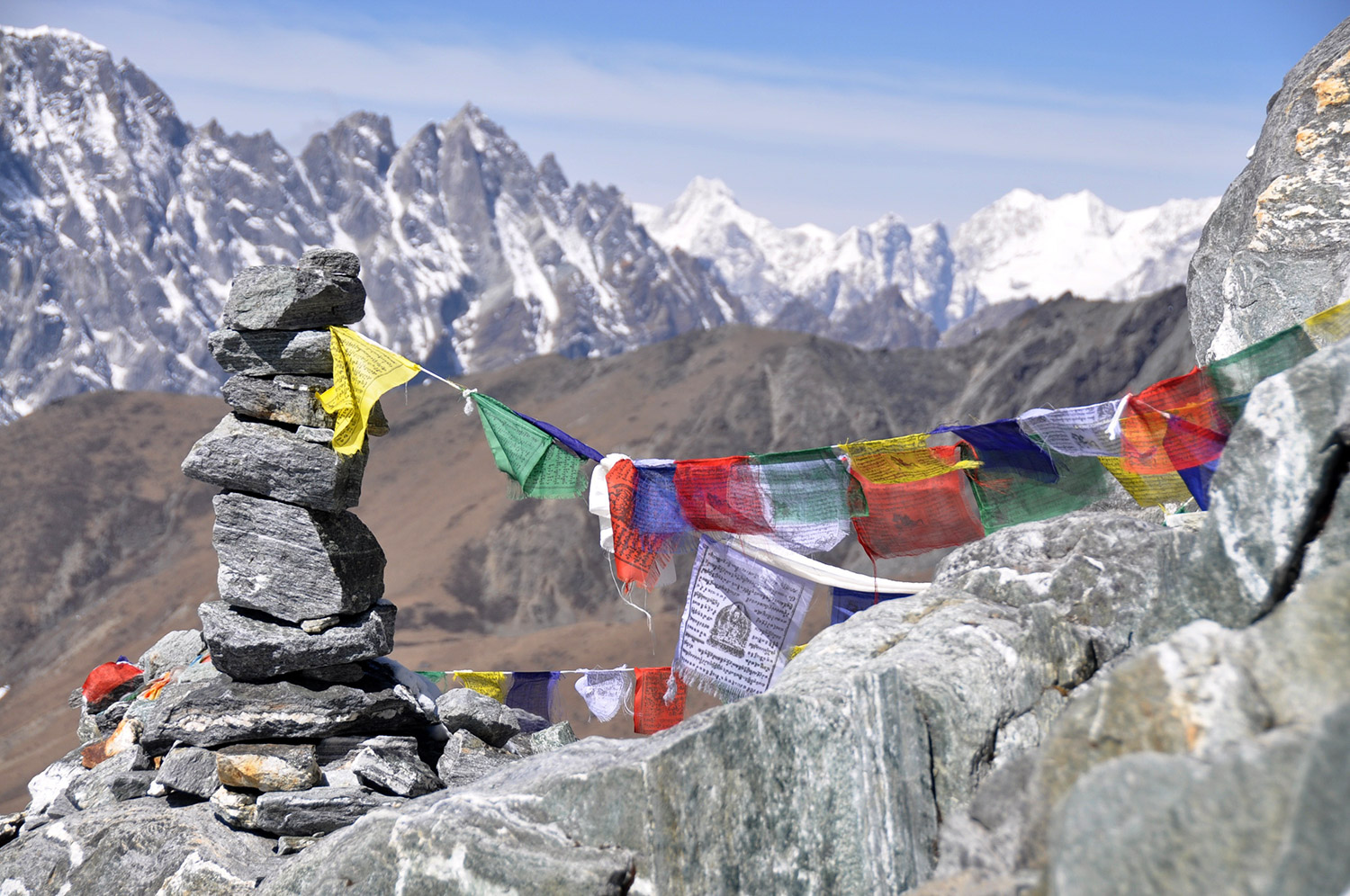 Nepal is a country that has held a spot on our Dream Travel list for many years.
Over drinks at a family wedding, Ben's well-traveled uncle, Ronnie, told us Nepal was his favorite country he'd ever visited. And he had traveled to many, many countries.
That accolade paired with photos of colorful prayer flags set against snowcapped peaks were enough to convince us to spend a whole month in this South Asian country.
During our trip to Nepal, we explored major cities, like Kathmandu and Pokhara; and we visited small, remote villages. We drank beers in Thamel (aka Kathmandu's "backpacker central"!) and spotted wild rhinos in Chitwan National Park — a childhood dream of mine come true! We ate all the momos that could fit in our stomachs and we worked them off by hiking to to Everest Base Camp and the Gokyo Lakes on an epic 17-day trek.
Somehow Nepal lived up to everything we had imagined (we had high expectations!) and even more.
As soon as we left Nepal, we knew we'd be back someday.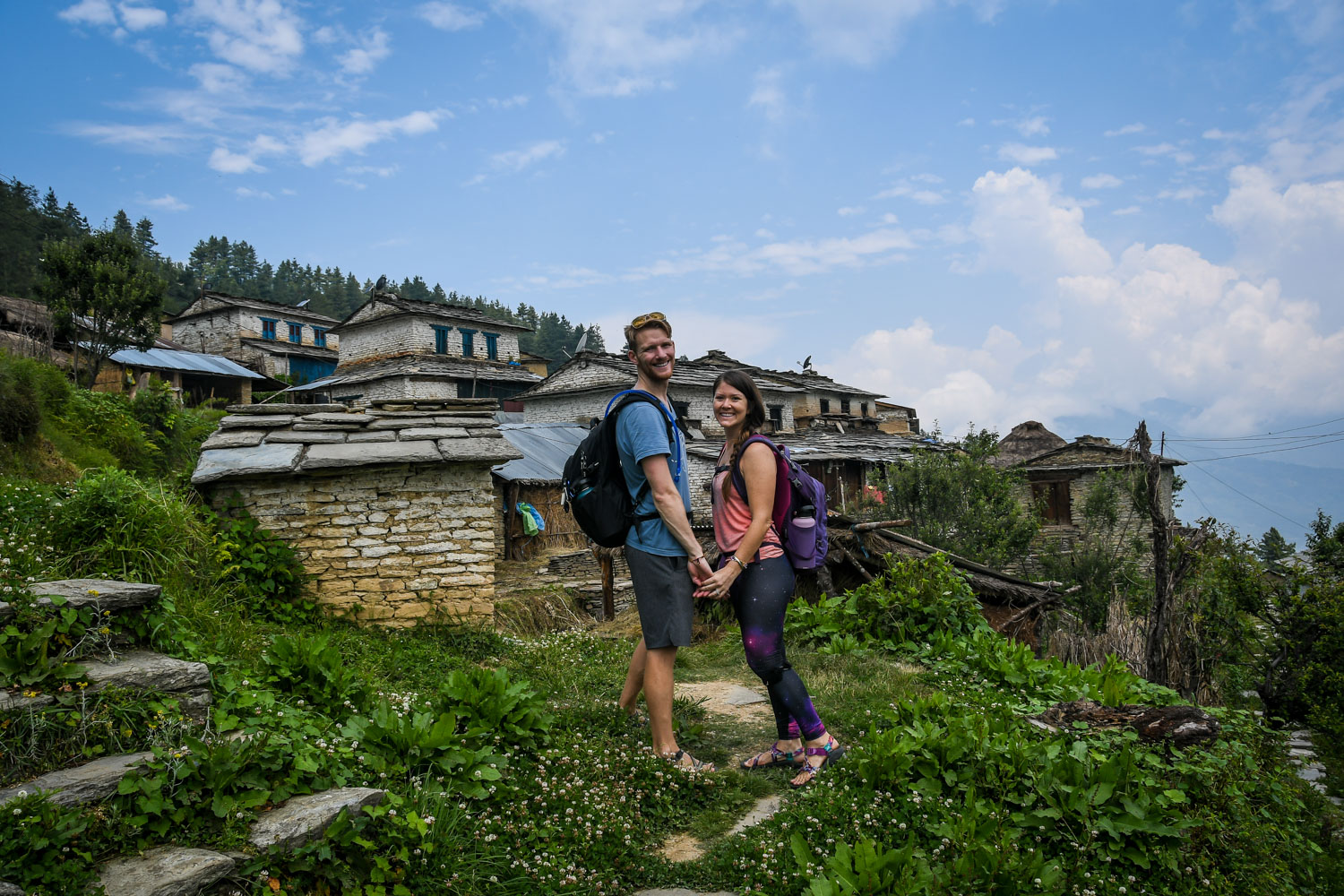 And return, we did! We visited Nepal for the second time in May 2019, this time for a travel conference and a bit of trekking (of course!). And we can say once more, this will not be our last trip! There is just something about Nepal that speaks to us. It is a country that we have fallen for for in many ways: We fell for the landscapes, the trekking, the culture, the people.
In total, we've spent more than 45 days visiting Nepal. And while that's not all that much time in the scheme of things, we have learned a lot from our two visits.
There is a lot we wished we would have know before traveling to Nepal, and so many beautiful things we learned about this country that we want to share with you.
In addition to our own advice and tips, we've called upon friends who have lived in Nepal to share their insight. We also asked an annoying amount of questions to our local guides, all so we can help prepare you with everything you need to know as you start to plan your travels to Nepal!
Related Reading: We've got you covered with a list of the top things to do on your trip to Nepal.
Article Contents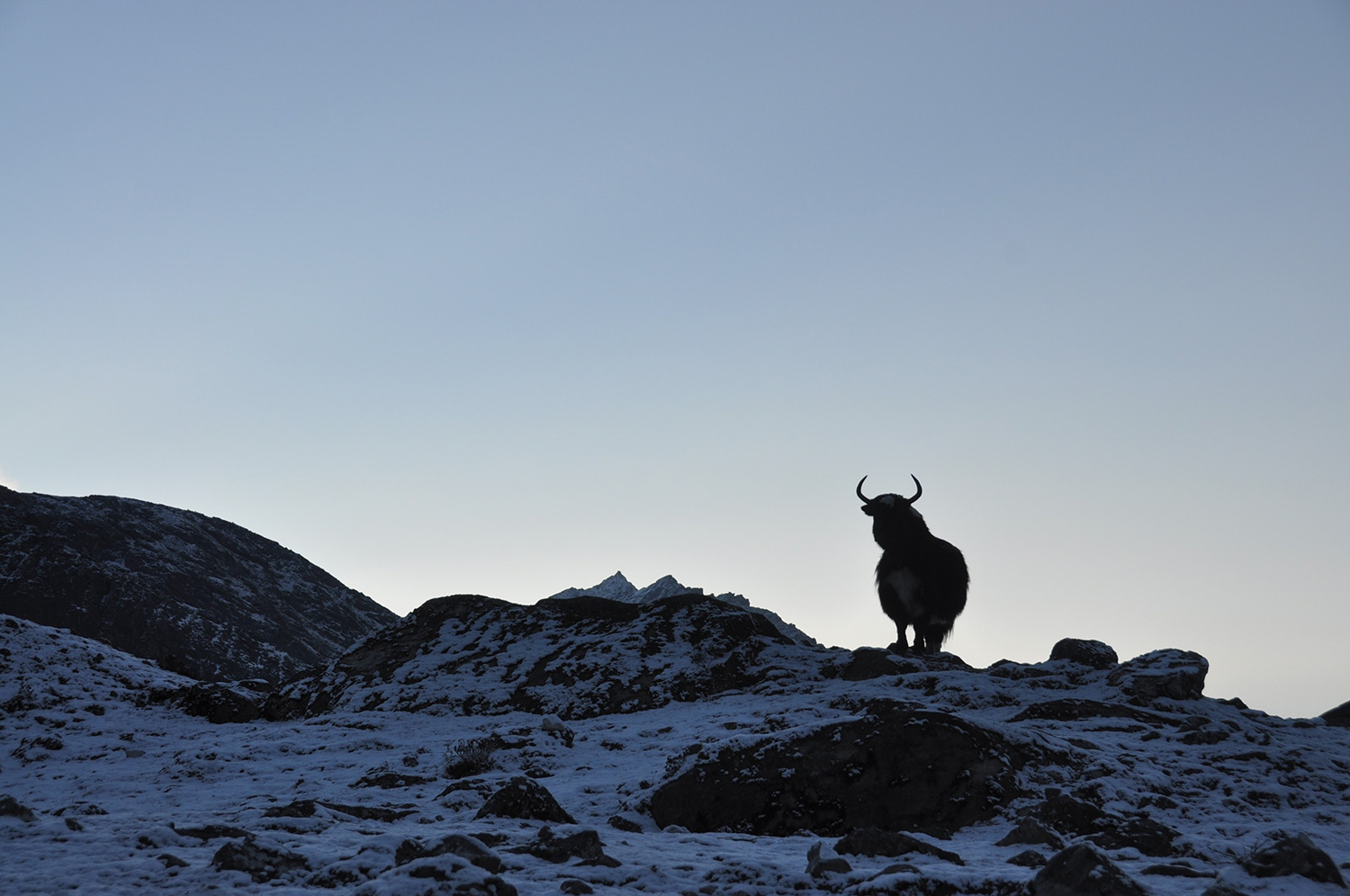 We're going to go over how much money to budget for your trip to Nepal, what types of clothes to pack, and how to get around the country. We're sharing the best Nepalese food to try, and how you can contribute (in a positive way) to local communities during your trip. We're even going over the bathroom situation, sparing no details… And we'll share some photos of yaks. Because they're cool.
Alright, if you can handle some awkward puns and little bit of toilet talk, let's get goin' so you can start planning the trip of a lifetime!
What you'll find in this article:
Disclaimer: Just so we're on the same page… Our first visit to Nepal in 2016 was an independent trip. Our second visit (in May/June 2019) was hosted by the Nepal Tourism Board in conjunction with the 2019 Himalayan Travel Mart. Although we were hosted on this trip, all views and opinions of Nepal in this article are our own.
Affiliates: Also, there are some affiliate links in this guide, which means when you click we get a small percentage of the purchase at no extra cost to you. This allows us to keep sharing great Nepal travel tips with you, so feel free to click away!
Top Places to Visit in Nepal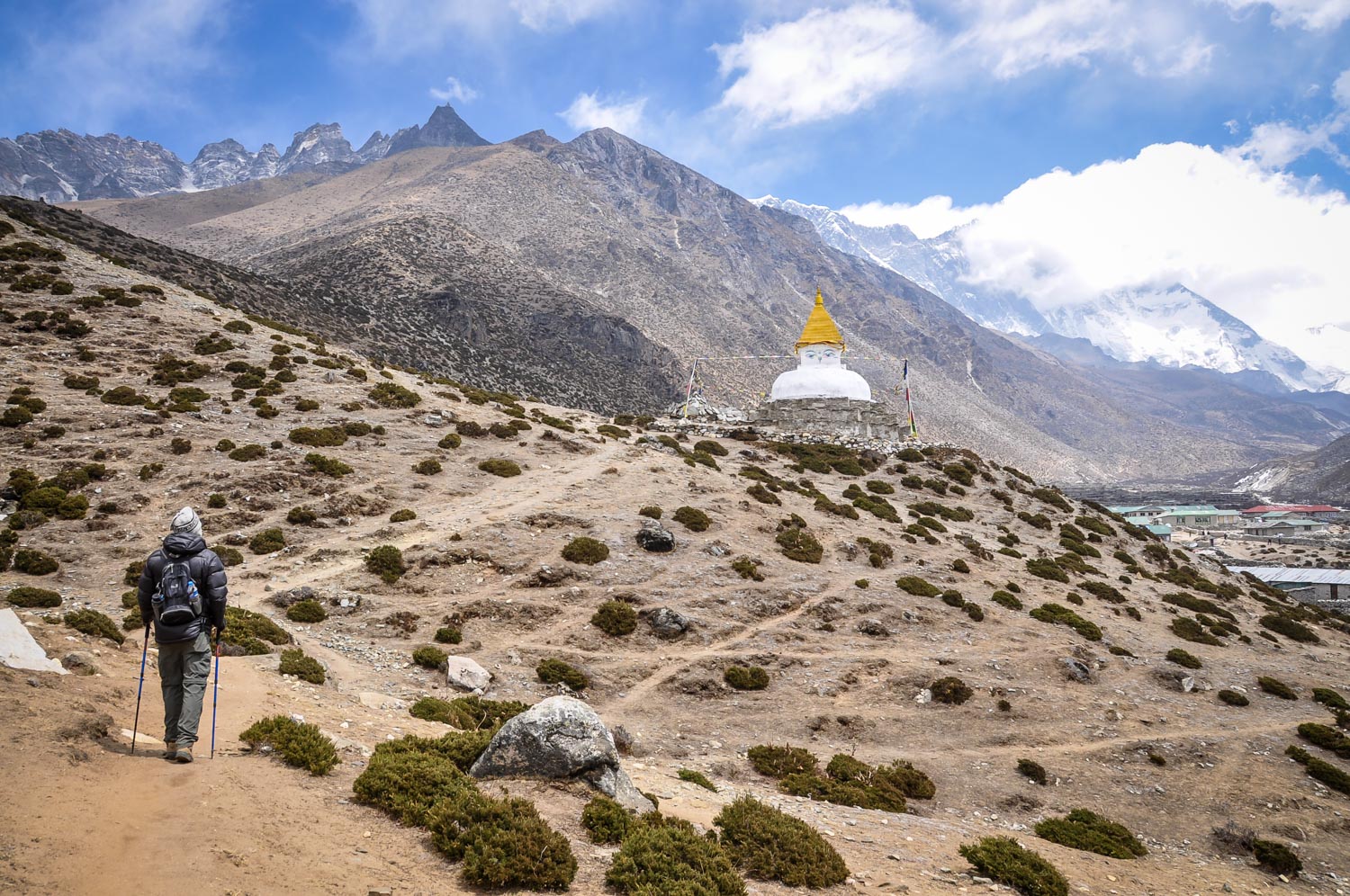 Nepal is a small country.
How small, exactly? Well, if you were to lay it over a map of the United States, it would be utterly dwarfed, as the US is 67 times larger. Texas alone, is 5 times bigger than Nepal.
But don't let its size (or lack thereof) fool you. This country is absolutely packed with beauty and adventure.
Here are some of the most popular places to add to your Nepal Itinerary:
Kathmandu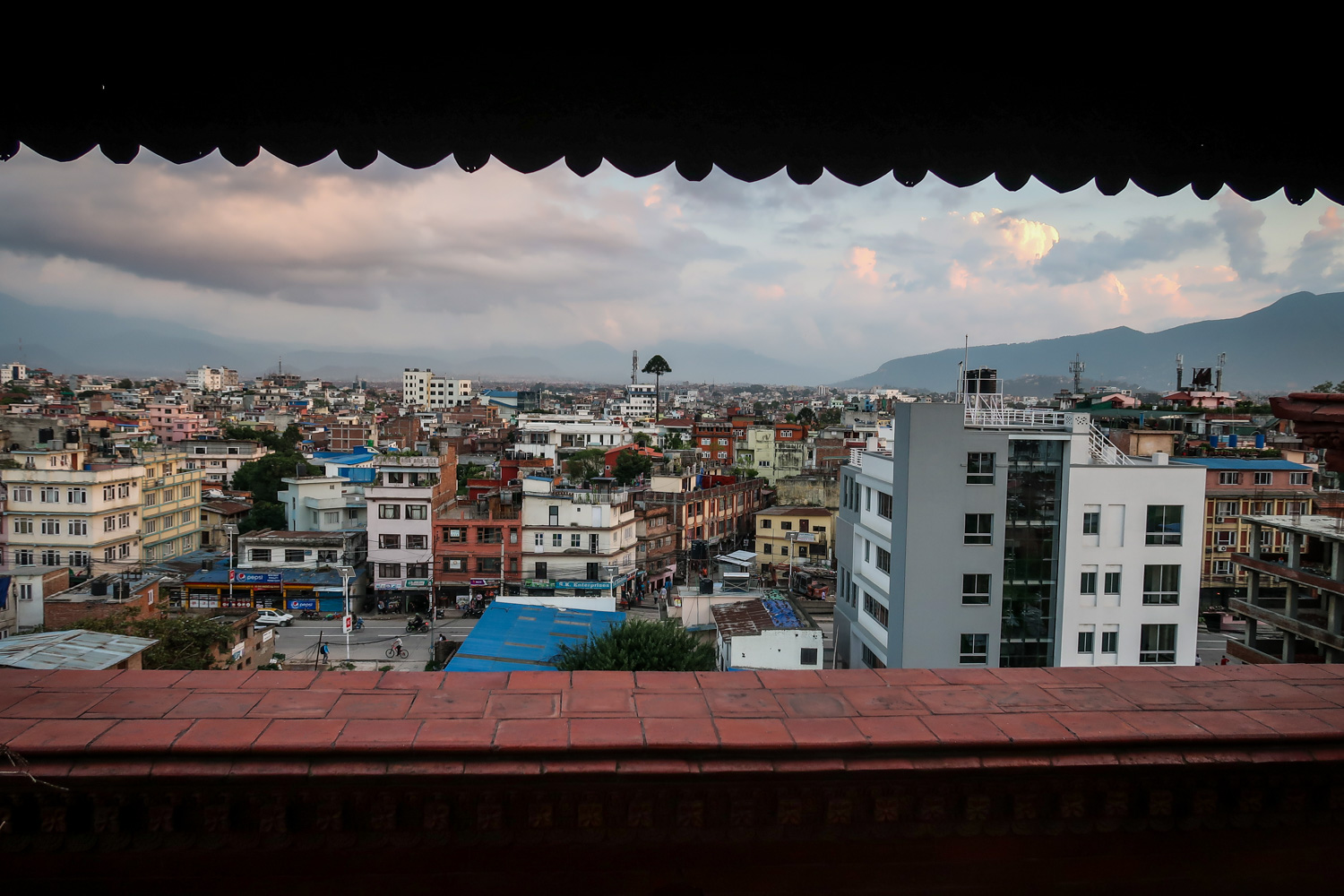 Nepal's capital city and main hubs for all adventures. Polluted and congested with traffic? Yep, it sure it! But this chaotic city is still worth a few days of exploring during your trip to Nepal
Top things to do in Kathmandu:
Learn how to make momos with Social Tours.

Walk (clockwise) around Boudha Stupa, and when you need a break, enjoy a lassi from one of the rooftop cafes.

Take a Breakfast Food Tour with Backstreet Academy, and see all sorts of hidden gems that you'd never discover on your own.

Explore the ancient cities of Patan and Bhaktapur. (While in Bhaktapur, be sure to try their famous curd, called juju dhau. It's super tasty!)

Note, these are both UNESCO World Heritage Sites and they cost a fee to enter.

Drink coffee at cute and sustainably-run shops like Kar.ma Coffee at The Hub.

Visit the Asan Market early in the morning to see local vendors selling their colorful goods in this lively street bazaar!

Enjoy a cocktail with a view! We loved the rooftop at our hotel, Traditional Comfort, but there are others throughout the city as well. Plan your drinks to align with sunset for the best view!
Pokhara
Even though Pokhara is the second largest city in Nepal, it is known for its laid back vibe with which many travelers fall in love. The city is situated on the shore of Phewa Lake, and is surrounded by mountains, making it both charming and beautiful.
Top things to do in Pokhara:
Go paragliding with views of the Himalayas. Pokhara is often referred to as one of the best places in the world to try this adventure sport!

Chill out with a smoothie at Jiva Cafe in a shaded garden.

Hike to the Peace Pagoda on a clear day for views over the city and lake.

Sick of carbs? Enjoy a healthy meal at OR2K, an Israeli-fusion restaurant that serves up tasty salads and healthy international fare. AM/PM is another spot for a healthy meal.

Rent a boat and paddle to the island you can see from shore to visit the 2-story pagoda, Tal Barahi Temple.

Watch a film under the stars at the open-air theater called Movie Garden. Showings start at 7pm each evening, and they play a variety of new and old movies. Check out their Facebook page to see the up-to-date schedule.

Good to know: Half the seats are covered, so it's a good way to spend the night even if it's raining.

Go up to Sarangkot for sunrise (on a clear day).

Wanna get your party on? Pokhara has a thriving nightlife scene if that's your thing!

Go souvenir shopping! Pokhara is a more laid back place to shop than in Kathmandu, and it's the best place to buy cashmere!
Chitwan National Park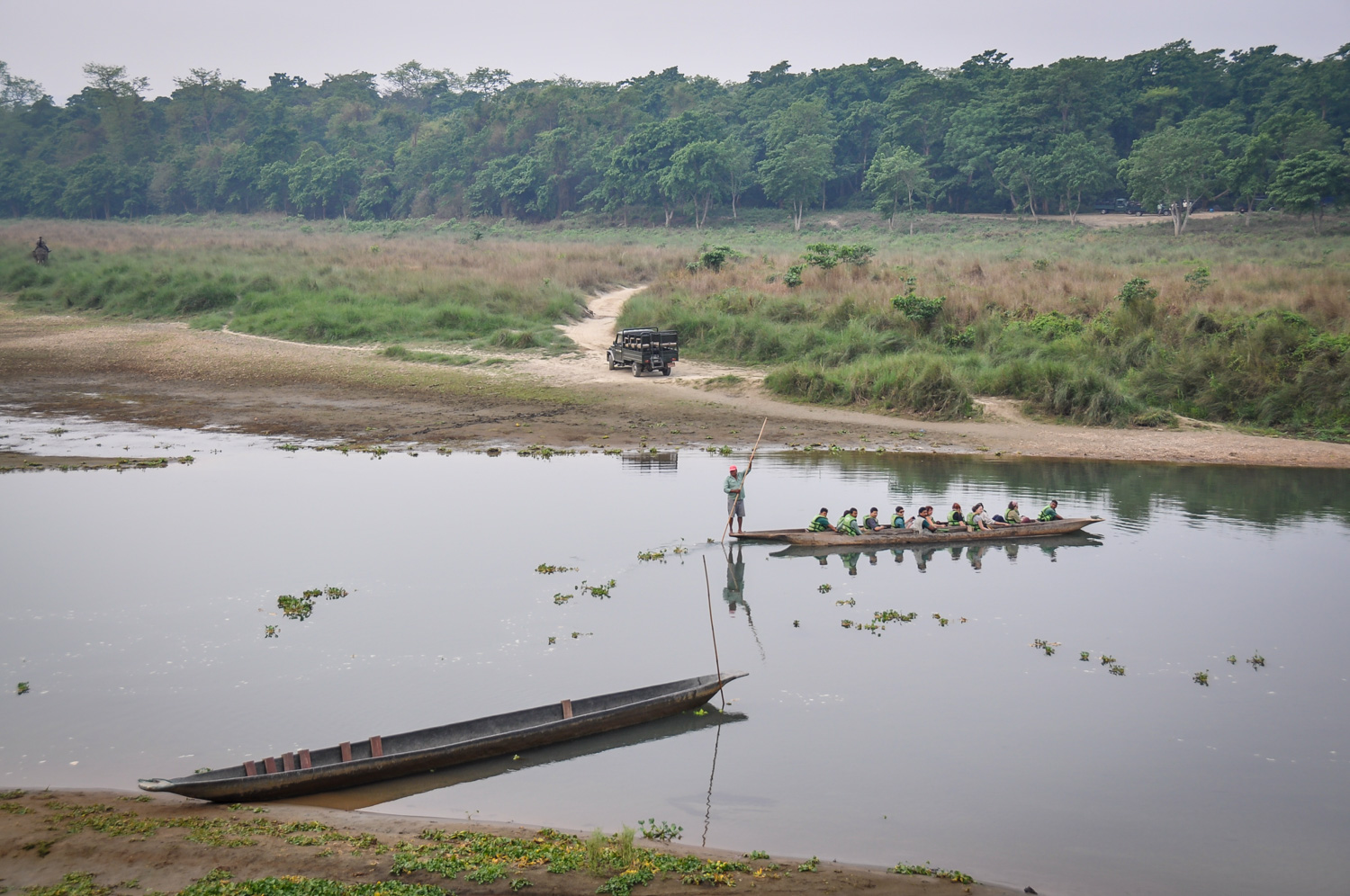 Known for rare animals, like one-horned rhinos, wild elephants, Bengal tigers, as well as a variety of bird species, Chitwan National Park is a worthwhile stop for anyone interested in wildlife and conservation. Situated in the Terai Lowlands of of south-central Nepal, this is a popular spot for travelers to take wildlife viewing safaris and experience a region that is vastly different than the mountainous parts of Nepal.
Lumbini
The birthplace of Buddha, this is a popular pilgrimage spot for Buddhists and those interested in spiritual destinations. You'll find a complex of stupas, temples, and monasteries to explore, as well as the sacred Bodhi Tree that is a symbol of where Buddha attained enlightenment.
Everest Region (Khumbu Region)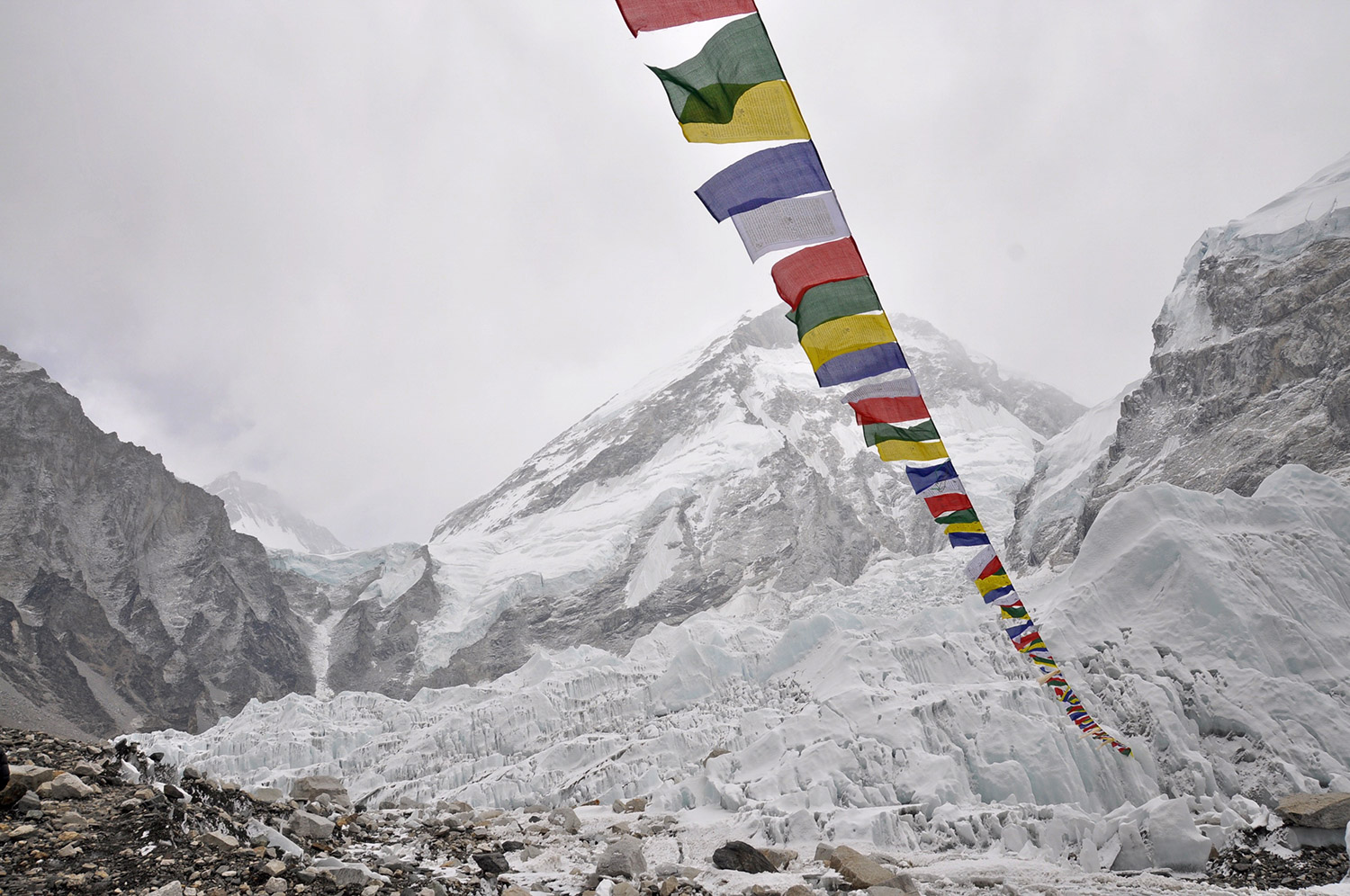 The Himalayas are arguably Nepal's most famous landmark, so it's natural that many travelers want to get up close and personal during their time in Nepal.
Unless you want a multi-week hike, the fastest way to enter this region (known as Sagarmatha National Park) is by a short, but notoriously turbulent flight to the small town of Lukla, which sits at 2,860 meters (8,383 feet). Be sure to look out the window during the flight (if your stomach can handle it) because you'll be met with epic views of the Himalayas.
If you plan to hike to Everest Base Camp, you'll be rewarded with picturesque views, quaint villages, mountain monasteries, and lovely people. But be prepared for crowds, as this is a popular trekking route.
Our advice: If you have the time (and energy!), add a few days and cross Cho La Pass to the Gokyo Lakes. This lesser-trekked area will surely be a highlight of your time in this region.
Want to trek to EBC? If trekking to Everest Base Camp is a dream of yours, we have you covered with all you need to know about planning your bucket list journey: from what to pack, to the best itinerary, and even how much it costs, we have it all! We even filmed some (hilarious!) video diaries from the trek. Check out our EBC trekking guide for more info!

Annapurna Region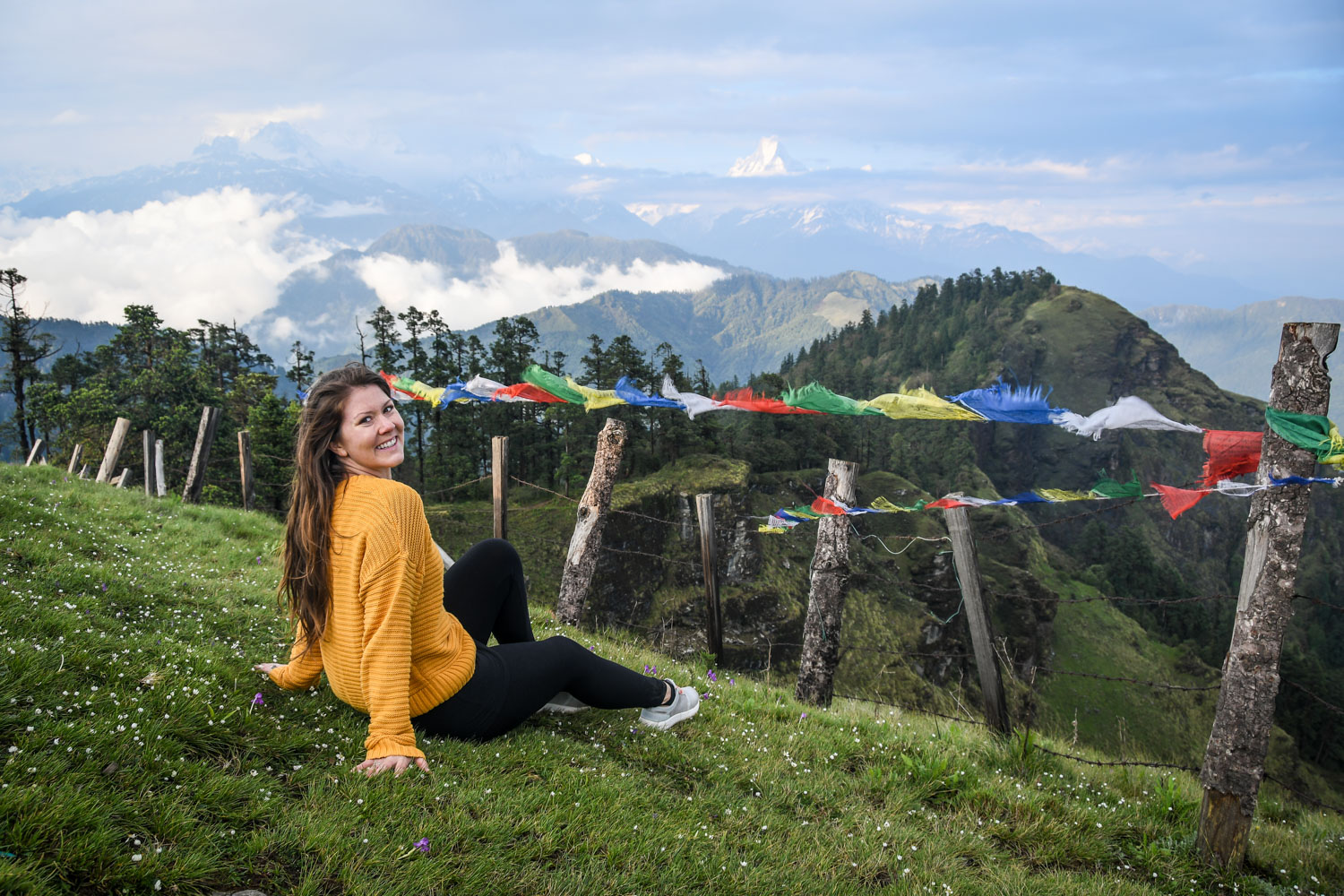 The second most famous region for trekking in Nepal is the Annapurna Region. There are a variety of treks in varying levels of difficulty. From the short and accessible Poon Hill Trek, to the more challenging Annapurna Base Camp (ABC) Trek, there is a little something for every type of hiker in this region of Nepal.
Wanna get off the beaten path in Nepal?
If you want to add a couple lesser-known places to your Nepal itinerary, here are some ideas to get you started. Just know that some of them can be a bitdifficult (or time consuming) to get to. There are plenty more towns and regions of Nepal to explore, but this should at least give you a start.
Nagarkot: this hill station is just 32 kilometers from Kathmandu, yet it feels a world away. Spend the night and be rewarded with a beautiful sunrise.

Bandipur: Situated between Kathmandu and Pokhara, you can break up your trip between the two with a stop at this beautiful town that boats traditional Newari houses. Spend the night in a homestay and explore Siddha Gufa, the largest cave in Nepal.

Tansen: Located in the Palpa district, this charming hill station is a perfect place to get off the tourist path and try a homestay.

Trekking areas that are less crowded: Langtang Valley Trek, Mohare Danda Trek, Dolpo region, Upper and Lower Mustang regions


Things to Do in Nepal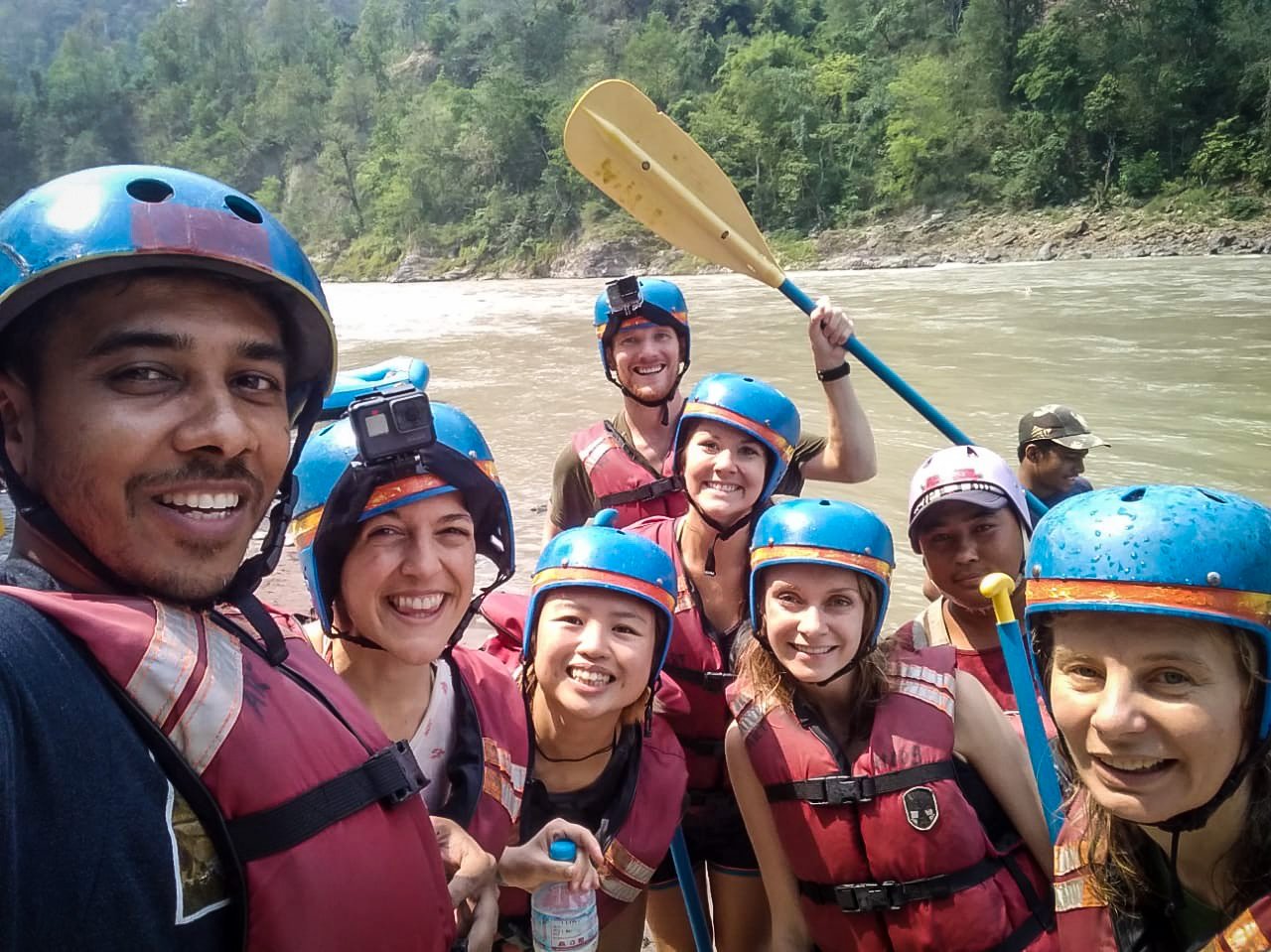 Whether you are looking for a heart-thumping trek, a spiritual transformation, or a glimpse into the culture of Himalayan people, you'll find plenty of reasons to love Nepal.
We've put together a more detailed list of some of the best things to do in Nepal, but here are a handful of experiences to put on your Bucket List:
Trekking in the Himalayas

Whitewater Rafting

Paragliding in Pokhara

Spot Wild Rhinos in Chitwan National Park

Visit Kathmandu's UNESCO World Heritage Sites

Spend the night in a Homestay

Take a Cooking Class
Best Time to Visit Nepal
While it's possible to visit Nepal year-round and have a great time, the weather can influence what you're able to do. (Especially if you plan to add trekking to your Nepal itinerary!)
Weather in Nepal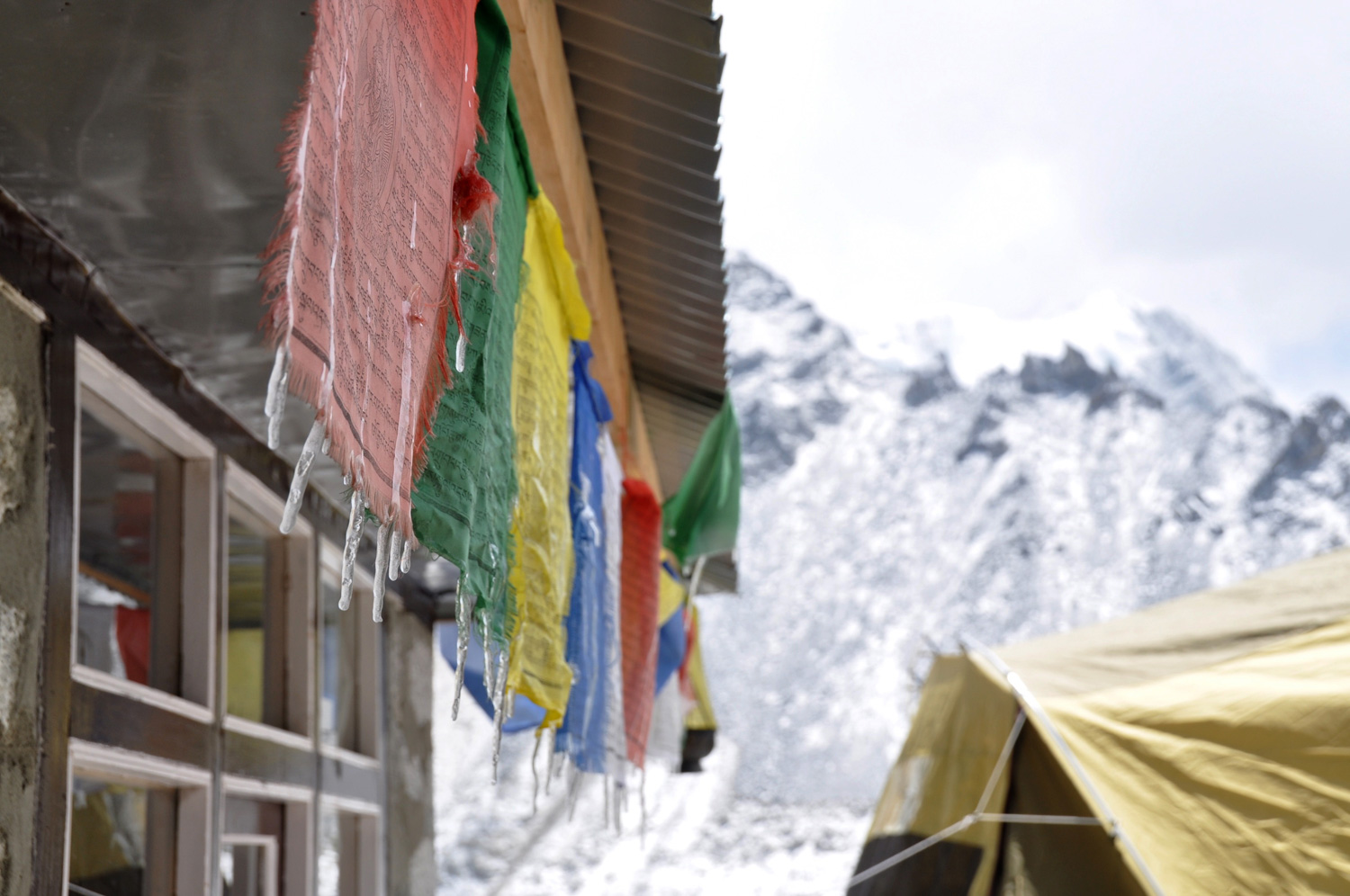 With 4 distinct seasons, you'll definitely want to be prepared for what type of weather to expect in Nepal.
Winter: December – February | Snow at high elevations means some mountain passes are closed to trekkers. But Kathmandu rarely experiences snow, so if you plan to stay at lower elevations, this may be a fine time to visit.

Spring: March – May | Clear skies and rhododendrons in bloom make this time of year popular for trekkers.

Monsoon: June – August | Daily rains and cloudy skies paired with leeches on many trails make the monsoon season unpleasant for trekking.

Autumn: September – November | This is the season with the clearest skies and consistently great weather.
Best Weather for Trekking in Nepal:
If you're planning to trek during your time in Nepal (if you like hiking, you DEFINITELY SHOULD!), aim to visit Nepal during autumn or spring. Winter can bring uncomfortably cold temps in the mountains and some passes can be closed due to snow. And monsoon season means daily rain and leeches!
In general, you will have the most comfortable temperatures and the clearest skies from September – November and March – May. However, since the weather is best during these times, expect treks (and other touristy places) to be busier than during other times of the year.
Major Festivals in Nepal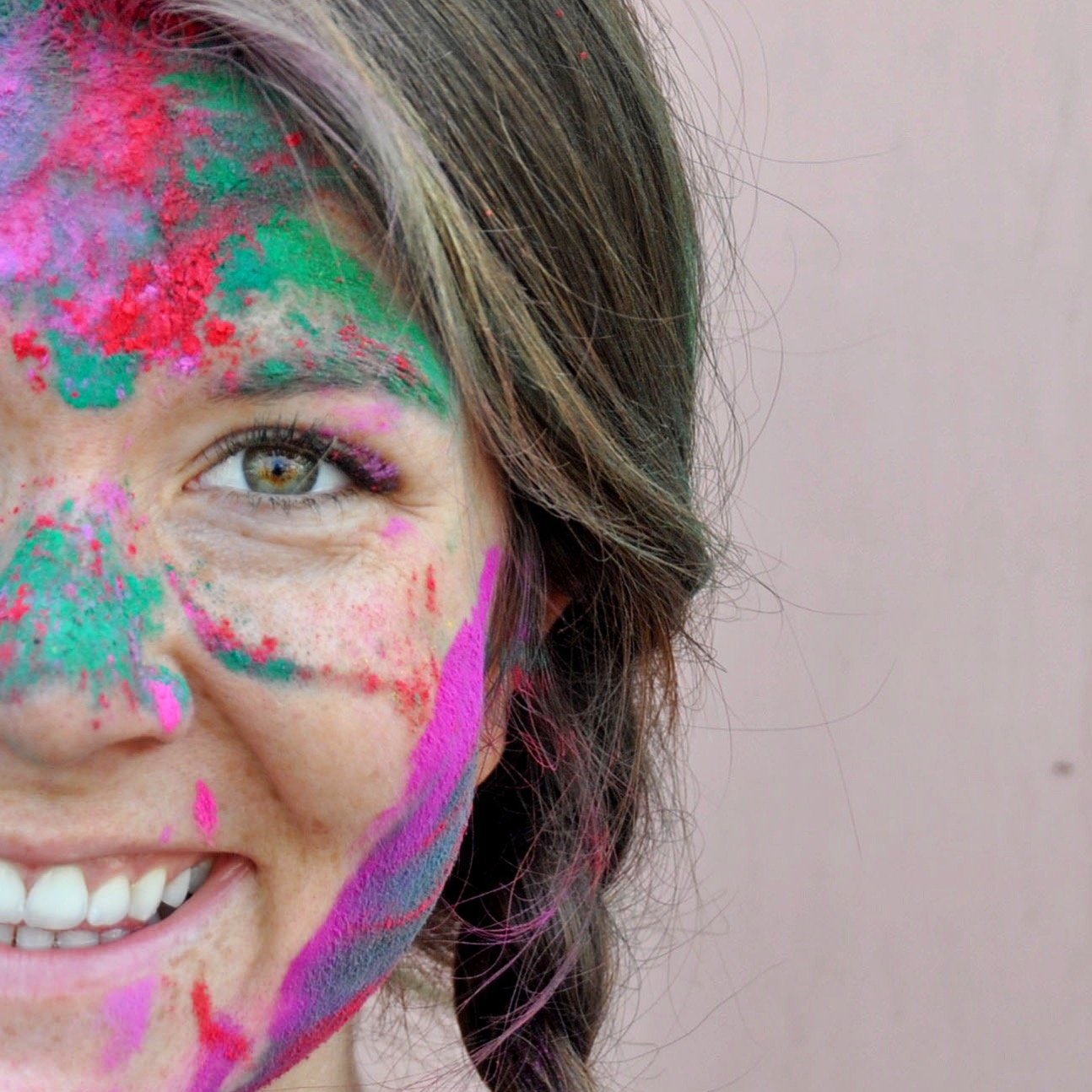 With Nepal being extremely diverse, there are festivals happening all year round. If you want to plan your visit to Nepal around a festival, be sure to look up the dates ahead of time as they may change every year according to the Nepalese calendar.
Dashain: Nepal's most important festival celebrating goods conquering evil. Many Nepali return to their homes and celebrate with their families for the 15-day festival. The dates change according to the Nepalese calendar. For 2019 and 2020, Dashain occurs in October.

Tihar: Nepal's second most important festival celebrating over 3 days. Each day a different deity is worshipped. The last day the goddess Lakshmi is worshipped, who is the goddess of wealth, and locals will light different lamps (oil, candles, and colorful lights) in their homes. Happens in late October.

Holi: The festival of Colors! This festival has grown in international popularity. People throw colored powder and water balloons at each other to spread happiness. Typically occurs in March or April.
Tourist Visa in Nepal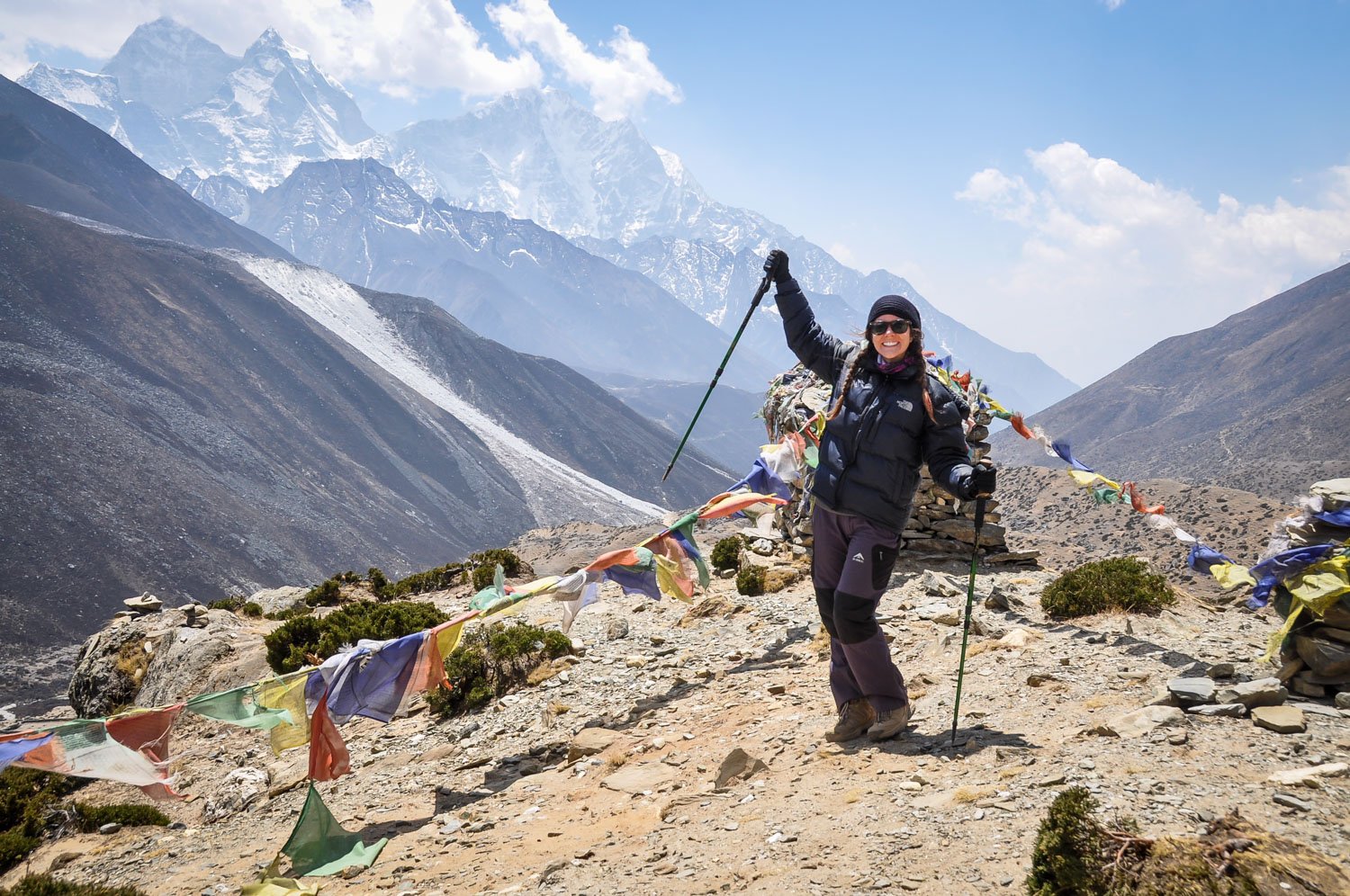 When arriving in Nepal, you will need to pay for a Visa on Arrival (VoA) and the amount you pay depends on how long you plan to stay in the country. There are 3 options: 15 days, 30 days, and 90 days.
The process to get through immigration is at Tribhuvan International Airport is a little wonky, so I'll try to simplify it:
Fill out an "Arrival Card" on paper (why we still have these, I'll never know)

Fill out the Tourist Visa form at a kiosk near the windows of the immigration area.

If you want to skip this step, you can fill out the Tourist Visa form online beforehand within 15 days of arriving in Nepal and print out the barcode receipt.

Approach the "bank" desk and pay for your Tourist Visa on Arrival. You can pay in USD or Nepalese Rupees. (We have heard of other currency being accepted at times, but you will be charged much more!)Make sure you have cash on hand, otherwise you need to wait in line for the ATM as well. Your fee depends on your length stay and you have 3 options:

15 Days: $25 USD

30 Days: $40 USD

90 Days: $100 USD

Make sure to get a receipt from the "bank"

Collect your payment receipt, Tourist Visa form, Arrival Card, and passport and bring them all to the immigration officer for Foreigners for processing. Once you get your passport back, you're in. Welcome to Nepal!
Currency in Nepal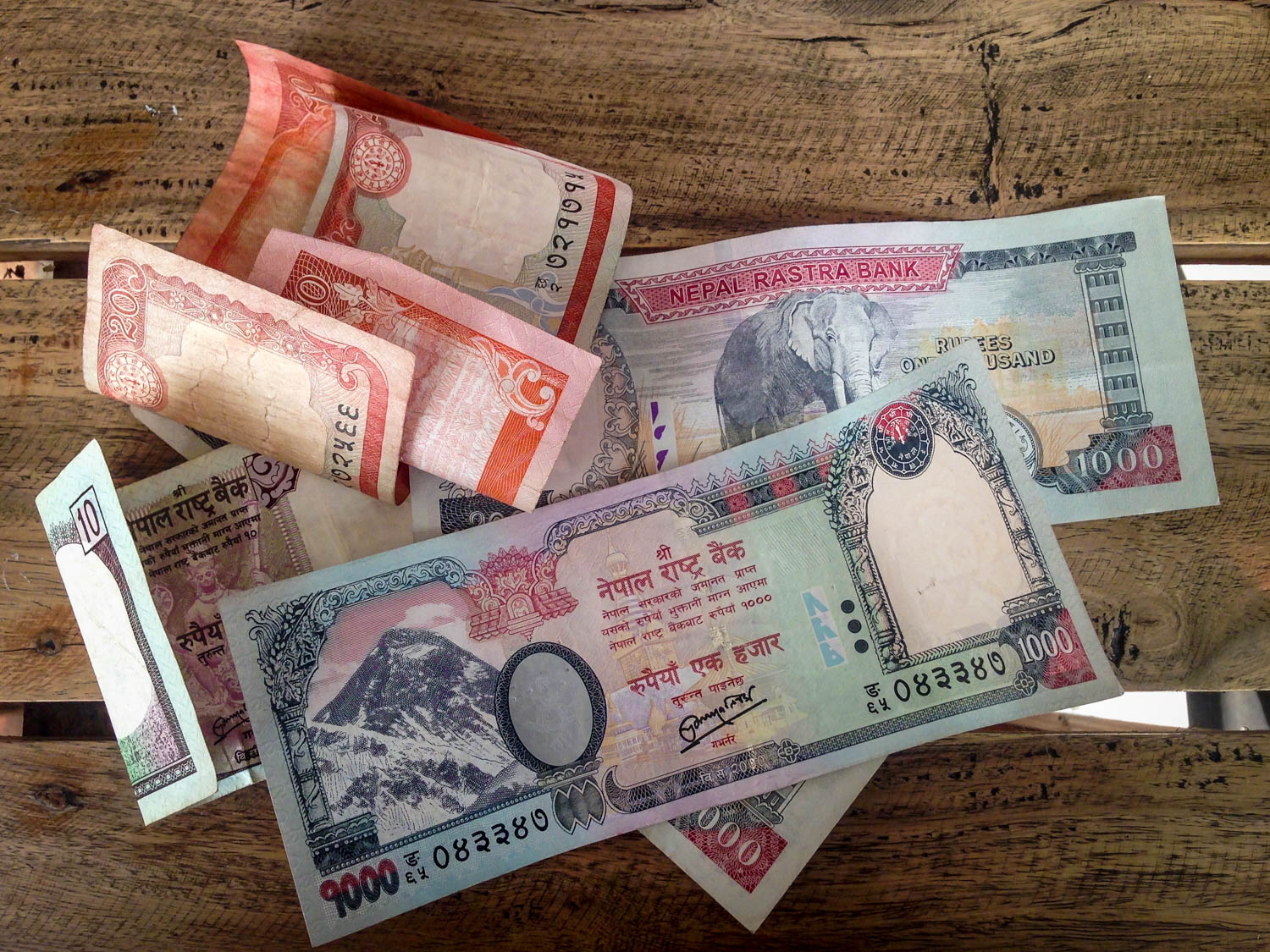 The Nepalese Rupee is the currency in Nepal.
Note: This is different than Indian Rupees. Don't try to pay with cash from India!
Conversion rate: 100 Nepalese Rupees = $.90 USD (at the time of writing, June 2019).
Helpful Tip: To make it easy during our travels, we thought about prices as 100 rupees to $1 USD, moving the decimal place over 2 spots. For instance, if the price of a place of momos is 400 rupees. We move the decimal over two places to the left, and think of it as $4 USD for an easy conversion.
Good to know: You won't be able to exchange your Nepalese rupees outside of Nepal. Be sure to spend it all before you leave or exchange it into different currency.
ATMs in Nepal
Wherever we are traveling, we find we get the best exchange rates when we withdraw money from the ATMs.
You'll have no problem finding ATMs in Kathmandu, Pokhara and other major tourist hubs. However, ATMs can be scarce in the more rural areas of Nepal, and if you plan to do any trekking, you should be prepared with all the cash you'll need (don't forget about tips!). There is a typically a small fee when taking money out of a local ATM, around 500 NPR.
Pro Travel Tip: We love our Charles Schwab debit card because it reimburses ALL ATM fees (whoop whoop!). It has saved us thousands of dollars over the years, so if you're from the US, go sign up for a Charles Schwab checking account (it's free!) right now! And no, we don't get any perks for recommending this, we just seriously LOVE it!
Credit Cards in Nepal
You can pay with most major credit cards at hotels, nicer restaurants and even some souvenir shops catering to tourists. However, you'll need cash for smaller restaurants and shops, entrance fees to UNESCO World Heritage sites, for tipping, and at homestays.
Bartering
Confession: I'm rubbish at bartering. But I also hate getting ripped off. Bartering is expected in most souvenir shops, so give it a try. Just remember to be respectful whenever negotiating a price, and carry small denominations of cash. It's never fun bartering the price way down, then paying with a large bill and asking the vendor to give you change!
Good to know: When paying for things in Nepal, hand the money over with your right hand. This is considered polite, though Nepalese people are forgiving with foreigners who aren't accustomed to local manners.
Tipping in Nepal
Tipping culture is different all around the world, and sometimes it can be hard to know what's expected. But don't worry, we're here to help.
You might be wondering: "Do I have to tip in Nepal?"
The answer is yes, there is a tipping culture in Nepal. It is a bit different than what you may be used to, so keep reading.
We're breaking down some general rules to follow as a guideline. However, if you have experienced exceptional service, additional tips are welcomed.
Restaurants: Tip is usually included. There is usually a 13% VAT and a 10% service charge, which you will see listed on your receipt. Sometimes the prices listed on the menu include the tax and tip, and other times there is a note that says it will be added to the bill. You can round up if you had great service.

Homestays: If you are in a homestay (where you have a host "mother"), it is customary and appreciated if you tip. 200 – 300 rupees per person per night.

Taxis: No tip necessary! (unless you really want to)
Tipping Etiquette for Treks in Nepal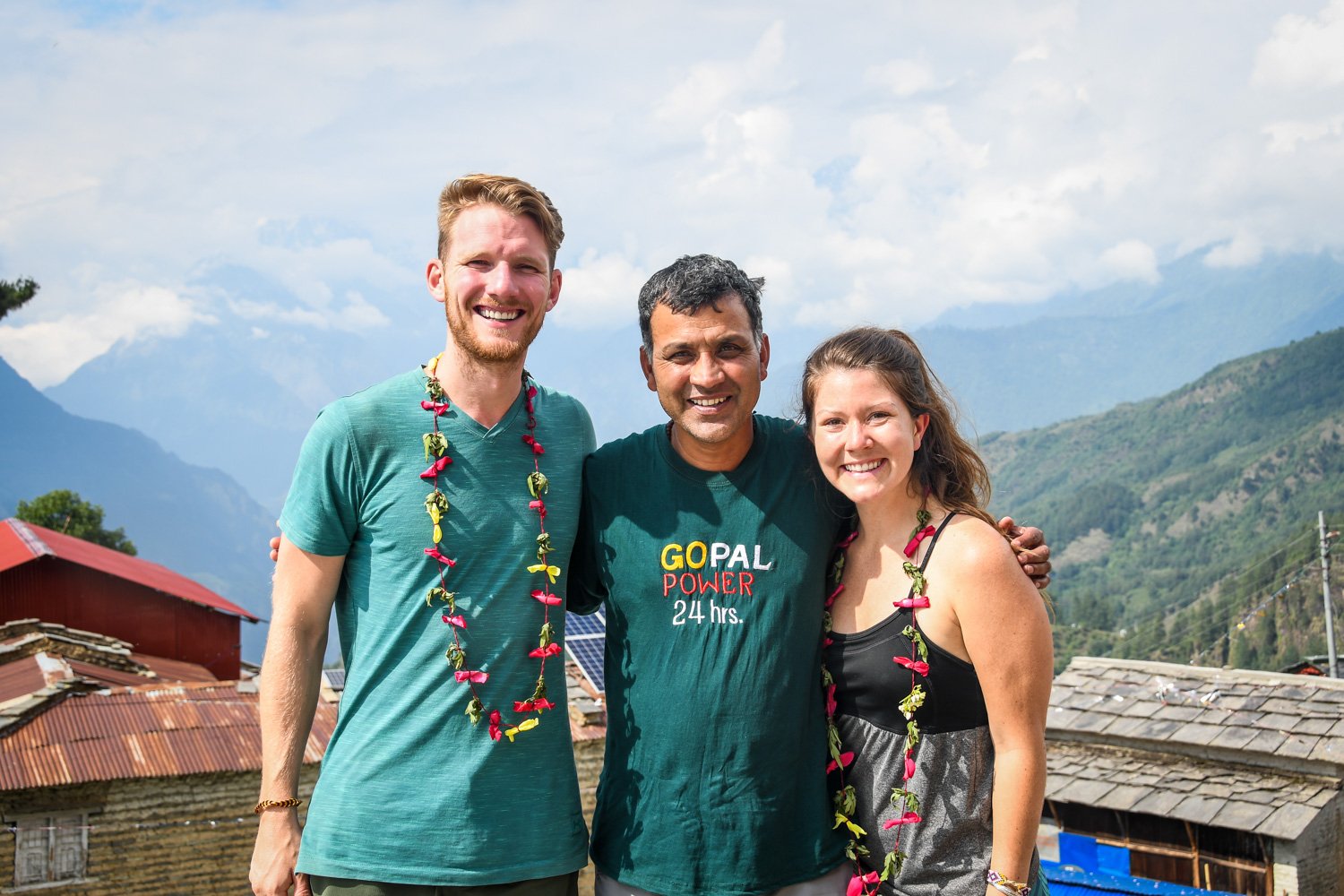 With permits, guides, accommodation and equipment, trekking in Nepal isn't necessarily cheap. And there's one expense many people forget to plan for… the TIPS.
Trekking in Nepal has a tipping culture, and generally it is expected that you tip your guides and porters.
Below, we're breaking down some guidelines to follow, but of course, tipping is based on your experience, so you can adjust it accordingly.
Pro Tip: Before your trek, it is a good idea to message the company and ask how many guides and porters there will be so you can be prepared. It is also worth noting that there will likely not be any ATMs along your trek, so be sure to bring along cash.
Guide: $5 USD per day per person

Assistant Guide: $3-5 USD per day per person

Porters: $3-5 USD per day per person (this is then divided between all the porters)
So for our 5-day Mohare Danda Trek, Ben and I each tipped 7,000 rupees ($63 USD) in total between our guides and porters. (The total for the 2 of us was $126 USD in tips.)
Everyone in our group put money into an envelope, which was then given to the guides and porters.
Related Reading: Our friend, Jean, from Traveling Honeybird has a good guide to tipping in Nepal that breaks it down in even more detail for you.
Budget for Traveling in Nepal
Nepal can be a very budget-friendly country for travelers. Basic food, accommodation, and transportation can be very cheap.
See below for some average prices (these will vary depending on where in Nepal you are):
Order of Momos: 150 rupees for 5 momos ($1.34 USD), or 250 rupees for 10 ($2.25 USD)

Local Beer at a restaurant: 250 – 350 rupees ($2.25 – $3.15 USD). If you buy it at a store, the same bottle will cost around 150 rupees.

Tip: Our favorite local beers are Gorka and Sherpa Red Ale, though these were a bit more expensive than the Everest Lager.

Bed in a Dorm in Kathmandu: 560 rupees ($5 USD)

Basic Private Room in Kathmandu: 1,675 – 2,800 rupees ($15 – $25 USD)

Bus from Kathmandu to Pokhara: 600 – 800 rupees ($5.40 – $7.15 USD)
You can easily travel to Nepal on a tight budget.
Responsible Travel Tip: We would encourage all travelers to really think about how you're spending your money in Nepal. Sometimes paying a bit more for things can go a long way.

For instance, spending a bit more money for a trekking company that pays its guides and porters fairly can make a big difference. And staying in sustainably-run hotels may cost a bit more, but your money will be put back into the community and will help protect the local environment.
Language in Nepal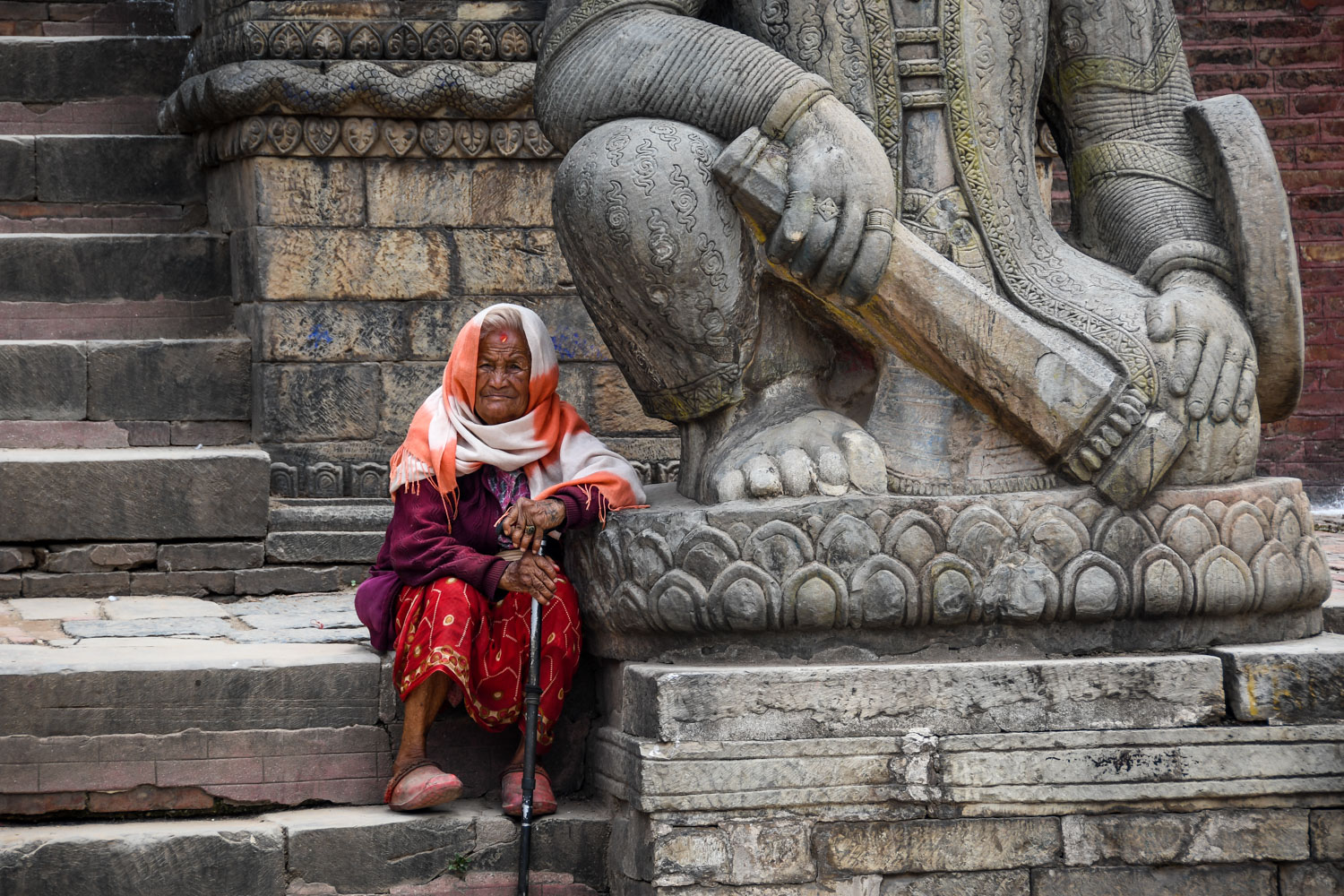 There are 123 languages spoken in Nepal. Yes, you read that right – 123 languages!
The most commonly spoken language is Nepali, which is the "mother tongue" of roughly 45% of the population. But many have a different native language, which is pretty incredible when you think about it.
Helpful phrases in Nepali
We always try to learn a few words and phrases in the language of the country we're visiting. We find it goes a long way to try! These words and phrases are a good place to start.
The phrases below are in Nepali, but remember that this is not everyone's native language.
Hello: namaste

Namaste doesn't directly translate to "hello", but it is more or less a way to greet and show respect to someone. It means "I bow down to the divine in you", and is generally said with palms together and a slight nod of the head.

Thank you: dhanyabaad

How much money? (shopping) Kati paisa?

Delicious: mitho cha

Beautiful: sundara

I am a vegetarian: Ma sakahari hun
Religion in Nepal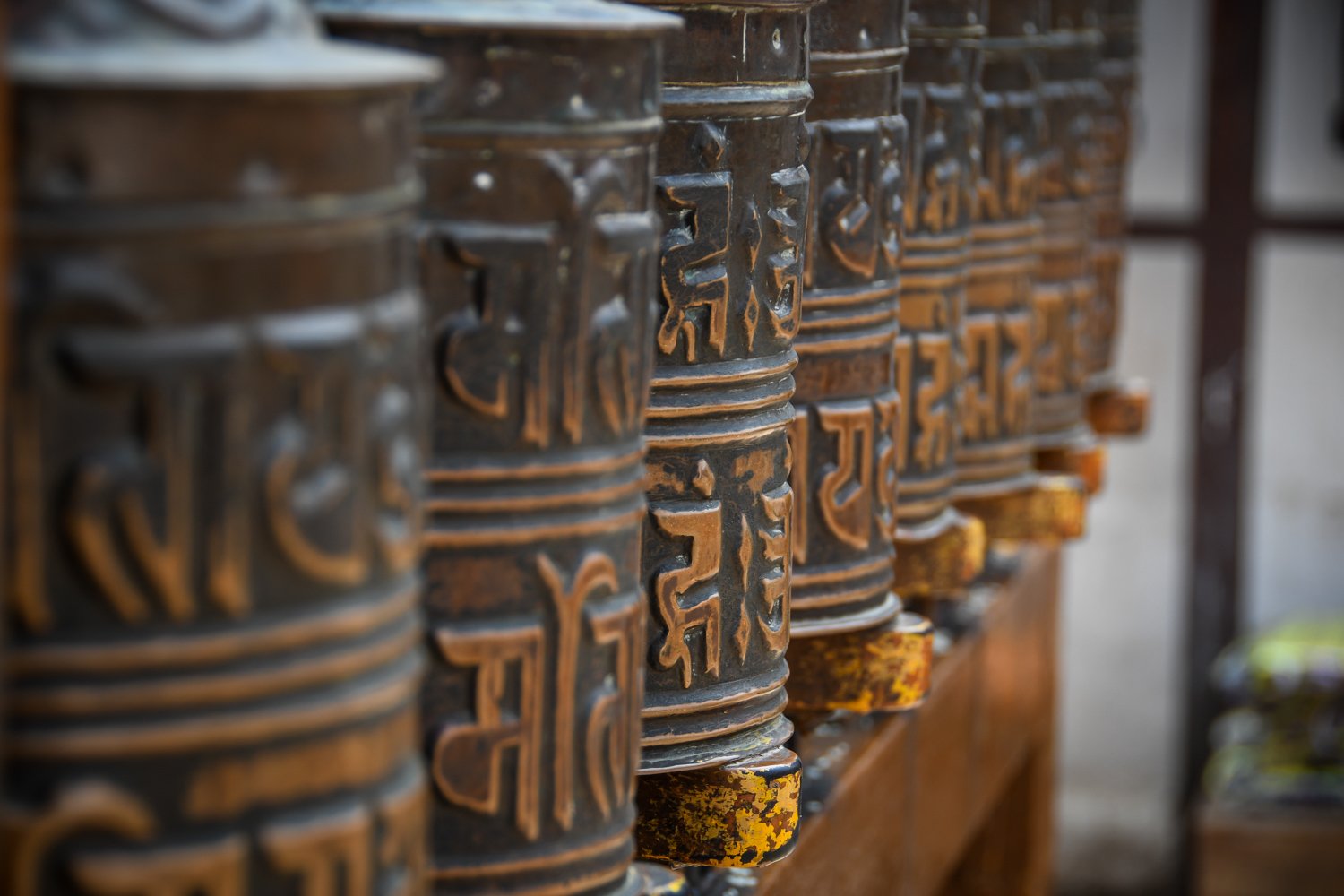 Hinduism and Buddhism are the two most commonly practiced religions in Nepal, and in general, they coexist peacefully.
According to a 2001 census, here is the breakdown of how people in Nepal identify their religious beliefs:
81% Hindu

11% Buddhist

4% Muslim

3% Kirant (indigenous religion)

and a very small percentage identify as Christian or other religions
Religion in Nepal is intertwined throughout everyday life. As a traveler, you won't have to look far to see both Hindu temples and Buddhist stupas. You'll likely witness religious ceremonies — perhaps even animal sacrifices — and you'll see locals with a red marking between their eyebrows; a blessing called a tikala.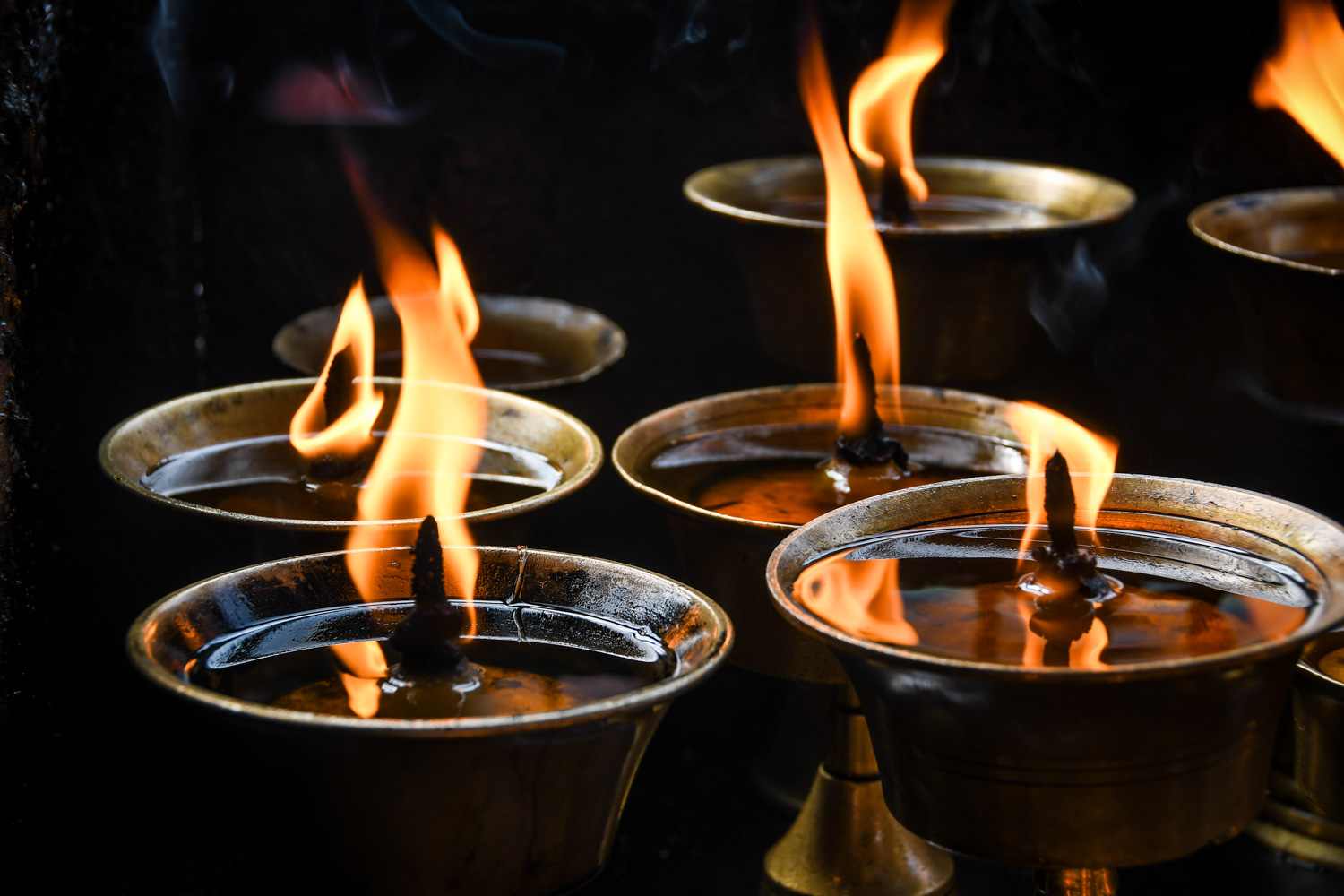 Important Words & Facts about Religion in Nepal
Stupa: dome-shaped Buddhist shrine, typically containing holy relics.

Tikala: In Hinduism, this is a marking (usually red) between the eyes. These may be worn daily, or to signify special religious occasions.

Puja: Hindu ritual to celebrate an event, like a wedding or birth.

Nepal was the only Hindu Kingdom in the world, until 2007, when it was declared a secular state.

Prayer Wheels must be spun clockwise, and are thought to bring wisdom and good karma.

You'll notice a set of eyes on most stupas around the county. These symbolize the all-seeing eyes and wisdom of Buddha.

There are many different types of Buddhism practiced around the world. For instance, the type of Buddhism practiced in Thailand and much of Southeast Asia is called Theravada Buddhism. The type practiced in Nepal falls underMahayana Buddhism, similar to what is practiced in Tibet and China.

Butter candles are commonly lit at temples and they signify enlightenment, and are used as offerings.

You might hear bells ringing a lot while traveling in Nepal. This is done before a prayer to get the attention of the gods.
Manners At Temples and Holy Sites in Nepal
Navigate in a clockwise direction when you walk around stupas (aka always keep the stupa on your right-hand side). Also, prayer wheels must be spun in a clockwise direction.

Cover your shoulders and knees as a sign of respect.

Know where you can and can't go. There are certain spots in temples and stupas that are reserved only for practicing Buddhists or Hindus (depending on the site you're visiting).

Keep PDA to a minimum. Avoid holding hands or other signs of affection (umm no kissing!), as this can be seen as rude.
Practical Tips for Nepal Travelers
Internet | Cell Service | Adapters & Voltage | Drinking Water | Bathrooms
Internet, power voltage, bathrooms, drinking water, cell service…
While these might not be the "sexiest" things to talk about, they are all super important as you plan your trip to Nepal.
Let's get into the nitty gritty and get you all set to pack those bags!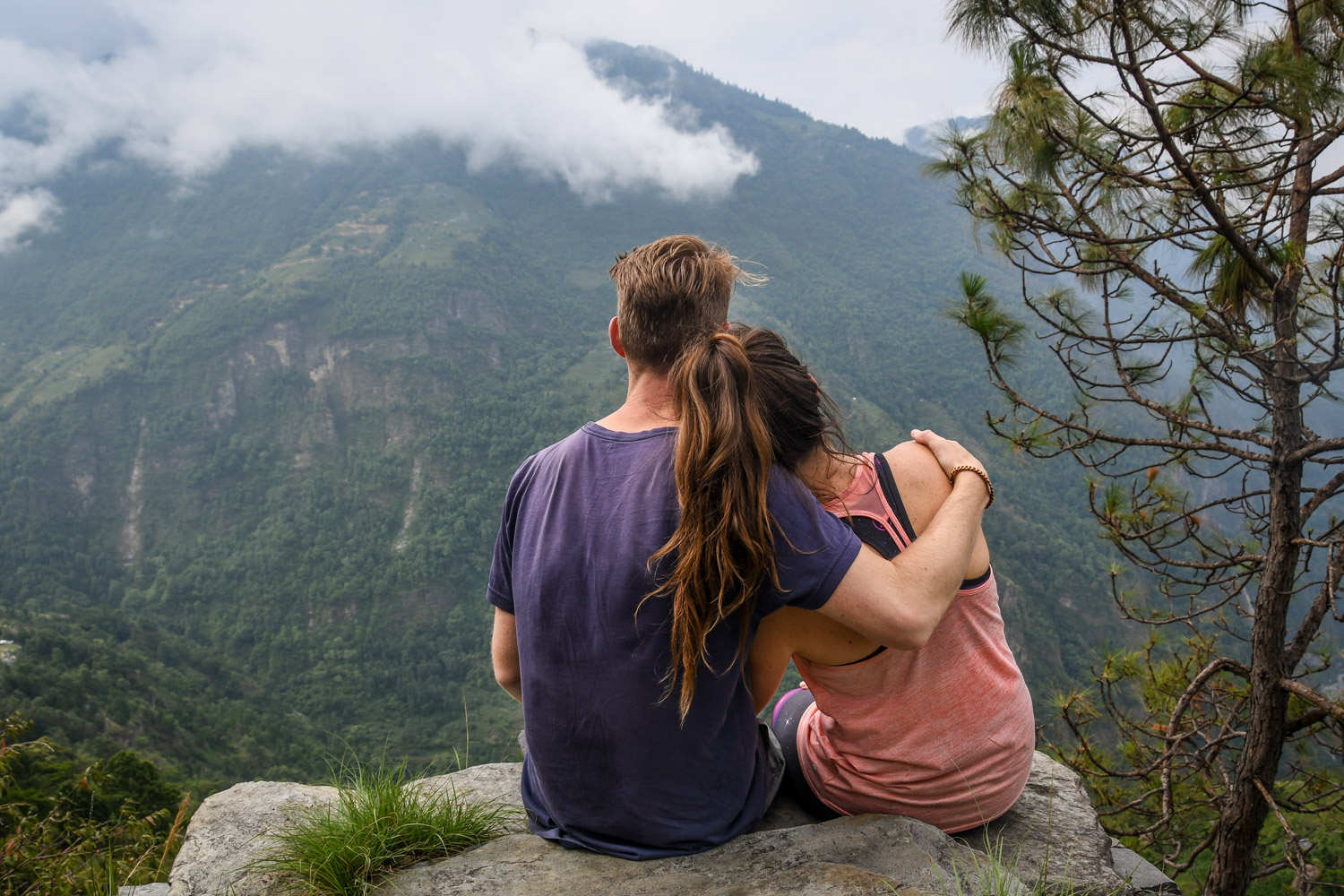 Internet in Nepal
Let's just say the Internet situation in Nepal is, well, mediocre at best. As long as you go to Nepal with that as your expectation, you won't be too disappointed.
On our last visit to Nepal, we had just come from Chiang Mai, where our Internet speeds were out of this world. And in comparison, Nepal's Internet is sloooow.
When we did have WiFi, we were usually able to upload photos to Instagram and send emails. And in some hotels we were even able to watch Netflix. Not too shabby, huh?!
But there were also times we had to set our email away message to let people know we were somewhat "off the grid". It was a bit of a mix.
Local SIM Cards
Getting a local SIM card is the best way to have cell service in Nepal. There are 2 cell providers – NCell and Nepal Telecom.
NCell is arguably the easier one to get. You can simply walk up to a NCell booth (you'll find plenty around Kathmandu and Pokhara) and they will get it set up for you in a matter of minutes. Be sure to bring a copy of your passport with you (we also carry a photocopy in our wallets when we're traveling).
We both got a 7-day SIM with unlimited 4G data and 1 hour of streaming video for 450 rupees ($4 USD).
When you get up into the mountains, expect for your service to go in and out. Our guides had Nepal Telecom, and the service was much better in the remote mountain areas. However, we took this as a time to disconnect, so we weren't too concerned about our cell service (or lack thereof).
Adapters & Voltage
In Nepal, the standard voltage is 230V with a standard frequency of 50Hz. Most modern plugs and computer chargers can handle this voltage, but be sure to check your converters first before plugging in.
The power sockets are similar to the European style (plug styles C, D, & M). U.S. travelers will need an adapter. Sometimes, higher-end hotels have a one-type-fits-all outlet, but it best to carry an adapter or two.
Insider Tip: We always travel with a universal adapter. This way, we can charge several electronics at once using only one adaptor. Note: This only works for things that can be charged using a USB port. Our laptops and DSLR cannot be charged from this.
Good to know: Power Outages are common around the country. Be prepared for power outages. Yes, even in Kathmandu. Yes, even in nice hotels. Power outages are very common and something that you will probably experience at least once during your travels in Nepal.
We have a friend who lived in Kathmandu while teaching at an International School, and she said power outages are just a part of daily life in Nepal.
We always travel with a power bank, so we can recharge our devices even during a power outage. We love our Anker Portable Charger because it holds 7 charges at once!
Note: We stayed at Traditional Comfort in Kathmandu, and did not experience any power outages, even when friends at nearby hotels did. We assume it is because they run mostly on solar power.
Drinking Water in Nepal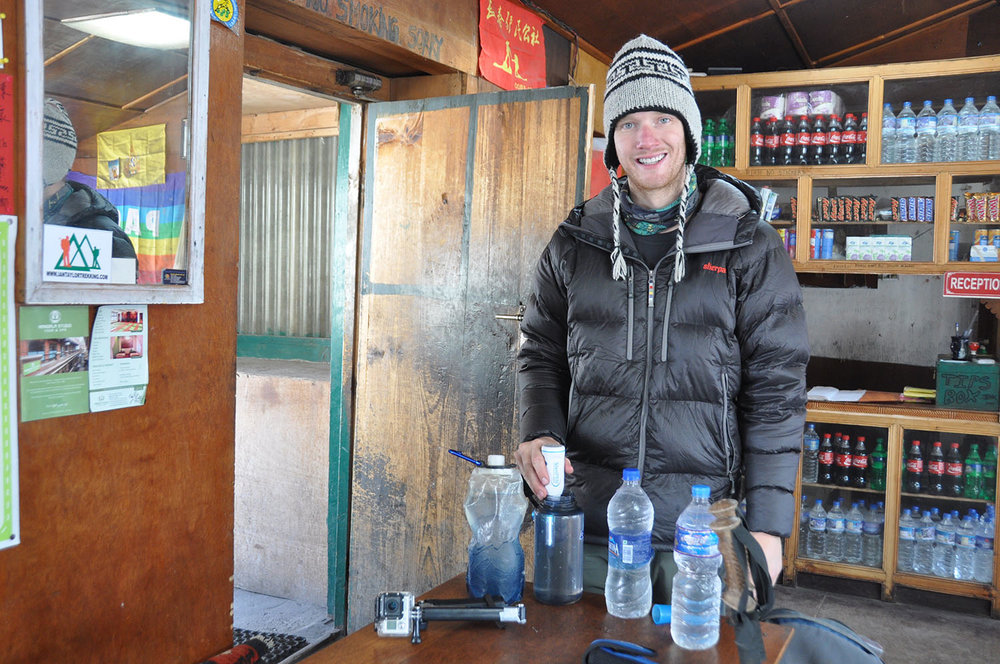 The tap water in Nepal is not safe to drink.
We were fine brushing our teeth, but you don't want to chug a glass of it unless you want to be bed-ridden for 24 hours…
On our first trip to Nepal, we carried our trusty Steripen with us and were able to fill up water from the tap and then purify it using the UV light technology. Yes, it really works! And it saves a TON of plastic (and money too).
Right before our most recent trip to Nepal, our Steripen decided to die (after 5 hard years of purifying water for us!). So sadly, we had no other option but to buy bottles during our trek.
Alternative: There are water purification tablets, but personally, I've never really liked them — they make the water taste funny to me, and I end up dehydrated.
When you're at restaurants or hotels that have water jugs, be sure to fill up because this is filtered and safe to drink.
Bathrooms in Nepal
One of my mom's first questions wherever we're traveling is: "How are the bathrooms?"…
I think it's her way of gauging how comfortable she would be traveling in that specific place. So for all of you out there with the same questions as my dear mother, this one's for you…
I'm going to give it to you straight:
The toilets in Nepal can be bad.
If you're staying in a hotel, you can expect Western-style flush toilets, but at some point during your travels in Nepal, you WILL encounter the dreaded squat toilet.
We've all heard that squat toilets are actually better for you (ermm… you don't have to push as hard), but it can be difficult to get used to if it's your first time encountering the squattie pottie.
While teaching English in Korea (and just traveling around Asia in general) we have become well-accustomed to the squatter, so it came as no surprise to find these in Nepal.
They still aren't my favorite type of toilet, but let's just say, I can handle them. And I find it a bit funny watching other foreigners open the toilet door, and back away with a horrified face, telling themselves silently, "I'll just hold it,". For all travelers in Nepal, there will come a time that you just can't hold it anymore. Trust me.
So what exactly should you expect?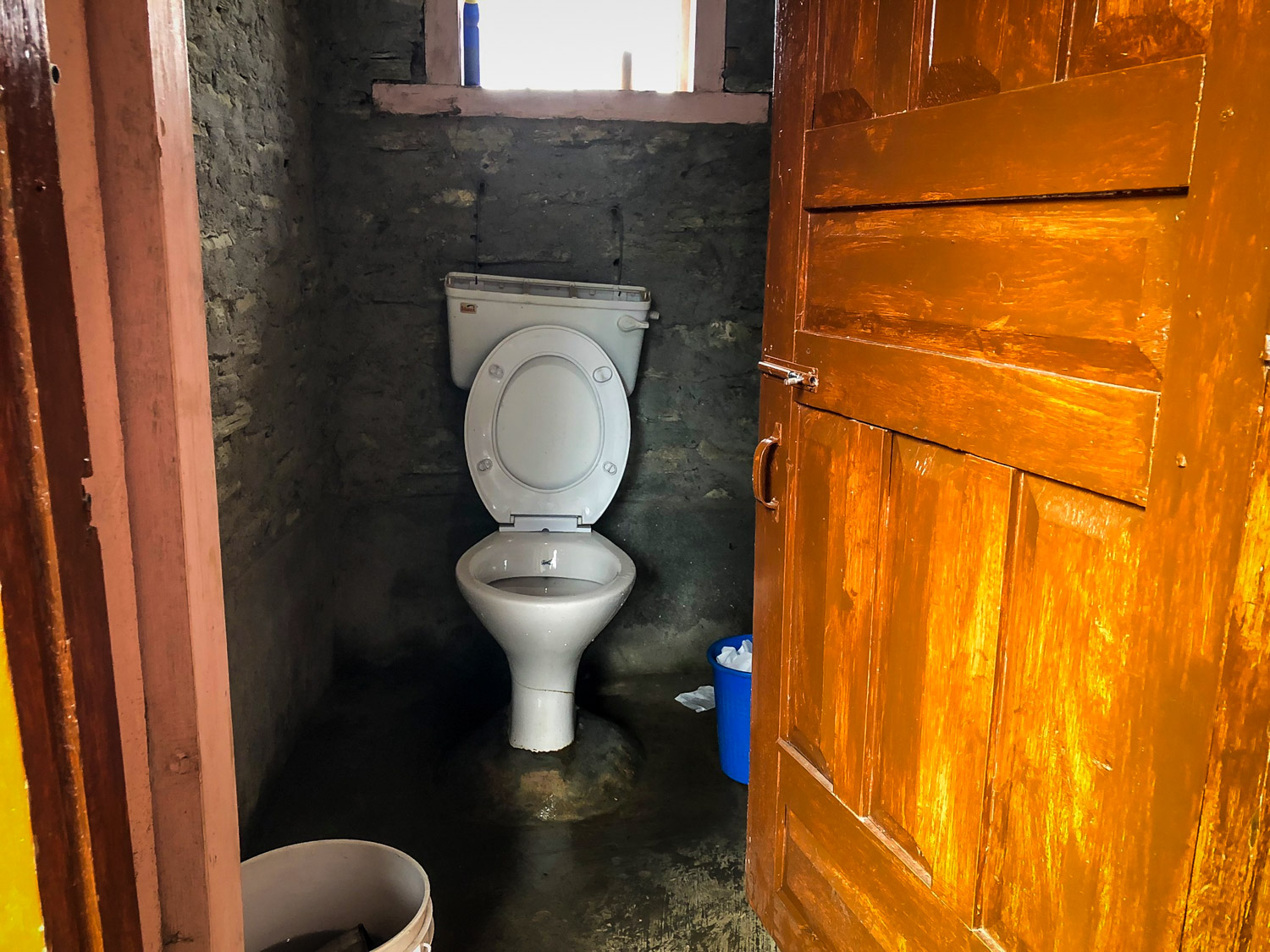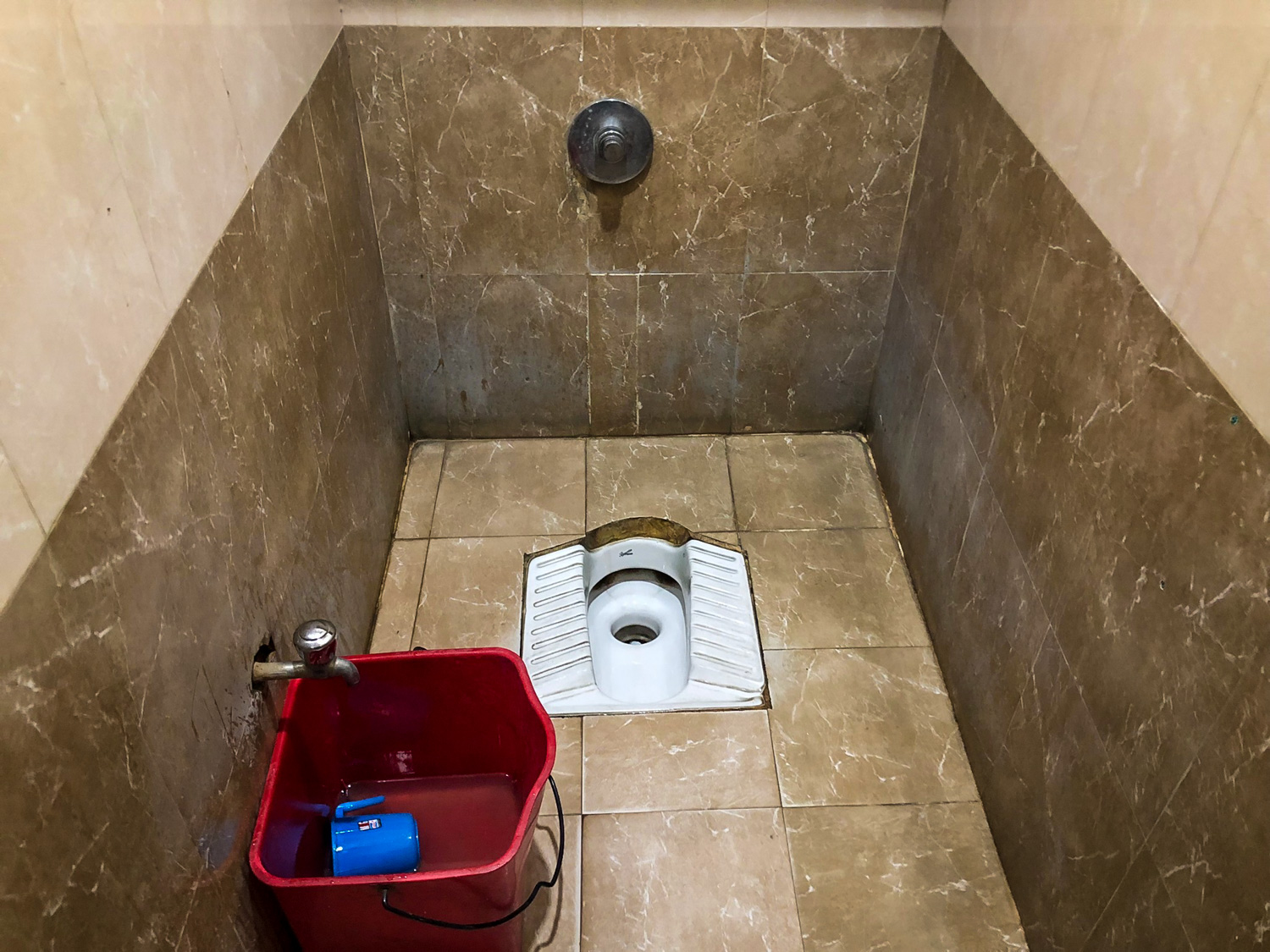 Toilets in Nepal vary a lot. As we mentioned above, if you stay at a hotel, you should have a clean Western-style flush toilet. But in public restrooms or in homestays you can expect the toilets to be a bit more "rustic"… They can range from Western-style toilets that must be flushed by pouring buckets of water into the bowl, to very basic (and sometimes dirty) squat toilets that require you to plug your nose.
Oh, and don't forget to BYOTP! That is, Bring Your Own Toilet Paper!
Most public restrooms will not have tissue, so it's a good idea to purchase a roll (50 rupee to 100 rupee depending on the size), and carry it with you.
Oh, and hand sanitizer too! You'll thank us later.
On that note, there will typically be a bin for you to throw the tissue in when you're done. It can clog the plumbing, so be mindful of where you put your TP (and tampons, ladies!).
Pro Travel Tip (for the ladies!): Swap out your tampons for a menstrual cup. Never again will you have to pack a bunch of tampons or search for them in countries where they aren't common. Plus, it saves a ton of waste!!! And you won't have to search around for a bin to put your used ones in (not a fun task).
Bucket showers
If you plan to do any trekking in Nepal, be prepared for a good old fashioned Bucket Shower! In some places, you can pay a bit extra to have hot water.
The price you pay depends on the elevation and access to heating (for instance, on the Mohare Danda Trek, we paid 150 rupees ($1.35 USD) for a hot bucket shower, but on the EBC trek, prices range from 300 – 500 rupees ($2.70 – $4.50 USD), depending on the elevation.
If you've never tried a bucket shower before, give it a go. It's an experience! And after a day of trekking, a shower – even if it is from a bucket – feels divine!
Health and Safety in Nepal
Overall, Nepal is a relatively safe country for travelers. There are a few things to be aware of as you start planning your trip.
Air Pollution in Nepal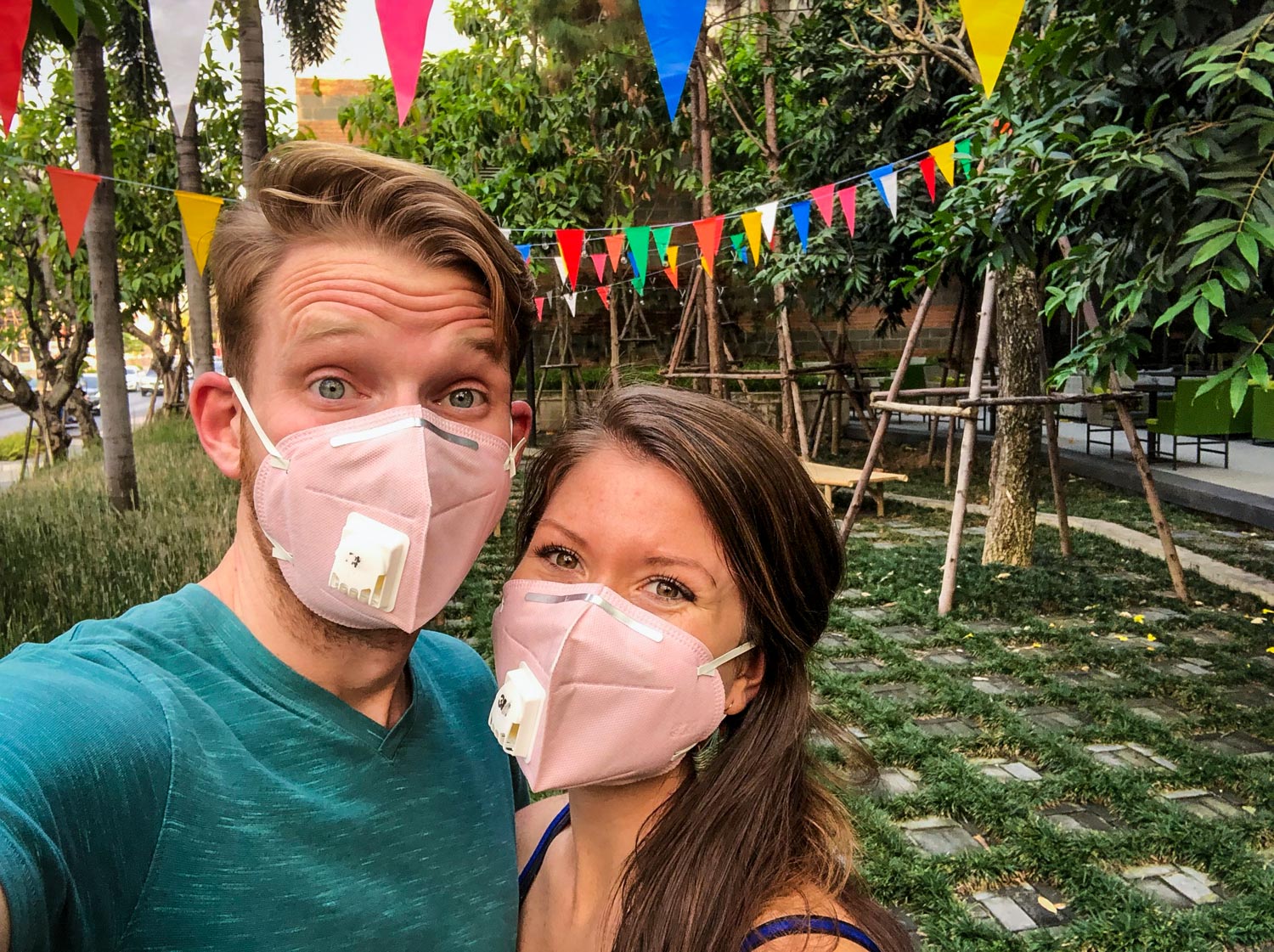 Like many major cities in Asia, Kathmandu experiences high levels of air pollution. In fact, as you fly into the city, you'll likely notice a heavy smog hanging over the Kathmandu Valley.
The air quality is typically worst in Kathmandu, and as you get out of the city, it improves. Also, it can vary based on the time of year.
What can you do about it?
Truthfully, not too much. You can wear a mask to help filter the air as you walk around the city. But don't buy the first mask you see. The cloth masks or the common "doctor's masks" do little in filtering out pollution, even though you'll see them worn around town.
If you plan to wear a mask, get one with an N95 filter. This is going to be your best method of protection. We wore these all the time during "burning season" in Chiang Mai.
Insider Tip: Download the AQI app, which tells you the real-time air quality and pollution levels. The colors are a good indicator of air quality, with green being healthy, and declining in quality as the colors turn to yellow, orange, red and purple.
Food Poisoning
If you have a sensitive stomach (or haven't spent much time traveling in Asia), you may want to be extra cautious of what you eat when you first arrive in Nepal, as your body will not be used to the bacteria in this part of the world.
One easy way to avoid an upset stomach is to stay away from fresh fruits and veggies (at least from street vendors). I know, I know… those are what you'll be craving after a few days of dhal bhat, but they are often washed with tap water and can make your tummy not so happy.
I learned the hard way when I bought a fresh cucumber from a street vendor on my first trip to Nepal. It sounded so good at the time, but I spent that night near a toilet… Not recommended.
If you go to Western style restaurants, you should be fine ordering a salad, as they will wash the produce with filtered water. And after you've been traveling in the region for a while, your stomach may become more acquainted with the local bacteria, so you won't have to be quite as careful.
Earthquakes
While there's not much you can do to predict an earthquake, it is a good idea to know what to do in the case you experience one while traveling in Nepal.
Read this advice for what to do in case of an earthquake.
Travel Insurance in Nepal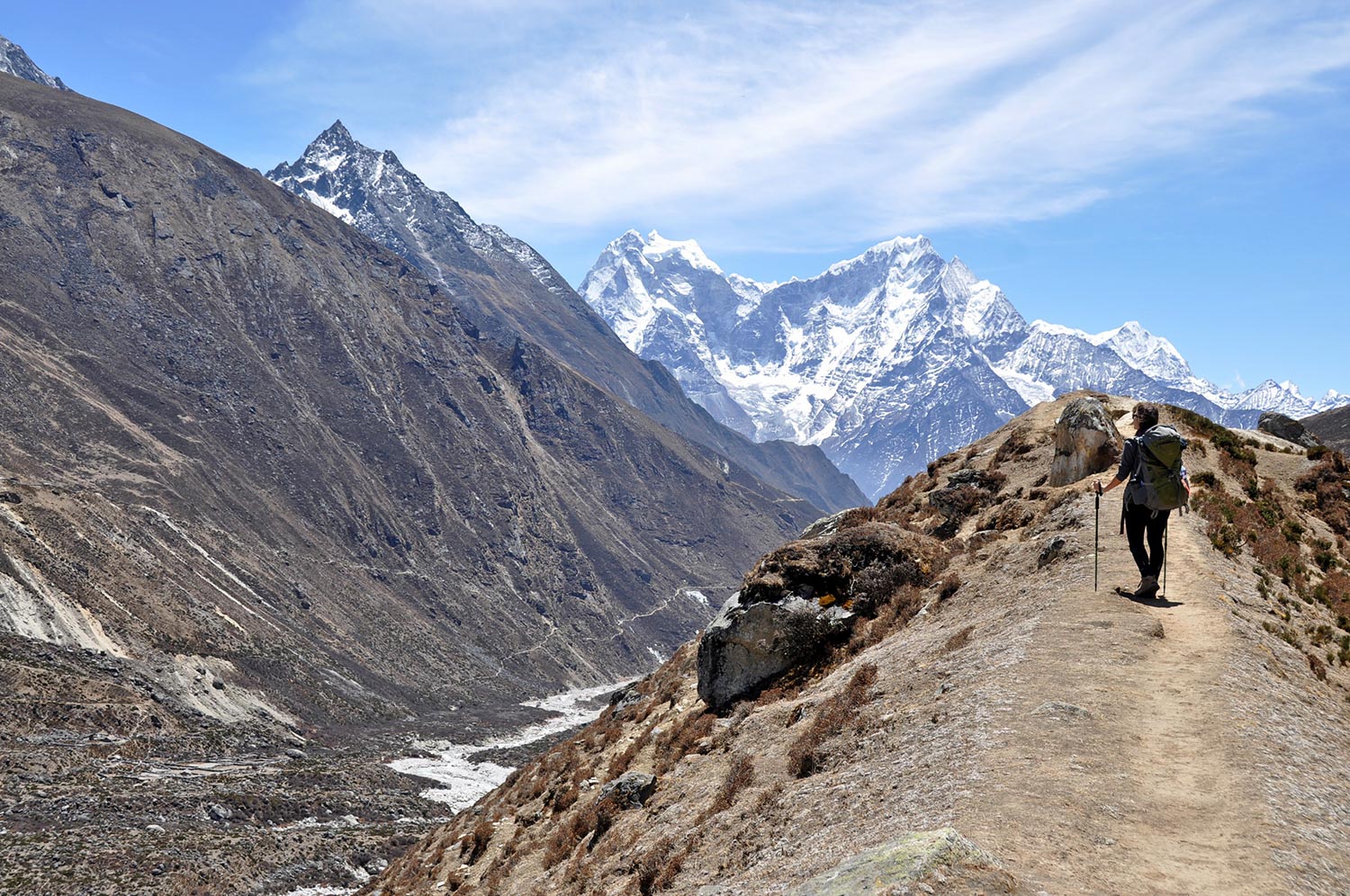 If you're skimming this article, wondering to yourself, "Do I really need travel insurance for my trip to Nepal?" I want you to listen up, and listen carefully.
YES. The answer to your question is: Yes, you absolutely should get travel insurance in Nepal.
We've already shared all sorts of stories about why you should always have insurance when you travel…
Q: What do a stolen camera, a missed flight connection, and an emergency appendectomy all have in common?
A: They are all things that are out of your control, AND they should be covered if you have good travel insurance.
I could ramble on and on about this, but instead of explaining why you should get travel insurance, I want to point out one very important thing that many people may be unaware of.
If you are planning to do any trekking in Nepal, be sure to check the fine print on your standard travel insurance policy to be sure you are covered at the altitude you intend to reach.
Our experience with travel insurance in Nepal: We typically get a year-long travel insurance policy through Allianz Travel, as it is the most affordable option (at $450 USD/year for the both of us) with comparable coverage to other providers. However, both times we have traveled to Nepal, we have also gotten a short-term policy through World Nomads because we are covered at high elevations.
Our Allianz policy only covers medical costs up to 5,000 feet. Kathmandu itself is 1,400 meters — or 4,600 feet — above sea level. That means if we were to go on a little hike and climb 400 feet (not hard to do), and one of us broke an ankle, we WOULD NOT be covered by our regular insurance policy.
Before hopping on your plane to Nepal, be sure to read the fine print on your insurance policy and ensure you are covered at altitude. We even called Allianz to ask because we couldn't find it in print. If you're doing any sort of trekking in Nepal, chances are you will need a policy that covers you in high altitude.
Trust us, you don't want something to go wrong on your trek before you find out your insurance won't cover it. They have ways of checking these things (ermm… phone GPS…). Something as simple as twisting your ankle could lead to a huge expense. And without trying to scare you, there are many, many more things that can go wrong when trekking at high altitude (we've personally witnessed them happen).
Don't worry too much; just be sure you're covered. Okay, rant over.
Transportation in Nepal
The roads in Nepal are rough. Really rough in some places. Though I will note that they seem to be working on them. Or at least there is quite a bit of construction…
You'll find winding roads, giant potholes, and long stretches that are unpaved. There is construction taking place in some areas to better the roads for the future, but it seems like it will be far in the future before you can travel around the country without a bumpy ride.
Buses in Nepal
Prepare for short distances to take a long time. For instance, Kathmandu and Pokhara are only 125 miles (200 km) apart, yet the bus ride takes at least 5.5 hours on a good day (when there is no construction or complications). More often than not, plan for it to take 7-8 hours. And on days when construction is bad, we've heard of this journey taking up to 12 hours.
The same journey on plane takes just 35 minutes, so if you have a flexible budget to work with and are prone to carsickness, you might want to consider booking a flight between Kathmandu and Pokhara.
However, if you are traveling on a budget, there are things to look forward to as you drive through Nepal. You can glimpse countryside villages, and you can even break up the journey and stay at lesser-known places, like Bandipur which is located between the 2 cities. Plus, traveling my van is much better on the environment. So if you are trying to reduce your carbon footprint, travel by land is the way to go.
The biggest thing we want to you take away is knowing what to expect. We've known some travelers who had no clue how "rugged" the roads in Nepal are, and they were really put off by it.
Prevent Motion Sickness
If you are prone to car sickness, pack medicine, ginger chews, or pressure point bands to prevent nausea. Also, bland crackers and bubbly drinks, like Sprite or soda water can help soothe your stomach. If you stop at a restaurant along the way, ask for a ginger tea, which will also help to ease nausea.
Taxis
There is no Uber in Nepal, so you'll likely use a taxi or 2 when getting around Kathmandu.
Like many places around the world, it's a good idea to negotiate the price before you get into a taxi. We did not see any taxi drivers using meters, so you will definitely want to determine a price before you get inside. This is something that you can negotiate. The prices can vary during certain times of the day, and depending on where you are coming and going from.
But to give you an idea, here are a couple prices we paid in Kathmandu:
500 rupees: 20-minute ride from Boudha Stupa to our hotel (on the outskirts of Thamel). The driver started at 700 rupees.

300 rupees: 10-minute drive from Durbar Square to our hotel. (We didn't negotiate.)
Accommodation in Nepal
Nepal has a vast array of accommodation, suitable for every type of traveler: from low maintenance backpackers on a tiny budget to those with luxury taste, and everyone in between.
We traveled with a Travel Agent who books luxury trips to Nepal for Russian billionaires, and she has a list of hotels that cater to her clients' every need. And on the other hand, we've stayed in very humble homestays with outdoor toilets that can only be described as "rustic". Whatever your travel style and budget, you will be able to find accommodation to suit your needs.
Hotels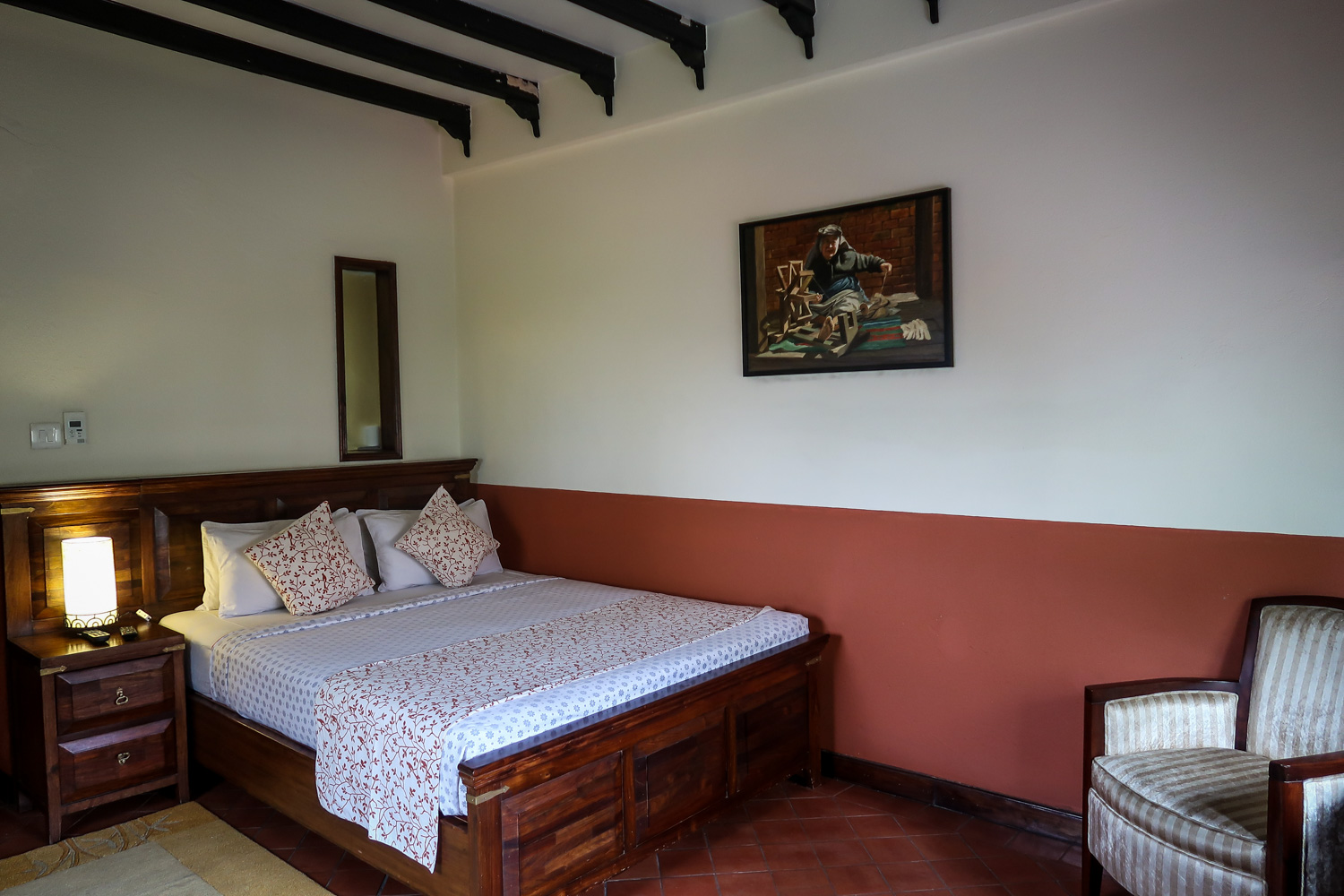 Hotels in Nepal range from basic to ultra luxurious.
Budget hotels: as little as $15 USD per night

Middle range: $50 – $80 USD

Luxury: $150 – $250 USD will get you a super high-end stay in a room fit for a Queen.
Pro Tip: There are literally hundreds of hotels to choose from in Kathmandu, but when we go back we will stay at the Traditional Comfort Boutique Hotel. Not only does it have all the amenities you want like a delicious breakfast, kind and attentive staff, rooftop bar, and spacious rooms, but owner's design and business model is what sold us.

At Traditional Comfort, their staff is 70% women, the water is solar heated, and all of the LED lights in the hotel are solar powered. That's probably why we never had a blackout there. This hotel will make your stay in Kathmandu so much better.
Hostels
You'll be able to find hostels in Kathmandu and Pokhara. Outside of these cities, hostels are not super common.
Dorm Bed: $5 USD for a bed in a dorm in Kathmandu

Private Room: $10 USD for private room
Airbnb
Kathmandu and Pokhara have some seriously beautiful Airbnb options.
First time staying in an Airbnb? Make your booking through this link, and you'll get up to $55 off your first stay. Cha-ching!
Plus, we have loads of info on how to book Airbnbs, red flags to watch out for when booking, and our favorite Airbnbs in our Airbnb article. Check it out!
Homestays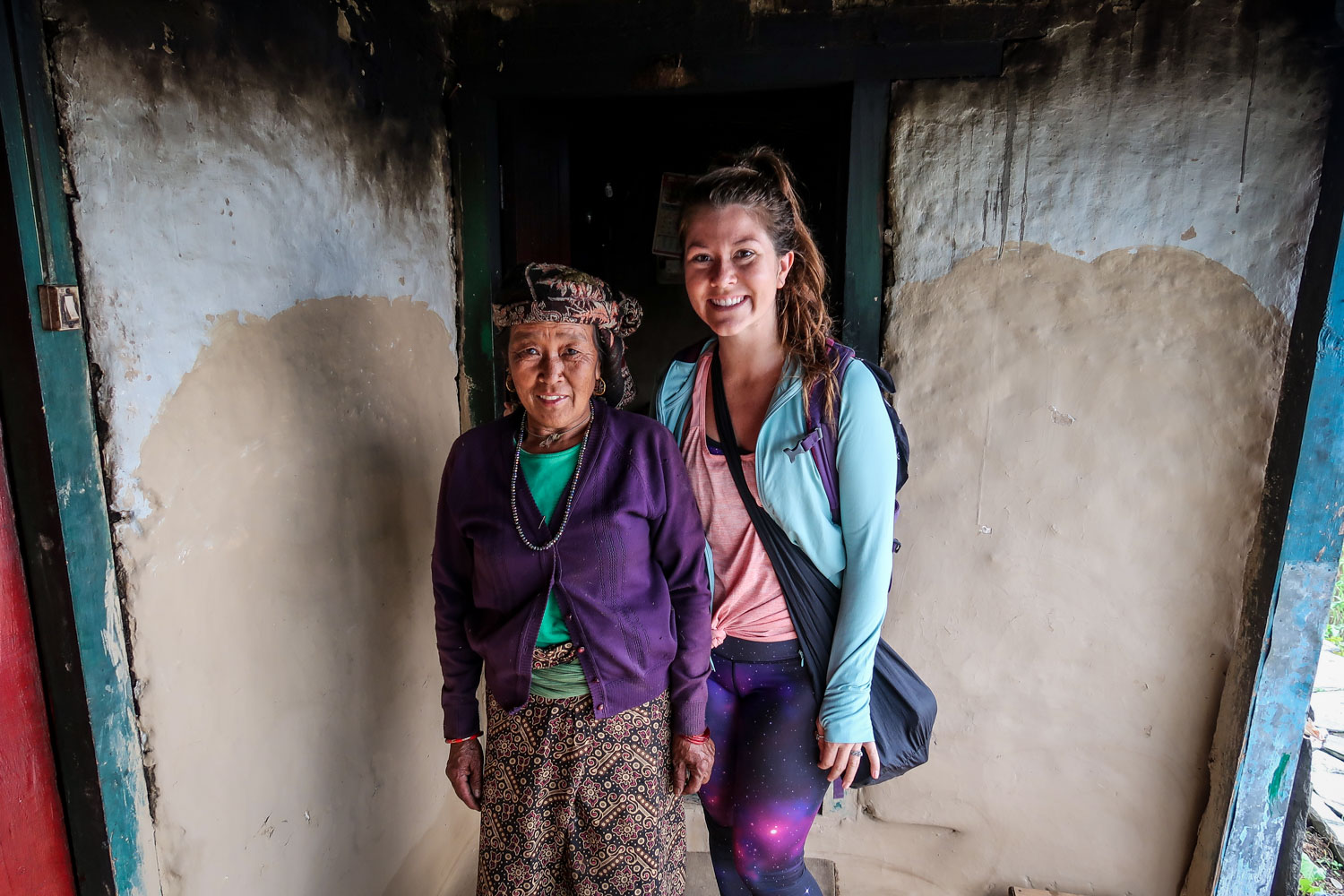 Stay with a local family by booking through the Community Homestay Network. This is a special experience and it helps you support communities directly. Their tagline is "Experience Nepal through the eyes of a local".
This is an easy way to make a difference on your travels, by empowering local women to earn sustainable wages while preserving their way of life.
Prices range from $15 – $40 USD per night, per guest. This typically includes some meals and activities.
Tea Houses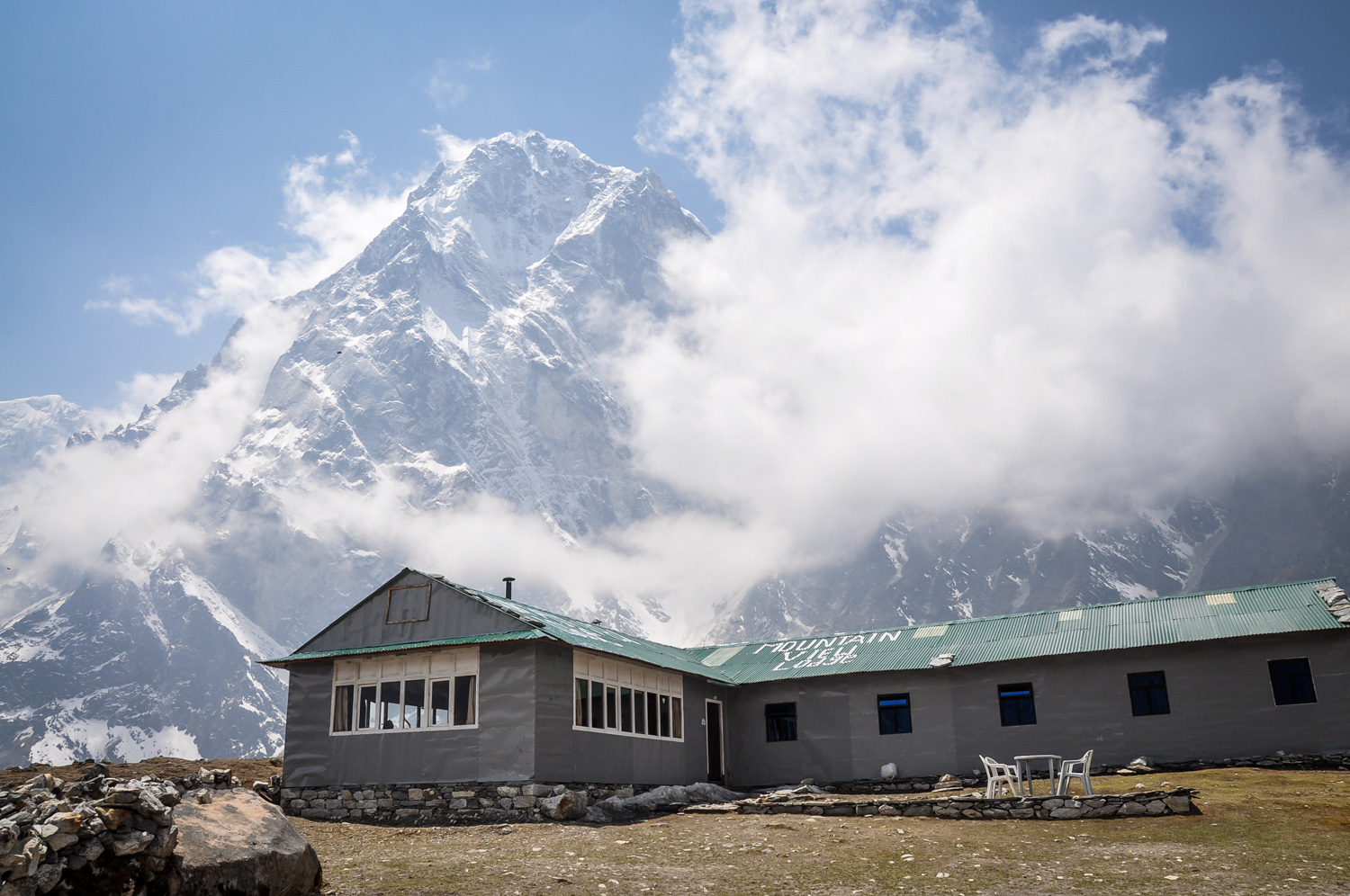 If you plan to do some trekking, you'll likely stay in tea houses along the way. They vary in comfort and amenities depending on the popularity of the trek as well as the elevation.
Price varies based on which trek you're on, but to give you an idea, the tea houses we stayed at on the EBC trek cost $1 – $5 USD per person per night. We were then required to eat dinner and breakfast at the teahouse, which was typically around $3 – $7 USD depending on what we ordered and what elevation we were at.
Responsible Tourism in Nepal
As you travel in Nepal, you will have the opportunity to support locals in really meaningful ways. There are many amazing organizations out there that are empowering locals, giving back to communities in need, and creating sustainable ways for families to earn fair wages.
No matter where we are in the world, we always try to follow these responsible travel tips, but here are some ways you can make a positive impact specifically during your travels in Nepal:
Pack a Steripen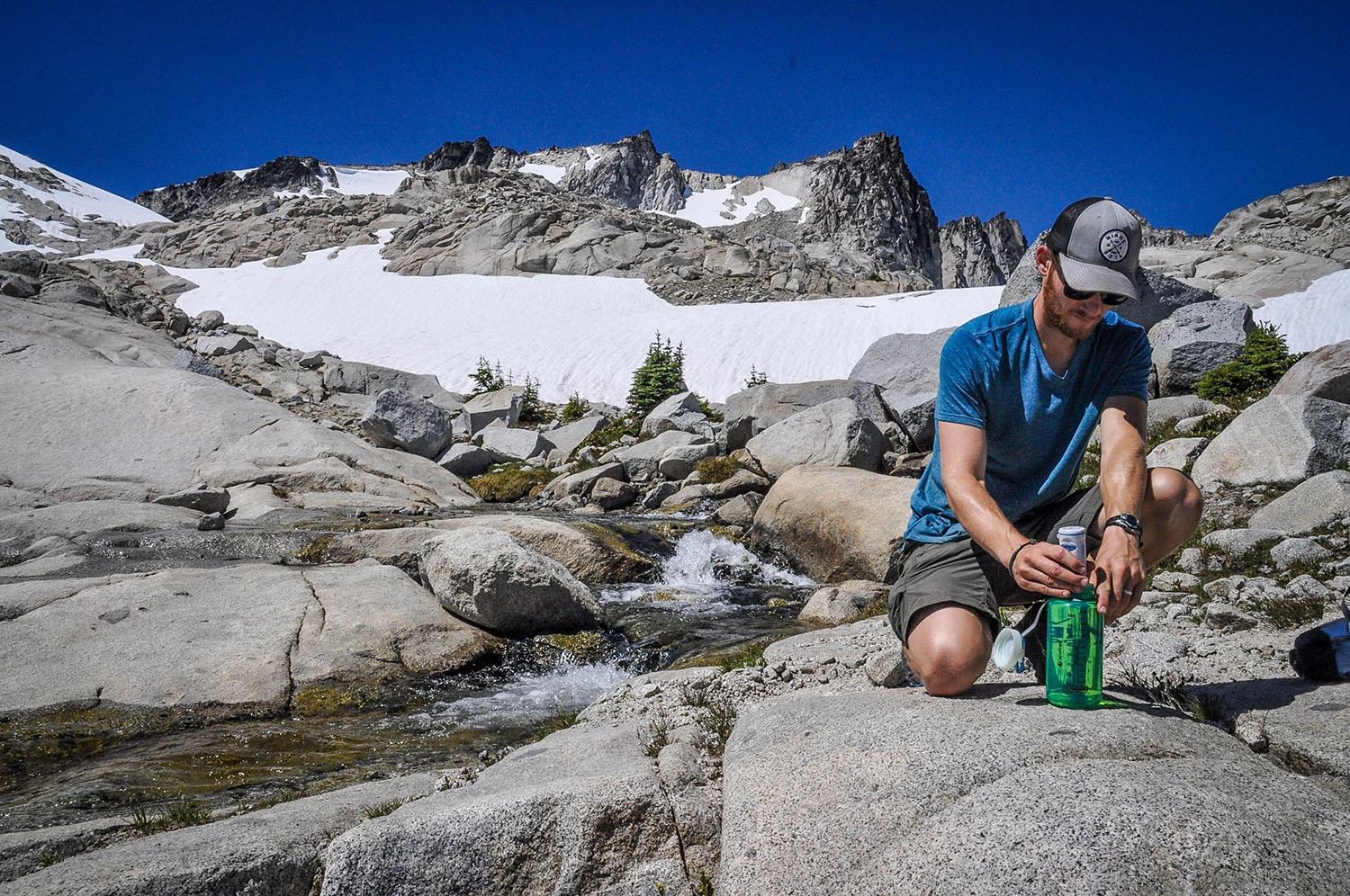 As we mentioned above, the water in Nepal is not safe to drink from the tap. This means you will have to purchase bottled water. OR, you can pack a Steripen, which purifies the water in 90 seconds. This is not sponsored by them or anything, we just seriously love our Steripen, and used it during our entire EBC trek to have clean drinking water.
Packing this handy device not only eliminates single-use plastic, but it'll save you a lot of money over time. Win Win!
Support locals
Remember, as tourists, we "vote" with our purchases. The types of things we spend money on tells communities what we value.
Make sure your money goes to locals and the communities by eating at small "mom and pop" restaurants or purchasing handicrafts directly from artisans. Book with locally operated tour and trekking companies instead of internationally-based ones. Stay at homestays. There are many amazing organizations in Nepal, and they can really use your support.
Be mindful about your waste on treks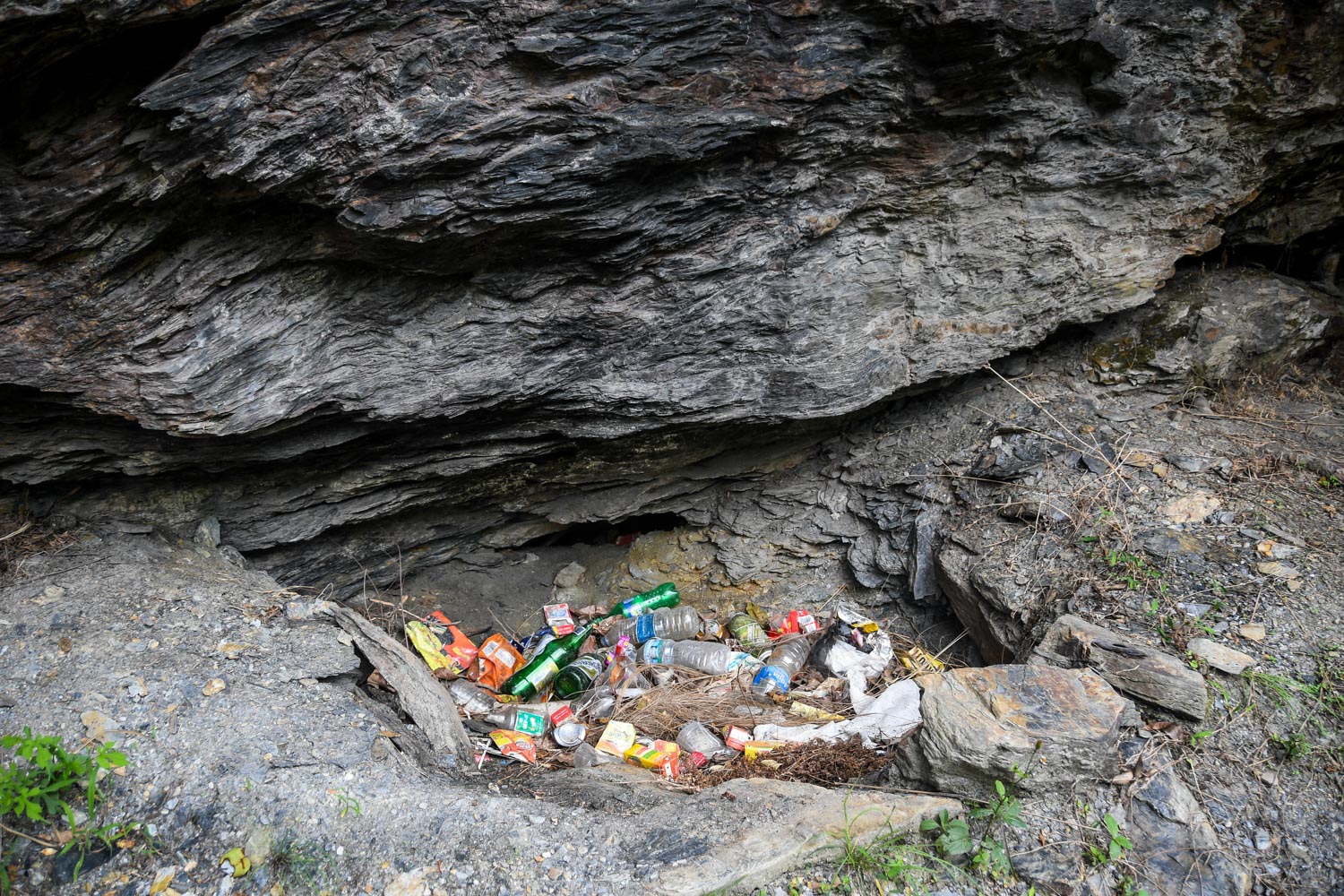 When hiking, be sure to carry out all your garbage. And if you feel so inclined, it can be nice to carry a bag to collect some pieces of rubbish on the ground. Little efforts can help!
Ask before taking photos
Before snapping a portrait-type photo of someone, ask if it's okay to take their photo. If they don't speak English, make eye contact and point to your camera, as this usually gets the point across.
If they say no, respect their wishes. If they say yes, it can be nice to show them the photo afterwards.
The people of Nepal are usually pretty friendly. But imagine someone taking photos of you without your permission. I certainly wouldn't like it. And when it is a large camera (like mine is), it can look especially threatening.
Don't support elephant riding
Sadly, this is very common to see in Chitwan National Park. Take a walking or Jeep safari instead of an elephant safari. Duh. Also, voice your concerns to your lodge and other tour companies in the area, because they are starting to listen, and these practices will hopefully start to change.
Dress appropriately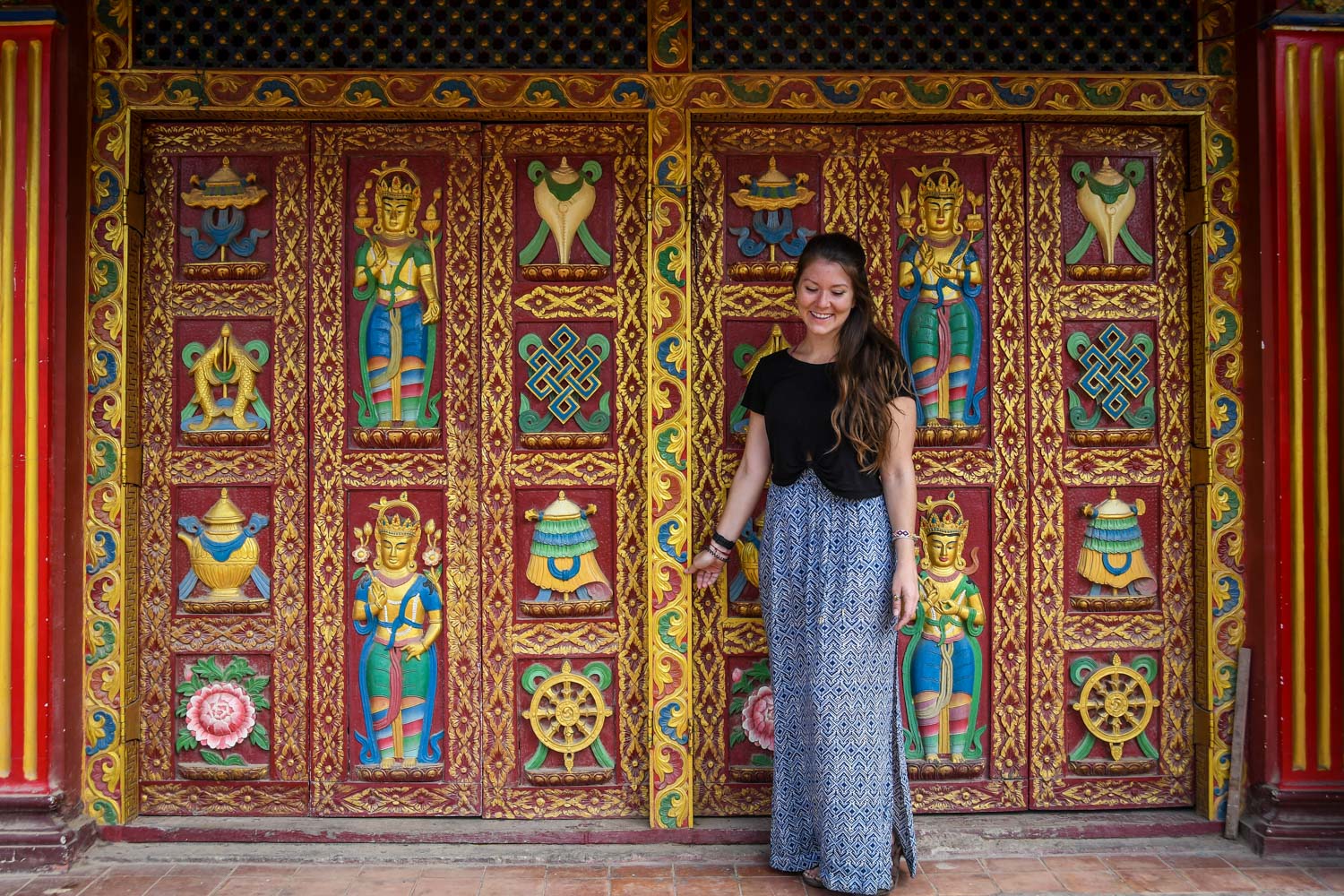 Be sure to cover your shoulders and knees in holy places to show respect. Easy Peasy.
Don't give to children begging for money
Sadly, you will likely encounter children asking for money during your travels in Nepal. I know – it tugs at your very heartstrings – but it's not a good idea to give them money or candy or food, no matter how sweet they are.
This only encourages children to skip school in order to beg. It encourages parents and orphanages to exploit their children by subjecting them to asking tourists for money.
Giving to children in this way is not a sustainable way to create change or to make a difference in their lives. It reinforces that all foreigners should give them something, little by little chipping away at their sense of dignity and self-worth.
There are other ways you can give back and contribute to those in need.
Donate to organizations in the area that are doing good work.

Support small family-run businesses so parents can continue to provide for their children.

Volunteer your time with a reputable organization. There are many not-so-sexy roles where your help would be much appreciated. However, if you plan to volunteer with children, please do your research and understand why "orphanages" are not an ethical place to volunteer. Also be sure you're able to stay for an extended period of time. Read up on why this is important, and be sure to carefully vet the organization you plan to work with.
Don't forget to tip
As we described in a section above, tipping is expected if you go on a trek in Nepal. Before your hike, use the information we have provided to help you plan out how much money to allocate to tips. Keep in mind that many of the porters and guides rely on tips to make a living.
Nepalese Food to Try
With influence from neighboring countries like China, India, and Tibet, the food in Nepal is reminiscent of other parts of South Asia, yet Nepali dishes have their own distinct flavor.
Nepalese food is good. But I'm going to go on record saying it is too carb-heavy for me to call it great. Obviously this is a personal opinion, and you may very well LOVE the food in Nepal.
There are many delicious dishes to try, but I will warn you that it can get repetitive. Very repetitive.
Momos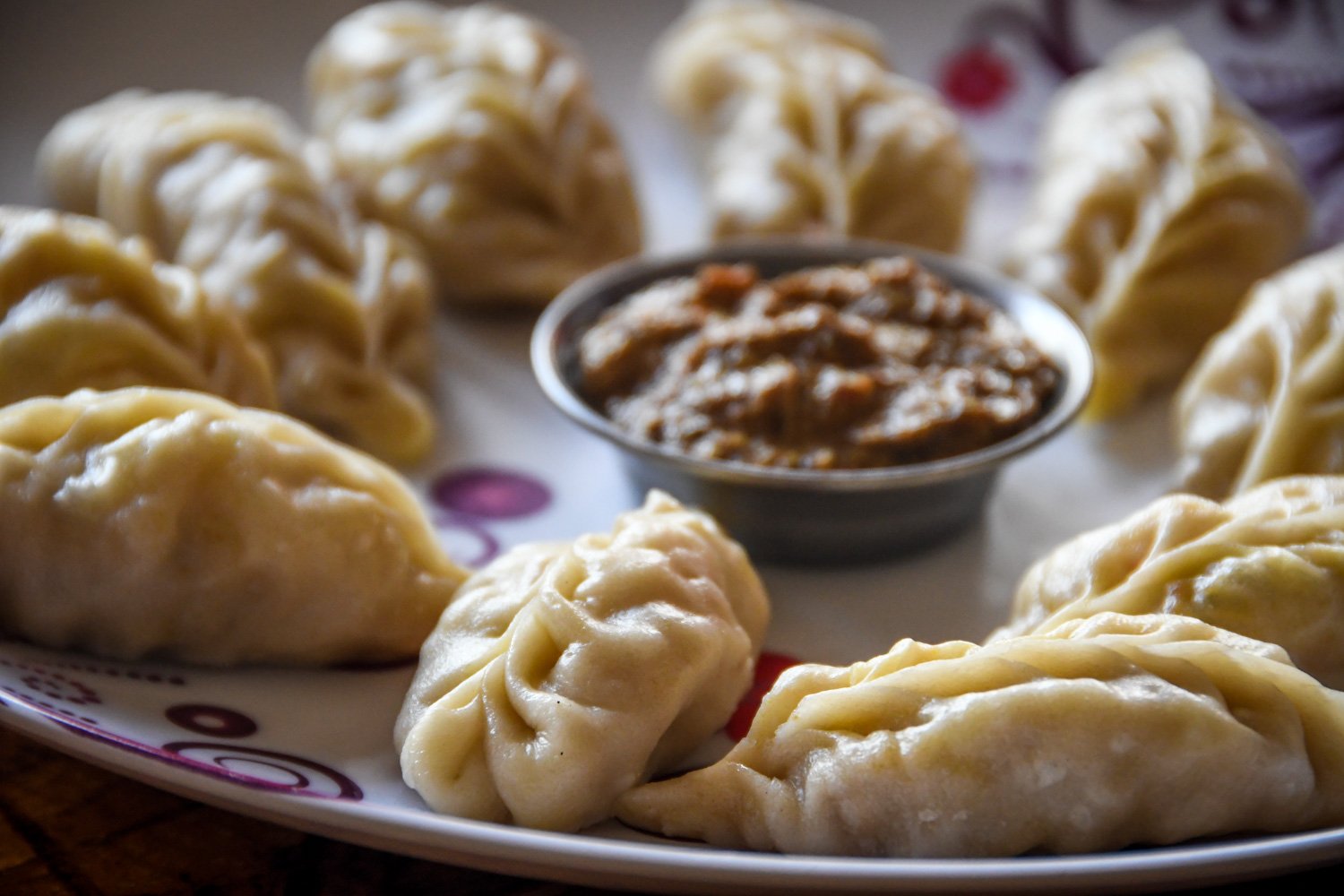 This is probably the most loved dish by travelers in Nepal. Similar to Chinese gyoza, these dumplings are typically steamed (but can be ordered fried as well) and are served with a tomato- or peanut-based dipping sauce. The most common types are veggie (mixture of cabbage, onion, carrot) or chicken.
For Nepali people, momos are typically a snack eaten around midday. But we certainly ordered them as a main dish many times.
It's also possible to find momos with cheese and those with sweet fillings like banana or chocolate for dessert. Momos are seriously delicious, but if you order them every day during your trip (it's tempting!), prepare to get tired of them. Yes, it is possible. I speak from experience.
Dal Bhat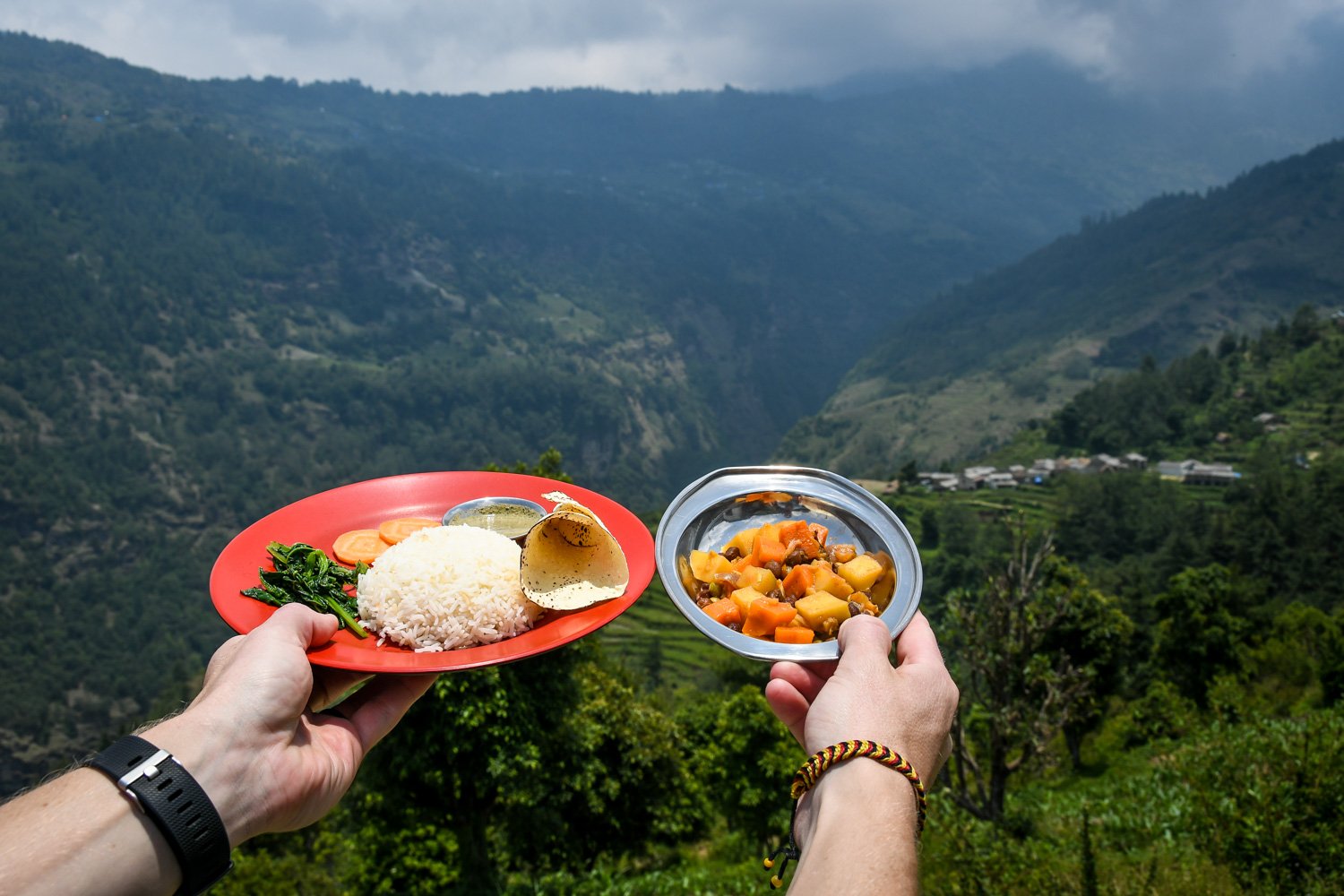 Order dal baht if you're hungry and you need energy! You'll be served a plate with rice, papadams (thin, crispy crackers), and a bowl of lentils. It typically also comes with curried vegetables, sauces, and pickled greens of some sort.
Dal Bhat varies from place to place, but one thing is always the same: You can have as much of it as you'd like. Seconds?! Yes, please! This it is THE dish you'll find most while trekking, because it's easy to make in bulk and it provides a lot of energy.
Funny Side Note: You don't have to be in Nepal long to hear the phrase "Dal Bhat Power, 24 hour"! Our trekking guide, Gopal, said it so often that a previous group gifted him a shirt with the phrase "Gopal Power, 24 Hour!" embroidered on it, and he wore it proudly while eating many, many meals of dal bhat. Come to think of it, I don't think we saw him or any of our porters eat anything other than dal bhat.
Good to know: Nepali people eat many meals with their hands, but they usually serve the same dishes to Westerners with forks and spoons.
Thukpa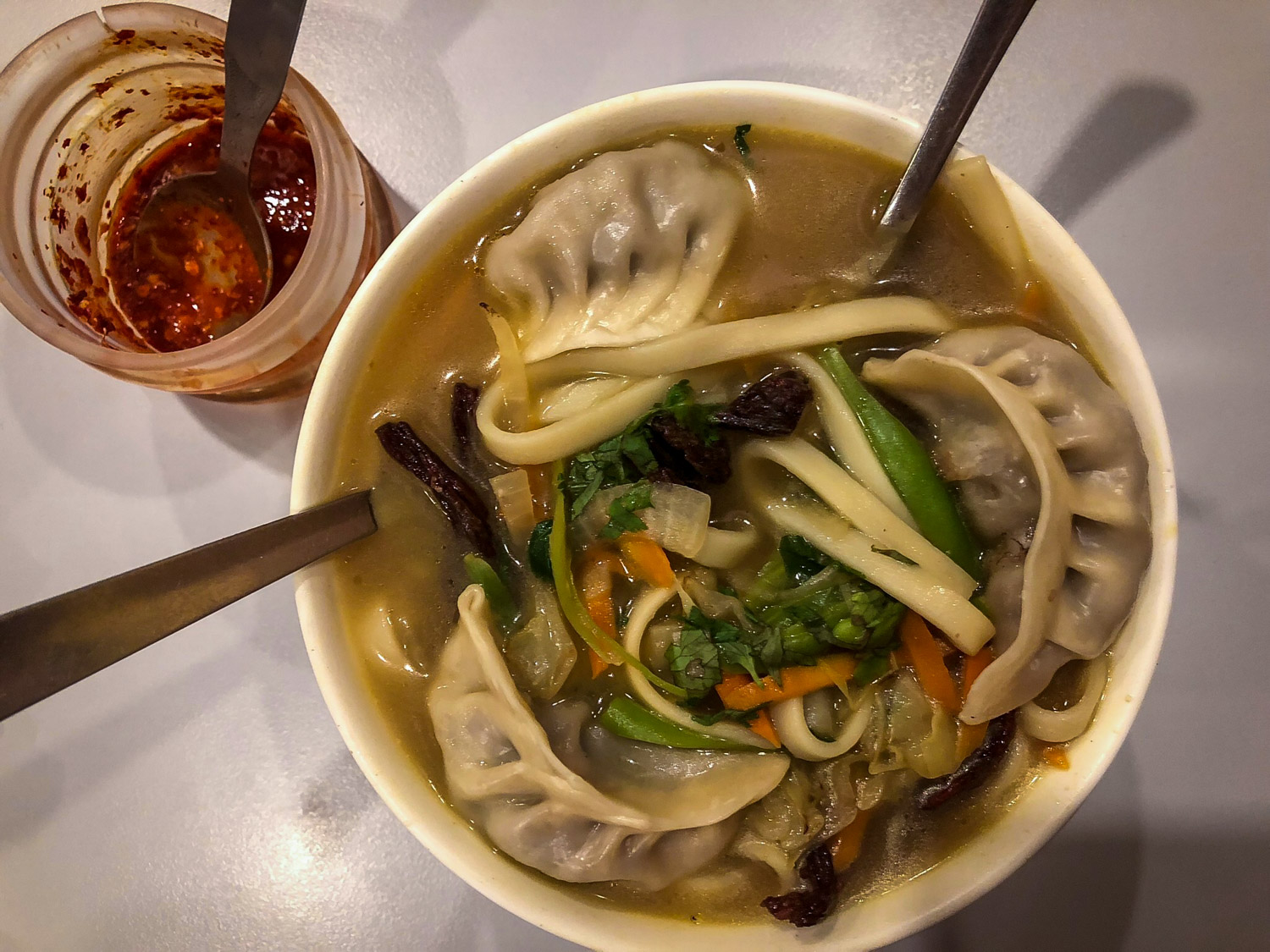 This Tibetan veggie noodle soup is perfect on a cold day or after many hours of trekking (or umm shopping…). This is the ultimate comfort food, and the best equivalent I can think of in the US is chicken noodle soup. Mmmmm….
I had a particularly good Thukpa at Sherpa Kitchen in Pokhara. At the same restaurant, Ben had a tasty noodle soup served with momos inside!
Aloo Dum
Traditionally an Indian dish, the Nepalese version is just as tasty! Potatoes are seasoned with cumin, coriander, ginger, chili, and turmeric for a delicious and filling meal. It can even be eaten for breakfast.
Juju dhau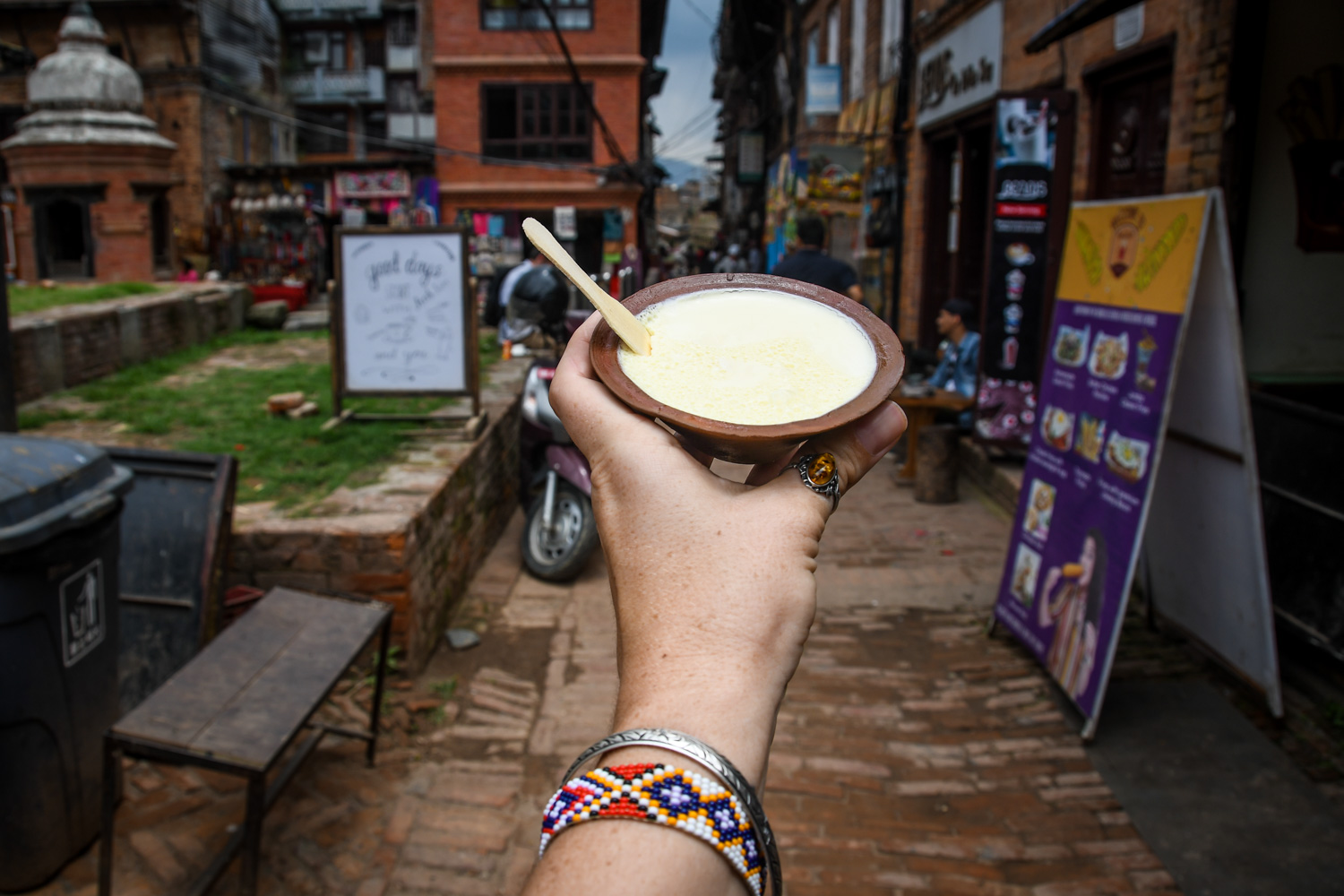 Translating to "king of yogurt", this thick and creamy treat has a custard-like consistency and a decadent flavor. Made from buffalo milk, juju dhau is traditionally served in small clay bowls and eaten with a wooden spoon.
The best place to try this delightfully sweet and tangy yogurt is in Bhaktapur, an ancient city just outside of central Kathmandu.
Masala Chai (Milk Tea)
This tea is ubiquitous with Nepal. It's kind of like what coffee is to NYC… or Seattle… or Melbourne… Well, you get the picture.
You'll likely have a mug (or 17!) of this stuff during your time in this country. It's especially nice on a cold morning or after a long day of trekking.
Vegetarian / Vegan in Nepal
Unlike many countries in Asia, it is quite easy to stick to a vegetarian or vegan diet in Nepal. Two of the countries most famous dishes – veggie momos and dhal bhat – are vegan without having to request any alternatives.
Good to know: You'll be hard-pressed to find beef on the menu in any local restaurant. Similar to India, cows are considered holy in Nepal, and are treated as Westerners might treat cats and dogs.
Gluten-free in Nepal
In Kathmandu and Pokhara, you'll be able to find restaurants that are familiar with and serve gluten-free options. However, if you are trekking, here are some dishes that are good options:
Dal Bhat: lentils, plain rice, vegetables

Omelet: There are usually egg options on the menu for breakfast.

Rösti: This traditionally Swiss dish of fried, grated potatoes topped with eggs and cheese, is popular in teahouses. It's a tasty and filling breakfast while trekking.
Pro Tip: Nepalese food is fun to make and there are cooking class all around the country. Check out Social Tours for their interactive cooking class in Kathmandu or search on Cookly to see if you can find one in other cities.

Or try out a Backstreet Academy's Breakfast Tour and learn about the morning routines and life of locals while working your way through the hidden streets in Kathmandu.
Nepal Packing List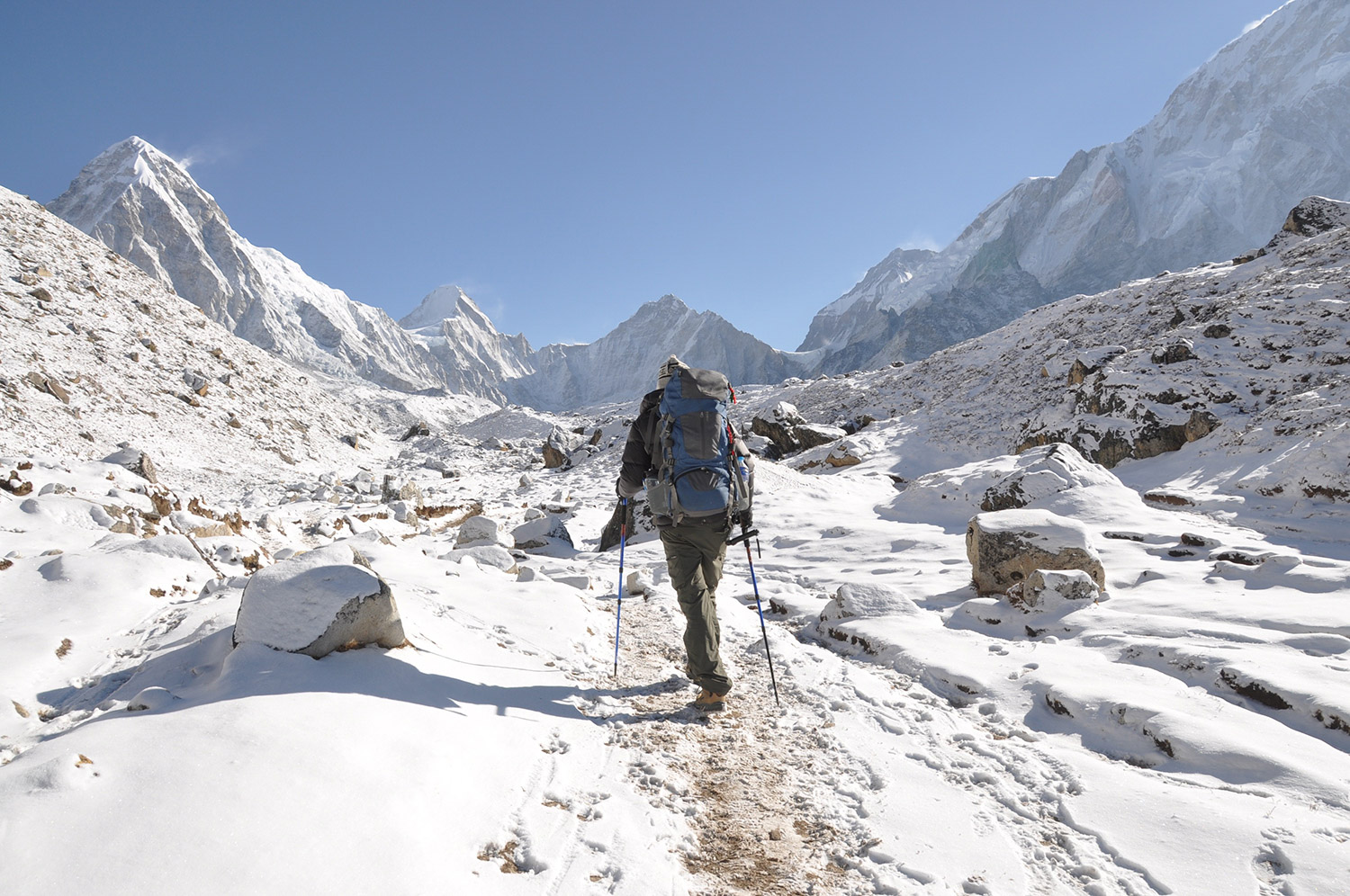 Are you overwhelmed with trying to decide what to pack for your trip to Nepal? We're going over some essentials that will help ensure you're prepared!
Steripen: sterilized a liter of water in 90 seconds. Saves money and plastic.

Electrolytes (Nuun brand): Stay hydrated on your trek, we think the Nuun brand tastes the best.

Vitamin C tablets: Keep your immune system boosted

Sarong: multi-purpose cover up.

Chacos / Hiking Boots: If you're hiking in warm weather and low elevations, we love hiking in Chacos. But if there is snow expected, you should bring boots.

Portable Battery Pack: Charging your phone on treks can cost per hour. Bring your own battery that last up to 7 phone charges.

Motion Sickness bands: Relief for the bumpy roads in Nepal

Charcoal Pills (and stoppers/goers)

Peppermint oil / Tiger Balm

Layers of clothes

Sleeping bag liner / pillow case

Kindle Paperwhite: much lighter than carrying a guide book

Camera & extra batteries

Deck of cards

Power Converters & Adapters

Eye mask and ear plugs

Protein Bars & Nuts: You can find some in Thamel (Kathmandu) and Pokhara, but if you bring them from home you'll have more variety to choose from.

Fitbit: Track your steps and how high you climb

Down jacket: Can also rent this in Kathmandu or Pokhara

Sleeping bag: Can also rent this in Kathmandu or Pokhara

Hand sanitizer

Wipes

Roll of Toilet paper
What clothing should you wear in Nepal?
This is going to differ based on what types of activities you're doing. We're breaking down a very basic idea of what clothing to pack for trekking as well as what to pack when you're just exploring in Nepal.
Check out this article if you want an entire packing list of what we brought on our 17-day Everest Base Camp trek.
What to wear while trekking in Nepal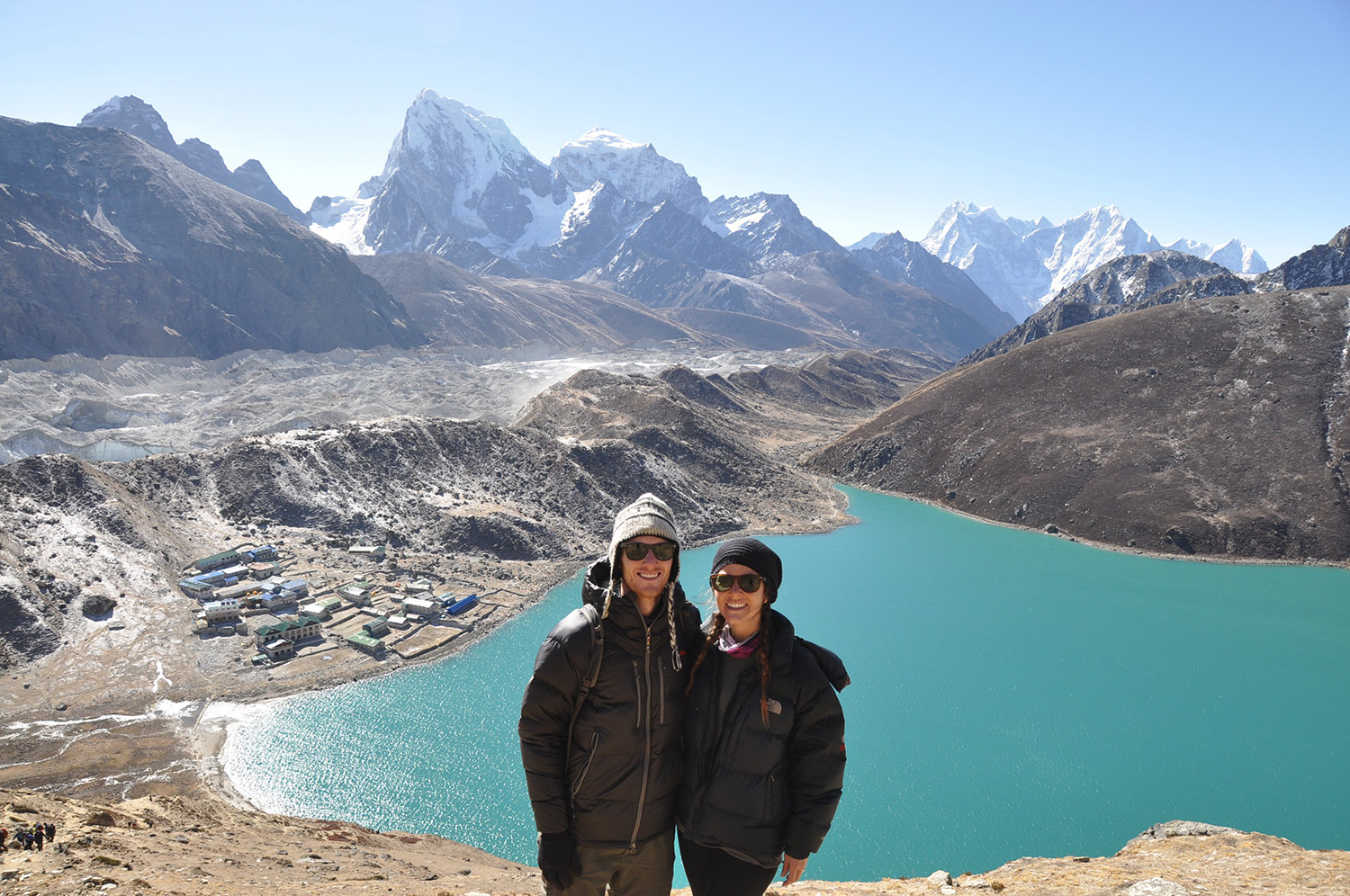 Personally, we like to pack a couple hiking outfits that we wear over again during the days (hey, they're just going to get sweaty anyway!).
We also pack 1 or 2 outfits for the evenings at tea houses that are warm and feel nice to change into after spending the day in sweaty athletic clothes.
quick-dry layers (mix of t-shirts & tanks, long sleeves & zip-ups)

trekking pants/leggings

wool socks

hiking boots and/or Chacos (depending on elevation and difficulty of the hike)

thick layers & comfortable clothes to wear in the evening at teahouses

Down jacket: Choose one that packs up small (this is lightweight and keeps you super warm!)

Rain jacket: This can be used as a wind barrier too.
What to wear in Nepal (when you're not trekking)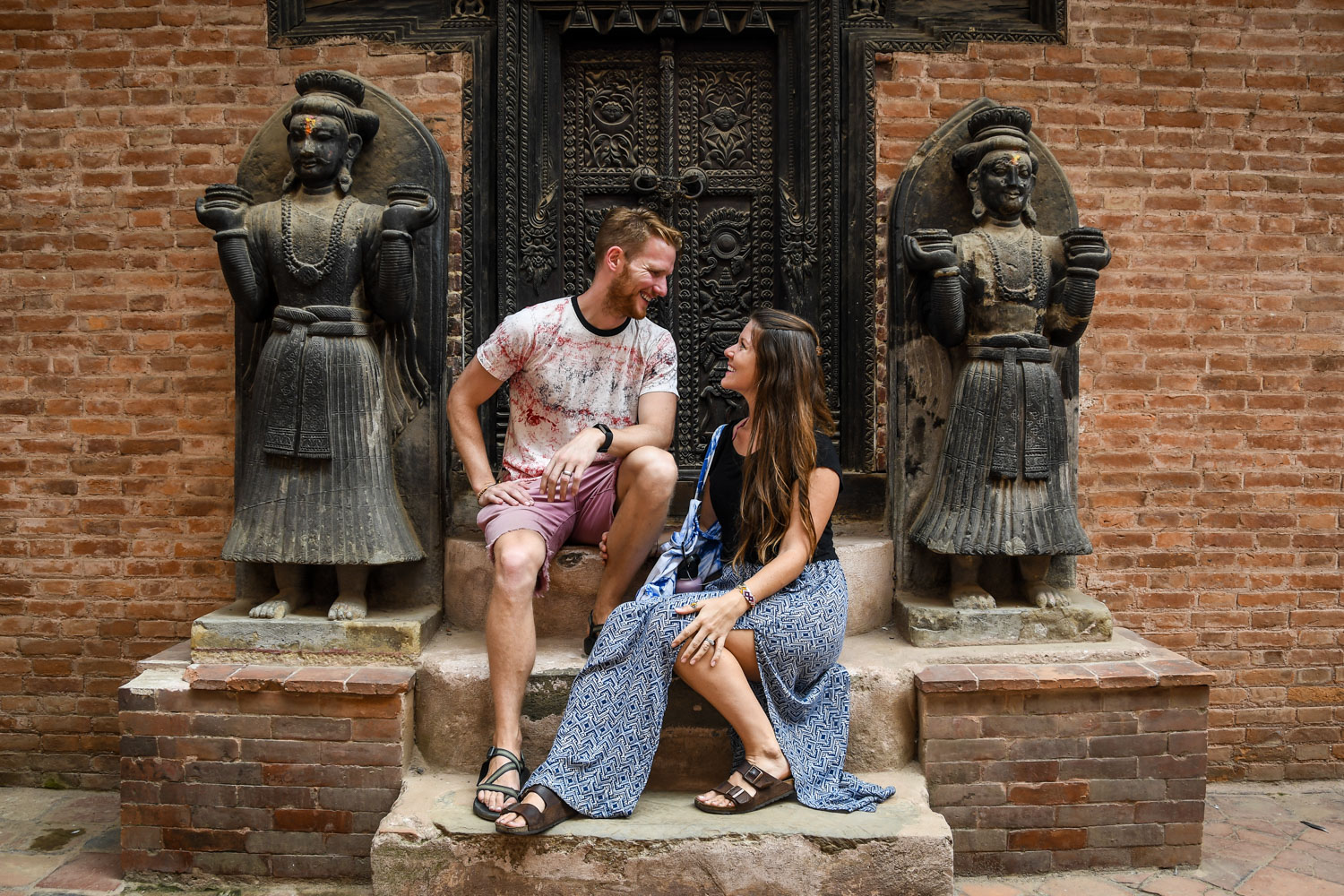 In general, try to dress conservatively in Nepal, especially when you're at holy sites.
A woman in our group got yelled at for wearing spaghetti straps at a World Heritage Site.
I always carry a sarong in my daypack so I'm prepared to cover my shoulders or knees.
Clothing for Women:
long skirts and/or maxi dresses (that hang below your knees)

lightweight t-shirts

Personal Note: I felt comfortable in tank tops in some places around Pokhara and Kathmandu, but I always carried something to cover up with in case we visited a holy site or I felt uncomfortable.

cardigan sweater

loose, lightweight cotton pants, leggings

jeans

jacket for cold weather

rain jacket for rainy season
Clothing for Men:
Long pants/jeans

Shorts are fine in warmer months, though locals don't seem to really wear them

t-shirts

athletic zip-up

jacket for cold weather

rain jacket for rainy season
Interesting & Important Facts about Nepal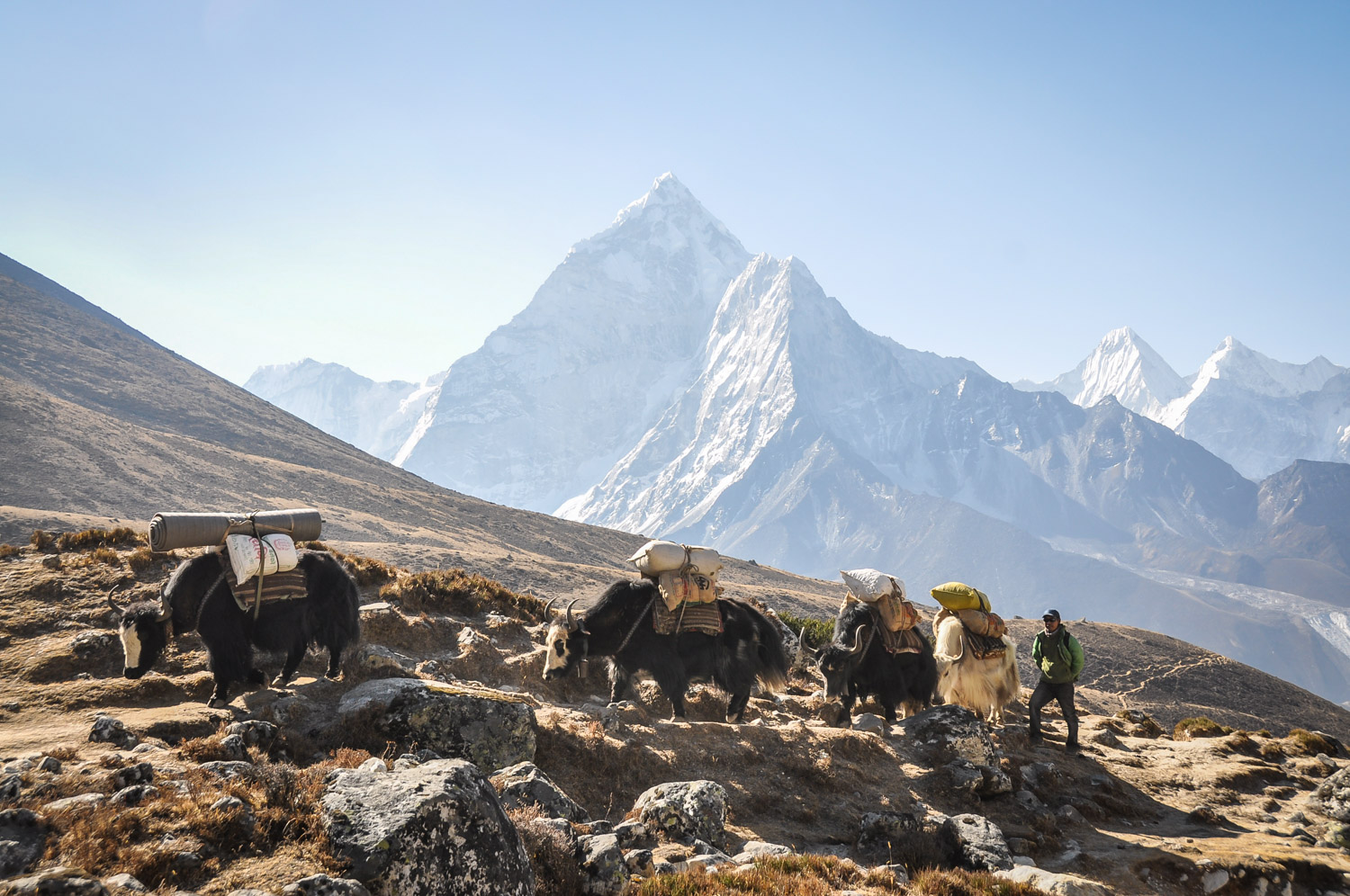 Are you getting excited about your trip to Nepal? We are thrilled that Nepal is on your travel list, and we think it's a country you will quickly fall in love with. We sure did.
Now that we've gone over all the nitty-gritty things that you need to know as you start to plan your travels, you've earned some interesting facts about the country.
Some of these are fun, while others give you a deeper perspective on the culture, and others still are hard to hear.
We think it's important to be informed about the countries we visit, so we hope you find these facts meaningful as you plan your travels.
1. No Big Macs here
Did you know that Nepal does not have any McDonald's? There are a handful of countries out there that are resisting the allure of the Golden Arches, and Nepal is one of them. Now the question is, are you disappointed or ready to give the country a round of applause…?
2. Let's learn Everest's "real" name…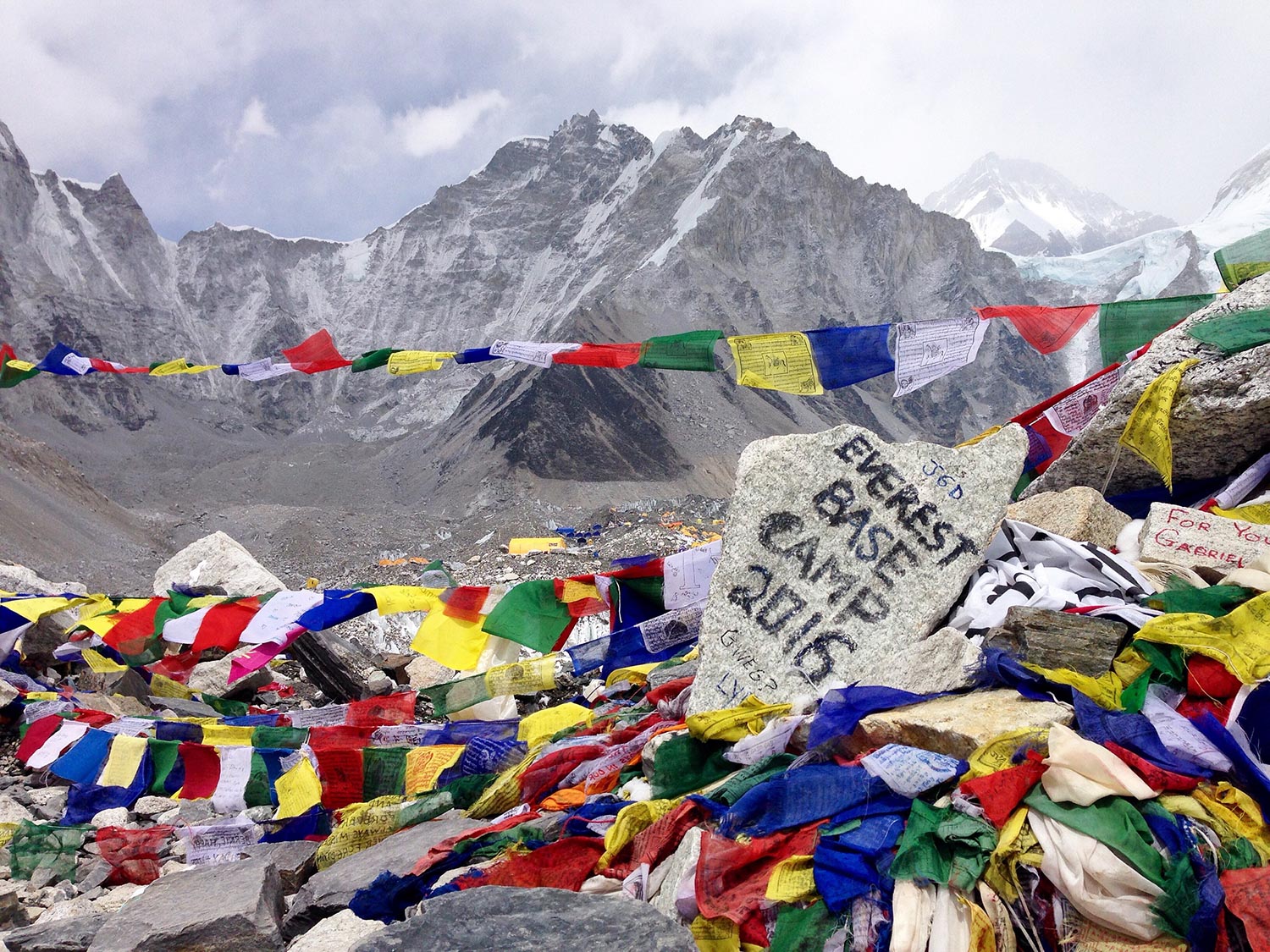 Everest is the tallest peak in the world, and it was named after Sir George Everest, a British surveyor who actually never saw the famed mountain with his own eyes. However, few people outside Nepal know the local name of this iconic mountain.
In Nepali and Sanskrit, this towering peak is known as Sagarmatha, which translates to "Peak of Heaven." And in Tibet, the people call this mountain Chomolungma, meaning "Goddess Mother of the World". Both are beautiful, aren't they?
3. UNESC-Whoa!
Nepal is a pocket-sized country, but it has the densest concentration of UNESCO World Heritage Sites of anywhere in the world. Just in Kathmandu Valley alone, you'll find 7 sites including Bhaktapur Durbar Square, Patan Durbar Square, &
Boudhanath.
4. Nepal has Child Goddesses
That's right — in Nepal, there's a centuries-old tradition in the Newari culture in which a young girl, called a Kumari, or "Living Goddess", is worshipped by both Buddhists and Hindus. It is believed that she is the reincarnation of the Hindu goddess Durga.
Girls as young as infants are selected through a rigorous process, and once named the Kumari, she must stay indoors (except during ceremonies), and she must be carried everywhere. When the Kumari enters puberty and has her first period, her reign is over and a new Kumari is selected, as she goes back to "normal life".
Want more info? This is a fascinating interview with a former Kumari who speaks about what it was like to be considered a goddess, and how it felt to transition to "regular" life. And this article from National Geographic gives a glimpse into the family life of young Kumaris.
5. Sherpas and Porters are not the same!
Often, the terms "Sherpa" and "Porter" are used interchangeably, but it's important to know they are not the same.
Sherpa is an ethnic group of people that are native to the mountainous Himalayan region.

Porters are people who help carry packs or equipment on treks.
Yes, many Sherpas earn their livelihood working as porters. But not all porters are of Sherpa descent.
6. Nepal has its own Calendar
We all may think it is the year 2019, but according to the Nepali calendar, it is actually the year 2076! Yep, we've jumped into the future!
This lunar calendar is called Nepal Sambat, and has just 354 days in a year.
7. Beware of "Leech season"
During monsoon season — June and July — beware of leeches while trekking. You shouldn't have to worry about them in cities, but if you go into the forest, you will likely notice a few blood-suckers trying to cling to your ankles. For this reason, it's best to avoid trekking at this time of year (unless you really want to make a blood donation!).
8. Nepal is super diverse!
Throughout the country of Nepal, there are 126 castes and ethnic groups. As you travel around the country, you'll see all sorts of different customs, traditions, and architecture. You probably won't notice (unless you're fluent in Nepali), but there are 123 languages spoken in this country. So when someone speaks to you in English, know that they most likely speak a few other languages too!
9. There's a lotta water here
Nepal has more than 6,000 rivers… say WHAT?! When you consider all the mountains and glaciers, it makes sense, but it's still impressive. It's no wonder Nepal is a great destination for river sports, like whitewater rafting and kayaking.
---
Are you planning to visit Nepal soon?
We have TONS of other articles on Nepal that we think you'll like. Check out our Nepal Homepage for all the important travel information, or read some of our favorite articles below.
Save this article to Pinterest!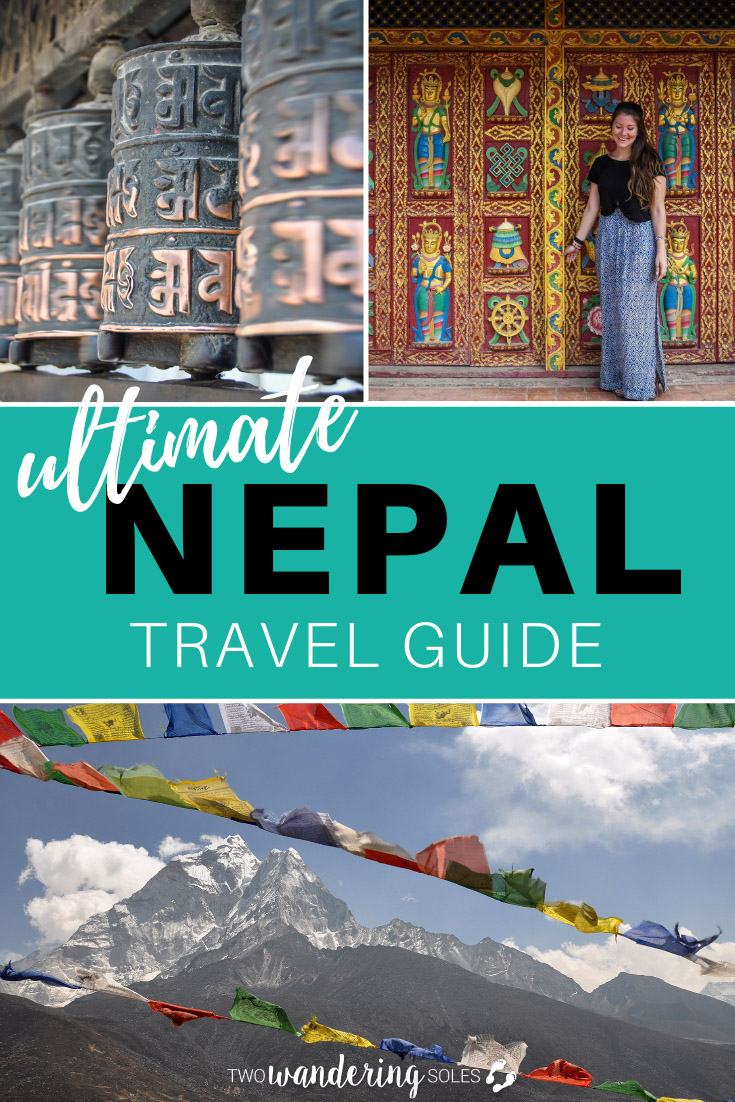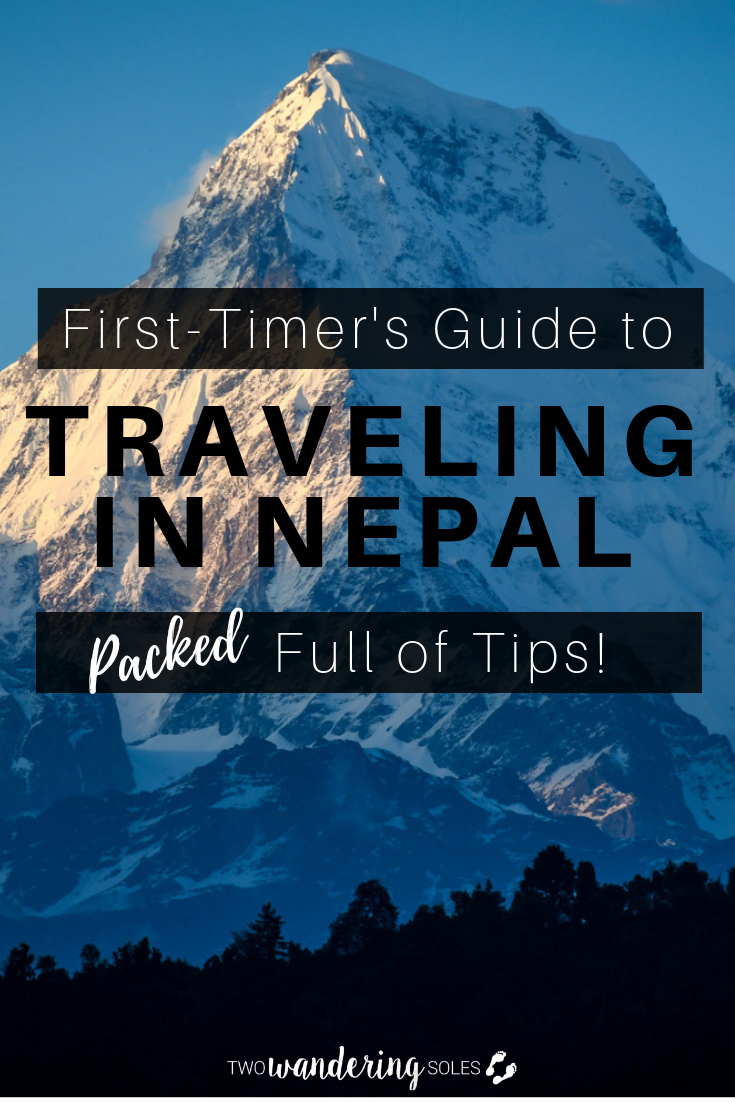 We want to hear from you!
Have you traveled to Nepal? What were your thoughts? Is there any important info we're missing in this Nepal Travel Guide?
Do you have any more questions about planning your own trip to Nepal that we haven't already answered? Comment below and we'll do our best to get back to you!