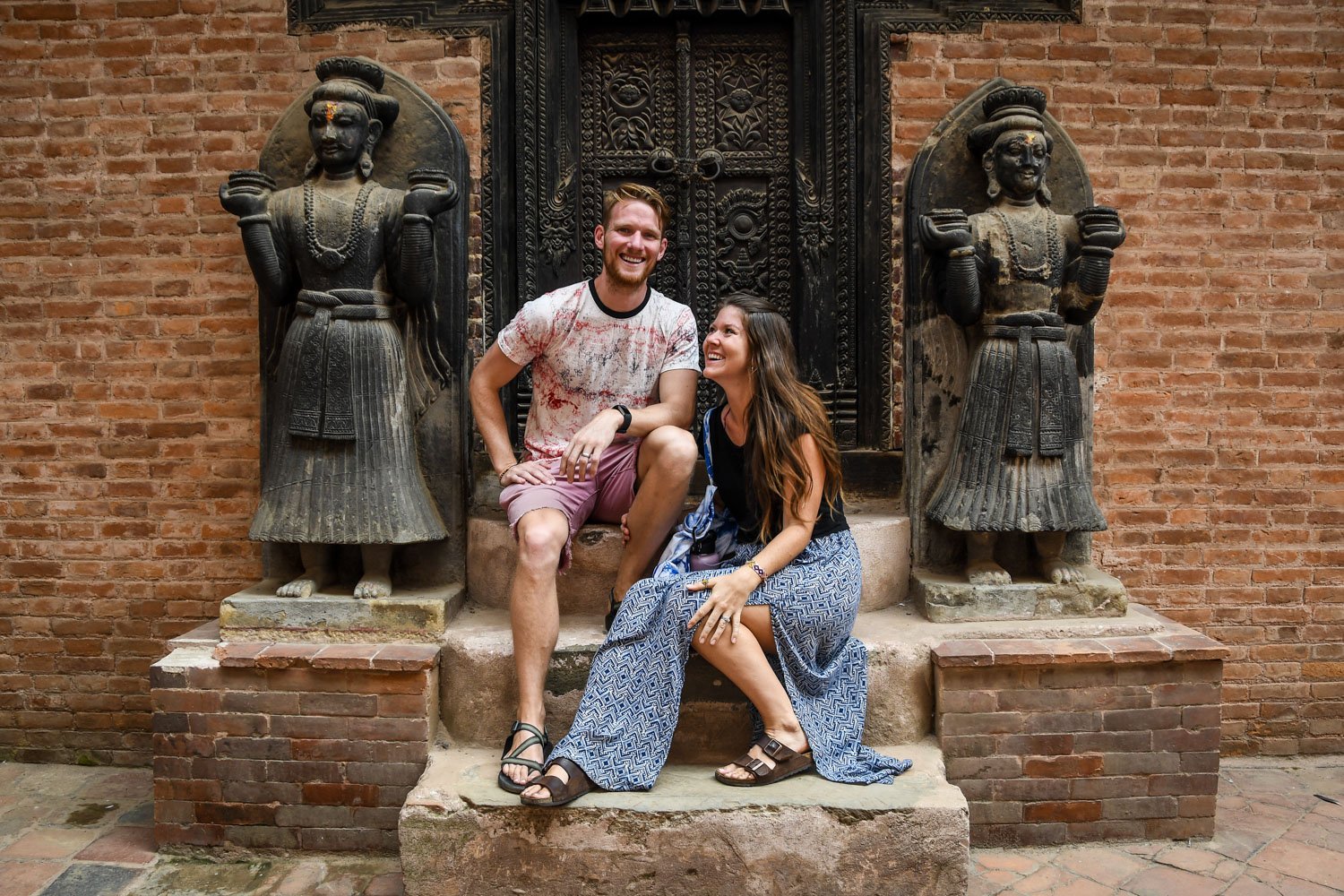 Nepal boasts some of the best trekking in world, drawing avid hikers and adrenaline addicts from all corders of the globe. But there is more to this small, landlocked country than trekking in the mountains.
Actually, there is kind of an overwhelming amount of things to do in Nepal… To the point where you can get totally overwhelmed while planning your trip.
You'll discover a beautiful culture, heart-thumping adventures, and wildlife encounters. You'll see there is an interesting cuisine to taste, truly kind people who welcome you in, and a deep spiritual side of the country to explore.
There are lists out there of 100+ places to visit in Nepal, but we here to help distill down what to do according to you and your interests.
We're going through the top things to do in Nepal that you should consider as you start planning. You might not have the time (or interest) for all of them. But you'll at least be able to pick out what suits your travel style, your budget, and your time frame.
More Nepal Info: If you haven't already, check out our complete Nepal Travel Guide that goes over literally everything you need to know about traveling to this incredible country.
Things to Do in Nepal Contents:
Disclaimer: Just so we're on the same page… Our first visit to Nepal in 2016 was an independent trip. Our second visit (in May/June 2019) was hosted by the Nepal Tourism Board in conjunction with the 2019 Himalayan Travel Mart. Although we were hosted on this trip, all views and opinions of Nepal in this article are our own.
Affiliates: Also, there are some affiliate links in this guide, which means when you click we get a small percentage of the purchase at no extra cost to you. This allows us to keep sharing great Nepal travel tips with you, so feel free to click away!
---
1. Go Trekking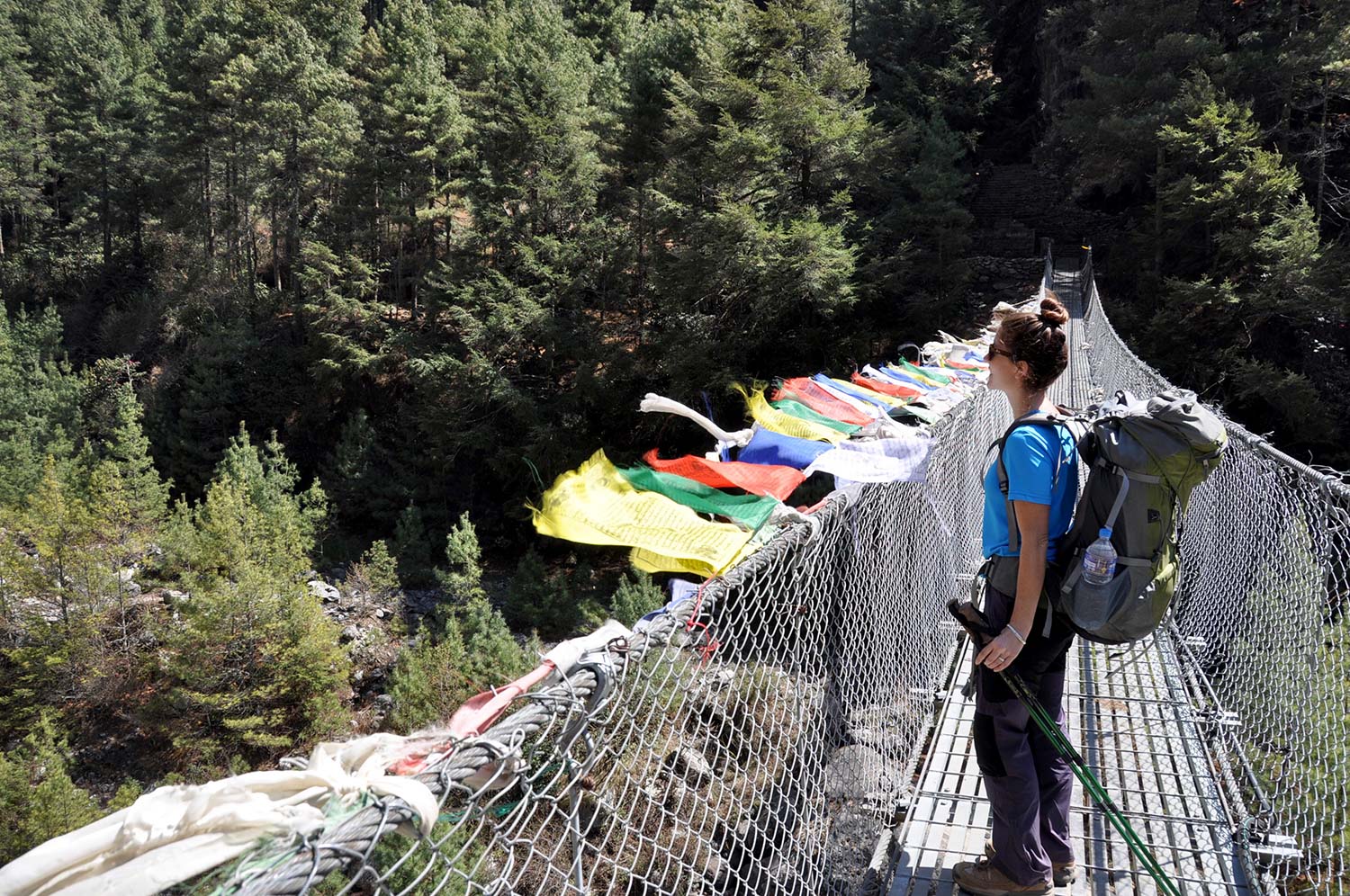 Let's start with the obvious: Trekking!
If you like hiking and you're traveling to Nepal, you'll definitely want to squeeze in a trek, or even plan your whole trip around one.
From the iconic peaks of the Himalayas more tame trails at lower elevations, there are hikes of all lengths and levels of difficulty to choose from.
We're even sharing some treks that are still pretty undiscovered by tourists, so you can avoid the crowds that come with the more popular trails.
Long & Challenging Treks in Nepal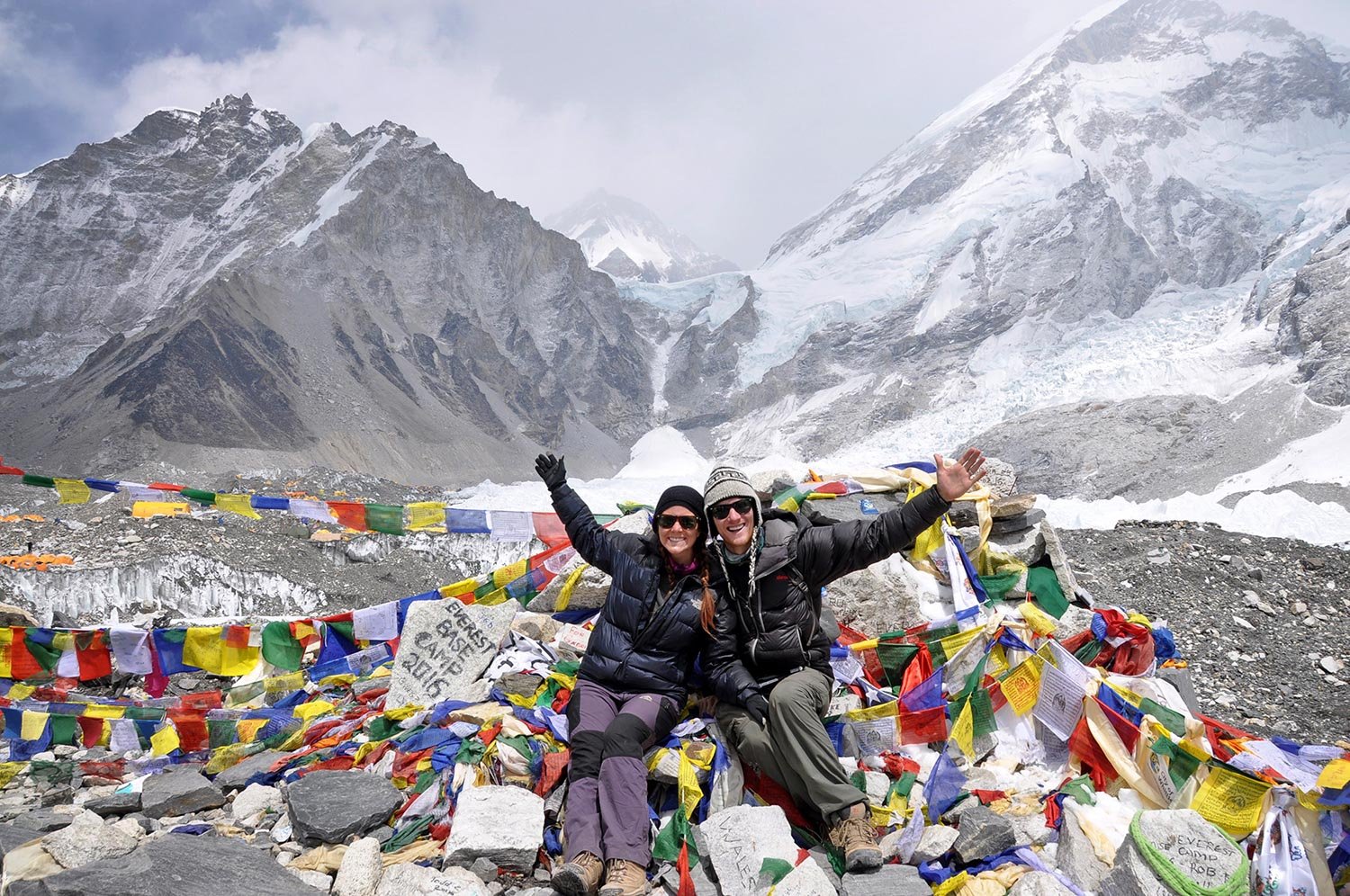 Want a big-bad, once-in-a-lifetime, this-is-what-dreams-are-made-of type trek?
Short & Easy Treks in Nepal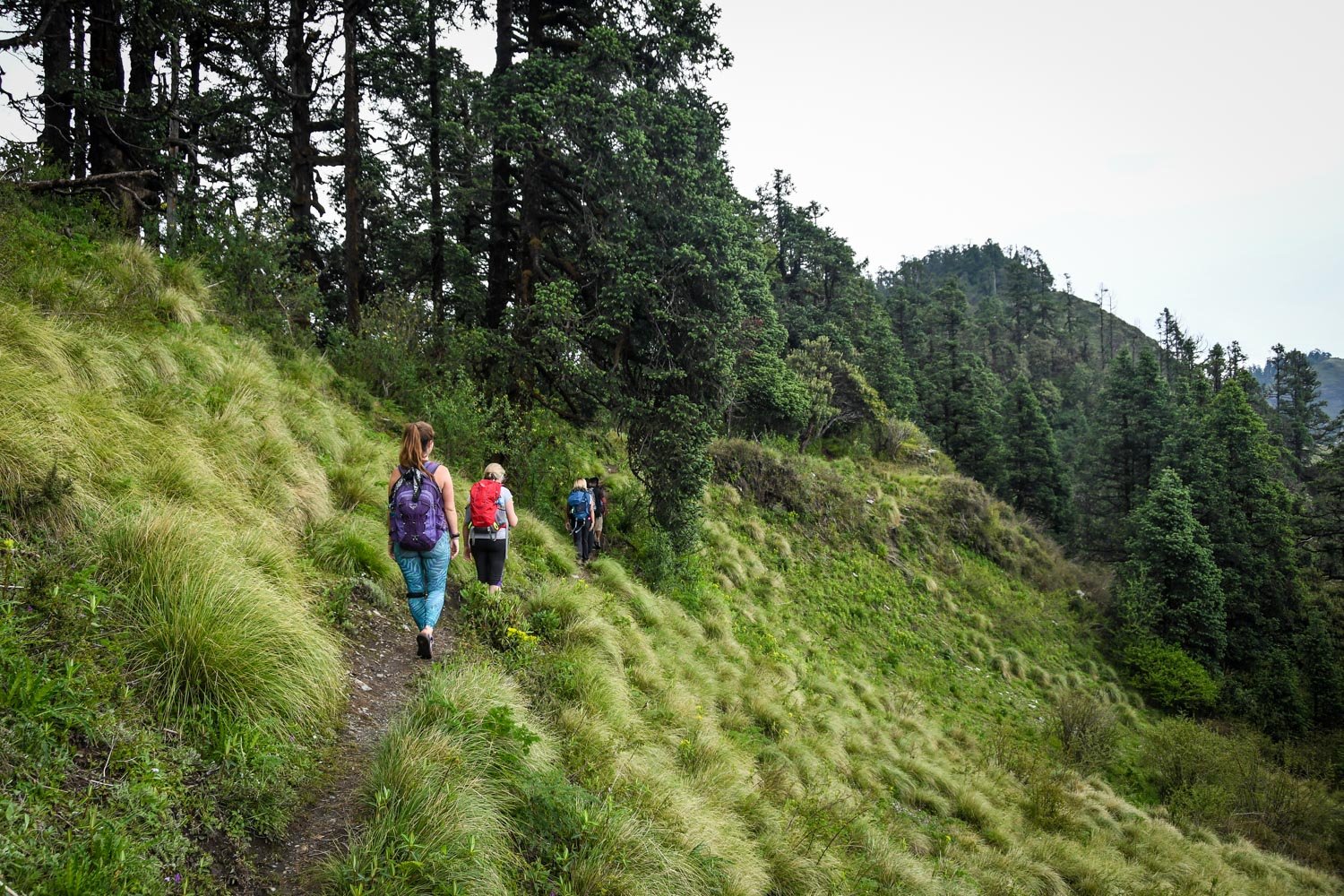 Are you looking for a somewhat easy hike that you can fit in during a shorter trip to Nepal?
The Poon Hill Trek is quite accessible and is popular with hikers of all ages and varying levels of fitness. And you can complete the trek in just 5 days, making it a good option if you're in a time crunch.

Balthali Village Trek is located in the Kathmandu Valley and takes just 3 days. The trails are rated as "easy", so this could be an especially good option if you are limited on time and are concerned about your fitness level.

The Changunarayan Trek to Nagarkot takes just 2 days, and the highlight is reaching the hill station of Nagarkot where sunrise is said to be fantastic.
I'm going to pop in and say that "easy" is a subjective word, and it can mean different things to different people. Even "easy treks" in Nepal standards can still be difficult. But choosing ones with lower elevation will help ensure it is not too difficult.
Off the Beaten Path Treks in Nepal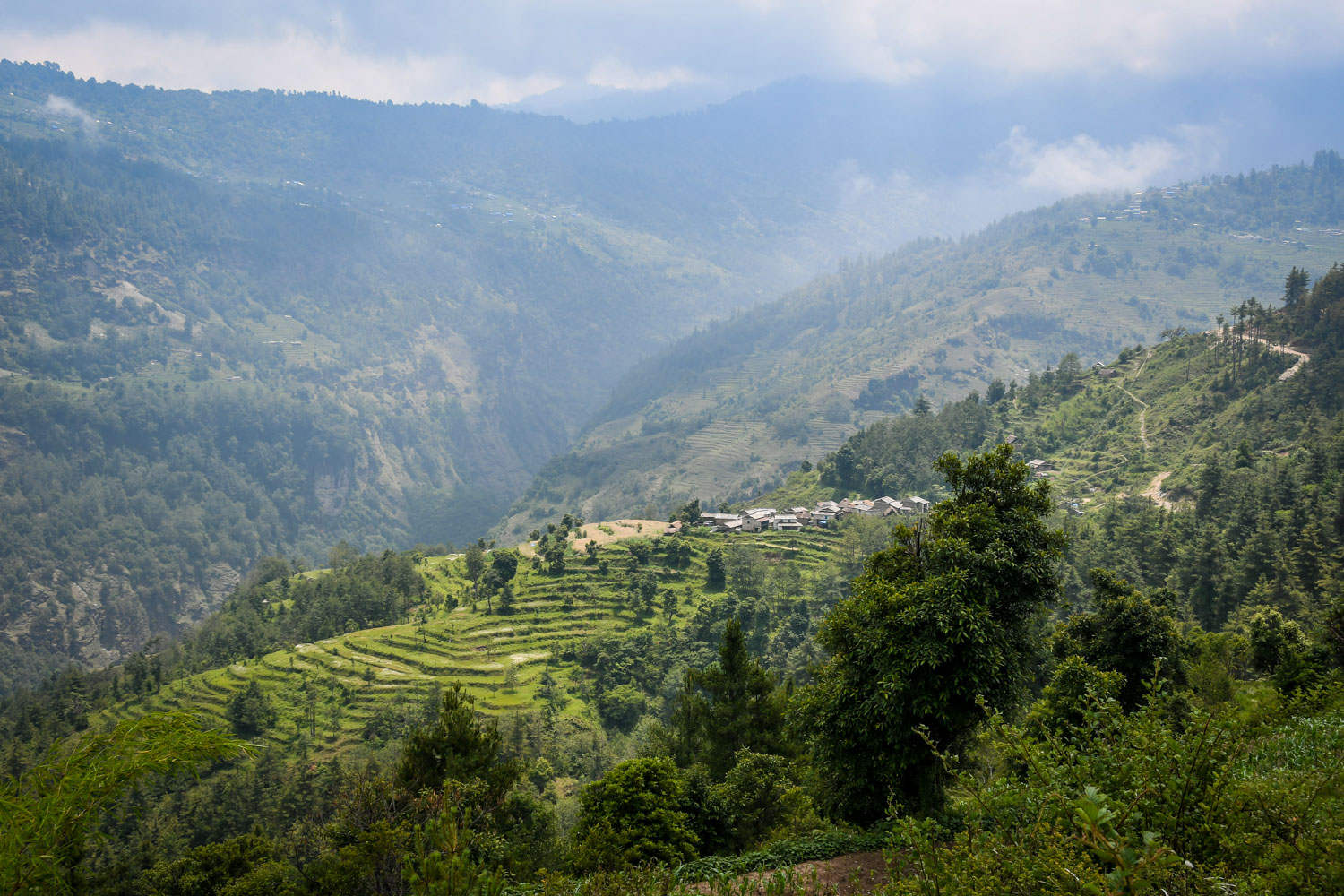 What about a trek off the beaten path trek where you won't run into other hikers along the way?
We didn't run into a single other hiker during our 5-day trek on the Mohare Danda Route.

Langtang Valley is another lesser-visited route that is typically done in 7 – 8 days.
And this isn't even scratching the surface of all the other treks Nepal has to offer. With a little research, you'll likely become overwhelmed by all the trekking options in this part of the world!
2. Take a Cooking Class and/or Food Tour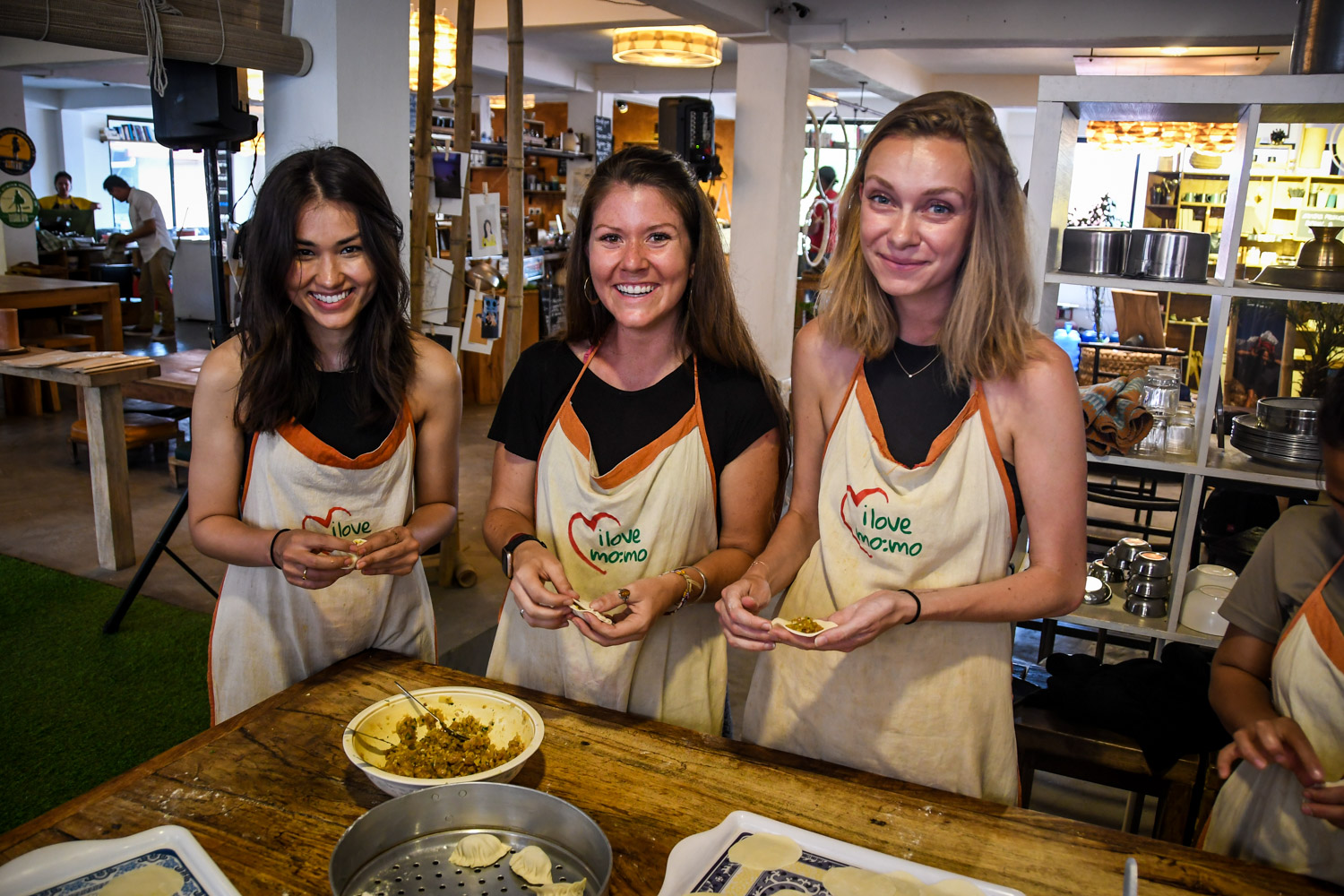 I'm going to come right out and say it: Nepalese food isn't my favorite cuisine. That doesn't mean I don't like it — there are some delicious dishes that I love (in moderation). But the cuisine in general is a little too carb-heavy to be one that I call a favorite.
But even so, taking a cooking class or food tour is one of the best ways to learn about a country's culture and get a glimpse into local life that you wouldn't otherwise see.
While we were in Kathmandu, we did both a cooking class AND a food tour.
Both were amazing recommendations from our friend Jean, of Traveling Honeybird, and they were highlights of our time in Kathmandu.
Nepalese Cooking Class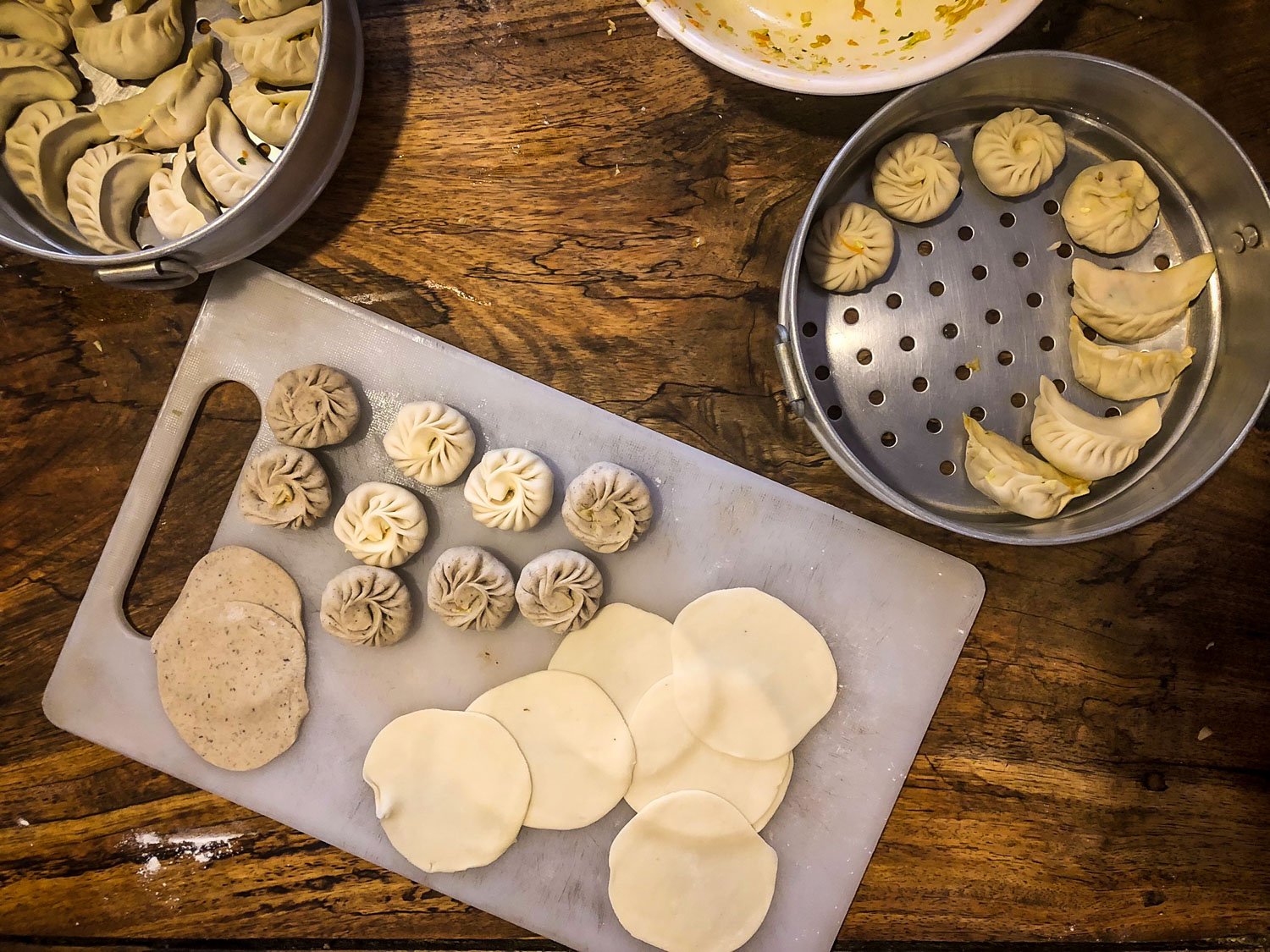 I'm going to go out on a limb and guess that your favorite Nepalese dish is going to be momos. It is for most travelers!
These tasty dumplings are stuffed full of veggies and/or chicken, and steamed until they are piping hot. Served alongside a delicious dipping sauce, it's hard not to love momos. Plus, they are naturally vegan (as long as you don't order the meat variety).
Learn how to make them in a cooking class! Social Tours, which is run out of the HUB in the center of Thamel, offers a cooking class that is "pay what you wish" (aka pay how much you think it's worth).
Note: If I was wrong with my assumption and you don't like momos (shocking!), you can ask to make dal bhat instead!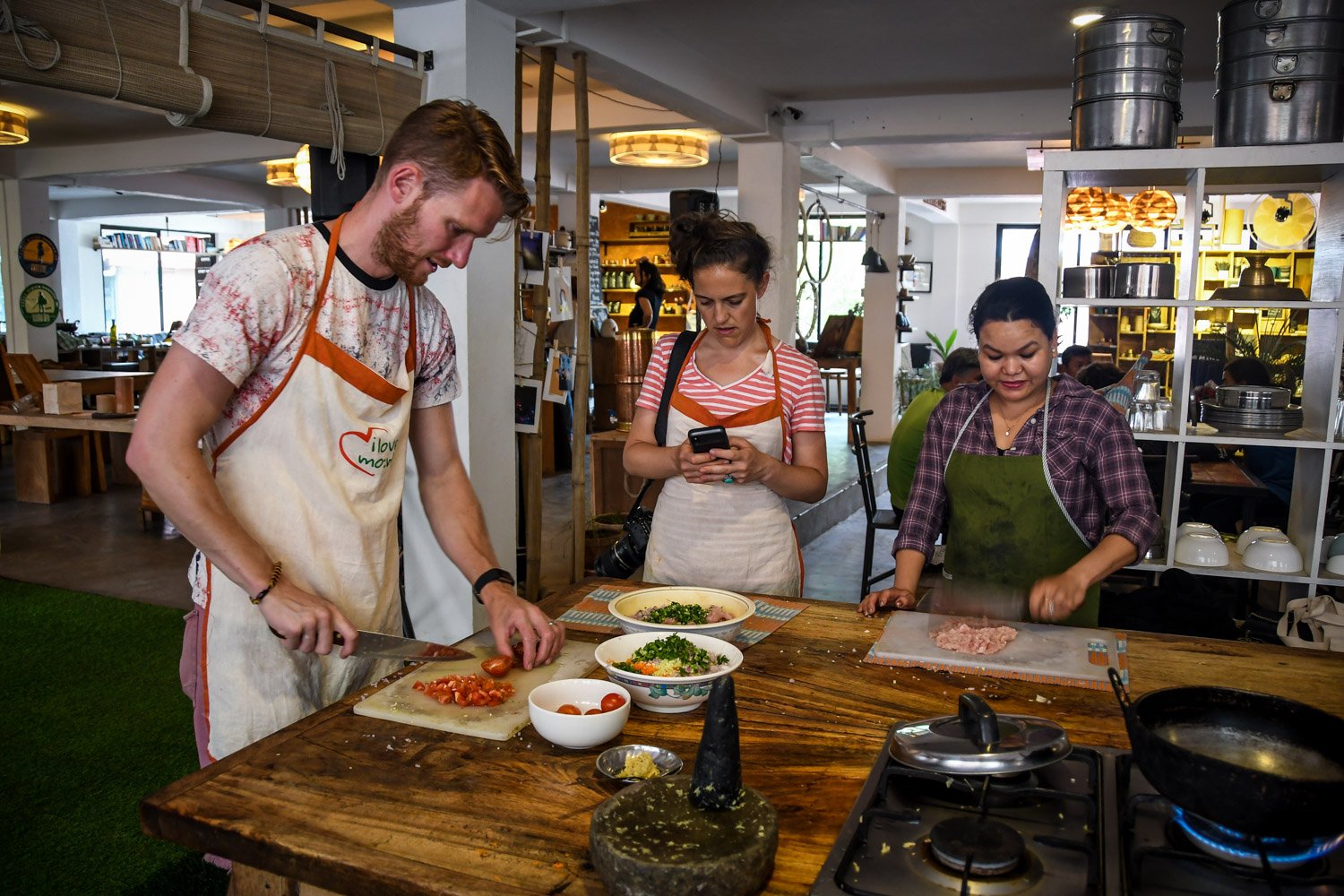 The class takes between 2 – 3 hours and is run by local women, who start by bringing you to the market to pick up ingredients.
When you return to the kitchen, you'll be given tasks, like chopping veggies or kneading the dough that you'll make from scratch. The instructor shows you 2 different momo-rolling techniques: crescent and round. And lemme tell ya, it is harder than it looks! Making momos yourself will give you a deep appreciation any time you order them off the menu.
After the momos are ready and the sauce has been made, you'll have time to relax as they steam. And be sure you work up an appetite, because these babies are the most delicious momos you'll have during your time in Nepal. Maybe partially because you put in the sweat-equity!
Alternative: Backstreet Academy also offers a Momo Cooking Class with a home chef.
Kathmandu Food Tour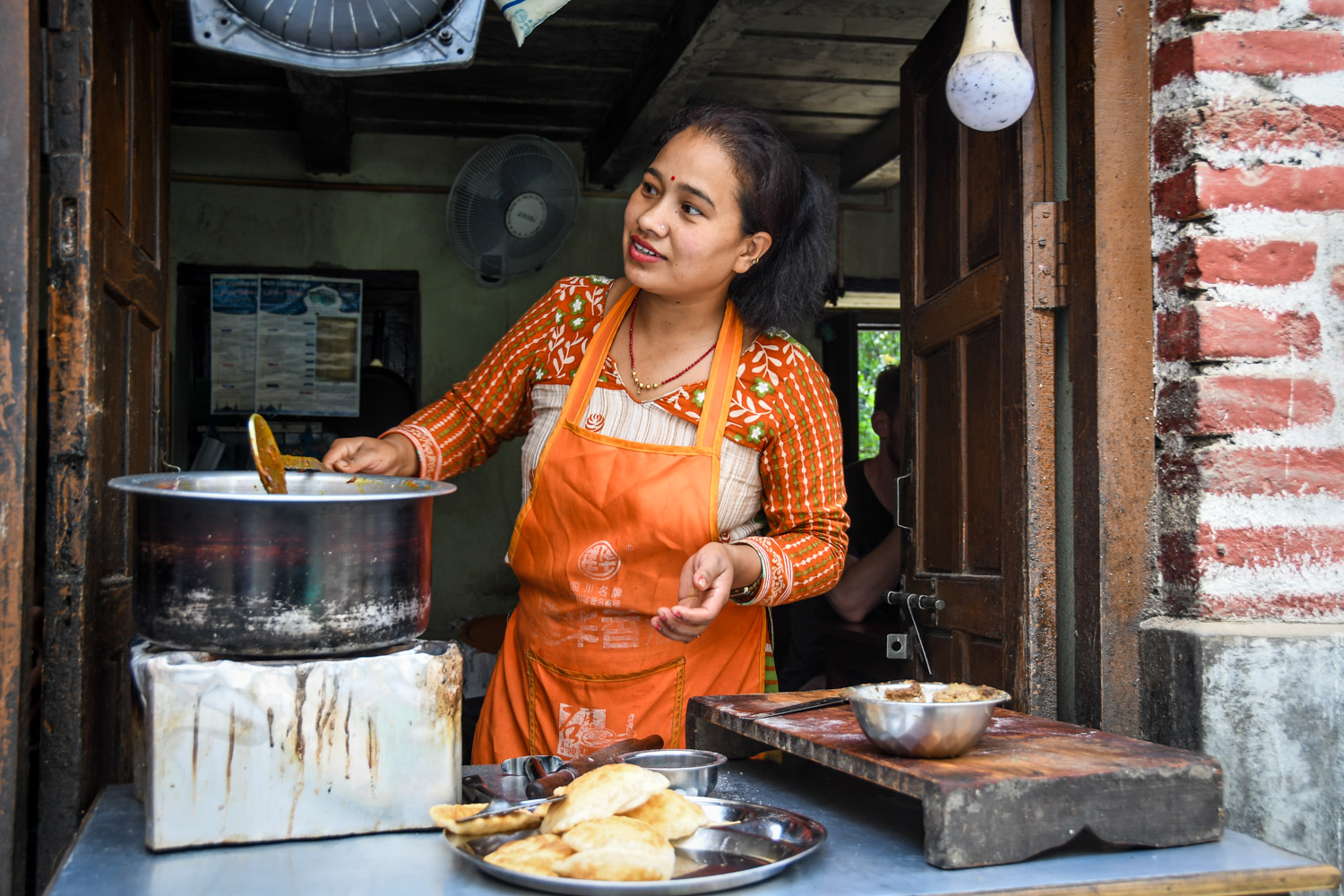 We also went on a Breakfast Food Tour with Backstreet Academy, which was a highlight of our time in Nepal's capital city.
Our guides, Frankie and Kanti, led us through passageways where we had to duck our heads (I nailed my forehead once and learned my lesson). We took small alleyways that opened up to courtyards. And everyone in our group agreed that this is one food tour you most definitely could not do on your own.
We ate traditional breakfast dishes alongside locals while sitting in plastic chairs outside a teeny stand that is not on TripAdvisor or Google Maps.
We wove our way through crowds of locals on their morning errands at the vibrant and bustling Asan Market. And our guides led us into a small Hindu Temple and explained how we could (respectfully) give an offering with a butter candle. And that's not counting all the other foods we ate along the way!
At just $16 USD, we would highly, highly recommend doing the Breakfast Tour with Backstreet Academy. It will likely be a highlight of your time in Kathmandu, just like it was for us.
Alternative: They also offer a ton of other tours, including a Secret Food Tour in the afternoon (for all of you non-morning people!). Our guide explained that this tour is more focused on the food while the Breakfast Tour gives you a deeper glimpse into the lives of local people and into the backstreets of Kathmandu.
3. Get Spiritual
You won't have to spend many days in Nepal to understand what an integral role religion plays in daily life. The two most commonly practiced religions in Nepal are Hinduism (roughly 81% of the population) and Buddhism (about 11% of the population).
Whether you're simply curious about religion, or you're on a spiritual journey yourself, there are many places to delve a little deeper into the spiritual world during your trip to Nepal.
We're sharing a couple of the most famous Buddhist and Hindi sites that are easily visited from Kathmandu, plus a couple other options for those wanting a deeper spiritual experience.
Make a Pilgrimage to Lumbini
Located near the border of India, the town of Lumbini is known as the birthplace of Buddha, and is an important religious pilgrimage for people from around the world.
In Lumbini, you'll find a complex filled with temples, monasteries, and stupas. And you'll also see the sacred Bodhi Tree, adorned in colorful prayer flags. This tree is said to symbolize the tree under which the Buddha attained enlightenment.
Good to know: We personally haven't been to Lumbini, and truthfully, we've heard very mixed reviews. Some people loved it and had a very moving spiritual experience, while others felt like it's overrated and borders on a "tourist trap". I should mention that most of the people we spoke with who loved Lumbini have some connection with Buddhism. So perhaps to get the most out of your time at Lumbini, do some research on the fundamentals of Buddhism (if you don't know much about the religion already) and manage your expectations.
See Kathmandu's Most Famous Buddhist Stupas
Walk down any street in Kathmandu and you'll likely see a temple or a shrine… or maybe both.
Whether you're interested in religion or not, a visit to one of city's most famous stupas should be on your list of things to do in Kathmandu.
Boudhanath Stupa
Entrance fee for foreigners: 250 rupees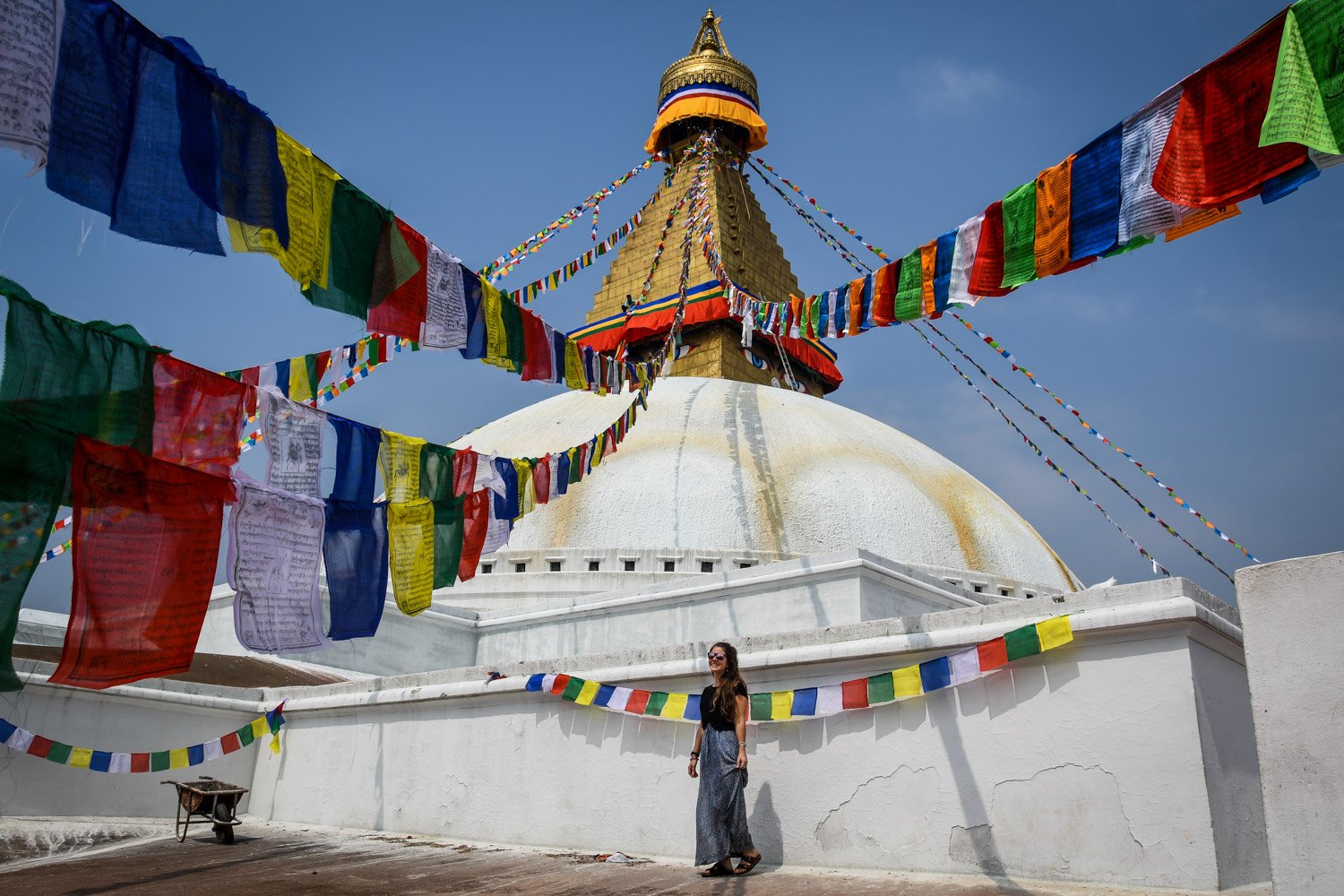 Located 8 kilometers east of the city center, this is perhaps one of the most beautiful attractions in all of Kathmandu. Standing 36 meters high, this is one of the tallest stupas not just in Nepal, but in South Asia.
Sometimes called simply "Boudha" for short, this famed stupa is said to contain relics of the Buddha, and is the center of Tibetan Buddhism in Nepal. In fact, you'll find several Tibetan monasteries surrounding the stupa; the most famous being Tamang Monastery. You're allowed to enter, and the view from the rooftop is beautiful. Just be respectful of those meditating.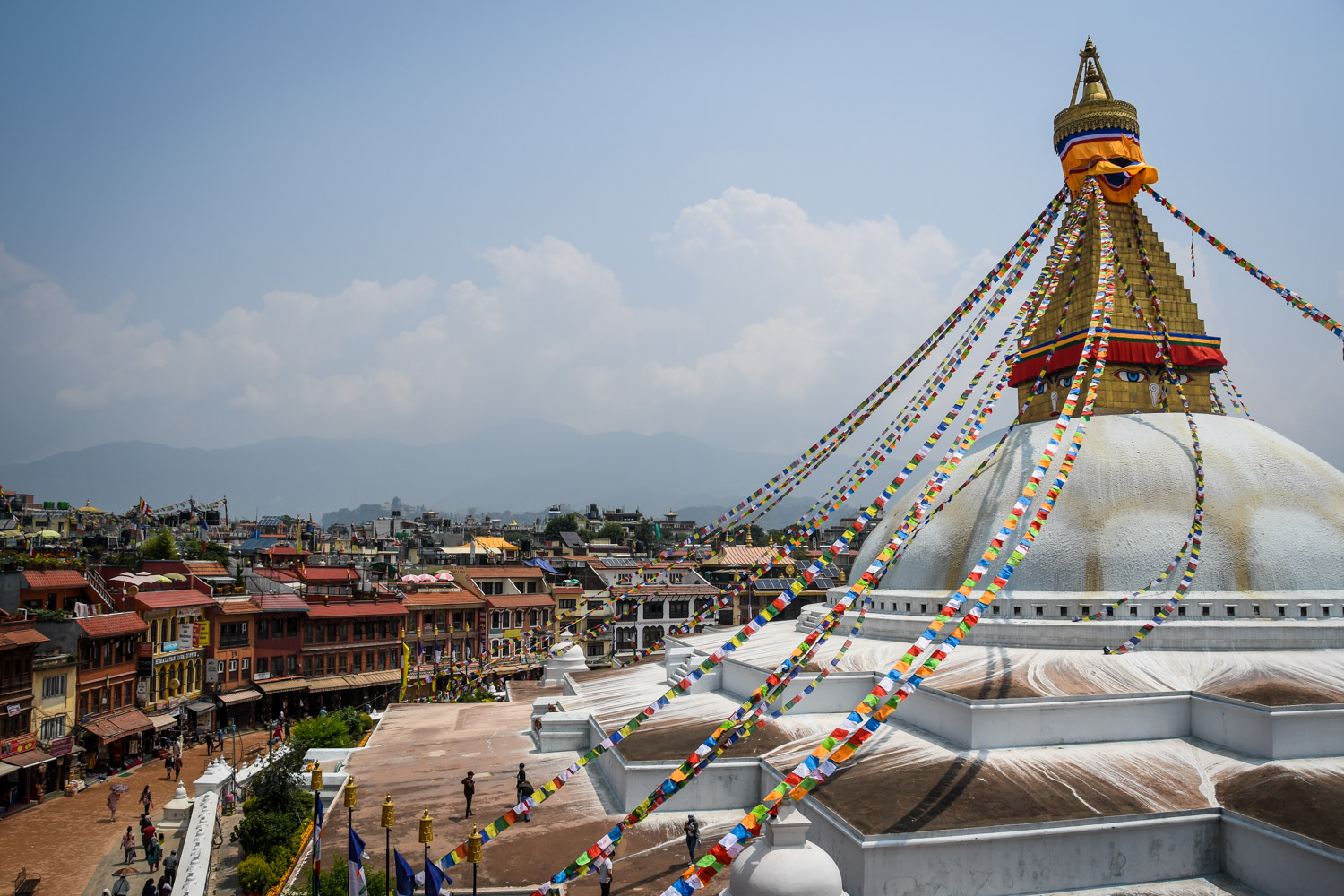 Arrive in the early morning or in the "golden hours" of evening, and you'll see devout Buddhists walking clockwise around the stupa. Surrounding the stupa are souvenir shops, but somehow this place didn't feel overly "touristy". We felt like there were more worshippers and locals than foreigners.
If you get tired (or hot!) from walking around, wander up to one of the many rooftop cafes and order a banana lassi or iced cappuccino!
Our Recommendation: There are plenty of places to choose from, but we really liked the rooftop restaurant at Hotel Padma, located near the entrance/exit. We paid 700 rupees ($7 USD) for a lassi, and iced coffee, and a muffin, which we enjoyed with a fantastic view! The atmosphere is nice and they had a large selection of food as well.
Swayambhunath Stupa ("Monkey Temple")
Entrance fee for foreigners: 200 rupees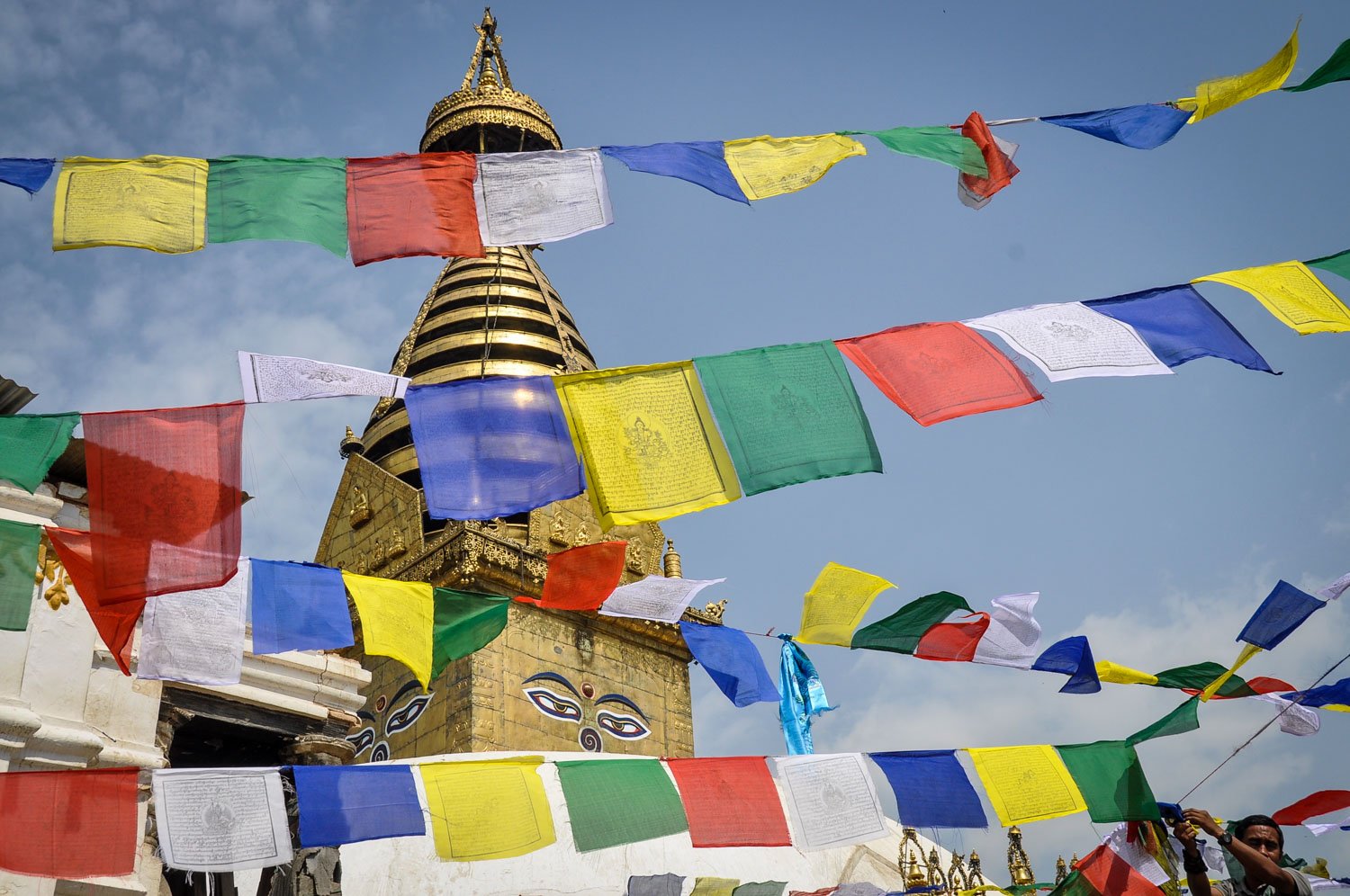 This is another famous stupa that sits atop a hill and overlooks the city. It is sometimes called the "Monkey Temples" by foreigners for the furry creatures that like to hang out here. (And also probably because the name — Swayambhunath — is hard to pronounce!)
You can see locals lighting butter candles and you'll get panoramic views over the city. It's a good spot for sunset if the timing works out.
Keep close tabs on our belonging when visiting. Those monkeys can be conniving and will reach out for plastic bags because they will think there's food inside. It's also best not to put your sunglasses on top of your head. We saw a monkey steal a pair of D&G glasses off a woman's head, stare back at her and snapped them in two! Cold blooded little devils.
Short on time? If you have time, you might be able to see both the Boudha Stupa as well as Swayambhunath. However, having been to both, we were more impressed with the Boudha Stupa, so if you only have time for one, we'd recommend that one.
Observe Hindu Cremations at the Burning Ghats
Entrance fee for foreigners: 1,000 rupees
When we traveled to India, the most interesting place we saw was the city of Varanasi. Actually, it wasn't just the most interesting place we saw in India… no, it's the most interesting place we've seen in the world. No doubt about it.
Varanasi sits on the the Ganges River and is one of the holiest (if not the holiest) places for Hindus. Famous for the "burning ghats" on the banks of the river, followers of the Hindu faith believe that being cremated and having your ashes placed into this holy river will wash away their sins and bring them to Nirvana.
Wait, why are we talking about India in an article about Nepal? Well, because you can experience something similar taking place in Kathmandu at the Pashupatinath Temple. Sometimes referred to as a "mini Varanasi" this is the oldest Hindu temple in Kathmandu and is dedicated to the god Shiva.
Visiting the Pashupatinath Temple can be both an interesting and intense experience.
This complex contains hundreds of temples, and within it, you will witness cremation ceremonies on platforms beside the Bagmati River, which eventually joins the River Ganges.
Many elderly Hindus come to Pashupatinath Temple near the end of their lives with the wish to be cremated here once they pass away. Unlike in Varanasi though, where it is believed people skip the rebirth process and go straight to Nirvana, those who are cremated at Pashupatinath are reborn as a human (regardless of sins that may bring bad karma).
Important to know: Foreigners and non-Hindus are not allowed in the main temple complex. If you plan to visit this temple, please be respectful, as you are witnessing funeral ceremonies.
Practice Yoga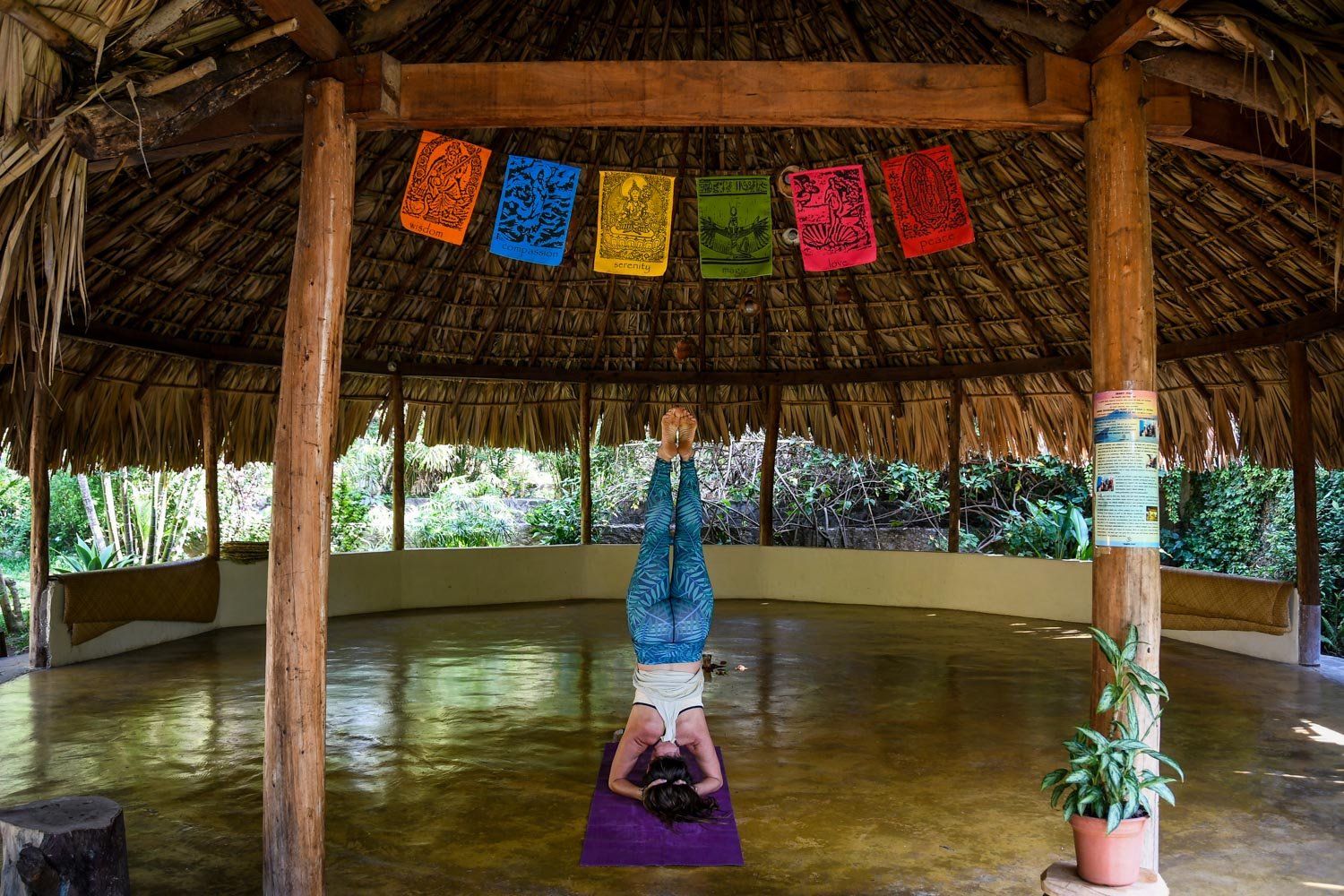 While practicing yoga takes on a different form of spirituality, for some, it is just as impactful. And even if you do it for your hamstrings — yes, downward dog! — squeezing in a class or going full on at a yoga retreat will be good for your body, mind, and soul.
Do a drop in class in chilled out Pokhara. (Just take a look at all the yoga studios this town has!)
Or go deeper into your practice by booking a multi-day retreat. Here's a list of yoga retreats in Nepal, some of which combine the practice with other activities, like photography, trekking, or whitewater rafting.
You could even get your yoga teacher training certification while in Nepal. We think it would be a pretty ideal place to do it, as it would be on the more affordable end (as far as certifications go); plus, you'd be in a beautiful and peaceful setting.
Do a Meditation Retreat in Nepal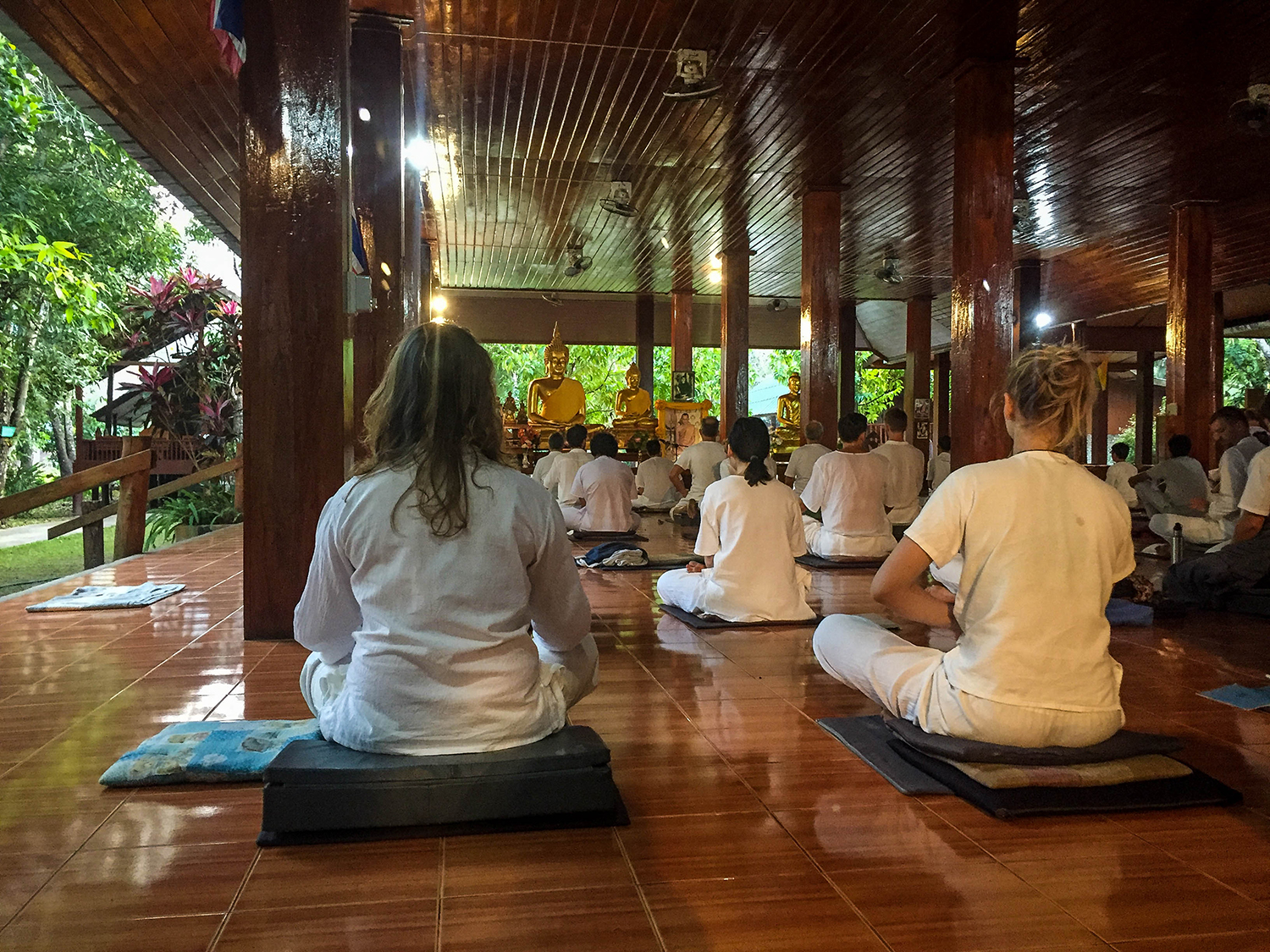 If you really want a transformational experience during your trip to Nepal (and you don't have strict time restraints), a meditation retreat might be right up your alley…
Want more info about meditation? We did a meditation retreat at a monastery in Thailand and had a wonderful experience, which you can read about here.
From 10-day Vipassana courses during which you must be silent to shorter workshops suited for beginners to meditation, there are many options to choose from. It's also helpful to note that some meditation retreats cost a pretty penny, while others are donation-based.
4. Spend the night at a Homestay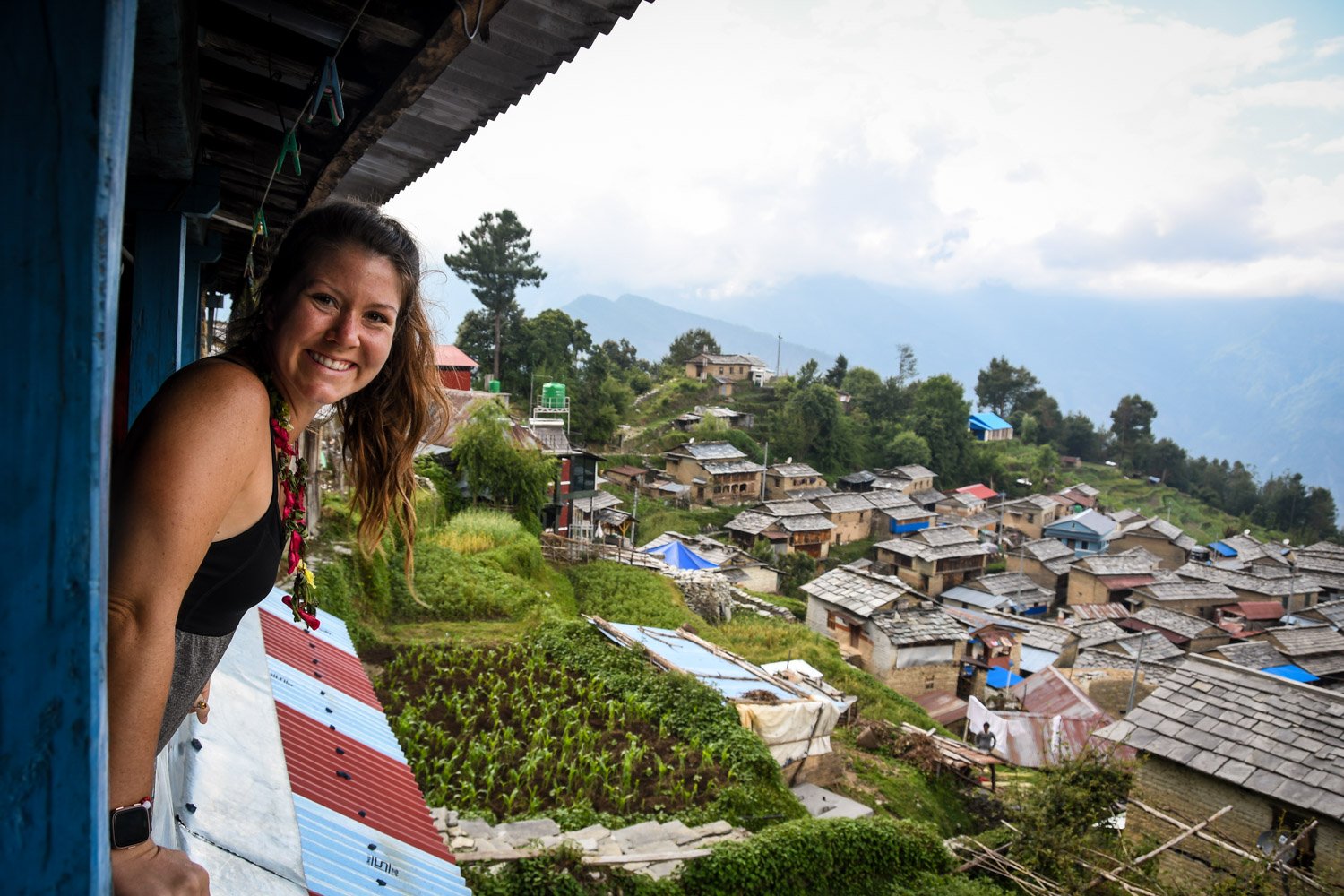 If you want to get a unique look into the lives of Nepalese people and support local communities, consider spending at least one night during your trip at a homestay.
The Community Homestay Network boasts the tagline, "Do it the local way," and shows travelers a different side of Nepal. There are homestay locations all around the country, and your money goes directly back to those who host you.
Homestays range in cost from $12 – $45 USD per person per night, and typically include meals and sometimes an activity.
Tipping at Homestays: It is appreciated (and sometimes expected) for guests to tip at homestays. The suggested amount is between 200-300 ($1.75 – $2.70 USD) rupees per person for each night stayed.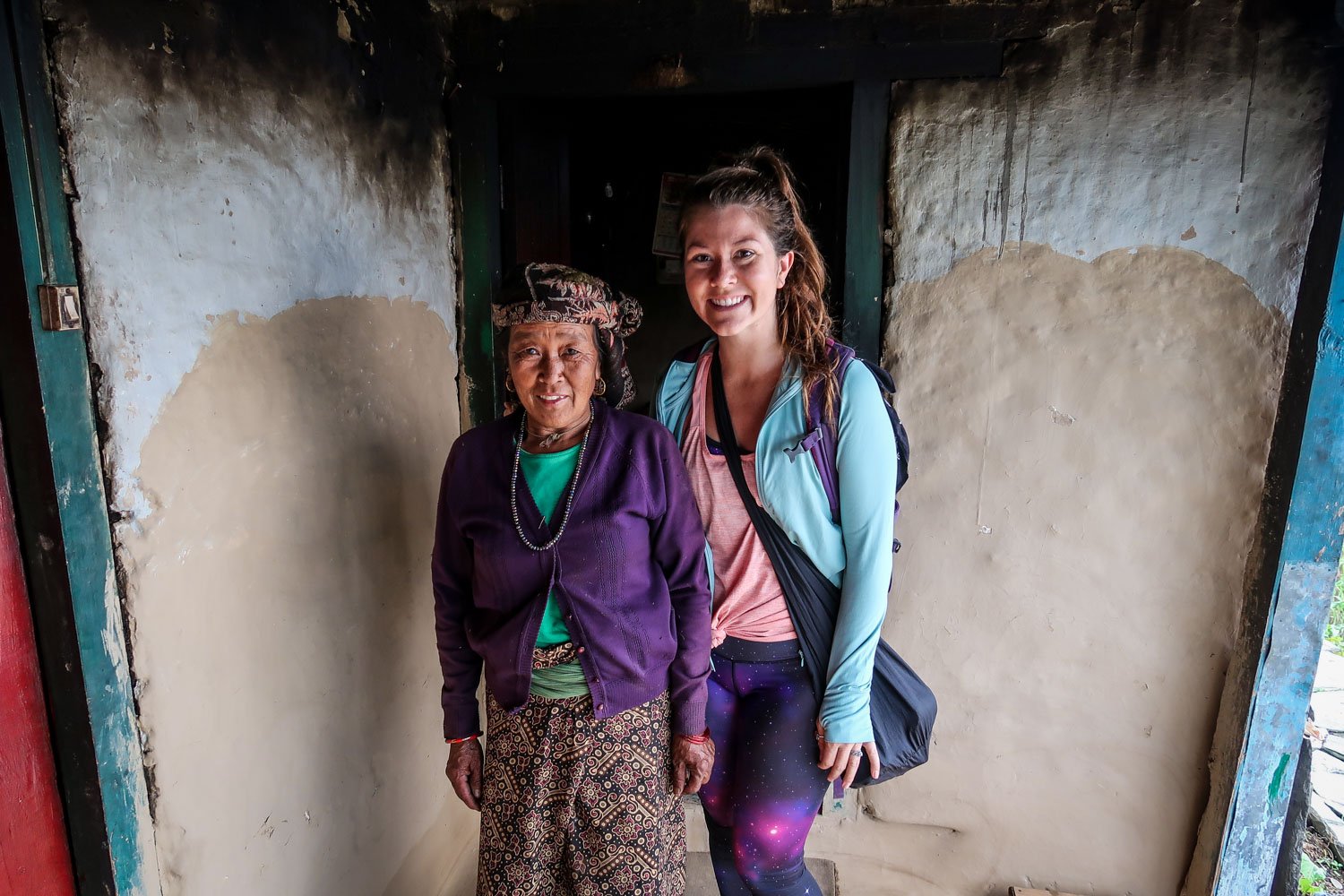 Spending the night — or a few nights! — in homestays is a perfect opportunity to get off the typical tourist route and see a side of Nepal you'd otherwise miss. Plus, it is a powerful way to give back on your travels, as the Community Homestay program empowers local women to earn a fair wage while carrying on and preserving their traditions.
5. Get an Adrenaline Rush
Nepal is an adventure-junkie's dream destination. The towering Himalayas paired with deep valleys and rushing river, create a perfect environment for all types of adventures.
With a ton of extreme sports to choose from, you'll have your share of activities to get your thrill on!
Whitewater Rafting & Kayaking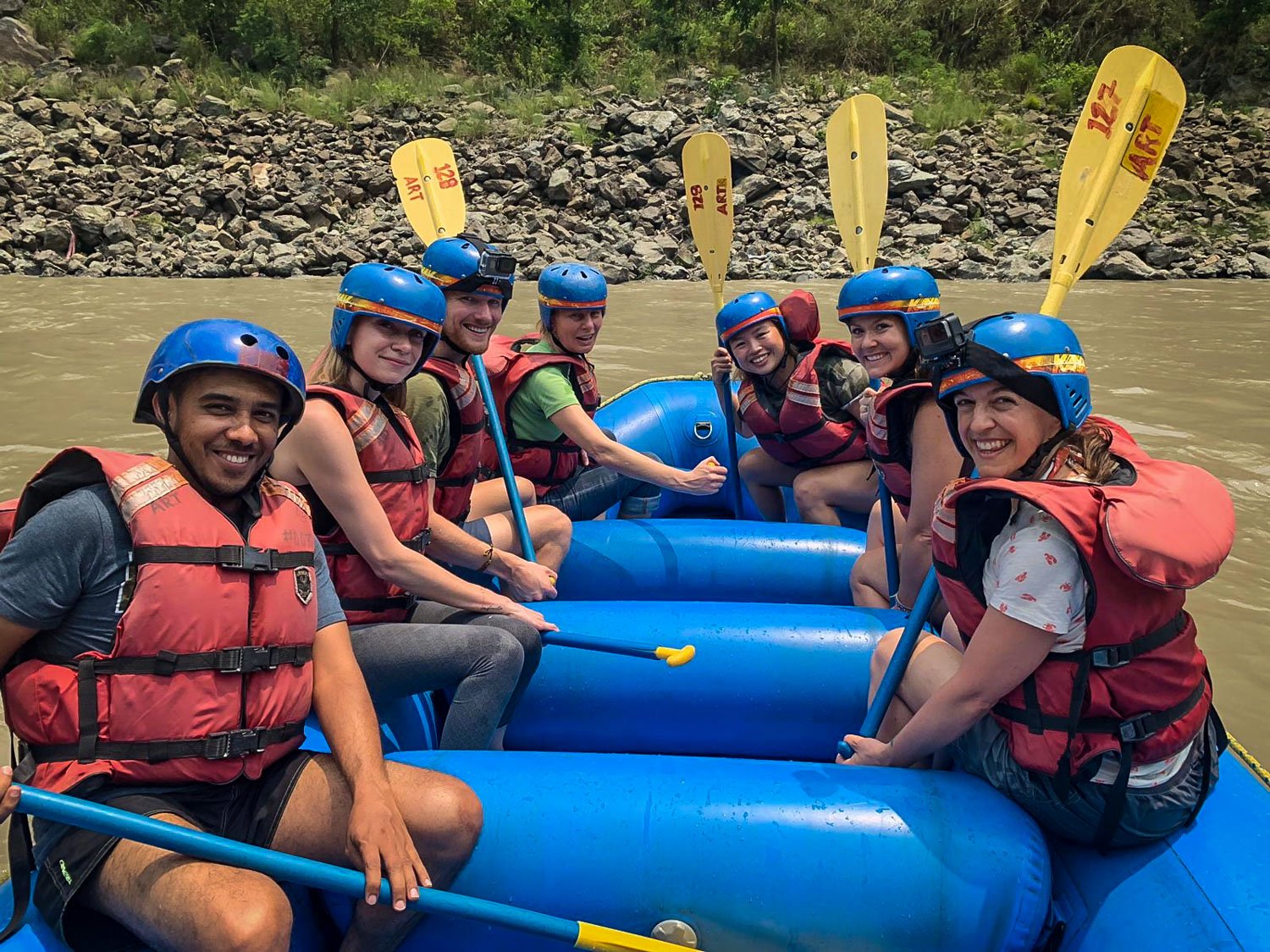 Did you know Nepal has more than 6,000 rivers? Is your mind blown as much as mine!?
It makes sense when you think about all the mountains and glaciers…. but still. That's an impressive amount of rivers.
And with so many waterways, it only makes sense that Nepal is a great place to go whitewater rafting. And just like the variety of hikes that you can find in Nepal, there are a ton of options when it comes to whitewater.
From day trips for beginners (or those short on time!) to multi-day river excursions for the experienced river rat, Nepal has it all.
Here are two different options just to illustrate the extremes you'll find:
Accessible Whitewater for Beginners: Trisuli River

One of the easiest places to go whitewater rafting while traveling in Nepal, this river is located just 3 hours west of Kathmandu, and is a good stopping point on the way to Pokhara or Chitwan. The rapids are class II – III (depending on on the season and water levels) and it is suitable for beginners.

Remote Whitewater Adventure for Advanced Paddlers: Karnali River

This is the longest river in Nepal and is seldom seen by tourists, due to its location in the far west of the country that can be difficult to reach. Doing a whitewater trip on the Karnali River would be an adventure of a lifetime, as you navigate through some of the least touristy parts of Nepal. Though this off-the-beaten-path adventure is not an option for many travelers, as it is a 10-day expedition and requires that you are an experienced paddler. Bonus: This trip ends in Bardia National Park where you have the chance of spotting wild tigers.
Paragliding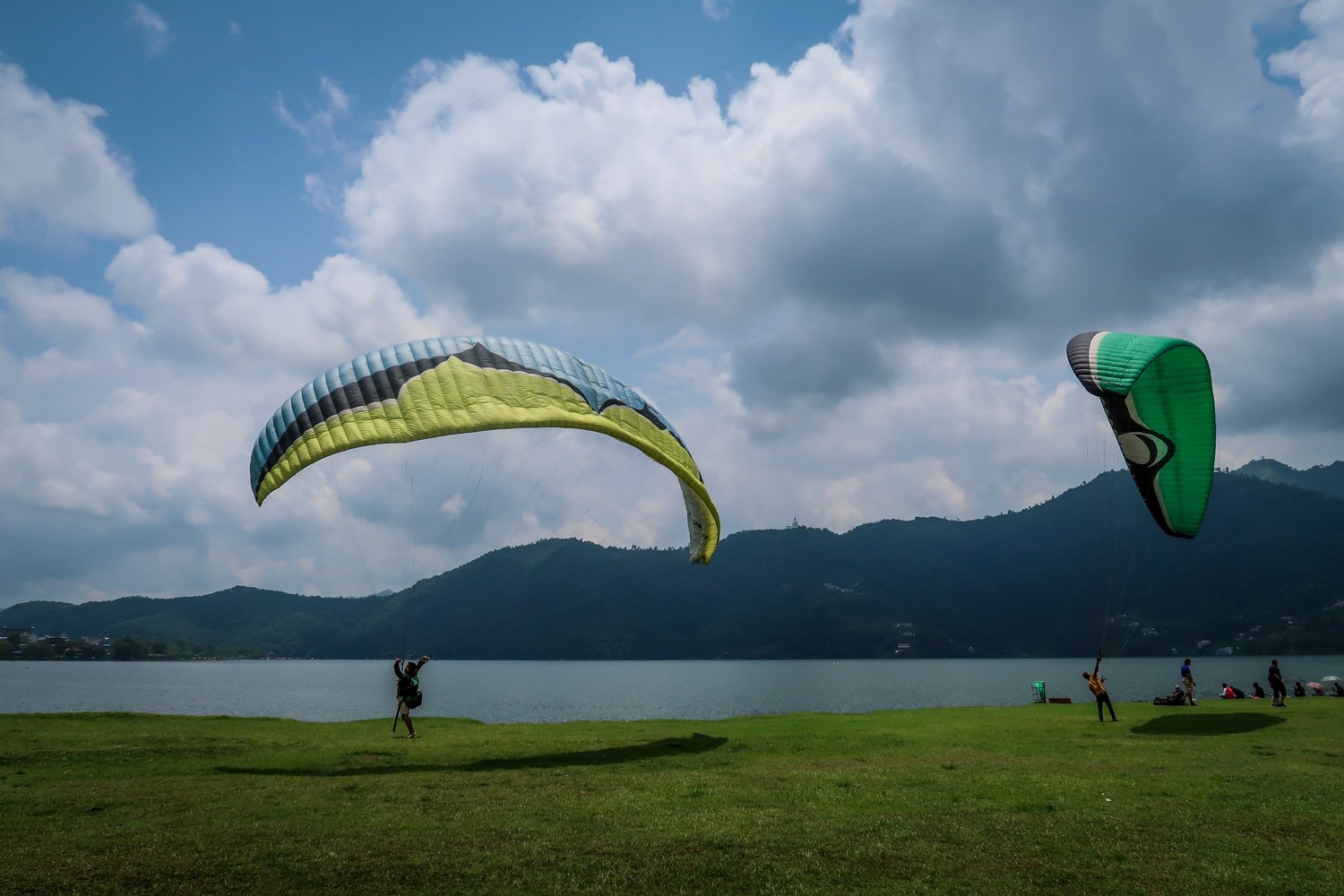 Situated on the shore of Lake Phewa and surrounded by peaks, it's no wonder why Pokhara is often listed as one of the best places in the world to go paragliding.
Starting from the hillside known as Sarangkot, you'll depart land and soar through the air and take in the views as your guide does all the hard work of navigating the thermals and air streams (hopefully that's the right lingo… sounds cool, doesn't it?!).
Good to know: Spring and Fall are the best times of the year to go paragliding, as you'll have the best chance of getting clear views of the Himalayas and the sprawling city below. While it is possible during other parts of the year, just know that the views may be obstructed with clouds or haze.
Mountain Biking
While this likely isn't the first adventure sport that comes to mind when you think of Nepal, there are actually some very impressive spots around the country for mountain bikers of all levels.
There are literally tours that will drop you with your bike from a helicopter, and you cycle down on remote and challenging trails on an epic multi-day excursion. And on the opposite end of the spectrum, there are biking day trips on which you are assisted by a shuttle.
So whether you're super hardcore biker chick (or dude!), or you just want a unique day of adventure, you might want to consider adding a cycling excursion to your Nepal itinerary. It is on our bucket list for our next trip!
Our recommendation: Himalayan Single Track is a well-established mountain biking company in Nepal, and they have rave reviews. They offer a variety of tours for all levels and time frames.
Ziplining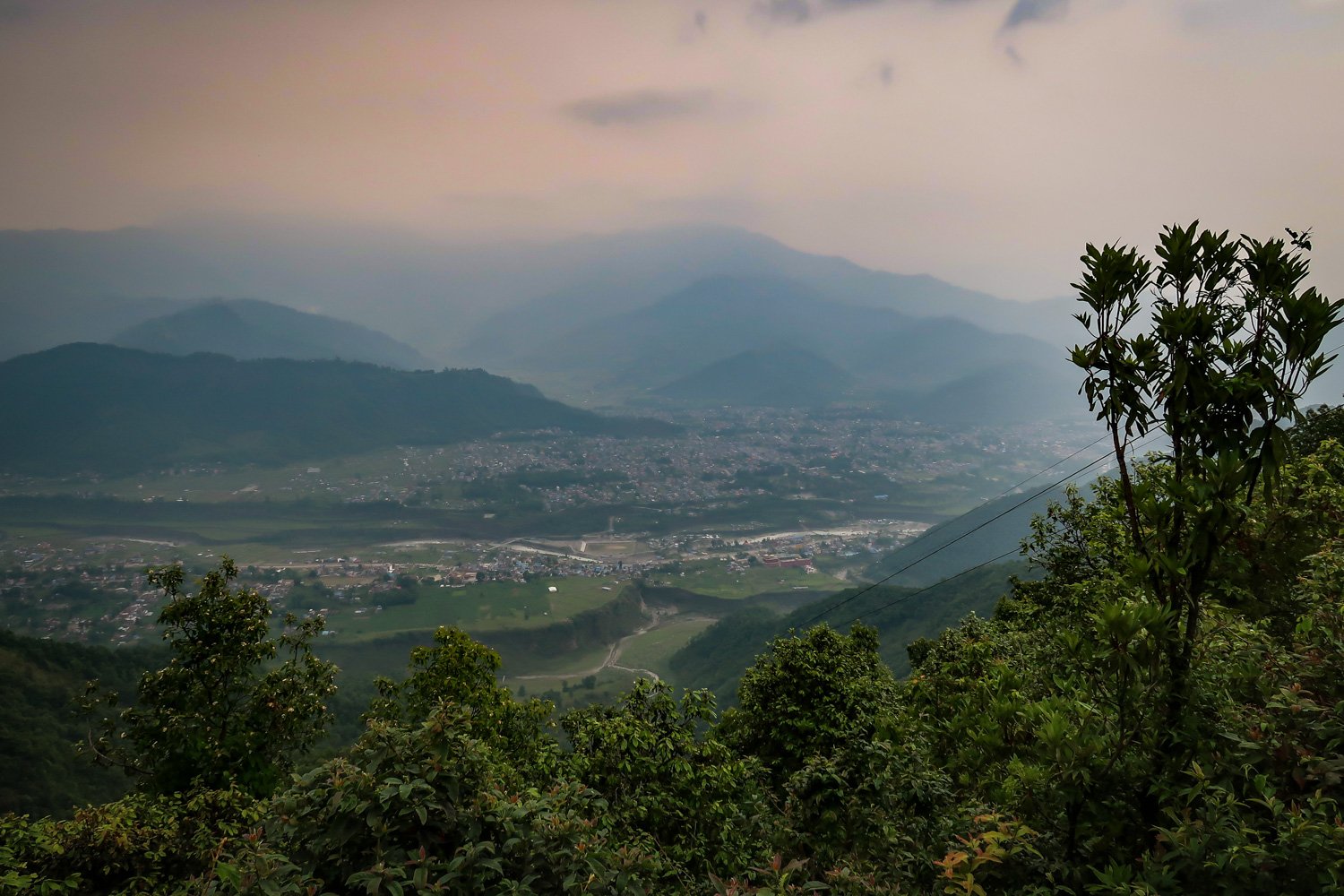 We like zip-lining. But to be honest, we usually don't find it quite as exciting as other adventure activities. I think that's partially because we were spoiled with some insanely good ziplining in Costa Rica (13 platforms in gorgeous rainforest)… and most other places we've been have been, well, a bit disappointing.
But in hills outside of Pokhara, near the place the paragliders take off, there's a zip-line unlike any we've seen.
At 1.8 kilometers in length, this apparently used to be the longest in the world, but recently one in Ras Al Khaimah took the title. (I was actually in RAK when they opened it!)
There are claims of it being the world's steepest and tallest zipline; but that is also up for debate, as competition around the world fights for the fame.
But regardless of whether it breaks records, it is touted "the World's Most Extreme Zipline", and for good reason. With a vertical drop of 600 meters (1,958 feet), zipliners can reach speeds of more than 90 miles per hour!
My Experience: Naturally, I wanted to see if it lived up to the hype. As our group arrived to the station, we heard thunder in the distance and droplets of rain started to fall. After a short safety briefing, two group members strapped on their helmets and screamed as they pushed off and over the mountain.
But then the real rail started to fall. We waited, but it only rained more. Then came more thunder. And lightening. And we were told that it *probably* wasn't a good idea for us to zip-line in these conditions. So we hopped back into the bus and made the 45-minute journey back to town. Bummer, dude. But at least we were safe…?
So even though I can't give you a real rundown of the experience, here are 2 things I think you should know as you decide whether or not this experience is for you:
Go in the morning hours. We were told that it often rains in the afternoon in Pokhara (no matter what time of the year), and had we arrived earlier, we all would have been able to fo.

Know that the whole experience takes around 2.5 hours when you factor in paperwork and getting to and from town. There is only one zipline (not multiple platforms), and the ride itself takes less than 3 minutes.
Bungee Jumping
Are you just craving a surge of adrenaline that nothing other than jumping off a cliff (or bridge!) will satisfy?
Sounds like you and Ben have a lot in common, and he can tell you all about his bungee jumping experience in Pokhara:
After a 45-minute drive outside of Pokhara, I arrived at the HighGround Bungee and stared up the metal box that I would soon be jumping out of. EeeeeK! The staff help gear us up with a full body harness and we walked up the entrance ramp up to the suspended box in the sky. There were about 8 of us going that day and I was 4th in line.
After seeing the first three people jump, scream and survive, I knew I would be okay. When it was my turn, the cloudy sky started to rumble from thunder. I thought, "get me out of this metal box in the sky, I don't want get struck by lighting!"
I had bungee jumped before in New Zealand, so I knew what I had to do. The staff strapped me up, including a safety harness, and I approached the ledge. I knew I couldn't think about it, but I still looked down once and had a mini-freak out inside. They counted down 5, 4, 3, 2, and on 1 I jumped! I screamed all the way down, and giggled as I bounced back up and down again. It's such a rush, I think my eyeball nearly popped out of my head!
Once I stopped bouncing, the team lowered me down into a little raft in a little pond that sat directly below jump zone. I got unhooked, walked back up to the shop and had a celebratory beer with my fellow jumpers!
6. Go Back in time in Kathmandu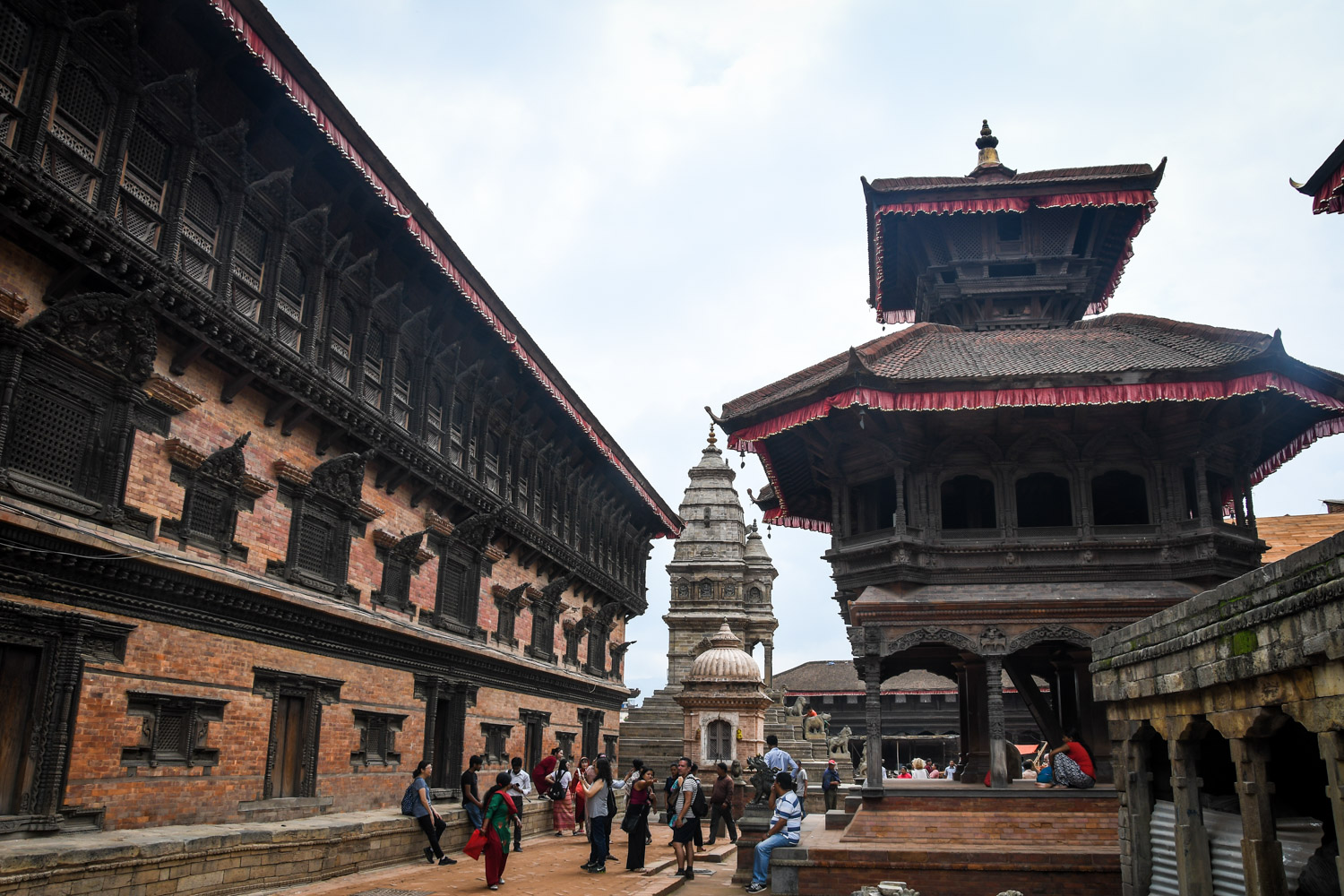 Did you know that Nepal has the densest concentration of UNESCO World Heritage Sites of any country in the world?! That means there are tons of opportunities for you to imagine you've stepped into a time machine.
While you can find stunning historic architecture all around the country, Kathmandu itself has many fantastic historic sites.
Good to know: Nepal's most recent earthquake, in 2015, damaged many sites around Kathmandu and the rest of the country. Be prepared to see scaffolding around many buildings as they continue their efforts to repair and preserve these pieces of history.
Durbar Square translates to "Royal Square", and if you look closely at a map of Kathmandu and the surrounding area, you'll see there are 3 of them:
Kathmandu's city center

Bhaktapur

Patan
While each Durbar Square is unique, they have similarities too: each containing a mix of temples, palaces, monasteries, and shrines.
Kathmandu Durbar Square
Entrance fee for foreigners: 1000 rupees (about $9 USD)
If you're staying in the city center, this square will be the most accessible during your trip.
Wander past ancient buildings and vendors selling handicrafts. Beware that it is still undergoing construction as they continue to repair damages from the 2015 earthquake.
If you venture to the Kumari Ghar ("house of the Kumari"), you have the chance to see an interesting piece of Nepal's culture. The Kumari is a young girl who is thought to be a "living goddess", and is worshipped until she reaches puberty. The history behind the Kumari is interesting and well worth the research.
If you are in Durbar Square in the morning hours or in the afternoon, you might see her come to the window to give her worshippers a glimpse. Important: Photography of the Kumari is strictly forbidden.
Patan
Entrance fee for foreigners: 1,000 rupees (about $9 USD)
Hailed as one of the most beautiful places to see in the Kathmandu Valley, Patan is just south of the city center and is well worth a visit.
Patan is one of the oldest known Buddhist cities, yet it is also a center for Hinduism, and you can observe both temples and shrines relating to both religions around the town square.
Hot Tip: Apparently, Patan is one of the best places to purchase a singing bowl in Nepal, as it is famous for artisans who craft these bowls from hand.
Take in the stunning architecture and get lost in the narrow streets. You can visit the Patan Museum, which is quite interesting (Note: it costs 250 rupees, or free by presenting your Patan entrance ticket). Glimpse the famed Golden Temple (50 rupees), and relax at a cute cafe.
Looking for more to do in this area? This is a great list of unique things to do in Patan that goes beyond the Durbar Square.
Bhaktapur
Entrance fee for foreigners: 1,500 rupees ($13.50 USD)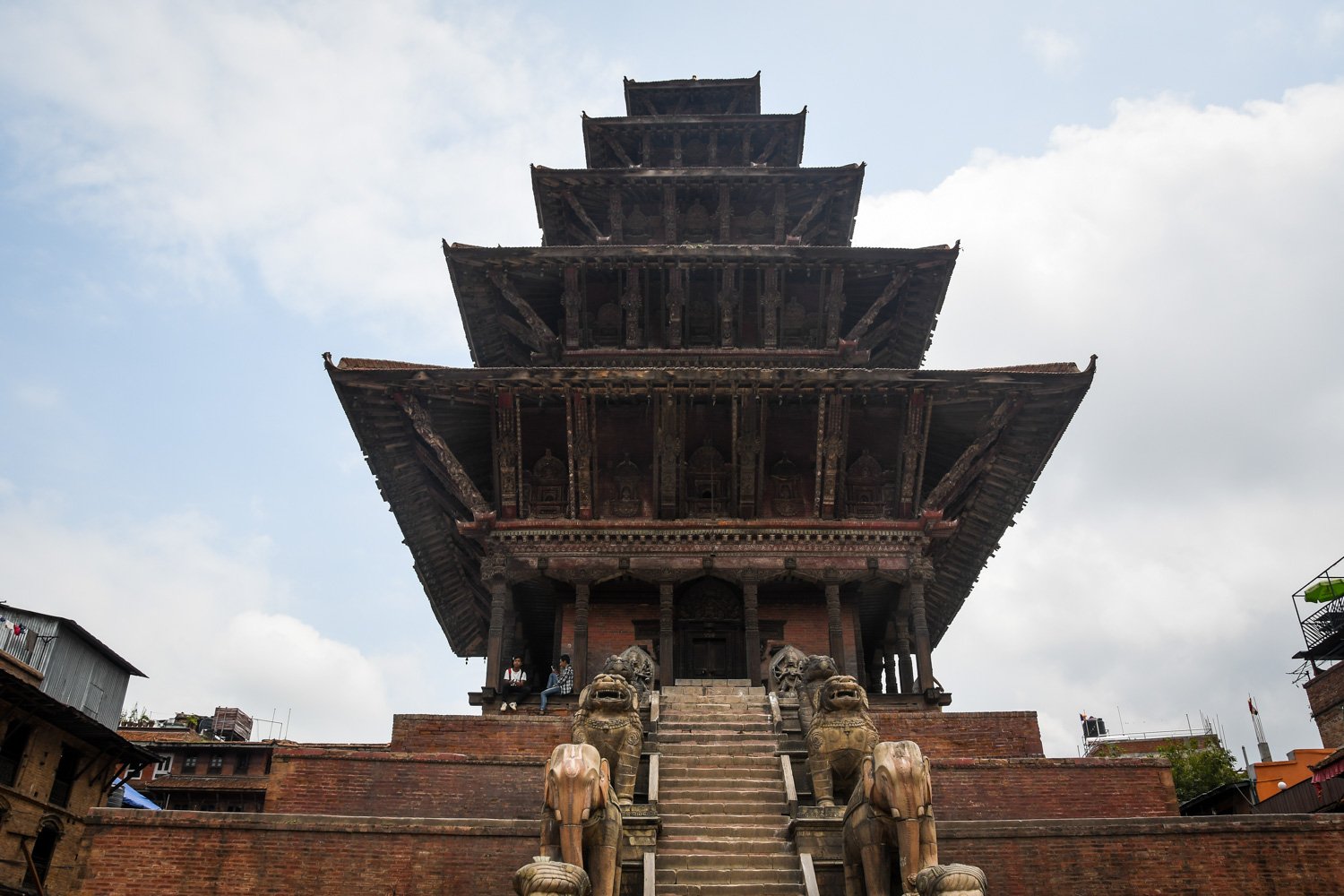 This ancient Newari city is said to be the best preserved old city center in all of Nepal. More than 80,000 people call Bhaktapur home today, so visiting this UNESCO World Heritage Site isn't only about seeing the past… it's also a perfect spot to observe local life happening all around you.
Watch artisans as they make clay pots and other traditional crafts, which they sell on the streets.
Hot Tip: Be sure to try juju dhau, which translates to "king of yogurts" in the Newari language. And Bhaktapur is the place to try this sweet and creamy treat! You can't find it in many other places in Nepal. Made with buffalo milk and traditionally served in a small clay cup, we think you'll fall in love at first taste. We sure did!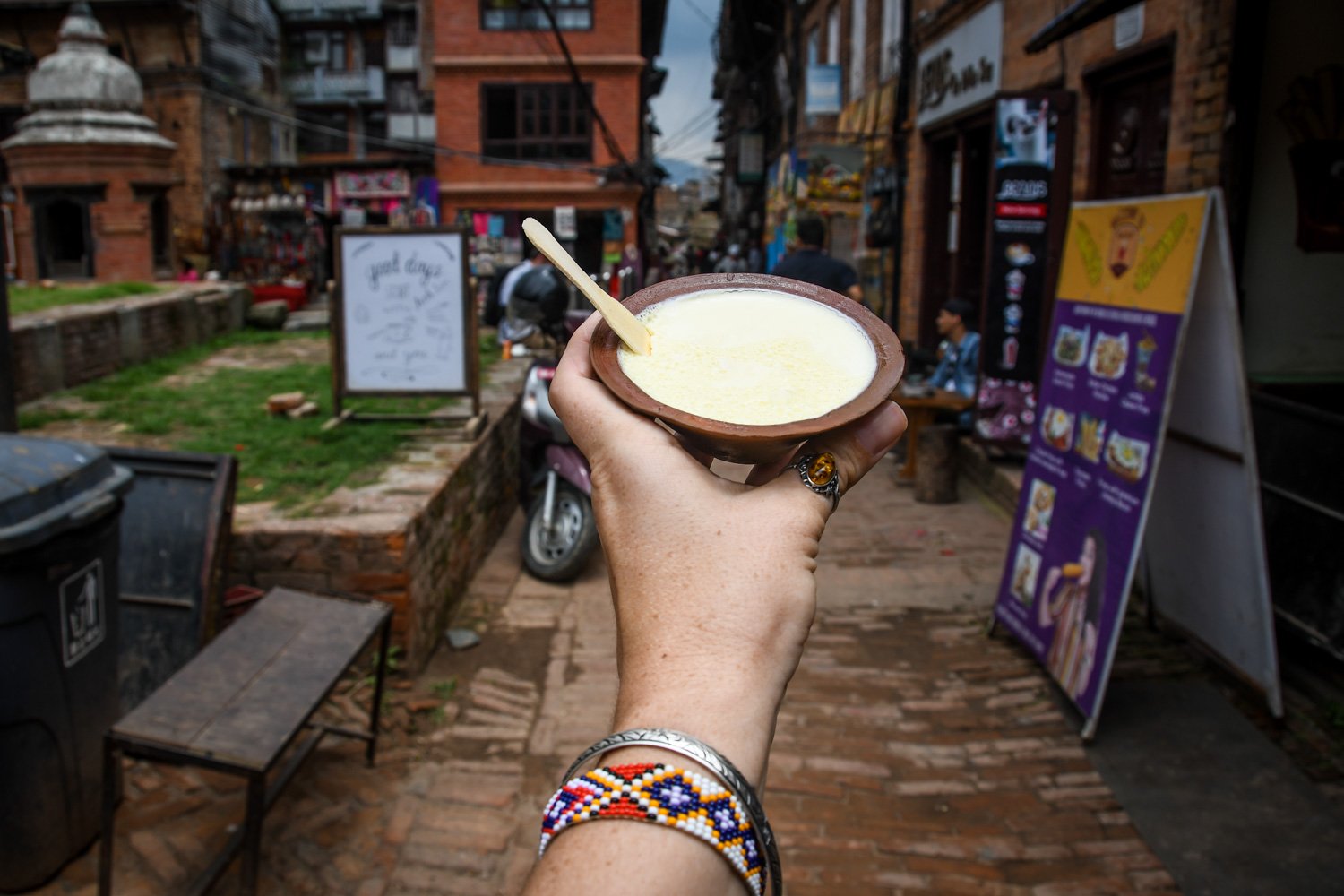 Wander around the narrow alleyways, and take a moment to appreciate the blend of old and new all around you.
Be Warned: If you're walking around on a Saturday, don't be surprised if you see an animal sacrifice — this is a common sight, so you may stumble upon it.
Only have time for one Durbar Square? Here's our Personal Opinion…

We found Kathmandu's Durbar Square to be underwhelming compared to that of Bhaktapur. And we heard wonderful things about the square in Patan. So if you are limited on time and can only visit one ancient site, we would recommend either Bhaktapur or Patan.
7. See Wildlife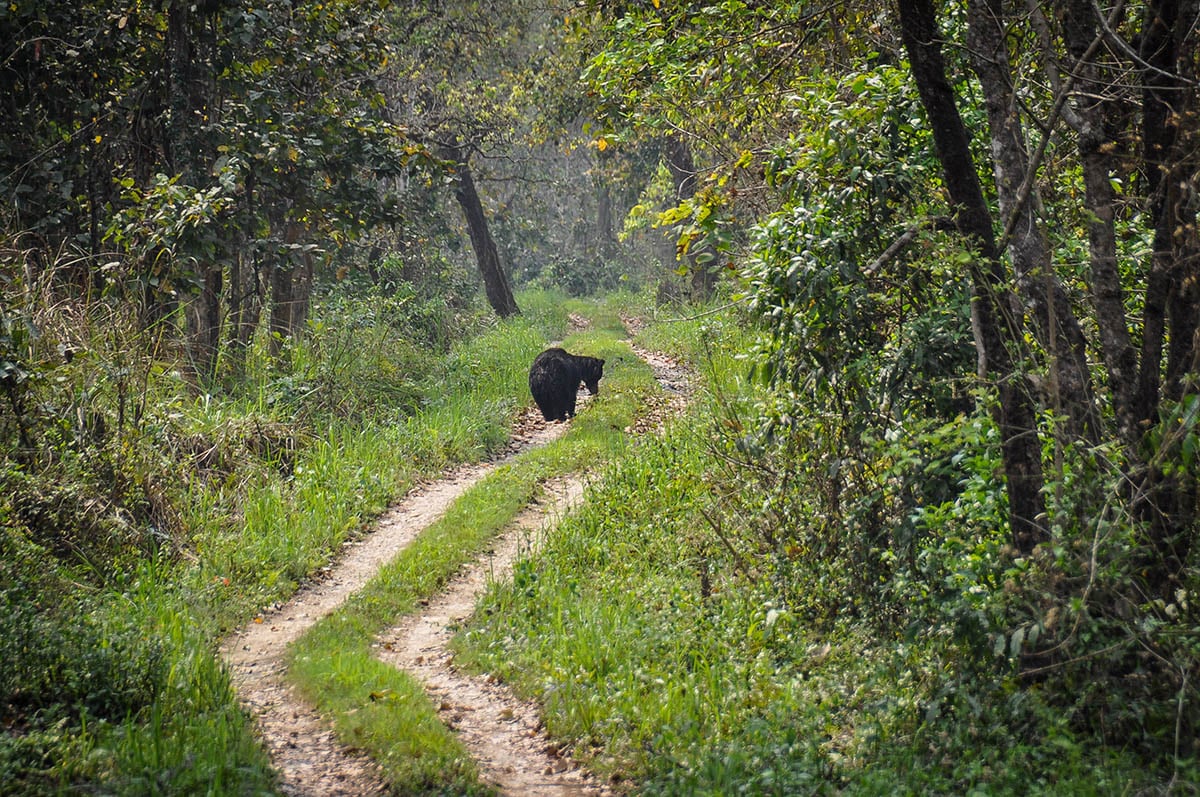 Did you know Nepal has dolphins? Say whaaat?! And tigers, and bears, and rhinos, crocodiles, and elephants… and that's just a handful of the fascinating creatures that call this country home.
The easiest (and more popular) place to see wildlife in Nepal is at Chitwan National Park. We're going through what you can see there as well as a less popular alternative to Chitwan.
Chitwan National Park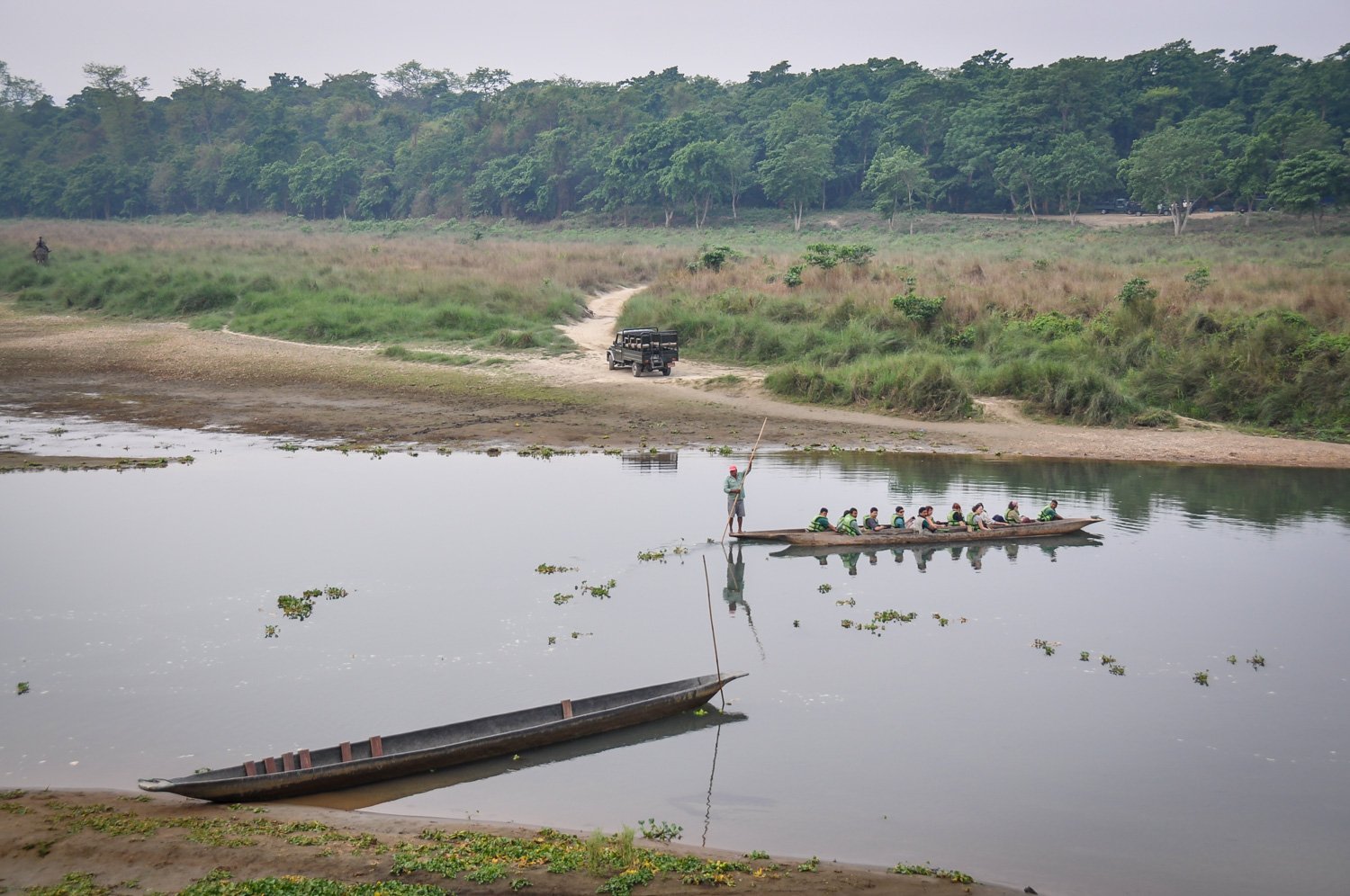 Many people think of countries in Africa when they imagine safaris, but Nepal has its very own "safari capital": Chitwan National Park. It is one of the most accessible places to see wildlife in Nepal and offers visitors a very good chance of spotting several different animals.
There are different types of "safari" options to choose from, and you can explore the park in dugout canoes, in Jeeps, or on foot.
Responsible Travel Note: Pass on the Elephant Safaris offered around town. We assume you already know that elephant riding is a no-no (as it is harmful to the animals). And if you feel comfortable, politely voice your opinion to tour operators, as elephant riding has been practiced for many years in Chitwan, but this is starting to change because people are bringing up their concerns.
If you'd like to see elephants in an ethical way, Tiger Tops Elephant Camp in Chitwan National Park claims to be the first and only operator offering responsible elephant encounters. We have not experienced this activity ourselves, so we can't personally vouch for it. Side note: You can stay onsite at Tharu Lodge, which looks absolutely divine!
Where to stay in Chitwan National Park:
We're not putting a ton of accommodation options in this article, but we're making an exception… We heard so many rave reviews about the Barahi Jungle Lodge that we will definitely be staying there the next time we travel to Nepal.
Room prices start at upwards of $200 USD, so it's certainly not for all travelers. However, with an onsite pool, attentive staff, and rave reviews, it looks like it might be worth the splurge. Plus, it's located 100 meters from the National Park, yet is tucked away from the touristy part of the town.
Can't swing that much money for a hotel? We have a less expensive option for you…
Budget Accommodation: Happy Lemon Tree Lodge
With river views and a terrace for mingling with other travelers, this place will make you really feel like you're "in nature". It is very basic accommodation, but also very cheap!
Bardia National Park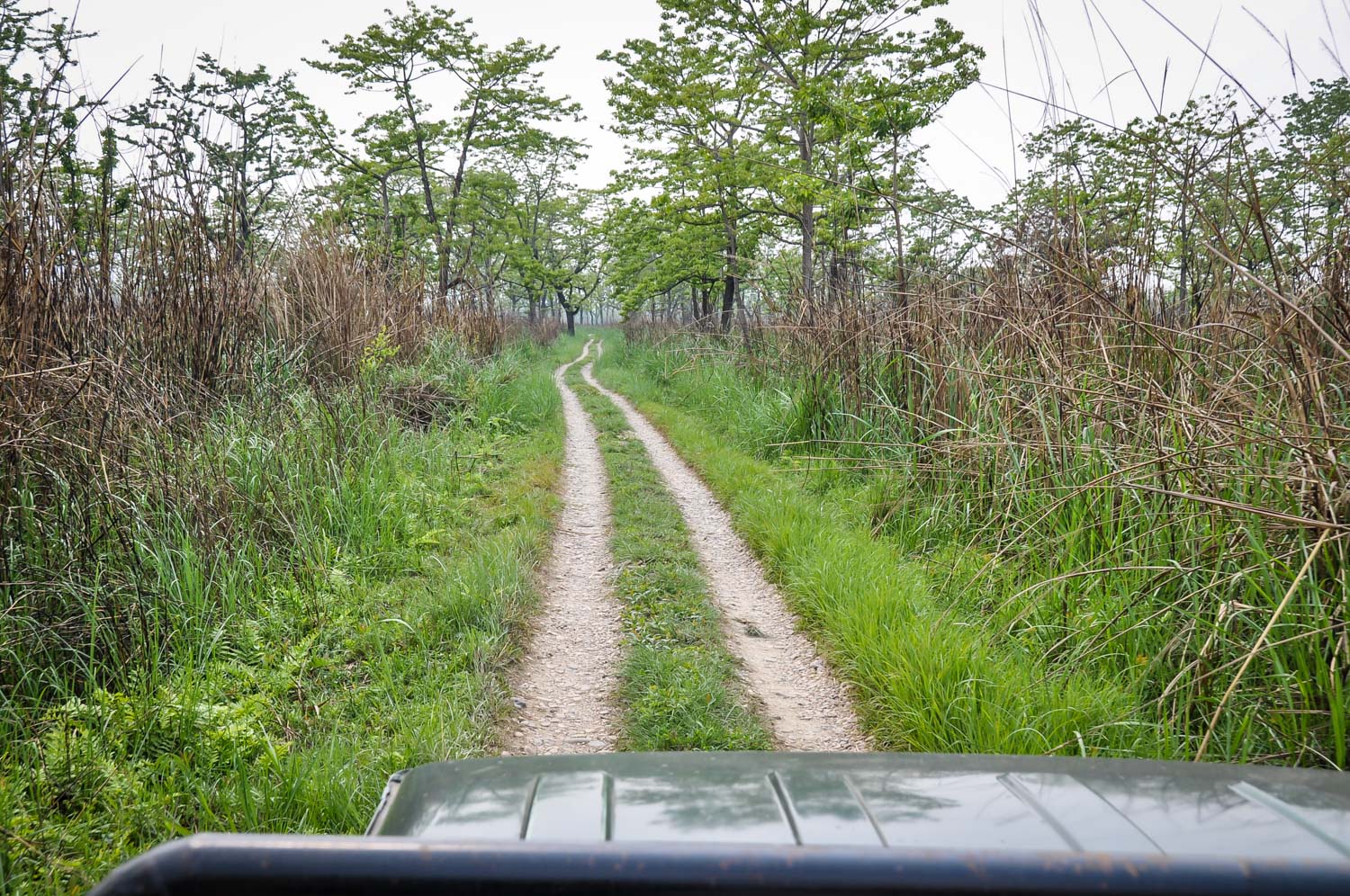 Located in the far west of Nepal, it is more time consuming to get to Bardia than Chitwan, so this National Park is far less popular.
We read that Bardia National Park is "what Chitwan used to be, before the tourists". So if you're looking to get away from the crowds and don't mind a bit of an adventure getting there, Bardia National Park might be a good addition to your trip to Nepal.
While Bardia has most of the same animals as Chitwan, it is famous for having the best chances of spotting the elusive Bengal Tiger in the wild.
Word to the wise: Just know that, like any other wild animal encounters, it is not guaranteed you will see a tiger. If this will ruin your trip, don't go.
8. Go Shopping for Souvenirs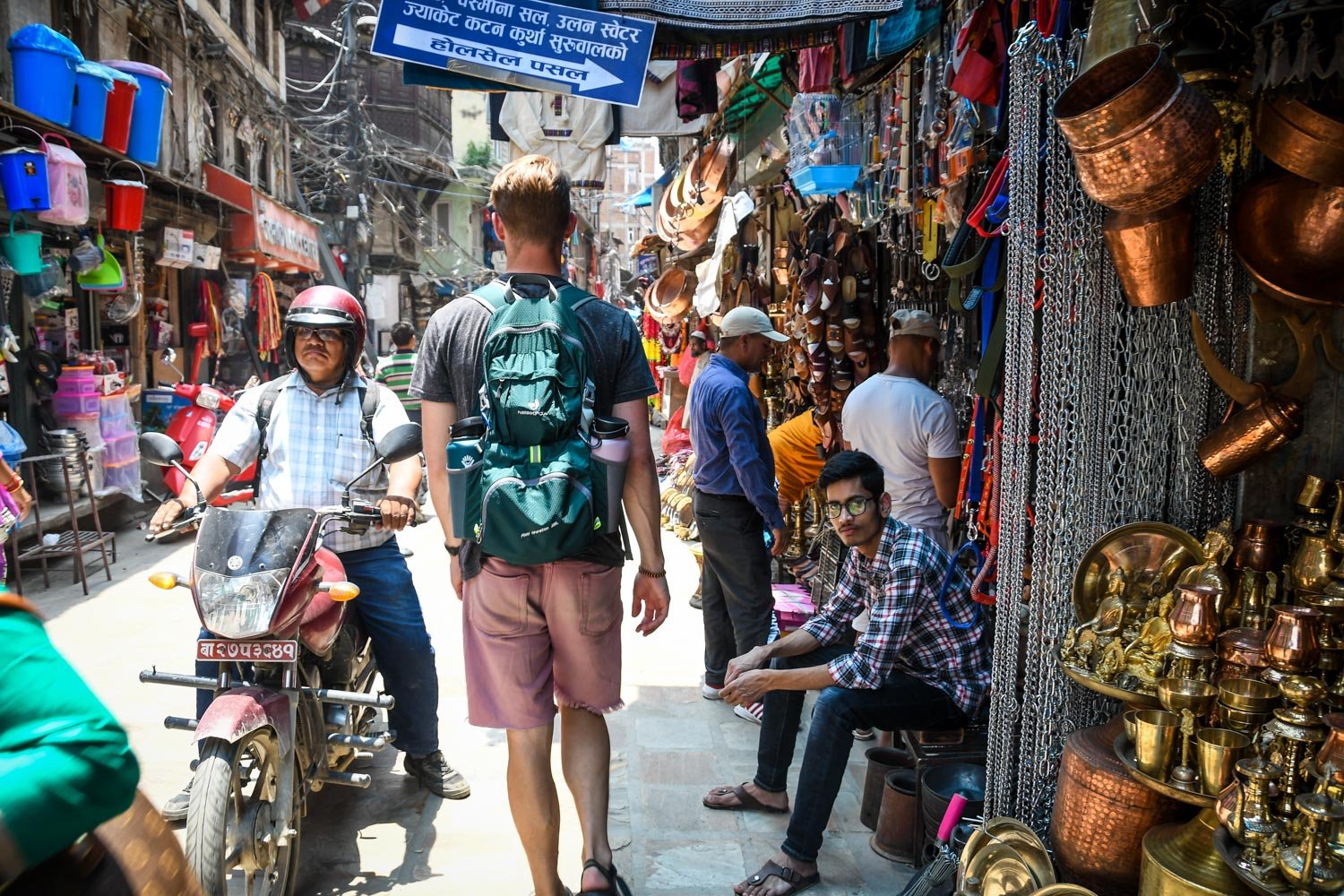 Looking for something to bring home to remember your time in Nepal? Or are you a generous soul who is planning to pick up something special for your friends and family back home?
We love collecting meaningful things from our travels, and have come up with a list of interesting items to pick up in Nepal.
Here is a list of some of the best souvenirs to get in Nepal:
Singing Bowls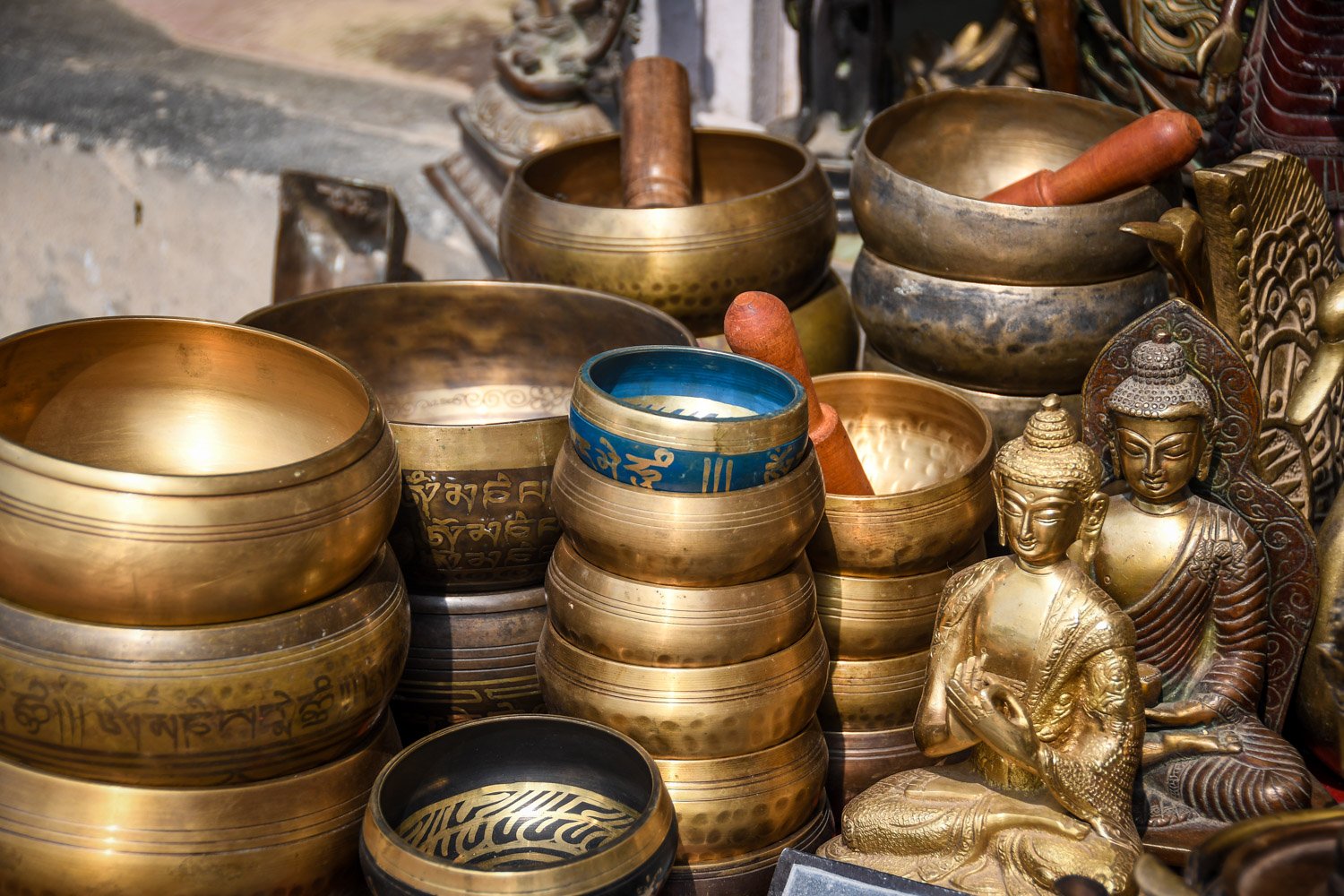 You know that golden bowl your yoga teacher pulls out at the end of class that makes a deep vibration? (Anyone else?!) That's called a "singing bowl", and they originated in Tibet. You'll be able to find them all around Nepal, but the highest-quality singing bowls are said to be in Patan, a "suburb" of sorts just south of Kathmandu center.
Tip: Machine-made singing bowls sound higher pitched, while true handmade singing bowls have a deeper sound. Reputable shops often have both on hand to show you the difference.

Price: For a quality, handmade singing bowl, we were told to expect to pay between $40 – $70 USD. For large bowls, prices can get into the hundreds of dollars.
Cashmere
You'll find everything from blankets to scarves to sweaters, and the best place to get your cashmere fix is Pokhara. Look for cashmere that is tightly woven so it won't snag, and high quality material should be soft and have a sort of "bounce" where it pops back to life after being squished.
Price: I paid 2,000 rupees ($18 USD) for a large Cashmere blanket. It feels like nice quality, but the weave is a bit looser and the edge looks like it might fray over time, so a higher quality blanket might cost a bit more.
Yak Wool Blankets
More durable than cashmere, these blankets are not quite as soft, but they are still cozy and beautiful. They make a great souvenir, especially if you have pets that you know would destroy a pretty cashmere throw!
Prices can vary, but I was quoted 850 rupees (after the price was dropped) for a blanket that looked very nice. I ended up not getting it because I didn't have room in my bag.
Himalayan Salt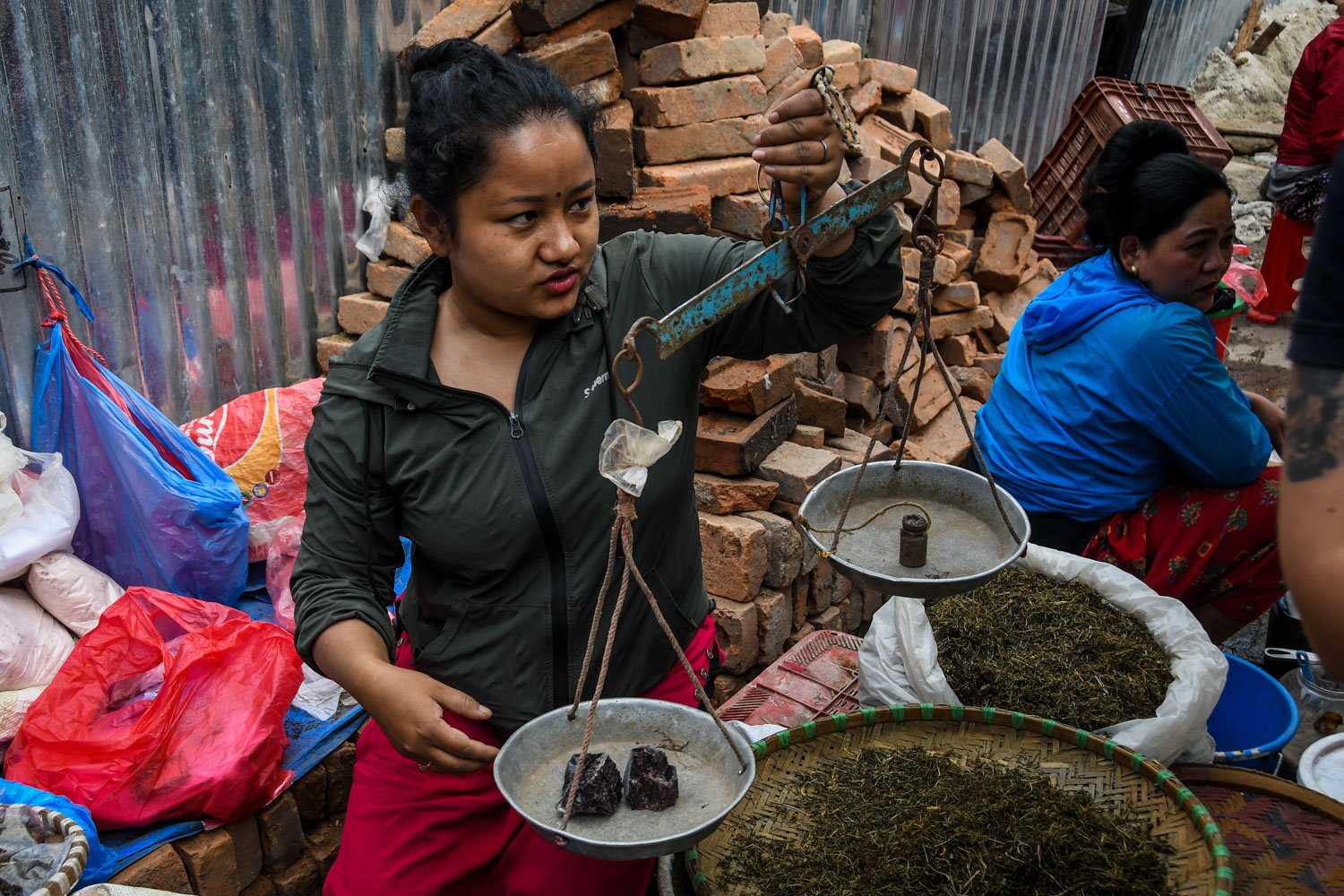 Sounds weird, but bringing back some pink Himalayan rock salt is a nice (and super practical!) souvenir or gift to share with family and friends. I mean, you're getting it from the source, right?! Also, black Himalayan salt is a rarity in many parts of the world, but at local markets you can find this stuff for cheap.
Price: I got 2 medium chunks of black Himalayan salt for just 50 rupees (less than 50 cents!). A friend of ours bought a kilo to bring to her mother (who is a chef — go figure!), and she paid only 500 rupees (less than $5 USD).
Prayer Flags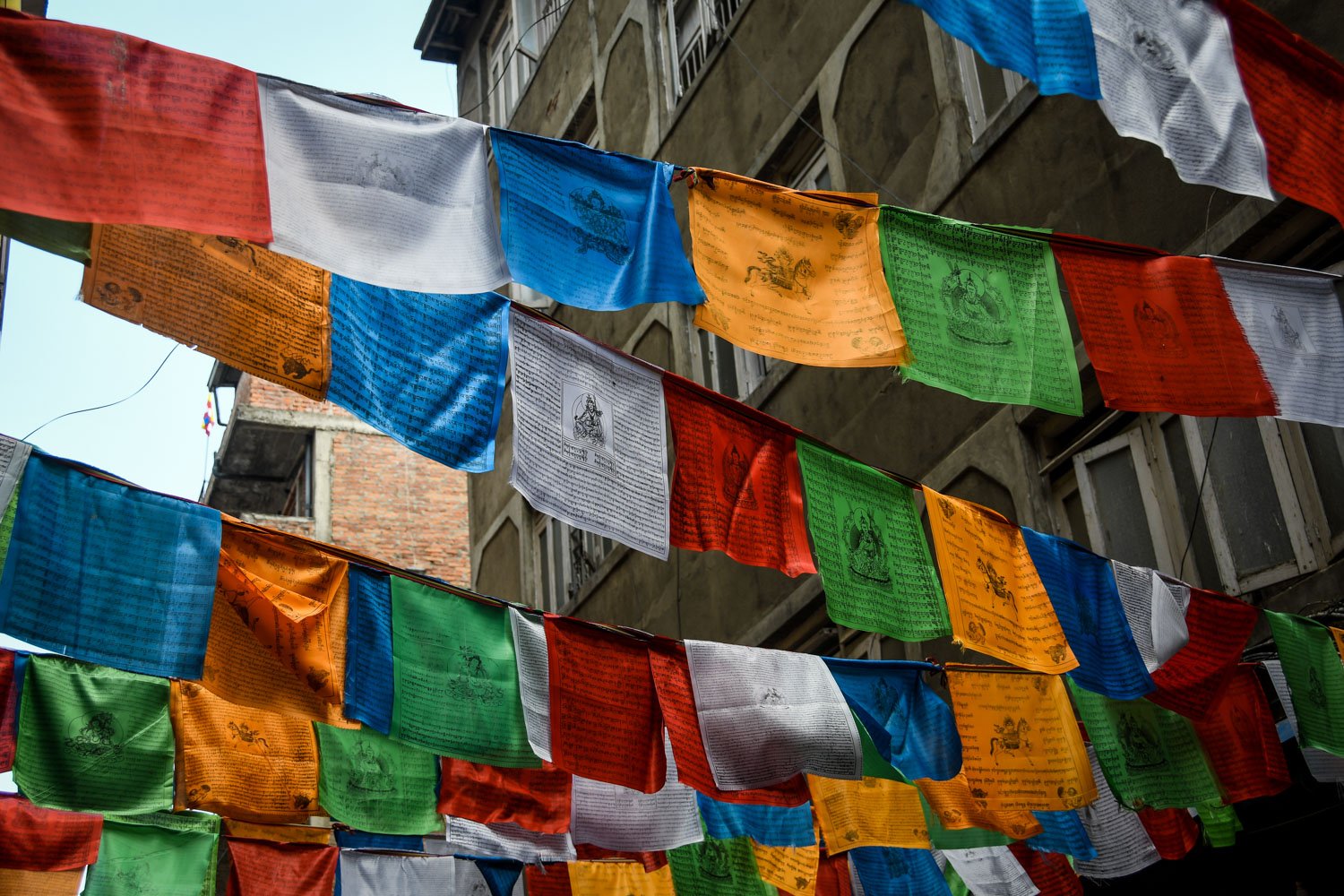 If you've ever wanted colorful prayer flags for your home or garden, Nepal is a perfect place to get them! We bought a string of them in Namche Bazaar, during our trek to EBC, but you can easily find them all around the country. 
Jewelry
You'll have no shortage of options when it comes to finding jewelry in Nepal. Whether you just want something inexpensive and pretty, or you want a fine piece of jewelry with deeper meaning, like a Buddhist prayer bead necklaces, there's a variety to choose from.
"Tiger Moving Game" (Bagh Chal)
If you like quirky souvenirs, you might be a fan of this strategic 2-player board game that originated in Nepal. With 4 tigers and 20 goats, the rules are just as you'd expect. Tigers try to "hunt" the goats, and goats, well, try to live!
9. Take a scenic flight over the Himalayas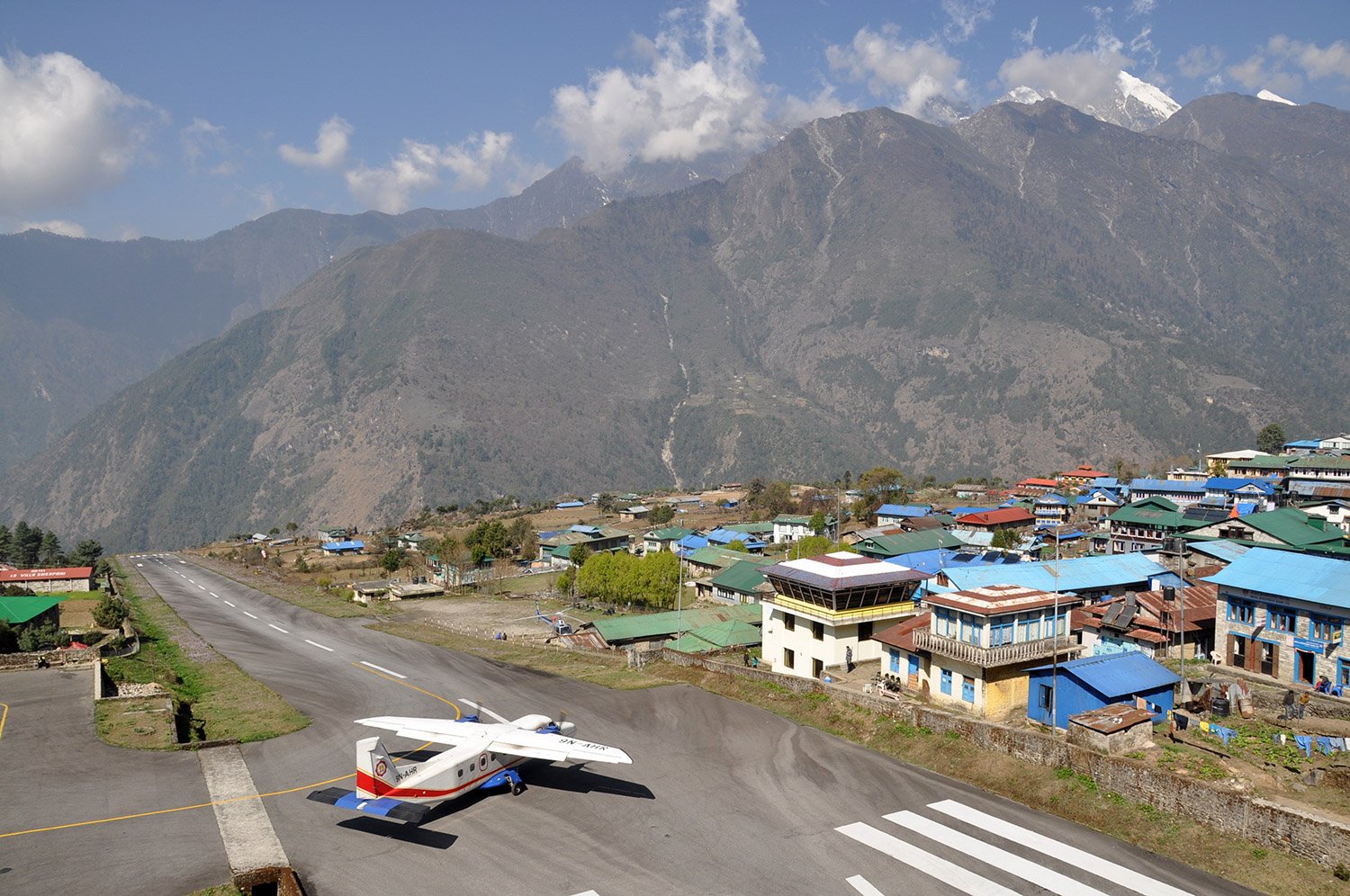 There's no arguing Nepal is best known for Mount Everest, ahem, the tallest mountain in the whole damn world! And measuring in at 8,848 meters (that's 29,030 feet for our American friends!), it's a pretty impressive peak.
Hopefully the rest of this article has proven to you that there is more to Nepal than Mount Everest. But it's still a pretty incredible part of the country. And if you've ever dreamed of getting up close and personal, but don't have the time or ability to trek to Base Camp (or the interest — that's okay too!), there is still a way you can get close to this iconic peak…
Consider taking a scenic flight that brings you up close to the most famous mountain in the world.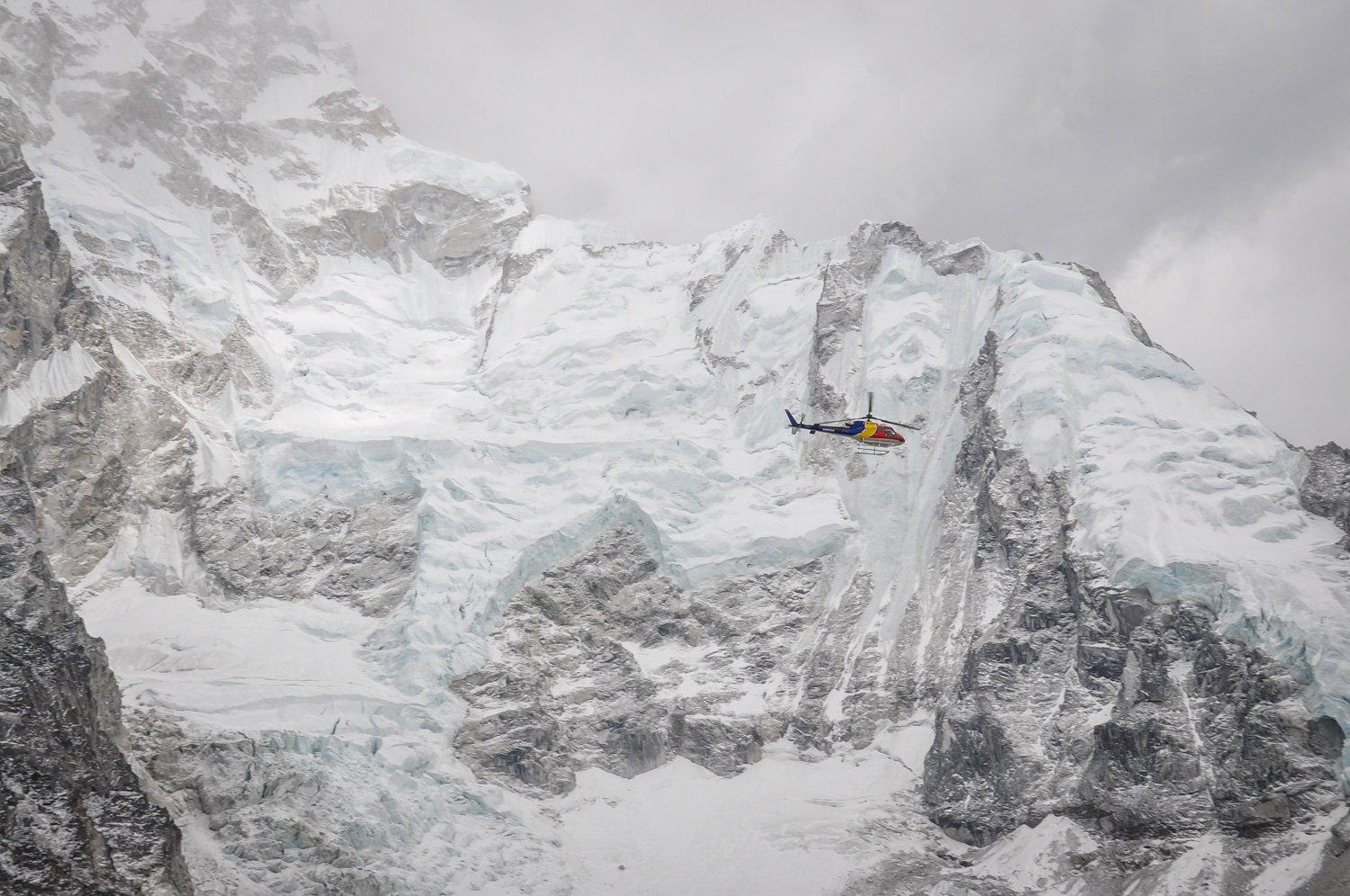 I'll tell you right now, that Everest isn't the only show-stopper on the journey. You'll be surrounded by Himalayan beauties on all sides, and it is truly a sight to behold. Search for Ben's personal favorite peak, Ama Dablam, which rises up in perfect pyramid shape.
The flight itself will be short, so take in the views and appreciate this opportunity to see right before your eyes what many people only dream about.
Note: The photo at the top was taken at the runway in Lukla. While a bit scary, this flight alone is pretty darn scenic, and most people doing the EBC trek take this flight.
10. Volunteer in Nepal
I'm going to start this section out with a warning: If you plan to volunteer in Nepal (or in any country for that matter), please be very mindful about your decisions.
Volunteering abroad sounds like a wonderful thing, and it can be. But it can also be devastating to communities if you don't go about it in the right way.
Ethical Volunteering in Nepal
Here are some basic things to keep in mind as you choose an ethical volunteer opportunity:
Orphanages are not ethical volunteer placements (read more about why).

You should not be doing skilled work that you're not trained for. (Example: you should not be performing medical work unless you are a trained doctor).

If you plan to work with children, be very careful about the organization you choose to work with. Also, be sure you have enough time to stay for an extended period of time. Think about it: If you teach English for a week and then are replaced by another short-term volunteer, are the children really learning? Probably not.

Be sure you're not taking a job away from a local who needs it.

Research the organization you're working with and ask them tough questions if necessary.

Is there a volunteer fee? Be sure you understand exactly how your money is being used. Does it go back into the community, or is someone profiting?

Make sure your head is in the right place: Why are you volunteering? To feel good about yourself? To post photos on Facebook? To save money on your travels? It's okay if those reasons are part of your desire to volunteer, but they shouldn't be the driving factor. You should be passionate about wanting to help and to make a difference; even if you don't get a "feel good moment" or an Instagram-worthy shot.
Alright, now that we've gone over those important things to keep in mind, let's dig a little deeper and discuss what type of volunteer opportunities you'll find in Nepal.
There are a ton of volunteering opportunities on Workaway* — we found 104 hosts in Nepal at the time of writing this article.
Volunteer on a Farm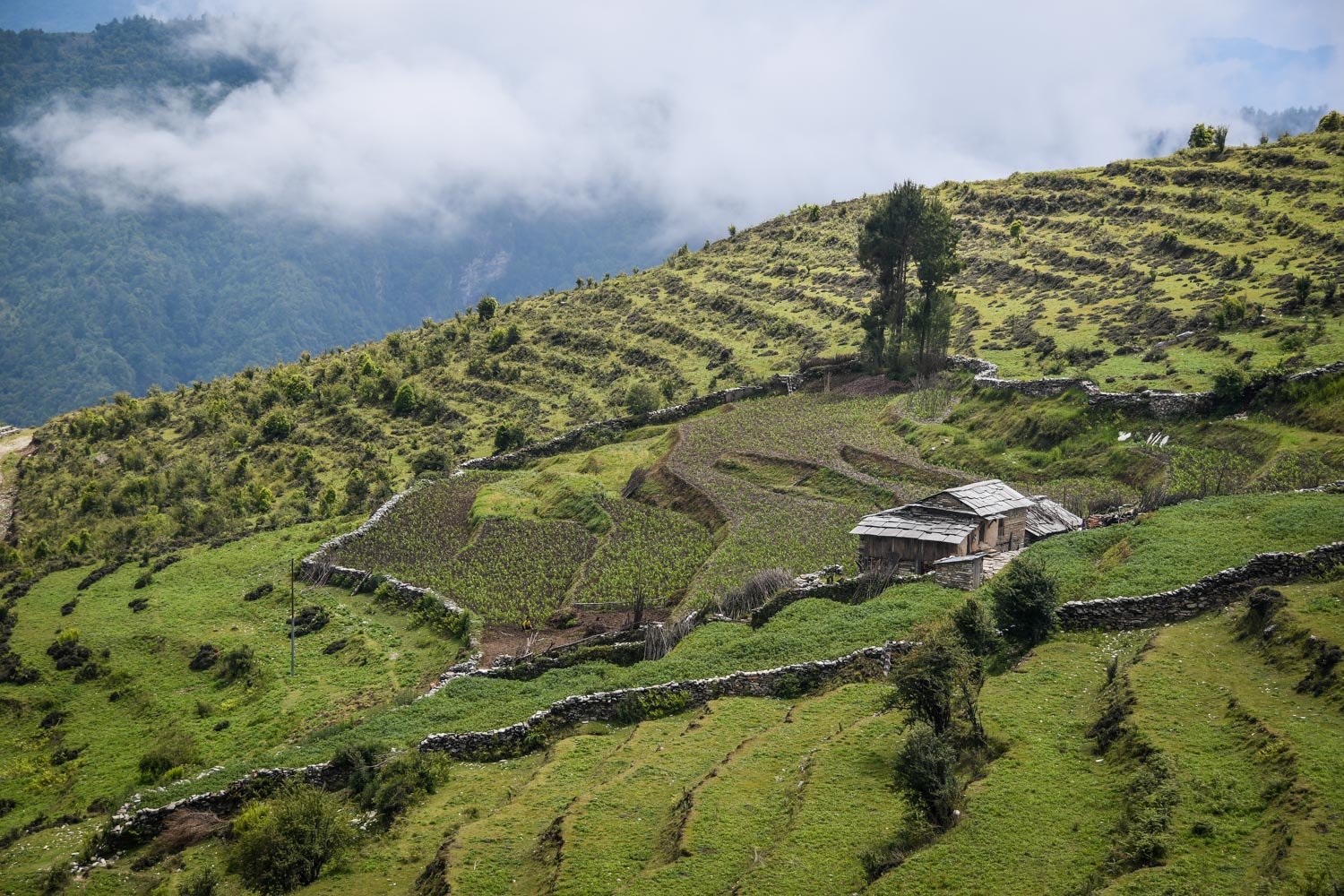 You'll find yoga teaching, hostel work, construction, teaching English, and more on Workaway. But you might notice the vast majority of the opportunities in Nepal are farm work, and we would highly recommend this type of volunteer experience.
Farm work may not be the most glamorous, but it can be a good way to volunteer in a meaningful and ethical way if you have a limited amount of time.
You'll get to see a totally different side of Nepal than most tourists see, and you'll be able to get to know a local family. You can also learn a ton about the earth, sustainability and permaculture.
We've worked on 2 organic farms — one in Ecuador and one in Thailand — and they were some of our favorite travel experiences. Yes, seriously!
I mean take a look at this volunteer gig on an organic tea farm! It has been reviewed by 162 volunteers and has a 100% rating! When we traveled to Nepal for the first time in 2016, we really wanted to stay a bit longer and volunteer on this farm. But time got away from us. Maybe someday we'll get there!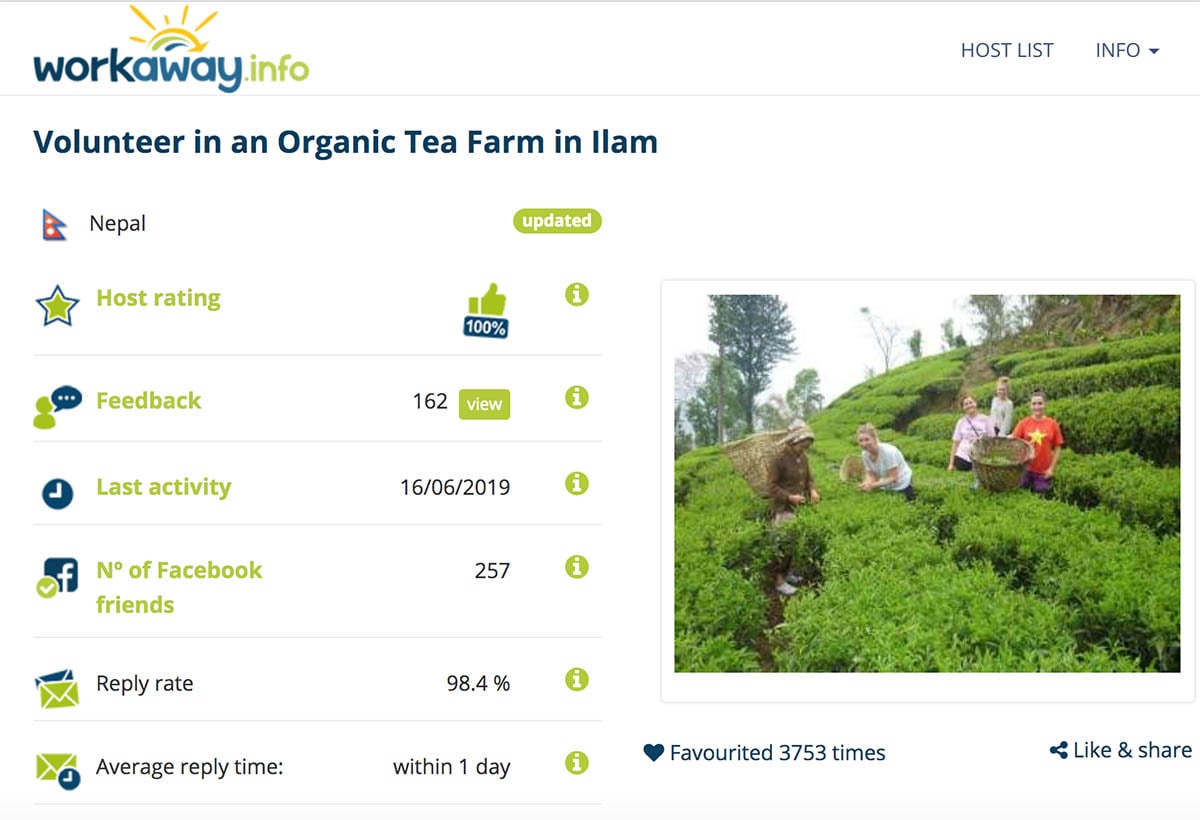 There are other platforms out there, but we have found Workaway has a variety of opportunities, and is easy to use.
We can't vouch for the quality of all opportunities, but if you look through feedback of past volunteers, you can usually decipher which experiences will be epic and impactful, and which ones will be meh…
*Note: You can read descriptions of the volunteer opportunities on Workaway, but in order to contact the host, you must sign up for a membership, which costs $42 per year. It can be a good investment if you'd like to volunteer during your travels. Most opportunities on Workaway are FREE for volunteers. You may be asked to pay a small amount of money for room and board, but it won't be like the big volunteer projects that charge thousands of dollars.
---
Are you planning to visit Nepal soon?
We have TONS of other articles on Nepal that we think you'll like. Check out ourNepal Homepage for all the important travel information, or read some of our favorite articles below.
Save this article on Pinterest!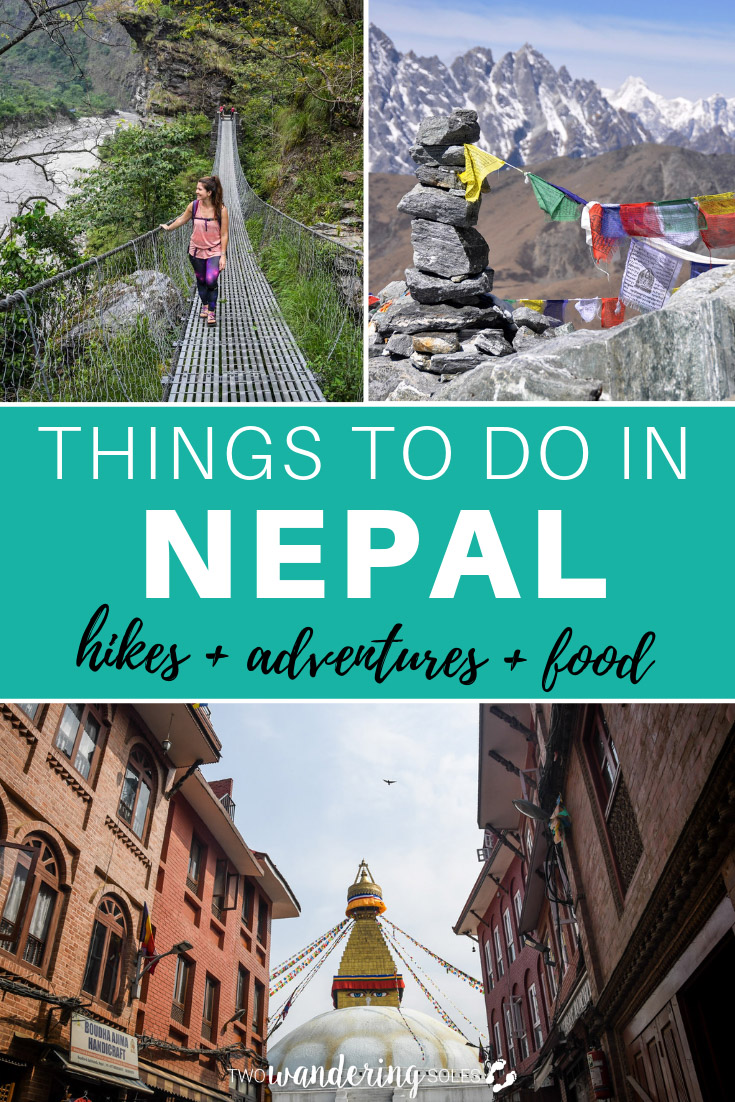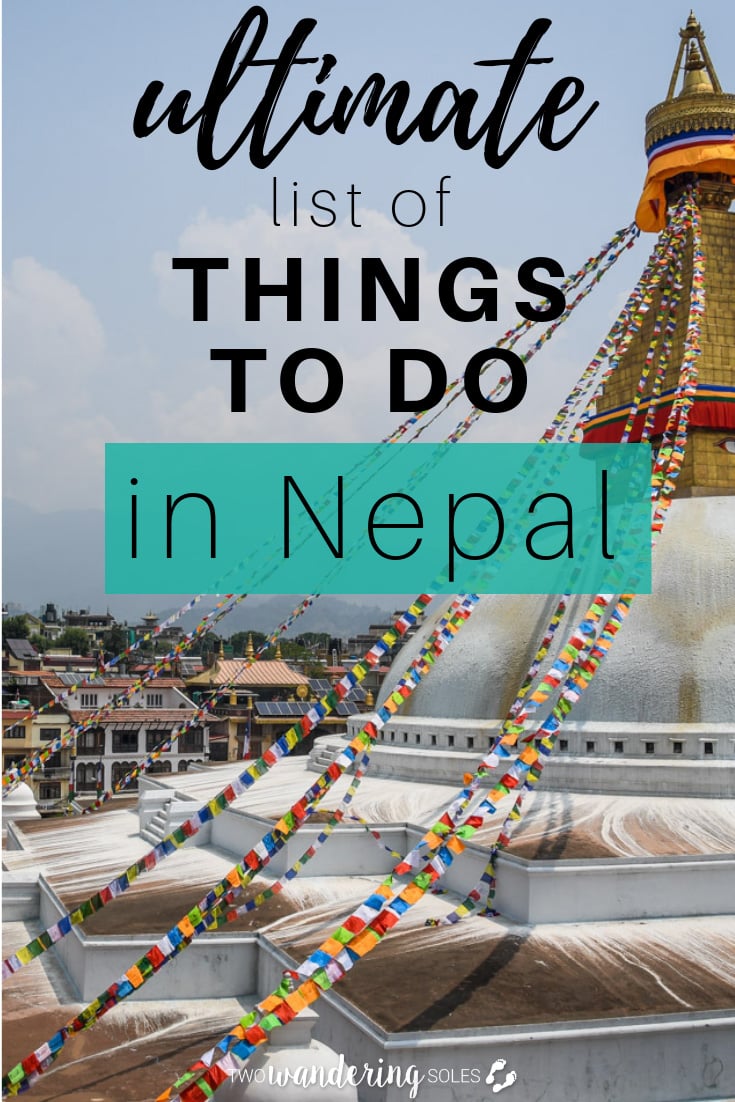 We want to hear from you!
Are you planning on going to Nepal? That things to do in Nepal interest you? Is there anything we miss on this list? Let us know know in the comments below and we'll do our best to get back to you!