If you love waterfalls, hot springs, mountains, and the occasional (or frequent) cocktail, Pai is likely on your Thailand itinerary. We've put together the best things to do in Pai, Thailand (including some lesser-known gems). You'll also find the best restaurants as well as where to stay during your visit to Pai, Thailand. Let's start planning your trip to northern Thailand!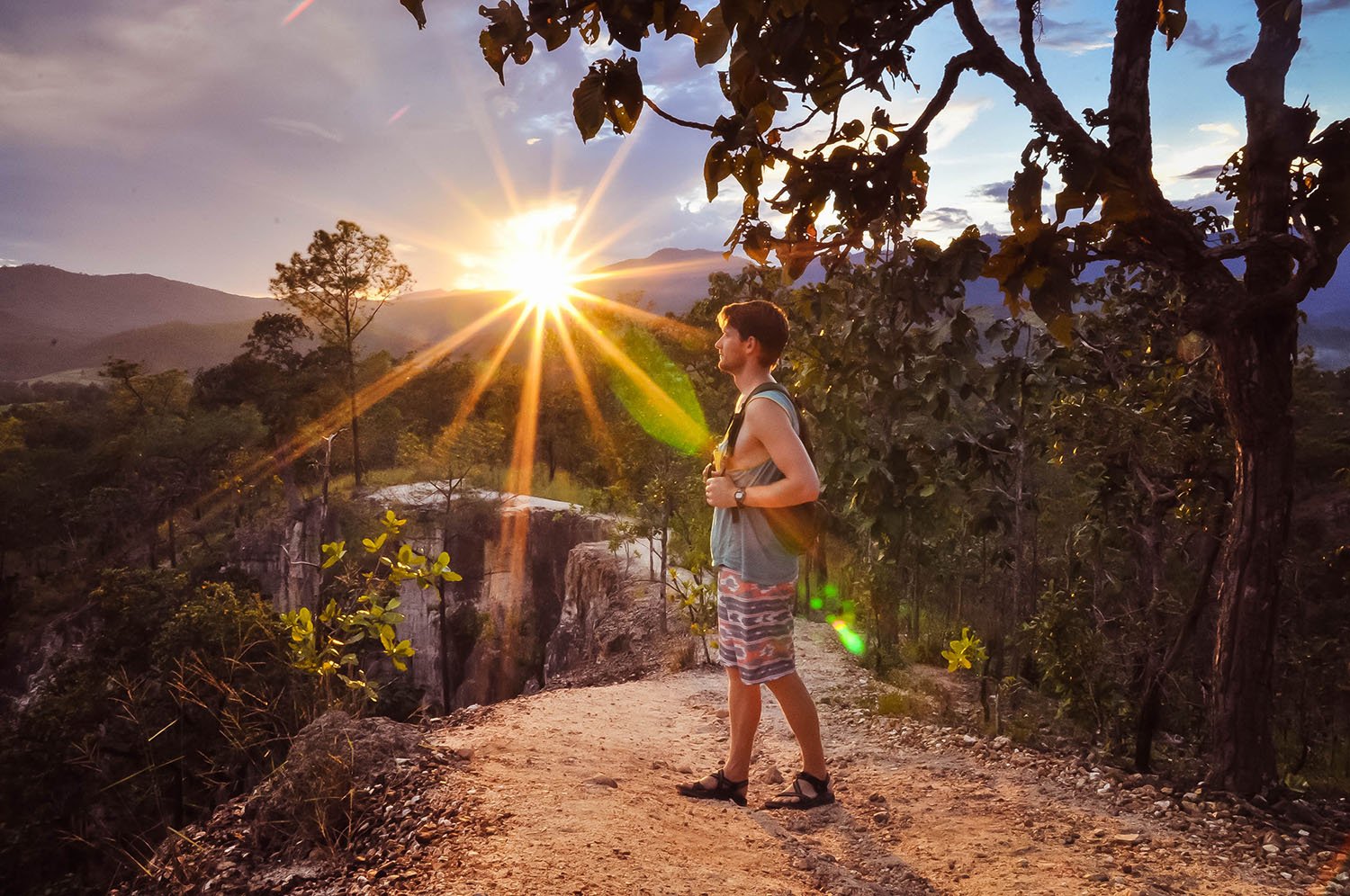 Updated September 2018
This small town in Northern Thailand is known for being surrounded by beautiful landscapes and for being filled with elephant pants-wearing backpackers. There's a lot to love about Pai, and a few things to loathe, but nevertheless, a visit to this town is a good addition to your Thailand itinerary.
We're sharing the best things to do in Pai – from the must-see waterfalls and hot springs in the surrounding countryside, to off the beaten path places most travelers never see.
In this article, you'll also find the best restaurants and bars in town as well as where to where to stay in Pai. This complete guide will make you an expert on Pai before you even set foot in this small town.
What is Pai, Thailand like?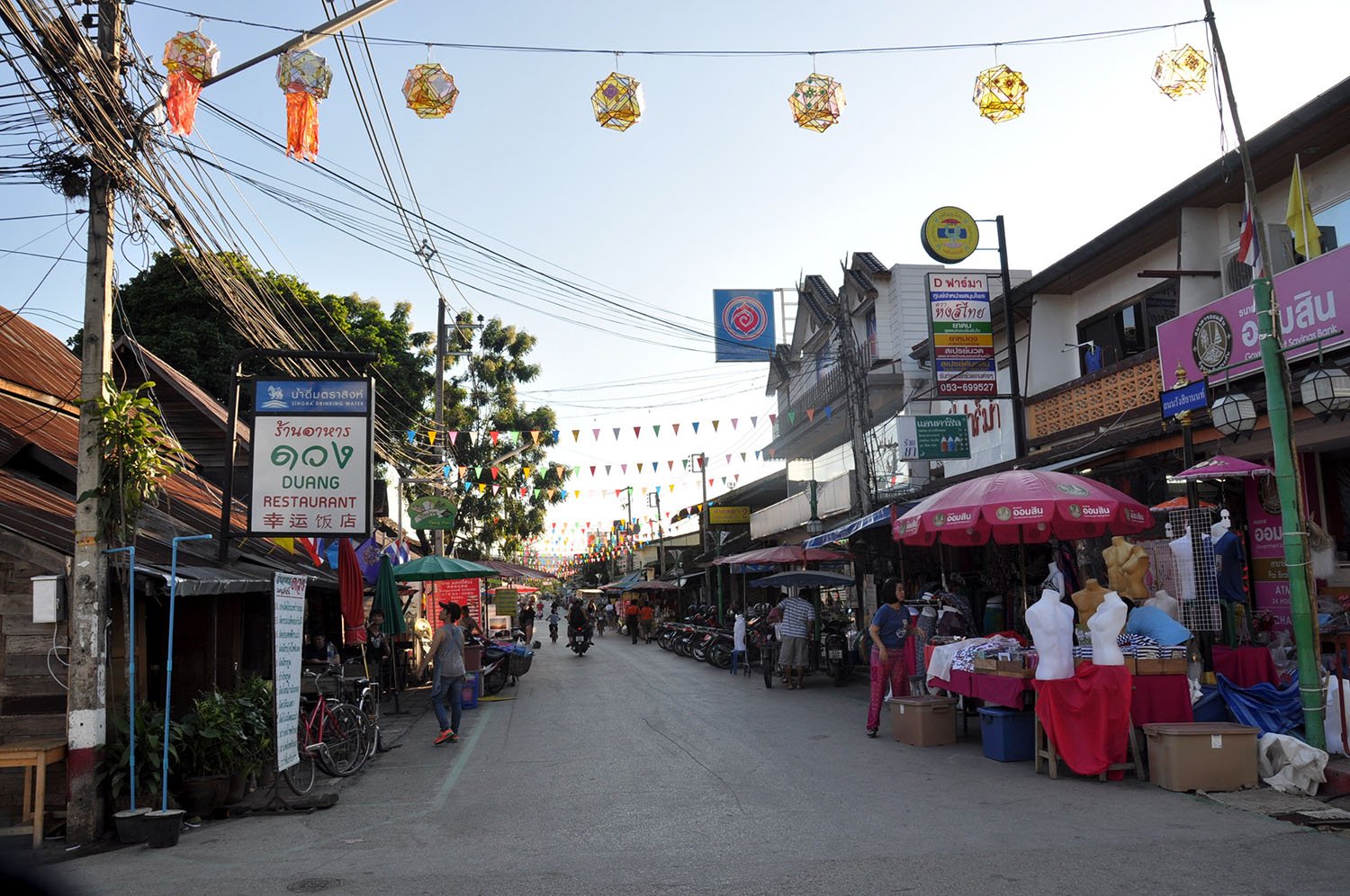 The streets of Pai town seem quaint at first glance, but the evenings are a jumble of dreadlocks, selfie sticks, and motorbikes weaving in and out of the crowds. Pretty soon it seems to resemble a smaller (and cuter) version of Khao San Road.
It seems that there are 2 types of travelers in Pai, Thailand. Those coming to party. Those there to relax and detox.
Pai has an abundance of bars that get crowded come sundown with a youngish crowd of backpackers looking for drugs or buckets (or a combination of the two). And there are just about as many raw/vegan/gluten-free cafes that boast homemade kombucha and kefir for those wanting to rid their systems of the drugs and buckets. (Or for those purely coming to Pai for its abundance of health-focused establishments.)
Though the town itself left us with a funny feeling (more on this later), it was the surrounding countryside that made us put out travel plans on hold and stay in Pai for a while, like so many people passing through seem to do.
How to get to Pai, Thailand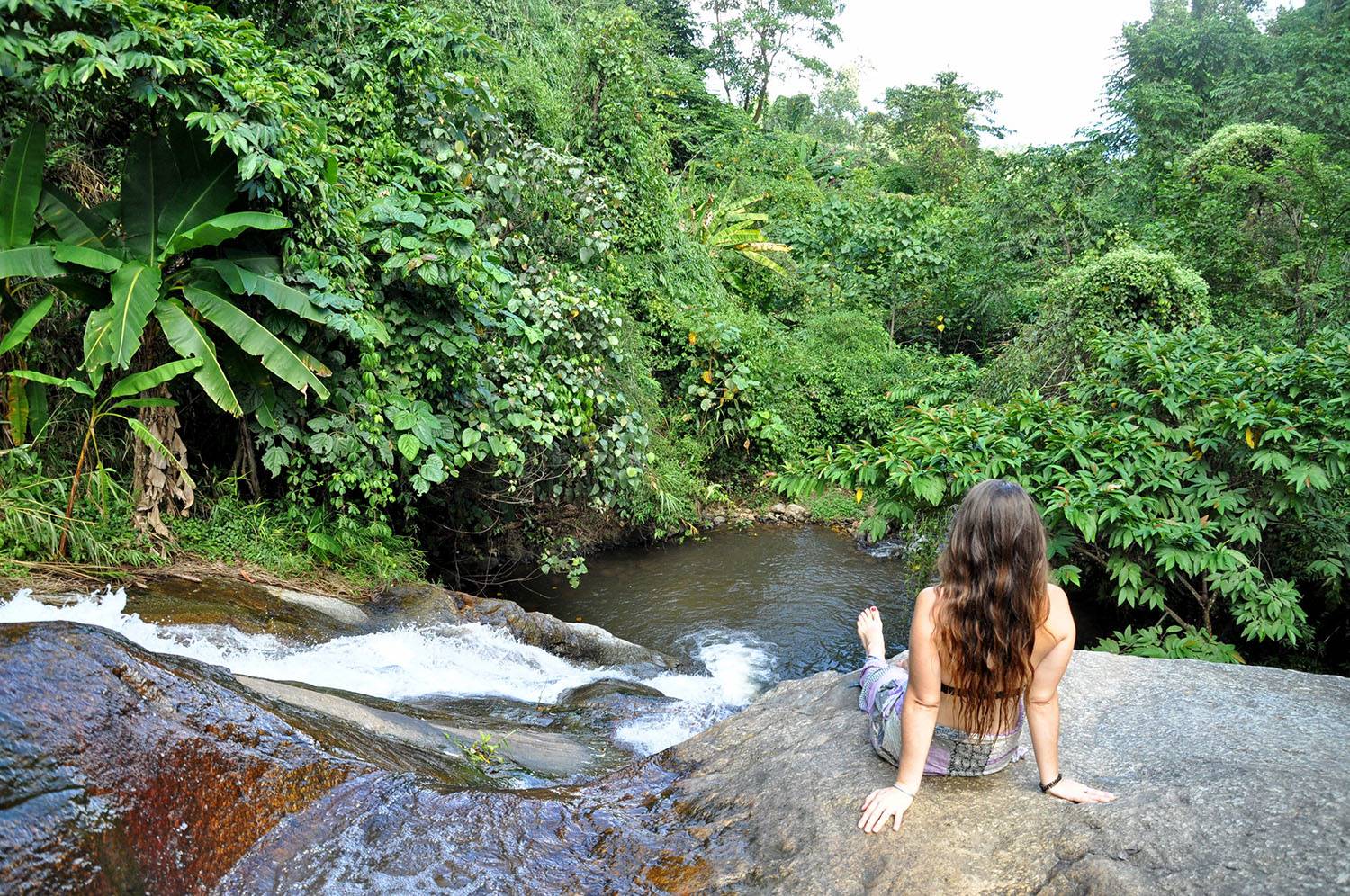 Most travelers come to Pai from Chiang Mai. It is easy to get a shuttle van between the cities (195 baht per person), but be warned that the 3-hour journey is a winding one. If you're easily carsick, be prepared. There is a 20-minute stop halfway through where you can stop for snacks or to use the bathroom.
You can also rent a motorbike and make the drive yourself, but only do so if you are experienced. The drive is beautiful, but not easy.
Also, motorbike rentals are cheaper in Pai than Chiang Mai, so you'll save yourself some money by taking the bus and waiting to rent one once you arrive.
Best Things to Do in Pai
The best things to do in Pai are outside the town limits, and the best way to explore is on motorbike!
Tip: If you have a limited time in Pai, you can do #1 – #4 on this list in just one day. We would recommend starting early and visiting them in the order listed to best avoid the crowds.
1. Explore the countryside on a motorbike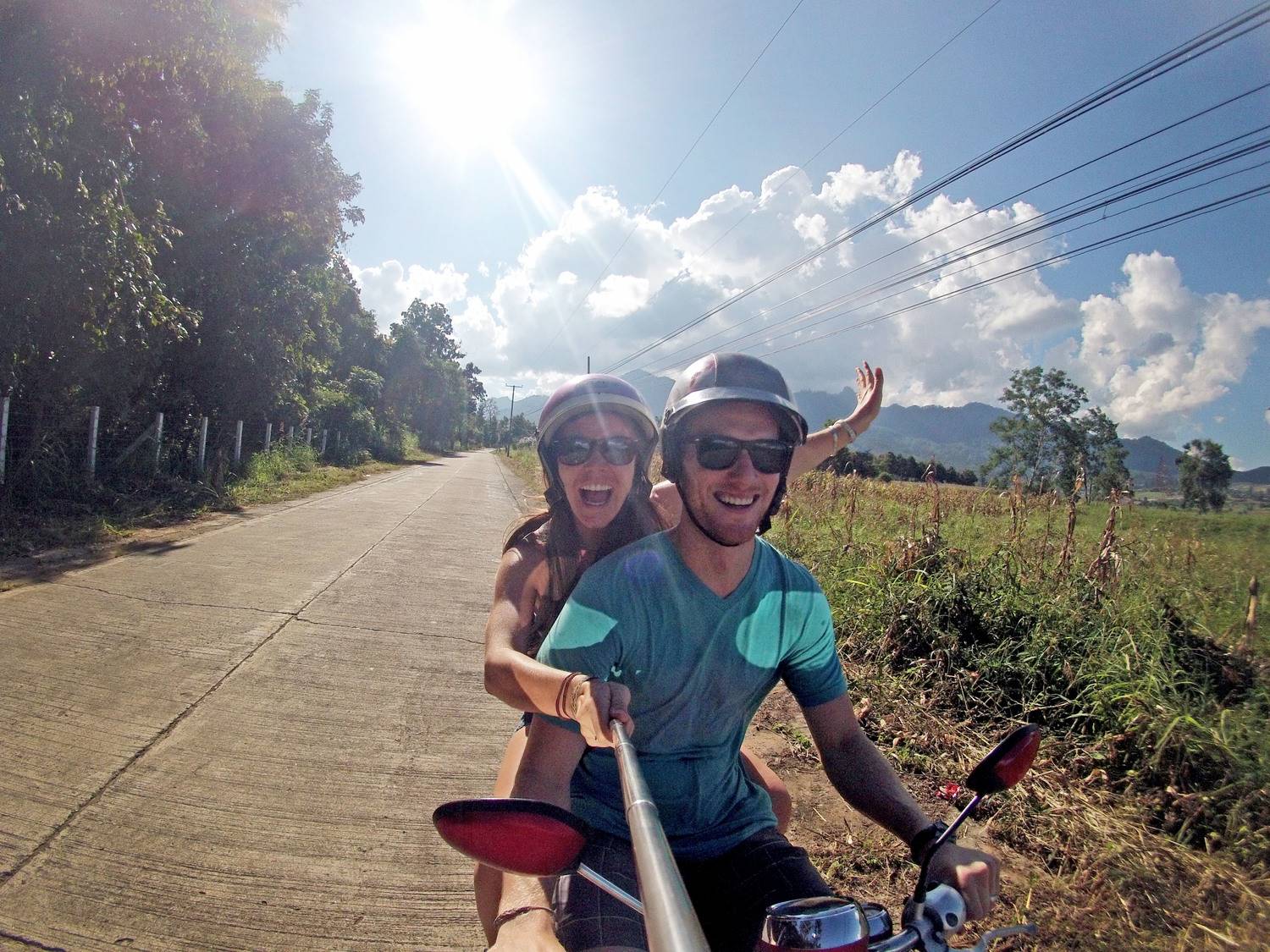 If you feel comfortable on two wheels, Pai will be paradise for you. But we totally understand apprehension to getting behind the wheel… errr, handlebar? I crashed my bike the last time I attempted to drive in the Philippines, so it goes without saying that I was a bit apprehensive.
And if you're backpacking in Thailand, you will no doubt encounter people walking down the streets with fresh scrapes and burns from accidents.
But I don't want to scare you. The cheapest and most beautiful way to explore the neighboring wonders is by motorbike. No question about it. And we would wholeheartedly recommend it.
Even if you're a little nervous (like we were), I would urge you to push past your fears. It is so worth it. When you're on the open road with no one in sight, wind blowing through your hair (or dreadlocks), you'll thank me. Although we were a little hesitant at first, our one-day rental turned into 8 days. We got hooked!
Best motorbike rental in Pai
There are a few establishments in town, but the most popular is undoubtedly Aya. It is near the bus station at the center of town, and has competitive rates, starting at just 100 baht.
They offer a couple types of insurance – but basically one covers all damage to the bike, and another covers damage as well as a stolen vehicle. They are both very reasonably priced.
Important Tip: Look over your receipt and make sure the dates are correct and they have noted that you've paid. We were caught in a not so happy situation when we returned our bike and they insisted we still owed money when in fact we had already paid. On that note, DO NOT lose your receipt. In fact, take a picture of it just to be safe. They will charge you if you cannot produce this piece of paper. Other than that little miscommunication, our experience renting from them was just fine.
2. Slide down Mor Paeng Waterfall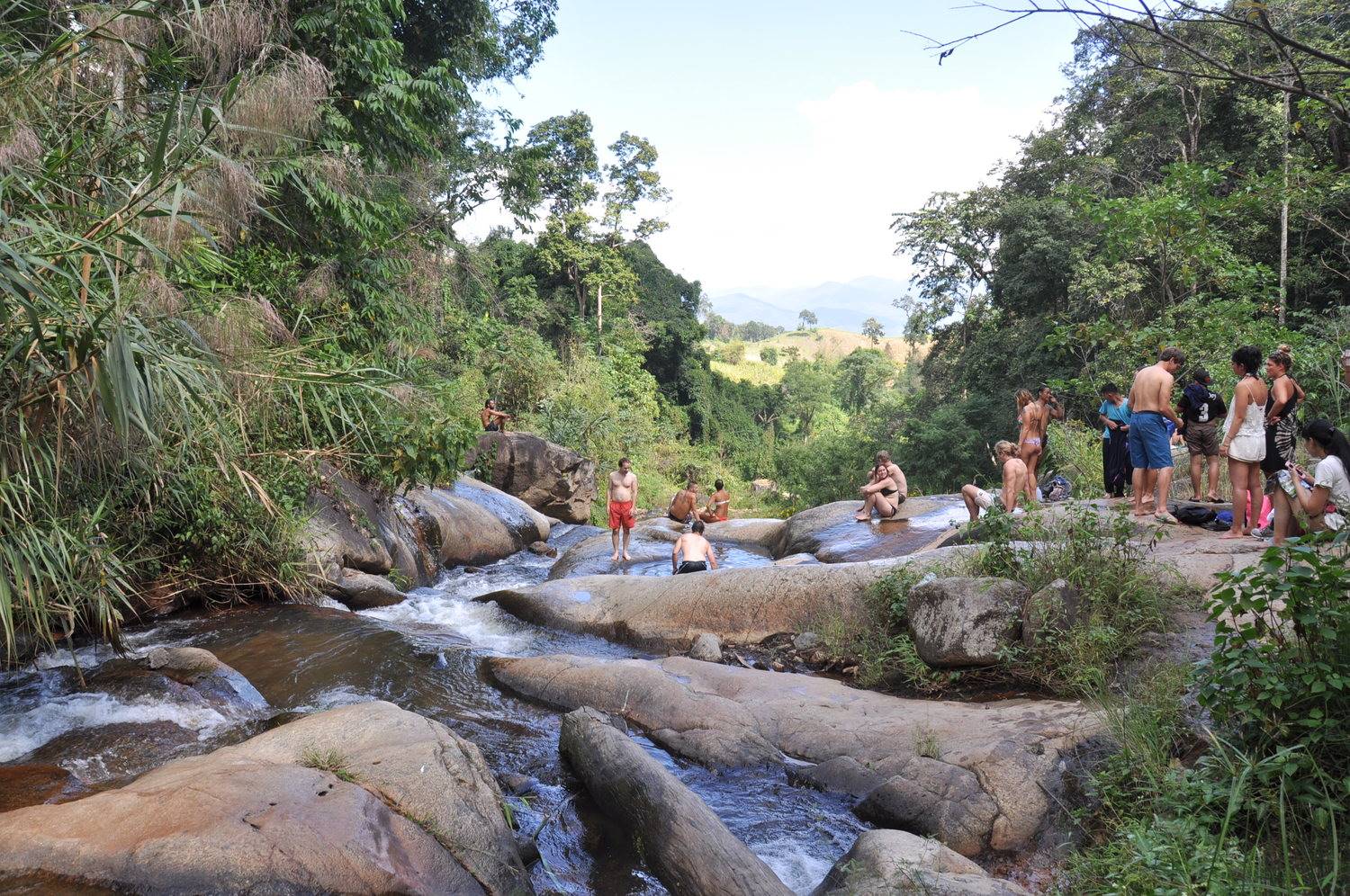 The ride here from Pai is quick and easy, so it's perfect for beginners. Slide down this fall like a waterslide, or sit in the shallow pools of chilly water – perfect for cooling down on a hot day.
Be sure to make it down to the lower section of the waterfalls. It seems like many people miss this part, so it is much less crowded. Just beware of the not so safe "staircase" leading to the bottom pool.
Tip: Arrive early. This is one of the more popular waterfalls in the area (for a reason), so get there before noon if you want to avoid crowds. Make sure you hike down to the very bottom of the waterfall where there are more pools to bathe in, and far fewer people.
---
Everything you need to pack for Thailand


---
3. Soak in Sai Ngam "Secret" Hot Springs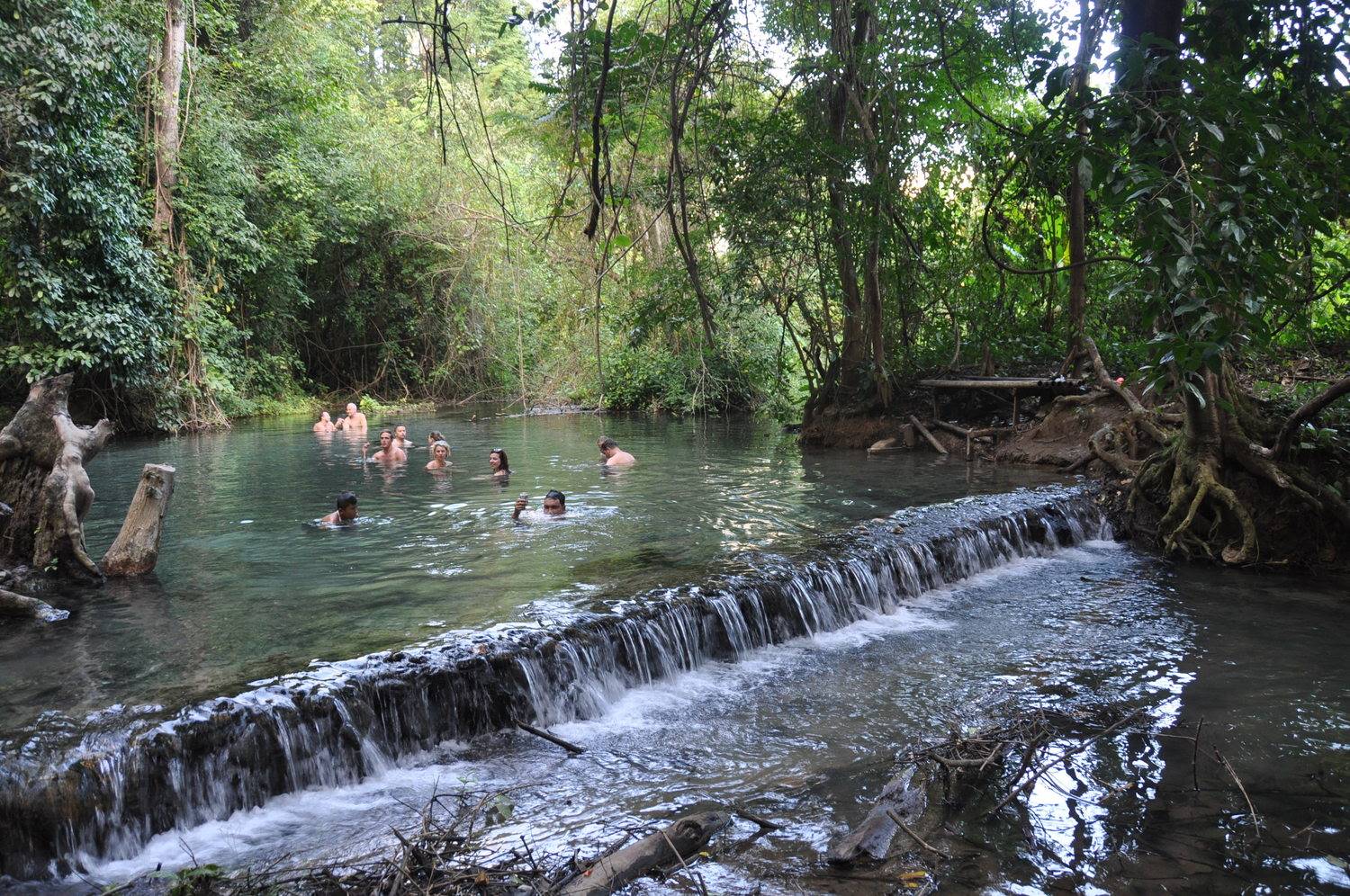 Known as "secret hot springs", these aren't marked on the tourist map but they are no secret. The shallow lagoon surrounded by a lush, jungly forest is completely natural and hasn't been landscaped or altered, which we loved.
There were only a handful of people there when we arrived at 3 in the afternoon. Note that you do have to pay a 20 baht entrance fee per person, and 20 baht per bike. The fee is measly though compared to the 300 baht that is charged by the bigger, more commercialized resort near town.
Warning: The road leading to the hot springs is much like a roller coaster. It winds back and forth, and when you reach many of the hilltops, you won't be able to see the bottom. My stomach was in my throat most of the ride, but I kind of love that feeling. Weird, I know. If you're a beginner on the motorbike, it can certainly be done, but exercise caution. We did see a few injuries on this road.
Tip: After you're done soaking, drive another kilometer past the hot springs and you'll enter a small village in a postcard perfect valley. The villagers grow corn, and the road takes you right through the farmlands and over a stream. Once you're done exploring, turn around to head back to the main road.
2017 Update: We returned to this hot spring in November 2017, 2 years after our initial visit, and it is getting built up quite a bit. There was quite a bit of construction going on and it looks like it will be a much bigger attraction in the coming months. It is still worth a visit in our opinions, but beware that it is no longer "secret" by any means.
4. Watch the sunset at Pai Canyon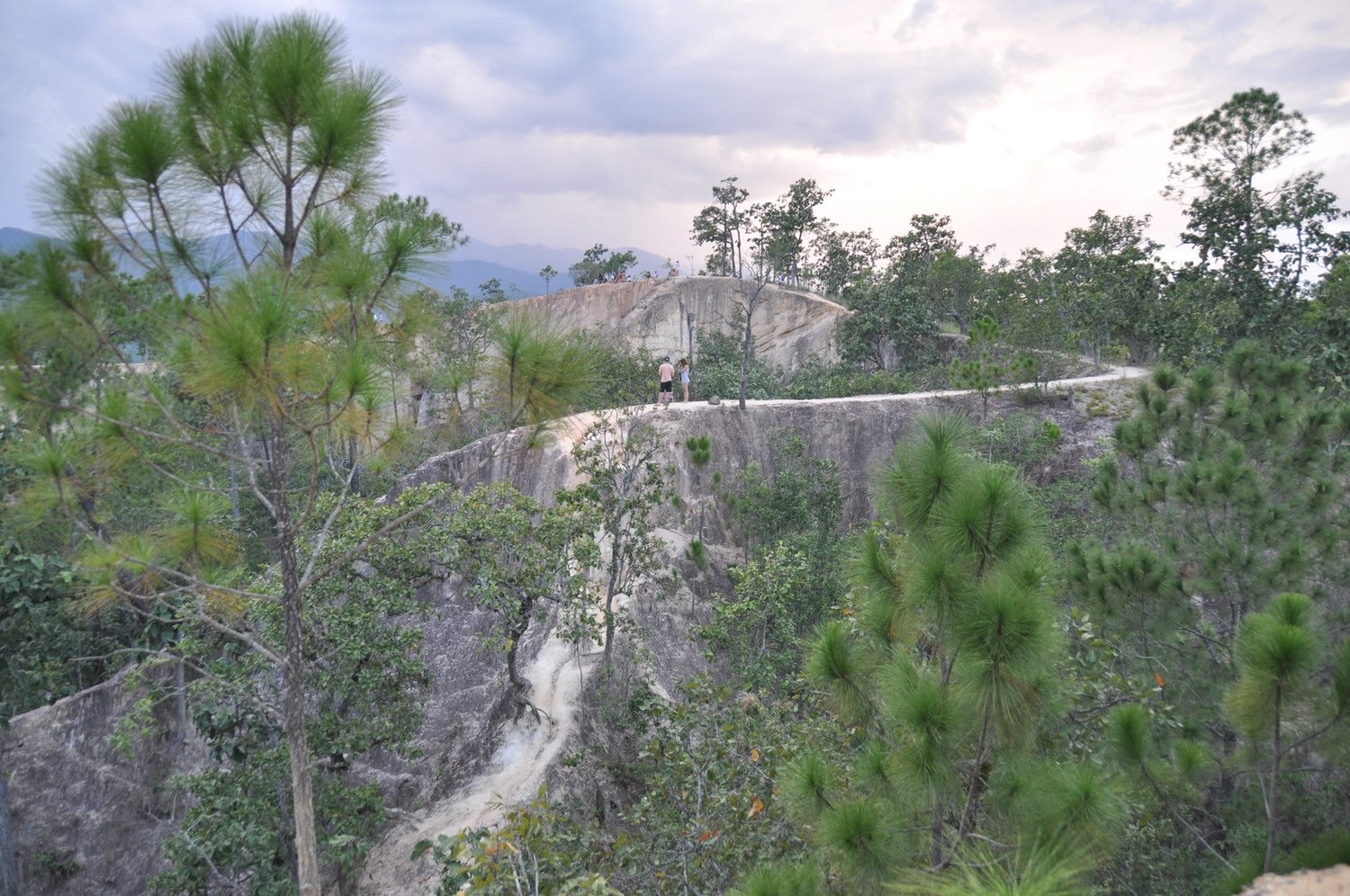 Just 7 kilometers from town is a canyon with great views, especially at sunset. As long as you don't go expecting the same grandeur as the Grand Canyon in the good ol' US of A, you won't be disappointed.
Tip: There are 3 lookout points. The furthest of which is the least crowded and most beautiful. But beware, the walk to get there is NOT an easy one. The path drops down a hundred meters on either side, and you'll have to do some climbing on your hands and knees to reach the third viewpoint.
Wear sturdy shoes, and take it slow. The reward is well worth the journey! If you are there at sunset, be sure to start heading back before darkness sets it. You definitely won't want to navigate this path without light.
5. Explore Lod Cave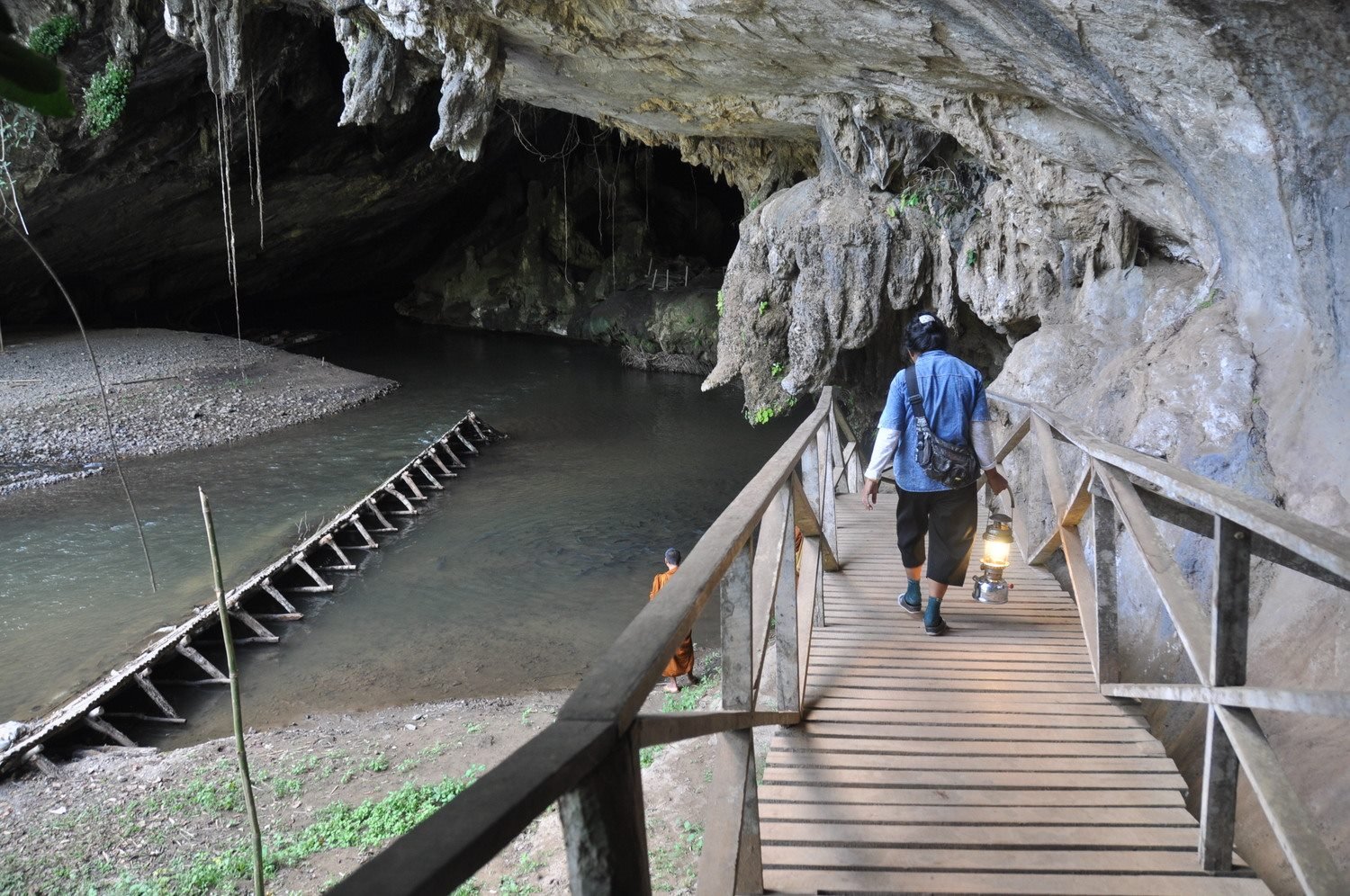 This was one of the highlights of our stay in Pai. Over the past year, we have visited several caves, and we've both become kind of obsessed.
We went caving in Korea, visited a super remote cave in the Philippines, and walked through a lava tunnel on Jeju island. And during our first couple weeks in Thailand, we repelled out a cave that overlooked the ocean in Krabi.
But we both agree that Lod Cave is pretty darn cool. Based on sheer size, this cave was by far the biggest we visited this year. So big in fact, that there is a river running through on which we were able to ride a bamboo raft. So cool.
You cannot enter Lod Cave without a local guide, which costs 150 baht per group. Additionally, you must take a bamboo raft on the river which costs an additional 300 baht. Group sizes can be 1 to 3 people, and the price will be the same so it makes sense to join another group if you're traveling solo.
Tip: We partnered up with another traveler, making it just 150 baht per person (instead of 450 baht if one person were to do it alone).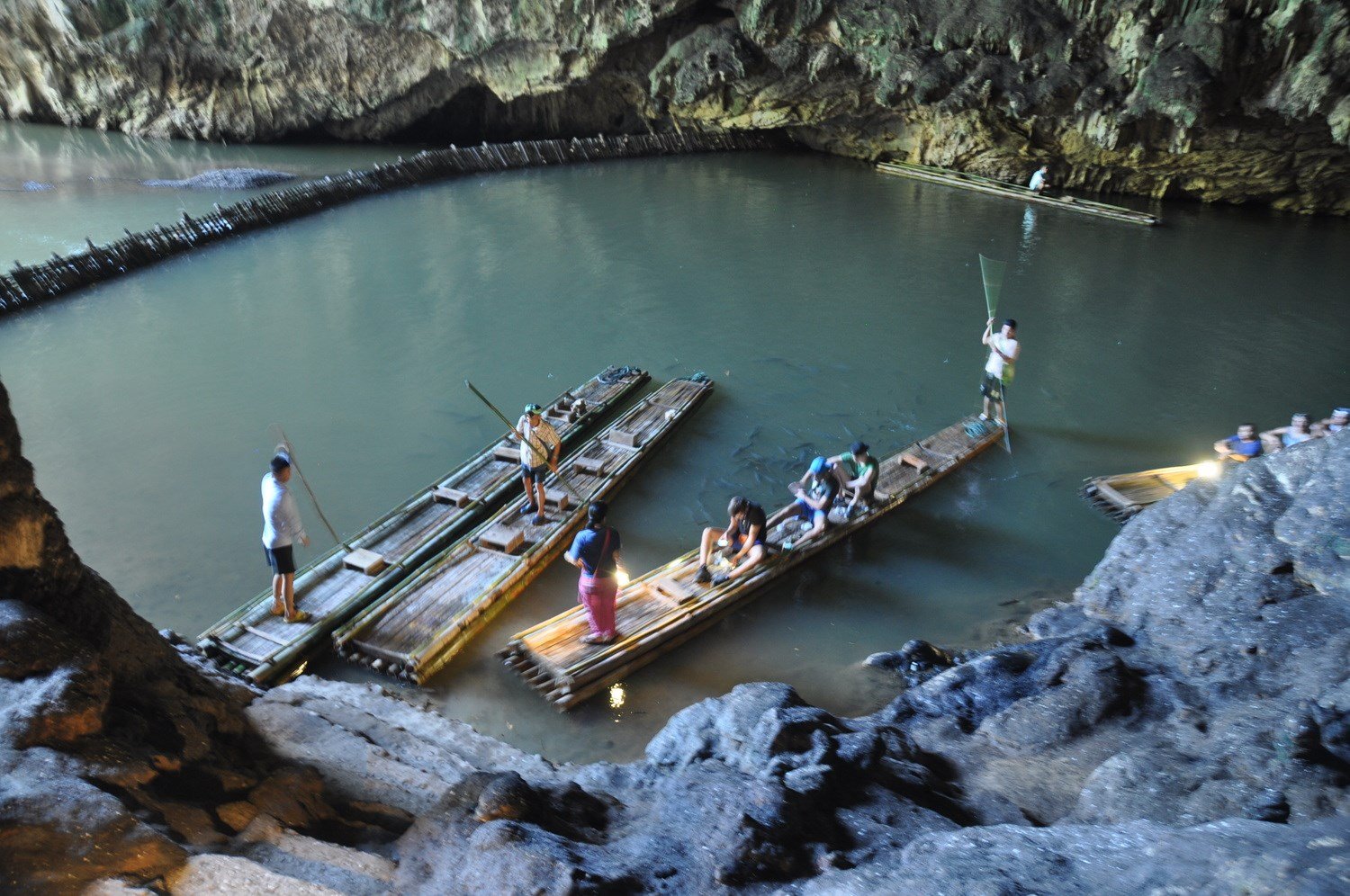 The guide didn't tell us much about the cave other than pointing out rocks that looked like different animals. Although we didn't learn too much about the cave itself, we were happy to support the local community for the hour-long tour.
How to get there: The whole trip is about 50 km away from Pai, so set aside a whole day for the trip. Drive about 42 km northwest on Highway 1095 toward Mae Hong Son.
You will go up and down a steep mountain with a great lookout at the top. Around the 42 km mark, you will turn right into the small town of Soppong. Keep right after the town and follow the signs another 8 km through winding road through a thick forest until you reach the cave.
Tip: Allow a full day to make the drive and explore the cave. There are other caves in the area that are free of charge to enter (though we didn't have time to explore them). The "secret hot springs" (#2) are on the way, so you could stop there on the way there or back as well.
6. Get a View of Pai Valley
There are many viewpoints around town that look over the Pai Valley. One very popular spot is the Yun Lai Viewpoint. It's not too far of a drive out of town and on the way to Mor Paeng Waterfall so we figured we would check it out.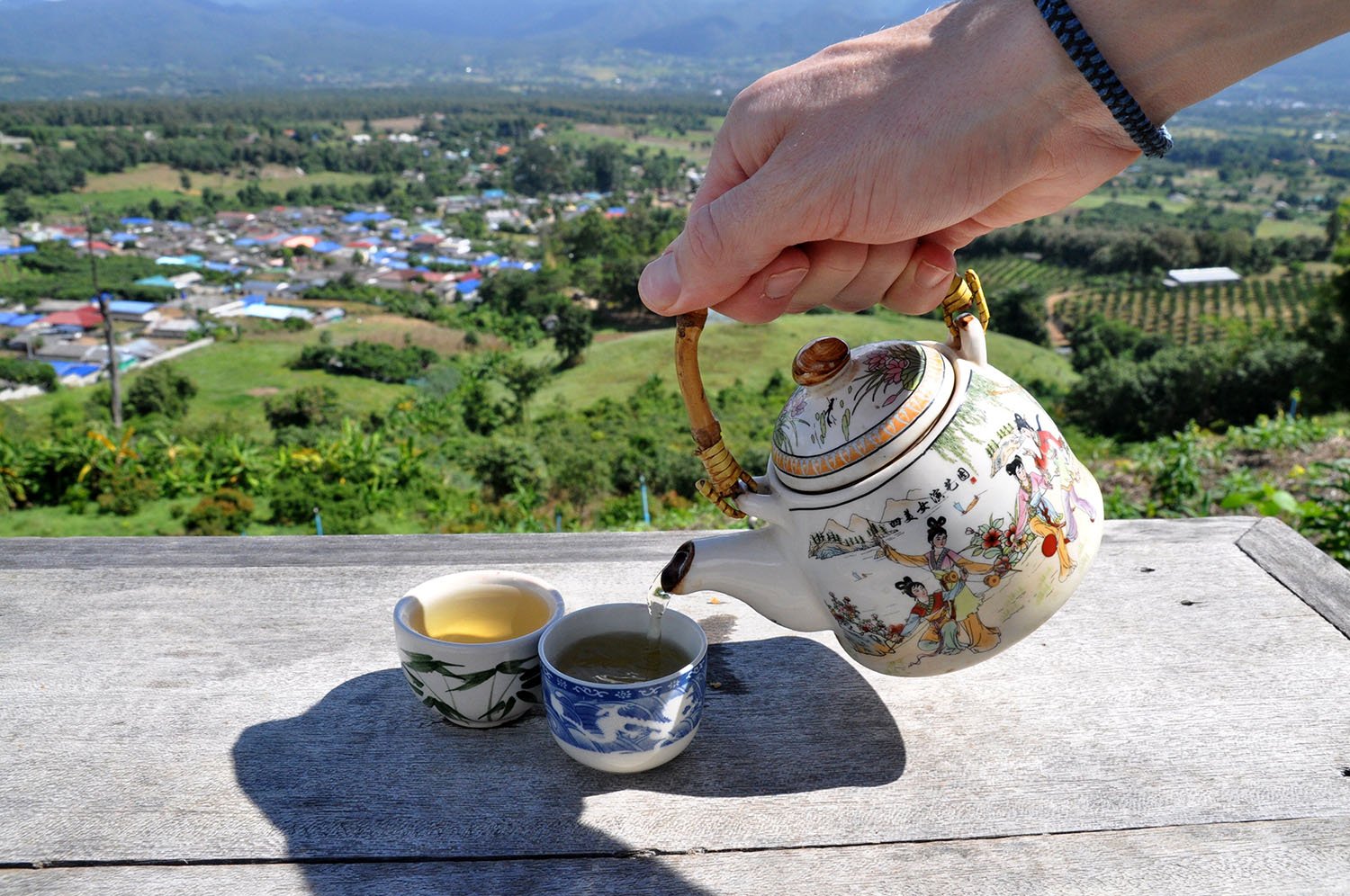 Once you climb the steps up the hill, you have to pay a 20 baht per person entrance fee which includes a pot of tea. It's a pretty good view, and there are some kitschy heart structures you can pose with.
7. Sip coffee with a view of Pai
There are tons of cute coffee shops all around the town of Pai, but get just outside the city and you'll find coffee shops with spectacular views. Make a pit stop at the ultra popular Coffee in Love, if for no other reason than to see the quirky art installations. We'd recommend skipping the coffee there and continuing on to a less crowded place to enjoy your brew. The trendy The Container at Pai has a covered rooftop area where you can sit in an egg-shaped swing and enjoy your drink with a view.
Our favorite coffee shop, Armina Restaurant, is a bit further along highway 1095, and is run by a super sweet family. This peaceful restaurant and homestay had a beautiful patio desk that overlooks the green fields below with the towering mountains as a backdrop. They serve coffee and food in a tranquil setting.
8. See the White Buddha up close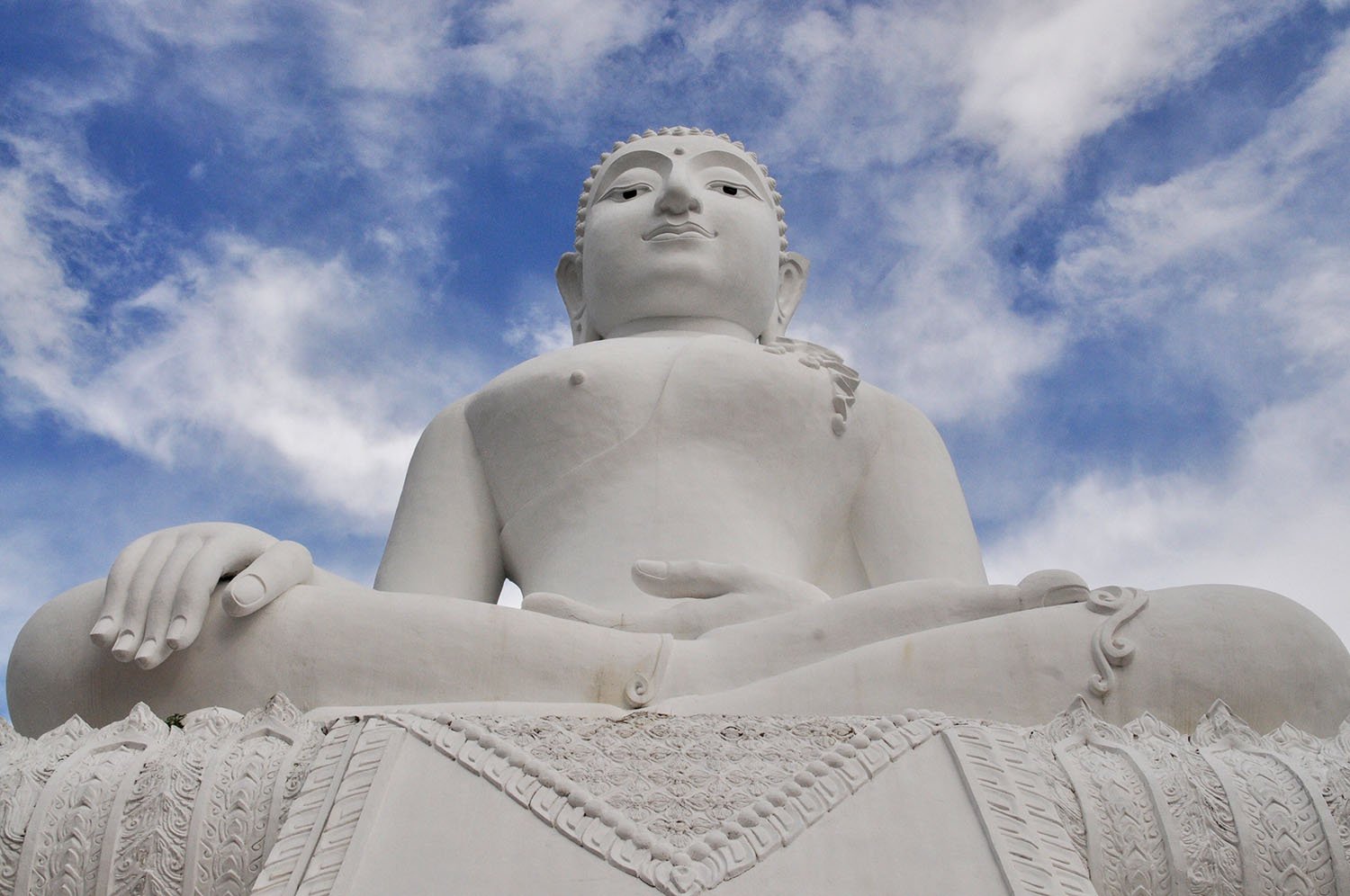 You'll be able to see the White Buddha in the mountain from the town of Pai. If you have a motorbike, it is kind of fun to get up close and personal. Nothing super spectacular, but it makes a fun stop to add to your day of exploring.
When you get to Wat Phra That Mae Yen Temple on the Hill, otherwise known as the White Buddha, you'll notice a steep set of stairs. Before making the climb, be sure you are dressed appropriately — aka ladies should cover your shoulders and knees (I always keep a sarong with me for this purpose!). You can also rent a sarong at the bottom of the steps for about 20 baht. Also, remember to take your shoes off at the top.
Once at the top, you'll have a nice view of Pai and the surrounding valley.
9. Visit the Land Split
This quirky tourist destination is a split in the land that was caused by an earthquake back in 2008. The farmer who owns the land allows tourists to view the strange phenomenon free of charge, though donations are encouraged.
Though the land split itself isn't quite as picturesque as Pai Canyon, the hospitality you'll experience and fewer crowds make it special. You can also find a variety of nice snacks, like fruits from the garden, nuts and homemade juice, for sale here.
How to get to the Land Split: Head south of Pai on Highway 1095 until you see signs for the Land Split. It will be another 2km further.
10. Go Cliff Jumping at Pam Bok Waterfall
Not far from the Land Split lies Pam Bok Waterfall. Popular for cliff jumping and swimming, this is the perfect place to cool off after a long day of driving your motorbike under the sun!
Related: Did you know Thailand is a great place to teach English? Find out how to get certified to teach English abroad.
11. Super secret hot springs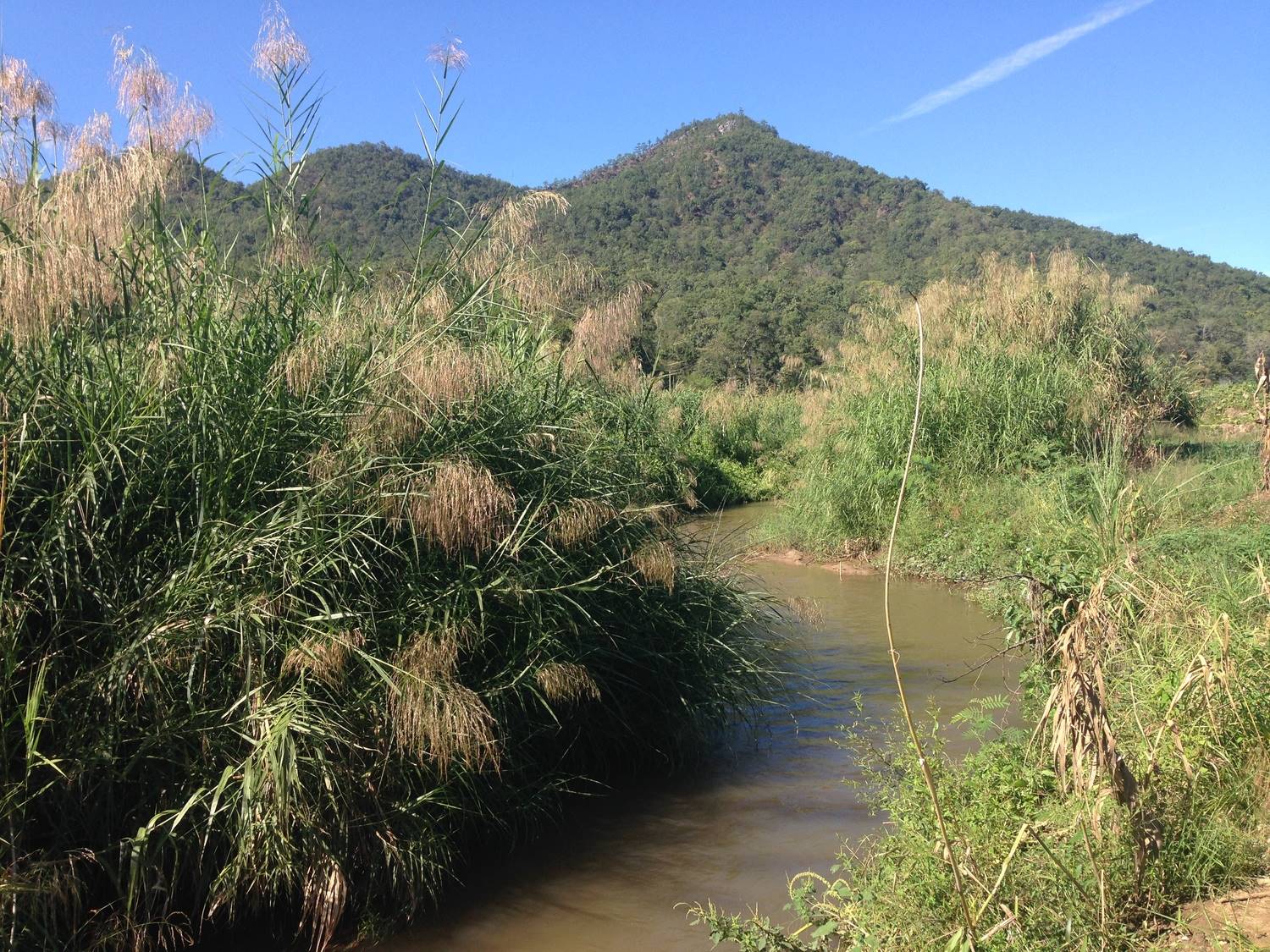 The hot springs mentioned above are well worth a visit, but like we said, they are known by a big handful of backpackers despite their name. If you truly want to visit a hot spring that is undiscovered, keep reading. We heard about it from the woman who runs the farm at which we volunteered.
They are about an hour journey from town, but the trip is breathtaking and you are almost guaranteed to be the only ones there, so we found it worth the distance.
How to get there: Now listen closely…Travel south out of Pai on Highway 1095 about 6 km. Once you pass Ban Tin That village on your left, you'll take your next right (before the road curves to the left). If you see Pai Canyon you have gone too far.
Next, follow this country road through small villages for about 30 minutes. You will come to a slightly larger (yet still small) village that has a bridge to your left.
Cross over the bridge and turn right. Ride down this road for a kilometer or two until you see a restaurant with a geyser in front. You made it! Leave your bikes, walk down stream of the river a bit and find a good place to hop in.
The water from the hot spring flows in and mixes with the cool river water, making it a place to cool off and warm up at the same time!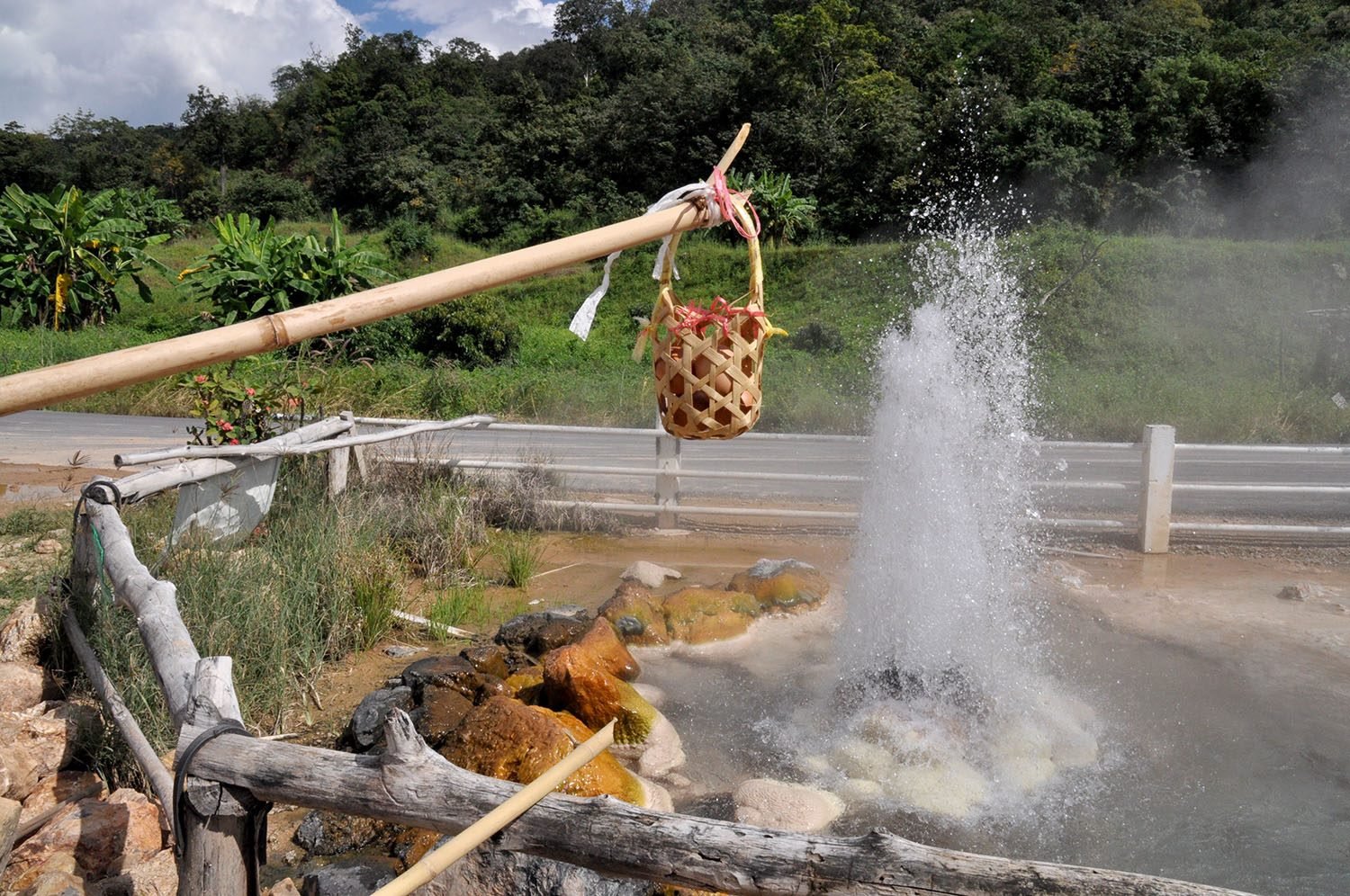 Update (November 2017): It seems farmers have cultivated some of the land in front of the river, so we couldn't find a spot to get in the water. You can boil eggs in the geyser – 25 baht for 4 eggs, can sit and eat them.
---
Don't have a motorbike? No problem! There's still plenty to do in Pai.
Even if you don't feel comfortable driving a motorbike, there is still penty to do within the town limits.
12. Relax at Fluid Pool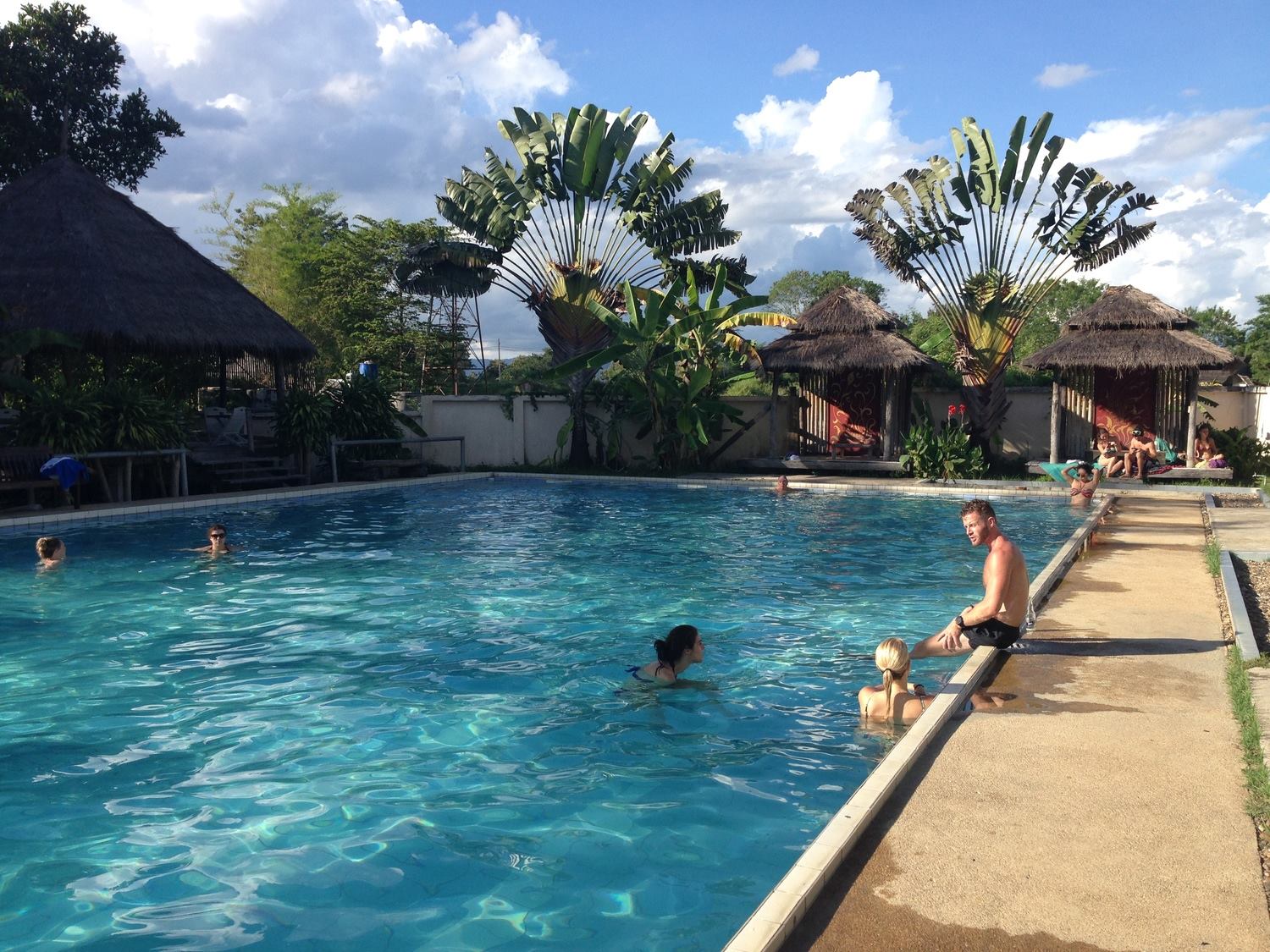 Although it can get a bit chilly at night, Pai is often quite hot during the day. Fluid Pool is a 10-15 minute walk from the center of town and is a perfect place to relax for an afternoon.
The pool is large and there's plenty of space to lay out on a mat with a book and a drink. Try the watermelon mint shake (we added a splash of our own rum for a perfect afternoon cocktail… shhh!). They also serve Western food, which looked good (but a bit pricey).
Related: What to do in Bankgok: Cheap and Unique things you won't want to miss
13. Get a Tattoo
Lots of backpackers leave Pai with new ink. There are a plethora of shops to choose from, and nearly all of them have the option of bamboo tattoos or those done by machine.
No, I didn't get a tat in Pai, but I did get a piercing fixed. The guys at Cross Tattoo Studio were incredibly kind and patient and made me feel comfortable during the entire process. We saw a handful of others get designs etched into their skin, and the results were beautiful.
The artist there is top-notch, and the facilities are clean. So if you're looking for a permanent souvenir from your time in Pai, Cross Tattoo might be a good place to start your search.
14. Volunteer at an Organic Farm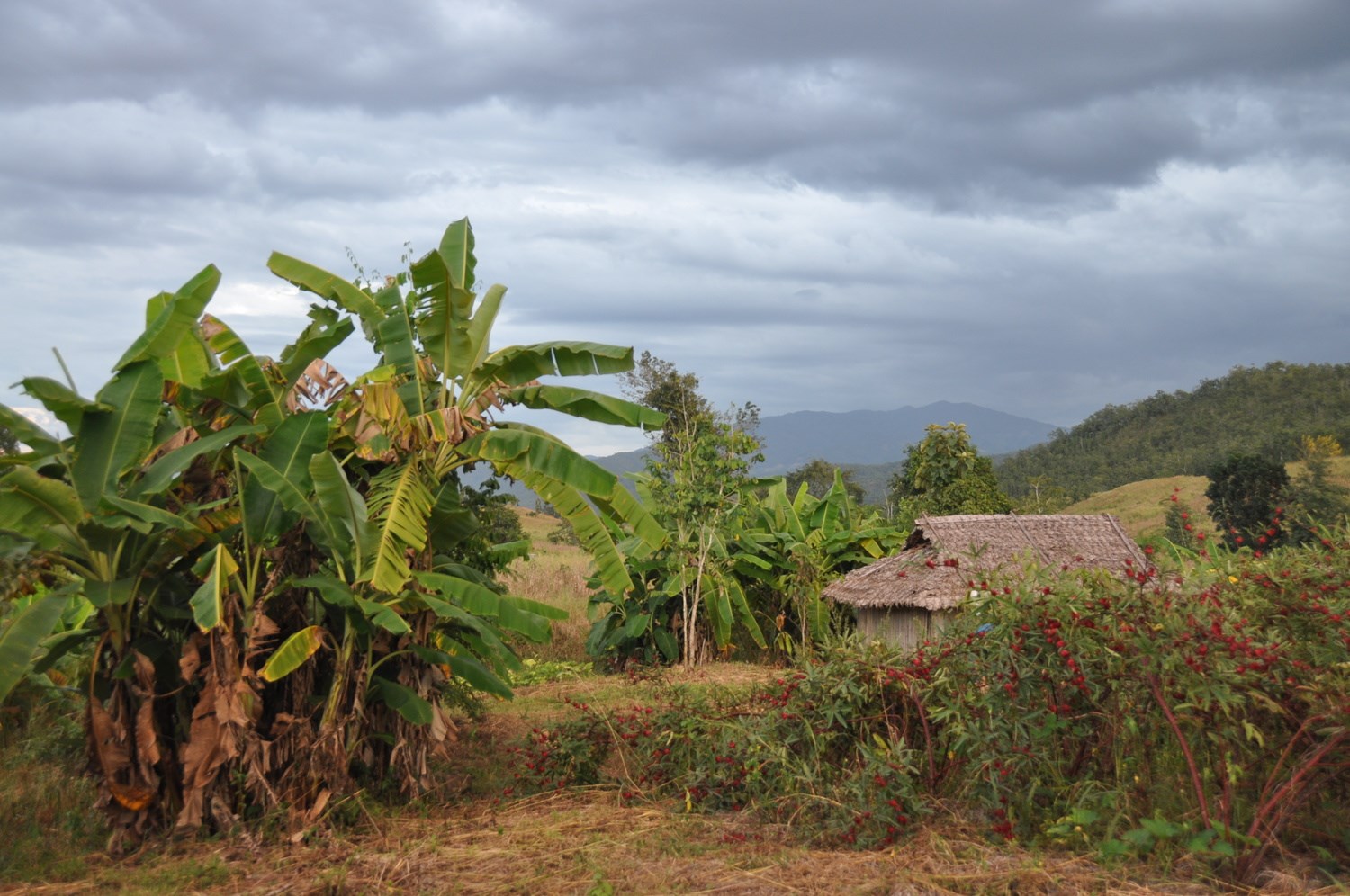 One of the most common question people ask us is, "How do you afford to travel for long periods of time?" While there are many answers to that, which we will be sharing detailed answers to very soon, one of the biggest ways we are able to stay on the road for so long is by doing extended stays in exchange for work – something that we are planning to do quite often on this extended journey.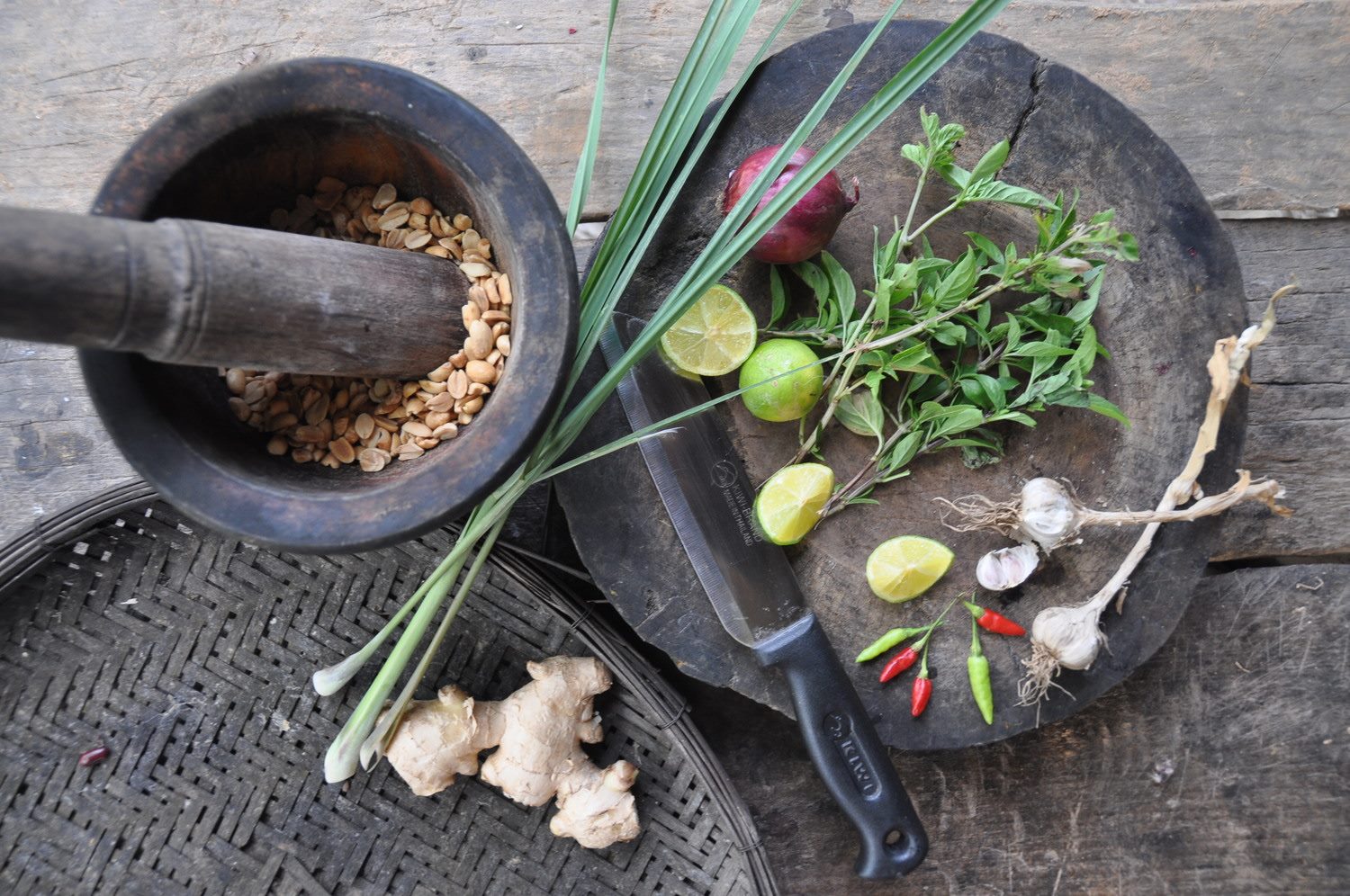 We stumbled upon one such position near Pai. New Land is an organic farm and permaculture project surrounded by jungles and mountains, and we were excited to get dirty and learn as much as possible.
We volunteered on an organic farm in Ecuador a couple years ago and had a great experience, and this was no different.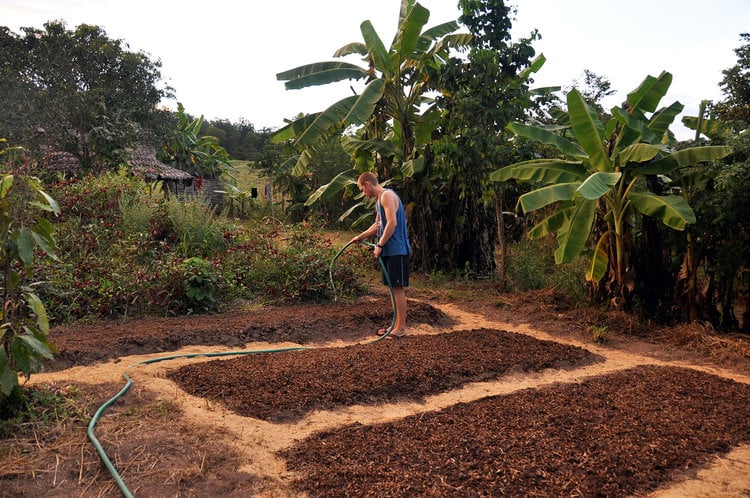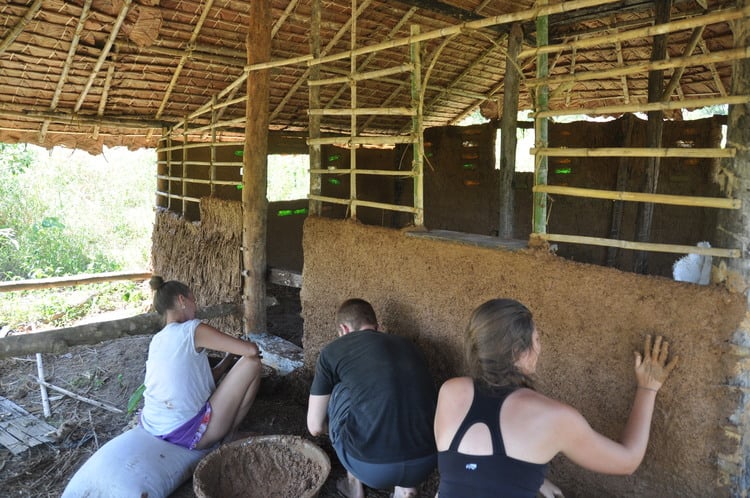 While staying at New Land, we helped build a mud house, planted a vegetable garden, chopped bamboo using machetes and weaved it into tree shades, and created a book that documents all the plants on the farm.
In the afternoons, we soaked in hot springs, made hibiscus jam, and tried our hands at making vegan meals with produce from the gardens. We spent our nights having deep conversations and playing cards with the other volunteers by candlelight in a stunning place most tourists never get a chance to see.
If you are interested in volunteering with New Land, contact the farm manager, Catherine, via email: newlandpai@gmail.com
15. Learn how to Meditate at a Forest Monastery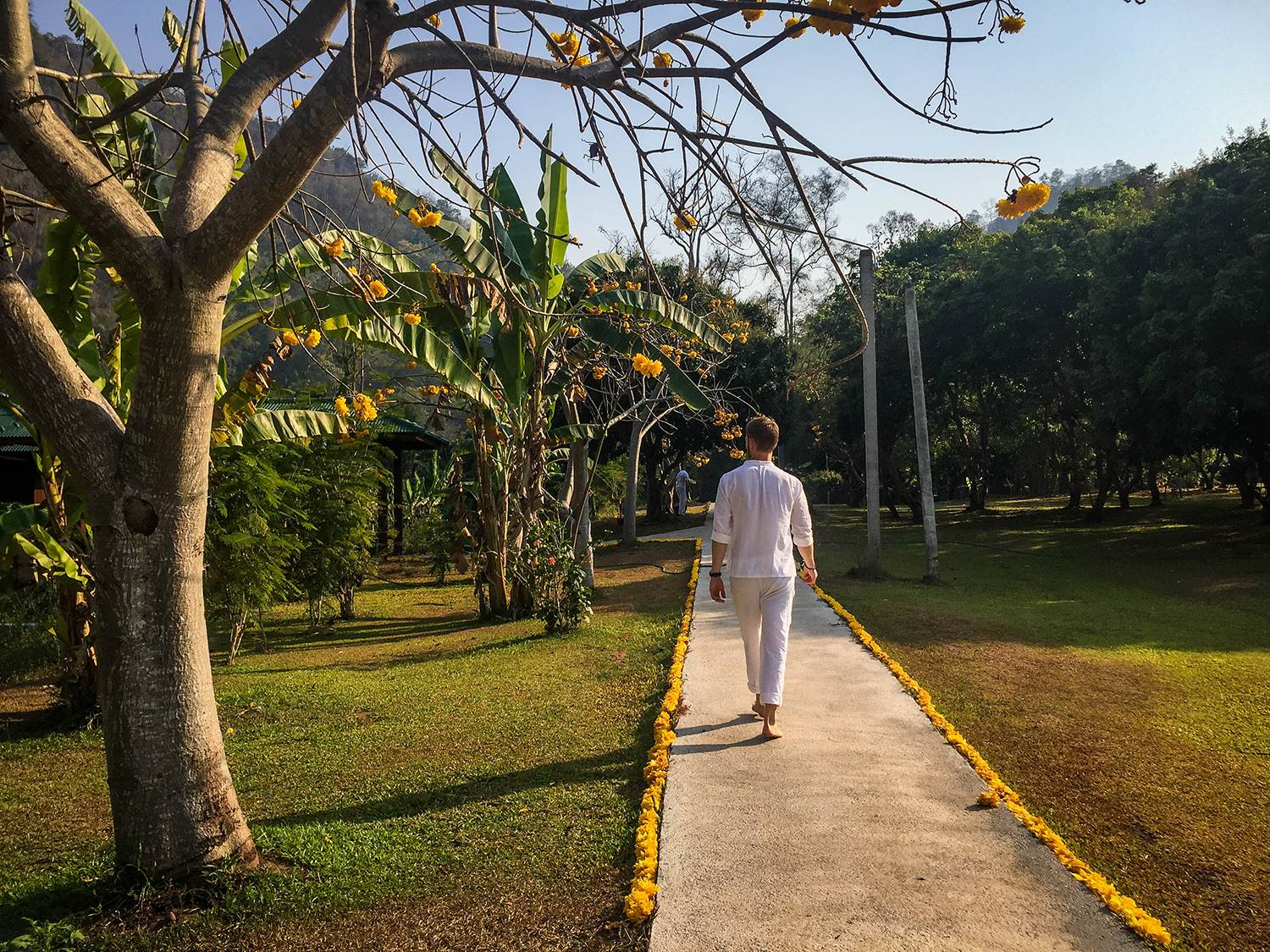 If you are looking to really clear your mind, consider partaking in a meditation retreat Wat Pa Tam Wua, a stunning monastery located in the forests of northern Thailand. Whether you're new to meditation or have been practicing for years, Wat Pa Tam Wua is a perfect place to learn and grow.
Located 2 hours from Pai, the monastery is a great place to add to your travels through northern Thailand if you want a truly special experience. There's no need to book in advance, and you can stay as long or short as you'd like (up to 10 days).
We've created a complete guide to a Thai meditation retreat that will answer all your questions.
---
What NOT to do in Pai
Several tour shops on the streets of Pai advertise tours that take you to a hill tribe village where you can see the famous "Longneck" people, which actually refers to a subgroup of the Karen people.
Although we can't speak from experience, everyone we spoke to who had done these tours said it made them feel uncomfortable. Many of the so-called villages the companies take you to are not in fact where the people live, but are instead made to satisfy the curiosity of camera-toting tourists.
We, too, are intrigued by indigenous peoples. But to us, a photograph is not worth the exploitation of a group of people.
It all just seemed inauthentic to us and like a way to put a group of people on display in the name of tourism. As always though, do your own research and establish your own opinion on the subject.
What to Pack for Pai
Since you'll be traveling around on a motorbike and exploring waterfalls, it's a good idea to be prepared with the right gear. Here's a list of items that we brought that made our trip to Pai more enjoyable:
---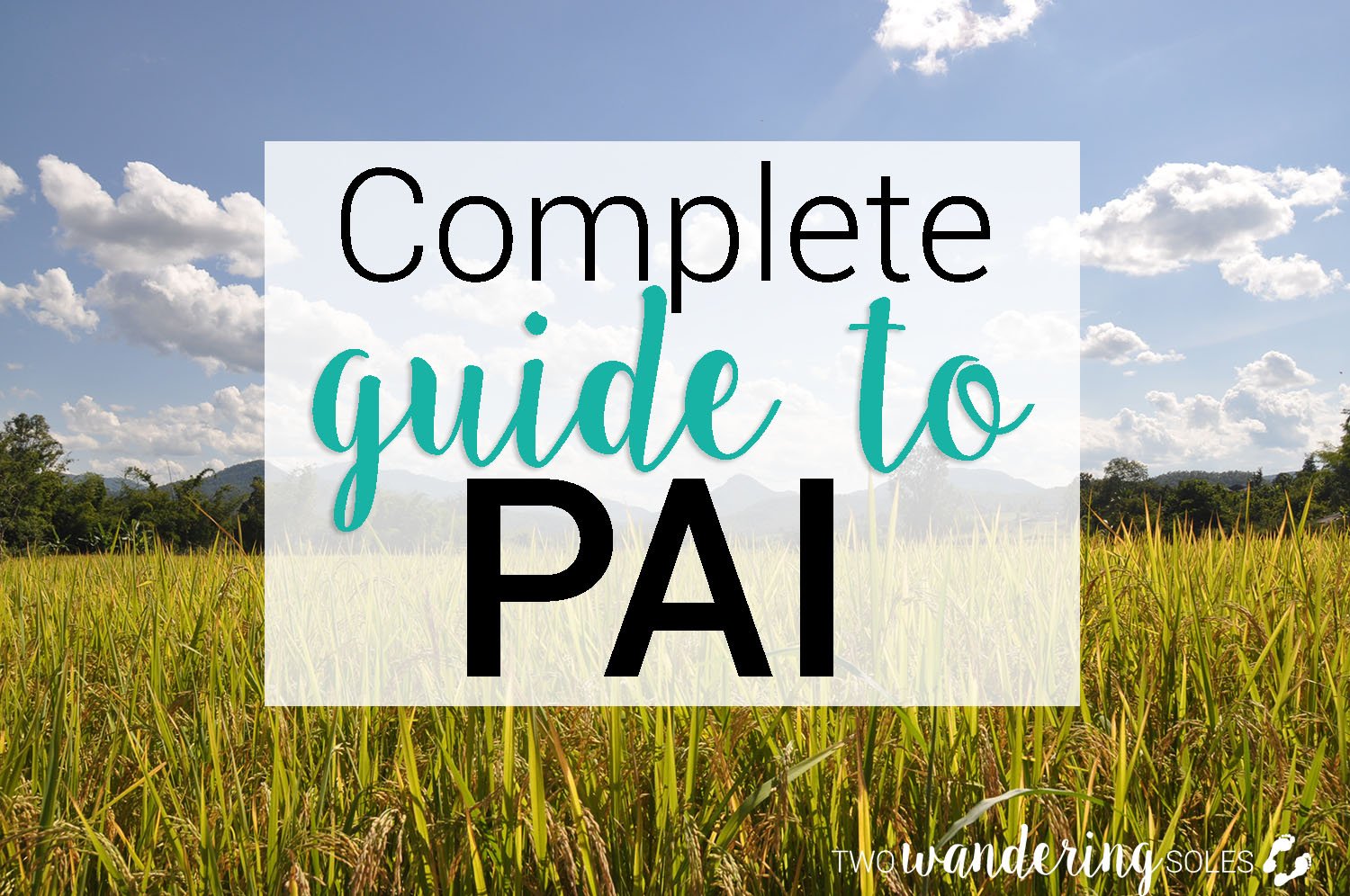 Where to Eat and Drink in Pai, Thailand
From super cheap street food to vegan eats, Pai has a ton of different dining options. Here are some of our favorites:
Street food
I don't think we've ever seen so many street food options on one street! You can get anything from a standard kebab, to lasagna by the slice, to just about any Thai dish you can imagine. Though there are a few stands open all day, you'll see exponentially more set up shop around 5 p.m. Here are some of our favorites:
Shampu Baked Potatoes: Mixed Vegan Potato – 150 baht

Falafel Stand: 120 baht (right next to Shampu)

Spring Rolls (at many stands): 3 rolls for 20 baht
Fruit Shake
You can get a fresh fruit shake just about anywhere, and we saw some that were as cheap as 20 baht. But if you are on a quest for the very best shake, we've searched high and low so you so you don't have to do the leg work. (Okay full disclosure, someone else told us, and we are passing along the tip because, dayummm that shake was so good. Like, the best ever.)
There is no sign on this shop, so we aren't sure of the name, but directions are simple. Next to the bus station is Sabai Bar. Next to Sabai Bar is this little shop. There are tons of creative flavor options. Our favorite was banana + passion fruit + coconut cream (number 38 on the list, I believe).
At 70 baht, it may seem expensive, but they are HUGE (at least double the size of most other shakes we ordered). Plus, if you go with another person, they will likely give you a little "sidecar" of the extra shake. Totally split-able. You're welcome.
Local Food
Tik Kitchen: This local joint is right in the center of town and has reasonable prices.
Dang Thai: This cute little restaurant serves curry for 40 baht (including rice), and has a cozy atmosphere.
Curry Shack: Curries are reasonably priced, but the service is a bit slow as this is a one-man shop.
Western Food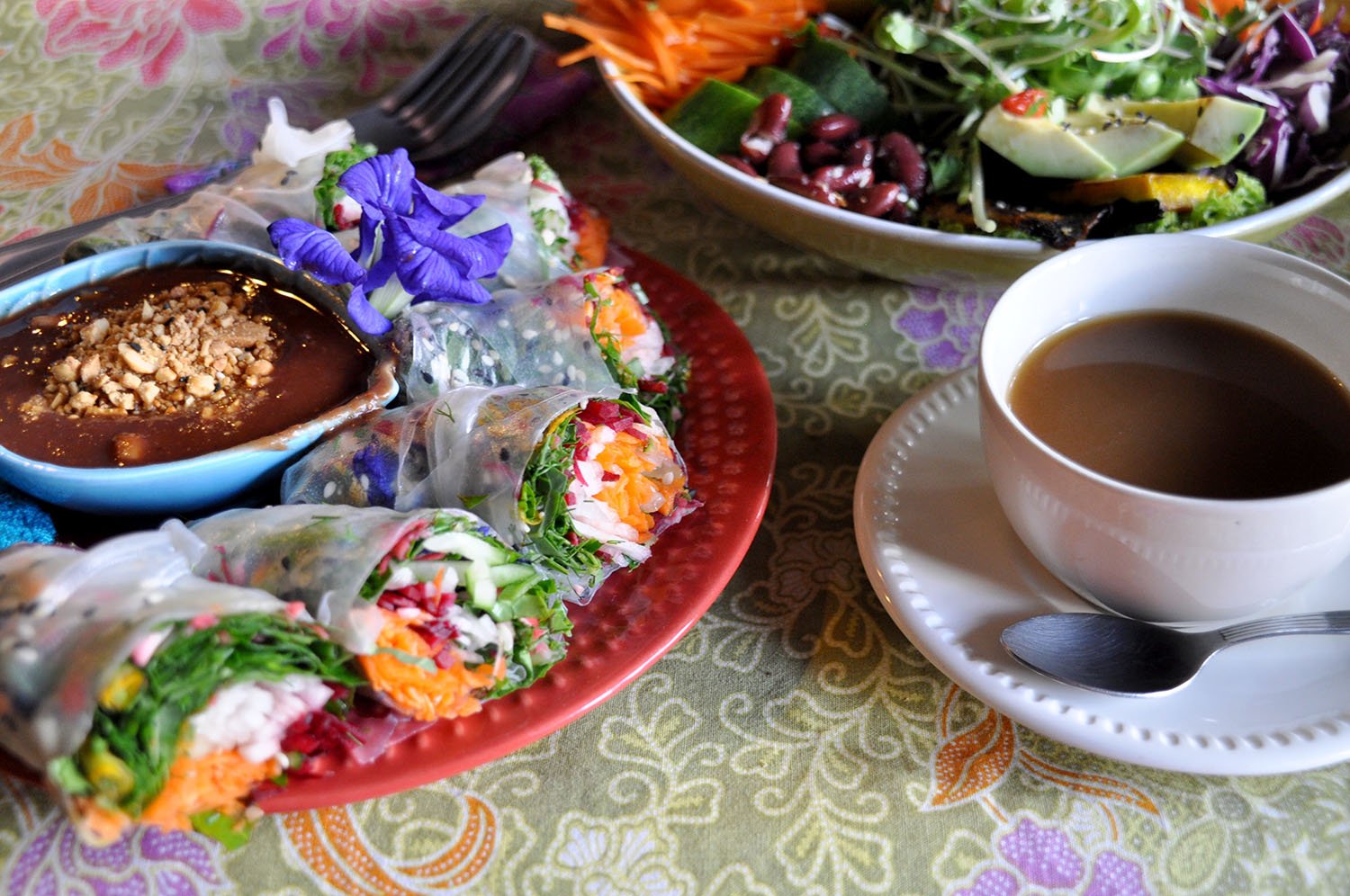 Earth Tone: After having too much street food, it felt good to get some organic, local, vegan eats at Earth Tone. Their herbal shakes are especially good, as is the quinoa and tempeh salads. We've heard the vegan ice cream sandwich is not to be missed!
Witching Well: The breakfast menu is super yummy. Try the mushroom omelet, and the mango passion roll.
Bars in Pai
There are no shortage of bars in Pai, which is something that some people love and others hate about this small town. If you're looking to quench your thirst, here are a few popular watering holes.
Spirit Bar: Tucked away down what seems like an alley, the bar itself is very long. It typically has live music and pretty strong cocktails, but my favorite part is the Secret Garden all the way down past the bar. It's an open air lounging area with differnt tables and levated seating surrounded by trees and vines. There are also black lights and tie-dye wall hangings to give you a groovy jungle vibe.
Edible Jazz: If live music and a laid-back vibe is what you're after, look no further. Food and drinks are on the pricey side, but the atmosphere is nice.
Almost Famous: Try one of their 20 flavors of mojitos. Our favorites were passion fruit and mango! And their caipirinha bucket for just 150 baht is a steal!
Sunset Bar: Come here as the last stop on your bar crawl. The party here goes late into the night, and the open-air, tree house feel will make it hard to leave. It is about a 15-minute walk from town, but you can enjoy unbeatable views of the stars along the way!
Hotels in Pai
There are loads of places to stay in Pai. Like an overwhelming amount. Choose from luxurious bungalows to dorm rooms with hammocks instead of beds. We stayed at a few different hostels during our time in Pai and here are our recommendations: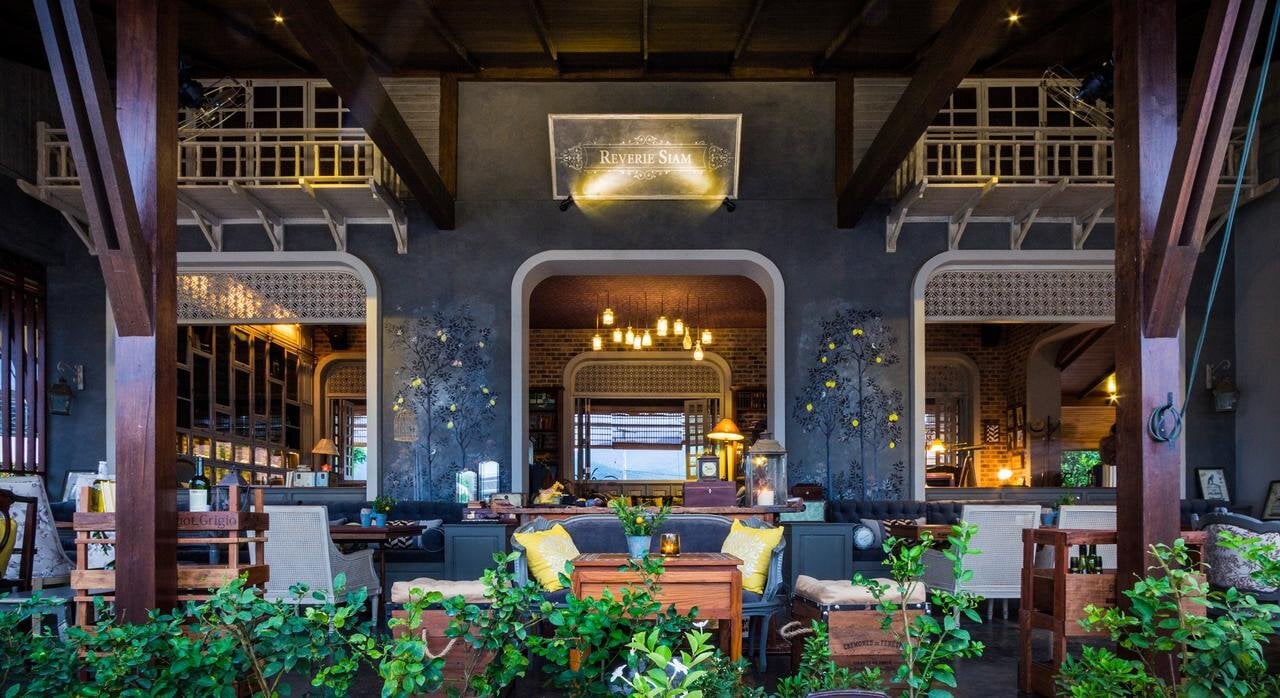 Splurge/Luxury Stay: Reverie Siam Resort: Ever wanted to stay in a private villa for $150 a night? This resort is for you. We have never stayed here, but with some of the highest reviews online, this is where I would stay if I wanted to splurge.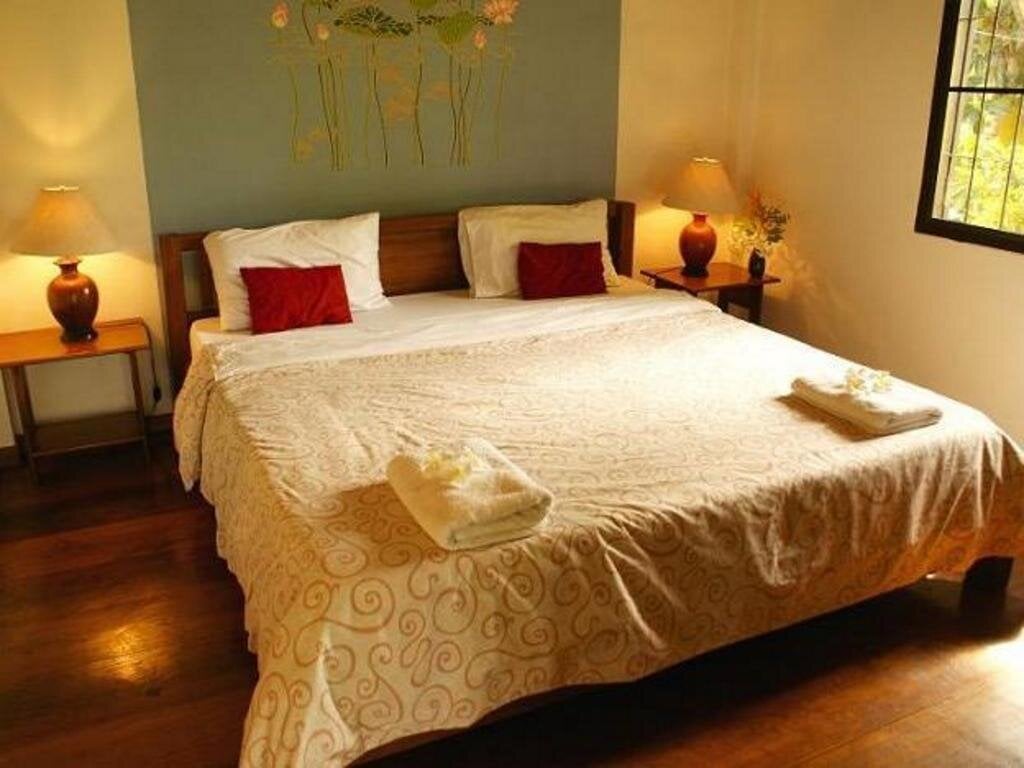 Mid-Range/Couple Stay: Pairadise Guesthouse: In a peaceful hilltop setting, you get your own bungalow with fan or air-con. It's an easy scooter ride to town or a 20 minute walk, but it's far enough away from the city you won't hear the bumping music. We would stay here again!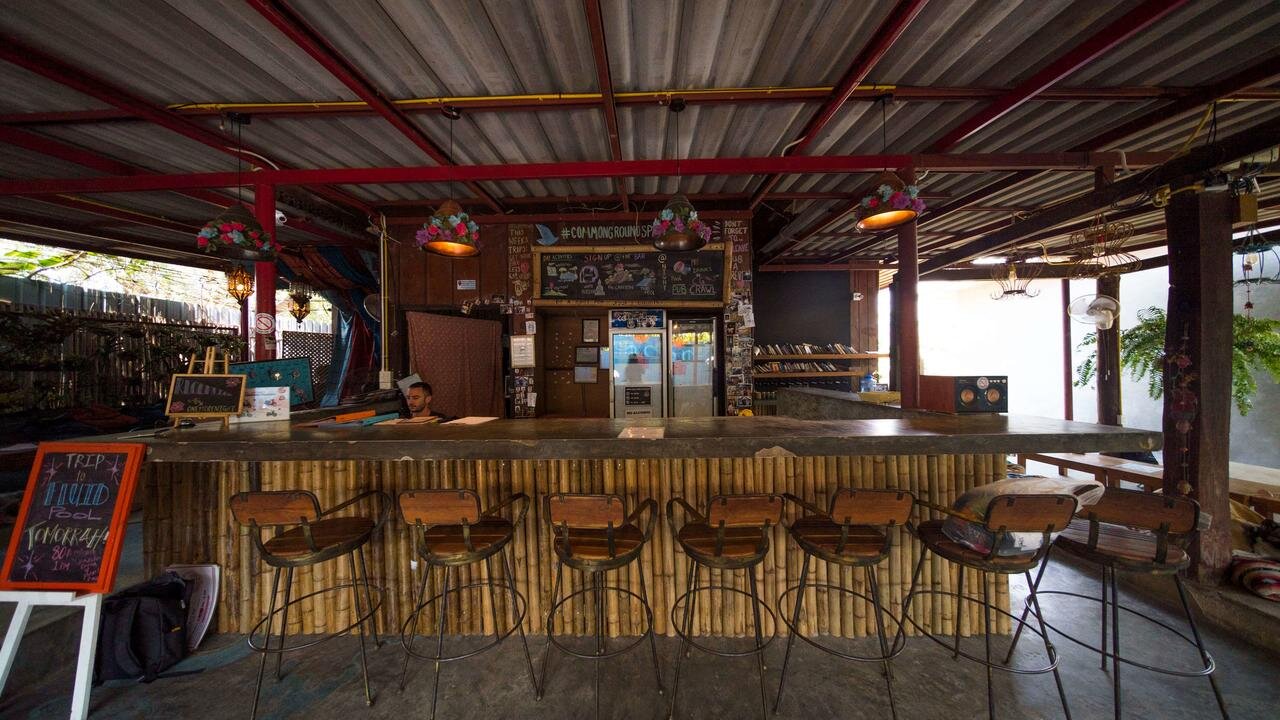 Budget/Social Atmosphere: Common Grounds: Nothing we would go out of our way for, but decent enough, close to town and a nice place to meet other travelers.
---
Okay, so here's what we really thought about Pai…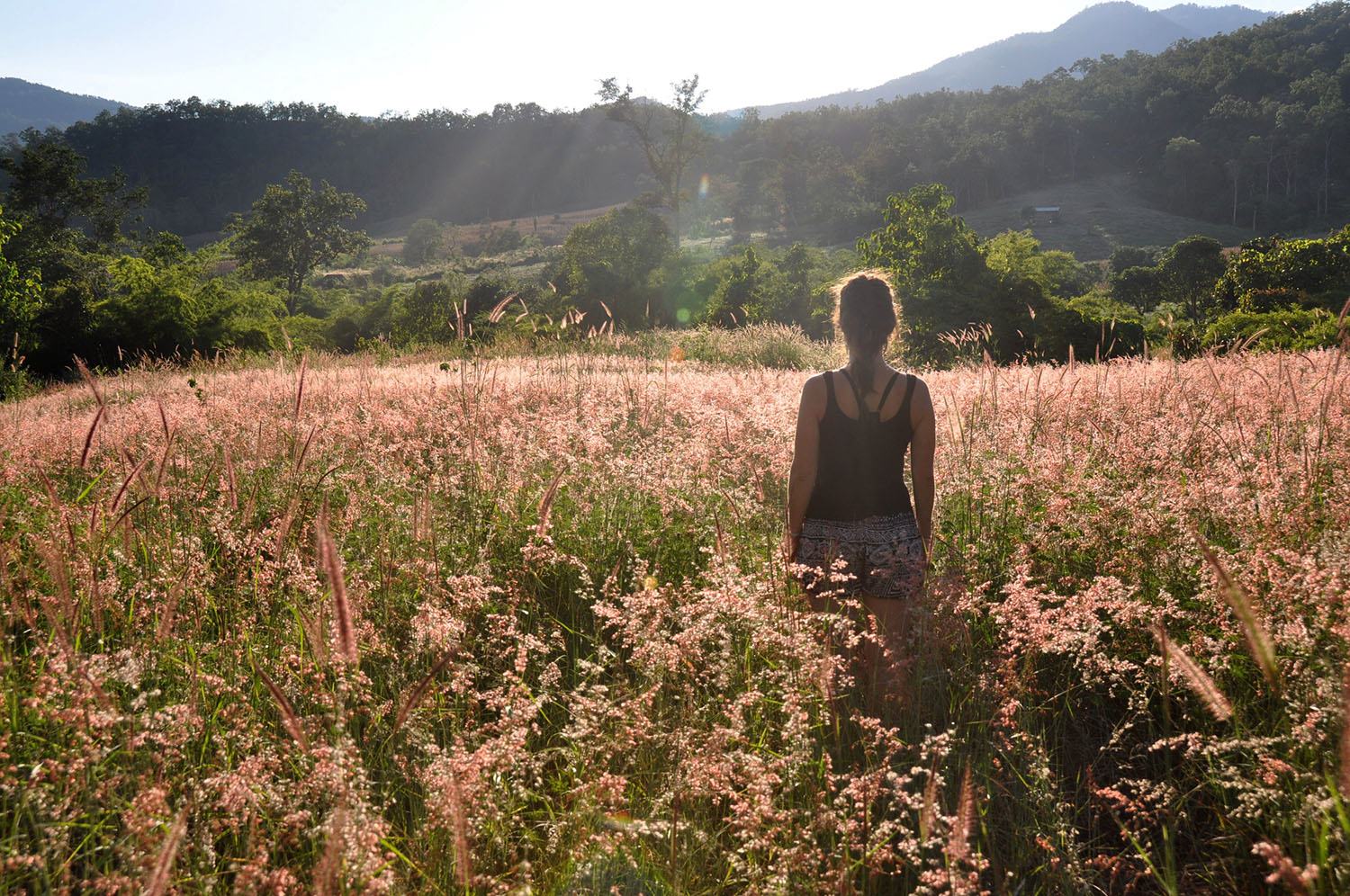 We arrived in this laid-back mountain town with only 3 nights booked, and ended up staying more than 2 weeks. So we must have fallen head over flip-flops in love, right?
I'm not so sure…
I'm back in the bustling city of Chiang Mai as I write this, and although I am already longing for the endless rice fields and starry nights that we had in Pai, I'm still undecided about how I really felt about this town.
With waterfalls, winding mountain roads to be explored on motorbike, and more cute cafes than I could count, Pai is literally a combination of all my favorite things. But there's just something about the town that bothered me and it has taken me a while to pinpoint it exactly.
It seems that 10 years ago, Pai would have held a special undiscovered charm. But now that it's on nearly every backpacker's itinerary, the influx of people has brought an overwhelming amount of commercialism to this village of just 2,000 residents.
Tourists clad in the obligatory baggy elephant print pants outnumber the locals, and the number of restaurants and bars owned by foreigners seems to rival the amount of establishments run by Thais. There's just something that feels artificial about this town; I might venture to say that it borders on cheesy.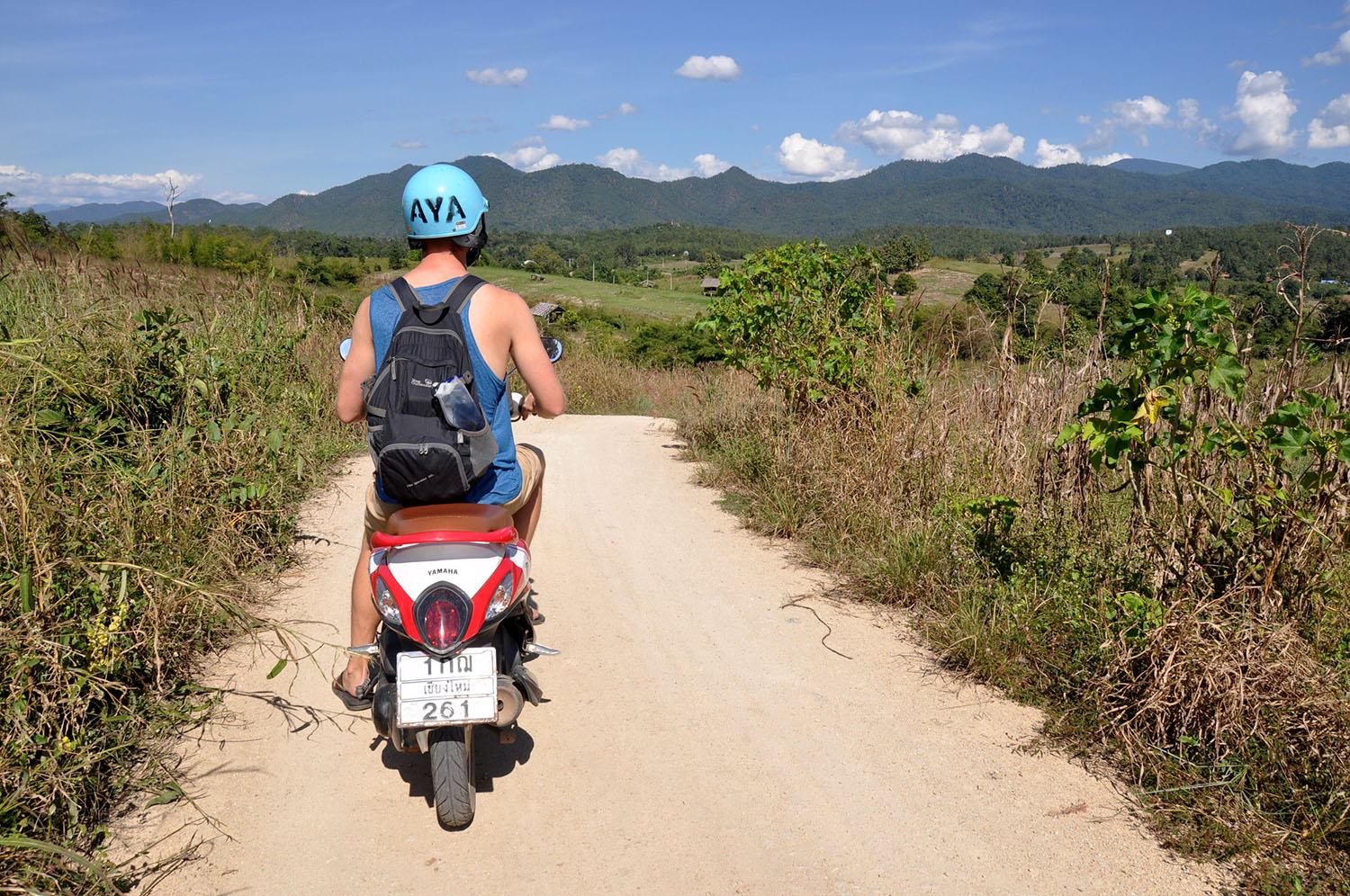 Don't take this to mean that I didn't enjoy my time in Pai. In fact, the opposite is true. I had the best coffee, mojitos, and avocados I've had in a while. I met other travelers, went stargazing, played in waterfalls, and napped by the river. It was utter bliss, actually.
I just feel that Pai is talked up so much and the flaws are rarely discussed. Every traveler I spoke with before making the journey raved about this small town in the mountains with a "chill vibe, man".
And my research online churned out the same results, calling it a "stunning riverside oasis". Nobody seemed to speak about how the town is dangerously close to losing its appeal to tourism.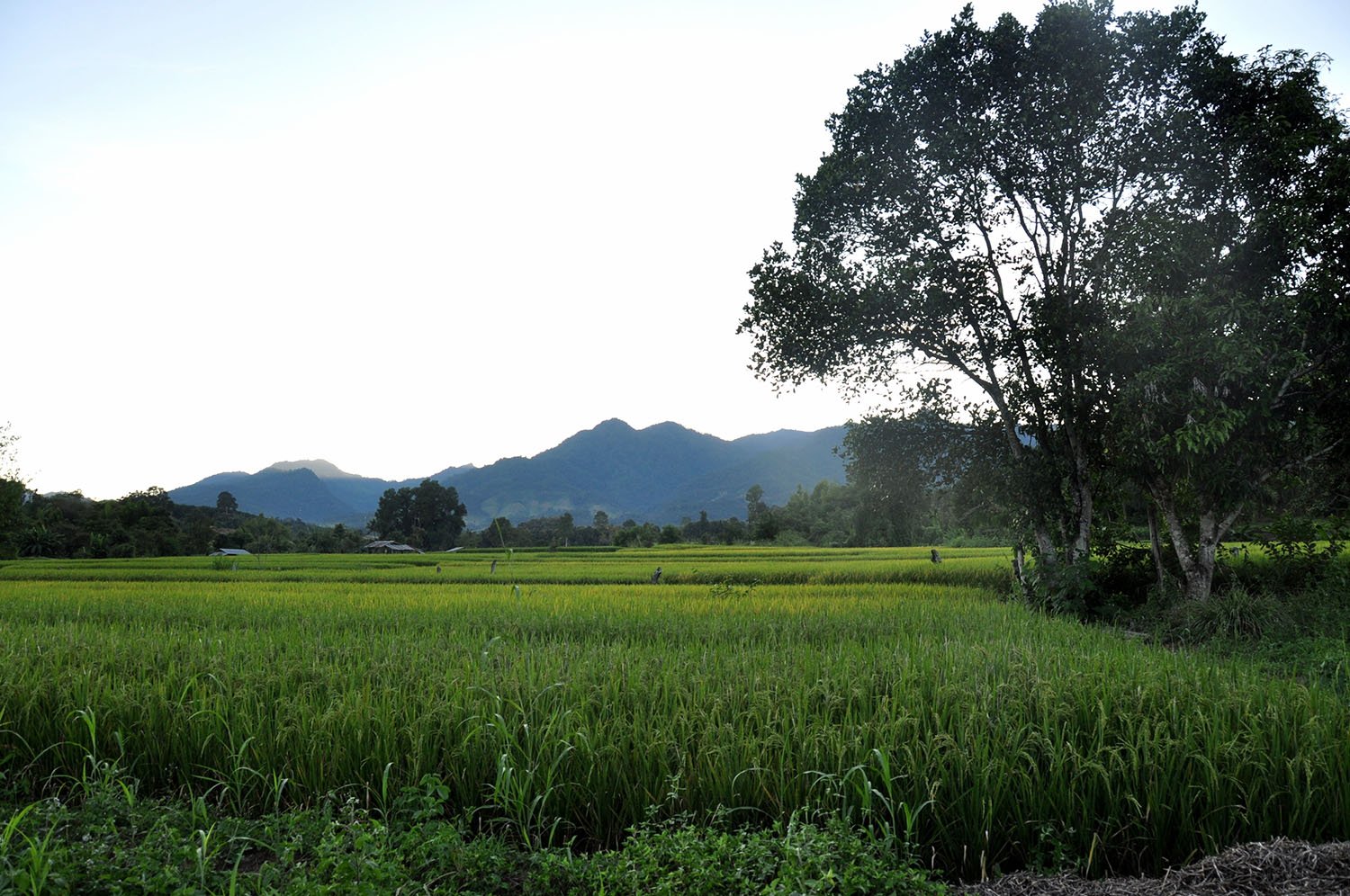 There's no arguing the beauty that surrounds the town, but it seems that if it weren't for the beautiful surroundings, Pai could just be another over-hyped place anywhere in this world. And a few years and thousands of tourists from now, it just may.
I certainly would still recommend Pai as a place to visit in Thailand. There is plenty to do, and it still holds an undeniable charm as long as you know what to expect.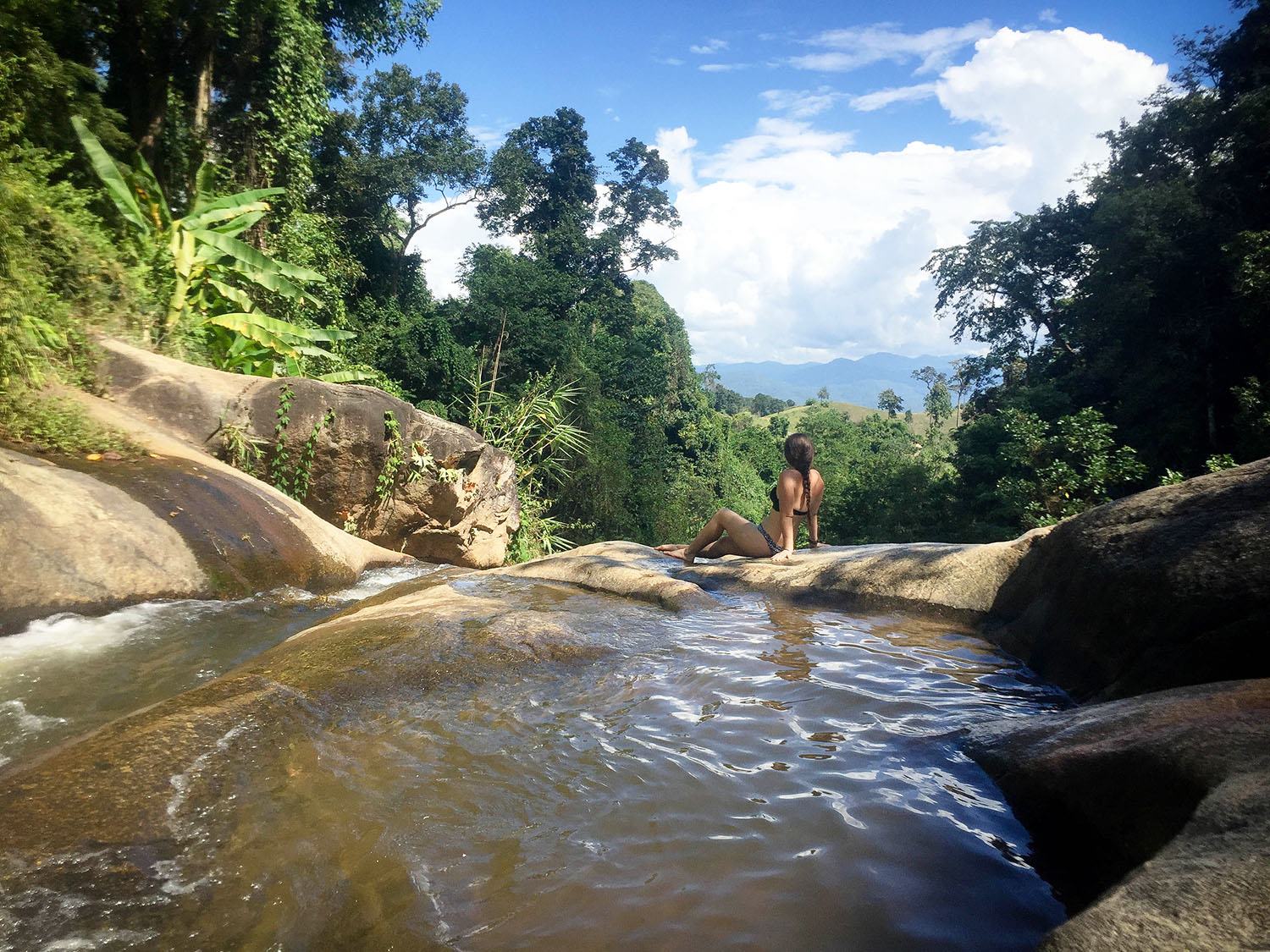 Are you planning a trip to Thailand?
We have TONS of resources on travel in Thailand and destinations throughout the country. Check out our Ultimate Thailand Travel Guide for all the answers to your most burning questions, or read some of our favorite articles below.
Save this article on Pinterest for later!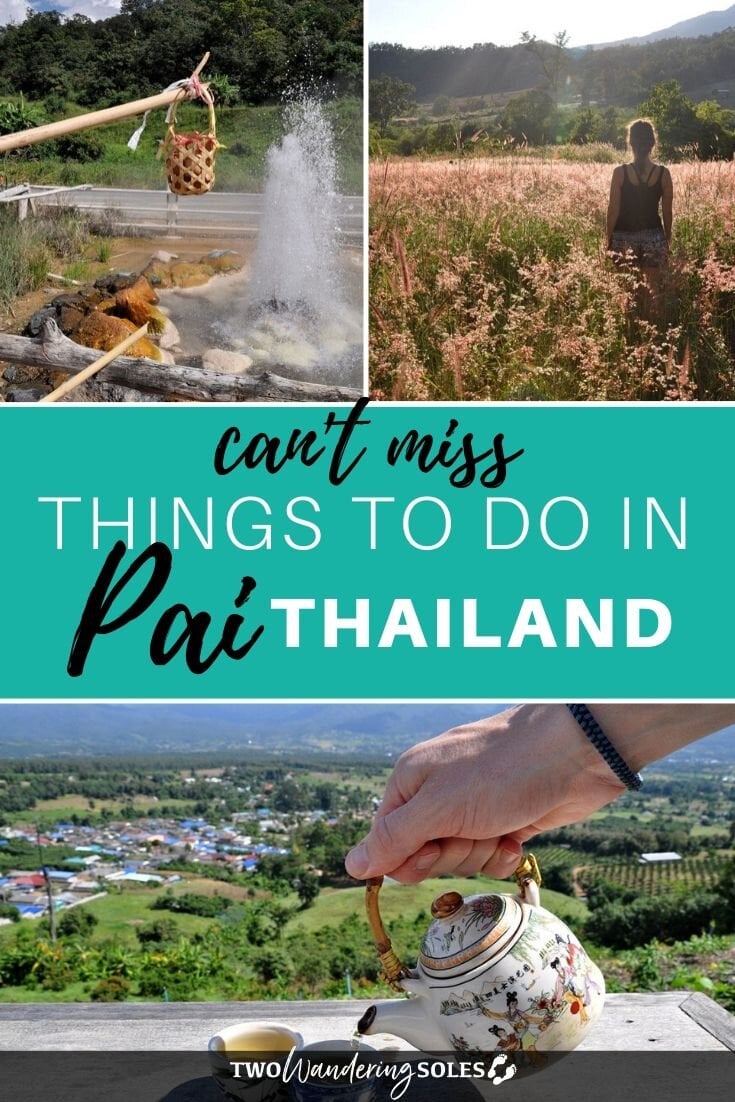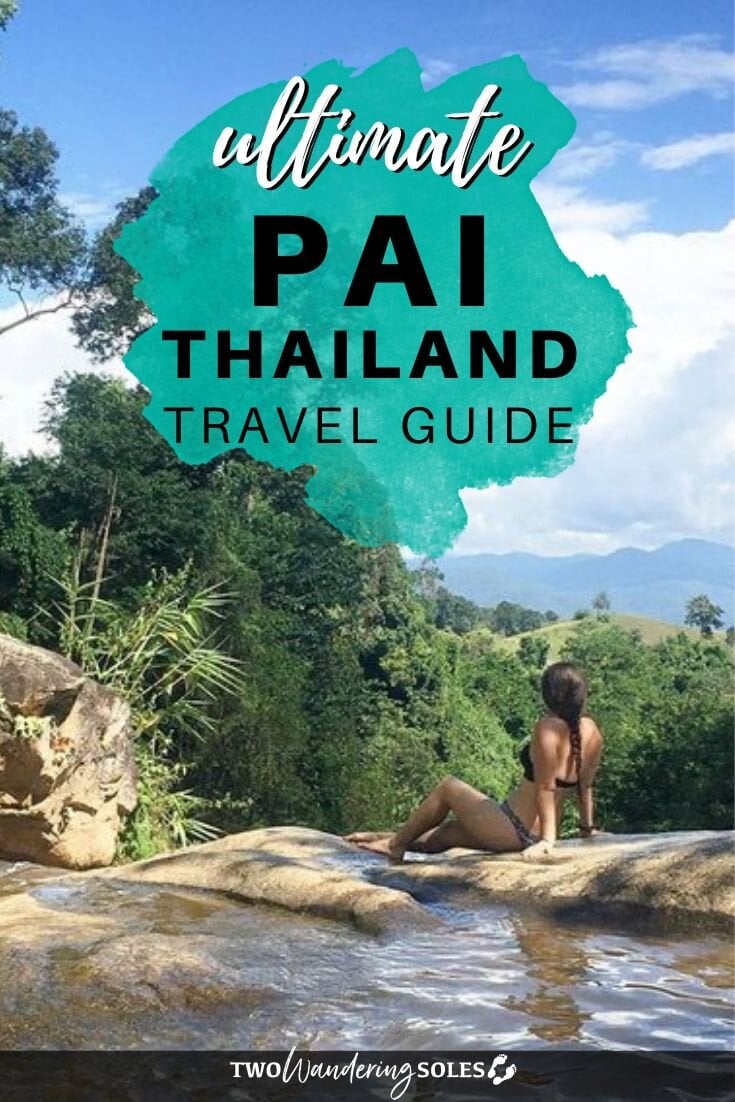 We want to hear from you!
Have you been to Pai? What do you think? Would you go again? Let us know in the comments below.