Does having the freedom to work from wherever you want sound dreamy? In this step-by-step guide, we're sharing exactly how to become a digital nomad with everything you need to know to make that dream a reality.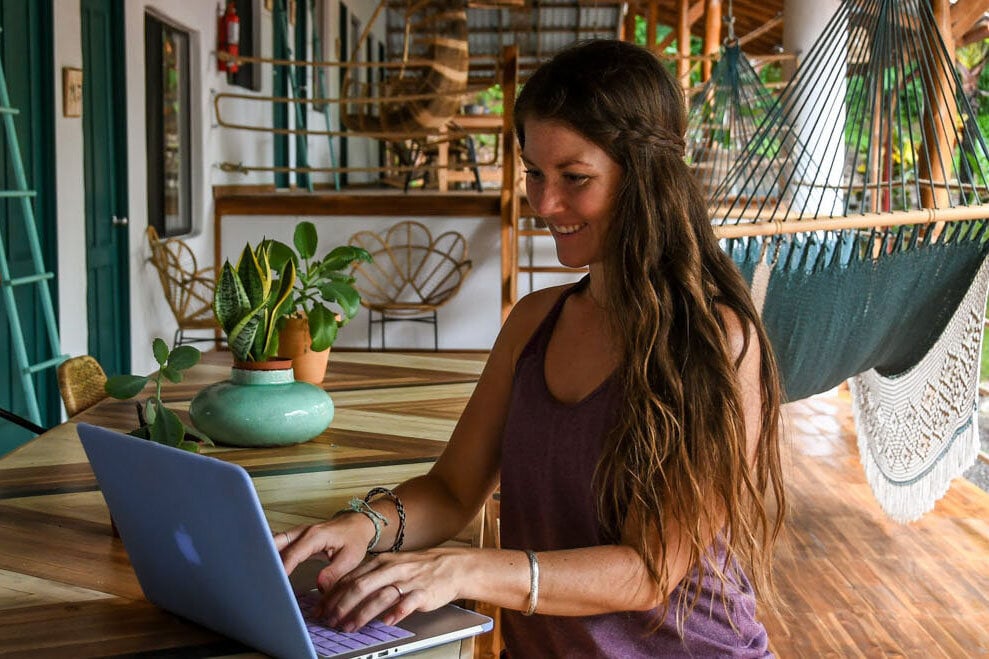 Does having the freedom to work wherever you want sound dreamy? It's actually a lot easier than it sounds to make this dream a reality.
In this step-by-step guide were sharing exactly how to become a digital nomad, including everything you need to know to make that dream a reality. I'm sure you have a ton of questions (we sure did!), so we're here to answer them and set you up for success.
This guide to becoming a digital nomad will walk you through all the essential things to know about this lifestyle (ahem, like how much money to save up before you quit your current job!).
But let's not get too far ahead of ourselves. You might be asking yourself right now:
What is a digital nomad?
A digital nomad is someone whose job is location-independent, allowing them to live and work wherever they want.
This means you can work from a coffee shop in London or a co-working space in Chiang Mai or at a hostel in a small town in Colombia. You can be pretty much anywhere in the world, so long as there is a decent Internet connection!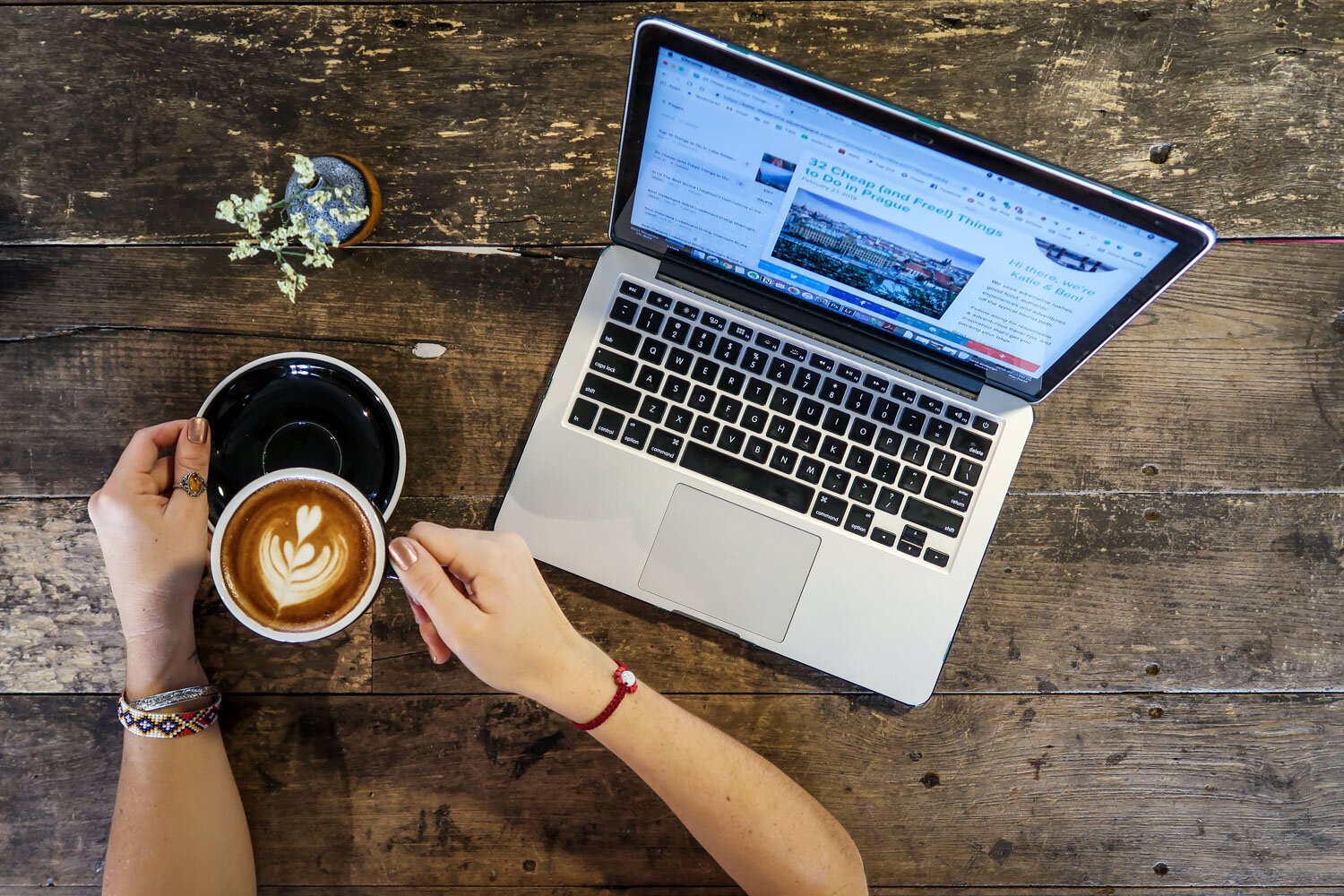 Before we dive into exactly how to become a digital nomad, it's important to ask yourself: Is the Digital Nomad lifestyle for you?
Do you ever feel like you're stuck in a rut? Are you craving more freedom than your current job offers? Or maybe you've been daydreaming of working from coffee shops in Italy or beachside in Mexico…
We're here to tell you that you're not alone. Your daydreams are not far-fetched or silly. This so-called "laptop lifestyle" you're dreaming of is within your grasp if you're willing to put in hard work and take some risks.
Whether you want to take your current job on the road or you're ready to ditch the 9-to-5 and jump headfirst into a new venture, we're going to share with you how you can make your dreams of becoming digital nomad a reality with just a few important steps.
1. Figure out your income stream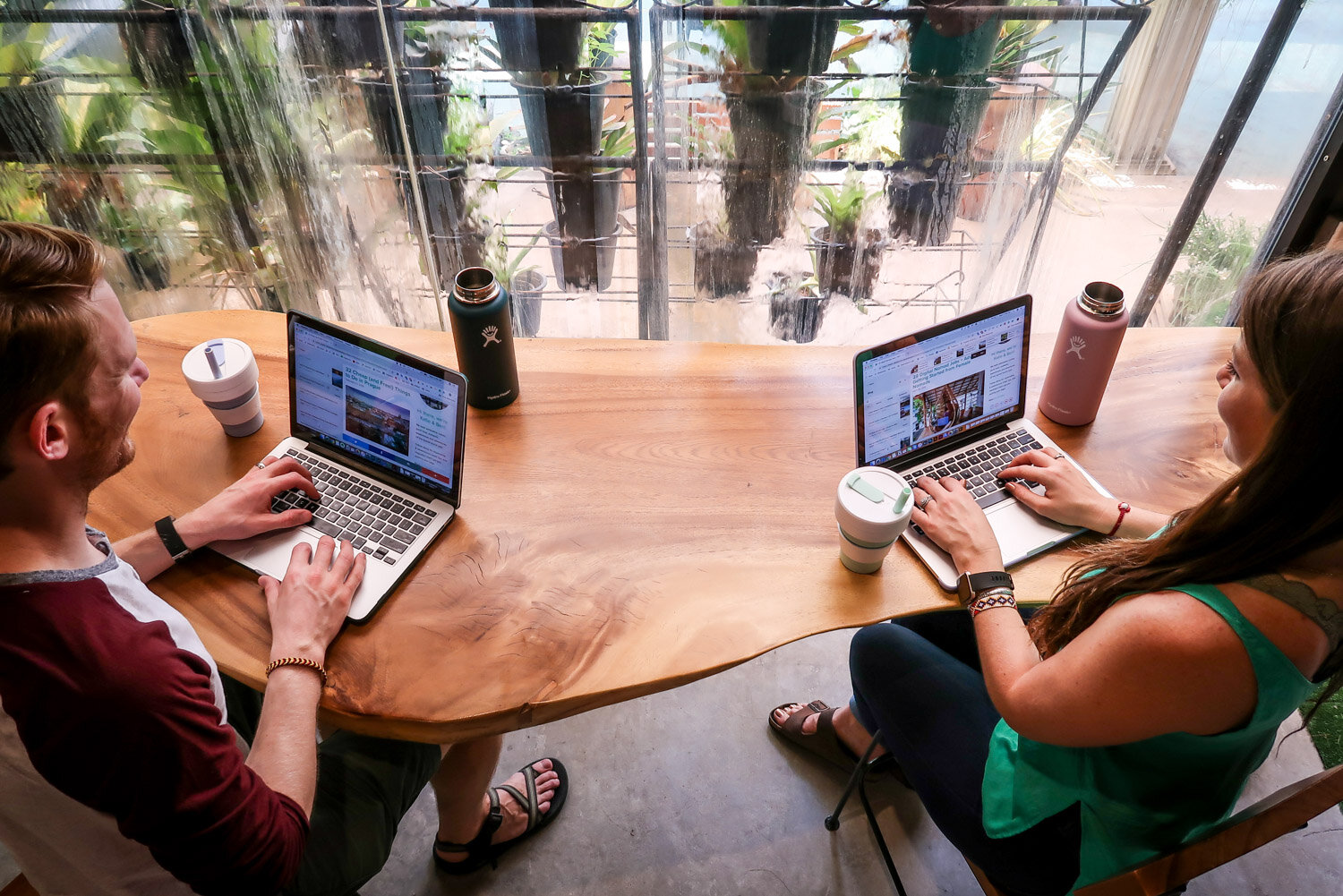 The difference between digital nomads and other travelers is that digital nomads are working while on the road.
Unlike your typical backpackers on a gap year or vacationers with money to burn, digital nomads rely on their income to continue to support their nomadic lifestyle.
Here are the 3 main types of Digital Nomad work:
1. Work for a company
Some Digital Nomads work for a company and get a salary and benefits. Depending on what type of job you currently have, we've known people who have negotiated with their company to make their position remote (either for a short time or indefinitely).
Need some help convincing the company you work for to let you go remote? This data-driven article from Gallup proves that allowing employees to work remotely really is an effective business strategy. The numbers don't lie!
2. Freelance
Other work on a freelance basis. This means they work for several clients (or companies) at once, usually on a short-term contract. Freelancing is an easy way to get started in this space and gain experience. Plus, it gives workers a lot of freedom: If the job goes well, they may continue to work with a specific client, and if not, they can move on and find other work. The drawback to freelancing is the pay rate is typically lower than working for yourself or with one company.
3. Work for yourself
And other digital nomads still, create their own jobs centered around their passions or areas of expertise. We've known people who have literally invented their own job (see some examples in this article!). The options are seriously endless.
Not sure where to start?
If you're just getting started in the world of working online, our recommendation is to test out an online side hustle to get the hang of working from your laptop. Perhaps your side hustle will turn into something more, and perhaps not. Either way, it's a good method to getting your toes wet without getting soaked. Know what I mean?!
Get started now! Here's a list of actually legit side hustles where you'll earn cash and you can test the whole work-from-home thang out!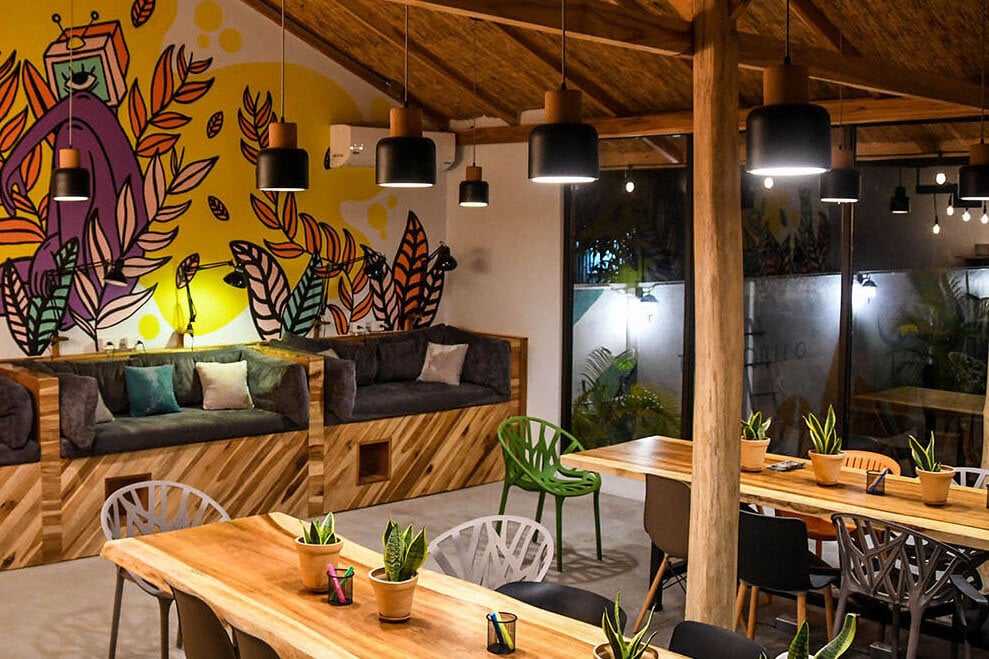 Best Digital Nomad jobs for getting started
One thing you'll start to realize is digital nomads tend to have several jobs, at least when they're starting. If it's your dream to be a podcaster, for instance, you won't be making money right away. That's why you might have to do freelance writing on the side until you start raking in the dough.
Here are some of the jobs you can start earning money with right away while you work on your true passions:
Online English Teacher: Ben taught English through VIPKID while we worked on our main passion — building this blog! It is such a flexible job with a good pay rate ($22 per hour!) even if you have no experience! It is so easy to get started and you'll be making money right away.

Freelance Copywriter: If writing comes naturally for you, consider looking for gigs on a platform like Upwork. Like anything, it takes time to get consistent work, but you can often start earning money with little to no experience.

Virtual Assistant: VAs are becoming more highly sought after. If you're interested in getting started, this course walks you through everything you need to know to go from zero experience to earning a decent salary.
For a rundown of digital nomad jobs, we interviewed a bunch of badass women to get their take on the digital nomad lifestyle and what it's like working remotely around the world.
2. Save money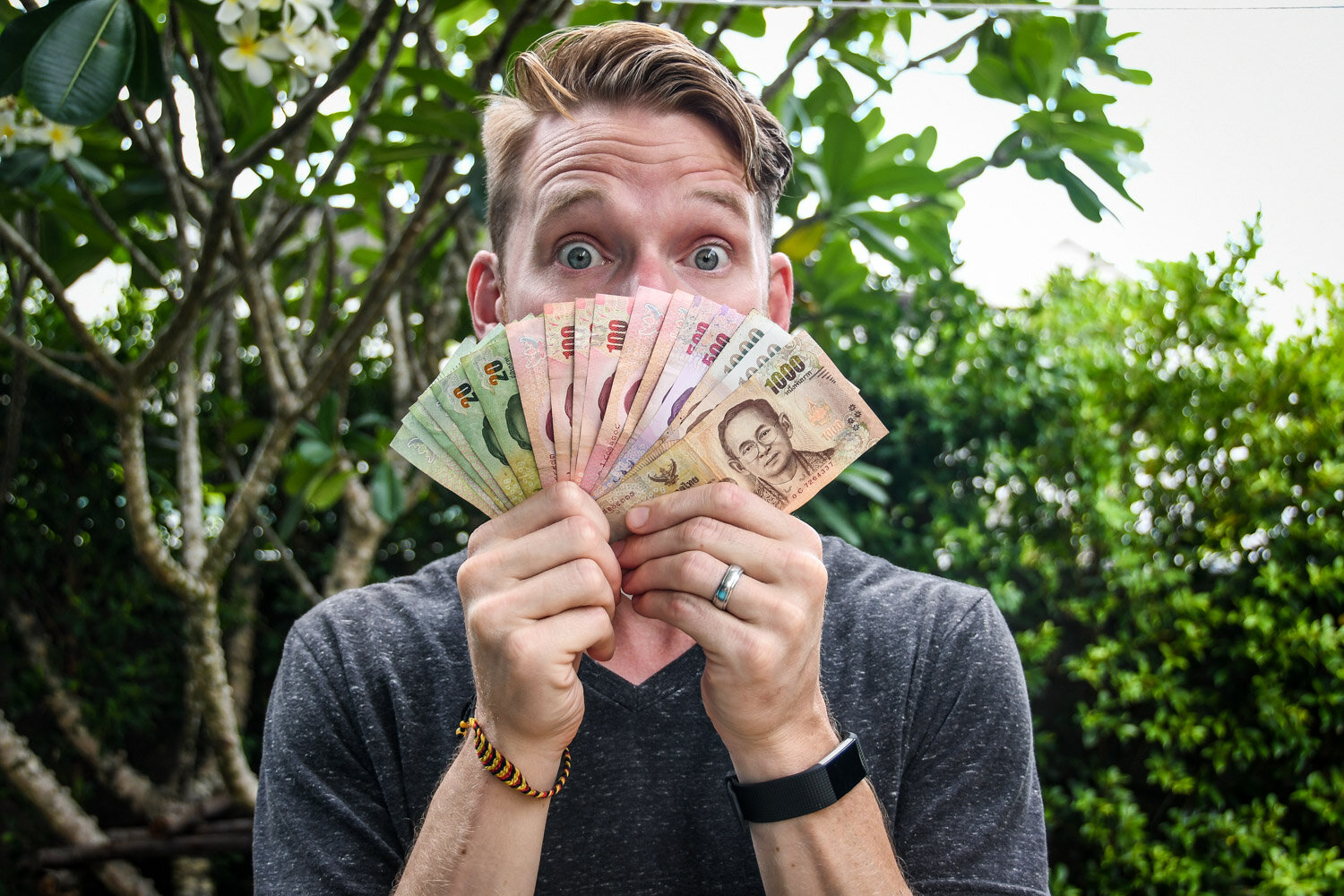 It should come as no surprise that if you want to begin your journey into digital nomading, you're going to need to save some money. But just how much money you need to save might be less than you'd think…
How much money should I have saved up?
This is such a personal question, and it is going to vary drastically based on your situation. Here are some things to consider:
Where will you be living? Is it cheap or expensive to live there? (Thailand will require less savings than Italy, for example.)

Do you have any financial obligations at home? Will you need to continue making payments (mortgage, student loans, car, etc.)? Be sure to factor these costs in.

Will you be working for a company or creating your own job? Working for a company means a guaranteed paycheck. Working for yourself means you might not be making much money right away.

Think about your lifestyle habits. Do you live frugally, or do you tend to splurge on a regular basis? Do you plan to do a lot of traveling, or will you focus on work?
While this is going to look different from person to person, we strongly recommend having enough money saved up to cover the following:
First month, last month and security deposit for rent on a typical apartment where you're living. A quick Google search will give you a good estimate.

Living expenses for 1 month if you already have a job, or at least 3 months if you're starting a job from scratch.

A last-minute flight home in case of emergency.

Any expenses you'll need to continue paying at home for the first 3 months (mortgage, loans, insurance, storage unit, etc.).

Emergency fund: In case of health issues or something going wrong.
Now, if you're wondering how you're supposed to save all that money, we've got you covered! Your first step will be to create a budget for yourself and start tracking your expenses. After you find out where all of your money is going, you'll want to start trimming the fat so to speak, by eliminating unnecessary expenses.
We've created an easy money-saving plan that's broken down into simple steps that anyone can follow to save money for travel. Once you've started saving, you might just find it's easier than you imagined and can actually be quite rewarding!
3. Find a mentor
There's a good chance you've got a million questions swirling around in your head. If only you could ask someone who has been there…
This is where finding a mentor can be a huge help. Maybe you know someone already, or you follow someone on Instagram who is constantly inspiring you. Reach out! Many people love sharing their advice with others. Just be mindful of their time and be specific with what you're asking.
For example: It's much simpler to answer a question like, "How did you make friends when you first moved to Chiang Mai?" rather than a super vague question like, "What's it like being a digital nomad?"
Tip: Take a look at the list of women interviewed in this article. Find a few you identify with and see where they have lived as a Digital Nomad. Then, reach out and ask any questions you may have. (Tell them you found them through their feature on Two Wandering Soles!)
4. Decide how to travel
What do you mean decide how to travel? Don't you just pack your bags and get on an airplane?
If this step is a bit confusing to you, let us explain…
In all our experiencing living overseas as digital nomads, we've done all the planning, apartment-hunting, and friend-making on our own. We started our digital nomad journey in Chiang Mai, which we think is one of the best and least-intimidating places you could possibly start your DN journey.
But if all the planning makes you a little nervous (especially as you're starting out), there is a way to make this transition easier.
Group travel programs catering to the digital nomads:
Did you know that there are actually group programs for digital nomads? Some even take care of all of the planning and logistics for you, including housing, access to wifi, community, etc. However, it comes at a much higher price than you'd pay organizing it on your own.
For some starting out on their digital nomad journey, the idea of traveling with a built-in community, and not worrying about the logistics is a welcomed path (and worth the extra money!). But group travel isn't for everyone. We have always found traveling at our own pace is more our preference.
Before deciding on your travel style, do some research and look into your options. We've listed a few of the popular digital nomad programs below and what they offer. A few things to consider are the price point, what's included, other expenses you may have, and group size and demographics.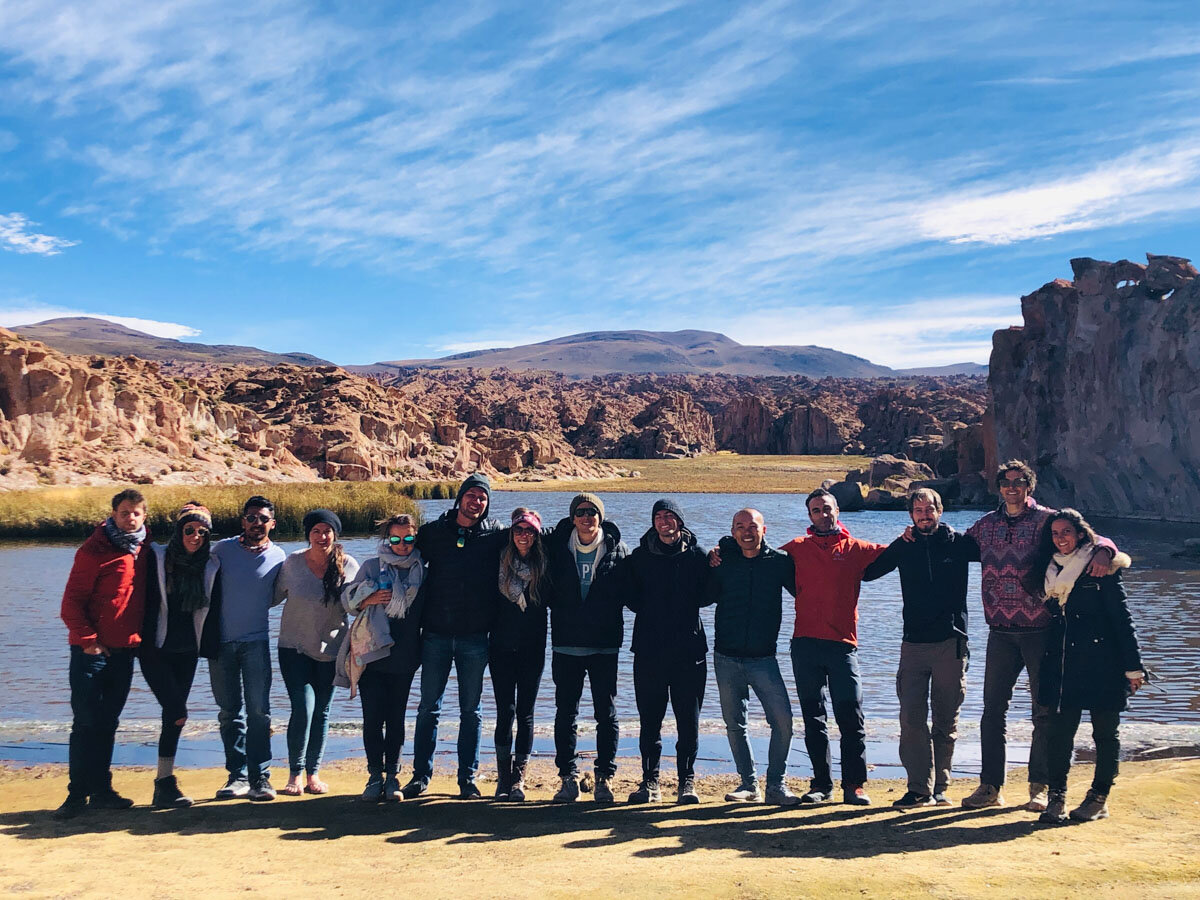 Wifi Tribe: A co-working and co-living community that offers monthly programs in destinations all over the world. They will set up the housing and guaranteed access to high speed Internet. You show up with a positive attitude to contribute to the community.
Recommended for: Travelers who are just starting out as digital nomads and looking for a community, nomads who prefer group travel but want more freedom in the timing and destinations they choose, people looking for a strong sense of community bonding and international friends.
Remote Year: A digital nomad community offering 1 year, and 4 month programs around the world. They handle all the logistics for you including flights, travel between cities, housing, co-working, and extracurricular activities and events.
Recommended for: New travelers who aren't as comfortable organizing logistics outside of their home country, office workers who may be able to convince their boss to let them go remote for a short, designated period of time.
Hacker Paradise: Somewhere in between the 2 programs mentioned above, Hacker Paradise is a similar co-living and co-working travel community for digital nomads. They offer 1-month programs in destinations around the globe with options for sign up by the week, instead of monthly. They take care of logistics such as housing, access to wifi, events and even on-trip travel plans.
Recommended for: Digital nomads who want a small taste of the group travel life without a big commitment, officer workers who can only work remotely for a week or two.
We know there are more group programs out there with varying levels of support and community for digital nomads. A simple Google search will get you the best resources to help you do some research and figure out which program is right for you.
Tip: Our editor, Amanda, has spent a lot of time traveling with the Wifi Tribe. She absolutely loves the program, the community, and the freedom they offer with monthly destinations. She would be happy to answer any questions about group digital nomad travel. Reach out to her by posting a question in the comment section below.
5. Choose a destination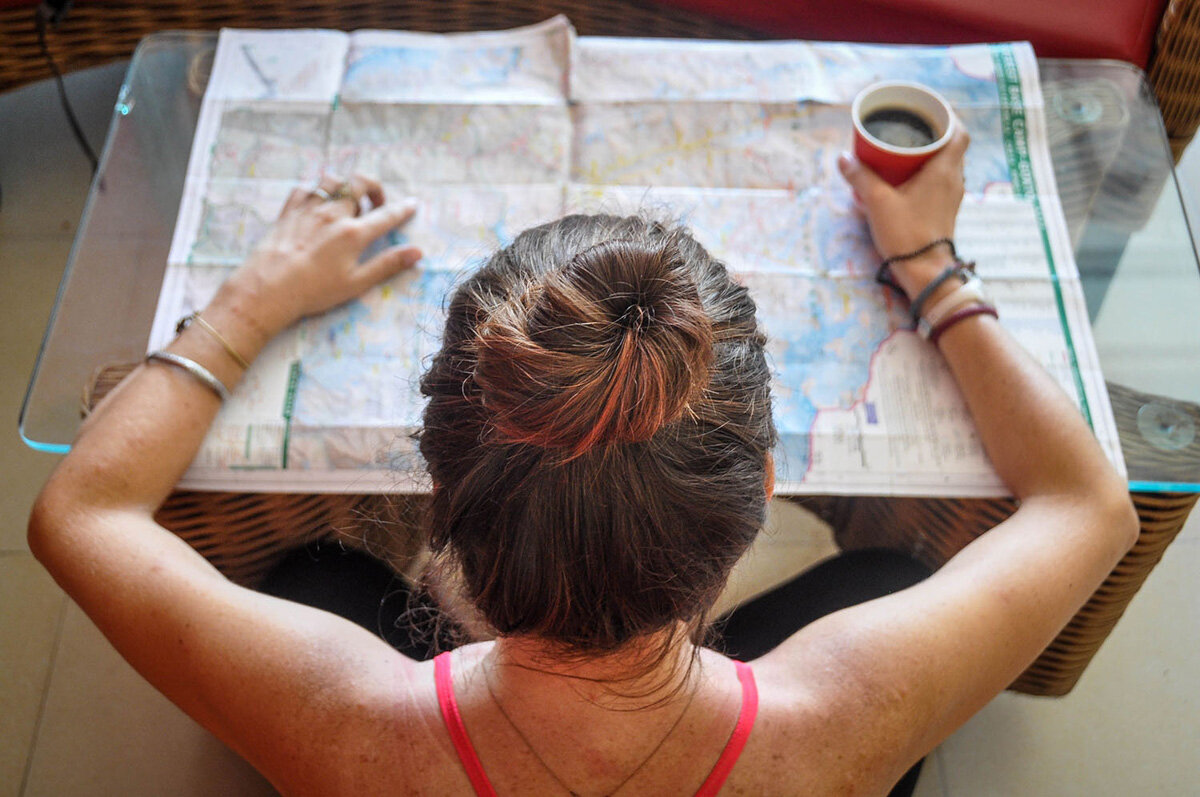 Now comes the fun part…deciding where you want to travel. The good news is, once you've figured out a source of location-independent work, you're possibilities are endless!
Where are the best places in the world to be a digital nomad?
Great question! Everyone is going to have different opinions for this, and the beauty of this lifestyle is you can pretty much work from anywhere in the world (as long as there is good Internet).
Here are some things you'll want to consider when choosing a base:
Cost of living

Internet connection

Co-working spaces

Availability of short-term rentals

Digital nomad community

Language

Access to affordable & healthy food

Things to do

Visa situation: how long can you stay?
We put together a detailed list of the best cities for digital nomads around the world, packed full of tips for living and working as a digital nomad in each place. Take note of which places interest you, join Facebook groups, and talk to others who have been there. 
Once you're in the DN community, you'll see how easy it is to move from place to place and try out many different cities.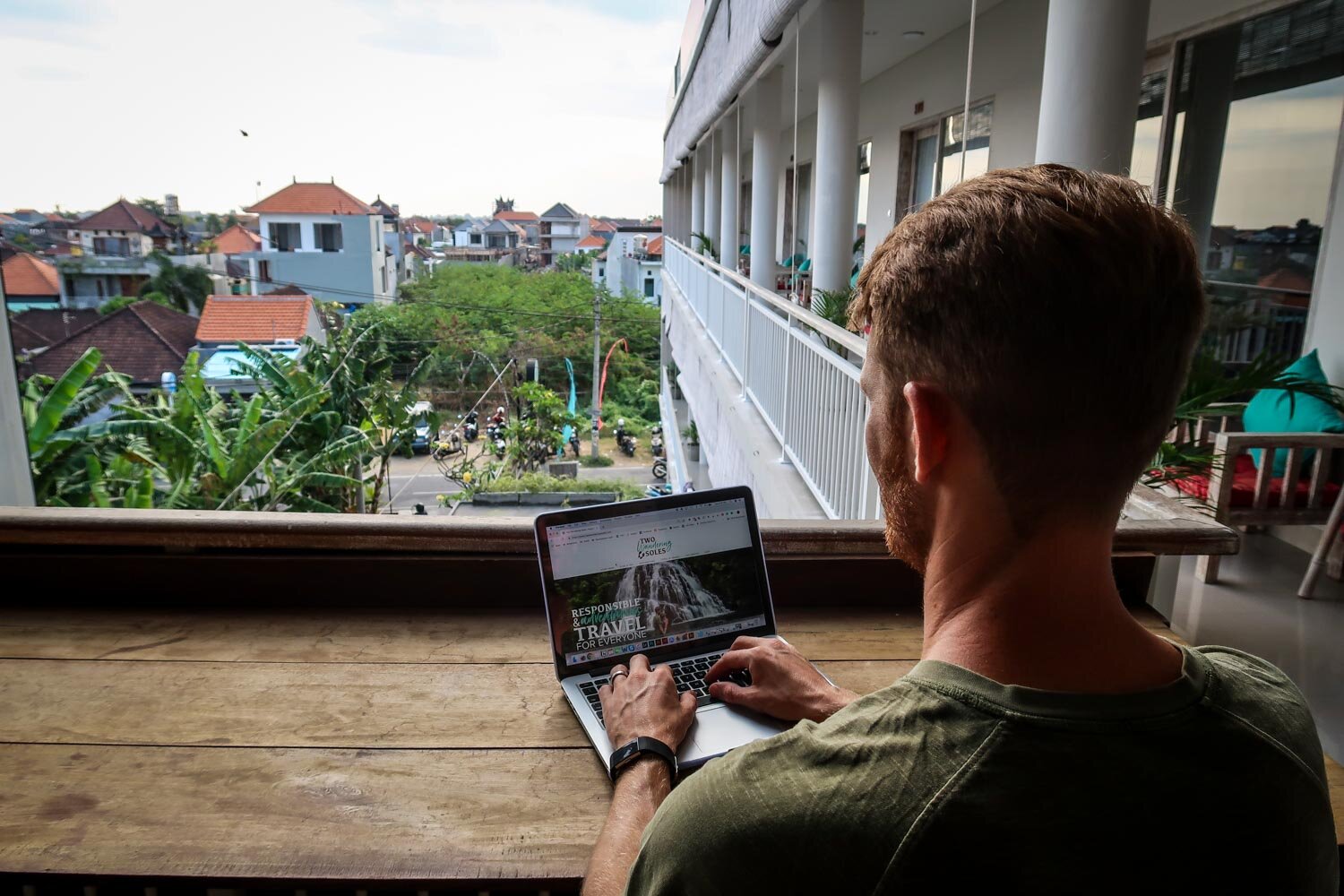 How to find housing as a digital nomad
If you've decided to join one of the group programs for digital nomads that we recommended above, you won't have to worry about housing. If you're like us and want to give it a go at your own pace, you'll want to do some research into housing options before you land in a new city for the first time.
Here are some various housing options for digital nomads:
Co-Living: You can find co-living housing around the world that caters to digital nomads. Most are similar to hostels or hotels, but with all private rooms and shared common spaces. And many offer a co-working space either attached to the living quarters or in a nearby location. Programs like Outsite even offer memberships where you can choose your locations around the world. This is a great way to meet other digital nomads and build a sense of community around you while keeping the flexibility of traveling on your own schedule.

Apartment or villa rentals: Because we tend to travel a bit slower while we are working, we like to stay in places that feel more like home. That means having a kitchen to cook in, a living room to relax in, etc. We use rental sites like Airbnb and Booking.com for short-term rentals. In some cities you can actually get better deals on short-term rentals by going through a local realtor, such as in Chiang Mai, or be connecting with hosts through local housing Facebook groups like in Canggu, Bali.

Hostels: If you are on a shoestring budget, or just starting out, hostels make a great homebase for digital nomads. They typically have the cheapest room rates of any accommodation, and shared space is usually offered with a kitchen and basic amenities. Hostels are also a great place to meet other travelers, albeit, we usually find the average age is typically younger in hostels than in co-living spaces. When traveling aboard we find the best deals on hostels using HostelWorld, or Agoda when in Asia.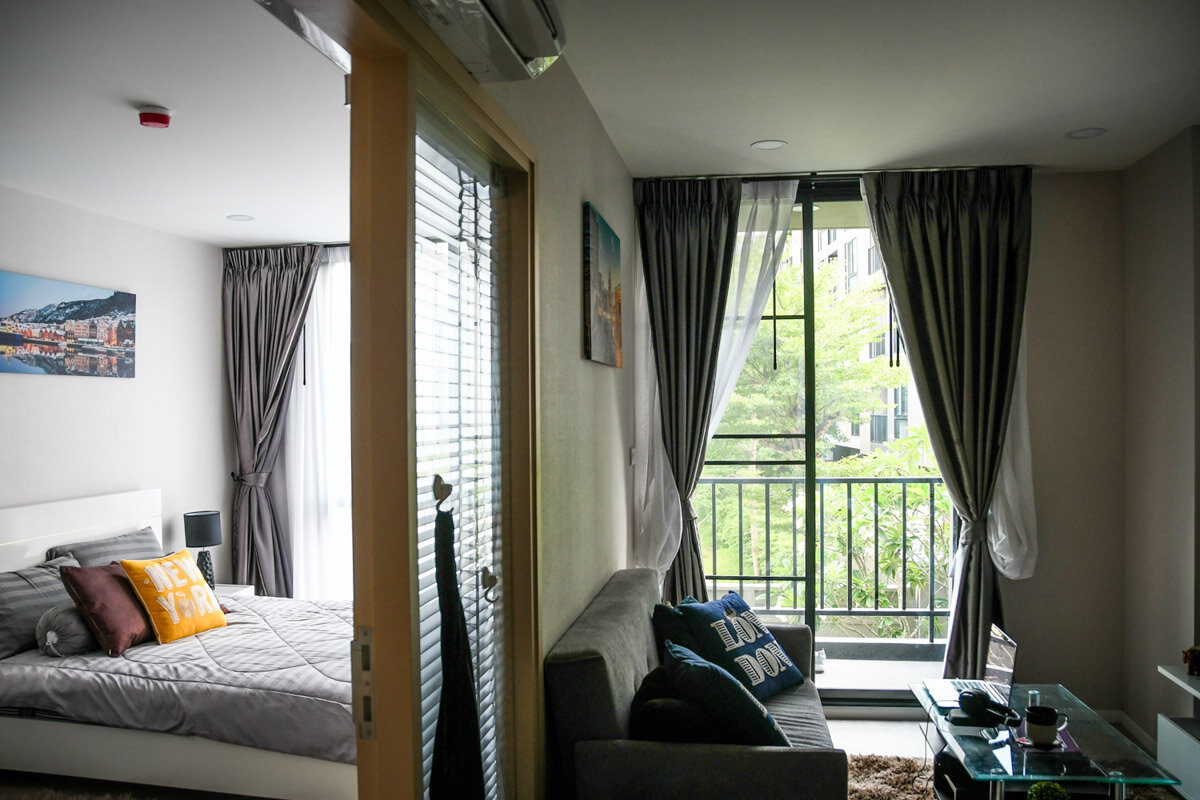 Community resources for digital nomads
This is a big one, and probably more important than you may realize. We've always found that connecting with other travelers in our areas is the best way to foster a sense of community and build up a support system in the case that we need help or have questions.
There are plenty of on and off-line resources to connect travelers, especially digital nomads in different cities.
Facebook Groups: Search on Facebook to see if you can find digital nomad groups for the city or area you'll be living in. Don't be afraid to join in on the conversation, even before you land in a new city, to make connections and get your questions answered.

Meetup.com: Check the website to see if MeetUp does any events in your city. This is a great way to meet people in person while traveling.

Co-Working Spaces: Good for more than just a quiet place to get some work done. Often times co-working spaces are filled with other digital nomads, so you can meet people organically, just as if you were in the office. These organizations usually host events for members as well, so be sure to check their website or announcement board to find out what their schedule of events looks like.
6. Get the right digital nomad gear
If you're used to working from home, you might have a sweet office chair that feels like you're sitting on clouds while simultaneously giving you just the right amount of lumbar support (jealous!). But there's no way you're bringing that chair and your desktop computer on a plane to a new city.
Working from co-working spaces and cafes around the world is going to require a different office set up than you might be used to.
You'll want to make sure everything you get is lightweight and therefore easy to bring with you.
How lightweight are we talking? Make sure all your digital nomad "work gear" is able to fit into one carry-on bag. You definitely don't want to have to check any of it and risk it getting damaged or lost.
In addition to being lightweight, you also want to be sure the gear you choose is high quality. There's nothing worse than trying to get items serviced in a country where you don't speak the language.
Think of your digital nomad gear as an investment in your future income. Higher-quality and more items that make you efficient will help your productivity. (Take it from someone who held off on noise-canceling headphones and a laptop stand for far too long!)
Top 4 Digital Nomad Gear Items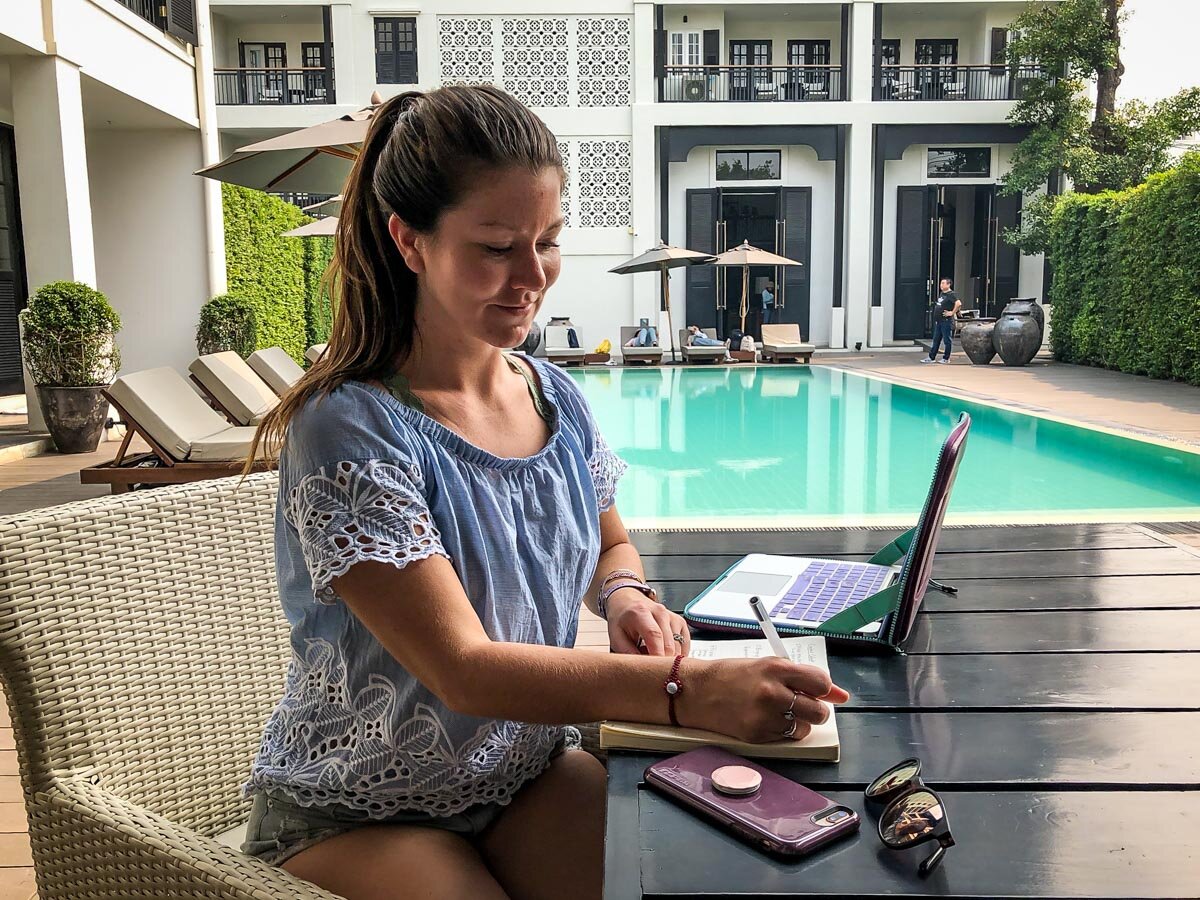 Here are the first four items we'd highly recommend investing in. If funds are limited, start with these.
Want more?! For an entire list of recommended Digital Nomad gear that'll make your life a hell of a lot easier, download this pdf or click the image below!


7. Prepare for travel as a digital nomad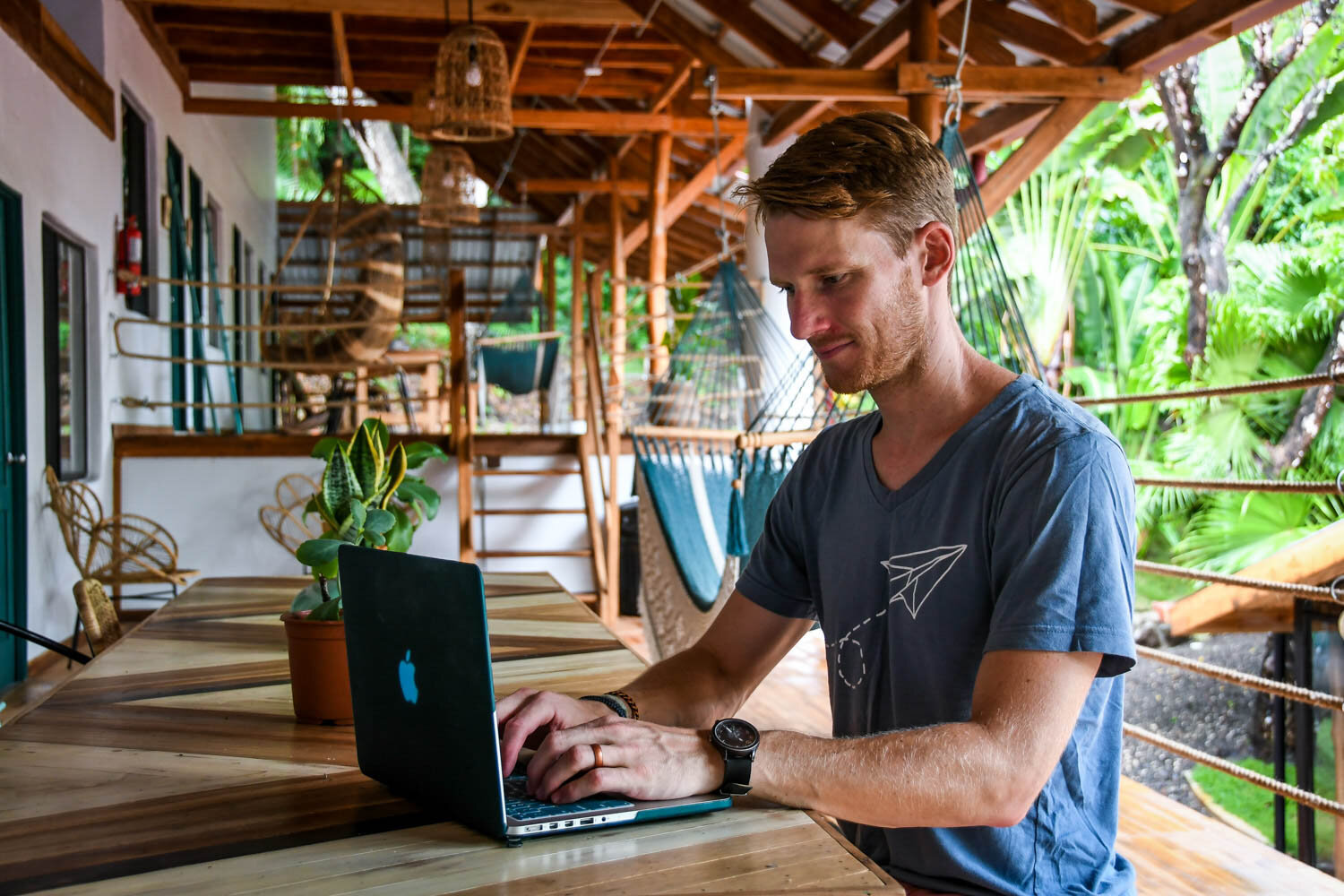 Now that the fun part is out of the way, it's time to get down to business and prepare yourself for travel as a digital nomad.
The following are steps we think are good to take before you board your first flight out of the country.
Set goals: Setting goals for yourself as a digital nomad will help you stay on track with your work and income. Use the SMART goals system to set goals for yourself that are Specific, Measurable, Achievable, Realistic, and Timely.

Create a budget: Laying out a daily, weekly, and monthly budget for yourself is a good way to ensure your hard-earned money goes the farthest on your travels. Find out exactly how we make a fail-safe travel budget in our simple step-by-step guide. Then stick to it! The most important thing a digital nomad can do is manage their money wisely, especially when first starting out. If you need extra help while on the road, check out some of our favorite money-saving travel resources.

Talk to friends & family: This one is an interesting one. Of course we assume your friends and family will know by now that you plan on picking up your life and moving around the globe to try out life as a digital nomad for a while. But it's important to let someone back home know your specific travel plans. Have an emergency contact back home that give your itinerary to, especially if you are traveling alone. You can also register yourself with the embassy in each of the countries you visit as an extra precaution so someone knows if you don't show up where you're supposed to be at any given time.

Buy travel insurance: You should never travel without travel insurance, and here's why! We've used Allianz Travel for years and have been very satisfied with our coverage. We do an annual plan which is very cost effective and we've never had troubles filing a claim. World Nomads is a crowd favorite travel insurance company and is recommended by Lonely Planet. We picked up an extra policy from them to cover us when we went trekking to Everest Base Camp.

Apply for a visa: Depending on where you want to travel and what country you have citizenship, you may need to apply for a visa ahead of time. The easiest way to find out is to look at the government's website for the country you plan to visit and see if a visa is required for your citizenship. A simple Google search can usually help you navigate to the right place.

Apply for a travel rewards credit card: Having a travel rewards credit card can boost your finances and help fund your travels. Find out everything we've learned about travel rewards credit cards, including which ones we've used and which we recommend.

Get packing: This may seem like a simple step, but just wait until you're trying to fit everything you think you need into a single suitcase for the next 3-months or possibly indefinitely. Believe us when we say, you won't need as much stuff as you think you do!

Follow our ultimate long-term packing list as a guide to help you get started. And be sure to download our free PDF guide for essential digital nomad gear below.
Tip: If you need more help preparing for travel, we've created the ultimate guide to budgeting, planning and packing for your trip.
8. Buy your flight!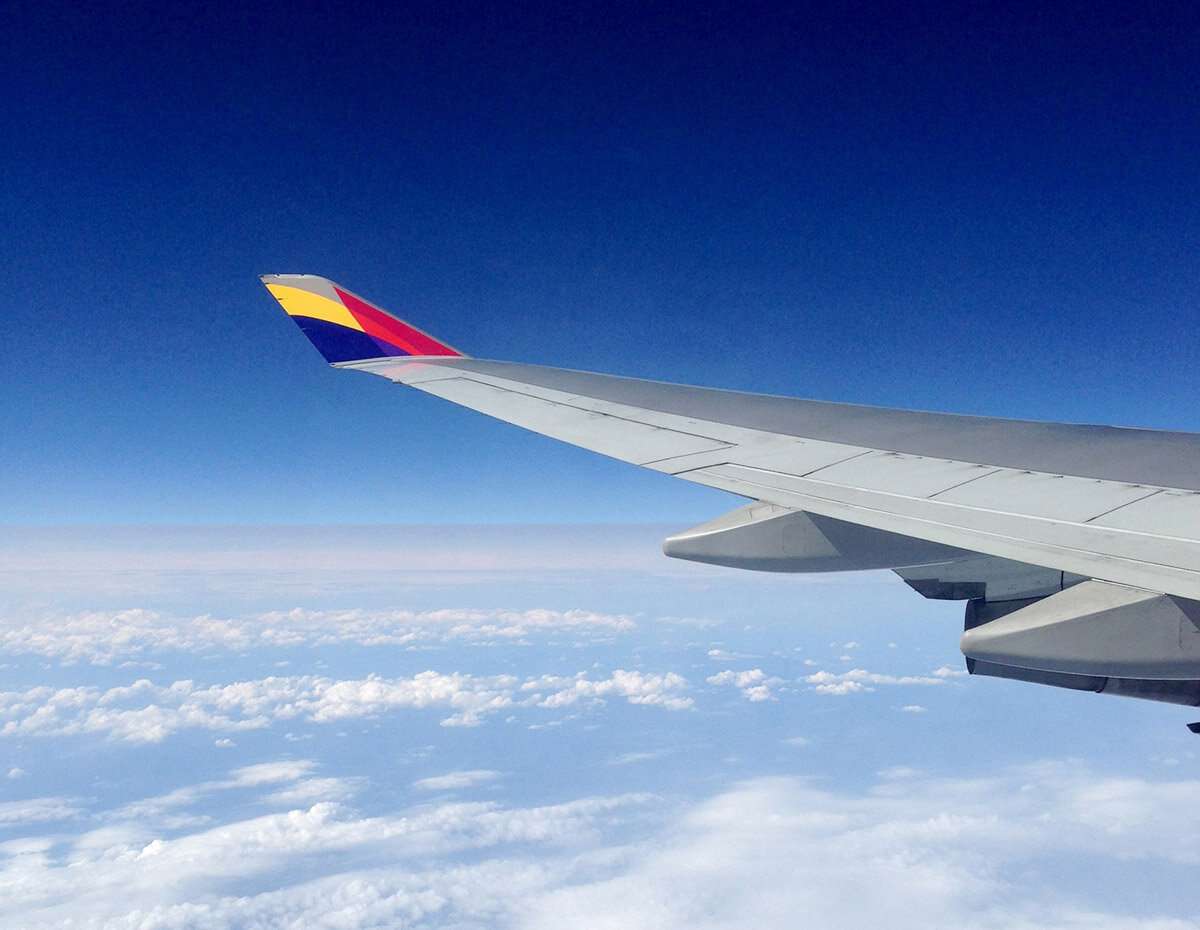 The final and perhaps most exciting step: purchase your very first plane ticket to begin your digital nomad journey! Now that you have your source of income sorted out and you completely prepared, there is only one thing left to do. Use these hacks for finding cheap flights to anywhere in the world.
Once you've hit that purchase button, sit back and relax because you are well on your way to realizing your dream of becoming a digital nomad.
Are you interested in living the digital nomad lifestyle?
We have TONS of resources on working remotely and traveling as a digital nomad. Check out our Ultimate Digital Nomad Guide for all the answers to your most burning questions, or read some of our favorite articles below.
Save this article on Pinterest for later!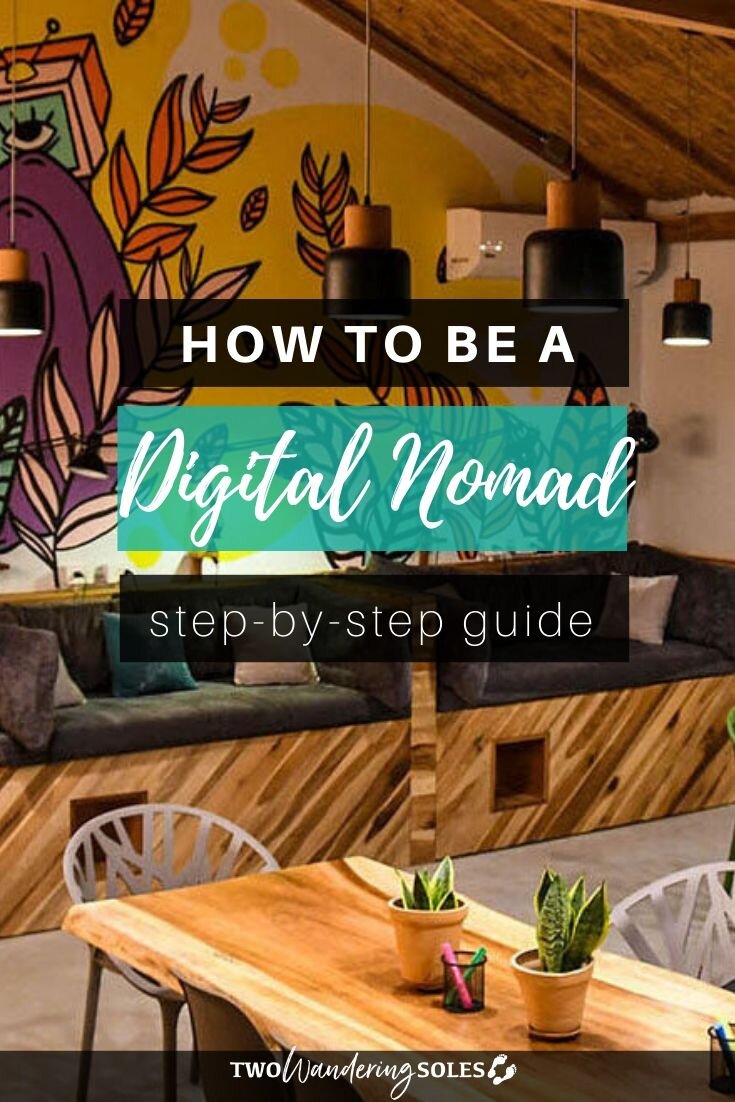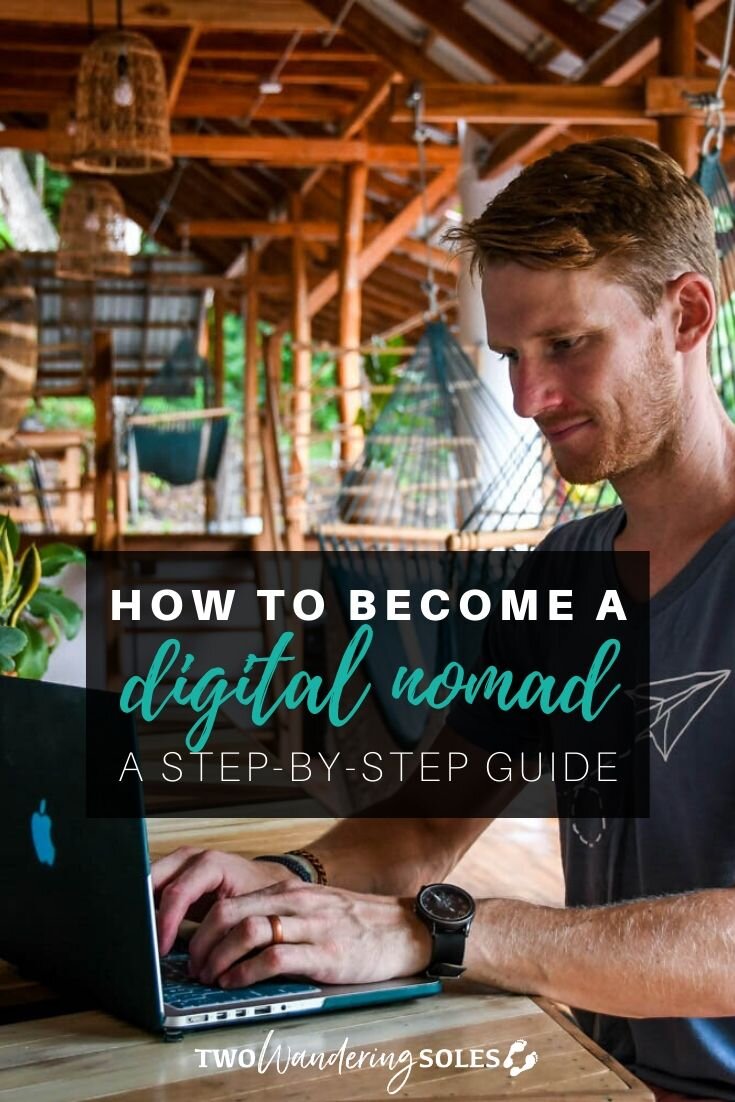 We want to hear from you!
Are you thinking of leaving your 9-to-5 for the more flexible lifestyle of a digital nomad and still have questions? Let us know in the comment section before and we'll do our best to get back to you as soon as we can!