Slovenia is the most underrated country to travel in all of Europe. There are so many things to do in Slovenia: whitewater rafting, hiking, kayaking, exploring fun cities, delicious food and conversing with the lovely locals. Can you tell we fell in love with sLOVEnia?
Follow along on our travels in Slovenia through the adorable capital city of Ljubljana, the mountains surrounding Bovec, and the picture perfect Lake Bled. These are our favorite Slovenia travel tips and advice for anyone exploring Europe.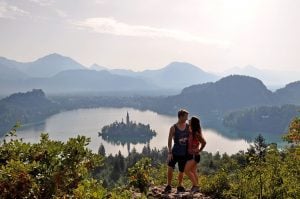 We fell in love with Slovenia. Between the whitewater kayaking, the incredible hiking and the stunning cities, there are so many things to do in Slovenia. Use this article as your adventurous Slovenian travel guide as we show you all our favorite off-the-beaten-path spots. We guarantee you'll fall in love...