With plenty of things to do, see, eat, and drink for literally everyone, Austin is a major hotspot attracting plenty of visitors. In a city this "weird" (in the best way!) and diverse, a standard hotel just won't do, so let's take a deep dive into the best and most unique Airbnbs in Austin.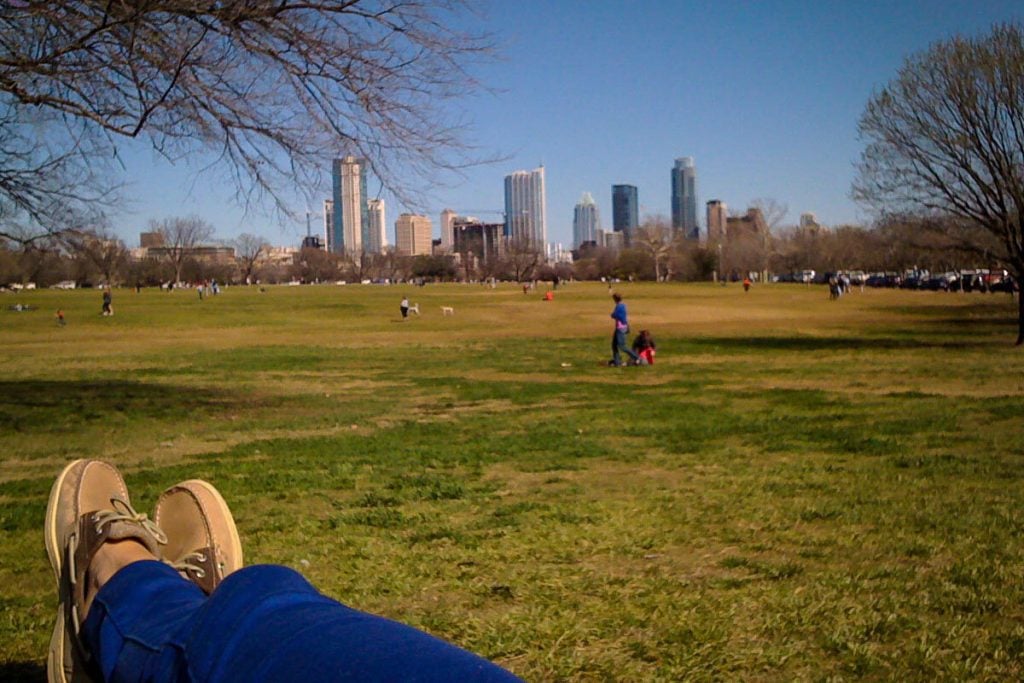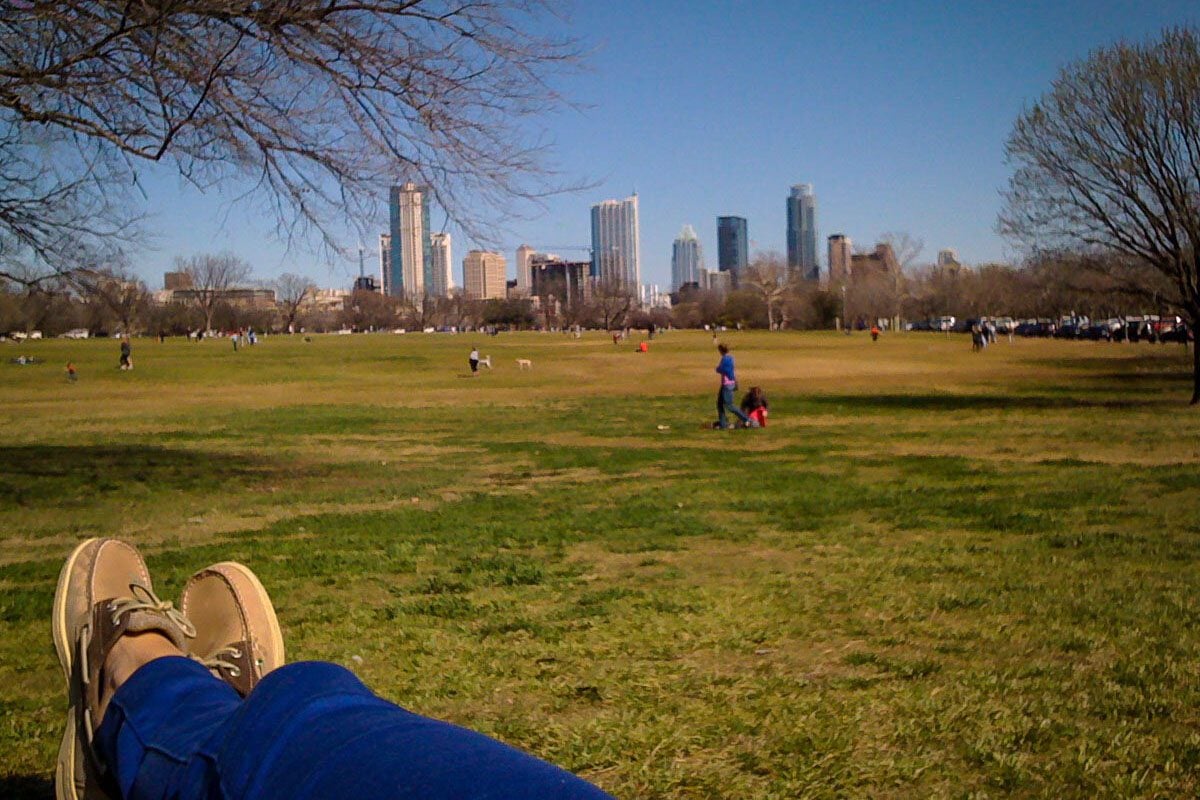 Not only is Austin one of the fastest growing cities in Texas, but also in the United States. It's widely known as a hub for live music and festivals, incredible food (specifically, food trucks!), a buzzy mezcal scene, and innovative startups.
The city is also home to vibrant neighborhoods and entertainment districts, a giant natural spring-fed swimming pool, and one of the largest universities in the U.S. Oh, and we can't forget about the fact that Austin always "keeps it weird."
With so many fun things to do in Austin, Texas, there are plenty of reasons to visit!
If you're planning a trip to ATX, whether it's for a weekend getaway, a family gathering or a Bachelorette party, you'll want to find the perfect place to stay. Just like all the reasons to visit, there are seemingly endless options for Airbnbs in Austin.
Not to worry, we've done the hard work for you. We put together this guide highlighting the very best Airbnbs in Austin—from budget finds to the most unique and upscale.
Why stay at an Airbnb in Austin
In our humble opinion, renting an Airbnb is by far one of the best ways to really experience a new destination. You get a jumping-off point in a more residential neighborhood, a more spacious place than a hotel room, plus direct access to a local who knows all the good hotspots and hidden gems.
There are several other reasons to consider Airbnbs in Austin, too, including:
Stay in the heart of one of the city's eclectic neighborhoods, where your neighbors are locals—not other tourists
Access to home-like amenities, such as a yard or full kitchen (even in a great food city like Austin, it's smart to make at least a few meals at "home" to save some money)
Avoid traffic and parking hassles in the downtown core
Have quick, easy access to things like hiking and Hill Country, well beyond the realm of downtown
Share a place with family or friends to stay together (and save money!)
Where to stay in Austin
With so many unique, vibrant neighborhoods, you really can't go wrong no matter where you choose to stay in Austin. Each neighborhood has a distinct vibe and its own offerings, so there are a few areas to consider when looking into Airbnbs in Austin.
Downtown: Home of the Texas State Capitol, infamous Sixth Street, and Rainey Street, the city center has lots to do and see. This is the place to be if you want to experience Austin's hoppin' nightlife or visit without renting a car.
East Austin: You'll find a more relaxed vibe in East Austin, but you'll still be surrounded by food trucks, breweries, bars, boutiques, and street art. In other words, all the entertainment without the hustle and bustle of downtown.
South Austin: While South Austin is a bit more residential, it's also home to eclectic, uber-hip South Congress — AKA, SoCo — and the city's crown jewel, Zilker Park (home of Barton Spring and Lady Bird Lake!).
Other neighborhoods: In this section, we list Airbnbs in Austin located outside the above areas that are still great recommendations. Clarksville and North Loop are perfect examples.
Just outside the city: If you're looking for a retreat from the city but don't want to go too far out of town, we've collected a few Airbnb stays that'll have you feeling like you're a world away from Austin, but still within a 2-hour drive.
Our top 5 recommendations:
Don't have the time or patience to read through the entire article? Here's the quick n' easy rundown of the best Airbnbs in Austin for your specific needs.
---
22 Best Airbnbs in Austin
While Austin has plenty of great hotels, you'll find more flexibility and options with an Airbnb, plus a more authentic local experience. Scattered in every corner of the city, Austin Airbnbs put you close to all the things you want to do and see. Let's take a look at some of the best!
Downtown: Home to famous Sixth and Rainey Streets, the Texas State Capitol, and Lady Bird Lake, downtown Austin is a great place to stay if you want to be in the center of it all and don't mind a slightly busier atmosphere.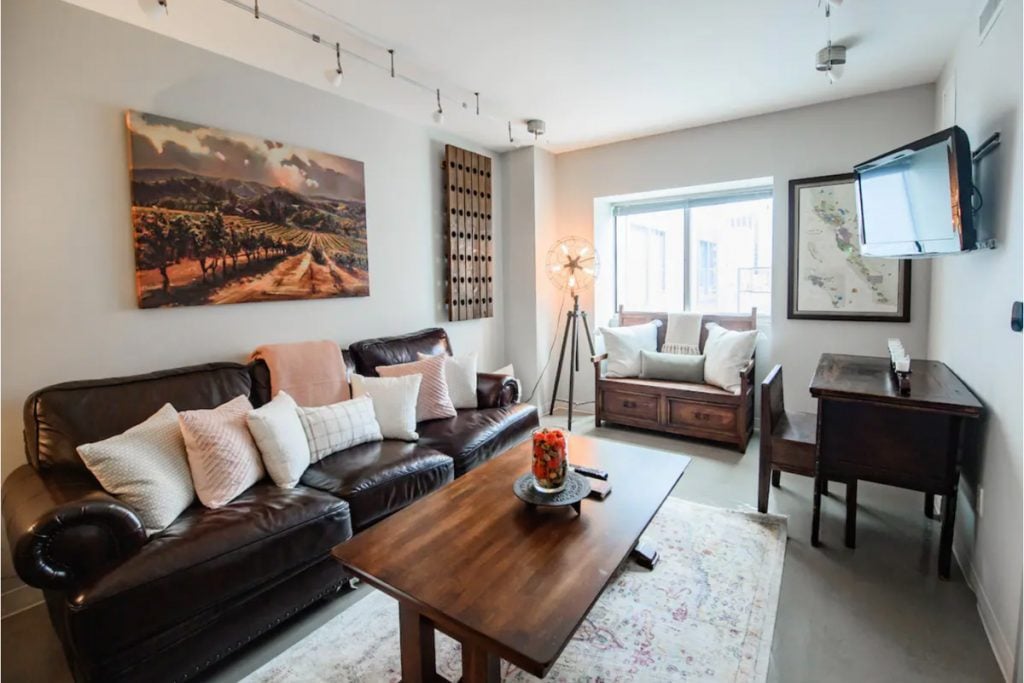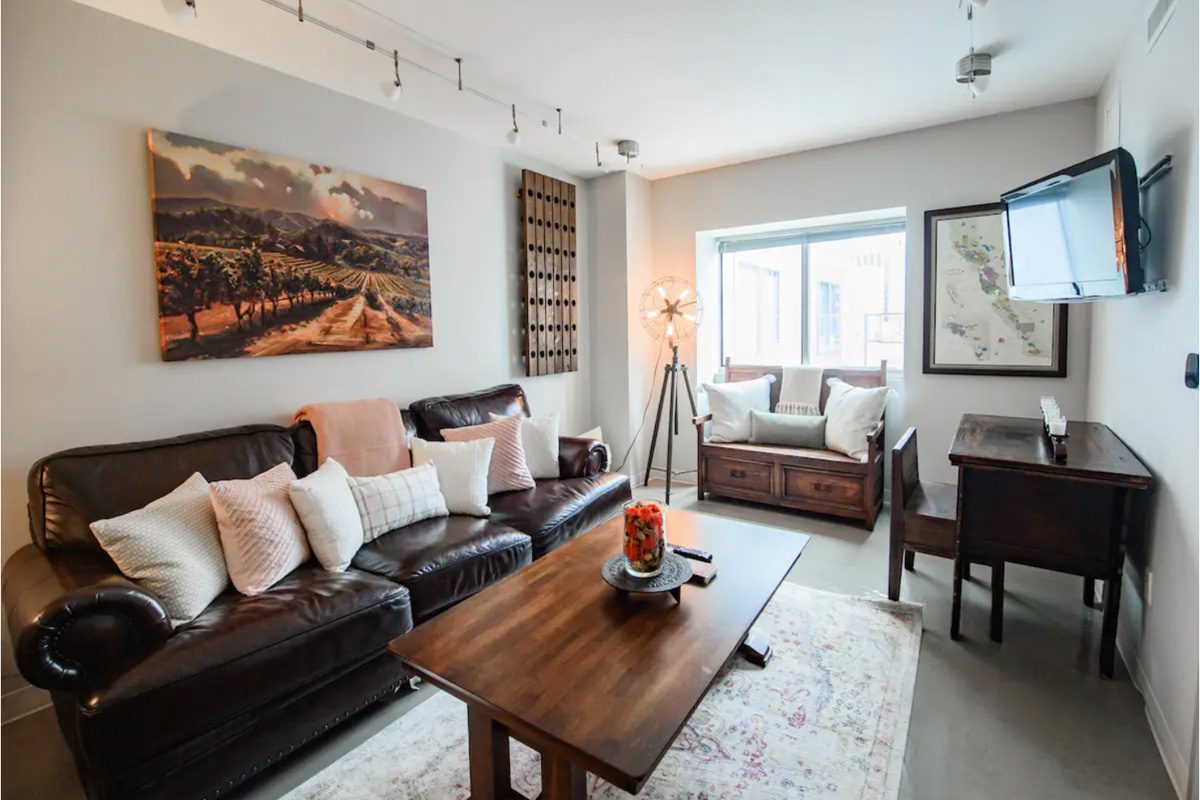 Cozy, chic condo just blocks from the Texas State Capitol
Location: Downtown, 8th and Brazos Street
Budget: $
Number of Guests: 2
Minimum Stay: 30 nights
Superhost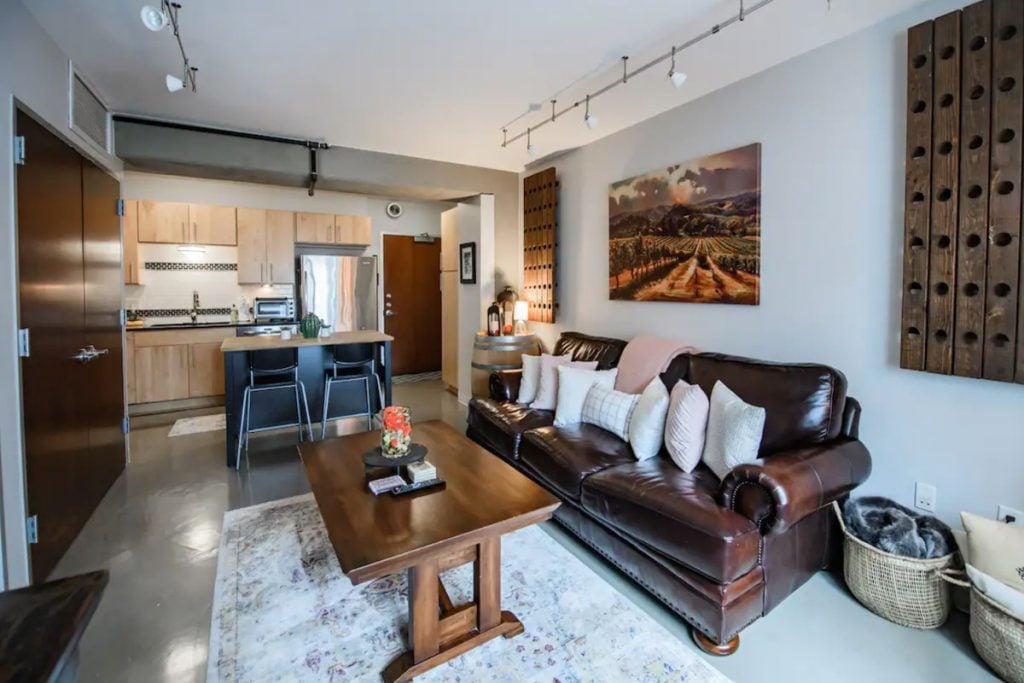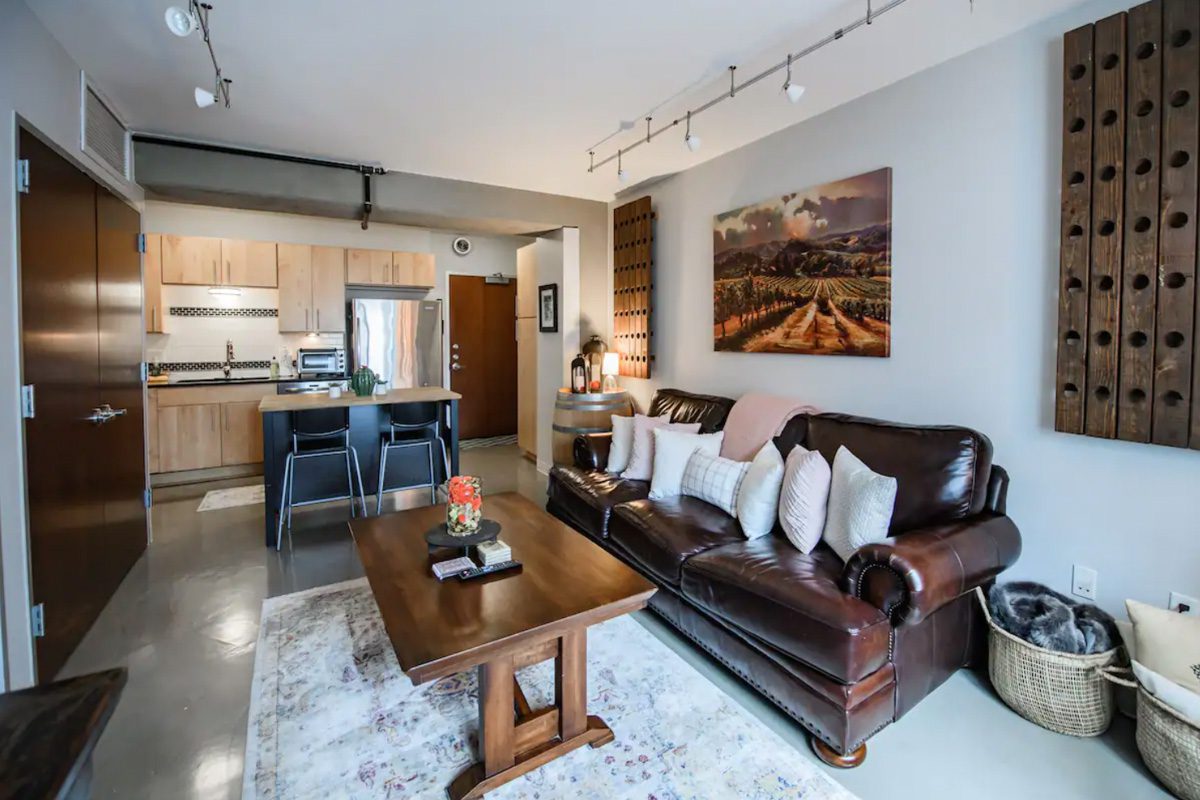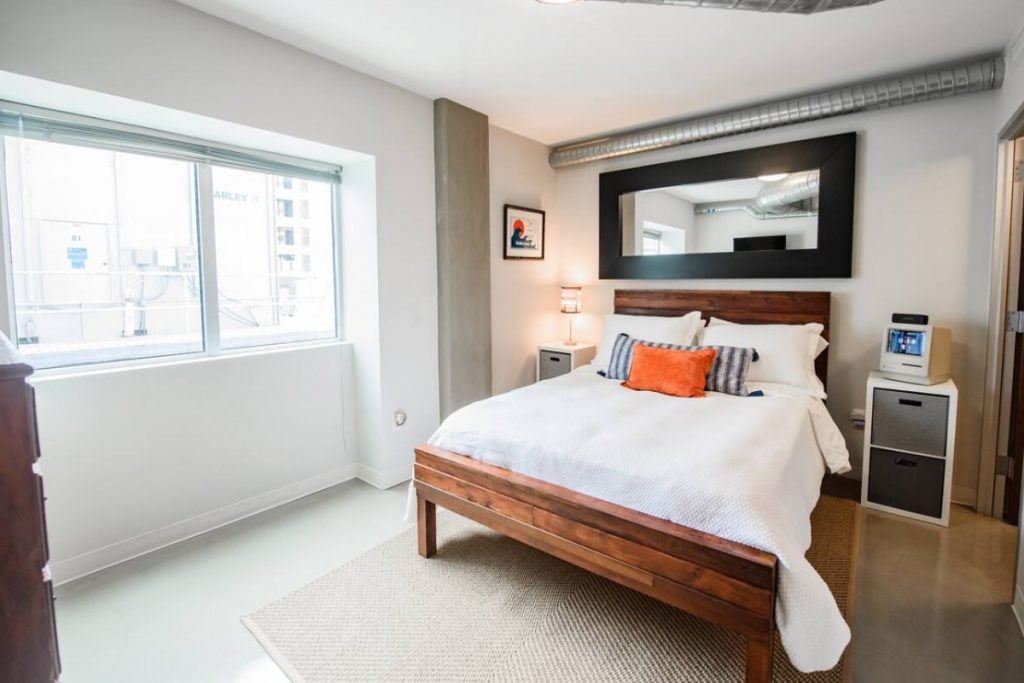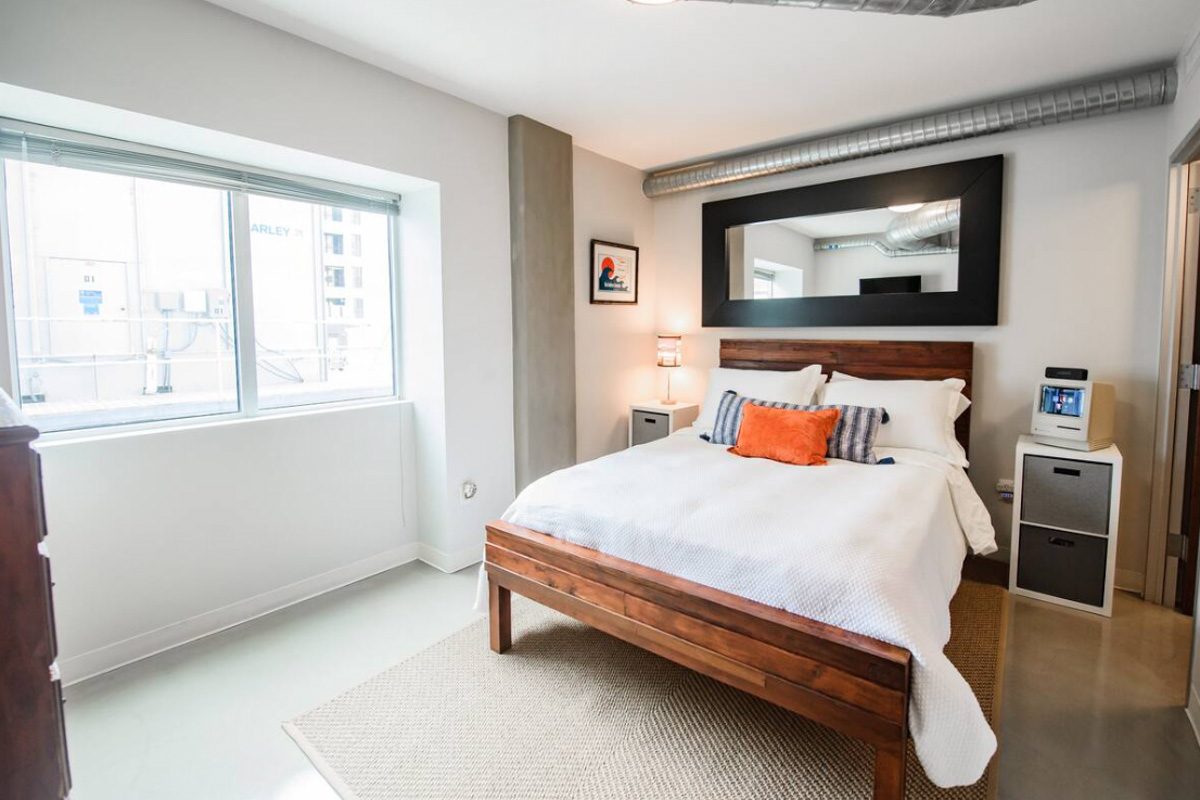 Located right in the heart of downtown Austin, this condo puts you within easy walking distance of many of the city's hottest restaurants, live music venues, nightlife hotspots, and the convention center. The condo has a rooftop patio and a 24-hour gym, and comes equipped with everything you'll need for your extended stay.
Guests regularly comment on both the great location and the exceptional host.
"We had a wonderful stay! Laird was extremely helpful and quick to respond to any questions we had. The place is very quaint and comfy. It is as pictured. The location is centrally located near many fun restaurants, and not a far walk to the river. We wished we could have stayed longer, and hope to return again soon!" – Serena, February 2022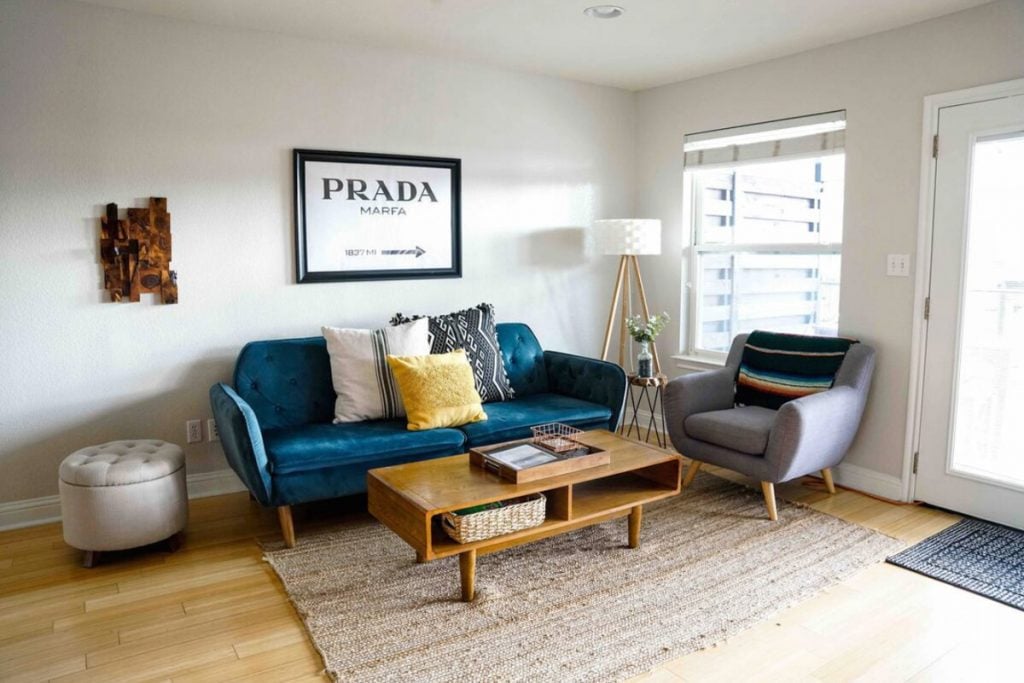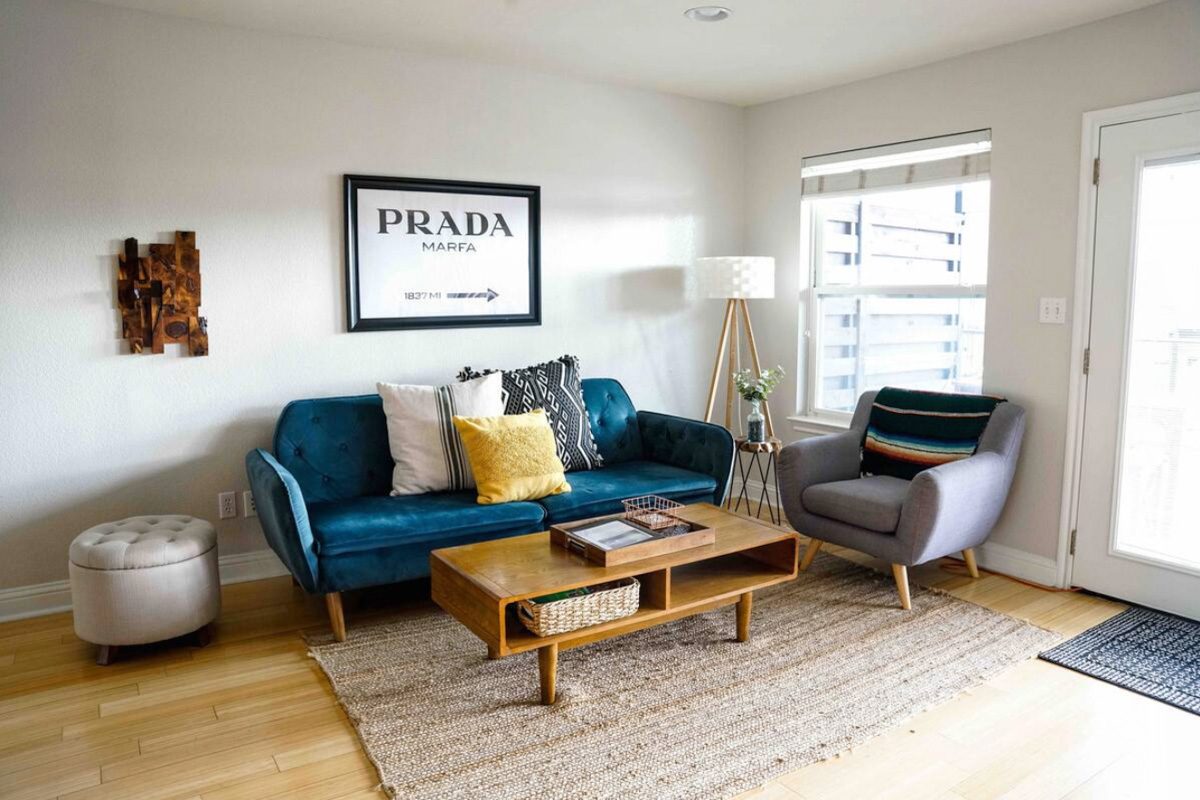 Homey condo with a huge patio in a fantastic location
Location: Clarksville, near Clark's Oyster Bar & Swedish Hill Bakery
Budget: $$
Number of Guests: 2
Minimum Stay: 2 nights
Superhost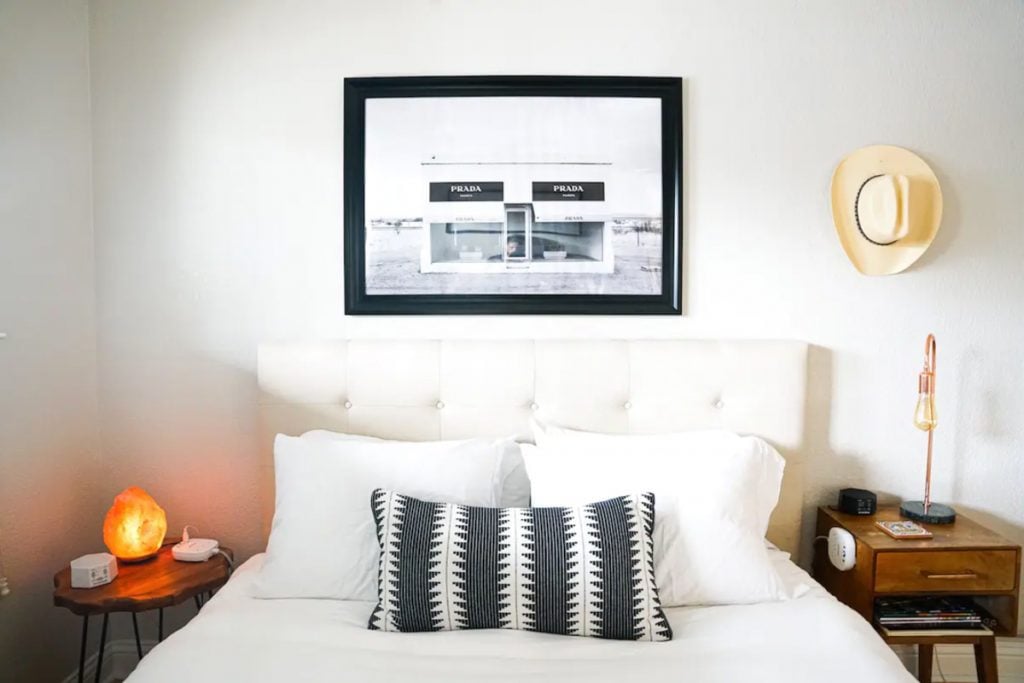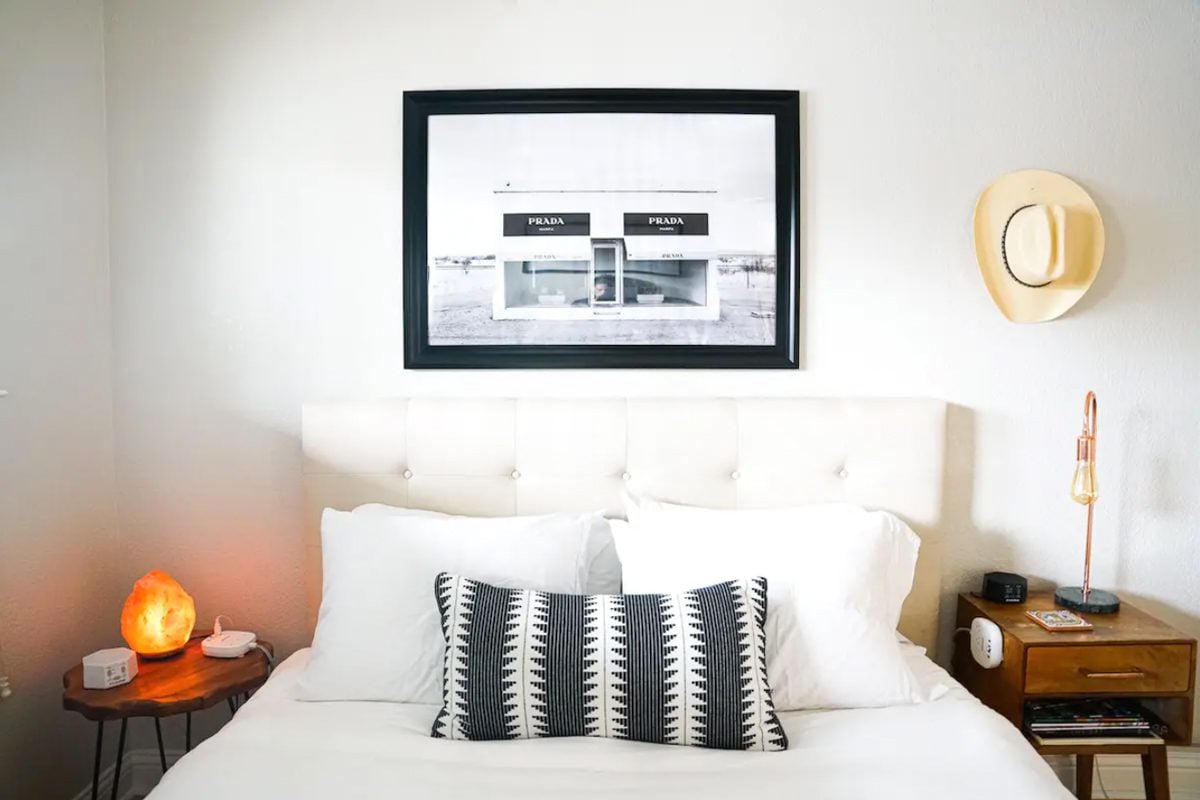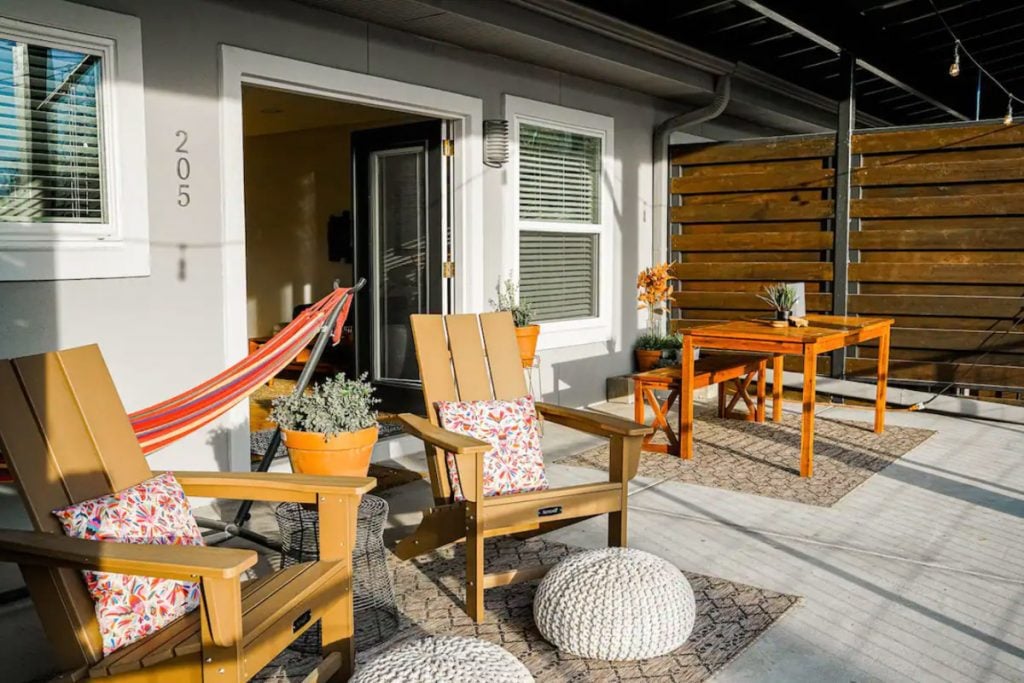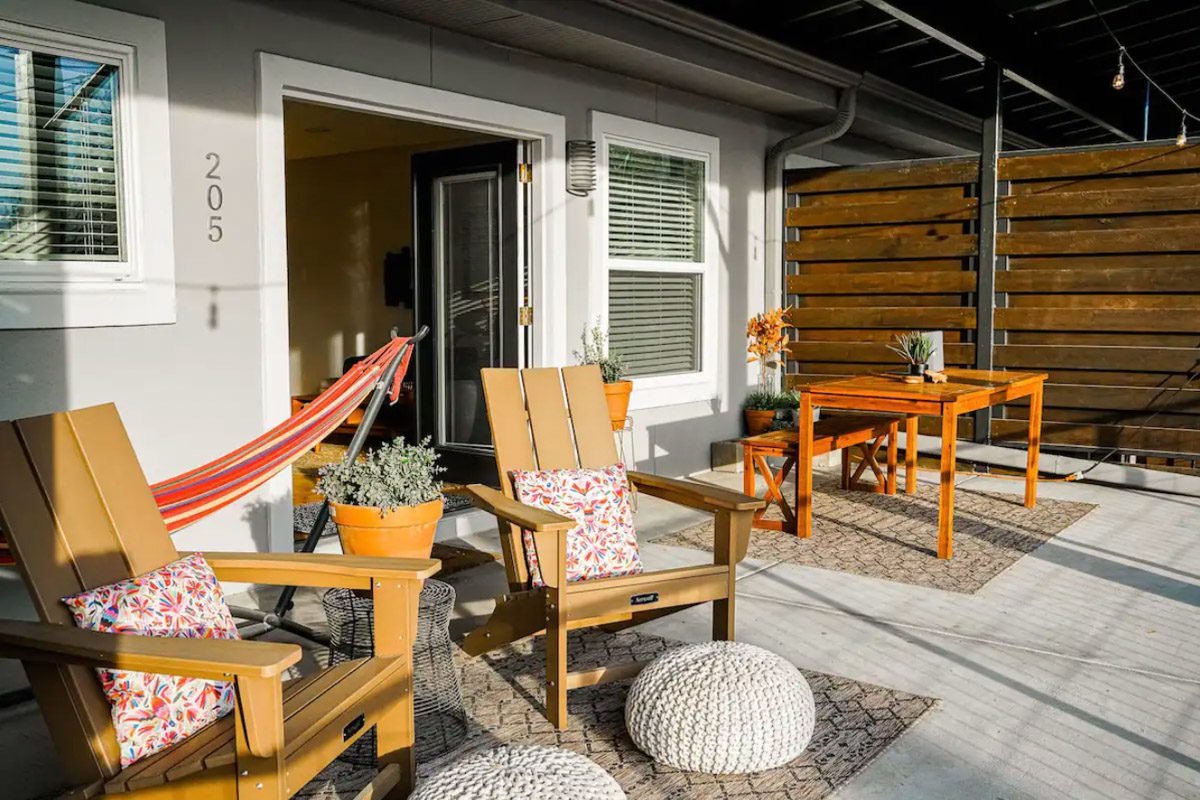 This bright, sunny condo in the historic Clarksville neighborhood is in a great location with easy walking or scooter access to the best spots in Downtown Austin. The condo comes equipped with everything you need whether your stay is short or long-term.
Recently renovated to include French doors opening up onto a south-facing patio with a spacious teak table (great for working remotely), this is one of those Airbnbs in Austin that genuinely feels like home.
With a 4.92-star rating and 454 reviews, this is pretty dang close to perfect!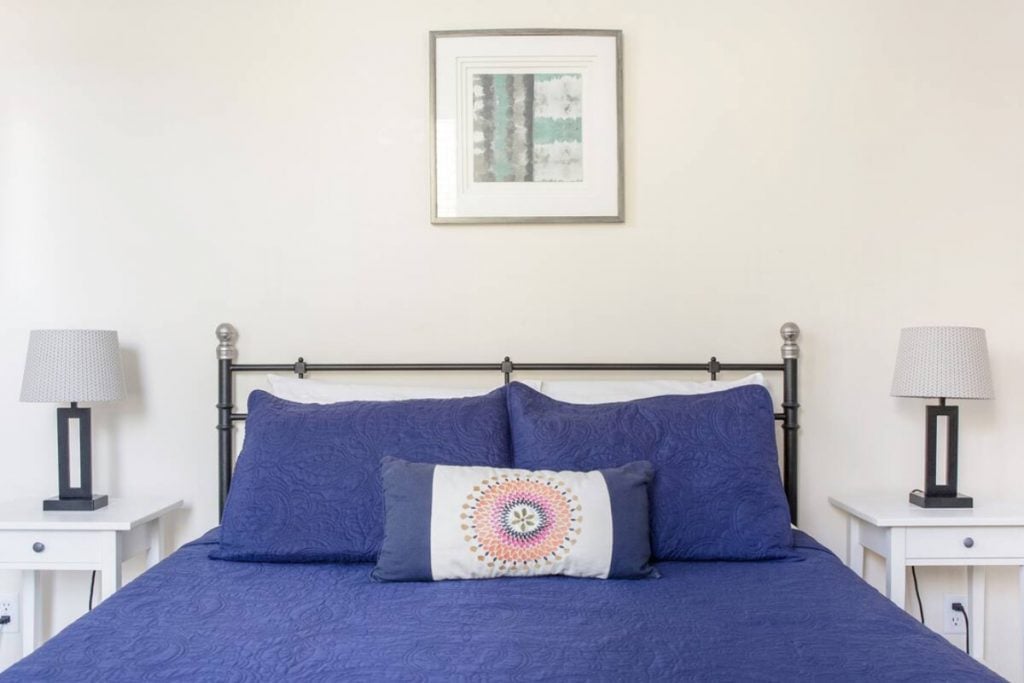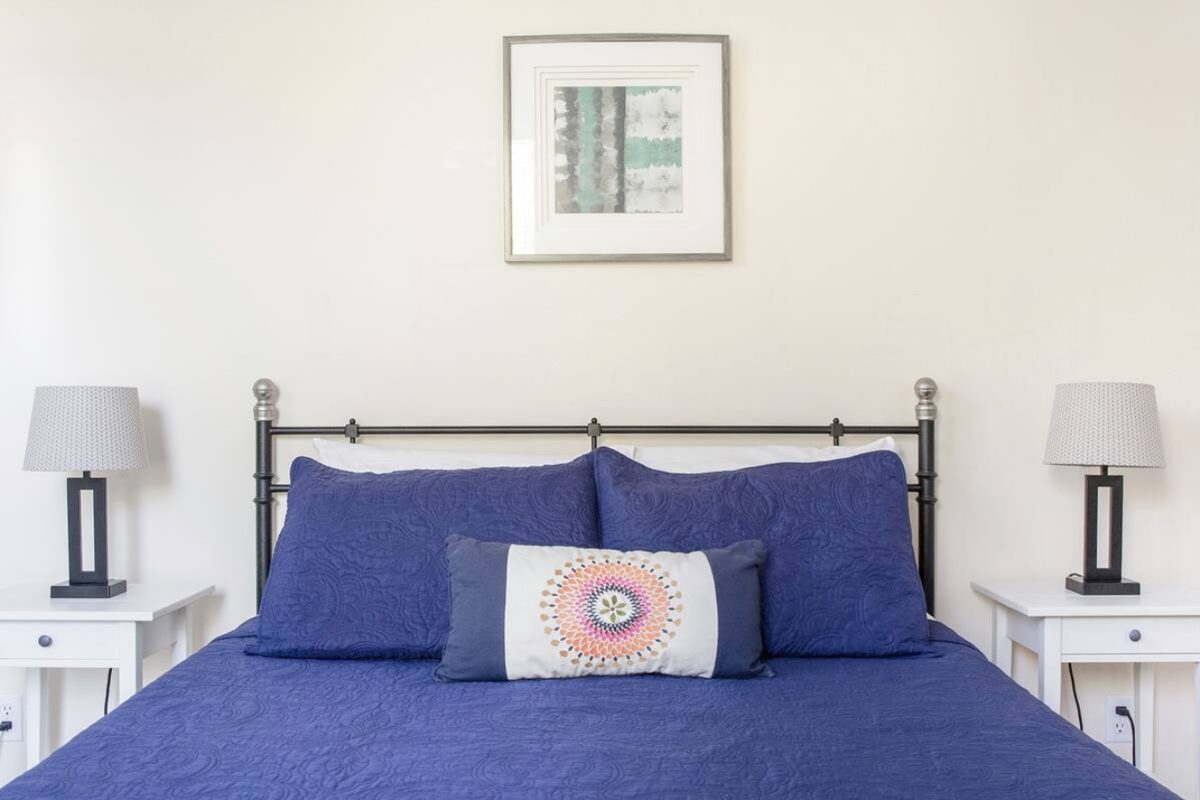 Townhouse with a rooftop deck offering excellent views of the State Capitol
Location: Downtown, near the State Capitol
Budget: $$
Number of Guests: 6
Minimum Stay: 2 nights
Plus | Superhost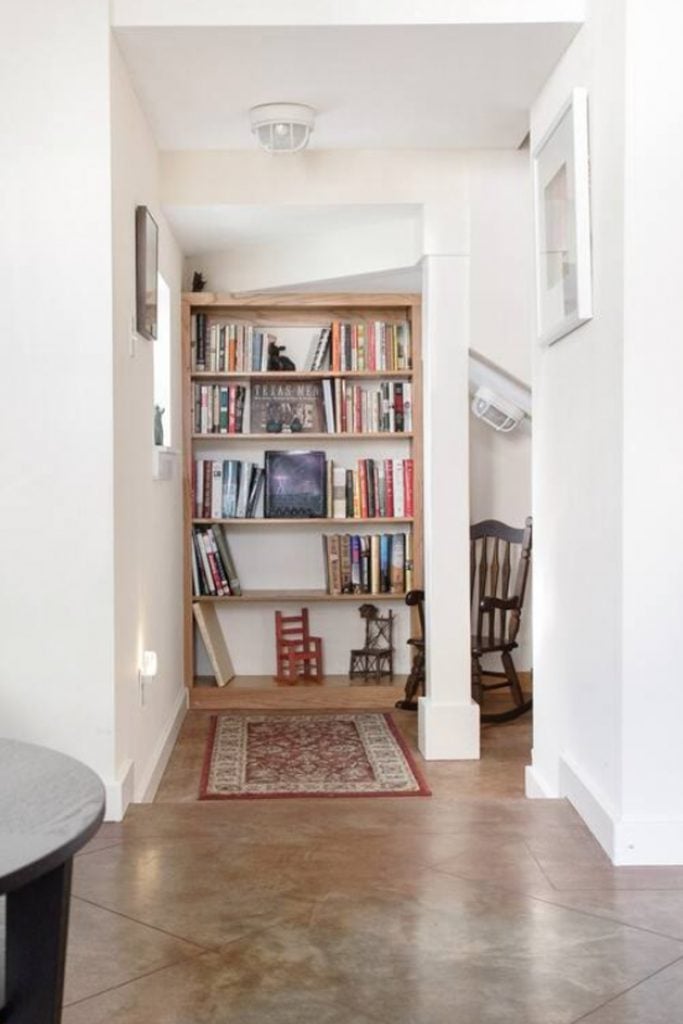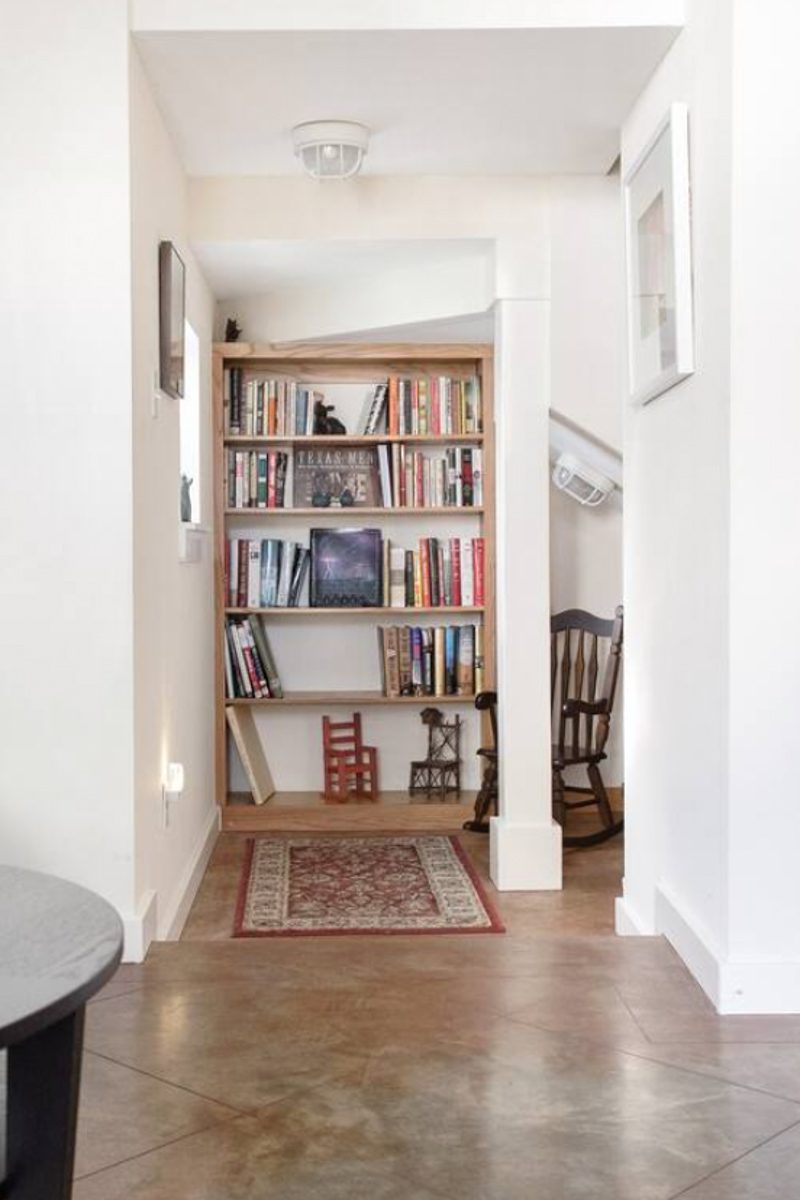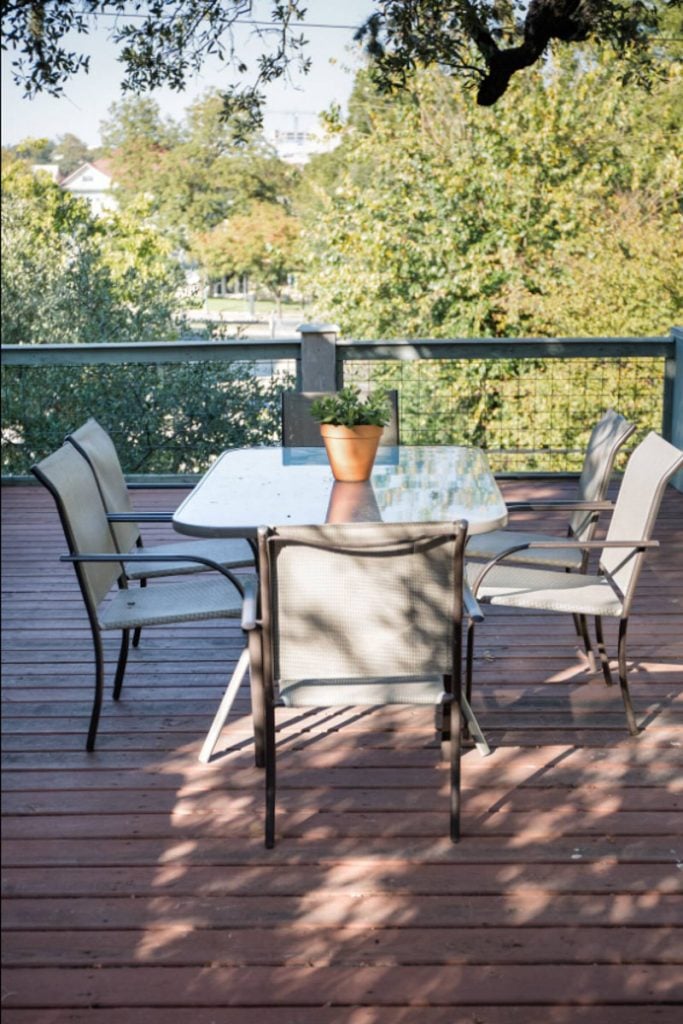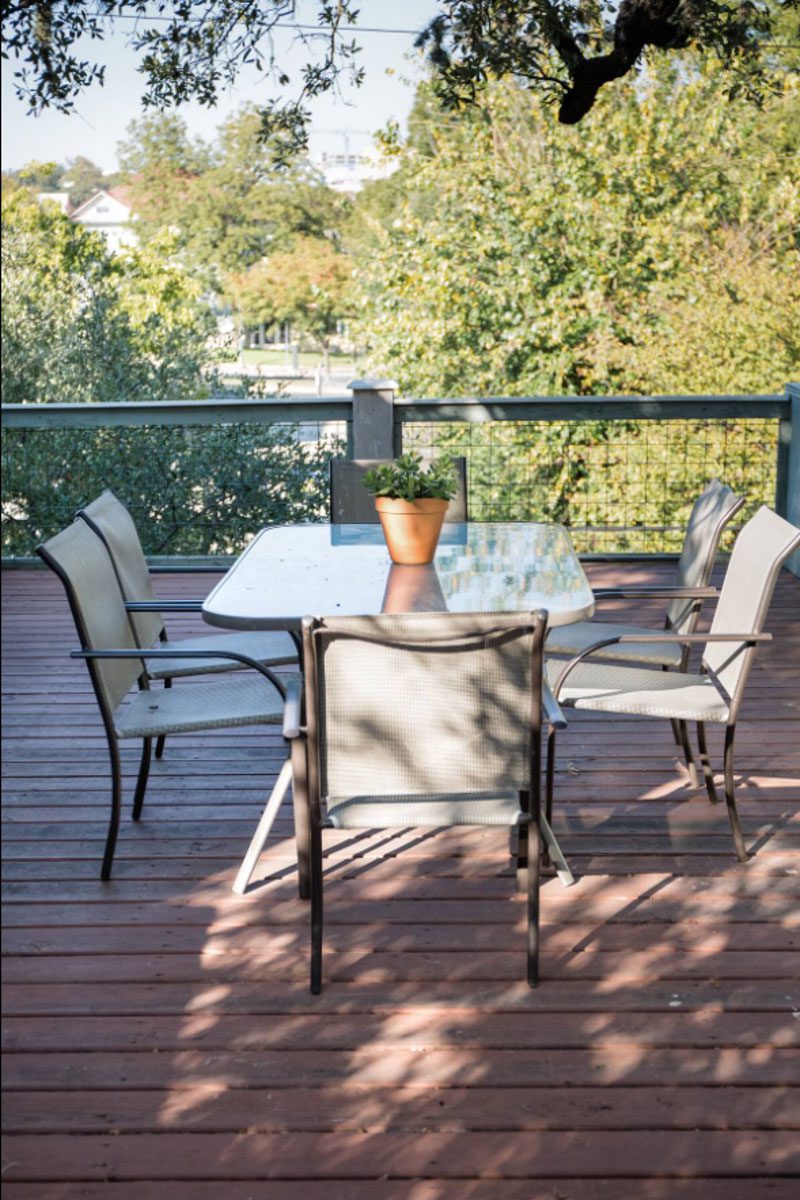 This townhouse is centrally located very close to the Capitol. Inside, you'll find a modern home with all the necessities, plus several bells and whistles including a small library with a reading nook and a rooftop patio offering views of the Capitol Building.
The home is surrounded by trees in a peaceful, well-established neighborhood, making it feel like you're well outside the city.
Guests absolutely love the location.
"An amazing, two story townhouse located centrally in the hub of Austin! Chic and Modern surrounding area – well worth the price to be able to be within walking distance of many amenities!" – Jordan, May 2022
Honorable Mention
---
East Austin: East Austin has quickly become one of the coolest areas near downtown, with an ideal mix of local food trucks, craft coffee shops, nice restaurants, breweries, and fun bars. Staying at Airbnbs in East Austin puts you just steps away from some of the best spots in the city.
Best eclectic stay in East Austin | East Side Beehive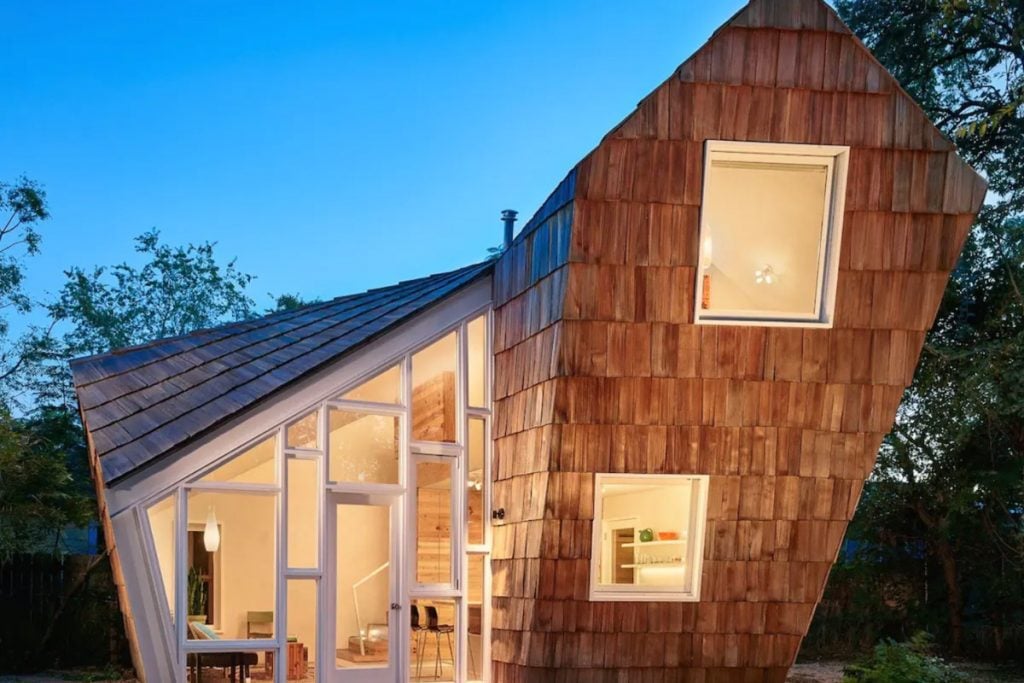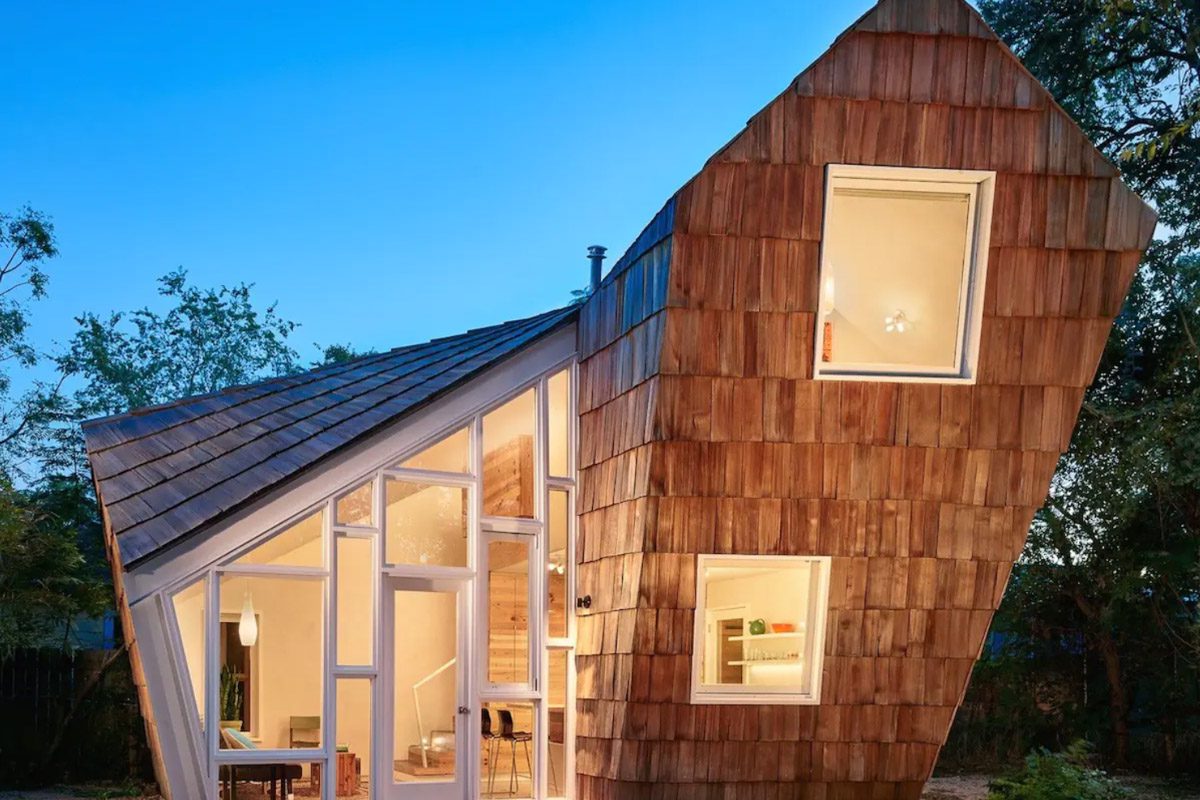 Zen cottage located in an eclectic and diverse neighborhood
Location: Chestnut neighborhood
Budget: $$$
Number of Guests: 2
Minimum Stay: 2 nights
Superhost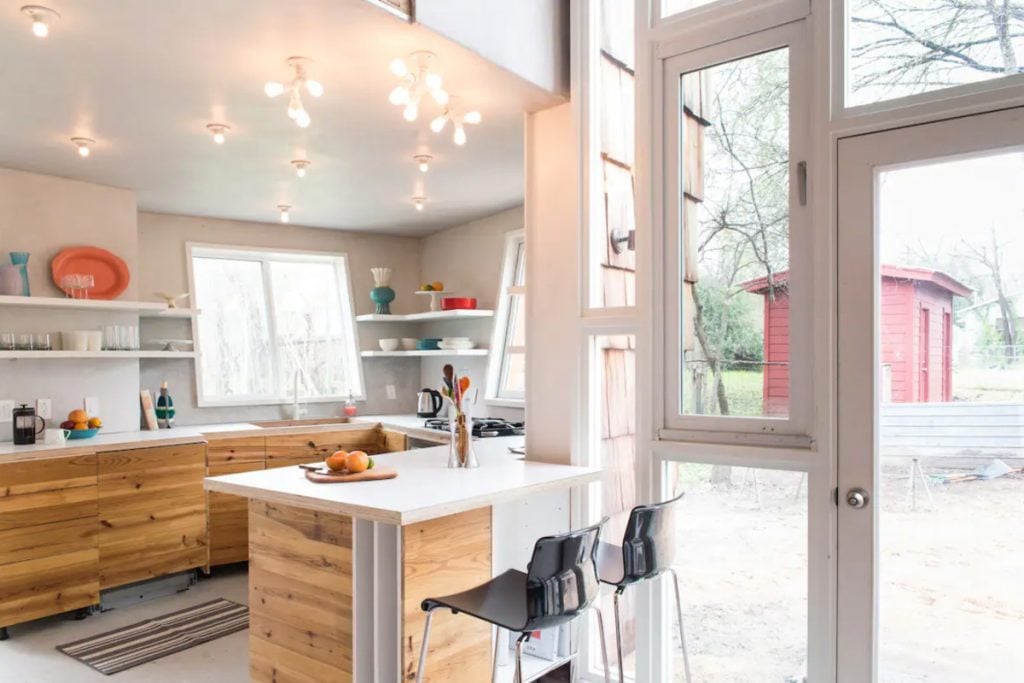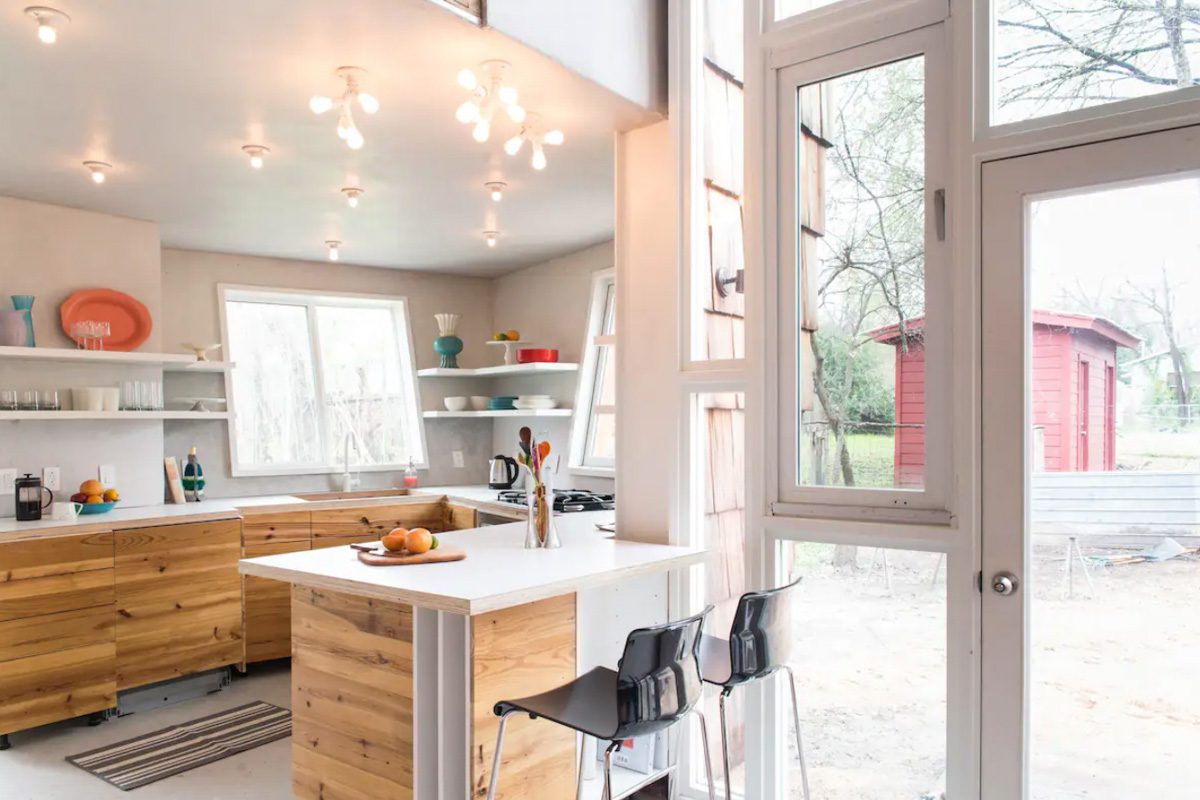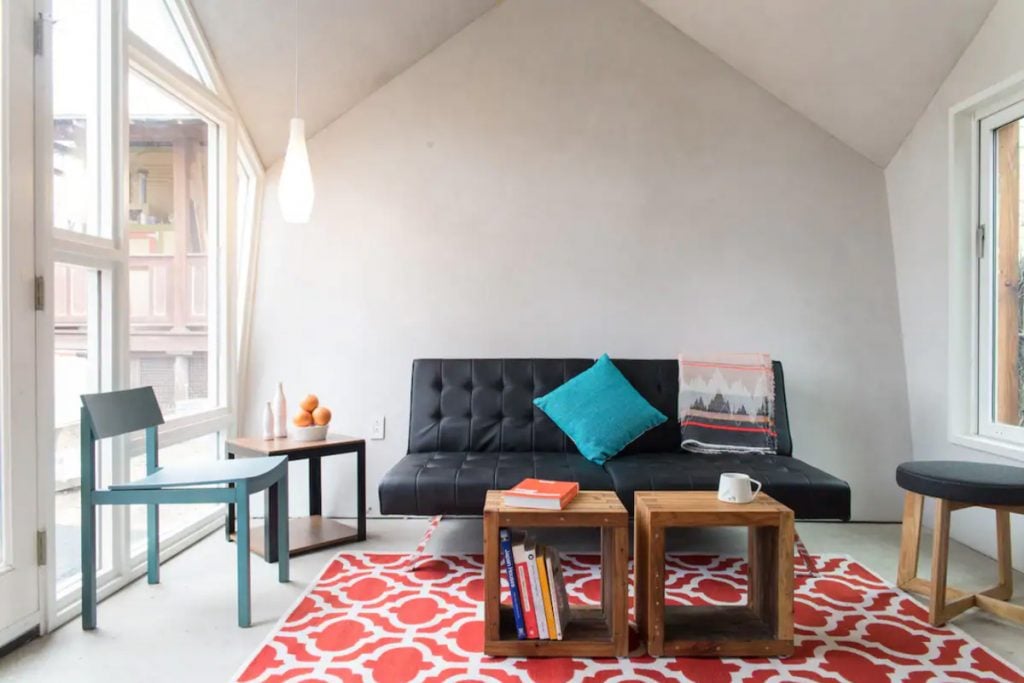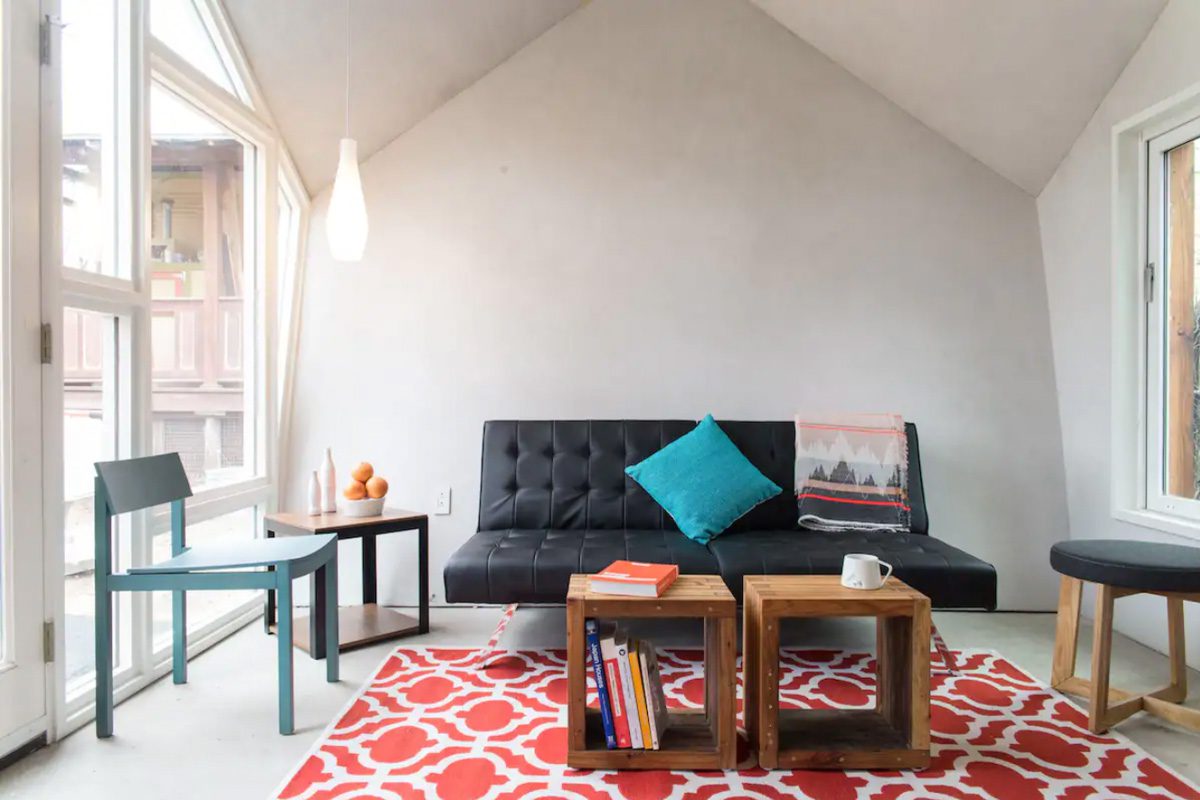 This funky little cottage is the perfect place to recharge and escape the hustle and bustle of the city. The house has everything you need for a comfortable, cozy stay. There's wifi if you need to work, but no TV so that you can really take some time to disconnect (which we highly recommend!). Within a quick walk, there are plenty of food, drinks, and coffee shops to enjoy.
Recent guests also enjoyed the home's disconnected-ness and central location.
"Great location. Very unique house. Less than 10 minutes to anywhere in central austin. Lovely change of pace and a very good experience." – Ben, March 2022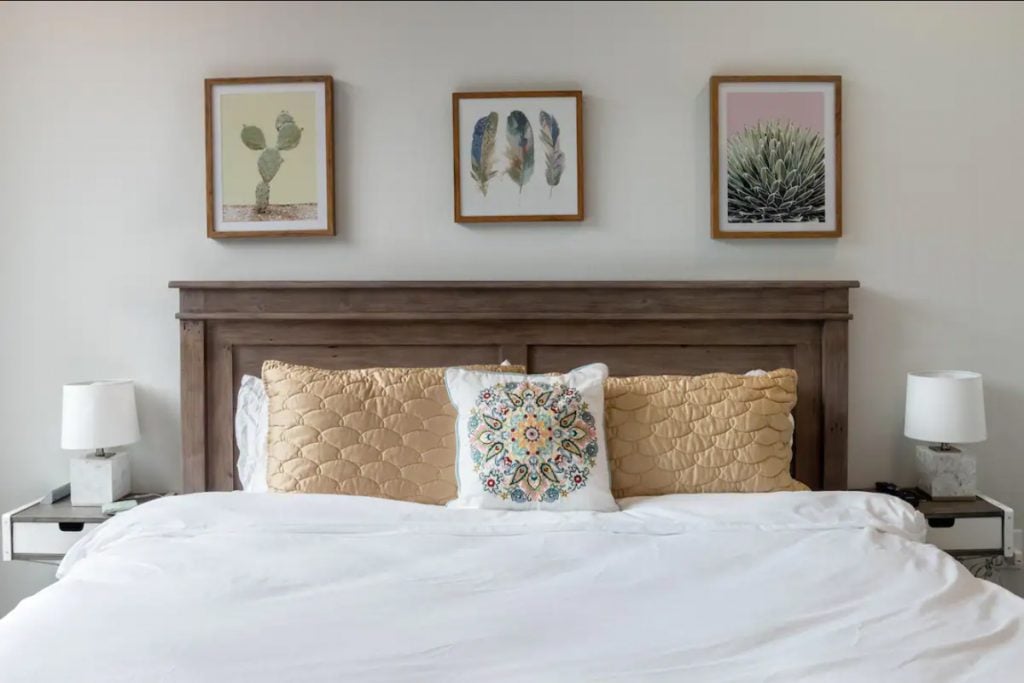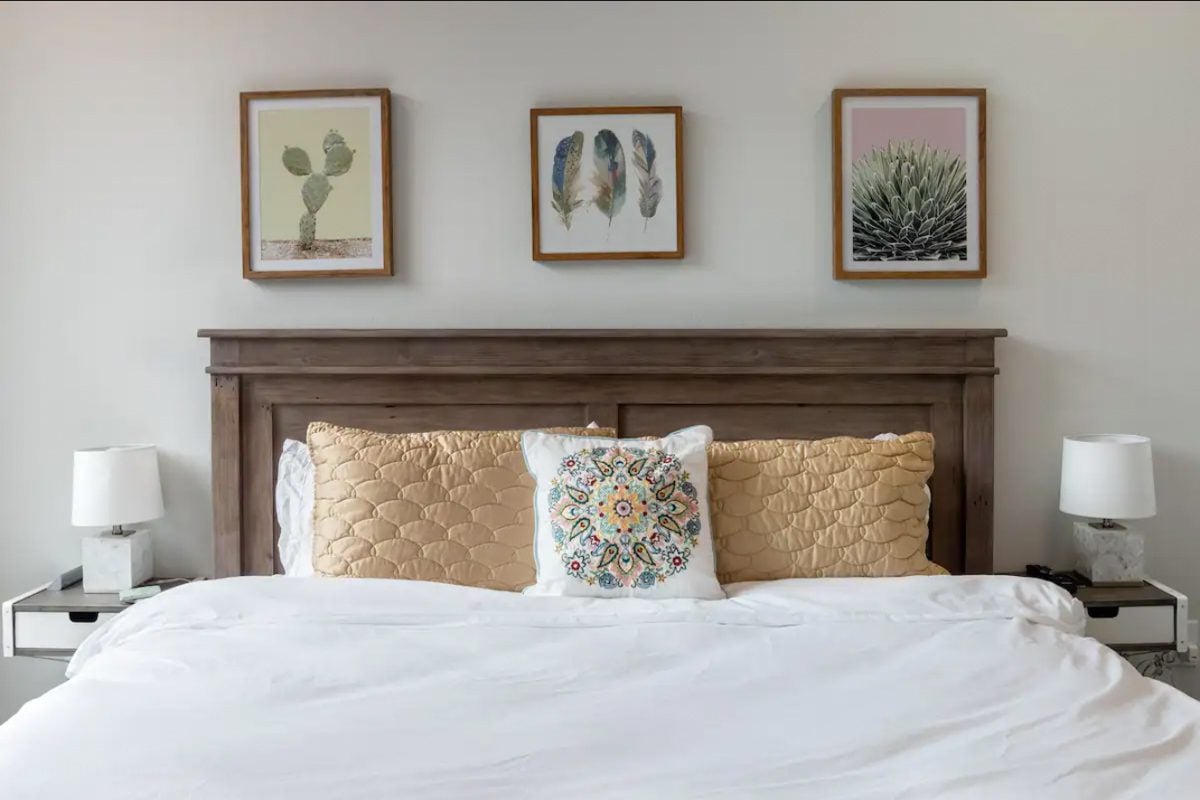 Chic, high-end modern condo located in East Cesar Chavez
Location: East Cesar Chavez
Budget: $
Number of Guests: 6
Minimum Stay: 3 nights
Plus | Superhost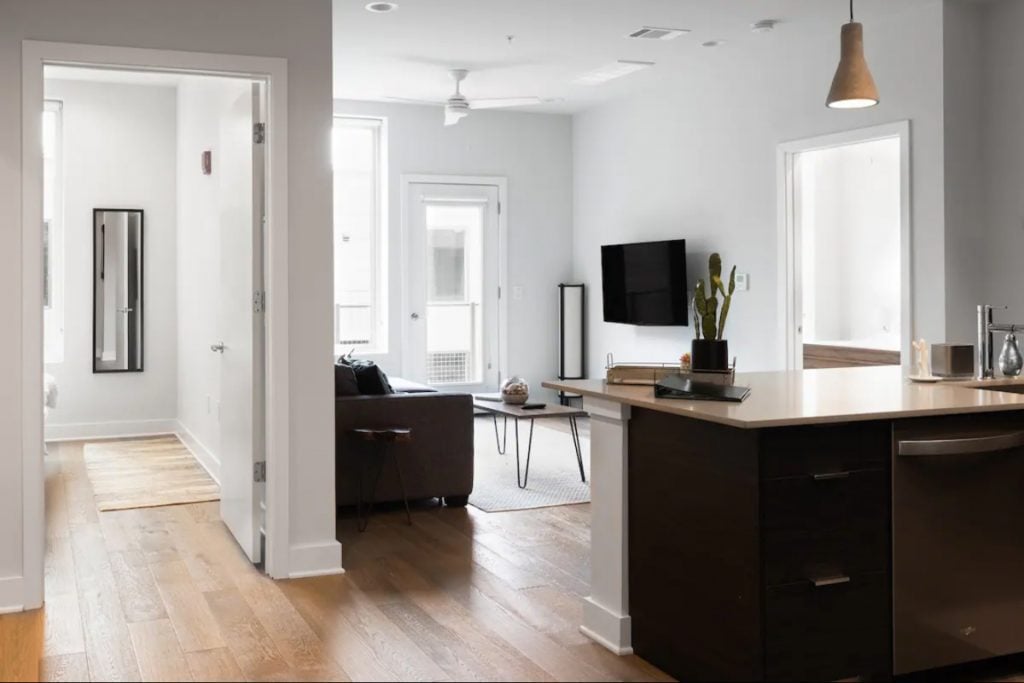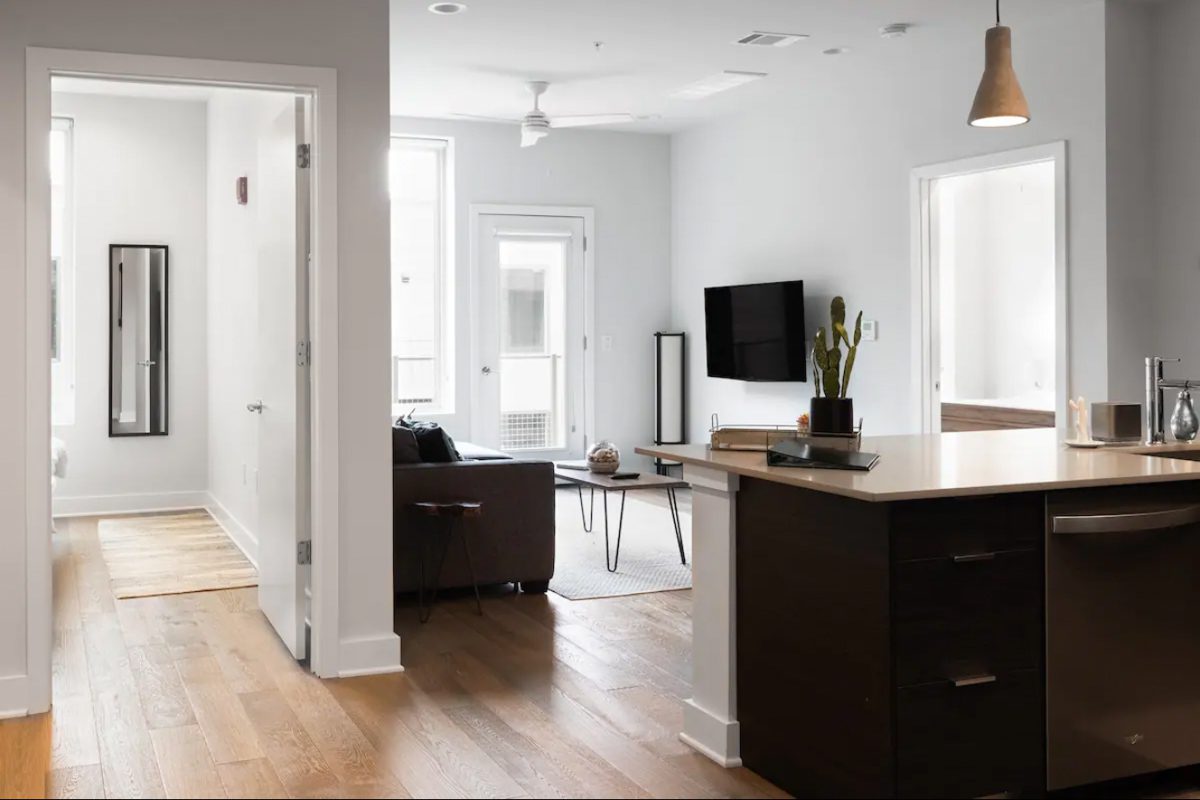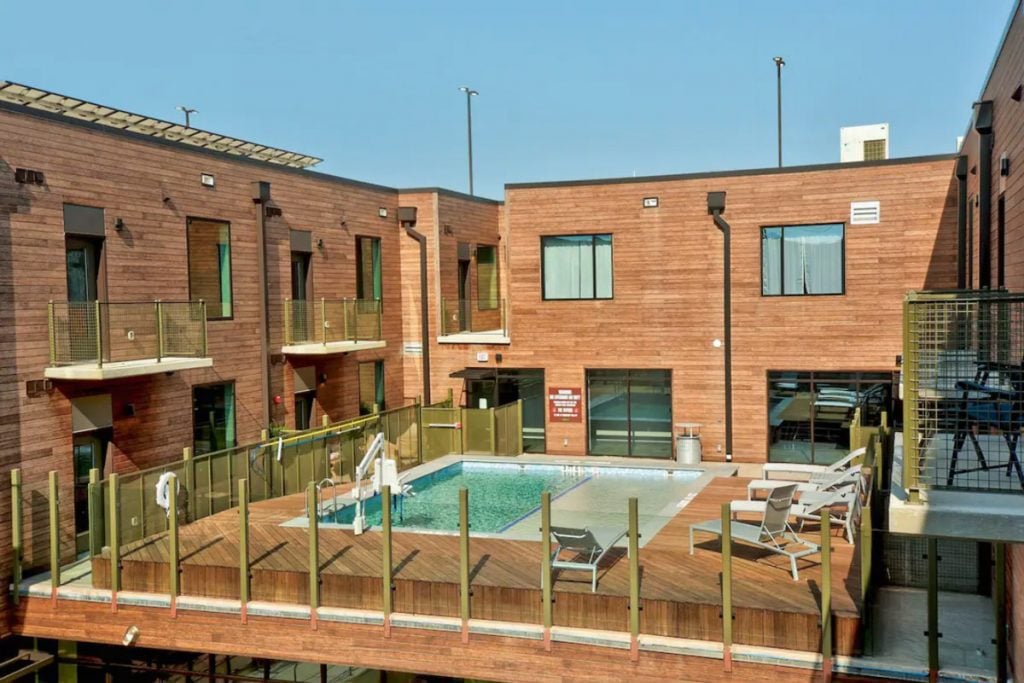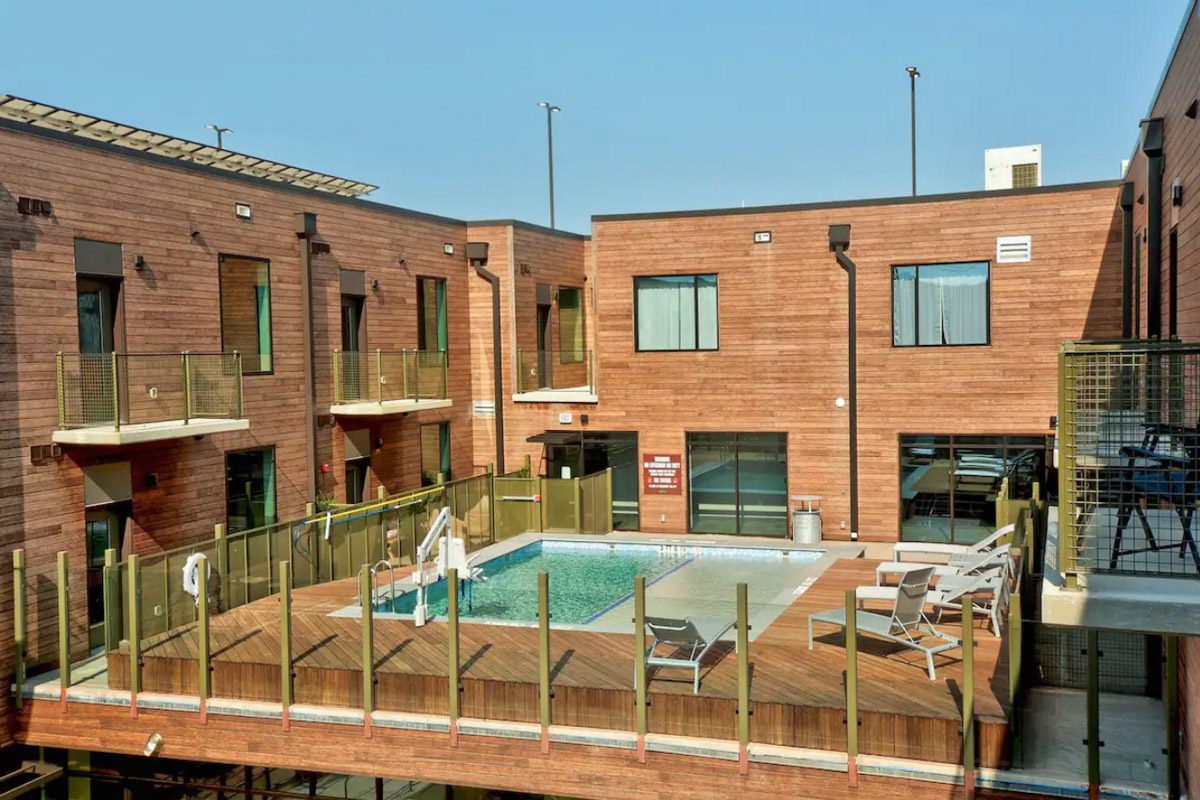 There's a ton to get excited about in this fully-updated condo. Its location is just about perfect; very central in East Austin with plenty of nightlife, restaurants, breweries, and live music nearby.
The condo comes fully equipped with every amenity imaginable, has on-site parking, and enjoys pool access during the day. And, while it may seem like a small detail, the condo gets tons of natural light and feels very fresh.
The hosts' motto is "Work hard, play hard, and think beyond yourself." How endearing is that?!
Particularly at this price point, you'd be hard-pressed to find better Airbnbs in Austin in this area.
Best East Cesar Chavez stay for families | Refined City Retreat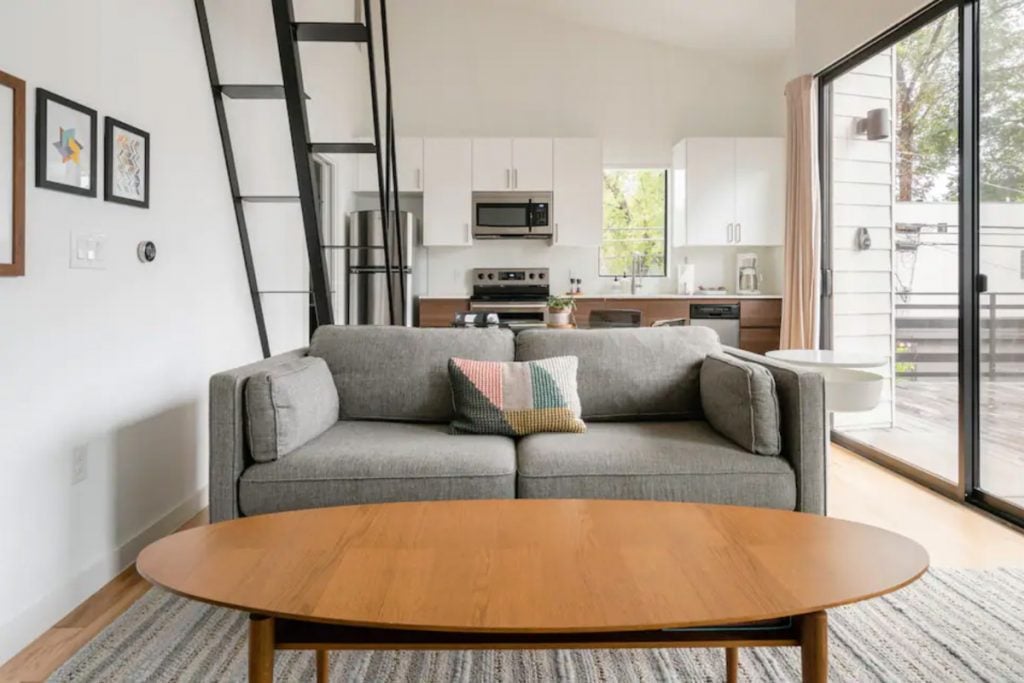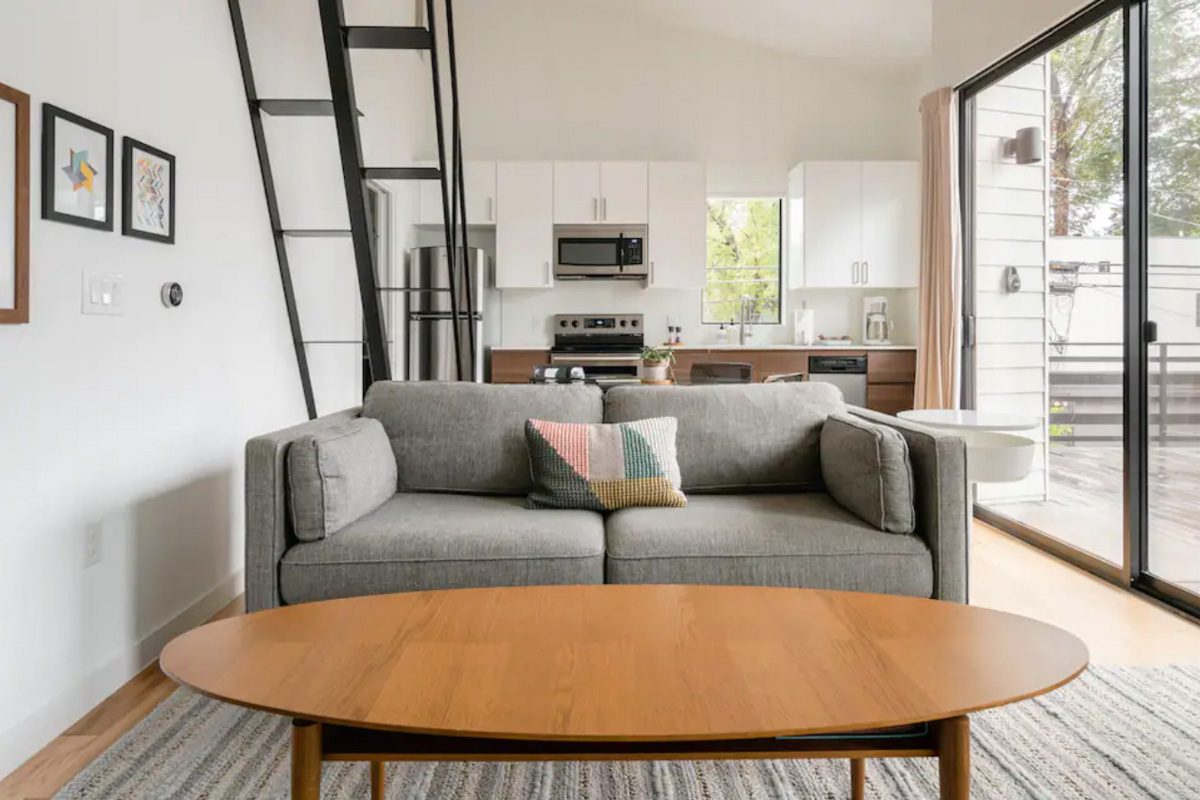 Modern home in the lively East Cesar Chavez neighborhood
Location: East Cesar Chavez
Budget: $$$
Number of Guests: 4 guests
Minimum Stay: 2 nights
Plus | Superhost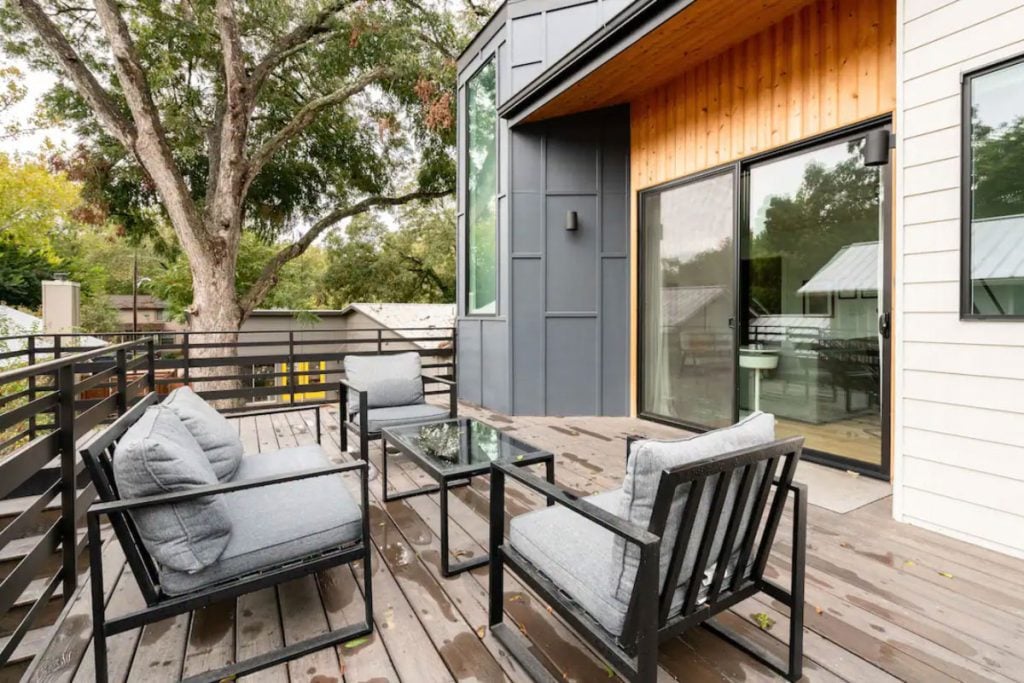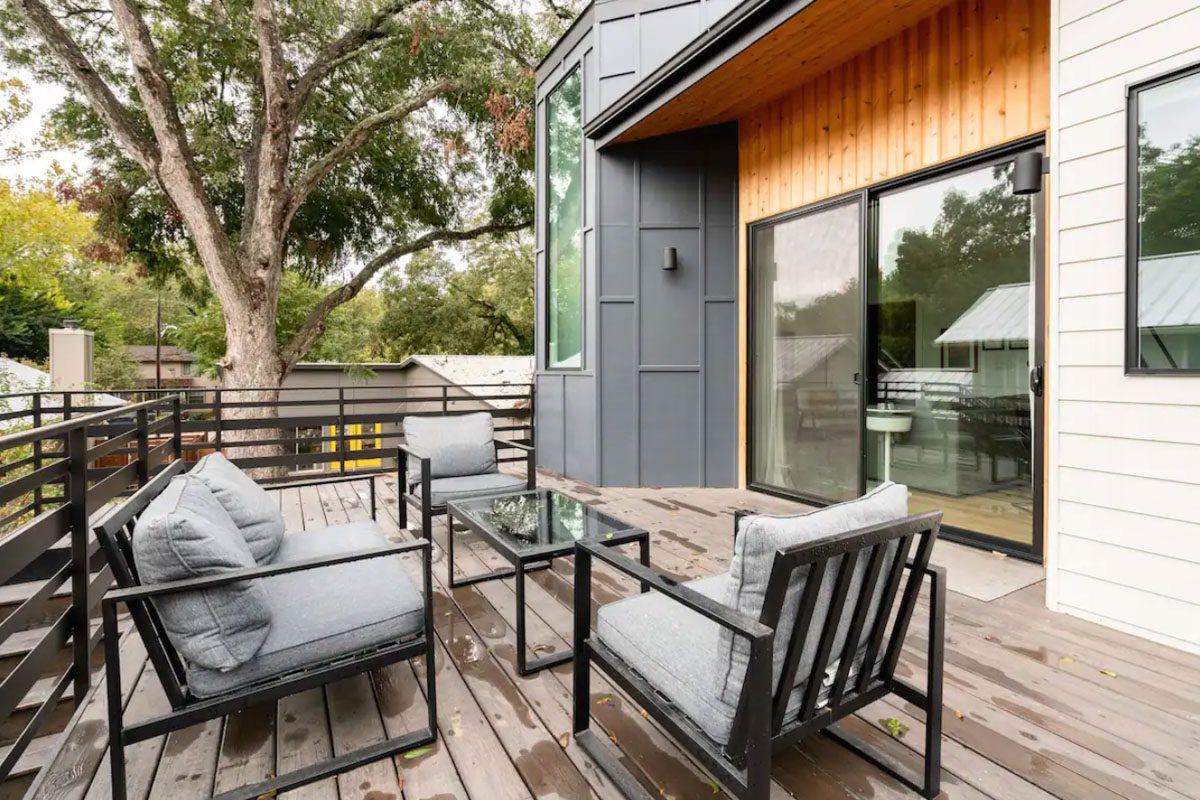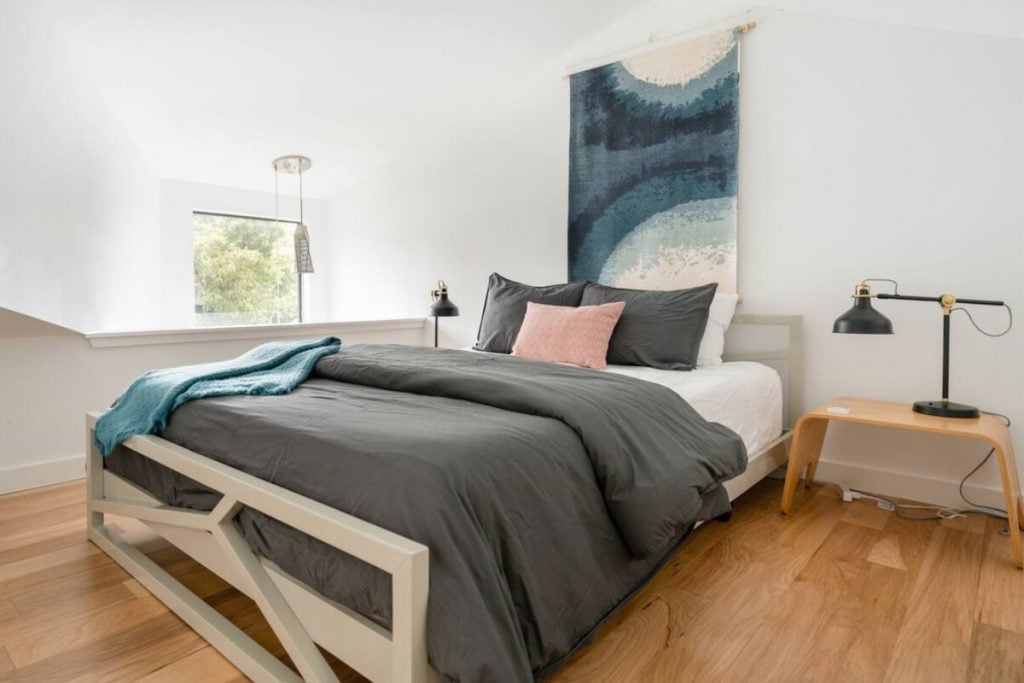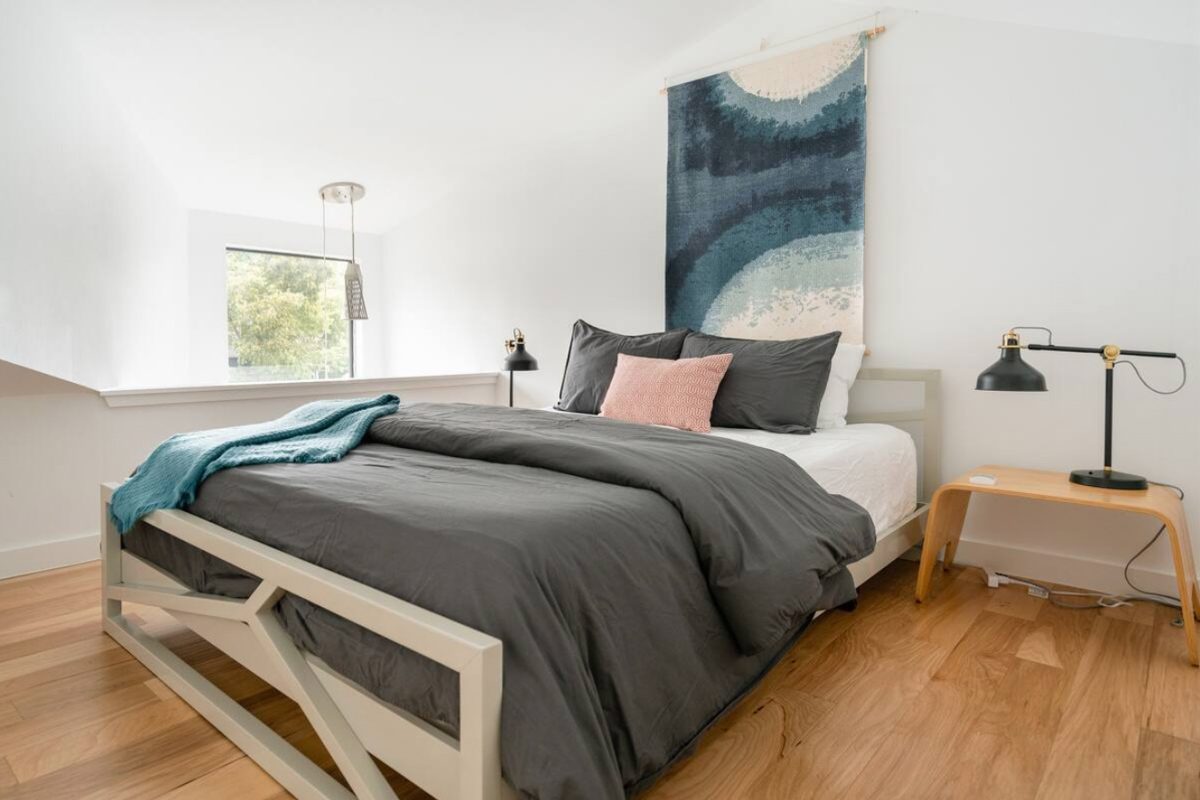 This home is ideally located in the perfect area to enjoy easy access to the best parts of Austin, while still offering a quiet, tranquil corner with trees in every direction. The home has beautiful natural light throughout and a serene outdoor patio, plus a peaceful work area for remote workers.
There's parking on-site and the home is fully equipped with everything you'll possibly need or want during your stay.
Guests have commented on how comfortable this Austin Airbnb is, plus its fabulous location.
"A great location for a long weekend in Austin! Our group especially enjoyed the comfortable beds and easy check-in at Niki & Veronica's place. The place is walkable to coffee shops, restaurants, and bars." – Aaron, May 2022
Honorable Mention
---
South Austin: The area south of Lady Bird Lake and downtown, South Austin encompasses many different sub-neighborhoods. Some of our favorites in this area are South Congress (SoCo), Zilker, and South Lamar. This part of town has a more residential feel, while still providing quick access to plenty of great restaurants, coffee shops, bars, and outdoor activities.
Best Austin Airbnb in a walkable neighborhood | SoCo Treetop Condo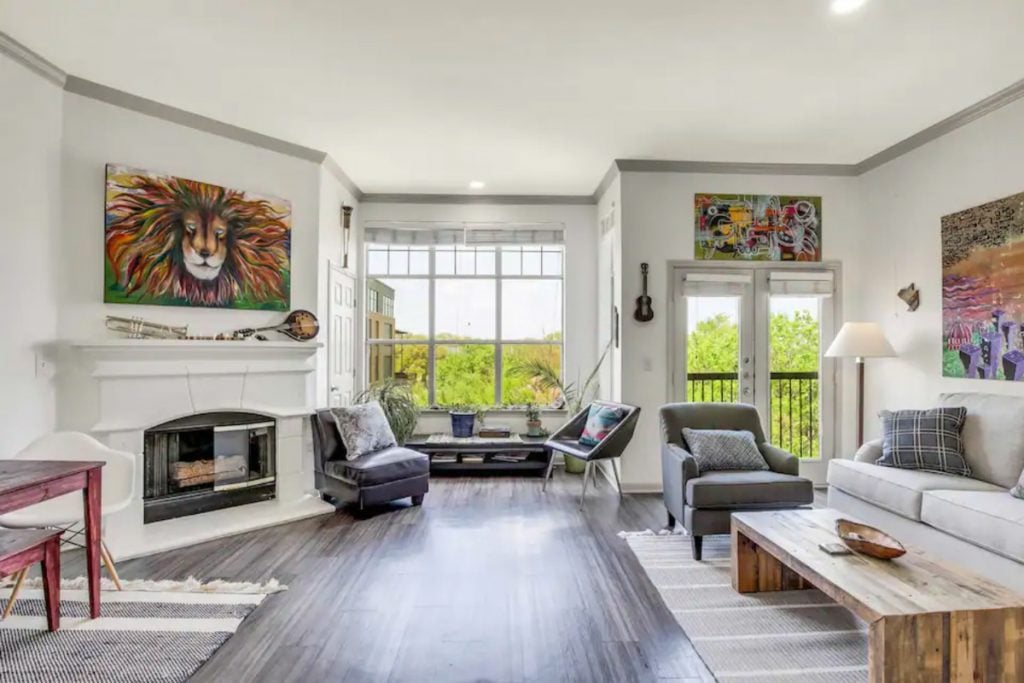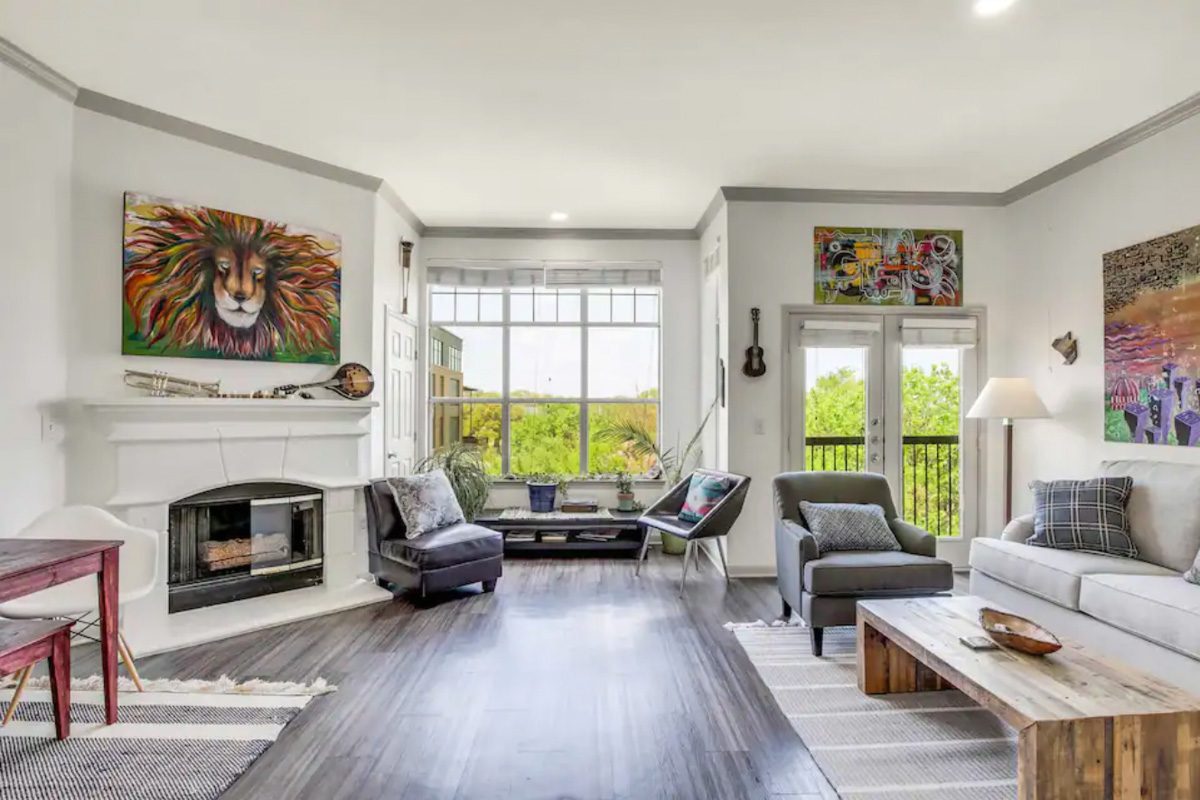 Roomy condo with expansive views of Downtown Austin
Location: South Congress SoCo
Budget: $$
Number of Guests: 4
Minimum Stay: 1 night
Superhost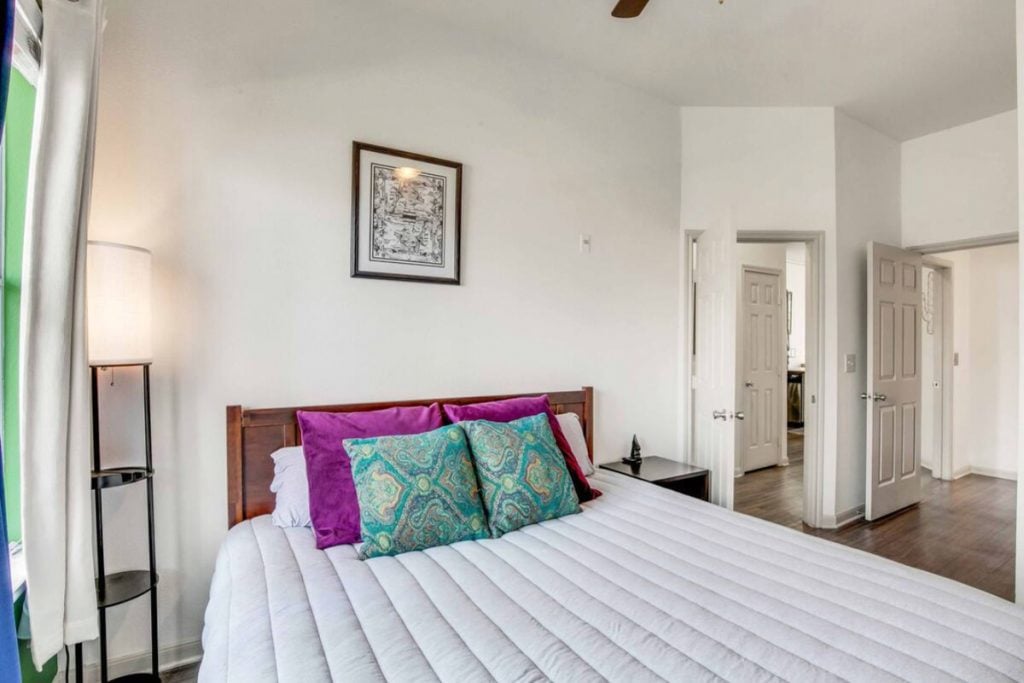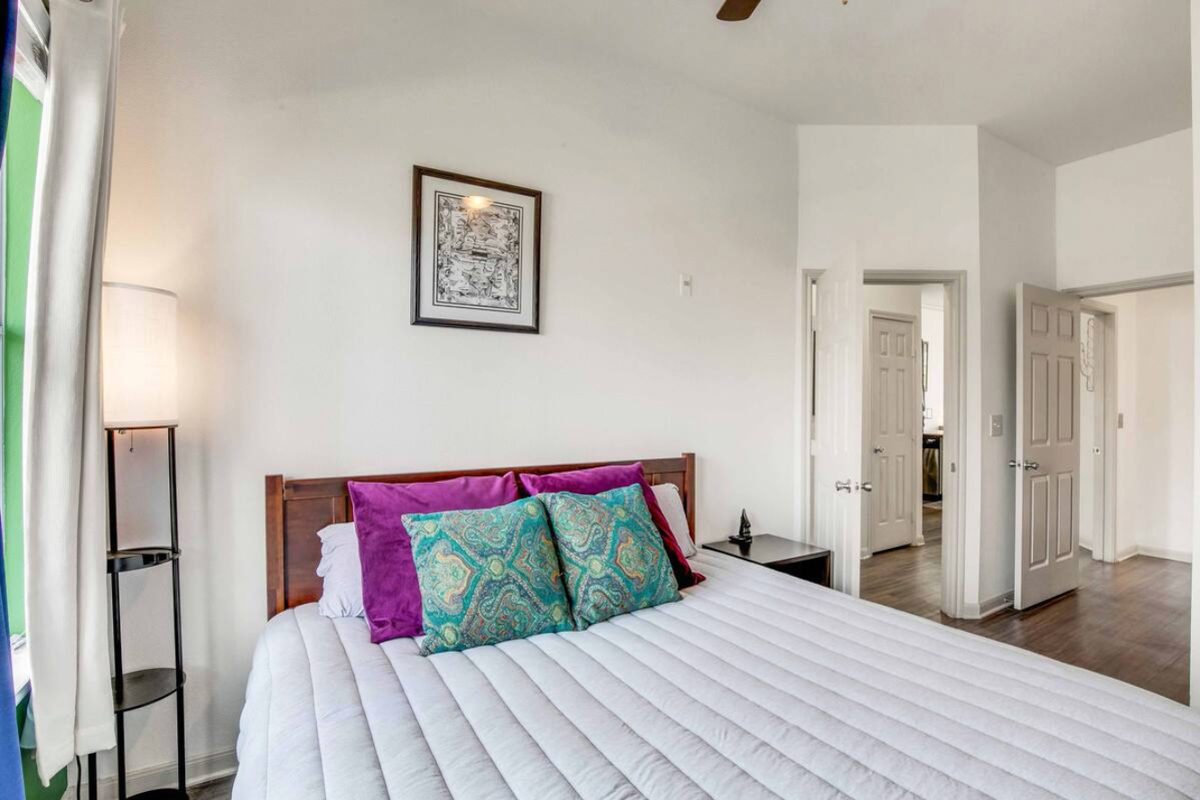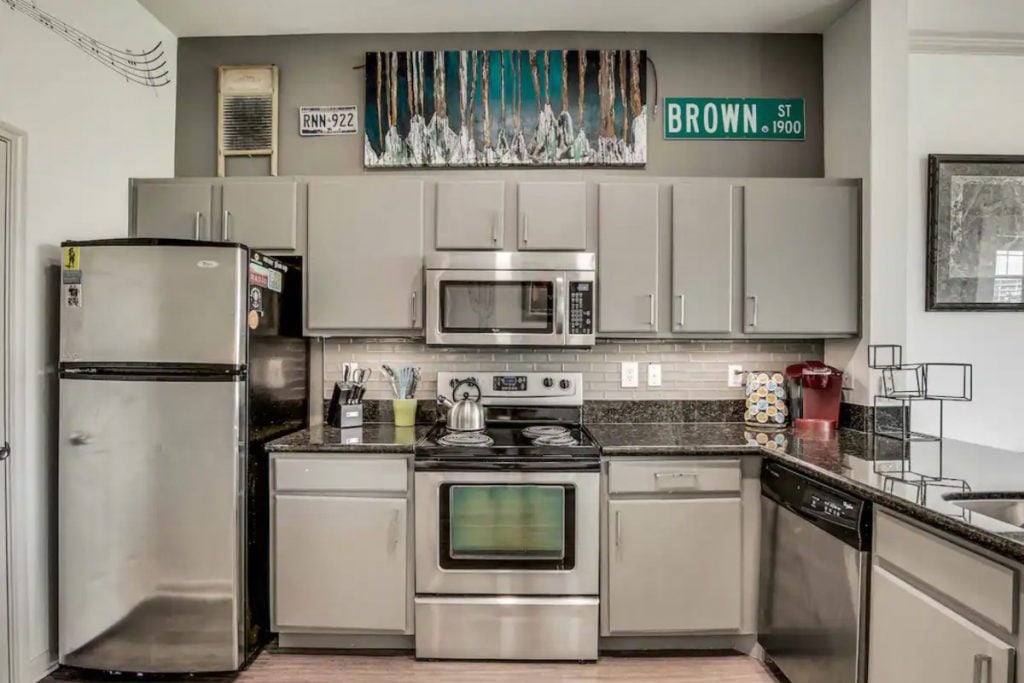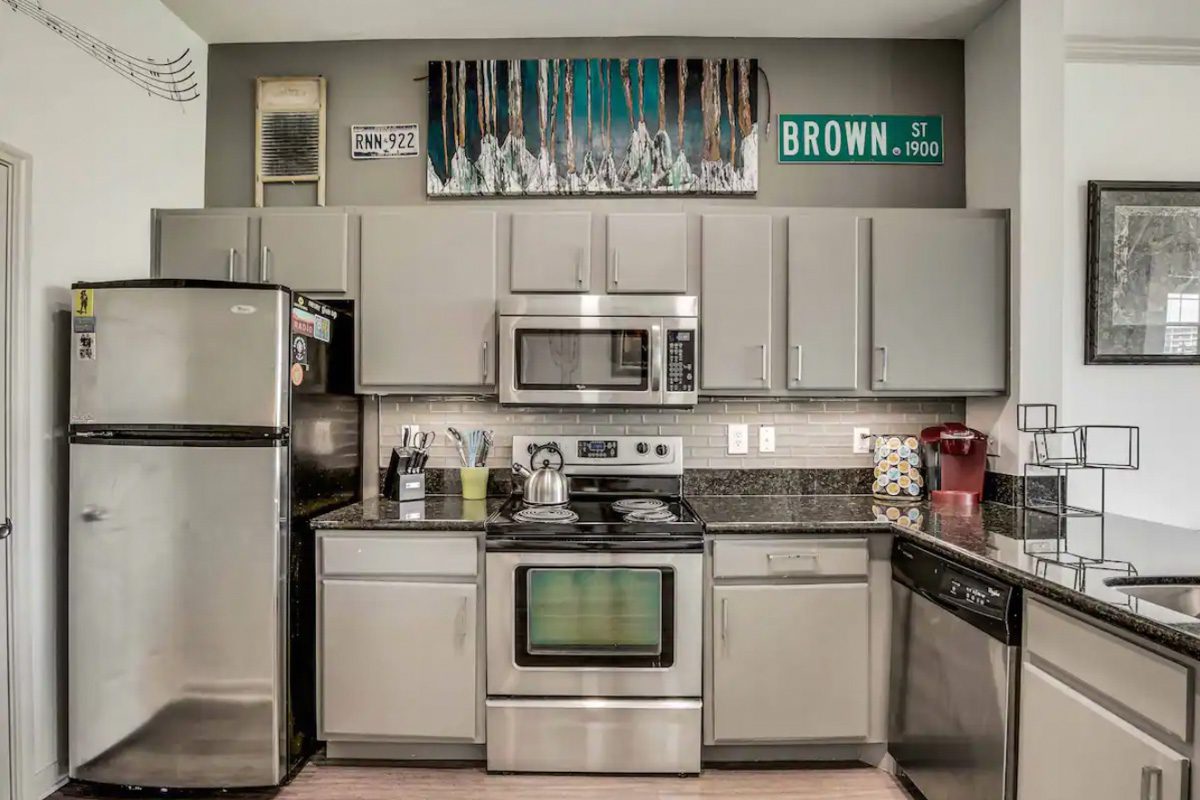 If you're looking for Airbnbs in Austin specifically in the southern section of the city, look no further. This spacious condo is right in the heart of the South Congress District, just across the river from downtown.
With great proximity to everything SoCo has to offer, you'll never be far from anything you may want or need. The condo has 15-foot ceilings, all the necessary kitchen amenities for cooking, and beautiful views of Downtown Austin.
Guests love the central location, walkable neighborhood, and spacious interior that's notably always sparkling clean.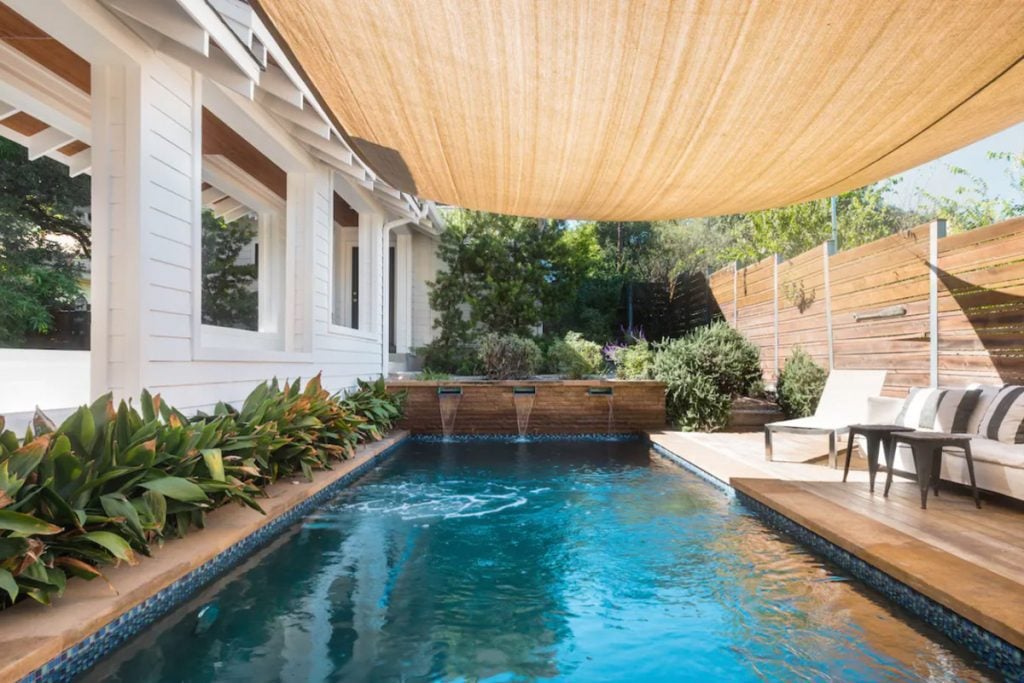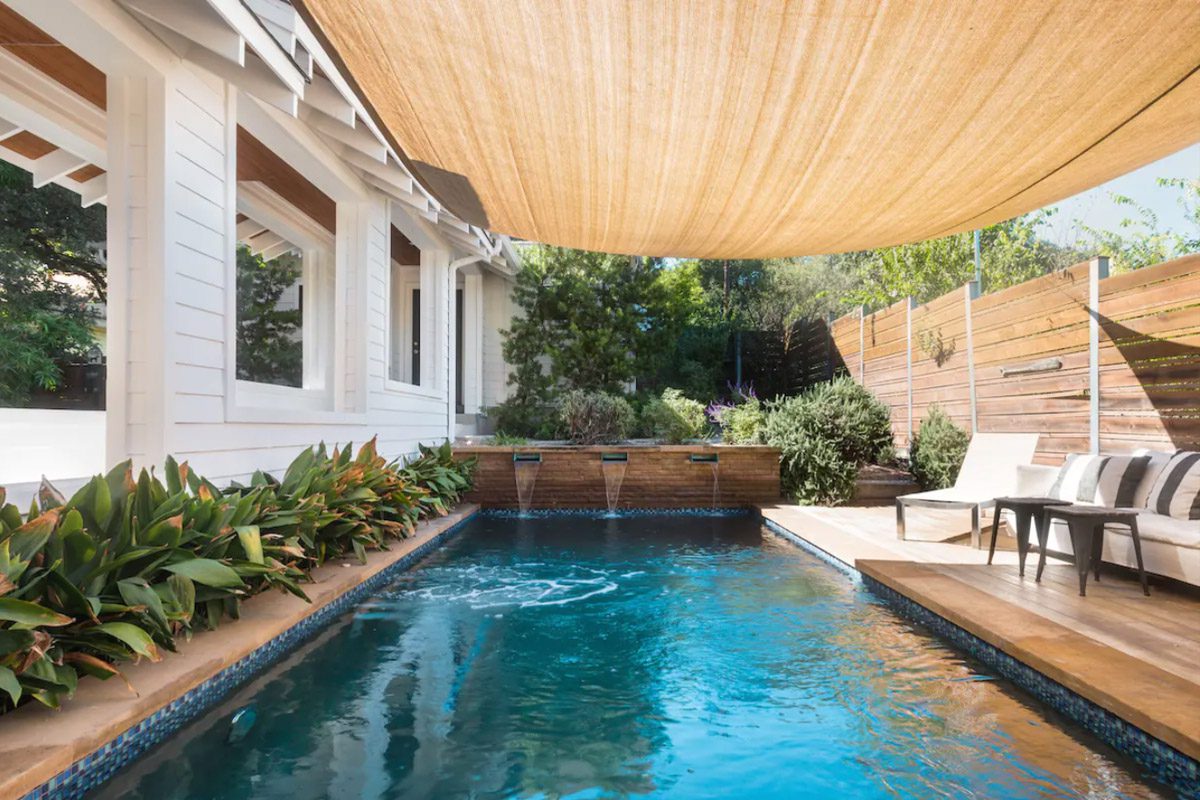 Luxury stay in South Congress with a beautiful saltwater pool
Location: South Congress SoCo
Budget: $$$
Number of Guests: 2
Minimum Stay: 1 night
Plus | Superhost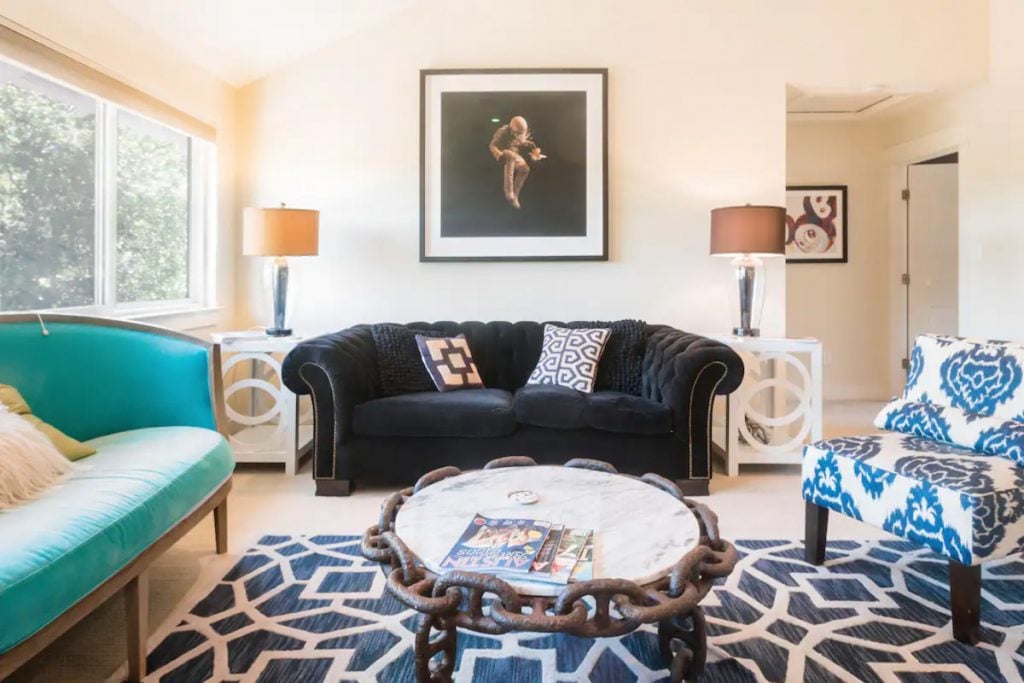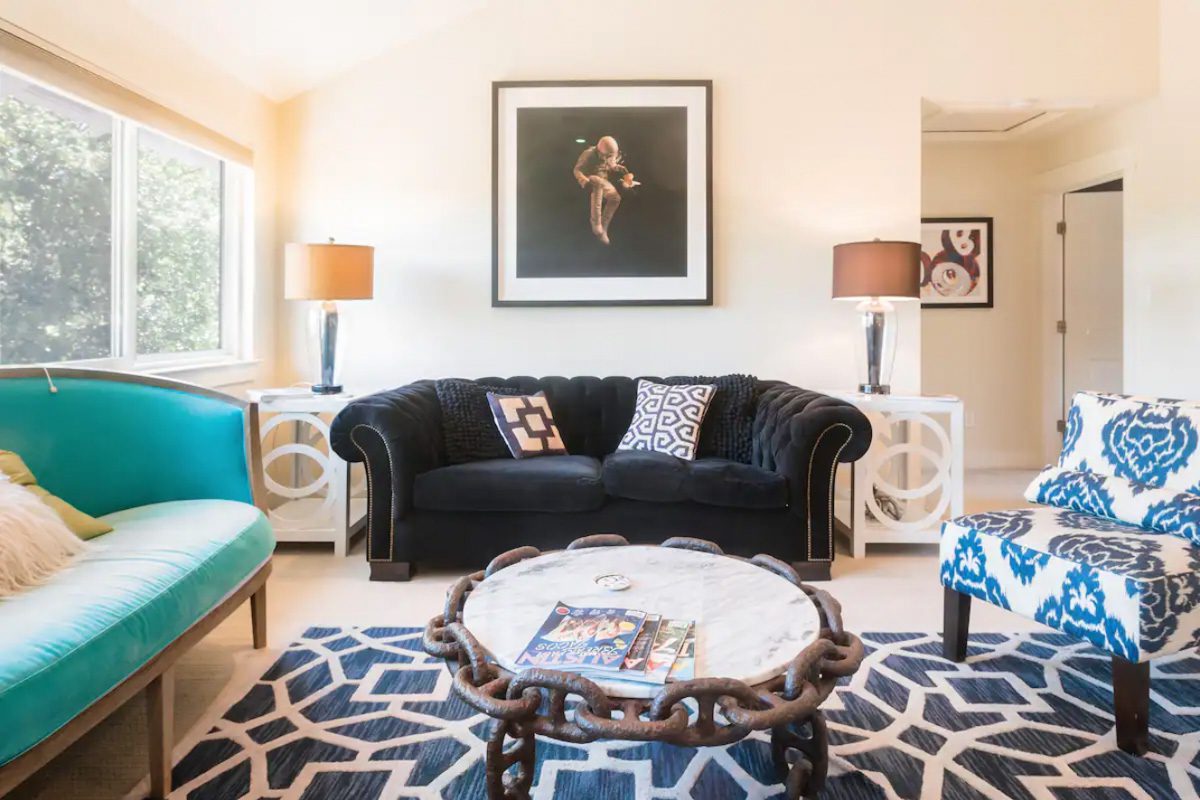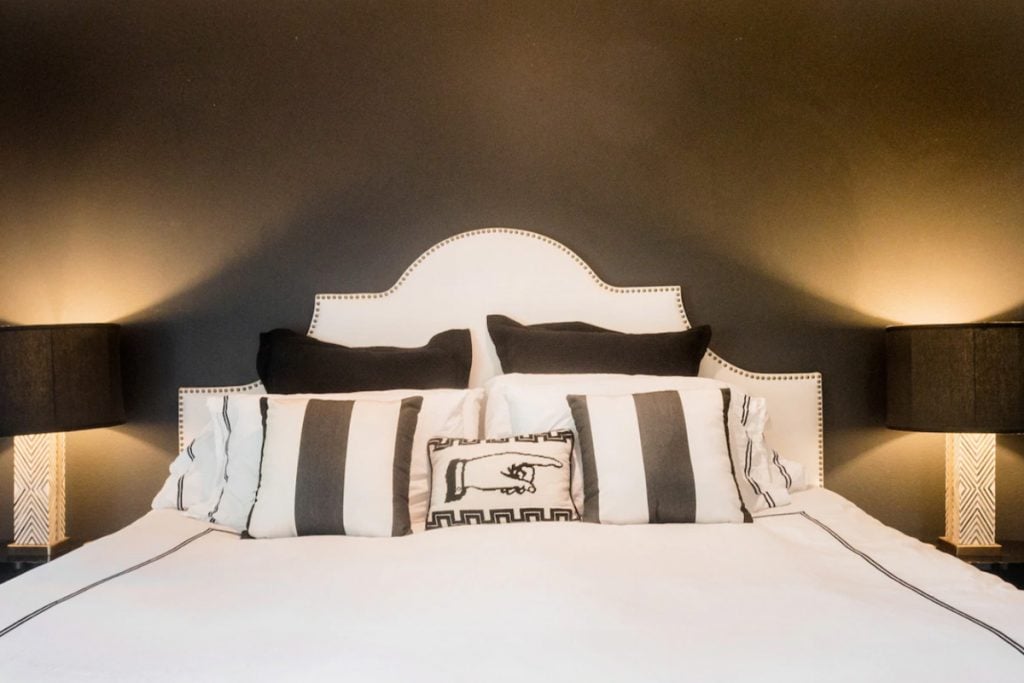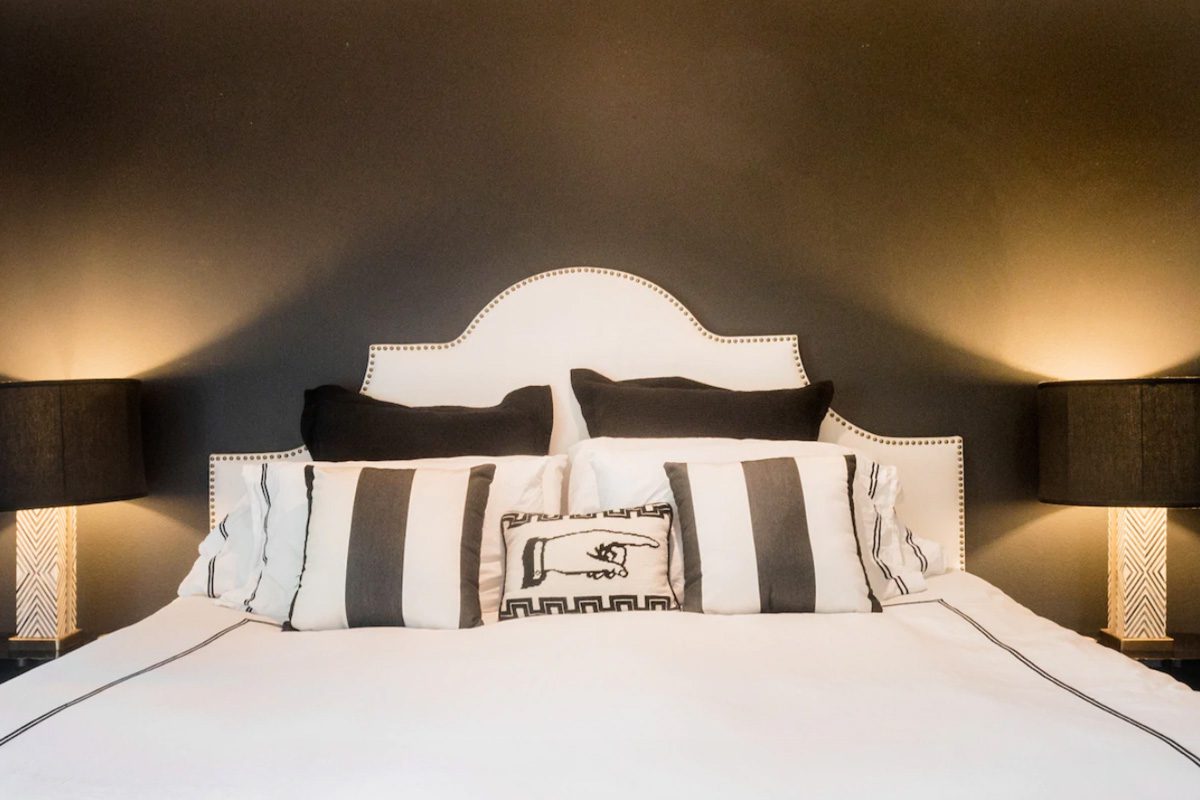 This is the place for you if you're looking for an upscale stay in SoCo. The interior of the condo is modern with a luxury feel. There's a beautiful saltwater pool for you to enjoy, all the necessities for your stay, and a plush king bed that you'll never want to get out of! You'll also be just a few blocks from some of SoCo's best restaurants and shopping.
Guests rave about the location, the home itself, with its upscale decor and vibe, and the host. The 737 reviews and 4.95-star average rating say it all.
"As a super host with over 2000 five star reviews, I'll work hard to make your experience enjoyable!" – Bill, your host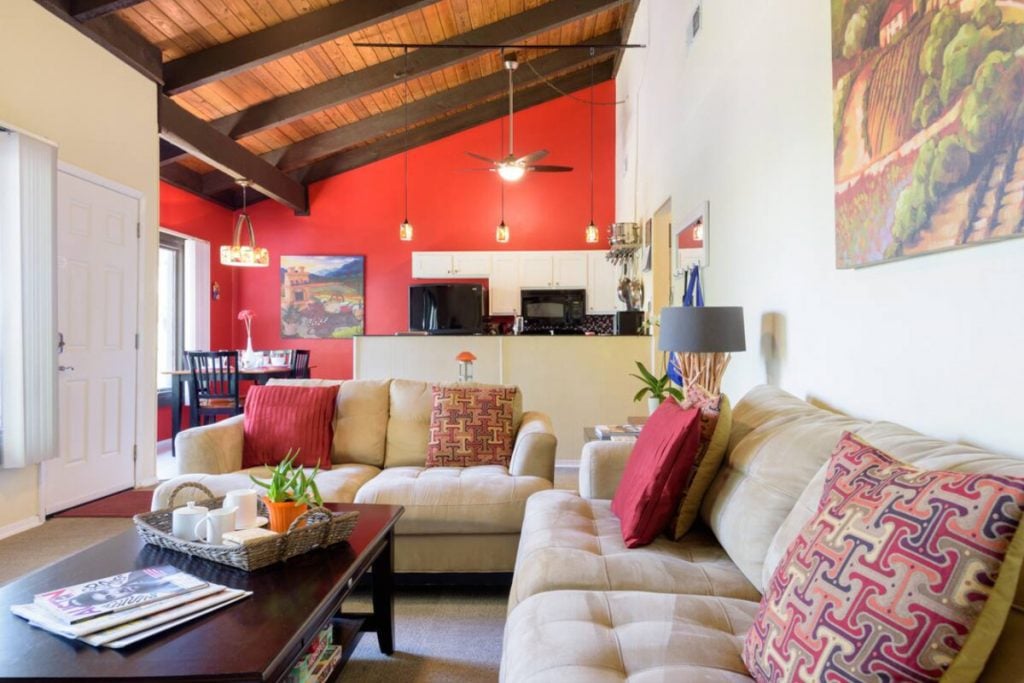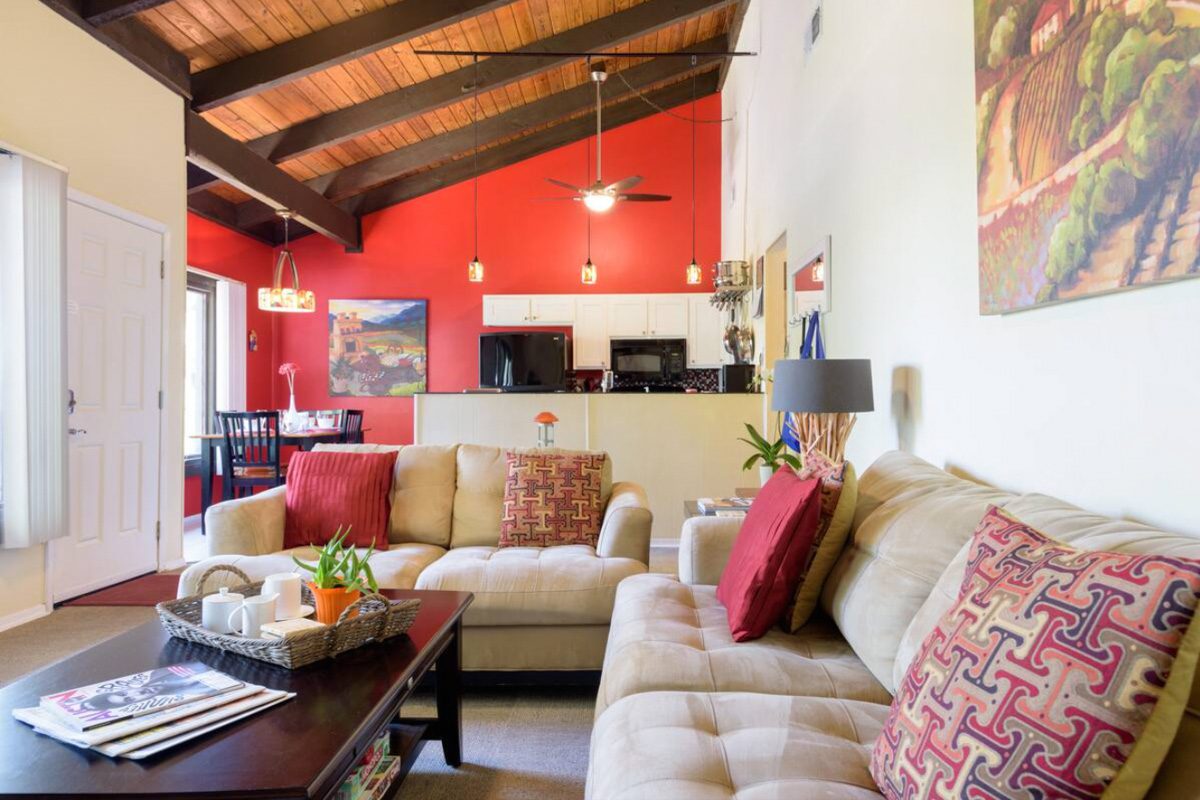 Accessible duplex near Barton Springs Pool
Location: Zilker
Budget: $$
Number of Guests: 4 guests
Minimum Stay: 3 nights
Plus | Superhost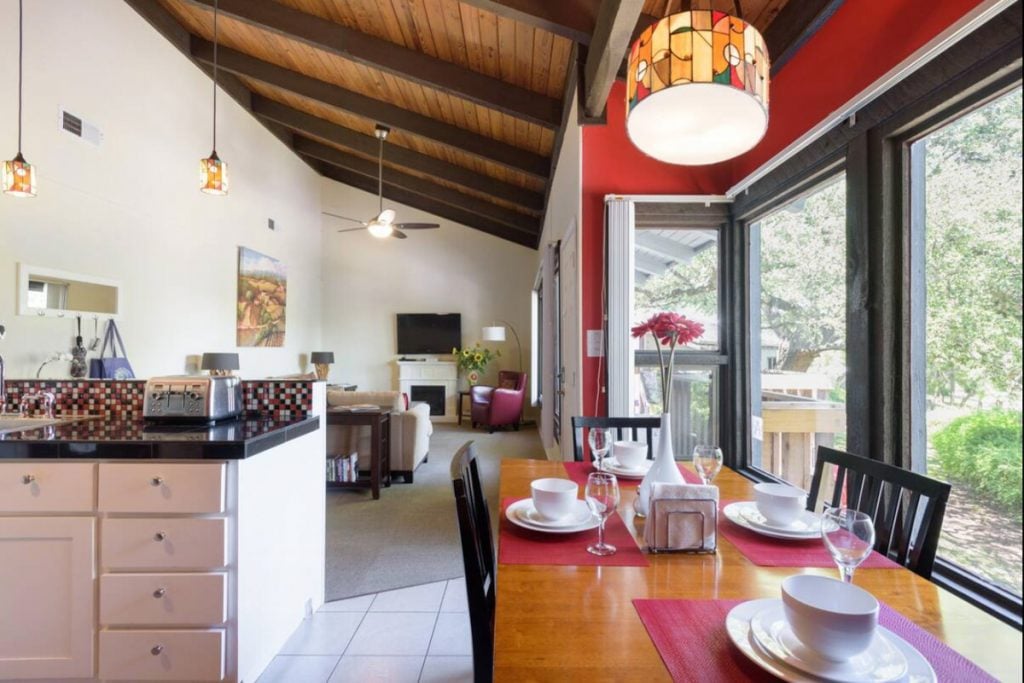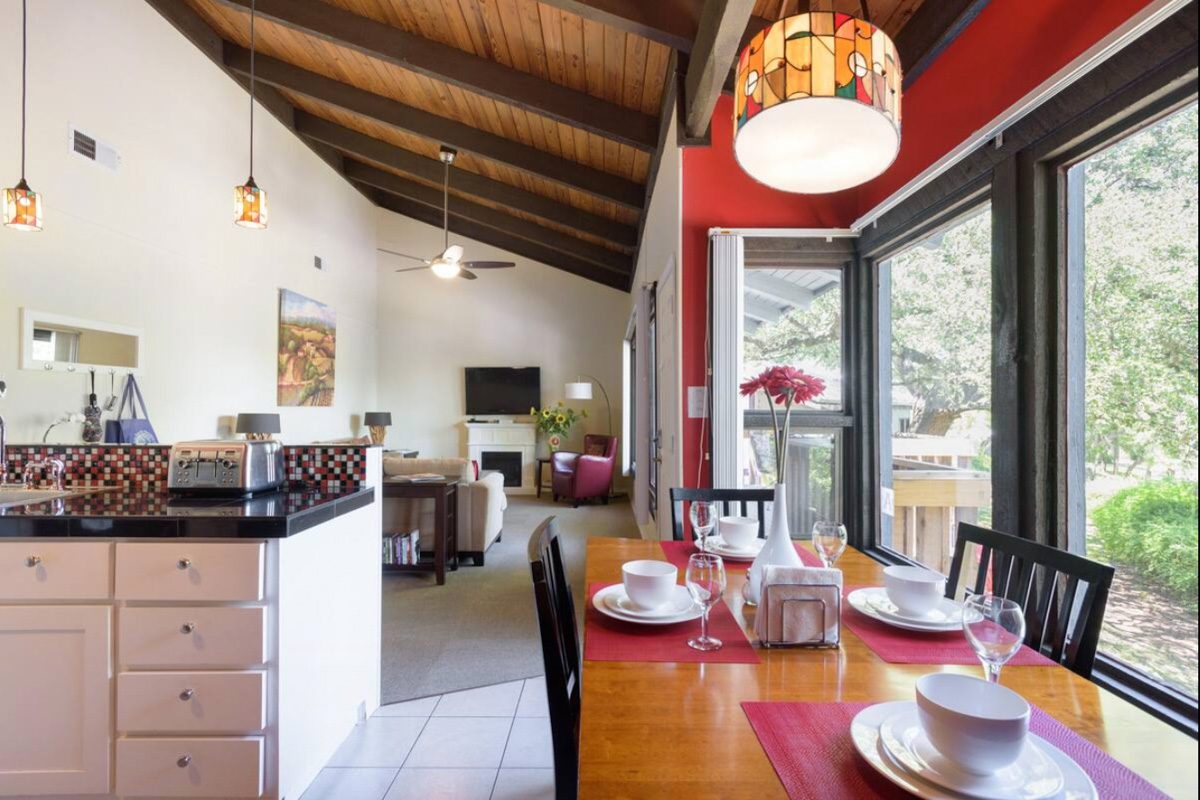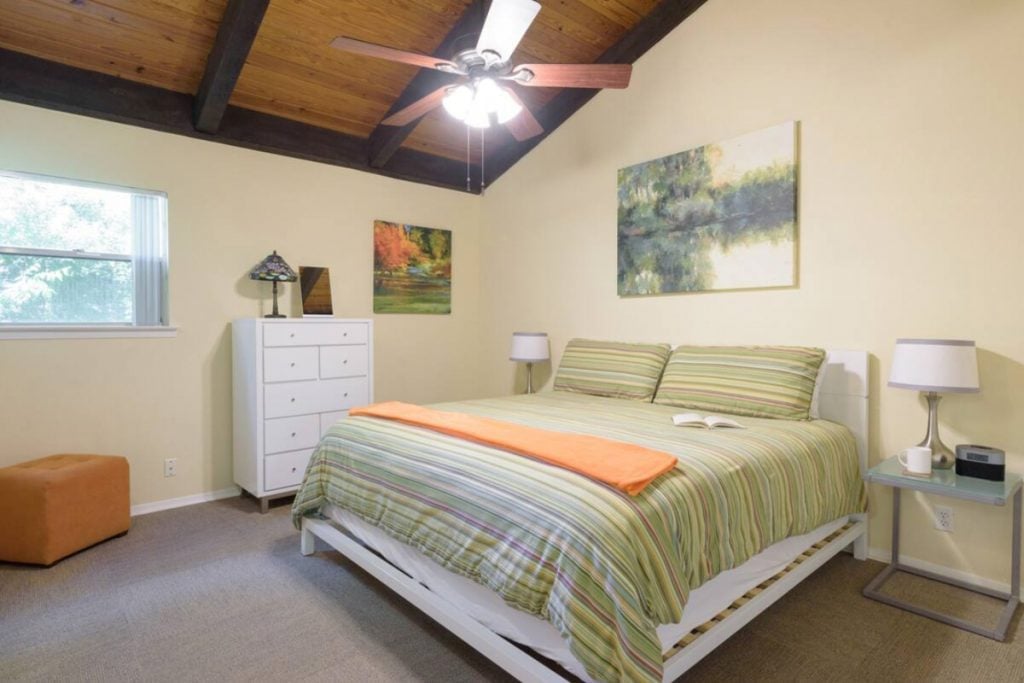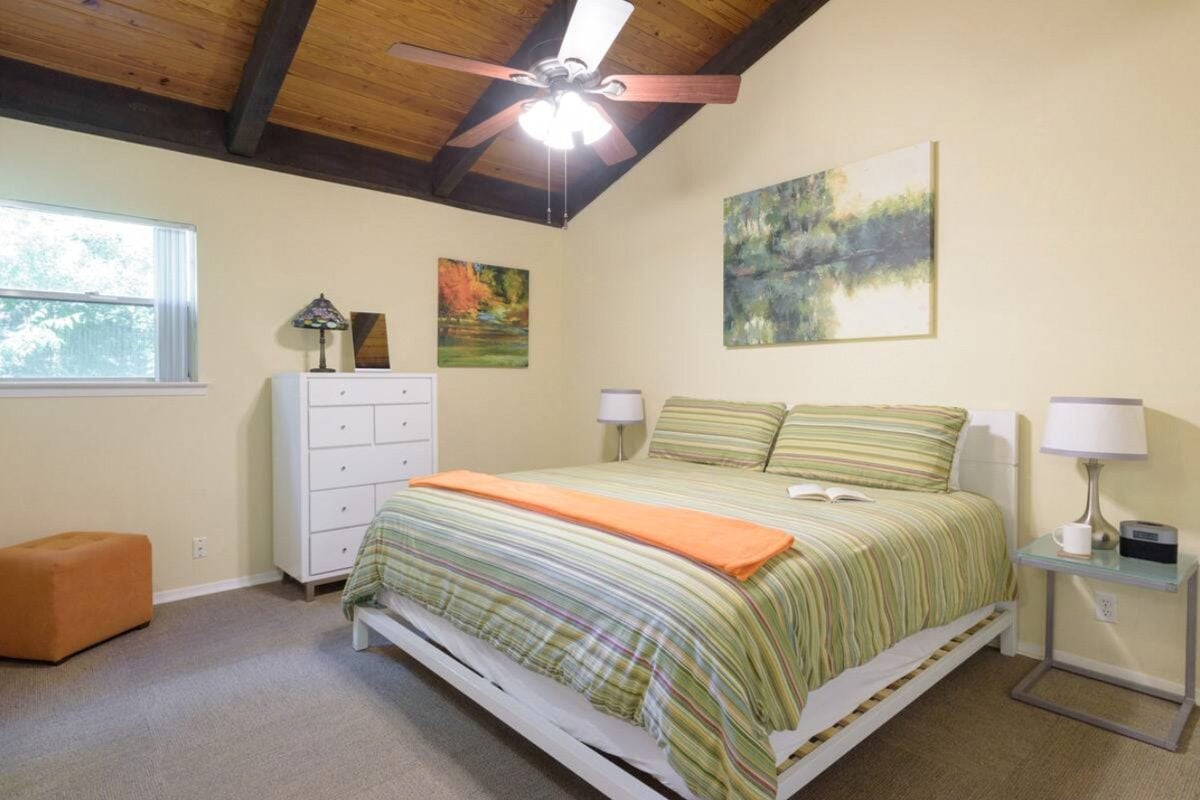 This is an accessible duplex that has a wheelchair ramp, roll-in shower, and roll-up sinks in both the kitchen and bathroom. Its location near the Barton Springs Natural Pool and several parks makes this a great stay for those who want to spend some time outdoors. Lots of natural light and a deck that is partially shaded by trees make this a relaxing stay to refresh and unwind.
Guests rave about the super comfy bed and say the hosts are incredibly accommodating and hospitable.
"Beautiful spot. Comfortable bed. High quality sheets. Cynthia is a wonderful host. I'd stay at any of her properties again and again." – Constance, May 2022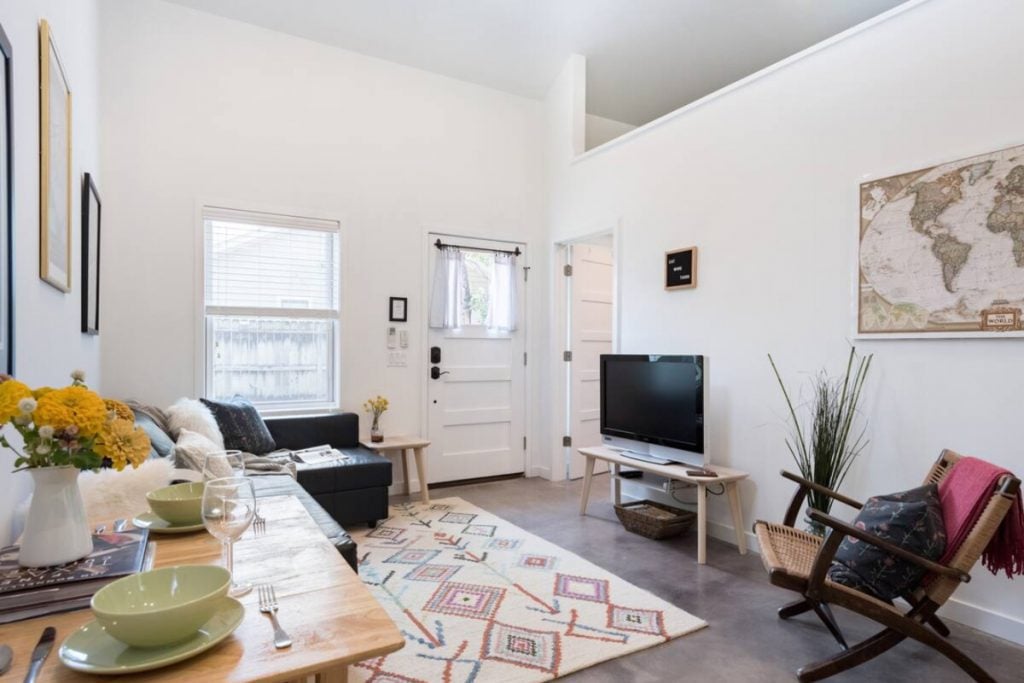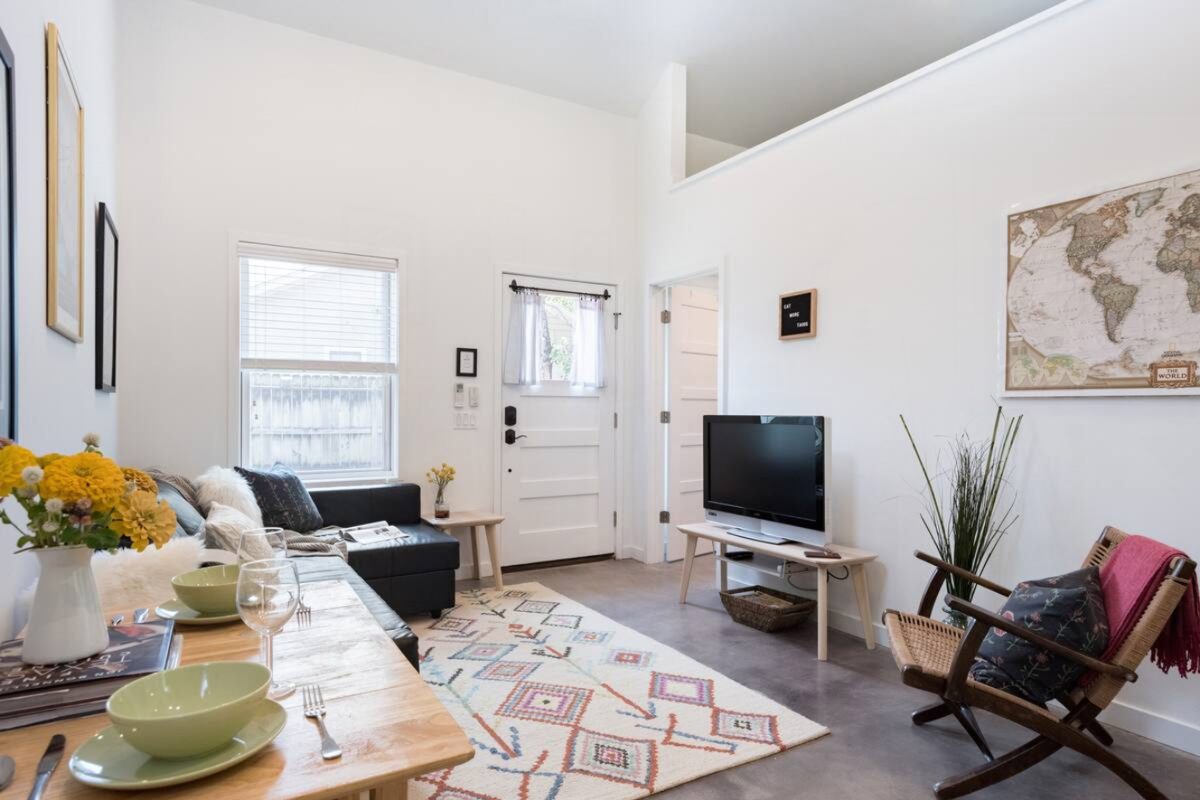 Quaint cottage with an outdoor patio, garden, and free parking
Location: Bouldin Creek
Budget: $
Number of Guests: 3
Minimum Stay: 2 nights
Plus | Superhost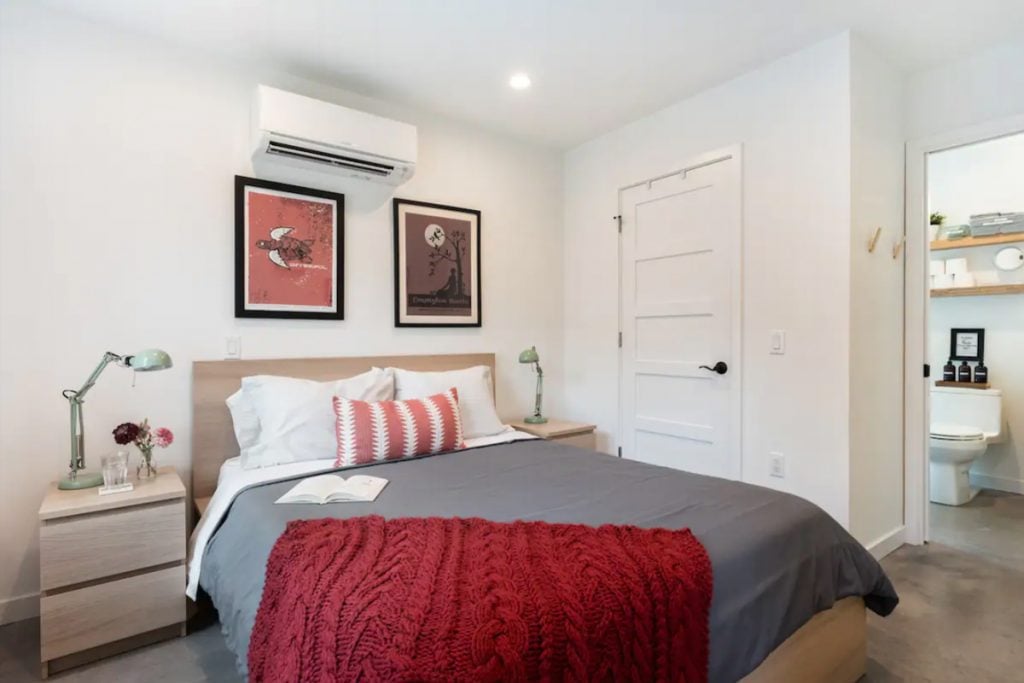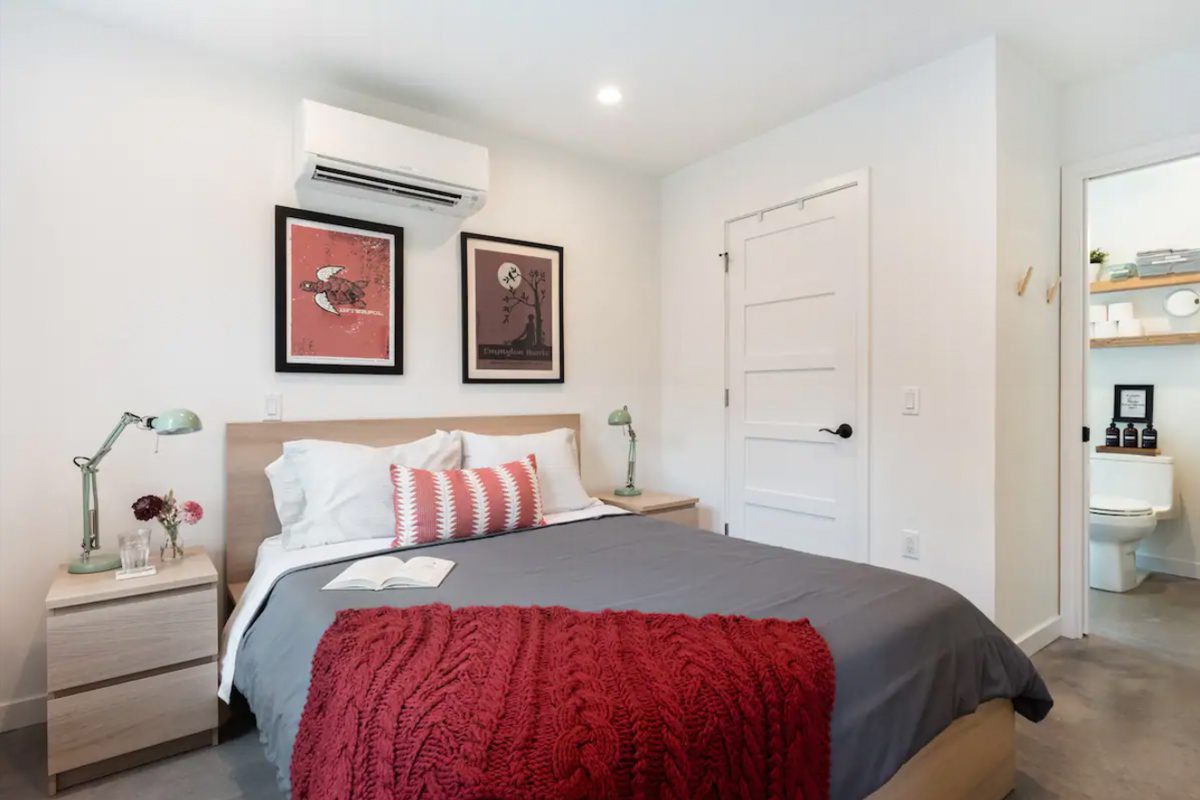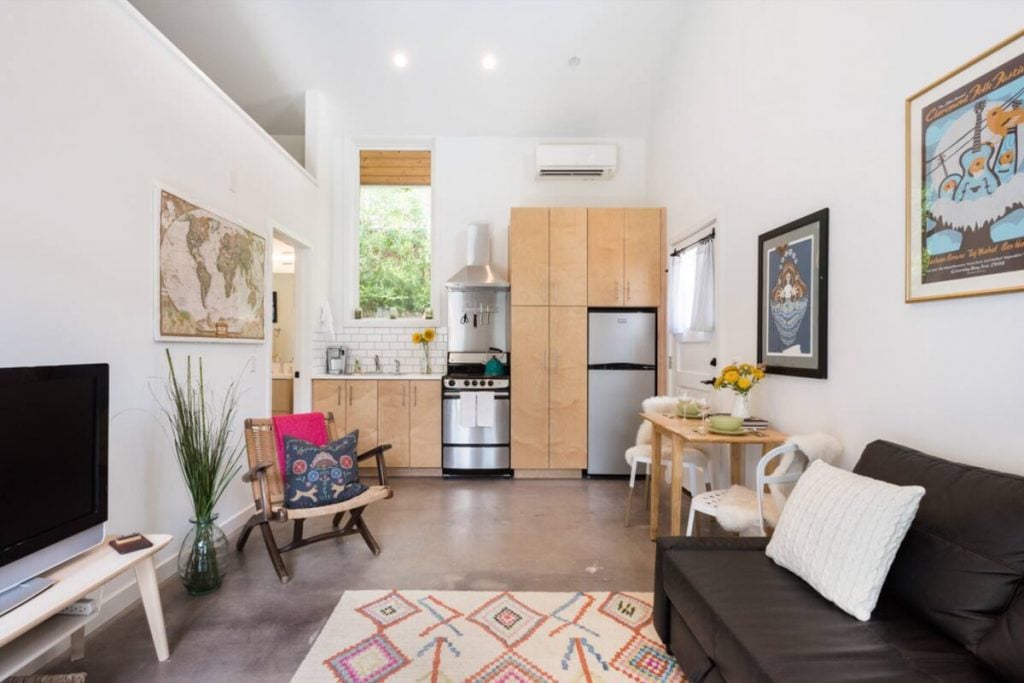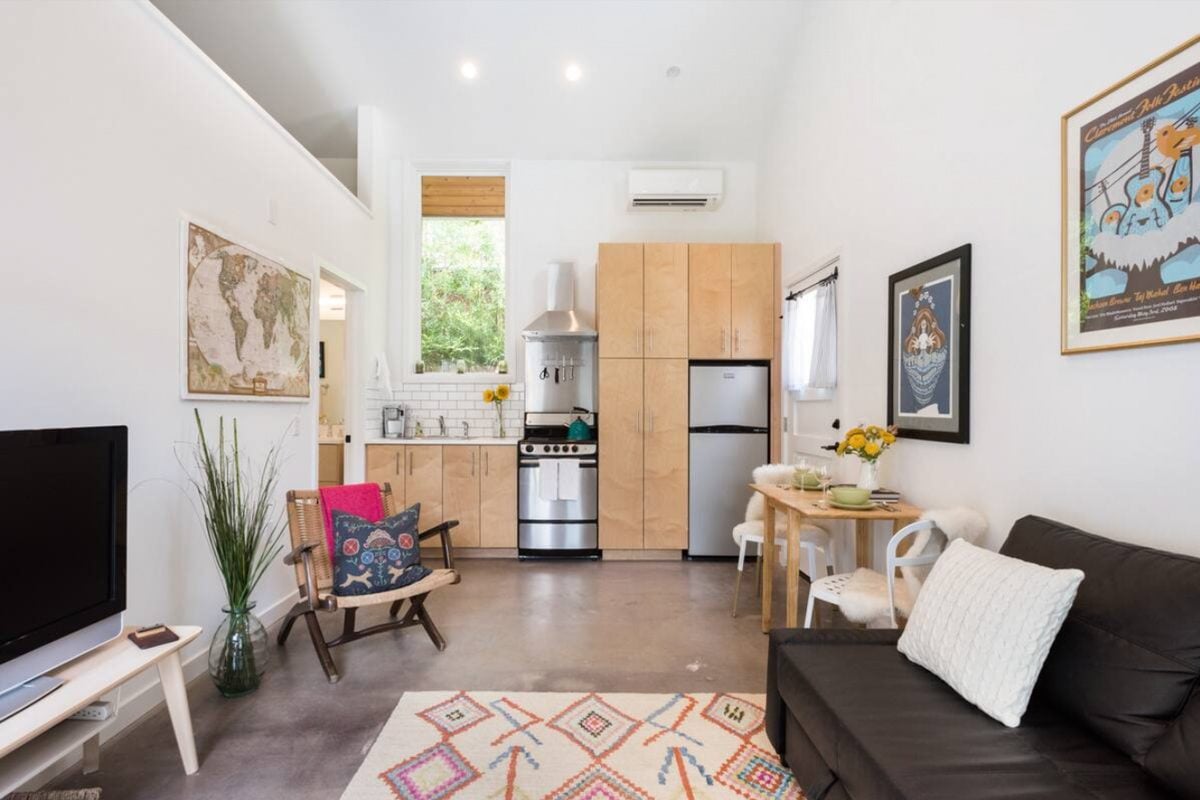 This quaint little guest house is tucked away in a beautiful yard in the scenic Bouldin Creek neighborhood. There's a peaceful garden and outdoor patio that provide great hangout areas to enjoy a bit of fresh air. The tall ceilings and open floor plan make the interior of the cottage feel fresh and even roomier than it really is, both the kitchen and bathroom are well-stocked, and there's free onsite parking.
Guests love the location and everyone has great things to say about the host and the cottage's cozy vibes.
"Everything was excellent. The guest house was clean, quiet, and very cozy. They went above and beyond in providing great Austin suggestions." – Wade, March 2022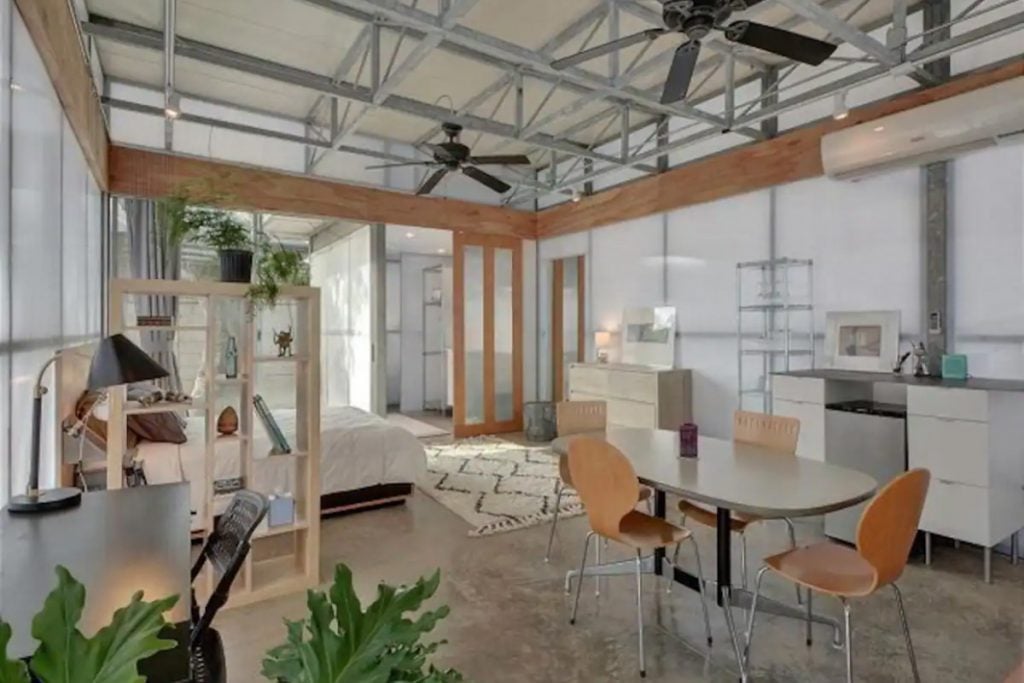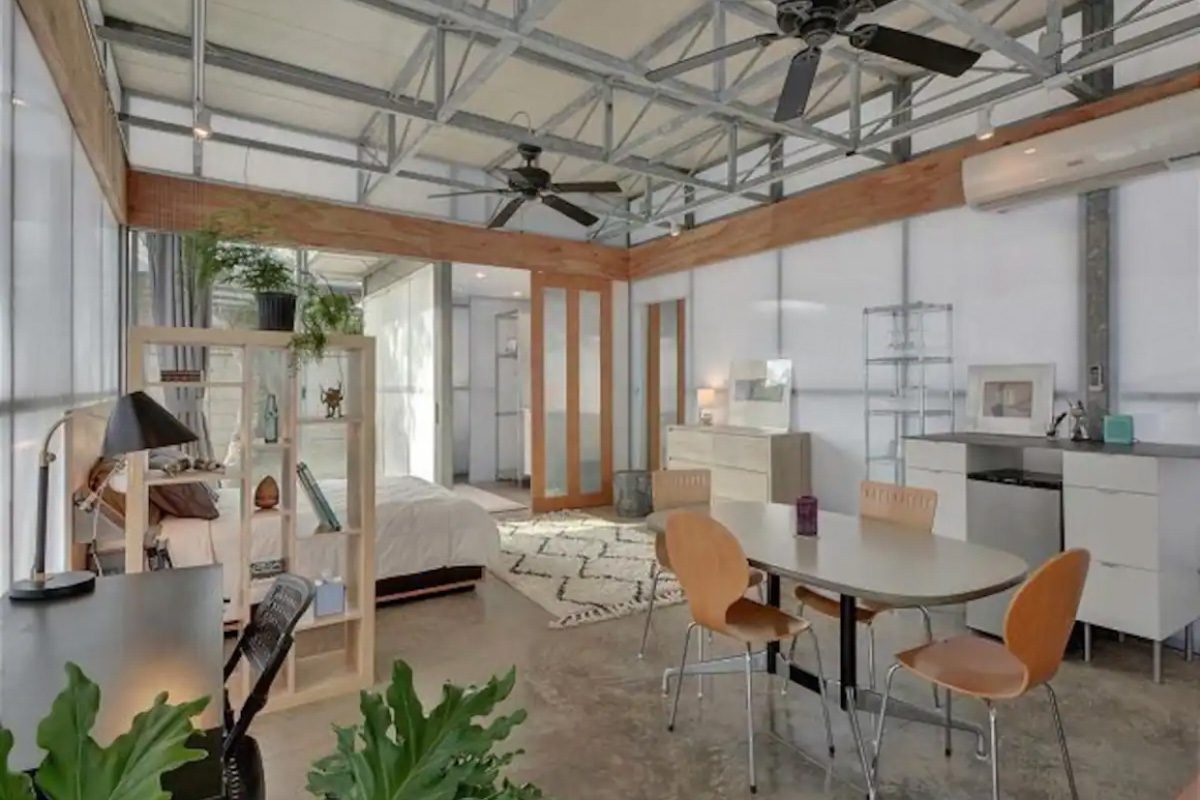 Quiet guest house in a very walkable part of town
Location: Bouldin Creek
Budget: $$
Number of Guests: 2
Minimum Stay: 1 night
Superhost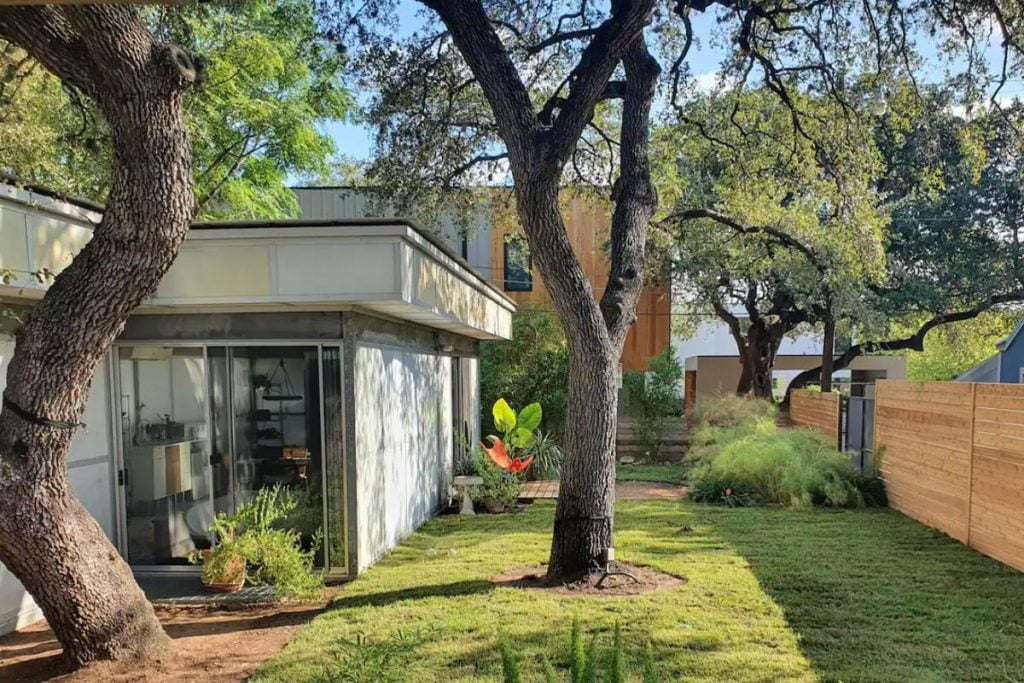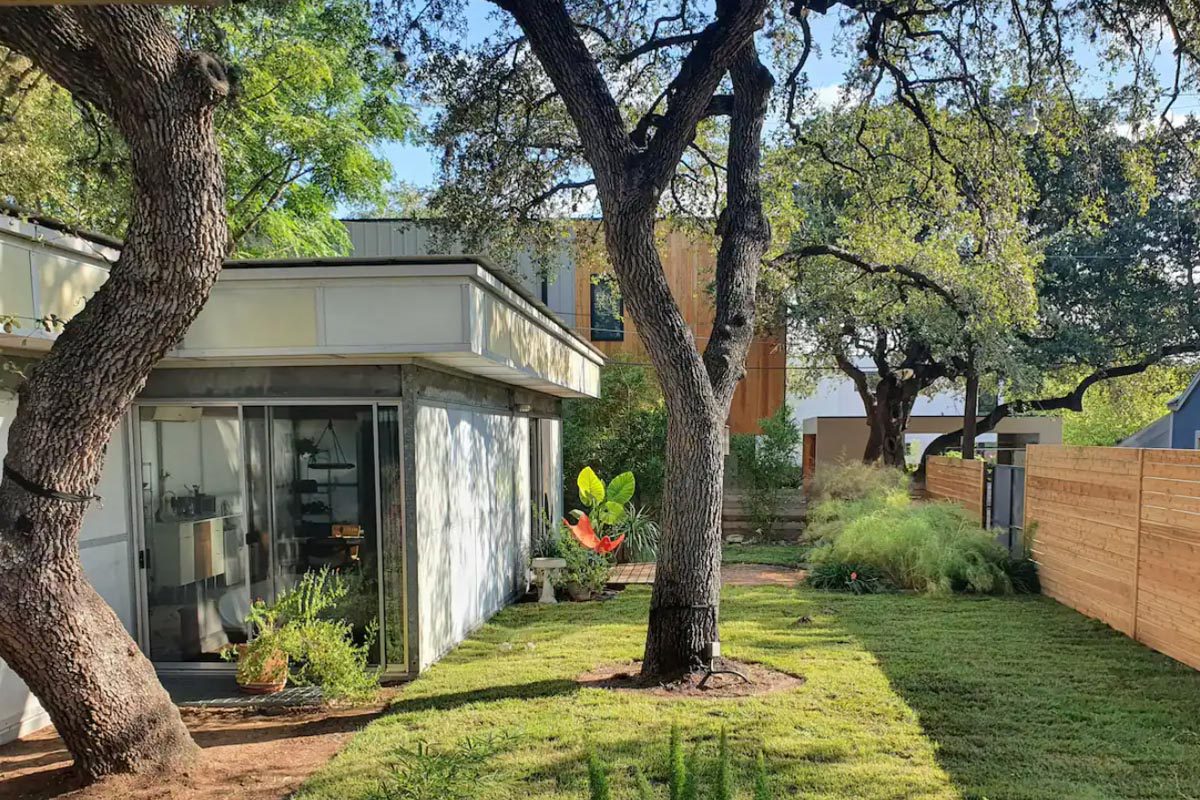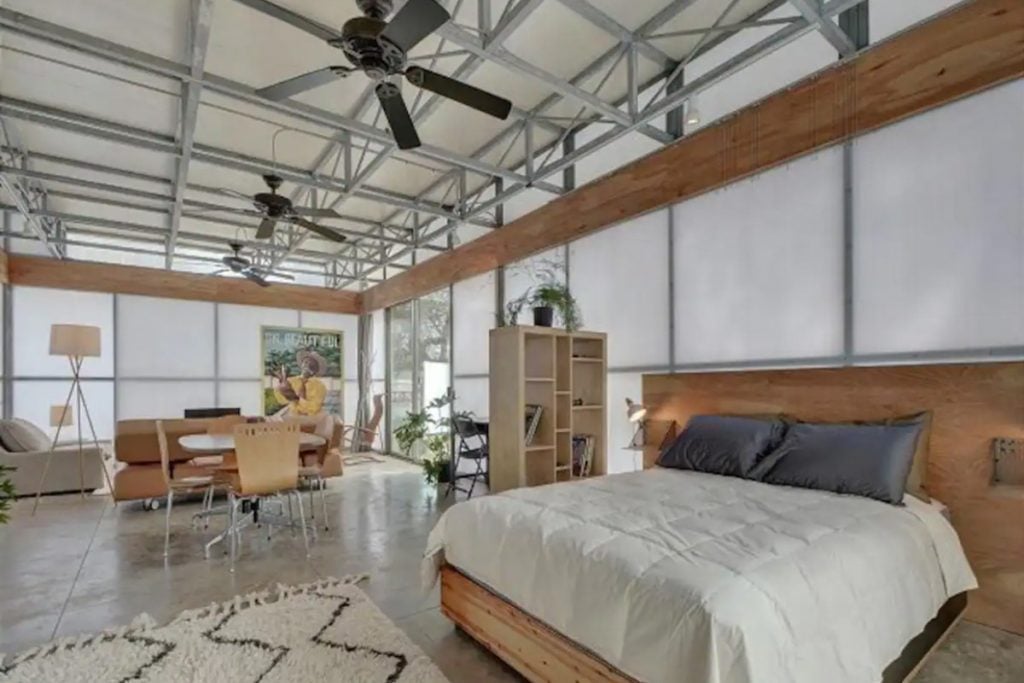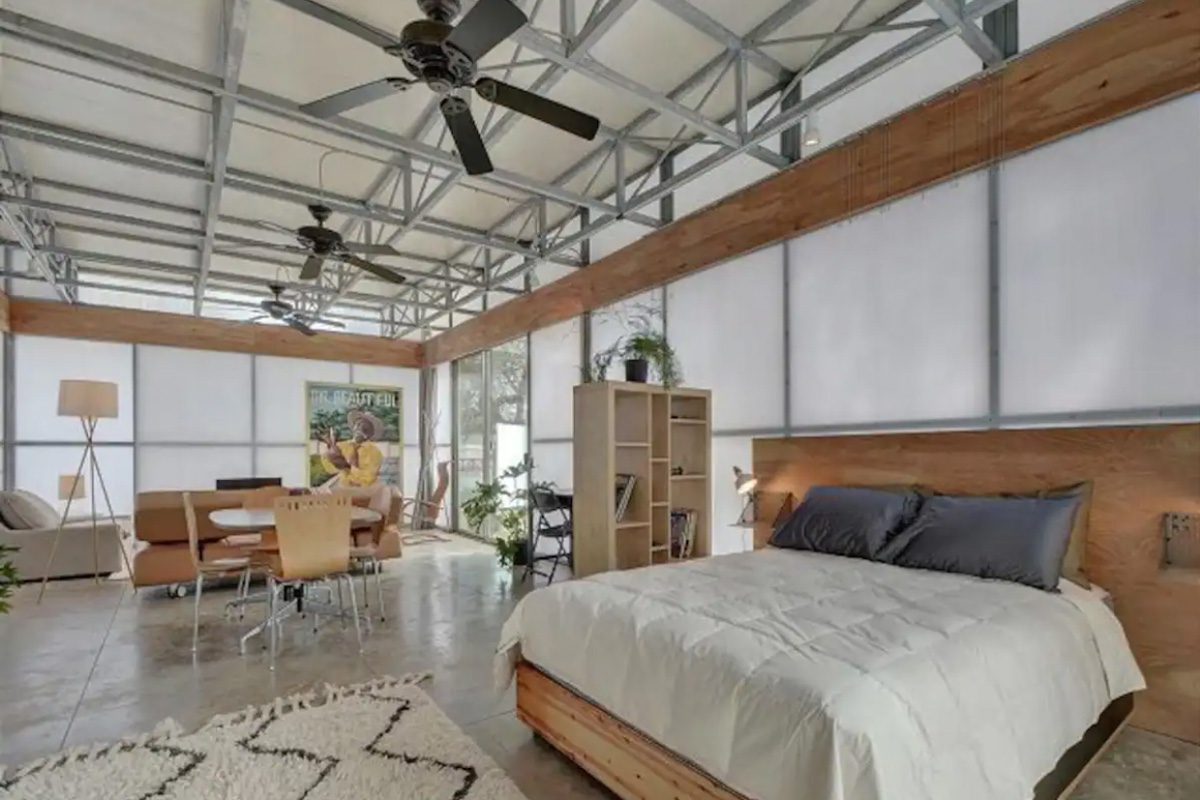 This guest house is tucked away in a quiet Live Oak-covered backyard where you can enjoy privacy and peace, making it feel like you're miles from civilization.
There isn't a full kitchen, but the studio does have a coffee maker, tea kettle, microwave, and mini-fridge — pretty much everything you need! There's also free parking on-site.
One of the coolest things about this Airbnb is that the main house is also available, so you can rent both places if you have a large group and have the entire compound to yourselves.
Guests love the guest house's spacious interior and the highly walkable proximity to everything.
Most unique stay in South Austin | Vintage Airstream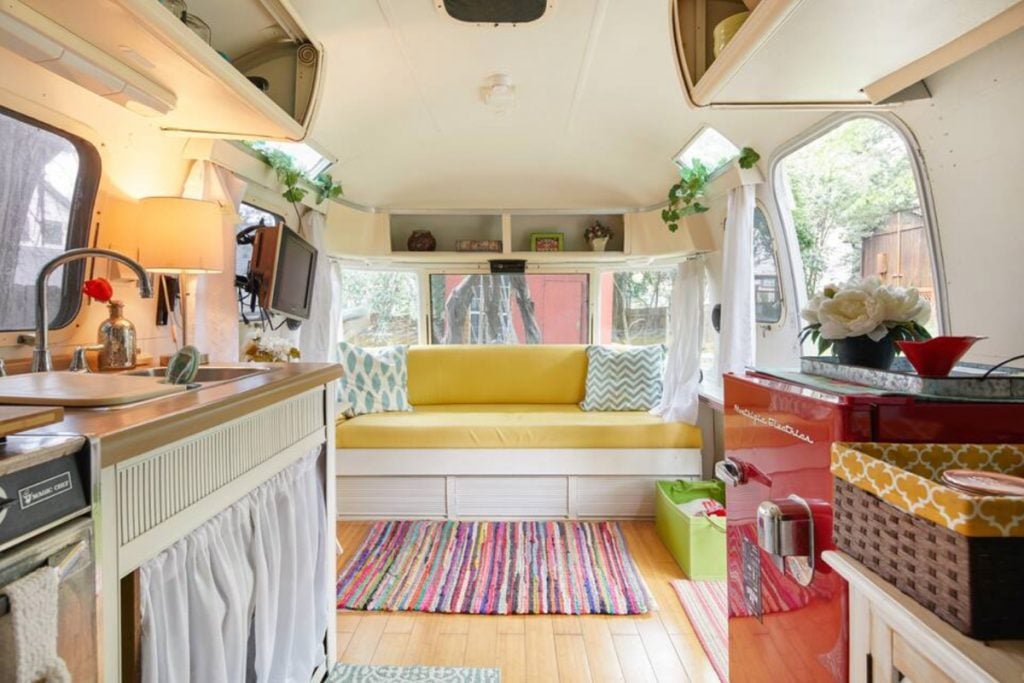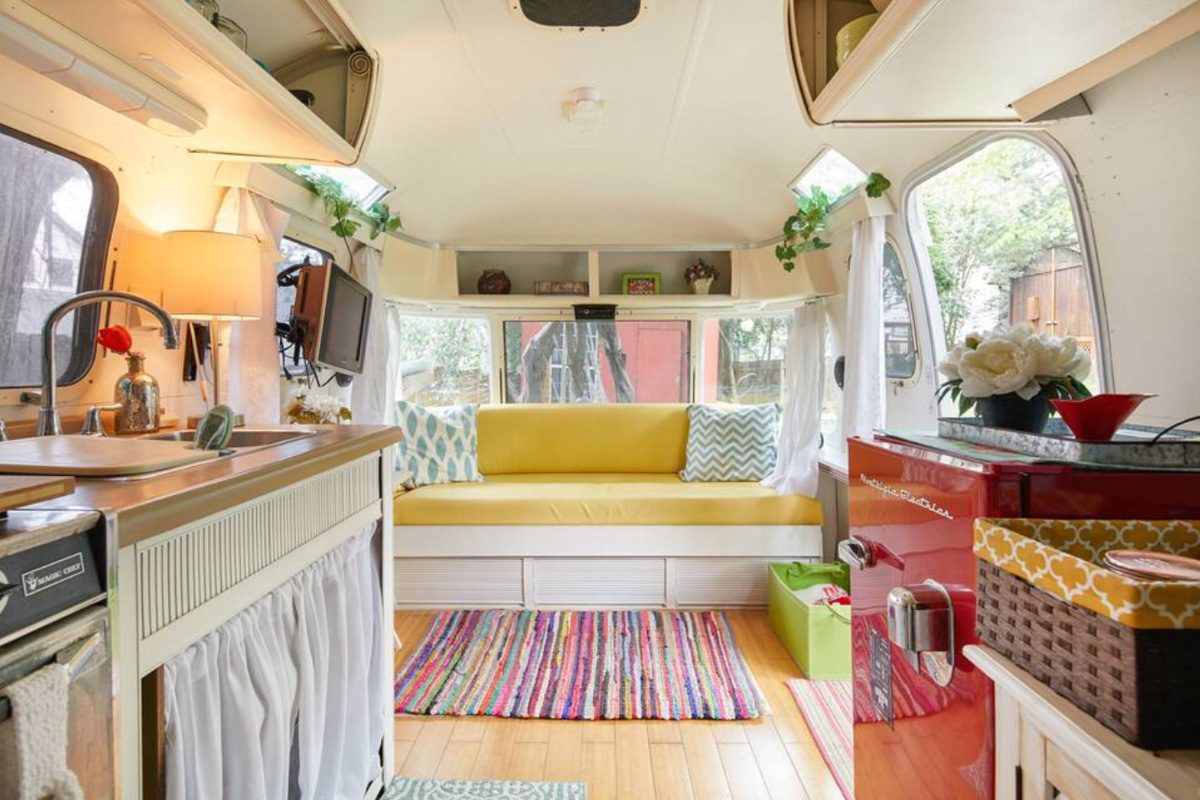 Eclectic stay in a retro, fully-outfitted Airstream camper with modern updates
Location: Galindo
Budget: $$
Number of Guests: 2
Minimum Stay: 2 nights
Plus | Superhost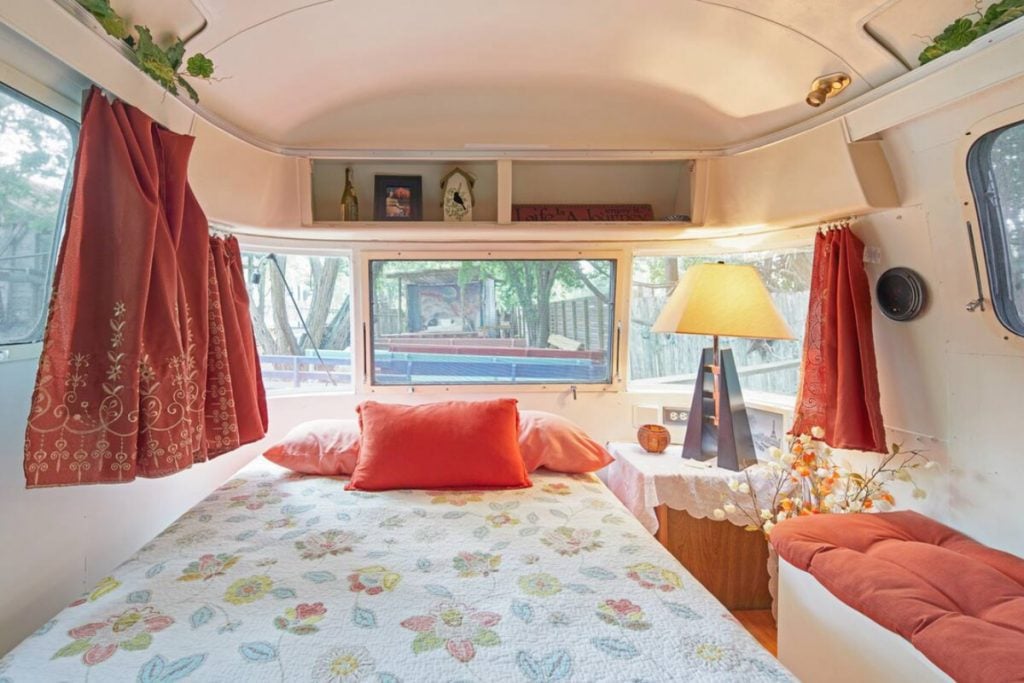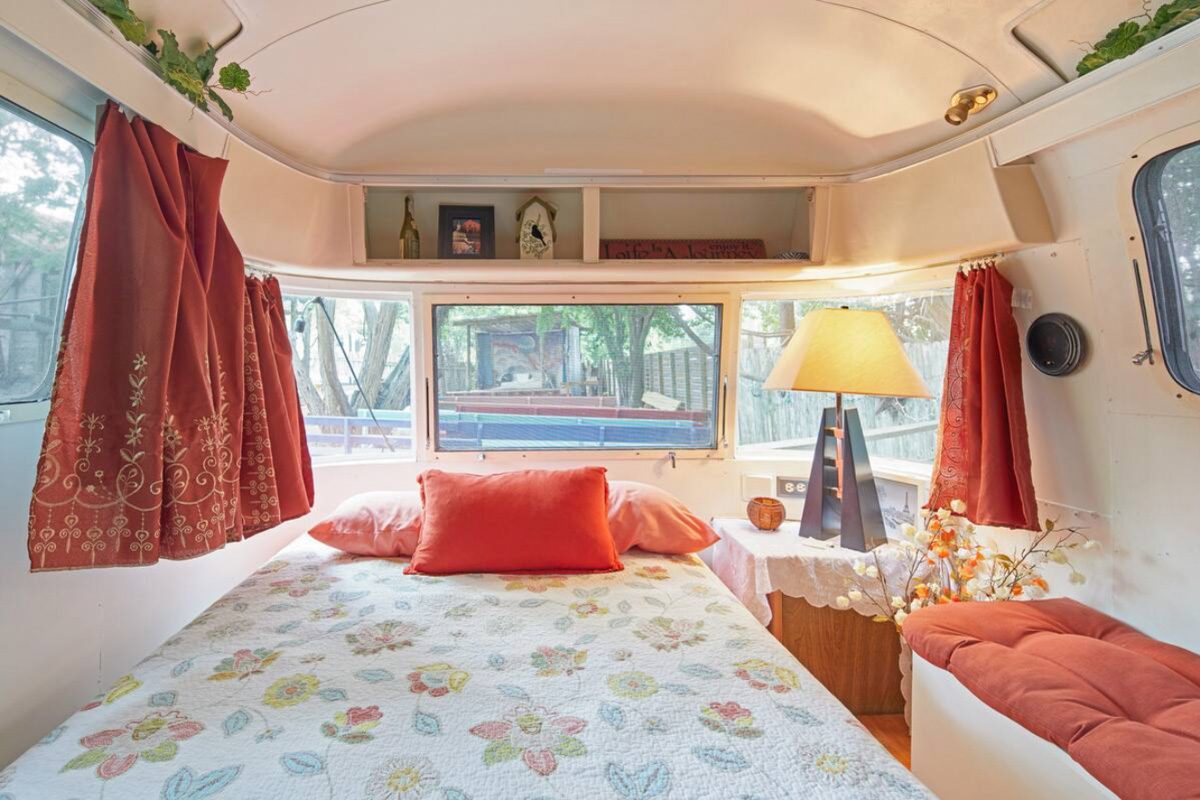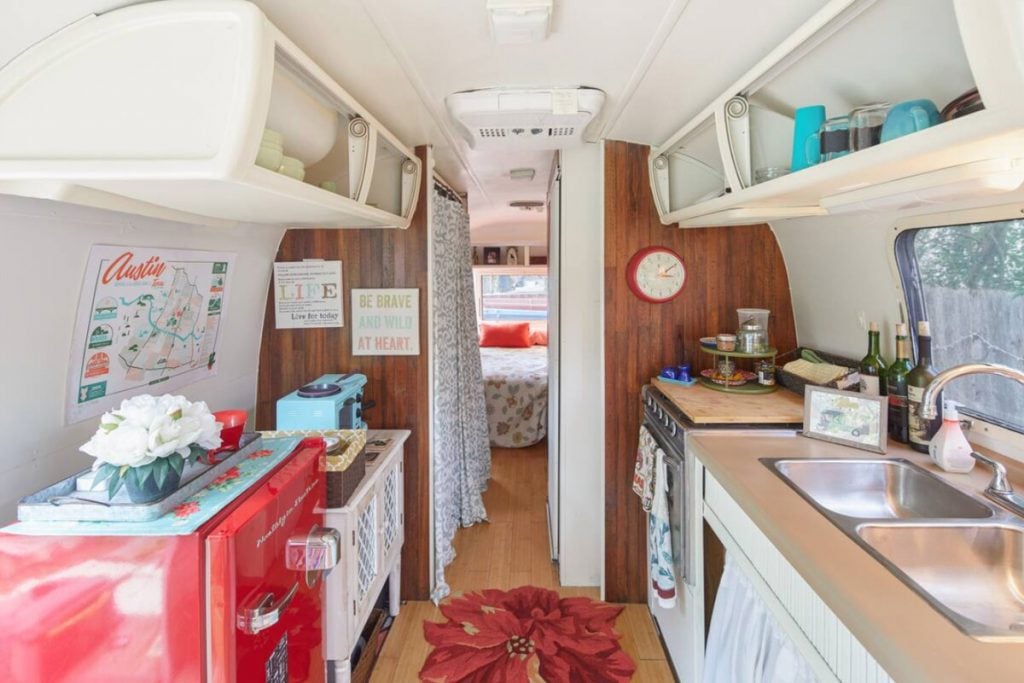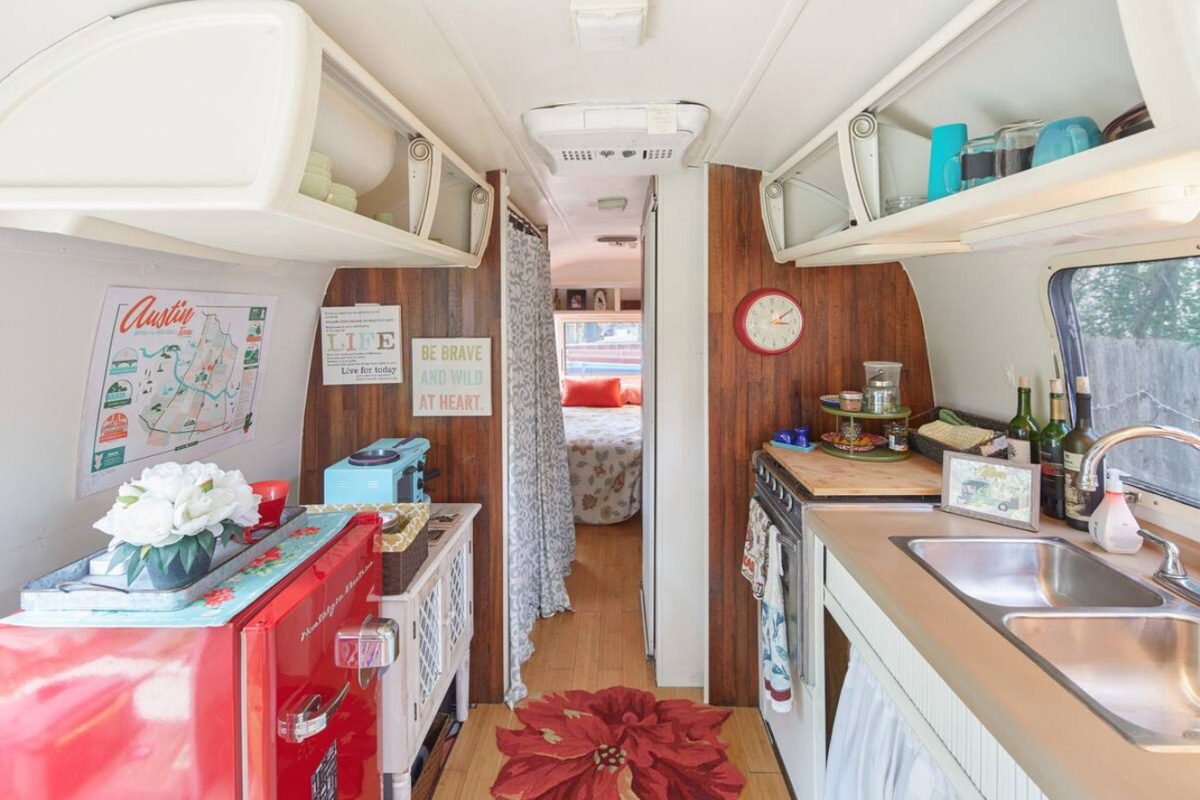 Looking for a unique stay in South Austin? Here it is, an adorable vintage Airstream Argosy.
Updated with a modern interior, full kitchen and bathroom with a walk-in shower (plus a unique outdoor shower!), air-conditioning, onsite parking, and even a fun stage outside for occasional live music. You may be technically staying in a camper, but this is not at all a typical camping experience!
Guests love how quirky and unique this stay is, especially compared to other Airbnbs in Austin. Reviews also reflect nothing but positive comments about the hosts.
"The airstream and yard were both very nice. Leeann was very welcoming and had tons of great Austin recommendations!" – Tanner, February 2022
Honorable Mention
---
Other neighborhoods: Here are some other noteworthy Airbnbs in Austin that are located in neighborhoods outside of those listed above.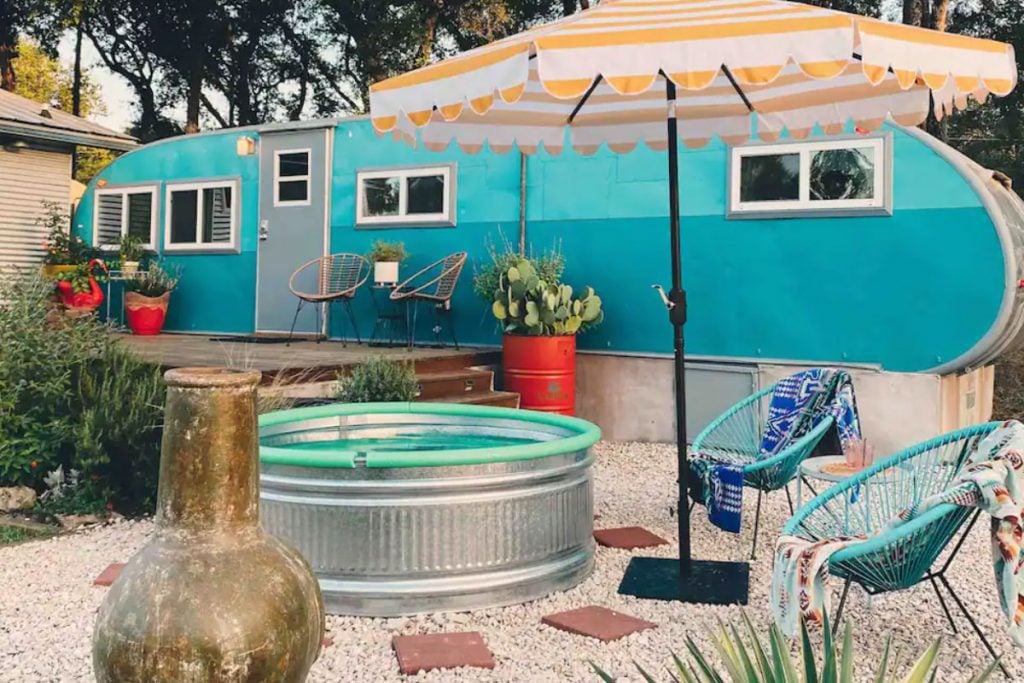 Modernized retro Spartan camper with a fun outdoor pool situated on 3.5 private acres outside of Austin
Location: Ford Oaks
Budget: $$
Number of Guests: 2
Minimum Stay: 2 nights
Superhost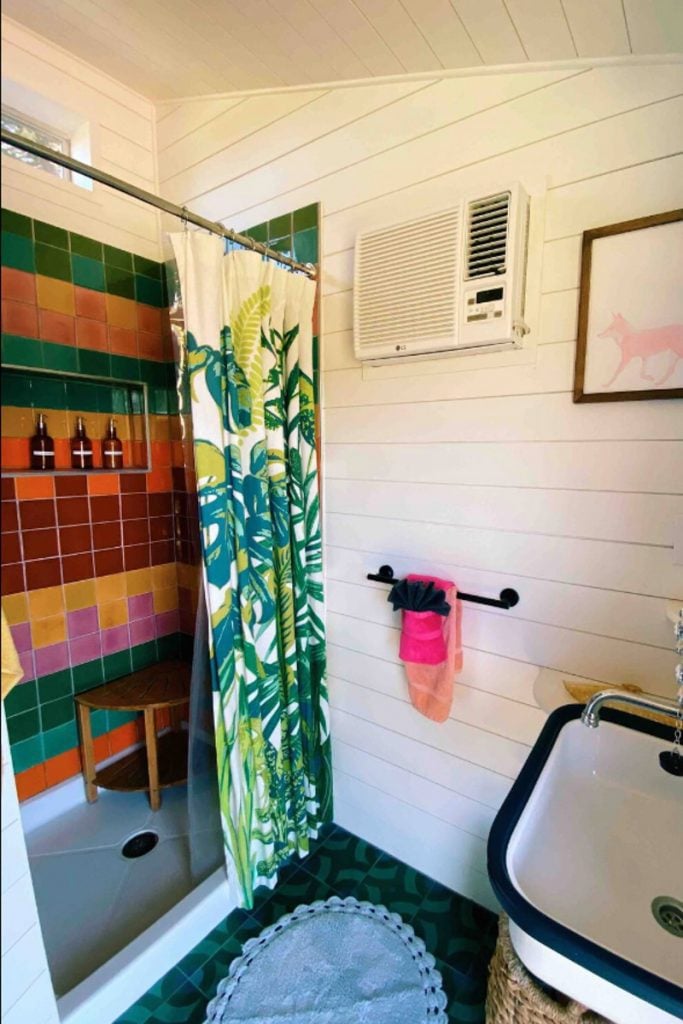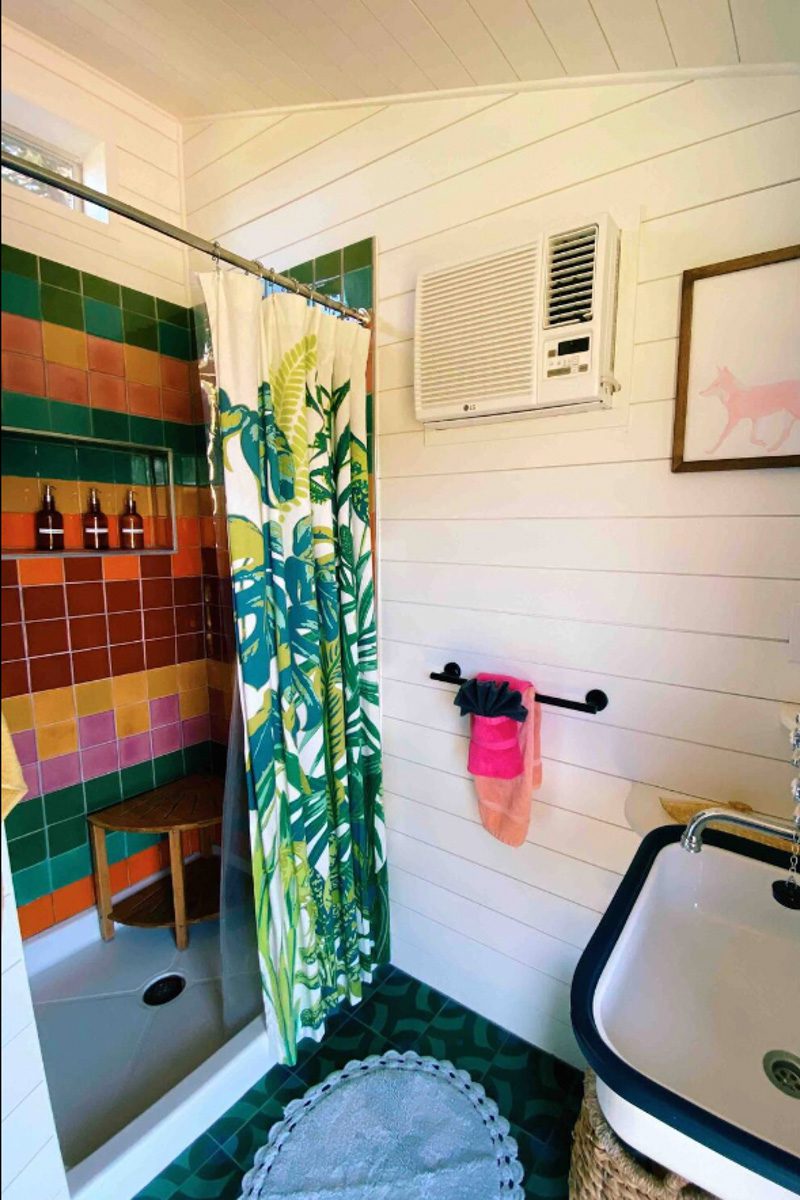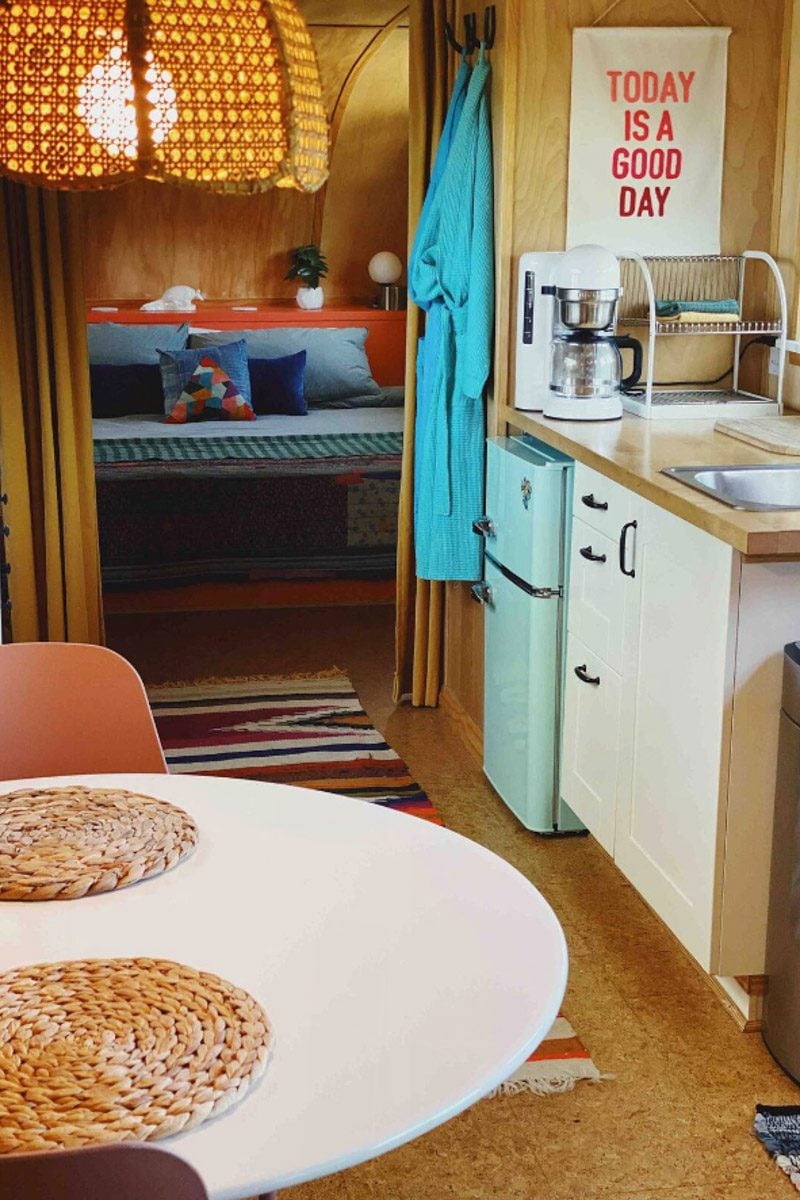 One of more unique Airbnbs in Austin, the Honeysuckle Rose is a vintage Spartan camper that's been completely renovated and modernized. There's a super fun outdoor pool, and there's live music and food trucks just next door on weekends.
The kitchen has a mini-fridge with a freezer, a hot plate for cooking, and a coffee maker. The bathroom is actually in a private updated exterior bathhouse with a shower and unlimited tankless hot water heater.
Ten miles outside of downtown Austin, you'll be staying on a private 3.5-acre wooded lot — close enough to enjoy everything in the city, but far enough away for peace and quiet in a hammock.
Several guests comment on how relaxing and peaceful this stay is.
"The best air bnb I have stayed in by far. Very close to some very Austin spots, but far enough outside of the city that it's peaceful." – Rachel, May 2022
Most unique architectural-designed Airbnb in North Austin | Glass Walled Bungalow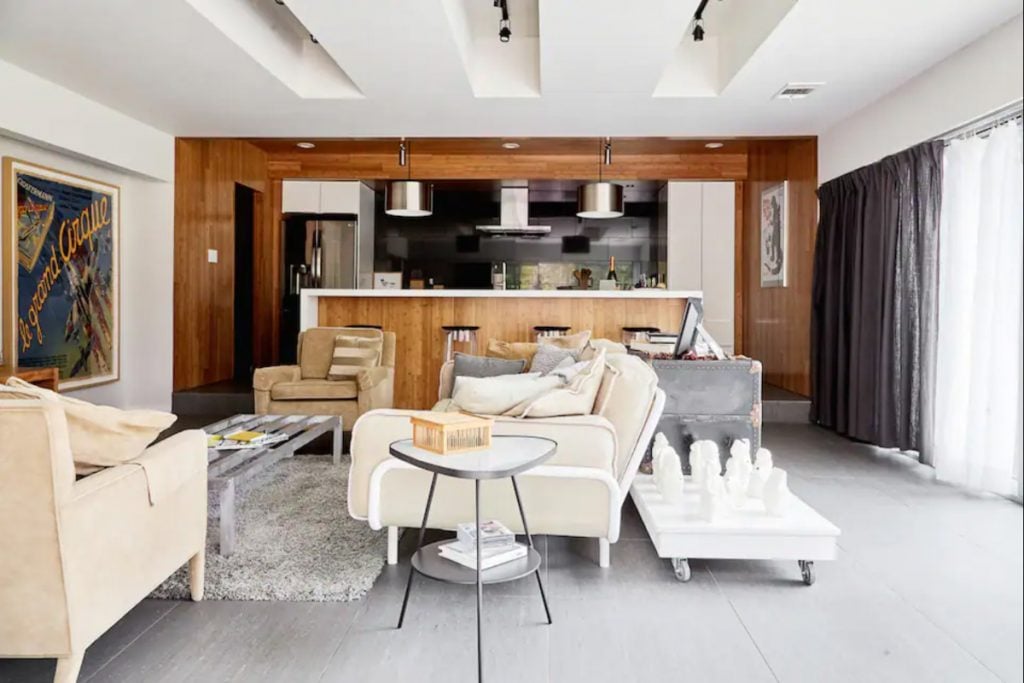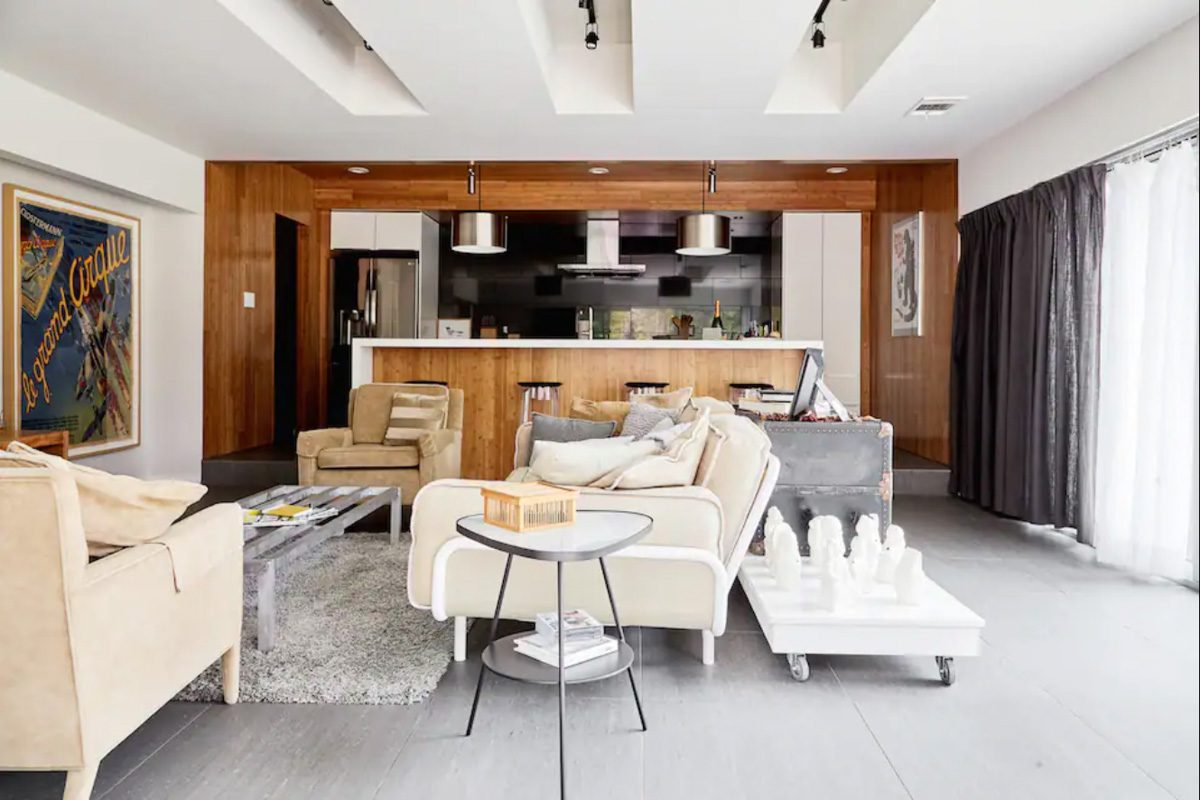 Architectural gem near the University of Texas
Location: Windsor Park
Budget: $$
Number of Guests: 4
Minimum Stay: 2 nights
Plus | Superhost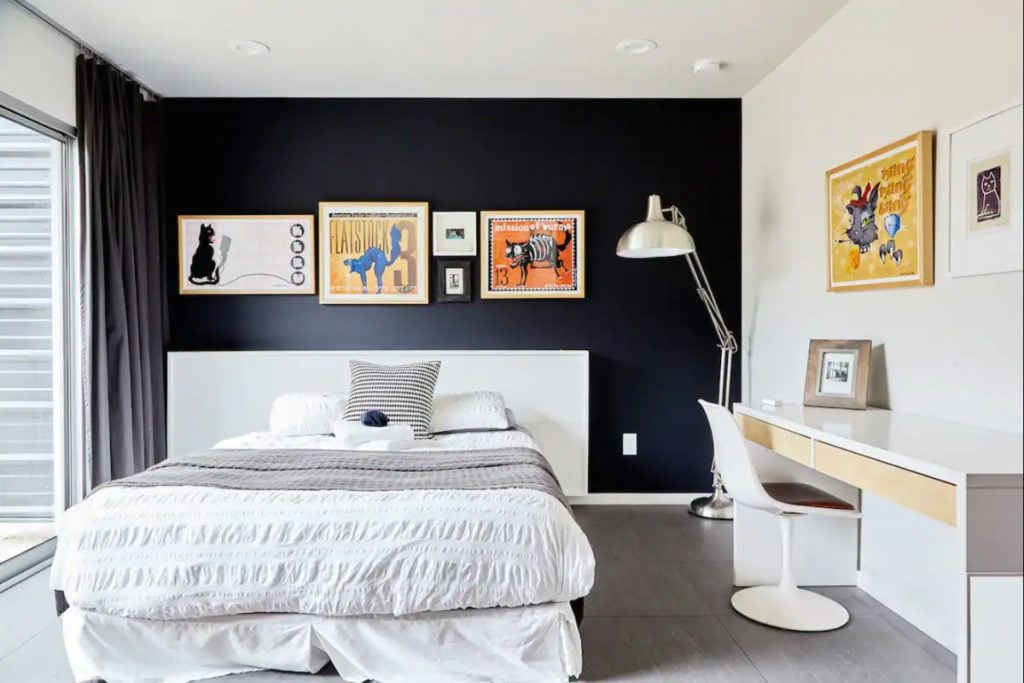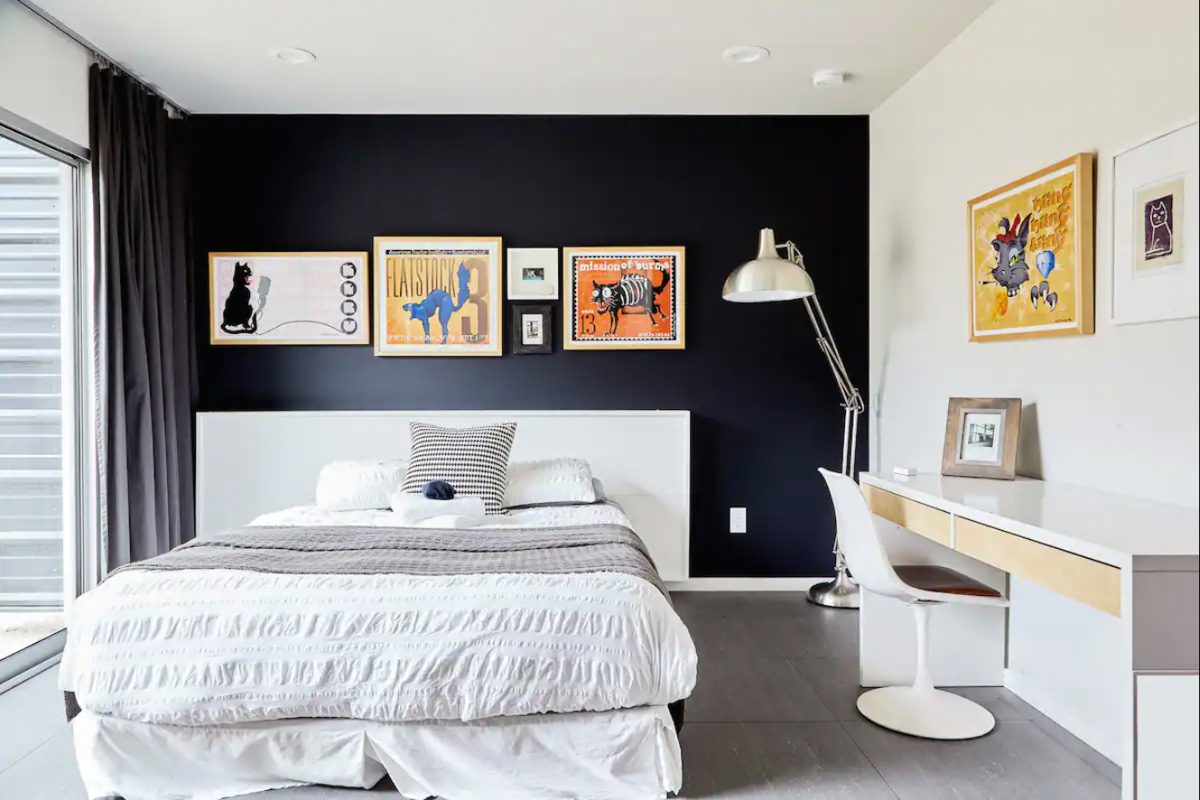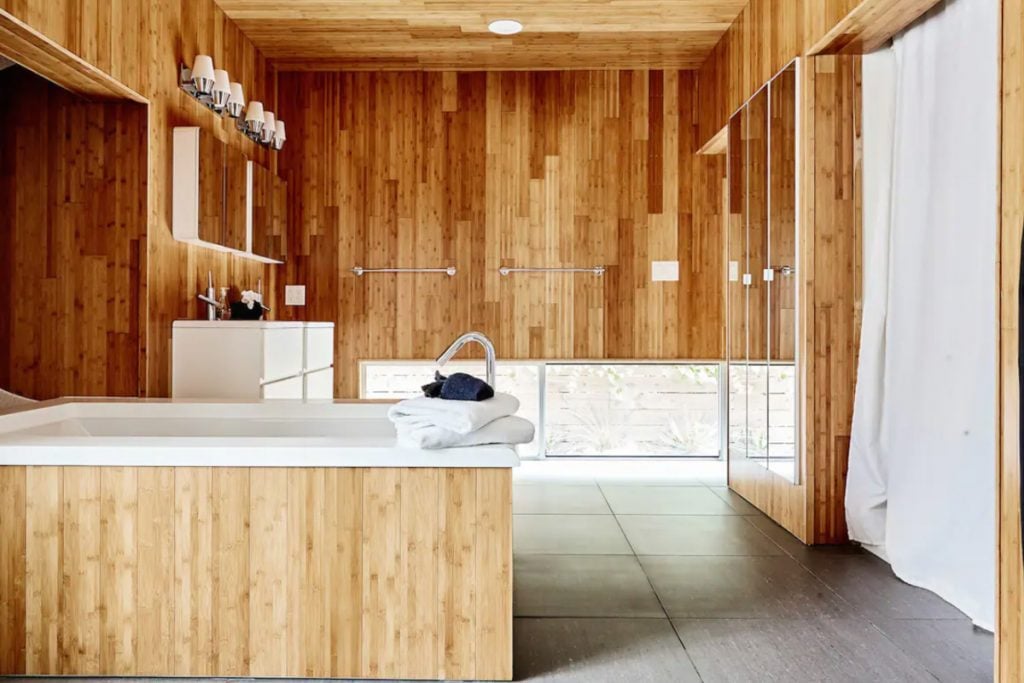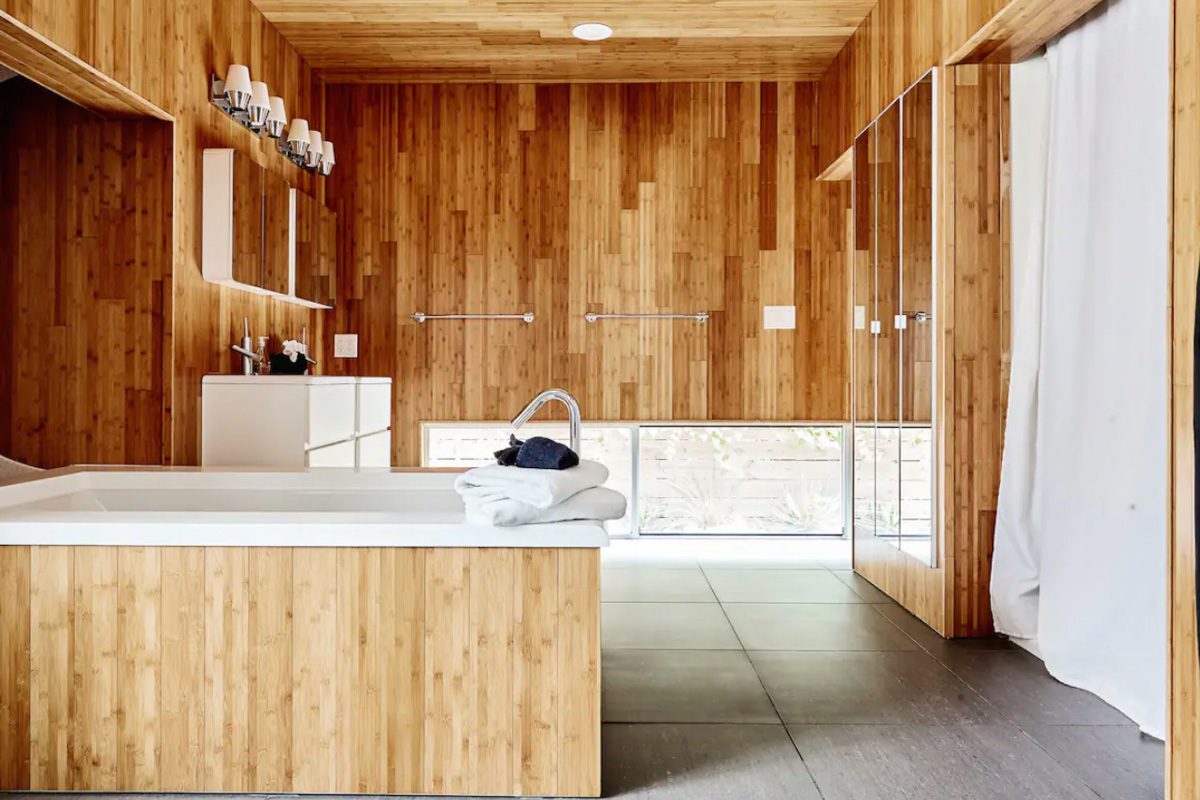 Architectural Digest rated this stay as #1 among Airbnbs in Austin, and for good reason. The 1950s bungalow has been renovated and given new life as a stunning glass-walled architectural gem.
The inside is fully updated with a truly unique, open design, bringing the outdoors in, and the awesome fenced backyard includes a 12-foot-long dining table, fire pit, and a super unique "chromatherapy" bath (it uses colored lights to create a unique soothing, therapeutic experience!).
Guests absolutely love the design and cleanliness of the home, as well as the host's attentiveness.
"This place was amazing! Place of our dreams! It was like staying in a magazine or an art museum. Beautiful yard and So clean! Will book again!" – Tyler, April 2022
Honorable Mention
---
Just outside the city: A retreat from the big city without getting too far out of town.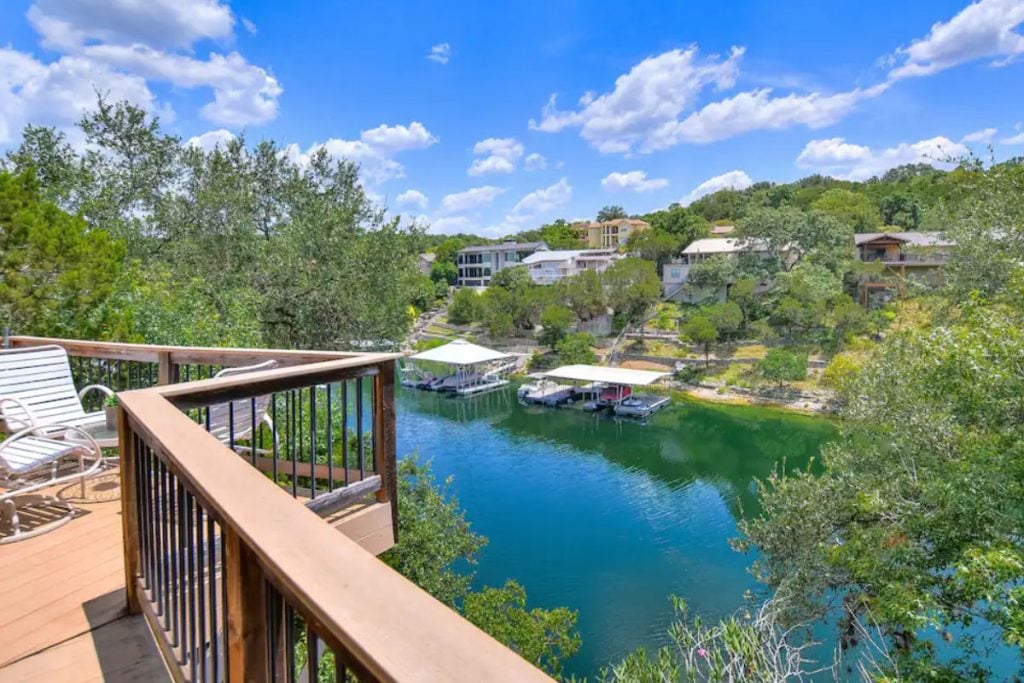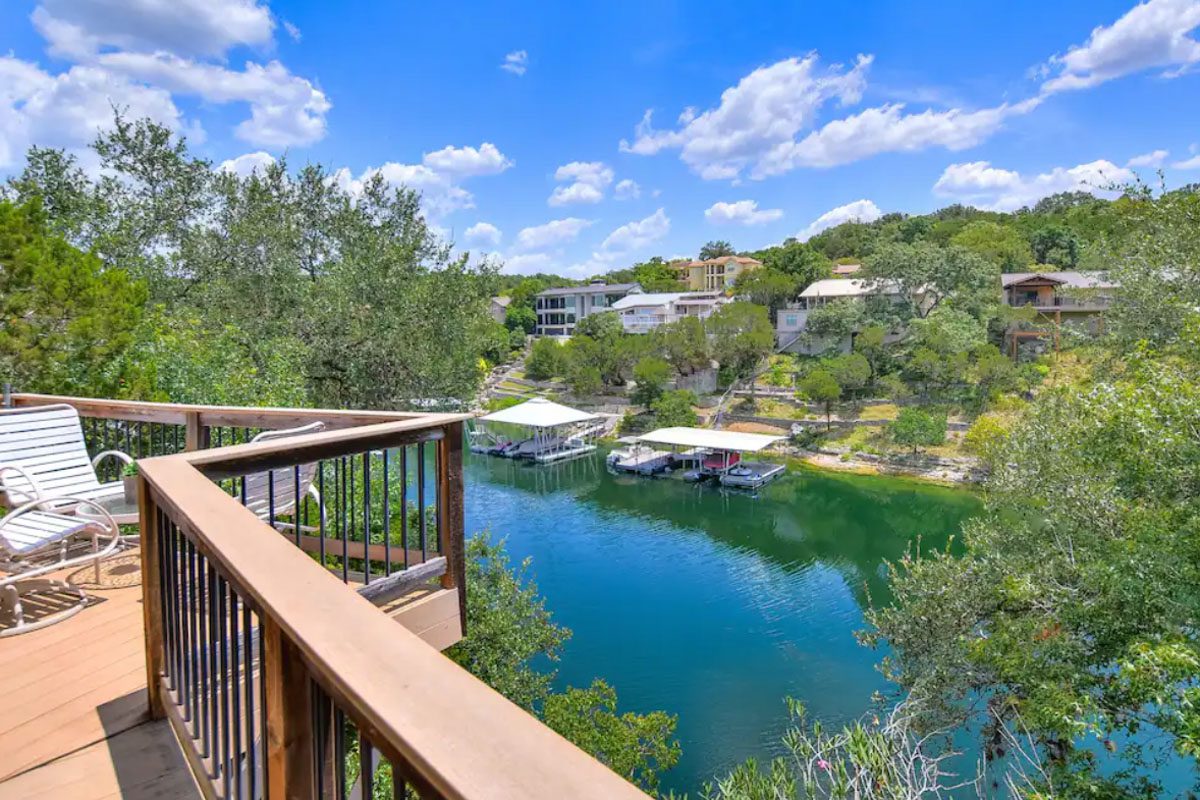 A modern elevated home with a wraparound deck and excellent community amenities on Lake Travis
Location: Lakeway, Lake Travis
Budget: $$$
Number of Guests: 4
Minimum Stay: 2 nights
Superhost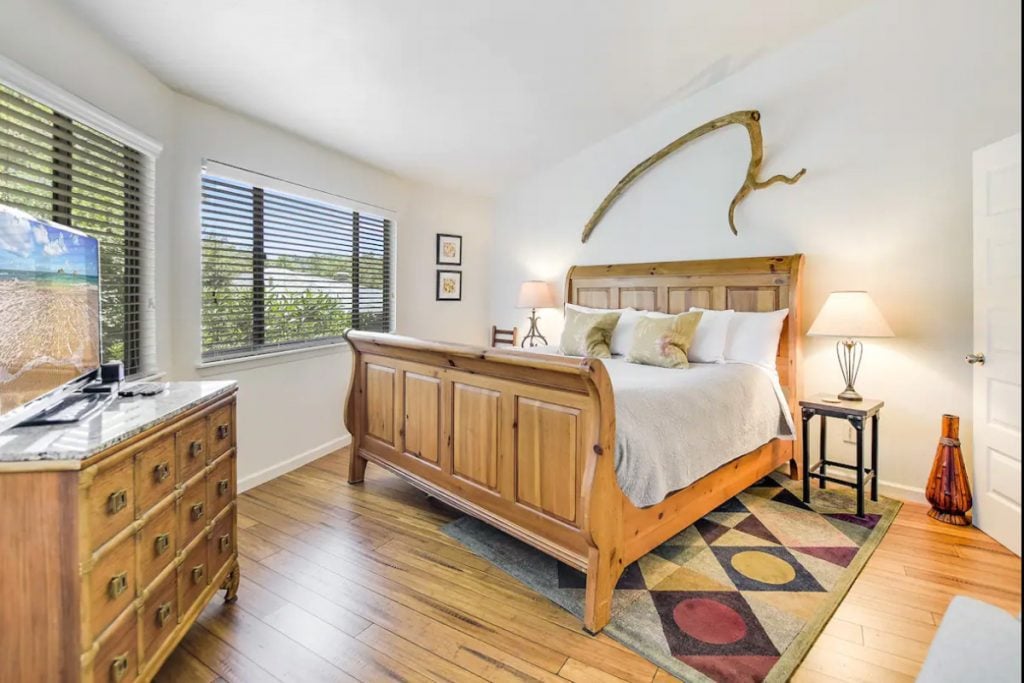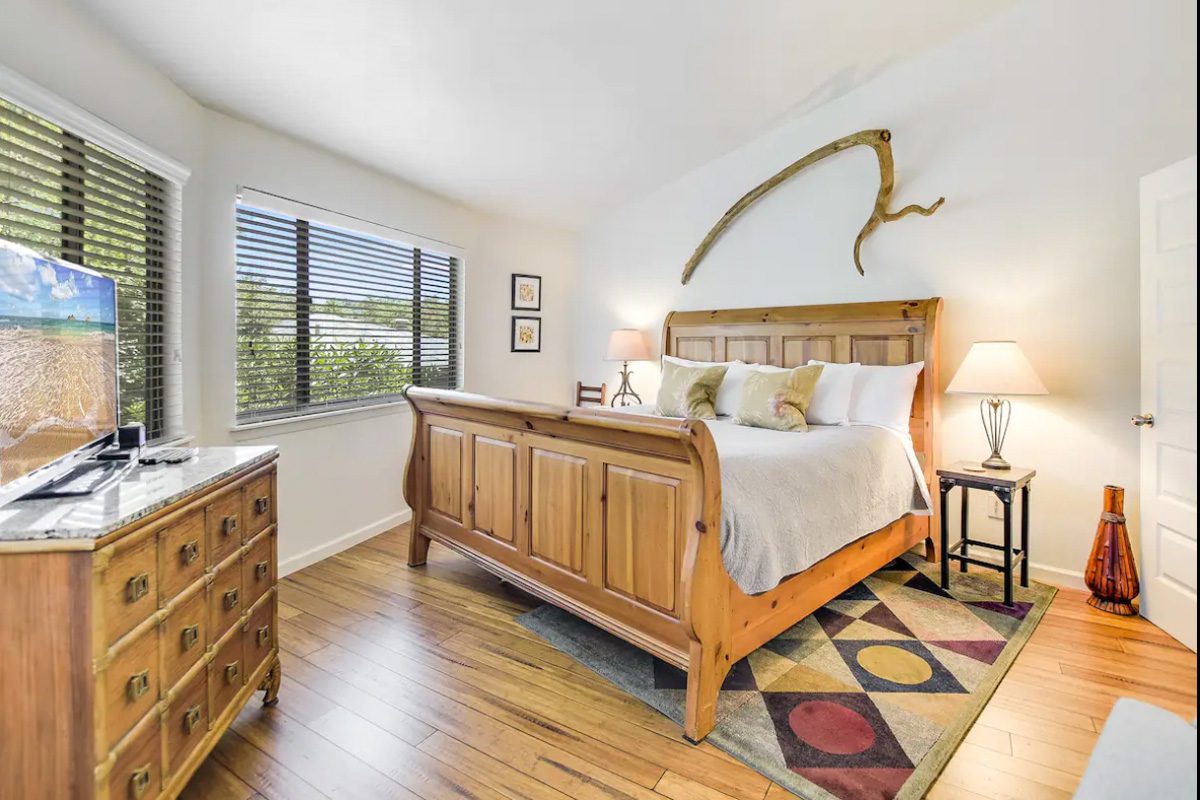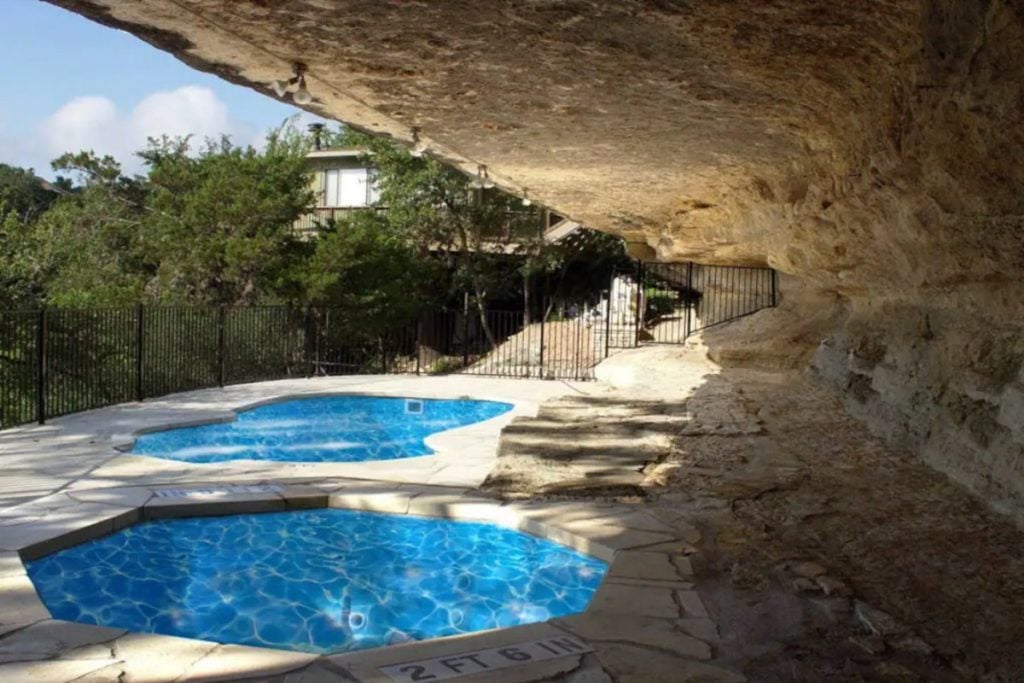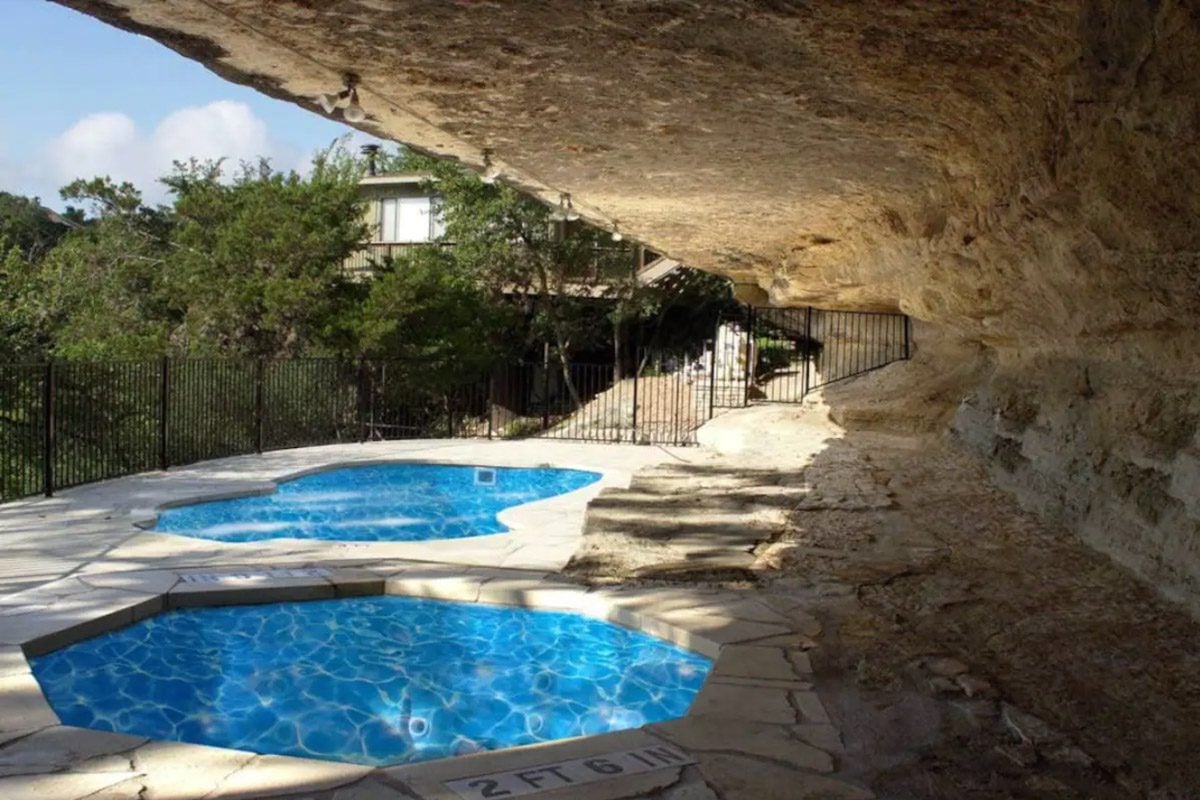 This isn't the same type of treehouse your dad built in the backyard! A truly luxurious, top-notch architectural home located on the south shore of Lake Travis, the vaulted ceilings and panoramic windows make it feel very open and bright.
All the amenities you could possibly want for your stay are included, such as a well-equipped kitchen set up for entertaining a crowd, spa-like bathrooms, and a wraparound deck overlooking the lake. Guests also get access to the community amenities including a pool, hot tub, marina, and BBQ grills.
Guests love the home's lakeside location and how clean, well-stocked, and private it is.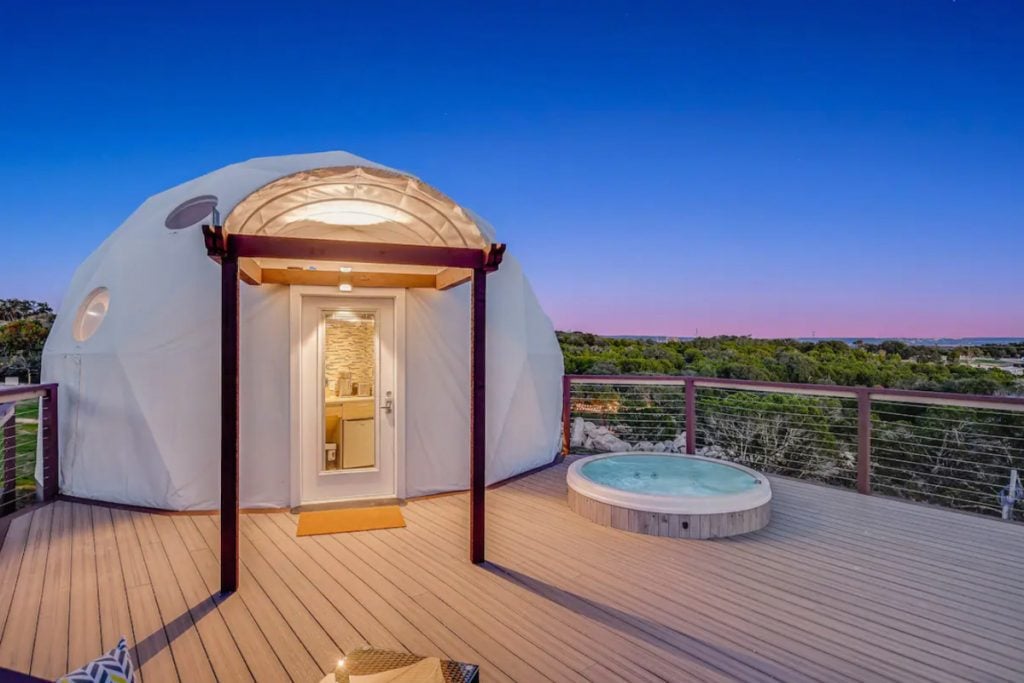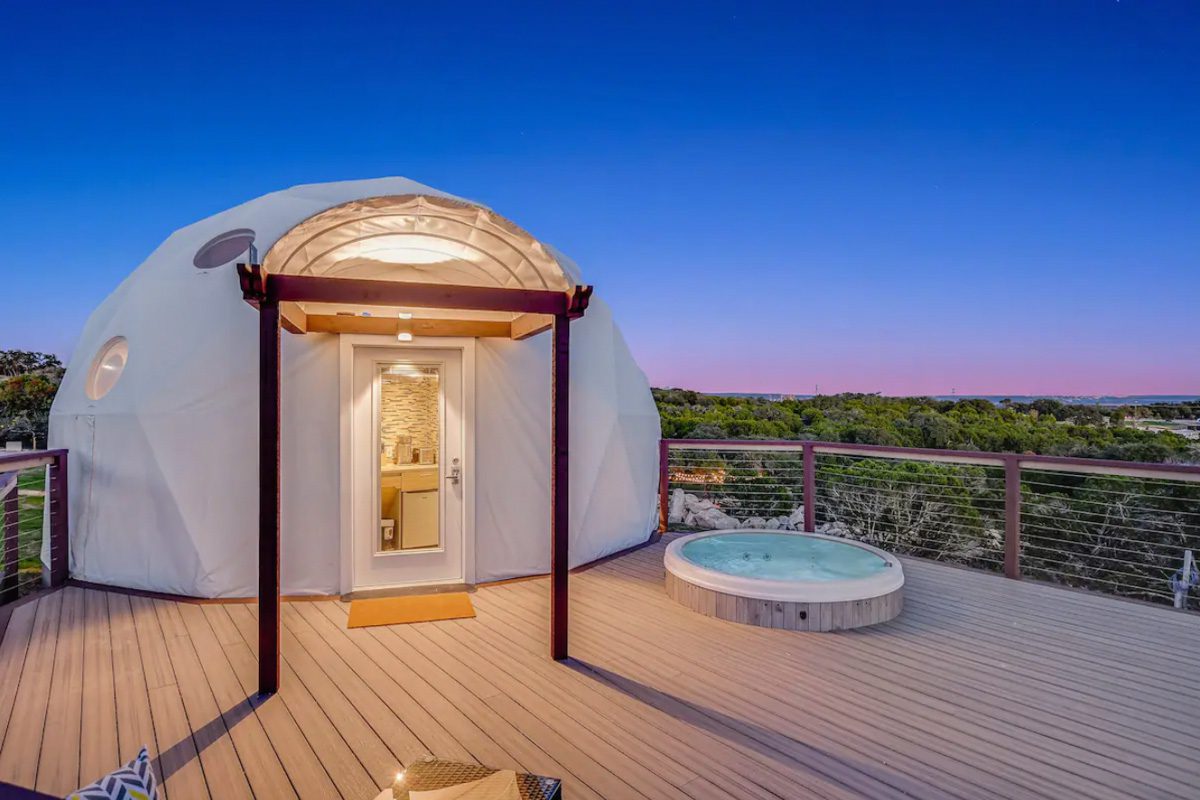 Unique luxury glamping pods at an adults-only resort in Texas Hill Country
Location: Lago Vista
Budget: $$$
Number of Guests: 3
Minimum Stay: 1 night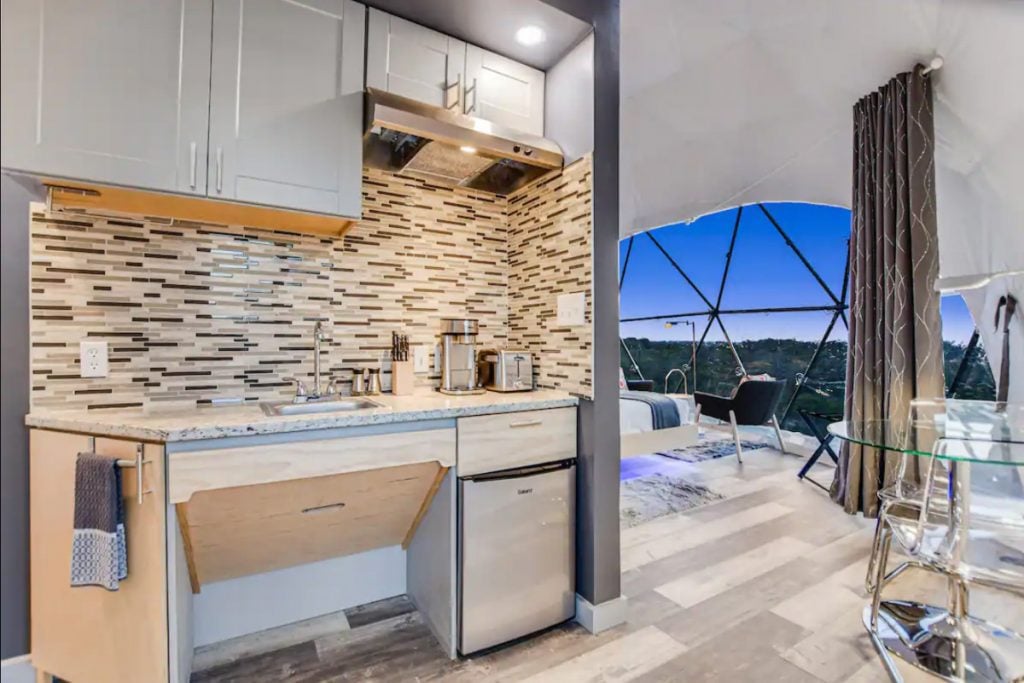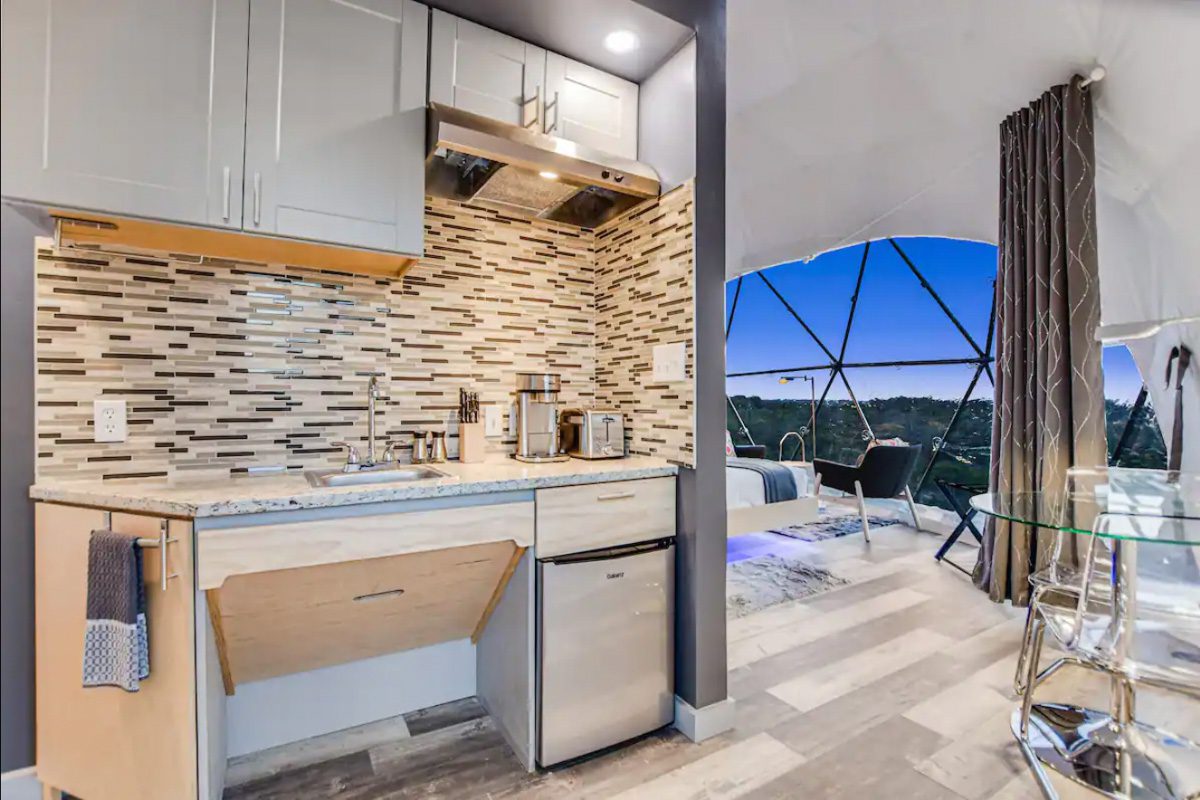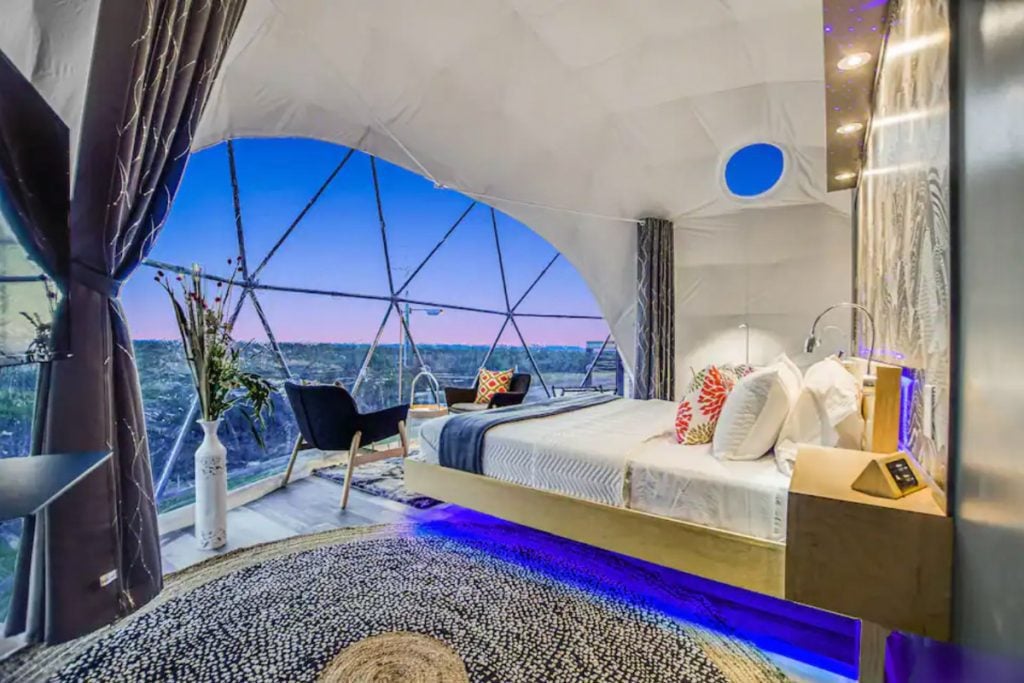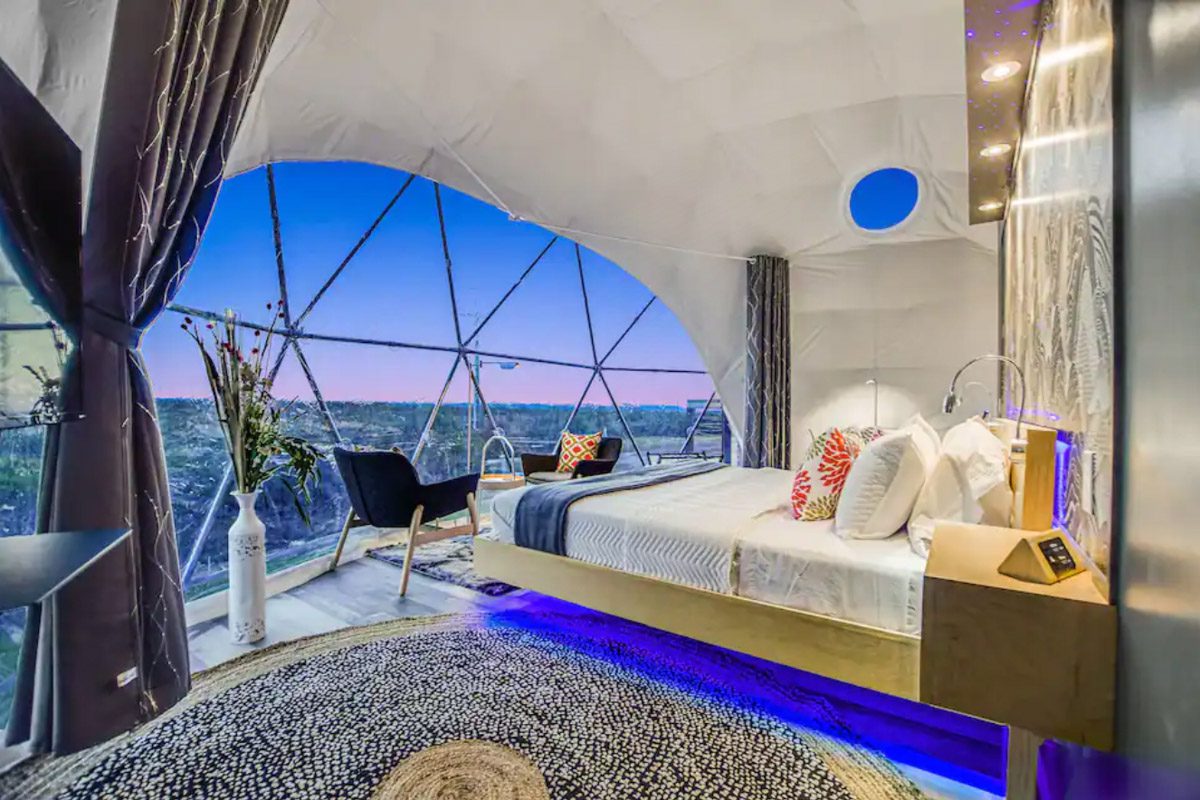 This gorgeous, unique adults-only glamping resort in the Lago Vista area of Hill Country has some of the best Airbnbs in Austin. Eight luxury "pods" are available, and four in particular (pods #1-4) are "Deluxe," meaning they each have their own dedicated hot tub, hammock, and grill.
They also have en-suite bathrooms, dining areas, kitchenettes, and heat and air-conditioning, so this is hardly a "roughing it" type of camping experience! The floating king-size bed really makes this a standout stay in Austin.
Guests love the peace, quiet, and isolation of this getaway that let you truly relax and enjoy the experience.
"Definitely worth the stay! We work 7 days a week and [it's] hard to get a vacation but once we did we were so happy we found this place left feeling relaxed." – Tiffany, 2022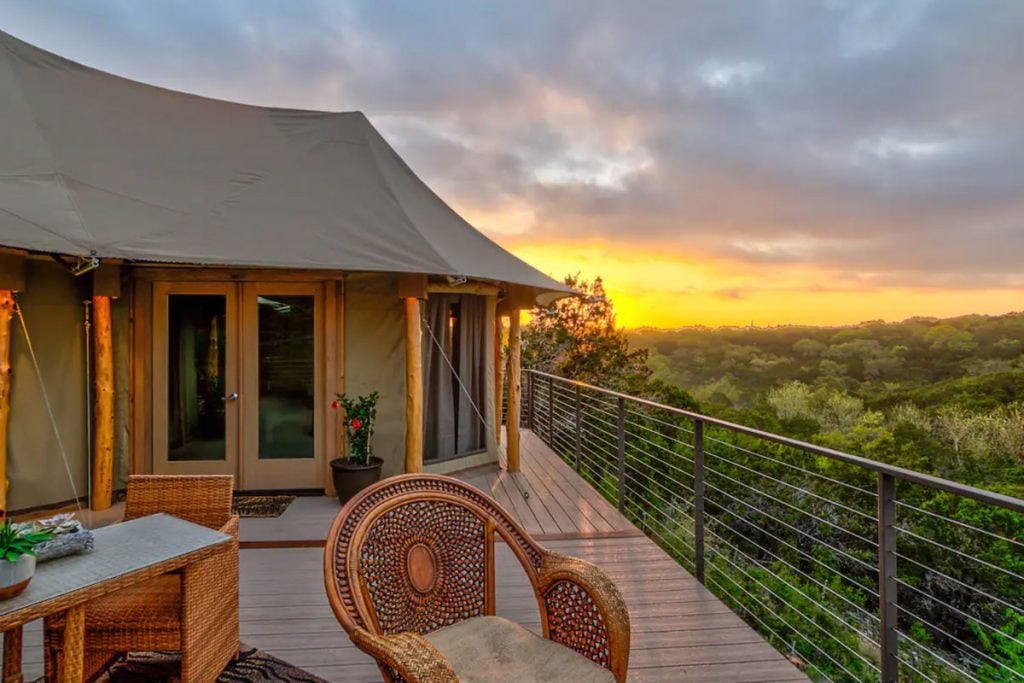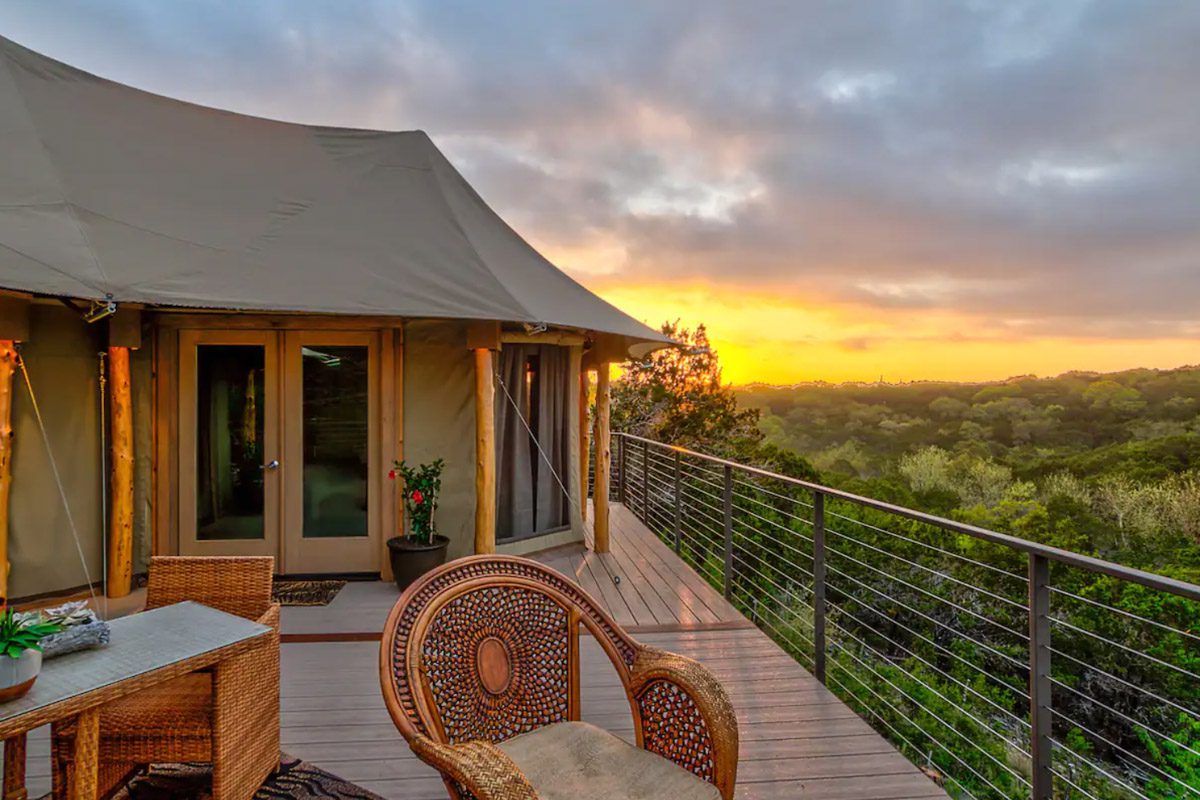 Luxury glamping experience perfect for couples on a secluded 15-acre ranch
Location: Firesong Ranch in Hill Country (Spicewood)
Budget: $$$
Number of Guests: 2
Minimum Stay: 2 nights
Superhost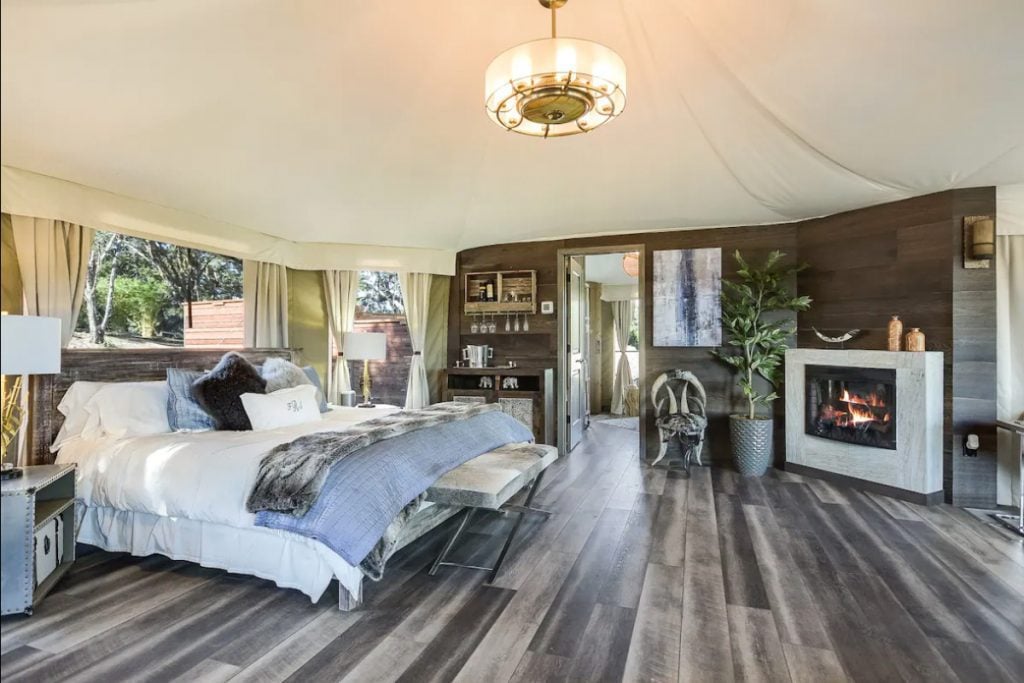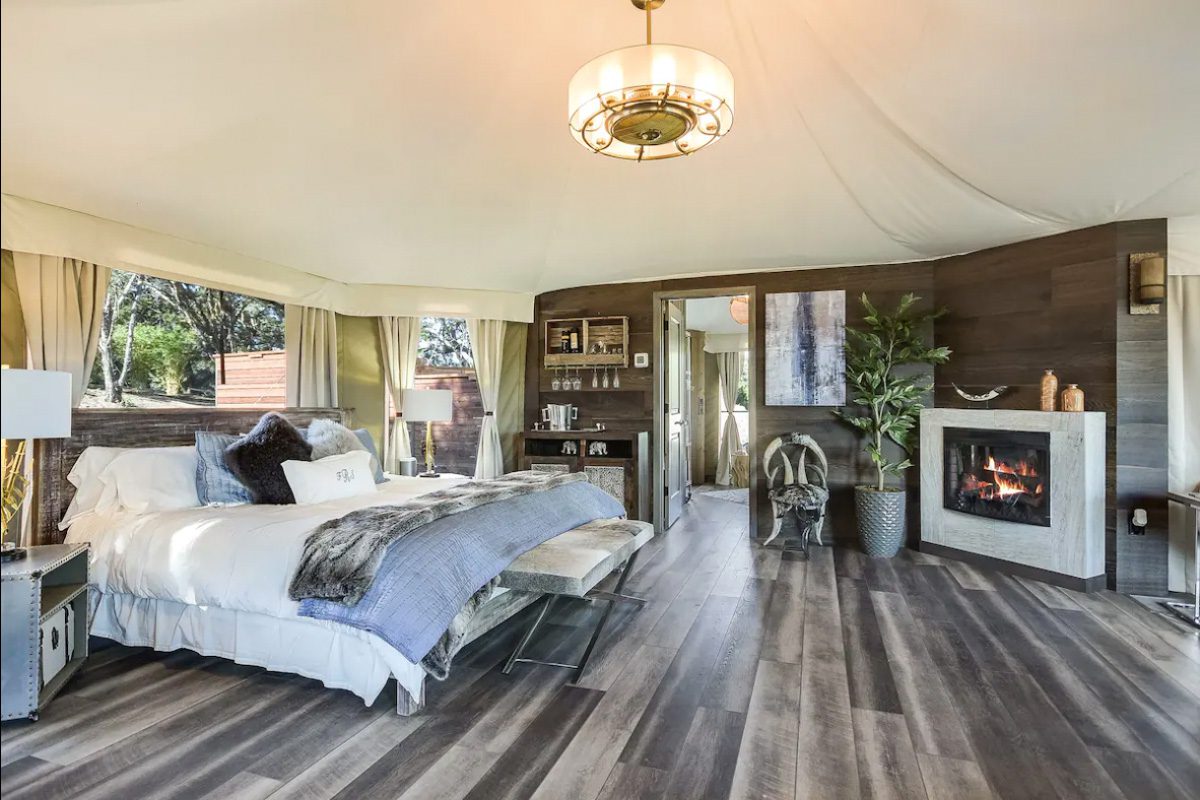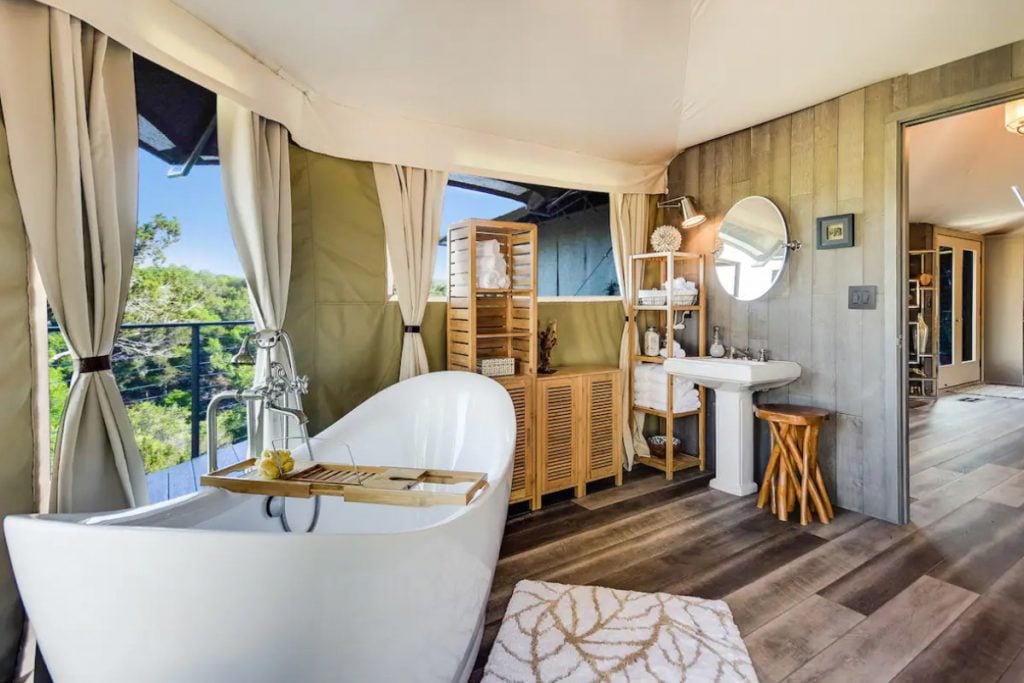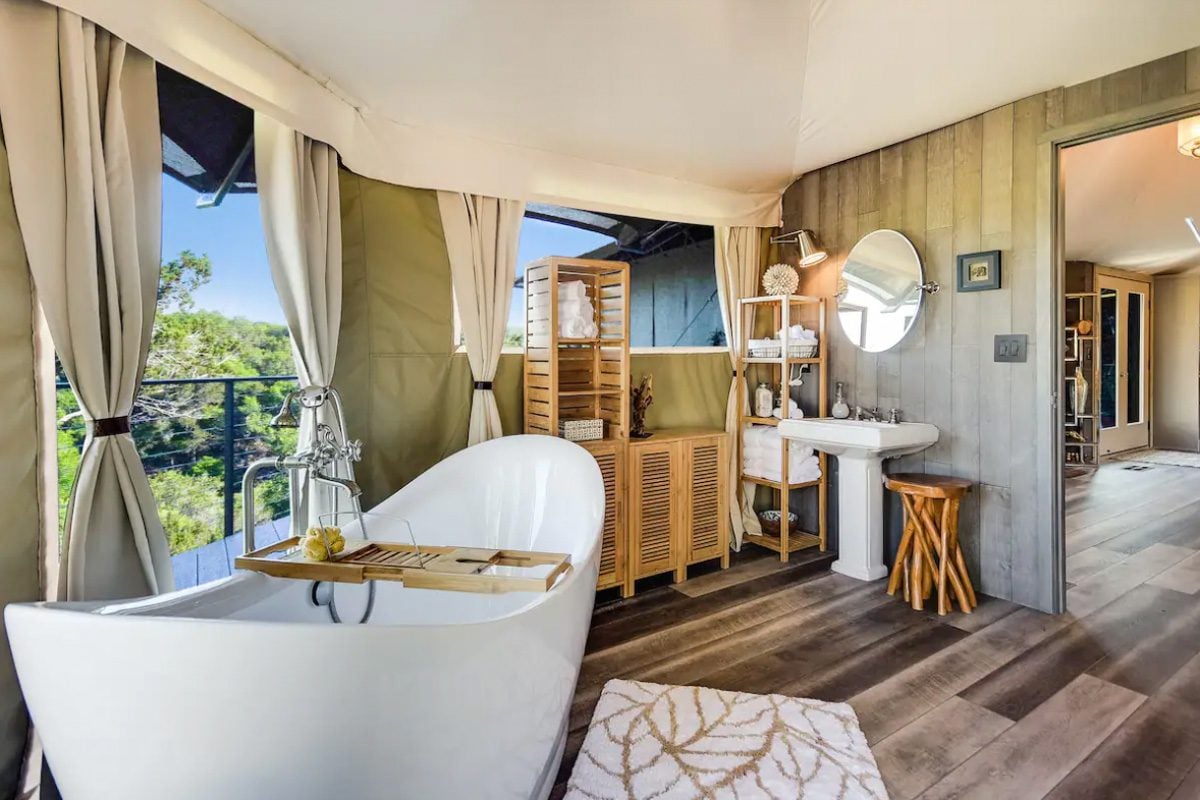 We can almost guarantee you've never seen a tent like this one! This glamping stay is so luxurious, you'll likely forget that you're "camping." The entire adults-only, pet-free space, dubbed NDotto, is absolutely top-notch and designed with a luxurious, rustic theme in mind.
Enjoy amenities including a private hot tub on the deck, indoor and outdoor fireplaces, a hammock overlooking views of Hill Country, a coffee and tea bar, luxurious indoor soaking tub, outdoor shower, and vintage board games for quiet, cozy nights in. The only issue here is that it's extremely hard to leave!
Guests love the way the hosts have thought of every tiny detail to make this a truly luxurious and romantic getaway just outside of Austin.
"Loved it! The perfect place for a romantic getaway with your partner. We really had the chance to be in nature and decompress from the outside world. Dawn made sure we had everything we needed for our weekend and was so communicative. 10/10 recommend this place and we will be coming back!" – Jakki, May 2022
Honorable Mention
---
Large Groups (8+ guests): Since Austin is such a popular city for group trips such as bachelorette/bachelor parties or girlfriend getaways, we've included a few larger Airbnbs in Austin that can sleep 8 or more guests.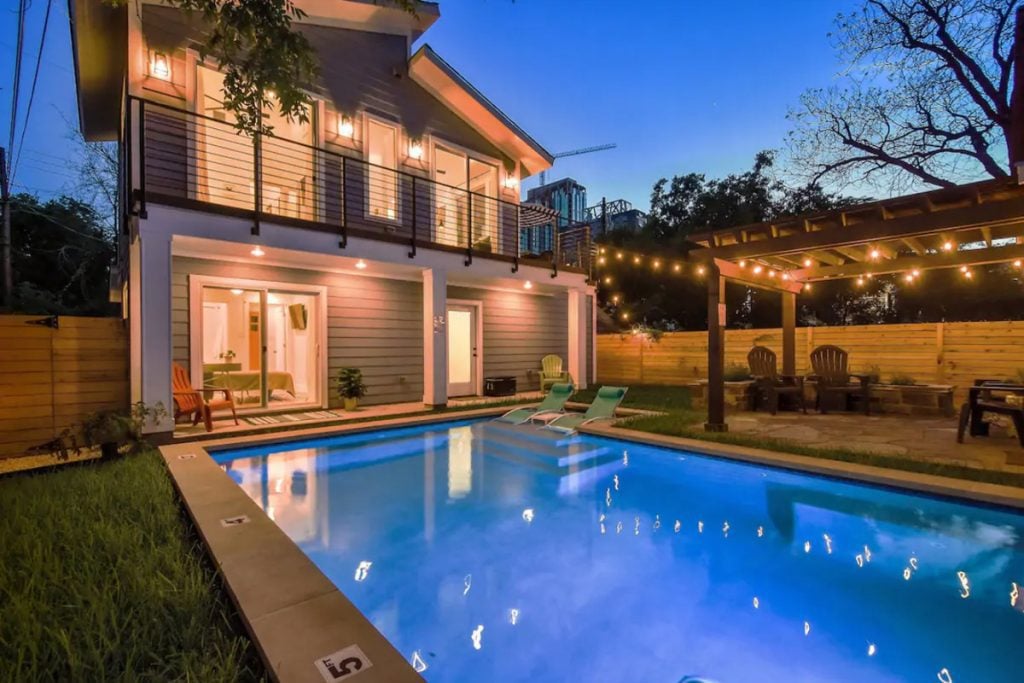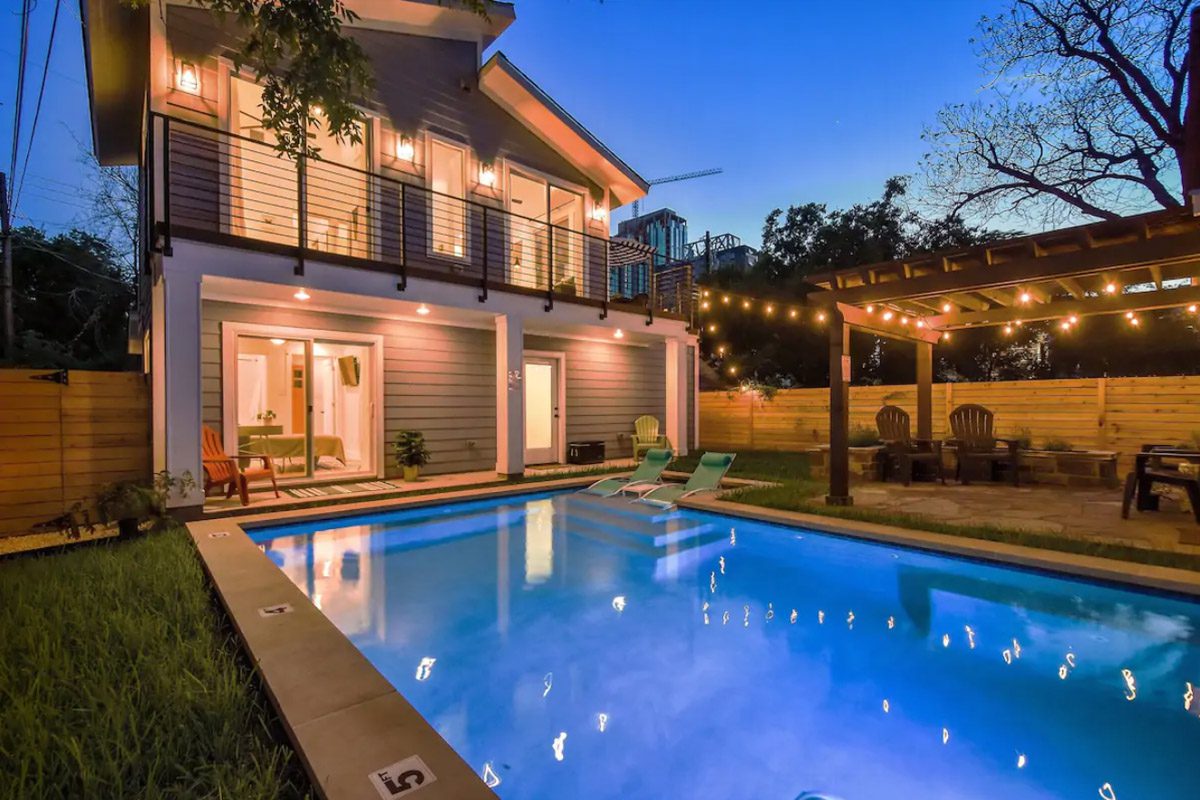 Large four-bedroom home just a few blocks from downtown Austin with a pool
Location: East Cesar Chavez
Budget: $$
Number of Guests: 12
Minimum Stay: 1 night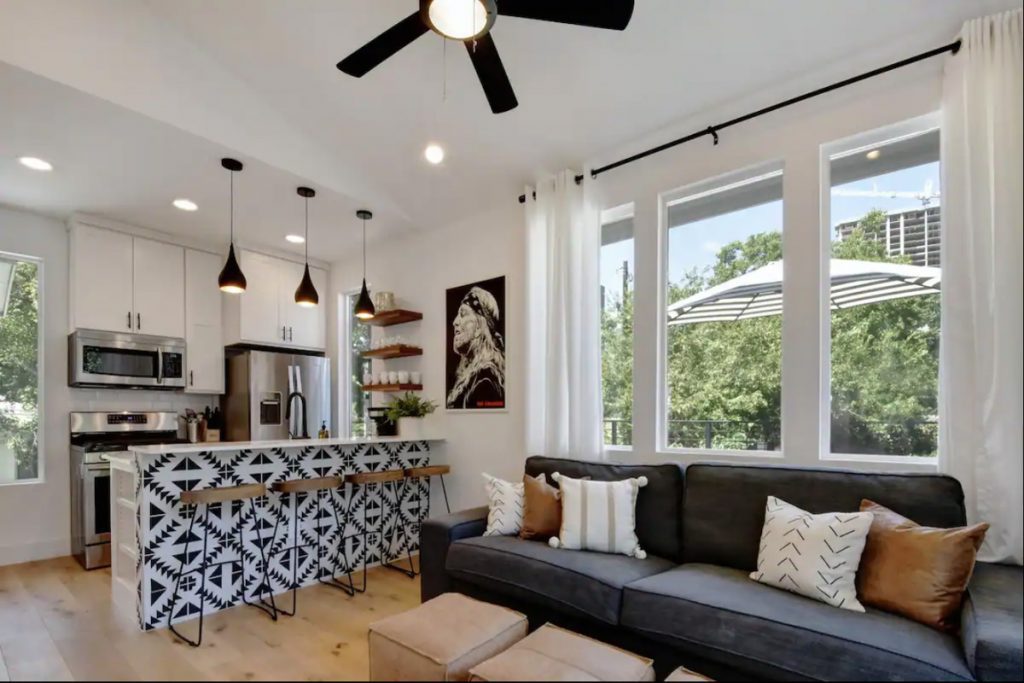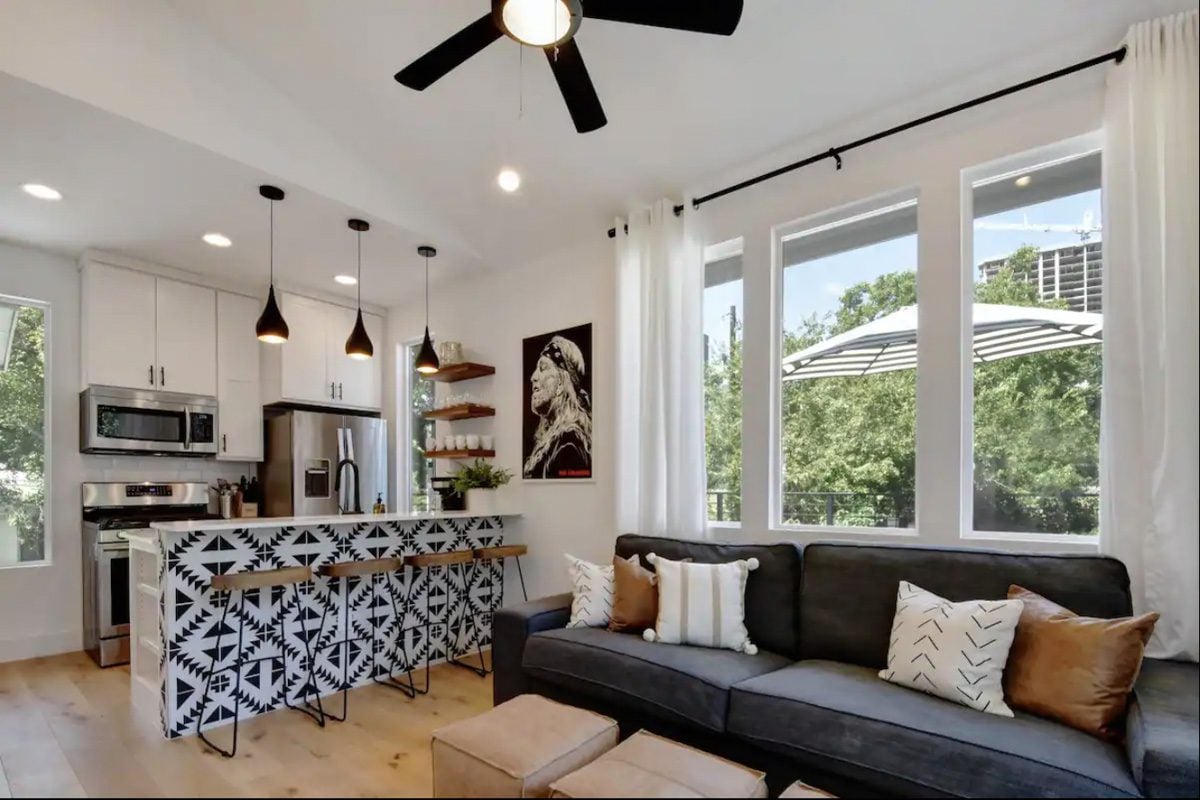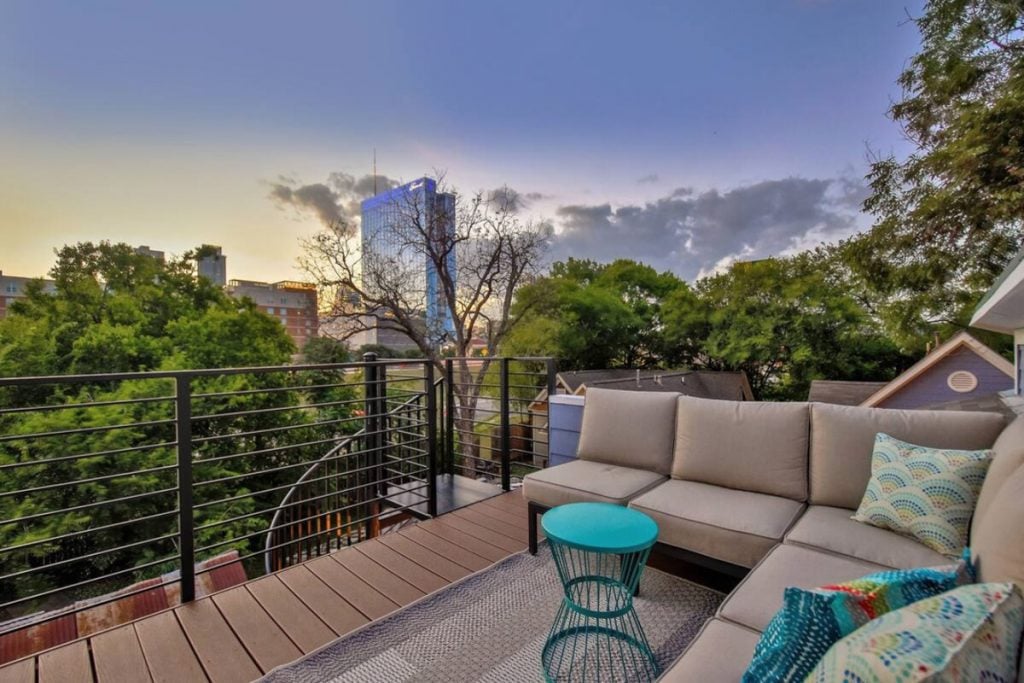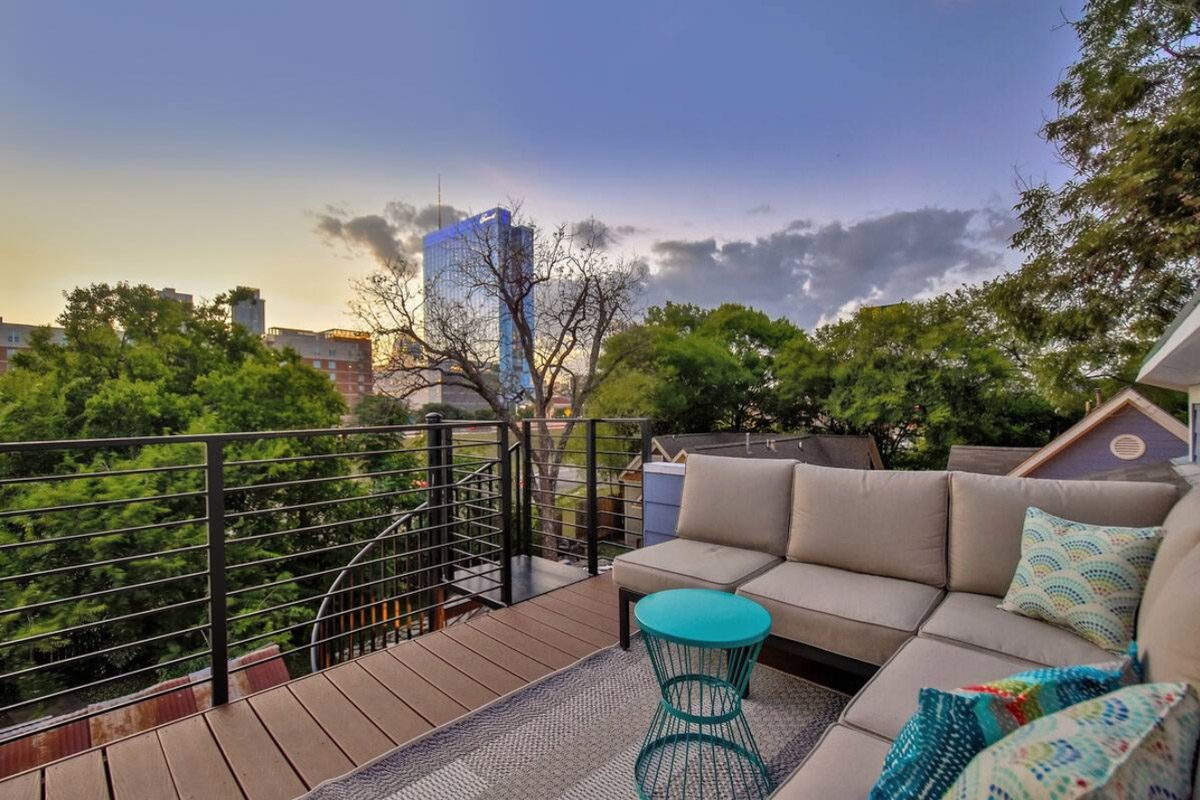 This 4-bedroom, 2-bath home has beds to accommodate up to 12 people, plus a large kitchen, spacious living room, and great outdoor spaces (including decks on the second and third floors!) perfect for hanging out or collaborating on work trips.
The backyard has an awesome pool and spacious patio area with tons of comfy seating. Note: the outdoor areas are shared with the other home on the property, but there's plenty of room for everyone.
Guests love being so close to downtown and having a large home to accommodate groups.
"Such a beautiful house! Jilian was very good at communicating and answering any questions I had! Definitely had a good time with all my friends!" – Samantha, May 2022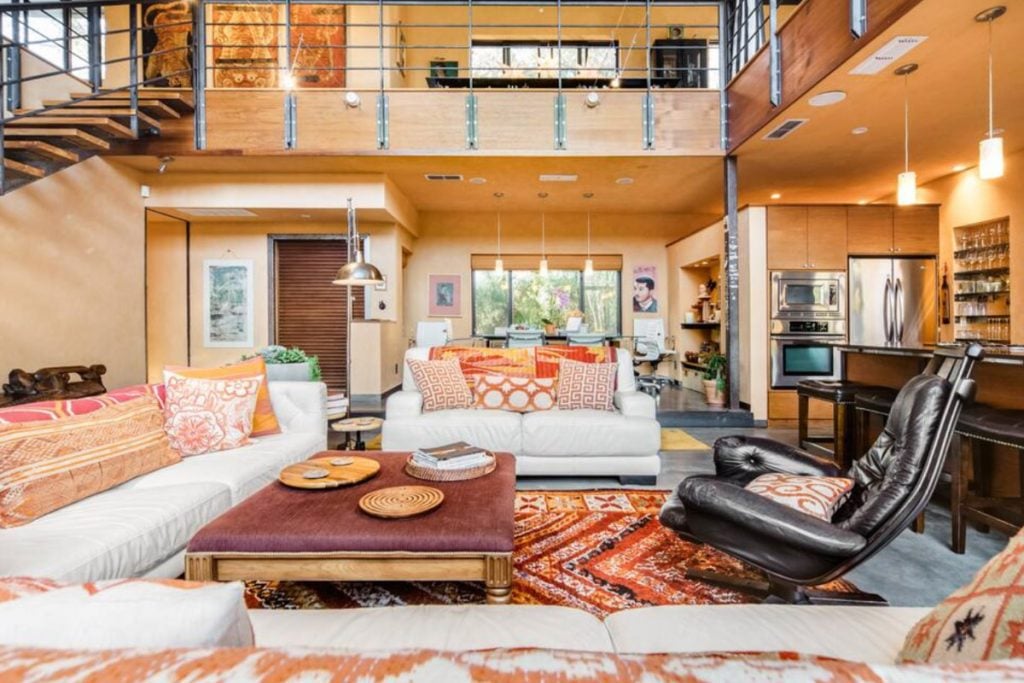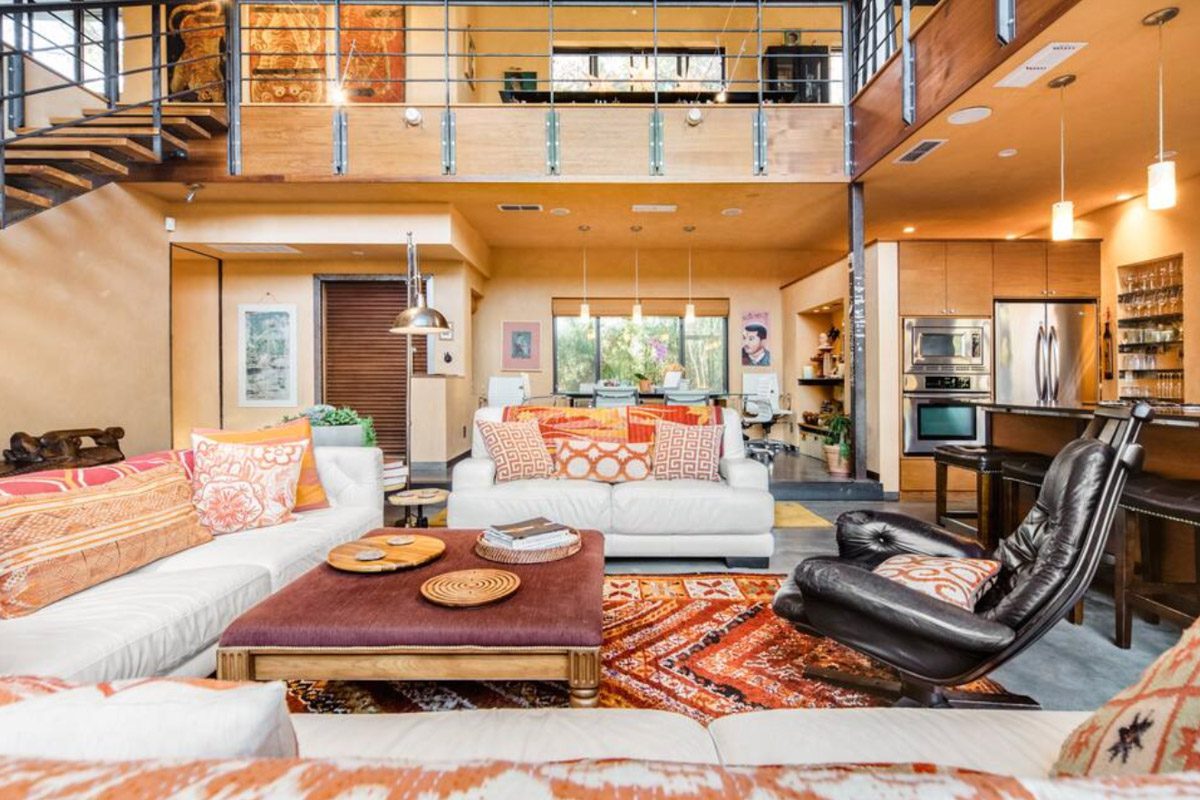 Incredible artist-designed loft stay on two acres with a pool and garden for larger groups in South Austin
Location: Sunset Valley, South Austin
Budget: $$$
Number of Guests: 9
Minimum Stay: 3 nights
Plus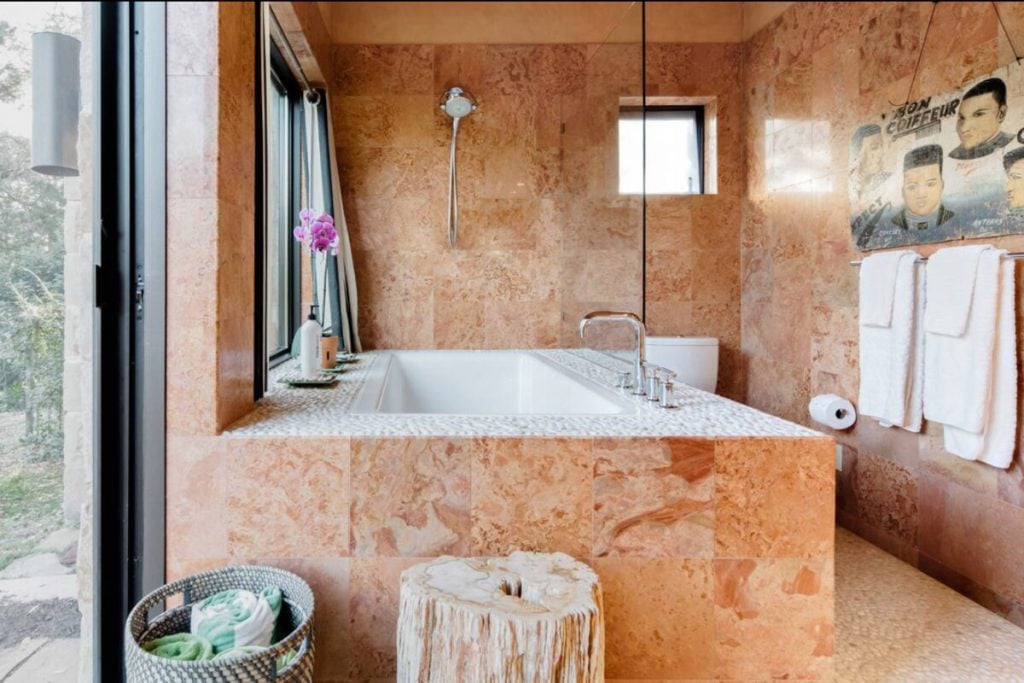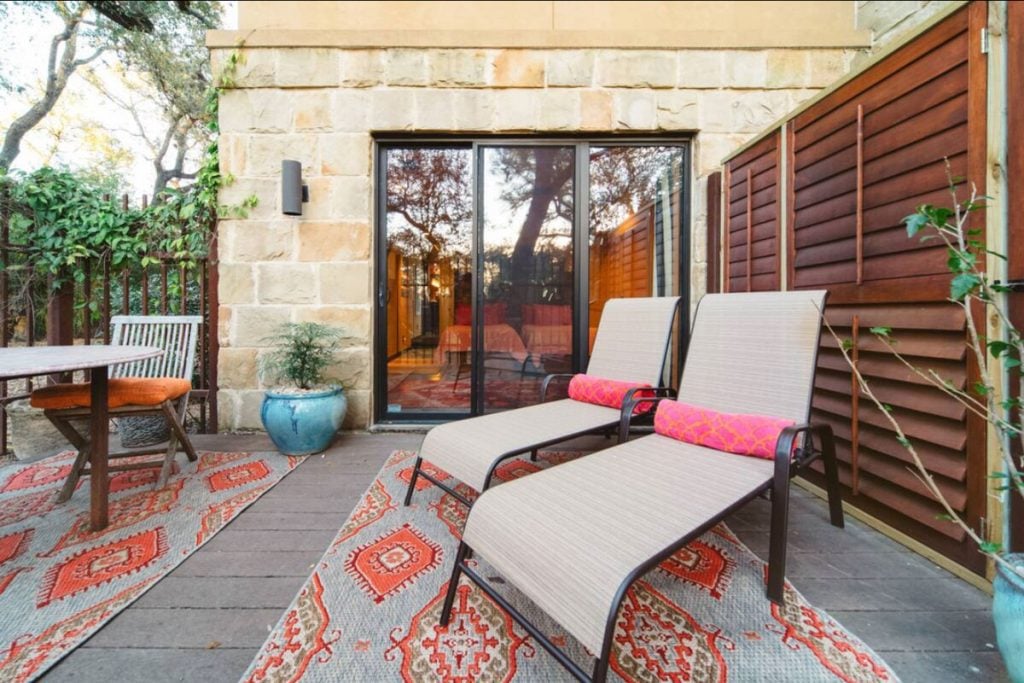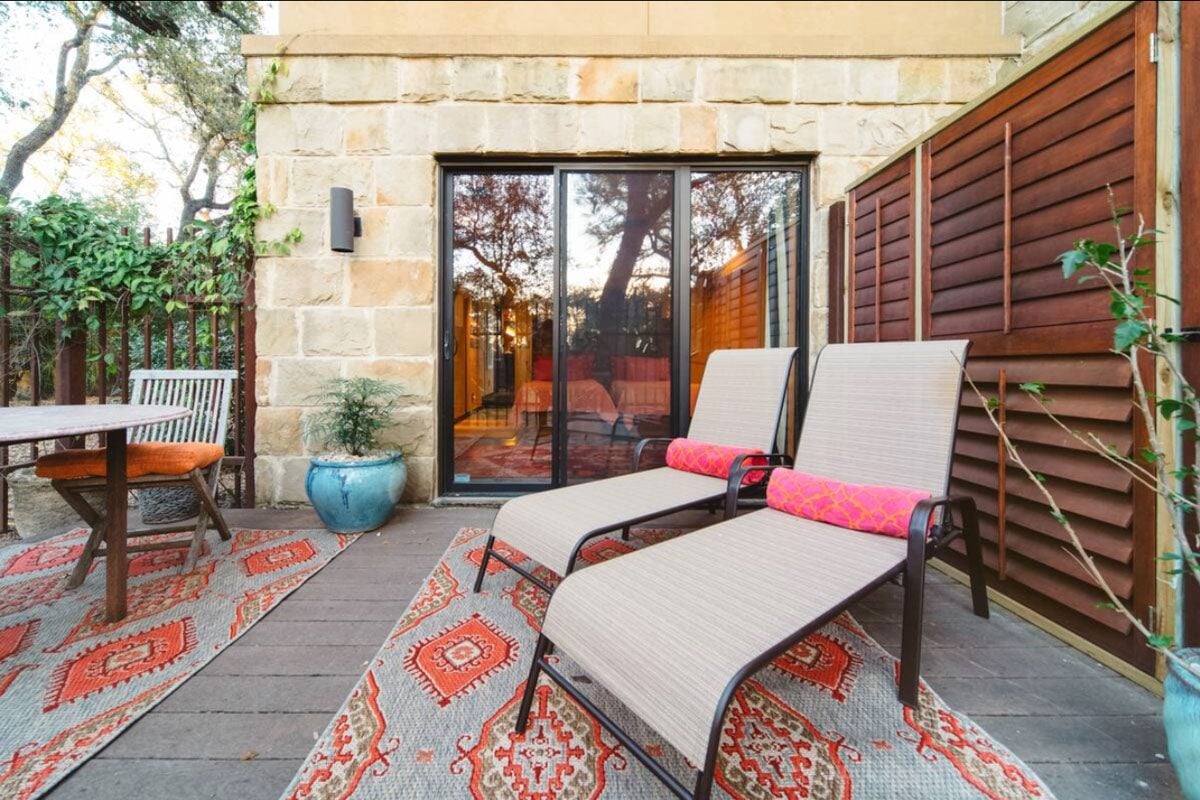 If you have a bigger group and you're looking for a truly top-notch stay in South Austin, your search ends here. From the home's fascinating globally-inspired design and the art and textiles throughout to the pristine two acres with a private pool and garden, the atmosphere of this home is unmatched.
Nearly every window has a view of the pool and garden, creating a tranquil, inspirational atmosphere ideal for creatives. There are also a variety of onsite experience options for a private chef, massages, yoga classes, tarot readings, and cooking classes.
Guests can't give the host, Sharon, enough praise. She really goes above and beyond to make your stay an unforgettable experience.
Best large house for bachelor/bachelorette groups | Insta-worthy 6BR Home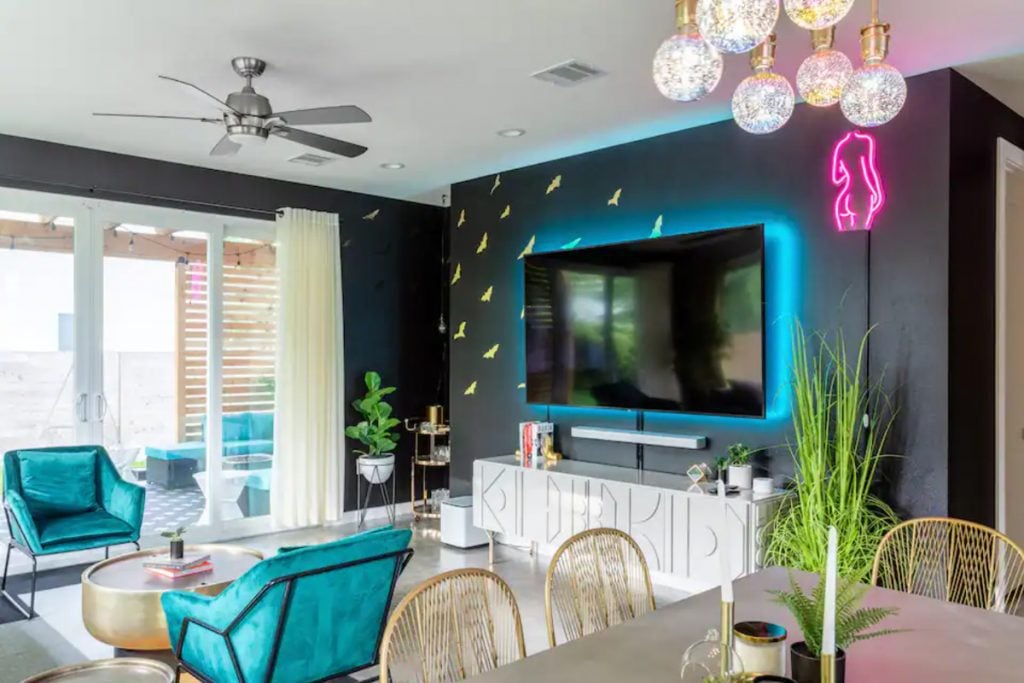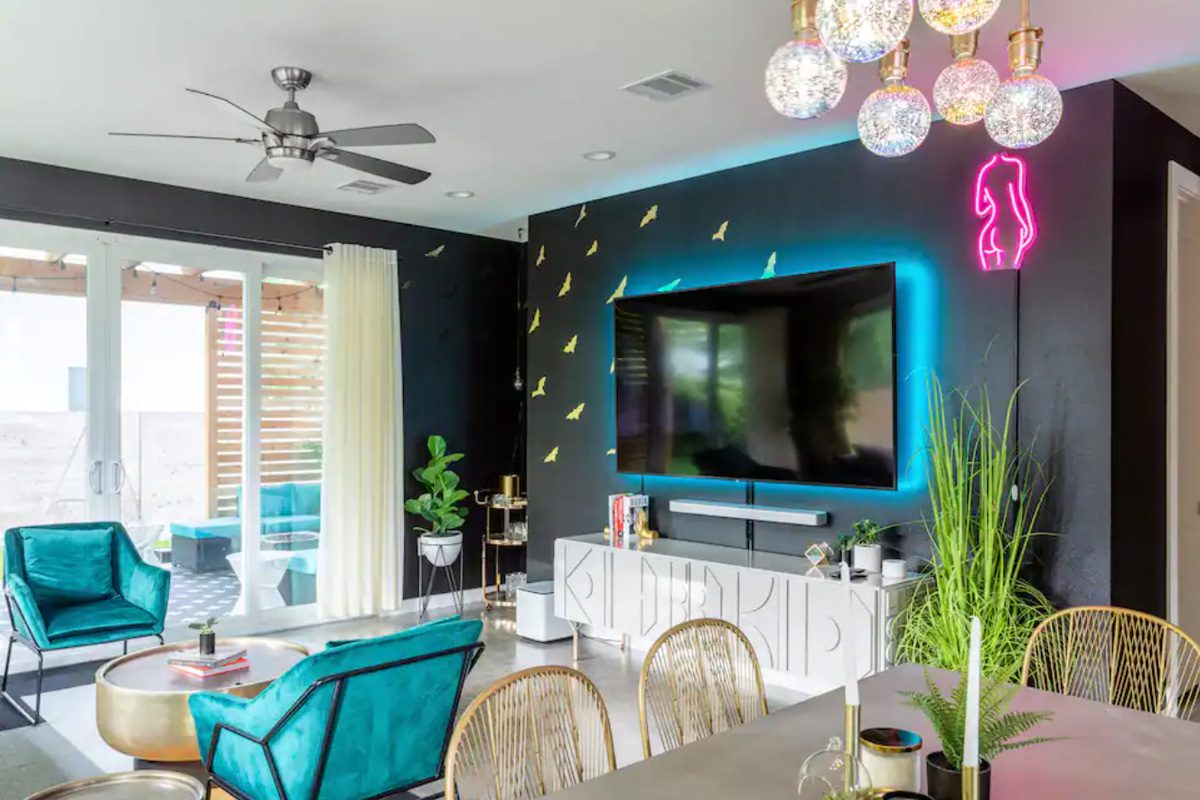 Amazing house for large groups with tons of fun photo ops and within walking distance to Rainey Street
Location: East Cesar Chavez, East Austin
Budget: $$$
Number of Guests: 16
Minimum Stay: 2 nights
Superhost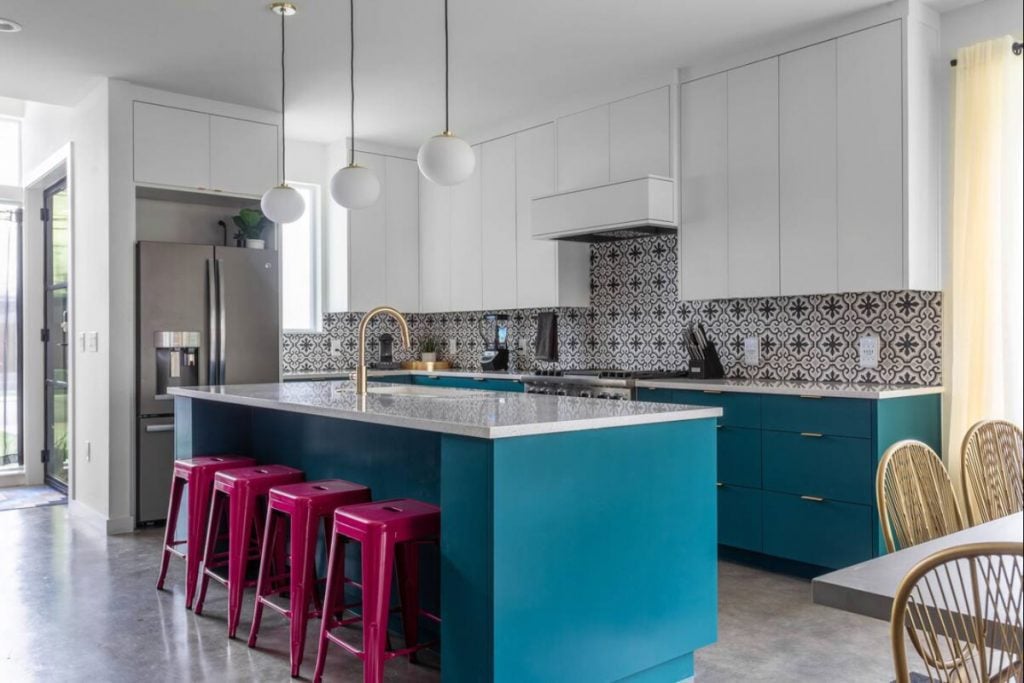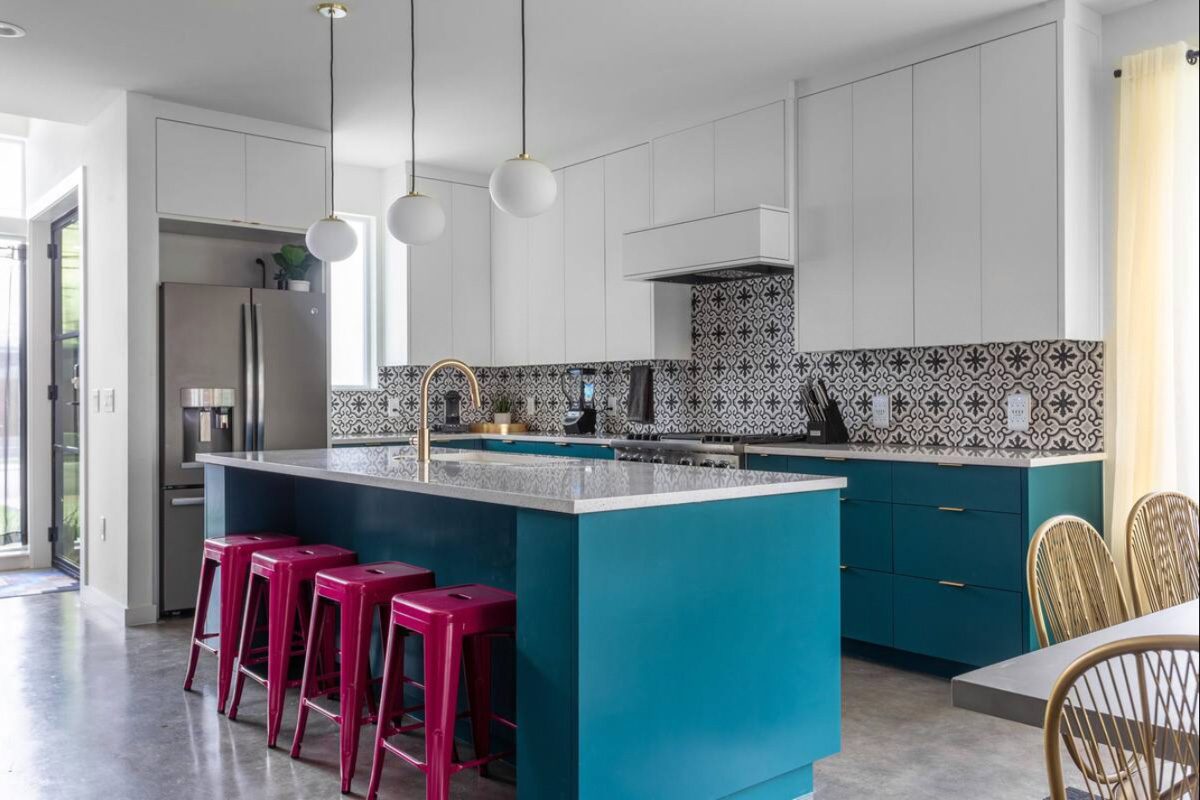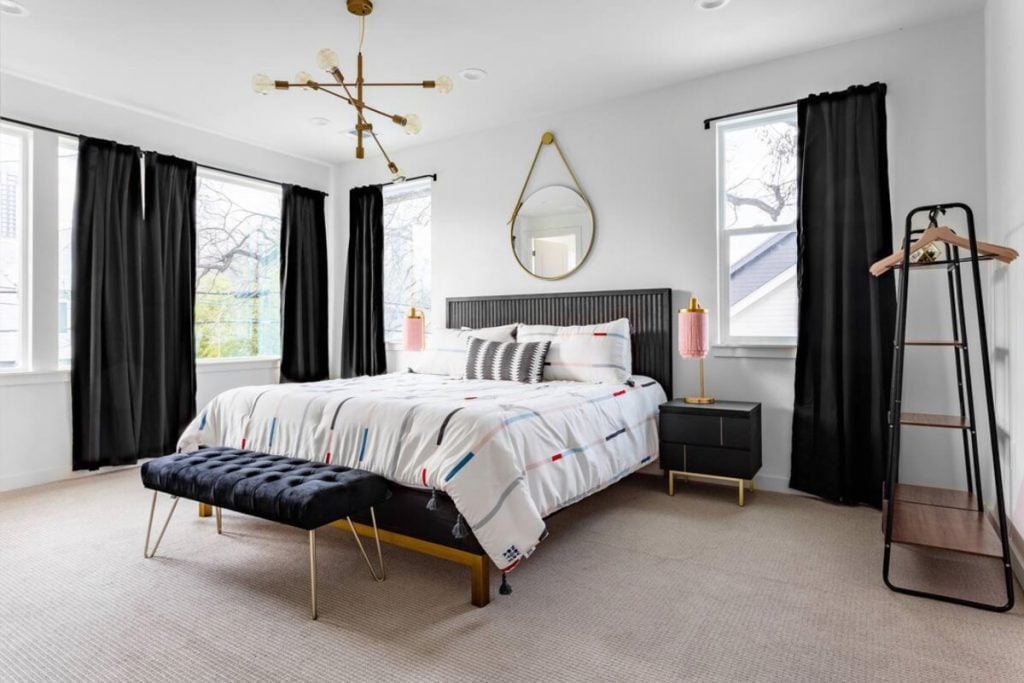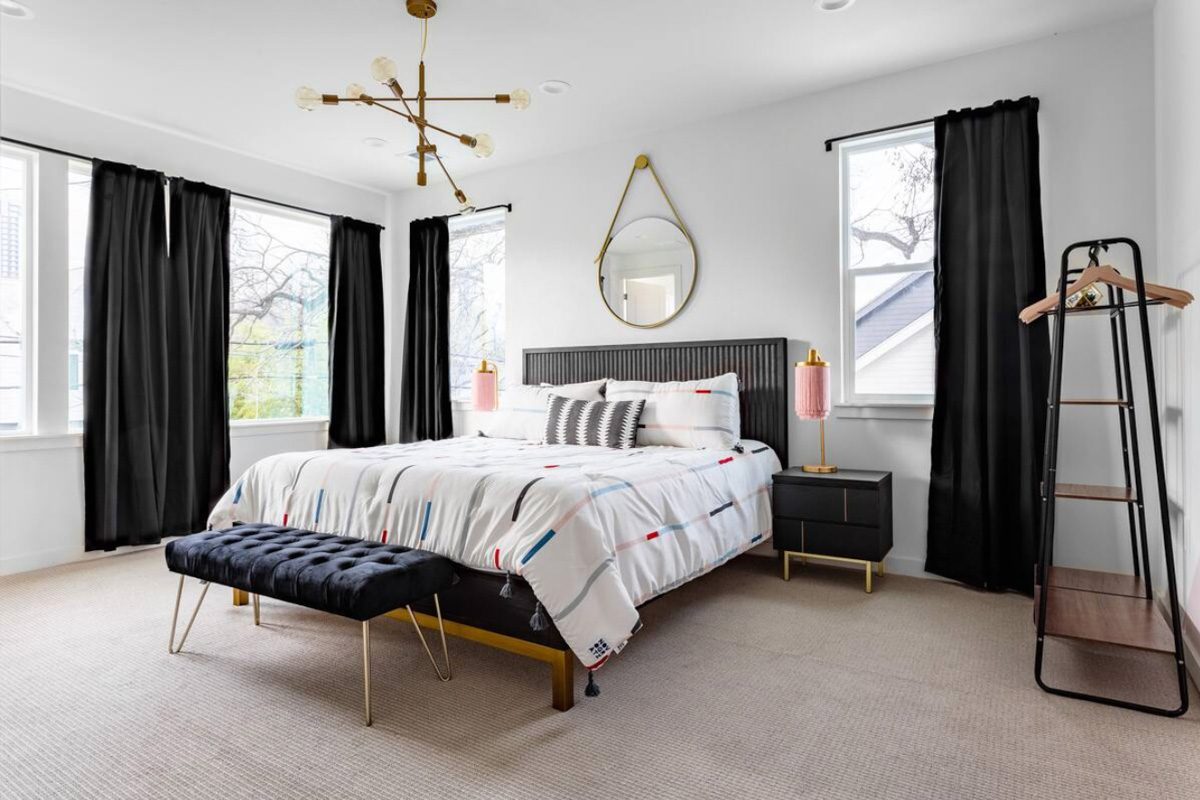 Being that the very first line of this Austin Airbnb's listing is, "We're here for a good time, not a long time," it's safe to say this house is perfect for bachelor/bachelorette parties and other celebrations.
Just a six-minute walk from the nightlife on legendary Rainey Street, it's a great place to stay close to all the hot party action.
Lots of space inside and an awesome backyard make this a great place to entertain everyone in a large group (the house sleeps 16 and can accommodate up to 25 for hanging out), and every single detail is highly "Instagrammable." Think colorful furniture and lighting, cheeky sayings throughout, cornhole in the yard, swinging hammock chairs, and artwork featuring things like balloon animals.
Guests can't get enough of the home's amenities and awesome location, and rave about the hosts.
"Awesome property for large groups, that is very close to the nearby nightlife. Everyone loved having their private bedrooms while being able to hang out in the communal space. The sound bar, cocktail cart and cornhole are also a great touch on the whole experience. Owners were hyper communicative and so friendly. Would recommend again." – Alexi, March 2022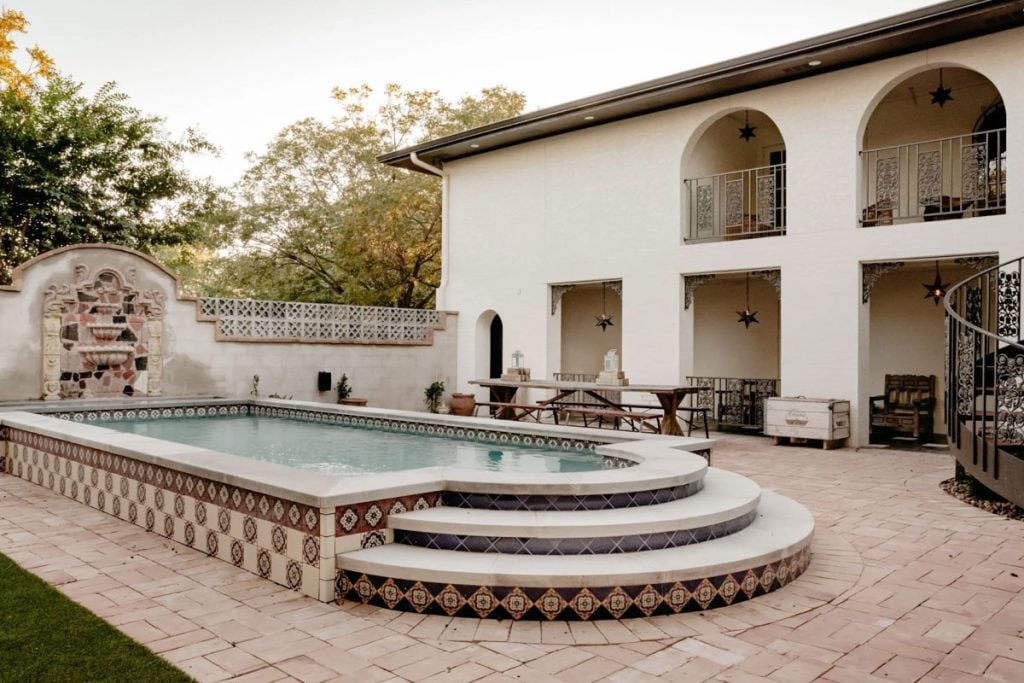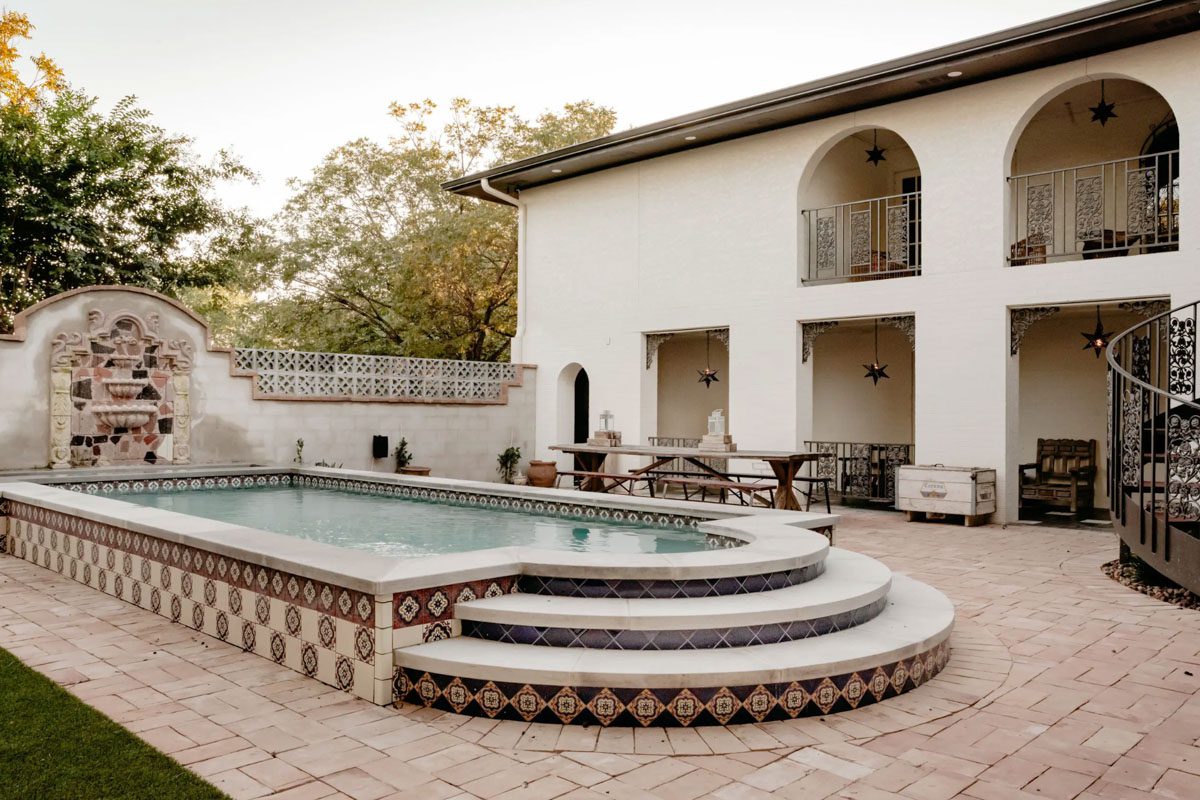 A truly unique Spanish-style luxury home with a beautiful courtyard and pool
Location: East Riverside, South Austin
Budget: $$$$
Number of Guests: 16
Minimum Stay: 2 nights
Plus | Superhost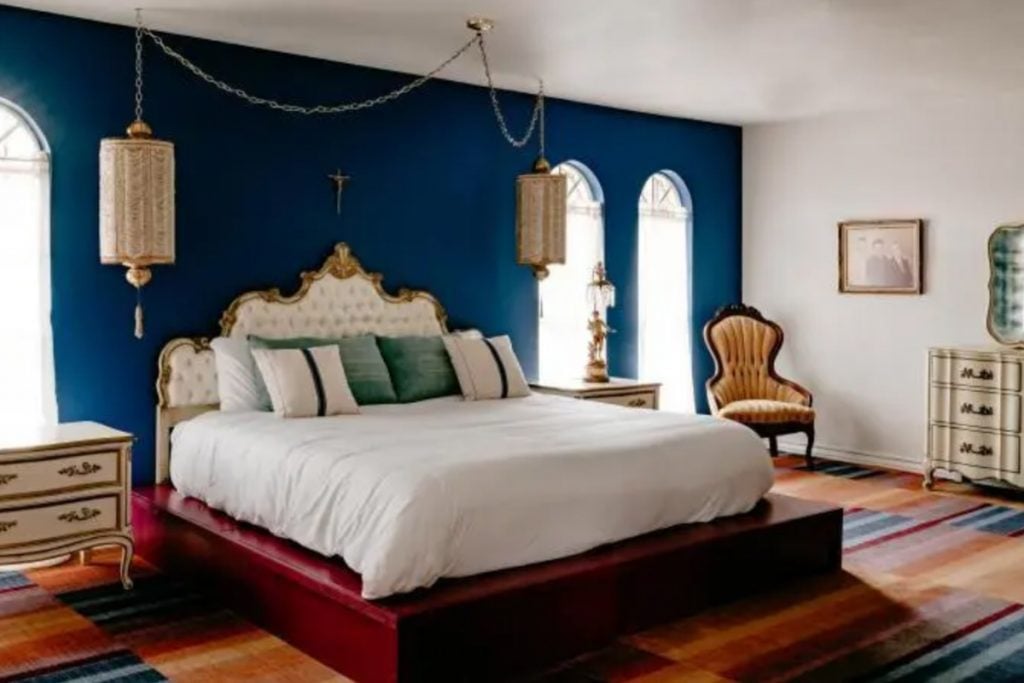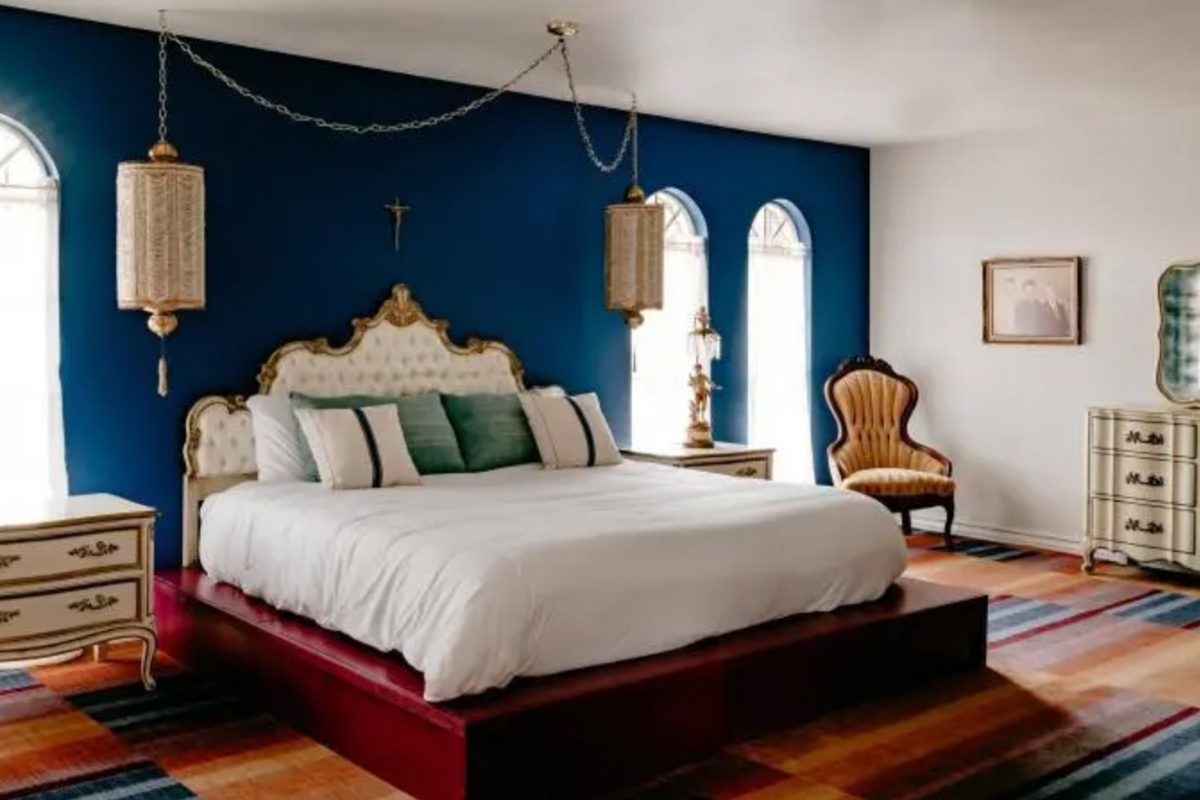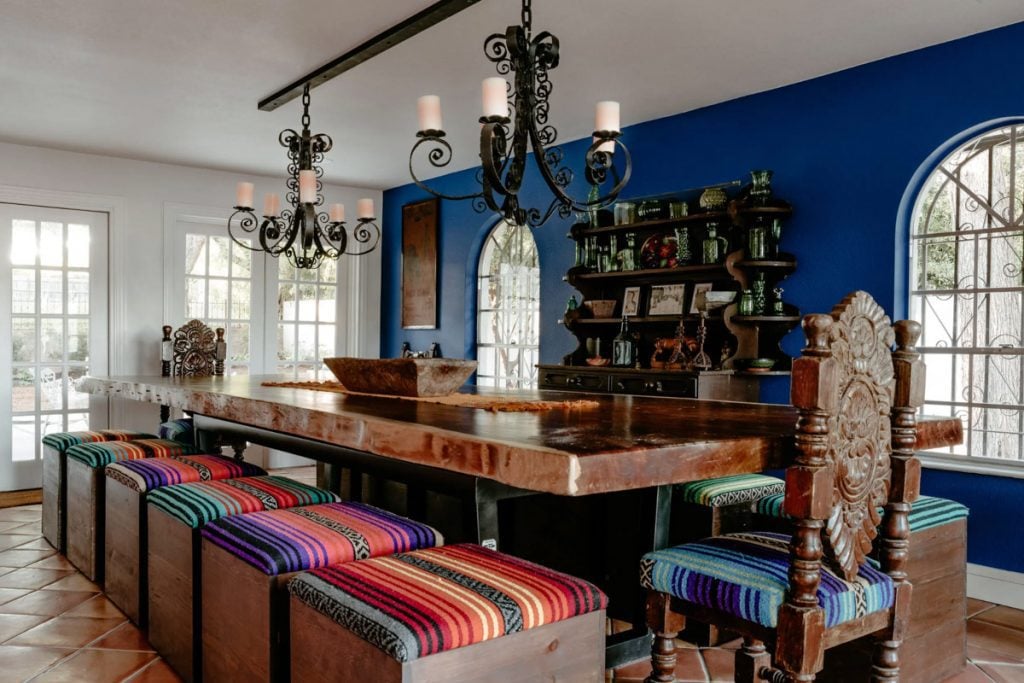 One of the best and most memorable Airbnbs in Austin for a group stay, this home has elements of luxury, art, and history woven throughout every detail. It's described by the host as an "aesthetic masterpiece" and we couldn't agree more!
GQ Magazine agrees as well, as it featured the home in August 2021 as one of the 24 coolest Airbnbs in the US. There's nothing you'll need during your stay that this home doesn't have, and the fantastic Spanish-style courtyard with heated pool, enormous custom mural in the living room, basement media room, and double-sided stone fireplace make this a truly special stay.
Guests love the home's luxe Spanish style, as well as all of the amenities that come with it.
This home was absolutely stunning! Felt like I was transported to a resort in Mexico. We enjoyed the heated pool and the basement media room especially! Perfect for watching movies and YouTube videos! Every corner of the home was welcoming and photogenic. Highly recommend for a getaway or staycation!! – Kelly, January 2022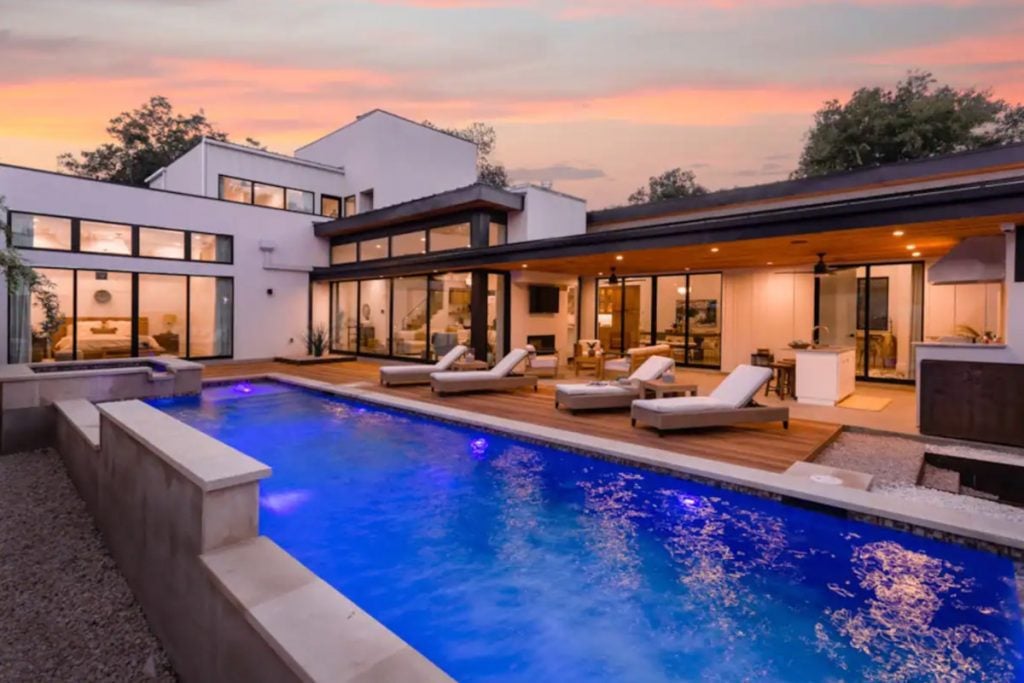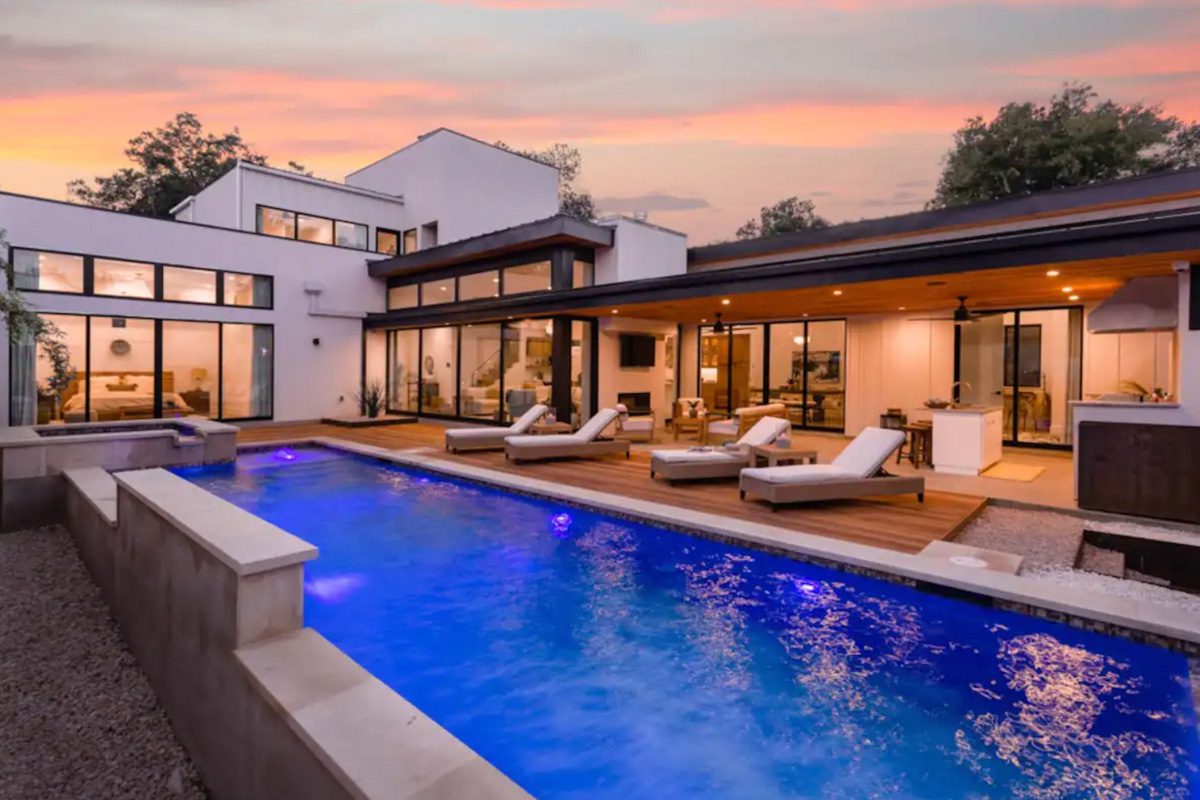 As good as it gets for Airbnbs in Austin, absolutely over-the-top design and tropical-inspired luxury in a fantastic area
Location: Zilker, South Austin
Budget: $$$$
Number of Guests: 8
Minimum Stay: 4 nights
Superhost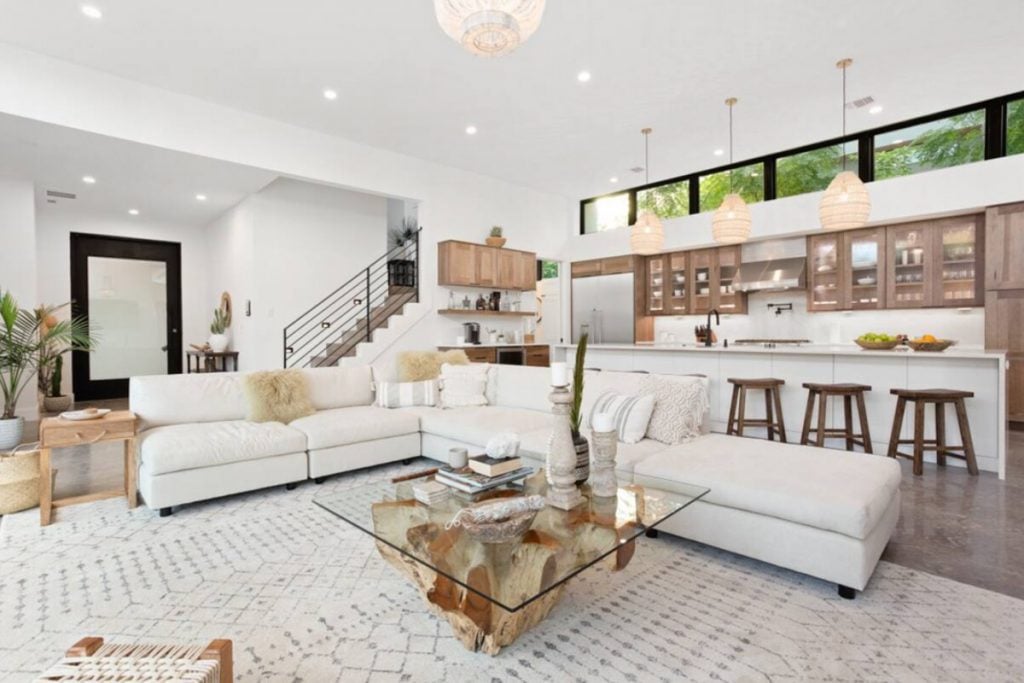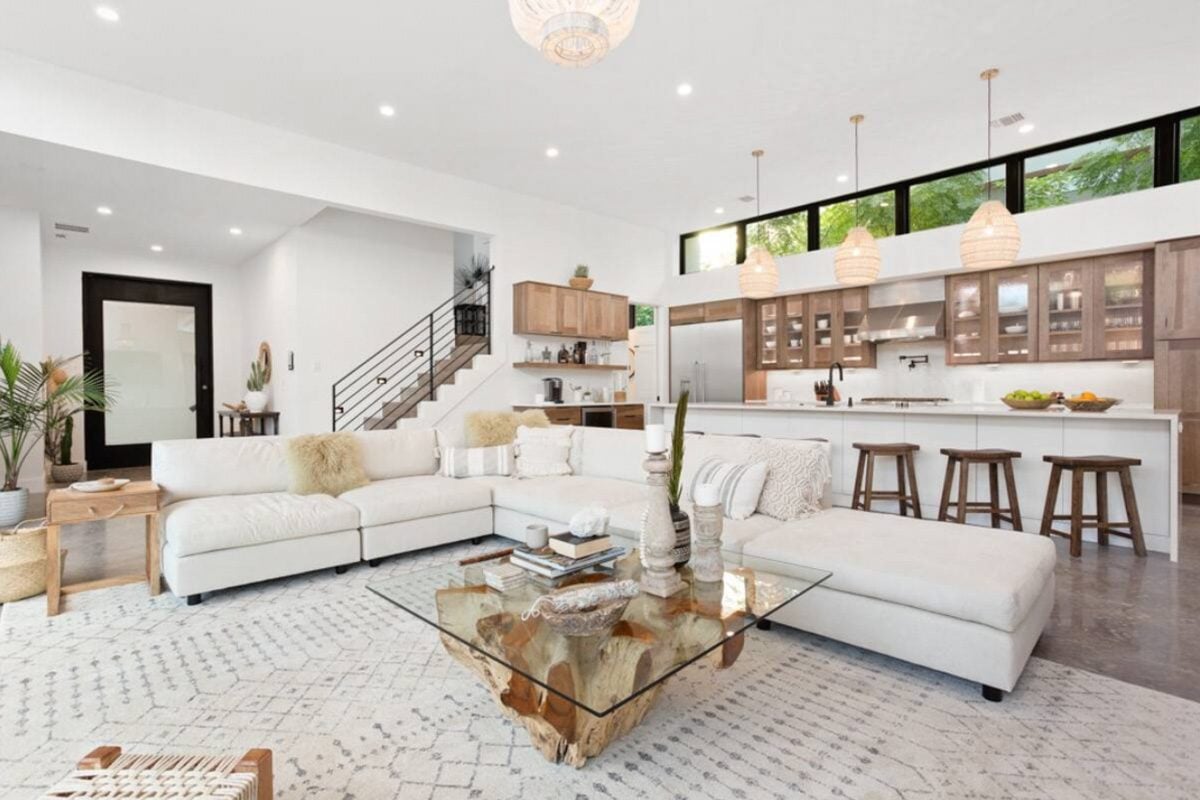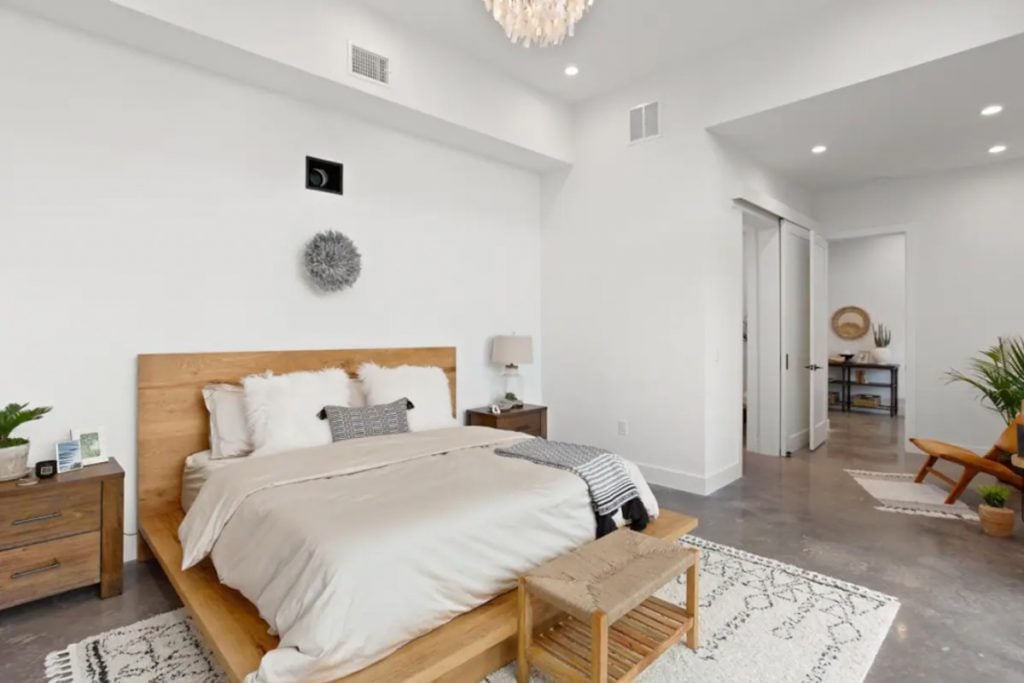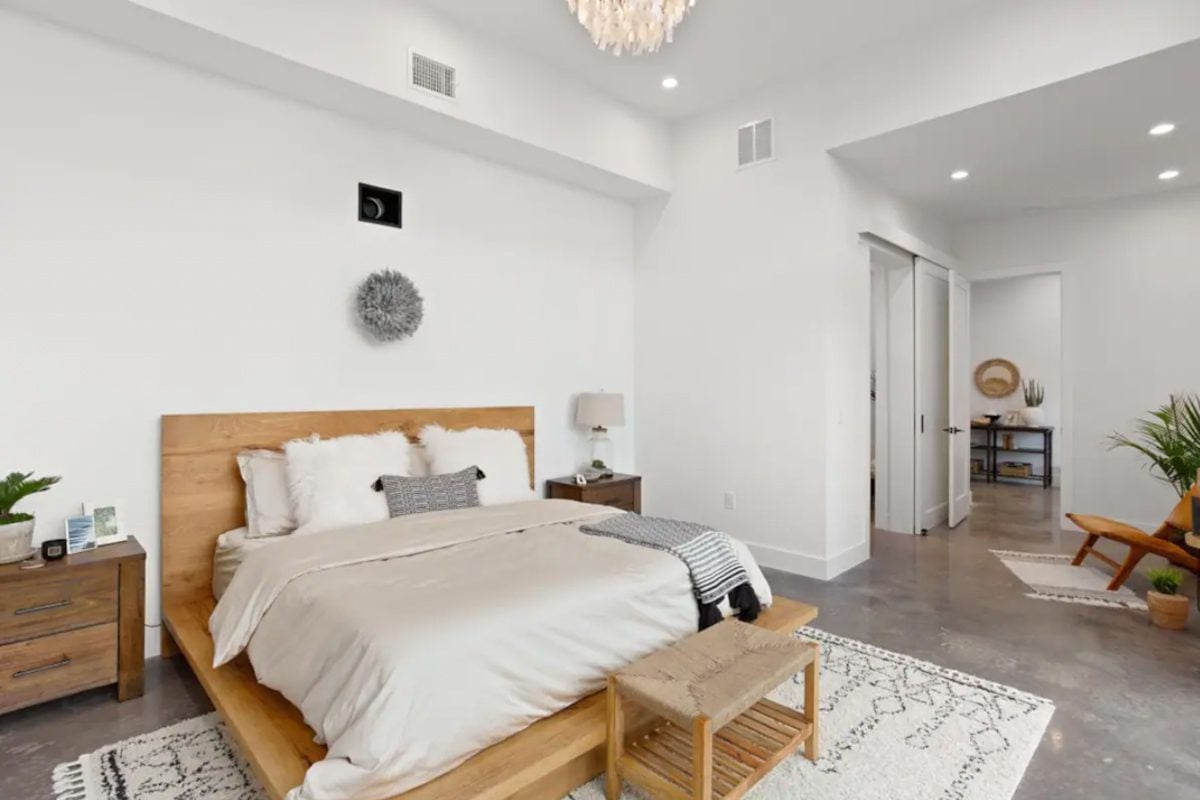 If you want the most luxurious stay you can find in Austin, here it is! This Mexico resort-inspired home is absolutely stunning, with no tiny detail overlooked.
The rooftop patio provides fantastic views of downtown, the 35-foot pool will make you feel like you're legitimately lounging by a beach, and the chef's entertaining kitchen (not to mention another outdoor kitchen by the pool!) will have you whipping up all sorts of fun creations.
To top it all off, it's within walking distance of Zilker Park and just minutes from downtown. Truly, this Austin home has everything covered and it will be almost impossible to leave!
Guests rave about the pool and large living and dining areas. Several also mention that the host is very attentive and hospitable.
"Jennifer was a wonderful host — so communicative, responsive and thoughtful. She truly made the whole trip an easy and great experience. The house was beautiful, sunny, quiet, and had everything we needed. Location is perfect and we had a wonderful time there!" – Emily, April 2022
Honorable Mention
---
Can't find an Airbnb?
Here's a quick list of recommended boutique properties, hotels, and vacation rentals in Austin.
---
You may also like…
Save this article on Pinterest for later!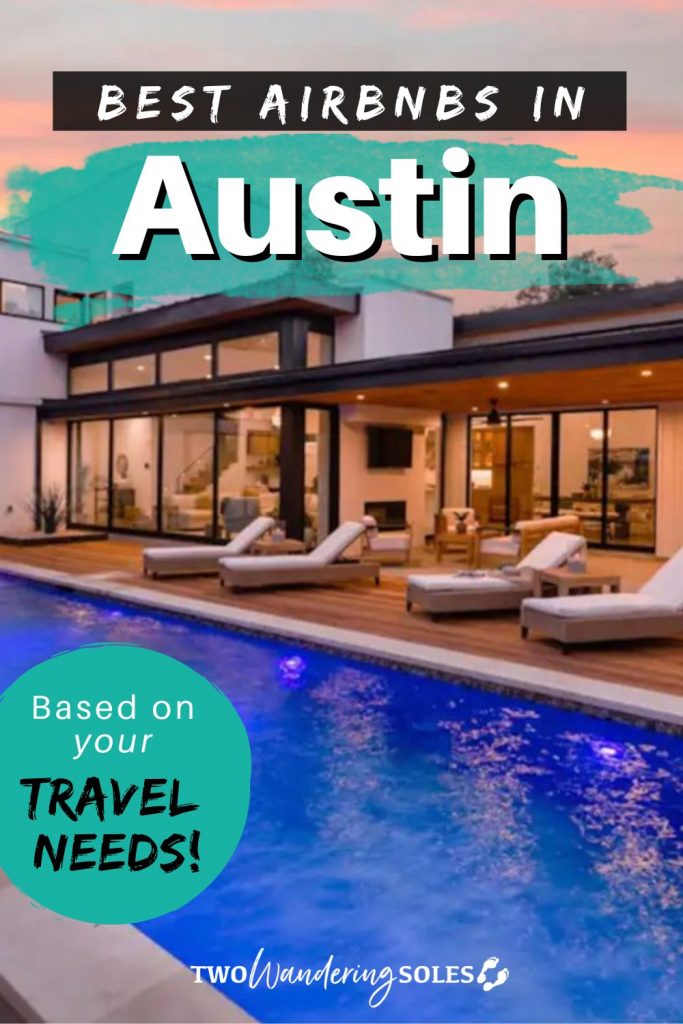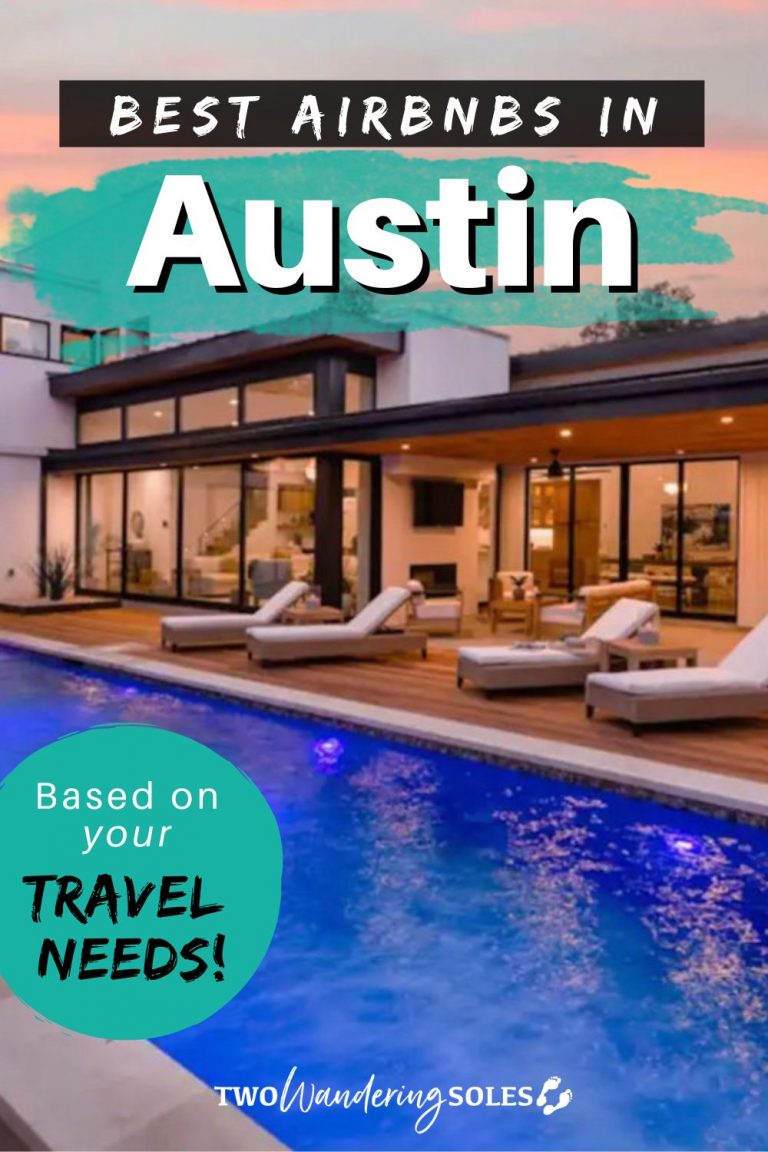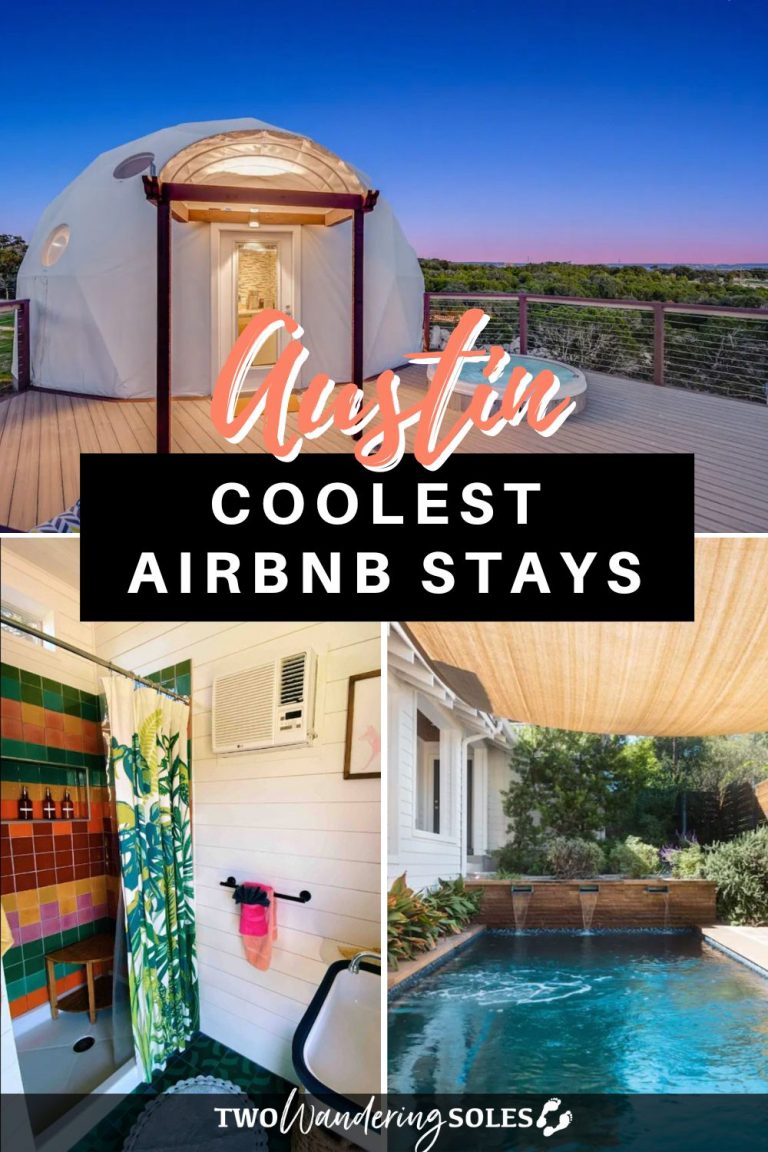 We want to hear from you!
Which of the Airbnbs on this list do you like the most? Are you planning a trip to Austin soon and have more questions about where to stay? Drop us a comment below and we'll do our best to get back to you!