With endless outdoor adventures and a rich cultural heritage, Cappadocia is a place that travelers dream of visiting all year round. After visiting this bucket list destination, we put together a list of the best things to do in Cappadocia. In this article, you'll find all sorts of insider tips to help you plan and prepare for your visit to Cappadocia.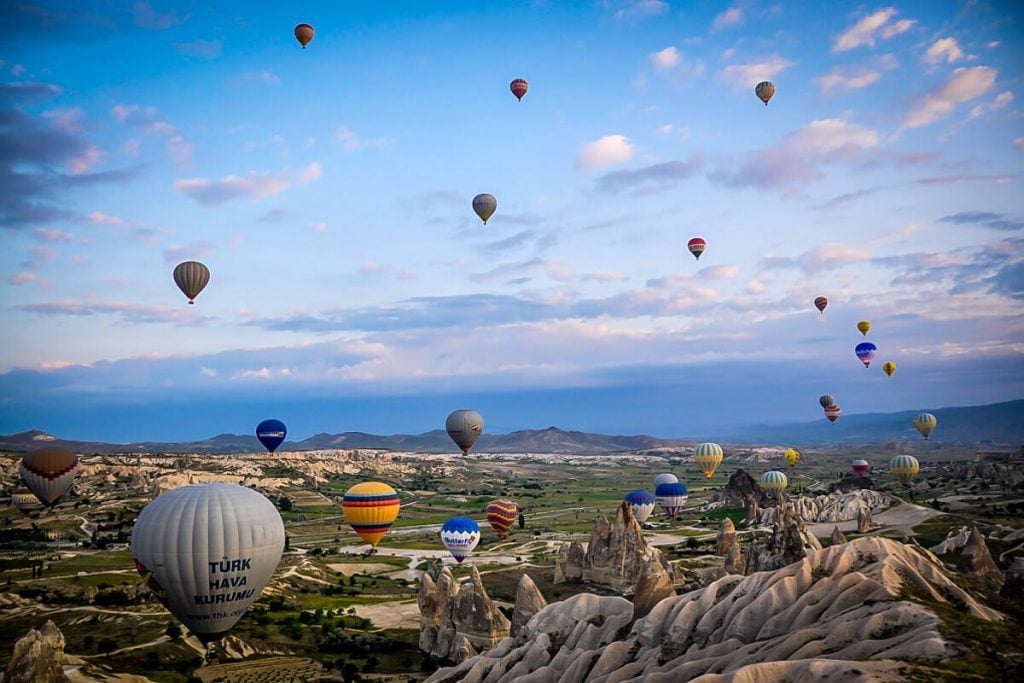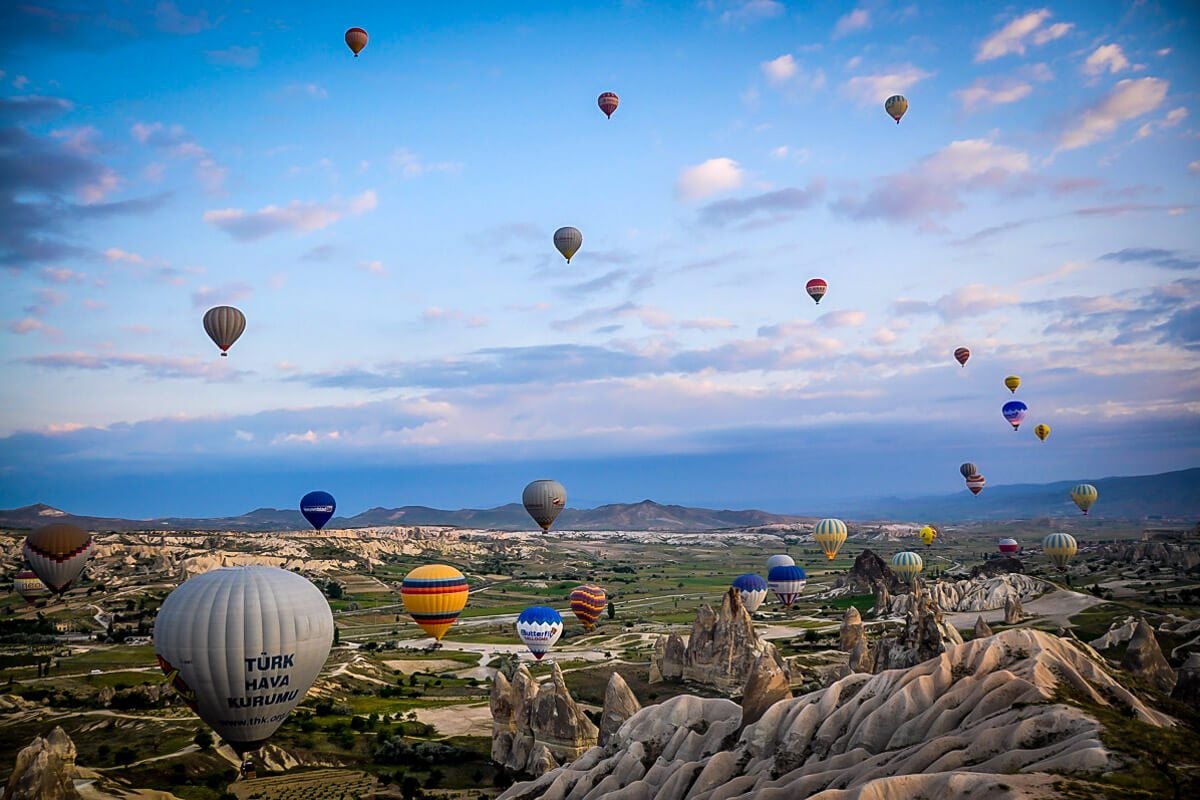 With its ethereal landscape, fairytale-like hotels and sky dotted with balloons, Cappadocia is a destination not to be missed on your travel bucket list. I've been hoping to visit this area since the first time I caught a glimpse of the hot air balloons dancing across the sky in a photograph.
What was once a settlement of cave-dwellers is now a popular tourist destination, famous for its peculiar rock formations, open air museums, and hot air balloon flights.
In this article, we're sharing our top recommended things to do in Cappadocia as well as tips for traveling in this region to help you plan a magical visit.
Cappadocia Travel Guide
For more tips and advice for planning your trip to Cappadocia, jump to the following sections (or just keep scrolling to see it all!).
---
Top things to do in Cappadocia
If you're looking for the very best things to do in Cappadocia, here are our top recommendations.
Go on a sunrise hot air balloon flight
Stay in a cave hotel
Experience the sunrise overlooking Göreme
Stroll through Zelve Open Air Museum
Go hiking in Love Valley
Keep reading for more detailed information on each of these things and more ideas for fun and unusual things to do in Cappadocia, Turkey.
1. Go on a sunrise hot air balloon flight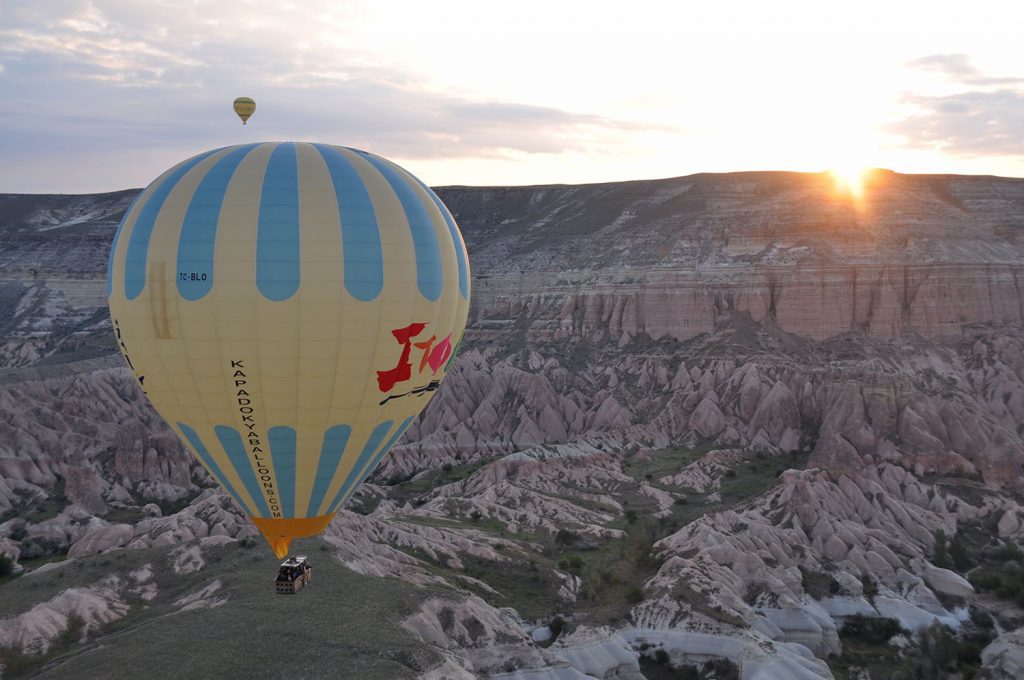 Easily the most popular activity and highlight of most visitors' time in Cappadocia is a sunrise hot air balloon flight over the region.
When Katie and Ben visited Cappadocia back in 2016, they did a lot of research to see which company they wanted to fly with and landed on Turkiye Balloons for their reputation, excellent safety standards and fair price point.
They wrote all about their hot air balloon experience with Turkiye Balloons and answered a lot of common questions.
Watch a video of Katie & Ben's hot air balloon experience below:
Note: If you cannot see the video, you may need to disable your Adblocker.
If you should decide to book a flight with Turkiye Balloons, we'd recommend spending the extra 10€ for the Comfort Flight (140€ cost). The Comfort Flight accommodates up to 20 people, whereas the Stand Flight will have up to 28 people in your balloon basket and you can imagine getting photos would be a bit more challenging.
Book your balloon flight online ahead of time as the flights do sell out and they will change a premium for a last-minute trip.
We'd recommend booking for the start of your trip and giving yourself a few extra days of flexibility in case your flight gets canceled due to weather, which is not all that uncommon an occurrence.
Believe me when I say, you'll want options to reschedule. I learned this the hard way on my first visit to Cappadocia. My balloon flight was grounded 3 mornings in a row and unfortunately that meant I didn't have the chance to experience Cappadocia from the air.
2. Stay in a cave hotel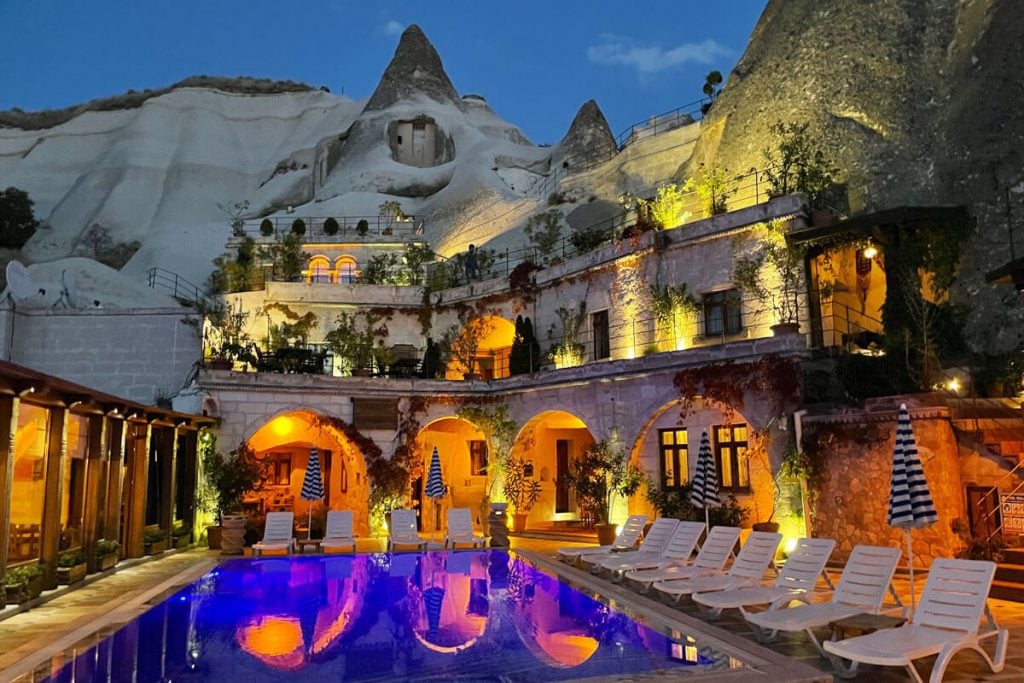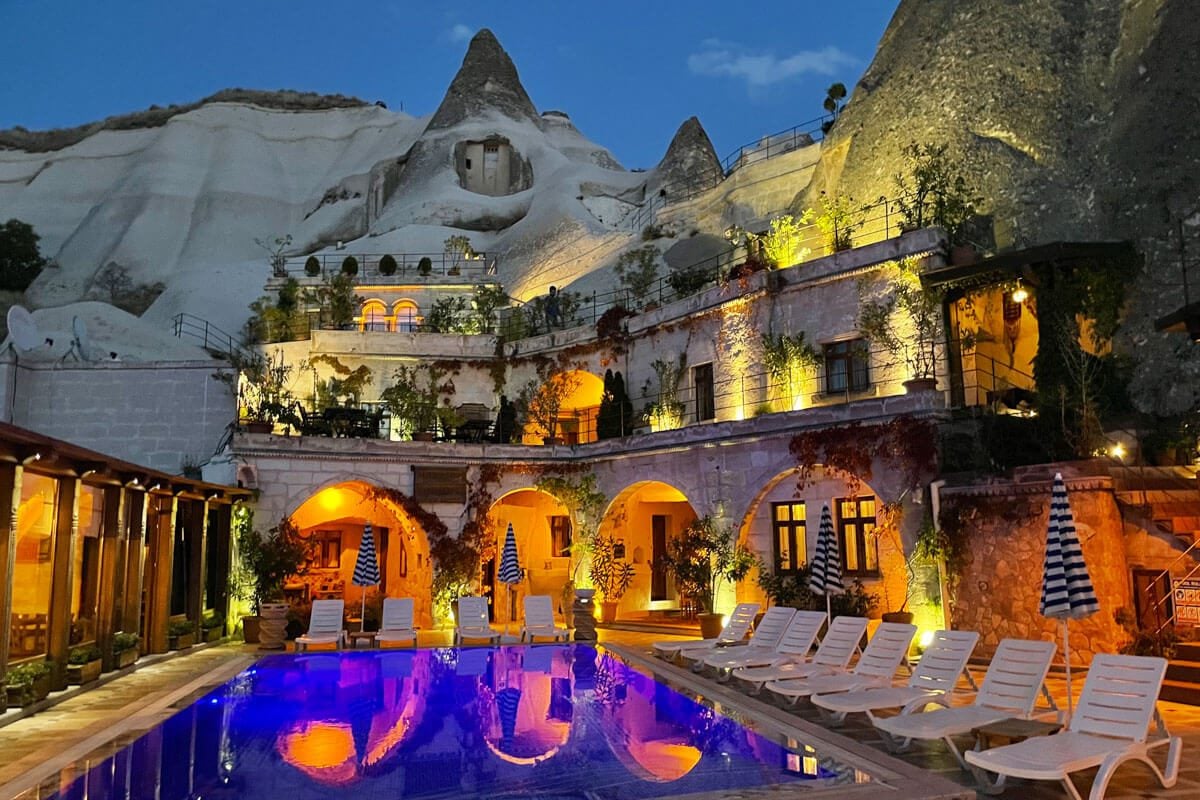 People from all over Turkey and the rest of the world come to Cappadocia to experience the magic of the hot air balloon rides and staying in a real life cave hotel.
Of course we're not actually suggesting you sleep in a dark and damp bat-ridden cave… Oh no, the cave hotels in Cappadocia are considerably more luxurious and resemble something out of a fairytale.
There are beautiful and historic cave hotels for all budget ranges scattered throughout the region. In fact there are so many incredible properties, it can feel overwhelming trying to decide which one to stay in.
Luckily for you we've done the research for you and compiled a list of the best cave hotels in Cappadocia, spread throughout the popular towns of Göreme and Uçhisar. Plus we included the neighboring towns of Ürgüp, Çavuşin and Ortahisar for a well-rounded list.
3. Experience the sunrise overlooking the town of Göreme
Of course even from the ground the sunrise in Cappadocia is a spectacle worth the early wake up call to witness. With hundreds of balloons floating over the fairy chimneys in the brilliant morning light, you'll want to make sure you have your camera at the ready and get to the highest point possible.
Sunrise/Sunset viewpoint (if you're searching on Google Maps) is at the top of a hill in Göreme and a popular (read: crowded) stop to catch the sunrise. Even with the crowds, however, you'll get amazing views of the town and surrounding landscapes with the colorful balloons floating effortlessly overhead.
At the top you'll find vendors selling drinks (hot tea and coffee for the cool morning temps!) snacks and souvenirs.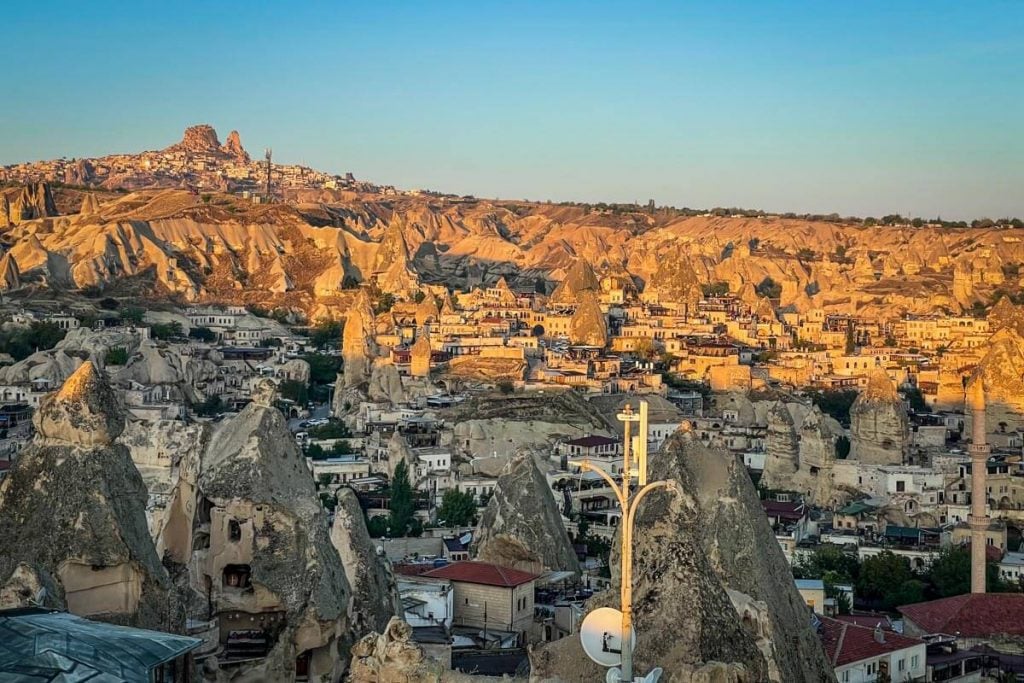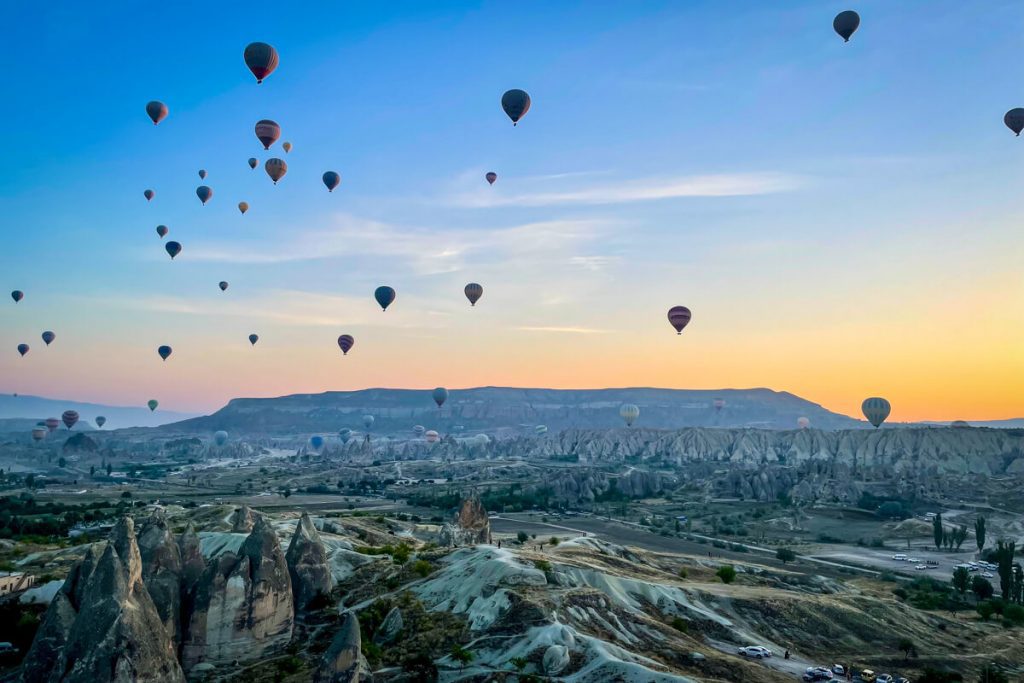 There is an entrance cost of 3 TL per person to climb to the viewpoint (which is at the top of steep cobblestone roads) or 10 TL for vehicle parking. If you are staying in the town of Göreme we recommend walking to avoid the inevitable traffic jam at the bottom of the hill.
The sunset is also very nice from this viewpoint. We'd suggest getting there an hour or so before sunset so you can photograph the beautiful landscape during the 'golden hour'.
4. Stroll through Zelve Open Air Museum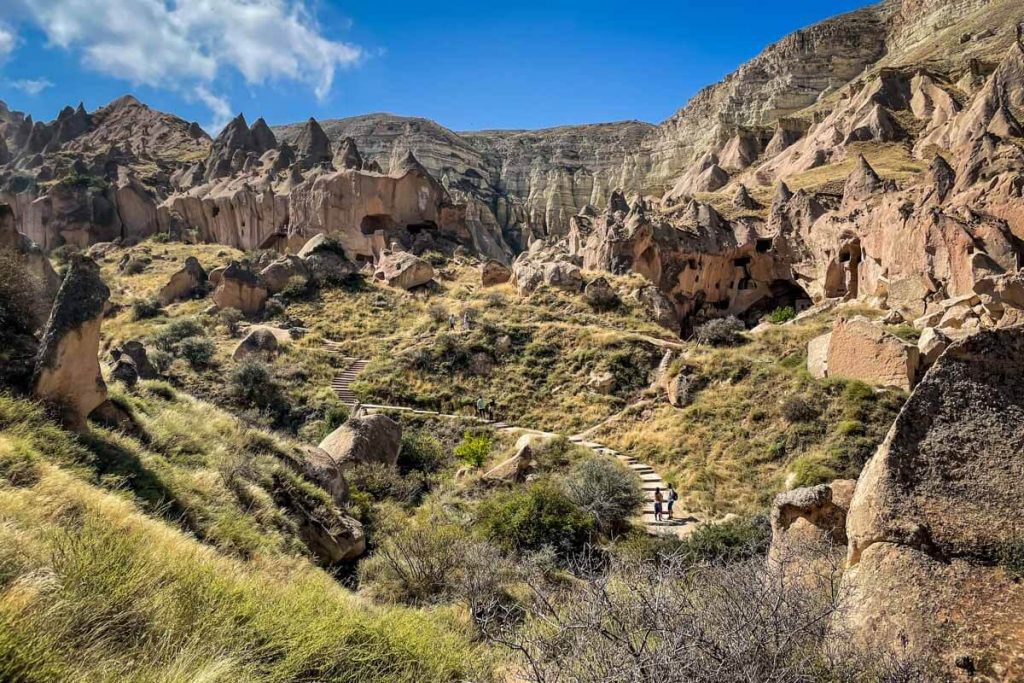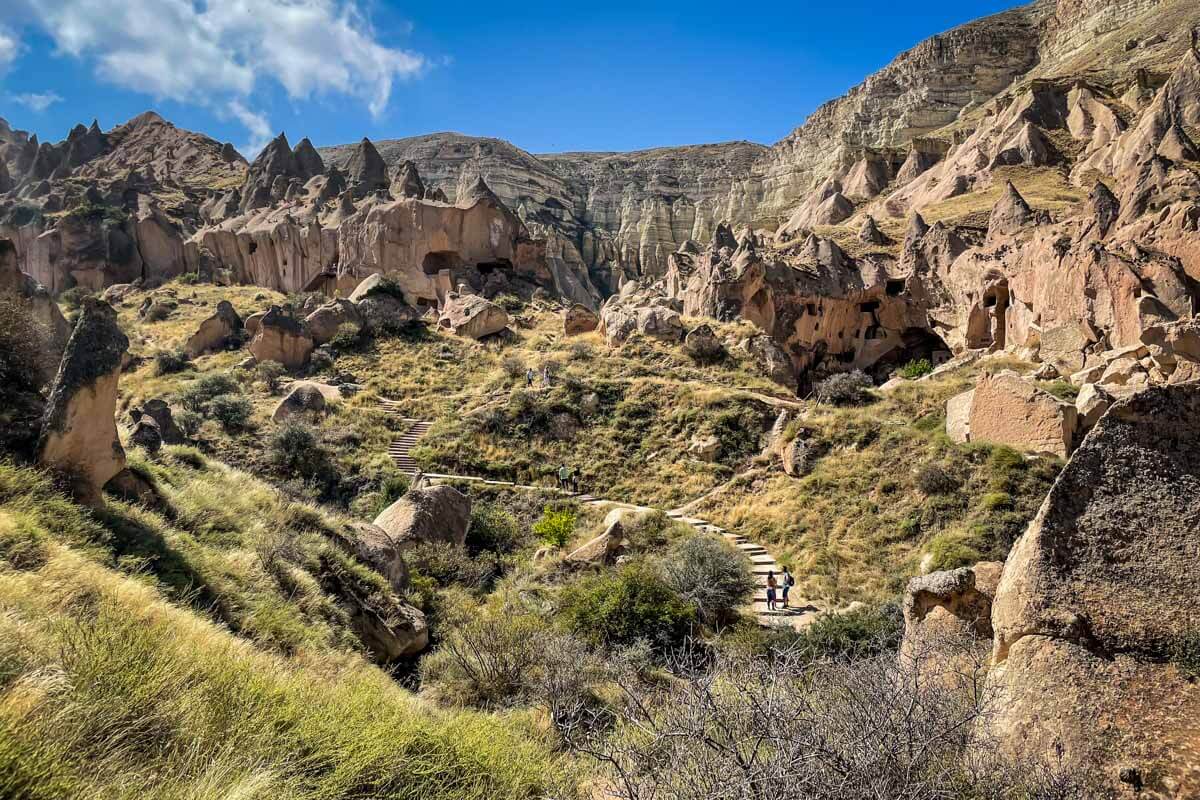 Visiting hours: 8:00 a.m. to 7:00 p.m. daily
Entrance fee: 65 TL per person
If you're short on time and only have the opportunity to do one daytime activity in Cappadocia, I'd recommend the Zelve Open Air Museum.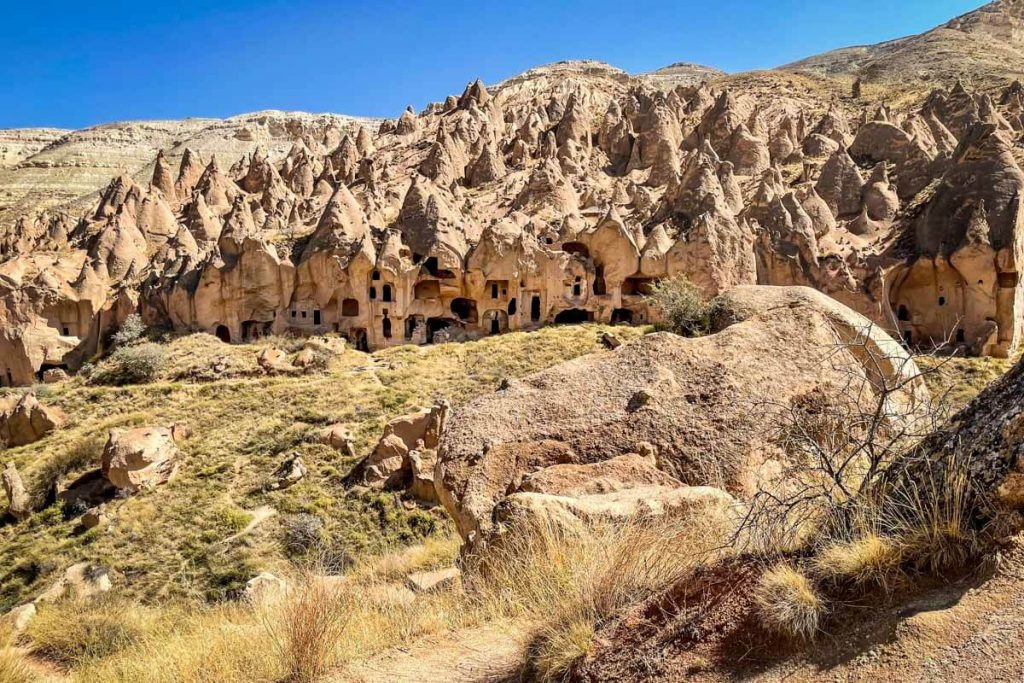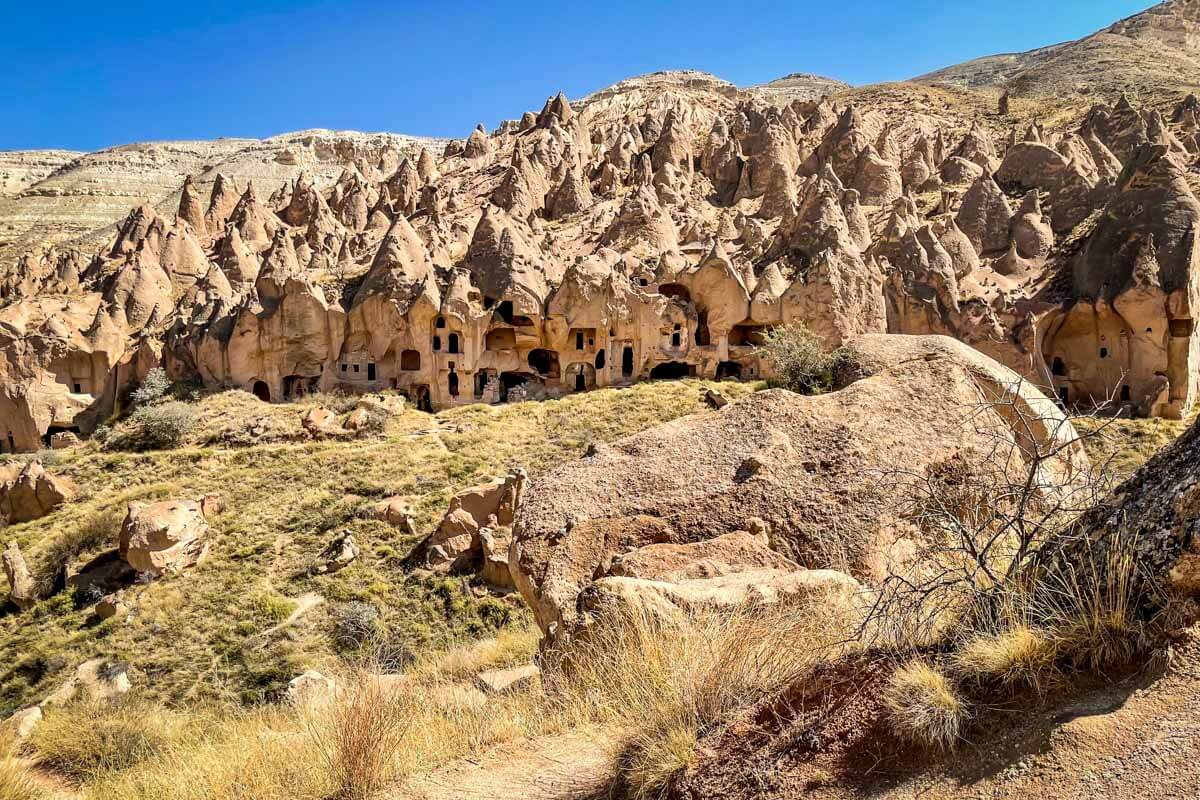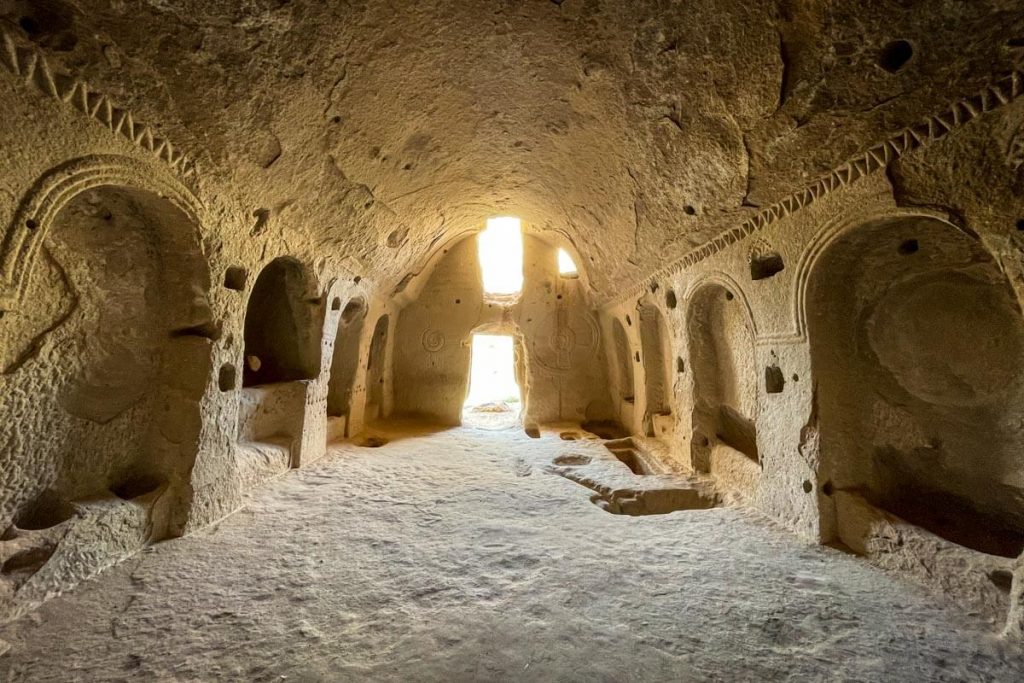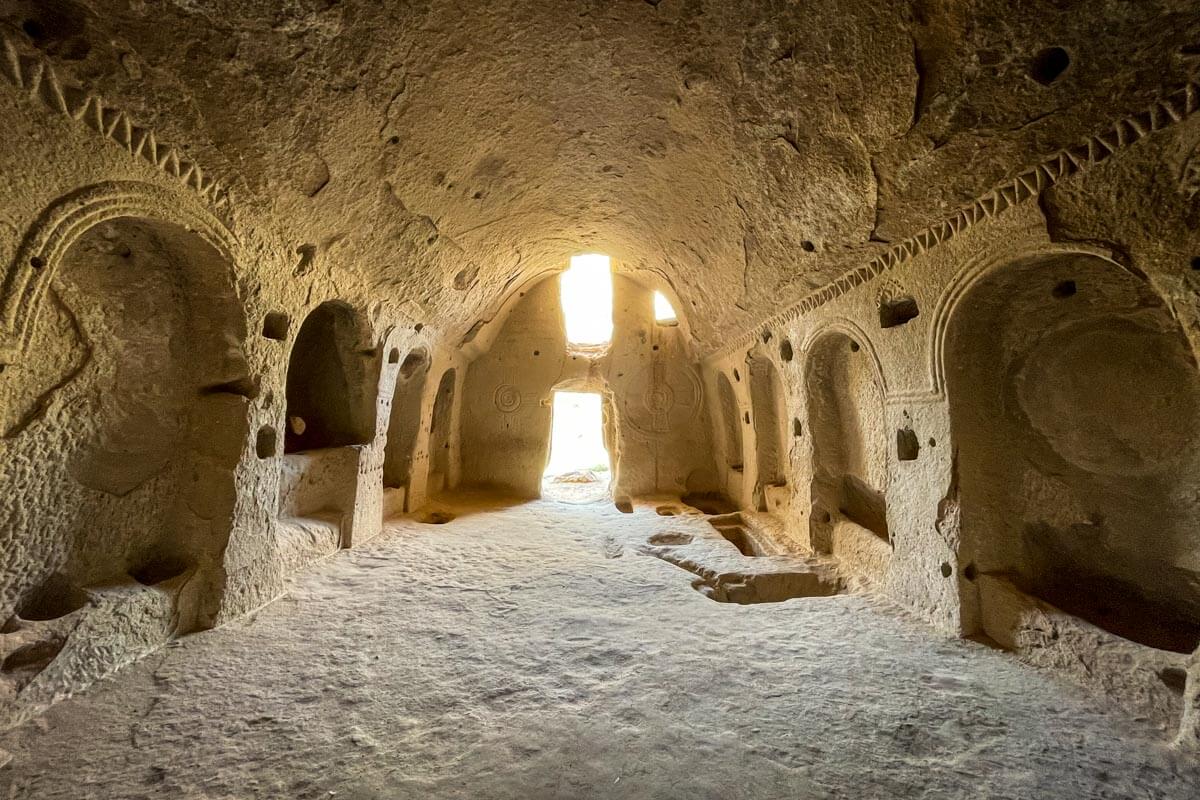 It's just down the road from Paşabağı (a 5 minute drive – see #6), so you can also combine these two activities easily within a few hours. The ticket is also the same, so you can scan your Paşabağı ticket at Zelve to enter.
Zelve Open Air Museum is a large open space with lots of cave houses you can explore. The best part is that it's far less touristy than Göreme Open Air Museum so you'll have the chance to get plenty of photos without the crowds.
It is important to note that there is lots of walking involved to see everything there is to see here.
5. Go hiking in Love Valley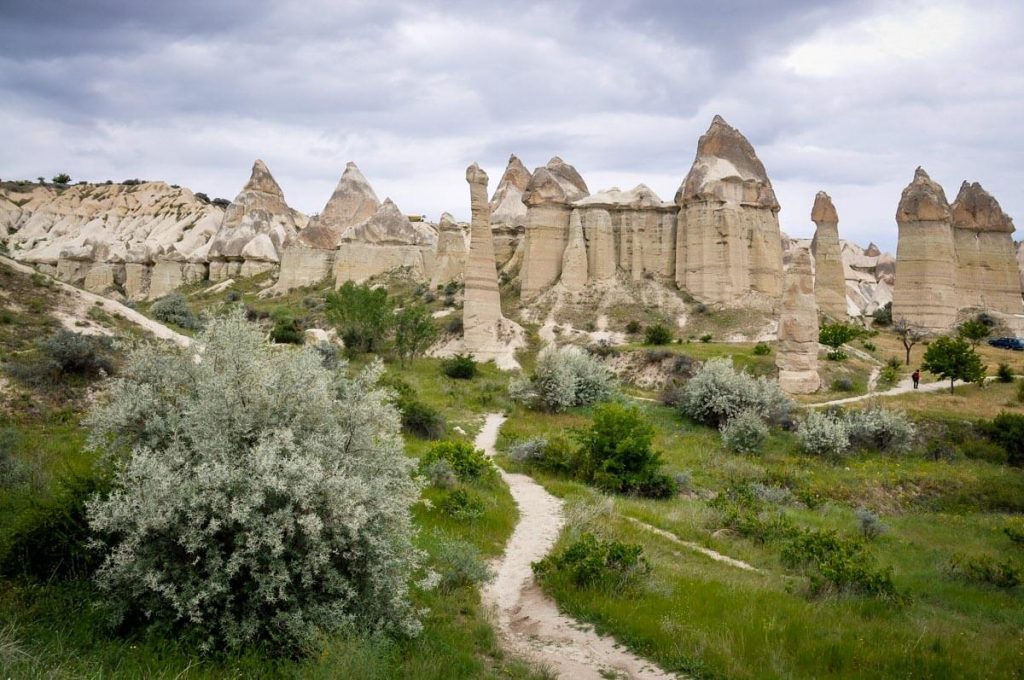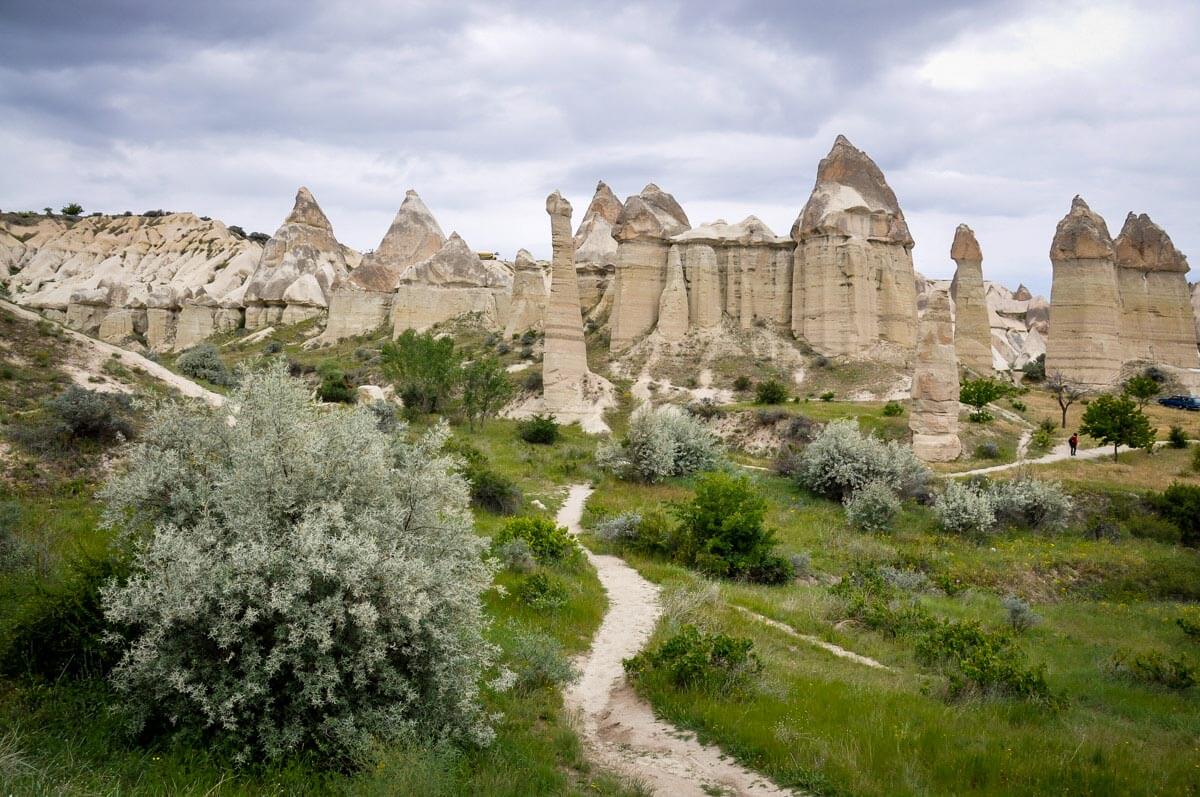 One of the coolest things about Cappadocia is the unique landscape, and what better way to experience that than getting right down in it. There are tons of great hiking trails in the region, but in my experience it wasn't as easy to figure out where trailheads were located as I would have liked.
Hiking in Love Valley may just be one of the highlights of your trip. The great thing about hiking here is not only getting up close and personal with the unique rock formations that give this valley its name (more on that below), but that there are seemingly endless trails and routes you can take for shorter or longer experiences.
When you first lay eyes on the unique rock formations here, you'll probably understand where the name "Love Valley" comes from. Let's just say these rock formations are a bit… phallic.
How to get there
To actually enter the valley for hiking, you'll need to turn off before the road to the viewpoint. I marked the exact place where the turn off is on Google Maps here. This sign is the only point of reference to know you're in the right place (shown on the right).
I parked as soon as I turned off as I saw a couple other cars in what looked like an unmarked parking area, but I realized as I walked down into the valley that cars had driven the entire way down and it didn't seem to be a problem.
The cost to enter the valley is free and there are no parking attendants or fees.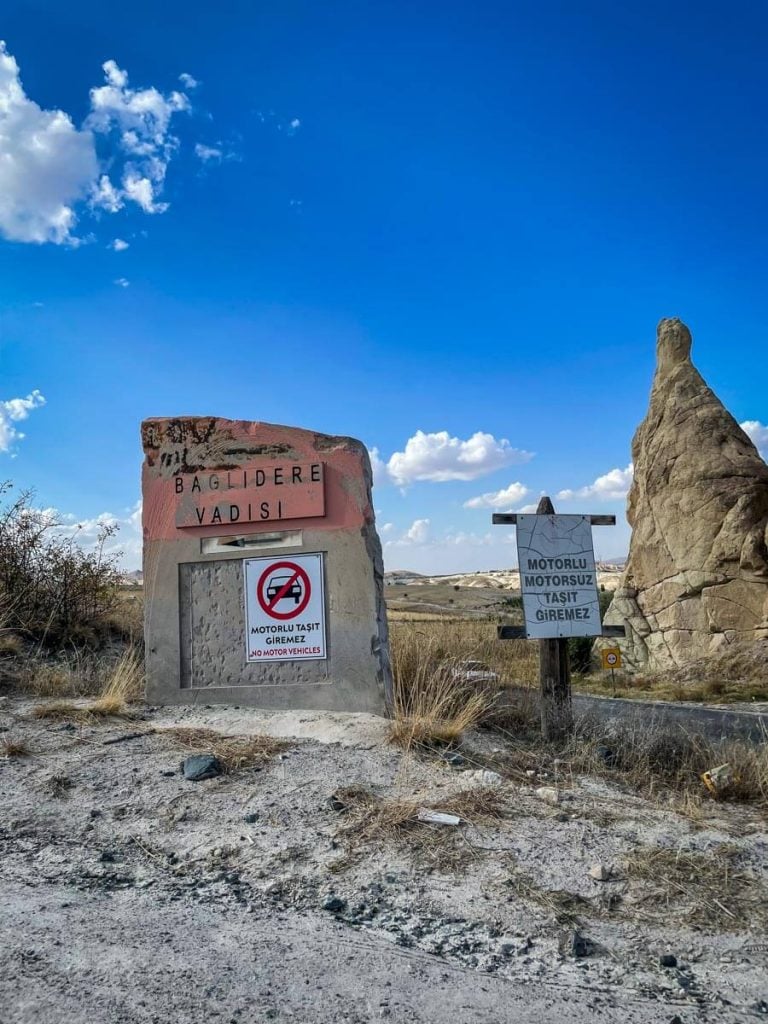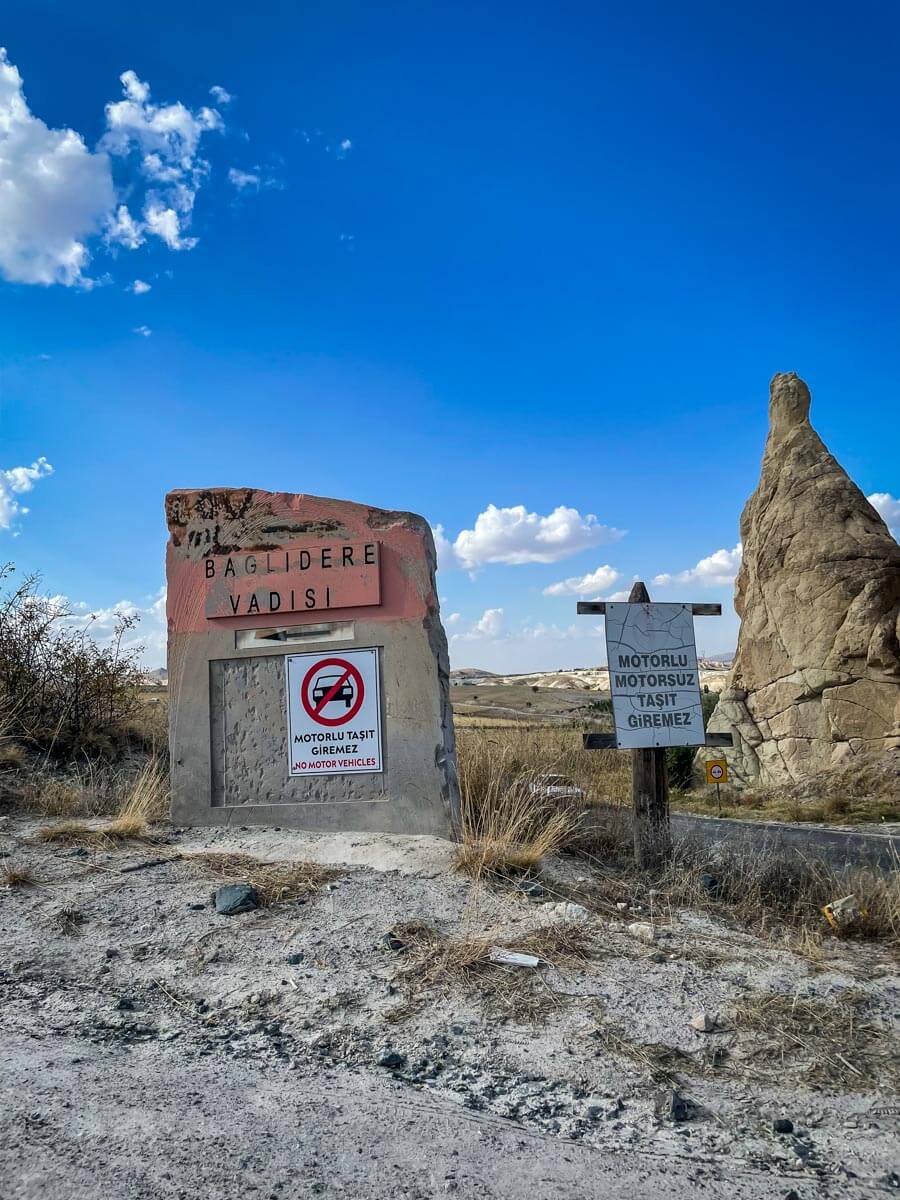 Once you've entered the valley, the rest is pretty simple. Just follow the designated trails and make your way through the towering rock formations.
You can choose to turn around at any point and come back the way you came, or make your way all the way to Uçhisar Castle (about 5 km/3 miles in total).
Tip: If you decide to hike all the way to Uçhisar Castle, be sure you bring plenty of water and sun protection, and plan to take a taxi back to pick up your car. Another option would be to walk the entire way from Göreme into the valley and to Uçhisar Castle (about 7 km/4.5 miles in total) where you can take a shuttle back to Göreme. If you do this, you should plan for about 2.5 – 3 hours of hiking in total.
6. See the fairy chimneys up close in Paşabağı Valley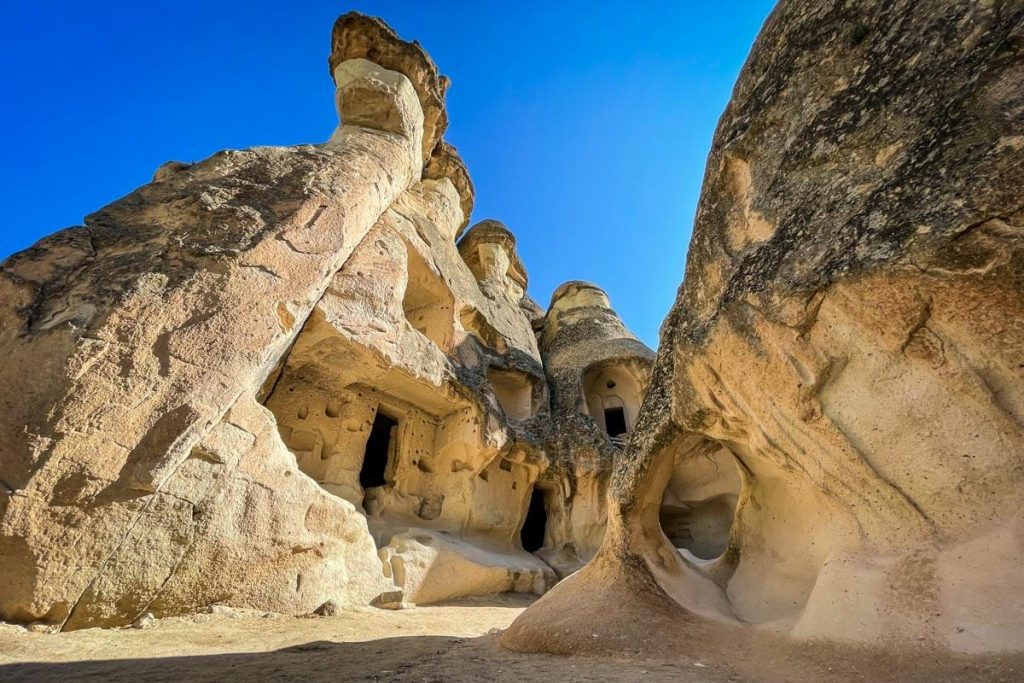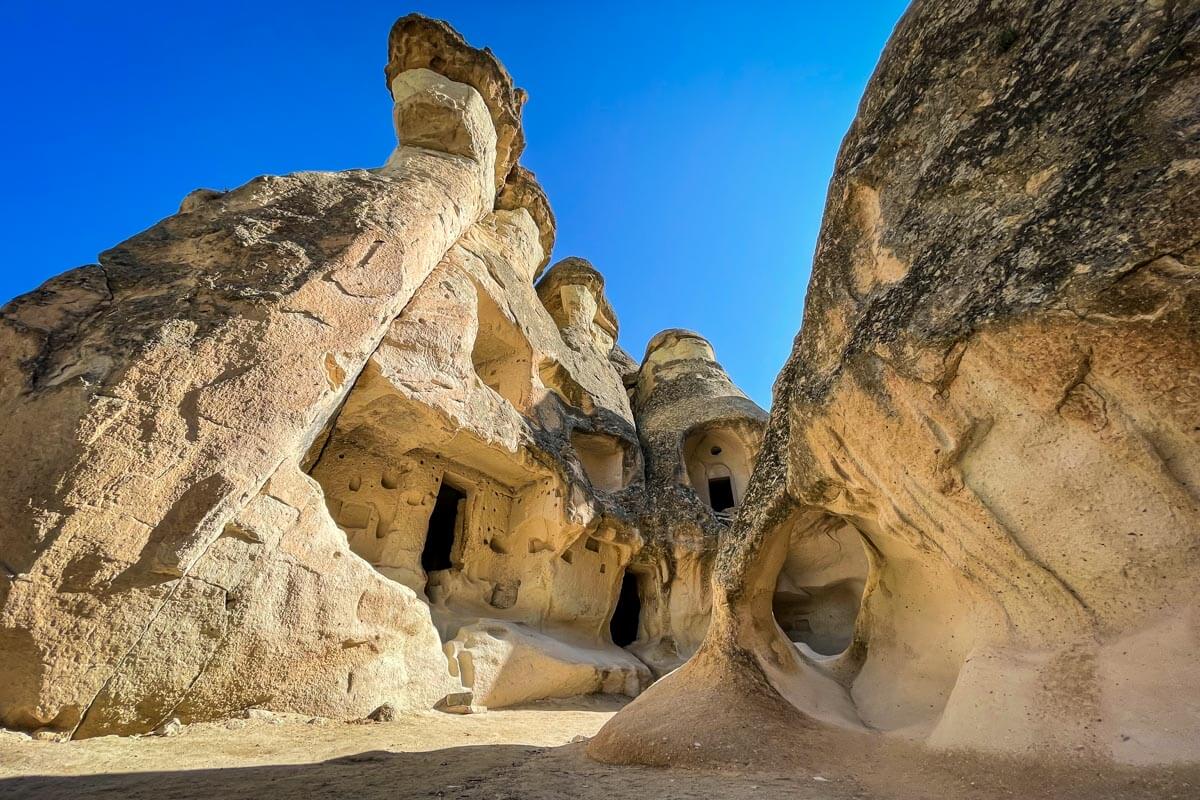 Visiting hours: 24 hours
Entrance fee: 65 TL per person after 9 a.m
Also known as the Monk's Valley, Pasabag Valley is one of the best places in Cappadocia to see the fairy chimneys up close. Just a short drive from the center of town, a visit to Pasabag Valley requires lots of walking so you'll want to have comfortable shoes.
Tip: If you can arrive before 9 a.m. you'll have the place mostly to yourself before the big tour buses arrive with large groups.
7. Pay a visit to Göreme Open Air Museum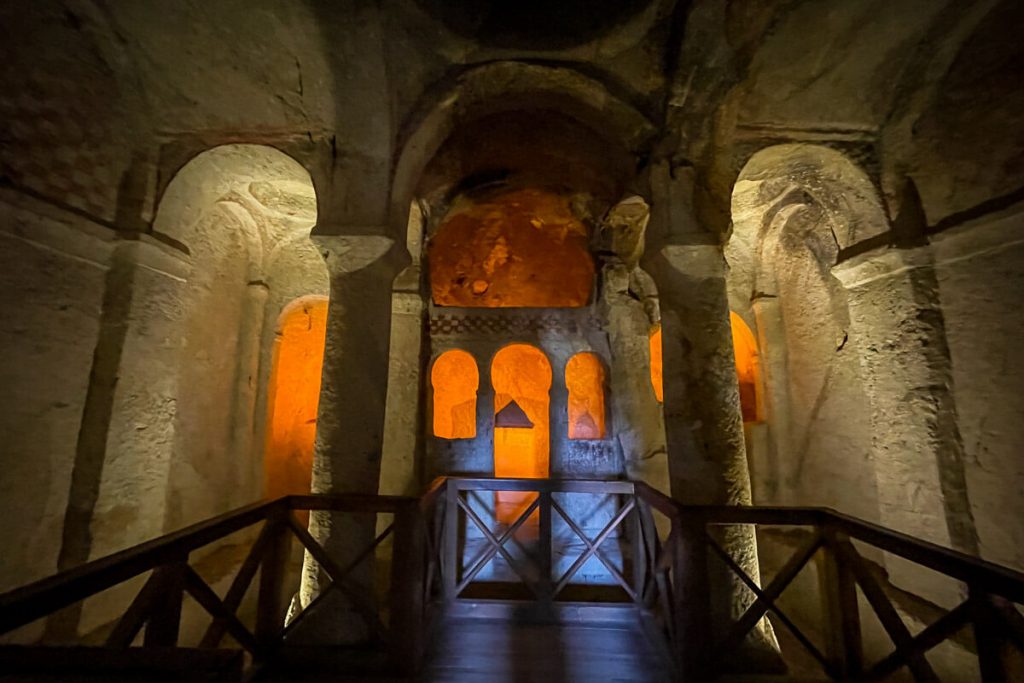 Visiting hours: 8:00 a.m. to 6:15 p.m daily
Entrance fee: 480 TL per person
Part of Goreme National Park, the Goreme Open Air Museum is located within walking distance of the town center, though you'll have to climb a steep road to get there.
Known as "the crown jewel of Cappadocia's rich history" it is easily one of the most popular tourist attractions in the region and contains in a small area 15 churches and 11 refectories, estimated to have been built all during the 11th century.
Some of the most impressive churches in the region, including Dark (Karanlık), Sandal (Çarıklı), and Apple (Elmalı), and several monastic complexes, are located within the open air museum. Built right into the landscaping, you can actually enter and walk around in these historic sights.
We'd recommend arriving right away when the museum opens to avoid the crowds and the midday to late afternoon heat. The cost is 480 TL to enter, and you can pay an extra 50 TL for an audio tour headset that is self-guided.
Tip: Don't miss a chance to take a peek at the New Tokalı Church, Cappadocia's largest and most decorated cave church, built around AD 960.
8. Go hiking in Rose Valley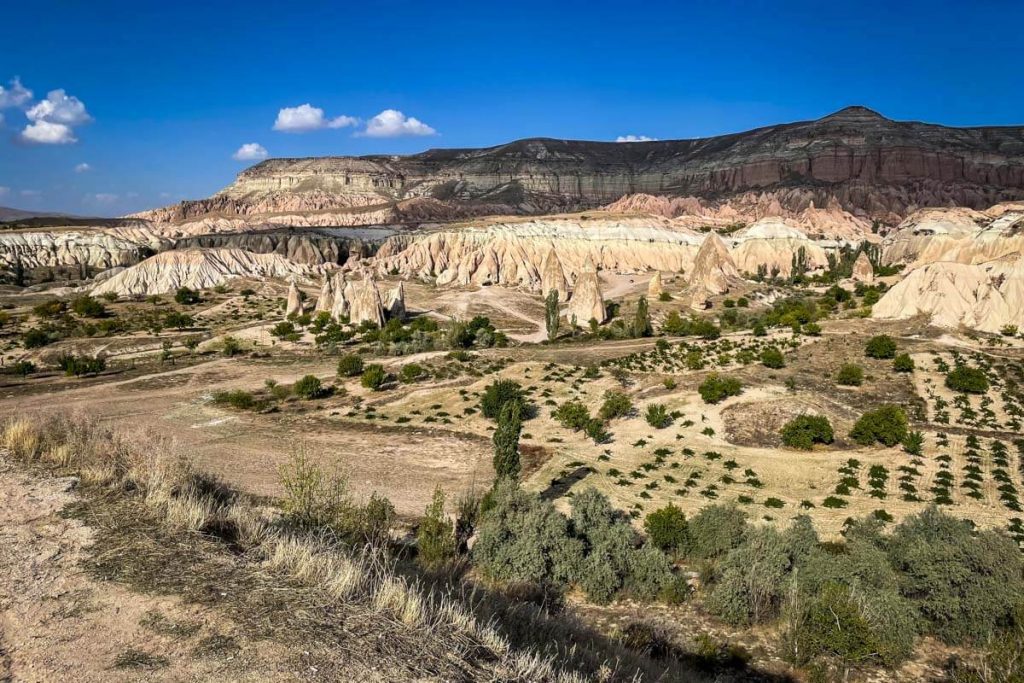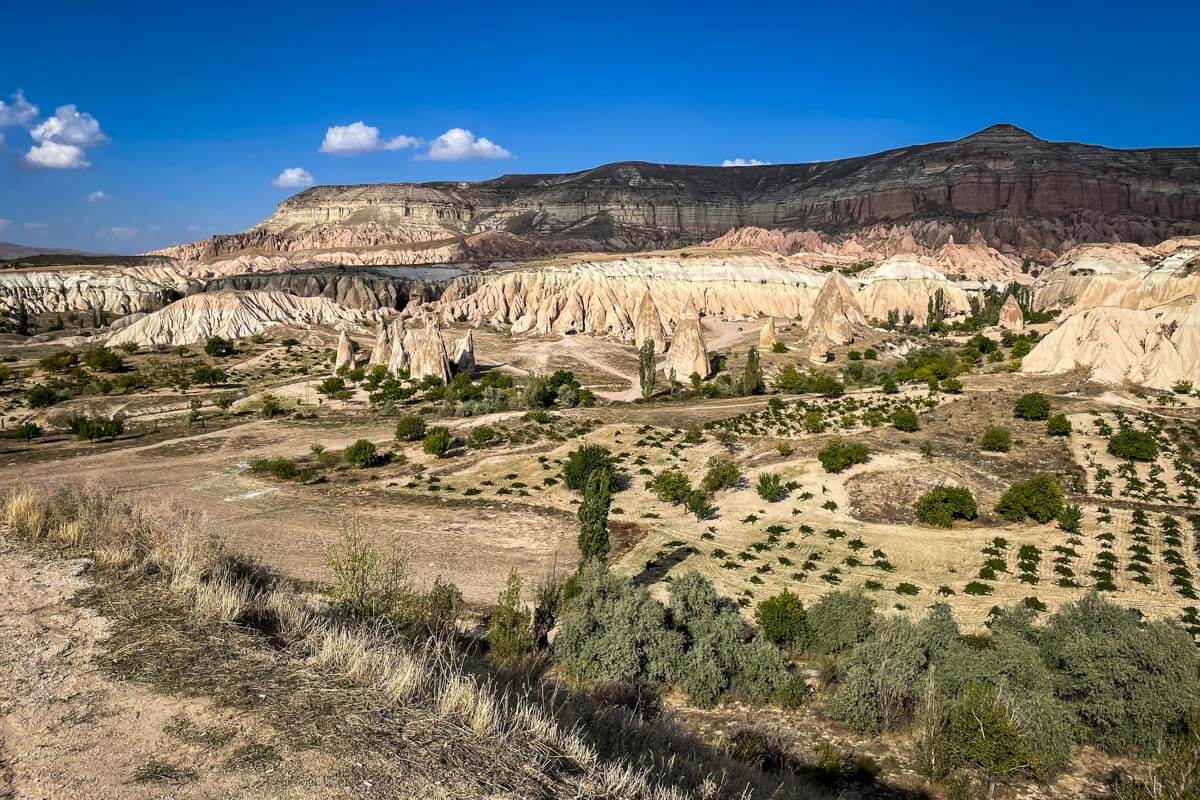 The lookout point over Rose Valley will demonstrate why the valley is called such. What makes this area so unique are the minerals in the sandstone in this particular area that give off a pink-ish hue, especially during sunset.
If you want to go hiking here, you have a few different options:
Option 1: find the Rose Valley Trailhead
Option 2: take the Meskendir Trail from Göreme that links up with the Rose Valley trail
Option 3: begin your hike in at the Red Valley lookout point and connect with the Rose Valley trail
While Option 1 may seem the most straightforward, in my experience it was actually quite a challenge to find and get to the Rose Valley Trailhead with a car. For one, it was not marked on any map.
When I did a little research and found a map marker claiming to be the Rose Valley Trailhead, it had me driving down roads I was not sure my rental car could handle and I wound up turning around before I got myself into more trouble than I could manage.
Another map marker for the Rose Valley trailhead was right off the main road, but it wasn't clear to me which way the actual trail went and the "trails" were full of ATV tours.
For this reason, I would personally recommend either Options 2 or 3. If you are really keen to start at the exact Rose Valley trailhead, I'd recommend asking a local taxi driver to bring you to the start.
Option 2 has you hiking the Meskendir Trail from Göreme. You can either walk to the trailhead from the town center or drive to the trailhead directly. As a bonus, you'll see lots of neat cave dwellings on the trail through Meskendir Valley.
To find the Meskendir Trailhead, head towards the Göreme Open Air Museum from the town center and continue past it until you reach the Kaya Camping Ground. The entrance to Kaya Camping will be on your left and the first road after Kaya is the start of your trail.
Throughout the trail you'll see mostly hand painted signs pointing you towards "Rose" and "Red Valley" to know you're on the right path.
9. Take a hike through Red Valley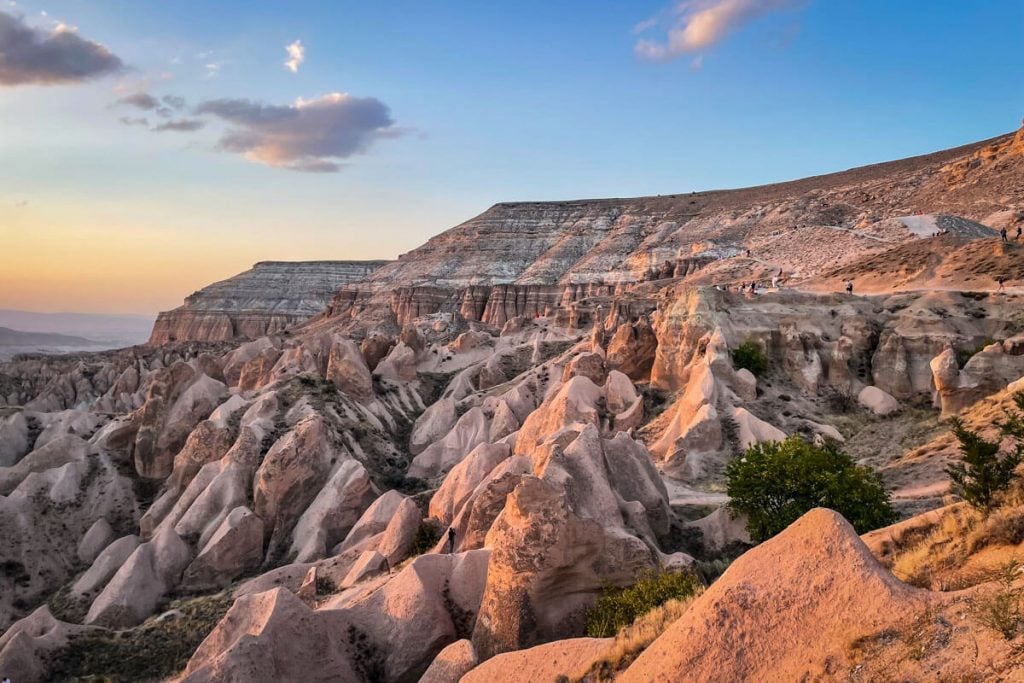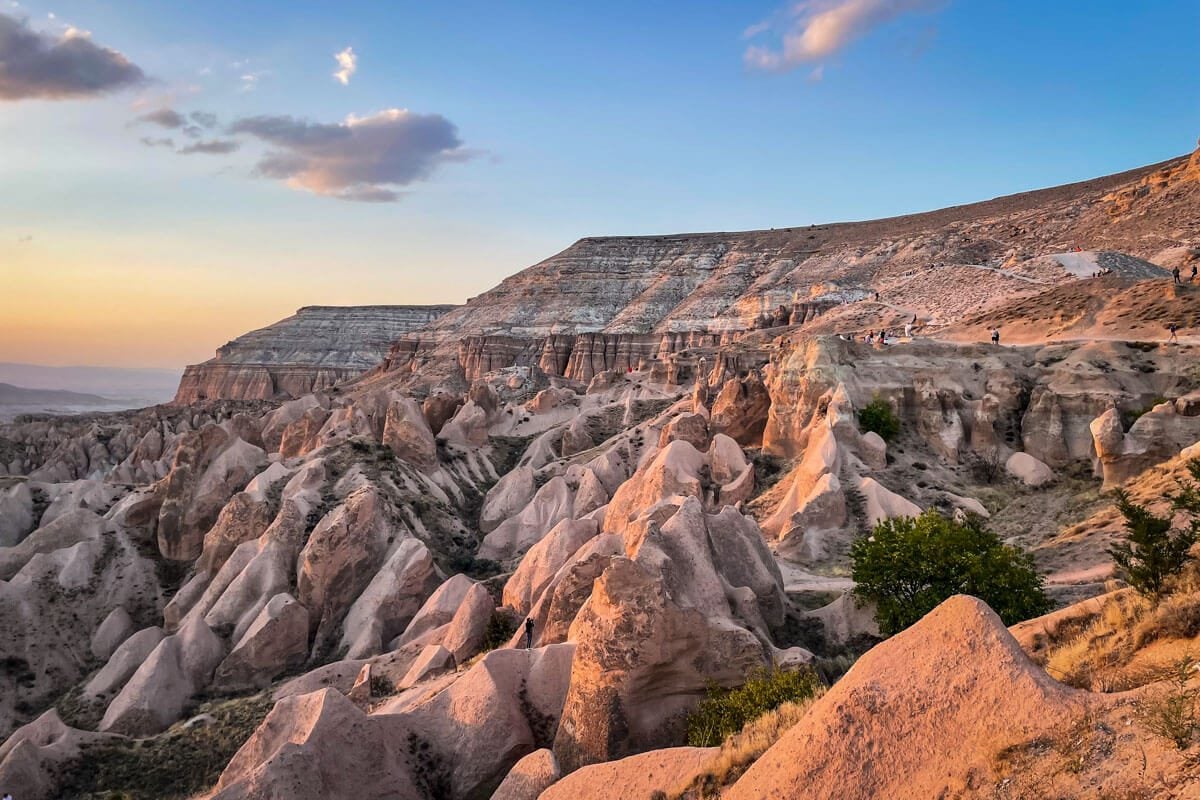 Hiking in Red Valley may be the most straightforward of all 3 major hiking valleys in the region because the entrance point can actually be found on Google Maps. Just search for the Red Valley Panoramic Viewpoint and you'll be directed to a place where you can easily park your car and hit the trails.
Hint: You can also search for Crazy Ali's Cafe and you'll be directed to the same place.
The Red Valley trailhead is at the same point as this popular sunset spot and lookout viewpoint. You can easily see the trails as they wind through the valley below and make your way down in that direction.
If you hike all the way through Red Valley, you'll eventually link up to Rose Valley and you'll have the option to hiking through to the main road or completing the loop and ending at the viewpoint where you started. If you choose to do the loop, just know you'll be faced with a lot of altitude gain at the end of your hike.
10. Watch the sunset at Panoramic Viewpoint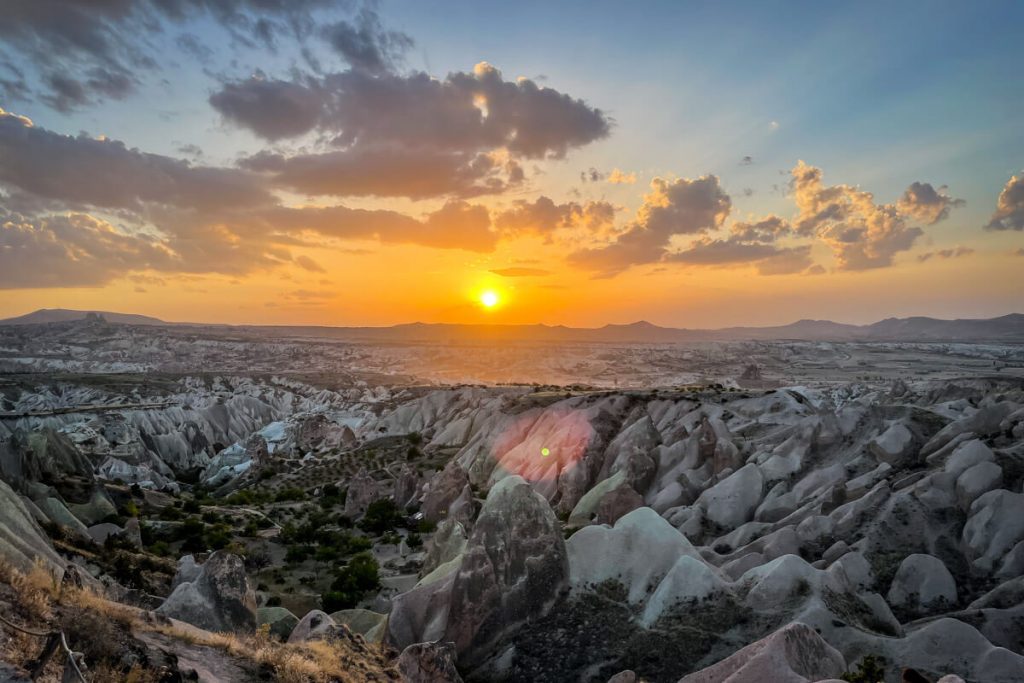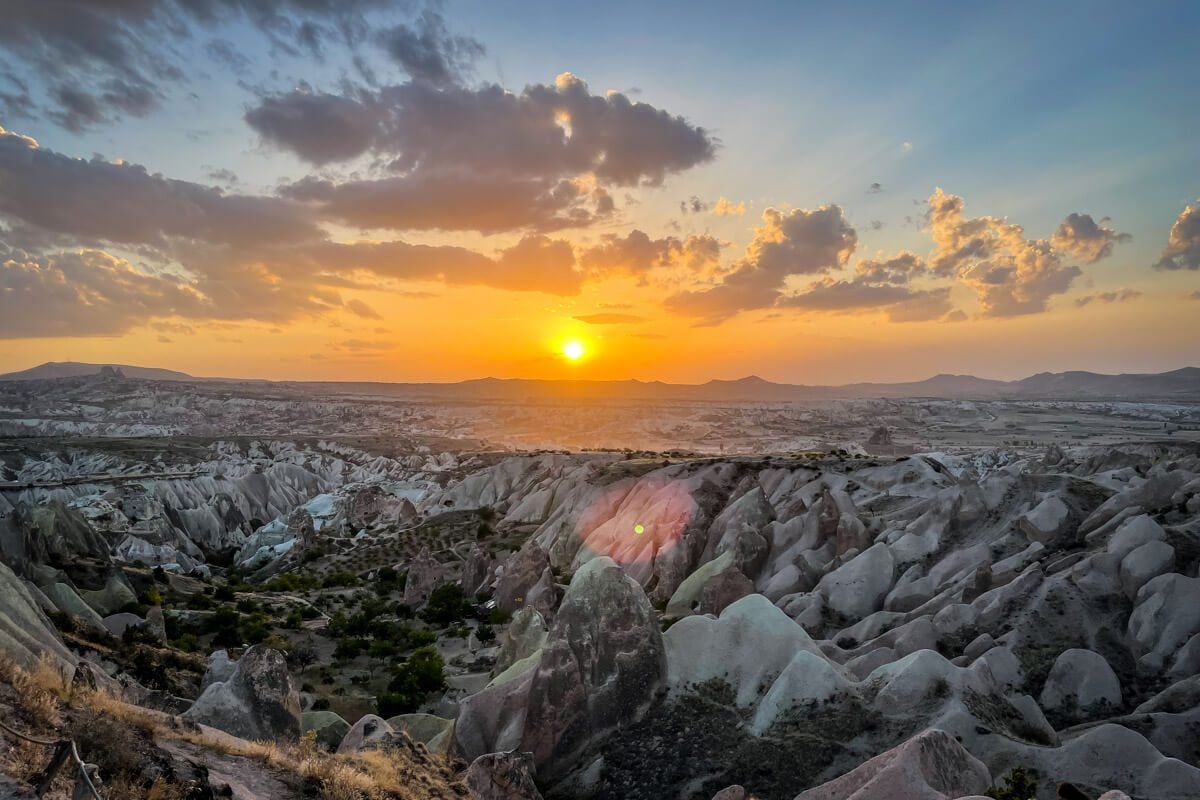 Panoramic Viewpoint as mentioned above, is the perfect place to enjoy the sunset on your Cappadocia trip and witness the changing red and pink hues of the rock formations below.
Just plug in the spot on your GPS and head there in a taxi or rental car. It's just about a 15 minute drive from the center of Göreme.
The cafe sells all kinds of drinks like coffee, tea and juices, but no alcohol. There is an ice cream stand and a small market selling plenty of snacks. You can either get a table at the cafe or venture further up the trails to set up your own picnic area.
Just make sure to get there early. About an hour before sunset the place starts to fill up and all throughout the experience you'll be surrounded by people trying to get the perfect Instagram shot.
11. Have a balloon-filled sunrise breakfast on a rooftop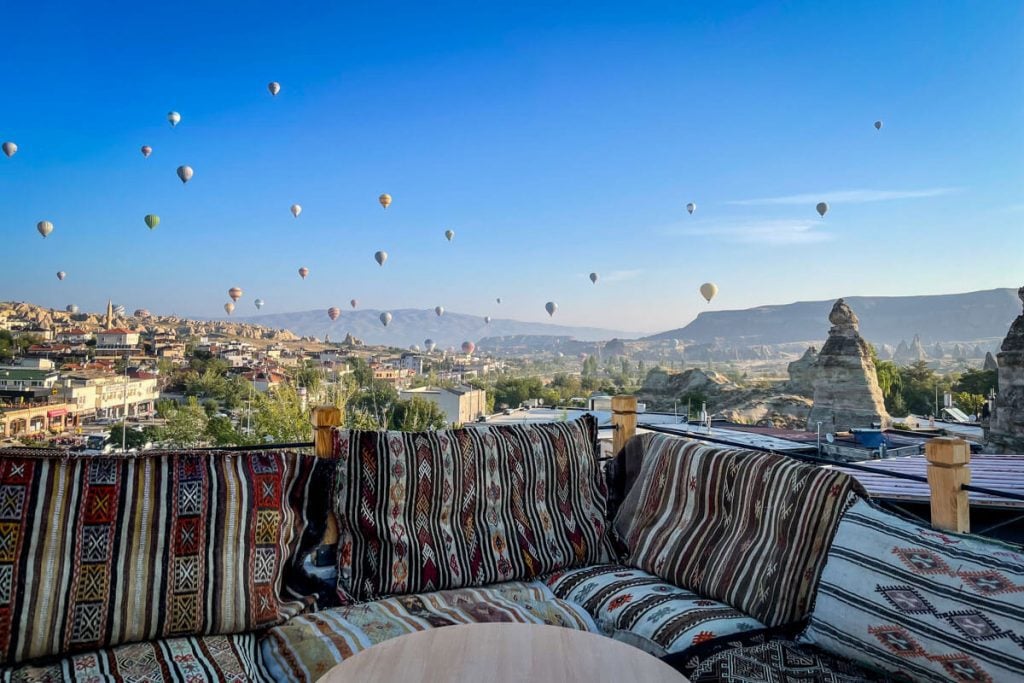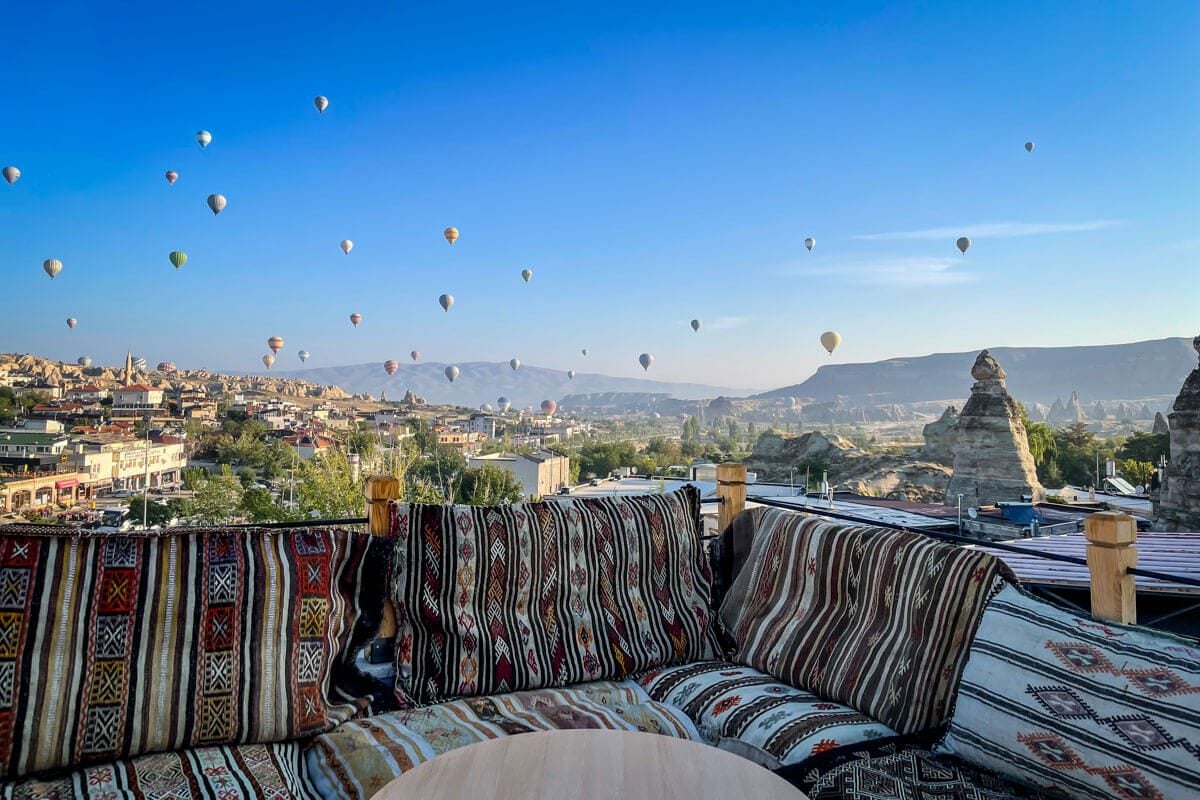 One of the most sought after things to do in Cappadocia is a sunrise photoshoot from one of the many rooftops in Göreme.
In the Instagram era, this has become such a popular activity that most hotels only offer the sunrise experience to their guests and only open their rooftops to outside guests for lunch and/or dinner.
These are some notable hotel rooftops offering sunrise breakfasts and photoshoots in Göreme:
There are plenty more hotels offering rooftop breakfasts and photo sessions. Just check out the photos on Booking.com or do a quick Google image search to find something you like.
12. Check out an ATV tour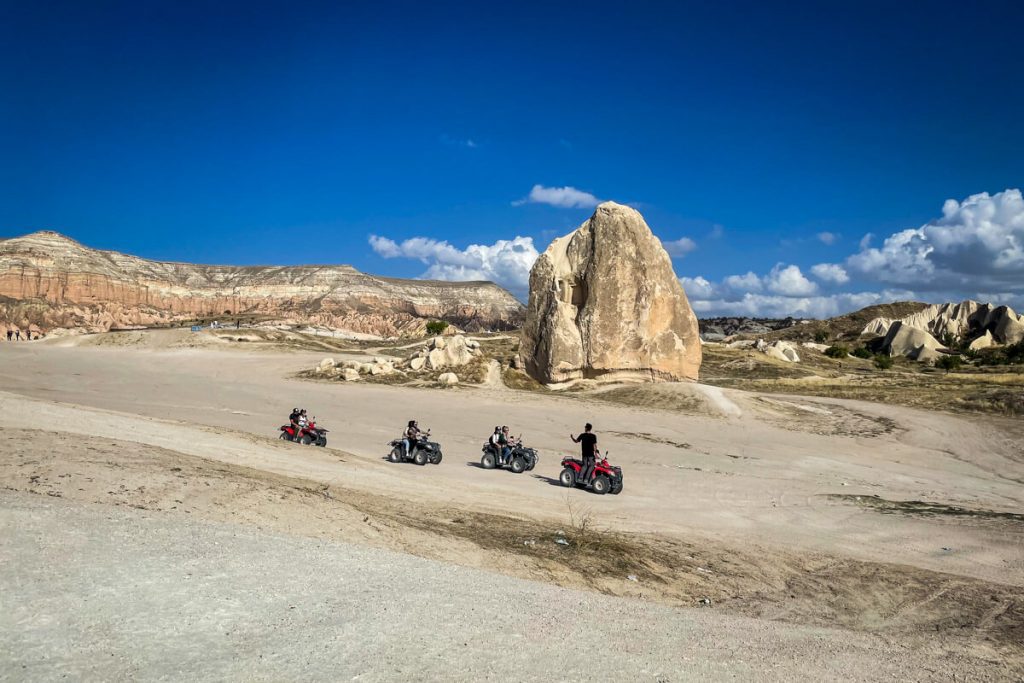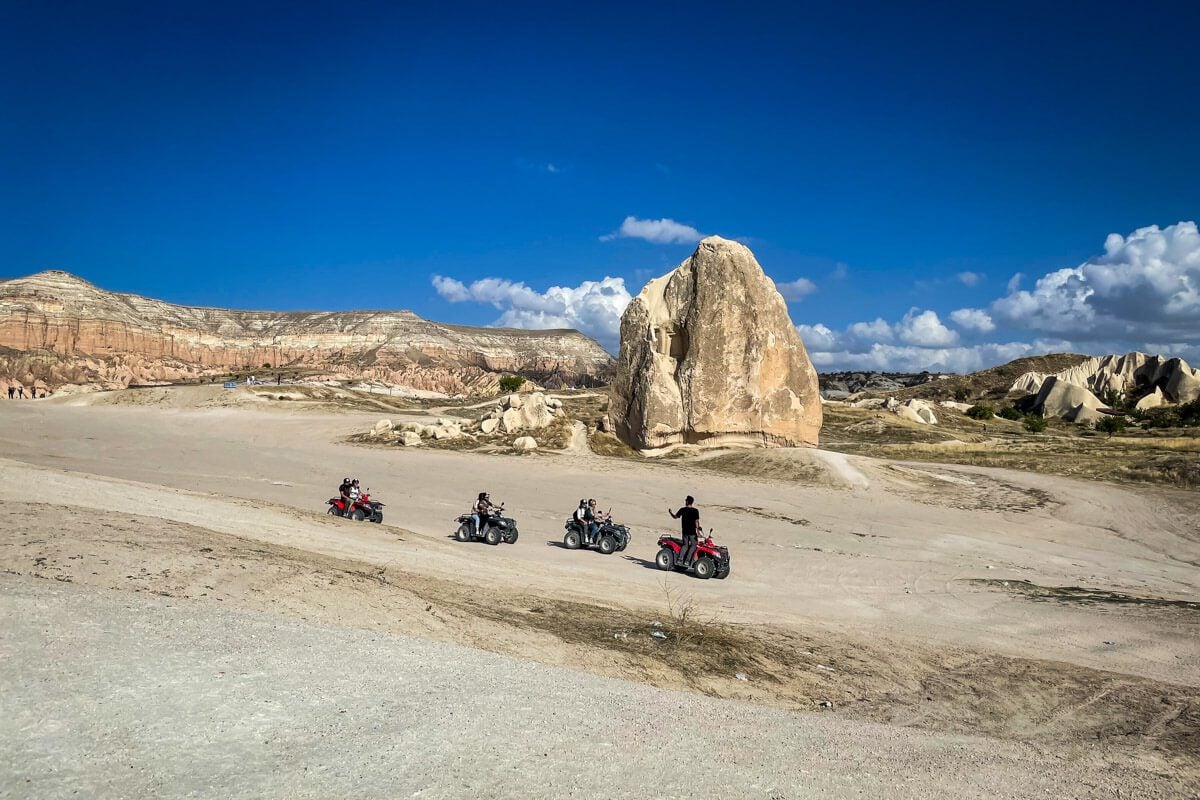 While I typically don't usually gravitate towards group tours like this, I think the landscape in Cappadocia provides an exceptionally interesting place for an ATV ride and I would say this activity is high on my list for my next visit.
I saw many of the ATV tours making their way through Cappadocia (particularly at the Rose Valley viewpoint) and it looked like so much fun! I did a little research and found plenty of ATV tours in Cappadocia that range in price, duration and quality.
It's another way to get up close and personal with some of the unique landscapes in the area, especially for those who may not be as excited about hiking (or maybe need to rest their legs after a few consecutive days of doing nothing else).
If I were to return to Cappadocia, I'd choose a tour that went into the Rose and Red valleys during sunset.
13. Explore Uçhisar Castle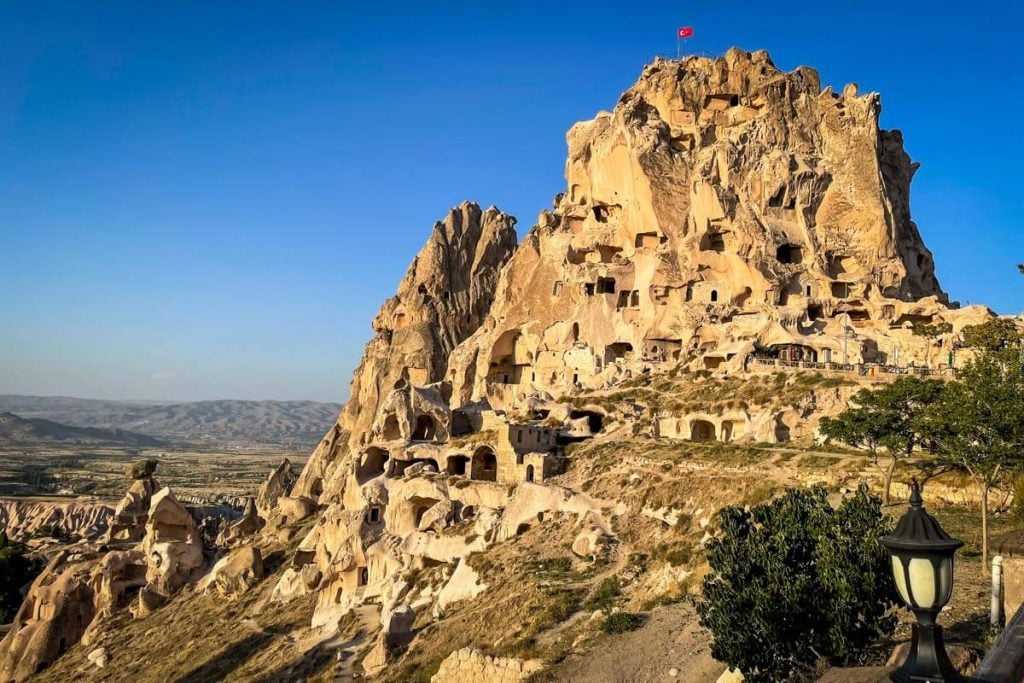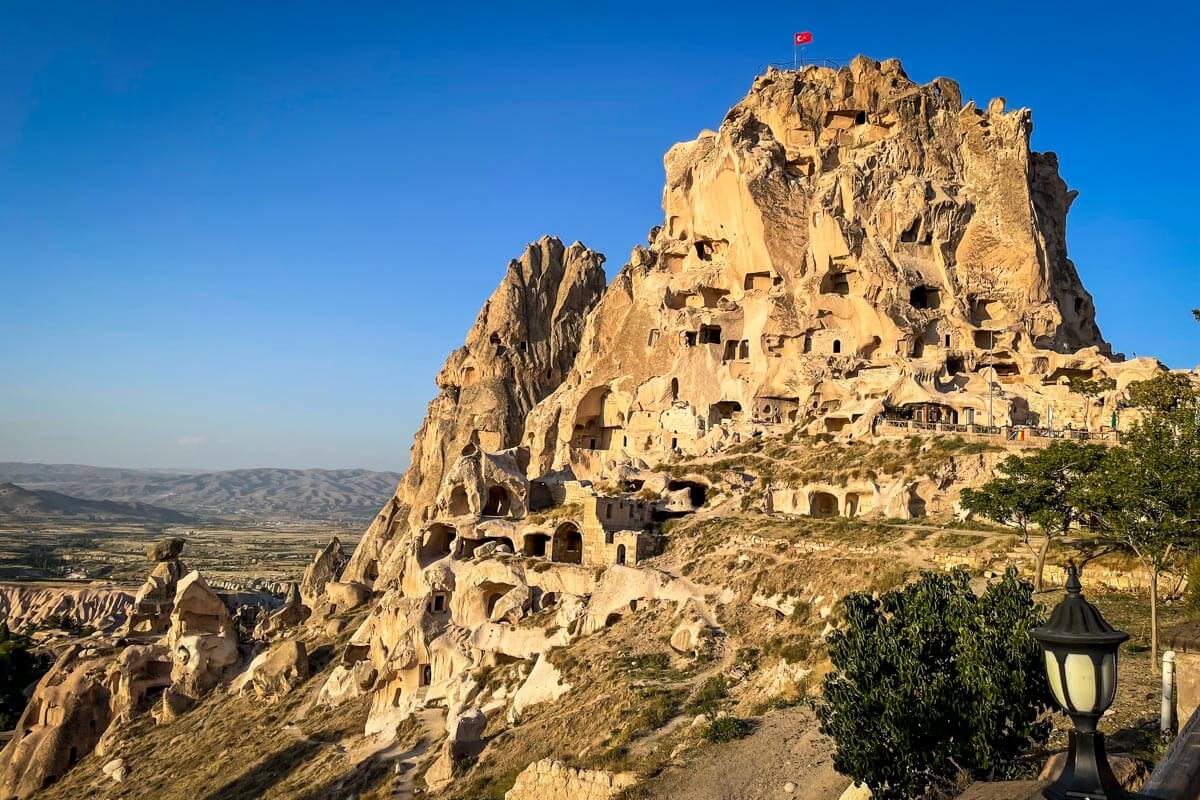 Visiting hours: 5 a.m. to 9 p.m.
Entrance fee: 50 TL per person, 10 TL to park
Do a quick scan of the horizon from just about anywhere in Cappadocia and you'll likely be able to see the unmistakable cylindrical form of Uchisar Castle towering above the town. The massif dates back to the Byzantine era when it was once occupied by 1,000 or so residents in the carved out structures and underground passageways that linked them.
Head to the castle in the hours before sunset and explore on foot in the walking paths in front of the castle. You can even make your way into some of the cave dwellings at the base.
Just before the sun is setting, pay the entrance fee and make your way to the top to enjoy the view. There are a few flights of stairs involved, but nothing too complicated.
14. Shop for magic carpets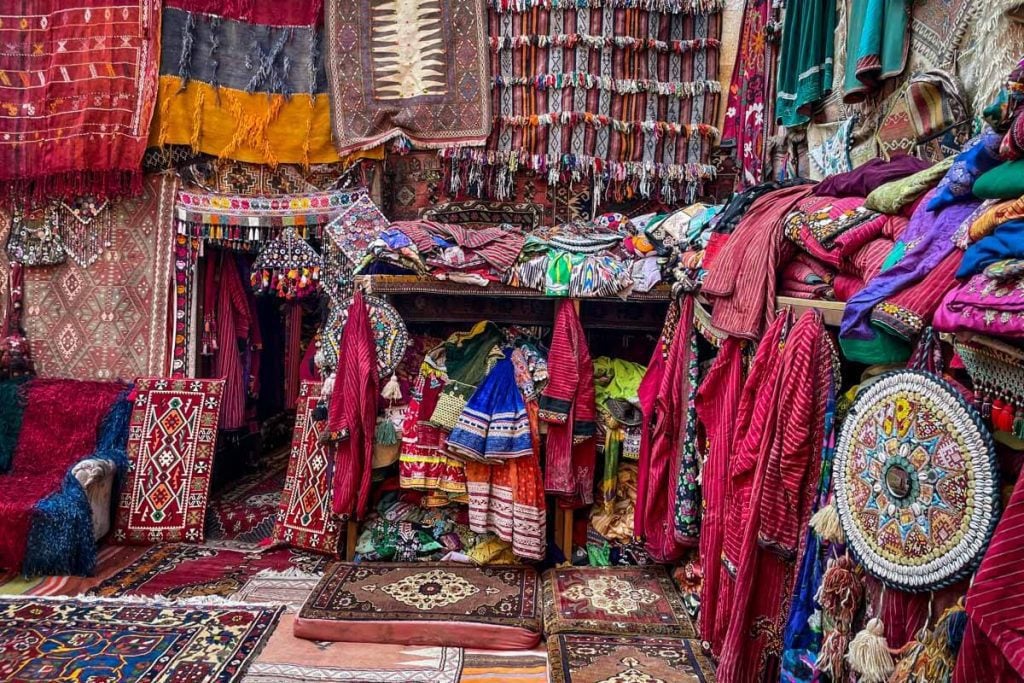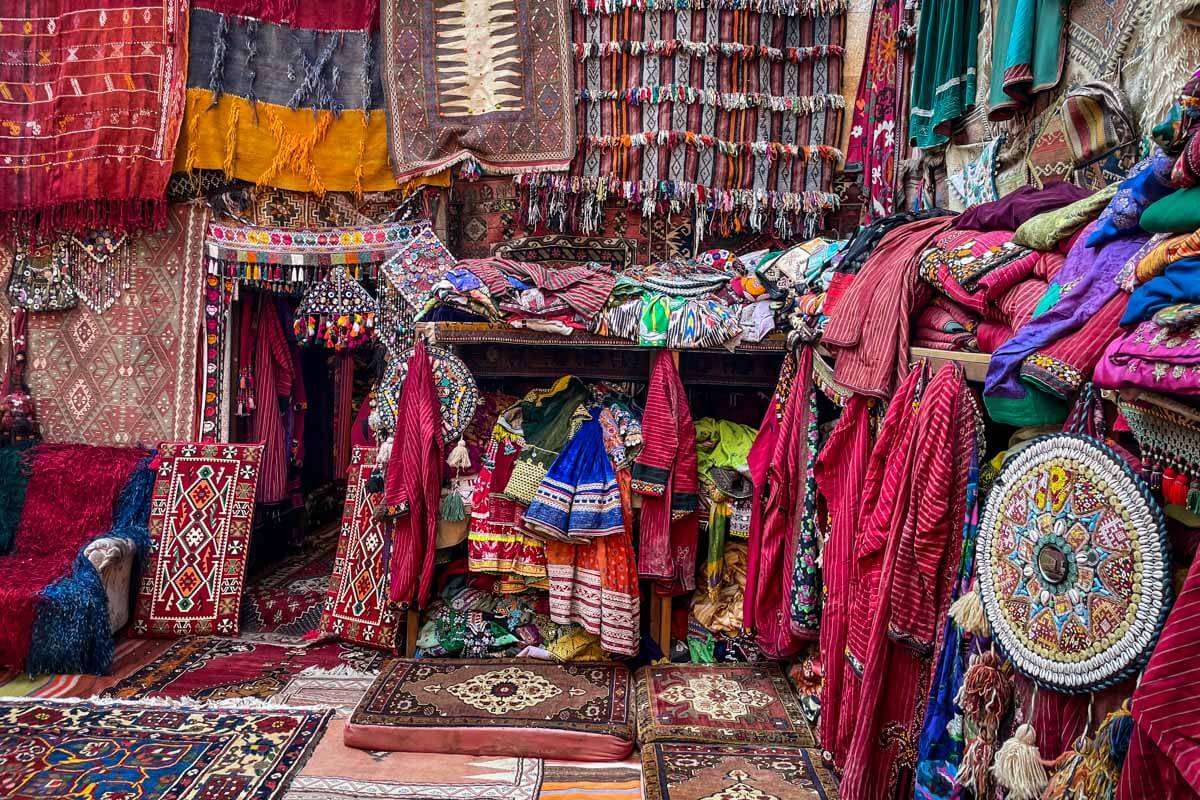 Visiting hours: 8:30 a.m to 10 p.m. daily
Entrance fee: free to shop, fee to take your own pictures, professional photo sessions by appointment
There are lots of souvenir shops within the town of Göreme offering everything from traditional Turkish carpets to knockoff designer handbags. Perhaps one of the most notable is Galerie İkman —a shop whose impressive display of carpets has earned it a name amongst Instagrammers.
I stopped by to see what all the hype was about and I was not disappointed. The massive space is a 4th generation family-owned carpet business that houses thousands of traditional hand-woven rugs.
The place has become so popular that the current owner's son, a photographer in his own right, has set up a photo studio right in the center of the shop and customers line up outside to get a few shots with the Insta-famous backdrop.
They have signs posted outside with pricing information and you can call ahead to make an appointment.
Even if you aren't into Instagramming, I saw families there getting their portraits taken and the shop itself is so impressive, it's definitely worth a look. You might even find a magic carpet you want to take home as one of your Turkish souvenirs.
Sultan Carpets is another shop in town that offers a similar experience and also requires payment for photography.
15. Explore the underground cities of Kaymakli and Derinkuyu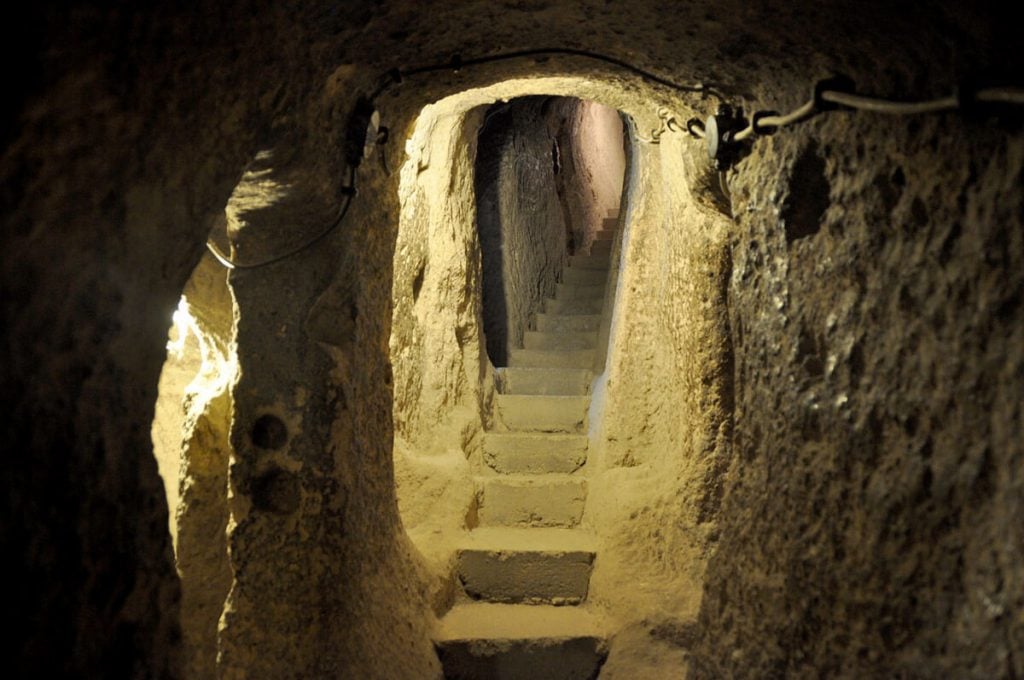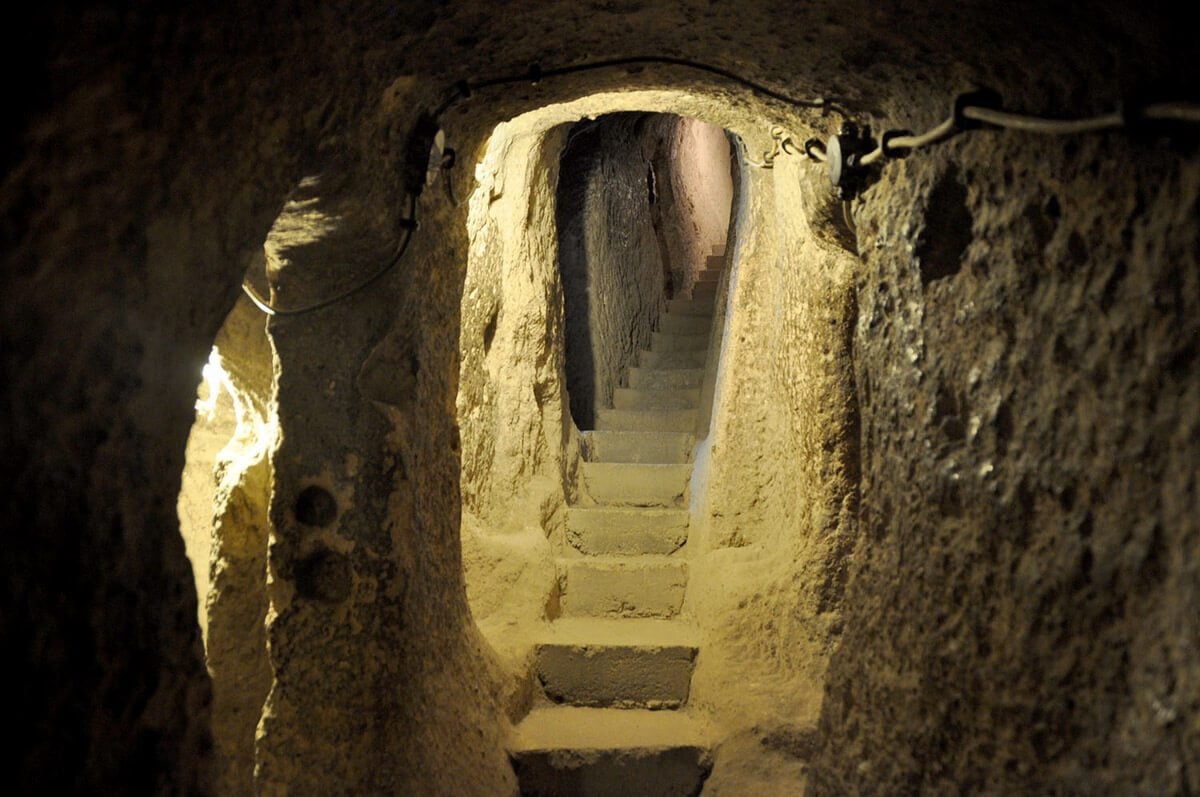 The Cappadocia region is known for ancient cave dwellings built by the Phrygians in the 8th–7th centuries BC. However, during the Byzantine era, the Christian inhabitants of the region expanded their caves into full underground multi-level cities.
Both underground cities of Kaymakli and Derinkuyu were used for protection during the Arab-Byzantine wars (780–1180 AD) and continued to serve as protective structures until as late as the early 20th century.
In 1923 the Christians were expelled from Turkey and relocated to Greece, whereupon the tunnels were abandoned, only to be rediscovered in 1963 and open to visitors shortly thereafter.
Tourists can wander through the narrow tunnels and passageways and see the labyrinth of cave systems that were built to house 20,000 people including places for livestock, churches and even wineries. The cities are located about 45 minutes south of Goreme town.
Derinkuyu Underground City
Derinkuyu visiting hours: 8 a.m. to 5 p.m.
Derinkuyu entrance fee: 300 TL
Imagine doing some renovations to your home and finding a hidden doorway that leads into the largest underground city in Turkey… That's exactly how the Derinkuyu underground city was discovered in 1963.
This is the better known of the two underground cities and therefore will be more touristed. However, the space is larger and better suited for those who may be prone to claustrophobia or have mobility issues.
Kaymakli Underground City
Kaymakli visiting hours: 8 a.m. to 7 p.m.
Kaymakli entrance fee: 300 TL per person
Kaymakli is the smaller and less visited of the two cities. The seriously adventurous-minded will enjoy the narrow passageways that feel more "underground" than those of it's neighboring city. Plus without the major tour bus stops, it's a bit more off the beaten path.
16. See the pigeon houses in Pigeon Valley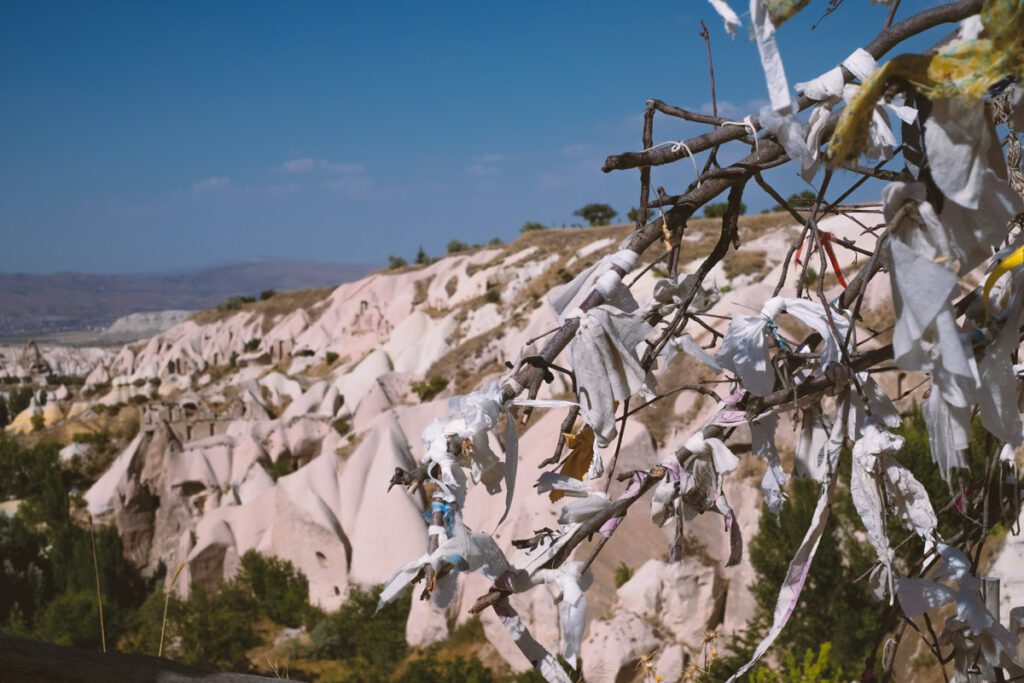 The name Pigeon Valley (also known as Guvercinlik Valley) derives from the numerous man-made pigeon houses carved into the soft volcanic tuff.
While pigeons were historically essential for food and fertilizing the region's infertile soil, their role has diminished. Nevertheless, the pigeon homes, perched atop rock pillars and nestled inside cave houses and churches, have been preserved and are particularly abundant in this valley.
If you want to get up close and personal, there is a popular hiking route through the valley connecting Goreme and Uchisar. Along the trail you'll be able to explore rock-hewn Christian churches and abandoned cave dwellings.
17. Have drinks or a bite to eat on a rooftop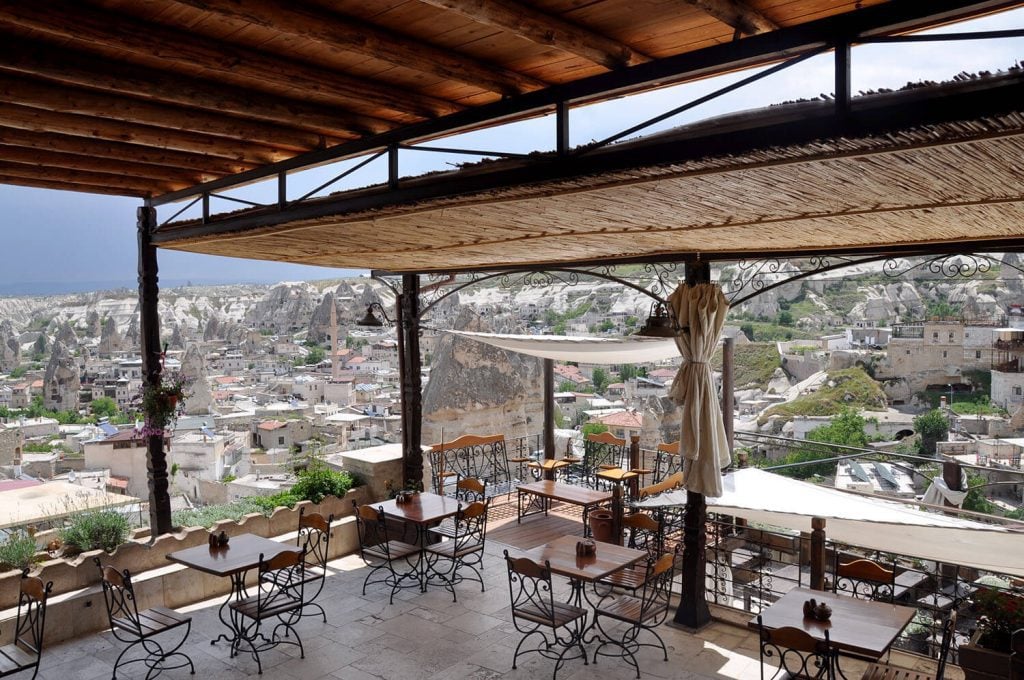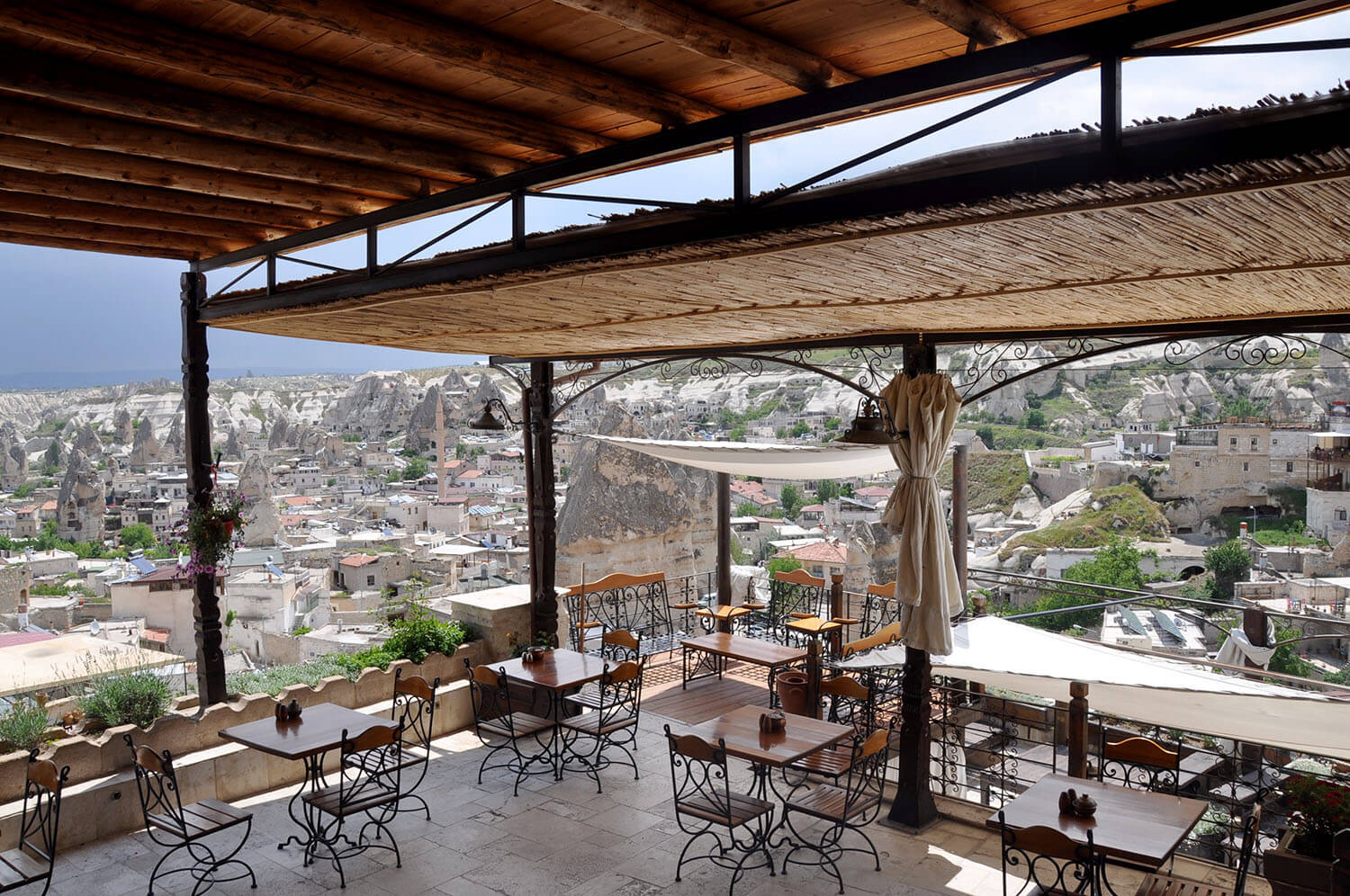 We've mentioned a few times that Göreme and Uçhisar have plenty of beautiful rooftop settings. Why not test a few out by getting drinks or having a meal with epic views?
Here are some of the best rooftop restaurants in Cappadocia:
18. Experience a traditional Turkish Hammam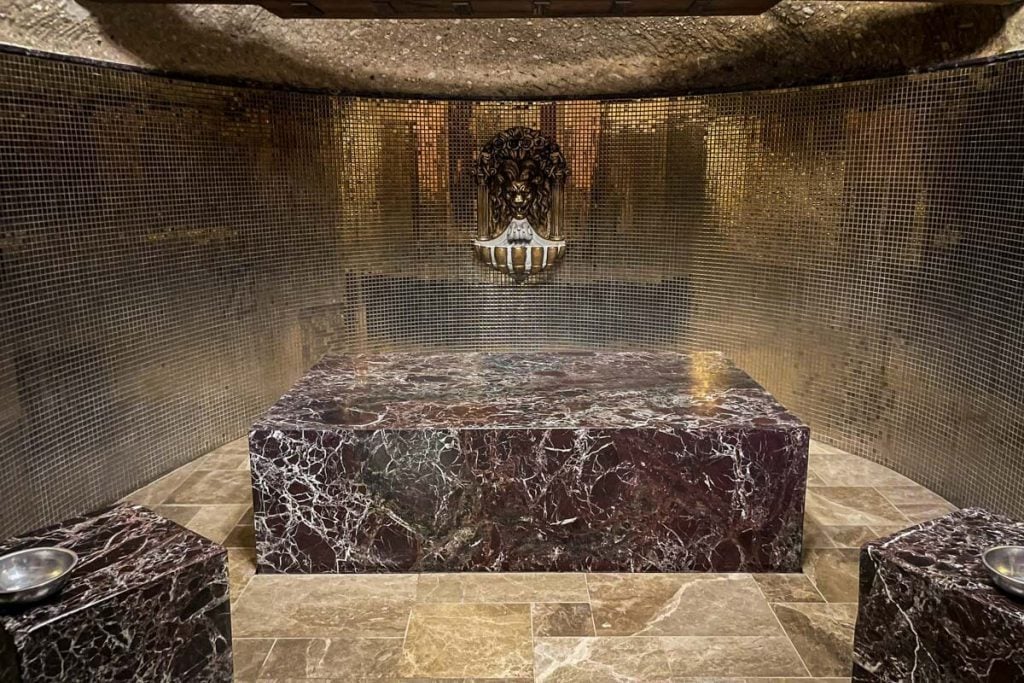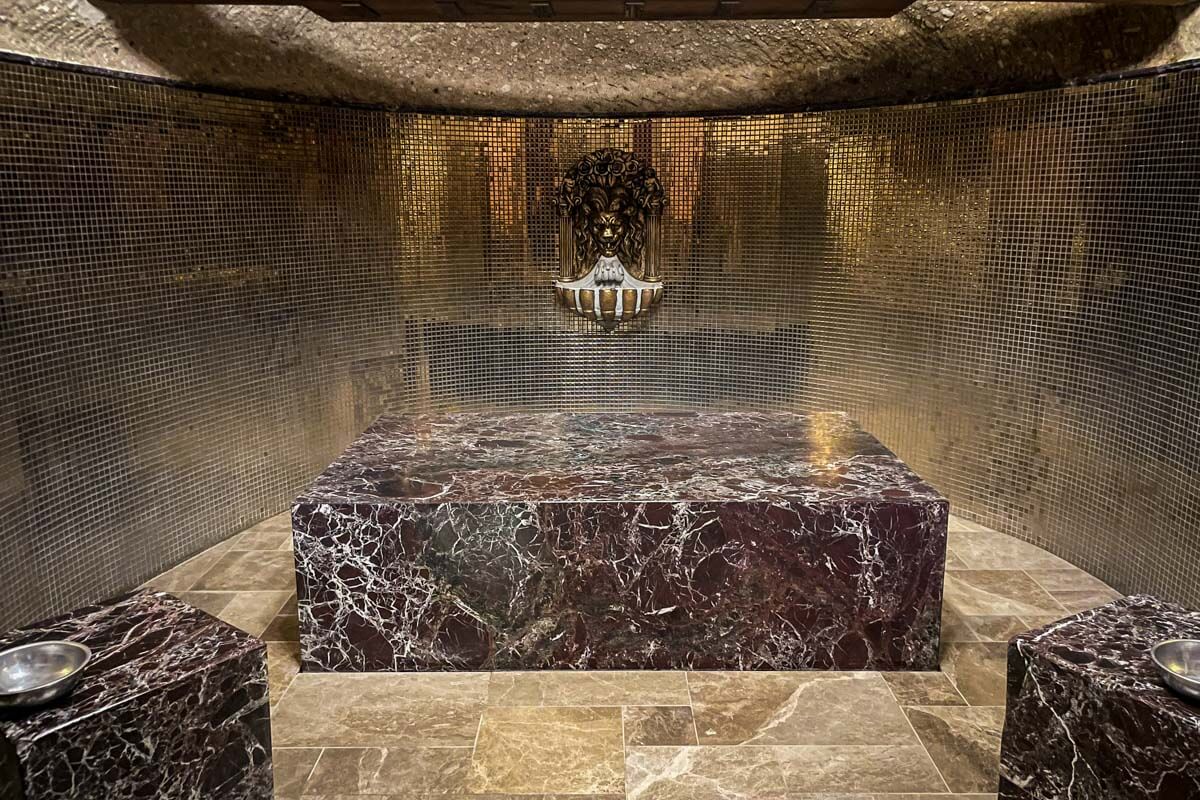 The hammam is a place of public bathing typically associated with the Islamic world and common in Turkish culture. The experience is unlike anything I can compare it to in western culture.
It's kind of like a sauna combined with a massage and lots and lots of bubbles. Today the Turkish hammam is typically a luxury offered in spa facilities around the country. It's a unique experience definitely worth a try at least once so you can form your own opinions about it.
In a nutshell, the experience usually consists of stripping down to your birthday suit (or donning the disposable underwear provided) –don't worry, the genders are usually separated for this experience, or you can request a private one.
You lay on a hot marble slab in the middle of a steamy, but well-adorned room, and you get rubbed down with exfoliating pads and soap until you're squeaky clean from head to toe.
The whole thing can feel a bit…intimate, if you are uncomfortable with that sort of thing, but it's all part of the experience. The ladies (or gentlemen, depending on your gender) rubbing you down do this all the time and are extremely professional. There's nothing they haven't already seen!
The best part: they use these things that look like pillowcases to produce a cloud-like mass of soapy bubbles to scrub you down with. It's so relaxing and you'll feel like a new human after the experience!
There were two hammams recommended me to in Cappadocia:
19. Explore the many valleys in the Cappadocia region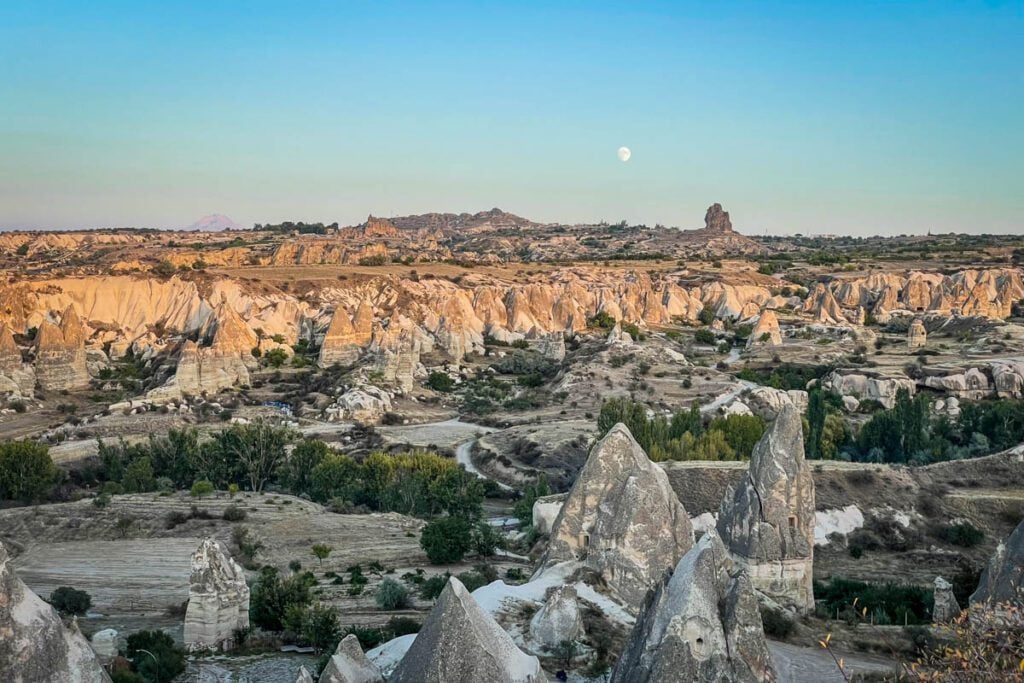 Cappadocia is a region made up of many valleys. We already mentioned a few above, but there are many more valleys to explore.
Here is a list of the main valleys in the Cappadocia region:
Red Valley: Martian-like landscape with striking red-hued rock formations, home to Panoramic Point
Rose Valley: rosy-hued rock formations, intricate cave churches, and breathtaking hiking trails
Love Valley: whimsical phallic-shaped rock formations, great for hiking
Pigeon Valley: unique pigeon houses carved into the cliffs
Zelve Valley: a historical wonderland, featuring cave dwellings and ancient churches carved into the soft rock
Pasabag (Monk) Valley: famous for its mushroom-shaped rock formations and is known for its spiritual significance
Devrent Valley: an enchanting landscape filled with whimsical rock formations, home to Imagination Point
Sword Valley: distinctive sword-like rock formations that resemble the ancient weapons
Ihlara Valley: in contrast to the others, this is a lush, green oasis with a river cutting through deep canyons, and it's home to numerous rock-cut churches
White Valley: known for its stark, white rock formations, White Valley provides a unique contrast to the region's more colorful landscapes
20. Check out Selime Monastery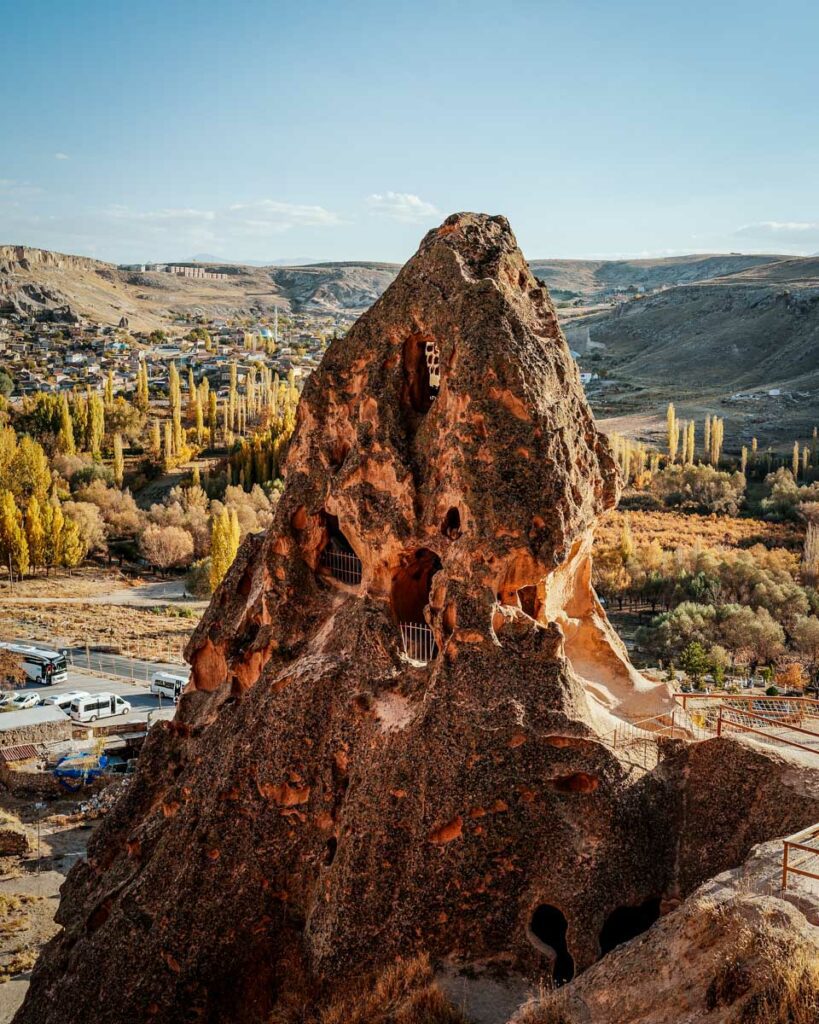 Visiting hours: 8 a.m to 6 p.m. daily
Entrance fee: 200 TL per person
The largest religious rock-cut structure in Cappadocia, Selime Monastery features a cathedral-sized church. It is filled with original frescoes, bearing witness to the site's rich history spanning early civilizations, from the Hittites and Persians to Byzantines and Ottomans.
Dating back to the 8th or 9th century BC, this multi-purpose site once served as a monastery and later as a Caravanserai along the Silk Road. It's located at the end of the Ihlara Valley, accessible by a scenic 2-hour hike from Ilhara Village or as part of a Cappadocia day tour from Goreme.
Nearby Selime Village boasts the unique Selime Sultan Turbe, showcasing 13th-century architectural style in the Anatolia region.
---
Cappadocia overview & history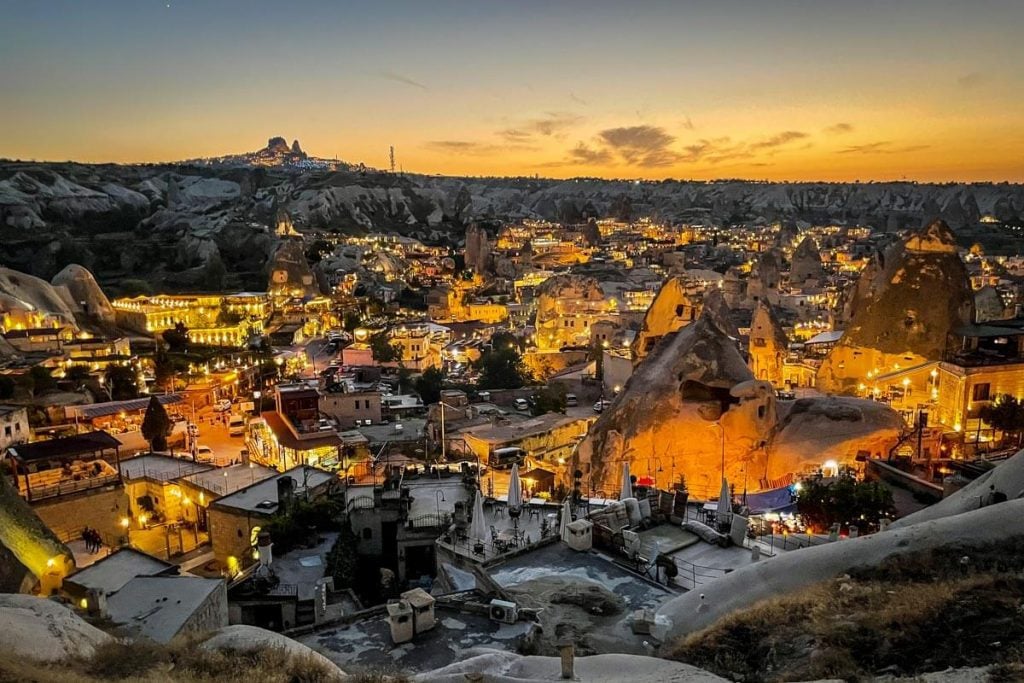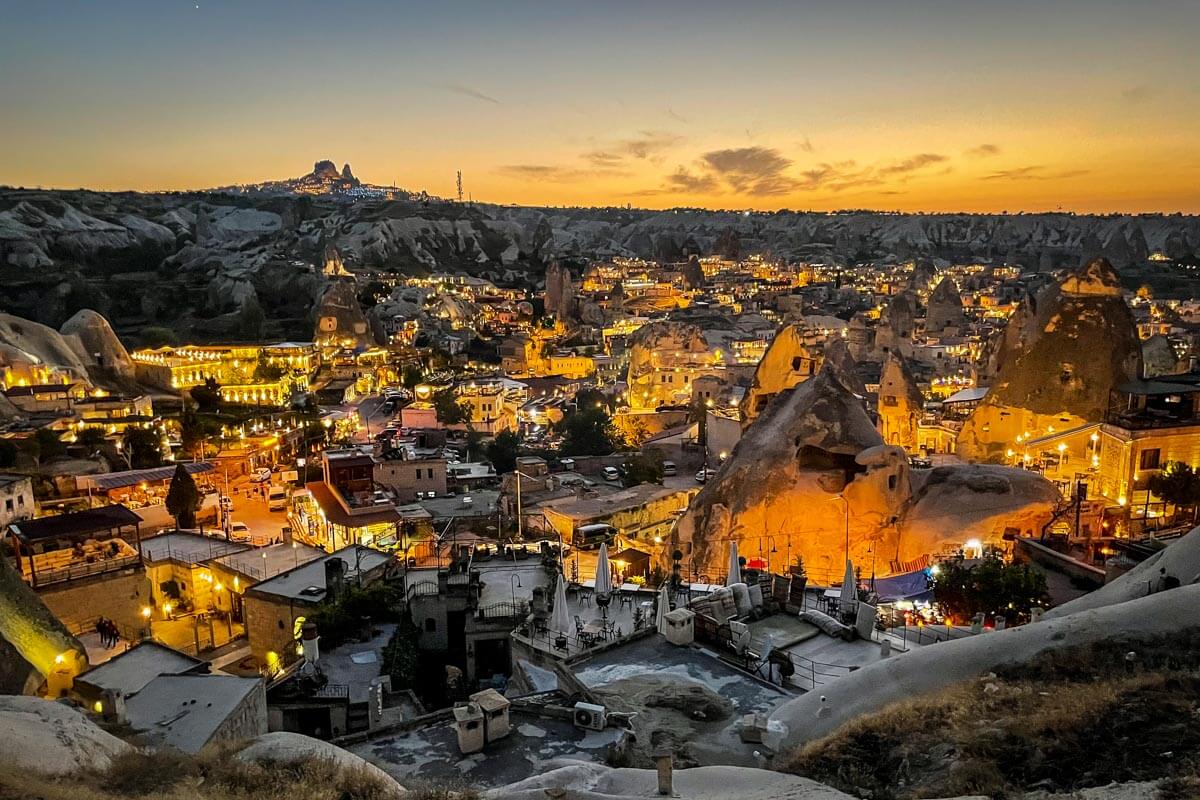 Contrary to popular belief, Cappadocia is not the name of a town, but instead it's a region in central Turkey with a collection of villages and valleys characterized by unique rock formations and exceptional natural wonders.
The rich historical and cultural heritage here has earned the region UNESCO World Heritage status since 1985.
A place where nature and history converge, the region of Cappadocia was formed over 60 million years ago after eruptions from Mount Erciyes (Argeus), Mount Hasan and Mount Güllü caused erosion of soft layers of lava and ash.
This volcanic region has been home to many ancient civilizations—Hittites, Persians, Romans, Arabs, Byzantines, Seljuks, Ottomans, and Turks. Human settlement can be traced back to the Paleolithic era (roughly 2.5 million years ago to 10,000 BC), a time of cave dwellers and hunter-gatherers.
In later periods, the area became an important center for religion, particularly Christianity, as it was a haven for Christians escaping the Roman Empire. Houses, churches and mosques can all be found carved into the rock here.
Cappadocia was also once an important junction on the Silk Road trade route.
In modern times, tourism in the region is centered around the towns of Göreme and Uçhisar, but more on that in the Where to Stay section below…
Psst! If you'll be traveling more throughout the country, be sure to check out our bucket list of epic places to visit in Turkey.
How many days do you need in Cappadocia?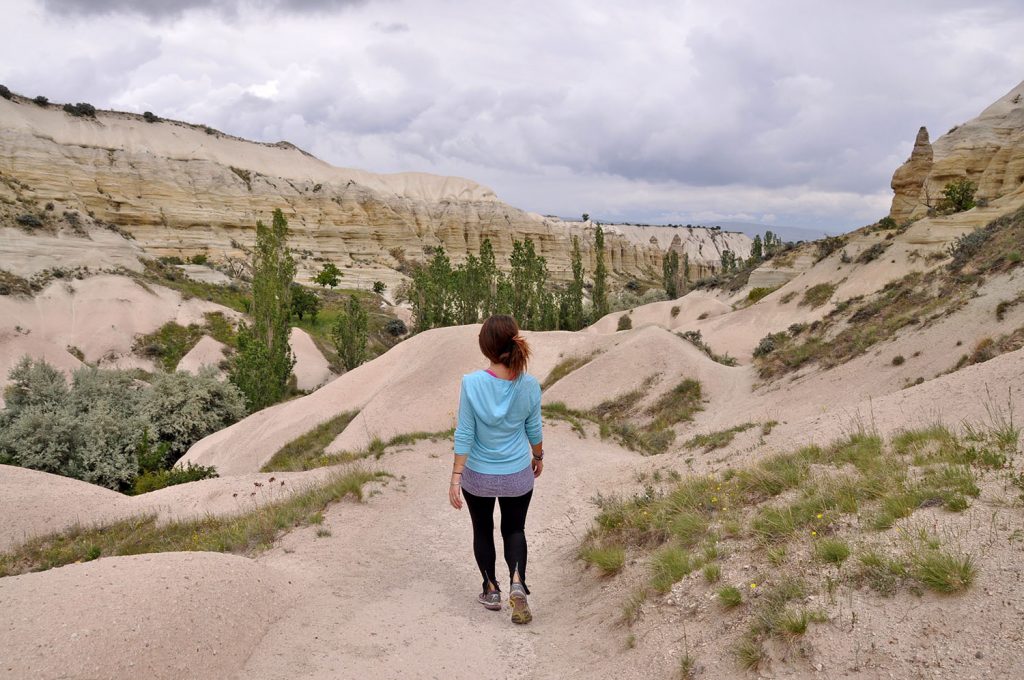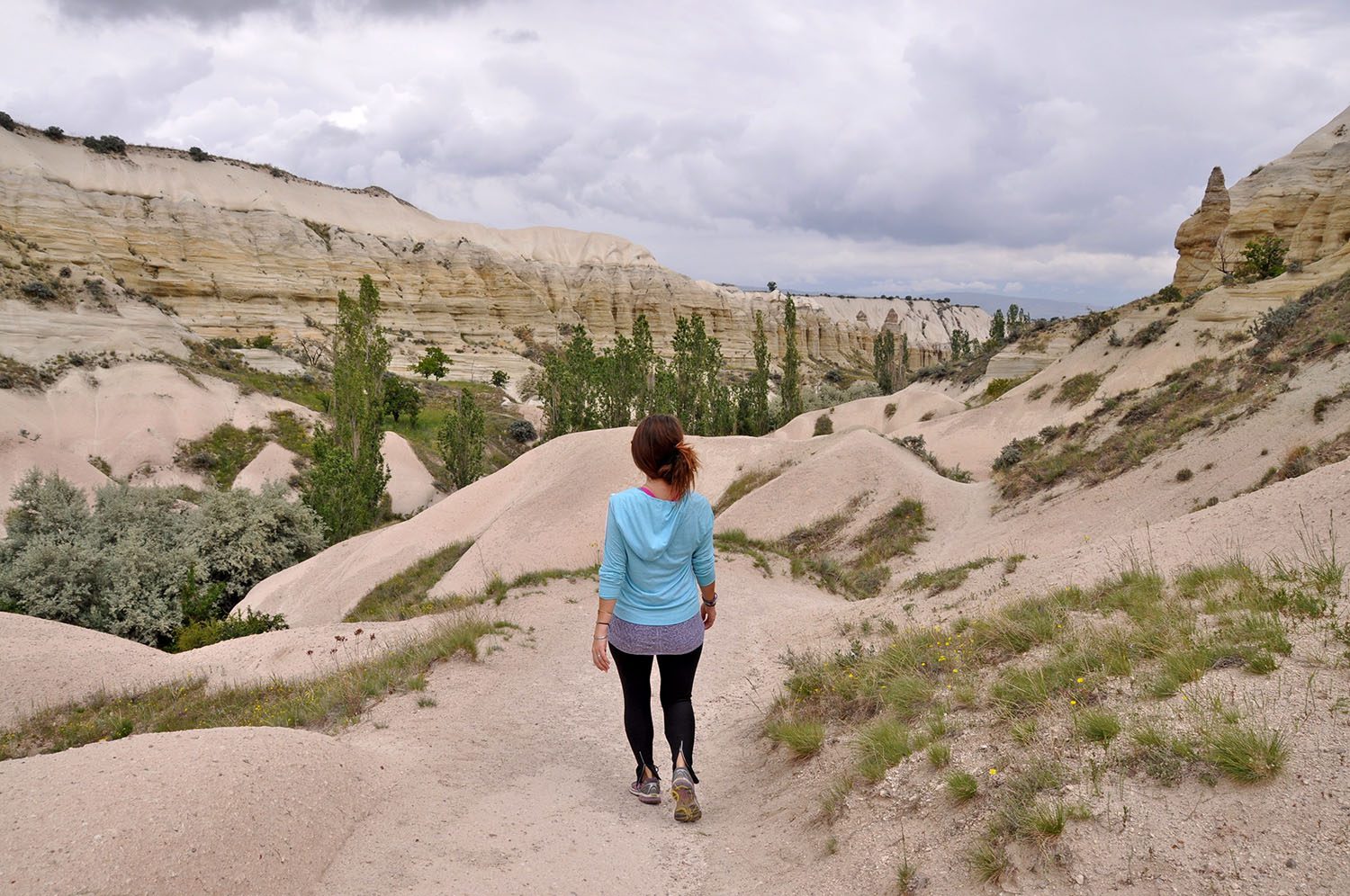 Many people try to squeeze in a trip to Cappadocia over a 3-day weekend. While it can be done in such a short amount of time, that doesn't mean it should.
We'd recommend you give yourself more than just a couple days to take in all the sights and activities this region has to offer.
Ideally, spending 5 days or more in Cappadocia will give you the time you need to see everything you'll want to see. This will also give you a buffer in case your hot air balloon flight gets canceled due to weather (a not so uncommon occurrence).
A rough itinerary for Cappadocia can look something like this:
Day 1: Arrive and pick up your rental car. Sunset at Sunset Point in Göreme
Day 2: Sunrise hot air balloon flight, explore the towns of Göreme & Uçhisar. Uçhisar Castle for sunset.
Day 3: Sunrise rooftop photo session, Visit Paşabağı "Monks Valley" and Zelve Open Air Museum, sunset ATV tour
Day 4: Sunrise balloon viewing from Sunset Point, hiking in the valleys, sunset from Panoramic Viewpoint
Day 5: Visit Göreme Open Air Museum, sunset at Sunset viewpoint
Day 6 (optional): Visit the underground cities of Kaymakli and Derinkuyu
How to get to Cappadocia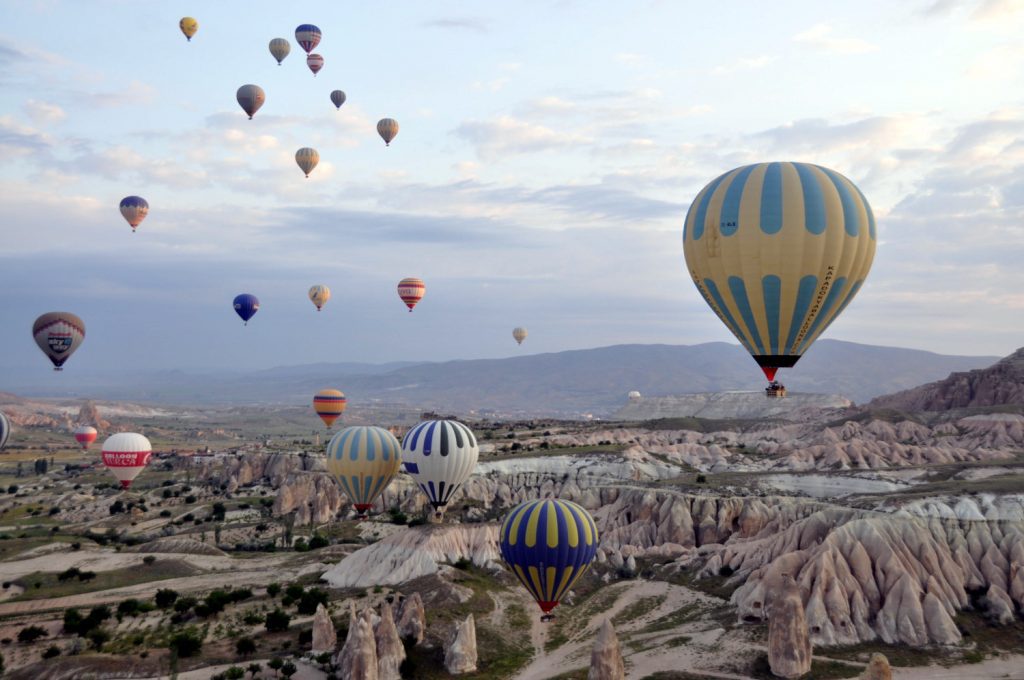 There are actually two major airports in the region and flying into either is a solid option. Both will have daily non-stop flights from Istanbul for fairly reasonable prices (I got my round trip ticket for less than $70 USD).
Nevşehir Kapadokya Airport (NAV): ~40 minutes from Göreme/Uçhisar
Kayseri Erkilet Airport (ASR): ~60 minutes from Göreme/Uçhisar
If you're really on a budget, you can also get to Cappadocia by bus from Istanbul or other cities on the coast. Public buses in Turkey are quite comfortable and the trip will only cost you about 200 TL (around $25 USD) but the ride will take 10-12 hours from Istanbul.
Transportation in Cappadocia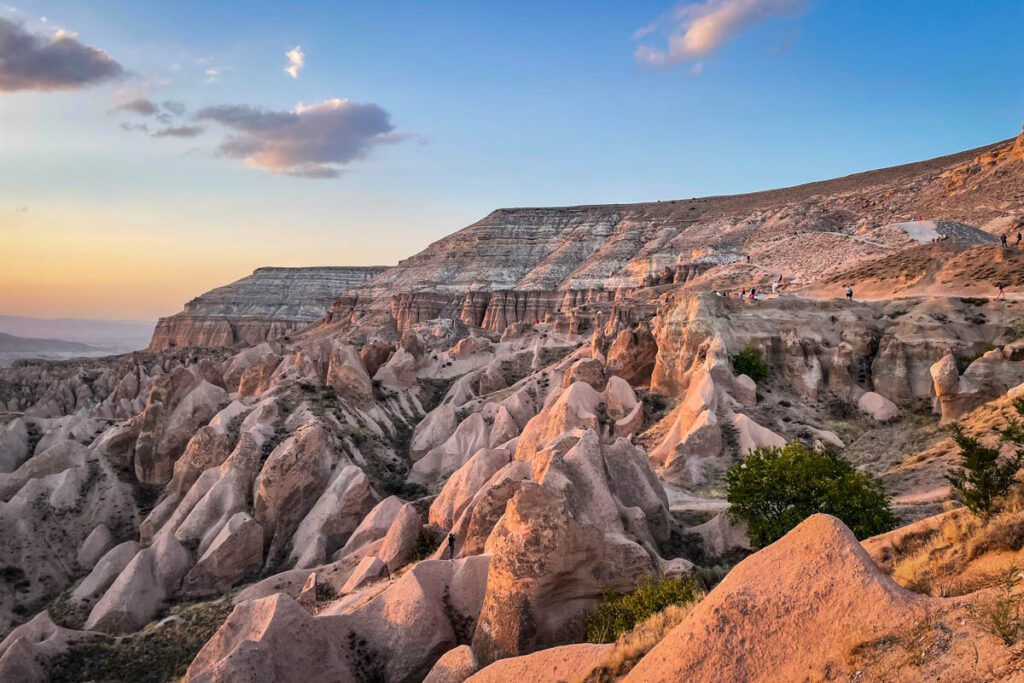 The towns of Göreme and Uçhisar are both quite walkable on their own and you can even walk between the two if you are up for a long (1 hour or so) stroll. However, there is so much to see in the area that really does require a set of wheels to get around.
Most hotels in the area offer airport shuttle service to and from either of the above-mentioned airports for a small fee (usually around 100 TL one way).
You have the option of taking taxis everywhere, although in my experience they weren't as prevalent as I would have guessed and if you want to get to a certain destination for say sunrise, you might have trouble finding a taxi at that hour.
Renting a car is your best option for getting around and seeing all the sights on your own time. Car rental prices are pretty affordable in the area and you can rent directly from the airports, eliminating your need for a shuttle service.
Psst! We have a complete guide to getting a rental car in Turkey which lays out everything you need to know from cost to insurance.
Where to eat in Cappadocia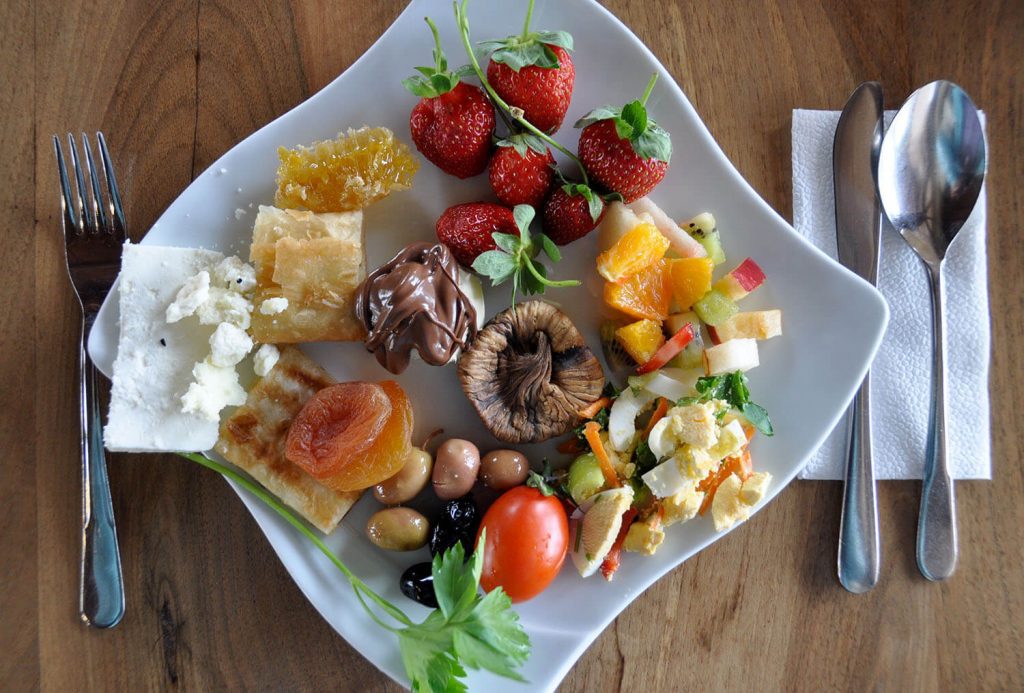 While Cappadocia is not exactly known for its food scene, there are a handful of restaurants worth checking out.
Where to stay in Cappadocia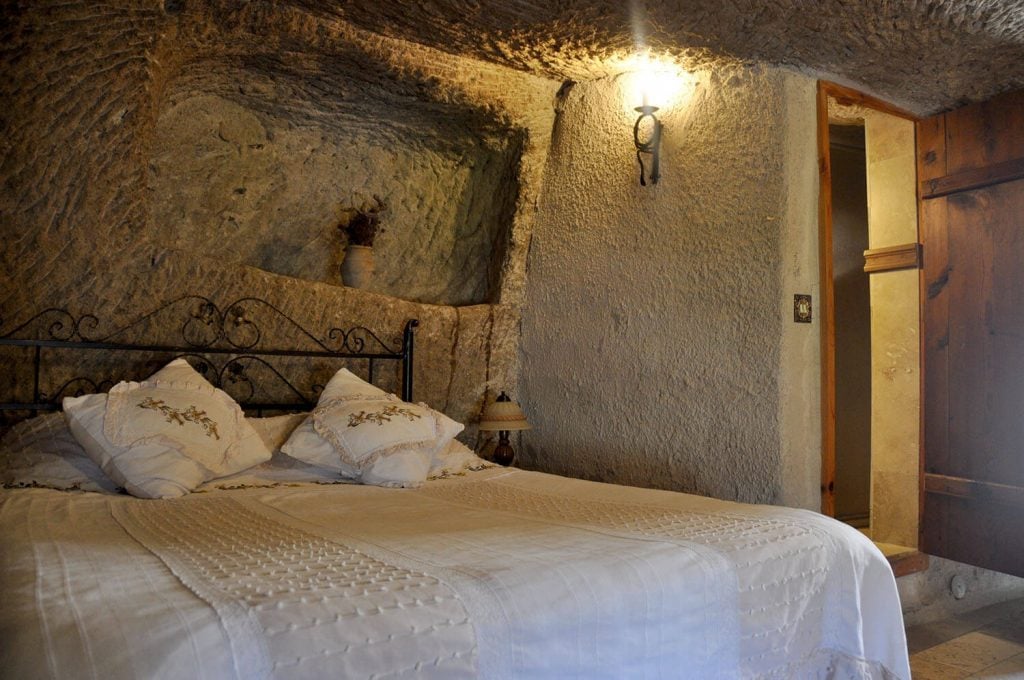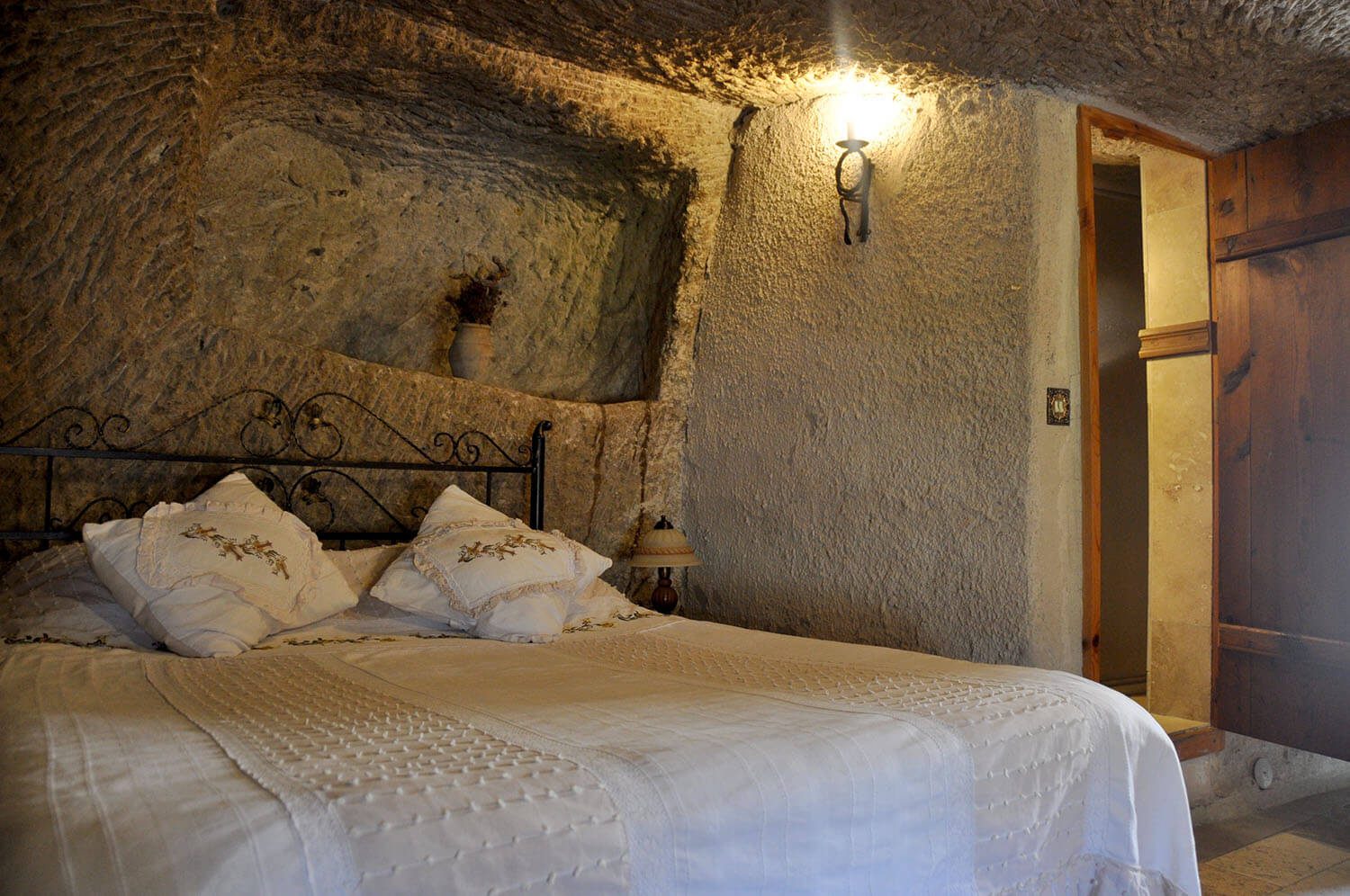 We mentioned that the tourism in the region is focused around the towns of Göreme and Uçhisar. Staying in either of these towns will put you right in the center of the action.
However there are a few other towns within the region that offer great hotels and different experiences.
We put together an entire article breaking down the best cave hotels in Cappadocia to help you plan the perfect stay. 
Round up of the best things to do in Cappadocia
Here's a recap of all the best things to do in Cappadocia so you can see everything in one place.
Sunrise overlooking Göreme
Zelve Open Air Museum
Hiking in Love Valley
Paşabağı Valley
Göreme Open Air Museum
Hiking in Rose Valley
Hike through Red Valley
Sunset at Panoramic Point
Sunrise rooftop breakfast
ATV tour
Uçhisar Castle
Galerie İkman
Kaymakli and Derinkuyu underground cities
Pigeon Valley
Rooftops
Hammam
Valleys of Cappadocia
Selime Monastery
---
Are you planning a trip to Turkey?
We have TONS of resources on travel in Turkey and destinations throughout the country. Check out our Ultimate Turkey Travel Guide for all the answers to your travel questions, or read some of our favorite articles below.
Save this article on Pinterest for later!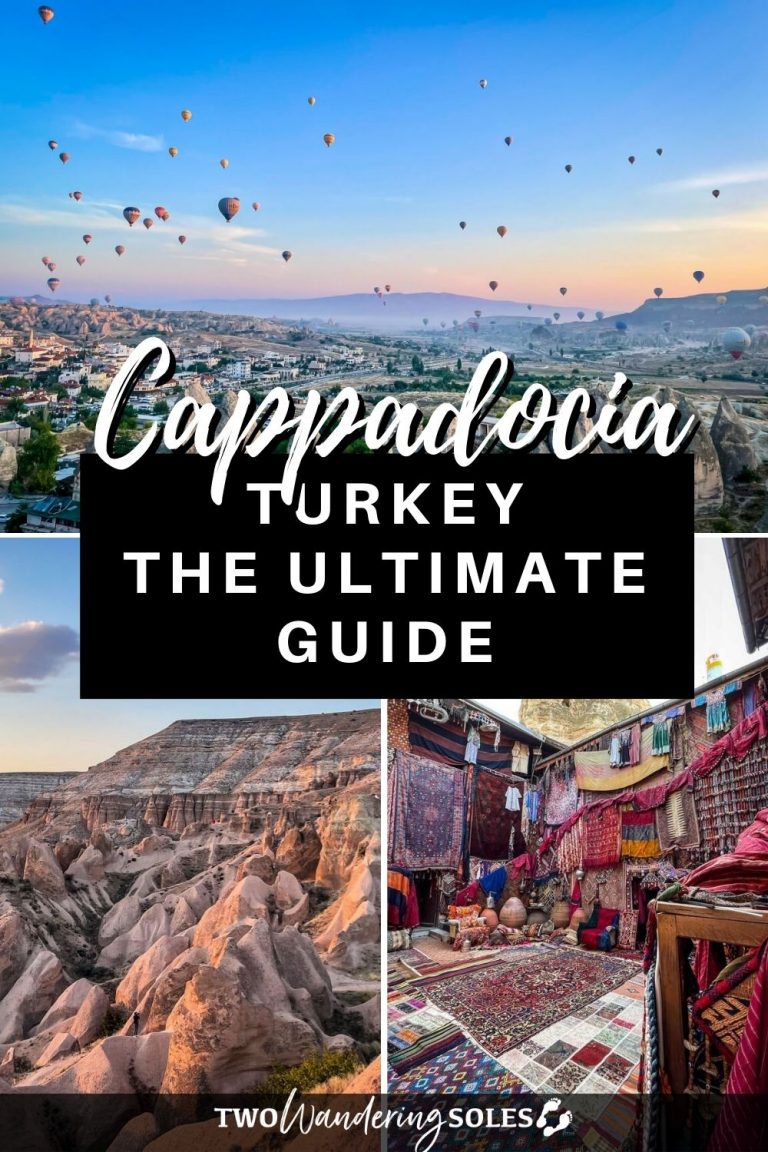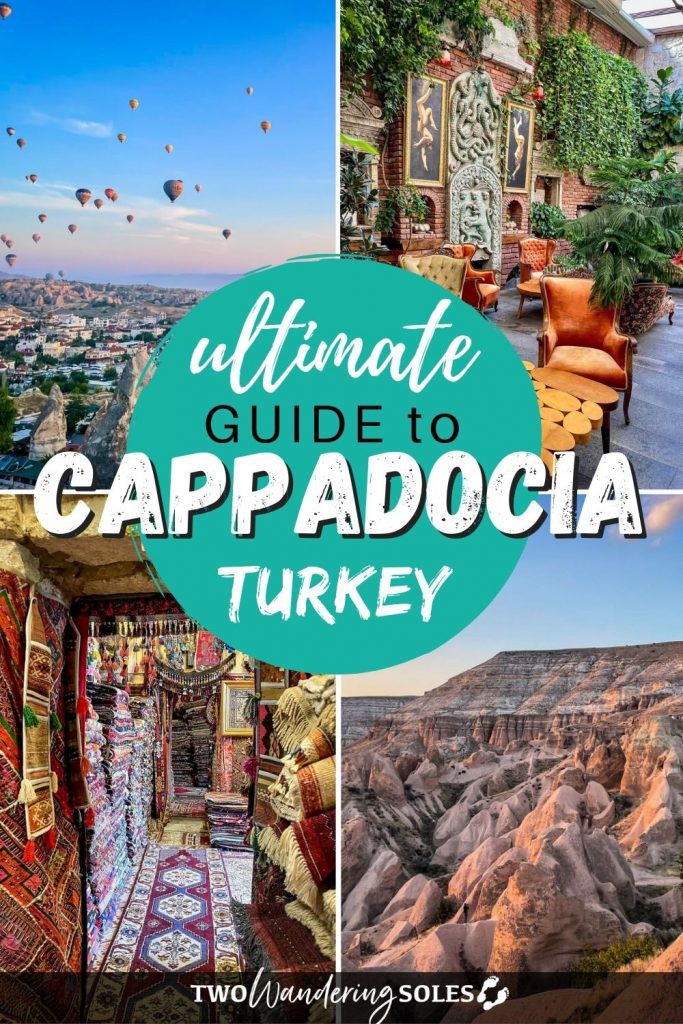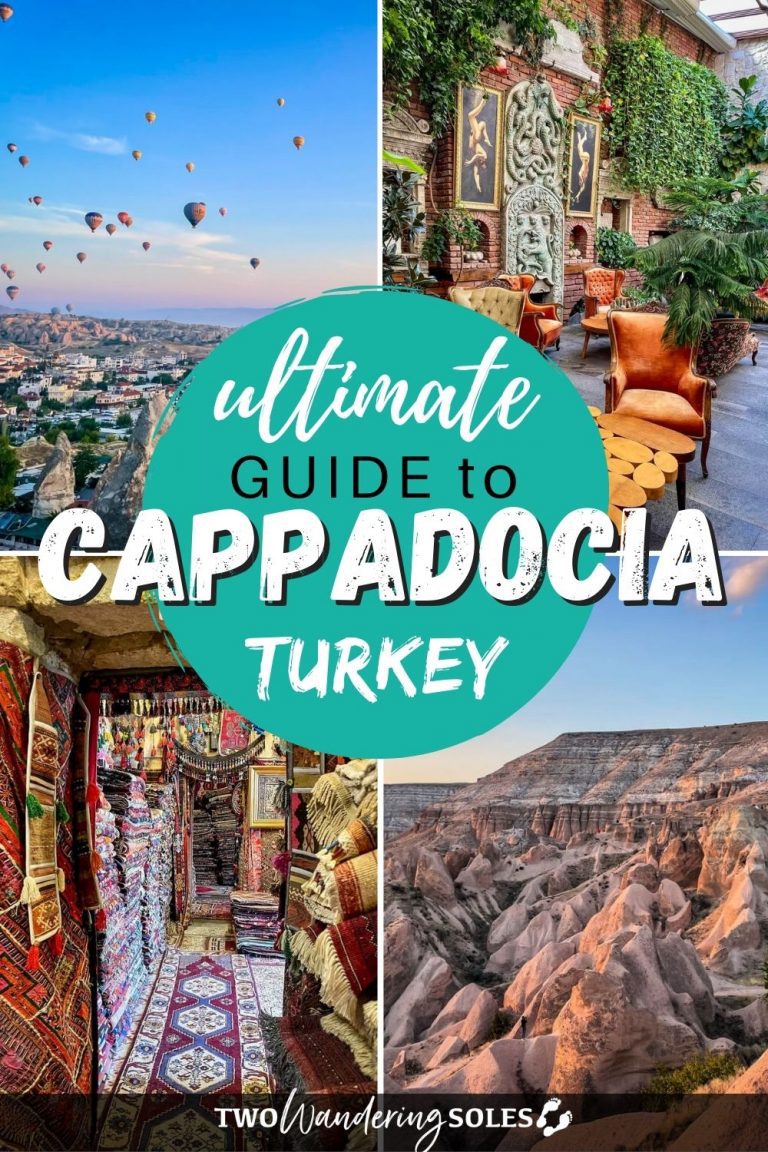 We want to hear from you!
Which of these fun things to do in Cappadocia are you most excited to check out? Are you planning a trip to Cappadocia and still have questions? Leave your comment below and we'll do our best to find you the answers your looking for!