There's beauty in every corner of California. The downside is millions of people travel there to see this beauty, but most of them stick to the national parks. If you want to spend a day out in nature away from the crowds, here is a list of the best desert hikes in Southern California, outside of popular national parks.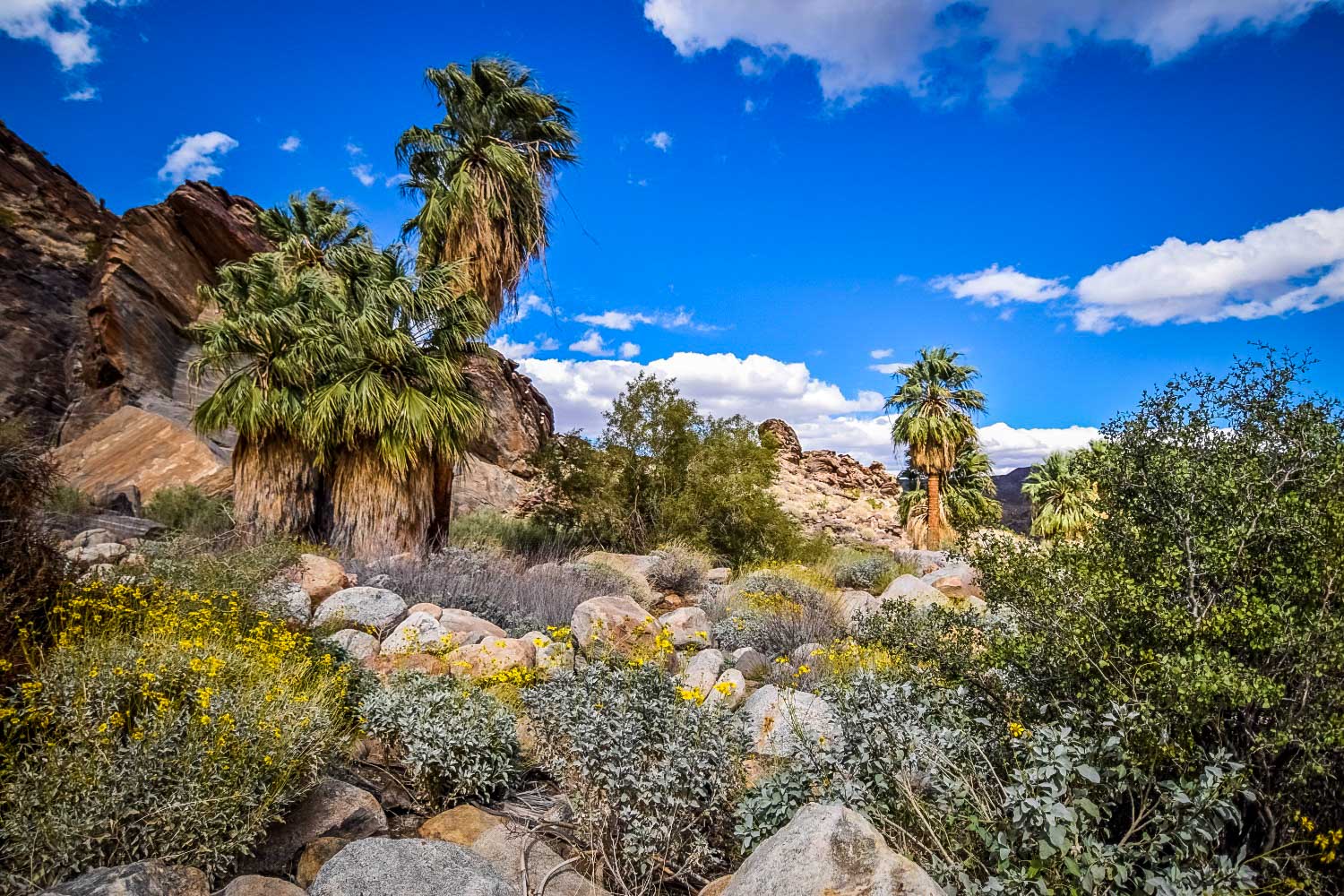 Guest Author: Shelby Kirk
Everyone knows California for its beautiful weather and gorgeous coastal beaches. But did you know it's also packed with impressive desert scenery as well?
Two of the most popular national parks located in California deserts are Joshua Tree and Death Valley.
While these 2 parks are worthy of their praise and popularity, there are many other little known hikes in southern California desert that still boast the same beauty.
Either in state parks, national preserves, or sometimes in the middle of nowhere. To us, these trails shine just as bright as the rest.
Below is a list of some incredible hikes in southern California outside of the popular national parks. (Most of which people don't know about!)
Pssst! Don't forget to pack hiking snacks to keep you nourished on the trail!
1. Hagen Canyon Trail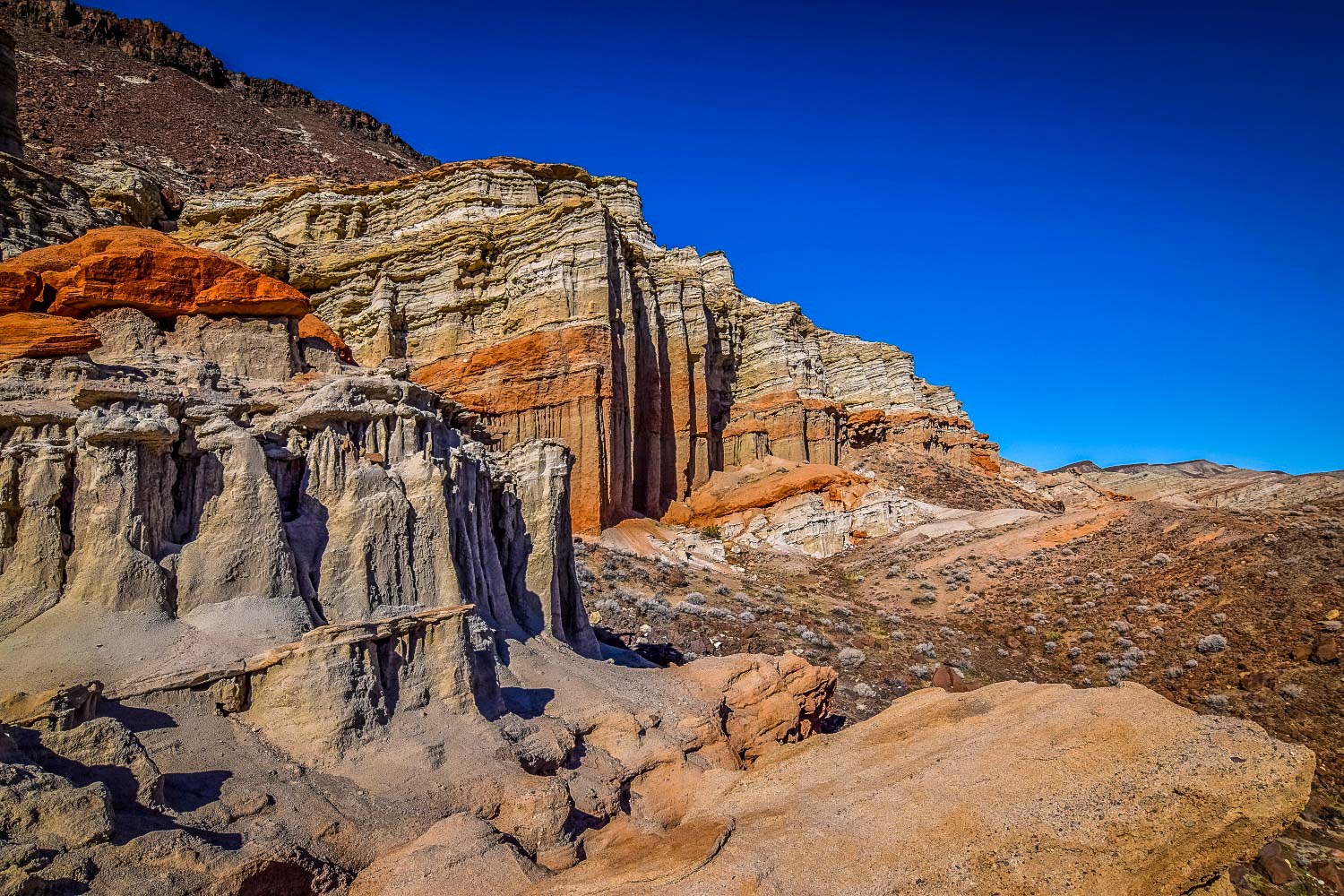 Where: Red Rock Canyon State Park
Distance: 1.2 mile loop
While being just a little over a mile long, Hagen Canyon Trail in Red Rock Canyon State Park doesn't fall short of expectations. This trail consists of a dramatic desert landscape from start to finish.
Even though Red Rock Canyon State Park is smaller than other state parks, the impressive red rock cliffs make it well worth the visit. You can experience these extraordinary cliffs and more all along this quick trail.
Hagan Canyon Trail is located right off of Abbot Drive from Rt 14. The trailhead is immediately to the left once you pull off the highway.
Along the trail you will see spectacular red rock cliffs, tall canyons, wide washes, and the hidden gem of the trail, Camel Rock. Literally what the name entails, a rock shaped like a camel!
We enjoyed standing at the foot of the red cliffs for a closer look of the rock formations and climbing atop of them for a wonderful view of the valley below.
2. Hole in the Wall Trail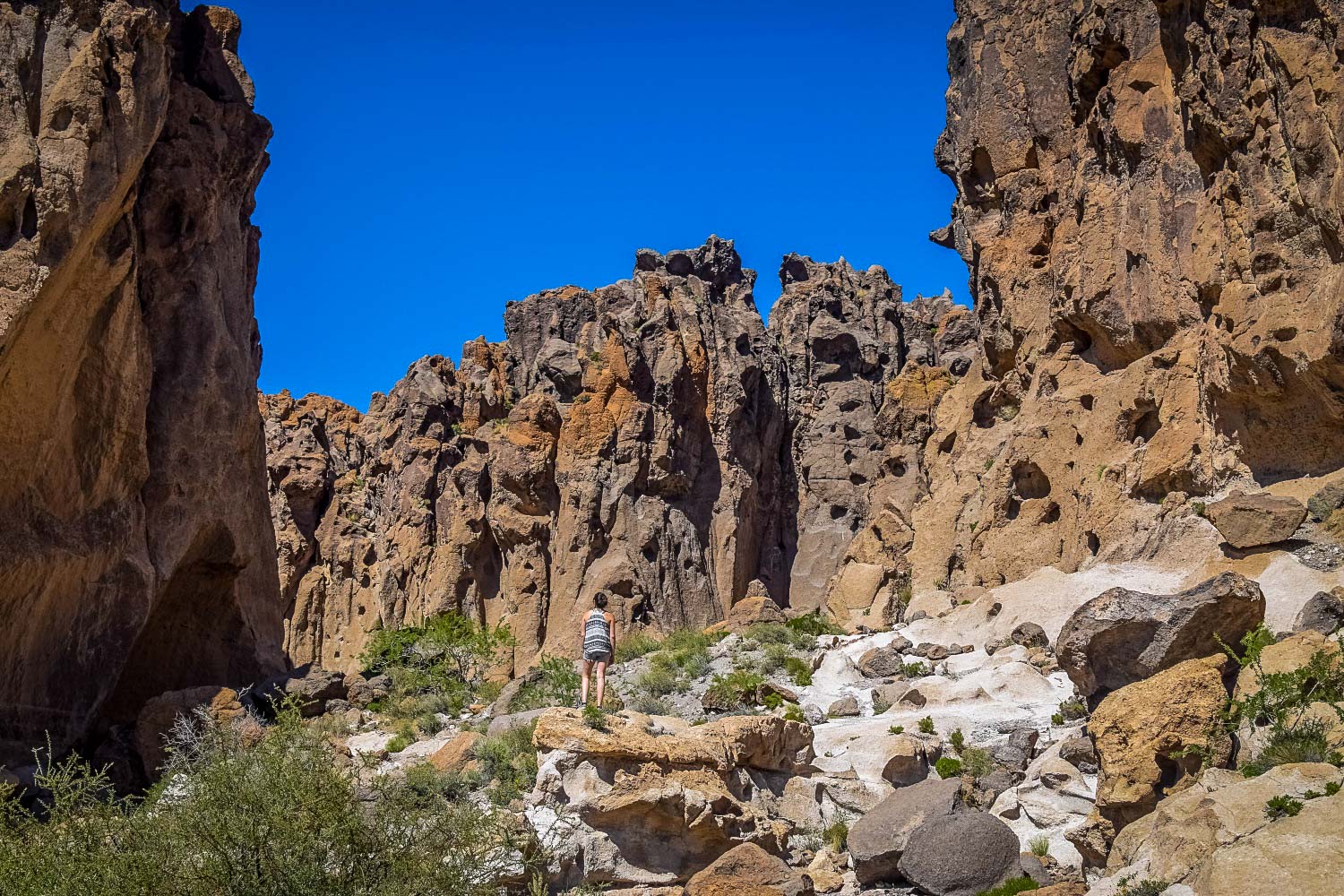 Where: Mojave National Preserve
Distance: 1.3-mile loop
The Hole In The Wall Trail, also known as the Rings Trail, takes you through a beautiful section of the Mojave National Preserve.
Nicknamed the Rings Trail because of the climbable iron rings located in a small canyon at the end of the trail.
The trailhead is off Black Canyon Road in the same parking lot as the Hole In The Wall Information Center.
For the loop, it's best to hike clockwise starting at the trailhead in the parking lot. You're taken through a vast desert valley and then through the center of large porous cliffs made from volcanic tuff.
At the end is where you find the iron rings which you use to climb up and out of the canyon. This ranked as an easy trail, but it may be physically demanding for others. 
The fascinating volcanic rock formations along with the iron rings makes this one of the more fun trails within the Mojave National Preserve.
Related: If you're into deset hikes, you'll want to check out our guide to the best hikes near Las Vegas, which includes some crowd favorites and some more off-the-beaten-track routes.
3. Teutonia Peak Trail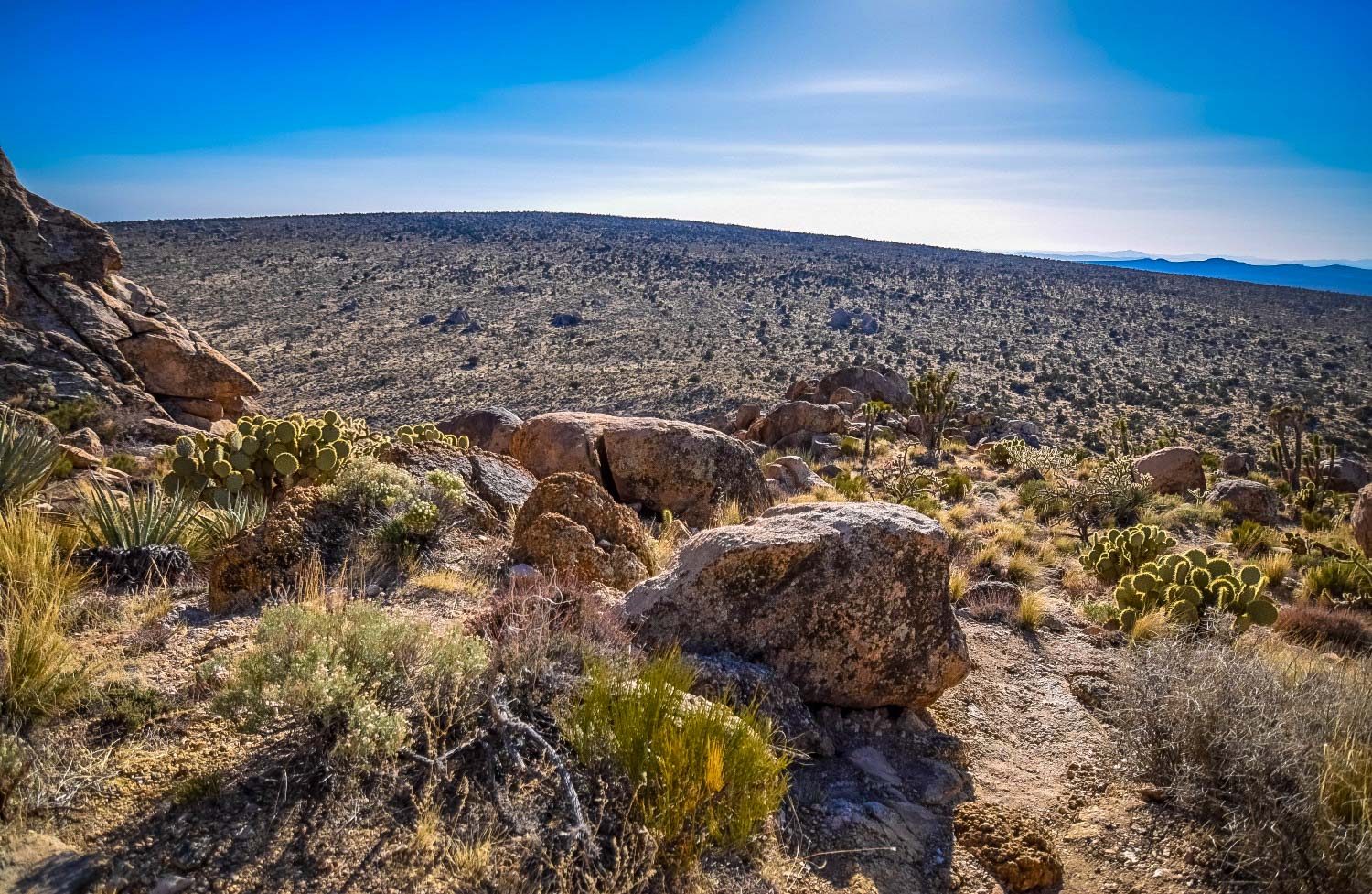 Where: Mojave National Preserve
Distance: 3.4 miles out and back
If you're looking for a desert hike that involves climbing a mountain for stunning views, then Teutonia Peak Trail in Mojave National Preserve is where you want to go.
To find the trailhead, take Cima Rd off the 15 freeway into the preserve for about 11 miles till you see a small parking lot on the right.
Teutonia Peak is a rocky 5,755 ft mountain with incredible views once at the top. A slightly strenuous, but insanely rewarding climb. 
Fun fact: As you hike up the trail towards the top of the mountain, the valley to your right has a distinct curve in the horizon. It's as if you're looking through a fisheye lens on a camera.
At the top you can climb around the many large boulders, but please scramble with caution. The perspective from here is among the best desert valley views we've seen. Mainly because trekking up a mountain isn't generally too common for the desert.
Teutonia Trail also homes the densest Joshua Tree forest in the world! That's right, even denser than Joshua Tree National Park. Enjoy wandering through this amazing desert forest before starting the climb. 
Make it a road trip: Even though Teutonia Trail has more Joshua Trees than the national park of it's namesake, it's still worth visiting both! The Mojave National Preserve isn't too far from Joshua Tree National Park, so why not combine them in an epic road trip! Southern California is the perfect spot for camping, but if you're looking for a little extra comfort, there are lots of glamping options in Joshua Tree.
4. Whitewater Canyon Loop Trail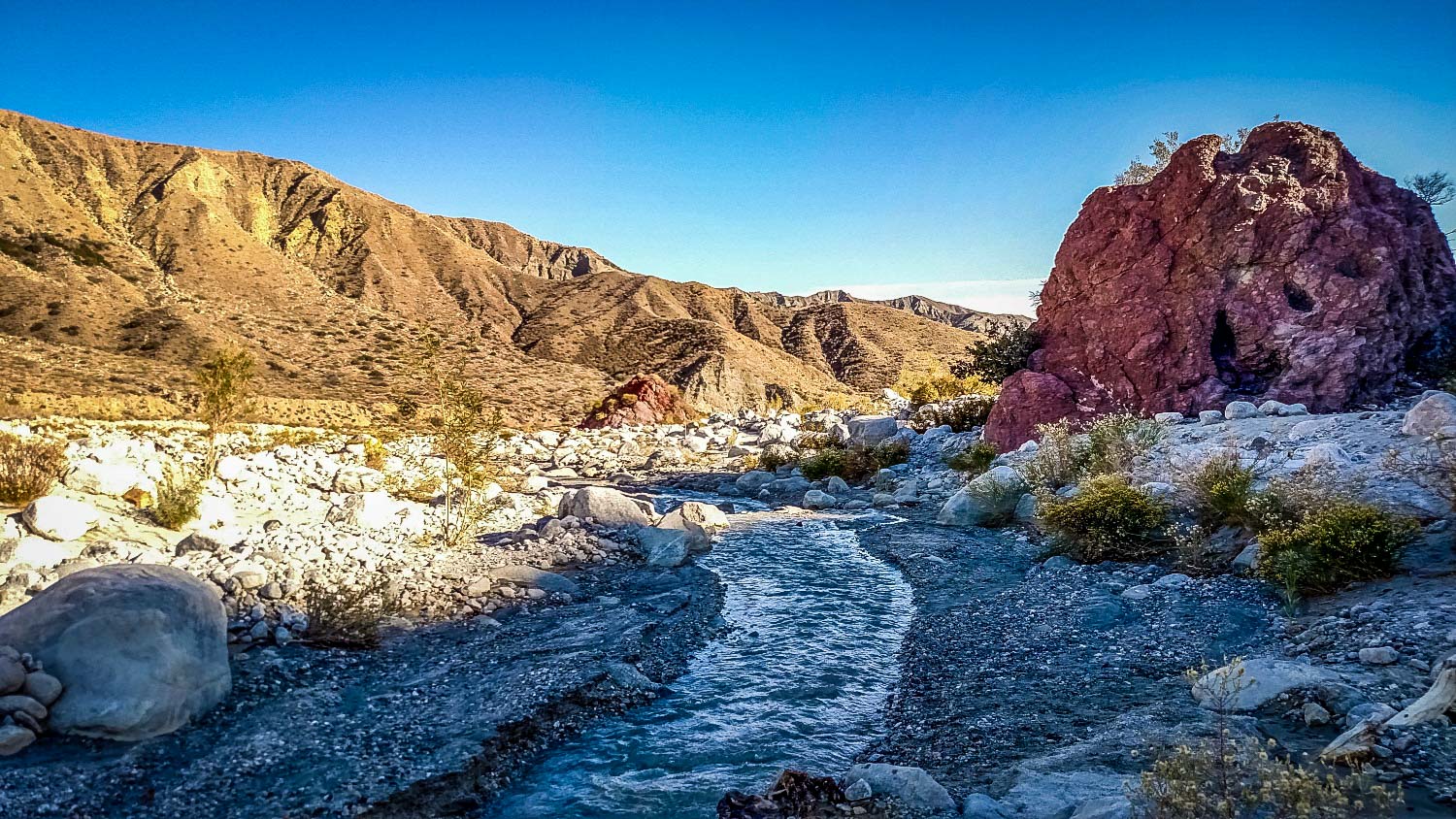 Where: Whitewater Preserve
Distance: 3.6 miles out and back
Most people heading to Palm Springs pass an amazing desert spot known as Whitewater Preserve.
To our surprise, not many have ever heard of it, despite being right off the freeway in a popular area. This is part of the reason it's one of our favorite hikes in southern California.
How to get there: Take Whitewater Canyon Rd off the 10 freeway and head down this for about 5 miles to reach the preserve. The road ends at the general parking lot for the preserve. 
The most popular trail of the area is Whitewater Canyon Loop Trail, a 3.6 mile round trip hike. You can technically choose to break the loop and continue further on a different trail if you wish. (we always do!)
One of the most unique attributes of Whitewater Preserve is the gorgeous, steady stream running through the desert. Not actually colored white, but more so incredibly clear.
So why is it called Whitewater? Well, all along the shore lays beautiful bright white sediment which gives the stream an appearance of white water. Not something you commonly come across in a California desert!
The loop takes you along and over the stream and through spectacular scenery including all kinds of flora and surrounding mountains.
If you continue further, you can enjoy more solitude along the river as most don't usually travel outside the loop. 
Read Next: How to Visit Las Vegas on a Budget
5. Amboy Crater Trail
Where: Amboy
Distance: 3.8 miles out and back
Who knew you could hike to the top of an extinct volcano in a California desert? Not many do. This is because it's literally in the middle of nowhere.
Amboy Crater is located directly off of Route 66 below the Mojave National Preserve. The trail takes you to the top of a 6,000 year old cinder cone volcano, 250 ft above the ground.
The crater is so tall compared to the flat desert scenery, you can see it way off in the distance as you're driving towards it.
Majority of the trail leads you through the dry desert littered with old volcanic rock. There is absolutely no shade along the trail so it's strongly advised to not hike here during summer months. 
Once you reach the base of the volcano, the trail quickly takes you up and into the center. From here you can climb up to the tip-top of the volcano from a few different pathways.
At the top, you have brilliant views of the Mojave Desert stretching all the way out to the horizon.
We loved this hike not only for the views, but the fact we got to climb to the top of an actual volcano! (A bit safer than an active cinder cone.)
Psst! Check out this round up of best hikes in Joshua Tree National Park on our sister site for more inspiration. 
6. Murray Canyon Trail to Seven Sisters Falls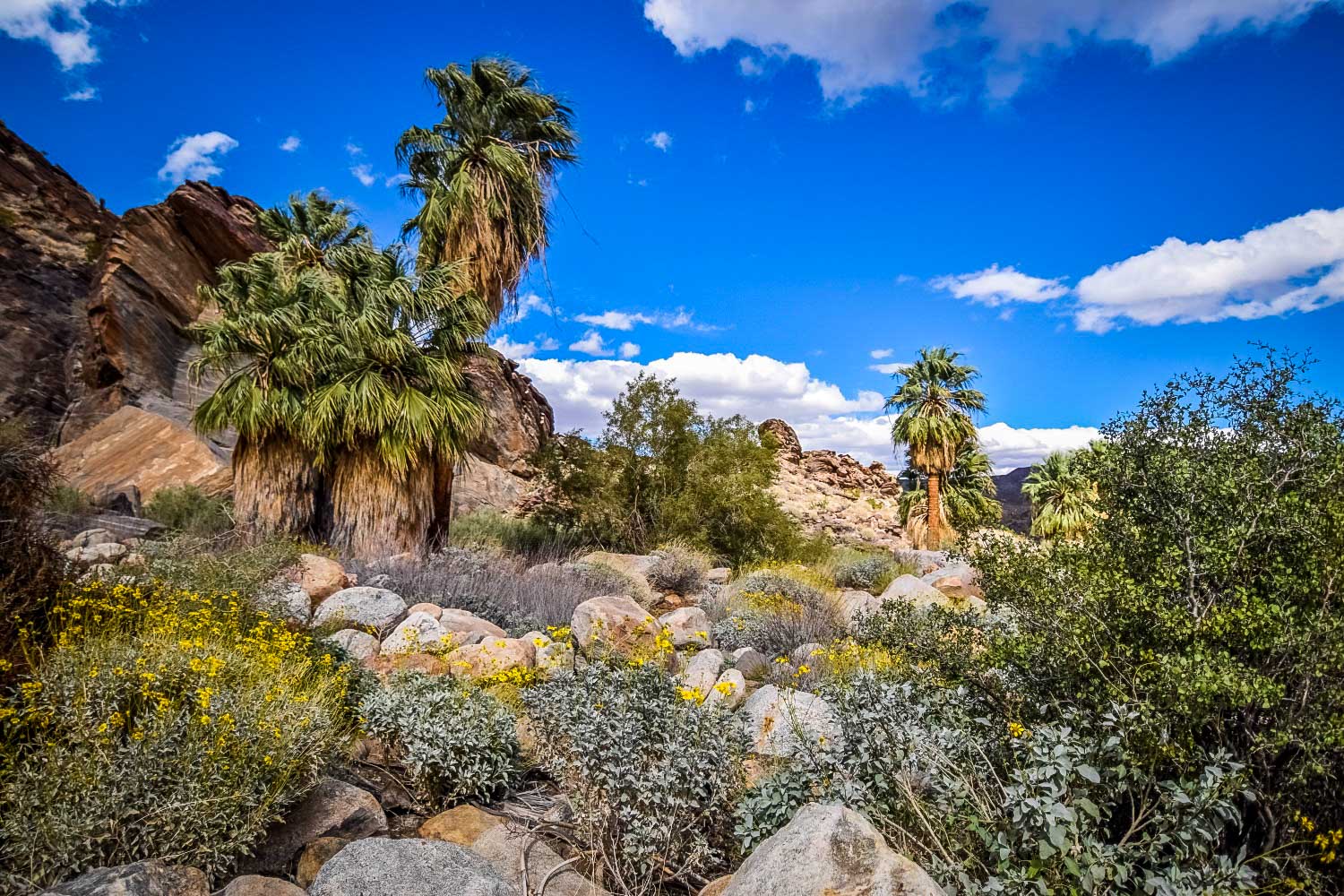 Where: Palm Springs
Distance: 4 miles out and back
If you're staying in Palm Springs, this hike is a must!
Compared to the others, Murray Canyon Trail is a more lush desert hike that consists of a beautiful stream running through the canyon ending with a waterfall.
Although, the stream only runs during the winter and spring months. So if you wish to see the trail with running water make sure you plan accordingly.
Murray Canyon Trail is located in Indian Canyons, an incredible nature preserve just south of Palm Springs. A fee of $9/person is required to enter the preserve. (If you're a senior or have a school ID there is a small discount)
What you'll notice immediately is the number of dense palm trees growing along the creek. The majority of the trail is spent following the creek upstream while constantly crisscrossing the water.
Along the way, you're met with deep canyons, rocky hills, and the lavish green desert scenery created from the steady stream.
After 2 miles you'll reach Seven Sisters Waterfall. Definitely not a huge waterfall, but still sizeable for being in the desert.
If visiting during the wet seasons, Murray Canyon Trail feels like finding a magical oasis in the middle of an otherwise dry desert!
Looking for a place to stay nearby? Palm Springs has many amazing Airbnbs that range from super unique — think a dome home! — to ultra plush, complete with a pool (a desert essential!).
7. Kelso Dunes Trail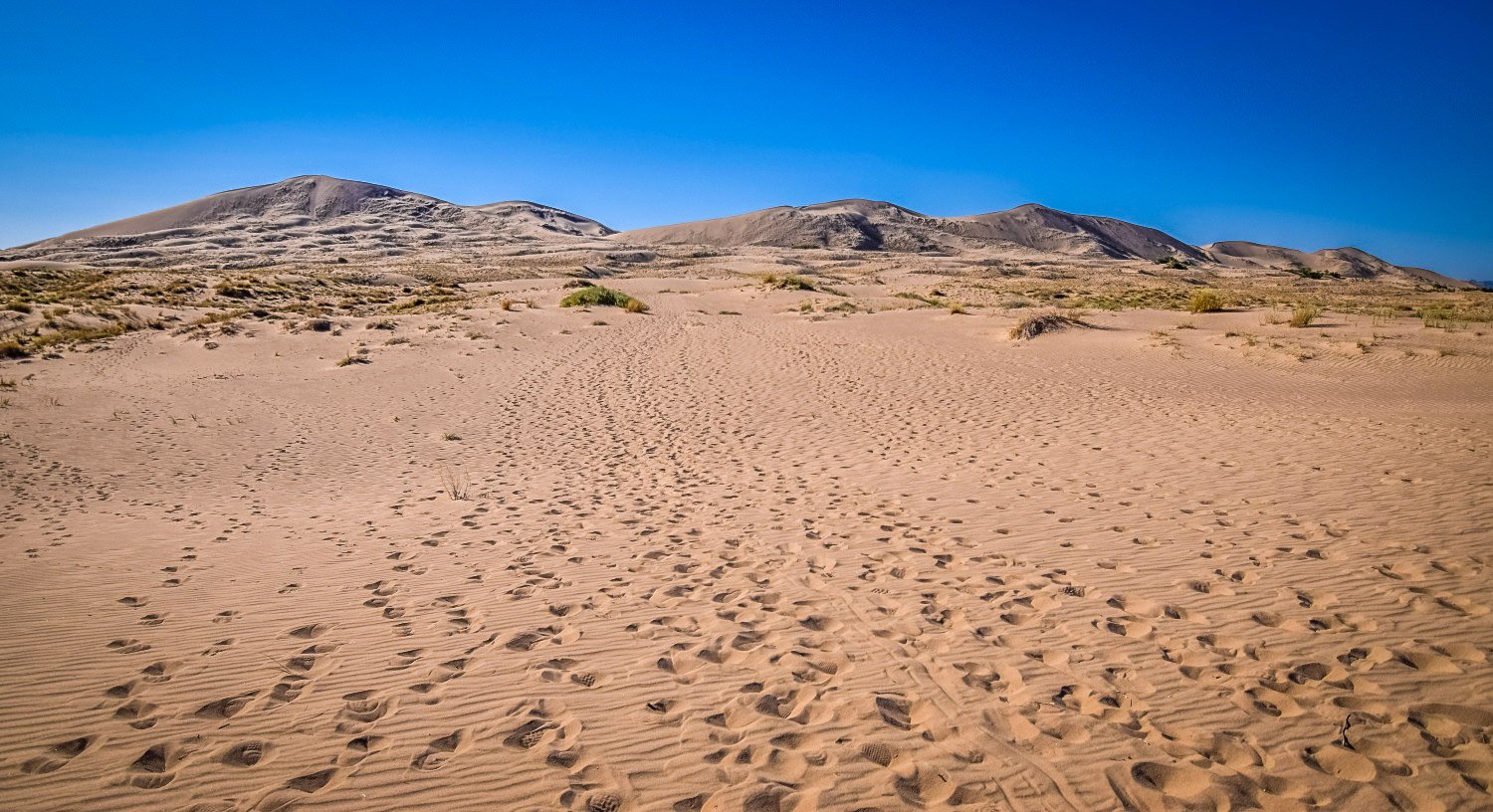 Where: Mojave National Preserve
Distance: 3 miles out and back
Last but not least, did you know you can hike to the top of sand dunes standing 650 ft from the desert ground? These huge dunes stretch across 45 square miles and are located at the Mojave National Preserve.
Many have heard of the Mesquite Flat Sand Dunes nearby in Death Valley National Park, but many don't know about these other massive dunes just outside of the national park. 
Have you tried hiking up a mountain of sand before? Let us tell you, it's not easy! While only 3 miles, this is the most strenuous of trails on this entire list.
With each step, you're basically creating small avalanches beneath your feet creating a lot of resistance as you walk up the dune. 
The struggle is worth the reward though! It's the closest you'll get to experiencing a middle eastern desert in California.
Tip – hike near sunset to avoid the heat and for the glorious golden hour views of the Mojave National Preserve.
Why You Should Make the Time For These Incredible Desert Hikes
You may not expect so much variety and beauty when hiking through a desert landscape. Amazingly, California has an immense selection of gorgeous trails that take you through all kinds of unique terrain.
From wide canyons to massive red rock cliffs, Joshua Tree forests, and even climbing high mountainous peaks. This is just a handful of reasons as to why we love hiking in the desert.
National Parks definitely do have their fair share of incredible hiking trails, but sometimes we crave ultimate solitude in the desert. These offbeat and less crowded trails are perfect for achieving just that.
---
About the Guest Author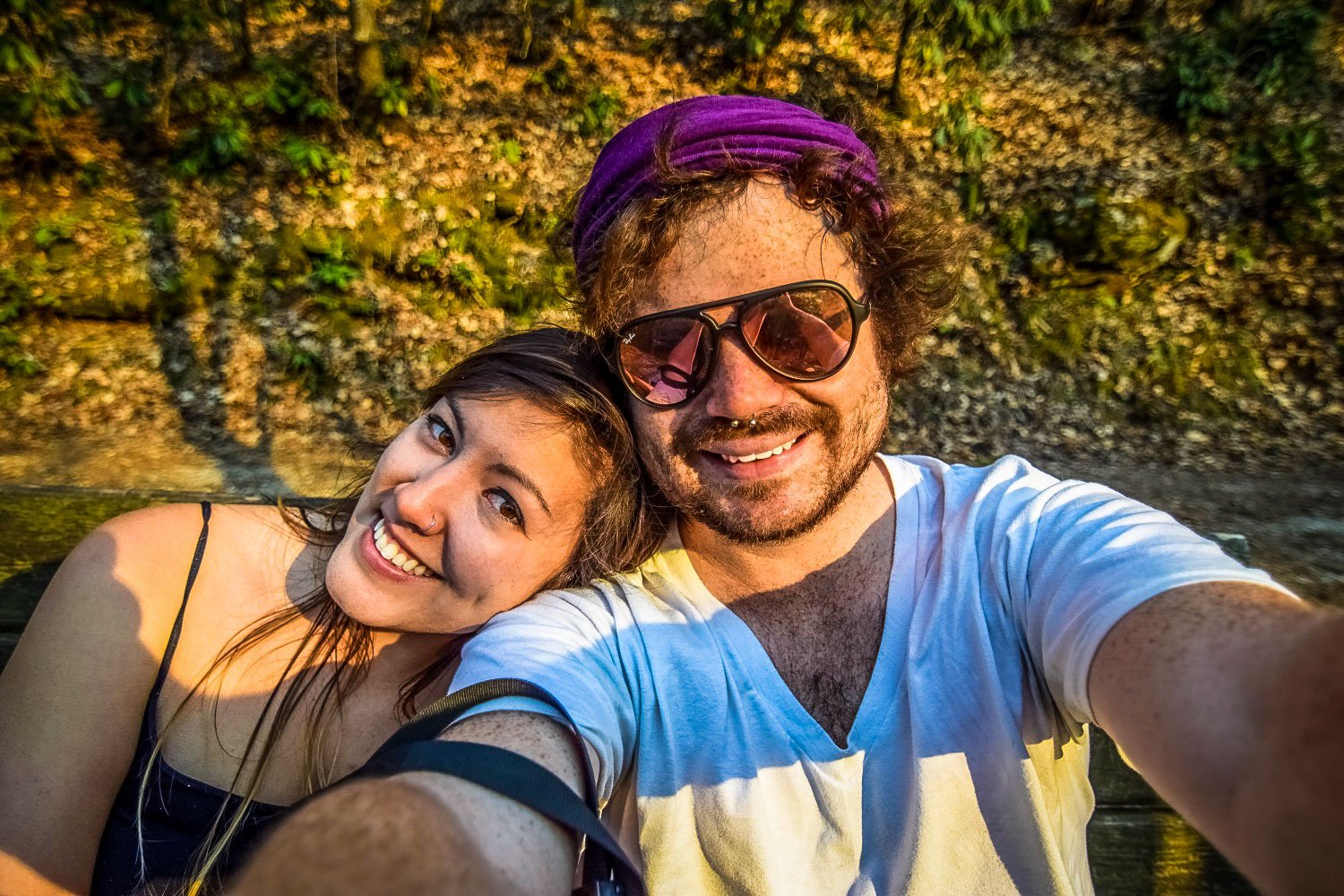 Nathan & Shelby Kirk met when they were just 16 years old. Since then they've fallen in love not only with each other, but with the freedom that comes with exploring our natural world. With their experience and tips they hope to inspire the adventurer in you. Find them at We Who Roam and follow them @we.who.roam on Instagram.
---
You might also like…
Save this article on Pinterest for later!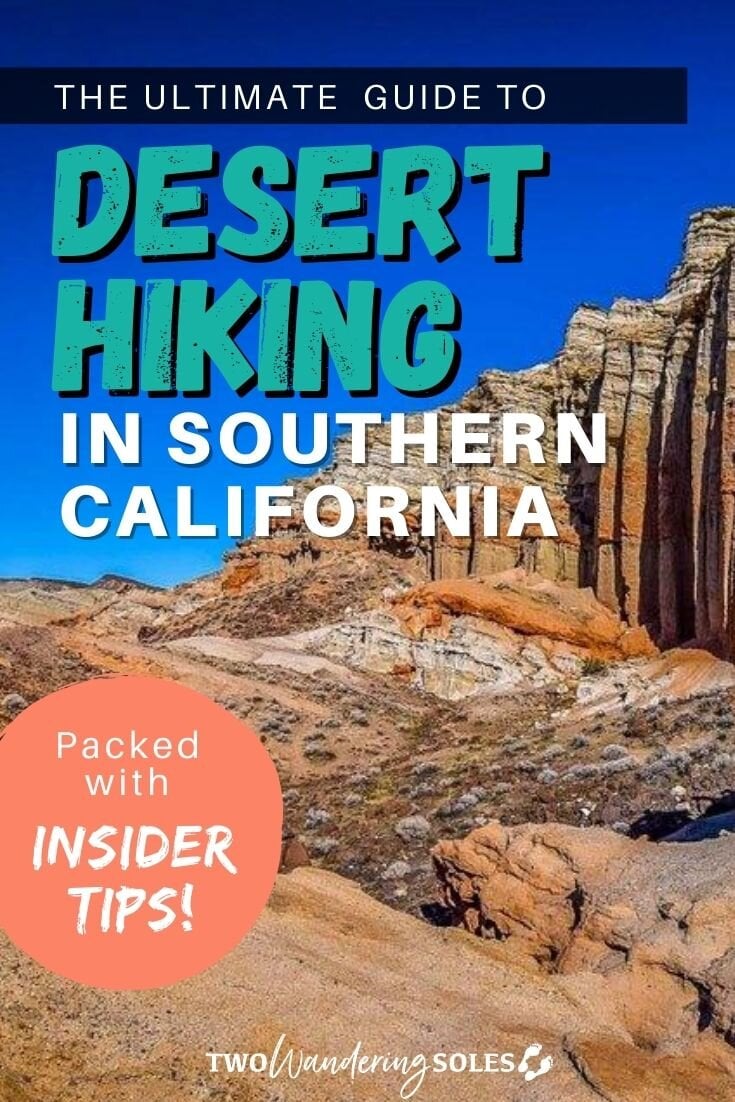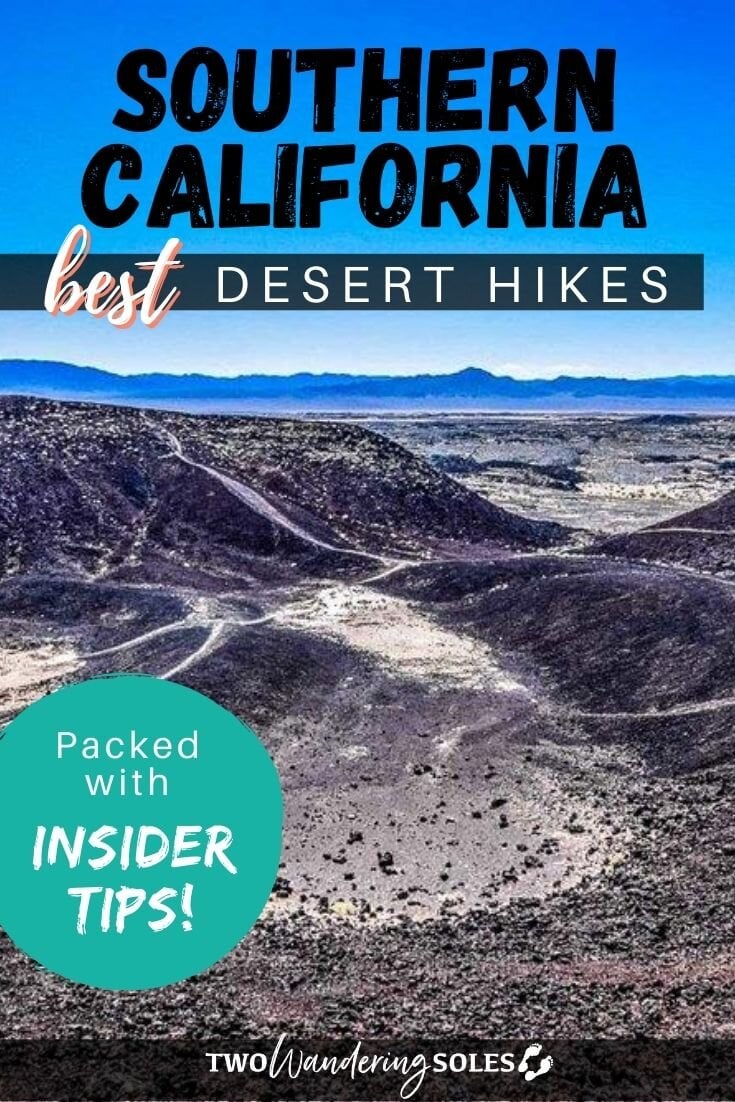 We want to hear from you!
Are you a fan of desert hiking? What are some trails you've hiked in our California deserts?