Visiting the historic center of Antigua should be on every traveler's bucket list. With deep cultural roots and adventurous activities nearby like hiking Acatenango Volcano, there are so many exciting things to do in Antigua, Guatemala. Be careful, you may fall in love with this city and never want to leave.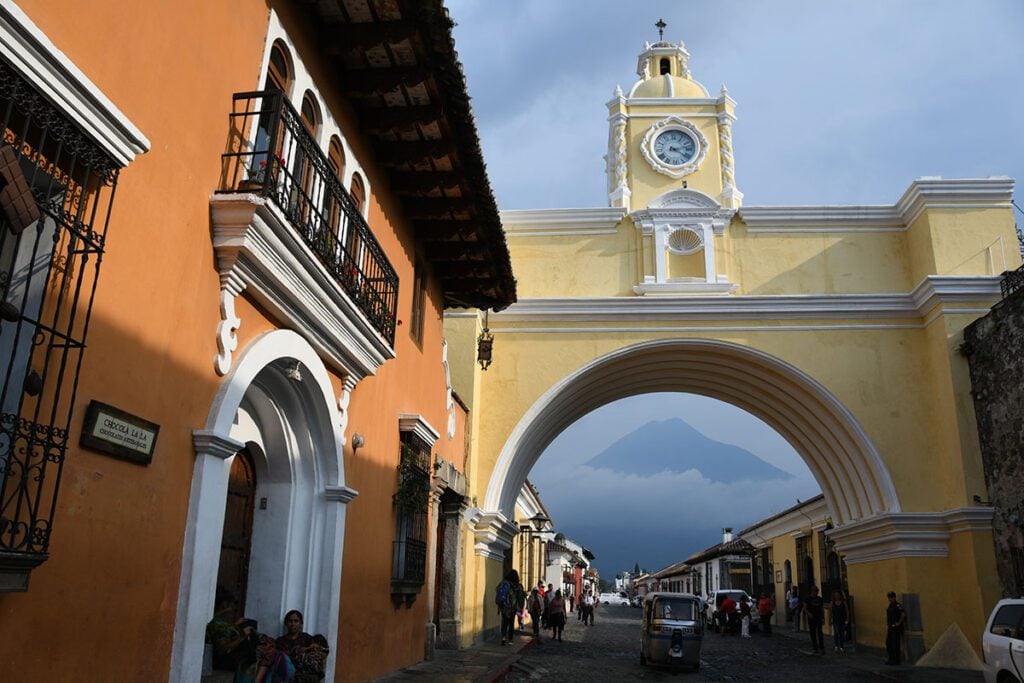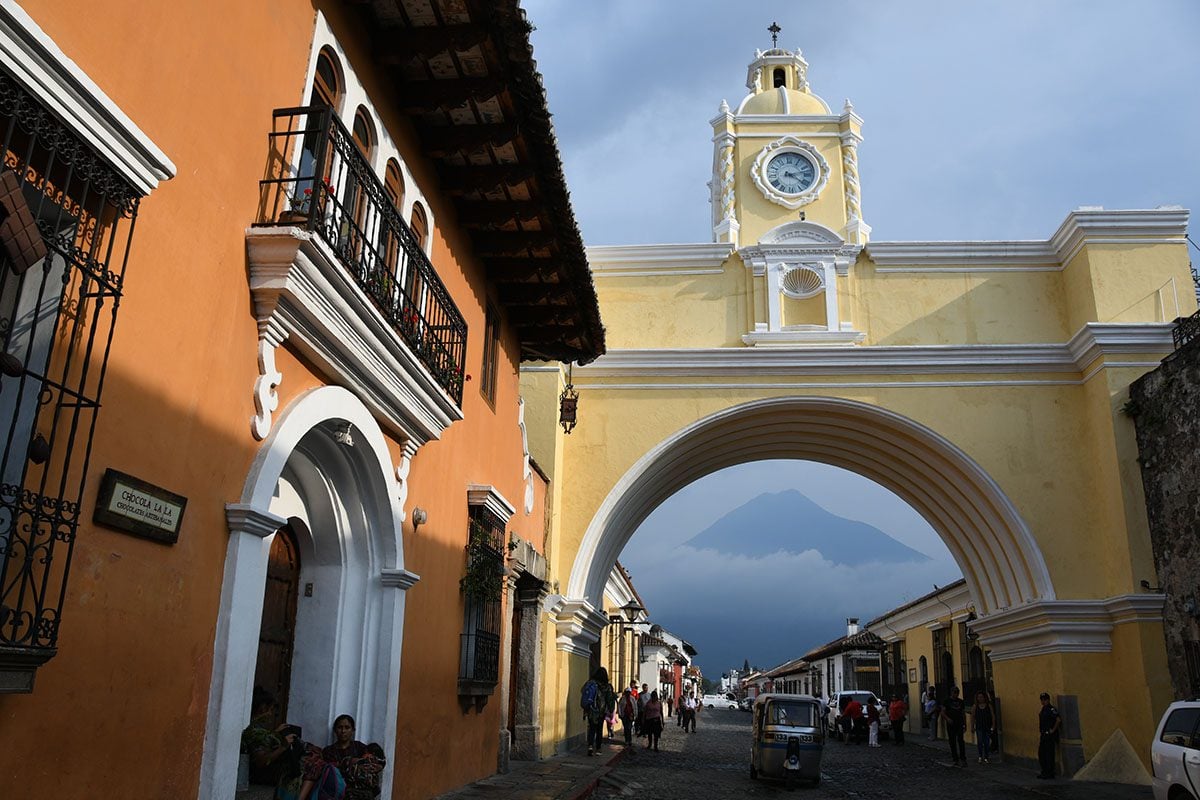 The colorful colonial town of Antigua, Guatemala boasts cobblestone streets, cute cafes and volcanoes looming in the distance. This city is unarguably charming and easy to fall in love with.
If I had a dollar for each traveler I who said "Antigua is my favorite city in all of Central America!", I'd be a millionaire… ermmm, well I guess I'd have around 15 dollars. But still.
Upon first glance, it reminded us of San Cristobal de las Casas, our favorite town we visited in Mexico. So yeah, we definitely have a soft spot for Antigua, and we have a feeling you'll fall for it too!
There are plenty of things to do in and around Antigua, and we're going to share our favorites so you can experience the best this city has to offer!
Antigua is not the only highlight of this incredible country. Check out Unforgettable Things to Do in Guatemala next!
Antigua, Guatemala Travel Guide
For more tips and advice for planning your trip to Antigua, Guatemala, jump to the following sections (or just keep scrolling to see it all!).
---
Best things to do in Antigua, Guatemala
If you're looking for the very best things to do in Antigua, here are our top recommendations:
See a volcano erupt up close
View the city from Cerro de la Cruz viewpoint
Visit Caoba Farms
Take a free walking tour
Shop for handicrafts
Keep reading for more detailed information on each of these things and more ideas of fun things to do in Antigua, Guatemala.
1. See a volcano erupt up close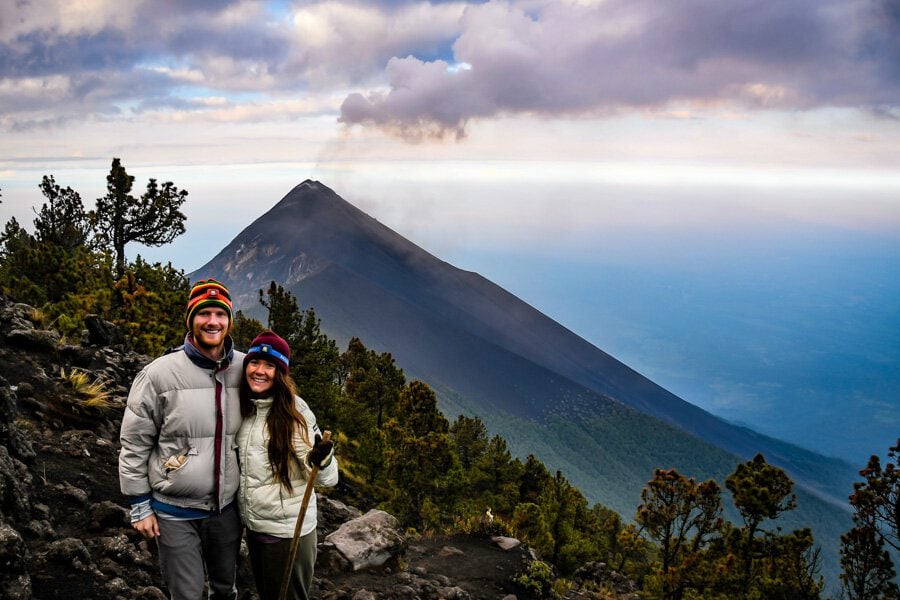 Watching Volcano Fuego erupt is one of the highlights of any Guatemala trip. You'll spend the night at a base camp on neighboring Acatenango Volcano that overlooks Fuego, which is famous for its frequent eruptions*. (Like every 30 minutes or so!)
Cozy up near the bonfire and watch hot lava spew over the edge of the volcano at eye level across the valley. You can do this as a day trip, but it's highly recommended to do the overnight trek instead.
Fun Fact: Guatemala has 37 named volcanoes, and 3 of those are still active. One of them being Volcan Fuego.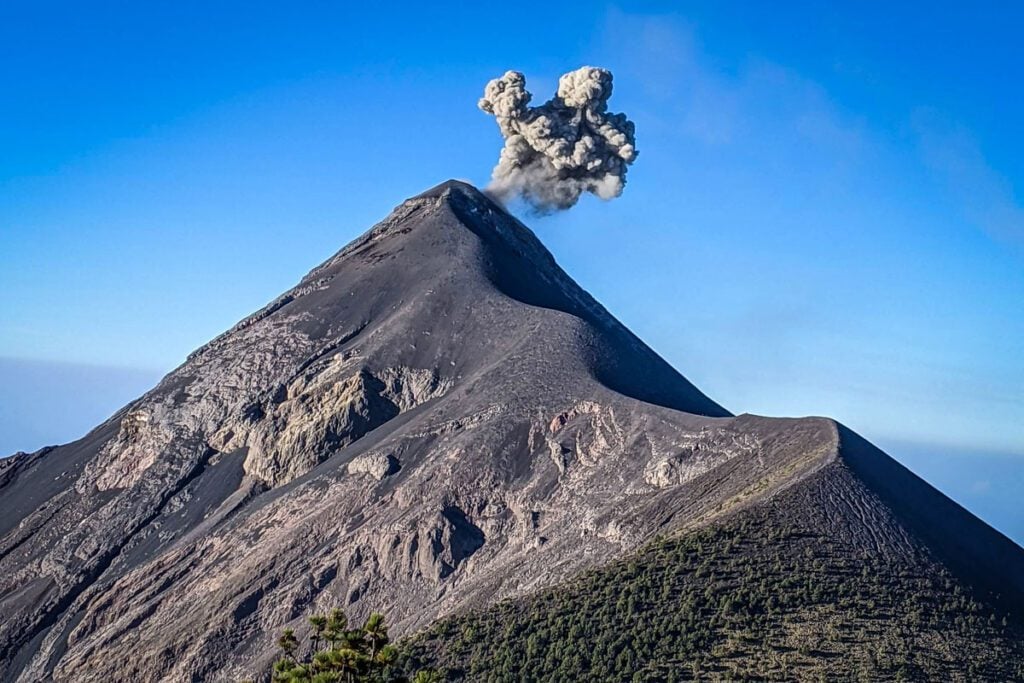 It is important to note this trek is not for the faint of heart. The hike itself is a grueling 4-6 hour hike, straight uphill.
Near the top, you'll likely notice the effects of high altitude, like a headache, dizziness or shortness of breath. And that doesn't include the chilly nighttime temperatures and the fact that you may be sleeping in a tent with strangers.
2. View the city from Cerro de la Cruz viewpoint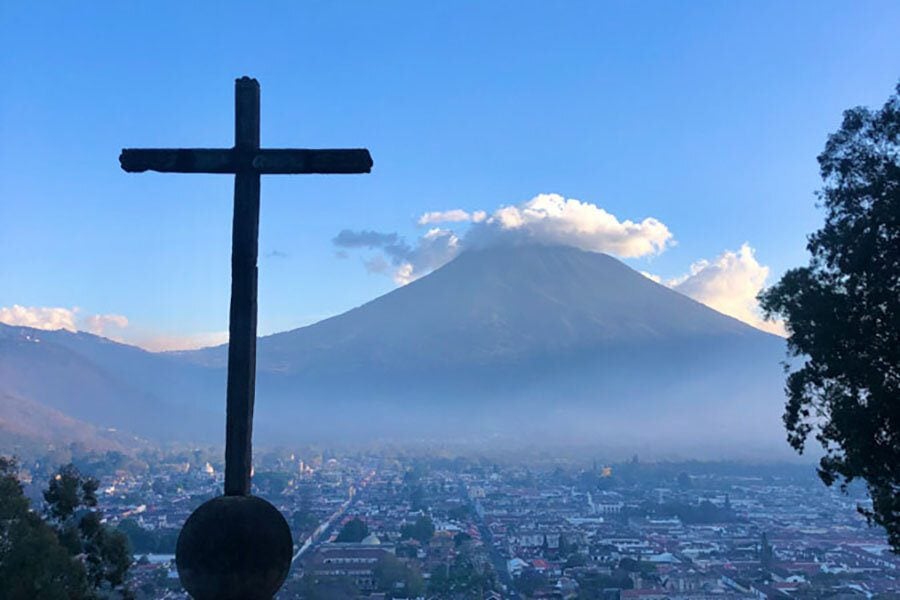 For a fantastic view of Antigua, the short walk to Cerro de la Cruz is a must. The name, which translates to "Hill of the Cross" is a pretty self-explanatory description of what you'll find here.
If you're lucky and are visiting on a clear day, you'll get a stunning view of the volcano looming in the distance.
3. Visit Caoba Farms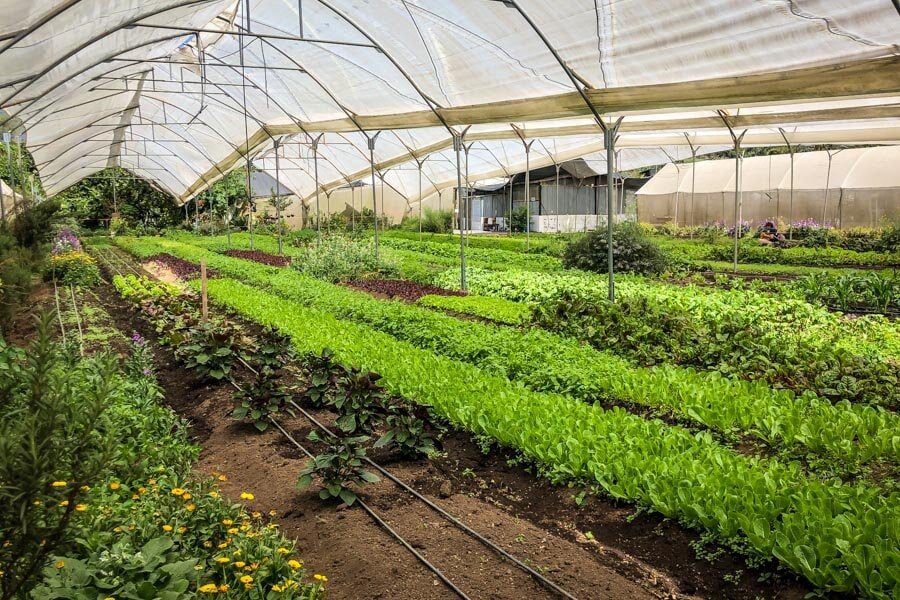 Just a short walk from the city center, Caoba Farms is a place you should definitely plan to visit during your time in Antigua.
Founded in 2004, the vision behind Caoba was "to contribute to a more environmentally sustainable world through the provision of a community space."
They've achieved this vision in not only providing fresh organic produce to local households and restaurants, but also in creating a learning center which provides permaculture courses and volunteer opportunities.
First, stroll through the beautiful gardens and to see how their food is grown. If you're lucky, Alex, the owner, will guide you on a tour and share his boundless knowledge of farming practices with you. Then dine in their onsite farm-to-table restaurant where you'll get to taste the fresh and delicious food for yourself.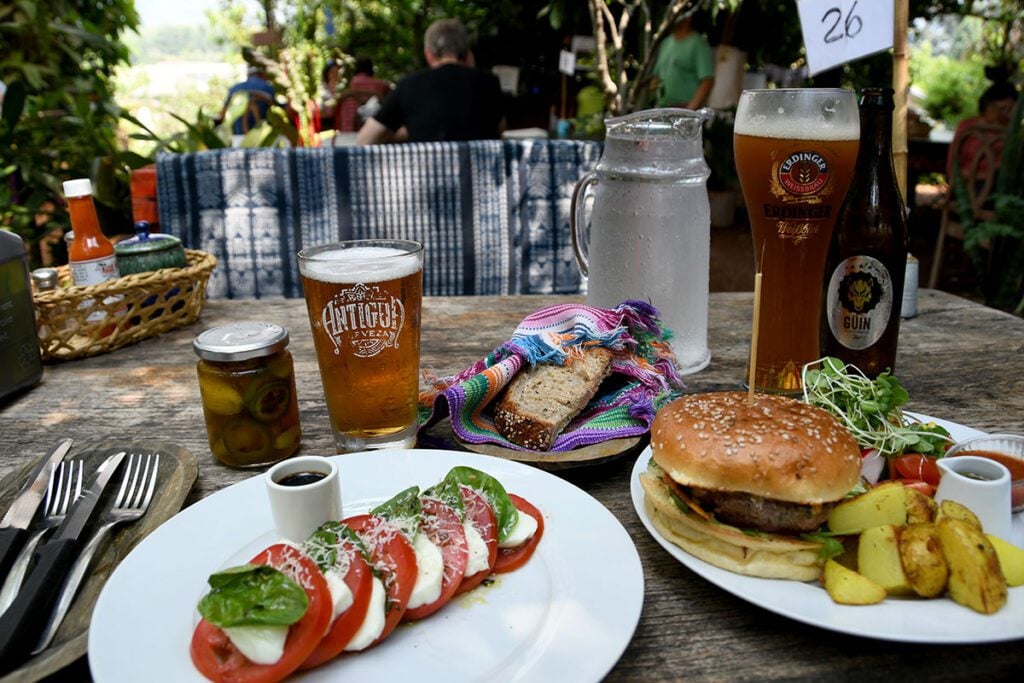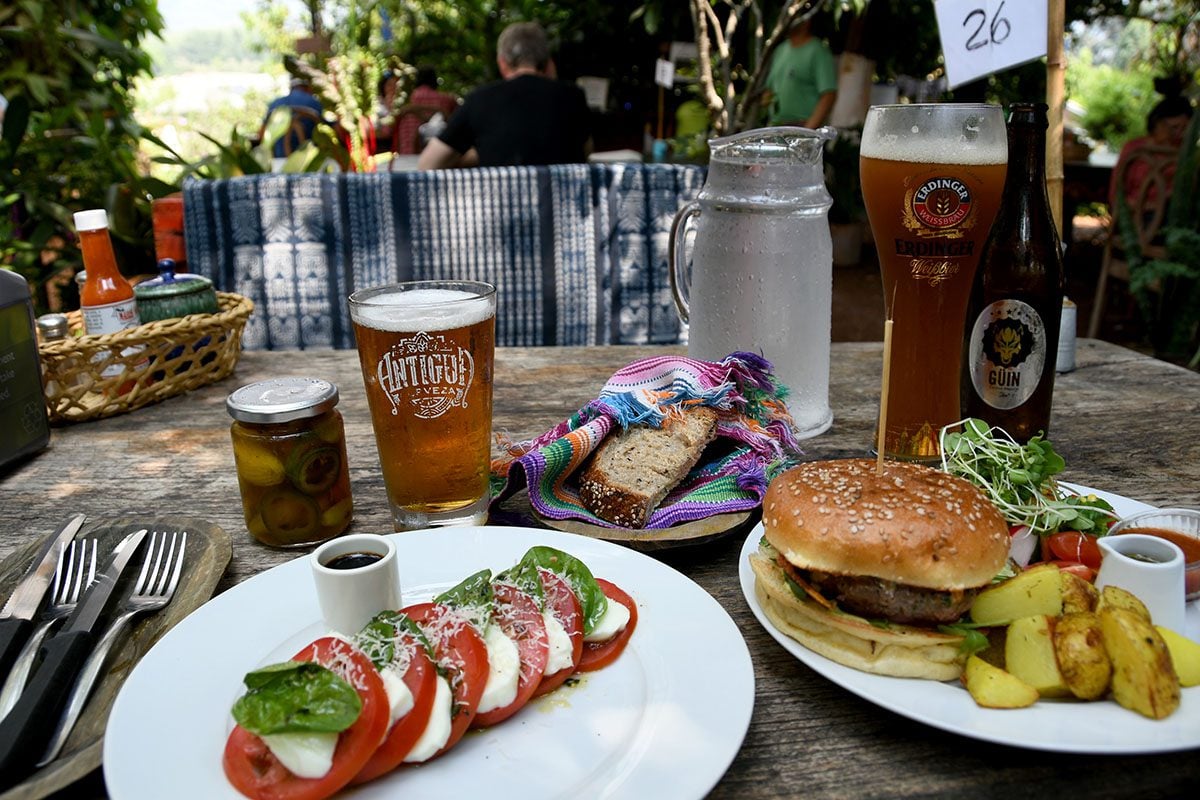 With a variety of international dishes as well as traditional Guatemalan cuisine and options for vegetarians, there is something for everyone here. And you'll feel good knowing where the food you're eating comes from.
If you're feeling like a midday pick-me-up, pair your meal with one of the locally brewed beers they serve on tap.
Tip: Beware that Caoba Farms Restaurant is only open on weekends, and Thursdays/Fridays beginning in March 2021. The restaurant is super popular to call ahead to make a reservation on weekends or expect to wait up to an hour for a table.
Other events at Caoba Farm:
Farmer's Market: Every Saturday vendors bring out their tables and sell a variety of handicrafts while live music plays.
Flea Market: The first Sunday of the month, you'll find a variety of second-hand items for sale, live music, food and drink stands, and activities for children.
Free Yoga: Saturdays from 8 – 9:00 a.m. Check the schedule at Om Where You Roam Yoga to register.
Butterfly House: Open Saturday and Sunday from 9 a.m. – 4 p.m. (Admission: Q15)
4. Take a free walking tour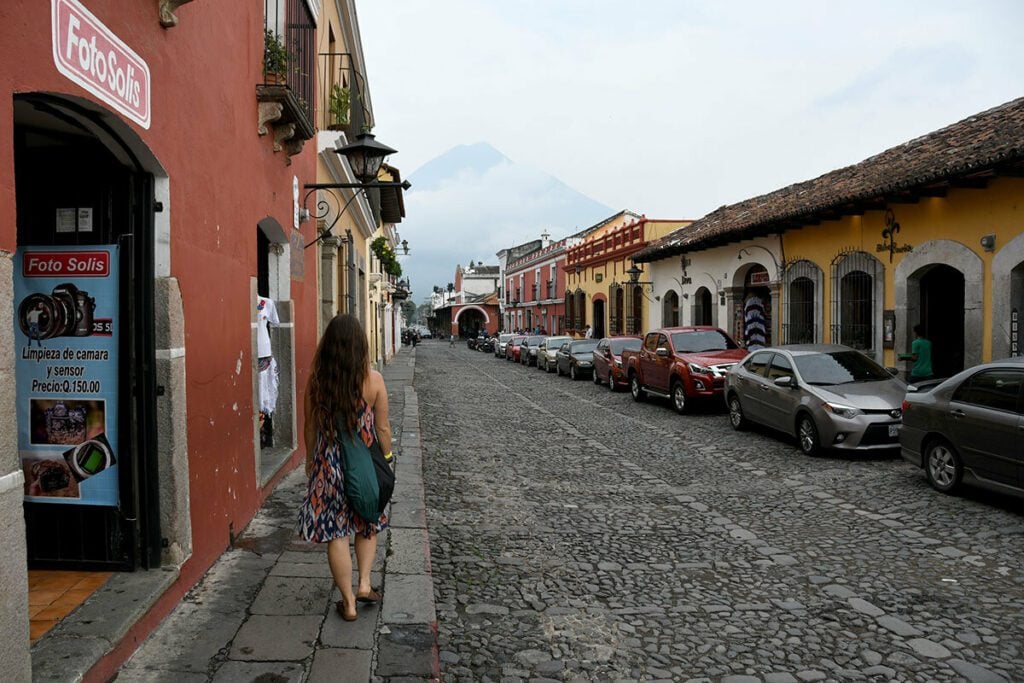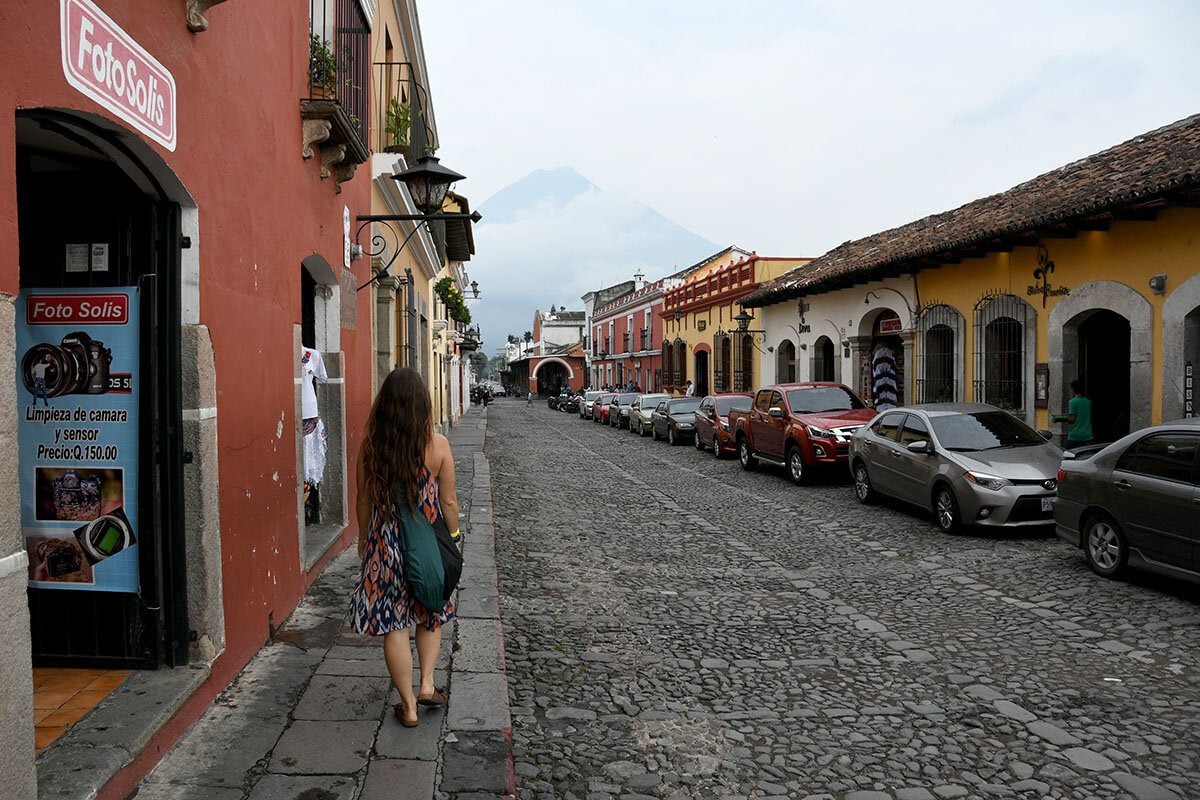 If you know us, you know we love free walking tours. It's our favorite way to get our bearings when we first arrive in a new place.
It's a great way to get a local perspective on the city and its history. Plus, your tour guides can often turn out to be great resources for discovering the best food spots or hidden gems of the city.
Not all free walking tours are made equal and we've certainly had ones we've enjoyed better than others. However, we've always had good experiences with Guru Walk.
There are plenty of options for different free walking tours of Antigua on Guru Walk, just browse the site to find one that works for you.
Some sites you may be able to visit on your Antigua tour include:
Central Park (Parque Central) and the Central Plaza (Plaza Mayor)
The Arch of Santa Catalina
Hotel Casa Santo Domingo
La Merced Church
The Central Market (Mercado Central)
San Francisco Church
San Jose Cathedral (aka the Antigua Guatemala Cathedral)
Ruins of El Carmen
Insider tip: Just remember "free" walking tours are generally tip-based and you will be expected to pay what you think the tour is worth through tipping your guide.
5. Shop for handicrafts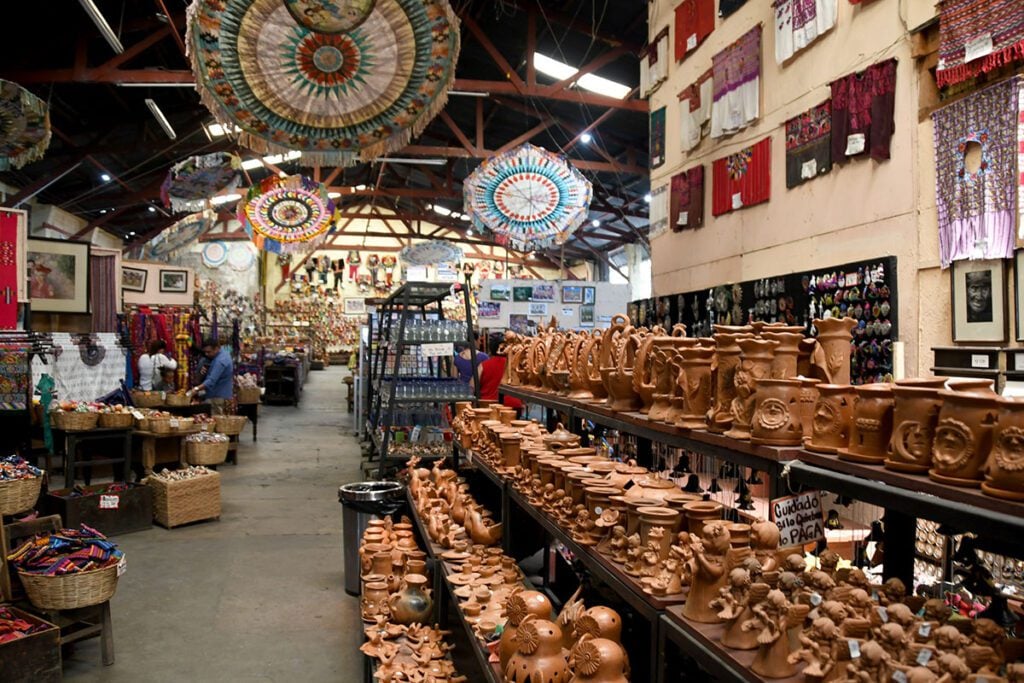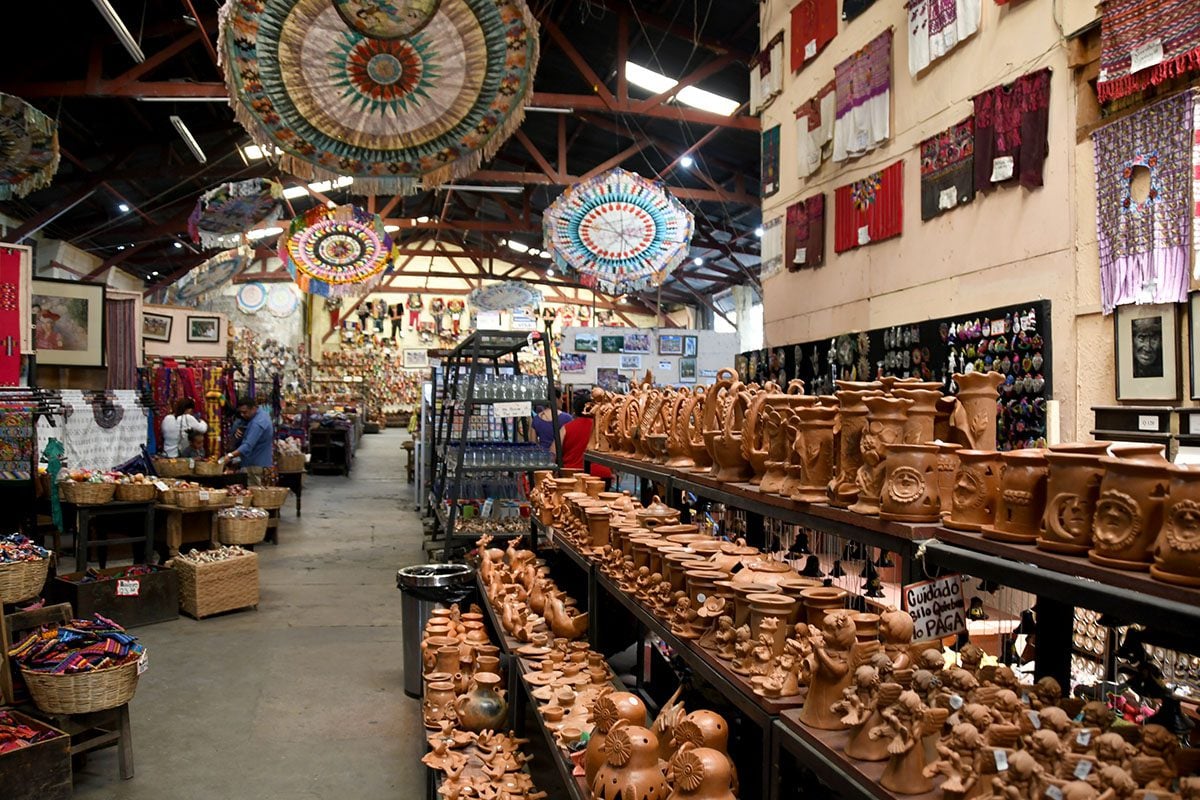 Guatemala is known for beautiful artisan goods, and if you're anything like us, you'll want to take something home to remember your trip by.
While the best handicraft shopping in Guatemala can be found at the Chichicastenago Market near Lake Atitlan, you can certainly find some great souvenirs in Antigua.
Here are 3 handicraft markets to check out:
Nim'Pot: This is actually a retail shop that sells consignment goods from local artists. While you can't barter here, it's really well laid-out and you can see pretty much all the types of handicrafts you'll find in the country. We wandered around to get an idea of what price is fair for some of the items we wanted, and we purchased them elsewhere from the artists themselves.
Mercado de Artesanias: Inside this market, you'll find lots of little stands with vendors selling all types of goods. Again, bargaining is key, as the initial price is usually much higher than you should pay.
El Carmen Ruins: On weekdays, this market is located indoors, but if you're visiting on a weekend, you'll find vendors set up inside the stunning El Carmen Ruins. Prices start a bit high, so be prepared to bargain.
Bargaining tips
Walk around the whole market first and get a few different prices before buying something.
Be prepared to walk away. Often, as soon as you turn to leave, the price will "magically" drop.
Carry small denominations of bills so you're not stuck in an awkward situation handing over a huge bill after working hard to get the price down.
Don't just talk numbers. Try to get to know the artist, how long it takes them to make their work, what other things they make, where they are from. Being friendly, even with minimal Spanish, will go a long way.
While bargaining can be fun, we always encourage our readers to be mindful and willing to pay a fair price, as this is the artists' livelihood.
6. Toast marshmallows on Volcan Pacaya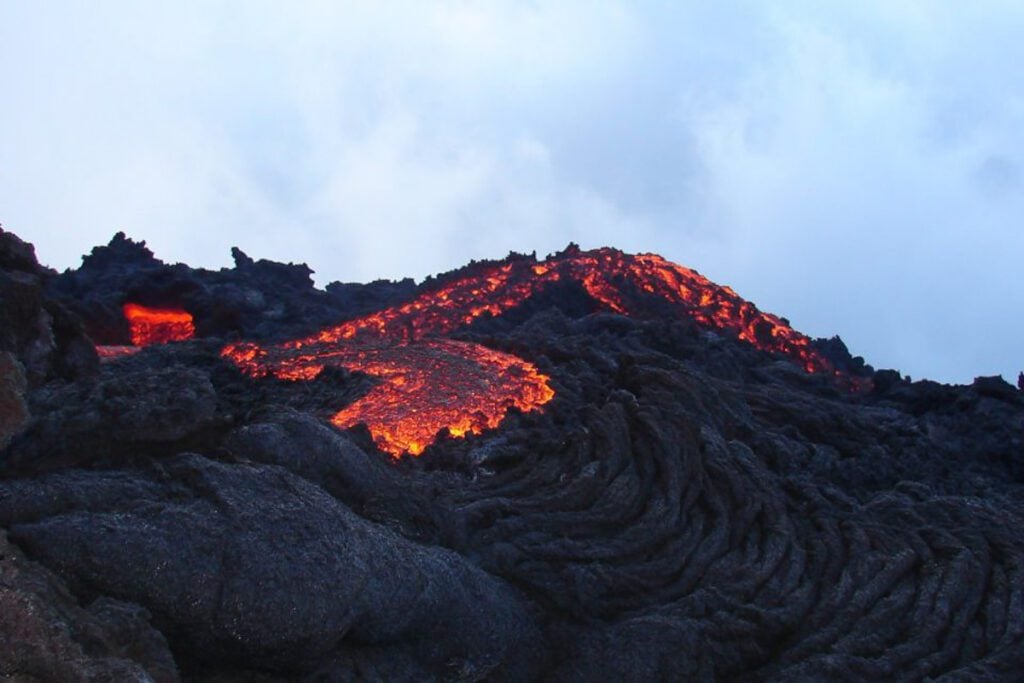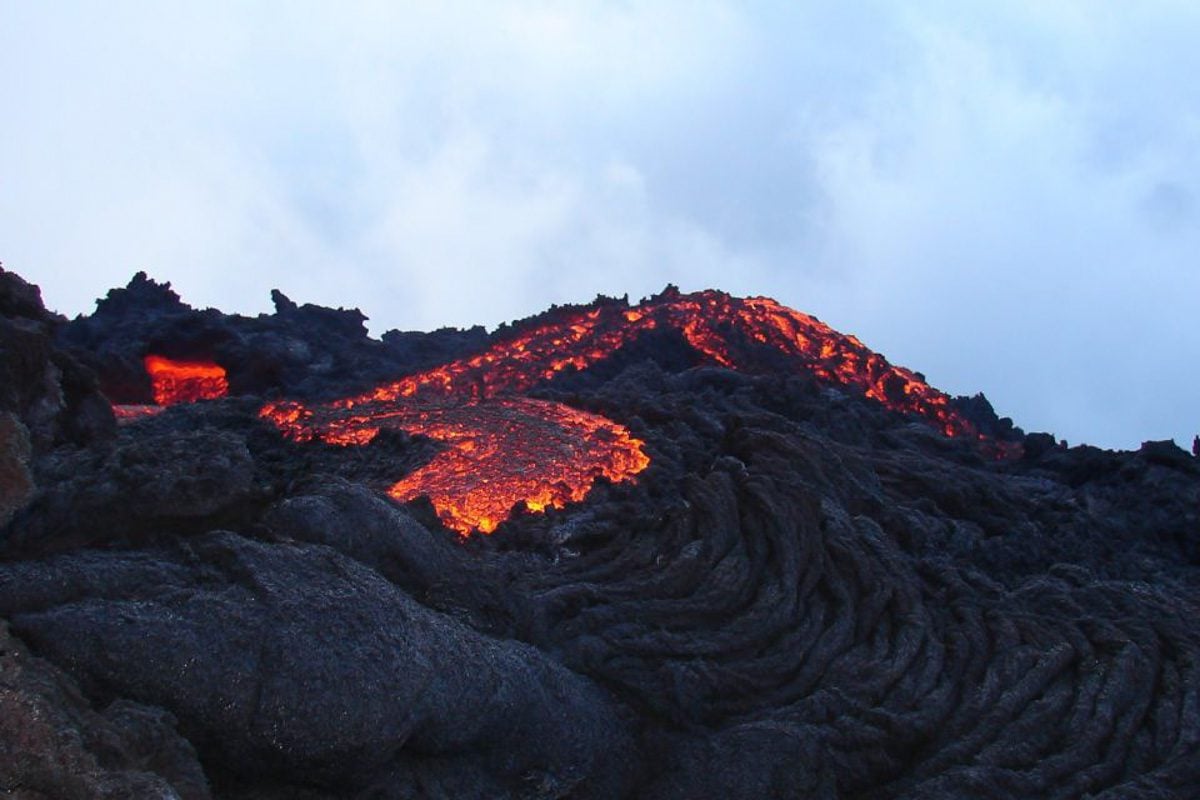 Pacaya Volcano is the most accessible volcano, making it also the most visited and one of the best things to do in Antigua.
The hike to the top covers an elevation gain of around 1,500 feet and takes around 2 hours, depending on your fitness level. And if hiking just ain't your thing, you can also rent a horse to bring you to the top for around Q300 (or $40 USD).
Once at the top, you can experience the moon-like landscape and even toast marshmallows over hot rocks. But don't expect red, flowing lava here – you'll have to venture to Volcan Fuego to see that.
7. Take a chocolate making workshop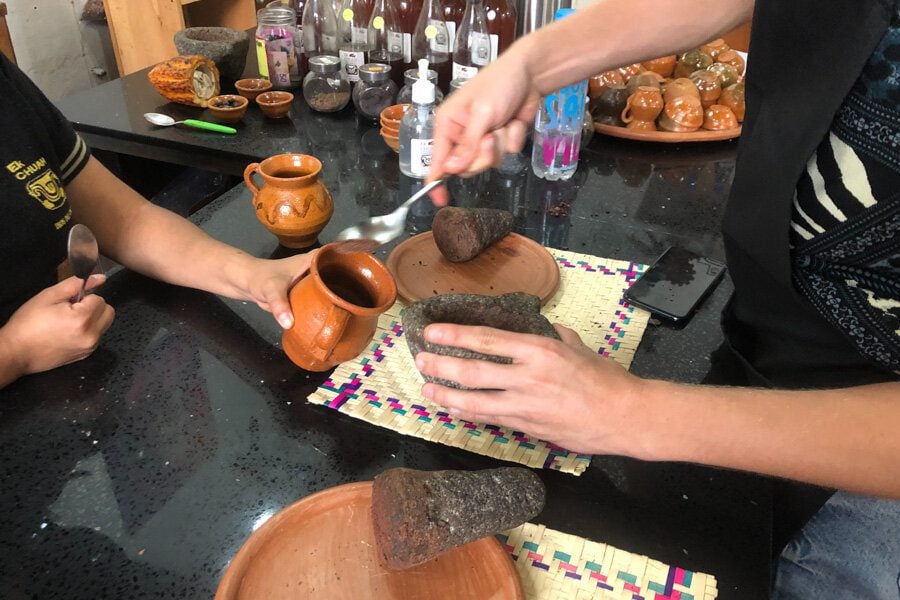 Ek Chuah is a family-owned cholateria in Antigua committed to supporting local vendors and selling only the highest quality products with 100% Guatemalan roots. They offer a chocolate making workshop where you can learn about the stages of chocolate production "from the cocoa bean to that delicious melt-in-your-mouth bar."
During the workshop you will roast the cocoa and learn how to make an infusion to create the traditional Mayan drink with chili and honey. You will also have the opportunity to mold your own chocolate bars, decorating them with whatever extras you prefer.
The 90-minute workshop costs Q150 per person and is offered 3 times daily. There is also an Express workshop that covers just the bean to bar process in 45 minutes and costs only Q100. You can book your workshop online at Ek Chuah.
Alternative: Check out the Chocolate Museum
Located on the main drag, the chocolate museum is a popular place to stop in while wandering the town. There are exhibits that describe the chocolate making process, and you can of course find all sorts of the stuff to taste and purchase.
8. Self-guided ruins tour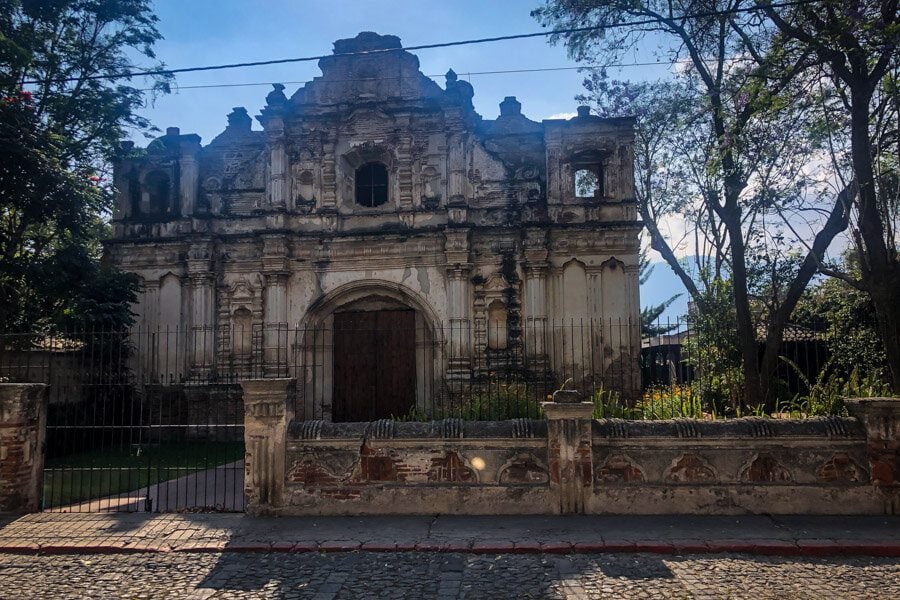 Antigua was built in an earthquake-prone region, and a massive earthquake in 1773 destroyed much of the town. However, some of the main monuments in town were preserved and can still be seen today.
Throughout the city, you'll find a handful of churches, a monastery, a convent and even a school that date back as early as 16th century.
Download this self-guided tour on your phone to get a bit of the history between 6 of the ruins in Antigua.
The sites featured in this guide include:
Church of Candelaria (ruins)
Church of Santa Rosa (ruins)
Church of Santo Domingo (ruins)
Convent of the Capuchins
El Carmen Church (ruins)
Santa Clara Convent and Church
San Jose Cathedral (ruins)
Church and School of the Society of Jesus (ruins)
San Jeronimo Convent (ruins)
La Recolección (ruins)
9. Photograph the famous arch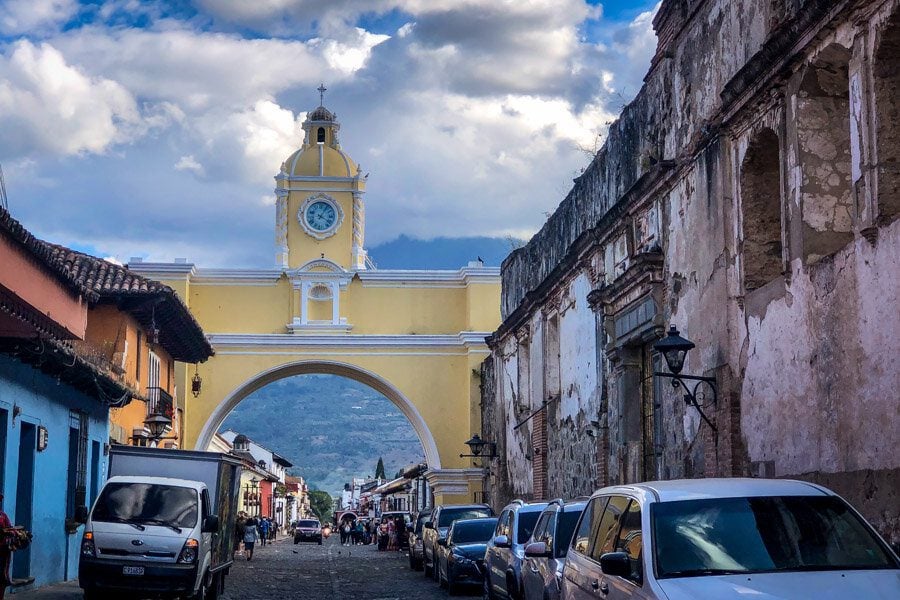 The most iconic sight in the city, Arco de Santa Catalina, is a must-see while in Antigua. Make sure you bring your camera, because it is stunning.
On a clear day, you will have a fantastic view of Volcano Agua. And if you're lucky enough to be in Antigua during Semana Santa, or Holy Week, be sure to wander around this area as it will be all decked out in colorful decorations!
What is the purpose of this arch, you ask? Well, the building on the west side of the arch was used as a convent back in the day. Eventually, they expanded and bought a building on the other side of the street as well.
But since the nuns were supposed to live in isolation, they needed a way to cross the street without being bothered. Solution: Build a passageway inside an arch! And what a beautiful solution it was.
Insider Tip: For the best photo ops, go early in the morning, because you're not the only one who wants a picture of this beauty, and the crowds get thicker in the afternoon. Plus, you'll have a better chance of getting a clear sky.
10. Cheers with a view at a rooftop bar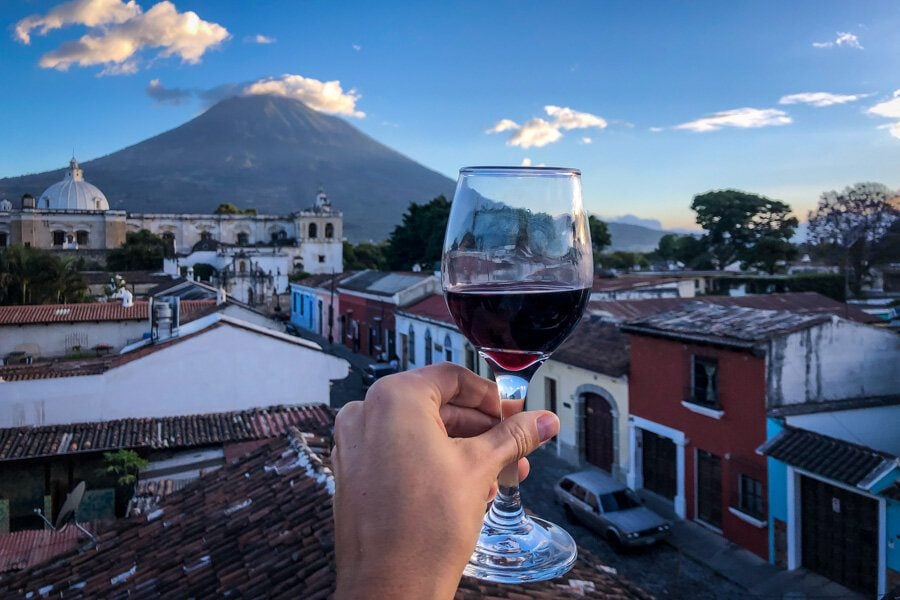 Antigua is beautiful from above, and luckily, there are a handful of great places you can enjoy a drink while glimpsing the city's colorful architecture and charming cobblestone streets.
11. Take a cooking class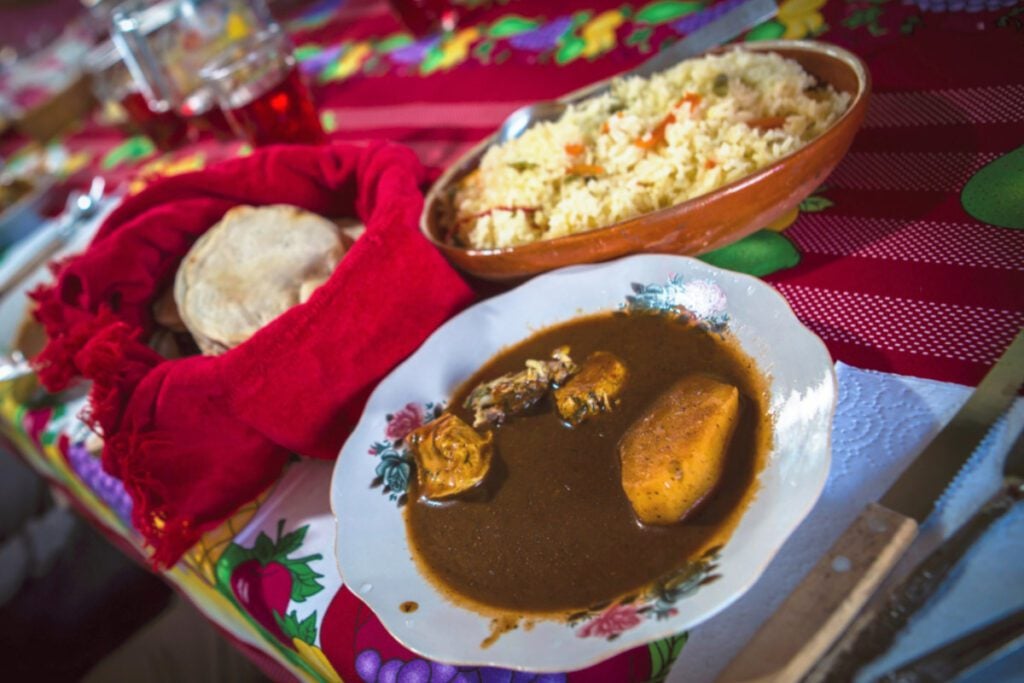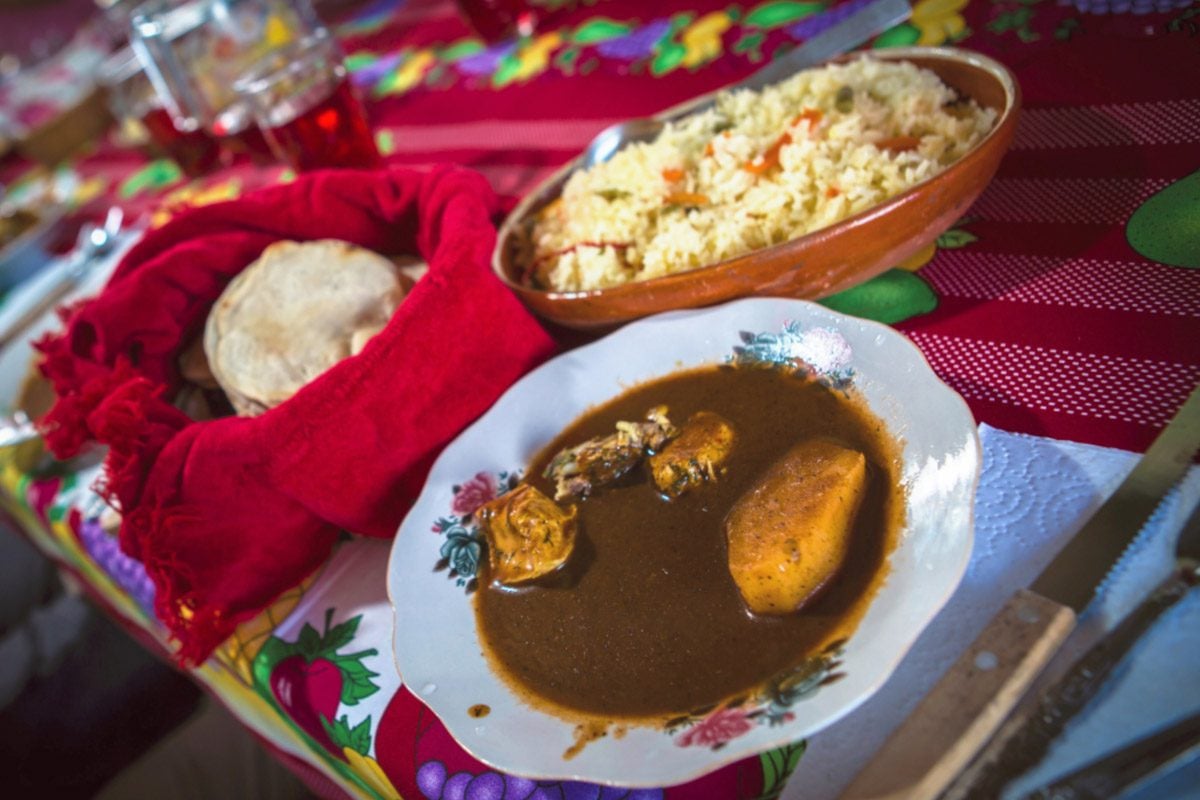 While Guatemalan cuisine is not as well-known as its northern neighbor (aka Mexico!), taking a cooking class will be a surefire way to delve in and try more than just rice and beans.
We've always been huge fans of taking cooking classes on our travels because it gives us deeper insight into the culture.
There are a handful of great cooking schools in Antigua to choose from.
But if you want to support locals and make sure your money is going back into the community, we'd recommend booking a Pepian cooking workshop through De La Gente. The workshop is $35 USD per person and makes for a great experience, plus it includes a tasty meal!
Alternative: If you want to learn more about food in Antigua, take a walking food tour. Take a morning and learn about various foods in the city, where and what locals eat and you'll get samples along the way.
12. Try pepián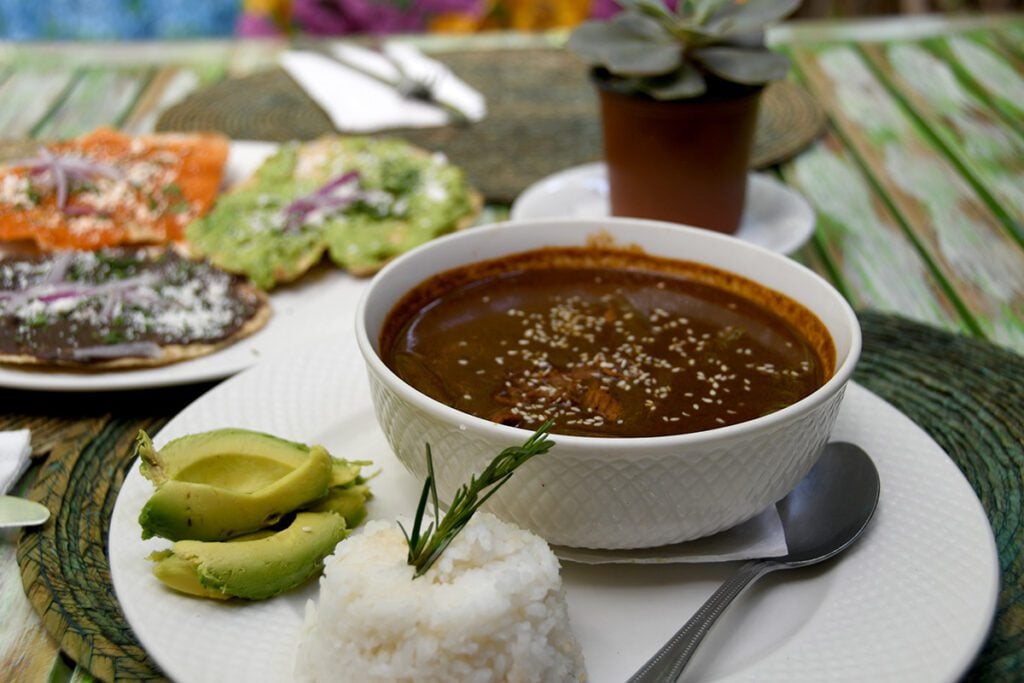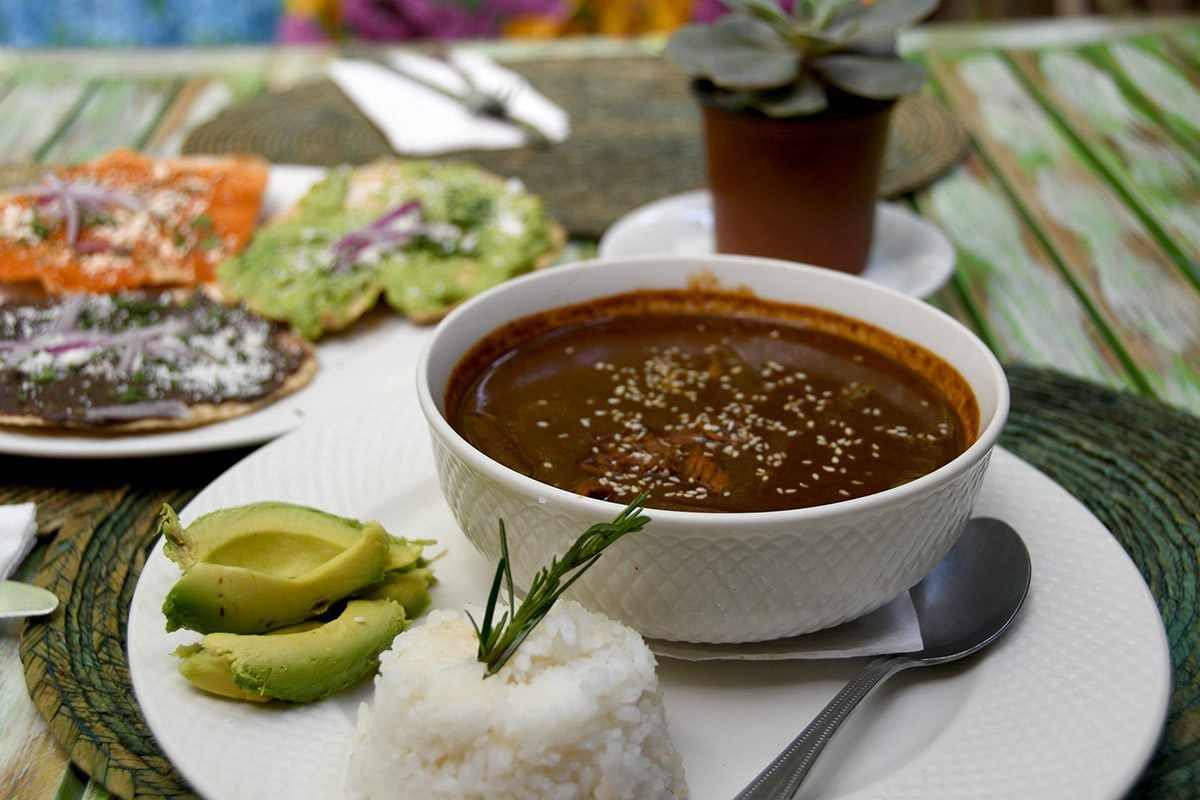 Considered by many as Guatemala's national dish, this hearty meat and vegetable stew can be found everywhere from street vendors (for a few dollars) to restaurants ($5-15) to locals' homes.
It is said to be a fusion of flavors from both Mayan and Spanish culture, and is absolutely delicious!
Here are some top restaurants to try pepián:
Or for the best pepián you'll try, learn how to make it yourself in a cooking class. Read more below…
13. Hike the Corazon de Agua trail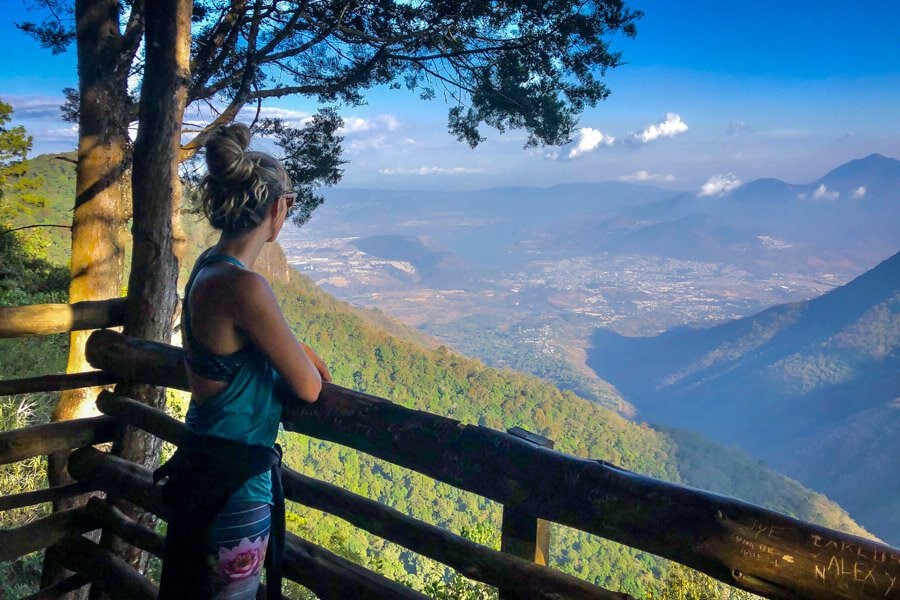 Distance: 2.9-mile loop (4.6 km)
Elevation gain: 1,184 ft / 361 m
Difficulty rating: moderate
If you're itching to get out of the city and into nature, another popular hike to do near Antigua is the Corazón de Agua trail.
This 3-mile (4.6 km) loop trail takes you through the Corazón de Agua Ecological Park. At the top of the hike you'll reach a small developed park with views for miles in every direction.
The hike itself is moderate and can be done by hikers of every fitness level.
Tip: Pack a picnic lunch and make use of the tables and picnic benches at the top while enjoying the views. 
14. Try a cocktail in a secret speakeasy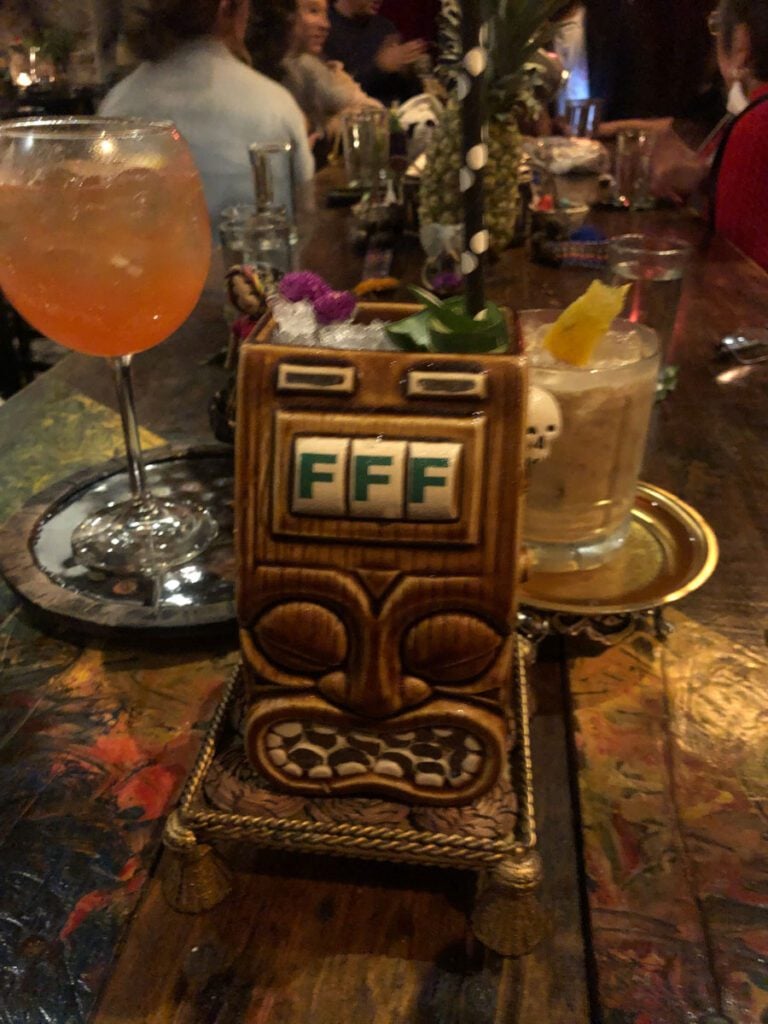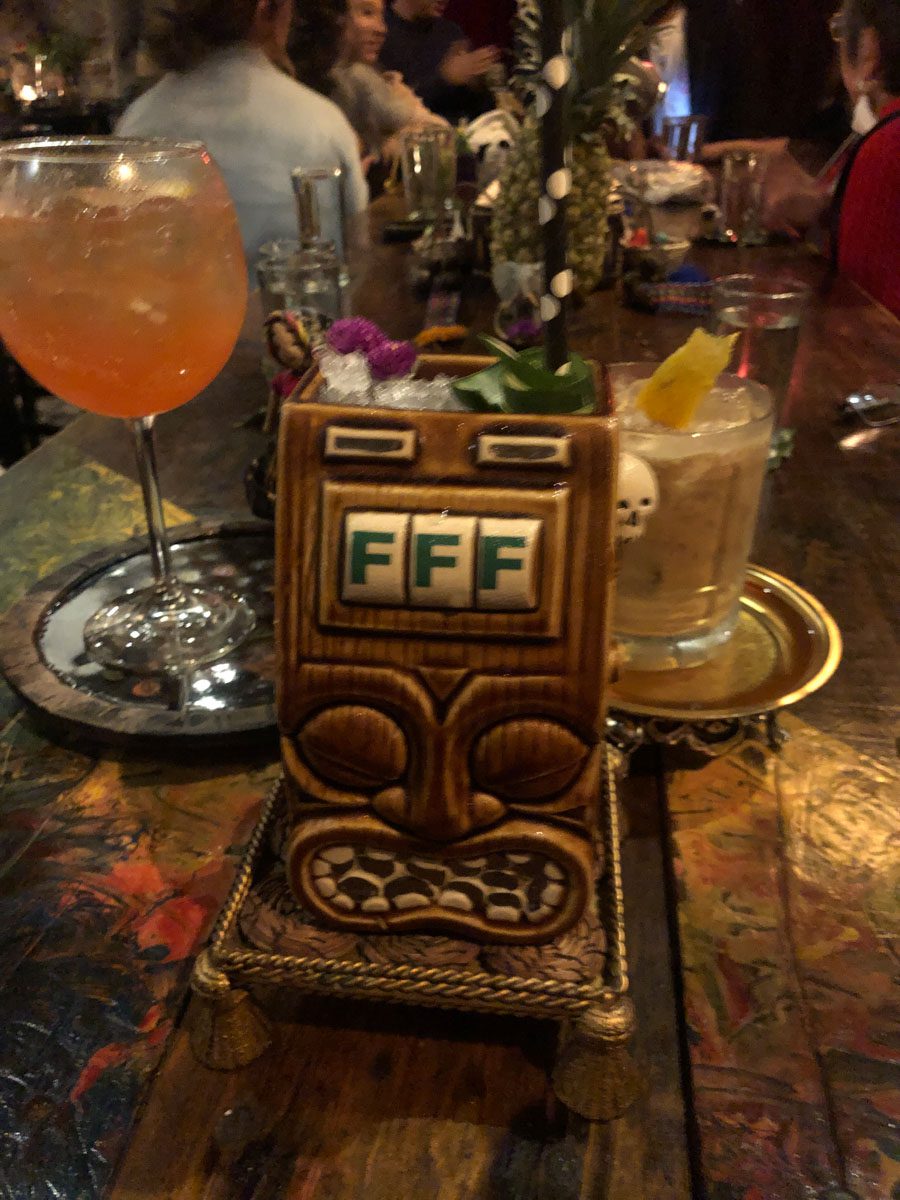 Inspired by the prohibition-era in the United States, speakeasy cocktail bars are popping up in destinations all over the world these days, and Antigua is no exception.
Ulew Cocktail Bar is a true hidden gem in the city. Located beneath the Antigua Brewing Company, you'll have to enter the brewery first, and then enter the "secret" cocktail cave through the phone booth in the corner.
The bar itself is quite small and feels a bit like you're in a cave rather than a fancy cocktail lounge.
With no official menu, the skilled mixologists will ask you a few questions about your taste preferences and whip up something just for you. They even earn extra points for creativity and presentation.
Exact location: Google Maps pin
15. Have brunch at a macadamia farm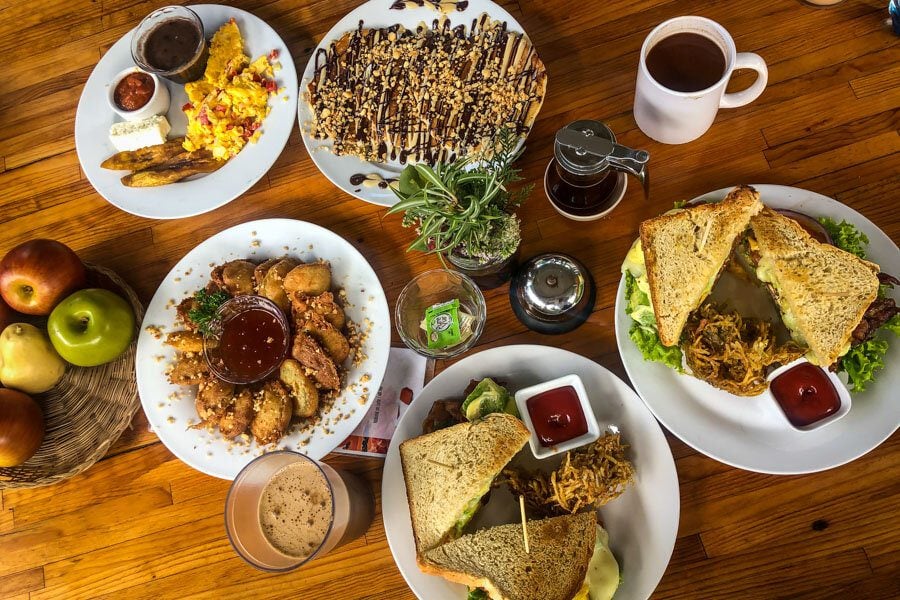 If you haven't caught on yet, there are tons of farms in and around Antigua, each as unique as the next. The Valhalla Macadamia Farm is just a 15 minute Uber ride outside the city and well-worth a visit to discover their indulgent brunch menu.
Once you've gorged yourself on macadamia pancakes and lattes and/or smoothies made with macadamia nut milk (don't worry they have a full menu with non-macadamia products if that's not your thing), you can take a quick free tour of the farm in which you can learn about how the nuts are grown and harvested.
The best part of the tour? Well actually there are two…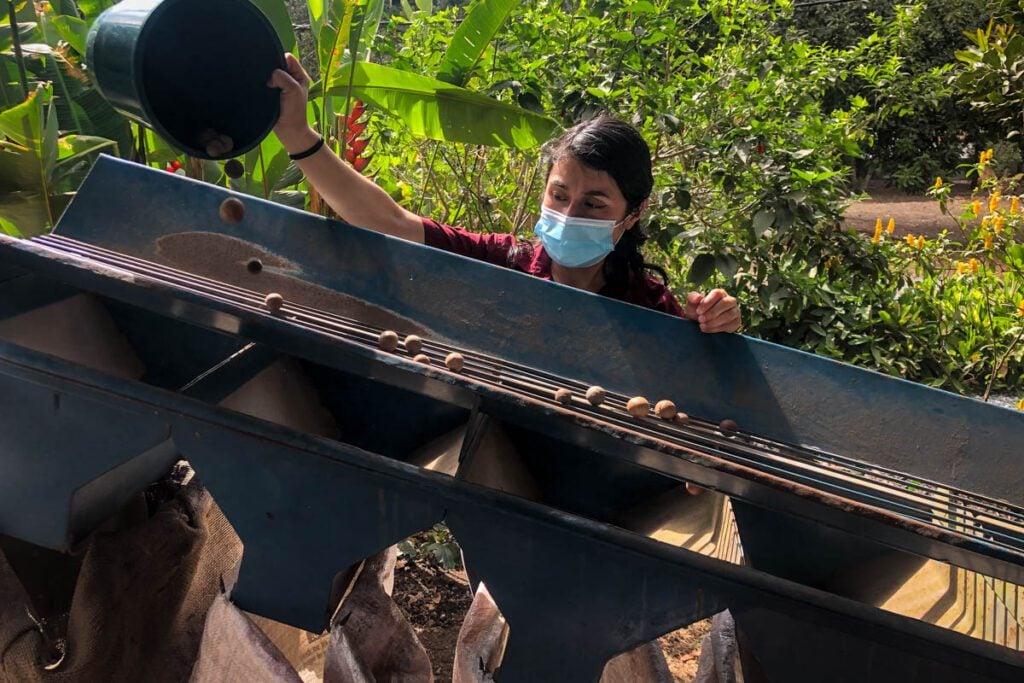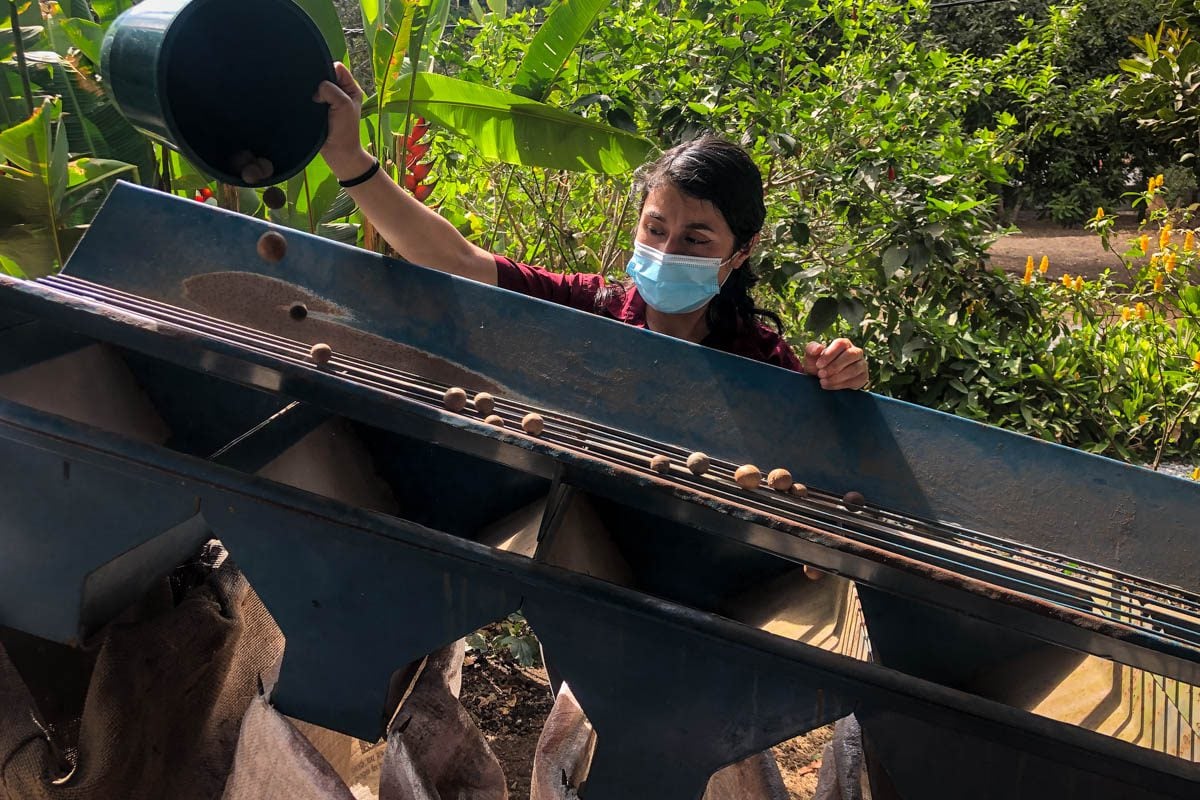 First, you will get to try some macadamia nuts and chocolate samples that are lip-smackingly delicious.
Second, you are offered a free facial massage to demonstrate the benefits of macadamia oil on the skin. Picture kicking back in a cushy armchair while your face and head get massaged for a few minutes. It's a truly relaxing experience!
If you are now in the mood for some more relaxation, head over to their on-site spa where you can indulge in a deep tissue massage or facial.
16. See live music at Cerveceria 14 brewery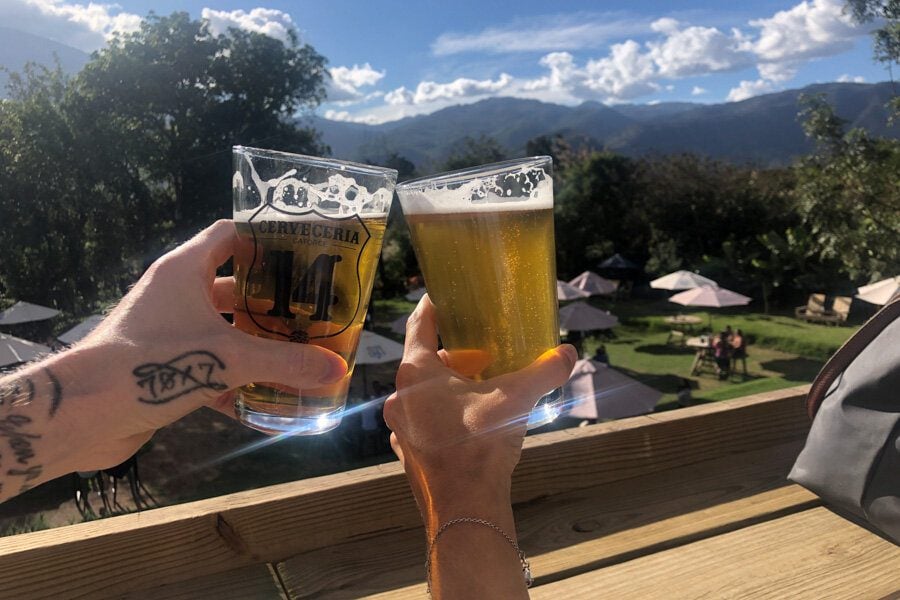 If you love craft beer as much as we do, you won't be at a loss during your Antigua travels. There is actually quite a nice craft beer scene here and the pinnacle is Cerveceria 14.
Located on a 7-acre farm just a 15-minute Uber ride from downtown Antigua, this brewery is a great place for kicking back and enjoying the sunshine and volcano views with a pint of good beer.
Not a beer lover? Don't worry! The brewery is set up for fun for the whole family.
Surrounded by views of the volcanoes of the Panchoy Valley, there is plenty of green space to lounge, a large park and play area for children, multiple full bars (they serve more than just beer here!) and lots of tasty food options. You can also take a tour of their 15-barrel brewery if that's what you're into.
Oh yeah, and of course there is live music! A large stage makes up a natural amphitheater and hosts both local and international musical acts on weekends.
17. Eat world-famous Texas BBQ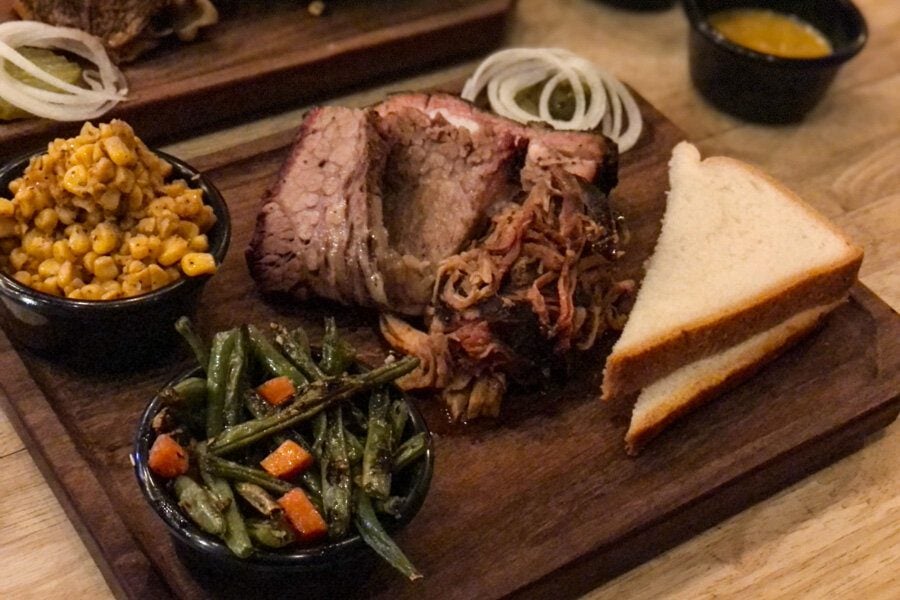 Yes, you read that right… Texas BBQ, right in the heart of Antigua!
Pappy's BBQ is an Antigua staple that is not to be missed for those meat-lovers traveling in Antigua. Their traditional Texas-style BBQ is slow cooked using white oak in their handmade pits.
Prepared with consistency and care, their menu features all your traditional BBQ favorites such as ribs, brisket and pulled pork. Their Pappy's Burger is the best burger you'll find in Antigua and the grilled cheese rib meat sandwich is one for the books.
18. Tour a coffee farm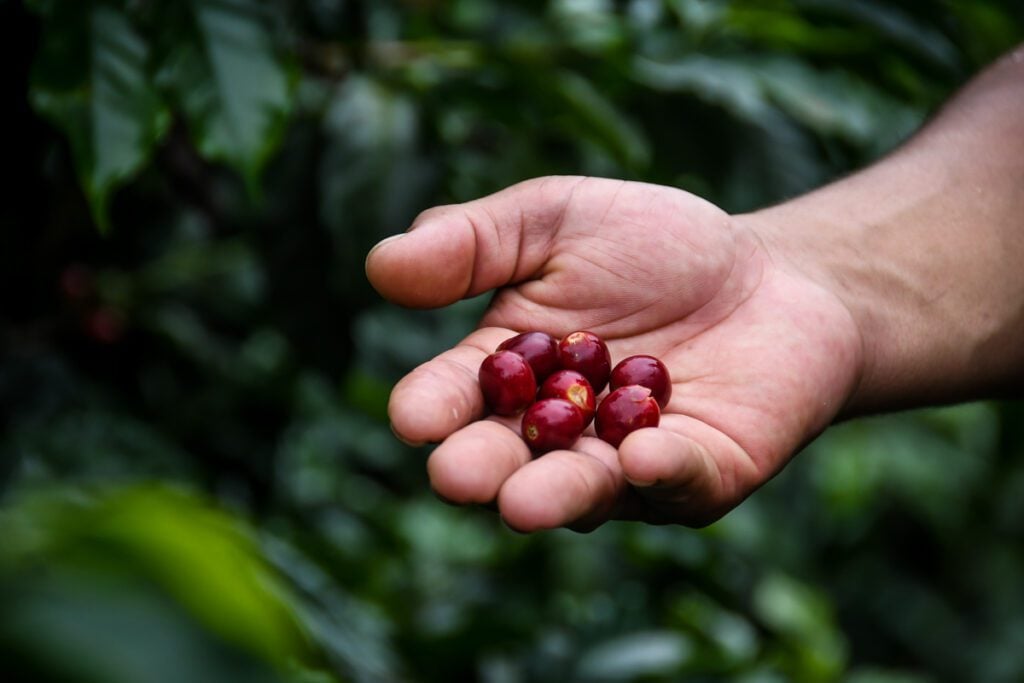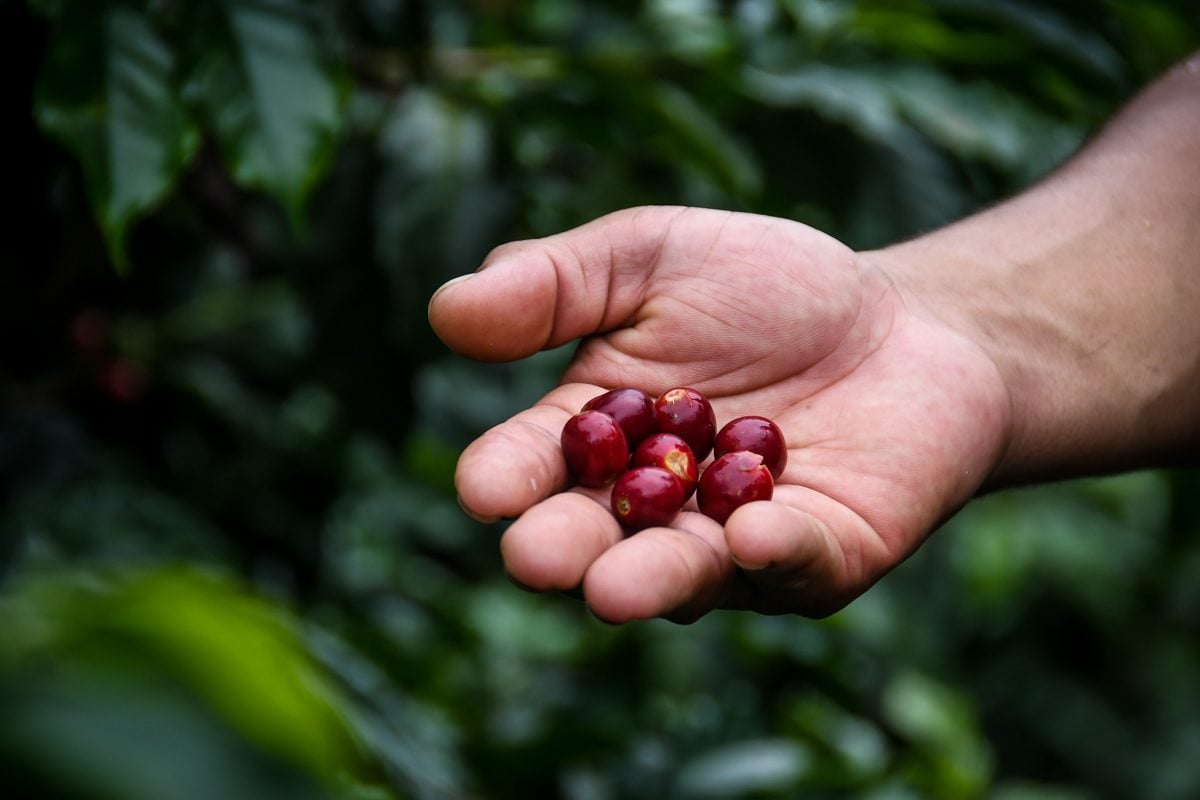 The region surrounding Antigua produces high quality beans that are shipped around the world; and it's likely that they have ended up in your mug on more than one occasion.
Get a deeper understanding of where your favorite morning beverage comes from, and meet the people responsible for bringing it to you.
De La Gente translates to "of the people", and this organization does just that: it focuses on the people behind the coffee. Tour a small family-run coffee farm to learn about the process, and know that your money is going directly to better their lives.
19. Visit the Mercado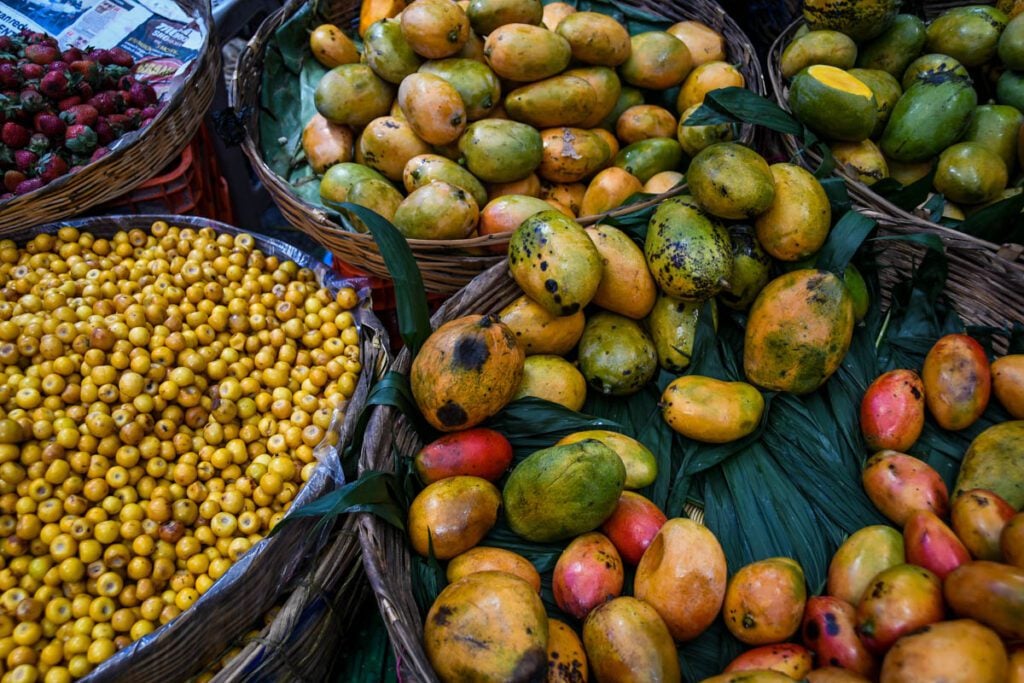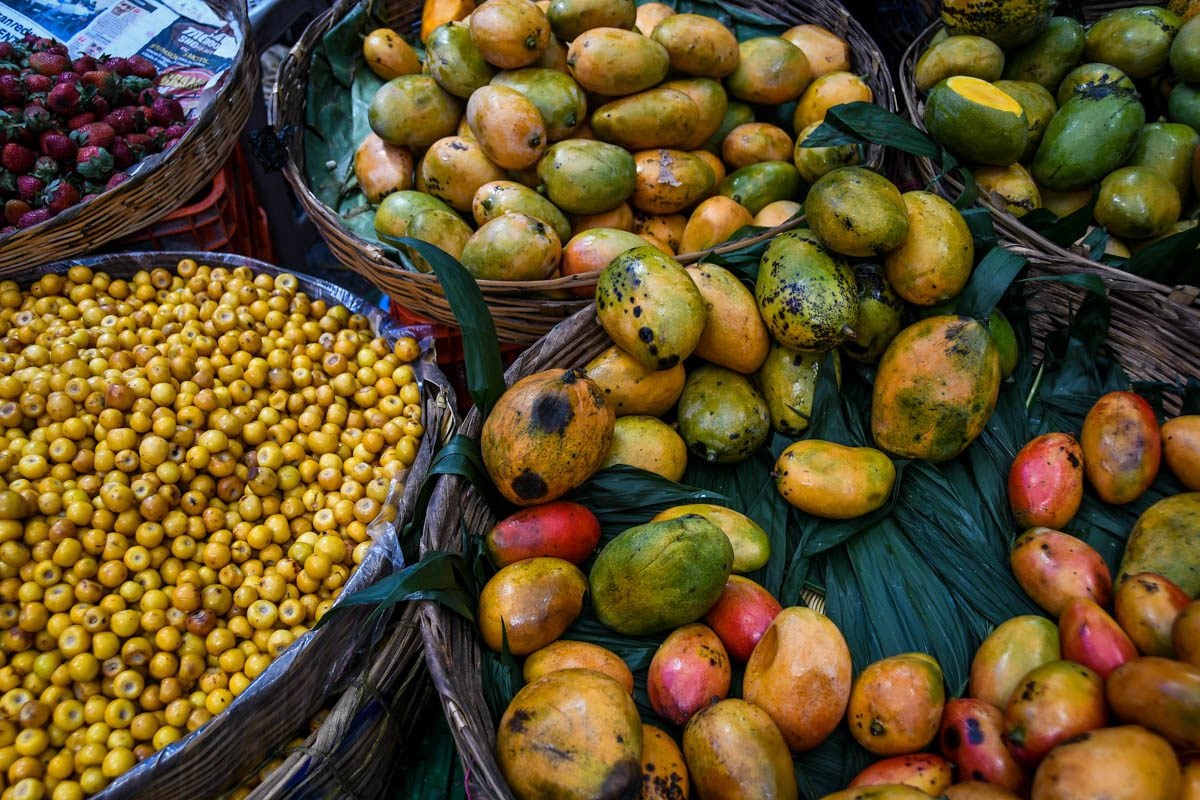 No matter where in the world we are traveling, we love visiting local markets all around the world. It is a great way to experience a taste of local life and get a feel for what ingredients and items are important in the culture.
At the main Mercado in Antigua, you'll find everything from produce to clothing, to freshly butchered meats and fish.
While the market is open every day from 7 a.m. to 2 p.m., the main market days are Monday, Thursday and Saturday, and will be significantly busier (that may be more exciting or more frustrating, depending on what vibe you're looking for).
Insider Tip: Whenever eating produce in Guatemala, be sure to wash it thoroughly with filtered water. You don't wanna know what happens when you don't…
How to get there: The easiest entry point is at the end of 3rd Calle Poniente and 4a Calle Poniente.
20. Check out Casa Santo Domingo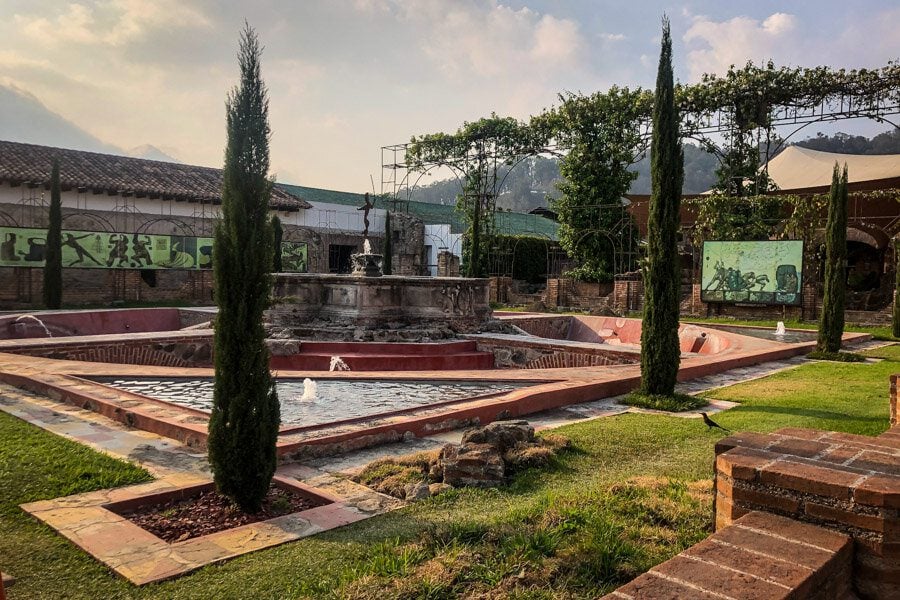 If you're wondering why we are suggesting you go to a hotel, let us explain…
Casa Santo Domingo is so much more than just a hotel. It's an Antigua institution. The ruins of the historical church and monastery (dating back to the 17th century!) have been transformed and built up around to become a combination hotel, restaurant, spa and museum.
There are 6 permanent museums and 2 art galleries with rotating temporary exhibits at Casa Santo Domingo. Wander around their indoor and outdoor settings and take in the art alongside the 17th century ruins.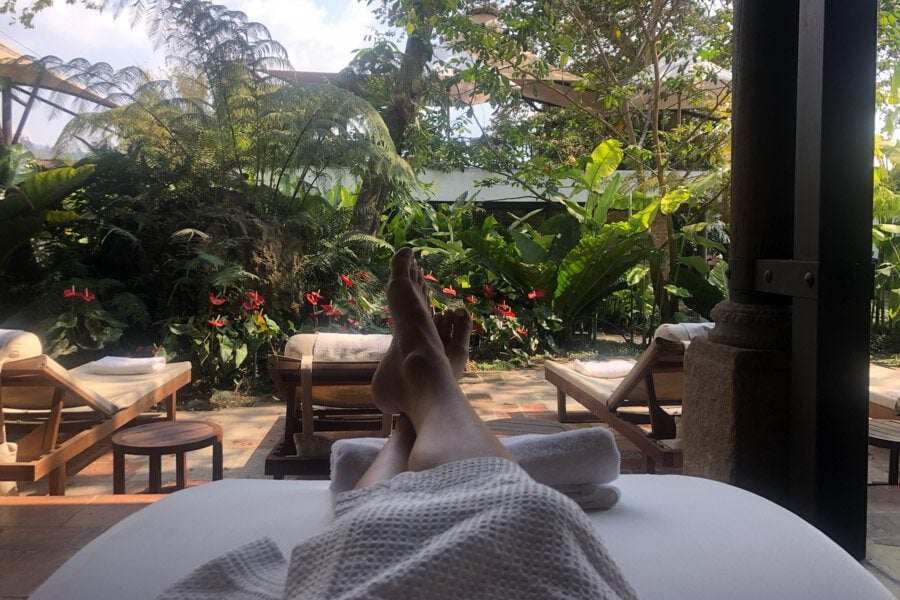 You can get a day pass to the spa and book a 60-minute massage for under $100! Did I mention the spa includes indoor and outdoor areas for sunbathing around a private pool, wet and dry saunas, jacuzzis, cold baths and a variety of other wellness treatments.
If you're looking for a day of relaxation (especially after something like the Acatenango trek!) this is the perfect place to land.
21. See the artwork of the "Guatemalan Picasso" for free
Santo Domingo del Cerro is an open-air gallery houses the works of Guatemalan artists, the most famous of whom is Efrain Recinos. Known widely as the "Guatemalan Picasso", it's a wonder you can see his works (as well as the works of many more artists) free of charge!
This art gallery is open every day except Mondays, and the Hotel Santo Domingo offers free shuttles every hour.
22. Pay a visit to the quirky town of Hobbitenango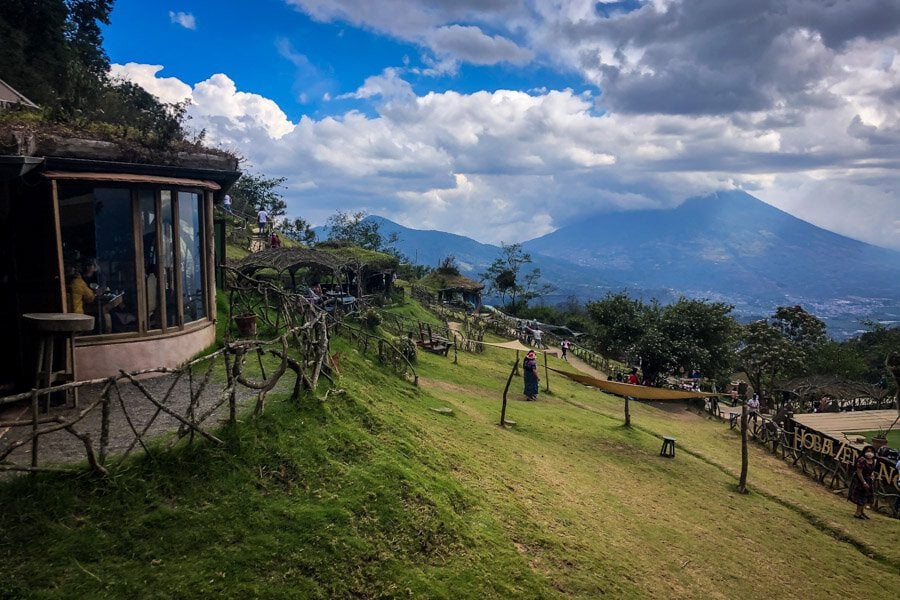 If your mind just went to the Lord of the Rings and you're picturing the pint-sized movie set of Hobbiton that tourists come to visit on a trip to New Zealand, you wouldn't be that far off. Hobbitenango is a hobbit-themed eco park, restaurant and hotel situated high on a mountaintop outside of Antigua.
The destination is a popular visit for local families from all over the surrounding region and if you come on a weekend, you'll surely run into crowds.
Nevertheless, it's a quick and fun experience to walk around the themed lands, take in the stunning views of the surrounding volcano peaks and take lots of cheesy Hobbit-themed photos! If you're really feeling adventurous, you can stay a night in one of the hobbit houses that were built to look just like those on the set of Lord of the Rings.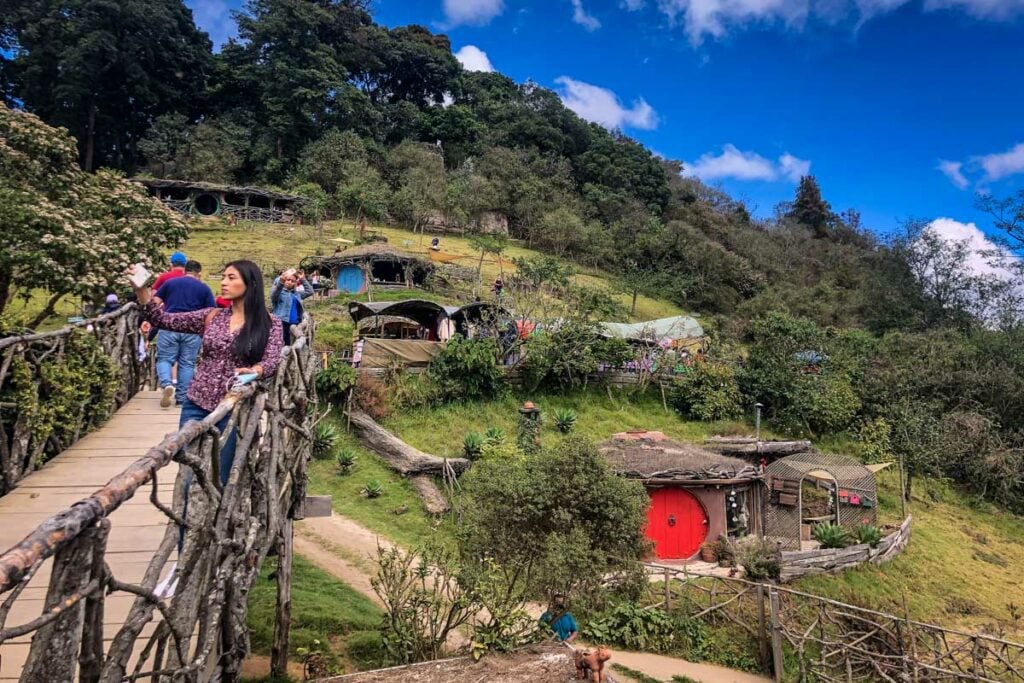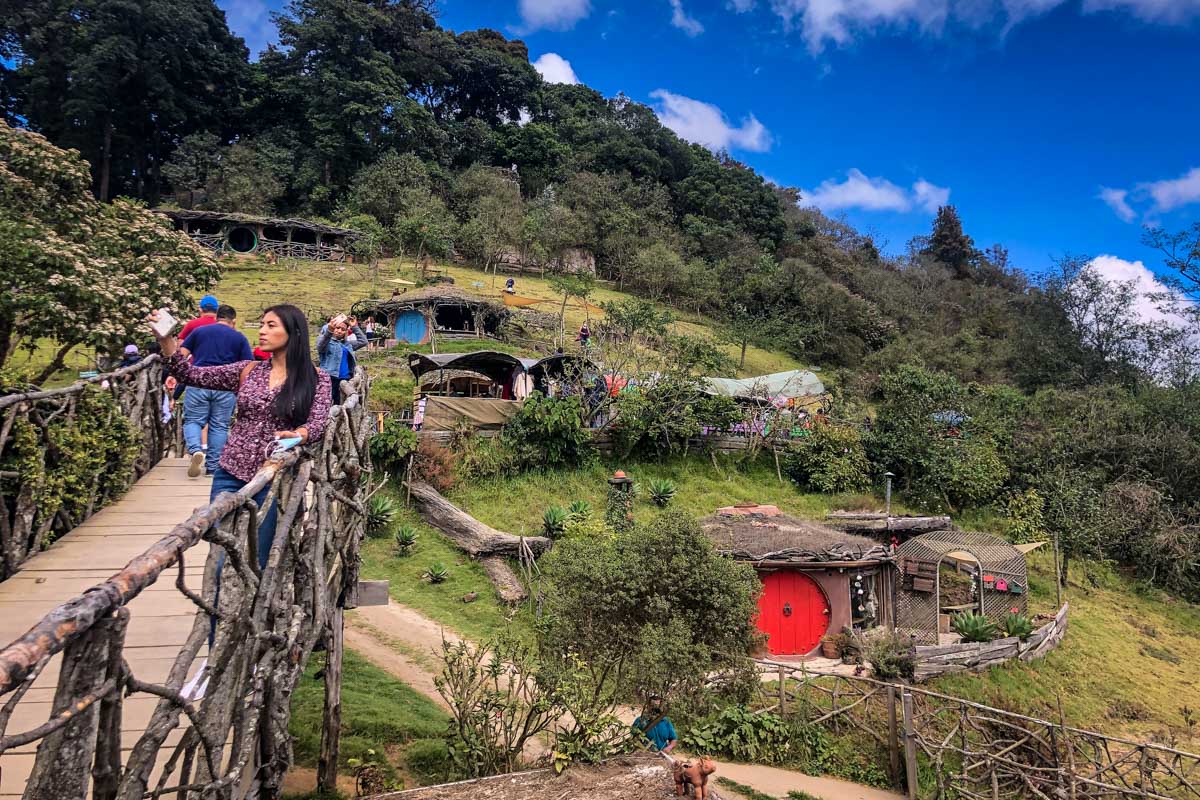 To get to Hobbitenango, take an Uber about 25-minutes northeast of Antigua. Your Uber driver will drop you off at the ticket office where you can purchase a day pass for Q25 per person. Then you'll have to wait in line for the shuttle to bring you up the incredibly steep dirt road to the park entrance.
Tip: These lines can take really long on weekends. Another option is to take the walking path, but be prepared for the steep incline, a bit of dust, and make sure you wear the right footwear!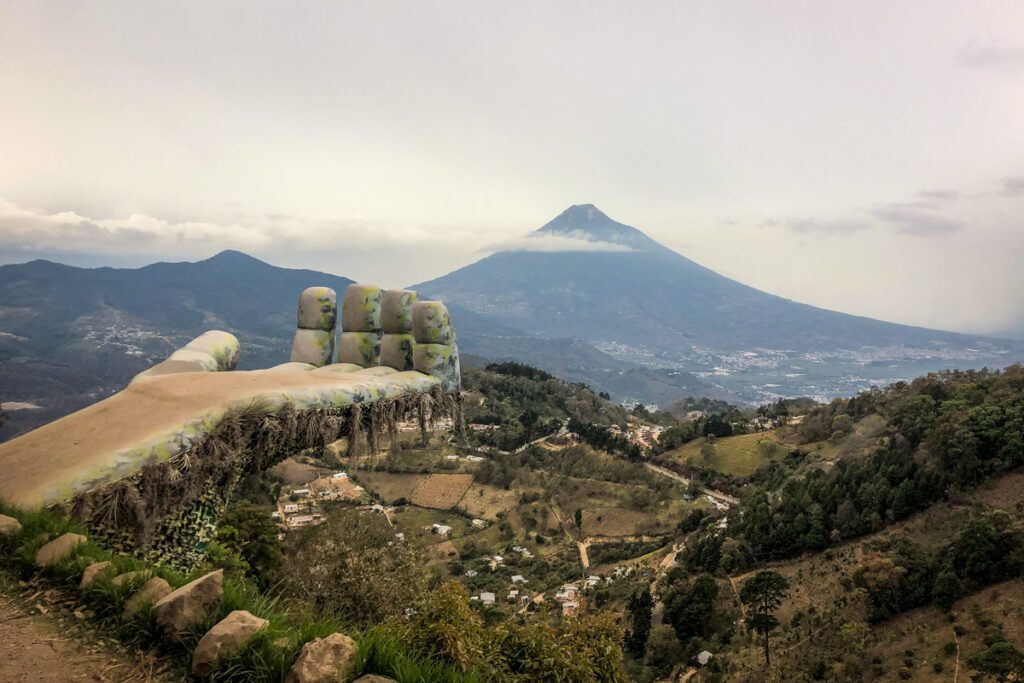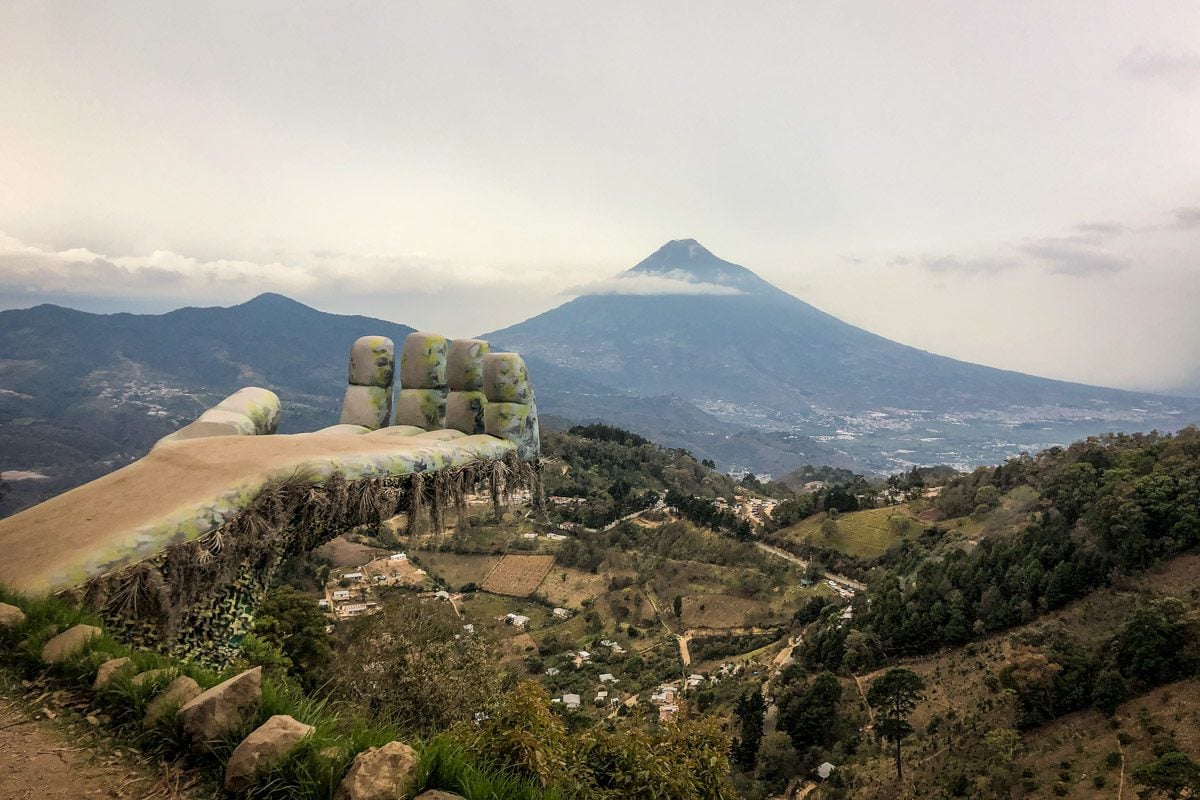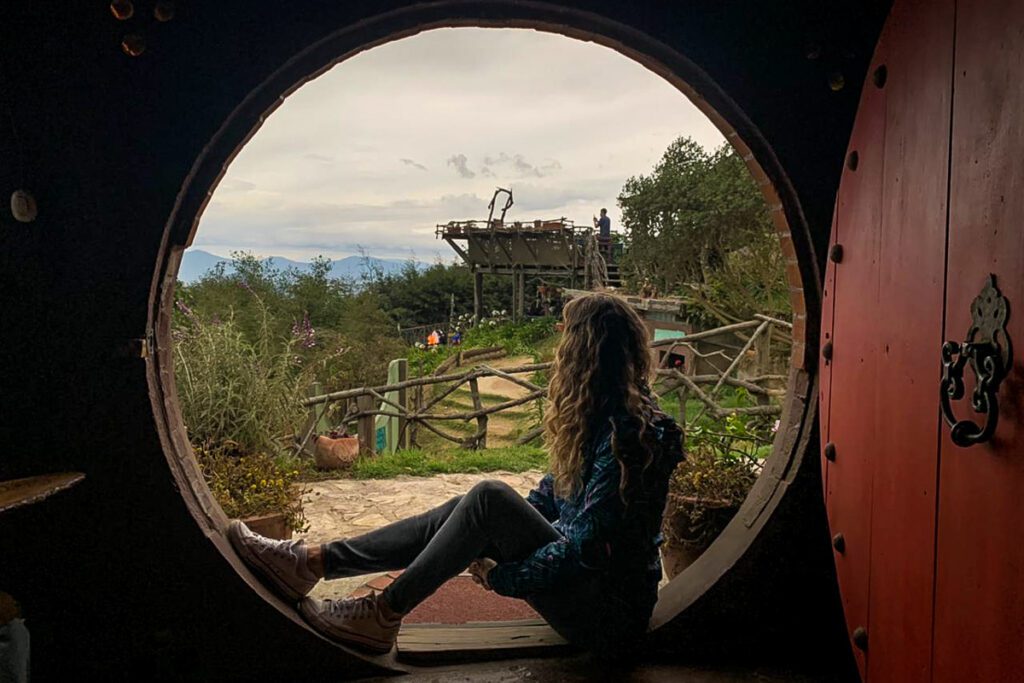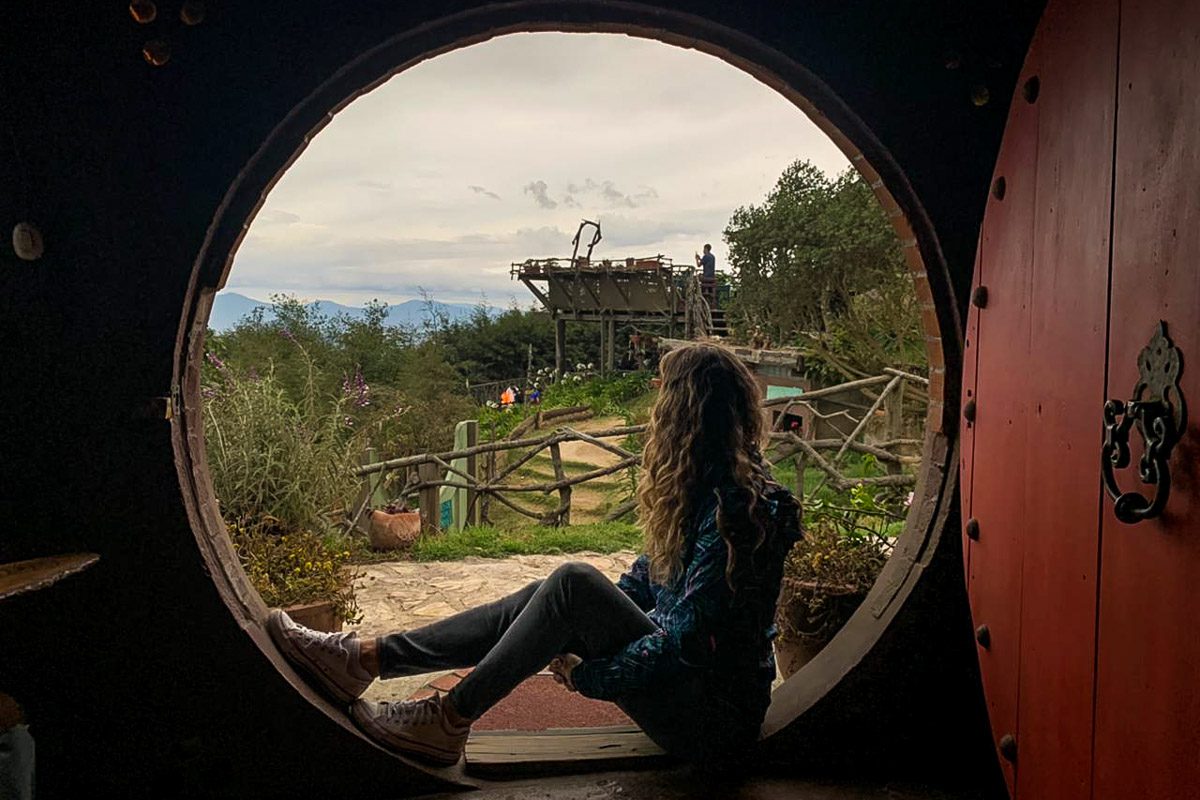 Hobbitenango has 2 restaurants, a pub, activities for children, and 26 distinct areas to explore. Have a stroll around the grounds, try your hand at axe throwing or archery, and be sure to get a photo of yourself on the giant's hand looking out over the valley.
With no wifi, this is the perfect place to disconnect from technology and reconnect with your travel partners and nature.
Tip: It can also get really chilly up there, so it's a good idea to wear layers. There is a small stand at the park entrance selling second-hand sweaters and jackets if you get desperate.
23. Take a yoga class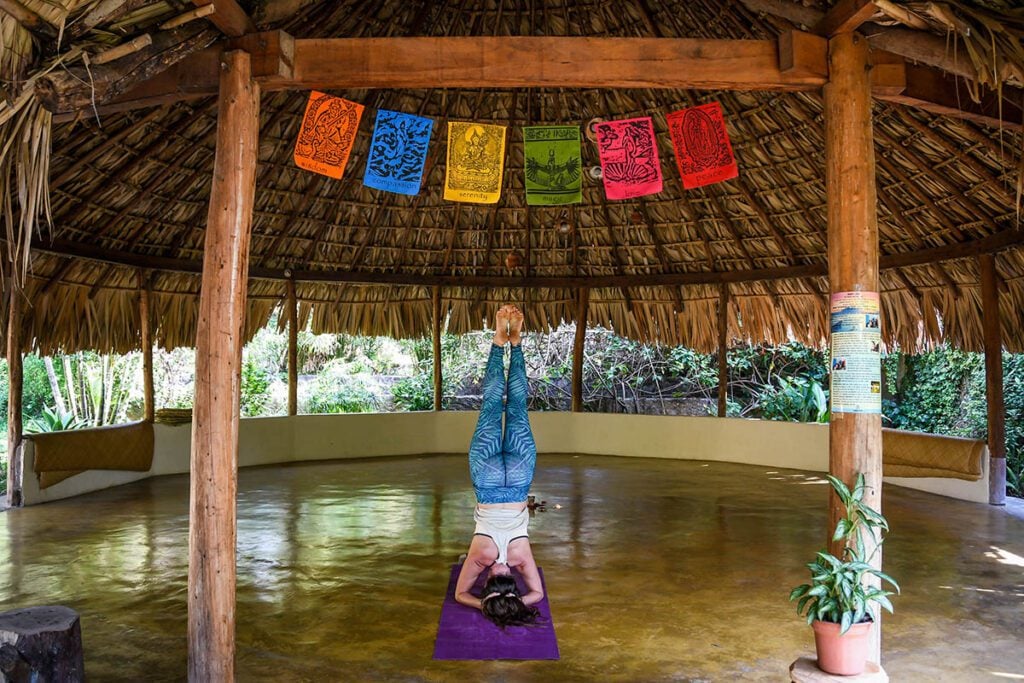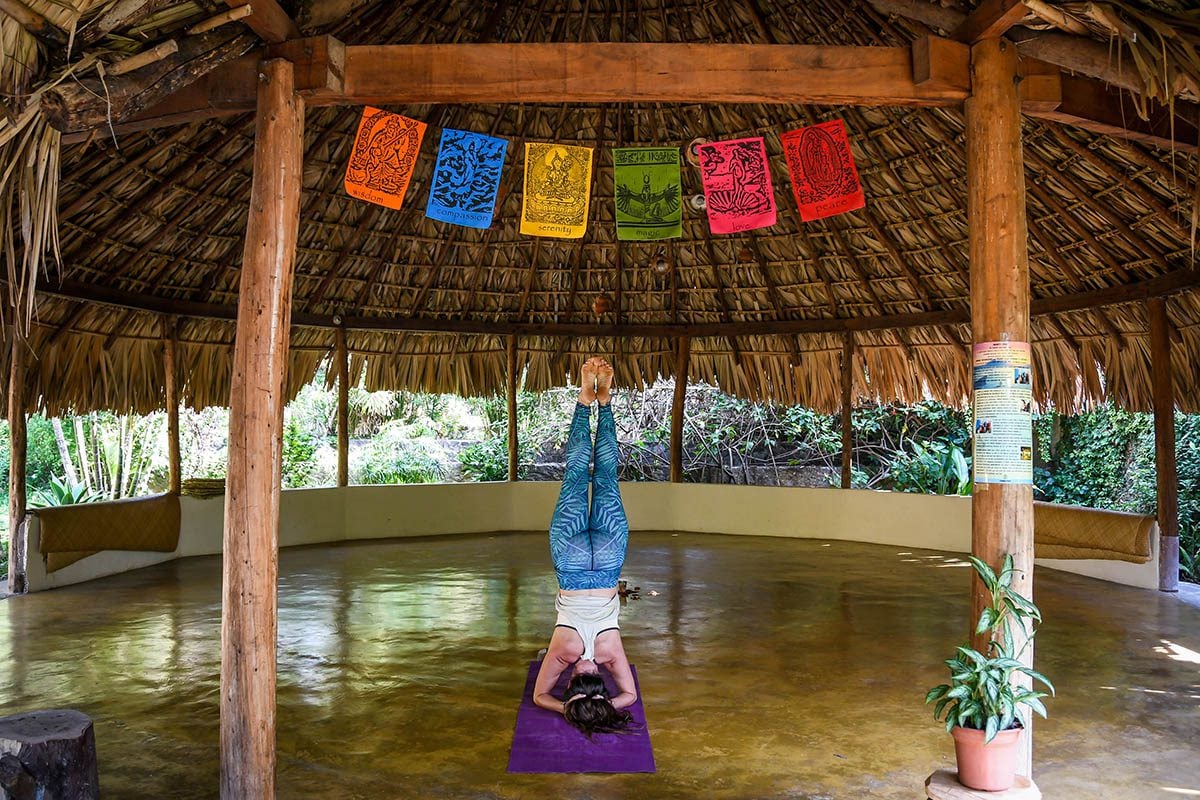 While many yogis flock to Lake Atitlan to get their downward dog on, Antigua has a few yoga studios where you can deepen your practice, or just stretch out after a bumpy bus ride (a real struggle!).
Whether you're staying in Antigua for a while (trust us, it has a way of drawing you in!), or just exploring for a few days, you can drop into a studio and get a flow in.
Here are two of the most popular yoga studios in Antigua:
Shakti Shala – With an onsite smoothie bar, Shakti Shala is one of the most developed studios in Antigua. They offer a variety of classes for all levels and the drop in rate is Q55 ($8 USD).
YogAntigua – Offering a variety of courses, from the typical flows to aerial yoga, YogAntigua is a good choice for a drop in class. Drop in classes start at Q70 ($9 USD).
Om Where You Roam – Check their calendar to find yoga classes in Antigua that are held outside of studios, sometimes on a donation basis.
24. Practice your Spanish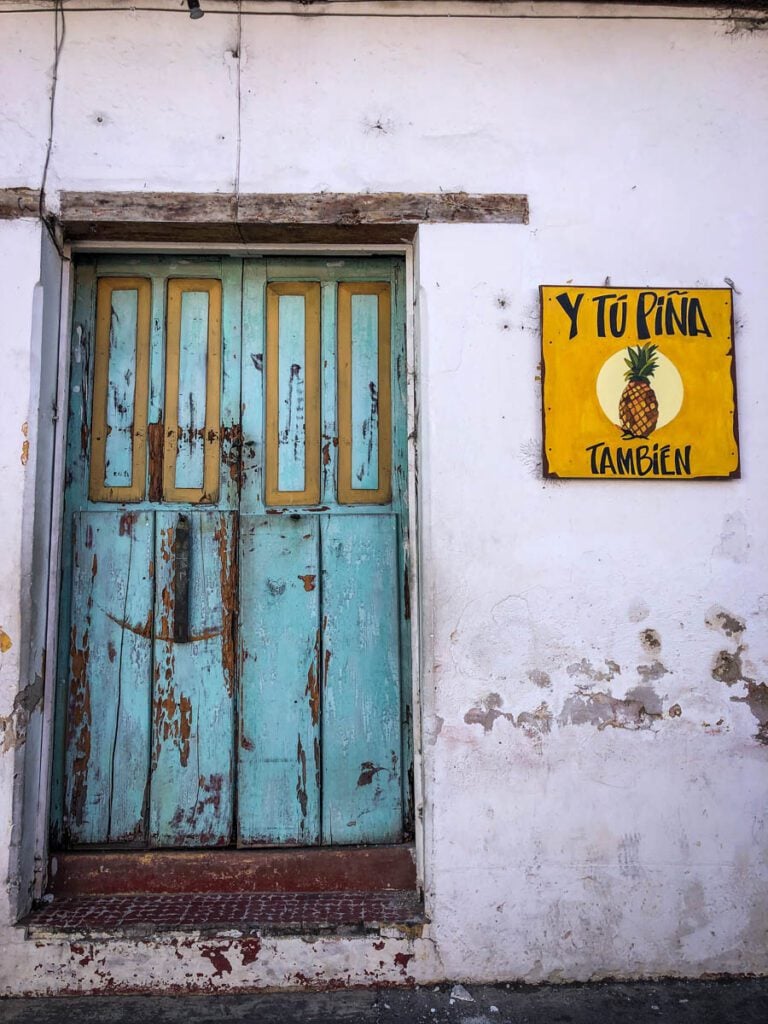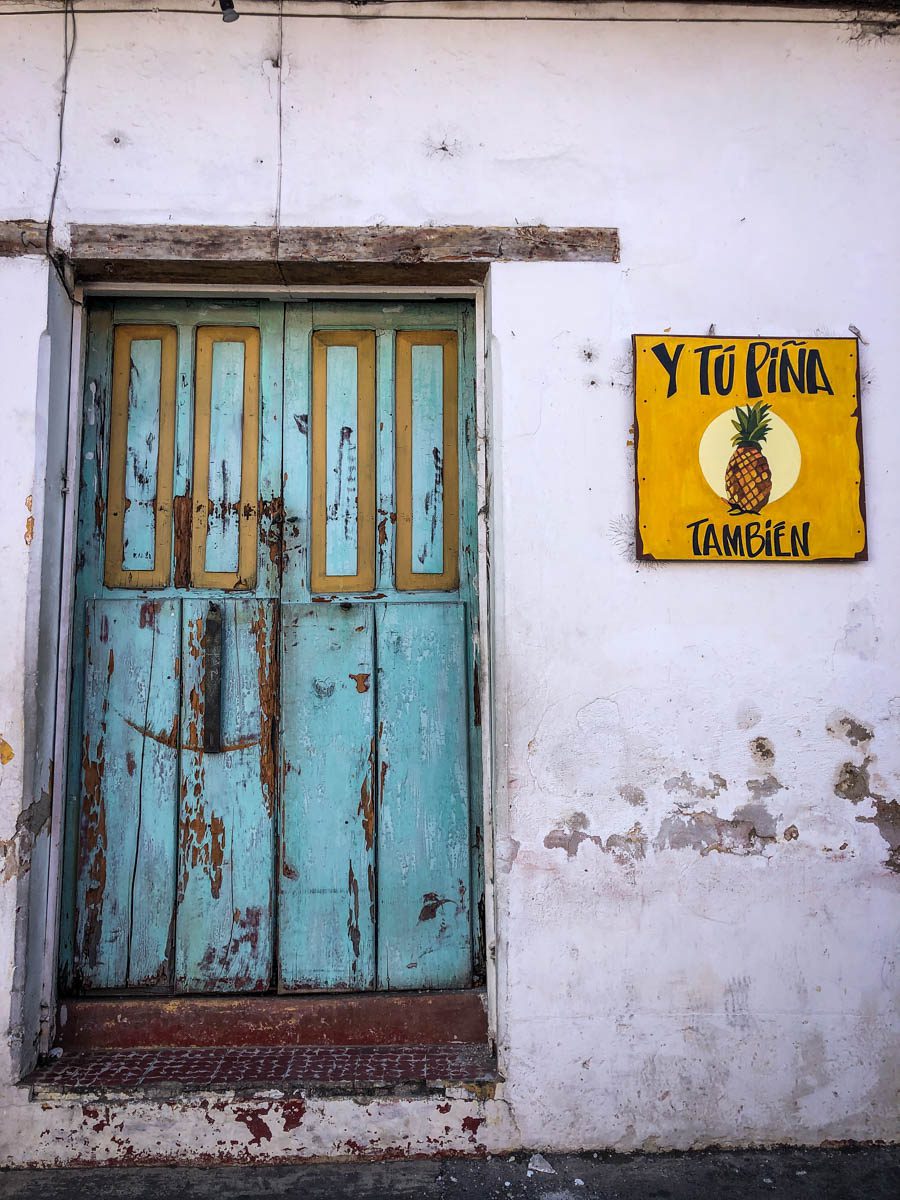 If you are looking for a city to base yourself in while practicing your Spanish, we can't think of many options better than Antigua. It is the perfect size: with lots to do (aka all the things on this list!), yet small enough to make you feel at home, we could see ourselves staying a while.
Antigua es una ciudad muy hermosa y divertida. After your class, you'll know what that means!
There are a few Spanish courses out there, but after doing a bit of research, the offering from Spanish Academy Antiguena seems to be one of the best.
25. Find your groove at Salsa lessons
What better place to learn Salsa than in Latin America? Put on your dancing shoes and get ready to move your hips because Salsa clubs are plentiful in Antigua.
You can sign up for private lessons, or show up to one of many free lesson nights at a Salsa club to get some beginner tips. Here are some of the best places in Antigua offering free Salsa classes:
26. Stay on an eco farm
Located 8 kilometers outside of Antigua, Earth Lodge offers a tranquil escape from the city center. With stunning volcano views and famously delicious home cooking, you might just fall in love with this special eco-friendly lodge and avocado farm.
Stay in a magical treehouse and make your childhood dreams come true! Or if you have flexible travel plans, stay a little longer as a volunteer. The minimum stay is 6 weeks, but many volunteers stay even longer.
27. Take a sunset ATV tour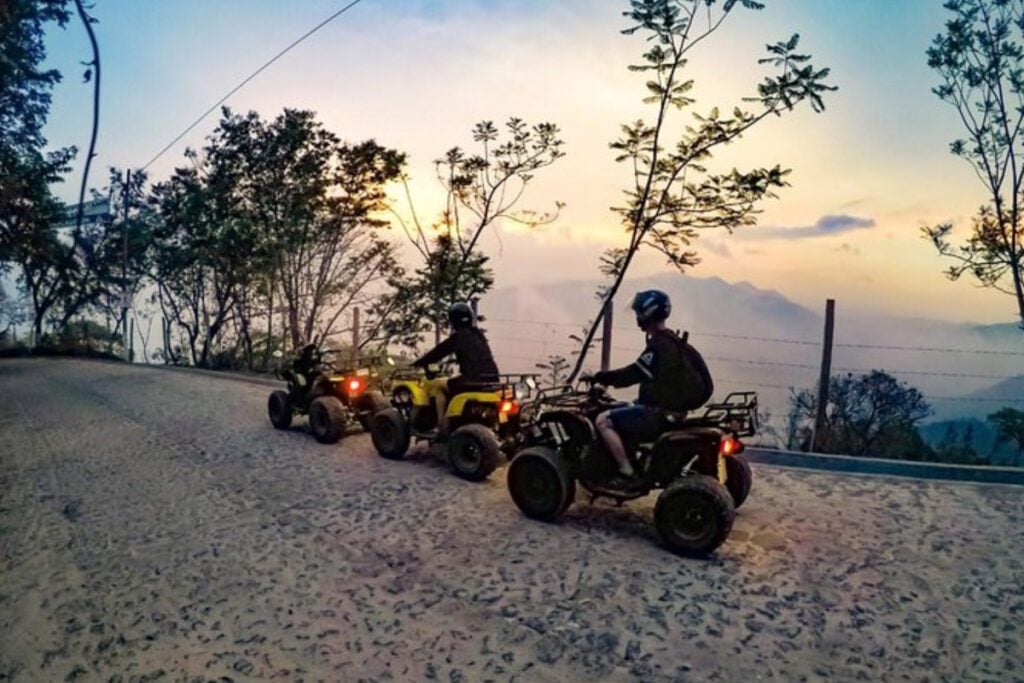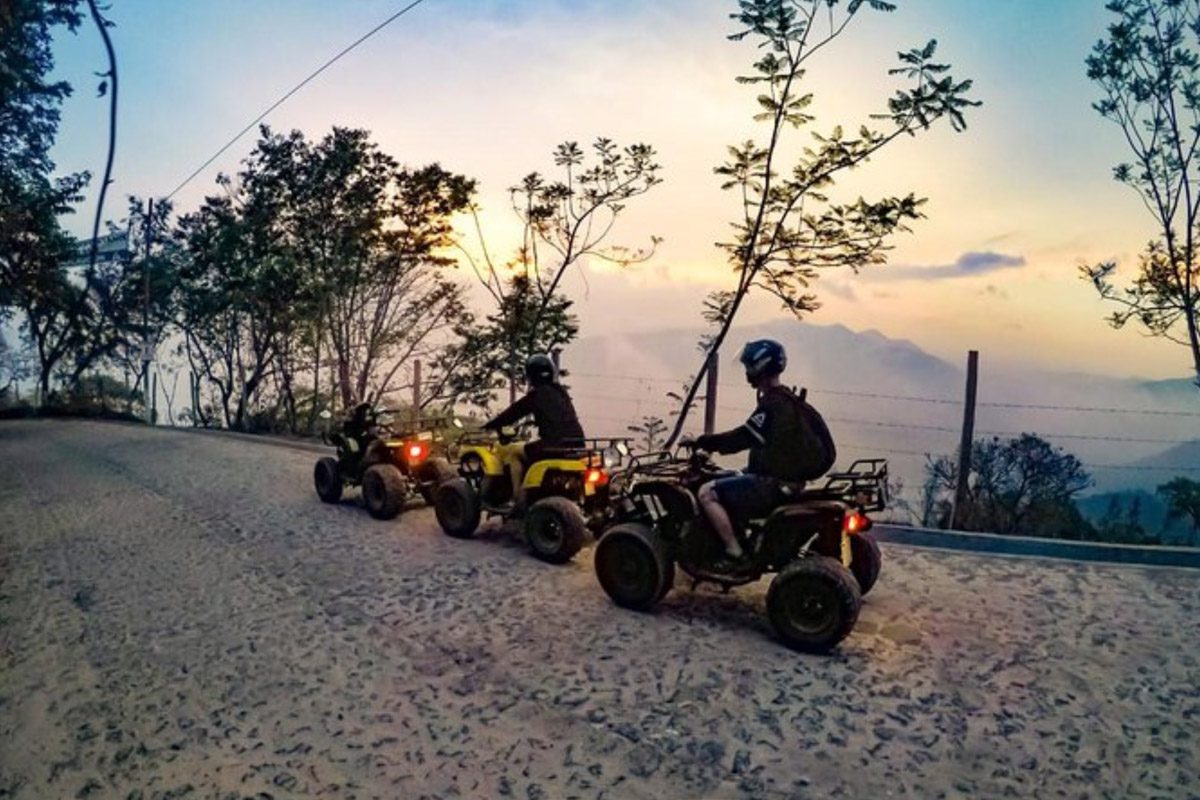 If you have a need for speed, joining this half-day excursion in the mountains, just might be one of your favorite things to do in Antigua, Guatemala.
This adventurous tour lasts for 4-5 hours and includes watching the sunset over the city from some of the best viewpoints at Hobbitenango. Pick up and drop off in Antigua makes it an easy way to get outside of the city while visiting, and a local guide will give you all the information along the way.
What former participants are saying:
"Really worth it. The experience was sooo nice. I recommend it to see the most beautiful sunset in Antigua." – Stephanie, January 2023
---
How many days do you need in Antigua, Guatemala?
The ideal amount of time to spend in Antigua, Guatemala really depends on your interests and travel pace.
For a well-rounded experience, we'd suggest spending 3-5 days in Antigua if you're traveling around and planning to hit all the things to see in Guatemala.
This time frame allows you to explore the charming cobblestone streets, visit historical sites such as the colonial churches and ruins, enjoy the local cuisine, and take part in any nearby activities or day trips.
Be sure to factor in 2 extra days if you plan to do the Acatenango Volcano overnight hike.
How to get to Antigua, Guatemala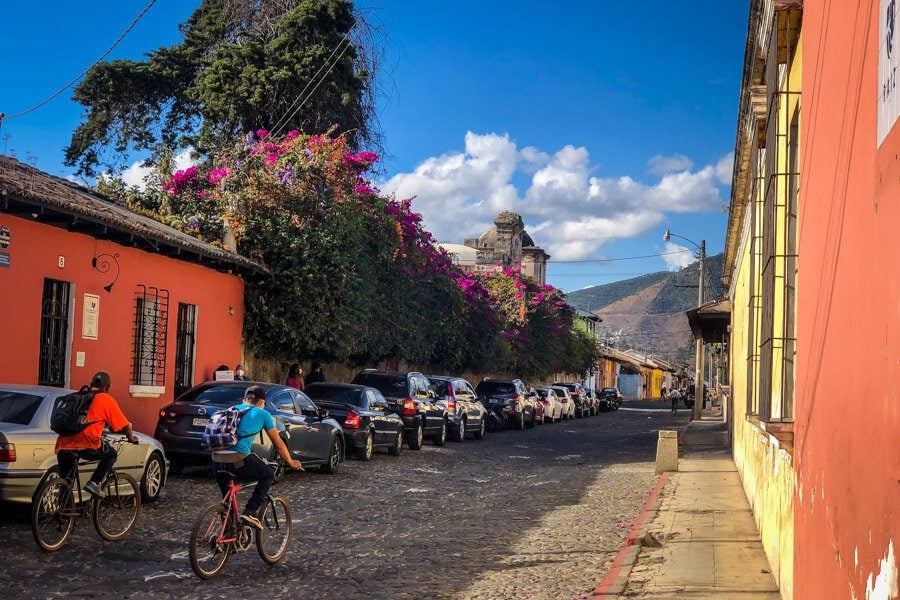 Located in southern Guatemala, surrounded by volcanoes, the small city of Antigua is fairly easy to get to.
Fly: If you're flying to Antigua from another destination, you'll fly into the nearest airport, La Aurora International Airport (GUA) in Guatemala City. The airport is just under 40 km, about an hour by car, from Antigua.

If you booked a hotel in Antigua, be sure to ask them about an airport shuttle service.
Uber is also available. The cost on average will be about $30 USD one way from the airport to Antigua.

Shuttle bus: There are shuttles that run to Antigua from destinations all over the country (like Guatemala City and Lake Atitlan). Coming from the airport, you can probably find a shuttle for around 150Q ($20 USD) or less.
If you want to book ahead of time, we suggest using GuateGo.
Where to stay in Antigua
There are tons of options when it comes to accommodation in Antigua. But compared to other parts of Guatemala and Central America, you're going to notice that it's quite a bit more expensive.
The best place to stay near all the action will be in the historical city center of Antigua.
We were looking for a social atmosphere, but it seemed many of the nice hostels only had dorm rooms. And well, we are a bit past our dorm days… We found that private rooms in hostels were quite expensive for what you get.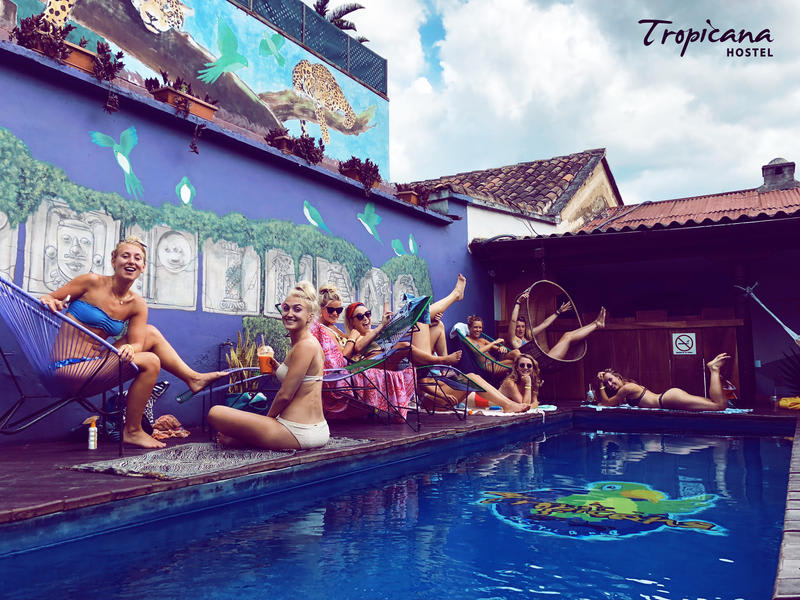 Budget Dorm Room: Tropicana Hostel – The best hostel stay in Antigua. Best parties, best tours, and low prices. Great way to meet other travelers while in Guatemala.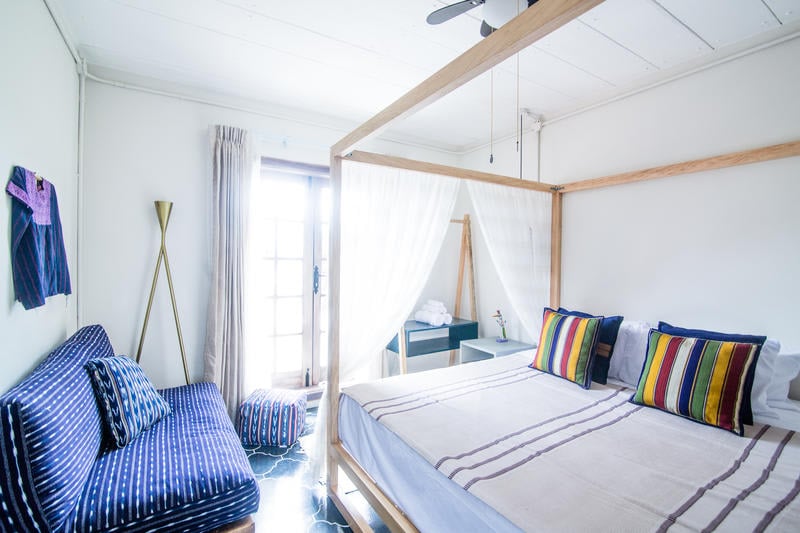 Budget Private Room: Selina Antigua – This upscale hostel chain in Central America caters to digital nomads and does not disappoint with their private rooms. Stylishly decorated, co-working space with strong WiFi, and has a great location in downtown Antigua.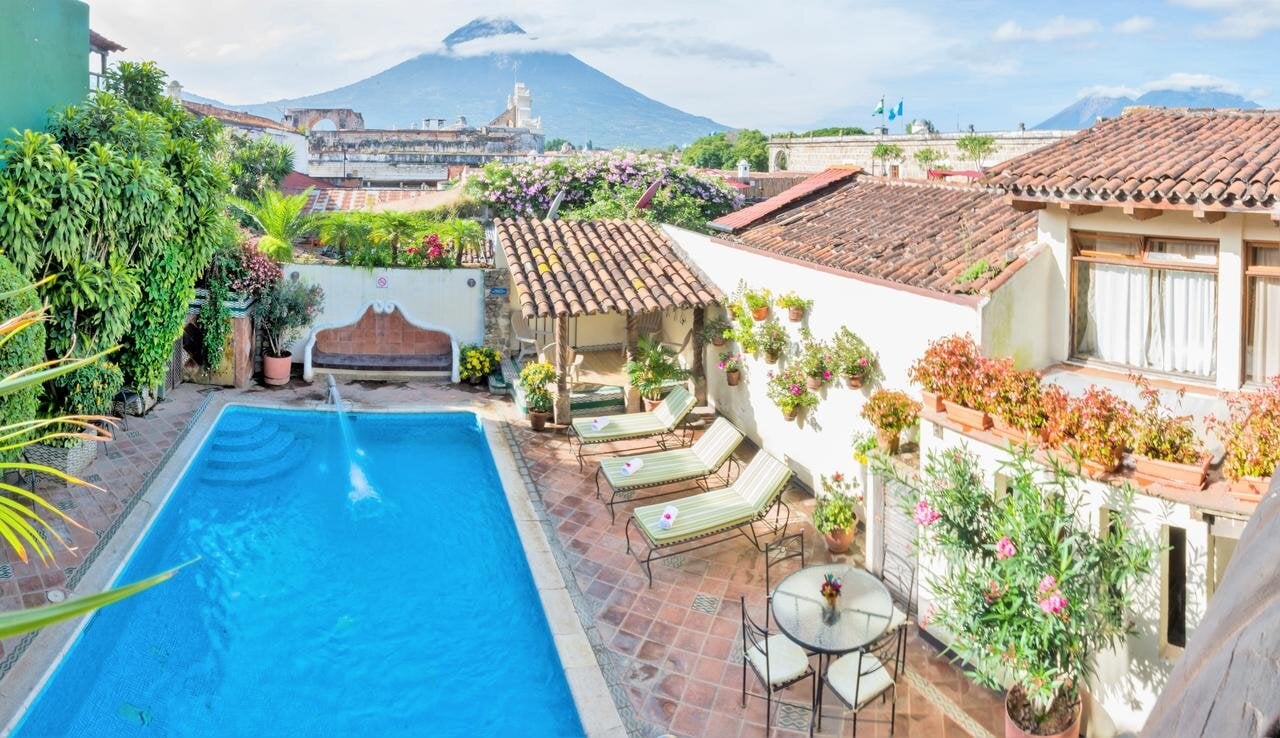 Mid-Range Hotel: Hotel Casa del Parque – Luxury style hotel without the luxury price tag. Heated outdoor pool and sauna, one block from the main square, and spacious rooms.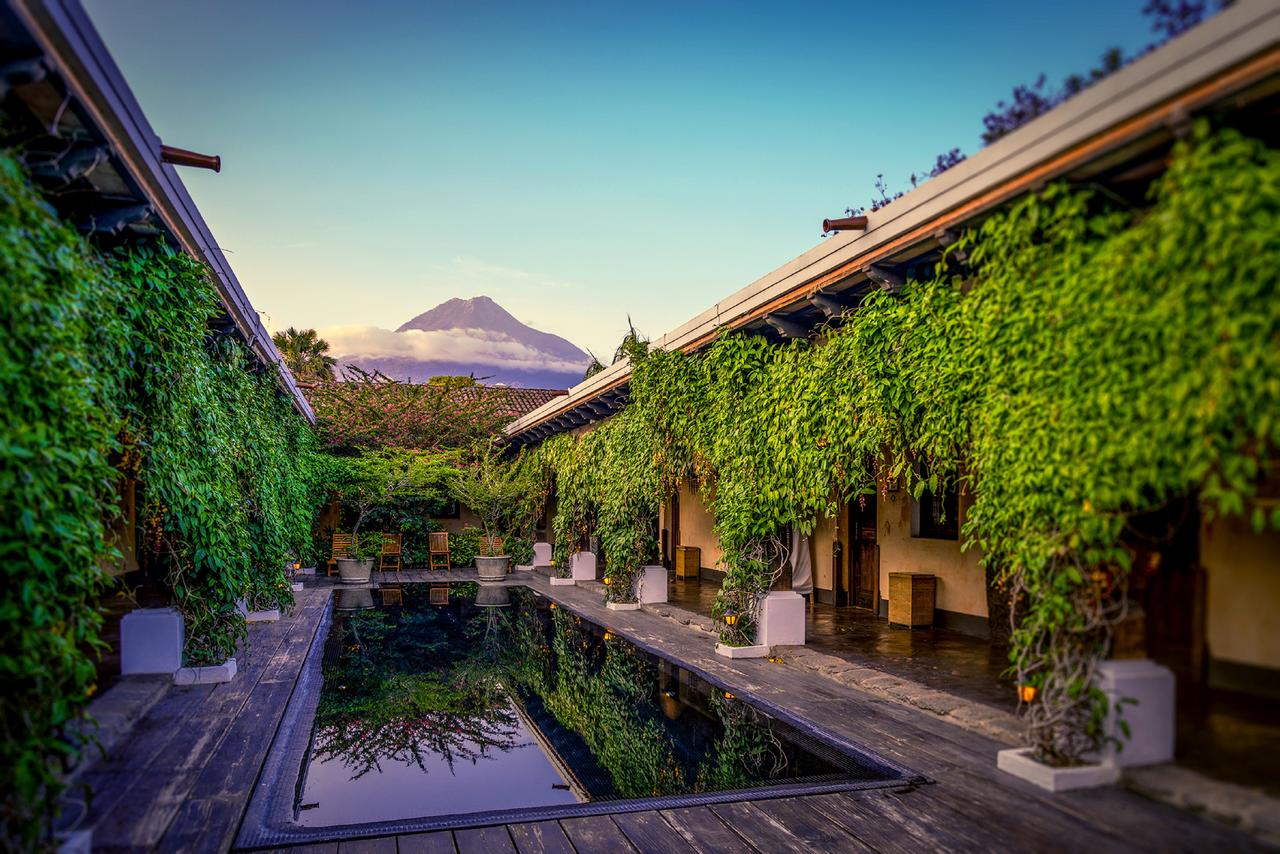 Luxury Hotel: Porta Hotel Antigua – 5-stars, onsite spa, outdoor swimming pool and more, plus rooms come with fireplaces. How cute is that! This well located hotel will be one of the highlights of your trip.
Where to eat in Antigua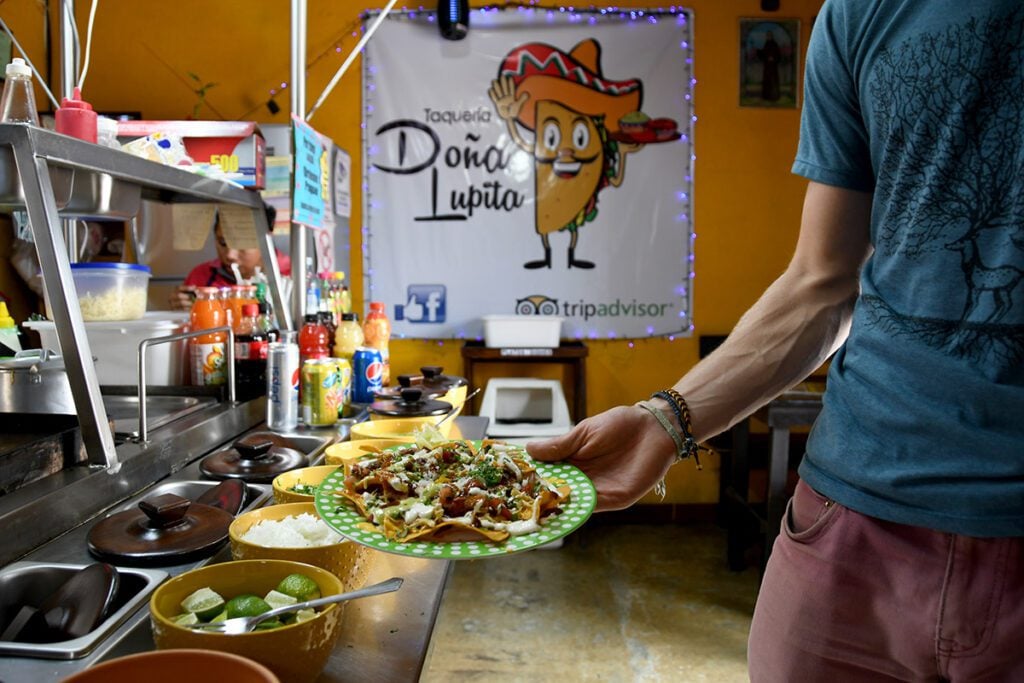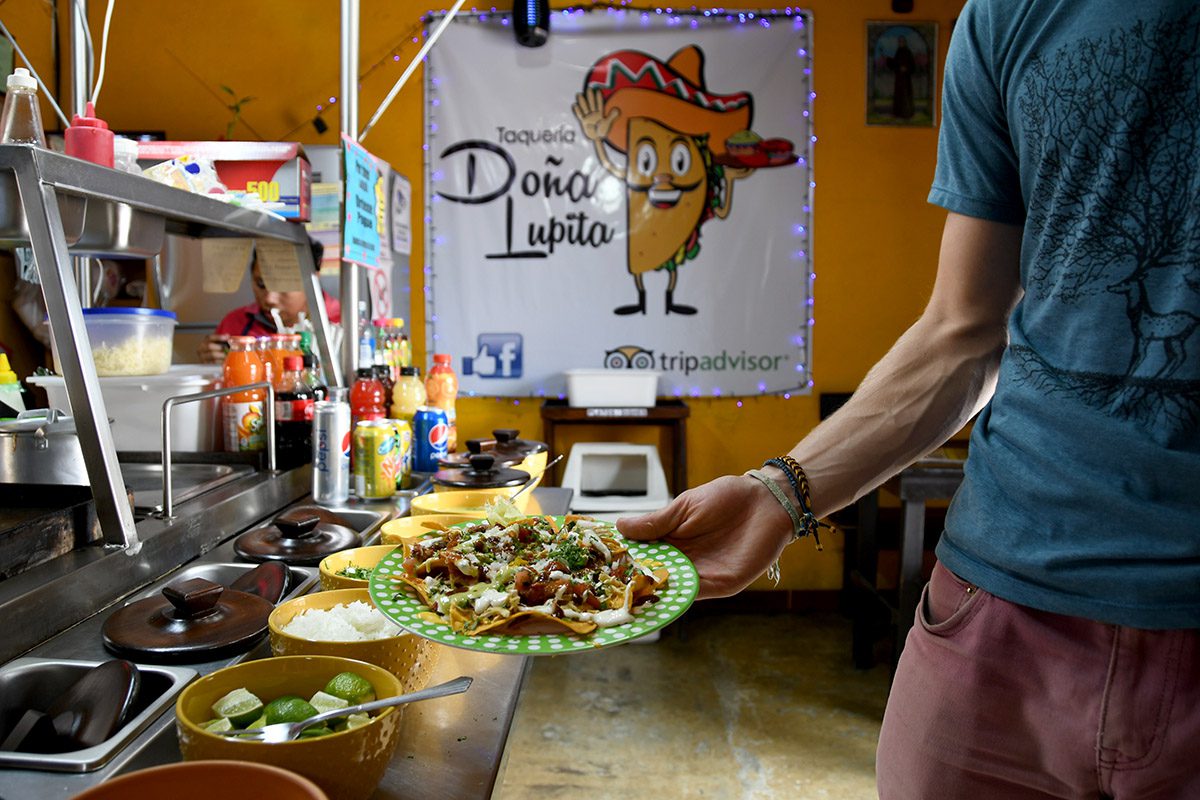 There are plenty of dining options in Antigua, from fine dining to local eats. This is by no means a comprehensive list, but instead a few of our favorite options for every type of cuisine!
Guatemalan Food
International Cuisine
Healthy Eating
Getting around Antigua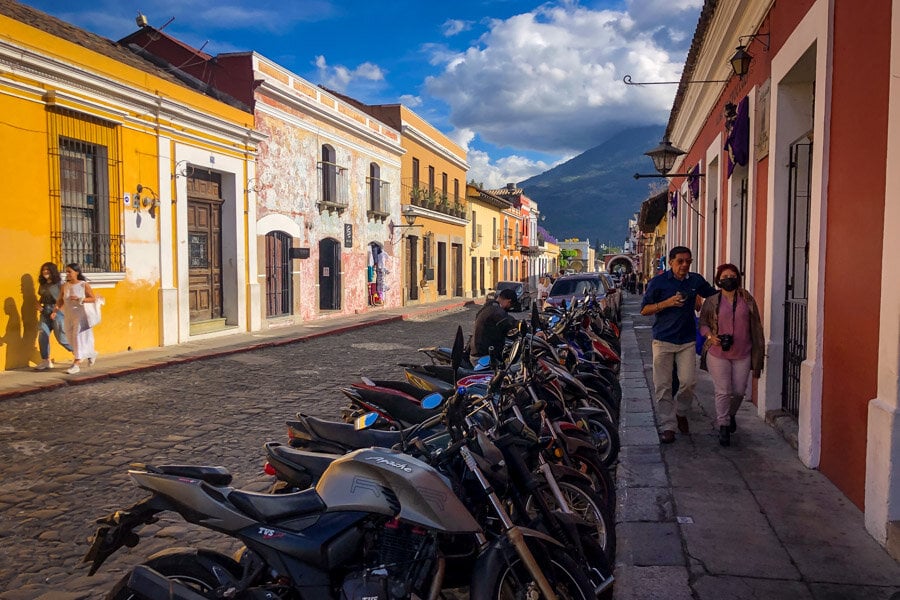 Antigua is a very walkable city, especially if you are staying downtown within the historical city center. Uber is available here and is safe, easy and cheap to get around and back and forth from the Guatemala City airport.
The local public transportation is by "chicken bus", the brightly colored American school buses that get their name because locals bring everything on board—from machinery parts to giant bags of produce to, you guessed it—chickens!
While these busses are everywhere, we don't recommend this if you are trying to get somewhere fast, they are notorious for stopping constantly and not offering very direct routes.
GuateGo is a reliable and easy to navigate site that we'd recommend using to book your transportation throughout the country. You can find busses, shuttles, private transport and even flights on the site that'll take you all around Mexico and Central America.
Digital Nomads in Antigua
A popular short-term base for digital nomads, here are some of our best tips for living in Antigua.
Plugs: Typical plugs in Antigua are the combination Euro-North American style plugs with 120W voltage.
SIM Cards: Claro and Tigo are the two major cell carriers in Antigua. Most corner shops sell "chips" (aka SIM cards) for both carriers and you'll see signs for them everywhere. There are also stores for both located in Antigua and both offer no-contract monthly data plans at a reasonable cost.
Psst! Wondering how to stay connected awhile traveling? Use our ultimate guide to getting an international SIM card, including helpful tips for using your phone abroad.
Co-working Spaces & Wifi Cafes
Grocery Shopping
La Bodegona: The largest supermarket in Antigua
Orgánica: A small organic market where you'll find lots of healthy, imported goods
Caoba Farms Market: A small market with plenty of farm-fresh foods and organic goods
Central Market Antigua: A large open air market with everything from produce to clothing and household goods
Uber Eats: If grocery shopping isn't your thing, Uber Eats delivers here
Gyms/Fitness
Round up of the best things to do in Antigua, Guatemala
Here's a recap of all the best things to do in Anigua, Guatemala so you can see everything in one place.
Cerro de la Cruz viewpoint
Caoba Farms
Free walking tour
Shop for handicrafts
Volcan Pacaya
Chocolate making workshop
Self-guided ruins tour
Santa Catalina Arch
Rooftop bars
Cooking class
Try pepián
Corazon de Agua hike
Ulew Cocktail Bar
Valhalla Macadamia Farm
Cerveceria 14 brewery
World-famous Texas BBQ
Tour a coffee farm
Mercado
Casa Santo Domingo
Santo Domingo del Cerro open air gallery
Hobbitenango
Yoga
Spanish classes
Salsa lessons
Eco farm stay
Sunset ATV tour
---
Are you planning a trip to Guatemala?
We have lots more resources on travel in Guatemala and destinations throughout the country. Check out our Ultimate Guatemala Travel Guide for all the important travel information, or read some of our favorite articles below.
Save this article on Pinterest for later!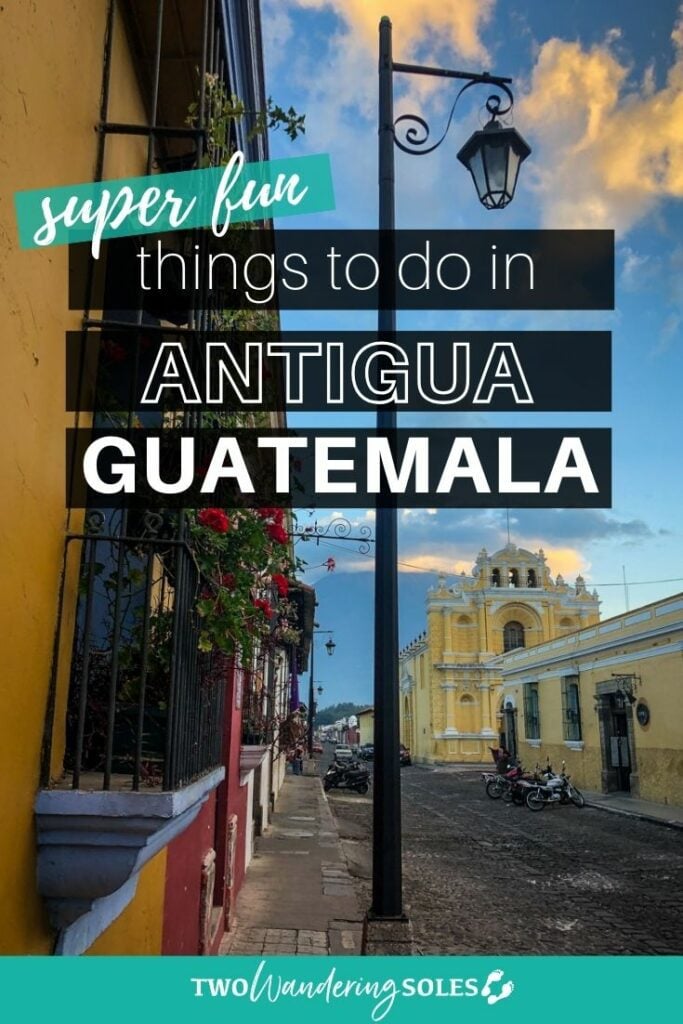 We want to hear from you!
Which of these things to do in Antigua, Guatemala is going straight to the top of your bucket list? If you have been there, what were some of your favorite things? Let us know in the comments below.