If "The Beach" is on your Bucket List, you'll want to read this first! Was staying overnight in this famous bay worth the hefty fee? Read our thoughts on the Maya Bay Sleep Aboard tour.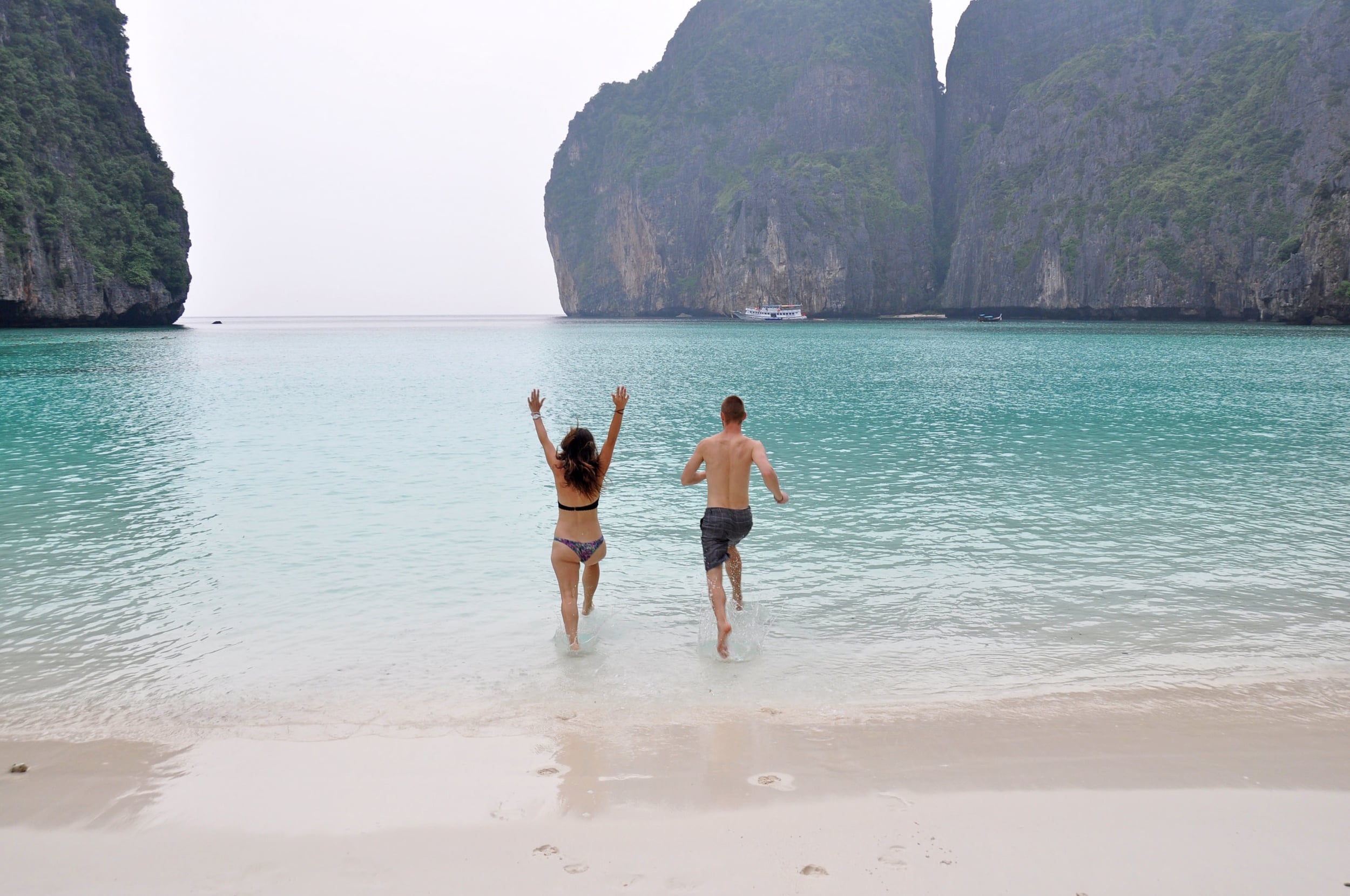 There comes a time to be a tourist. Maya Bay – along with Machu Picchu, Salar de Uyuni, and Angkor Wat – is an example of a place that has been on my "touristy list of places to see" for a while now. Made famous by Leonardo DiCaprio's travel movie The Beach, I am not the only one who has it on my radar.
I'd heard from friends who had been there that the beach gets crowded early, and you're lucky to get a picture without 3,000 other foreigners in it. Lame.
How we heard about Maya Bay Sleep Aboard Tour
Well, a traveler I met whilst in South America was the first to tell me otherwise. She told me of the Maya Bay Sleep Aboard Tour which is the only company allowed to bring travelers to "The Beach" in the evening when all the other groups are gone.
From the moment I heard about it, I was hooked. She told me stories of bonfires and sleeping under the stars. And you know what? She was right…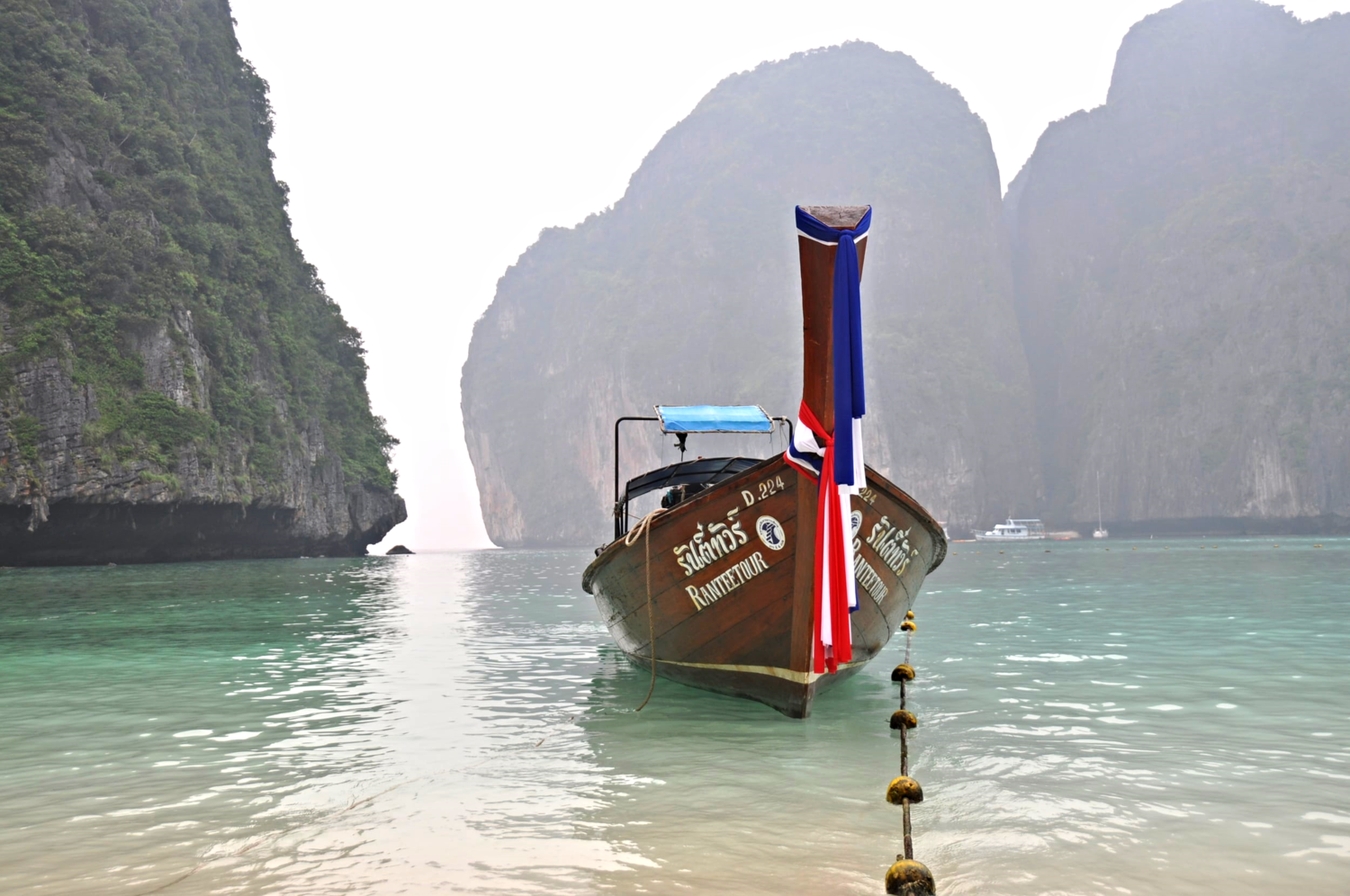 We'd done our prep… read the book, watched the movie (I'd recommend you do the same, in that order, before you visit The Beach).
We were ready when we finally boarded the boat in Koh Phi Phi.
Related: Have you ever wanted to go on a multi-day Liveaboard diving trip? Check out our round up of the best Liveaboards in Thailand for every budget.
Our Maya Bay Sleep Aboard Experience
With a 3 p.m. departure and a few stops along the way for snorkeling, kayaking, and the famous Viking Caves, our group of 30 arrived at Maya Bay just as the crowds were leaving. It was pretty cool to step onto the beach as everyone else was heading out.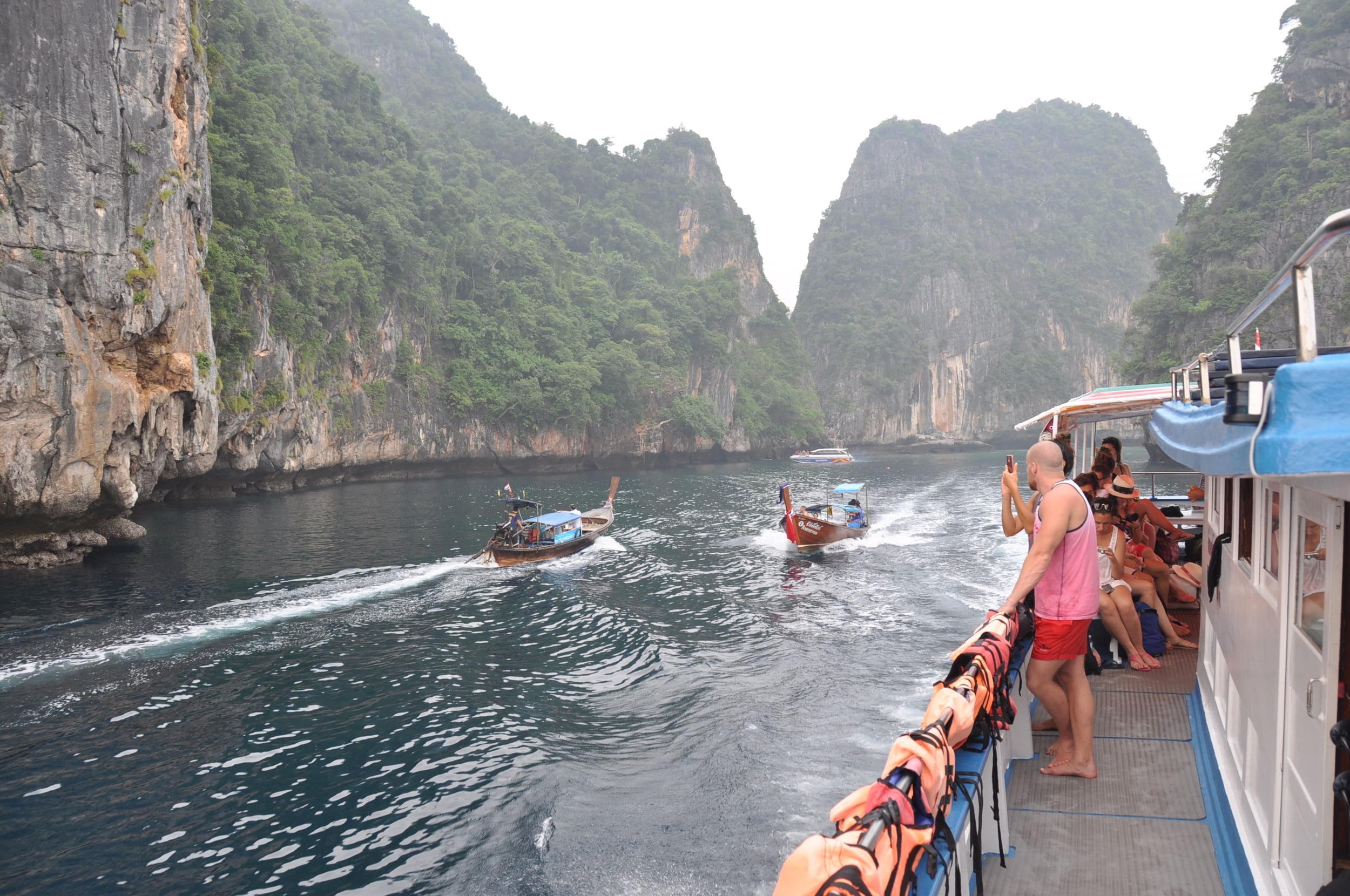 We had time to explore before dinner and buckets were served. We sat around in a circle, playing drinking games under the stars. A late night barbeque was served, a bonfire built, and songs sang. It was like a scene out of a movie. Hmmm… perhaps "The Beach"?
When it was time to board the boat, we donned life jackets and went for a night swim amongst the bioluminescent plankton. We weren't expecting much, but OHMYGOSH it was amazing! (Apparently to people who live near the ocean this phenomenon is not uncommon, and some Californians we met were like, "Oh yeah, we see that plankton ALL the time." Well, to us non-beach-dwelling people, it was pretty freakin' cool!)
We floated in groups and at the same time thrashed about – arms and legs flaying – to disturb the plankton. They appeared and flashed like fireflies in the water. Such a magical experience.
And finally, when we were finished squealing about the plankton, we hopped back into the boat to claim a mat to sleep on for a… not so comfortable sleep.
Tip: If possible and if the weather is nice, try to get a spot on the roof of the boat where you can sleep beneath the stars. We weren't quick enough, and had to sleep on the main deck which was crowded and stuffy.
The worst part came when it began raining and everyone crammed themselves in the same area and the staff pulled down the plastic sheets so the rain wouldn't come in. Talk about a sauna. Other than the not so great sleeping situation, we had no complaints.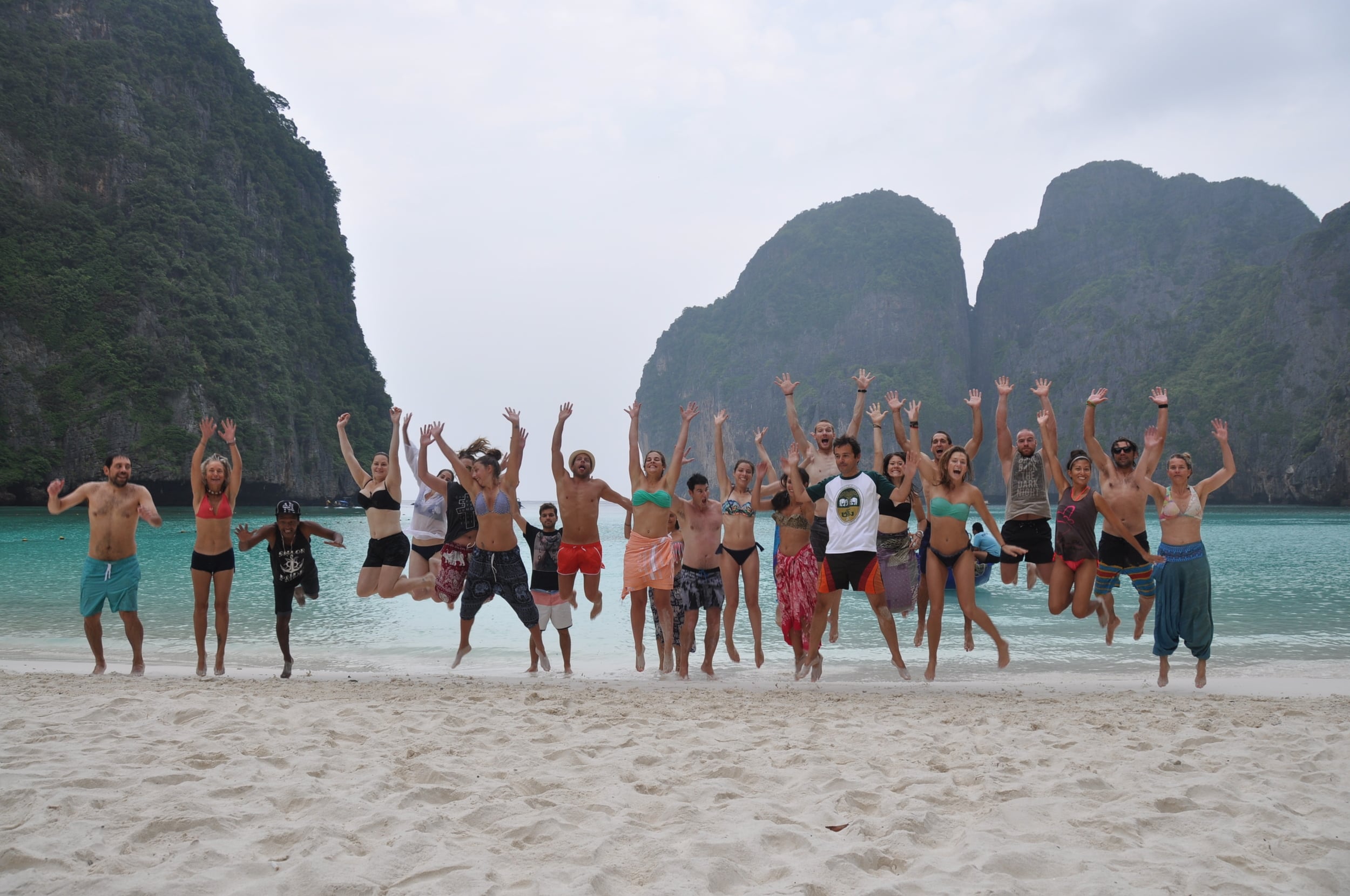 We woke around 6 a.m. so we could enjoy the beach before the other tourist boats arrived. Everyone kind of spread out – swimming, snapping pictures, and just taking it all in. We took one final group shot – jumping of course (if you've seen the movie, you'll understand why) – before heading back to the boat for breakfast and one last swim and one last view of The Beach. Our Beach. At least for that night…
Our final thoughts
Although $90 USD per person was rather expensive on our backpacking budget, we have learned that there are times to save and times to splurge. In our opinion, this splurge was well worth it and a fair price for everything that it included (3 meals, boat, snorkel gear, 1 bucket per person, rustic accommodation, guide, etc.).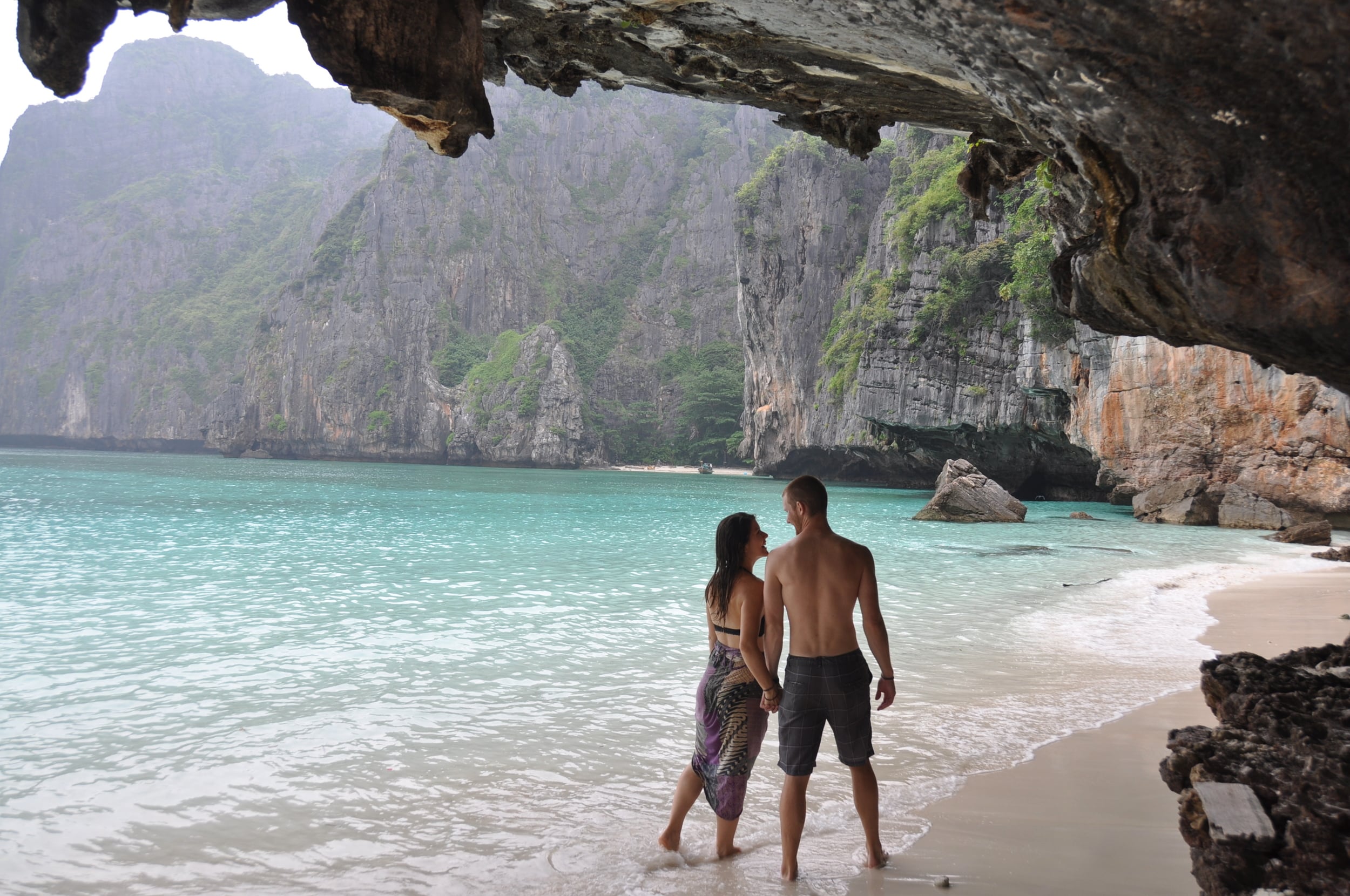 You can certainly still see Maya Bay on a smaller budget. For a price comparison (2015 prices), we have hear that if you rent your own boat, you'll be paying around $16 USD per person with an additional $5 USD entrance fee (this doesn't include food or snorkel gear, though those aren't significant costs).
If you book a half day trip through one of the many tour companies on Koh Phi Phi, expect to pay around $30 USD (give or take a little depending on quality). Try to arrive as early in the day as possible (aka leave the pier around 6 a.m.) to avoid being completely swarmed with other tourists.
For more information about the Maya Bay Sleep Aboard tour check out their website, where you can also make bookings. (Remember to book your spot in advance because there is a limited number of spots each night).


Are you planning a trip to Thailand?
We have TONS of resources on travel in Thailand and destinations throughout the country. Check out our Ultimate Thailand Travel Guide for all the answers to your most burning questions, or read some of our favorite articles below.
Save this article on Pinterest for later!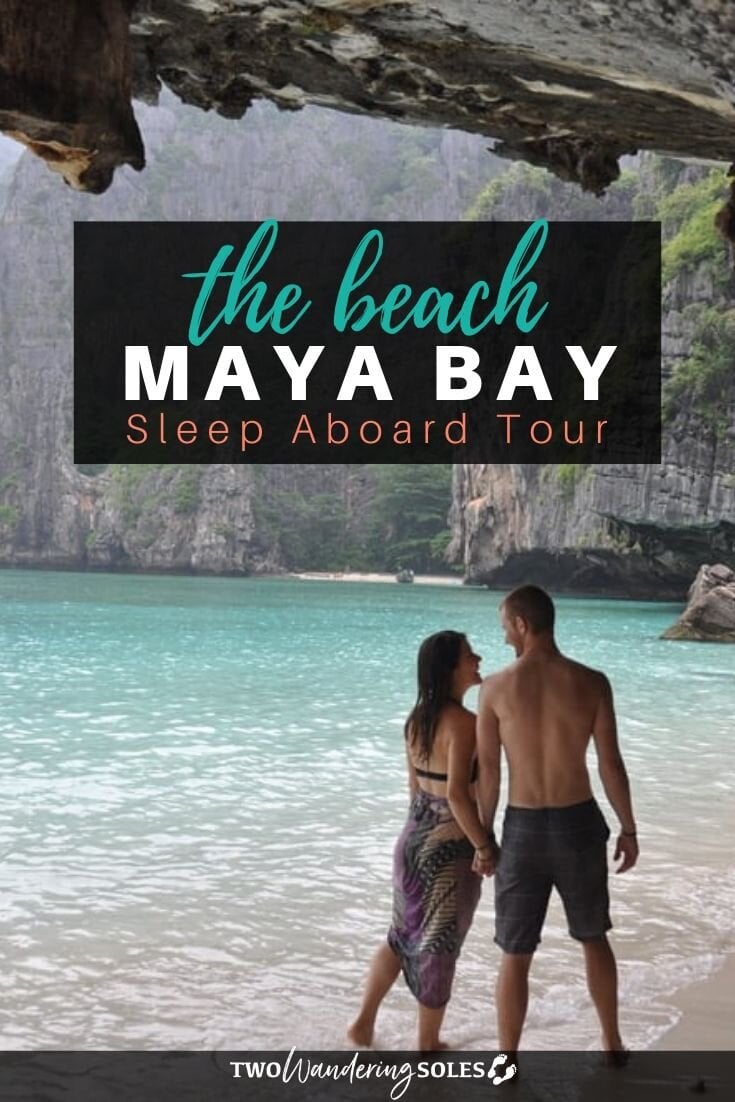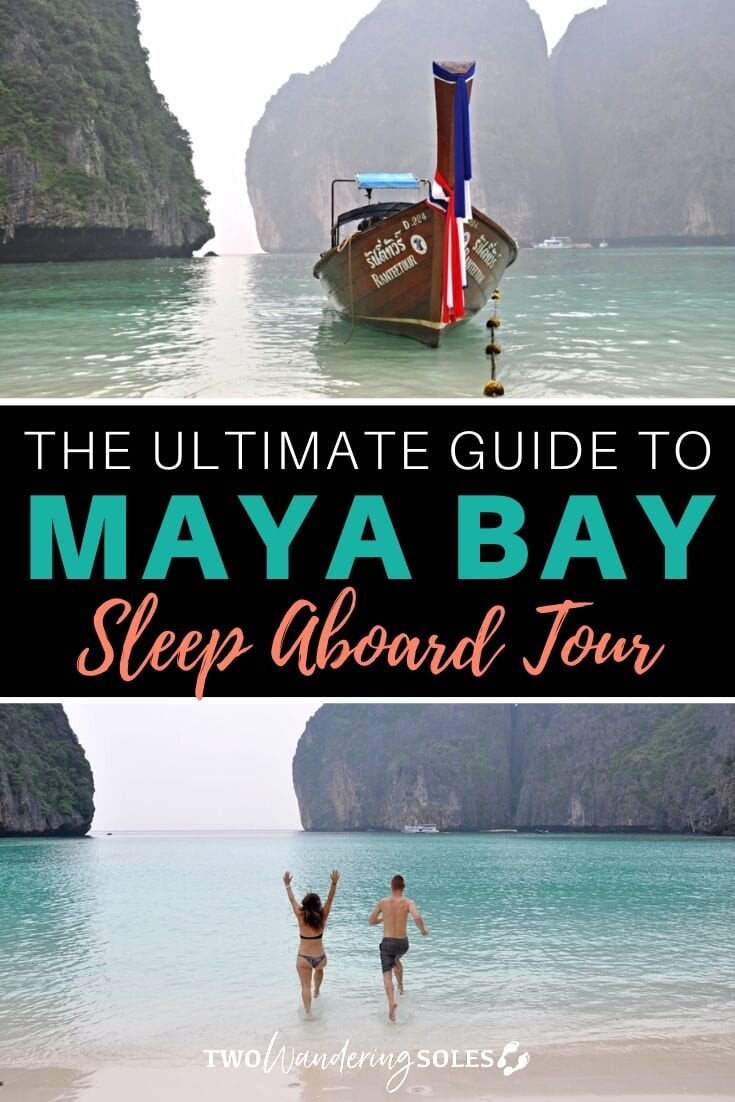 We want to hear from you!
Have you ever tried going on a sleep aboard tour? What do you think of Thailand's Maya Bay Sleep Aboard Tour?