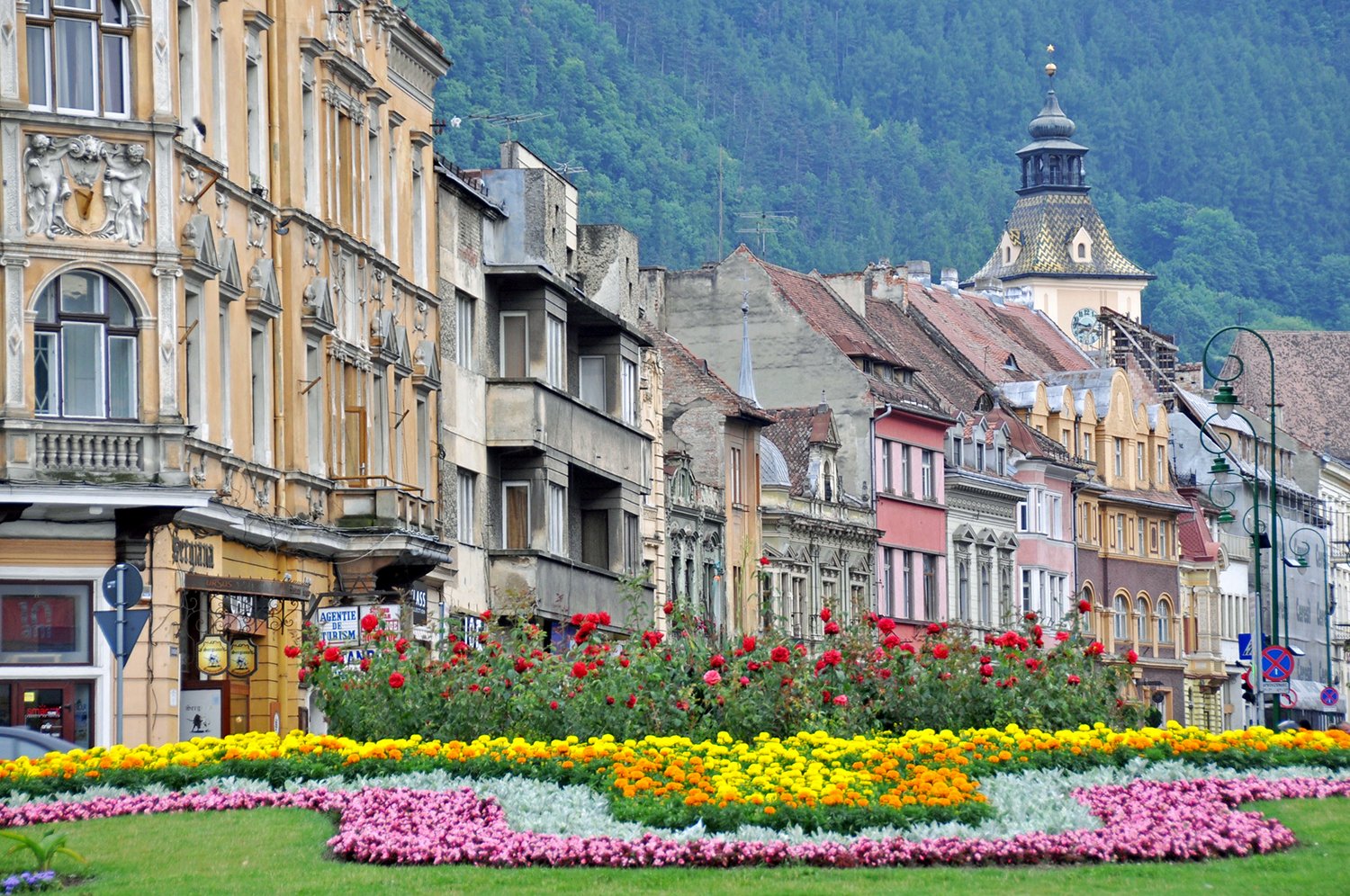 When we traveled to Romania, we didn't know what to expect. We didn't know anyone who had traveled there, and all we knew is there were castles and myths of vampires. Romania surprised us and we really can't wait to return and see more of the country.
When it comes to traveling in Europe, Romania is off the typical tourist path, and that's just part of what makes it so alluring.
Traveling in Romania is cheap, the locals are friendly and the food is surprisingly delicious. From cute little towns to modern cities all the way to stunning landscapes, Romania really does have it all. Except the crowd!! But it might not be long before everyone discovers this gem of a country.
Before traveling to Romania, do a little bit of reading about Romania's interesting history and learn about its stunning natural landscape.
This travel guide will show you which cities to visit in Romania, as well as how to get around. We'll also tell you some of our favorite travel tips you can use to make your trip unforgettable!
---
Where to Travel in Romania
From tiny villages to modern cities, there are so many places in this sprawling country to visit. We've put together a list of the top 4 most popular towns to visit in Romania to give you a little taste of what this country has to offer.
Brasov, Romania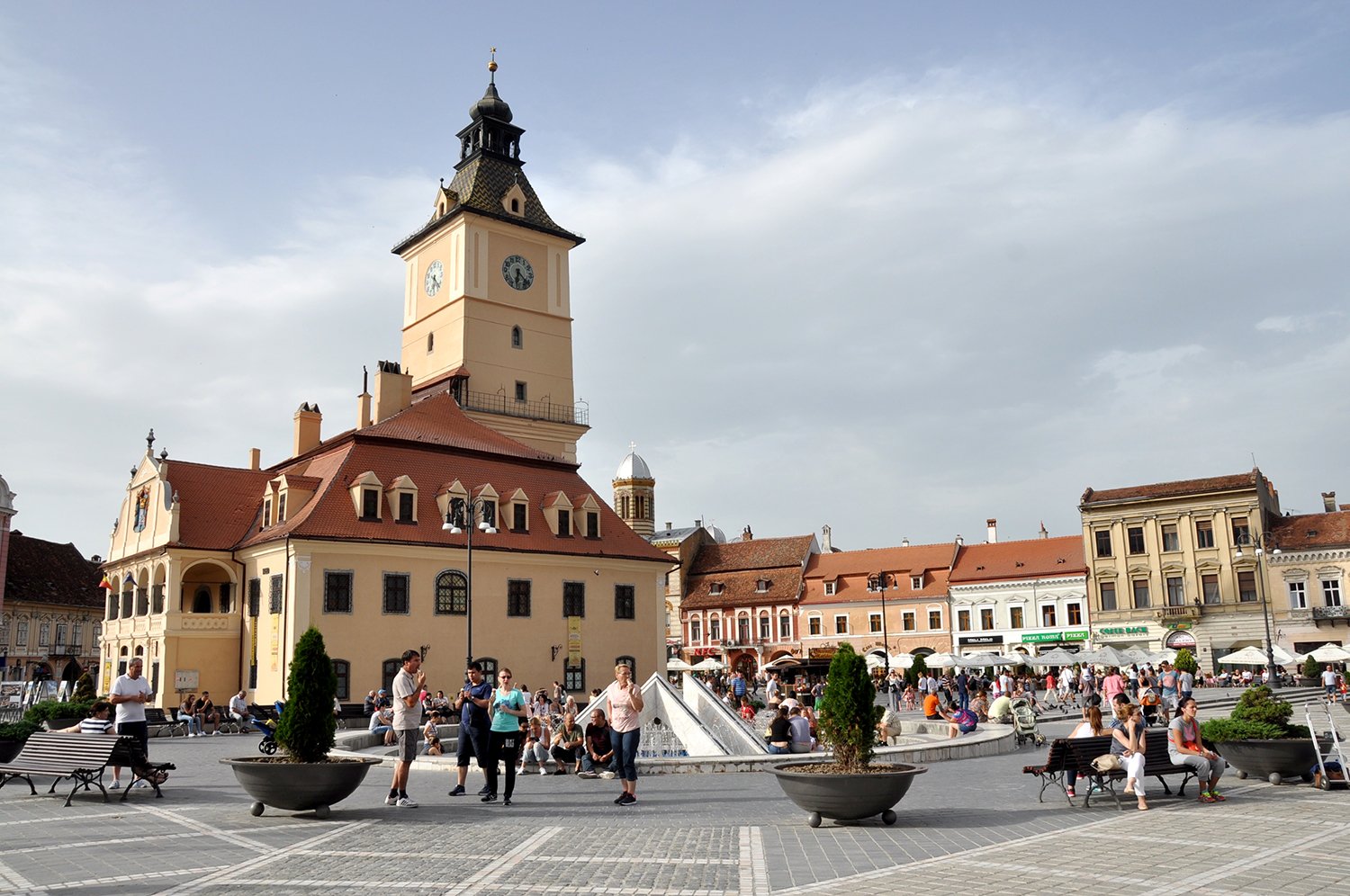 This is one of those places that's so beautiful you wonder how everyone on earth isn't flocking here. Set in the heart of Transylvania, Brașov has a stunning town square with reasonably priced restaurants and pubs. Venture to the nearby Bran and Peleș Castles and hike up the hill in town (or take the cable car!) for a great view.
Things to Do in Brasov
Bran and Peleș Castles castles near Brasov are about as different as an orange and a carrot. Same color, but that's where the similarities end. If you have the time, we think it's worth visiting both. While most people we spoke with liked Peleș better, we had a soft spot for Bran.
1. Free walking tour in Brasov
We took a free walking tour of Brasov to familiarize ourselves with the city and learn about the history or different sites like the gothic-style Black Church and the medieval Turnul Negru watchtower. The tour meets at the City Counsil Square fountain and starts every day at 6 p.m. (April – September) and every day at 3 p.m. (October – March).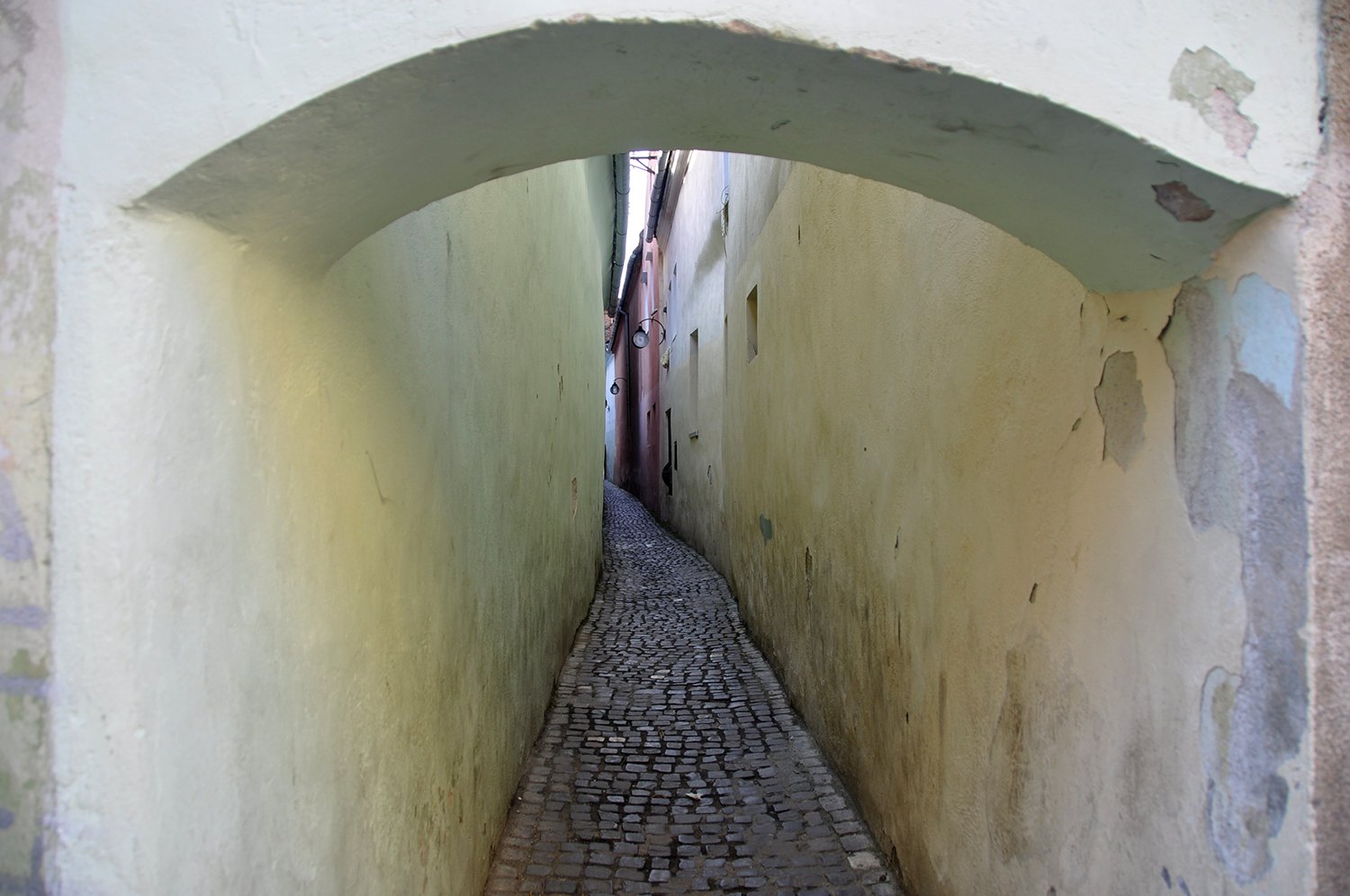 2. Squeese through the Strada Sforii
Try to find the Strada Sforii, the narrowest street in Brasov and one of the narrowest in all of Europe. Back in the day, the street was made so firemen could quickly transfer from one block to another in case of a fire. The width of the street is meant to be wide enough for one man to carry two buckets of water.
3. View the city from above
You can take the gondola to top of Tampa Mountain to see the Brasov sign (similar to the Hollywood sign). If you have the time and the energy, you can hike up to the viewpoint, but it will take you a few hours.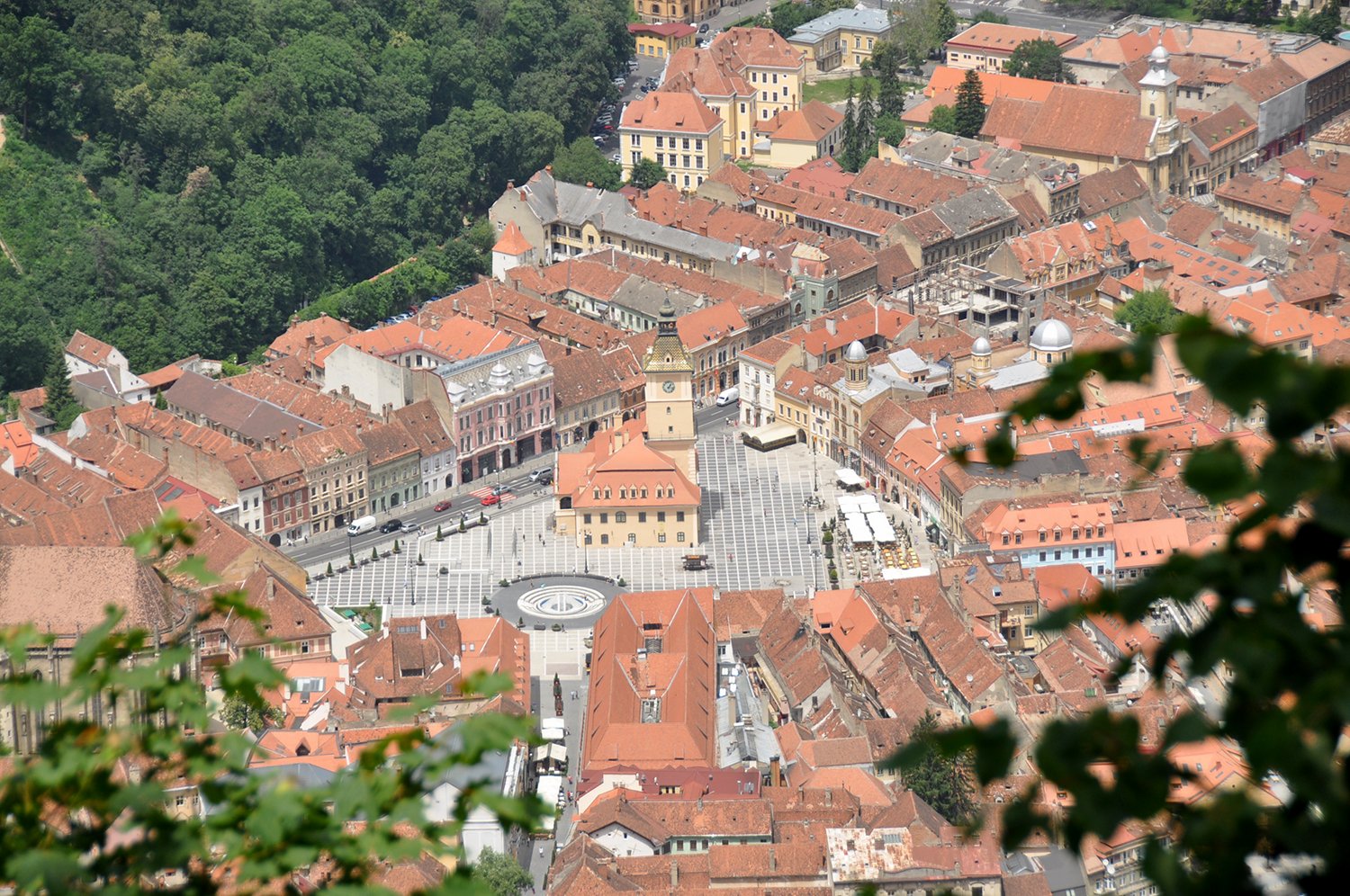 4. People watch in the City Council Square
Relax in the Piața Sfatului, Brasov City Council town square. It's one of the most beautiful in all of Eastern Europe. This square really reminded us of the town square in Krakow.
5. Visit the Bran Castle
Less impressive than Peles Castle for sure, what Bran lacks in opulence, it makes up for in rustic charm. Ignore the Dracula souvenir shops near the entrance and wander through the quaint castle.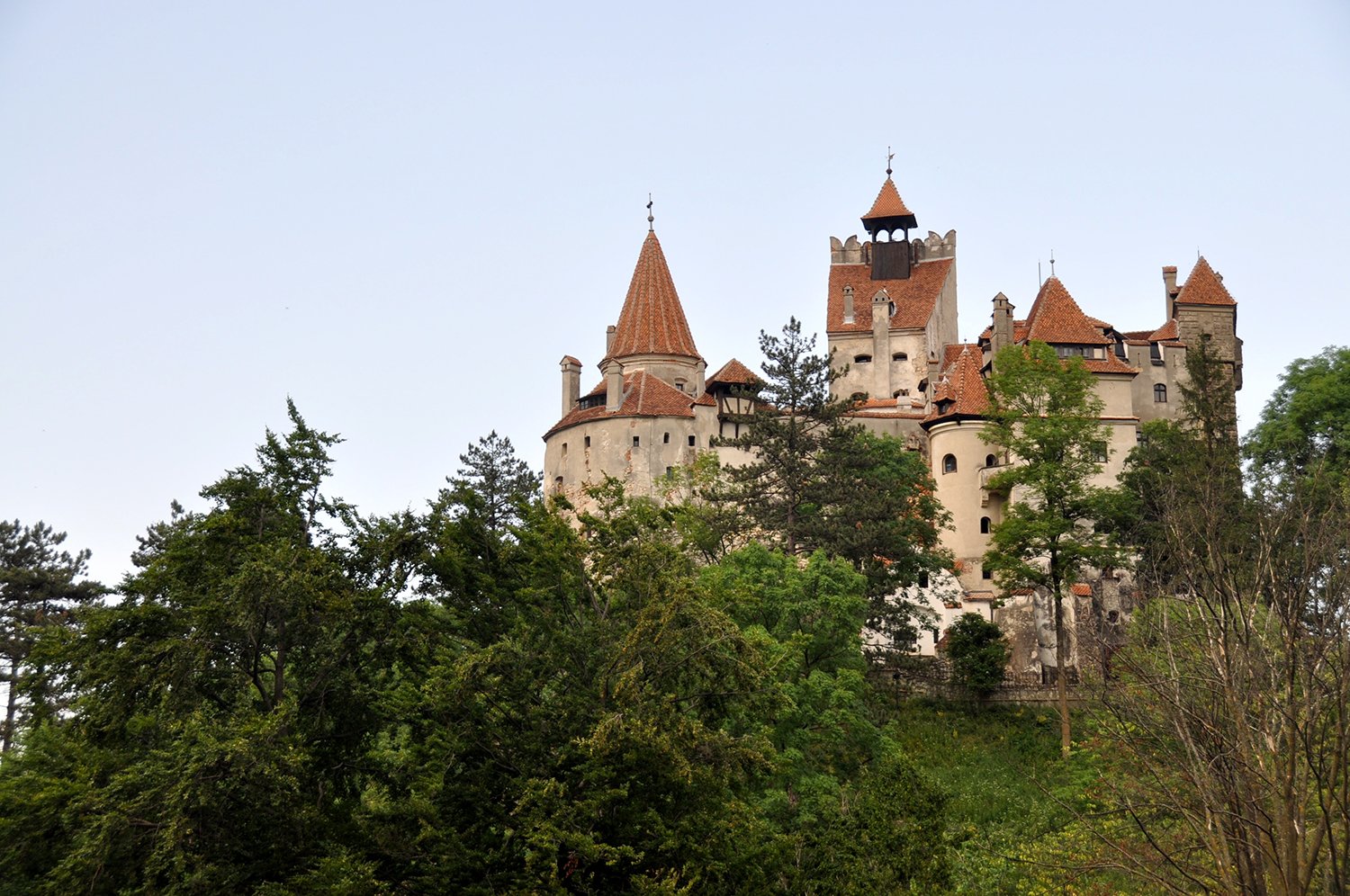 Disclaimer: Before you visit this famed castle, let's get something straight: the nickname "Dracula's Castle" is very misleading. The man who inspired the novel stayed in Bran Castle for one uneventful night. Nothing more. So don't go expecting vampires and bats.
Should you get the audio guide?
There are a few places where the audio tour is a must—like the Killing Fields in Cambodia, for instance. We got one audio guide and share the headphones thinking it would give us some insight to this castle, but it was a disappointment.
It was hard to follow, and frankly, boring. Skip it and wander the castle on your own. There are some reading materials scattered throughout that'll be just as informative as the audio guide.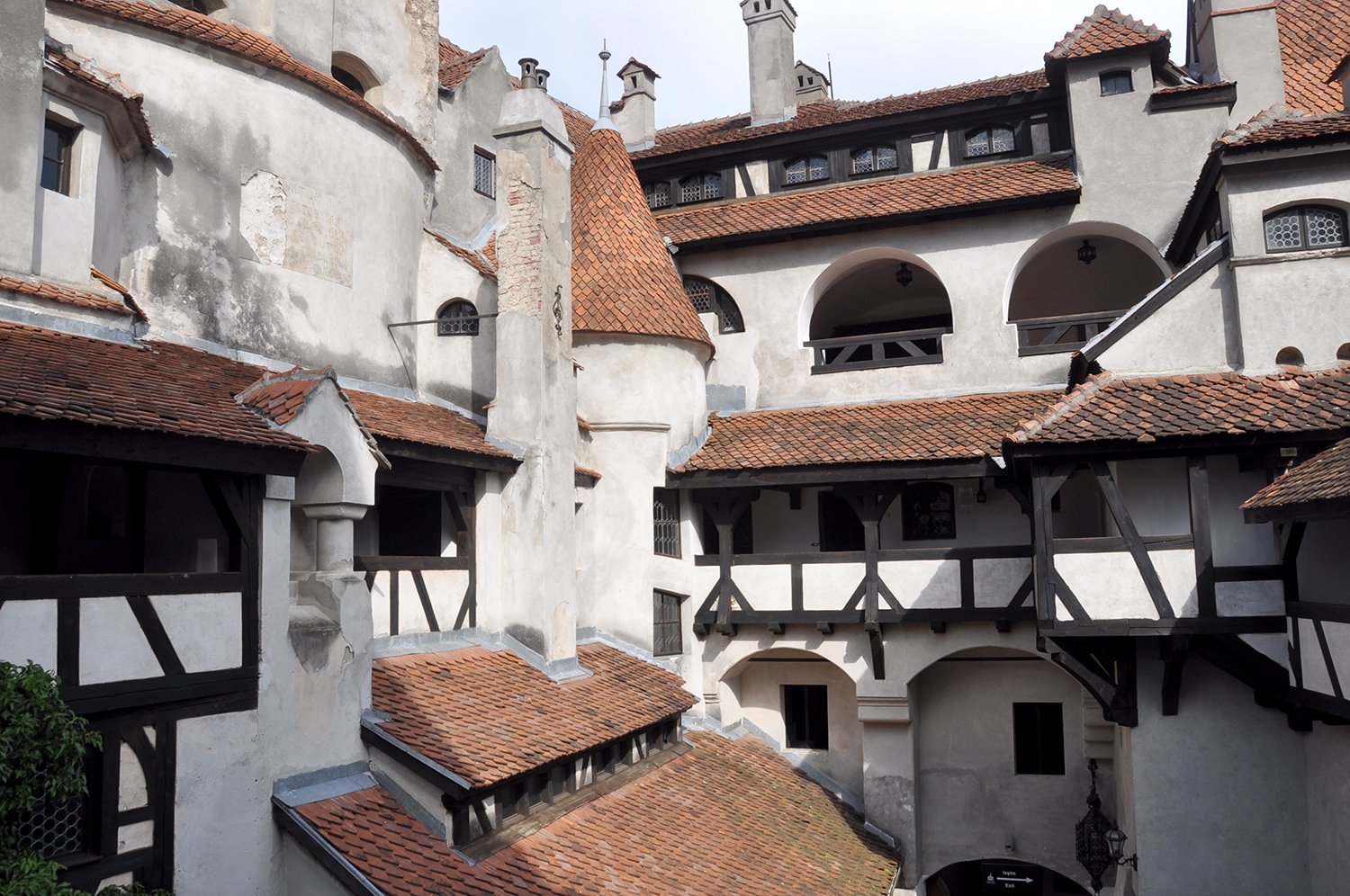 Entrance to the castle costs 40 lei ($10.30 USD) for Adults and 30 lei ($7.72 USD) for Students.
How to get to the Bran Castle:
From Brasov, head to the Bus Terminal No. 2 and take a bus heading toward Bran. The trip takes about 45 minutes one-way and buses leave about every 30 minutes during weekdays and every 1 hour during weekends and cost 7 Leu ($1.80 USD) per person.
Short on time? You can actually visit Bran Castle on a day trip from Bucharest if you only have a limited amount of time in Romania.
6. Tour the Peleș Castle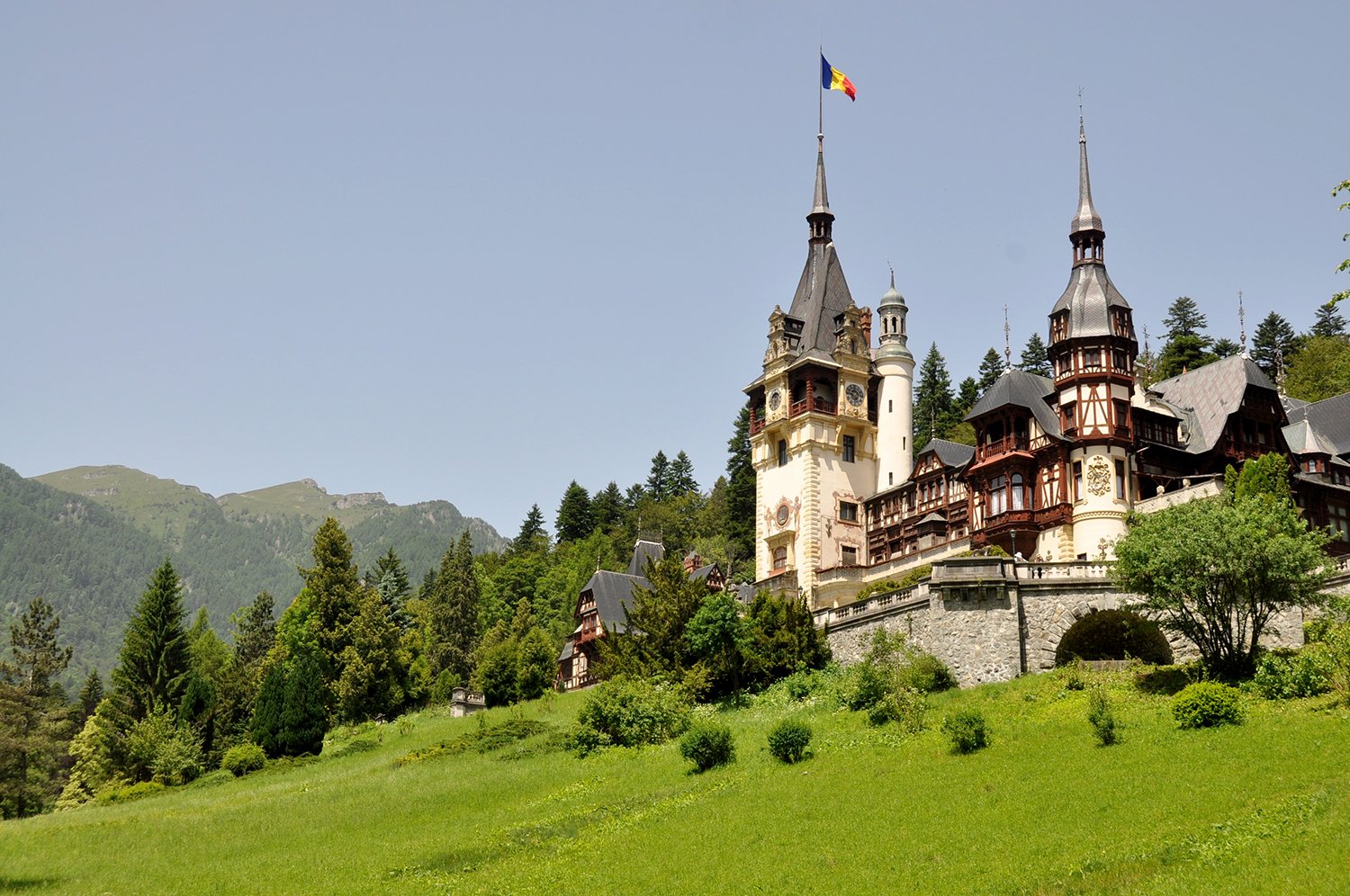 Peleș is over the top. It's everything you expect from a king with more money and ego than he knows what to do with.
The castle was used as a summer home to the royal family until 1947. There are 160 rooms, frescos and stain-glass windows, a massive garden filled with scultures and it was the first European castle to be lit with electricity. It is pretty fascinating walking through each differently themed room.
You must go with a tour group, and it does get busy. Also, it costs an additional 35 lei ($9 USD) to take pictures inside the castle.
To see the inside of the castle, you must go on a guided tour. Entrance and a tour costs 30 lei ($7.72 USD) for Adults and 7.5 lei ($1.93 USD) for Students.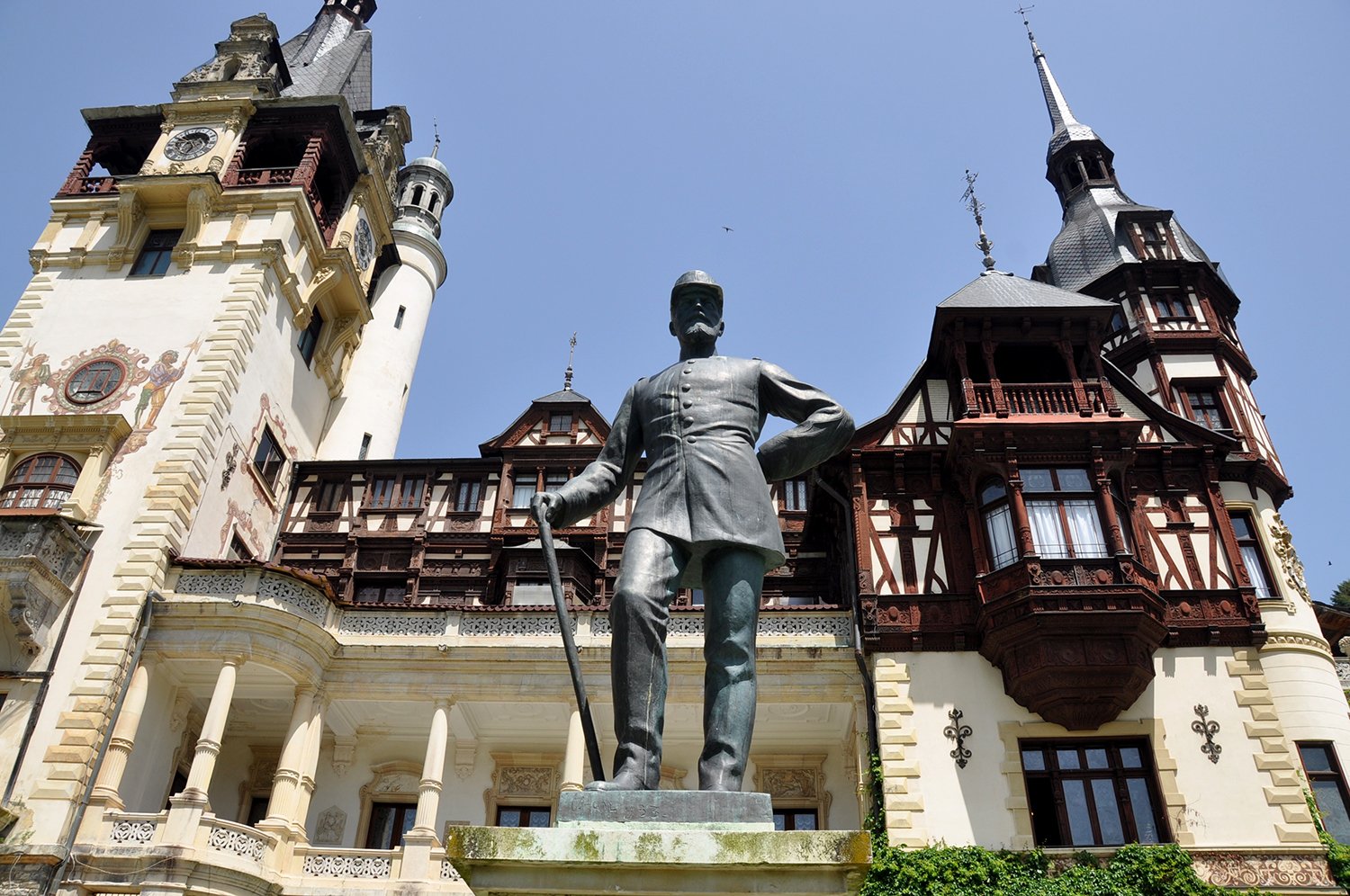 How to get to Peleș Castle:
From Brasov, take the train south to Sinaia, the quaint little town home to the Peles Castle. From the train station head northwest and hike up hill passing the Sinaia Monastery. Keep on the path that leads straight to the castle. The walk should be about 25-30 minutes, but you could also take a taxi if you don't want to walk up hill.
Hotels in Brasov
Couple Stay/Mid-range: Casa Rozelor – Boutique hotel in the heart of the city center where you get the whole apartment to yourself. Room comes with free breakfast and parking is available.
Budget Friendly/Social Atmosphere: JugendStube Hostel – Private double rooms availables with a shared common area and is located in the city center.
Are you going from Brasov to Sibiu? Try riding on FlixBus. We rode with FlixBus throughout Eastern Europe and loved how comfortable and cheap they are.
---
Sibiu, Romania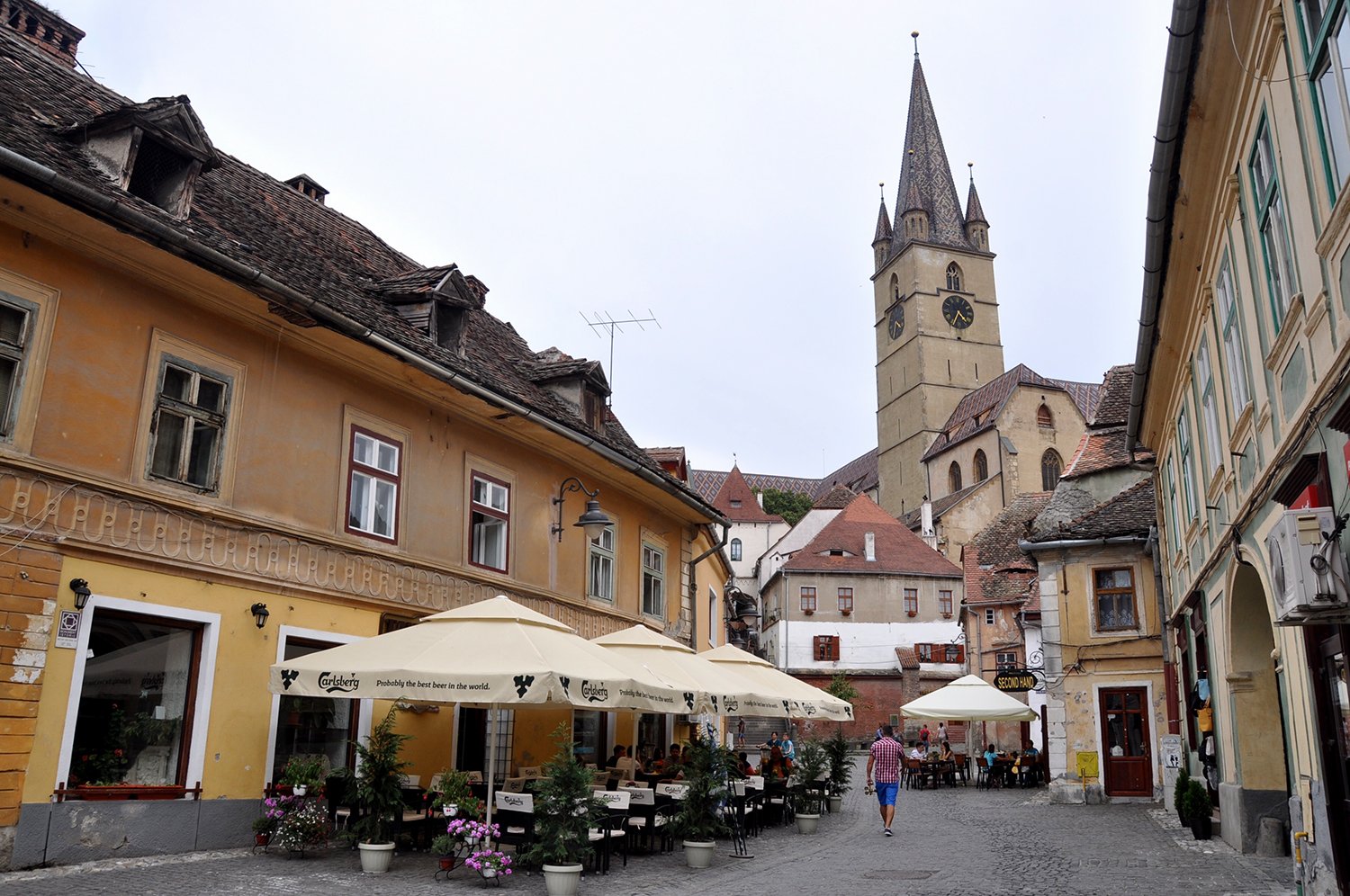 Things to Do in Sibiu
1. Explore the countryside on bicycle
Sibiu is a historic town with lots to explore, but the first day we rented bikes and headed out of town into the countryside.
We did a big loop starting in the Dumbrava Sibiului Natural Park and making a loop around the villages of Rășinari, Gura Râului, Orlat, and Poplaca. Then we headed back to Sibiu. Be sure to pack a lunch to have a picnic along the way.
Tip: Check your bikes completely before you leave the shop. Katie's bike was extremely difficult to pedal and going up hills was exhausting. After a while of sweating it out, I took a look at her bike and her brake was stuck on for the rear tire. Luckily, we met some kind Romanian cyclists and they helped us fix the bike.
Have more time? If you like the rolling hills of the countryside outside Sibiu, consider visiting Bucovina. This region near the border of Ukraine is known for beautiful monasteries and stunning landscapes. Find out why you should visit Bucovina while traveling in Romania!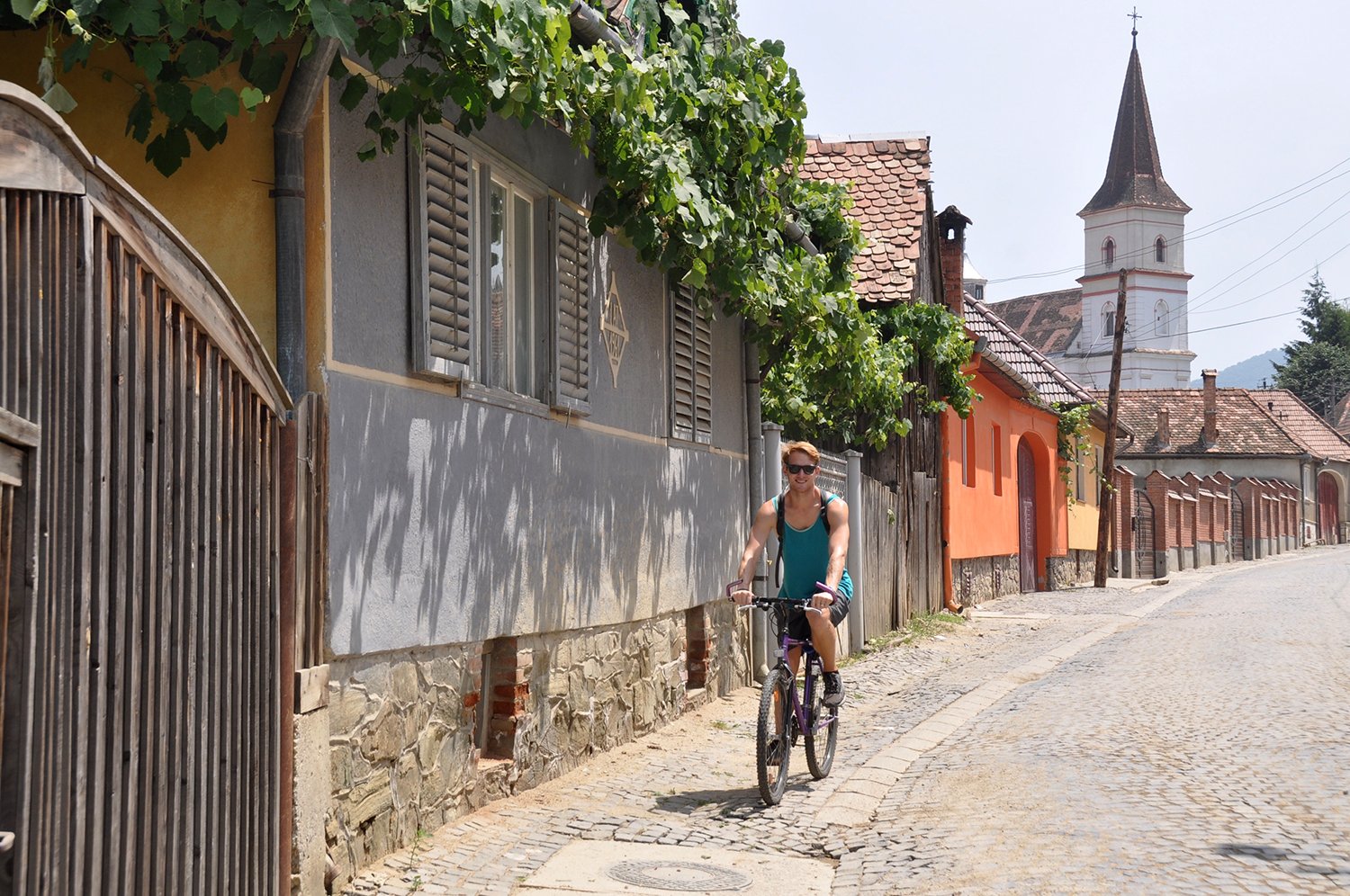 2. Enjoy the Town Square
We were fortunate to be in Sibiu during a film festival where the entire Piața Mare square was filled with chairs and a giant projector screen.
Each night they showed a few movies for the whole town to see. Other parts of the year the town's square is used for various other festivals.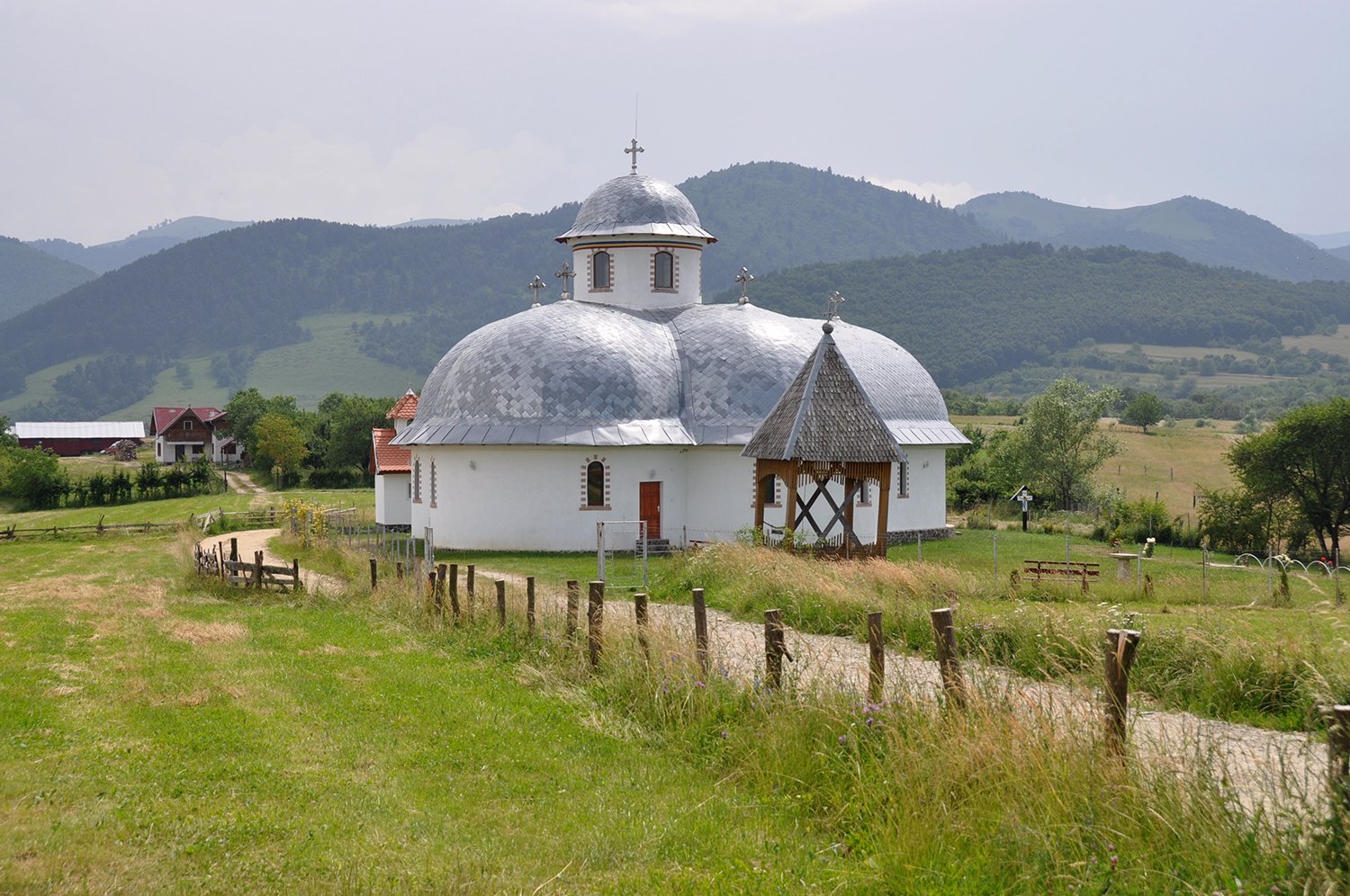 Hotels in Sibiu
Couple Stay/Mid-range: Casa Hermanni – Located in the historic center, romantic rooms over looking a garden with small kitchen.
Budget Friendly/Social Atmosphere: Smart Hostel – Great location with excellent staff that can hook you up with bike rentals. We stayed here and would love to again.
Are you going from Sibiu to Timisoara? Try riding on FlixBus. We rode with FlixBus throughout Eastern Europe and loved how comfortable and cheap they are.
---
Timisoara, Romanina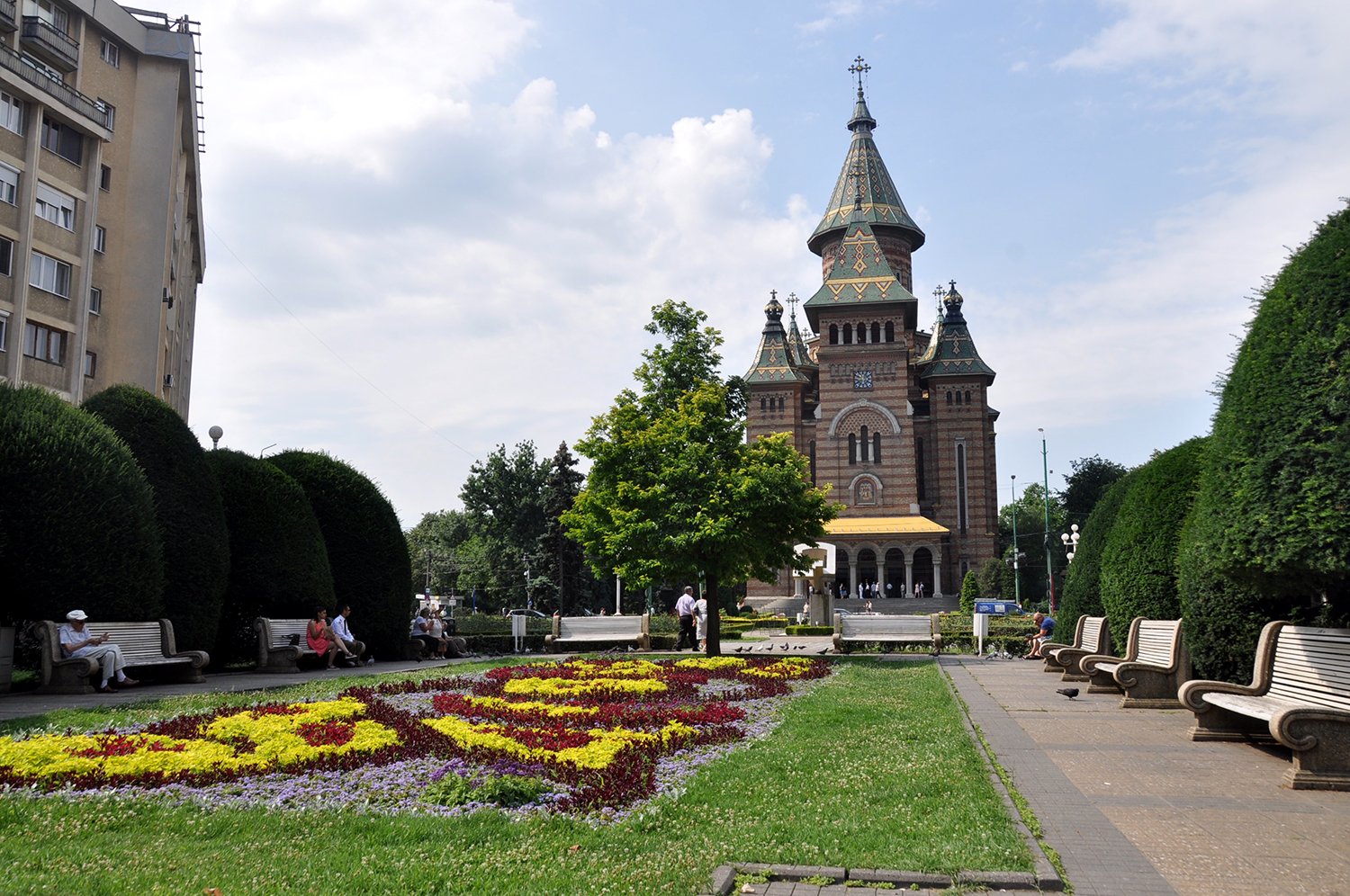 The reason why we stayed the night in Timisoara was because it's in between Sibiu and Belgrade, Serbia. We had no expections about the town, but we were pleasently surprised.
Things to Do in Timisoara
It's a cute university town filled with young people hanging out in the town square.
Rent a bike and explore the parks the Bega River. Stroll up the the Botanic Park for a nice peaceful setting, don't forget your picnic lunch.
Walk along the Piața Unirii (Union Square) and see a Catholic Cathedral St. George sit opposite the Serbian Orthodox Cathedral.
Although we only had one day, it seemed like you could spend a few days exploring Timisoara and enjoying its stunning architecture and nice atmosphere.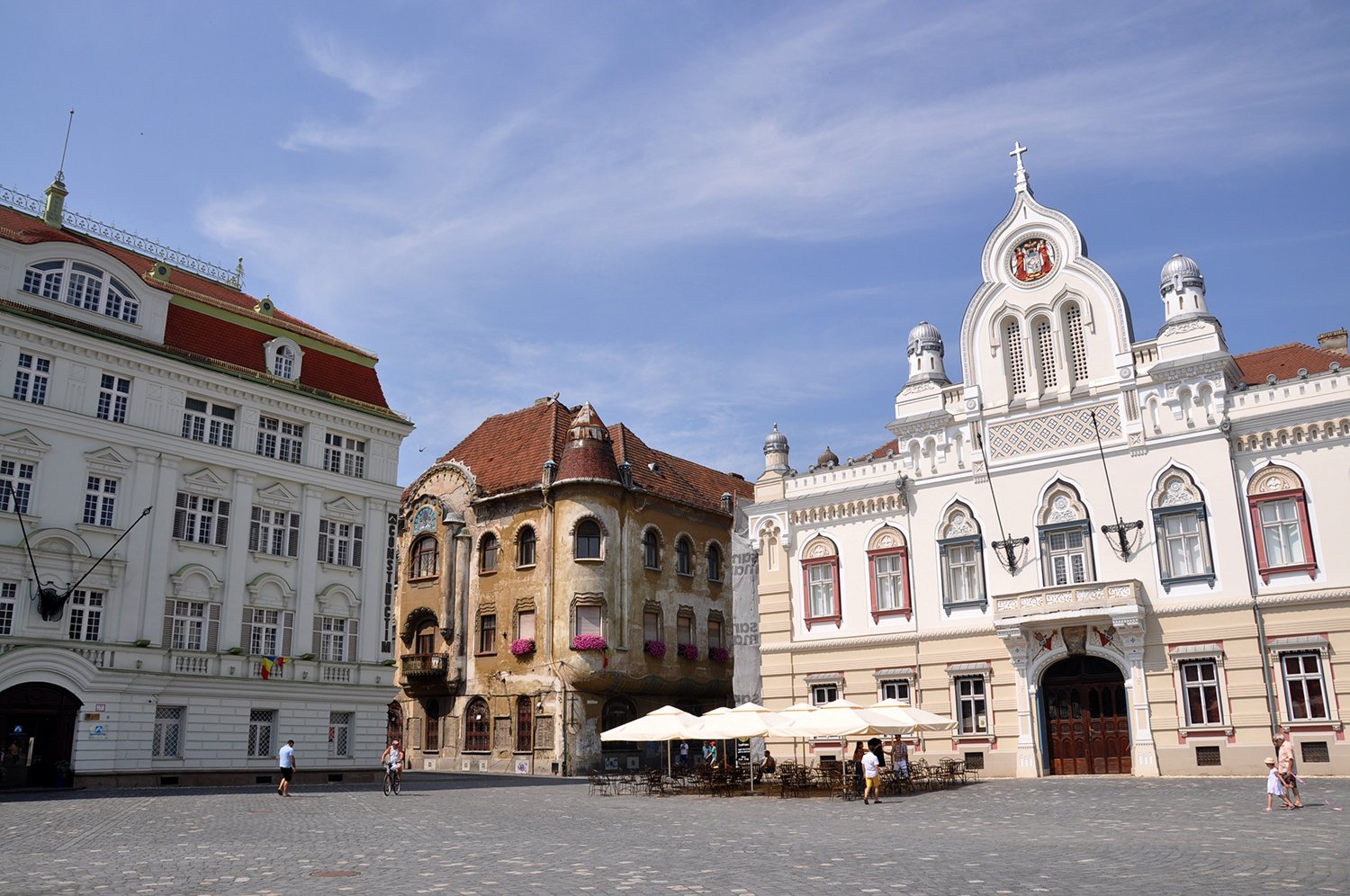 There is a brewery just on the outside of town called Bere Timișoreana. We never made it there because of time but our hotel owner said it was worth a try.
Hotels in Timisoara
Couple Stay/Mid-range: NH Timisoara – On-site restaurant, spa with hot tub and sauna, bike rental available, great for couples.
Budget Friendly/Social Atmosphere: Freeborn Hostel – Nice hostel with dorm rooms and private rooms. The common area has ping pong and other games. Centrally located and Raul, the owner, can hook you up with bikes to roam around the city. We stayed here and would stay here again!
Bucharest
Whether you fly into Bucharest, or cross the border from the quaint Bulgarian town of Veliko Tarnavo, this capital city will likely be one of your first stops during your trip to Romania.
We only had one evening in this metropolis, but if you have more time than us, you can use this essential guide to Bucharest to explore the city.
While in Bucharest, you can visit the Palace of the Parliament building, which is the largest administrative building in the world. There are also a plethera of museums to visit such as the National Museum of Art of Romania, Romania Peasent Museum, and the National Museum of Contemporary Art. And if museums aren't your thing, explore the off-the-beaten-path things to do in Bucharest.
And when you've worked up an appetite, seek out the best restaurants in Bucharest to satisfy your cravings!
Hotels in Bucharest
Couple Stay/Mid-range: Radisson Blu Hotel Bucharest – Probably the most affordable 5-star hotel you have stayed at! Fully equipped with a spa center, indoor and outdoor pools and an on-site restaurant and bar.
Budget Friendly/Social Atmosphere: First Hostel Bucharest – Private and dorm rooms available with WiFi in every room and located in the center of the city's attractions.
---
How to travel around in Romania
We mainly traveled on buses because the trains are notoriously slow in Romania, cheap but mind-numbingly slow. If you do take the train, expect it to take twice as long as it says. We really liked FlixBus when traveling around Europe because they were comfortable and cheap.
---
Foods to Try in Romania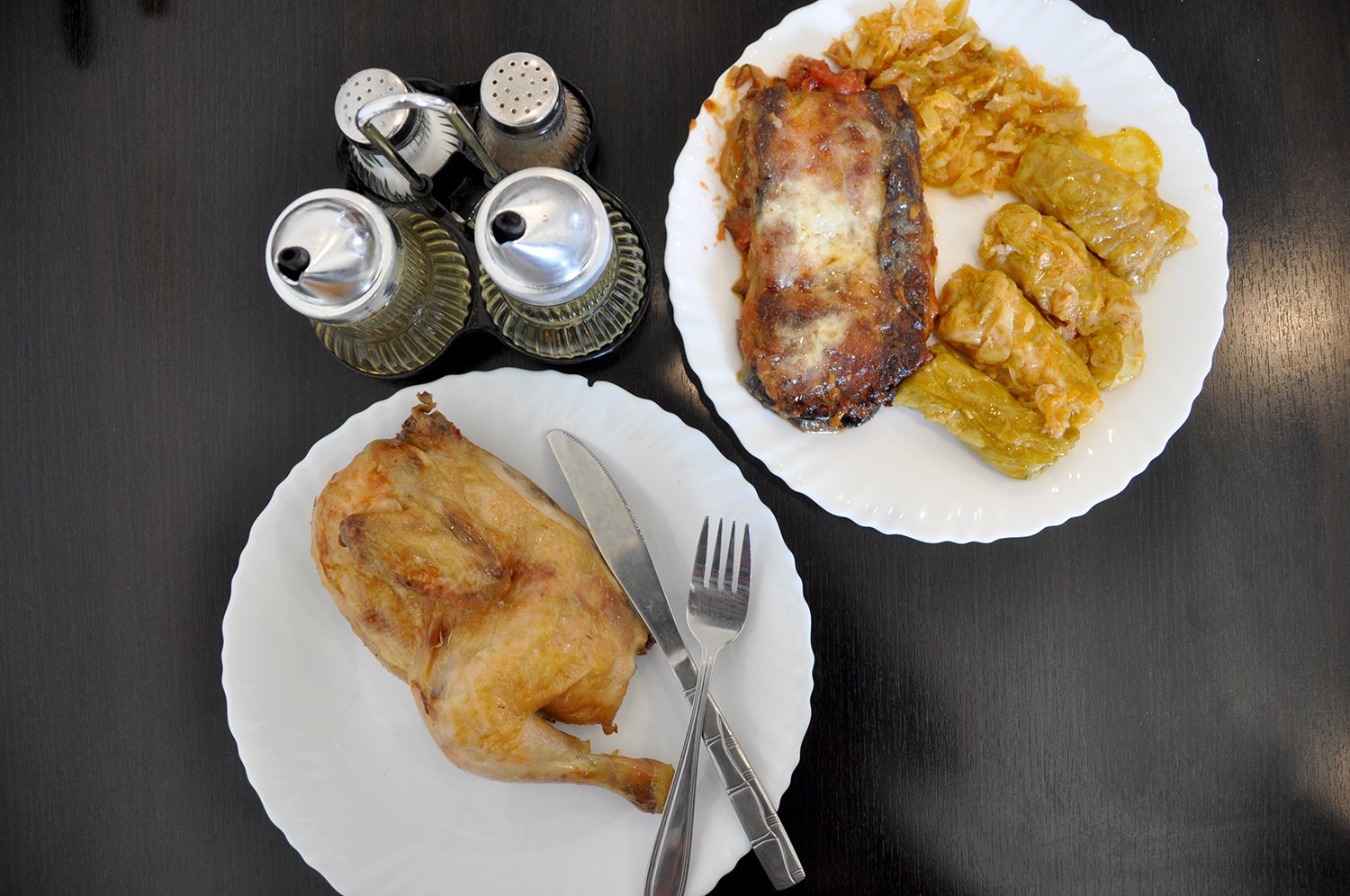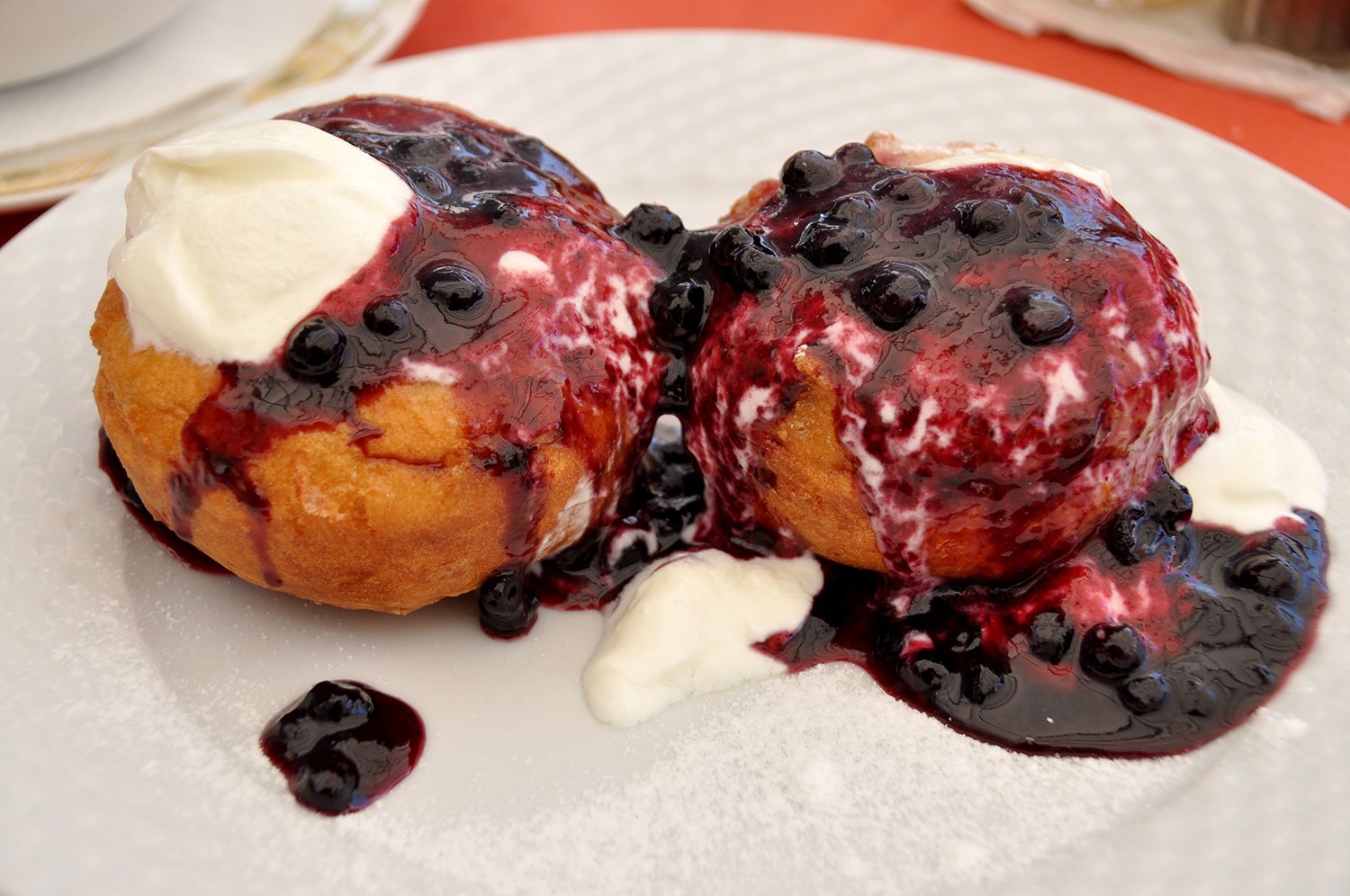 Sarmale – Stuffed cabbage rolls, typically served as a side or an appetizer.
Papanași with sour cream and jam – Deep-fried cheese donut. SO good!
---
10 Items to Pack for Traveling in Romania
Before you book your trip, think about this:
Travel Insurance
We never travel without travel insurance. It's never fun to think about losing your stuff or the possibility of a delayed flight, missing a connection, or heaven forbid you get injured while traveling. It's best to know that you'll be covered if anything goes wrong.
We have a whole article dedicated to figuring out the best travel insurance for you, but one company we really like is Safety Wing.
European Train Travel
How are you traveling around Eastern Europe? One way to travel around Europe is by train and the best way to save money on trains is to buy Eurail Pass.
Now to be honest, we didn't take many trains in Romania because the buses and ride-sharing were cheaper. However, if you are traveling to multiple countries fairly quickly or traveling to Western Europe, purchasing a train pass might be your cheapest bet.
European Air Travel
Another great thing about traveling in Europe is airfare is so much cheaper than in North America. One of our favorite sites to book flight is Skyscanner.
It's so easy to use and we found some our cheapest flights using their "Show Whole Month" feature, where you can select your route and it tells you the cheapest days of the month to fly.
---
Want more information on Eastern Europe?
We have tons of resources for you on popular and off-the-beaten-path destinations in the region. Check out the 19 places to visit in Eastern Europe you absolutely cannot miss and read some of our favorite articles below.
Save this article on Pinterest for later!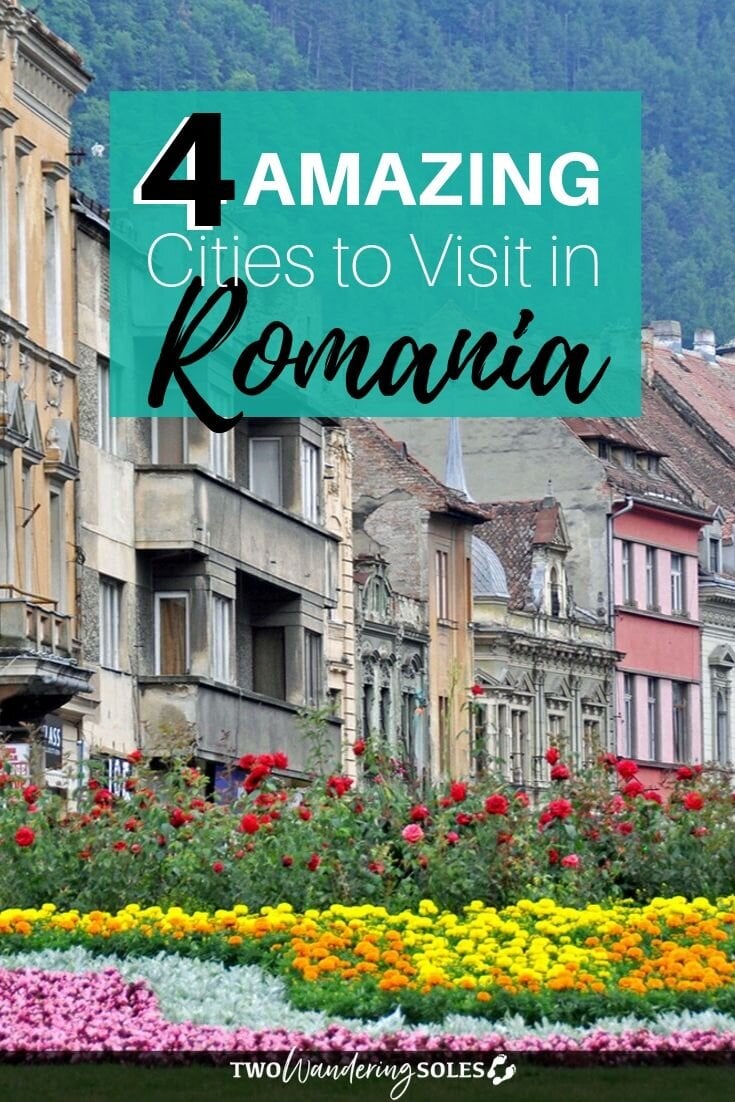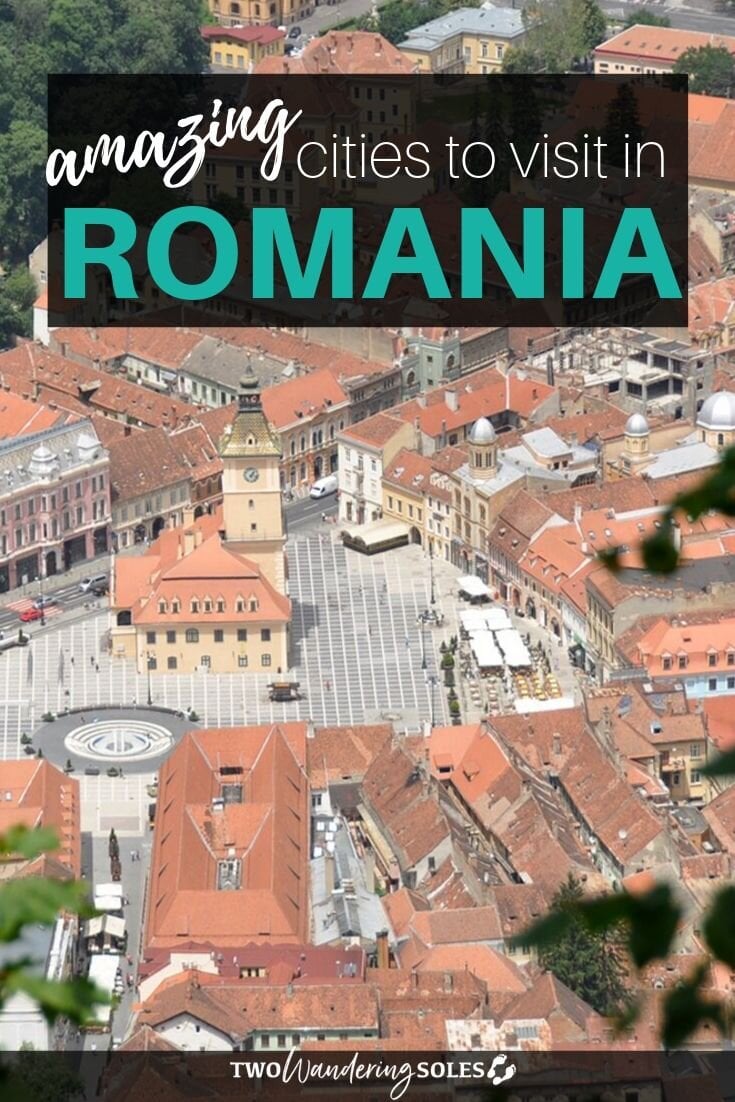 We want to hear from you!
Have you traveled to Romania? Tell us about your additional travel tips in the comments below.
Are you planning a trip to Romania now? Let us know if you have any questions in the comments below. We are happy to answer them.