Bua Tong, more commonly known as "Sticky Waterfall" is a unique waterfall is a bucket list experience for most travelers in Chiang Mai and we're sharing exactly how to get there, plus everything you need to know to plan your trip.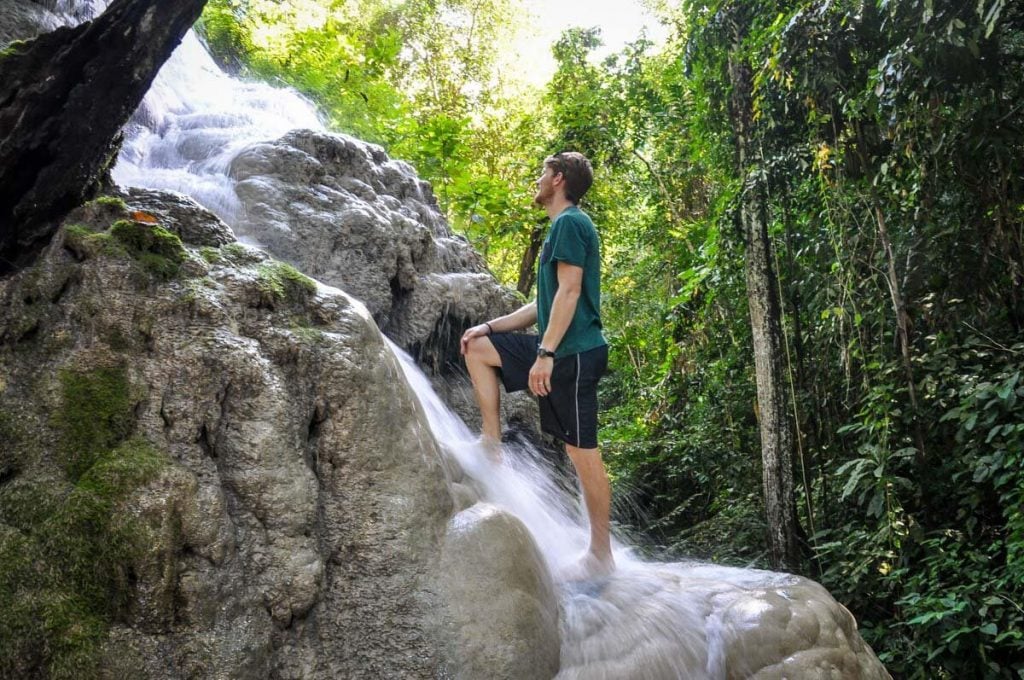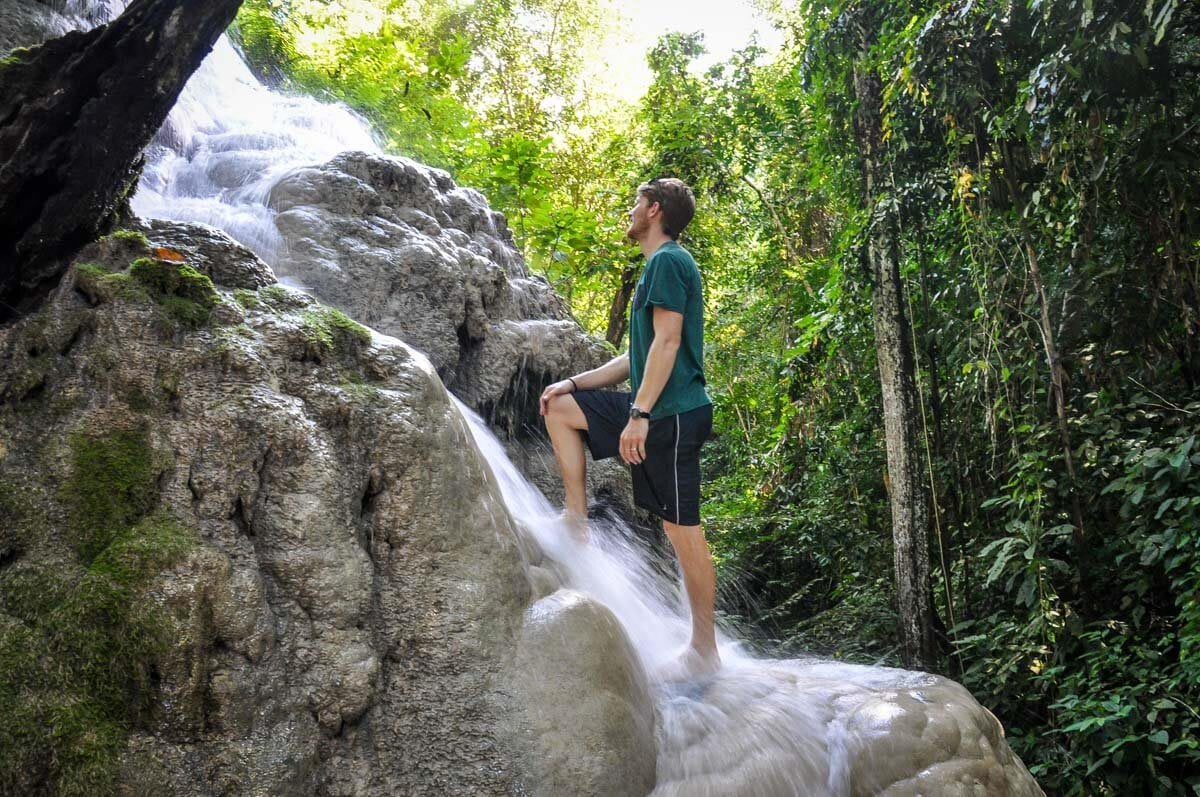 Namtok Bua Tong, more commonly known as "Sticky Waterfalls", is truly a bucket list experience for any adventurous traveler exploring Thailand.
Not only is this a beautiful waterfall – picture water flowing down layers of white rocks in the middle of the lush Thai jungle – but it is one of the most unique waterfalls in the world!
You can literally climb up the waterfall (yes, really!), for an adventure you won't soon forget.
What do you mean the waterfall is "sticky"?
While most waterfalls have slippery rocks where the water touches, Bua Tong Waterfall is very different.
The white rocks have many mineral deposits, making them very "grippy", for lack of a better word. It feels like climbing on a giant pumice stone (you know, the thing that you can use on your feet to scrape the calluses off?!). It's a pretty interesting experience and will definitely be a highlight of your time in northern Thailand.
Being that Sticky Waterfall is located just one hour north of Chiang Mai, it makes a great day trip and is an easy activity to add into your Thailand itinerary.
We're going to share exactly how to get to Sticky Waterfalls on your own as well as what to pack and insider tips that'll help you have the best experience at this unique attraction.
How to get to Sticky Waterfall (Bua Tong) from Chiang Mai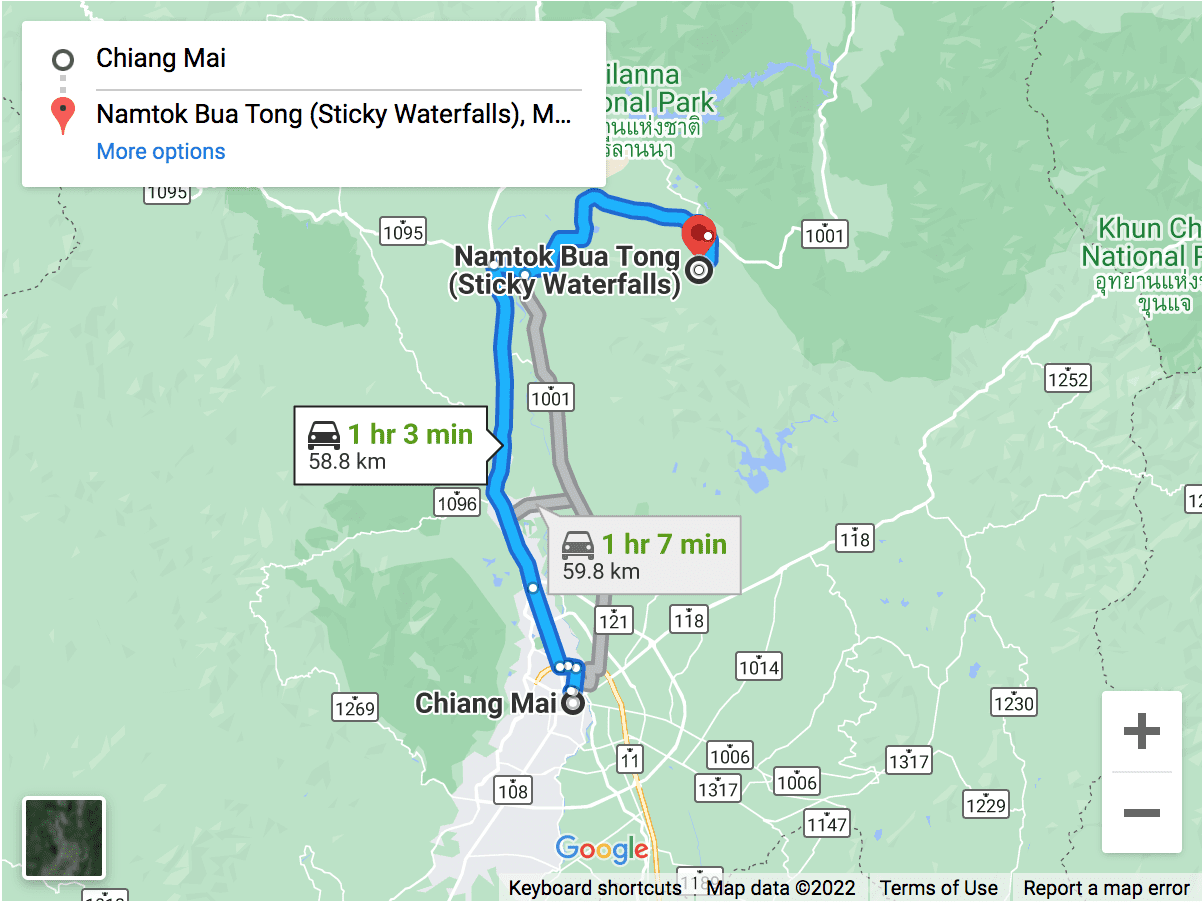 Sticky Waterfall is located in the Sri Lanna National Park, about 36 miles north of central Chiang Mai.
To get there, follow Route 1001 north of Chiang Mai Old City. You'll know you're getting close when the road starts winding up hill and bordered with trees. You'll see a sign for Bua Thong Waterfall on the right and take that turn to enter the park.
The scenic drive will take about an hour and a half to get there, depending on your mode of transportation. You should also expect to see some traffic along the route.
Below are the best ways to get to Sticky Waterfall from Chiang Mai:
Songtheaw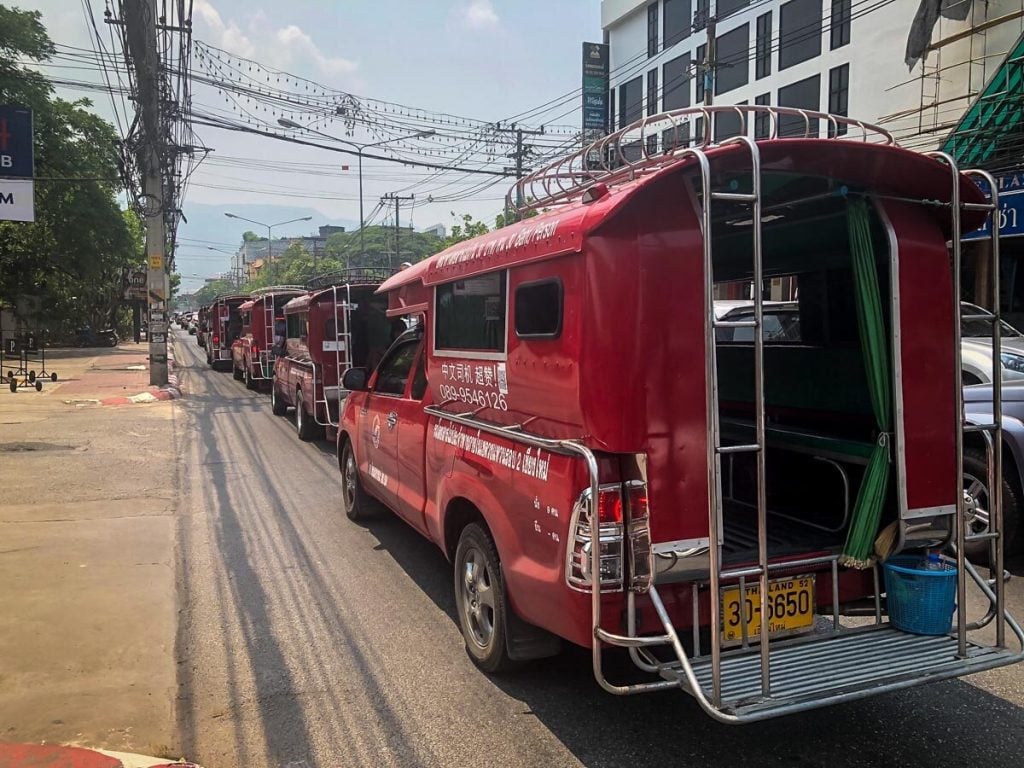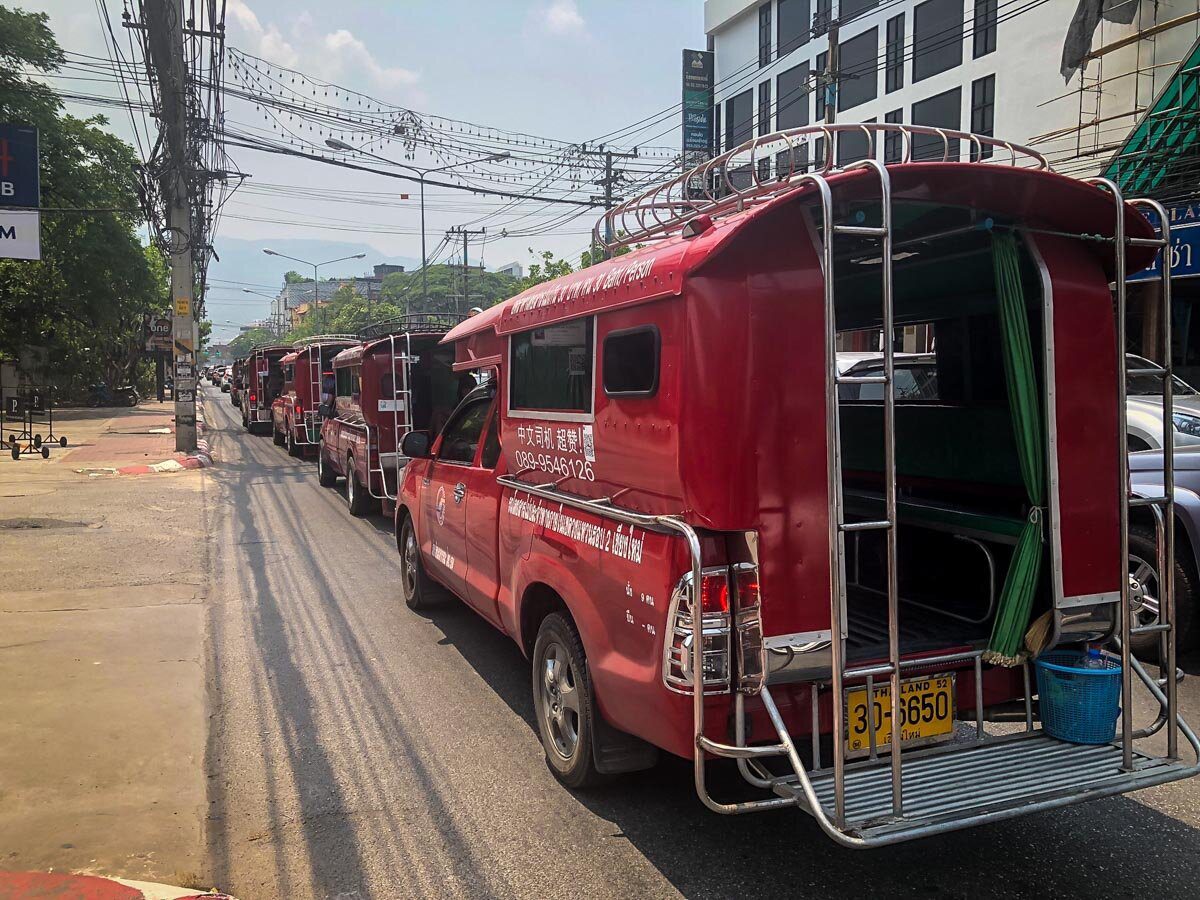 A songtheaw, or red truck shared taxi, is a good for splitting with group, especially if you are trying to stay budget-conscious. A return trip to Sticky Waterfall from Chiang Mai will cost anywhere from 800 – 1500 baht, depending on your negotiating skills.
Hire a driver
Ask a taxi driver or have your accommodation arrange a driver for you. They will drive you there, wait for you, and bring you back. You'll have to negotiate the price, but 1,500 baht seems to be the going rate to get to the falls from the Old City.
Grab
Southeast Asia's version of Uber and Lyft, this ride sharing app is super handy when wanting to get to a specific place. Download the app and enter Sticky Waterfalls as your destination to get a price estimate. The nice thing about Grab is you have the option to pay in cash if you don't want to enter your credit card details.
A ride to Sticky Waterfalls from Chiang Mai should cost about… you guessed it, 1,500 baht!
Motorbike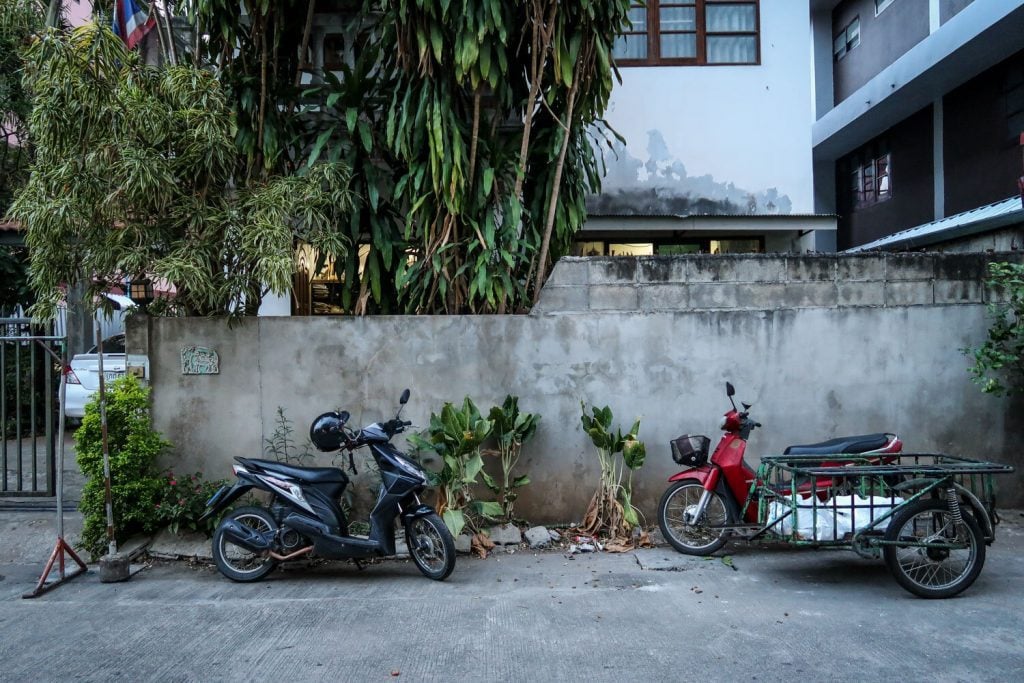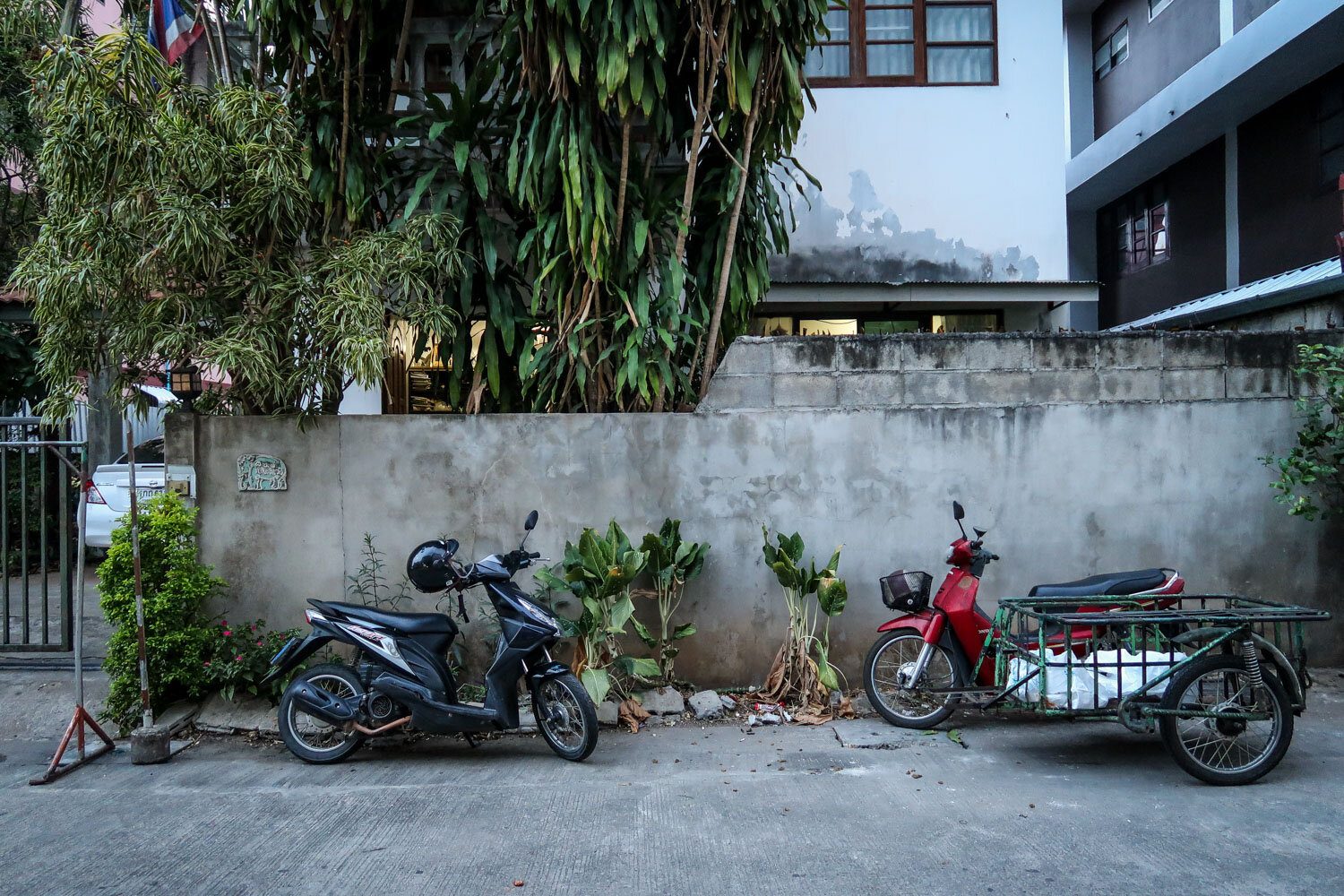 Motorbikes are a primary method of transportation all over Thailand and Chiang Mai is no exception. However, we only recommend taking a motorbike if you are an experienced driver, comfortable with driving in a big city on the left side of the road. You should also plan about 2 hours of driving time each way on a bike.
Additionally, you should be aware that Thailand requires an international driver's license by law to drive a motorbike. And while they may not check yours at the rental place, it's not uncommon to see police checkpoints along the roads in Chiang Mai where they will fine you for not having the proper license.
To rent a motorbike for a day, it'll cost around 200 baht. There are rental shops all over Chiang Mai so it shouldn't be hard to pop in and negotiate a rental. Be prepared to leave a deposit or your passport as collateral for the bike.
If you do decide to take a motorbike to visit Sticky Waterfall, please, please, PLEASE… where a proper helmet (with wind-guard and facemask). It's worth the extra 50 baht ($1.66 USD). We have seen/heard of too many travelers getting in accidents and we don't want that to be you.
What to expect at Sticky Waterfalls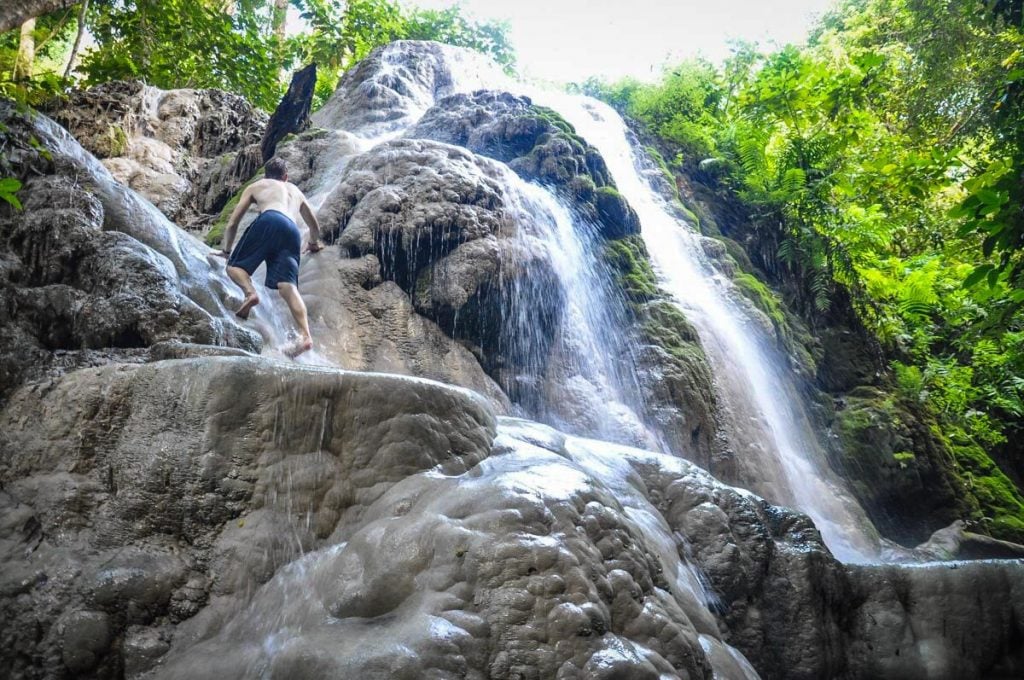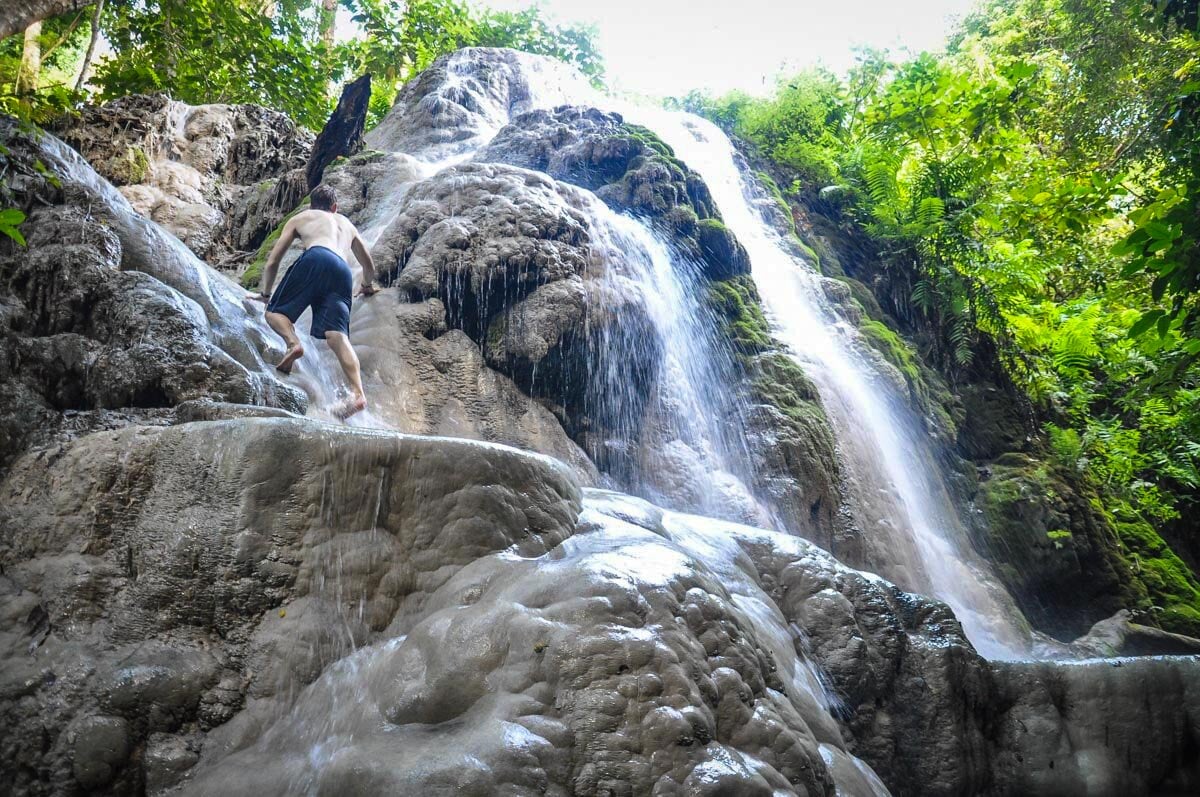 Located in the Sri Lanna National Forest, the Bua Tong Waterfalls (better known as Sticky Waterfalls to foreigners) are an impressive sight. The bulbous, almost cartoon-like rocks are off-white in color and stand out in stark contrast to the lush green of the surrounding trees.
The crystal-clear water flows from a mineral-rich spring at the top of the falls — which is an impressive sight in itself and definitely worth a gander! The cool, refreshing water flowing down the falls offers a welcomed respite from the Chiang Mai heat.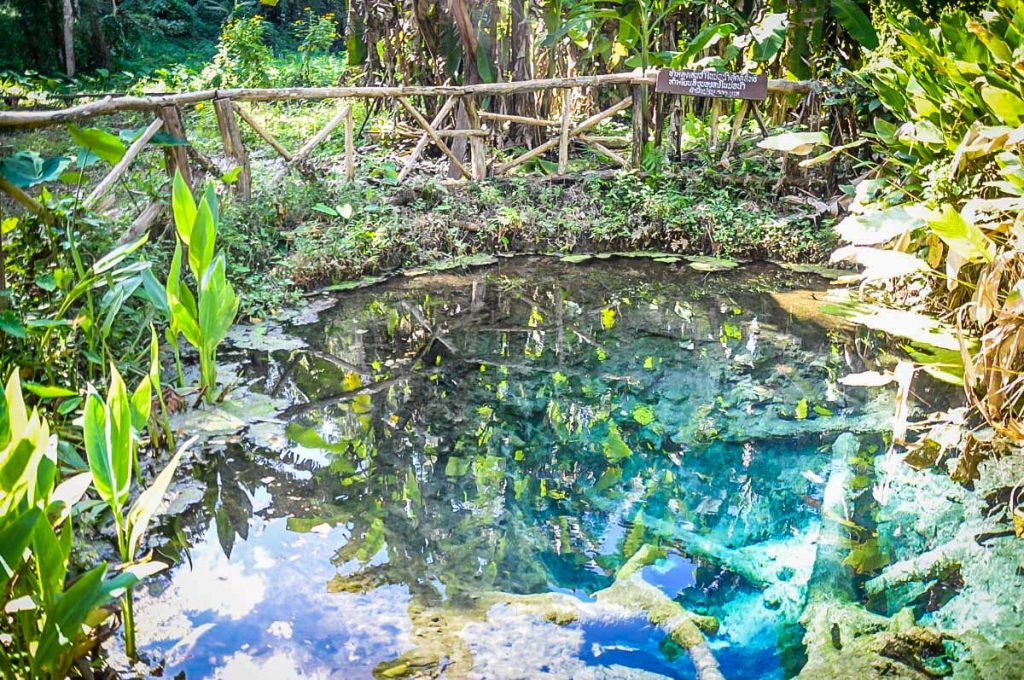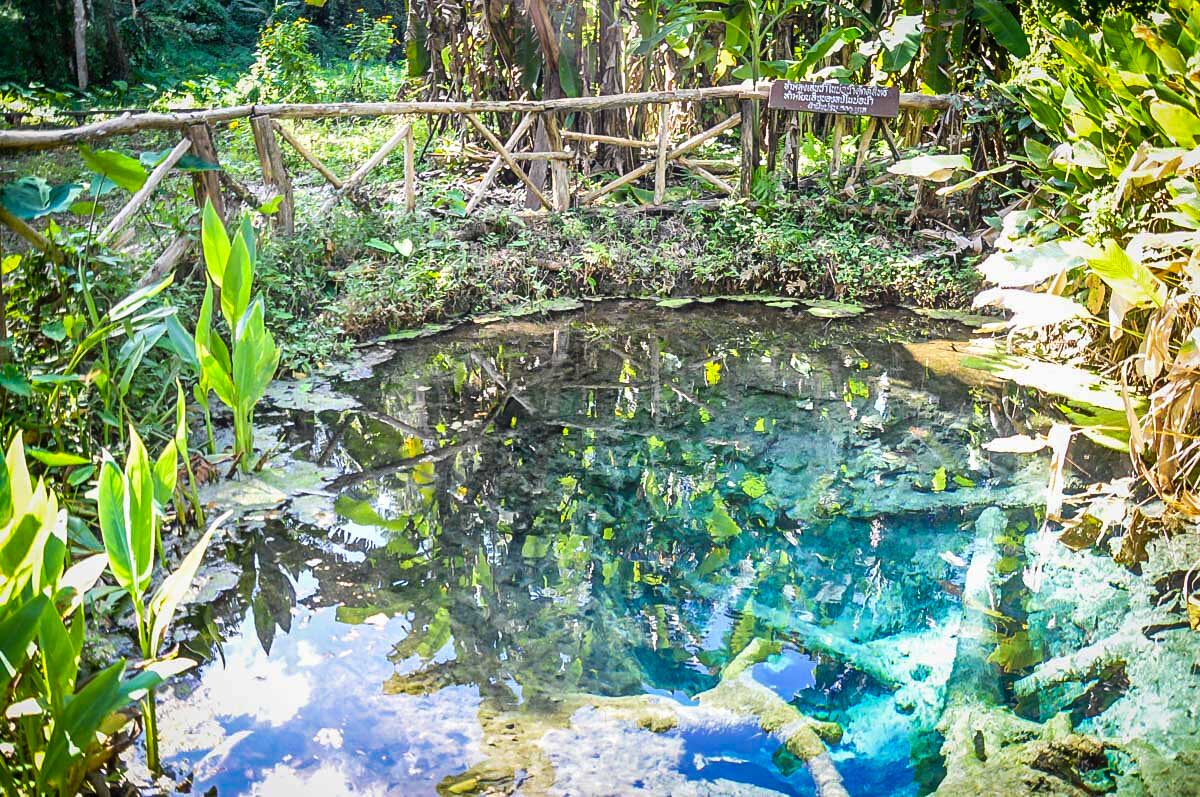 The multi-tiered Sticky Waterfalls are pretty to look at, but even more fun to climb!
You can choose to take the steep stairs that flank the falls to the top where the mineral spring is located. Or you can do like we did and barefoot climb your way up the falls themselves — one of the main things tourists come to do.
The Sri Lanna park itself is also a great place to spend the day. Pack a picnic or purchase your drinks and light snacks from the vendors in the area.
Food is not allowed in the waterfall area, but there are picnic tables with shade near the park entrance. There are also clean Thai-style bathrooms on the premises as well.
Why is it sticky?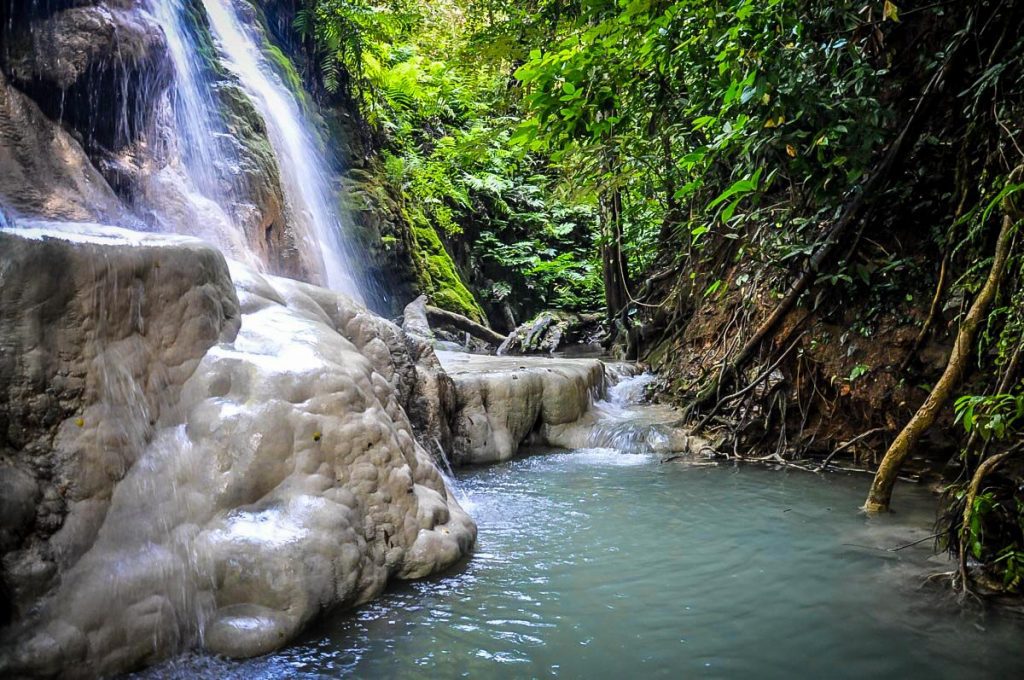 Waterfalls are generally known to be extremely slippery due to fast moving water and build up of moss on the rocks… right? Unlike all those other waterfalls, Sticky Waterfall gets its unique name because the falls are fed by a spring rich in minerals.
Due to the mineral deposits in the water, the rocks have become porous, like a semi-hardened sponge, which makes them incredibly grippy. This effect allows you to walk up the falls with bare feet.
Since no moss collects on the rocks, it becomes rather effortless to climb up the waterfall. You'll feel like Spiderman!
Our experience at Chiang Mai Sticky Waterfalls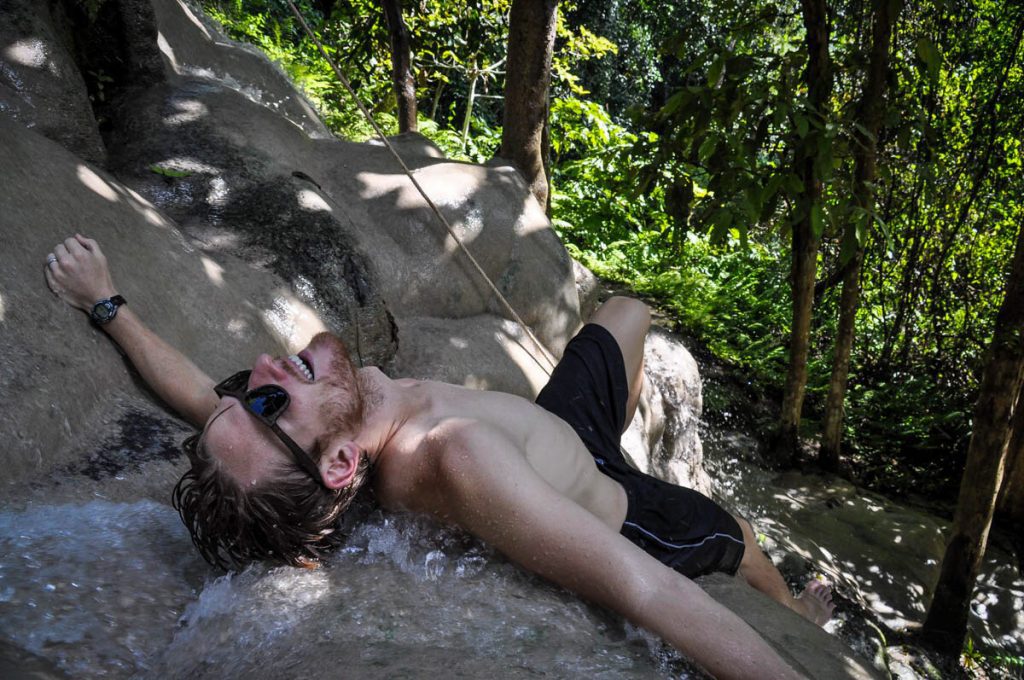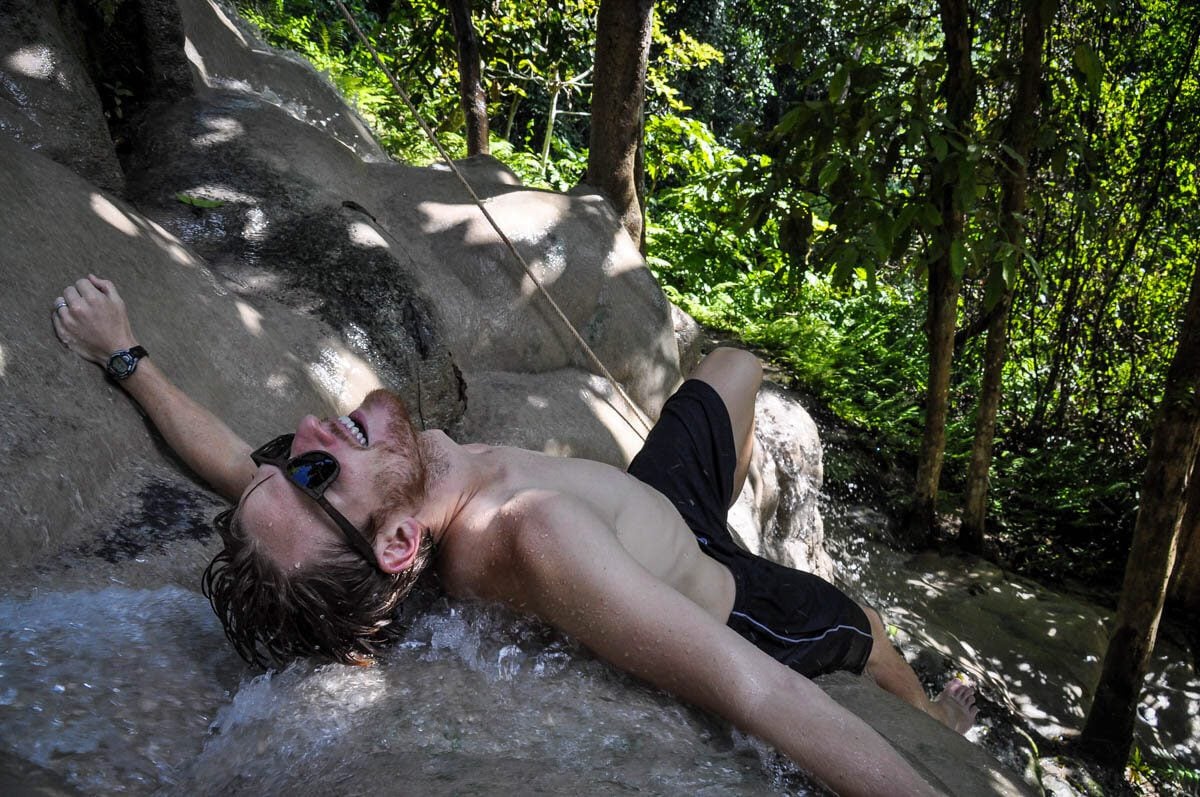 We had heard about this place many years ago, and had even visited Chiang Mai twice before we actually got there ourselves. And once we made it, we wondered what took us to long!
While not a secret anymore, visiting this waterfall is still one of the best things to do in Chiang Mai. And it'll likely be one of the most unique waterfalls you've ever visited.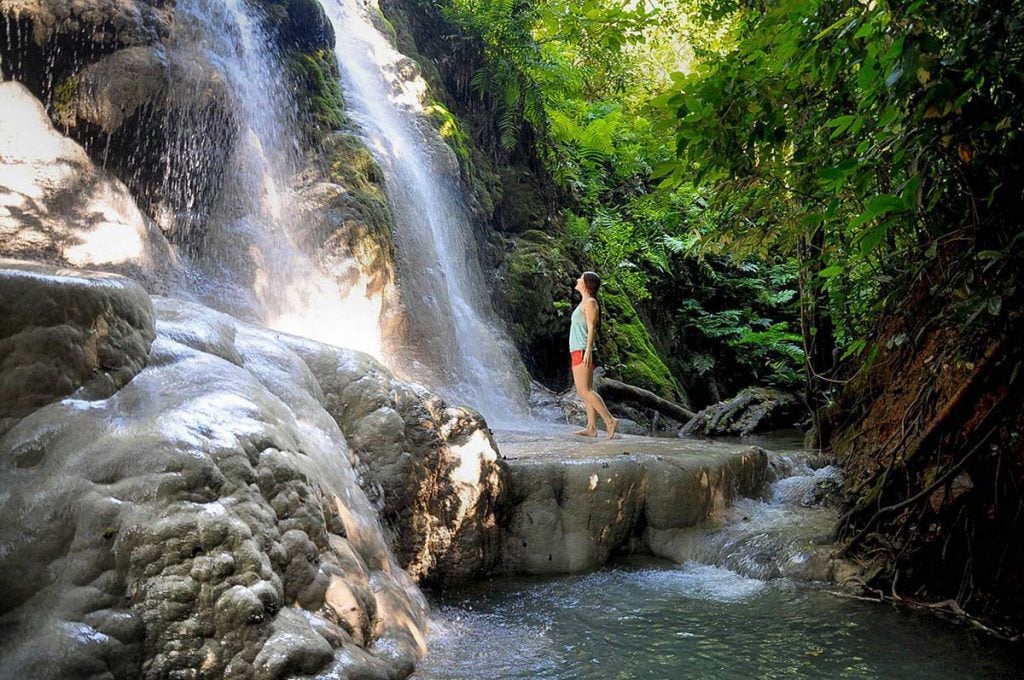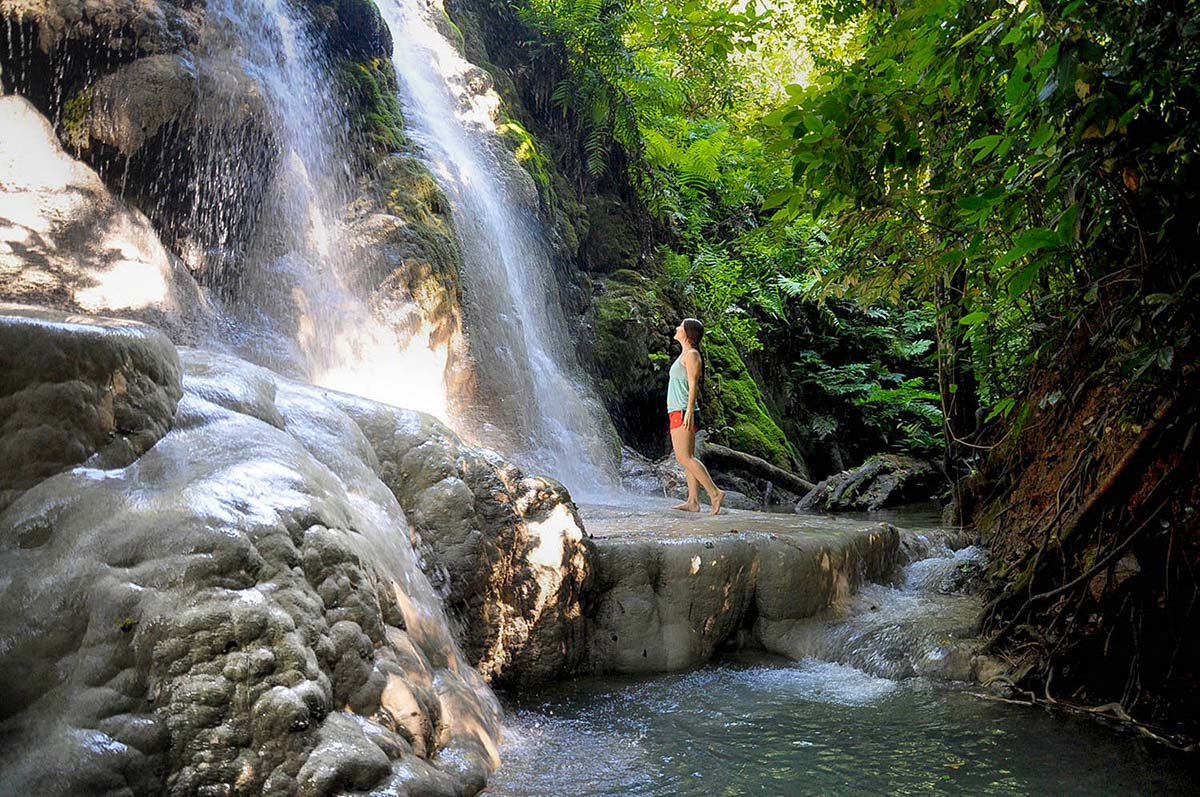 We drove our motorbike there and arrived to the waterfalls early, which we'd recommend you try to do as well, as it gets busier around midday.
After parking our motorbike, we spent a lovely morning climbing up the waterfalls, taking ridiculous photos (like the one of Ben above!), enjoyed a picnic lunch in the shade, and wandered around the jungle trails.
If you like adventurous activities and being in nature, you'll really love visiting the Sticky Waterfalls as a day trip from Chiang Mai.
Cost to enter Sticky Waterfalls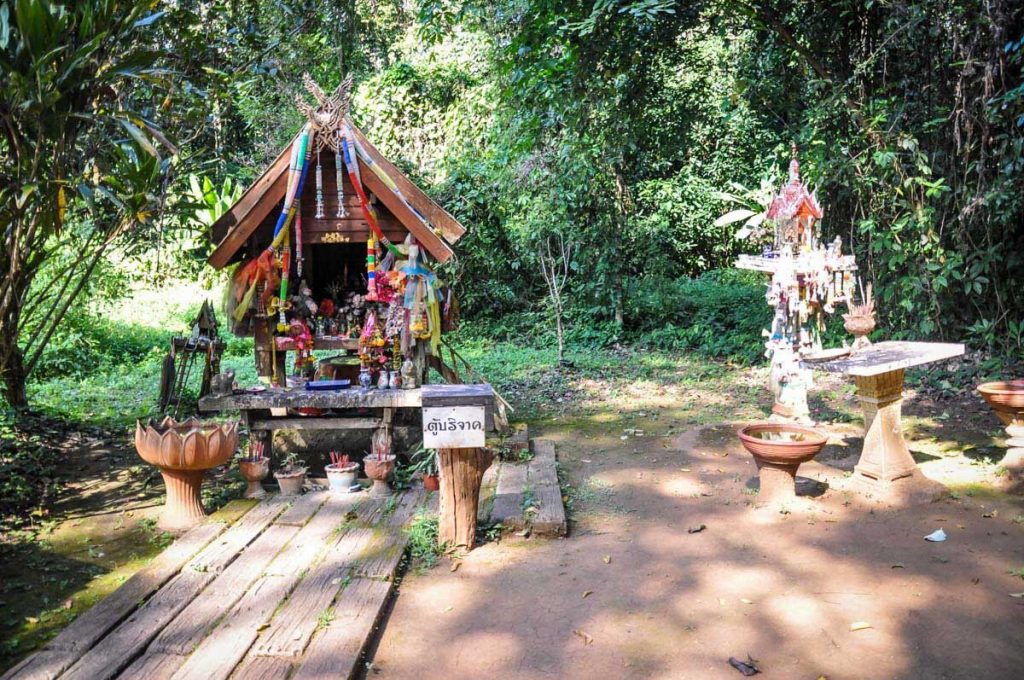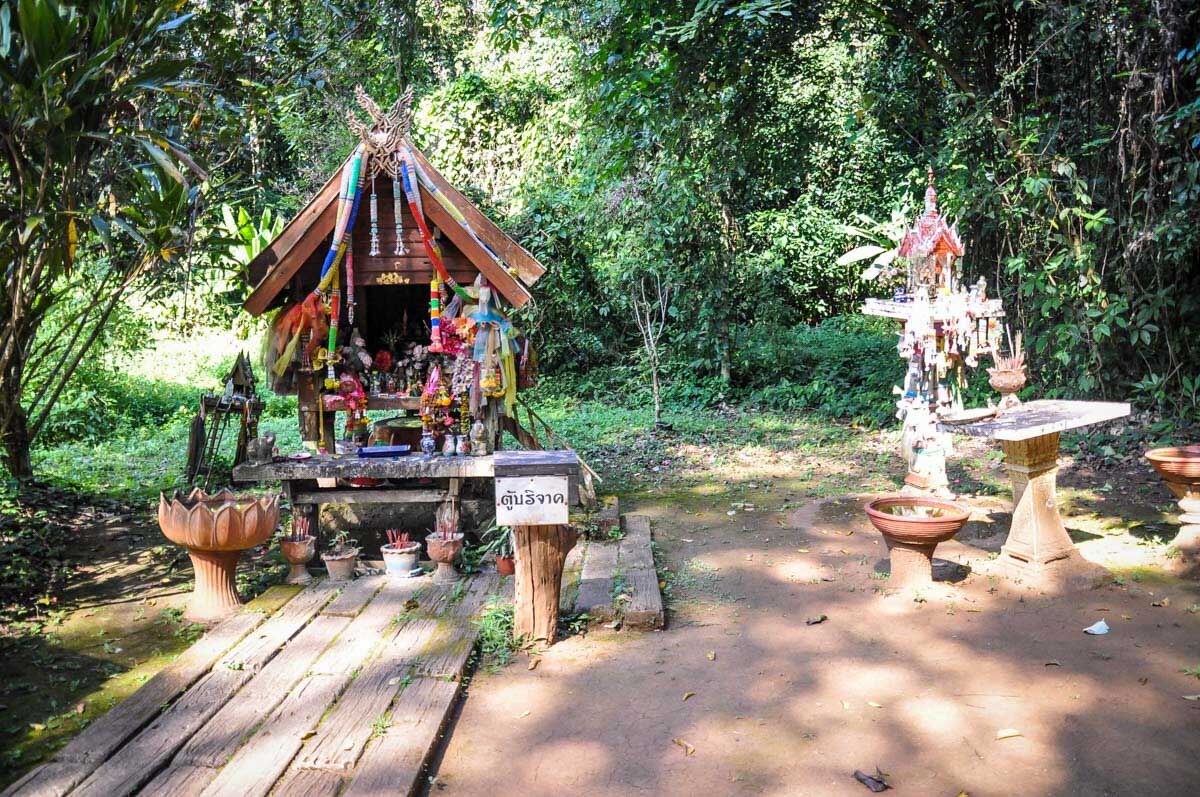 The cost to enter Sticky Waterfalls is absolutely FREE!
There are no entrance fees or parking costs. So once you get there, you're free to enjoy the falls for as long as you want without any added costs.
What to pack for your trip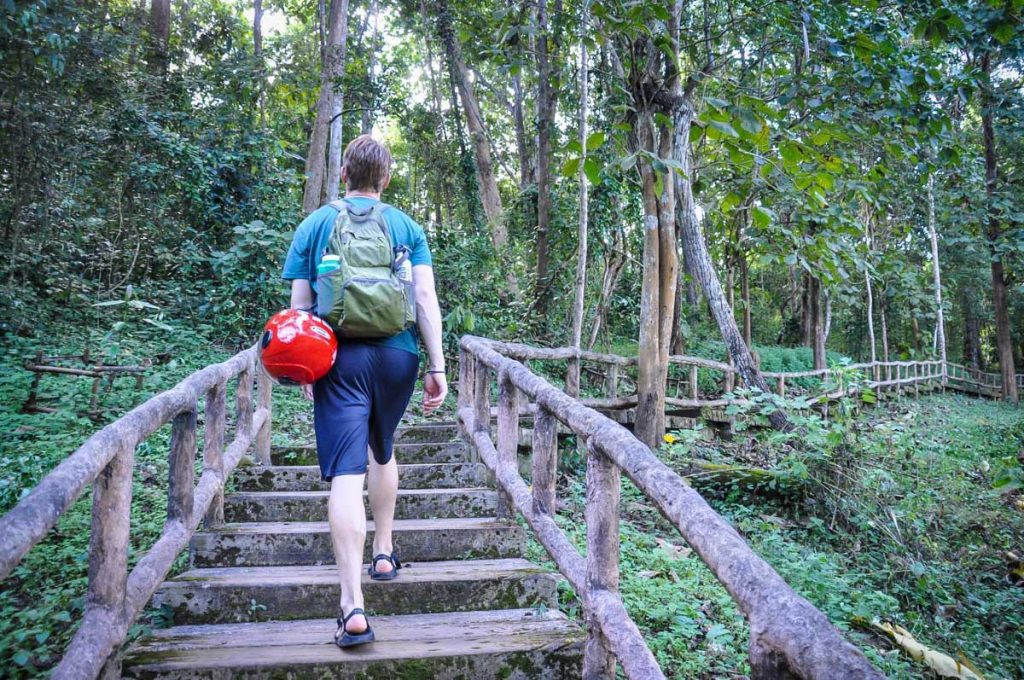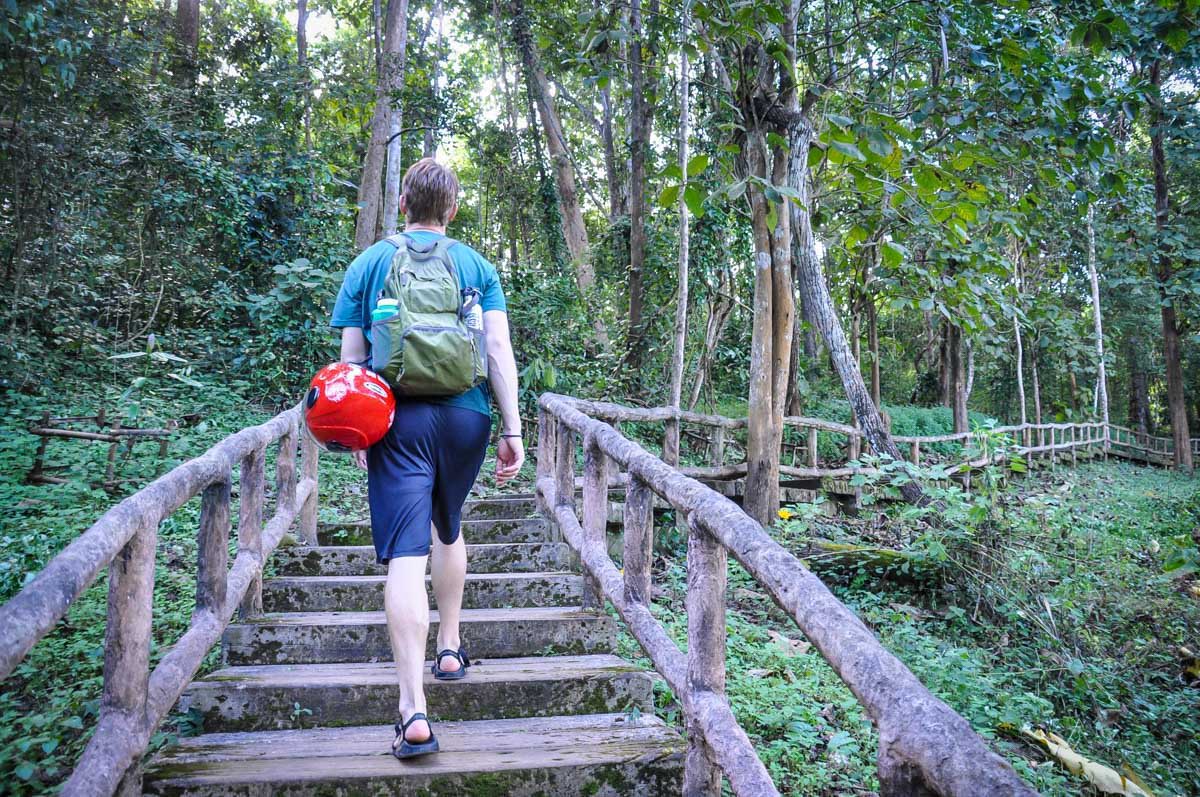 Climbing the Sticky Waterfall and enjoying the beauty of the Sri Lanna National Forest is a great way to spend an afternoon. You'll want to make sure you've packed everything you need for the day before leaving Chiang Mai, as the waterfall is not located near any major towns.
Below is a list of everything you should pack for a trip to Sticky Waterfalls.
Swimsuit
Sarong or coverup
Shoes or sandals that are good for hiking and waterproof: we prefer our Chacos sandals when doing any kind of summertime hiking, especially if there is water involved!
Change of clothes
Plenty of water: we love our Hydroflask insulated water bottles to keep our drinking water cool, even after a day in the hot sun.
GoPro or camera to document your experience
Waterproof camera pouch (so you can bring your phone with as you climb)
Snacks and food for a picnic
Tissue or toilet paper to use in the onsite bathrooms


Are you planning a trip to Thailand?
We have TONS of resources on travel in Thailand and destinations throughout the country. Check out our Ultimate Thailand Travel Guide for all the answers to your most burning questions, or read some of our favorite articles below.
Save this article on Pinterest for later!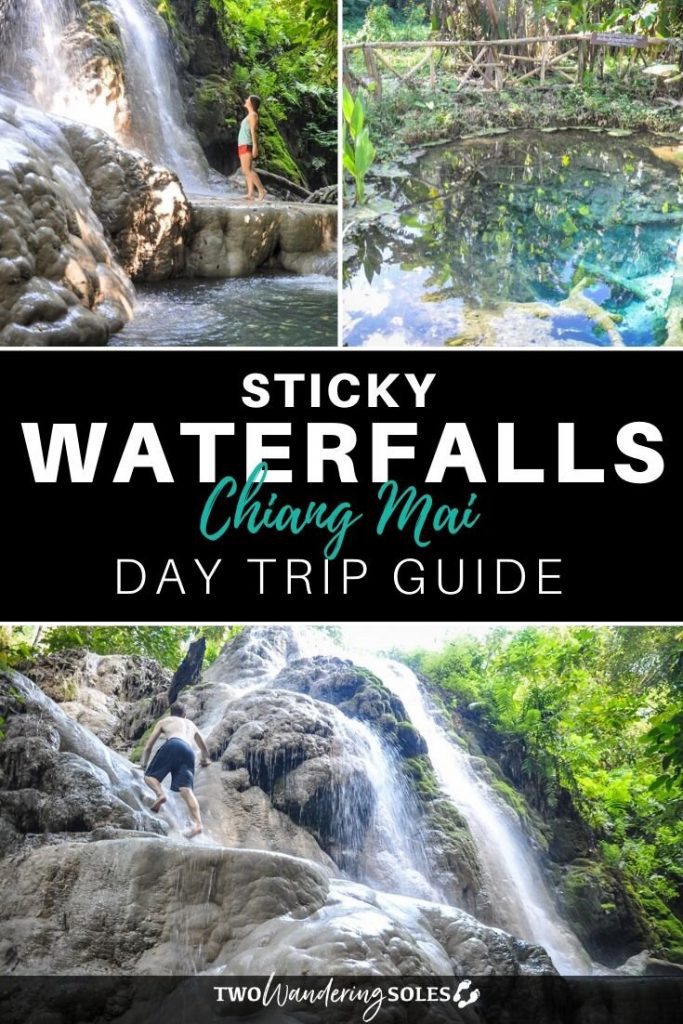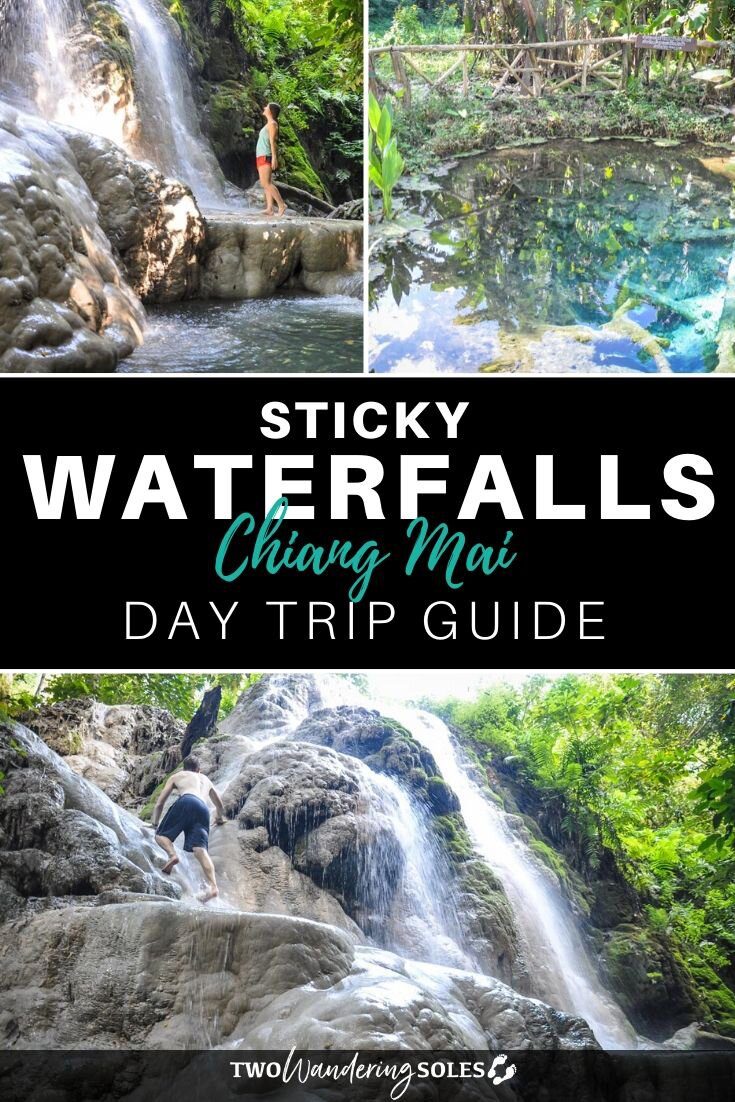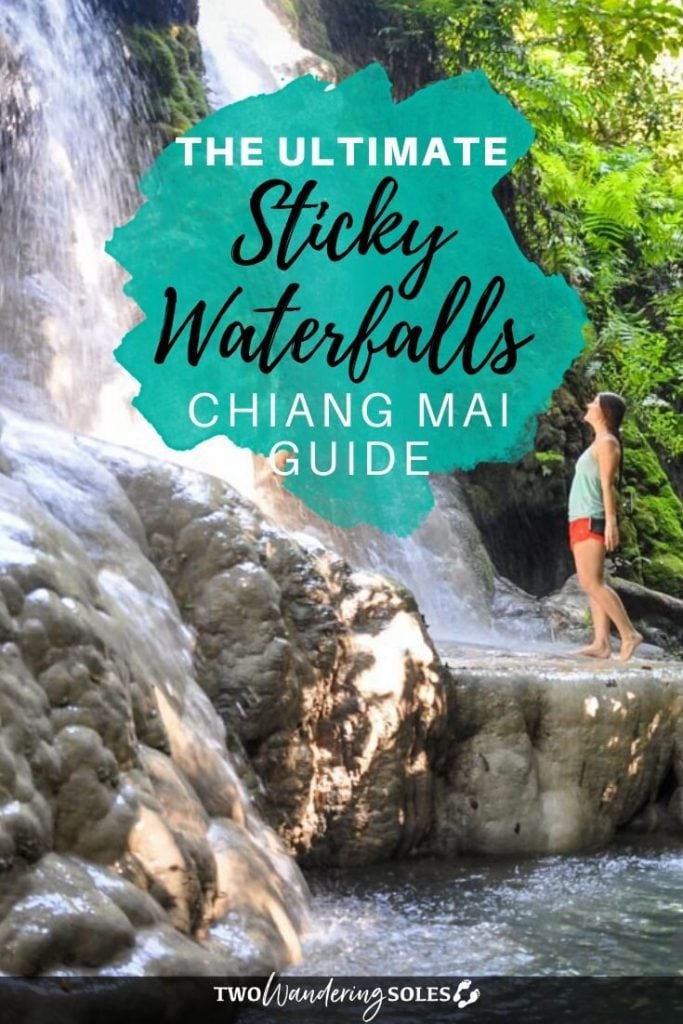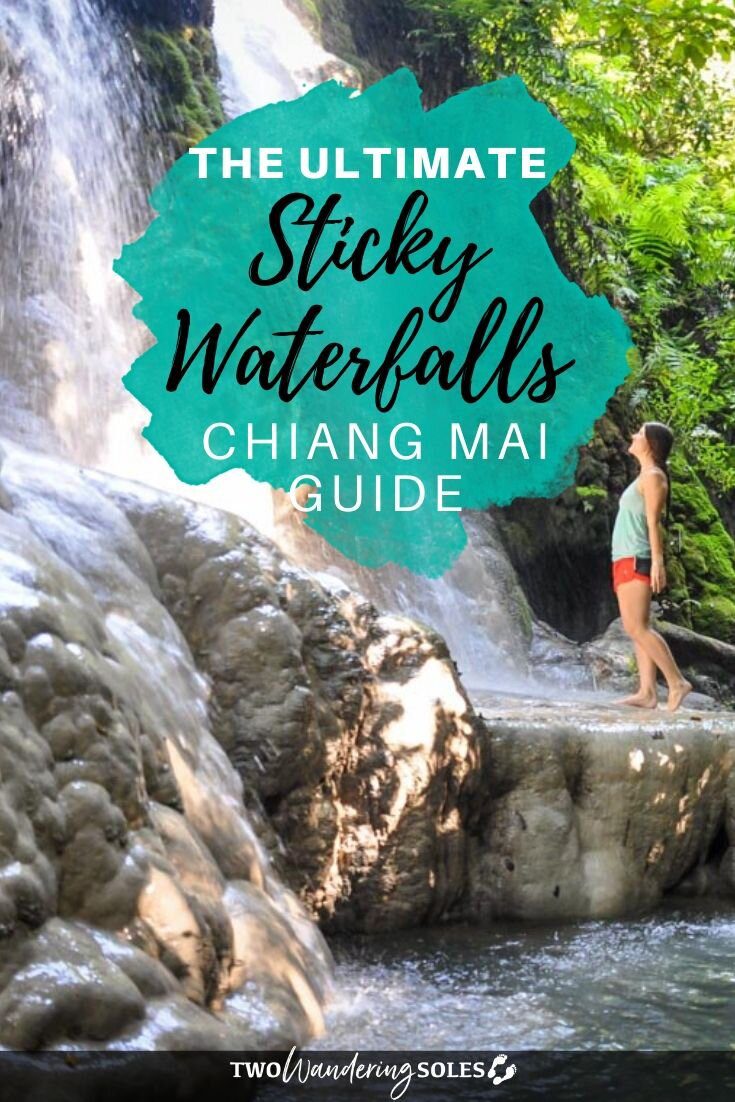 We want to hear from you!
Have you ever been to Sticky Waterfall Chiang Mai? What was your favorite part of the trip? Have more questions about visiting the falls? Comment below and we'll do our best to find you answers!