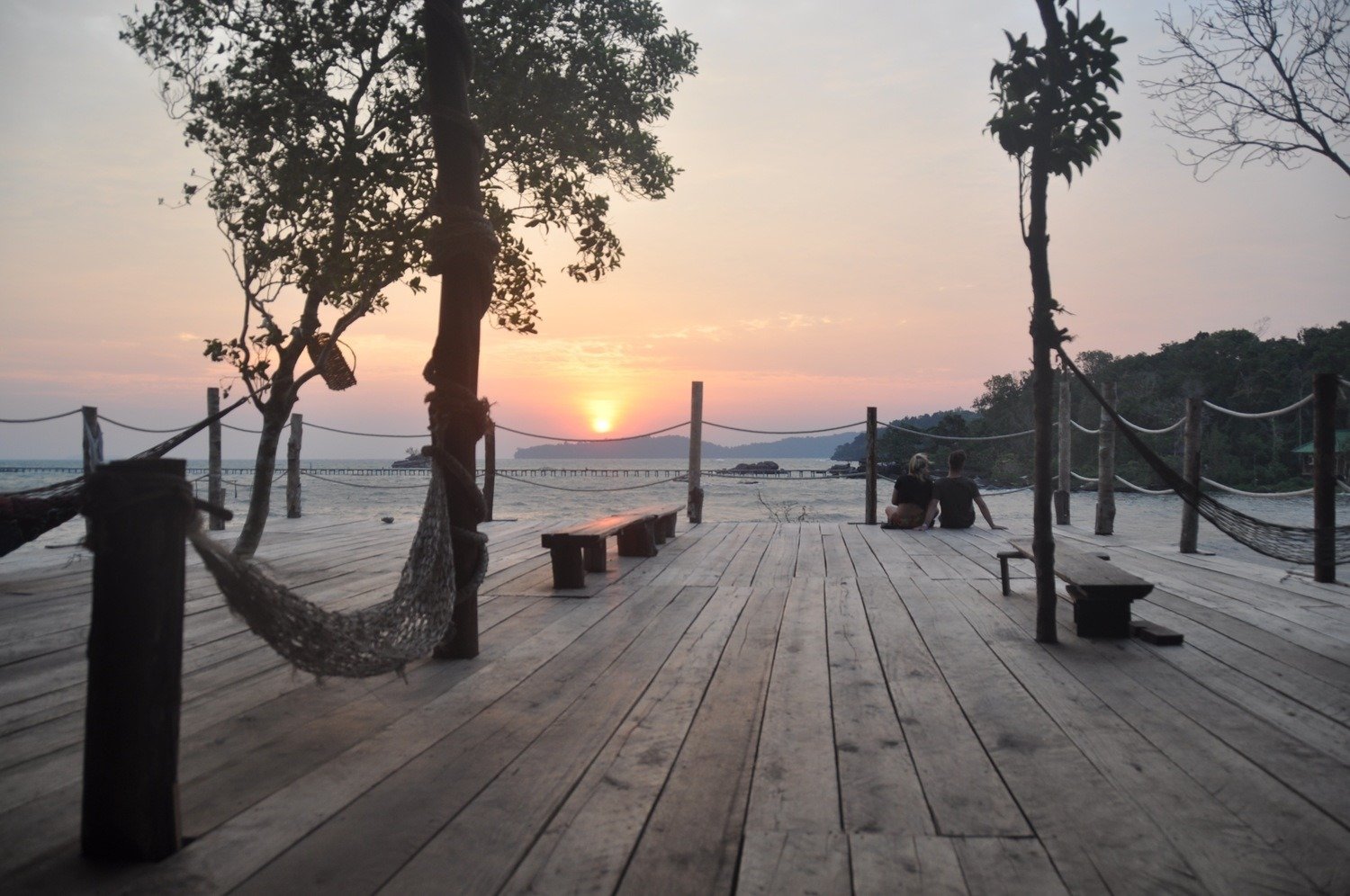 Do you dream of spending your holiday on a private island, but have a backpacker's budget?
We have a solution for you!
Cambodia may not be the first place you think of when you dream of a beach getaway, but it should be! With white sand beaches, warm turquoise waters, reasonable prices, and far fewer tourists than nearby beach destinations like Thailand and Bali, this may just be the piece of paradise you're looking for!
Koh Rong is certainly the most well-known island in Cambodia, but if it's a true deserted island feel you seek, Koh Rong Samloem is the choice for you. Just 4 kilometers south of its more popular sister island, Koh Rong Samloem boats a laidback vibe that will make you consider becoming a beach bum for life.
Mad Monkey has sleek and modern hostels all around Cambodia, but their property on Koh Rong Samloem is completely unique in its own beachy way.
Where will I stay on Koh Rong Samloem?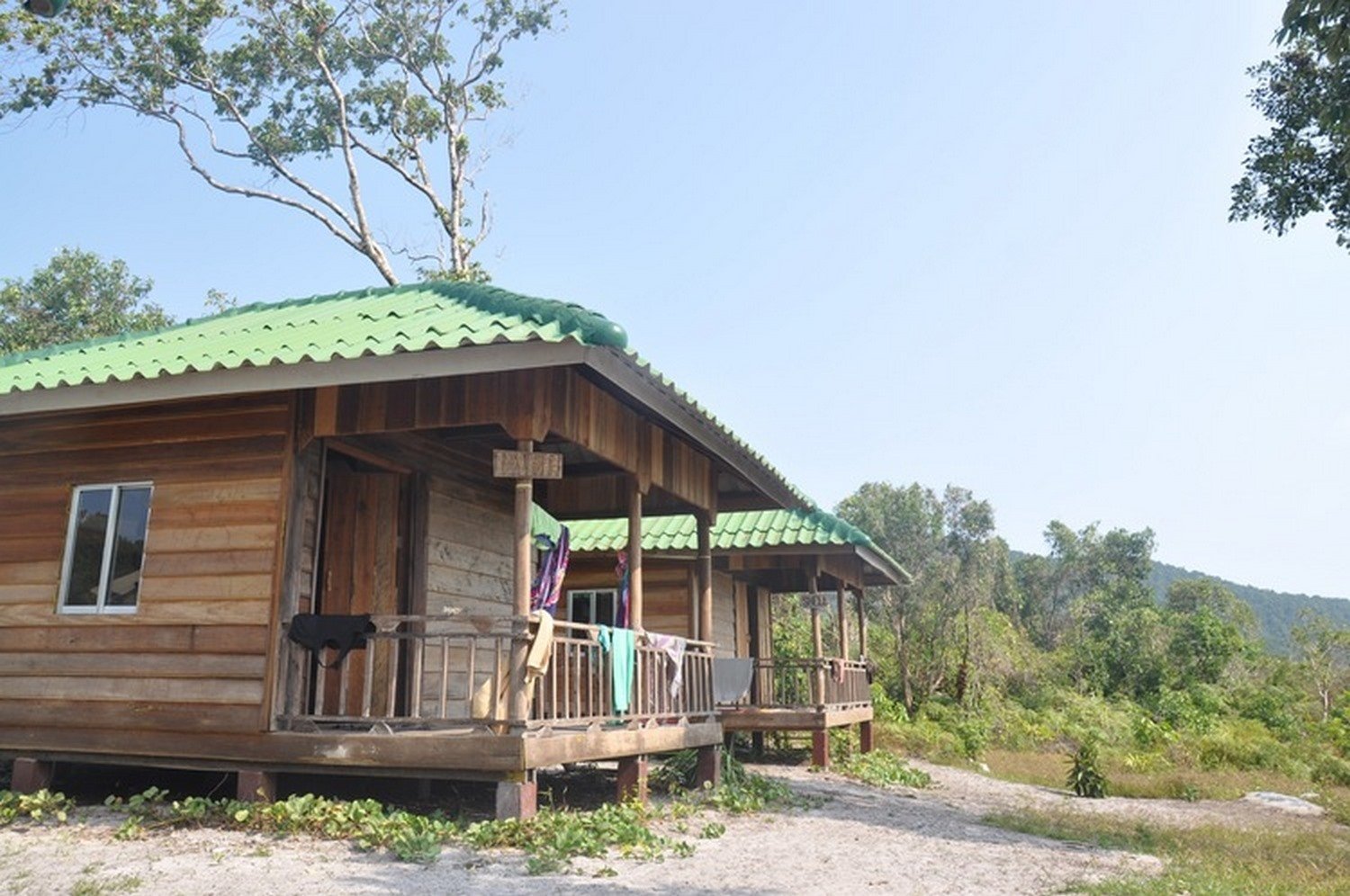 The 4-bed dorms are rustic but comfortable bungalows just steps from the beach. The beds are comfortable and each has a fan and mosquito netting to keep you from getting any unwanted mozzie bites.
Every bungalow has its own stone-walled bathroom with a flush toilet and cold water shower (you won't want hot water, trust us!). If you want an even more rustic experience, book a spot in the 10-bed dorm. It is an open-air concept, so the beds all face the ocean and the sea breeze will keep you cool at night.
What can I eat and drink?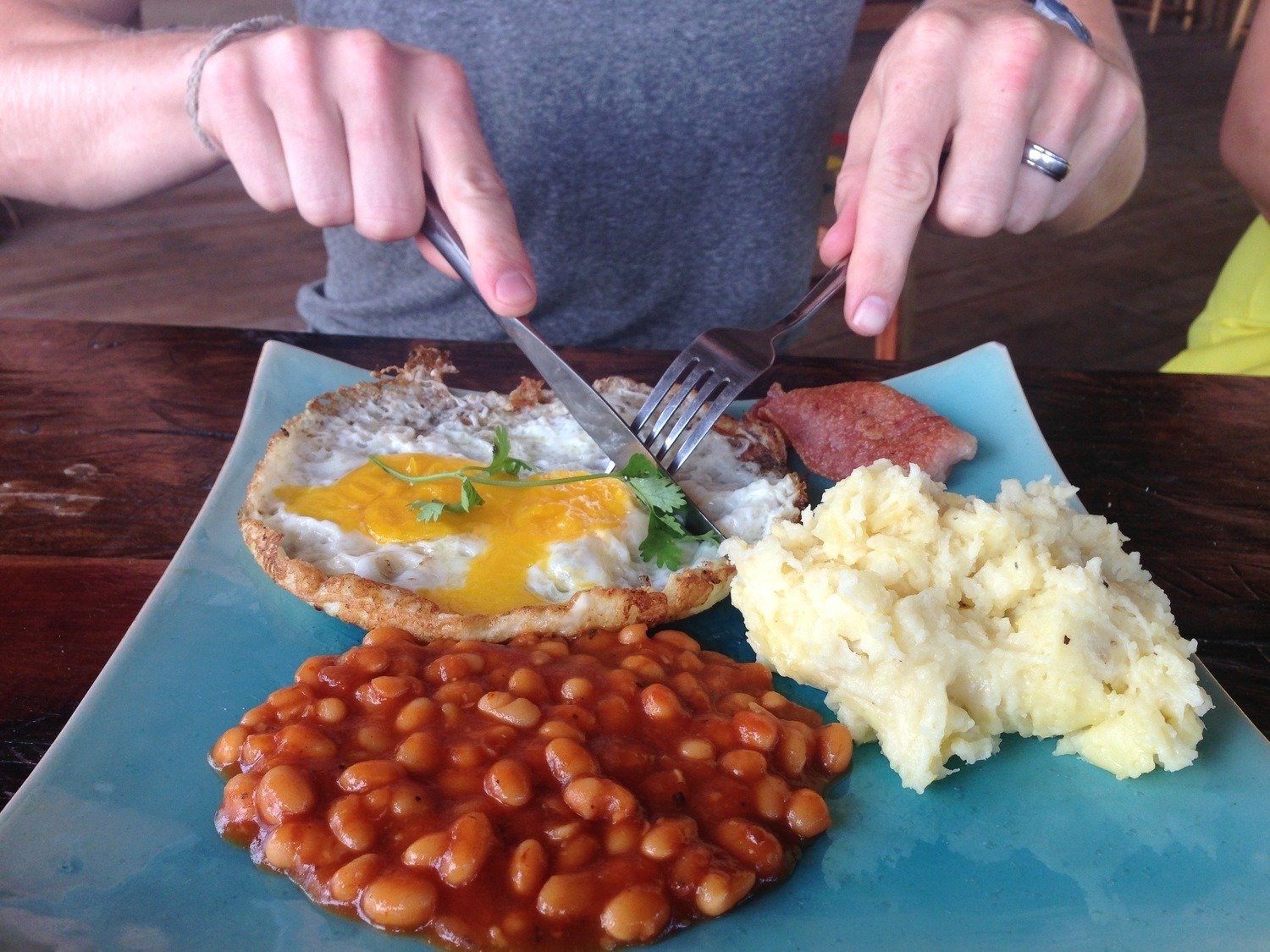 What is an island vacation without good food and cocktails? Even though Koh Samloem is relatively remote, you won't starve! The Mad Monkey Hostel serves up dishes that are so good you'll forget you're miles from civilization. Choose from pizza cooked in a wood-fire oven, local curries, and burgers. And as far as drinks are concerned, there are plenty of choices as well.
Sit in one of the hammocks or beanbag chairs and enjoy your food while soaking up the ocean views, or socialize with other guests. At nighttime this area comes alive with drinking games (be sure to play Beer Cricket!) and friendly chatter.
Sidenote: The food and drinks are a bit more expensive than we typically spend on our backpacking budget, but all of the food is fresh and is brought daily from the mainland via ferry, making the prices quite reasonable overall. Expect to pay $5-7 per meal.
What is there to do at the Mad Monkey hostel?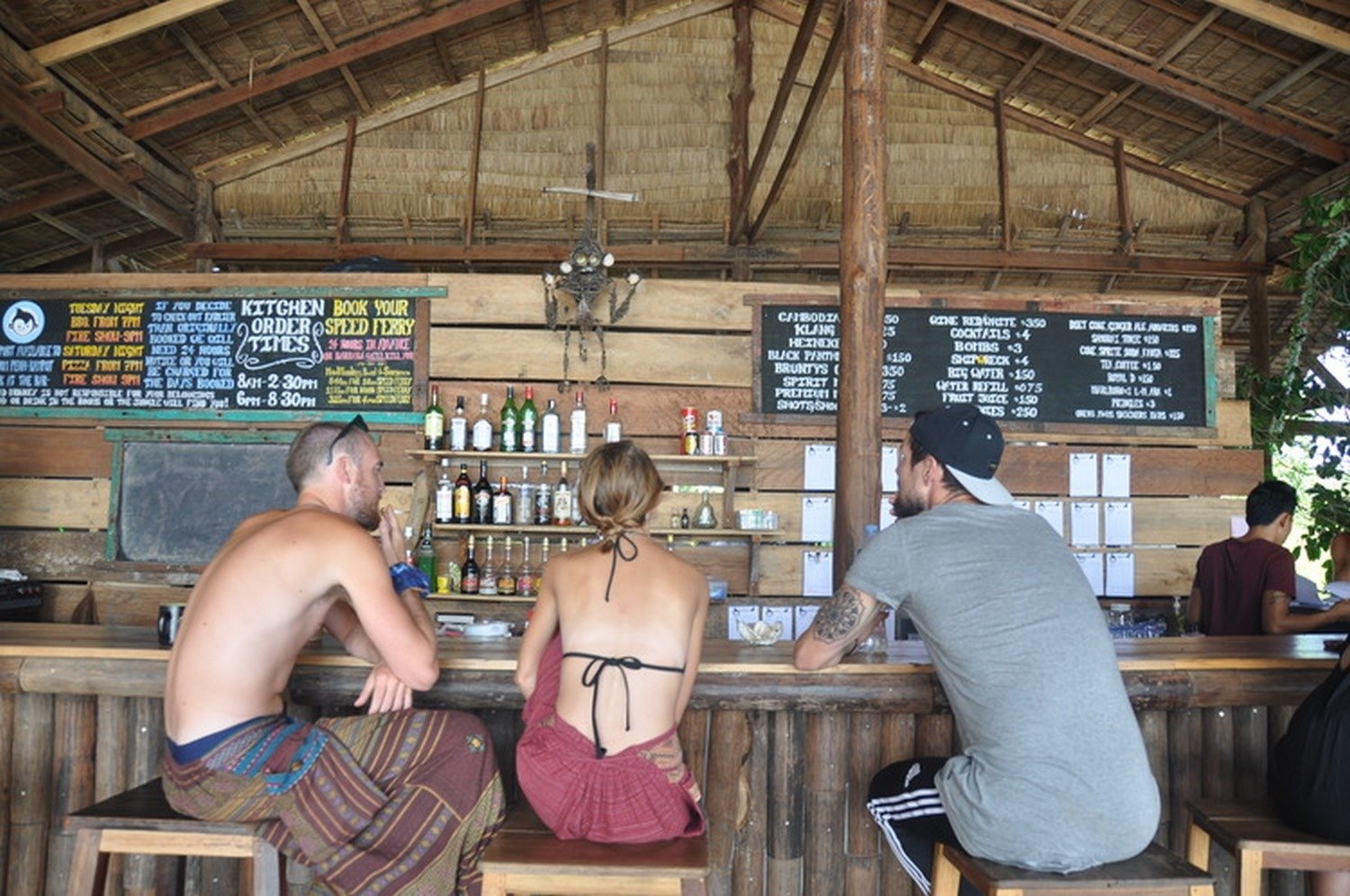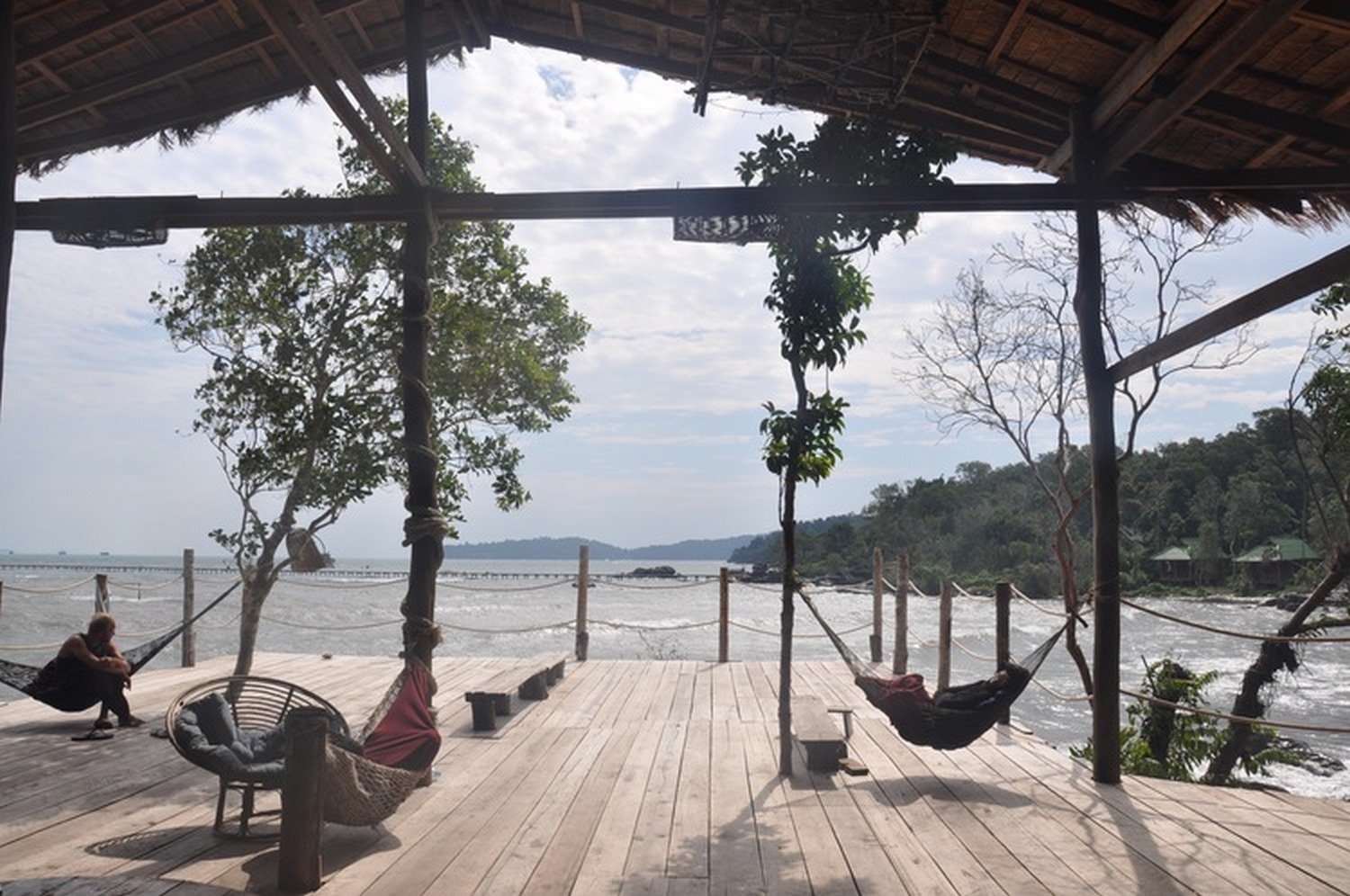 There's no Wi-Fi at this hostel (you're on a remote island, remember!?), so it's the perfect opportunity to unplug for a while and enjoy island life.
Read a good book in one of the many hammocks or beanbag chairs. Gather some new friends and play a game of beach volleyball. Go snorkeling or hiking through the jungle. Play cards with a Klang (local beer) in hand.
You may be like many before you and keep extending your stay. Oh, and try to wake up (or stay up) for sunrise at least one of your nights there – it's spectacular!
Events: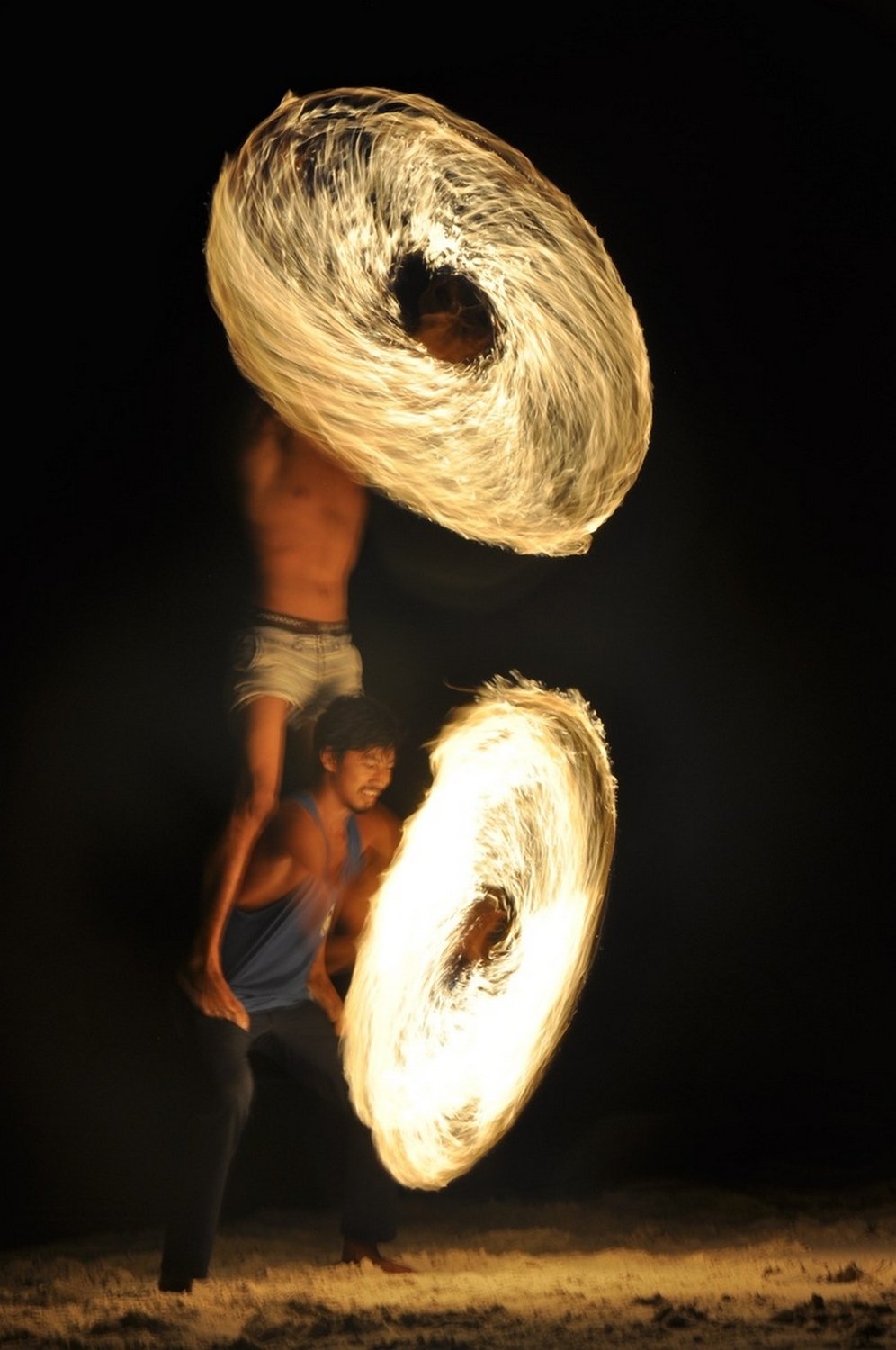 Tuesdays & Saturdays- Fire Show
Tuesdays- BBQ night
Saturday- Wood fired pizza night
Full Moon- During Full Moon there's a Jungle party on Koh Rong Samloem that brings people from near and far. Mad Monkey organizes a ferry that takes all guests to the main beach (Saracen Beach) from which you'll have to hike another 20 minutes into the jungle. The boat comes again at 9 a.m. (yes, it's an all-nighter!) to collect guests and bring them back to Mad Monkey. (While we were there, the waves were too rough for the ferry, so we had to make the 45-minute trek there and back).
Entry to the party is $5, and there is a bar serving reasonably priced drinks ($1 beers and shots, plus mixed drinks for a bit more).
The party begins at 9 p.m. and lasts until 9 a.m., though many people make the trek back before the 9 a.m. boat arrives.
What else is there to do on the island?
If you do happen to get bored at your own private bay, you can always venture to the island's main beach, Saracen Beach, on one of the 3 daily boats Mad Monkey provides to guests. (You can also make the 45-minute jungle trek instead of taking a boat.)
This stretch of white sand is lovely, but sometimes it can get crowded with day-trippers and the water can be very shallow. If you want deeper water in which to swim, head to Lazy Beach. There isn't as much sand for lounging and the water isn't quite as crystal clear as on the Saracen beach, but you'll likely be sharing the shore with just a few others.
Next Read: 2 Weeks in Cambodia – The Ultimate Backpacking Itinerary
Take a break from the heat in Lazy Beach Restaurant and Bar. The Khmer and Western food is fantastic and the portions are generous.
Our recommendations: The Amok Curry (local specialty) and the Green Salad (seriously one of the best salads we've had in Southeast Asia)
How to get there: Travel to Saracen Beach and walk 10 minutes south from Orchid Resort and follow the signs to Lazy Beach. The walk across the island is about 1.5 km and sandals are recommended because the sand can be scorching at spots.
Okay, I'm in! How can I make a reservation?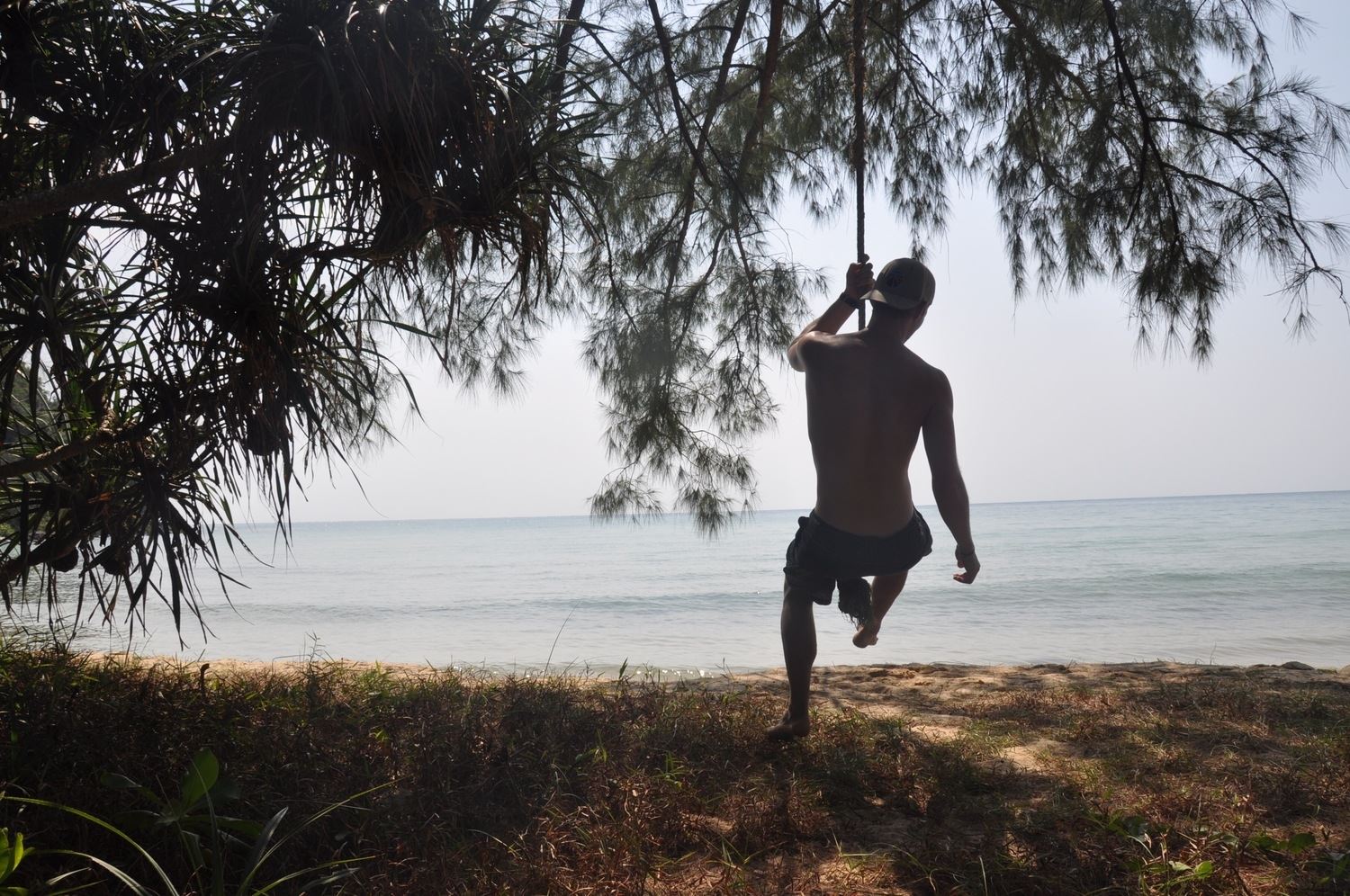 Be sure to book ahead! Although it's on a remote island, Mad Monkey fills up quickly, and you won't want to show up without a reservation (though sometimes – they allow guests to stay on the deck if all the beds are full for a small fee). It is best to book your stay and transportation to the island at another Mad Monkey location or on Hostelworld to guarantee a bed.
How do I get to Koh Rong Samloem and get away?
Getting there…
From Sihanoukville to Koh Rong Samloem
Speed Boat ferry leaves at 9 a.m., 12 p.m., or 3 p.m. The ride takes 45 minutes. If waves are big a sick bag is a good idea. Cost is $20 for an open return ticket.
From Koh Rong to Koh Rong Samloem
Ferry leaves at 8 a.m. (takes 1 hr) or 12 p.m. (takes 2 hrs, with a 30 minute stop to swim). Cost is $5.
Leaving…
Return Times to Sihanoukville
Note #1: Mad Monkey provides a boat 3 times daily to Saracen Beach free to guests. The boats depart 45 minutes before the ferries arrive (times below), so you should have no problem making your return ferry to Sihanoukville.
Note #2: If there are large waves, these boats will not run. You will instead need to hike 30-45 minutes through the jungle to reach the main pier from which your ferry will depart. (We were super lucky and had to make this hike… hungover and with all our packs. Not the highlight of our stay on Koh Rong Samloem!)
There are 3 speed boat ferries that depart daily from the main pier on Koh Rong Samloem (Saracen Beach). These boats will bring you back to Sihanoukville and should take around 45 minutes.
The daily ferry departure times are listed below:
9 a.m. , 12 p.m. , 4 p.m.
Note #3: This is island time, so departures are frequently later than scheduled.
Mad Monkey Hostels invited us to stay with them at their locations around Cambodia and learn more about their dedication to supporting the local communities. This article was written in exchange for our stay at their property in Koh Rong Samloem. As with any sponsored post, all opinions are 100% our own.
Learn more about Mad Monkey and it's other fantastic locations:
Mad Monkey: Hostels With A Purpose
Kampot: Stylish Hostel & Inspiring Education Project
Siem Reap: Boutique Hotel & Clean Water Project
Don't forget to save this to Pinterest for later!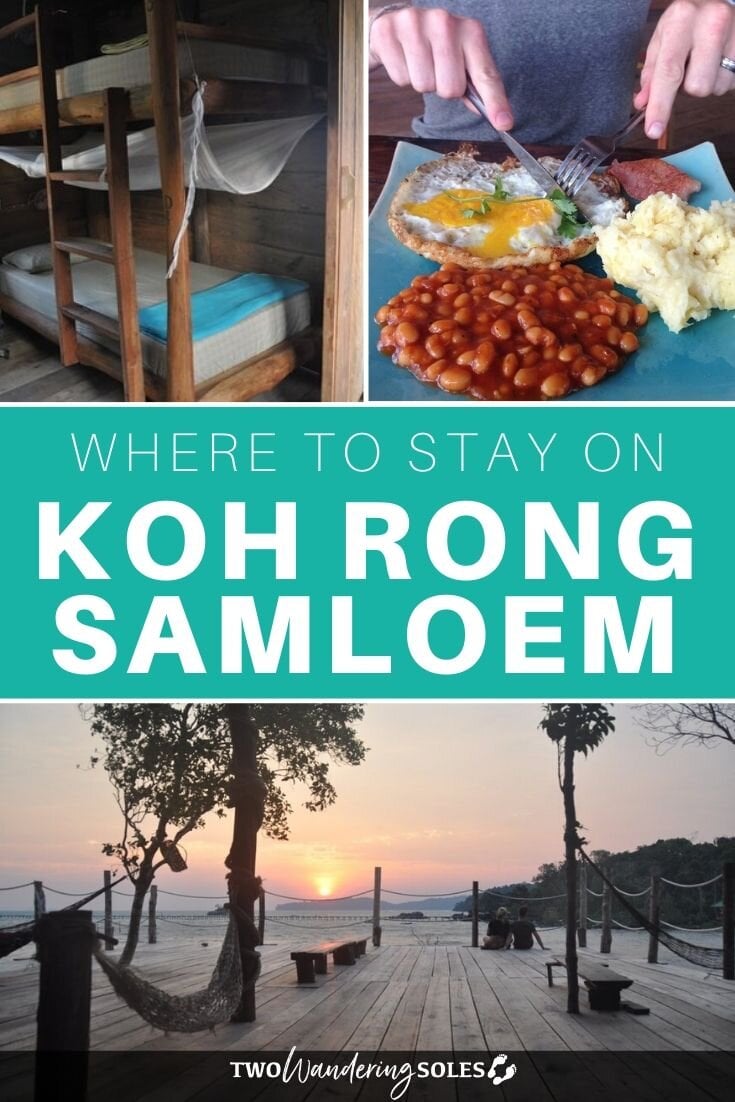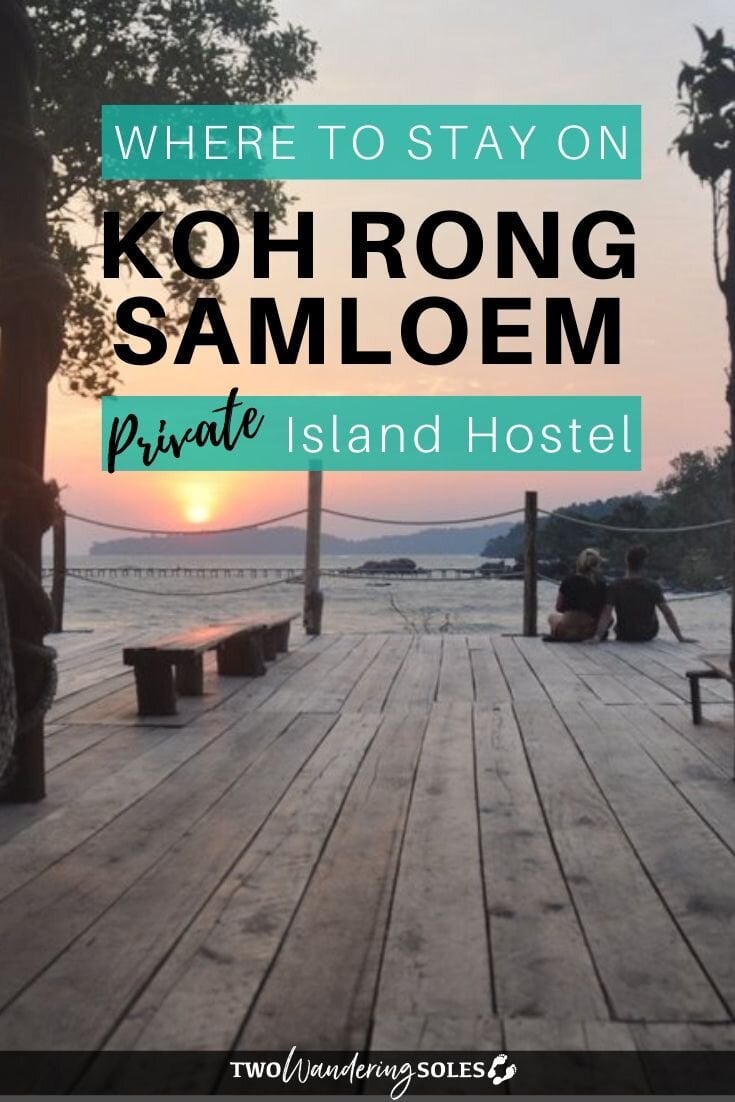 We want to hear from you!
Have you been to Koh Rong Samloem? How was your trip?