Koh Lanta is a popular island destination off the west coast of Thailand in the Andaman Sea. We put together this ultimate guide to Koh Lanta, Thailand, including when to go, where to stay, things to do, and essential tips.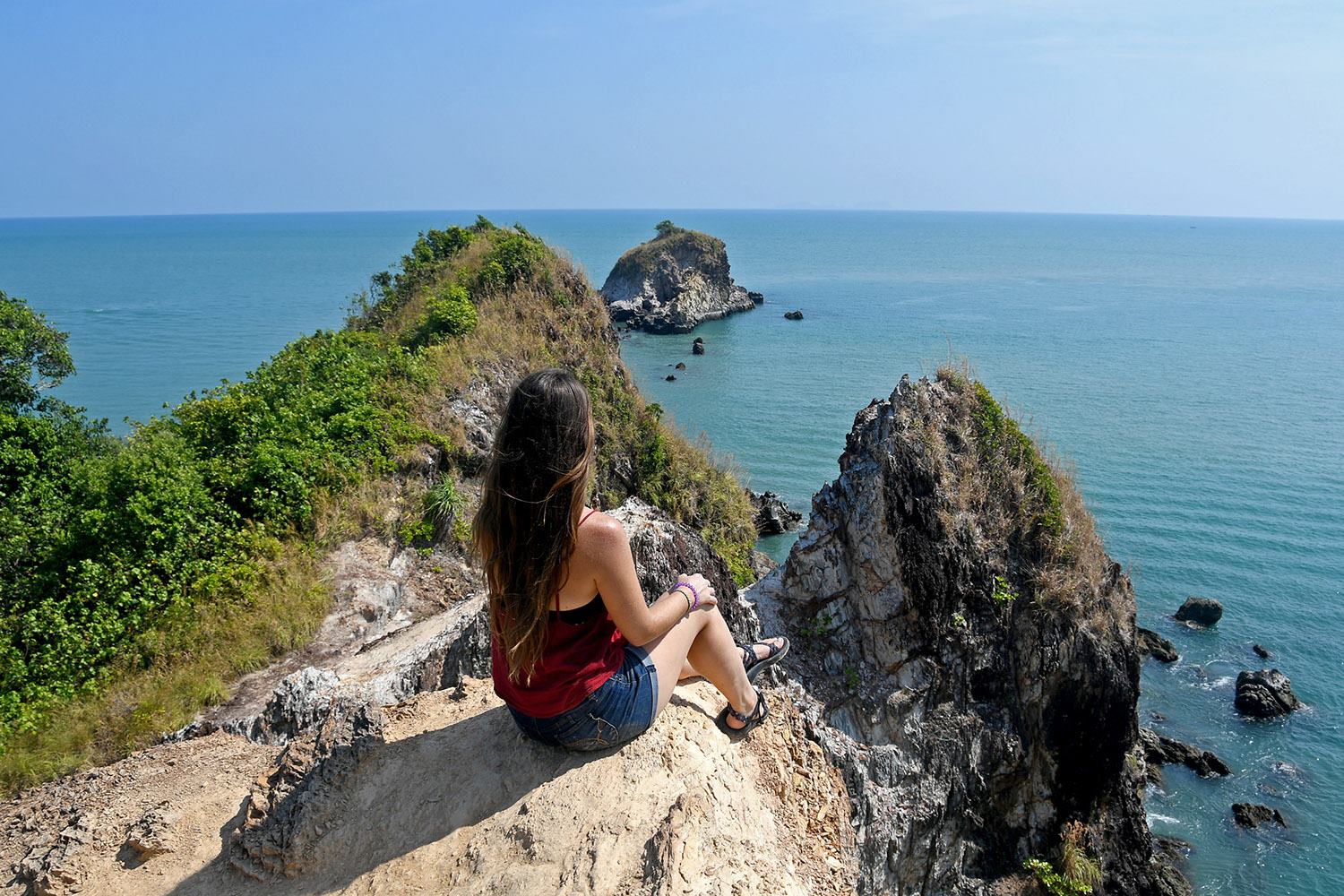 If you're dreaming of a beach vacation with an equal balance of relaxation and adventure, Koh Lanta may be the perfect addition to your Thailand itinerary.
This island is known for its laid back vibe and stunning beaches, plus we were happy to find that there are a ton of adventurous activities. With roads that are perfect for motorbike adventures, long and uncrowded beaches, secret spots to be explored and decent nightlife, it comes as no surprise that Koh Lanta is one of our favorite Thai islands.
In this travel guide, we're sharing some fun and unique things to do on Koh Lanta; plus our favorite restaurants, the best bars and which area you'll want to stay in.
Get ready, because you're about to plan the most epic trip to the Thai islands!
Koh Lanta Travel Guide
---
Best time to visit Koh Lanta, Thailand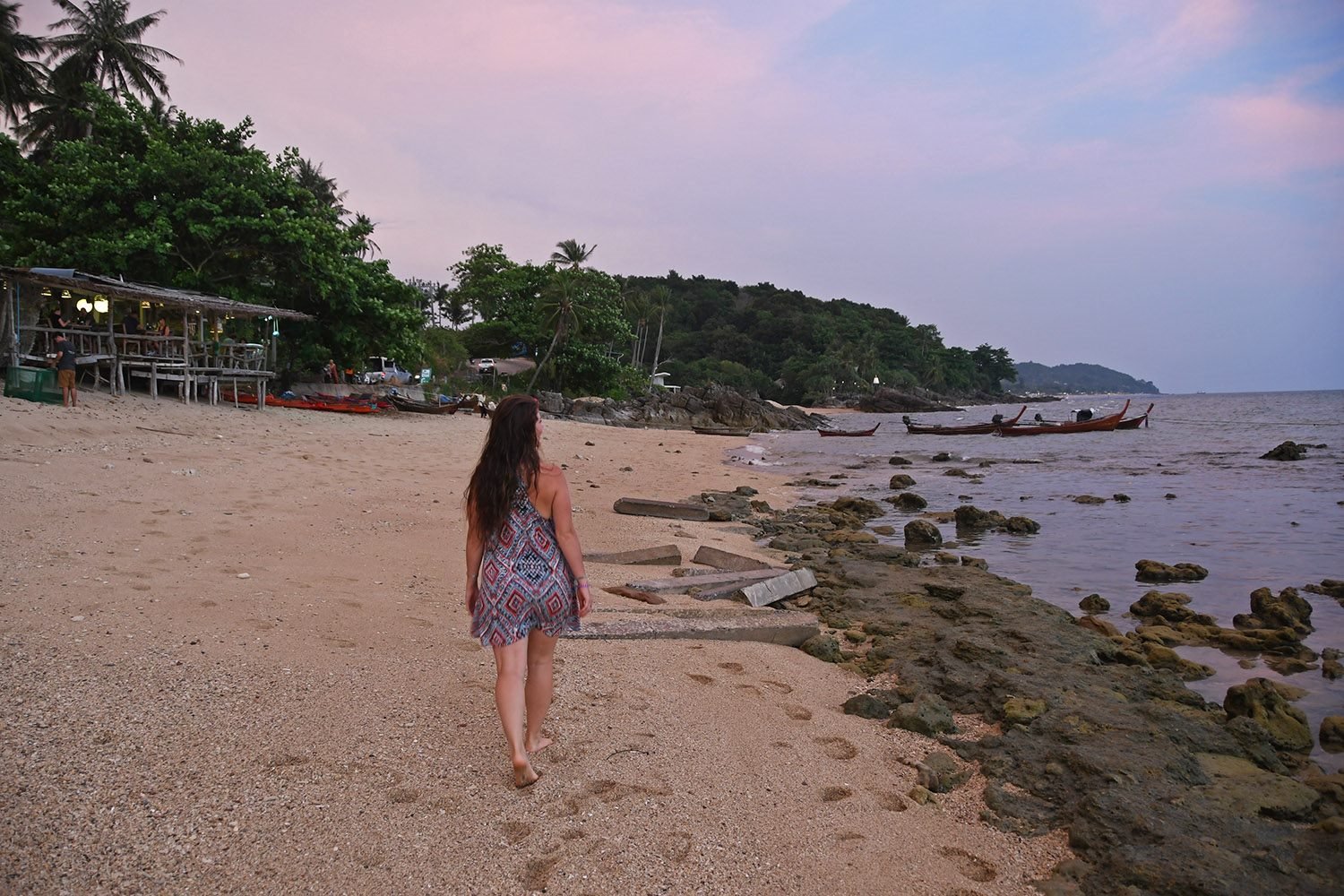 The best time to visit Koh Lanta island (and the rest of the islands in the Andaman Sea – Thailand's southwest coast) is during the dry season from November – April. This period offers pleasant weather with lower humidity and minimal rainfall, making it ideal for beach activities, snorkeling, and diving.
The high season, when the island experiences the most visitors, is from December to February. So keep that in mind as you book your accommodation and know that prices and crowds may be up during these months.
Monsoon season is May – September in this region, so you will likely want to avoid visiting Koh Lanta island during this time.
For an in-depth guide on the regional seasons, weather patterns and other factors, check out our complete guide to the best time to visit Thailand.
How to get to Koh Lanta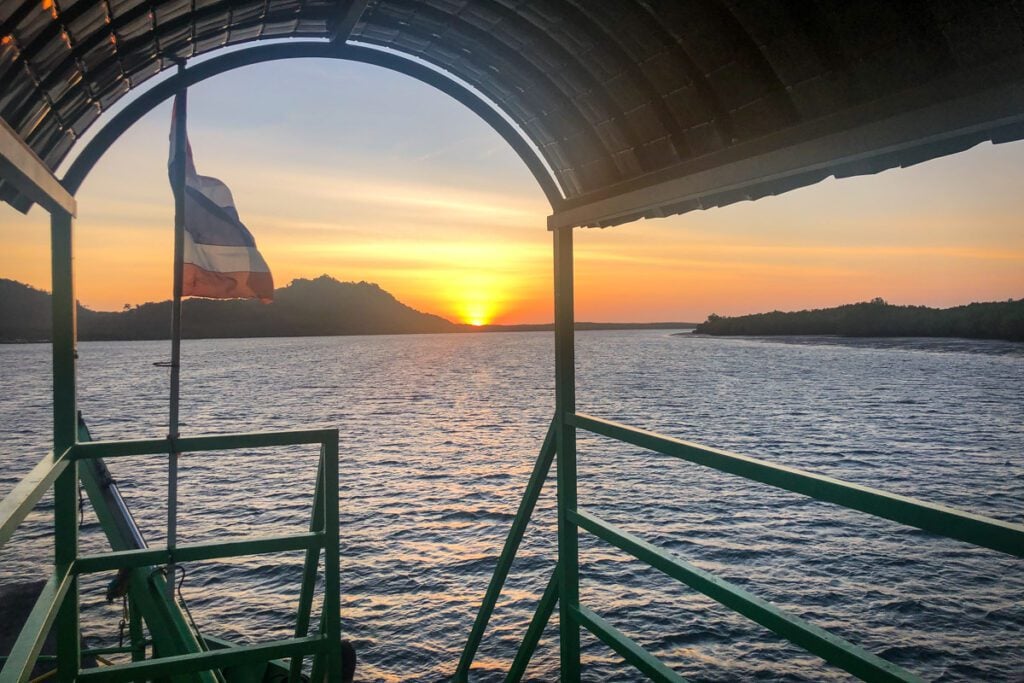 The two main ways to get to Koh Lanta are by ferry and van. If you are coming from Koh Lipe, Koh Phi Phi, Railay Beach or Phuket, we would recommend traveling to Koh Lanta by ferry. If you are coming from Krabi Town or Krabi Airport, traveling by van is the fastest and cheapest route.
But how do you drive to an island? I thought the same thing, but there is a car ferry from the mainland Thailand to the north island of Koh Lanta. Then there is a bridge that connects the north (Koh Lanta Noi) and the larger and more popular south (Koh Lanta Yai) islands of Koh Lanta.
When traveling in Thailand, we like to book our transportation through 12go.asia. In an effort to be more transparent, we are affiliated with them and if you book your transport through this link, we get a little kickback at no extra cost to you.
Cost saving tip: We recommend 12go.asia if you want to book your tickets ahead of time, but actually we found the ferry tickets to be quite overpriced on the site. When we took the ferry from Koh Lipe to Koh Lanta the site said it cost 1,500 baht but when we booked it in person, the fare was only 700 baht per person.

I would use the site to reference departure times, but if you are able to book tickets in person, they are much cheaper than online. If you would like to book all your transportation ahead of time just to give yourself some piece of mind, we definitely recommend 12go.asia.
Getting around Koh Lanta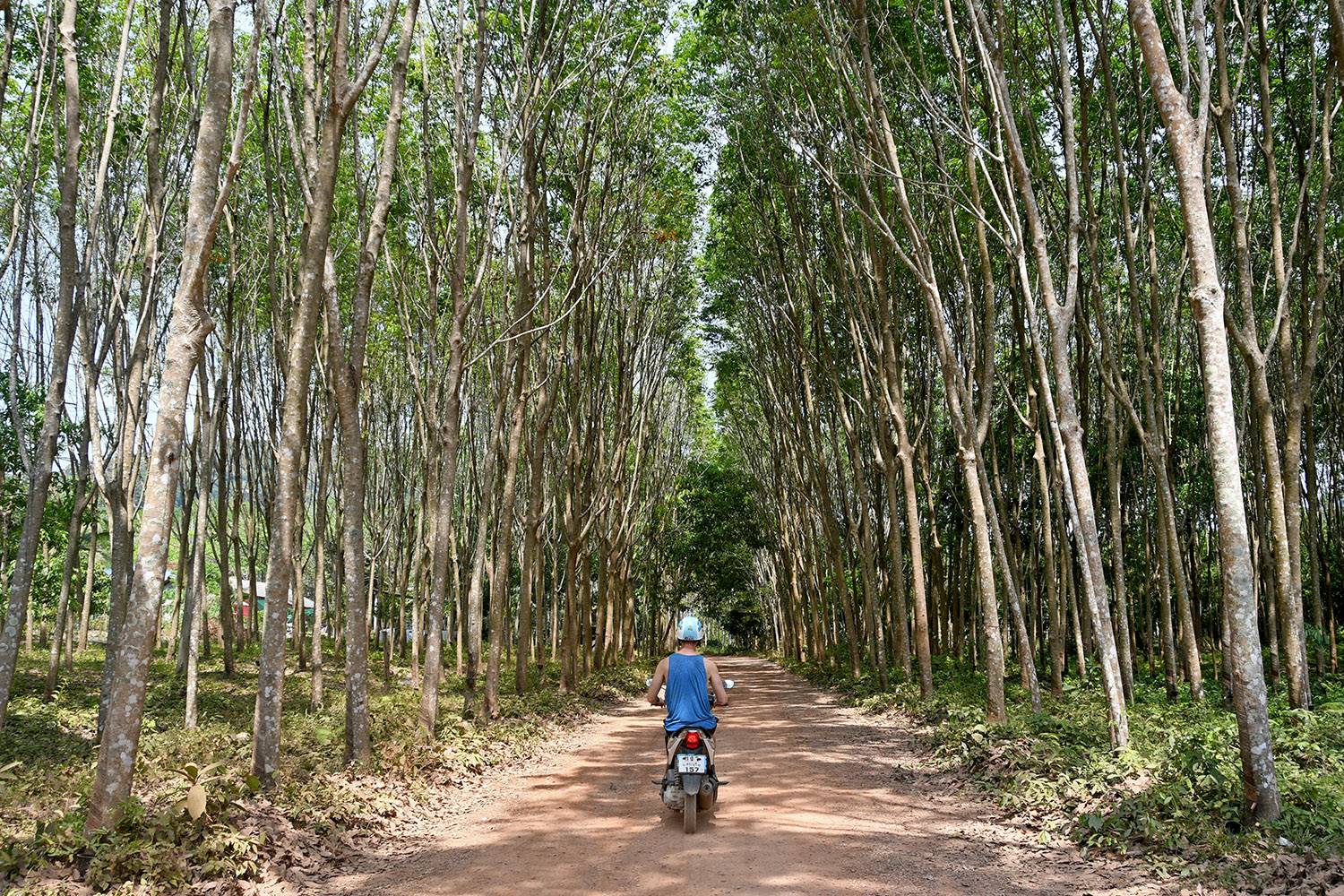 With wide roads that are mostly flat, Koh Lanta is a popular place for visitors to rent motorbikes. We think it's the best (and cheapest!) way to see the island, but it's not for everyone.
Watch out for potholes (there are many) and be prepared for a couple steep hills near the south of the island and when crossing from the west to the east side.
Cost of renting a motorbike on Koh Lanta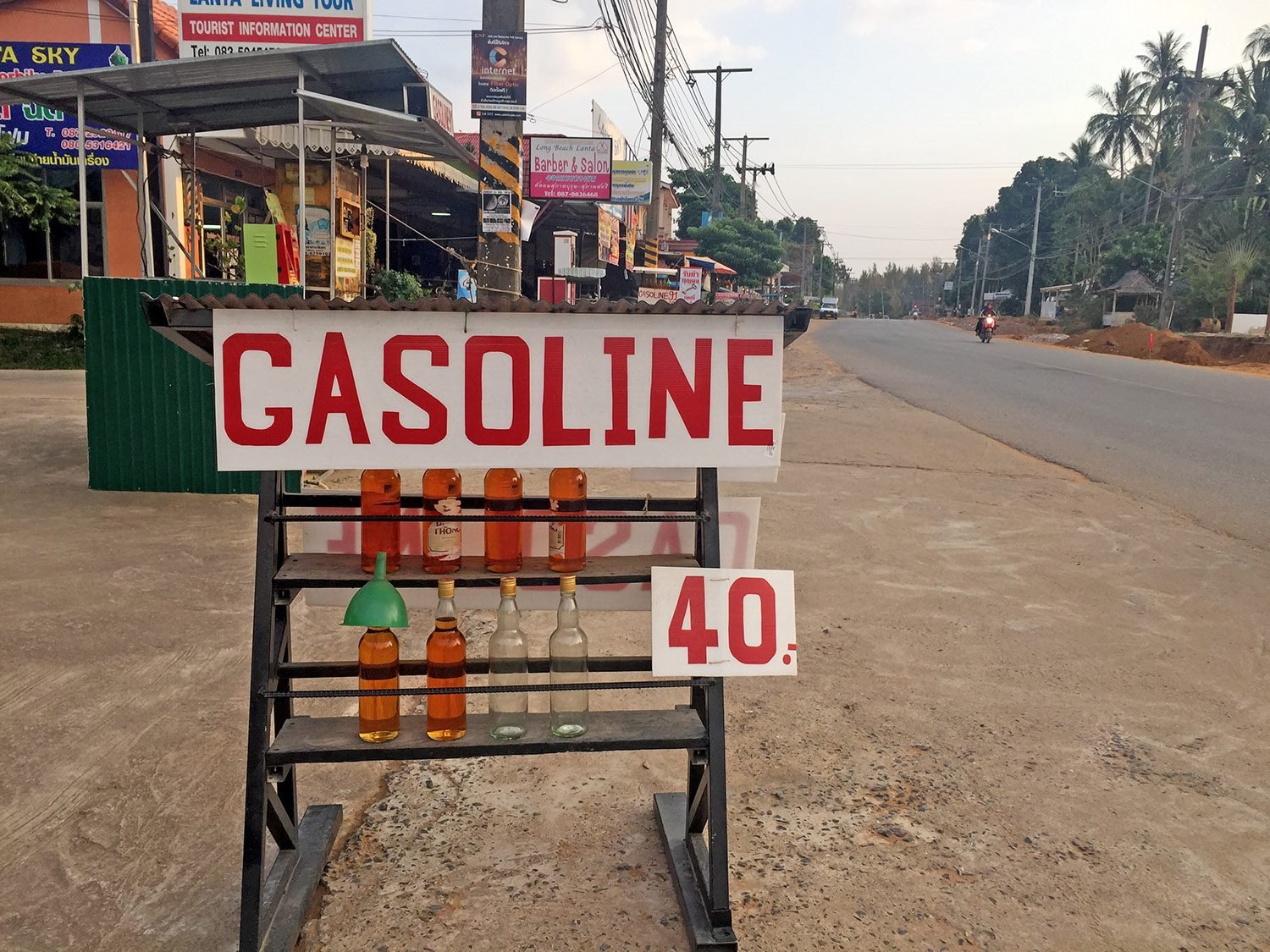 We rented our motorbike from our guesthouse and paid 200 baht (about $6 USD) per day. Small shops (they're everywhere!) sell gasoline out of recycled whiskey bottles for 35 – 40 baht per liter.
Warning: Do not rent a motorbike without travel insurance. Even though the roads on Koh Lanta are relatively easy to drive even for beginners, accidents are frequent. (We know a couple people who got injured on this island and were thankful their travel insurance covered all medical care.)
Alternative to motorbikes
There are ways to get around Koh Lanta without a motorbike. Tuk tuks are a popular way to get around. Be sure to negotiate with the driver to get a fair price. A few kilometers drive should be about 50 baht.
You could also hop on a songthaew (communal transport where you sit on a bench in the back of a truck). Before you hop in, be sure the driver knows where you want to go, and be prepared if they pick up other people during your trip.
---
Things to do in Koh Lanta
From adrenaline-pumping adventures to stunning viewpoints to sustainable activities, there are so many things to add to your Koh Lanta itinerary. While we love relaxing on the beach for a few hours, we tend to get a bit restless (and burnt!), so we were really pleased to learn there is much more to this island than being a beach bum (though there's nothing wrong with that!).
If you're looking for the very best things to do in Koh Lanta, here are our top recommendations.
Go sea kayaking and explore caves
Clean up the beach with Trash Hero
Volunteer to walk rescued pups
Visit the lighthouse in Mu Ko Lanta National Park
Go beach hopping
Keep reading for more detailed information on each of these things and more ideas of fun things to do in Koh Lanta, Thailand.
1. Go sea kayaking and explore caves with Talabeng Kayaking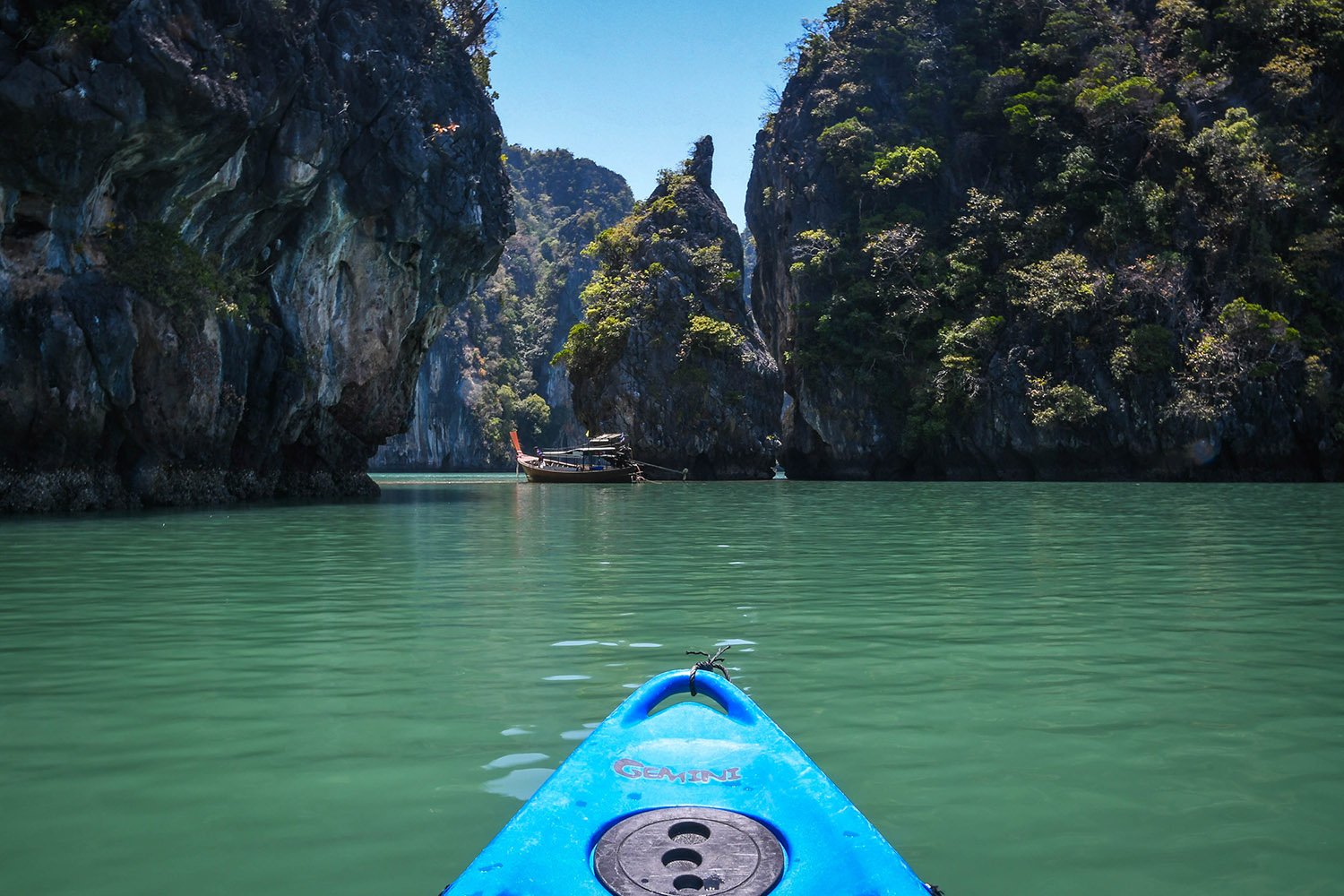 We've done our share of snorkeling and island hopping tours, and we wanted to try something a little different. When we saw rave reviews for Talabeng Kayaking on TripAdvisor, we called the number at the bottom of their very basic website and made a booking. We weren't given many instructions about what the day would entail, so our expectations weren't all that high. But we were so impressed.
Unlike the snorkeling boats, which have around 30 people and go to spots with a dozen other boats, this tour has a maximum of 10 people and you won't see any other tour groups along the way.
Tour itinerary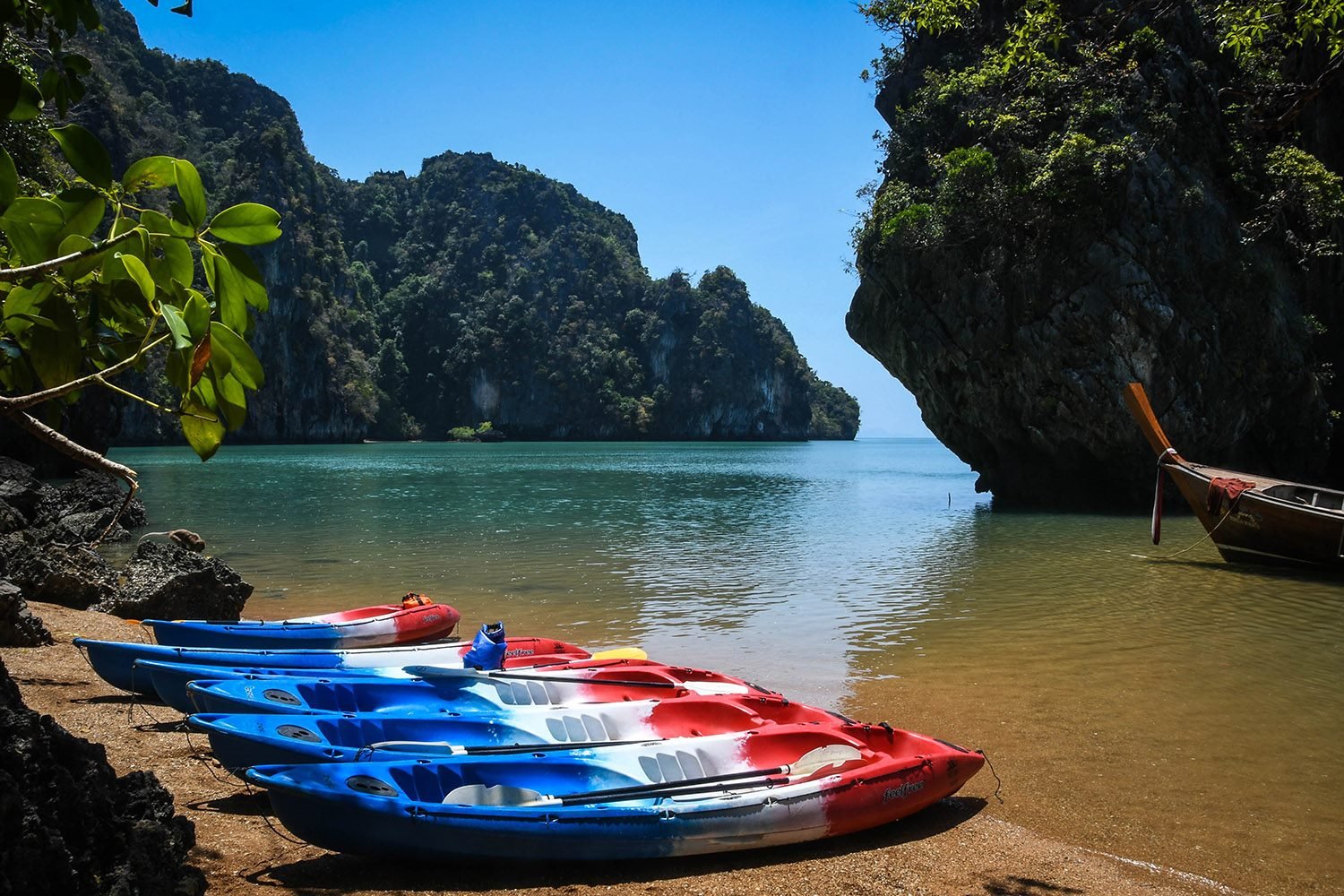 The first stop is at Koh Phee or Ghost Island, which is essentially hollowed out with caves. It's actually really cool. You'll climb up tires and use ropes to explore the series of caves. Don't expect harnesses or safety equipment you might find in Western countries. Be careful and come with a sense of adventure and you'll enjoy it!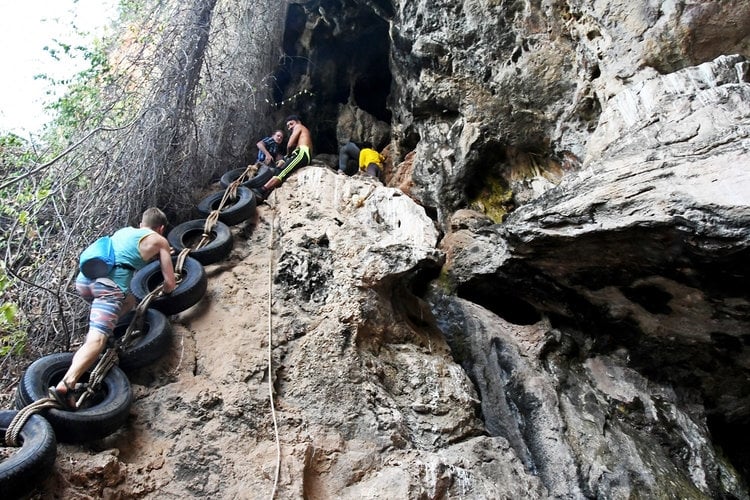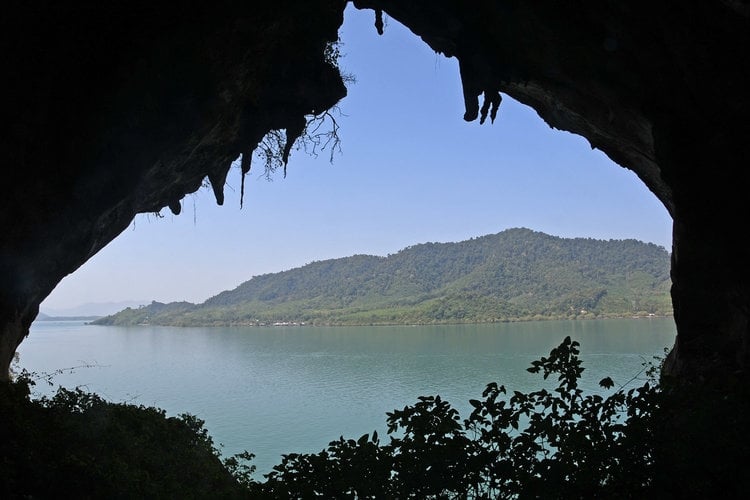 After exploring the cave, you'll cool down with fresh fruit and chilled water before hopping into double kayaks. You'll then paddle a little ways until you reach a stunning little beach where lunch (rice, curries, vegetables & fruit) will be prepared as you swim through a cave, observe the resident monkeys and enjoy this special spot. Someone on our tour said that having lunch on this beach alone was worth the tour price (and we agree!).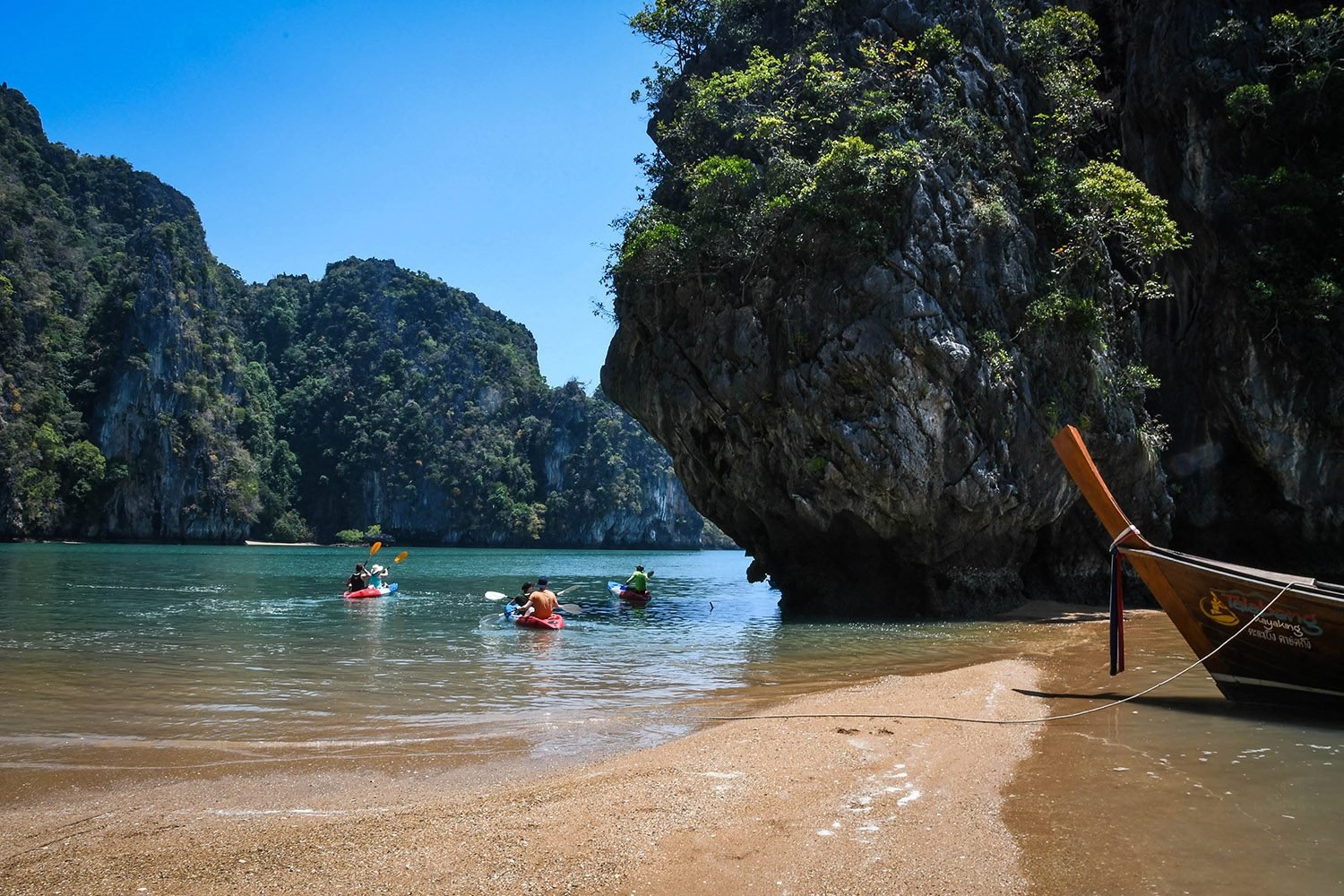 After relaxing for an hour or so, you'll get back into your kayak and paddle around the karst islands (about 40 minutes). You'll have the chance to stop in a couple caves and view some secluded beaches. Being that the tour is small, it's really easy to just go at your own pace and stop when you want.
This tour is run by one family, and it definitely feels like a more "local" experience than going with one of the big snorkeling companies. In fact, at the very end of the tour, you'll stop at the owner's parent's house where they have a small snack and refreshing juice prepared for you.
Cost: 1,300 baht per person (about $42 USD) — totally worth it, in our opinion!
What to pack for your kayak tour
proper shoes (our Chacos were perfect for this, as they were good for climbing in the cave and also in the water)
dry bag to keep your valuables safe from water
GoPro (if you have one!)
sunscreen
sunglasses (these even float!)
water bottle (they provide water, but we always like to have a little extra!)
Psst! If this kayaking adventure sounds like fun, we think you'll also love exploring Khao Sok National Park!
2. Clean up the beach with Trash Hero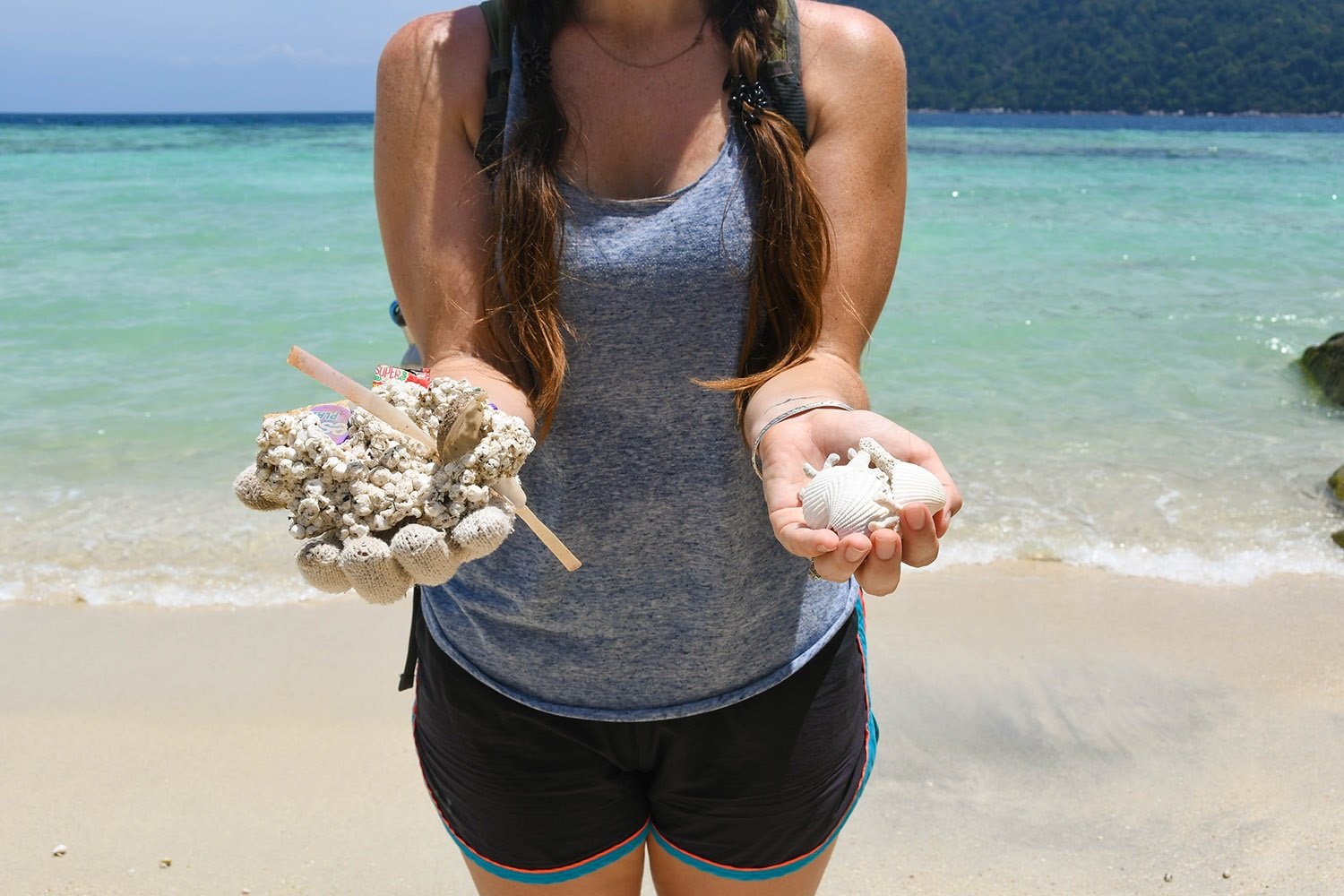 Join in the weekly beach clean up run by an organization called Trash Hero. While we weren't in Koh Lanta on a Sunday (the day that these clean ups take place), we participated in one on Koh Lipe and had an amazing experience.
It is eye opening to see how much trash washes up on shore of some of the most beautiful beaches. Not only will you feel good about removing some of that trash, but you'll get to connect with like-minded people and see some beaches you might otherwise miss.
3. Volunteer to walk rescued dogs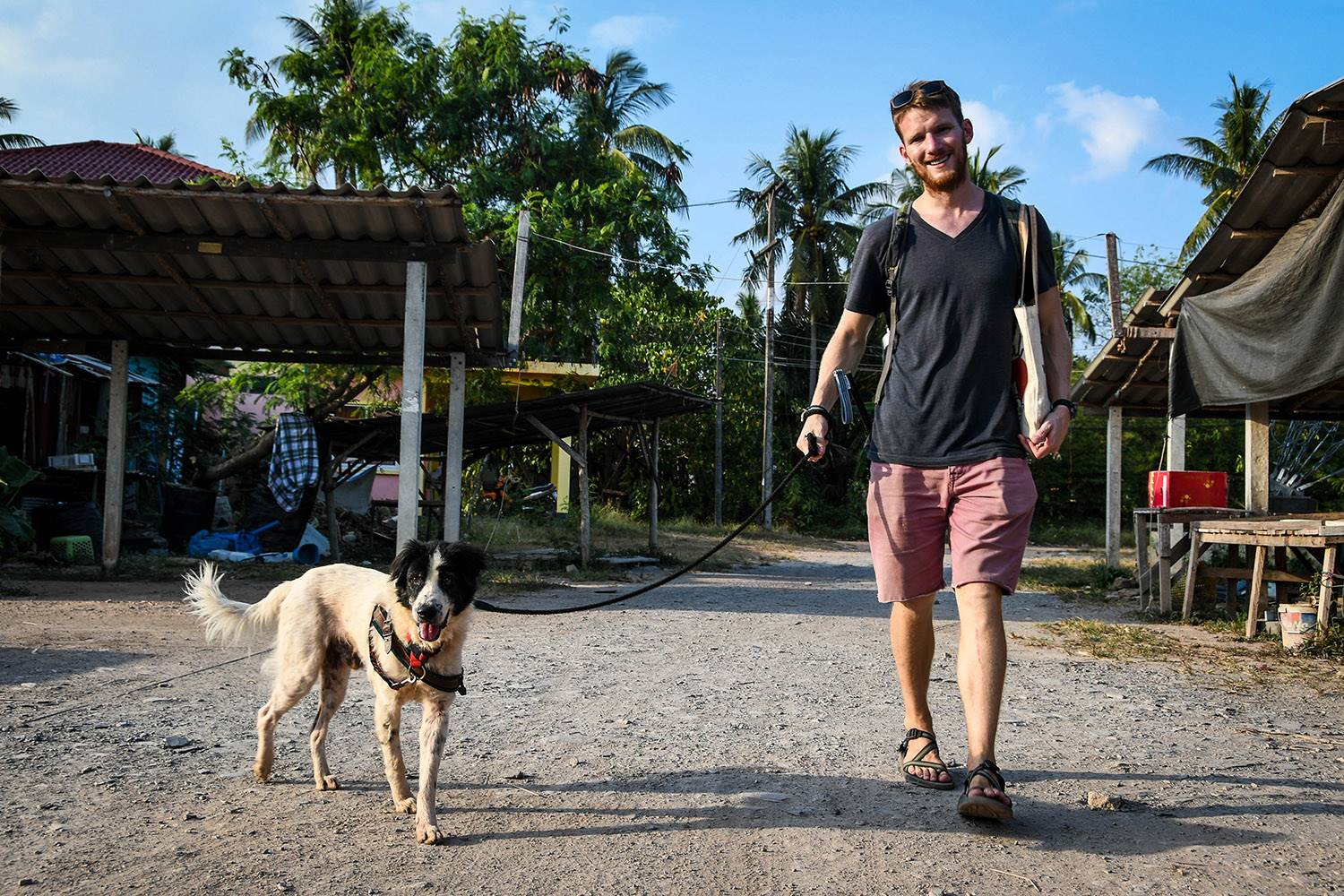 Do you know what the #1 thing to do in Koh Lanta is, according to TripAdvisor? It's not the beach and it's not snorkeling…
It's visiting the Lanta Animal Welfare center.
We were surprised too, but after visiting, we can understand why it is so popular. This center cares for and sterilizes stray dogs and cats on the island of Koh Lanta. When it's safe for the animals, they release them back to where they were found, but when the animals need more care they help find them "forever homes" in Thailand or abroad.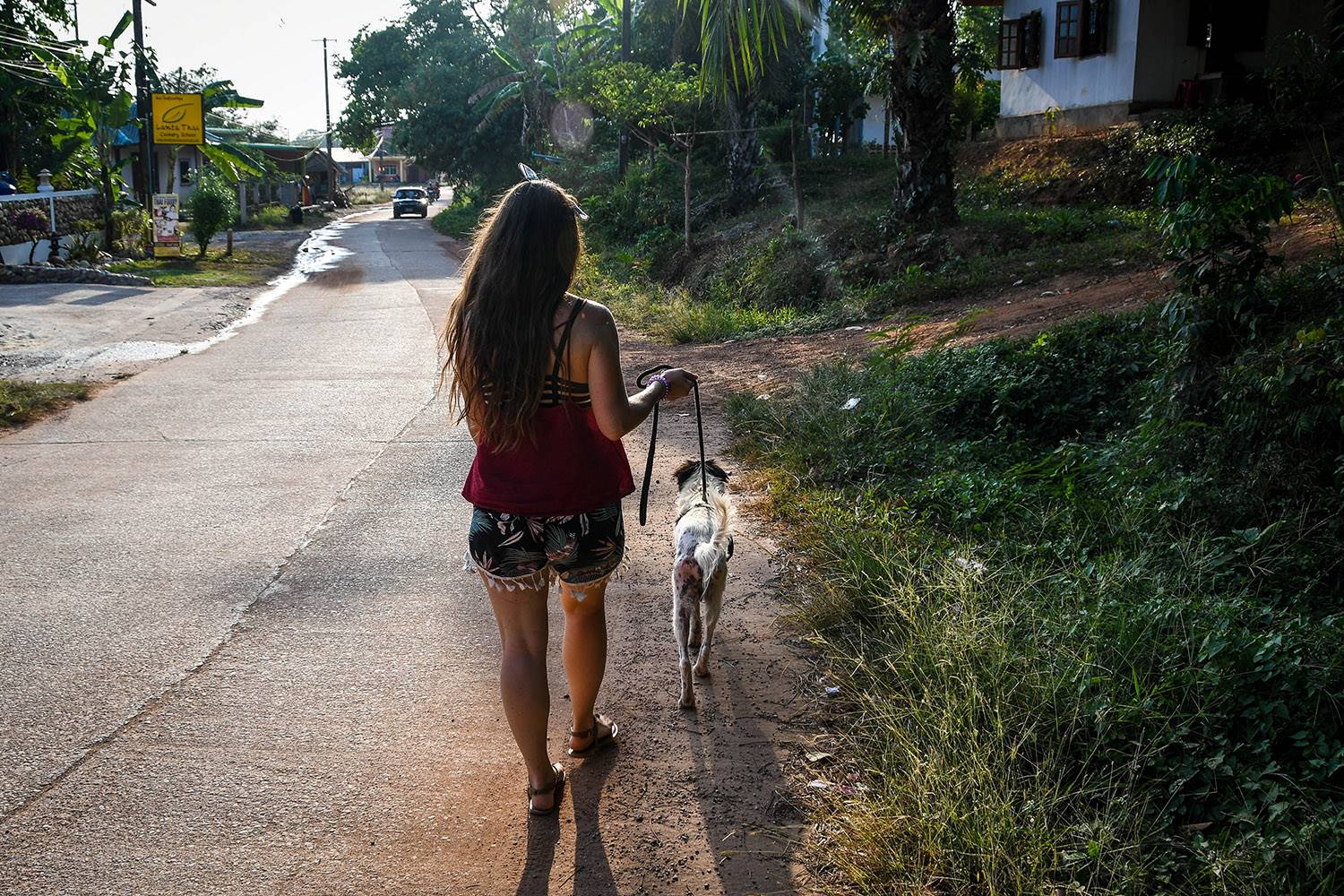 Show up between 10 a.m. and 4 p.m. and join a handful of others for an informative 40-minute tour of the center. After the tour, you may be able to take a dog for a walk (depending on their needs).
They walk dogs in the morning (from 8:30 a.m. to 11 a.m.) and in the afternoon (from 3 p.m. to 5 p.m.) to avoid the hottest part of the day.
Note that they like you to take a tour first before walking a dog.
You can also enjoy a treat, like a cupcake (delicious!) or brownie in their Kitty City Café. The only complaint I have about LAW is the iced coffee I ordered was not great. Instead, I'd recommend getting a fresh coconut (they serve them with bamboo straws! Yay for no plastic!) for 70 baht.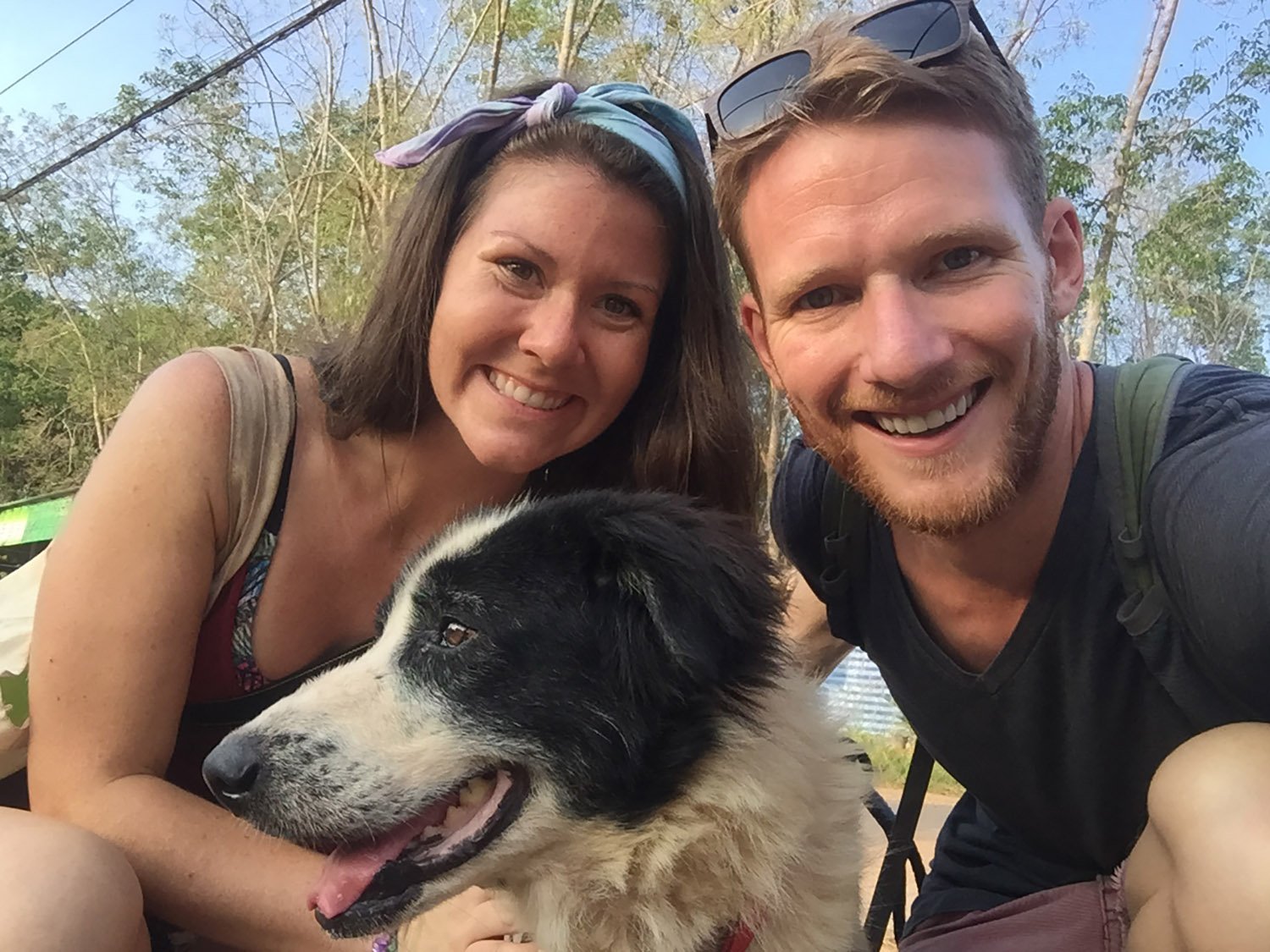 More information: If you're interested in making a donation or adopting a cat or dog, check out the Lanta Animal Welfare website.
4. Visit the lighthouse in Mu Ko Lanta National Park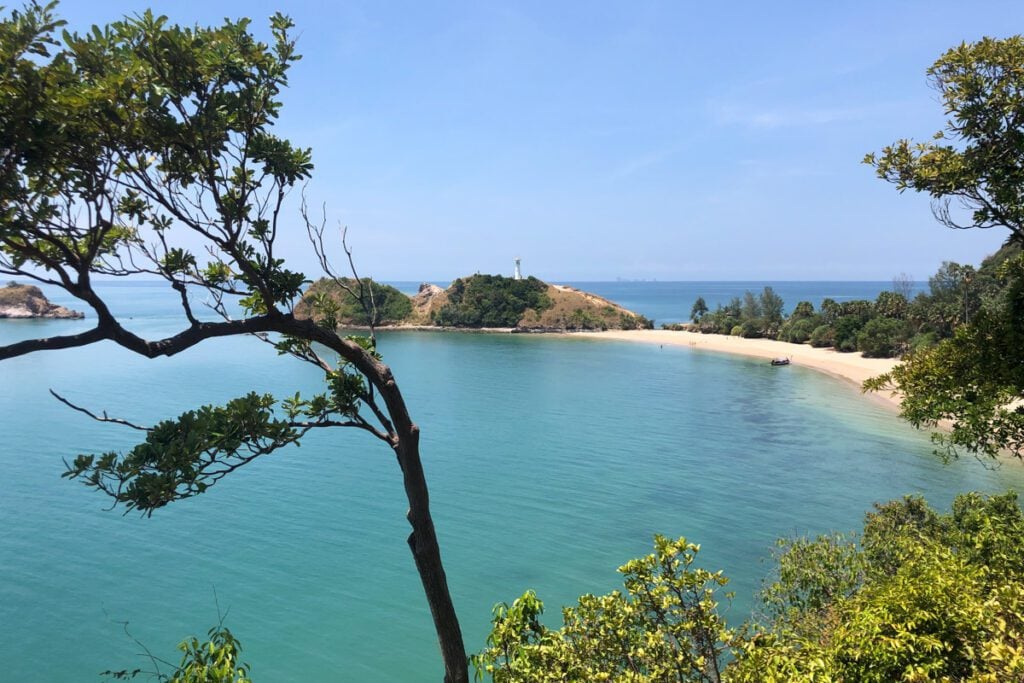 We were unsure of whether a stop in Mu Ko Lanta National Park would be worth the 200 baht entrance fee per person. We'd read mixed reviews online, but were pleasantly surprised with a beautiful beach, few crowds and a cool little lighthouse you can hike to.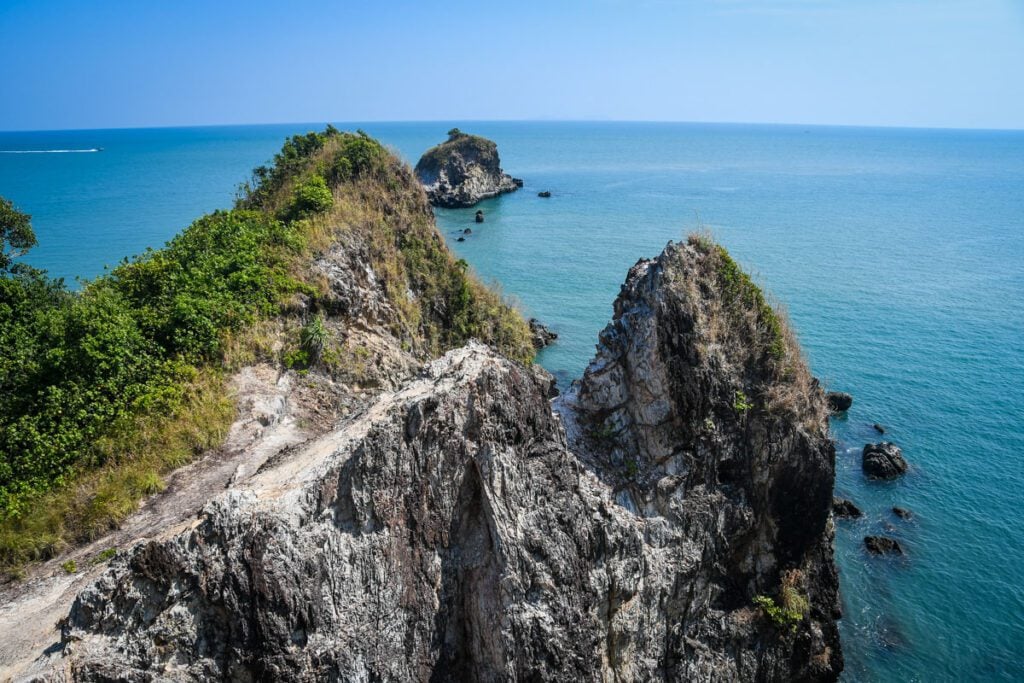 We thought it was a worthwhile stop, but if you're on a super tight budget, you might want to stick to the (many!) free beaches.
Cost: 200 baht per person (40 baht for Thai nationals) and 20 baht for motorbike parking.
5. Go beach hopping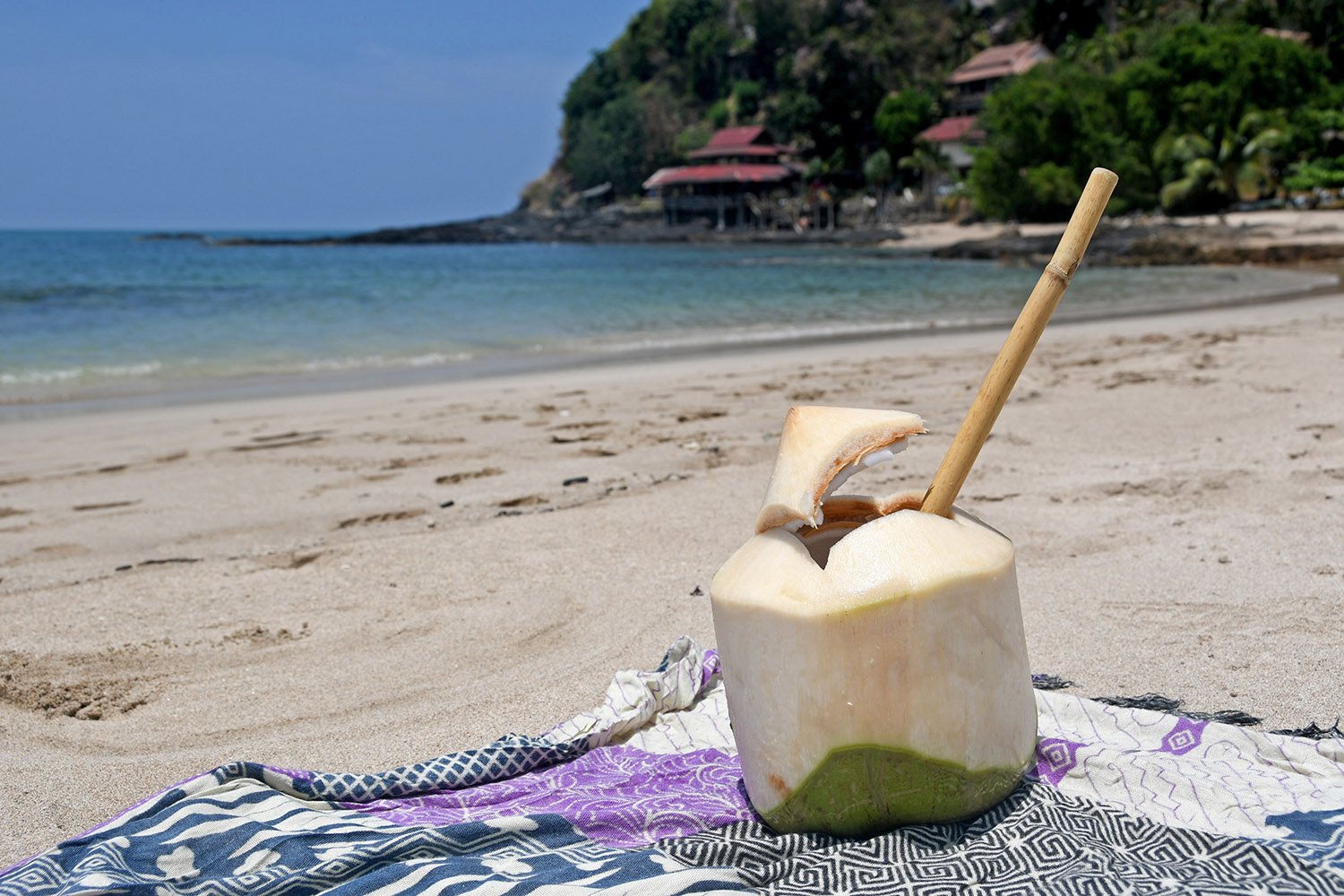 One of the best ways to spend your time on Koh Lanta is to rent a motorbike and explore, stopping anytime you get the urge to check out another beach. It's one of the reasons the island is considered one of the best islands in Thailand.
Here are some of our favorite beaches:
Bamboo Beach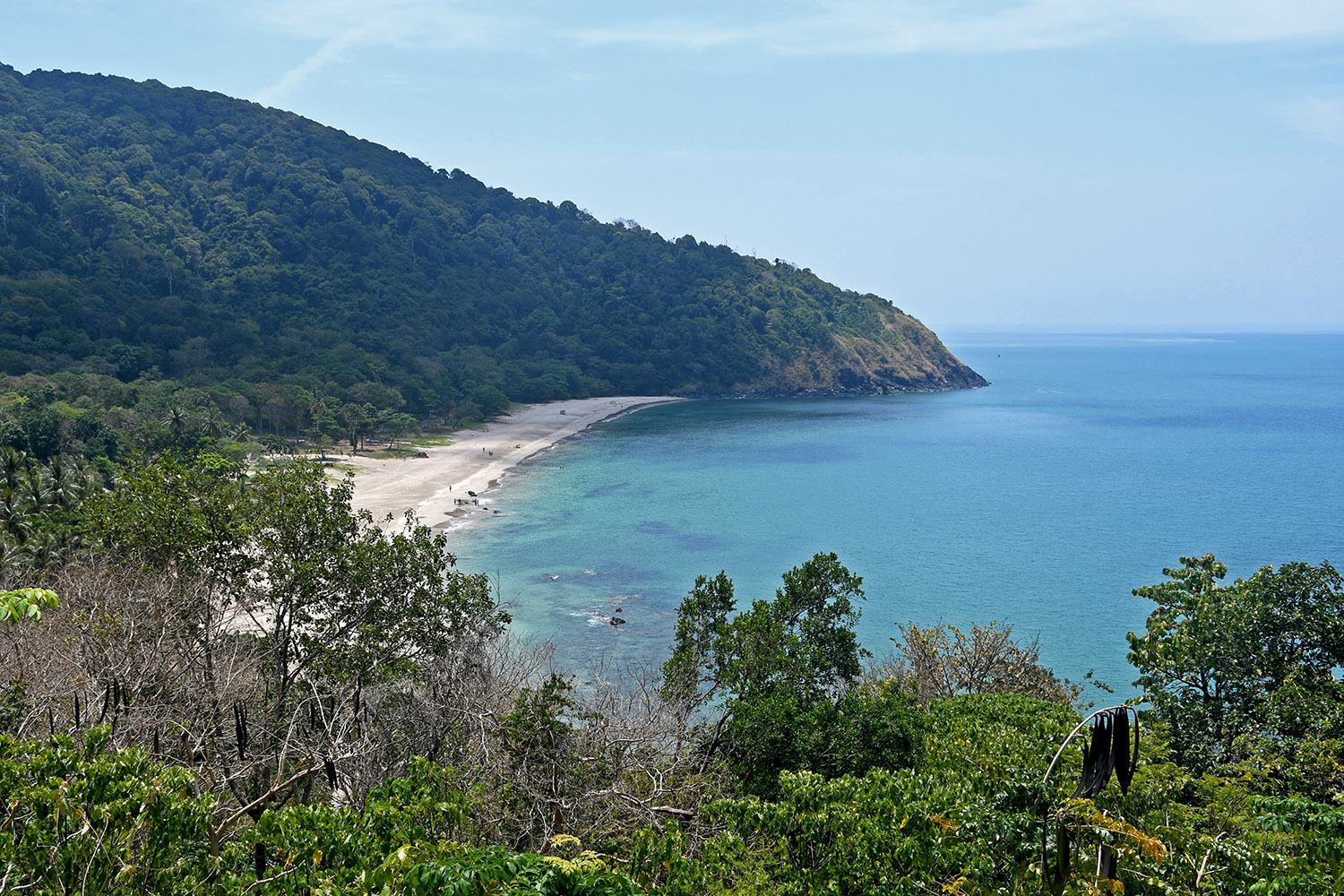 There's no doubt about it: Bamboo Bay is absolutely breathtaking. With white sand, turquoise waters and lush cliffs rising up on either side of the bay, this was our favorite beach in Koh Lanta. The best part is you won't have to share this view with lots of people, as many visitors don't make it this far down the coast.
As you're driving on the road, you'll get your first glimpse of this beach from above and you'll definitely want to stop and get a picture (from the north end). There are two viewpoint restaurants that overlook Bamboo Bay, and we stopped here for a quick picture.
Follow the signs and take a dirt road that leads to the ocean. You'll end up at a beachside restaurant where you can order a fresh coconut or a beer. We got lunch here and it was pretty decent.
Note: One thing to keep in mind is the beaches in Koh Lanta change drastically depending on the tide. For instance, when we arrived at Bamboo Beach around 11:30 a.m., it was high tide and perfect for swimming. But just an hour and a half later, the water had receded and lots of coral and rocks made it difficult to get out into the water very far. Most of the beaches are quite similar.
Nui Bay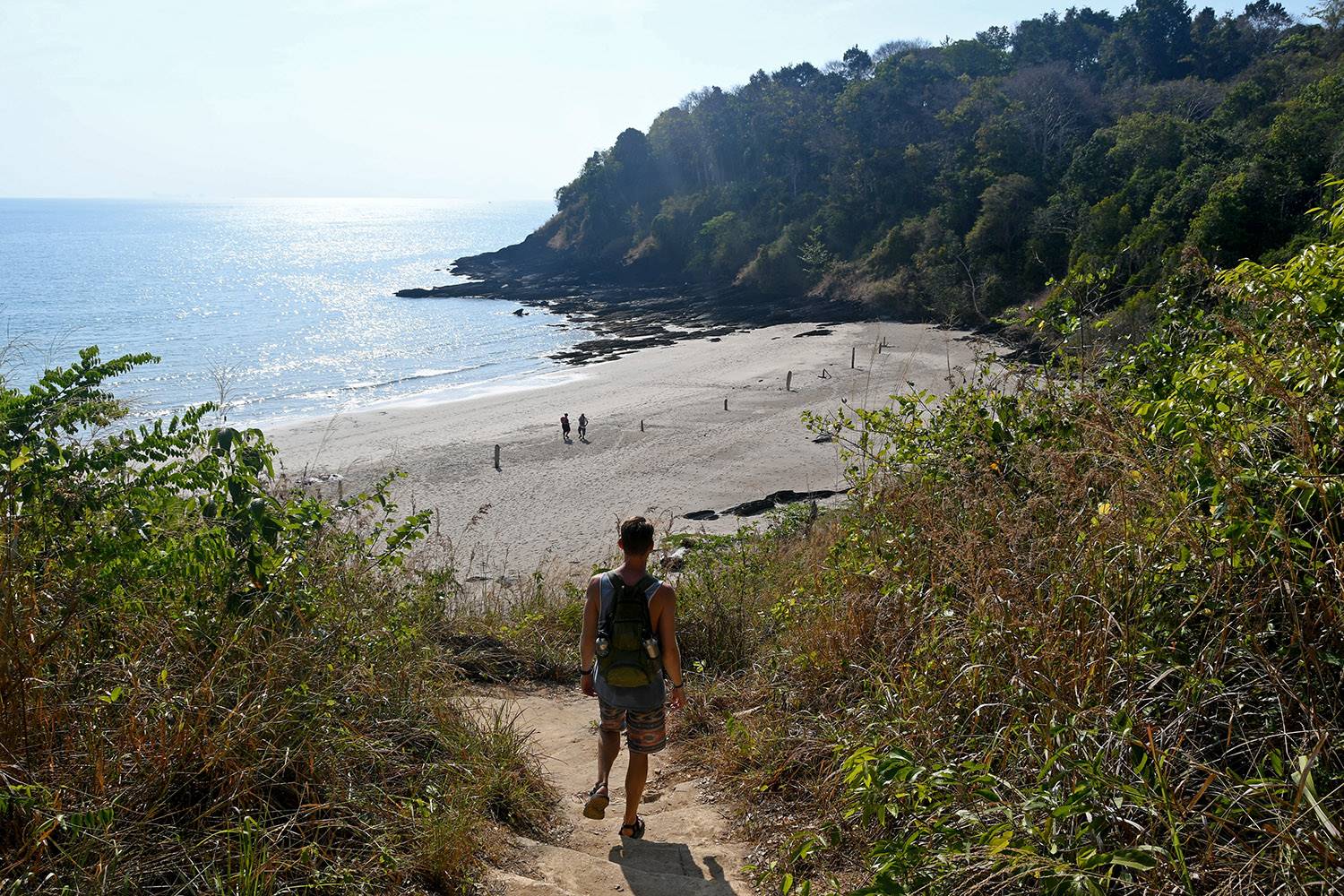 North of Bamboo Bay beach is the quaint Nui Bay beach. The sand is just as soft as Bamboo Bay, but the beach itself is a lot smaller. There is a small stand serving drinks but not much else. It's a perfect spot to get away from the other busy beaches.
Kantiang Bay
One of the larger bays on the south end of Koh Lanta, Kantiang Bay has many beach side restaurants. We liked Why Not Bar for their live music and chill vibe. The beach is very long, but the water is quite rocky so be careful where you step.
Klong Nin Beach
Stretching for about 2 km, this sunset beach has pretty good sand and the water is not so rocky. We were lured into the Majestic Bar for sunset because they claimed to have the best mojitos on Koh Lanta. And it is true! They were excellent.
Long Beach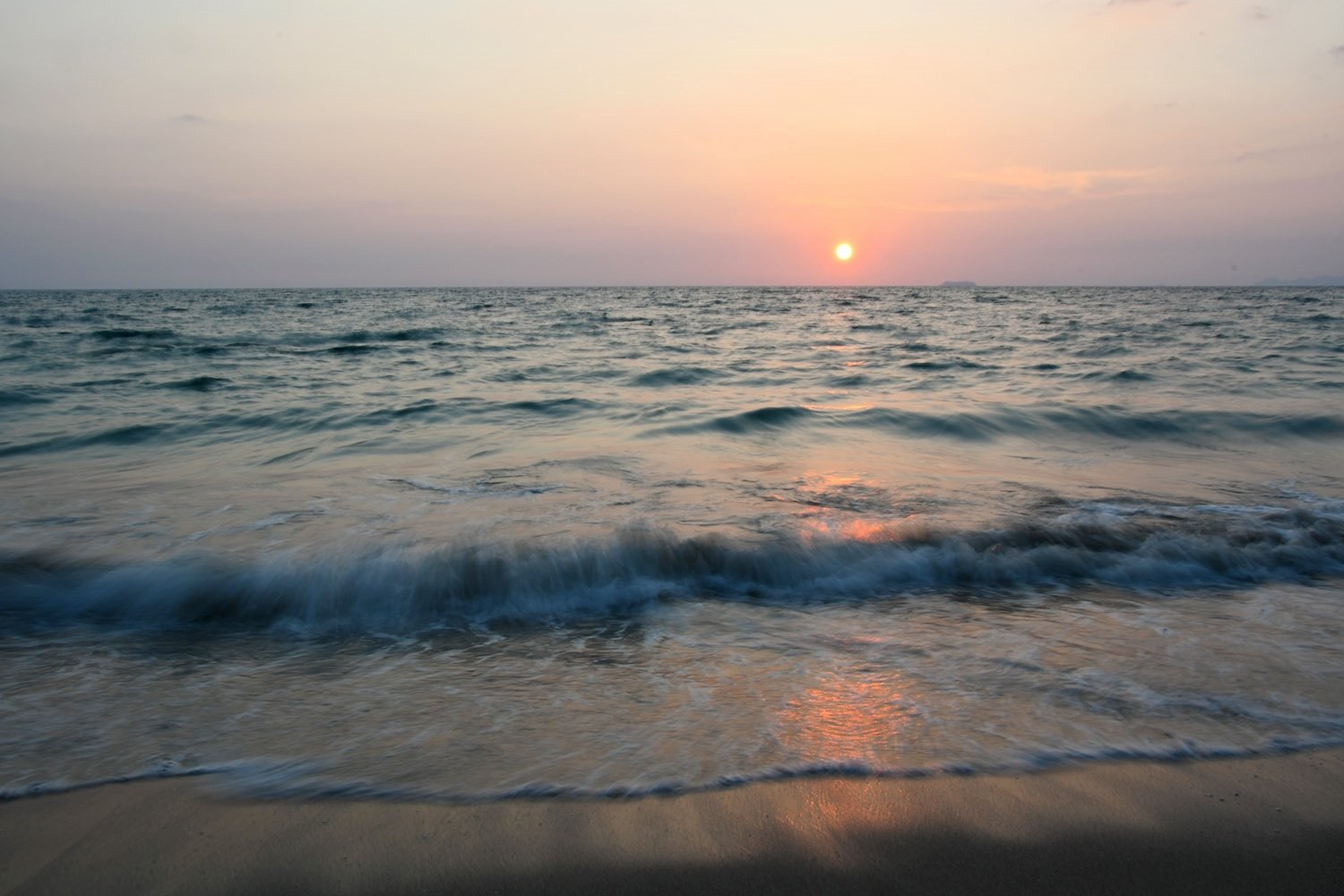 Probably the biggest beach on Koh Lanta (hence the name), Long Beach has numerous restaurants, bars and resorts, all with fantastic views for sunset.
However it does get a little busy because this is where the majority of the island travelers stay.
Klong Dao Beach
Situated on the northwest coast of Koh Lanta Yai, this is a picturesque stretch of soft golden sand lined with a variety of accommodations, restaurants, and beach bars. Klong Dao is best known for its family-friendly atmosphere and shallow waters. Facing west, it also makes a great spot to watch the sunset from.
Secret Beach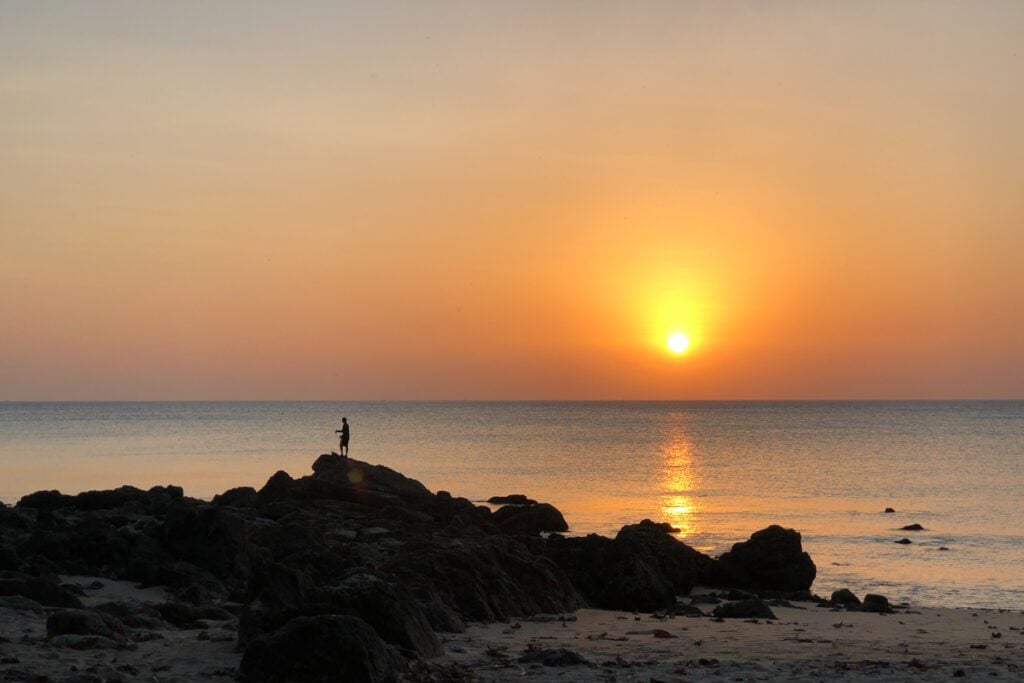 This small bay is hard to get to as you'll have to park your motorbike and walk a ways, but it's worth the short (15 min) journey for the nearly secluded spot and sunset views!
Klong Khong Beach
This beach offers a more relaxed and less crowded atmosphere compared to some of the busier beaches on the island. With its long, tranquil shoreline and shallow waters, Klong Khong is a haven for those seeking a peaceful escape.
The beachfront establishments often host fire shows and other entertainment, contributing to a chilled-out evening vibe.
6. Explore Khao Mai Kaew Cave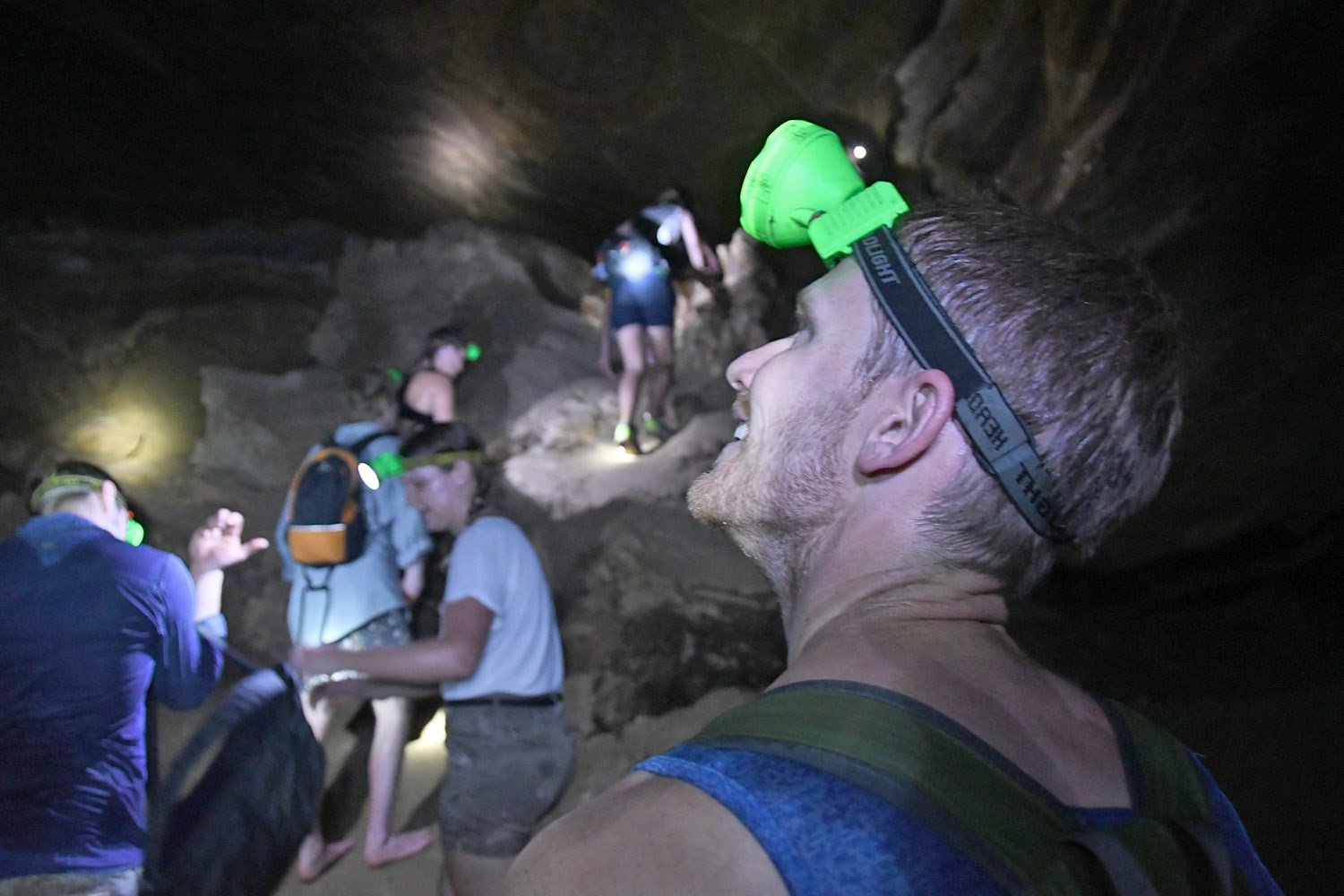 We've visited quite a few caves on our travels, and sometimes they start to blend together. We were really unsure of what to expect when visiting Khao Mai Kaew Cave, but were pleasantly surprised!
This narrow cave almost reminded us of Antelope Canyon (without light coming through the top). It was a really unique cave and we are really happy we made it here.
The tour takes 2 hours in total: 30 minutes to hike to the cave, an hour exploring inside and 30 minutes back.
Cost: 300 baht entrance fee per person ($9.60 USD)
Things to know before you go to Khao Mai Kaew Cave
Wear proper shoes! There were a few people in our tour group wearing flip flops, and they ended up barefoot. Our Chacos were perfect for this!
You cannot enter the cave without a guide. There are a couple local men who lead tours, and you must wait until the previous tour has finished (we had to wait about a half hour). They more or less show you the way and point out a few things along the way, but don't expect a super informative tour.
Headlamps are provided
There are some places in the cave that you will have to make a tight squeeze and even crawl. If you are claustrophobic, this might not be for you.
It gets hot in the cave! We were soaked in sweat and quite dirty when we exited. Don't wear nice clothing.
7. Visit a sustainably built teahouse in the jungle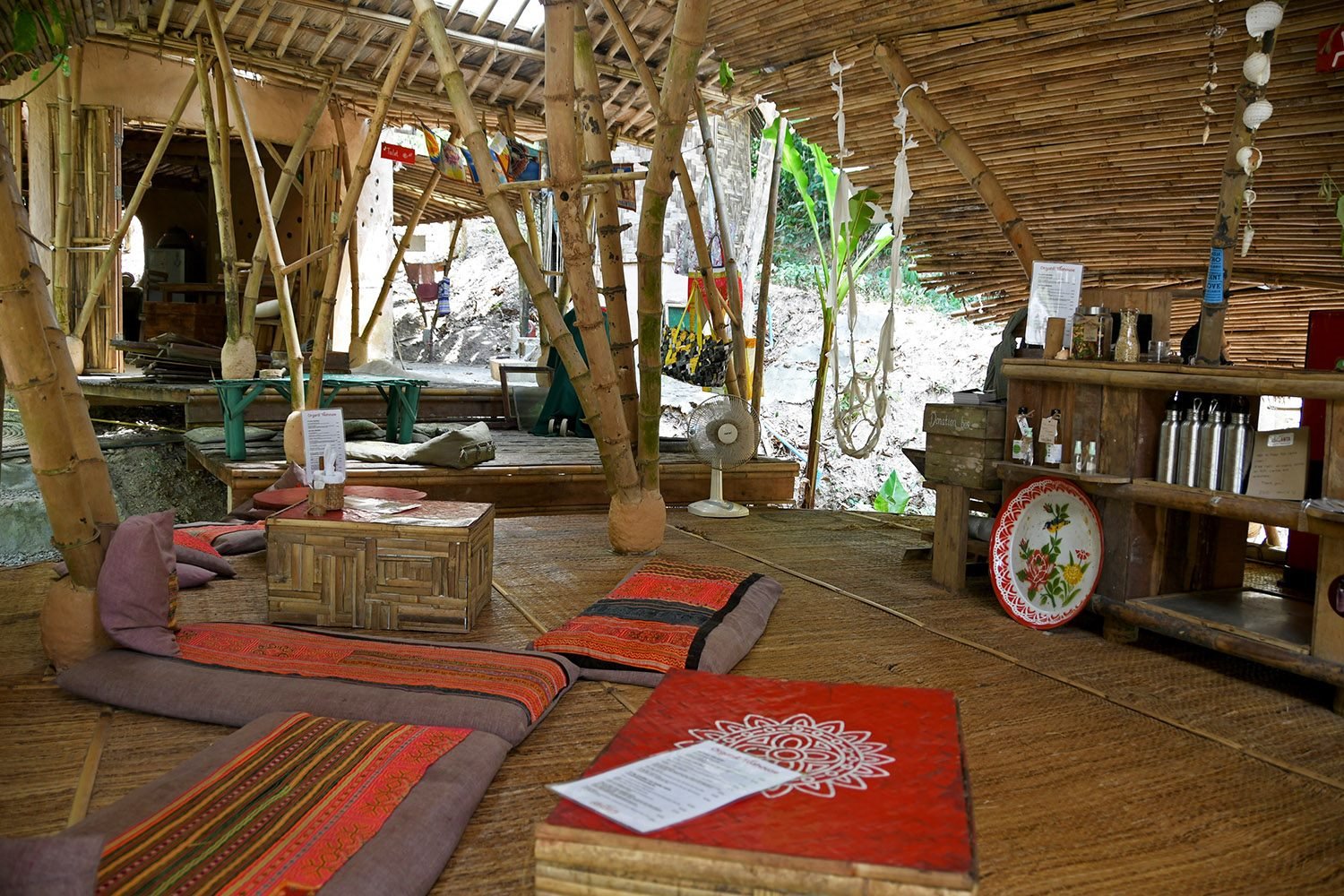 After visiting Khao Mai Kaew Cave, be sure to make a stop at nearby Asalanta Organic Teahouse. This lovely place is tucked away in a bamboo forest and is a perfect place to get a refreshing smoothie, tea or coffee.
They have a few snacks, like a nut mix and vegan energy balls as well as a small breakfast menu. There are also crystals, jewelry and eco-friendly accessories for sale, and you can walk around the grounds and see the sustainably built earth homes.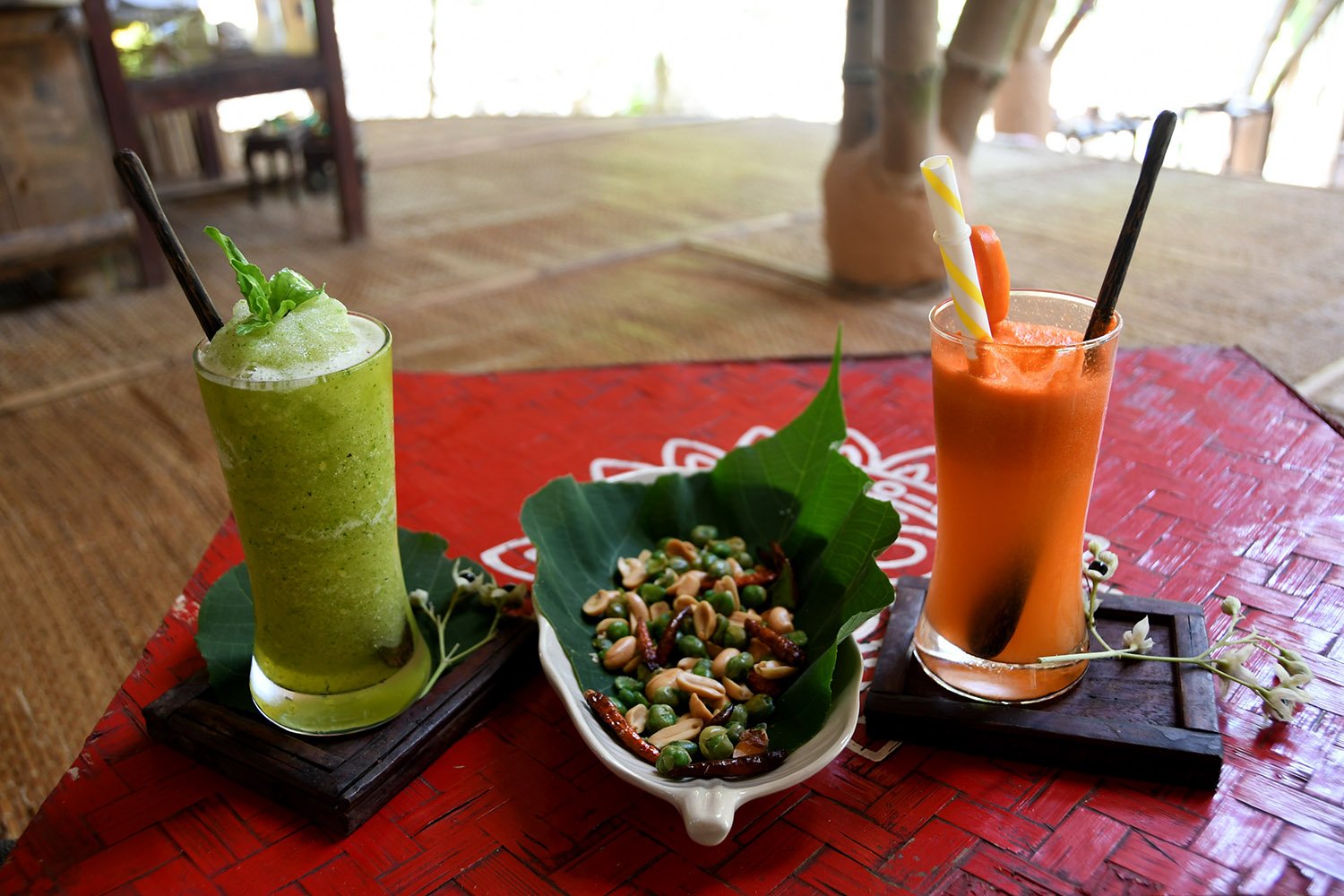 If you are really interested in sustainability, consider booking a workshop where the owner will teach you about sustainable building. You can also stay overnight in one of the bungalows.
The owner is super friendly and very driven to show people a sustainable lifestyle.
Cost: Fresh organic juices and smoothies start around 60 baht to 90 baht. We recommend the Shining Star smoothie!
Note: They are closed on Tuesdays and Wednesdays
8. Wander the streets of Koh Lanta Old Town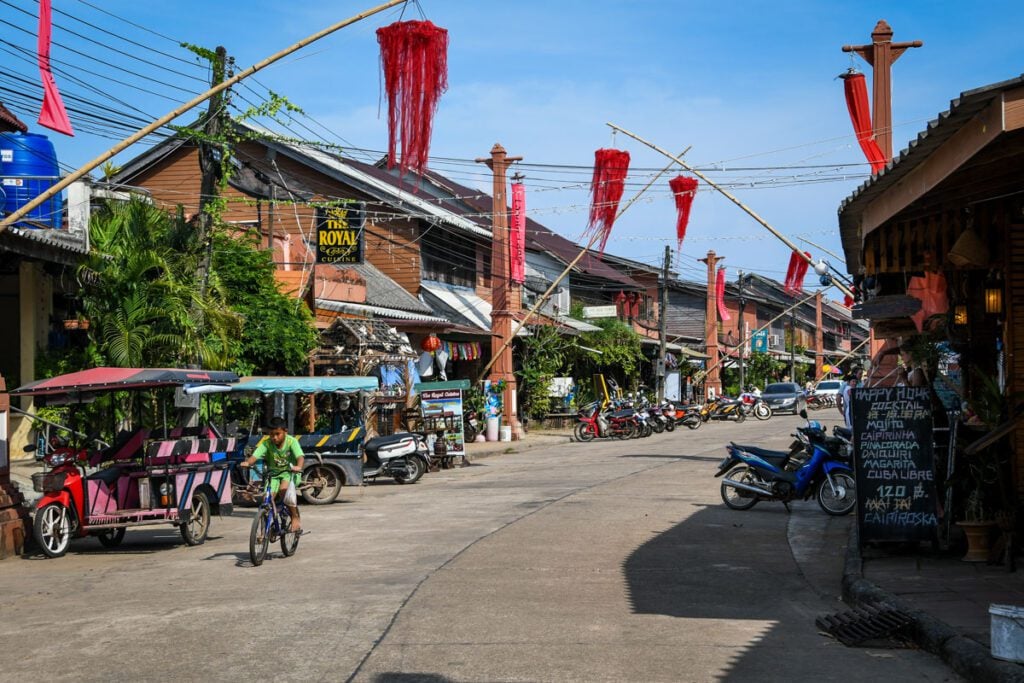 Koh Lanta Old Town has a very different vibe than the rest of the island and is worth a quick stop if you're exploring the east side of the island.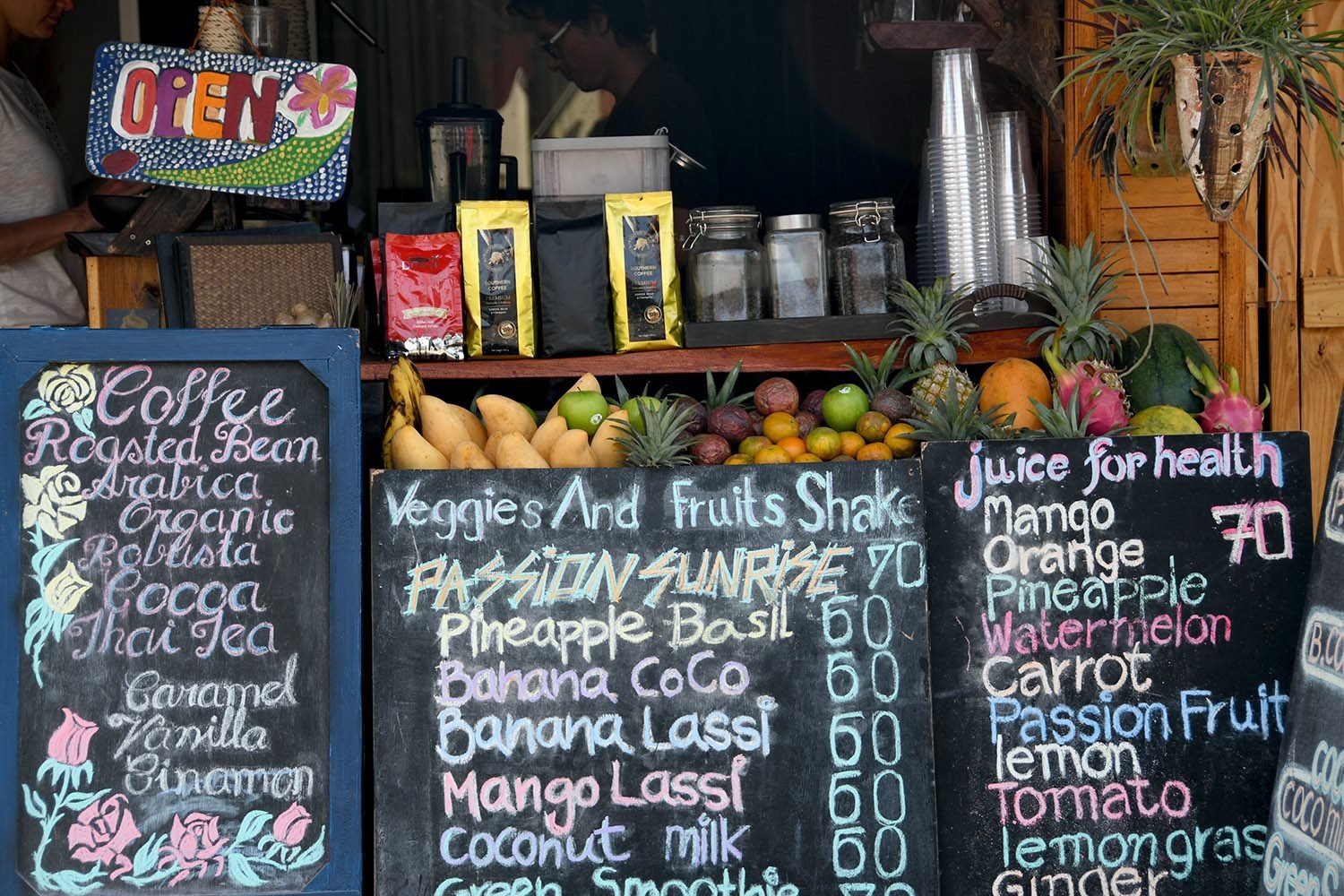 To be honest, it was a bit more touristy than we were expecting – with souvenir shops and restaurants with similar menus lining the main street. That said, it's still a neat place to grab a smoothie and wander for 20 minutes.
Note: This side of the island doesn't have sandy beaches, so don't expect to go for a swim!
9. Practice yoga
Start your day off right with a Vinyasa flow or Ashtanga class at Oasis Yoga. We've also heard great things about their brunch!
Drop in classes are 400 baht per person, but the studio looks pretty cool. Check out their weekly schedule on the Oasis Yoga website.
10. Hike through the jungle to Khlong Chak Waterfall & the Bat Cave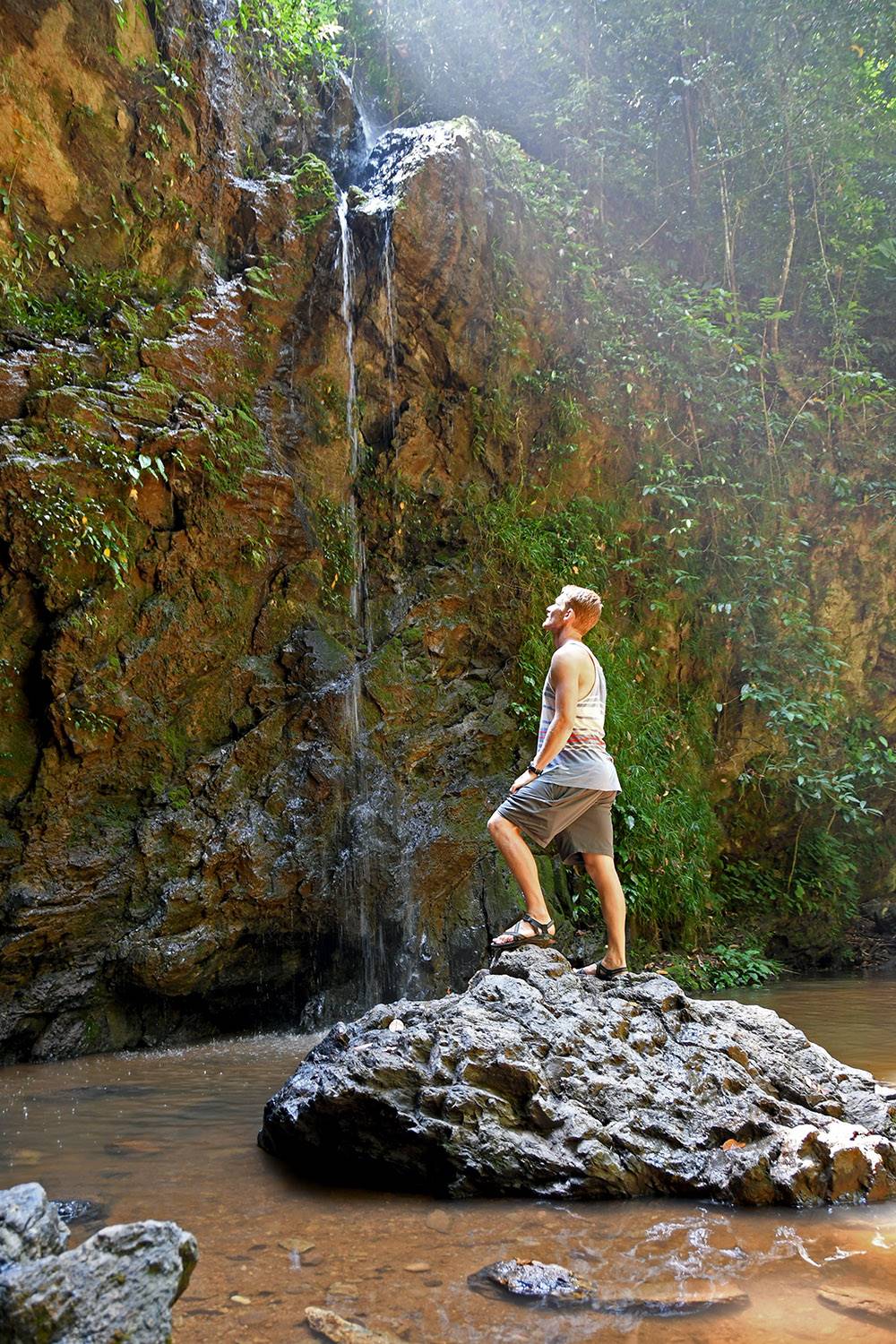 While the waterfall isn't all that impressive in the dry season, the hike through a lush jungle makes a visit worthwhile.
You'll walk past a clear stream and through a forest of beautiful banyan trees with exposed roots. There's also a cave along the way that has all sorts of trees and vines growing in and around the rocks. Nature is so cool!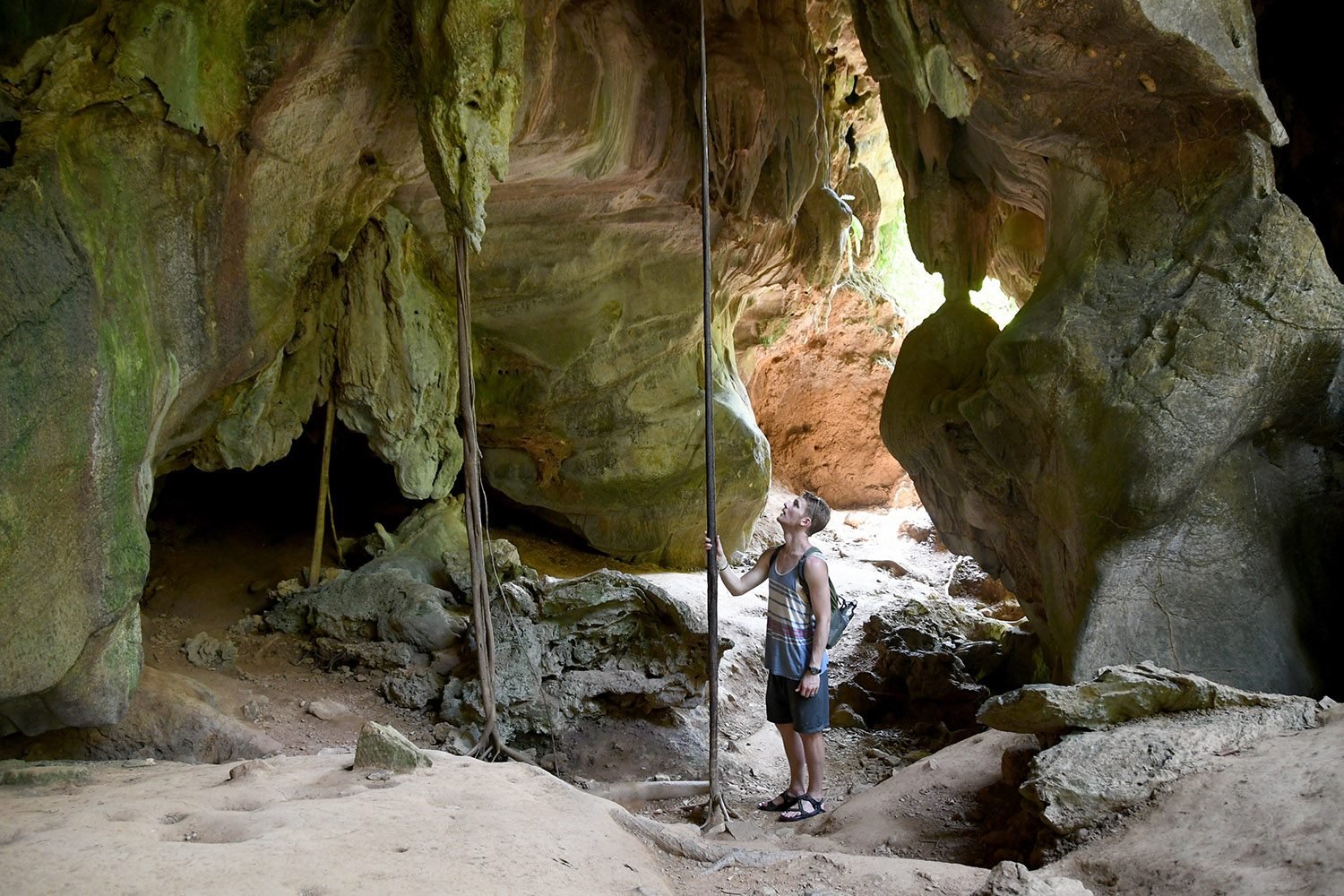 Price: Free to enter, but it costs 20 baht for motorbike parking and 40 baht to park a car.
Note: There is an elephant riding company as you turn off the main road. Please, please, please do not ride elephants in Thailand. Be mindful of where you are putting your money on your travels. If you want more tips on sustainable and responsible travel, check out our list of Responsible Travel Tips.
11. Go snorkeling or scuba diving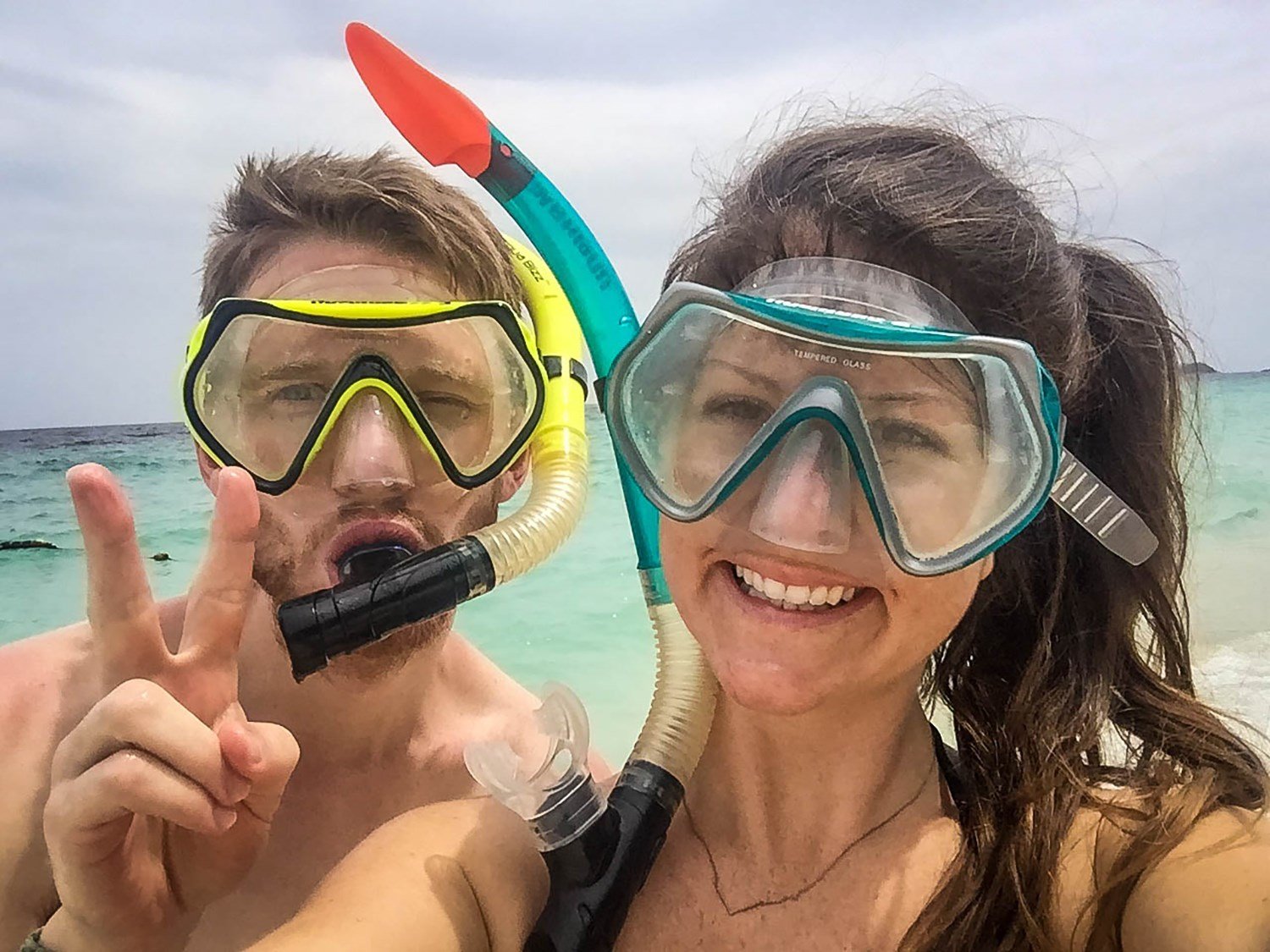 Koh Lanta is very close to some great diving and snorkeling spots, and there's no shortage of tour companies on the island. Remember that you get what you pay for, and try to find companies that operate sustainably.
Learn all about scuba diving in Thailand and how to make your underwater dreams a reality.
We heard great things about the snorkeling around the island, and it is one of the most popular things to do in Koh Lanta. Since so many people want to experience swimming with the fishies, expect crowds. Many of the snorkeling boats hold 30 people and many companies go to the same sites.
We had limited time and opted to do the kayaking tour (#1 on this list) instead because it meant less crowds.
Tip: If you want to go snorkeling but want a small tour group and aren't on a super tight budget, consider booking your snorkeling tour with a diving company. You'll have a much smaller group and a higher-end experience.
12. Treat yourself to a massage on the beach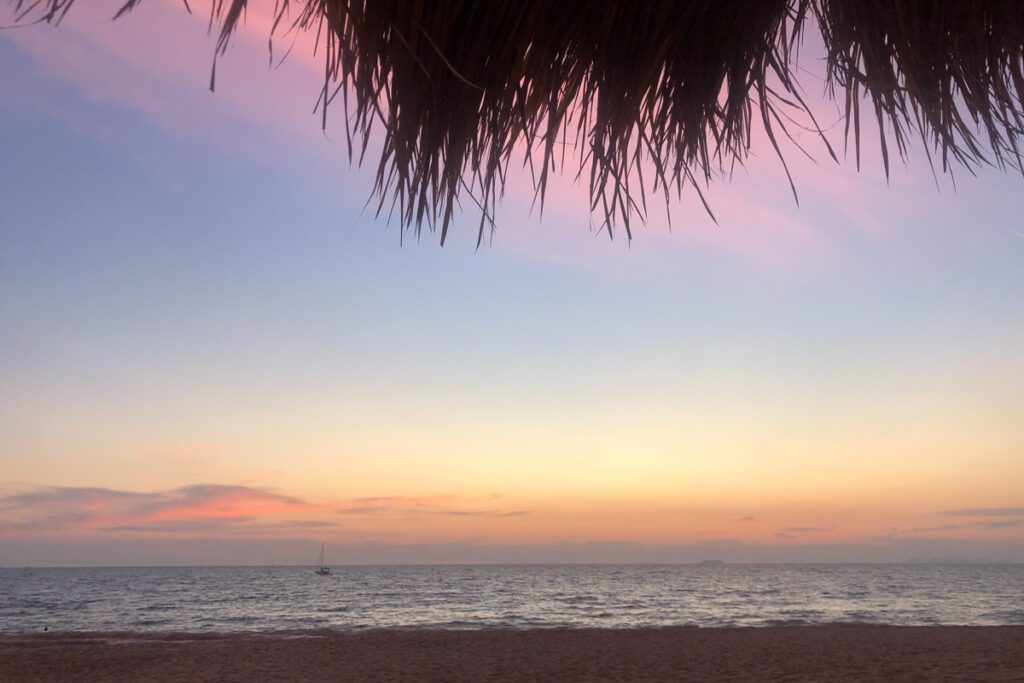 After a long beach day (life is hard, I know!), there's no better way to loosen up those muscles than a massage next to the ocean.
You'll find massage places all around Koh Lanta, but we saw the highest concentration of them around Long Beach. Prices should be around 300 baht for an hour-long Thai massage on the beach. Bonus points if it's at sunset!
13. Take a cooking class
We're obsessed with taking cooking classes while traveling, and if we hadn't already taken a course in Chiang Mai, we would have jumped at the opportunity to cook Thai food in Koh Lanta.
There are a handful of different cooking schools to choose from; one of the more well known classes, Time For Lime, is run by a Norwegian woman who started Lanta Animal Welfare and the proceeds help support the animal center. There are many other classes run by locals that would be good to support as well.
14. Enjoy sunset with a cocktail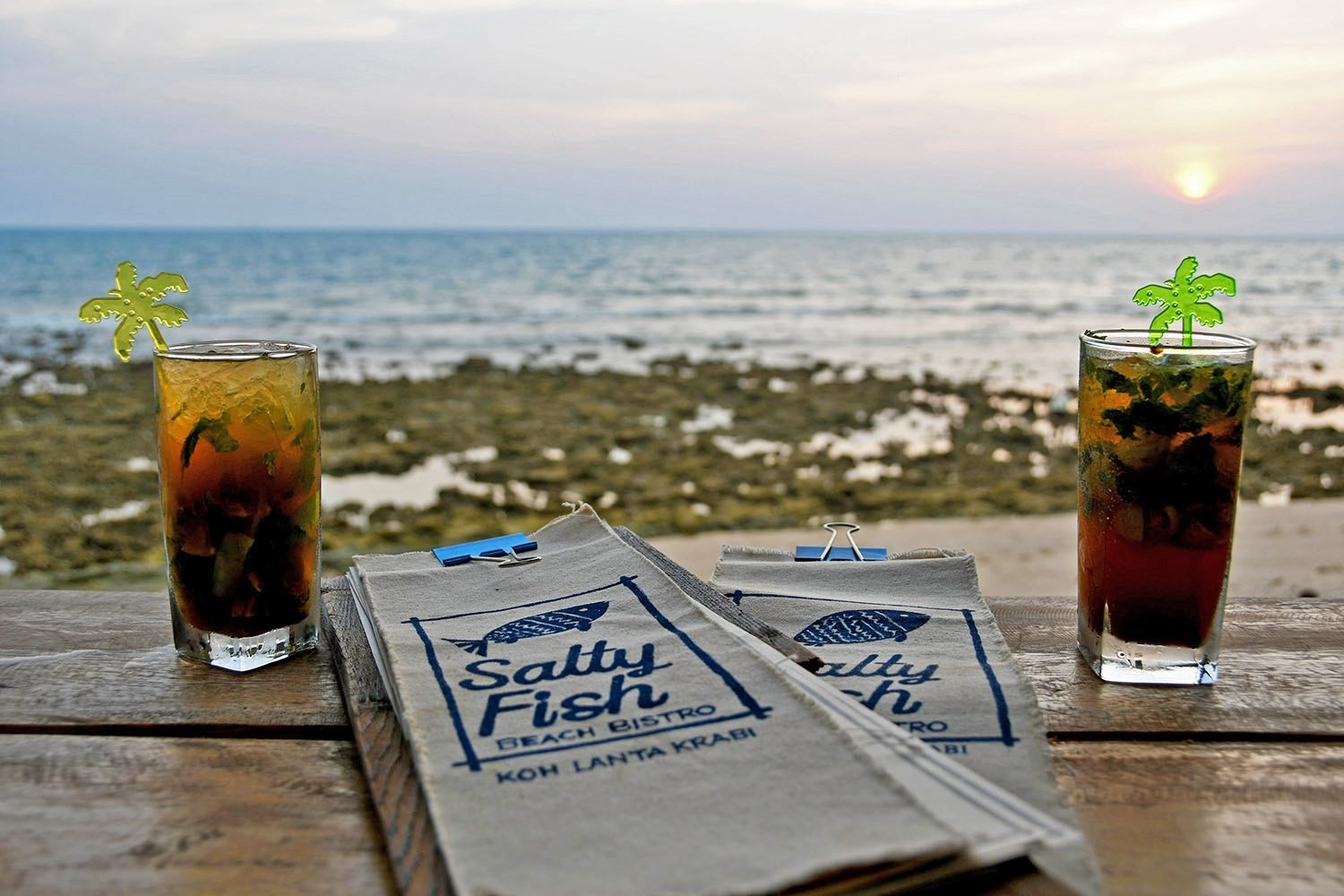 The sunsets on Koh Lanta are not to be missed. The entire west coast has epic views, and there are so many beaches that you won't need to worry about crowds.
You can certainly grab beers from a minimart and enjoy the view on your own blanket, but there are some great bars that offer happy hour deals that are pretty darn appealing. There are plenty to choose from, but here are a few of our favorites:
Majestic Bar: This little bar made with driftwood gets consistently high reviews on Trip Advisor and claims to serve the best mojito in Koh Lanta. We tried the pineapple and strawberry mojitos, and I've gotta say we were impressed. Come for their happy hour when select cocktails (including mojitos!) are just 100 baht; 12 – 2 p.m. and 5 – 8 p.m.
The Indian Bar: If it's wine you're craving, head to Indian Bar for friendly service and a huge serving of house wine for 100 baht as well as complimentary peanuts (that kept being refilled!). There's no menu here, but they can make cocktails for a reasonable price (we heard 150 baht, but could be mistaken) and serve beer as well. The owner also puts on a pretty great fire show.
Lym's Bar & Restaurant: Right on Long Beach, the sunset view is spectacular, their happy hour is great and their food is also quite good! Plus you can get massages right next door at the beach resort or take your drinks and post-up in a lounger chair on the sand.
15. See amazing Bioluminescent Plankton
If you've seen the movie "The Beach," you'll remember the scene where Leo and his love interest jump in the water at night and it lights up with blue sparkling lights.
This is not just the special effects of Hollywood – this is bioluminescent plankton, and you can see this natural phenomenon for yourself on many of the beaches in Koh Lanta!
There are tours you can book, but it's really easy to see the glowing blue plankton on your own for free! Simply walk along the beach when it's dark out, and you'll see tiny blue glowing lights wash up on the sand. These are the plankton! We saw them on Long Beach, and we've heard they are on some of the beaches further south too.
Oh, and since we're on the subject of "The Beach", if you do want to see the place where this movie was filmed, read this article first for the very best way to visit Maya Bay!
16. Get some work done at KoHub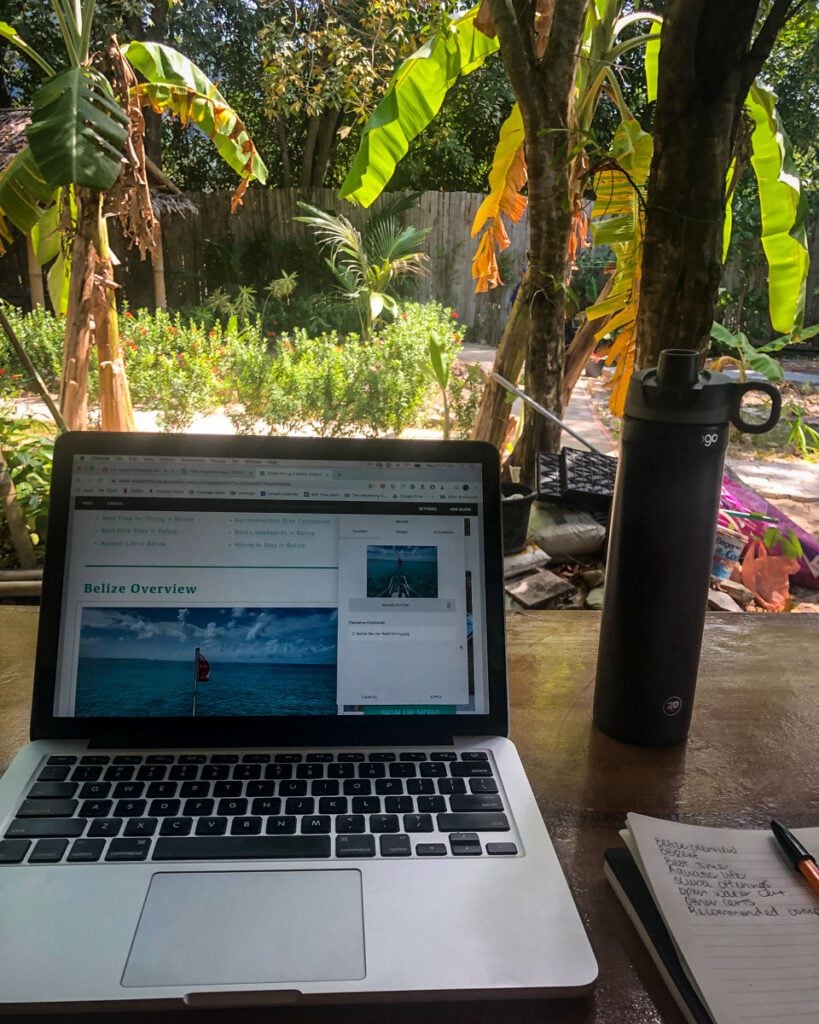 If you're a digital nomad in Thailand, or just looking for a coworking space with decent wifi to get some work done while on holiday, KoHub is the place to be.
With beautiful facilities, fast wifi, and an onsite cafe, you really cannot beat the working conditions of this tropical coworking space! Plus they are sustainably run with an organic farm, solar power and composting and recycling initiatives.
They also offer coliving accommodation and local events to meet other travelers.
Note: They are closed during low season from May through October.
17. Learn the art of Muay Thai
You may have heard of muay Thai before—a form of martial art that originates in Thailand. If you've ever been curious about the sport, or just looking for a fun way to switch up your workout routine while in Koh Lanta, there are a number of places you can go to learn more.
Nicha Muay Thai Gym: They offer 2 group sessions a day for 1.5 hours each at 500 baht per person. And private lessons for 600 baht.
Lanta Muay Thai Complex: They offer daily classes and private training for all ages and abilities. 400 baht for adult group sessions, 600 for private sessions and they do weekly rates as well.
Lanta Muay Thai Academy: Offering daily Muay Thai classes for all levels and ages (even kiddos!). A single session costs 400 baht for adults (300 for kids) and 600 baht for 1 hour private training.
18. Watch a fire show on the beach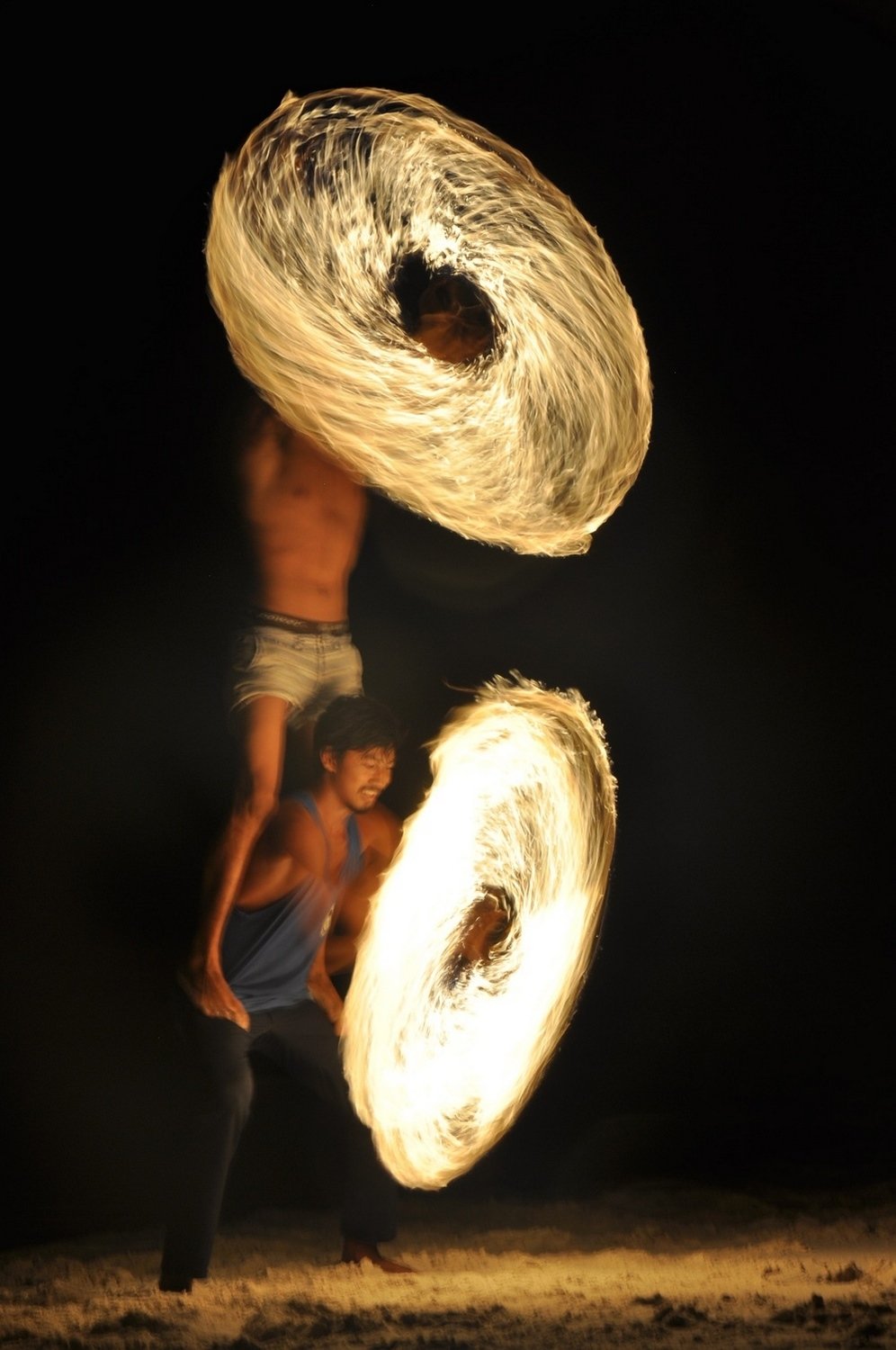 Just like any Thai island, you won't have to venture far to catch a fire show on the beach after dark. Enjoy a cocktail while watching these daredevils twirl, spin and toss fire with ease!
Check out the fire show at The Indian Bar on Long Beach, it's pretty wild!
19. Catch an outdoor movie at Lanta Cinema
Lanta Cinema is a pop up outdoor movie theater that runs in the Klong Dao area during the high season. They offer a state-of-the-art projection and sound systems, comfortable seating, and diverse film selection from the latest Blockbusters to old time classics. They also have an onsite restaurant that serves beer and wine as well as Thai food.
Follow them on Instagram or Facebook to get real time updates on their movie schedule.
Note: The cinema is closed during low season. They usually open some time in November and close at the start of May.
---
Sustainable travel tips for visiting Koh Lanta, Thailand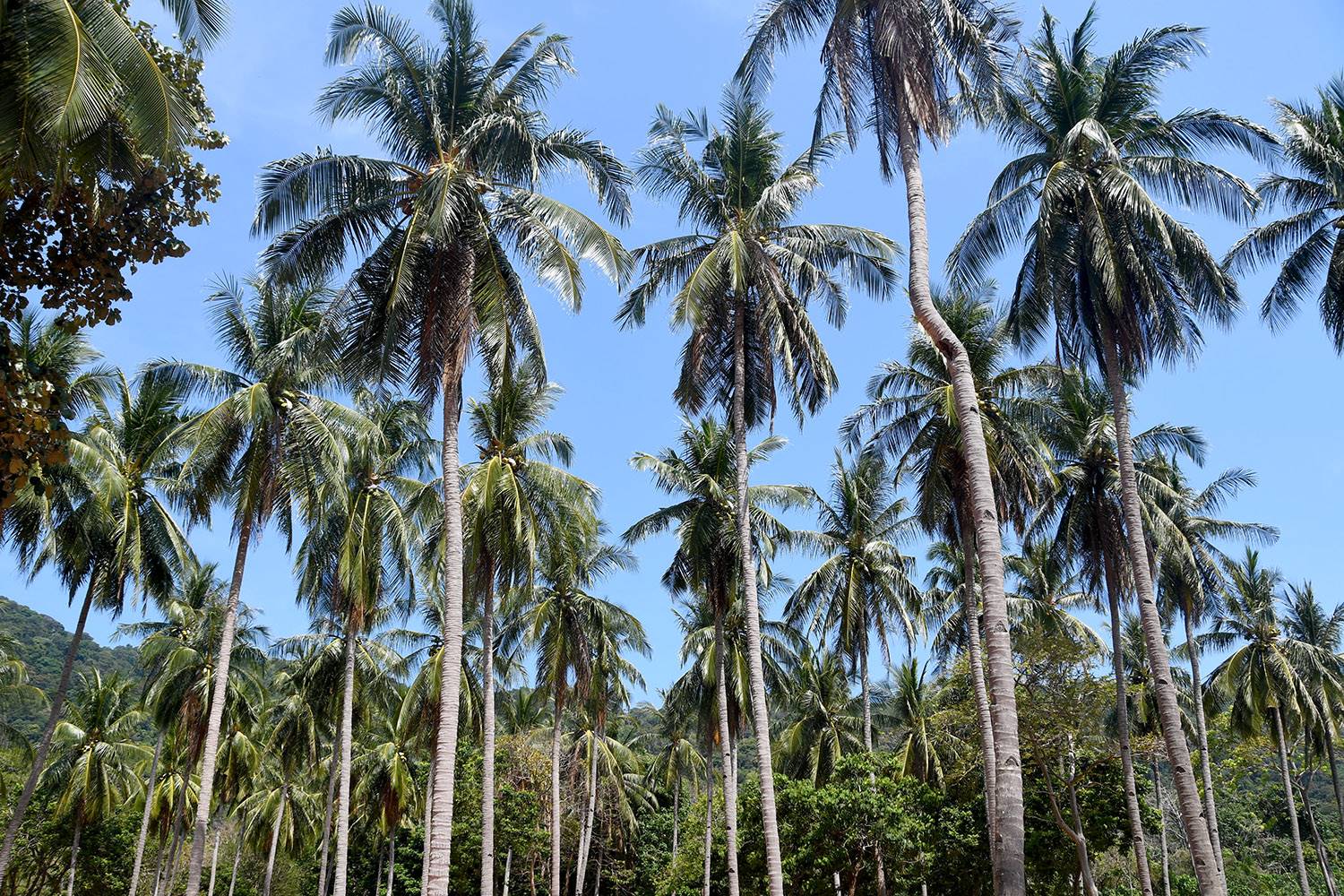 Traveling responsibly in Thailand (or anywhere in the world, for that matter!) requires a bit of planning ahead. There are many ways you can lessen your impact while traveling. These are our sustainable travel tips that are specific to Koh Lanta, Thailand.
Support small, family-run companies, like Talabeng Kayaking (#1 on our list of things to do in Koh Lanta).
Refuse plastic straws by saying "Mai Ao Lawd Ka" and be prepared with your own reusable straw.
Carry a refillable water bottle, or buy a Trash Hero Koh Lanta edition metal bottle for 200 baht at one of the many participating cafes on the island.

Instead of getting a plastic water bottle at a mini mart, refill your water bottle at a water station – at just 1 baht per liter it's a great deal!

Participate in Trash Hero's weekly beach clean up. Meet at Long Beach Park on Sundays at 4 p.m. sharp.
Turn off your air conditioning when you leave your hotel room.
Don't step on or touch coral when snorkeling or diving.
Wear reef safe sunscreen so you don't bleach the corals and harm the sea creatures.
How much does Koh Lanta cost?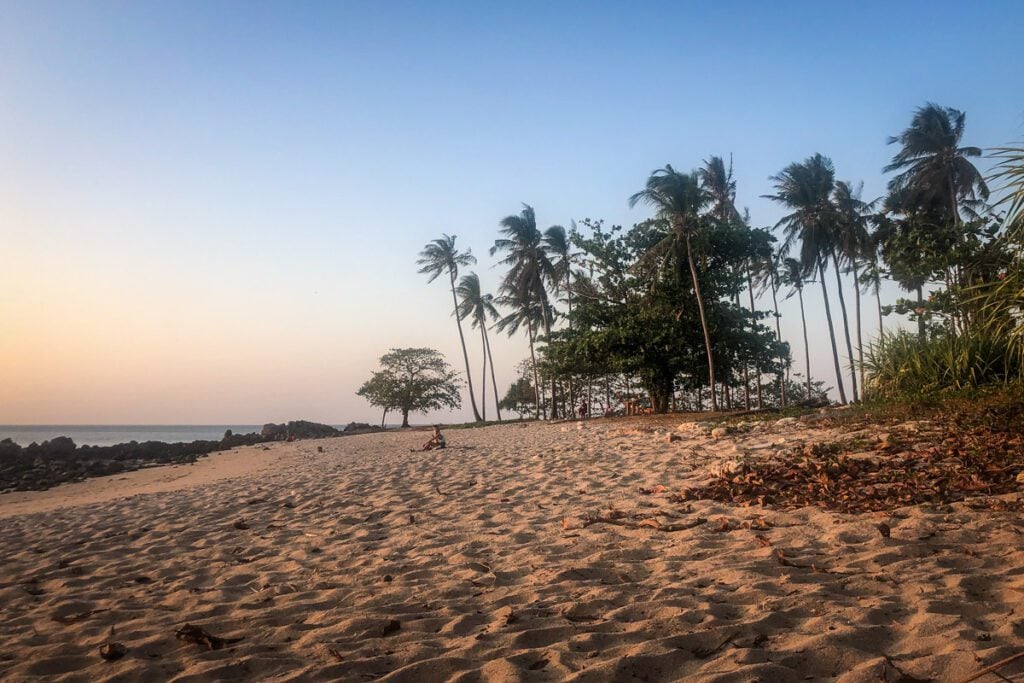 We like to think we are somewhere between a backpacker and a mid-range budget. Though the Thai islands are definitely more expensive than Chiang Mai, they are still an affordable holiday destination.
We enjoyed plenty of sunset cocktails (and celebrated St. Paddy's Day with our Irish friends!), and didn't hold back much when it came to food. We did a handful of activities, like cave hiking, exploring a national park and going on a sea kayaking tour. Our hotel was not the cheapest one we could have found, but at $29 USD per night, we thought it was a pretty great deal!
Here's how much we spent in 5 days in Koh Lanta:
$561.74 USD
$112.34 per day for two people; that's just over $55 per person each day
You could spend much more than we did on lavish resorts, 5-star restaurants and daily tours, or you could spend much less by choosing the cheapest restaurants and refraining from drinking cocktails and opting to chill on the beach (free!) instead of tours.
Hopefully this gives you an idea of what your budget for Koh Lanta should look like.
Where to eat in Koh Lanta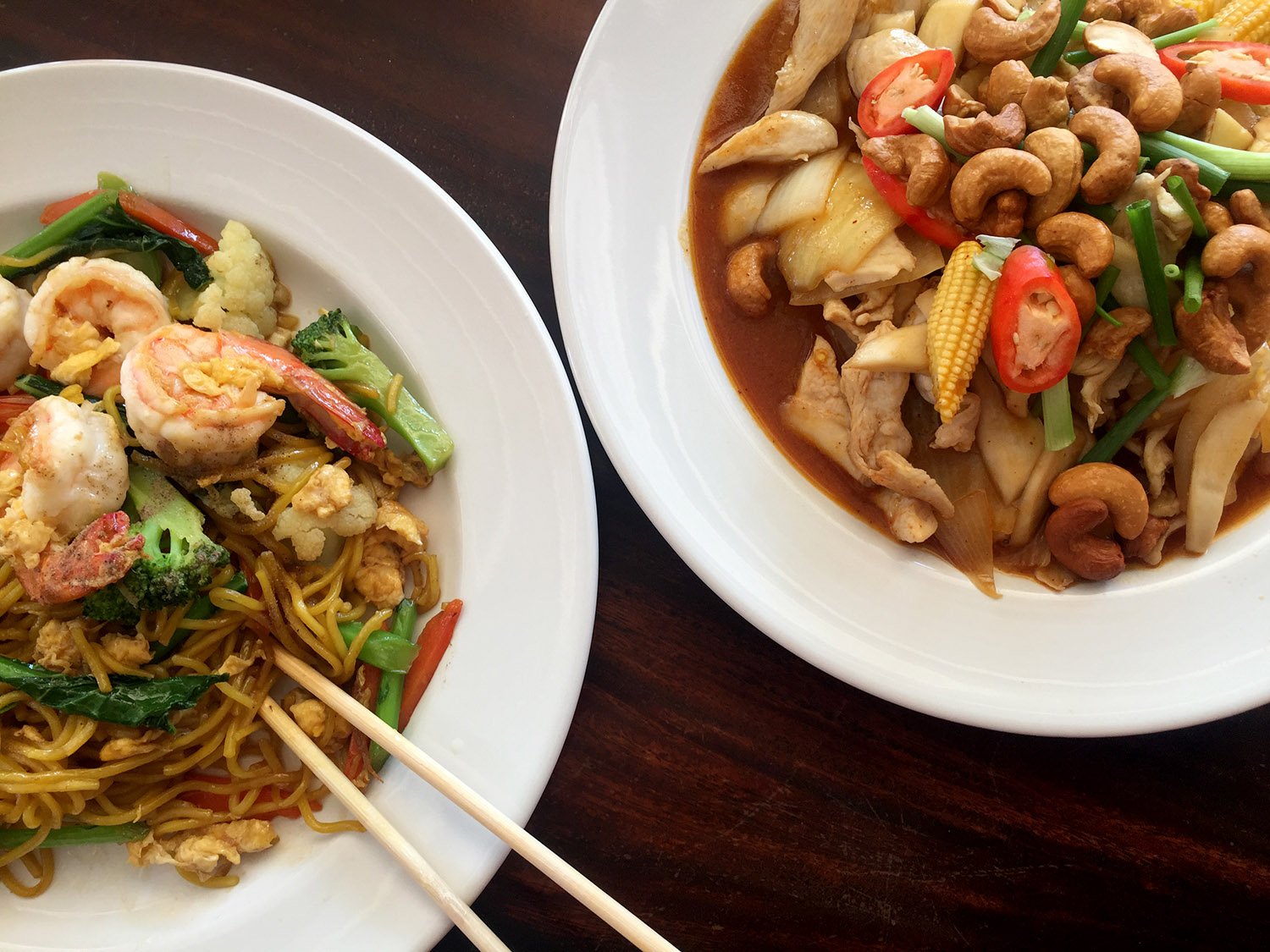 We read a few blogs before traveling to Koh Lanta, and the overall consensus was that the food on this island is disappointing.
We were a little worried, but I am happy to report that we found some amazing restaurants and just about every meal we had on this island was wonderful.
Tip: All along the main road in Long Beach, you'll find restaurant after restaurant with similar-looking menus. We avoided this type of restaurant as we found them to be more or less the same and imagine this is the mediocre food we kept hearing about.
If you do a little planning for your meals, you'll have no problem finding great food. Try looking on TripAdvisor, Google reviews or check out our recommendations below:
Cafes/Bars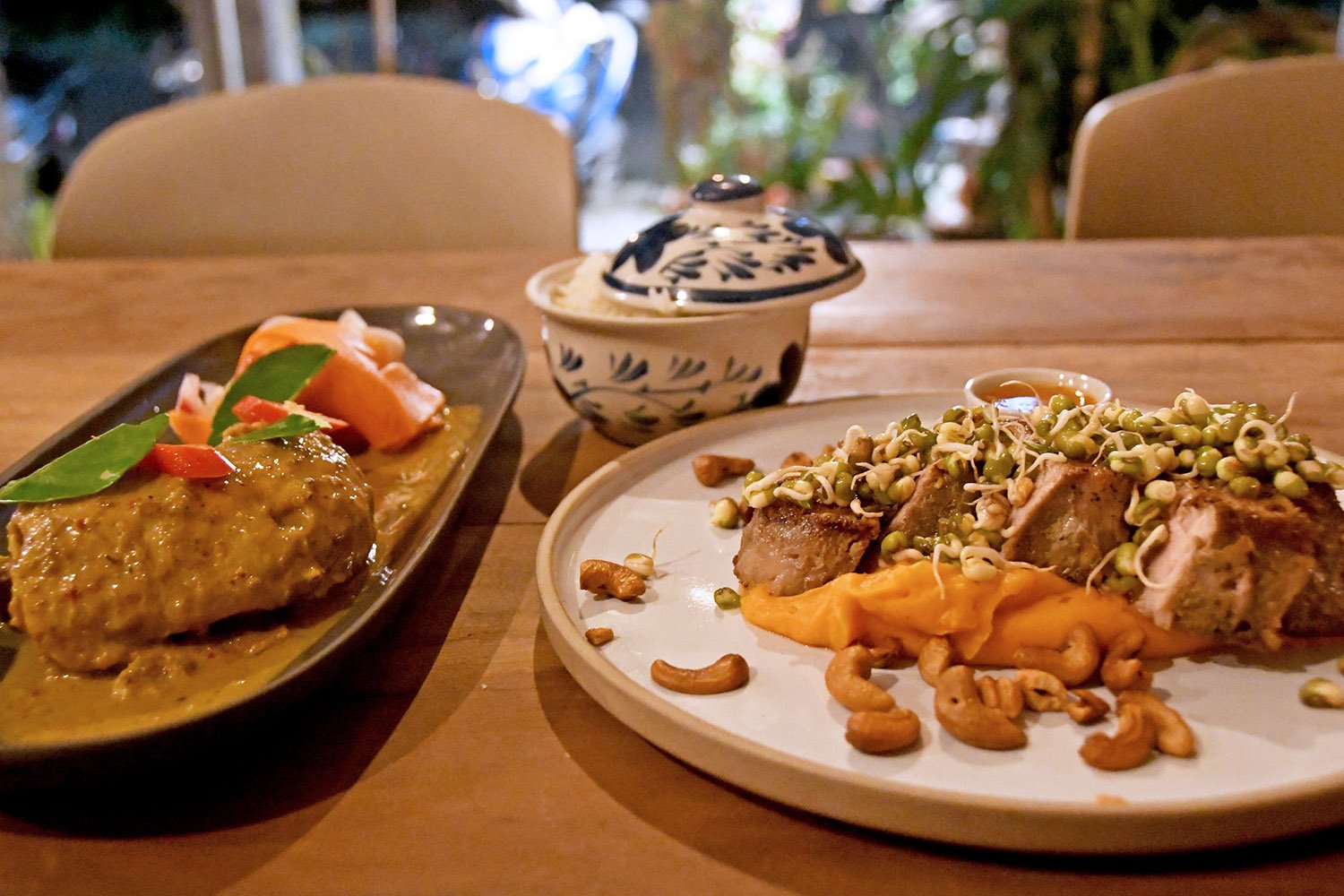 Lunch/Dinner
Where to stay in Koh Lanta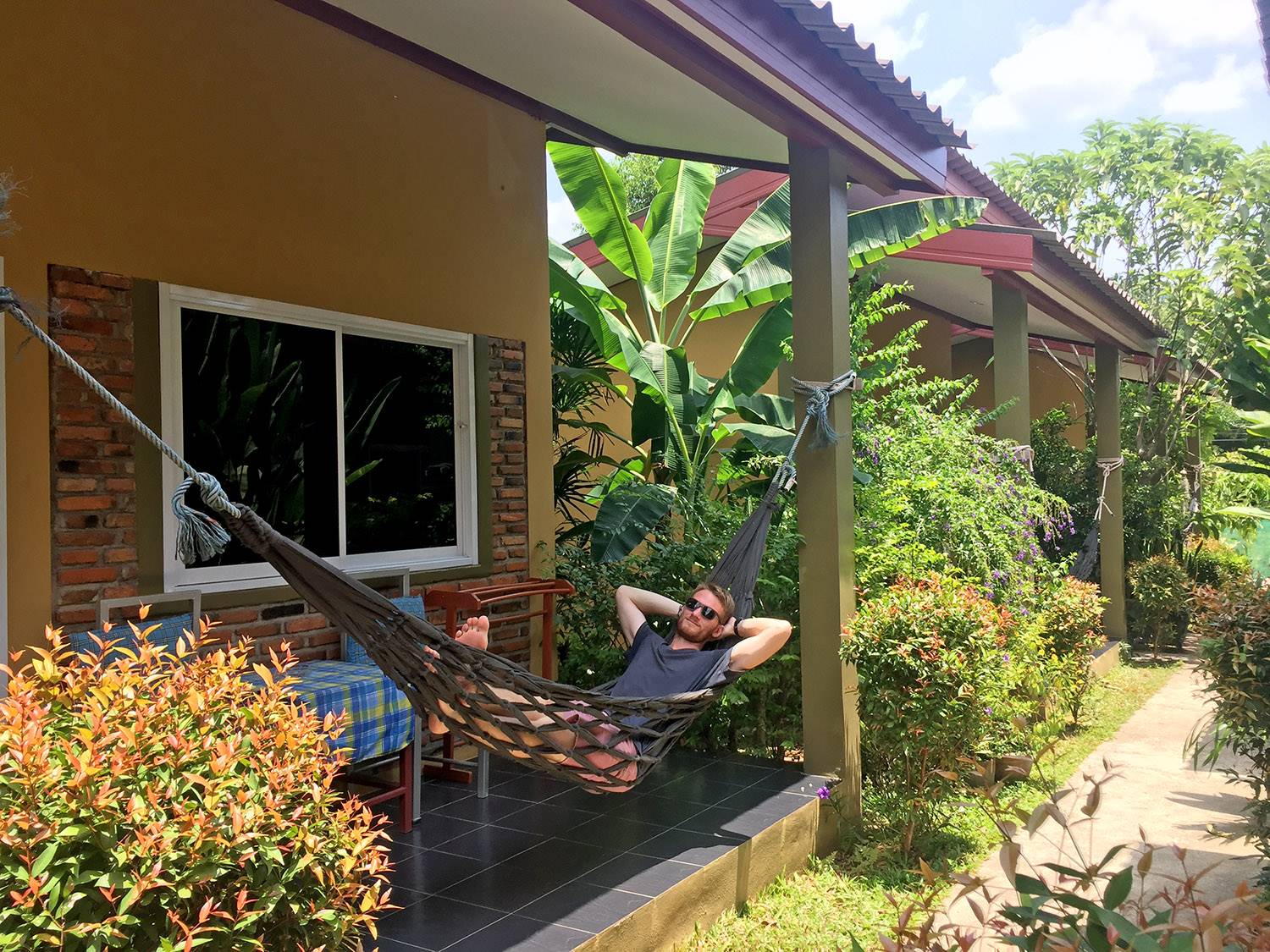 Koh Lanta is relatively spread out, and there are plenty of areas to choose from depending on what type of vibe you're looking for.
There are incredibly luxurious villas that come with a steep price tag, mid-range bungalows and budget accommodation options, so every type of traveler can find what they're looking for.
Before booking our hotel, I read a lot about the different locations to stay and kept seeing people recommending Long Beach (Phra Ae Beach).
But to be honest, we were a bit disappointed with the Long Beach area. The main street is dusty and busy, and was lacking the quaint island vibes we were imagining. Long Beach itself is nice, but so are all the other beaches on the west coast of Koh Lanta.
Klong Nin Beach
After spending a few days exploring the island, our recommendation on the best place to stay on Koh Lanta would be around Klong Nin Beach.
This is midway between the north and south, has cute streets, nice restaurants and sunset bars and is less crowded than the Long Beach area. If (and when!) we come back to Koh Lanta, this is the area we will stay.
Long Beach
We were very happy with our budget friendly hotel in Long Beach, so if you do want to stay in this area, we'd definitely recommend Lanta Baan Nok Resort. Doesn't look like much when you first arrive, but the rooms are tucked away in a quiet garden. Rooms are clean and comfortable, AC is strong, and staff is helpful.
What to pack for Koh Lanta, Thailand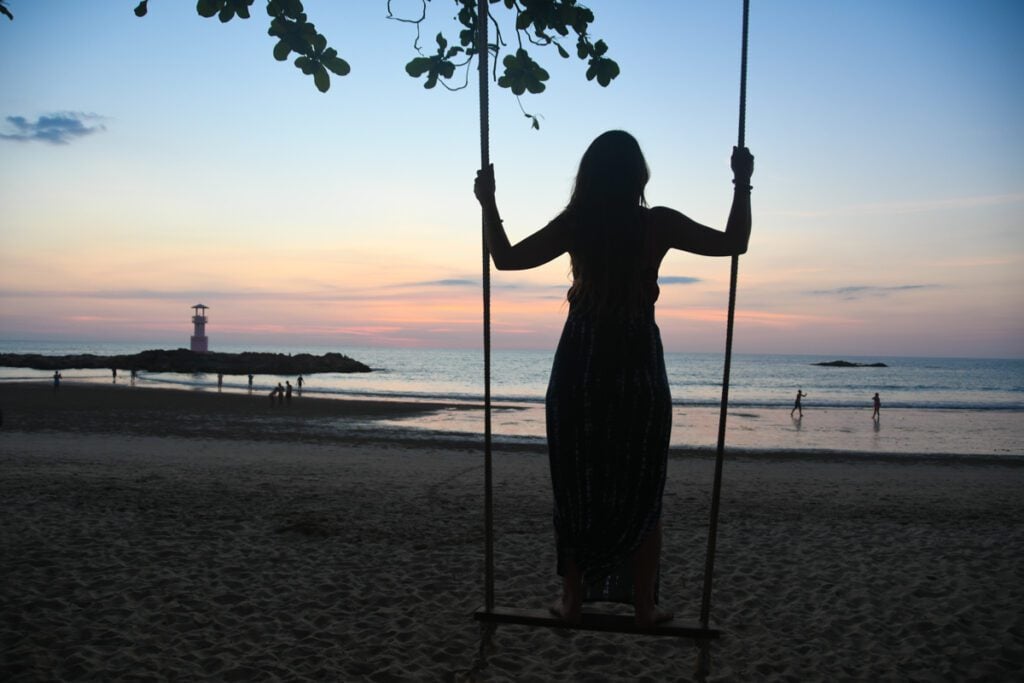 Here are some specific items we'd recommend packing for Koh Lanta, Thailand:
bug repellant (solids are the way to go)
dry bag or waterproof phone case
reusable straw & reusable bag
loose, lightweight clothes & layers
swimwear
Chaco sandals (we'd recommend these for Thailand instead of hiking boots as they are less bulky and are good for walking through water) or other sturdy shoes
Be sure to download our complete packing list for SE Asia! It's packed with good suggestions and insider tips to help plan your Italy trip. And it's completely FREE, so why not!?

---
Are you planning a trip to Thailand?
We have TONS of resources on travel in Thailand and destinations throughout the country. Check out our Ultimate Thailand Travel Guide for all the answers to your most burning questions, or read some of our favorite articles below.
Save this article on Pinterest for later!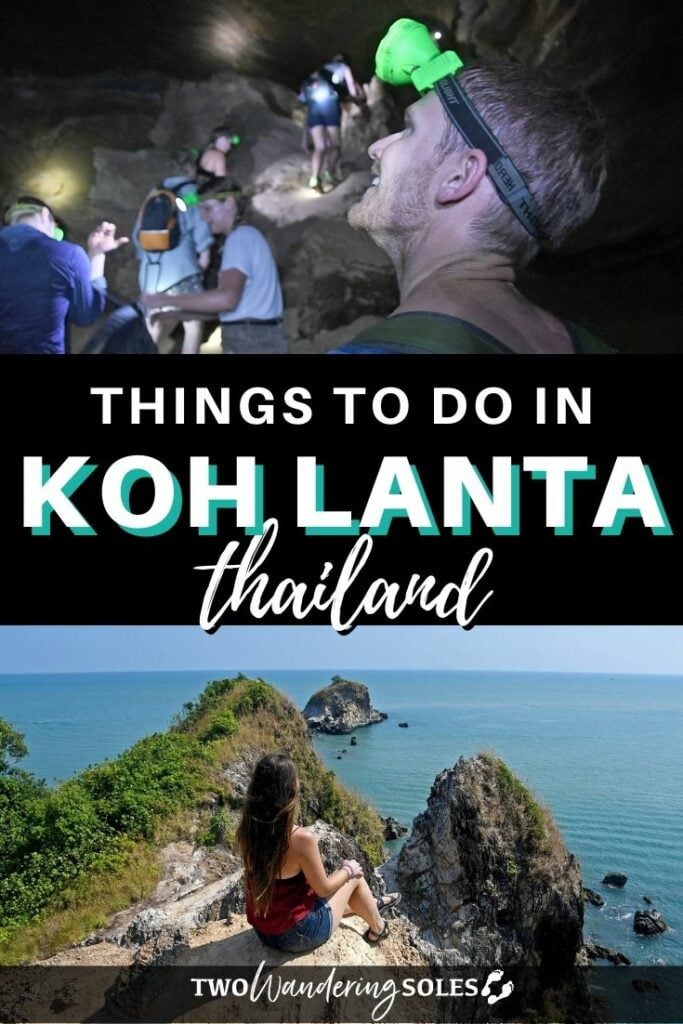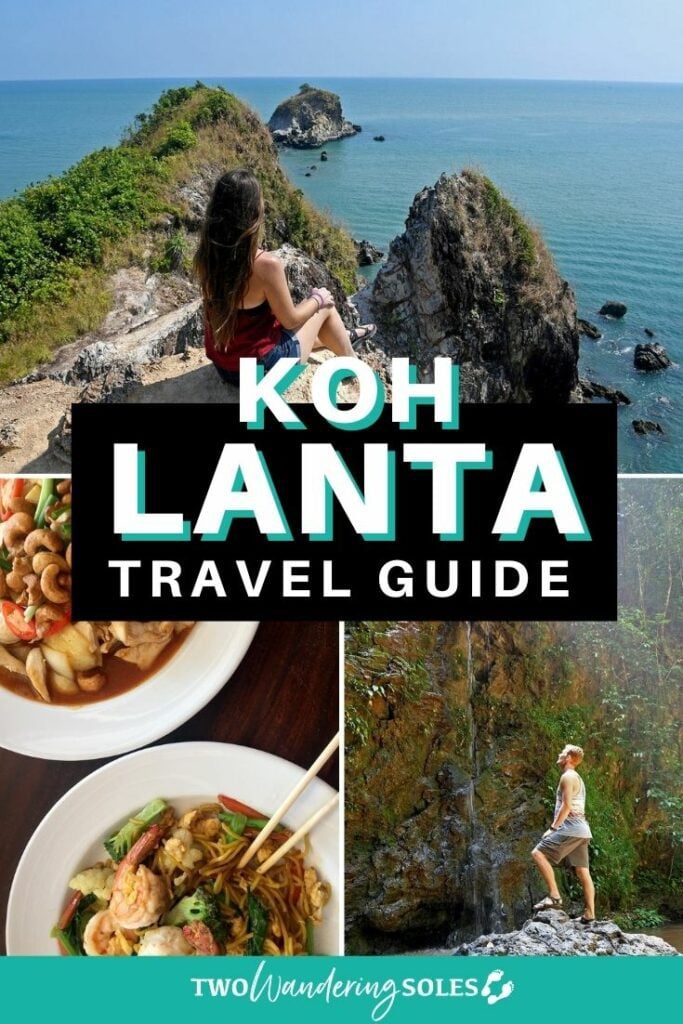 Have you been to Koh Lanta?
Have your ever traveled to Koh Lanta, Thailand? What was your experience like? Which of these things to do in Koh Lanta is going straight to the top of your bucket list? Let us know in the comments below!