Having a tough time choosing between which Honduran Bay Island to visit? Roatan and Utila are both stunning in there own way with plenty of things to do, but we'll tell which one is right for you. In this guide we'll answer which island has the better diving, things to do, where to eat and where to stay, making the most out of your Caribbean island experience.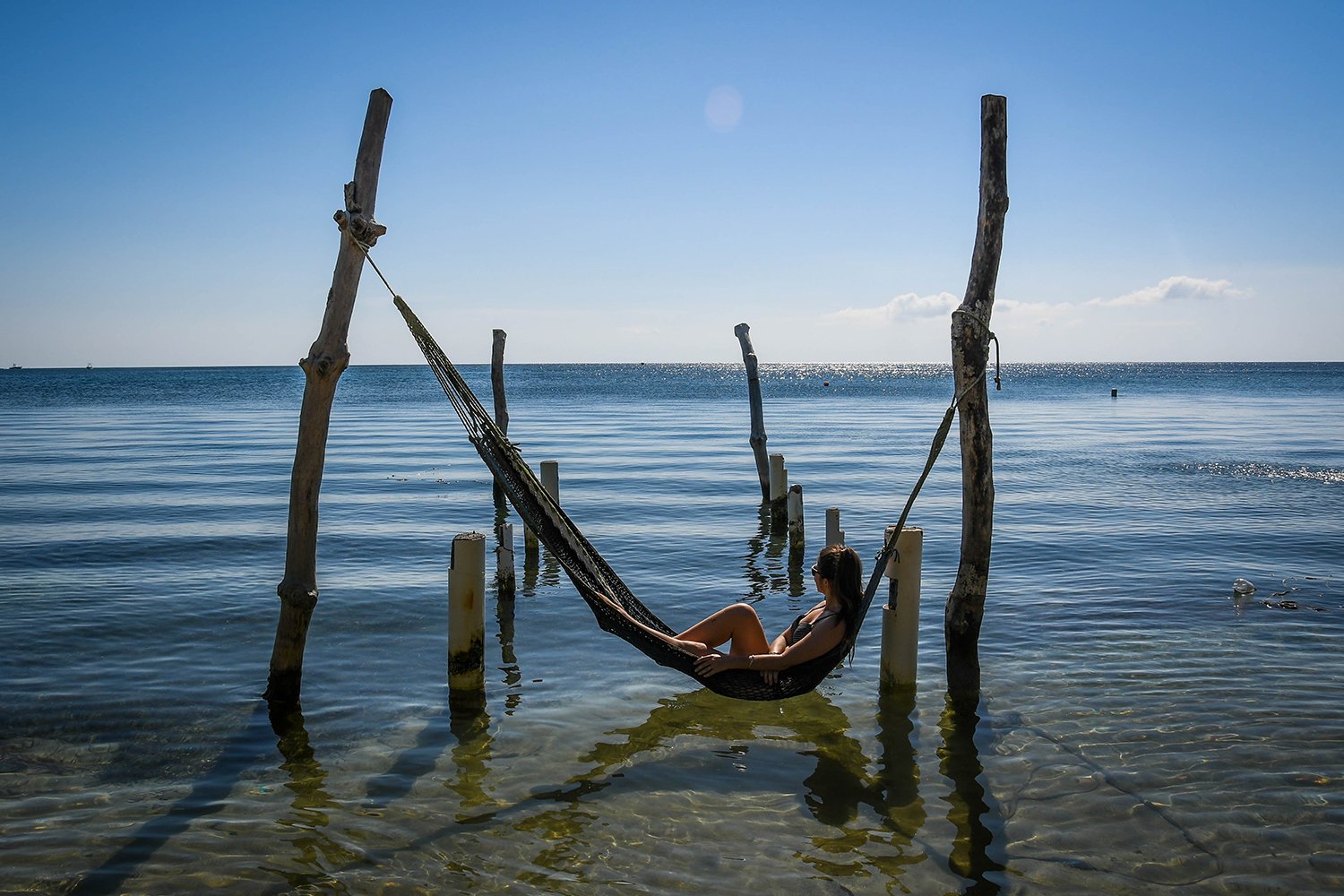 If you're traveling through Central America and make your way you through Honduras, it's likely that you'll spend some time on the Bay Islands.
Utila and Roatan are not far off the coast of mainland Honduras, and with warm Caribbean waters, world-class scuba diving and a laidback vibe, these islands are well worth the journey.
Each island has their own distinctly different vibe. If you have the time, visiting both is a good option as you'll have a very different experience on each. That said, if you're short on time or you'd prefer to get to know one island well rather than hopping around, we'll explain what makes each island unique so you can choose the best one for you.
We're also sharing the best things to do in Roatan and Utila, how to get there and where to stay so you can make the most of your time in Honduras's stunning Bay Islands.
---
Contents
Know what you're looking for? Click the link below and jump to the corresponding section:
---
Introduction to Roatan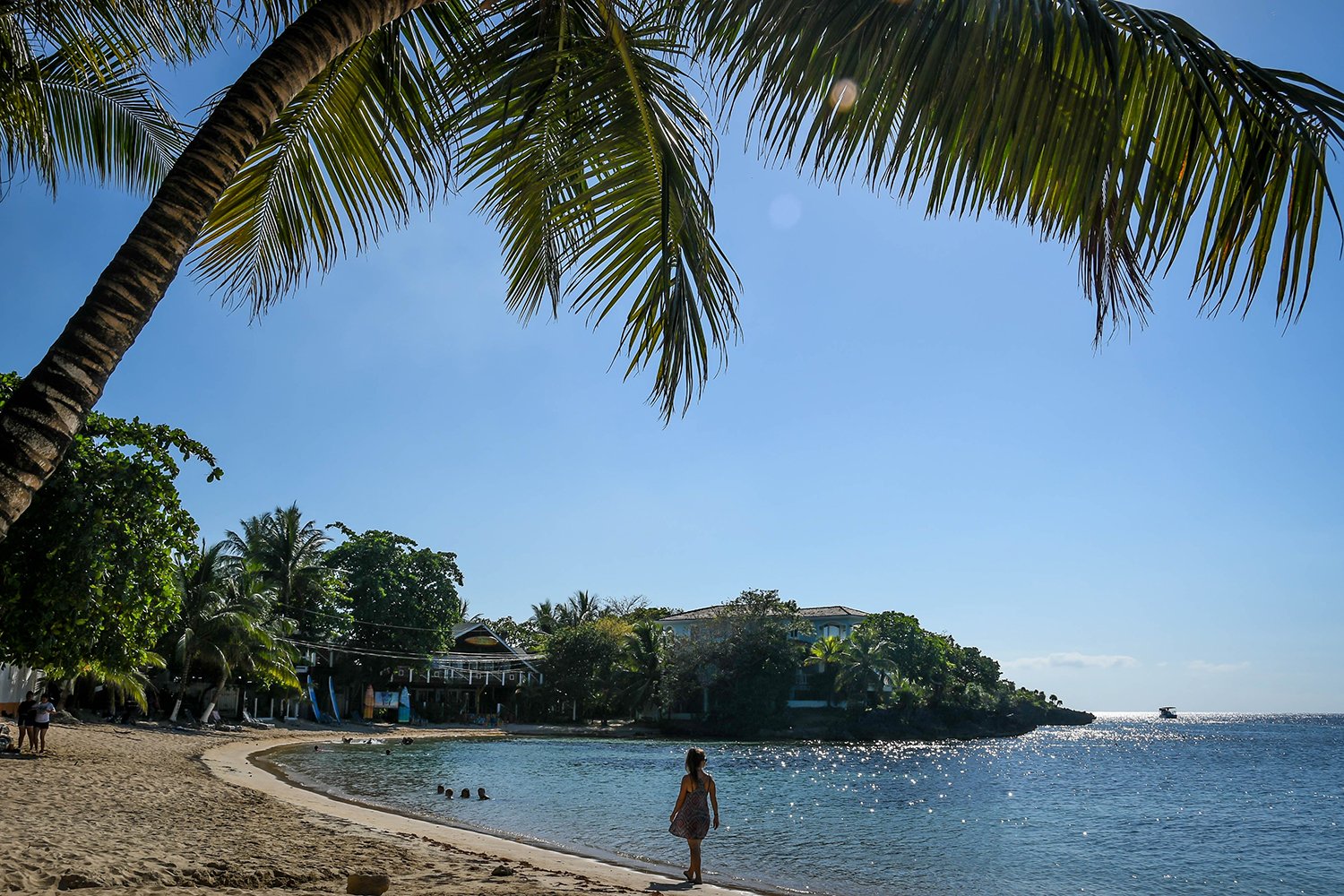 This long island boasts sandy beaches, warm waters with fantastic diving, and a friendly vibe that attracts travelers and expats from all around the world.
Roatan draws a wide range of people, from locals trying to make ends meet to budget travelers to expats with luxurious digs, and therefore it can feel a bit divided. 
The west region of island is a blend of high end resorts and expat homes as well as midrange accommodation. Head east, and this is where most of the local villages are, and some of the residents are living in extreme poverty. 
Roatan Island Pros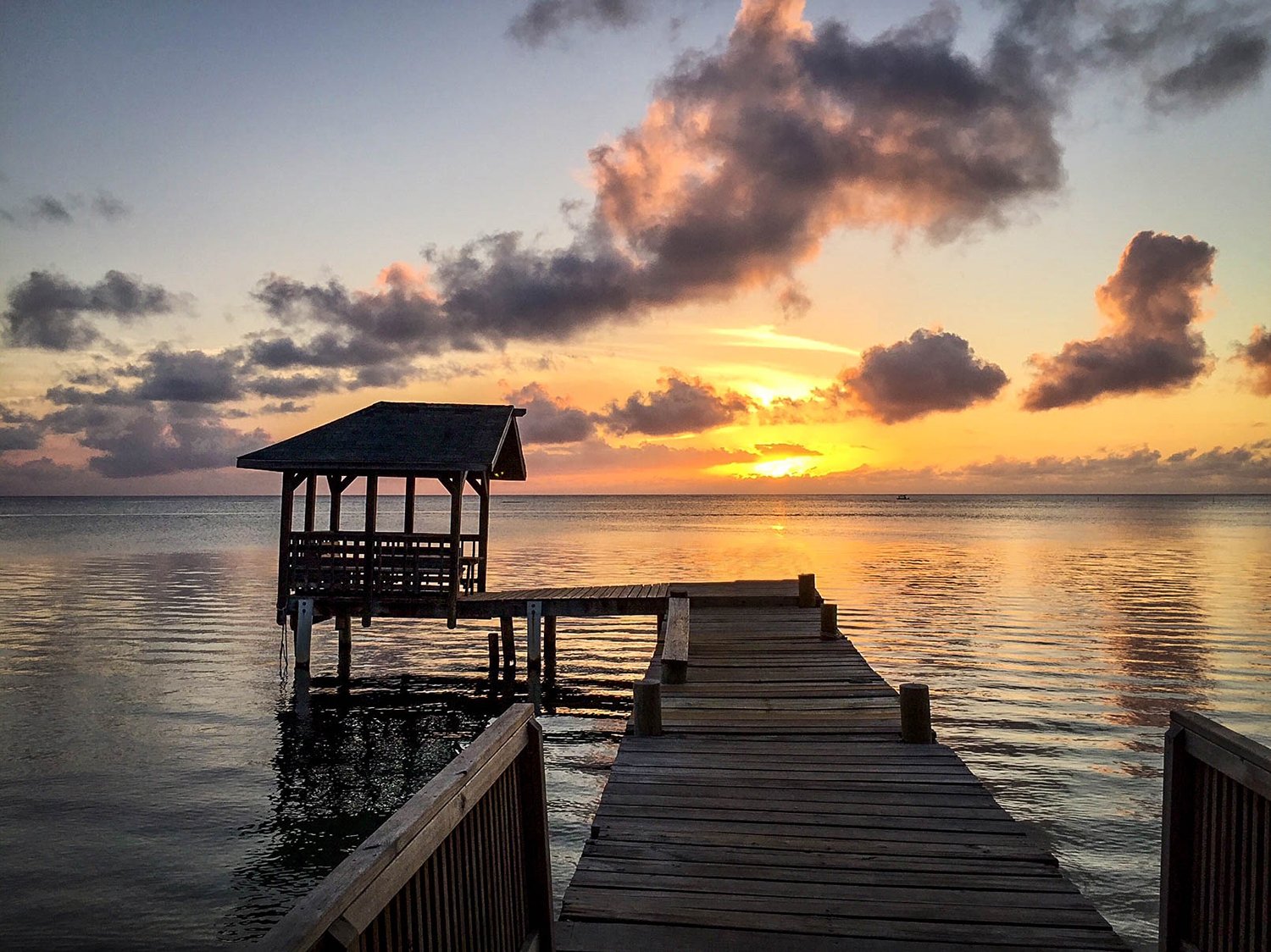 Roatan's beaches are out of a post card! And the warm, shallow waters are perfect for playing in if you don't like laying on the beach for very long (like us!).

Diving off of Roatan is fantastic! (See below)

The sunsets here are some of the best we've ever seen, even rivals the Thai Island of Koh Lipe.

There are many restuarants to choose from for all budgets.
Roatan Island Cons
The island is large and spread out and it's not possible to walk everywhere, so you'll have to hire transportation to explore.

Foreigners typically stay in separate areas from most locals, and therefore we had less interaction with local people than we did on Utila.
Things to do in Roatan
1. Get Scuba Certified or Take a Fun Dive with Roatan Divers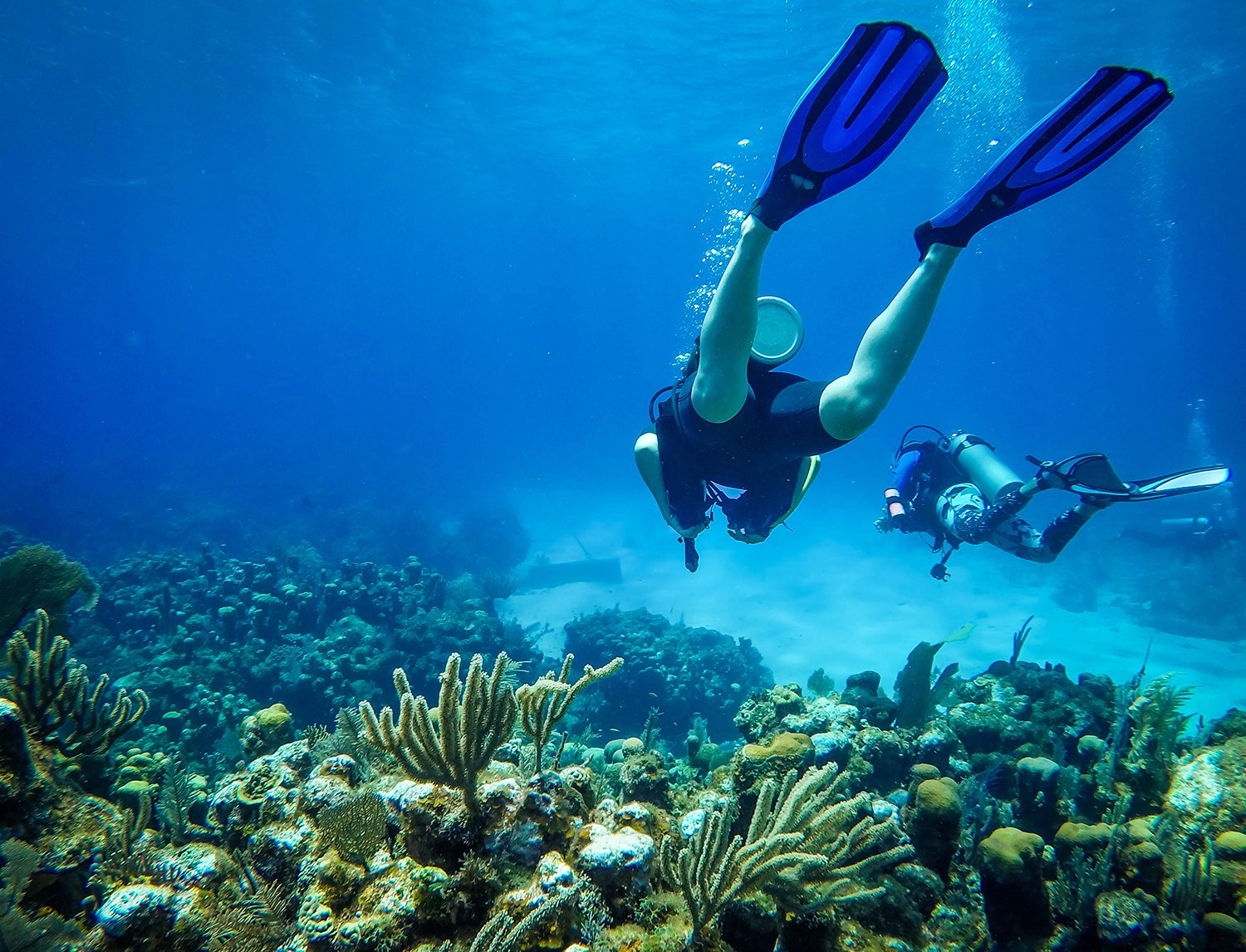 Ever since we got Scuba certified in Thailand a few years back, we have been building a list of top places to dive. And the Bay Islands in Honduras were at the top! 
Being that the Bay Islands having some of the best diving in the Caribbean Sea (and at a relatively low cost!), we would encourage everyone to try diving on the island. Many people even get certified on these islands. This means there are a lot of dive schools to choose from, but they aren't all created equal…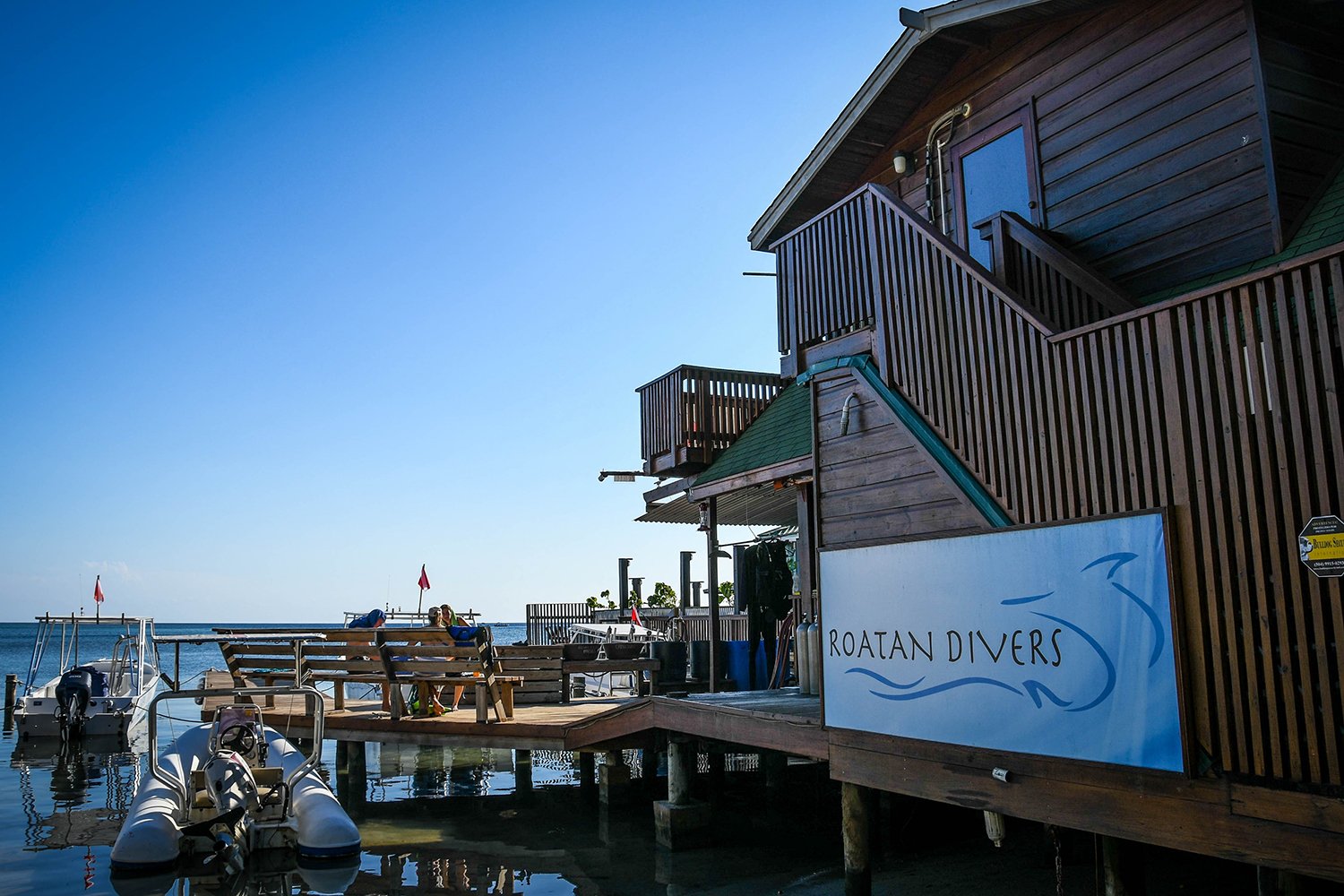 After doing some research and reading rave reviews online, we decided to go with Roatan Divers, and they did not disappoint.
When it comes to scuba diving, we always try to choose reputable companies that receive rave reviews from guests and truly care for the environment. We always say it's worth doing your research and choosing a quality dive school because your safety and the environment are at stake.
The amazing thing about diving in Roatan is you don't need to go far from shore. The dive sites are literally a 2-minute boat ride from land. I'm not exaggerating!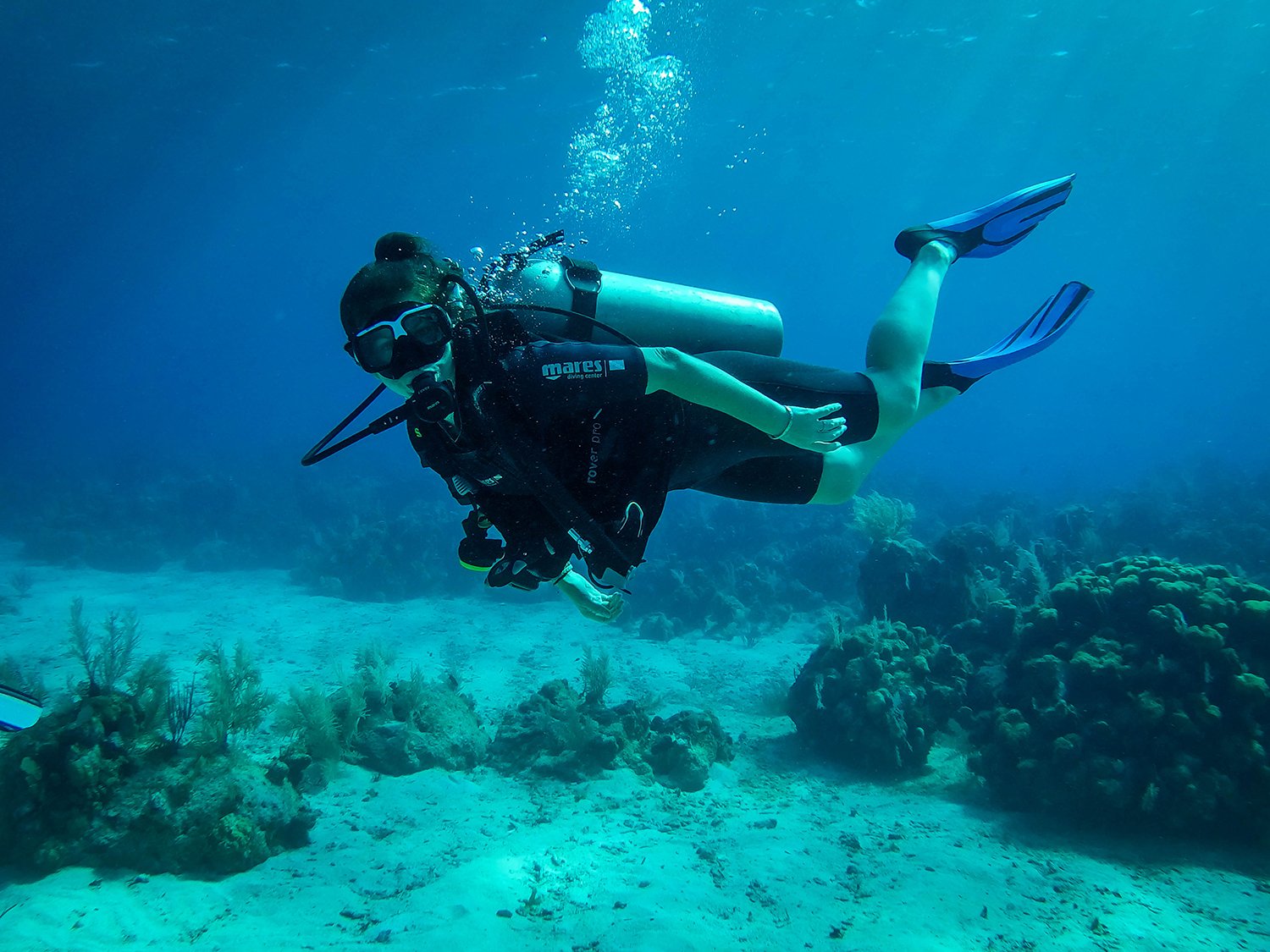 Both dives offered incredible visibility: some of the best we've ever experienced and made it a joy to see the colorful corals and schools of fish. While we didn't see any "big guys" (like the whale sharks this region is famous for), we saw plenty of beautiful ocean life, including a couple spotted eagle rays, sea turtles and fan coral.
Our dive instructor was professional and our group was small. And when I say "small" I mean it! It was just the two of us and our instructor. In fact, Roatan Divers prides themselves on being a "boutique style dive shop", meaning they can focus on individual service.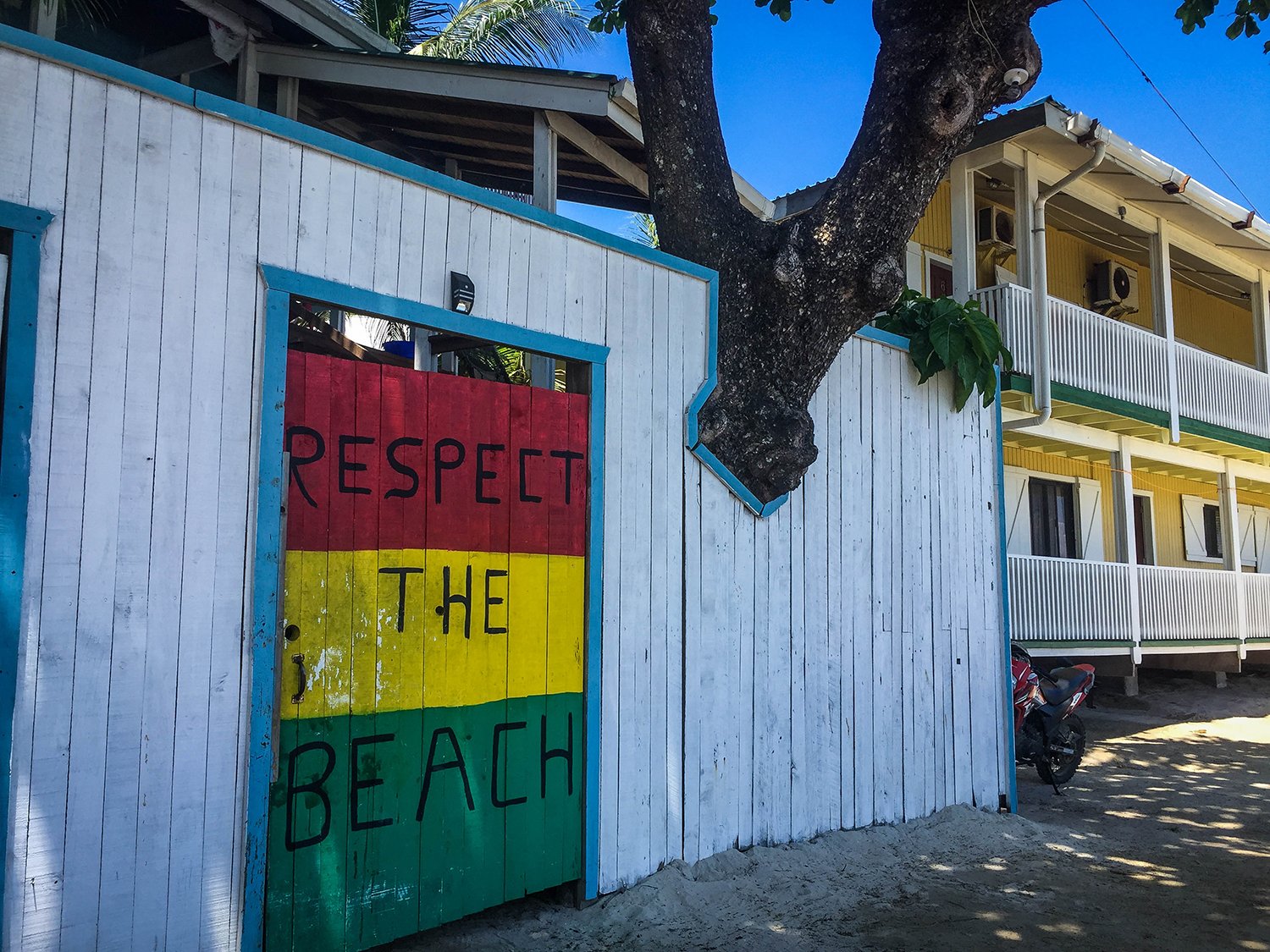 One of the things we appreciated most about Roatan Divers is they were very strict about not touching any of the ocean creatures or corals. (Which sadly, isn't the case with all dive schools.) We are always happy to support companies, and dive schools in particular, that have a strong commitment to environmental responsibility.
Related: Learn more about how to travel responsibly.
2. Enjoy Happy Hour
While the nightlife on Roatan isn't quite the same backpacker vibe as you'll find on Utila, there are plenty of bars on the ocean with happy hour specials. Grab a beer or mojito and enjoy the beautiful sunset! You can also grab a drink from a convenience store and enjoy it on the beach instead.
3. Rent a Stand Up Paddle Board (SUP)
The calm waters of Half Moon Bay is the perfect spot to rent a paddle board and get out on the water. Whether you choose to get out first thing in the morning before the sun is too strong or during sunset, there's not bad time to enjoy these postcard views.
4. Take a water taxi to West Bay Beach
Being one of the best beaches in Roatan, it is worth the $3 water taxi ride to West Bay Beach. This pristine beach has soft sand and calm shallow waters where you could spend all day here. It can get a bit crowded at times because of the large resorts that hug the beach line, so be warned. 
5. Relax on the beach
It might seem silly to say, but one of the best things to do on any island is to find a hammock or secluded patch of sand and just relax! Bring a book and some music, spread out your sarong and just enjoy the beach life. Oh, and don't forget to slather up with sunscreen.
6. Sailboat Rope Swing
If you look out into the Half Moon Bay near the main part of town you'll see a sailboat that is moored. And you might even see it rocking back and forth as people jump into the water from a rope swing on board.
Responsible Travel Tip: Since the Bay Islands are situated on a stunning coral reef, please think about the sunscreen you are using. Choose a reef-safe sunscreen so you don't damage this fragile ecosystem. We love Raw Elements because it's not only reef-safe, but they have some sunscreens that come in metal tins and are plastic-free!
Where to eat in Roatan
Since we stayed in the West End, all of our recommendations are in this area.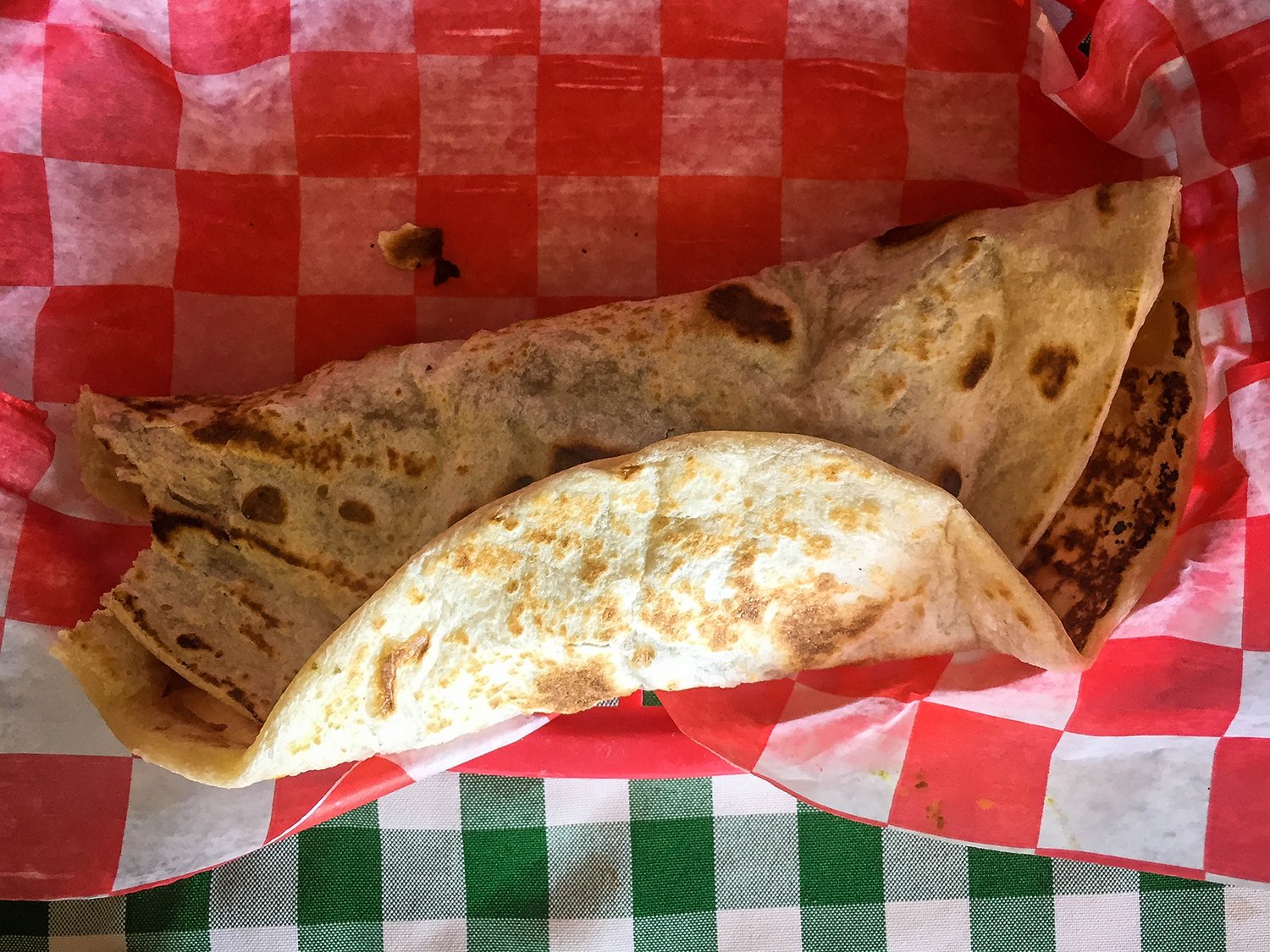 Calelu's: This local joint is a great place to eat well on a budget. This is a good place to try baleadas, Honduras's most popular dish. The most basic version is a thick tortilla stuffed with retried beans and cheese, then folded in half, and costs just $1 at Calelus. Try adding other ingredients, like chorizo, eggs or veggies, for just a small upcharge. Our favorite combo was chicken and avocado.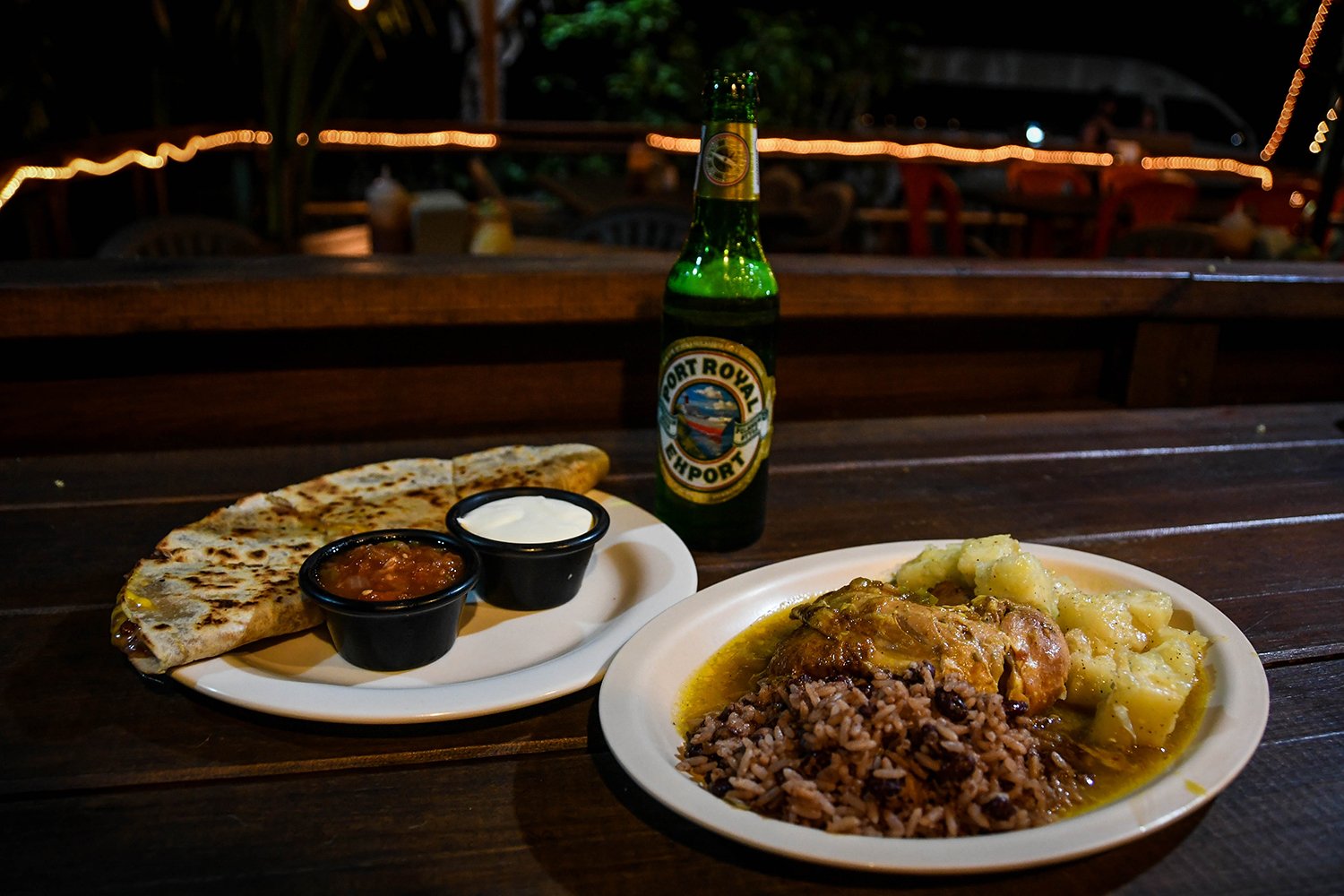 Cafe Escondido: The prices here are on the steep side, but with fresh veggies and healthy options, your tummy will thank you. Their special of the day is usually a pretty good deal.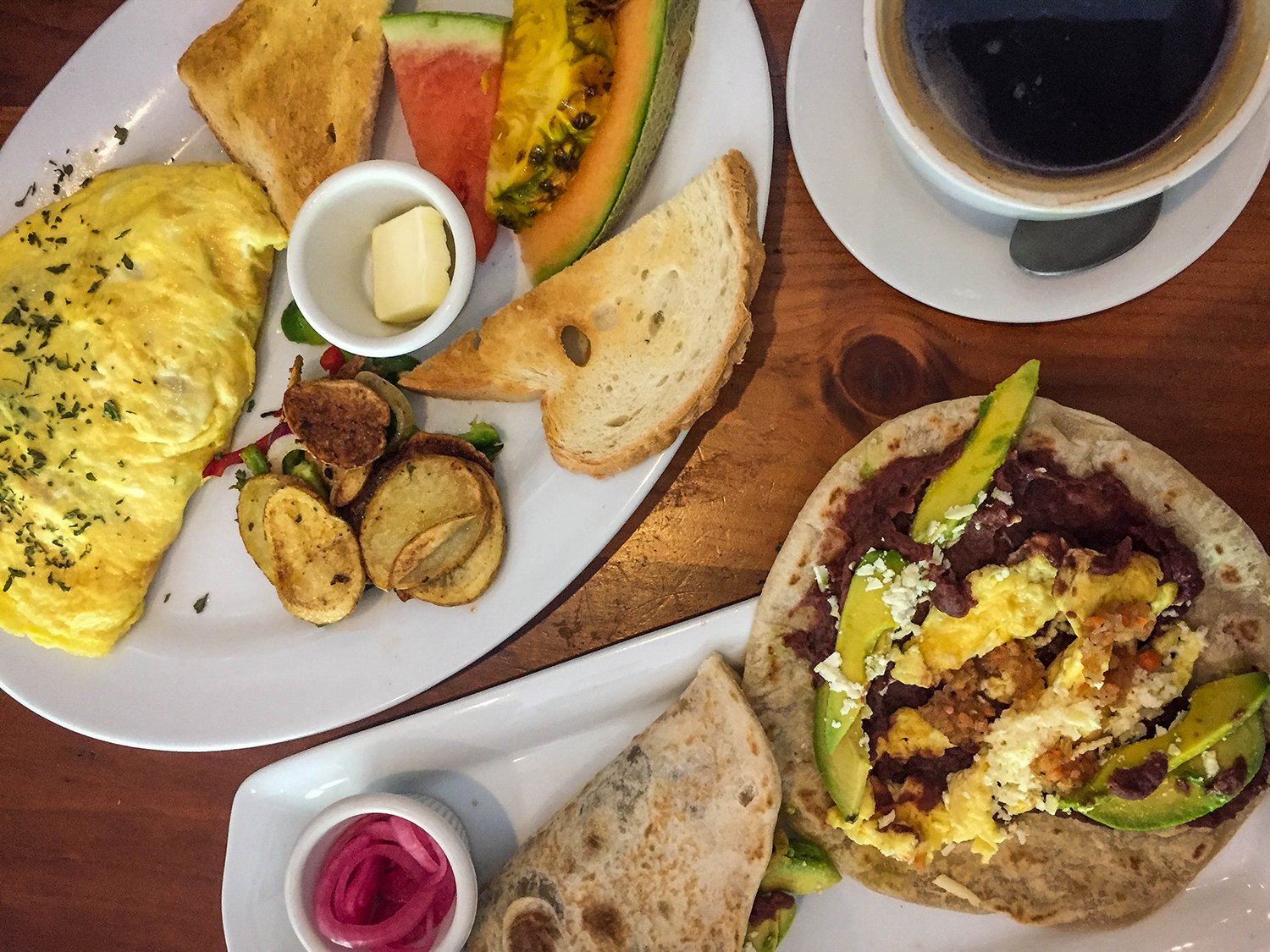 Bean Crazy: A good breakfast choice, this place is air conditioned and has free WiFi. Prices are on the higher end and coffee is just okay, but with Western options to satisfy our breakky cravings, we ate here twice. 
Tip: For a meal on a budget, try their balaedas, which come with refried beans, cheese and scrambled eggs. This comes with 2 balaedas and is big enough to split between two people for a total of $3, or you can add on tempting extras, like avocado or bacon for $1 more each. Or try a side of their super yummy morning potatoes for an additional $3!
Booty Bar: At just $1.50 USD for mixed drinks, their happy hour specials are great. That said, the crowd tends to be kind of an older expat group. 
Creole Chicken: The roast chicken here is delicious and a good value for the price. We split one plate between the two of us. When we were there, we saw many older expats who seemed like "regulars" at this spot.
Chestnut Coffee: Nice selection of coffees, teas and smoothies. We also liked that they served drinks with paper straws instead of plastic.
Where to stay in Roatan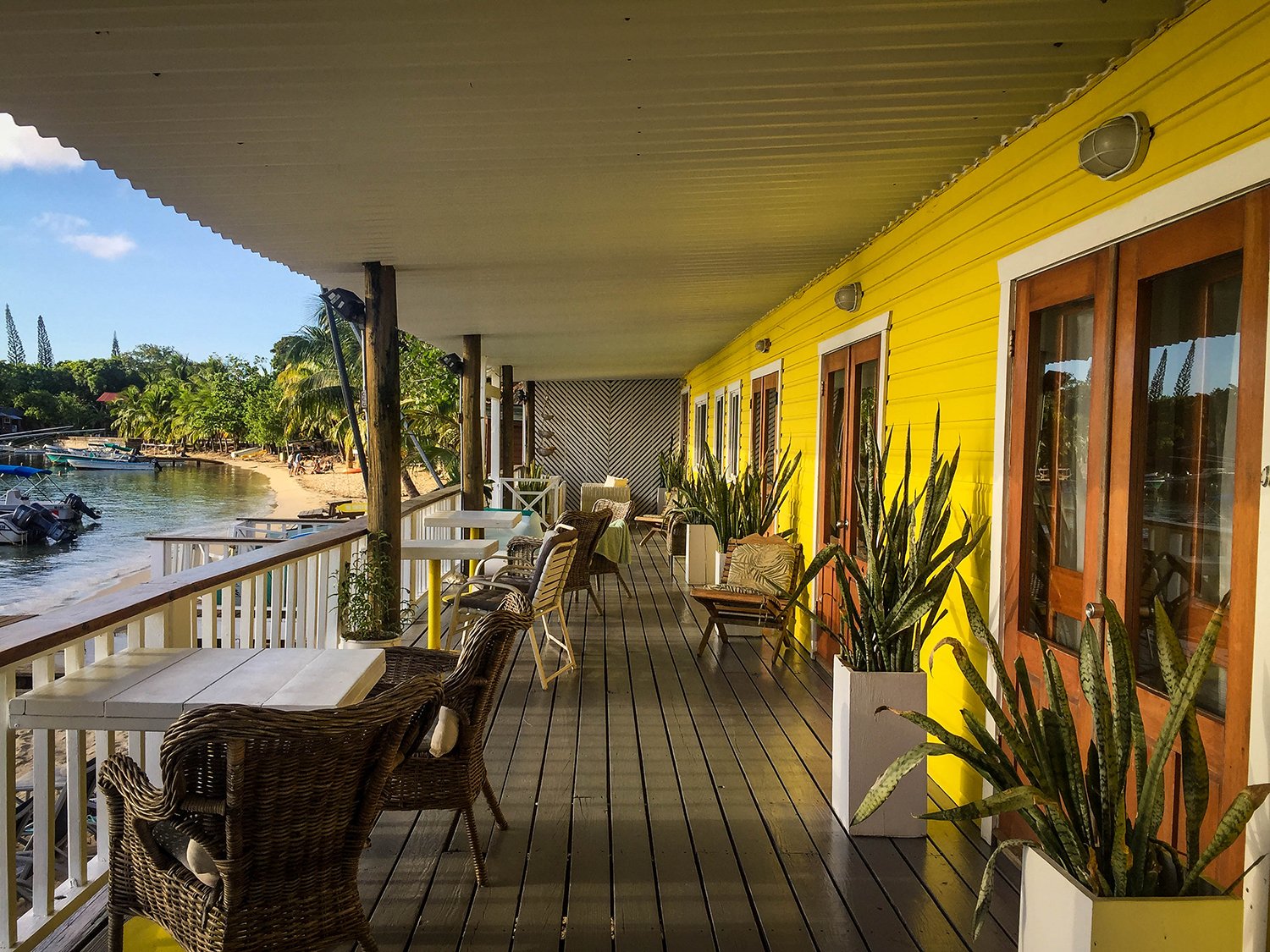 The nice thing about Roatan is that it has something for every type of traveler. If your budget is not too tight and you'd prefer the comforts of a resort, look for accommodation in West Bay. If your budget is on the tighter end, the West End area is a good choice.
Resort Hotel: Grand Roatán Caribbean Resort – Everything you need in a luxury hotel: giant pool and tanning deck, 2-minute walk from the beach, private villas and ocean views. Check prices on: Booking.com and Agoda.com.
Boutique Hotels: The Beach House Boutique Hotel – Beautifully designed, the yellow beach house is a perfect place for couples who want luxury and still want to be close to town (and the water). Check prices on Booking.com and Agoda.com.
On a budget: Buena Onda Hostel – With both dorms and private rooms available this hostel is a 10-minute walk to Half Moon Bay. There's a kitchen available and a lounge to relax and meet other travelers. Check prices on Booking.com and Agoda.com.
How to get to Roatan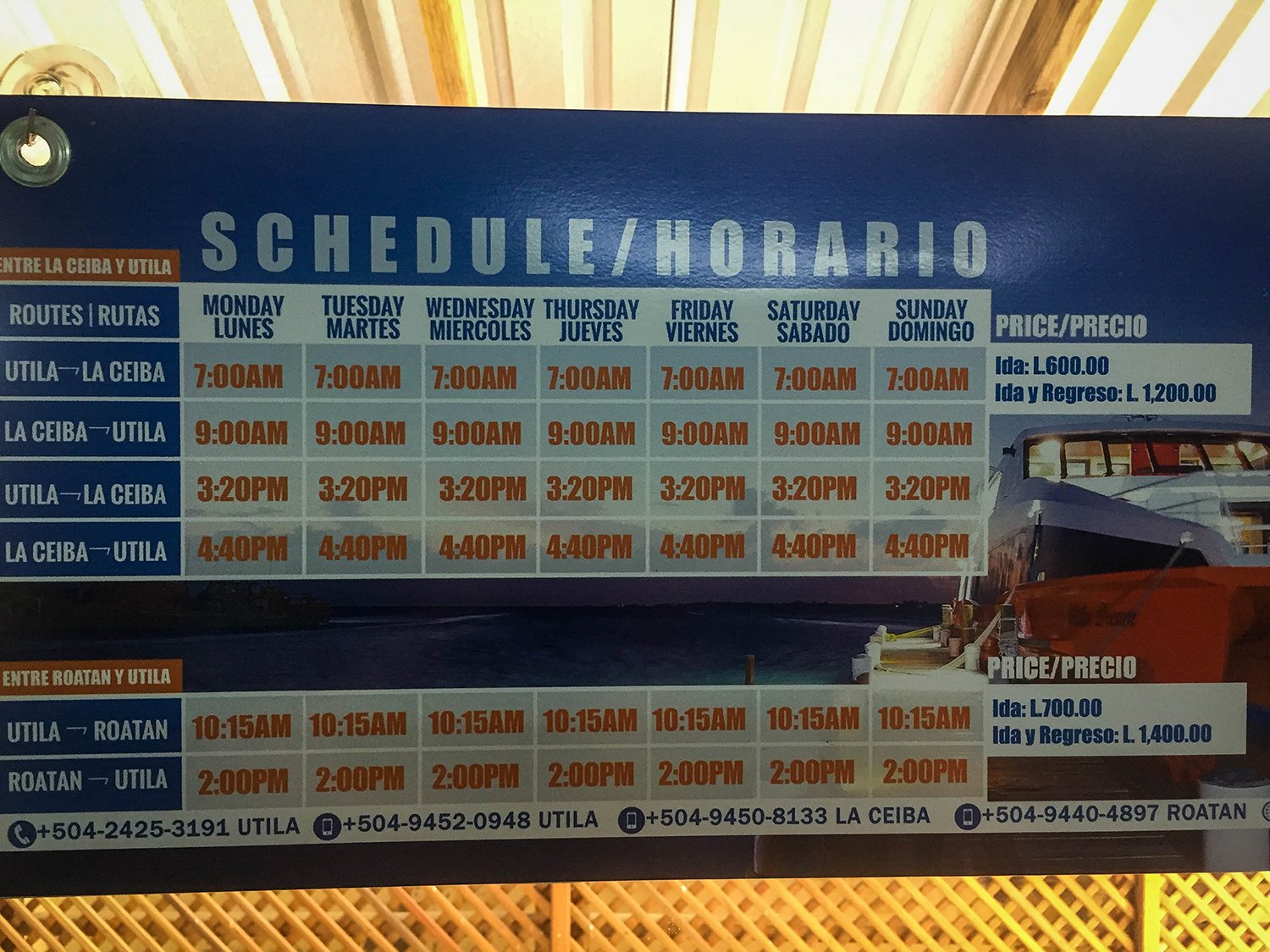 You will need to take a Galaxy Wave ferry from the town of La Ceiba, Honduras. The ferry leaves two times per day; once at 9:30 a.m. and again at 4:30 p.m. One-way tickets cost $33 USD for adults and the ride takes about 70-75 minutes. 
Tip: Buses in Honduras are routinely later than expected, and if you are coming a long distance, it is likely you will miss the 4:30 p.m. ferry. The ticket costs xxxxxx per person.
---
Introduction to Utila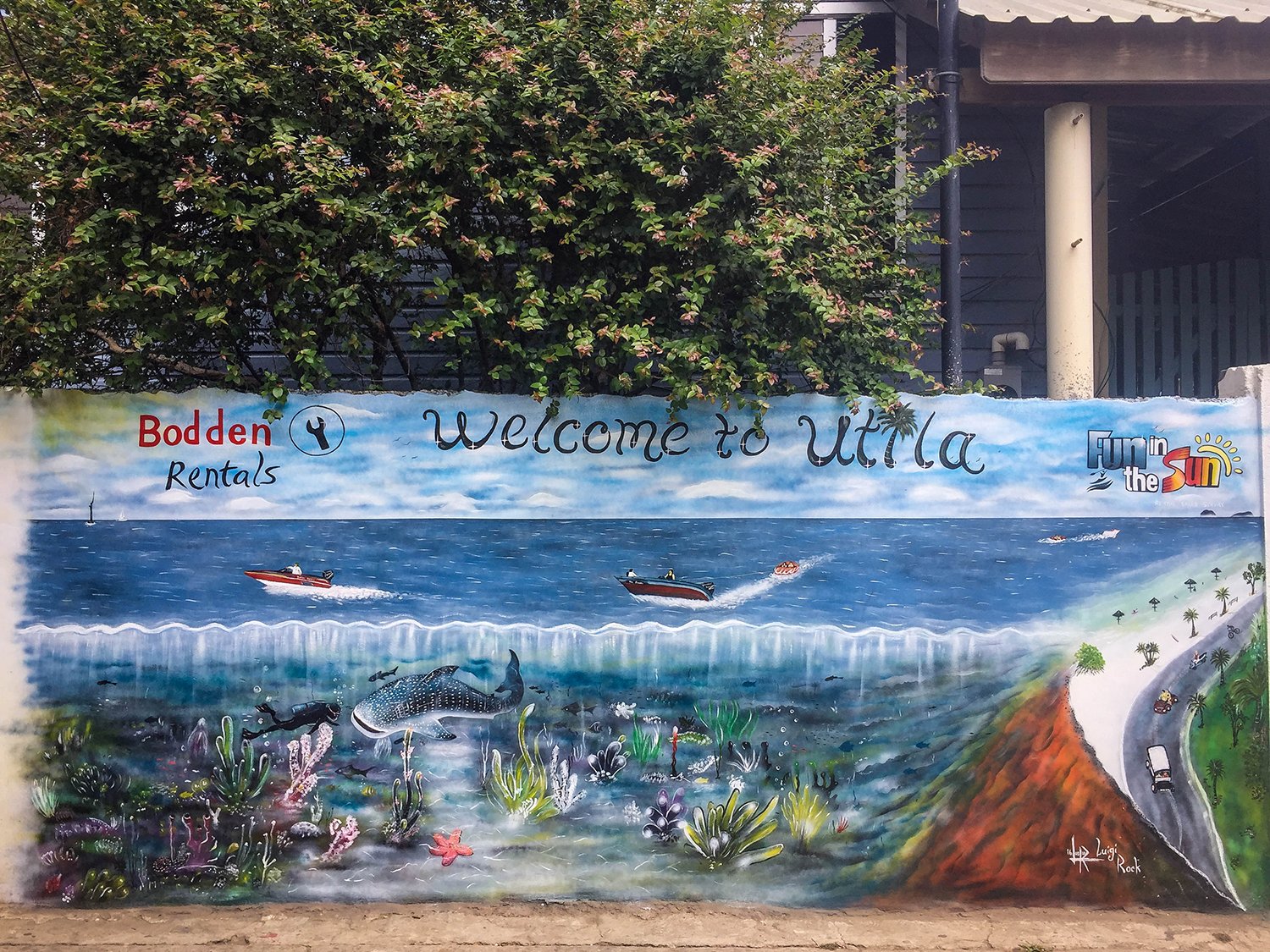 Significantly smaller than Roatan, this island is a favorite among backpackers making their way through Central America. With cheap diving courses, Utila is a popular place to get certified. While the beaches near Utila Town are nowhere as nice as those on Roatan, the charming small town feel and lively nightlife is a major draw.
Utila Island Pros 
Being that the island is small, things are much less spread out than Roatan. This means you can walk nearly everywhere in town. However, if you want to explore more of the island, you'll need to hire a water taxi to bring you to some of the more remote parts of the island which aren't (yet) connected by road.

Its small size means that locals and foreigners are in the same area and interact more, whereas it feels more separated on Roatan.

Excellent diving, just like Roatan, with a rare chance of spotting a whale shark

Nightlife in Utila is great, which means you'll find a backpacker party just about every night.
Utila Island Cons
Most of the area near Utila Town is rocky, and the nearby beaches leave much to be desired. The nicest of the town's easily accessible beaches (Bando Beach) requires a $3 entrance fee.

The main town is nice and small, but it is starting to get overcrowded. You have to be careful walking on the street watching out for motorbikes and ATVs, especially at night.
Things to do in Utila
1. Go scuba diving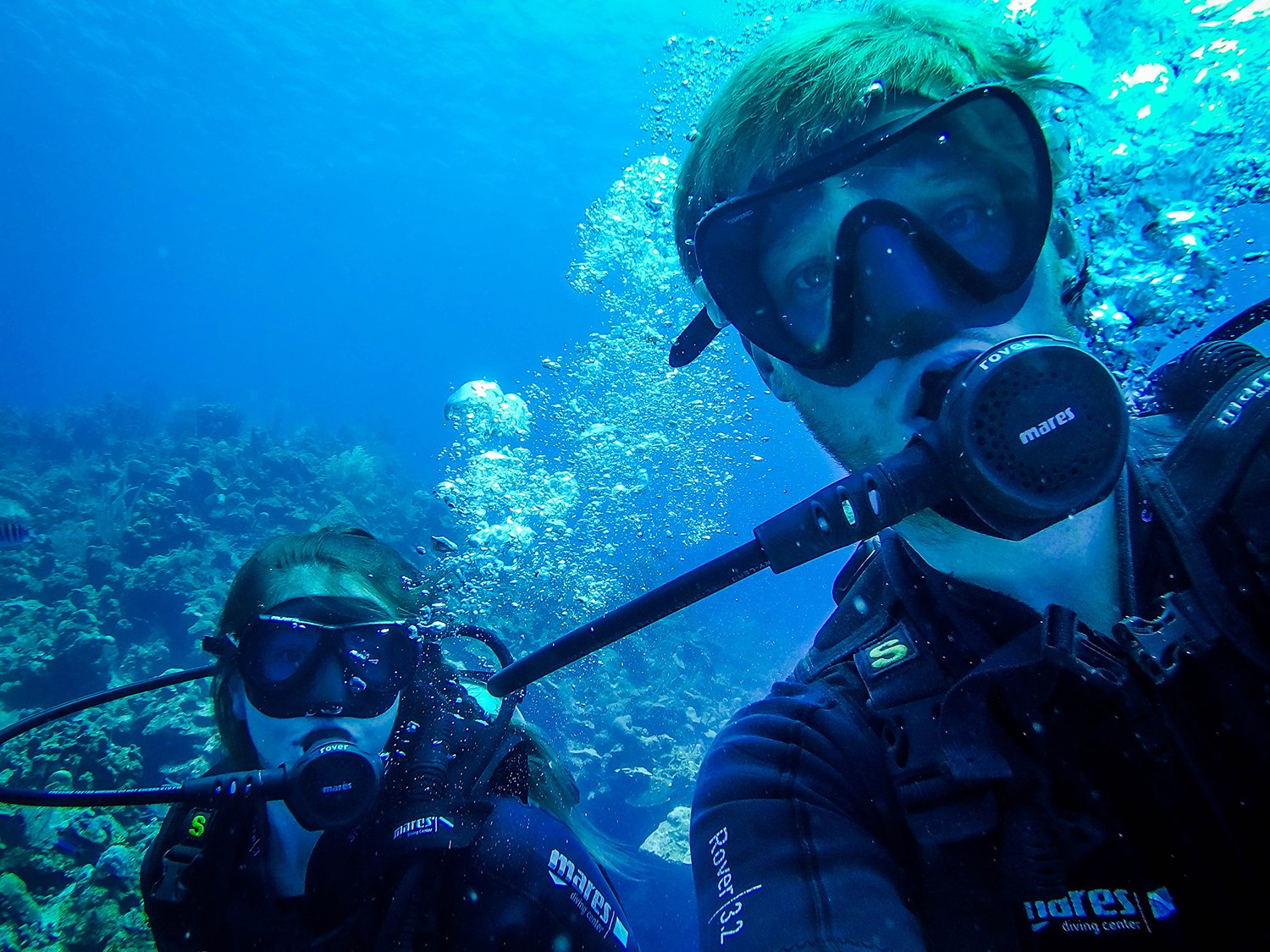 Just like with Roatan, Utila is a popular place to get Scuba certified (or get advanced certifications) because the diving is great and it is relatively cheap compared to many other places in the world. It is also a great place to see whale sharks in the wild. Unfortunately, we didn't see any sharks here, but the dive was still fantastic. 
There are many dive shops that line the small main street, and there's no need to book far in advance. Simply walk down the street and pop into a couple schools and get a feeling for the vibe. Many of them offer free accommodation in their dorms on days that you dive with them.
Some popular dive schools in Utila are Underwater Vision, Utila Dive Center and Captain Morgan's Dive Center.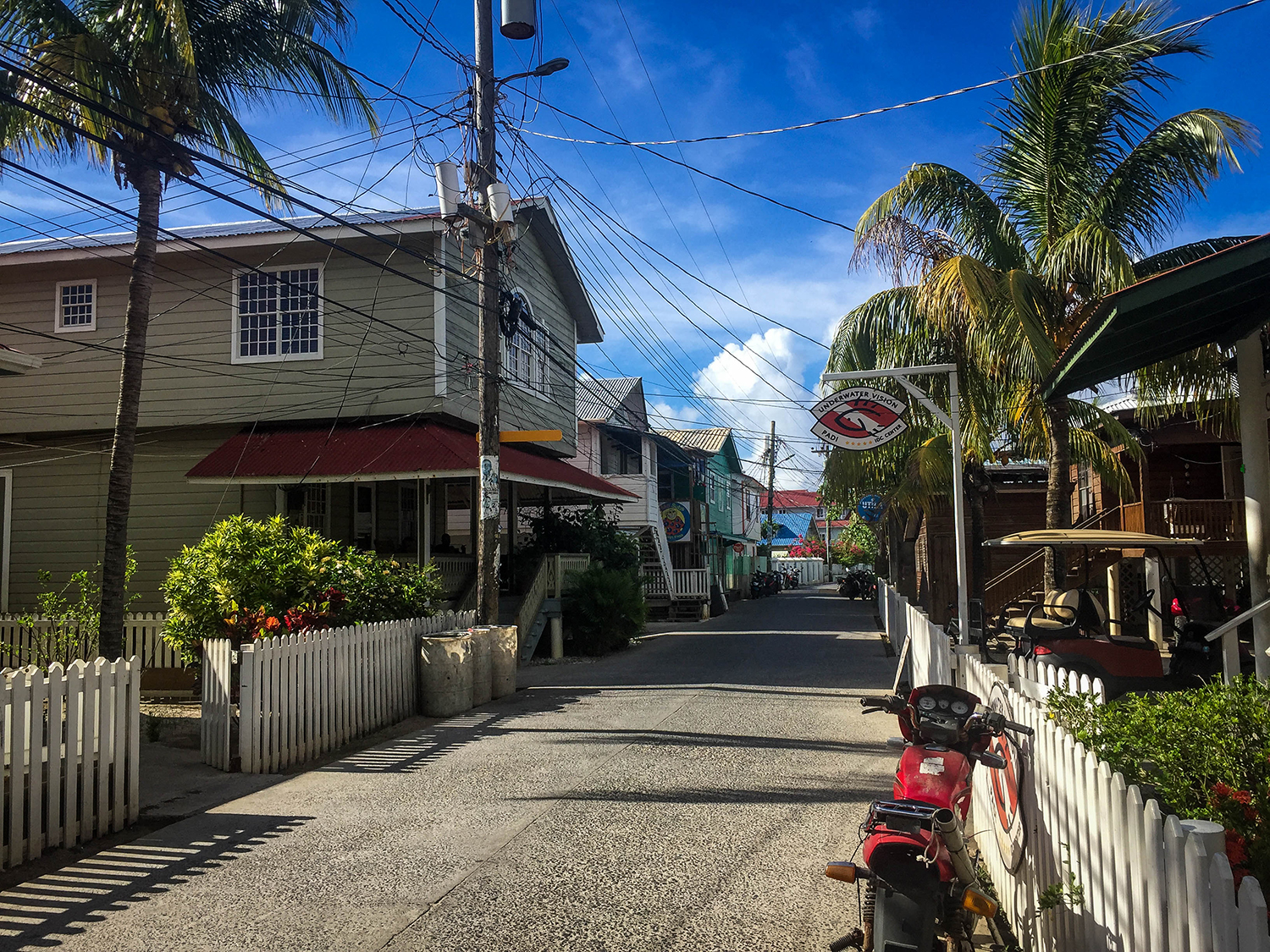 2. Go to one of the Cays
Surrounding Utila are tiny islands, or cays. If you're seeking nice beaches, you'll find better ones on the cays than you will on Utila itself. And if you want to get a taste of local culture without as many backpackers, you'll find that on Jewel Cay.
Getting to the Cays requires a tour or hiring a boat driver and it can be quite expensive. Ask around a bit and gather a group so you can split the cost to make it more affordable.
3. Experience the nightlife
While traveling around Central America, we kept hearing people rave about the nightlife on Utila. Sadly, we got food poisoning (really bad food poisoning!) on this island, and were quite sick most of the time. Some popular bars are Tranquila Bar, Mango Tango and Treetanic Bar.
4. Jump off the dock! (Any dock!)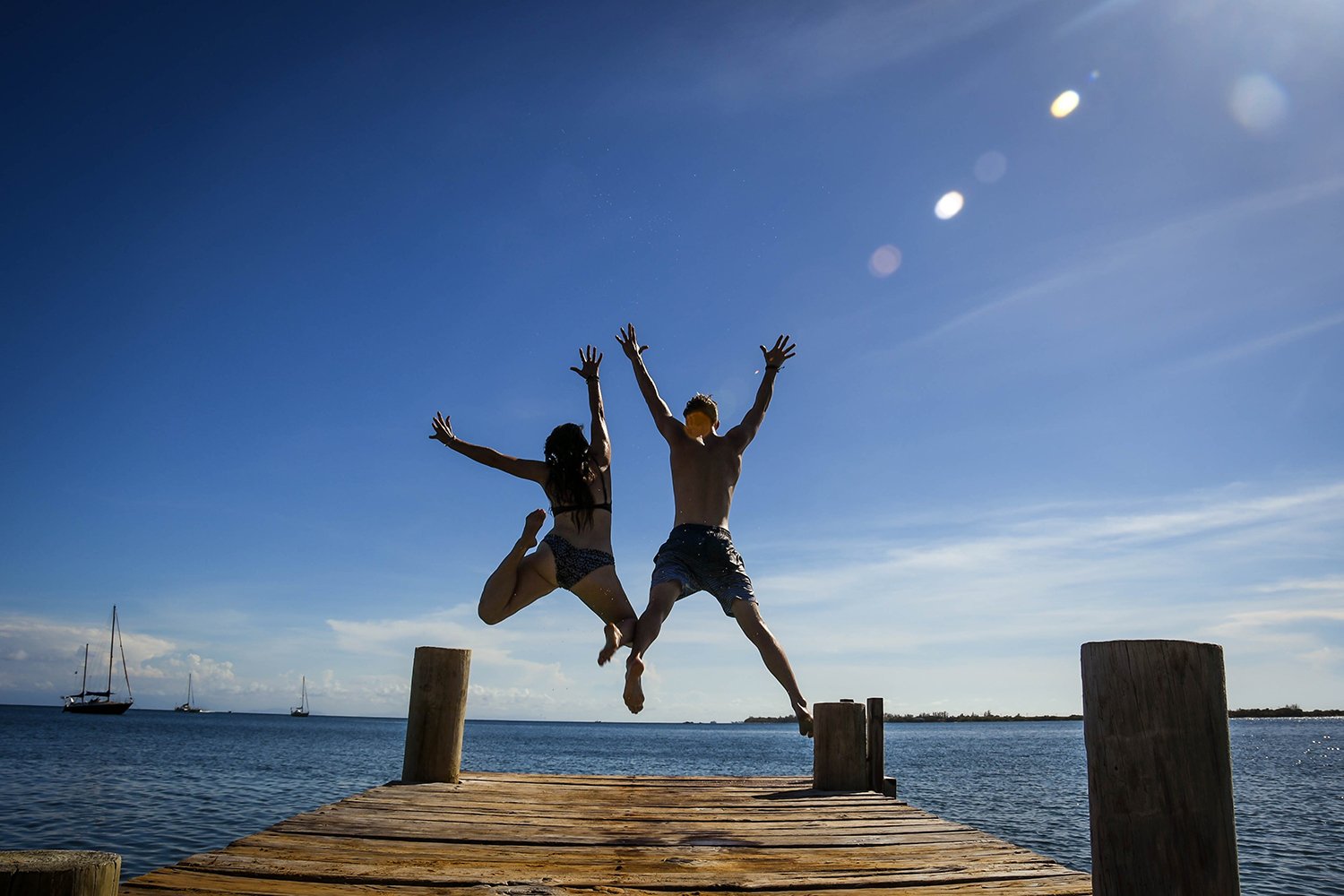 There are all sorts of docks around town, and if you're lucky your hotel might even have a private that you can have all to yourself. The water is warm and clear, so you'll definitely want to jump a few times!
5. Visit the Whale Shark & Oceanic Research Center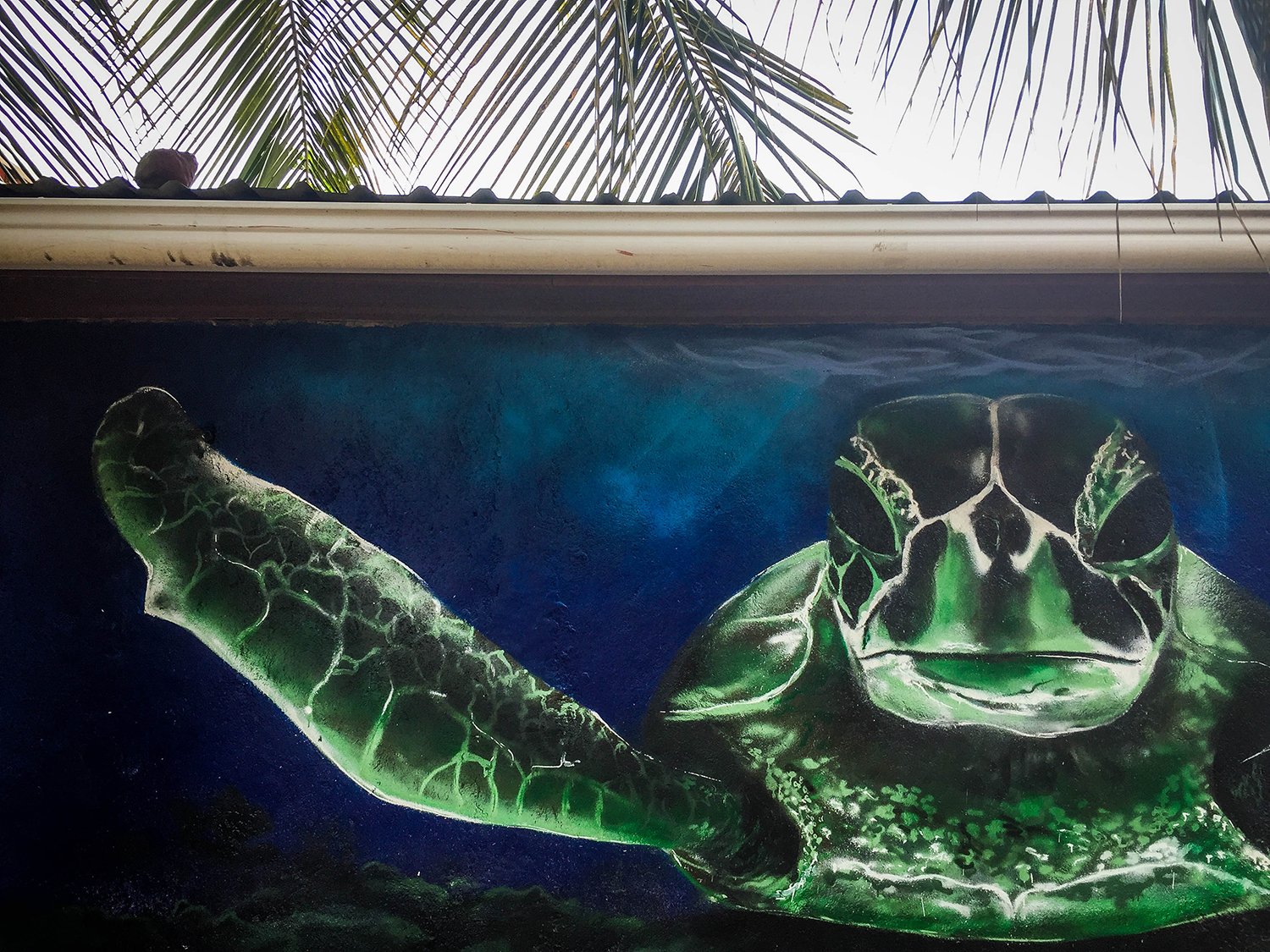 There are a few places in the world where you can see whale sharks, and unfortuately many of those places bait the sharks so tourists can swim amongst them. Thanks to the efforts of the Whale Shark & Oceanic Research Center (WSORC), Utila is not one of those places.
The WSORC is focused on studying the migration patterns of the whale sharks and the effects tourism has on the migration. They have created guildlines for how humans should interact with whale sharks that actually passed through the Honduran government and thus protecting them.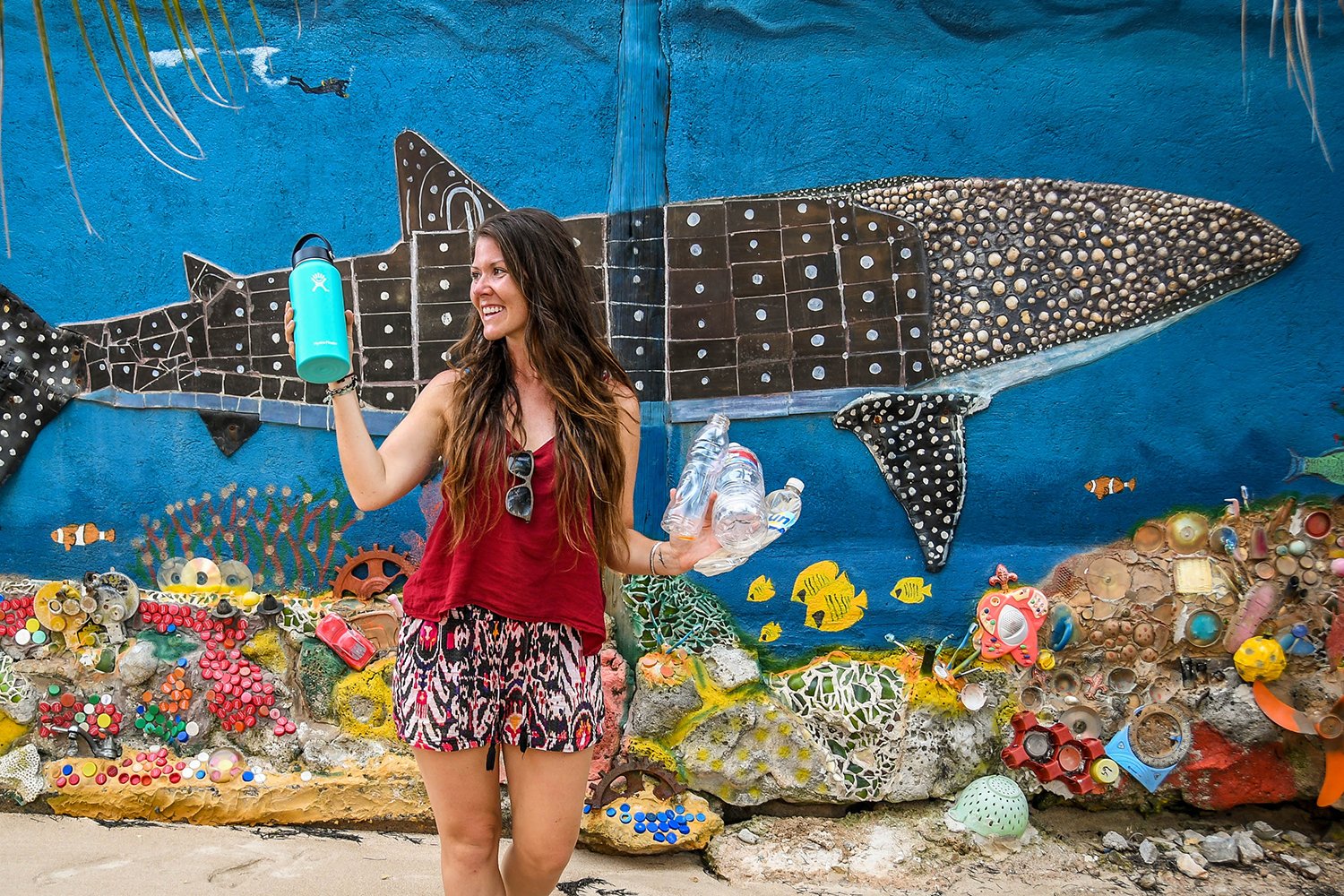 While the center is not much a tourist attaction, the staff is super knowledgeable and passionate about protecting the local environment. They organize beach clean ups every Monday morning (but be sure to check with center on the times as it might change depending on the season). Be sure to bring a reusable waterbottle!
Where to eat in Utila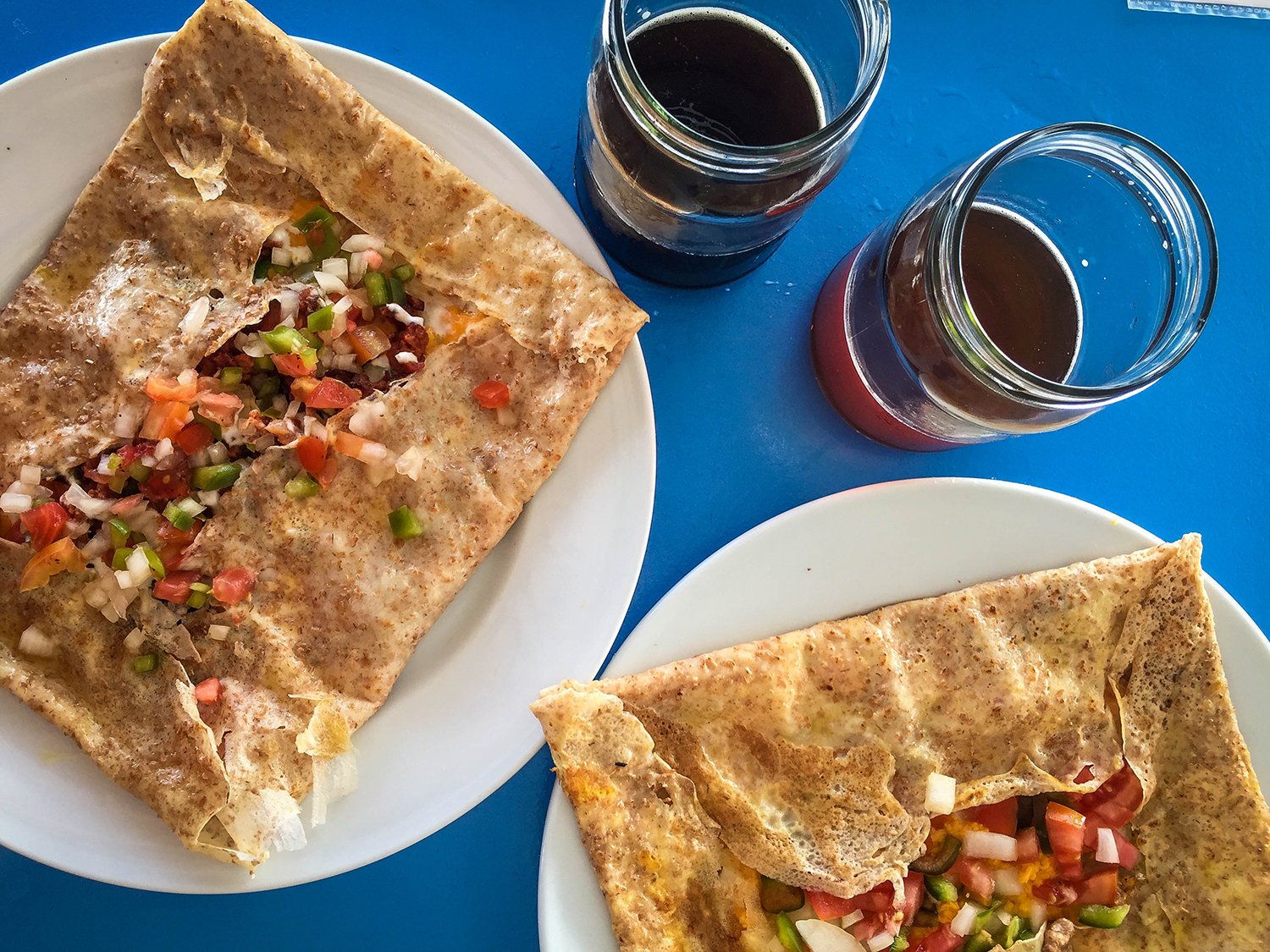 Islanders/Oceane's Crepes: This place serves up sweet and savory crepes and their own craft beer. While we found the beer to be mediocre, it was actually a nice surprise to have a pale ale and a porter on an island in Honduras. Plus, the view is fantastic, especially at sunset.
Mango Tango: Arguably one of the best restaurants in town, this popular place won't disappoint. While we only came for a drink (the best gin and tonic of my life!), the food looked and smelled amazing. Unfortunately, they were closed the next night when we wanted to order food.
El Castillo: Another great choice for excellent food. Not the cheapest meals on the island, but quality ingredients and great service are awaiting.
Baleadas Mama Rose: Local join serving up super cheap food, with their specialty being – you guessed it – baleadas! Ours was on the salty side, but it was huge and cheap. This is a great budget option. 
Funky Chicken: This quirky little shack is run by Stuart, a Canadian man who moved to Utila back in the 80s when there were less than 200 residents on the island. He moved to Thailand where he had a hotel and restaurant, and returned to Utila a handful of years ago when he opened up Funky Chicken. 
Che Pancho: This Argentinian restaurant offers vegetarian options as well as Argentine classics like choripán, a sausage served in a bun with chimichirri. They also claim to serve the best smoothies on the island.
Mario's Place: Popular spot for grilled fish or chicken and sides.
Rio Coco Cafe: Great coffee and vibes. This cafe also supports local charities.
Hot Spot Cafe: Good spot to grab a quick breakfast and smoothie.
Bars in Utila
Tranquila Bar: Cheap drinks, dancing and backpacker vibes.
Treetanic Bar: Quirky bar with art installations that is worth checking out while you're in Utila.
Skid Row Bar & Grill: Popular bar that gets crazy! Come here after eating, as we've heard better things about the drinks and atmosphere than the food.
Where to stay in Utila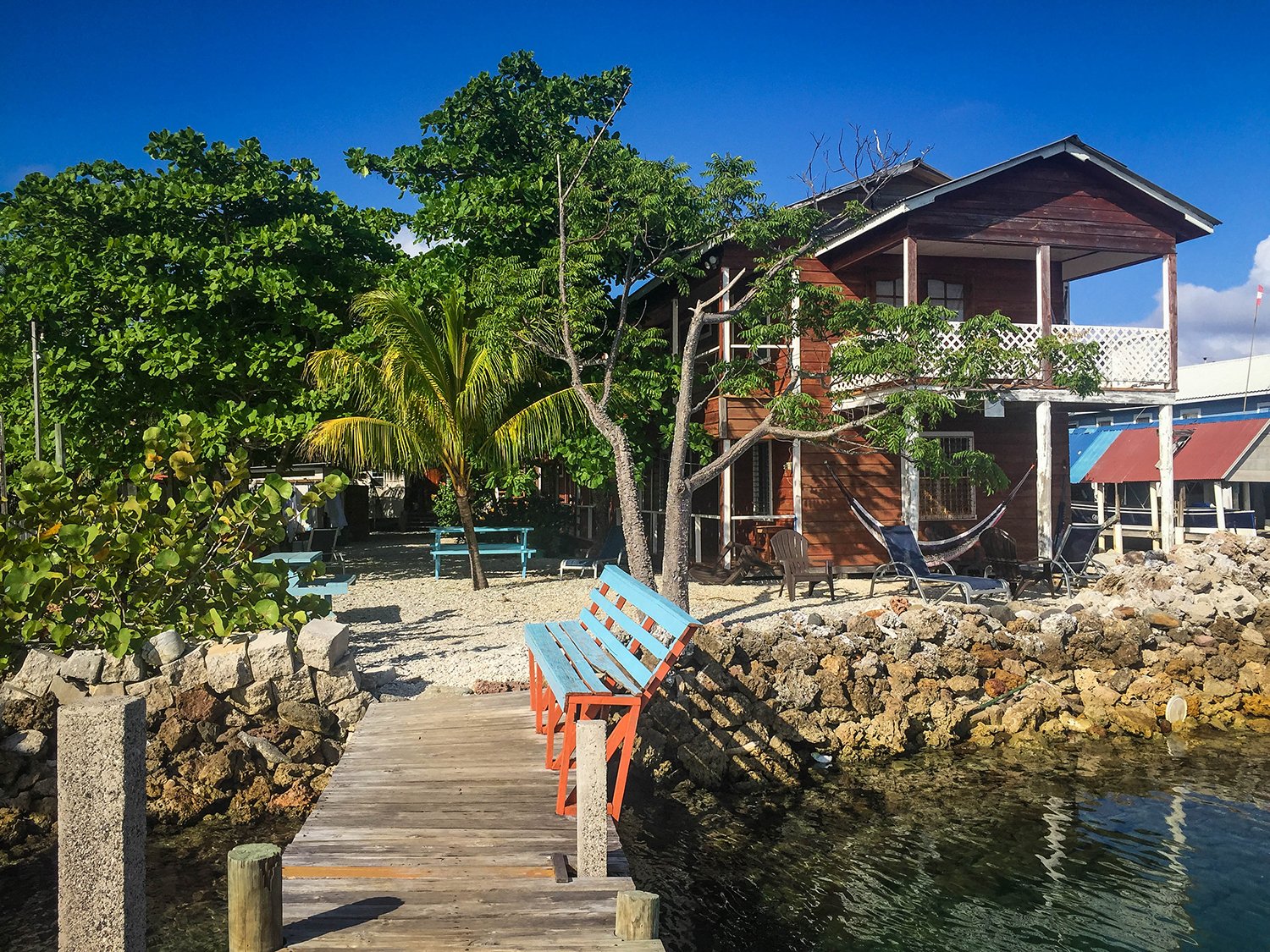 If you are planning to dive and don't mind staying in a dorm, most dive schools provide free accommodation. Wander down the main street and find one that has a nice vibe.
Luxury Hotel: If you have a higher budget, Coral Beach Village Resort is a great choice. There are a few different room options with different price points, but they are all fantastic.
Family-Run Budget Friendly Hotel: Ruby's Inn – If you're looking for a private room on a budget, Ruby's is a great choice. The owners are super sweet and there is a private dock you can jump off. The rooms are simple but clean. They each have air-conditioning units, but is is a huge upcharge ($25 USD extra/night) to turn them on (which is common on the Bay Islands). They are not on any booking website, so you'll have to show up and see what is available. 
How to get to Utila
You will need to take a ferry from the town of La Ceiba. The ferry leaves two times per day; once at 9:00 am and again at 4:40 pm. One-way tickets cost about $25 USD per person and the trip takes about 45 minutes. 
Tip: Buses in Honduras are routinely later than expected, and if you are coming a long distance, it is likely you will miss the 4:40 pm ferry.
---
Roatan or Utila
Roatan has better (easily accessible) beaches.

Utila is cheaper (if only slightly). We honestly didn't notice too much of a difference.

Roatan is larger and more developed.

You can walk most places in Utila, where on Roatan, you will need to hire transportation to get around.

Utila's nightlife is really good (though we were sick for nearly our whole time on the island, so we didn't really get to experience it). Also, it's worth noting that perhaps it's more lively on the weekends, but when we arrived on a Sunday night we found the island to be quite dead.

Both islands offer great diving for around the same price.

Roatan has more of a mix of foreigners – couples, families, retired expats, backpackers, high-end travelers.

Most of the travelers on Utila tend to be younger backpackers.
Our thoughts on Roatan vs. Utila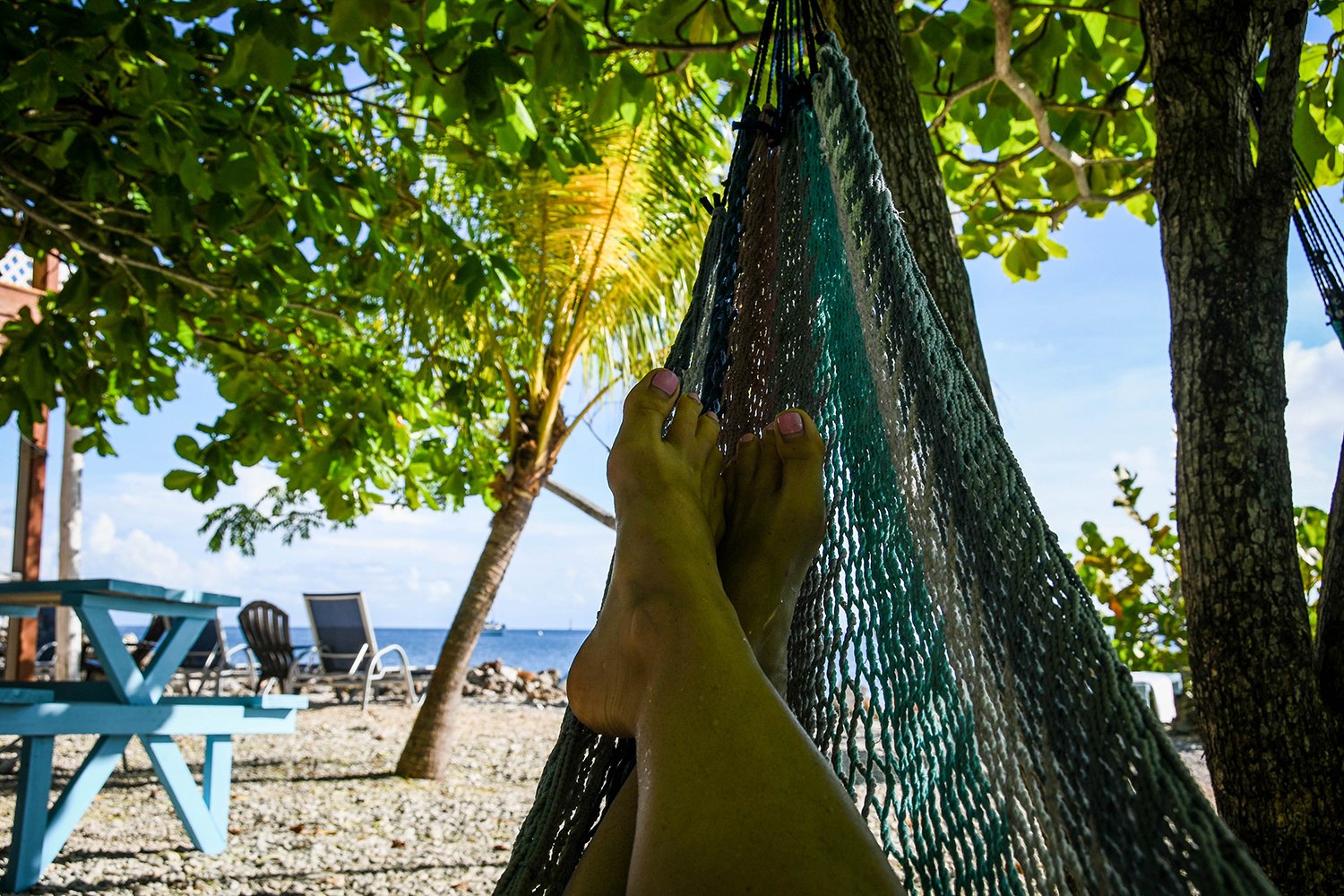 While we can't definitively say which island is better — that is totally personal preference — we can let you in on our personal experience after visiting both islands. 
If you have time to see both Utila and Roatan and would prefer to spread your time between the two, we think that's a great idea. They are really very different and you'll be able to explore what makes them unique. 
That said, if you'd rather really get to know one place rather than spreading yourself too thin or you have 4 days or less; we'd encourage you to choose just one island to visit.
Utila is for you if… you want a true backpacker vibe, some good nightlife and a bit of adventure.

Roatan is for you if… you want a quieter stay with more time on the beach.
Hopefully this helps you make your own decision on which island to visit! If you still can't decide, then maybe this backpacking guide to Honduras can help you choose.
---
Know before you go: Interesting things to know about the Bay Islands
Money: Both Roatan and Utila accept American dollars and the Honduran currency, lempira. Often times restaurants that are geared toward tourists (especially in Roatan) will display all prices in US dollars.

Language: Even though Spanish is the official language of Honduras, the locals on the islands speak mostly English and Creole.

Internet: Staying on-the-grid is a bit of a challenge on the Bay Islands. The best WiFi we found was at coffee shops and restaurants on Roatan, but even then it was patchy. Our suggestion: unplug and enjoy the island life!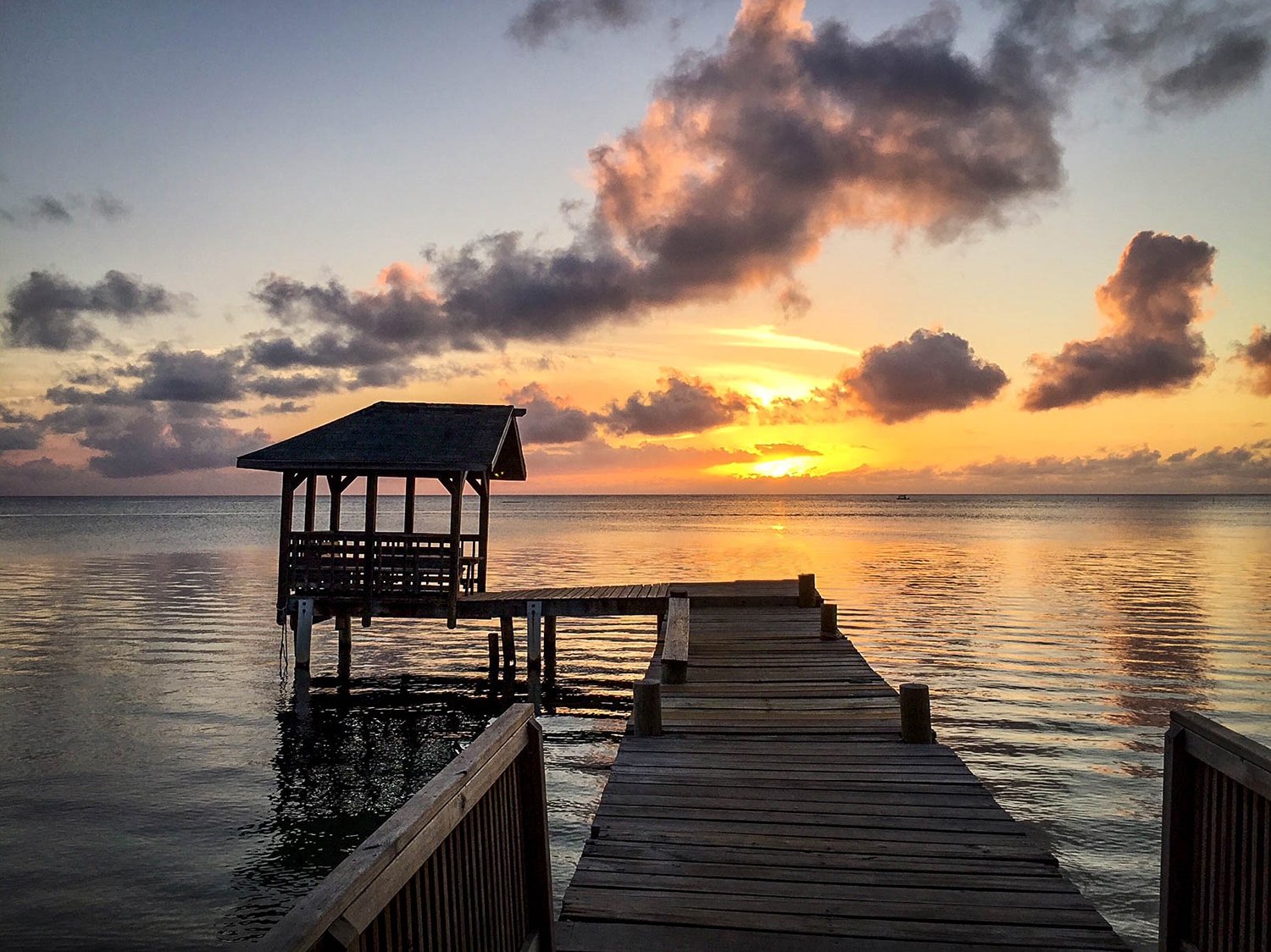 Traveling to the Bay Islands
In order to get to Honduras's Bay Islands, you will likely need to pass through San Pedro Sula as well as La Ceiba. 
San Pedro Sula
To get to the Bay Islands, you'll likely have a bus layover in San Pedro de la Sula, which has been named the deadliest city in the world (outside of war zones). You will only be in the bus station, however, and really have nothing to worry about.
You'll likely see Honduran families with small children and other travelers making their way to the Bay Islands. The bus station staff are helpful and will show you where to go to wait for your next bus. 
La Ceiba 
You'll also likely need to spend the night in La Ceiba. From the little we saw, this city is grimy and definitely not a favorite of ours. We stayed near the bus station in a questionably clean hotel and didn't do any exploring aside from finding an ATM.
We've read to be careful here if you plan on going out at night. We just got checked into our room, took a shower, passed out and waited to be taken to the ferry, so we can't say too much more about the town.
How to get between the Bay Islands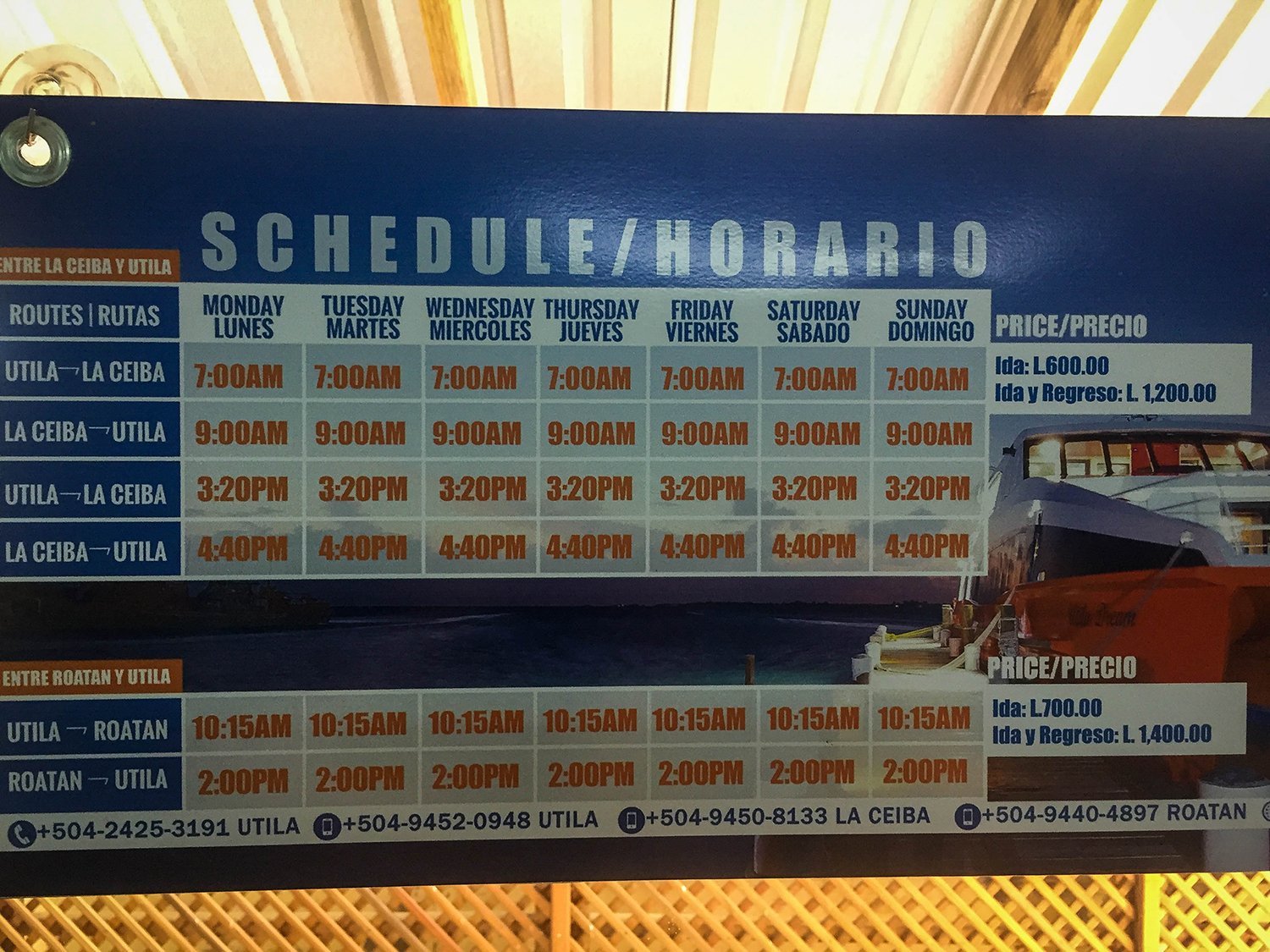 Visiting both Roatan and Utila? There's a ferry that goes between the islands, but it only runs once daily, so be sure to plan your travels accordingly. Tickets cost L.700 ($29 USD) per person.
From Roatan to Utila
The ferry from Roatan to Utila runs every day at 2:00 pm. Be sure to arrive a bit early to get your tickets. The ride takes around 1 hour. The boat is air-conditioned and very comfortable.
From Utila to Roatan 
The ferry from Utila to Roatan runs every day at 10:15 am. Be sure to arrive a bit early to get your tickets. The ride takes around 1 hour. The boat is air-conditioned and very comfortable.
Is travel in Honduras safe?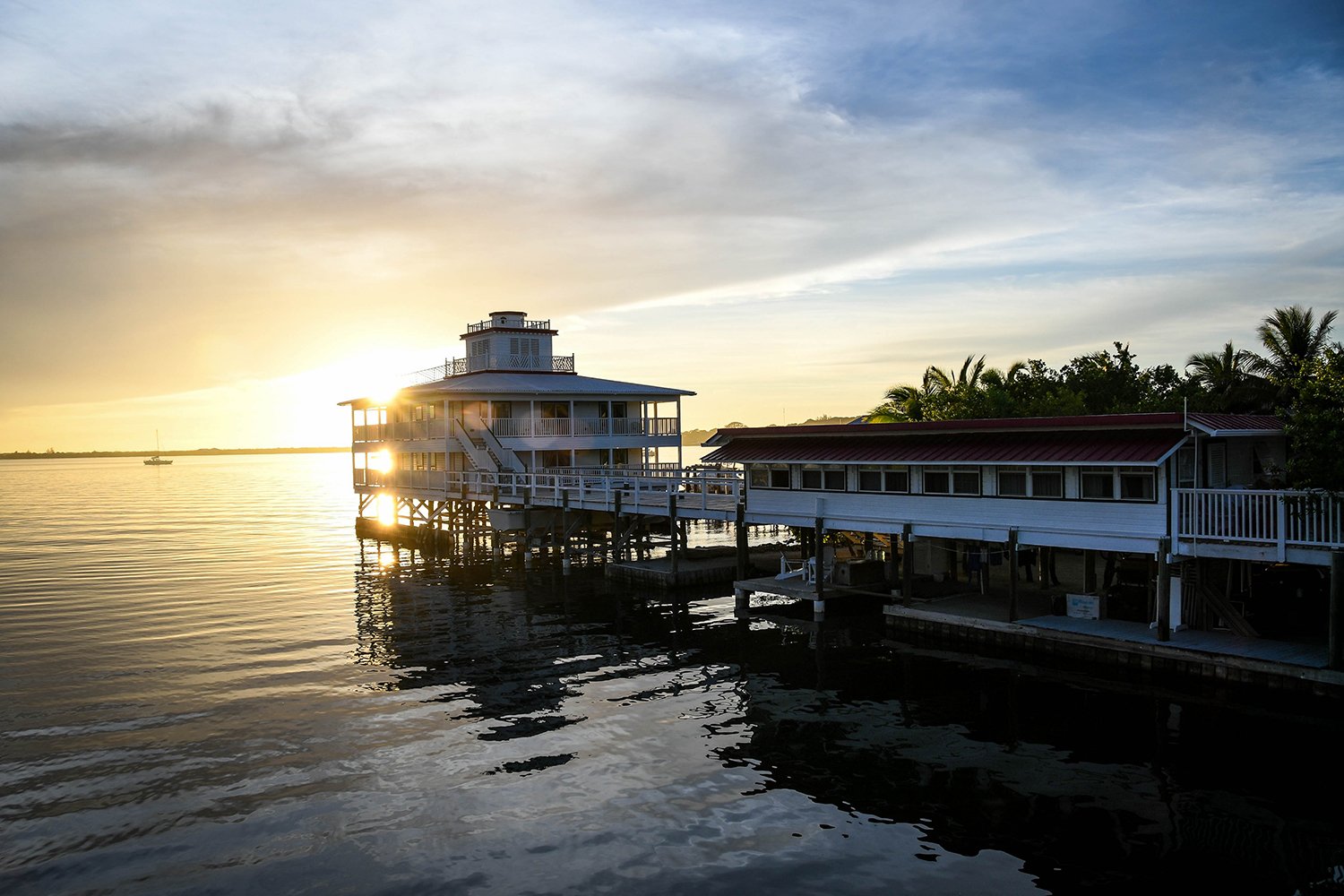 There isn't exactly a black and white answer to this question. Statistically, there is a lot of crime in Honduras, there's no denying it. But most of this crime is not targeted at tourists. It's typically gang on gang crime, and it's unlikely that you, as a traveler, would experience it.
That said, it's always a good idea to read up on the place you're visiting and know how to stay safe. 
While visiting Roatan and Utila, we didn't feel unsafe at all. Both islands are relatively touristy, and they are quite different than mainland Honduras.
Use common sense and be careful with your valuables, and you shouldn't feel any more at risk than you would anywhere else in the world. 
You might also like…
---
Did you enjoy the article? Save it on Pinterest!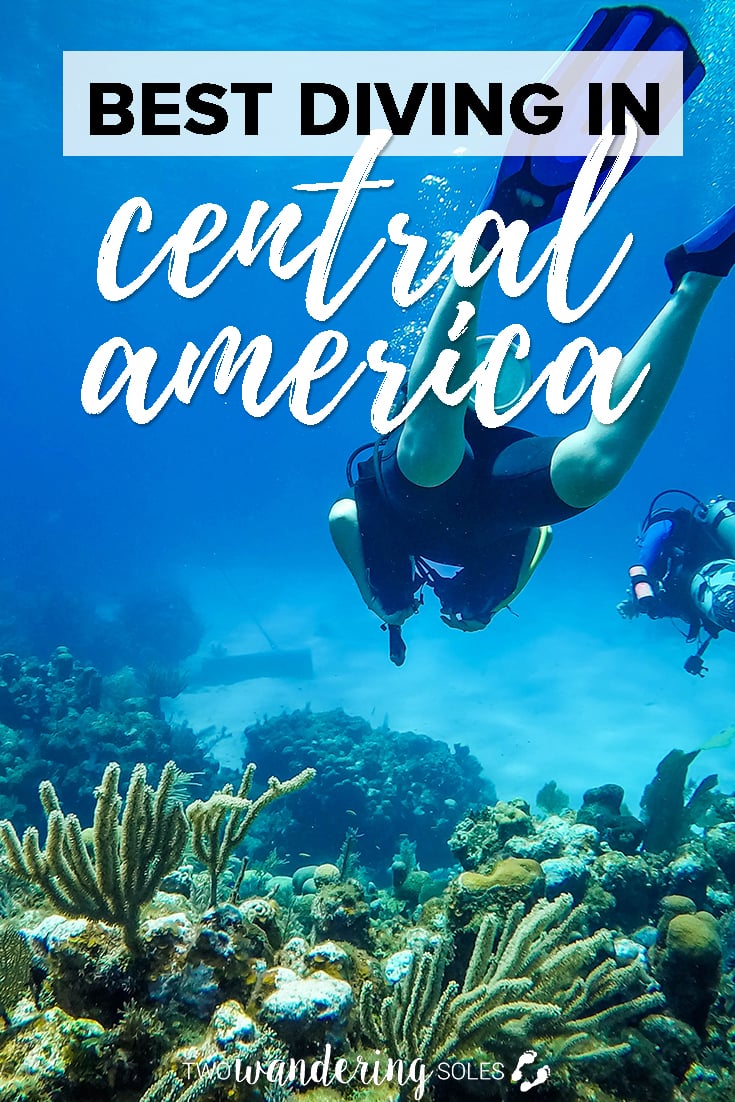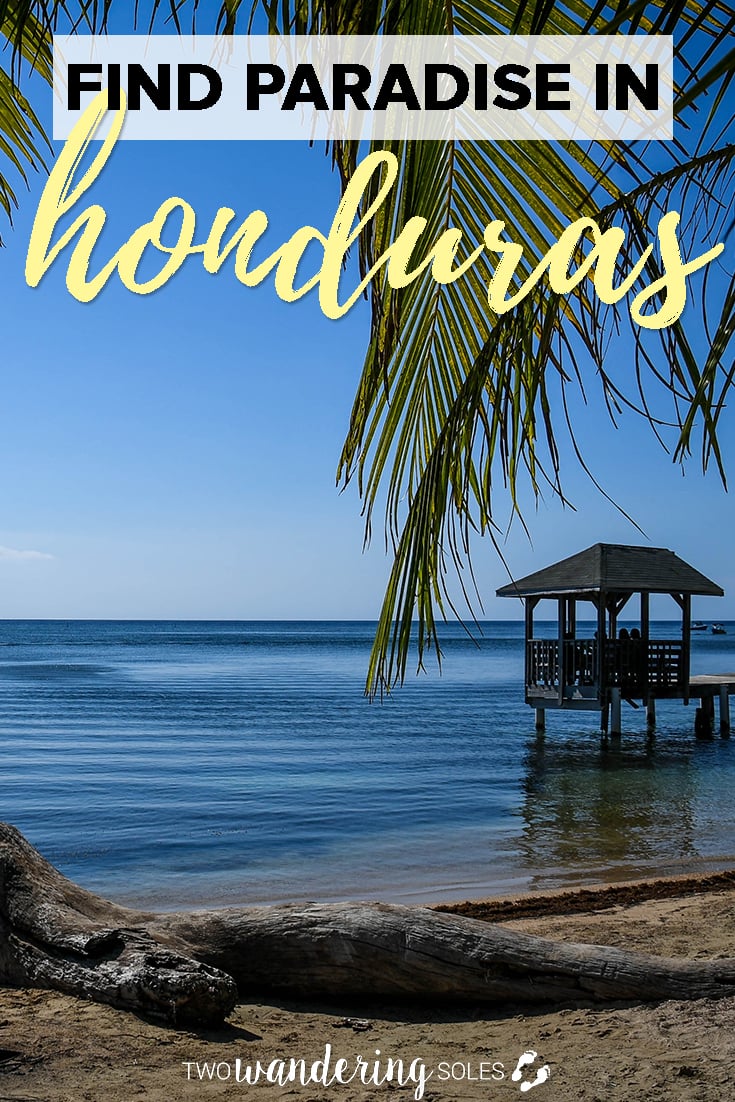 We want to hear from you!
Heading to the Bay Islands? Which one do you prefer: Roatan or Utila? Anything we should add about either island? We would love to hear your suggestions and questions in the comments below.