Japan is an exciting country packed with things to do and places to see. In this article, we're sharing all sorts of interesting facts about Japan. Plus helpful advice and tips for traveling to Japan that'll help you appreciate your time there even more!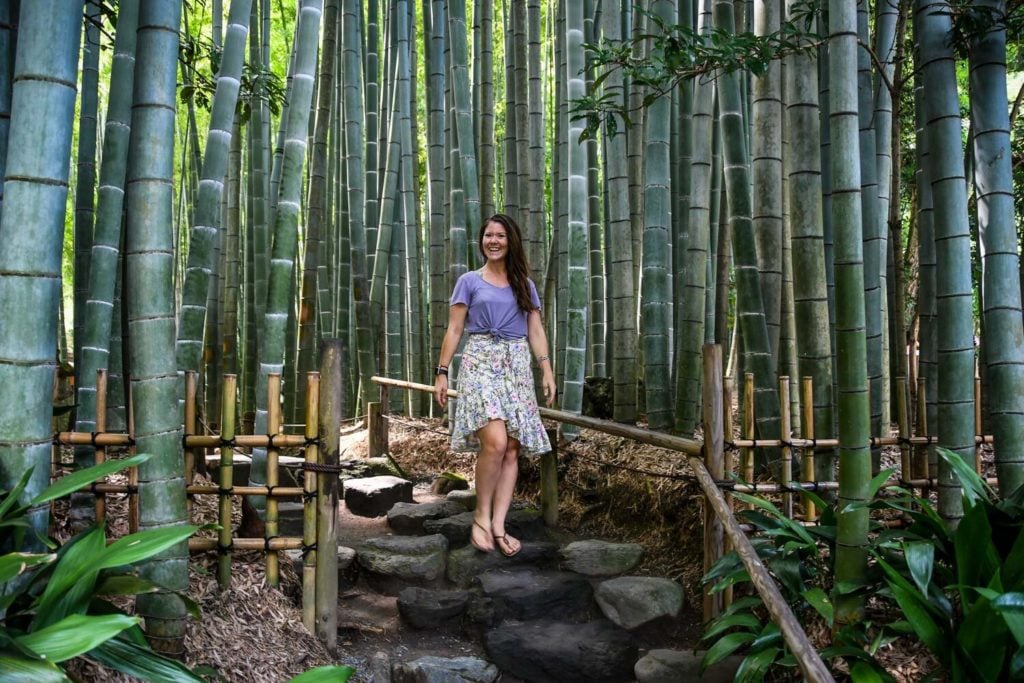 Before you hop on that flight to Japan, there are some things you should know.
This country has a complex culture, and there are definitely some manners and "norms" you should be aware of. There are also some Japan-isms that will leave you scratching your head… like, what are all those buttons for on Japanese toilets anyway?!
Don't worry, we'll give you the scoop in this article!
To help you celebrate the unique culture of Japan and appreciate your time there even more, we've rounded up some interesting facts about Japan. We even included some things to know before your trip and essential tips for traveling in Japan.
You'll definitely come away from this article with some new knowledge of Japan under your belt.
This article is broken down into sections:
---
Interesting facts about Japan
This is just for fun! Ever wonder where ramen comes from or how many islands actually make up Japan? We've got those answers as well as some other interesting facts about Japan.
We've broken up these facts into different categories:
Geographical facts about Japan
One of the largest island nations on Earth, Japan spans almost 146,000 square miles. It is Asia's seventh largest country by land area, and the 11th most populated country in the world, with 126 million residents.
Even with its large population, the majority of the country is covered with mountains and dense forests. Keep reading for more geographical facts about Japan!
1. Japan is made up of more than 6,800 islands
Crazy huh?! The archipelago of Japan is actually the 4th largest island nation in the world.
While many people know of Hokkaido, Japan's northernmost island, and Honshu, the most populous island which is home to Tokyo and Osaka, many of the other islands are forgotten.
Though there are thousands of islands, only about 430 of them are populated.
Fun Fact: Being an island nation, scuba diving is actually really nice in Japan, but not a lot of tourists think of Japan as a diving destination. This means that dive sites are less crowded and marine life is in good shape! Check out our ultimate guide to diving in Japan for tips on where to go diving and how to plan your dive trip.
2. Tokyo is most populous city in the world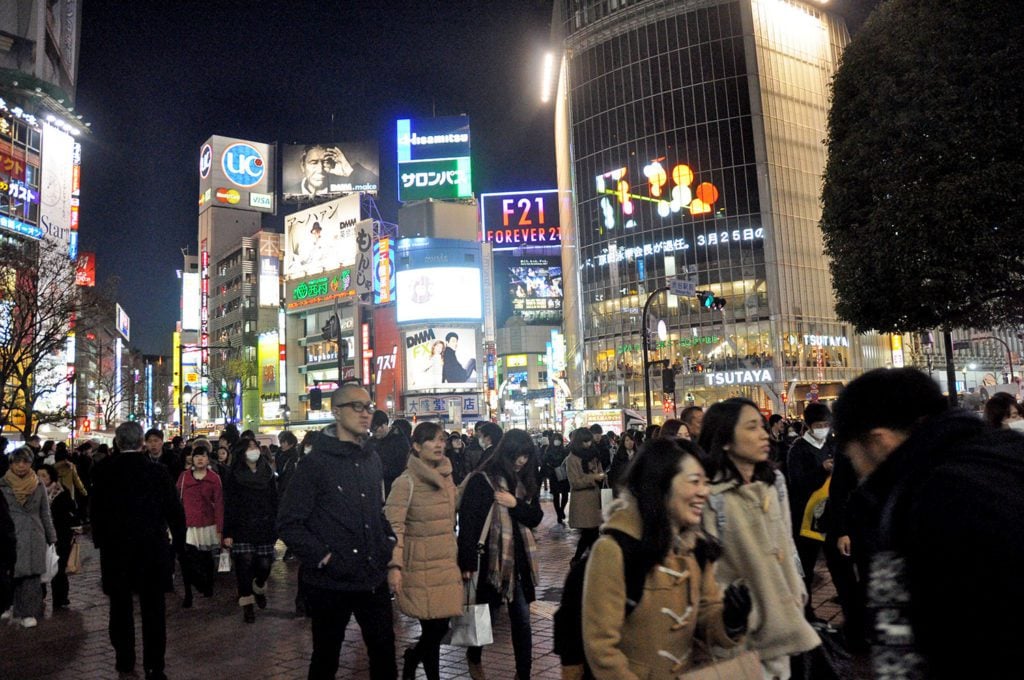 Tokyo is not only the most populous city in Japan, but also the entire world! With 13.9 million residents spread out among 5,194 square miles, you'll find perpetually busy streets, shops, and restaurants.
What's really wild is that the population of the entire Tokyo Metro area, including neighboring suburbs, is nearly three times the city itself — 37 million.
Comprising just 0.6% of Japan's total land area, Tokyo Metro is home to nearly 30% of the country's population!
It also has nearly 6 million more residents than the world's second most populous city, Jakarta, Indonesia.
3. Japan has four distinct seasons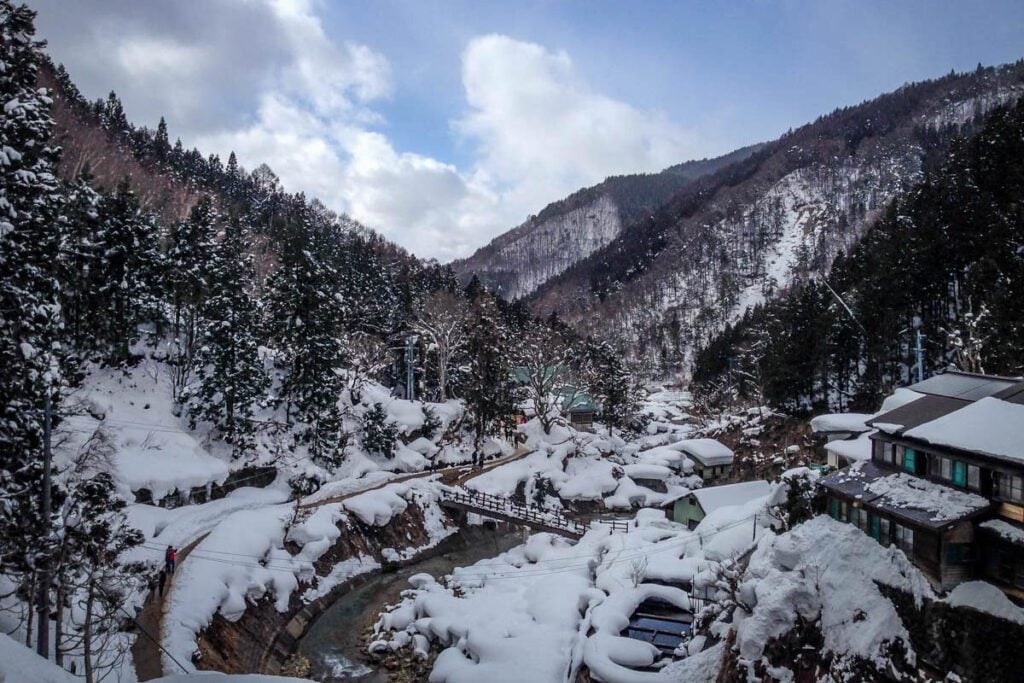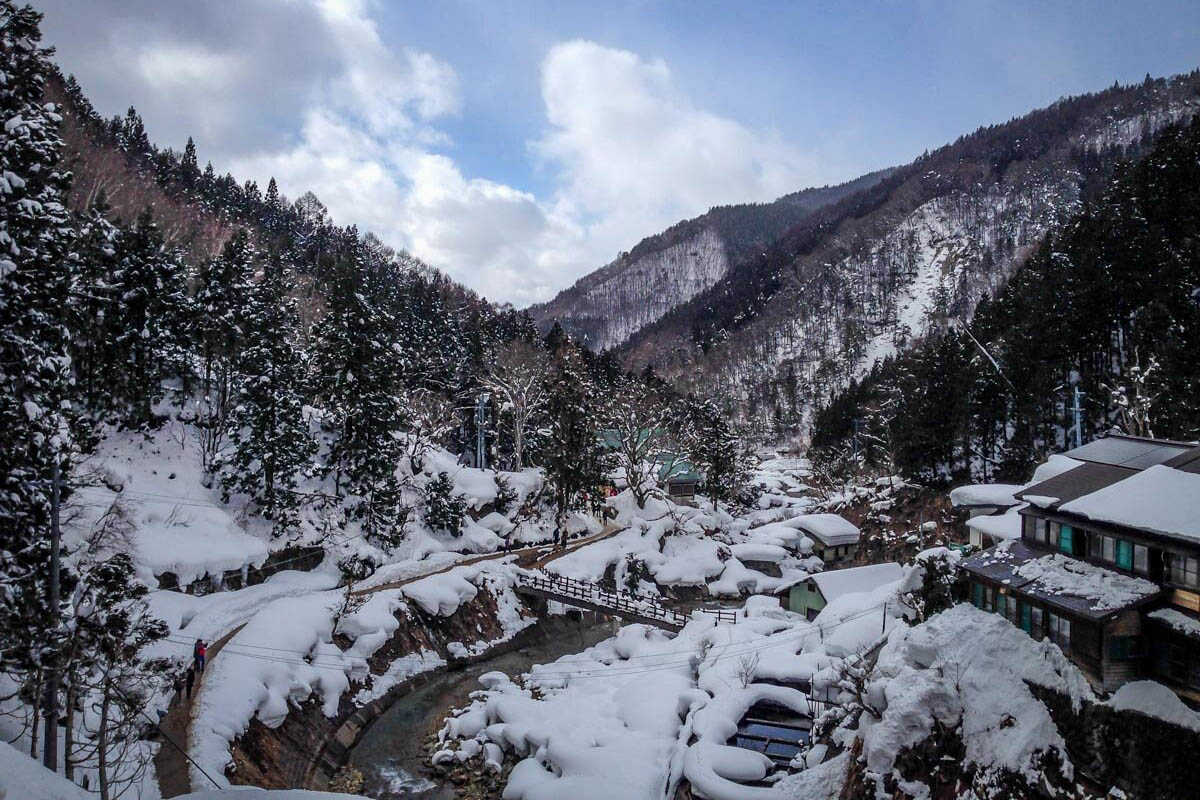 Before booking your flight, be sure you actually understand what the weather in Japan will be like when you're there. This country has four very different seasons, and the climate varies quite a bit from north to south.
Winter: Temperatures can be mild to very cold, depending on where in the country you're traveling. You'll find snow in many parts of the country as well, though traveling to Japan in winter might just be a great idea!
Spring: Comfortable temperatures and the famous cherry blossoms bring lots of travelers to Japan, making it one of the most crowded (yet beautiful!) times of the year.
Summer: This season is hot (like really hot!) and humid, rain and typhoons can be expected.
Autumn: Beautiful fall foliage and comfortable temperatures, early fall can see typhoons.
Related: For an in-depth guide on the seasonal weather patterns and other factors, check out our complete guide on the best time to visit Japan.
4. There are still active volcanoes in Japan
Can you believe there are 440 volcanoes in Japan…and that 111 are still active?!
In order to be classified as "active," a volcano has to have erupted at least once in the past 10,000 years. Four of Japan's erupted as recently as 2023!
The country has the second highest concentration of active volcanoes in the world (behind only the United States!) and accounts for 10 percent of the world's total volcanoes. In our opinion, that's definitely one of the most interesting facts about Japan!
5. Japan is mostly mountainous and covered in forest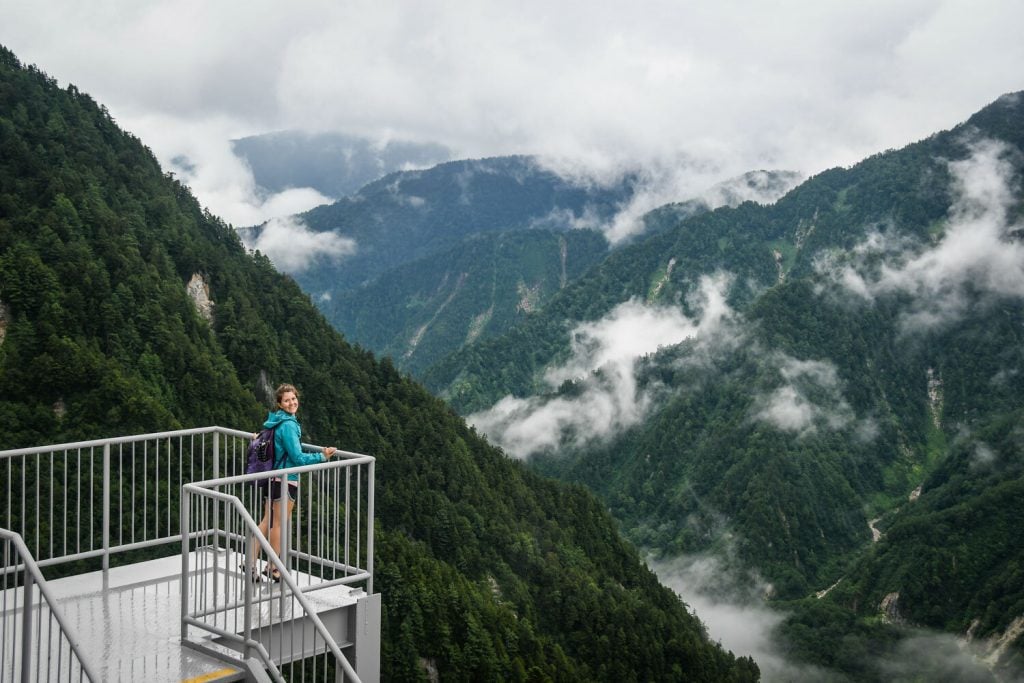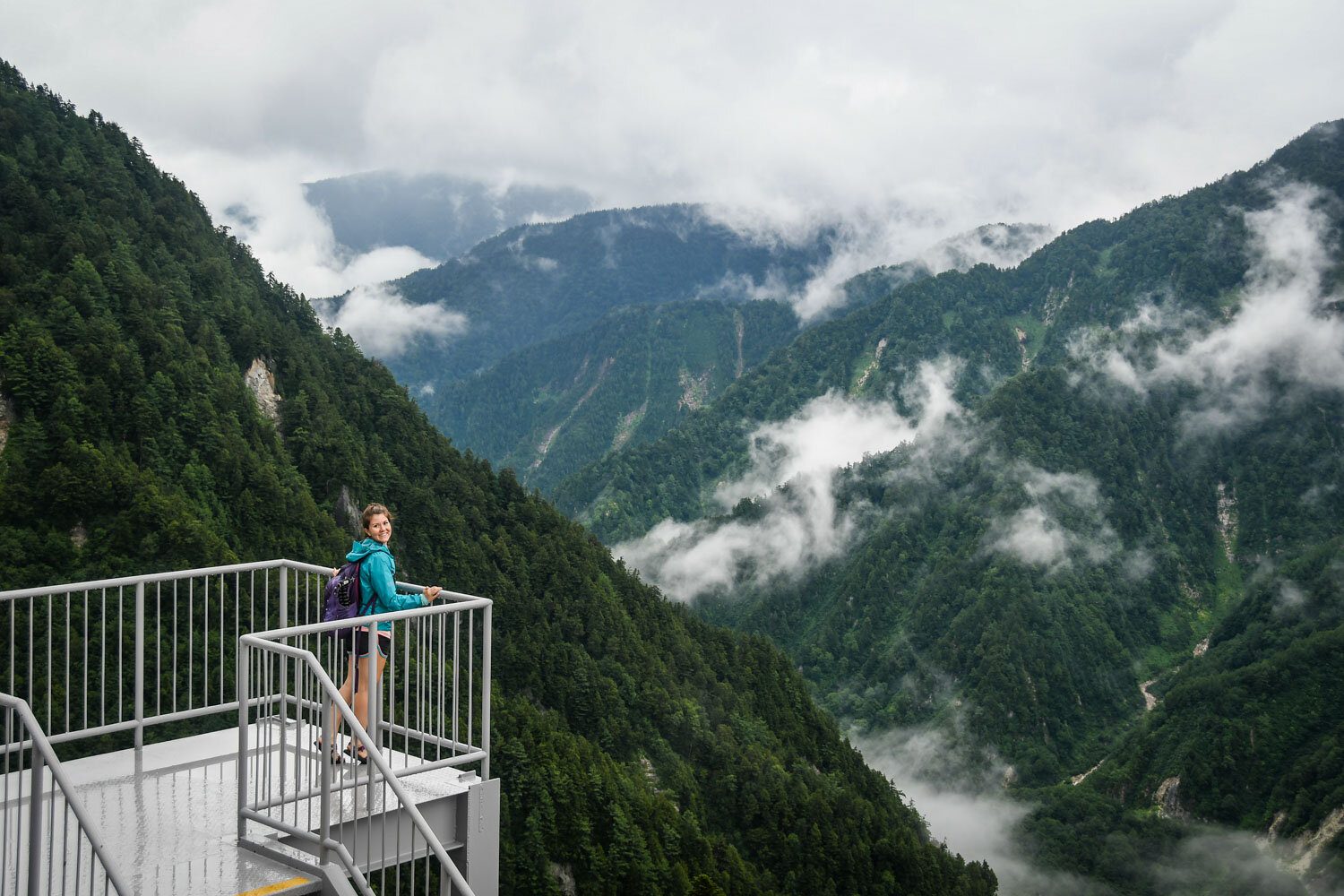 A whopping four-fifths, about 80%, of Japan is covered in mountains and forests. This creates jaw-droppingly beautiful scenery…and epic hiking!
There are countless amazing hikes to choose from in Japan, but arguably the most popular is the 14.3-kilometer (8-mile) Yoshida Trail on Mount Fuji.
Although it's the most famous trail to the volcano, it isn't easy. You'll gain almost 1,524 meters (about 5,000 feet) in elevation!
For an even greater adventure, we highly recommend hiking the Kumano Kodo Trail. The pilgrimage trail through the mountainous Kii Peninsula takes you through small villages, picturesque farmsteads, historic shrines, and giant cedar forests.
6. Japan has excellent skiing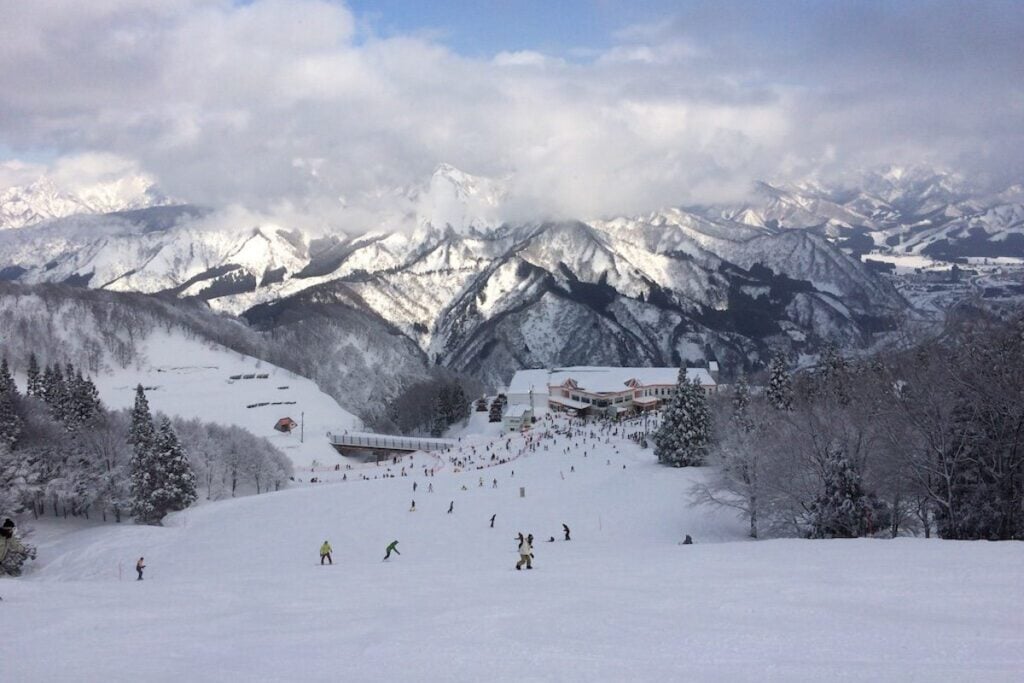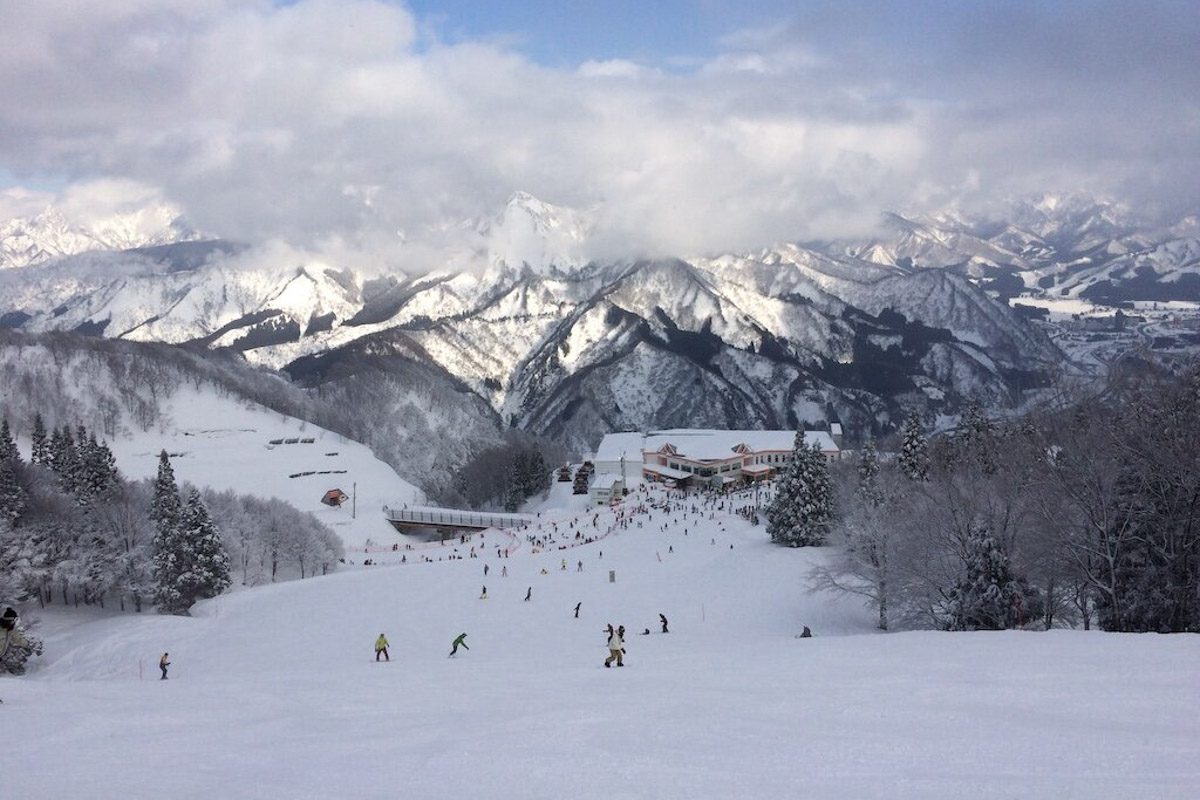 Who knew?! Well, I suppose a lot of people, but I was not one of them.
Ben and I snowboard and even spent a winter season working at a ski resort, so we love some good powder. And as it turns out, Japan has some of the best in the world!
If you're a snow bunny, you might want to plan your trip to Japan during the winter months so you can enjoy world-class skiing!
7. Japan has the world's sixth longest coastline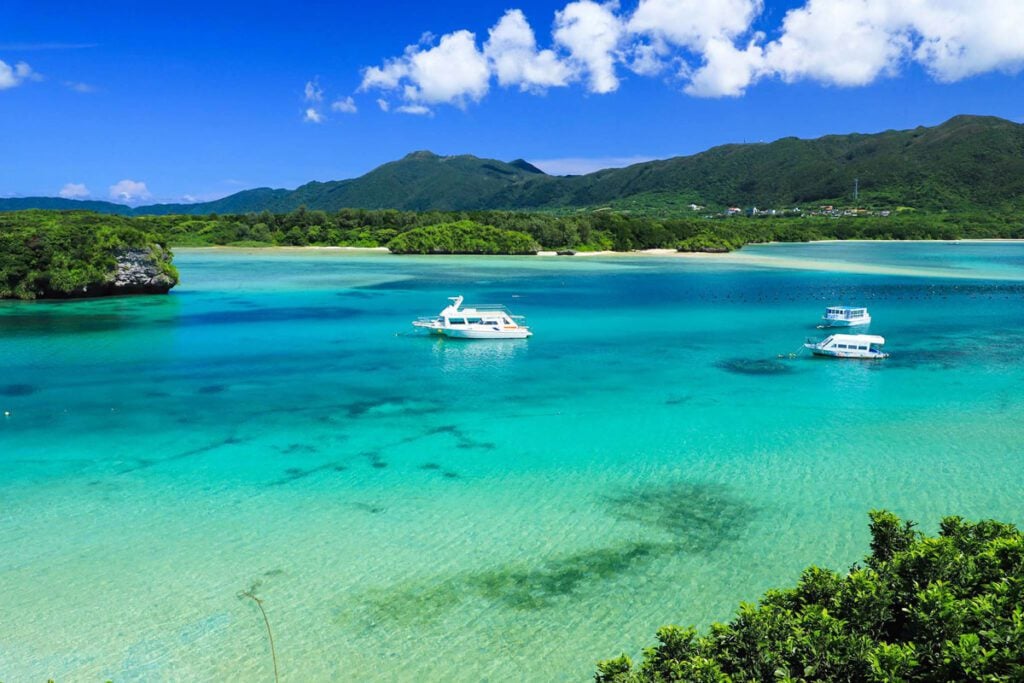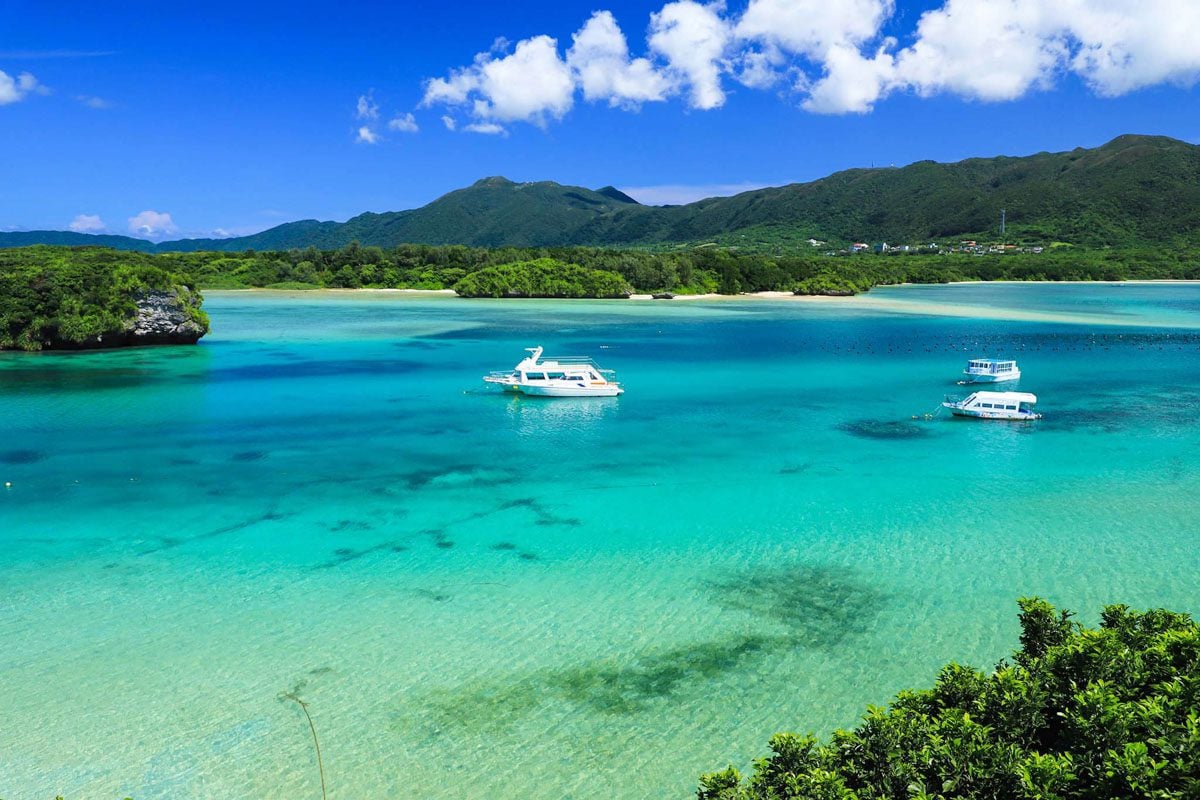 In addition to its soaring mountains and dense forests, Japan is also home to the sixth longest coastline in the world — nearly 30,000 kilometers (over 18,600 miles!).
If you're puzzled trying to figure out how that's possible, consider this: Japan has a staggering 14,125 islands! Even though the vast majority of them are tiny, that adds up quickly!
Divers, snorkelers, and other water enthusiasts will love visiting, because you're never more than 150 kilometers (just 93 miles!) from the sea!
---
Fun facts about Japanese culture
We were fascinated (still are!) with this country's vibrant culture and meaningful traditions. The next several facts about Japan will help you understand the culture before visiting — and doing so is actually one of our most valuable Japan travel tips!
8. The main religion in Japan is Shinto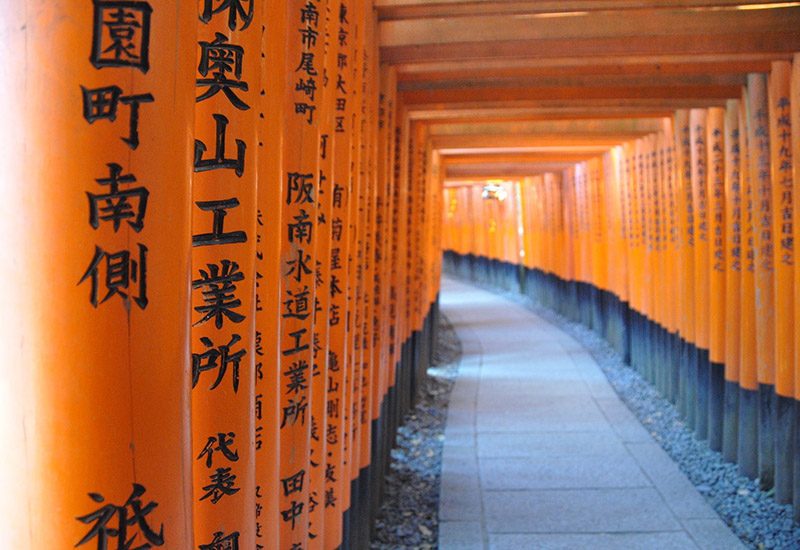 You'll likely see hundreds of shrines while exploring Japan. They're in the cities, in rural areas, even in tiny mountain villages!
These shrines, or jinjas, are important to the Shinto religion, for prayer and sacred rituals.
Roughly 69% of Japanese people practice Shinto, a religion rooted in the belief that there are kami, guardians or protecting deities. There is not just one kami, but hundreds, all with varying degrees of powers.
9. Japan has 3 writing systems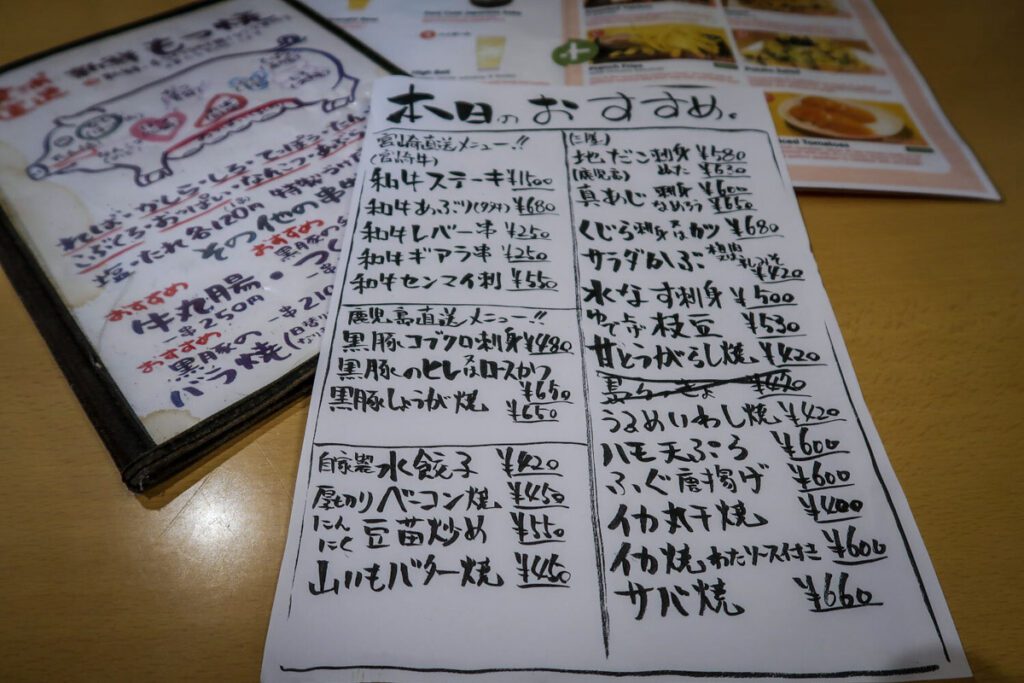 While visiting Japan, you may notice many (many!) different symbols. It can be a bit overwhelming at first, as Japan has three unique writing systems: Kanji, Hiragana, and Katakana.
If you're hoping to get a head start on the language before visiting, start with the Hiragana system. This gives you a basic understanding of pronunciations in the Japanese language (it's also one of the best tips for traveling in Japan!).
After mastering the Hiragana system, start studying the closely related Katakana system. Finally, move onto the Kanji system, as it's the most challenging.
10. Japan uses a different calendar than the western world
Throughout time, Japan has used numerous calendars. In 1873, the country adopted a variation of the Gregorian calendar and before that, it used a lunisolar system for almost 1,200 years.
Although the modern-day calendar is similar to those of the western world, there are some distinct differences.
Japan uses an era name system associated with each emperor. It is currently the Reiwa 5 era, which means it's the fifth year since a new emperor's reign began.
Other calendar differences include a strong emphasis on zodiacal animals in the 12-year cycle. Japan also still uses traditional names for each month.
11. There is a difference between a Yukata and a Kimono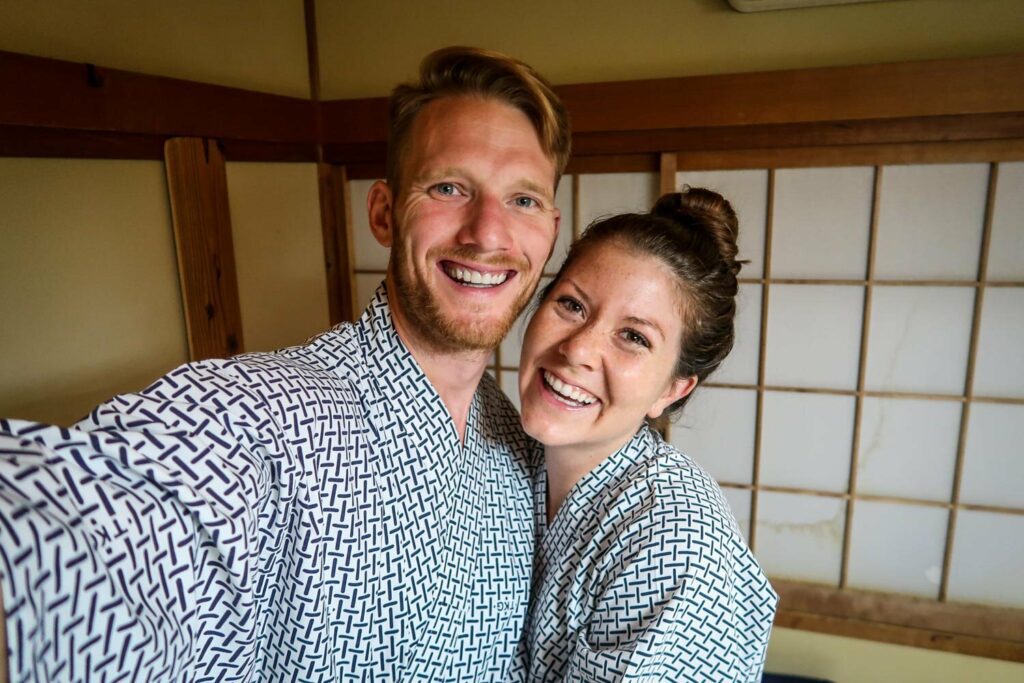 There are a few distinct differences when it comes to fabric, occasion and season.
Yukata is commonly made out of cotton and typically only have one collar, making them a lighter attire. Kimono are usually made of silk and have two collars, making them warmer and heavier.
Yukata and kimono are worn for different occasions. Kimono is the more formal attire and is worn for weddings and graduations. Yakata is less formal and is usually worn around the house or outside during the hot summer months.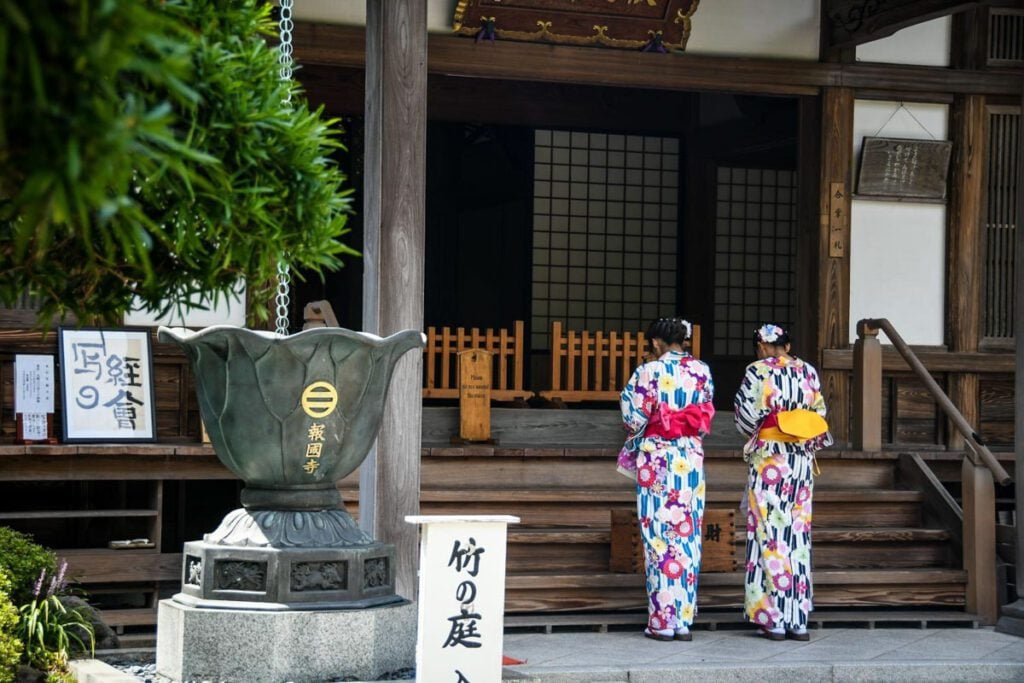 Guesthouses in Japan typically have a yukata in your room for you to wear around the building. If you would like to rent a kimono for the day, you can find fitters in most cities.
Important to know: Whether you're wearing a kimono or a yukata, it's important to know one thing — the left lapel must be worn over the right. This is because deceased people are dressed in a kimono with the right side over left for funeral ceremonies.
12. Many Japanese people sleep on the floor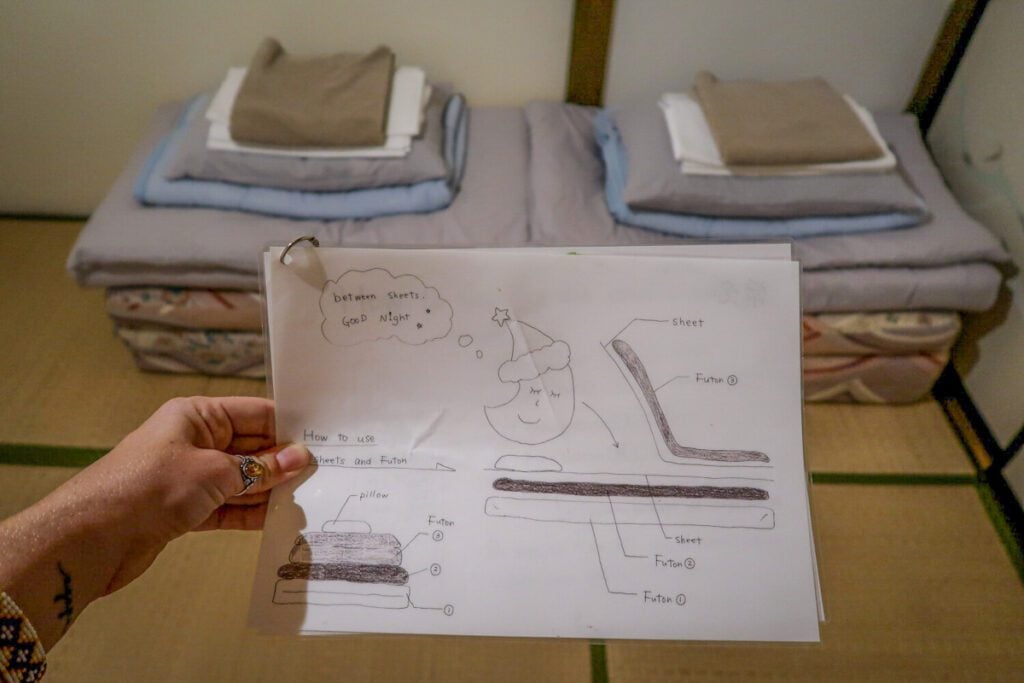 Traditionally, Japanese people don't sleep on beds, as is common in the West. Instead, they sleep on futons.
No, this is not the same kind of futon (a.k.a. couch that turns into a bed) you used for sleepovers in your parent's basement growing up…
Japanese futons are essentially a very thick blanket that serves as a mattress, paired with a duvet blanket and a pillow. All three items can be folded up and stored in the closet to save valuable space during the daytime.
If you plan to stay in a ryokan or smaller guesthouse in Japan, you should expect to sleep on a futon. Typically more modern hotels will have Western-style beds.
Good to know: Traditional Japanese pillows are stuffed with beans, and you may encounter these a few times on your travels in Japan. They are much more stiff and lumpy than pillows you may be used to, so if you're worried about it, you may want to pack a travel pillow.
13. Some famous Japanese dishes come from a time of poverty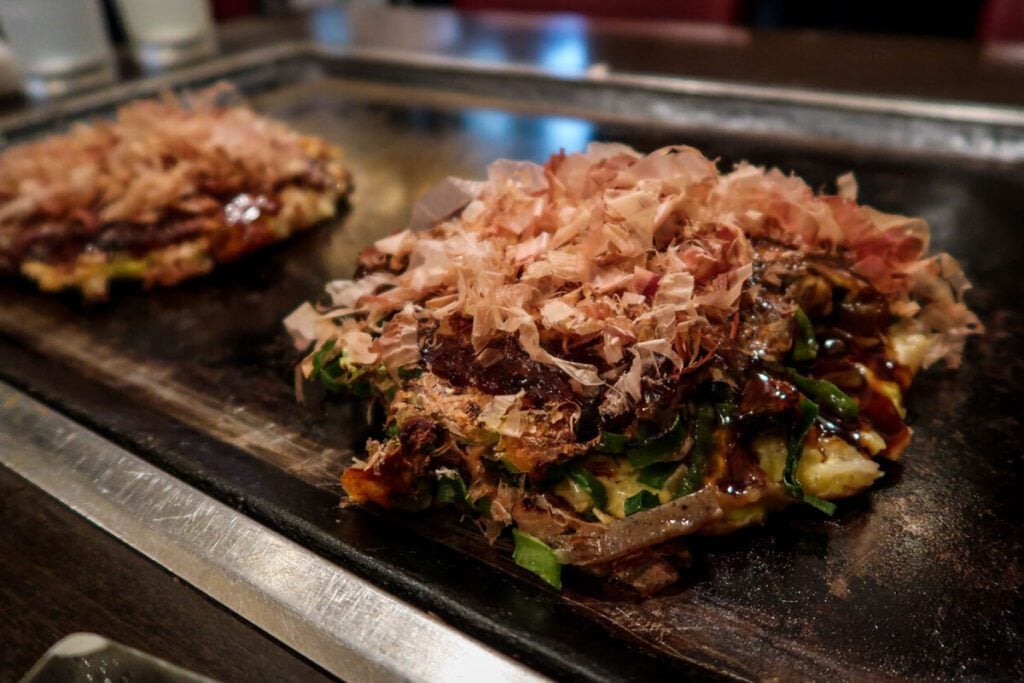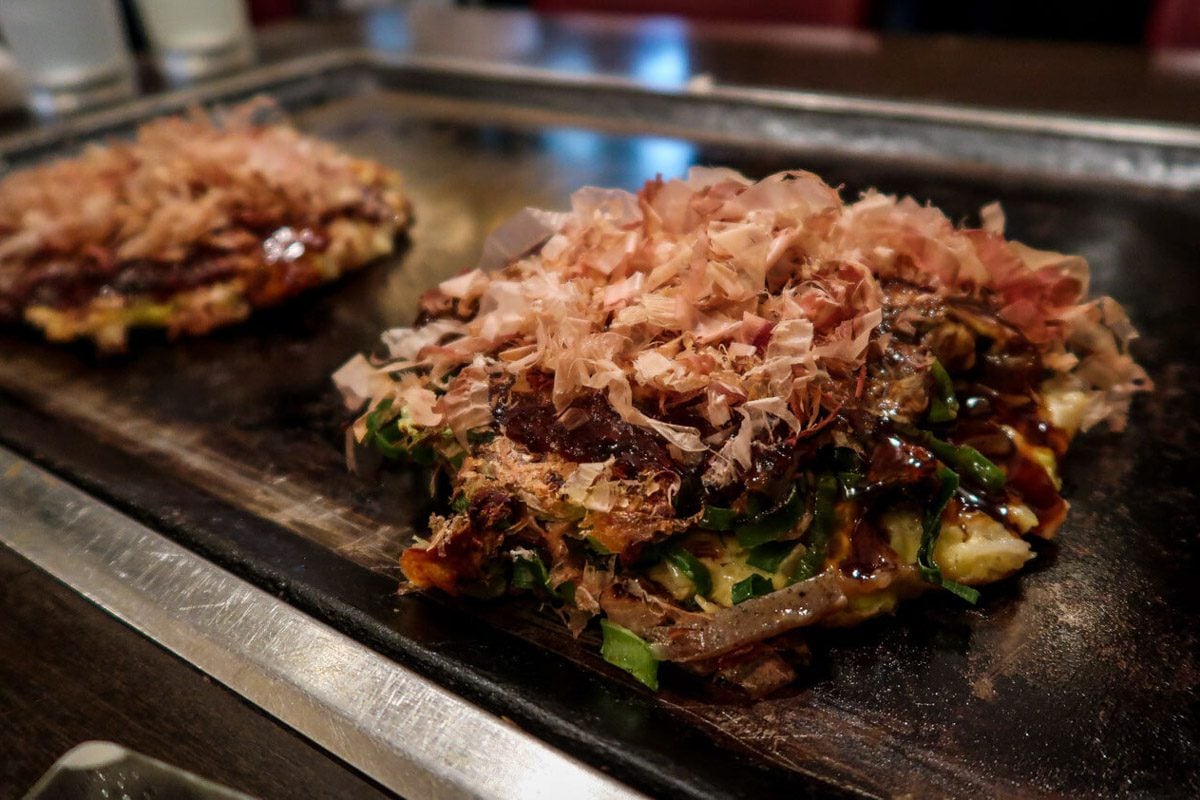 Food shortages after World War II meant rice was scarce. U.S. entities brought in wheat flour, which led to the creation of fried dishes such as kushikatsu, karaage, okonomiyaki, and takoyaki.
Ramen was also increasingly popular during this time. This was a cheap way for people to fill up even during times of food shortage.
Read more about foods in Japan in our guide to Japanese cuisine.
14. There's a market for "luxury food"
This might sound ridiculous, but there is a trend of luxury food in Japan, and wealthy people pay big dollars for rare items like square watermelon and specialty grapes and cantaloupe, some of these bringing in tens of thousands of dollars!
So what do people do with these so-called "luxury foods"? Well, they typically don't even eat it themselves, but instead give it as a gift.
Umm, I'd prefer a plane ticket, thank you very much!
15. Japan consumes more fish than any other country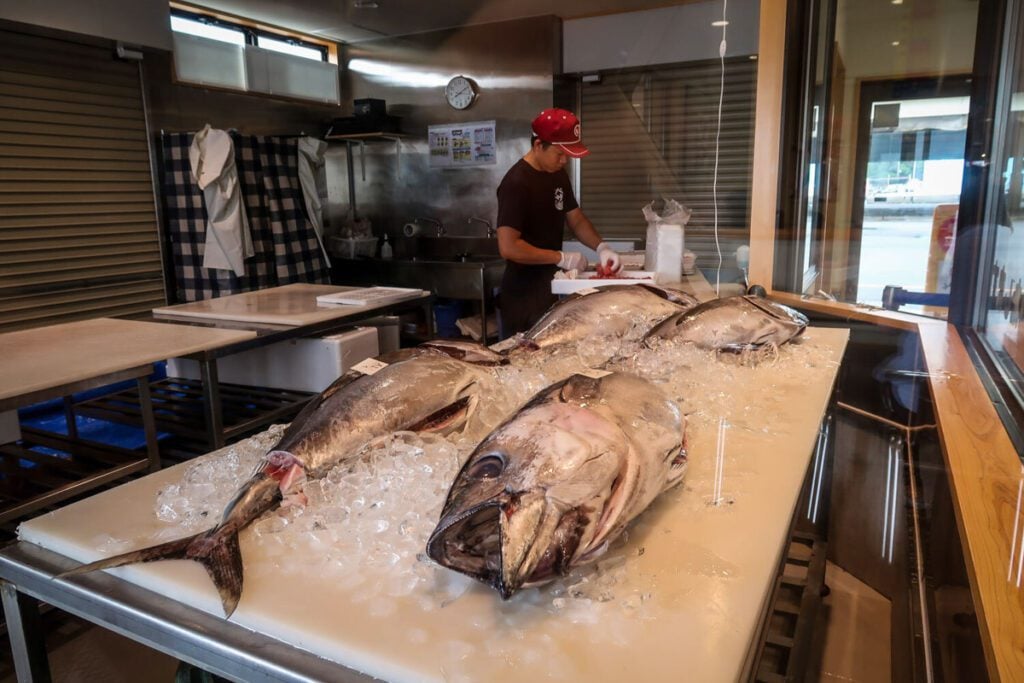 In fact, 7.5 billion tons of fish are eaten per year, which is nearly 10 percent of the fish caught in the entire world.
16. Ramen and Sushi are NOT originally Japanese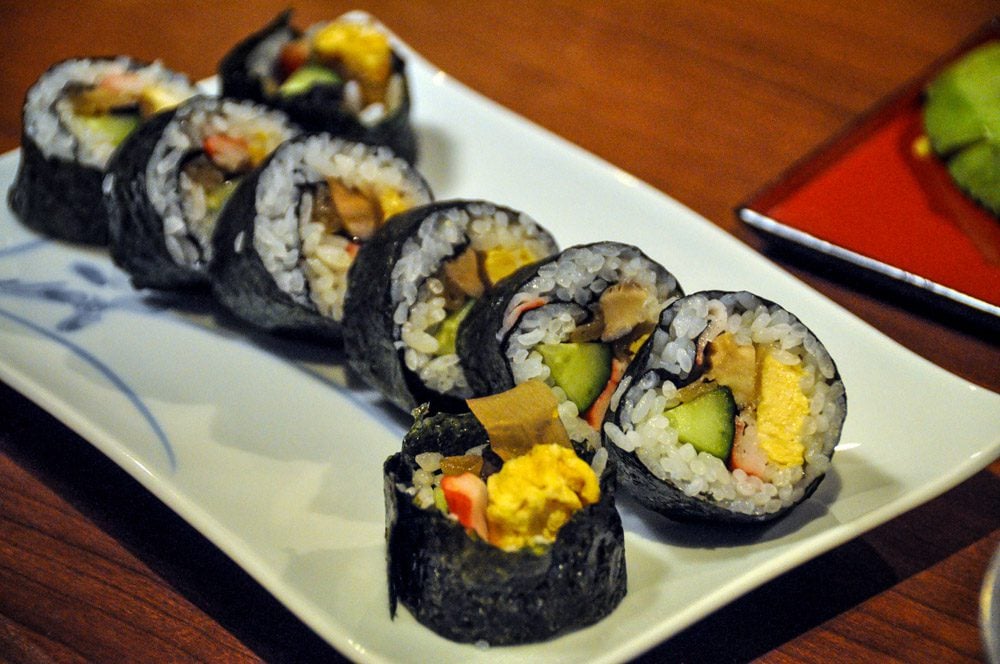 Now before I start any wars with that statement, let me clarify by saying that ramen and sushi, as we think of them today, are totally Japanese. However, many people may be surprised to know that these famous dishes actually came from other countries.
Ramen came from Chinese settlers and sushi was an invention of working-class people in Southeast Asia as a way to keep fish fresh for longer.
Over time, Japanese people have put their own flavors and spin on these dishes to make them uniquely their own. But it is important to recognize that the concept came from elsewhere.
Sushi and ramen are just two examples — many other dishes that we think of as "Japanese" came from other regions as well.
17. Sumo Wrestling is a Japanese tradition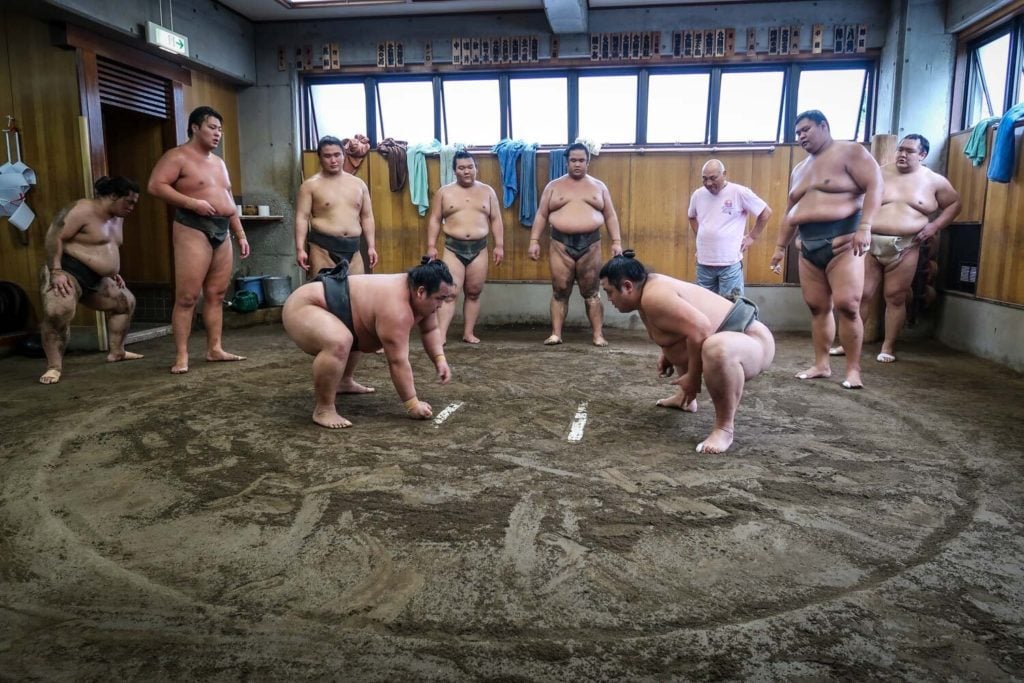 Sumo wrestling has origins dating back over 1500 years and is connected to the Shinto religion. Wrestlers, also known as rikishi, are required to live together in a communal training stable. They practice everyday and live a very traditional lifestyle.
While sumo is of Japanese origin, many sumo wrestlers are not from Japan. Some of the highest ranking rikishi are from Mongolia, Georgia and Bulgaria.
18. White collar workers are called Salarymen
Go to any city train station around rush hour and you'll quickly notice a sea of men dressed in essentially the same thing — drab black dress pants and white button-down shirts (pale blue if they're feeling spicy!) and a jacket in the colder months.
Salarymen is the term used to describe white collar workers. In Japan, it's very common for young men (and women) to get a job out of university and stick with that company throughout their entire career.
Another characteristic of salarymen is that they work long hours. In some Asian cultures, putting in long hours is seen as showing loyalty and productivity.
There is often pressure to go out drinking after work hours, making it a difficult work-life balance for many salarymen. This has come into scrutiny in recent years, as high rates of suicide or health issues have come into the public eye.
19. The first geisha in Japan were men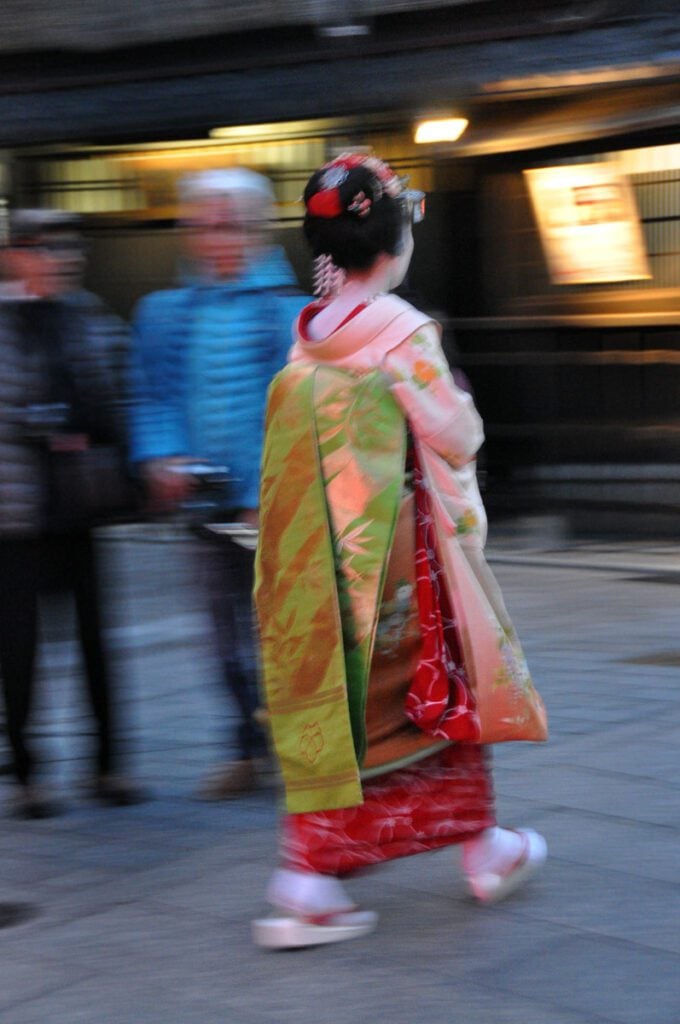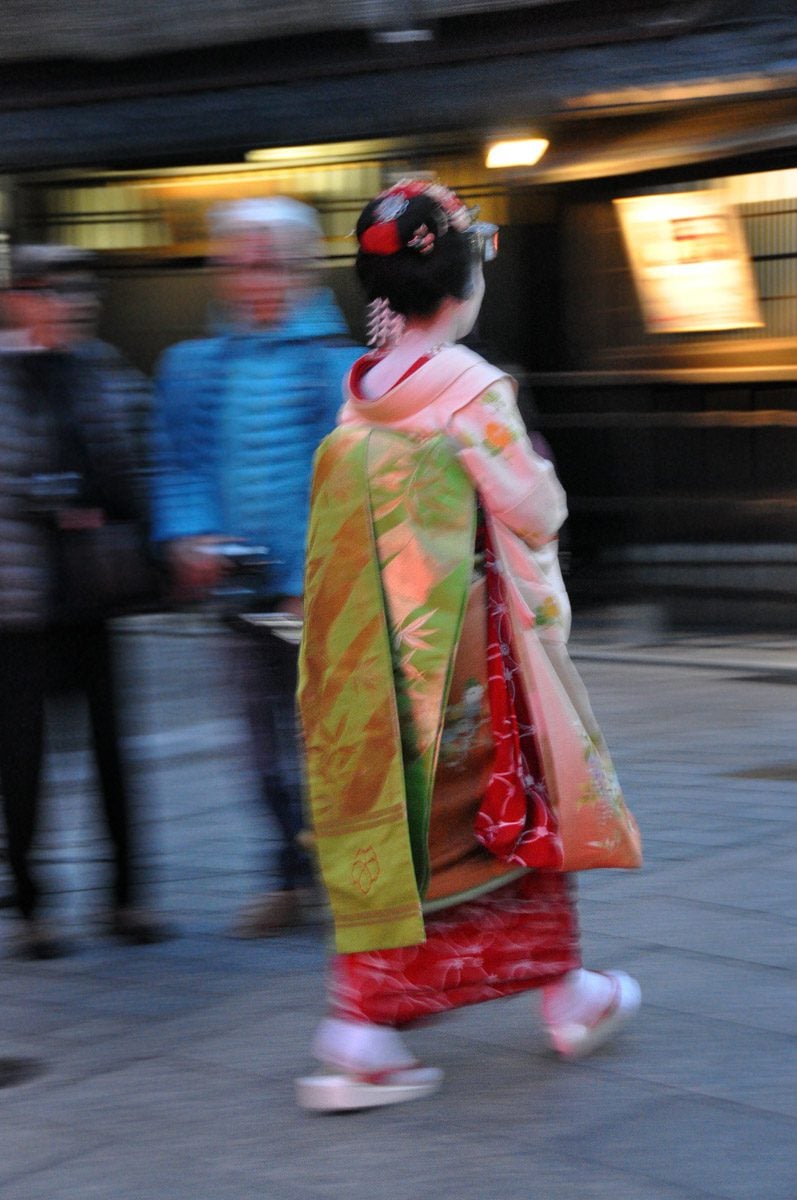 You've no doubt seen pictures, movies, or festivals where Japanese women are dressed in beautiful kimonos and elaborate makeup. These are usually geisha, live performance artists whose job is to entertain guests at tea houses or social events.
One of the most interesting facts about Japan is that the country's first geisha were actually men! They first appeared around the year 1730, whereas female geisha didn't begin to appear for another 20 years.
While their roles have definitely evolved with time, today there are still working geisha in Japan.
20. Mount Fuji is a volcano and a holy site
Remember earlier, we mentioned there are 440 volcanoes in Japan? Well, you've likely seen pictures of, or at least heard of, the most famous: Mount Fuji.
It's the tallest mountain in Japan, soaring to over 3,760 meters (12,335 feet). In addition to being wildly popular for hiking and photography, it's also one of Japan's three sacred mountains. The other two are Mount Haku and Mount Tateyama.
Both major religions in Japan (Shinto and Buddhism) worship the natural symbol of Mount Fuji as a god, whereas its volcanic activity symbolizes earth, sky, and fire.
---
Historical facts about Japan
In addition to its rich culture and beautiful landscapes, there are so many interesting historical facts about Japan. Read on to better understand the country's past and the way it has shaped its present.
21. Japan is nicknamed the "Land of the Rising Sun"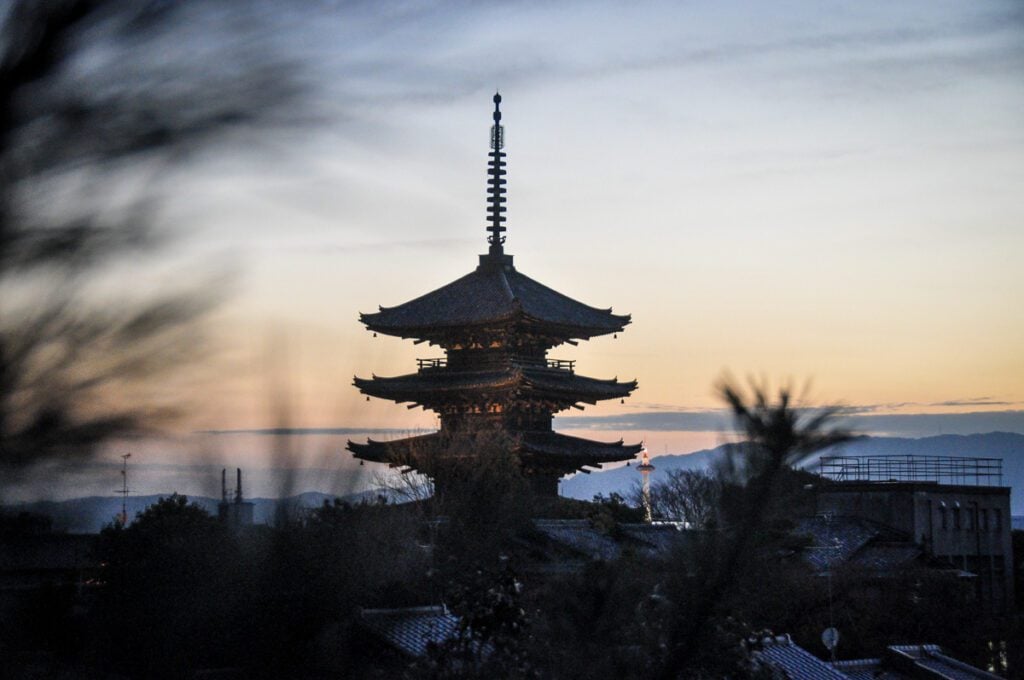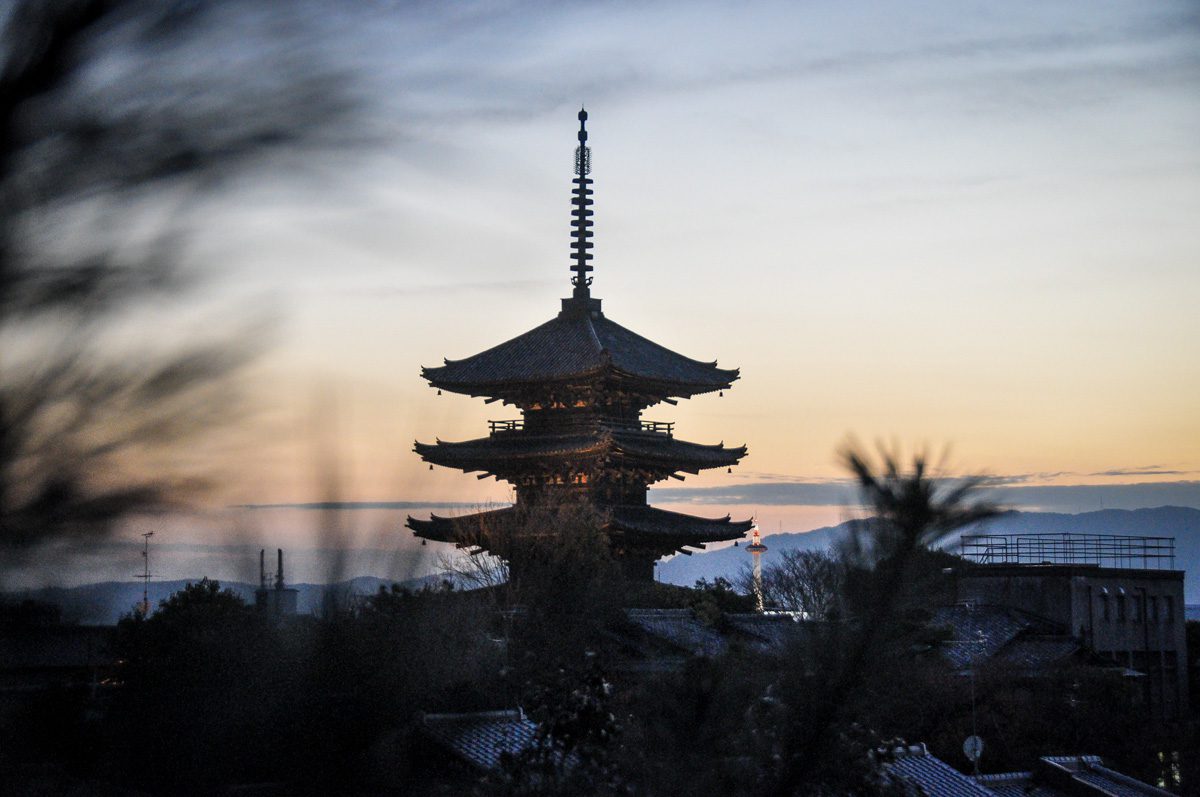 Japanese people call their country "Nippon" or "Nihon," which literally translates to "origin of the sun" in English. As a result, Japan is widely known as the "Land of the Rising Sun."
However, Japan is not the first country to see the sun rise — that honor belongs to Kiribati, a tiny island nation northeast of New Zealand.
So how did Japan get its nickname? History suggests that it came about in ancient communications between the Japanese and Chinese governments. From China, Japan appears to be the place where the sun rises, or originates.
22. Japan is ruled by the last Emperor in the world
The current Emperor of Japan, who also happens to be the last remaining emperor in the entire world, is Naruhito. Following his father's footsteps, he took the throne in May of 2019, beginning the Reiwa era. Naruhito is Japan's 126th monarch.
One of the most interesting facts about Japan is that today, the emperor does not have political functions (i.e.; political power).
Instead, his role is strictly symbolic, limited to "important ceremonial functions," as stipulated by the Japanese constitution.
23. The oldest company in the world was formed in Japan
Construction company Kongo Gumi was founded in Japan in 578 AD. Yep, you read that right…year 578!
It remained a family-run business for over 1,400 years, but in 2016, Kongo Gumi ran into some financial trouble and had to merge with a larger company. The company is still headquartered in Osaka today, and it specializes in building Buddhist temples.
24. Smallpox killed ⅓ of Japan's population
This isn't one of the more fun facts about Japan, but it is an important part of the country's history.
A tragic smallpox epidemic fell over Japan in the year 735, killing more than one million people. In less than three years, over one-third of the country's population perished.
It is believed a Japanese fisherman brought smallpox to the country when he returned home after being stranded in Korea.
The epidemic also devastated Japan's economy. Farmers and landowners couldn't care for their crops, so crop yield steadily declined and ultimately caused a famine, a type of epidemic in its own right.
25. Japan went through a period of isolationism for 265 years
Due to the threat of outside colonial and religious influences upsetting the peace in Japan, the country severely limited trade from 1639 to 1853. Nearly all foreign nationals were also banned from entering Japan.
265 years is a LONG time to be isolated from the rest of the world!
This foreign policy, and the associated period of time, is called Sakoku. Japan's social hierarchy was established during this time and, interestingly, so were many of its most famous and beloved traditions. This includes haiku, bonsai trees, and tea ceremonies.
---
Quirky and fun facts about Japan
We've learned about the cultural, geographical, and historical facts about Japan, now it's onto some fun ones!
26. Japan has one of the longest life expectancies in the world
At an average of 84.62 years, Japan has the second longest life expectancy in the entire world!
This can be attributed to several factors, but it's largely due to Japan's low obesity levels. Japanese people eat a healthy diet overall, with less red meat and processed food and more fish and plant foods. This leads to fewer deaths due to things like heart disease and cancer.
27. Japanese scientists invented ice cream that doesn't melt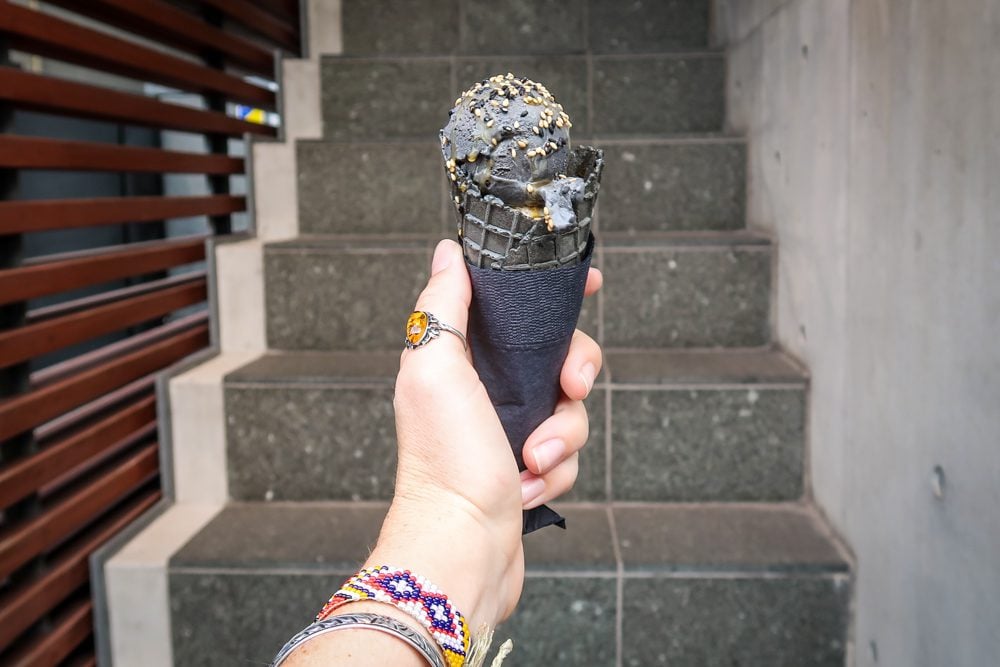 What's better than a cold, refreshing ice cream cone on a hot day? One that doesn't melt, of course!
Researchers at Japan's Kanazawa University developed an ice cream recipe that maintains its shape and doesn't melt for up to three hours (at room temp). This is especially "cool" during the hot and humid summer days in Japan!
28. Japan has the highest density of vending machines in the world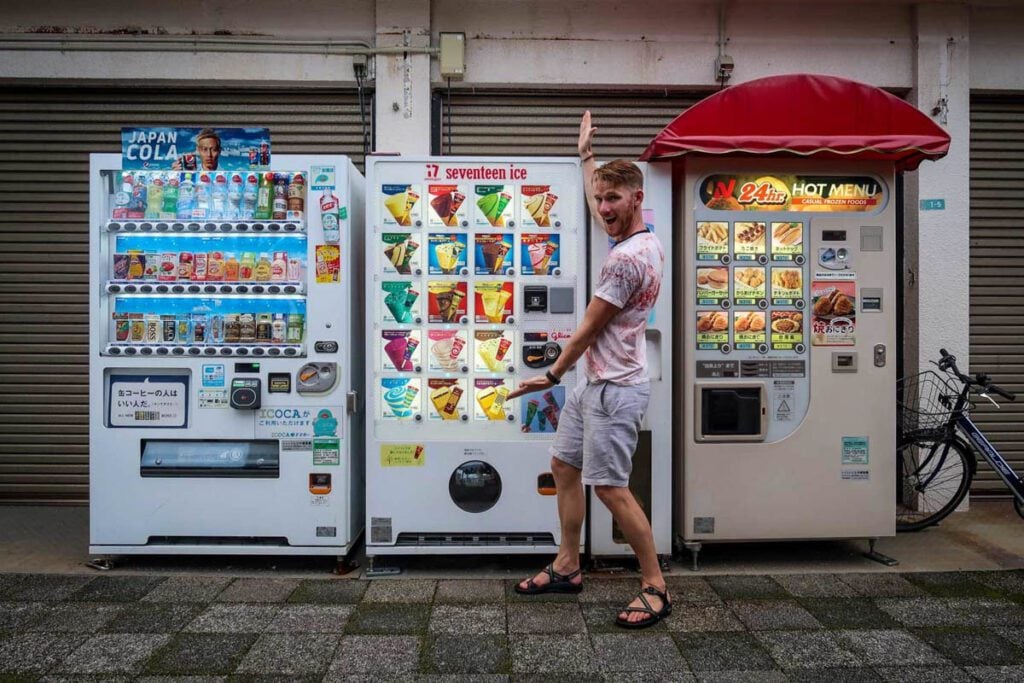 You'll see vending machines EVERYWHERE. We even bought an iced coffee from a vending machine on a street corner in very remote towns on our Kumano Kodo trek, where the population couldn't have been more than a couple hundred people.
And in the big cities, like Tokyo and Osaka, you'll find vending machines on just about every city block, selling anything from the ordinary — sports drinks, coffees and snacks — to the unusual — electronics, small toys, and DVDs.
There are even rumors of used underwear vending machines… we never saw them (or even looked for them!), but there's no doubt you'll see quite the variety of vending machines in Japan.
Interesting to know: One Japanese man explained to us that seeing all the vending machines is proof that Japan is very safe. If it were unsafe, there's a good chance they'd be broken into.
29. Japan is home to the deepest underwater post box
Susami Bay, a fishing town in Japan, is home to the deepest underwater post box…which is exactly what it sounds like — an underwater mailbox!
The post box is 10 meters (about 33 feet) underwater, but that's not the most impressive thing here. It actually receives over 1,000 pieces of mail every year!
If you're hoping to send some sea mail yourself, you'll need to buy water-resistant postcards and an oil-based paint marker to write on them. Oh, and you'll need to don a wetsuit and dive down to the mailbox, too!
30. You can find square watermelons in Japan
Non-melting ice cream, underwater post boxes, AND square watermelons?! One of the most interesting facts about Japan is that life here is definitely unique!
Although the square fruit is edible, it's grown this way more for symbolism than taste.
You may see these novelties at festivals or in department stores or lobbies, as square watermelons symbolize energy, gratefulness, and collaboration during the hot summer months. 
And if you do want to purchase one, they come at a hefty price. Purchasing a square watermelon will set you back more than 10,000 yen (or about $200 USD)! 
31. The majority of adoptions in Japan are of grown men
It's probably safe to assume that when most people think of adoption, they don't think of grown men.
However, the practice of adopting grown men in Japan is more of a technicality. Civil code requires that family wealth be passed down through males of a family.
But if a father doesn't have any male sons, parents usually adopt a son whom they can trust to carry on the family name and run the family business.
Today, this goes hand-in-hand with arranged marriages. The adopted son often marries the daughter and takes the family name…making him the son AND son-in-law!
32. Japan has an obsession with all things CUTE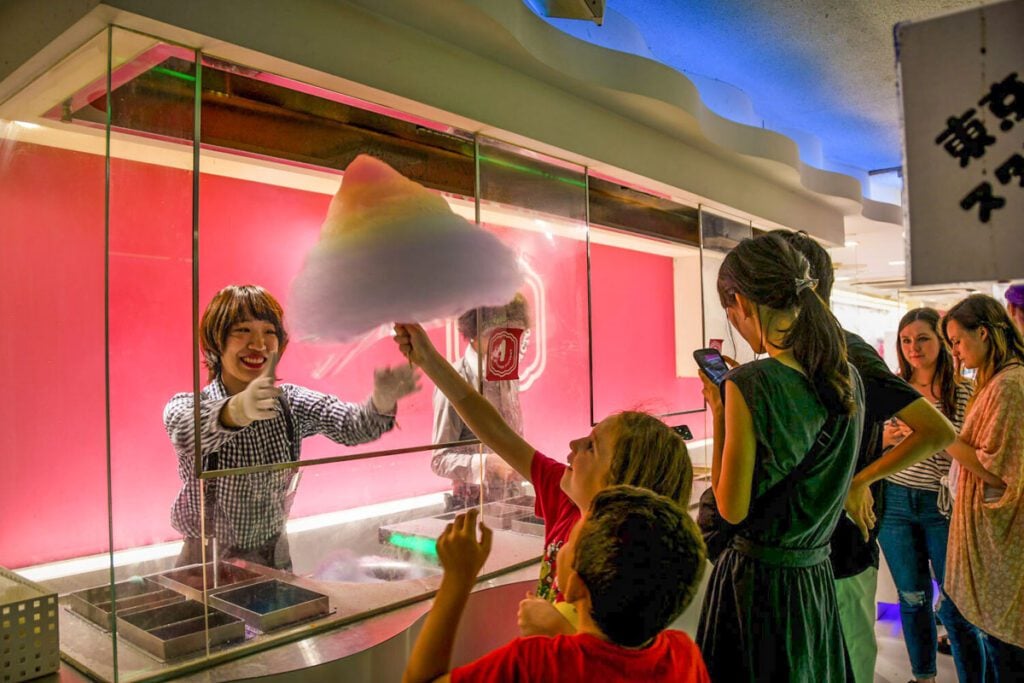 Kawaii is Japanese for "cute," and there is an entire culture built around this concept.
Purikura: One way to partake in the kawaii culture is to hop inside a Japanese photo booth, or purikura. You will have the chance to cute-i-fy your picture by adding fun backgrounds, makeup, and stickers. Oh, and expect your eyes to be enlarged, your skin to look flawless, and your jawline shrunk so you look extra "CUTE".
Harajuku: This neighborhood in Tokyo is the epicenter of all things kawaii. You'll see rainbow-themed foods, costumes, and super cutesy fashion. Definitely an interesting place to check out while in Tokyo.
Theme cafes: There are all sorts of theme cafes, embodying the kawaii culture in Japan. Remember, you're not going for the food, but rather, for the experience.
---
Interesting facts about Japan that double as travel tips
Can you believe how unique this country is?! Here are more interesting facts about Japan, many of which are also excellent Japan travel tips.
33. There is a language barrier, but…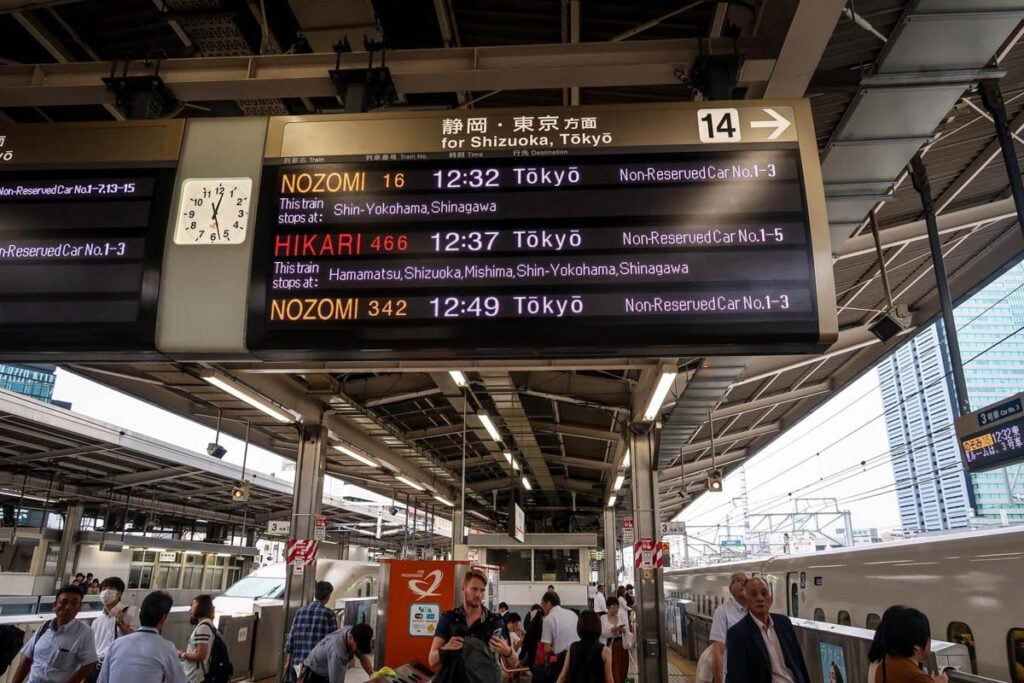 …you shouldn't be too worried about it!
One of the things we get the most questions on is the language barrier in Japan. And after reading guide books and articles online, it can seem like traveling in Japan without speaking Japanese is impossible. But that's far from the truth.
Honestly, we didn't feel like the language barrier was too bad. (That said, we've spent a cumulative 3+ years living in and traveling through Asia, so we are used to language barriers.)
It is always respectful and recommended that you learn a few helpful words or phrases in the country you're visiting, but we want to point out that it is possible to have a fantastic trip to Japan without having mastered the language.
Language in Japan
This should put you at ease:
All major signage in train stations is in Japanese and English

In the event that you have a question, go to the JR counter and speak to an employee. They should have a translation device, which will help in the event that they aren't confident with their English skills.

Oftentimes restaurants have English menus (some even have pictures!)
Hotel staff usually speak a bit of English
At most restaurants there is at least one staff member who will be able to communicate with English speakers
Oh, and the Google Translate app is literally the BEST THING EVER. Read about more apps we recommend downloading for your trip to Japan!
Japanese people, in general, are very polite and kind. While they may not approach you, if you ask for help they will usually do their best to assist you or point you in the direction of someone who can help.
Helpful words & phrases in Japanese
Learn a few words in Japanese, as it will show you're trying. And be patient. Remember, you are a guest in another country, and while some people may know a bit of English, it is not their first language.
Hello: Konnichiwa (also means "good afternoon')
Good morning: Ohayō gozaimasu
Thank you: Arigato gozaimasu (the "u" on the end of the word is almost silent)
Excuse me: Sumimasen
Cheers!: Kanpai!
Delicious: Oishī
If you take one thing away from this point, I hope that it's this:
There will be a language barrier while traveling in Japan, and you can't expect people to speak English. BUT, it is definitely possible to communicate with simple vocab words, the Google Translate app, and a bit of patience.
34. Japan is super safe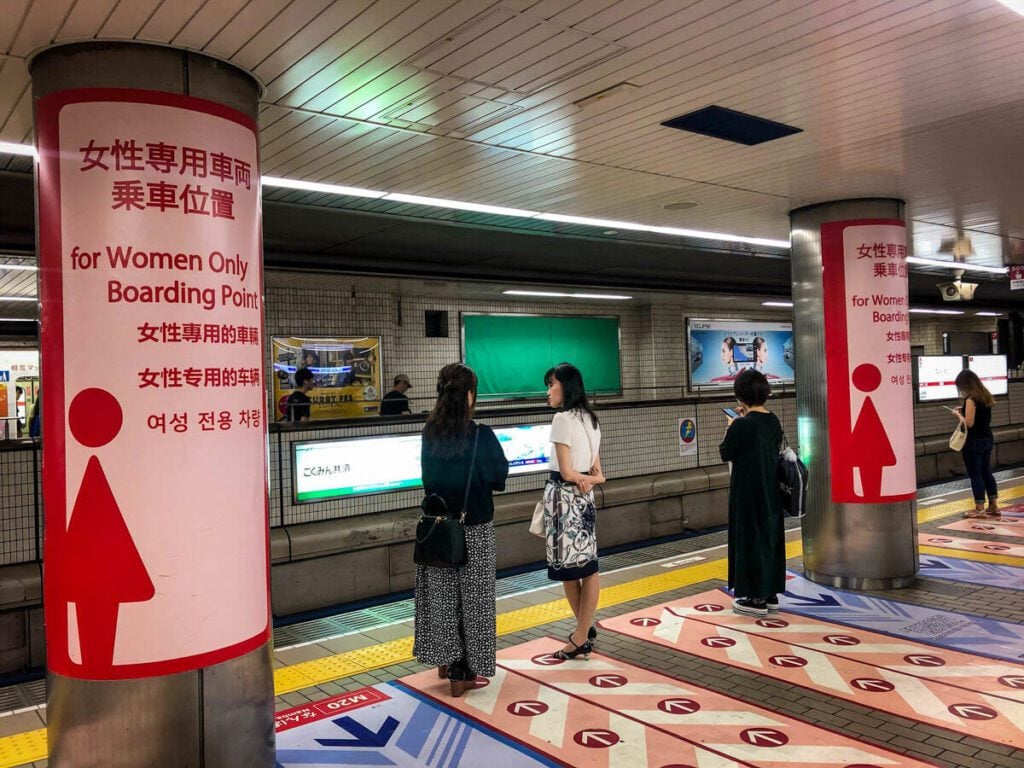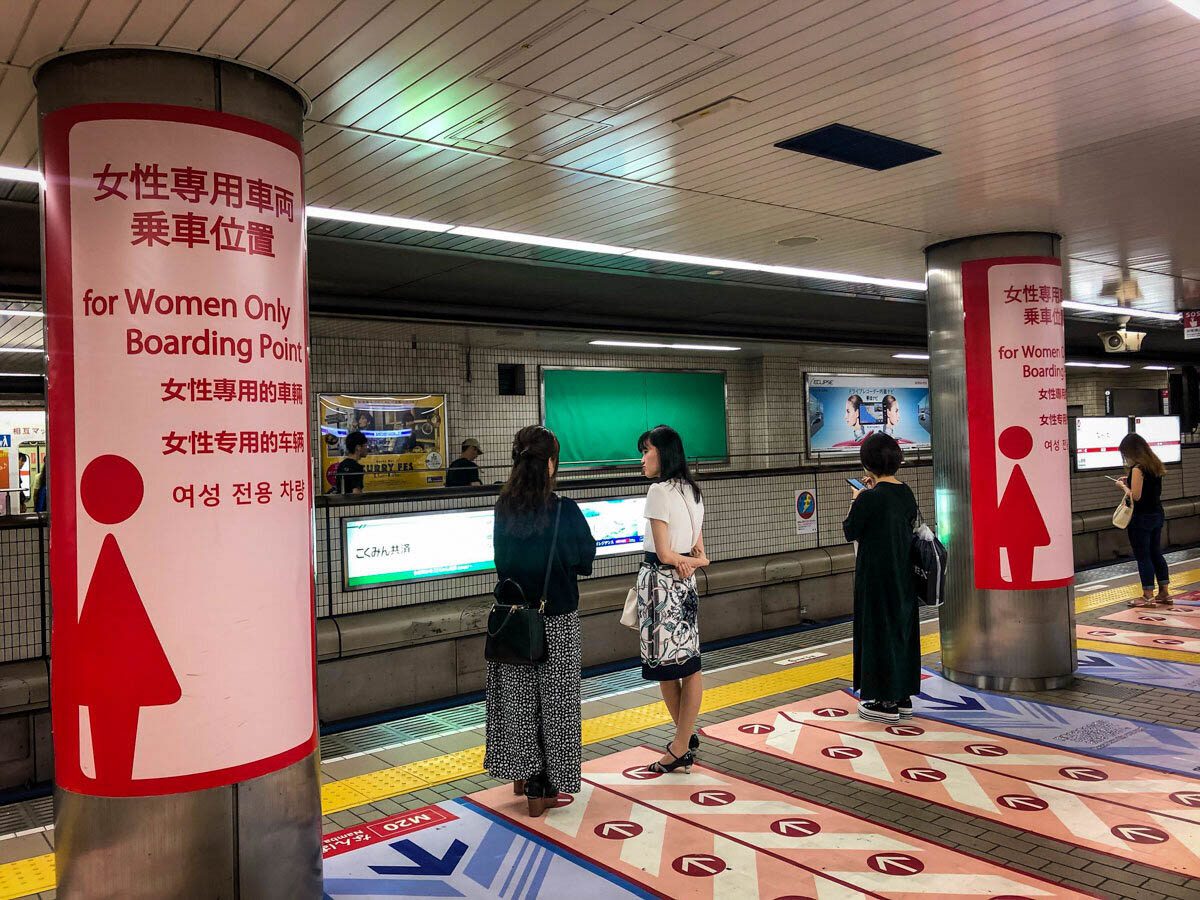 Like, very safe. Of course, you'll still want to use common sense on your travels in Japan, but the chances of you encountering any dangerous situations or theft are very slim.
We've known people who have left their wallet on a crowded subway in Tokyo, only to have it hand-returned to them hours later. The thing we had to get used to was being mindful of our belongings when we returned to the U.S. after our trip to Japan!
Psst! Here are some essential travel safety tips you should know before any travels!
35. Getting a Japan Rail Pass will save you money in the long run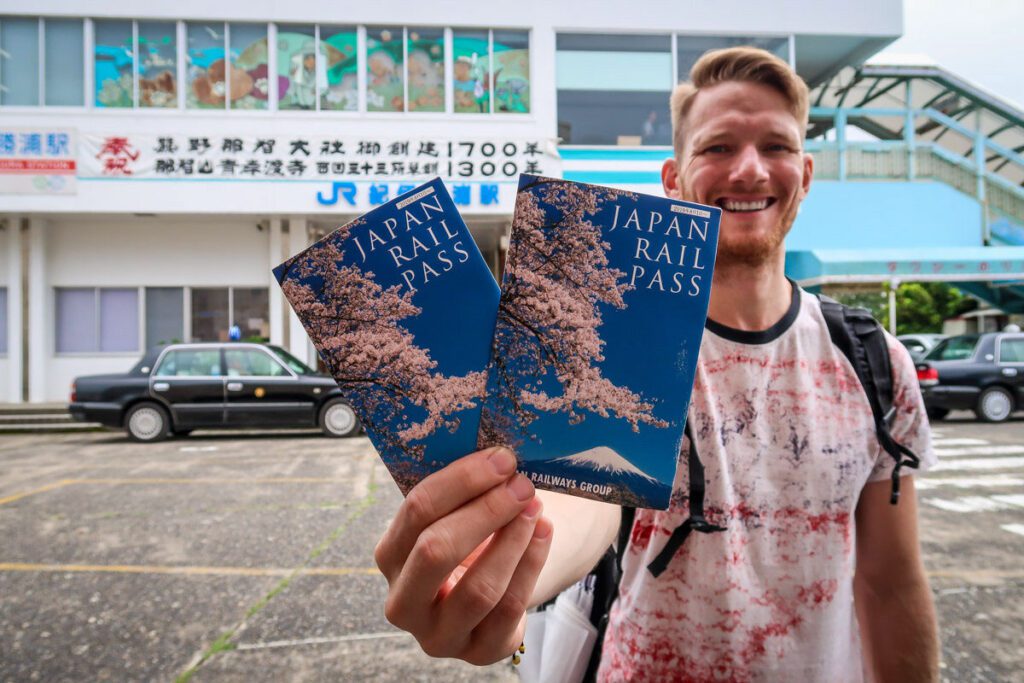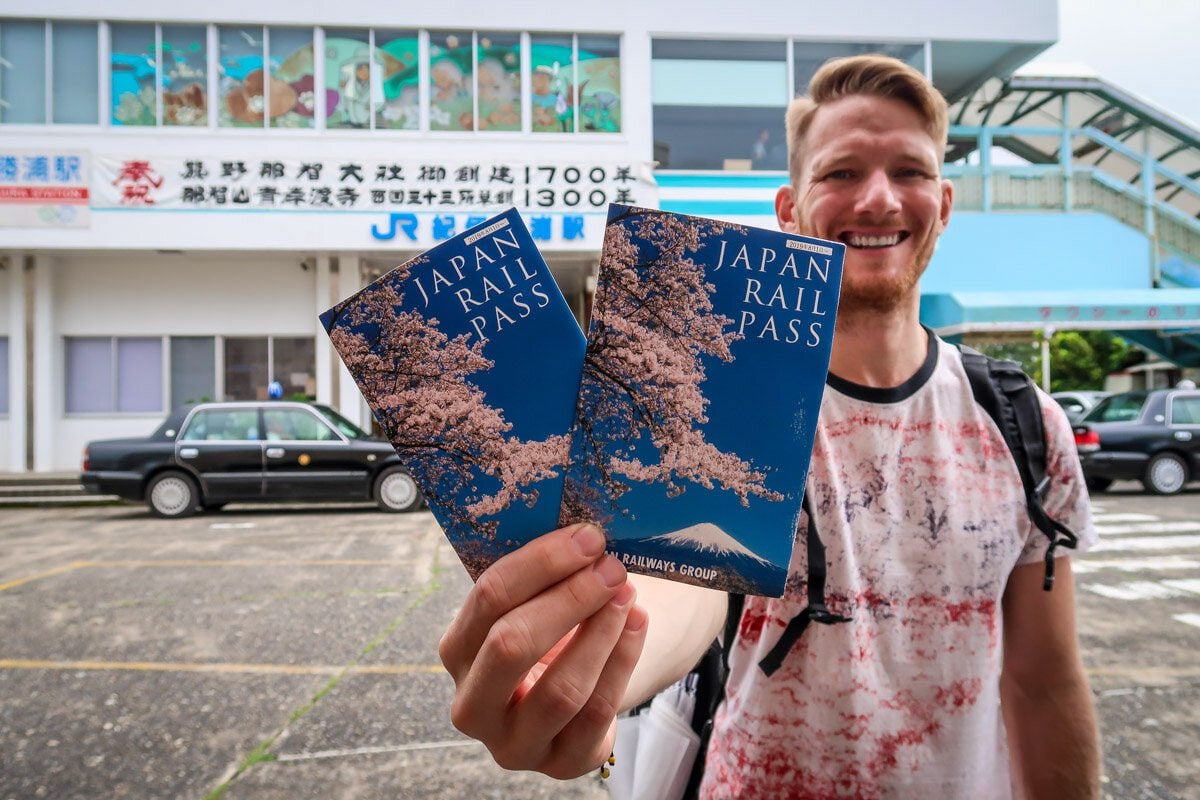 Essentially, if you plan to visit more than 2 cities during your trip to Japan, the JR Pass will almost definitely save you money.
We have a whole article detailing it and even a quick way to calculate whether or not it will be worth it for you… but chances are it WILL.
Good to know: A JR Pass is essentially the same price as a roundtrip ticket from Tokyo to Osaka. So many travelers in Japan will save lots of money by getting the pass. Also, we didn't know this until we were in Japan, but Japanese citizens actually cannot get this pass, and therefore pay a lot more than most tourists for train travel.

36. Book your major train routes ahead of time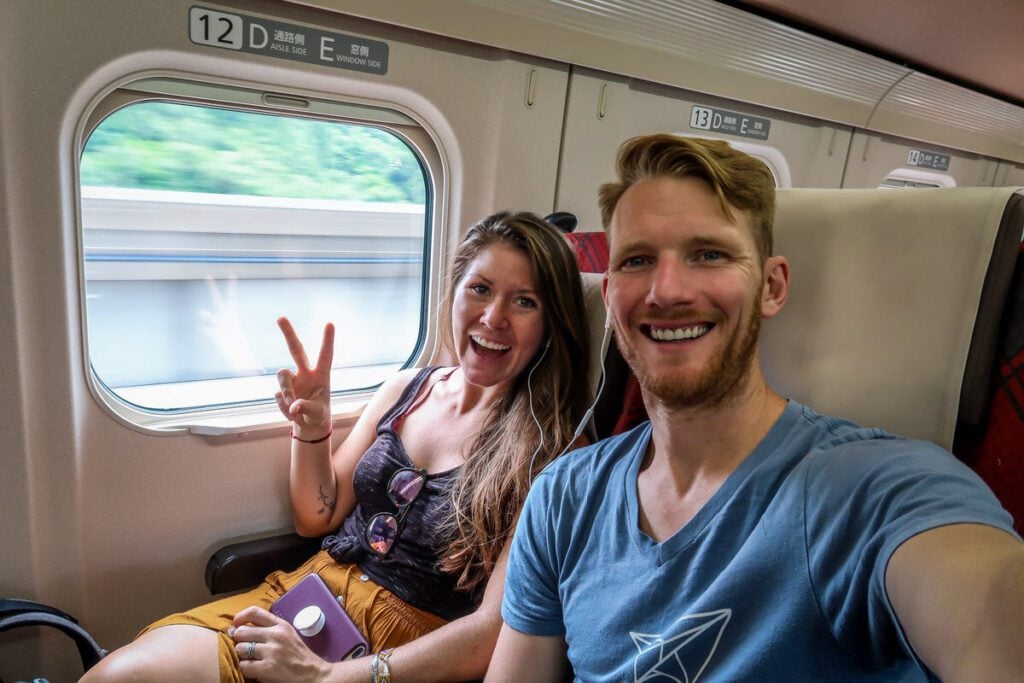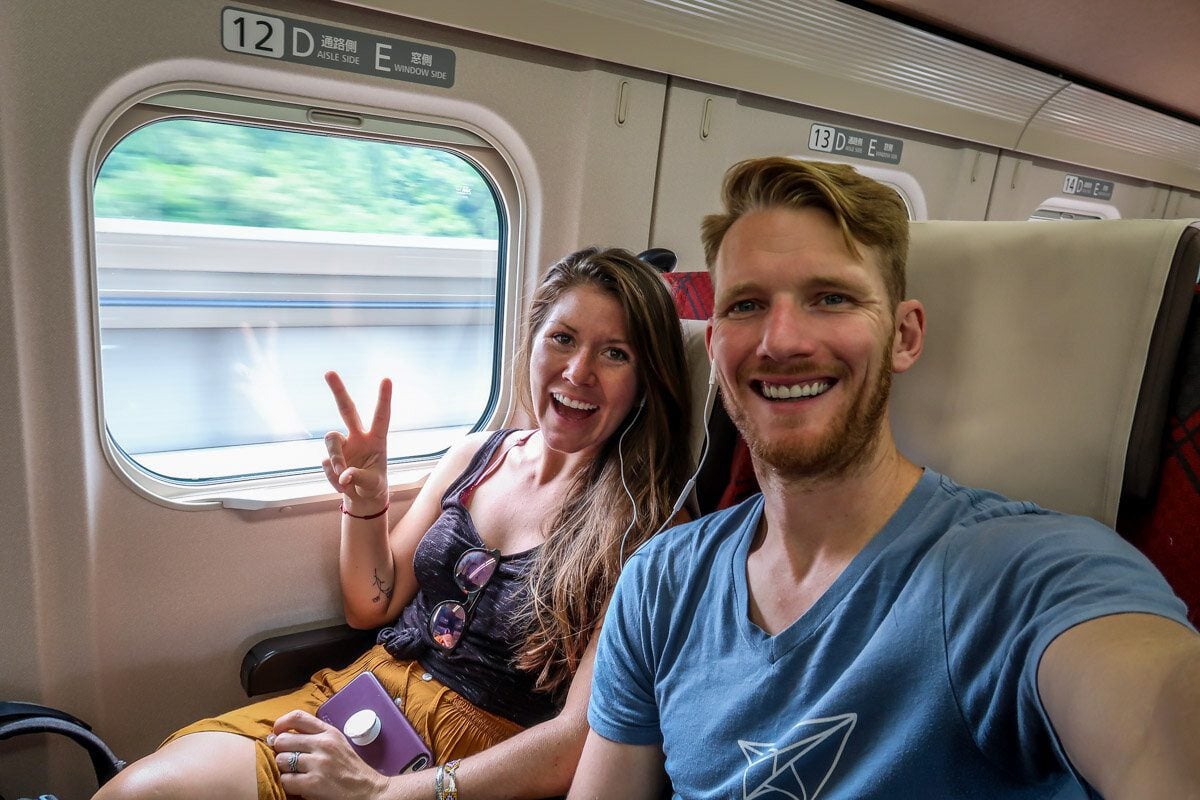 Many popular routes get fully booked up, so don't wait until the last minute to reserve seats. For example, we had to stand for the 1.5-hour ride from Hiroshima to Osaka because we didn't book our tickets in advance.
When you have the JR Pass, all train routes are free (there are a few lines that are not included, but you really don't have to worry about those).
We'd recommend on your first day in Japan, to go to the JR ticket counter at the train station and reserve all your seats for your routes at once. You can always change your time and book another ticket later, but it's good to have seats reserved.
If your route is fully booked, on every shinkansen train (bullet trains) there are a couple of cars that are for passengers that don't have reserved seats. However, there is a high chance that you'll be standing for that ride.
37. There is more to Japanese cuisine than sushi and ramen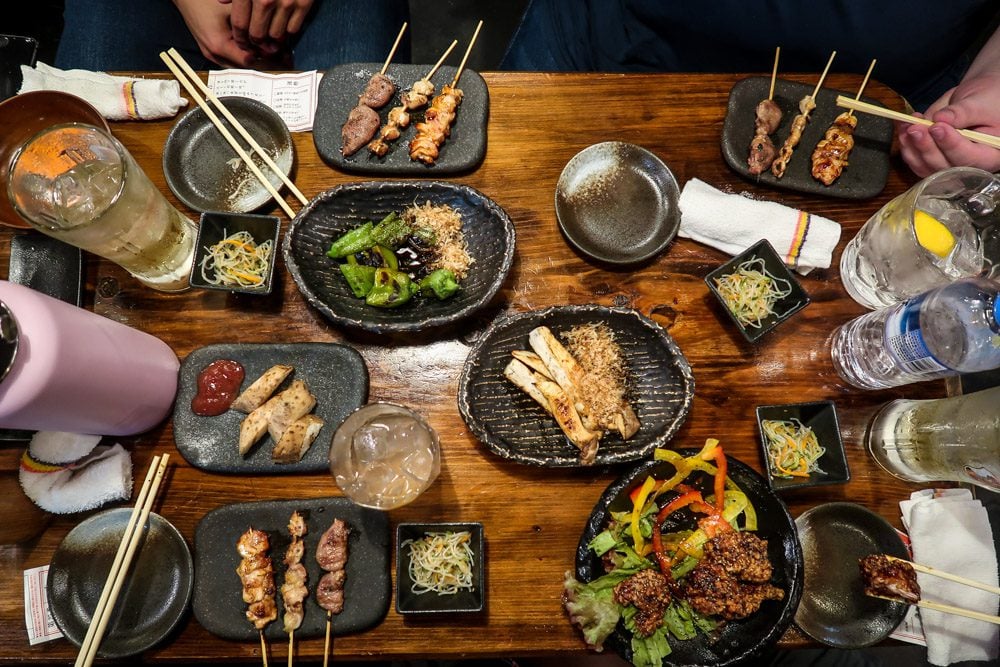 Before our first trip to Japan, our knowledge of Japanese cuisine started and ended with sushi and ramen. We didn't know much else about it. But we're here to tell you there is SO much more to this cuisine.
Check out our guide to the best foods to try in Japan, which even has a checklist you can download so you can make sure you don't miss any foods! The more you know before your trip, the more you'll be able to try.
38. Manners are a big deal
One of the most interesting facts about Japan involves manners… Etiquette is important in Japan. It's a good idea to read up on some Japanese manners before your trip so you don't embarrass yourself or offend someone.
Here are a few manners to keep in mind:
Instead of pointing with one finger, use your entire hand
Avoid physical touch, like hugging, until you know if someone is comfortable with it. Also, public PDA is kind of a no-no
Don't eat while walking
Be quiet on public transportation and avoid taking phone calls if possible
Related: We've compiled some important manners to keep in mind while eating and Japan train etiquette which you can find in the linked articles.
39. Tipping is considered rude in Japan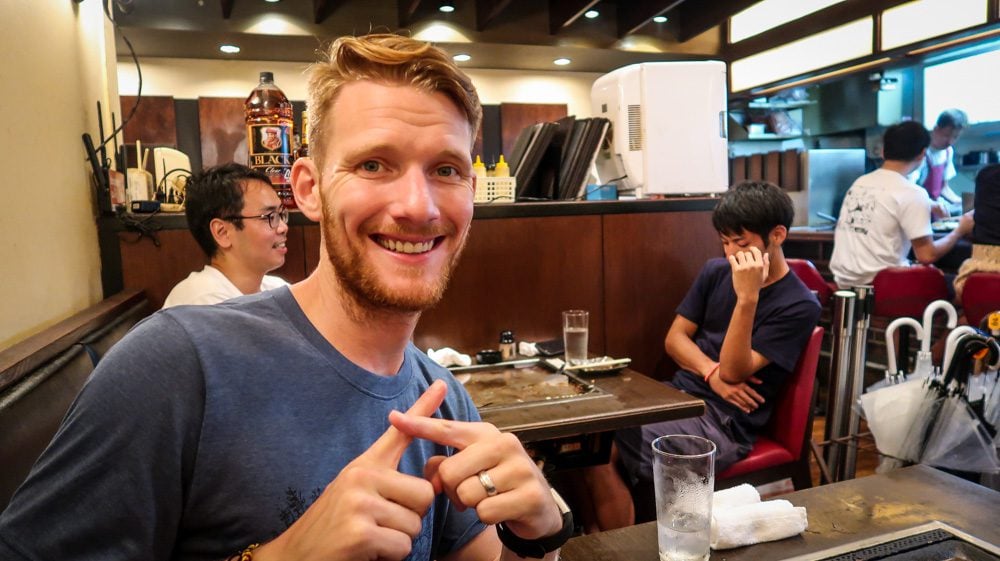 While it is a common practice in North America, Europe and many other parts of the world, tipping is not part of Japanese culture and can be seen as mildly rude in some instances.
The Japanese believe that good service is expected (whether it be at a restaurant or tour) so there is no need to add extra money in the form of a tip.
Try to show your appreciation for a meal or tour by verbally thanking the staff, cook or guide. Leaving a review is always helpful so other travelers know what to expect.
40. Forks are few and far between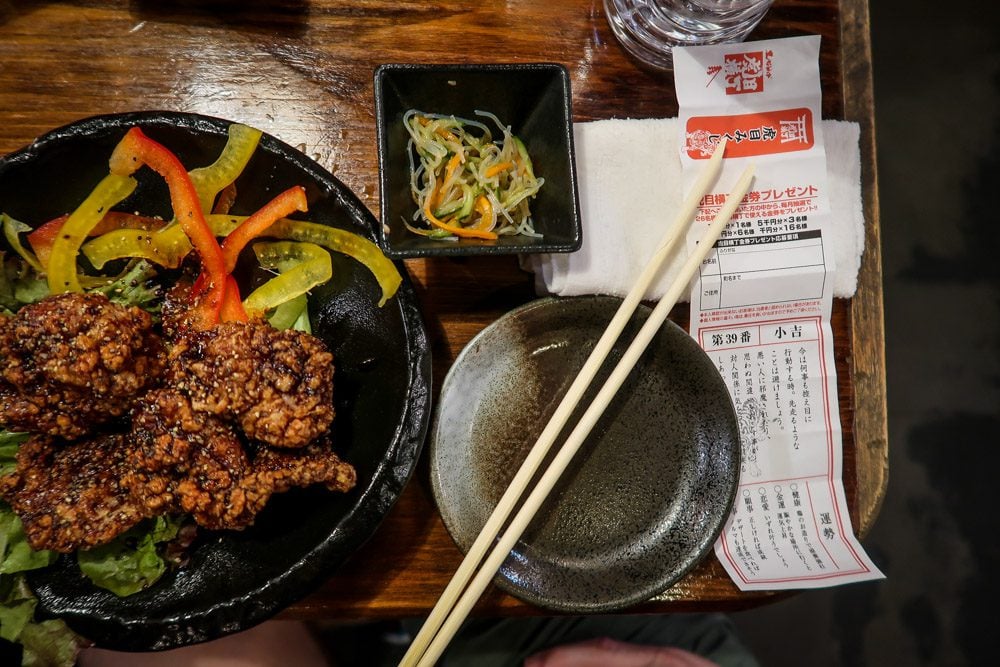 You'll want to practice your chopstick skills before your trip to Japan because it is the utensil of choice, and very rarely will you find forks.
Hint: Chopsticks also make a great souvenir from Japan!
41. Slurping your noodles is not rude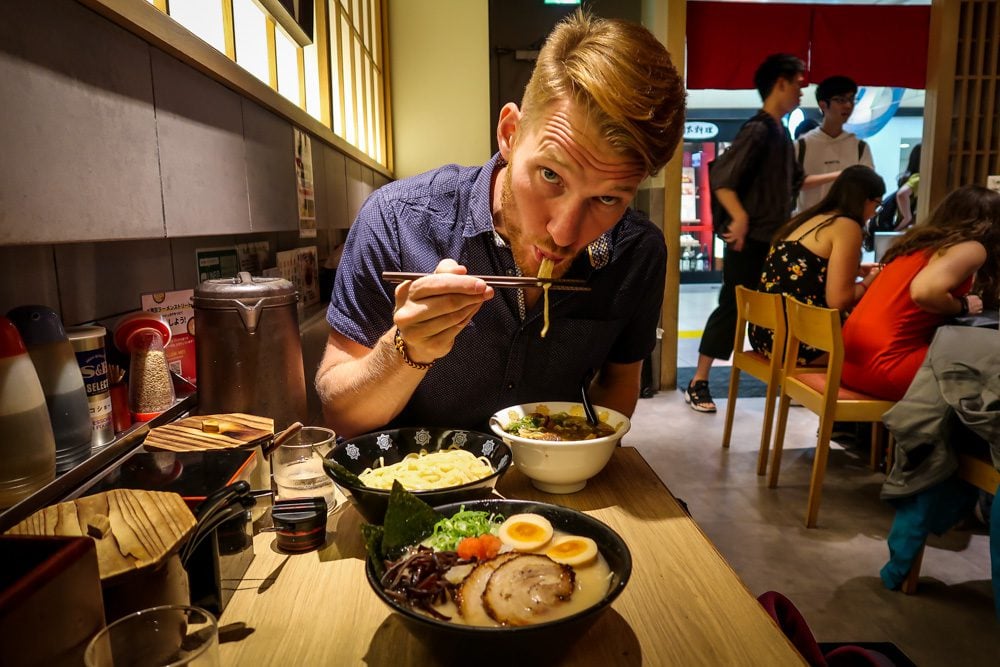 Everyone knows that slurping noodles is the best way to enjoy them, right?
Well, here's a fun fact about Japan you didn't know you needed: it's actually not considered rude as you might be used to in your home country.
In Japan, slurping your noodles can actually considered a sign of appreciation. It shows the restaurant or chef that you're enjoying their food. Plus, slurping can even enhance the flavor! 
While it's not rude to slurp your noodles, it's also not rude if you don't slurp. Did that double negative confuse you?
Don't worry – all you need to know is whether you slurp or not, and you won't be offending anyone!
42. Take your shoes off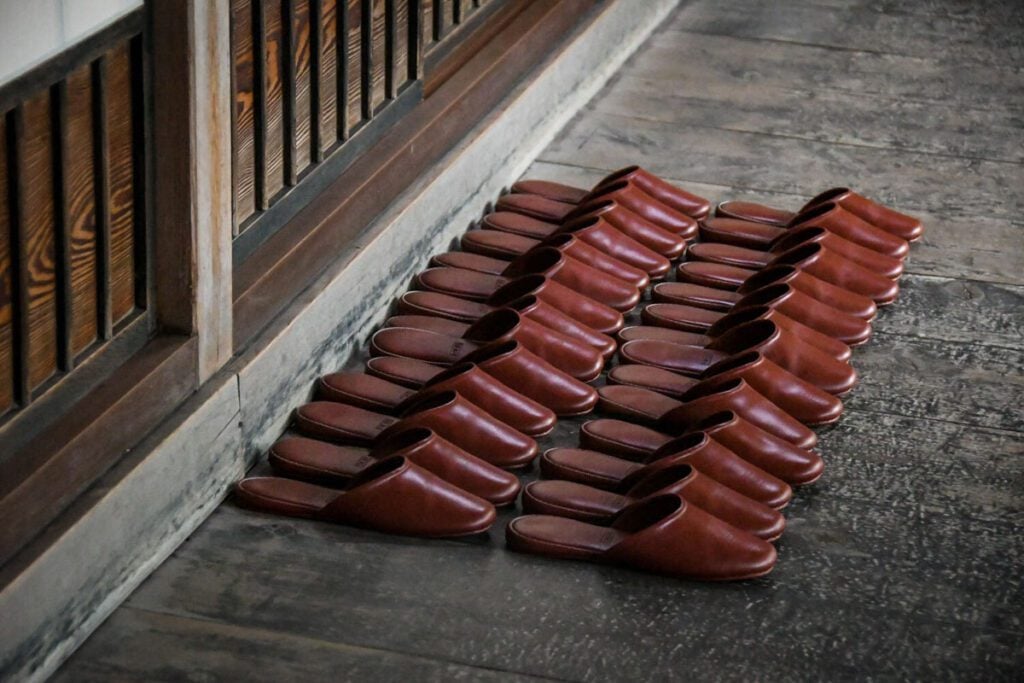 When entering guesthouses, homes, holy sites, and some stores, you will need to remove your shoes. This is typically indicated by floor that is different levels — either raised or lowered once you enter.
Usually there are indoor slippers that you can wear once you remove your shoes. The exception to this is in rooms where the floor is tatami mats — a delicate traditional flooring made of rice straw. These are common in traditional guesthouses and teahouses, inside which you can wear socks.
Also, some guesthouses have bathroom slippers. Yes, you read that right, shoes for the potty. Typically they will be sitting just inside the bathroom door and you'll leave your indoor slippers outside of the bathroom.
43. Onsens are fantastic, but there are some rules you must follow…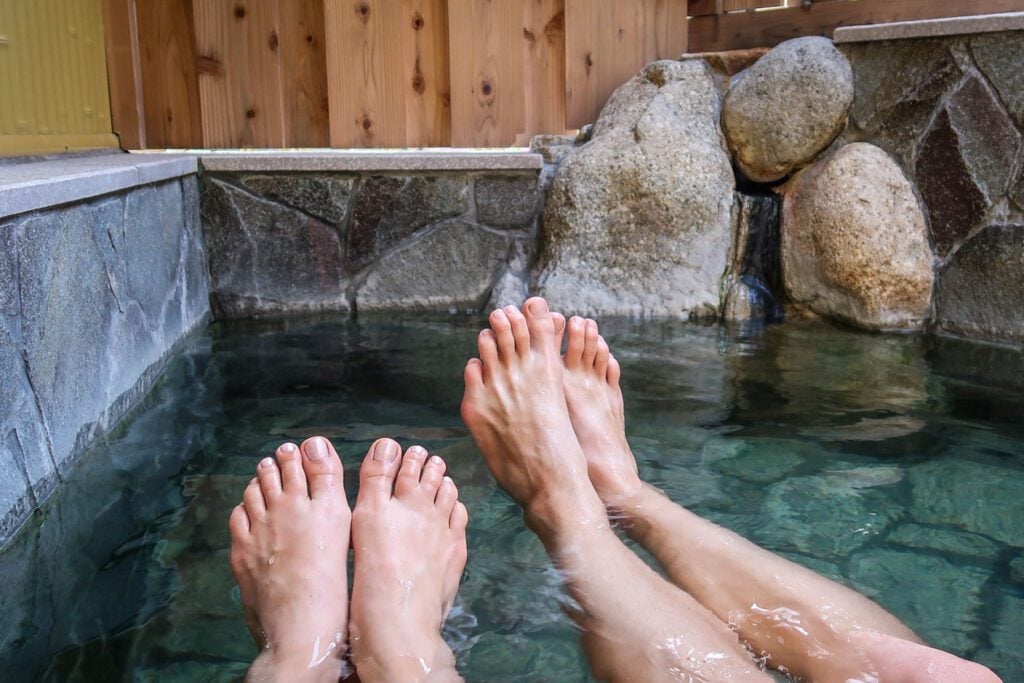 Soaking in an onsen should definitely be on your list of top things to do in Japan!
Hold up, what is an onsen, exactly?
An onsen is a Japanese hot spring with a bathing facility.
Japan has a lot of volcanic activity, meaning there are many onsens to choose from all around the country!
But before you start shedding your clothes, there are some important rules you should know so you don't embarrass yourself…
Basic onsen etiquette
Shower before you get in, oftentimes it's at a shower where you will sit on a stool and rinse yourself off.
Unless otherwise noted, do not wear a bathing suit.
You can bring a towel into the bathing area, but don't let it touch the water (many people put it on top of their head).
Tie up your long hair so it doesn't touch the water.
Know the onsen's policy on tattoos. Many onsen do not allow guests with tattoos, so you'll have to seek out onsen where it is accepted or opt for a private onsen facility.
Alternative: For those of you who just can't get over the whole naked in public thing (I get it!), you may want to consider staying at a ryokan with a private onsen. This means you can reserve a time slot for yourself (and a travel partner if you wish).
44. There is a difference between a shrine and a temple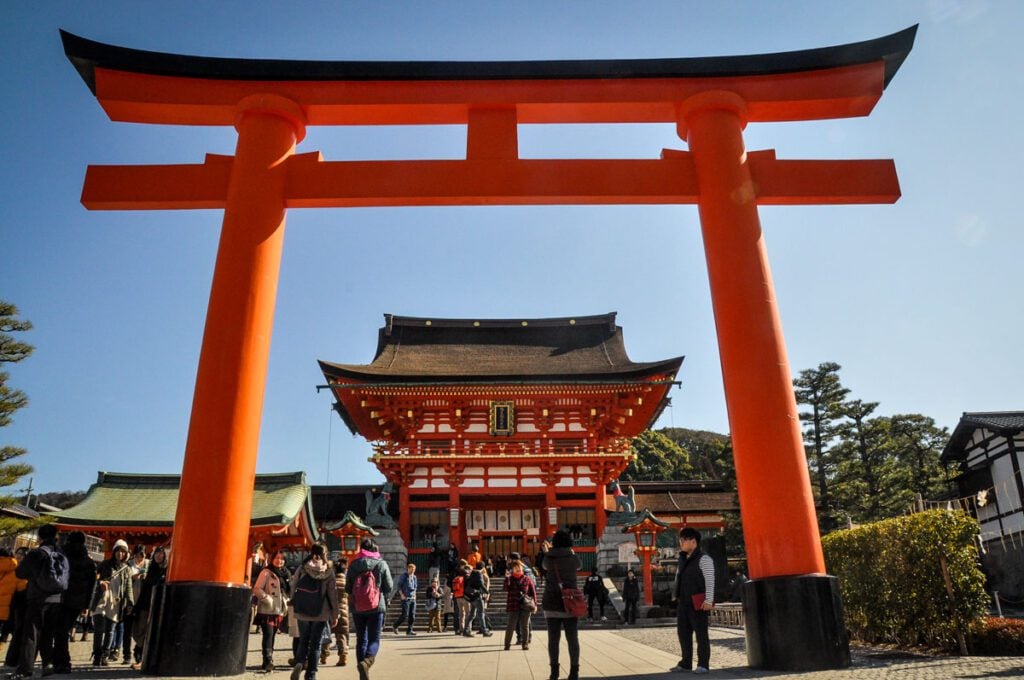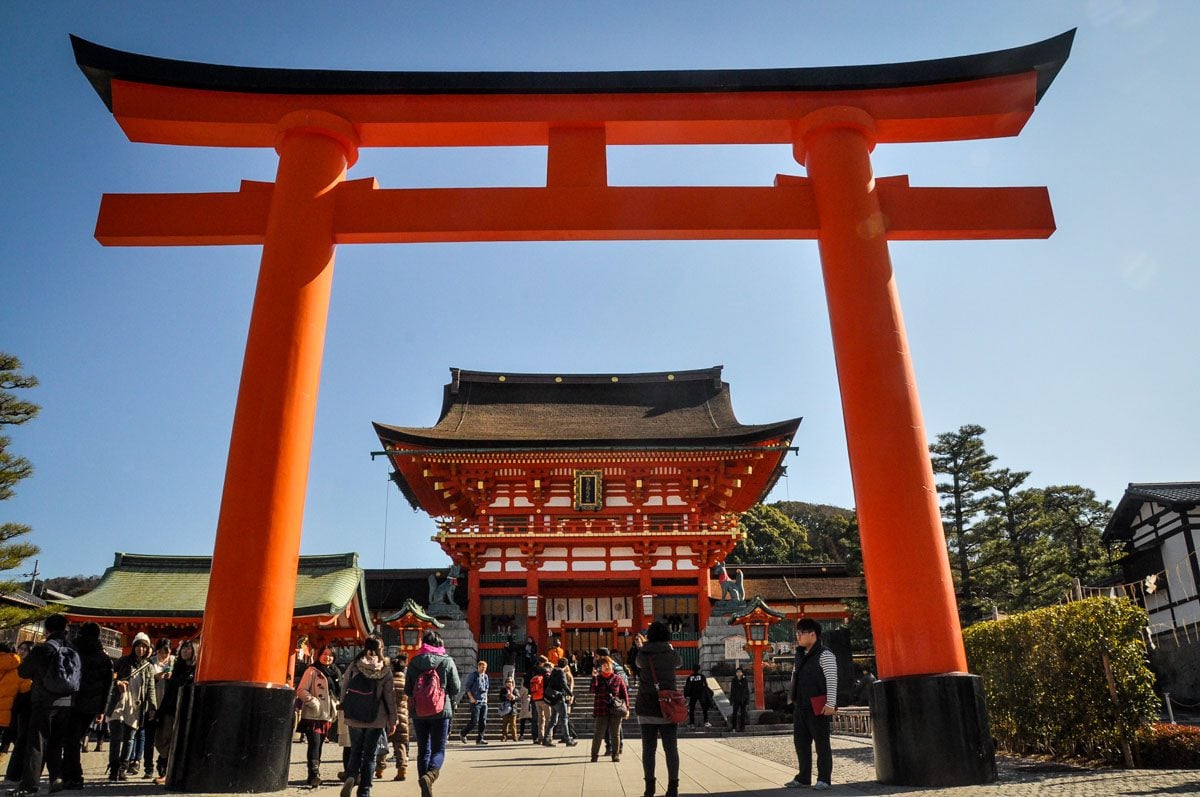 Before traveling to Japan, it's very useful to know the difference between a shrine and a temple. Here is a general guide to help you:
Shinto Shrine:
recognize them by the tori gates
purification fountain (called chozuya) with ladles
Buddhist Temple:
large incense burner
statues of Buddha
sometimes a graveyard is attached
How to visit a Shinto Shrine in Japan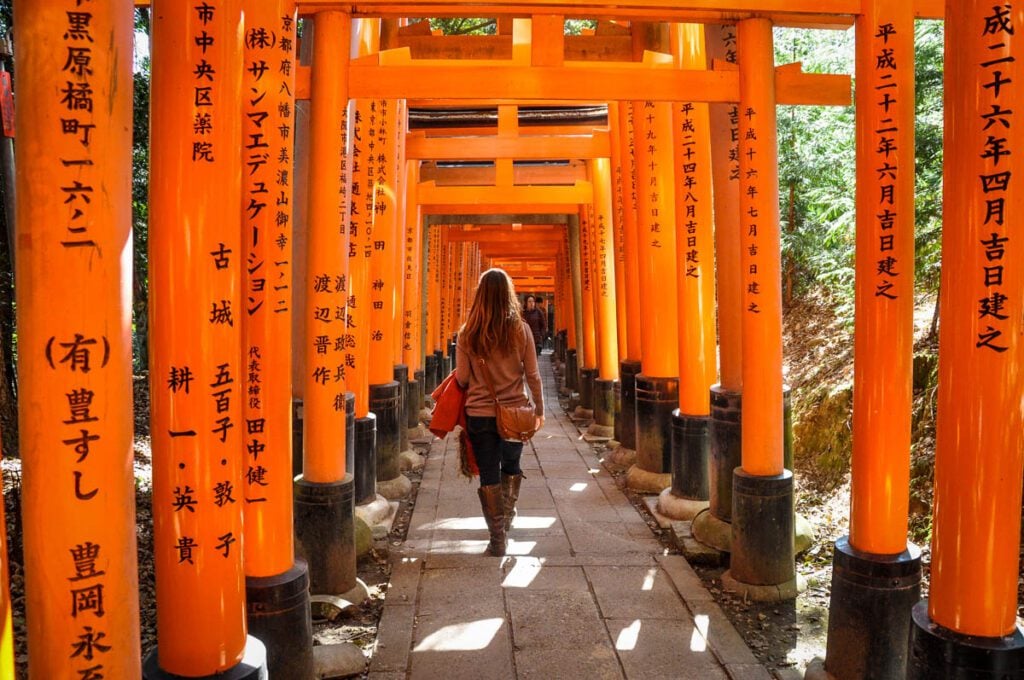 There are two locations where you need to do something:
1. Chozuya, purification fountain
Bow slightly in front of the torii gate
Approach the chozuya (water basin covered with a roof)
Fill up a ladle with water using your right hand and rinse your left hand, and then your right hand.
Fill up a ladle with water using your right hand, pour water into your cupped left hand and bring the water to your lips and rinse your mouth. Don't put the ladle to your lips and don't spit back into the basin.
Lastly, lift the ladle vertically, letting the remaining water clean it for the next person.
2. At the Shrine (where you pray)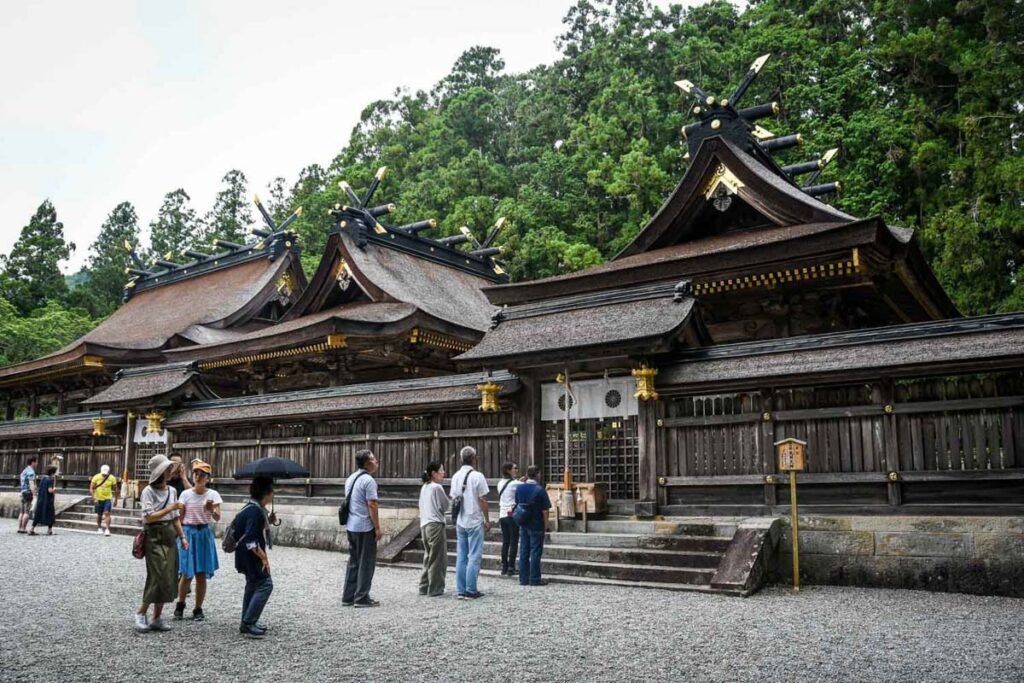 Bow slightly
Toss a coin in the box in front of you (small coins are okay)
Ring the bell (if there is one) two or three times to tell the gods you are here
Deeply bow twice
Clap twice
Say a little prayer, or pay you respects
Deeply bow once
How to visit a Buddhist Temple in Japan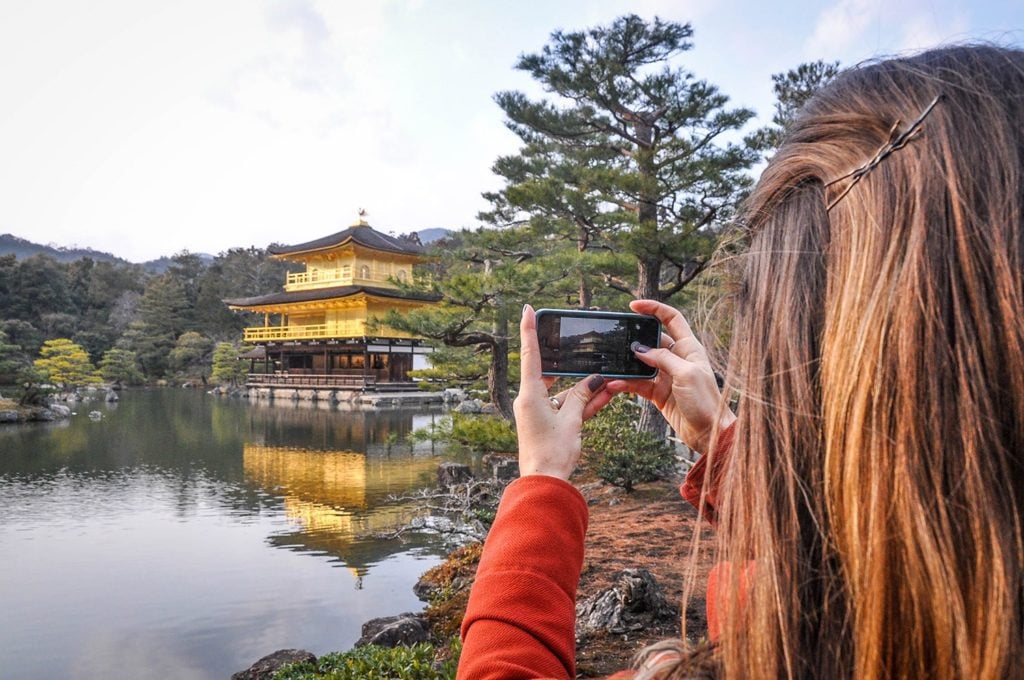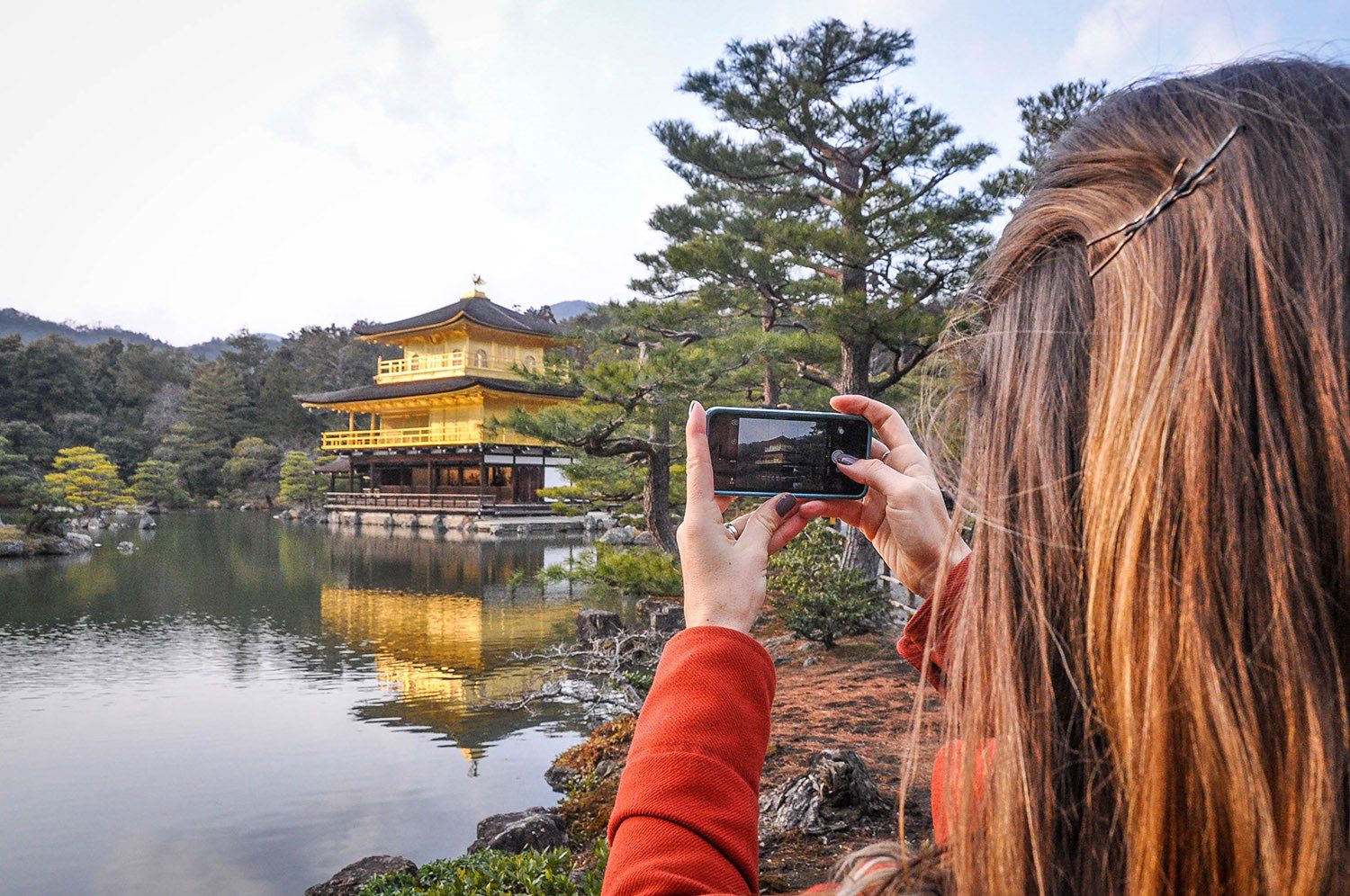 If there is a water purification pavillion, follow the same steps as at the shrine
Purchase a bundle of incense from the temple
Light the bundle and wave it slightly to extinguish them
Put the bundle in the incense burner and wave smoke towards you. Smoke is believed to have healing power.
Approach the temple, bow slightly
Toss a coin in the box in front of you (small coins are okay)
Ring the bell (if there is one) 2 or 3 times
Bring your hands together (DO NOT Clap), and pay your respects
Bow slightly
45. Japan is not as expensive as you might think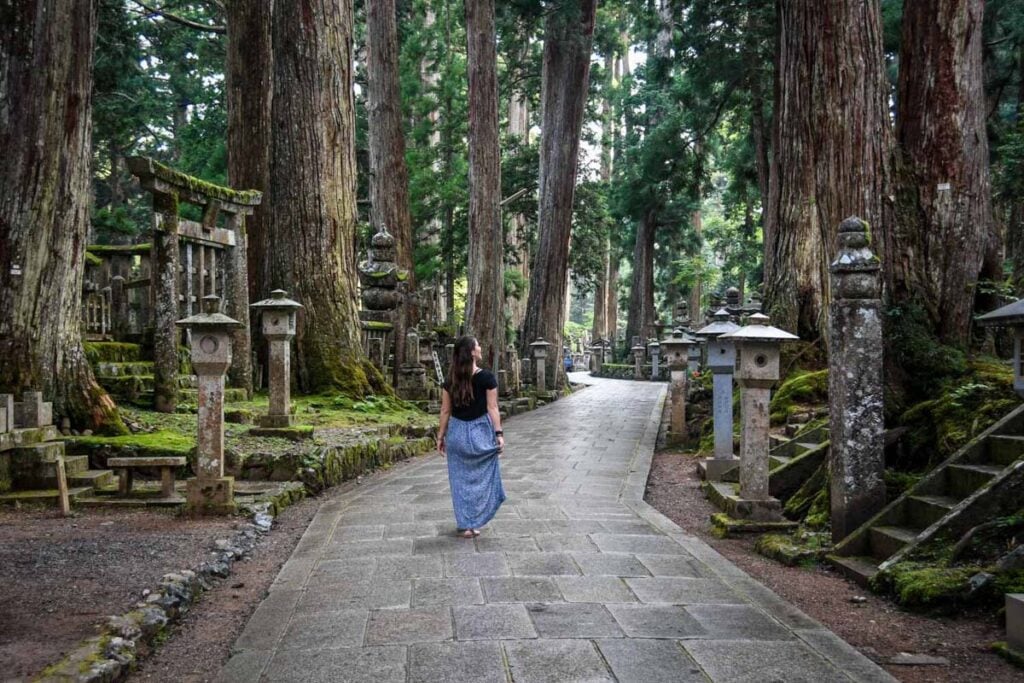 We've traveled extensively around Asia, and it's true — Japan is one of the more expensive places we've visited in this region of the world. That said, it is still possible to travel Japan cheaply.
You can find budget accommodation in hostels, capsule hotels, or even Airbnbs. You can save money on food by eating at convenience stores, cooking some meals yourself, and planning out "splurge meals". Cut transportation costs by getting the JR Pass, and enjoy all sorts of free things to do around the country.
Psst! We have loads of info on how to book Airbnbs, including red flags to watch out for when booking and our favorite Airbnbs.
Traveling to Japan doesn't have to be crazy expensive. We've rounded up some of our top tips for traveling to Japan on a budget.
Moral of the story: If Japan is a country you've been dreaming of visiting, don't let costs inhibit or deter you from making your dream a reality!
46. You'll want cash AND credit cards
Many places in Japan accept foreign credit cards with no problem. And if you have one with no foreign transaction fees that earns good rewards, you'll definitely want to bring it along and use it as much as possible.
That said, there are still small shops, restaurants, and even guesthouses that only accept cash, so you'll definitely want to have some Japanese yen on hand.
Insider Tip: We always get foreign currency by withdrawing from ATMs, as it gives you the best exchange rate. To avoid those pesky ATM fees, we use our Charles Schwab debit card, which reimburses all ATM fees at the end of each month. It is the BEST card ever! Read more about which travel credit cards we recommend.
47. Japanese coins are worth more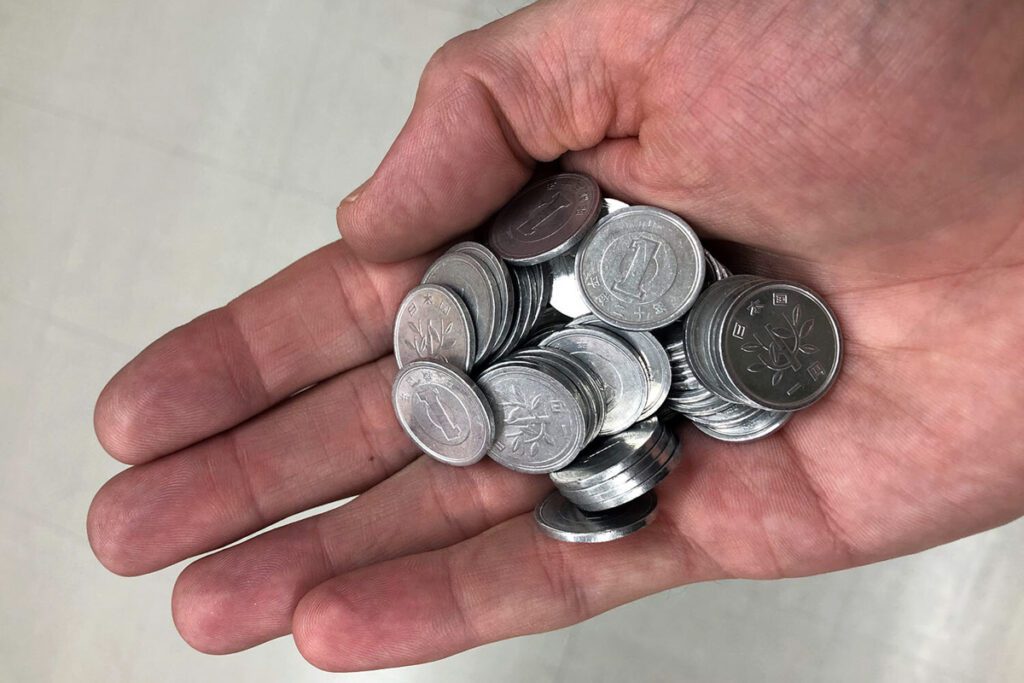 Some of those yen coins are worth almost $5 USD! I don't know about you, but I typically throw coins around without much care — I mean, it's no big deal if I misplace 12 cents… But in Japan, losing a handful of coins could add up to big money.
While on a train, a bunch of coins fell out of Ben's pocket and we had to get down on our hands and knees to find them all before our stop. When we counted them all up we realized we nearly lost $24 USD in coins. Yikes!
When traveling in Japan it's a good idea to have a coin case to keep them secure.
Tip: We met another traveler who had two coin purses — one for the large coins and one for the small ones to keep them organized.
48. Some streets don't have names in Japan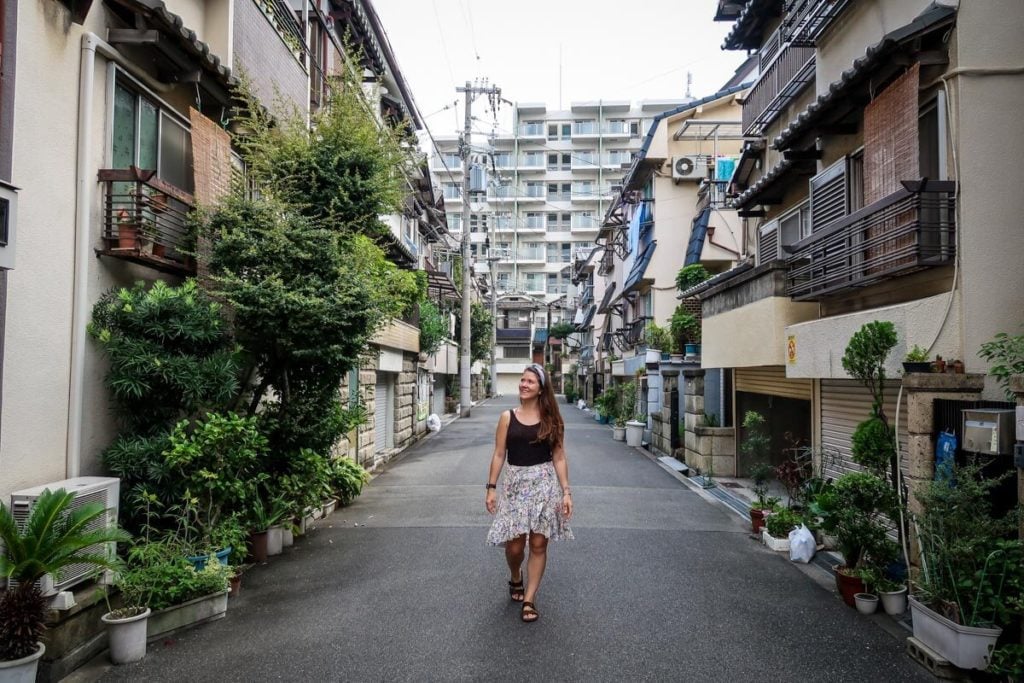 If you're someone who's not great with directions, this particular fact about Japan can be alarming. How the heck are you supposed to find your way around?!
Although there are no street names, it isn't a free-for-all. Addresses in Japan use an area-based system, where each area is divided into smaller areas.
The largest of these is called a prefecture. Prefectures are broken down into cities, and the cities are divided into wards.
Getting around and following directions in Japan is definitely a learning curve, so it's worth studying some maps and taking time to research the numbering system before visiting.
49. There are few trash cans on the street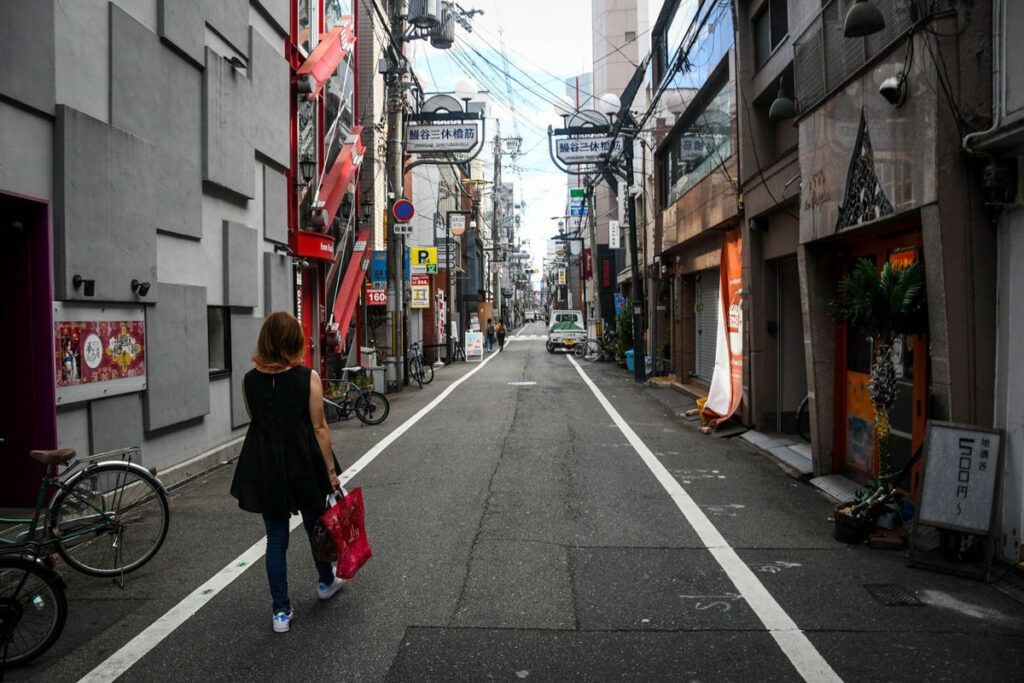 After hearing this, you might be surprised to learn that even though there is a shortage of garbage bins, there is very little litter in Japan.
Cleanliness is a big part of Japanese culture, which is reflected in the (mostly) litter-free streets.
So do as the Japanese do, and hold onto any wrappers until you find a bin. There are typically trash cans at convenience stores, meant for customers to dispose of their garbage.
50. Avoiding plastic waste takes work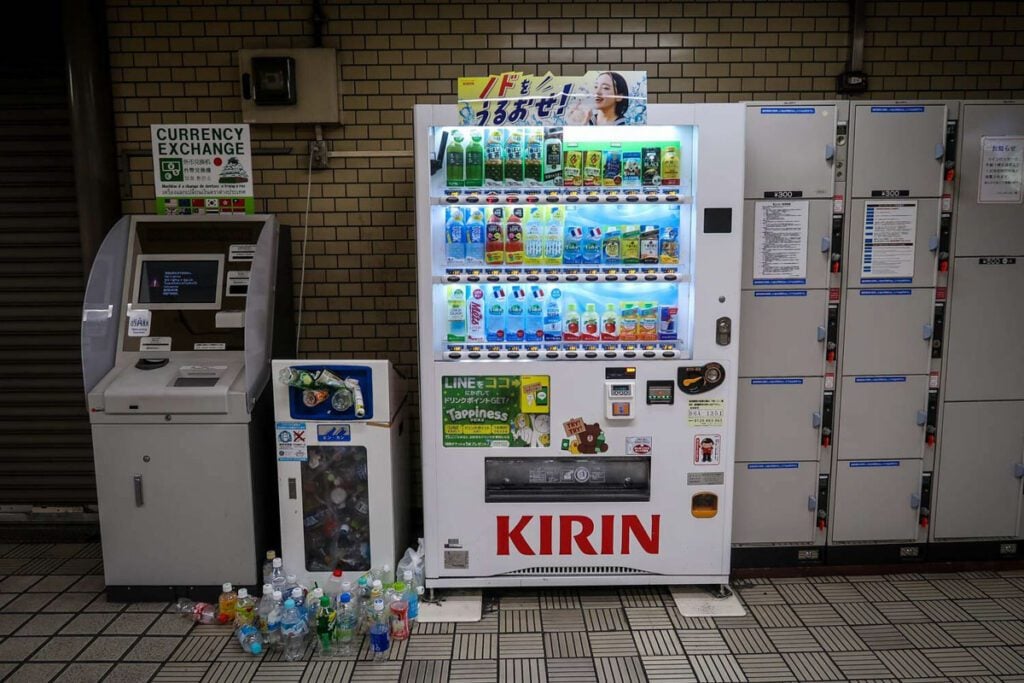 On the surface, Japan seems to be environmentally conscious: there are recycling bins every so often and the streets are very clean.
But as soon as you stop into a convenience store, you'll notice that this country, like much of Asia, relies heavily on plastic packaging. And the super unnecessary kind, like plastic wrappers around single bananas.
As a traveler, there's not too much you can do to change this, but you can reduce your own plastic waste by packing items that'll help you turn down single-use plastic items.
Here are some items we'd recommend packing:
*Yes, you can fill up from the tap and drink the water in Japan! There's an app called MyMizu that has a map of refill stations (mostly in larger cities, but I'm sure they're expanding it as data is available).
Check out our eco-friendly packing list for some more ideas!
51. There are lots of interesting hotel options in Japan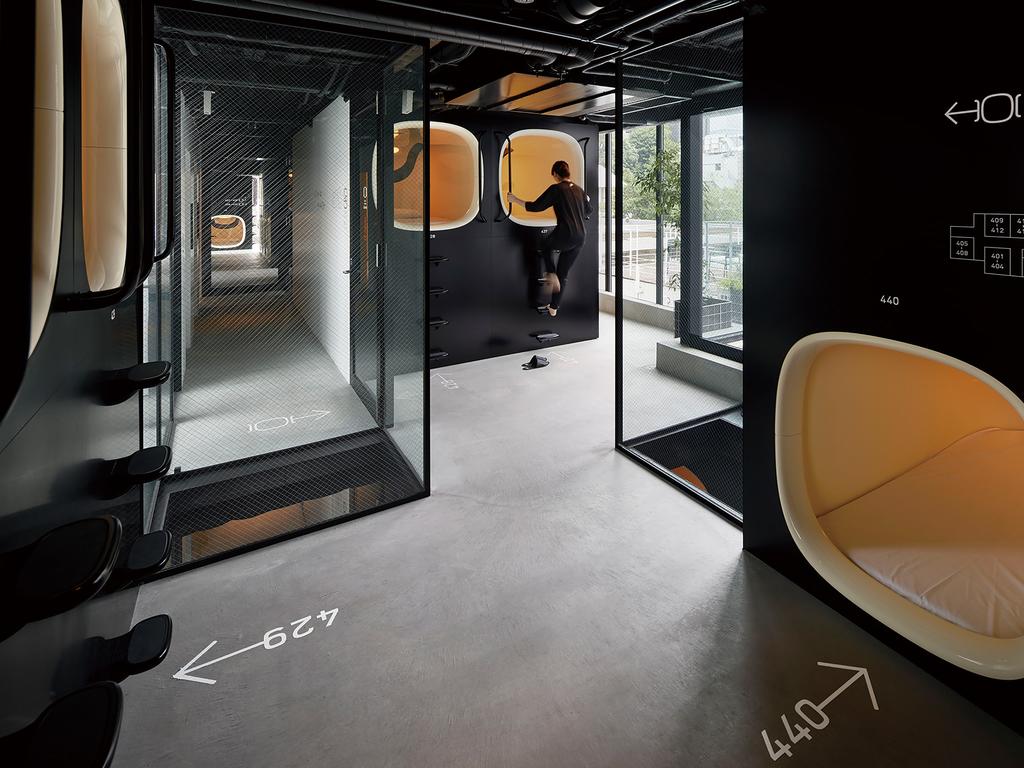 While traveling in Japan, you might want to try out a few unique hotel stays that you can find only in Japan.
Ryokan: This is a traditional Japanese inn that typically provides guests with robes and meals. There is often a shared bathroom and onsite onsens that can be used by guests.
Capsule Hotel: Made to maximize space in crowded cities, capsule hotels provide guests with privacy and an affordable stay. However, don't expect to stand up in your pod. Staying in a capsule hotel is definitely one of the top things to do in Japan on your trip!
Robot Hotel: There are even hotels run by robots! Like we said, #OnlyInJapan
52. ​​Japanese Toilets are reallllly nice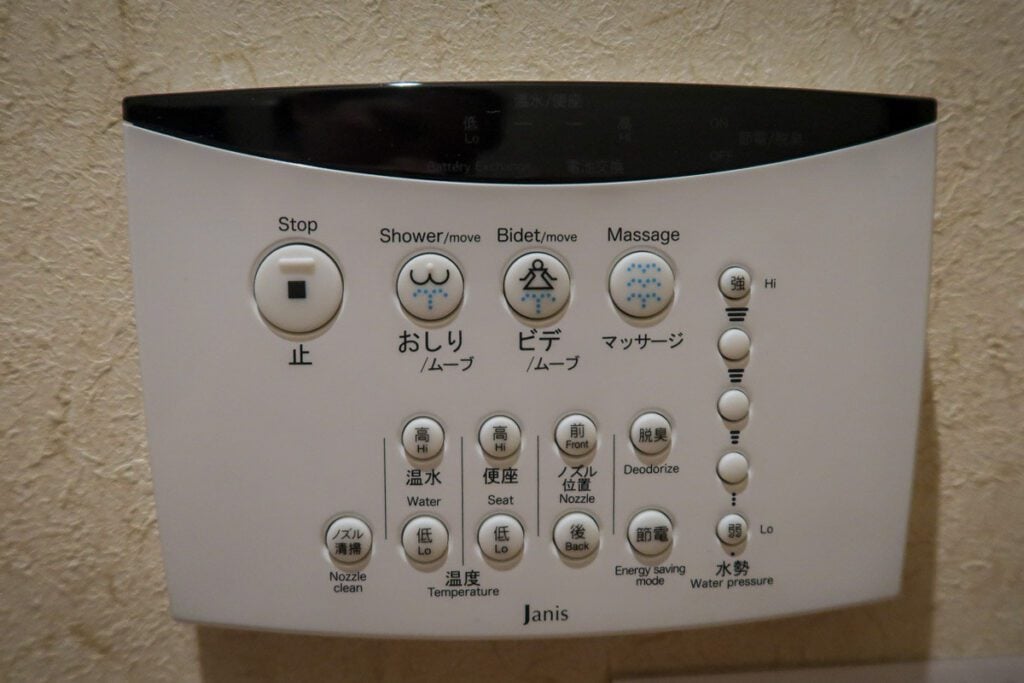 You've probably heard about Japanese toilets, and what the rumors say is true!
There are all sorts of buttons that perform different functions. For example, one button may play waterfall sounds or music to cover up, ummm, some other sounds you may not want the person in the next stall to hear. Other buttons will trigger a bum wash and can be set at varying pressure strengths.
All those buttons can be a little intimidating at first, but try them out (locate the STOP button first) and take advantage of those fancy toilets while you can. Because you surely don't have those fun features at home!
53. These apps are HUGE lifesavers in Japan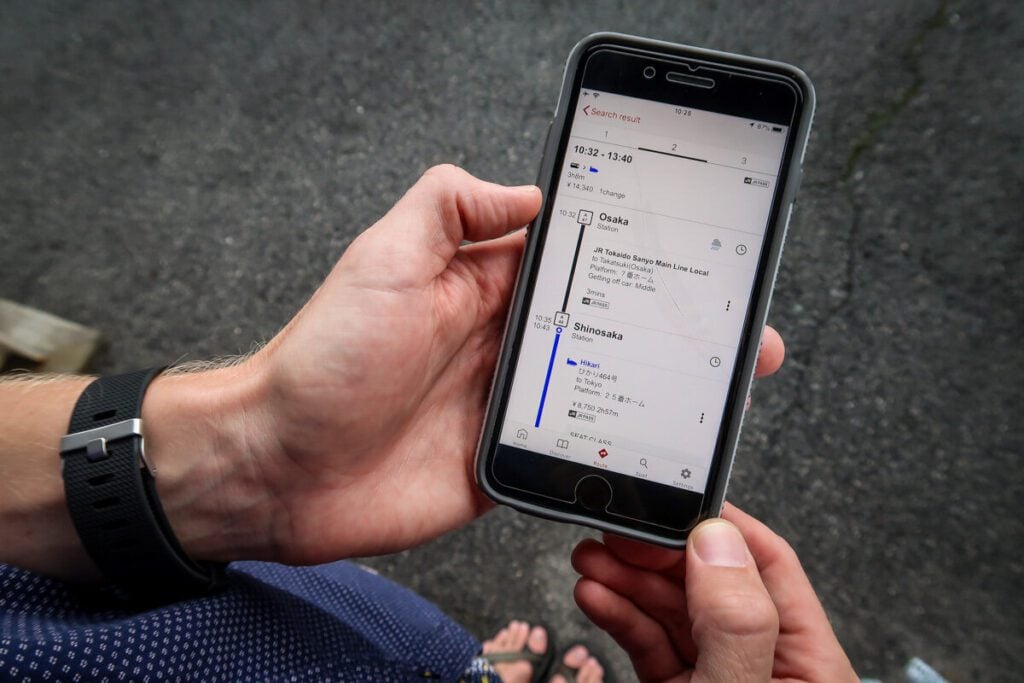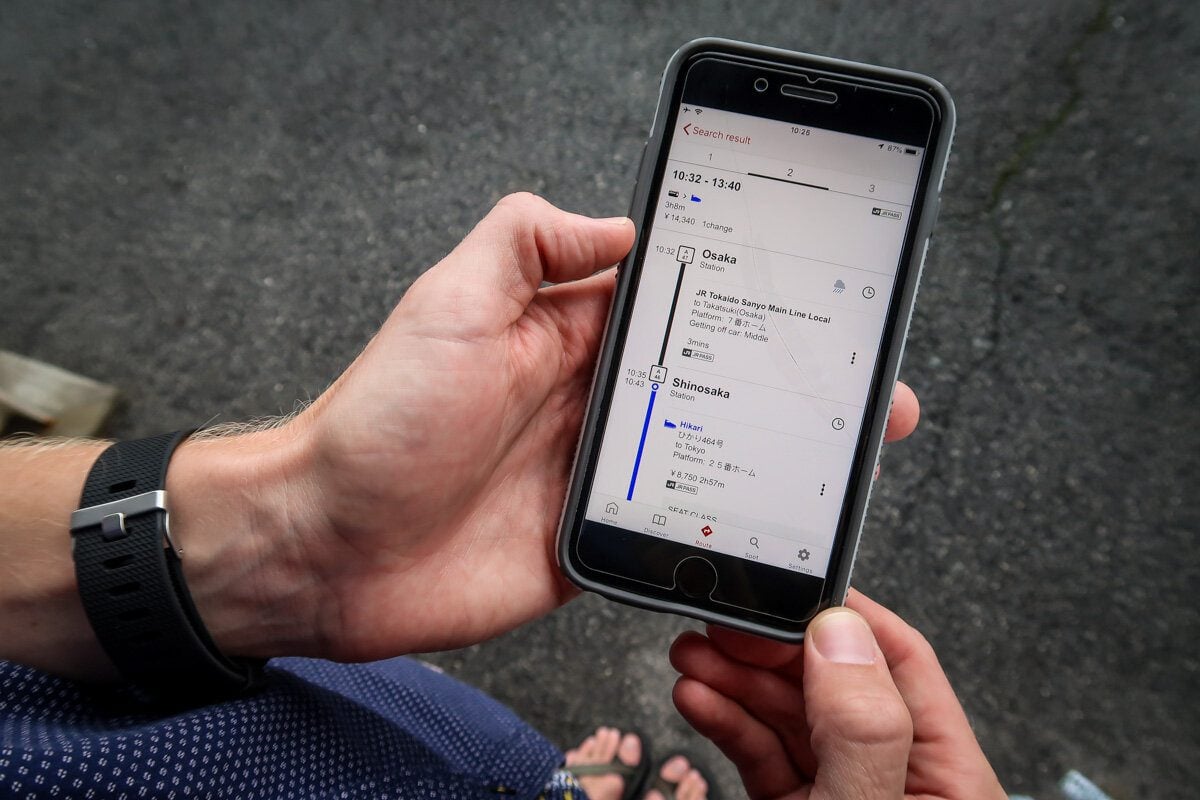 We have a whole article detailing all the best Japan travel apps you should download before your trip, but the 2 best ones that you NEED to download are:
Japan Official Travel App
Google Translate
You will thank us because they will come in so handy during your trip!
54. It's difficult to be gluten-free in Japan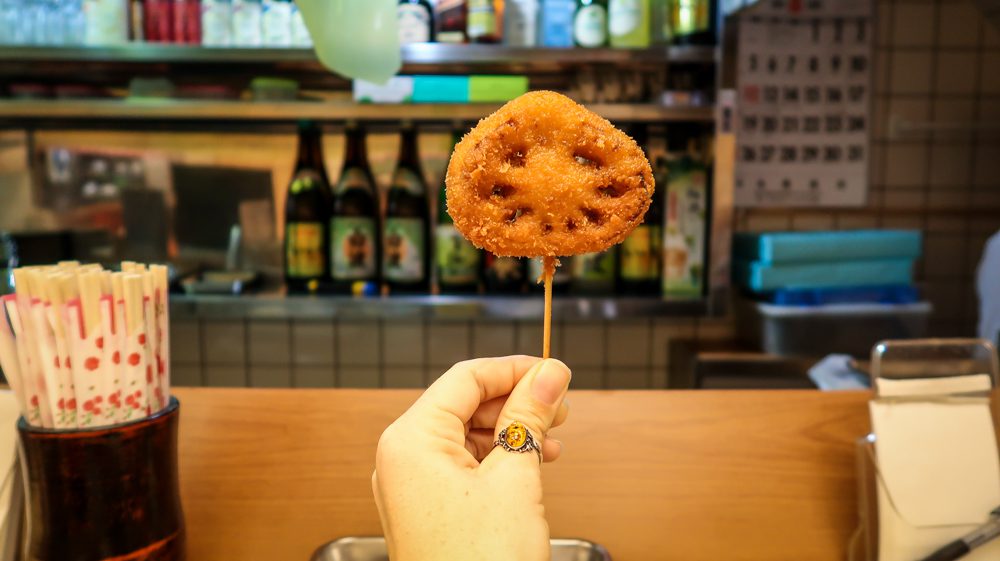 While the abundance of rice may make you think Japan would be an easy country for gluten-free travelers, that's simply not the case. Soy sauce and other wheat-based seasonings are an integral part of Japanese cuisine, making it hard to avoid gluten.
Read this for more info on gluten-free travel to Japan.
55. Everything in Japan is super punctual
In Japan, it is seen as rude to be late, and thus, everything in Japan is run very strictly according to the clock.
This means trains leave exactly as scheduled and guests are often asked to show up to guided tours 15 minutes in advance. If you have a tendency to be late (I'm right there with ya!), be sure to pay extra careful attention to the time during your trip to Japan.
56. Coin lockers make things easy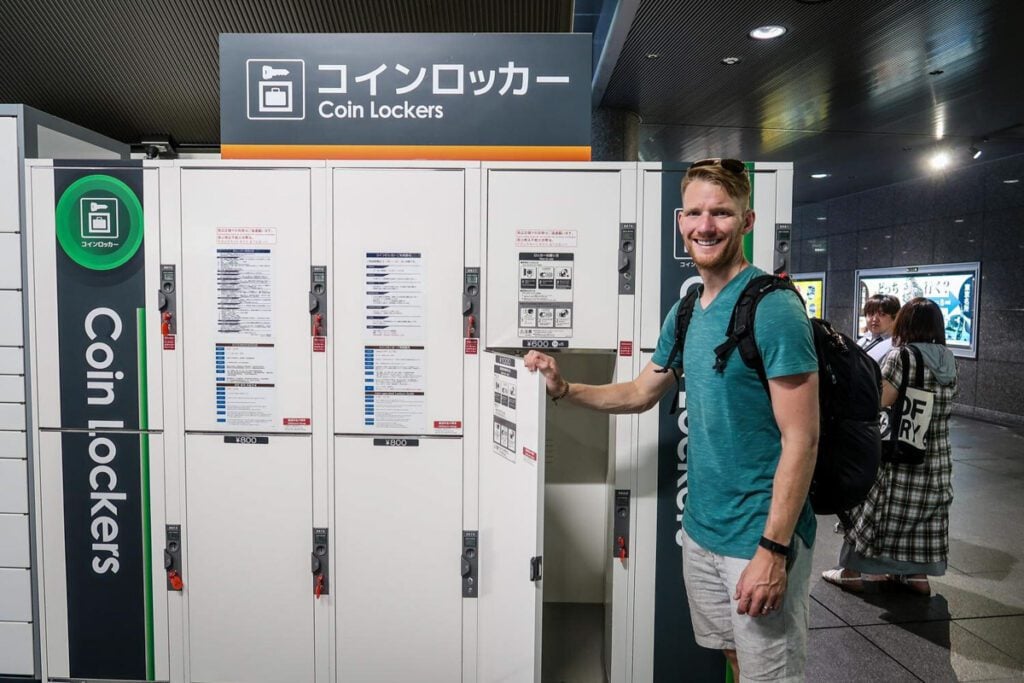 Nearly every train station has lockers which you can use to store belongings for a reasonable price. There are usually different sizes available, so you can store anything from a purse or small daypack to a large suitcase.
This is handy when you need to check out of your hotel but want to spend the day exploring.
Insider Tip: If you have a suitcase that you don't want to bring with you on the train, there are luggage transport companies that can get it to your final destination for you!
57. Theme cafes are part of the experience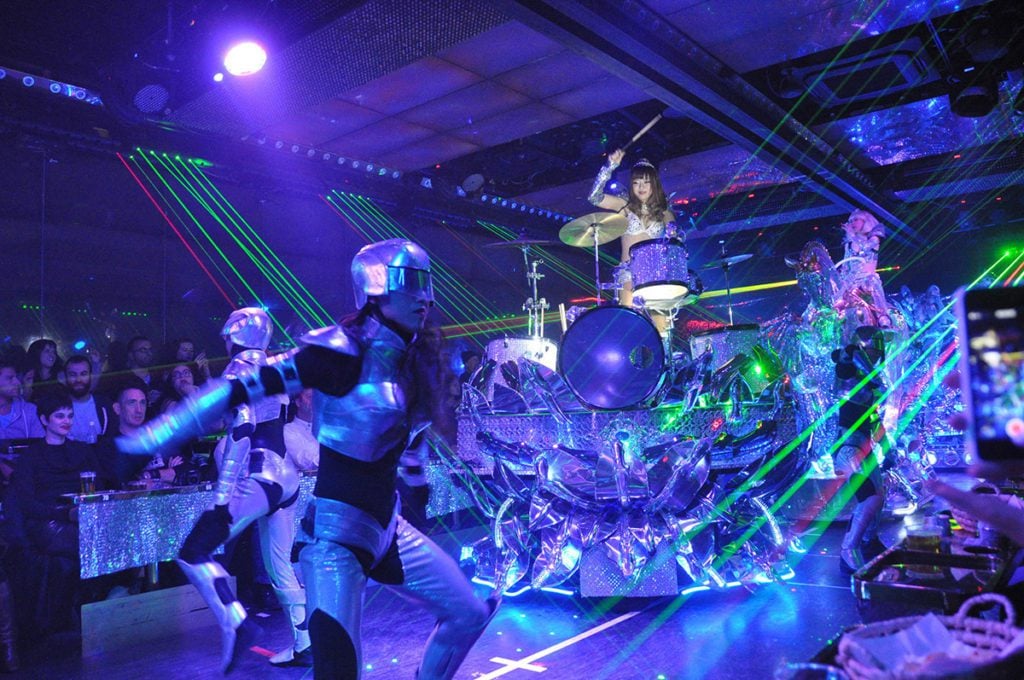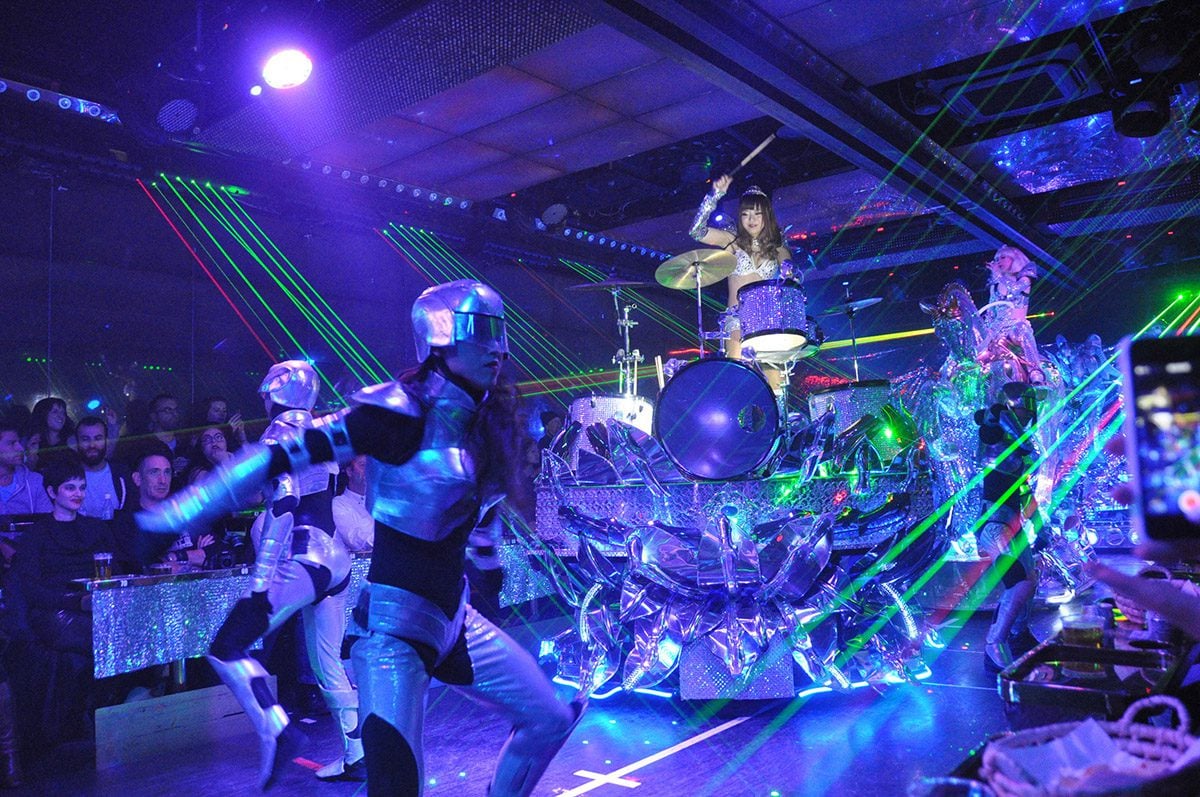 Japan is known for all things quirky, and this applies to restaurants and cafes.
The famous Robot Restaurant, with its laser beams, giant robots and scantily clad performers, is an example of something you can only find in Japan. But the theme restaurants don't stop there. There are plenty of other over-the-top themed restaurants and cafes in Tokyo and Osaka you can visit to get the full experience.
However, it's important to beware and do a little research before patronizing them.
Some of these theme cafes have a dark side. For example, many of the animal cafes (hedgehog, owls, sheep, etc.) do not have a safe and healthy environment for the animals. Also, there are anecdotes of young waitresses being exploited in the infamous "maid cafes".
And no matter which cafe you go to, just remember, you're not there for the food, which is usually sub-par. And it's also worth noting, you're paying for the experience as well!
58. Staying connected is easy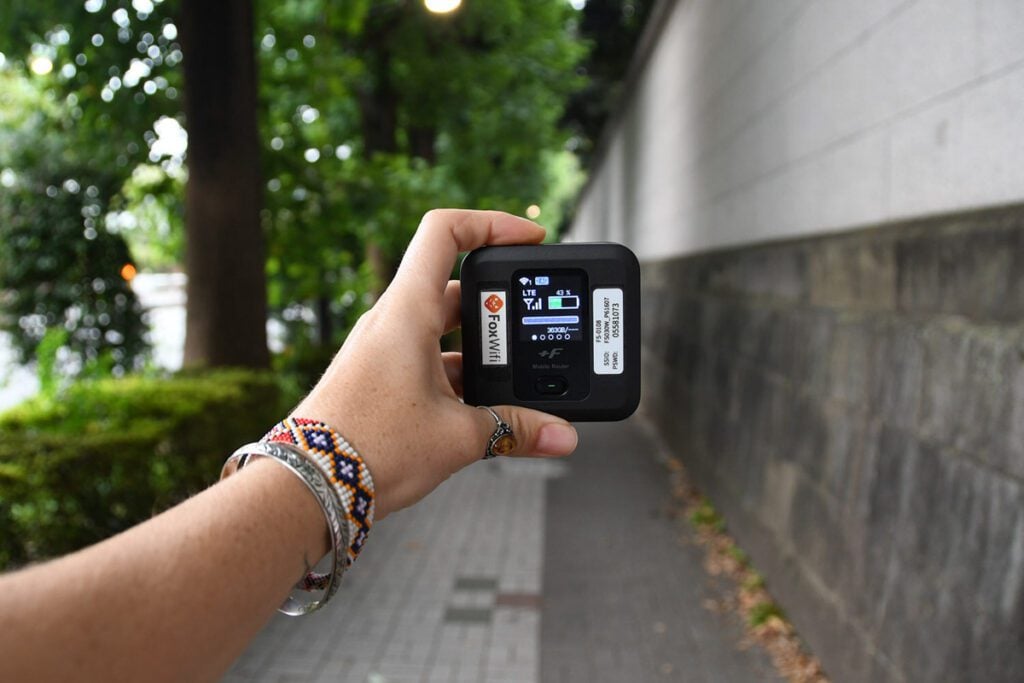 Staying connected to the Internet is very useful when traveling in Japan. And not just because you can post your pretty pictures to Instagram to make all your friends jealous…
Having an Internet connection will make your travels SO much easier when it comes to translating Japanese writing and getting directions for the notoriously confusing train and metro systems.
Trust me, having translating and navigating abilities in Japan is an absolute LIFESAVER.
The two best ways to stay connected is with a SIM card or via a hotspot. The best option is going to totally depend on your needs and budget, and we've compared them here so you can choose the best one for you.
59. Convenience store culture is a thing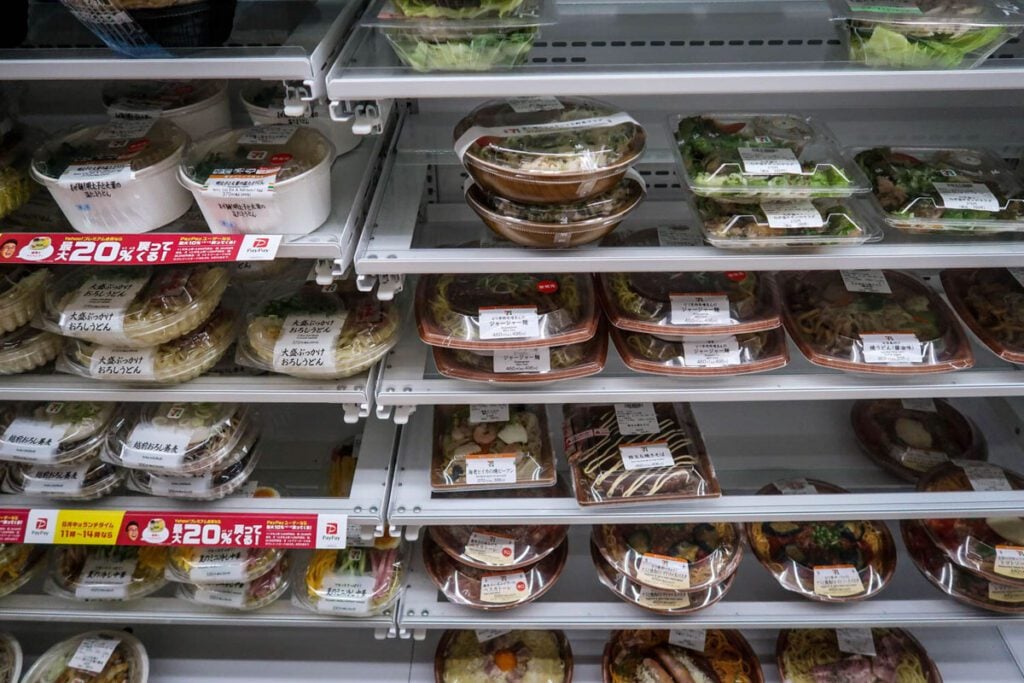 Convenience stores are a big deal in Japan.
And the food options in Japanese convenience stores are much larger — and less sketchy — than in most other places around the world. I mean, I would NEVER get sushi from a convenience store in the U.S., but I definitely did just that in Japan. And it was good!
You can literally eat breakfast, lunch, and dinner (and all your snacks too!) from convenience stores. The most popular chains are 7-Eleven, Lawsons, and Family Mart, and you can find them on just about every city block. No joke.
I will say that at the end of the day, the food you'll find — while good — is still processed, packaged food. Some people claim they would live off of convenience store food in Japan. I am not one of those people!
I did enjoy it in moderation, and loved being able to try some super quirky treats, like Sugar Butter Sand Tree Cookies, which are weirdly delicious and familiar-tasting!
60. Fresh fruits & veggies are few and far between
It might be good for some travelers to know that you should be prepared to go without a ton of fresh veggies and fruits for a while. We usually eat lots and lots of fresh vegetables and fruits, so we felt a bit "heavy/bloated" during our time in Japan.
You'll find some vegetables cooked or fried in your meals or a shredded cabbage "salad" on the side, but not too much more than that. And fresh fruit is pretty expensive, so it's more of a treat than a typical snack.
We had been living in Bali for 3 months before our trip to Japan, where our daily diet consisted of giant fresh salads and smoothie bowls. Let's just say that Japan is a lot heavier on the rice, noodles, meats and seafood than on fresh veg!
If you don't eat that much fresh produce regularly, you might not notice too much of a difference.
Tip: Also, while convenience stores are great, and just that — super convenient! — I found it hard to find healthy snacking options. Next time I travel to Japan, I'll pack some dried fruit (not covered in sugar), nuts, protein bars, etc.
---
Helpful tips for traveling in Japan
These are tips and useful info that will actually help you a lot during your Japan trip.
1. Know about the Suica and ICOCA Cards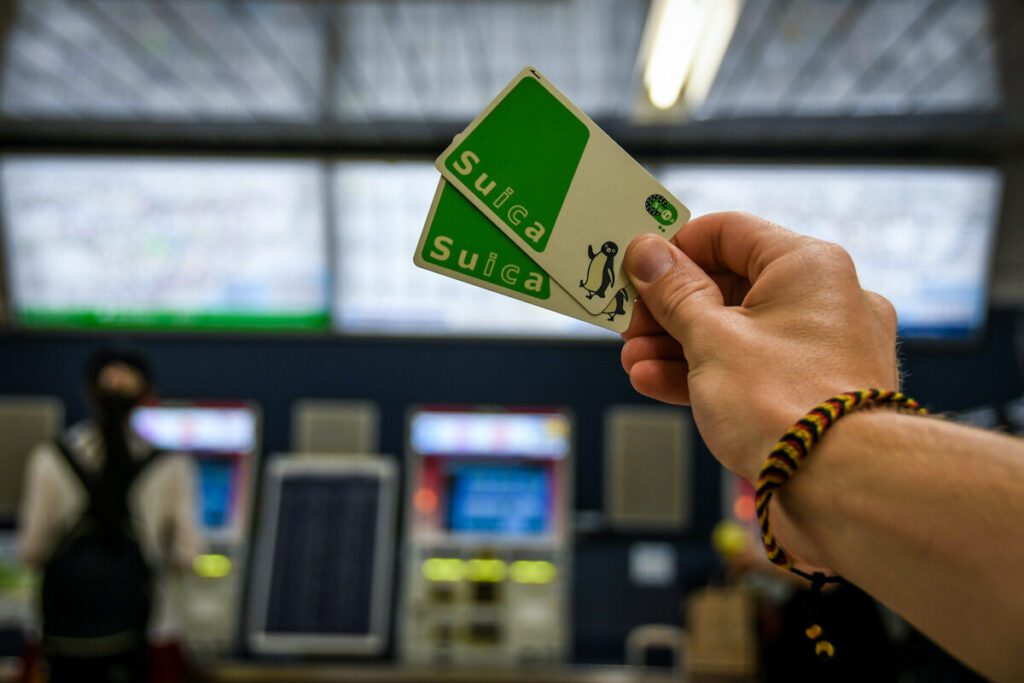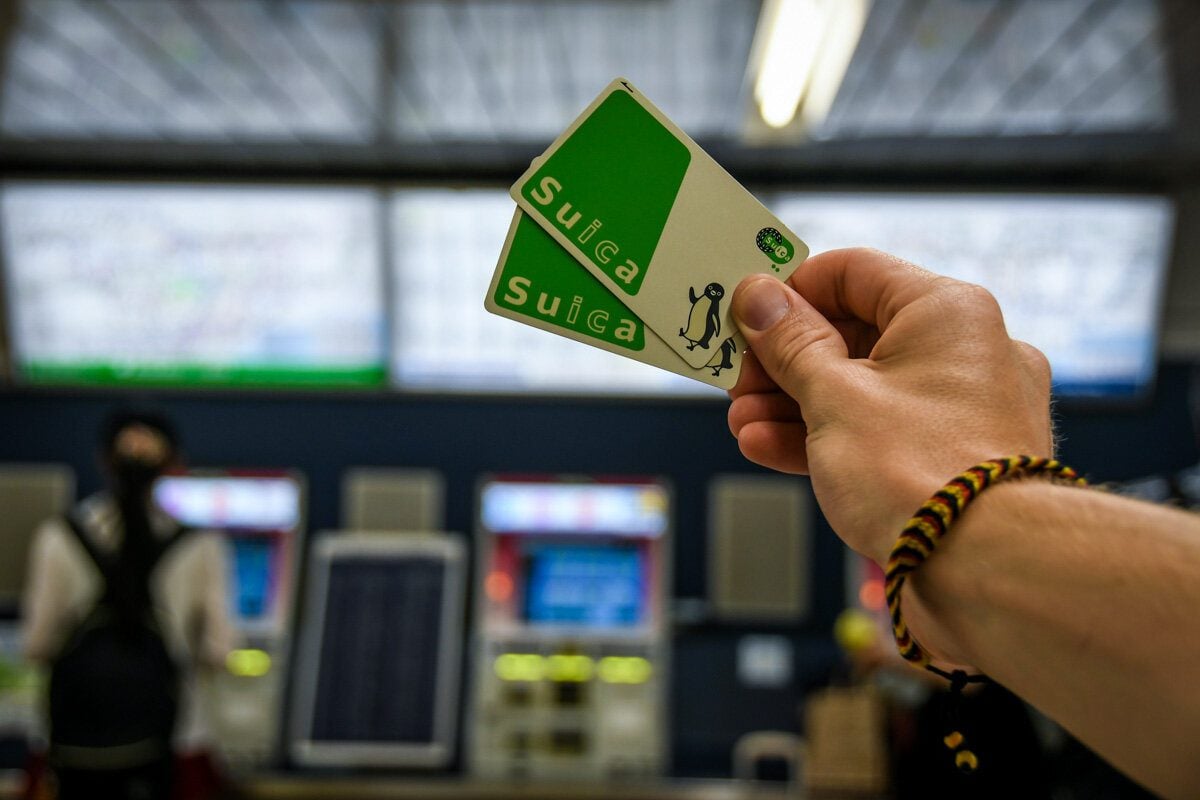 These are essentially the metro cards in Japan (Suica is for Tokyo and the surrounding area, and ICOCA is for Kansai region).
They will save you money on each trip, and are more convenient than having to purchase a ticket each time. I recently found out that you can get an app on your phone, which would be nicer than having a physical card!
But if you want a physical card, you can purchase the card from a ticket kiosk in most stations starting at 1,000 yen. There is a 500 yen deposit, but you can get this refunded once you are done traveling in that region at any major JR Station.
You can use your card for purchases in convenience stores, which is handy when you don't have cash.
You cannot get the ICOCA card refunded outside of the Kansai Region, and likewise you can't get the Suica card refunded outside of the greater Tokyo Metro. However, both cards will work throughout Japan.
2. Pack light for Japan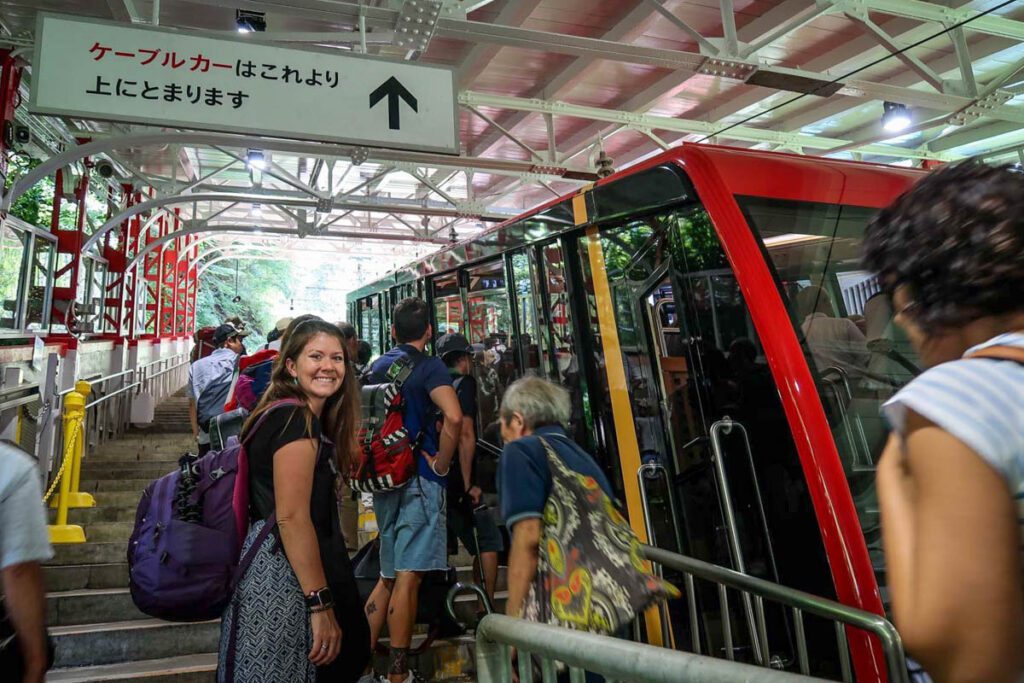 We actually broke this rule, as we had been living in Asia for a year and were in the midst of bringing all our stuff back to the U.S.
But trust me when I say that carrying big backpacks or suitcases through crowded metros, trains and intersections is NOT fun.
We found a luggage transfer service that was able to send the luggage we didn't need from Osaka to our hotel in Tokyo and store it for us. It was super simple and cheap! I'm sure there are more services out there, but it was a little hard to find when we were searching.
3. Bring comfortable walking shoes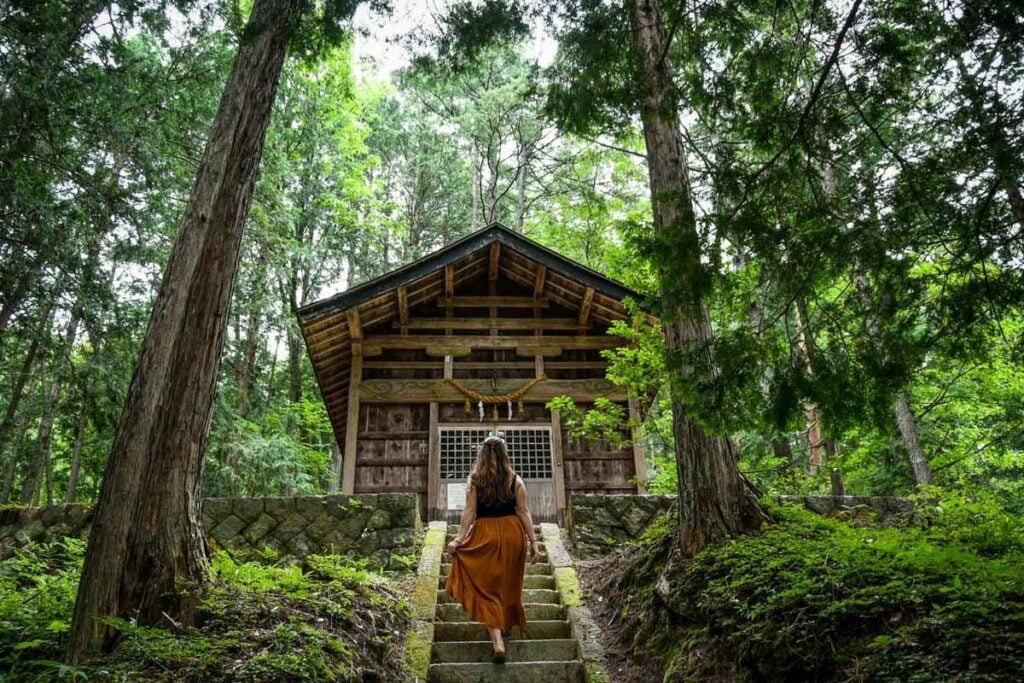 When people say you'll be walking a lot in Japan, they ain't lying! We walked an average of 10 miles (16 km) each day, so comfortable shoes are a MUST.
4. Cover charges at Izakayas
Even though you're not expected to pay gratuity in izakayas, it's good to know that many establishments charge what's called a otōshidai, or a "cover charge".
Sometimes you'll be given a small (aka TINY!) dish, otōshi, for which the charge is attributed on your bill. However, it's really just an extra fee for the seat you are occupying.
Usually it'll be between 200 – 500 yen. It's good to expect this so you're not confused when your final bill comes.
5. Splitting is usually a no-no…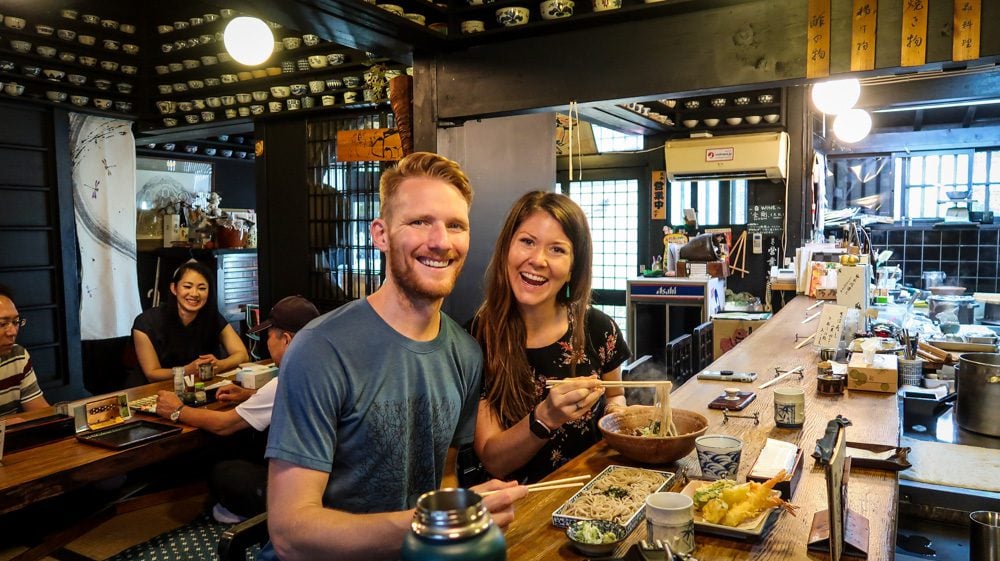 Sometimes when we're traveling on a budget, we like to split one large meal. Often times, we don't feel the need to order two full entrees, plus, it cuts our food costs in half.
However, this is usually considered rude in Japan since seating is often limited and you are taking up a spot in the restaurant.
So for instance, it would be frowned upon for two people to go into a ramen shop at a busy hour, and only order one bowl of soup. If one party doesn't feel like eating, it would be best to wait outside (I know, I know!).
An exception to this would be if you go at an off-hour, say 3 in the afternoon, when a restaurant is less busy. You can ask if it's okay to split one meal.
We did this once at a restaurant where they served large seafood dishes. The restaurant was pretty much empty in the middle of the afternoon and we just wanted a light meal, not 2 huge entrees. They said it was fine, but I wouldn't have done this at a busy time of day.
Note: When we say this, we don't mean you can't try each other's meals — we did this ALL the time — and find it the best way to taste as many dishes as possible.
6. Be prepared for a lot of cigarette smoke
Smoking is allowed inside many restaurants and bars, and I guess I forgot what it's like to be in a small space with others smoking. Just another thing to be aware of!
7. You can't see/do everything…
This can be a hard one to come to terms with, especially when you see all sorts of posts and advice. It can honestly get overwhelming (been there!). Just know that you'll need to narrow down and prioritize the things you really want to do.
If you don't get to everything — you likely won't, there are ENDLESS cool things to do in Japan — you can always come back for a second, third, seventh visit down the road.
8. Planning is your friend in Japan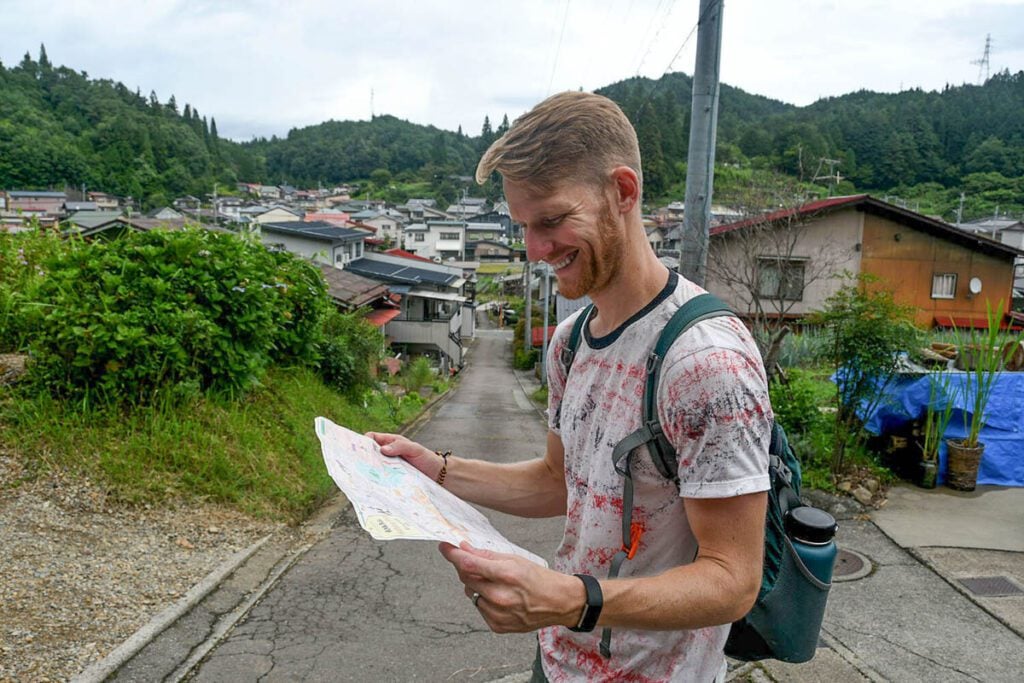 We usually love to travel with a lot of room for flexibility. However, unless you've got a lot of time to travel around Japan, planning your route and accommodation in advance is going to help you maximize your time.
Add in some "flexible" time where you can just wander or relax, but our advice would be to come with a pretty solid plan (even if you don't usually travel this way).
Be sure to check out our ultimate Japan travel guide to help prepare for your trip!
More resources for traveling in Japan
---
Are you planning a trip to Japan?
We have TONS of resources on travel in Japan and destinations throughout the country. Check out our Ultimate Japan Travel Guide for all the answers to your most burning questions, or read some of our favorite articles below.
Save this article to Pinterest for later!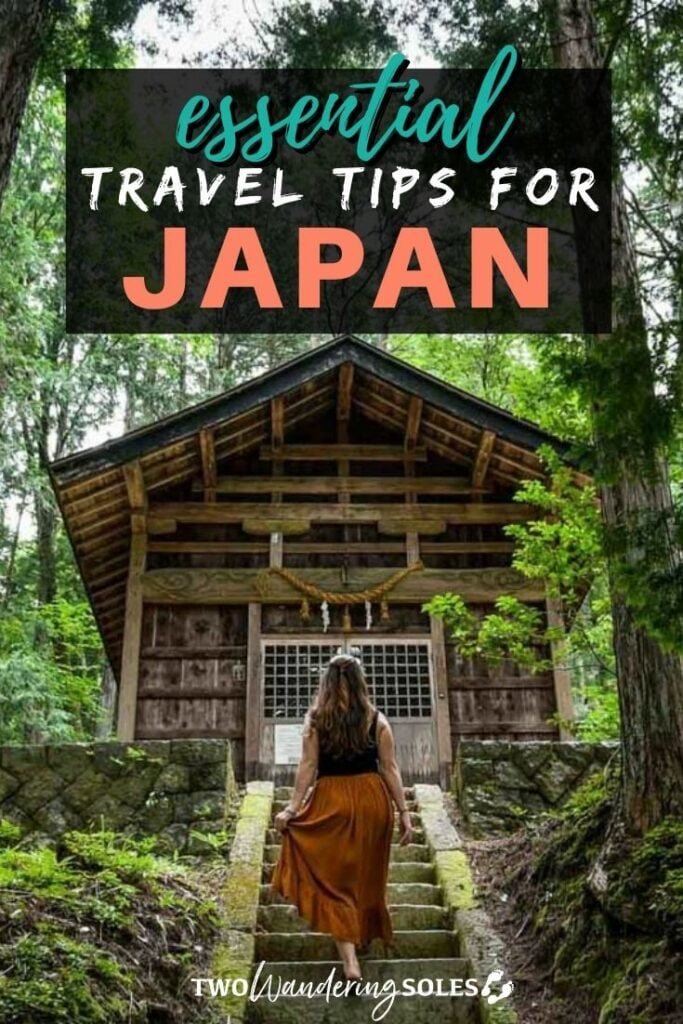 We want to hear from you!
Do you have any more interesting facts about Japan? Which fact or travel tip was most helpful or interesting? Let us know in the comments below!