It's no surprise why people love to travel to Hoi An Vietnam. It is a city with complex history, delicious food, fun nightlife, and hundreds of Hoi An tailors. This historic port city has so many activities to do. Oh, and you can't forget about the beach! Whether you have a week or just two days, there are plenty of things to do in Hoi An.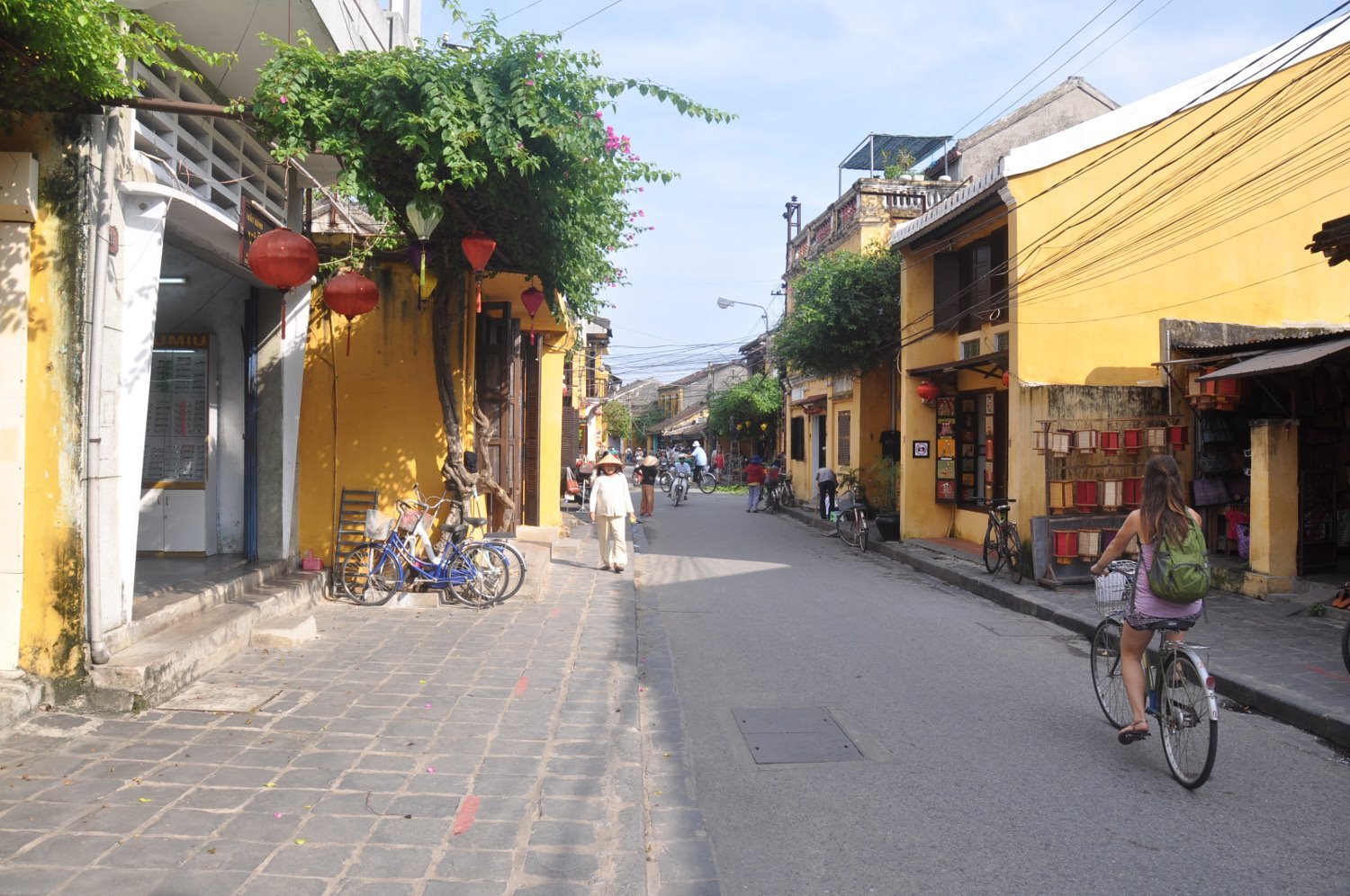 There is something for everyone in Hoi An Vietnam. You can walk through ancient ruins or you can dance the night away. You can learn how to make the perfect bowl of phở or you can body surf in the waves at a local beach. 
If getting a suit custom-made is not your thing, then head to the market for a one of a kind noddle dish. Whatever you're feeling, Hoi An has got it. You'll never be bored with all the fun things to do in this charming Vietnamese town.
Before you travel to Vietnam
Obtaining a visa for Vietnam was a bit tricky, but lucky for you we have a guide detailing the all the steps you need to get a tourist visa for Vietnam. 
How to get to Hoi An
Whether you're coming from the north or the south of the country, chances are you will be arriving by train or bus, and the journey will likely be a long one. The overnight trains in Vietnam tend to be a bit more comfortable, but the buses are typically cheaper. Also, trains should be booked in advance, whereas buses allow a more flexible schedule.
1. Relax at An Bang beach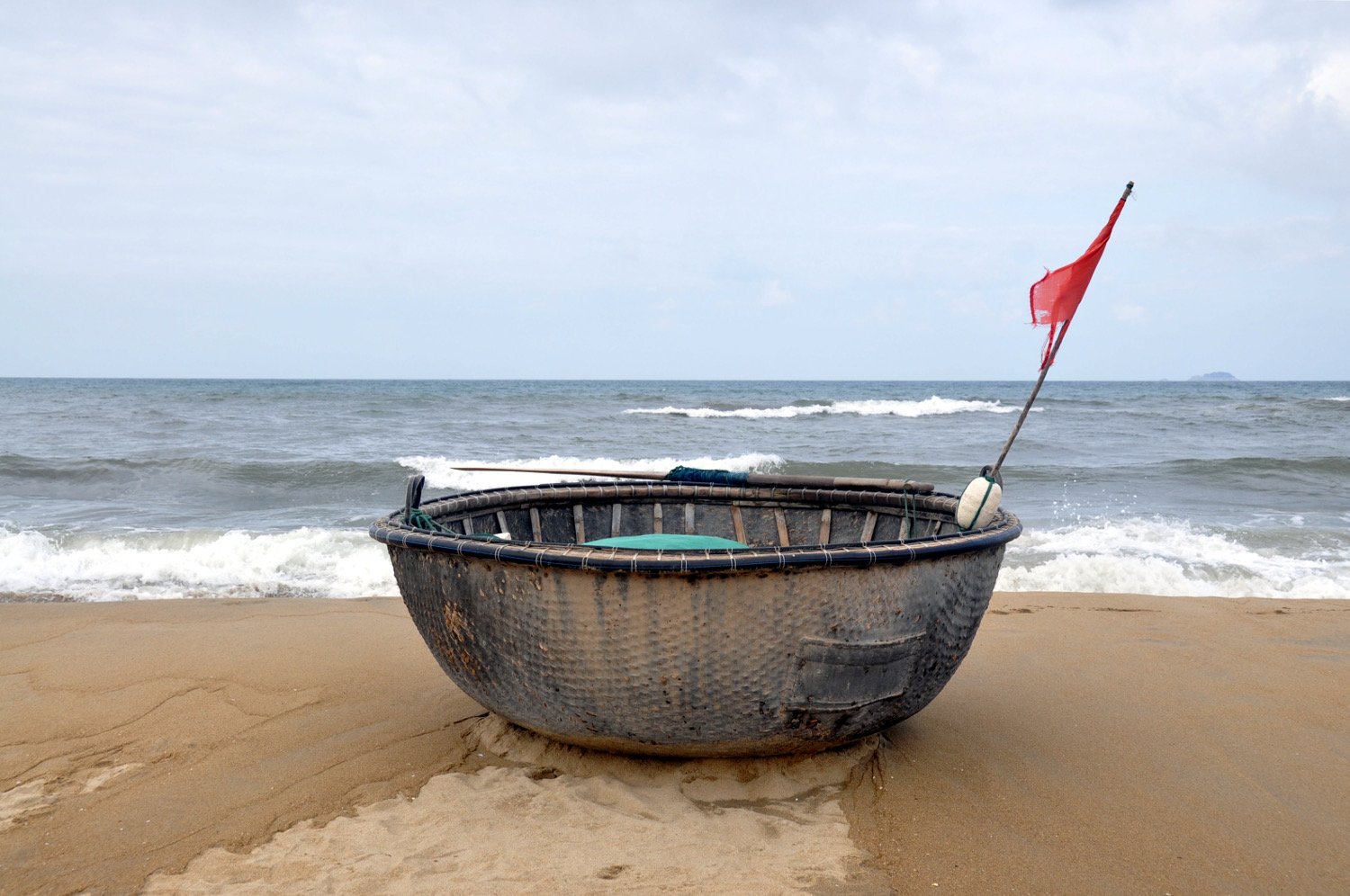 Rent a scooter and head north our of Hoi An on Hai Bà Trưng street for about 5 km until you reach An Bang beach. Park your bike at any one of the restaurants where you're required to buy a drink for the owner to "watch" your bike. You'll likely want a drink to cool down with anyway! 
You can lounge here all day either in the sand or in a lounge chair (for a fee). Grab a bite to eat at one of the nearby restaurants, jump in the water, and enjoy people watching on one of the best beaches in Vietnam. 
2. Get something tailor-made!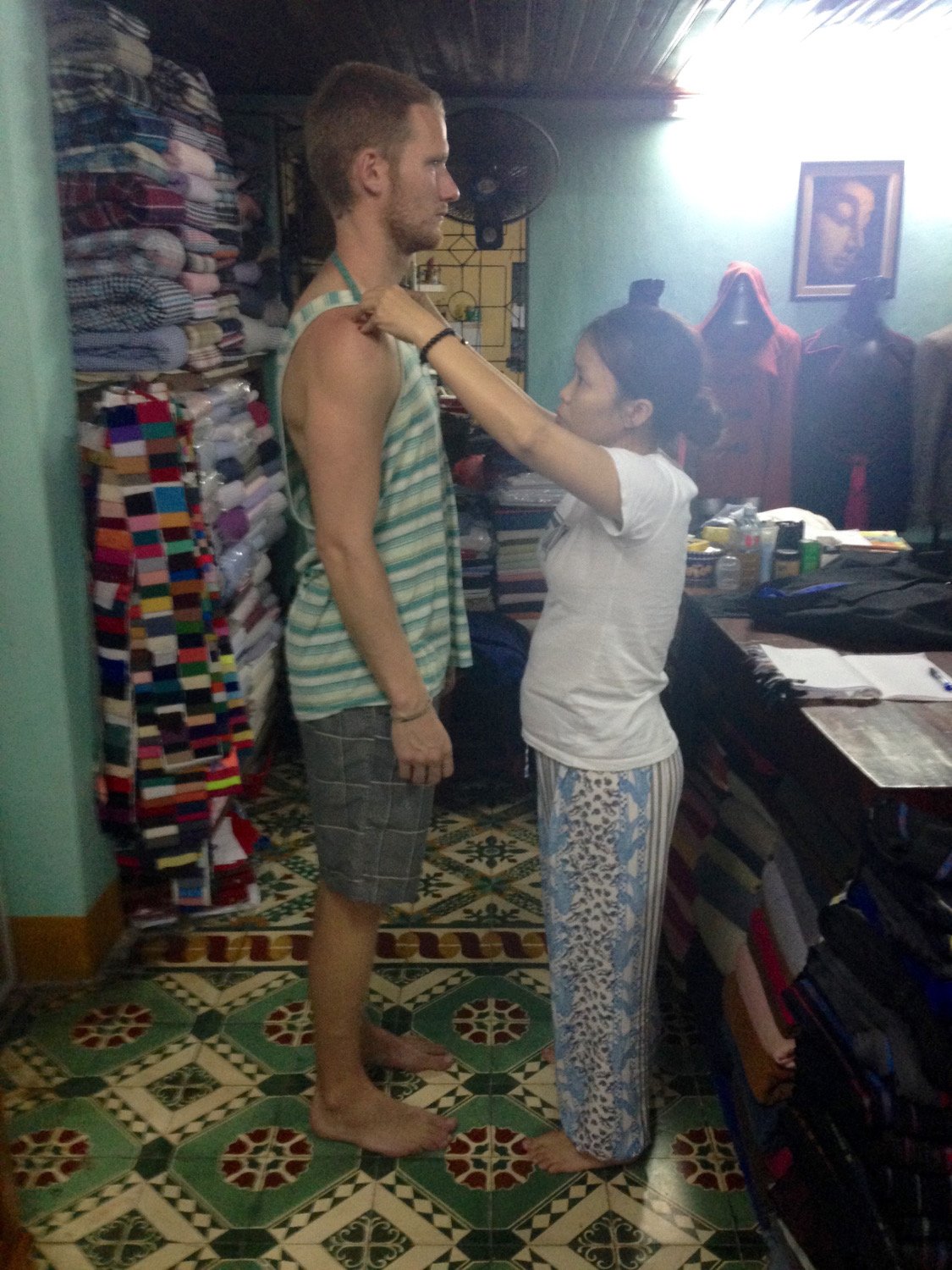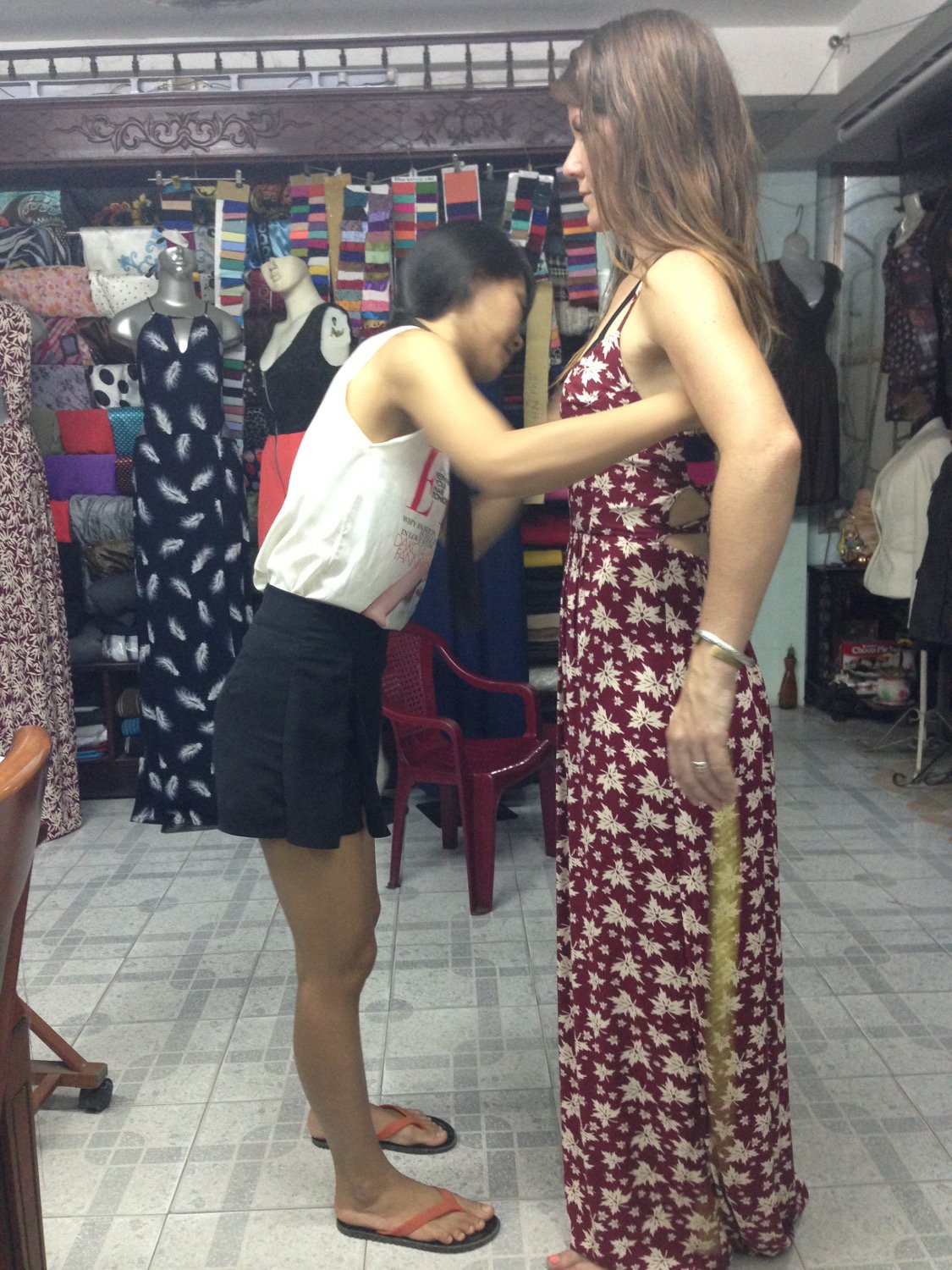 One reason people come to Hoi An is because it's one of the cheapest places in the world to get custom-made suits and dresses. We went with a popular (but cheaper) tailor to get a suit made for Ben. While he was happy with the final product we wouldn't recommend this shop because the service was not great. Make sure to do your research before you shop and only go to top rated places.
We stopped in Kimmy Tailors in Hoi An and from what we experienced (and heard from others) we would recommend them if you're looking for a place to have a suit made. I also decided (last minute) to have a dress made, because why not?! Since I just wanted something fun and inexpensive, I stopped in a shop where the girl seemed friendly and the fabrics were pretty. I was happy with the dressed I had made.
Once you have both a suit and a dress, might as well have a night out. Pretend like it's your honeymoon and order something fancy. If you're actually thinking of having a honeymoon in Vietnam, there are tons of places to go all for pretty cheap.
Tip: If you are getting something custom-made, be PICKY. They will tell you what is possible when it comes to alterations, but sometimes the tailor shops in Hoi An want to make your clothing as quickly as possible. Be sure you are happy, especially if you are having something important (like a suit) made.
3. Have lunch at the local market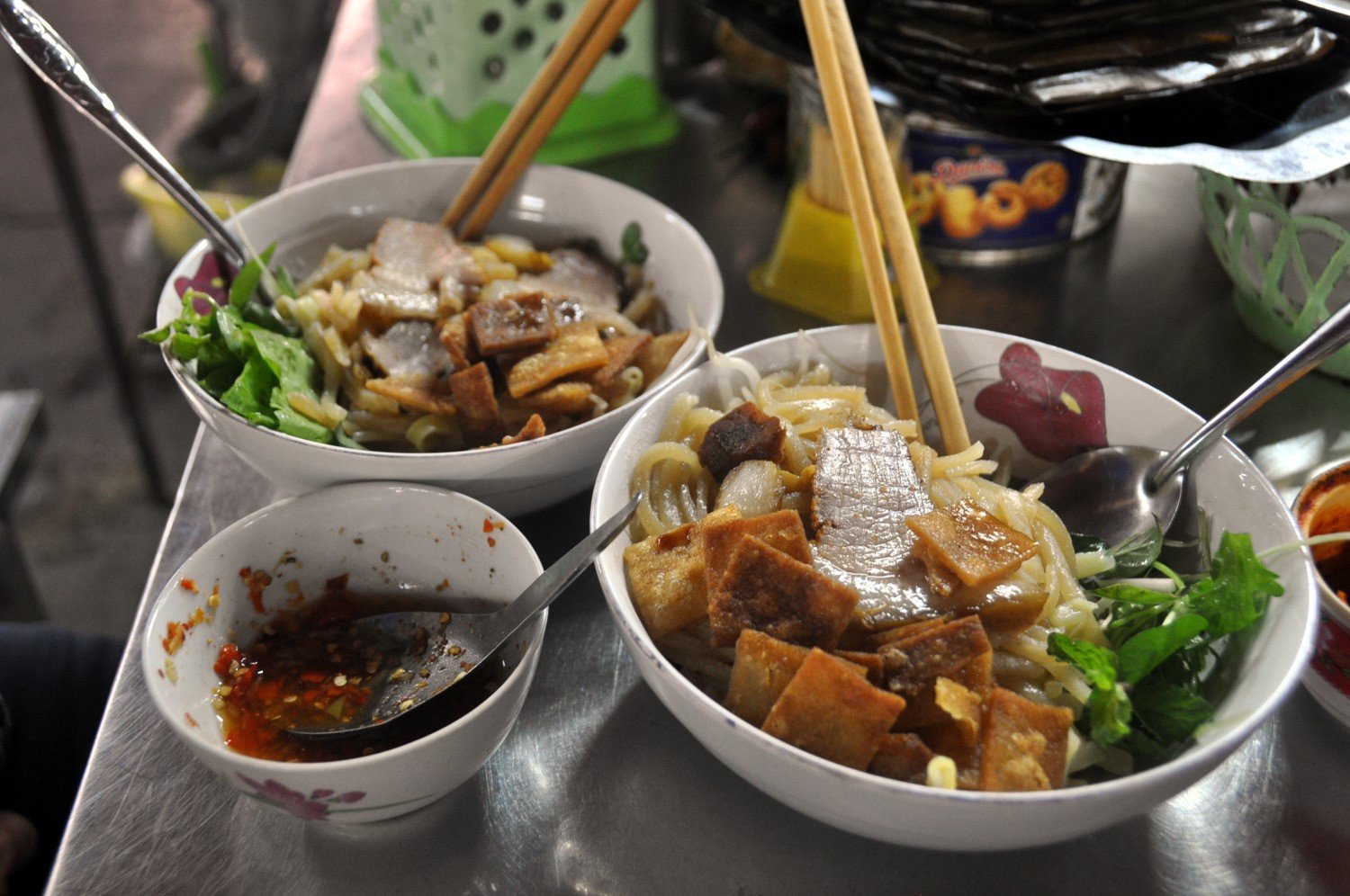 Hoi An is famous for cao lầu (noodle dish) because Hoi An is the only place in Vietnam you can order it. The fresh noodles are made using water from a special well in the city that gives them the unique taste.
The dish is delicious and the best place to try it is at the local market. Sit down at any of the stalls and order a bowl for yourself, just make sure you know the price before you order.
4. Motorbike Hải Vân Pass

Take a cruise another day to the famous Hải Vân pass, one of the most scenic coastal highways in the world. Make sure to pack a lunch, because the food at the top is not that great. And by "not that great", we mean you'll have a choice of different flavors of packaged Ramen. Don't forget to buy this before you take your motorbike out for a spin.
5. Explore the historic downtown at night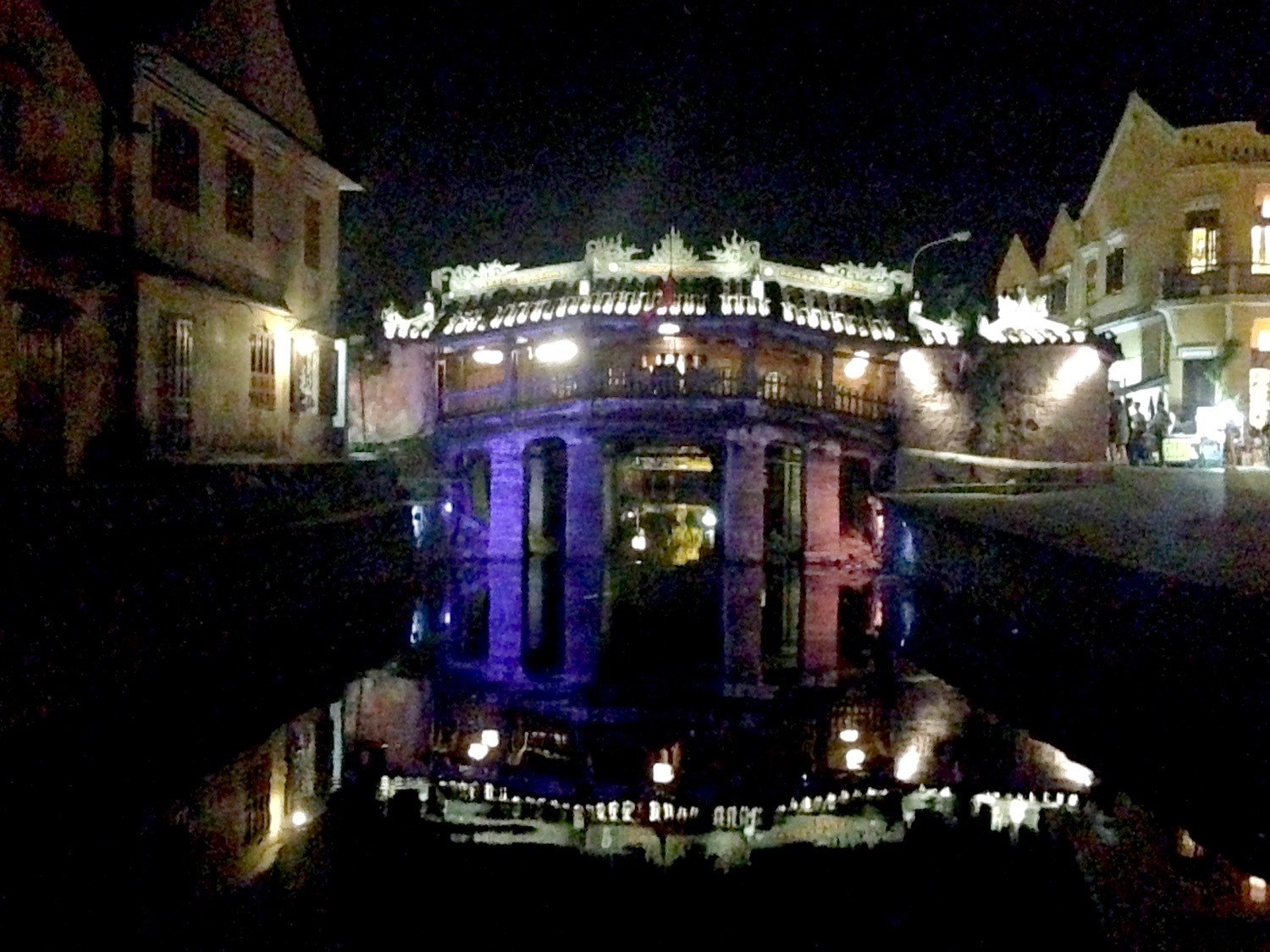 This town really comes alive at night. The streets fill up with food stalls, plastic chairs and hungry travelers. Sit by the Thu Bồn River and watch as people stroll by. Be stunned by the beauty of the four-century old Japanese covered bridge. Interact with other travelers and locals, and take in the sights, sounds and smells of this historic city of Hoi An.
6. Head across the river to the cheap bars and nightclubs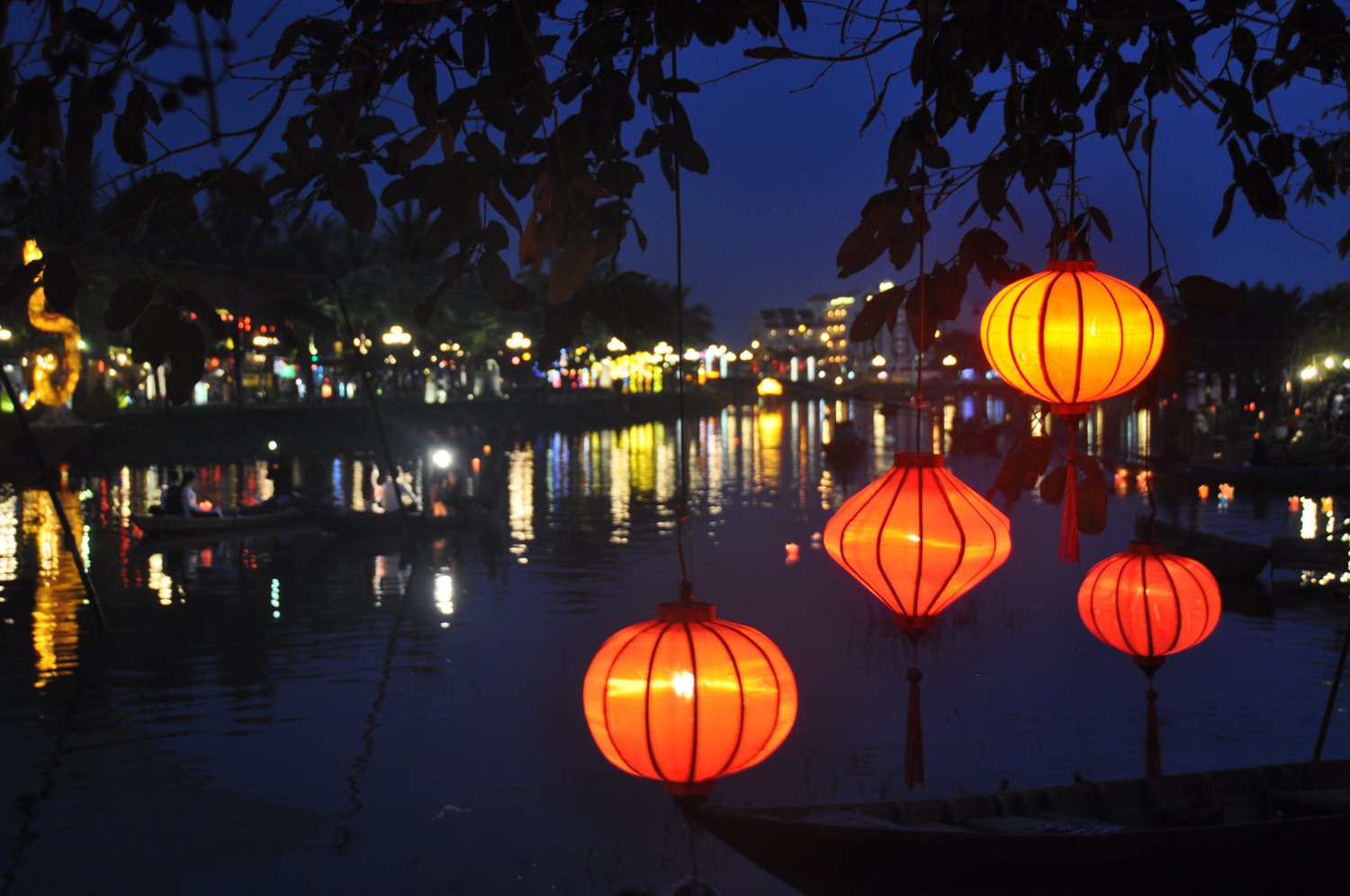 There are a plethora of small bars just over the bridge and you'll be surprised by their names. Pop in a grab a drink at Tiger Tiger Bar or Mr. Bean Bar or even perfectly named Backpackers Bar. All the bars in Hoi An seem to have the same happy hour deals so it just depends on what's your fancy.
7. My Son Ruins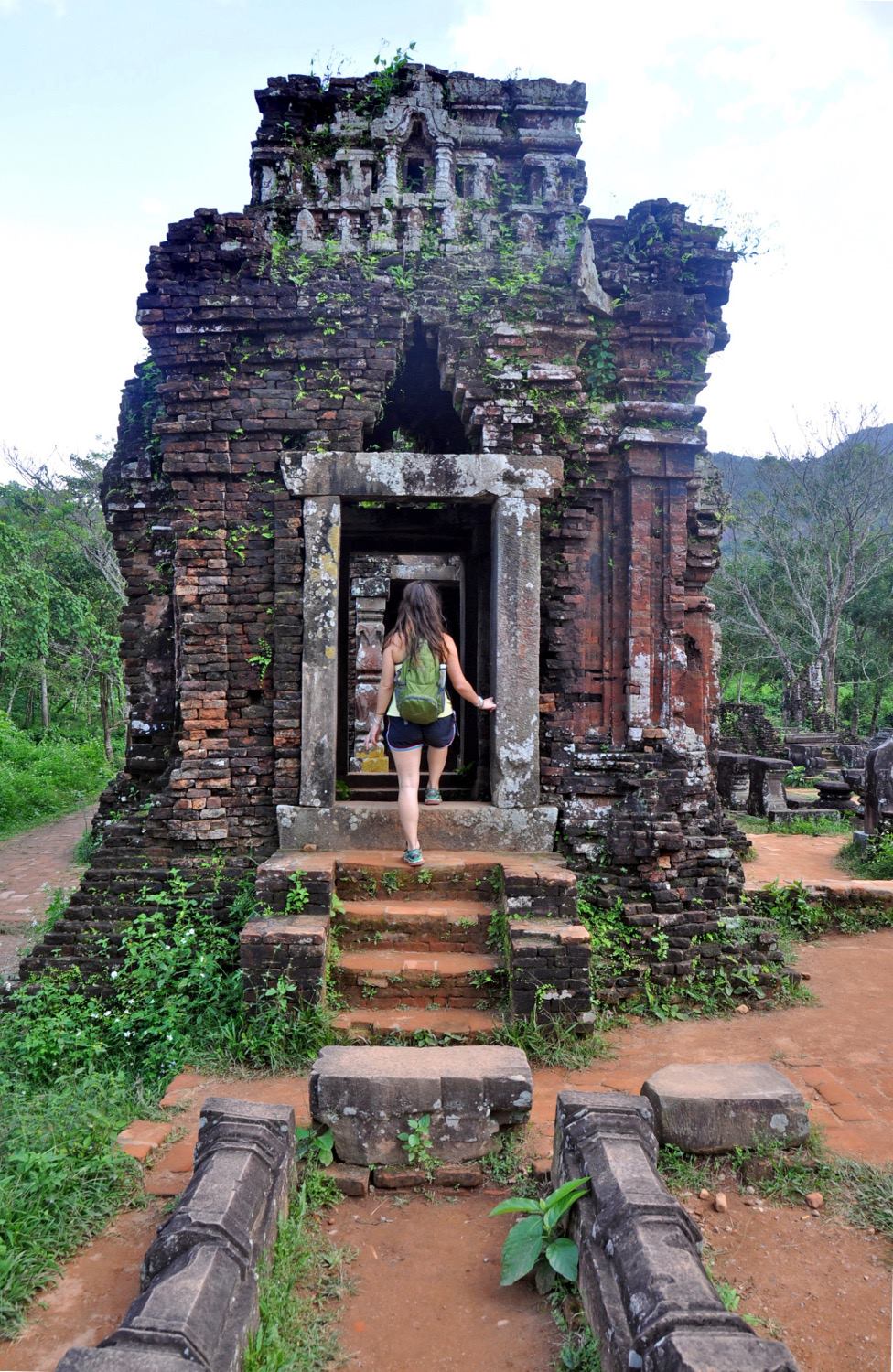 Rent a motorbike and get out of town. A trip to My Son ruins is a good way to spend part of a day outside of the town of Hoi An if you have the time (we wouldn't recommend going out of your way for it though).
If you've been to the Temples of Angkor in Cambodia you'll likely be disappointed, but since we hadn't been yet it was interesting to see and stop in a nearby village for lunch.
8. Take a Cooking Class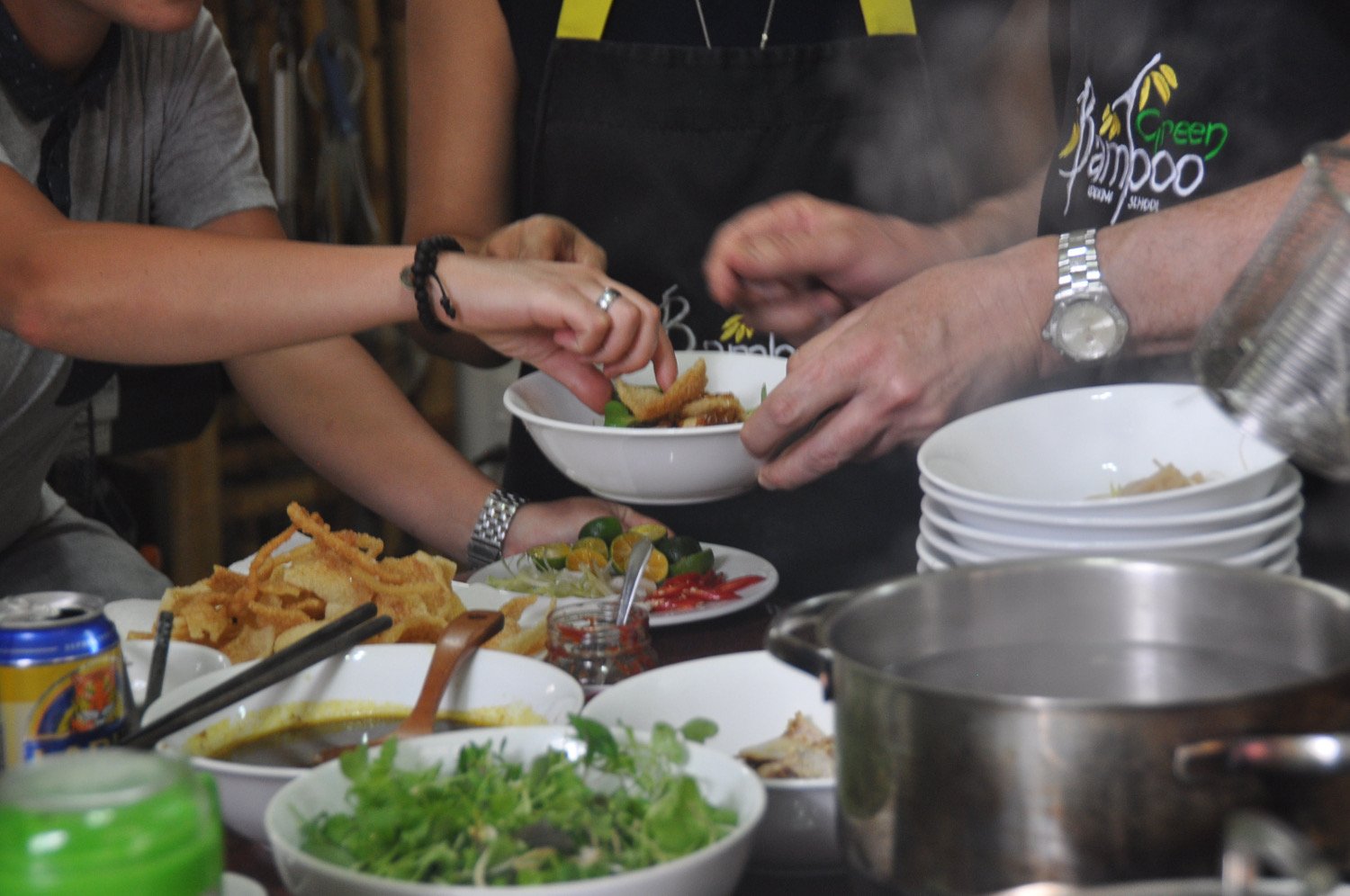 One of our favorite things to do while traveling is to take cooking classes. Perhaps one of the best cooking classes we've participated in (it's hard to choose just one!) was in Hoi An.
We highly recommend the cooking class at Green Bamboo Cooking School, which includes a market tour, TONS of food and some special gifts! There were 14 of us and we made 14 different courses for everyone to share family-style. If you are interested in this class, be sure to book early because she fills up fast.


Are you planning a trip to Vietnam?
We have TONS of resources on travel in Vietnam and destinations throughout the country. Check out our Ultimate Vietnam Travel Guide for all the answers to your most burning questions, or read some of our favorite articles below.
Save this to Pinterest for later!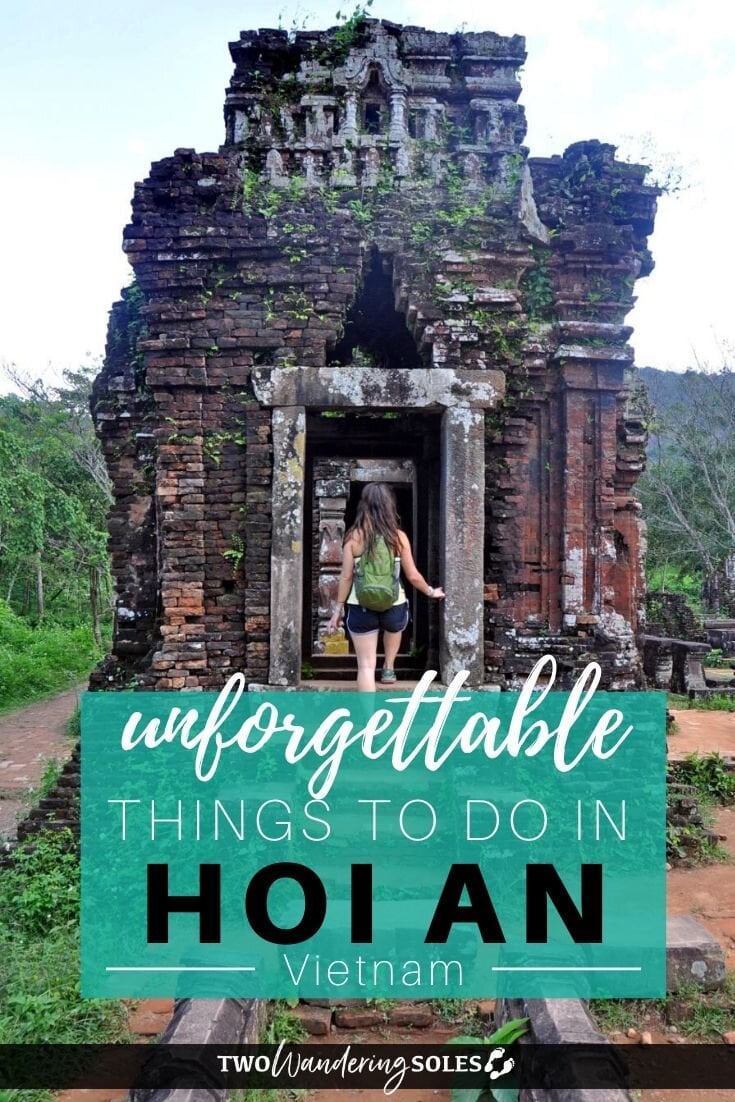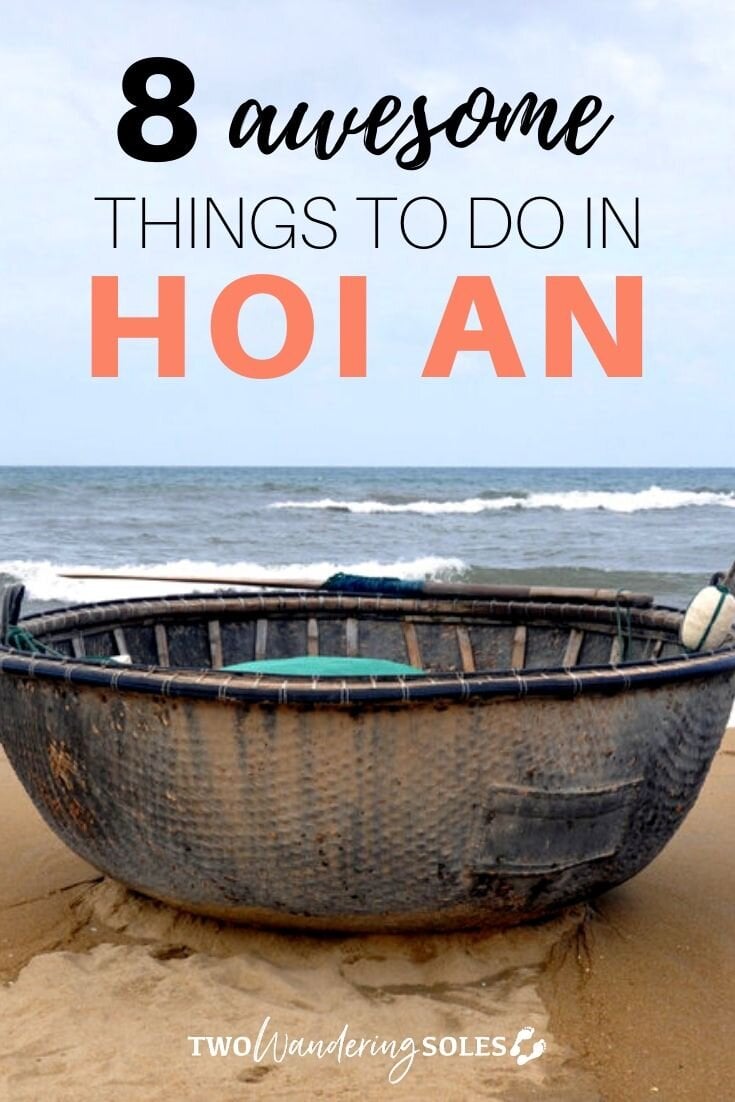 We want to hear from you!
Have you been to Hoi An? What would you add to this list? Let us know in the comments below.