We stopped in Hanoi many times during our travels in Vietnam and this guide has you covered with free and cheap things to do in Hanoi, plus where to stay and what to eat.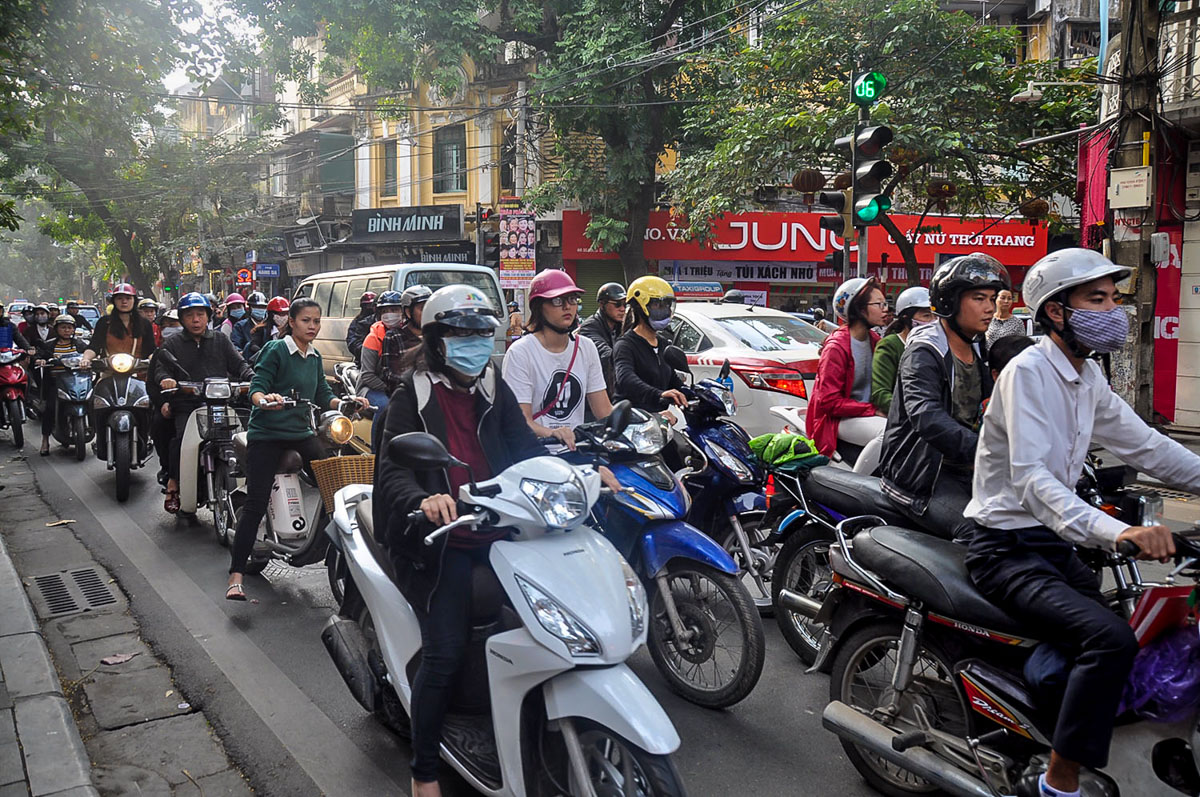 Updated: September 2019
Hanoi is chaotic, crowded, loud, noisy, and utterly mesmerizing. This capital city can get overwhelming at times, but take a deep breath because we've got you covered!
We have a long list of things to do in Hanoi, plus where to stay and what to eat. We think after following these tips, you'll see past Hanoi's chaotic exterior and learn to appreciate and even love this crazy Vietnamese metropolis.
Related Reading: Don't forget to take a look at our One-Month Complete Vietnam Itinerary.
Before you travel to Vietnam
Obtaining a visa for Vietnam was a bit tricky, but lucky for you we have a guide detailing all the steps you need to get a tourist visa for Vietnam. 
1. Take a free walking tour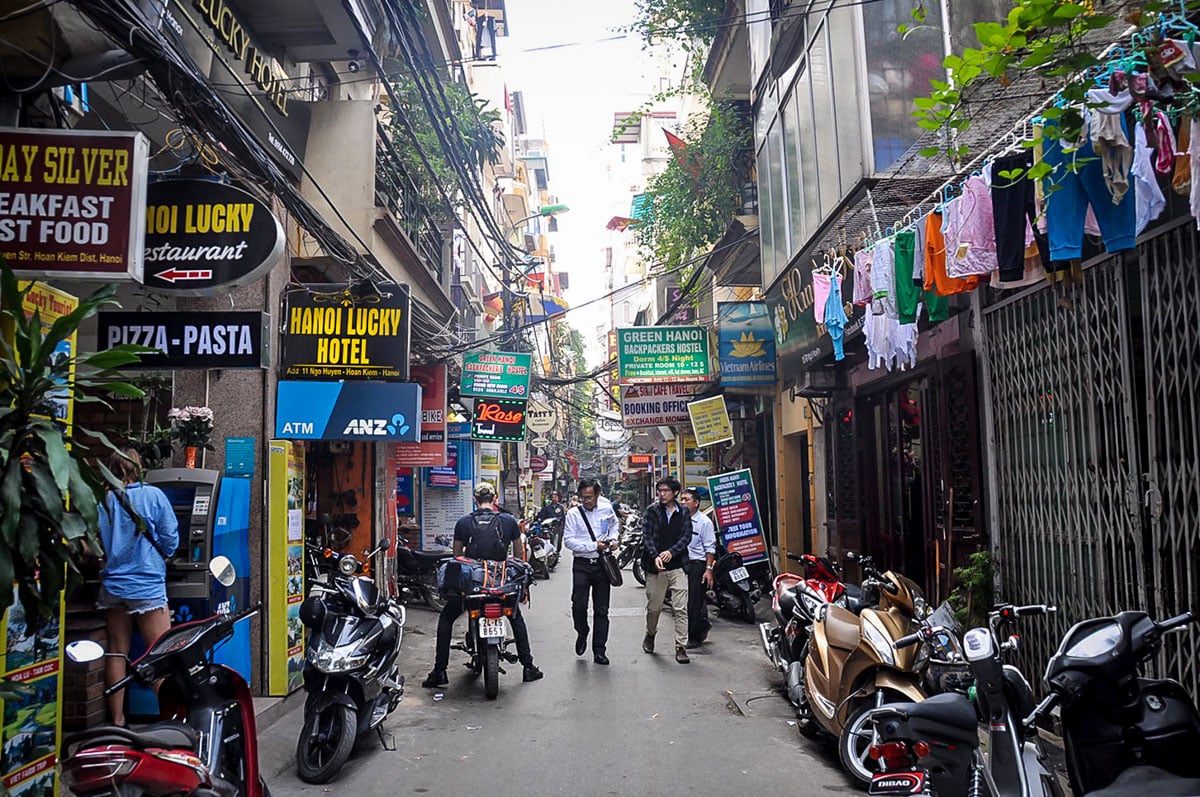 We aren't usually fans of organized tours, but free walking tours are one exception. We're kind of obsessed with free walking tours because they allow you to see parts of the city that you otherwise wouldn't, and you can pay as much as you're able on your budget. 
The hostel we stayed at offered a free walking tour that was pretty good, but one we really wanted to take was run by an organization called Hanoi Kids. They offer different types of tours and are led by local kids who want to improve their English.
We tried to book a tour with them but they book up weeks (and even months) in advance! So if you're interested in taking a tour with Hanoi Kids, be sure to plan ahead.
2. Walk around Turtle Lake (Hoàn Kiếm)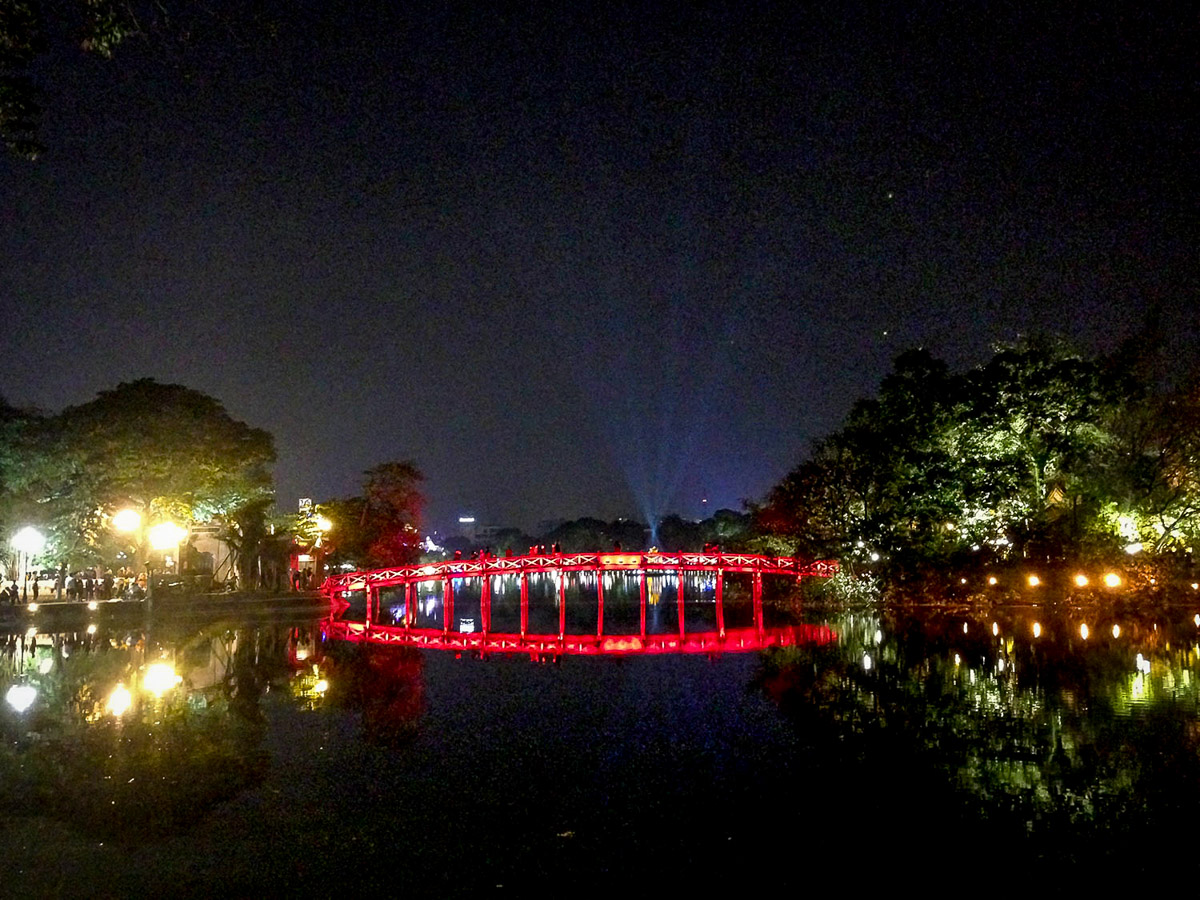 Head to the Hoàn Kiếm Lake (locally known as Turtle Lake) and take a stroll around it. Be sure to visit the Pagoda and the red bridge while you're there. This might be a bit touristy, but well worth the outing during the day or night!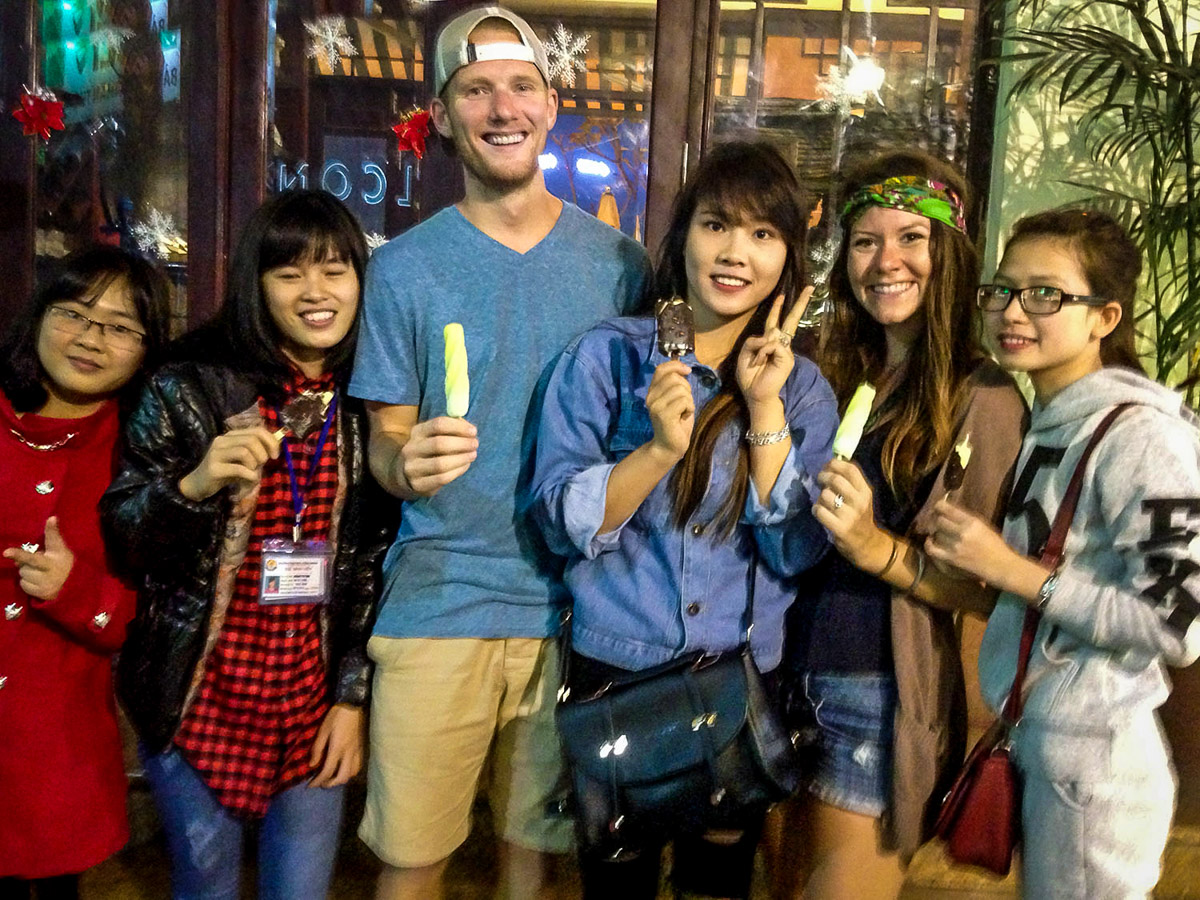 If you're there in the evening, do as the locals do and buy ice cream from one of the many street stands. The lake is particularly beautiful when the sun goes down and the colored lights come on.
Insider Tip: Head to the lake during the early morning on a weekend to see what a typical morning looks like for the locals. The road will be blocked off so locals can run or practice Tai Chi in this serene setting. 
3. See a Water Puppet Show at Thang Long Theatre
Book your tickets for the popular Thang Long Water Puppet Theatre in Hanoi at the northeast corner of the lake. It's a good show to see when your first visiting Vietnam, but if you are crunched for time don't go out of your way to see it.
Tickets are cheap (60,000 – 100,000 dong, which is between $3-5 USD) and there are many showtimes each day, but they book up quickly so get there in the morning to book for that afternoon or the next day. 
4. Explore Hanoi's Old Quarter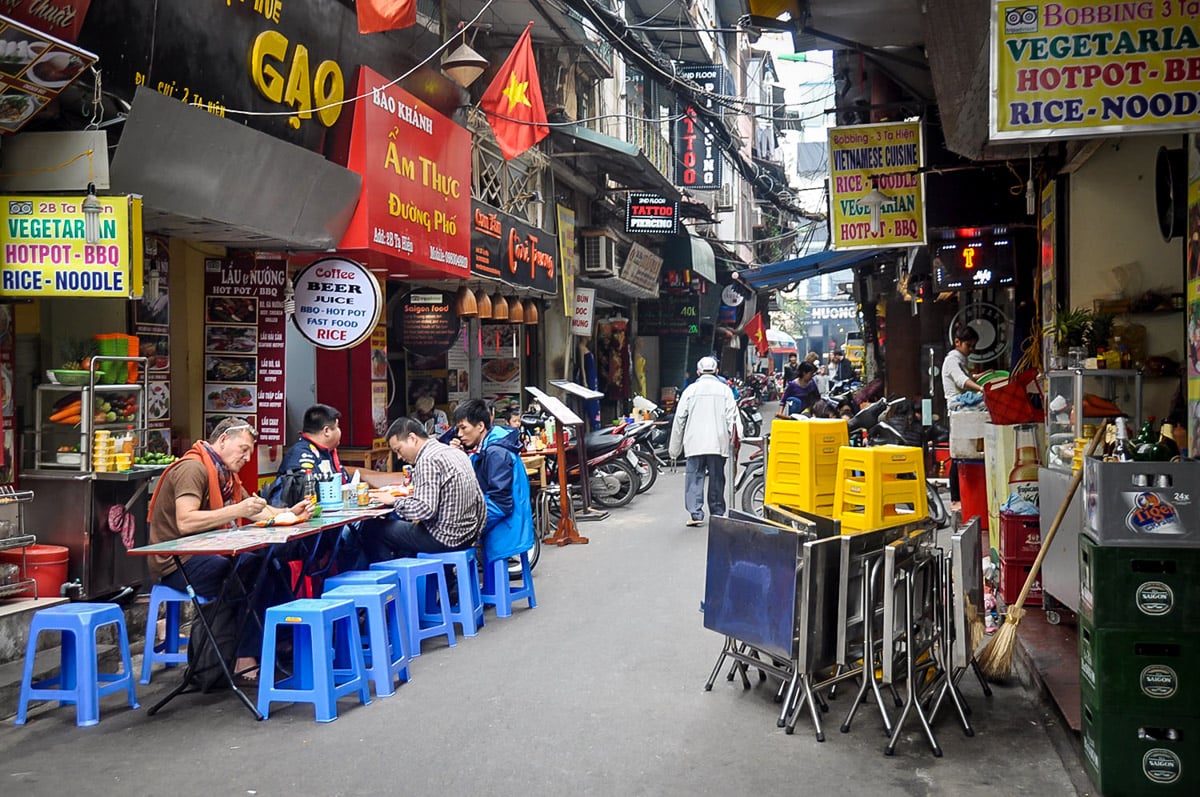 Get lost in the winding, messy, chaotic, narrow streets of Hanoi's Old Quarter. 
You'll notice that life seems to happen on the streets in Hanoi, especially in the Old Quarter. The sidewalks are crowded with locals cooking up delicious-smelling meals, perfecting their trade in metalwork, or even napping on the back of their parked scooters. 
There's no place like this city, and getting lost is the best way to explore it.
5. Experience the thrill of Train Street
Deep within the narrow streets of the Old Quarter is an interesting passageway foreigners have dubbed "Train Street". Located between Le Duan and Kham Tien Street in the Old Quarter, in a narrow alley between residential housing, a single set of train tracks winds its way through the neighborhood.
The unassuming train tracks almost get lost beneath the thralls of everyday life here. Children play on the tracks. Their mothers cook next to them and locals even start fires in the middle of the tracks. 
Twice a day, everything disperses. The tracks are cleared and children are moved inside for the bullet train to come blasting through the narrow passageway. If you are lucky enough to be there during that time, you are in for quite a thrill as you press yourself against the wall allowing just inches of space between you and the speeding train. (Don't believe us? Just check out YouTube for a video of the event!) 
After the train has passed, life returns to normal as if nothing worth mentioning has happened at all. 
6. Check out the Downtown Night Market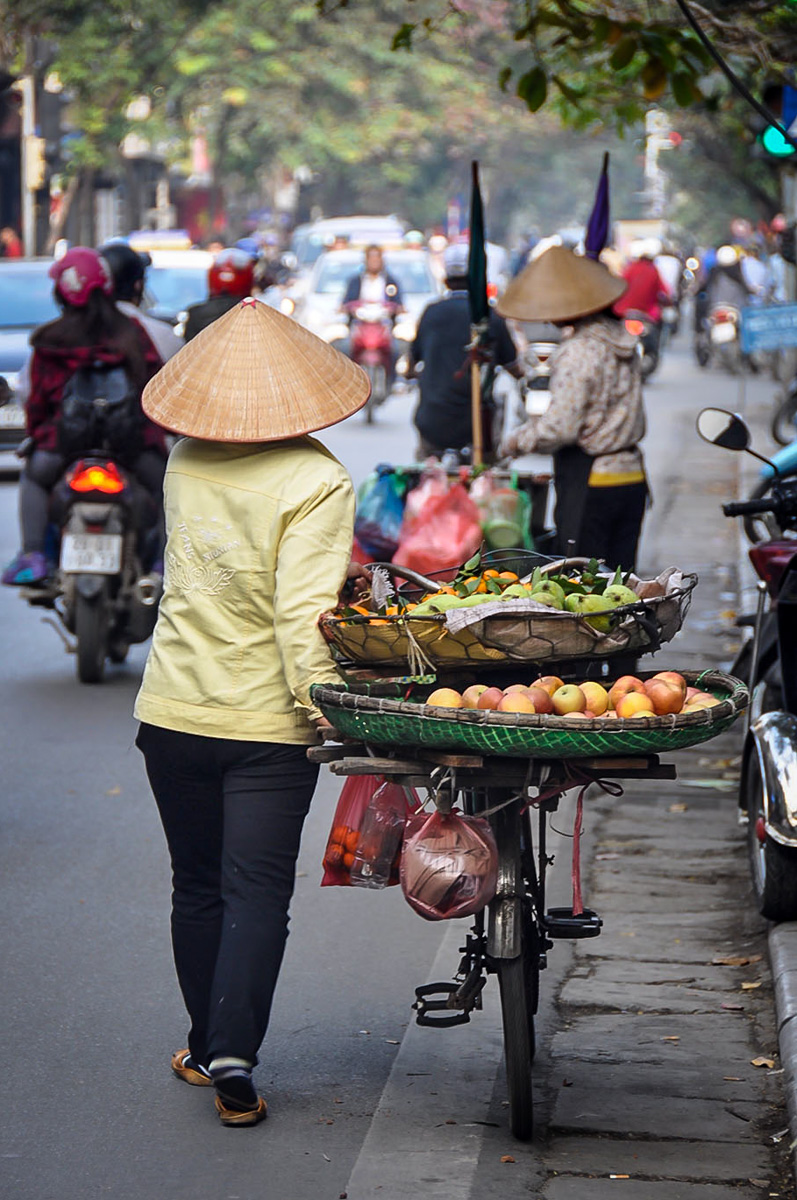 Explore downtown Hanoi (north of Turtle Lake), which is relatively calm during the day but really livens up after dark for the night market. It is one of the best things to do in Hanoi, Vietnam, and your tummy will definitely thank you.
7. Visit the Mausoleum of Ho Chi Minh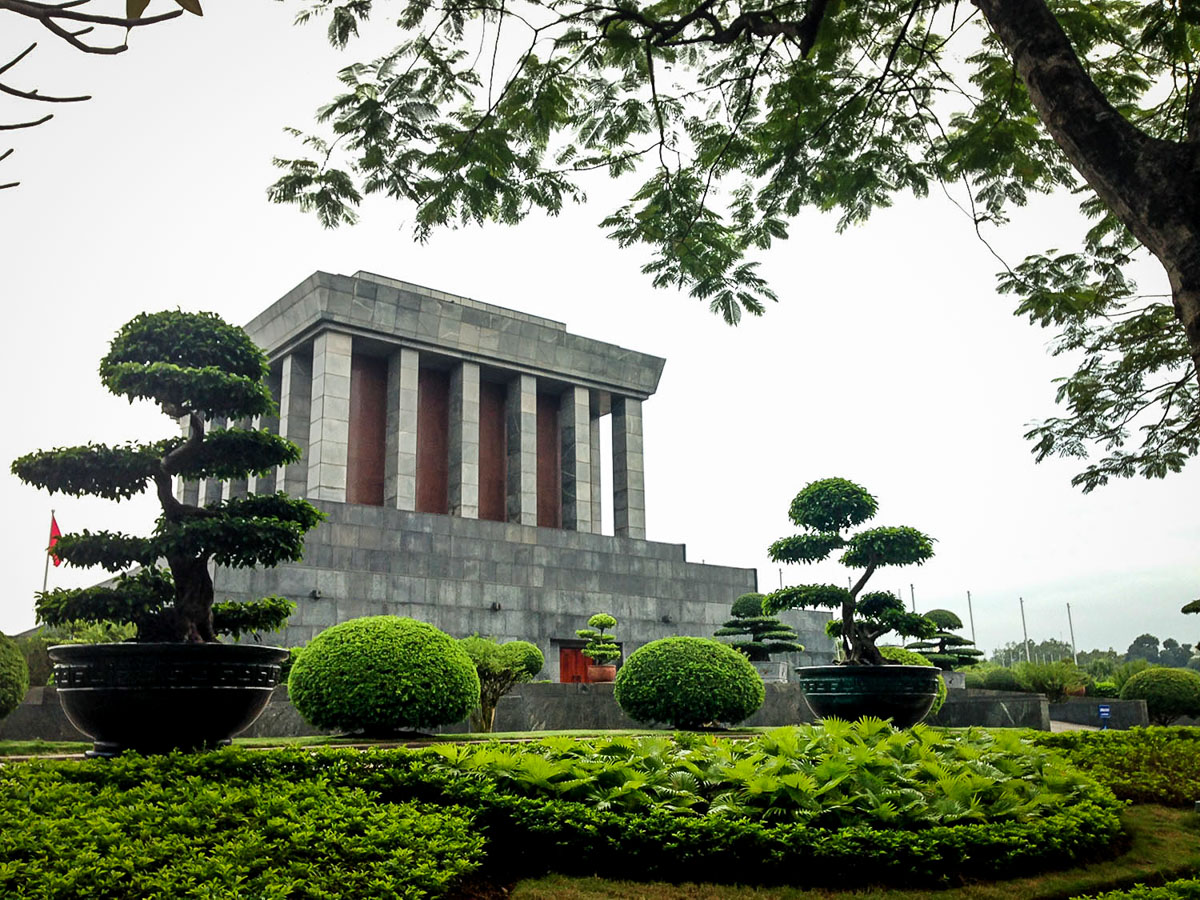 You can take a tuk-tuk or walk 2 km from the lake to the Mausoleum of Ho Chi Minh. It's a huge communist-style structure surrounded by a nice park to walk around and get away from the buzzing city.
8. View the Citadel & explore the French Quarter
Directly across from the HCM Mausoleum you will find the Thăng Long Imperial Citadel, perfectly placed in the center of the French Quarter of Hanoi. Learn more about Vietnam's history while you take in the incredible architecture that makes up this complex of historical buildings. 
Afterward, explore the rest of the French Quarter, and take a stroll down Phan Đình Phùng Street to glimpse some beautiful historic French buildings. We also recommend a visit to Cho Ham Market and Hoa Lo Prison Museum to discover where American POWs were kept during the Vietnam War.
9. Cross Long Bien Bridge
A famous French-built bridge over the Red River, Long Bien Bridge offers up some of the best views of the banana fields on the islands in the middle of the river. The best way to see the bridge is driving across it of course. So rent yourself a motorbike and be sure to stop at the banana stand in the middle for a little snack.
10. Sip a Bia Hoi and people-watch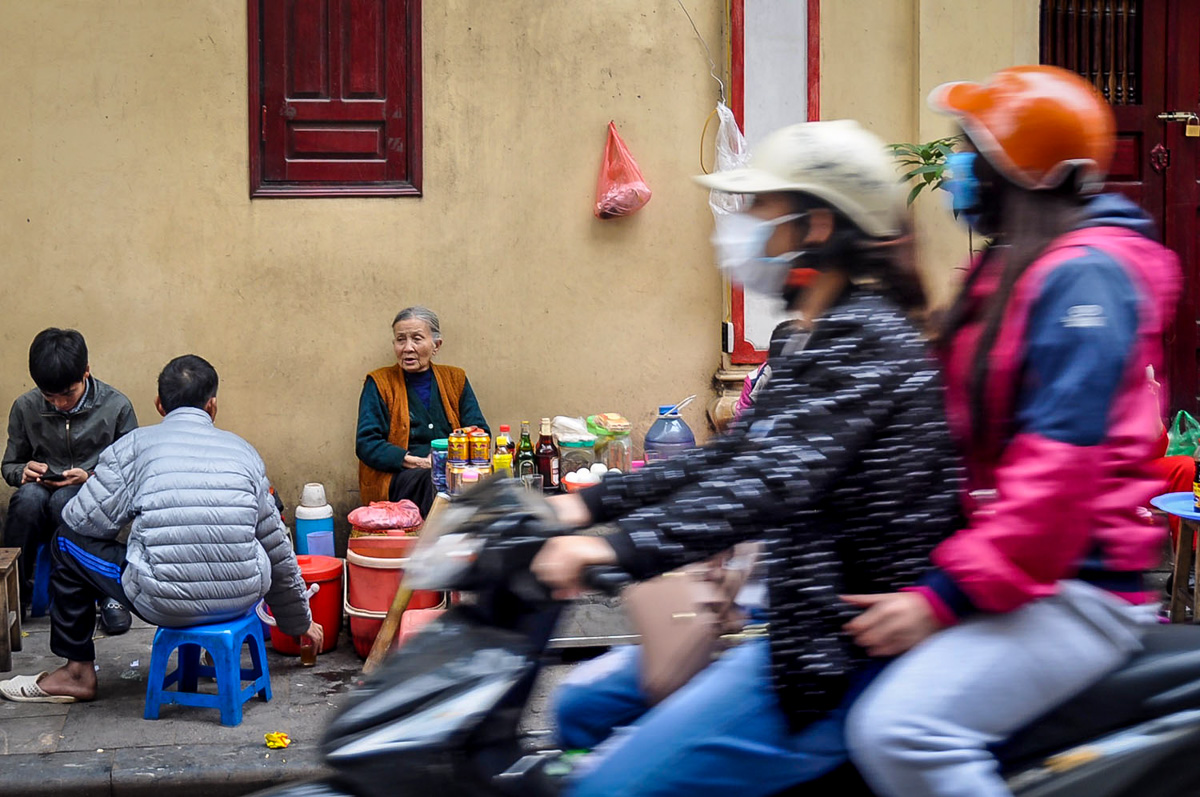 Grab yourself a plastic chair to sit on, sip a bia hoi and people-watch. It's as simple as that. This is a favorite activity of the locals, so naturally, you'll want to give it a try. Walk down any street and you'll find several shops with plastic chairs to post up in. 
Bia hoi is fresh locally brewed beer, but don't get too excited… it's no craft beer. In fact, it's the lightest of light beers (which is not really my thing), but it's SO cheap (about 40-50 cents USD for a glass) that you just can't pass the opportunity to try it. You can even head to Hanoi's famous Beer Corner for an 8 cent brew!
The beautiful thing about Hanoi is that life happens on the street. As you sip on your super light-light beer, watch people getting haircuts, men lifting weights and playing chess, children playing games and women catching up with friends – all taking place on the sidewalk. It's something to be seen.
11. Tay Ho Lake for Sunset
Make your way to the Tran Quoc Pagoda, one of the oldest temples in Hanoi. Situated on Tay Ho Lake, this beautiful view makes for an epic sunset experience.
8. Drink Vietnamese coffee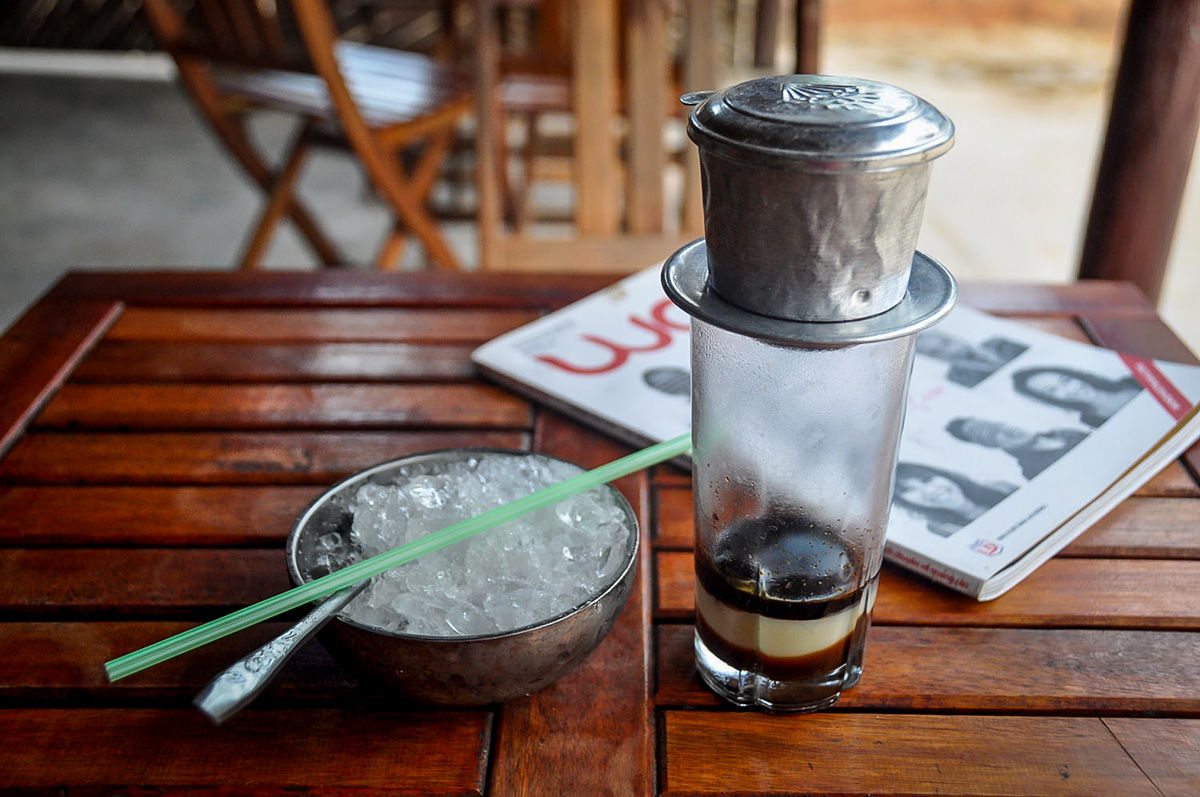 It wasn't love-at-first-taste for us, but over time we came to appreciate the ultra-sweet and thick Vietnamese coffee that is compulsory to drink at least once in Vietnam.
13. Confucius say… Visit the Temple of Literature
One of the most interesting temples in Hanoi might be the Temple of Literature. This beautiful old building was originally Hanoi's first university. Nowadays it's been converted into a temple honoring Confucius. We recommend getting there early to avoid the crowds!
14. Eat ALL the food you can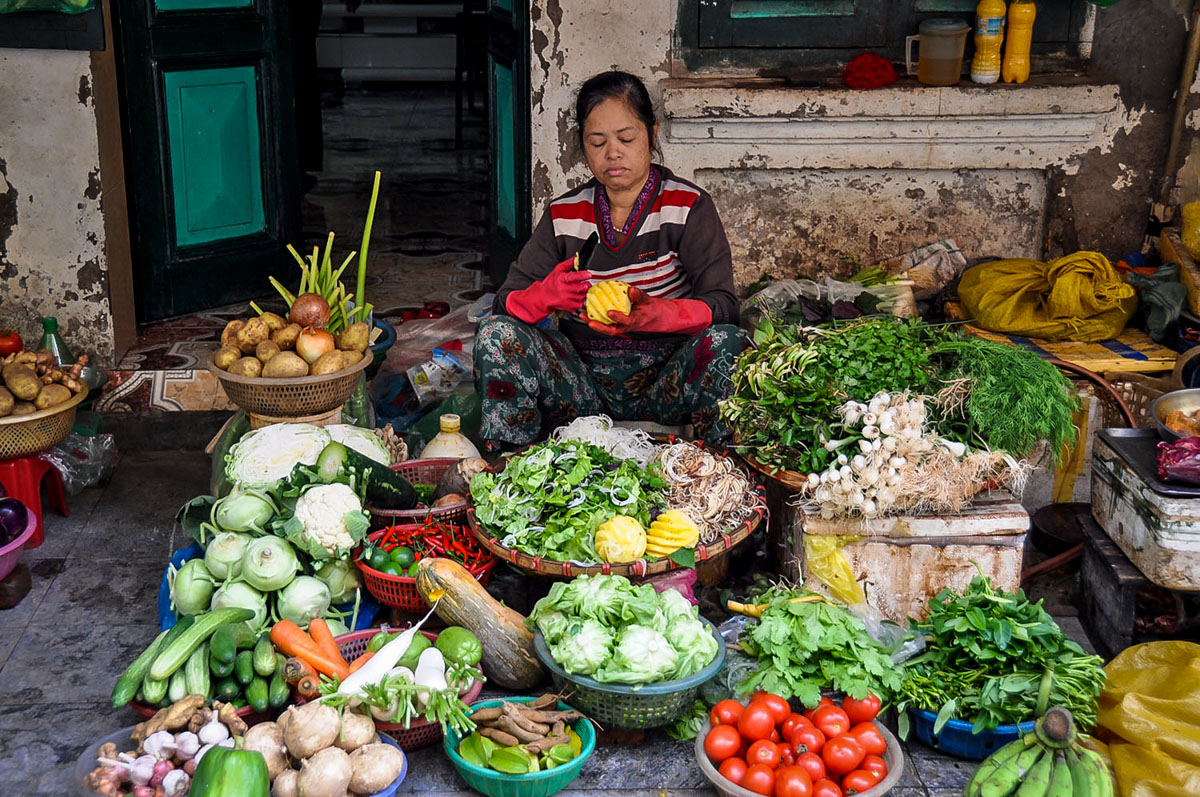 Seriously, everything. Hanoi is known for amazing street food, and the best bites we had were from unassuming shops with plastic chairs. There are so many delicious foods to try in Vietnam, and Hanoi is a great place to delve into this cuisine.
Đường Vĩnh Hồ Street in Dong Da is one of the best places for street food in Hanoi. You will find tons of different kinds of food and the market is full of fresh produce. 
Have we mentioned yet that Vietnamese food is one of our top 5 cuisines in the world?! Yeah, it's that good.
Want to get really adventurous? Try cobra! Yes, you read that right. Check out this article for everything you need to know about eating snake in Hanoi.
What to Eat in Hanoi
When you start to plan your travels in Vietnam you'll realize that not only are there so many cheap things to do in Hanoi, but there is a lot of amazing food to be eaten in this country as well. From pho to fresh spring rolls to dishes you've never heard of before, Vietnamese cuisine is some of the best in the world. 
Come prepared to have your tastebuds dazzled!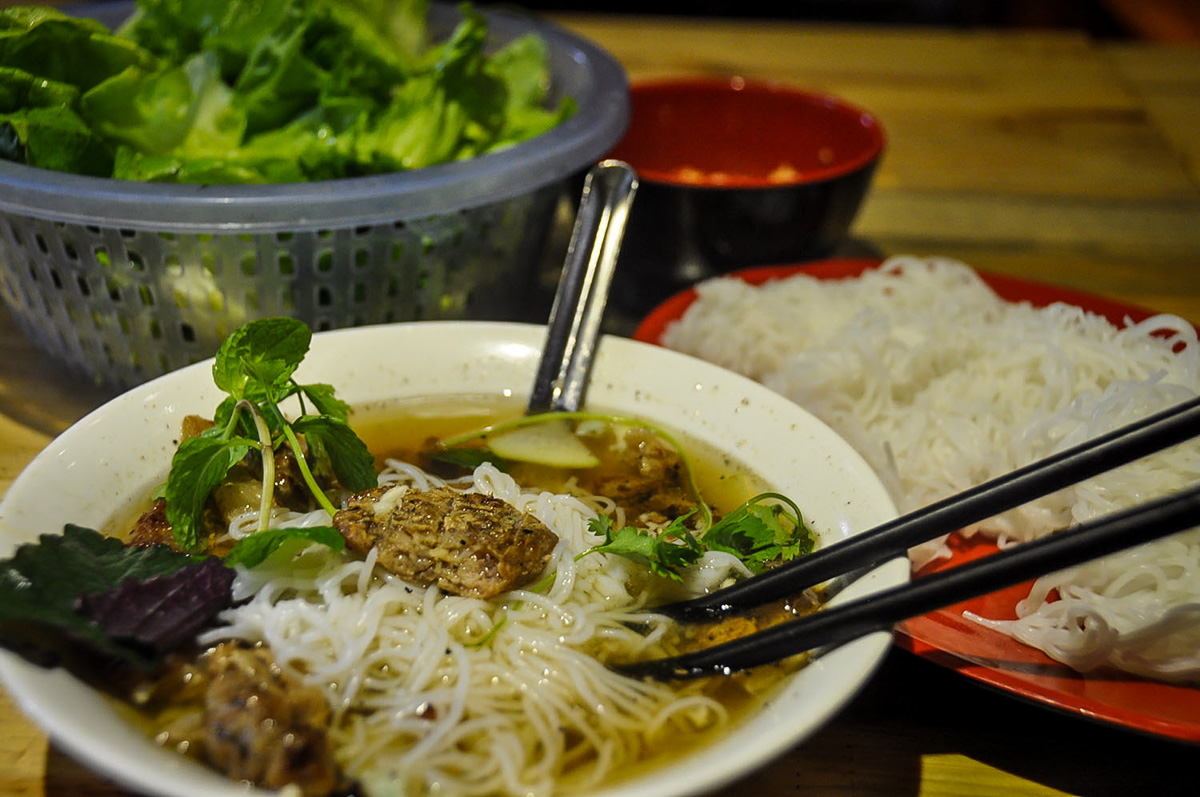 Bun Cha: This is a top contender for our favorite Vietnamese dish, and we think you'll love it too! Originating in Hanoi Vietnam, this dish consists of grilled pork patties and noodles served with lettuce and herbs and a dipping sauce. We had two delicious meals of Bun Cha in Hanoi and it was too hard to choose a winner so I'm putting both.
One was in a small shop on the northeast corner of St. Joseph's Cathedral and the other was at a restaurant called Bun Cha Ta at 21 Nguyễn Hữu Huân. Try them both to compare and let us know which one you liked better.
This is just one of the ubiquitous dishes to try in Hanoi. If you're a serious foodie, here's a list of some of the best street food in Asia that you can seek out on your travels!
For international food in a relaxed atmosphere, look no further than the Hanoi Social Club. With several levels, including a quiet rooftop and tons of inventive and healthy options to choose from, this is a great non-Vietnamese food option. Best of all, they are vegetarian-friendly and regularly host live music and other events.
Wondering what to pack for your trip to Vietnam? We've got you covered with our ultimate Southeast Asia Packing Guide.
Where to stay in Hanoi
Vietnam Backpackers Hostels – Original. Offering both dorm rooms and spacious private rooms and centrally located in Hanoi's Old Quarter, Vietnam Backpackers Hostel Original was one of the best hostels we stayed in Vietnam.
There's free breakfast every morning, free walking tours of the city, other tours of the surrounding areas and throughout the country, happy hour specials every day and a pub crawl multiple nights each week. What more could you ask for?!
Old Quarter Hotel Hanoi is another great option located right in the city center of the Old Quarter. Their beautiful suites range in size to accommodate different budgets and family sizes. They offer airport transfers, shuttle service and have a full-service restaurant on site. 
How to get to Hanoi from the airport
The Noi Bai International Airport (HAN) of Hanoi is about 30 km away from the main city center and there are many ways to get there. The best option is to take the airport shuttle bus which leaves just outside of the gates. The cost is 40,000 VND ($2 USD) and takes about 40-60 minutes depending on the traffic. If you are one of the first on, you'll have to wait a bit because they typically only leave once they have a full bus. 
If you arrive during the day you can take the city bus number 7 that terminates at Kim Ma Bus station or number 17 that terminate at Long Bien bus station. The cost is 5,000 VND and takes about one hour.
The last option is to take a taxi, but they are known to overcharge travelers and typically charge $35 USD one way. 


Are you planning a trip to Vietnam?
We have TONS of resources on travel in Vietnam and destinations throughout the country. Check out our Ultimate Vietnam Travel Guide for all the answers to your most burning questions, or read some of our favorite articles below.
Save this article on Pinterest for later!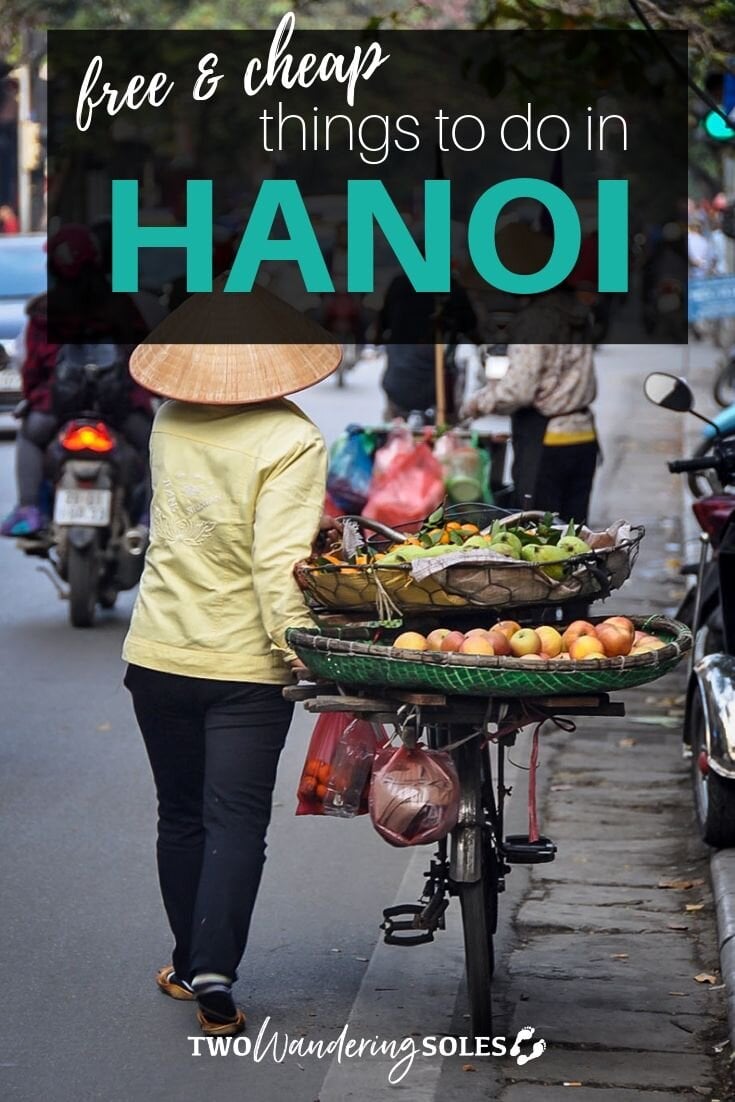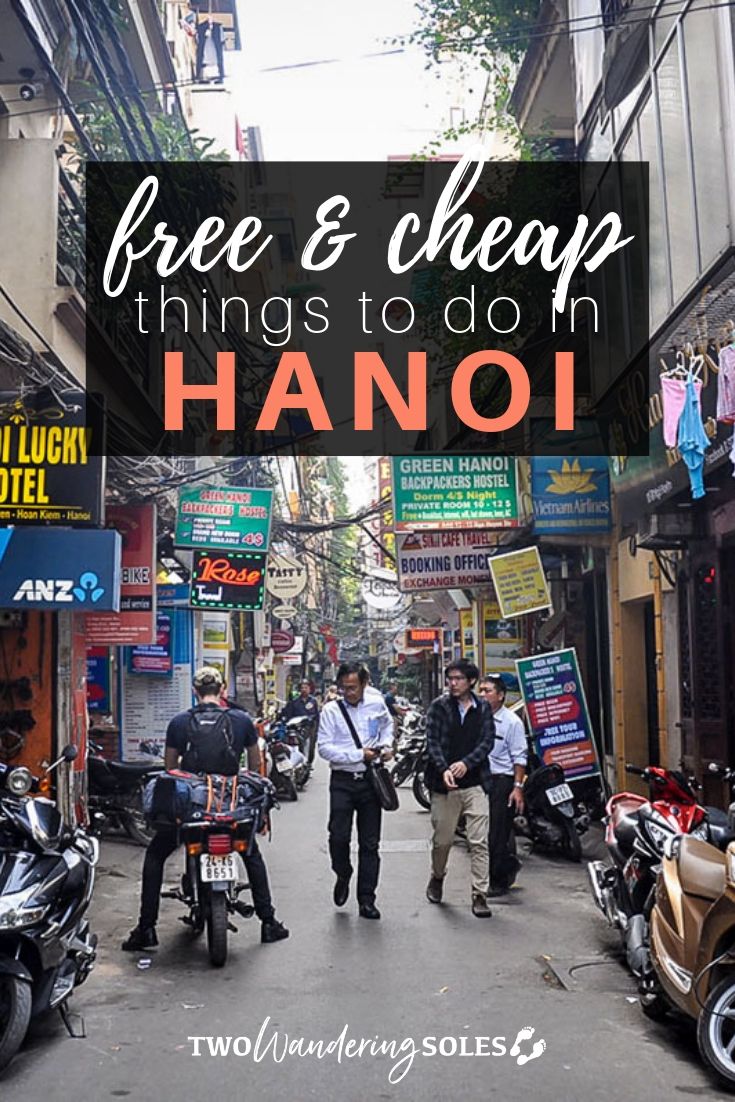 We want to hear from you!
Have you been to Hanoi? What was your favorite experience there?
Are you planning a trip and still have questions? Comment below and we'll do our best to get back to you!