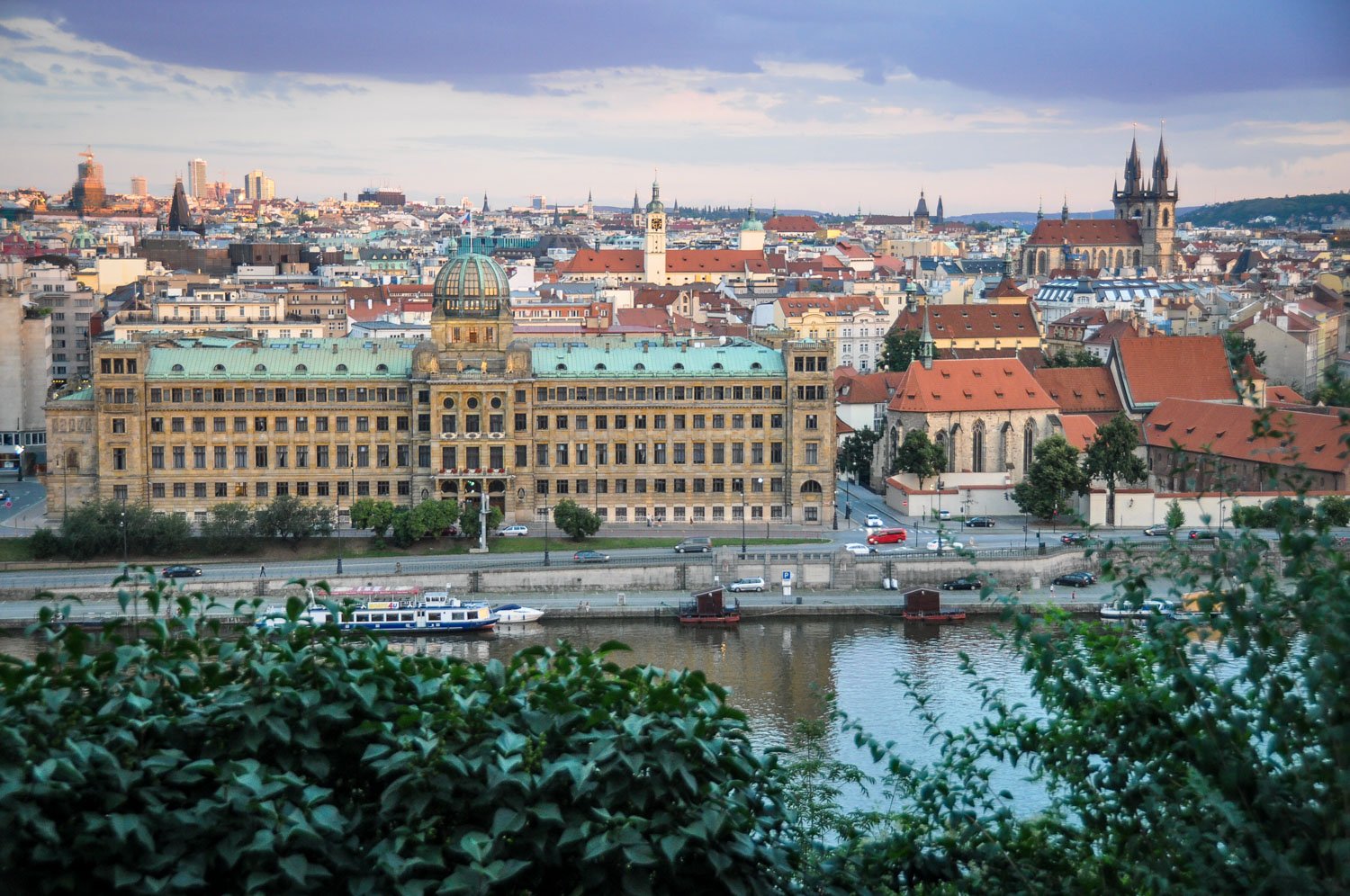 Restaurants serving traditional Czech cuisine are situated on the same streets as trendy new gastropubs and buzzy cafes serving international fare.
Historic buildings are situated beside modern architecture. Old and new, together in a beautiful way.
Prague has a feeling of Western Europe meets Eastern Europe, and has a healthy mix of history and beauty. It truly is one of the most romantic cities in Europe.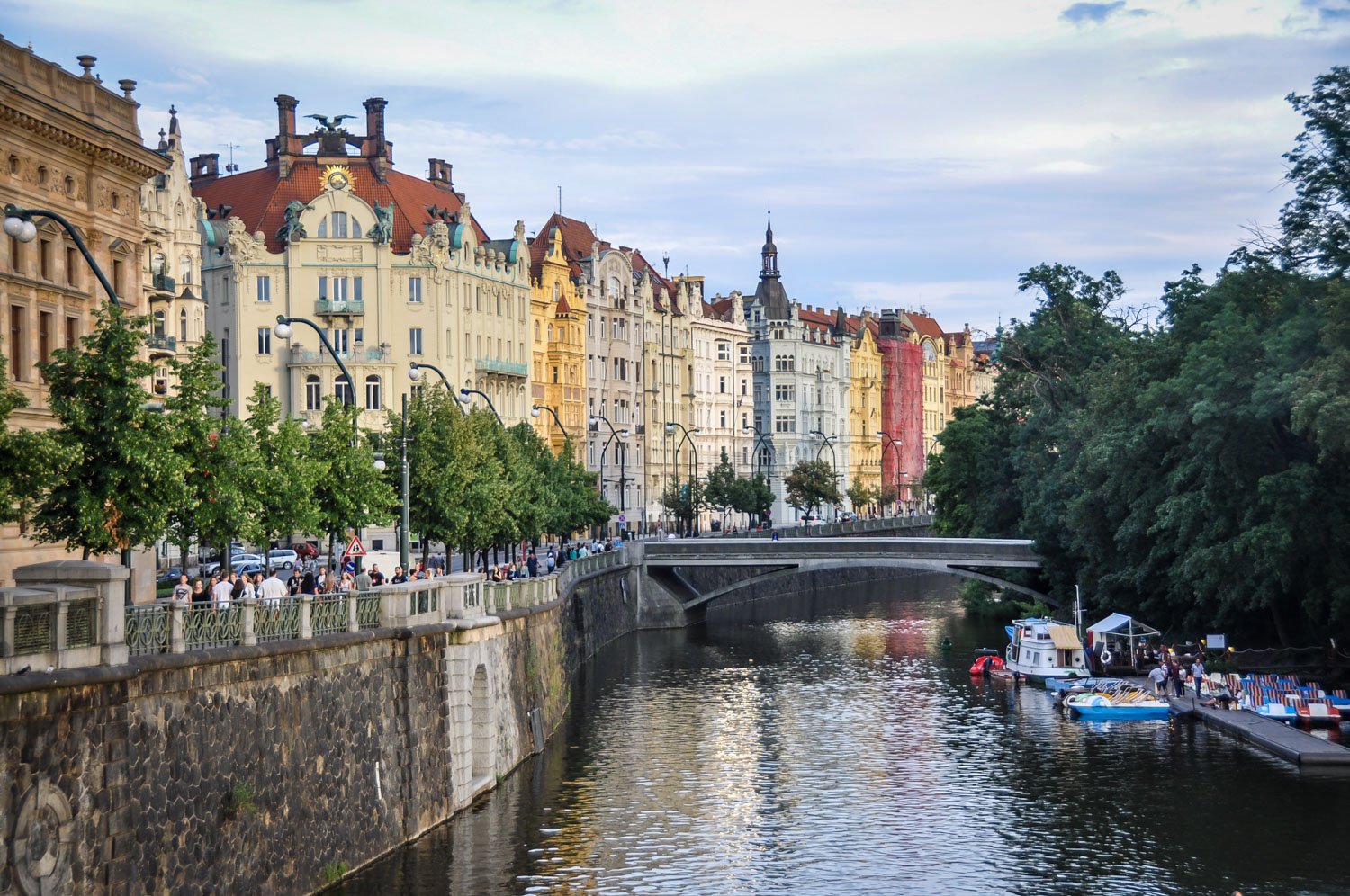 However, it is not without its flaws…
Prague is undeniably touristy. And if you visit during peak times of the year, like summer holiday or in time for the famous Christmas Markets, expect a crowd.
But it is a city that's popular for good reason. With castles, beer, stunning architecture and a lively art and music scene, it's easy to see why.
Plus, if you feel the need to escape the crowds for a bit, you don't have to look far!
Charming towns like Olomouc, Brno and Cesky Krumlov make great day trips from Prague, and will show you another side to the Czech Republic.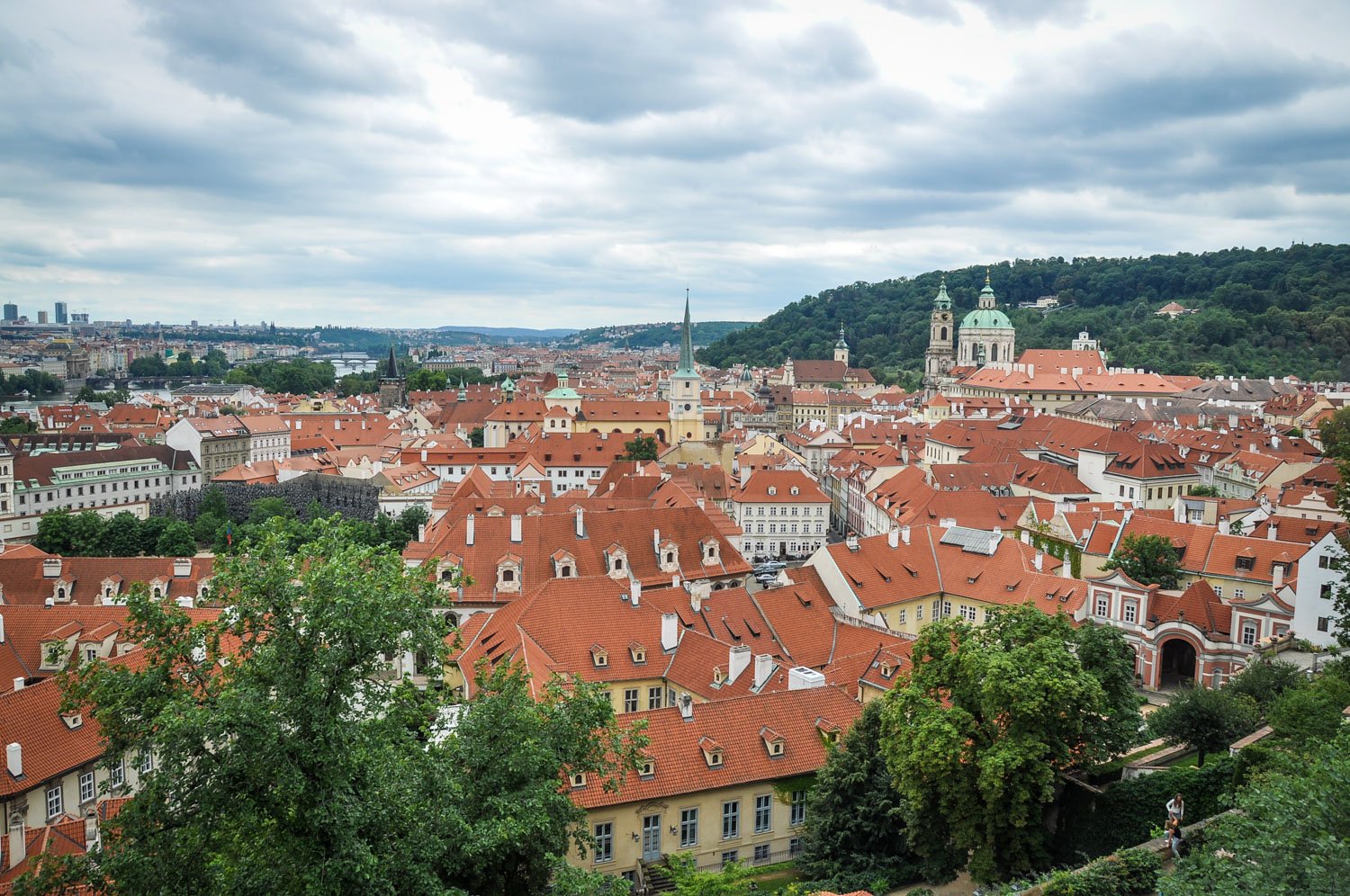 If you're planning a Euro Trip and are planning to make a stop in Prague, you've come to the right place!
We've put together a list of some of the best things to do in Prague (especially if you're on a tight budget!).
Even though Prague isn't the most budget-friendly city in Europe, the beer was still inexpensive (which made Ben happy). Plus, with lots of cheap and free things to do in Prague, traveling to this fun city can be affordable if you have a plan.
We're sharing Prague's top attractions, off the beaten path gems most tourists miss, and where to eat and drink. Let's get started planning your trip to the Czech Republic.
1. Take a Free Walking Tour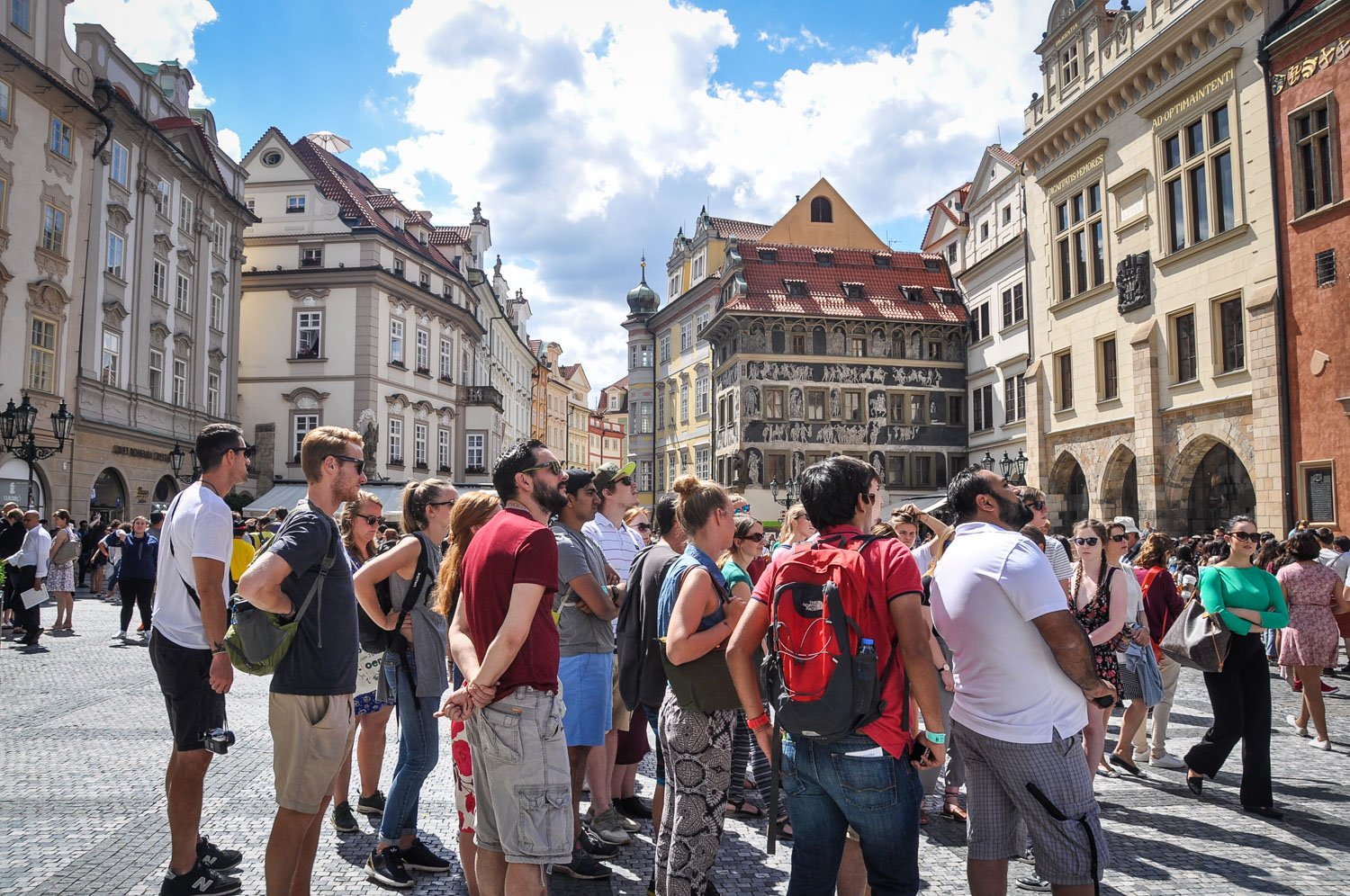 One of the best ways to orient yourself with a new city is to take a free walking tour on your first day. In Prague, there are 4 different free walking tours to choose from: Old Town, Castles & Charles Bridge, New Town and the off-the-beaten-path Žižkov neighborhood. Take one or take all 4, depending on your time frame.
The best part of free walking tours is you are led by a local who can give you insider knowledge about the city and point out things you'd never see on your own. Also, if you do a walking tour on your first day, you can ask the tour guide for tips on where to eat and what to do in Prague for your remaining time.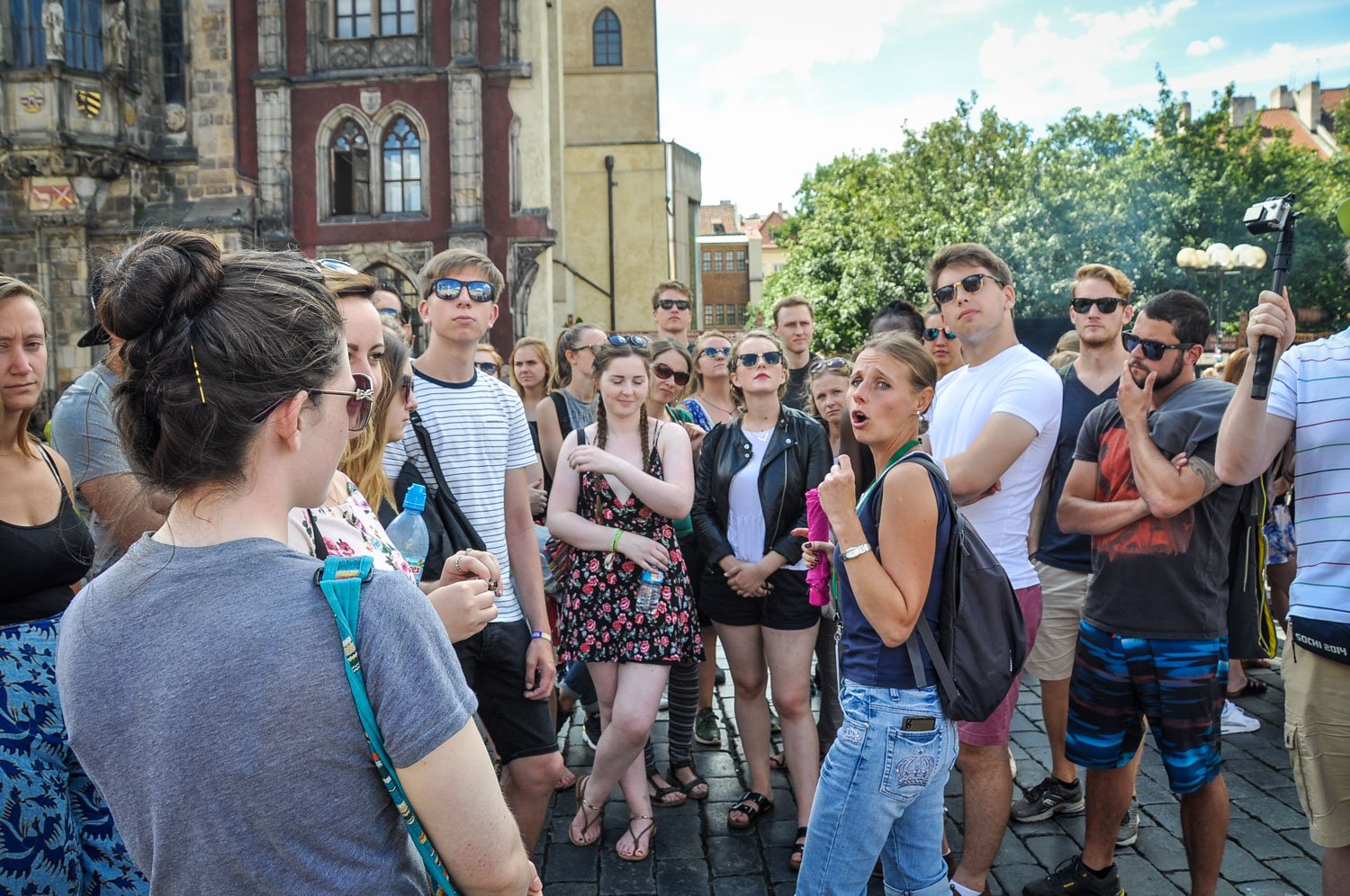 Insider Tip: Walking tours can also be a good way to connect with other travelers. Often times we meet cool people and make plans to meet up later for dinner or drinks!
Do it yourself: Check the Free Walking Tour Prague website for descriptions of the different tours as well as the meeting places and times. Also, be sure you're familiar with the concept of free walking tours and are prepared to tip the guide at the end.
2. Try a Chimney Cake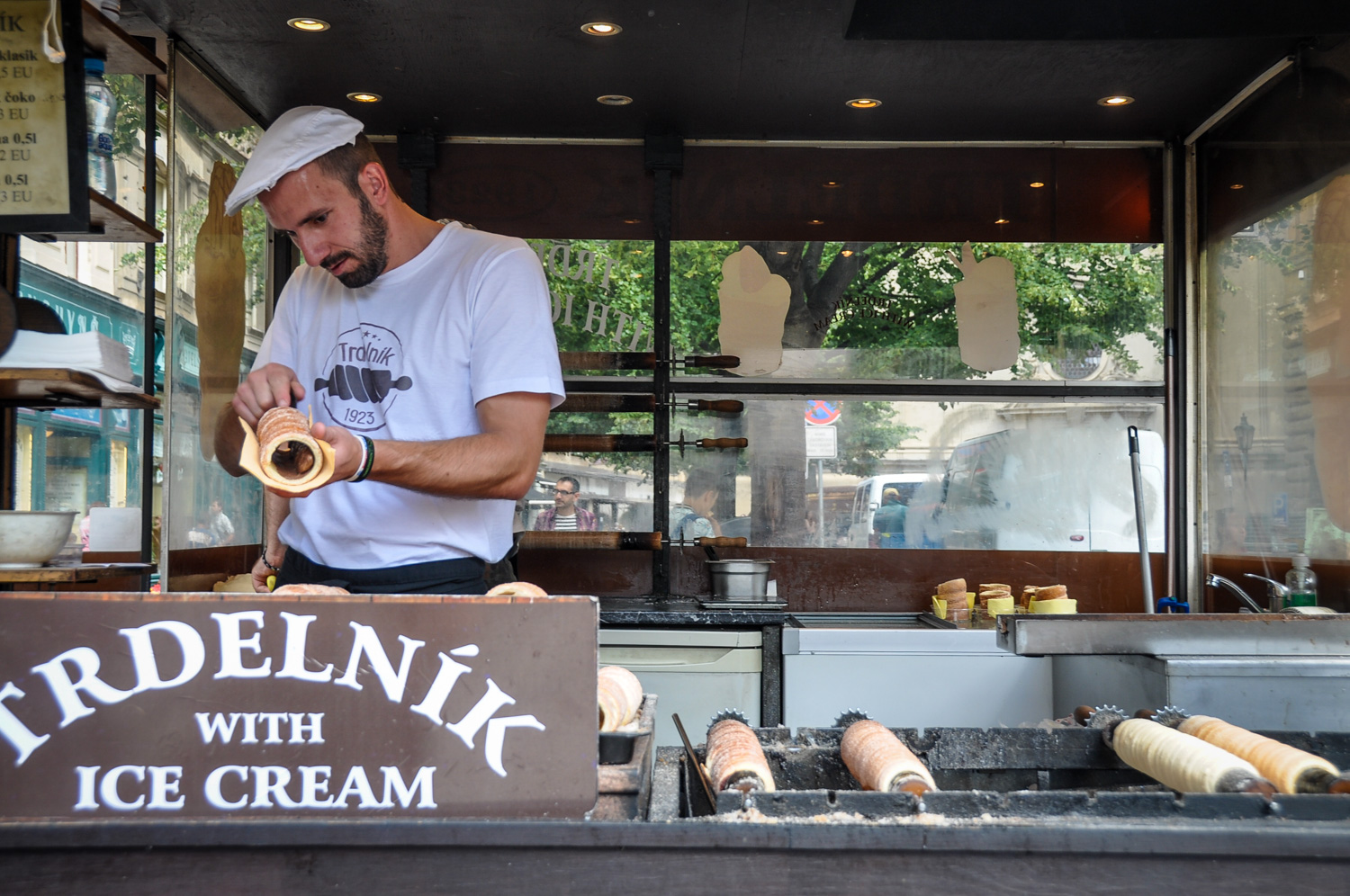 Also called trdelnik in the CR, these doughnut-like pastries are wrapped around a stick, then placed over heat as the stick turns (kind of like how a chicken is roasted on a spit!). After it's baked, the pastry is rolled in a cinnamon-sugar mixture, and other toppings can be added for a deliciously sweet treat.
I've been known to get poetic about food I like… In one Instagram post, I described Chimney Cakes like this:
"Imagine if Panera's Cinnamon Crunch bagels and a nice piece of cinnamon sugar toast got together for the night, had a little too much wine and had a delicious baby… That baby would be this chimney cake!" 
I should be a food poet, damnit.
To be honest, we found the best chimney cakes in Budapest (find out the exact shop in this post!), and compared to those, the ones in Prague fell short. But that doesn't mean they weren't delicious.
You'll find them all over the streets of Prague. Try one. Try 'em all! Eat as many chimney cakes as you can and find your favorite and let us know where it was!
Do it yourself: We can't personally attest to it, but we've read good things about the ice cream-filled chimney cakes at Good Food, Coffee and Bakery. They even have gluten-free options, so everyone can enjoy this tasty treat!
3. People-Watch in Old Town Square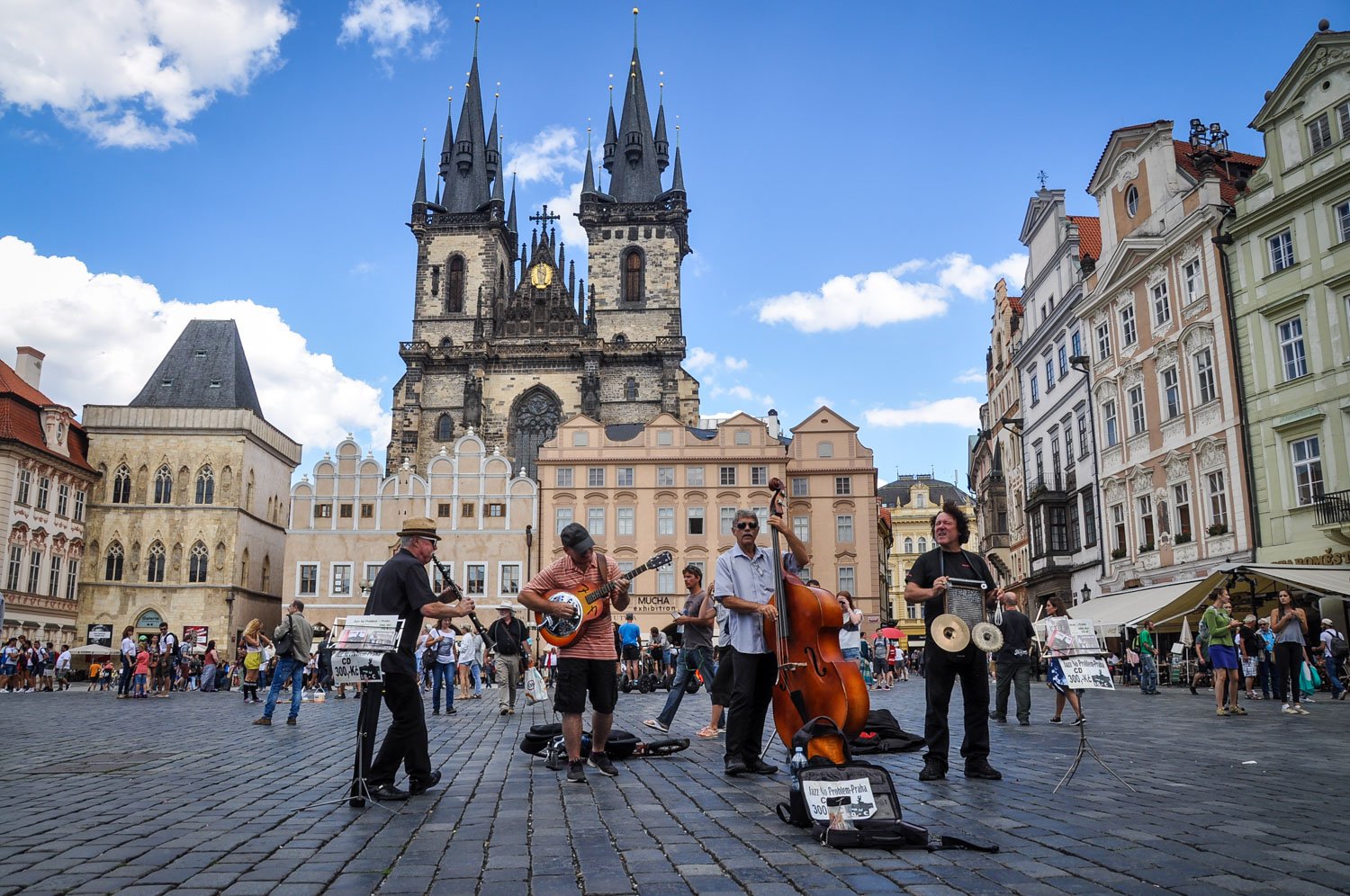 The iconic Old Town Square is at the center of the city and is a gathering place.
You'll find many street performers and musicians in the center, and loads of restaurants around the perimeter. If you like people watching, you'll have a grand old time.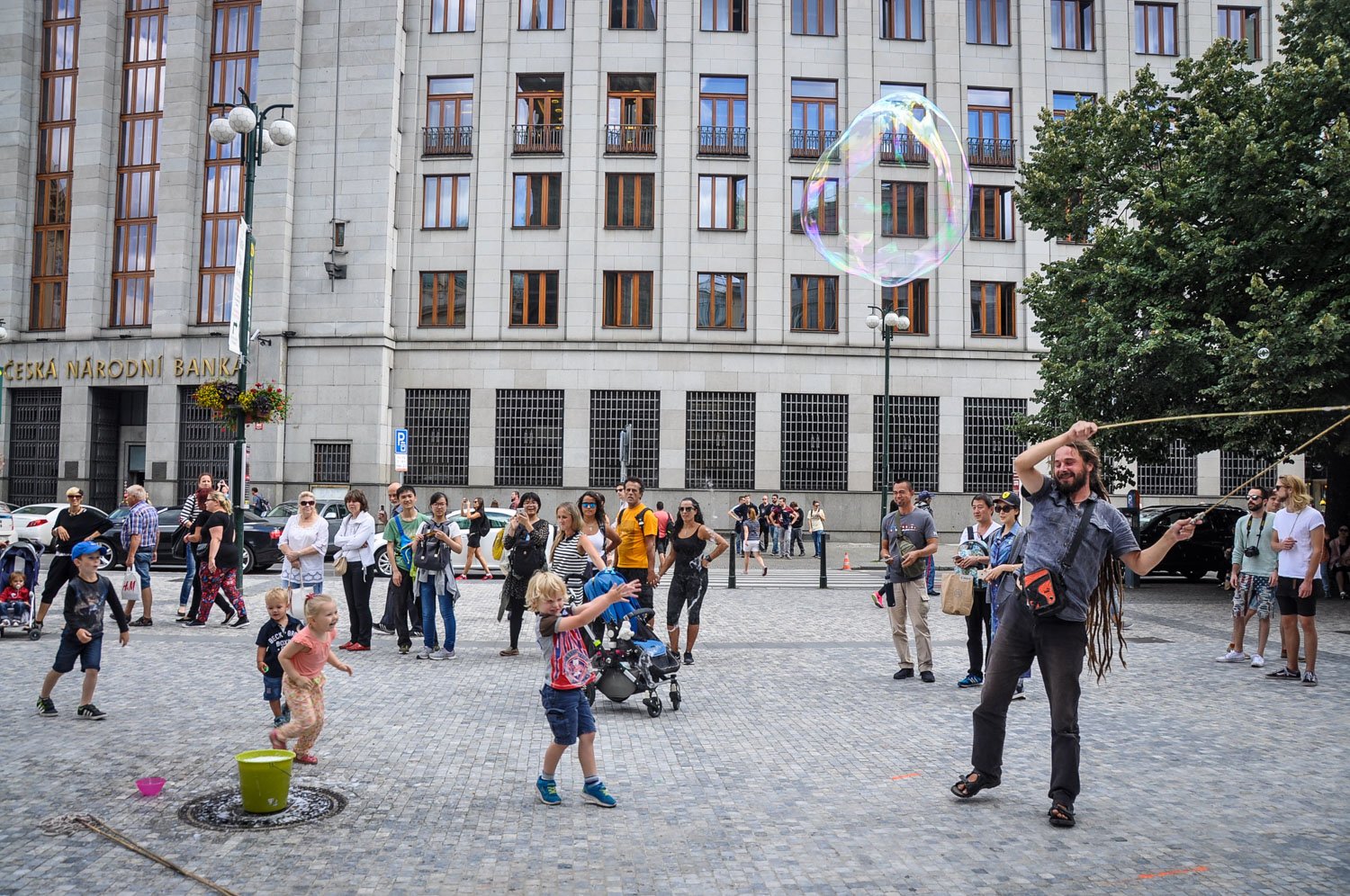 While we were there, a guy with dreads to his waist had a bucket of soapy water and a homemade contraption that spewed our gigantic bubbles. Small children ran around trying to pop them and their parents placed a few coins in the dreaded man's tip jar.
Ben stood there in awe and swore he had found a new calling. Yeah, we'll see about that…
4. See the famous Astronomical Clock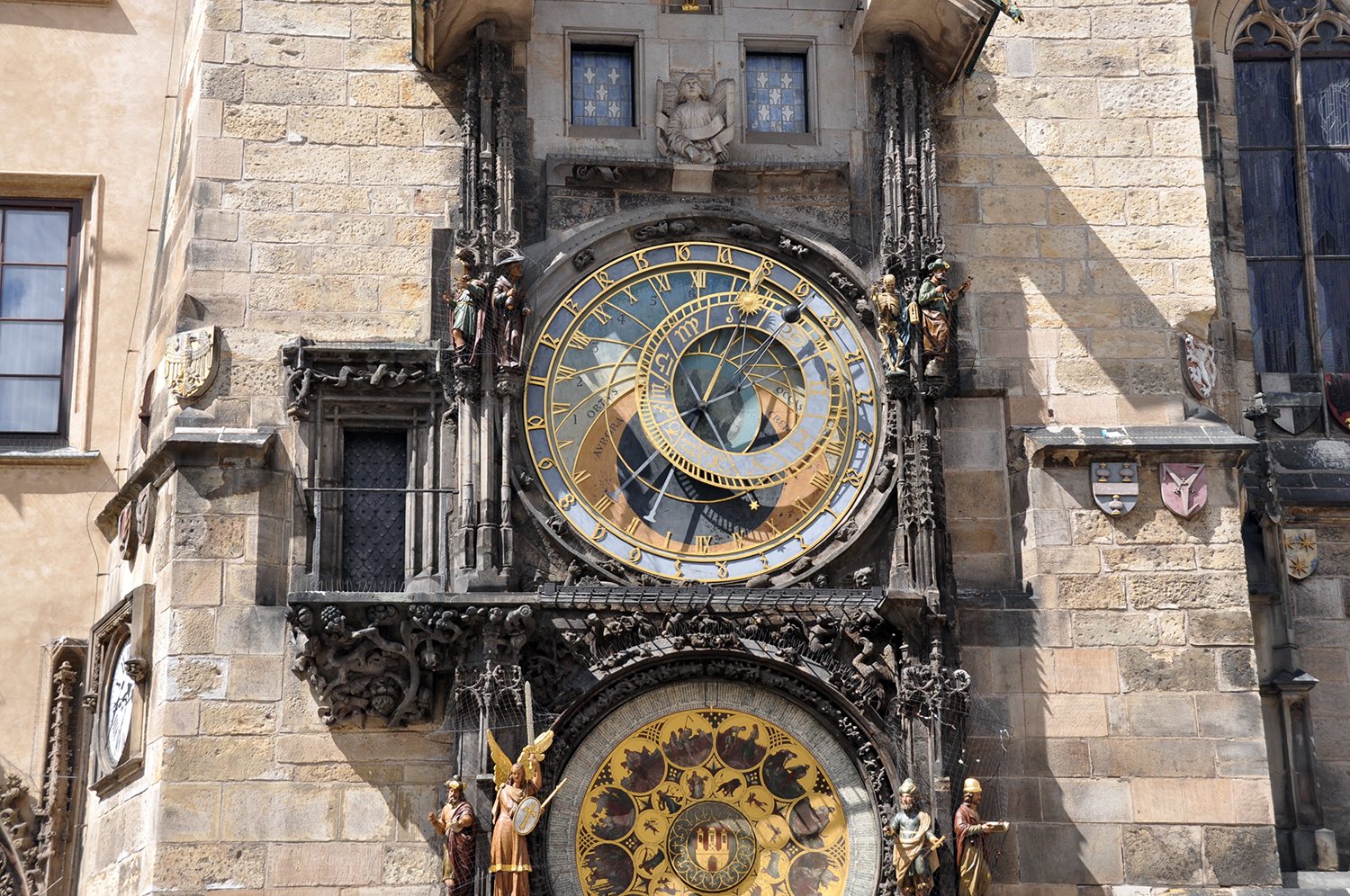 While you're in the Old Town Square, be sure to turn the corner and get a glimpse of the Astronomical Clock, located on the south side of the Old Town Hall. Although it's on everyone's list of free things to do in Prague, don't expect much other than a crowd of people with camera phones up in the air.
Our free walking tour guide told us it's the second most overrated tourist attraction in all of Europe (the first being the Mona Lisa). But it's one of those things you've just gotta see. (Even if it is overrated!)
Want a good view? If you're a photographer and you want a great view over the square, you can buy a ticket (around $12 USD) to go to the top of the tower.
Interesting Fact: Did you know that Prague is not the only city in the Czech Republic that has an astronomical clock? Find a much less crowded clock tower and many things to do in Olomouc. This lesser-known city is surprisingly majestic and a great addition to your visit if you have more time in the country.
5. Visit the Jewish Quarter
Close to the Old Town Square is the Jewish Quarter of Prague. There is the Old-New Jewish Synagogue (still trying to figure out that name) which first opened in the year 1210 and is Europe's oldest active synagogue.
Across the street is the Old Jewish Cemetery which is a 15th century graveyard with moss-covered headstones. In the area, you'll find a handful of other (more modern) synagogues.
6. Spot Quirky Art Installations all around the city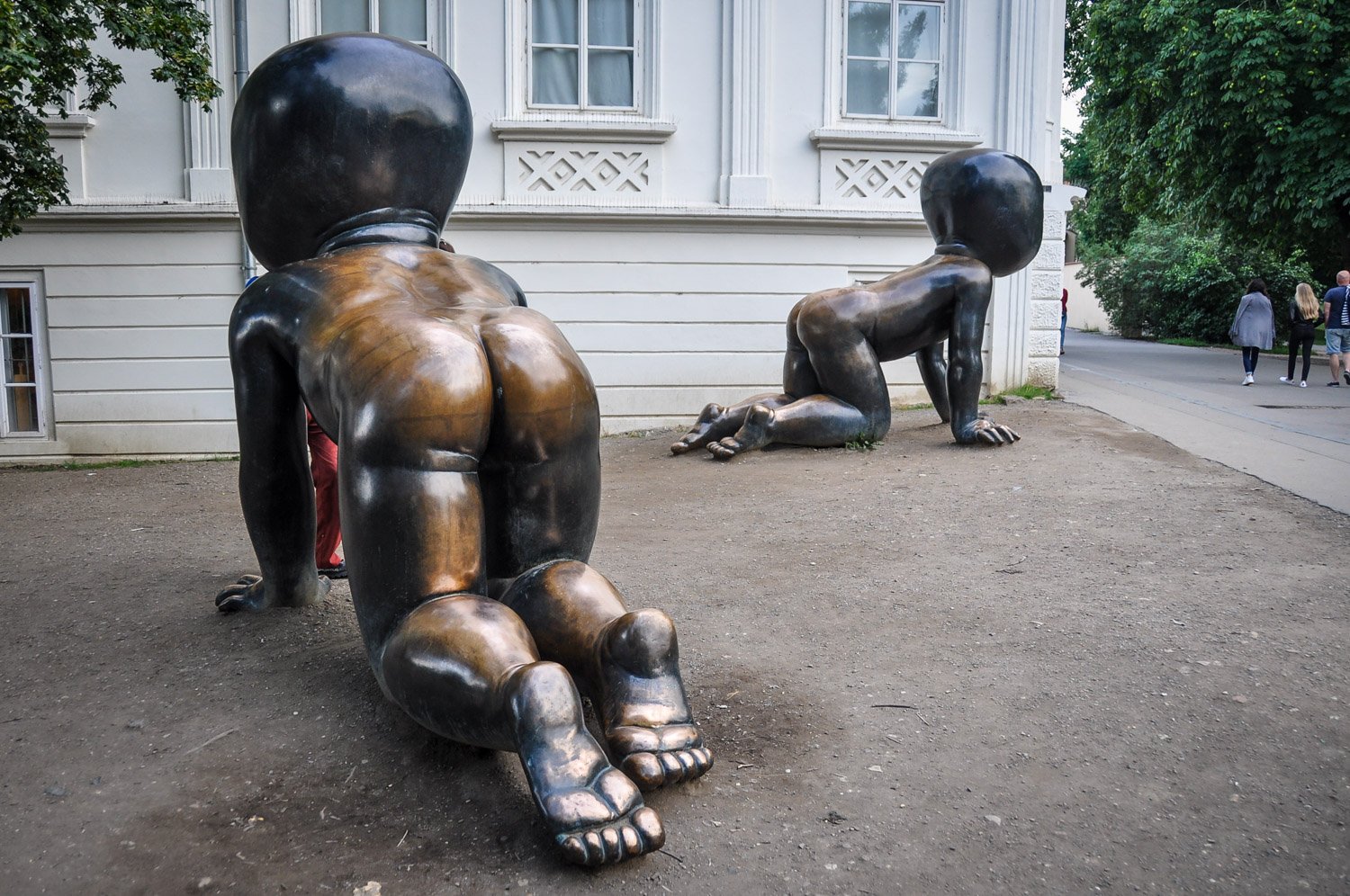 Wander around Prague's city streets and you're sure to find quite a variety of quirky art installations. Whether it be giant baby statues or colorful murals keep your eyes open for art everywhere.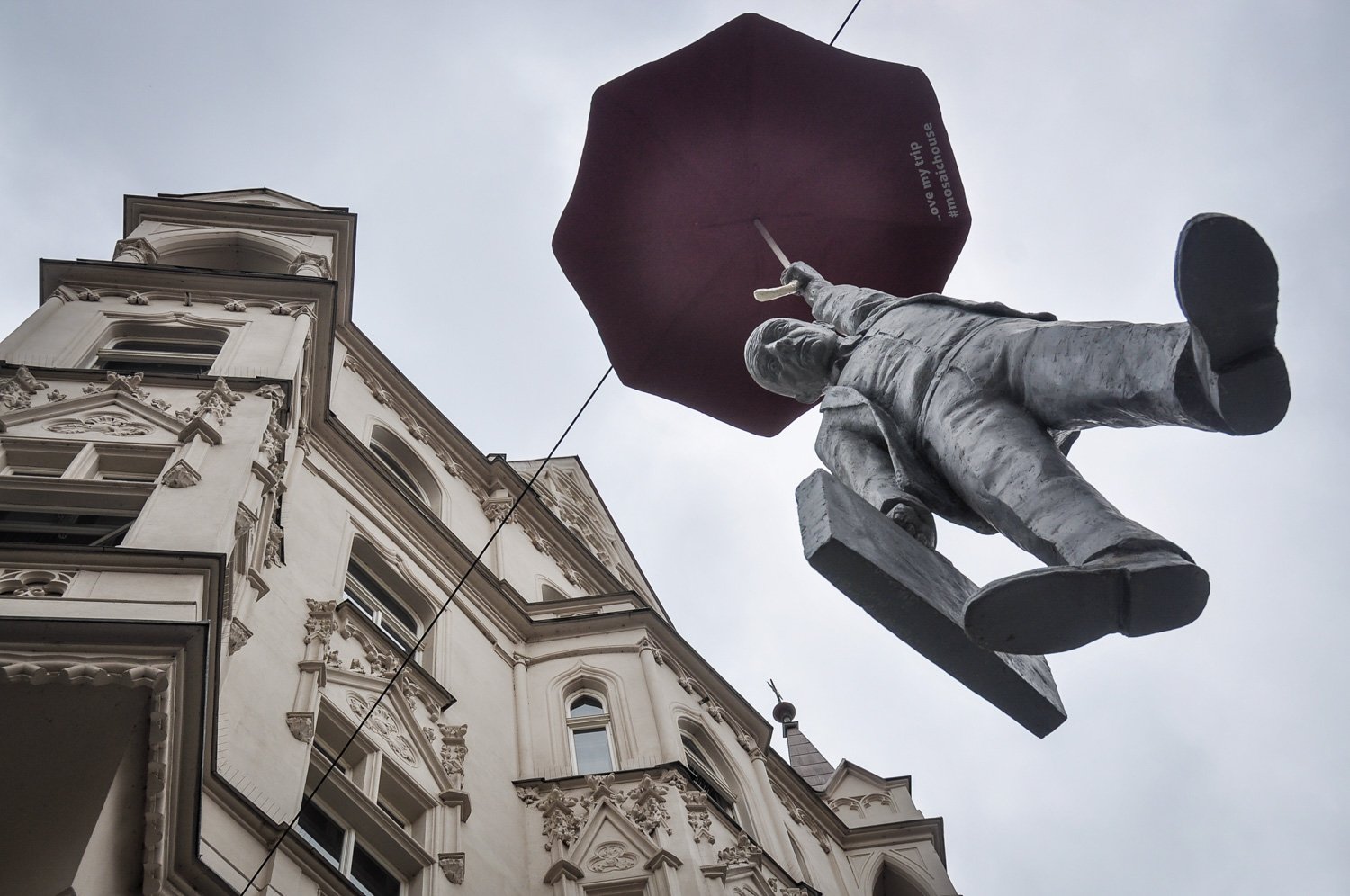 And don't forget to look UP. You might even see art falling from the sky!
Traveling to Prague on a Budget? See just how much you can get for $10 in Prague.
7. Rest your feet and enjoy a Hot Chocolate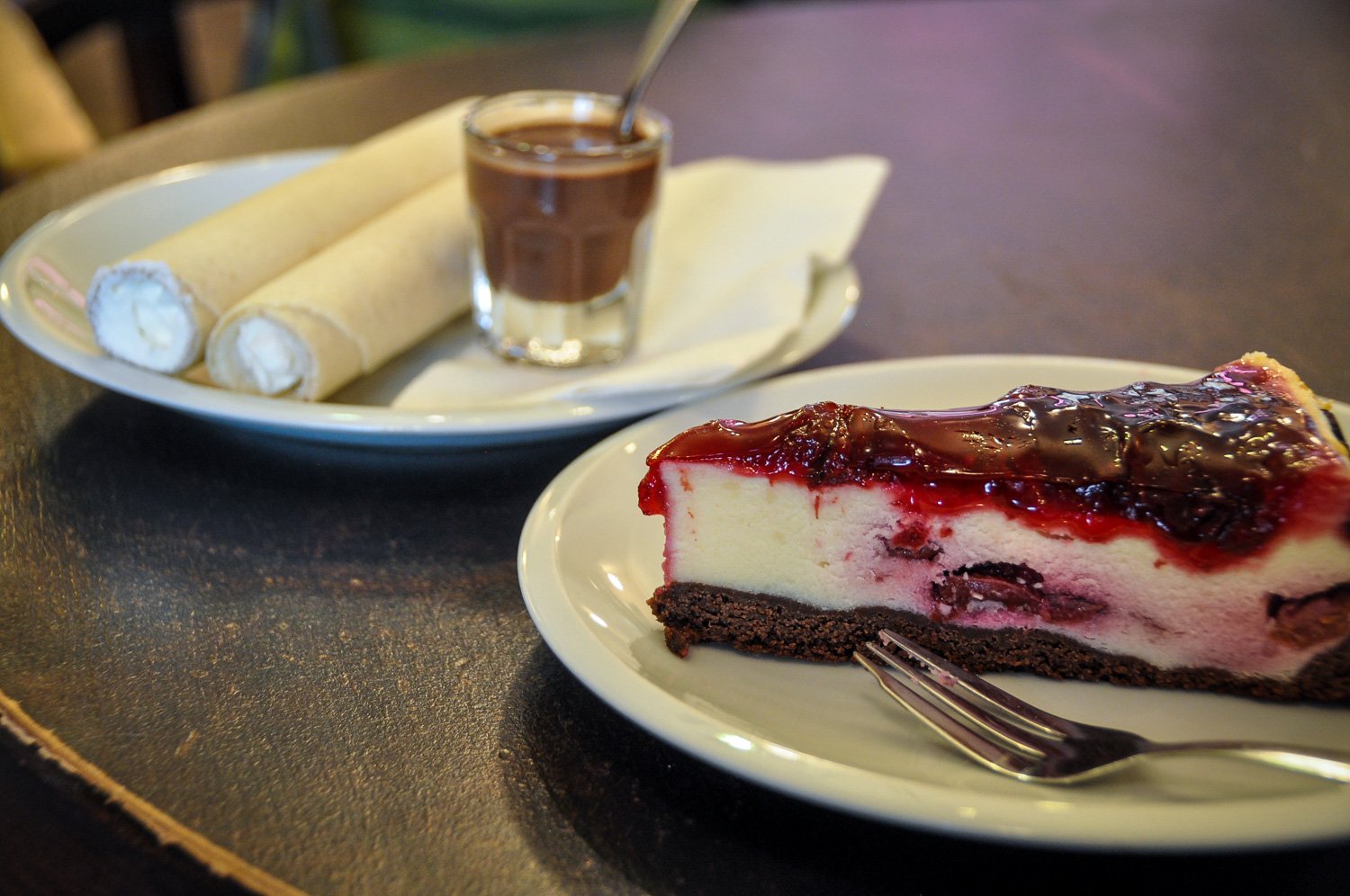 You'll be doing a lot of walking in Prague, so take advantage of all the cute cafés and pop into one that catches your eye for a little midday break.
We loved the chilled atmosphere and famous hot chocolate at Choco Café. And we tried a cheesecake that was rather tasty as well! If you need a little caffeine, sip on a shot of freshly pressed espresso or get your sugar fix with chocolate fondue.
8. Listen to Live Music on the Street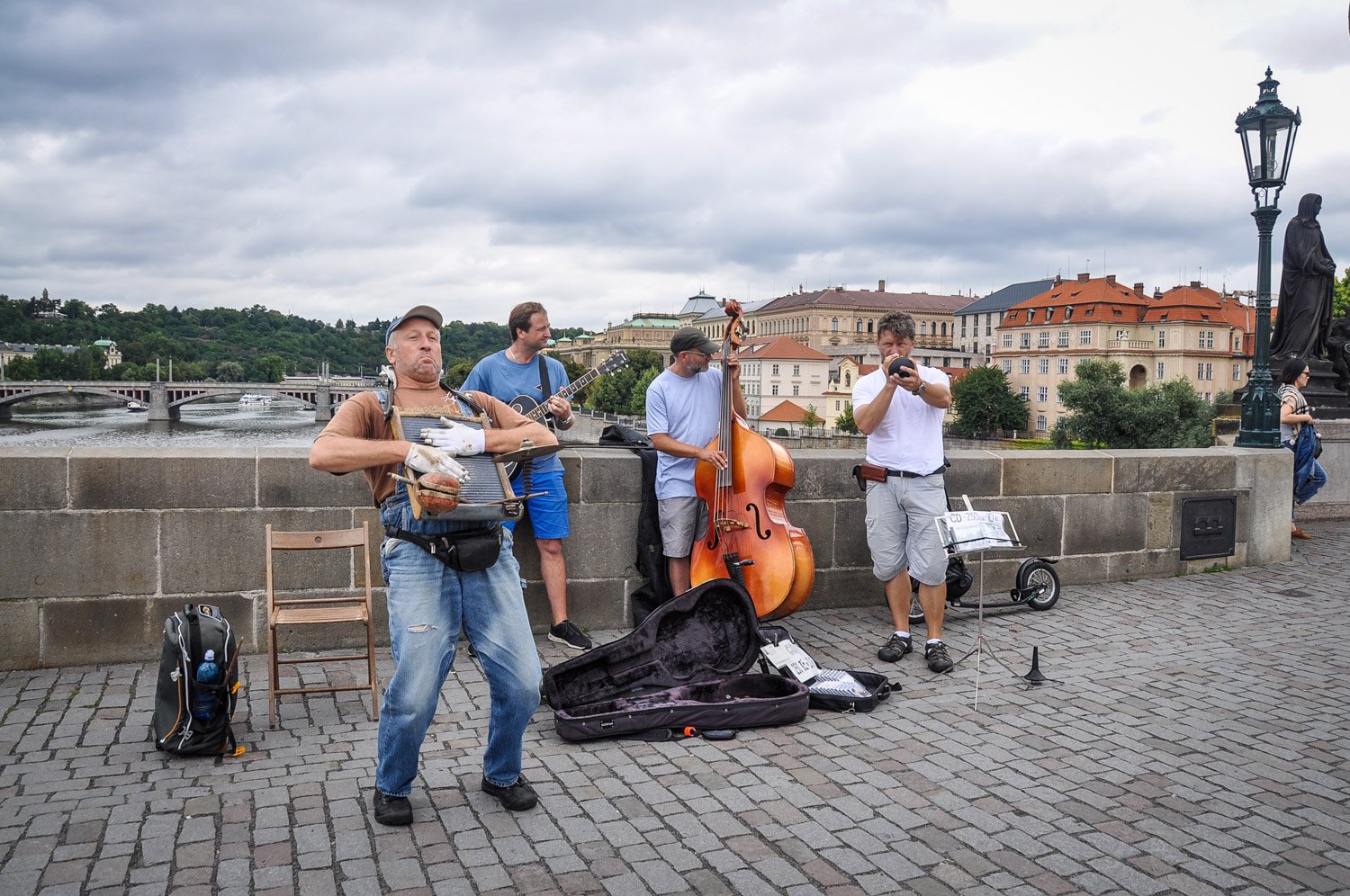 If you're a fan of live music, you're going to like Prague. You won't have to walk far to see musicians (talented ones!) on the popular streets.
And if you want to stay a while and enjoy the music, find one of Prague's many live music establishments and enjoy a pint with the tunes.
9. Wander down Wenceslas Square
Take a walk down the massive Wenceslas Square, where many demonstrations and gatherings are held. In 1989, it was in this square where the fall of communism was announced.
Lining the square you'll find lots of shops and restaurants, and at the southeastern end sits the National Museum.
10. Taste local Czech food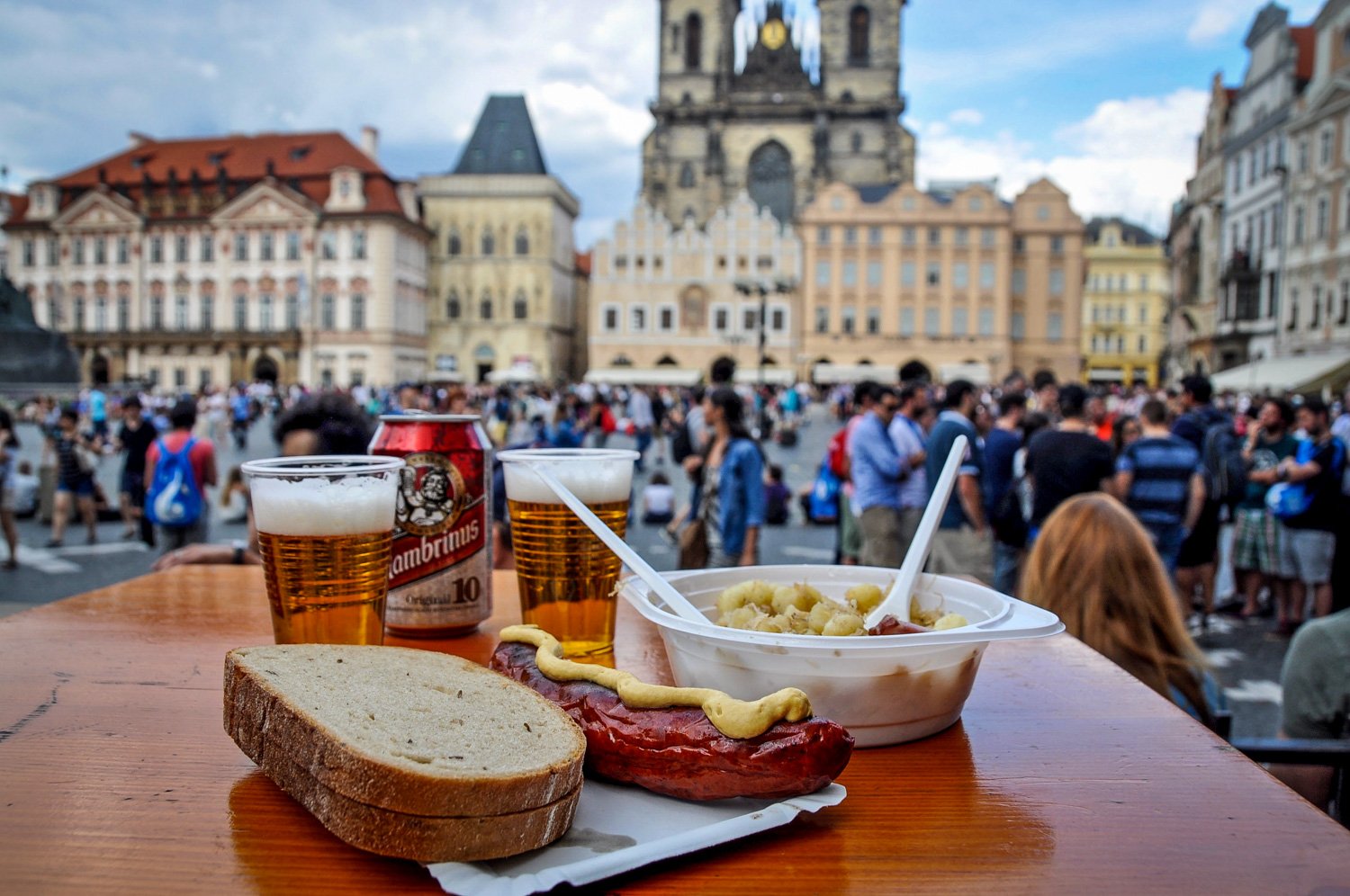 One of the best parts of traveling is being able to try the local food. Czech cuisine is known for being hearty and heavy on meat.
Popular Czech staples include stews, sausages, dumplings, sauerkraut, guláš (not to be confused with the Hungarian variety), and different types of breads and pastries. Read up on the best places to eat in Prague and get a hearty meal to remember!
Don't eat meat? Our vegetarian friends will be happy to know Prague has a growing scene of vegan and veg-friendly restaurants. You can try meatless versions of local dishes or eat your favorite international cuisine. Find the best vegetarian restaurants in Prague here.
11. Row a Boat down the Vltava River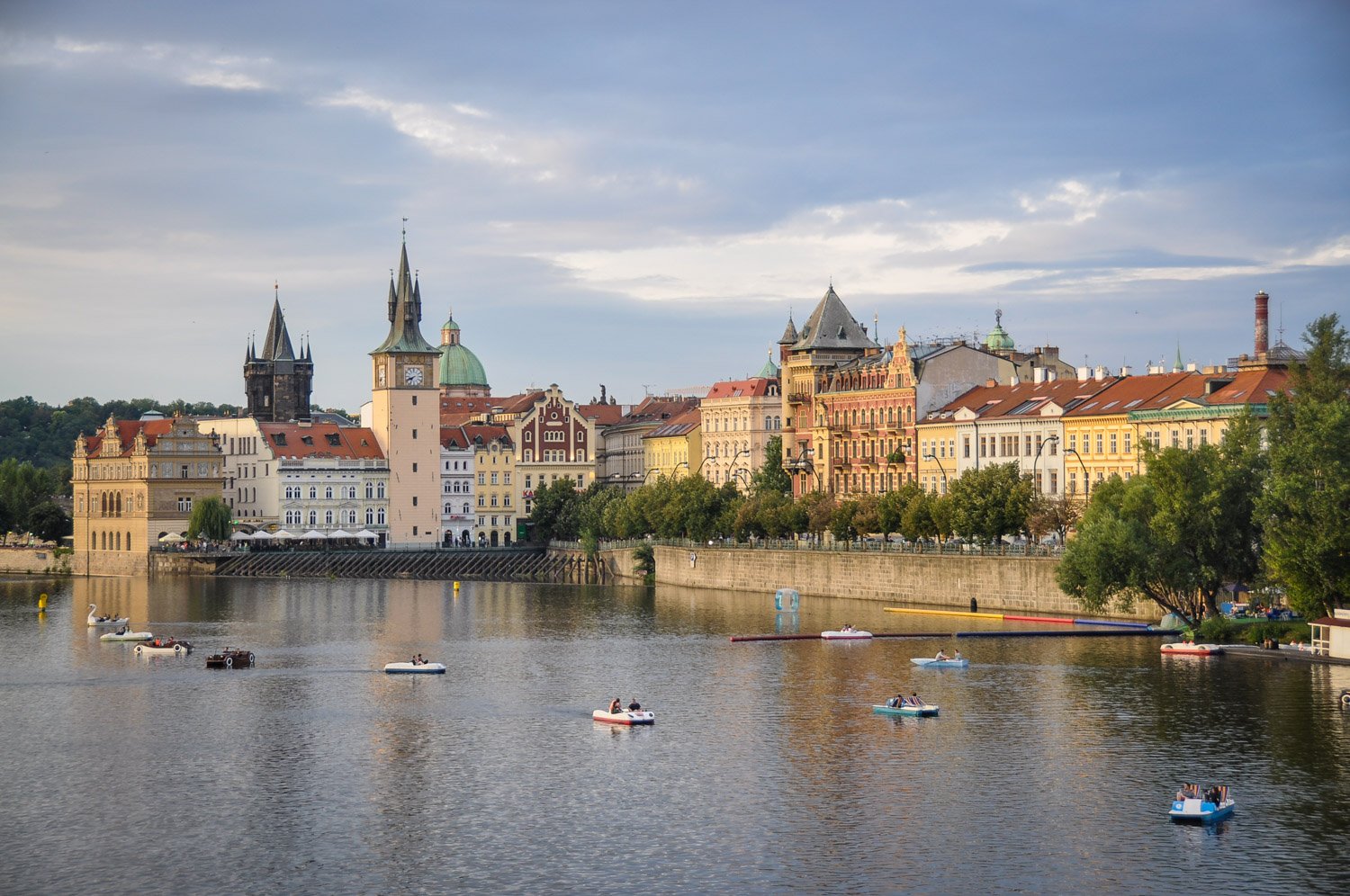 If you want to see the city from a different angle, get on the water! On a nice day, you'll see the Vltava River dotted with rowboats, and they're cheaper to rent than you' might think.
For an hour boat rental, pay just 350 CZK (around $15 USD). The maximum is 4 people per boat, so if you have a small group, this is a fun and affordable activity when you split the cost.
Do it yourself: Slovanka Rentals is highly rated and located on the east side of the river. You'll need a photo ID to rent the boat, so be sure someone in your group has one on them. Also, pack sunscreen and wear sunglasses, as the water will reflect sunlight on a nice day. Pack some snacks and beer or wine if you want an extra fun boat ride!
12. Stroll across the Charles Bridge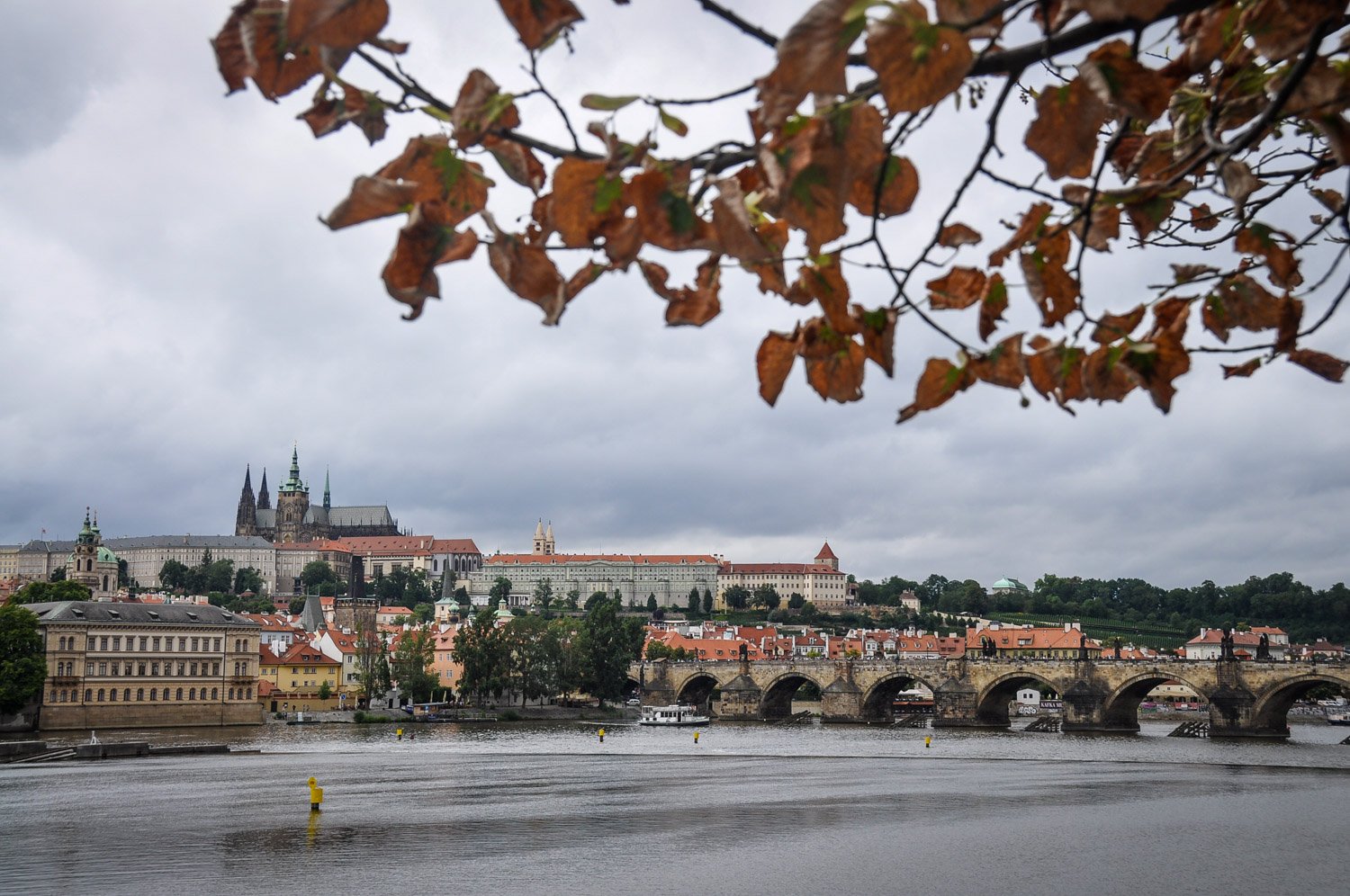 One of the most famous symbols of the city is the Charles Bridge spanning the Vltava River. This 14th century stone bridge has two large towers on both sides linking Prague's old and new towns.
This pedestrian bridge is always busy during the day (annoyingly so!). So if you want to see it empty, be sure to go before breakfast and try to beat the artists, street performers and crowds.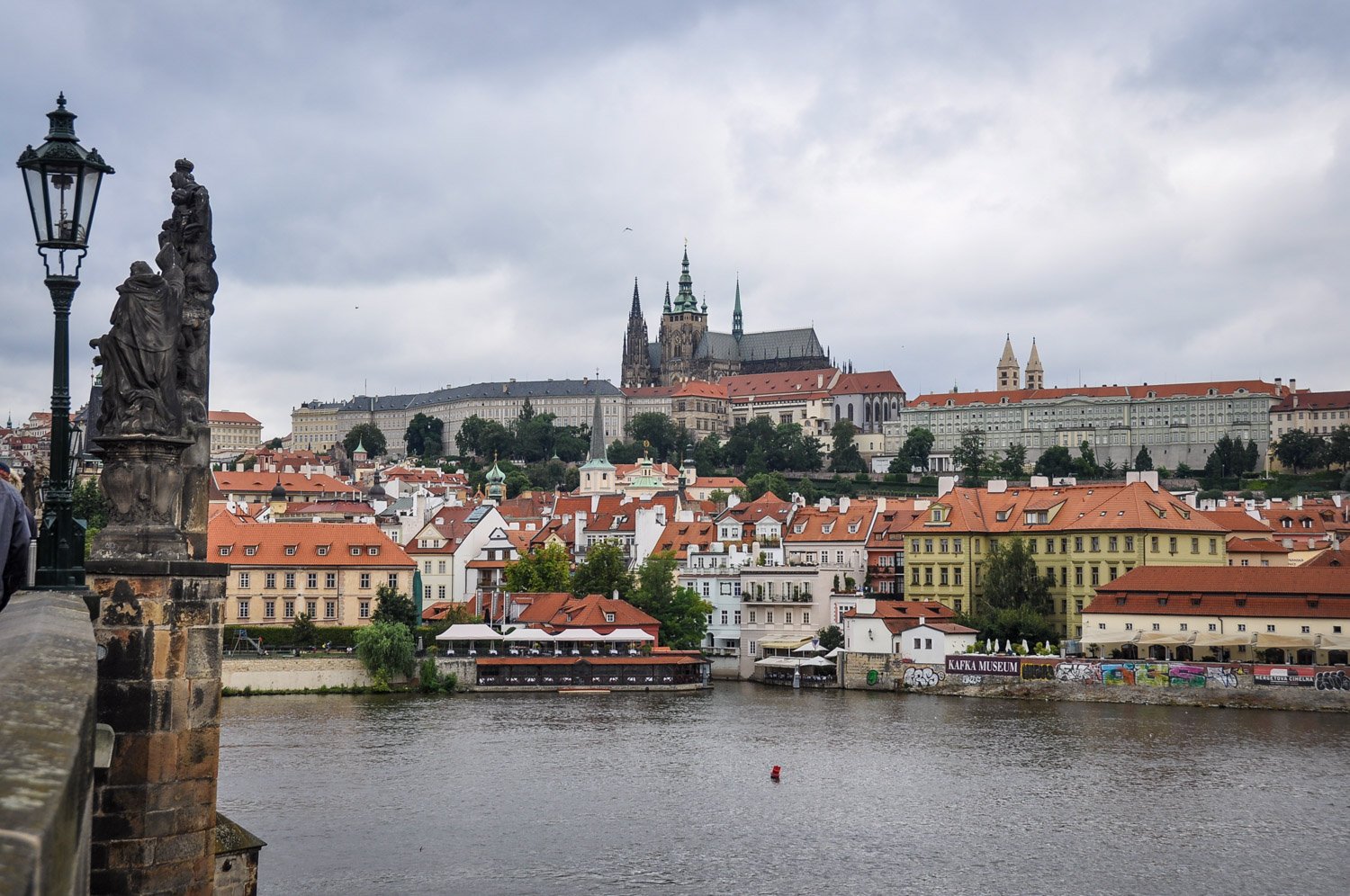 Insider Tip: If you're an early riser, getting to the Charles Bridge for sunrise is a spectacular sight. It'll just be you, some locals on their way to work and Instagram models getting their perfect shot.
13. Get up close to the "Prague Swans" on the Vltava River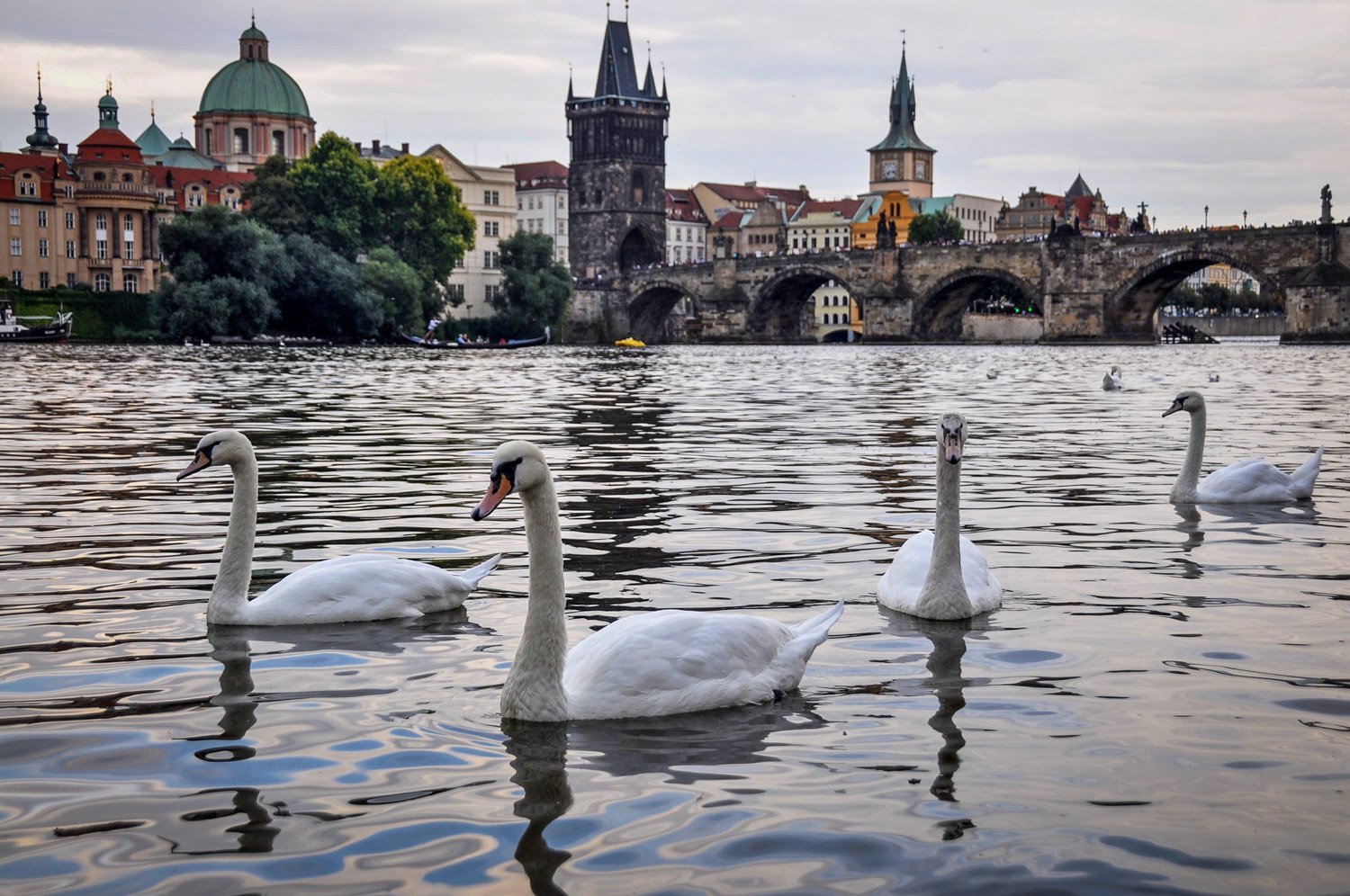 While you can see these beauties all along the Vltava River, a small beach on the west side of Charles Bridge is the best place to spot a huge crowd of them.
Plus, the "Prague Swans" against the backdrop of the city and Charles Bridge makes for a perfect picture.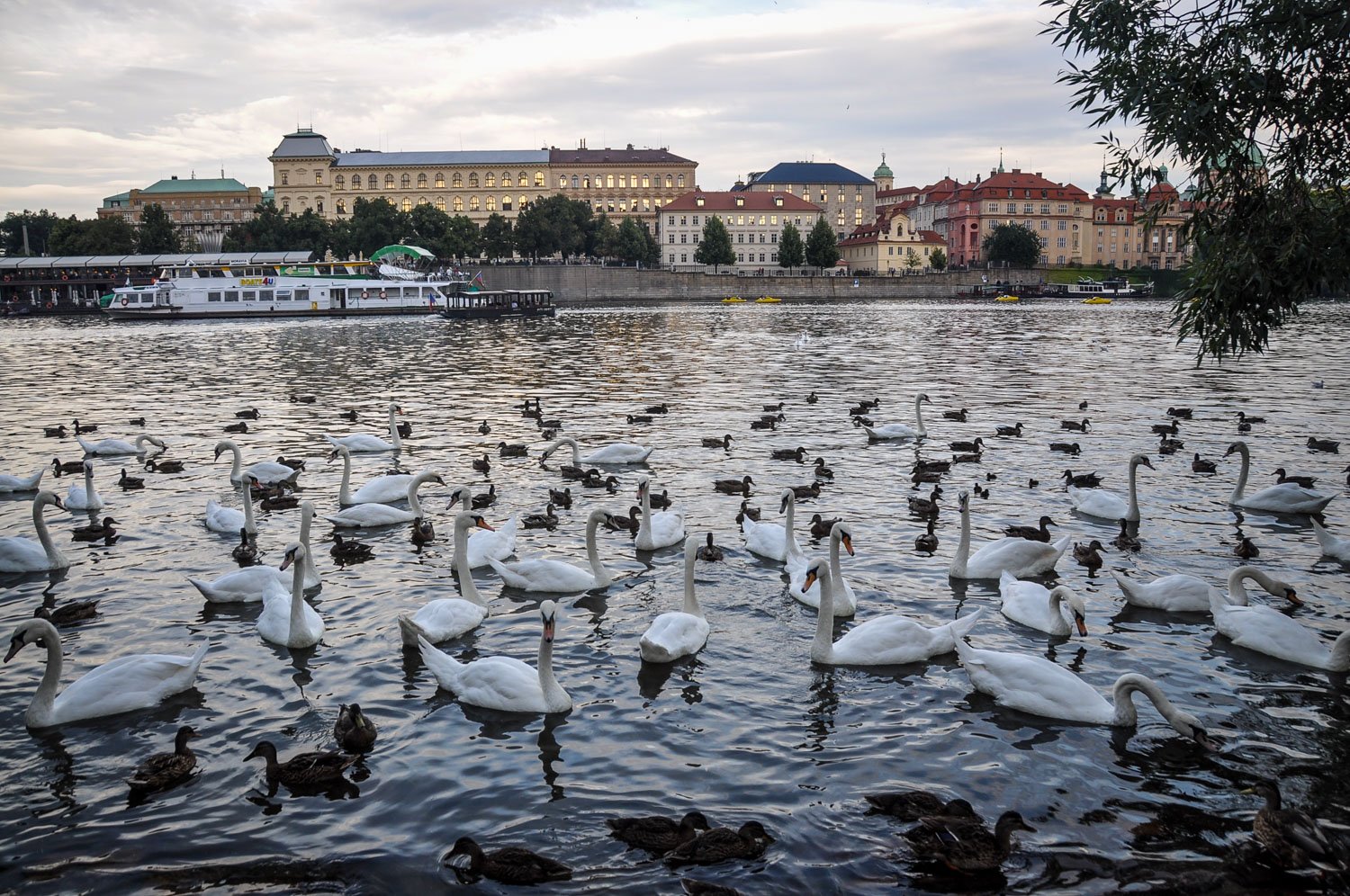 Responsible Travel Tip: While you'll likely see others feeding the swans, we never feed wild animals, as human food is not good for furry (or feathered!) friends. Plus, it makes them rely on people in an unnatural way. And while there really is no reversing the feeding of these swans, we choose not to partake in this. As with all controversial decisions, we encourage you to do your own research and come up with your own opinions.
Do it yourself: Head to this scenic spot after crossing Charles Bridge. And when you're done, visit the nearby Franz Kafka Museum and the iconic Lennon Wall.
14. Spread peace at the Lennon Wall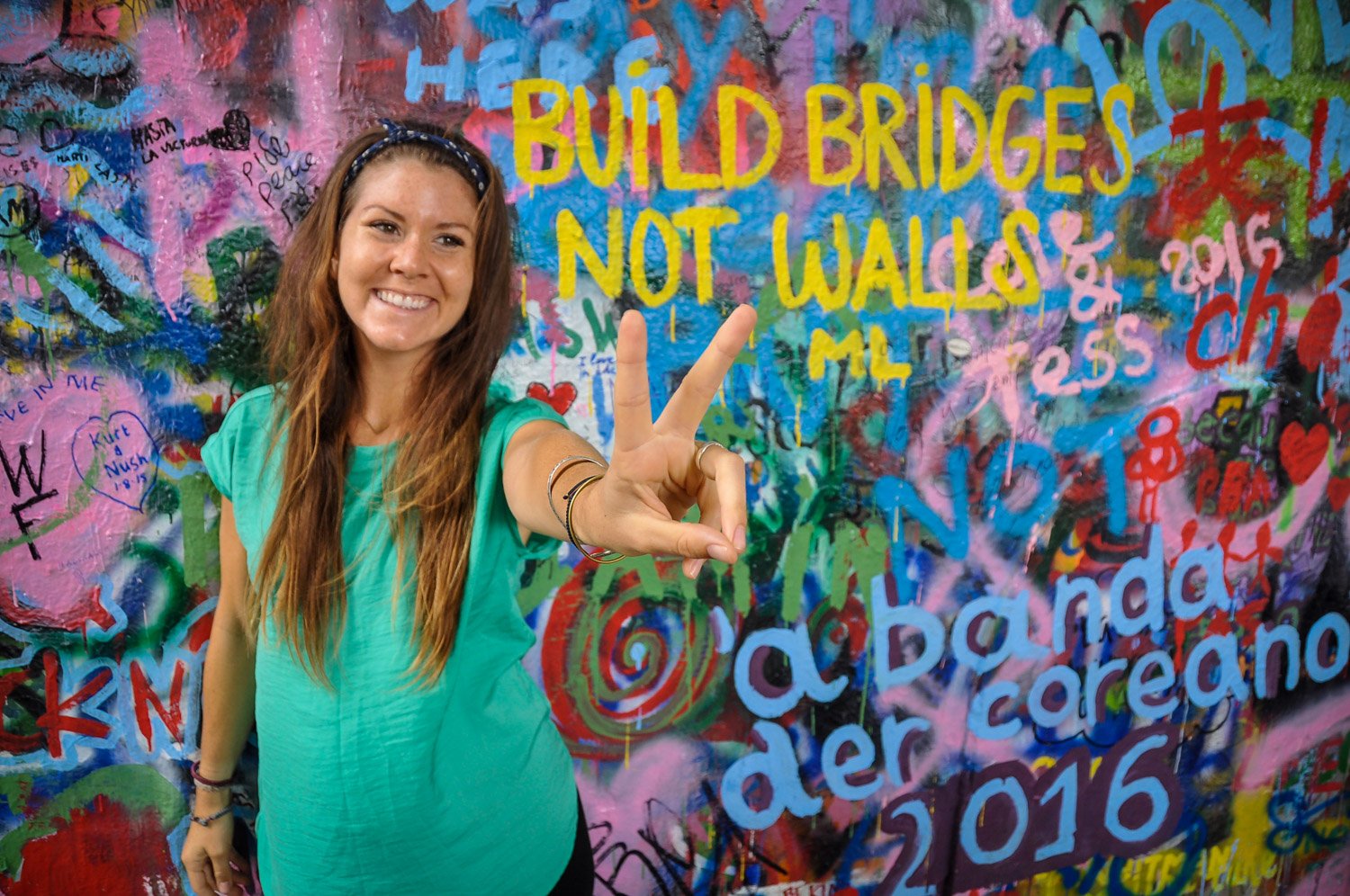 Once you've crossed over to the west side of the river and you've entered Malá Strana (Lesser Town). This area of town is known for its cute cafes, small streets and, of course, the John Lennon Wall.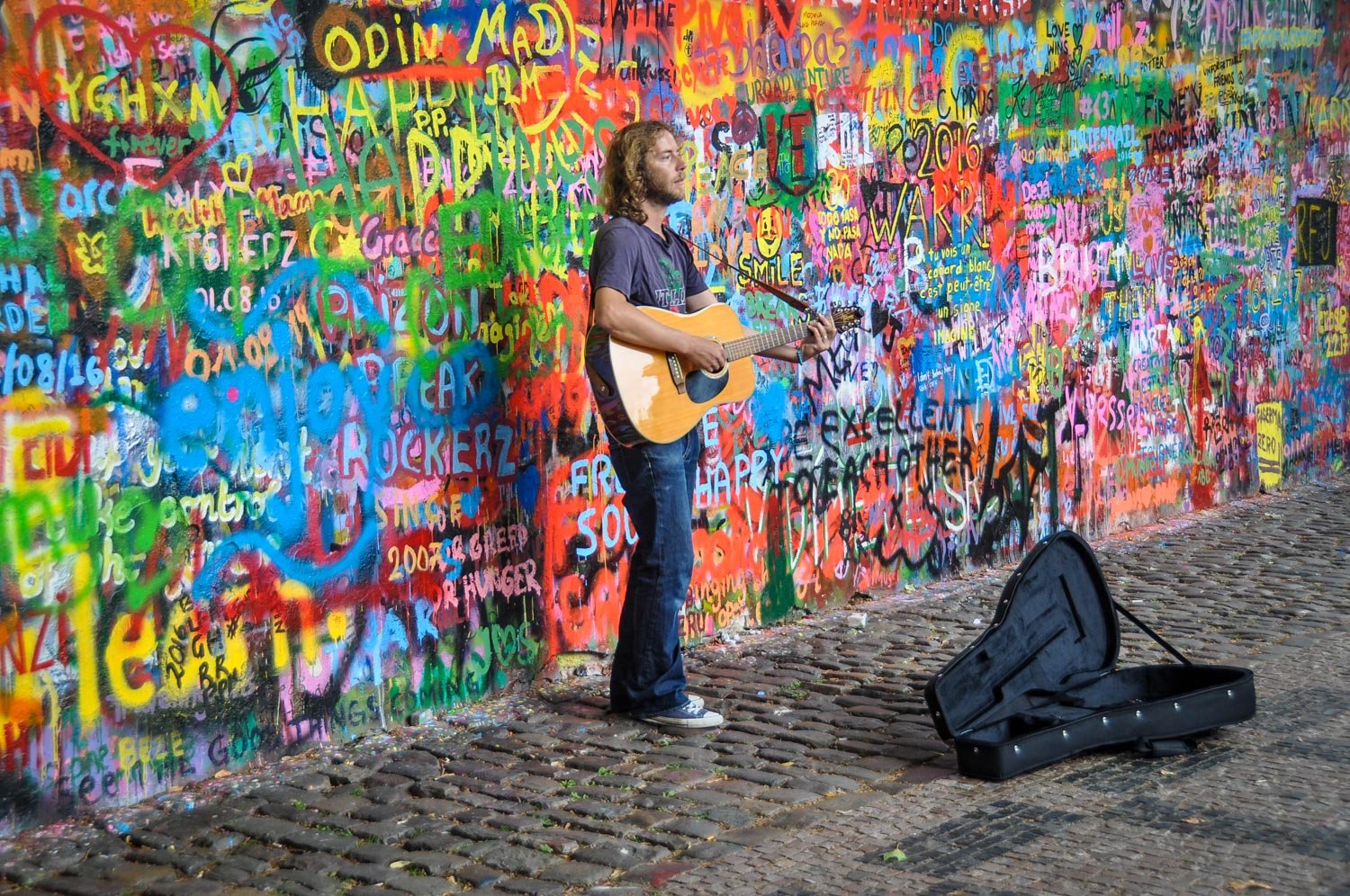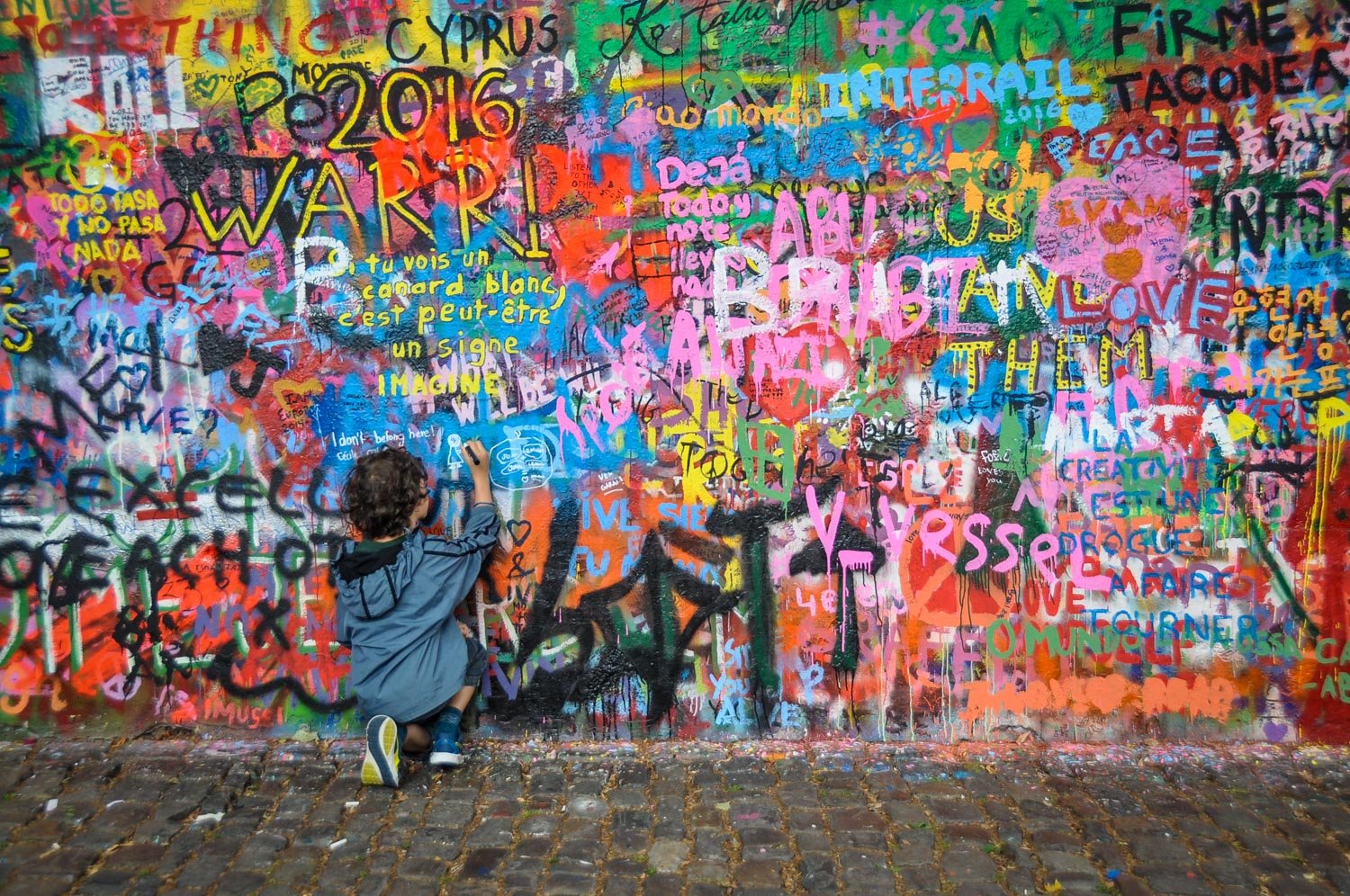 This is an entire wall filled with graffiti and street art that is mostly politically-charged. Find the one design that speaks to you and take a selfie (duh!).
15. Check out the Franz Kafka Museum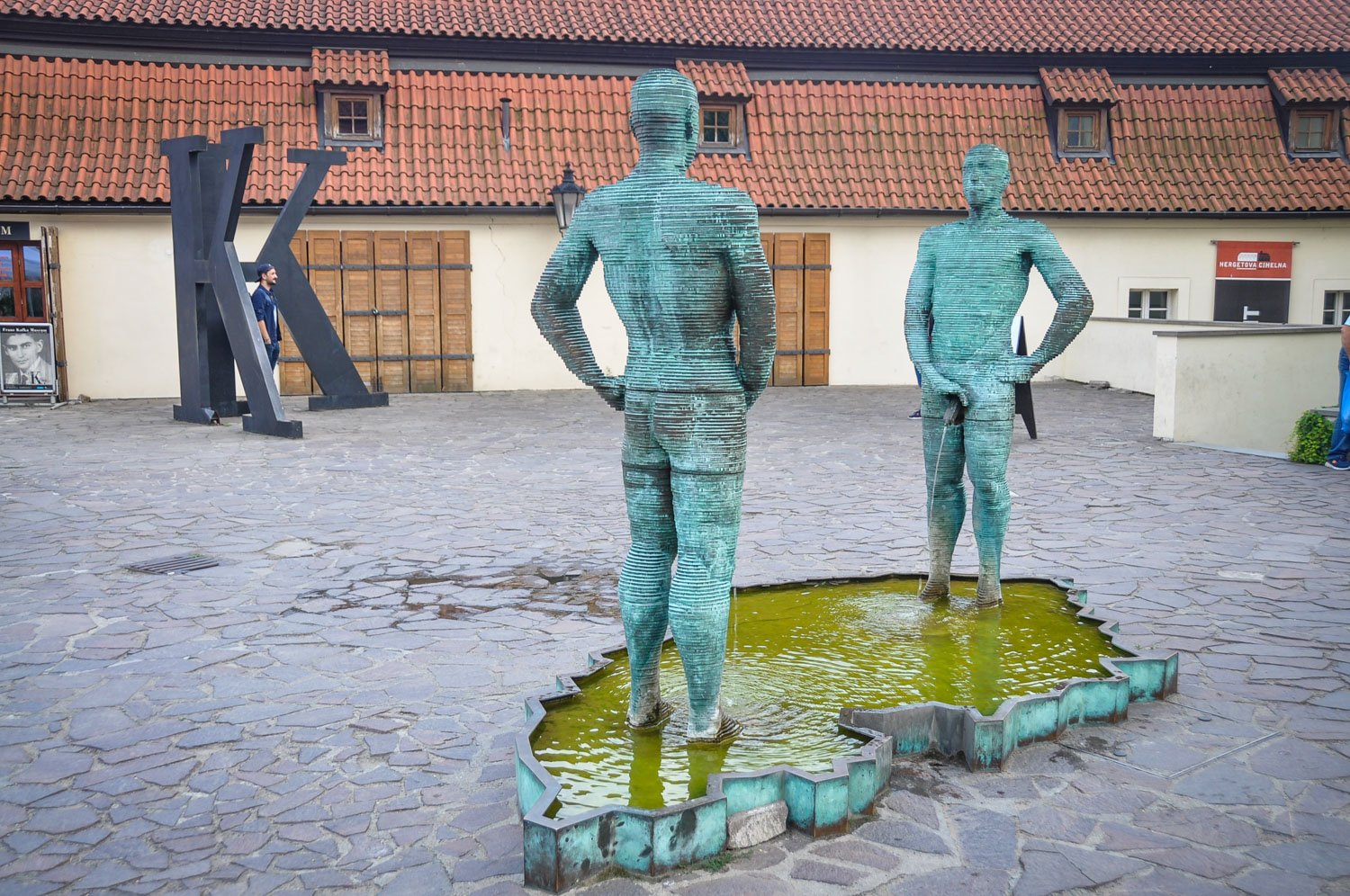 While you're in the area, pay a visit the Franz Kafka Museum and be sure to check out the statue in front, famously known as the "Piss Sculpture".
As you walk up to the museum, you'll hear the sound of water running. And no it's not the river. It's a sculpture of two men swaying their hips and "peeing" into a small pool shaped like the Czech Republic.
The best part is you can send a text to a number on the sculpture and then one of the men will "write" your message spelling out each letter. I have a feeling this art installation would be particularly amusing to 12-year-old boys. And Ben, I suppose.  
Love Museums? While we're talking about museums, it's worth noting that Prague is home to tons more! If you are a museum buff, consider spending a day hopping between art galleries, the Jewish Museum and the Communism Museum, to get a feel for what this city has to offer.
16. Feel like a local at the Náplavka Farmer's Market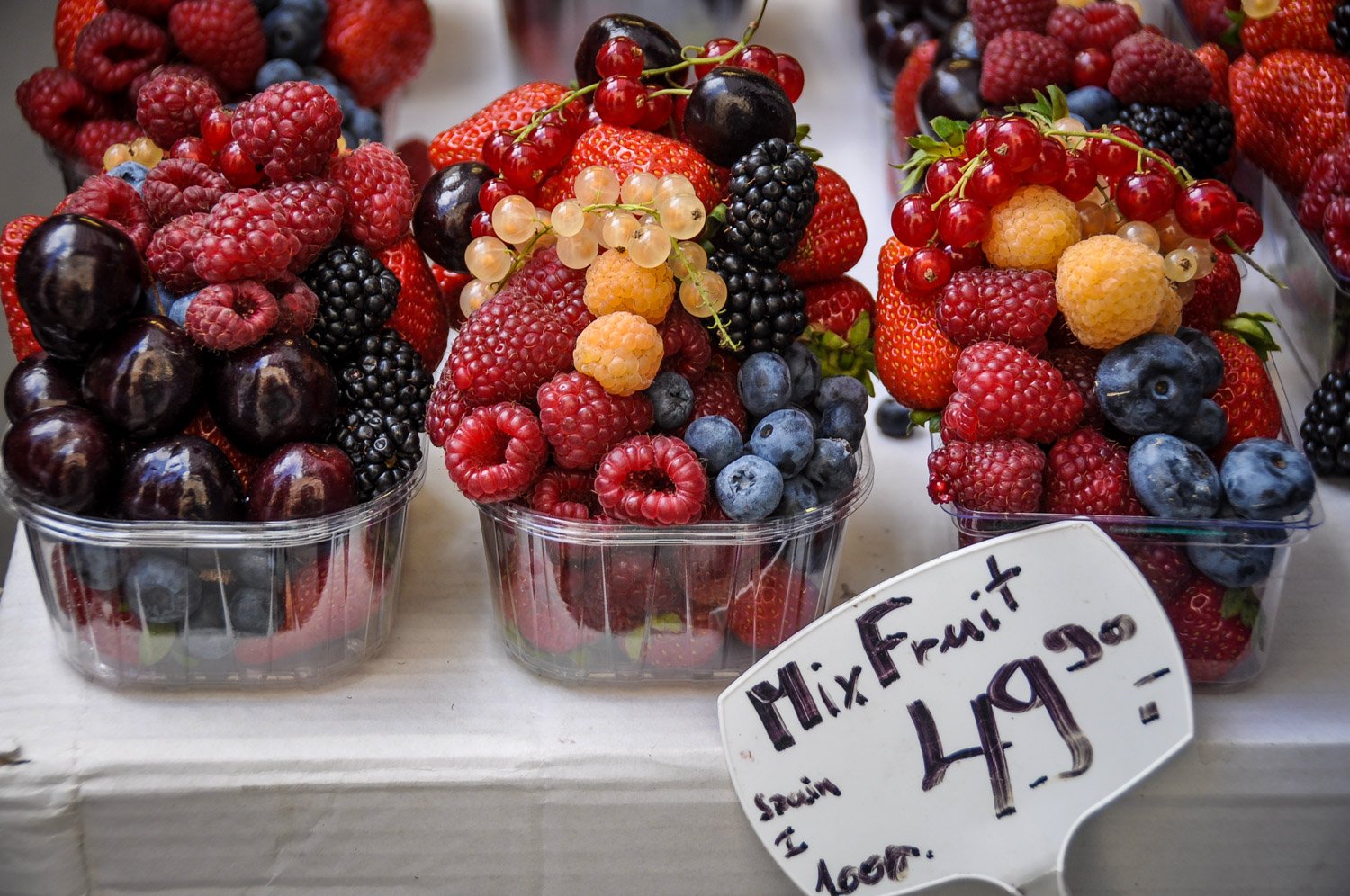 Visiting a local Farmer's Market is one of our favorite things to do in a new city, no matter where in the world we might be. It's can be a fantastic free activity if you just want to wander, people-watch and get a feel for local life. But it can also be a good chance to support farmers and artisans and get a taste of the local flavors.
Farmer's Markets are a great place pick up some fresh produce to cook a healthy (and cheap!) meal later on in the day if you're staying at a hostel or Airbnb with a kitchen.
Situated along the Vltava River, you can stroll past stalls selling Czech bread, local cheeses and seasonal favorites like asparagus and strawberries.
Do it yourself: The Náplavka Farmer's Market is open year-round on Saturdays from 8 a.m. – 2 p.m. It's conveniently located just a few blocks from the famous "Dancing House" and the closest Metro stop is Karlovo Náměstí (two stops from Wenceslas Square).
Responsible Travel Tip: Don't forget your reusable bags to save plastic.
17. Find the famous "Dancing House"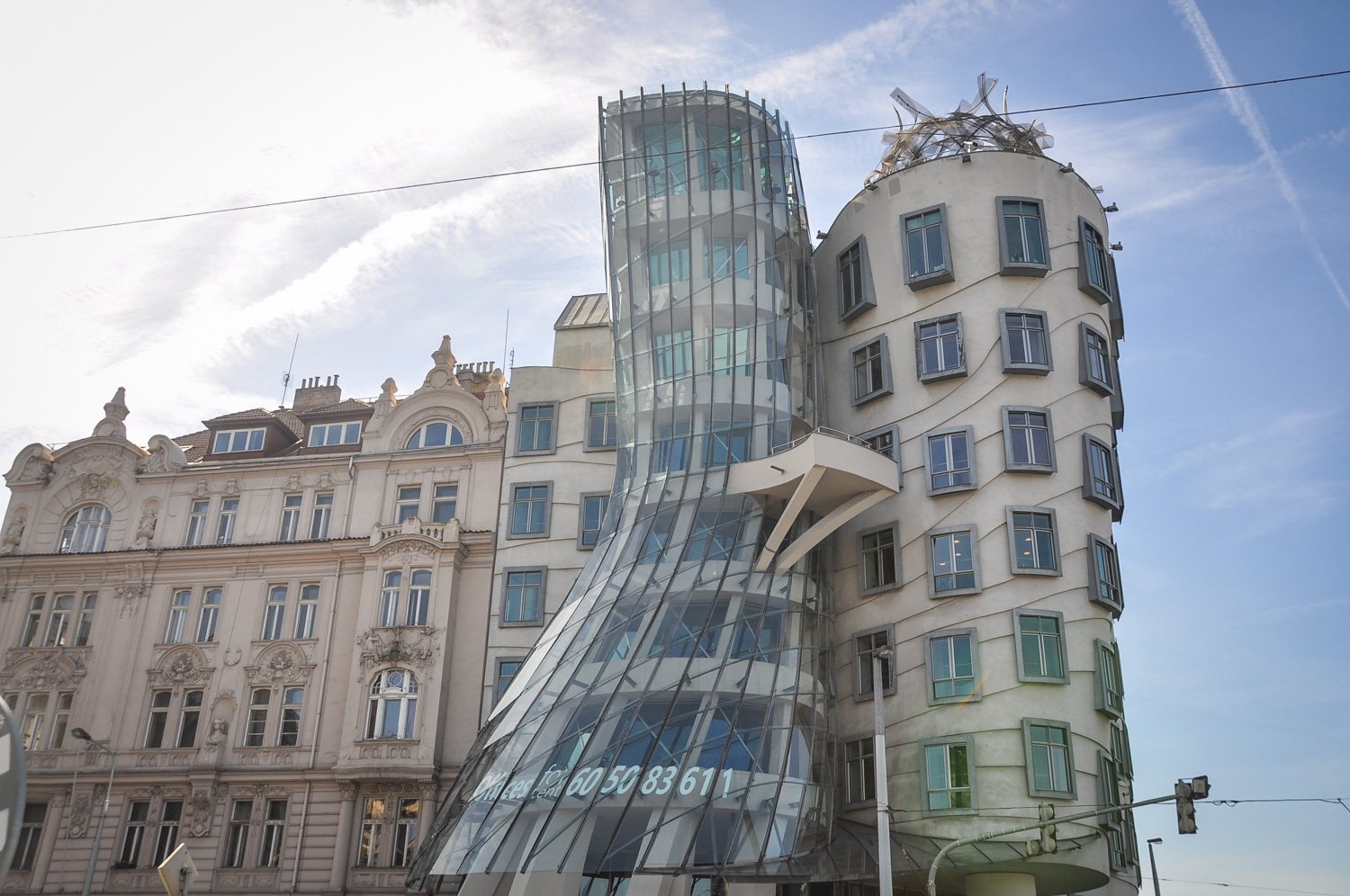 Two bridges south from the Charles Bridge is the Dancing House, a modern office building that at first glance appears to be moving.
The walk from Charles Bridge to the Dancing House gives you nice views of the riverside, the island and the diversity of Prague's architecture.
18. Photograph pretty doors
I have a thing for doors. Anyone else?!
If you're like me, you're gonna want to keep your camera handy while walking the streets of Prague because you're going to see beautiful doors on each block. Get ready to snap away.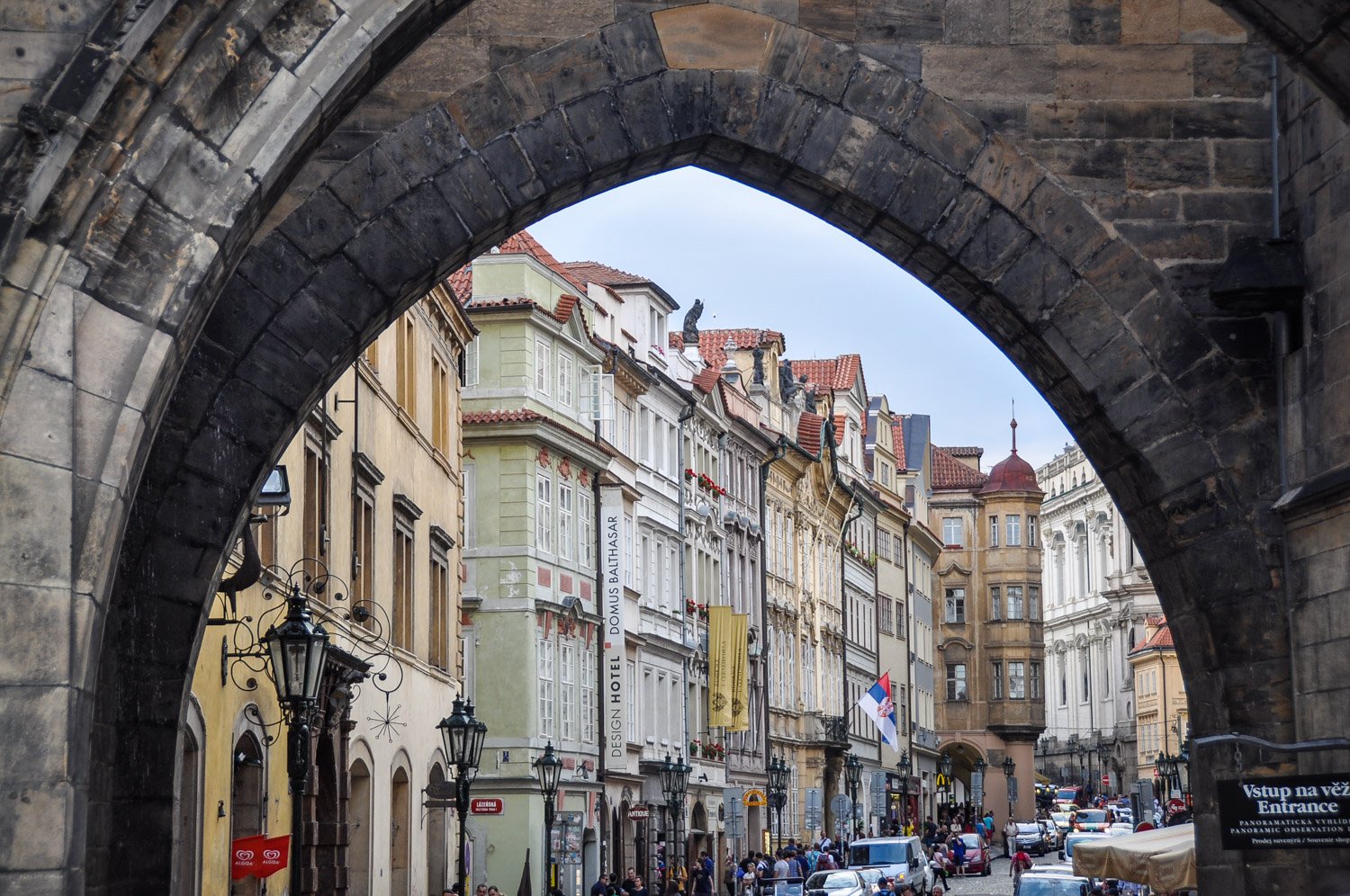 And the beauty of Prague stretches far beyond doorways. If you're into architecture, wandering the streets of this city will leave you with a smile on your face (and a full memory card!).
19. Spot Peacocks in Vojanovy Sady Park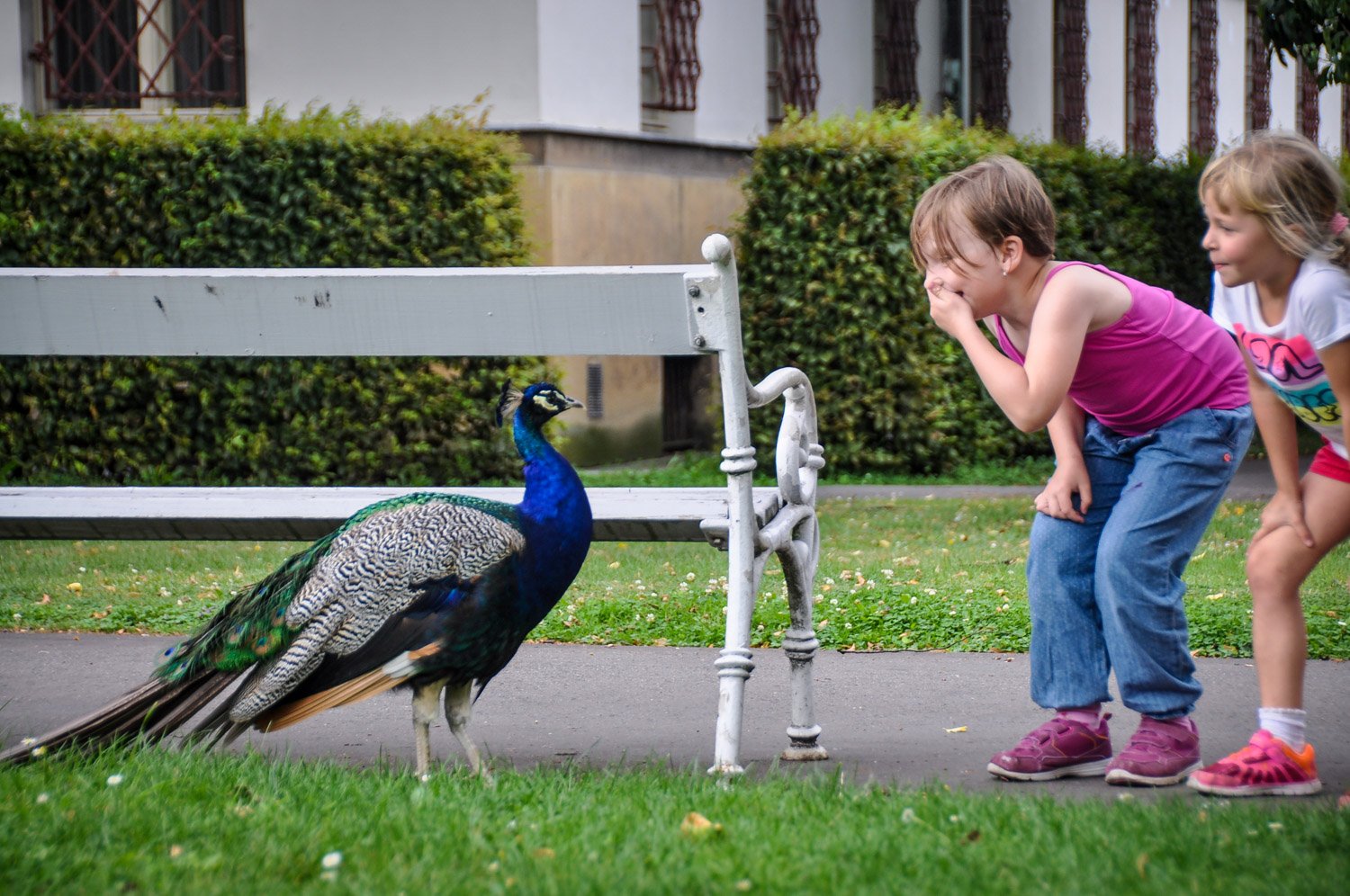 Get a coffee to go and take a stroll through Vojanovy Sady. It's a beautiful park with resident peacocks that freely roam around.
Did you know the Czech Republic is a great place to teach English? Find out how to get certified to teach English abroad.
20. Explore the Prague Castle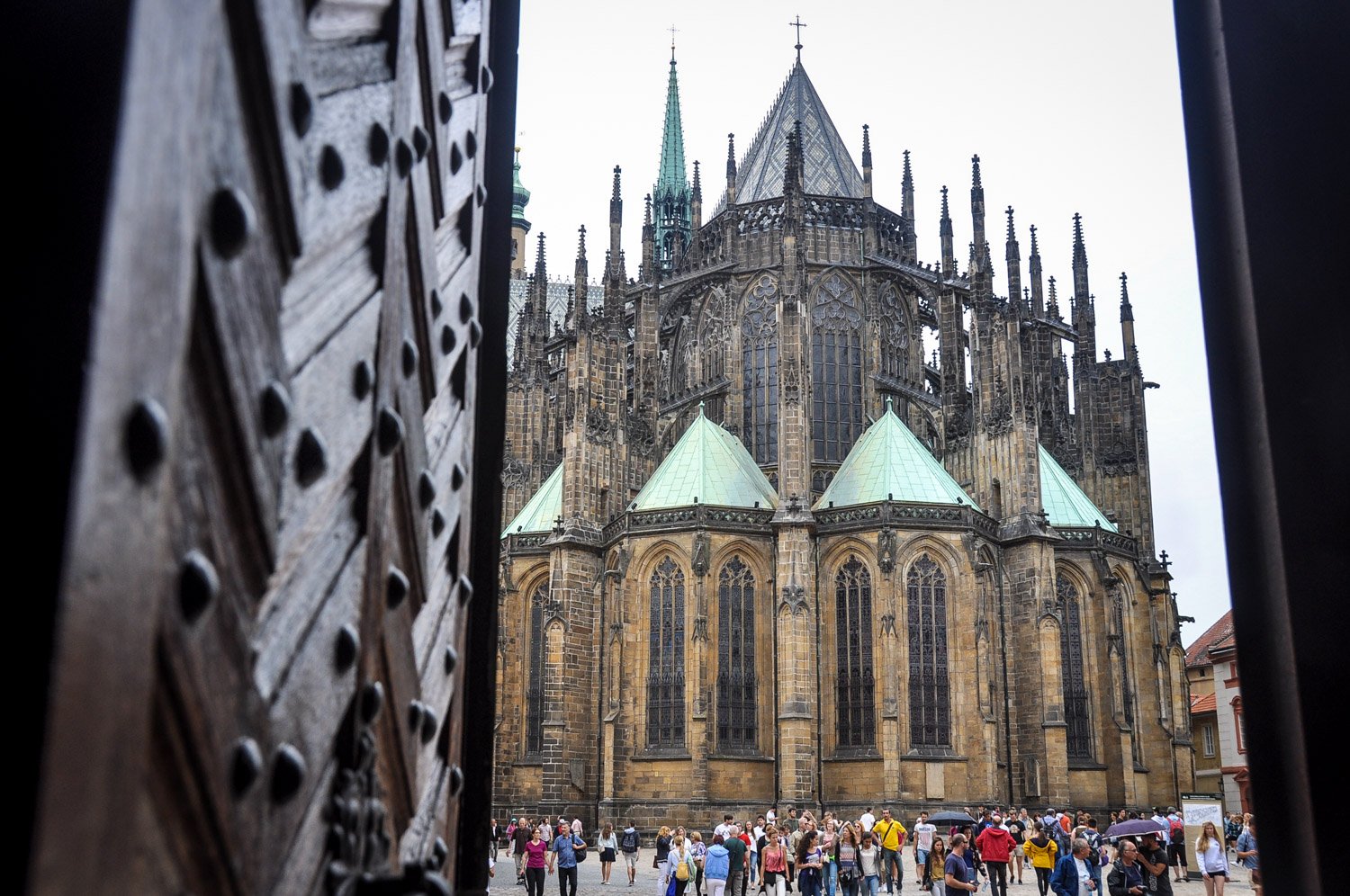 Just about every traveler in this city makes a visit to the Prague Castle, a stunning fortress that overlooks the city. It's just one of those things you should see if you're in the city.
But be prepared for the crowds. While the castle is fun to explore, don't expect peace and solitude in this popular tourist attraction.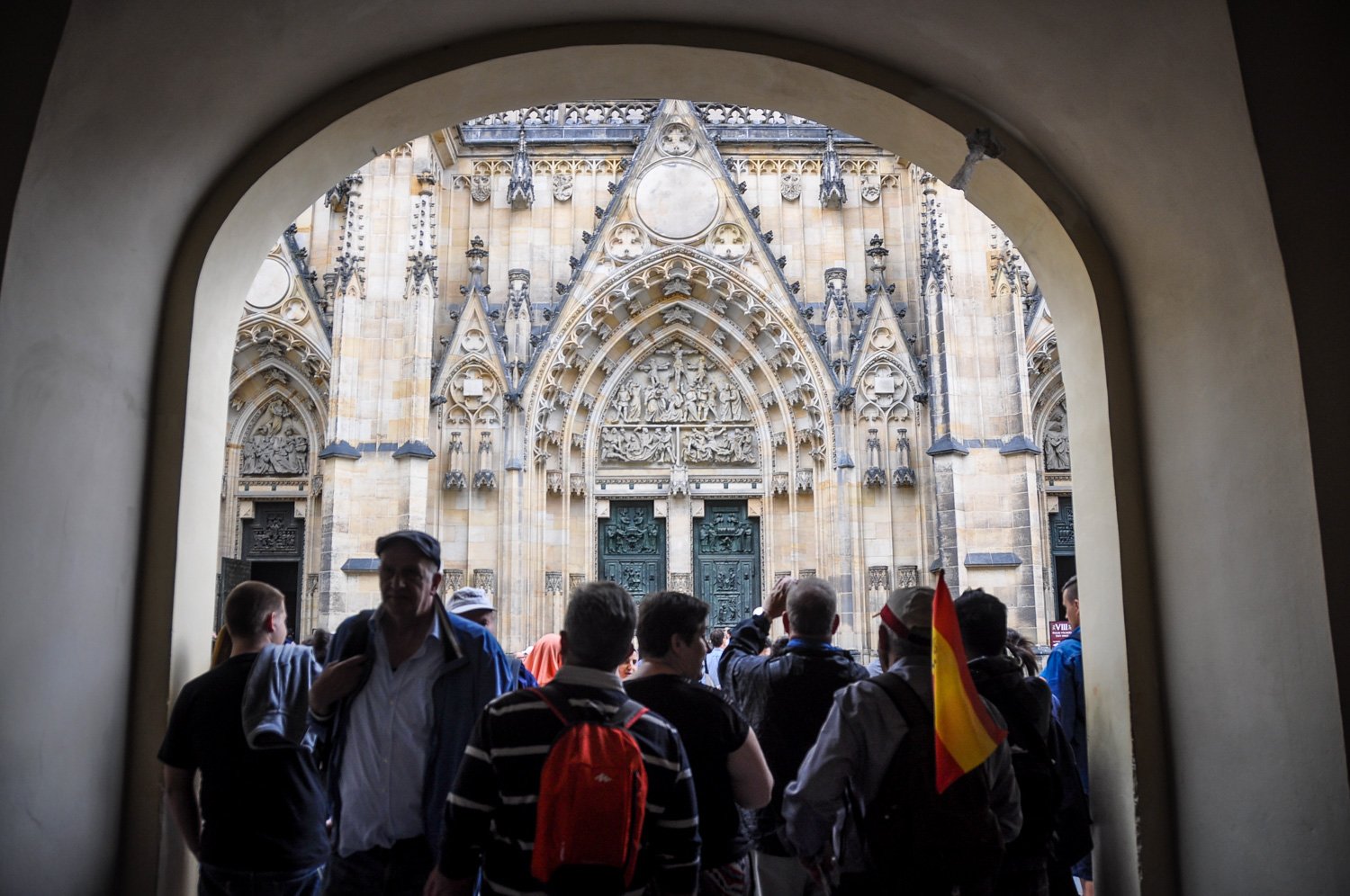 Be sure to continue further into the fortress to the Golden Lane, an area with with tiny shops and staged reenactments of what the shops looked like during medieval times.
Admission to the Castle is 350 CZK (about $17 USD).
21. Admire the Stained Glass in St. Vitus Cathedral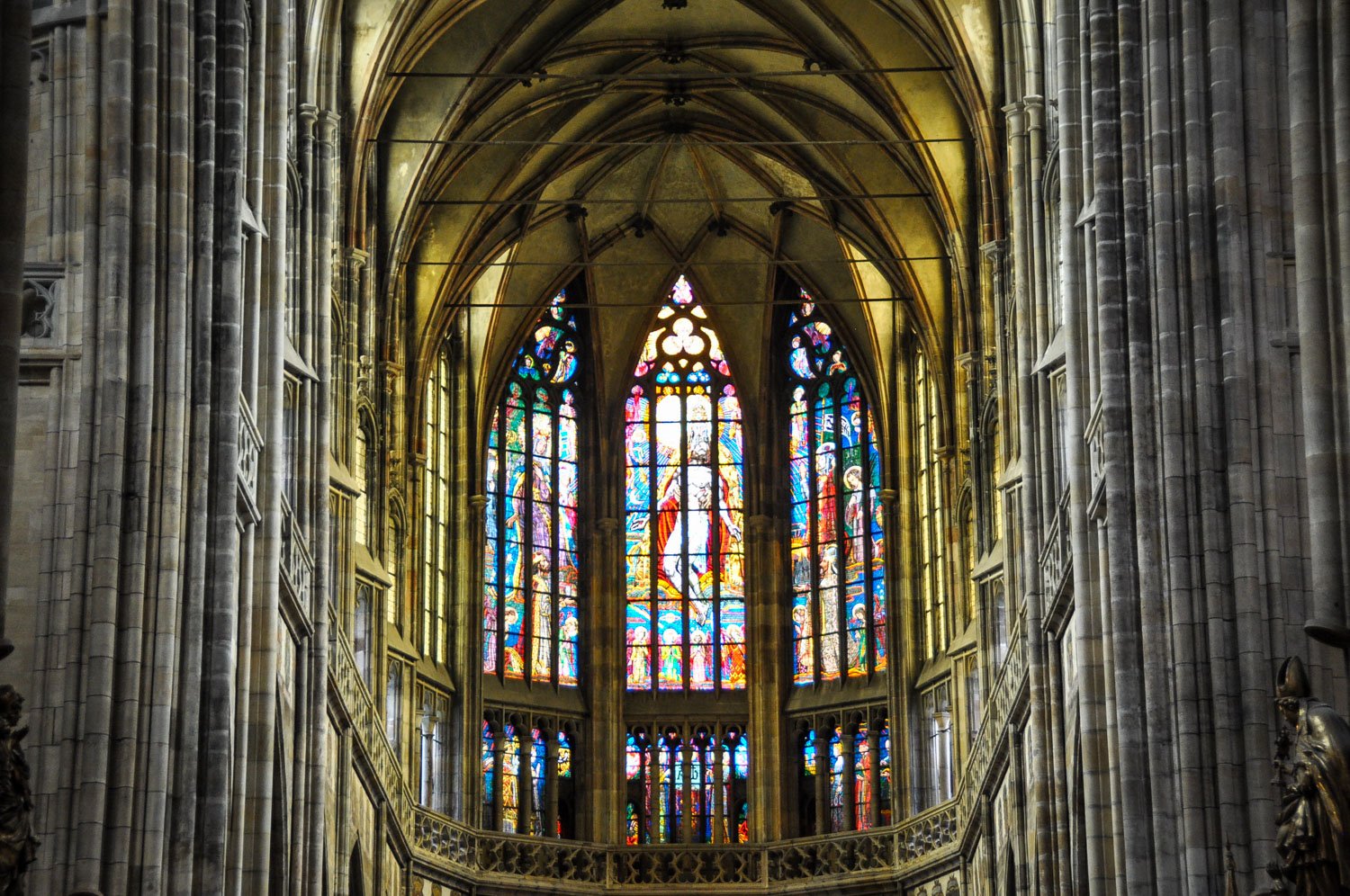 While traveling in Asia, you get "templed out". In Latin America, "ruined out". And in Europe, it can be easy to feel like all the churches blend together.
But trust us, Saint Vitus Cathedral is worth a visit. Especially since it's inside the walls of the Prague Castle.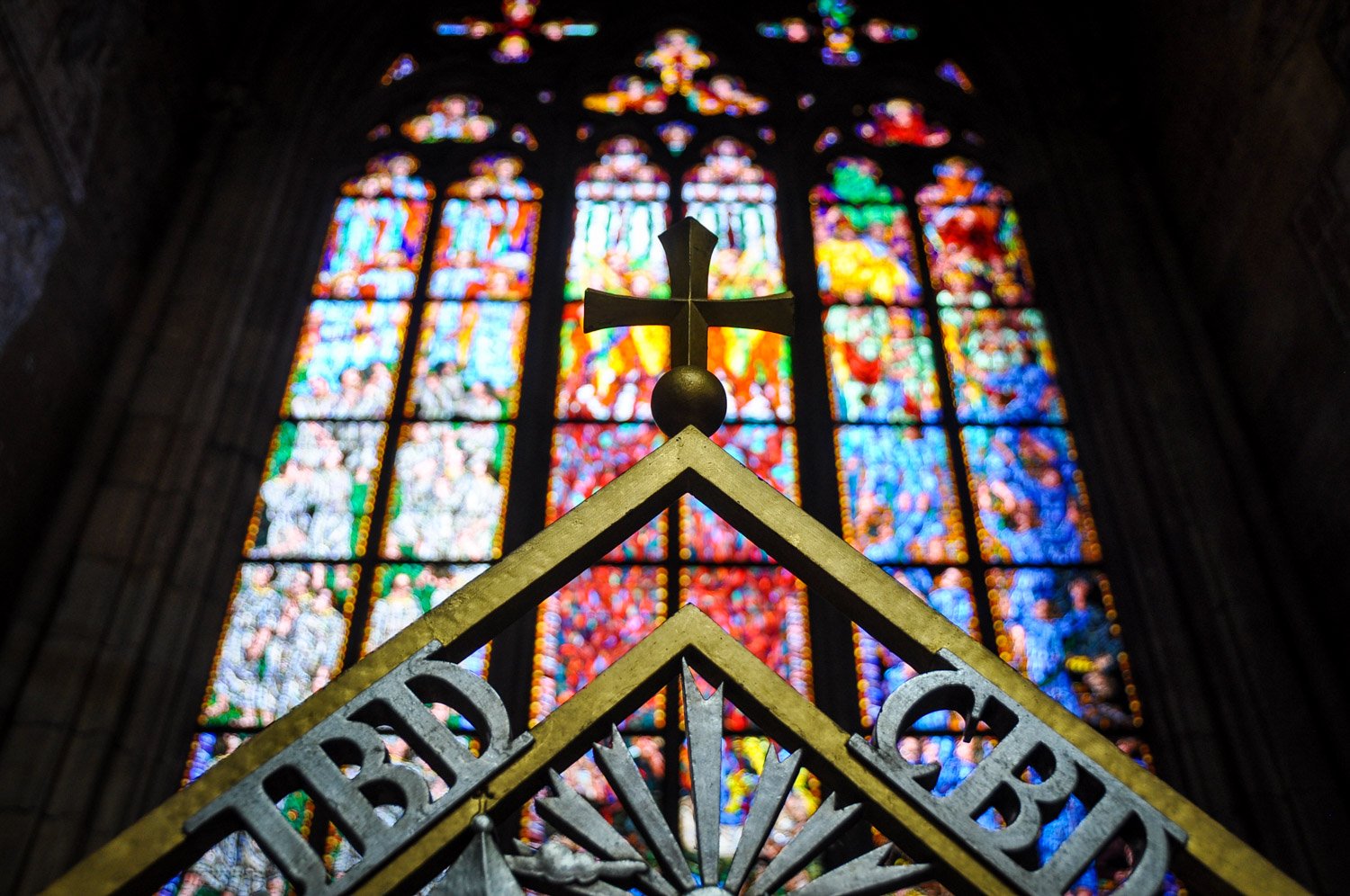 The stained glass is unlike any we've ever seen, and we have a feeling you'll be impressed too!
22. Smell the flowers in the Royal Garden
The Royal Garden (Královská zahrada) north of the castle is stunning and if you have time take a stroll there. The shrubbery is trimmed to perfection and the flowers change with the seasons. 
23. Be charmed by Nový Svět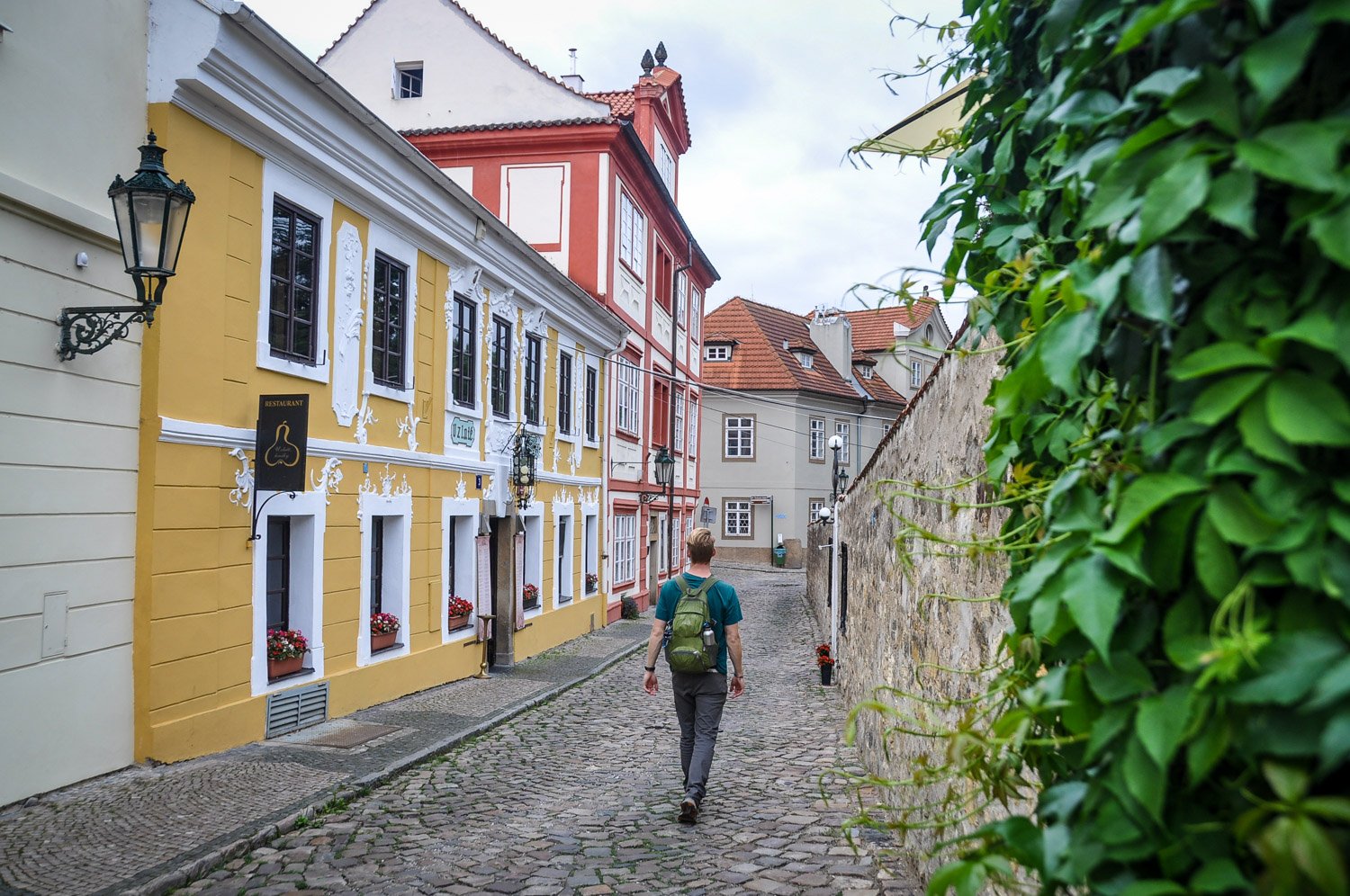 Take a peaceful walk down Nový Svět (meaning New World), a tiny picturesque street west of the castle with far fewer crowds.
Find a café there and give your feet a break. And when you're ready to explore again, walk along the cobblestone streets and take in the stunning architecture all around you.
24. Picnic with a view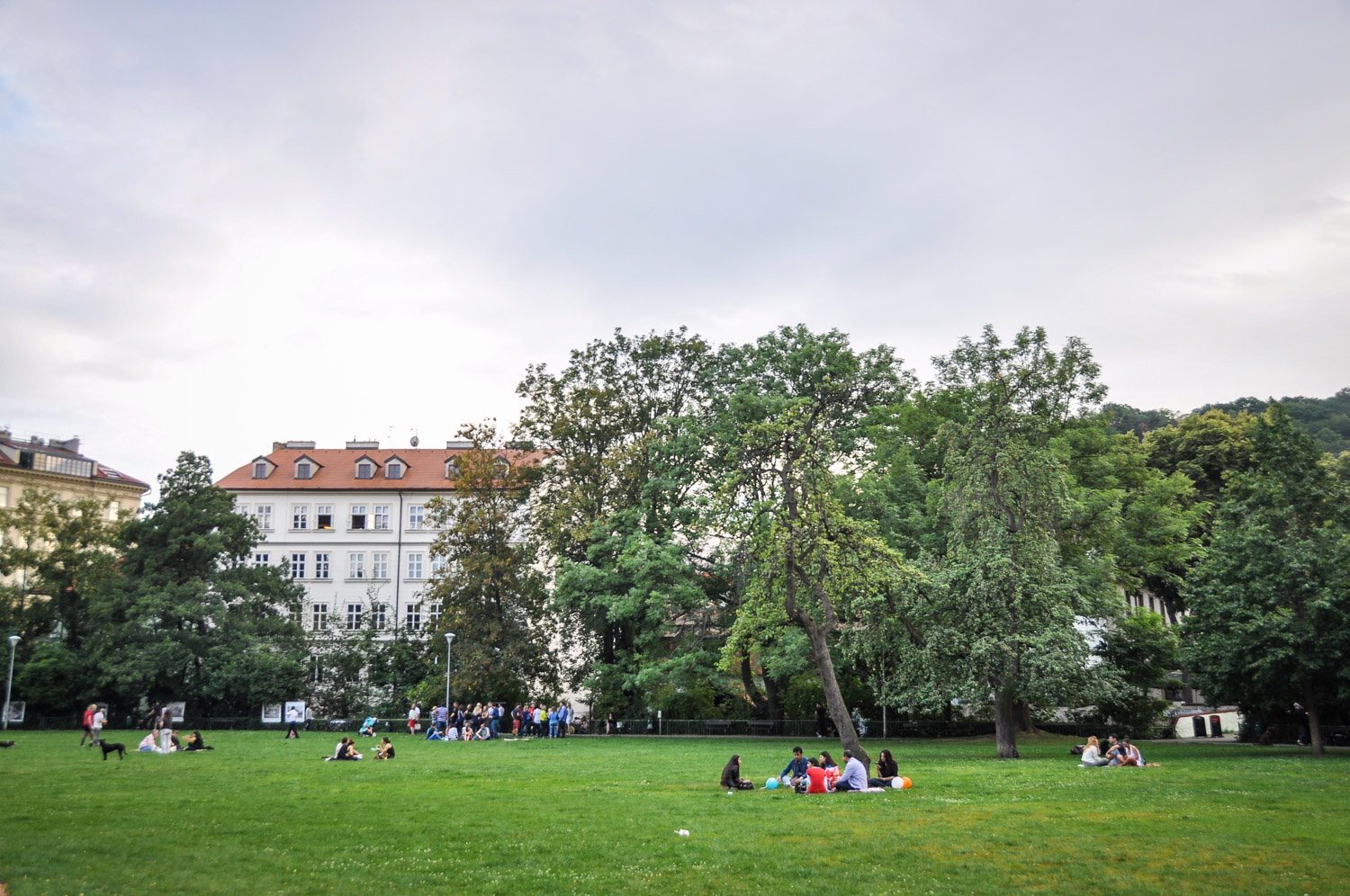 Do like the locals do: pack a picnic lunch, head to one of the many parks. Lay down a blanket or grab a bench with a river view.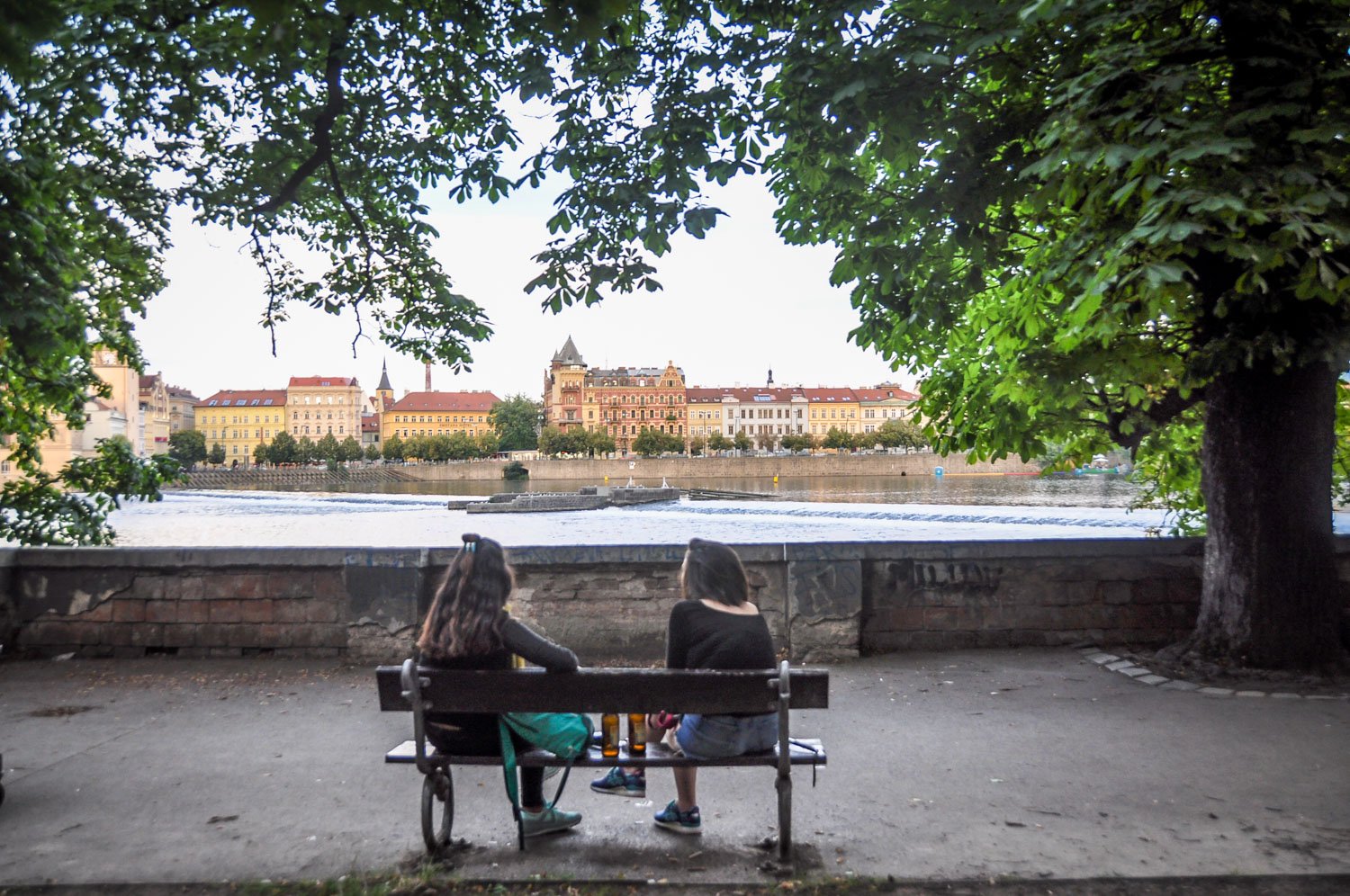 Play cards, listen to music, get some sun on a nice day, unwind with a good book, throw around a frisbee – whatever your heart desires.
Don't forget the beverage of your choice!
25. Watch an Outdoor Movie
If you're lucky enough to be visiting Prague in the summertime, don't miss the chance to see an outdoor movie. There are several outdoor cinemas that run through the summer months and show classics on big screens.
One of the more popular ones can be found on Střelecký Ostrov, which is a tiny island on the Vltava River.
26. Get the best city view from Letna Park
A nice spot to visit in the afternoon is Letenský profil, a beautiful building north of the river in the setting of Letna Park. Be sure to stop by the Prague Metronome while you're in the park too. And it's exactly what you'd expect, a giant metronome.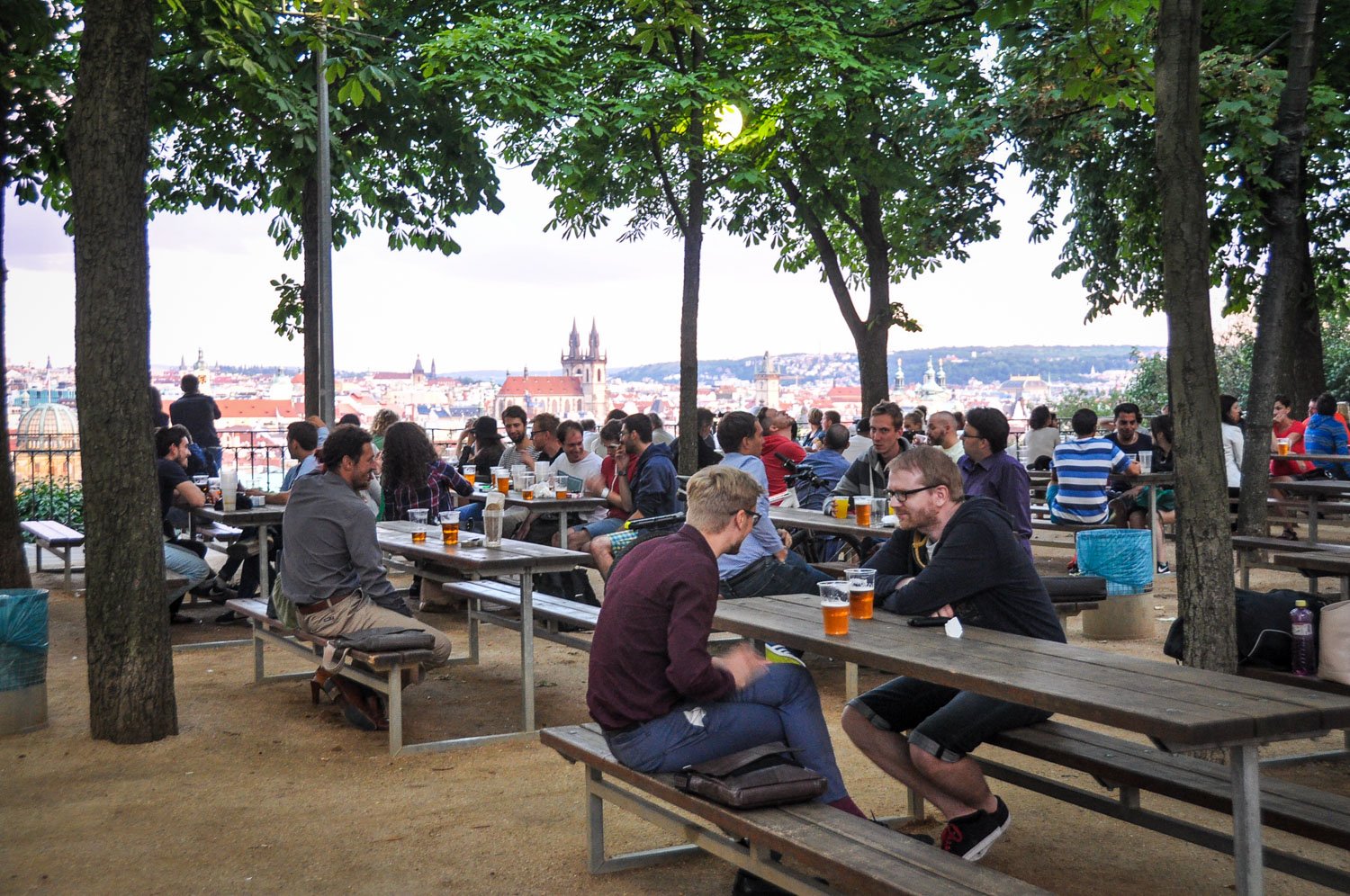 Aim to get to the park in the early evening. Head to the Letna Park beer garden where you can enjoy a pint (or 2!) on a picnic bench with views of the river and city as Golden Hour sets in.
27. See the Views from Petrin Hall
 

 

View this post on Instagram

 
While we're speaking of city views, we can't forget Petrin Hall, which also offers amazing views over Prague. You can take the cable car/funicular to the top of the hill (same price as public transportation) or make the 30-minute climb.
At the top, you'll see a tower that resembles the Eiffel Tower, and from this point you are rewarded with sweeping panoramic views over the city. You can either take the elevator to the top, or climb the 299 stairs. Entrance is CZK 150. And even if you don't go into the tower itself, you can wander around the rose gardens, admire the cherry blossoms (if they're in bloom!) and visit the Strahov Monastery and order a beer at the onsite brewery.
28. Get off the beaten path in the Žižkov Neighborhood
This quirky, up-and-coming neighborhood is popular with students and has been known in the past for its edgy, gritty vibe. Rumor has it that this cobblestone neighborhood has more pubs per square kilometer than any other neighborhood in Europe.
Stroll the streets on your own or with the Žižkov Free Walking Tour and take in the eclectic art installations. Or come back at night, and experience the pub scene. Either way, you'll be experiencing one of the lesser known cheap things to do Prague that few tourists see.
29. Try a Pilsner (or 3!)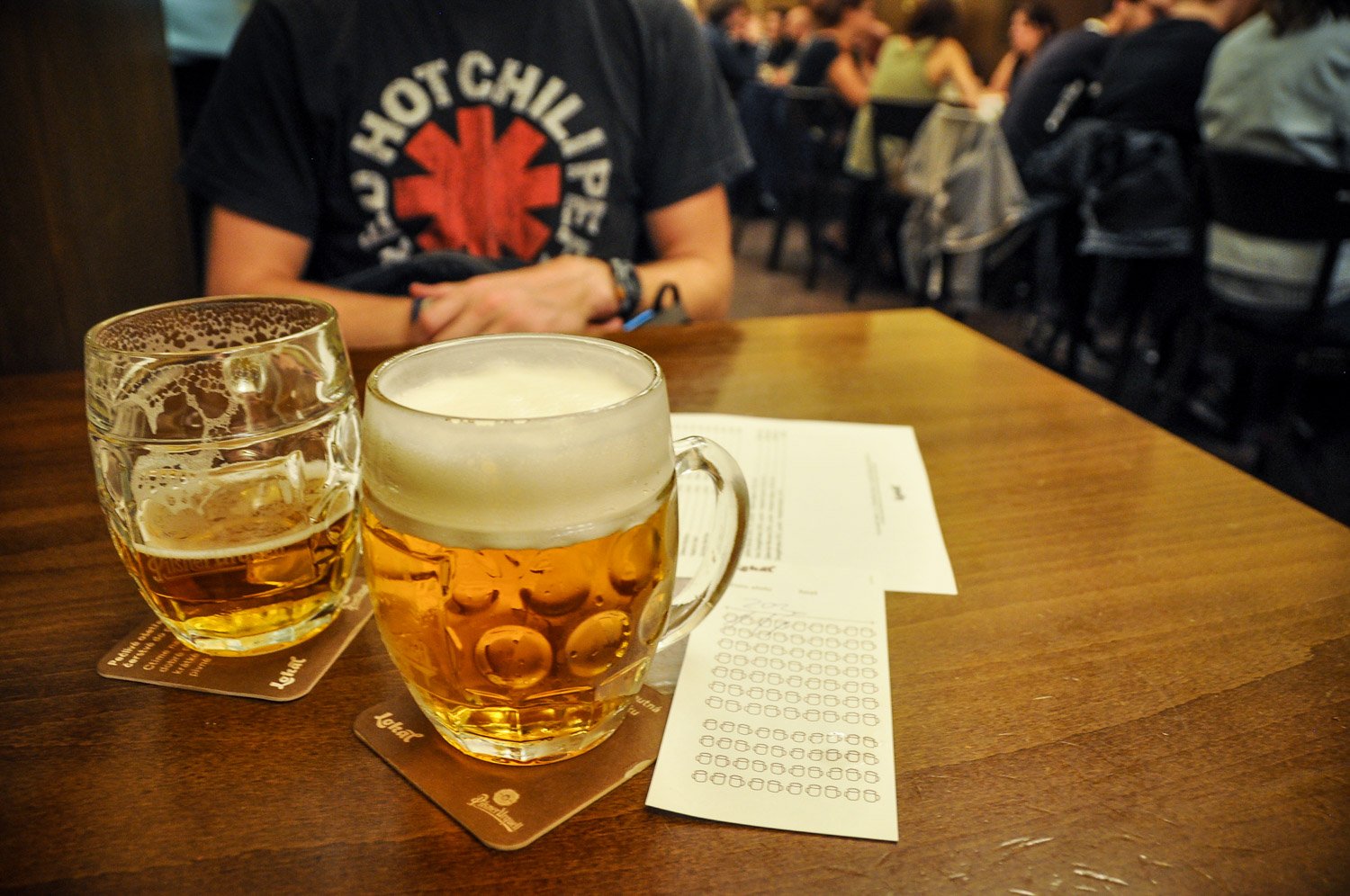 I'm not gonna lie, Pilsner is not my favorite type of beer. Not by a long shot. But it's what the Czech Republic is famous for, so you better believe we tried it from the source.
The best place to try the stuff is at a beer hall, where they'll typically serve pilsner, and only pilsner. You'll find lots around the city, but if you're looking for a recommendation, we liked Lokal Dlouhaaa which was packed with locals and served cheap pilsners and hearty Czech cuisine.Even if you're like us and you don't love pilsners, we think you'll enjoy the fun atmosphere you'll find at most beer halls.
What's with the foam on beer? Czechs love the foam on beer and will pour you a glass that way (on purpose!). A local told us they like it 40% beer and 60% head (that would never fly back home!). However, when they spot foreigners, they often change up the ratio a bit. Most of our beers were poured 70/30 (beer heavy).But just don't be surprised like we were!
30. Drink a craft beer in Prague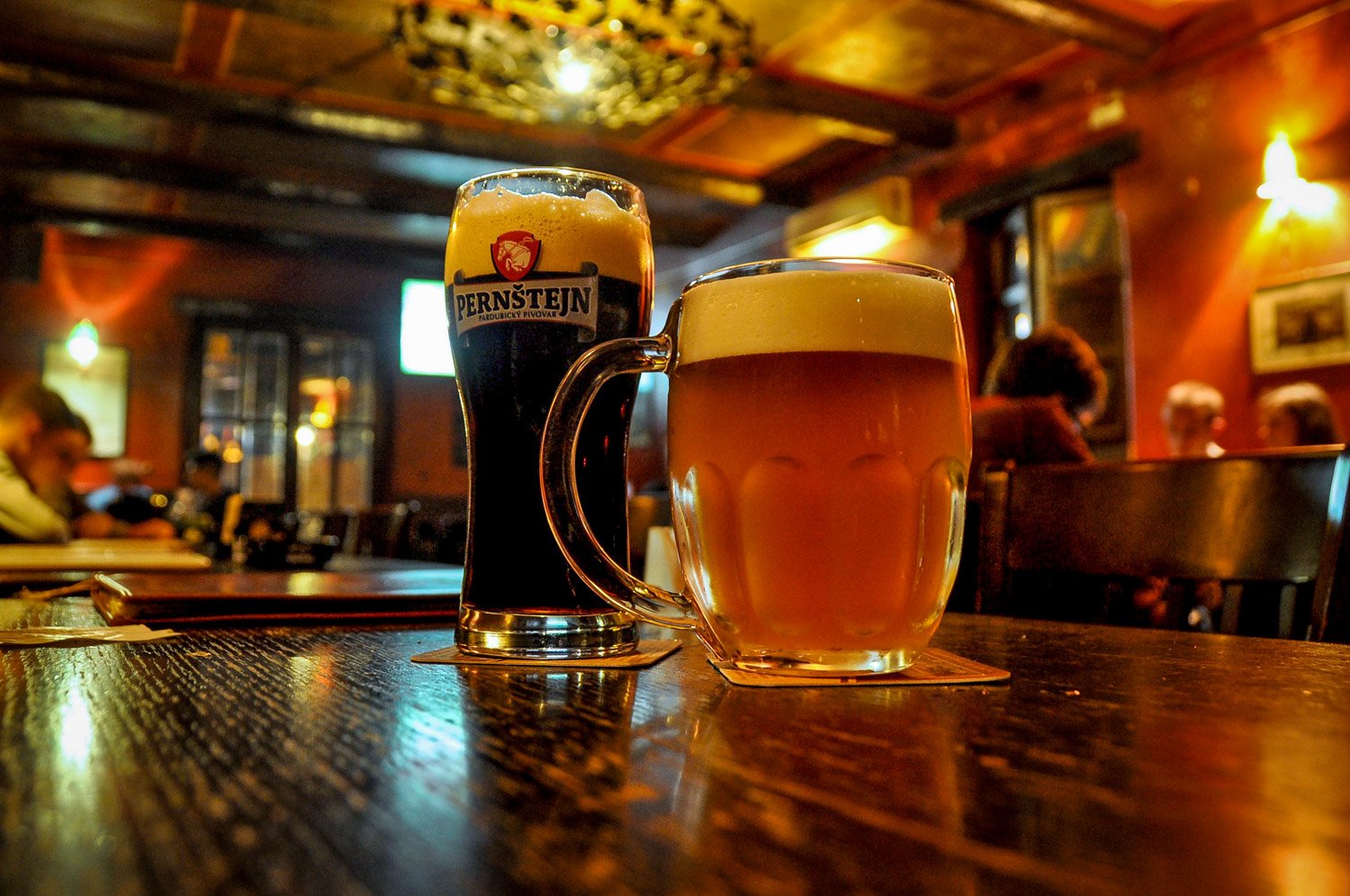 If you're traveling in the home country of Pilsner, but aren't a huge fan of the stuff (we hear ya!), don't worry. There are plenty of craft brews with a deeper flavor and stronger kick waiting to be tried! One of our favorite places to find craft beer was the Prague Beer Museum Gastropub (Dlouha 46, Prague 1).
Here, you can order a beer from almost anywhere in the world, but their speciality is Czech craft beers. And they are pretty dang good! The pub food is tasty as well. 
Not a fan of beer? If you just don't like the stuff, but you're keen to try a local beverage, opt instead for Becherovka, a traditional liqueur made of herbs. Pronounced beck-ur-OHV-kuh, this Czech spirit has flavors of orange, clove and cinnamon, and is said to "taste like Christmas".
31. Experience Prague's Nightlife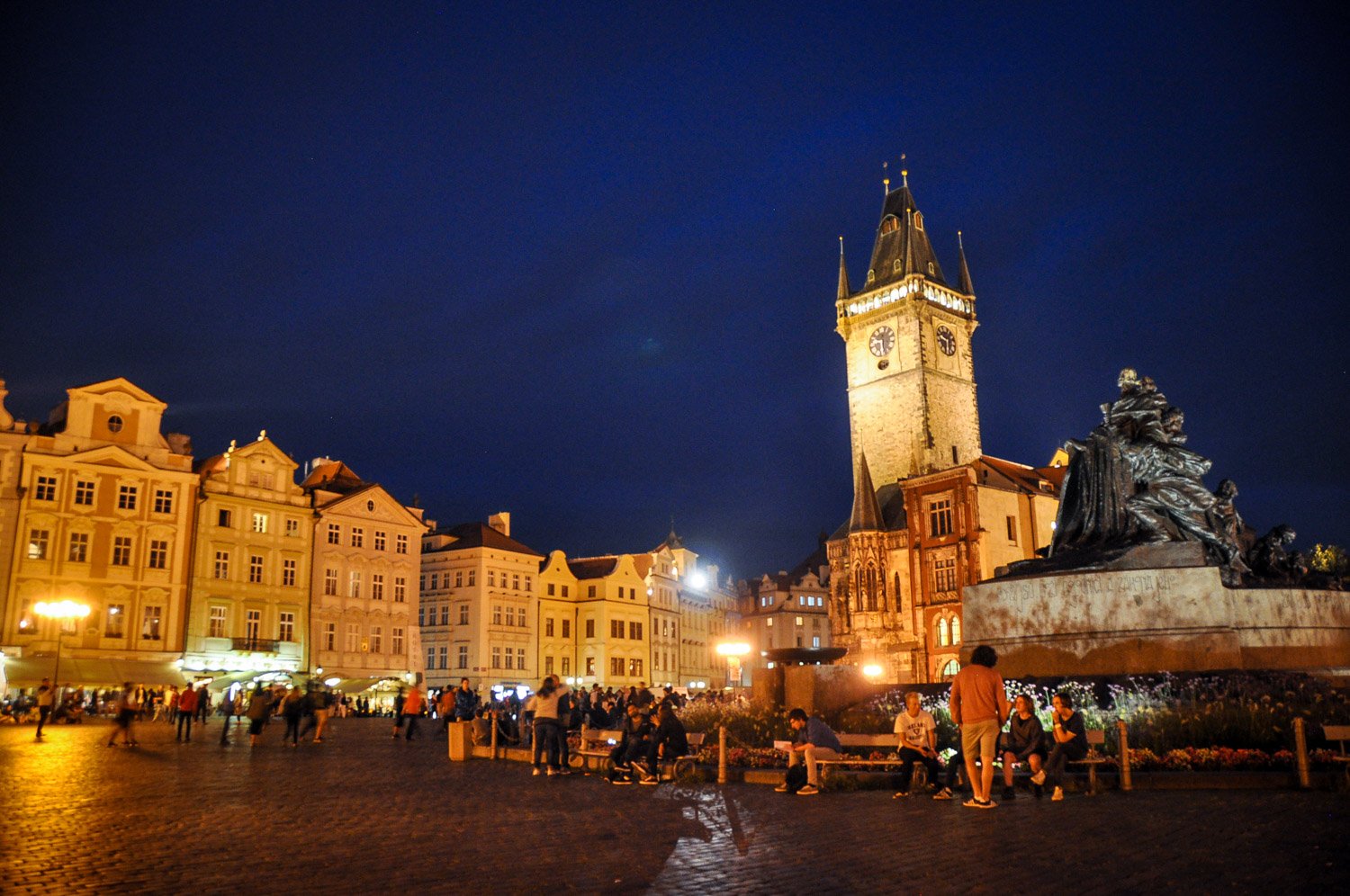 This city is famous for what goes on when the sun goes down. And whether you're seeking a crazy night at a gritty underground club, or a local beer hall experience, you'll be able to find it all in Prague.
As with partying anywhere in the world, be sure you're aware of your surroundings, you know how to get back to your hotel, and you watch your drink. Here are some more travel safety tips to keep in mind.
Do it yourself: One of the main areas for a night out is Dlouhá Street. You can choose from a more casual drink establishment or a full-on dance club. 
And even if it's not partying you're after, just wandering the streets of Prague at night is an experience in itself. The people-watching is elevated to a whole new level, you can see the stunning architecture in a different light. Literally.
32. BONUS: Take a Day Trip to Český Krumlov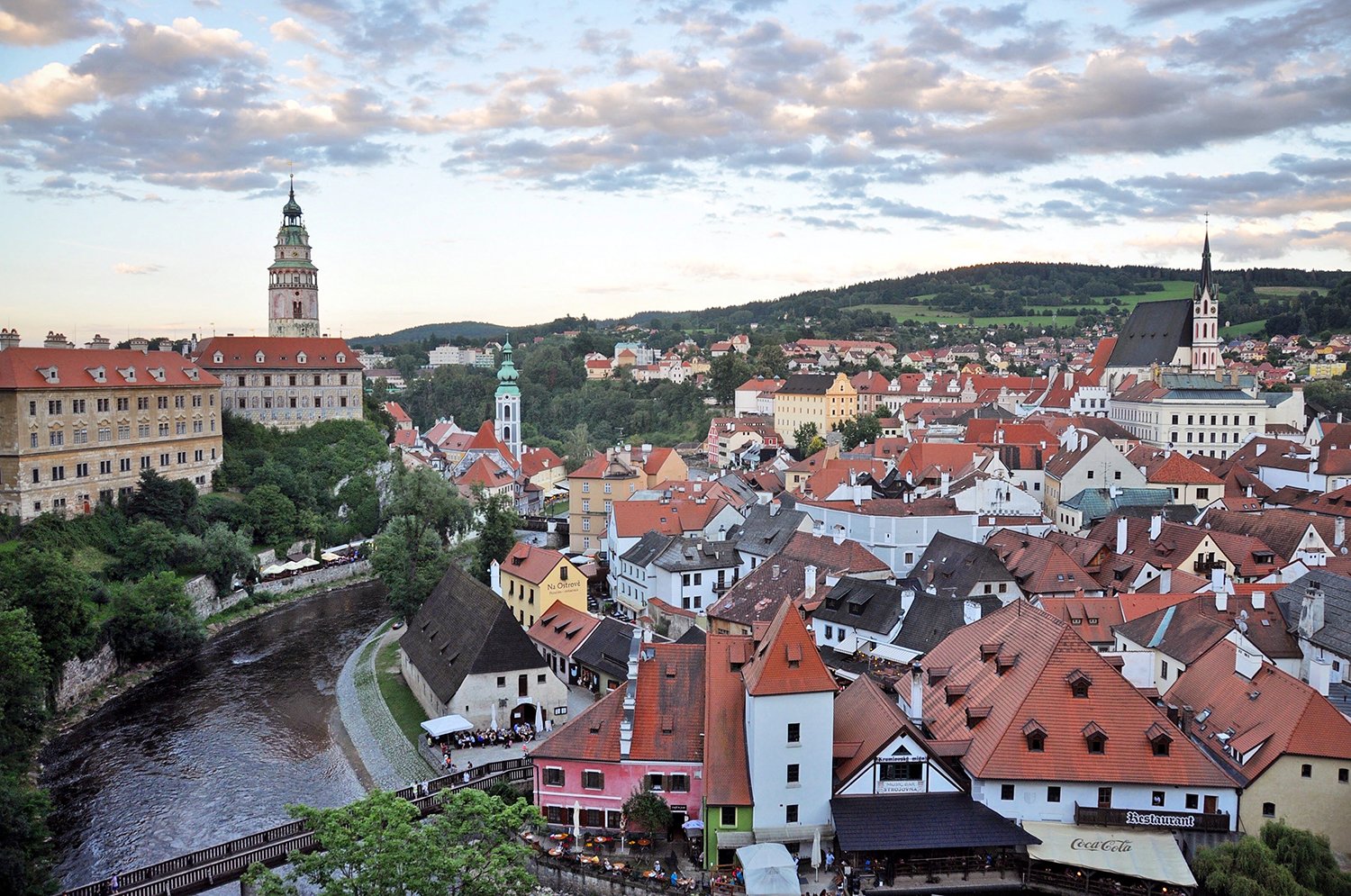 This quaint little UNESCO World Heritage village that is woven around the Vltava River that passes through it. It's beautiful, so get your camera ready. While you could technically spend just the day here, we'd recommend choosing a cute guesthouse and spending a night (or two!).
Things to do in Český Krumlov
Visit the Cesky Castle: Cesky Castle overlooks the city and is fun to explore around. Go about an hour before sunset and catch the twilight hours in the castle. Arrive earlier and take a guide tour of the castle (Admission – 300 CZK = $15 USD).

Take a stroll in the Castle Garden: Wander through the Castle Garden (Zámecká zahrada) next to the Castle. During the summer months, there is an outdoor theater (Otáčivé hlediště) in the middle of the park. Be sure to buy your tickets ahead of time. When we were there it was sold out!

Lose track of time at a cute cafe: Český Krumlov has no shortage of cute cafes and restaurants where you can spend an hour or an entire afternoon, sampling local dishes, sipping on coffee and enjoying a good book as the hours pass by. We can't think of many towns more perfectly suited to a leisurely day in a cafe.
Are you going from Prague to Cesky Krumlov? Try riding on FlixBus. We rode with FlixBus throughout Eastern Europe and loved how comfortable and cheap they are.
Hotels in Cesky Krumlov
Couple Stay/Mid-range: Penzion Kapr – A 500-year old renovated building keeps its historic charm while upgrading to modern amenities like WiFi throughout the property and flat-screen TV's in each room. Penzion is right on the river and steps away from the city center. 

Budget Friendly/Social Atmosphere: Pension Cert a Kaca – Located in the heart of the city center, this hotel is cosy and simply decorated, and there is a shared kitchenette. Excellent reviews from other guests.
Hotels in Prague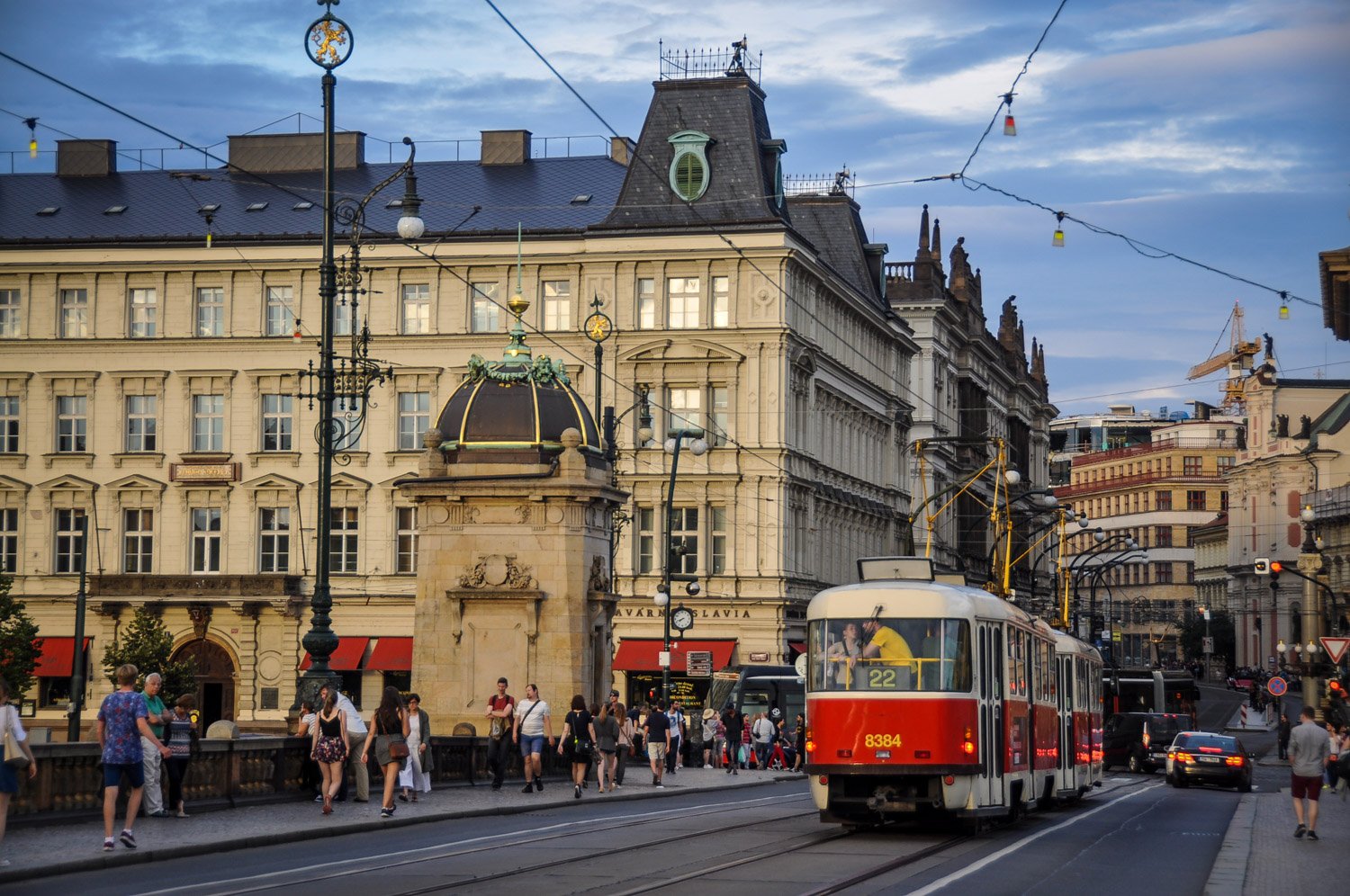 The hard thing about choosing hotels in Prague is that the city is so big and it's hard to know which neighborhood to stay in.
We stayed a little way out of town and really wished we were closer. The best places to stay are near the Old Town Square and the Jewish Quarter. If you're walking distance to one of those areas, you're golden!
Luxury Hotel: Art Deco Imperial Hotel – Beautifully decorated with modern amenities like a spa and fitness center. Located 10 minute walk to the Old Town Square and Wenceslas Square, it's the perfect hotel. 
Couple Stay/Mid-range: Hotel UNIC Prague – Built in 2013, this stylish hotel has on-site restaurant with a terrace and a bar with mouth-watering spreads. Only a 11 minute walk from the Old Town Square, you can't beat the price. 
Budget Friendly/Social Atmosphere: Hostel One Home – Offering 4-, 6-, 8-, and 10-bed dorms, spacious common areas, well-equipped shared kitchen, close to the metro and a breakfast buffet available every morning. 
---
Want more information on Eastern Europe?
We have tons of resources for you on popular and off-the-beaten-path destinations in the region. Check out the 19 places to visit in Eastern Europe you absolutely cannot miss and read some of our favorite articles below. 
Save this article on Pinterest for later!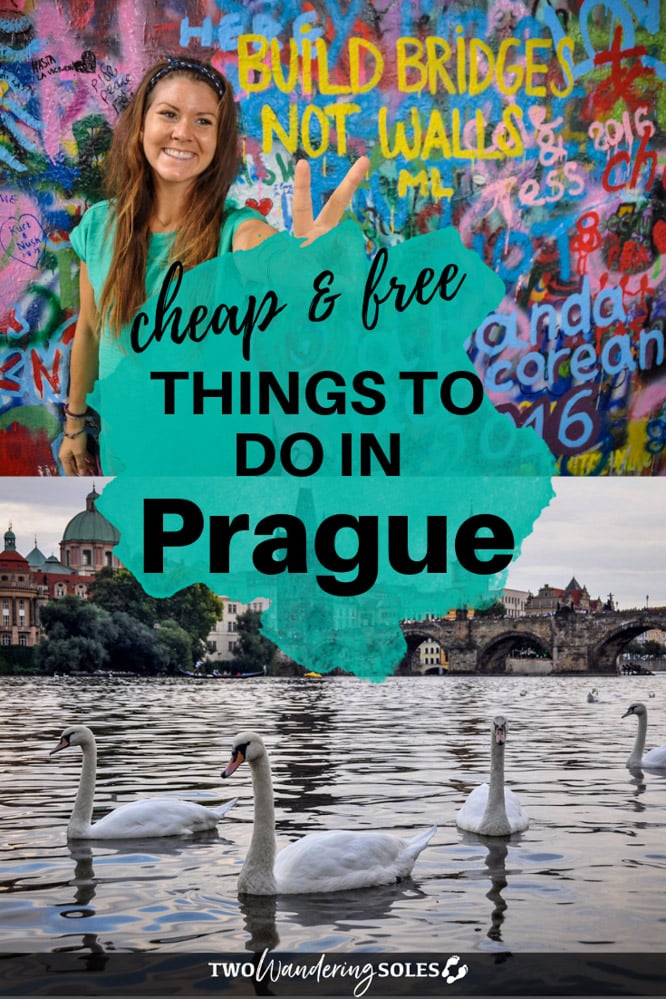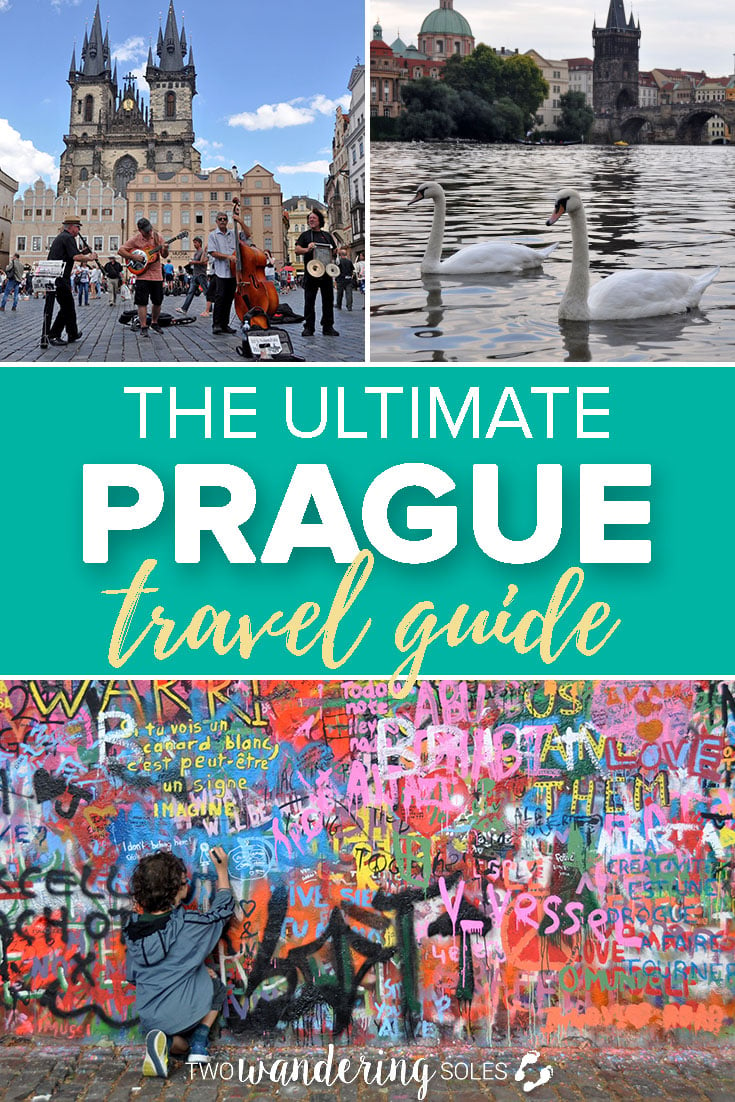 We want to hear from you!
Have you traveled to Prague? Tell us about your additional travel tips in the comments below.
Are you planning a trip to Prague now? Let us know if you have any questions in the comments below. We are happy to answer them.