Getting from Florence to Pisa is a straightforward and quick journey, making travel between the two cities a breeze. This guide breaks down all the different transportation options you can take between these two destinations in Tuscany.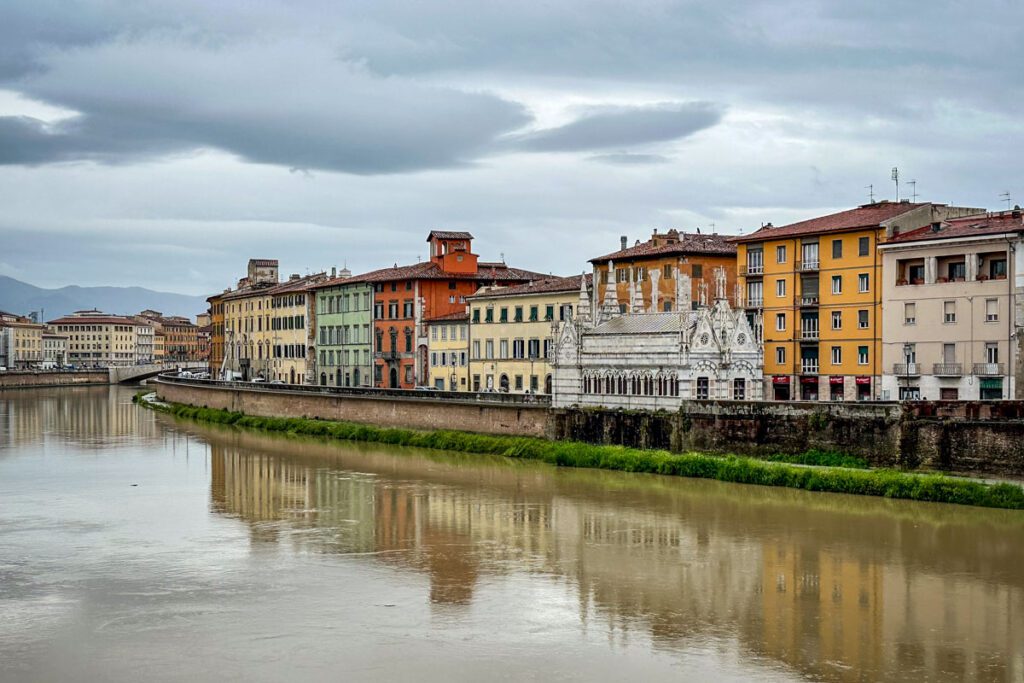 Florence and Pisa are two iconic gems of Italy's Tuscany region.
As two popular travel destinations with lots of things to do and see, they're frequently paired on most travelers' itineraries.
Since they're only separated by 90 km (56 miles), the journey from Florence to Pisa is quick and easy. Plus there are a variety of transportation options.
In this article, we've outlined all the different ways to get from Florence to Pisa so you can travel between the two cities seamlessly.
Florence to Pisa
---
Be sure to download our complete packing list for Italy! It's packed with good suggestions and insider tips to help plan your Italy trip. And it's completely FREE, so why not!?
---
Florence to Pisa by train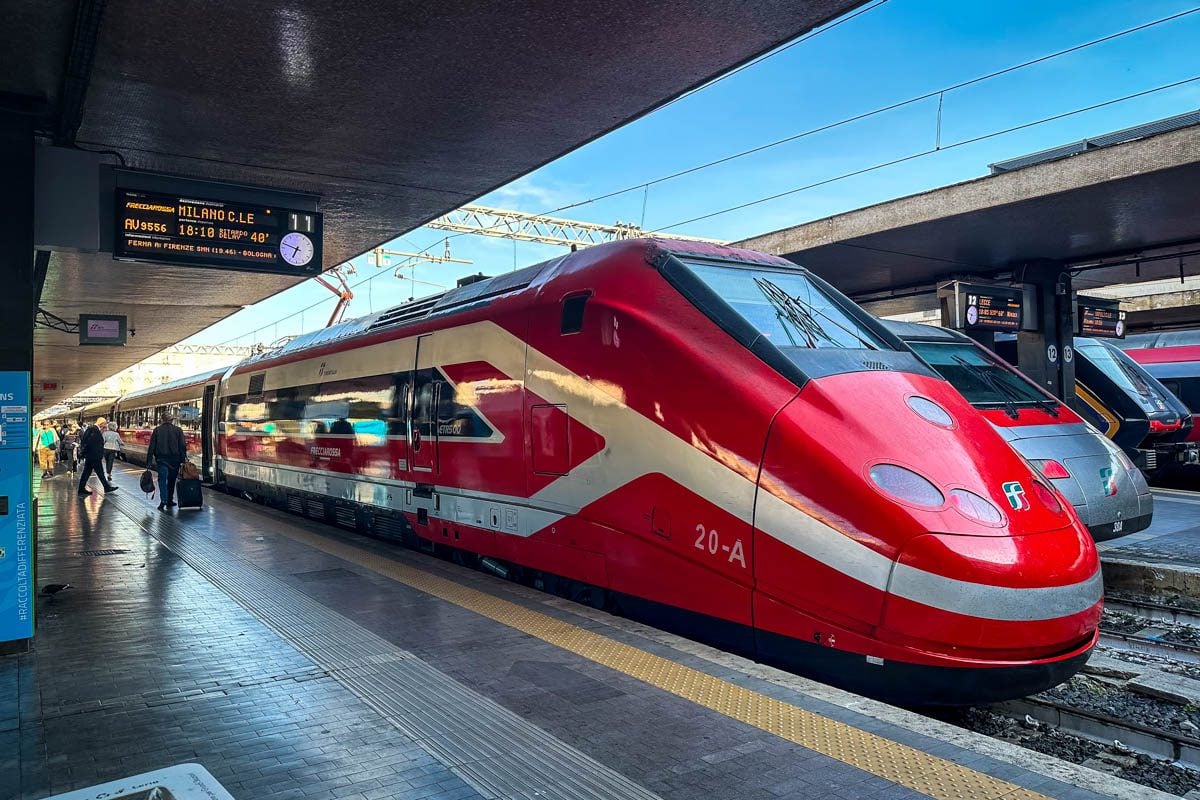 Taking the train is the most convenient and straightforward option to get from Florence to Pisa. There are over 40 trains that run between the two cities daily, so you have plenty of options across multiple carriers.
Railway options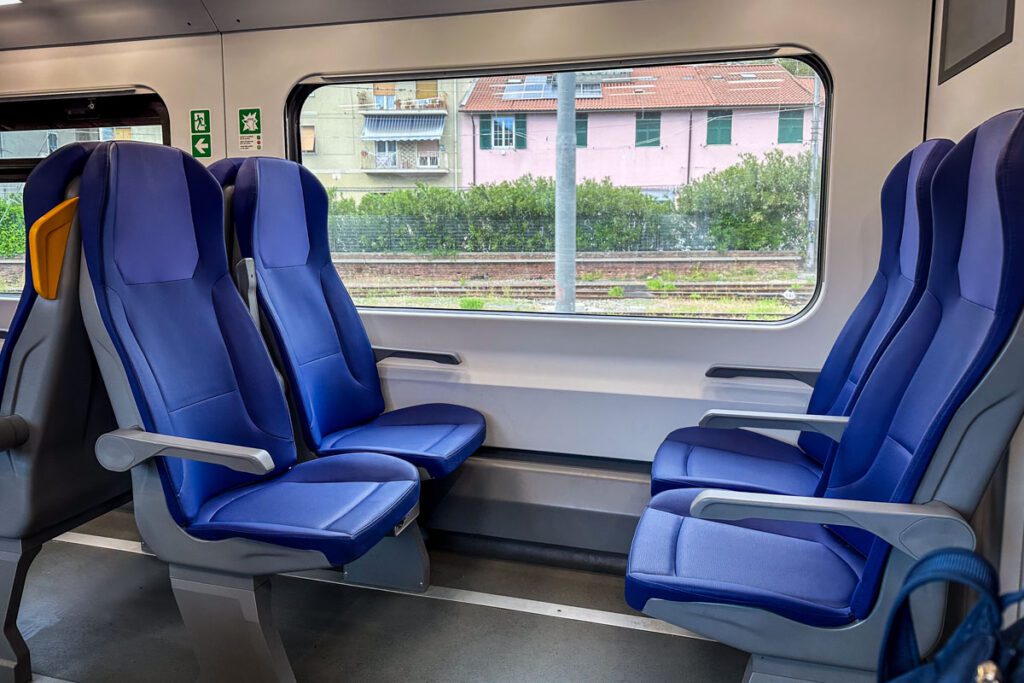 Trenitalia and Italiarail are the two most popular and reliable railways with high-speed and regional trains from Florence to Pisa.
Most trains leave from the Santa Maria Novella Station in central Florence. Three minor stations in Florence are Firenze Statuto, Campo di Marte, and Rifredi. Be sure you are selecting the correct station when purchasing your tickets online.
All of the trains arrive at the Pisa Centrale Station. It is just south of the city center close to a bus stop, so it's easy to access all the main attractions whether you want to walk or take a local bus or taxi.
Do note that the high-speed trains are the more comfortable option when traveling between the two cities as they offer A/C, a snack cart, charging outlets, and WiFi. The regional trains will take longer to travel between each destination as they make many stops along the way.
When booking, make sure to note which one you are booking to make sure you're getting the amenities you need.
Ticket cost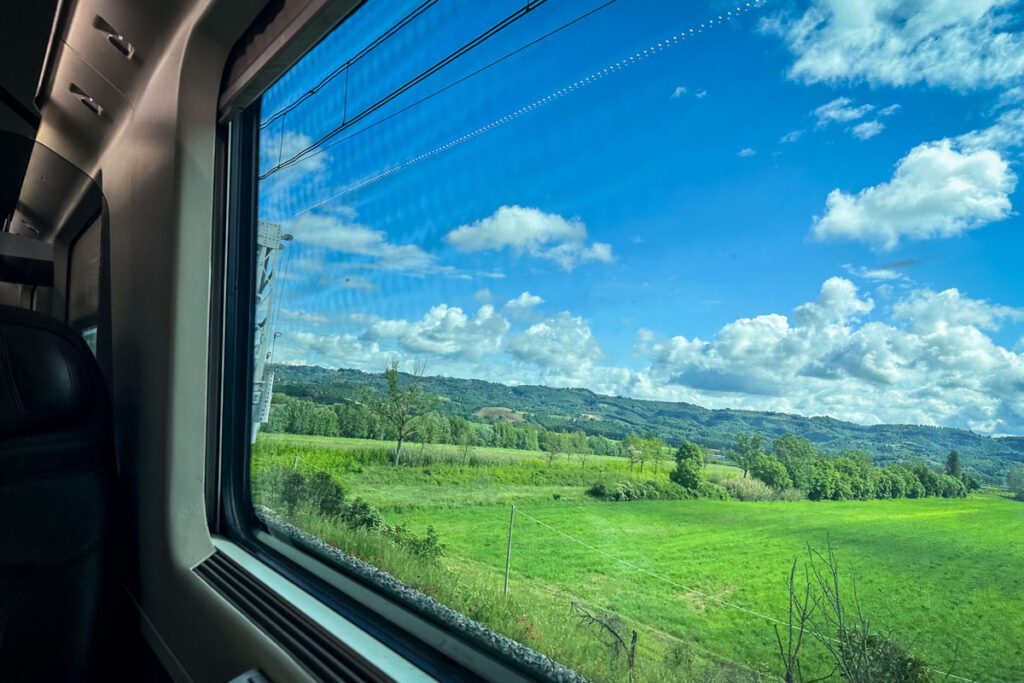 Both companies follow the same route and ticket prices both range from €9-11 for a one way ticket. The differences are negligible and you can't go wrong with either.
You can book train tickets directly at the booth inside the Santa Maria train station in Florence, but we recommend booking them online, in advance to guarantee a preferred seat and departing time. Book directly using the Trenitalia and Italiarail websites.
Insider Tip: You can use the Trenitalia app to book your train tickets up to immediately before boarding. Just be sure you enter the train station names in Italian. The main station in central Florence is Santa Maria Novella, listed as 'Firenze S. M. Novella.' Pisa is listed as 'Pisa Centrale.'
How long is the train from Florence to Pisa?
The high-speed trains arrive in Pisa in about 50 minutes, whereas the regional trains make more stops and take closer to 90 minutes.
Florence to Pisa by bus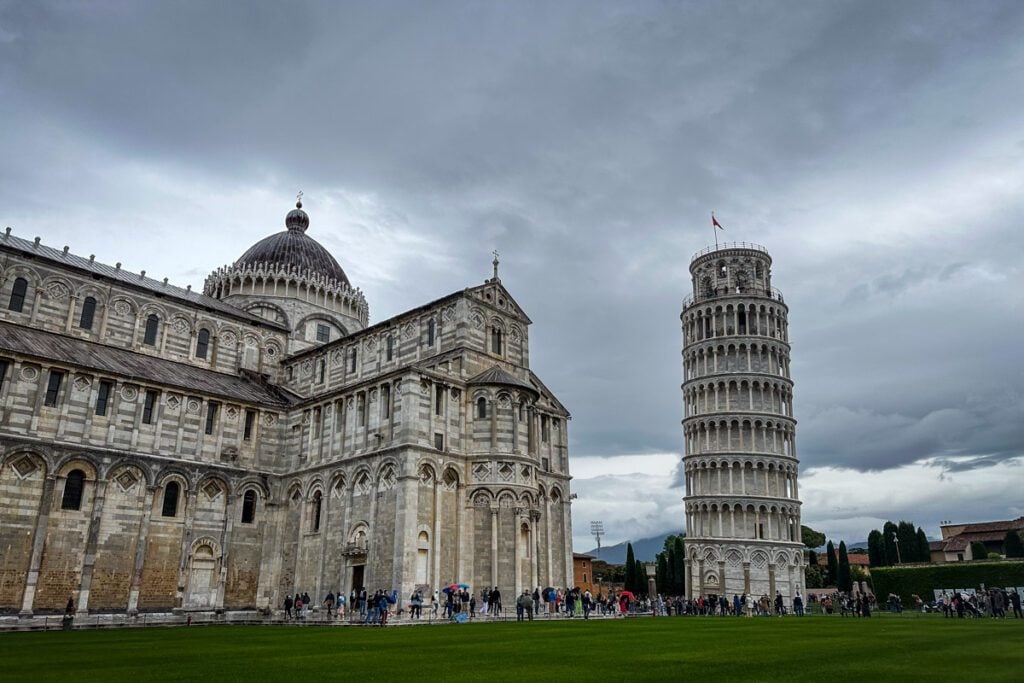 There are a variety of different bus companies that have affordable services from Florence to Pisa. Marino, Flixbus, and Flibco are companies most commonly used and highly rated.
Marino is the most common option, which gets you to Pisa in about 2 hours, 15 minutes and costs about €14.82 ($16.18 USD). The first bus leaves from the Florence Villa Constanza Bus Station at 5:45 a.m. and arrives at the Pisa Pietrasantina Bus Station from 8 a.m. to around 8 p.m..
Flixbus is another popular company used around Italy. Their rides cost €8.25 ($9 USD) and take 1 hour, 10 minutes to get to Pisa. Buses leave from the Villa Costanza station and arrive in Pisa at the Pietrasantina car park beginning at 6:20 a.m..
Flibco is one of the fastest buses from Florence to Pisa as it only takes 1 hour and costs €12.62 ($13.77 USD). However, this bus specifically takes you from the Florence Airport (T2 Guidoni) to the arrival station at the Pisa Airport, so you'll need to factor in additional transport when choosing this option.
Each company offers comfortable rides with ample legroom, reclinable seats, and A/C. Some operators even offer Wifi and TVs, so you really can't go wrong with what you choose.
If you wait until the last minute to get a bus ticket, you'll pay a ton more than you would if you bought them ahead of time. You can browse and book all the different routes in advance using Bookaway.
Florence to Pisa by car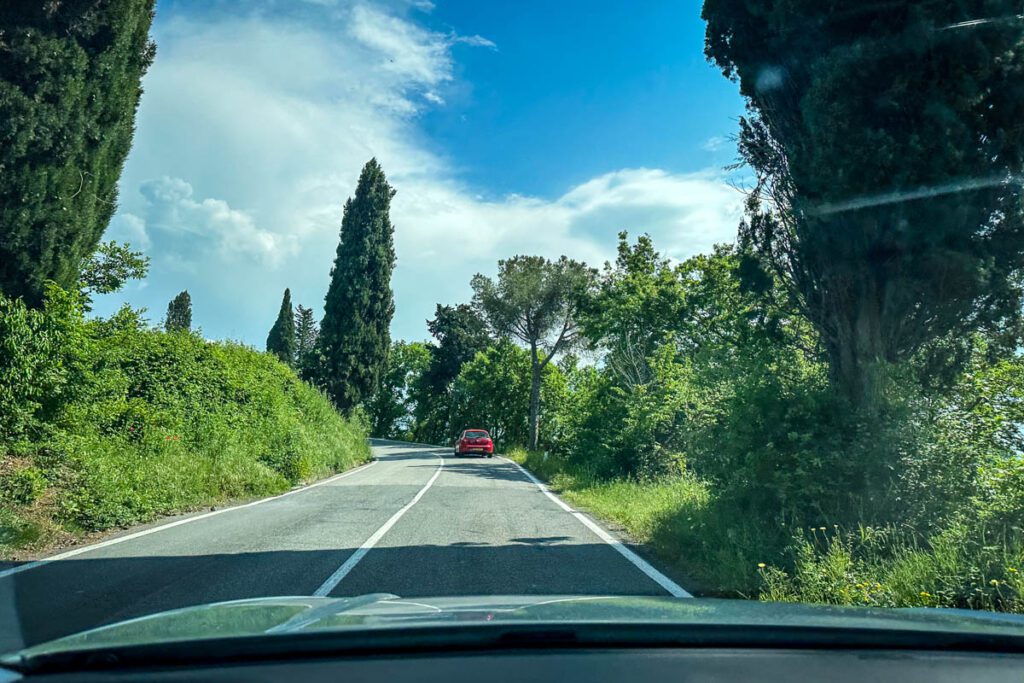 Your own set of wheels gives you the ultimate freedom and flexibility to get to Pisa. Compared to public transport, it may be a better option for your travel style.
Self-driving routes from Florence to Pisa
There are two main routes you can take to drive to Pisa, the SGC Firenze or the A11/E76 highways.
The SGC Firenze is technically a shorter distance, but either one will take you about 1 hour, 20 minutes. Both routes have tolls so be sure to keep cash or card on hand.
If you want to make a road trip out of the journey, the SGC has better views and adorable medieval villages to stop at along the way.
Good to know: Although getting to Pisa with your own car rental is straightforward, the city itself is not very car friendly. The roads are extremely narrow and the main city center is a limited traffic zone so you cannot drive through it. If you do, you'll risk a hefty fine. You'll need to park your car outside the city center and walk in. Plus, have a GPS to navigate around the no traffic zones.
Getting a rental car in Florence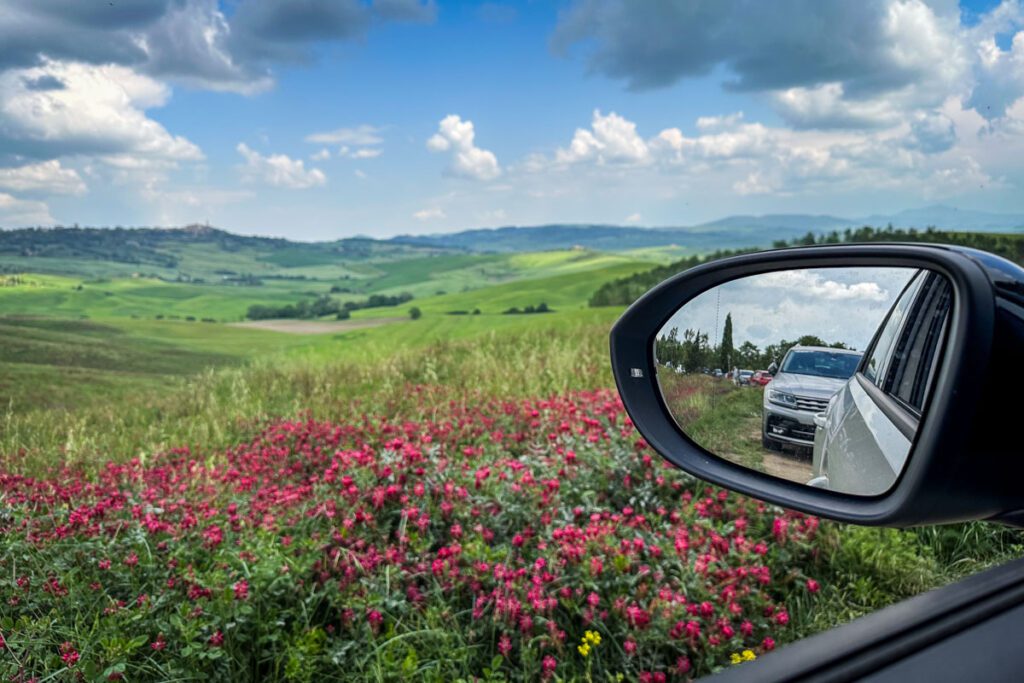 If you're interested in using a rental car to get to Pisa, the best place to start your search is Discover Cars. They have transparent pricing with all the big rental companies in Florence and a variety of pickup options to choose from.
When searching, be sure to note whether you're doing a roundtrip rental from Florence or a one-way rental to Pisa. Not every company allows a one way rental, and if they do there is typically a surcharge.
Search & Compare Rental Car Prices
Discover Cars: We personally use this aggregate site to compare rental car prices from all the big name companies and get the best price possible.
RentalCars.com: We've had good experiences finding rental cars with this site in the past.
Insider Tip: If you're renting a vehicle when you are already in Florence, the best option is to rent from the airport and take the tram there from the city center. The tram costs just €1.50, as opposed to a taxi ride, which will run you about €25.
Taking a taxi from Florence to Pisa
Taxis are the most expensive way to get from Florence to Pisa with one way routes costing around €100 or so.
Since you cannot hail a taxi from the street in Florence, you'll need to download the local apps to arrange one: IT Taxi App and App Taxi. Either that, or you can go to SMN Station and wait in the taxi queue.
Alternative driving options
There is no Uber or Lyft in Florence.
If you still want your own set of wheels to get to Pisa, but don't want to drive, your next best option is a private transfer.
Florence to Pisa by private transfer
A private transfer is the most straightforward way to get to Pisa.
It's the most expensive option, but if you want the luxury of being picked up at your hotel in Florence and dropped off directly in Pisa, this is the transport option for you.
In normal traffic, a ride will typically take around 1 hour, 20 minutes, so it's comparable to the regular regional trains. However, the price won't be as friendly on your wallet.
The best place to book is with Bookaway. They have some of the most top-rated private transport options in Florence.
Guided tours from Florence to Pisa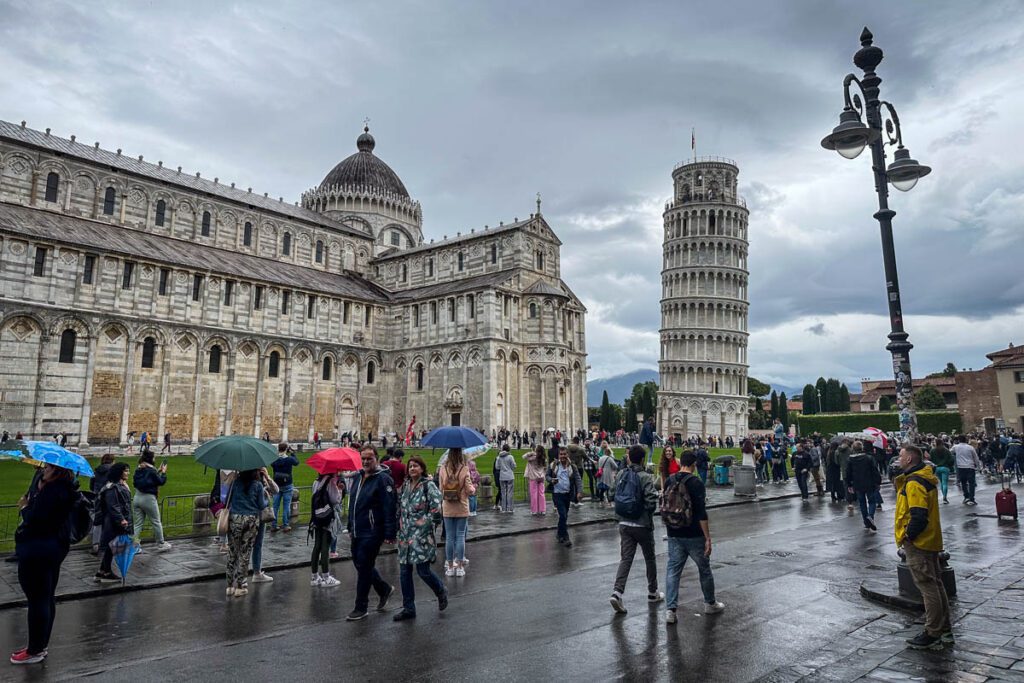 Taking a guided tour from Florence to Pisa is a great option if you aren't a fan of planning your own logistics. Whether you're exploring for a half or full day, there are plenty of solid tours to choose from.
From Florence: Pisa Day Tour with Leaning Tower of Pisa: This tour begins along the medieval walls of Pisa where you'll enter an old entrance gate to access the Square of Miracles. After that, spend the day exploring the Cathedral, Cemetery, and Baptistry before concluding the day climbing the Leaning Tower of Pisa.
Pisa: Half-Day Afternoon Tour from Florence: This half-day tour offers a complete guide around the Square of Miracles where you'll learn the history of the Leaning Tower, Cathedral, Cemetery, and Baptistery. Once the guided tour is finished, you'll have free time to grab more photos or explore the historical quarter before heading back to Florence.
FAQs about traveling from Florence to Pisa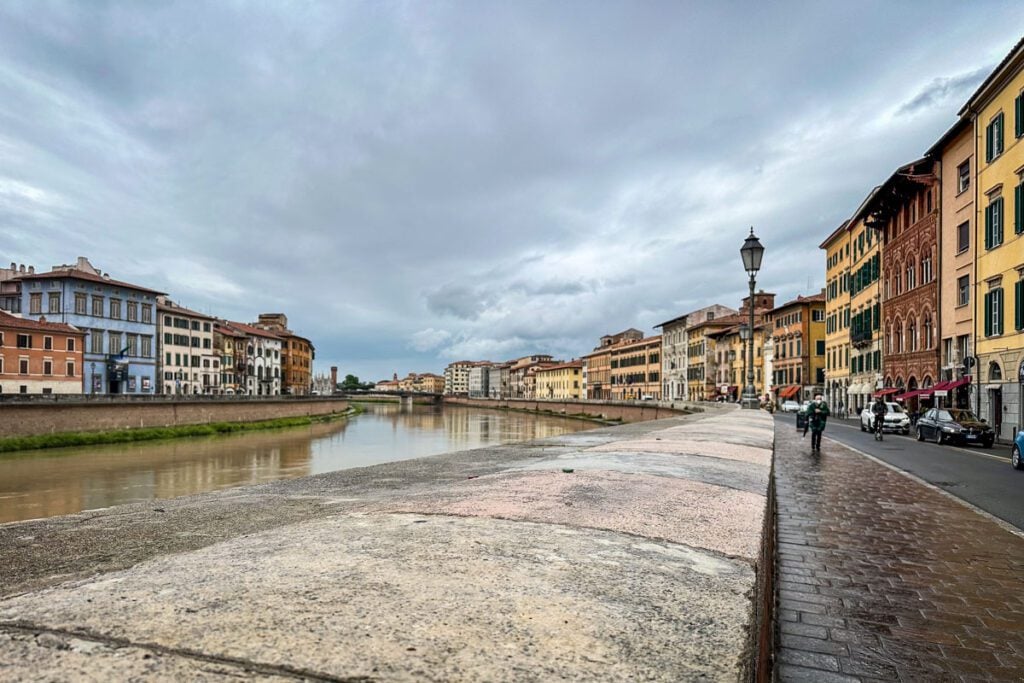 We've covered a ton in this article for traveling between Florence and Pisa, but here are some quick answers to more burning questions you may have.
What is the easiest way to get from Florence to Pisa?
The train is the easiest way to get from Florence to Pisa.
Italy's high speed trains are efficient and comfortable, making the journey very streamlined.
What is the quickest way to travel from Florence to Pisa?
The fastest way to get to Pisa is by high-speed train (about 50-minutes).
Do I need to book a train from Florence to Pisa in advance?
Not necessarily. Although there are dozens of trains departing daily, they fill up fast as Pisa is so popular.
We'd recommend booking 1-2 days in advance if you can. But you can purchase train tickets up to the time they arrive, so technically there is no need to book in advance.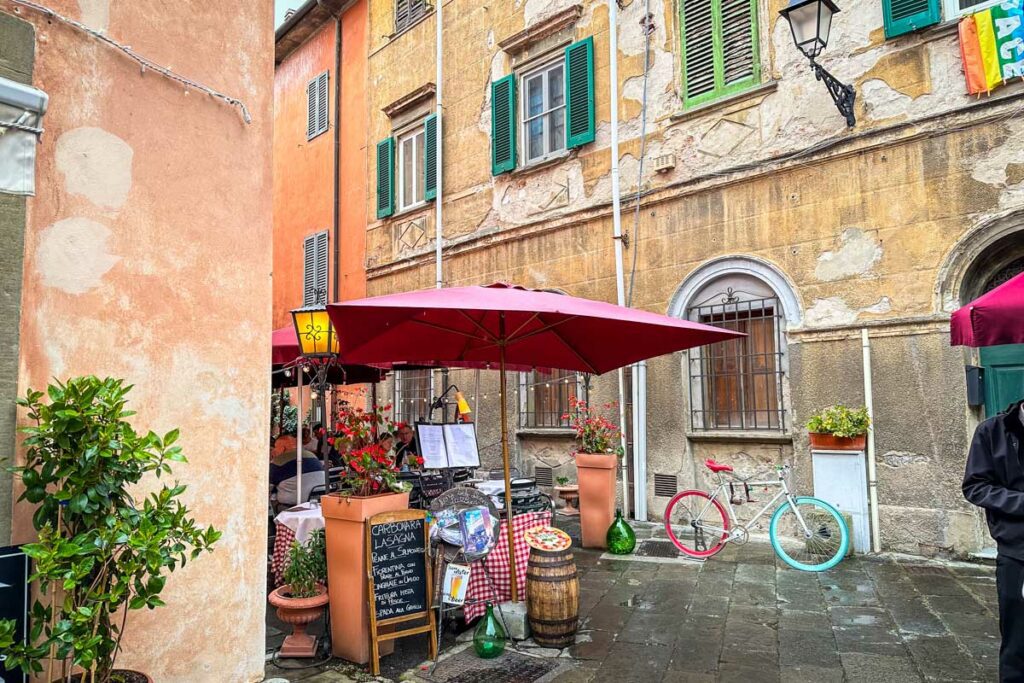 What is the cheapest way to travel from Florence to Pisa?
The cheapest way to travel between Florence and Pisa is by bus.
Is Pisa worth a day trip from Florence?
Yes! Aside from its iconic Leaning Tower, Pisa is filled with fascinating history and rugged charm. There are lots of fun things to do in Pisa if you want to venture past the famous tower.
How much time should you spend in Pisa?
Half a day to a few days is typically the most amount of time people spend in Pisa.
If you're only there to see the main attractions, a half day is plenty of time. If you want to explore more of the city, opt for more time on your itinerary.
Is Pisa worth visiting?
Yes, although it will depend on your interests and travel style.
Many people who only visit the Square of Miracles and Leaning Tower will tell you it's not worth it. However, if you explore the city further, you'll find many gems out of the tourist hub worth your while.
---
Are you planning a trip to Italy?
We have lots of resources on travel in Italy and destinations throughout the country. Check out our Italy Homepage for everything you need to know, or start by reading some of our favorite Italy articles here:
Save this article on Pinterest for later!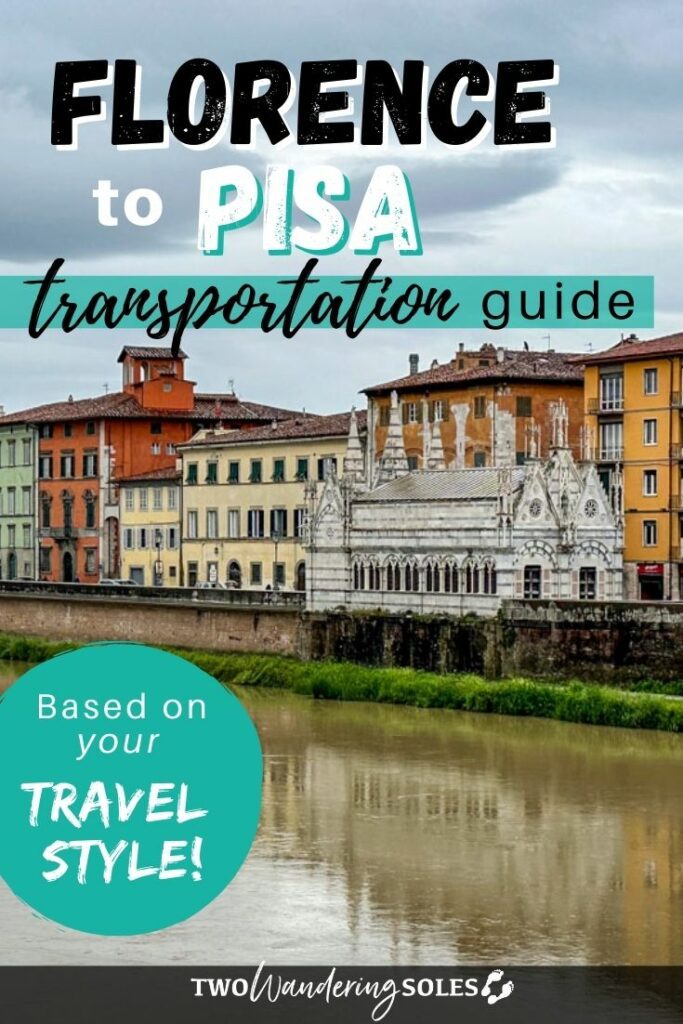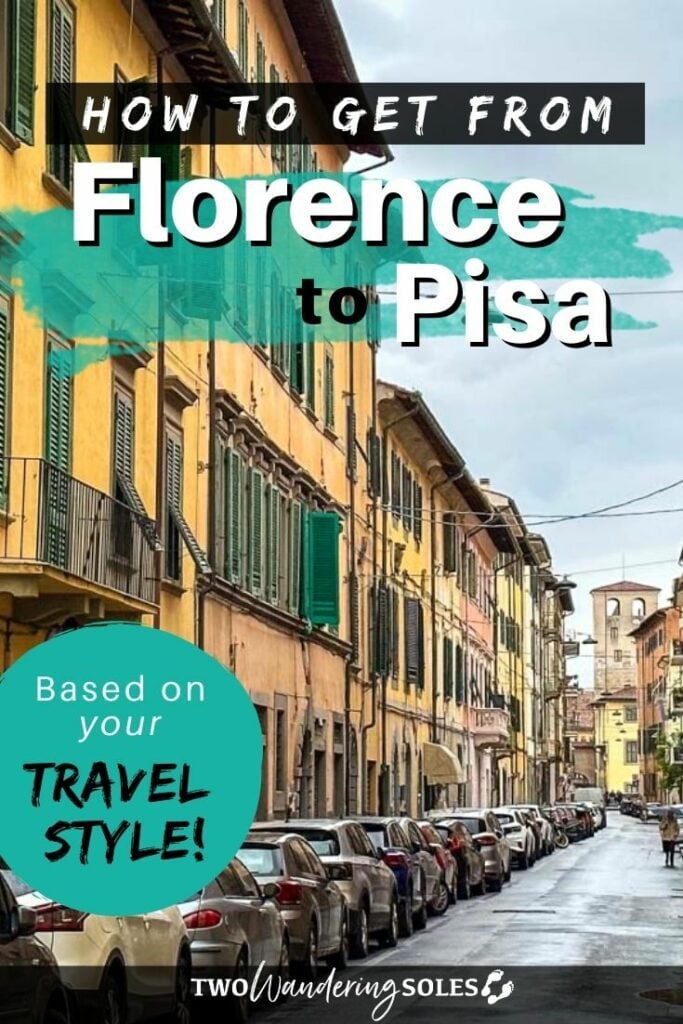 We want to hear from you!
Are you planning a trip from Florence to Pisa and still have questions? Comment below and we'll do our best to find you the answers you're looking for!