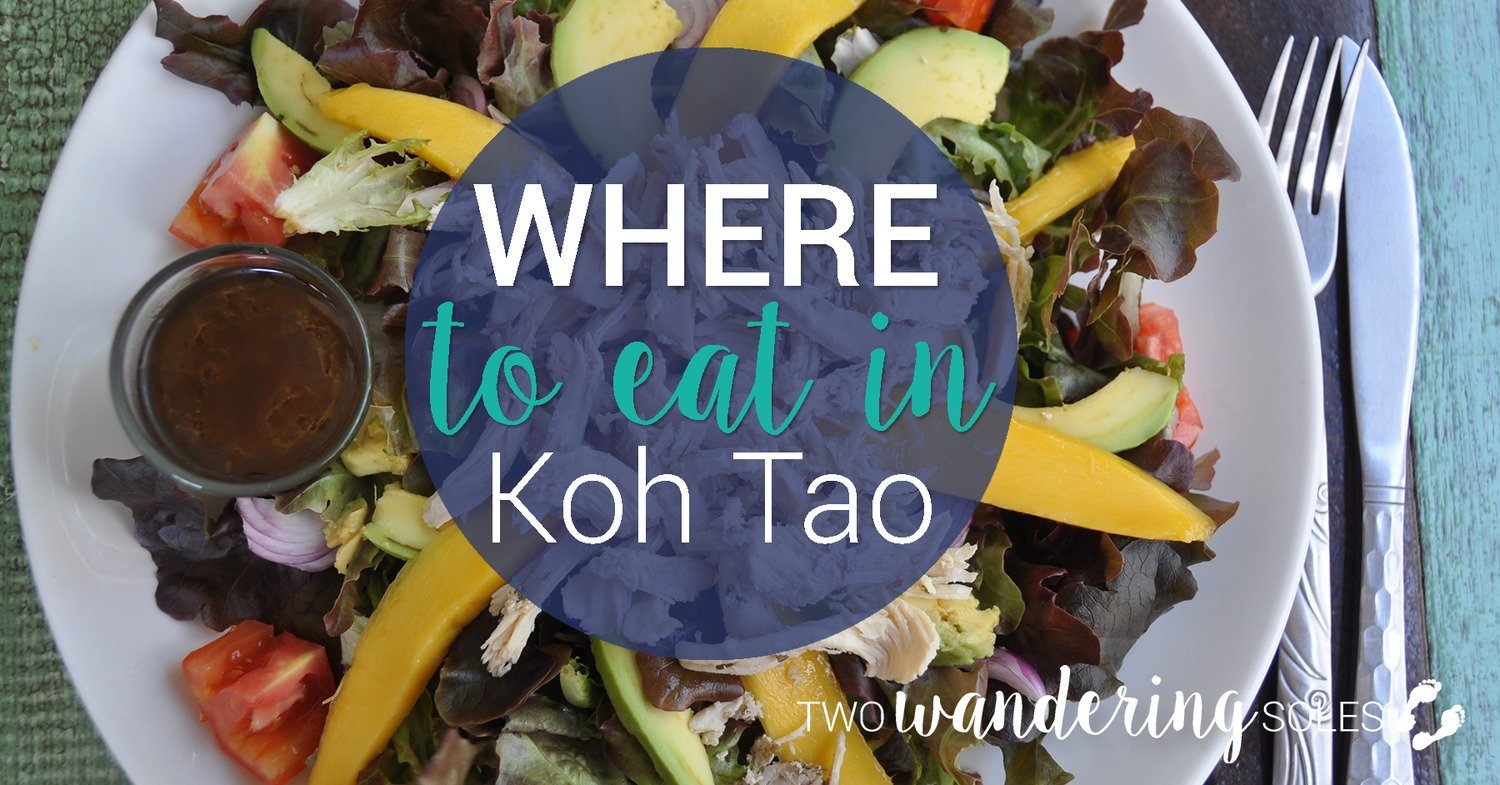 My first question when arriving in a new place is: where is the best food?! I am constantly thinking about my next meal… which is kind of a problem. I'm working on it!
When we got to the Thai island of Koh Tao, my first order of business was finding some good grub. (Priority #2 was finding the perfect dive school or the perfect liveaboard experience) 
I Googled "Where to eat in Koh Tao" and found a few lists that are not quite up to date. So we did what anyone should do in this situation… ask the locals! (And in Koh Tao's case, just about anyone working at your dive school can be considered a "local" since they've been living on the island for a while.)
We put together a list of some of our favorite restaurants we ate at while on the island so that you have an idea of where to start!
*Note: Most of the restaurants listed below are in the Sairee Beach area.
Related: Have you ever wanted to go on a multi-day liveaboard experience? Check out cheap liveaboard vacations in Thailand.
Cheap, Local Food
We came here a lot. Like, A LOT. The prices are a bit more expensive than traditional Thai restaurants, but this place is constantly packed, so you know it's good. Everything that we tried was delicious… but we had a clear favorite.
Our recommendation: Be sure to try the Chicken Cashew Nut. It's divine. The best we had in all of Thailand. All 6 times we ate it. No exaggeration.
This is the type of restaurant we typically frequent on our travels. Plastic chairs, laminated menus, and an owner with a cute baby in their arms. The food is traditional, simple, and cheap (for the island). Choose from an assortment of Thai food and a few Western dishes. But unlike the name suggests, don't order the coffee (if you're a connoisseur). Yes, it's cheap, but it's instant. You can get many better cuppas further down the road.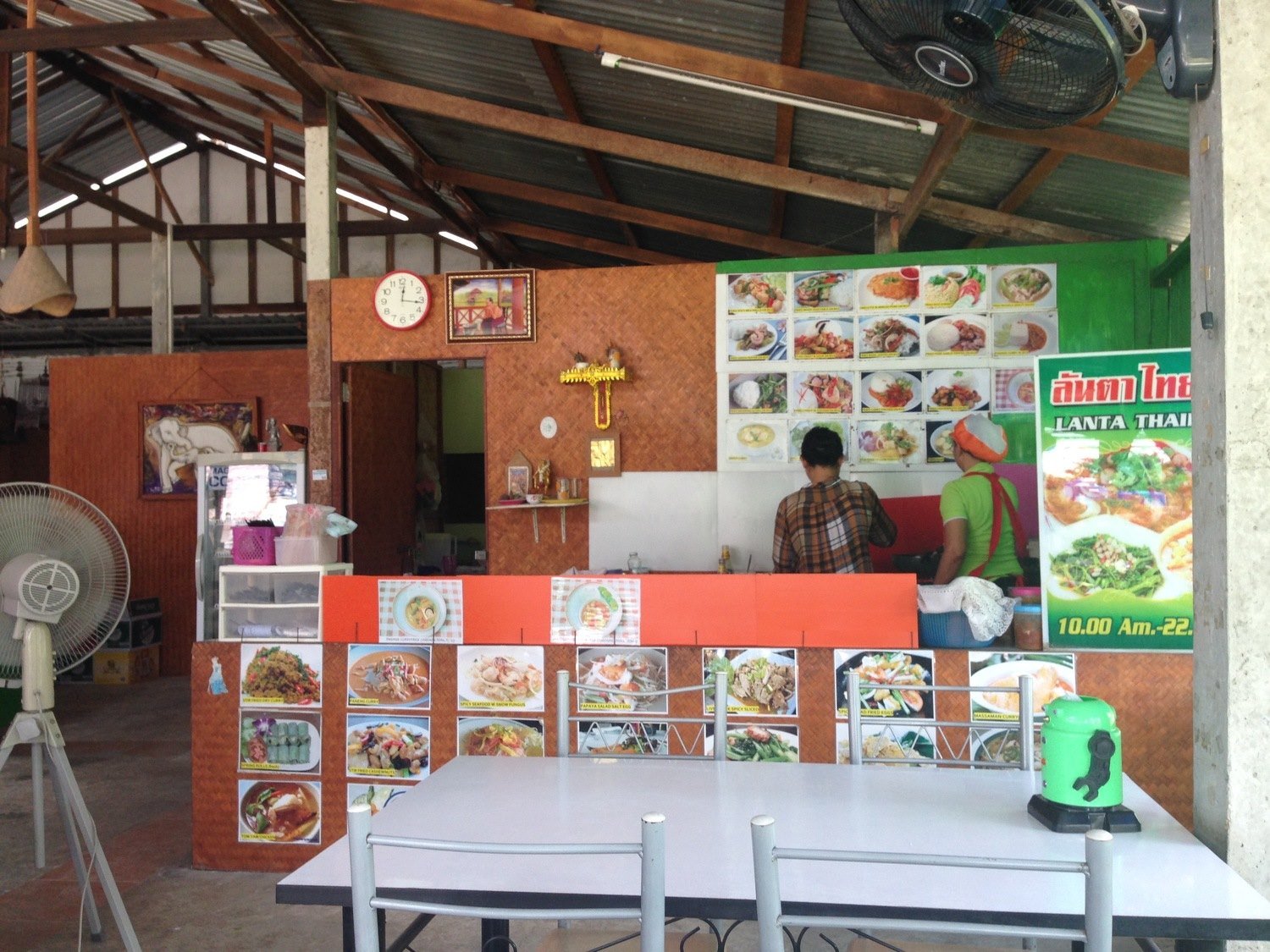 A reasonably-priced restaurant with a wider selection of local fare. The plastic chairs and family-run vibe make it feel like one of the more authentic places on the island.  
Fruit Shake stand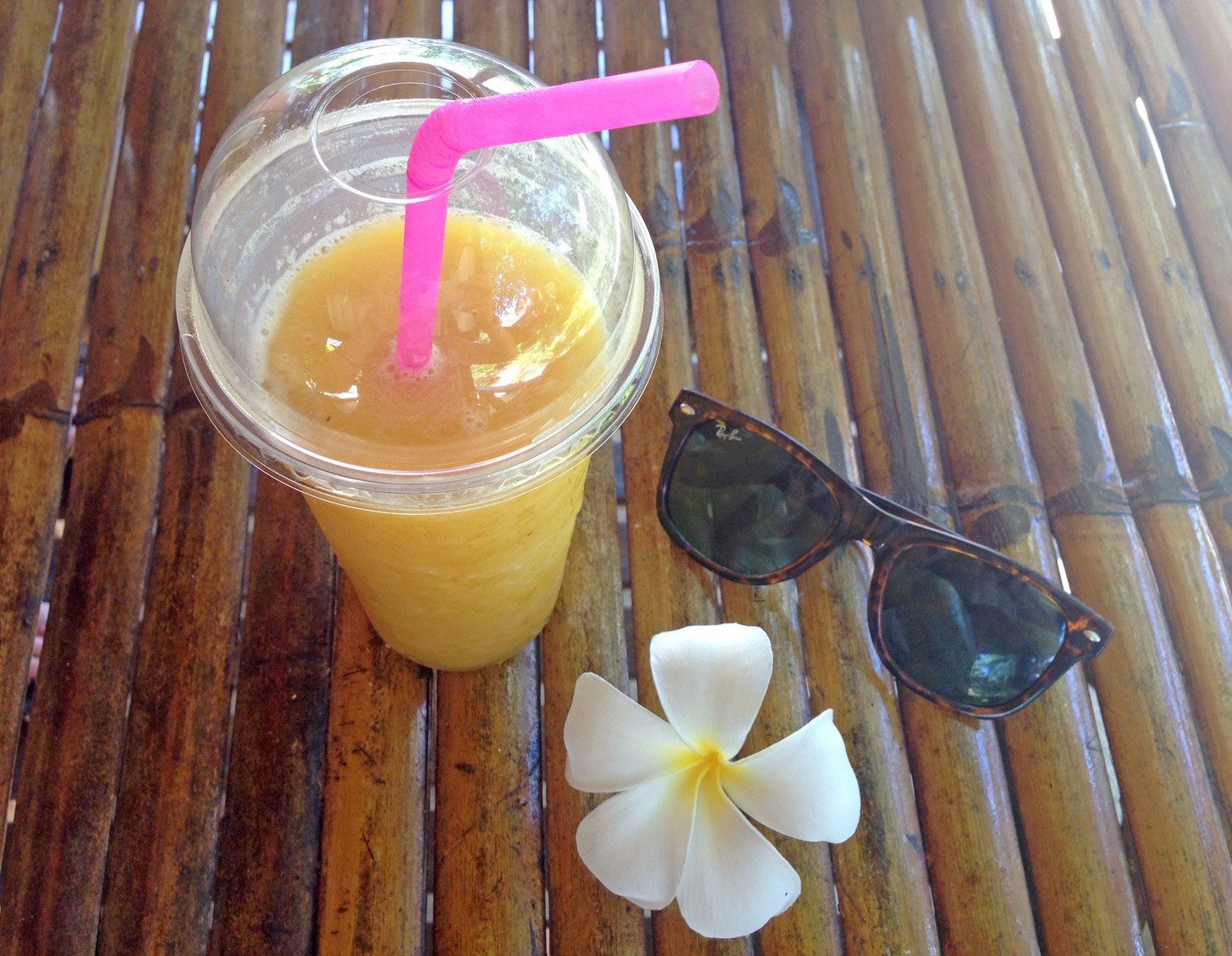 If you're looking for a shake to bring to the beach, look no further than the little stand just past Sairee Cottage. For 50 baht, the friendly couple who own this stand can whip up practically any flavor combinations.
We had a few dud shakes at other places on the island, so when we found this gem of a stand, we were sure to stop by here nearly every day.
Our recommendation: Try banana + lime + ginger. It's so refreshing! Or get mango + banana and add a little rum on your own 🙂
Healthy Food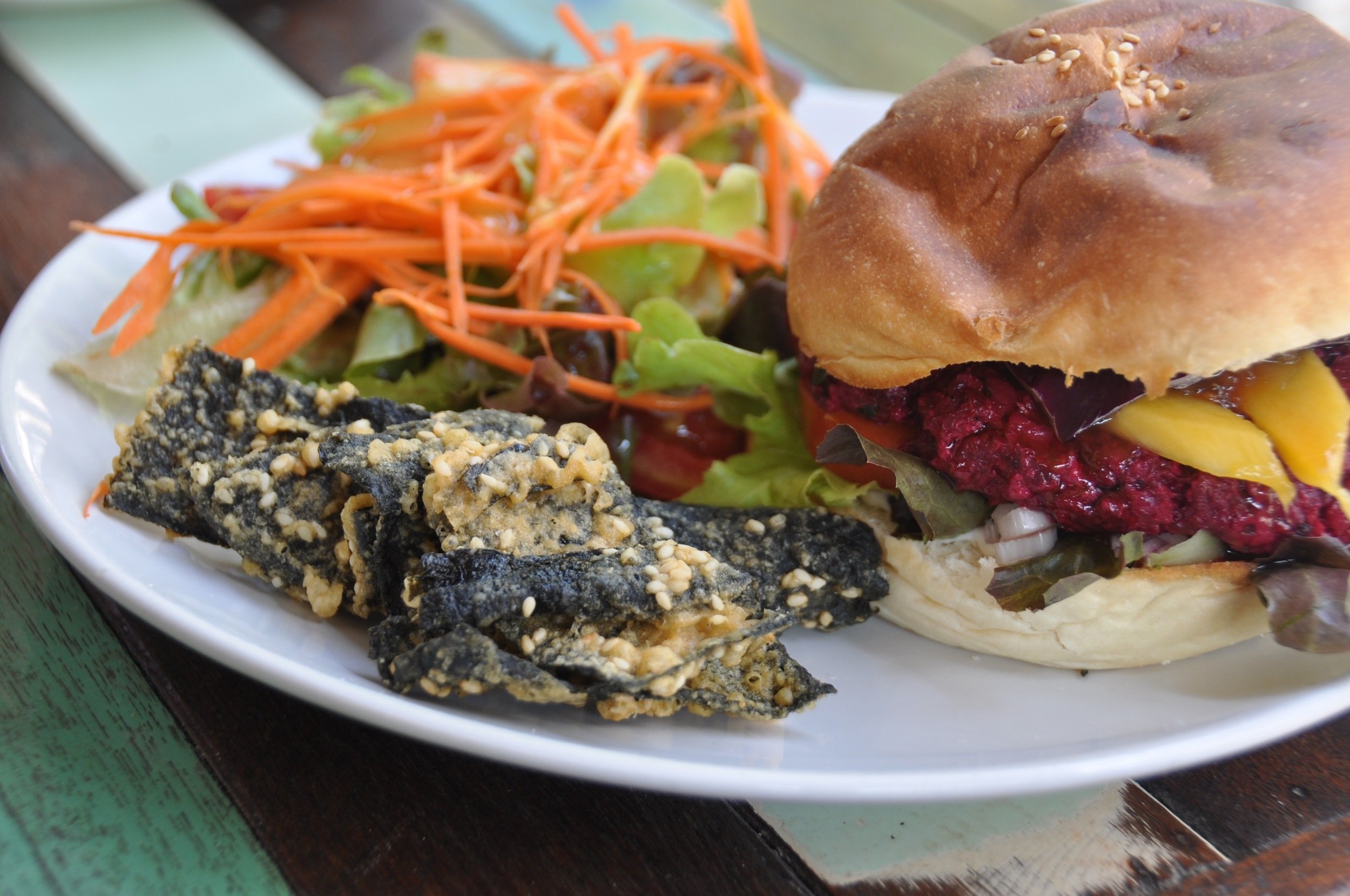 If you find yourself on the south side of the island (perhaps at the viewpoint overlooking Freedom Beach and Shark Bay!), this is a great choice for lunch.
The menu, as with many restaurants serving up healthy fare, is on the more expensive side, but well worth it if you're sick of carbs. They have a large selection of vegetarian and vegan items, but carnivores are welcome too as there is meat on the menu.
Our recommendations:
Summer Salad: Mangoes, avocadoes, leafy greens, grilled chicken, shallots, green beans, balsamic… all my favorites in one salad.

Beetroot burger: If you are looking for something unique, give this one a try. The beetroot won't satisfy your cravings for red meat, but topped with a mango chutney, and served with seaweed chips, your taste buds will be dazzled.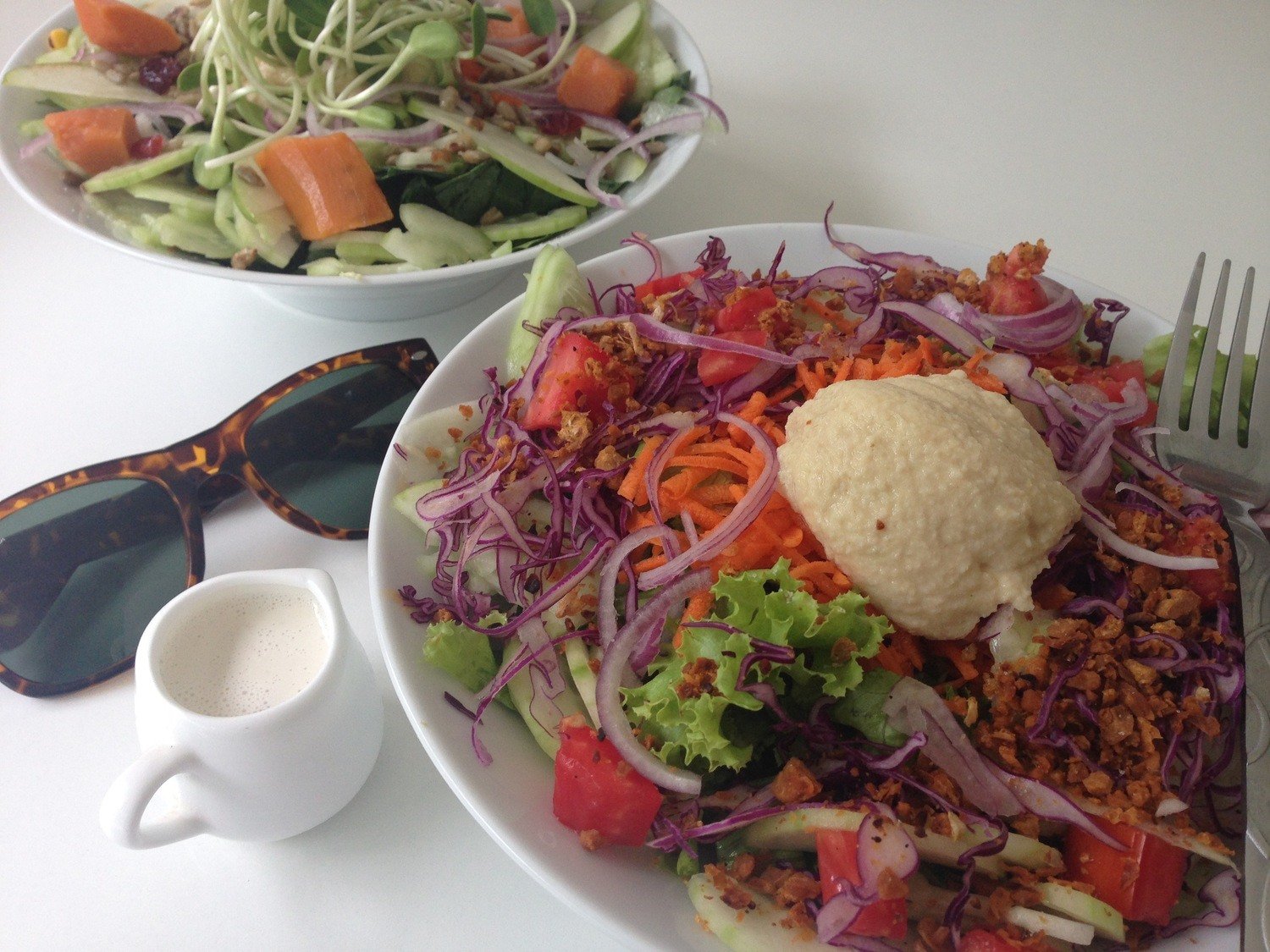 Having opened at the end of 2015, this cute vegetarian café is relatively new to the island, but is already making a big splash. If you are craving veggies after one too many portions of Pad Thai, eating VegetaBowl is a must.
As the name of the restaurant implies, the menu consists of bowls heaping with veggies. Choose lettuce or brown rice as a base for your beautifully presented veg masterpiece. Your tummy will thank you!
Tip: Even if you think you don't like tofu, give it a try here! They claim to have many converts, and we can attest that it's some of the tastiest tofu we've had in a while!
Our recommendations:
Japanese Bowl: the pickled ginger and sesame seeds give this bowl some really nice flavor!

Mexican Bowl: for all your south-of-the-border cravings! Bonus: add avocado for 30 baht

Sweet and Sour Bowl: Surprisingly tasty! Lots of dark, leafy greens for the win!

Brownie Balls: dense, moist and chewy, topped with natural peanut butter and dusted with crushed peanuts. Need we say more?! I've been having daydreams about these bad boys for the past few days… It's turning into quite the problem.

*Note: The other two bowls we tried – the Thai Bowl and the Mediterranean Bowl – were good, but not quite as flavorful as the ones listed above, so we'd definitely recommend giving one of the first 3 a try first!
This is the only Indian restaurant on the island (at the time of writing), and is a good choice for lunch or dinner. They have different specials every day of the week. We ate here on a Sunday, when all vegetarian dishes were just 100 baht (less than $3 USD).  
Western Food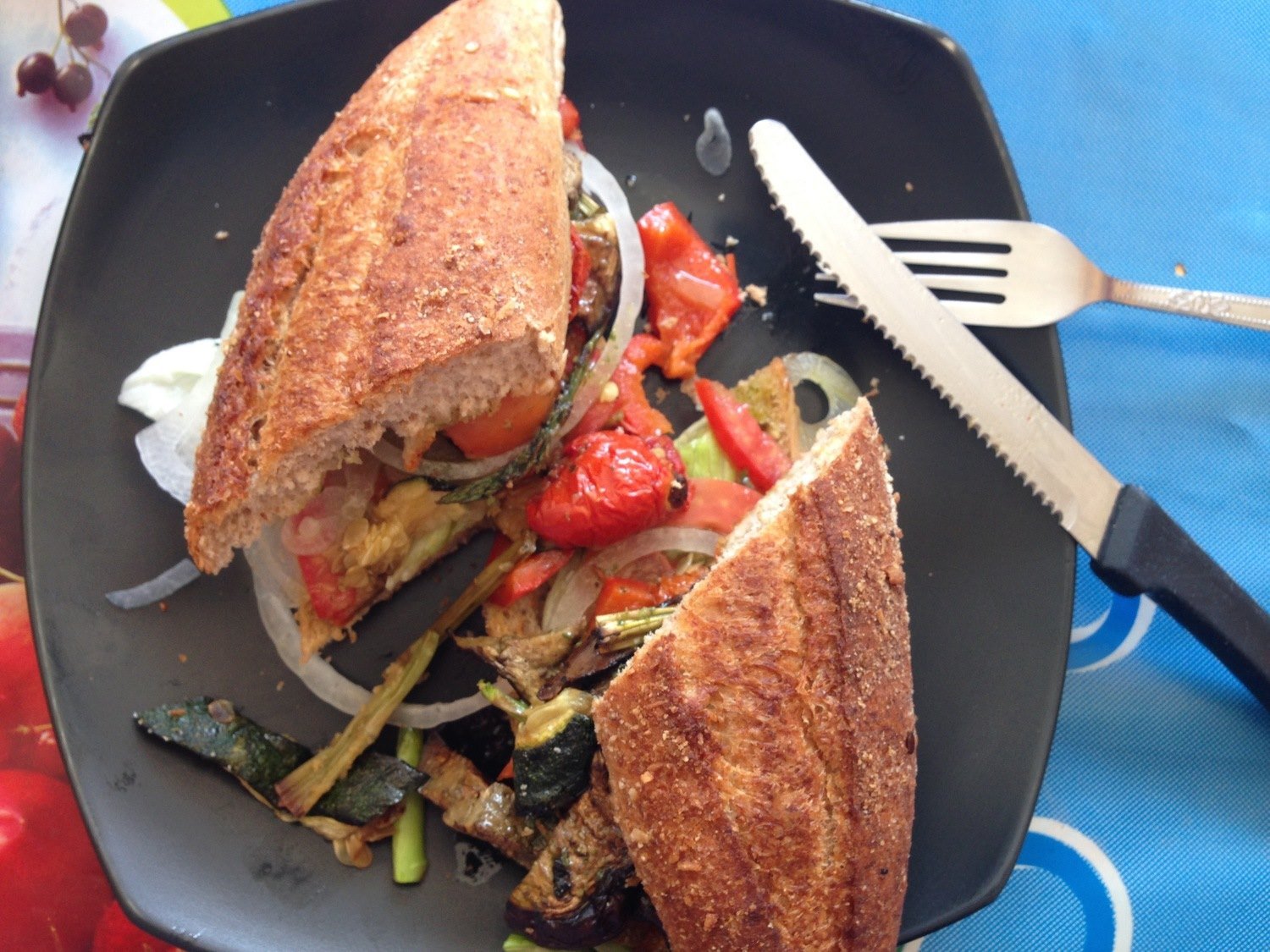 This is a place that will make you feel like a local, when the young man who takes orders smiles at you and already knows what you'd like. We ate breakfast here just about every morning during our 2 weeks. And the times we ventured elsewhere, we wished we had eaten at Zest.
The breakfast offerings are relatively simple, but well-done and priced right. And the coffee is superb! While you're eating your breakfast, you'll see several dive instructors come here for their morning cup, so you know it's one of the better places on the island to get your caffeine fix. And their sandwiches make a pretty tasty lunch as well!
Tip: This is a great place to get a take away lunch during a dive course. The sandwiches are perfect to take along on the boat.
Note: There are two locations – one at Mae Haad and one in Sairee Beach. While we did go to both, the one we frequented was in Sairee.
Our recommendations:
Poached eggs and toast: plain and simple, but it's one of the cheapest breakfasts around town.

Americano: Like we said, the coffee is fantastic. Order a large!

Roasted Vegetable sandwich: Grilled eggplants, peppers, zucchini, onions, oh my! Order it with brown bread and pesto sauce for a perfect lunch!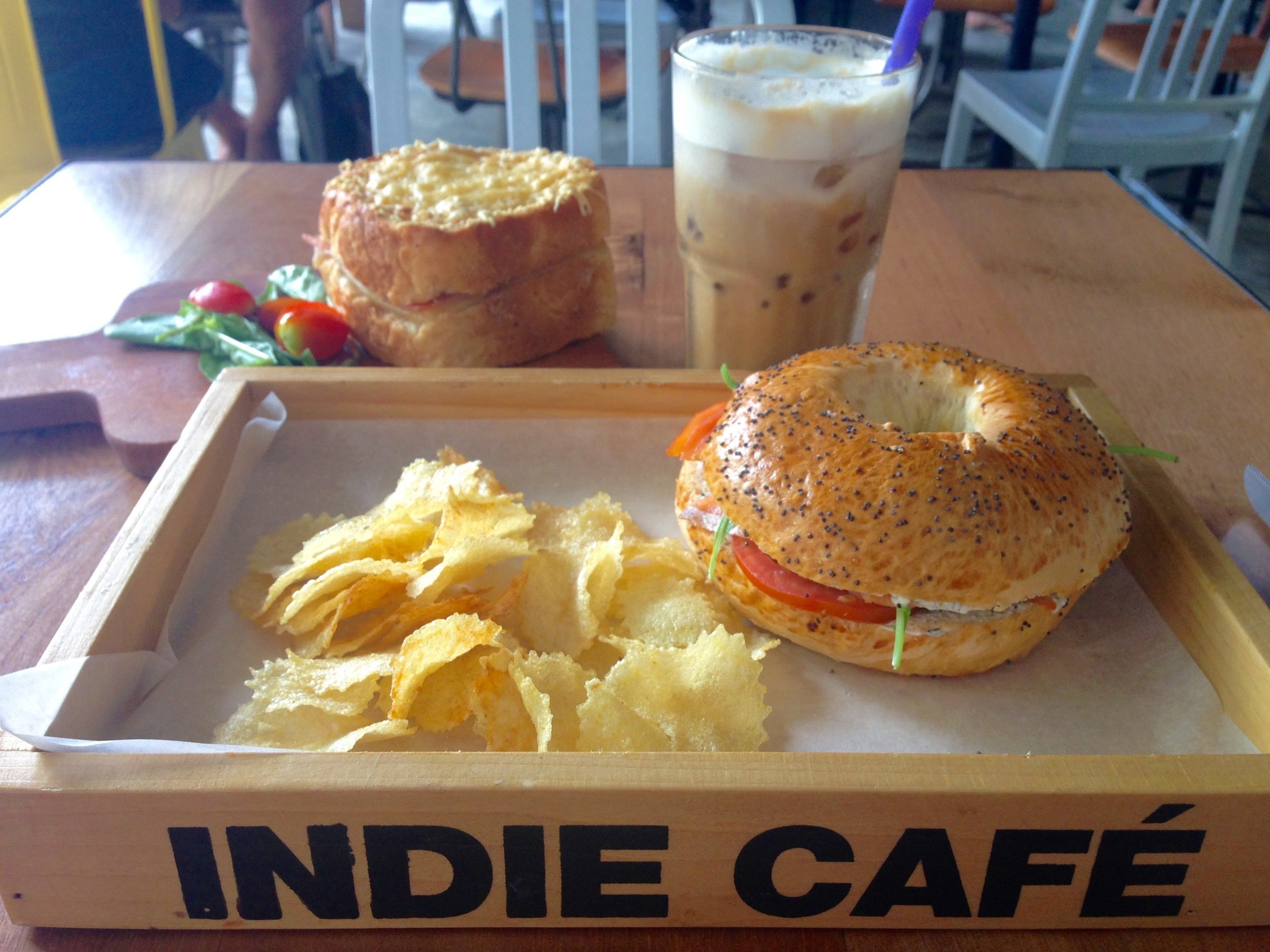 Come here if you have cravings for French bakery items or a bagel sandwich. Their iced coffee is also delicious.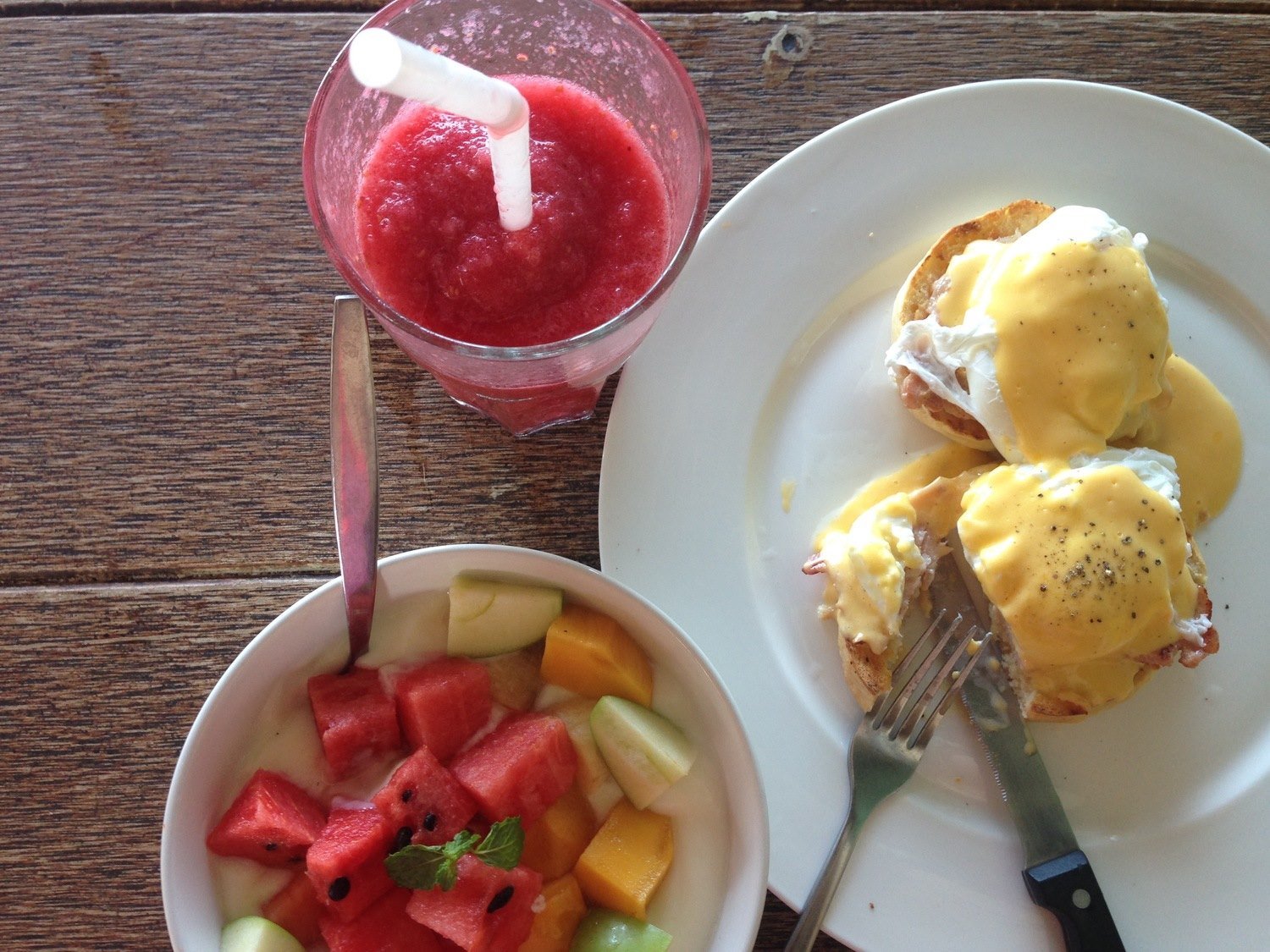 Nestled right on the water, the views couldn't be better. Café Culture is a great place to have a leisurely breakfast. The Eggs Benedict is good, and although we never got the chance to try them, their cheesecakes looked incredible.
This was the onsite restaurant at our dive school resort, so we ate here quite frequently. They have an extensive menu of Thai and Western food, and good happy hour specials with incredible sunset views.
Tip: It gets crowded at night, but the wait is usually no more than a few minutes.
Our recommendation: Our favorite item on the menu was their barbecue special each night where you choose from chicken, beef, or seafood kebabs. They are brushed with a delicious sauce and grilled to perfection.
For 120 – 150 baht (depending on which meat you choose), it also includes a choice of French fries or baked potato, and a small salad, which is an unbeatable deal on this island! Our pick was chicken and a baked potato. Mmmmm…
We wish we made ate at these restaurants:
These restaurants were on our list, but even in 2 weeks you can run out of time! I guess we'll just have to make it to Koh Tao again to try them out!
La Pizzeria: Although we didn't get a chance to eat here, we heard nothing but good things. Those who live on the island claim they serve the best pizza Koh Tao has to offer, and include fresh authentic ingredients like buffalo mozzarella and prosciutto… need we say more? The owners are Italian, so we're not surprised!
Barracuda: This is known as one of the islands nicer restaurants, and we were told by countless people that the food is delicious. It is a nicer restaurant, so dress accordingly and be prepared for higher prices.
Fizz: Another recommendation people gave us for a "really nice" dinner. Located on the beach, the views of sunset are spectacular.
Where to get drinks in Koh Tao
From fancy cocktails with sunset views to a big ol' bucket from a street stand, there is no shortage of drinking establishments on this island. These were just a few of our favorite spots for a fun night.
Lotus Beach Bar: Go here for great sunset views and good happy hour specials. We are already missing lounging on their beanbags with one of their (strong!) 80 baht gin and tonics in hand.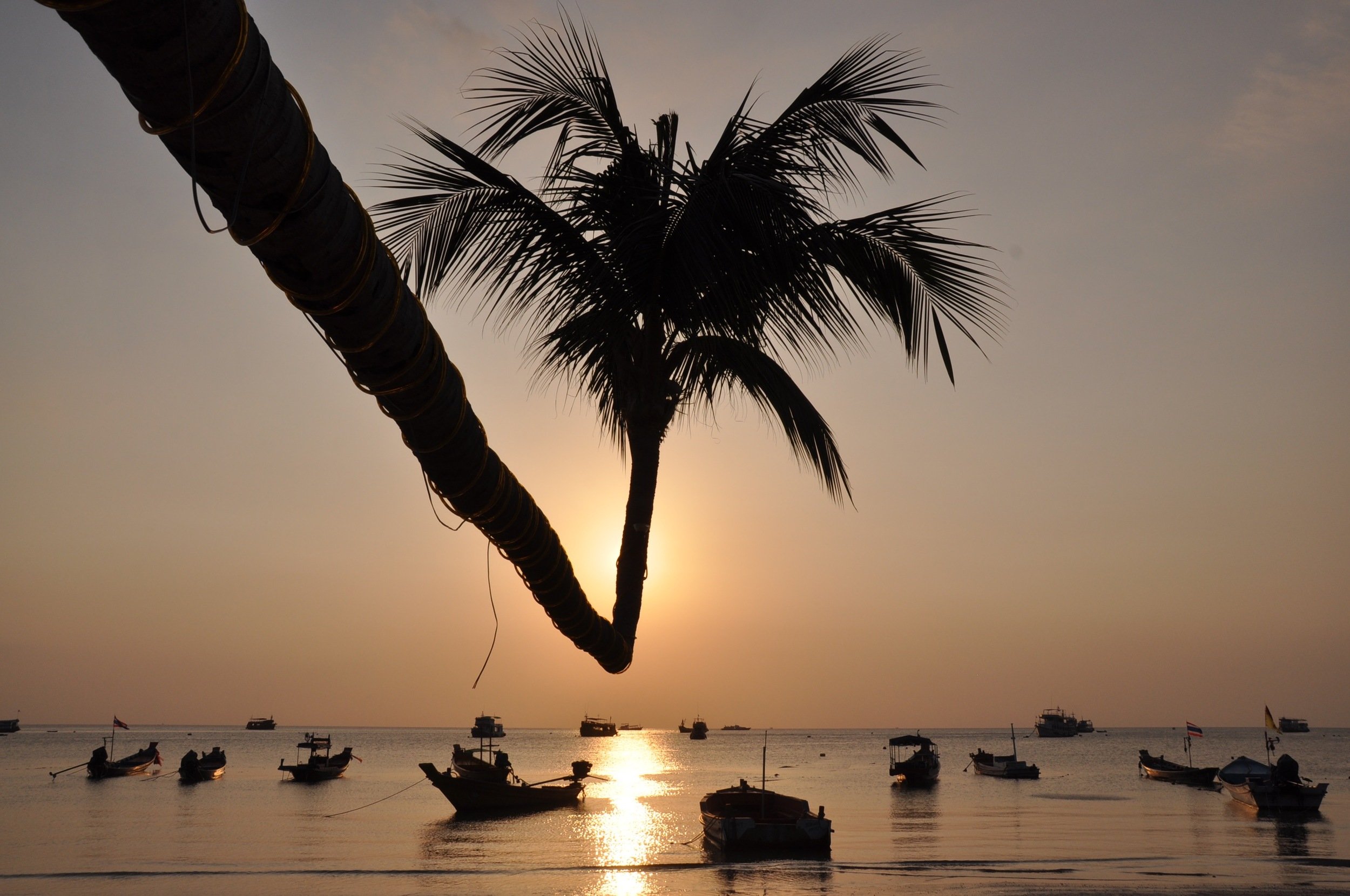 Banyan Bar: This open-air bar features reasonably priced, hand-crafted cocktails. The vibe is laid-back, but it gets crowded on nights when there is live music.
Leo Beach Bar by The Rock: Located right on the ocean, this bar seems to be a constant party. With world-renowned DJs often playing here, get ready to dance the night away!
---
Are you planning a trip to Thailand?
We have TONS of resources on travel in Thailand and destinations throughout the country. Check out our Ultimate Thailand Travel Guide for all the answers to your most burning questions, or read some of our favorite articles below.
Save this article to Pinterest for later!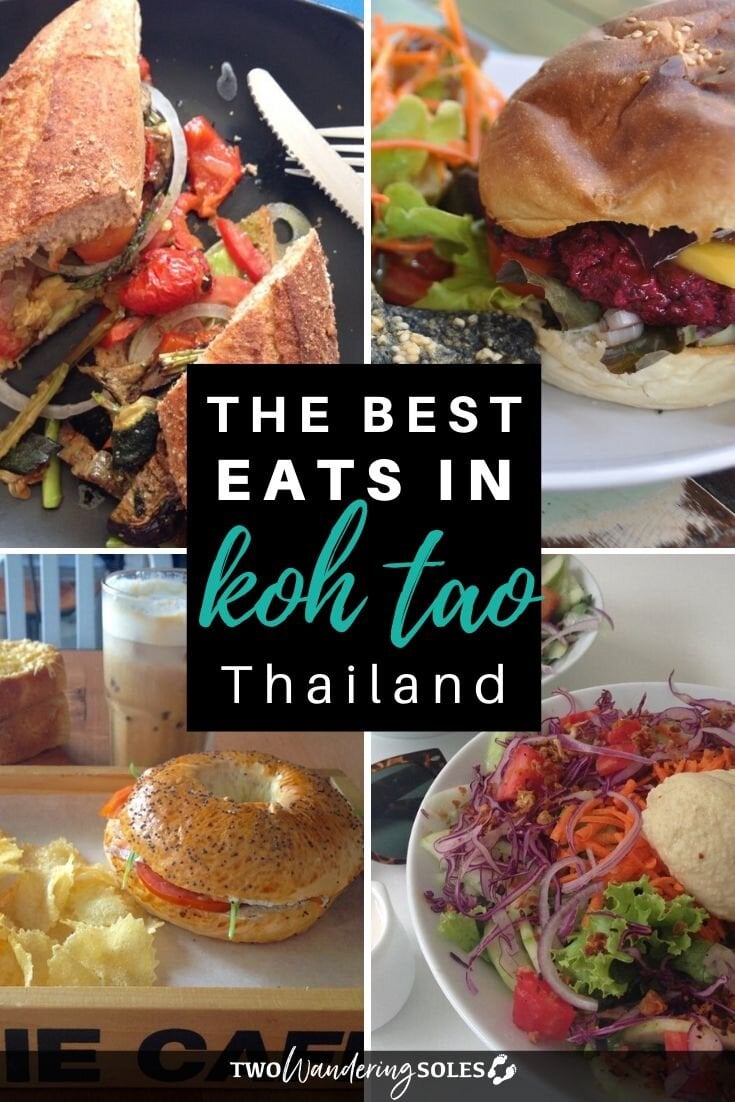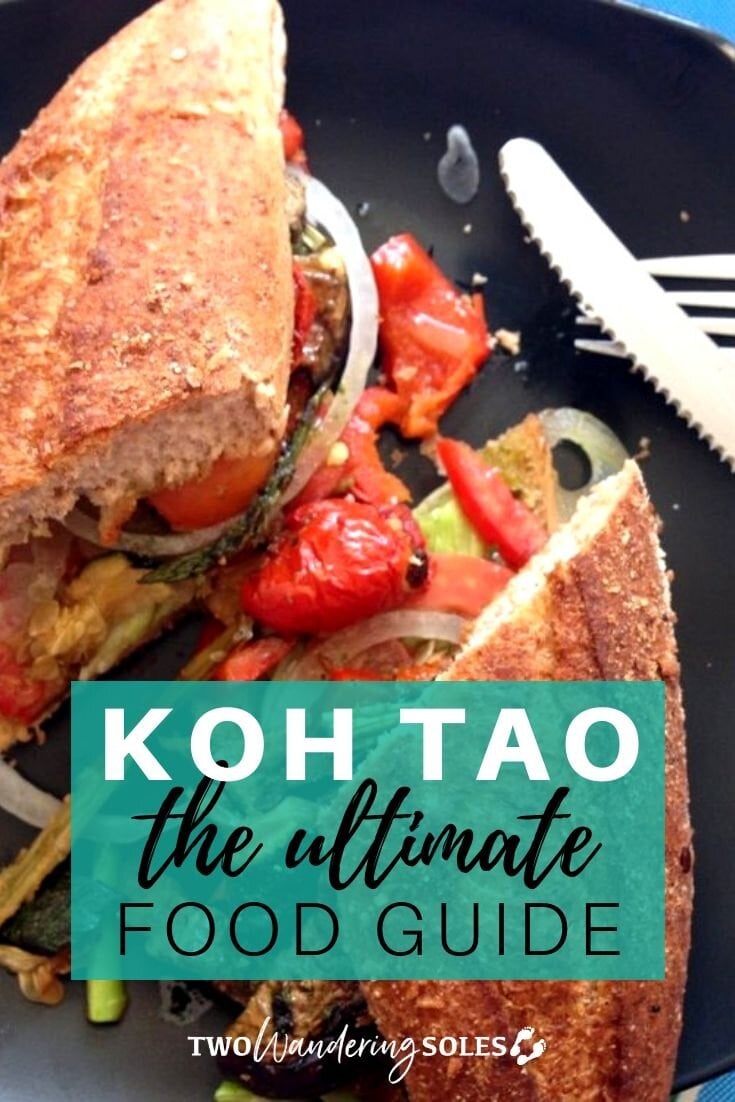 We want to hear from you!
Which restaurant in Koh Tao would you want to try? Did we miss any restaurant? Let us know in the comments below and we'll do our best to get back to you!