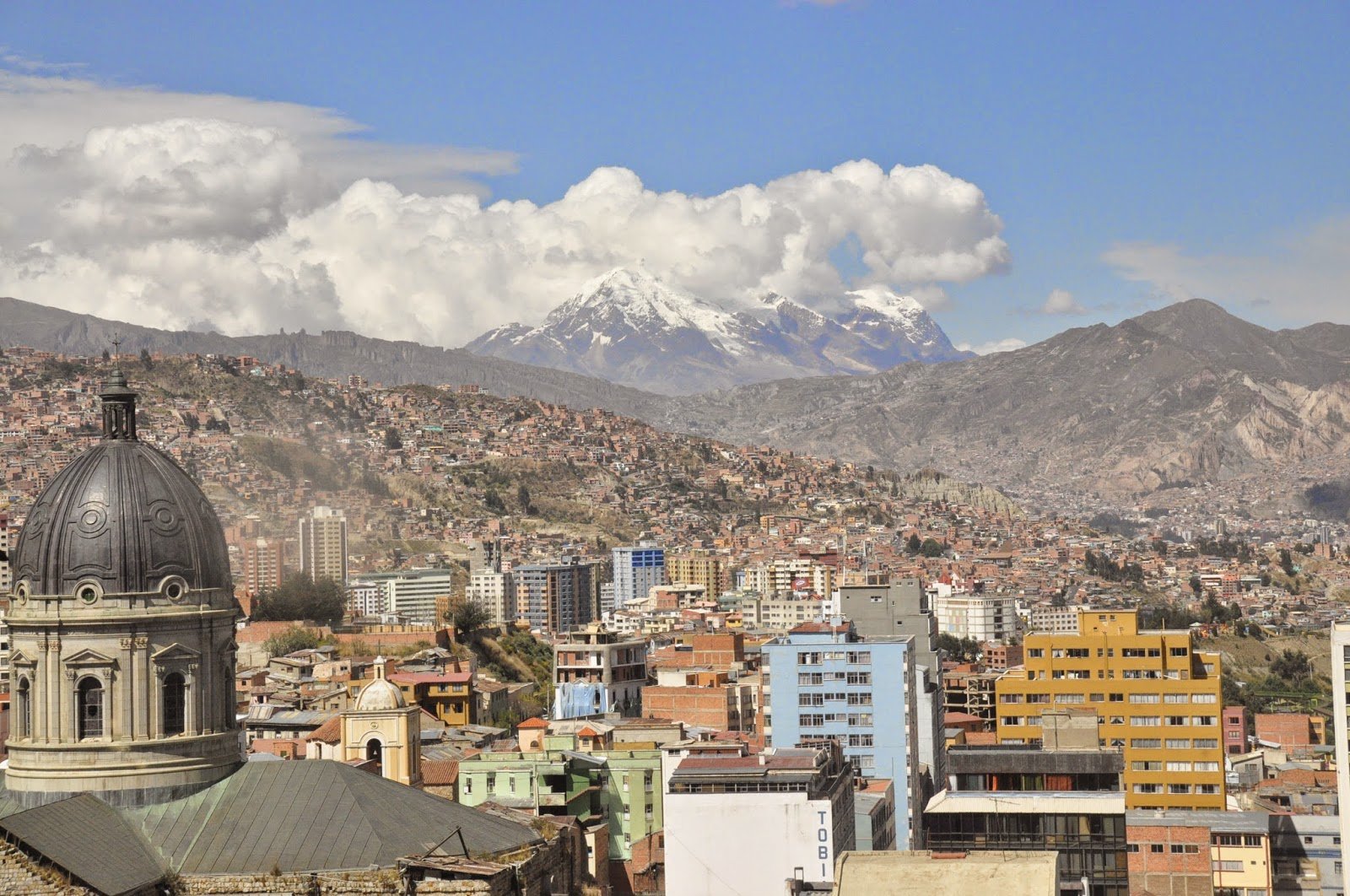 The city of La Paz is dizzying.
Literally.
At just over 12,000 feet (3,660 meters), La Paz is known as the highest capital city in the world. Just walking uphill in La Paz is enough to make even the fittest athlete breath heavily.
If the altitude doesn't take your breath away, the sprawling city teeming with people surely will.
Buildings cling to the canyon walls and spill into the valley below. On a clear day, you can glimpse snowy Mount Illimani (21,000 feet) looming in the distance.
From the Chulita women – wearing the traditional bowler hats, long braids, and flowing skirts, to business professionals dressed in business suits – you will find people from all walks of life crowding the streets.
You could say La Paz was our "base camp" while in Bolivia. We returned to this metropolis between a trip to the jungle and an excursion to the salt flats. In total, we spent nearly a week and a half in La Paz and got to know the city well.
Where to Stay in La Paz: Wild Rover Backpackers – It's a large hostel with many different rooms and sections. The bar can get pretty wild at night, so if you want chill for the night head to the to the bean bag filled movie room.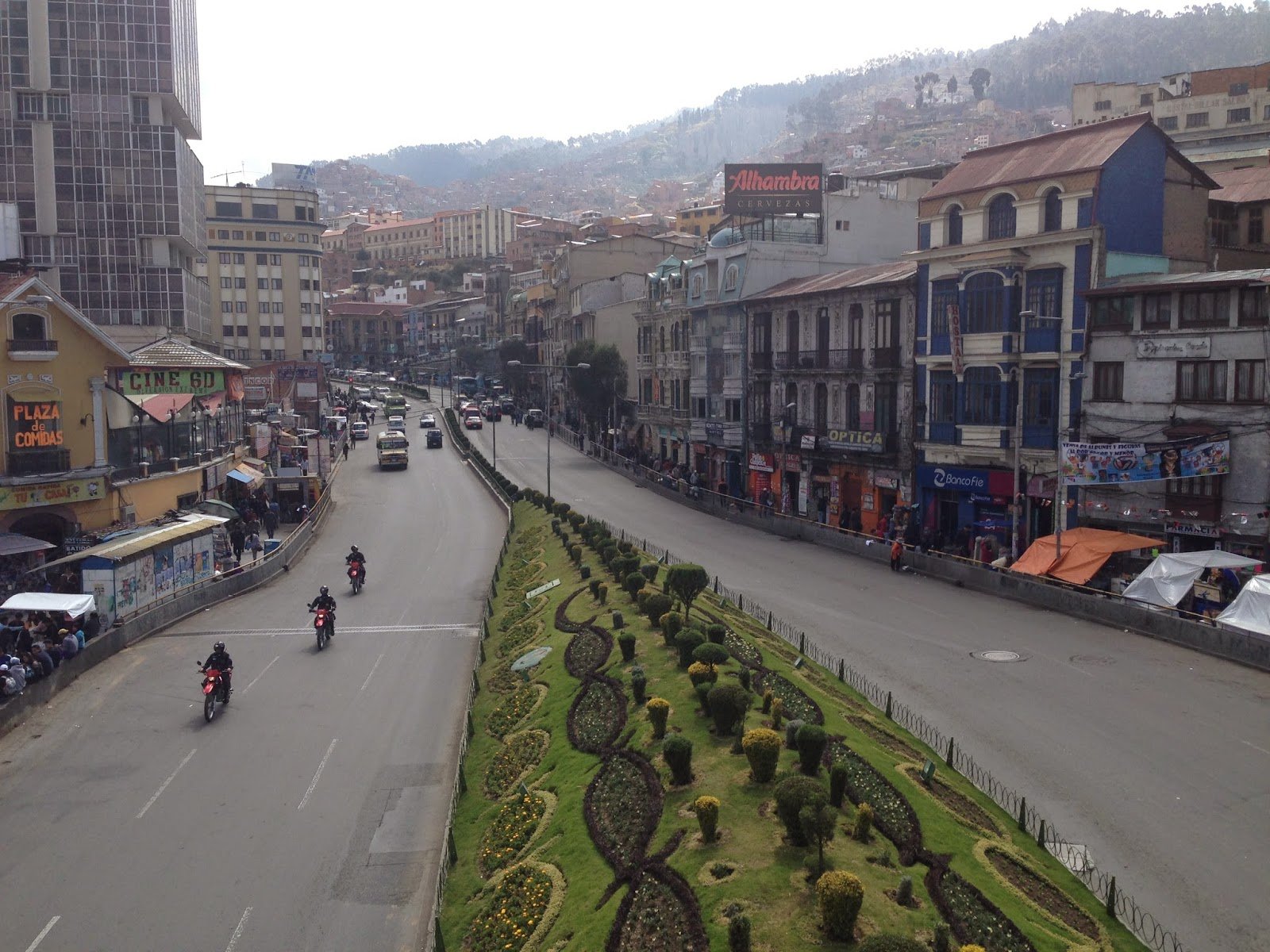 La Paz Walking Tour
During our travels in South America, we have gone on several free walking tours. It has been an amazing way to see cities and learn about the history, culture and people. We heard rave reviews about the walking tour in La Paz, and were not disappointed.
(Read about our favorite Free Walking Tour in South America here!)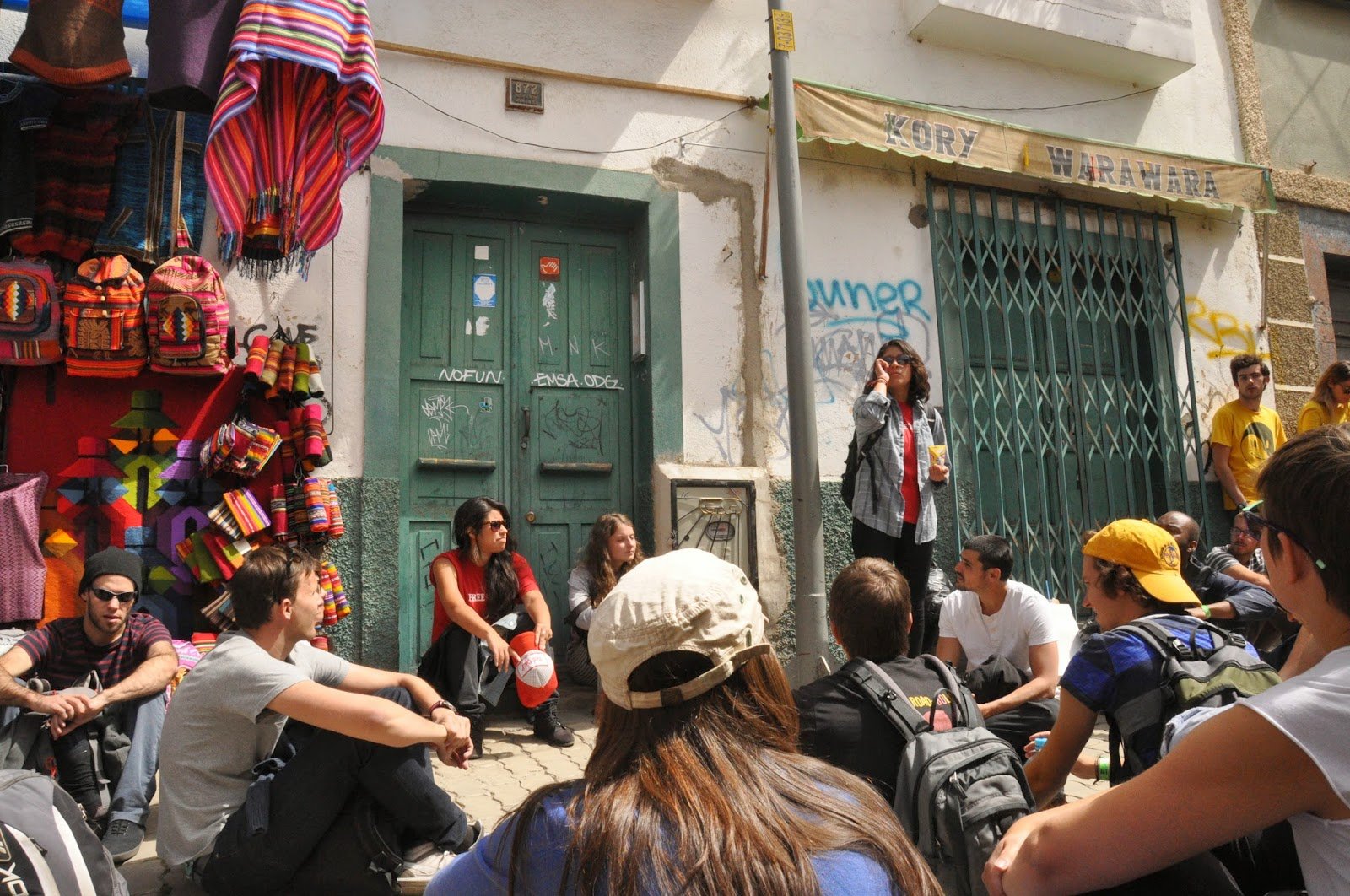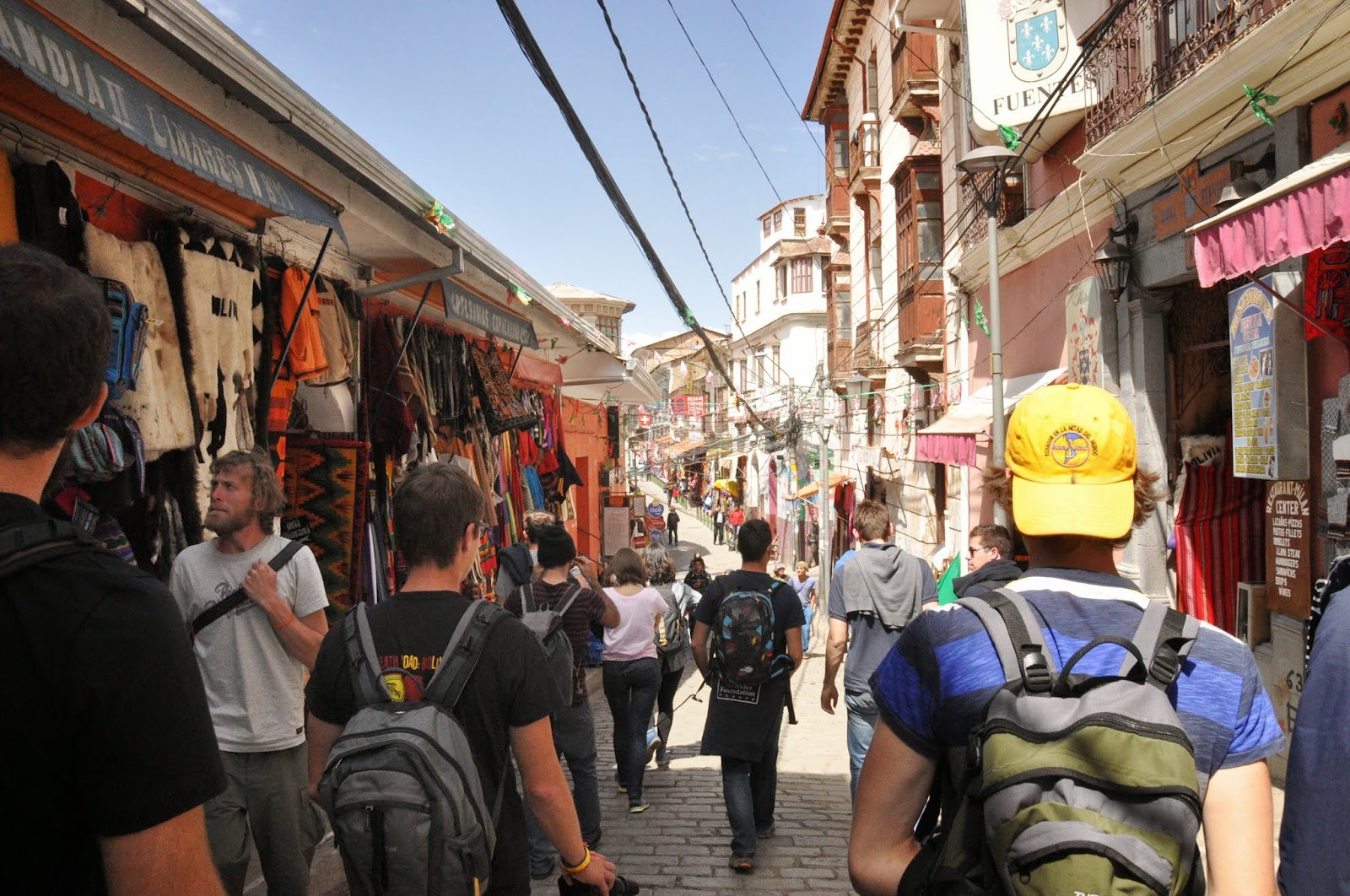 A couple highlights of the tour:
San Pedro Prison:
The meeting point of the tour is in a plaza right outside of the prison. After hearing other travelers talk about Marching Powder, an account of one man's time spent in this bizarre prison, I started reading it for myself. Although I knew most of what the tour guides were saying already from my reading, it was pretty incredible seeing the prison firsthand.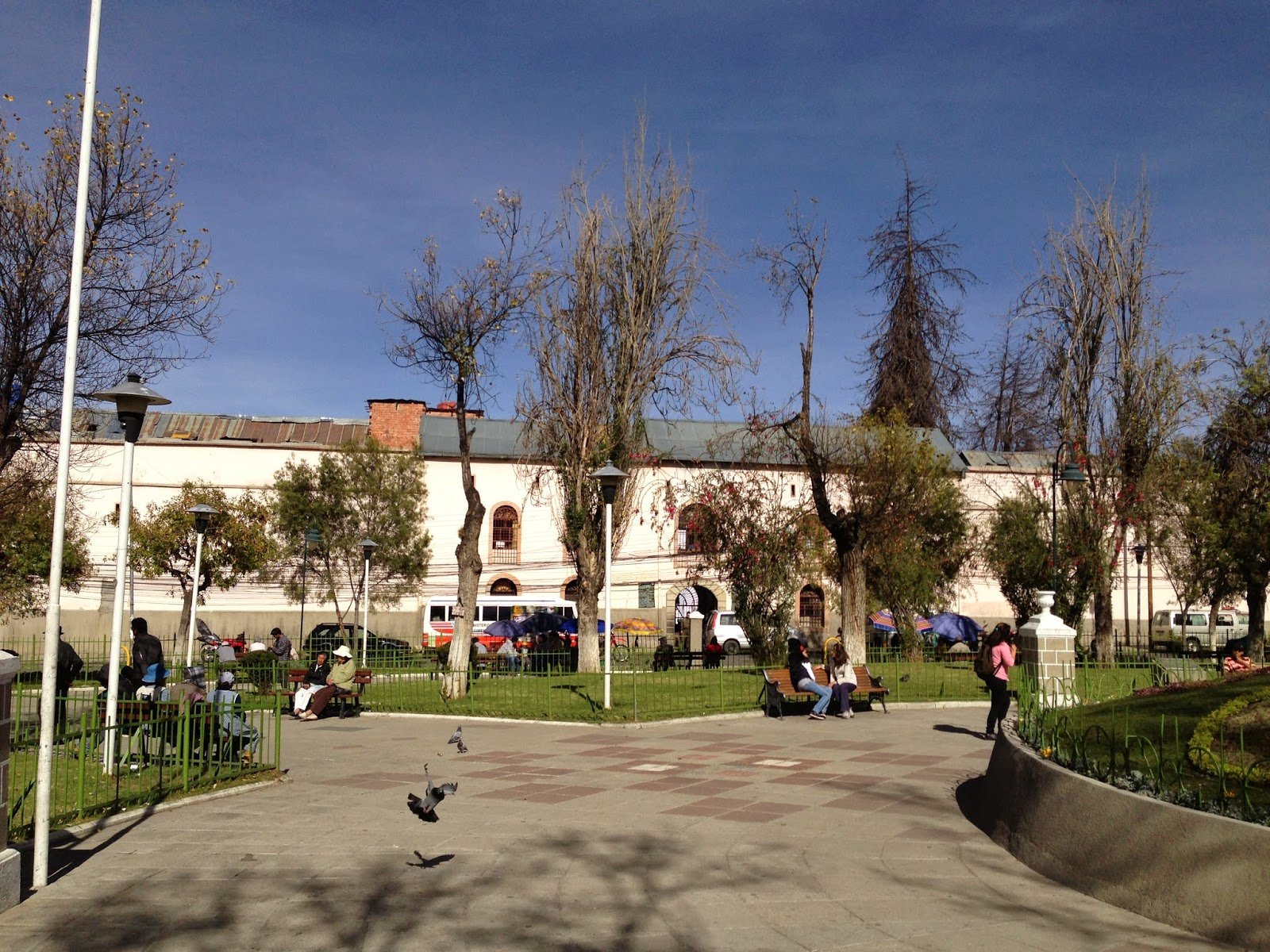 Apparently you aren't supposed to take photos of San Pedro Prison because it will be assumed you are helping the prisoners find an escape route. This isn't the best picture, but I didn't want to risk being thrown in jail myself!
Some facts (just because this San Pedro Prison is so INTERESTING!):
1. The prison was built with a capacity of 250
prisoners, but currently there are more than 2,000 inmates and family members residing there.
2. Yes, you read that last bullet point correctly. Prisoners are allowed to have family members live with them – provided they pay.
3. And yes, weirdly enough, prisoners pay for their jail cells. This means that if you are a rich person (ie. big time drug dealer or corrupt politician) you can live luxuriously while serving a sentence. Some "cells" come equipped with private bathrooms, full kitchens and even Jacuzzis. Then there are the poor inmates who aren't able to pay. They sleep on concrete floors and are crammed into a cell with several other convicts.
4. Since everything in the jail revolves around money, the inmates all have jobs ranging from restaurant owner (yes, there are restaurants inside the prison), to artist (their wives sell their handicrafts outside the prison gates), to tour guide… which leads me to my next point…
5. Up until a few years ago, people used to be able to pay for a tour of the prison. If they paid extra, they were even allowed to stay overnight.
Because who wouldn't want to spend the night inside a third world prison? For several years, the prison was actually listed as the top tourist attraction in La Paz.
6. And the last, but possibly most bizarre fact: the tours were strictly forbidden after foreigners were found to be taking cocaine with the inmates.
How do they get drugs inside the prison?
The purest cocaine in Bolivia is actually produced within the walls of San Pedro Prison. Our tour guides even pointed out a hole in the roof, out of which bags of cocaine are thrown to dealers on the outside. The police turn their heads, of course, because they get a cut of the money.
This just skims the surface of this bizarre place known as San Pedro Prison.
Want to know more? Read Marching Powder – seriously, fascinating stuff.
Anyway, this was just the first stop on our tour, and we soon found out there is so much more to La Paz than the infamous penitentiary.
Other walking tour highlights:
The markets in La Paz were the most fascinating I have seen in all my travels.  For a city with a population of more than 2 million people, there are only 20 supermarkets.
I think there are close to 20 supermarkets in a 5-mile radius of where I grew up.
The people of La Paz get the majority of their food from the open markets – one of which stretches an incredible 46 blocks!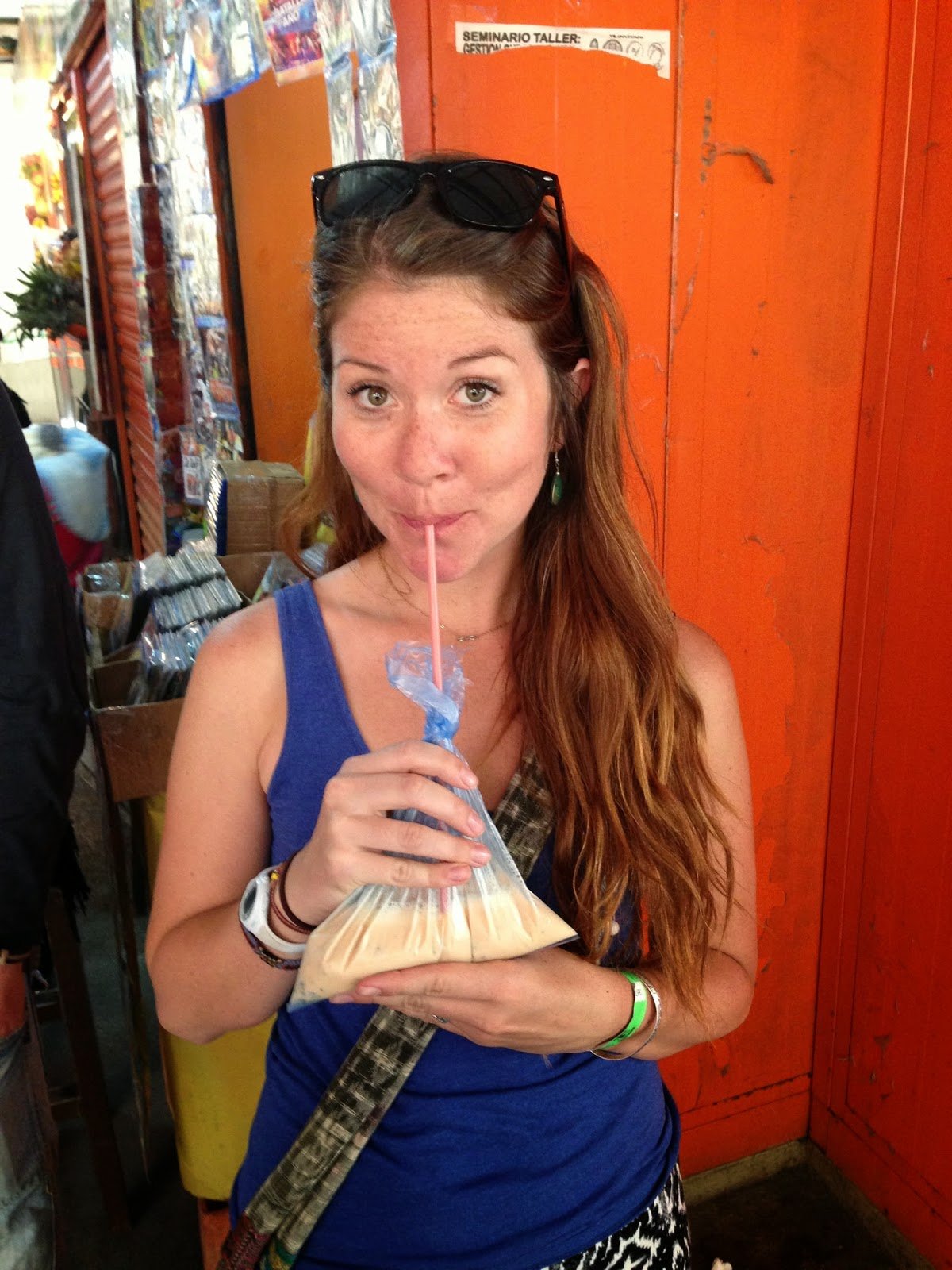 Another remarkable site was the famed Witch Market. Here you can buy dried llama fetuses and love potions.
Spooky!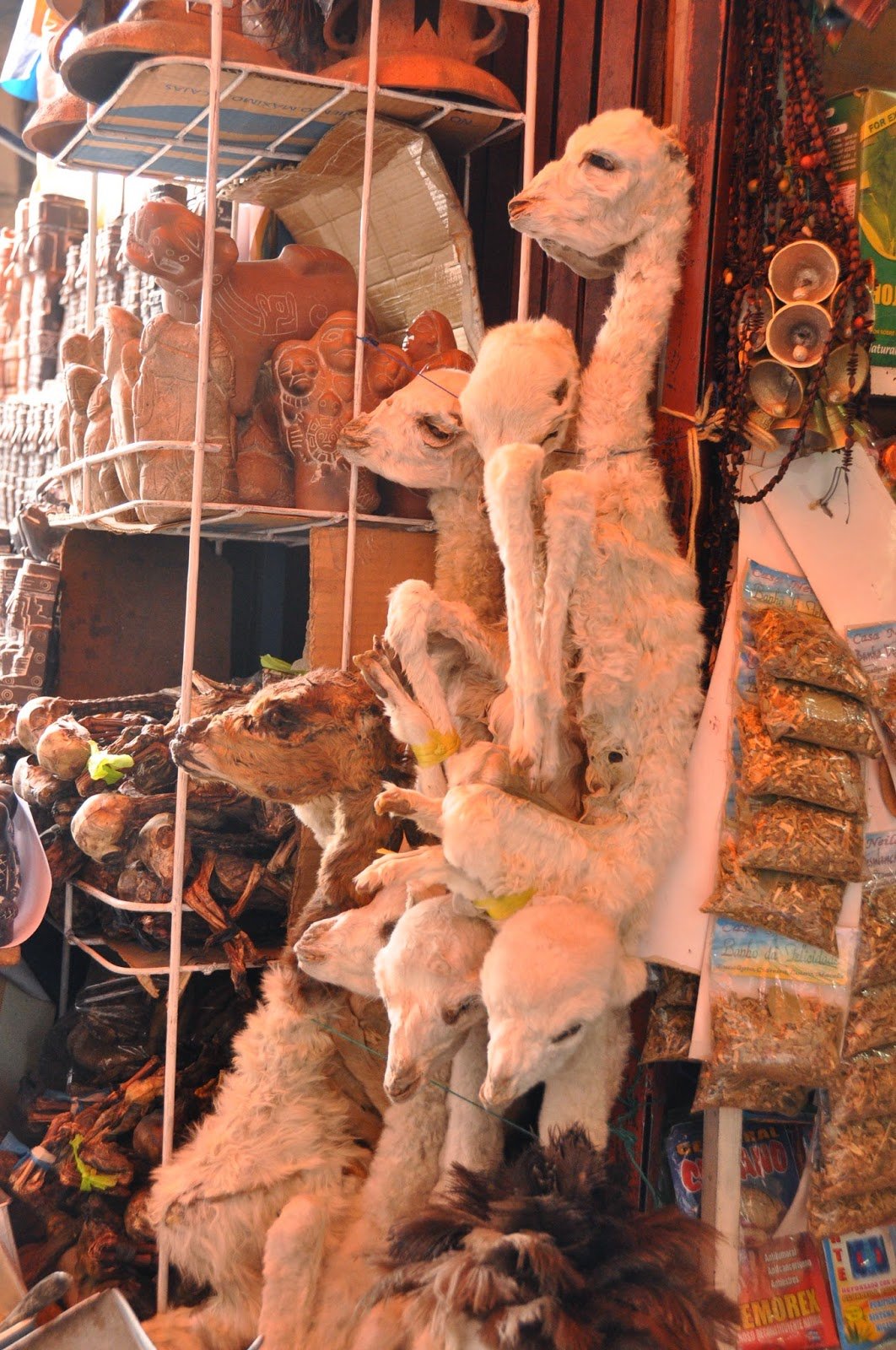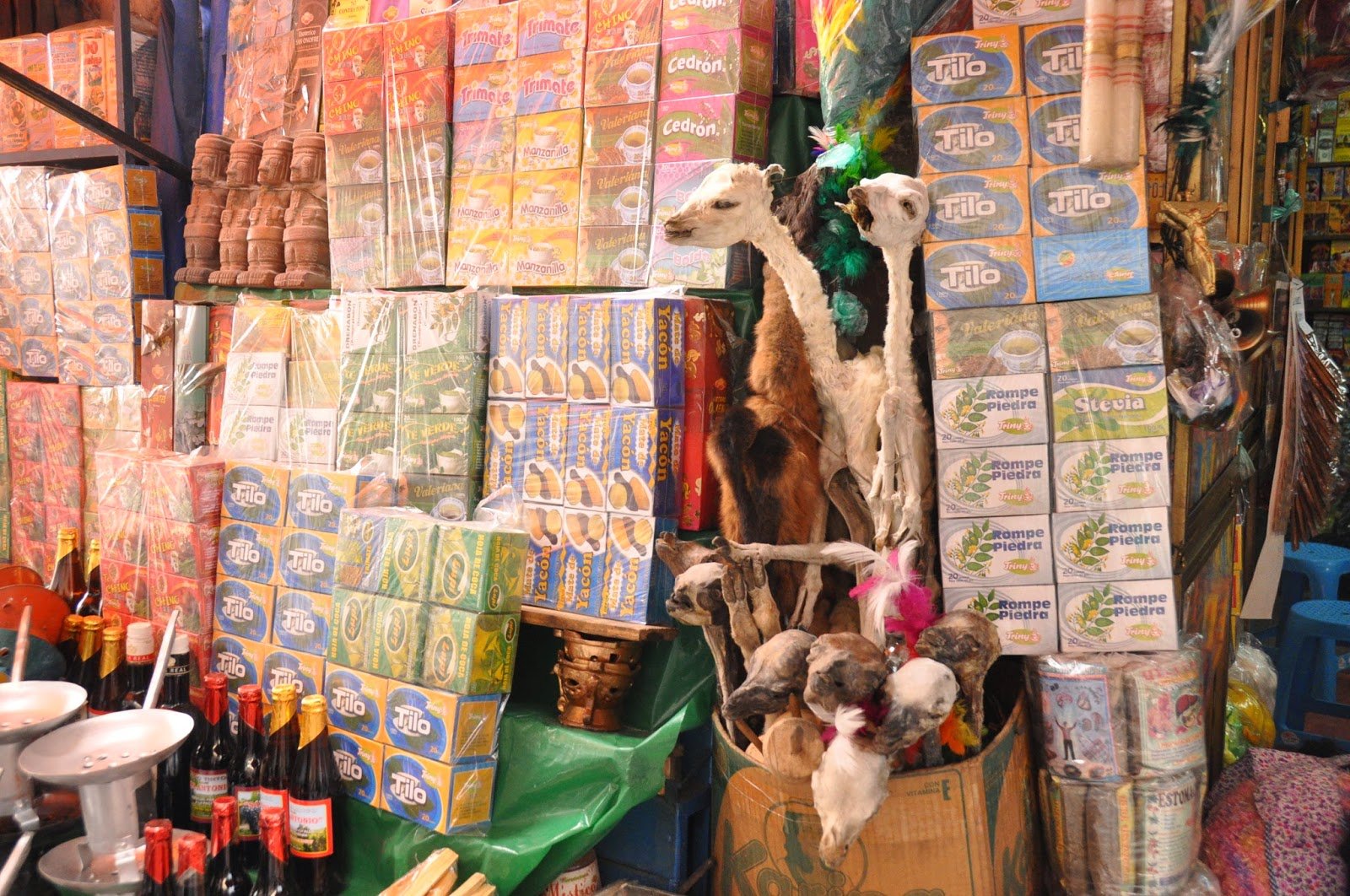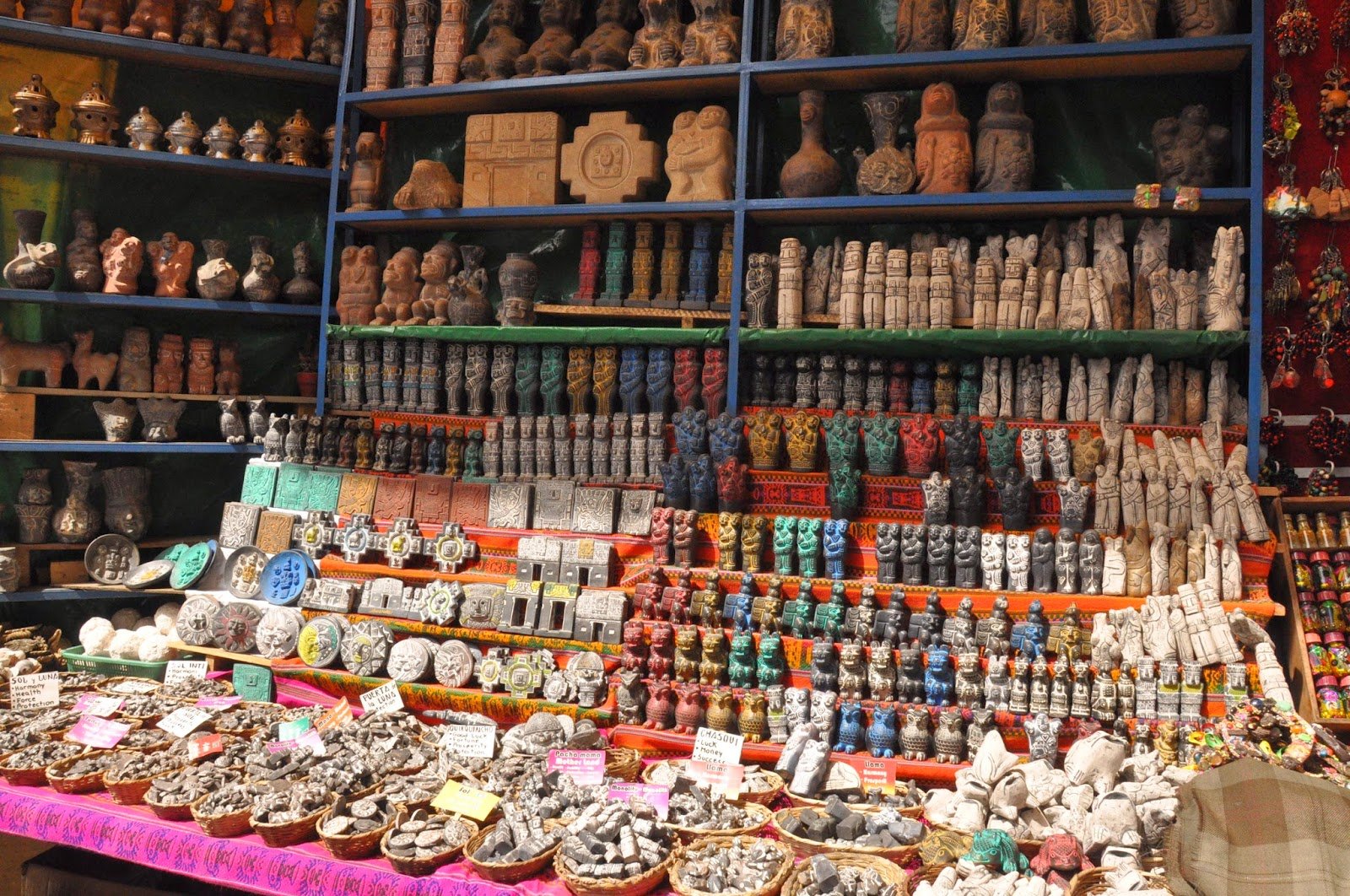 My favorite of the potions was called "follow me, follow me powder". Blow some onto the back of of the person you are eyeing, and they will fall in love with you.
Immediately.
Though, I wouldn't be quick to travel home from Bolivia with a pouch of unidentified white powder in my backpack.
El Alto
After our tour, we met up with some friends we met earlier on our travels. Together we took a cable car to the top of the valley overlooking La Paz. The cable car system is brand new to the city and was being offered free of charge – so as you can image, the line was quite long.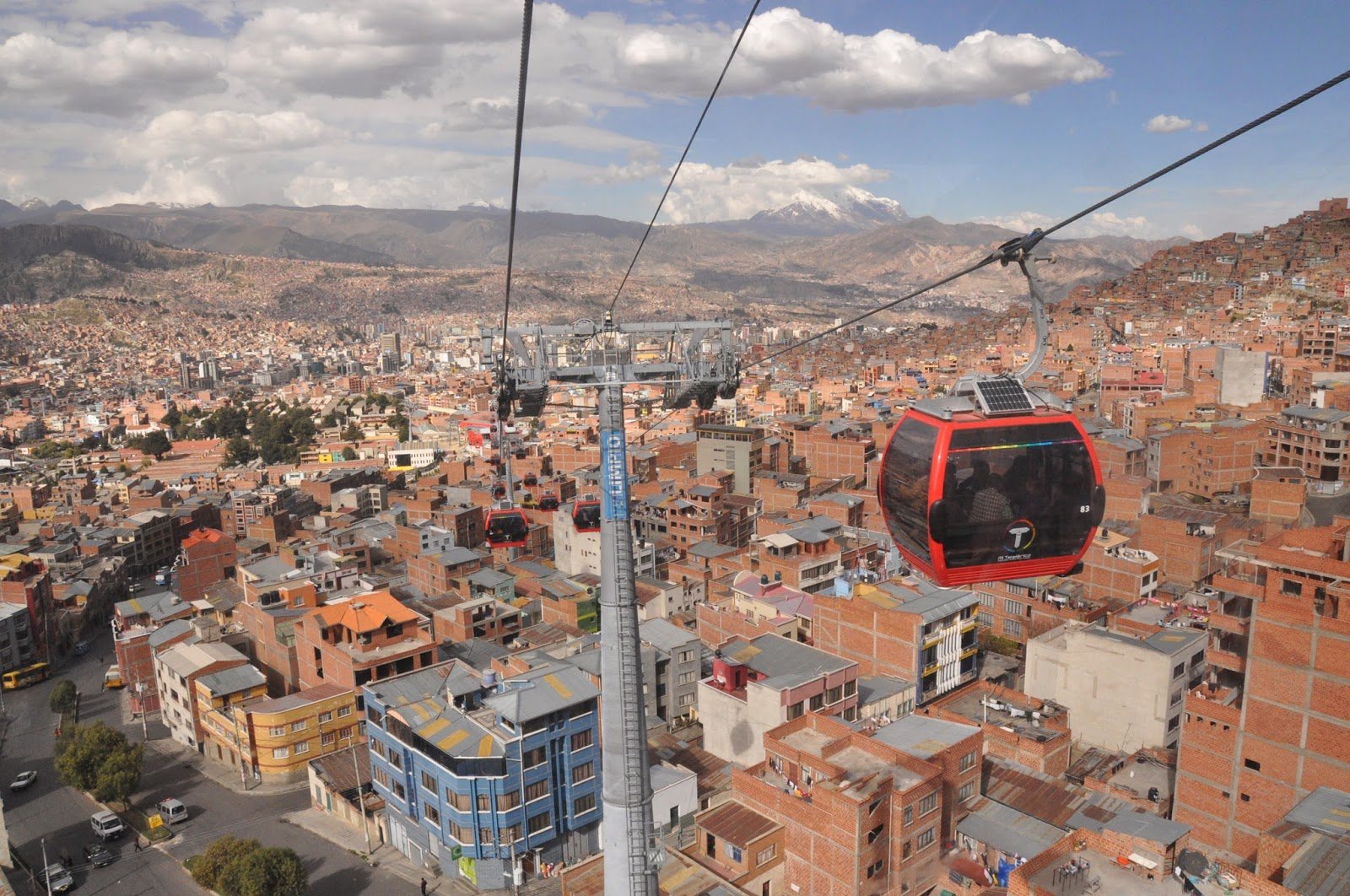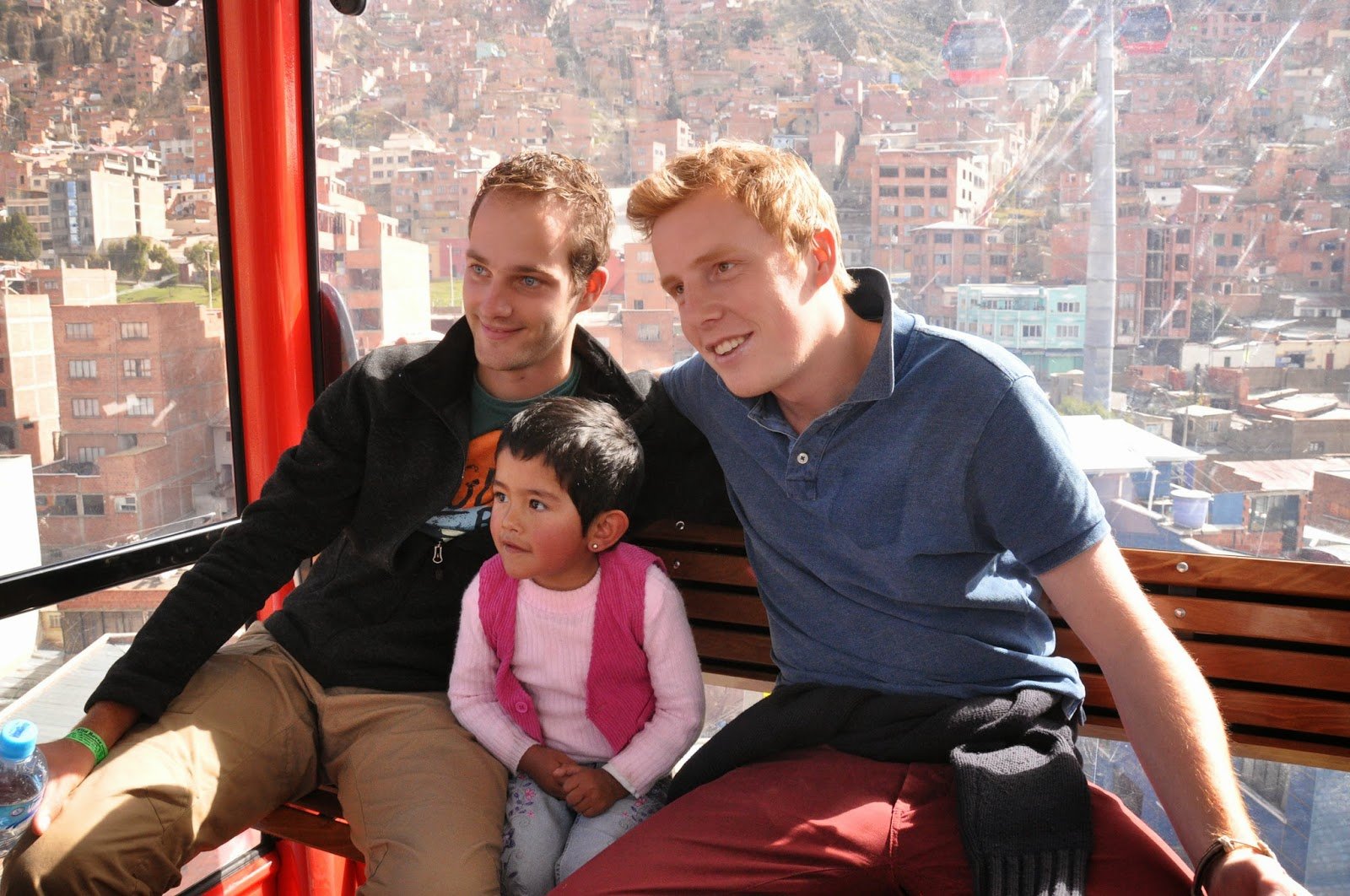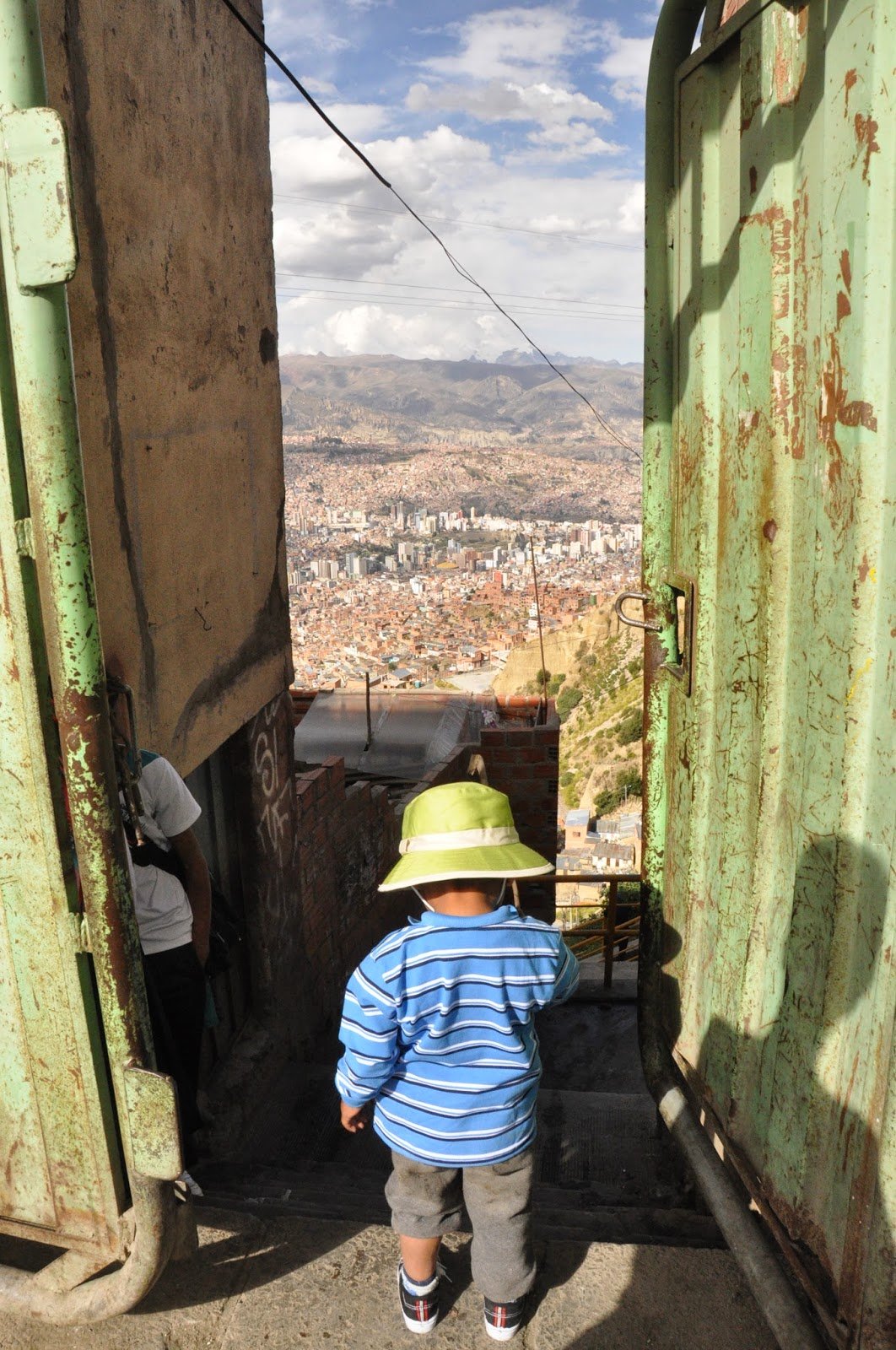 Once we reached the top of the canyon, we were met with incredible views of the city below, but that wasn't the best part. Above La Paz lies El Alto – a metropolis home to South America's largest market, and almost no tourism.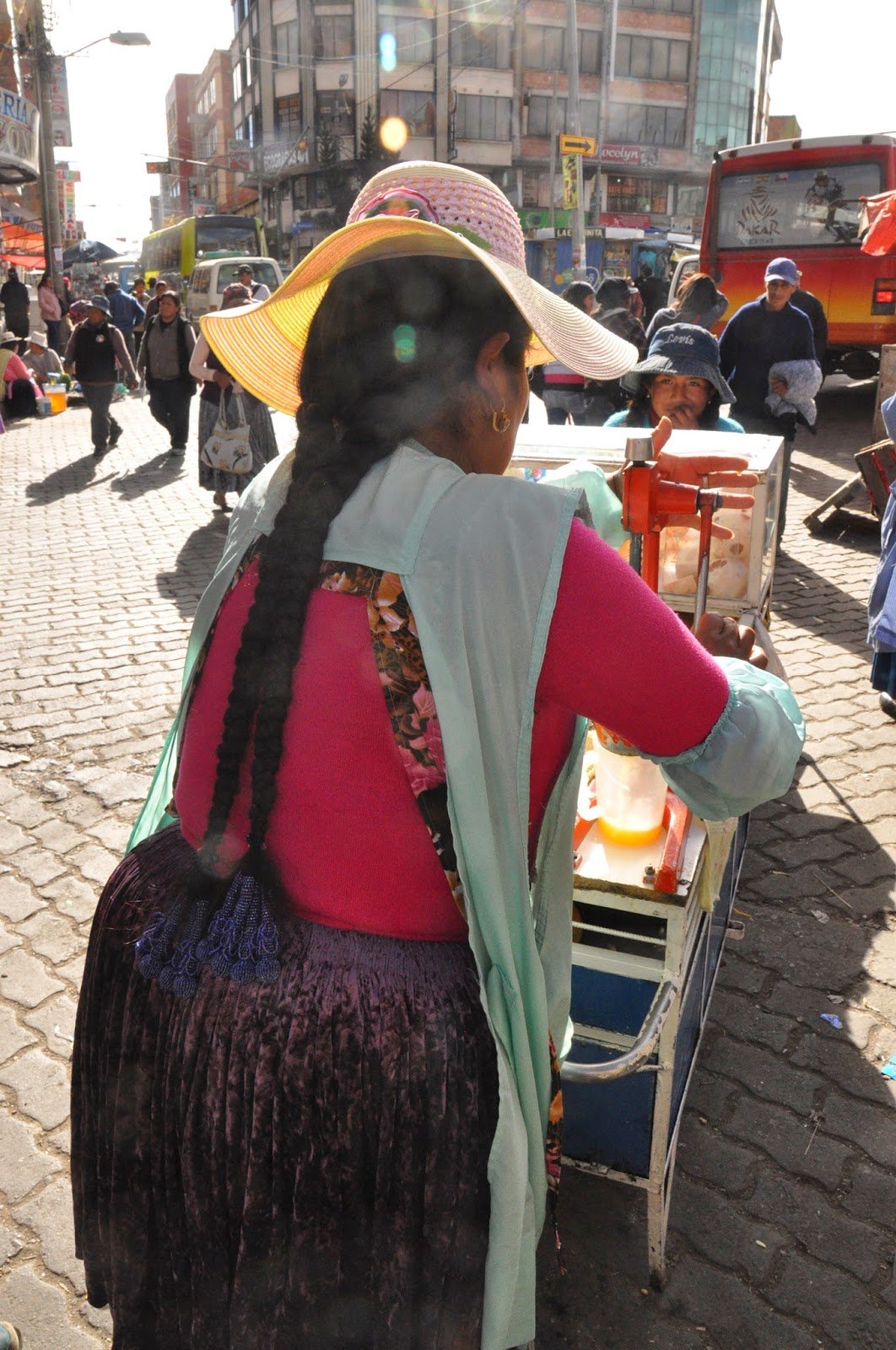 We walked through the market stalls, drank orange juice squeezed before our eyes for 30 cents, and ate lunch alongside the locals. And the whole time, we didn't see one other white face. Something of a rarity in most Latin American cities.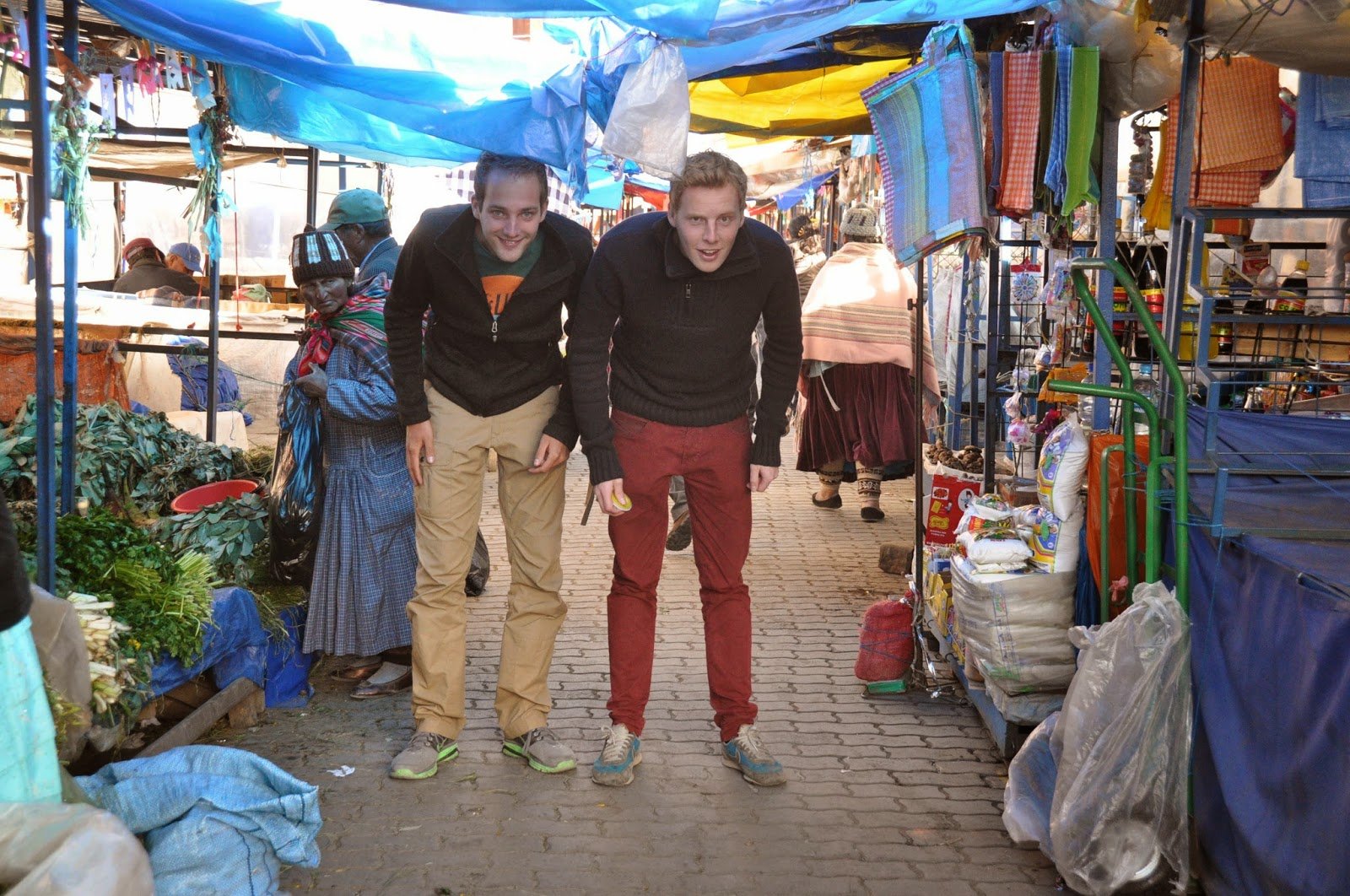 La Paz Cemetery
After exploring El Alto, we took a collectivo (a taxi van for multiple passengers) back into the city for our last adventure of the day. We stopped at the famous La Paz Cemetery, known for its endless rows of crypts – some four stories tall!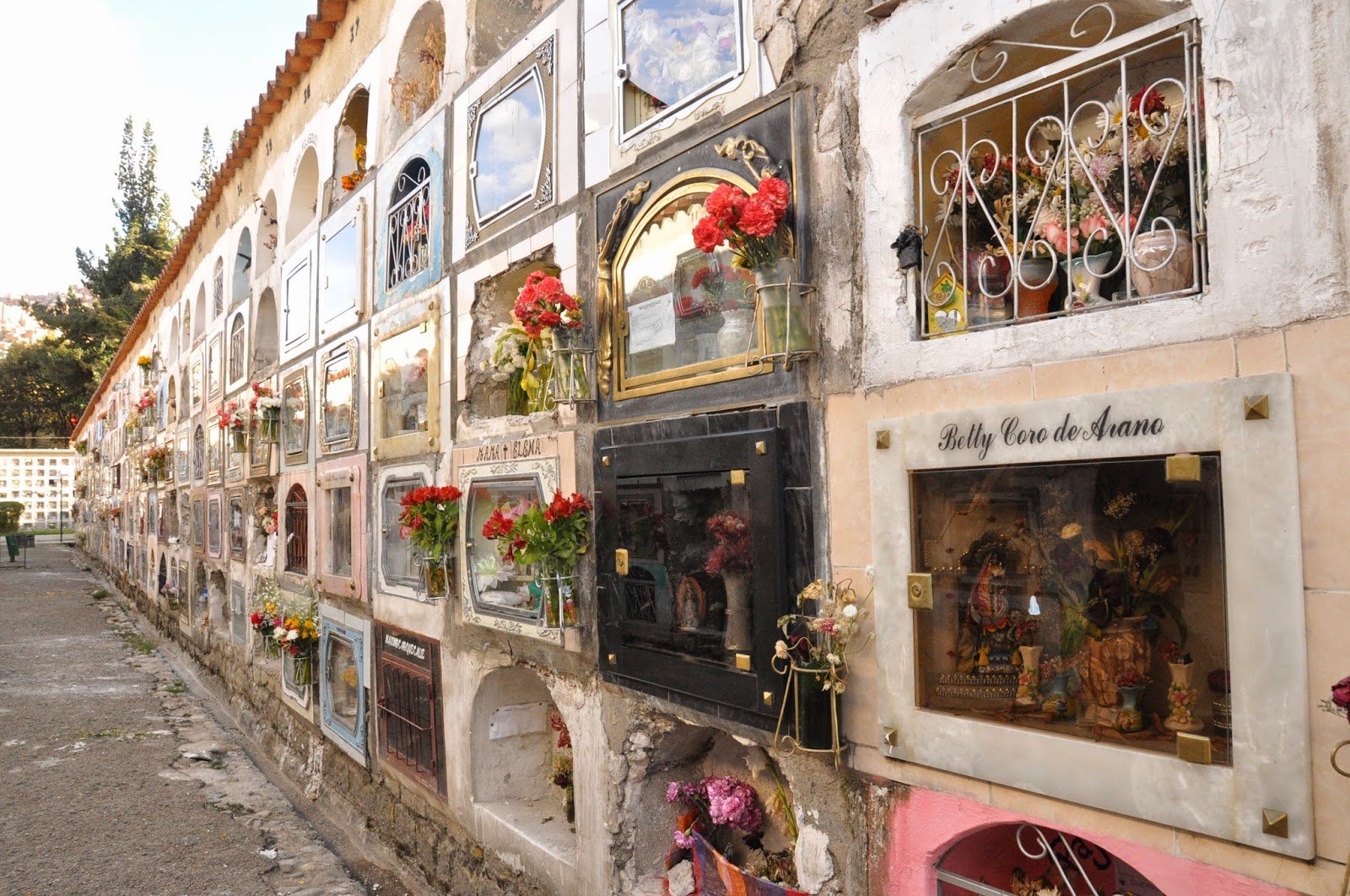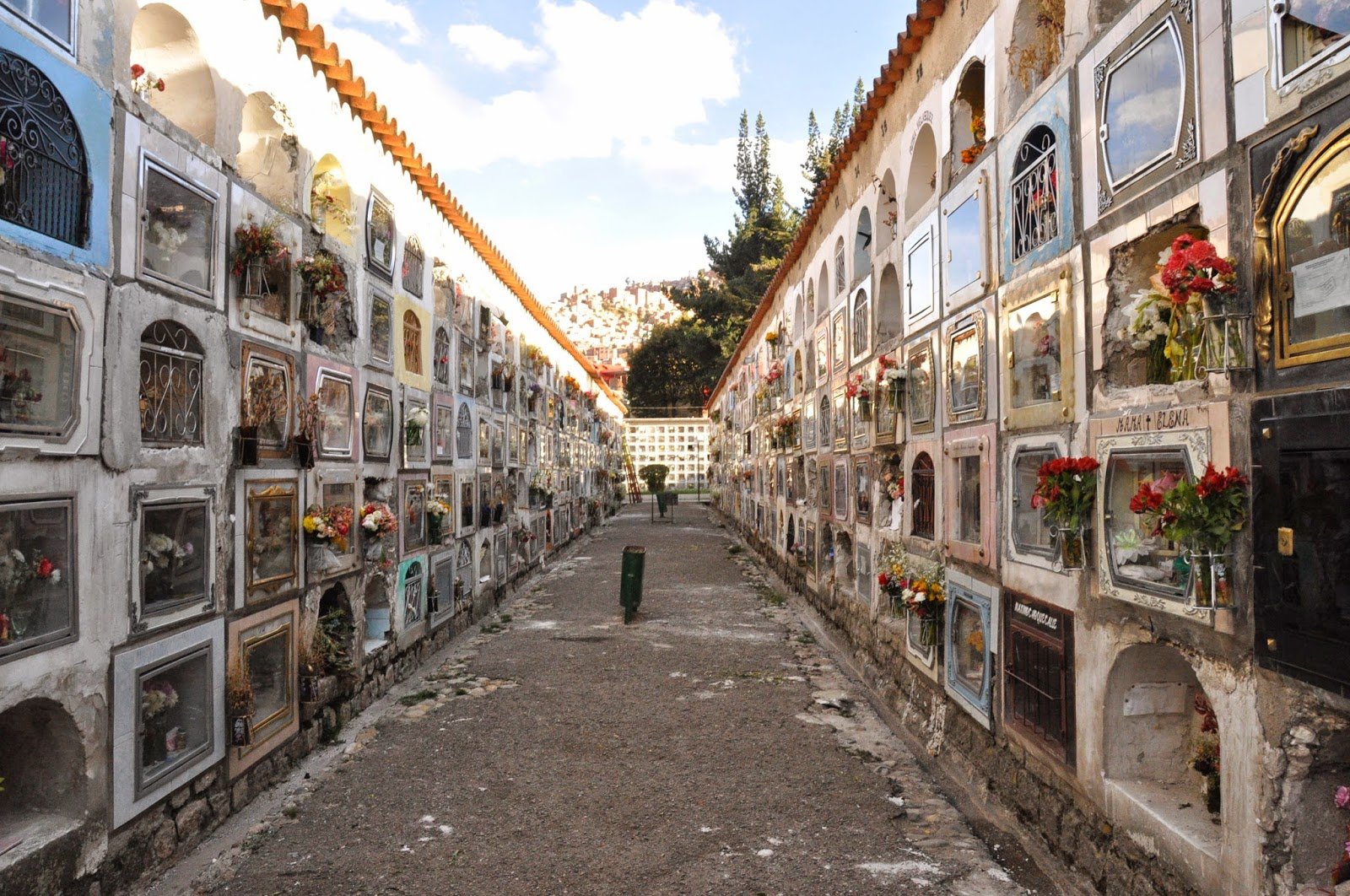 Valley de la Luna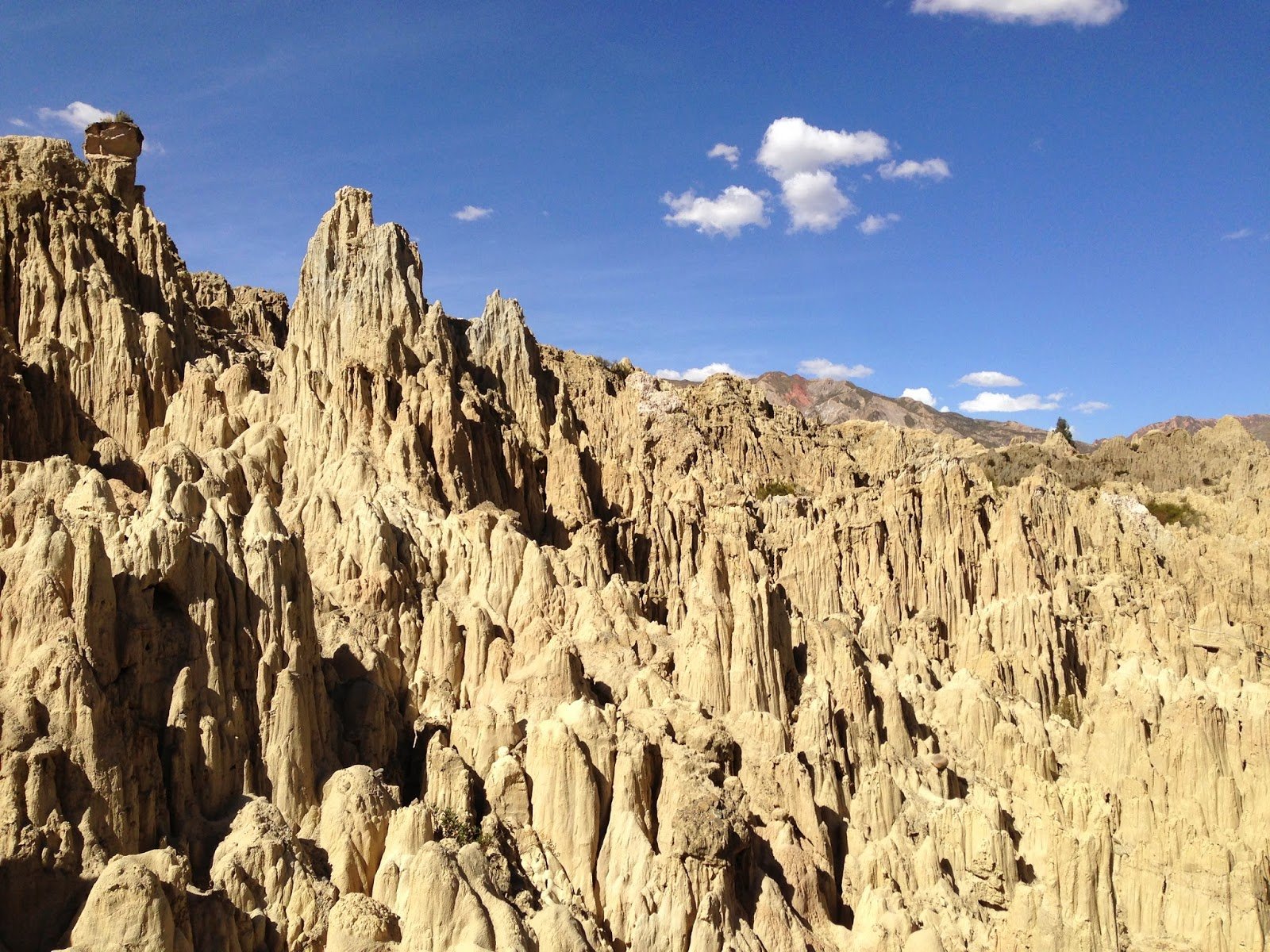 Another interesting site lies just outside of downtown La Paz. With two other friends, we hailed a taxi and rode 40 minutes to the outskirts of the city.
Valle de la Luna, or Valley of the Moon, is said to be named after Neil Armstrong visited and said it reminded him of walking on the moon.
Now, I've never walked on the moon, so I can't speak to the accuracy of its name… But I will tell you, this place was definitely out of this world.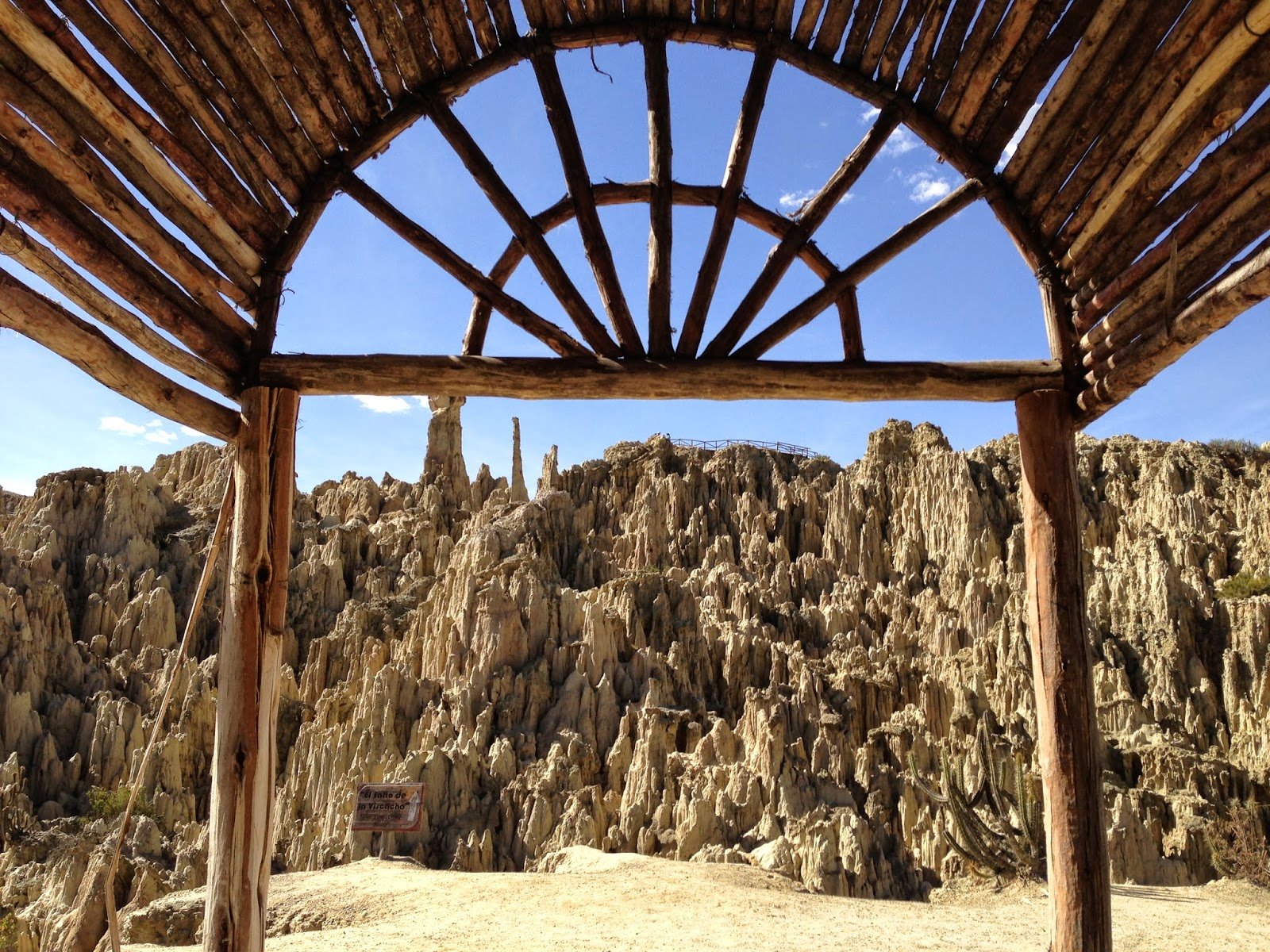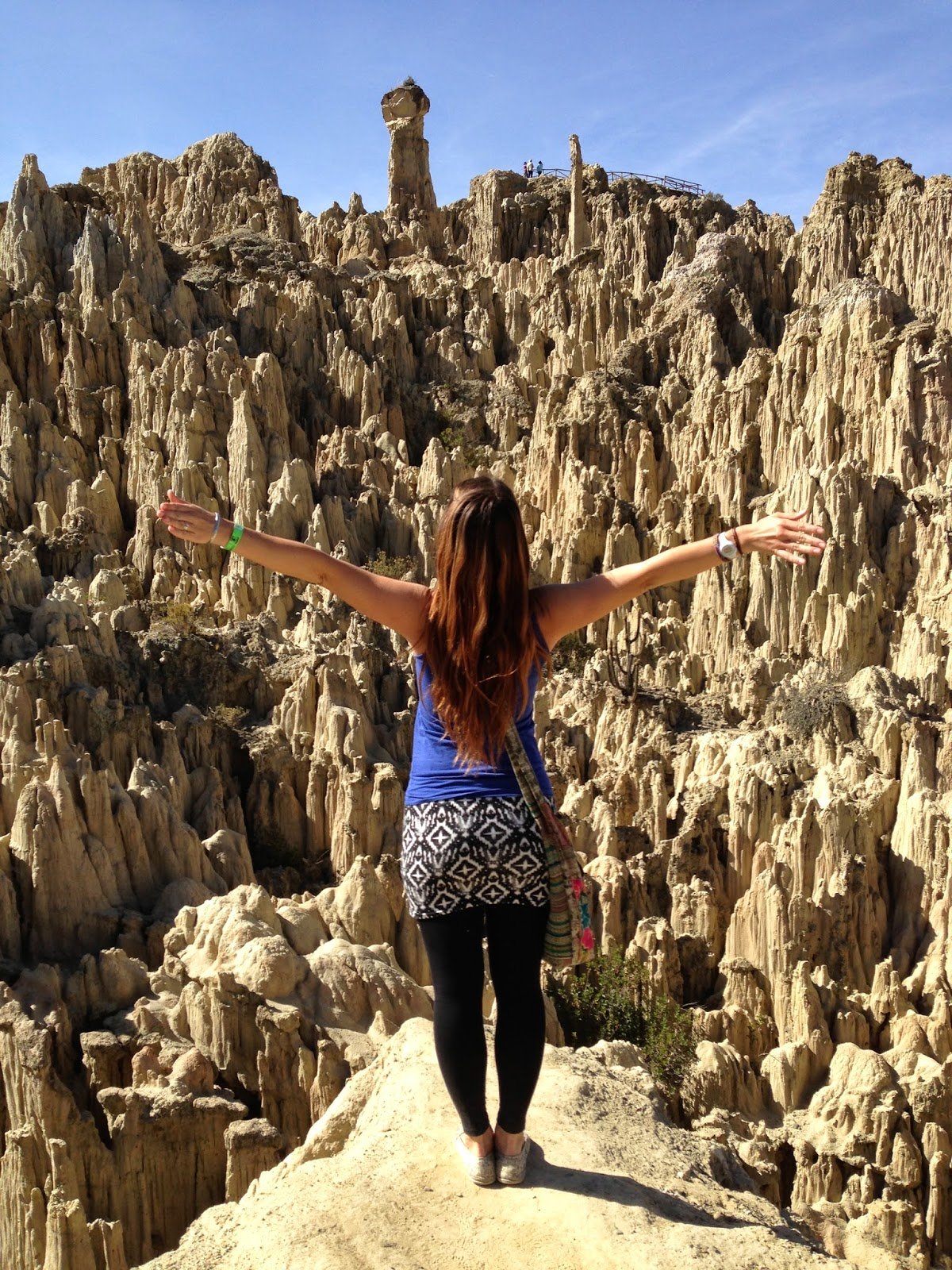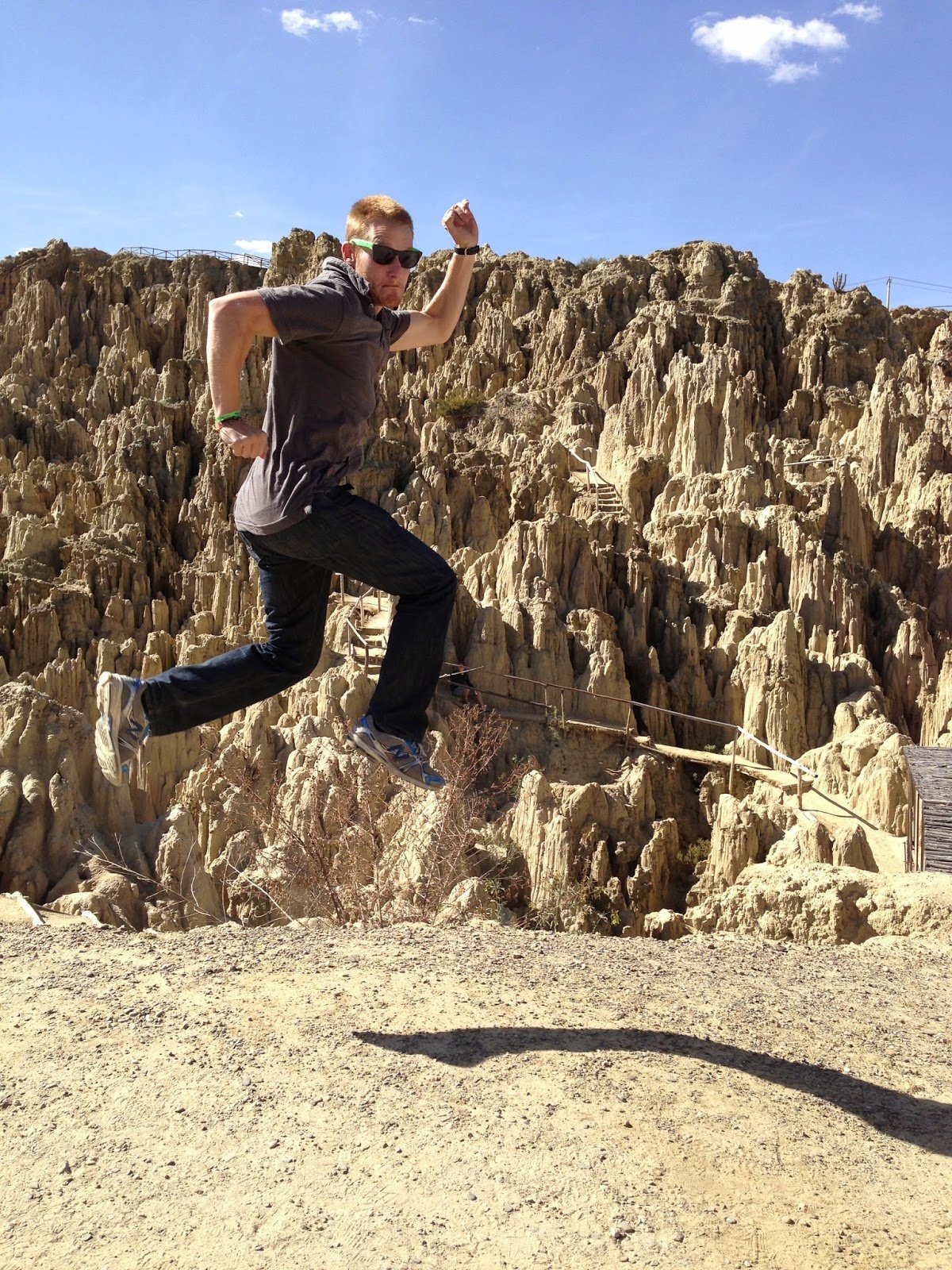 More photos around La Paz: