How much does it actually cost to hike to Everest Base Camp? The highest trek in the world doesn't have to come at a high price. We'll breakdown all our expenses throughout our 16-day trek to Everest Base Camp and Gokyo Lakes and show you how inexpensive it really is to reach the base of the tallest peak on Earth. We'll take you through our cost per meal, EBC teahouse prices and everything else it'll take to get you there!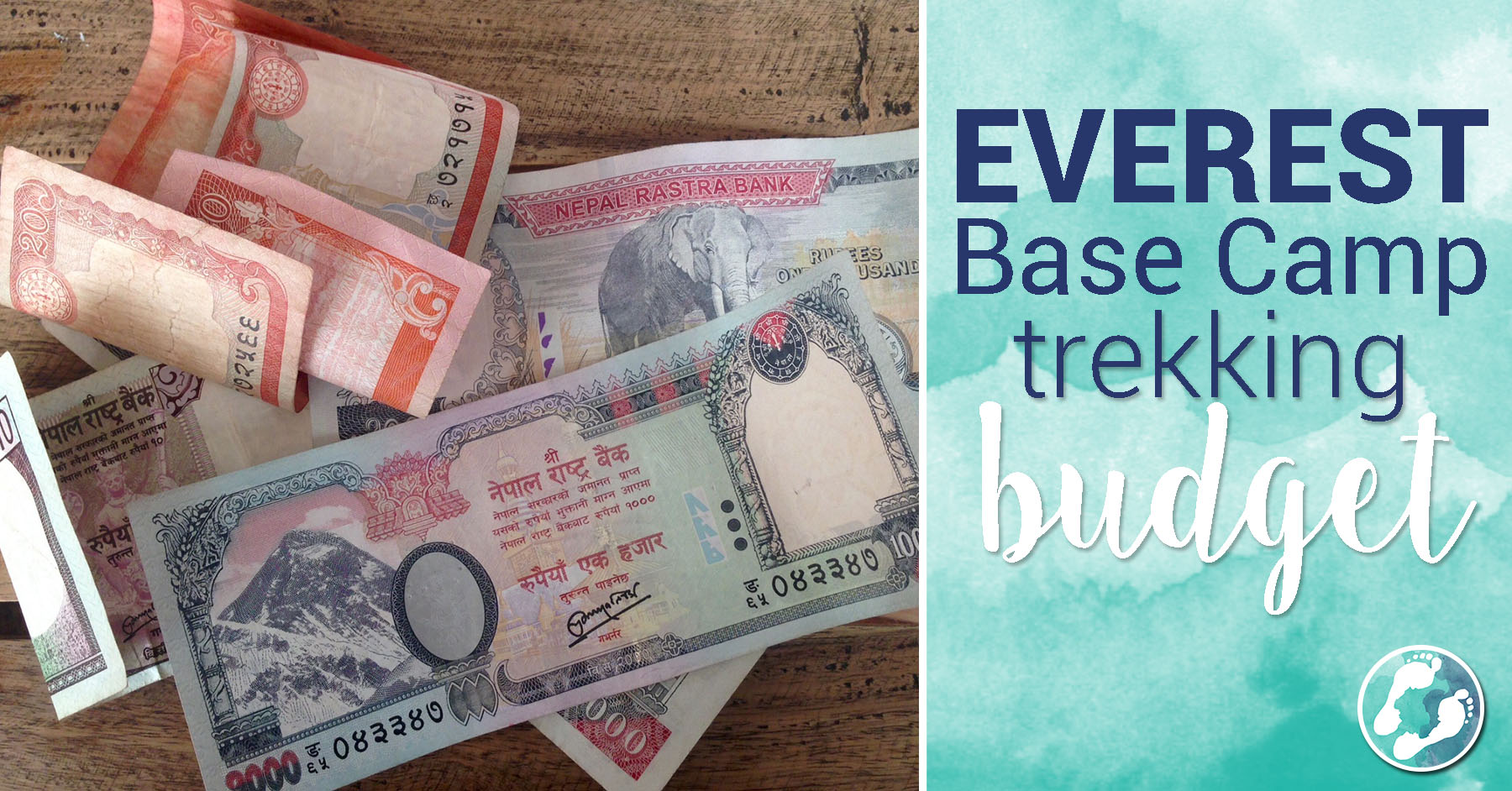 Everest Base Camp trek, one of the highest treks in the world, doesn't have to come at a high price. In fact, after the upfront costs of flights and park permits, we were pleasantly surprised how cheap it is to hike to Everest Base Camp independently.
In this article, we have broken down all our expenses for our 16-day trek to Everest Base Camp and Gokyo Lakes to show you how much it costs to trek to EBC and how inexpensive it can be to reach the base camp of the highest mountain in the world.
We'll walk you through how much meals cost on EBC and how much you should expect to pay for an accomodation at a teahouse.
Plus, we've put together our best tips for how to save money on the trail (including some things you can purchase before your trip that'll make your experience a cheap Everest Base Camp trek!).
---
Are you ready to start planning your independent trek to Everest Base Camp?
It is so much easier than you'd think to trek to EBC on your own. And with the resources we've put together, it'll be no sweat for you!
We've put together an ultimate guide to trekking the EBC independently, which includes:
Everest Photo Essay (to spark your wanderlust!)

Stories from our EBC trek (to give you an idea of what to expect from day to day)

(And, of course, this detailed article about Everest Base Camp Costs that you're reading now!)
Okay, let's get started so you can turn this bucket list dream into reality!
---
Everest Base Camp Trek Costs Article Contents
---
Travel Insurance for Everest Base Camp Trek
Before we dive into exactly how much trekking to EBC costs, we need to address one thing first: It is essential that you purchase travel insurance before you leave for Kathmandu.
Be aware that many travel insurance policies don't cover anything that happens at high altitude, so you must make sure to find a policy where this is included. We saw far too many evacuation helicopters fly past us during our hike (which are NOT CHEAP!).
We bought travel insurance through World Nomads which included high altitude coverage. We felt at ease knowing we could leave at any time because our policy would have covered an emergency evacuation. No one knows how your body will be affected by high altitude (just watch our videos and you'll see what we mean), and it's smart not to take any risks.


Check out this article that breaks down exactly what we look for in travel insurance, so you have a guide to choosing the best policy for you.
Note: We did not include this cost in the budget because it was not part of life on the trail, but it's something you must have. No one should go to Everest (especially independently) without a plan B.
How much should you budget for a trek to EBC?
Here's a detailed breakdown of everything we spent on our Everest Base Camp Trek, from flights to Lukla to teahouse accommodation to celebratory beers at the World's Highest Irish Bar!
This should give you an idea of how much money to budget when planning your own trek to Everest Base Camp!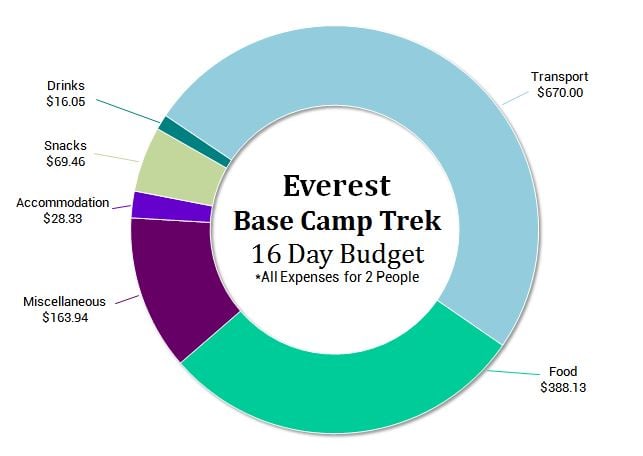 Note: You must take rupees with you on the trek to pay for teahouses, food and all other expenses. With the exception of Namche Bazaar, no other villages have ATMs (and the one in Namche is not always full of cash). Plus, no places along the trek will accept credit cards.
Use the breakdown below to estimate how much cash you should bring. Our advice would be to bring more than you think you'll spend. It is not fun running out on the trail and finding other people to borrow money from (we met a girl who this happened to). We would also recommend bringing small denominations of bills.
---
EVERYTHING you need to plan your EBC trek!

---
Cost of Flights from Kathmandu to Lukla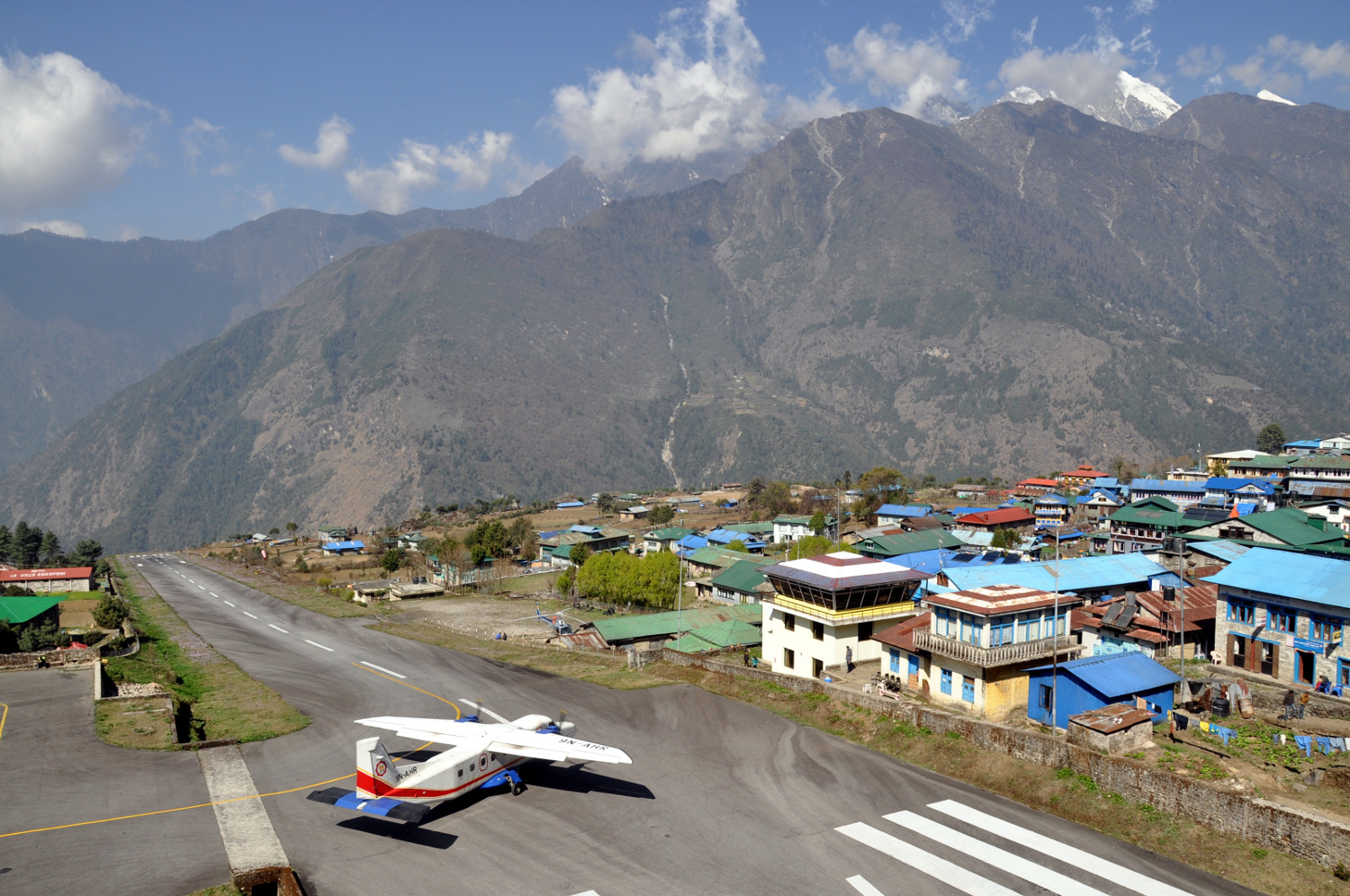 Usually in our budgets, transportation includes flights, buses, metros, and taxis. But when you're on the trail, the only mode transportation you use is your feet. However, getting to the start of the trailhead requires a plane ticket*, and this the biggest cost for the entire trek.
In fact, the flight from Kathmandu to Lukla (where the trail begins) takes only 30 minutes, yet it costs a whopping $335 for a round trip ticket. This expense was exactly 50% of our entire budget for our 16 day trek! It really sucks paying that much, but nearly everyone does it.
*The only way to avoid the expense of this flight is to take a bus for 9 hours from Kathmandu to Jiri, and then make the 7-day trek to Lukla. This means that if you do not fly, you must add 14 more days to your trekking time and account for all the expenses you'll accrue during those 2 weeks.
Booking your flight online through platforms like Skyscanner is not possible at the time of writing. The airlines that fly to Lukla do not accept foreign credit cards, so you must email a travel agency to make the booking for you. Usually this service will incur a small fee.
If you have a few days to spare in Kathmandu before your trek, we'd recommend stopping into a travel agency in person. In our experience, the fee was smaller to buy a flight in person rather than via email. We purchased our flight just 3 days before we left and had no problem. That said, this isn't always the case, so if you're tight on time it is smart to book your flight to Lukla ahead.

Cost of Food on Everest Base Camp Trek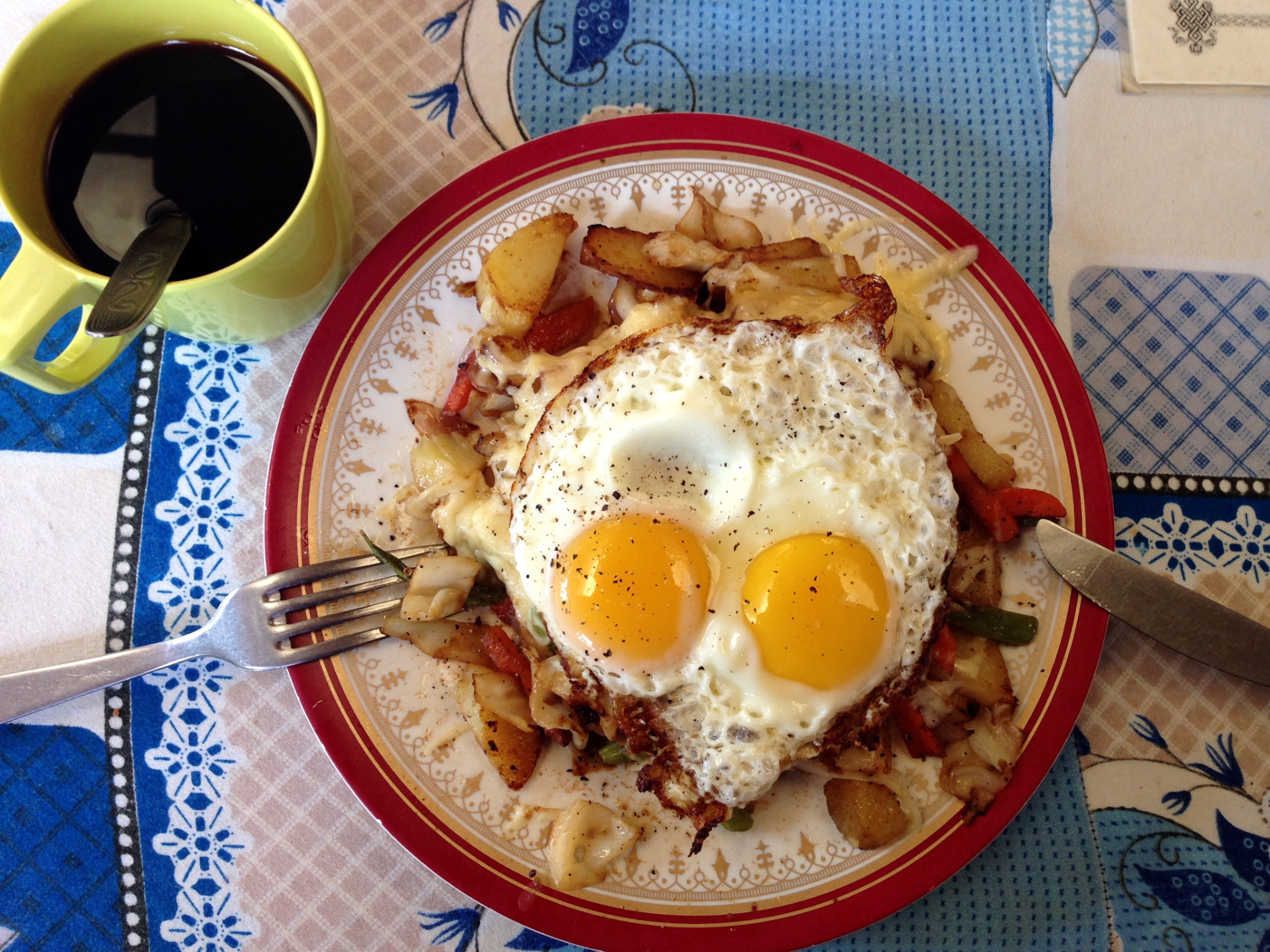 We were surprised with the food options throughout the entire trek. Everyone said get ready to eat only dal baht (lentil soup, rice and veggie platter), but the menus were quite extensive at nearly every place we stayed.
The food is carb-heavy (which you'll need for energy!) and can get a bit repetitive, but overall we really enjoyed mealtime on the trek.
You can order momos (dumplings), potatoes, pasta, sandwiches, coffee, apple pie, and even cheesecake at 4,900 meters in Gokyo. The higher you go, the greater the cost. A good way to judge if a place is expensive or not is to look at the price of their Dal Baht (which is one of the more expensive items on the menus).
Wanna know where to get the best food on the EBC trek? (And the MOST AMAZING brownies ever?!) Of course you do! Check out the details of the teahouses we stayed and ate at in our Full Itinerary because we'll tell you which ones have the best food!
Money Saving Tip: Go vegetarian for your Everest Base Camp trek and save money. After a certain point on the trail, there is a "no kill zone", meaning all meat needs to be carried in on foot… This can sometimes lead to not as sanitary conditions. We stayed vegetarians for the entire trek because we heard people can get sick after eating meat on the trail. This worked out nicely for our wallets as well because the veggie dishes are typically cheaper.

Cost of Accommodation (Teahouses) on EBC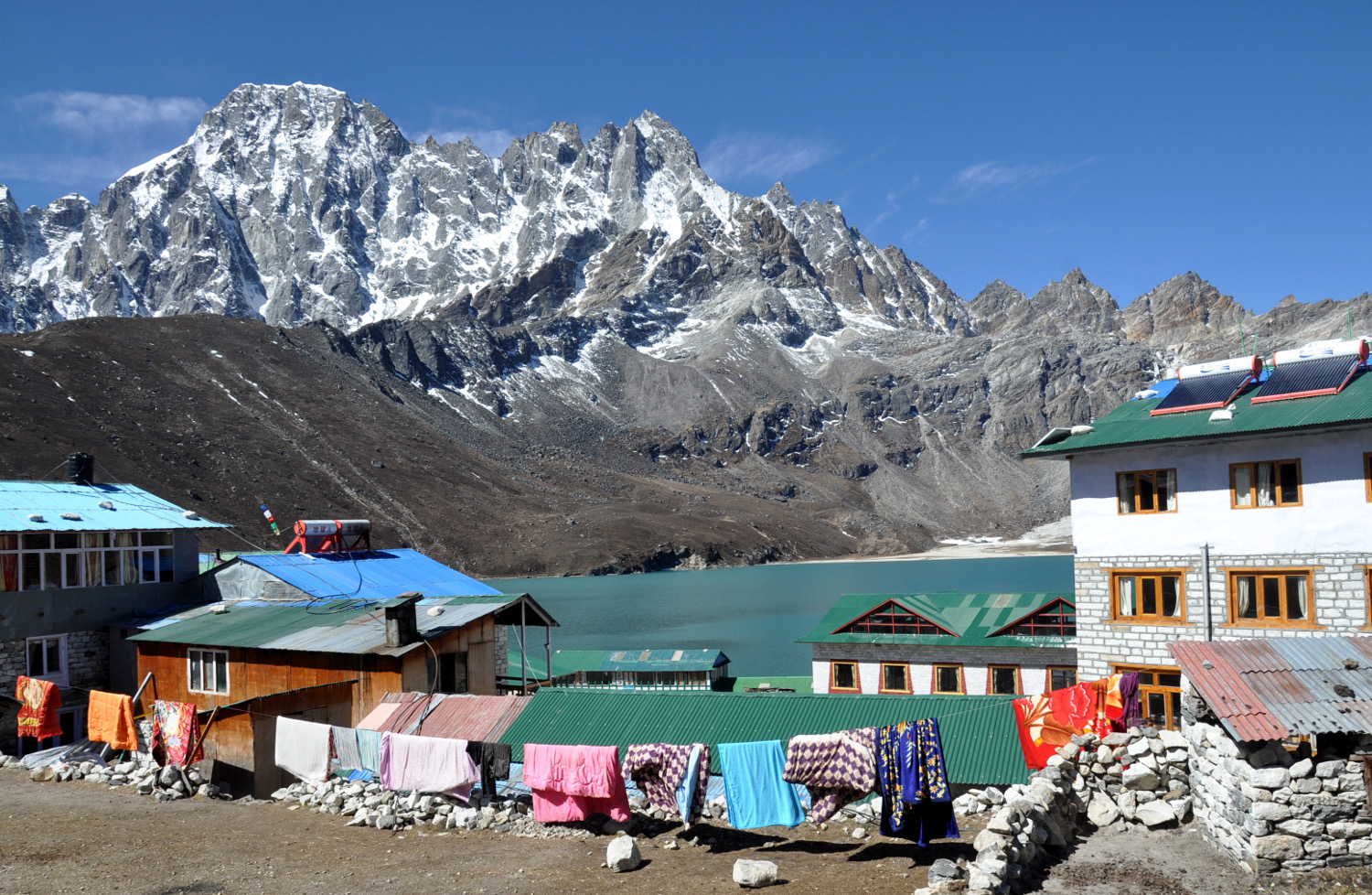 If you're wondering how much it costs to stay in teahouses along the trek, you'll be shocked to read this next part. It's almost laughable how cheap a bed is on the EBC trek.
Our average cost per night for a bed in a teahouse along the way was less than $1 USD each! Actually one night, our room was FREE and all we had to was eat at the attached restaurant.
A room with two beds will typically be 200 rupees ($1.89 USD) per night, and most places have the caveat that you must eat at the attached restaurant (otherwise it's a $10 additional charge). With this in mind, we typically chose places not based on what the room looked like, but what was on the menu.
Don't expect much for the rooms. The usual teahouse room will have two beds, a few hooks on which to hang your clothes, and a small nightstand if you're lucky! Unless you stay in the higher-end teahouses, expect to use a shared bathroom down the hall. If you want to see what a teahouse room looks like, check out our video diary of our trek to Everest.

Miscellaneous Costs on EBC Trek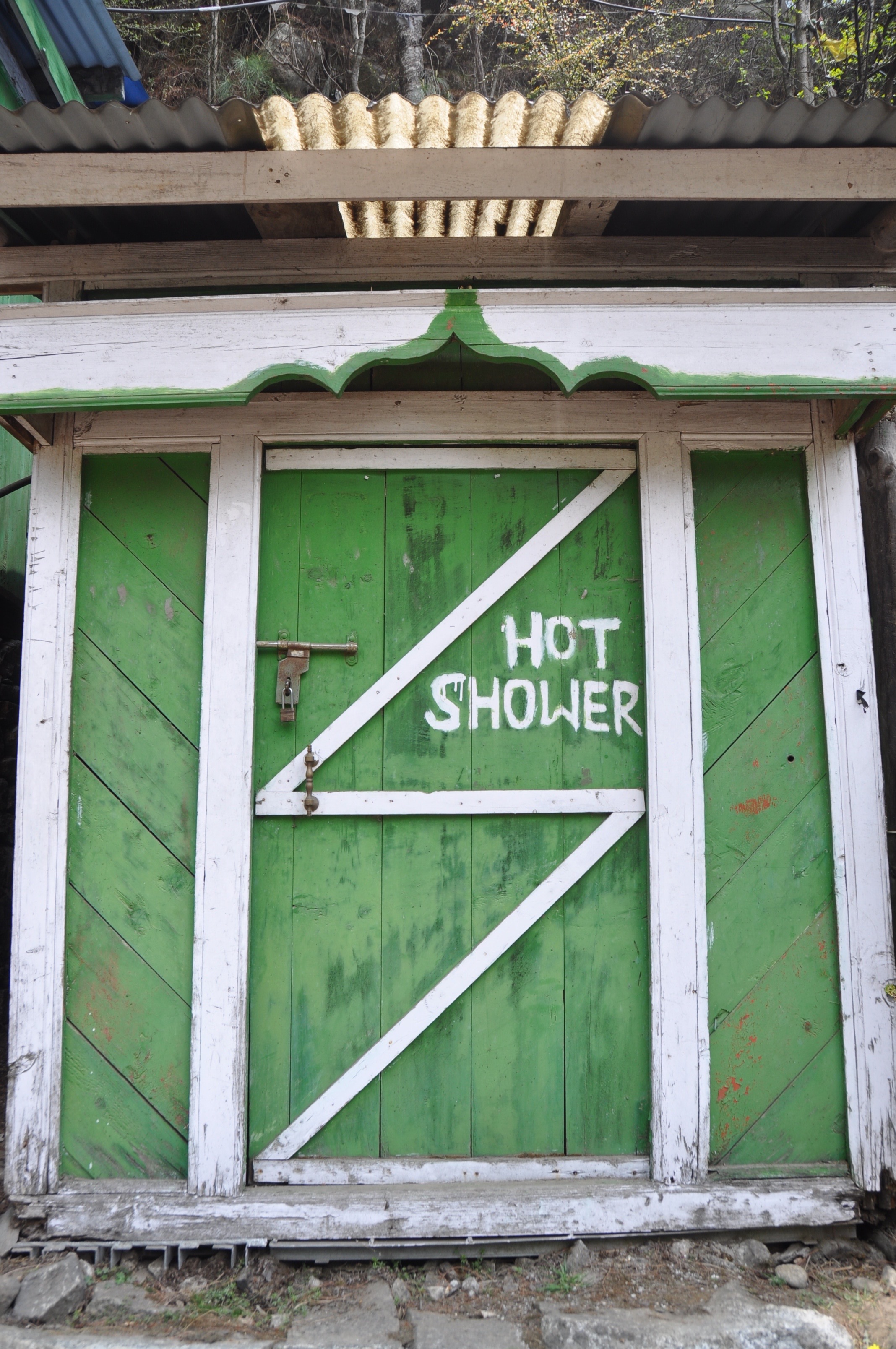 Two pre-trek purchases you need to pick up in Kathmandu before your flight are the TIMS (Trekkers' Information Management System) card for EBC and the National Park Permit.
The 2,000 rupees ($18.88 USD) TIMS cards registers your information into a database in case of any emergency happens in the region and the 3,600 rupees ($32.09 USD) National Park Permit lets you enter the Khumbu National Park which starts just before Monjo on your first day on the Itinerary.
Other miscellaneous expenses will be medications (like Diamox, amoxicillin, electrolytes packets, and throat lozenges), toilet paper, showers, Wi-Fi, charging electronics and souvenirs on the way down.
Money-Saving Tip: Bring a long-lasting battery pack (like this one that carries 7 charges) so you don't need to pay to charge your electronics.

Cost of Snacks on EBC trek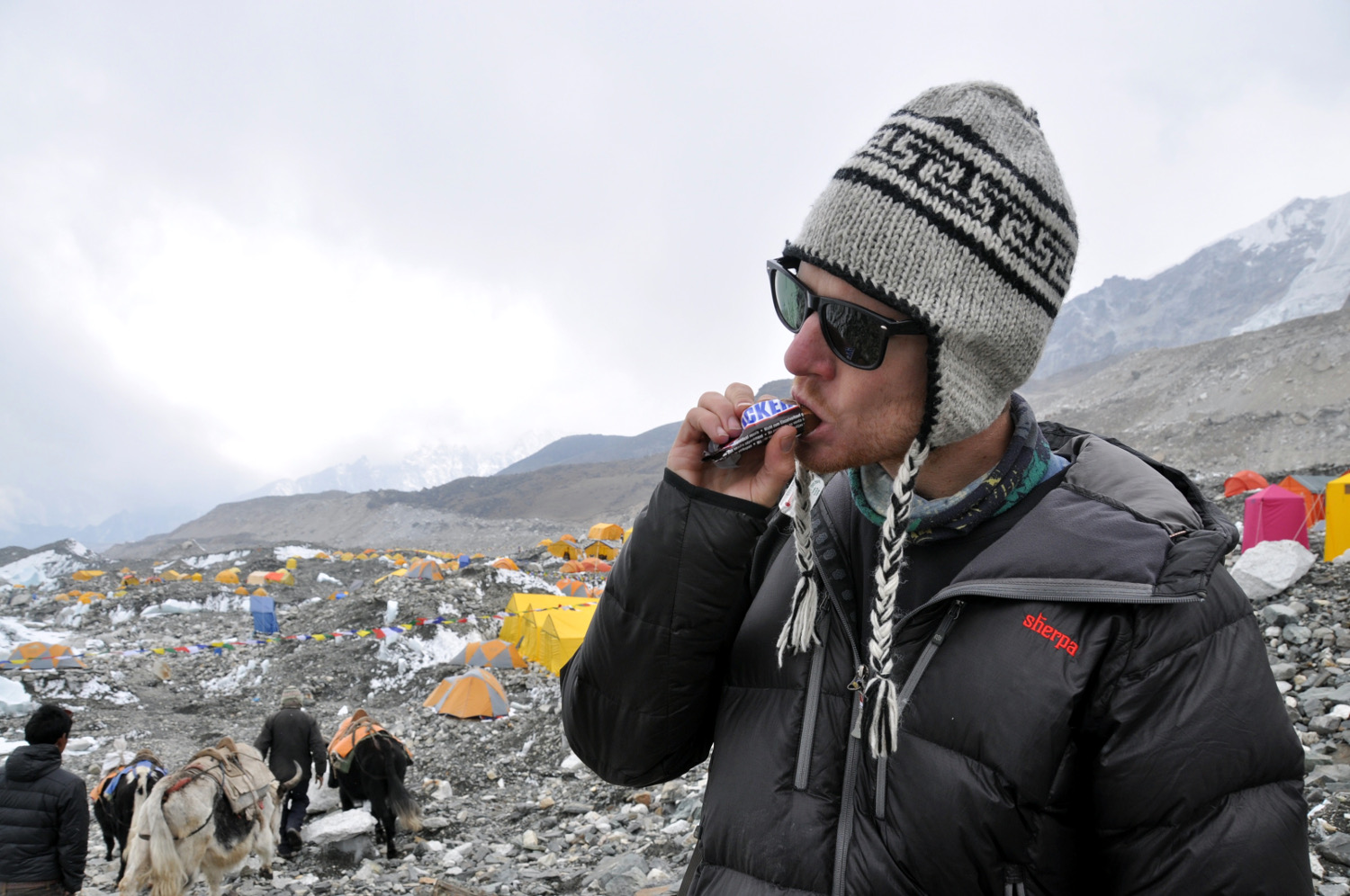 There are very few luxuries on the trek, so when we found places with baked goods or real coffee, we kind of splurged a bit. Expect to pay around $3 USD for a piece of cake and the same for an Americano.
The best "cafes" on the trail are Himalayan Java Café in Namche (get the walnut brownie and tell me how good it is! JUST DO IT!), Tengbouche Bakery, Snow Leopard Bakery in Dingbouche, and Gokyo Resort Bakery in Gokyo.

Cost of Alcoholic Drinks on the EBC trek
This is a category that you could easily eliminate from your Everest Base Camp trekking budget. The chances getting altitude sickness are increased when you drink alcohol at high altitude. We didn't want to risk us getting sick (and we were way too tired!) so we didn't drink for the entire trek.
That said, we did have a celebratory drink at the World's Highest Irish Bar in Namche on the way down and one more in Lukla the night before we flew out. It was a good way to end a once in a lifetime journey.



Grand Total Everest Base Camp Trek Cost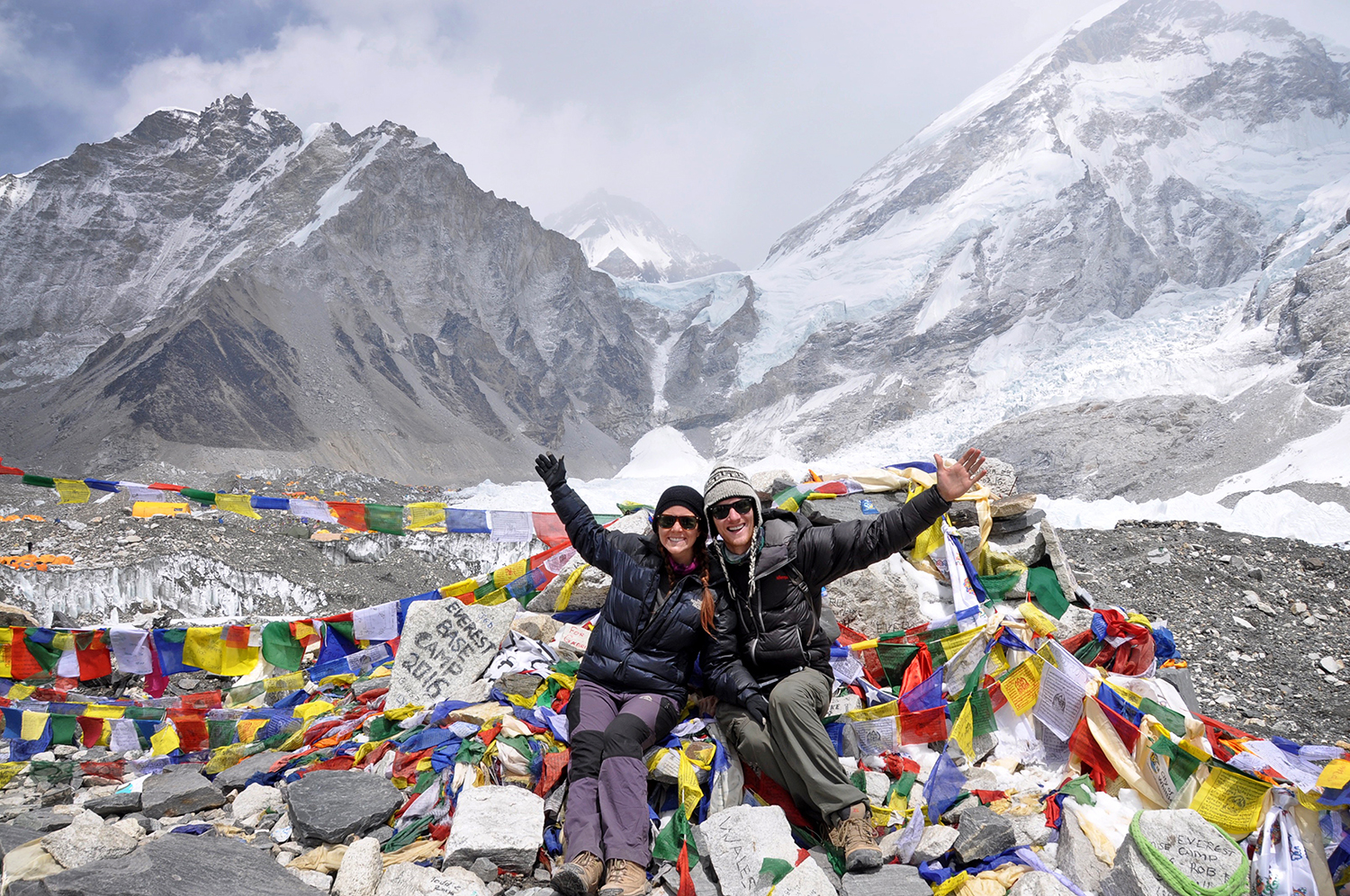 Even though the round trip flight from Kathmandu to Lukla is maddeningly expensive, the hike to Everest Base Camp and Gokyo Lakes itself is pretty darn cheap!
In fact, we averaged just $41.75 USD per person each day, which goes to show that this trek can certainly be done on a tight budget!

Money Saving Products and Tips for Everest Base Camp
These products and tips saved us lots of money during our EBC trek, and we think they're worth sharing with you!
This has been a life saver on previous travels and it really came in handy on the trail. It has enough battery storage to recharge an iPhone 7 times, we used this to power our Kindles, GoPro, and cell phones.
Most electricity along the trek comes from solar power so teahouse charge anywhere from $2 for a full charge to $3 per hour near the top. We only had to charge the battery pack one time for $2 on our second to last day. Purchase it here on Amazon, you won't regret it.
2. Money-Saving Product: Steripen Water Sterilizer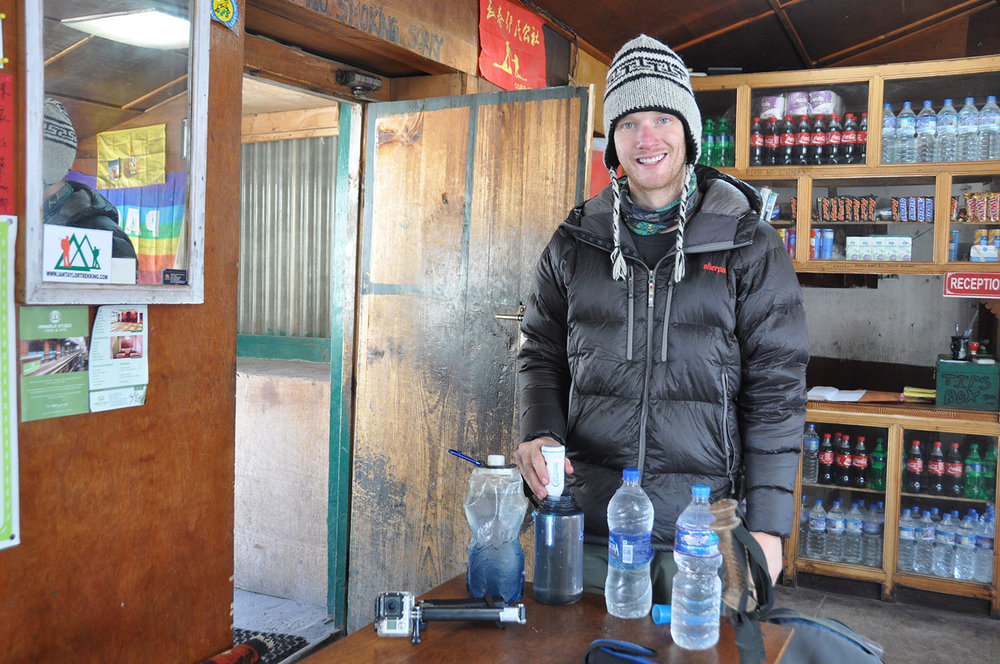 Without a way to sterilize your water, you'll be shelling out quite a bit of cash for the bottled stuff (and creating lots of waste!). We have been preaching about the Steripen for years because it has allowed us to drink water safely all around the world and it literally has saved us hundreds of dollars.
On the ECB trail, a liter of water can cost anywhere from $1 to $3 USD along the way. And when you need to drink 3-5+ liters of water per day to avoid altitude sickness and dehydration, that's a lot of money! We paid $0 for bottled water on the trail because of our Steripen. It helped both the environment and our wallets! Tip: If you're packing a Steripen, don't forget to bring extra batteries!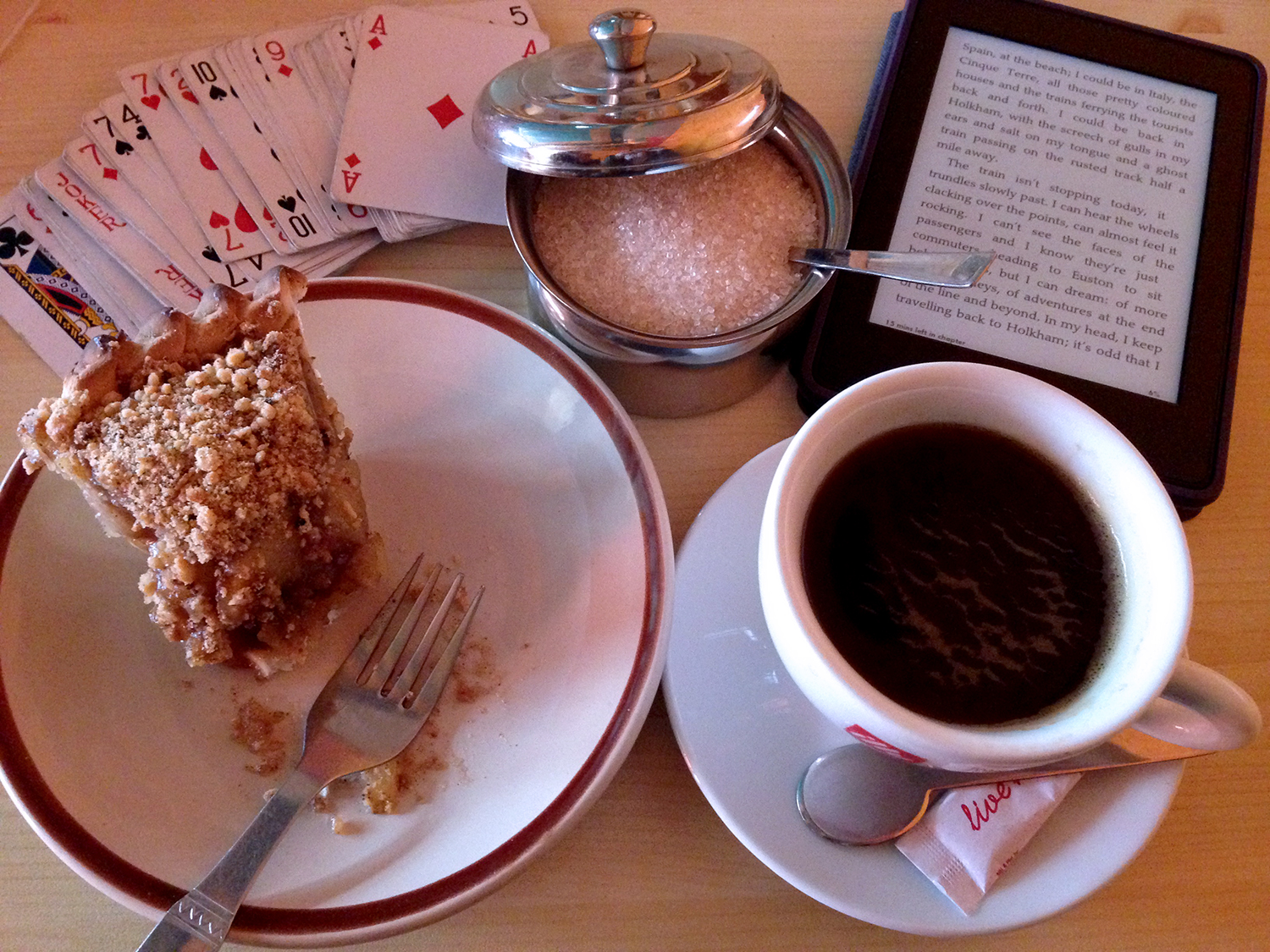 If you are trekking independently, we think this book is a must! It has every aspect of the trail written out so you'll know what to expect each step of the way.
Money saving tip: We rented Kindle version of the Lonely Planet Trekking in Himalaya Nepal from our local library at home and downloaded it on our Kindles for FREE! This way we had access to a full guide book with all the details without lugging around the 3 pound book in high altitude. If your local library does not offer this e-book for rent, you can always purchase it on Amazon here.
4. Money-Saving Product: Baby wipes
Here's a secret: We didn't shower for the full 16 days on the trek. Now before you start judging, showers are not included in the price of a teahouse room. A bucket shower will cost between $2 to $5 USD, and aren't always hot water.
Every time we considered taking a quick rinse, we quickly nixed the idea because the thought of getting undressed to rinse off in cold water in below freezing weather just seemed terrible. Instead, we took "baby wipe showers" every day after our hike and felt surprisingly clean.
If we had extended our trek for a bit longer, we certainly would have made the splurge for a hot bucket shower, but wipes carried us through our 16 days quite nicely.
5. Money-Saving Product: NCell Sim Card
Purchase a SIM Card for your phone before you fly from Kathmandu if you want to be connected while on the trail. We paid 1550 rupees ($14.63 USD) for 2GB of data for one month. (NCell has the best service in the region you'll be trekking.)
You will only get reception in the villages lower than Tengbouche (and randomly sometimes in Gorak Shep) but overall it is cheaper than paying $3 USD or more for WiFi cards in each stop that last 1 hour if you're lucky. Note: We kept this out of the budget because we used service more during the time before and after our trek. Plus, it's a luxury item that is totally optional.
6. Money Saving Tip: Buy Snacks, Toilet Paper & Medication before your trek.
We'd recommend bringing snacks from home, as they can be expensive on the trail. If you don't have much room, you can always buy snacks in the Thamel neighborhood in Kathmandu, but there isn't much variety and the prices are still quite high. (We would have loved some quality trail mix and protein bars, which are both surprisingly difficult to find even in Kathmandu.)
And while you're in Thamel, purchase more toilet paper than you think you'll need. As you hike higher, the cost of tissue increases significantly. At one point, we had to pay $4 USD for one roll. AHHHH, this still makes me cringe.
And the same goes for medicine. Two things I didn't expect to need, but were very helpful were throat lozenges (for that dry mountain air) and electrolyte tabs, which gave me extra energy. These are more expensive on the trail.
Tip: Thamel is a also great place to purchase supplies and cold weather gear that you can't bring from home at reasonable prices. Sometimes there is even the option to rent certain items. Check out our packing list to see the cheapest place to rent sleeping bags and down jackets in Thamel!
7. Money Saving Tip: Trekking Independently will save you money.
Doing the EBC trek without a Guide, Porter or tour group was a huge cost saver for us. To pay your guide fairly, you should dish out $25 USD per day and for a porter a fair price would be $15 USD per day. And tour companies have pretty steep fees.
Instead, we did everything on our own; and believe it or not, it was really easy! The trail is fairly popular and there are teahouses every few hours, so you won't be far from warm food or a bed at any point during your trek. Lucky for you, we scoured other blogs and forums, read lots of guides and mapped out a Perfect Everest Base Camp Trek Itinerary that we think is the very best and safest route for independent trekkers.
That said, if we had a larger budget for this trip, we would have liked to spend our money on a guide and/or porter in order to provide a job to a local.
---
Are you planning a trek to Everest Base Camp? We can help!
We have TONS more resources on trekking EBC. Check out our Nepal Homepage for more resources and some of our favorite articles on Everest Base Camp below.
Save this article on Pinterest for later!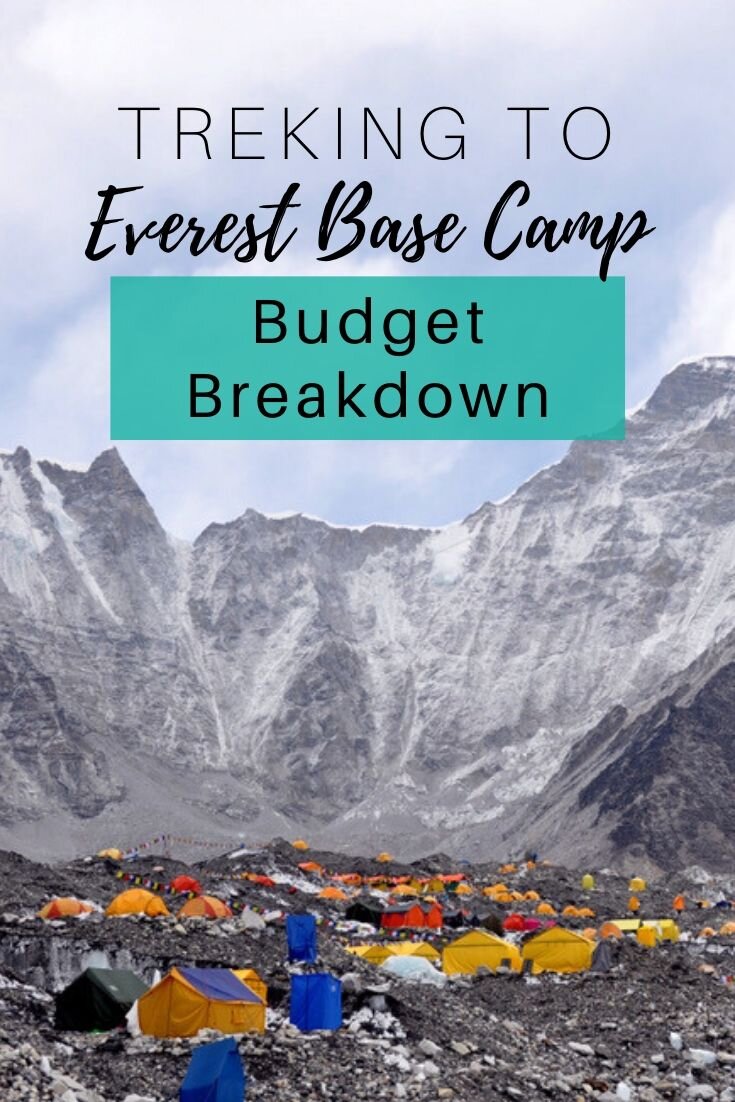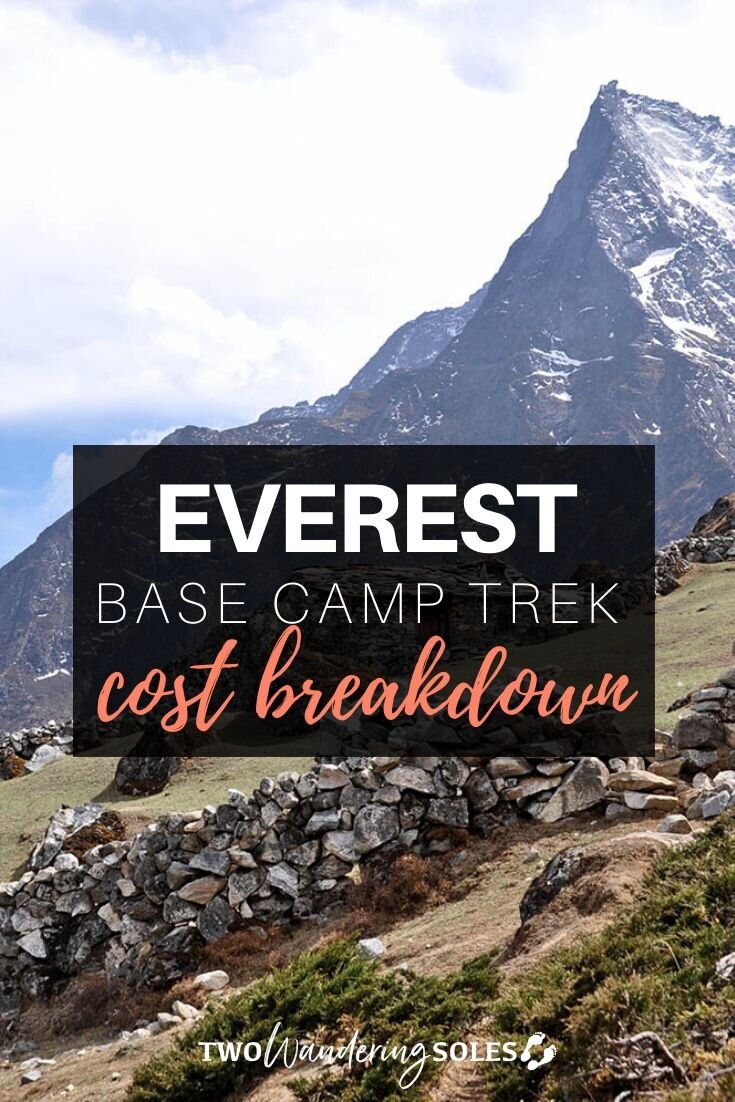 We want to hear from you!
Are you planning a trek to Everest Base Camp? What questions do you still have? Comment below and we'll do our best to answer your EBC questions!