Packing for a trip with a baby might seem like a challenge. But don't worry, we've got you covered with a super detailed packing list for baby travel so you know exactly what to bring when traveling with your little one.
Get the FREE download of our Baby Travel Packing List
What's inside?
In this free PDF download, we've provided packing check lists for everything from clothing and essentials to airplane life-savers and items you's actually be better off leaving at home.
Plus, we're sharing tons of packing hacks and tips for traveling with a baby that you won't find anywhere else.
We spent hours creating this super helpful PDF just for you.
Enter your email and we'll immediately send the packing list to your inbox (totally FREE).
Check out our other baby and family travel resources…
We have tons more resources on our Family Travel Homepage. But here are some of our favorite baby travel articles.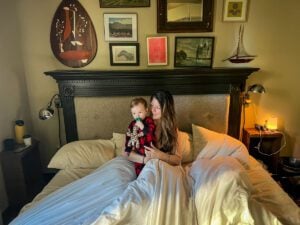 We're sharing how to choose the perfect hotel or Airbnb with a baby so you both get a great night of sleep! (Packed with tips and examples!)...