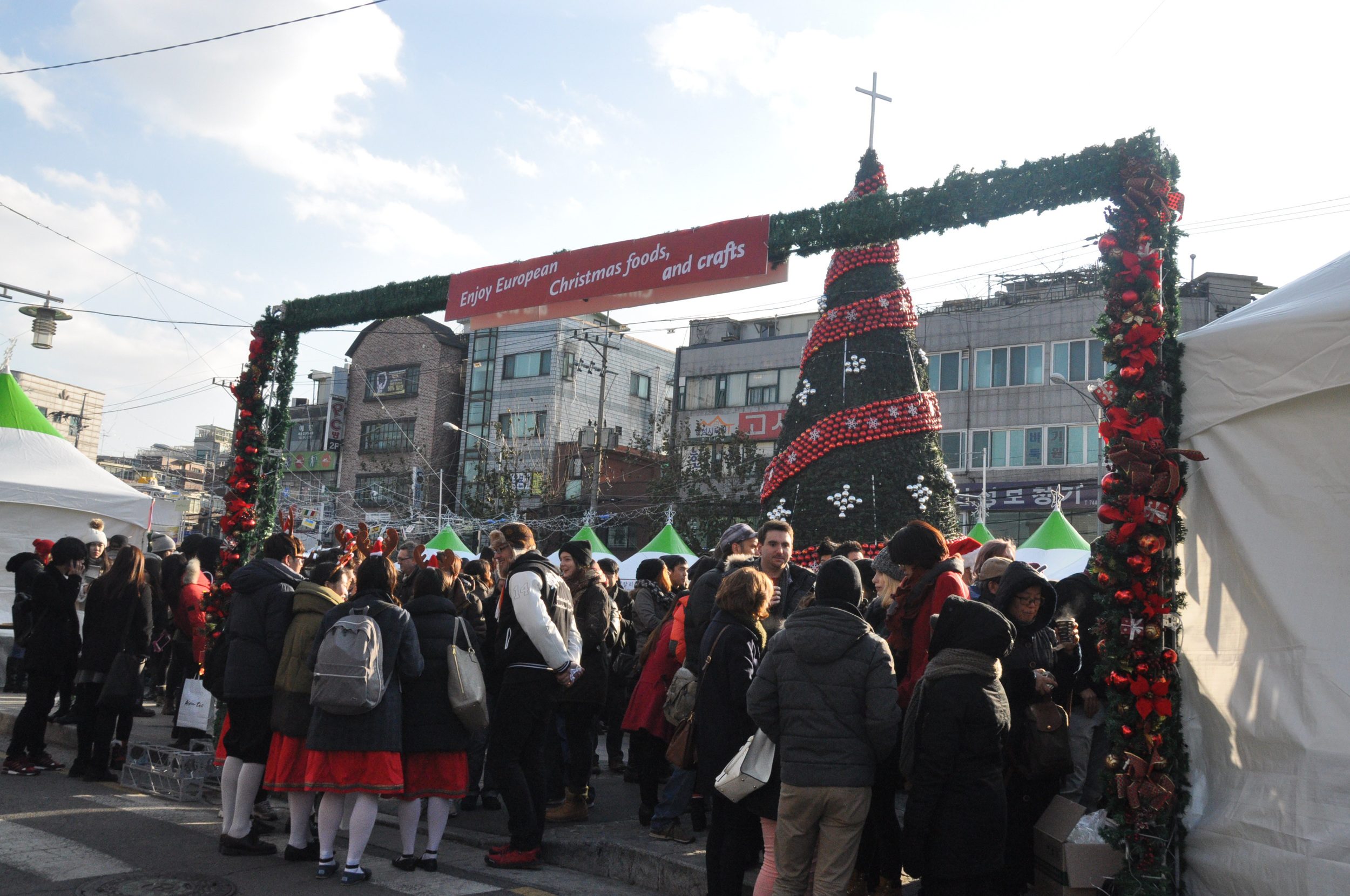 One of my most magical holiday memories is visiting the Christmas markets in Austria. So when I heard that one of the things to do in Seoul was to visit the Christmas market, I convinced our group of friends to make a weekend trip out of it.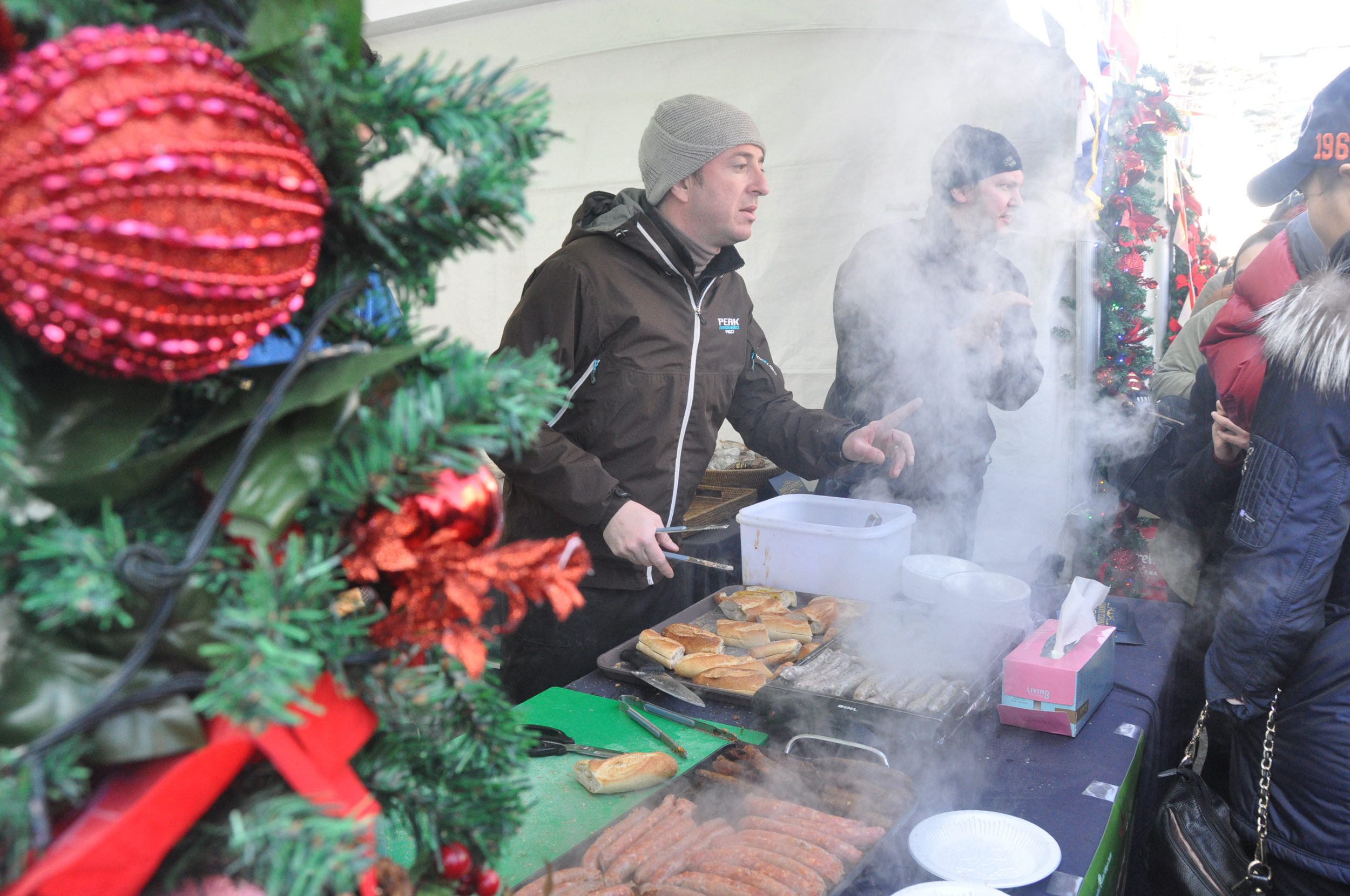 Seoul Christmas Markets
Unlike the markets in Europe (like in Berlin) which run the entire month of December and consume an entire town, this one lasts just one weekend and was confined to a one block radius.
Despite its small size, it sure drew a crowd! We pushed our way through a sea full of people – mostly other foreigners, who like us, were hoping for some familiar Christmas cheer.
The market is hosted by several European embassies, who each sell traditional food at their very own booth. We could smell the stroganoff from the Czech Republic, empanadas from Spain's booth, and sausages at Germany's stand.
Oh, and what would an event be in Korea without a designated "Photo Zone"? We took a "family photo" in a  constructed winter wonderland… So consider this our Christmas card this year.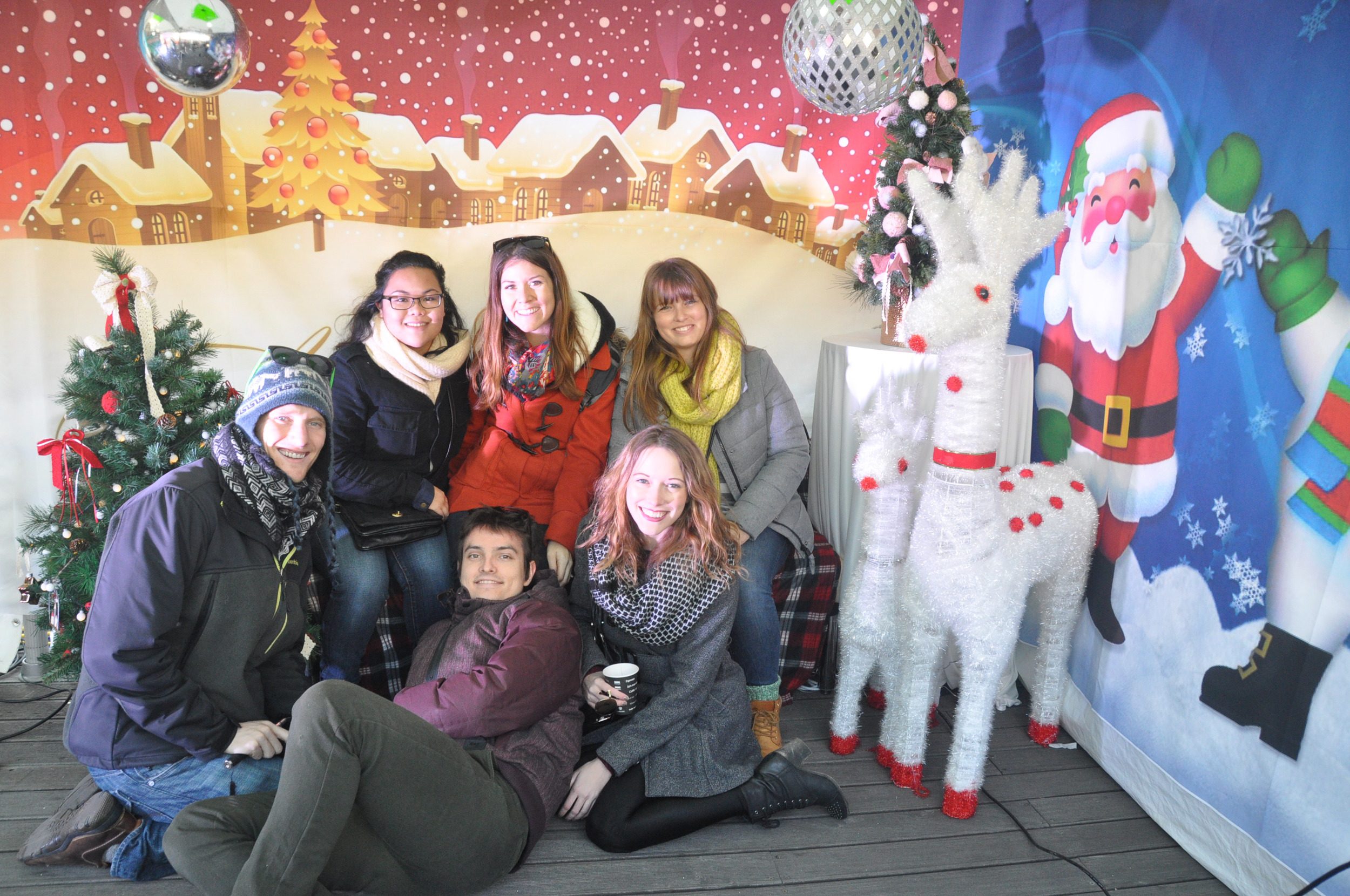 We each got a cup of gluhwein (hot, spiced wine), some food, and found a perfect spot to sit and listen to a band singing Christmas carols on stage.
Although the market was quite small and I didn't see any "Christmas crafts" as they had advertised (unless a cardboard advent calendar and chocolate Santas count?), it was a pretty perfect afternoon.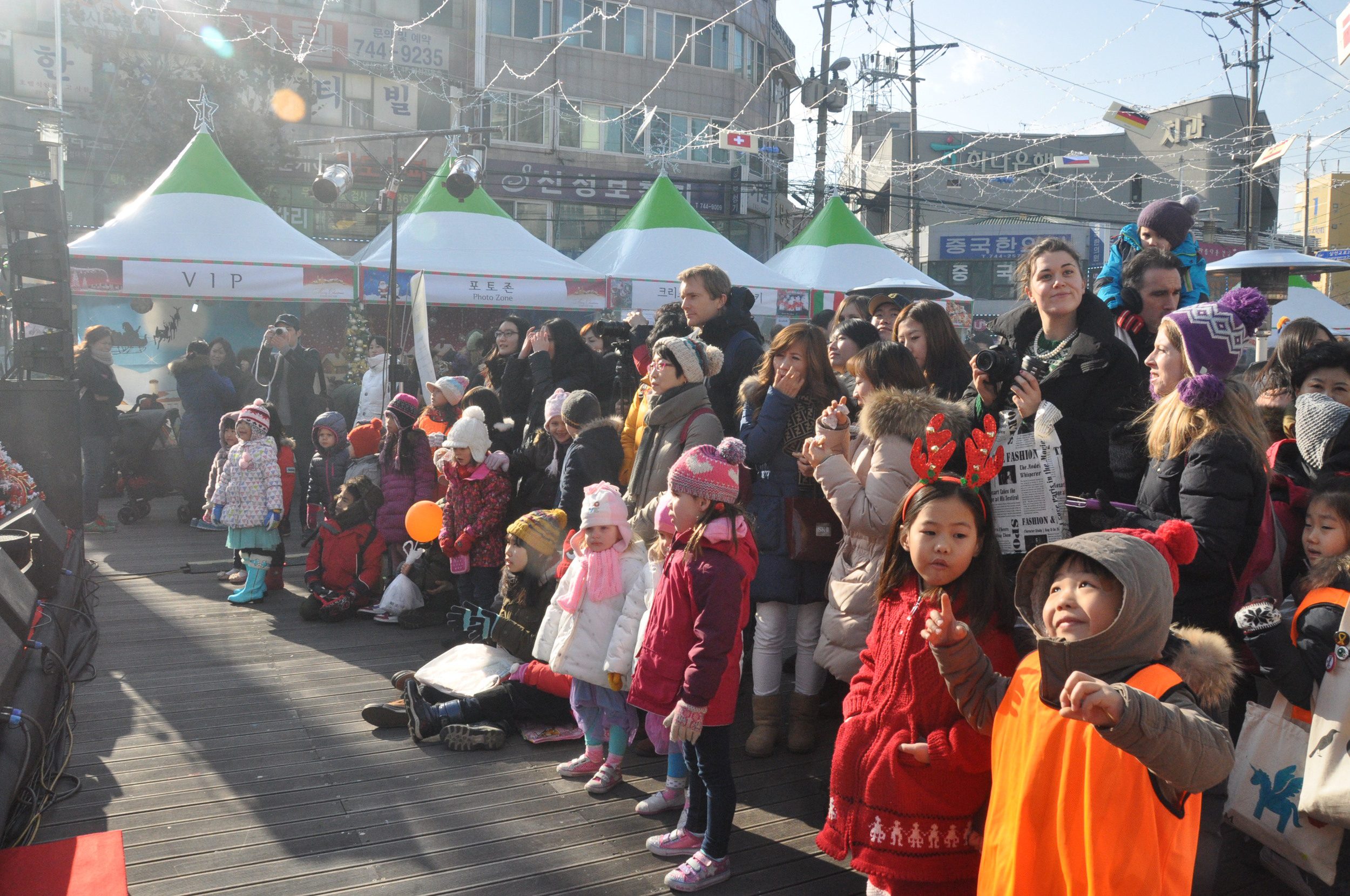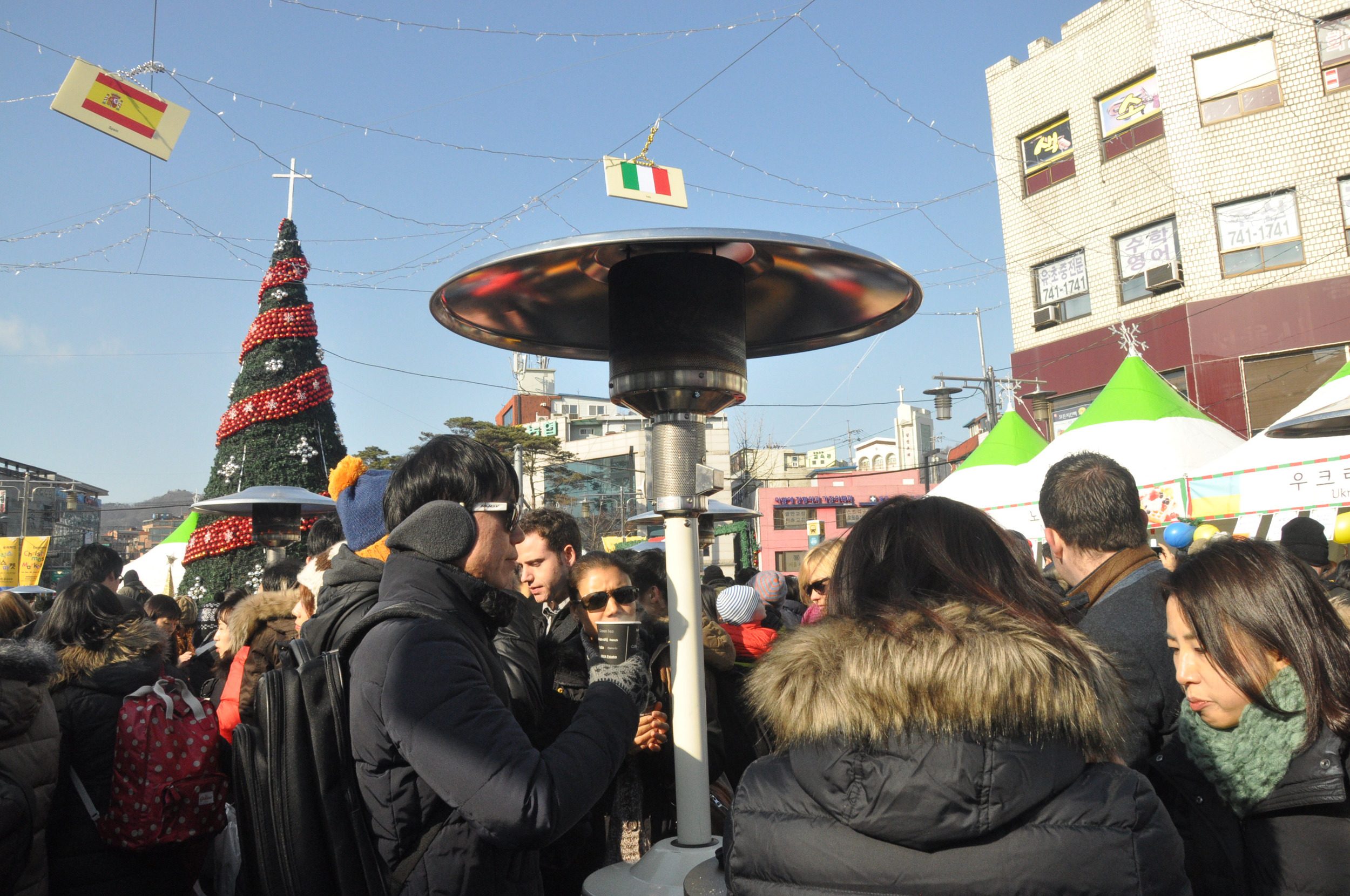 Oh my, the food here is good. It was a bit on the expensive side for the amount of food you get, but totally worth it considering how long it's been since I've had Mexican food – and more importantly, real cheese.
It has been four months since a decent beer has touched my lips. FOUR MONTHS! In all honesty, one of the main things I was looking forward to on our trip to Seoul was enjoying a real IPA.
I'd read about Craftworks online, and convinced our group that we had to find it. We got a bit lost, but the promise of a "full-bodied hoppy ale with citrus notes and a dry finish" was my motivation.
We even asked for directions, and were told in ENGLISH how to get there. Yeah, things like this don't happen in our city.
So we finally made it, and it was everything I was dreaming it would be. A cozy, dimly lit taproom, and the best beer I've had in months.
---
After checking out of our hostel the next morning, we had a huge American breakfast, did some much-needed shopping at Forever 21, then paid a visit to a very unique museum.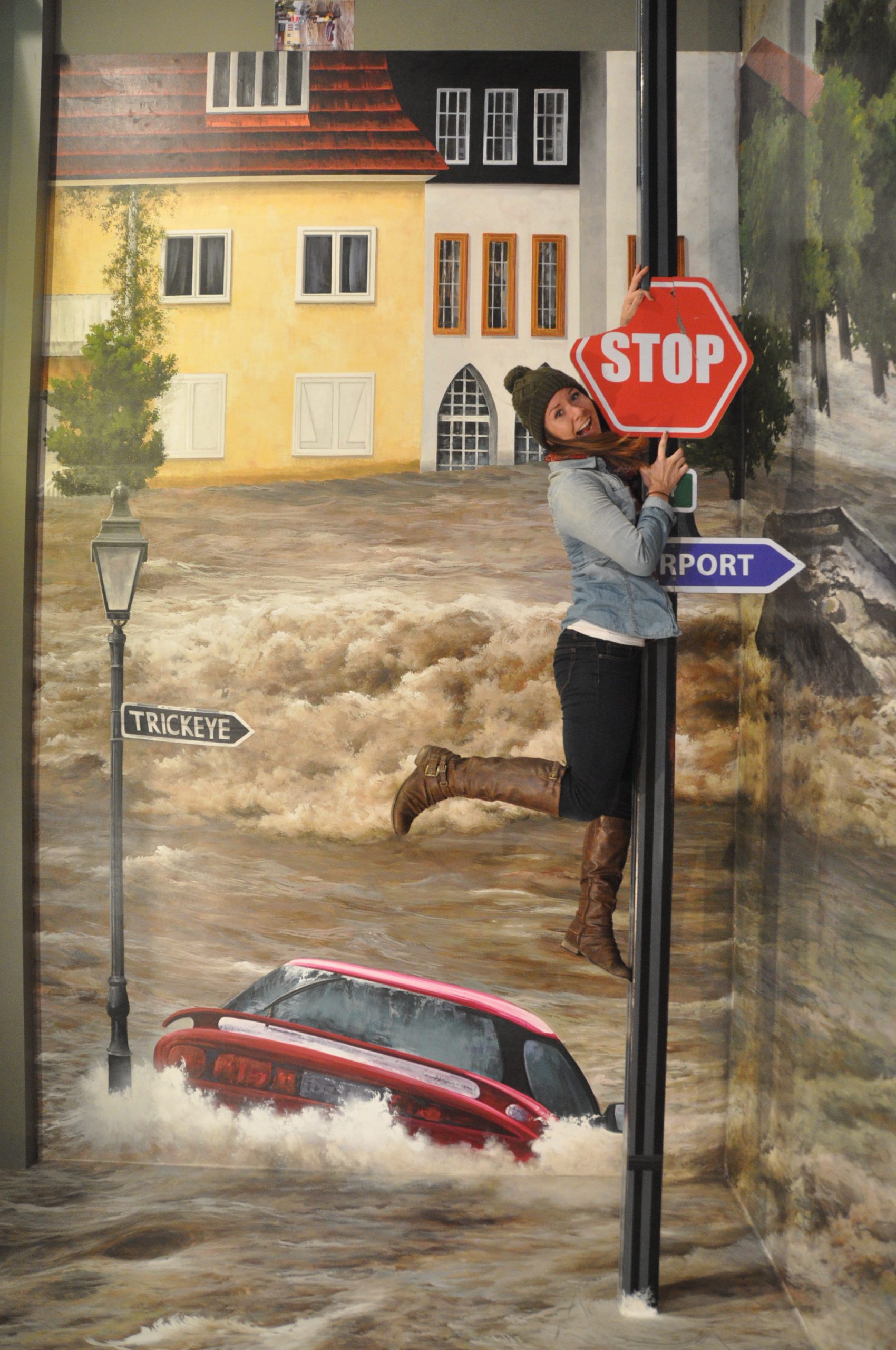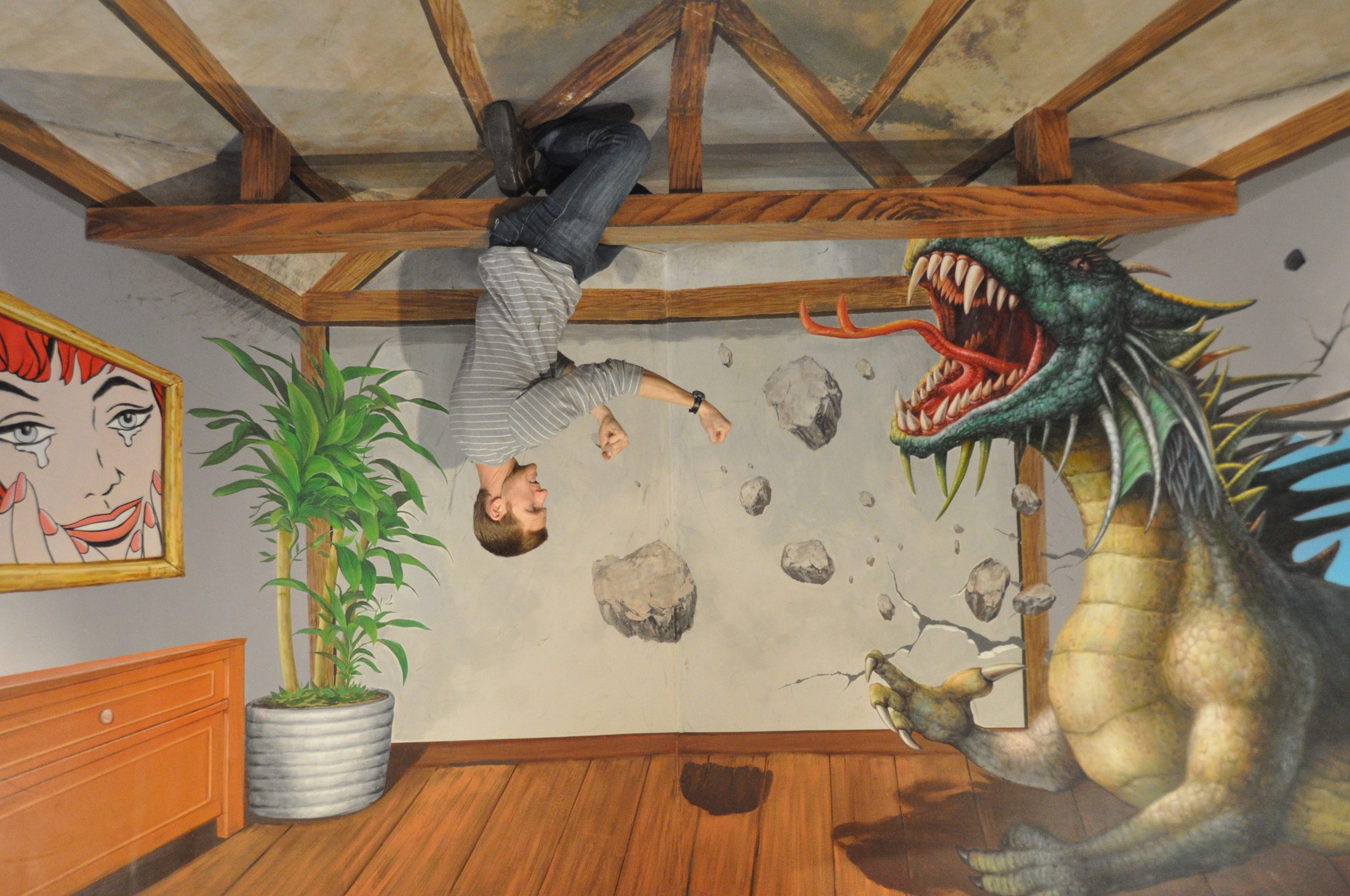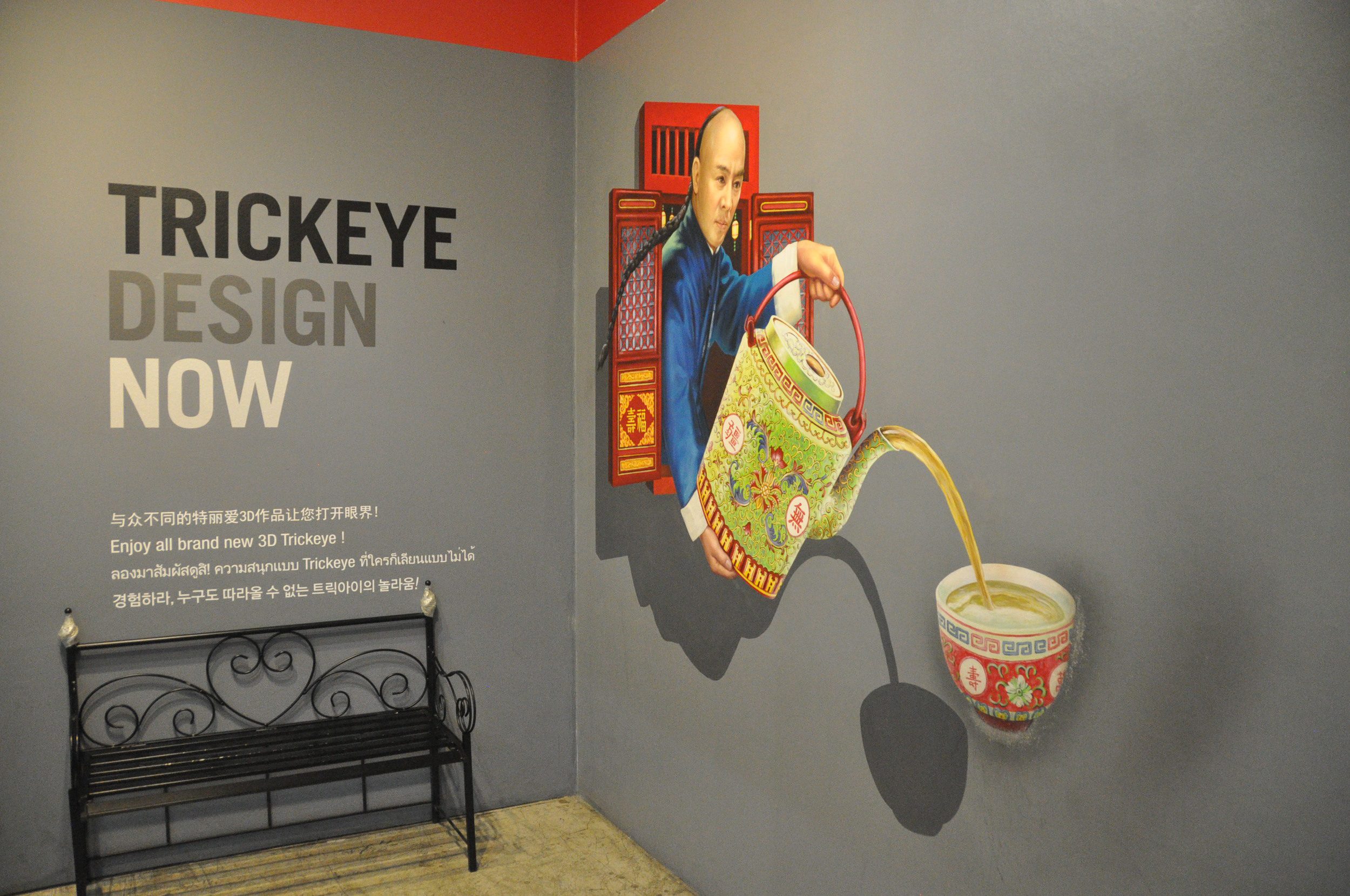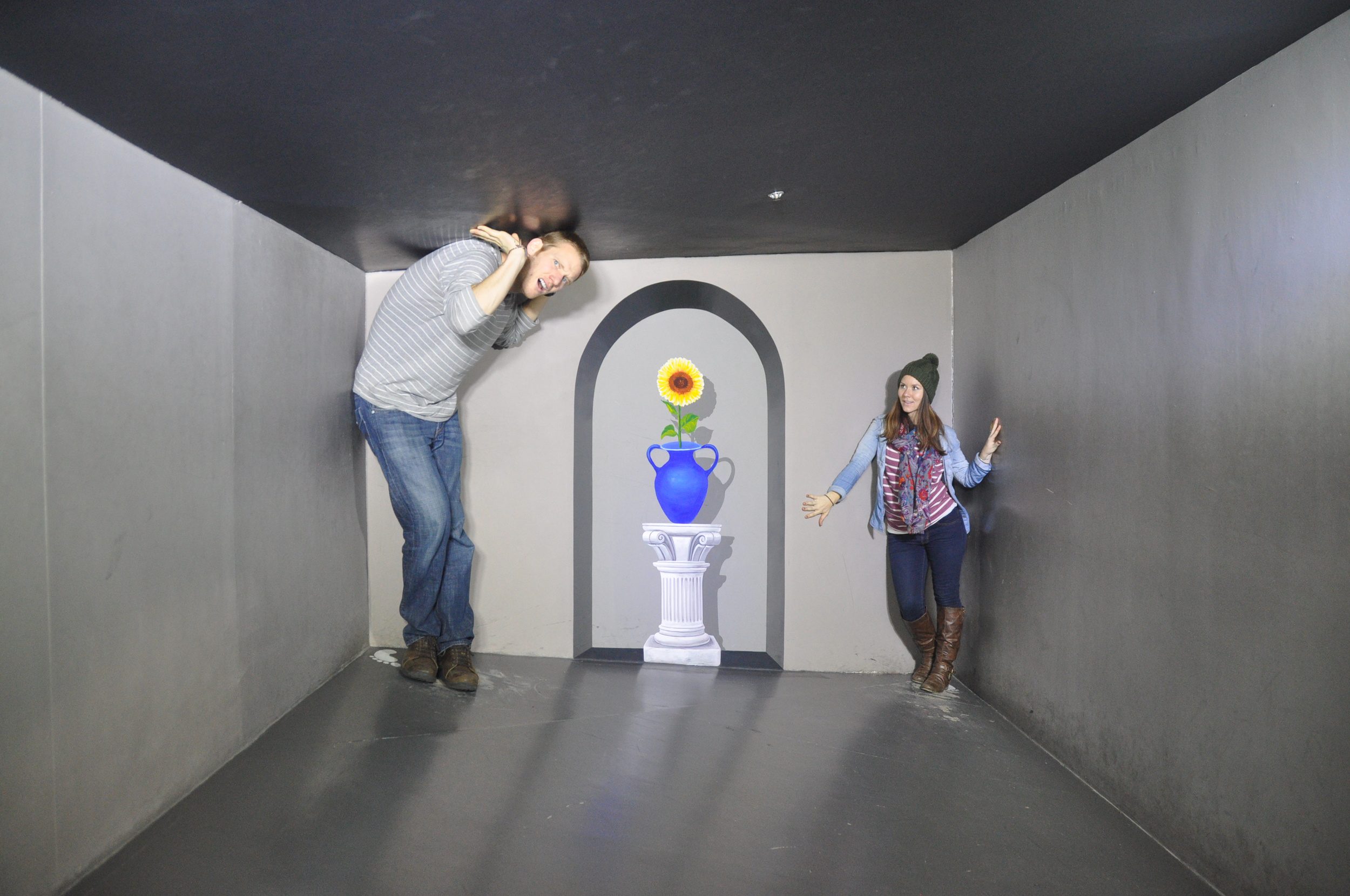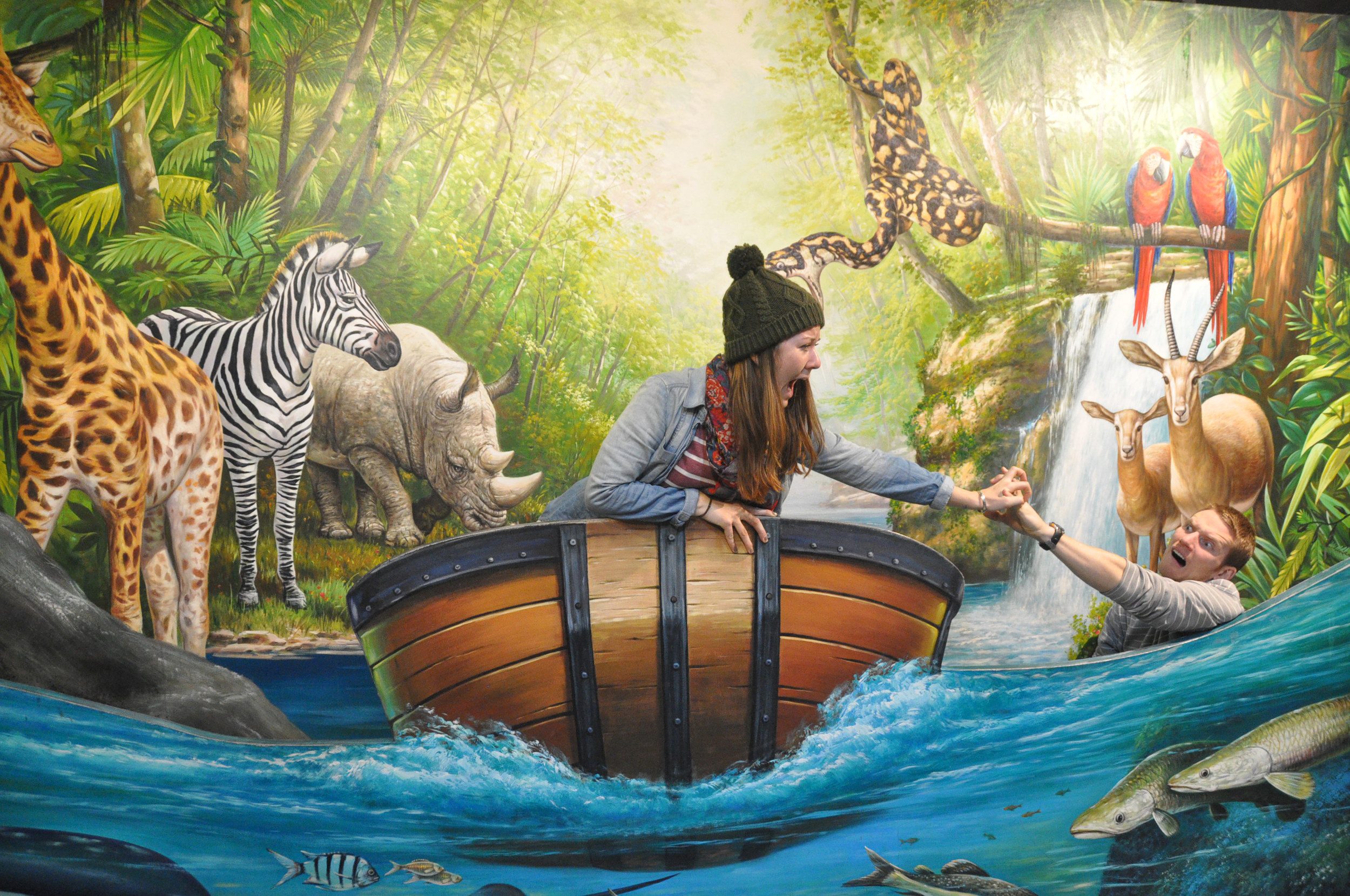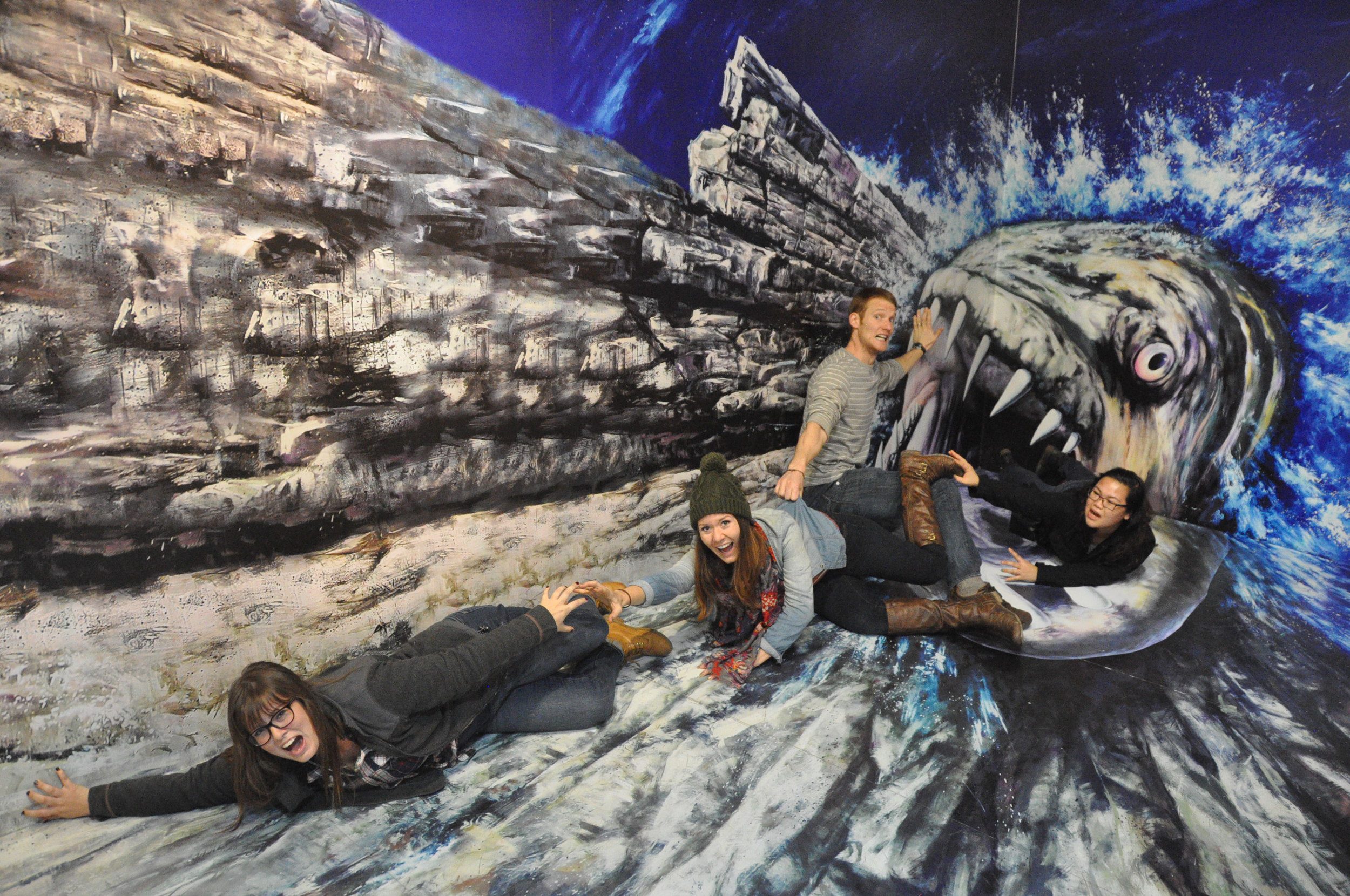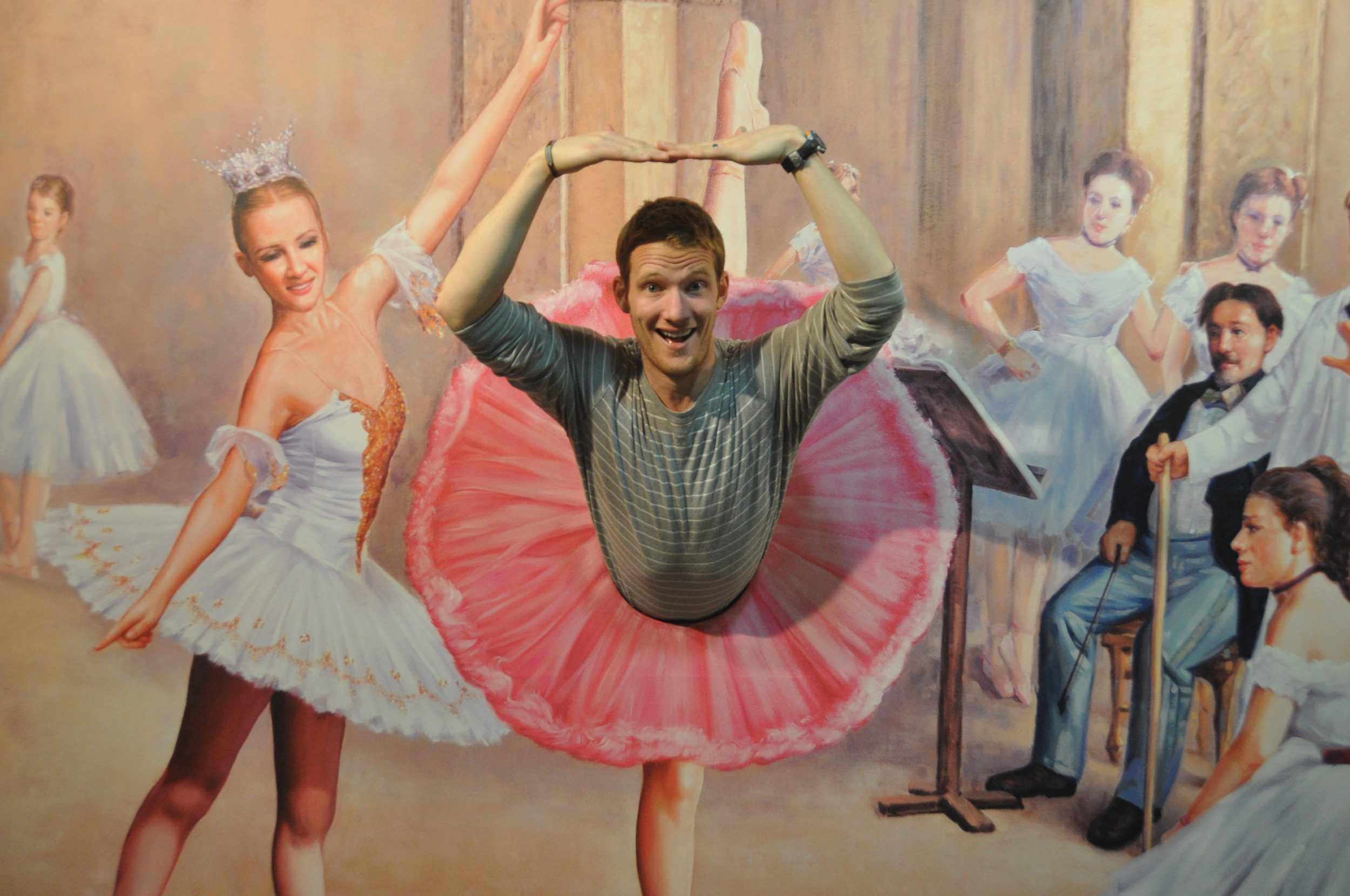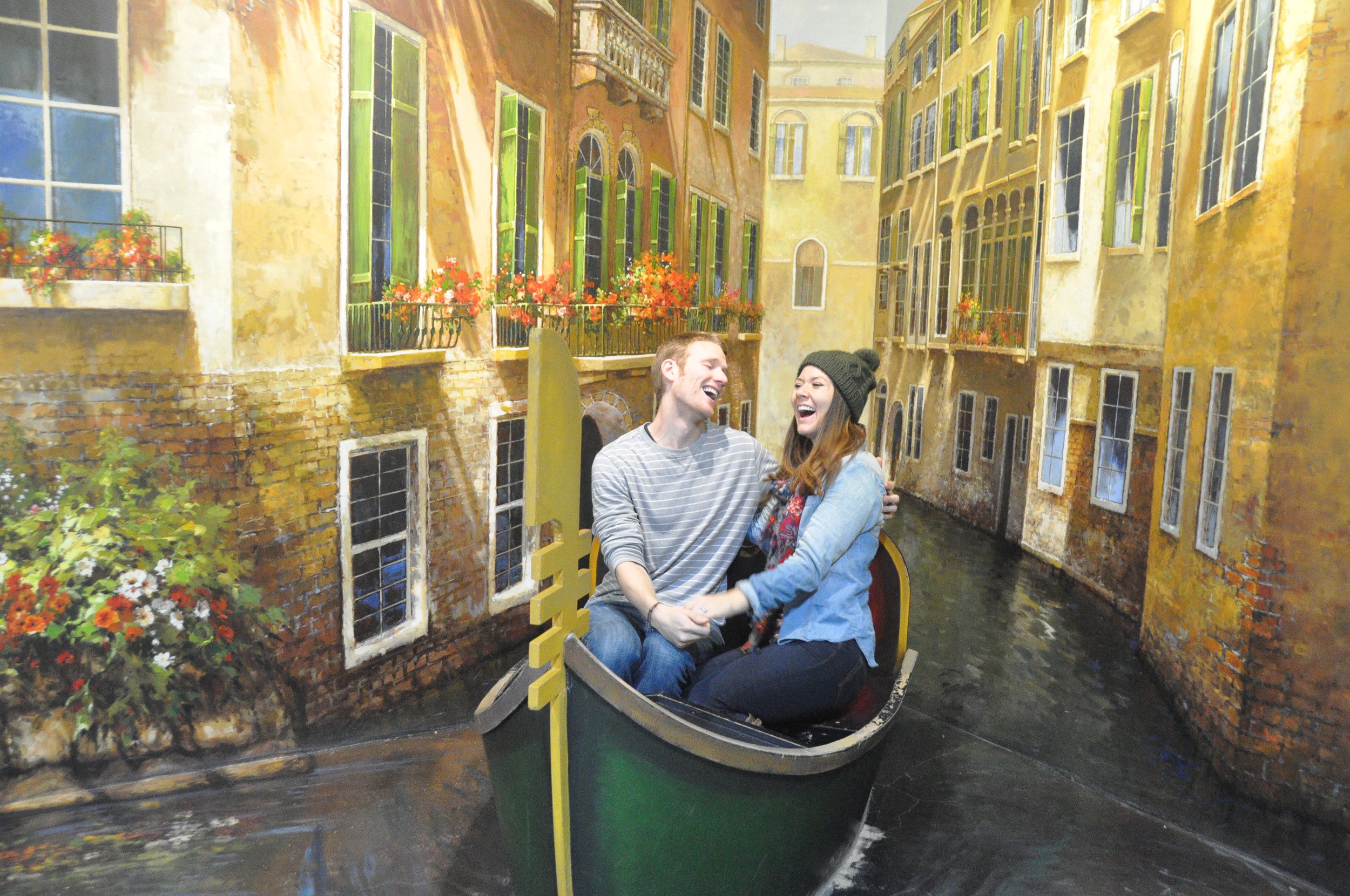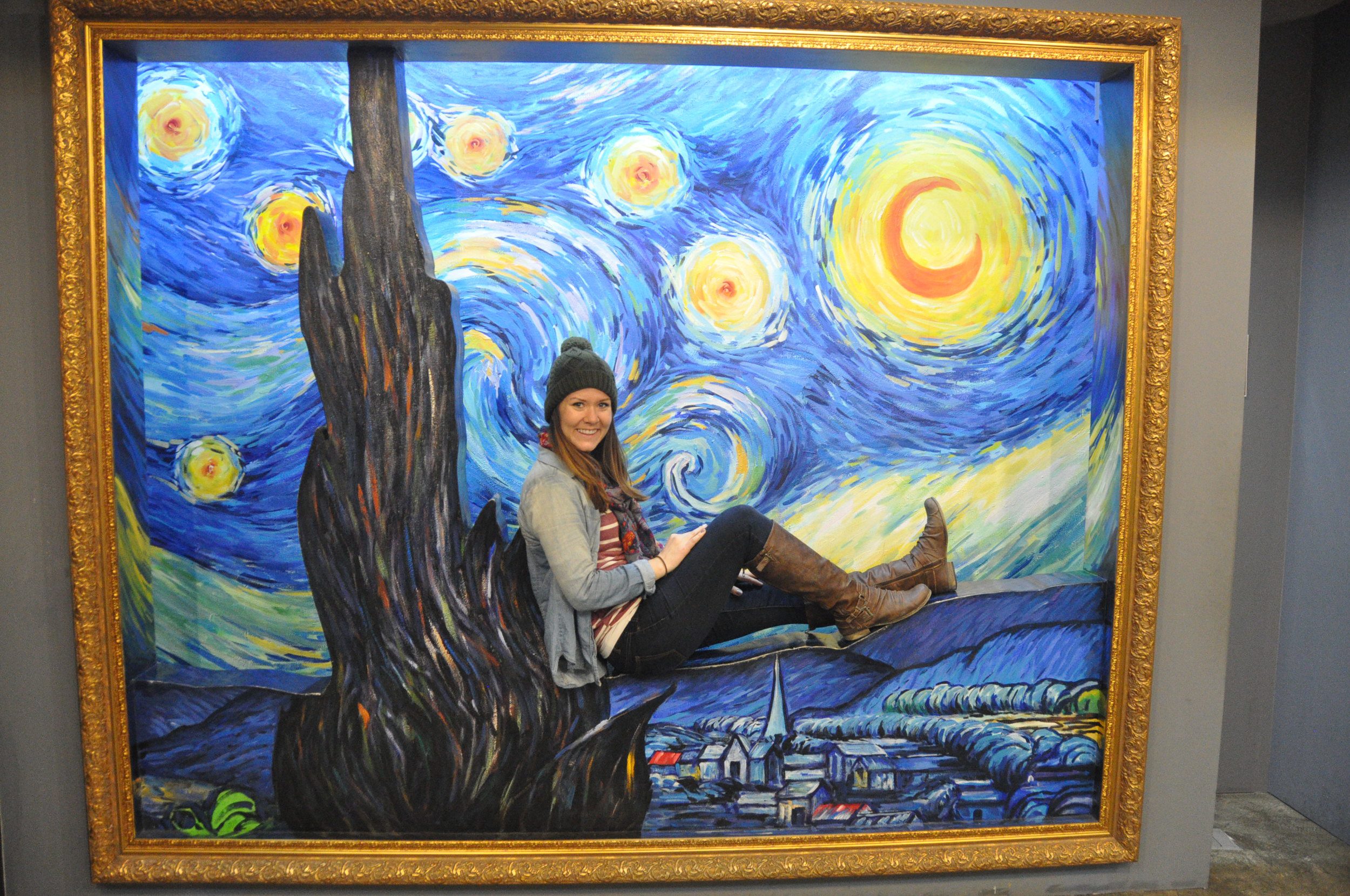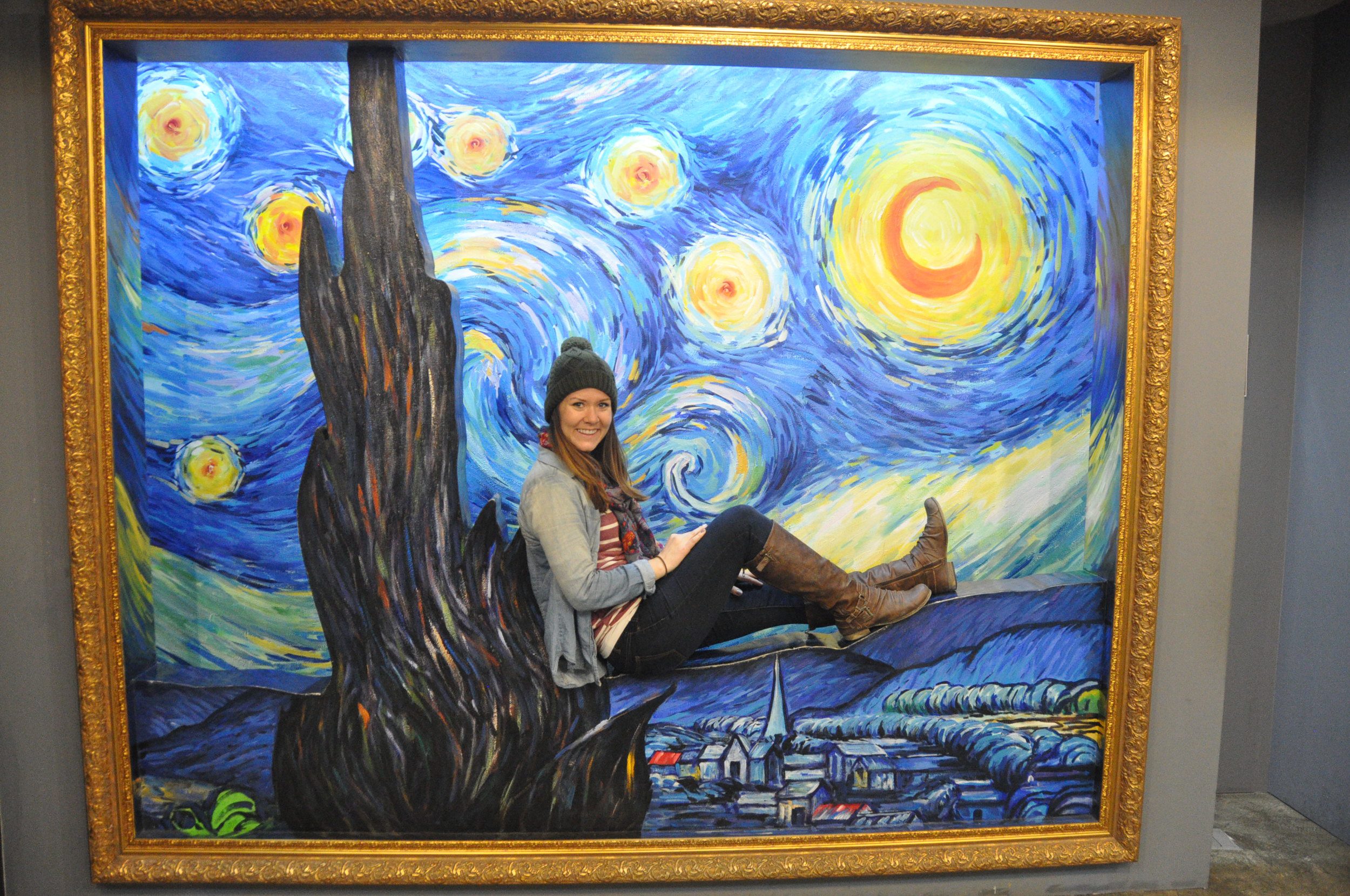 Ranked as one of the top attractions in Seoul on TripAdvisor, the Trick Eye museum is comprised of all sorts of paintings that appear to be three-dimensional. Instead of simply viewing the artwork as you would at a traditional gallery, visitors can be photographed as if they are part of the paintings.
So, more simply stated, it's a museum of sorts where you can take goofy pictures! We morphed from victims of a hungry shark to tourists on a gondola ride in Venice in just a matter of minutes. It sure makes for an interesting photo album.
Within the Trick Eye museum is a large room made of ice, complete with a small luge course to slide down. Aside from us, the only people using it were children under the age of ten. Typical.
How to get there: From the Hongik University Station (Subway Line 2), take Exit 9. Go straight until you reach Hongik-ro Street. Cross to the other side and turn left. Turn right on the second side street, and the Trick Eye Museum is located between TonyMoly and Holika Holika. There is a mannequin on top of the entrance (don't be startled!). 
Admission: 15,000 (the price seemed a little steep to us, but it is worth a visit)
---
Our weekend in Seoul almost made us feel as if we were back home. With Western restaurants and stores, craft beer, and countless other English-speakers, it really doesn't seem like Korea. 
One of our friends brought a visitor from home with for our weekend excursion. She must have thought we were all a bit crazy after seeing us go berzerk for tacos, beer, maple syrup and Forever21.
It's strange how incredible these ordinary things seem once you've been without them for a while.
---
Where we stayed:
The rooms at this hostel are basic and clean. The common space downstairs, equipped with a dartboard, a kitchen and board games, is a perfect place to socialize.
We paid $15 per person for a bed in a 8-person dorm room on a Saturday night.
How to get there: From the Hongik University Station (Subway Line 2), take Exit 4. After you exit, turn around until you are facing the street. Take a right and walk until you see Tous les Jours bakery on the other side of the road. Take the small street next to Tous les Jours. Take a right at the first intersection and you will reach the guesthouse!
More photos of Seoul