Staying connected in Japan is super important for navigating trains and translating menus. But how do you access the Internet in Japan? In this guide, we share our experience using a Japanese SIM card and a Pocket Wifi and tell you which is best for your travels in Japan.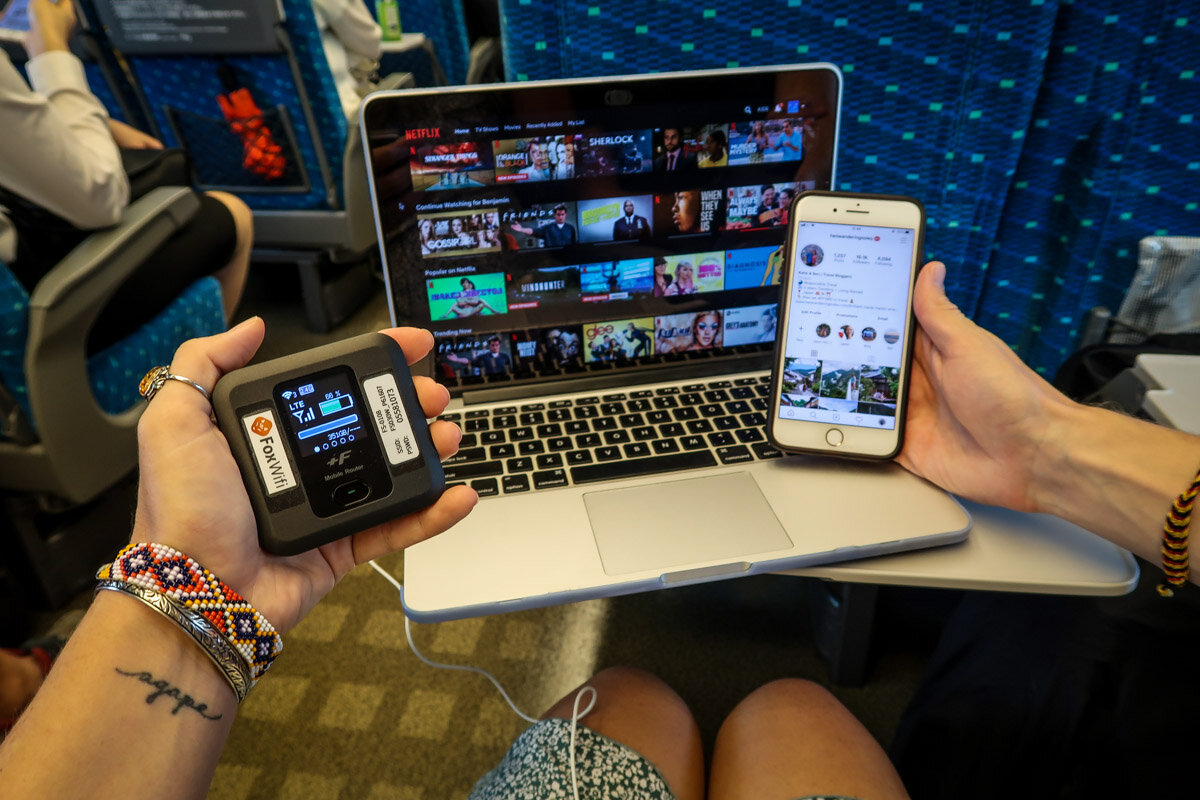 If you're planning a trip to Japan, you've likely seen a lot of information out there about SIM cards and pocket Wifi devices.
Frankly, it can be a bit confusing weeding through all the BS and finding out:
Which option is better for you

Whether you need one at all

Which company is best
In order to make this process a bit easier for you, we decided to put them both to the test and see which is better: Pocket Wifi device or a Japanese SIM.
If you want our short and sweet answer, tab here to jump down the article to see our recommendations. Otherwise, keep reading and we'll answer all your questions related to Japan Pocket Wifi's and SIM Cards.
Okay, first things first…
Do you actually need a SIM card or pocket WiFi in Japan?
You might be wondering if having your devices connected is really worthwhile. We used to travel all the time without any cell service at all, and we actually loved being disconnected. We would log into Wi-Fi at night at our hostel for any Internet time we needed.
However, Japan requires a bit more planning. Here's what I mean:
The train system is easy to navigate… with an app. Japanese signs and menus are easy to translate… with an app.
Essentially, there are 2 main reasons you'll want to stay connected.
1) Navigation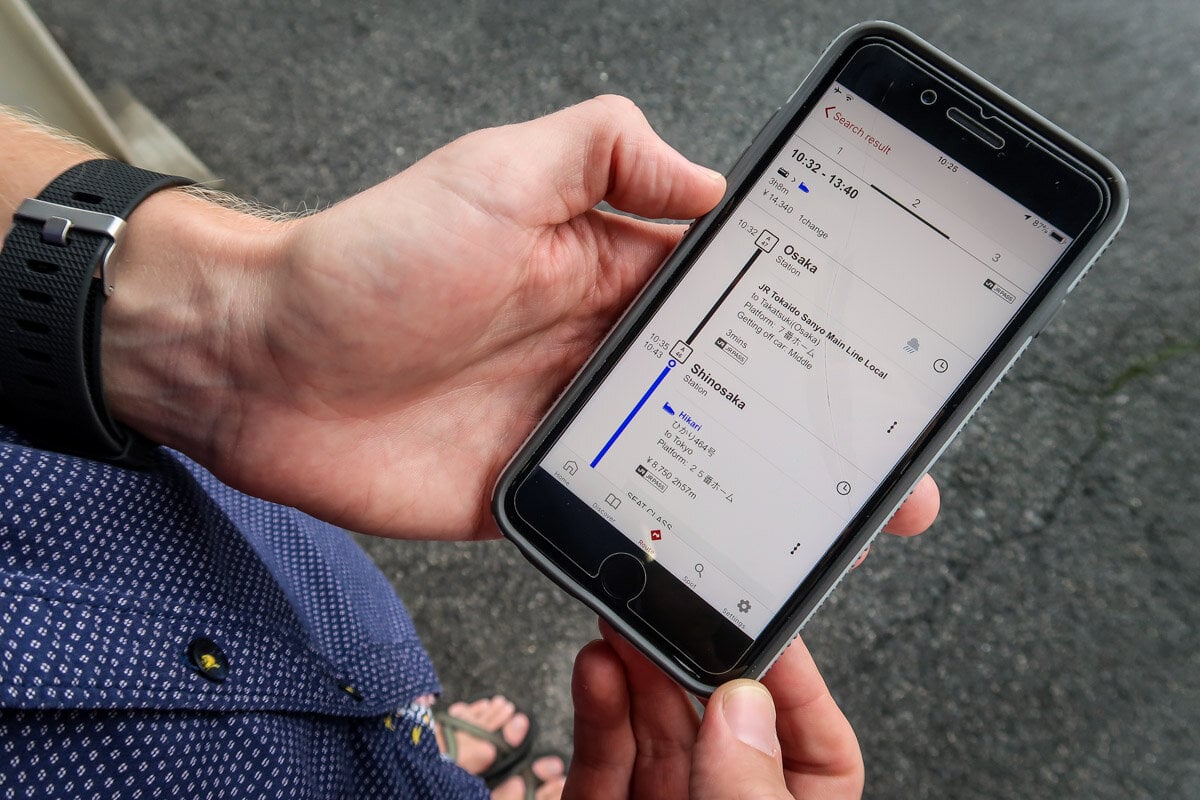 Getting around Japan can be complicated, to say the least. There is an app (Official Japan Travel app — download it now!) that is a total lifesaver and tells you exactly which trains to take (even the best cars to get in based on your route!). But you need the Internet to use it to its full capacity.
We didn't want to risk taking the wrong train or missing them because we couldn't connect to Internet.
2) Translating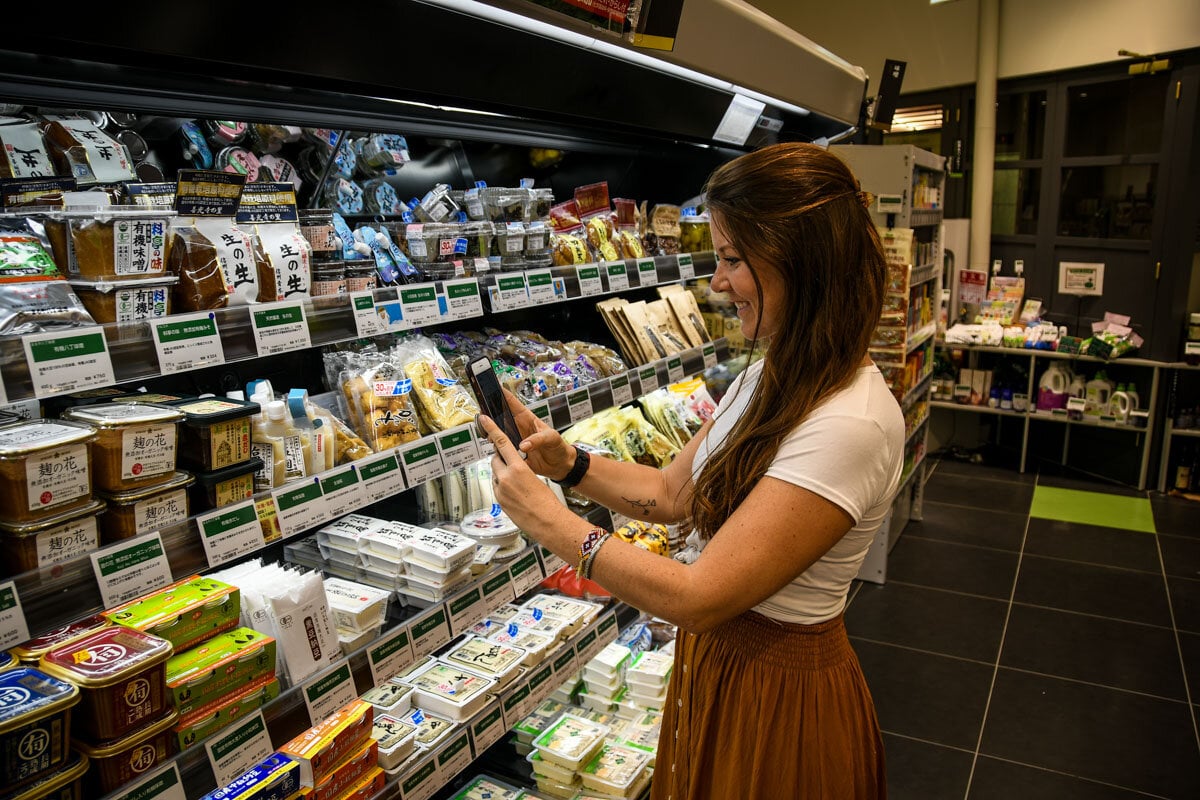 Many signs around Japan have both Japanese and English. However, there are also lots that don't.
You'll also find menus, instructions, remotes, brochures, and ingredient labels that you might want to read. To do this, you'll want to have Google Translate.
Before your trip it's a good idea to download the Japanese Language pack, which you can access offline. However, some of the most helpful features — like live photo translation — are only accessible with Internet connection. Without that feature, you will have to figure out how to type in Japanese characters which, I can tell you from experience, it very difficult as a total beginner!
Other reasons you might want to connect to the Internet:
Random Google searches: We liked being able to look things up on the spot, like: "What are the best things to do in Tokyo?" and "How much do sumo wrestlers weigh?"

Finding restaurants: I'm a sucker for finding restaurants on Google Maps by reading reviews. Seriously, it's how I find gems and avoid the duds.

Understanding menus: If you're an adventurous eater (I'm with ya!), you can skip over this one for the most part, but if you have any dietary restrictions (or aversions!), you'll likely need to do a little translating of ingredient labels and menus.

Social media: And let's talk about social media… during our time in Japan we posted a ton of Instagram stories to share what we were up to and stayed on top of our emails (or at least tried to).
All of these things require one thing. You guessed it: The INTERNET.
Here's our personal experience…
During our first trip to Japan in 2015, we went with nothing: no SIM card, no pocket WiFi, no way to connect to stay connected to the Internet.
We were in Japan for one week, and when we needed the Internet we'd pop into a coffee shop or wait until the evening when we could get WiFi at our hotel (although one Airbnb we stayed at had no Internet at all!).
We made it through the week just fine, but there were challenges. We got on the wrong metro a couple of times, and we had to do more planning up front.
We decided that on our second trip, we definitely wanted a way to stay connected.
On this second trip (August 2019), we noticed there are more public WiFi spots around the country than a few years ago, but we just don't like the idea of relying on them. Connecting to public WiFi can certainly be clutch when you're lost or you need to do a quick search, but it's not a private connection (be careful with the information you use on these networks!) and they aren't always very fast or reliable.
If you're cool going without the Internet for long stretches of time, by all means do it and be ready to be flexible and adventurous. It is doable!
But for all of you out there who are shaking your head (I'm right there with ya!), here's the good news:
Getting Internet connection in Japan is very affordable!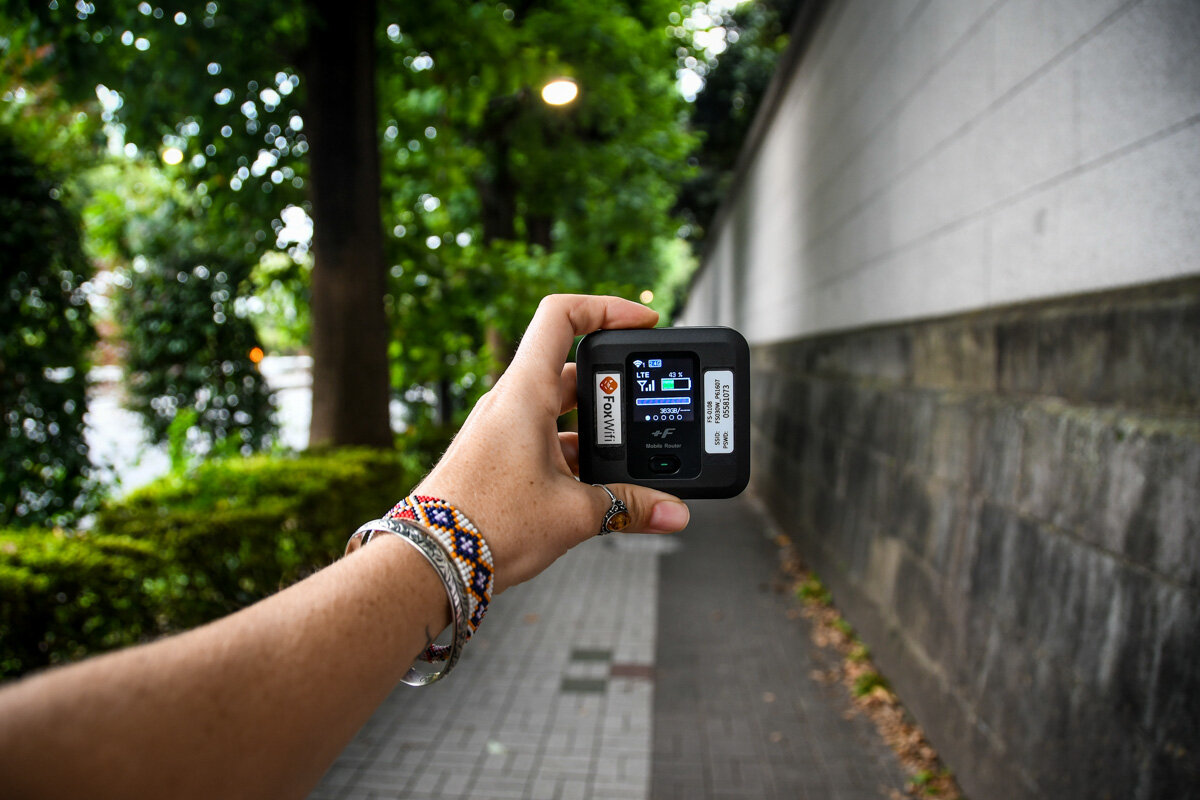 While Japan is a notoriously expensive destination, staying connected is surprisingly pretty cheap.
We'll go over the costs below, but first let's go over the 3 options you'll have:
Pocket Wi-Fi Device (aka portable hotspot)

Japanese SIM card

Add international coverage from your home cell carrier
Let's start with number 3 because (spoiler alert!) we're going to knock this one off the list right away.
Frankly, adding international coverage from your home service provider is the most expensive option. Expect to pay between $5 to $10 USD per day, depending on your carrier.
Not only is this option more expensive than the others, but often times this option gives you a worse cell signal than you'd have by going directly with the local carriers. Plus, you'll have no way of contacting the company locally if you run into issues.
For the purpose of this article, we're going to delve into the first two options:
Pocket Wi-Fi and SIM Cards
Disclaimer: Before we get into the nitty gritty, we want to note that there are affiliate links in this article. Thismeans we receive a small commission if you purchase through our links. This is how we are able to continue to put together honest and helpful articles for readers like you. As with every single article on our website, our opinions are 100% honest and the main goal of this article is to equip you with information to make the best decision for you.
Pocket WiFi in Japan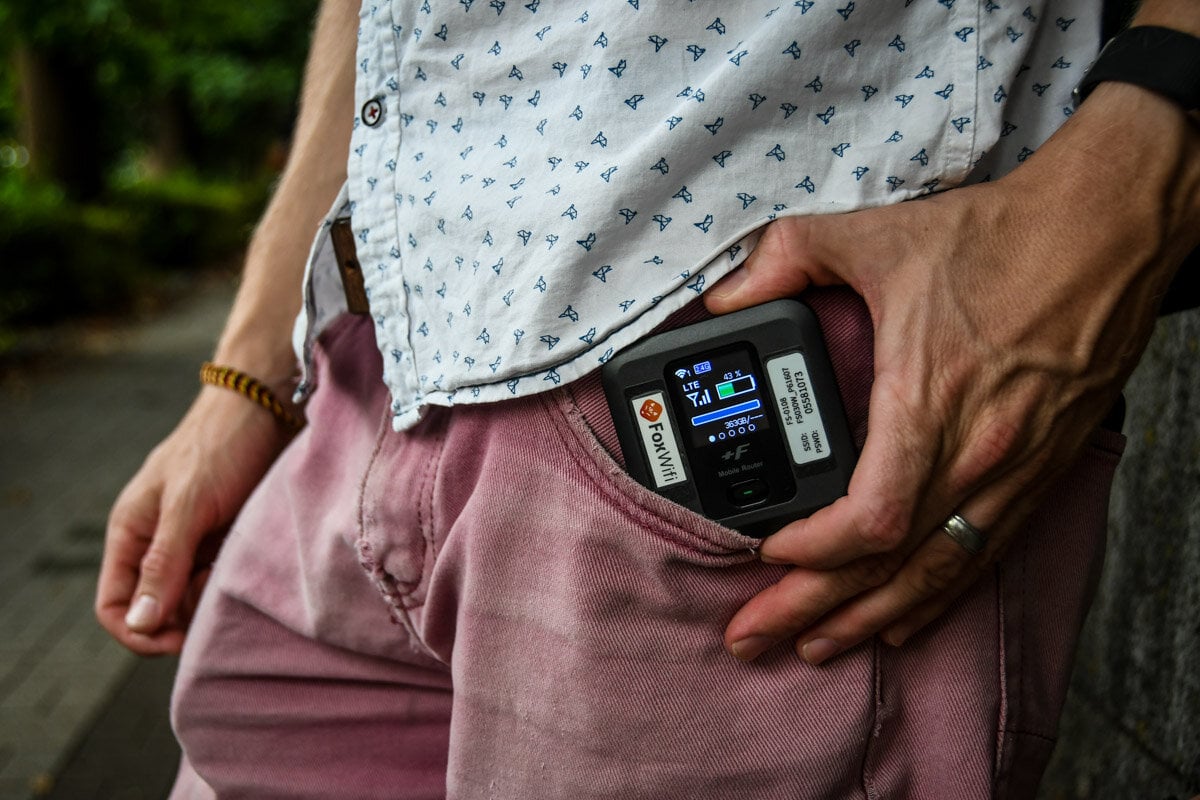 So what exactly is pocket Wi-Fi, you ask?
It is a small device that fits in your palm and creates an Internet hotspot. You can connect your phone(s), laptop, tablet, or whatever device you have that can get onto the interwebs!
Typically, once you log on once with your devices, they should automatically stay connected. We were in Japan for 3 weeks, and our devices stayed connected to this hotspot pretty much the entire time.
Now that you know what it is, let's talk about the pros and cons to see if it would work well for you.
Pros of Pocket Wi-Fi
Can connect up to 15 devices (FoxWifi)

If you're traveling with computers like us, it allows you to easily connect wherever you go. (Did someone say streaming Netflix on the trains?!)

Cheaper option if you split the device

If you are traveling as a pair or a family, you can all use this single device, keeping the cost low.
Cons of Pocket Wi-Fi
You have to physically carry the device with you.

The specific brands vary in size, but ours was small. It fit in the palm of our hand and came in a nice carrying case. Ben kept the carrying case in his pocket and used it to carry coins too, since some of those yen coins are worth almost $5 USD so we didn't want to lose them!

If you were to forget this device in you hotel (or lose it!), you won't have Internet connection.

You must charge the device.

Ours lasted us the whole day plus, so we never had the issue of it dying on us. But we did have to remember to charge it overnight.
Recommended Pocket Wi-Fi Companies in Japan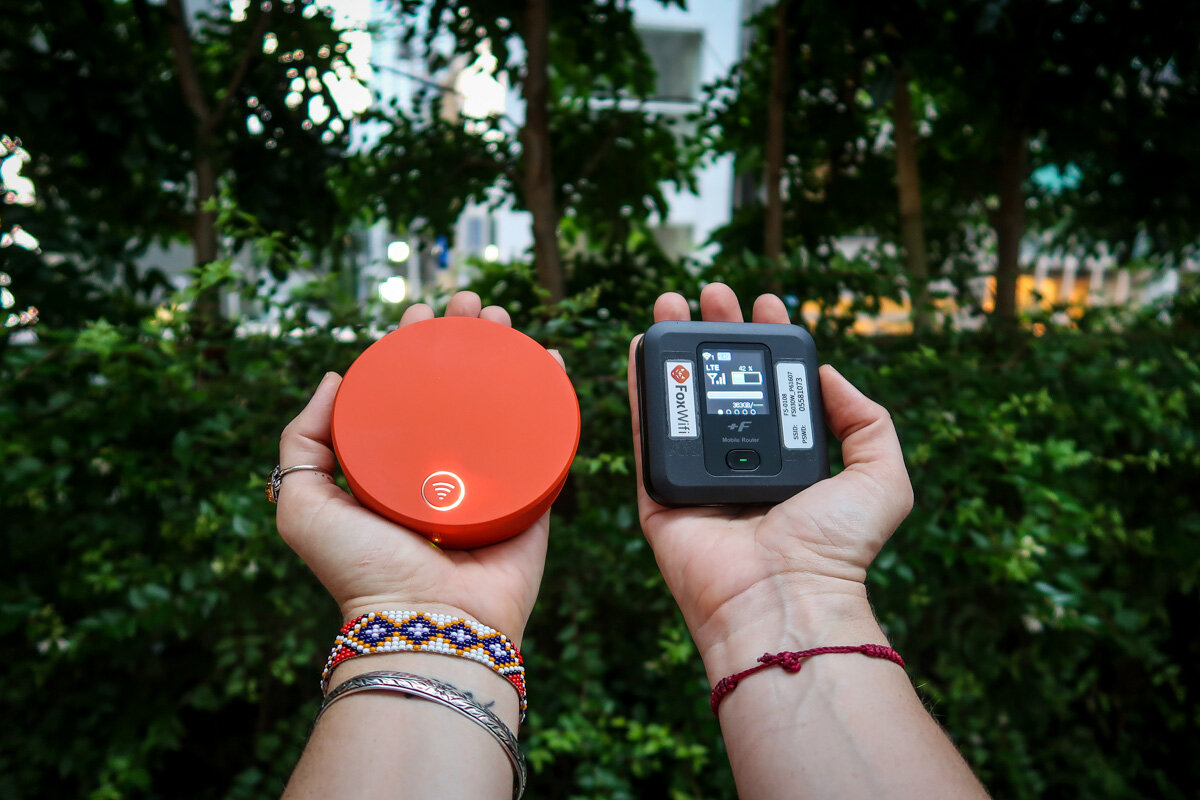 There are lots of great companies out there, and we suggest doing your research to compare them.
We've used two different pocket Wi-Fi brands and can recommend both of them for different situations.
FoxWifi: This is a rental company based in Japan. Your device is mailed to your first hotel in Japan, and you can return it in a prepaid envelope with which they provide you. You can connect up to 15 devices on this hotspot.

SkyRoam: This is a slightly different option, as you will purchase the actual hotspot device. This is a great choice if you travel to many different countries and want to bring a hotspot device with you. You can purchase packages through SkyRoam for basically anywhere in the world. We used this device while traveling in New Zealand and had a good experience. You can connect up to 5 devices on this hotspot.
Pocket WiFi Prices:
For many companies, the price for a Pocket Wifi rental really depends two things: days in use and the amount of data used. The nice thing about FoxWifi and SkyRoam is they have unlimited data usage, meaning your internet will not be shut off once you hit a data limit.
SkyRoam does slow down your internet speeds from 4G to 2.5G after 500MB are used in one day. And it will remain at that speed until your 24 hour day pass is used up. With FoxWifi, they do not throttle back on speeds.
SkyRoam is $9 per day, and FoxWifi decreases their per day rate the more days you book it for. The prices for each are below:
FoxWifi:
7 days: 4480 yen ($41.50 USD)

14 days: 7280 yen ($67.35 USD)

21 days: 9240 ($85.50 USD)
SkyRoam Solis ($149 for device):
7 days: $63 USD

14 days: $126 USD

21 days: $315 USD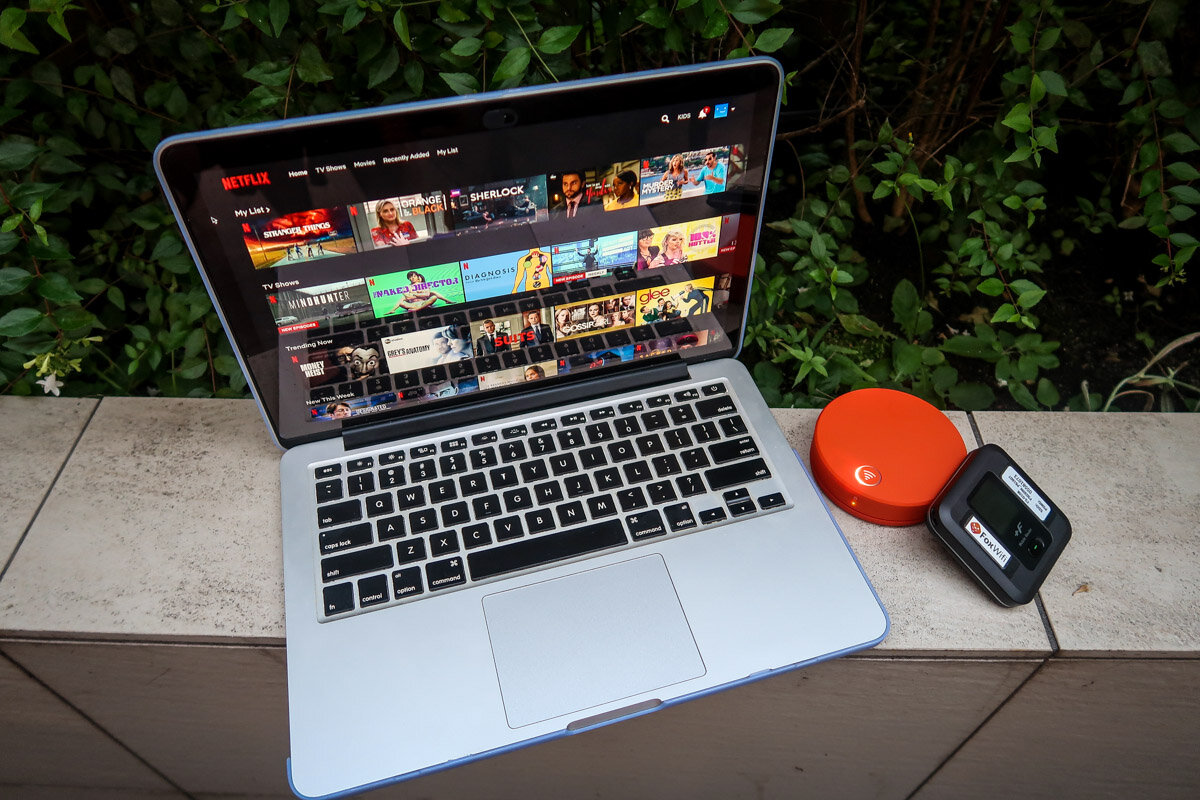 Our experience: We mainly used a FoxWifi pocket hotspot for our entire time in Japan. We had 4G service in all major cities, trains, and throughout the countryside. The only time we lost signal or had a poor connection was when we went on the multi-day trek through the mountains on the Kumano Kodo Trail.
The battery on the hotspot lasted all day long and even if it did start to get below 20% we would plug it into the power bank that comes in the rental package. At night we would plug it in along with our phones to charge for the next day.
In the morning we would turn on the device, throw it in our bags and we were always connected. We didn't even think about limiting our usage because the service is was unlimited.
To be honest, the next time we travel to Japan, we would book with FoxWifi again.
Process for getting the FoxWifi device
Getting the FoxWifi device couldn't be easier. When booking your pocket wifi rental device, tell them when and where your first hotel is and they will ship the hotspot directly to your hotel. You can pick up you hotspot right when you check in.
In the envelope, there will be a return envelope that you'll use to return the hotspot, power bank and cords when you are done traveling. Simply place the items in the return envelope and drop it in the Japan Post (to be safe, it's best to drop it off directly at post office, which most airports have them).
Japan Tourist Data SIM card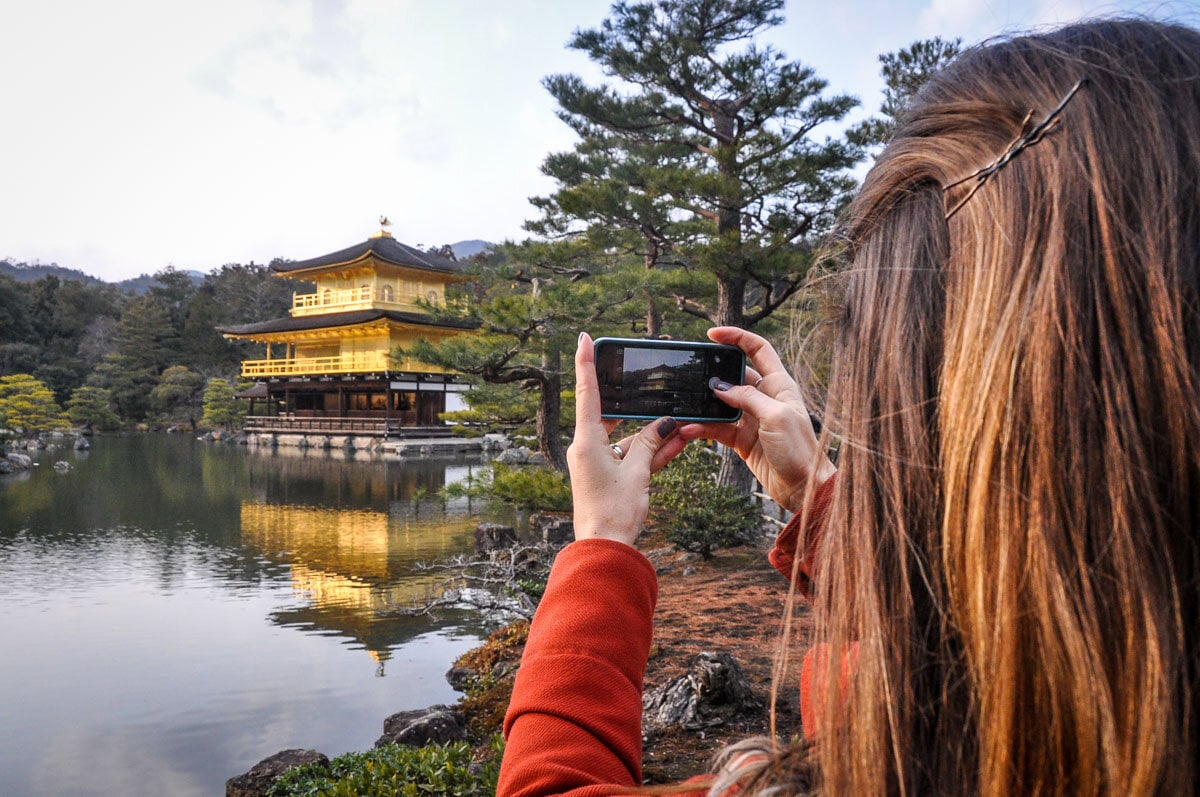 This one is pretty self explanatory. You must have an unlocked phone, but when you put a Japanese SIM card inside, you'll get local signal and data, just like you would at home.
Good to know: All you need is a paperclip or an earring back to open the slot and get the SIM inside!
Pros of SIM card
Don't have to carry anything extra (beside your phone).

Good for solo traveler, or couple who doesn't need to connect more devices frequently.

Always connected; once it is in your phone, you don't have to log in or do anything to get Internet.

Cheaper option if you are a solo traveler.

Don't have to worry about returning the SIM card after your travels.
Cons of SIM card
The only real con is that it's really only meant to connect one device at a time. And if you only need to have Internet on your phone, that's not really even a con, now is it?!

Typically, the data SIM card is not available for calling or texting (data only). But most places you need to call or text prefer to be contacted via WhatsApp any way.
Recommended SIM Card Company in Japan
Similar to pocket wifi rental devices, there are loads of SIM card companies to choose from in Japan. We decided to make things easy on ourselves and reserved our SIM card when we booked our Japan Rail Pass ticket. The Japan Rail Pass (or JR Pass) ticket is a train pass that allows tourists to ride pretty much any JR line rail throughout the country, including the super fast Shinkansen trains. It has literally saved us hundreds of dollars when traveling in Japan.
So when booking our Japan Rail Pass on JRailPass.com, we added on a SIM Card for 30 days. The service they provide offers fast internet speeds (225 Mbps) with 500 MB high speed limit per day (with reduced speeds after that, but we never reach that limit).
Alternative: You can purchase a SIM card at Bic Camera once you get to Japan. However, they tend to have limited amounts of data (2GB, for example), and you'll need to seek out a store once you arrive. For us, it was much more convenient to have it delivered to our hotel. One less thing to figure out! Plus, we were able to get unlimited data this way.
Japan SIM Card Prices:
Japan Rail Pass offers two simple prices depending on how long you use it: $46 USD for 15 days and $53 USD for 30 days. That's cheaper than our plan in the US!
Data Usage on SIM Cards in Japan:
There is no limit to the amount of data you can us with these SIM cards. However, it is limited at 500 MB per day at 225 Mbps speeds (over 4G speeds), and then after that it reduces the speed to 2G or 3G speeds depending on area you're traveling in. However, we never reached that limit, and we work on our phones daily!
Process for getting the SIM card in Japan
Most companies have the option to have your SIM card delivered to your hotel in Japan so it'll be ready for you when you arrive (and you won't forget to pack it!). Hotels in the big cities in Japan are very used to this type of thing, so it's not a big deal for them.
After your trip to Japan, you don't need to do anything with your SIM card. You can keep it as a souvenir, throw it away (properly), or save it for future travels to Japan.
So unlike a hotspot device that you need to return, you have nothing to worry about except going through sushi and ramen withdrawals… And we can't really help you out there!
Which is better: Pocket Wi-Fi or a SIM card in Japan?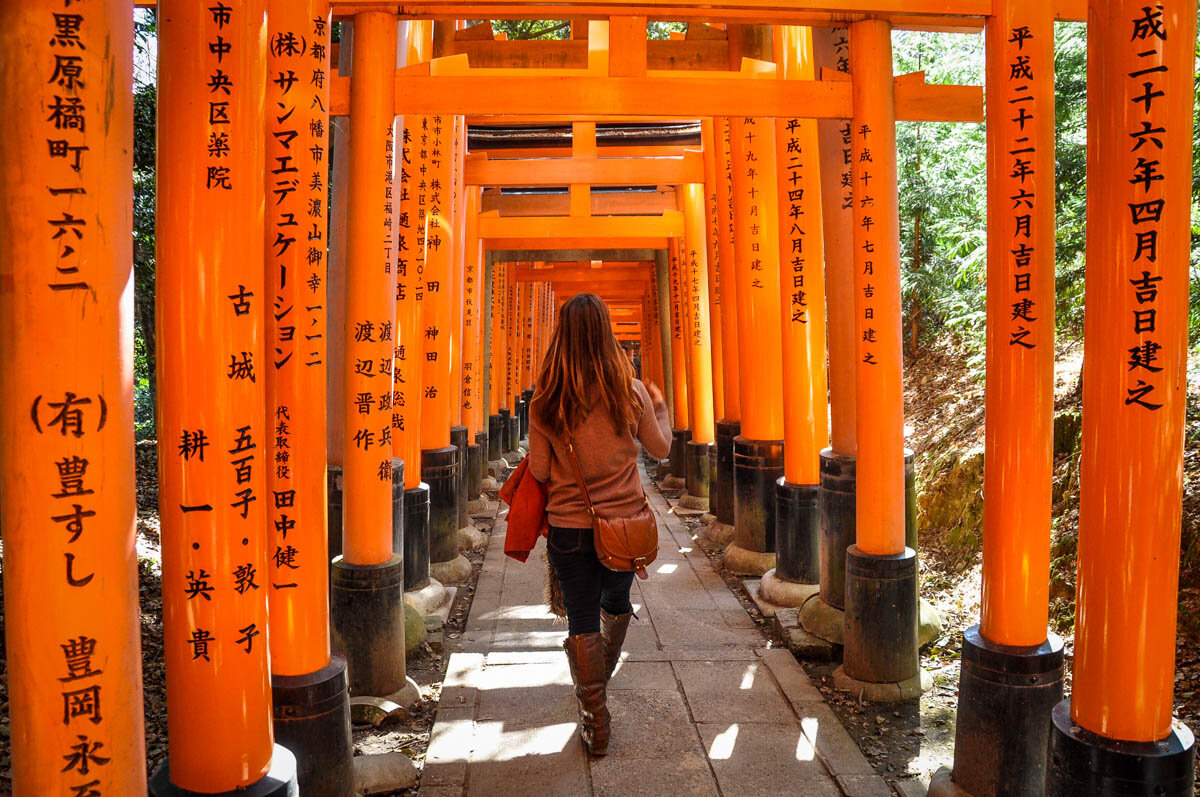 Both the pocket Wi-Fi and the SIM card are great options as the service is pretty similar.
Aside from a few times that we were in rural areas (and in train tunnels!), we had good connection on both our SIM and our pocket Wi-Fi during our time in Japan.
They use the same service towers, so they seemed to mirror each other: When one had a strong connection so did the other. And when one had a weak signal the other did as well.
Our Internet speeds tended to be average (around 50-100 mbps) using both devices. We've had faster Internet connection in other countries, but we've also experienced much, much slower speeds.
The real difference comes down to your needs:
Japan SIM card is best if…
…you are a solo traveler; you'll likely be just fine with a SIM. In the case that you need to connect your laptop or other device to the Internet, you might need to wait until you get to your hotel because you typically can't open the hotspot function on your phone with this SIM card..
Having a SIM is a bit easier because you don't need to carry anything extra with you and you don't need to charge an extra device.
Budget Tip: If you're on a seriously tight budget and are traveling with a companion, get just one SIM card. The person with the SIM card can use it for navigating throughout the day and you can share headphones to watch videos on trains. Then once you get to you hotel, you can connect to the wifi from the hotel and download what you need for the next day (maps, directions, videos, podcasts, etc.). This way you'll have WiFi connection at half the cost.
Japan Pocket WiFi is best if…
…you are traveling with 2 or more people and need to connect multiple devices to the Internet at once, the best option will be the pocket WiFi device.
Since we are constantly working on our laptops, this is the best option for us. Next time we come to Japan, we will get just the pocket Wifi rental device.
Should you get both?
Short answer: Nope, not necessary. (We speak from experience.)
Having both a pocket wifi and a SIM is overkill. We had each of them so we could test them out and go over their pros and cons, but there wasn't really a benefit to having both at the same time.
Which company is best?
Honestly, I don't think there is a huge difference on the actual connection you will receive, as most devices will connect to the same cell towers.
Instead, it's best to look at company reviews, pricing, and the simplest procedure for receiving and returning the device (if necessary), to find a company that will work well for your situation.
There are many great companies out there, however, we can only speak personally about the ones we have tried ourselves.
SIM: Japan Rail Pass (purchase data SIM card as an add on)
How did we choose these companies?
We did quite a bit of research before deciding on FoxWifi. We scoured the threads on the Japan Planning Facebook page (super helpful resource!), and we kept seeing Fox pop up as a reputable company from other travelers.
For the SIM card, we booked through JRailPass.com because we used them during our first time to Japan and we trust the company. They provided excellent customer service for the first time around and I can say the same for this last time.
It was so simple to add on the SIM card in the same booking as our Japan Rail Pass. And if you just want the SIM card and not the pass, you can still purchase that too. But here are the reasons why you should look into purchasing the Japan Rail Pass.
Conclusion: (Too long, Didn't read!)
Alrighty, this is getting to be a long and beefy article, so if you just want the gist, here ya go:
Staying connected to the Internet is important while traveling in Japan because it is very helpful with navigating the trains and translating Japanese writing.

The 2 best options for staying connected are getting a Japanese tourist SIM card for your phone or renting a portable WiFi hotspot device.

The SIM card and the pocket WiFi will give you similar service and connection.

A data SIM card is best for solo travelers or those only needing Internet on their phone. We booked our SIM card through JRailPass.com as an addition to our JR Pass.

A Pocket WiFi is best for multiple people traveling together or those who need to connect multiple devices (like a laptop or tablet in addition to a phone). We used FoxWifi Pocket Wifi and recommend it when traveling Japan.
Disclaimer: We were sent the Pocket Wi-Fi device free of charge from FoxWifi and we received a complimentary SIM from JRail Pass. Additionally, we do receive affiliate commission from both companies if you are to purchase through our links (which we totally appreciate!). This is how we are able to continue to put together honest and helpful articles for readers like you. As with every single article on our website, our opinions are 100% honest and we hope through our article you can make the best decision for your situation.
Are you planning a trip to Japan?
We have TONS of resources on travel in Japan and destinations throughout the country. Check out our Ultimate Japan Travel Guide for all the answers to your most burning questions, or read some of our favorite articles below.
Save this article to Pinterest for later!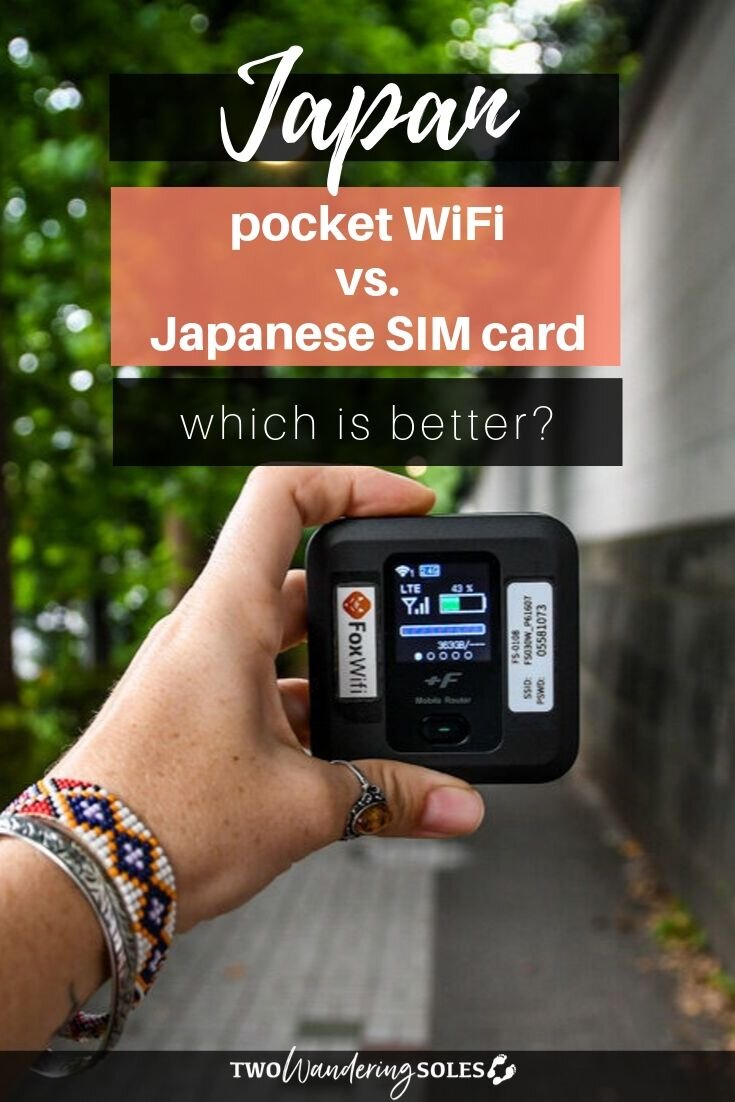 Have questions?
Debating between the two options? Comment below and we'll do our best to help you out!