Many itineraries of a trip to Bangkok will include a visit to one of the city's many rooftop bars. Situated 63 stories above Bangkok, Sky Bar is arguably the most famous rooftop bar in the city. But is this posh bar with a view of Bangkok really worth the price? We're sharing our honest opinion and letting you in on everything you should expect if you add it to your Bangkok itinerary.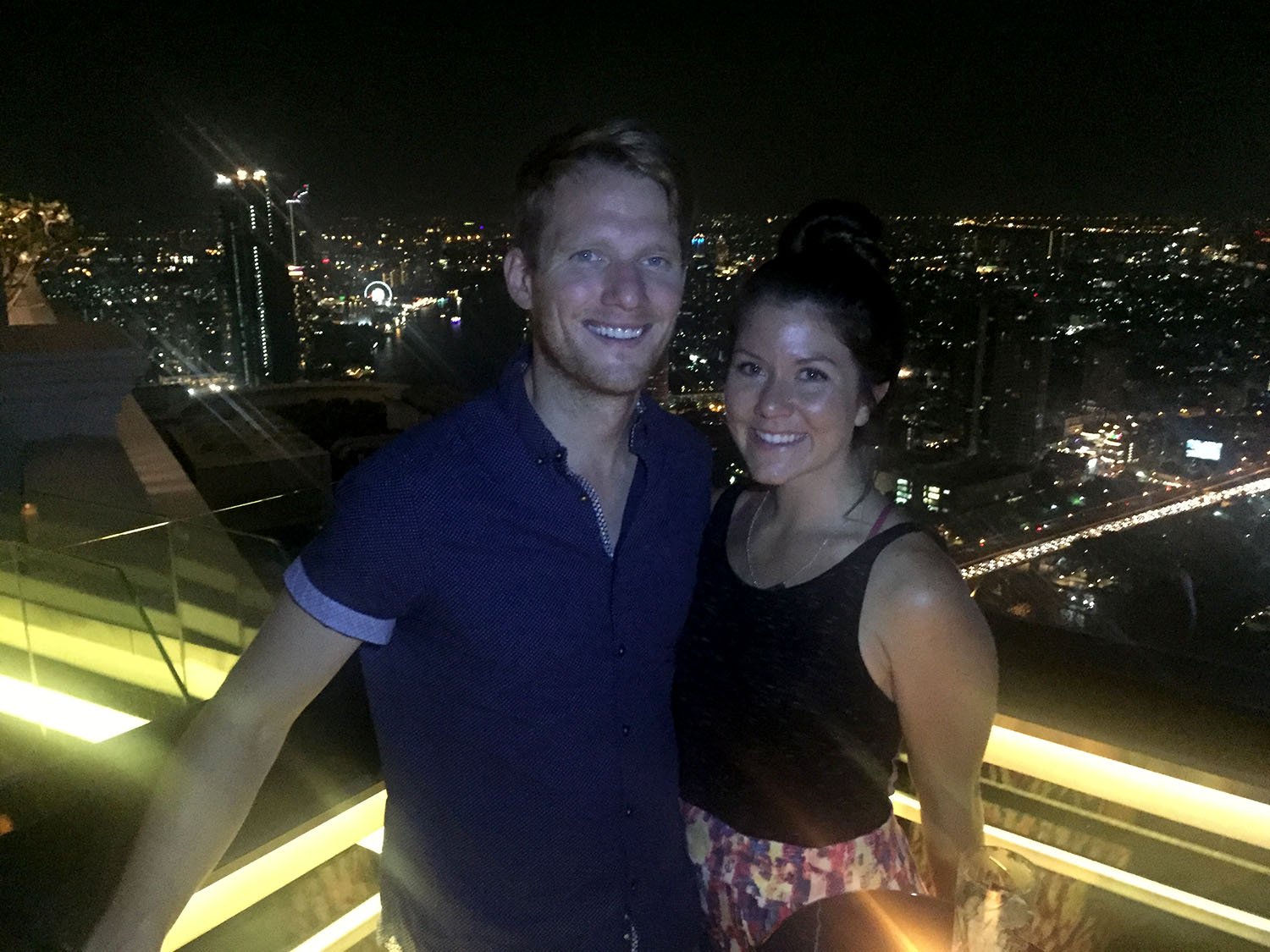 Many itineraries of a trip to Bangkok will include a visit to one of the city's many rooftop bars. Arguably one of the most famous rooftop bars in the City of Angels is Sky Bar in the Silom neighborhood. Suspended 63 stories above Bangkok in the State Tower building on Silom Road, this posh bar serves cocktails with a view of this Asian metropolis that never seems to sleep. (Oh and you may have seen it in a brief scene in The Hangover Part II!)
Is a visit to Sky Bar (or any of the other rooftop bars in Bangkok) worthwhile during your trip to Thailand?
We are actually torn about how to answer this question. Lots of other blogs out there will claim that going to one of Bangkok's famed rooftop bars in a "must" in the City of Angels.
But in our opinion, if you give this one a miss we don't think your time in Bangkok would be incomplete. It took us until our fourth visit to Bangkok to make a toast from 64 stories above the city, and while it was a cool experience, we don't think it suddenly made our Bangkok visit any more "complete".
There are a couple reasons we feel this way:
Everything on the menu is exorbitantly overpriced. You are more or less paying for the view.

The view is good. But not spectacular (in our opinions, of course).

This is strictly a tourist activity. There are no Thais on the rooftop (with the exception of the bar staff and perhaps the occasional person who decides to see their city from above). No matter how you look at it, this is not an activity that'll give you more insight to the "real" Bangkok.
Should you go to Sky Bar in Bangkok?
If you're on a budget, and you seek out authenticity over luxury, we think you could skip Bangkok's rooftop bars and not miss out at all. There are plenty of places to go out in Bangkok and staying on a budget could be how you planned your trip to Thailand.
However, if you enjoy the finer things in life and your budget allows, this isn't a bad way to spend part of an evening.
We'll walk you through what to expect so you can decide if a visit to Sky Bar is worthy of making it onto your itinerary. And if you decide to go, there are a few things you should be prepared for.  
Dress Code at the Sky Bar in Bangkok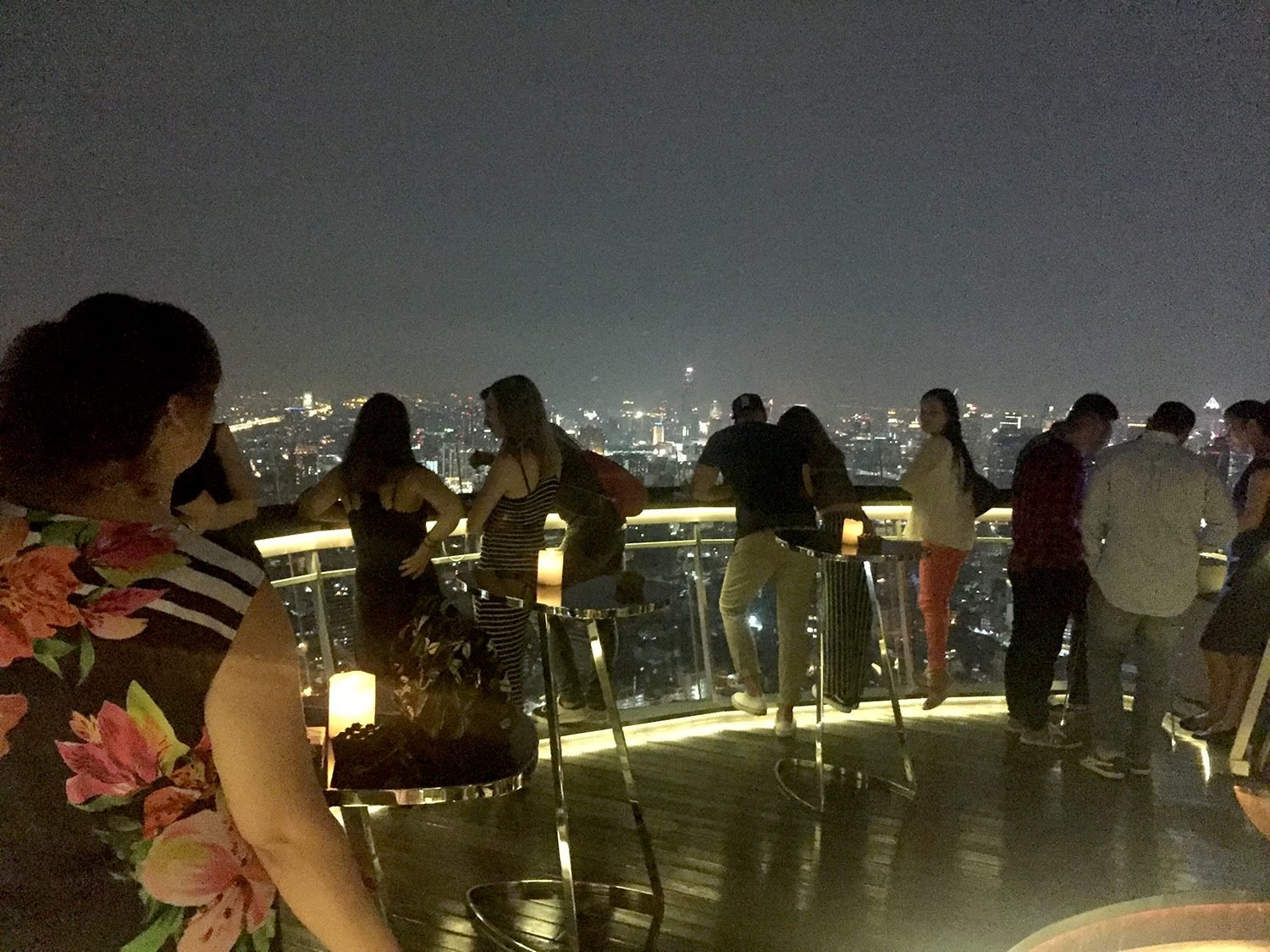 First, make sure you are dressed properly or you'll be turned away. We witnessed it happen to a couple people.
Ladies: No flip flops. On the website it says "No slippers, beach sandals or flip-flops". The site also says the dress code is "smart casual". We saw some women wearing cute dresses with sneakers, presumably because they didn't have any sandals with backs. Style apparently doesn't weigh heavily into the equation. (Which is a good thing for us most of the time!)
Men: No shorts. (Nope, not even your trendiest pair. And yes, this means you'll have to wear pants even in the city's famous heat.) No sleeveless shirts. Closed toe shoes ONLY. (Note: This does not mean they have to be fashionable. We saw some guys wearing beat up sneakers. Not saying we'd recommend it, but just sayin'.)
What should you expect when you enter?
Expect to be ushered in when you arrive and your every move watched thereafter. We were promptly brought menus and a server stood next to us while we looked it over. When we told her we needed a minute, she did not seem very happy.
We had brought a small bottle of water with us (because you always need water in Bangkok's heat!), and she took it. She told us we could not have our own water, but it would be returned to us when we left (which it was). Oh, and in case you're wondering, the water on the menu was not cheap. 
Where should you sit?
We were seated at a table, but quickly asked if we could stand instead. We would recommend standing if you're able, since you can't get the grandeur of the view from the tables.
When facing out, the left-hand side of the bar has views of the river, while the right-hand side faces downtown. We preferred the views on the left, but it's really personal preference. Try to walk around a little bit so you can glimpse the views from all angles.
What did we order?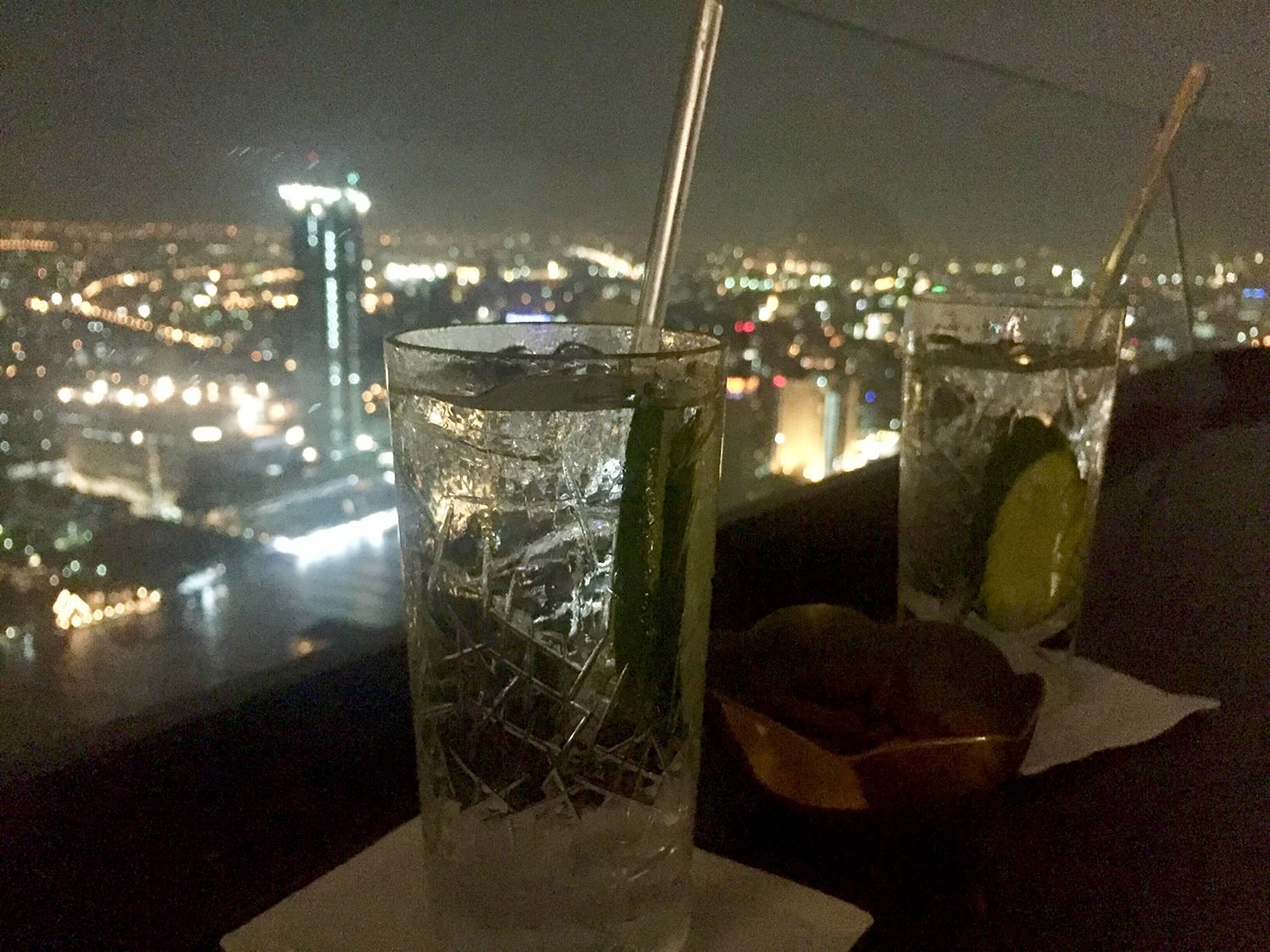 We opted out of the cocktails on the menu, and in an attempt to help our budget just a little, we each ordered a regular gin and tonic under the assumption that they could not charge the same as a cocktail for a plain ol' G&T.
But we were wrong.
More on that later, but our advice if you go would be to order a fun cocktail. It's the same price as a mixed drink, so why not?!
How expensive are the drinks at Sky Bar?
Here's where I might go on a little tangent. The prices were enough to make our eyes water and our jaws drop.
The least expensive cocktail on the menu came in at a cool 710 baht, which equates to exactly $21.24 USD (at the time this article was published).
Don't do alcohol? Well, there is surely a drink for you, like juice, coffee, tea or even sparkling water, but that'll cost you upwards of 410 baht ($12.27 USD). (That was the cheapest price we remember seeing on the drink list.)
While these prices are steep even in Miami or Los Angeles, I'll give you a little perspective as to just how high they are for Thai standards.
For the cost of just this ONE drink:
You could get a 2-hour Thai massage, AND pay for your friend's 2-hour massage as well. And you'll still have money to spare.

You could spend the night in a comfortable hotel room, AND buy dinner.

You could buy a flight to the Thai islands.
Okay, you get it. The drinks at Sky Bar are expensive. But is it worthwhile? Hmmm… It depends.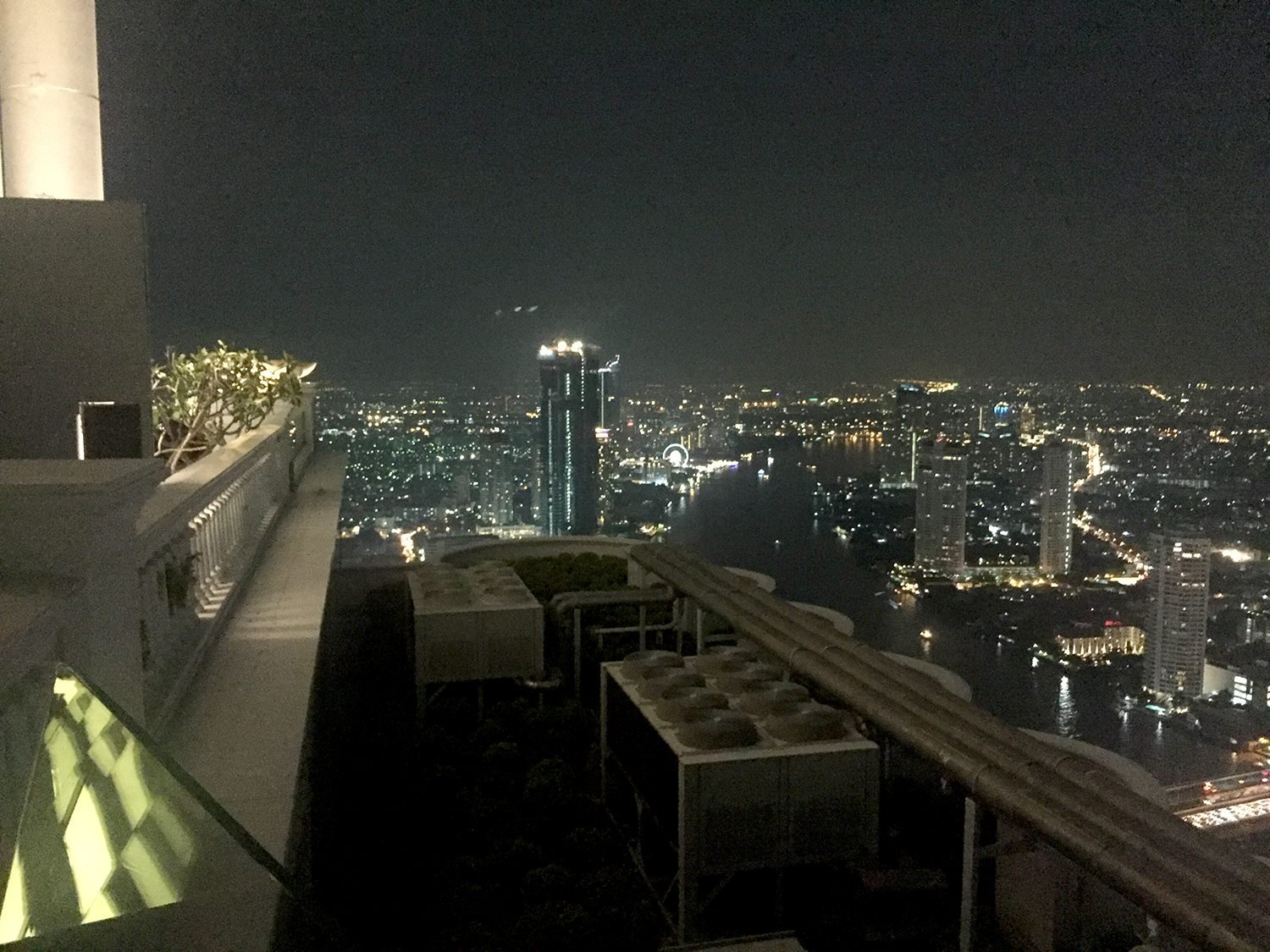 There are some cities that are spectacular from above, and the view is well worth a hefty price tag. For instance, we went to the top of the Burj Kalifa during a layover in Dubai, and felt that it was worth the $34 USD we each paid to get in the elevator. Likewise, when we studied abroad in Florence, one of the best views of the red-roofed city was from above from on top of the Duomo.
Bangkok from above is cool, especially when it's lit up at night. But it is no Dubai or Florence, nor is it New York City or Paris. (Again, this is our humble opinion.)
Was the drink at Sky Bar any good?
Yes. It was a great gin & tonic. Instead of a lime, there was a couple cucumber slices in the drink. It was balanced and the right ratio of gin to tonic.
Do they serve beer at Sky Bar?
No, we did not see any beer on the drink list.
What is the atmosphere at Sky Bar like?
Honestly, we thought it was pretty stuffy, despite being an open-air bar. (See what we did there?!) Expect a lot of foreigners dressed in their finest, or their attempt to pass the dress code test, standing around taking pictures.
How is the service?
The servers were friendly enough. They were mostly sweet and attentive to guests' needs. That said, when we asked the cost of a regular gin & tonic we didn't get an answer, and we felt our server was not as friendly after we asked for a moment alone with the menu.
Also, the staff was watching drinks like hawks. Once our drinks were less than half full, we felt like all the servers were watching us. As soon as your drink is near empty, be prepared to order another round or leave.
On the opposite hand, we watched two young women (clearly budget backpackers) come in at a busy time, and the server left them for about 10 minutes. They left very sneakily without ordering drinks (which was clearly what they wanted). Depending on the amount of other guests when you arrive, you may get a different level of attentiveness.
How can I take a good picture from Sky Bar?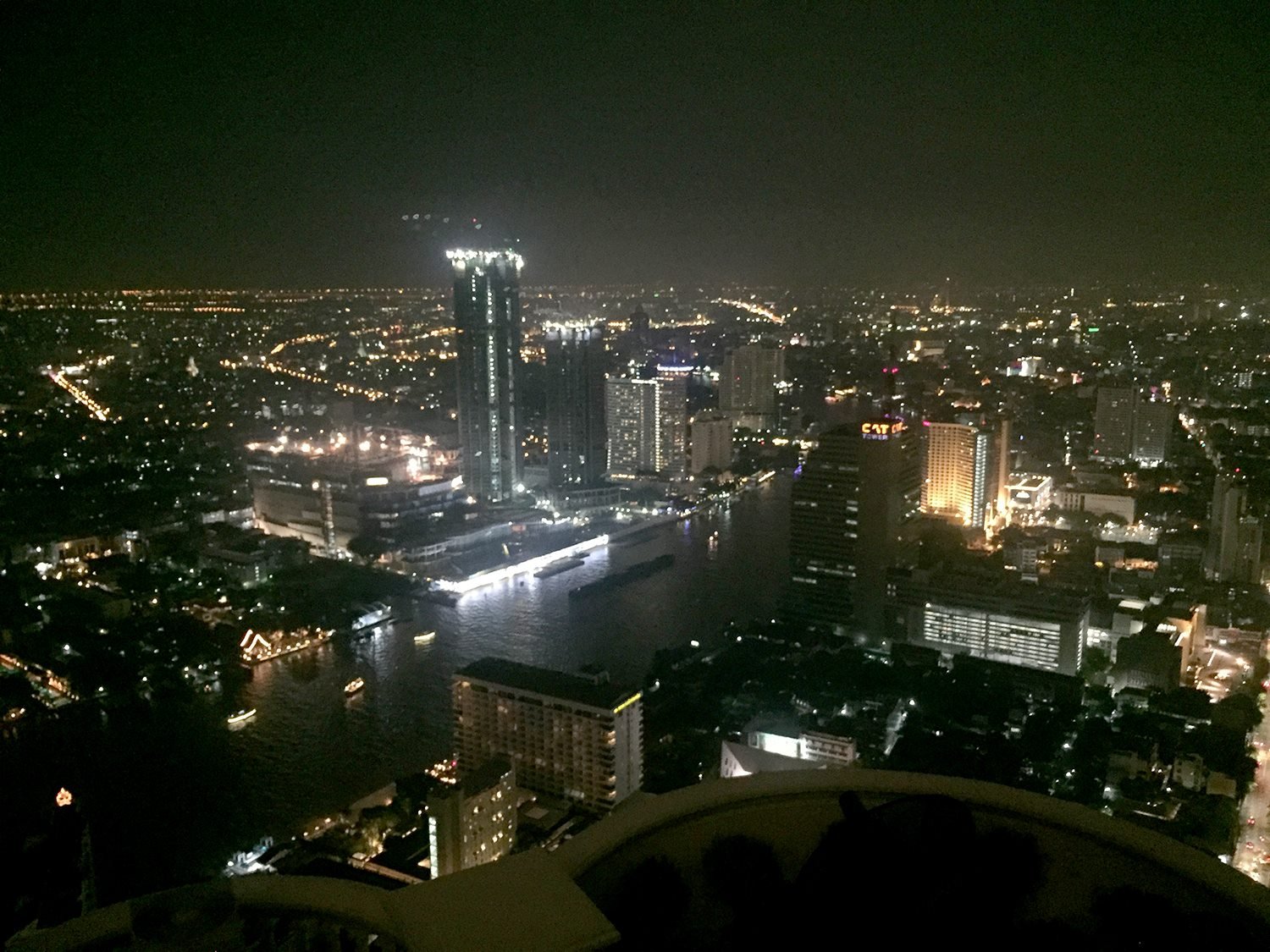 Taking photos of the skyline is quite easy using a simple camera phone. But if you want to be in the picture as well, it gets a little more complicated.
Here are some tips to getting the best photo at Sky Bar:
If you can, arrive around sunset time. The lighting will be better for photos than after the sun sets.

Forget using your flash. It will just light up the foreground (aka you'll be nice and in focus, but the city will be dark). And if you use no light, the people will be dark and the photo will be low quality.

Instead, politely ask a server if they can take your photo using their flashlight. They each carry a small light to help guests read menus, but they also happily took guests' pictures when asked. The flashlight will help make you and the background look great!
How long did we stay?
The length of your stay is dependent on how quickly you finish your drink. Our advice would be to nurse it if you really want to take in the view without racking up a huge bill. We ended up staying just over a half hour.
What was our final bill?
Like we said above, we ordered two gin & tonics thinking they'd be slightly less expensive than the hand-crafted cocktails, but we were wrong. We were charged 710 baht ($21 USD) per drink.
Additionally, a tax of 7% was added as well as a 10% gratuity.
Our total for two gin & tonics and 30 minutes of views came to 1671 baht ($50 USD). That is just about how much we spent in TOTAL the day before with all our food, exploring and hotel room.
Would we do it again?
Probably not. We're glad we finally did it so we know what all the hype is about. But I don't think anyone really is a "regular" at this bar. You come, you see the views and you move on.
Are there alternatives to Sky Bar?
Yes, there are several rooftop bars in Bangkok. The rooftop bar that most closely rivals Sky Bar is Vertigo Grill & Moon Bar in the Banyan Tree hotel. Expect similar prices and atmosphere. 
Yes, check out this list of Bangkok's more affordable rooftop bars. The views and atmosphere aren't as posh, but that would certainly be okay with us!
If you want to check out a fun and unique bar, head over to the Iron Fairies Magical Fairytale Jazz Bar. They had me at Jazz bar, but the decor in this place is off-the-wall interesting. Check it out for yourself. 
Is Sky Bar worthwhile?
It really depends on your personal style and what constitutes an expensive evening to you. And it also depends on how important the view is to you.
For us, we found it too expensive to really be something we would thoroughly recommend. And the view – in comparison to other cities – was just alright.
That said, there are going to be people who disagree and think it was the highlight of their trip. So don't let our opinion deter you if you really want to go to Sky Bar or any other rooftop bar in Bangkok.
Everyone has different tastes and styles, and some things we don't enjoy might be your favorites. But we hope through sharing our experience and honest opinions, we can give you a better idea of what to expect.
Okay, I'm going! How do I get there?
Sky Bar is located on the 63rd floor of the Sky Tower building on Silom Road. Once you walk in (they'll know why you're there!), you will be directed to the elevator.
Sky Bar Bangkok Hours of Operation
Open 6:00 pm – 1:00 am daily
Where can I eat nearby?
So glad you asked! There are TONS of places to eat in Bangkok, so you'll be at no shortage for dinner options. And if your budget allows, there is even a restaurant adjoining with Sky Bar.
But if you're looking for a little more budget-friendly meal nearby, we'd suggest the famous Prachak Roasted Duck restaurant, also starred on the map. It's just a few blocks away and the egg noodles with roasted duck was super tasty!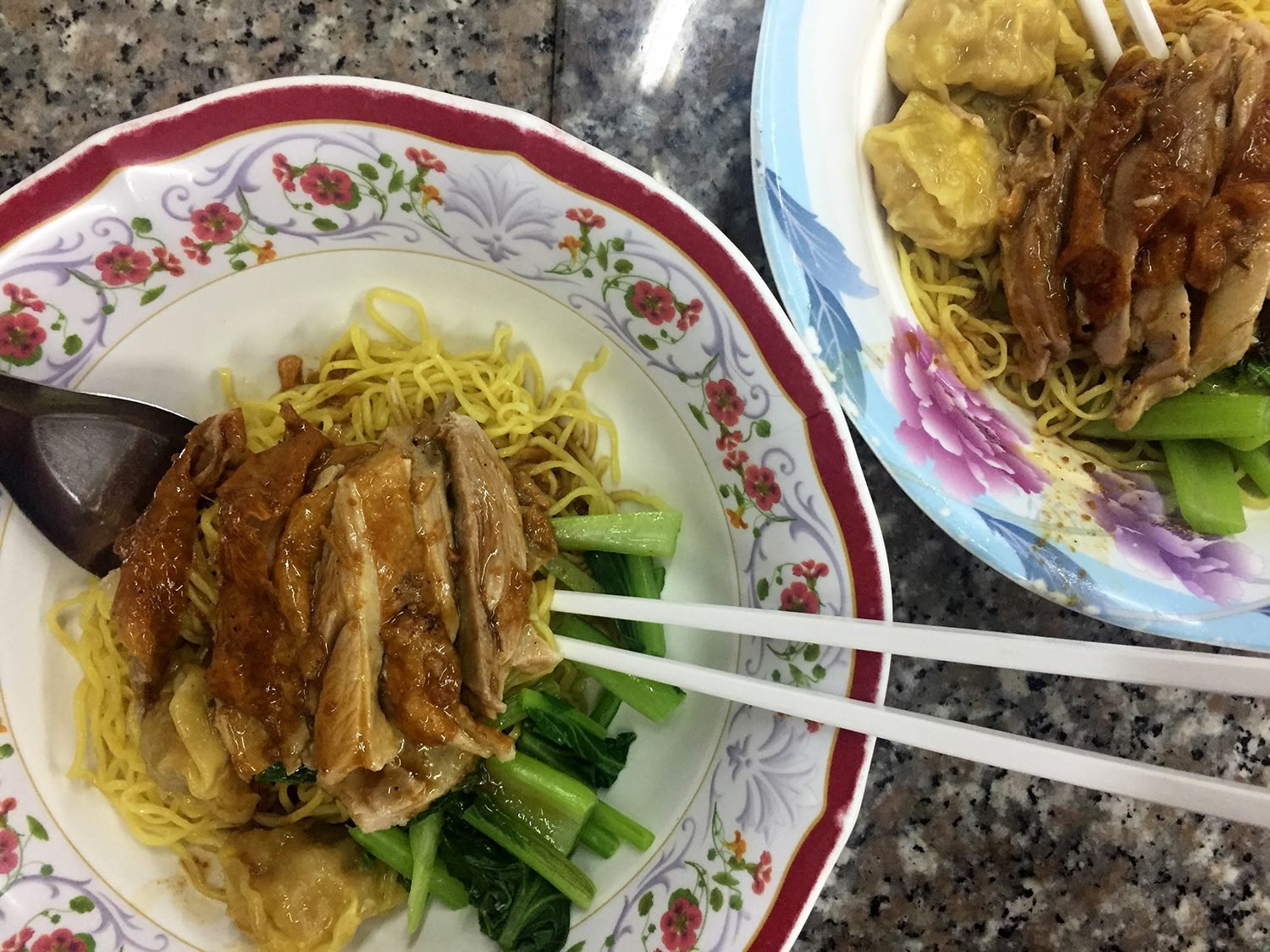 ---
Are you planning a trip to Thailand?
We have TONS of resources on travel in Thailand and destinations throughout the country. Check out our Ultimate Thailand Travel Guide for all the answers to your most burning questions, or read some of our favorite articles below.
Save this article on Pinterest for later!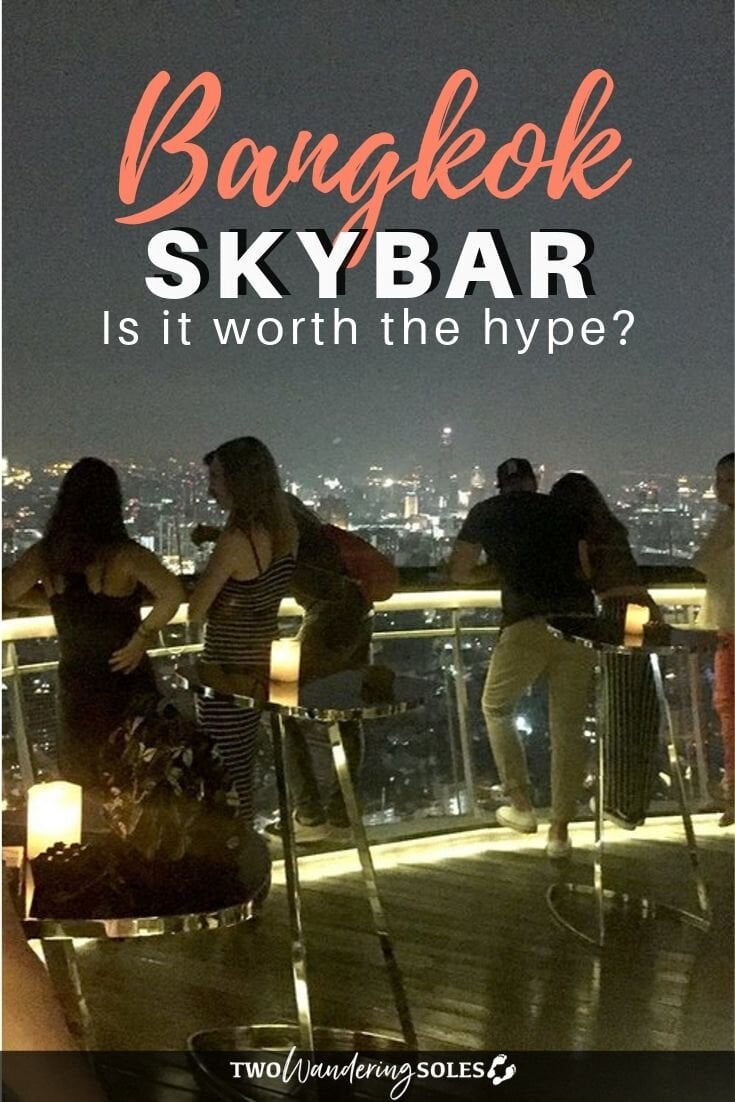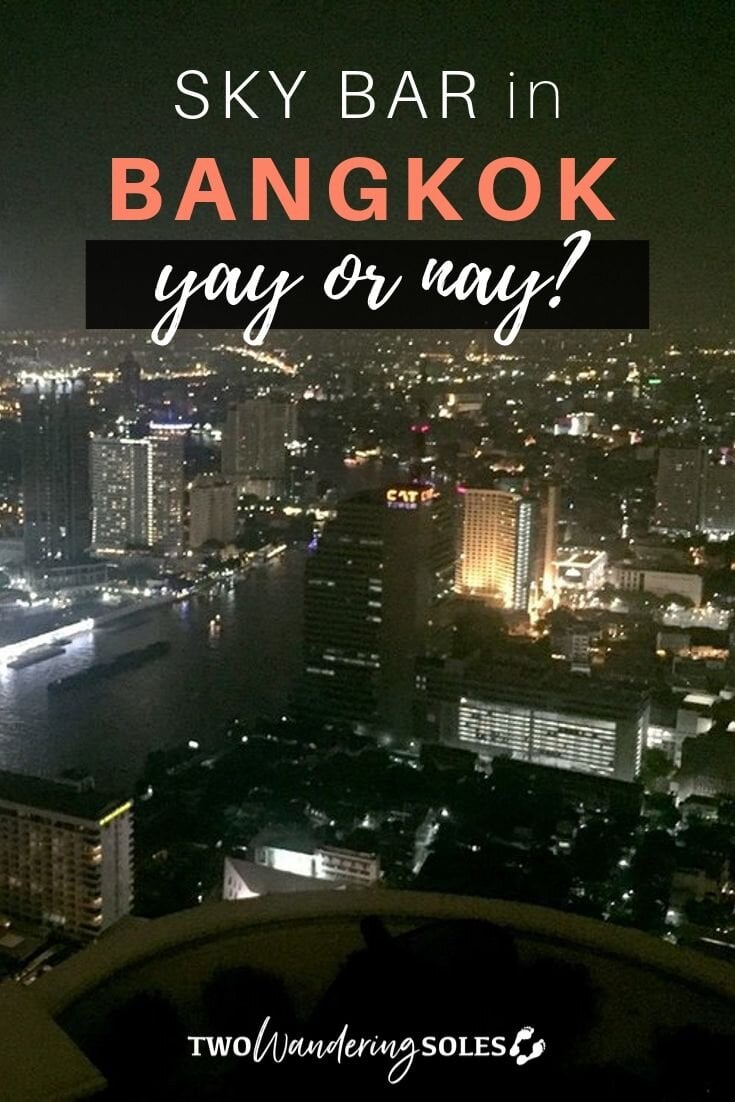 We want to hear from you!
Have you been to the Sky Bar? What did you think? Let us know in the comments below.