The bustling capital city of Peru is a blend of cultures, coastal vibes and metropolitan cityscape. We've visited a couple of times and put together this list of exciting things to do in Lima Peru to help you plan your trip.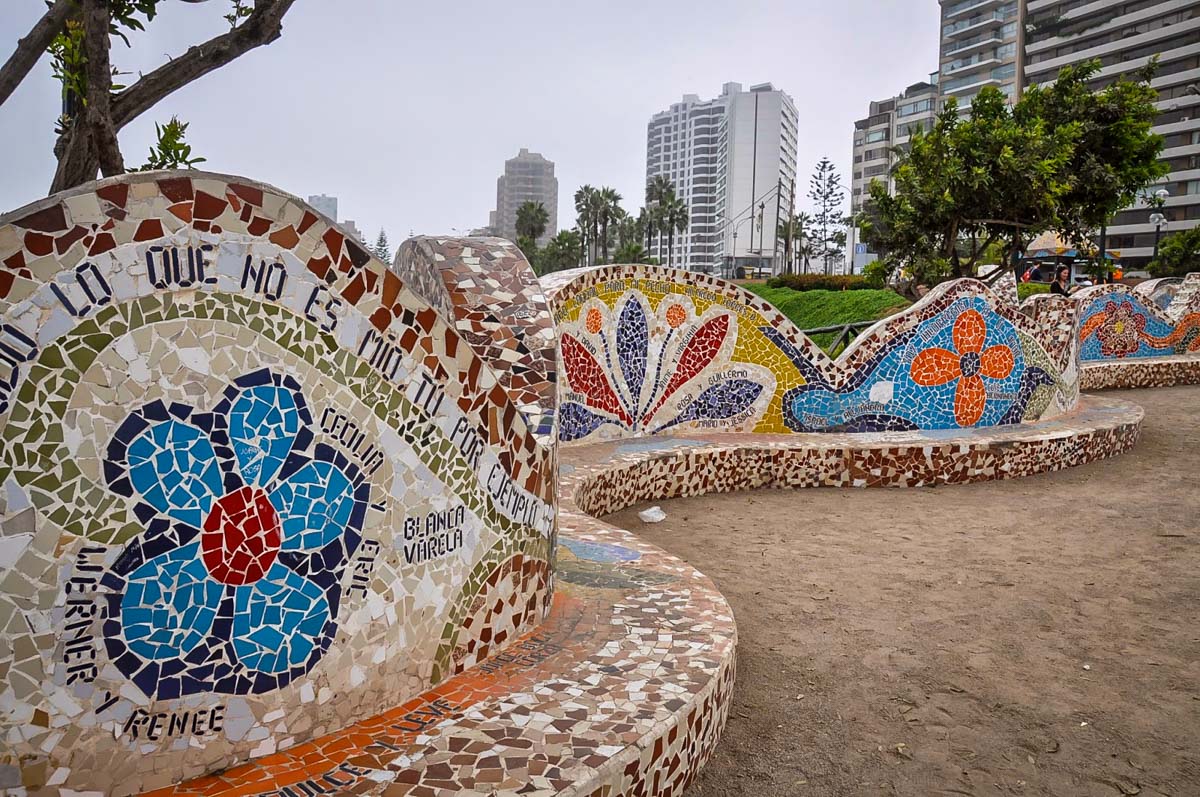 Located smack in the middle of Peru's coastline, Lima is a bustling capital city with a blend of cultures, vibes and landscapes.
Lima is a city where you can dine on a budget in cozy locales and enjoy traditional fare without frills one day, then indulge in fresh ceviche prepared by a world-class chef the next.
Wander cobblestone streets in historic downtown, then make your way to the manicured streets of Miraflores where you'll have ocean views dotted with palms.
Learn about the country's history, then brush shoulders with young locals as you experience the city's nightlife scene.
We've been to Lima a couple of times, and can say from experience that this city truly has a little something for everyone – history, culture, food, nightlife, adventure, and relaxation.
We're going to share some fun things to do in Lima so that you can experience the best that Peru's capital city has to offer.
Psst! If you'll be traveling more throughout the country, be sure to check out our bucket list of can't-miss things to do in Peru!
Article contents
---
Things to do in Lima Peru
This capital city is packed full of culture, history and adventure. There are so many things to do in Lima, you could easily spend months exploring the city's offerings.
No matter how much time you have to spend, here is a list of our top things to do in Lima Peru you won't want to miss. 
1. Take a free walking tour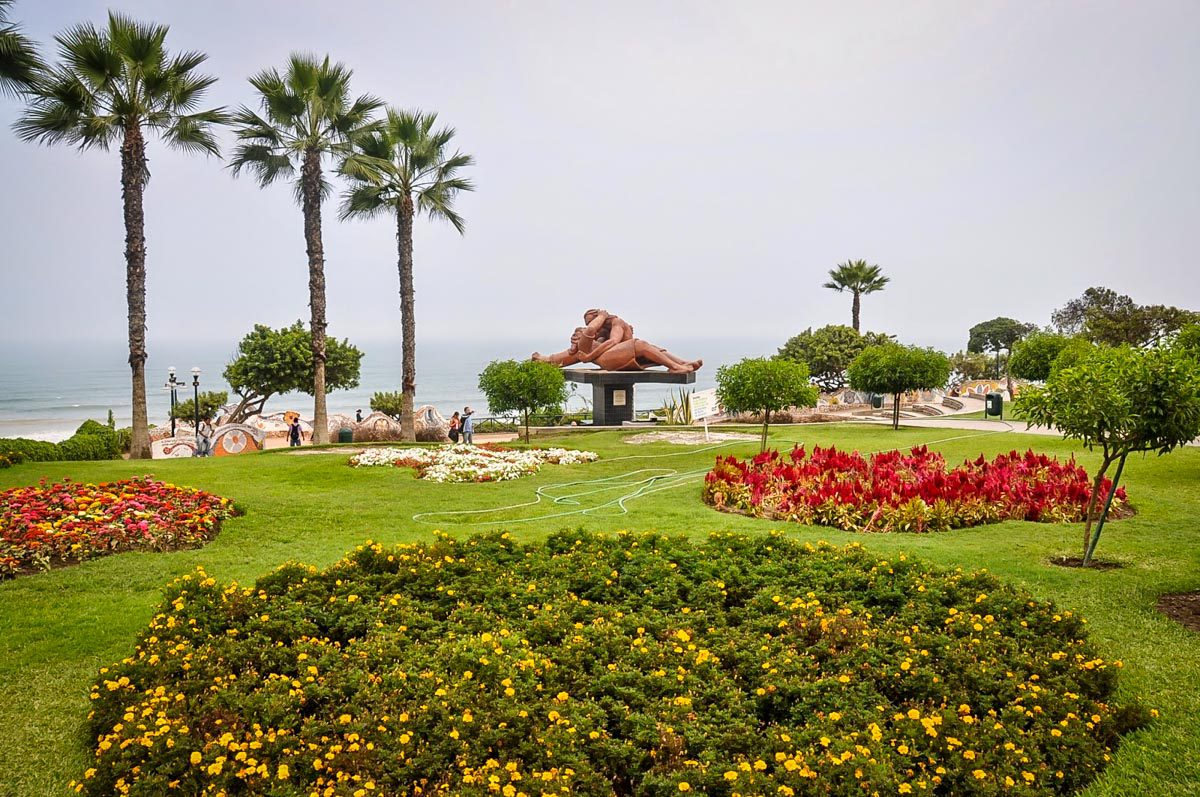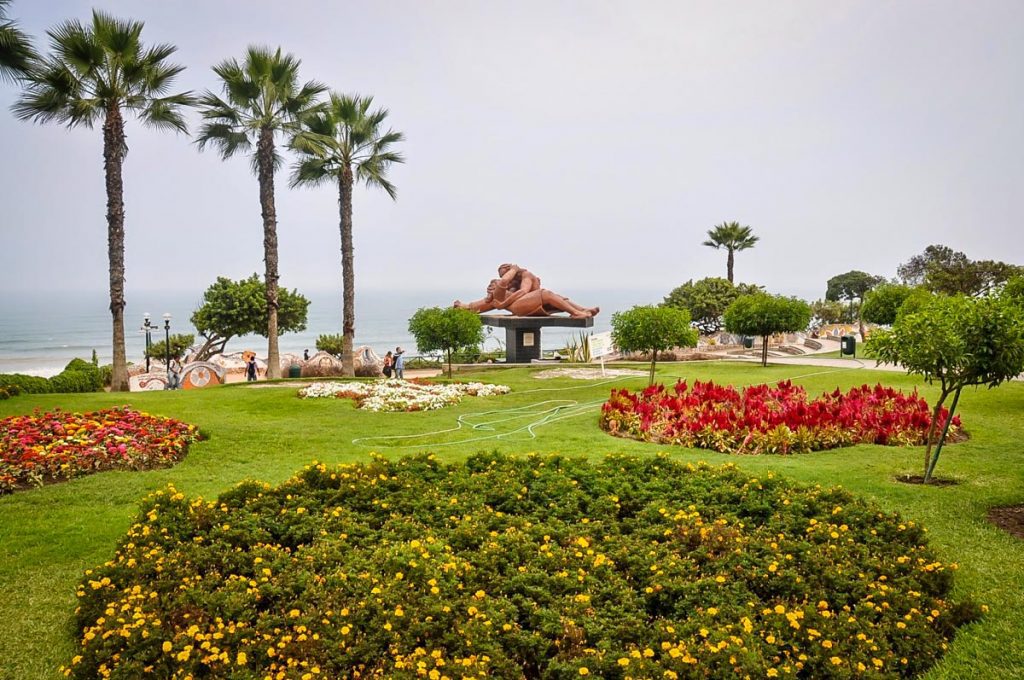 The best part about taking a walking tour – you get to discover the city through the eyes of a local. Join the Lima Walking Tour on one of their daily tours of the historic downtown area of Lima. They meet every morning at 9:50 a.m. outside the Tourist Information Center in the Miraflores neighborhood. You'll recognize your guide right away by their bright yellow polo with the Lima Talking Tour logo. 
The tour will take around 3 hours and cover all of the major historical sites in historic downtown Lima. Tours are entirely free and tip-based so remember to bring a little extra cash for tipping once you're done. They also have tours of Miraflores that leave from the same location at 3:00 pm daily.
2. Marvel at the Huaca Pucllana ruins
This ancient pyramid sits right in the middle of the city, in the Miraflores neighborhood to be exact. Built from clay and adobe, the seven staggered platforms make up the pyramid that was a ceremonial and administrative center in Lima from the years 200 – 700 AD.
Today, the ruins have been preserved as a major tourist attraction. There is even a restaurant built inside the pyramid serving up traditional Peruvian cuisine. You can have dinner there while marveling at the ruins which are lit up at night.
Entrance fee: 15 PEN during the day and 17 PEN after dark (about $5 USD)
3. Cycle around Barranco
Barranco is the bohemian neighborhood of Lima, with lots of restaurants and themed bars, colonial architecture and plenty of street artists. There is also a lot of green space making it the perfect place to rent a bike and cycle your way around.
Be sure to stop at the MATE Museum – a contemporary art and photography exhibit located in a restored 19th-century mansion. And see if you can hold your breath as you walk across the Puente de Los Suspiros (Bridge of Sighs). Legend has it, if you can hold your breath the whole way, your wish will come true.
4. People watch in the Plaza Mayor
Formerly the Plaza de Armas until it was renamed in the 1990s, this is the oldest public square in Lima. It is still used as a ceremonial center for religious and governmental procession today. Grab a coffee and watch as people go about their day.
If you want to do some exploring yourself, visit the Cathedral of Lima, the Government Palace and the Municipal Palace, all bordering the square.
5. Walk the Boardwalk in Miraflores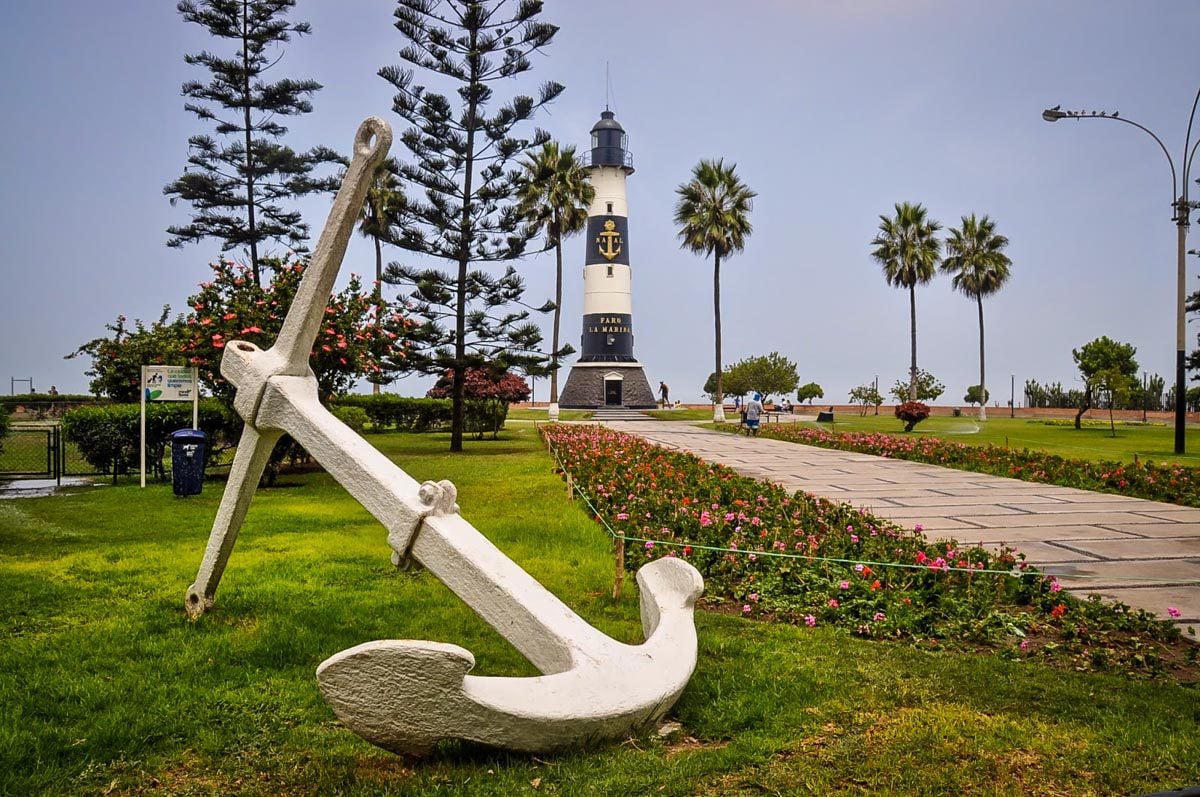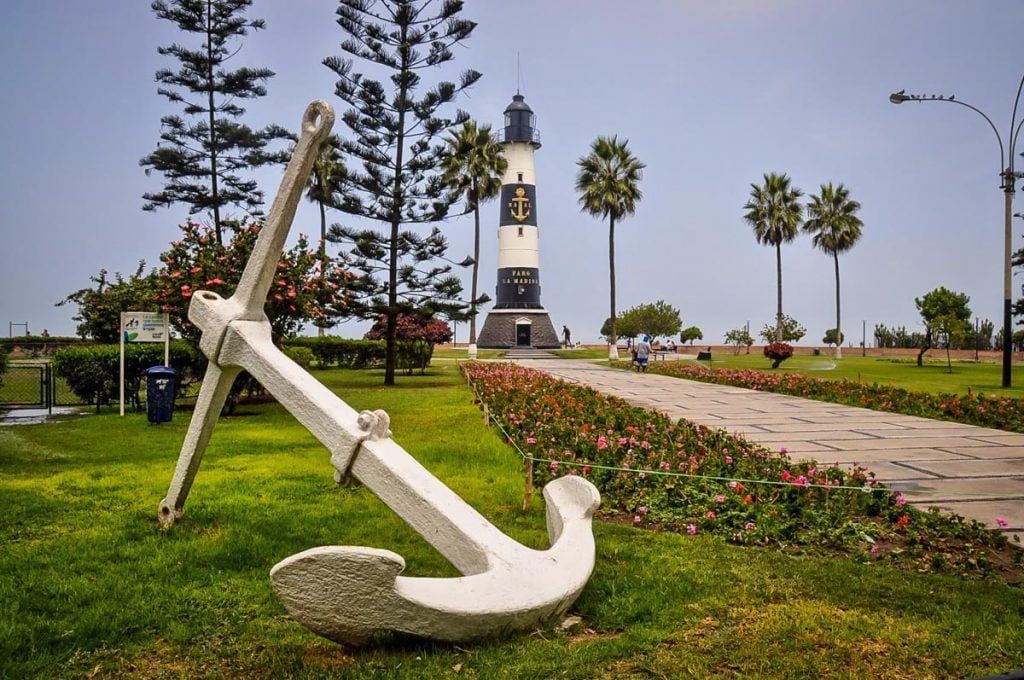 Known locally as the Malecon, this boardwalk stretches 8 km along the coast in Miraflores. It makes the perfect place to take a stroll at sunset and watch as the sun ducks below the horizon out at sea. That is, of course, if you are lucky enough to be visiting Lima on a clear day (Lima is notorious for its misty grey weather).
As you make your way down the boardwalk, you'll run into Larcomar shopping center, a giant shopping mall in Miraflores, right on the coast. The mall has a few restaurants with terraces overlooking the beaches below.
A bit further down you'll find the Parque del Amor, or "Park of Love" in English, aptly named for the giant kissing statue in the center of it. The mosaic walls here remind us a bit of the famous Park Güell in Barcelona.
6. Take a cooking class or food tour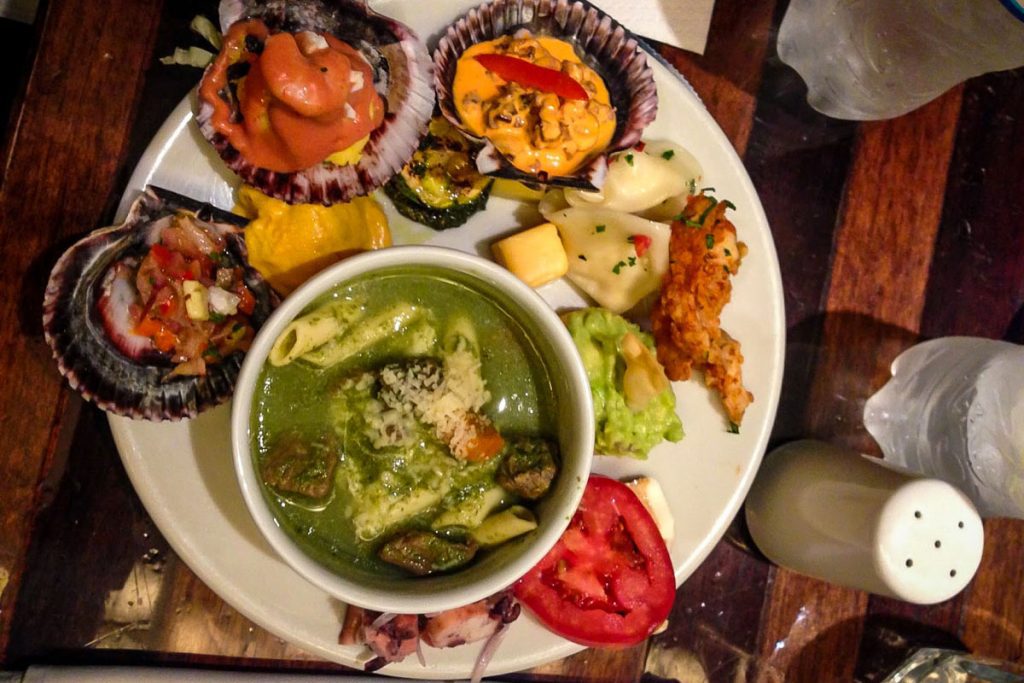 One of the best things about Lima is its world-class gastronomic scene. From traditional Peruvian classics to modern fusion, Lima has made a name for itself as a "foodie" city. Eating your way around this city might just be the highlights of your time spent here.
Embark on a food tour of Lima to get the local's take on the best food, or try your hand at cooking a Peruvian dish or two in a cooking class. 
7. Go paragliding over the sea
If you think the views of Lima's coast from the boardwalk are impressive, imagine what the coast looks like from the sky!
Parapuerto is a premier paragliding company offering scenic flights over the iconic Lima landscaping. Stop by their office in Miraflores on the day you hope to take flight. They operate 7 days a week, but because the wind is unpredictable, you are unable to book ahead of time. You just have to show up and hope the wind will cooperate for you.
The recommended time for flying is between 2-3pm every afternoon. The 10-minute flight will cost you 260 Soles ($85 USD), and includes in-flight photos!
8. Catch a wave in the South Pacific
Being a coastal city, of course there will be plenty of surfers in the area. The Circuito de Playas is the beach circuit that runs up and down the Costa Verde. The best beaches in Lima for surfing are Los Delfines, Orrantia, Punta Rocas, and Playa Ravine.
Keep in mind the water temperatures are rarely above 60 °F (16 °C), so a full wetsuit is definitely recommended!
If you're new to the spot and want to give it a try, you can always hire a local teacher and take a surf lesson.
9. Create your own pisco pub crawl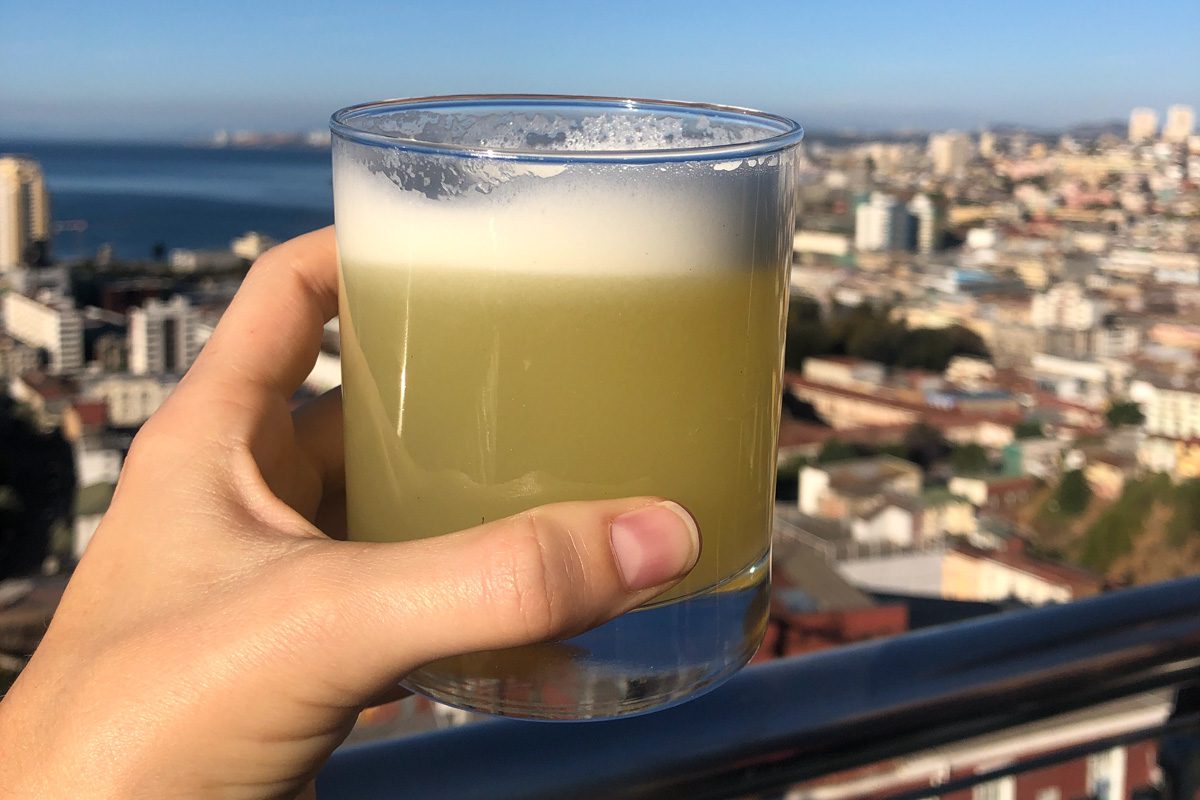 You've probably heard of a pisco sour at some point on your travels throughout South America. Pisco is the Peruvian spirit used to make this traditional cocktail and it can be found all over Lima (and Peru in general!).
You can't come to Peru without trying one of these famous pisco drinks, but not all cocktails are created equal. Make your way around Lima to find some of the best pisco sours in the city and you be the judge of which is your favorite!
10. Experience the nightlife in Lima
Most big cities have a prominent nightlife culture and Lima is no exception. The Barranco neighborhood turns into Lima's party district once the sun goes down. However, there are fun bars to check out all over the city. Here are a few notable mentions:
Sargento Pimienta: Popular with locals in Barranco, this bar is always playing rock music and sometimes even has live shows. 
Ayahuasca Resto Bar: A well-known bar in Miraflores that is set up inside a converted 19th-century mansion.
Corodrilo Verde: This lounge and nightclub in Miraflores hosts weekly live music performances.
11. Swim with sea lions
The Palomino Islands are a small cluster of islands off the coast of Peru's sprawling capital city. Home to large colonies of sea lions and sea birds, a trip here is a great way to get out of the city and into some nature.
Sail from Lima to the islands on this 6-hour tour where you will be able to swim in a protected area of the Pacific Ocean alongside sea lions in their natural habitat. You can also observe Guano birds and Humboldt penguins up close while your English speaking guide explains the delicate ecosystem. 
12. Try sandboarding in Huacachina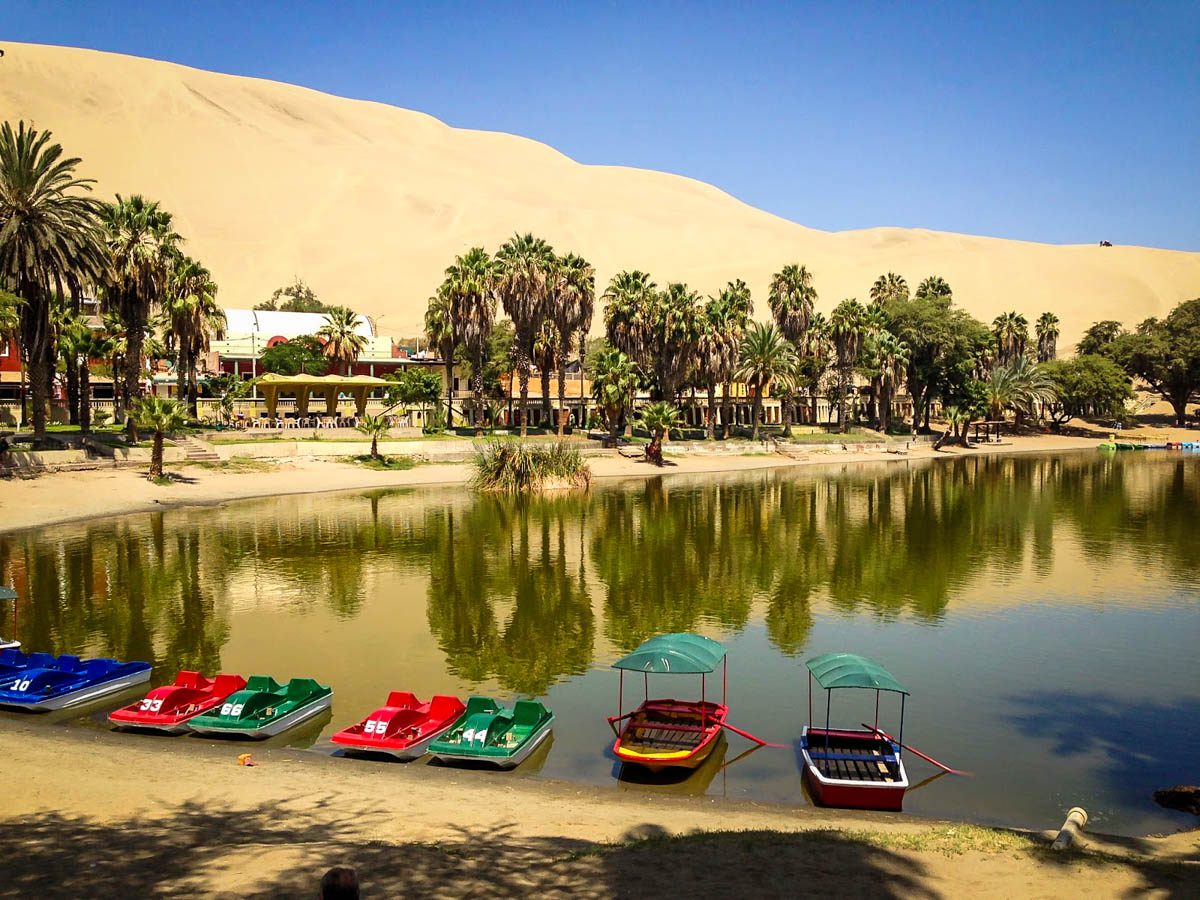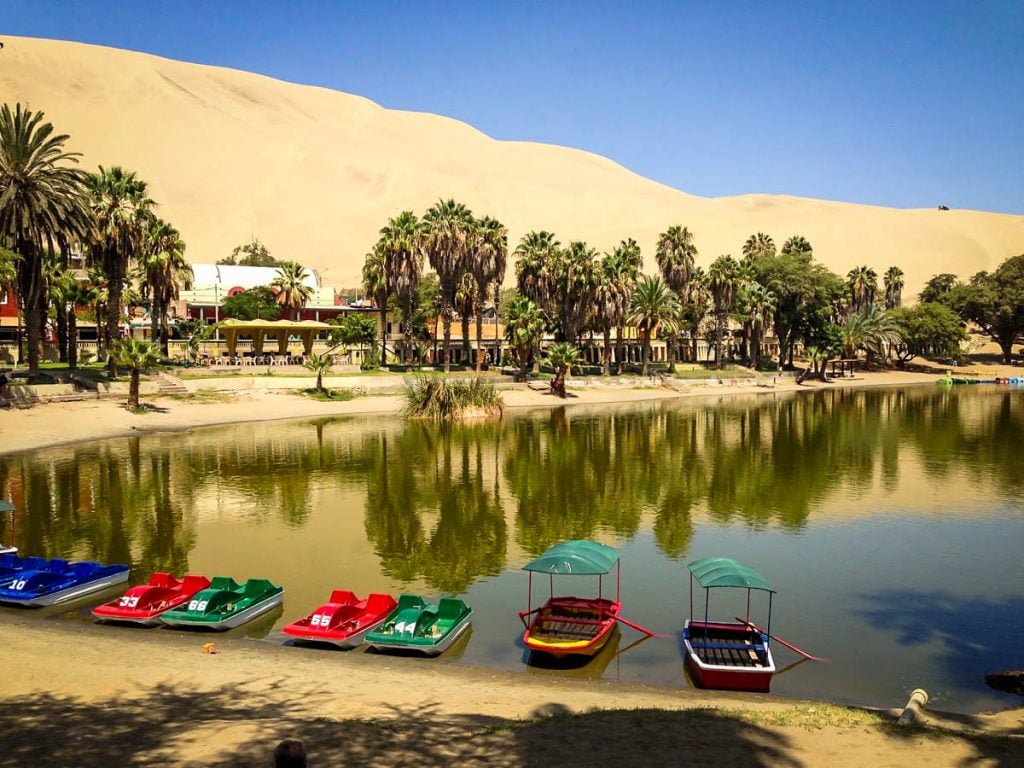 Huacachina is a desert oasis just 1.5 hours by car from Lima. You may recognize the famous landmark from photos all over Instagram of the Huacachina Lagoon rimmed by palm trees seamingly sitting smack dab in the middle of a giant sandbox.
Aside from heading there just for the photo op, there are tons of fun activities to do in Huacachina. One of the most popular activities is renting a dune buggy and going sand boarding. Picture yourself strapped into what looks a lot like a snowboard, except you're sliding down sand dunes instead of mountain peaks.
We tried sandboarding on our first trip to Huacachina together and let me tell you, it was an absolute blast!!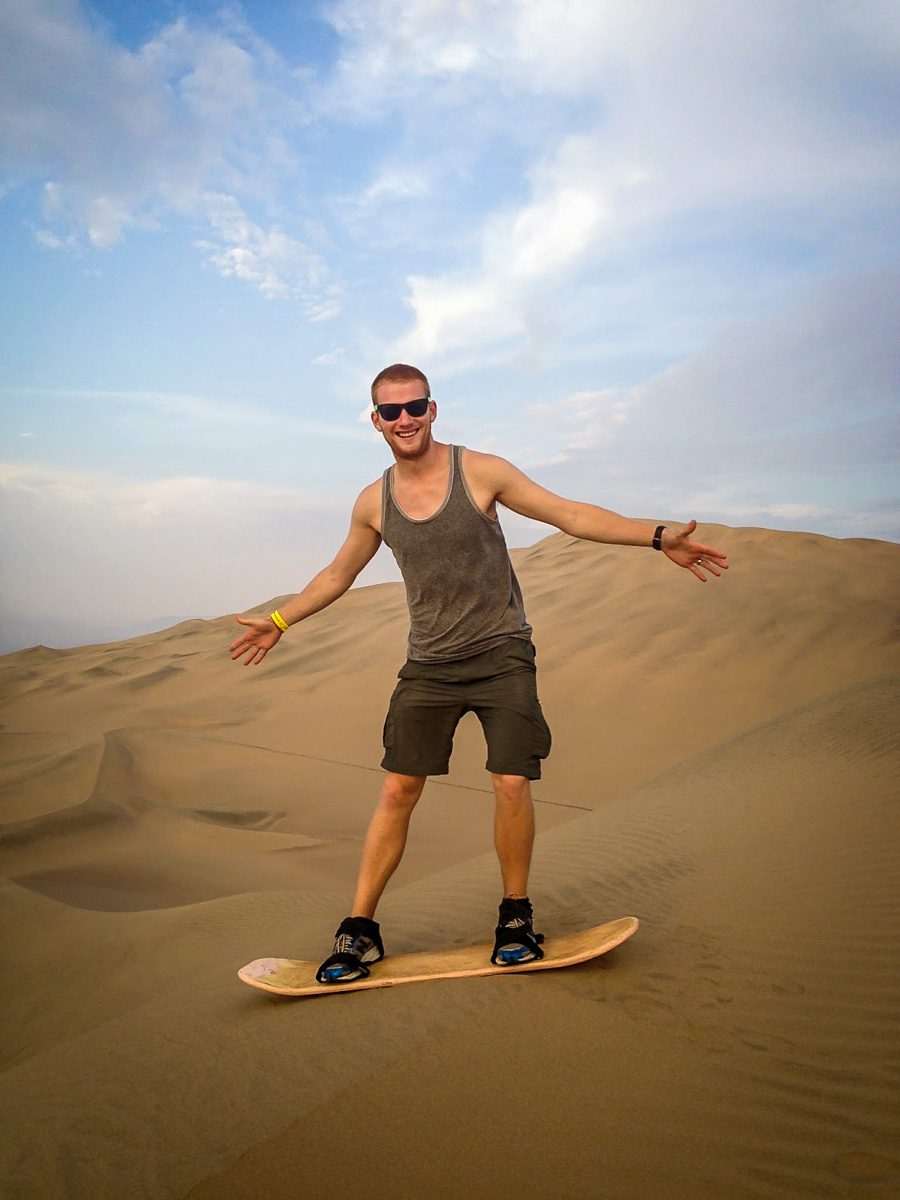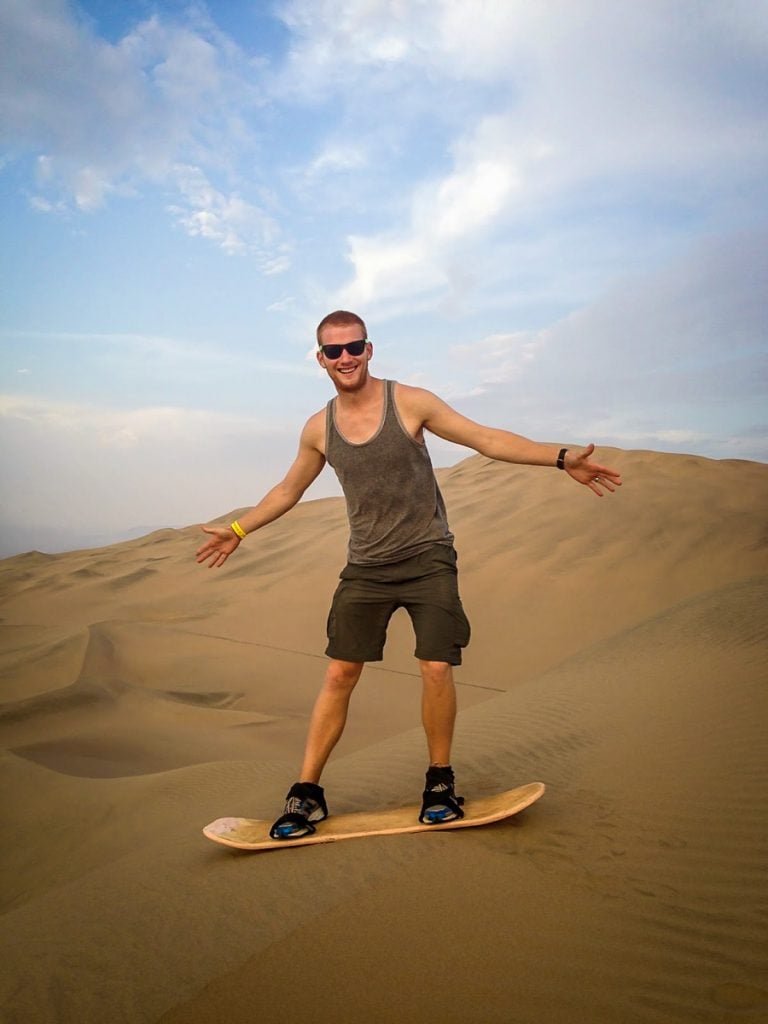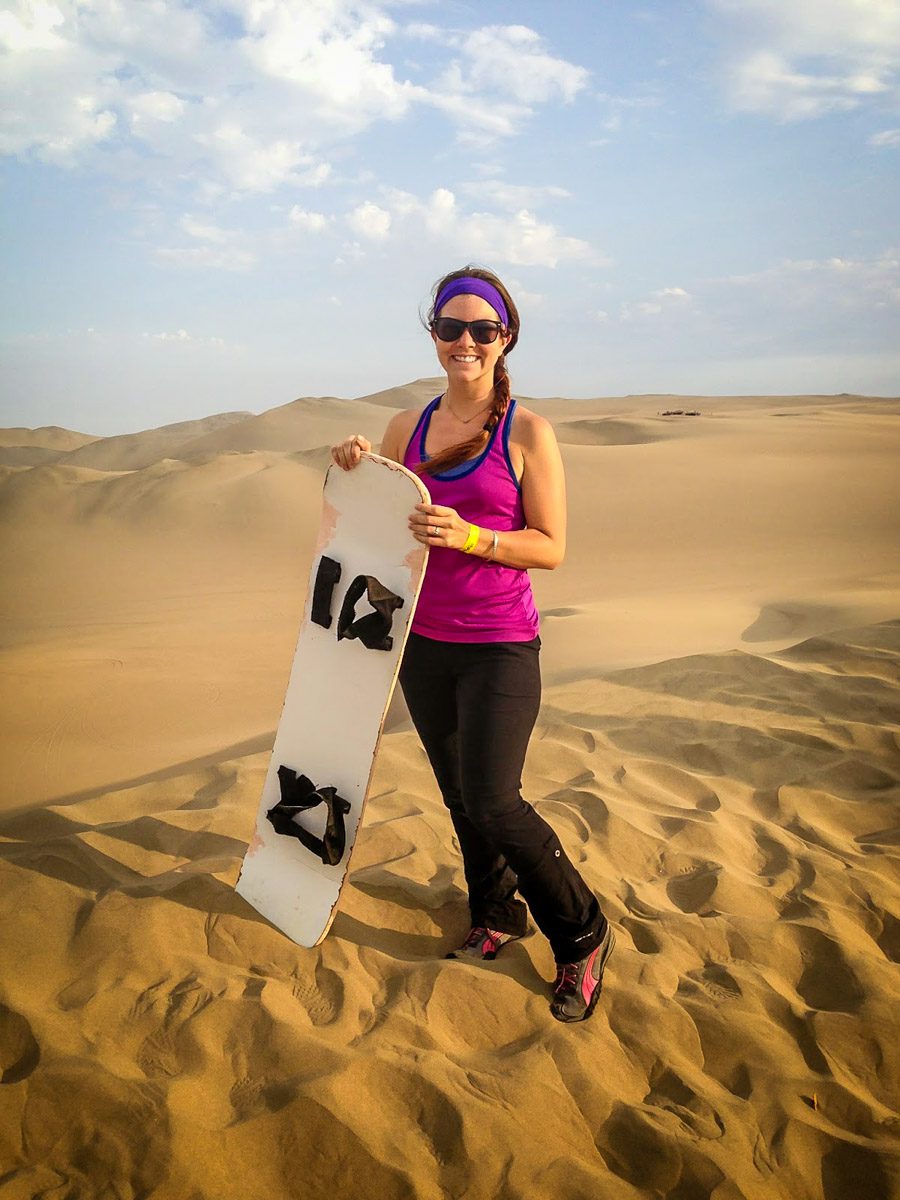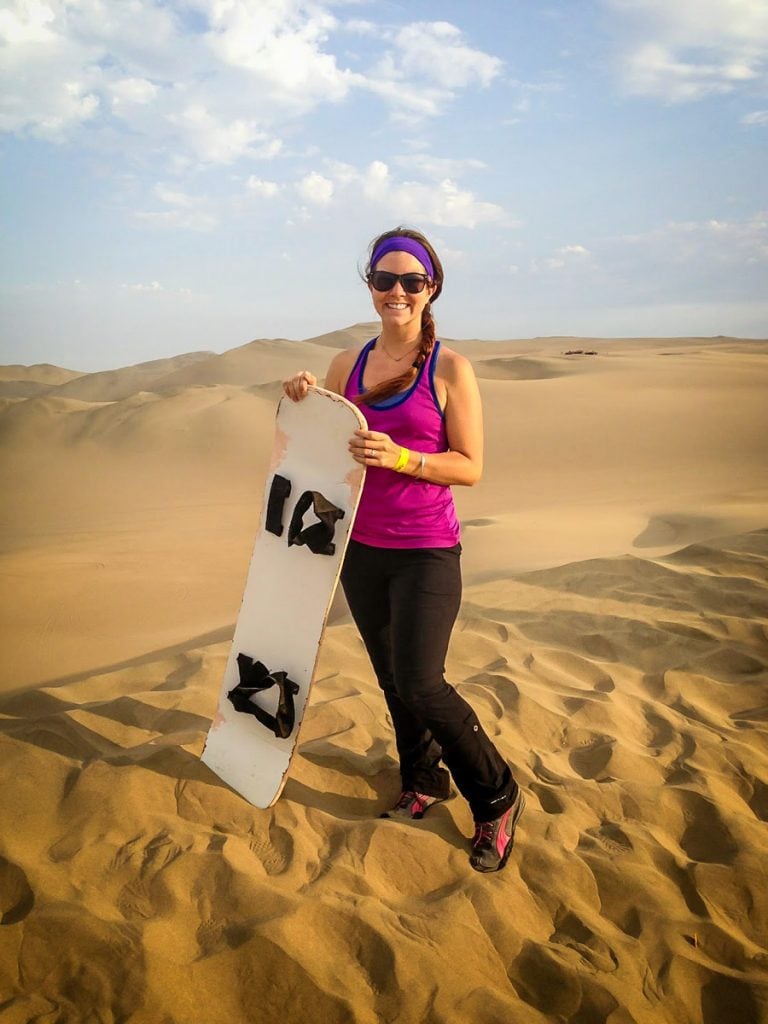 How to do it yourself: If you want to take a day trip from Lima, you have a couple options. You can rent a car and make the journey yourself, or take a bus from Lima to Huacachina. If you choose the latter, you'll be tied to the bus schedule and may not have as much time as you'd like to explore the desert, so we'd recommend staying at least one night there. 
Perhaps the easiest and most stress-free way to see Huacachina from Lima in a day is to book a tour which includes transportation dune buggy and sandboard rentals and even a bonus boat trip to the Ballestas Islands to see the sea lions. 
13. Take a scenic flight over the Nazca lines
If you've never heard of the Nazca lines, you might want to give it a quick Google image search. In short, these "lines" are actually a bunch of pre-Columbian era geoglyphs that are etched into the desert landscaping, covering over 350 square miles.
The site, which is rumored to have been made by aliens, has since been named a UNESCO World Heritage Site. The lines, which represent different animals and plants, have different theories as to their significance, but most scholars agree there is a religious significance.
Because of the scale of these other-worldly designs, they are best seen from above. There is a small viewing tower next to the main road from Nazca to Ica, but you can only see a couple of the lines. You can also venture to nearby hilltops to catch a better glimpse, but the best way to see the Nazca lines in their entirety is from the air.
How to see it yourself: You can book a tour from Lima which includes transportation to Nazca and an option for a 30, 40 or 60-minute scenic flight over the lines. Take photos from the panoramic windows in the plane and learn more about the significance of the lines and how they came to be.  
---
Transportation in Lima
Certain neighborhoods in Lima are very walkable, but the city itself is huge and sprawling.
Uber
The easiest way to get around Lima is by Uber. It takes away the need for cash exchanging hands, and the tricky language barrier that sometimes gets in the way when trying to give directions to your destination. The ride service also adds an extra layer of protection that we appreciate as travelers.
Taxi
Taxis are also plentiful in Lima if you are in a hurry and or don't have data to catch an Uber. Be sure your driver sets the meter during your ride so you pay a fair price.
Lima Bike
This spot in the Miraflores neighborhood allows you to rent a bicycle for 3 hours ($9 USD) or a full day ($15 USD). It's a great way to see more of the city and get some exercise!
How to get from Lima Airport to the city
Airport Express Bus: This is the official airport shuttle system in Lima and it's a convenient and cheap way to get from the Lima Airport to your accommodation in the city center, or vise versa. Check their website to see how it works, check timetables and find the nearest stop to you. 
From the airport, you can find the Airport Express Bus Stand in the arrivals hall of both the domestic and international terminals. You can pay for your ticket at the stall. A ticket to the Miraflores neighborhood will only cost you about $8 USD. If you are catching the bus to the airport, you must have exact change to pay on board.
Where to Stay in Lima
Budget Option/Hostel: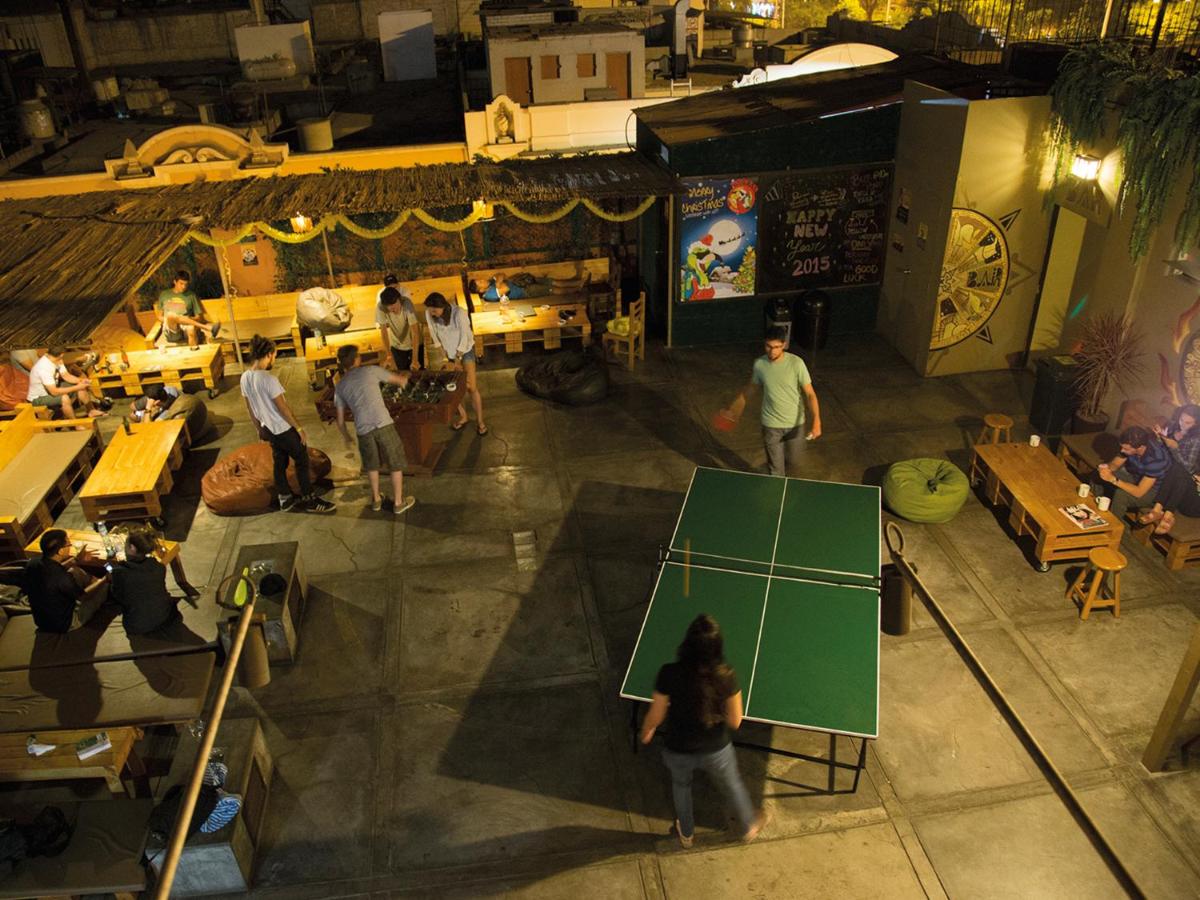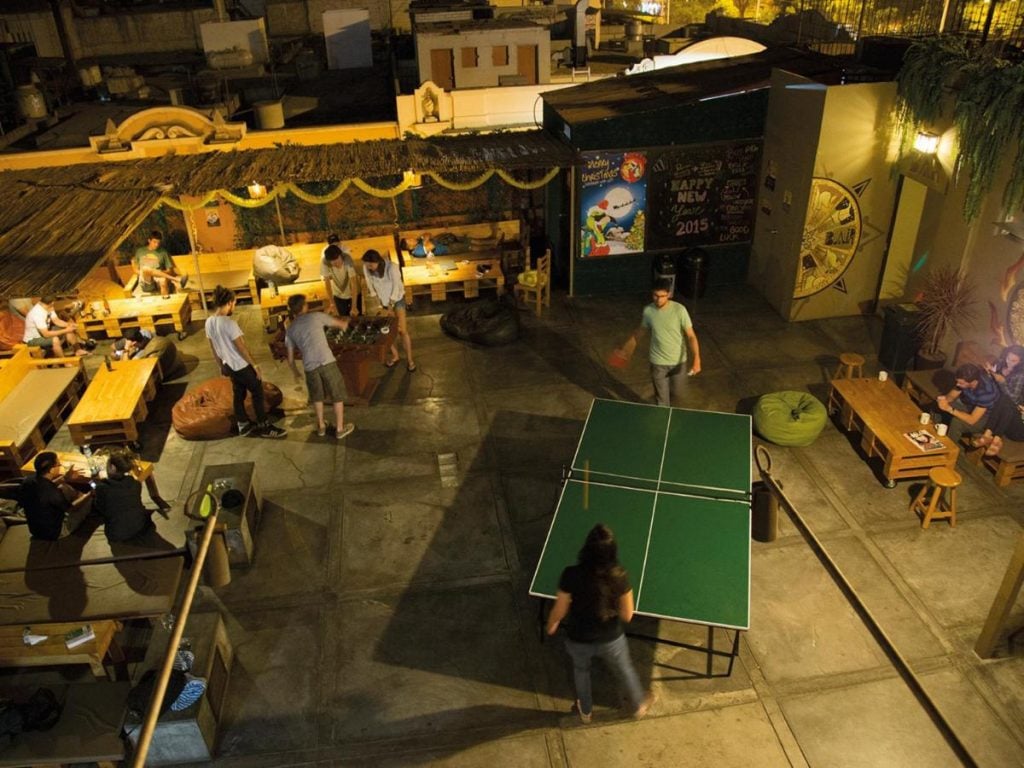 Location: Miraflores
With nice beds, free breakfast and walking distance to the heart of Miraflores, this was one of our favorite stays in Peru. They also have a killer bar with fun theme nights, like Lipstick Night: anyone wearing lipstick gets a free drink! And after a little coercing I was able to even get Ben to wear some!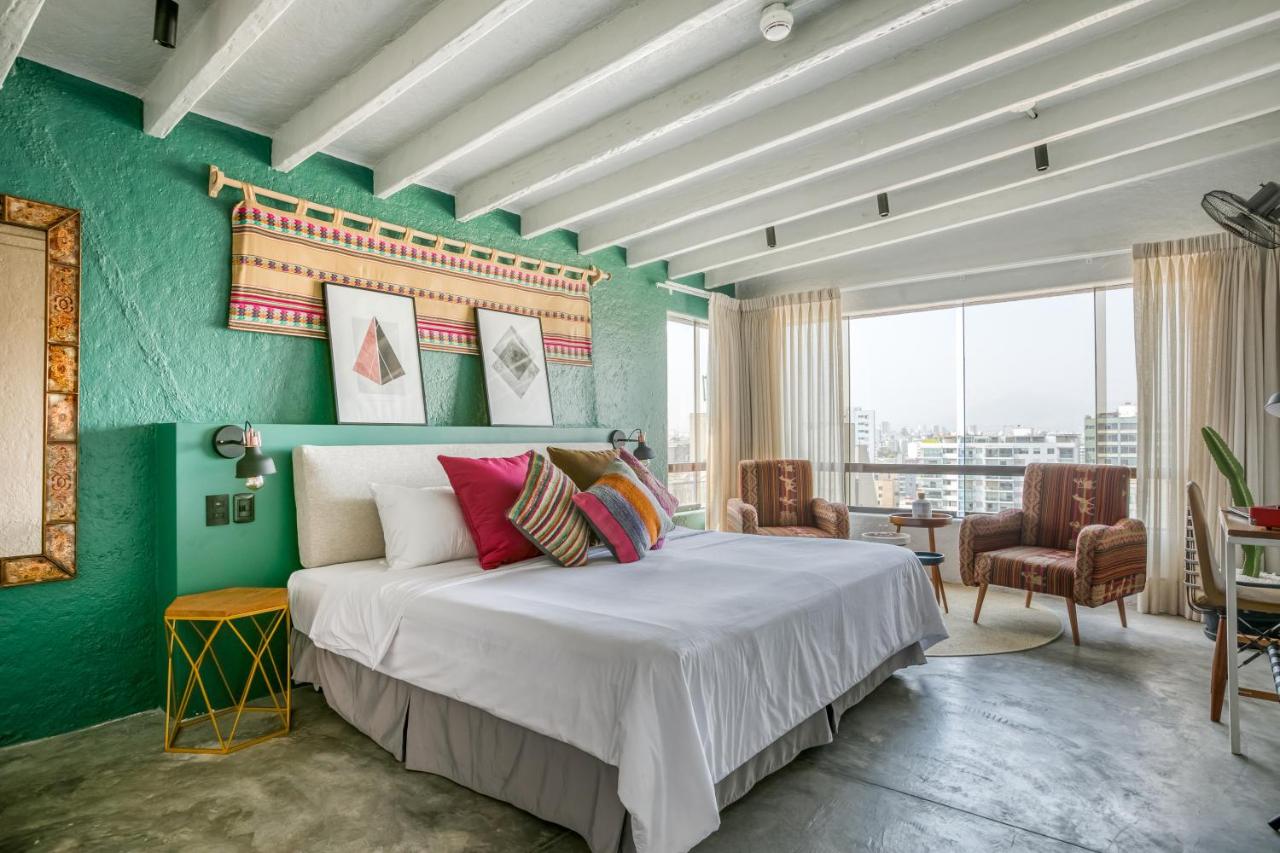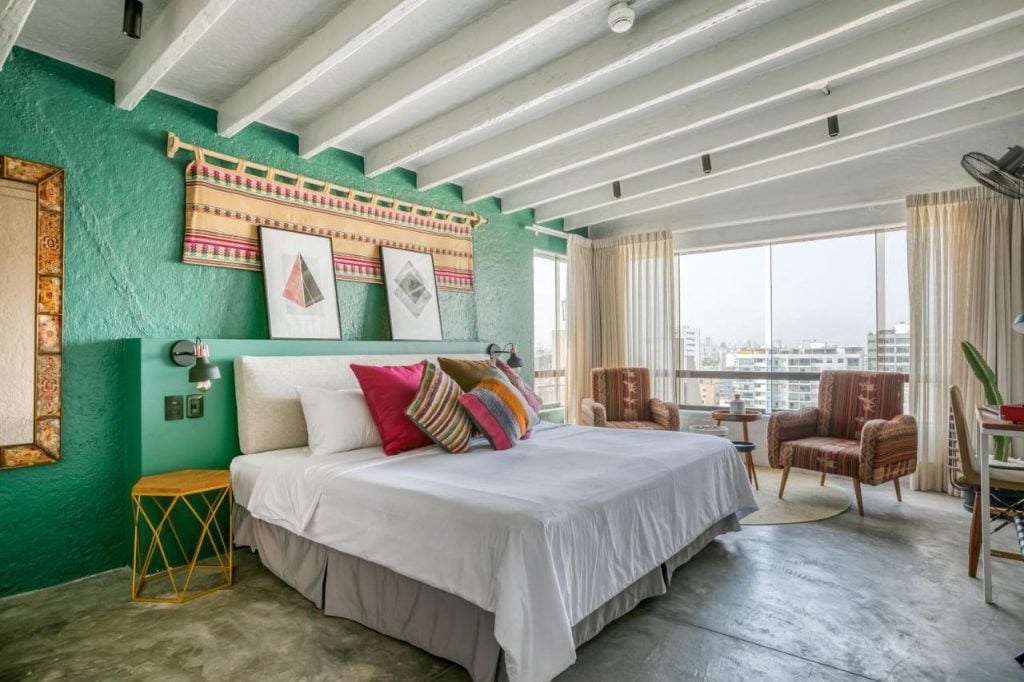 Location: Miraflores
You may recognize the Selina name as they have hundreds of hostels throughout Central and South America. Comfortable common areas, high-speed internet and lots of private rooms make it feel a bit more like a boutique hotel than a hostel.
Mid-range/Couples Stay: 
If you are beyond the days of staying in hostels, but don't want to splurge for a fancy hotel stay, we recommend using Booking.com or Airbnb to find an apartment in the Miraflores or Barranco neighborhoods. These areas are both centrally located, walkable and have plenty of things to do including cafes, restaurants and bars.
Tip: Find out exactly how we set our filters to find the best Airbnb for our stays in this detailed Airbnb guide, complete with a coupon code for $40 off your first Stay and $15 off your first Experience.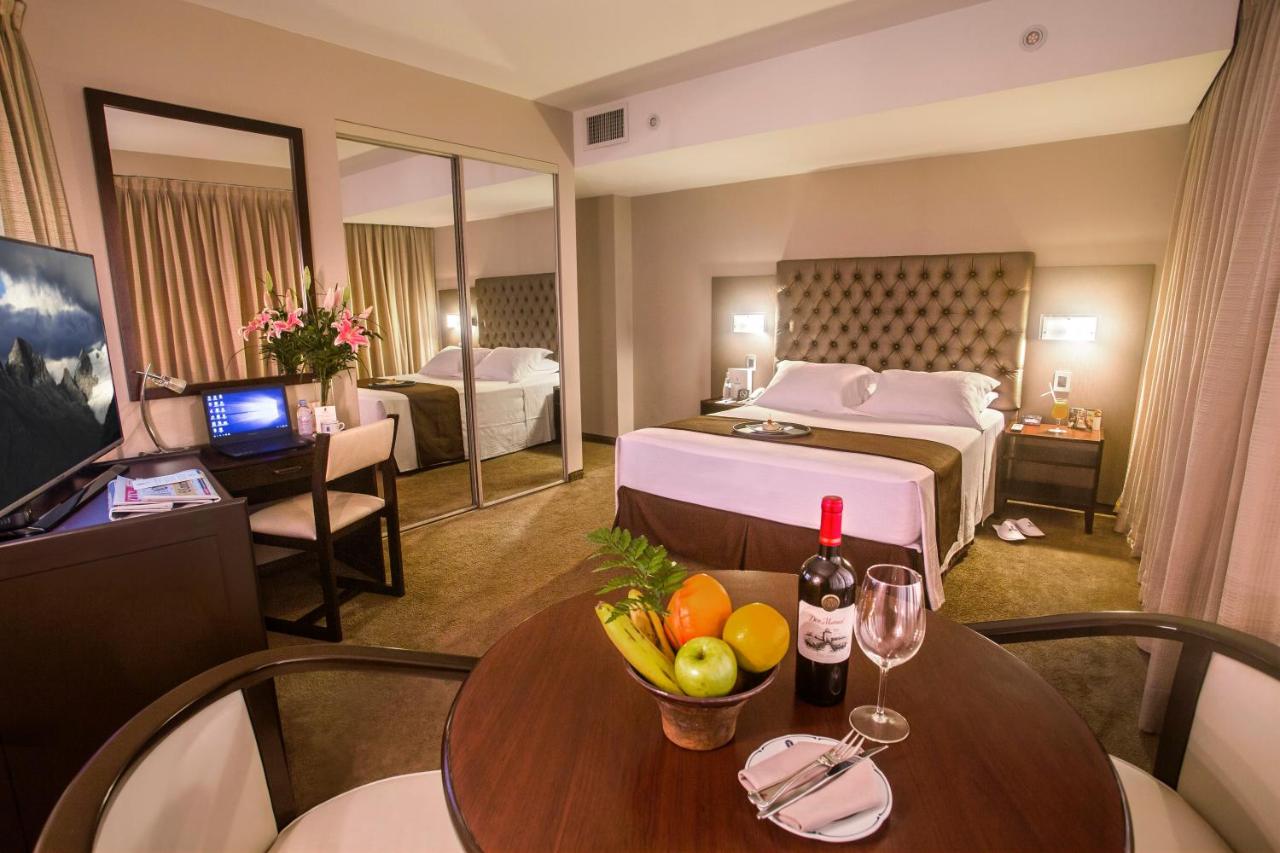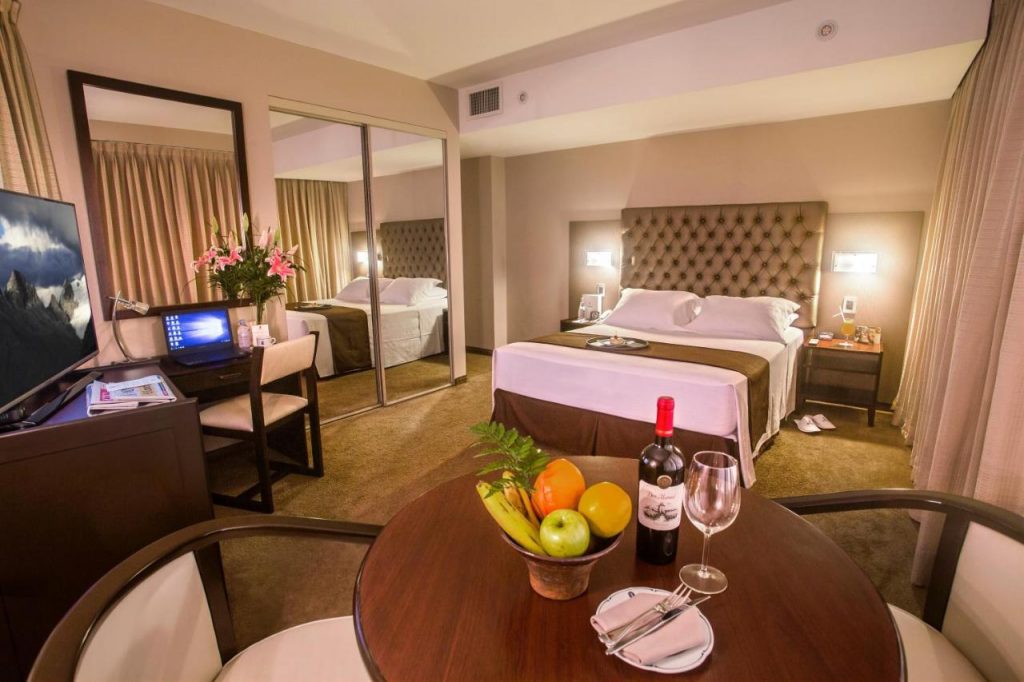 Location: Miraflores
This gorgeous 4-star boutique hotel comes at a steal for your budget! With spacious suites, free wifi and an onsite restaurant, what more could you ask for?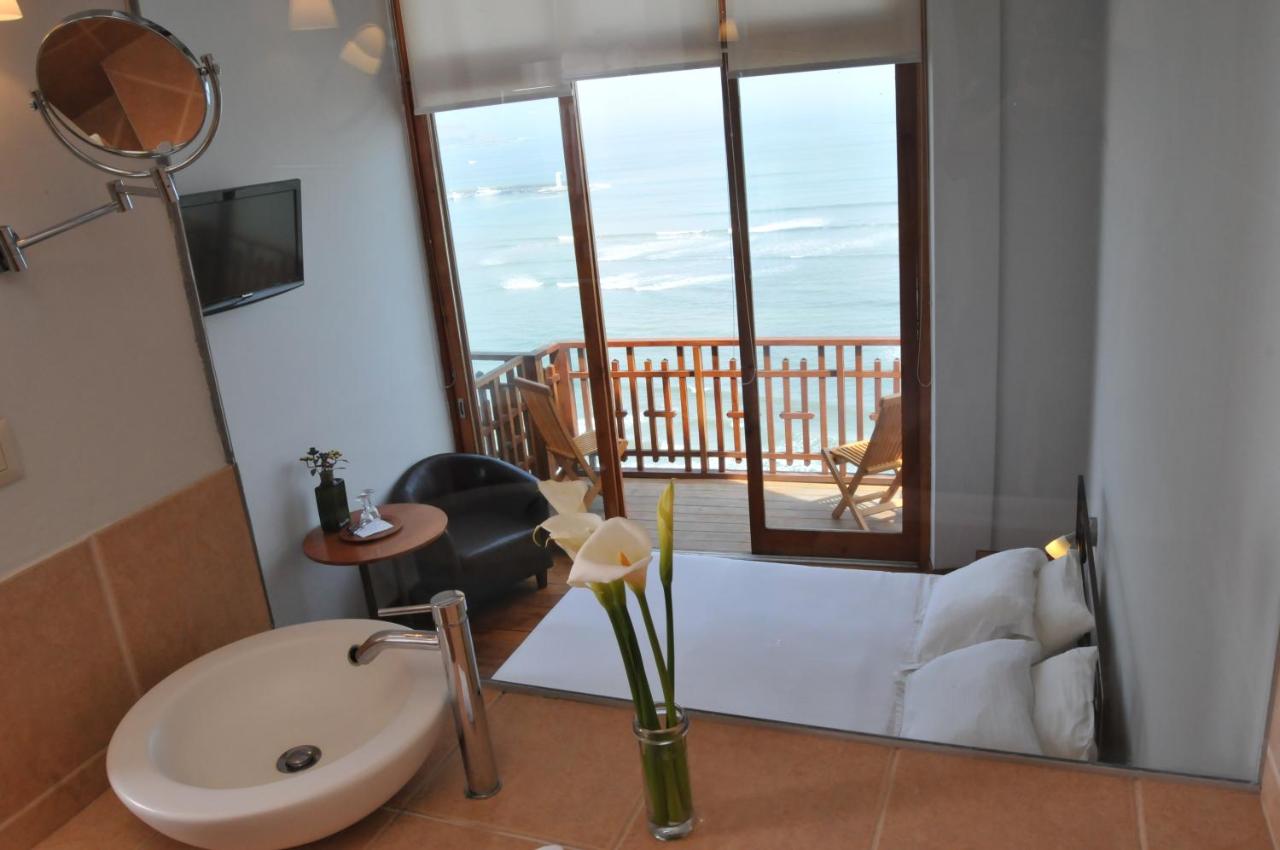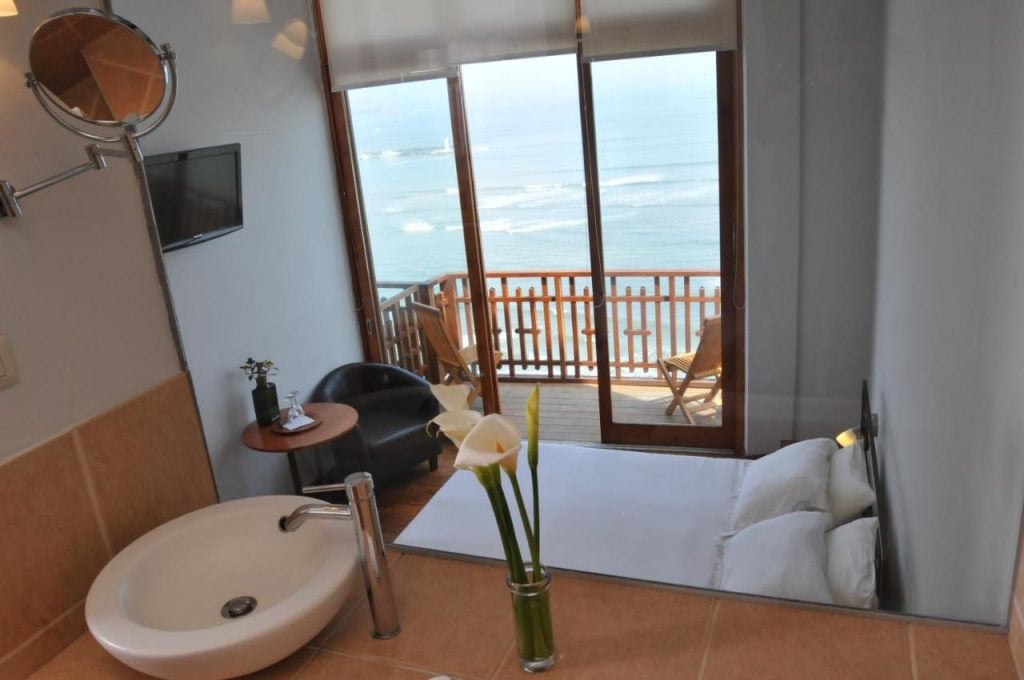 Location: Barranco
A gorgeous guesthouse with private rooms overlooking Playa Barranco Beach in the hip bohemian arts district.
Splurge Stay: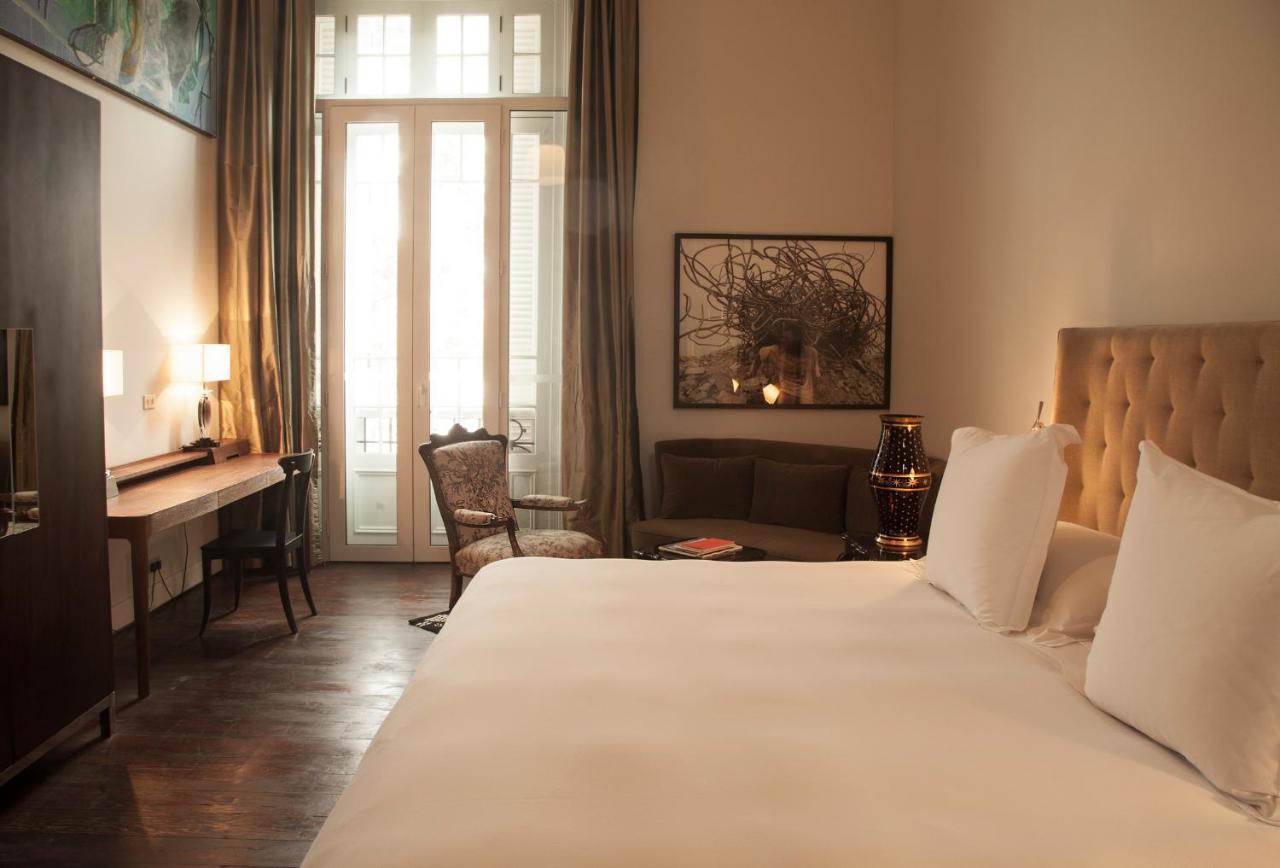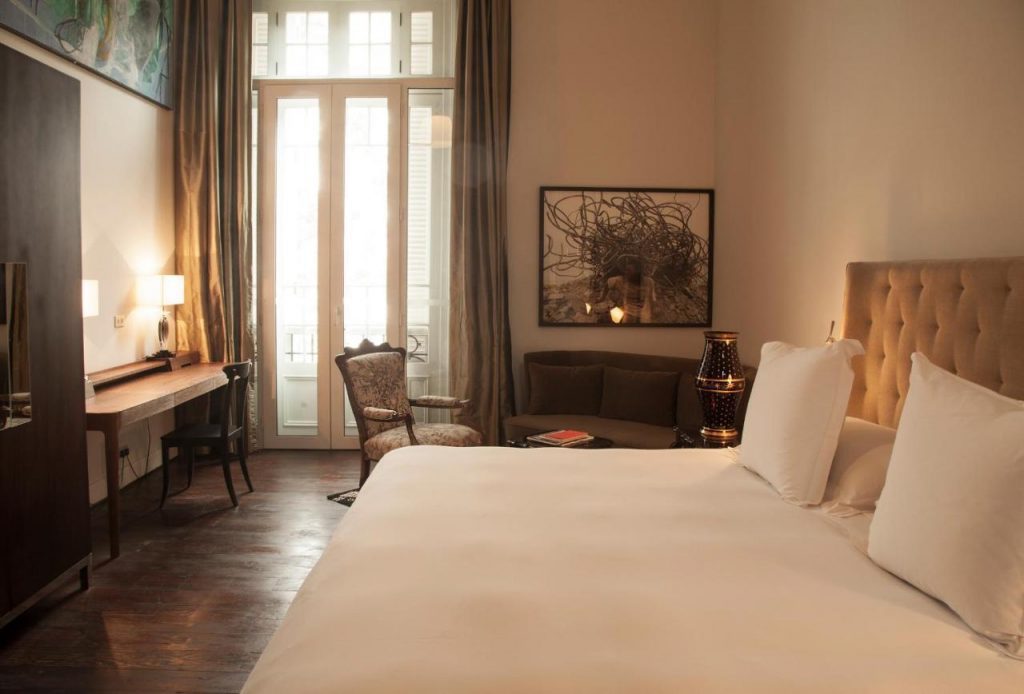 Location: Barranco
The stunning Hotel B, a Relais & Châteaux property, is just one block from Barranco Beach set in an elegant Belle Epoqué-style mansion. The luxury boutique hotel offers a beautiful outdoor terrace, well-decorated rooms and an onsite restaurant and bar.
---
Are you planning a trip to Peru?
We have lots of resources on travel in Peru and destinations throughout the country. Check out our Complete Peru Travel Guide for all the answers to your most burning questions, or read some of our favorite articles below.
Save this article on Pinterest for later!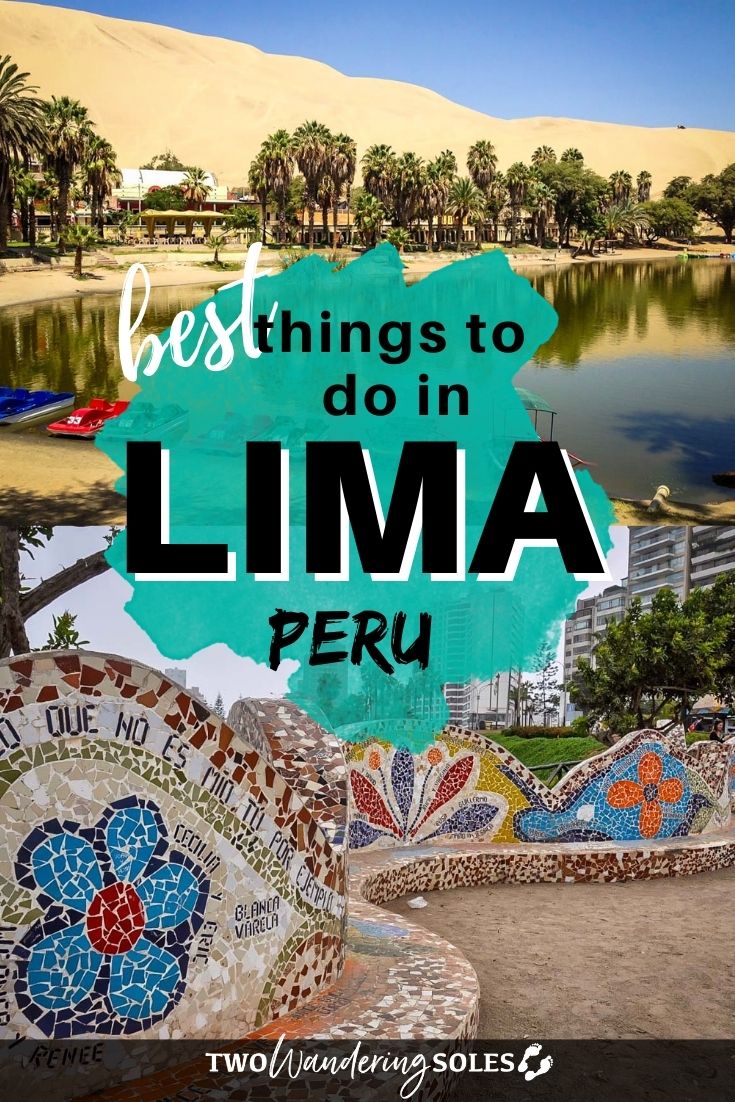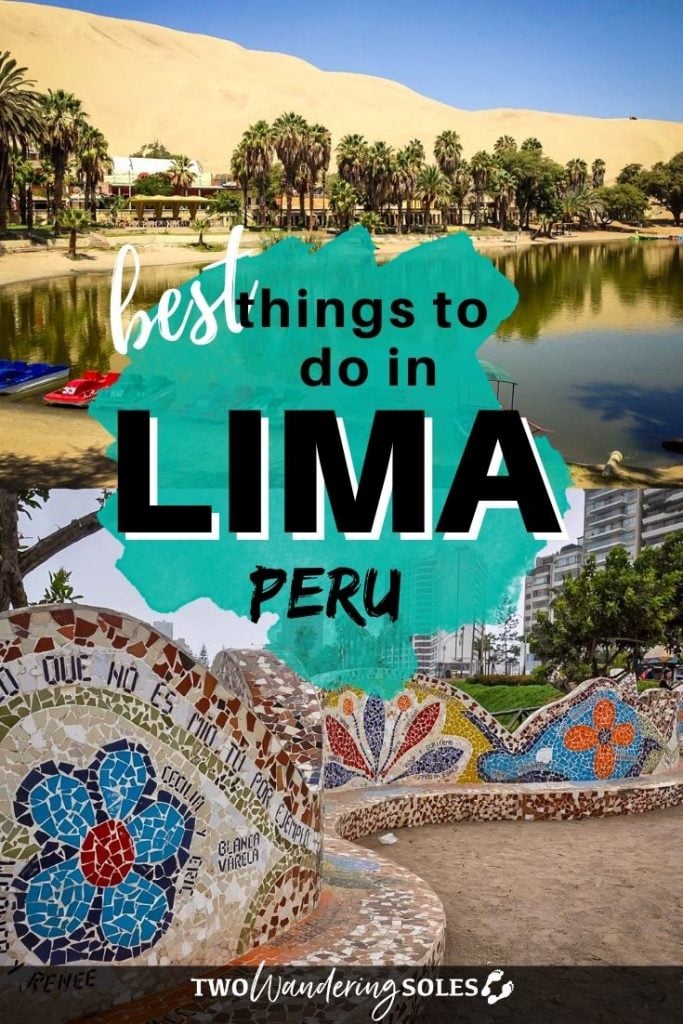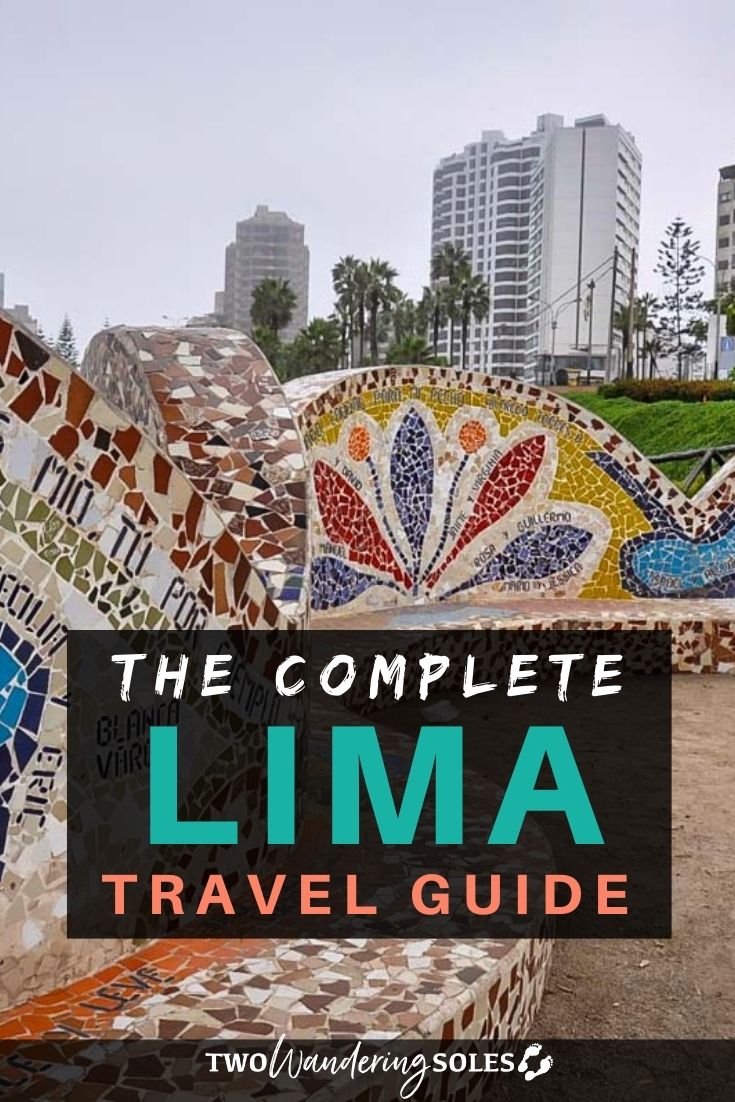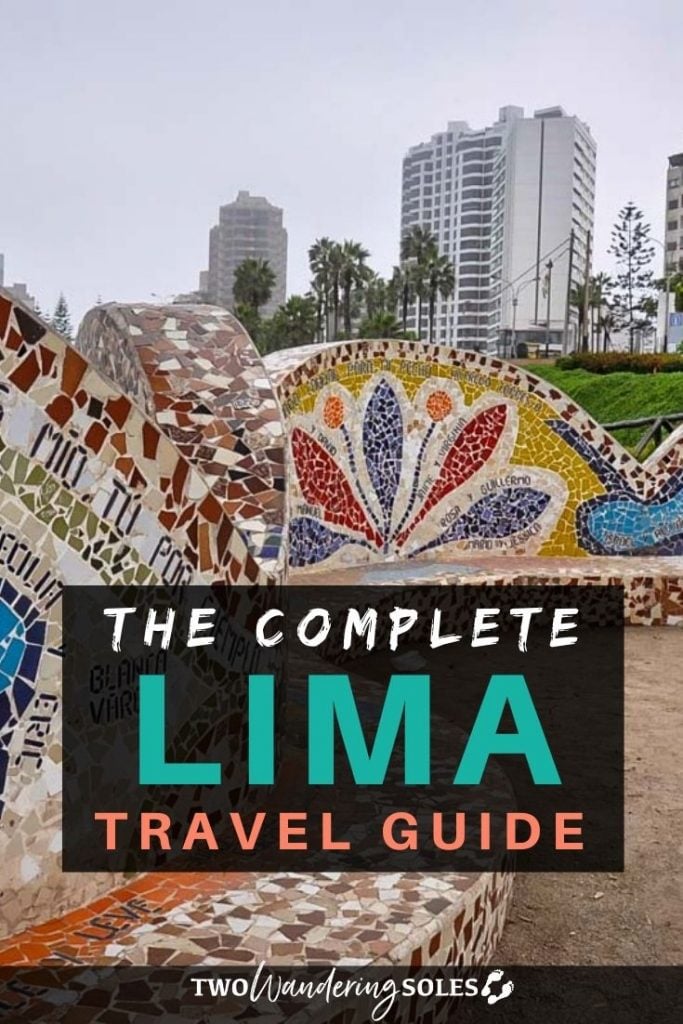 We want to hear from you!
Are you planning a trip to Lima and still have questions? Leave your questions in the comment section below and we'll do our best to find you the answers you are looking for!